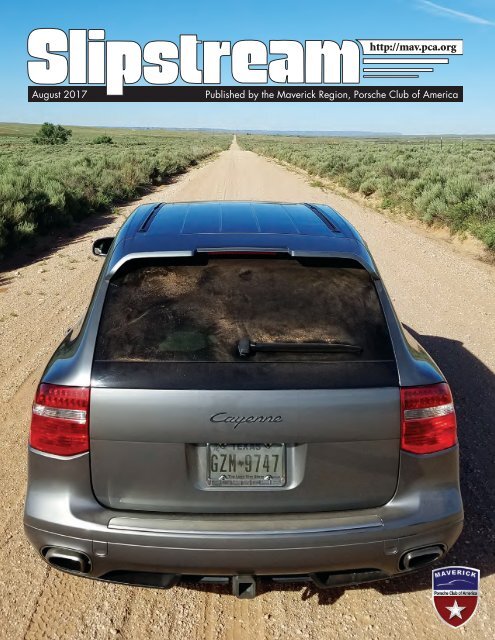 Slipstream - August 2017
The monthly newsletter of the Maverick Region of the Porsche Club of America
The monthly newsletter of the Maverick Region of the Porsche Club of America
SHOW MORE
SHOW LESS
You also want an ePaper? Increase the reach of your titles
YUMPU automatically turns print PDFs into web optimized ePapers that Google loves.
http://mav.pca.org

August 2017

Published by the Maverick Region, Porsche Club of America

Upcoming Events

• Father's Day Picnic

• Sunday Drive

• Rally School

Past Events

• Wild Wildflowers

• May at Mayo's

• Results

June 2007 - Published by the Maverick Region

Porsche Club of America
---
©2017 Porsche Cars North America, Inc. Porsche recommends seat belt usage and observance of all traffic laws at all times.

The heirs to over 60 years of a racing legacy.

Divided equally.

The form varies. But the racing bloodlines, the undying dedication to pure sports car performance, the marriage of power and

efficiency embodied in the Porsche principles, do not. And that truth is revealed in that moment you turn the key. Discover it for

yourself with a test drive. Porsche. There is no substitute.

Experience every form of Porsche performance.

Porsche Plano

5924 W. Plano Parkway

Plano, Texas 75093

Tel. (214)576-1911

www.plano.porschedealer.com

©2017 Porsche Cars North America, Inc. Porsche recommends seat belt usage and observance of all traffic laws at all times.
---
http://mav.pca.org

Volume 55, Issue 8, August 2017

Find event updates at http://mav.pca.org, follow on Instagram at http://instagram.com/MaverickPCA

and join our Facebook Group at http://www.facebook.com/groups/mavpca/

Features

Maverick Region 55th Anniversary................................... 6

Kruder's Cars & Conversation........................................ 12

Insuring Your Porsche: Part 2.......................................... 14

Autocross #5 Recap...................................................... 15

Everything But the Kitchen Sink: Porsche Macan.............. 18

Off-Road Adventures Preview........................................ 20

Porsche of the Month..................................................... 21

Porsche Trivia................................................................ 21

June Social Recap......................................................... 23

Detailing Tips: Traditional Wax vs. Synthetic Polymers...... 25

Five Speed Chatter........................................................ 28

Tub Club Tour to Blueberry Hill Farms.............................. 31

QR Codes Primer.......................................................... 31

Upcoming Events

Board Meetings............................................................... 7

PCA Logo License Plate Purchase...................................... 7

September Social: Porsche Heritage Birthday Party..........16

Maverick Lunch Series...................................................16

DE at MSR....................................................................16

PCA Tours to MSR.........................................................16

SUV Off-Road Adventure...............................................17

Autocross Schedule.......................................................17

Mavs & Mochas............................................................17

Departments

Sprockets (President's Column)......................................... 2

Maverick of the Month..................................................... 2

List of Officers and Board Chairs...................................... 4

Zone 5 Presidents............................................................4

Maverick Minutes............................................................ 6

New Mavericks and Anniversaries.................................... 9

Unclassifieds................................................................. 34

Advertiser Index............................................................ 34

Around the Bend (Editor's Column)................................. 36

Slipstream (USPS 666-650) is published monthly by the Maverick Region, Porsche Club of America, 155 Jellico

Southlake, TX 76092. Subscription price is $24.00 per year. Periodical postage is paid at Fort Worth, TX.

POSTMASTER: Send address changes to Hiram Saunders, Slipstream, 155 Jellico, Southlake, TX 76092.

See more details and check for event updates via

the QR code here or our online calendar at

http://mav.pca.org/go/calendar

Board Meeting..................................................... (Wed) 2

Plano area lunch (each Monday)................ 7, 14, 21, 28

Lewisville area lunch................................................(Tue) 8

Mavs & Mochas: Montgomery Plaza, Fort Worth.... (Sat) 12

No Mav Social This Month........................................

Autocross #7 at Lone Star Park..............................(Sun) 20

Richardson and Southlake area lunches.................(Thu) 24

Plano area lunch (each Monday)................ 4, 11, 18, 25

Board Meeting..................................................... (Wed) 6

Mavs & Mochas: Dallas Motorsports.........................(Sat) 9

Autocross #2 at Mineral Wells (weather make-up)..(Sun) 10

Lewisville area lunch............................................. (Tue) 12

PCA Treffen Asheville.......................... (Wed - Sun) 20-24

Mav Social: Porsche Heritage Birthday Party..........(Thu) 21

Drivers Education: MSR..........................(Sat - Sun) 23-24

Autocross #8 at Mineral Wells..............................(Sun) 24

PCA Tour: MSR....................................................(Sun) 24

Richardson and Southlake area lunches.................(Thu) 28

SUV Off-Road Adventure: Northwest OHV Park..... (Sat) 30

James Shoffit captured

on the course in

his (and Wendy's)

Cayman GT4 at the

recent autocross held

in Mesquite.

Photo by Bill Orr

Event Dates

August

September

On the Cover

Carey Spreen and Sue Crimm spent some

time on Route 66 during a road trip in May.

With parts of the "mother road" now down to

gravel, their Cayenne was in its element!

Photo by Carey Spreen

Opinions expressed herein are not necessarily endorsed by the Club's membership or officers. Contributions will be

printed on a space available basis. Chartered regions of PCA may reproduce items from this issue provided the author/

artist and Slipstream are credited. Slipstream is printed by Ussery Printing Company in Irving, Texas.

1
---
Sprockets: Maverick Region "Non-Workers"

By David Robertson, Region President

t Maverick events, we don't always talk about

A

cars. Other things are certainly happening

in people's lives, and as I mention in almost

every one of my columns, I enjoy getting to

know the members in our club. The Mavericks I meet

have a very diverse set of backgrounds and have ended

up here in the DFW area from all over the world. They

are passionate about their cars but also very passionate

about their families, work, and community!

Many of the Mavs I have met over the years have given

themselves the title of "non-workers." These are the

many retired members that you see posting pictures on

our social media, meeting with each other in the middle

of the day, where, among many other activities, they are

likely to be smoking cigars and discussing the cleverest

custom license plates they can conjure up. Don't get me

wrong, I am very happy for these members, but while

I am at work living vicariously through their postings,

which also include descriptions of month-long road

trips to visit various race tracks or famous stretches of

road, I am sitting at a desk in my office. I suppose if I

spent more time working and less time looking at posts

of the "non-workers"' exploits during the day, I might

be able to retire just a bit earlier and join them! I enjoy

my work and look forward to what the day will bring,

but admittedly I would also like to meet other Maverick

members on a whim some mid-morning during the

week to throw in my opinion concerning the most genius

combination of letters and numbers over donuts.

The term we are discussing here is misleading in that

these retired members tend to work just as hard now

on their passions in life as they did in pre-retirement.

Many of these Mavs also dedicate a great number of

hours volunteering their time to the club. I just hope

that, in my retirement days, I can be as active and passionate

about the things in life that matter to me as are

our members that affectionately refer to themselves as

"non-workers".

One of our "non-workers,"

Many of

these Mavs

also dedicate

a great number

of hours

volunteering

their time

to the club

Jim Hirsch, has done an

amazing job as Editor of

Slipstream, putting together the

publication you are reading

now over the past few years.

There is no reason for me to

even list Jim's contributions

to the Maverick Region as

they are very evident just by

flipping through a Slipstream

or attending one of our events

that he is involved in.

SAUL FRAIRE, Chef-Proprietor

1235 William D. Tate Ave

Grapevine, TX 76051

817-329-6995

Jim has decided at this point that he would like to

contribute to the club in other areas and would like

to turn over the reins of Slipstream to someone else.

This would not be an overnight process, and Jim is

very willing to work with the new Editor closely over a

few months to train and ensure a seamless transition.

Please contact Jim at editor@mavpca.org if you are interested

in the position. It is our volunteers that make

the Mavericks the best PCA region in the country!

MAV OF THE MONTH: Andrew Barber

Our Mav of the Month is one of the many relatively

recent members of our Region who contribute actively

to the benefit of our entire membership. Andrew

Barber made the switch from the BMW M series world

to our Porsche models in

late 2015 with the acquisition

of a Cayman GT4. Since

joining our club, Andrew has

participated in dozens of

Region events and has

graciously taken thousands

of photos for your enjoyment

in Slipstream and in our

online sites. Thank you,

Andrew, and we appreciate

your willingness to share

your keen photographic eye

with us!

2 August
---
THE

SUPERCARS

HAVE

ALIGNED.

Experience a whole new class of car show focused on the world's finest. Join us for the first

annual Luxury & Supercar Showcase, marking Park Place Dealerships' 30th anniversary. See the

fastest, sleekest, most luxurious and exclusive automobiles in the world. View rare and exotic

models in our Collectors' Showcase Car Show. And enjoy the finest in food, cocktails, fashion

and more. It's a high-performance lifestyle event that only one dealership could create: Park Place.

September 9, 2017 | 10 a.m. – 4 p.m.

Four Seasons Resort and Club Dallas at Las Colinas

Purchase tickets, register to display

your car and learn more at

LuxurySupercarShowcase.com

3
---
2017 Maverick Region Board - Officers and Chairs

President

David Robertson

617-797-0516

president@mavpca.org

Autocross Chair

Mark Schnoerr

ax@mavpca.org

Club Race Co-Chair

Pat Heptig

214-649-7907

cr@mavpca.org

Vice President

Jim Falgout

vp@mavpca.org

Time Trial Chair,

(AX/TT Rules)

Travis Howard

214-616-6152

tt@mavpca.org

Club Race Co-Chair

Joel Nannis

cr@mavpca.org

Secretary

Wendy Shoffit

972-977-9821

secretary@mavpca.org

TT Registrar, AX/TT

Schools, Swap Meets

Robyn Howard

214-991-0873

drivingschools@mavpca.org

Club Race/DE Registrar

Wendy Shoffit

crreg@mavpca.org

deregistrar@mavpca.org

Treasurer

Richard Solomon

903-530-8281

treasurer@mavpca.org

Charity Chair

Chris Hamilton

hope@mavpca.org

Concours Chair

Andy Kay

817-948-8538

concours@mavpca.org

DE Chair

ChrisTabor

817-371-4888

de@mavpca.org

DE Chief Driving Instr.

John Sandusky

817-777-0421

cdi@mavpca.org

DE Equipment Mgr.

Hunter Allen

deequip@mavpca.org

DE Hospitality

Rose Gohlke

de@mavpca.org

DE Sponsorship

Daren Kirbo

254-396-2973

desponsorship@mavpca.org

Email List Moderator

Brian Scudder

mrpca-owner@

yahoogroups.com

Email List Moderator

Matt Platts

mrpca-owner@

yahoogroups.com

Goodie Store

Chris Flaugh

214-288-5300

goodiestore@mavpca.org

Histographer, Tenured

Charlie Davis

historian@mavpca.org

Membership Chair,

Past President

John Hamilton

817-907-7823

membership@mavpca.org

Monthly Social Chair

Stephanie Ho

hh@mavpca.org

Online Calendar

Karl Poulsen

calendar@mavpca.org

PCA Tours Co-Chair,

Social Media

Bill Orr

tours@mavpca.org

PCA Tours Co-Chair

Mark Pitarresi

817-715-7156

tours@mavpca.org

Rally Co-Chair

Don Sebert

214-613-6900

rally@mavpca.org

Rally Co-Chair

George Luxbacher

rally@mavpca.org

Safety Co-Chair

Wayne Elliott

safety@mavpca.org

Safety Co-Chair

Bob Kramer

safety@mavpca.org

Slipstream Advertising,

Coffee Meets

Bill Kruder

214-497-0711

ads@mavpca.org

Slipstream Event

Ad Design

Kurt Scaggs

eventads@mavpca.org

Slipstream Editor

Jim Hirsch

972-740-7377

editor@mavpca.org

Slipstream Content Ed.

Carey Spreen

817-422-3480

editor@mavpca.org

Slipstream Mailing

Andy Mears

214-394-5857

mailing@mavpca.org

Slipstream Printing

Fran Ussery

972--438-8344 (W)

817-481-8342 (H)

printing@mavpca.org

Social Chair

Tracy Robertson

817-944-5490

social@mavpca.org

Tech Sessions Chair

Nikolaus Klemmer

469-531-5314

techcorner@mavpca.org

Trivia Chair

Jerry DeFeo

972-240-5800

trivia@mavpca.org

Volunteers Chair

Jim Gallegos

214-697-0792

volunteers@mavpca.org

Web Site Chair

James Shoffit

972-786-6246

webmaster@mavpca.org

ARK-LA-TEX

Ken Chandler

bad968@bellsouth.net,

COASTAL BEND

Bryan Kerrick

bksailspadre@

sbcglobal.net

2017 PCA Zone 5 Presidents and Zone Representative

LONE STAR

Steve Bukoski

president@lsrpca.com

MARDI GRAS

Scott Spradley

swsprad@bellsouth.net

OZARK

Jim Woolly

jim.carol_NOSPAM@

sbcglobal.net

WHISKEY BAY

Mike Hamza

mikehamza944@

gmail.com

CIMARRON

Joy Jones

presidentcmr@gmail.

com

HILL COUNTRY

Tracey Gross

president@hcrpca.org

LONGHORN

Charles Bush

president@longhornpca.org

MAVERICK

David Robertson

president@mavpca.org

WAR BONNET

Randal Goodman

drtoys42@aol.com

WHITE RIVER

Leonard Zechiedrich

whiteriverregionpca@

gmail.com

ZONE 5 REP

Jon Jones

zone5rep@pca.org

www.zone5.pca.org

4 August
---
5
---
Maverick Region 55th Anniversary

By Jim Hirsch

Images courtesy of the Author

hile a 55th anniversary

W

may not have the cachet

of a 50th or even

a 25th anniversary, it's

an important enough milestone for

our Maverick Region that it's worth

some special attention.

This is particularly true for the

over 600 new members we have

welcomed into our Region in the

past two years alone. If that sounds

like an unrealistic number, pay a bit

closer attention to our monthly new

member list contained on page 9 in

each issue. While our overall membership

numbers may have grown

more modestly, the number of new

members we welcome each month

has been averaging over 25 during

that time.

So, beginning this month, we will

provide some historical perspective

to our Region's 55 years for both

our new members who have joined

us since the 50th anniversary as well

as our continuing members from

years before that.

PCA National has already recognnized

this special anniversary of the

Maverick Region by providing us

with a formal certificate of recognition

seen below.

In addition, PCA provided us

with window decals specially designed

with our 55th anniversary

in mind. You can pick one of these

decals up at many of our upcoming

events. Simply look for Bill Orr, Bill

Kruder, or me, and we should have

a supply with us.

In the coming months, you'll

get more information regarding

upcoming club events where we

will focus on celebrating this 55th

anniversary. In fact, if you have any

specific suggestions for activities,

please send those directly to social@

mavpca.org.

In the meantime, you can become

a Maverick Region Porschephile

by taking a closer look at our

club history on our web site at

http://mav.pca.org/about/mrpca_

history.asp.

6 August
---
VISIT OUR NEW 8600 SQ FT LOCATION!

MONTHLY SPECIAL

$195

MOTUL OIL

$187

MOBIL 1 OIL

CERTIFIED MASTER TECHNICIANS

GENERAL MAINTENANCE

PERFORMANCE UPGRADES

SUSPENSION MODIFICATIONS

ALIGNMENTS ( TRACK AND STREET )

TRACK PREPARATION

TECH SHEET INSPECTIONS

CUSTOM FABRICATION

Photo by Zayas Images

2520 Tarpley Rd. Suite 700

Carrollton, Texas 75006

CUSTOM BUILT SPEC 996S AND SPB

(972) 418-1996

innovativeautosports.com

innovativeautosportstx@gmail.com

7
---
your baby deserves

it's own room.

Introducing Garages of Texas, a community of first-class, affordable, completely customizable garage suites. Here, you don't rent a

space. You buy it. Giving you complete financial control and power to make it your own with unlimited customization options. So, stop fighting

for space in your family garage. Upgrade to a garage suite and move your show cars, motorhome or boat to the showroom they deserve.

Contact our sales team at 888.988.8049 or sales@GaragesOfTexas.com for more information.

ALLEN • CARROLLTON • DALLAS • FRISCO • PLANO • ROANOKE COMING SOON: AUSTIN • HOUSTON • SAN ANTONIO

GaragesOfTexas.com • Facebook.com/GaragesOfTexas

8 August
---
Welcome Our New Mavericks!

By John Hamilton, Region Membership Chair

Rameez Aftab

Irving

2014 Cayman S

Kazi Ahmed

Southlake

2013 911 Carrera

Jim Bantham

Coppell

2009 911 Carrera S Cabriolet

Kristin Bateman

Argyle

2012 911 Carrera Cabriolet

Doug Felix (Matt)

Hurst

2014 911 Carrera 4S

Eric Flynn

Dallas

1995 911 Carrera

Thaddeus Hollomon

Dallas

2014 911 Carrera S

Bradly Keller

McKinney

1996 911 Carrera

Alex Mbanefo

Dallas

2011 Cayman

Mark Montgomery

Southlake

2012 911 Carrera S

Marcus Oates

Dallas

2007 911 Turbo

Frank Rocha

Keller

2007 Cayman S

If you have any changes that

you would like to make to the

MRPCA membership guide,

contact John Hamilton at

membership@mavpca.org

Maverick Membership Totals

Members ~ 1,731

Affiliate Members ~ 866

Total Membership ~ 2,597

Transfers In

Bill Burris (Sheila)

Oak Point

Transfer From: GPX

1999 Boxster

KJ Christopher (Stacey)

Rowlett

Transfer From: ORC

2002 911 Carrera

William Beck

McKinney

1968 912

John Bond

Dallas

1990 911 Carrera 4

Michael Brown

Arlington

1999 Boxster

William Lee

Fort Worth

1987 944 Turbo

Bert Lewis

Frisco

2016 Cayman GTS

William Markman

Dallas

2011 Cayman

Tom Stout

Flower Mound

2007 Cayman

Derrick Tate

Rowlett

1999 Boxster

Marc Wedding

Dallas

2003 911 Carrera

Daniel King (William)

Dallas

Transfer From: PNW

2002 Boxster S

Frank Smith

(Van Reece-Smith)

Dallas

Transfer From: LST

2015 911 Turbo S Cabriolet

Say hello to your fellow

Porsche drivers!

Flashing your high beams at fellow Porsche

drivers is a time-honored tradition . . .

Keep the flash alive!

Anniversaries: August

** 35 Years **

Edward Cullen (Susan)

25 Years

Bentley Alexander (Jennifer)

John Gladwill

Chris Irby

Tim Takacs (Carol)

15 Years

Southlake

Frisco

Dallas

Garland

Parker

10 Years

Andrew Auerbach (Chong)

J McQuaid (Patricia)

Ronald Romanchek (Mike)

Don Scott

Young Slack (Lynn)

5 Years

Herbert Helstrom (Michele)

Bruce Hildewig (Kim)

Ricardo Miranda (Ruben)

Louis Quin (Linda)

Kristyn Starr (Botond Laszlo)

Allyn Van (Janie)

Glenn Zimbelman

San Antonio

Dallas

Garland

Fort Worth

Dallas

Carrollton

Bedford

Allen

Arlington

Plano

Plano

Frisco

9
---
The Art of Paint Protection

After Installation

A virtually invisible urethane film

professionally applied to high-impact areas

of your vehicle to protect your paint job from

stone chips, sand, road debris and bug acids.

During Installation

Owner Installed

Highest Quality Guaranteed

2530 Tarpley Road, Suite 100

Carrollton, TX 75006

10 August
---
Like a Personal Trainer for your Porsche!

• Expert maintenance and repair services • Track day preparation

• Performance and appearance upgrades from GMG, Manthey, FVD and more

• Superior customer service and free loaner cars • PCA discounts

• Show quality detailing services • Comprehensive service from air-cooled to 991

We Also Buy, Sell and Consign Quality Pre-owned Porsches

3236 Skylane Drive, Dallas, Texas 75006

214-269-1570 • www.racperformance.com

PCA Special - Oil Change $199 00

Plus Sales Tax

Oil change with Mobil 1 for 996/986/997/987/991/981. Offer includes complimentary car wash and vacuum.

11
---
Kruder's Cars & Conversations

By Bill Kruder, Region Advertising Chair

Photos courtesy of the Author

ell, our chance meeting

W

happened last Thanksgiving

weekend when

we had an "impromptu"

coffee gathering the Friday after. As

usual, about 20 to 30 cars showed

up, including Mike, who had just

joined the club and had heard we

gathered for coffee. Since then

Mike has not only attended nearly

every Mavs & Mocha, but has even

become part of the official set-up

crew, arriving early to ensure things

are in place for the crowd.

So here is the next in my series

of "conversations" I would like to

share with you . . .

Mike O'Hare, member since

2016, owner 2014 Cayman S

Bill Kruder: So tell me a little bit

about yourself.

Mike O'Hare: Let's see, I've

been married to Lisa for 20 years

and we have two kids: Ian, 15, and

Erin, 13, and we live in McKinney.

BK: How did you and Lisa meet?

MO: We were both working at

Food Town in Toledo (Ohio) and

she actually asked me out.

We dated for about three

years, and after that first date

we have actually never spent

a day apart.

years and lived all over the world

from Belgium and Switzerland to

Venezuela and Columbia.

BK: Wow that must have been hard

going to school and all!

MO: Looking back I guess we

didn't know any different and

we always went to International

schools. I will say though it was certainly

different going to grammar

school in Europe and high school

in Venezuela and actually graduating

high school back in Toledo.

BK: So how about college?

MO: Kind of funny after all the

moving as a kid, I stayed in Toledo

going to the University of Toledo.

Truthfully my dad said "you can

go away to school or have a car."

I choose the car (laughing), so

I stayed close to home, going to

school and working.

BK: And what was the car?

MO: A black 1979 Monte Carlo;

apparently I must have loved that

car.

BK: I understand you were in the

grocery business?

MO: I was. I had a part time job

with Food Town from the age of 16

and worked there for 18 years – ten

in the stores and eight in the corporate

offices. When I left I was a

Business Development Manager.

BK: So how did you end up in Dallas

then?

MO: That was a roundabout way

as I was working for PepsiCo and

they had moved us to Chicago in

2007. Then in 2012, Dr Pepper

recruited me and we moved down

here.

BK: Ok, so let's talk cars. How did

you get interested?

MO: Well my dad, I guess you

would say, had interest in them.

When we lived in Switzerland he

always wanted a Mercedes, so he

bought a 280SE from the factory

in Germany and drove it home to

Switzerland.

BK: And where did your interest in

Porsche come from?

MO: It goes back to third grade.

We were living in Switzerland

and my friend's dad

had a '74 Signal Orange 911;

I guess it really had a lasting

impact on me.

BK: So you two call Toledo

home then?

Mike O: Well I call Toledo,

Ohio home only because it's

the one place growing up we

always moved back to.

BK: Moved back to?

MO: My dad was a systems

analyst for Owens-Illinois;

they do the glass, International

Division, so we moved

a lot but always came back to

Toledo. We moved every few

12 August

Mike and Bill..... Driving Friendships

BK: So what finally made

you get one?

MO: My brother-in-law's

brother buys and sells highend

import cars and when we

visited he would always show

me what he had in stock and

I would always marvel at

the Porsches. I mean it was

always a dream, but I never

figured I would be the guy to

own one, and certainly not

at this time in my life, married

with two kids.
---
Mike and his 2014 Cayman S

BK: And . . .

MO: Well, after one of those

visits, I really caught the bug to

get one, so I started looking. I did

about five or six months of research

searching for the right car; I think

three months of that was convincing

Lisa we needed one (laughing).

Like anyone needs one.

BK: So you

convinced her I

see, and where

did you find it?

MO: I did.

We found it

with the help of

my brother-inlaw

and bought

it from a private

owner last

October; it's a

2014 981, Platinum

Silver Metallic

over Black.

BK: Now I must bring up May at

Mayo's. You are the bravest parking

volunteer and you lived to talk about it.

MO: Oh yes (smiling)! I know

what you're talking about. We were

parking the cars, and in comes this

non-Porsche. We wanted to keep

the spaces to Porsches only, so I

take off trotting to tell this guy to

kindly move his car to the adjacent

lot. We talk for a second, and he

moves his car, and I come walking

back and the guys are laughing. As

I join them they shake my hand and

say, "You just told Al Zim to move

his car." I didn't know who he was,

so the guys tell me he's one of the

air cooled "gods." Well, as he comes

walking thru the lot, I go over and

thank him for moving and apologize.

He couldn't have been nicer

and totally understood.

So there you have it, if we had

not had that "impromptu" coffee

gathering, we might have never

met and had the chance to drive

friendships.

13
---
Insuring your Porsche: Part 2 – Insuring Your Daily Driver

By Justin Husman

Photo courtesy of Jack Griffin

f your Porsche is your primary mode of

I

transportation, you probably have it on your

regular auto policy, which is great when it's

a new car, and easy to value, but not so good

when it gets a few years old and value becomes a little

more subjective, according to the "market". Most standard

policies are based on an "Actual Cash Value" form,

which means that if you total your car, they are going

to pay the actual cash value for your car at time of loss.

There is a little wiggle room in that sort of coverage,

but not much, as the adjuster has a computer program

which tells him what that value is, much like blue book.

There is some coverage that you should discuss with

your agent to ensure you get maximum value in the

event of a claim: OEM parts coverage, roadside assistance,

and glass coverage. You are most likely to use the

latter two, and they can save you pretty good money

in the event of a nuisance claim (broken windshield

or breakdown). If you have changed the car from its

stock configuration, you should also consider "custom

parts and accessories" coverage, to account for the extra

value over ACV. This will also help you in the event

of a claim where you are not at fault; if you insure the

custom part, the other company will have to pay you for

them as well. If you do not, the likelihood of being paid

goes down quite a bit.

If your daily driver is a very high value car (limited

production, etc.) then your other option is "Stated

Value" insurance; it's a little different than the agreed

value coverage I talked about last month, but it is a better

option than ACV coverage, as it can mean a more

appropriate payout at the time of loss. The key to insuring

your car with a stated value is having a good agent;

your insurance agent is your advocate, and will probably

have to be involved with the adjuster to maximize

your payout.

One of the most important considerations when it

comes to your daily driver insurance is your liability

coverage. Obviously, everyone driving a Porsche is a

millionaire (or at least people you have an accident

with will think so) so you need to carry the highest liability

limits you can get. If you carry high limits (and

an umbrella policy) you will protect yourself from folks

who want to turn a car accident into a lottery win.

Obviously, some people drive their Porsches all

week, and then onto the track on Saturday morning.

Your regular policy is completely out when you drive

on the track, but you do have options for covering your

car while enjoying it on the track. I will discuss those

options in my next column.

If you have any specific insurance questions you

think might be worthwhile for me to answer, please

send them to me: justin@thephoenixinsurance.com.

Editor's Note: Justin Husman is the owner of The Phoenix

Insurance. His agency specializes in exotic, classic, and custom

car insurance. Justin has been in the insurance industry

for 15 years.

Jack Griffin and Jerry Seinfeld with their examples

of "limited production" Speedsters

14 August
---
Autocross 5: Mesquite Memorial Stadium

By Carey Spreen

When we registered

W

online for the June 11

edition of the Equipe

Rapide autocross series,

Sue and I couldn't really tell how

large the course was, based on the

satellite photograph of Mesquite

Memorial Stadium parking lot

showing an overlay of the course.

However, when we got there, it

was obviously larger than we had

thought, which is always a plus.

Course maps are published in advance

Something else we didn't expect

was to see Zone 5 Representative

Jon Jones and his wife Joy (Cimarron

Region President). They had

attended the previous night's Indy-

Car race at Texas Motor Speedway

and had decided to pay a visit to the

autocross on their way back home.

Regrettably, they weren't in a suitable

car for autocross, so they left

before the timed runs began.

Even more surprising was when

we ran into PCA National Policy

Committee Chair Bob Gutjahr

(Chesapeake Region) and his son

Josh. Turns out that Bob and Josh

had also attended the IndyCar

race, but they were at the autocross

to drive Josh's 2004 996 40th

Anniversary coupe! Josh had just

moved to Tyler and this was his first

autocross. It just goes to show you

that you never know who you'll run

into, even at an autocross!

Anyway, Equipe Rapide ran its

usual well-organized event, breaking

the day up into three "heats"

in which everyone is either driving,

working the course, or resting.

The Porsche classes worked first,

ran second, and rested after that,

which is, in my opinion, the ideal

schedule. Working in the morning

avoids the heat of the afternoon,

plus you can watch and learn from

the mistakes made by the drivers in

the first run group. Even though

everyone got six runs, they were

quick (averaging about 40 seconds

each), so each group took less than

two hours to complete.

A total of nine Porsche drivers

competed, including autocross

newcomer Carolle Liu in her 987

Boxster. This was Carolle's first

autocross, but she assured us at the

end of the day that it would not be

her last!

Remember father-son competitors

Bob and Josh? As noted earlier,

Photos by Bill Orr

this was Josh's first autocross, but

Bob had a few under his belt. At

the end of the day, age and experience

beat out youth and enthusiasm,

but just barely: Bob's best time

was a 39.962, just edging out Josh's

40.419. After getting our runs in,

we all went to lunch while we waited

for the last group to run.

When all was said and done,

five of us went home with trophies

(okay, Equipe Rapide T-shirts), and

a few of us went home with cash!

Yes, ER pays for winning positions,

especially if you are of the female

persuasion, for whom the cash

rewards are an incentive to bring

more women into autocrossing.

Carey Spreen had the second fastest

Porsche time of the day

June 11 Autocross #5 Results

Carolle Liu navigating the course

By the time you read this, the

July 30 event will have taken place,

but there will be another one on

August 20 at the Lone Star Park

facility in Grand Prairie. If you have

ever wanted to find (or maybe even

exceed) the limits of your Porsche

in a safe environment, mark August

20 on your calendar!

PCA 1

Best Time Diff.

1T Carolle Liu Porsche Boxster 987 White 50.811

PCA 2

Best Time Diff.

1T Robert Gutjahr Porsche 996 Silver 39.962

2 Joshua Gutjahr Porsche 996 Silver 40.419 0.457

PCA 3

1T James Shoffit Porsche Cayman GT4 White 37.238

2 Wendy Shoffit Porsche Cayman GT4 White 38.390 1.152

3 Mike Syler Porsche 991 Carrera S Red 39.671 1.281

PCA 4

1T Carey Spreen Porsche 911 SC Red 37.835

2 Sue Crimm Porsche 911 SC Red 41.276 3.441

PCA 7

1T Doug Edney Porsche 996 Black 40.334

15
---
16 August

Upcoming Maverick Region Events
---
Upcoming Maverick Region Events

17
---
Everything but the Kitchen Sink: Porsche Macan

By Wendy Shoffit

Photos courtesy of the Author

hen James and I took

W

our trip to Germany

a few years ago,

we were fortunate

enough to rent a Porsche Macan

Diesel. They were relatively

new and still much unknown to

us. We both enjoyed it so much

that it stuck in the back of our

minds like . . . hmmmm . . . that

was surprising! Then last year we

drove a Macan S at the Porsche

Driving experience in Atlanta

on-track, and I'll tell you we

were SOLD! We just had to have

one of our own. We ordered our Turbo in August 2016

and took delivery of it in November. We have never

looked back. We've had a lot of people ask us how we

like it and even some of the less "racy" wives in the club

have been eyeing it. I can tell you here and now: don't

hesitate if you're wanting it and it fits in your budget.

It's phenomenal both as a street car and on track – really!

It satisfies both sides of the coin. Lots of comfort

for you and your passengers and plenty of cargo room

in the back. I really want to get it out on track at MSR,

but haven't had the opportunity yet. Soon.

Now for the tie-in to the title. When considering

options on this beautiful machine, we went for it all.

Even the salesman had to tell James, "Dude -- you really

don't need that." So, what do these options do?

Are they worth it? I'll do my best to cover some. If you

want really technical explanations, this is not the place.

Google it or talk to a salesperson.

Lots of options = lots of buttons in two consoles

18 August

Macan Turbo (photo courtesy of Porsche AG)

Adaptive Cruise Control. I really

like this one. It's got this sensor

in front of the car that "sees" the

car in front and will accurately

change your speed accordingly.

You can adjust how much space

in front of your car you're comfortable

with, and the car will

brake as needed and gradually

accelerate back up when the

lane is clear, but not go above

your designated cruising speed.

It's super useful on the freeways

where you just don't need to

worry about the gas pedal.

Dynamic Light System Plus. It automatically turns on

and off your high beams as you're driving so you don't

accidentally blind the oncoming cars. I do a bit of driving

to and from Arkansas and it involves a bunch of

smaller, winding roads. It's so nice to have that option

at night so I can focus on driving instead of constantly

manually flipping the brights on and off and on and

off. This feature also literally changes the angle of your

lights as you're turning so it will maximize your visibility.

Turning into my alley way and driveway at night

makes this very useful.

Park Assist with Surround View. If I could have this

in every car I own, I would. Basically, you have several

little cameras around your car, which it digitally stitches

together. So, when you're backing up, or if it senses

any obstruction around you, it displays what looks like

a bird's eye view of your car and everything around it.

When I'm pulling into my driveway from the alley, I can

see exactly where my tires are, so as to avoid running

over the little patch of grass, and so that I know exactly

where in the garage to stop. Everywhere else I park, it

makes me look like a genius. No more guessing where

the corners are because I can SEE them. It also shows

you on the screen graphically (yellow to red indicators

in the area) when you're getting close to hitting something

and has audible tones to make SURE you know it.

Sometimes that gets a bit annoying when you're just at

a red light and it's reminding you of the dangerous car

stopped five feet in front of you.

Lane Assist. This one is a little harder to get used to,

but once you do it's pretty cool. It uses the front-facing

camera to see where the painted lines are on the road.

When you have this button on, it will help remind you

via this digital "rumble strip" sound that you're crossing

it and will even give you a gentle correction on the

steering wheel to help you stay the course. In town it
---
Park Assist with Surround View is like magic

feels a bit like it's gently fighting you all the time, but

on the freeways it's not so bad when you might lose

focus while changing the radio station or whatever. If

you completely let go of the wheel and let it drive for

you, it reminds you that it's not there to drive for you.

Don't ask me how I know.

said, I can't tell you how many times I used it this past

winter. My hands get really cold and when they're cold,

the rest of my body feels cold. This works quickly and I

don't want to let go of the wheel!

Porsche Connect Plus. Not only is this a navigation system,

but it also has Apple Car Play. It helps integrate

your iPhone into your sound system. It will read your

emails aloud (often with great comical value) and help

make hands-free phone calls utilizing your contact list

and all. I love being able to connect to my music everywhere

I go. It also incorporates Google Streets where

you can literally look up the address you're going to

and SEE a photo of the place. It does a lot of other

things that we're still learning about . . . like giving

you flight information, locating the nearest gas station

showing prices for Premium gas, and much more! Of

course, a lot of this only works when you pay for the

internet connection ($10 per month through AT&T

currently). It's worth a look, though, if that rings your

bell like it does ours.

There are other options to be had, like a towing

package, air suspension, panoramic sun roof (that goes

all the way to the back seat), and roof rails for extra

cargo space on top, upgraded wheels, and the like, but

those are no surprise. If you want them, you already

know you do. One last thing I wanted to mention about

the Macan that I found very useful is the rear liftgate

can be automatically set for the height you want. I always

had to be careful with the Cayenne in the garage

because the back opened up just a little too high for

our garage door. I now never have to worry about it getting

scratched or replacing the nameplate again! Oops.

Video cameras located below the side mirrors too

Heated/Cooled Seats. I don't really need to extoll the

virtues of heated seats in the winter, but these cooled

seats work exceptionally well. Coming home from the

gym it's especially nice to have when you just can't seem

to get fully cool. It works quickly, quietly, and doesn't

make you feel like you just wet yourself like some others

do. I will say one thing about heated seats that those

of you who don't have them don't know: they work

GREAT for a lower back ache! They also offer heated

seats in the back for the extra comfort of your guests.

Sunblinds are also available for the comfort of your

back seat guests, but don't really deserve their own

paragraph. They're cool to have and are virtually invisible

when they're retracted and not in use.

Heated Steering Wheel. Yes, I know I live in Texas where

it's usually considered a warmer climate. That being

And if Texas had snow, the Macan would handle it

All in all this is truly a phenomenal vehicle! Don't

hesitate to go to your local dealership and ask for a test

drive. For you women out there who just aren't sure,

I'm happy to answer any questions in a non-technical

way. I'm always up for a lunch and I can bring it so you

can see it a pressure free environment. Mine isn't for

sale and we won't be discussing payment options. Of

course, if everyone I've recommended this vehicle to

buys one, I should seriously get a commission!

19
---
Off-Road Adventures: Northwest OHV Park

By Carey Spreen and Jeff Sebert

Photo by Sue Crimm

id you know that 64% of all Porsches sold

D

in 2016 were SUVs? Depending on where

you live in the Maverick Region, you probably

see at least one Cayenne or Macan every

time you're on the road, assuming you don't own

one yourself. Do you ever wonder if the owners and

drivers of those Porsche SUVs actually understand how

capable they are when they don't have pavement underneath

them? So did some of us in Maverick Region,

so we decided to plan an introductory off-road event in

September for Porsche SUV owners and their friends

or families. It's fun for everyone.

In 2011, the city of Bridgeport, TX, opened the Northwest

Off-Highway Vehicle Park, for use by SUVs, Jeeps,

ATVs, and motorcycles (http://www.cityofbridgeport.

net/322/Northwest-OHV-Park). Bridgeport is about

15 miles west of Decatur on US 380, and less than an

hour's drive from Ft. Worth, and a little over an hour

from Dallas. A group of us visited this park a couple of

times in a Cayenne and a Macan Turbo, and found several

trails suitable for use by stock, unmodified SUVs.

On Saturday, September 30, Maverick Region will

host our inaugural Off-Road Adventure at this park.

The trails chosen will give you a feel for how well-suited

your SUV is for off-roading, and perhaps will give you

the confidence to try some trail exploring yourself.

Of course, there is always an element of risk, just as

when you put your car on track for a Drivers' Education

event, compete in an autocross, enter a rally, or

even participate in a tour. However, we have chosen the

trails with safety in mind above all, as well as to minimize

the danger of damage to your vehicle, but we still

want to have fun too! We will have spotters available,

where appropriate, to help guide your SUV through

the "course" we have laid out. The park has a covered

pavilion which we will use for a lunch break midway

through the event, with lunch provided!

In 2014, PCA published the Event Guidelines for

Off Road Tours, which is available on the PCA website

at https://www.pca.org/forms-documents. This document

describes how off-road events should be planned

and executed. Maverick Region will follow these guidelines,

and we encourage you to familiarize yourself with

them as well.

These guidelines call for a tech inspection and a drivers'

meeting, just like our other events. Tech inspection

will consist of checking for suitable tires, ground clearance,

and exhaust system that meets local ordinances.

AWD or 4WD vehicles are the recommended vehicles,

although we will consider others on a case-by-case basis.

Any vehicle with a raised or "lifted" suspension must be

pre-approved by the Regional Safety Chair, and vehicles

must have full fenders, a US Forest Service-approved

exhaust system, and must meet all local sound control

ordinances.

The drivers' meeting will cover the basic principles

of off-road driving, including an explanation of approach

and departure angles, and of wheel and tire

placement to maximize ground clearance. In particular,

we welcome anyone with previous off-road experience

to act as a coach for this event!

Please check the Maverick website, mav.pca.org, for

updates on this event. If you have any questions, please

email Carey Spreen at cspreen3000@gmail.com, or Jeff

Sebert at jeff@av-usa.net. We hope to see you on September

30!

This is the view

of a typical

route you'll

encounter with

your Cayenne

or Macan

during this event

20 August
---
Porsche of the Month

Selected by Bill Orr

Blue 1968 Porsche 912-6; "At Sunset in McKinney, Texas"; Photo by William Beck

For instruction on how to submit your Porsche photos in the

POTM contest go to: http://mav.pca.org/photos/POTM/

JUNE TRIVIA

It's Easy to Play!

Play here for fun and find the answers below

OR

Play for prizes on the web at http://mav.pca.org.

Thanks to Jerry DeFeo for putting this together.

The Winner for this month is

JIM HIRSCH

getting all 5 of 5 Correct.

Congratulations Jim.

Thanks to all that played this month,

and we will see you next month.

Jim, please contact Kirk at Zim's

to claim your $25 Gift Certificate.

Thanks to all for playing!

1. Porsche has just announced a very limited model (500 total)

called '911 Turbo S Exclusive Series'. Who can buy these?

a. Non-factory Porsche Racing Teams b. First comefirst

served c. 918 VIP Allocation Members d. 959 VIP

Allocation Members

Source: 918 VIP Allocation Announcement Brochure

2. It will have a ______ liter flat-6 Porsche engine.

a. 3.8 b. 4.0 c. 4.2 d. 4.5

Source: 918 VIP Allocation Announcement Brochure

3. With more net HP than a Porsche Turbo S it has a top speed

of 207MPH with a 0 to 60 time of ____ seconds.

a. 2.3 b. 2.5 c. 2.6 d. 2.8

Source: 918 VIP Allocation Announcement Brochure

4. These are by Special Order only and will start to arrive at

dealers about November of 2017 with a MSRP of _______.

a. $199,950 b. $225,500 c. $257,500 d. $284,911

Source: 918 VIP Allocation Announcement Brochure

5. Special Order Porsches really got their start in 1983 as a

one-off from Porsche Exclusive via a 935 for the Street vs

the Track. It was a real 935 Slant Nose 409HP Race car for

the Street. What Color was it?

a. Red b. Black c. Silver d. Yellow

Source: Porsche Museum Book, 1st ed., Prolog pp.10-11

Answers: 1) c 2) a 3) d 4) c 5) a

21
---
NO WORRIES!

So Your Part is NLA!

• Rebuild, Restore or Totally Recreate

to OEM Quality

• We Manufacture Custom Pieces for

Modified or Racecars.

• We Work With Most Materials

• We Specialize in Accurate Replication of Parts

R A N D A L L

RKT

K A R A

T E C H N I Q U E S

901 TERMINAL ROAD • SUITE 400 • FORT WORTH, TEXAS 76106

817-624-1322

Porsche/Ferrari/Exotic

Service/Tuning/Restoration

30 Years of Service

Specializing in all years and models

of Porsche exclusively for more than

30 years.

The only certified installer for the "IMS Solution"

in Texas and surrounding states!

Complete and Meticulous Maintenance and Repair

Tuning and Diagnostics (Carbs, MFI, CIS, OBD I & II)

Custom Engine and Transmission Rebuilds

Competition Car Preparation (Track or Autocross)

1521 Baccarac Ct, Euless, TX 76040

817 540 4939

www.mayoperformance.com

email: mike@mayoperformance.com

22 August
---
Maverick Monthly Social: Flag Day at Uncle Buck's

By Stephanie Ho, Region Monthly Social Chair Photos by Steve and Brenda Cloutier

O

ver 90 Mavericks celebrated at our party honoring Flag Day. The entire Banquet

Room was decorated with over 100 flags! Enjoy these photos of Maverick

friends having a phenomenal time and proudly wearing their red, white, and

blue Stars and Stripes outfits.

Please plan to join us at our

Porsche Heritage Birthday

Party on September 21

23
---
24 August
---
Detailing Tips: Traditional Wax vs Synthetic Polymers

By Tony "Concorso"

Image courtesy of the Author

ast time we covered the basics of prep work

L

with the Surface Prep Mitt vs Clay Bar comparison,

so this month we'll take a look at

the merit of the various finish layer products

available, such as waxes and sealants. Almost all

of these products are readily available at the auto parts

and discount stores, as well as online. There are far too

many products to list individually, so we'll refer to each

general category in this comparison: traditional wax or

the newer synthetic polymer/sealant formulations.

A little product history is in order here. Waxes have

a long history of use in protecting automotive (and

other) finishes, while synthetic polymer/sealers came

along as a result of continued desire for improvement

in application and removal of products (Ed. Note: IBM

received the initial patent for a "synthetic wax substitute"

on April 14, 1964). In addition, we always want

our finishes to be deeper or wetter looking along with

protection lasting as long as possible. Waxes of all types

can offer up an absolutely beautiful finish, but contrary

to our common thinking, waxes are actually very soft

layers of protection.

Traditional wax has gorgeous clarity and depth, but

scratches every time you wipe off your vehicle with

microfiber towels and your favorite instant detailer.

Almost all waxes have some level of carnauba content,

from a fraction of one percent to 20% or higher, and

can range in price from $6.00 a can up to several thousand

dollars per can. The percentage of carnauba content

noted on the container refers to the purity of the

carnauba used, not the percentage of volume of the

can. Important determining factors in the longevity of

the product include the amount of proper prep taken

and the care the car gets between waxings, as well as

where it is kept. In the end, most carnauba-based products

last about 60 - 90 days.

So, along come the synthetic polymer-based products

to add to the comparisons. Polymer products are a

man-made attempt to improve upon nature, with some

success I might add. These products bring multiple

advancements in molecular structure over waxes to

boost the performance qualities. The end result is a

harder-than-wax protective layer that can last up to six

months, although "harder-than-wax" is a relative term.

Polymer/sealers are still very soft and will also scratch

when washed and wiped.

Another big improvement over wax is the ease of application

and removal. We've all suffered through the

frustration of wax buffing and polishing. Most of the

synthetic products wipe off easily.

No matter which product you choose, the key to a

great result is the prep work prior to application. Always

make sure the surface is residue-free and squeaky clean

before applying any products. During the application

process, work in 2 x 2 foot sections and the end result

will be a more uniform shine and consistent removal.

A pro note here: do your best to get the car dry in

all the cracks, crevices, mirrors, emblems, etc. A forced

air dryer such as the Metrovac Master Blaster is a great

help here. Just a few drops of water added to many of

these products during application can make them exponentially

harder to remove. Trust me.

After the car is completely covered in product we

find another advantage to the synthetic products. Most

of the polymer products can be removed as soon as applied

if desired, and as mentioned, wipe off easily. The

waxes can take 20 minutes or more to dry out enough

to remove. Humidity makes the biggest difference in

cure time.

Make sure you have a fresh, clean supply of microfiber

towels on hand to remove either type of product

and hand buff the car. New or very clean microfiber

towels are essential. Work your way from the top down,

turning your microfiber towel frequently. When your

towel starts to leave little dust residue, change to a

clean microfiber and carry on. You can easily use 10

microfiber towels or more in a single wax session. Keep

a little instant detailing spray handy, as it can help in

the removal of some of the more stubborn wax spots.

Again, the synthetic polymer products distinguish

themselves at this stage with ease of removal.

Here's a sidebar about product removal. Be patient!

Work over the car slowly and review your work from

many angles. Step back from the car 10 to 20 feet and

survey your work. Go through the entire process repeatedly.

The more time you spend walking around the

car and spotting areas that need additional buffing, the

better the results will be. If you have a little time the

next day, repeat the walk around and you'll probably

still find some stray wax or residue. Many times, products

continue to cure overnight and may also pick up

a little moisture and by doing so, expose small areas

easily overlooked.

As for maintenance, treat both types of products

similarly. Hand wash every couple of weeks and remove

dust with an instant detailer product regularly.

In the next detailing article, I'll address

what it takes to properly prepare the

paint surface for any finish product, plus

discuss ceramic coatings. Until then . . .

"Polish On!".

25
---
26 August
---
We Buy, Sell & Trade the World's Finest Timepieces

Authorized Dealer for major brands including:

Patek Philippe • Rolex • Bell & Ross • Blancpain • Corum

F.P. Journe • Girard Perregaux • Jaeger LeCoultre • Tudor

Visit deBoulle.com to view our extensive collection of pre-owned timepieces.

MAVERICK PCA RACER

6821 Preston Rd., Dallas, Texas 75205 214.522.2400 deBoulle.com

27
---
Five Speed Chatter: Is it a Battle or a Commute? (Part 2)

By Ash Seidl-Staley

elcome back, Mavs! There isn't much space

W

this month for an introduction, so let's just

dive right in and talk about wolf packs.

The Texas Driver's handbook defines a

wolf pack as "a group of vehicles traveling together

in a bunch on an expressway." We have all seen them,

been stuck in them, and possibly even initiated a few

of them, but how are they actually formed? The way I

see it, a wolf pack can form on a highway by many different

means, but two causes are by far the most prevalent.

First, there is the wolf pack that is created at the

spot where each frontage road entrance ramp enters

a highway. I see this type transpire most frequently on

Highway 80. Starting at around 5:45 am, multiple vehicles

leaving Forney's four exits enter the highway at

the same time. Any driver unfortunately caught in the

right lane on this section of road is forced to move over

or slow down. The reduced speeds and lane crowding

start the car stacking process, sending wolf packs onto

the roadways in waves. Usually, by the time I reach the

East Fork Road exit, I am no longer in cruise control,

and the current of wolf packs has turned into full on

vehicular congestion.

The other type of wolf pack forms thanks to the

actions of a slowpoke. A slowpoke is the driver of a

semi-truck, a van, a pick-up truck, or just your average

Toyota Camry, who decides to pass someone but

does so going 1-2 miles an hour faster than the person

they are attempting to pass. Before the snail passes the

other snail, a long line of frustrated drivers, usually

with you directly in the middle, congests the left lane.

Oftentimes, the slowpoke is utilizing his cruise control

setting, but has set it at a speed that is slower than he

should use in the left lane. A slowpoke can also just drive

slowly by nature. As you might have guessed from your

own personal experience, for whatever reason many

slowpokes refuse to exit the left lane, and force other

drivers to perilously pass them on the right. States like

Indiana, New Jersey, Tennessee, Florida, and Georgia

have implemented legislation against slowpoke drivers.

Fines upward of $250 greet offenders in these states,

but as of now there is no defense against a slowpoke

driver in Texas.

Unfortunately for many DFW drivers our next term

is just as familiar and as frustrating as the slowpoke. I

call them wanderers, but you might know them as the

swervers, or the seemingly inebriated. No matter the

time of day, or location, I see this driver bouncing from

one set of a lane's dotted lines to the other. Many wander

into my lane right before I attempt to pass them.

This not only forces me to slam on the brakes, but garners

a honk from my horn and a few unsavory nouns

from my mouth. Nine thousand times out of ten, the

swerving driver is preoccupied with a smartphone, but

there are a few instances where I believe sleep deprivation,

chemical inebriation, or just plain negligence is

the key factor to the bad driving.

On September 1, 2017, the state of Texas will implement

HB 62. This bill, which was recently signed by

Governor Gregg Abbott, finally attempts to fight back

against distracted drivers who are texting and driving.

Close to five hundred deaths have been attributed to

this form of distracted driving, and so have more than

one hundred thousand traffic accidents. And those are

just the figures for Texas in 2015! Personally, I can't

stand texting and driving. I don't condone it, or practice

it—not even at stop lights, but there are many

people who don't see a problem with it.

Now HB 62 is not the answer to all distracted driving

problems, and as it stands now, the bill isn't even set

in stone. Governor Abbott has called a special legislative

session for mid-July. Many of the bill's provisions

and enforcement guidelines are currently cloudy and

unclear. They could very well be altered this session

to make implementation of the law easier. Currently

though, talking while driving and pulling up google

maps to find out where you are going will still be ok

under HB 62, but law enforcement officers will be able

to pull you over for texting, emailing, surfing the internet,

or posting on your favorite social media platform.

Fines will range from $20- $100 for each violation. But

how law enforcement will determine if a person was

texting or emailing is blurred. It will be up to each law

enforcement agency to determine how and when they

will enforce the bill, leaving many drivers wondering

how it will affect their driving habits for the years to

come.

Well Mavs, that concludes my little list of terrible

driving habits that plague DFW's roadways. I would like

to take the time to say that, although my prose here

might imply or even reflect the actions of an aggressive

and rage filled driver, they are just for comic relief.

Now I'm not saying that the expletives don't fly when a

slowpoke pulls out in front of me, they do. But what I

am saying is that I don't cause accidents, or pull over,

brandish a baseball bat, and bash in windshields. I've

seen footage on YouTube that makes my waving hands

look like child's play. It can be a dangerous world out

there. But no matter what your driving temperament is

you can always stay safe on DFW's roads by continuing

to be calm, by trying to be courteous to other drivers,

and by always remaining constantly aware of your surroundings.

Until next time, stay sharp, and battle on

Mavs!

28 August
---
Parts or Service, We Deliver Excellence.

Over 300,000 parts in stock.

Expert service and repair.

Parts and Service for: Porsche, Mercedes-Benz, BMW, Mini, and Smart Car.

817-267-4451

Visit us online at:

1-800-356-2964

www.allzim.com

zimips@allzim.com

1804 Reliance Pkwy. Bedford, TX 76021 M-F 8am to 5:30pm

Zims Autotechnik is not affiliated with Porsche AG or PCNA Registered Trademark of Dr. Ing h.c.F. Porsche A.G.

Top motorsports brands...

...at the lowest prices in the nation!

competitionmotorsport.com

844 . 438 . 7244

29
---
30 August
---
The Tub Club: Tour to Blueberry Hill Farms

By Barbara Madsen

Photos courtesy of the Author

y better half, Doug Madsen, organized a scenic

drive to Blueberry Hill Farms in Edom.

M

Carefully prepared directions were passed

out to the people attending, so everyone

knew the route before beginning the tour.

For the most part, we traveled country roads flanked

by colorful wildflowers on each side. Even many of the

surrounding fields were filled with yellow flowers, adding

to the beauty of the drive. We passed through numerous

ranches with their livestock calmly munching

on the grass. A few of the ranches had Texas longhorn

cattle, and I had to wonder

how they managed to

navigate the terrain with

such immense horns. If I

were one of those cows,

my neck would have

been tired and sore from

holding up the weight of

those gigantic horns!

Our destination not

only had endless fields

filled with blueberry and

blackberry plants; it also

Who else would be peeking

out but Linda Bambina?

had a store containing a variety of delectable delights.

Besides the expected items such as fresh pies and hot

mango salsa, there were many unique items: blueberry

mustard, cherry barbecue sauce, and blueberry nut

honey butter. Of course, we were also able to purchase

fresh blueberries and blackberries. One did not need

to walk away hungry from such a place as this.

Thank you, Doug, for a fun and colorful drive

through East Texas. The blueberry yogurt added just

the right touch to our experience that day.

QR Codes: A Quick Way to Access Online Maverick Content

By Landon Stogner

Image courtesy of the Author

ave you ever wondered what those crazy

H

pixelated pictures are that you see popping

up in magazines and on product packaging?

Did you think that they might be some

inkblot test you must pass so you're not committed to

the Looney Bin, or maybe, if you stared long enough a

picture would jump into focus? Well the fact is they are

called Quick Response Codes, or QR Codes for short.

QR Codes are a type of two-dimensional barcode

that originally got their start in the mid-90's in the

automotive industry. They were first used in Japan to

track the vehicles during their different manufacturing

stages of the assembly line. This was done because they

are machine readable optical labels that contains information

about the item of which was attached. These

codes are standardized into four different modes to

help efficiently store data. This is all done by using

numbers, letters, binary and kanji. Kanji is a Japanese

term referring to logographic.

Having the code's ability of being read at fast speeds

is what helped gain their popular use outside of the

automotive world. The QR codes have greater data

storage than the normal UPC barcodes we see so often.

The QR codes can hold item identification, marketing,

product information, or even redirect you to a website.

Strangely enough this is all done by black squares

arranged in a square grid on a white background. This

pattern allows for imaging devices such as cameras to

read, process, and extract the data so it can presented.

Over the past 20 years or so, many changes have

taken place on the standards used and how the data

is encoded. Thanks to these changes, any person with

an everyday smartphone can now have the power to

scan and read these QR Codes. Just tap on over to your

device's App Store, search for "QR Code Scanner", and

choose one of the many free apps to download. I'm

currently using an App called QR Code Reader by Scan.

In the future we would like to start using QR codes

more to benefit us within the

club. We can use them for voting

at People's Choice Concours,

RVSP'ing to social events, and

registering for Tour & Rally

Drives. Our options are almost

limitless. Give this one a try!

31
---
Since 1971

Providing personalized service

on all Porsche automobiles.

• Complete servicing and repairs

on all air or water cooled models

• In-house machine shop

• M96/M97 reconditioning

• Performance and track mods

2530 Tarpley Road • Suite 700

Carrollton, Texas 75006

(972) 417-0997

results

THAT MOVE YOU

MICHAEL PICOLO | 972-365-7370

MichaelPicolo@Ebby.com

32 August
---
Body repair experts as

HIGH-PERFORMANCE

as your Porsche.

Trust your Porsche to Park Place Bodywerks. It's the only Porsche-certified dealer collision

center in the Metroplex. Where you'll find factory-trained technicians, working in modern facilities

with state-of-the-art equipment. And the same award-winning level of service you'd expect from the

area's premier dealership for Porsche and other exceptional vehicles. Don't settle for anything less

than true Porsche expertise—schedule your Bodywerks appointment at bodyshop.parkplace.com.

PARK PLACE BODYWERKS

Dallas | Fort Worth | Grapevine | ParkPlace.com

v

33
---
Unclassifieds

Unclassifieds are available free to Maverick Region members and are $5 for all others (contact editor@mavpca for payment details). Please limit size to no more than 6 lines. Ads will run for 3

issues, after which they will be removed unless you request that they be run for an additional 3 issues. E-mail your ad to classifieds@mavpca.org by the 10th of the month to have your ad run in the

following month's Slipstream. Be sure to include year, make, model, color, mileage, and asking price, as well as a contact name, phone number and/or email address. All parts will be advertised

on our website. Check your ad for accuracy the first time it runs. Contact the editor to have your ad pulled sooner. Due to space constraints, photos may or may not be included. No dealers please!

For Sale: 2000 Boxster. Arena Red with Grey interior,

5-speed manual, L&N IMS bearing and clutch

package (pilot bearing, throwout bearing, Sachs HD

clutch) done at 46k miles, 17" Boxster design wheels,

new rear tires, sport package, water pump and spark

plug tubes at 44k, motor mounts, coolant reservoir

and horn contacts replaced, Top Speed cat back

exhaust. Body, interior and top very nice. No track

time. 54,200 miles. $13,500. Contact Rich O'Day at

Rj777@rocketmail.com or 817-691- 9993. (08)

For Sale: 2001 Boxster. Seal Grey with Grey interior.

5-speed manual with 49,800 miles. Options include

the Sport Package, Comfort Package, and 17" wheels.

Clutch replaced at 30,000 miles. Newer brakes

and tires. Well maintained. $9,125. Contact Wayne

Sanders at sarasand@aol.com or 941-650-5130. (08)

For Sale: 1996 911 Carrera 4 Cabriolet. Polar

Silver Metallic/Black Leather. 50.5k miles. Sixspeed

manual with Porsche Sport Classic wheels.

AM/FM cassette player, 6 Disc remote CD changer.

Power seats with lumbar support. All original paint,

clean Carfax, 3rd Owner. Fully serviced at Porsche

Dealerships with all receipts. Porsche Certification

of Authenticity. $52,500. Contact Phil Berkebile at

philberkebile@gmail.com or 972-898-5689. (08)

For Sale: 2011 Porsche GT3. Carrara White / Black

Alcantara. Never tracked, no smoke. White gauges,

red seat belts, and more. 20,700 miles. Retired bank

CEO owned and meticulously maintained. Offered to

sell at $112,900. Contact Michael Rhodes at sparky.

rhodes@hotmail.com or 903-495-1362. (07)

For Sale: 1987 Porsche 924S. Red ext, black int, more

than 180,000 mi, 5-spd manual. Needs replacement

engine but mechanically sound otherwise. 7J x 15

"Phone Dial" wheels, lowered about 1/2 inch, 200-lb

front springs, short-shifter, K&N air filter. Working

A/C, stereo. Car was a daily driver through April

2017. Items replaced in last 18 months that can be reused

with replacement engine if desired: timing belt

and tensioner roller, balance shaft belt, water pump,

radiator, fuel pump, engine control unit, crankshaft

position sensor, oxygen sensor, muffler.Owned by

PCA members since 1998, with maint records. With

some work will make a great street or track car.

Asking $1400 obo; buyer must arrange transportation.

Contact Carey at cspreen3000@gmail.com or Sue at

scrimm182@yahoo.com. (07)

For Sale: 2001 Porsche Carrera. Silver with Black

interior. Includes the aero package and 18-inch wheels

options, aftermarket Alpine tuner and CD player, new

battery. There are a few door dings and the right rear

bumper could use buffing or a new clear coat. Owned

for 5.5 years and it has not been tracked or driven

hard. 57k miles. $19,000. Contact Chris Cook at

ccook.txag@gmail.com or 972-741-5629. (07)

For Sale: 2015 Cayman GTS. White with Black

leather/Alcantara interior and red deviated stitching.

Black satin wheels, PDK, Adaptive Sport Seats Plus

18-way Memory Package, remote keyless entry, K-40

RL360I built-in radar detector. Always garaged. 2,450

miles. Asking price $ 78,500.00. Contact James at

jameszollo@me.com or 214-577-6570. (07)

For Sale: 1984 944. Light Bronze Metallic exterior

with Brown interior. 71k miles, excellent condition,

well maintained, no deferred maintenance. Original

paint and interior. 3rd owner, bought in CO 3 1/2 years

ago. Maintenance receipts back to 1st oil change,

much recent work including the usual 944 items.

Needs nothing, everything works, no leaks. Many

more pictures available. $6700. The car is in Katy, TX

and I am a LSR-PCA member. Contact Peter Allen at

pha_19831@hotmail.com or 832-846-0641. (06)

For Sale: 1974 Porsche 914 2.0 Ltd. Edition. Light

Ivory/Black/Black. Original owner, purchased new

09/74. Body straight, never bent. 90% original paint.

Set up for DE. Blueprinted and balanced "killer"

fuel injected engine by Ed Mayo. Race seats and

harnesses (also have originals). Remote oil cooler.

Polished Fuchs wheels with Bridgestone street tires

plus Mahle track wheels with NEW Hoosier R1's. All

records. Many extras. $25,000. Contact Bill Dawson

at boxsterbill@sbcglobal.net or 214-415-1102 (05)

For Sale: 2015 Boxster S. Dark Blue Metallic

exterior with Agate Grey/Pebble Grey interior. 34K

miles. Options include: Premium Package, PDK, 19"

BBS CH-R wheels on MPSS, roll bars in exterior

color, PDLS, Power Steering +, Multifunction

steering wheel, Leather package, 14-way power sport

seats, Infotainment package with BOSE audio, center

console trim painted, rubber floor mats, tint, clear

side markers. New front brakes with CPO Warranty

until Jan 2021 or 100K. In very good condition

w/ all maintenance up to date. $52,981. Contact at

MIKEHLEE69@hotmail.com or 917-613-0426. (05)

For Sale: 2000 Porsche 911 C4 Millennium Edition.

A chance to own the most attainable, one year only,

limited production 911. #4 of 911 built worldwide,

less than 300 brought to U.S. ChromaFlair violet

exterior, with natural brown leather and Dark Burr

Maple trim interior. Paint appears black, hunter green,

brown or deep violet depending on the light. Every

available option including full leather interior: seats,

dash, shifter, hand brake, center console, even the A, B

and C pillars. 6-speed manual with factory short shift

and factory sport suspension. New Porsche battery,

plugs and ignition coils. 98K miles with less than

5,000 miles on $24K engine rebuild. Replaced IMS,

rear main seal, A/C compressor, clutch, water pump,

shocks, struts, and more. A/C blows cold. No oil leaks.

$23,999. Contact Shane Altman at saltmancreative@

gmail.com or 214-564-3790 (05)

Slipstream Advertiser Index

34 August

These advertisers support our Maverick Region – Tell them you saw their ad in Slipstream!

Autobahn Motorcar Group (800) 433-5602 B.C.

Autoscope (972) 867-7467 Page 13

AVUSA (972) 292-7334 Page 29

Competition Motorsport (844) 438-7244 Page 29

Concorso Detailing (214) 299-8031 Page 20

deBoulle Diamond & Jewelry (800) 454-4367 Page 27

DFW Garage Design (972) 416-4545 Page 24

Ebby Halliday – Michael Picolo (972) 365-7370 Page 32

Falgout & Associates, P. C. (972) 669-2370 Page 22

Fifth Gear Motorsports (972) 317-4005 Page 36

Garages of Texas (214) 435-4898 Page 8

Innovative Autosports (972) 418-1996 Page 7

Invisibra (214) 704-9299 Page 10

Louden Motorcar Services (972) 241-6326 I.B.C.

Marvelous Home Makeovers (214) 458-1932 Page 26

Mayo Performance (817) 540-4939 Page 22

Mullenix Motorsport (972) 417-0997 Page 32

Advertising rates available upon request.

For more information contact Bill Kruder at ads@mavpca.org

Mustard Racing (817) 366-1678 Page 35

Nine-Eleven Automotive (972) 243-4911 Page 30

OCD'tailers (817) 948-8538 Page 10

Park Place Porsche (800) 553-3196 Pages 3, 33

The Phoenix Insurance (214) 253-0570 Page 14

Porsche Plano (214) 576-1911 I.F.C.

RAC Performance (214) 269-1571 Page 11

RetroAir (877) 775-9295 Page 35

RKT Techniques (817) 624-1322 Page 22

Roofing Solutions by Darren Houk (817) 692-8496 Page 35

Send My Parcels (972) 906-2906 Page 32

Silver Fox (817) 329-6995 Page 2

Stuart's Paint and Body (214) 221-6999 Page 5

Ussery Printing (972) 438-8344 Page 35

Victory Motorcars (713) 783-6555 Page 30

Zims Autotechnik (817) 267-4451 Page 29
---
PRINTER OF SLIPSTREAM SINCE 1982

When all HAIL breaks loose...

Roofing Solutions

By Darren Houk

A+ Rated

(817) 692-8496

German Car

Service & Maintenance

by Appointment

Specializing in:

817-366-1678

DasZauberwerk@ix.netcom.com

www.RoofingSolutionsHOUK.com

www.roofingsolutionshouk.com

817.692.8496

Showroom by Appointment

5500 Meandering Rd

Ft. Worth, 76114

35
---
Around the Bend...

By Jim Hirsch, Managing Editor

shared some background information in

I

the June issue on the team effort that gets

Slipstream to your mailbox each month. I

want to continue that discussion this month

and then I'll get back to my favorite Carpe Viam topics

in future columns.

Each team needs someone to lead and coordinate

the efforts to reach a successful conclusion. In the

Slipstream world, that task falls to the role of Managing

Editor. There is a deadline to make certain our

members receive the current issue in a timely basis

(usually during the first week of the month).

Our Maverick Region has been fortunate to have a

number of volunteers over the years who have filled the

Managing Editor role and guided the team's efforts.

Recent editors have included Carey Spreen, Richard

Bradley, Jan (Mayo) Michel, Matt Platts, and Wendy

Shoffit. As I look back over past issues of Slipstream

available online, this group did an amazing

job producing the magazine each month.

Notably, Wendy Shoffit and Jan Michel had

multiple turns as the Managing Editor. I mention

these two in particular because they have

been so helpful to me in proof

reading each issue and providing

suggestions that only the keenest

eyes can catch. Jan lives in Los

Alamos now but still is a Maverick

member who reads each issue. I

had the good fortune of meeting

her this past month while in Santa

Fe for Fiesta New Mexico and

thanking her personally. As you

can probably tell, the photo to the left is of Jan and I.

I assumed the role of Managing Editor officially in

May 2015, after interning with Carey for six months

and earning his trust. Other than Wendy and Jan, three

years is about the typical lifespan of a Slipstream Managing

Editor, so my time in the driver's seat is about over.

I'm asking now that you consider whether you have

the interest and time to volunteer and contribute

to your Maverick Region in this role of Managing

Editor. If so, send me an email at editor@

mavpca.org and I'll be happy to discuss more

specifics about the software in use and the work

involved each month.

36 August
---
Hiram Saunders, Slipstream

155 Jellico

Southlake, TX 76092

Periodical Postage

Paid at Fort Worth, TX