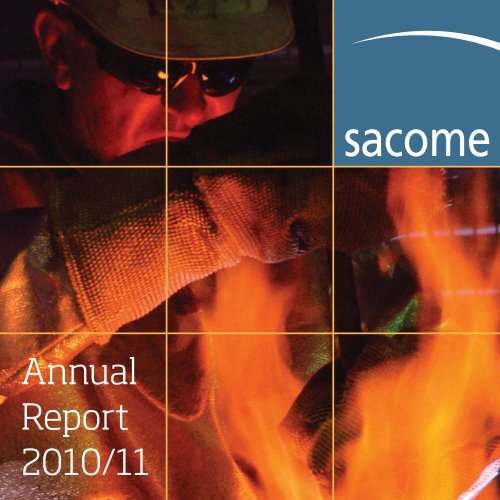 SACOME Annual Report 2010-11
You also want an ePaper? Increase the reach of your titles
YUMPU automatically turns print PDFs into web optimized ePapers that Google loves.
Annual

Report

2010/11
---
Mining at Alinta Energy's

Leigh Creek mine.

On the cover: Working

with gold at Kingsgate's

Challenger operation.

Contents

Presidents Report 4

Chief Executive Report 6

Our Staff 8

Voice of the Resources Industry in SA 10

Environment & Sustainability 12

Land Access 14

Mining Act & Taxes 16

Community Engagement 18

Regional Infrastructure 19

Occupational Health & Safety 20

Membership Events 22

Indigenous Relations 25

Skills & Education 26

Marketing & Communications 28

Sponsors 30

SACOME Membership 31

Report of the Council Members 37

Statement by Council Members 38

Income Statement 39

Statement of Recognised

Income & Expenditure 39

Balance Sheet 40

Cash Flow Statement 41

Discussion & Analysis 42

Notes to the Financial Statements 43

Independent Auditor's Report 46

2 annual report 2011

annual report 2011

3
---
PRESIDENT

Some things change – some just plain do not!

In February 2011, long serving State Minister

for Mineral Resources Development, Mr Paul

Holloway, stepped down from this ministry

having served with distinction ever since his

appointment in March 2002. Mr Holloway

presided over the outstandingly successful State

Government Plan for Accelerating Exploration

(PACE) which has helped transform the mineral

resources sector in South Australia.

The new minister, the Hon. Tom Koutsantonis

MP, is determined to continue the extraordinary

growth of our sector and this year we

commenced working with him on this mutual

goal.

The proposed expansion of the fabulous Olympic

Dam mine will change the State's mineral

resources sector (for the better) for decades to

come, with the lodging of the supplementary

draft EIS in December last year.

OZ Minerals acquisition of the Carrapateena

copper-gold deposit in the Gawler Craton and it's

development will also bring change.

Our burgeoning iron ore sector is bringing

change to the sector as will our evolving coal

(and coal by-products), hot rocks/geothermal,

and the many other mineral resource

developments.

I also sense a favourable change in sentiment

towards the use of nuclear energy.

What then hasn't changed?

Land access issues continue to be near "top of

the list" of challenges.

These challenges are described on page 14

together with our actions to reduce their impact.

Certain government departments and certain

members of the public continue to believe

mining companies are awash with money.

A SACOME study (almost complete) shows

that for a range of average mining operations,

precious little cash is left over after payment

of taxes, royalties, operating costs, exploration,

capital expenditure, community costs etc.

The perception just hasn't changed, but it

must be corrected.

The Chamber addressed many other

challenges and issues during the year under

review, which have been reported on in this

publication.

The SACOME team is now well established

and continues to function well in its role

of serving the industry. On behalf of the

council and myself, I extend a very sincere

appreciation to our dedicated team for their

outstanding contributions under the

excellent leadership of our Chief Executive,

Jason Kuchel.

Thanks are also due to our Councillors and

voluntary committees for their continuing

contribution to our effectiveness.

Special thanks are also owed to Stephanie

Walker, who retired after heading up our

Indigenous Relations activities for nine years.

Stephanie did an outstanding job and was

respected and admired by all who knew her.

Her contributions to a whole host of

negotiated Indigenous Land Use Agreements

(ILUAs) will continue to serve the industry well

for years to come.

John Roberts

President

4 annual report 2011

annual report 2011

5
---
CHIEF EXECUTIVE

As our annual report cover attests, the

resources sector has certainly been under fire

this financial year.

Ever since the announcement of the Resources

Super Profits Tax (RSPT) several months before

the beginning of this financial year, the blaze has

been fuelled by a plethora of challenges.

On the 2nd of July the Minerals Resources

Rent Tax (MRRT) was announced along with

the Petroleum Resources Rent Tax (PRRT).

Along with these tax proposals, we have been

busy dealing with Royalty hikes, the Carbon

Tax, Marine Parks, the review of access to the

Woomera Prohibited Area (WPA), pressure to

ban mining in Arkaroola, introduction of the

Mining Act amendments, Harmonisation of

OH&S legislation across Australia, Protected

Areas on Private Land (PAPL) Bill and a whole

raft of threats to land access.

As our industry grows, there is a corresponding

perceived fear of mining activities impeding on

agricultural land - in the minds of landholders;

community members concerned about food

security; and environmental groups.

These concerns are unfounded.

Most exploration leads to a very small number

of major minerals mines and these mines are

currently taking up only 0.074% of our State to

date - despite growing from 4 to 18 mines over

the past 6 years.

The expectations from some in the community

are that a mine will be built every time someone

explores on their land or in their community.

SACOME has been actively engaged with many

Mineral Production Tenement Size

Mine Area (km 2 )

Olympic Dam 177.88

Prominent Hill 78.56

Kanmantoo 5.27

Middleback 59.84

Cairn Hill 80.13

Beverley 177.87

Honeymoon 17.19

Jacinth Ambrosia 45.00

Challenger 13.21

White Dam 15.68

Beltana 1.02

Angas 0.88

Peculiar Knob 18.48

Leigh Creek # 85.28

TOTAL 776.29

SA Area (Land) 1,043,514

% of SA 0.074%

# Conservative approximation via Google Earth mapping

groups and through the media in counteracting

some of these negative stereotypes and giving

perspective. In particular, we have been actively

promoting the benefits that the resources sector

brings to communities in SA and the State as a

whole. Just one of those ways is through the

Premier's inaugural Social Inclusion in Mining

and Energy Award, which SACOME hosted as

part of our Gala Dinner in May.

At the beginning of the year, we introduced a

new structure to the organisation, see page 8.

The new structure provides for 4 teams and cross

functional team work resulting in higher output,

along with an increased focus in key areas

including communications and corporate social

responsibility. During the year, the chamber's

staff grew to 15, reflecting the growing size of

the industry and needs of our members.

Key capabilities have been added, particularly

in the areas of research and communications.

These functions have provided us with more

and better data for advocacy purposes and the

ability to improve our levels of communication to

our stakeholders. Highlights include a massive

increase in our number of media hits and the

introduction of a new website.

From a financial perspective, SACOME continues

to perform well through a difficult period post

Global Financial Crisis. We have increased

services and advocacy in line with our members

increased needs and the bombardment of issues,

whilst maintaining a small surplus to enable us

to deal urgently with unexpected industry issues

that arise.

One of the most enjoyable aspects of managing

an organisation is when one can be proud of the

team and their interactions with members.

I commend this publication to you, which

provides a snapshot of a number of the key

issues and achievements for the 2010/2011

financial year.

I am very proud of all of our staff, who from the

youngest graduate to the most senior Director,

have shown their commitment to SACOME

and our flourishing resources industry by giving

their all and achieving much for the sector. I

am also very proud of the tailored support and

assistance the Chamber has been able to provide

to numerous sub-groups and individual members

over the year, in our role of supporting and

promoting this vitally important industry in

South Australia.

Jason Kuchel

Chief Executive

6 annual report 2011

annual report 2011

7
---
OUR

Staff

From left to right:

Front: Lewis Stoll (HSE&C Project Officer), Nigel Long (Director Corporate Social Responsibility), Yasmin Dagas (Communications Officer), Emma Hughes (Careers

Promotion Manager), Kathleen Sullivan (Receptionist), Dayne Eckermann (Policy Analyst/Researcher).

Middle: Aleisha Sullivan (Events Manager), Megan Andrews (Director Membership and Communications), Lisa Jeffery (Indigenous Relations and Geoscientist

Assistance Program Officer), John Cocks (Director Strategy and Governance).

Top: Margaret Donaldson (Finance Officer), Jason Kuchel (Chief Executive), Alison Snel (Manager Member Relations), Jonathon Forbes (Director Industry Development),

Layla Mignone (Executive Assistant).

SACOME Organisational Chart

As at September 2011

MEMBERS OF SACOME

COUNCIL

CHIEF EXECUTIVE

Jason Kuchel

Sacome staff as at

September 2011

DIRECTOR INDUSTRY

DEVELOPMENT

Jonathon Forbes

DIRECTOR CORPORATE

SOCIAL RESPONSIBILITY

Nigel Long

DIRECTOR MEMBERSHIP &

COMMUNICATIONS

Megan Andrews

DIRECTOR STRATEGY &

GOVERNANCE

John Cocks

POLICY ANALYST/

RESEARCHER

Dayne Eckermann

MANAGER INDIGENOUS

RELATIONS

Lisa Jeffery

MANAGER MEMBER

RELATIONS

Alison Snel

FINANCE OFFICER

Margaret Donaldson

MANAGER GAP

PROGRAM

Lisa Jeffery

HSE&C PROJECT

OFFICER

Lewis Stoll

MANAGER EVENTS

Aleisha Sullivan

EXECUTIVE

ASSISTANT to CE

Layla Mignone

MANAGER CAREERS

PROMOTION

Emma Hughes

COMMUNICATIONS

OFFICER

Yasmin Dagas

RECEPTIONIST

Kathleen Sullivan

8 annual report 2011
---
VOICE OF THE RESOURCES INDUSTRY IN

South Australia

SACOME Council

SACOME Committees

The SACOME Council represents the mining,

petroleum, extractive, exploration and service

provider sections. The 2010/11 financial year saw

several changes to the Council with SACOME

welcoming Stefan Buys, Iain McDougall, Alice

McCleary, Terry Burgess and Mark Parry as new

councillors, replacing Tino Guglielmo, Dean Dalla

Valle, Patrick Clifford and Mick Wilkes.

John Roberts

SACOME President

Mithril Resources

Stefan Buys

BHP Billiton

George McKenzie

Finlaysons

Mark McGeough

Toro Energy

Graham Ascough

Mithril Resources

Andrew Freeman

Santos

Jim White

Centrex Metals

Alice McCleary

Archer Exploration

Terry Kallis

Petratherm

Iain McDougall

Stuart Petroleum

SACOME organises various committees which focus on specific areas. SACOME staff also participate

on a myriad of external committees dedicated to various industry issues. We are very grateful to all

of our committeee participants and extend our sincere thanks for their dedication and hard work

over the year.

Executive Committee

Occupational Health & Safety

Chaired by: John Roberts

Committee

Contact: Jason Kuchel

Chaired by: Nigel Long

Contact: Nigel Long

Exploration Committee

Chaired by: Graham Ascough

Energy Policy Working Group

Contact: Jonathon Forbes

Committee

Chaired by: Darren Bilsborough

Editorial - SA Mines & Energy

Contact: Nigel Long

Journal Committee

John Roberts, Tino Guglielmo &

Mark McGeough

Contact: Megan Andrews

Committee in focus...

Hans Umlauff

Vice President

Iluka Resources

Kym Winter-Dewhirst

BHP Billiton

Terry Burgess

OZ Minerals

Ros DeGaris

Adelaide Brighton

Michael Reed

Worley Parsons

Mark Parry

OneSteel

SACOME's Exploration Committee has been very active during

the year and continues to be a valuable forum for responding to

a range of issues affecting exploration in South Australia. The

Committee has provided direction on issues including the Mining

(Miscellaneous) Amendment Bill 2009, the MRRT, infrastructure

needs, marine parks, land access - including the WPA submission

and Northern Flinders Ranges Management Plan- community

engagement and royalties, to name just a few.

10 annual report 2011

annual report 2011

11
---
ENVIRONMENT &

Sustainability

Environment & Sustainability

The mineral and energy resources industry

in SA is governed by strong requirements to

undertake detailed evaluation of potential

impacts on the environment and address these

with managed strategies. SACOME played

a strong role in contributing to policies and

legislation which affect the sector over the year.

exploration and production approvals, future

infrastructure development and transport

regulation.

SACOME represented industry in our

contributions during the consultation period.

Together with submissions by resource

Natural Resources Management

(NRM)

Through the water levy and partnerships with

NRM Boards, the South Australian resources

sector is a significant contributor to NRM,

providing social and economic capital to progress

NRM objectives in a number of regions.

Marine Parks

In the second quarter of the 2010/2011 financial

year, the Department of Environment and Natural

Resources released for discussion preliminary

sanctuary zone scenarios for South Australia's 19

marine parks.

The size and number of the proposed zones

was extensive, particularly given the size would

eventually be magnified by the inclusion of

habitat protection zones as buffers.

SACOME's perspective was that a large sample of

the preliminary sanctuary zones could appropriately

be re-categorised as habitat protection zones;

which would preserve existing use and enjoyment

of the marine environment, but also ensure proper

management and monitoring.

SACOME believes the array of zonings within

marine parks and many associated rules and

prohibitions has the potential to complicate

SACOME contributed

significantly during

the consultation

period, eventually

resulting in substantial

modification to

sanctuary zones by

the Marine Park Local

Advisory Groups.

companies and the Marine Park Local Advisory

Groups, substantial modifications to sanctuary

zone boundaries were made.

This advice is being considered by the

Government as management plans are drafted

for public consultation in late 2011.

Although the resources industry is a legitimate

land and water user and a significant contributor

to the objectives of environmental legislation,

SACOME is not recognised as a peak body

in either legislation, nor has guaranteed

representation on the NRM Council, the

state-wide peak body advising government.

SACOME believes that in order for the resources

industry to have greater influence and scrutiny

over how its water levies, and also its significant

environmental benefit (SEB) offsets for the

clearance of native vegetation are invested, the

industry must take on a greater role in NRM and

native vegetation management. This will also

assist in influencing the direction, funding and

planning of NRM more broadly in the State.

Amendments to the NRM Act are currently

before Parliament and SACOME will continue

to lobby for additional amendments to enable

industry representation.

Climate Change

Abandoned in early 2010, policy to introduce a

pricing mechanism on greenhouse gas (GHG)

emissions was again on the agenda following

the Federal election in August 2010.

SACOME signed off on our formal policy on

Climate Change during the year, which sets out

the principles for establishment of a price on

GHG emissions.

SACOME policy and principles developed in

collaboration with the MCA will form the

foundation of industry's engagement with the

Federal Government in future development of

climate change policy. The legislative package

to support the establishment of a scheme to

price GHG emissions is expected to be introduced

into Federal Parliament later in 2011.

Any scheme placing a price on GHG will have

fundamental implications for the mining and

energy sector and SACOME will continue to

vigorously represent the resources industry in

this policy space.

Coopers Creek in

the Cooper Basin,

October 2010

12 annual report 2011

annual report 2011

13
---
LAND

Access

Land Access

Land Access has been of particular interest

to the industry over the past 12 months,

with a number of reviews and legislation

proposals undertaken. As explorers push

further into farming land, the issue of access

to land for our industry has never been

more important.

legislation to ensure this area is protected from

activities that would affect conservation of this

area's natural character and environment. We

are hopeful that the Government also recognises

this and that some level of coexistence for

exploration and mining may be possible. At the

time of writing, there has been no decision as to

the future of this area.

The Final Report was released in February 2011

which included 65 recommendations, and the Federal

Government endorsed the Review and the proposed

new management framework for the WPA.

SACOME will look to work closely with the newly

formed WPA Coordination Office to ensure that

our industry is provided with maximum access

under the new arrangements and that we

are well represented on the Reference Group

that will be established to give advice on the

practicalities and appropriateness of coexistence

under this new model.

Northern Flinders Ranges

Management Plan (Arkaroola)

In January 2010, SACOME made a submission

in response to the discussion paper titled:

'Seeking a Balance: Conservation and resource

use in the Northern Flinders Ranges' which

proposed a series of management zones across

the northern Flinders Ranges area, effectively

changing and restricting the access and use of

parts of the area.

In February 2011 the Premier announced

that the Government is examining options for

the future conservation management of the

Arkaroola Wilderness Sanctuary. These options

could include the exclusion or limiting of future

mining in the environmentally sensitive areas of

Arkaroola Sanctuary or designating the area as

a National Park.

SACOME has always maintained that sufficient

safeguards are in place within existing

SACOME worked

closely with Dr

Hawke, Federal

Ministers and the

State Government in

our contribution to the

Woomera Prohibited

Area report.

Woomera Prohibited Area

In May 2010, the Federal Government announced

a review of the Woomera Prohibited Area (WPA),

led by Dr Alan Hawke, examining the future of the

WPA with a view to maximising its value to the

nation for Defence and economic development

over the next 20-30 years. Then in November, the

Federal Government released the Review's Interim

Report whereby interested parties were invited

to comment on the recommendations, prior to

the Hawke WPA Review Team submitting a final

report to the Government.

SACOME worked closely with Dr Hawke, Federal

Ministers and the State Government in our

contribution to the report.

SACOME's response to the WPA Interim Report

was finalised and presented to the WPA

Review Team in a face to face meeting in

November 2010.

The Woomera

Prohibited Area

14 annual report 2011

annual report 2011

15
---
MINING ACT &

Taxes

Mining Act & Taxes

Mining Act Legislation

SACOME was heavily involved with the review

of the Mining Act 1971 and Mining Regulations

1998 from 2009 to early 2011. SACOME

lobbied hard against a number of amendments

put up by various parties once the Bill had been

introduced into Parliament including; proposals

to exempt all land in the Greater Adelaide Area,

onerous processes involving the granting of an

exploration lease, and an amendment to ban

mining at Arkaroola. SACOME continues to

liaise with PIRSA MER and inform our members,

as to the practical implications of the Mining

Act and Regulations.

Royalties

Royalties was also a hot topic in 2010, with

the South Australian Government announcing

a new three-tiered mineral royalty regime

effective from July 1st 2011. The main increases

were for concentrates such as copper, uranium,

iron ore and coal which go from 3.5% of sales

value to 5% of sales value. The other main

change is the 'new mine' rate goes from 1.5%

to 2% of sales value for the first 5 years of

production. Existing mines will continue the

1.5% royalty rate until the end of their five year

term. The State Government is expected to raise

an additional $65m per year in 2011/2012 as a

result of these measures.

SACOME received this news amidst the

MRRT

background of debate on whether all State and

In July 2010, the Federal Government

Territory royalties would be credited against

announced that the proposed Resources Super

the newly proposed Mining Resource Rent

Profits Tax (RSPT) would be replaced by a

Tax (MRRT), and lobbied our State Minister to

Minerals Resource Rent Tax (MRRT), applicable

seek an assurance from the Federal Minister of

to iron ore and coal projects from 1st July 2012.

Resources, that the South Australian resource The agreement included the extension of the

sector will not be hit with a new double tax and current Petroleum Resource Rent Tax (PRRT)

to honour the Terms of Reference in respect regime to all Australian onshore and offshore

to crediting all State and Territory royalties,

oil and gas projects.

especially in relation to the recently announced

royalty increases in the 2010 State Budget.

The Government also announced that it would

establish a Policy Transition Group (PTG), led

SACOME also lobbied to maintain a discounted by Federal Resources Minister, the Hon Martin

royalty rate for new mines, which we believe is

Ferguson AM MP, and Mr Don Argus AC,

critical due to our State's emerging mining industry. to consult with industry and advise the

SACOME was part of an

Industry Submission made

by the MCA on the MRRT

and also provided our own

separate submission after

consulting with members.

Government on the implementation of the new

arrangements.

SACOME was part of an Industry Submission

made by the MCA and also provided our own

separate submission after consulting with

members. SACOME led discussions on behalf of

our membership and outlined the main points

of our submission to the PTG when they visited

South Australia.

Over this period, SACOME liaised directly with

Federal Ministers on the proposed legislation,

particularly in relation to Magnetite, which is

at a very early development stage in South

Australia.

SACOME also attended the PTG meeting in

Melbourne where representations were made

regarding exploration expenditure. SACOME

continues to work through the MRRT through

consultation and information sessions with

members.

Magnetite filings

16 annual report 2011

annual report 2011

17
---
COMMUNITY

Engagement

REGIONAL

Infrastructure

Engaging and actively partnering with

communities is core to the industry's social

licence to operate.

A commitment to effective community

engagement facilitates good decision making,

can achieve optimum benefits for communities,

and appropriately addresses issues of concern,

doubt or confusion.

Excellence in corporate social responsibility (CSR)

is vital to the growth of the industry, and within

this spectrum is the need to be responsive to

the increasing expectations from the community,

regulators and industry leaders for more open

engagement with the public.

The project will undertake a number of initiatives

including revision of the resources industry codes

of practice; benchmarking community engagement

strategies around Australia; provision of community

engagement workshops for the minerals and

energy sector; and working with SACOME members

to create an industry supported land access and

Template Land Access Community

Agreement (LACA)

Working with exploration companies on the

Yorke Peninsula, SACOME has commenced

development of a template LACA to accompany

amendments to the Mining Act and regulations.

The template is expected to be completed for use

on the Yorke Peninsula by the end of 2011 and

will be adapted for industry use across the State.

Premier's Social Inclusion in Mining

and Energy Award

In line with the increasing focus on corporate

social responsibility, the Premier announced a

new annual award during the year recognising

Whilst the State Government's plan for

accelerated exploration (PACE) has seen

exploration increase threefold, the next

challenge is to turn this exploration boom into

the long touted 'mining boom'.

To achieve this, many miners and renewableenergy

providers will need to share commonuser

infrastructure, including roads, rail, ports,

water, energy and transmission lines. SACOME

directed efforts over the year to lobbying the

State Government, the State Opposition and

the Federal Government on a wide range of

infrastructure issues.

Infrastructure Demand Study 2011

SACOME has a strong presence on the Resources

& Energy Sector Infrastructure Council (RESIC),

who engaged Parsons Brinckerhoff to undertake

the 2011 Infrastructure Demand Study with the

aim of identifying the strategic infrastructure needs

for the sector over the next 10 years and beyond.

The study involves an extensive engagement and

consultation process with industry, to understand

the anticipated demands on existing and new

infrastructure. The results of the investigation

and scenario planning workshops will be used

to develop recommendations to Government on

which infrastructure types should be developed

to bring the greatest benefit to the State. It

is anticipated the study will be completed by

September 2011.

Funding for a Bulk Commodities Port

SACOME believes that at least 3 cape size vessel

capable ports will be required in South Australia

to service 3 areas: The Southern Eyre Peninsula,

Eastern side of the Spencer Gulf, and the

Northern Eyre and Far North.

SACOME continued to lobby the State

Government throughout the year to consider

underwriting tonnages for the first 5 years of a

deep-water port operation at Port Bonython to

attract investment.

SACOME proactively supports and fosters

commitment to the communities and stakeholders

in regions where the industry operates.

Community Engagement in the

Minerals and Energy Sector Program

A participant in an OZ Minerals pre-employment program.

OZ won the first Premier's Social Inclusion in Mining and

Energy Award.

compensation agreement template in partnership

with the South Australian Farmers Federation.

mining and energy companies for their

outstanding contributions to the social wellbeing

of communities.

The award was introduced by the Premier at a

SACOME lunch with the winners announced at

SACOME's Annual Resources Industry Dinner.

Towards the end of the financial year,

SACOME was successful in attracting financial

assistance for 2011/2012 under the PACE 2020

Partnerships program to scope, implement and

manage a series of work programs, under a

project entitled 'Community Engagement in the

Minerals and Energy Sector'.

A Project Officer is to be appointed in the first

quarter of 2011-12 to support the CSR team

achieve the objectives of the PACE funded

project and assist with policy in the areas

of occupational health & safety, Indigenous

relations, energy and environment.

SACOME played a pivotal role in promoting the

award and submissions received for this first year

were impressive. Finalists included Beach Energy,

Epic Energy, Iluka Resources, PepinNini Minerals

Limited, and OZ Minerals who was announced as

the overall winner for 2010.

Alinta Energy's Leigh Creeek Mine

18 annual report 2011

annual report 2011

19
---
OCCUPATIONAL

Health & Safety

Occupational Health & Safety

Harmonisation of WHS laws

In July 2008, the Council of Australia Governments

formally committed to the harmonisation of work

health and safety laws (WHS).

SACOME supports a uniform approach to

occupational health and safety (OH&S) in Australia

to reduce the regulatory burden faced by companies

that operate in a number of jurisdictions, where

separate processes currently apply.

Draft model WHS Regulations were released for

public comment in December 2010 along with a

number of model codes of practice. The Chapter

of the Regulations related to mines was to be

released for separate consultation.

The Model Work Health and Safety Act, model

WHS Regulations and Codes of Practice come

into force on 1 January 2012.

SA Mines Rescue Competition

SACOME is the coordinating body for the SA

Mines Emergency Response Competition and

following the successful inaugural competition in

2010, the second SA Mines Emergency Response

Competition was held at Olympic Dam mine

from 29th April until 1st May 2011.

Four teams entered the competition from Perilya,

Prominent Hill, BHP Billiton (Olympic Dam) and

the Challenger Mine. The event was a great

success, with teams given the opportunity to

hone their emergency response skills through

challenges such as high rope rescues, using

breathing apparatus, fire fighting, first aid,

theory, basic skills and road crash rescues.

Olympic Dam won the competition and was

presented with the SACOME Perpetual Trophy

for the second year running.

Emerging Mines OH&S Project

SACOME worked closely with the MCA and other

state bodies through the MCA OH&S Committee

to address key issues for the mining sector during

the year. Although consultation will be ongoing

into the first half of 2011-12, the representation

of industry in the process has led to changes to

ensure the full legislative package delivers on the

intent of the original COAG inter-governmental

agreement.

To enact the model legislation each jurisdiction,

including the Commonwealth, is required to have

the legislation passed through their respective

Parliaments.The Work Health and Safety (WHS)

Bill 2011, based on the model law endorsed by

the Workplace Relations Ministerial Council, was

introduced into the SA Parliament through the

House of Assembly in May 2011.

The Olympic Dam team at the 2011 SA Mines Rescue

Competition

With health and safety management a key focus

for the resources sector, SACOME successfully

negotiated funding for two years of $50,000

with the Mining & Quarrying Occupational

Health and Safety Committee (MAQOHSC), to

help develop and manage a program to assist

emerging South Australian mining companies

assess their OH&S needs and implement

improved systems.

The program is jointly managed by SACOME

and MAQOHSC and has successfully completed

its first year of operation with five companies

receiving OH&S advice and training, and is

looking forward to a successful second year.

The Perilya team at the 2011

SA Mines Rescue Competition

20 annual report 2011

annual report 2011

21
---
MEMBERSHIP

Events

SACOME's 2010/2011 corporate events

program continued to deliver valuable

information and opportunities to a diverse

group of industry stakeholders. Aimed at

providing a facility for information sharing

and networking, the breakfast briefings and

lunch series attracted record attendances,

and on several occasions were fully booked.

Breakfast briefings

Attendance numbers steadily climbed,

each breakfast providing members with

exclusive insights into potential procurement

opportunities within the State, along with

valuable networking opportunities and

question time.

Minister Ferguson

also emphasized the

significance of our

State as a key player in

the national mineral

and energy industry

and praised SACOME

Gala dinner

This year's annual resources industry dinner saw

around 400 guests enjoy a fun and information

packed evening, themed around our State's

blossoming resources sector.

Guests heard from Federal Minister, the Hon

Martin Ferguson AM MP who highlighted the

government's strong commitment to the sector,

including community programs, Indigenous

employment, education and careers promotion.

He also emphasized the significance of our

State as a key player in the national mineral and

energy industry and praised SACOME for its

professionalism demonstrated whilst lobbying for

difficult issues.

Melissa Muller (PIRSA) and Ley Kingdom (Iron Road) at the

April 2011 Lunch

Kuzma Otto (Uranium One) addresses guests at the

June 2011 Lunch

Andrew Woskett and Tony Belperio (Minotaur Exploration) at

the July 2010 Breakfast

This year guests were treated to

presentations that explored mining companies

at exploration and production phases.

Together with updates on their projects and

prospects, speakers also highlighted the

importance of community engagement and

environmental initiatives and discussed some

of their own programs. Due to increasing

popularity, breakfasts increased from three to

four in 2011.

for its professionalism

demonstrated whilst

lobbying for difficult

issues.

The evening included presentation of the

inaugural award for The Premier's Social

Inclusion in Mining and Energy Award – for

excellence in community programs by the

minerals and energy resources sectors.

A quality pool of finalists saw OZ Minerals

awarded the overall winner for 2010.

Guests also enjoyed wine tasting and a jazz

quartet on the evening.

The Hon Patrick Conlon speaking at the February 2011 Lunch

The Hon Tom Koutsantonis addresses industry at the

April 2011 Lunch

22 annual report 2011

Alex Blood and Costante Conte (Golder Associates) at the

July 2010 Breakfast

Merrill Grey (Syngas) speaking at the July 2010 Breakfast

The Hon Mitch Williams (SA Government) and Jim White

(Centrex Metals) at the February 2011 Lunch
---
MEMBERSHIP

Events

INDIGENOUS

Relations

Lunch series

Strong attendance at SACOME lunches continued

over the year.

The financial year kicked off with the annual

Women in Resources lunch in August and

September saw the often outspoken Deputy

Premier and Treasurer Hon Kevin Foley MP

address an audience of over 300 guests.

November's economic outlook with the

Commonwealth Bank's Dave De Garis was

insightful, with the addition of Premier Mike

Rann's presence and social inclusion award

announcement adding further value to the event.

The new year got off to a flying start with

the Hon Patrick Conlon presenting at the first

lunch for 2011, followed in April by the newly

appointed State Minister for Mineral Resources

Development, the Hon Tom Koutsantonis, who

spoke passionately about his opinions on the

issues and future of the industry. Rounding out

the financial year saw Kuzma Otto from Uranium

One's timely presentation on their project

activities and timeframe.

November's economic

outlook with the

Commonwealth

Bank's Dave De Garis

was insightful,

with the addition of

Premier Mike Rann's

presence and social

inclusion award

announcement

adding further value

to the event.

Seminars

SACOME hosted a number of topical seminars

and workshops over the financial year, covering

the changes to the Mining Act as well as the

MRRT, State Royalties, Personal Properties &

Securities Act, a legal workshop providing updates

on the latest developments in acquisitions &

financing affecting the industry, a uranium briefing

for the media, and an ILUA briefing for Western

Australian companies, many who are SACOME

members.

Indigenous Land Use Agreements

During the financial year SACOME continued its

key role in negotiating State Indigenous Land

Use Agreements (ILUA's).

Over the year, two Mineral Exploration

agreements were reached with the

Adnyamathanyha and the Far West Coast.

Both ILUA's are currently in transition to the

National Native Title Tribunal (NNTT) for

registration, pending finalisation of Consent

Determinations.The Registration of these two

ILUA's will bring the area of the state covered by

Mineral Exploration ILUA's to 29%.

Negotiations have commenced with the

Kokatha Uwangarra, leaving the Nauo Barngarla

to be negotiated once the overlapping claims

are resolved in the Federal Court, and the

Wirangu as areas identified by industry as being

of priority for native title negotiations. If the

Ngadjuri application is eventually successful

in becoming a registered claim, this will be a

further area of interest to the industry.

A Petroleum Conjunctive ILUA negotiated by

SACOME was accepted by the Wankangurru/

Yarluyandi and is in transition to the NNTT for

registration.

The Dieri have indicated they will be signing an

agreed Petroleum Conjunctive ILUA at their next

community meeting scheduled later in 2011.

It has also been offered to the Arabunna for

negotiation, subject to funding for SA Native Title

Service's participation.

SACOME believes these fully pre-negotiated

ILUAs are the most cost effective and efficient

way of accessing land subject to Native Title

claims and in advancing sustainable benefits

for Aboriginal communities and will continue to

promote the use of ILUA's to industry.

During the year, feedback from the Federal

Attorney General's Department suggested they

may be seeking to end their contribution to the

costs of SACOME's participation in the SANTR

(South Australian Native Title Resolution) process.

This is of major concern to the Chamber given

the key role SACOME has played for many years,

resulting in national recognition of the SANTR

process as superior to that in other states,

streamlining access to lands,assisting in resolving

Native Title claims and in addressing potential

Aboriginal heritage concerns.

Aboriginal Heritage Act Review

In October 2009 SACOME joined with SA

Farmers' Federation, Local Government

Association, Wildcatch Fisheries SA, the State

Aboriginal Heritage Committee, the Aboriginal

Congress of SA and SA Native Title Services, and

made a joint submission on the review of the

Aboriginal Heritage Act 1988 to the state.

This issue remains on SACOME's agenda, and we

will continue to lobby the State Government

expressing concerns over the delay and

requesting a response.

24 annual report 2011

annual report 2011

25
---
SKILLS &

Education

Skills & Education

Careers Promotion Program

In 2010/2011, SACOME's Careers Promotion

Program delivered school presentations to over

6500 Primary School students and over 1500

High School students, as well as attending

school careers expos.

OZ Minerals sponsored SACOME to deliver the

Careers Promotion Program to schools in the

far north, including Coober Pedy Area School,

Mintabie Area School, Marree Indigenous

School and Oodnadatta Indigenous School.

In a similar venture, Iluka sponsored trips to

schools in Ceduna and the surrounding area,

including Yalata Anangu School, Penong

Primary School, Koonibba Aboriginal School,

Crossways Lutheran School and Ceduna Area

School.

SACOME also teamed up with Syngas to

deliver a 'Careers in Mining Day' in Kadina

to over 300 High School students attending

schools on the Yorke Peninsula.

In an initiative led by the Queensland

Resources Council, SACOME collaborated with

the Minerals Council of Australia, Chamber

of Mines and Energy Western Australia, New

South Wales Minerals Council, Tasmanian

Minerals Council, Australian Uranium Association

and the Australian Coal Association to develop

an innovative, interactive online environment

called Oresome Resources. This is the first high

quality educational resource of its kind based on

the minerals and energy sector.

SACOME's Emma Hughes with students in Koonibba

The 2011 SACOME Treasure Hunt was a sell out

in the April school holidays, with 300 children

and parents participating. This year's hunt was

held at the University of Adelaide and highlights

included the 3D suite in the Australian School

of Petroleum Science School, exploring rocks

and tectonic plates at the School of Earth and

Environmental Sciences, a seismic survey on the

Barr Smith Lawns and a science show by Rock

Chick and Science Geek.

SACOME is very grateful to all those who

contributed their valuable time and resources to

the success of the event, in particular Professor

Graham Heinson (University of Adelaide); Ian West

(Australian School of Petroleum); Maris Zwigulis

(Beach Petroleum) and John Mignone (PIRSA).

These programs and events are crucial in

addressing the future workforce requirements of

our industry, by instilling an industry awareness

and interest amongst our children from an early

age. An additional benefit is assisting teachers

and parents to better understand the industry

and its significance in our State, contributing to

greater community awareness.

Geoscientist Assistance Program (GAP)

GAP is funded by the State Government and

aims to encourage mining professionals to

remain in South Australia to maintain their

skills and expertise. The program provides salary

subsidies of up to $25,000pa per participant

and offers training grants up to $8,500pa.

To date, the program has been very successful

and has placed 26 participants in 23 companies

with 13 participants having completed their

placement. Of the $750,000 funding received

in 2009, there was sufficient funding to apply

to the State Government for an extension to the

two year program until 30th June 2012.

MOU with Resources and Engineering

Skills Alliance

Since late 2010, SACOME and the Resources

and Engineering Skills Alliance (RESA) have

been in discussions to establish a Memorandum

of Understanding (MOU) which addresses

areas of mutual interest and contributes to the

coordination of plans and initiatives to meet

industry workforce needs.

Areas identified for potential collaboration

include: promotion of resources sector as an

industry of choice for workers; contributing to

the uptake of Science, Technology, Engineering

Participants in SACOME's sold

out 2011 Treasure Hunt at the

University of Adelaide.

& Mathematics (STEM) and resources industry

supporting curriculum in schools; career

promotion initiatives to support industry;

attraction, retention, training and education

initiatives to address gaps and issues to meet

industry needs; and a point of reference for

industry workforce information.

The MOU is set to be signed in the third quarter

of 2011.

26 annual report 2011

annual report 2011

27
---
ISSN 1836-0777

ISSN 1836-0777

ISSN 1836-0777

ISSN 1836-0777

Issue 17

Jun - Jul 2011

$9.95 (incl. GST)

ISSN 1836-0777

MARKETING &

Communications

Marketing & Communications

SACOME continued its important work

promoting the local mineral and energy

resources sectors and sharing news and

information with all stakeholders, through

internal and external media.

SA Mines and Energy Journal

The SA Mines and Energy Journal, established

in 2008 as SACOME's official publication,

continued into its third year of publication.

The journal provides timely content relevant to

industry members, service provider members,

policy makers and educators. It is also

distributed to many other individuals Australia

wide with an interest in the South Australian

resources industry.

SACOME's partnership with established local

publisher, Solstice Media, has proven to be a

winning combination.

Journal content is sourced primarily through

an editorial committee co-ordinated by

SACOME, which comprises a minimum of

three leaders from within the State's mining

and energy sector, and is led by the magazine

editor - SACOME's Director of Membership

and Communications.

Most of the content is researched and written

by SACOME staff, Solstice Media journalists

and SACOME members.

Lead stories for the 2010-2011 financial year

centred on the Henry tax followed by the Mineral

Resources Rent Tax and Petroleum Resources

Rent tax; copper and gold in South Australia;

2011 expectations for the sector; issues and

updates in exploration; and climate change.

Articles continued to be published in line with

areas of key interest to SACOME members,

including business and finance; innovation;

workforce; Indigenous issues; education and

environment pages among others.

Community pages also featured prominently

over the year, with numerous articles

reflecting an increasing interest among

readers in regards to corporate responsibility,

and how companies are meeting or exceeding

their social license to operate requirements.

Due to the popularity of SACOME's breakfast

briefings, combined with a desire from readers

for more industry news, a summary of the

breakfast presentations was added as a new

regular feature.

E-news

SACOME updated the design of its newsletter

and continued to distribute the online

publication to members on a fortnightly basis.

With a focus on distributing information

surrounding issues, projects and initiatives

relevant to the industry, e-news is also a vehicle

for advising SACOME's stance and policy input

on important issues. It remains a great resource

for communicating upcoming SACOME functions,

workshops and seminars and also key external

events of particular relevance to members.

Marketing collateral

SACOME's marketing collateral was updated to

provide a new distinct and consistent styling,

to assist in cementing a clear and recognisable

identity for the organisation in its interactions

with stakeholders.

Website

The SACOME website was also rebuilt over the

financial year. Style was a significant factor, but

more important was content, with the new site

providing an improved outlet for communication

and information to SACOME members, external

stakeholders and the public.

The development of an online database in

conjunction with the new website has assisted

with the facilitation of membership data; online

event registration; event management; and

information dissemination.

SACOME incorporated space within the

website design to promote its valued annual

sponsors, with the aim to further enhance their

sponsorship value.

Copper

revisited

Issue 13

Oct - Nov 2010

$9.95 (incl. GST)

South Australia's

Gold

lining

SA Museum • Indigenous initiatives • Dollar impact

Media

SACOME continued to feature heavily in the

print and broadcast media over the year, with many

major issues dominating the national and state

sector.

SACOME's media releases over the year

focussed on:

• SACOME's position on the Mineral

Resources Rent Tax (MRRT) and Petroleum

Resources Rent Tax (PRRT).

• Comment on the State budget.

• SACOME's comment on the MRRT and

Royalties increase representing a 'double

whammy' for the sector.

• The Premier praising SA's mining sector for

community initiatives at a SACOME lunch.

Issue 14

Dec 2010 - Jan 2011

$9.95 (incl. GST)

Tracking The Trends

2011 report, page 21

Skills shortage • Marine Parks • Social mine life

Issue 15

Feb - Mar 2011

$9.95 (incl. GST)

• SACOME commending the consultative

approach of the Policy Transition Group.

• SACOME's 3rd annual Treasure Hunt school

holiday event

• The MCA and collaborators 'Oresome

approach to education' initiative.

• The 2011 Mines Rescue Competition.

• Introducing the new Minister for Mineral

Resource Development at SACOME's April

15 lunch.

Tailored editorial content was provided to

various publications including Australia's Mining

Monthly, the Stock Journal and the Roxby Downs

Sun.

The climate debate

Ministerial changes • DET CRC • Education

Issue 16

Apr - May 2011

$9.95 (incl. GST)

S A ' s

exploration

trail

SA people, projects, policies, markets & happenings

SA people, projects, policies, markets & happenings

SA people, projects, policies, markets & happenings

SA people, projects, policies, markets & happenings

SA people, projects, policies, markets & happenings

28 annual report 2011

annual report 2011

29
---
SACOME

Sponsors

SACOME

Membership

Sponsorship by member organisations assists SACOME to provide its corporate lunch series and other events at economical prices to its members.

SACOME members comprise organisations

with voting rights and representation on the

SACOME greatly appreciates the support of its valued sponsors and would like to acknowledge the following organisations:

working directly in the South Australian

SACOME council.

mineral and energy resources sectors and

Diamond Sponsor

those providing services to the industry.

As at 30 June 2011, SACOME had 328 financial

members, comprised of 78 core industry

members and 234 service providers.

Current membership categories

Core industry members

Ind Level 1A: Global revenue >$50bn

Ind Level 1B: Global revenue >$10bn - $50bn

Ind Level 1C: Global revenue >$2bn - $10bn

Beverley Uranium Mine

Gold Sponsors

Industry members have exploration or

production projects in South Australia, including

mining, energy, exploration and extraction

operations, or own tenements in the State they

may not be presently active on.

Ind Level 1D: Global revenue >$500m - $2bn

Ind Level 1E: Global revenue >$100m -$500m

Ind Level 1F: Global revenue >$50m - $100m

Ind Level 1G: Global revenue >$20m - $50m

Ind Level 1H: Global revenue >$0m - $20m

Ind Level 2: Explorer or early production with

Silver Sponsors

Service provider members are committed to

servicing and supporting the industry. They are

vitally important to the resources sector in the

State and are highly valued SACOME members,

production outside of SA

Ind Level 3: Early production

Ind Level 4: Junior explorer or extractive
---
SACOME

Membership

SACOME Membership

The South Australian Chamber of Mines

and Energy is comprised of the following

members as at 30 June 2011:

Industry Members

Adelaide Brighton Limited

Adelaide Resources

AFMECO Mining and Exploration

Ahava Energy Pty Ltd

Alinta Energy

Alliance Resources Limited

Altona Energy/Arckaringa Energy Pty Ltd

Arafura Resources Ltd

Archer Exploration Ltd

Argonaut Resources NL

Barrick (Australia Pacific) Limited

Beach Energy Limited

BHP Billiton

BHP Billiton Uranium Australia

Cameco Australia

Carpentaria Exploration Limited

Cartwheel Resources Pty Ltd

Centrex Metals

Core Exploration

Dominion Mining - Kingsgate Consolidated Ltd

Energy Exploration Limited

Epic Energy

Exco Resources

Eyre Iron Pty Ltd

Geodynamics

Gypsum Resources Australia

Havilah Resources NL

Heathgate Resources

Hillgrove Resources

HWE Mining Pty. Limited

Iluka Resources

IMX Resources Ltd

Industry Members

Innamincka Petroleum Limited

Investigator Resources Ltd

Iron Road Ltd

IronClad Mining Ltd

Linc Energy Ltd

Lincoln Minerals Limited

Marathon Resources Limited

Marmota Energy

Maximus Resources Limited

Metals X Limited

Minotaur Exploration

Mithril Resources

Musgrave Minerals Limited

Nyrstar Port Pirie Smelter

OneSteel

Oz Minerals Limited

Penrice Soda Products Pty Ltd

PepinNini Minerals Limited

Petratherm Limited

Phoenix Copper Ltd

Polymetals Group Pty Ltd

Rex Minerals Ltd

Rio Tinto

Royal Resources Limited

Santos Limited

Sinosteel PepinNini Curnamona

Management Pty Ltd

Southern Gold Limited

Southern Quarries & Direct Mix Group

Stellar Resources

Straits Resources Ltd

Stuart Petroleum

Sundance Energy Australia Limited

Syngas Ltd

Tasman Resources NL

Teck Australia Pty Ltd

Terramin Australia Limited

Thor Mining PLC

Toro Energy Limited

Torrens Energy

Trafford Resources Limited

Uranium Equities Limited

Uranium One Australia

UraniumSA Limited

UXA Resources Ltd

WPG Resources

Service Providers

Abigroup Mining Services Pty Ltd

Adelaide Control Engineering

ADT Security

Adventure 4WD

Aggreko

AGL

Ahrens

Alexander & Symonds

ALS Ammtec Limited

AMC Consultants

Amdel Limited

Ancorloc Earth Systems

ANZ

Appliance Tagging Services

Aquenta Consulting

Aries Maritime Services Pty Ltd

Asiaworld Shipping Services

ATCO Australia Pty Ltd

Atlas Copco Construction and Mining Australia

ATS Workforce

Ausco Modular

Ausenco Services

Australian Camp Services

Australian Civil & Mining Training

Australian Cultural Heritage Management

Australian Groundwater Technologies

Australian Training Alliance

Austwide Mining Title Management Pty Ltd

B.L. Shipway & Co

Baulderstone - Engineering

Bianco Building Supplies

Blake Dawson

BMD Constructions

Boart Longyear Pty. Ltd.

Boral Resources (SA) Ltd

BP Australia Pty. Ltd

Buschutz Engineering Pty Ltd

Cadgile

CAPS Australia Pty Ltd

Cavill Power Products

CDE Capital Pty Ltd

Celtic Group of Companies, The

Chubb Fire Safety

Coffey Environments Pty Ltd

Color On Demand

Commonwealth Bank of Australia

Community Engagement Group Australia Pty Ltd

Complete Personnel

Conneq Infrastructure Services

Contract Resources

Cooper Fluid Systems

Corporate Conversation

CQ Partners Pty Ltd

Cryogenic Blasting Solutions

D.J. Coughlan Drilling

David Moss Corporation

Deep Exploration Technologies CRC

Diamond Conveyors

Dixon Partnership Solutions

DMAW Lawyers

Downer EDI Mining

Draeger Safety Pacific Pty Ltd

DriForce

E & A Ltd

EBS Ecology

Ecological Associates Pty Ltd

Electranet

Emeco International Pty Ltd

Enterprise Connect Mining Technology

Innovation Centre

Enviro Action

EQAS Business Development

Ernst & Young

Ertech Pty Ltd

ETSA Utilities

Exact Mining Services

Experience Matters

Finlaysons

FirecorpSA Pty Ltd

Flinders Ports

Force10

Frazer-Nash Consultancy Ltd

Fyfe Pty Ltd

Genesee and Wyoming Australia

Geos Mining

32 annual report 2011

annual report 2011

33
---
SACOME

Membership

GHD Pty. Ltd

KPMG

Mining, Energy & Engineering Academy

Pursuit People Solutions

Spatial Scientific

Watsons Lawyers

Golder Associates Pty Ltd

KSB Australia Pty Ltd

Minter Ellison Lawyers

PwC Services (PricewaterhouseCoopers)

SRA Information Technology

Wave Rider Energy Pty Ltd

Government Relations Australia Advisory Pty Ltd

Lawson Risk Management Services Pty Ltd

Mitsui & Co Uranium Australia Pty Ltd

R W Way Management Pty Ltd

St John Ambulance Australia SA Inc.

Wendy Perry & Associates Pty Ltd

Government Relations Solutions Pty Ltd

Leadership Management Australia - Bettcher

Mulgundawa Salt

Red Appointments Pty Ltd

Statewide Financial Management Services Ltd

Westpac Banking Corporation

(GR Solutions)

Leighton Contractors Pty Ltd

National Australia Bank

Red Dirt Personnel Group

Stramech Engineering

Whitham Media Australia

Grundfos Pumps Pty. Ltd.

Lester Franks Survey & Geographic Pty Ltd

National Jet Regional Services

Red Earth Training Solutions

Strategic Energy Solutions Pty Ltd

Wilson People Management

Gryphon Partners Pty Ltd

Liebherr Australia Pty Ltd

Newsat Limited

Rema Tip Top

Strike Energy Ltd

WorkPac Central Pty. Ltd.

Hawker Britton Group

Logistica

Nextgen Networks

Renaissance Air

Sundowner Cabin & Tourist Park

WorleyParsons

Hays Resources and Mining

LR & M Constructions P/L

Normet Asia Pacific Pty Ltd

Rexco People Pty Ltd

Technology One Corporation Limited

Xceptional Recruitment Pty Ltd

Health Safety Environment Aust. Pty. Ltd.

Lucas Earthmovers Pty Ltd

OAMPS Insurance Brokers

Rhino Plant Hire

Telstra

Yaran Business Services Pty Ltd

Hitachi Construction Equipment Aust P/L

Ludowici Australia

ODT Australis Pty Ltd

Roadside Services & Solutions Pty Ltd

The Direct Mail Centre of Australia Pty Ltd

Hughes Public Relations &

Communication Counsel

Macmahon Holdings

Mainfreight International Pty Ltd

O'Loughlins Lawyers

Opposite Lock Adelaide

Roxby Serviced Offices

RPS Aquaterra

The University of Adelaide Faculty of

Engineering Computer and

Associates

Hunt & Hunt

Maloney Field Services

Osmoflo

Samaras Group

Mathematical Sciences

Bradshaw, Peter

Hunt Energy & Minerals co Pty Ltd

Marlow Communications Pty Ltd

P & O Trans Australia

Scene Change Adelaide Pty Ltd

Thiess Pty. Ltd.

Briggs, John

Icon Recruitment

Max Crane & Equipment Hire

Panurgem Pty Ltd

SCF Group Pty Ltd

Thinc Projects

Coppin, Teena

Idam Distributors Pty Ltd

May Brothers Pty Ltd

Parker Hannifin (Australia) Pty Ltd

Schulz Hobbs Pty Ltd

Tingira Pty Ltd

Curtis, Lindsay

Iman International Pty Ltd

McConnell Dowell

Parsons Brinckerhoff

Service Providers

Tonkin Consulting

Fargher, John

Innoveco Australia

McDonald Steed McGrath Lawyers

Paulka Radiation & Environment Pty Ltd

Sharp Airlines

Torque Industries

Farrington, Vic

Integralign Pty Ltd

Megaron International Pty Ltd

Paydirt Media Pty. Ltd.

Short Focus Films

Torrens Finance Brokers Pty Ltd

Gibb, Rob

Integrity Sampling

Mercury Firesafety

Payneham Financial Services

Signature Security

Training Materials Consultancy

Jackson, Norton

Intermodal Solutions

Meridian Winches & Marine Equipment Hire

Peter Kittle Motor Company

Sinclair Knight Merz

TRILITY Pty ltd

Kennedy, Sean

Jardine Lloyd Thompson

Migration Solutions

Phoenix Project Management Pty Ltd

Skills DMC

Tyco Flow Control Pacific

Pederson, Egon

John Nitschke Drilling

Minecorp

Piper Alderman

SME Growth Capital

UCL School of Energy and Resources, Australia

Penfold, Mike

Joie Creative

Minelab Electronics Pty Ltd

Piping and Automation Systems SA Pty Limited

Smith & Georg

UGL

Steed, Ivan

Kellogg Brown & Root

Minerals & Metals Marketing

Pirtek (Adelaide) Pty. Ltd.

South East Australia Gas Pty Ltd

University of South Australia

Thomas, Dave

Kelly & Co

Mining & Construction Safety Specialists

Port Adelaide Football Club

Southern Cross Personnel

Vital Group of Companies

Tonkin, David

Kempe Fluidpower & Engineering Services

Mining One

Port of Melbourne

Southern Steel Supplies

VSL Australia Pty Ltd

Wills, Kevin

KJM Contractors

Mining People International

Powranna Consulting Pty Ltd

Sparke Helmore Lawyers

Watpac Civil and Mining Pty Ltd

Zwiersen, Tim

34 annual report 2011 annual report 2011 35
---
36 annual report 2011

CHIEF EXECUTIVE

Report