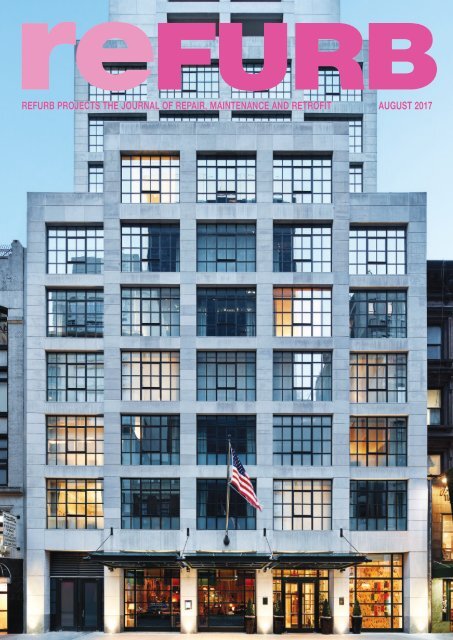 Refurb Projects August 2017
Create successful ePaper yourself
Turn your PDF publications into a flip-book with our unique Google optimized e-Paper software.
REFURB PROJECTS THE JOURNAL OF REPAIR, MAINTENANCE AND RETROFIT AUGUST 2017
---
Contents

Vol. 28 No. 185 AUGUST 2017

2

18

34

13

24

Managing Editor

Tony Prior

Editor

Peter Ashmore

Editorial Assistant

Sue Watson

News Editor

John Grant

Advertising / Marketing

Caroline Warby

Design / Graphics

James Kennett

Kay Miall

Ian Purves

Co-Publishers

Tony Prior and Carole Titmuss

Printed by Manson Group

Front Cover

New York City's newest

boutique luxury hotel makes a

bold statement in upper

midtown Manhattan, thanks in

no small part to the extensive

use of Crittall steel windows,

doors and internal screens and

partitions.

Full story page 14

This journal includes editorial photographs

provided and paid for by suppliers.

Refurbishment Projects incorporating

Refurbishment Products is published by

Sheen Publishing Ltd

50 Queens Road,

Buckhurst Hill,

Essex, IG9 5DD, UK

Tel: 020 8504 1661

Fax: 020 8505 4336

Web: www.refurbprojects.com

Email: editor@refurbprojects.com

Twitter: @RefurbProjects

Refurbishment Projects is available on

subscription annual rate UK £25.

Europe £36 Overseas £40.

Single Copies £3.50 UK £6 Overseas.

ISSN 1475-1135

REFURB PROJECTS CONTENTS

04 Energy Efficiency

Improving comfort for hospital visiting families

06 School Building

Equipping schools for future needs

08 Quiet Please

How the right insulation can prevent noise nuisance

11 Kew Fit-Out

Refurb of the National Archives in Kew

12 Social Housing

Wireless emergency lighting in social housing

19 Rooflights

The future is daylight

20 Refurb

Reinvigoration of 1930's cinema

21 Project

Redevelopment of Lincoln University

28 Architecturally Ambitious

30 Roofing

A watertight solution

31/36 Secure Times

Supplement on fire, safety and security

REFURBISHMENT PROJECTS, august 2017 1
---
PROJECT

Historic London Church Restoration

Focus Consultants has been appointed to project manage a plan for a major restoration at one of London's

historic churches.

The Parish Church of St

Marylebone, home to the

internationally respected

Healing and Counselling

Centre and innovative NHS

Marylebone Health Centre, has been

awarded initial support of £700,000

from The Heritage Lottery Fund

(HLF) to develop proposals for the

£8.6m restoration of the church and

the renewal of community facilities.

The historical Grade I listed

London landmark has appointed

Focus Consultants as project

directors and project managers.

The scheme is set to include new

building work adjoined to the

current structure to include a

welcome and reception area,

additional exhibition space and a

café for visitors. In addition to this,

extensive repairs and conservation

efforts are expected to take place on

the existing building.

Focus Consultants partner Ellie

Clarke said: "St Marylebone Church

is an important building in London

and the team at Focus is very

pleased to have been appointed to

help with the development in the

next chapter of its history.

"We have significant experience

of working on such projects and are

looking forward to project managing

these inspiring proposals."

Constructed in 1817, the

Anglican church located on the

Marylebone Road is the third

building used for the parish church

in the borough's 900-year-old

history. The present church was the

venue for the wedding of Robert

Browning to Elizabeth Barrett and

the baptism of Charles Dickens' son.

In the 1980s, the Parish took a huge

leap in converting the unusable

crypts of the church to create a

range of complementary facilities

for community uses.

The Rector of St Marylebone, The

Revd Canon Stephen Evans,

commented: "The regeneration will

allow the parish to become a

Community Hub which will tell the

story of St Marylebone "the great

city north of Oxford Street".

The Rector and Parochial Church

Council will be partnering the

Church Army's Marylebone Project in

providing a Community Café, staffed

by women who would otherwise be

homeless, Vital Regeneration, an

innovative community enterprise

project based in Church Street, one

of Westminster's most deprived

areas, working with local young

people who are not in employment

or education, the Building Crafts

College in Stratford (which was

founded in and had its premises in

Marylebone for nearly 100 years)

and a host of other individuals and

agencies.

The Changing Lives project will

lead to a more sustainable future for

the church - creating a vibrant,

welcoming hub and enabling visitors

to learn more about the heritage of

the church and the wider

Marylebone area.

The Focus team is currently

working to develop the bid ready for

submission to the HLF in Summer

2018. The project is expected to be

completed in 2020.

Focus, which is based in

Nottingham, has offices in London,

Leicester and Boston in Lincolnshire.

This project is being led by the

London office. The company has,

since 1994, secured for clients more

than £953 million of grants for

projects and businesses across the

UK and delivered more than £1.3

billion worth of projects and

programmes – making it one of the

most successful businesses of its

kind in the country.

It also offers a range of services

to the property and construction

industry, including building

surveying, quantity surveying,

project management, and

sustainable development support.

For more information, visit

www.focus-consultants.co.uk

2 AUGUST 2017, REFURBISHMENT PROJECTS
---
N E W S • N E W S • N E W S • N E W S • N E W S • N E W S • N E W S • N E W S

1970's Office Building brought back to life

Architect Stride Treglown has

transformed a dated 1970s

office building in the

UNESCO World Heritage

Setting of Bath.

Originally built in 1972, the sixstorey

building at 20 Manvers Street

did not meet the demands of

modern occupiers, with plant at the

end of its useful life and dark, dated

interiors.

Despite the constraints of its

setting between two listed buildings,

Stride Treglown has successfully

repositioned the building within the

Bath office market with the scheme

being fully let to DC Thomson and

Chase DeVere prior to completion.

Removed plinth – one metre

high, ground floor slab to back edge

of pavement to remove visual barrier

and improve relationship with street

scene. Planning gain –

improvements mitigated additional

space on roof.

A new glazed entrance has been

introduced at pavement level with

the original plinth being removed to

vastly improved the building's street

presence. A rooftop glass box,

providing an additional storey, adds

a further contemporary feel to the

scheme whilst giving occupiers

panoramic views over the city.

A spacious reception area

designed using a palette of

high quality materials creates a

sense of arrival. Communal

areas are designed with highquality,

durable finishes and

the provision of shower,

changing and locker facilities

encourages the use of cycling,

running and walking, as well as

the possibility of exercising at

lunchtimes.

The previous substandard

office floors have been

refurbished into highly

desirable modern workspace.

The replacement of the existing

windows with full height, high

performance glazing has

created a light, airy open plan

space. Externally the Bath

stone of the facades has been

repaired, repointed and

cleaned.

The building layout and

services have been designed to

provide maximum flexibility in

occupation whilst the client's

sustainability brief was

exceeded with the building

achieving a BREEAM rating of

'Very Good' and EPC A, superior

to many new buildings.

Web: www.stridetreglown.com

In-Ground (Flip Lid) Units

Retractable Service

supplying electricity, water and

Units data points to public places

Our Pop Up Power

Units have been

specified on:

• Markets

• Heritage

• Town Centres

• Universities

• Recreational Areas

• Sports Stadiums

Power Bollards

Pop Up Power Supplies ® Ltd

Telephone 020 8227 0208

Email info@popuppower.co.uk

Web www.popuppower.co.uk

Pop Up Units

P O W E R W H E N Y O U N E E D I T. . . H I D D E N W H E N Y O U D O N ' T

REFURBISHMENT PROJECTS, AUGUST 2017 3
---
ENERGY EFFICIENCY

Improving comfort for visiting families

Tony Prior looks at how the latest air conditioning technology is being used to keep families in

comfort whilst visiting their children in hospital.

Iget a lot of case studies across

my desk each month and

invariably they are notable and

worthy but this month I really

wanted to focus on one because of

the use of the building itself as well

as the state-of-the-art technology

being used.

Ronald McDonald House

Charities offers vital support to

families with a child in hospital,

providing them with a comfortable

place to stay that's just a stone's

throw away from the hospital

building.

The house at Guy's and St

Thomas' in London was the very first

facility of this type and since it

opened in 1990 it has helped

thousands of families stay close to

their child during a hospital stay. In

2015 alone 325 families made use of

this vital facility and avoided having

to make long distance journeys from

home or pay for costly hotel rooms.

The success of the house has

expedited the need for the brand

new 59-bedroom building at Evelina

London Children's Hospital - part of

Guy's and St Thomas' NHS

Foundation Trust. The new Lambeth

Road accommodation takes the form

of a four story residential block and

will allow families to prepare their

own meals and get a good night's

sleep, providing a home away from

home and a degree of stability in an

often distressing and uncertain time.

The 59-bedroom building for

Ronald McDonald House Charities is

utilising a water-based air

conditioning system to provide

comfortable accommodation to

families in their hour of need.

ENERGY EFFICIENT HEATING AND

COOLING

As part of this new build, project

consultants Jones King identified the

need for an energy efficient heating

and cooling system and a regular

supply of fresh air. VRF (Variable

Refrigerant Flow) air conditioning

was initially considered for the

entire building but it was eventually

decided that a Hybrid VRF system

(HVRF) would be the best overall fit

in the accommodation rooms.

The ground floor, designed as a

communal area for resident families,

is served by a City Multi VRF system

and Lossnay Mechanical Ventilation

with Heating Recovery (MVHR) units,

whilst the first, second and third

floors, accommodating individual

residency rooms, benefit from a

HVRF system. In total, 76 family

rooms are served by the Hybrid

solution.

Mitsubishi Electric's HVRF system

provides comfortable and stable air

temperature control, without using

refrigerant in occupied spaces. A

truly integrated solution, this twopipe

solution offers simultaneous

heating and cooling, flexible controls

and high seasonal efficiency.

The unique Hybrid VRF system

removes the need for leak detection

in occupied spaces because it uses

water to transfer heating and

cooling between a special Hybrid

Branch Controller (HBC)

However, in this case the

developers have also included leak

detection between the outdoor unit

and the HBC, due to the extended

pipe run connecting the two parts

of the system.

On the ground floor, the Lossnay

mechanical ventilation with heat

recovery system provides energy

efficient fresh air ventilation,

improving air quality and comfort

for residents. The Lossnay series of

products use state-of-the-art heat

exchange technology that enable

CO2 reduction and energy saving.

The newly installed Lossnay system

extracts stale air from the Lambeth

Road property, recovering heat

energy through its paper core and

transferring it into the fresh

incoming air.

No modern heating and cooling

solution is complete without the

right controls to ensure that the

system can be monitored and

adjusted with the minimum of fuss.

The new charity house

incorporates a touch screen

centralised controller, capable of

controlling up to 50 units and

providing detailed analysis on energy

consumption. In addition, individual

wall mounted room controllers

enable guest families to alter the

temperature in their rooms.

Sugoi Solutions - a Mitsubishi

Electric accredited installer - carried

out the installation and director Ben

May made sure that everything went

according to plan. He comments,

"During the final design stage of the

project it became apparent to Sugoi

that leak detection would be

required due to the refrigerant pipe

work distances. Leak detection was

an element that hadn't been

included within the project budget

and therefore created a problem for

all concerned.

"The selection and installation of

the Hybrid VRF system removed the

need for leak detection and kept the

project within original cost plans."

With the new systems in place

the house is now ready to accept its

first guests, providing them with a

warm and peaceful environment

away from the stresses of the

hospital ward.

Web: www.airconditioning.

mitsubishielectric.co.uk

4 AUGUST 2017, REFURBISHMENT PROJECTS
---
0118 918 1400

C h i l l e r s b u i l t f o r y o u

Call or email today for a brochure or a free

no-obligation site survey

www.thermagroup.com/chillers | sales@thermagroup.com

ThermOzone

T h e C o o l i n g S p e c i a l i s t s

Major energy savings

Nationwide service

FREE design service

2- 5 years warranty

Typical installation 30

days min

NuChill

A T h e r m O z o n e P r o d u c t
---
SCHOOL BUILDING

Equipping schools for the needs of the future

By Craig Smailes, Project Director at Kajima Partnership

Kings Langley School. and below, Goffs School's main entrance.

The demand for school places is

reaching breaking point and is

threatening to jeopardise

standards of education: official

figures suggest that by 2025, an

extra 750,000 school places will be

needed to keep pace with an

expanding population. Policy makers

are increasingly recognising the need

for innovative solutions to bridge

the gap between supply and demand

and to deliver modern, fit for

purpose, future-proofed schools.

The last six years have seen

significant changes to the ways that

schools are procured, developed,

constructed and maintained.

Launched in 2011 the Conservative

Government's Priority School

Building Programme (PSBP) was

designed to replace the schools in

the worst state of repair, providing

new, modern premises that are

equipped for the future. Below,

Craig Smailes, Project Director at

Kajima discusses the PSBP and

Kajima's role in developing seven

schools part of the programme.

A new generation of schools is

needed in order for us to cope with

the increasing pressure on the

education system, which is

hamstrung by the challenge of

reduced funding and a growing

demand for places. Appointed by the

Education Funding Agency (EFA) in

2015, Kajima and investment partner

Interserve were awarded the

contract for the first batch of PSBP

(PF2) schools located in

Hertfordshire, Luton and Reading

and assumed primary responsibility

for the design, construction and

facility management of the schools.

Kajima recently announced the

completion of these seven secondary

schools through a £135 million

construction project, providing over

8000 pupils with purpose built

facilities. The schools are

characterised by innovative and

modern designs, each of which

responded to numerous site

constraints, whilst simultaneously

meeting strict design, environmental

and pedagogical standards within a

challenging project budget. The

seven schools comprise of the Kings

Langley School, Bishop's Hatfield

Girls' School in Hatfield, Goffs

School in Cheshunt, Longdean

School in Hemel Hempstead,

Reading Girls' School, Stopsley High

School in Luton and Westfield

Academy in Watford.

Addressing the individual needs of

the seven schools was tempered with

a rationalised approach to design

around a standardised theme of

orientation, basic layout and building

components, resulting in

predominantly three storey structures

of simple arrangement. The designs

optimise whole life costs and

operational efficiency through passive

environmental solutions, maximising

natural daylight and ventilation and

by utilising the inherent thermal mass

of the structure for night time

cooling and purging. These solutions,

combined with fully integrated

building management system ensure

that energy use is accurately

monitored and consumption of course

is kept to a minimum.

A degree of flexibility has been

integrated into the design to

facilitate changes in room use,

teaching methods and to

accommodate future expansion with

minimal disruption and intervention.

Bespoke elements were introduced

wherever possible into the building

fabric to recognise the importance

of each school's unique identity and

culture reinforcing its place in the

community. Elements of the school

were designed to encourage out of

core hour's use by third parties

thereby offering much needed

additional income generation.

The Priority School Building

Programme has been central to

creating schools which are modern,

efficient and future proofed whilst

not sacrificing quality design. The

programme has empowered schools

to respond positively to the unique

challenges they face, through new

buildings that inspire learning and

improve educational outcomes.

Web: www.kajima.co.uk

6 AUGUST 2017, REFURBISHMENT PROJECTS
---
Paul Winch Furness. Source D&D London

Traditional style outside.

Exceptional performance inside.

When converting a Listed C19th gym into a restaurant for the King's Cross

Central Limited Partnership, architect Allies and Morrison found that the

Janisol Arte steel renovation window from Schueco Jansen delivered the

perfect combination of appearance and performance. With narrow face-widths

of just 25 mm or 40 mm, a wide range of opening types, multi-point locking

and U w

values from 0.8 W/m 2 K, Janisol Arte is also soon to be available in

stainless steel and Corten steel. www.schueco.co.uk
---
INSULATION

Quiet Please

Noise nuisance has become one of the greatest environmental challenges of our time. Here, Anthony Barnett,

Technical Marketing Manager at Armacell, looks at how development of specialist foams and a better

understanding of where noise is generated is helping address the issue.

ArmaComfort AB and ArmaComfort

AB Alu is a new range of acoustic

foams designed specifically by

Armacell for noise control in

plumbing applications.

Much work has been

carried out in the area

of building acoustics

over the last few years

aimed at mitigating sound

transmittance. One of the reasons

for this is that noise at work, in

public buildings or in the home, has

become one of the greatest

environmental issues of our time.

A considerable amount of focus

has always been put into ensuring

that excessive noise from external

sources such as roads, railways and

aeroplanes does not transmit into

the building.

However, what is often

overlooked is the fact that most

noise is generated from inside the

building, from sources such as

plumbing, rainwater, walking on

hard floors and transmittance of

peoples' voices. It is not uncommon

for measures such as triple glazed

windows to be specified to reduce

external noise and then overlook

these internal sources of noise

disturbance.

INTERNAL NOISE DISTURBANCE

Plumbing and WC systems are a

common source of noise

disturbance, which can be more

noticeable at night when they are

replenishing. We can all testify to

the disruptive nature of these in the

middle of the night. This noise is

transmitted through pipework and is

amplified by boarding. Rushing

water, loose fittings, or rainwater

cascading through gutters and

downpipes can also cause

disturbance for building occupants.

All buildings have the potential

to generate unwanted noise,

although it is a particular concern in

multi occupancy buildings such as

apartments as well as hospitals, care

homes, hotels and schools. In these

situations, because of the number of

people, it can quickly cause a

problem for occupants. In the

majority of these cases, specifying

acoustic insulation foams, which are

relatively inexpensive and easy to

install, can remedy the problem.

The insulation industry has

responded by developing flexible

technical insulation materials that

are designed specifically for

attenuating noise in these situations.

Construction of these acoustic

foams consists of a 2mm thick foil

faced acoustic EPDM-EVA barrier

with 4kg/m2 weight and a 10mm

polyurethane foam layer for

decoupling, which makes it more

effective compared to traditional

products. In comparison to

traditional acoustic insulation

products, tests show that flexible

insulation foams achieve a much

greater reduction in sound level, and

with a thinner wall thickness.

For example, independent tests

by CSTB (Centre Scientifique et

Technique du Bâtiment) confirmed

that these acoustic foams are able

to reduce airborne sound pressure

level of a Geberit roof drainage

system by 16 dB (A) at 2 l/s water

flow. Similar tests on a PVC pipe,

where the vibrations caused by

flowing water are stronger because

of the lighter weight PVC, achieved

a noise reduction of 12 dB (A). The

human ear perceives a reduction of

10 dB (A) as halving the volume. By

choosing the correct flexible

acoustic foam it is possible to

achieve a weighted sound reduction

index (Rw) up to 28 dB when pipe

and elbows are insulated.

Acoustic foam materials such as

this have very good acoustic

damping and acoustic isolation

properties across the frequency

range relevant for building acoustics

– irrespective of whether it is

installed on cast iron or PVC pipes.

They also display very good fire

behaviour, achieving the best fire

class for organic products in the

European SBI test. Contractors will

find that the thinner thicknesses

required to achieve the required

decibel reduction is an advantage

because it makes installation in tight

spaces much easier.

The consequences of not taking

adequate steps to reduce noise

generated from plumbing and

rainwater systems usually only

becomes apparent when the

building is occupied, at which stage

it is much more costly to remedy. It

is therefore essential that noise

abatement measures from external

and internal sources are considered

as early as possible in the design

process.

CONCLUSION

Increased awareness of the need to

address noise pollution in buildings

has resulted in the development of a

number of solutions by the

insulation industry. Where effective

sound insulation is specified it

increases both the comfort for

residents as well as the appeal and

therefore the asset value for the

building owner. Specifiers and

installers that choose flexible

insulation foams specifically

designed for acoustic applications

can demonstrate to their client that

they have considered the needs of

all parties involved."

The new ArmaComfort AB Alu

acoustic insulation material are

presented on YouTube and at

www.armacell.co.uk

8 AUGUST 2017, REFURBISHMENT PROJECTS
---
Spacetherm ® Wallboard mitigates

Thermal Bridging for Grade II building

Spacetherm Wallboard has

been supplied by the A.

Proctor Group to mitigate

thermal bridging for the

historic Electricity House building in

Bristol, recently converted by Crest

Nicolson into a series of luxury flats

ranging from £230,000 to £530,000.

The renowned architect, Sir Giles

Gilbert Scott, the creator of the

iconic Battersea Power Station,

designed the original Grade II listed

building.

Used in this instance as a

Window Reveal Board, Spacetherm

Wallboard was developed to prevent

thermal bridging through a

component or element of a

structure.

Spacetherm Wallboard is a high

performance laminate, which

consists of Spacetherm Aerogel

insulation blanket bonded to

plasterboard, and is ideal for use in

applications where low U-values are

required, and space is at a premium.

Planning requirements stipulated

that the original window opening

aperture sizes had to be maintained,

and to alleviate thermal bridging on

the existing window reveals, a thin

insulation solution was crucial.

Spacetherm offers superior

thermal performance, which enabled

the contractor to insulate the

existing window reveals with just

17.5mm overall thickness, whilst still

providing a high performing thermal

conductivity of only 0.015 W/mK.

Engineered for unsurpassed

thermal performance in spacecritical

applications, Spacetherm

offers exceptional thermal

conductivity, plus breathability allied

to hydrophobic characteristics.

Spacetherm Blanket is an ideal

choice for timber or steel frame

structures and on request can be cut

to a variety of widths and sizes to

suit different applications.

In addition, it can also be

bonded to a wide range of boards

and substrates.

Its flexibility and ease of use,

combined with exceptional thermal

performance qualities, which can be

retained for up to 50 years, make it

a preferred choice for many

architects and specifiers.

For more information and technical details contact our website:

www.proctorgroup.com

The Proctor Group, The Haugh, Blairgowrie, Perthshire PH10 7ER

Tel: 01250 872261 Fax: 01250 872727 Email: contact@proctorgroup.com

REFURBISHMENT PROJECTS, AUGUST 2017 9
---
COMMENT

A Self-Builders guide to

Sustainable Property Construction

If the government is to reduce the UK's greenhouse gas emissions - as outlined in the Climate Change Act - by

at least 80% of 1990 levels by 2050, it's not only largescale developers that need to remain committed to

progressing energy-smart construction processes - smaller, independent builders can play their part, too, writes

Ben Warren, Managing Director at global building materials manufacturer, Baumit UK.

Athird of the UK's carbon

emissions originate from

heating draughty buildings,

a fact worth retaining when

designing a property with energy

efficiency as its key factor. Before

any plans are drawn-up, however,

and in lieu of materials being

specified, the first thing a selfbuilder

requires in order to construct

a sustainable home is the right

mind-set. They have to begin the

project intent on creating a property

that will be theirs to reside in for

the rest of their lives. This attitude

of domestic permanence is more

prevalent in Europe than the UK. In

Austria, where Baumit has its HQ,

the sustainable mentality is

ingrained in the culture – from the

food they eat, to the properties they

build. Many Austrian restaurants will

not source food outside a 15-mile

radius, whilst builders on average

construct houses to a 0.2 W/m² U-

value, a higher tightness level than

the country's 0.4 W/m² U-value

regulation for new homes. Their

housebuilders' general view seems to

be: 'I'll build my property with the

right materials and employ the

correct methods in order to

minimise energy consumption'. By

going beyond the call of duty to

construct homes which excel in

terms of thermal performance,

building regulations regarding

energy-efficiency have little

relevance to the Austrian selfbuilder

- they view sustainability as

a matter of course.

FEAT OF CLAY

Having discussed the mentality -

which materials make for a

successful sustainable build? A

timber-frame shell offers an

established, quick and reasonably

energy-efficient solution, but if we

are to pursue the Austrian model

and construct homes which exceed

thermal regulations, alternative

technology is worth considering.

Porotherm, a clay block walling

system, is a popular infrastructure

choice in homes across Europe. It's

lightweight in construction and

extremely thermally efficient.

Porotherm only requires one course

of bricks, rather than the two used

in cavity wall construction – the

favoured building method in about

90% of largescale building

developments in the UK.

A combination of high-spec

external wall insulation and

Porothem can produce a spectacular

thermal envelope. At a development

in Norwich, Baumit's OpenSystem -

a thermally-superior EWI solution

which uses unique open-air

technology to allow walls to breathe

- was used in conjunction with

Porotherm to achieve Passive House

performance: 0.15 W/m², in all 14

homes. Thermal efficiency doesn't

guarantee a home's comfort and

wellbeing, however. Applying a

standard Expanded Polystyrene (EPS)

system to clay block walling may

well result in good levels of

airtightness, but it would be akin to

wrapping a house in plastic: walls

wouldn't breathe and moisture

would build-up as a result. The same

moisture retention would occur with

an acrylic top coat applied to an EPS

system. To prevent such occurrences,

the construction of the wall from

the inside-out needs to be

considered. OpenSystem's

perforations and the application of a

breathable topcoat such as Nanapor,

a mineralic and highly vapourpermeable

technology found in

Baumit paints and renders, offers

free movement of water vapour

through the wall and exits through

the whole system.

Lime-based products when

applied to walls enhance a building's

interior sustainability. Lime is a very

adaptable product, offering more

flexibility in material, enabling it to

accommodate structural movement.

It also acts as a moisture buffer.

When working in conjunction with a

clay block walling system, it absorbs

and releases moisture in a regulatory

fashion.

SENSE OF WELLBEING

'Multi-comfort' is a phrase currently

applied to sustainable building

which suggests sensory aspects such

as sound, touch, light and colour are

all important factors in increasing

levels of wellbeing as well as

thermal efficiency inside homes. In

terms of paint, colour as well as

consistency is important. As with oil

paints, acrylic coverings can contain

VOCs which emit a noxious vapour

and strong odour that can lead to

headaches and nausea for a

building's occupants. Baumit

produces a number of mineral-based

paint products that are kinder to the

environment and the senses of those

living within the walls to which it is

applied.

Embarking on a sustainable build

requires a massive investment, and

not just in monetary terms. Every

detail, however small, should be

pored over as if it were the most

important: time should not be

spared on any aspect of the project.

Among the more lateral questions to

consider at a building's design stage

might be: where does the sun rise

and set? This will determine the

amount of thermal gain through

glass and help regulate comfort

levels in a conservatory, for example,

which can be unbearably hot in

summer if the style or size of panes

is left to chance. It's a reminder that

a home's year-round interior

comfort not only depends on its

resistance to cold in winter; its

ability to deflect heat in summer is

just as important, particularly with

climate change's warming effect so

reflective in current, global

temperatures.

Finally, once plans are drawn-up

and approved and a programme of

building works has been agreed,

there's only one thing a sustainable

self-builder has in mind - get on

with the job and get it done. Having

highlighted the thermal benefits of

Baumit's OpenSystem when

combined with a Porotherm clay

block walling, aside from the

comfort and wellbeing it creates, it's

also a rapid-build alternative to

cavity wall construction methods.

With only one course of bricks

required and the EWI in place, work

can begin on a building's interior,

which ultimately leads to reduced

on-site working times and energy

consumption. It's a process that

guarantees a project's sustainability

from beginning to end.

Web: www.baumit.com

10 AUGUST 2017, REFURBISHMENT PROJECTS
---
Overbury completes Kew refurbishment

PROJECTS

National fit out and refurbishment specialist Overbury has completed a £780,000 refurbishment at The

National Archives in Kew, London to create a vibrant and versatile new public space. The 4,700 sq ft project by

Overbury represents the biggest change in the 40-year-old building in a decade.

The refurbishment project,

which started in January, is

one of the ways that The

National Archives is redefining

its public areas and breathing new

life into the space. The National

Archives is a non-ministerial

government department, and is the

official archive of the UK

government. With over 180

kilometres of shelving, it is also

home to some of the nation's most

iconic documents dating back more

than 1,000 years, including the

Domesday Book, Shakespeare's will

and tweets from Downing Street.

The refurbishment saw the

upgrade of the building's

mechanical, electrical and data

infrastructure, as well as the

creation of a double-height

auditorium and new modern, open

plan areas for reading and research.

Transforming any public space in

an occupied building with historic

gravitas is a big task, says Bob

Banister, managing director at

Overbury: "We're used to working in

sensitive environments, and

throughout the years we've worked

within many listed buildings,

however this project posed an

entirely unique challenge. Managing

the potential risk of water, fire or

dust damage and maintaining the

integrity of the documents in the

building were principle concerns, as

was keeping the archives open to the

public with as little fuss as possible."

▲ The double-height auditorium which is available for provate hire.

The entrance to the renovated Natonal Archives. ▼

HIGHLIGHTS OF THE PROJECT

INCLUDED:

• 2.5 tonnes of data cable was

safely removed and disposed of,

supporting the buildings upgrade to

fibre optic data connectivity

• It took 246 hours to remove 8

tonnes of concrete, which was cut

with a hydraulic, high-pressure

diamond saw

• Building a 250 seat doubleheight

auditorium that The National

Archives will be able rent for private

lectures and workshops, opening up

a new revenue source

• Exposing 2,066 sq ft of the

original coffered concrete ceiling to

highlight its architectural merit

• All construction materials used

throughout the project had to be

non-organic to deter moths

• 95% (7 tonnes) of all

construction waste was recycled.

Another consideration was

making sure that the experience of

visitors was not hampered by the

refurbishment – a total of 2,700

hours were worked after closing

time to ensure minimal disturbance

to visitors and staff. In addition, the

project team made sure that the

reading rooms could be used

throughout which meant changing

the access routes regularly, and in

some weeks daily. Noise, dust and

logistics were all carefully managed

to ensure that the project wasn't an

inconvenience.

Bob continues: "Accommodating

researchers, students and employees

of The National Archives was a

cornerstone of the project. We

needed to remain as flexible as

possible and make sure that the

public still had a great experience

when visiting the archives. The

overall success of the project is a

real credit to the entire consultant

and subcontractor team and we

hope that The National Archives and

community will enjoy the space for

many years to come."

Lee Oliver, head of venue

management for the National

Archives, adds: "This major new

space is exciting as it will change

the way visitors engage with The

National Archives' collections on

site. It allows us to expand our

public programme and increase the

range, capacity and frequency of

public talks, events and other

activities. This will in turn allow us

to serve a wider audience including

more families, students and teachers,

community and arts groups as well

as national and international

researchers."

Web: www.overbury.com

REFURBISHMENT PROJECTS, AUGUST 2017 11
---
SOCIAL HOUSING

Wireless emergency lighting in social housing

When refurbishing social housing developments, one of the highest priorities for building owners and specifiers

alike is the safety of residents. So, when Peabody, one of the largest housing associations in the UK, had the

opportunity to overhaul emergency lighting across its estate of over 17,000 blocks, it turned to Harvard

Technology to provide an innovative lighting solution.

With over 80,000

residents occupying its

extensive estate, the

necessity for effective

and efficient emergency lighting

was fundamental to Peabody's plans

to revamp its housing blocks. Not

only does the housing provider wish

to protect occupants, they also have

to obey increasing stringent

emergency regulations, which

include the requirement for monthly

and yearly functional and duration

tests compulsory under test

standards. Non-compliance with

such standards would result in

potentially hefty fines and

repercussions for the housing

provider.

The long-awaited revision to the

Emergency Lighting Code of Practice

BS5266:1 2016, issued in May 2016,

has only compounded the necessity

The EyeNut wireless lighting control system.

for sufficient emergency lighting in

social housing blocks and Peabody

were keen to address the issue.

Although the regulations have

been widely accepted as a step in

the right direction for emergency

lighting, especially in large, densely

populated housing blocks, they have

also brought a new unique set of

challenges for both social housing

providers and specifiers. Keen to

address the issue at hand and

improve emergency lighting

significantly, Peabody sought a

solution that would ensure

functional emergency lighting at all

times, whilst also keeping

maintenance and operational costs

to a minimum.

The company understood the

importance of installing an LED

lighting solution that offered

greater efficiency, lower running

costs, and perhaps

most importantly,

improved

illumination when

compared to the

traditional

incandescent

lighting installed

previously. Equally

essential was having

a scalable and

controllable lighting

portfolio across all

its buildings in the

future. With

ambitions to employ

enhanced control

strategies across its

estate including

occupancy detection,

daylight harvesting,

scene setting and time scheduling,

Peabody also needed a system

capable of delivering advanced

control options.

SMART EMERGENCY LIGHTING

Harvard Technology, and fixture

designer and manufacturer Fern

Howard, worked closely with

Peabody and the refurbishment

team to review the social housing

blocks' requirements and ensure the

best technology fit for the facilities.

The specified solution was an

integrated LED lighting system with

a wireless-enabled emergency

bulkhead fixture, which could link

with the innovative wireless lighting

control system EyeNut.

The system, initially installed in

two housing blocks in phase one of

the project, comprised 80 emergency

bulkhead LED fixtures, with 70% of

these fixtures including an

innovative emergency feature,

enabled through the EyeNut

Combined Emergency driver. The

entire lighting portfolio is controlled

through EyeNut, an intuitive cloudbased,

remote access, wireless

control system for indoor and

outdoor lighting.

Needing to meet emergency

lighting test standards, which

necessitate both monthly and yearly

tests for the full rated duration of

the emergency lights, the retrofit

high-performance driver provided

the perfect solution. An automatic

test feature incorporated within the

driver ensures all tests can be

completed remotely, eliminating the

requirement for monthly site visits.

Results of the automatically

scheduled functional and duration

testing are exported for audit

tracking through the EyeNut Graphic

User Interface (GUI). For Peabody,

this not only ensured complete

compliance with emergency lighting

regulations, but also saved them

substantial time and money on

maintenance.

Connecting thousands of fixtures

across a complex housing estate

using a wired lighting control

solution would prove almost

impossible for Peabody, but wireless

lighting control solutions have

changed that completely. Unlike

wired systems, the cloud-based

EyeNut system is infinitely scalable

and there are no limits to the

number of locations, the number of

gateways, or even the number of

devices, which can be managed

through the central hub.

Using EyeNut, up to 500 EyeNutenabled

devices can be controlled

from a single gateway, via a robust,

secure, ZigBee wireless mesh

network. Facilities Managers can

even manage both indoor and

outdoor lighting fixtures, in car

parks for instance, using the same

system.

For Peabody, this provided untold

advantages. Through the intuitive

EyeNut system, the leading housing

provider can monitor and manage

their entire lighting portfolio with

multi-site control from a single hub.

Accurate real-time energy data,

including kilowatt/hours' usage and

energy hot spots, is easily accessible

through the system's GUI allowing

Peabody to implement energy

efficiency strategies and make

further savings. Crucially, from an

emergency lighting standpoint,

maintenance has also been

dramatically improved across the

Peabody estate as any lamp failures

are reported immediately, enabling

necessary repairs to be made.

By installing an LED lighting solution

and wireless lighting controls,

Peabody achieved a marked

reduction in energy consumption

across its two blocks, with energy

savings equating to 44%. Through

enhanced dimming and sensor

control throughout its estate, the

leading housing association is

aiming to reach 50% energy savings.

For more information visit:

www.harvardtechnology.com

12 AUGUST 2017, REFURBISHMENT PROJECTS
---
Energy Academy provides a low-tech

lesson for the future

PROJECT

It's a given that fossil fuels are a finite resource and it's only a matter of time before they run out. The problem

is buildings use a lot of energy, so planning for the future has never been more important. Faced with this

challenge, the team behind the design of an award-winning building in the Netherlands decided to create a

building which demonstrates innovative design, materials and technologies that will serve as an example at a

time when fossil fuels and other polluting, high consumption solutions are a thing of the past.

Bringing together science,

teaching and business

interests under one roof, the

Energy Academy Europe has

set itself on a path towards a CO2-

neutral university and one that

produce more energy than it

consumes. This exemplary and

inspiring project is without equal

among education-related buildings

in the Netherlands.

AN AMBITIOUS GREEN STRATEGY

BREEAM award-winning and the

most sustainable education-related

building in the Netherlands, the

Energy Academy Europe has been

built on the Zernike Campus

Groningen and provides a meeting

place for students, entrepreneurs

and researchers who work daily on

innovative and sustainable ideas.

Based on the BREEAM guiding

principles, the unique design

demonstrates how a building can

make optimal use of the natural

elements earth, water, air and

sunlight as primary sources of

energy.

Comprising two sections, the

15,000m2 building has research

areas with laboratories and related

offices have been built on the north

side, while the south side houses

workspaces, teaching rooms and a

winter garden which serves as an

important buffer zone, where air can

be acclimatised.

The design team worked along

with these challenging energy

performance standards:

• Zero emissions (after 40 years,

incl construction)

• BREEAM-NL Outstanding

• EPC = 0 or less

• 51 kWh/m2 per year (which is

extremely low for an educationrelated

building)

Earthquake safe (added later on

during the design Phase)

By taking a low-tech approach

to energy, the design of the compact

building makes optimum use of

readily available natural resources,

such as earth, water, air and

sunlight. Energy is generated using

solar panels, a 'solar chimney' helps

with natural ventilation, the winter

garden creates a pleasant indoor

climate and geothermal energy is

used to heat and cool the air.

Finally, rainwater is collected for

flushing the toilets and watering the

plants. If natural resources

temporarily prove insufficient, backup

installations have been fitted for

heating, ventilation and lighting

systems.

ROOFTOP ENERGY

In order to achieve these highly

ambitious sustainability objectives,

the building has an unusual design

with a sloping roof facing south for

optimum solar performance. The

roof is fitted with around 1,600

solar panels, arranged in 133

triangles so that natural daylight

can penetrate deeply into the

building, reducing the need for

artificial light.

The solar chimney is a striking

solution for providing natural

ventilation at the right temperature.

The solar chimney on top of the

building is a warm spot that

stimulates the air flow. Air enters

the building underground and flows

slowly through a long system of

ducts (i.e. the 200-meter-longlabyrinth)

under the building, where

it is heated in winter or cooled in

summer with geothermal energy to

ensure the right air temperature.

This natural ventilation saves

approximately 20% in energy. On

warm summer nights there is

additional cooling though a natural

process that requires no energy. Cool

night air flows through the interior

winter garden via the atrium and

through the entire building so that

the next day occupants can start

their day in a cool working

environment.

The building also makes a

sustainable contribution to its

immediate ecological surroundings.

A 'fauna tower' and fauna-friendly

green spaces have been designed to

attract bats and swifts, as well as

insects, such as bees and butterflies.

Adjacent verges of wild flowers also

attract insects, which then serve as

food for the birds and bats.

To ensure a pleasant climate the

CO2 levels in every space are

constantly monitored. If they are too

high, the mechanical ventilation will

function as back-up supplying more

fresh air into a space so that

occupants always work in a pleasant

climate.

BELOW GROUND

The heating and cooling comes

mainly from the ground. Two water

reservoirs are located at a depth of

100 metres – one for heating and

one for cooling. In summer the cold

water is pumped up and absorbs

heat in the building. This now

warmed water is then is pumped

back into the second reservoir.

In winter, this process is reversed.

The water is further heated by a

heat pump which efficiently turns

electricity into heat which is

distributed throughout the building

for underfloor heating (60% of the

heating), to heat the airflow through

climate ceilings and to heat tap

water. When needed, cool water can

be used from the nearby pond.

Rainwater that flows down the

sloping roof is filtered and stored in

the reservoir. This water is used to

water the plants in the winter

garden and to flush the toilets.

Fostering innovation in the field

of energy, the Energy Academy

Europe (EAE) brings together

institutes including the owner, The

University of Groningen, Hanze

University of Applied Sciences,

Energy Academy Europe, Energy

Valley and Energy Delta Institute

who will work together towards the

transition to a sustainable energy

future.

Commenting on the benefits of

BREEAM Pieter van Hoesel, Project

Manager, University of Groningen

said: "The BREEAM guidelines help

us to make highly sustainable

buildings, like the Energy Academy

Europe, in an objective and

structural way. The institutes within

the Energy Academy Europe focus

their efforts on the transition to a

reliable, sustainable and affordable

energy future.

"Housing in a BREAAM certified

building supports this important

aim. We want to develop more

highly sustainable buildings in the

future. BREEAM certification helps

to fulfil this policy."

For more information on BREEAM

visit: www.breeam.com

REFURBISHMENT PROJECTS, AUGUST 2017 13
---
PROJECT

New York's Whitby Hotel

New York City's newest boutique luxury hotel makes a bold statement in upper midtown Manhattan, thanks

in no small part to the extensive use of Crittall steel windows, doors and internal screens and partitions.

The Whitby is the second in New York opened by Firmdale Hotels

whose owners, Tim and Kit Kemp, have already made a big

impression back across the pond with several stylish and

luxurious properties in central London including Ham Yard and

Soho that also exemplify the use of fenestration by Crittall.

Opened in late February, The Whitby is described as a celebration of

contemporary art and design boasting a stylish restaurant, bar and

conservatory as well as a colourful library, several private event spaces

and a state-of-the-art cinema. Each of the 86 bedrooms has been

individually styled with Kit Kemp's world-renowned mix of colour,

pattern, texture, and art.

Located on West 56th Street between 5th and 6th Avenues, The

Whitby is just two blocks from Central Park. It is surrounded by worldclass

department stores, luxury designer boutiques and is a short walk

to Broadway.

Its location informed the specific choice of glazing. At Firmdale's

other NYC hotel, on Crosby Street, W20 steel windows were used. The

Whitby's position called for even higher acoustic attenuation and so

Crittall MW40 fenestration was selected. These windows can accept up

to 30mm thick glazing providing excellent acoustic as well as thermal

performance.

Nevertheless, the sight lines are virtually the same as with the

Corporate W20, that is to say the slender frames provide for maximum

daylight while ensuring strength and security. All The Whitby's guest

rooms have floor to ceiling windows as a principal feature. The ground

floor meanwhile (the first floor in American parlance) also features

interior screens and lobby doors by Crittall employing a single-glazed

W20 profile. These are especially versatile for use in association with

door hardware, closers, card entry equipment and so forth, dependent

on their use. Facing the streetscape at ground level are Corporate 20

windows; large full pane windows that are even more robust than

MW40s and which accept up to 28mm glazing.

The Whitby has been designed by New York architectural practice

Stonehill &Taylor, which also designed the Crosby Street Hotel. The

Whitby presents an elegant limestone façade rising 18 storeys and

featuring several balconies and terraces that create a distinctive shape,

stepping back as the building rises from street level.

The building harmonises with the architecture of the immediate

neighbourhood, particularly Fifth Avenue. Says Paul Taylor, lead

architect on the project, and president at Stonehill & Taylor:

"The Crittall steel windows are imbued with old world

craftsmanship and have the narrow sightlines that architects wish for."

Contractors for the project were Flintlock Construction Services

LLC.

Web: www.crittall-windows.co.uk

14 AUGUST 2017, REFURBISHMENT PROJECTS
---
COMMENT

The Green Eyed Monster

by Paul Trace of Lumen Rooflights

Open any trade magazine or visit supplier websites and you will find numerous articles and products offering exceptional 'green' credentials. Nowhere is this

more prevalent than in the glass and glazing industry as each manufacturer attempts to outperform the next by offering astounding figures for thermal

performance. What is surprising however, is the regular use of terms such as 'environmentally friendly' or 'green' simply because a product offers a low u-

value. As more buildings are constructed to Passivhaus standards there appears to be a blurring of the lines between what is good for the environment and

what is thermally efficient. Whilst there is no doubt that increased thermal efficiency contributes to a reduction in burning of fossil fuels; this alone should not be

the deciding factor in whether a product is actually environmentally friendly. The majority of flat rooflights on the market today are manufactured from either PVC

or aluminium and both of these require an exceptional amount of energy to produce and extract a lot of resources from the planet without putting anything back.

While most companies will adopt

some sort of environmental policy,

telling customers that their products

use a percentage of recycled

material, this is more likely to be

about cost rather than any real

environmental intentions. After all

recyclables are recycled because it is

the cheapest available option and it

makes more financial sense to do so

rather than to send them to a

landfill – with Landfill tax currently

over £84 per tonne, plus the gate

fee on top.

It stands to reason that

consuming vast amounts of natural

resources to produce the raw

materials of a product negates the

environmental benefits further down

the chain, regardless of what the

product becomes. This has often

been overlooked in the rooflight

industry because of the low

maintenance and long life that

aluminium and PVC can offer the

end user. For decades these two

materials have been unrivalled and

it was widely accepted that flat

rooflights should be manufactured

from one of these materials; until

now.

There is now a real alternative in

the flat rooflight market that not

only offers exceptional thermal

performance, but is also a genuine

environmentally friendly product in

every sense. The Lumen Planus is

manufactured in the UK using

Accoya® wood which is a material

that has been thoroughly tested for

dimensional stability, durability,

paint retention and in-ground

conditions to ensure optimal

performance. It offers a new

standard in high performance,

sustainable and low maintenance

applications.

In addition to the outstanding

performance, Accoya® wood is one

of the very few building products to

have acquired Cradle to CradleSM

Certification on the elusive Gold

level. Cradle to Cradle (C2C) provides

a means to tangibly and credibly

measure achievement in

environmentally-intelligent design

including the use of environmentally

safe and healthy materials and

instituting strategies for social

responsibility.

A carbon footprint assessment

was executed for Accoya® wood by

Verco in line with the World

Business Council for Sustainable

Development and World Resources

Institute's Greenhouse Gas Reporting

Protocol best practice guidelines,

based on a cradle to factory gate

scenario. This includes sourcing,

harvesting and processing of the

input timber, as well as all energy

and raw material consumption and

waste production. The results are

shown in the graph below.

GREENHOUSE GAS EMISSIONS (KG C02 EQ PER M3 OF MATERIAL)

Today there are some exceptional

flat rooflight products available for

specifiers to choose from. It is a fact

that both aluminium and PVC are

very good at providing superb

thermal performance and that

modern technology has reduced the

end of life environmental impact.

That said, if your project requires a

truly environmentally friendly

product then Accoya® provides

compelling environmental

advantages in every stage of the life

cycle.

For more information on the right

products for your project

information contact Lumen

Rooflight on 0330 300 1090,

email info@lumenrooflight.co.uk

or visit www.lumenrooflight.com

REFURBISHMENT PROJECTS, AUGUST 2017 15
---
CONSERVATION

Historic buildings could qualify for redevelopment grants

Funding experts at Focus Consultants are urging the owners of historic buildings to consider following in the

footsteps of Bridgford Hall which has become the first completed project in the East Midlands to benefit from

a Heritage Enterprise Grant.

Focus supported Rushcliffe

Borough Council in its

successful bid for a £1.5

million Heritage Enterprise

Grant from the Heritage Lottery

Fund (HLF) to redevelop the hall in

West Bridgford near Nottingham.

The Grade II listed building has

recently reopened as a luxury

aparthotel and civil wedding

ceremony venue, following a £2.3

million redevelopment – making it

the first Heritage Enterprise project

to be completed in the East

Midlands.

"The Bridgford Hall project is

paving the way in the East Midlands

by illustrating how Heritage

Enterprise Grants are helping to

breathe new life into old buildings,"

said Focus partner Heather

Frecklington. "The team at Focus has

been involved in the project at

Bridgford Hall from the early days

and it's always a proud moment

when a scheme is successfully

completed.

"This renovation aptly illustrates

how a Heritage Enterprise grant can

open a new chapter in the life of a

building. We're very proud to have

helped to secure the Heritage

Enterprise grant for his work – the

first to be completed in the East

Midlands. Since helping to secure

the Heritage Enterprise grant for

Bridgford Hall we've been involved

in supporting other organisations

across the UK with their bids and we

are looking forward to seeing other

schemes come to fruition in the

future.

"We'd be

delighted to offer

funding advice to

any organisations

that are thinking of

similar projects."

For many

property owners,

owning a historic

building requires a

great deal of

investment, firstly

potentially restoring

those buildings and

secondly keeping

them in good repair.

The cost of repairing

a neglected historic building is often

so high that restoration is not

commercially viable. The aim of the

HLF's Heritage Enterprise programme

is to make such schemes possible by

funding some of the repair costs

with grants of £100,000 to £5

million available.

Since supporting Rushcliffe

Borough Council with its Heritage

Enterprise Grant bid, Focus has

helped a number of other

organisations with their applications

including the University of

Northampton Students' Union, for

its Engine Shed project, and

Waltham Abbey Royal Gunpowder

Mills Foundation Trust on proposals

to bring many of the currently

unused and listed buildings at the

Royal Gunpowder Mills site at

UK System Scaffold Hire shutes into history

Waltham Abbey in Essex back into

use.

"Hundreds of neglected historic

buildings across the UK could qualify

for special grants to help bring them

back into life," added Heather.

"Funding experts at Focus have

successfully secured millions of

pounds in various grants and funds

for projects over the past 23 years,

and we'd be very pleased to talk to

organisations that feel they could

benefit from Heritage Enterprise

Grants."

Nottingham-based Focus, which

also has branches in London,

Leicester, and Boston in Lincolnshire,

specialises in funding and economic

development including area

regeneration strategies, funding

applications, economic impact

appraisals, business plans, and

research and evaluation. Since 1994

Focus has also secured for clients

more than £953 million of grants for

projects and businesses across the

UK and delivered more than £1.3

billion worth of projects and

programmes – making it one of the

most successful businesses of its

kind in the country.

It also offers a range of services

to the property and construction

industry, including building

surveying, quantity surveying,

project management, and

sustainable development support.

Web: www.focus-consultants.co.uk

UK SYSTEM SCAFFOLD HIRE specialise in providing temporary public access staircases –

but the request to incorporate a children's slide at historic Framlingham Castle in

Suffolk was a first. The team at UK System Scaffold Hire has over 150 years combined

experience in designing and managing projects using HAKI Access Systems, so it has to

be a very unusual request to "be a first".

But that is precisely what Heritage Building and Conservation managed to conjure up.

Scaffolding requirements at the early stages of the conservation work at Framlingham

Castle (which gained global attention with the recent release of Ed Sheeran's ode to his

hometown, Castle on the Hill), but when it was suggested that the final phase of the £1.2m

project should feature two public access staircases to enable visitors to see the restored walls

close up, those involved in the project recognised that they needed to work with specialists who

could deliver the best solution.

Following a site visit, UK System Scaffold Hire worked with scaffold design specialists

Creator Temporary Works and Design to finalise a scheme for two 9.5m staircases, before

spending more time on site to assist with minor modifications required to protect important

historic features of the 12th Century Fortress.

It was then that it was realised that the temporary staircases provided an opportunity to

create a unique visitor attraction by adding a slide. "It was a great idea – but posed unique

design challenges that needed to be overcome quickly and effectively" explains Gary Griffiths,

MD of UK System Scaffold Hire.

For further information please contact: UKSSH

Tel: 01246 820900 Email: info@uksystemscaffoldhire.co.uk

16 AUGUST 2017, REFURBISHMENT PROJECTS
---
ROOFING

New roof for Aldershot Catholic Cathedral

Amajor re-roofing project to

preserve one of Aldershot's

most iconic buildings got

underway in early July.

The existing roof of St Michael's &

St George's - the Roman Catholic

Cathedral for the Forces, located on

Queens Avenue - is being replaced,

with 48 tonnes of slate tiles due to

be laid over coming months.

Around 60,000 nails and 3.5

miles of roofing batten will be used

in completion of the works on the

listed building, which dates from

1892 when Queen Victoria laid the

foundation stone.

The project is being delivered by

Aspire Defence Services Limited

(ADSL) (funded by Aspire Defence

Limited), contracting with Southern

Counties Roofing Contractors Ltd

and Abbey Scaffolding. ADSL is

contracted under Project

Allenby/Connaught to maintain the

defence estate at Aldershot and

several Salisbury Plain garrisons on

behalf of the MOD; the company

refurbished the Cathedral's spire in

2009.

Mark Bassett, Project Manager

for ADSL, says, "The tiles on the

current roof are of the original

construction, are visibly worn and

have become compromised over

time, allowing water seepage into

the church's roof space. These works

will ensure that the building is

weather-proofed for decades to

come."

The project has taken two years

to plan, including annual condition

surveys of the building to test for

water tightness. Bespoke slates were

procured from a 400-year old

Cumbrian quarry, to ensure the new

roof is in keeping with the building's

distinctive gothic revival design.

Surveys have also been carried out

to assess the Cathedral's resident

swift population and safeguard the

birds' habitat.

Scaffolding is now being erected

and is likely to take ten weeks to

complete; roofing contractors move

onto site in six weeks. The Cathedral

will remain open as usual during the

project, which is due to finish at the

end of the year.

"This building holds great

historical and current importance,

both for Aldershot and the wider

military community, and ADSL is

proud to be responsible for its

renovation and ongoing

Contemporary meets aethetic charm

maintenance," says Mark. "We will

work very closely with all parties to

ensure that any potential disruption

is minimised during this significant

project."

Web: www.aspiredefence.co.uk

Acontemporary visitor centre,

in 150 acres of historical

landscape, has been

constructed to blend

seamlessly with its surroundings,

supported by the specification of JB

Western Red Cedar Shingles from

Marley Eternit on its roof and part

of its facade.

Wynyard Hall is a Grade II listed

building located on the outskirts of

Durham, which holds a hotel,

conference facility, and luxury

wedding venue. At the heart of the

150-acre estate lies The Gardens, an

extensive 19th Century rose garden

home to over 3,000 roses and a

Victorian-inspired Glasshouse. As

part of the wider Wynyard Walled

Gardens project, the site's owner was

keen to construct the Wynyard Hall

Visitor Centre within the old walled

garden - however, the bespoke brief

meant work needed to blend

contemporary tones with

overarching Victorian themes.

As part of the project, subcontractors

Barclay Roofing Ltd,

specified JB Western Red Cedar

Shingles for the entire roof and

certain sections of the walls of the

visitor centre.

The JB Western Red Cedar

Shingles, which are Certi-grade

accredited as 'Blue Label' by the

CSSB (Cedar Shingle and Shake

Bureau) were specified as they

guarantee the highest quality

shingles and are PEFC accredited.

Furthermore, the shingles specified

were also treated with MicroPro®, a

clear treatment which not only

protects against wood rooting fungi

and insect attacks, but also lets the

shingle weather naturally without

any staining sometimes associated

with other treatments, and can

deliver an extended life span of 40

years.

Yet, the benefits of the shingles

reach far beyond a longer life span,

with cedar shingles also offering a

renewable and sustainable roofing

and cladding solution with one of

the lowest carbon footprints of any

widely used building product. In

addition, the shingles require low

maintenance, and the colour blend

ensures the building fits seamlessly

within the type of natural

environment the project sought to

replicate.

Commenting on the bespoke

brief, Mike Flounders, Contracts

Manager at Barclay Roofing Ltd

says: "The unusual nature of this

project meant we needed a roofing

material which could effortlessly

merge contemporary and classical

themes, complementing the

surrounding environment. JB

Western Red Cedar Shingles were

the obvious choice as they are not

only sustainable; they also offer the

rich aesthetics which perfectly suit

the heritage of the surrounding

area, which was really key to this

project."

In addition to the shingles, the

project contractors also specified

ShingleFix Staple System, which uses

specially designed stainless steel

staples to fix the shingles instead of

using the traditional nail,

significantly reducing the

installation time of the project – up

to 50% for larger projects.

JB Red roofing battens were also

selected for the project as they offer

guaranteed strength, compliant with

BS 5534:2014 and, therefore do not

require any further grading on site.

JB Red battens are characterised by

their red finish and 'BS 5534' stamp,

confirming they have been

stringently tested to ensure they

meet all the strength requirements

of the new British Standard, using

production processes independently

certified by the Building Research

Establishment (BRE).

Web: www.marleyeternit.co.uk

REFURBISHMENT PROJECTS, AUGUST 2017 17
---
PROJECTS

Iconic London church roof refurb

Apopular East London church

has regained its post-war

glory thanks to the solventfree

and odourless liquid

waterproofing solution from Kemper

System.

The manufacturer's Stratex Warm

Roof system and Kemperol 2K-PUR

liquid waterproofing solution was

specified to refurbish the Calvary

Charismatic Baptist Church in Poplar.

The church, which was

experiencing severe water ingress

due to the failure of the existing

asphalt waterproofing and glass

skylights, was built in 1951 as a 'Live

Architectural Exhibition', part of the

Festival of Britain. The building is a

heritage site with an unusual design

to the structure of the roof.

For many years, financial

Rapid floor makeover from Bradite

Before and after treatment with Rapid coating.

challenges meant the church had to

carry out temporary repairs, which

included a timber structure built

over the entire roof area, and a

felted covering on top of the

original roof surface.

The initial single-ply specification

was changed to Kemperol 2K-PUR

by architects, A&RME, to provide a

liquid waterproofing solution

capable of addressing the complex

design of the building with its

concrete gutters and columns, as

well as a number of round rooflights

- meaning Kemper System's seamless

waterproofing solution was ideal for

the level of detailing required.

The Stratex Warm Roof system,

comprising Kempertherm insulation

and Kemperol 2K-PUR cold applied

liquid waterproofing membrane, was

quick and easy to apply, minimising

possession times on site and

allowing the community to enjoy

the church at its best once more.

Roofing contractor, Capital

Roofing Co Ltd of Blackheath in

Greenwich, installed the roof system

which involved removal of the

timber structure and felt layers to

reveal the 40 original circular

skylights.

The contractor then applied a

primer and vapour control layer,

followed by a hard-top insulation

board over the whole roof area. The

build-up included a substantial

amount of insulation to fill the void

in between the concrete beams.

Insulation was also installed to the

upstands of the beams and walls,

and a cut to falls scheme was laid

over the whole roof area to reroute

the drainage into the existing side

concrete gutters.

The Kemperol 2K-PUR liquid

waterproofing system was then

installed on the flat roof area,

providing a seamless membrane

around the skylights and around the

concrete upstands. A bespoke,

aluminium trim was then fixed to

cover the insulation and the

Kemperol 2K-PUR system at all the

abutments.

Commenting on the project,

Chris Shulver at Capital Roofing Co

Ltd, said: "This was a challenging

refurbishment not only because the

church is a heritage site, but also

due to the amount of detailing

required with its 40 circular

skylights. A long-term waterproofing

solution was needed following many

failed refurbishment attempts in the

past, using alternative waterproofing

systems. We have installed Kemperol

many times before and its versatility

made it the ideal choice.

"A temporary roof had to be

erected prior to installation of the

system to help keep the building as

watertight as possible. Thanks to

Kemperol's quick and easy

application, we could tackle the high

level of detailing required on site

with ease. It also decreased the time

required for the temporary roof

because of the single, wet-on-wet

application process that doesn't

require the base coat to cure before

subsequent site visits and further

coatings are applied, unlike wet-ondry

systems."

Steve Henderson, technical

manager at Kemper System, added:

"We worked closely with Capital

Roofing and architects, A&RME, to

develop a specification which met

the needs of the project and we are

delighted with the result.

"The Stratex Warm Roof system

and Kemperol 2K-PUR liquid

waterproofing solution was a perfect

choice for the church, and its

completely odourless solvent-free

qualities were a bonus for the

contractors and congregation alike."

Web: www.kemper-system.com

ABirmingham warehouse floor has been given an

impressive makeover thanks to the use of Bradite's

fast drying Rapid polyurethane coating. The 450

square meter concrete floor of the premises owned

by Allgood plc – a leading supplier of architectural

ironmongery - was repaired and repainted in double-quick

time with technical advice from Bradite.

"This was the first time I have used their product but the

help and advice I received from the company was absolutely

first class, " said Barry Tipper, owner of B Tipper Painter and

Decorators, the painting sub-contractor for the project.

Main contractor for the Brearley Street, Birmingham,

warehouse makeover was Robert Peters Building & Electrical.

The warehouse floor is subject to heavy usage, including

movement by forklift trucks. This is just the type of

challenge that Rapid floor paint is designed to overcome.

An initial thinner coat of the moisture cured

polyurethane coating is applied followed by a second and

third coat at intervals of eight hours. The paint provides a

tough, hard-wearing flexible film which is ready to take

forklift traffic once more after 48 hours.

"Bradite's national sales manager James Burton visited

the site and provided us with a full specification for

preparation and applying the paint," said Mr Tipper." After

that, it was a seamless operation." He added: "This has been

massively helpful to me commercially as well."

Web: www.bradite.co.uk

18 AUGUST 2017, REFURBISHMENT PROJECTS
---
ROOFLIGHTS

Rooflights – The future is daylight

With refurbishments now making up approximately 40% of UK construction projects, one of the most cost

effective ways of introducing natural light and ventilation into an existing flat roof building is through the

specification of rooflights

From energy savings and

improved occupant comfort,

to greater productivity in

commercial applications, dome

rooflights provide a cost effective

way of introducing natural light and

ventilation at challenging flat roof

refurbishment projects.

Through a comprehensive range

of ready-to-fit options to meet a

myriad of project requirements,

factory assembled dome and flat

glass rooflights provide architects,

contractors and building owners

with a versatile rooflight choice

which is more suited to meeting the

challenges and uncertainties

presented in the refurbishment of

flat roofs or low -pitched and gently

curved roof structures where the

roof pitch does not exceed 15°.

A MYRIAD OF OPTIONS

Where a building has been

developed over time, it is often the

case that a contractor is faced with

a variety of roof types. Furthermore,

pre-existing rooflights which need

to be replaced or upgraded can add

further complication to

refurbishment projects, especially

when faced with a multitude of

variations such as builder's upstands,

non-standard sized rooflights or

glazing only repairs. Specifiers can

now benefit from a range of kerb

and fixing options for the

application of dome rooflights on

different roof types whether new

build or refurbishment. In the case

of Brett Martin's dome rooflights,

these are approved for use with all

major flat roofing manufacturing

systems – including single ply,

bituminous, metal, liquid applied,

asphalt and green roofs – and can

overcome the complexities of

builders upstands through a choice

of standard and tall kerbs, and fixing

options. These innovative technical

solutions ensure rooflights can be

installed easily and meet existing

building standards.

UNMATCHED PERFORMANCE

With thermal performance now

crucial at every project, dome

rooflights can be configured to

achieve stringent thermal efficiency

targets. For instance, in Brett

Martin's range, triple skin

polycarbonate dome rooflights

achieve the requirements of Part L

while quadruple skin polycarbonate

domes and double glazed flat glass

rooflights exceed the requirements

still further. They can also play their

part in reducing heat loss and

minimising the risk of condensation.

In addition, an extensive choice of

ventilation and opening options are

available to help meet the

requirements of Part F.

FLAT OPTIONS

Improving the internal environment

is a fundamental requirement when

installing rooflights and the quality

of light transmission is crucial.

Intelligently designed to combine

contemporary styling with

exceptional thermal performance

and regulatory compliance, a flat

glass rooflight allows natural

daylight to flood into a building for

the lightest, brightest interiors. For

example, Brett Martin's Flat Glass

rooflight is a thermally efficient,

double glazed rooflight which offers

the specifier a high-end design that

is suitable for flat and low pitched

roofs in a wide range of powered

opening, ventilation, kerb and fixing

options.

No matter what the application,

the involvement of a rooflight

manufacturer or daylight consultant

on a project can provide good advice

and influence the right rooflight

decision. Using a reputable

manufacturer offers far more than

the quality of the product itself.

Leading suppliers and manufacturers

do not just design a wide range of

systems to deliver optimum

performance, durability, safety and

regulation standards – they also

provide superior technical support,

detailed installation instructions and

maintenance guidelines to ensure

systems perform as promised, and

work alongside all other roofing

elements.

Web: www.brettmartin.com

REFURBISHMENT PROJECTS, AUGUST 2017 19
---
PROJECT

Reinvigoration of 1930's Cinema

Bennetts Associates' Storyhouse in Chester, featuring a Proteus HR rainscreen clad

copper 'head', is an inspired rework and reinvigoration of the 1930s Odeon cinema.

Executed in Proteus HR TECU

copper, the ribbed, abstracted

rainscreen clad fins envelope

the 150-seat studio theatre

that sits on top of the main

auditorium, creating a presence like

no other.

The copper fins announce the

new studio theatre, jutting

outwardly and inwardly, with their

slotted appearance being described

as a touch of '1920s German

Expressionist theatre'.

Clad entirely in Proteus

rainscreen cladding this 'copper

pavilion' jauntily points to the

Chester skyline, bookending the

western corner of the elongated

square building, which is framed at

one side by the town hall and

cathedral at the other.

It was Cheshire West and Chester

council that stepped in with a bold

plan to deliver this £37m vision for

transforming the Grade II-listed

Odeon cinema building. Charged

with implementing this ambitious

plan was multi RIBA-award winning

architects Bennetts Associates.

Bright and bold, the Proteus

rainscreen clad studio theatre sits

confidently above the much larger

800-seat theatre, comprising the

new build elements. What was the

existing Odeon has been

transformed into a 94-seat

'boutique' cinema, library,

restaurant/bar and café.

Visitors to the building cannot

fail to notice that Bennetts

Associates' striking design makes a

central play of the Proteus copper

cladding. The gleaming, protruding

copper-clad box will transition over

time to an oxidised green that will

echo the appearance of the original

Odeon roof.

The Proteus HR cladding now

cuts across the green tinged castglass

panels and striated brickwork

of Storyhouse, compositionally

breaking up and blurring the lines

between the refurbished and new

build elements.

"The success of the Storyhouse

design lies in the way the extension

containing the theatre spaces was

added to the shell of the Grade 2

listed 1930s Odeon. Whilst the

proportions of the extension relate

directly to the historic brick cinema,

we used copper and glass to create

the elevations, to provide contrast

and to identify the main elements of

the new building.

Proteus HR TECU cladding is used

to clad the studio theatre and bar,

which is expressed as an

overhanging element on the skyline

of the building. The flatness of the

panels and the long-term beauty of

the natural copper finish were key to

this decision," said Simon Erridge,

Project Director, Bennetts Associates.

Storyhouse has been designed to

the highest standards for audience

comfort and sightlines. The same

rigour has been applied to the

rainscreen cladding, both visually

and technically. The Proteus HR

copper panels are fitted to rigid

vertical mullions that are anchored

to the backing wall with adjustable

support brackets.

The intimate space that is

enveloped with Proteus copper

cladding looks set to become the

hardest working space in the

building. Retractable seating has

been incorporated to allow for a flat

floor for workshops and rehearsals,

while as a performance space its

intimacy allows for a close

relationship between actor and

audience.

Main contractor at Chester

Storyhouse was Kier North West,

with the cladding installed by Curtis

Moore (Cladding Systems) Ltd.

For more transformative rainscreen

facades from Proteus, visit:

Web: www.proteusfacades.com

Tel: 0151 545 5075.

20 AUGUST 2017, REFURBISHMENT PROJECTS
---
£2.2m Redevelopment

of Lincoln University

PROJECT

CONTEMPORARY design and flexible teaching spaces are at the heart

of Bishop Grosseteste University's £2.2m redevelopment, which has

now completed on site. Delivered by Lincoln-based architects

LK2 and local construction company Robert Woodhead Ltd, working

with Sutherland Consulting and Price & Myers. The project was carried out

in two phases and saw a circa 7,770 sq ft extension added to the Constance

Stewart Hall to accommodate new, flexible teaching space.

Andrew Kitchen, director at LK2, said: "We are delighted to have worked

on this iconic scheme which has transformed the cityscape. We have worked

closely with Bishop Grosseteste University to create a modern teaching space

which complements the design of the original building.

"These new facilities will provide improved work spaces for staff and

students and bring the university into a new era."

Steve Deville, director of resources at the university, said: "This fantastic

new building reinforces BGU's commitment to invest in our students and

their learning experience.

"This building is to be opened just a few months after our new Centre for

Enhancement in Learning and Teaching facility and will provide students

with flexible teaching spaces and state-of-the-art facilities to aid their

learning."

The extension is supported by an impressive steel framework made from

locally-sourced steel and erected by Robert Woodhead Ltd. Throughout the

project, contractors pledged to use local resources wherever possible.

Steve Gribby, construction director at Robert Woodhead Ltd, said: "We

erected an impressive steel frame, in just 14 days. Built to overhang the

existing structure and enable both buildings to blend into each other, the

design offers a contemporary and modern twist on the original fifties design.

It makes a fantastic statement as you drive in to the city and is will be a

great landmark for Lincoln.

"From working with local suppliers and using as much local labour as

possible, to operating closely alongside the university project team and LK2,

we have done our best throughout this project to deliver a site which best suits the needs of the client, while ensuring sensitivity to the design of the new and

old parts of the building. I look forward to seeing the building in full operation."

The university's Centre for the Enhancement or Learning and Teaching (CELT building) was completed earlier this year and is already being used by staff and

students. The space has a modern, contemporary feel whilst still respecting the character of the original Victorian building.

The project was procured through the empa framework which is managed by Scape Group. Tel: 01522 750777

REFURBISHMENT PROJECTS, AUGUST 2017 21
---
PROJECT

Pathé Films building transformed

Sheppard Robson Architects LLP has completed the renovation of the former offices of production company

Pathé Films at 103-109 Wardour Street. Overcoming initial specification difficulties, the architect's practice

turned to Allgood to provide a bespoke, bronze finished ironmongery solution that would seamlessly integrate

with the architecture of the building.

The transformation of the

building was a challenging

task for Sheppard Robson.

Originally offices for Pathé

Films, the 1900's building was

renovated for the first time in 1996.

However, there was an architectural

imbalance as whilst the facade

retained the original Edwardian

style, the rest of the building was

renovated. This led to the historical

front forming a veil that covered a

contemporary building of lower

design quality.

Consequently, Sheppard Robson

looked to redesign the contemporary

elements in a way that would

complement the original structure

and opted for a bespoke bronze

finish on all ironmongery supplied

by Allgood, which helped to turn an

architectural vision into a working

reality.

ID:SR, Sheppard Robson's interior

design group, wanted to deliver 15

residential units, including two

penthouses, that were rooted within

the history of the area whilst

simultaneously providing modern

amenities. With the flats retailing at

the higher end of the market, it was

imperative that Allgood's

specification complemented a luxury

aesthetic.

Initial discussions with the

architect showed that they wanted

to specify a consistent ironmongery

finish throughout the entire

building. This was a challenge for

Allgood, as there were several

different types of doors, textures

and colours throughout the

property.

Allgood felt stainless steel would

not be appropriate for this type of

residential building so a bronze

finish was agreed upon.

Discussing the project's

ironmongery requirements Borja

Marcaida, Associate at Sheppard

Robson Architects LLP said: "The

biggest challenge was to keep a

consistent bronze effect finish for all

ironmongery throughout the

building."

As such, incorporated

throughout the building is Allgood's

Modric 1761 900mm pull handles

and Robert-Mallet Steven's designed

FSB 41076 lever handles with a

specialist bronze finish.

Complementing the ironmongery,

Allgood also supplied bespoke

signage in a matching bronze finish

including numerals, letters and

various symbols.

Like with any central London

residential building, space is an

extremely valuable commodity. In

order to maximise space in the

apartments, Allgood also supplied

bronze pocket door locking kits for

all the bathrooms.

This successful collaboration and

renovation resulted in a BREEAM

Ecohomes 'Excellent' rating for the

refurbished elements and Code for

Sustainable Homes Level 4 for new

build areas.

Designed and manufactured in

Allgood's UK factory, Modric utilises

the finest Grade 316 solid stainless

steel bar, resulting in a high quality,

durable ironmongery range. Finished

by hand, the smooth satin finish is

achieved by a superior attention to

detail.

In addition, the unique FSB

range provides ergonomic handles,

using the four rules of good grip as

the basis for its designs and

structure.

Borja Marcaida adds, "We

enjoyed working with Allgood Sales

Representative, Stewart Froome,

throughout this project. His flexible

approach meant that any challenges

were swiftly addressed and that the

ironmongery achieved the unique

finish required."

Simon Wilkes, Head of Business

Space Development at Legal &

General Property said, "There was a

clear vision for this historical site,

and the collaboration between these

companies has enabled the

renovation of the Pathé Building to

reach it's true potential.

"A stunning combination of

contemporary and historical

architecture, a building that

complements London's Soho and the

culture within it has been created.

Specifying Allgood's bronze handles

in the interior of the building has

allowed synchronisation between

interior and exterior."

For more information on Allgood

plc please visit Web:

www.allgood.co.uk/

or follow @Allgood_plc on Twitter.

22 AUGUST 2017, REFURBISHMENT PROJECTS
---
SOCIAL HOUSING

Argos Business Centres helping Grand

Union Housing Group to furnish properties

At Argos for Business we are always looking to help busy social housing providers

achieve their objectives. Our latest success story comes through our work with

Grand Union Housing Group. Grand Union Housing Group is an innovative leading

provider and developer of affordable housing and related services in Bedfordshire,

Buckinghamshire and Northamptonshire, managing around 12,000 properties.

VISION FOR GROWTH

Grand Union Housing Group's '2020

Vision' is to build 1,500 new homes

by 2020, enabling more people to

rent or own a home that they can

afford. Its aim is to deliver an

ambitious, expanded programme of

high quality services that its

customers want, in the way that

they want to receive them, while

improving the wellbeing of those

who need extra support, particularly

the elderly.

The Group offers a range of

tenures and home types, ranging

from fixed term tenancies or starter

tenancies at social or affordable rent

all the way to shared ownership,

market rent and market sale.

This is where we at Argos for

Business comes in. We help furnish

Grand Union Housing's properties to

a high standard, in readiness for new

tenants to move into.

The size of the product range we

offer gives the Group great choice

and availability; ensuring homes are

furnished with modern, quality items

throughout the properties.

Richard Pearce, procurement and

insurance manager at Grand Union

Housing Group, says: "When

choosing a supplier to help support

our work, great service and

communications are priorities. Argos

for Business provide both of these

through their Business Centre

Solution.

We have a day-to-day contact

in-store, which helps reduce our

administrative workload. Processing

orders, sourcing stock and managing

delivery deadlines is all taken care of

for us".

IMPROVING SUPPORT SERVICES

We are also able to improve the

efficiency of the Group's support

service, Encourage.

Encourage allows the Group to

provide housing and support for

adults with learning disabilities, as

well as providing homes for the over

55s. The service also supports older

tenants via its Lifeline and

Community Alarm and Support

Service (CASS). The CASS gives

customers the ability to maintain

their independence while living in

their own home.

With such varied customer

needs, the Group would ordinarily

need to work with a very large

number of different suppliers.

However, as Argos offers such a

breadth of product categories in one

place, Grand Union Housing is able

to minimise the number of suppliers

used.

Richard says: "Being able to

source thousands of items from

Argos means that we aren't wasting

valuable time chasing around lots of

different suppliers and trying to

consolidate multiple orders. We have

a core range of items we know we

need for our homes, and whether its

furniture, furnishings or electrical

items or appliances, the Argos

Business Centre is able to source and

supply what each home needs.

"The Argos Business Centres' real

strength is their communication to

us, ensuring we are aware of how

each order is progressing. For us,

having someone to be able to call to

discuss our needs and to fully

understand what we are trying to

achieve is refreshing and a real point

of difference. It helps us get our

homes ready on time for our

customers".

Web: www.argos-business.co.uk

The refurb sector is probably the most active sector of the UK Building Industry at the moment. RP's new website

will keep you up to date with news, projects, opinion, and also the latest issue that can be viewed on-line.

www.refurbprojects.com

NEWS. DAILY

REFURBISHMENT PROJECTS, AUGUST 2017 23
---
SCHOOL BUILDING

Great performance at Bristol Grammar

Proteus HR cladding in TECU

Brass and TECU Bronze

materials have created a

striking, expressive façade at

Bristol Grammar School's new 1532

Performing Arts Centre.

The Proteus HR TECU Brass and

TECU Bronze materials were used for

the external envelope of the new

performance hub.

Being manufactured from copper

alloys means that the TECU materials

from Proteus will weather over time,

subtly changing the façade's

appearance as it develops a tough,

maintenance-free and beautiful

patina.

1532 Performing Arts Centre, the

year being when the school received

its royal charter, comprises a new

build auditorium and associated

facilities that are linked to the

school's existing Elton Road Block.

The architects specified Proteus

HR TECU Brass and TECU Bronze

materials for the rainscreen panels

on the performance hub because its

honeycomb core creates a

lightweight façade, minimising

weight loadings on the underlying

structure, whilst helping the panels

achieve near perfect optical flatness.

These lightweight, strong

properties of the Proteus rainscreen

cladding panels provided an

effective way of created the

counterbalanced visual on this

development where the hub appears

to be cantilevered from the main

building. This elegant, and at first

impressions, gravity-defying design

is supported by only two discreet

columns.

The management team at Bristol

Grammar School also liked that fact

that the subtle weathering of the

TECU Brass and Bronze materials

would complement the same natural

process that occurs on the local

stone used on nearby buildings on

campus.

This subtle matt surface on the

rainscreen cladding panels will

gradually develop an oxide layer

that will protect the building from

rain, frost, wind, UV rays and other

external elements. The process brings

with it striking colour variations

through an entire range of brown,

green and brown-violet tones that

change depending on the level of

natural light and time of year.

Ultimately, the TECU materials

will develop a robust patina that will

accentuate its distinctive character

and outwardly project the aim of

the school to improve and develop

its performing arts facilities. The

Proteus carrier system was used to

support the vertically arranged,

elongated cladding panels.

Proteus HR rainscreen cladding

systems are available in a wide range

of alternative materials and finishes

including steel, aluminium, zinc and

stainless steel. The rich diversity of

the TECU range of copper and

copper-alloy materials allows

unparalleled variety and highquality

aesthetics for architecture.

The company's ability to

manufacture perfectly matching

roofline, window reveals and soffits

accentuate the striking, naturallyweathered

aesthetic.

The main contractor at the new

1532 Performing Arts Centre was

able to overcome the challenges

presented by the building being

located in the midst of the school

campus and with limited access.

Scheduling work around term times

to minimise disruption to the school,

Cladanco, the façade installer,

utilised its convenient Bristol base

and local workforce to assist in this

process.

To find out more about Proteus HR

rainscreen cladding panels and

other TECU materials, visit:

www.proteusfacades.com or call:

0151 545 5075

24 AUGUST 2017, REFURBISHMENT PROJECTS
---
Flooring Systems

New Marmoleum Solid

Marmoleum Solid is the

contemporary new

linoleum collection from

Forbo Flooring Systems.

Authentic in nature, its five

individual ranges provide the

foundation for creating pure,

distinctive and modern spaces.

Building on its exemplary natural

ethos, Marmoleum remains the most

sustainable resilient flooring product

available and its new Cocoa range

supports this profile further by

introducing a new upcycled natural

raw material.

Created from 97% natural, raw

materials (including linseed oil and

wood flour), 72% of which are

rapidly renewable, and with a 43%

recycled content, Marmoleum

already achieves a natural high

performance. The introduction of

the Marmoleum Cocoa range goes

one step further by adding a

seventh natural ingredient, upcycled

cocoa shells from a Dutch chocolate

producer.

An innovation in construction

and aesthetics, the result is a rich

organic scattering that introduces a

completely new tactility for

Marmoleum. This has led the range

to win the 2017 IF Design Award for

product design – adding to the

many accolades and Ecolabels

Marmoleum already holds, such as

Nature Plus, Blue Angel and the

Nordic Swan.

Adding an entirely innovative

dimension in embossing is the new

Marmoleum Slate range. It features

a naturally inspired texture that

exudes sophistication, offering the

timeless aesthetic of stone, with the

warmth and purity of linoleum. The

strong natural shades available

provide visual interest, whilst

remaining understated – the perfect

natural backdrop to any

environment.

Julie Dempster, Marketing

Manager at Forbo Flooring Systems

explains: "Marmoleum Solid is a

contemporary collection that sits

perfectly with today's desire for

more solid visuals and raw tactility.

The concept of which is designed to

combine beautifully with other

building materials such as wood,

glass and metal.

"Marmoleum Solid shows that

linoleum flooring has the capacity to

move beyond the classic marbled

structures, and will encourage

designers to consider using it in

spaces such as retail, leisure and

hospitality and offices, where other

finishes are often more

predominant."

Marmoleum Concrete has a new

counterpart, which introduces a

flash of colour shimmer to bring the

distinctive material to life.

Providing opposite visual

expressions, the range is made of 12

brightly coloured concretes with

subtle grey details and muted

concrete shades featuring highlight

tones that appear to glisten across

the surface.

Completing the collection is a

variety of plain to semi-plain

aesthetics running across the

remaining Walton and refreshed

Piano ranges, ensuring Marmoleum

Solid provides a large choice of

honest and pure designs that give

the collection a strong, modern

identity.

The Marmoleum collection is a

prime example of Forbo's

'Committed to the Health of One'

programme, which strives to create

better indoor environments. It is

naturally bacteriostatic, does not

harbour allergens and holds the

Allergy UK Seal of Approval.

Marmoleum has extremely low VOCs

contributing to positive indoor air

quality and has high LRV's which

help create positive environments in

which to work, live and play.

Marmoleum is also protected by the

unique water-based 'Topshield 2'

finish, which ensures no hiding place

for dirt or bacteria. What's more, by

including a seventh natural

ingredient from another industry

into the Marmoleum Cocoa range,

Forbo is continuing in its efforts to

reduce waste and improve recycling.

Tel: 0844 822 3928

Email: info.flooring.uk@forbo.com

Web: www.forbo-flooring.co.uk/

marmoleumsolid

www.forbo-flooring.co.uk/CHO

REFURBISHMENT PROJECTS, AUGUST 2017 25
---
FLOORING

Trampoline Park refurbishment

Almost 1,500 sqm of luxury

flooring products from

Moduleo have been

installed in the recent

refurbishment of RUSH Trampoline

Park, Kings Norton, in Birmingham.

Contractors at refurbishment

specialists, Calmack, specified

authentic shades of stone and

walnut from Moduleo's popular

Transform collection to overhaul the

main reception, shop, seating and

dining areas.

All floors were first prepared

with Moduleo's new Flex Pro

underlay, which offers unrivalled

sound insulation properties.

Sophie Holness, design manager

at Calmack, comments on the

project: "In any commercial

refurbishment we're very conscious

of the constant levels of footfall the

venue must sustain on a daily basis.

This naturally dictates what products

we specify.

"Moduleo is perfect for settings

such as RUSH as its heavy-duty

characteristics mean we can rely on

it for durability, yet its extremely

stylish and gives us an exceptionally

professional finish."

To save time on-site, Calmack

installed Jura Stone and Persian

Walnut floor coverings from the

Transform Click range.

Click technology negates the

need for traditional adhesives and

timely room preparation, meaning

floors can be installed in next to no

time. The unique

LockXpress system

with practical

tooth-groove

connection

ensures easy,

convenient

installation.

Whilst

traditionally LVT

flooring required

significant

preparation of the

floor's surface,

Click flooring

offers a much

more flexible and

simple alternative.

This solution ideal

for those of

whom time is of

the essence as it

does not require

any adhesive and

can be fitted

quickly and easily.

Click from

Moduleo is scuffproof,

waterproof

and absorbs

sound and can therefore even be

used in bathrooms and kitchens.

Available in a variety of natural

finishes including stone and wood,

Click from Moduleo is easy clean

and can be used with under-floor

heating.

In public refurbishment projects,

where contractors are under

increasing pressure to complete on

time, to budget and to a high

standard, flooring technologies such

as Click can significantly reduce the

time spent on site without

compromising on finish.

With leisure operators adopting

more contemporary, open-plan

facilities, designers and installers are

finding increasingly innovative ways

to separate spaces, such as

receptions, changing facilities and

eateries – like at RUSH.

Selecting both wood- and stoneeffect

floorcoverings in the same

space, the finished product allows

for 'zoned' areas. The mixture of

textures and colourways give the

different spaces identity without

losing the continuous flow of the

space.

David Bigland, managing director

for Moduleo UK and Eire, explains:

"Here at Moduleo we constantly

strive to bring great designs and

styles to market, as well as the very

best in flooring technologies.

"We've seen a considerable

increase in the demand for woodand

stone-effect LVT products in

refurb projects over the past 18

months, especially. Contractors

appreciate the authentic patterns

and textures that can now be

manufactured onto planks and tiles

to produce a look that's as close to

the real deal as it can be.

"This is all achievable at a

fraction of the cost of slates, stones

and hard woods. What's more, end

users are not only delighted with the

price tag but appreciate the low

maintenance and long life span of

the products. Moduleo flooring

really does have the longevity

required to withstand the heavy

levels of footfall the popular RUSH

venue will experience on a daily

basis.

"We're thrilled to have been part

of such a fantastic refurbishment at

RUSH and couldn't be happier with

the end result. The use of both

stone- and wood-effect planks in

multiple spaces really does showcase

what's possible within the one

location – something we're seeing

increasing numbers of contractors

utilising at the moment."

For more information, visit

www.moduleo.co.uk or contact the

Moduleo team on 01332 851 500.

26 AUGUST 2017, REFURBISHMENT PROJECTS
---
Retirement apartments receive

acoustic performance solution

Amodern development of

retirement apartments in

the beautiful town of

Blairgowrie, Perthshire has

been enhanced with Ethafoam, a

high quality acoustic flooring

solution, offering impact sound

insulation properties, from The A.

Proctor Group Ltd.

The new development, from

McCarthy & Stone features a

collection of 36 stylish apartments

designed exclusively for those over

the age of 60. Specialist floor

screeding contractor Glenalmond

Contracts installed Ethafoam 2222, a

closed-cell polyethylene foam, which

is designed as a resilient acoustic

insulation layer for concrete floor

structures.

Ethafoam has a low profile,

requiring only a minimal increase in

floor height, and is highly resilient

to the rigours of on-site

environments. Lightweight and easy

to install, the versatile design means

it can be applied as a single, or

multiple layer system, dependent on

space and performance

requirements. At Blairgowrie a

double layer system was installed, in

alternate directions, followed by a

self-levelling screed to finished floor

level.

For conversions and new build

developments of flats where impact

and airborne sound reduction is

mandatory, the use of Ethafoam is

the perfect choice, and enables

developers and contractors to meet

the current legislative performance

requirements. The superior impact

sound insulation performance of the

product has resulted in it forming a

standard specification for McCarthy

& Stone in their developments.

For more information and technical details contact our website:

www.proctorgroup.com

The Proctor Group, The Haugh, Blairgowrie, Perthshire PH10 7ER

Tel: 01250 872261 Fax: 01250 872727 Email: contact@proctorgroup.com

REFURBISHMENT PROJECTS, AUGUST 2017 27
---
PROJECT

Architecturally Ambitious

Faced with a complex brief on a site scrutinised by planners, conservation teams and Historic England,

architectural ambition was crucial for Kingsdown House, which provides new boarding

accommodation at The King's School in Canterbury. Walters & Cohen Architects needed to carefully

consider the kind of products to use on the project, which is when building materials manufacturer

Wienerberger was introduced to the scheme.

The King's School site abuts the

historic City Wall in

Canterbury, which is a

Scheduled Ancient Monument

and is in close proximity to

Canterbury Cathedral, a World

Heritage Site. Therefore, any

proposed new buildings are closely

evaluated and must demonstrate a

high degree of quality, with a

correspondingly detailed specification

to satisfy this requirement. Working

closely with the architect was

essential in completing the details

required to achieve a beautiful

building that enhances its location.

The project was not without its

challenges: the build needed to be

completed to suit the school's

academic timetable, and logistical

complexities meant a tight delivery

schedule needed to be devised and

strictly adhered to.

Clay tiles are a prominent feature

of many buildings in Kent and

specifically in this part of

Canterbury. Walters & Cohen drew

inspiration from local architecture

and construction techniques,

interpreting these with

contemporary detailing and working

with Wienerberger to ensure the

roof tiles reflected the elegance and

quality of the neighbouring

buildings.

Rather than using modern

interlocking tiles, Wienerberger's

Alban Sussex Blend tiles were used

to create the roof and walls of

Kingsdown House. The versatility of

the Alban Sussex Blend tile was

highlighted: the tiles blend beautiful

design with a stunning aesthetic

result. The tiles were chosen because

they enabled the architect to use a

single material for the roof and

walls, creating a simple, attractive

façade that complements its

neighbours .

The design remit for the building

was to create a neat, angular and

seamless quality, therefore external

angle tiles were not used and all

corner tiles were cut to create an

elegant edge against the aluminium

corner trim. Additionally, all tiles

under the windows were cut by

hand to assist in waterproofing the

building as no lead was used.

Precision cutting on the angle

ensured a perfect fit.

To further assist with the

detailed specification,

Wienerberger's Alban Sussex Blend

bespoke Mansard and Gutter tiles

were specially hand made for use at

the eaves junction with the wall. The

tiles to be used under the windows

were again cut in detail and fixed

using a dedicated Wienerberger

adhesive. On the apex, rather than

using the traditional Winchester cut,

the architect required a neat straight

line to achieve the desired

composition and give a

contemporary look.

Nigel Dyer MIoR, Heritage

Service Manager at Wienerberger,

commented:

"We're over the moon with the

end result at Kingsdown House; it's

an absolutely beautiful building that

truly reflects the heritage it

surrounds. Through using our Alban

Sussex Blend tiles, a build that

complements the historic

architecture of the nearby

surroundings was achieved and a

personality was given to the

construction."

Speaking about the project, Rob

Hill, Associate Director of Walters &

Cohen Architects said:

"The project needed to suit the

school's academic timetable,

therefore very careful project

management was essential. We

completed the project on time and

within budget, and are delighted

with how the finished building looks.

The Wienerberger products we

specified reflect the architectural

heritage of the site, and their

specialist knowledge also made them

a highly suitable partner for the

project."

For more information on

Wienerberger please visit

Web:www.wienerberger.co.uk/.

Follow Wienerberger on Twitter at

https://twitter.com/wienerbergeruk.

28 AUGUST 2017, REFURBISHMENT PROJECTS
---
ENERGY EFFICIENCY

Upgrade brings a Zen-like quality to hotel

Set in the heart of Abergavenny on the edge of the Brecon Beacons, the Angel Hotel offers luxurious, award

winning accommodation to visitors from around the world. A former 19th century coaching inn, the 35 room

hotel has now been modernised and refurbished in order to offer guests a level of personal attention and

comfort that exceeds their expectations.

Since taking over the site in

2002, the management team

at the Angel Hotel have

made it their mission to

become the regional hotel of choice

and in 2016 they secured the AA

Hotel of the Year, Wales.

The Angel has an impressive

pedigree - former guests include

Gregory Peck, Richard Burton and

Elizabeth Taylor – and after years of

underinvestment the historic

building is now getting the care and

attention it deserves.

As part of this commitment to

excellence, the hotel management

demanded the very best in air

conditioning technology and

recently selected contemporary Zen

indoor units for the stylish

bedrooms.

Marketed as a high-quality

boutique hotel with a unique but

old fashioned room layout, it was

imperative that no pipework was put

on display and that the installed

units should have aesthetic appeal

and run quietly.

Mitsubishi Electric's Zen Series is

a low profile, unobtrusive wall

mounted system that blends

seamlessly with its surroundings and

offers lower power consumption

twinned with powerful performance.

The sophisticated elegance of the

units makes them an ideal choice for

hotel environments.

Serving the Zen units is a City

Multi R2 heat recovery system,

which is able to offer simultaneous

heat and cool different rooms

throughout the building. The

previous air conditioning was not

able to achieve this in the way

required by the owners.

Hotels regularly require cooling

in some areas and heating in others

and City Multi is the only VRF

(Variable Refrigerant Flow) system

able to offer simultaneous heating

and cooling using only two pipes

instead of the usual three.

The system's two pipe technology

also meant that disruption to guests

and hotel staff was kept to an

absolute minimum during the

refurbishment. City Multi is also

capable of delivering dramatic

efficiency improvements and the

Angel Hotel can now expect savings

of up to 30 per cent.

In a building as old as the Angel

Hotel it can be difficult to carry out

work without causing structural or

cosmetic damage. The building is

made up of stone walls and contains

a whole host of annexes and

awkward spaces to work in.

Cardiff-based Airpro Systems

Holdings was brought in to carry out

the installation and was mindful not

to disturb the historic building any

more than necessary.

Mark Derbi of Airpro comments:

"At times the Angel proved to be a

testing installation. The rooms

needed to be refurbished one at a

time and we were very aware that

the bulk of the air conditioning

needed to be hidden from sight

without risking damage to the fabric

of the building.

"With the builder also on site

high levels of cooperation were

needed to ensure that we were able

to stay on schedule and meet the

timescale set out by the client."

After 30 indoor units had been

successfully installed, Mitsubishi

Electric PAR31 room controllers were

wired in and temperature

restrictions were set up. These

enable guests to have control of

their heating or cooling within a

range controlled by the hotel to

ensure absolute comfort combined

with maximum efficiency.

With a user-friendly backlit

screen and simple to use adjustment

controls the room controllers

provide both guests and hotel

employees with the high levels of

functionality expected in a state-ofthe-art

heating and ventilation

installation.

Sympathetic restoration work

and carefully considered upgrades

have ensured that the Angel Hotel

has been returned to its former

glory.

The new energy efficient heating

and ventilation system is a key part

of the transformation, helping to

provide a comfortable environment

for guests and enhancing the hotel's

growing reputation as the place to

stay in South Wales.

INSTALLATION SUMMARY

A City Multi R2 heat recovery system

is able to offer simultaneous heating

and cooling to different rooms

throughout the building.

The outdoor unit serves 30 Zen

Series indoor units which offer a

stylish, low profile, unobtrusive wall

mounted system delivering lower

power consumption twinned with

powerful performance.

Each room utilises a PAR31 room

controllers to offer guests individual

control, whilst a centralised AE200

controller allows the hotel staff to

monitor and control energy use

throughout the building.

Web: www.livingenvironmentalsystems.mitsubishiwlectric.co.uk

Zen units in place.

REFURBISHMENT PROJECTS, AUGUST 2017 29
---
ROOFING

Complex Installation

Sika-Trocal and contractors Maincare Roofing and Building worked together to provide a watertight roofing

solution for the National Memorial Arboretum, completing a complex, multi-roof installation that was Highly

Commended at this year's Single Ply Roofing Association (SPRA) Awards.

The National Memorial

Arboretum is the UK's yearround

centre of Remembrance

for those who served and

continue to serve in the Armed

Forces. Located at a 150-acre

woodland site at Alrewas near

Lichfield, Staffordshire, it opened to

the public in 2001 and contains

more than 300 dedicated memorials.

It is described as a 'living tribute'

that 'will forever acknowledge the

personal sacrifice' made by UK

Armed Forces and civil services.

In December 2015, Maincare

Roofing and Building was selected

to supply 14 roofing systems of

differing size and complexity to the

Arboretum's new £15.7 million

Remembrance Centre. The stunning

new development includes

exhibition areas, shops, cafes and a

cloistered courtyard.

The roof systems not only had to

provide the highest level of

waterproof protection, each had to

offer a crisp, uniform look in order

to maintain the centre's aesthetic

properties. Ideal for mechanicallyfastened

roofs in new build and

refurbishment applications where

quality and speed of installation is a

priority, the Sika-Trocal Type S

system was selected for the highprofile

project.

Carrying full BBA accreditation

with a 35-year lifespan, Sika-Trocal

Type S, does not require a separate

fastening system for the thermal

insulation as it utilises the same disc

and fastener for securing the

insulation and the waterproofing

membrane, thus improving speed of

install. A total of 3,500m2, 2mm

Type S was applied during the

Remembrance Centre project.

Upstands, such as kitchen extractor

fans were prominent throughout the

installation, adding to its complexity.

To ensure the symmetrical

appearance of each installation,

roofing laps had to be perfectly

aligned and metal-affixed butt

straps required 'marrying' with all

corners.

A round turret, which perforated

one particular area of roofing, was

also given decorative details at its

base and top to maintain the

system's cohesive aesthetic. Thanks

to the flexibility of the Type S

system, these additional features

were accommodated with ease

without compromise to its

watertightness.

There were a number of other

challenges for contractors. Midway

through the works programme,

onsite teams were required to carry

out major refurbishment on an

existing curved-roof structure to

ensure its look remained in-keeping

with adjacent new buildings.

Installers also had to contend with

the site's exposed location, which

meant periods of disruption due to

high winds during winter months.

Additionally, work ceased out of

respect to special consideration held

at the centre for half-hourly periods

each day. VIP visits, particularly

those attended by royalty, caused

another temporary hold to roofing

works, which needed to be

completed to a strict, agreed

deadline.

Carl Pryce, Contractors Director

at Maincare Roofing and Building,

said: "For such a high-profile and

potentially challenging project, we

needed a roof system that excelled

in terms of ease and speed of

application, as well as long-term

performance and aesthetic qualities.

The specification of Sika Trocal Type

S, coupled with the skill and

dedication of our installation teams,

was absolutely crucial to the roofing

programme's success."

To provide stronger support in

areas such as roof balconies and

terracing where foot traffic was

potentially high, a total of 300m2

Sika-Trocal SGmA was installed. The

multi-layer, synthetic roof

waterproofing sheet is based on

premium quality polyvinyl chloride

(PVC) and contains an inlay of nonwoven

glass fibres. As well as

offering quality, long-term

protection against physical stresses,

SGmA – if covered with a minimum

50 mm depth of gravel ballast – is

deemed to achieve an FAA fire

rating. Fully-installed, the system

also offers a higher degree of sound

reduction, therefore enhancing

occupants' domestic well-being.

Excellent logistical planning on

behalf of Maincare, coupled with

the superb flexibility and handling

properties of the Sika Trocal Type S

system meant the Remembrance

Centre project was completed to the

agreed timeframe and the client's

full satisfaction. It's provided this

inspiring and fitting addition to the

National Memorial Arboretum with a

cohesive look and waterproof

protection to ensure the heroic

deeds of those who made the

ultimate sacrifice will be gratefully

acknowledged by generations to

come.

Web: www.gbr.sika-trocal.sika.com

30 AUGUST 2017, REFURBISHMENT PROJECTS
---
REFURB PROJECTS'S SUPPLEMENT FOR FIRE, SAFETY & SECURITY PROFESSIONALS
---
SECURITY MATTERS

Safeguarding high rises from the silent killer

When it comes to high rise refurbishment, it's important to bear in mind that with multiple people living in

one building, different processes are required to ensure everyone is alerted in the event of a carbon monoxide

(CO) leak. With this in mind, specifiers need to be aware of the most effective alarms available and where best

to site them. Adrian Keats from Honeywell's Home Safety business explains more.

ensure the tenants and facilities

manager can be confident that the

residence is protected.

Wired connected systems are also

available on the market. Wireless

systems which incorporate highquality,

sealed units are just as

reliable as wired variations,

especially if the alarms can be

locked to the wall for protection

against damage or tampering.

With such a wide range of

requirements to address, the key is

to be aware of the best products

available and to understand their

applications. This will help safeguard

high rise buildings and ultimately,

save lives.

Web:

www.homesafety.honeywell.com

According to the NHS,

approximately 50 people in

the UK die every year from

accidental carbon monoxide

poisoning and at least 200 are

treated for exposure.1 Often called a

"silent killer," carbon monoxide

fumes are undetectable by human

senses – they are colourless,

odourless, and tasteless. CO is

produced by the burning of any

fossil fuel, but when the levels get

too high in an enclosed space, it can

be deadly.

As of October 2015, the

government introduced CO

regulations for landlords. According

to regulation, landlords must install

a CO alarm in rooms containing a

solid fuel burning appliance. Noncompliance

will result in a £5,000

fine, and although no price can be

put on the cost of a life, it is hoped

that this financial penalty is a great

enough deterrent against failing to

install the relevant products.

Legislation also currently does not

include a requirement to fit CO

alarms where gas appliances are

present and gas appliances cause

the majority of CO incidents in

rented accommodation across the

UK.

Throughout various iterations of

safety standards, the level of safety

provided for those living in buildings

with multiple units has always been

intended to equate to that of those

living in houses. The key here is

ensuring that there are processes in

place so residents are alerted to any

danger quickly.

This presents a challenge. The

potential for fire or CO leakage to

spread from one residence to

another has always been a concern

for those specifying alarms. Alerting

an entire building to a problem that

initially developed in an individual

flat, and not just the immediate

tenants and their neighbours, is

vital.

It's for this reason that

interconnected alarm systems are

becoming increasingly popular. An

interconnected system means that

every alarm in the building is linked,

and if one is triggered, all of the

others will also activate. This ensures

that every occupant is alerted to the

danger no matter where in the

building they are.

Honeywell's wireless system, for

example, uses a flood type network;

ensuring interconnected alarms send

and receive information from each

alarm in the network. Therefore the

time taken for every alarm to sound

is significantly reduced, allowing

more time to evacuate in an

emergency.

Our X-Series alarms, for example,

can all be connected wirelessly using

a plug-in module to form a full

alarm system of up to 32 connected

alarms. The XW100 module simply

clicks into any X-Series alarm,

offering full protection to a building

within minutes and features easyto-understand

LED indicators to

Blast resistant, natural

ventilation is possible

Windows from Crittall-Fendor that can be left open for natural

ventilation but which slam shut automatically in the event of a

blast can enhance the working environment in hazardous sites

without compromising safety.

The company's BlastLine SlamShut window has a restricted opening

that allows natural

ventilation and also

features as standard

thermally enhanced

glass that contributes

towards energy

efficiency. The

reinforced steel or

stainless steel frame is

narrow so as to

maximise natural

light, ventilation and

increased airflow.

In the event of an

explosion the opening

vent is slammed

closed by blast

Pre-test (above) and post-test (below).

pressure. The window

is designed to be low

maintenance, is

finished in an anticorrosive

paint

system, and features

an integrated water

drainage system.

Because it is

openable it reduces

the need for air

conditioning in

petrochemical

facilities, offices and

modular buildings. It

is fitted with the

SlamShut latch and locking system for security and can be supplied with

an energy efficient coating.

Different fire rated options (to EN1654 and EN1560) are available and

glazing can be single, double, triple, security or acoustic. It is available in a

full RAL/BS powder colour range or with a bespoke finish.

The BlastLine SlamShut window has been tested to GN04-105, ASCE

Design of Blast Resistant Buildings and GSA Standard.

Web: www.crittall-fendor.co.uk

32 AUGUST 2017, REFURBISHMENT PROJECTS
---
FIRE & SAFETY

SMART PANELS

Plant ahead for intelligent fire protection

by Peter Lackey, UK Fire Product Manager, Tyco.

False fire alarms can be a major

annoyance. Not only are they

disruptive and expense to the

organisation in question, they

are also a huge waste of time for the

fire brigade. Non-fire events place an

unnecessary strain on already

stretched resources, not to mention

the increased risk of a crash on the

way to a false alarm or a delayed

response to an actual event.

To combat the problem, facilities

managers need to invest in smart

field devices and alarm control

panels. Intelligent connected

technology can help companies to

reduce false alarms, increase accuracy

of fire diagnosis and provide useful

insight for fire safety crew to act

swiftly should a real fire occur.

The world of fire prevention is

standing on the cusp of a new era.

We are now seeing the introduction

of smart technology, including the

use of intelligent analytics and

multiple-input detection, with the

upshot that fire officers have access

to a whole world of possibilities that

were previously out of reach.

A situation in which an

automated alarm system integrates

with smart building systems (CCTV

and access management, for

example) to decide the appropriate

response to an event is increasingly

becoming reality. Smart technology

will significantly improve efficiency,

accuracy and reliability. What's more,

the digital technology employed by

modern systems generally allows the

reuse of existing cabling (subject to

an engineer's inspection), which saves

considerable project cost and

channels investment into technology,

rather than cabling and labour.

STOPPING FALSE ALARMS

By implementing this kind of

intelligent panel technology,

companies can get early, reliable

detection of all fire types, and work

towards a zero-tolerance approach to

potential sources of false and

unwanted alarms. Smart panels can

analyse multiple alarm indicators and

so help to reduce instances of

misdiagnosis and unneeded call-outs.

It's also essential to ensure that

the field detection technology which

feeds into the panel is up to scratch.

It's essential to have the correct

mode of detection for the risk in

question, and detectors must be able

to report on all the likely products of

combustion in the area. Data must

also be transferred back to the panel

with speed and accuracy, and it must

arrive uncorrupted if the panel is to

work correctly.

Such systems can examine all

activity and filter real fires from false

alarms automatically through a

powerful and accurate set of

algorithms using the 'fuzzy logic'

principle. As a result, they don't

require an external investigation of

events, reducing call-out costs.

Modern systems must also give

the building occupier the confidence

to use the system in the daily

management of the fire safety

strategy. A modern control panel

should be able to accept bespoke

information relevant to the site as

well as describing the appropriate

action to take when an alarm sounds.

To ensure this information is as easily

accessible as possible, the panel needs

to have intuitive instructions and

controls.

SCOPE AND SCALE

Smart panels should also be able to

operate smoothly in a wide range of

different environments, from office

blocks to factory floors. By

implementing a modular design, in

which new loops can be added easily

to existing systems, fire systems can

be tailored to any type of building -

including developing sites like

growing hospitals or burgeoning

business districts. Smart panel

controllers can expand and adapt to

changes in the system, so if a facility

is extended or a new site is

introduced, there's no need for extra

cabling and labour, which means that

installation is quick and safety levels

can be ensured. Multiple panels can

also be hooked up over vast distances

to ensure that the entire organisation

can be protected by a single unified

system.

Speed and accuracy are critical in

protecting people, assets and valuable

infrastructure from fire. Today's fire

prevention professionals demand an

alert system that is reliable even in

the harshest of environments but also

cost effective to run. By investing in

advanced, future-proof technology,

organisations in all sectors can

benefit from the next generation of

fire safety, as well as making tangible

and significant savings in operational

and maintenance costs in the long

run.

LOOKING FORWARD

Installers and end-users alike are

faced with a challenging task when it

comes to moving onto the next

APOLLO FIRE DETECTORS

Staff and pupils at Marchwood

Junior School, near

Southampton, are benefitting

from the reliability and

innovation of the new SOTERIA®

range from Apollo Fire Detectors in

an installation which marks the

range's first educational application.

With nearly 300 pupils aged 7–

11, Marchwood Junior School is

housed within a uniquely designed

building which was built in the

1980s and refurbished in 2004,

when a single storey extension was

added.

In 2016, Southern Fire Alarms

(SFA) was awarded the tender by

Hampshire County Council (HCC) to

specify and install a new fire

detection system at the school. The

old system was obsolete and noncompliant

and was due for renewal

as part of the HCC Schools'

Refurbishment Programme. The

school building contains many open

areas with high ceilings and

interconnected spaces, presenting

generation of technology. There can

be a resistance to change, a worry

that installation, integration and dayto-day

use will be difficult - and

ultimately, that a hard-to-use fire

alarm might be more dangerous than

an old one.

That way of thinking must

change. There's a world of

opportunity out there for fire officers

and installers willing to be bold and

step up. Together intelligent

analytics, flexible provisioning, widearea

protection and user-friendly

interfacing offer users a powerful

and effective way to keep their assets

and staff safe. False alarms will

increasingly become a thing of the

past. It's a brave new world - all you

have to do is take the first step.

Web: www.tycoifs.co.uk

challenges which the designer of the

fire detection system needed to

overcome.

Apollo Fire Detectors, which has

an established relationship with SFA,

suggested the use of SOTERIA® for a

number of reasons as Charles Smith,

Head of Product Management,

explained: "SOTERIA® was the ideal

choice for Marchwood Junior

School. The advanced technology

used within the range significantly

improves the detection of smoke,

enhances the reliability of the

detection process, and reduces the

risk of false alarms. Our stringent

testing procedures offer peace of

mind to staff, pupils and parents,

with products comprehensively

tested to exceed EN54-5 and EN54-

7 standards. At Apollo, we're really

proud to have been part of this

project, which marks the first

educational installation of SOTERIA®

in the UK."

For more information on SOTERIA®

visit www.apollo-fire.co.uk/soteria

REFURBISHMENT PROJECTS, AUGUST 2017 33
---
FIRE & SAFETY

Fire Safety at Great Scotland Yard

WES+ fire alarm system is protecting the original Scotland Yard police station in London whilst

it is turned into a five-star luxury hotel by Galliard Homes.

The historic building served as the

headquarters for the Metropolitan police

from 1829 to 1890 and the £110m

development involves retaining the original

Edwardian façade. When completed, the new fivestar

hotel will offer rooms costing up to £10,000 a

night.

Galliard Homes makes fire safety a priority on

all its developments, which is why the project

team at Great Scotland Yard set about identifying

what they considered to be the 'most effective fire

alarm system' currently available.

The company had used a hard wired firm alarm

system on other construction sites but found it to

be cumbersome. The trailing wires created a trip

hazard and the process of repositioning the call

points as work progressed was both time

consuming and required a qualified electrician.

David Ridge, Sites Services Manager at Galliard

Homes, said: "We felt that there must be a better

way of protecting the Great Scotland Yard

development from the dangers of fire. Following

extensive research we identified WES+ as a system

that would provide us with a step-change in

usability by the fact it is wireless."

He added: "That overcame the challenges we

had with hard wired systems and being compliant

with the relevant sections of EN 54 meant that we

were also confident that it gave us the best fire

protection. When we complete Great Scotland

Yard later this year, we will be able to transfer the

WES+ system to our next project, making it is the

best and most cost effective system on the market

today without doubt."

The WES+ system installed at Great Scotland

Yard will trigger a site-wide alarm even if just one

of the manual call points or automatic heat/smoke

detectors are activated. This will allow all

personnel to evacuate the site and rescue services

to be alerted at the earliest opportunity.

Incorporating heat/smoke detectors into the

WES+ fire alarm system means that the iconic

Great Scotland Yard is protected 24/7, even when

personnel are not present on site. Nominated

personnel at Galliard Homes will instantly receive a

text alert if any call point is activated.

The WES+ fire alarm system, which can be

installed with a few simple button-presses to pair

the interconnecting call points, creates a

completely secure mesh network. The scalable

nature of the system means that up to several

thousand units can be paired, making it suitable

for large and small construction sites. A silent test

facility eliminates downtime on site.

Additional complexity was added on this

project because it is in the heart of one of

London's most popular tourist areas and

surrounding by other significant buildings that

house large numbers of people. A fire doing

construction could soon spread to adjoining

buildings. As the dangers of fires on construction

sites become better understood an increasing

number of developers are specifying a WES+ fire

alarm system.

Insurance companies and clients are also

encouraging developers to use an EN 54 compliant

fire alarm system that incorporates automatic heat

/ smoke detectors. Zurich Insurance has stated that

there is an 'expectation that customers comply

with the Joint Code of Practice Fire Code

guidelines as far as is practicable and reasonable'.

The Joint Code of Practice on the Protection

from Fire of Construction Sites and Buildings

Undergoing Renovation (JCOP) now contains the

advice; Components of automatic fire detection

and alarm systems should be marked as complying

with EN 54 (paragraph 13.8).

Along with Galliard Homes, WES+ is currently

used by over 75 percent of the top 100 UK

constructions companies to protect personnel and

assets from fire on site. It is designed specifically

for construction sites and has a three-year battery

life.

To ensure your site has the best possible

protection from fire, whilst complying EN 54,

call the WES+ helpline: 00 44 (0) 115 822 3424

Web: www.wesfire.co.uk

34 AUGUST 2017, REFURBISHMENT PROJECTS
---
FIRE & SAFETY

Multiple Choice

Kidde discusses the growing diversity of selection criteria applied today

to domestic smoke, heat and carbon monoxide alarms.

Without doubt, smoke

and heat alarms save

lives but, of course,

third party certification

such as BSi Kitemarking and longterm

reliability are essential –

particularly in a critical area like fire

safety. But whole-life commitments

from manufacturers are important

as well. For example, Kidde's Slick

brand is the only range of fast-fit

rechargeable smoke and heat alarms

guaranteed for 10 years.

STRAIGHTFORWARD

INSTALLATION

Straightforward installation is also a

consideration and Kidde's Slick fastfit

system utilises a separate base

plate that can be installed and its

integral terminal block wired at first

fix. Then, near completion, the alarm

simply slides onto the base plate

hinge flap and locks into place by

default.

Interest in energy saving is now

focusing on safety products as well

and the latest Firex smoke and heat

alarms, manufactured and supplied

exclusively by Kidde, cost less than

£1 per year to run – a major benefit

for tenants and homeowners. The

Firex range also includes options for

long-life lithium battery back-up,

alongside the usual loose battery

and integral rechargeable battery

versions. This innovation ensures

reliable backup throughout the

whole alarm life, without the need

to change batteries, at a much lower

price than rechargeable products.

SWIFT SOLUTIONS

Mains smoke alarms are a Building

Regulation requirement and

recommended for most existing

housing and all rented properties

under BS5839 Part 6. But there may

still be situations where battery

smoke alarms can provide quick,

simple protection – particularly

where no alarms are present at all.

For example, Kidde's 10Y29 optical

smoke alarm has a full 10-year

guarantee covering both the alarm

and sealed-in lithium battery, and is

simply installed without wiring –

features shared with Kidde's selfcontained

10LLCO and 10LLDCO

carbon monoxide alarms.

These CO alarms are full of

features and the CO sensors – the

key component – are actually tested

throughout a 10-year period or

longer. Kidde also offers a wide

"

Kidde's 10-year guarantee, sealed-in battery, smoke and CO

"

alarms can be simply and quickly installed without wiring

range of other CO alarms including

the 4MCO and 4MDCO mains CO

alarms. These can be interconnected

with each other and also the

company's Slick or Firex ranges of

smoke and heat alarms using the

unique 'Smart Interconnect' feature

to create a comprehensive system

for whole home protection.

Crucially, the CO alarms have

different, distinct alarm sounder

patterns for carbon monoxide and

fire, supported by different display

messages on the digital model.

SMART INTERCONNECT

So, without the need for any further

operation of the system (such as

remote switches), Smart

Interconnect automatically alerts

occupants of the specific hazard

that confronts them. This allows

them to respond quickly, making the

right choice from the very different

alternative actions for either fire or

the presence of carbon monoxide.

Using Smart Interconnect, Kidde CO

alarms act as sounders for the

smoke/heat alarm system as well as

warning of carbon monoxide. This is

particularly useful in bedrooms

where occupants may not be

awoken by landing smoke alarms.

For peace of mind, the long-term

reliability of CO alarms is also

critical – particularly with the

presence of non-compliant products

in the market. An established

manufacturer with a reputation for

quality, supported by third party

accreditation, is essential. All Kidde

CO alarms, whether hard-wired or

battery, are BSi Kitemarked and

comply with the latest edition of BS

EN 50291:2010. Kidde also

manufactures its own sensors,

allowing tighter quality controls to

be applied.

For more information, call: 01753

766392, email:

sales@kiddesafety.co.uk or visit:

www.kiddesafetyeurope.co.uk

REFURBISHMENT PROJECTS, AUGUST 2017 35
---
FIRE SAFETY

SPRINKLERS: A case of better protection

The Grenfell Tower tragedy has led to a nationwide debate around fire safety, especially concerning building

materials, regulations and the value of fire sprinkler systems. On the specific call for the fitting of sprinklers,

only residential buildings erected after 2007 and taller than 30 metres are required by Building Regulations to

be fitted with sprinkler systems. But the fire has led housing stock owners such as councils and housing

associations having to look beyond the tragedy and rolling out additional fire safety measures and considering

retrofitting sprinklers in existing buildings. However the deciding factor about whether or not to fit sprinklers

should not be about how tall a building is but more around what benefits do sprinklers offer in terms of both

protection of life as well as protection of property.

The tragic recent events have

not stopped at the door of

residential property owners as

others sectors have now

started to look at their property

portfolios and how well they are

protected. Designers, owners and

users of student accommodation,

hotels, healthcare and commercial

and industrial buildings, all need to

recognise the value of fire protection

with sprinkler systems reducing the

risk to life and significantly reducing

the degree of damage caused by fire

and in these cases the costs of

business interruption.

Evidence shows that while

sprinklers are primarily intended to

contain or control fires, they can

also be instrumental in saving the

lives of people. There are no cases

on record of multiple fire deaths

occurring in buildings with

appropriately designed and properly

installed and maintained sprinkler

systems. The evidence also shows

that no lives have been lost in the

UK due to fire in homes fitted with

domestic sprinkler systems.

CALLOW MOUNT

Despite one of the enduring myths

about sprinklers being costly and

tricky to fit into buildings after their

initial construction, a number of

local authorities are actively

retrofitting sprinklers to some of

their housing stock.

Following the Lakanal House fire

in 2009, a pilot project was

undertaken at Callow Mount, a 13-

storey, 1960's tower block in

Sheffield. It took only four weeks to

successfully install sprinklers within

47 flats and was completed with

little or no disruption to the

residents who remained in their

homes throughout the installation

programme.

The sprinkler installation was

carried out at a cost of £1,150 per

flat. The cost of annual maintenance

will be £250 per year if a contract

for the whole block is entered into

and if access can be guaranteed at

the same time. The combined cost of

installation and maintenance

provides an annualised cost per flat

of £40 over a 30 year timeframe. The

Callow Mount retrofit project proved

conclusively that it is possible to

retrofit sprinklers into an existing

high-rise block without having to

evacuate and relocate the tenants.

Sheffield Council is using the

learnings from its Callow Mount

pilot to retrofit sprinklers to about

540 low-rise, timber frame, ranchstyle

maisonettes.

As a result of the outcome of

Callow Mount project, a number of

housing authorities and associations

have installed sprinklers in an

increasing number of high and low

rise social housing schemes.

A CALL FOR SPRINKLERS

The events at Grenfell have far

ranging implications for other

sectors with recent devastating fires

at the Weybridge Health Centre and

Camden Market bringing into sharp

focus the vulnerability of

unsprinklered buildings.

Housing two GP practices, a

walk-in centre and other NHS

services, the Weybridge Health

Centre fire in the early hours of July

12th spread across all three floors of

the building. The unsprinklered

building was completely destroyed

and all medical services have been

transferred to alternative sites. In

addition to the disruption to staff

and patients in the local community,

the fire caused the evacuation of

nearby residents and road closures.

At Camden Market three days

earlier, 10 fire engines and 70

firefighters attended a blaze in a

building containing different

businesses and market stalls. While

the cause of the fire is under

investigation, the first, second and

third floors, plus the roof of the

building were severely damaged by

the blaze. This market building did

not have sprinklers which is in stark

contrast to a fire earlier on February

28th that broke out at the Stables

Market in another area of Camden

Market. In this case, a sprinkler

system has been retrofitted and

helped control the spread of the fire

at a market stall until firefighters

arrived, with crews able to confine

the fire on the ground floor where

the blaze originated.

The sprinklers controlled the fire

spread in the Stables Market fire,

limiting damage to the building and

preventing anyone from being put

at risk.

So as well as limiting fire

damage and being potentially lifesaving

devices, sprinklers and other

fire suppression systems helped with

business continuity by minimising

disruption and allowing businesses

to get back to normal as soon as

possible.

BUSINESS RESILIENCE

One of the most efficient and

effective ways to reduce the

impact of fire is through measures

which ensure that when fires start

they are quickly extinguished so

that damage is minimised. Fire

sprinkler systems do just this –

they make buildings and businesses

resilient to the impact of fire

because they automatically control

or even put out the fire before the

fire and rescue service arrives, with

the result that the business can be

up and running again usually

within hours of the incident.

It should always be appreciated

that UK fire safety laws seek to

ensure only minimum standards of

fire protection for the safety of

persons in and around buildings. By

simply complying with fire safety

legislation, a building owner might

not be adequately protecting either

the building or their future business

activity.

A wide-ranging review of the

building regulations relating to fire,

particularly the guidance contained

in Approved Document B (ADB) is

long overdue. It is needed to protect

people and property from fire and

help business and building owners

better understand the threat that

fire poses to their infrastructure and

future.

Having sprinklers fitted therefore

protects businesses in the long run,

safeguarding them against

potentially disastrous losses, which

amount to £3.4m each day across

the UK. By preventing large fires,

they also protect the environment

by avoiding CO2 emissions, excess

FRS water use and water supply

contamination and by preventing

buildings from being destroyed by

fire. Proven time and again with

consistent reliability, sprinkler

systems control or extinguish fires in

99% of cases and are a small price

to pay to ensure people and

property are protected.

Efficiency and Effectiveness of

Sprinkler Systems in the United

Kingdom: An Analysis from Fire

Service Data – May 2017

Web:

www.business-sprinkler-alliance.org

36 AUGUST 2017, REFURBISHMENT PROJECTS
---
N E W P R O D U C T S • N E W P R O D U C T S • N E W P R O D U C T S

New wall-liner provides improved thermal

performance for refurb of solid walls

The A. Proctor Group has

extended its range with an

innovative new thin internal

wall liner, which will signifi

cantly improve the thermal

performance of solid wall dwellings.

Spacetherm WL (Wall Liner) is a

high-performance laminate specifi

cally designed to be fi xed to the

internal surfaces of existing solid

walls without the need for

mechanical fi xings. Spacetherm WL

consists of 10mm Spacetherm

aerogel insulation blanket bonded to

3mm Magnesium Oxide Board

(MgO), for use in applications where

improved therma performance is

required with limited space.

Spacetherm WL can achieve

similar performance to traditional

plasterboard laminates, but at a

fraction of the thickness allowing

greater fl exibility for refurbishment

projects. At just 13mm thick, in

many cases, there is no need to

remove skirting boards and cornices,

saving time and cost.

Typically, a solid wall will have a

U value of around 2.1 W/m2K.

Following the application of

Spacetherm WL this can be reduced

to around 0.8 W/m2K, dependent on

the wall structure. Specifi c

calculations can be provided upon

request.

The Spacetherm WL system can

be used with a variety of decorative

fi nishes such as paint, wallpaper

and tiles, and is easily installed in

line with the manufacturer's

guidelines.

Web: www.proctorgroup.com

Saint-Gobain Weber introduces weberspec and

new RIBA approved tile fixing CPD

Saint-Gobain Weber

manufactures a

comprehensive range of high

quality products for

professional tile fixers and

applicators and is recognised for

bringing innovative, high

performance technologies to the

market. This includes Low Dust

Technology, the proven

formulation that significantly

reduces airborne dust created during

the pouring and mixing processes,

and ECO SMART Cement

Replacement Technology

demonstrating Weber's commitment

to sustainability.

Weber's latest introduction is the

new easy to use WeberSpec online

tool that allows architects and

specifiers to create up-to-date and

technically accurate tiling

specifications at

www.weberspec.co.uk. In a simple

registration procedure an account

can be opened and accessed by

email and password. A project brief

is required with prompts to enter

specific fields such as: the surface to

be tiled; the substrate; type and area

of tiling; finish and movement

joints. A full M40 specification to

NBS standards is automatically

generated, including all necessary

components and ancillaries. The

M40 specification is saved in the

account which can be accessed at a

later date or amended if necessary.

This specification is supported by

British Standard BS 5385, the

recognised Code of Practice for wall

and floor tiling.

"WeberSpec is a completely free

M40 specification tool constructed

on an easy-to-use platform, but

when advice is required our

technical team is on hand," says

Tracey Dempster, head of marketing,

Saint-Gobain Weber. "And, to

support WeberSpec, we have also

introduced a new RIBA-Assessed

CPD: Floor Tiling onto Calcium

Sulphate Screeds. This is a subject

frequently raised by architects,

contractors and applicators with our

technical team."

The main learning aim of the

new CPD is to assist in the design

and specification process. By

identifying potential problems and

how to avoid them, specifiers will

learn to understand the key

considerations when detailing tiling

work on anhydrite screeds and

meeting industry standards. This 30

minute CPD can be presented by

Saint-Gobain Weber's specification

team either on site or at a clients'

office, and has been designed for

individuals and small groups.

"We pride ourselves in providing

full technical advice and application

support, helping customers and

clients to specify the right solution

for every project," continues

Dempster. "As a global business,

Saint-Gobain is totally committed to

training through in-house

programmes and at Technical

Academies across the UK and Ireland

to ensure correct specification and

application every time."

Saint-Gobain Weber provides a

10 year materials guarantee on all

tile adhesives and grouts which are

manufactured under the

requirements of BS EN ISO

9001:2000.

For more information, or for

technical support, please contact

Saint-Gobain Weber on 08703 330

070 to book a CPD, or visit

www.weberspec.co.uk to generate

your Weber specification.

A free download of the new

WeberSpec app is available for iPad

users from the App Store. Follow

Saint-Gobain Weber on Twitter

@SGWeberUK for the latest

company news and updates.

REFURBISHMENT PROJECTS, AUGUST 2017 37
---
PRODUCTS & SERVICES DIRECTORY

BUYERS GUIDE

TO ADVERTISE IN THIS SECTION CALL SUE ON 020 8504 1661

RAINWATER GOODS

J & J W LONGBOTTOM LTD

Bridge Foundry, Holmfirth, Nr Huddersfield HD7 1AW

Tel: 01484 682141 Fax: 01484 681513

Traditional Ironfounders producing Cast Iron

Rainwater and Soil Goods comprising:

• Moulded Gutters (including OGEE, Box, Boundary

Wall)

• Curved Gutters to individual radius

• Rainwater Pipes & Fitting (Round & Rectangular)

• Soil Pipes & Fittings (BS416)

• Ornamental Rainwater heads (over 160 patterns)

• Air Bricks ( 6 types, inc ornamental)

• Manhole Covers & Frames

• Gratings, Grids & ancillary Ironwork

40 page fully illustrated catalogue available on request.

Full "ex stock" service and special requirements made

promptly. Regular delivery over all UK.

COOLING SYSTEMS

C h i l l e r s b u i l t f o r y o u

0118 918 1400

Call or email today for a brochure or a free

no-obligation site survey

www.thermagroup.com/chillers | sales@thermagroup.com

CLADDING

EUROCLAD is the UK's home-grown, independent supplier of metal roof and wall

products which provide exceptional acoustic and thermal performance for the life of

a building. Products are sustainably credible with proven routes for recycling and

disposal. Euroclad listens to the needs of its customers and offers high performance,

cost effective solutions.

Founded in 1981 Euroclad has taken huge strides over three decades, consistently

investing in people and technology to satisfy customer needs. Cutting edge UK

manufacturing maintains Euroclad's position at the forefront of the metal roofing and

cladding industry.

As part of its commitment to quality, service and the environment, Euroclad operates

a Quality Management System approved to BS EN ISO 9001:2008 and an

Environmental Management System approved to BS EN ISO 14001:2004.

Euroclad's Elite Systems provide a package of components from leading

manufacturers which combine to form guaranteed roof and wall systems with

defined performance. They offer superior, proven roofing and cladding solutions that

are easy to specify and offer great performance throughout their lifetime.

Elite Systems can be used for a multitude of roof and wall applications, all with

inherent design flexibility. Trapezoidal, secret fix and standing seam roof options are

available, with Opus plank, Sinusoidal, Half Round and Trapezoidal wall profiles.

Elite Systems offer reliability too; with a standard 12 year system guarantee and the

option of an ElitePLUS system with a 25 year system guarantee.

Also available from Euroclad is the popular Vieo roof and wall solution and rainscreen

facades via Specialist manufacturer Booth Muirie.

EUROCLAD LTD, Wentloog Corporate Park, Cardiff CF3 2ER

T: 02920 847 813 E: john.dunnington@euroclad.co.uk

W: www.euroclad.com | www.vieoroof.com

SECONDARY GLAZING

ThermOzone

T h e C o o l i n g S p e c i a l i s t s

Secondary Glazing

For seamless integration with the added benefit of:

Warmer Quieter Safer

TM

Major energy savings

Nationwide service

FREE design service

2- 5 years warranty

Typical installation 30

days min

NuChill

• Most effective method of sound proofing

• Exemplary thermal retention and draught

insulation

• Reversible adaptation for heritage

• Secured by Design

A T h e r m O z o n e P r o d u c t

T:01727 837271

www.selectaglaze.co.uk

@selectaglaze

38 AUGUST 2017, REFURBISHMENT PROJECTS
---
PRODUCTS & SERVICES DIRECTORY

BUYERS GUIDE

STAINED GLASS

EXTERNAL WALL INSULATION

Tel : 01942 717100 Email: info@wbs-ltd.co.uk

WOOD REPAIR

THE DESOWOOD REPAIR SYSTEM

A DURABLE

ALTERNATIVE TO

LINSEED OIL PUTTY

DESOWOOD DAP

ELASTIC GLAZING

SEALANT

● A Product with an established record for performance.

● A Product with over 20 year's history in use.

● Ideal for windows affected by break down of linseed oil putty.

● Ideal for sash and casement windows.

● For use on existing or new bead glazed windows.

● Ideal for fixing single or double glazed sealed units on puttied or

bead glazed windows.

● For fixing laminated / safety glass.

● Can be used on softwood, hardwood and metal windows.

● Ideal for sealing plywood or pre-finished 'in-fil' panels.

● Ideal replacement for 'Back putties' on windows affected by

condensation on internally bead glazed windows.

● Improves paint durability and contributes towards the prevention

of wood decay

● Can be painted with an opaque paint finish or translucent wood

stain.

● Excellent adhesion to timber, metal, concrete, brick and glass.

Wetherby Building Systems Ltd is the UK's market leader in the manufacture

and distribution of a wide range of external wall insulation (EWI) systems,

polymer modified renders, silicone & acrylic thin-coat renders & brick slip

systems for the retrofit market.

Wetherby's insulated render systems offer environmentally sympathetic

external façade solutions that have been successfully installed on many

domestic refurbishment projects, new build schemes, commercial buildings

and educational establishments for over 20 years.

With over 7 million untreated solid wall properties in the UK the government

recognise the urgent need to tackle this housing stock to reduce energy bills

and cut carbon emissions.

Following the clients choice of insulant, Wetherby can then offer a range of

different renders and polymeric coatings in an unlimited colour range

ensuring whatever finish or colour the client wishes to achieve we can

match.

Complementing the render systems Wetherby also offer a unique brick slip

system, allowing the façade to match traditional brickwork and increasing

the scope for design. Including our new 7mm Brick

Wetherby operate through a

network of approved installers,

all of whom are trained and

regularly inspected to ensure

specifications and best site

practices are followed.

Wetherby offer a comprehensive

technical service to ensure

potential customers have all the

information to specify the

correct system that will achieve

maximum efficiency of the EWI

specification.

www.wbs-ltd.co.uk

Tel: 01767 682446 E:sales@desofil-uk.com

THE DESOWOOD REPAIR SYSTEM

Web-site: www.desofil-uk.com

BUILDERS SURPLUS COMPANY

Pindar Road, Hoddesdon EN11 0BZ

Please phone Danny: 0786 222 1931 Matt: 07900 241361

REFURBISHMENT PROJECTS, AUGUST 2017 39
---
PROJECTS

e

Sustainability/Energy Efficiency

The need to improve the energy

efficiency of all the country's existing

housing and commercial building stock.

Preview of EcoBuild at

ExCel London 7­9th March

Coatings & Finishes

Internal & external applications for

timber, stone & brick and products

in action.

Social Housing

EDITORIAL FEATURES 2017

Roofing/Cladding/Floor Renewable Energy

ing/Interiors

Energy Savings with

A guide to materials, air/ground source heat

Building Services

applications, Including Heating & designs,

Ventilation, Fire pumps, biomass and

Protection, Insulation and Lighting.

fixings Renewable and Energy

other forms of

developments. Preview renewable energy.

of RCI Show 1st­ 2nd Preview of UKCW

Nov

JULY / AUGUST

Sustainability

Insulation / Energy Efficiency

The Built Environment and a review of Innovative products, case studies in

sustainable building products.

Building

saving energy

Services

& ways of reducing

carbon footprint.

Building Conservation /

Restoration

A look at the many

specialist aspects of

Roofing/Cladding/Flooring/Interiors

A guide to materials, applications,

designs, fixings and developments.

Preview of RCI Show 1st­ 2nd Nov

conservation/restoratio

n, the companies

involved & their

particular skills in

helping to improve the

Building Conservation / Restoration

A look at the many specialist aspects of

conservation/restoration, the

companies involved & their particular

skills in helping to improve the standard

of conservation carried out on our built

heritage.

standard of

conservation carried out

on our built heritage.

JANUARY / FEBRUARY

School Building

Fire Safety & Security

The repair and modernisation of school Fire Protection and Security products &

buildings.

services.

Social Housing

SEPTEMBER / OCTOBER

MARCH / APRIL

Health & Safety

Health Sector Building

News, Products, Services, Legislation. Another & services. sector of prime importance

Preview IFSEC & Firex 20th­22nd June. this year with the refurb of many

Social Housing

hospitals Social and Housing

health sector buildings.

MAY / JUNE

10th­ Doors & Windows 12th Oct & Glass & Glazing Fire Safety & Security

The case put to repair or replace, and a Fire Protection and Security products

look at systems available in PVCU, & services.

timber, metal and composite materials. School Building

The use of glass / glazing in refurb.

NOVEMBER / DECEMBER

Heating & Ventilation

Energy Efficiency and

Social Housing

This sector will be active as Contractors

and

Roofing/Cladding

Housing Associations increase their

activity in repair & maintenance.

SEPTEMBER / OCTOBER

'Green' issues. Materials.

Renewable Energy

Fire Safety & Security

Renewable Energy Savings with energy. air/ground source

heat pumps, biomass and other forms

of renewable energy.

Preview of UKCW 10th­ 12th Oct

NOVEMBER / DECEMBER

Building Services

Heating & Ventilation Energy Efficiency

and 'Green' issues.

Renewable energy.

Fire Safety & Security

Fire Protection and

Security products

Flat and Pitch Systems,

Case Studies and

Fire Protection and Security products

& services.

Social Housing

Roofing/Cladding

Flat and Pitch Systems, Case Studies

and Materials.

Sustainability matters

Sustainability has always been an important part of our DNA at

Grundfos and much focus and effort has been directed at ensuring that

every contributory factor comes under scrutiny. Two recent tangible

examples of this are, a partnership with the Danish Refugee Council to

secure access to water and sanitation in some of the world's largest refugee

communities, and the second would be the way Grundfos is delivering water in

an urban settlement in Nairobi in a unique and innovative way.

Another clear indicator of commitment is the recently updated Grundfos

Code of Conduct - that now includes an even stronger commitment to

upholding human rights and clearly outlines anti-corruption initiatives - as

well as showing how we are continuing with our efforts within the area of

social responsibility. This for instance is exemplified by an initiative in Mexico,

where our production company plays a key part in getting former criminals

back on track through employment.

Other on-going and successful initiatives can be found in our commitment

to reducing our environmental impact. We have cut CO2 emission by 7.2%, our

water consumption by 5% and our energy use by 2% in 2016.

For more information on these and other initiatives visit

www.grundfos.co.uk

www.refurbprojects.com

Fire Safety with Crittall Fabrications

Architects and designers

planning a fire escape route

within their buildings can

now specify Crittall

Fabrications glazed partitions and

doorsets. As the use of such glazed

partitioning to transform the

interiors of both new build and

refurbished properties gains in

popularity, in commercial, retail,

hotel and educational

establishments in both the UK and

the US, Crittall Fabrications offers

the ideal solution.

Its extensive range of steel fire

rated glazed doorsets, flush fitting

steel fire rated doors, and fire rated

steel glazed partition walling

provides a winning blend of

elegance and peace of mind. All the

company's glazed partitioning

products comply fully with the

appropriate BS and EN standards.

As accredited manufacturers

Crittall Fabrications can assist the

creation of fire route plans by

supporting design ratification,

technical information, test

certification and documentation.

Clients may choose supply-only, or a

full design and installation service

which is offered through The Crittall

Group

Fire rated steel doorsets and steel

glazed partitioning can be supplied

as single or double-leaf doorsets,

with a range of latches or handles,

with sliding doors, a break-in/breakout

emergency function and with

fire ratings that range from 30 to

120 minutes integrity or 30 to 60

minutes integrity and insulation.

All Crittall Fabrication

fenestration and doorsets are known

for their combination of elegance

and toughness thanks to the slim

profile and inherent strength of steel

components. To this is added the

factory-applied powder coating that

provides an extremely hard-wearing,

highly durable, maintenance-free

finish.

The doorsets and partitioning

compliments all other product

ranges within the Crittall group of

companies so they blend

consistently and aesthetically with

the choice of external glazing.

Web:

www.crittall-fabrications.co.uk

40 AUGUST 2017, REFURBISHMENT PROJECTS
---
26 & 27

SEPTEMBER

DISCOVER THE LATEST TOOLS, TRENDS

AND DESIGN IDEAS TO TRANSFORM YOUR

RESTAURANT PREMISES

OVER 80 SEMIANRS INCLUDING: NG:

Lisa Prisk

Head of Creative,

Tossed

Jon Dover

Founder,

Dover Designs

LEE NESS

General Manager, Global

Upholstery Solutions Ltd

80 SEMINARS

Fuel your business ideas, and hear from the

most current professionals in the industry

5 ZONES

Including; Lighting, Al Fresco, Design,

Furniture, Surfaces and more!

120 EXHIBITORS

From innovative design aids to bespoke

furnishings,we've got it all!

@RestDesignShow

#RBDesignShow

@RestaurantDesignShow

#RBDShow

REGISTER FOR FREE TICKETS

VISIT WWW.RESTAURANTDESIGNSHOW.CO.UK

OR CALL 08000 68 69 70 NOW!
---
THE UK'S ONLY TIMBER EVENT

CPD CERTIFIED

FREE

BUILDING

SAFETY

WORKSHOPS

WHY ATTEND?

• Source hundreds of new

timber products

• Network with the entire timber

supply chain

• Meet potential and existing

key clients

• Learn about the latest trends

and regulation on the market

GET YOUR FREE TICKET

REGISTRATION INCLUDES ACCESS TO:

timber-expo.co.uk

PART OF UK CONSTRUCTION WEEK 2017

10 - 12 OCT 2017 NEC Birmingham