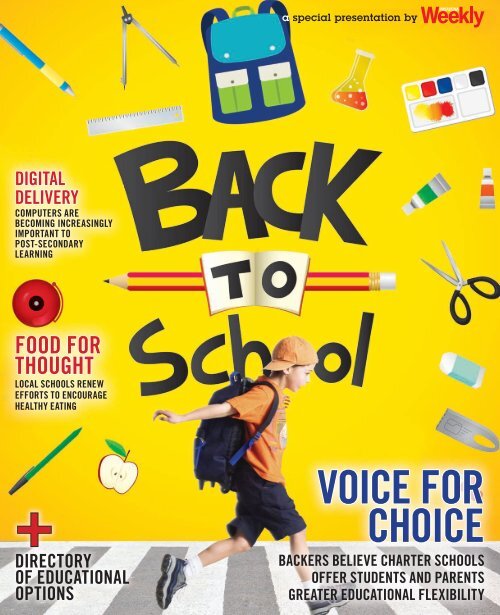 You also want an ePaper? Increase the reach of your titles
YUMPU automatically turns print PDFs into web optimized ePapers that Google loves.
a special presentation by

DIGITAL

DELIVERY

COMPUTERS ARE

BECOMING INCREASINGLY

IMPORTANT TO

POST-SECONDARY

LEARNING

FOOD FOR

THOUGHT

LOCAL SCHOOLS RENEW

EFFORTS TO ENCOURAGE

HEALTHY EATING

VOICE FOR

+DIRECTORY

OF EDUCATIONAL

OPTIONS

CHOICE

BACKERS BELIEVE CHARTER SCHOOLS

OFFER STUDENTS AND PARENTS

GREATER EDUCATIONAL FLEXIBILITY
---
2 BACK TO SCHOOL 2017 PASADENA WEEKLY
---
5 VOICE FOR CHOICE

BACKERS BELIEVE CHARTER SCHOOLS OFFER STUDENTS AND PARENTS

GREATER EDUCATIONAL FLEXIBILITY

BY REBECCA KUZINS

9 DIGITAL DELIVERY

COMPUTERS ARE BECOMING INCREASINGLY IMPORTANT TO POST-

SECONDARY LEARNING

BY CELENE VARGAS

13 DIRECTORY OF

EDUCATIONAL OPTIONS

27 FOOD FOR THOUGHT

LOCAL SCHOOLS RENEW EFFORTS TO ENCOURAGE HEALTHY EATING

BY SHEILA MENDES COLEMAN

EDITOR Kevin Uhrich

DEPUTY EDITOR André Coleman

ART DIRECTOR George Flores

ASSISTANT ART DIRECTOR Stephanie Torres

PRODUCTION DESIGNERS Rochelle Bassarear,

Richard Garcia

WRITERS Sheila Mendes Coleman, Rebecca Kuzins,

Celene Vargas

ADVERTISING DIRECTOR Dina Stegon

SALES AND MARKETING Lisa Chase, Brenda Clarke,

Leslie Lamm

OFFICE MANAGER Ann Turrietta

HUMAN RESOURCES Andrea E. Baker

BUSINESS MANAGER Linda Lam

CONTROLLER Kacie Cobian

ACCOUNTING Perla Castillo,

Janet Kirk

PUBLISHER Jon Guynn

SOUTHLAND PUBLISHING

V. P. OF OPERATIONS David Comden

PRESIDENT Bruce Bolkin

CONTACT US

PHONE (626) 584-1500

FAX (626) 795-0149

MAILING ADDRESS

50 S. De Lacey Ave.

Suite 200

Pasadena, CA 91105

©2017 Southland

Publishing, Inc.

All rights reserved.

BACK TO SCHOOL 2017 PASADENA WEEKLY 3
---
4 BACK TO SCHOOL 2017 PASADENA WEEKLY
---
Voice for Choice

BACKERS BELIEVE CHARTER SCHOOLS OFFER STUDENTS AND PARENTS GREATER EDUCATIONAL FLEXIBILITY

BY REBECCA KUZINS

BACK TO SCHOOL 2017 PASADENA WEEKLY

5
---
continued from page 5

A

lma Fuerte Public School will open Monday with

about 85 students in transitional kindergarten

through the second grade. Unlike most public schools

in the area, Alma Fuerte was not created by the Pasadena

Unified School District (PUSD). It is a charter school designed

by a group of parents who want their children to learn

entrepreneurship.

"We want our students to succeed in 21st-century careers,"

said co-founder and Director of Operations Anne Lee, an

attorney and mother of two who lives in Pasadena. "They

will need social and emotional skills as well as academics."

Students will also learn about computers, robotics and other

technologies.

Charter schools like Alma Fuerte are privately operated

but publicly funded; they are tuition-free and open to any

student who wants to attend. These schools seek to provide

parents with a greater range of options for educating their

children. Charters must meet the same academic standards

of other public schools, but generally have more freedom and

flexibility in their management, curriculum and hiring.

"We're a little more nimble," says Lauren O'Neill, executive

director of the Altadena-based Odyssey Charter School.

Comparing PUSD, with 18,000 students, to the 470-student

Odyssey, O'Neill says her school can "get through a lot of the

bureaucracy without the muck."

The charter school movement received a boost when President

Donald Trump appointed Betsy DeVos, a longtime supporter

of charters and home schooling, to head the US Department of

Education. And as a result of the May 16 election, the Los Angeles

Unified School District Board of Education now has a majority of

members who support the charter school concept.

"Evidence over the past five years argues that the public has

never been more supportive of public charter schools now based

on growth in charter school enrollment and polling data," states

the website for the California Charter Schools Association. According

to the group, 1,243 charter schools educating 602,837

students operated throughout California during the 2016-17 school

year.

Seven charter schools will operate in Pasadena and Altadena

during the 2017-18 school year. According to the most recent

statistics compiled by the California Department of Education,

five charter schools with 1,314 students were based in the two

communities during 2015-16.

Under California law, several agencies are authorized to issue

charters for alternative public schools. PUSD has granted charters

to four local schools: Aveson School of Leaders and Aveson

Global Leadership Academy in Altadena, and Pasadena Rosebud

Academy and Learning Works in Pasadena. Other schools, like

Aveson School

6 BACK TO SCHOOL 2017 PASADENA WEEKLY
---
Alma Fuerte and Odyssey, are chartered by the Los Angeles

County Office of Education. Charters are granted for a five-year

period, after which the charter can be renewed.

Proponents of charter schools say they offer parents and

teachers the opportunity to create specialized programs that are

unavailable in traditional public schools.

For example, Kurt Rahn, communications director at Learning

Works, says his school removes the obstacles preventing some

kids from attending school, providing education to dropouts,

pregnant girls, kids in trouble with the law and homeless children.

The school maintains an extensive network of chasers who "know

every single one of the students on a very intimate level" and

"literally chase them into coming to school."

Supporters also maintain charter schools are more academically

accountable than other public schools because they answer

to both parents and the chartering agency. "Their charter is

granted for a period of five years and after that period they must

prove they are meeting their promises," says Lee. At Alma Fuerte,

she added, county education officials will make site visits to the

school and the school will be required to prepare monthly reports

on its financing and operations.

However, critics, including state and national teachers' unions,

are skeptical about charter schools' accountability and transparency.

In addition, California Teachers' Association (CTA), a

politically powerful teachers' union, questions if these schools

are truly offering an educational experience that is unavailable

in traditional public schools. California charter schools,

CTA states on its website, "sought to empower small groups of

educators to launch a wide variety of innovative start-ups that,

by experimenting with new approaches to education, would

develop superior models fit to meet the needs of the diverse

students that make up [the] state's school population. … While

some charter schools have proved exemplary, much of the

industry has become dominated by the same types of organizations

legislators had sought to reform: large chains of schools

where materials, methods and evaluation are centrally dictated

and teachers lack the power to set the curriculum; Charter

Management Organizations that replicate a single model over

and over again, with little variation."

No doubt charter school founders are familiar with union

arguments, but that hasn't stopped them from organizing new

campuses. Lee, for example, says Alma Fuerte plans to add

another grade each year, eventually instructing transitional

kindergarten through eighth-graders by 2023.

"Charter schools give parents the option of finding the right

education for their child," she says. "Families want more personalized

learning and they should have that option." ■

Alma Fuerte School

BACK TO SCHOOL 2017 PASADENA WEEKLY

7
---
8 BACK TO SCHOOL 2017 PASADENA WEEKLY
---
Digital Delivery

COMPUTERS ARE BECOMING INCREASINGLY IMPORTANT TO POST-SECONDARY LEARNING

BY CELENE VARGAS

BACK TO SCHOOL 2017 PASADENA WEEKLY

9
---
continued from page 9

It wasn't that long ago when children operating computers

was an unthinkable concept –– at least until the 1980s,

when Apple co-founder Steve Jobs revealed a then-ambitious

vision to put computers in every classroom. Since then,

schools have seen a shift toward technology-based resources

that have changed education.

From SmartBoards and Blackboard to potentially never

being bored by dry lessons again, going to school no longer

means sitting in a chair while a teacher lectures for hours on

end. For many students, it means playing educational online

games, watching YouTube videos during class and even

hearing from experts from different parts of the world. And

for some students, a textbook is optional.

"When you think about things like TEDTalks, it's a different

expertise in areas and opinions where the actual access

of the geographic location of a particular expert would not

have lent itself to a physical, public informant class, so different

access is pretty interesting in terms of global [reach],"

said Linda Wah, a trustee at Pasadena City College and an

information technology expert.

Wah has been encouraging colleges to look into implementing

more classes that are like interactive webinars, noting

that not all students will succeed in fully online classes.

However, some schools, like PCC, do offer an alternative

called hybrid classes, where students work from home with

an online class but still attend lab hours.

"I don't think online classes are necessarily the right fit

for every student, but certainly a number of our students in

this generation are used to technology," she said.

In a more progressive move, PCC also offers classes that

use Open Education Resources (OER) in place of textbooks

when possible, said Ross Selvidge, president of the Board of

Trustees at PCC. OERs are digital learning resources, like

text and media, that are free to use and helps cut down the

cost of attending college. It is a trend that is rising in schools

across the country, with the US Department of Education

creating a #GoOpen campaign in 2015 to encourage districts

to adopt OER.

The rise of YouTube has benefitted education in unexpected

ways as well, with channels dedicated to providing

educational videos, like the popular CrashCourse, which

covers a variety of topics from literature to science and

more.

Students can watch these videos on their own time, but

10 BACK TO SCHOOL 2017 PASADENA WEEKLY
---
some teachers are implementing them in their class lessons.

One Reddit thread created last year asked how teachers

use the videos, with many of them saying they use them for

review.

"Teachers are asked to do so much, and they can't be

good at every single thing," said one of the channel's founders,

Hank Green, in an interview with the Washington Post.

"My goal is to be good at one thing so teachers can be good

at other things."

All of this begs the question whether textbooks will

become obsolete in the near future. Even now, many

college-level students wait to buy them until after classes

have started to see whether they will truly need them. The

website ratemyprofessor.com, where college students write

reviews of professors and classes, also includes information

on whether the textbook was needed for the class.

However, there are still a lot of hurdles to overcome before

textbooks get fully replaced with online resources.

Benjamin Herold wrote for Education Week that the

transition to digital content has been slow for reasons that

include financial issues, like districts not being able to buy

devices for every student, and technical issues where districts

don't have the infrastructure to handle so much online

activity.

Wah and Cassandra Volpe Horii, founding director of the

Caltech Center for Teaching, Learning and Outreach, agree

that textbooks probably will not be completely replaced, citing

differences in learning styles.

Beyond online resources, technology has also opened a

new door to how classes are conducted. At Caltech, some

professors use a technique called "flipping the classroom,"

which involves having students complete online assignments

or watch specific videos before class starts.

"For years now, Caltech professors have been making

increasing use of online tools to help students engage with

material and each other before coming to class, so that when

they're together in the classroom, they can spend more time

working together, tackling challenging problems and pushing

their understanding further than they otherwise could,"

Horii said.

continued on page 12

BACK TO SCHOOL 2017 PASADENA WEEKLY

11
---
"FOR YEARS NOW, CALTECH PRO-

FESSORS HAVE BEEN MAKING IN-

CREASING USE OF ONLINE TOOLS

TO HELP STUDENTS ENGAGE WITH

MATERIAL AND EACH OTHER BE-

FORE COMING TO CLASS, SO THAT

WHEN THEY'RE TOGETHER IN THE

CLASSROOM, THEY CAN SPEND

MORE TIME WORKING TOGETHER,

TACKLING CHALLENGING PROB-

LEMS AND PUSHING THEIR UNDER-

STANDING FURTHER THAN THEY

OTHERWISE COULD."

— CASSANDRA VOLPE HORII

continued from page 11

Not only has technology increased

access to education, it has increased

the ability to collaborate, as well.

Bethany Ehlmann, professor

of planetary science and JPL

research scientist, recently

provided Caltech students and

other students and professors at

six institutions around the world the

opportunity to interact and collaborate with

each other in a seminar class to analyze future Mars

mission landing sites by using real-time teleconferencing

and online tools.

Another Caltech professor, Richard Flagan, an Irma and

Ross McCollum-William H. Corcoran professor of chemical

engineering and environmental science and engineering, had

students share and collaborate on computer coding using small

projectors around the room. Horii said this really let him see

and correct students' thinking more effectively.

"There's been a lot of discussion about technology as a

distraction from learning, but what we're seeing is that when

the technology is well matched to the kind of learning that's

most important, and when it's incorporated meaningfully and

seamlessly into learning experiences, it can be a great way to

enhance and deepen learning," Horii said. ■

12 BACK TO SCHOOL 2017 PASADENA WEEKLY
---
— DIRECTORY OF OPTIONS —

continued on page 14

BACK TO SCHOOL 2017 PASADENA WEEKLY

13
---
ADVERTISEMENT

continued from page 13

A Plus Adventist Children's Center

(Founded in 1981) is a year-round, non-profi t preschool committed

to providing a safe, secure loving environment where children ages

18-months through 5 years of age can learn and explore and we have

summer camp for ages 5-9 years old. We believe that a lower student

to teacher ratio provides a better education by allowing more individual

attention. As a church-based Christian school, A Plus stresses intellectual,

physical, emotional and spiritual development. We offer a fun, stimulating

environment where children learn through play and hands-on experience.

The mission of A Plus Adventist Children's Center is to serve the Glendale

Community by providing a loving Christian atmosphere where our children

can be nurtured as they grow.

234 N. Isabel St., Glendale (818) 241-9353 – aplusadventist.com.

Alma Fuerte

For parents seeking a high-quality education for their children in the Pasadena

area, Alma Fuerte Public School might be the answer. The new public

charter school in Altadena opens its doors August 14 at a school district

elementary campus at 119 W. Palm Street. Alma Fuerte has an innovative

focus on entrepreneurship and personalized learning - helping students

develop the academics and achievement skills needed for success in high

school, college and 21st century careers. Alma Fuerte Public School

received its charter authorization from the Los Angeles County Board of

Education and is being led by a local founding team of educators, parents

and entrepreneurs.

Only a few spaces remain for the 2017-2018 school year. For a tour and

enrollment information, contact Anne Lee, Co-Founder and Director of

Operations at (858) 472-2245.

Aloha Mind Math

Ask about our "National Math Challenge", this annual competition offers

up to $10,000 prize for the winner. Aloha Mind Math is an Abacus-based

14

BACK TO SCHOOL 2017 PASADENA WEEKLY
---
math learning system, which focuses on Mental Arithmetic a proven

age-old technique for total development of the brain & for academic excellence.

Mind Math helps in brain development & also improves visualization

and listening skills in children. As a result, there is complete coordination

of the brain, vision and hearing. Our program is divided into two parts

Junior & Senior for children ages 3 to 12yrs. We also offer a Reading &

Writing program, which covers all areas of language development from

basic spelling & vocabulary to grammar & reading comprehension as well

as writing development. Contact us for a free session with no obligation.

324 E Foothill Blvd., Suite 101, Arcadia (626) 263-0340 arcadia@aloha-usa.com

Altadena Children's Center

At Altadena Children's Center, the families of the children in our programs

who range in age from 2 months to prekindergarten fi nd programs that

meet the needs of the whole child within a developmentally appropriate

framework. Our family-centered approach helps to nurture healthy partnerships

between teachers and parents as we all work together to support

the children. We are eager to help families from diverse backgrounds to

discover that Altadena Children's Center is the best place for their child's

early education.

Contact Director Toni Boucher at (626) 797-6142 or visit accc-kids.org.

Assumption of the Blessed Virgin Mary

Distinguished by our next generation technology, robust

academics, championship athletics,

Spanish program and strong sense

of community, Assumption is a

TK – 8 Catholic school rooted

in the message and mission of

a faith based education. With

transitional kindergarten (ages

4 and up) in its second year,

continued on page 16

BACK TO SCHOOL 2017 PASADENA WEEKLY 15
---
ADVERTISEMENT

continued from page 15

we nurture an active ten year investment with our students and families,

where everyone feels a sense of genuine belonging and connection well

beyond graduation. High expectations, coupled with skilled, differentiated

instruction across the grade levels, are provided by our teachers, many

of whom have advanced degrees. Students are nurtured to be confi dent,

compassionate and well balanced individuals who are sought after, and

accepted to our area's fi nest high schools. We are committed to being

fi nancially accessible and academically exceptional.

Visit our website: abvm-school.org or call (626) 793-2089. Come be part of

a vibrant, innovative learning community.

Barnhart School

Accredited by the California Association of Independent Schools and

Western Association of Schools and Colleges, Barnhart is distinguished

through its focus upon Early Literacy, Writers' Workshop, the Virtues

Program, conversational Spanish at all grade levels, daily PE and a stellar

middle school program where students are graduating with acceptance

to their top choice high schools. We believe that education is a lifelong

comprehensive human experience. Therefore, in addition to a robust

and rigorous academic base of subjects, we provide a full range of cocurricular

programs including music, art, technology, Spanish and PE.

In middle school, we further extend learning to include classes in public

speaking, life skills, woodshop, theater arts, yearbook production, student

leadership and much more. Barnhart is known as an affordable, "down to

earth", diverse community. We invite you to take a tour and talk with our

parents and students. Come meet our dedicated team of professionals,

share some time in our community, and watch our students in action!

240 W. Colorado Blvd., Arcadia (626) 446-5588 barnhartschool.org

Bishop Alemany

Founded in 1956, co-ed since 1970, Bishop Alemany is a beautiful, sprawling

campus with a diverse student population of 1,350. Offering a full

Honors and AP curriculum in addition to college-prep (including 4-year

Engineering and 4-year Biomedical Science programs), we are one of only

two schools in the LA Archdiocese with AP Capstone distinction, and hold

the honor of being 13-time Academic Decathlon Regional Champs. We

maintain a perfect blend of study and athletics, generating Division 1 level

sports programs which include Pac 5 Division Football. On-site facilities

include multiple ball fi elds and courts; a swimming pool; gym; a 3,000 sq.

ft. dance studio; a student art gallery and an engineering machine shop

(opening soon). Our commitment to excellence is built upon a community

of faith and devotion to service.

11111 N. Alemany Dr., Mission Hills (818) 837-5222

alemany.org, admissions@alemany.org

Burbank Music Academy

Burbank Music Academy opened in 2007 and quickly

established itself as the premier music education destination

for students of all ages in the San Fernando Valley.

BMA has grown into a multi-faceted arts facility and is

dedicated to providing the best environment and equipment

for our students. Our programs include private lessons,

band coaching, early childhood classes & more. We work

very hard to ensure that our clients always get the best

music education possible. Our students have been accepted

16

BACK TO SCHOOL 2017 PASADENA WEEKLY
---
into youth orchestras and to top music colleges including USC, CalArts,

Berklee & Belmont. Our amazing facility; top not teachers with strong educational

backgrounds and real world experience help us achieve a positive

musical atmosphere for all. Parents know the drive is worth it!

4107 W. Burbank Blvd., Burbank (818) 845-ROCK (7625) BurbankMusicAcademy.com

Chalk Preschool

Looking for the Perfect Preschool? Consider CHALK of Pasadena

Now Open! CHALK Preschool of Pasadena is located in the heart of the

quaint and burgeoning Pasadena Playhouse District. Situated on the

beautiful tree lined Green Street, the 4200 square foot building includes

4 cozy classrooms equipped with My Gym apparatus. Children will enjoy

endless opportunities for gross motor play in the large 5500 square foot,

age appropriate, private, and secure playground. We also offer ample

dedicated adjacent parking.

Children will experience moments of awe and wonder every day at CHALK

Preschool…Shouldn't you consider CHALK today?

(626) 578-7300

Chandler School

Chandler School is a co-educational, independent school in Pasadena

serving 450 students in grades K-8. Chandler adheres to its mission to

provide each student with the highest quality and most academicallychallenging

education in a nurturing, balanced and diverse environment.

A Chandler education seeks to develop good character, self-reliance and a

commitment to community in students as a foundation for academic and

personal success. Chandler offers engaging classes taught by dedicated

teachers whose average length of service to Chandler is 10 years.

Chandler students benefi t from exceptional educational facilities, as well

as robust arts, athletics and after school programs, all provided on a safe

campus. Chandler families come from 48 different zip codes in the San

Gabriel Valley and beyond.

(626) 795-9314 - chandlerschool.org

Child Educational Center

The Child Educational Center (CEC), a non-profi t affi liate of Caltech/JPL,

has been providing research-based early care and education to children

with an innovative focus on outdoor learning since 1979. Our unique

nature- and play-based programs are designed for children two months

to grade six, and provide nurturing care, highly-qualifi ed teachers, and

excellent child:teacher ratios. Our Infant-Toddler and Preschool Program

in La Cañada is accredited by the National Association for the Education

of Young Children. Our School-Age Program for K-grade 6 is at seven

sites, including Pasadena, La Canada and LCUSD elementary schools. All

programs, including our Cooperative Preschool at Caltech, are currently

enrolling children from throughout the community.

Learn more at ceconline.org or by calling (818) 354-3418

Clairbourn School

Admissions season is coming up, and now is a great time to book a tour

for the fall! Clairbourn serves students in preschool through middle

school grades (JPK-8th). We are known for small class sizes, experienced

faculty, a challenging academic program, and a wide array of co-curricular

classes built on a strong foundation of values and community. Clairbourn

continued on page 18

BACK TO SCHOOL 2017 PASADENA WEEKLY 17
---
ADVERTISEMENT

continued from page 17

also sends its graduates on to top area high schools and is accredited by

CAIS and WASC. Our school has a beautiful 8-acre campus, state-of-theart

security, high-tech classrooms, outdoor learning spaces, expansive

athletic facilities, a swimming pool, daycare, and after-school classes.

To book a tour call admissions at (626) 286-3108, or email admissions@

clairbourn.org.

The Counter Burger

We want to challenge the way people think about burgers. We're about

creative construction. We think life is about experiences. Trying stuff.

Learning. Stretching. Being inventive. So we've searched for ingredients,

chosen meats, created sauces, baked buns, melted cheeses and crafted

shakes that shout fl avor. Take them and create something special.

140 Shoppers Lane, Pasadena (626) 440-1008 thecounterburger.com

Don Bosco Technical Institute

Bosco Tech's College-Prep STEM Curriculum Helps Students Thrive

Bosco Tech is an all-male Catholic high school that combines a rigorous

college-preparatory and technology-focused education to qualifi ed young

men of all religious, ethnic and socioeconomic backgrounds. The innovative

science, engineering, technology and math (STEM) curriculum allows

students to exceed university admission requirements while completing

extensive integrated coursework in one of several applied science and

engineering fi elds. An accelerated honors and Advanced Placement track

is offered. Students have the opportunity to participate in nearly 30 clubs,

honor societies, and civic engagement and leadership programs. A member

of the CIF-Southern Section and CAA, Bosco Tech competes in nine

sports: baseball, basketball, cross country, football, golf, soccer, tennis,

track and fi eld, and volleyball. Financial aid is available.

For more information, call (626) 940-2000 or visit boscotech.edu.

Glendale Adventist Academy

Founded in 1907, Glendale Adventist Academy is a K-12 college preparatory

school dedicated to empowering young men and women with spiritual

commitment, strong academic preparation, and leadership skills. We

provide a Christ-centered learning environment where students, parents,

and teachers can experience the presence of God in a spirit of affi rmation.

Our progressive curriculum challenges and fosters the highest academic

development, and our values-laden, ethically driven focus involves

students in service and a commitment to their local and global communities.

The curriculum maintains a rigorous program of college preparatory

courses, religious education, community outreach, art, music, athletics,

drama, and enrichment opportunities, promoting a life-long love for learning.

The school is fully accredited by the Western Association of Schools

and Colleges (WASC).

Now offering Transitional Kindergarten. (818) 244-8671

glendaleacademy.org.

The Gooden School

Located in Sierra Madre, The Gooden School has been offering a strong

educational foundation using both traditional and progressive approaches

since 1975. As an independent, Episcopal kindergarten through eighth

18

BACK TO SCHOOL 2017 PASADENA WEEKLY
---
grade school, our caring community of faculty, staff and families believe

that all students possess gifts that are manifested in many ways throughout

their years at Gooden. These gifts may be discovered or enhanced

through academic excellence, musical, artistic or dramatic ability, through

sports or the acquisition of a second language. All students study not

only traditional academic subjects but each child also learns Latin and

Spanish and all students play a musical instrument. Additionally, students

participate in service-learning projects and utilize the latest technology

that is integrated throughout the curriculum. Open houses will be held on

Saturday, October 21, 2017 from 10 a.m. to 12 p.m. and Wednesday, January

17, 2018 from 4 p.m. to 5:30 p.m.

For more information please call (626) 355-2410 or go to our website at

goodenschool.org.

Halstrom Academy

Halstrom Academy thinks outside the box when it comes to educating

6-12 grade students. The school's one student, one teacher approach is

the core principal behind its academic success, and an impressive college

admissions record backs that up. Halstrom offers a bully-free environment

where customized learning and a content mastery philosophy allow

for each student to progress at his or her own pace. Every day, Halstrom

Academy provides a powerful alternative for parents whose children

may not be living up to their full potential in a traditional, one-size-fi tsall

school. Halstrom Academy has a year-round, open enrollment policy

meaning you can enroll now and start at any time. Halstrom is WASC

Accredited, UC/CSU certifi ed and NCAA approved.

For more information call (866) 590-7548 or visit Halstrom4U.com.

High Point Academy

High Point Academy's mission is to awaken the joy of lifelong learning in

each kindergarten-8th grade student. With small class sizes, teachers are

able to provide a stimulating and innovative educational experience in the

most nurturing and caring environment possible. Through a challenging

yet balanced curriculum, each child is motivated to fl ourish academically,

emotionally, morally, physically, and socially. Our teachers recognize, embrace,

and develop each child's true potential. Service learning, STEAM,

technology, athletics, arts, theater arts and music, world languages in

Spanish and French, library, and green sustainable living are embedded in

the enriched curriculum. We offer physical education fi ve days a week, an

iMac technology center, a 1:1 laptop program in 4th-8th grades and a 2:1

iPad program in kindergarten-3rd grade, strong parent

partnerships, a beautiful and impeccably maintained

campus, and a dedicated faculty and staff. High Point

invites you to see our diverse, close-knit community

for yourself at one of our upcoming open houses.

1720 Kinneloa Canyon Rd., Pasadena - (626) 798-8989 -

highpointacademy.org

Idyllwild Arts

The Idyllwild Arts Summer Program has taught

people of all ages and abilities for over sixty years.

The wooded campus sits a refreshing mile above sea

continued on page 20

BACK TO SCHOOL 2017 PASADENA WEEKLY 19
---
ADVERTISEMENT

continued from page 19

level in the San Jacinto Mountains, just a couple of hours from Pasadena.

The Summer Program draws on a rich tradition of teaching by masters

like Ansel Adams and Pete Seeger. Their example inspires three hundred

artists who teach dance, fi lm, music, theatre, creative writing, fashion

design, visual arts, and more, attracting two thousand children and adults

to their hands-on classes every year. The Summer Program also honors

the Native American people who have lived for centuries in the San Jacinto

Mountains. Workshops in numerous traditional and contemporary Native

art forms offer an unparalleled immersion in Native American culture.

idyllwildarts.org/summer

Immaculate Heart High School & Middle School

Founded in 1906, Immaculate Heart offers beloved traditions and a distinguished

history with more than 10,000 graduates. Now in its 112th year, the

private, Catholic, college preparatory school remains committed to the intellectual

and spiritual development of young women. Its campus, located in the

Los Feliz foothills near Griffi th Park, welcomes students of geographic, ethnic

and religious diversity. Virtually 100 percent matriculate to college. The high

school's curriculum features 18 Advanced Placement courses, including AP

Capstone, 14 honors classes, and STEM offerings such as "Engineering Your

World." IH fields teams in basketball, cross country, diving, equestrian, soccer,

softball, swimming, tennis, track & field, and volleyball. Students participate in

community service, retreats and liturgies, theatre, visual arts, and more than

30 clubs. Bus transportation serves the Pasadena area!

5515 Franklin Ave., Los Angeles immaculateheart.org (323) 461-3651

Inspire Dance Studio

At INSPIRE Dance Studio, we offer cutting edge classes for children ages

3-18 in Ballet, Pointe, Jazz, Modern/Contemporary, Hip-Hop, Tap, Musical

Theatre, and more! It's our heartfelt philosophy that dance education

is about creating a happy, whole, and successful child, as well as a top

dancer! We believe that happens when children are in an environment

in which they feel safe and encouraged to explore beyond their comfort

zones, while being given the tools to become fl awless technical dancers

and performing artists. This means that EVERY child at INSPIRE will

receive elite training, while creating self-disciplined habits in a self-esteem

building, peer supportive, and fun environment! We offer small-class

sizes, spacious studio rooms, and professional faculty.

Enroll today! 457 Foothill Blvd., La Canada (818) 714-7254 inspire-dancestudio.com

Institute for Educational Advancement

IEA is an independent, national non-profi t that matches gifted children

ages 3-18 with customized educational programs designed to serve their

complex intellectual, social, emotional, spiritual and physical needs.

These initiatives foster intellectual curiosity, the acquisition of knowledge,

confi dence, creativity, responsibility and moral decisiveness.

Academy provides year-round, challenging enrichment

classes focused on exploration and the

application of knowledge. The residential summer

Apprenticeship Program links high school

students with distinguished professionals who

serve as mentors to gain hands-on, real-world

20

BACK TO SCHOOL 2017 PASADENA WEEKLY
---
experience. The Caroline D. Bradley Scholarship provides students with a

four-year scholarship to a high school that fi ts each Scholar's individual

intellectual and personal needs. Yunasa summer camps unite highly able

youngsters and gifted experts to teach campers how to balance all aspects

of their lives.

Visit educationaladvancement.org for more information.

Justine Sherman & Associates

Justine Sherman & Associates serves the speech-language and educational

needs of individuals throughout the greater San Gabriel Valley

community. We design customized treatment plans with personalized

measurable goals achieved through individual therapy sessions or classes

conducted by our certifi ed and licensed speech-language pathologists and

supervised aids. Our collaborative relationship with families, educators

and health care professionals ensures the best opportunity for client success

and supports our philosophy of holistic treatment.

justineshermanslp.com or (626) 355-1729

Kids Klub

Kids Klub's After School Program offers parents piece of mind all-year

round by providing after-school and before-school care and transportation

from local schools. The program includes a scheduled homework

time with the assistance of our teachers. Providing a quiet, comfortable

environment where children can focus on their homework and receive help

when needed is the centerpiece of our afterschool program. Our program

looks to instill children with the study habits necessary to become selfreliant

and academically confi dent. At Kids Klub, children engage in structured

activities including, cooking, science, arts & crafts, and dramatic

play. Plenty of outdoor time and outside games allow your child a chance

to unwind from a busy day.

For more information on our schedule and program please call (626) 945-

0952 kidsklubcdc.com.

La Salle High School

La Salle High School is dedicated to excellent student performance in

academics, arts and athletics. La Salle Summer Academic Institute is for

5th to 12th graders. Courses provide opportunities to home skills and

learn new concepts in the more relaxed environment of summer. Students

earn high school academic credit in some courses, and many courses

satisfy UC standards. Sports Camps are available throughout the summer

for student athletes.

(626) 696-4300 lasallehs.org

Mentor Avenue Preschool

Located in the heart of Pasadena, Mentor Avenue Preschool students are

engaged in the joy of discovery. Everywhere there is fun and excitement

while learning through art, science, music, cooking, games and other

activities. Our loving staff encourages independence in the younger

students, especially in the area of potty training, along with healthy eating

habits and good table manners. Class projects involve team work in order

to build good social skills. Our innovative approach to the outdoor classroom

inspires a natural learning environment. Mentor Avenue Preschool

is a Christian Preschool dedicated to providing quality early childhood

continued on page 22

BACK TO SCHOOL 2017 PASADENA WEEKLY 21
---
ADVERTISEMENT

continued from page 21

education, while nurturing Christian Values, to prepare children for kindergarten

and beyond.

308 N. Mentor Ave., Pasadena (626) 396-7008

Mt Sierra College

Mt Sierra College is located at 800 Royal Oaks Drive, on the corner of

Mountain and Royal Oaks and offers Bachelor Degrees in Media Arts and

Design, Information Technology and Business with concentrations in

Visual Design, Game Arts and Design, Information Technology, Information

Security, Network Communications and Business Administration.

The campus features state of the art classrooms. Classes are kept small

to allow for more personalized instruction. Students like the caring and

supportive environment that includes assistance with fi nancial aid and

scholarships for those who qualify and career services for help in fi nding

a job in their fi eld. Mt Sierra College is an excellent, local choice for high

school grads, transfer students from community colleges and returning

students who want to improve their career opportunities by getting their

BS or BA degree.

mtsierra.edu, (855) 865-0109

Pacific Oaks College & Children's School

Nestled in a campus of Craftsman houses and tree-shaded pathways

in Pasadena, Pacifi c Oaks Children's School (PO) provides an unparalleled

setting for early childhood education. Through an emergent and

play-based curriculum, PO has inspired a love of learning and confi dence

since 1945. Children learn through active exploration, as our outdoor

classrooms spark inquiry, creativity, and refl ection. Enrichment programs

include art, music, and literature. Most importantly, our close-knit classroom

helps children develop compassion and to value each individual.

Part-time and full-day programs are available for children ages 2 to 5.

Infant/toddler programs focused on parent/child participation are also

offered. Please contact us for scholarship information.

To learn more about how PO ignites curiosity, creativity, and compassion,

visit pacifi coakschildrensschool.org or call (626) 529-8011.

Pasadena Language Center

Looking to learn a new language? We offer classes in over 30 languages

for adults and children. Our programs (including weekly classes, intensive

classes, full immersion classes, kids classes, ESL classes, and private

classes) are perfect for the beginner, intermediate and advanced students.

Our best attributes: small groups and affordable prices. Don't wait, get

started today!

46 Smith Alley Ste., 240, Pasadena (626) 844-5003 or visit pasadenalanguage.com.

Pasadena Waldorf

Pasadena Waldorf School prepares to celebrate 100 years of Waldorf Education!

A community for those who think deeply about the world and their place

in it. PWS is a conscious approach to parenting and education founded

on the wisdom of Rudolf Steiner who recognized that every child brings

a gift; when he opened the fi rst school in Germany nearly 100 years

ago - he inspired teachers to get to know each student individually and

to meet them authentically. Today we continue that tradition with a rich,

holistic and experiential curriculum that has been thoughtfully developed,

time tested and intentionally structured with the healthy development of

the student at the center. PWS is accredited by AWSNA, WASC and is a

member of WECAN.

22

BACK TO SCHOOL 2017 PASADENA WEEKLY
---
pasadenawaldorf.org

Piano Play Music

Demonstrating specifi c attribute of music starting at 19 months is what

makes Piano Play Music Systems different. In 1987, she started her

company, Piano Play Music Systems with the concept of introducing constructive

ear training, music theory, note reading, and keyboard playing

before 4 years old. The success of her theory-based teaching method has

been featured on the OWN network series "Raising Whitley". Ms. Shaheed

was a selected speaker at the California Women's Conference, and was

featured on the Oprah & Friends Radio talk show with Dr. Robyn Smith.

Piano Play Music Systems was a winner of Make Mine a Million program

sponsored by OPEN from American Express, and the Stevie Awards for

Women in Business. She taught over 7,000 children in Los Angeles.

Open house on Saturday, August 12th starting at 9:00 am. Locations are in

Pasadena, Sherman Oaks, and Woodland Hills. pianoplaymusic.com

(818) 789-6110 or email us at pianoplayschedule@gmail.com to reserve

your spot!

Polytechnic School

Polytechnic School, an independent, college-preparatory K-12 school in

Pasadena, will begin on Wednesday, Aug. 30, when Upper School students

return to campus (Lower and Middle School students follow on Tuesday,

Sept. 5). Established in 1907, Poly seeks to develop the intellect, talents,

and character of each student in a community of learning dedicated to

principles of academic excellence. Poly cultivates intellectual growth

through innovative spaces and small classes, which not only provide each

student with more attention. Poly's K-12 structure allows teachers to collaborate

and implement a scope and sequence within the curriculum that

builds as students progress from one year to the next. Poly is accredited

by the Western Association of Schools and Colleges and is a member of

the National Association of Independent Schools and the California Association

of Independent Schools.

Learn more at polytechnic.org 1030 East California Blvd., Pasadena

(626) 396-6300

Diana Brandin Realtime Captioning & ASL!

OnPoint Captions and ASL! CART – Communication Access Realtime

Translation and American Sign Language. (On-site and remote). ADA Compliance.

Communication access for public/private academic institutions

(universities, colleges, K-12, special events, on-site and online learning),

businesses, corporations, non-profi ts, for-profi ts, corporate meetings,

conferences, conference calls, live-streamed webinars, legal, court, hearings,

medical, hospitals, doctor appointments, social services, weddings,

funerals. Realtime captioning and American Sign Language plus transcription

of recorded media, closed-captioning or subtitles for videos,

webinars, DVDs, YouTube clips, and other media. Live

captions displayed via tablet, smartphone, laptop,

fl at-screen TV, projector-to-screen, jumbotron and

more. We hire only seasoned professionals! Local

small business and woman-owned business. FREE

DEMOS onsite and remotely.

Now scheduling for 2017-18 school year.

OnPointCaptions.com

(818) 279-8136

continued on page 24

BACK TO SCHOOL 2017 PASADENA WEEKLY 23
---
ADVERTISEMENT

continued from page 23

Saint Andrew Catholic School

Saint Andrew Catholic School (PK-8th grade) provides a caring environment

in which children are able to grow and excel in their academics. We

are excited to announce that we now enroll students as young as 3 years 6

months for our PK program. Our newly established PK program offers a

full day as well as a ½ day program for approximately 15 students.

As we celebrate our 120th anniversary, St. Andrew is a highly respected

educational institution in Pasadena, a foundation for Christian values, and

a place with a strong sense of community. If you have not looked at St

Andrew Catholic School for your family, now is the perfect time to come

for a tour!

Contact us today! (626)-796-7697 saspasadena.com

Saint Mark's

Saint Mark's offers dynamic program for young learners. Located in Altadena,

specializes in early childhood and elementary education, intentionally pairing

strong academics with social-emotional learning to help students thrive and

grow into intelligent, well-rounded leaders. Many classes are conducted

outside or in labs, where students can develop their intellectual curiosity by

exploring, learning, and playing in a dynamic, hands-on setting. Saint Mark's'

focus on students' younger years provides the best foundational education

possible. With a low student-to-teacher ratio, the relationships between

students, faculty, staff, and families help create a vibrant home for learning and

growth. As students transition into the upper elementary years, the curriculum

and culture solidify their self-confidence before they head into adolescence.

Our diverse community—from our faculty and staff to our highly engaged

parents—models the confidence, resilience, and compassion that we strive

to instill in our students who go on to become thoughtful leaders in their community

and their world.

More information about the preschool and elementary (Kindergarten

through sixth grade) can be found online at saint-marks.org. Contact

Director of Enrollment Management Dan Hare at dhare@saint-marks.org

or (626) 798-8858 with any questions.

St. Monica Academy

St. Monica Academy is an independent, Catholic, coeducational school for

grades 1-12 and is at the forefront of a renaissance in classical education,

a time-honored method of teaching that inspires students to excel academically

and morally. Founded by parents in 2001, the school provides

272 students in grades 1-12 with an academically rigorous education

using a classical curriculum. Due to a steady growth in enrollment, St.

Monica's moved to the campus of Holy Redeemer Parish in Montrose in

the summer of 2015. The newly renovated school site

features a spacious elementary school building, new

classrooms for the high school, new landscaping, a

computer lab, library, science lab, and expansive

outdoor space. St. Monica Academy, coed,

grades 1-12.

2361 Del Mar Rd., Montrose (818) 369-7310 -

stmonicaacademy.com

24

BACK TO SCHOOL 2017 PASADENA WEEKLY
---
St. Philip the Apostle School

Celebrating 90 Years of Catholic Education

St. Philip the Apostle School has enriched the lives of the children in our community

for 90 years. We are a K-8 Catholic, parish school with two classes per grade

serving over 535 students. The school's modern, urban campus features an advanced

technology platform that supports a broad range of web-based research

and instructional resources, dedicated classrooms for art, music, and Spanish…

and beautiful Holy Angel Hall that also serves as a gymnasium and theatre.

1363 Cordova St., Pasadena. For more information or schedule a tour go to

stphiliptheapostle.org/school or contact Colleen Welsh, Development Director

at (626) 795-9691 ext. 449.

Stratford Schools

At Stratford School, high expectations yield extraordinary results. We start

early with an advanced and intentionally balanced curriculum that challenges

students and accelerates achievement. Our ever-evolving, STEAM-based

(Science, Technology, Engineering, Arts, and Math) teaching methods ensure

students develop the diverse set of problem-solving skills and creative

talents they'll need in today's world. Our passionate teachers cultivate a

nurturing and fun classroom environment, where children feel safe and eager

to try new things and fail forward. Beyond the classroom, we help students

discover and defi ne their passions through a variety of extracurricular

activities, personal development and enrichment. This carefully designed

approach prepares students to excel at the next level and become tomorrow's

creative problem solvers, innovators, and confi dent leaders.

For more information go to stratfordschools.com.

Tutu School

The founding principle of Tutu School is that every child should know what it feels

like to dance to the strains of Tchaikovsky and Bach. That motor skill development

is infinitely enhanced by moving like a bunny rabbit, a dolphin, or a horse, and

that young imaginations benefit immensely from exploring the enchanted worlds

of swans and sugarplums, or firebirds and fairies. Tutu School offers classes for

children 18 months to 8 years old, as well as Ballet Birthday Parties, and Tutu Camp!

696 E. Colorado Blvd., Suite 6 Pasadena (626) 657-8889

Walden School

Walk through the hallways and yards of Walden School and you'll see something

magical: children of all ages and backgrounds engaged in learning.

You'll see artists at work, writers drafting a story, musicians practicing a

song, scientists verifying principles and mathematicians solving problems.

You'll see students who respect themselves and their environment. You'll see

active, inquisitive learners who are thriving in a safe, community-oriented

place. You'll see teachers, parents and administrators encouraging curiosity,

nurturing talents and promoting creativity. Walden is a small environment

where big things happen: questions are posed, solutions are explored and

answers are discovered by our youngest learners to our 6th graders preparing

for their next challenge in middle school. Our forward-thinking program

helps children develop the foundation that will support them for a lifetime,

understanding that we all have stewardship for the world in which we live.

75 South San Gabriel Blvd., Pasadena (626) 792-6166 waldenschool.net ■

BACK TO SCHOOL 2017 PASADENA WEEKLY 25
---
26 BACK TO SCHOOL 2017 PASADENA WEEKLY
---
FOOD FOR

THOUGHT

LOCAL SCHOOLS RENEW EFFORTS TO ENCOURAGE HEALTHY EATING

BY SHEILA MENDES COLEMAN

BACK TO SCHOOL 2017 PASADENA WEEKLY

27
---
continued from page 27

Many students, including those enrolled in Pasadena

public schools, regularly attend classes without first

receiving proper nutrition at home.

Today, school districts around the country are trying to make

up for those nutritional shortfalls, but unfortunately for some

low-income families, bad food decisions have become a part of

a daily diet, mainly because those are often the cheapest foods

to purchase on a tight budget. Potatoes, rice, breads and cereals

are all good in moderation, but in excess they can quickly

pack on the pounds and contribute to the scourge of childhood

obesity.

The mandate for today's

school food services is

to focus on presenting

meals that are appealing

and tasty,

with an emphasis

28 BACK TO SCHOOL 2017 PASADENA WEEKLY

on preparing them in a healthful way.

The Pasadena Unified School District (PUSD) is making

strides when it comes to addressing the nutritional needs of its

students, using a collaborative approach that seeks to engage

and involve students by giving them a wider array of healthier

choices, as well as a voice in what's being served.

"Over the past four years, PUSD has striven to increase the

quality of our menus by eliminating prepackaged food at breakfast

and lunch service districtwide," according to a statement

by the district's Food & Nutrition Services division, headed by

Ralph Peschek. "We have partnered with local companies and

farms in California to increase the procurement of fresh and

locally produced items. Our whole grain rich bread is made
---
with grain grown in the Central Valley and baked locally. Our

students eat wild rice grown in the Sacramento Valley. This

school year we integrated garden fresh produce grown in our

own PUSD school gardens into the lunch line."

The district recently launched its first all-district food

survey, aimed at giving parents a greater voice when it comes to

menu offerings for their children.

In addition to actively seeking input from parents, teachers

in Pasadena schools also realize the positive impact of involving

children at a young age in learning about nutrition in a handson

way. In fact, many classrooms now have vegetable gardens

that the students actively tend, thus providing lessons on

responsibility and increasing the likelihood these foods

will be consumed.

Cooking segments in classes where students are tasked with

bringing in foods from home to contribute to a meal offer prime

opportunities to discuss which foods are best for growing bodies,

and why certain foods are not.

With a greater knowledge of nutrition and the role it plays in

education comes a greater responsibility to creatively meet the

dietary needs of all students, regardless of family income. This

is no small feat, considering the cultural diversity of Pasadena's

school children, the plethora of unhealthy options available

to them, as well as the sheer numbers of those who stand to

benefit.

According to a July, 2014 ruling by the US Department of

Agriculture (USDA) applying to all beverages and snack foods

sold in schools from elementary to high school, a food item must

meet all competitive food-nutrient standards, be a whole-grain

product containing 50 percent or more whole grains by weight

or have whole grains listed as the first ingredient, or have as the

first ingredient one of the non-grain major food groups: a fruit,

vegetable, dairy product, protein food, or be a combination food

that contains at least ¼ cup of fruit and/or vegetable.

The simple fact is students who regularly receive a

continued on page 30

BACK TO SCHOOL 2017 PASADENA WEEKLY

29
---
continued from page 29

balanced diet learn better and retain more knowledge. Empirical

studies show that there's a direct correlation between poor nutrition

and school absences, as well as overall cognitive function.

Students with iron deficiencies show significantly reduced levels

of dopamine transmission, which greatly affects brain function,

including focus and concentration skills. Other studies have

shown that poor nutrition and the consumption of unnecessary

food additives —preservatives, sugar, excess sodium — can have

a negative impact on children's behavior, as well as their ability to

learn.

School lunches crammed with starches, sugars, sodium and

caffeine not only do little to satiate student hunger, but can actually

thwart their chances of learning and retaining information

appropriately.

A study conducted by the Society for Neuroscience (sfn.

org) found that diets high in saturated fat often actively work to

hinder learning and memory function. Factors such as sugars and

glucose in these high-fat foods inhibit brain function because, at

above-normal levels, otherwise necessary carbohydrates actually

increase fatigue and decrease energy in our bodies.

For students dealing with the challenges of attention deficit

disorder (ADD) and other behavioral and cognitive issues, spikes

and crashes that come as a result of carbohydrate overload make

focus and concentration even more difficult.

As important as proper diet is to adults, the same holds doubly

true for youngsters, especially during their formative years, when

their systems are tasked with supporting frequent growth spurts

and bourgeoning skills in critical thinking.

Savvy school districts like PUSD recognize not only the link

between good nutrition and an optimal learning environment, but

the importance of student input when it comes to the meals and

dining options available. ■

30

BACK TO SCHOOL 2017 PASADENA WEEKLY
---
BACK TO SCHOOL 2017 PASADENA WEEKLY

31