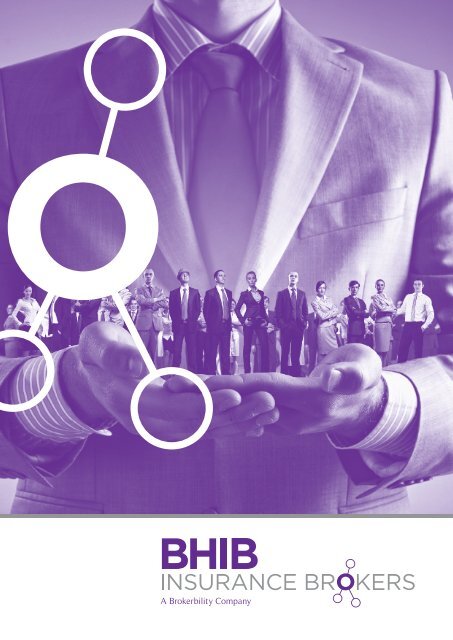 BHIB Insurance Brokers Corporate Brochure
Learn more about BHIB's service offerings.
Learn more about BHIB's service offerings.
SHOW MORE
SHOW LESS
Create successful ePaper yourself
Turn your PDF publications into a flip-book with our unique Google optimized e-Paper software.
A Brokerbility Company

www.bhibinsurance.co.uk

1
---
A Brokerbility Company

CHAIRMANS MESSAGE

BHIB has over 50 years of rich history.

During that time, we've established a very

simple recipe for successful relationships

with our clients. We like to call it

"the power of three".

The power of 3 works in many ways to

establish and strengthen relationships and

improve customer experience.

This could be the 3 way relationship

between our clients, BHIB and the

insurers.

It could also be the 3 core values, that

drive our business: -

• "Have quality at the heart of

everything we do."

• "Provide confidence & value to

lasting relationships."

• "Offering simplicity without

cutting corners."

We'd welcome the opportunity to

demonstrate how the power of 3

can help you and your business.

Ashwin Mistry

Ashwin Mistry OBE ACII

Chairman

2
---
ABOUT US

BHIB are a staunchly independent

Insurance Broker, which means our

excellent service and advice is always

delivered with clients at the centre of all

we do, and has been for the last 50 years.

At BHIB, we value many traditional

qualities that are as important to us as

they are to our clients and prospective

clients: Honesty, Integrity and

Professionalism are just 3 of our core

values.

Our traditional values, professionalism

and highly qualified staff, have helped

us secure the prestigious Chartered

Insurance Institute (CII) Chartered

Insurance Broker designation, which is

reassurance that when you deal with

BHIB, you are dealing with proven and

certified professionals.

We are always working hard to adapt

and evolve; to provide different ways to

communicate with our clients to ensure

you can receive the best of both worlds:

Traditional Service, delivered how you

want it.

Times change, but what matters to our

clients doesn't. We know that when it

comes to insurance, you want good

advice, value for money solutions

and peace of mind in the knowledge

that if the worst happens (and it does

occasionally) we will be there to support

you.

"Have quality at the

heart of everything

we do"

www.bhibinsurance.co.uk 3
---
Businesses

Looking after both local and national

businesses, our teams are segmented to

provide specialist insurance programmes

tailored for your business and trade

sector.

With our in depth knowledge of your

profession or trade, you can be sure that

when we arrange insurance for you we

are doing so from a position of strength,

combining our expertise with reputable

insurers, and competitive premiums.

When you arrange insurance for your

business, your home or your health, you

hope that when the need arises, your

insurance cover will provide you with

protection.

BHIB will work with you to develop

an insurance package that removes

uncertainty, relying on our expert advice,

backed by recognised and financially

secure insurers.

Add to this our excellent claims

management service, and we believe

that BHIB offer a unique solution to your

insurance and risk management needs.

"Providing Confidence

& Value to Lasting

Relationships"

4

E. enquiries@bhibinsurance.co.uk
---
ABOVE AND BEYOND...

We're far more than a traditional broker.

Below are just a few areas where BHIB

can truly add value to our relationships:

Customer Portal

Our customer portal is exclusively available

to our existing clients. You will always

have access to your policy information

and documentation whenever you want it,

24/7/365.

Our portal means that you will never need

to request copy documentation again. Need

confirmation of your liability insurance? No

Problem! Copy invoice for your accountant?

No Problem! Your documentation, Your way.

Risk Management

We can offer the services of our own in house

risk manager to give guidance and advice

across a range of risk management topics.

When a claim is received as a result of poor

risk management, the cost of the claim,

the potential increase in premium and the

inevitable loss of your valuable time nearly

always exceed the original cost of the risk

management programme that could have

been put in place in the first instance.

We will work with you to proactively manage

your risk more effectively and minimise the

threat to your business.

Available to all clients, we have a suite of risk

management and educational documents to

support all aspects of your business.

Have a question? Just ask!

Keeping In Touch

We promise you won't just hear from us

at renewal! We always look to support our

prospects and clients with fresh commercial

and technical insights, by way of regular

email and useful downloads from our website.

www.bhibinsurance.co.uk

www.bhibinsurance.co.uk 5
---
Contracting

BHIB have built up a reputation of being

experts across the contracting sector.

We work with businesses large and small

across the entire construction industry,

including general builders, scaffolders,

roofers, diamond drillers and many more.

If you have a question relating to

contracting insurance, we've probably

heard it before!

We work with well known, reliable

insurers to provide a bespoke package to

suit your business requirements.

From the point of enquiry, our specialist

Contracting team will establish

your needs using our expertise and

experience, and arrange a tailored

insurance programme, to ensure your

business is comprehensively protected.

We're also on hand to offer advice on

complex trading conditions to ensure

your business is adequately protected at

all times.

6

E. enquiries@bhibinsurance.co.uk
---
MANUFACTURING

With many clients in the industrial

heartland of the UK, we have an

unparalleled understanding of

manufacturing risks. This understanding

enables us to advise and support our

clients and be more than simply an

insurance broker.

With expertise across sectors including

food, textiles and plastics, we use our

knowledge of the manufacturing

specific insurance market to provide

you with bespoke and tailored covers to

protect your business assets, and give

you peace of mind.

"Offering Simplicity

without Cutting

Corners"

www.bhibinsurance.co.uk 7
---
PROFESSIONS

As a Chartered Insurance Broker we

know only too well the various pressures

and demands of maintaining and

growing a quality professional business.

Whether your business is within the

Financial, Recruitment, Property,

Security or Technology sectors, we pride

ourselves in making insurance one aspect

of your business that you do not need to

worry about.

Our Professions team are knowledgeable

and driven, and understand the

importance of ensuring that the right

covers are in place, at the right premium,

and with reputable insurers who

understand your business.

In addition we can also offer guidance on

building valuations and other potential

exposures that businesses like yours

may face.

8

E. enquiries@bhibinsurance.co.uk
---
Transport and

Logistics

From Hauliers, Pallet and Parcel

operators to Freight Forwarders, BHIB

are experts in all areas of the logistics

sector.

We have a specialist team with a wealth

of experience, ready to provide a

bespoke insurance and dedicated service

solution.

Full claims management comes as

standard with the BHIB Transport &

Logistics team, as well as post-claims

analysis (including driver behaviour),

where we will work with fleet managers

to pinpoint and reduce areas of increased

risk using a number of sophisticated

systems, including telematics.

Working in partnership with our clients

alongside insurers with whom we have

exclusive relationships, we are able to

provide meaningful risk management

solutions to keep costs under control.

"Providing Confidence

& Value to Lasting

Relationships"

www.bhibinsurance.co.uk 9
---
WELFARE

Whether you are a new occupational

health nurse starting out on your own, a

school, or a large multi-national company

providing services across the social

care spectrum, BHIB's Welfare team

aims to find a solution to your insurance

requirements.

Our team have many years of experience

in placing business within your sector,

and have built up key relationships with

specialist insurers.

We understand the pressures that

many companies face within the sector,

including reduced Local Authority

funding and increased staffing/training

costs.

With extensive knowledge of your

sector, including areas such as Abuse

and Malpractice, BHIB will work on a

tri-partite relationship between you, the

insurer and ourselves to agree cover

levels that will not only protect, but also

add value to your business.

We aim to assist you by providing advice

and information in areas such as risk

management and insurer bursaries.

"Have quality at the

heart of everything

we do"

10

E. enquiries@bhibinsurance.co.uk
---
SME's

As the owner of an SME business or

someone who is self-employed, we

understand that your number one

priority is running your business – and

sometimes there aren't enough hours in

the day for that!

At BHIB we have a team looking after

businesses just like yours. Let us take

the issue of arranging insurance away

from you, so you can concentrate on

what you do best.

We can offer tailor made solutions for

all types of businesses and

occupations, whilst helping you

control your costs.

www.bhibinsurance.co.uk 11
---
EMPLOYEE BENEFITS

Your employees are not the same as all

the rest, and BHIB recognise this.

We understand that attracting and

retaining quality staff with a meaningful

benefits package not only helps you to

support your employees, but grow your

business to its true potential.

We will work closely with you to provide

a reassuring safety net that can improve

the working culture of your business.

Let us help you enhance the well being of

your primary company asset - Your Staff.

We are passionate about building

relationships with our clients and

sharing our expertise. We can help you

proactively communicate the benefits

of your scheme appropriately and

effectively to your employees.

We have found BHIB Insurance

Brokers to be a quite unique

brokerage in that they combine

outstanding professionalism with

a friendly atmosphere to provide

superb service to their clients.

"Offering Simplicity

without Cutting

Corners"

Macaila Beynon

eBECS

12

E. enquiries@bhibinsurance.co.uk
---
Individuals

At BHIB, we recognise that your home

and personal effects are precious. We

work hard to develop bespoke insurance

programmes for our clients, working only

with a select panel of High Net Worth

insurers who we feel will provide total

piece of mind when it matters most.

We believe that our offering is unique,

just like your home. We'll come and see

you at home or work, to discuss your

requirements – we want to understand

what is truly important to you. We feel

that insurance for your personal effects

should be less about form filling, and

more about understanding.

Prestige or classic cars? Family fleets?

Yacht, boat or other watercraft? No

problem!… Our team can also deliver

bespoke solutions in these and other

areas.

www.bhibinsurance.co.uk 13
---
CLAIMS

When you pay your insurance premiums,

you are buying a promise.

Our claims service IS our promise and we

take that very seriously.

Whilst we seek to always make the

claims process as smooth as possible, we

firmly believe in supporting you at the

time you need us most, which is why our

claims team are on hand to assist you

every step of the way.

We're so confident about the levels of

service we offer, we publicly issue our

Customer Claims Charter.

We welcome you to put us to the test!

"Have quality at the

heart of everything

we do"

14

E. enquiries@bhibinsurance.co.uk
---
A Brokerbility Company

BHIB Leicester

AGM House, 3 Barton Close, Grove Park,

Enderby, Leicester LE19 1SJ

T. 0116 281 9100 F. 0116 281 9101

BHIB Northampton

Windsor House, Cliftonville,

Northampton NN1 5BE

T. 01604 630003 F. 01604 231556

enquiries@bhibinsurance.co.uk

www.bhibinsurance.co.uk

@bhibinsurance

@bhibinsurance

www.bhibinsurance.co.uk

15
---
BHIB Insurance Brokers is a trading name of BHIB Limited.

Registered office is AGM House, 3 Barton Close, Grove Park, Enderby, Leicester LE19 1SJ.

BHIB Limited is registered in England and Wales number: 829660

Authorised and regulated by the Financial Conduct Authority

16 We are covered by the Financial Ombudsman Service. You E. can enquiries@bhibinsurance.co.uk

find out more at www.financial-ombudsman.org.uk