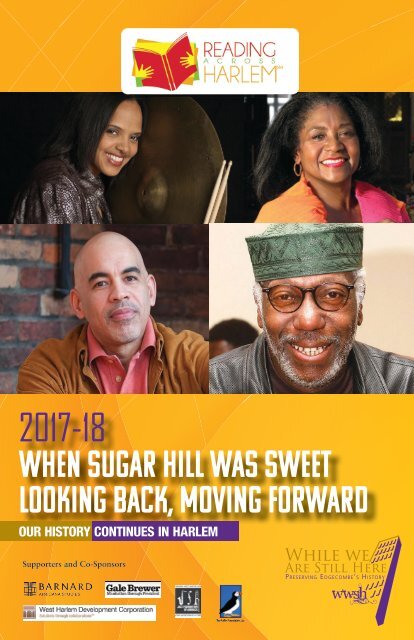 2017 When Sugar Hill Was Sweet: Looking Back, Moving Forward
While We Are Still Here's 2017-18 Program Booklet
While We Are Still Here's 2017-18 Program Booklet
SHOW MORE
SHOW LESS
Create successful ePaper yourself
Turn your PDF publications into a flip-book with our unique Google optimized e-Paper software.
2017-18

When Sugar Hill Was Sweet

Looking Back, Moving Forward

OUR HISTORY CONTINUES IN HARLEM

Supporters and Co-Sponsors
---
2 | 2017

Taking Care of the Ancestors Because the Ancestors Took Care of Us

While We Are Still Here

The goal of our program, Reading Across Harlem, A Community Read, is

to encourage exploration of Harlem's past, present, and possibilities for its future.

The film documentary, In the Face of What We Remember: Oral Histories of 409

and 555 Edgecombe Avenue, presents stories from the residents of 409 and 555—

those hidden-in-plain-sight treasures that represent the pinnacle of African-American

activism, artistry, and the ongoing struggle for justice.

In the case of Harlem, in general, the need for the people of a community

to look back has taken on new meaning: The population is changing, the landscape

is changing, and so is the "mindscape." And it's happening all over the country,

too. There are so many other places that were, previously, known as African-American

communities: From North Philly to the Treme in New Orleans to East Austin,

Texas to Oakland, California.

Some of us were born and raised in these, or similar, Black places across

the nation, by our blood or by our extended families that, for the most part, did

the best they could with what they had. And none of it was easy, because, to paraphrase

two Harlem literary folk, James Weldon Johnson and Langston Hughes,

trodding that "stony road" was no "crystal stair." (Folks battling and fearing racist

terror or the threat of it, is what created places like Harlem, in the first place. In

contemporary parlance, these sites were "sanctuary cities" for Black people and

other people of color.) Some of the people who raised us are now with the ancestors

or ancestors themselves. They were not, necessarily, activists or revolutionaries,

but their ability to pass through the battlefield of this nation renders these

forebears to the status of "sheroes" and heroes.

It is said that immediately after one transitions, one becomes a spirit in the

realm of this life and remains so until there are no longer any people on the planet,

who know one's name. It's then that one becomes an ancestor. So, in intoning the

names of people we should never forget, they stay with us and we can learn from

what they did, what they stood for. Some of them sacrificed life, livelihood, and

sanity for us, also known as "The Future," so it is up to us to take care of their

legacies—especially those activists and revolutionaries that have been under sung

or whose contributions have been distorted. In so doing, we will be inspired to

continue the move forward to claim and reclaim our time. And so it is.

Cover: Top (l-r), Terri Lyne Carrington (photo credit: Tracy Love); Melba Joyce. Bottom (l-r) Willie Perdomo, Herb Boyd
---
2017 | 3

Echoes of the Eras II

Terri Lyne Carrington Quartet, with Marc Cary and Others

Melba Joyce

The Sugar Hill Quartet, with Patience Higgins, Marcus Persiani, David Gibson

—and—

Reading Across Harlem Kick Off, featuring Book Signing and Reading by Author

Herb Boyd

SATURDAY, SEPTEMBER 9TH

3pm

Sugar Hill Luminaries Lawn

155 th Street and Edgecombe Avenue, Harlem, NY

BRING YOUR BLANKETS. SPECIAL SEATING WILL BE AVAILABLE FOR THE DISABLED.

The Terri Lyne Carrington Quartet plays reimagined takes on Duke Ellington's

"Money Jungle." Through her unique vocal stylings, Melba Joyce presents the classic

sound of jazz. The Sugar Hill Quartet continues the swinging Harlem tradition.

Reading Across Harlem, A Community Read is inspired by One Book/One City,

a project of the American Library Association. Kick Off and Book Signing of The

Harlem Reader and Black Detroit with Author Herb Boyd

Co-sponsor: Jazz Foundation of America

Terri Lyne Carrington

Melba Joyce
---
4 | 2017

SATURDAY, SEPTEMBER 9TH

3pm

Sugar Hill Luminaries Lawn, 155 th Street and Edgecombe Avenue, Harlem, NY

The Harlem Reader: A Celebration of New York's Most Famous

Neighborhood From the Renaissance to the 21 st Century is Reading

Across Harlem's "primer."

Six events accompany this community read, allowing the participants

to gain an understanding of why Harlem became the "Black

Cultural Capital of the World."

Earlier Harlem from Alexander Hamilton to

MarcusGarvey

Herb Boyd

SATURDAY, OCTOBER 7TH

4-6pm

Sister's Uptown Bookstore, 1942 Amsterdam Avenue, Harlem, NY

A discussion covering the first nine chapters of The Harlem Reader.

Radicals, Rhythm, Religion, and West Indians

Herb Boyd, Jeffrey B. Perry, and Others TBD

SATURDAY, NOVEMBER 4TH

2-4pm

Countee Cullen Library, 104 West 136th Street, Harlem, NY

A wide-ranging talk, focusing on pages 34 to 79 that demonstrates the extraordinary

growth of Harlem as a site of international influence.

Heavyweights and Heavy Hitters: The Sports Elite

of Harlem

Playthell Benjamin, Samori Benjamin

The Dwyer Cultural Center

258 St. Nicholas Avenue, Harlem, NY

Suggested donation: $20.00

SATURDAY, DECEMBER 9TH

3pm

Inspired by Arthur Ashe's essay, "The Harlem Rens," this presentation

will laud the famed athletes of Harlem's yesteryear,

including Joe Louis (shown left).
---
2017 | 5

2018

Theater-In-Black In Harlem and a Performance

"Resonating Resistance: Voices of 409 and 555

Edgecombe Avenue"

Voza Rivers and Others TBD

The Schomburg Center for Research In Black Culture, 515 Malcolm X Boulevard,

Harlem, NY

MONDAY, FEBRUARY 26TH

6:30pm

The history of theater in Harlem has been long and illustrious. This conversation

will touch upon the legacies of theater companies that include W.E.B.

Du Bois and Regina Anderson's (shown left) KRIGWA; Langston

Hughes and Louise Thompson's Suitcase Theater; and the famed American

Negro Theater on the development of successive companies that

include those developed by Amiri Baraka, Gertrude Jennette, Barbara

Ann Teer, Voza Rivers, and Jamal Joseph.

"Resonating Resistance: Voices of 409 and 555 Edgecombe Avenue,"

is directed by Daniel Carlton, and features some of Harlem's greatest actors, who

will bring to life excerpted works by sa few prolific writers and activists, including

W.E.B. Du Bois, Louise Thompson-Patterson, and Marvel Cook.

Facebook Discussions

Garnette Cadogan, Rosemari Mealy, and TDB

In Cyberspace

These discussions will be held on three consecutive Sundays in March, from 7 to

8pm. Just sign into Facebook and go to:

Reading Across Harlem@whilewearestillhere

Led by a discussion leader on Facebook at Reading

Across Harlem's page, participants will share

their impressions of the following excerpts, in a

public dialogue. Page numbers and discussion

leaders follow.

March 11, Garnette Cadogan, "Upon Arriving in

Harlem," Gordon Parks (page 108)

March 18, TBD, "Hostess of Harlem," Claude

McKay(page 164)

March 25, Rosemari Mealy, "Minister Malcolm

X," Malcolm X (page 219)
---
6 | 2017

MONDAY, MARCH 29

The Premiere of In the Face of What We Remember:

Oral Histories of 409 and 555 Edgecombe Avenue

7PM

Through captivating oral histories, a few Harlem elders share their memories,

opinions, and analyses about two landmarked dwellings.

Suggested Donations: $20.00, $50.00, $100.00

(All proceeds support While We Are Still Here's programming.)

Co-produced by Jamal Joseph, Mike Tyner, and While We Are Still Here, with a

script by Herb Boyd and Karen D. Taylor, this film is the definitive documentary

of 409 and 555 Edgecombe Avenue, two socioeconomically mixed buildings that

are important to the cultural and political histories of not just Harlem, but to the

entire world.

Four-o-nine Edgecombe Avenue was home to the entire early Black leadership

of the NAACP—James Weldon Johnson, W.E.B. Du Bois, Walter White, and

Roy Wilkins.Five-fifty-five Edgecombe Avenue, five blocks to the north, sits on

the corner of 160th Street and Edgecombe, which was recently co-named Paul

Robeson Boulevard/Count Basie Place to honor just two of the building's many

African-American achievers in sociology, psychology, medicine, music, sports, and

theater lived there, among them Canada Lee, Drs. Mamie and Kenneth Clark, and

Cassandra Wilson.
---
2017 | 7

East Side, West Side: El Barrio and the Hill

Willie Perdomo

A Special Surprise Guest

Leroy Baylor, Moderator

SATURDAY, APRIL 7TH

12-2pm

Langston Hughes House

20 East 127th Street, Harlem, NY

This conversation was inspired

by Sonia and Willie's

pieces in The Harlem Reader.

Willie and a Special Surprise

Guest converse about growing

up in different parts of

Harlem, during different eras,

and how Harlem influenced

their writing and worldview.

Leroy Baylor was also born

and raised in Harlem, so this

discussion will yield new, forgotten,

and earth-shattering

memories.

After the Flypaper:

Life in Harlem in

Images and Words

(1955-2017) An

Exhibit

APRIL 3-MAY 7

Opening Reception

April 7, 2-4, directly following

"East Side, West Side:

El Barrio and the Hill" (see

above)

Inspired by the classic photo

essay, The Sweet Flypaper of Life: Harlem In Black and

White, by Roy DeCarava and Langston Hughes, this

exhibit extends the visual-literary exchange that the two

"At Last (A Quilt of Etta James)"

Ife Felix

men began in the 1950s. The "Harlem-centric" works by poets that include Calvin

Forbes and Patricia Spears Jones, and visual artists, such as Dawoud Bey and Ife

Felix will be shown alongside other renowned individuals' works.
---
8 | 2017

Tribute to Geri Allen

For Geri Allen

Patricia Spears Jones

Biographies

She's sitting in the half-moon's cup

Earthly roads have led to this new geography

Planets and stars—dust returns.

Her hands besotted with this cosmic baby grand

Playing star light and a vast blackness

Shifting with her tender tempos

Pacing the eternal— oh darkling's descant

Blackbirds and fireflies trace her

Un-hearable

musings

In this evening's skies.

—June 29, 2017

Leroy Baylor is a radio talk-show host, whose on-air moniker is "The Communicator."

His writing and talk-show focus can be described as advancing information of

importance to Black people. He has followed the Nation of Islam since the 1950s.

Baylor's experience includes marketing, ad sales, product sales, public speaking,

and sales training. He was born, raised, and resides in Harlem.

Playthell George Benjamin, noted blogger and journalist, is the producer of

"Commentaries On the Times," which he writes and delivers on WBAI. Playthell

is an award-winning journalist, who has been nominated for the Pulitzer Prize in

two different categories. His byline has also appeared in the Guardian Observer of

London, the Sunday Times of London, High Times, the Village Voice, and others.

He has been a professor at the University of Massachusetts, Amherst.
---
2017 | 9

Samori Benjamin has been the sports editor at WBAI-FM, in New York. He is an

on-air reporter and commentator, as well as the editor of the online website, wbaisports.com.

Samori studied Broadcast Journalism at SUNY, from which he holds a

bachelor of science degree. He is completing a book, Where Did Our Love Go:

The Disappearing Afro-American Athlete in Major League Baseball.

Herb Boyd is a professor, journalist, and author, who has written or edited twenty-three

books, including, his newest release Black Detroit: A People's History

of Self Determination; Three Centuries of African American History as Told by

Those Whole Lived It (oral histories); Civil Rights: Yesterday and Today; Baldwin's

Harlem, a biography of James Baldwin (finalist for NAACP Image Award); Brotherman—The

Odyssey of Black Men in America, An Anthology (with Robert Allen,

received American Book Award); and The Harlem Reader.

Garnette Cadogan is a Martin Luther King, Jr. Visiting Scholar (2017-18) at the

Department of Urban Studies and Planning at the Massachusetts Institute of

Technology. He is also a visiting fellow at the Institute for Advanced Studies in

Culture at the University of Virginia, and a visiting scholar at the Institute for

Public Knowledge at New York University. He is the editor-at-large of Nonstop

Metropolis: A New York City Atlas (co-edited by Rebecca Solnit and Joshua Jelly-

Schapiro), and is at work on a book on walking.

Daniel Carlton is an actor, writer, teacher, storyteller, and director who has appeared

on New York, national, and international stages. He is a veteran of numerous

Off- and Off-Off Broadway productions. His multi-character, solo show, Pig

Foot Mary Says Goodbye To The Harlem Renaissance, produced by the Metropolitan

Playhouse, has been seen both locally and nationally.

Terri Lyne Carrington is a GRAMMY-winning drummer, composer, and bandleader,

who has toured with luminaries such as Herbie Hancock, Wayne Shorter, Al

Jarreau, Stan Getz, David Sanborn, Joe Sample, Cassandra Wilson, Clark Terry,

Dianne Reeves, and others. She is a professor at her alma mater, Berklee College of

Music, from which she also received an honorary doctorate.

Marc Cary is a jazz pianist, keyboardist, producer, and composer. He has worked

with Betty Carter, Roy Hargrove, Dizzy Gillespie, Erykah Badu, Shirley Horn,

Stefon Harris, Q-Tip, Abbey Lincoln, Arthur Taylor, Mickey Bass, and all of the

major figures from jazz's mid-century heyday. He has also worked with Q-Tip,

members of the Wu Tang Clan, and other prominent hip-hop musicians.

Ife Felix is a renowned quilt artist. She is the founding member of Harlem Girls

Quilting Circle. As a group they have exhibited at many venues in New York City

including the Caribbean Cultural Center. Her works have appeared in international

exhibits, such as "Conscience of the Human Spirit: The life of Nelson Mandela,"

in Johannesburg" and "Commemorating His Purple Reign: A Textural Tribute to

Prince," at the Textile Center in Minneapolis. Ife lives in Harlem with her husband.

David F. Gibson toured extensively and recorded with the Count Basie Orchestra

under the direction of Frank Foster. David has also performed with a host of artists

and ensembles, including Joe Williams, Clark Terry, the Sun Ra Arkestra, and the

Duke Ellington Orchestra. He is also featured on recordings that include Diane
---
10 | 2017

Harry "Sweets" Edison's Live at the Iridium and Odean Pope's Saxophone Choir's

Saxophone Shop. He earned a bachelor of music degree from Temple University.

Patience Higgins is the front man for the Sugar Hill Quartet. He has been a member

of the Duke Ellington Orchestra. Other credits include performances at the

White House with Esperanza Spalding and others, as well as tours and recordings

with the Count Basie Orchestra, Lionel Hampton, Ray Charles, Muhal Richard

Abrams, Barry Harris, Stevie Wonder, Hamiet Bluiett's Baritone Group, the Pointer

Sisters, Savion Glover, Bobby Watson & Tailor Made, David Murray, Jimmy Scott,

Paquito D' Rivera, Rodney Kendrick, and Yoko Ono. He holds a bachelor of arts

degree from New York University.

Patricia Spears Jones was born and raised in Arkansas, and has lived in New York

City for more than four decades. She is the recipient of the Jackson Poetry Prize,

one the most prestigious awards for American poets, via Poets & Writers, Inc.

She is author of the poetry collections: Painkiller, Femme du Monde, and The

Weather That Kills. Her fourth collection, A Lucent Fire: New and Selected Poems,

features her Pushcart Prize winning poem, "Etta James at the Audubon Ballroom."

Jamal Joseph has written and directed for Black Starz, HBO, Fox TV, New Line

Cinema, Warner Bros., and A&E. He produced, Chapter & Verse, starring Daniel

Beaty. He is Professor of Professional Practice at Columbia University School of the

Arts. He serves as the artistic director of the New Heritage Theatre Group and is

executive director of New Heritage Films, a not-for-profit organization.

Rosemari Mealy has taught as an adjunct professor at several City University of

New York (CUNY) schools. Over the years she taught numerous courses including

"The Color Line," "Labor History," and "Women In International Liberation

Movements." She is the author of Fidel and Malcolm X: Memories of a Meeting.

Rosemari holds a Ph.D. from Capella University and a Juris Doctorate from the

City University of New York School of Law.

Melba Joyce is a singer's singer. Her career has spanned six decades of sharing billing

with Louis Armstrong, Sarah Vaughan, Louis Jordan, Lionel Hampton, Tony

Bennett, Joe Williams, Marvin Gaye, Smokey Robinson, and many others. She has

also recorded with the Dizzy Gillespie. Melba was twice nominated as best female

vocalist by Downbeat Reader's Poll. She is also a professor of music at the Medgar

Evers College of the City University of New York.

Jeffrey B. Perry was educated at Princeton, Harvard, Rutgers, and Columbia. His

work focuses on the role of white supremacy as a retardant to progressive social

change. He is an archivist, bibliophile, and historian, who has preserved and

inventoried the "Hubert H. Harrison Papers" and helped to place them at the Rare

Book and Manuscript Library, Columbia University. He is the author of Hubert

Harrison: The Voice of Harlem Radicalism, 1883-1918, and other publications.

Marcus Persiani has performed with artists that include Jerry Gonzalez, the Impressions,

Dizzy Gillespie, Max Roach, Cecil McBee, Tito Puente, Charlie Persip's

Supersound, Vanessa Rubin, and the Apollo Theater Showtime Band. He's toured

and recorded with Mario Bauza, Joseph Bowie's Defunkt, Willie Colon, and

others throughout Europe, Japan, and the United States. His compositions and
---
2017 | 11

arrangements are featured on the recordings by Bauza's legendary Afro-Cuban Jazz

Orchestra, one of whic was nominated for a GRAMMY. He received a bachelor of

music degree from the American Conservatory of Music in Chicago.

Voza Rivers, founding member of New Heritage Theatre is an accomplished

theatre, music, film, and events producer, and recognized as one of the country's

leading theatre producers. New Heritage Theatre Group, established in 1964, is the

oldest Black, nonprofit theater company in New York, celebrating fifty-three years.

Voza is also founder/executive producer of IMPACT Repertory Theatre; 1st vice

president, Greater Harlem Chamber of Commerce; executive producer and vice

chairman, Harlem Week and the Harlem Music Festival. He currently serves as the

chairman of the Harlem Arts Alliance.

The Sugar Hill Quartet, led by Patience Higgins, is the longest-running house band

in New York City, having performed for more than two decades at St. Nick's Pub,

Minton's, Lenox Lounge, and, now, at Smoke.

Michael Tyner produced

The Last Days of Hustling,

which was featured

in the Cannes Film Festival

(2015). Tyner has

produced, directed, and/

or edited over ten films

including Malcolmology

(2011), a six-part,

web-series featuring the

late Dr. Manning Marable,

discussing his Pulitzer

Prize-winning biography,

Malcolm X: A Life

of Reinvention. Tyner

is currently developing

several feature-length

projects, both fiction

and nonfiction, including

Lefty Changes and

the Revolution, a documentary

about brothers

McCoy and Jarvis Tyner,

and their work as jazz

legend and political activist,

respectively.

Book designed by:

E NVISIONING M ORE

EM Designs Group | 715 Peachtree St. NE. | Suite 100 | Atlanta, GA 30308

www.emdesigsgroup.com | mcook@emdesignsgroup.com

E NVISIONING M ORE