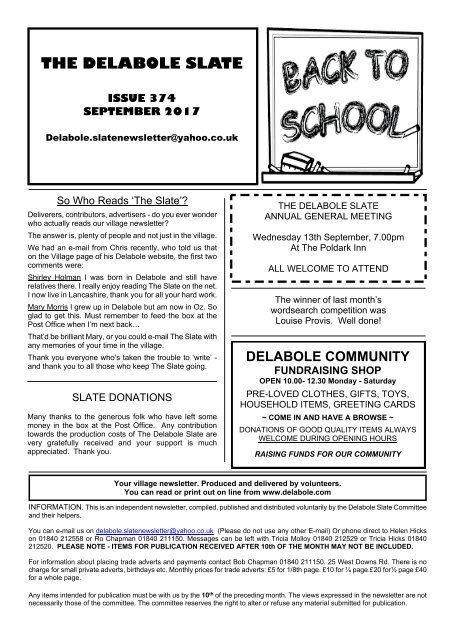 Delabole Slate September 2017
Create successful ePaper yourself
Turn your PDF publications into a flip-book with our unique Google optimized e-Paper software.
THE DELABOLE SLATE

ISSUE 374

SEPTEMBER 2017

Delabole.slatenewsletter@yahoo.co.uk

So Who Reads 'The Slate'?

Deliverers, contributors, advertisers - do you ever wonder

who actually reads our village newsletter?

The answer is, plenty of people and not just in the village.

We had an e-mail from Chris recently, who told us that

on the Village page of his Delabole website, the first two

comments were:

Shirley Holman I was born in Delabole and still have

relatives there. I really enjoy reading The Slate on the net.

I now live in Lancashire, thank you for all your hard work.

Mary Morris I grew up in Delabole but am now in Oz. So

glad to get this. Must remember to feed the box at the

Post Office when I'm next back…

That'd be brilliant Mary, or you could e-mail The Slate with

any memories of your time in the village.

Thank you everyone who's taken the trouble to 'write' -

and thank you to all those who keep The Slate going.

SLATE DONATIONS

Many thanks to the generous folk who have left some

money in the box at the Post Office. Any contribution

towards the production costs of The Delabole Slate are

very gratefully received and your support is much

appreciated. Thank you.

THE DELABOLE SLATE

ANNUAL GENERAL MEETING

Wednesday 13th September, 7.00pm

At The Poldark Inn

ALL WELCOME TO ATTEND

The winner of last month's

wordsearch competition was

Louise Provis. Well done!

DELABOLE COMMUNITY

FUNDRAISING SHOP

OPEN 10.00- 12.30 Monday - Saturday

PRE-LOVED CLOTHES, GIFTS, TOYS,

HOUSEHOLD ITEMS, GREETING CARDS

~ COME IN AND HAVE A BROWSE ~

DONATIONS OF GOOD QUALITY ITEMS ALWAYS

WELCOME DURING OPENING HOURS

RAISING FUNDS FOR OUR COMMUNITY

Your village newsletter. Produced and delivered by volunteers.

You can read or print out on line from www.delabole.com

INFORMATION. This is an independent newsletter, compiled, published and distributed voluntarily by the Delabole Slate Committee

and their helpers.

You can e-mail us on delabole.slatenewsletter@yahoo.co.uk (Please do not use any other E-mail) Or phone direct to Helen Hicks

on 01840 212558 or Ro Chapman 01840 211150. Messages can be left with Tricia Molloy 01840 212529 or Tricia Hicks 01840

212520. PLEASE NOTE - ITEMS FOR PUBLICATION RECEIVED AFTER 10th OF THE MONTH MAY NOT BE INCLUDED.

For information about placing trade adverts and payments contact Bob Chapman 01840 211150. 25 West Downs Rd. There is no

charge for small private adverts, birthdays etc. Monthly prices for trade adverts: £5 for 1/8th page. £10 for ¼ page.£20 for½ page £40

for a whole page.

Any items intended for publication must be with us by the 10 th of the preceding month. The views expressed in the newsletter are not

necessarily those of the committee. The committee reserves the right to alter or refuse any material submitted for publication.
---
DELABOLE SPAR

01840-213897

CASHPOINT IN STORE

PAYPOINT

ELECTRICITY KEY METER CHARGING

ELECTRONIC MOBILE PHONE TOP-UPS

UTILITY PAYMENTS

TV LICENCES

SEE OUR GREAT RANGE OF SPECIAL OFFERS

OPEN WHEN YOU NEED US

TURNED ON TO DAILY VALUE

MON-THURS 7.30am-8.00pm FRI-SAT 7.30am-9.00pm

SUNDAY 8.30am-8.00pm
---
Notice from Councillor Dominic Fairman

Rubbish and bins are an issue that affects every

household in the county, and so one of the most important

issues that Cornwall Council will be looking at over the

next few months is the renewal of the waste and

recycling collection contract that is currently with Biffa and

is due to end in 2020.

Papers outlining the various options were presented to

Cabinet in July and as a result the Neighbourhood

Overview and Scrutiny Committee (of which I am vicechair)

has been tasked with making recommendations to

Cabinet in November.

I will be leading a group of five Councillors who will be

holding various private and public inquiry days during

September and October with a view to shaping the

committees recommendations. This is quite a

responsibility as our service is significantly larger in both

area and number of households that most others in

England.

Currently we have a very high 92% satisfaction rate with

our residents for refuse collection and an equally

impressive 83% satisfaction with our recycling services.

However underlying this is an extremely poor record in

recycling - just 24% on the doorstep and only rising to 36%

once you include the figures from the Household Waste

and Recycling Centres. This is against a national target of

50% by 2020. Clearly we are not going to get anywhere

near this.

The current system, as you will all be well aware, consist

of weekly collections of black bags and a fortnightly

recycling collection with specific containers for each type.

Some of the different options that have been used by other

local authorities are; fortnightly bin collections, mixed

recycling bins, separate food waste collections and the

introduction of wheelie bins.

All of these various options have a different cost

implication and in addition we have a long term contract

to supply waste to our Energy Recovery incinerator at St

Dennis. Whilst this plant does produce electricity and a

useful aggregate by-product, this is not

considered recycling and so cannot be counted towards

any target.

Many of the inquiry sessions will be held at New County

Hall and open to the public, but as ever I value our local

view and so please do not hesitate to get in touch with me

about this issue.

Dominic Fairman

Cornwall Councillor

St Teath, St Breward & Delabole

dominic.fairman@cornwallcouncillors.org.uk

07939 122303

DEADLINE FOR

OCTOBER SLATE

10th SEPTEMBER
---
Man & Mini Digger

No Job Too Small

· Narrow Access – Digger fits through doorways / gateways

· Landscaping / Ground Works & Garden Services

· Supply of materials and removal (to save skip costs)

· Professional & reliable service

John Roe

Constructive Developments

Tel: 01840 211233

07747 606271

C. L. TOBIN M.P.T.A., H.N.D.

Piano Tuner / Technician

20 years Experience

St.Minver

08708 740014

FAULKNERS

PLUMBING & HEATING

Central heating installation, service and repair

Oil, LPG & Natural Gas

Landlord safety certificates

Central heating power flushing

Repair and service of cookers and range cookers

All plumbing works undertaken

Indoors or Outdoors

Big or Small

Any odd jobs

Just give me a call

Phone Phil (Burnard)

01840 212985 or 07539 092792

For a free estimate, please contact Brian on:

01840 250853

or

07773 132221

e-mail: faulknersplumbing@btinternet.com

Tel:

01840

212190

R. JONES

OFTEC Registered: 14288 Gas Safe Registered: 222122

FOR ALL YOUR BUILDING

AND ROOFING NEEDS
---
Delabole School

As we begin another year in the life of Delabole School, we would like to tell our school community about a very special

project for the Autumn Term.

From September, our whole school value is Belonging and linking to this, we would like our children to explore the

statement 'Home Is Where The Heart Is'. As a catalyst for this enquiry, we will be linking to the centenary commemorations

of the final year of the First World War. In particular, through a link we have with a primary school in Northern France,

we will be following the journey of Wilfred Owen – one of our greatest war poets – from his village community in England

to the Forester's Cottage in Or. It is here that he wrote his last letter home before attempting to cross the Sambre-Oise

canal in a final act of bravery on November 4th 1918, only days before the end of the war.

Our children will explore what it is to 'belong' to our home, our village and our country; and what compelled a whole

generation of Britain's young men to journey to Europe to fight in 'the war to end all wars.'

We will then bring all our learning together to perform for our parents and community as part of Remembrance in

November. It is hoped this will be a truly moving reflection - through poetry, drama, singing and art - on what it is to say

good-bye to home and country, to do battle with comrades on foreign soil, and to make the ultimate sacrifice.

So how can you help?

In order to really link the History aspect to our local community, we would like any members of the community who have

any family mementoes or stories from WW1, both at home and abroad, to share them with us. We can then use these

'real' pictures and stories to make the learning truly relevant to our Delabole children. If you have any family artefacts

or stories from 1914 to 1918 which you believe may be of interest, please could you contact the school office on 01840

212540 or email me at head@delabole.cornwall.sch.uk.

We are also so excited to be using the children's learning to contribute to a Story Box exhibition at the North Cornwall

Book Festival in association with Endelienta in November. Their words and art will also be exhibited at the Maison

Forestiere Art Gallery in Ors, France, as part of the centenary commemoration of Wilfred Owen's life. Truly, this will be

a project with fantastic outcomes which go way beyond the walls of our classrooms, and of which the children can be

really proud.

We look forward to hearing from you.

Best wishes – Sue Cox and the team

Telephone: 01840 214706

CLOSED
---
HOP OILS

Heating Oils, Farm Fuels,

Tanks Supplied and Fitted.

Unit 3 The Glebe

Blisland

Bodmin Cornwall

PL30 4JE

Tel: 01208 851195

*Top up Service

Ring:

Our Office

01208 851195

"Oil run out, no-one to do it?

Ring us NOW

we'll HOP to it!"

CORGI REGISTERED

No 130325

OFTEC REGISTERED

No C5185

S & J PLUMBING and HEATING

Gas and Oil heating installations

Domestic Services

Maintenance Service

Ian Sleep Proprietor Lee Jerred

01840 212389 01208 852080
---
NEWS & INFORMATION FROM

THE DELABOLE SLATE QUARRY

CAR PARKS – Thank you to those persons who have

already complied with our requests to remove unwanted

vehicles. There are however, still a few vehicles that

appear to have been abandoned. So, would the owners

of the following vehicles please have them removed

immediately. Otherwise, once our enquiries start with

DVLA you may well get a knock on the door from a VOSA

enforcement officer.

Silver Peugeot – Reg: EJ51BVR

Green Isuzu

– Reg: S891RVU

Green VW Golf - Reg: T840UAN

BUSINESS – the first half of 2017 was well up on 2016

and we are expecting the year to end well ahead of last

year.

PEOPLE AT DELABOLE SLATE – We are pleased to

have Shane Trewin back with the Delabole team but are

saying goodbye to quarry charge-hand Steve Sampson

who is having a career change and Ryan who is off

"down-under". So we have the following vacancies.

VACANCIES –

Quarry Charge-hand – To organise & supervise the daily

operations in the quarry. Hours as below **

Pay: £348 per 40 hr week plus share of any bonuses and

pay rise pending.

Engineering Charge-hand : This is a hands-on post,

leading a small team of Artisans looking after our

mechanical and electrical assets. Electrical experience

would be an advantage Hours as below **

Pay: £436.80 per 40 hr week plus share of any bonuses

and pay rise pending.

Eastern Saw House Stonecraftsman – Splitting, Dressing

& Sawing: To join Steve Chenoweth and his Saw House

Team making our famous hand-made roofing slate.

Experienced person or keen to learn with pay rate

according to experience as below. Hours as below **

Pay: From £256.80 for trainee to £316.40 per 40 hr week

fully skilled, plus share of any bonuses and pay rise

pending.

** Current hours of work for all are: 8am – 4.30pm (40

hours per week) Monday-Friday (with ½ hour off for lunch)

If you have applied already just let us know you are still

interested – otherwise….

To apply: EMAIL or POST us your CV or CALL IN FOR

AN APPLICATION FORM

Email: sales@delaboleslate.co.uk Enquiries – If anyone

has any queries or wishes to discuss anything, please call

in at the office, phone 01840 212242 or drop us an email

to: sales@delaboleslate.co.uk

Thank you.

The Hamilton Family

SEPTEMBER 2017

SATURDAY 16th SEPTEMBER

SATURDAY 30th SEPTEMBER

Smuggler's

FISH and CHIPS

HIGH STREET, DELABOLE

01840 212232

Opening times

LUNCH

EVENINGS

MON CLOSED 4.30 - 8.00

TUES CLOSED 4.30 - 8.00

WED CLOSED 4.30 - 8.00

THUR 12 - 1.30 4.30 - 8.30

FRI 12 - 1.30 4.30 - 9.00

SAT 12 - 1.30 4.30 - 9.00

SUN CLOSED 4.30 - 8.00

Also we have a new

lunchtime mega deal -

see in store for details
---
Termyn Gwari Fleghes

(Children's playtime, in Cornish)

Well! August didn't go as planned did it!!! So wet and quite coldLI hope you still

managed to get out and enjoy yourselves in the good bits of weather that did

happen. We are heading into the very changeable time of year we call autumn-

September is when those changes really start, as everything in the natural world

starts to get ready for the cold of winter.

Plants and trees are still looking green and fresh, but you will notice lots of different

berries and seeds are ripening, changing colour day by day. Some of the fruits and

seeds are good for people, like blackberries but others are not so please check with

adults before you eat any wild fruit, even if they look delicious.

Some of our summer visitor birds like the swifts have gone already- heading off to

Africa, where they will be hunting insects around the herds of elephants, zebras and

antelopes. The swallows and house martins will follow them later this month, when

there are not enough insects for them. Instead we will start getting winter birds

coming to us to get away from the cold in the north- birds like geese and swans will

appear along the estuary at Wadebridge, and smaller birds will start to come into

your garden looking for seeds. In fact September is a good month to give all your

bird feeders and water bowls a good clean and to fill them up ready for the first cool

weather.

All the insects that have been busy all summer will hibernate through the winter, and

as flowers die, which is where they get their food, they will find snug, dry homes in

holes and old wood around your garden and will sleep til the spring comes. Make

sure you leave places where bumble bees can hibernate, a bundle of old bits of

bamboo tucked in a corner works quite well.

Lastly of course, there are lots of changes for people- farmers are harvesting,

bringing in corn, straw, hay and silage; we harvest our vegetables from our gardens

and allotments and tidy our gardens, ready for their winter rest. Not forgetting of

course that most of you will have big changes in September- new school, new class,

new teacher!! – its all change at this time of year J
---
Delabole

St.Johns Church

Mondays

Children 4yrs up 5.30pm- 6.30pm Children 4.30pm- 5.30pm and

Parents welcome £3.00

5.45pm- 6.45 pm £3.00

Parents welcome

Adults/older children approx 10yrs up

6.45pm- 7.45pm Adults 7.00pm - 8.30pm £5.00

£3.00

Adults 8.000pm - 9.30pm £5.00

Norman and Wendy Thomason

01840 212262

www.northcornwallimpactmartialarts.co.uk

n.cornwallmartialarts@tesco.net

Fully insured through www.nakmas.org.uk

Tintagel Ladies

Freemasonic Hall

Fridays

Delabole

St John's Church

Mondays

Children 4yrs up 6pm - 7pm

Parents welcome £3.00

Adults 7.15 - 8.45 £5.00

Tuesday & Friday

Classes in Boscastle

Phone for details
---
Memories of Delabole – Part Three

Our next instalment of memories of the late Mr. Jack Stephens, born in 1921.

Delabole itself was a largish village of over 1000 inhabitants, an industrialised village because of the slate quarry. The

streets were quite busy with people going about their business and four times a day, just before 8am, at noon, just

before 1pm and again at 5pm, the roads would echo with the sound of feet crunching on the elvan stone with which the

road was built, as the five hundred men and boys trudged to and from work at the quarry. In winter in the dim early

morning light, sparks could be seen as their hob-nailed boots hit the stones as they walked. At this time, the quarry was

very important, producing slates for roofing by the thousands. It was the largest open pit in the world and was over five

hundred feet deep. Twice a day, the peace of the village would be shattered as the blasting took place, blasting hundreds

of tons of rock. These huge blocks of stone were hauled to the surface on trolleys along the incline where they were

sawn into blocks of more manageable size. Later they were split into slates by men using a bettle and chisel. Thus,

Delabole was known as the City of Slate and the football team known as the Slaters.

Delabole was one of the first habitations to have its streets lit by electricity, the street lights appearing in the very early

days of the 20th century and the electricity generated at the quarry. Later, those who could afford it had their homes lit

by electricity. My Grandfather's house "Tor View" was one of the first to be connected, but the cottages were connected

much later. The cost per unit in the 1930s was 11d (old money).

Growing up in Delabole was great fun for me. I had fields to play in, the sea within walking distance and Bodmin Moor

not far away. Grandfather was one of the first in the area to own a car and with horses and traps in the stables, we had

means to travel which was a luxury in those days. Some people rarely travelled out of Delabole if at all. Long distance

travel was possible by rail with the Atlantic Coast Express at Delabole going to and from London Waterloo in about four

and a half hours. I travelled on it several times as a young boy going to London to stay with my Aunt and Uncle, the first

time on my own when about six years old. The guard would be asked to keep an eye on me!

The Old Bank, Camelford & Camelford Save the Children Group

present

Une visite à Paris en métro (Paris by métro)

An illustrated talk by Vincent Raymond-Barker giving you an armchair tour of the city with French wine and cheese.

The Old Bank Camelford, Sunday 17th September 2017 at 7pm

Entry £5 (£3 without cheese and wine, children £2)

To reserve a place, please e mail theoldbankcamelford@gmail.com
---
Royal Naval Association

Admiral Alec Weir Memorial Croquet Match 2017

Royal Naval

Association No

4 Area

branches from

Bodmin, Bude,

Delabole,

Launceston,

Liskeard and St

Austell

mustered at

Pencarrow

House Cornwall the Home of the Molesworth-St. Aubyn

Family on Sunday 6th of August for the annual croquet

contest.

The Chairman of No.4 Area Shipmate Ron Burdekin and

Ann Weir the widow of Admiral Alec was pleased to see

and chat to the 50 ish Shipmates who attended the

afternoon which was organised by Delabole Branch. A

super day out was enjoyed in the grounds of Pencarrow

some partaking of the Cream Teas available in the cafe.

With 11 teams competing for the Trophies there was

some fierce competition.

Lady Iona Molesworth- St Aubyn kindly agreed to present

the trophies to the winners who were Liskeard Branch

and to Bodmin who were runners up.

Chris Hore

Branch Chairman

chris@delabole.com

http://www.royal-naval-association.co.uk/

FLOWERS FROM BRUALLEN

Elaine Reynolds

AWARD WINNING FLORIST

67 High Street, Delabole,

North Cornwall PL33 9AH

01840 212555

COME AND SEE OUR

RANGE OF

ORIGINAL GIFTS

Flowers@bruallen.co.uk

www.bruallen.co.uk

Family run florist with that personal

touch

Contact us also for flower

demonstrations and workshops

Endelienta

Fostering the Arts and Spirituality in North Cornwall

Events at St Endellion September

Chelmsford Cathedral Girls' Choir – Heaven and Earth

Charity Concert

Sunday 1 September 7.30pm

A mixture of sacred and secular music including Elgar's

'Banner of St George', conducted by Laurence Lyndon-

Jones with piano by Christopher Strange

£5 on the door, proceeds to the Red Cross.

Mists and Mellow Fruitfulness

Sunday 17 September 3pm

A group of young student musicians from Cambridge will

perform a range of Baroque chamber music for voice,

violin, cello and harpsichord.

£8. Accompanied under 16s free.

2 nd Wednesday of the month, 7-9pm

North Cornwall Book Festival Book Club

Get together with like-minded people and enjoy exploring

this year's authors and others. Contact

operations@ncornbookfest.org for more info.

£2 a session. Wine and nibbles.

2 nd Saturday of the month, 10am-12 noon

Endelienta Poetry Group

An informal group for those who enjoy reading and writing

poetry. Newcomers always welcome. For more

information e mail philippa.giles@bandittelevision.com.

2

3 rd Saturday of the month, 10am-12.30pm

Endelienta Make Club

For children and parents, a fun pace to explore, create

and get messy. The sessions are themed, and are led by

inspirational artists.

£5 a session. Materials provided.

Tickets and further information from

www.endelienta.org.uk, tickets@endelienta.org.uk, or

07787 944935.

COMING SOON!

North Cornwall Book Festival

Thursday 5 to Sunday 8 October

With a spectacular line-up that includes amongst others

Michael Morpurgo; Maggie O'Farrell; Dame Professor

Hermione Lee; James Naughtie; Matt Haig; Wyl Menmuir;

Rose Hilton, and Pascale Petit, the 5 th North Cornwall

Book Festival offers something for everyone, plus

workshops, exhibitions, family events, café, bar,

bookshop.

FESTIVAL MUSIC: Favourites on the Festivals circuit 3

Daft Monkeys, and top jazz singer Liane Carroll.

Full information and tickets from www.ncornbookfest.org.

The deadline for the

October Slate is

September 10th
---
I Am A Mug

One of the displays at the recent Flower Festival was 'I

am a mug', mainly because when arrangers were told the

name of the theme, this was the phrase that they came

up with, so volunteers were asked to contribute a mug of

flowers to go into a communal display - and very colourful

it ended up too!

Continuing on with the 'MUG' theme, we also bought a

set of special mugs for use at the chapel. It seems that

quite a few people prefer them to cups and saucers, so

with money from generous donations in memory of our

friends, Sue and Bryan arranged with Chown's China of

Connor Down to produce mugs of our very own design.

They're lovely to hold and have a picture of our pulpit fall

which was designed by Jean Boyd on the occasion of our

three village Methodist chapels amalgamating. Talented

Jean, then in her seventies, also climbed the scaffolding

to paint the rose in the centre of our ceiling!

The new mugs proved so popular that many people asked

if we have any for sale. Rumour has it that this has been

arranged. More details to follow.

This month's Bible verse

September 2017

In the beginning God created the

heaven and the earth. Genesis 1:1

All things were made by Him; and

without Him was not anything made

that was made. John 1:3

Through faith we understand that

the worlds were framed by the word

of God, so that things which are seen

were not made of things which do

appear. Hebrews 11:3

King James Bible

Marion, arranging the mugs TIDILY.

August Wordsearch Answers

P R I M R O S E B C

O R N U M R

P L I L Y O G O N O

P S R E W O L F N R O C C

Y S N A P H D E T I A U

A D E S O R B T T S

R A L O L R A M R

M E F L P U C E N I E

A B F Y P I L U T R N D

R R O I E I A T N

I E D N M A C E

G G I D A H L I A V

O L I S I A N T H U S A

L I C A L I L

D A L I H P O S P Y G

Wow! A big thank you to you all from everyone at ESMC.

We have attended seven events in the last five weeks

and the support for us has been humbling and exciting!

Despite a grey misly evening, Delabole carnival was

brilliant. A fantastic number of people turned out making

the weather unimportant!

We now have a couple of weeks 'rest' before our next

round of events which begins with Port Isaac Carnival on

2nd September.

We are back to the routine of cleaning, polishing and

servicing the vehicles, currently nine of them, whilst

continuing our search for suitable premises that we can

open to the public. Or we could be on a field trip! Out to

pick up loaned, donated or purchased items. In fact we

had such a field trip this week. Check out our Facebook

page to see what we collected and other interesting 'stuff'.

Find us on:-

Facebook.com/ESMCornwall

Instagram.com/Emergency_Museum_Cornwall
---
THE

POLDARK INN

First Class Food - Vegetarian Dishes Available

Treligga Downs, Delabole

Events in September

Wednesday 13th September

Delabole Slate Newsletter A.G.M.

7.00pm ~ All Welcome

Wednesday 27th September

Football Club Bingo

Function Room Available

Phone: (01840) 212565

CENTRAL GARAGE

45/47 High Street, Delabole.

Tel: 01840 212388 / Mob: 07922301966

No VAT on any item

Stuart Biddick

GOOD FURNITURE

& ALADDIN'S CAVE

WE BUY AND SELL GOOD

SECOND-HAND FURNITURE

OPEN MONDAY - FRIDAY

12 noon - 4.00pm

or by appointment

GIVE US A VISIT - WITHOUT OBLIGATION
---
A Touch of Genius

So it's over for the 34th year - I'm talking about the Flower Festival raising money for Cornish Hospices, (we raised £690

this year) and what a Festival it was! Just the vehicle for celebrating and providing a perfect opportunity for old friends

to meet, catch up and compare wrinkles. One friend of Diana's spent a hugely enjoyable afternoon studying the displays

and said how impressed she was with everything. Two members of Callington Methodist Church enjoyed it so much last

year that they decided to spend one of their precious free days visiting us again - and they weren't disappointed.

The topic, 'I AM…', allowed imaginations to run free and the variety of themes had to be seen to be believed. For Sue's

display (I am the Light of the World) she had bought a globe that levitated and rotated but relied on magnets and placing

it in the correct position in order for the magic to work. Suffice it to say that when it worked it was spectacular but getting

it in the right place provided hours of 'fun'.

The village organisations really turned up trumps. People's ability and ingenuity never fail to amaze me. We live in a

talented and generous village! There were over thirty floral displays adorning the chapel. They all looked BEAUTIFUL -

even the ones that we did with the left over flowers on Thursday evening - it was like a sausage factory. Stick some oasis

in front of you, bung in (that's a technical term) some flowers - then on to the next arrangement! If you didn't manage to

pay a visit you missed a treat.

The food was also fabulous and the three days in the kitchen were busy. Besides the usual suspects, we really need to

thank Sandra and Marg for their hard work, smiles and volunteering when they didn't need to. They were examples to

us all.

Sunday's morning service was taken by Sue and Bryan Ede and revolved around the Festival theme but also included

the dedication of a set of organ hymn books in memory of our friend Peggy and two pulpit Bible translations, 'The

Message', bought from money given in memory of our friend Mary. Their families were able to join with us for the service

and we were so pleased to share memories with them afterwards. The evening Songs of Praise was led by Rev Bryan

and Rev Angela Cooper and Monday was the day to TIDY UP!

Just think about it, next year (God willing) will be the 35th year of continuous annual Festivals and, as Father Brian

Storey once told us, one of his mentors used to say, 'Anyone can start something but there's a touch of genius in keeping

it going.' So, well done and thank you to all who supported the event.

Helen Hicks

P.S. As pictures don't reproduce terribly well in 'The Slate', we're hoping we'll be able to add a bonus feature of photos

on Chris Hore's Delabole web-site (www.delabole.com) - all in glorious technicolour.

'
---
Delabole Branch of

The Royal British Legion

Many thanks to all who attended the

Cream Tea event held at the Methodist

Sunday schoolroom on the 4th June and

to those who stopped for a chat and

supported the stall at the pasty lunch

during Carnival week. Thanks also to Delabole Carnival

Committee for allowing us to have the stall in the marquee.

No doubt those of you who attended the recent Flower

Festival stopped for a while to view the very beautiful,

albeit poignant, display by Brenda Burnard and Yvonne

Edwards 'I am keeping their memory alive'. Thank you

ladies.

Elsewhere in The Slate you will find the menu for our

annual dinner to be held at The Poldark Inn on

6th October. The branch will be very pleased to welcome

you. Just contact our chairman Phil on 214939, or myself

on 212529 to book your place and let us know your choice

of food.

As Armistice Day falls on a Saturday this year,we will also

be holding a time of remembrance on the Friday so that

the children and staff of Delabole School have the

opportunity to join with the community. The arrangements

to date are as follows: Friday 10th November 11am,

'We remember' at the War Memorial Garden, Saturday

11th at 11am 'We remember' at the War Memorial

Garden,followed by buffet lunch at the Methodist Church

Sunday school room (approx 12 noon). On Sunday 12th,

2.30pm 'We remember' at the War Memorial

Garden,followed by service at St John's Church at 3pm.

Delabole Branch meets bi-monthly at The Poldark Inn at

7pm and will be pleased to welcome you .The next meeting

will be held on Tuesday 19th September.

If you wish to become a member of the Royal British

Legion then please contact our membership

secretary,Malcolm Nute on 01208 850246 or contact Phil

or myself and we will put you in touch with him.

Patricia Molloy,Secretary. Delabole Branch RBL.

"There are hundreds of

languages in the world, but a

smile speaks them all."

Save the

Children

Camelford &

District branch

Camelford & District 'Save the Children' group present

St Teath Church - Sunday 24 September, 3pm

The Washaway West Gallery Choir

with children from St Teath Primary School and

Otterham Primary School

Miss Austen and Mr Causley

A celebration in words and music marking the

bicentenary of Jane Austen's death and the

centenary of Charles Causley's birth

Followed by a delicious home-made tea.

Tickets £6 (includes tea), available on the door, or

phone 01840 212454
---
A Methodist Minister's View

Over recent years we have become used to the word 'spin' when we think of the press releases which come out from

our government offices and parliamentary parties. From my reading of some press articles in recent months and items

on our T.V. news bulletins I begin to wonder whether we do have people in power who have a real appreciation of 'how

it really is' for some people in their home and work situations. Further, if they knew 'how it really is' are they listening

and prepared to respond to the 'real life' situations? The press statements in response to issues are not convincing or

confidence inspiring.

Added to the word 'spin' in recent months is the phrase 'fake news' which has originated from the Donald Trump regime

in the U.S.A. This phrase of course raises the issue of 'Truth'. How much of what we see in our newspapers or on our

T.V. news bulletins is presented truthfully? Hopefully the percentage is high.

As I was thinking about these things I thought of some words used by the Roman Governor, Pilate, when Jesus was

taken to him prior to his crucifixion. Jesus said that he had come into the world to speak about the Truth, to which

Pilate replied, "And what is truth?" (see John 18:37). We cannot be sure why Pilate used those words and some writers

have suggested he may have been jesting and implied what does truth matter, whilst others believe that he was seriously

suggesting that is not easy to find the truth.

Jesus, the Son of God, came into the world at a time when there were differing claims by teachers of religions and

followers of pagan gods and said to his followers, "I am the Way, the Truth and the Life." (see John 14:6). In this

statement, he is saying that he was calling people to live in God's Way, within the Truth revealed by God and by God's

power. "The Truth" is the standard for all of our living and morality and does matter. There are widespread

consequences when God's way for life and living is not followed by all of us. The 'Truth' matters – it is food for thought

in our 'spin' and 'fake news' world with its competing claims.

Every blessing,

Bryan Ede

BREAKFAST. LUNCH. SUNDAY ROAST.CREAM TEAS. HOME-

MADE CAKES.CELEBRATION CAKES. ICE CREAM .HOME

PRODUCED BEEF, LAMB AND FREE RANGE EGGS.FRESH

FRUIT AND VEG.LOCAL CHEESES.ETC. GIFTS AND CRAFTS.

Don't forget! We serve Breakfast 9 - 11am

Lunch 12 noon - 3pm

Coffee, tea, homemade cakes, cream teas,

ice-cream etc served all day.

Pop in and you will be sure of a warm welcome…

Macmillan Cancer Support BIG Coffee Morning

Friday 29th September 10am to 12 noon.

Everyone Welcome

Open every day!

Book now for our TRADITIONAL SUNDAY ROAST

A choice of meats including home-produced beef

followed by a selection of home-made desserts.

Booking essential!

TELEPHONE: 01208 880164 www.trevathanfarm.com

CHILDRENS PLAY AREA. RIDE-ON TRACTORS AND

DIGGERS. PETS CORNER.

FIND US ON THE B3314 AT ST ENDELLION, NEAR PORT
---
ATLANTIC MOTOR SERVICES

At Park Lane, Tintagel Road Valley Truckle

Camelford Cornwall PL32 9RR

E Mail alan@atlantic.orangehome.co.uk

A C Crosby F.I.M.I.

01840 212650

WE OFFER NEW SUPERTRACKER LASER FOUR WHEEL ALIGNMENT.

AIR CONDITIONING SERVICING RE GASSING AND REPAIRING.

FOUR VOLKSWAGEN POLO FREE COURTESY CARS OR FREE C O L L E C T I O N A N D D E L I V E R Y .

EVEN MORE ADDITIONS TO OUR DIAGNOSTIC EQUIPMENT GIVING US ACCESS TO 98% OF CARS FROM 2001.

M O T T E S T I N G

PLEASE CALL 01840 212650 OR 01840 215950 WHILE YOU WAIT FREE TEA OR COFFEE IN OUR RECEPTION. WHICH HAS THE

BENEFIT OF FREE WI-FI ACCESS.

S E R V I C I N G

WE ARE ABLE TO CARRY OUT SERVICING ON ALL MAKES AND MODELS,

EVEN WHILST UNDER MANUFACTURERS WARRANTY. WE ARE ALSO ABLE TO CARRY OUT REPAIR WORK FOR MOST

MAJOR WARRANTY COMPANIES.

ENGINE MANAGEMENT FAULTS AND PROBLEMS

WE ARE FINDING THAT MAIN DEALERS ARE CONSIDERABLY OVERCHARGING FOR ENGINE MANAGEMENT FAULTS,

COSTING CUSTOMERS MONEY THEY DO NOT NEED TO SPEND.

WE HAVE INVESTED A GREAT DEAL OF MONEY IN THE LATEST DIAGNOSTIC EQUIPMENT TO PREVENT THIS. IF YOU

HAVE SUCH A PROBLEM PLEASE CALL US.

GOOD GARAGE SCHEME

WE ARE MEMBER OF THE GOOD GARAGE SCHEME, IF YOU HAVE ACCESS TO THE INTERNET IF YOU GOOGLE GOOD

GARAGE SCHEME AND ENTER YOUR POSTCODE YOU WILL BE ABLE TO ACCESS OUR FEEDBACK FROM OTHER CLIENTS.

CARS FOR SALE

VAUXHALL CORSA ECO FLEX 2012. 12 PLATE 3 DOOR IN BRIGHT RED WITH CONTRASTING CLOTH

INTERIOR. VERY ECONOMIC SMALL DIESEL WITH LOW ROAD TAX. VERY LOW MILES. IDEAL SMALL

CAR AT £4,495.00

AUDI A4 CABRIOLET 2003. 52 PLATE IN METALLIC BLUE WITH DARK BLUE LEATHER (MY WIFE'S OWN

CAR FOR 3 YEARS) BLUE POWER HOOD AUTOMATIC PLUS TIPTRONIC, EXCEPTIONALLY GOOD VEHICLE

AND WELL MAINTAINED. BE READY FOR THE SUMMER AT £2,695.00

VAUXHALL CORSA ECO FLEX 2009. 09 PLATE 3 DOOR IN SILVER GREY METALLIC WITH GREY INTERIOR.

VERY ECONOMIC SMALL DIESEL WITH LOW ROAD TAX AT £2,695.00

BMW Z3 1.8 2000 W PLATE IN BLUE METALLIC WITH BLACK LEATHER SEATS, BLACK ROOF. IDEAL SMALL

AND SPORTY CAR AT £2,495.00

RENAULT GRAND SCENIC 2005 05 PLATE 7 SEATER 1.9 DIESEL VERY ECONOMIC SMALL PEOPLE

CARRIER AT £1,995.00

VAUXHALL MERIVA 2006 56 PLATE BLUE METALLIC CONTRASTING CLOTH INTERIOR, LOW MILES, GOOD

VALUE AT £1,695.00

ALL THE ABOVE VEHICLES ARE FULLY SERVICED AND WITH NEW 12 MONTHS MOT TEST

OUR STOCK IS CONSTANTLY CHANGING

PLEASE CALL WITH YOUR REQUIREMENTS

NUMBER PLATES MADE WHILE YOU WAIT

CAR RECOVERY AVAILABLE ON OUR CAR TRANSPORTER.

RAC APPROVED GARAGE
---
St. John the

Evangelist

September Dates

Methodist Church

September Dates

Fri 1st

Church open for

prayer

Sun 3rd 9.30am Family Breakfast

Priest in Charge of Camel-Allen Cluster

The Rev. Angela Cooper 01840 212468

11am

Morning Worship led

by Mr. D. Bannister

Readers: Sue & Claire 212713

Sun 3rd 9am Morning Prayer

Sat 9th 10am-12noon S.S.S. at

St John's

It's our 8th Birthday

Sun 10th 9.00am Holy

Communion

Sun 17th 11.00am Harvest

Festival at

St John's

plus lunch

6.00pm Harvest

Celebrations

at

Methodist

Church

24th 9.00am Holy

Communion

Did you know…

… that the Community Rooms in St.

John's Church can be rented for use for

private parties and events?

• Reasonable rates

• Small kitchen area

• Toilets

• Heating

• Tables & chairs or areas can be clear

• Main Church building and smaller

carpeted room, which can be

separated off

For details & to book

contact Tricia on 212520

Mon 4th 11am MWiB Circuit Reps at

Truro Meth Church

Tues 5th Noon -

1.15pm

11am - noon

Community Lunch

with Roast Beef,

dessert, tea/coffee

£6.50

FoodBank

Wed 6th 2.30pm Women's Fellowship

with Rev Bryan

Sun 10th 11am Worship led by Mr P.

Parsons

Wed 13th 2.30pm Nimble Fingers

Thurs 14th 2.30pm WSM MWiB at Bude

Castle

Sun 17th 11am Village Harvest

Celebration at St

John's followed by

Lunch

6pm

Continuing

Celebration at

Methodist Church

Tues 19th 10.30am MWiB District Day at

St. Agnes with

Carolyn Lawrence

Sun 24th 11am Circuit Service at

Tresparrett

Tues 26th 10.30-noon FoodBank

Coffee & Chat

Wed 27th 2.30pm Nimble Fingers
---
THE PAGE FOR YOUR ITEMS FOR SALE, THANK YOUS, BIRTHDAY WISHES, SEASONS GREETINGS, GIVE-AWAYS,

APOLOGIES & ANNOUNCEMENTS

THANKYOU THANKYOU THANK YOU THANKYOU THANK YO

A BIG Thank you.

To all the children and parents, staff and committee for

the lovely canvas with your handprints on and a poem for

me and all the other thoughtful gifts and cards you gave

to me on the final day at Delabole Mini Minors Pre-School

Playgroup. I will miss but remember you all.

Linda Hammond

Geanette and Bert Linham would like to thank the

organisers of the Flower Festival for including us when

delivering flowers to the residents of Delabole. Especially

as Geanette has been very poorly. Thanks go to all who

have offered help, too many to name, but you are all

appreciated. Best wishes from Geanette and Bert.

Les & Rose Avery wish to thank the Methodist Church

for the lovely flowers from the Flower Festival

CONGRATULATIONS CONGRATULATIONS CONGRATULATIONS

Congratulations to Laura Schofield! Well done, young

lady, on your graduation with a Bachelor of Science with

Honours in Geography at Bath Spa University and every

success when you go on to Kings College, London for

your Masters in September. Very proud of your hard work

over the last 3 years and what you've achieved.

Love Nan & all the family

Congratulations to Laura Jayne Schofield on graduating

from Bath Spa University getting your Bachelor of

Science with Honours in Geography. Wishing you

happiness and success at Kings College for the next

year. Love Auntie Shirley

EE FREE FREE FREE FREE FREE FREE FREE FREE FREE FR

Free to take away - rough blocks / lumps of Delabole

Slate. Useful for garden feature or rockery.

Please call 01840 211136

SALE FORSALE FORSALE FOR SALE FOR SALE FO RSALE F

The Delabole Branch of the Royal Naval Association

would like to thank Abi Blanchard for donating a super

pebble picture depicting Croquet on the Lawn for our

Annual Croquet Match.

Chris Hore, Branch Chairman

chris@delabole.com

http://www.royal-naval-association.co.uk/

On behalf of the village we would like to say a HUGE

thank you to everyone who was involved with any of the

events for Delabole's Carnival Week.

Although the weather was not always kind to us this year,

it was, as always, thanks to the enthusiasm of all involved,

a marvellous event.

Something our village can be proud of!

FOR SALE

14 New Bestway Filters VI for Lay-Z-Spa

Miami Vegas Monaco £25

4 New Intex A filters for Intex Pool £10

Phone 01840 213557

Apologies to the people who submitted the two adverts

above for inclusion into the August 'Slate'. Unfortunately

the whole advert did not show correctly. We hope running

them again helps!

Delabole AFC

Here is a round up of news and

reminders from your local team!

Firstly, the committee would like to say

a huge thank you to Brenda Burnard.

For many, many years she has done a

great job of washing all the football kits

week after week. It is very much appreciated by all,

Brenda, and we hope that you enjoy your 'retirement'!

Are you interested in being our Club Secretary? We are

still looking to fill this role and would be happy to furnish

you with more details. Please call Darren on 07919 07031.

Finally, a reminder that it is the Les Cory memorial

match on Sunday 3rd September with a 1:30pm kick

off.

We would be delighted to welcome all former and current

players and we would love to see lots of supporters

cheering us on too!

Darren Rivers, Chairman
---
What's ON …

CREAM TEAS at

'PENCARY' St TEATH

Sunday 10th September

Raising Funds for the

Merlin Centre

2.30 to 5.00pm

Various Stalls

NORTH CORNWALL BOOK FESTIVAL

St Endellion, 7 & 8 October

(Young people's days 5 & 6 October)

The stellar line-up includes Michael Morpurgo; Maggie

O'Farrell; James Naughtie; Matt Haig; Hermione Lee;

Rose Hilton; Wyl Menmuir; Pascale Petit and Yasmin

Alibhai Brown. Music from 3 Daft Monkeys and Liane

Carroll. Bar, food, bookshop, children's events.

Book at www.ncornbookfest.org. Tickets from £6.

NEW THIS YEAR: Save 30% with our Day Deal

DELABOLE SLATE NEWSLETTER A.G.M.

WEDNESDAY 13th SEPTEMBER

7.00pm at THE POLDARK INN

ALL WELCOME

Heritage Open Days 2017!

The Arthurian Centre will again be open FREE OF

CHARGE for the weekend of the Heritage Open Days -

9th and 10th September 2017.

Come and enjoy free access to this

fascinating 16 acre site. 6th century

inscribed stone, 13th century village

excavation and 18th century garden

undergoing restoration. Children's play

area, exhibition room and refreshments.

The Arthurian Centre, on the B3314 at

Slaughterbridge, PL32 9TT.

www.arthur-online.co.uk.

DELABOLE PLAYGROUP / MINI MINORS

Friday 29th September 2017

RETIREMENT / REUNION at The Poldark, 7.30pm

For anyone who attended, worked or was involved in

any way with

Delabole Playgroup and then to be Mini Minors

Hope to see you there.

Menu

Leek & Potato Soup/Prawn Cocktail or

Fruit Juice

~~~

Roast Beef & Yorkshire Pudding

Roast Chicken & Stuffing

Vegetarian Lasagne

~~~

Bread & Butter Pudding

Mixed Berry Pavlova/Fresh Fruit Salad

Bookings by 30th September to

Phil Carnon on 01840 214939

Or

Patricia Molloy on – 01840 212529

National Trust

Saturday 30 September

Hay Rake at Lundy Bay 10am – 3pm

Dig out your favourite grass rake and join us for a few

hours making hay as part of our meadow management

near Lundy bay. For £2.50pp we'll throw in a ploughman's

lunch, let's pray for sunny weather…

All tools and equipment provided, especially if you don't

have a favourite grass rake! Booking essential.

Please call 01208 863821 or email

tom.sparkes@nationaltrust.org.uk
---
DIARY DATES

YOUR GUIDE TO TO LOCAL EVENTS AND

MEETINGS IN AND AROUND DELABOLE

Sunday 10th September

Cream Teas at 'Pencary' St Teath 2.30-5.00pm

Raising funds for the Merlin Centre

Saturday 9th & Sunday 10th September

Heritage Open Days at The Arthurian Centre

Wednesday 13th September

The Delabole Slate Newsletter A.G.M. 7.00pm at The

Poldark Inn. All welcome to attend.

Thursday 14th September

Final TOMVC concert Tintagel Social Hall at 8pm

Wednesday 27th September

Football Club Bingo at The Poldark Inn

Friday 29th September

Delabole Playgroup / Mini Minors Retirement & Reunion

At The Poldark Inn, 7.30pm.

Saturday 30th September

National Trust Hay Rake at Lundy Bay 10am - 3pm.

Booking essential (see 'What's On' page for details)

ADVANCE DATES

Sat 7th & Sun 8th October

(Young people's days 5th & 6th)

North Cornwall Book Festival at St Endellion.

REGULAR MEETINGS / EVENTS

Every Monday (Excluding school holidays):

Delabole Art & Craft Group meet at Chapel School

Room. 1.45 - 4.00pm. £2.00

Every Tuesday: Kernow Credit Union 1.00- 2.15pm

Venue changed to St John's Church from 3rd October.

Tel : 212520

Every Tuesday/Thursday

Moor Harmony Ladies Barber Shop Chorus

Thursdays at Wadebridge Ambulance Hall from 7.15 -

10.00pm All Welcome Contact Mel 01840 212312

Every Wednesday Fitness League ladies exercise

group for all ages, 9.30am at Camelford Hall.

For more information call Katie Holmes 01208 815725

Every Thursday

Delabole Community Choir meets in the Delabole

Methodist Church from 1.30-3.00pm. For more

information please contact Glynnis on 07968080023

4th Thursday of each month except December.

Cornwall Council Out & About Service at Delabole

Childrens' Centre on the playing field.

Delabole Quilters will be meeting at Delabole Methodist

Church on Fridays at 2pm. £2 per session.

No experience necessary! Contact Sue 01840 212713

Monthly V.I.P. Club 3rd Wednesday from 2.00-4.00pm

Contact Tricia on 01840 212520 for details and to arrange

transport.

Friday 6th October

The Royal British Legion - Delabole Branch. Annual Dinner

at The Poldark Inn (see 'What's On' page for details)

Saturday 18th November

Father Christmas is coming to Delabole!

St John's Church Christmas Bazaar at 2pm

Saturday 9th December

Fun Christmas concert at St John's Church 7.30pm

MARQUEE FOR HIRE

Need your dog(s) walked on a

regular basis?

Private Garden Party or Club Function?

Camelford Rotary Club Hire Out &

Erect their Marquee

All in Aid of Local Charities

Contact via Facebook or 01840 212497

Contact Nicky

T. 07817 027672

E. nicky@wiggilywags.com

www.wiggilywags.co.uk
---
I am crafty

S.S.S.

I am the Way, the Truth and the

Life

Congregation

Delabole Methodist Church

in aid of

Cornish Hospices

I am the Light of the World

Congregation

I am keeping their memory alive

Royal British Legion

I am a Carnival Committee Member

Carnival Committee

I am a tennis player

Congregation
---
I am a Prayer

Prayer Group

I am a Fire Fighter

Delabole Fire Brigade

I am a Pencarrow Volunteer

Jane Sadlier

I am a Flower Arranger

St Thomas' Church

I am a Bird Watcher

Delabole Development Group
---
I am the United Colours of Delabole School

Delabole Community School

I am always Looking on the Bright Side

Those Were the Days

I am a Storyteller

Open the Book

I am a Post Box

Congregation

I'm a Little Teapot

Cricket Club

I am a Dairy Farmer

Congregation
---
I am a Twitcher

Sports Pavilion

I am Over the Moon

Camelford Flower Club

I am Sailing

Congregation

I am a Skater

Congregation

I am the Beauty of Cornwall

Women's Fellowship

I am a Bookworm

Nimble Fingers

I am a Chorister

St Teath Church Choir

I am a Child of God

Family Breakfast
---
I am a Mug - Full Ensemble

I am the Church of St John the Evangelist

St John's Church

I am Joseph

The Merlin Appeal

I am a Gardener

The Village Horticultural Show
---
I am Free

The Newly Retired

I am a Musician

Asthma Society

I am a Grandma

Ferndale Fisheries

I am an Air Ambulance Supporter

Cornish Air Ambulance

Many thanks to all the village

organisations and individuals who

made the Flower Festival possible.

I am a Village Organist

Congregation
---
I am a Chocoholic

The Football Club

I am a Hospice Carer

Mount Edgcumbe Hospice

I am Slate

The Delabole Slate

I am a Child

Children's Hospice South West