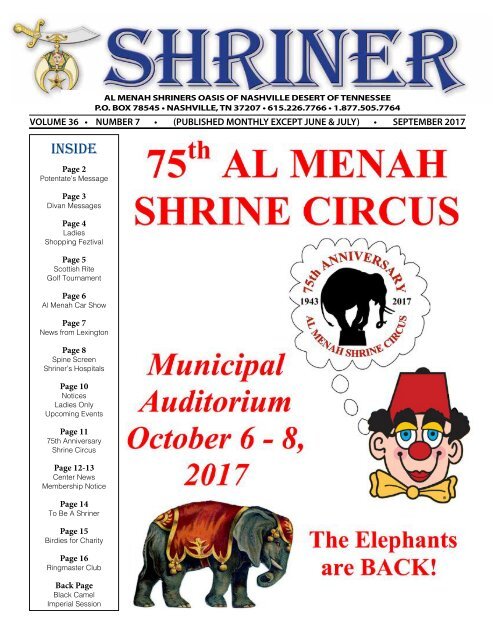 SHRINER SEPTEMBER 2017
September issue
September issue
SHOW MORE
SHOW LESS
You also want an ePaper? Increase the reach of your titles
YUMPU automatically turns print PDFs into web optimized ePapers that Google loves.
AL MENAH SHRINERS OASIS OF NASHVILLE DESERT OF TENNESSEE

P.O. BOX 78545 • NASHVILLE, TN 37207 • 615.226.7766 • 1.877.505.7764

VOLUME 36 • NUMBER • NUMBER 4 7 • • (PUBLISHED MONTHLY EXCEPT JUNE & JULY) & JULY) • • SEPTEMBER APRIL 2017

INSIDE

INSIDE

THIS Page 2

ISSUE

Potentate's Message

Page 3

Divan Messages

Page 4

Ladies

Shopping Feztival

Page 5

Scottish Rite

Golf Tournament

Page 6

Al Menah Car Show

Page 7

News from Lexington

Page 8

Spine Screen

Shriner's Hospitals

Page 10

Notices

Ladies Only

Upcoming Events

Page 11

75th Anniversary

Shrine Circus

Page 12-13

Center News

Membership Notice

Page 14

To Be A Shriner

Page 15

Birdies for Charity

Page 16

Ringmaster Club

Back Page

Black Camel

Imperial Session
---
Al Menah Temple

Oasis of Nashville

Desert of TennessEE

P.O.Box 78545 •• Nashville, TN 37207

Phones 1.615.226.7766

1.877.505.7766

www.almenahShriners.org

The Publication Committee

The Divan/Board of Directors

Potentate .. ................... Frank Hester

Chief Rabban .. .......... Horace Perkins III III

Assistant Rabban .. .........Randy Williams

High Priest & Prophet .. ......... Scott Jones

Oriental Guide .. .......... Donnie Drayton

Treasurer .. ....................... Wes Frye

Recorder ...................Robert Daniel

Editor ..................... Maurice Smith

Published monthly except June and July

www.almenahShriners.org

PAST POTENTATES

*Charles Barham

*John E. E. Patton

*V. K. K. Stevenson

*John D. D. Whalley

*W. F. F. Hunt

* Jack Norman, Jr. Jr.

*J. *J. Pink Lawrence

*Albert Bennett

*Ed R. R. Burr

*Clyde R. R. Watson

*J. *J. Harry Murphy

*Marshall S. S. Whitley

*Charles N. Rolfe

*James J. J. White

*Paul DeWitt

*G. Cooper Holt

*E. M. Kelly

*J. *J. Coleman Hayes

*Joseph Higgins

*Donald R. R. Dunning

*Ira E. E. Parker

*J. *J. P. P. Foster

*Martin S. S. Roberts

*Gale Robinson

*R. C. C. Derivaux

*C. V. V. Cramb

*Oren A. A. Oliver

*J. *J. Nelson Bryan

*Lee L. L. Gamble

*Robert Battle

*R. R. R. Clark

*Jerry N. Tate

*William Raine

*Fred H. Gay, Jr. Jr.

*Hugh F. F. Smith, Jr. Jr.

James A. A. Campbell

*W. A. A. Bryan

*Claude G. Southall

*Charles L. L. Cornelius

*W. B. B. Lawson

*W. Bush Herbert

*Gale Robinson

*Marshall Hotchkiss J. J. Dudley Phillips

*Jess B. B. Templeton

*M. Norris Jenkins

*T. A. A. Springfield

*James F. F. Scalf, Jr. Jr.

*James G. Stahlman

*William B. B. Jones

*J. *J. Clark Akers

Jack C. C. Phelps

*R. E. E. Baulch

*David P. P. Brumfield

*Thomas E. E. Doss

*Zack S. S. Parrish, Sr.

Kerbela Temple '28

*Robert E. E. Newman

*Maurice Weinberger *George Cook

*S. N. Allen

*R. Parker Graham

*W. B. B. Hager

H. Parker Toler

*O. Lynn Meek

*R. T. T. McNaney

*Jack Norman

James L. L. Ham

*James J. J. Vaughn

Charles H. Williams

*C. H. Smith

William D. D. Jones

*Fred C. C. Laskey

John L. L. Weaver, III

*Ivo A. A. Burton

Gale B. B. Robinson

*T. W. Bray, Jr. Jr.

Joe Bell

*James R. R. Cox

Ronny L. L. Greer

*Paul R. R. Jarratt

Charles E. E. Cardwell

*J. *J. Sumpter Anderson J. J. Franklin "Jay" Scalf, III

*Hugh W. Robertson

Conley Dykes

*M. T. T. Gossett

David Smith

*Joe C. C. Carr

Jim Cain

*James T. T. Hayes

*Mike Martin

*E. Lee Bennett

Johnny Dudley

*Orris E. E. Davis

David Wantland

*Raymond H. Leathers

Melvin Meadows

*Hilry H. Shaffer

Dennis Belford

*James N.

David Vaughn

Stansell

Carl E. E. Barnes

Mike Van Sant

Jeff Head

2

** Deceased

As you know these articles are written a couple of weeks before you read

them, so when you are reading this we will have returned from the SESA

Convention in Warner Robbins, GA. The Clowns, Legion of Honor, Motor Corps

and Provost Guard were all there and did a great job representing Al Menah.

We have one of our biggest and most important events this month, the Fall

Ceremonial on September 23rd. Please encourage all of the newly made 2017

Nobles to attend this event. And if you know of a good Master Mason that would

like to join our Fraternity, get them a petition and have them attend this ceremonial.

We also need our Nobility to come and be a part of this day as well. Nobles we

have obligated over 50 new Nobles at Shrine Club Meetings and at the Temple and

we are expecting a big turnout and hope you will come out and support these new

Nobles. There will be a lady's program during the morning session, they will join

the men for lunch and the Arch Presentation in the afternoon. The unit rooms will

be open, so Captains get ready to meet and greet the new Nobles and their ladies.

The schedule for the day is listed in this publication.

Another big event this month is our annual Car Show which will be on

September 30th. Our Chairman Keary Fleenor and the committee is working hard

to make this bigger and better every year. There is still time to buy and/or sell a

sponsorship $500, $350, $250 or $100. I hope to see everyone there for a fun filled

day.

Our annual Circus is next month, October 6th thru 8th. Nobles and Ladies this

is our main fund raiser for the year. Circus Ads sales are due September 1st and

Banners Sales are due by September 15th. You should have received your Nobility

tickets in the mail and if not, please call the office. Nobles it is our obligation to

support our Fraternity with our time, talent and means. Please do your part to make

this year's Circus successful.

Membership continues to be our top priority moving forward. Our goal this

year is 100 new Nobles and 100 Restorations. As of this writing we are almost

half way there and it will take a big push to make this happen. I am very confident

that we can meet this goal and I appreciate all of you that are working diligently

towards making this a success. The initiation fee is $100.00 and all you need to do

is "Ask a Master Mason to be a Shriner". I AM COMMITTED R U?

Nobles and Ladies thank you for your hard work and your support of Al

Menah Shrine and the Shriner's hospitals for Children.

Yours in the Faith,

Frank Hester

Potentate

"Pride, Passion & Purpose"
---
From the desk of...

CHIEF RABBAN

I hope everyone had a great summer!

There was a great crowd at the

August Stated Meeting. Thank

you Nobles for supporting Al

Menah. In September, don't

forget the Fall Ceremonial and

the Al Menah Car Show.

Sell Circus Ads!! Please turn

them in before September 1st.

The Al Menah Shrine Circus is almost

here… October 6th, 7th and 8th at the Nashville

Municipal Auditorium. Bring your children,

grandchildren and friends. This could be the last time

to see and ride the ELEPHANTS! This will be a great

show, and please Nobles…buy your Circus tickets and

join the Ringmaster Club. I look forward to seeing

each of you, and THANK YOU!

Chief Rabban

Horace Perkins, III

HIGH PRIEST AND PROPHET

Summer may be coming to a

close, but Al Menah is just really

getting started. The Car Show is

upon us, so let's shine up your

cars and trucks and have some

fun. If you are not entering

one, just spread the word so

it can get bigger and better.

Next up is our yearly fundraiser...

the Circus. We all need to support

this great event so we can raise the funds that allow

us to do what Al Menah does best, that is provide

the world class care for our children. The Circus

allows Al Menah Shriners the best opportunity for us

to tell our story of shrinedom and provide our local

community the best affordable family fun event.

May all your days be Circus days....

High Priest and Prophet

Scott Jones

ASSISTANT ASSISTANT RABBAN RABBAN

ORIENTAL ORIENTAL GUIDE GUIDE

THEY ARE COMING!

The 2019 Imperial Session in

Nashville will be here before

ASSISTANT RABBAN

you know it!

Pre-reservations for hotel

rooms are available for $20.

Drop off or mail your money

to the Al Menah Office, or

they can take a credit card by

phone. 615-226-7766. Room

reservations are on a first come first

serve basis, so don't wait!.

Assistant Rabban

Randy Williams

Hope this finds you fat and happy

and ready to do some work! We

have two events coming up that

ORIENTAL GUIDE

require your time and help.

First, we have the ceremonial

on September 23rd. We need

your help rounding up the

victims--I mean candidates--for

a fun-filled day at their expense.

If you have a Shriner buddy that

needs a good laugh, bring them to the party on

the 23rd.

Second, we need you to put the circus on your radar

by selling ads and bringing your families down to the

show. We're gonna have Elephants, lions and other 4

legged kitties, along with the high wire acts and pretty

girls. Well at least we will have Elephants....

That's all from the land of OG for now!

Oriental Guide

Donnie Drayton

3

3

3

3
---
4
---
Scottish Rite Golf Tournament

October 19 , 2017

12:30 Tee time

Nashboro Golf Club

1101 Nashboro Blvd

Nashville, TN 37217

Tournament package includes:

• Green Fee

• Cart fee

• Range Balls

• BBQ buffet lunch

Registration:

Name

Name

Name

Name

5
---
Dash Plates Awarded To All Entries

Trophies To Be Given For All Classes

Special Awards:

Potentate's Trophy

Original Best of Show

Modified Best of Show

Ladies Choice

Farthest Traveled

Oldest or Most Unusual Vehicle

Club Participation

14 Acre Show Site

At

Al Menah Shrine Center

1354 Brick Church Pike

Nashville, TN 37207

Exit 87, Trinity Lane

Call for directions

615-226-7766

Gates open at 7:30am

All vehicles will be classed at registration from 8:00am until 11:00am

Judging will be from 11:30am until 1:30pm / Awards will be presented at 3:00pm

"RAIN or SHINE"

Entry fee per vehicle is: $20.00 at the gate

Vendor space is available for $25.00 / 10' x 10'

Class Sponsorships are available

Kids Model Car Show is $5.00

To be judged, all vehicles must have the hood up, doors open or unlocked and the trunk open. Vehicles failing to be properly displayed

will not be classed or judged. Al Menah Shriners reserve the right to reclassify, add, delete, split or combine classes on the day of the

show based on participation. Al Menah Shriners reserve the right to remove offense, lewd or objectionable material.

All proceeds benefit Al Menah Shrine Center and are not deductible as a charitable donation

Make all checks payable to:

Al Menah Shriners

Attn: Car Show

P.O. Box 78545

Nashville, TN 37207

For More Information:

Shrine Center Office: 615-226-7766

Or

Keary D. Fleenor: 615-289-8272

STOP 30 ROAD

HENDERSONVILLE

6
---
Cori slows down progression of scoliosis

Cori, a 12-year-old

patient from Ashland,

Kentucky, received

exciting news on July

11, 2017, during a

routine follow-up

appointment at Shriners

Hospitals for Children

Medical Center —

Lexington.

At the age of 9, Cori

was told by her

pediatrician that her spine presented a curvature. She was referred to a specialist

for further evaluation. The specialist recommended undergoing surgery to correct

the curved spine. Cori has double-sided scoliosis, creating a s-like curve to her

spine, both curves presenting at a 45-degree angle.

Devastated by the news and wanting to be proactive, Cori and her mother,

Janelle started researching and talking with others in their community. Shortly

after finding out that Cori had scoliosis she met Charlie Adkins, Shriner and

member of the Lexington Shriners Medical Center's Board of Governors. Charlie

lives in the Ashland area and recommended that before Cori precede with the

recommendation of surgery, that she meet with a pediatric orthopaedic surgeon at

the Lexington Shriners Medical Center.

The initial appointment at Shriners Medical Center was three years ago and an

appointment that Cori and her mom, Janelle will never forget. "We had been on

our knees praying for guidance, health and safety upon Cori being diagnosed with

scoliosis. I didn't want my daughter to have to go through surgery if there was an

alternative," said Janelle. "Neither of us really knew much of anything about

scoliosis and we were afraid."

To read all of Cori's story, click here:

https://www.shrinershospitalsforchildren.org/news/LEX_Cori Coburn

7
---
Dear Nobles,

Shriners Hospitals for Children® has

launched a new health and wellness

program to highlight the importance of

regular scoliosis screening and to

position us as a leader in scoliosis care.

The program encourages parents to

make a spine check part of their annual back to school routine and to contact

Shriners Hospitals for Children if their child needs our care.

Under the leadership of Amer Samdani, M.D., chief of surgery for Shriners

Hospitals for Children - Philadelphia, a team of doctors, developers and parents

joined forces to create a new app called SpineScreen to check for possible signs of

scoliosis. This informative and easy to use app allows parents to perform a

preliminary spine check on their child in the comfort of their own home. We

encourage you to download SpineScreen for free on the App Store or Google Play

and try it today.

Please click here for more information.

https://www.shrinershospitalsforchildren.org/education/scoliosis

Please help us increase awareness about scoliosis by sharing the SpineScreen app

and encouraging family and friends to tune in tomorrow for the Facebook Live

event. For more information about this new program, please visit

shrinershospitalsforchildren.org/scoliosis.

Yours in the faith,

Gary J. Bergenske

Imperial Potentate

8
---
Paper Sale Donation from Kroger

On Monday, 7/18 Potentate Jeff Head and members of the Williamson

County Shrine Club were with Kroger Management at their Belle

Meade store where they presented a $1,000.00 to us for the Shrine

Hospitals for Children. The Kroger Manager was an acquaintance of

Scotty and Teresa Travis who put this together for the Al Menah Shrine

Hospitals for Children Paper Sale.

This is a portion of a message from Phyllis Berry, wife of this

Kroger Store Manager, Michael Berry.

Let me tell you, our son was a Shrine Hospital patient

and we are forever grateful The experience was an

awakening in humanity. The care was phenomenal. The

friendship my family made. The support from the men in

your fraternity was phenomenal. We thank you for all you

and your members do for children across the country.

Sincerely

Phyllis Berry

Fraternally,

Butch Mayes, WCSC

9
---
Notices..............................................................................

Fall Ceremonial Schedule

2017 Ceremonial in Memory of Mike Martin

September 23, 2017

The schedule will be as follows:

8:00 - 8:30 Registration

8:30 - 9:00 Shrine Overview and Class Picture

9:00 - 12:00 Ceremonial (First and Second Section)

12:00 - 12:45 Lunch (Men and Ladies)

1:00 - 2:00 Arch Program (Men and Ladies)

2:00 - 2:15 Fezzing Ceremony (Men and Ladies)

2:15 - 3:30 Video and Patient Presentations

(Men and Ladies)

3:30 - 5:00 Open House (Men and Ladies)

Times are approximate

SEPTEMBER 2017

Sept 12

Sept 14

Sept 19

Sept 23

Sept 30

Al Menah Ladies Golf Tournament

Directors Staff Golf Tournament

Captain's Meeting/Stated Meeting

Al Menah Fall Ceremonial

Car Show

OCTOBER 2017

Oct 6-8

Oct 14

UPCOMING EVENTS

AS OF THIS PUBLICATION

Shrine Circus

Clown Paper Sale Auction

Ladies Only!

We had a great turnout last month for our Ladies

Nite….we had a hilarious time playing "Minute to

Win It" games. If you weren't able to make it, we

truly missed you and you missed a great time!

Our Ladies Extravaganza is coming up soon on

November 4th. This is a big fundraiser for our temple

and we need vendors. If you know of someone

that would like to partake in this event, please call

or email Alicia Villines (see this month's flyer for

contact info) for the Vendor Registration Form. We

need to get these in ASAP in order to plan our layout

of the space. In addition, we are excited about

adding Christmas Trees this year to our silent auction

options. Some of you have seen what beautiful

tablescapes we've had in the past; can you imagine

updating your holiday season with a gorgeous new

tree? New this year, our very own Legion of Honor

will be selling some delicious breakfast fare and

coffee for the early patrons. Each year this event

gets bigger and bigger and we hope you will invite

all of your family and friends and make this a great

Ladies Day! Feel free to share our flyer with everyone.

Our next scheduled Ladies Nite is coming up on

September 19th. We hope you will come out and

join us for an evening of FUN and Fellowship. Stay

tuned for details about our activity planned and don't

forget to bring your 50/50 money! Dinner with the

men will begin at 6:00pm at the Shrine Center. We

look forward to seeing you soon. Thank you!

Lady Tracy Hester

615-308-3920

10
---
1943

2017

Coming

soon!

October 6-8,

2017

Municipal

Auditorium

All circus ads must be turned into

the office by September 1st.

*Ads turned in after this date will not be in the

program book.

The deadline for Circus Banners

is September 15th.

Please contact your unit captain/club president if you

need materials to sell circus ads (renewal contracts,

new order forms, pricing, etc)

PLEASE SUPPORT THE CIRCUS

BY PURCHASING YOUR

NOBLE TICKETS

11
---
CeNter

NeWS

Clowns

The Clowns have been busy with

several dressouts, Putnam County

Fair and the Nightout Against

Crime to name a couple.

We also shared an evening bowling

at Hermitage Lanes, which

was a real hoot. Thanks to Captain

Vernon and Lady Trish for the

great evening.

This year is truly flying by, and

fall is quickly approaching. You

know what that means! Fairs, Fall

Ceremonial, Car Show, Clown

Auction and the Circus are all

coming up ever so quickly.

Just think of all the opportunities

we have coming up to share this

labor of love with one another. I

can't think of a greater charity to

spend our precious time with, and

to experience the humbling gratification

that we are making a difference

in children's lives.

James "Puzzles" Chambers

Secretary

12

Director's Staff

Summer is well on its way to

being behind us! We hope you

enjoyed the big Solar Eclipse and

your Labor Day and the heat has

not been too unpleasant. Fall is

nipping at our heels and will soon

usher in the cold.

Coming up we have our yearly

car show on September 30th. Be

sure to spread the word to any car

enthusiast you may know to enter

their pride and joy!

October 19th is the Scottish Rite

golf tournament, see more info in

the Shriner. Be on the lookout for

more information as well about the

circus in October and be sure to be

ready to donate time to the cause.

We will be selling coloring books

and our ladies are encouraged be

involved to help scan tickets.

We want to send prayers and

well wishes out to our sick brothers

and or their family members.

A BIG congratulation to Mike

Villines Jr. and his lady Ali on the

birth of their son Skylar in July!

Prayers for the protection of our

service members making the freedoms

we are able to enjoy everyday

possible and blessings on our

temple and the causes we work for

and hold dear to us.

Cordially,

Randy D. Byram

Hope everyone had an enjoyable

and safe summer break. Fall is fast

approaching us and Al Menah will

be in full swing.

September 14 is our golf tournament

at Nashboro Golf Club. If

you haven't signed up yet see Eddie

Hill. September 23 is our fall

ceremonial starting at 8 o'clock.

Please come out and help initiate

our new Nobles. I will try Our

circus is October 6 - 8, so please

get your Circus ads in ASAP.

It is our responsibility to get

new nobles in to the Shrine so

please do your part.

We pray for our first responders

and our military for keeping us all

safe and enjoying all the freedoms

that we have today. Keep all our

world leaders in your prayers

every day.

Barry G Eldridge

Lieutenant

Legion of Honor

It was good to have PC Ron

Queen, our Finance Officer, back

with us at the August meeting.

He is recovering well from his

surgery. It was good to have PC

M.O. Pilkinton back with us following

his broken hip and surgery.

He seems to be recovering well

also.

We will soon be going to

Warner Robins, GA for the South

Eastern Shrine Association. We

have several members going and

I'm sure we will have a great time

there. Maybe we can bring home a

trophy or two.

The Legion of Honor is always

looking for new members. If

you are a military veteran and a

Mason, come on in and become

a Shriner. Then apply for the

Legion of Honor. You may be accepted

as a member of this patriotic

unit. You will be proud you did.

Please continue your support

for the Shriners Hospitals for

Children. Thanks to all Legion of

Honor members for the support

you have shown so far this year

with the paper sale, onion sales,
---
and all other events in which you

have participated.

Let's all keep the hospitals and

patients in our prayers. Also, I

ask for prayers for our men and

women in uniform who are still

serving. Not only the military but

police officers, firefighters and all

first responders who put their lives

on the line everyday to protect us.

Thank you and may God bless!

Roy Lindsey

Commander

SHRINE

CLUB

NEWS

Hendersonville Shrine Club

This year is moving fast and we

still have a lot of work to do before

the year ends.

A BIG "THANKS" to all who

attended the Southeastern. A big

time was had by all the units that

competed in competition and participated

in the Saturday morning

parade.

Remember the Shrine Car Show

is coming up Saturday, September

30th at Al Menah Temple. If you

have a show car, or have a friend

who has a show car, tell them to

shine it up and come down and

win a trophy. Pray for a day of

good weather and NO RAIN.

There will be food vendors selling

their specialties…everything from

hamburgers to turkey legs.

Come on out for a good day of

entertainment.

We are looking at the biggest

fundraising event of the year for our

temple…our SHRINE CIRCUS.

There is something every Shriner

can do to make this year's Circus

our very best ever. Start with

buying the Shrine Circus tickets.

If you can't come, buy them and

give them to a friend who has kids

that want to come. Shriners are

about helping kids! Second, sell a

circus ad to a client or friend who

has a business and buys advertising.

If you will do only one of the

things suggested, our Circus will

be a success.

Our club meets on the 4th Monday

of each month. Our September

meeting will be on Monday,

September 25th at the Black-

Eyed-Pea at 164 Main Street in

Hendersonville. We will meet at

6:00pm for good food and fellowship

and our meeting will start at

7:00pm. Call a friend and bring

them to our meeting.

Remember our sick and those

suffering from cancer, our kids

in our Hospitals, those who have

lost loved ones, be with our troops

fighting for our freedom. God be

with each one is our prayer.

Boyd C. Parnell

President

Membership Notice

Our goal is 100 New Nobles and 100 Restorations.

2017 Membership Chairman Sam Isbell (sisbell@

eml1.com or 615-579-0765) & Co-Chairman Dale

Pewitt (dalepewitt@comcast.net or 615-533-6714)

are soliciting our help and support. Will you help us

find new Nobles?

One of the ways you can be active in this effort is

to sign up to be a virtual mentor for our candidates.

There are candidates waiting to hear from us. We

need a few good men!

13
---
To Be A Shriner

To be a Shriners is

To have a faith to live by,

To be a person to live with,

To endlessly pursue excellence,

To believe in a Supreme Being,

To strive to follow the Good Shepherd

in deeds of compassion and caring,

To have a worthy cause to live for,

To be outspoken champions of Tolerance

and Religious Freedom,

To live Morally in accordance with the

highest standards of individual character

and social conduct,

To teach that it is better to live than to

hate and fear,

To strive to be better tomorrow than we

were yesterday,

To provide for those in need, especially

Crippled and Burned Children,

To express Brotherly Love toward

all mankind,

To seek to abide by the Biblical

"Golden Rule",

To see God's hand at work

in everything,

To admire the beautiful,

To cherish all mankind,

To serve the good.

Inspired with permission from the writings of Chaplain Frank G. Ladner,

Alhambra Temple by Janus 1993

*Submitted in the Memory of Noble Carl Johnson who gave this to us.

14
---
Announcing Birdies for Charity

We are excited to announce the launch of a brand-new initiative, Birdies for Charity — a fun

and friendly golf-themed fundraising competition.

Now through November 1, 2017, golf fans

nationwide can guess the number of birdies that

will be recorded during the 2017 Shriners

Hospitals for Children Open while supporting

life-changing care for kids.

Supporters who guess the correct, or closest,

number of birdies will automatically be entered

to win an ultimate Las Vegas getaway, which

includes: round trip airfare for two (2) to Las

Vegas, Nevada for the 2018 Shriners Hospitals

for Children Open, three (3) nights hotel

accommodations, VIP experience at the

tournament during the 3rd and 4th rounds, two

(2) tickets to a Las Vegas show, and a meet-andgreet

opportunity with the 2018 tournament

champion.

HOW IT WORKS:

• Supporters visit lovetotherescue.org/birdies-for-charity to guess the number of birdies

that will be made during the 2017 tournament and donate to their favorite hospital.

• The individuals with the correct, or closest, guess will automatically be entered to win a

VIP experience at the 2018 tournament in Las Vegas. Other great prizes include

autographed tournament pin flags and tournament apparel packages that will be

awarded to the next closest guesses.

• The hospital that receives the most monetary donations via the Birdies for Charity

program will be awarded the opportunity to host the 2018 Shriners Hospitals for

Children Open Media Day. The event will include an appearance from the 2017

tournament champion, a patient visit, press conference and meet-and-greet

opportunity for local hospital supporters.

• The tournament covers all administrative costs for the program and turns over 100% of

all monies collected to Shriners Hospitals for Children.

HOW YOU CAN HELP:

Spread the word.

Tell your friends, family and anyone else who is interested in helping Shriners Hospitals for

Children that Birdies for Charity is underway!

Raise funds.

Go to https://lovetotherescue.org/birdies-for-charity/

15
---
Chief Rabban Horace Perkins

invites you to become an

Elite Member of the 2017 Ringmaster Club

Contact: Horace Perkins 615-943-5913

Randy "Slappy" Slapak 615-474-1610

Dan Clark 615-596-7269

Men's Membership—$150.00

Includes: Ringmaster shirt, Ringmaster cap, 4 Shrine Circus tickets for

VIP Ringmaster seating and 1 entry to the Ringmaster Club Breakfast on October 7th.

Ladies' Membership—$125.00

Includes: Ringmaster Shirt, Ringmaster tote bag, 4 Shrine Circus tickets for

VIP Ringmaster seating and 1 entry to the Ringmaster Club Breakfast on October 7th.

Name________________________________________________________________

Address______________________________________________________________

City_______________________________State___________Zip_______________

Phone_____________________Email____________________________________

Man's Shirt Size: (circle one) Small Med LG XL 2-XL 3-XL 4-XL

Lady's Shirt Size: (circle one) Small Med LG XL 2-XL 3-XL 4-XL

FOR OFFICE USE:

Amount Paid:________________ Method of Payment:__________________ Date Paid:_______________

16

PROCEEDS ARE FOR THE BENEFIT OF AL MENAH SHRINERS AND ARE NOT TAX DEDUCTIBLE AS A CHARITABLE DONATION
---
REMINDER!

NOTICe:

ALL communications

for the Shriner

should be sent to

editor.amsc@gmail.com

17
---
Nobles Visited By By

The Black Camel Camel

RICKY JOE COLEMAN

Livingston

4/16/64 – 7/24/17

WILLIAM JOSEPH CONLEY

Ashland City

7/12/30 – 7/29/17

SHERMAN MANUAL KINNARD, JR.

Goodlettsville

1/28/37 – 8/2/17

WILLIAM L. MARTIN, JR.

Brentwood

4/28/21 – 8/4/17

AUBREY NELSON, JR.

Columbia

6/16/27 – 7/19/17

DONALD RAY ORR

Burns

7/20/41 – 7/19/17

JOSEPH OSCAR PRICE, JR.

Nashville

8/30/33 – 7/25/17

Nonprofit

AL MENAH AL TEMPLE MENAH TEMPLE

Organization

A.A.O.N.M.S.

1354 BRICK CHURCH PIKE

P. O. Box 78545

NASHVILLE, TN 37207

U.S. POSTAGE

A.A.O.N.M.S.

PAID

1354 BRICK CHURCH PIKE

P. O. Box Nashville, 78545

TN

Permit No. 1731

NASHVILLE, TN 37207

www.almenahshriners.org www.almenahshriners.org

Nonprofit

Organization

U.S. POSTAGE

PAID

Nashville, TN

Permit No. 1731

AL MENAH SHRINERS OASIS OF NASHV

P.O. BOX 78545 • NASHVILLE, TN 37207 •

VOLUME 36 • NUMBER 1 • (PUBLISHED MONTHLY

INSIDE

THIS

ISSUE

PAGE 2

Potentate's

Message

Al Menah Sh

DEADLINE FOR OCT SHRINER IS SEPT 20th

PAGE 3

Divan

Messages

PAGES 4

Notices

Upcoming Events

PAGE 5

From Lady Tracy

Dedication

Ceremony

Chief Rabban

Horace Perkins, III &

Lady Tammy

Il

Frank

PAGE 6-7

Unit News

PAGE 7

Membership Notice

High Priest & Prophet

Scott Jones & Lady Kim

PAGE 11

Message From

PR Chairman

BACK COVER

Black Camel

Imperial Session

Treasurer

Wes Frye & Lady Joyce