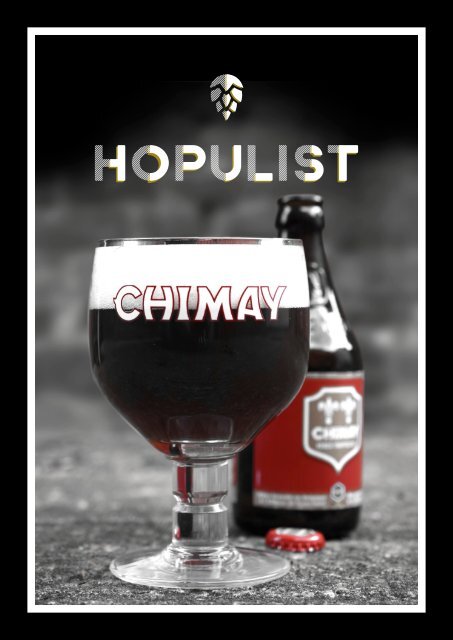 Hopulist Issue2
A free magazine celebrating everything beautiful about the world of craft beer. If there's malt, hops, or wheat in sight, we have it covered.
A free magazine celebrating everything beautiful about the world of craft beer. If there's malt, hops, or wheat in sight, we have it covered.
SHOW MORE
SHOW LESS
Create successful ePaper yourself
Turn your PDF publications into a flip-book with our unique Google optimized e-Paper software.
It doesn't seem like five minutes ago when –

while sitting around supping a suitably delicious

brew – we decided to create Hopulist. As we

launch our second issue we can only thank

everyone who has taken the time to browse our

beery Bible and given us feedback (of all kinds).

This month we are continuing in our commitment

to share news, views and thought-provoking ideas

about craft beer, combined with sleek visuals.

You can take a virtual waltz down one of London's

coolest beer miles, sample a selection of Belgian's

finest Trappist beers, or just check out some

über-trendy beer merchandise – it's all in this

issue.

From the start, this magazine has been about

sharing our passion for craft beer with likeminded

beer lovers, and so far the ride has been

enjoyable and educating.

We are immensely glad that you have stopped

by for a second helping.

Cheers,

The Hopulist team
---
06

10

12

Get your craft beer

news fix right here.

The freshest of new

beer launches.

We visit small-batch

brewer Verdant.

22

24

34

Show your love for

beer with new merch.

Uncover the world

of Trappist brewing.

Make beer go further

with a good growler.

42

54

68

A craft beer mile,

London style.

Eleven interesting

Californian beers.

Our A-Z of craft

beer hits B.

72

74

78

Get your instagram

pics in the mag.

Why Chimay Blue is

a beer to behold.

What the Hopulist

team's been drinking.
---
Sapporo anchors

in crafty waters

You can't have missed the news that

California's craft beer crown jewel and

America's oldest craft brewery Anchor

has been sold to Japanese international

brewing giant Sapporo. A cool $85

million changed hands as the craft beer

community looked on anxiously, with

ownership of one of its favourite sons

heading off to the Far East. But is this

your architypal 'sell-out' or is there more

to this story than just 'successful craft

brewery sells out to multi-national beer

conglomerate'? We think perhaps there is.

For starters, Anchor's headquarters will

be staying put in Portrero, California, and

there are even plans for a new taproom to

open across the street. A nice motion that

normally would be hailed. However, the

cynics will say that this is just a further

expansion of the sales network and a

token gesture to cover up what's really

going on.

A look at the books will indicate that

this sale really needed to happen for

the brewery to continue. It wasn't in the

best place financially and large scale

investment could have been the only way

for it to carry on.

A similar deal took place in 2010 when

the owners sold to two executives from

Skyy vodka. It all points to a brewery

that had grown exponentially to a point

where it either needed help or needed to

be run by those who know how to work

internationally. Sapporo certainly fits that

bill.
---
There are, of course, downsides. The

brand will no longer be part of the

San Franciso Brewers Guild and its

plans to build a visitor centre in the

American city are indefinitely on hold.

There's also the very spirit of craft beer

that has been thrown into question.

Some argue this is a sell-out, plain and

simple. Others will say if the beer is

more widely available and remains of

good quality, then what's the problem?

It's an interesting development and

the long term reprocussions will be

observed with scrutiny by a large

audience. One thing is for certain,

if craft beer continues its rise in

popularity, deals like this will become

more and more commonplace.

WHAT ARE PEOPLE SAYING?

The craft beer community was quick to have its say

on social media with a mix of opinions ranging from

limited support for the decision to absolute outrage,

but for the majority it was that of disapointment.

Here is a cross section of the general feeling:

littlebabyjoe: This is the biggest disappointment. Really

a sad day for San Francisco and the Bay Area as a

whole. You can sell things. But when you sell 121

years of culture... that's a huge fail.

Andy Page: Just hope this won't change the Beer! Sam

Adams brewed under licence here in the UK now &

it sucks! I rely on my #CaliforniaLager!

Stays 72: Staying independent was the key to Anchor

Steam's unique brand & history. I'll give Sapporo a

chance, but this loyal customer is not happy!

JamesLipp: I've been a customer for a long time...

sad to say goodbye. Fortunately there are plenty of

independent breweries left. #IndependentBeer

Ed Pawelko: Anchor was Fritz Maytag. To his successor,

the brewery simply became an investment and this is

a natural progression. Us beer lovers mean nothing.

Dave Mickelsen: Man, I'm really torn on this one.

Liberty Ale was my first love of good beer. This feels

dirty, but I get the $ has to work.

sco_bro: You all sound ignorant, Anchor "sold out"

in 1965, then again in 2010, now it's selling out? Y'all

should do an ounce of research.

eric_symko: Sad time for the City and for a great beer.

beerrebel: The worst part, for me at least, is that

@anchorbrewing is the country's original "craft"

brewery, with a historical place in American brewing,

and is now not even an American owned business.

jwair63: Anchor's still my favourite brewery, it still

employs local people and is still brewed with San

Francisco water, in an awesome brewery. The sale is

not personal, just a business decision to open up a

broader supply chain.

javier_117: Sorry, but the buy out hurts small craft

breweries everywhere.
---
A number of craft breweries have

asked that their beer be removed

from RateBeer after news broke

that Anheuser-Busch-InBev (a

multinational brewing company

best known for it's production

of Budweiser) had purchased a

minority stake in the beer-rating

website. Although news of the

acquisition only broke in July the

deal had actually taken place in

October of 2016.

In a statement on the Dogfish

Head Brewery website it's founder

and president, Sam Calagione

wrote: "It is our strong opinion that

AB-InBev's ownership of RateBeer,

and other properties positioned to

cover the craft brewing community

like October and thebeernecessities.

com is in direct conflict with

multiple guidelines listed (in the

Society of Professional Journalists

(SPJ) Code of Ethics).

"To that end, we have respectfully

asked AB-InBev and RateBeer

to remove all Dogfish Head beer

reviews and mentions on the

RateBeer website immediately. It

just doesn't seem right for a brewer

of any kind to be in a position

to potentially manipulate what

consumers are hearing and saying

about beers, how they are rated

and which ones are receiving extra

publicity on what might appear to

be a legitimate, 100 percent usergenerated

platform. It is our opinion

that this initiative and others are

ethically dubious and that the lack

of transparency is troubling."

RateBeer has since refused any

request to remove brewery's scores

from its website.

WE SAY...

In issue one

of Hopulist,

before this news

broke into the

mainstream media,

we used RateBeer

as a source for

their online ratings.

We believe that

rating websites play

a critical role in the

decision making

of the consumer

and having that

potentially

compromised isn't

something that we

feel comfortable

with. There is

clearly a potential

conflict of interest

in the site being

part-owned by

the world's largest

beer company and

as such we have

taken the decision

to change our

ratings to another

resource.
---
After over a year of regional heats leading up to

the finals, the Campaign for Real Ale, CAMRA,

has announced Tiny Rebel's Cwtch the Best Beer

in Britain at the Great British Beer Festival held

at Olympia, London.

The Newport-brewed beer was named the

Supreme Champion over a host of other finalists

in ten different beer categories, including beers

from both small microbrewers and large regional

brewers.

The man who brewed Cwtch – which is

pronounced 'cutch' and means cuddle in Welsh

–Head Brewer Gareth Williams said what it

meant to win: "I feel like I'm dreaming! This is

the ultimate award to win in our eyes and after

winning at the Great Welsh a few years ago this

feels even better. It's just a crazy feeling and we're

massively proud."

Co-founder of the brewery Bradley

Cummings, added this on the beer itself,

"We were brought up on real ale and we love

traditional styles, Cwtch is our modern version

of a traditional bitter, with extra hopping for a

more pronounced bitterness and aroma. It's new

world and old world all in one."

WHO ARE YA?

For those who don't

know the Campaign

for Real Ale (CAMRA)

is a UK independent

voluntary consumer

organisation which

promotes real ale, real

cider and the traditional

British pub.

Whilst CAMRA

and the craft brewing

industry have endured a

chequered history (most

notably a well publicised

spat with BrewDog)

it was CAMRA who

fought off efforts by the

big brewers to replace

traditional ales with

tasteless key beers in the

70s. To find out more

visit www.camra.org.uk
---
WANT YOUR LATEST BEER LAUNCH FEATURED

HOPPING BACK

Fourpure has resurrected Hoptart a dry

hopped sour first launched in 2015. The

brewer loved it, the punters loved it so

it's coming back! Described as 'a kettle

soured session beer fermented with a

Saison yeast before being dry hopped to

smithereens.'

Release date: Already on sale

FOOLISH NOT TO...

Fool For You is a collaboration between

Cloudwater and Duration Brewing, a

new farmhouse brewery set to open

next year in Norfolk, England. This saison

was brewed with five different grains,

three yeasts, one hop variety and British

gooseberries in the whirlpool.

Release date: Launched on 19th August.
---
NEW RELEASES WE

CAN'T WAIT TO GET

OUR HANDS ON...

? CONTACT US AT INFO@HOPULIST.COM

BATH TIME

Fourpure has collaborated with

the Independant Manchester Beer

Convention (IMBC) to create a tropical

pale ale called Bath Bomb. The beer

celebrates the 2017 IMBC which runs

from 28th September to 1st October at

Manchester's Victoria Baths.

Release date: Launched on 18th August.

FESTIVAL FEVER

Each year Sierra Nevada collaborates

with a different German brewer to create

a classic festival beer. This year it was the

turn of Brauhaus Faust from Miltenberger.

The result is as you would expect – a

true-to-style Oktoberfest festival beer.

Release date: Already on sale
---
PHOTOGRAPHY: NIKKI DUKE

GREEN

AND

PLEASANT

BREWS
---
THE BRAINCHILD

OF TWO

PASSIONATE

BRITISH BEER

BUFFS, VERDANT

BREWING CO

COMBINES A HEAD

FOR HOPS AND

A FERVOUR FOR

FLAVOUR. TOM

SELL CATCHES

UP WITH CO-

FOUNDER JAMES

HEFFRON AND

DISCOVERS WHY

THIS IS SMALL

BATCH BEER WITH

BIG HEART.

In many ways, James Heffron (left) is your typical man.

Once he gets interested in something, he gets really

interested and consumes all reading material on the

matter he can get his hands on. It was this quirk that lead

him to becoming co-founder of one of the UK's smartest

small-batch breweries Verdant.

"I started to get interested in the tastes of beers in

around 2010. I was travelling in New Zealand and

noticed a lot of small breweries cropping up on my

travels and thought like it looked like a good way to start

up. I came back home and started to read about different

breweries and their beers, I started drink a lot more

different beers, too. I'm one of those guys who just gets

into something and will read a lot about it. Before my

wife knew it, the fridge was filling up with hops!"

James took the idea of starting a brewery to his good

friend Adam Robertson, who was equally interested

in beer flavours and also frustrated by the lack of hopforward

beers available in his locals. And so they began

upgrading their homebrewing kit, trying and testing

their own and other people's home brews, reading (even

more) on the subject, all while holding down day jobs.

They were shortly joined by Richard White, who came

on board after installing electrics in the company's first

base and became a natural fit.
---
What's |n a name?

Then one night, the trio were in the pub,

and the name Verdant wandered into their

conversation and made everything a bit

more real. James explains: "We were in

the pub trying to figure out a name for the

brewery and I mentioned The Adventures

of Mr Verdant Green by Edward Bradley,

which was a book of small stories written

in the 1850's, the stories were about

drunken escapades and smoking big

cigars. We then concentrated on the word

Verdant and the fact it's often associated

with the colour green, it basically means

lush, moist, juicy - we thought it was a

very good filter for what we thought the

beers should be.

"We would think that beer was 'either

Verdant or not', the name just stuck. We

thought it would take hours to come up

with a name for the brewery - it took ten

minutes! It's kind of funny, in the last

few years people have been asking how

to properly pronounce the name of the

brewery - you can say it however you

want, we find it a bit amusing! The way

you say the name kind of creates its own

publicity."

New th|nk|ng on New England

From the start, James, Richard and Adam's focus

was on the New England-style IPA movement

that had come about in the wake of releases from

Cloudwater among others.

"Since we set out as a brewery, we have always

concentrated on the New England style IPA's,"

says James.

"I enjoyed the West Coast style IPA's and did

plenty of research into them, but as time went

on we wanted to start getting more flavours

from the hops and bring out those juicy qualities

rather than people just associating hops with

bitterness. We posed ourselves a question -

'how can we present these hops in a way that's

more palatable for everyone?' I fell in love with

the concept of beers from breweries like Hill

Farmstead Tree House, and The Alchemist."

The boys started brewing in a shipping

container that was in a quarry on a 1BBL kit,

creating test brews and single hop beers. They

saw stark similarities between themselves and

another small batch brewer from the United

States that they admired. James continues: "This

was just as Tree House Brewing in the States

had just started selling to the general public,

I was watching and reading about them and

saw similarities between us in the way they

approached brewing, this was back in 2013. We

were focused on expressive English yeast, nice

creamy thick mouthfeel, low bitterness, big juicy

hops, and not giving a damn whether the beer

is clear or not. The murkiness is not one of our

aims, it's just one of the outcomes."
---
© IMAGE COURTESY OF VERDANT
---
Hazy heroes

Verdant moved from the shipping container

to another industrial unit and started selling

beers, with six fermenters by this time. James

also decided to move away from liquid yeast,

which Verdant had been using for these early

brews: "We wanted consistency and liquid yeast

provides its own headaches through harvesting

and nurturing it, which wasn't ideal when we

still all had full-time jobs.

"We built a range around US-05 yeast, our

beers Bloom and Pulp came about from

working around this yeast, but we kept the

malt and hop bills distinctly New England. We

moved back to liquid yeast when we moved to

our current brewery, we went back to our old

original recipes and also started to produce the

kind of beers we are more known for these days.

"We like to think we've spent the last four years

working towards this point. We were making

the New England style quite happily and we got

affirmation that we were on the right track when

Cloudwater released their DIPA series. We are

often put into a small category of breweries in

the UK responsible for the current hazy beer

movement, the others being DEYA, Northern

Monk and Cloudwater. It's a nice movement to

be a part of."

James comes from a catering background, so

flavours in beers is what he is all about. In his

own words, he wants people to go crazy about

this style of beer and wants them to be able to

smell the aromas from two feet away from a

cracked open can.

"We l|ke to

th| nk we've

spent the

last four

years work| n g

towards th| s

po| nt. We are

often put

| nto a small

category of

brewer| e s

| n the Uk

respons| b l e

for the

current hazy

beer movement,

the others

be| ng Deya,

Northern

Monk and

Cloudwater.

| t's a n| c e

movement to

be a part of."
---
A TASTE OF VERDANT

VERDANT

L|GHT BULB

Extra Pale Ale

4.5% ABV

Sessionable, quenching and

totally addictive. Biscuity

malt base with a hint of

sweetness all drenched in

fruity/dank hops.

VERDANT

HEADBAND

Pale Ale

5.5% ABV

Layers of flavour: tropical

fruit, citrus fruit, stinky

cheese, caramel - all

working together. Bitter and

sweet. Lush.

CLOUDWATER x

VERDANT x

lost & Grounded

LORAL & ARD|

Double IPA

8% ABV

A collaboration between

Verdant, Cloudwater and

Lost & Grounded this is a

hoppy Belgian hybrid with a

modern twist.
---
A TASTE OF VERDANT

VERDANT X

DRY & B|TTER

P|NEAPPLE

EXPRESS

IPA

6.1% ABV

A double dry hopped IPA

with the aroma and taste of

citrus and stone fruits.

VERDANT

SOME F|FTY

SUMMERS

Pale Ale

4.6% ABV

Quenching citrus fruits

and unctuous tropical

smoothness all served in a

freshly baked fruit loaf of a

tin can.

VERDANT

PULP!

Double IPA

8% ABV

Massive fruit aromas and

flavours combined with hazy

golden looks and chewy

body really do make this

beer a stone fruit pulp!
---
"We used

to do a b| t

of bottl| n g

but found | t

was really

annoy| ng! Cans

make sense,

they cost

less | n terms

of packag| n g ,

they take up

less room on

a pallet so

you can get

double the

amount of

cans on one

as you can |n

bottles."

Small |s beaut|ful

As a small batch brewer, Verdant is in a unique position

compared to many of its rivals and peers. The company

has nine fermenters and its brew length is a 10BBL kit,

meaning its current capacity is somewhere between 1,300

and 1,400 litres per brew.

"The advantage is that we don't really do pilot brews, we

just go full scale. We can produce a fair variety of hoppy

beers. Dry hopping is also a huge part of our process," says

James.

"We also just use pellet hops, we've used whole leaf hops

before, but our new upgraded equipment is more suited

towards using pellets. We've also started to look into using

Cryo Hops, too."

Verdant also exclusively packages its beers in cans, a

decision that was made both for practical reasons and

for suitability to the small batch brand ideal. James adds:

"We used to do a bit of bottling but found it was really

annoying! It was loud for starters, clinking and banging

around, and they took up lots of space. Cans make sense,

they cost less in terms of packaging, they take up less room

on a pallet so you can get double the amount of cans on

one as you can in bottles. Personally, I believe you get more

of an initial aroma burst by cracking open a can than a

bottle. You also don't get the whole skunking issue you can

get from exposure to sunlight. We made the decision to

can pretty early on - we believe cans suit our brand.

"We also have our own canning line coming," James

adds. "Which will mean everything will finally be under

our control. At the moment, we use an external canning

company which can bring its own headaches. Further into

the future we would also like to look into the possibility of

opening our own places where people can come and eat

and drink, but at the moment things are mostly about just

fulfilling demand."
---
• FALMOUTH

|NFO

Verdant Brewing Co Ltd

Falmouth, Cornwall, UK

É verdantbrewing.co

È hello@verdantbrewing.co

$ @verdantbrew

! /verdantbrewingco

" /VerdantBrew

Future flavours

The future for Verdant is pretty predictable given what you have already

read, but that doesn't mean this is a brewer resting on its laurels.

"We are not ashamed of the fact that we are a hop driven brewery, we

don't see that as a weakness," says James.

"It's not that we don't enjoy styles like Stout, Porter or Sours - we love

all styles of beer but we just think there is a strength in just focusing

on one style of beer, that's not to say we won't branch out into other

styles, but I think we just all felt we have a lot of learning to do still. We

are developing a range of beers based on what Tree House Brewing are

doing, which are a bit more malt forward, with strong yeast character

which give more of that juicy fruit and bubblegum flavours to beers.

We have figured in the hoppy beer genre there are other genres that are

more yeast driven which produce beers which are quite different."

James, Richard and Adam enjoy a wide variety of beers themselves,

and they believe having strong ideals but being open to trying anything

and everything keeps the business level headed.

"I really love drinking beers by DEYA, Cloudwater, Northern Monk,

all the breweries we are grouped with, I find them really fun. I had a

really nice pint of St Austell's Proper Job yesterday, I do love a good

cask ale every so often in amongst all the hoppy craziness. Quite a lot of

people send us beers from the States, breweries like Trillium, Treehouse

and The Alchemist. More locally to us in Cornwall, Stuart Woodman, of

Woodman's Wild Ales, who acquired our old kit - he brews beers using

foraged ingredients."

The three of them have neatly slotted into specific roles within their

business – with Adam taking charge of sales, marketing events, accounts

and design, Richard as the lead brewer, electrician, carpenter and

general handyman and James as the head brewer, recipe writer and

ingredient wrangler.

Verdant has been in its current location for just over a year now and

growth plans are on the horizon. There are plans to add two double

size fermenters, then they will be at 13 brew lengths and will increase

productions to four brews a week instead of 3, this should be in place by

the end of this year."
---
WORDS OF WISODM WISDOM

Starting a brewery is a dream for

many of us, and Verdant has been lucky

enough to make it work. We asked

James for his advice to anyone looking

at doing things their own way.

"The biggest tip would be to not

pander to what other people want,

just be confident and be committed

to what you want to have in the glass.

When we started, we wanted to try

and blow people's tastebuds away, that

was our aim.

"Also don't deviate from your aim.

Don't spread yourself over different

styles of beer, try to concentrate on

a style that you are really into and

focus on the flavours. Don't worry

about what it looks like, focus on the

flavours, and go for it. Then spend all

your savings on equipment and hops!"
---
TAP TYPE PRINT

A range of exquisite three-colour letter

press prints from Magic Rock's Tap Type

project. There are ten individual Tap Type

posters to select from. Stock is limited,

so hurry.

C-16 GEO N°1

Keep your hands warm and your beer

cold thanks to these neoprene Bomber

Jackets. The first in a range of geometric

patterns available for your 16oz craft

beer cans.

WANT YOUR PRODUCT FEATURED? CO
---
BECAUSE SOME

THINGS YOU NEED

IN YOUR LIFE...

BEER SCHOOL

If you haven't watched The Craft Beer

Channel yet then we suggest you sort

yourself out. Stars of said videos, Jonny

and Brad, have written a book and we

strongly advise investing in a copy.

NIGHTCAT JACKET

Mikkeller Running Club have teamed up

with German sports clothing giant Puma

to produce a range of cool running gear

for all types of runners and craft beer

lovers.

NTACT US AT INFO@HOPULIST.COM
---
Last ord
---
ers?

Long before craft beer came |nto focus,

Belg|an Trapp|st monks were brew|ng

the f|nest beers on the cont|nent. Fastforward

hundreds of years and these

monks are st|ll among the el|te brewers

|n Europe. Allow Hopul|st to be your gu|de

to the world of Belg|an Trapp|st beer.

Trappist beers represent the perfect

crossover of tradition and modernity.

Beers which fall into this category

are classics, famed for their quality and their

uniqueness, with many of their styles influencing

the modern-day craft beer movement.

By definition only beer brewed under the direct

supervision of Trappist monks within the walls of

the abbey may be designated as Trappist beer. The

profits of which must also be used to support the

abbey and other charitable causes.

Those who can claim the title of Trappist beer

are decided upon by the International Trappist

Associtation which was set up in 1997 to prevent

commercial companies from abusing the Trappist

name. Belgium is the heartland of the Trappist

world. Of the 11 Trappist monasteries worldwide

that produce beer, six of them reside in Belgium

and the quality of their produce is undeniable,

with sales to match.

Old favour|tes

"Trappist beers – in particular Westmalle Tripel

and Orval – have been amongst our top sellers

since we founded in 2003," explains Jonny Garret,

marketing guy for online retailer Beer Merchants.

"Demand has definitely increased but I wouldn't

put that down to rating websites, it's more down

to the increased number of beer lovers! It's not

always where they start, but at some point every

beer nerd will want to try the classics from

Belgium, which is still the greatest brewing nation

on Earth."

The popularity and 'evergreen' nature of Trappist

beer is definitely one of its key selling points, as

Anthony Akkers, boss of fellow online retailer

Beer Gonzo, adds: "Trappist beer is as popular

as ever. In a world of ever-changing beers, there

is always room for consistent traditions. Like

spotting an old friend in a room full of strangers.

Rocheforts and Chimays will always sell on their
---
"|t's not always

where they start,

but at some po|nt

every beer nerd

w|ll want to try

the class|cs from

Belg|um, wh|ch |s

st|ll the greatest

brew|ng nat|on

on earth."

unquestionable quality whilst the mysterious and

unobtainable Westveleteren will forever guarantee

its place in folklore but I think, on the whole,

people know what they are getting when they see

the Trappist logo, although I have seen people's

minds blown when they have tried a three-yearold

Orval!"

Doing bus|ness

As you could probably imagine, because Trappist

beers are not very typical commercial enterprises,

it is not as simple as approaching them to

stock their beer as a retailer or bar. Working

with Trappist monks has its own set of unique

challenges, as Jonny explains: "There definitely are

challenges, but we wouldn't have it any other way.

The lack of financial pressure on these breweries

is the key to both their way of life and the quality

of the beer. The issues we have are usually not

being able to get enough beer, but we understand
---
why and respect that the brewery is there to

raise money for the monastery and good causes,

that's all. So, we are patient and buy what we can

– and we never expect new products, with the

exception of Chimay! The monasteries employ

civilians to look after the business side and as an

intermediary, they understand and care for the

needs of both the drinkers/buyers and the monks."

Clearly, it's not like buying beer from

Heineken… but then, who would want to do that

anyway?

Futureproof monks

Such a unique business model and unique way of

making beer is also bound to face challenges in

the ever-changing modern world. It's a wonder

that beer is still produced in this hyper-traditional

way as it is.

"The declining number of monks is a huge

issue," says Jonny.

"Then again if we were truthful they don't

have a lot to do with the brewery – they make

the final decisions as the owners, but they

are not in the brewhouse or working on the

operational side, so as long as there are monks

in the monastery the breweries will continue

to make great beer. If the decline ever meant

there were no monks living in the monasteries

then I have no idea what would happen because

the beer is there to support them. It would be a

very sad day if this way of life was lost, and the

historic beers were too."

Although there are some issues, the love of this

wonderful beer should keep it alive, according to

Anthony Akkers: "I think that Trappist beer is so

ingrained into the minds of serious beer drinkers

that it will live on for a while yet and the beauty

of such traditional ways is that there is usually no

shortage of people wanting to help maintain and

continue on the legend."
---
BBUY NOW•

Achel

Achel •

Name: AchelSE KLU|S

Founded: 1998

Locat|on: Achel

Reg|on: Flem|sh Reg|on

www.achelseklu|s.org

H|STORY:

In 1648, Dutch monks built a chapel in Archel.

The chapel became an abbey in 1686 but was

destroyed around the time of the French

Revolution. In 1844 it was rebuilt by monks

from Westmalle. The first beer was brewed

in 1852 but the tradition was lost during

World War I after occupying German troops

dismantled the brewery. In 1998 the monks

decided to brew once again and began to build

a brewery.

Beers:

Achel Blond 5 o

5% Patersbier

Achel Bru|n 5 o

5% Patersbier

Achel Blond 8 o

8% Trappist Triple Ale

Achel Bru|n 8 o

8% Trappist Double Ale

Achel Extra Blond

9.5% Trappist Triple Ale

Achel Extra Bru|n

9.5% Trappist Quadruple Ale

UY NOW•
---
BBUY NOW•

BBUY NOW•

UY NOW•

UY NOW•

Chimay

• Chimay

Name: SCOURMONT ABBEY

Founded: 1862

Locat|on: Ch|may

Reg|on: Wallon|a

www.ch|may.com

H|STORY:

During the summer of 1850 a small group of

monks from Westvleteren Abbey upped sticks

and established Scourmont Abbey near the

Belgian town of Chimay. The Abbey developed

various economic outlets including a farm,

cheese plant and the brewery. The brewery

itself was founded inside Scourmont Abbey in

1862. High volume production means the beer

is now transported to a local bottling plant.

Beers:

Ch|may Gold (DORée)

4.8% Patersbier

Ch|may Red

7% Trappist Amber Ale

Ch|may WH|Te

8% Trappist Triple Ale

Ch|may Blue

9% Trappist Quadruple Ale

Ch|may Grande Réserve Oak Aged

10.5% Belgian Strong Ale
---
BBUY NOW•

BBUY NOW•

UY NOW•

UY NOW•

Orval

Orval •

Name: ABBAYE D'ORVAL

Founded: 1931

Locat|on: Orval

Reg|on: Guame

www.orval.be

H|STORY:

Orval Abbey is a Cistercian monastery

founded in 1131. The old Orvel Abbey has

been pillaged and burnt by conflict numerous

times over the centuries and the ruins still

remain on the current site.

The brewery was created in 1931 to finance

reconstruction works and continues to fund

social welfare and maintenance projects. It was

designed by famed Belgian architect Henry

Vaes who also designed the distinctive skittle

shaped beer glass Orval beer is bottled in.

Beers:

Pet|te Orval

3.5% Patersbier

O rva l

6.2% Trappist Ale
---
BBUY NOW•

BBUY NOW•

UY NOW•

UY NOW•

Rochefort

Rochefort •

Name: ABBAYE DE ROCHEFORT

Founded: 1595

Locat|on: Rochefort

Reg|on: Wallon|a

www.trapp|stes-rochefort.com

H|STORY:

A monastery was first established on the site

as early as 1230. In 1595 the first brewery

was founded within the abbey. Over the years

several European wars have led to the abbey

being demolished and abandoned. The abbey

was restored and a new brewery founded in

1887 thanks to the monks of Achel. Brewing

has been the main source of income for the

monastery since the 16th century.

Beers:

Rochefort 6

7.5% Trappist Double Ale

Rochefort 8

9.2% Trappist Double Ale

Rochefort 10

11.3% Trappist Quadruple Ale
---
BBUY NOW•

BBUY NOW•

UY NOW•

UY NOW•

Westmalle

Westmalle •

Name: ABD|J Westmalle

Founded: 1836

Locat|on: Westmalle

Reg|on: Flem|sh Reg|on

www.trapp|stwestmalle.be

H|STORY:

The abbey in Westmalle was founded in 1794

and elevated to the rank of trappist in 1836.

That same year it began to brew its own

beer with local sales starting in 1856. The

abbey is also a producer of milk and cheese.

The brewery has gone through a number of

changes including a redevelopment in 1865

and a complete new brewery which was built

1933.

Beers:

Westmalle Extra

5% Patersbier

Westmalle Dubbel

7% Trappist Double Ale

Westmalle Tr|pel

9.5% Trappist Triple Ale
---
Westvleteren

• Vleteren

Name: S|NT-S|XTUSABD|J

Founded: 1838

Locat|on: Vleteren

Reg|on: Flem|sh Reg|on

www.s|nts|xtus.be

H|STORY:

The abbey at Saint Sixtus was founded by a

group of monks in 1831. The brewery was

founded inside the abbey precinct in 1838 and

a year later a primary school was established.

That same century a model farm was

developed as an example for the region.

During the first World War the abbey

provided shelter for local refugees fleeing the

fighting and was also home to thousands of

Allied soldiers.

Beers:

WesTvleterEn Blond

5.8% Patersbier

WesTvleterEn 8

8% Trappist Double Ale

WesTvleterEn 12

10.2% Trappist Quadruple Ale
---
Our growler guide...

There's nothing worse than running out

of your favourite beer, but that can be

quickly banished by getting yourself a

growler. We examine the best ways to

stockpile your preferred pour.
---
GROWLER REPUBLIC

THE TANKARD

Made of the highest

quality food safe stainless

steel and double wall

insulated to keep drinks

fresh all day long.

64oz

BREWDOG

GLASS GROWLER

A one litre amber glass

classico growler with

detachable stopper. It's

the Brewdog logo that

wins the day.

1litre
---
DRINKTANKS

INSULATED GROWLER

Plenty of companies

make 64oz growlers, but

DrinkTank have taken

things a little further... a

128oz insulated growler.

128oz

CRAFT KING

STAINLESS STEEL

GROWLER

A passivated interior

keeps your well-hopped

beer tasting just the way

the brewer intended.

64oz
---
MIIR

GROWLER

All the features of a

classic growler plus

a lockable buckle lid

and handle. A must for

those that love the sleek

minimalist look.

64oz

ORANGE VESSEL COMPANY

STONEWARE

GROWLER

The quality stoneware

and beautiful glaze give

a real artisan feel. Stylish

and functional.

64oz
---
STANLEY

CLASSIC GROWLER

A bit more no frills, no

nonsense this one but

the iconic Stanley style is

robust and reliable all the

same. Function over form

isn't a bad thing.

64oz

AVEX

BEER GROWLER

If you're taking your beer

into the great outdoors

then this is the growler

for you. Rugged, durable

and easy to grip.

64oz
---
OUR TOP 5 GROWLER TIPS

one

two

three

four

f|ve

Before you take your growler to be filled make

sure it is cool or at the least room temperature.

A warm growler will cause foaming.

Unless you really know what it is you are after

then make sure you sample the beer before you

commit to filling your growler with it. You don't

want an expensive mistake on your hands.

Once your growler is full and you have returned

home, make sure you refrigerate it in order to

prolong the beer's shelf-life. Unopened the beer

should be good for somewhere in the region of

a week depending on the material your growler

is made from.

Common sense really, but make sure you clean

your growler after using it. Sanitise and allow to

air dry as soon as you have finished with it and

make sure you store with the lid unsealed. You

want your beer to be at it's best so don't be

lazy!

Once opened assume that your beer is going

to be flat within a day. Good news really as you

get to drink it all nice and fresh. The other point

here is to limit the size of your growler to the

amount you would normally drink in a day.
---
"I'VE ONLY

BEEN IN

LOVE WITH

A BEER

BOTTLE AND

A MIRROR."

SID VICIOUS
---
THE

BERMONDSEY

BEER MILE
---
THE HUMBLE

PUB CRAWL

IS SOMEWHAT

OF A BRITISH

TRADITION.

SO WITH THE

UK'S THRIVING

LOVE AFFAIR

WITH CRAFT

BEER IN FULL

SWING, IT

SEEMS RIGHT

AND PROPER

THAT THERE

SHOULD BE A

CRAFT BEER

CRAWL FOR US

AFFICIANDOS

TO ENJOY.

WELCOME

TO THE

BERMONDSEY

BEER MILE...

By David Guest

Since beer has been enjoyed by mankind,

we have sought the best places to enjoy it.

A cosy tavern, a modern bar, a traditional

pub – where you enjoy your favourite tipple can

sometimes be just as important as the selection

of that tipple itself. But sometimes, in fact quite a

lot of the time, just one beer drinking locale is not

enough. Connoisseurs of fine beers have often been

drawn to places and areas where they can enjoy

several different types of drinking establishment

in one session. This pattern lead to the birth of the

pub crawl. But in recent years, the pub crawl has

become more of a suffering than an enjoyment

– with beer drinkers often having to face poor

selection of brews or being dragged to places they

wouldn't ordinarily be seen dead in. So when

we at Hopulist learned of the Bermondsey Beer

Mile – a mile long stretch of craft beer drinking

establishments in east-central London – we were

buying our train tickets before the person telling us

had finished their sentence.
---
Th| s London

borough | s

home to a

craft beer

journey that

|s capt|vat|n g

thousands of

enthus| ast| c

beer dr| nkers

from across

the cap| ta l

and the

country,

| nclud| ng us.

A HOPPY HISTORY

Naturally, as the UK's administrative and most

would argue cultural capital, London has good

strong heritage of craft beer breweries, tap rooms,

bars and pubs. Craft beer culture in the UK

arguably began in the capital in boroughs such

as Shoreditch and Greenwich and has continued

to develop rapidly over the last decade. A report

compiled by UHY Hacker Young Chartered

Accountants in May 2016 revealed that the number

of new breweries opening in London had jumped

up 24 per cent in just one year. And that number

shows no real signs of slowing down. The capital

is full of people passionate about good beer and

even more passionate about brewing their own.

Some London-based breweries have gone on

to national and international success, such as

Beavertown, Redchurch, The Craft Beer Co., Weird

Beard and Fourpure. The latter of those breweries

is at the centre of one of London's most up-andcoming

craft beer areas, Bermondsey. This London

borough, just south of the River Thames and a

stone's throw from the famous landmark that is

Tower Bridge, is also home to a craft beer journey

that is captivating thousands of enthusiastic beer

drinkers from across the capital and the country,

including us.
---
A MILE IS A MILE

You might think that such a cool, crafty

experience as this would be hard to

find. Not so. Our mile-long journey

started out by getting the London

Underground to the London Bridge

station and taking in the sights of the

Gherkin, Tower Bridge and the Shard

before we got anywhere near raising a

glass to our lips. From Tower Bridge

you walk south for no time at all until

you reach the crossing with Druid

Street.

This street has a railway running

parallel to it, and its within the arches

of this raised railway that the craft

beer journey begins. Just a few arches

down the road, we spy a gaggle of crafty

quaffers congregated outside the front

of Southwark Brewing Company.

Southwark began after a man with

over 30 years experience in the brewing

industry decided to go it alone. Peter

Jackson saw the growth of local

breweries outside the capital grow,

originally being from the northeast

of the UK, and decided it was time

London got a micro brewery it could be

proud of – with new and exciting craft

cask ales at the heart of it.
---
The brewery's flagship beers are Bermondsey Best – a

traditional English ale with English malt and Kentish hops,

London Pale Ale – a light and refreshing citrus-toned

number and Gold – a hoppy golden ale with a wonderful

blend of pale malts and American hops. But naturally, there

are a host of special and limited edition beers brewed here

all the time.

The atmosphere is jovial in the early afternoon and after

sampling Bermondsey Best, we decide to exit stage right to

the next pub on the tour: Anspach & Hobday (A&H). Also

in a railway archway, A&H has a totally different feel. The

bar is lined with shiny, metallic tanks where the beer brewed

here is stored and has other neat features like a water runway

under the floor that can be seen by customers in the bar.

As we approach the bar we're

welcomed with a friendly greeting

and a good, knowledgable pitch about

the beers on offer. Whilst settling in

to enjoy the A&H Pale Ale, a fellow

punter accosts a member of our party.

But there's no ill intent here, he's simply

amazed that they are wearing the same

Brewdog Firenze t-shirt, approximately

1,000 miles from the Italian city. Only

in London…
---
London Bridge

TOWER BRIDGE ROAD

SOUTHWARK BREWING

INNER CITY BREWS

INNER CITY BREWS

As we wander on to the next brewery on the tour,

we can't help but notice that this route is popular.

We spot countless other groups of young and old,

men and women, following the route on their

smartphones or on folded printouts. There's also

an international feel. We hear American accents,

French, Italian, Spanish and even some dialects we

can't quite decipher – all here for the same crafty

goodness.

On the basis we have to still be in a functional

state to navigate the London Underground and

get a train home at the end of the day, not all of us

can enjoy a beer in each bar, but we do have time

to take a look into UBREW – one of the more

interesting concepts on the Beer Mile. In this

bar, you brew the beer, or at least you can if you

want. This open brewery is a place for Londoners

to come and brew their own beers if things at

home are a little too cramped, which with London

property prices is pretty much a given. They

also offer courses for you to learn about the best

brewing techniques as well as giving you full use

of their state-of-the-art equipment and ingredients

shop. As much as we want to, we don't have time

to brew beer, but thankfully UBREW brews some

of its own too, and it's of fine pedigree. For those

interested, UBREW also has a base in Manchester

and Berlin in Germany.

TOWER BRIDGE ROAD

DRUID STREET

TOOLEY STREET

ABBEY STREET

ENID STREET

UBREW

BBNo

ANSPACH &

BOTTLES

ABBEY

OLD
---
HOBDAY

River Thames

HOP: BERMONDSEY

ST

JAMAICAN RD

THE KERNEL BREWERY

Bermondsey

A200

DRUMMOND ROAD

CLEMENTS ROAD

SOUTHWARK PARK ROAD

ST. JAME'S ROAD

ROUEL ROAD

SOUTHWARK

PARK

ST. JAME'S ROAD

A2206

GALLEYWALL RD

ALMOND RD

PARTIZAN BREWING

EEBRIA TAP

A2206

A2208

A2208

FOURPURE BREWING
---
NUMERICAL ADVANTAGE

Next up is Brew By Numbers (BBNo.), a brewery started by

two friends who actually met on a rock-climbing excursion

in China. The pair's passion for home brewing grew into

what is one of the larger venues on the Beer Mile. The

company's commitment to brewing new and exciting beer

types as well as re-exploring forgotten ones is matched only

by its clever naming system for the beers. Each beer type

has a number, hence the name of the company and how

each batch is produced. BBNo. is one of the most forwardthinking

breweries in this part of the city thanks to the

ferverent enthusiasm of its owners and their dedication to

producing top quality spoils.

The next stop on the beer tour is a

little further to walk than we've been

used to so far, but that's no biggie,

thanks to the light glow we're all

experiencing in our legs and the varied

and well-developed flavours on our

palates.

Unfortunately, The Kernel Brewery

no longer serves beer at the brewery

and is also closed on the day we visit,

but does sell its beer locally. Check

www.thekernelbrewery.com to find out

where.

After winding our way through

some gritty urban architecture we find

Partizan Brewing and EeBria side by

side in another railway archway alley.
---
Partizan is a micro brewery that

has been founded since 2012 with a

background in fine dining and home

brewing. It actually began after the

owners of the aforementioned Kernel

Brewery sold their old brewing

equipment to Partizan after expanding

and no longer needing it.

If that's not the spirit of craft, we don't

know what is. The brewery benefits

from artwork by locally-known artist

Alec Doherty and offers porters, pale

ales and a very enjoyable Lemongrass

Saison that we are particularly fond of.

Just a few archways down the road is EeBria – one of the

most interesting stops on the tour. Though its a stylishly

decored bar, what makes EeBria unique is its trade business.

It runs an online retail element that allows people to buy

drinks online and search the best UK producers and buy

straight from them, meaning you get to enjoy craft beer the

way its makers intended. The idea has had some notable

coverage in national UK newspapers and is really catching

on. The taproom is a nice extension of the brand and great

way to sample some of the beers it sells on a wider level.
---
The adventure

aspect of

Fourpure can

be seen |n | t s

range. | t ' s

bas| c a l ly a

beer world

tour and we

h av e t o s ay

we are pretty

| mpressed w| t h

the qual| t y

of the beer

| n a range so

d | verse.

ADVENTURE ALES

As we reach the end of the mile (it really feels

longer than a mile… I guess that's the beer talking),

we arrive at Fourpure. Since 2013, this brewery has

been making beer inspired by the international

adventures that its founding brothers Dan and

Tom have experienced over the years. In their own

words, they don't cut corners and they respect the

four core ingredients of craft beer (grain, yeast,

hops and water), which is actually where the

company name came from. The adventure aspect

of Fourpure can be seen in its range. Outside of

its core range of session IPA, pale and pils lager it

offers up tempting tipples such as Rediron Red Ale,

inspired by Colorado; Northern Latitude Winter

Ale, inspired by the Nordics; Beartooth American

Brown Ale, inspired by Montana; Skyliner Wheat

Beer, inspired by Bavaria and Southern Latitude,

inspired by Australia. It's basically a beer world tour

and we have to say we are pretty impressed with

the quality of the beer in a range so diverse. The

bar is really not much to look at, it's pretty much

an industrial estate tucked away in deepest, darkest

Bermondsey, but to see crowds of beer drinkers

congregating inside and out is a wonderus sight.

Bermondsey is putting itself firmly on the craft

beer map with breweries like this and the others

on this tour. So, next time you're planning a trip to

the British capital, we suggest taking in some of the

sights, sounds and saisons of Bermondsey – in five

years it might be hard to think of anywhere else as

an epicentre of craft brewing.
---
Eleven interesting beers
---
from The Golden State...
---
UNTAPPD RATINGS CORRECT AT TIME OF PUBLISHING

CALIFORNIA IS DOTTED

WITH HUNDREDS OF

CRAFT BREWERIES

BUT WE'VE DONE OUR

BEST TO REPRESENT.

WE ASKED OUR

RESIDENT EXPERT

TOM SELL TO DON

HIS BOARD SHORTS

AND RATE ELEVEN OF

CALIFORNIA'S FINEST

OFFERINGS FROM

SOME OF THE STATE'S

MOST INSPIRING

PRODUCERS, HERE ARE

THE RESULTS...
---
​

DUET

ALP|NE, CA

Style:

|PA

ABV: 7%

Volume: 355ml

UNTAPPD

AVG: 4.0

WHAT THEY SAY:

A West Coast

IPA. Our original

single IPA made

with Simcoe and

Amarillo hops 'in

harmony.'

WHAT WE THINK:

Slightly​ ​cloudy​ ​

orange,​ ​with​ ​a​ ​

medium​-white​ ​

head.​ ​Orange,​ ​

pine​ ​and​ ​lemon​ ​

zest​ ​in​ ​the​ ​

aroma,​ ​with​ ​a​ ​

slightly​ ​dank​ ​

note in​ ​there​ ​too.​ ​

Flavour​ ​is​ ​classic​ ​

West​ ​Coast​ ​IPA,​ ​

grapefruit,​ ​fresh​ ​

cut​ ​grass,​ ​orange,​

mango​ ​with​ ​an​ ​

underlining​ ​malty

backbone.​ ​Finish​ ​

is​ ​dry,​ ​resinous​ ​

and,​ ​of​ ​course​

, ​dry.​ ​A​ ​straight​

-​up​ ​West​ ​Coast​ ​

IPA, and ​an​ ​

easy​ ​drinker​ ​at​ ​

this​ ​ABV,​ ​so​ ​be

careful.
---
MY BLOODY VALENTINE ALE

SAN D|EGO, CA

Style:

AMBER/RED ALE

ABV: 6.66%

Volume: 650ml

UNTAPPD

AVG: 3.73

WHAT THEY SAY:

Notes of

caramel, toast,

and bittersweet

chocolate

balance an

intense bouquet

of floral hop

aromas that we

know you'll fall

in love with. The

finish leaves a

pleasant, fullbodied

sweetness

on the palate.

WHAT WE THINK:

A​ ​dark​ ​amber​ ​

appearance,​ ​with​ ​

a​ ​ruby​ ​red​ ​tint​ ​

of​ ​light​ ​coming​ ​

through.​ ​Tan​

-like​ ​creamy​ ​

head,​ ​pretty​ ​

thick​ ​and​ ​tight.

Caramel​ ​malt​ ​

aromas,​ ​followed​ ​

by​ ​grapefruit,​ ​

pine​ ​and​ ​resin​ ​

as​ ​well.​ ​Taste​ ​is​ ​

caramel​ ​malt,​ ​

citrus,​ ​pine,​ ​fresh​ ​

baked bread​ ​

with​ ​a​ ​bit​ ​of​ ​dark​ ​

chocolate.​ ​Nice​ ​

medium​ ​body​ ​

and​ ​mouthfeel.​ ​

Finish​ ​is​ ​dry,​ ​

with​ ​a​ ​medium​ ​

bitterness.​ ​A​ ​wellbalanced​

​hoppy​ ​

Amber​ ​ale.
---
RACER 5

REPUBL|C

CLOVERDALE, CA

Style:

|PA

ABV: 7.5%

Volume: 355ml

UNTAPPD

AVG: 3.88

WHAT THEY SAY:

This hoppy IPA

is a full-bodied

beer brewed with

malted barley,

wheat, and crystal

malts. The malt

base is designed

to highlight

the unique

floral qualities

Columbus and

Cascade hops

from the Pacific

Northwest. Racer

5 is one of

America's most

medal-winning

IPAs.

WHAT WE THINK:

Deep​ ​orange,​ ​

slight​ ​haze​ ​in​ ​

the​ ​appearance.​ ​

Medium​ ​

white​ ​frothy​ ​

head.​ ​Decent​ ​

carbonation.​ ​

Strong​ ​grapefruit,​ ​

pine, earthy​​in​ ​

aroma.​ ​Taste​ ​

is​ ​orange​ ​

marmalade,​ ​

grapefruit,​ ​slight​ ​

sweetness​ ​from​ ​

the​ ​crystal​ ​malt.​ ​

Very​ ​drinkable,​ ​

very smooth​​and​ ​

a​ ​dry​ ​bitter​ ​finish.​ ​

An easy drinker.
---
PALATE WRECKER

SAN D|EGO, CA

Style:

|MPER| AL | PA

ABV: 9.5%

Volume: 355ml

UNTAPPD

AVG: 4.0

WHAT THEY SAY:

An abundance

of Centennial,

Columbus and

Simcoe hops

challenge

and stun hop

heads with an

aggressive hopforward

attack.

Your palate will

recover, but you

will remember

that last round

forever.

WHAT WE THINK:

Deep​ ​burnt​ ​

orange,​ ​clear​ ​

in​ ​appearance.​ ​

White​ ​head​ ​

that​ ​disappears​ ​

after​ ​a​ ​short​ ​

while.​ ​Piney,​ ​

passionfruit, resin

and​ ​pineapple​ ​

dominate​ ​the​ ​

aroma.​ ​The​ ​

taste​ ​is​ ​an​ ​all​ ​

out​ ​assault​ ​

on​ ​the​ ​palate,​ ​

strong​ ​pine,​ ​

bitter​ ​grapefruit,​ ​

resin with​​some​ ​

warming​ ​alcohol​ ​

coming​ ​through,​ ​

a​ ​backbone​ ​of​ ​

caramel​ ​malt​ ​

is​ ​also​ ​present.​ ​

Finish​ ​is​ ​strong​ ​

herbal​ ​with​ ​a dry,​ ​

very​ ​bitter​ ​finish.​ ​

A​ ​beer​ ​that​ ​lives​ ​

up​ ​to​ ​it's​ ​name!
---
SWAMI'S IPA

CARLSBAD, CA

Style:

|PA

ABV: 6.8%

Volume: 473ml

UNTAPPD

AVG: 3.88

WHAT THEY SAY:

With a more

traditional

hop profile,

this beer is the

quintessential

example of a

West Coast IPA

as it showcases

the fresh

bitterness of

citrus and pine.

WHAT WE THINK:

Straw​-to-​

light​orange​ ​

coloured​ ​and​ ​

well​ ​carbonated.​ ​

Thick​ ​white​ ​

head.​ ​Grapefruit,​ ​

mango,​ ​orange,​ ​

pine​ ​notes​ ​

dominate the​ ​

aroma.​ ​Flavours​ ​

of​ ​tropical​ ​fruits,​ ​

pine​ ​resin, and ​

lemon​ ​rind.​ ​

Grassy​ ​and​ ​

floral​ ​notes​ ​

come​ ​through​ ​

later​ ​on,​ ​with​ ​a

pleasant​ ​dry​ ​and​ ​

medium​ ​bitter​ ​

finish.​ ​One​ ​to​ ​sip​ ​

on​ ​a​ ​summer's​ ​

evening.
---
ARROGANT BASTARD ALE

(STONE)

ESCOND|DO, CA

Style:

STRONG ALE

ABV: 7.2%

Volume: 500ml

UNTAPPD

AVG: 3.79

WHAT THEY SAY:

This is an

aggressive beer.

You probably

won't like it. It is

quite doubtful

that you have

the taste or

sophistication

to be able to

appreciate an ale

of this quality and

depth.

WHAT WE THINK:

Deep​ ​brown​ ​

mahogany,​ ​off​ ​

white​ ​head,​ ​tight​ ​

bubbles.​ ​Low​ ​

carbonation.​ ​

Aroma​ ​is​ ​herbal,​ ​

very​ ​spicy,​ ​

roasted​ ​malt,

toffee​ ​cognac,​ ​

slight​ ​banana​ ​

esters.​ ​Flavour​ ​

is​ ​a​ ​heavy​ ​hit​ ​

of smoky​​notes​ ​

from​ ​the​ ​hops,

spiciness​ ​comes​ ​

through,​ ​slight​ ​

bitter​ ​grapefruit​ ​

with​ ​a​ ​underlying​ ​

malty​ ​tone​ ​of​ ​

caramel​ ​and​ ​

toffee.​ ​Mouthfeel​ ​

is​ full.​ ​Finish​ ​

is​ ​strong,​ ​with​ ​

herbal​ ​bitterness​ ​

dominating. ​

Complex​​and full​ ​

of​ ​character.
---
​

​Groupe​

​G​

​Belgian​

​Rye​PA

SAN FRANC|SCO, CA

Style:

FRU|T BEER

ABV: 6.5%

Volume: 473ml

UNTAPPD

AVG: 3.39

WHAT THEY SAY:

Special release

using a "fruit tea"

at packaging.

Also produced

by adding whole

fruit to the cask.

WHAT WE THINK:

A​ ​murky,​ ​burnt​ ​

orange​ ​looking​ ​

brew,​ ​with​ ​a​ ​

fairly​ ​tight​ ​white​ ​

head.​ ​Aroma​ ​is​ ​

dominated​ ​by​ ​a​ ​

classic​ ​belgian​ ​

yeast,​ ​overripe​

​banana,​ ​

some​ ​blueberry,​ ​

herbal​ ​notes​ ​

also​ ​present.​ ​

Interesting​ ​

flavour​ ​on​ ​the​ ​

first​ ​sip,​ ​funky​ ​

belgian yeast​ ​

accentuated​ ​by​ ​

the​ ​spicy​ ​rye​ ​is​ ​

dominant,​ ​mango​ ​

and​ ​blueberry​ ​

then​ ​come​ ​

through.​ ​Finish​ ​

is​ ​pineapple,​ ​

spicy​ ​rye with​ ​a​ ​

medium,​ ​dry​ ​bitter​

finish.​
---
​

BOO KOO

V|STA, CA

Style:

|PA

ABV: 6.5%

Volume: 355ml

UNTAPPD

AVG: 3.85

WHAT THEY SAY:

Bursting with

flavor and aroma,

finished dry, and

most importantly

hop-forward. This

beer is teeming

with fruit and

pine notes, and

its light gold to

blonde color

make it drink like

a session beer.

WHAT WE THINK:

Light​ ​golden​ ​in​ ​

colour,​ ​slight​ ​haze.​

Medium​ ​white​ ​

head,​ ​with​ ​some​ ​

bigger​ ​bubbles.​ ​

Strong​ ​tropical​ ​

fruit​ ​aromas,

complimented​ ​by​ ​

grapefruit,​ ​orange,​ ​

and​ ​a​ ​little​ ​pine.​ ​

Taste​ ​is​ ​a​ ​well​ ​

balanced​ ​mix​ ​

between​ ​orange​ ​

peel,​ ​grapefruit,

passionfruit,​ ​resin,​

juicy​ ​fruit​ ​gum​ ​

and​ ​caramel.​ ​

Nice​ ​medium​ ​

mouthfeel.​

​A​ ​nicely​ ​balanced

West​ ​Coast​ ​IPA.
---
​

SOLIS

SAN D|EGO, CA

Style:

|PA

ABV: 7.5%

Volume: 473ml

UNTAPPD

AVG: 3.76

WHAT THEY SAY:

Like a new sunset

every evening,

each batch of

Solis (sunset/

west coast) is

unique—a new

and interesting

combination of

malt and hops.

WHAT WE THINK:

Golden​ ​in​ ​colour,​ ​

slightly​ ​hazy​ ​

with​ ​a​ ​medium​ ​

tight​ ​white​ ​head.​ ​

Strong​ ​pine,​ ​resin,​ ​

orange​ ​peel​ ​

aromas.​ Flavourful​ ​

taste​ ​of​ ​lemon​ ​

pith,​ ​pine,​ ​herbal​ ​

backed​ ​up​ ​with​ ​

a​ ​slight​ ​caramel​ ​

note.​ ​Mouthfeel​ ​

is​ ​slightly creamy​ ​

in​ ​texture.​ ​Nice​ ​

finish,​ ​not​ ​too​ ​

upfront​ ​with​ ​the​ ​

bitterness​ ​and​ ​not​

massively​ ​drying. ​

Well​ ​balanced​ ​

and​ ​easy​ ​to drink​ ​

considering​ ​it's​ ​

ABV.​
---
​

BLACK HOUSE

SAN D|EGO, CA

Style:

STOUT

ABV: 5.8%

Volume: 473ml

UNTAPPD

AVG: 3.94

WHAT THEY SAY:

An oatmeal

coffee stout

positively

redolent with

coffee aroma

and flavor. It

kind of tastes

like a chocolatecovered

espresso

bean, only drier

and more like

beer.

WHAT WE THINK:

Very​ ​dark​ ​brown​ ​

to​ ​black​ ​in​ ​

appearance.​ ​Nice​

thick​ ​creamy​ ​tan​ ​

head.​ ​Roasty,​ ​

burnt​ ​toast​ ​and​ ​

fresh​ ​brewed​ ​

coffee aromas.​ ​

A​ ​nice​ ​thick​ ​

mouthfeel​ ​to​ ​

start,​ ​with​ ​dark​ ​

chocolate,​ ​coffee​ ​

coming​ ​through.​ ​

Finish​ ​is​ ​burnt​ ​

toast​ ​and​ ​slightly

bitter​ ​coffee.​ ​A​ ​

perfect​ ​wake​ ​up​ ​

at​ ​any​ ​time​ ​of​ ​the​ ​

day!
---
​

TORPEDO EXTRA IPA

CH|CO, CA

Style:

|PA

ABV: 7.2%

Volume: 355ml

UNTAPPD

AVG: 3.76

WHAT THEY SAY:

Torpedo Extra IPA

is an aggressive

yet balanced

beer with massive

hop aromas of

citrus, pine, and

tropical fruit.

WHAT WE THINK:

Orange​ ​to​ ​

copper​ ​colour,​ ​

clear​ ​with​ ​a​ ​little​ ​

carbonation.​ ​

Tight,​ ​white​ ​

thick​ ​head.​ ​

Pine,​ ​resinous,​ ​

grapefruit,​ ​

tropical​ ​fruits,

orange​ ​peel​ ​with​ ​

some​ ​caramel​ ​

malt.​ ​Orange​ ​peel,​

pine,​ ​grapefruit,​ ​

spicy​ ​floral​ ​hops​ ​

dominate​ ​the​ ​

flavour.​ ​Overall​ ​

it's similar​​in​ ​

flavour​ ​to​ ​orange​ ​

marmalade​ ​on​ ​

toast.​ ​Strong​ ​

herbal​ ​bitterness​ ​

in​ ​the​ ​finish,​ ​quite​ ​

drying.​ ​A​ ​classic​ ​

IPA​​that's always​ ​

worth​ ​revisiting.​ ​
---
IS FOR,

WELL, LOTS

OF THINGS.

THAT'S WHY

WE HAVE

DEVISED OUR

OWN BEER

GLOSSARY

FOR YOU TO

DRINK IN.

IMPROVE

YOUR

KNOWLEDGE

OF WHAT

MAKES BEER

SO GREAT

AND IMPRESS

YOUR

FRIENDS IN

THE BAR.

WHAT HAVE

YOU GOT TO

LOSE?

BETA ACID

It's time to be a

scientist again! Beta

acids are an integral

part of what makes a

beer a beer. Hops, that

wonderful thing that

makes craft beer taste

so good, are packed

with beta acids, which

once they isomerize,

hugely contribute

to the perceived

bitterness of a beer. If

you want it in simple

terms, hops work

better when there is a

solid balance between

alpha and beta acids.

Beta are the lesser

understood, but no

lesser important acid.

The black sheep of the

brewing family.

A
---
BLONDE BEER

We all love a blonde,

right? The clear,

crisp and dry taste

of a blonde beer

is memorable and

distinctive. Wait, what

did you think we

were talking about?

Blonde beers are a

type of pale ale and

the term is used

mostly in Europe and

Latin America. They

usually feature low to

medium bitterness,

aroma from hops and

a tiny sprinkling of

sweetness from malt.

A typical and widely

known blonde beer

for you to sample as

an example is Belgian

tipple Duvel.

BREWING

Without this process,

beer as we know it

wouldn't exist. Oh

God! What an awful

vision! We need to

have a lie down for a

bit…

Okay, we're back.

Brewing is how beer

is made and it is a

practice that is now

not only restricted

to a handful of beer

companies around

the world. The skillful

and versatile art of

combining barley,

wheat, hops and

water to make the

wonderful nectar

we know as beer is

being practised by

individuals at home

more and more.

It's not for everyone,

but tasting a beer

you've brewed

yourself makes it all

the sweeter. Trust us.

BREWER'S GOLD

This complex,

bittering hops is

a mainstay in the

production of many

a great beer. It has

a sharp or pungent

bittering quality that

also imparts a fruity

and spicy aroma. You

will find it largely

in English ales and

German lagers, with

many brewers using it

to add a mysterious

European quality to

their beer. Gold is

good. Get some into

your beer diet.
---
BITTER

Bitters are a

quintessentially British

tradition. They are

a type of pale ale,

generally between

three and seven per

cent ABV, and can

vary widely in flavour

and appearance. Now,

normally bitters

conjour up scary

images of mangey

local pubs full of scary

men with tattoos who

may hurt you if you

order anything but

bitter. However, thanks

to the craft beer

movement, this much

maligned and 'old

school' style beer has

been given a modern

facelift.

BELGIUM

This is probably

as close to God's

country as you can

get when it comes to

good beer. The often

unremarkable (and

grey) landscape of the

heart of Europe is

home to an estimated

200 plus breweries.

Beer has been

intertwined with

Belgian history since

the 12th century

and is home to

some of the most

unusual types, styles

and traditions in the

industry.

People who like

Belgian beer, REALLY

like Belgian beer and

it's easy to see why. It

is a must-visit country

for beer aficionados.

A
---
BARREL

We don't need to

tell you what a barrel

is (hopefully), but

the use of barrels in

brewing is something

you should know

about. When beer is

transferred to a barrel

after brewing, it can

become a barrel-aged

beer, which can either

be a very traditional

or very experimental

process, depending

on the type and age

of barrel. Different

woods can infuse

different aromas into

a beer, as can length

of time stored. It's a

similar process used

in much whiskey

distilling and we are

very much fans of the

result.

BARLEY

In most normal

people, staring out

across open fields of

barley would probably

inspire thoughts of

farming, perhaps even

a romantic picnic

among the crop. But

to weirdoes like us,

we think of beer.

Barley is the preferred

grain when it comes

to beer. Once

converted into malt

barley, or just malt, it

is fit to be fermented

and transformed into

nectar. It is a hugely

versatile grain, with

the method and length

of toasting having a

huge impact on the

colour and the flavour

of the beer produced.

This grain is one of

the founding fathers

of the beer world, and

knowing your barley,

can help you enjoy

your beer that little

bit more.

BODY

We all want the

perfect body, right?

In beer terms body

is the weight or

thickness of the beer

when tasting it. Light

bodied beers are one

that feel physically

lighter in your palate

and are generally

more carbonated. IPAs

are normally lightbodied,

and to some,

easier to drink. Heavy

bodied beers feel a bit

thicker in the mouth

and can usually be

categorised as stouts

and so on. The truth

of the matter is, that

like the other kind of

body, everyone has

their own personal

preference.
---
WHAT'S THE NEXT BEST THING TO DRINKING

BEER? TALKING ABOUT BEER, OF COURSE.

AND IN THIS MODERN WORLD, THE WAY WE

DO THAT MORE OFTEN THAN NOT INVOLVES

SOCIAL MEDIA. SHARING BEER ADVENTURES

WITH YOUR FRIENDS AND THE WIDER WORLD

HAS NEVER BEEN EASIER, AND WE AT

HOPULIST WANT TO EXPERIENCE THEM TOO.

NEXT TIME YOU'RE OUT QUAFFING YOUR

FAVOURITE TIPPLE AND THINKING ABOUT

JUST HOW AWESOME A PHOTO OF IT WOULD

LOOK ON YOUR SOCIAL MEDIA PRESENCE,

MAKE SURE YOU SLAP #HOPULIST ON IT.

YOU NEVER KNOW, YOU MIGHT SEE YOUR

NAME UP IN LIGHTS IN OUR NEXT ISSUE.
---
@VERDANTBREW

@MIIR

@CHALICEINWONDER.LAND

@GJEST4

@BIERESDECHIMAY

@HOUSEGRAFTONBREWING

@CRAFTBEER_AND_MONICA

@HOPULISTMAGAZINE

@BEERSORT
---
CHIMAY BLUE

SCOURMONT

Style:

BELG|AN STRONG ALE

ABV: 9%

Volume: 33Cl
---
Only the most

studious of monks

could produce a

Trappist beer good

enough to get the

perfect score on

ratebeer.com. We

enter the complex

flavours and

powerful aromas

of Chimay Blue.

Nestled in the gentle,

green and relatively

flat country side of

southern Belgium, just three

kilometres from the French

border, stands the humble

Scourmont Abbey. Since

1850, this plateau has been

home to a group of Trappist

monks from the nearby

village of Chimay, where life

is characterised by prayer,

reading, manual work, and

also producing one of highest

rated Trappist beers in the

craft beer universe.

THE

GOLD

CLUB

IN THIS SERIES

WE EXAMINE THE

BEERS THAT WE

THINK HAVE TOUCHED

PERFECTION. JUST

HOW DO THEY DO IT?
---
THIS

AUTHENTIC

TRAPPIST

BEER IS

BREWED

WITHIN THE

MONASTERY

ITSELF UNDER

THE STRICT

CONTROL

OF THE

COMMUNITY

OF MONKS

WHO HAVE

CALLED

THIS AREA

HOME FOR

GENERATIONS.
---
The monks in this abbey have

long brewed fine beers to help raise

money to fund social projects and

help the local community, but surely

none of them could have predicted

over 150 years ago, just how

successful the Chimay name would

become.

The beer we're focusing on here

is Chimay Blue, one of the Trappist

abbey's most famous exports. It's a

dark ale with complex flavours that

hint of caramel and dark chocolate

and a powerful aroma – with a

powerful ABV of 9 per cent to

match.

This authentic Trappist beer

is brewed within the monastery

itself under the strict control of

the community of monks who

have called this area home for

generations.

It is dark brown in colour with a

strong head and is best served in a

goblet or chalice style glass to really

let the aromas dance around and do

their thing.

Better yet, the Chimay monastery

is also well known for producing

fine cheeses that it often makes

specifically to match its beers

(in the case of Chimay Blue, the

trustworthy monks recommend

Grand Chimay cheese).

Trappist beers are normally

popular and score well with beer

connoisseurs. This is because of

the strong ethics observed during

the brewing process and perhaps

also the fact that the monks main

aim is to make money to help their

community, not the line the pockets

of shareholders. All ingredients

are locally sourced and the beer is

made with care and attention. But

Chimay Blue is perhaps one of the

best success stories of this quaint

way that beer comes to the market.

It is exported all over the world and

enjoys mainstream success in many

European countries and the United

States.

We first tried Chimay Blue in a

very mainstream chain of public

houses here in the UK and we

were spellbound. For a dark ale, it

isn't too heavy and remains very

drinkable despite its high ABV. We

recommend you find you spiritual

side and ask your local monk to

pour you a glass right now. You

won't look back.
---
Our favourite

craft beers of

the moment.

So good we are

drinking them

at home.
---
CLOUDWATER

NW DIPA EKUANOT

DOUBLE IPA

It's difficult not to run

out of superlatives

when talking about

Cloudwater's series of

DIPA's. Incredibly complex

and perhaps sweeter

than previous beers, this

full on release from the

Manchester maestros is

very drinkable even at 9%.

Grab it whilst you can.

ABV: 9%

Colour: Hazy orange

Aroma: Citrus fruit

Taste: Pine & tropical fruit
---
LONELY PLANET X

NORTHERN MONK X

FIELDWORK BREWING

TRAVEL NOTES

INTERNATIONAL

IPA

Showcasing a world of

extraordinary flavours, as

explored in Lonely Planet's

new book Global Beer

Tour, Travel Notes features

five ingredients sourced

from five continents. So

much more than a novel

way to launch a book,

this is an interesting and

delicious IPA.

ABV: 6.5%

Colour: Hazy Orange

Aroma: Mango/tropical

Taste: Tropical fruit, grass

with bitter hop aftertaste
---
VOCATION

PURE PILSNER

CRAFT LAGER

Vocation's take on the

classic Pilsner lager using

authentic Pilsner malt and

European hops. Light and

refreshing with a citrus

feel. We know a beer is

about so much more than

the packaging but can we

just take some time to

appreciate this can design

without sounding self

indulgent?

ABV: 4.5%

Colour: Straw

Aroma: Subtle & refined

Taste: Clean & crisp
---
BREWSKI

BREWSKIVAL

PILSNER

Brewskival is the name

of an actual three-day

festival held in August

at Helsingborg, Sweden

each year (organised by

Brewski) that celebrates

beer, food and music. This

cleverly simple Pilsner is a

celebration of the event.

Its strong fruit citrus and

clean malt character lead

to an understated dry

finish.

ABV: 4.7%

Colour: Hazy gold

Aroma: Malt & citrus

Taste: Lemon
---
HITACHINO NEST

ESPRESSO STOUT

The recipe is based on an

imperial stout loved by a

Russian emporer. So if it's

good enough for royalty

it's good enough for us!

Espresso beans are added

during brewing for the

intense coffee flavours.

Dark fruits, vanilla and

chocolate round out this

beers complex taste.

ABV: 7%

Colour: Black

Aroma: Coffee & chocolate

Taste: Roasted coffee
---
O U RP U RE •

FM O RE FRO M

FOURPURE

SESSION IPA

Fourpure is a brewery

built on a passion for

beer and inspired by

travel. That said it's easy

to see the transatlantic

influences in their flagship

session IPA. With New

York as the inspiration big

and bold is the order of

the day especially on the

hop front.

ABV: 4.2%

Colour: Cloudy golden

Aroma: Grass/citrus

Taste: Grass/citrus
---
LITTLE CREATURES

PALE ALE

The birthplace of Little

Creatures was a former

crocodile farm - you don't

get any more Australian

than that! This Pale Ale

was their first offering

with serious citrus and

stone fruit flavours

balanced with a hint of

bitterness. It's clear to see

the American influences

that inspired them to

start brewing.

ABV: 6.5%

Colour: Amber

Aroma: Hoppy

Taste: Fruity
---
NEXT ISSUE READY FOR CONSUMPTION

DECEMBER 2017
---
! FACEBOOK.COM/ HOPULIST/

$ @HOPULISTMAGAZINE

SEARCH THE HASHTAGS:

#HOPULIST #HOPULISTMAG

E: INFO@HOPULIST.COM

W: HOPULIST.COM

TO ADVERTISE

OR IF YOU WOULD LIKE

YOUR BREWERY, TAP ROOM

OR PRODUCT TO APPEAR IN

HOPULIST PLEASE CONTACT:

INFO@HOPULIST.COM