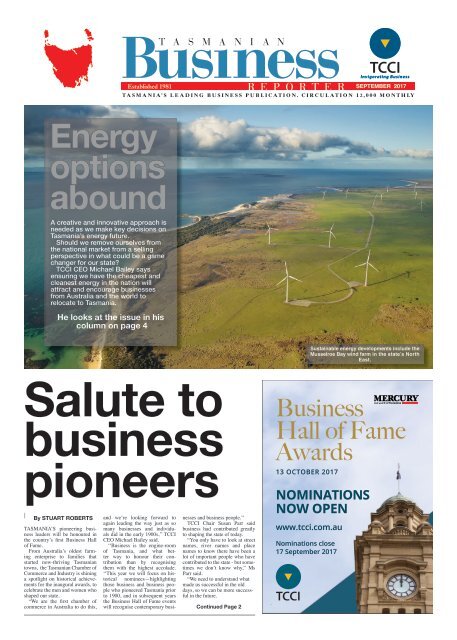 Tasmanian Business Reporter September 2017
Leading off this month, TCCI CEO Michael Bailey raises a number of hot topics from our place in the national energy market to the business opportunities stemming from investment in clean, affordable power. You'll also find the winners of the 2017 Employer of Choice Awards, new jobs in the thriving local cider industry and exciting pathways for future leaders.
Leading off this month, TCCI CEO Michael Bailey raises a number of hot topics from our place in the national energy market to the business opportunities stemming from investment in clean, affordable power.

You'll also find the winners of the 2017 Employer of Choice Awards, new jobs in the thriving local cider industry and exciting pathways for future leaders.
SHOW MORE
SHOW LESS
Create successful ePaper yourself
Turn your PDF publications into a flip-book with our unique Google optimized e-Paper software.
SEPTEMBER 2017

T A S M A N I A' S L E A D I N G B U S I N E S S P U B L I C A T I O N . C I R C U L A T I O N 1 2 , 0 0 0 M O N T H LY

Energy

options

abound

A creative and innovative approach is

needed as we make key decisions on

Tasmania's energy future.

Should we remove ourselves from

the national market from a selling

perspective in what could be a game

changer for our state?

TCCI CEO Michael Bailey says

ensuring we have the cheapest and

cleanest energy in the nation will

attract and encourage businesses

from Australia and the world to

relocate to Tasmania.

He looks at the issue in his

column on page 4

Sustainable energy developments include the

Musselroe Bay wind farm in the state's North

East.

Salute to

business

pioneers

By STUART ROBERTS

TASMANIA'S pioneering business

leaders will be honoured in

the country's first Business Hall

of Fame.

From Australia's oldest farming

enterprise to families that

started now-thriving Tasmanian

towns, the Tasmanian Chamber of

Commerce and Industry is shining

a spotlight on historical achievements

for the inaugural awards, to

celebrate the men and women who

shaped our state.

"We are the first chamber of

commerce in Australia to do this,

and we're looking forward to

again leading the way just as so

many businesses and individuals

did in the early 1900s,'' TCCI

CEO Michael Bailey said.

''Business is the engine-room

of Tasmania, and what better

way to honour their contribution

than by recognising

them with the highest accolade.

''This year we will focus on historical

nominees—highlighting

those business and business people

who pioneered Tasmania prior

to 1900, and in subsequent years

the Business Hall of Fame events

will recognise contemporary businesses

and business people.''

TCCI Chair Susan Parr said

business had contributed greatly

to shaping the state of today.

"You only have to look at street

names, river names and place

names to know there have been a

lot of important people who have

contributed to the state - but sometimes

we don't know why," Ms

Parr said.

"We need to understand what

made us successful in the old

days, so we can be more successful

in the future.

Continued Page 2

Business

Hall of Fame

Awards

13 OCTOBER 2017

NOMINATIONS

NOW OPEN

www.tcci.com.au

Nominations close

17 September 2017
---
2 Tasmanian Business Reporter - SEPTEMBER 2017

NEWS

Forum focus

on keen staff

TCCI salutes business pioneers

A NUMBER of leading

Tasmanian businesses

have attended a forum

on accessing an untapped

pool of work-ready staff.

Last month's forum,

"Finding Keen and Innovative

New Staff,"

provided an overview

of services available to

businesses who want to

employ people with disability.

Employers were informed

about how they

can access wage subsidies,

workplace support

and job-matching services.

All of these services

are delivered by disability

employment providers

and are free-of-charge.

Disability employment

providers have often

been overlooked during

recruitment. However,

the state government has

supported NDS initiative

JobsABILITY, which

highlights the importance

of disability employment

as well as its

benefits.

Supported by industry

bodies – TCCI, THA, TasICT

and Hobart Chamber

of Commerce – the

JobsABILITY forum

provided an opportunity

for businesses to network

with employment

providers; all of whom

have a number of candidates

ready and willing

to work.

Kylie Cashion, Talent

Specialist at TasNetworks

said it was a great

information session.

"Having the Disability

Employment Providers

there in person was very

helpful,'' she aid.

"It's clearly a very supportive

network."

More than 3,500 people

have registered with

disability employment

providers in Tasmania.

All of these jobseekers

have various skills and

qualities.

Some are looking for

entry level positions,

while others have experience

in their preferred

industries.

More than 33 per cent

of working Australians

with disability are employed

in managerial,

professional and administrative

roles.

With some jobseekers

looking for entry level

positions and Tasmanian

businesses requiring

skilled labour, the forum

also introduced businesses

to programs aimed at

supporting employers

with traineeships through

TCCI's Apprenticeship

Advisory Service and the

Ticket to Work program

(delivered by NDS).

The JobsABILITY initiative

offers a one-stopshop

for Tasmanian businesses.

More information can

be found at www.

JobsABILITY.org.au

e dition

T A S M A N I A' S L E A D I N G B U S I N E S S P U B L I C A T I O N . C I R C U L A T I O N 1 2 , 0 0 0 M O N T H LY

Tasmanian Business Reporter can now be delivered directly to your inbox. With our 30,000-strong monthly print

readership, our new up-to-date digital distribution will keep Tasmanians abreast of the all latest in local business

news. From this month we will distribute electronic editions of the Tasmanian Business Reporter as we go to print.

To confirm your copy sign up to our mailing list via

tbreditorial@fontpr.com.au

TCCI Events Manager Kristen Finnigan, left, TCCI CEO Michael Bailey and TCCI Chair Susan Parr.

From Page 1

"We could have GJ

Coles from Wilmot, we

could have Cuthbertson's

Shoe Tannery from

the Hobart Rivulet, or

we could even have the

oldest farm business in

Australia, Summerville

Farm, at Brighton."

Mr Bailey said it was

easy to take for granted

the achievements of our

forbears.

"We don't take enough

time to stop and think

about these people who

have done really incredible

things," said Mr Bailey.

"Some of the great

names of Tasmania, like

the Krushka brothers

who developed Derby

have almost been forgotten

and we're very keen

to make sure these great

names, great people and

organisations are ongoing.

"I suspect quite a number

of the nominees will

have been once forgotten,

but when we stop and

look at what they've developed

and how they've

created the Tasmania we

live in, we will see they

are important and deserving

of recognition.

"We plan to work very

closely with the aboriginal

community to ensure

these awards are respectful

across all Tasmanian

achievements."

Tasmanians are now

being asked to nominate

businesses and individuals

with a panel of experts

to decide the first

inductees across categories

including business

leader, agriculture, export,

transport and innovation.

Nominations are open

to all and close Sunday,

September 17.

The inaugural gala dinner

for inductees will be

on Friday, October 13.

Visit www.tcci.com.

au/Events/Hall-of-

Fame to nominate a

business or individual.

Tasmania's business newspaper is published monthly by the

Tasmanian Chamber of Commerce and Industry. It is distributed

to businesses in Tasmania as well as key decision-makers.

Circulation: 12,000

Managing Editor: Tom O'Meara

0418 135 822

Editor: Becher Townshend

0418 370 661

Advertising and Special Projects

Gil Sellars 0448 901 361

gil@thetrustedmediaco.com

Kerri Guardia 0419 750 267

kerri@thetrustedmediaco.com

Editorial & Advertising

TBReditorial@fontpr.com.au

www.tasmanianbusinessreporter.com.au

Publisher:

Tasmanian Chamber of Commerce and Industry

309 Liverpool St, Hobart, TAS 7000

Ph: 6236 3600 Fax: 6231 1278 admin@tcci.com.au

TFGA House, 194-196 Cimitiere St, Launceston TAS 7250

Ph: 6331 1144 laun@tcci.com.au

Production:

aldridge.media

Ph: 0431 241 775

aldridge.media@iinet.net.au

Printer: Mercury

Level 1, 2 Salamanca Square, Hobart, 7000

Toll's

new rail

hub on

track

A NEW $20 million

transport hub for Toll

Group has been approved

by Launceston

City Council.

TasRail has welcomed

the decision given Toll

Group will increase their

usage of Tasmania's rail

network as part of the development.

CEO Damien White

said the project signals

Toll's growing confidence

in expanding the

use of freight rail in Tasmania.

"Since TasRail recommenced

rail services to

Toll's Launceston facility

in March 2012 more than

60,000 containers have

moved on rail," Mr

White said.

"This generates significant

environmental,

safety and business benefits

to the Toll Group, its

customers and the community."

Thinking of selling or

buying a business?

Australia's largest specialist

business broker network is

now in Tasmania.

Call Dean Demeyer on

0419 382 359 for a FREE, no

obligation assessment

of your business.

www.finnbusinesssales.com.au
---
TASMANIA'S LEADING BUSINESS PUBLICATION. CIRCULATION 17,000 MONTHLY

Tasmanian Business Reporter - SEPTEMBER 2017 3

NEWS

Salmon in uncharted waters

A DRAFT Sustainable Industry

Growth Plan for Tasmanian

salmon has been

revealed as the State Government

attempts to navigate unchartered

waters of negativity

for the industry.

The plan includes a map

of Tasmania that identifies

"Grow Zones'' and

also salmon farm exclusion

areas, extending the

ban on new salmon farm

A HOSPITALITY training

program jointly developed by

Workskills and TasTAFE has

resulted in strong employment

outcomes for participants.

Workskills and TasTAFE

recently worked together to

develop a practical, handson

pilot training program

specific to the employment

requirements of various

hospitality businesses in the

greater Hobart region.

On completion of the training,

eight out of the 10 students

have secured sustainable

employment in related

hospitality roles.

The other two have moved

onto further training, undertaking

the full Certificate III

Hospitality qualification.

Workskills Employer

Services Manager Matthew

Dance said it was a fantastic

result.

"It's testament to the collaborative

model developed

between Workskills, Tas-

TAFE and hospitality organisations,"

Mr Dance said.

"There has been significant

support for the training model,

particularly in reference to

it being a fantastic method of

sourcing suitable and motivated

hospitality workers."

Mr Dance said the pilot

was in response to demand

for suitably trained workers

in the local hospitality sector.

"This collaborative approach

was based on industry

feedback that there was a

leases already announced

in Greater Mercury Passage

right along the East

Coast.

Tasmania's far North West

and King Island has been

identified as a salmon industry

"grow zone".

The "grow zones" have the

potential to significantly expand

the industry, and create

dozens of new jobs –

building on the 5200 jobs

significant gap between

entry-level requirements for

working in the sector, versus

those seeking hospitality-related

employment."

TasTAFE Drysdale South

Education Manager Jane

Richardson said Workskills

and TasTAFE were able

to mentor and support the

students through the pilot

program with the focus on

continually linking their

learnings to the requirements

for working in hospitality.

"Local hospitality businesses

were consulted

throughout the pre-screening

and training process," Ms

Richardson said.

The training program also

included a work placement in

a hospitality venue.

Mr Dance said that based

on the success of the pilot,

Workskills and TasTAFE will

continue to work collaboratively

in developing and

facilitating similarly targeted

training programs that will be

tailored to meet the needs of

employers in the local hospitality

sector.

"Local businesses will

continue to drive what programs

are developed. As

such, we strongly encourage

any organisations interested

to make contact," Mr Dance

said.

For more information contact

Carmen Walpole at Workskills

on 6262 5400 or email

jobs@workskills.org.au

supported by the $730million

industry.

The region has been identified

as potentially favourable

for growing salmon and already

Petuna Aquaculture has

indicated a desire to explore

future salmon farming near

Three Hummock Island.

The Plan will also include

"no grow zones'' like the banning

of salmon farm expansion

beyond the existing Okehampton

Bay lease into the

Mercury Passage area of the

East Coast.

Tassal is moving into place

a number of pens for the controversial

development near

Triabunna, which will eventually

include 28 pens and

800,000 fish.

The Government has also

released its Finfish Farming

Environmental Regulation Bill

2017, which permanently and

formally transfers powers over

day-to-day environmental regulation

of the finfish farming

industry to the independent

Environment Protection Authority

and an increased focus

on biosecurity through a new

appointment to the Marine

Farm Planning Review Panel.

"This important legislation

builds on measures we are already

undertaking including

the re-introduction of demerit

High hopes in hospitality training

Student and Workskills candidate Isabella Devereux and Hobart's Central Hotel

venue manager John Kalbfell.

WP - Advert Feb17 - Proof 4.pdf 1 24/02/2017 9:08:21 AM

points and significantly tougher

penalties for breaches of

licence conditions, so companies

could be fined millions

of dollars or face a loss of licence,"

Primary Industries

Minister Jeremy Rockliff said.

The new Bill and the Growth

Plan are available on the Department

of Primary Industries

website with public comment

for the Plan extended until

September 29.

MyState

suffers

fall in

profit

MYSTATE Limited has announced

a net profit of $30.1

million for the year to June

30, 2017, slightly below its

result last year.

Earnings per share were

34.0c, compared with 35.5c in

FY16.

The Directors have declared

an unchanged final dividend

of 14.5c per share, fully

franked.

MyState

Managing

Director

and Chief

Executive

Officer

Melos Sulicich

said

Melos

Sulicich

the slight

reduction in earnings reflected

a competitive environment

and the delivery of significant

transformational technology

projects.

"We expect to see operating

cost reductions and revenue

gains as efficiency gains are

delivered and we derive benefits

from enhanced market opportunities.

"It is particularly pleasing

that we continued to grow our

deposit and loan book while

maintaining strong credit

quality," Mr Sulicich said.

WANTED

Business

movers and

shakers

• Promotions

• Appointments

• Awards

• Celebrating

success

Share the news

with the

Tasmanian

business

community

SOLUTIONS

IN PRINT

your print specialist for over 90 years

Full Off-Set,

Digital and

Wide Format

Capabilities

Binding and

Finishing

Variable Data

and Mailing

Warehousing

and Distribution

Online Ordering

and Inventory

Management

Send your news

snippets, with a

high quality photo,

to TBReditorial@

fontpr.com.au

6391 8481 sales@paperstat.com.au

www.woolstonprinting.com.au
---
4 Tasmanian Business Reporter - SEPTEMBER 2017

THOUGHT LEADERSHIP

www.tcci.com.au

Opportunities abound in energy

Michael

Bailey

TCCI Chief Executive

TASMANIA has hit

plenty of hurdles since

it became a state of Australia

in 1901 but I firmly

believe our energy system

will take our economy

and population to

levels unthinkable only a

few years ago.

The penny dropped

during a recent meeting

of the Australian Chamber

of Commerce and

Industry in Brisbane with

business leaders and delegates

from around the

nation.

The challenge is to

understand the opportunities

and the process

needed to make it work

with the support of government,

the parliament,

business and the community.

But, it can't happen by

just flicking a switch.

Undoubtedly the number

one issue from all

players around the table

was the sky rocketing

prices of energy including

electricity and gas.

Not only have states

been challenged by energy

increases of 100 to

250 per cent, but they are

also working with questionable

back-up, as we

saw during Adelaide's

black-out earlier this

year.

This highlighted the

insecurity of South Australia's

delivery system

following the replacement

of coal power stations

with renewable

energy such as solar and

wind farms.

An example of the

challenges in South Australia

was shared by the

head of the South Australian

Chamber , Nigel

McBride.

Mr McBride revealed

that the much-heralded

battery plan now partnered

with renewable energy

giant, Tesla, would

only deliver four minutes

of power coverage

should they be hit by another

major blackout.

It's a hugely expensive

investment for little

outcome - there needs

to be a balance between

investing in new green

energy and actually delivering

price reductions

for customers.

Tasmania has a natural

and historical advantage.

Unlike other states that

sold off their energy generators,

we still own the

Hydro and wind farm

schemes that generate

our power.

While Tasmanian prices

are determined by a

national authority, it still

means that government

can intervene to soften

the increases through rebates,

capping prices to

CPI and reducing wholesale

prices for contract

customers. The value of

Tasmanian Market Intervention

through rebates

and caps for business

and domestics is just

over $100 million for

2017/18.

But the big decision is

to leave the national grid

from a purchasing perspective.

This removes the need

The Gordon River Dam - an example of Tasmania's pioneering hydro excellence.

for us to charge local usage

at a national price

and enable Hydro and

government to continue

to offer clean, green

power at the lowest price

in the nation.

In discussions with

Principal Consultant at

Goanna Energy, Marc

White, I've become

aware that removing ourselves

from the national

electricity market would

be quite complex.

One challenge is how

to manage long-term

agreements of selling energy

to the rest of Australia

through Basslink,

which is in the 13th year

of a 25-year deal costing

$90 million a year.

Mr White says there

are risks and rewards,

which is why the State

Treasury is undertaking

a major review that includes

withdrawing from

the national system, or

staying and grabbing an

opportunity to sell even

more energy at the highest

prices into the national

grid. I'm not the decision

maker in this battle

and I'm looking forward

to meetings with my

TCCI Board members

who will inject a creative

and innovative approach

to what could be a game

changer for Tasmania's

future.

By ensuring we have

the cheapest and cleanest

energy in the nation, it

will attract and encourage

businesses from other

parts of Australia and

overseas to relocate to

Tasmania.

Similarly this will also

appeal to interstate families

now struggling to

stump up a deposit to buy

a home, or to pay soaring

power bills.

What an opportunity to

relocate to a job creating

state with modest house

prices and the lowest energy

prices in the country.

Employer of Choice Awards 2018

Recognising contemporary workplace practices and outstanding

support for staff.

Being chosen as an Employer of Choice helps Tasmanian employers win

new customers and attract skilled employees.

If you want to give your business a competitive edge, entries for the

2018 Employer of Choice Awards are open now.

Guidelines and entry form available at www.business.tas.gov.au/eoc

Entries close 15 December 2017

For more information and help with your entry contact

Business Tasmania on 1800 440 026 or email ask@business.tas.gov.au

Skills Tasmania

Department of State Growth

Job funds flow in regions

Sally

Chandler

Tradestart Adviser

THE Regional Jobs and

Investment Packages

initiative is a $220 million

investment by the

Australian Government

to help diversify regional

economies, stimulate

economic growth and

deliver sustainable employment

in 10 pilot regions

around Australia.

Regional Tasmania is

one of the pilot regions

and the amount allocated

to the state is $25 million.

Grants will be awarded

on a merit basis and

applicants are required

to provide co-funding towards

their project.

Grant funding will be

up to 50 per cent of eligible

project costs.

Funding is available

across the three streams

of local infrastructure,

business innovation, and,

skills and training.

Local infrastructure

grants are for local government

bodies and

agencies and not-forprofit

organisations to invest

in new or upgraded

infrastructure projects.

Business innovation

grants will enable businesses

to build scale and

capability to be competitive

in new or growing

markets that create sustainable

employment

and I encourage all exporters

to consider how

they may apply for grant

funding.

The minimum grant

amount is $50,000 and

the project must be completed

by June 30, 2020.

The expected outcomes

of a grant under

this stream are to:-

• create new local jobs;

• contribute to boosting

the skills and knowledge

of employees and

people in the region;

• create new or improved

business services,

products or goods that

generate a benefit;

• enable local businesses

to reach new customers,

locally, nationally

and overseas;

• contribute to boosting

the competitiveness,

productivity and profitability

of regional businesses

beyond the period

of funding; and

• allow regional businesses

to take advantage

of future opportunities.

Skills and training

grants will provide funding

to local government

bodies and agencies and

not-for-profits.

These projects will

support training and

up-skilling of the regional

workforce to meet regional

priorities, take

advantage of emerging

opportunities and withstand

major labour market

changes.

To apply, applicants

must:

a) complete the relevant

application form on

www.business.gov.au;

b) provide all the information

requested;

c) address all eligibility

and merit criteria; and,

d) include all necessary

attachments.

There are different application

forms for each

stream and applications

close on October 19,

2017.

For international

trade and investment

assistance contact the

TCCI's TradeStart Adviser,

Sally Chandler,

at sally.chandler@tcci.

com.au or phone 1300

559 122.
---
THOUGHT LEADERSHIP

IT WAS only two years

ago when we were sobbing

into our whisky

glasses that the development

of trade was stifled

due to our lack of international

shipping and our

State Government was

looking to offer an incentive

for a shipping line to

come to our island and

help us develop this neglected

space.

The extension of

the Tasmanian Freight

Equalisation Scheme

came through as a better

option and as such

has allowed exporters to

be more competitive in

international trade but

BUSINESS

2

BUSINESS

YOUR QUICK GUIDE TO SERVICES AND PRODUCTS FOR YOUR BUSINESS

SPECIALISTS IN OFFICE

FURNITURE SINCE 2001

At Flair Office Furniture, we've specialised in

keeping Tasmania's Businesses well stocked in

office furniture since 2001.

FOR SALE OR FOR HIRE - THROUGHOUT TASMANIA

Phone 6234 1127

260 Argyle Street,

North Hobart

Question over sustainability

The future of our freight

Near

miss

gives

free hit

By CRAIG

HORTLE

ONE of the best teachers

in life is experience.

However experience can

also be a painful teacher

if the consequences of

the actions directly affect

you.

The WHS legislation

requires that a business

needs to ensure the

PCBU has appropriate

processes to receive and

consider information

about work-related incidents,

hazards and risks,

and to respond in a timely

manner.

The purpose of this is

to create a work environment

that is able to inves-

Brett

Charlton

Agility Logistics

also to have confidence

in their focus and invest

inwards with plant and

equipment and research.

A well-respected Tasmanian-bred

shipping

executive said at a Tasmanian

Logistics Committee

forum at the beginning

of the year that

Tasmanians have never

had it as good for

freighting to and from

tigate incidents or accidents

so that hazards and

risks can be eliminated.

We learn from previous

experience.

Each workplace should

have a mechanism for

reporting and investing

incidents, accidents and

near misses (any event

that could have resulted

in an accident or incident

but did not).

There a number of

methodologies for accident

investigation. What

www.flairofficefurniture.com.au

Tasmania. The TFES

extended for export,

the increase of capacity

of Searoad and the

two new vessels coming

from Toll in 2018, MSC

calling direct into Bell

Bay, Maersk calling direct

into Bell Bay, Swire

calling into Hobart and

the likes of CMA CGM,

ANL, PIL, Hamburg Sud

and OOCL all servicing

Create a workplace that eliminates risk

Tasmania via our feeder

services.

Tasmania has not seen

as much competition

in its market for I don't

know how long.

Another major shipping

line is dipping its

toe into Tasmania in September

(via the coastal

shipping services) and

DP World is well down

the track in the investment

into Burnie port

with the view to attract

international services.

The same shipping

company executive also

said "enjoy it now, because

it is not sustainable".

method you may use

needs to identify clearly

an outcome addresses the

factors that led up to incident/accident

and what

factors occurred during

the incident. Some investigations

look for factors

into the following areas:

• people – information

relating to witnesses

and personnel associated

with the incident;

• environment – information

relating to weather,

workplace and incident

scene;

• equipment – information

relating to vehicles,

plant, tools, infrastructure

etc;

• procedures – information

relating to documents,

reports, charts,

maps etc; and

• organisation – information

on training, communication,

resources,

organisational culture

and management etc

This provides for clear

definition of the areas

To see your business here, call Kerri on 0419 750 267 or email kerri@thetrustedmediaco.com

This is where we need

to be thinking at the moment.

I do not want to be

alarmist, but it is important

to consider the future

in the shipping space.

If we have emerging

significant volumes then

the new capacity and

competition is welcome,

but if the pie is the same

size and global players

have the ability to capture

volumes, then there

is some risk to the coastal

trade currently in place.

Competition is good for

traders in Tasmania, but

sustainability must be

part of the plan.

and factors that contributed

to the event and

what areas need change.

A near miss provides a

"free hit" in that no person

was injured or damage

to plant or machinery.

But it gives opportunity

for the near miss to be

investigated and the outcomes

implemented to

prevent the potential for

the problem to injure or

damage plant.

The information gathered

from the investigation

can also be used to

mitigate hazard and risk

in other business areas.

The information that

is obtained from investigation

needs to be clearly

communicated throughout

the business and any

new policy or procedure

resulting from the incident

or accident should

be consulted on with the

workers who are affected.

Contact Craig Hortle

or Janelle Whitehouse

on 1300 559 122

safety@TCCI.com.au

Tasmanian Business Reporter - SEPTEMBER 2017 5

www.tcci.com.au

Make clear

rules around

personal leave

Abbey

George

AT TCCI we often get questions about personal

leave and what employers can and can't ask for.

As set out in the Fair Work Act 2009 s107, employees

have notice and evidence requirements

they must adhere to regarding personal leave.

They being:

• giving the employer notice of the leave as

soon as practicable (which may be a time after

the leave has started);

• advising the employer of the period, or expected

period, of the leave; and

• if requested, provide the employer evidence

that would satisfy a reasonable person.

What evidence this is will depend on each

particular circumstance, for example:

• Is it before/after a weekend, leave etc?

• Is there a history of taking personal leave?

• Are there policies or procedures or an Enterprise

Agreement in place that addresses when

evidence is required and what form it takes?

• What is the common practice? For example

in the past has any leave greater than two consecutive

days required evidence?

The above is by no means a comprehensive

list. We have seen an increase in the providing

of pharmacist certificates as evidence that

would satisfy a reasonable person.

As a general principle, a certificate can be

from a registered health practitioner (pharmacist,

chiropractor, dentist, psychologist or the

like, but it must relate to their area of expertise.

In a nutshell, there are a few lessons for employers

in relation to personal leave:

• Having a clear social personal leave policy

is important;

• be mindful when performance managing –

an employer cannot performance manage because

the employee is taking the leave (which

is a workplace right) but if they are not following

policies and procedures or they have provided

fraudulent information (think calling into

work sick and then posting a picture on Facebook

of them being at a party);

• Medical evidence is important; and is dependent

on the circumstances of each case.

Contact the Helpline on 1300 765 123 or

the TCCI on 1300 59 122 or workplacerelations@tcci.com.au

Printing Technology

and Tradition.

Here's just some of the things we do regularly...

• Books • Magazines • Newsletters • Catalogues • Annual Reports

• Business Cards • Letterheads • Posters • Flyers • Corporate Branding

• Logo Design • Packaging • Wine Labels • Stickers • Swing Tags

• Mail-Outs • Folders • Forms & Invoices • Variable Data Printing

• Language Translation • Web Design • Proof Reading

• Copywriting • Large Format Signage & Display

Whatever your needs, get in touch.

We're here to help.

more than just fine printers.

p. 03 6332 1400

www.footandplaysted.com.au

99-109 charles street launceston tasmania 7250

Workplace Relations
---
6 Tasmanian Business Reporter - SEPTEMBER 2017

FOCUS ON BUSINESS

Telstra's

network

for the

future

TELSTRA has completed

a major upgrade of

Tasmania's backbone

network.

Tasmania has become

the first state to benefit

from the transformation

of Telstra's national

transmission network using

next generation optical

transport networking

to increase capacity and

flexibility, improve resilience

and move towards

setting up the country

for new technologies, including

5G and the Internet

of Things.

Telstra Area General

Manager Michael Patterson

and Director of

IP and Transport Engineering

David Robertson

unveiled in Hobart

the first completed stage

of Telstra's transmission

network transformation,

which is a foundational

investment in building

our Networks for the Future

to meet the growing

demands of Telstra's

consumer and business

customers.

"With the explosion

in smart devices, video

streaming and cloud

computing we are forecasting

that Telstra will

have five times the traffic

on our network over

the next five years and

more than four times the

devices than we have today.

This transmission

upgrade project is about

making sure we have the

capacity in place to meet

these demands," Mr Patterson

said.

"Everything from mobiles

to business products

to our NBN services

relies on our transmission

network, which

forms the backbone of

our national network.

"Tasmania is the first

The first completed stage of Telstra's Tasmanian backbone network.

state to have this work

completed as part of a

three-year plan to upgrade

the national transmission

network, which

is great news for local

businesses and consumers."

The upgrade will increase

Telstra's network

capacity across Bass

Strait from 400 Gigabit

to 1 Terabit per second

on each of Telstra's

two subsea cables – the

equivalent of 200,000

HD videos being

streamed simultaneously

on each of Telstra's subsea

cables running across

Bass Strait.The transmission

capacity has also

been enhanced within the

state, with capacity between

Burnie and Hobart

increased by 30 per cent

to 1 Terabit per second.

"The next generation

optical transport

technology offers

huge upside for supporting

future growth.

With future system deployments

we are expected

to be capable to

scale up to more than

100 Terabits per second

on both our undersea

and overland cables," Mr

Patterson said.

"The benefits of this

upgrade are not just more

capacity. The multi-path

structure between major

urban centres in Tasmania,

combined with the

"mesh" approach we

have used in designing

the network, means this

investment improves the

resiliency and robustness

of our network now and

into the future through

the ability to have a programmable

network between

Melbourne, Launceston

and Hobart, while

also reducing power per

bit usage by up to 40 per

cent."

A total of 20 exchanges

in Tasmania have

been upgraded as part

of this project, including

sites in Burnie, Devonport,

Launceston and

Hobart.

The Tasmanian stage

of the project has been

completed with the support

of Telstra's technology

partner Ericsson,

utilising the next generation

of converged packet-optical

solutions from

Ciena.
---
Tasmanian Business Reporter - SEPTEMBER 2017 7

FOCUS ON BUSINESS

Flinders Island gets connected

Mobile black spots are being

removed and a once-in-ageneration

network upgrade

is under way on Flinders

Island as Telstra continues

to boost Tasmania's regional

communities

AN $11 million project

will see Flinders

Island provided with

dramatically improved

telecommunications

services for residents

and the island's many

visitors, as well as for

essential services such

as health and education.

The upgrade will enable

4GX for the first

time, as well as additional

mobile coverage

and transmission upgrades.

Telstra is providing

$1.6 million towards

the upgrade, with the

Federal Liberal Government's

Building

Better Regions Fund

to commit $7,879,960,

the Flinders Council

$770,000 and

$350,000 from the Tas-

manian Liberal Government.

Telstra Area General

Manager Michael Patterson

said planning

had started and construction

was expected

to begin in February

2018.

The first of the mobile

network upgrades

were planned to be

completed by late 2018.

"This project is a terrific

collaboration between

the three levels

of government and Telstra,"

he said. "Flinders

Council has shown tremendous

leadership in

working with stakeholders

and being successful

in the highly

competitive Federal

Government's Building

Better Regions Fund

program."

At the Sisters Beach mobile black spot tower are Mayor Robby Walsh,

left, Senator David Bushby and Telstra Area General Manager

Michael Patterson.

"This is a

once-in-a-generation

network upgrade that

will provide Flinders

Island with dramatically

improved telecommunications

services,"

Mr Paterson said.

The funding provides

the ability to enable

4GX for the first

time, as well as additional

mobile coverage

and transmission upgrades.

Flinders and Cape Barren Islands

Telecomms Transformation Project

• Upgrade transmission capacity between Launceston and

Waterhouse (Tasmania).

• New generation IP Microwave Radio System between

Waterhouse and Flinders Island.

• New 76km Optical Fibre link joining major population

centres on Flinders Island.

• Two new Ethernet Microwave Radio System on Flinders

Island.

• Upgrade four existing 3G mobile Sites to 4GX capability

(Mt Tanner, Middle Patriarch, Hayes Hill, Vinegar Hill)

• Construct four new 3G/4GX Mobile sites (Killecrankie,

Palana, Blue Rocks, Cape Barren)

• Fast broadband for school, hospital, emergency

services and Flinders Council

Program targetting

mobile black spots

TELSTRA is committed

to providing improved

mobile coverage to

regional and remote

Australia.

"As the first carrier to

bring 4G mobile services

to regional

Australia,

we are

excited

to extend

the latest

technologies,"

Telstra

Area

General

Manager

Michael

Patterson

said.

"Nunamara

and

Targa are

now benefitting

from

improved mobile coverage

as Telstra's rollout of

the Mobile Black Spot

Program continues.

"Co-funded by Telstra,

Federal and State

Government, these two

base stations will bring

expanded coverage for

Telstra Mobile

Black Spot

Program

• Gawler (planned)

• Loyetea (planned)

• South Riana (planned)

• Cramps Bay (planned)

• Melrose (planned)

• Lulworth (complete)

• Eggs And Bacon Bay

(complete)

• Nunamara(complete)

• Targa (complete)

• Mole Creek (complete)

• Rossarden(complete)

• Whitefoord (complete)

• Elliott (planned)

• Waratah/Wynyard Sisters

Beach (complete)

residents as well as visitors

to local attractions

such as Myrtle Park and

Mt Barrow.

"Telstra is also continuing

to install up

to 250 Small Cells to

deliver

high-speed

4G data

services

in some

country

towns

where suitable

Telstra

infrastructure

is

available.

We have

delivered

new mobile

coverage

to eight

locations in

Tasmania

under the MBSP (see

breakout) with more to

come online soon. We

have also rolled out innovative

4G small cells

at another 10 locations

delivering high speed

mobile connectivity to

more parts of Tasmania.
---
8 Tasmanian Business Reporter - SEPTEMBER 2017

THOUGHT LEADERSHIP

Battling business costs

www.tcci.com.au

Support for 2022

renewable energy

ON behalf of the Hodgman

Government, I congratulate

Tasmanian businesses for

their continuing strong performance

and confidence in

the future.

ABS figures show that retail

turnover in the state continues

to set records and a

recent EMRS survey found

that nearly half of Tasmania's

small businesses are looking

forward to employing more

people in the next two years.

These are fantastic trends

and we will do everything we

can to see them continue and

spread to all businesses and

all parts of Tasmania.

In particular, the Hodgman

Liberal Government will

continue to act decisively to

limit the cost of doing business

in Tasmania.

The 2017-18 budget contained

nearly $20 million incentives

to reduce the costs of

employing new apprentices,

trainees and young people.

We have taken action to cap

increases to power bills for

regulated small business customers,

limiting increases to

the equivalent of CPI, and we

introduced $20 million in zero-interest

energy efficiency

loans to help small businesses

reduce their power bills in the

longer term.

We are one of only two state

governments to take action to

minimise the cost burden on

larger business operating in

the volatile, unregulated national

energy market. Major

reductions to wholesale contract

power price of up to 35

per cent mean real savings for

these larger businesses and

employers.

We have introduced new

legislation to take control of

water and sewerage in Tasmania,

including the ability

to regulate prices, remove

the need to generate profits

from these services and better

manage issues like Taswater's

Roger Jaensch discusses small business ownership

with Serenade Cafe owner Stephen Daft in Queenstown.

trade waste policy, which we

know is causing problems for

many businesses.

We have continued to find

and fix red tape that causes

unnecessary cost and delay

for businesses and their clients.

Our Red Tape Reduction

Unit has achieved a clearance

rate of about 80 per cent of

red tape issues raised by businesses

and industry bodies so

far, and is always looking for

new challenges.

And we continue to upgrade

our Business Tasmania

website and referral service,

which can save businesses

time and money by having information

about all available

business advisory services,

training opportunities, grants

and assistance programs in

one place online, and over the

phone.

For more information on

the initiatives mentioned here,

to see the EMRS survey findings

or to report new red tape

issues you have encountered,

please visit the new Business

Tasmania website at www.

business.tas.gov.au, or phone

1800 440 026.

TWO big energy reports have

been released in the last few

weeks full of goals for the

future and cautionary tales

when it comes to energy security.

The first to be made public

was the report compiled by

the Parliament's Public Accounts

Committee, of which I

am a member.

Chaired by independent

MLC Ivan Dean, the committee

took an enormous amount

of evidence from a broad

range of sources.

The process is probably

best remembered by a standoff

between the committee

and Treasurer Peter Gutwein

over "that letter".

The letter, which still hasn't

seen the light of day, details

the Government's plan to sell

the Tamar Valley Power Station.

Both the Public Accounts

Committee report and the Energy

Security Taskforce report

called for the retention

and ongoing use of the power

station as an energy security

insurance policy.

At the risk of getting too

political in these pages, putting

it on the market has been

proven to be a very bad decision,

both in terms of energy

security and locking in vital

gas contracts.

But while the reports provided

context by looking

back, they predominantly

looked forward with clear

goals for Tasmania's energy

security future.

The idea of Tasmania being

100% self-sufficient is one

Labor has long been a champion

of.

If by 2022 our energy suppy

is 100% renewable, it would

be an outcome we could be

very proud of as a state.

We know there is likely to be

Continued Page 9
---
Tasmanian Business Reporter - SEPTEMBER 2017 9

THOUGHT LEADERSHIP

Moulding future leaders

TASMANIAN Leaders

is a respected not-forprofit

organisation that

identifies and develops

leaders who are committed

to influencing a successful

future for Tasmania.

Their core product, the

Tasmanian Leaders Program,

offers participants

a unique life-changing

professional development

experience that

achieves positive outcomes

for themselves

and their employers.

The program, now in

its eleventh year, brings

participants together at

regular intervals to explore

Tasmania's future

and undertake professional

development with

some of the country's

best leadership practitioners.

This formula is proven

to increase leadership capacity,

general business

acumen and community

awareness of all participants.

Kirby Dillon applied

for the 2017 Tasmanian

Leaders Program wanting

to develop her leadership

skills and identify

ways that that these skills

could be used both within

her workplace and in

the wider community

and with organisations

that she works with.

Support for 2022 renewable energy quest

2017 Tasmanian Leaders Program participants Kirby Dillon and Michael Woodward.

"I was drawn to the

program as it is Tasmanian

based and also provides

the opportunity to

work with other emerging

leaders within the

state," she said.

"The program has exceeded

my expectations

in many ways. I am half

way through the program

and already have a much

greater understanding

From page 8

additional wind energy

coming online with

both the Granville Harbour

project on the West

Coast and the Wild Cattle

Hill project in the Central

Highlands looking good.

We would have liked

to see both these projects

further progressed by

now but they both have

bipartisan support which

is important.

In the short-term, Tasmania

faces some challenges

when it comes to

the cost of energy and the

long-term future of gas

contracts.

Labor wants to see

gas contracts between

Hydro and the Tasmanian

Gas Pipeline finalised

as soon as possible.

Our major employers,

like Bell Bay Aluminium

and TEMCO deserve

certainty.

And there's power

of the unique challenges

and opportunities our

state faces.

"The calibre of speakers

that we have had the

opportunity to meet and

work with has been inspirational.

"I am continuing to

learn about my strengths

and weaknesses and how

to challenge myself and

develop these areas.

"Also having the opportunity

to get to know

and work with the 23

other participants is fantastic."

Kirby recommends

the program to "anyone

wanting to be inspired,

challenged, gain greater

self-awareness and for

those wanting to better

our state and community."

Wind farms are one of the renewable energy

options for the future.

price pain for a lot of

small-medium sized

businesses and not-forprofit

organisations.

High-potential leaders

from across all sectors

wanting to accelerate

their leadership capacity

by being challenged and

inspired in an immersive

learning environment are

invited to apply for the

2018 Program.

More information:

www.tasmanianleaders.org.au.

We've been talking

to businesses and organisations

facing an

increase in the vicinity

of 100%.

While we acknowledge

the Government

is offering modest relief

to some customers,

many businesses will

still struggle to absorb

the cost increases.

www.tcci.com.au

Perceived

risk affects

sale price

Dean

Demeyer

Business Broker

TWO similar businesses with similar profits

can sell for different amounts because of the

perceived risk a buyer ascribes to each business.

Buyers perceive risk from what they see and

hear about your business, your industry and the

economy in general.

There is no generic set of business risk factors

that apply to all businesses, though the following

are generally the most important for increasing

your business value.

Profitability is generally the most important

factor. The three aspects of business profitability

to consider are level of profit, sustainability

of profit, and future growth potential.

Good financial records provide a buyer with

confidence as to the level of current profitability.

Records should include accountant-prepared

financial statements for at least the last

three years, and internal management accounts

for the current year-to-date.

The more up-to-date the available information

is, the lower the perceived risk.

Having a broad client base also lowers perceived

risk. Businesses that have a higher concentration

of clients making up a large percentage

of revenue and profit are seen as having

higher risk.

Business service/product offerings also affects

risk. Services or products that are required

on an ongoing basis ( accountants,

wholesalers) are preferred to one-off products

or services providers ( contracting, consultants)

who are constantly looking for new clients.

Supplier security will also lower risk. Strong

agency agreements, government licences, franchise

businesses or simply a broad range of

suppliers are seen to have lower risk.

The more competition that exists, the higher

the risk. Other considerations include business

location, strength of the lease, initial working

capital requirements, the age and condition of

tangible assets, trading hours, owner's duties

and involvement in management, and exposure

to business disruption through technology (eg

DVD stores) or changes to government legislation.

Training is so Yesterday!

Professional coaching brings out the

best in your people.

Transformative Workplace Coaching Packages

www.flourishing.com.au | 0427679742
---
10 Tasmanian Business Reporter - SEPTEMBER 2017

NEWS

Directors back

not-for-profits

NOT-for-Profit organisations are

the lifeblood of our communities.

Hospitals, schools, disability services,

local sports, the arts – the

sector makes vital contributions in

almost every area of society.

Currently, NFPs are experiencing

a period of unprecedented change.

They face an evolving regulatory

landscape, the emergence of new

funding models and an increasingly

complex operational environment,

which combined mean governance

has never been more important for

the sector.

A large part of the work of the

Australian Institute of Company

Directors is to support not-for-profits

and to strengthen governance

across the sector.

Each year the AICD produces the

Not-for-Profit Governance and Performance

Study, which provides a

snapshot of how the sector is faring,

as well as lessons for NFP leaders,

governments and regulators in how

they can work together to help the

sector continue to thrive.

This year the study examined

how, during this time of disruption

and change, NFPs are building

foundations for long-term success.

It explored issues of organisational

culture, risk and reputation

management and the challenge

many NFPs face to maintain financial

sustainability.

As the National Disability Insurance

Scheme is rolled out across

Australia, this year's study also examined

how NFPs working in the

disability sector were adapting to

the changes presented by its implementation

The study will be available in early

September.

The AICD will be holding events

in Hobart on September 19 and

Launceston on September 20 to run

through the findings of the research,

pulling out practical insights to

help directors of NFPs in their roles

overseeing their organisation's mission.

In November, the AICD will also

be holding its NFP directors course,

Governance Foundations for Notfor-Profit

Directors, in Hobart.

The course provides participants

with an understanding of the roles

and responsibilities of NFP directors

in the areas of governance, risk,

financial performance and strategy.

The course is designed to help

NFP directors steer their organisations

to success in fulfilling their

missions.

For more information contact

03 6242 2200

Awards recognise top bosses

ENTRIES are now open for Tasmania's

Employer of Choice Awards

2018.

The awards recognise organisations

that demonstrate contemporary

workplace practices and outstanding

support for their staff, including opportunities

for employees to build an

effective work-life balance.

Since its inception in 2007, 84 organisations

have been recognised as

Employers of Choice.

Employers of Choice build Tasmania's

reputation as a great place

to work and live.

Celebrating excellent workplaces

helps Tasmania to attract and retain

highly skilled people that drive innovation

and achievement in our state.

Employer of Choice accreditation

is a highly sought after and recognised

tick of approval among our

business, community and service

sectors, as judged by the business

community itself.

These companies demonstrate

a commitment to supporting work

life balance, employee engagement,

communication, leadership and continuous

improvement.

People that have a great place to

work are more productive, they advocate

for their employer and help Tasmanian

businesses to provide better

services and win new customers.

On entering the Awards in 2016,

the team at The Dental Surgery, Newstead,

realised how far they had come

in building a successful business over

the last five years

Practice manager Greer Powell

said that measuring the business

State Growth Minister Matthew Groom presents the Employer of

Choice Award to Dr Chris Sanzaro, Director, The Dental Surgery

Newstead.

against a stringent set of criteria ultimately

determined that this is a workplace

where staff could work, grow

and achieve.

"The judging panel facilitated conversations

with both management

and members of the team to examine

not only the past successes of

the business, but our current position

and strategic planning into the future.

"These discussions in themselves

were a great team building process

for all involved," Ms Powell said.

The 2018 Employer of Choice

Awards are open to small, medium

and large organisations employing

staff in Tasmania. Entries close on

December 15, 2017.

For more information, visit

www.business.tas.gov.au/eoc

Powered by
---
5

DAYS

CAN MAKE ALL

THE DIFFERENCE

Our world-class Company Directors Course will help improve

your performance and accelerate your career.

Upcoming dates: (five days over two weeks excluding weekends)

Monday 23 October to Wednesday 1 November 2017

Thursday 18 to Wednesday 24 January 2018

Enrol now t: 03 6242 2200

w: companydirectors.com.au/tas5days

05958-3_17
---
12 Tasmanian Business Reporter - SEPTEMBER 2017

FOCUS ON BUSINESS

Making the right connections

A new Tasmanian recruitment

company is helping local businesses

to meet the skilled staff shortage

EVERYONE involved

in Tasmanian business

is aware that in many

industry sectors there's

a critical shortage of

skilled professional staff.

Just ask anyone in

the hospitality industry

whether they have

enough chefs. Or talk to

people in health care and

aged care about the need

for more qualified nurses

or experienced aged care

workers.

Tasmanian employers

are often unable to

source the right local

staff to fill the vacancies,

so they need to look further

afield.

New Tasmanian recruitment

specialists Divergence

has developed

an innovative business

model that is already assisting

local employers

to find – and more importantly,

to hold onto – the

skilled staff they need.

Divergence director

Adrian Sampson explains

that the firm was

established specifically

for Tasmanian business-

es, addressing the staff

shortage challenge head

on, but at the same time,

being aware that to build

long-term relationships,

it's critical to match the

right people with the

right positions.

"Ideally, we advocate

that local businesses

should look locally first,

but when that doesn't

work, where do you go?"

he asks.

"That's where our extensive

networks can assist,

because we believe

no Tasmanian business

should have to operate

with a vacant position

that they'd rather fill."

In many cases, Divergence

is targeting international

professionals

already working in Australia

and encouraging

them to move to Tasmania

and gain permanent

Australian residence in

Australia through the Regional

Sponsored Migration

Scheme.

"Many of the skilled

staff we need are just a

domestic flight away and

Divergence director Adrian Sampson offers an extensive network for skilled staff recruitment.

plenty of them are keen

to take up the opportunity

to move to Tasmania

to live and work," Mr

Sampson says.

The RSMS is an Australian

Government initiative

that aims to assist

regional areas of the

country, including Tasmania,

to attract skilled

workers.

The scheme offers a

permanent Australian

residence visa for people

who want to work in

regional Australia and

have been nominated for

a placement by an approved

employer.

Mr Sampson says that

to encourage people to

move permanently to

Tasmania, it's important

to make the process as

smooth as possible for

both the candidates and

local employers.

"Divergence offers

a seamless, end-to-end

migration service that

is simple, timely and

cost-effective for all involved,"

Mr Sampson

says.

"The innovative aspect

of the Divergence

approach is that the candidates

make their own

financial contribution towards

the costs of migration

services, rather than

the sponsoring employer

carrying all the expense.

This means the employees

have a strong

incentive to commit to

their new positions and

become key professionals

for their new employers."

An example of the

end-to-end service provided

by Divergence is

seen in the company's

comprehensive relocation

support program.

As Mr Adrian Sampson

explains, the all-inclusive

migration services

smooth the way

for a candidate's move to

Tasmania, assisting with

employment or work

experience placements

as well as advising on a

range of temporary and

permanent visa options.

"Then, after candidates

have arrived, Divergence

follows through with onground

support, which

can include information

and assistance about a

variety of local administrative

services and

even a tailored induction

process to the business

they're joining, so candidates

are immediately

ready to make a valuable

contribution in their

new professional life in

Tasmania," Mr Sampson

says.

It's all part of the way

that Divergence is doing

things differently, for

the benefit of Tasmanian

businesses and for the

talented professionals.
---
Robot's eye on sea

AN innovative new autonomous

underwater

vehicle capable of diving

up to 5,000 metres has

been launched to assist

with Antarctic research

missions.

The $5 million AUV

was unveiled at the University

of Tasmania's

Australian Maritime College

last month.

During an official ceremony,

the self-powered

and untethered

free-swimming robot,

was granted the name

nupiri muka, which

means "eye of the sea"

in palawa kani, the language

of Tasmanian Aborigines.

AUVs are equipped

with a range of sensors

that gather information

about the surrounding

environment, for example,

the shape and composition

of the seabed

and underneath the sea

ice; the temperature, saltiness

and chemical composition

of the water;

and the detection of geographical

features and

man-made structures.

A CHARITY committed

to combatting cases

of social injustice in

Australia was named the

2017 Telstra Tasmanian

Business of the Year at

the 25th annual awards.

BIG hART was set up

as an innovative experiment

to find new ways of

dealing with social disadvantage.

The collective unearths

cases of hidden injustice

and works closely with

those experiencing the

issue to overcome it and

AMC AUV facility coordinator

Peter King said

the features of the polar

underwater robot made

it ideal for deployment

in challenging, under-ice

conditions.

"The seven-metre

long, one-and-a-half

tonne nupiri muka can

travel more than 140km

or 24 hours without

needing to be recharged,"

he said. nupiri muka is

funded by the Australian

Government through the

Antarctic Gateway Partnership

— a $24 million

Special Research Initiative

of the Australian Research

Council that aims

to provide new insights

into the role of Antarctica

and the Southern Ocean

in the global climate system.

New jobs from old ways

for Huon cider producer

A NEW cider created

using old-world crafting

techniques has been

launched by a leading

Tasmanian producer,

with employment in the

Huon Valley set to benefit

as a result.

Willie Smith's Cider

is continuing its innovation

in the industry, by

developing its new limited-release

Traditional

Cider Apple Blend,

crafted using old-world

cider making techniques

and rare heritage cider

apple varieties.

Willie Smith's

co-owner Sam Reid said

they were giving new

life to oft-forgotten cider

apple varieties, which

in-turn would increase

employment and skill

development opportunities

in the Huon Valley.

"With demand for

specific cider apples we

have been able to repurpose

some trees in

the William Smith and

Son's orchard by grafting

heritage varieties to

ensure long-term sustainability

of the orchard

and the dozens of jobs

that go with that," Mr

Reid said.

"We have also planted

new trees which require

more management

and different techniques

and so we are growing

the number of jobs and

broadening the skill set

required for the orcharding

industry."

The traditional blend

will only be available

in limited quantities -

but it will become part

of the core range in the

long-term as supply of

specialty cider apples

increases.

"Using cider apples

means that Australian

cider can compete on a

global level against the

best from France and the

UK, the US and Europe.

"This enables us to

confidently enter global

awards such as the Bath

and Weston Show in the

UK and GLINTCAP in

the US and have Australian

ciders recognised as

world class.

"This will in turn open

up more export markets

for us and enable other

Australian producers to

grow our markets."

Telstra award recognises efforts

to end social disadvantage

move forward in their

lives. They then transmit

their stories, outlining

the evidence and method

of change through the

media and on social networks.

BIG hART's CEO

Scott Rankin says the

organisation raises the

profile of issues such as

family violence, the incarceration

of indigenous

people and slavery at sea

with the goal to empower

vulnerable individuals,

foster social cohesion

and drive positive and

generational change.

Other category

award winners were:

• Ankalia Textiles -

New Business Award

• House of Dance Tasmania

- Micro Business

Award

• Salamanca Dental,

Small Business Award

winner

The winners represented

Tasmania at the

Australian awards in late

August.

The new AVU was launched at

AMC ahead of its first Antarctic

expedition in 2018/19.

AMC contributed $3

million to the cost of the

vehicle.

University Vice-Chancellor

Professor Peter

Rathjen said the AMC

had developed a nationally-recognised

strength

in specialised research

and technologies.

"This new facility will

advance the signature

contributions of the university

and its partners

to climate sciences, and

Antarctic and Southern

Ocean research.

"There are also rich

opportunities at AMC for

Tasmania to explore the

application of these new

technologies to modern

naval defence, marine

biosecurity and cyber

marine opportunities, for

example."

Tasmanian Business Reporter - SEPTEMBER 2017 13

NEWS

Building boom

celebrated at

state awards

CALL FOR

NOMINATIONS

2018 TASMANIAN LEADERS PROGRAM

MAJOR

PARTNERS

About the program

10 years

enhancing Tasmanian leadership

MORE than $144 million

worth of commercial

buildings and homes,

built in Tasmania over

the last 12 months by

Master Builders Tasmania

members, were presented

for judging for the

annual Master Builders

Tasmania Awards for Excellence.

Fairbrother Construction

won the Commercial

Builder of the Year, with

five category awards, after

submitting entries for

projects from across the

state, from Devonport to

Lauderdale.

The New Construction

award for $2 million

to $5 million was won

by Vos Construction &

Joinery Pty Ltd for its

work on the Launceston

Health Hub.

"In a very difficult category

to judge, due to the

uniformly high quality

of entries, Vos Construction

& Joinery came out

ahead on the back of the

consistently exceptional

workmanship delivered

across the whole

of a geometrically and

constructionally difficult

project," Master Builders

Association of Tasmanian

Executive Director

Michael Kerschbaum

said.

Vos was also awarded in

the Renovation/Fitout over

$10 million category for the

upgrade and expansion of

Hobart Airport.

Special awards were also

presented in the following

categories;

• Women in Construction:

Jacinda Dales, Access

Solutions (South)

• Young Builder of the

Year: Adam Ritson, AJR

Construct Pty Ltd (North

West)

• State Apprentice of

the Year: Jacob Mead,

Fairbrother Construction

(North West)

• Hands on Skills Apprentice:

Braydon Rosendale,

Tasmanian Building

Group Apprentice Scheme

Ltd (South).

The Tasmanian Leaders Program is an unmatched leadership

experience that achieves positive, transformative outcomes for

participants and their employers.

Delivered state-wide from February to December, the program

uses a variety of educational processes to cultivate specific

competencies crucial for effective and dynamic leadership.

The secret of the program's success lies in the diversity of its

participants. Each cohort includes current and emerging leaders,

with established careers from varied backgrounds and sectors

that span all spheres of business, non-profit and government.

Who should apply?

High potential leaders wanting to accelerate their leadership

capacity through interactive and reflective learning that challenges

and inspires are invited to apply for next year's program.

To find out more about the program, download an application

form, or register for one of our information sessions, please visit

the Tasmanian Leaders website:

www.tasmanianleaders.org.au
---
14 Tasmanian Business Reporter - SEPTEMBER 2017

APPOINTMENTS AND ANNOUNCEMENTS

APPOINTMENTS

Movement at

Macquarie Point

AFTER three years at the helm,

Mark Ryan has stepped down from

the role of Chair of the Macquarie

Point Development Corporation

Board.

Brian Scullin has been appointed

as the new Chair of the corporation,

which is pushing ahead with

a revitalised agenda and bold new

vision.

Mr Scullin was appointed to the

Board earlier this year, following

an extensive career across government

and the banking and investment

sectors. His international

career included a role as president

of Japan Bankers Trust Company

Limited and regional head of Asia/

Pacific at Deutsche Bank.

He holds a range of directorships

including not-for-profit disability

sector provider OAK Possibility

and Tasplan Super Fund, and is

also chair of the Tasmanian Development

Board.

Mr Scullin takes on the role as

Chair alongside continuing Board

members Mrs Kerry Adby, Mr

Hadley Sides, Mrs Penny Morris

AM, and CEO Ms Mary Massina.

Brian Scullin

Linked appoints

new Hobart

franchisee

LINK Business Brokers Australia

welcomes new Hobart franchisee,

Farzin Hesari

Mr Hesari will open his brandnew

office on September 1.

Mr Hesari first joined LINK in

2016 as a business broker.

He has previously been a video

store franchisee and also studied a

Bachelor of Business majoring in

Marketing and Entrepreneurship.

Farzin Hesari

IN BRIEF

Success flows from

North West

GRAPHIC design studio Stream Art

Design is actively working to prove

the north-west is a great place to

base a business that's active across

the globe.

Owner Anita Pava worked for

15-years in two successful advertising

agencies in Hobart before she

moved to Devonport and founded

her business, which has recently

celebrated its eighth year.

Ms Pava said it was important to

support a work and lifestyle balance

for women with continuous training,

and flexibility of working conditions

for herself and employees.

"As a small team of mostly

female designers, I've been able

to retain really good staff and for

long periods of time – with two of

our designers achieving four to five

years each. Our team can work remotely

from their homes some days,

and other days from our office in

Devonport," she said.

To enable this, Stream Art Design

keeps up-to-date with the latest

software and technology, both in

workflow processes and maintaining

continuity of service to clients.

"Technology enables us to look

after our customers, located in Tasmania

as well as mainland Australia

and overseas (Dubai, Italy and Sweden).

Work-life balance is important

in our philosophy, allowing for time

with our families and other recreational

activities."

Stream Art Design owner Anita Pava, left, with colleague Kate

Stokes at their Devonport office.

Temporary staff

boost workforce

MORNINGTON Park Waste Transfer

Station is in the process of preparing

for a "Massive Sale Day" on

Saturday, September 23.

They've engaged the services of

Searson Buck to provide extra staff

to assist on what is often the busiest

day of the year for the Second

Chance Re-use Shop and Building

Supplies Yard.

MPWTS General Manager

Grant Allen said the Eastern Shore

business had a long-standing relationship

with Searson Buck for its

recruitment requirements.

"They understand temporary roles

often need to be filled fast, so they

have a register of reliable, enthusiastic

temporary workers ready

to help fill short-term recruitment

needs," Mr Allen said.

"Working with a recruitment provider

makes managing the workforce

so easy."

Scholarships for

women leaders

MORE Tasmanian women will be

given the skills, knowledge and

confidence they need to serve on

boards as part of a government and

Australian Institute of Company

Directors partnership.

Applications are now open for

2018 corporate governance education

scholarships for AICD's

Company Director Course and its

Foundations of Directorship.

So far, six women have received

scholarships for the Company Director

Course and 32 for the Foundations

of Directorship.

Applications close COB Friday

15 September.

For further information and to

Mornington Park General Manager Grant Allen works with

temporary employee from Searson Buck Stephanie Whitehead.

apply online visit: http://aicd.companydirectors.com.au/education/

scholarships

Dementia design

work sought

EXPRESSIONS of Interest are

being sought from architects across

the globe to design Australia's first

dementia village at Glenorchy.

The $25 million Korongee centre

will be a ground breaking facility,

designed to recreate real life

experiences for people living with

dementia.

Glenview CEO Lucy O'Flaherty

said the facility would offer a proven

and cutting edge model of care.

"This is an exciting opportunity

for suitably qualified architects,

whether they are from Hobart or

Holland, to play a vital role in creating

innovative infrastructure and

supportive environments that allow

for a new way of caring for Australians

with dementia," Ms O'Flaherty

said.

"The built infrastructure will use

new and emerging technologies in

dementia care and will be supported

by NBN accessibility to enable services

such as Telehealth and Skype,

as well as robotic and assistive

technologies.

"The village structure will be

based on a typical Tasmanian cul

de sac which will allow residents

to feel at home and wander freely

while the internal design of the

homes to be informed through research

by the University of Tasmania.

"Korongee will create an authentic

suburban village environment

with 15 tailored homes in a small

town context with streets, a supermarket,

cinema, cafe, beauty salon

and gardens."

Rapid Response

Reduced Risk

Our Business

Is People

Right Experience
---
TASMANIA'S LEADING BUSINESS PUBLICATION. CIRCULATION 17,000 MONTHLY

Tasmanian Business Reporter - SEPTEMBER 2017 15

EVENTS NEWS

EVENT:

Telstra Business Awards

LOCATION:

Wrest Point Casino

DATE:

Tuesday July 25, 2017

ABOVE: Jonathan Wood, left, Tiri Masunda and David

MacDonald from Scoot Boots.

ABOVE: Chris Love from Brave

Foundation, left, Andrew Pearce from

Collins SBA and David Shering from

Handbuilt Creative.

LEFT: Stuart Green,

left, and Rebecca

DeGroot from

Neveco, awards

judge Gabby Wilson

and Toby Wilson

from Ionata Digital.

ABOVE: Elizabeth McShane from Evomed and Gerrard

McShane from Stockman Stud.

RIGHT: Celeste

Adkins, left and Sally

Shaw from

Property Wise

Launceston.

LEFT: Jennifer

Fitzpatrick from the Port

Arthur Historic Site,

left, and Greg Price and

Brittney Price from Jump

Tours.

WANTED

Business

movers and

shakers

• Promotions

• Appointments

• Awards

• Celebrating

success

Share the news

with the

Tasmanian

business

community

Send your news

snippets, with a

high quality photo,

to TBReditorial@

fontpr.com.au
---
PROPERTY MATTERS

Tasmanian Business Reporter - SEPTEMBER 2017 16

Short supply lifts rent returns

Scott Newton

Property Matters with

Knight Frank

Robbie Yeoland, the Department Manager for

the Residential Property Management team,

gives a synopsis of the residential rental market in

Tasmania.

THE rental market continues to perform

with excellent return for investors.

According to Tony Collidge, President

of the REIT a shortage of rental

properties across most regions has

seen vacancy rates fall and placed

upward pressure on rents. Strong

rental yields are providing incentive

for growing interest in investment in

this sector.

"While national focus has been on

the mainland markets, Tasmania has

quietly slipped under the real estate

radar. Most pundits were surprised

to learn that Hobart has the second-best

performing market behind

Sydney for cumulative growth since

January 2000.

We have had the best performing

market over the past 12 months.

The transformation has occurred

as a result of a shortage of properties

for sale and for rent coupled with an

increase in population growth, increase

in employment, increased

consumer sentiment and positive

economic conditions.

The growth in our market has allowed

us to keep pace with the other

capital cities and not fall further

behind. While it is a concern as to

how we can close the gap between

demand and supply we still provide

the cheapest and best value accommodation

in Australia. 2017 has

seen momentum build and it appears

this market may still have a way to

go".

The residential rental vacancy rate

decreased 0.1% to 2.7% for the state

in June 2017. From last month, the

vacancy rate decreased 0.1% in Hobart

(to 1.9%) and the North-West

centres to 3.9%. Launceston remained

steady at 2.9%. The median

rental price per week for two bedroom

units in Hobart increased $20

to $320 per week, with three-bedroom

house rental prices increasing

$20 to $370 per week. This shows a

5-6% increase in rental prices in the

last quarter.

Vacancy rates have remained low

throughout the off-season in Hobart

showing that there has been a constant

demand for property throughout

the year which is not the norm

for this period. Interestingly there

has also been a strong demand for

rental accommodation for international

students in areas other than

Hobart rentals are on the improve.

Sandy Bay and surrounding suburbs.

Airbnb may be having an effect

on the availability of properties

in this area normally housing international

students.

In the March quarter 2017, rental

affordability declined slightly with

the proportion of income required

to meet rent payments increasing

to 24.6%, an increase of 0.1 percentage

points over the quarter but

a decrease of 0.5 percentage points

compared to the same quarter 2016.

When compared to the March quar-

ter 2016, all states and territories

except Tasmania and the Australian

Capital Territory recorded improvements

in rental affordability.

Overall the rental market in Hobart

continues to perform well and

increased investment in the state by

mainlanders and locals keen to enter

the market will continue to provide

good housing stock with excellent

returns to investors.

*Vacancy rate statistics provided

by the REIT June Quarter Reports.

PROPERTY VIEW

SEPTEMBER 2017

Outline indicative only

Outline indicative only

For sale by Expression of Interest

OUTSTANDING LOCATION

21-25 Morrison Street, Hobart

This iconic building provides an opportunity to

secure and position one's business in the highly

sought after Sullivans Cove precinct.

• First time offered in over 50 years and across

from the MONA Terminal & Brooke Street Pier

• 1 Title - land area 448sqm, 3 level building

• Short term lease in place which is beneficial

in that purchasers can derive an income

whilst exploring development possibilities

with council to potentially change the use

of this vastly under-utilised building

John Blacklow 0418 128 735

Scott Newton 0409 186 261

View at KnightFrank.com.au/3822600

For sale by Expression of Interest

FULLY LEASED INVESTMENT

37 Stoney Rise Road, Devonport

An opportunity to acquire one of the most

modern and functional showroom/industrial

facilities developed in North West Tasmania.

• Completed 2012 - significant depreciation

benefits

• Building: 3,153sqm & Land: 15,700sqm approx

• Net rental $402,825 plus GST

• 10 year lease to Oct 2022 with options to 2032

• Substantial bank guarantee in place

• Strategic industrial location close to port

and highway

Nicholas Bond 0414 395 007

Rob Dixon 0408 134 025

View at KnightFrank.com.au/3819277

Outline indicative only

For sale by Expression of Interest

GOLD CLASS INVESTMENT

179-183 Collins Street, Hobart

Situated in a Hobart CBD location this mixed

use investment provides the rare

opportunity to not only secure a 100%

occupied investment, but also a significant

land holding with no heritage restrictions.

• 7 Cinema Complex

• 428 bay multi-deck car park

• Zoned "Central Business"

• 6 Years WALE approx

• Net income $2,439,399pa ex GST

• Building area 5,675sqm approx

• Land Area: 6,088sqm approx

Hayden Peck 0412 766 395

Scott Newton 0409 186 261

View at KnightFrank.com.au/3794958

For sale by Expression of Interest

AAA INVESTMENT - 9 YEAR WALE

2 Gordons Hill Road, Rosny Park

• 100% occupied by the Commonwealth

(Centrelink & Medicare)

• WALE of 9 years (as at 1 August 2017)

• Estimated Net Income of $289,401 pa plus

GST with fixed increases of at least 3% pa

• Modern "A" grade commercial building

with an NLA of 885sqm

• Recently re-painted and re-carpeted

• High profile location within the popular

commercial precinct servicing Hobart´s

Eastern Shore and South Eastern Tasmania

Richard Steedman 0408 559 046

Hayden Peck 0412 766 395

View at KnightFrank.com.au/3787337

5 Victoria Street, Hobart 41 York Street, Launceston Shop 6a, 48-54 Oldaker Street, Devonport

P: 03 6220 6999 P: 03 6333 7888 P: 03 6333 7888

9

9 YEAR

WALE