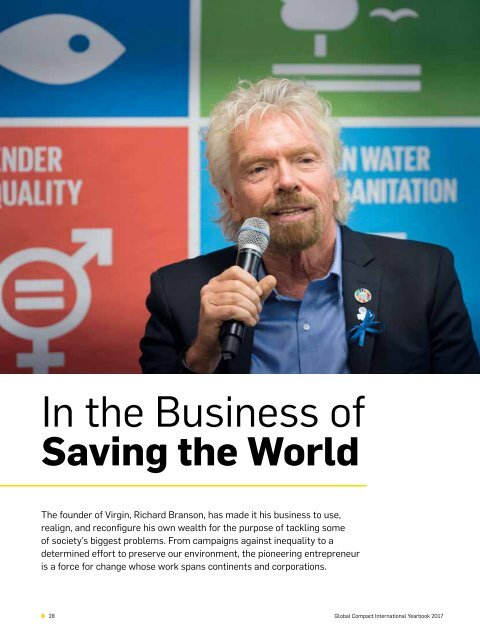 Global Compact International Yearbook 2017 Sustainability in Troubled Times

We life in times of uncertainty and global (dis)Order. "Understanding global mega-trends is crucial. We live in times of multiple, evolving and mutually-reinforcing shifts", says UN Secretary-General António Guterres. He adds: "These dynamics, of geopolitical, demographic, climatic, technological, social and economic nature, enhance threats and opportunities on an unprecedented scale." Therefore
sustainability in troubled times is the key topic of the Global Compact International Yearbook 2017, edited by macondo publishing.
In the Business of

Saving the World

The founder of Virgin, Richard Branson, has made it his business to use,

realign, and reconfigure his own wealth for the purpose of tackling some

of society's biggest problems. From campaigns against inequality to a

determined effort to preserve our environment, the pioneering entrepreneur

is a force for change whose work spans continents and corporations.

28

Global Compact International Yearbook 2017
More magazines by this user