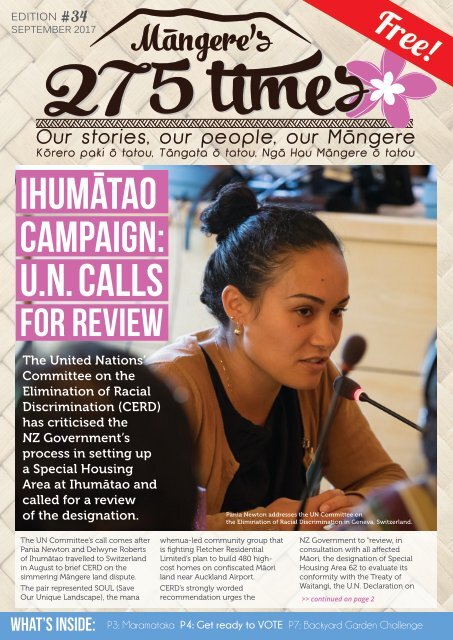 275 Times September 2017
Mangere community news. This month: Get ready to vote!, Mangere Backyard Garden Challenge, Manukau AFC, Maramataka, Queen Shirl'e, - and more!
Mangere community news. This month: Get ready to vote!, Mangere Backyard Garden Challenge, Manukau AFC, Maramataka, Queen Shirl'e, - and more!
SHOW MORE
SHOW LESS
Create successful ePaper yourself
Turn your PDF publications into a flip-book with our unique Google optimized e-Paper software.
EDITION #34

SEPTEMBER 2017

275

Māngere's

times

275 times

Our stories, our people, our Māngere

Kōrero paki ō tatou, Tāngata ō tatou, Ngā Hau Māngere ō tatou

IHUMĀTAO

Campaign:

U.N. Calls

For Review

Free!

The United Nations'

Committee on the

Elimination of Racial

Discrimination (CERD)

has criticised the

NZ Government's

process in setting up

a Special Housing

Area at Ihumātao and

called for a review

of the designation.

Pania Newton addresses the UN Committee on

the Elimination of Racial Discrimination in Geneva, Switzerland.

The UN Committee's call comes after

Pania Newton and Delwyne Roberts

of Ihumātao travelled to Switzerland

in August to brief CERD on the

simmering Māngere land dispute.

The pair represented SOUL (Save

Our Unique Landscape), the mana

WHAT'S INSIDE:

whenua-led community group that

is fighting Fletcher Residential

Limited's plan to build 480 highcost

homes on confiscated Māori

land near Auckland Airport.

CERD's strongly worded

recommendation urges the

NZ Government to "review, in

consultation with all affected

Māori, the designation of Special

Housing Area 62 to evaluate its

conformity with the Treaty of

Waitangi, the U.N. Declaration on

>> continued on page 2

P3: Maramataka P4: Get ready to VOTE P7: Backyard Garden Challenge
---
Ihumātao Campaign: U.N. Calls for Review

Left: Delwyne Roberts and Pania Newton

(SOUL) during a break at the Geneva talks, with

Dr Heather Came-Friar (AUT, STIR, Tāmaki Tiriti

Workers), and NZ Race Relations Commissioner,

Dame Susan Devoy.

mentioned the word 'racism'. We're

here to look at the Government's

compliance in relation to eliminating

all forms of racial discrimination,

yet they can't say the 'R' word."

>> continued from page 1

the Rights of Indigenous Peoples and

other relevant international standards,

and that the [Government] obtain

the free and informed consent of

Māori before approving any project

affecting the use and development of

their traditional land and resources."

For Pania, it's a very important

outcome: "It's heartening that a UN

body, at an international level like

this, has recognised our issue and

the significance of the whenua at

Ihumātao. This is huge," she says.

"Now the Government must be

compelled to take action, review

its designation, and adequately

work with the parties affected by

the proposed development."

Government response criticised

Pania reports that the issue of the

Ihumātao land dispute was raised

several times during the CERD

formal meetings by a number

of committee members.

She says it was clear from the

responses given by the NZ

Government's representatives that they

"were out of their depth, and behind

the ball on eliminating racism in NZ.

"They were obviously taken aback

by the number of times Ihumātao

was raised by committee members

and could not adequately address

the issues regarding Fletchers'

proposed development.

"WE WILL NOT STOP UNTIL

FLETCHERS RETREAT AND

THE LAND IS PRESERVED

AS AN OPEN GREEN SPACE."

"I was appalled by this, and the fact

that their assumptions were backed

by no evidence whatsoever. After the

presentation we approached them;

they apologised and asked us to

send them the correct information."

Delwyne noted: "[The NZ Government]

delegates claimed that

'consultation' had occurred, but as UN

Special Rapporteur Gay McDougall

stated, consultation is not the same

as consent. The delegates' answers

were superficial and unsubstantiated".

AUT lecturer Dr Heather Came-Friar,

who was also at Geneva, said: "The

New Zealand Government has not

Support from many quarters

Although Pania is disappointed to

have had "to go to the world stage to

achieve this fundamental recognition,

and have our plea for more just

democratic processes heard", she

and Delwyne have been heartened

by the support they've received

in the fight to save Ihumātao.

"I am so grateful and proud of all our

supporters of the SOUL campaign

to protect Ihumātao. We could not

have gone this far without your

aroha and tautoko," she says.

She has also been "amazed by

the amount of support and

encouragement received from the NZ

Race Relations Commissioner, Dame

Susan Devoy. It makes this process

a bit easier to navigate through".

Pania, Delwyne and SOUL are vowing

to fight on. "We have taken our issue

to the UN in New York, the World

Indigenous Peoples Conference in

Toronto, and now CERD in Geneva.

We will not stop until Fletchers

retreat and the land is preserved as

an open green space," Pania says.

Readers who want to support

the SOUL campaign can visit

www.soulstopsha.org or email:

saveihumatao@gmail.com

2

NEW NEIGHBOURHOOD

TREASURE TROVE

MEFSC's Georgina Kelly Ngatoko (right) helps

find new homes for property left at Auckland Airport.

ME Family Services Centre

is redistributing lost and

forgotten treasures back into

the Māngere community.

Since August, the Centre has been

collecting and re-homing clothes,

shoes, bags, pillows, walking

sticks, books and other property

left behind at Auckland Airport by

forgetful – or generous – travellers.

It's a new way for the Centre

to support families in Māngere,

and extend the life of useful

items at the same time .

If you'd like to have a look at the

latest donations, call MEFSC's

Resource Recovery Coordinator

Georgina Kelly Ngatoko on 09

280 3379 between 9am and

3pm weekdays, or send her a

message on Facebook: @MEFSC.

There is a catch, though.

As Georgina says: "Everything is

negotiable, but nothing is free.

So come and be prepared to trade

something – your cash, your time,

your talents, or your networks!"
---
Going up!

Manukau City AFC celebrates back-to-back promotions

After winning the Northern

Regional Football League

(NRFL) Division 2 competition

in 2016, Manukau City AFC

Men's First Team has now

secured a promotion from

Division 1 to Premier League

for the 2018 season.

The team, which is based at

Walter Massey Park in Māngere

East, sealed the promotion

on 26 August, with a 1–0 win

at home over championship

hopefuls Melville United FC.

It's been another

stand-out year for

the club, with the

men's promotion

coming just a week

after the Women's

First Team were

crowned champions

of the Women's

Championship

Division.

Top: Manukau City AFC Men's First Team celebrate their promotion to the

Premier League. (Photo: Ron Sinha) Inset: The club's Women's First Team

are this year's AFF/NFF Women's Championship Division winners.

MARAMATAKA: Mahuru (September)

Kia ora whānau, it's Mahuru

(September) – a time for regrowth,

rebirth and renewal.

Traditionally, this was the time

for looking after young animals

and planting kai, so it was

the busiest time of the year.

Our tohu this month are all

indicators of spring. Here's

what to look out for:

Ngā tohu o te rangi

(Signs in the sky)

The star Te Kakau (Regulus)

appears, and Whakaahu

Kerekere and Whakaahu Rangi

(Castor and Pollux) are still

visible in the eastern sky.

Ngā tohu o te whenua

(Signs on land)

We usually see the puawānanga

(clematis) blossom

in Mahuru, but this year it

blossomed six weeks early.

Kaumatua suggest that this

means something is changing

in the environment.

Ngā tohu o te moana

(Signs in the water)

Another name for this time

of year is 'Te ahunga o

uruao' which means 'the

new generation of whitebait'.

This ancient name reflects

the tohu o te moana for

Mahuru, which – just like last

month – is the white bait.

White bait will continue

running throughout Mahuru,

so look forward to seeing more

yummy photos on Facebook!

Have a great month, whānau.

And remember: if you want

your own maramataka

dial, just message us on

Facebook @275times or

email: 275times@gmail.com

Key dates

PLANTING DAYS

6, 7 & 8 Sept:

Oturu, Rakaunui

& Rakau Ma Tohi

– Great time to

plant watery crops

9 Sept: Takirau –

Plant root crops

14 & 15 Sept: Tangaroa

A Mua & Tangaroa A

Roto – Plant root crops

18, 19 & 20 Sept:

Orongonui, Omauri

& Mutuwhenua –

Plant root crops

26, 27, 28 & 29 Sept:

Tamatea A Ngana,

Tamatea A Hotu,

Tamatea A Io &

Tamatea Kai Ariki –

Plant everything!

Puawānanga (Photo: Avenue)

OTHER KEY DATES

5, 6 & 7 Sept: Oturu,

Rakaunui & Rakau

Ma Tohi – High

energy days

11, 12 & 13 Sept:

Korekore Te Whiawhia,

Korekore Te Rawea

& Korekore Piri

– Reflecting and

low-energy days

14, 15 & 16 Sept:

Tangaroa A Mua,

Tangaroa A Roto

& Tangaroa Kiokio

– Fishing days

3
---
SOMETHING WORTH

The election is coming

up fast! Saturday, 23

September is Election Day.

That's when we'll get

to choose the people

who will make the

big decisions about

our health, transport,

housing and education

for the next three years.

So, what's important to you? Is

there a party you think will best

represent your ideas and values?

Which candidate do you think will

do the best job of representing us?

The 275 Times team went to

the Māngere Markets to ask

people how they feel about

the upcoming election.

What's my vote going to do?

Via, a 26 year old, was frustrated

that other young people didn't

seem bothered about voting.

"The young ones have this mentality

of – you know, 'oh, what's my

vote gonna do?' When really, all

of them put together could turn

it one way or the other. I think

they're just not seeing it."

Sadly, Via is right. The Electoral

Commission recently reported that

around 450,000 people were still not

registered to vote. Worryingly, over

half of those people are under 30.

How do you choose?

Speaking to Carla, an 18-year-old

living in Māngere, we discovered

that she didn't know that there

was an election this year.

"I don't get it? Voting for who

exactly? I'm just not

These online tools might

help you as you're thinking

about your choice:

• y http://onthefence.co.nz/

• y http://policy.thespinoff.co.nz/

• y https://votecompass.tvnz.co.nz/

4

Above: Denise has missed out on voting in the past, but she's ready to vote this year.

bothered because I just don't

know about it," she said.

Do you feel like this too? It can be

hard to make decisions without

the information you need. Try

searching the internet, have a look

at some of the online tools listed

on this page, or talk to friends

and family about the election.

Busy on 23 September?

Vote early!

Denise (pictured above) is

determined to use her vote

this year. In the past, when

her children were little she

sometimes missed out on voting.

She had young twins and it was difficult

to find someone to watch them so

she could go to the voting place.

If you, like Denise, might find it

hard to get to a polling place on

23 September – Election Day

– think about voting early.

Voting actually starts on Monday,

11 September and you can vote

early at the Māngere Arts Centre.

Let YOUR voice be heard

Voting gives each of us an equal

opportunity to tell the politicians
---
VOTING FOR!

TOP TIPS TO MAKE

YOUR VOTE

COUNT THIS YEAR:

If you're already enrolled

• y You can vote on election

day – Saturday 23 Sept 2017.

• y Find your nearest voting

place at www.elections.org.nz

• y OR You can vote early from

Monday 11 September at

the Māngere Arts Centre.

• y You'll get an EasyVote

card in the mail. Take it

with you to make voting

quicker. If you forget your

card – don't worry, you'll

still be able to vote.

Above: Philippa makes sure she's on the electoral role.

"THE YOUNG ONES HAVE THIS MENTALITY OF – YOU

KNOW, 'OH, WHAT'S MY VOTE GONNA DO?' WHEN REALLY,

ALL OF THEM PUT TOGETHER COULD TURN IT ONE WAY

OR THE OTHER. I THINK THEY'RE JUST NOT SEEING IT."

what's important to us, our

whānau and our community.

Alan, who has just become a

permanent resident, is now

entitled to enrol and to vote.

"I've been calling Māngere East

home for 7 years now and I'm

If you're not

enrolled yet,

it's NOT too late.

Check out our

tips for making

a special

vote.

very excited about being able to

vote for the first time," he says.

"I feel that this electorate needs

to engage more in the voting

process. By being enrolled to vote

and voting we'll be able to build

the voice that this area needs."

If you haven't enrolled yet

• y DON'T PANIC! You can make a

special vote. It'll take a tiny bit

longer, but it will be worth it!

• y The easiest thing to do is

visit the Māngere Arts Centre

from Monday 11 September.

There you'll be able to enrol

and vote at the same time.

But you'll need to do this

BEFORE election day.

• y OR you can call the

elections team on 0800 36

76 56. They will help you get

enrolled so you can vote.

At the voting place:

• y You'll be given a voting paper.

• y You get two votes. That

means you get to put TWO

ticks on the voting paper.

• y Your party vote is for the

party you prefer. Vote

for only ONE party.

• y Your electorate vote is for

the candidate you would

like to be your Member

of Parliament (MP).

• y If you only complete the party

vote, or only complete the

candidate vote, it will still count.

• y If you make a mistake

– don't worry – just tell

the staff. They'll give you

a new voting paper.

5
---
6

Queen Shirl'e: Living my dream

This multi-talented lady has been bringing

us stories about Māngere's artists for almost

a year, so we thought it was time she told us

a bit more about herself. Meet Queen Shirl'e...

By Shirl'e Fruean

My passion for performing

arts began way back in

preschool in Samoa.

After moving to Māngere I

joined my primary school's

Māori culture group and

attended my first noho

at Ngā Tapuwae school

marae, where I learned

to embrace Aotearoa as

my new home – despite

the language barrier.

I also played guitar at

our local church, sang

in the youth choir and

took part in productions

for White Sundays.

When our family moved

to 'Rewa, I went back

to my roots and joined

Weymouth Intermediate's

Samoan cultural showcase.

My fav' experience

was performing at the

Auckland Town Hall – I

felt like a real star!

Around the same time, I

entered the school talent

quest and won a free

recording session at OMAC

(Ōtara Music Arts Centre).

Starting to write

At high school, I discovered

a whole new

love for writing stories.

One of my poems was

even published in the

school magazine.

As my skills developed

I joined the South

Auckland writers group,

where I was encouraged

to enter a writing

competition alongside

50 other local authors.

When Ali Cowley, the

creative animation director

for Bro'Town sat beside

me for our final exam, I

thought I had no chance,

but to my surprise I made

the top 10 and had my

short story 'A Peaceful

Assurance' published.

Hip hop & emceeing

Hip hop was my other

passion. Rap music was

a way to express myself

creatively. I released three

EPs and music videos as an

indie artist with the help of

family and friends. Then in

2012 I won an NZ On Air

grant to shoot and record

my single 'Humanity'.

I was honoured to be the

first female emcee from

Māngere to receive this

grant – especially because

hip-hop is traditionally a

male-dominated industry.

Teaching – & learning!

I wanted to inspire

more young people

from South Auckland

to follow their dreams

like I had, so I started

my own performing

arts classes in 2006.

Amanda Ashton, a young

girl from Māngere, was

one of my first students.

She later became a TV

presenter for Māori TV and

now runs her own film

and make-up business.

Seeing Amanda's

transformation made me

even more determined

to teach, and I took on

a full-time position as a

Kāwai Raupapa performing

arts tutor at Te Wānanga

o Aotearoa in Māngere.

This position required

proper qualifications,

so I also studied hard

to earn a Diploma in

Adult Education.

Looking forward

It can be challenging

trying to get by as a single

parent when you have

a big dream, but I know

anything is possible if

you set goals and work

hard to achieve them.

This year, the Māngere-

Ōtāhuhu Local Board

gave me a certificate

of appreciation for my

voluntary work, which

includes writing for,

and supporting, the

275 Times. Alongside

Creative Communities

and OMYG (Ōtāhuhu

Māngere Youth Group)

they also helped me to

kick start my Pathways

to Performing Arts afterschool

programme at

the Ōtāhuhu Library.

Feedback from the

course has been fantastic,

and now Onehunga

and Māngere libraries

are requesting my

programme, too!

I'll also be hosting the

NZ Hip Hop Summit at

Toia (Ōtāhuhu Recreation

Centre) on 25 November.

See you there!

nzhiphopsummit.com
---
One hundred Ma – ngere families

are being given the chance to

start backyard gardens as part

of the 'My Backyard Garden

Project – Ma – ngere Challenge'.

By Justine Skilling

Talking Rubbish, ME Family Services

Brent Mags, the organiser of My

Backyard Garden Project (MBGP), is

passionate about gardening and the

benefits of growing our own food.

He launched the project last year in

West Auckland, gathering together

the resources and people-power

to build and set up 52 gardens in

backyards and community spaces.

Since then, two more challenges

have been activated: one in Rotorua

and another in Waitakere, with almost

150 more gardens being installed.

Now the project is coming

to the food bowl of Tāmaki

Makaurau: Māngere.

Māngere challenge

The Māngere challenge is being

hosted by Papatūānuku Kōkiri

Marae in Robertson Rd, with

support from Love Food Hate

Waste, Pacific Vision Aotearoa,

Compost Collective, Te Puni Kōkiri,

The Southern Initiative, Healthy

Families Manukau, and Māngere

Connect-Neighbourhood Support.

"MBGP has always wanted to come

to South Auckland, and having an

ongoing connection with Therese

Mangos [Pacific Vision Aotearoa/

Compost Collective] and Matua

Rereata Makiha [The Southern

Initiative and Society for Māori

Astronomy Research & Traditions],

as well as a solid foundation

with Papatūānuku Marae, has

made it possible," says Brent.

The passionate and ever-growing

organising team has been meeting

weekly for the past month and

has held some productive Sunday

working bees to get the materials

ready for building the gardens.

A new way of thinking & eating

Papatūānuku Marae's Lionel Hotene

is excited about the project, because

it aligns beautifully with the vision

of Marae-founder Nanny Mere.

"We believe food is the catalyst for

change. If we want whānau in our

community to be healthy physically

and mentally,

then let's

provide the

knowledge

and resources

for them to be able

to take control and grow

their own food," says Lionel.

"When we get our families

involved in growing food, then food

can become medicine and medicine

become food. This is what we call

an edible education," he says.

"BY UNDERSTANDING

THE WORLD OF GROWING

KAI, WE CAN ALL MAKE

MORE EDUCATED AND

INFORMED DECISIONS

ABOUT WHAT WE ARE

PUTTING IN OUR WAHA."

The marae wants to help whānau

take control of their oranga, their

hauora. "By understanding the world

of growing kai, we can all make more

educated and informed decisions

about what we are putting in our

waha. We can create a new way of

thinking and eating – actually an old

way of thinking and living – through

this garden project," says Lionel.

MA – NGERE'S

BACKYARD

GARDEN

CHALLENGE

Below: Organisers of Māngere's My Backyard Garden Project prepare

to build raised garden beds out of pallets at Papatūānuku Kōkiri Marae.

Get your family growing!

Families who want to participate in

the project must live in the Māngere

area and commit to attending

workshops on Saturday 9 & Sunday

10 September, where they'll build

raised garden beds from old pallets

and learn about composting,

'lasagne gardening', Maramataka

(gardening by the moon), seed

raising, seedling planting and how

to use the produce they grow.

The project is free and participants

will receive their own raised garden

bed, compost bin and ongoing

support to get them growing.

To register your backyard, or to

volunteer your time or resources,

please contact: Brent Mags – ph.

021 029 10004, Therese Mangos

– ph. 021 905 961 or Valerie

Teraitua – ph. 027 2561472.

7
---
Community Notices

FREE COMMUNITY DAY - SAT 9 SEPT

FREE food, clothing, entertainment, services, workshops &

childrens' play. 10am–2pm at Metro Theatre, Massey Rd,

Mangere East. Find more details on the Facebook event page:

'Free Community Day, by AigaWahineToa & NewMoney'.

MA – NGERE EAST LIBRARY – WHAT'S ON

FREE Knitting & Craft Club: 10:30am every Thursday. Bring

your knitting or craft projects, or simply drop by for a cup of tea

and a chat. Make new friends; learn a new hobby. All welcome.

FREE Wriggle & Rhyme – Active Movement to Music: 11am

every Tuesday. Fun and interactive sessions to help develop baby's

brain and body. For babies and toddlers up to two years old. Older

siblings also welcome. For more info, ph. 09 275 5420 or drop in to

the Māngere East Library at 370 Massey Rd, Māngere East.

MA – NGERE BRIDGE LIBRARY – WHAT'S ON

September is Comic Book Month! Take out three comics or

graphic novels at once and go into the FREE draw to win a fun

hamper at the end of the month! All ages welcome.

Superhero Storytime: Dress up as your favourite comic book

character and join in the FREE fun at Superhero Storytime on Sat

30 Sept at 11am. Lots of stories, songs and laughter for children

and their families. For more info, ph. 09 636 6797 or email:

Mangerebridge.library@aucklandcouncil.govt.nz

COMMUNICARE FRIENDSHIP CENTRES

Seniors looking for a regular get-together among friends are

invited to visit their local Communicare Friendship Centres at

Māngere/Ōtāhuhu Netball Centre, 1 Court Close, Māngere, or

Methodist Church Hall, Kolmar Rd, Papatoetoe. The first visit is

free. Ph. 09 631 5968 or email: office@communicare.org.nz

FREE PARENTING SUPPORT

Mellow Bumps: Next free course for expectant parents starts

soon! For more information, email: admin@ohomairangi.co.nz

or ph. 09 263 0798. This course is run by Ohomairangi Trust at

the Māngere East Community Centre.

FREE CLASSES IN MA – NGERE EAST

Māngere East Community Centre runs FREE and low-cost

community education classes in te reo Māori, Samoan, English,

sewing, literacy and numeracy, korowai and tukutuku, drivers

licence theory, tai chi, zumba – and more! Visit www.mangereeast.

org, email: fiona@mangereeast.org, ph. 09 275 6161 or drop in to

the Centre at 372 Massey Road, Māngere East to find out more.

CONTRIBUTORS WANTED

We'd love to hear from local writers, photographers and anyone

else interested in volunteering for the 275 Times. Get in touch at

www.facebook.com/275times or email 275Times@gmail.com

Community Notices are FREE for community groups. Send us

a 50-word summary of your group or event for the next issue!

275 times

275

Māngere's

times

Design: Belinda Fowler Editor: Roger Fowler

Publisher: Māngere East Community Centre

275times@gmail.com

www.facebook.com/275times

www

www.275times.com 09 275 6161

Hospitality

Barista

Welding

BUILDING &

CARPENTRY

Forces

Pre-Entry

Recreation

& Sport

NCEA

Level 2

Warehousing &

Forklift Operations

Automotive

Don't

just dream it.

BECOME IT!

FREE

Learners or

Restricted Licence

(conditions apply)

ZERO FEES &

TRAVEL SUBSIDY

FOR 16-19YRS

FREE SELECTED

PROGRAMMES FOR

20+ YEAR OLDS

Fitness &

Exercise

Foundation

Skills

HANDS ON

TRAINING

Conditions apply.

59 TIDAL RD, MANGERE

(09) 257-5732

Text 021 740 807

Registered and Accredited with NZQA

NZQA provider rating: Category 1, 'Highly Confident' in both

Educational Performance and Capability in Self Assessment

Contact: Tuhin Choudhury

TWR000874

Unit 7/17 Airpark Drive