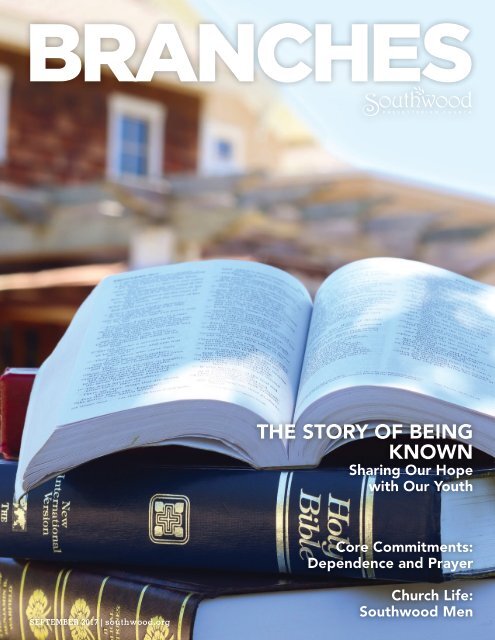 Create successful ePaper yourself
Turn your PDF publications into a flip-book with our unique Google optimized e-Paper software.
BRANCHES

THE STORY OF BEING

KNOWN

Sharing Our Hope

with Our Youth

Core Commitments:

Dependence and Prayer

SEPTEMBER 2017 | southwood.org

Church Life:

Southwood Men
---
SOUTHWOOD

overview

CONTENTS

3 pastor's note

BRANCHES

DESIGNER Phillip Lackey

CONTRIBUTORS

Peter Render

Will Spink

Ron Clegg

Sarah Niemitz

Niña Cash

James Parker

PHOTOS

Will Spink

Eli Maples

Gayle Clegg

Southwood Members

FEEDBACK!

We want to hear from you! Please send

your suggestions and comments to

branches@southwood.org

1000 CARL T. JONES DRIVE | HUNTSVILLE, ALABAMA 35802

(256) 882-3085 | WWW.SOUTHWOOD.ORG

COVER PHOTO

Bibles in front of the Lodge

CHURCH STAFF

CHRISTINE BETTS Assistant Director, Youth/Families

NIÑA CASH Director of Children's Ministry

RITA CLARDY Executive Assistant

SHANNON CLARK Administrative Assistant

RON CLEGG Assistant Pastor, Discipleship

TY COMMONS Youth and Family Intern

JANICE CROWSON Director of Facilities/Finance

KIM DELCHAMPS Administrative Assistant

TERRI GOOD Accountant/Bookkeeper

ELI MAPLES Graphic Designer

SARAH NIEMITZ Director of Community Development

JAMES PARKER Chief Musician

PETER RENDER Assistant Pastor, Youth/Families

ANGELA SIERK Assistant Director/Children's Ministry

WILL SPINK Senior Pastor

4 core commitments

dependence and prayer

5 community development

Jobs for Life and India

6 the story of being known

sharing our hope with our youth

8 church life

southwood men

9 session update

10 church life

women's conference lookback

11 all thats fair

nobody wants to work for it

UPCOMING EVENTS

No Sunday School

September 3

Jr. High Life begins

September 6

Sr. High Life begins

September 10

Jobs for Life Class begins

September 11

Men's Retreat

September 15-16

Hey Day

October 22

Ongoing Ways to Engage in PRAYER:

Prayer Guide

E-mailed on Fridays with copies available on Sundays, these guides are a tool to direct us in

praying together for kingdom advancement at Southwood and around the world as well as

for particular congregational needs.

Prayer Cards

These cards are in the pew pockets every Sunday so that you can easily communicate needs

for prayer to the staff, elders, and/or congregation as appropriate.

Prayer Room

This room across from the Guest Center has been particularly designated for

prayer throughout the week and especially on Sundays. We would love to see

it occupied regularly by groups and individuals!

Prayer Gathering

At 8:30am on Sunday mornings, we meet in the Prayer Room to pray for the

Lord's blessing upon our worship and community as well as for personal

2 SEPTEMBER 2017 | SOUTHWOOD.ORG

needs. All are welcome to join us for this special time.
---
PASTOR'S NOTE

The Experience of Expressed Grace

Coming out of seminary, I was warned of the

perils that my family was sure to face in church

life. Many of these things we already have

painful experience in from other places, so we

felt prepared as we moved to Huntsville. Emily

and I both know the reality of our life together.

We understand what it means for a church

family to accept and tolerate our version of

crazy. We know how hard it can be to keep

loving and giving when it seems like the other

side does nothing but take.

When we hit the ground here at Southwood

a little over a year ago, we were both living

alertly, waiting to experience shame and guilt

for our parenting style and results. We love our

children desperately and are simultaneously

appalled by any hitch in their giddy-up. It

almost can seem as though the mirror that the

behavior of our children holds up has to do with

the state of our souls, with our very identity.

A year later, we have been ministered to in

ways that we probably did not understand at

the time. The patience, acceptance, and love

for our children has been above and beyond

that for which we could have possibly hoped.

Certainly we have had to meet poor behavior

head on, issue our fair share of apologies, and

ask for forgiveness. These things, however,

have been the exception to the rule of grace

at Southwood.

Our core commitment of valuing the least,

the lost, the littlest, the lonely, and the

left-out often meets the road when it involves

children's ministry. People seem attracted to

the machine, to the pomp, to the curriculum, to

the variety of interactions that children get to

have with God's Word. I would argue that our

true success is with the people, both staff and

volunteers, who pour their transformed hearts

into our children.

This is a microcosm of what it means for

Southwood to be a relational church that

experiences and expresses the grace of Jesus

Christ. Although I hesitate to say that the "bad

and ugly" is expected, it is handled in stride

with the same love and care as the "good."

In situation after situation with our children,

others remind Emily and me that God loves

us, his covenant is made with us and with our

children, and that our continued effort to raise

them in the nurture and admonition of the Lord

is all that is required. Not only that, but we also

have also been reminded regularly that other

brothers and sisters are there to help us with

their Christian nurture.

What a testimony it is when the people of God

push each other toward the reality of what

our Father is on about in this world. He has

adopted us as his children, so that we might

rely on him as our Father. He desires that we

would ask him to incline our hearts to his ways,

so that we will trust his will and rely upon him.

Certainly our Father disciplines those whom he

loves, but his love is our identity. In spite of

our nature, which keeps on taking, he stands

steadfast with his children, loving and giving. I

hope and pray that each of us knows more of

his love tomorrow than we did even today.

Peter Render

Assistant Pastor

If you would like to contact

Peter, use the following:

peter.render@southwood.org

SEPTEMBER 2017 | SOUTHWOOD.ORG 3
---
CORE COMMITMENTS

By Will Spink

WE RECOGNIZE OUR DEEP

DEPENDENCE AND NEED

FOR PRAYER.

We are a community constantly dependent upon God both

individually and corporately. In fact, this is a large part of

what it means that we must continually experience grace

ourselves. Our relationship with God is one where we remain

desperately needy and He remains gloriously sufficient – we

repent and He forgives; we depend and He provides. Because

God is committed to seeing his kingdom advance, we don't

merely pray for the work of the church; rather, prayer is the

work of the church. Prayer is weak people prevailing upon a

strong Father to do mighty things in, through, and in spite

of us. – Matthew 6:9-13, Luke 18:1-8, I Samuel 1, Acts 2:42,

Psalm 71, Ephesians 6:10-20, James 5:16

CHRIST-CENTERED

DEPENDENCE AND

PRAYER

RESTORATION OF ALL

CREATION

RELATIONSHIPS

THE LEAST, LOST,

LITTLEST, LONELY, AND

LEFT-OUT

At an early age my parents taught me that "if you read your Bible

and pray every day, you'll grow, grow, grow." Come to think of it,

though, they said the same things about eating my vegetables,

doing my homework, and practicing piano. It was easy for me as

a kid to categorize prayer as one of those things I was supposed

to do, but I always felt I'd also be OK without praying – just as I

would make it through the day without broccoli.

I was fairly self-confident and independent, capable and

resourceful – and thus at least a bit hypocritical when it came to

prayer. I talked about praying way more than I prayed. Mercifully,

what God has done as I've grown older – and especially in the

past couple of years – is help me to see more of how desperate

and dependent I truly am. He's shown me weaknesses and

inadequacies I wasn't aware of. He's shown me failures and needs

I didn't want to acknowledge. And at the same time, He has

allowed me to see more of how faithful and capable He is.

good programs, it is not preaching about prayer; it is

actually praying – humbly bowing and pleading for the King

to hear us and speak to us and act for us.

Perhaps that children's song about reading the Bible and

praying every day is a little simplistic or can even be taken

to be a little moralistic. But it's also full of simple truth. One

of the things Church History teaches us, is that when the

Spirit of God brings revival to a church, a community, or

a country, it is almost always accompanied by a renewed

commitment of God's people to the Bible and to prayer.

Simple perhaps? Yes, but profound when people grasp

their truly desperate dependence on a truly great God.

I still want to do great things for the kingdom. We still want

Southwood to be a church that proclaims the name of Christ to all

people and storms the gates of hell for King Jesus. But becoming

a prayerful church happens when we realize God's commitment

to that mission and his power to accomplish it are exceedingly

greater than our own. When we actually pray, we bow the

knee to the King to acknowledge that He is the capable,

resourceful, independent one who nonetheless loves us and

delights to engage us in his kingdom work.

Prayer is presented in the Bible as a weapon in the

arsenal of God's people not because they are a mighty

army in themselves but because in prayer they prevail

upon a mighty King who fights for them. When you

see a weakness in your church, do you tend to despair,

complain, or pray? When you see the brokenness in the

world, do you tend to despair, critique, or pray?

If there's one thing that must happen for God's kingdom

to advance through us, it is not church growth, it is not

4 SEPTEMBER 2017 | SOUTHWOOD.ORG
---
Southwood in India

By Ron Clegg

In the second half of October, Will Spink and Skeets Simonis will participate

in a conference for church planters and pastors in West central India. This

conference is hosted every other year by RIMI (Reaching Indians Ministries International),

one of our global mission partners, and about 2,000 participants

will be coming from all across South Asia. Will will be preaching twice from the

Sermon on the Mount in Matthew with the focus of the conference being "Living

in the Kingdom of God Now to Advance His Mission." In addition, Skeets

will be leading a seminar, and Will will be teaching a class the following week

at the RIMI Seminary.

We need you to be in prayer for this trip. We'll give you more details in the

coming weeks on how to specifically pray for India and for Will and Skeets.

But for now, we also want you to be aware of a way you can help with this

conference. Southwood is already helping get Will and Skeets to the conference,

but many of these participants have little in the way of resources. They

are working very hard in an extremely difficult ministry context. To allow these

Gospel messengers to attend and be equipped for the task, RIMI wants to

raise $75,000 to help cover the costs for the conference, housing, and meals

for the participants. We are being asked to provide $2,000 of this cost. The

average cost for the entire week (travel and meals included) for an attendee

is $50, and any gift you make will be matched by another donor to double its

impact.

If you would like to help make this conference a reality for some very needy

and weary church planters, you can make a special gift to the conference. To

give online, click on the "Donate" tab at rimi.org. Then look for the Mission

India Family Conference 2017. You can also mail a check to RIMI at this address:

RIMI, 1949 Old Elm Rd., Lindenhurst, IL, 60046. Please put "2017 Mission

Conference" in the memo line.

PRAYING FOR JOBS FOR LIFE

By Sarah Niemitz

Prayer is the backbone of Jobs For Life. We mean that statement.

We literally are powerless to minister effectively without

the Holy Spirit. Our students face very real barriers to attending

JfL classes, much less getting a job. Some of these barriers

are their own mental hurdles, while others are outside factors

such as a lack of education or a limited network. Then there are

very real systemic issues of racism and classism that keep many

students out of good jobs. Our champions and instructors will

struggle with their own cultural assumptions, feelings of inadequacy,

and the temptation to allow busy schedules to limit their

relationships in JfL. Local businesses face challenges in their

workplace, and often the fear of a costly "bad hire" can cause

reluctance to give anyone a chance. No volunteer or student can

change those realities or level those barriers on his own.

PRAY:

That the Holy Spirit would remove the necessary

barriers (transportation, family obligations, work

schedules, fear of failure, etc.) for each student and

champion to attend JfL.

That the Holy Spirit would reveal and break down

racism, cultural assumptions, and feelings of superiority

that exist in the hearts of each champion, instructor,

and member of the leadership team.

That local business would thrive and that those in

charge of hiring would look favorably upon Jobs for

Life graduates.

We need the Holy Spirit to intervene for every general barrier

listed above, but also for the many specific barriers we will learn

about as we move though this class. So I am asking you to do

two things. First, pray through the five requests on this page.

Cut them out and tape them on your mirror or put them on

your dashboard, whatever helps you remember to pray. Second,

email shannon.clark@southwood.org and join our JfL prayer

team. Prayer is not a token cliche; it is our only hope.

That the Holy Spirit would break through awkwardness

and fear — causing genuine relationships to

flourish in the context of mutual respect.

That the Holy Spirit would draw students to Christ

as they hear about the gospel and see it in relational

context.
---
THE

STORY

OF

BEING

KNOWN

SHARING OUR HOPE WITH OUR YOUTH

by Peter Render

It is a daunting thing to consider another school year, which to me

means endless opportunities for the High-Life team to bring the

light of the Gospel of the grace of Jesus Christ into what seem to

be increasingly dark places. Students from all over North Alabama

descend on our homes, on school campuses, and The Lodge. Brokenness

abounds, true joy is fleeting, and the age-old issue of being

unique (just like everyone else) remains. A true knowledge of God

leading to a true knowledge of self is as difficult to cultivate as it has

ever been. Many parents are on constant alert, desperately vigilant to

guard against the next piece of spirit-breaking news. As it turns out, life

is pretty hard.

Please do not read doom and gloom from these words. There is hope

in the darkness and difficulty because of Jesus. Southwood is set upon

the mission of experiencing and expressing the grace of Jesus Christ to

each other, to Huntsville, and to the world. At High-Life, we join with the

apostle Paul in our desire to find light through "Christ in you, the

hope of glory." Our drive as a ministry is to "present everyone mature

in Christ…struggling with all his energy that he powerfully works

within" us (Colossians 1).

KNOWING AND BEING KNOWN

Our primary push is toward the ideas of knowing and of being

known. Many of the defining moments in my life, so far, took place

between the ages of 13 and 18. The guilt and shame of my sins,

the mountain peaks of my successes, the painful interactions with

my peers, the friends that I can still call on a moment's notice, were

developed during this time. I did not need social media to create a

portrait of myself to show off to the world. I have always been pretty

good at trimming the fat and letting people see just enough of me

to know that I am a different person, but enough of what I know that

they wanted to see to have some hope of being accepted.

6 SEPTEMBER 2017 | SOUTHWOOD.ORG
---
anches

SOUTHWOOD

These are struggles that our students know more now than I

ever did. They are able to live four or five different relationships

with the same person right now, with only one of them being

face-to-face. Their best friend can break their confidence at

school in a terribly painful way, but they will keep their 500-day

streak alive on snapchat. A group of guys can be civil in public

but can destroy one or many others with pictures, comments, and

direct messages on instagram. Broken homes, sexual brokenness,

popularity struggles, depression, suicide, economic and social

hierarchy, and racism are some bullet points on an seemingly

endless list of real struggles. It is in these places that we can only

hope for the power of Christ to "powerfully work" within us.

Being known is an essential part of saving faith. The idea that

God knows everything that we have ever done and everything

that has ever been done to us is not

something that is readily accepted.

We then pile on the reality that, in

spite of those things, he loves us with

the passion of a perfect Father, eager

to see his children know our identity

through the perfection of our Elder

Brother. "For our sake he made him

to be sin who knew no sin, so that in him we might become the

righteousness of God" (2 Corinthians 5:21). Being known is an

undeniable aspect of being saved. Knowing someone else can

be a bit more difficult.

The act of knowing someone else requires the strong movement

of the Holy Spirit. Psychologists and psychiatrists have long said

that the breaking down of secrets is a key to disarming destructive

behavior in individuals. While this is certainly true, it is of

little eternal consequence. Knowing someone requires naming

the dignity and the depravity in someone. It also involves taking

those puzzle pieces and acknowledging the many wide and

obvious gaps that keep that broken puzzle from ever being a

complete person. We acknowledge the need of our Savior to

cover the depravity with his righteousness, to seal the gaps with

his goodness, and even to reconcile our dignity to the Father.

As we sit with students and parents, we pray for the strong movement

of the Spirit to enable us truly to know them and point them

to Christ as the only solution to be made whole. We pray for the

ability to be known by them in ways that show the faithfulness of

God to his people. We tell stories from experience, and from the

text of Holy Scripture, to the end of modeling what it means to

have no shame in being known and no fear in knowing.

STORIES

In fact, principally know what we are to believe about God, and

what duty God requires of us, through a Story — It is through

the Bible, the story of God's love for his creation, his love for his

people, and the lengths to which he is willing to go to bring them

to himself. In this story, we grumble, we complain, we argue that

"TO MATCH THE LOVE OF THE STORY GIVEN

TO US BY OUR HEAVENLY FATHER, HIGH-LIFE

IS FOCUSED ON TELLING THE STORIES OF

WHAT GOD HAS DONE IN AND FOR US."

we know best, and yet God keeps his promises. We constantly

choose against him and for destruction. In the midst of that, he

calls us to himself. The tension between God's sovereignty and

man's responsibility is palpable, but the Bible paints the picture of

a loving Father who wishes for none to perish.

So, to match the love of the story given to us by our Heavenly

Father, High-Life is focused on telling the stories of what God

has done in and for us. Our community is focused on the work

of the Holy Spirit to be faithful to the text of Scripture and to

the working out of salvation in the people of God. Our leaders

share stories of what God has done in them in Sunday school, in

small groups, at High-Life, and in other settings. We trust that the

Holy Spirit works in believers individually, and amongst us corporately,

to push us toward the Kingdom goals of our Father. That

Advocate is present with us, actively

bringing our community into alignment

with the eternal purposes of the

Creator God.

The hard work of relational ministry

can only bear fruit when the Gospel

is dripping from the mature believers

in the community. We cannot cultivate this in ourselves. We

cannot use logic to penetrate the darkness of the situations with

which we are faced. We humbly grasp onto the reality that we

have been charged with the pushing of those in our charge toward

maturity in Christ. "Him we proclaim, warning everyone and

teaching everyone." (Colossions 1) There is little that is tangibly

measurable in this. We are players in a long game, while our students

are pushing forward with a short-game mentality.

And so, we strive, naming grace upon grace, to have the fortitude

and boldness to stand as beacons of light in what can be a

dark time in the lives of many. We name the need to be known

by the One who chose us in Christ before the foundation of the

world. We name the desire to know those who are hurting. We

tell the stories of the faithfulness of our God, our Heavenly Father,

who loves his children, that many would come to repentance and

know His love.
---
SOUTHWOOD

branches

Why is a Particular Men's Ministry

Necessary for Today's Church?

by Ron Clegg

We live in a culture today that is confused and no longer knows with

certainty what gender means. To a growing number in our culture,

gender is what you want it to be. So, what then does it mean to be

a man? How does a Christian man navigate through our modern

world? Decades ago our idea of manhood was characterized

by the lone cowboy, who was strong and independent, needing

nothing except his own strength and bravado. There were obvious

problems with that characterization. Men like that are not the

best in relationships, and they make for difficult husbands. Today,

too often the pictures we are given are of men who have been

feminized. Maybe in an effort to be softer and more relational,

from their clothing styles to the way they are to express emotion,

men are encouraged to be more like women than the rugged men

of old. In their earliest years boys' competitive nature is often

stifled in favor of "just play the game and everyone wins." Well,

everyone does not win, and every boy knows it.

The Bible does not sacrifice one aspect for the other. Strength

and boldness go hand in hand with gentle nurturing. In 1

Thessalonians 2 we see Paul serving the church with the tender

nurturing of a nursing mother and the bold strength of a father.

Men of faith need both. I heard one teacher say that Christian

men are to be, both at the same time, warriors and poets, fighters

and artists.

How does faith shape manhood? How does the Gospel call and

empower a man into being a strong warrior while at the same time

enable him towards sensitivity and gentleness? How does faith

equip men to walk in the face of rampant sexual provocation as

faithful husbands and fathers? How does faith give him what it

takes to thrive in a highly competitive marketplace?

This is why a specialized men's ministry is important for the life of

a church. Walking by faith for a man has special challenges that

are best addressed in community with other men. How does a

man use his particular gifts to love well in his family and in the

workplace? This is the type of environment we want to provide

through Southwood Men, a place where men can engage as men

with other men over the issues of faith and life.

As a particular ministry to our men at Southwood, we want to

engage our men on several different levels. On a basic level, we

want to provide informal community events where men can build

relationships with other men. These might include golf outings,

pub nights, etc.

To encourage deeper spiritual growth, we hold two annual large

group events, one in the fall and one in the spring. In the fall we

have our men's retreat at a nearby conference facility. This is a

great time of relationship building, fun, and learning from good

solid leaders of the faith. This next spring we will hold a Grace and

Men Conference at The Lodge. Scotty Smith will come and be our

main speaker.

Finally, on a deeper level, we provide a variety of small groups just

for men where we can engage on a personal level with others.

Some groups are more informal and are open for anyone to join.

Others that we call Table Talk are more intense and require a 6-8

week commitment. Some are designed more for fellowship and

others for deeper study.

Regardless of where you are in your journey of faith, we believe you

will find a place in Southwood Men. For more information, contact

Ron at ron.clegg@southwood.org.
---
anches

SOUTHWOOD

SESSION UPDATE

The Session is excited to announce the call of Derrick Harris to

be our Pastor of Shepherding and Young Families. Derrick has

been in ministry for 17 years, many which he has spent focusing

on youth and families, and he comes to Southwood from

Christ Presbyterian Church in Nashville. He and his wife, Anna

Catherine, have a son, John Paul, who just started kindergarten,

and they are excited to be making the transition to Huntsville

in September or October, Lord willing. Please pray for their

family as they work out the details of housing and schooling and

prepare to become a part of our community.

We also have two new youth staff who started full speed in

August with the start of the school year. Christine Betts married

her husband, Andrew, in early August and moved to Huntsville

after the wedding. She is a graduate of Bryan College and is

now our Assistant Director of Youth and Families. Ty Commons

recently moved to Huntsville from Crystal River, Florida, for a

two-year internship with our youth ministry. We look forward

to introducing them to you more in the weeks ahead and to

welcoming them into our Southwood family.

Please join us in praying for our staff as these new staff members

become a part of the team and as we continue the search for our

last vacant staff position, Director of Community Development.

You can also be in prayer for God's continued financial provision

for Southwood, as we get closer to being fully staffed and face

the needs associated with that exciting progress.

Finally, we urge you to jump in and serve with us this fall. Starting

this month there are opportunities to serve in our community

with Jobs for Life, to volunteer with our youth, to serve on

Sunday mornings with our children and nursery, and many other

places to help. The grace of Christ needs to be expressed in all

these areas, and that requires and allows all of us to use our gifts

for the sake of the kingdom.

CURL UP WITH...

BOOKS ON DISCIPLESHIP IN THE FAMILY:

Give them Grace: Dazzling Your Kids

with the Love of Jesus

by Elyse M. Fitzpatrick

All of us want to raise good kids. And we

want to be good parents. But what exactly

do we mean by "good?" We must

tell our kids of the grace-giving God

who freely adopts rebels and transforms

them into loving sons and daughters.

If this is not the message your children

hear, if you are just telling them to "be

good," then the gospel needs to transform

your parenting, too.

Give Them Grace is a revolutionary

perspective on parenting that shows us

how to receive the gospel afresh and

give grace in abundance, helping our

children know the dazzling love of Jesus

and respond with heartfelt obedience.

Spiritual Parenting: An Awakening for

Today's Families

by Michelle Anthony

It's hard enough to train kids to behave,

but good behavior isn't what Jesus calls

for in the Bible. He wants hearts and

souls that are shaped in vibrant faith and

love toward God and others. How can

parents cultivate this in their children?

In this book Dr. Michelle Anthony shares

practical examples and biblical insight

on the spiritual role of parenting.

Spiritual Parenting introduces the simple

but revolutionary concept that parents

are, by the power of God's Spirit,

to obey and depend on God in order to

create an environment God can use to

beckon their children to Him.

Grace Based Parenting

by Tim Kimmel

Parents in our post-modern world tend

to be committed to but anxious about

their child-rearing responsibilities.

They've tried the countless parenting

books on the market, but many of these

are strident, fear-based books that loving

parents instinctively reject, while still

searching for direction.

Rejecting rigid rules and checklists that

don't work, Dr. Tim Kimmel recommends

a parenting style that mirrors God's love,

reflects His forgiveness, and displaces

fear as a motivator for behavior. As we

embrace the grace God offers, we begin

to give it — creating a solid foundation

for growing morally strong and spiritually

motivated children.
---
idolAddiction

Women's Conference

"Julie powerfully and accurately described what

happens in our minds and hearts when we sin.

But – thanks be to God! – She didn't stop there.

She showed us from the Bible how God has

given us a new heart that desires to trust Him.

What a refreshing word! I can't wait to learn

more in the women's Bible study this fall."

Adele

"I thoroughly enjoyed the recent Southwood

Women's Conference. Julie was excellent in helping

me to see some of the idols in my life. Above

all, she reminded us that we are daughters of the

Almighty King, and He will guide our way through

this crazy life if only we trust Him. Julie was so

amusing and relatable to real life. I can't wait to

jump into this study on Thursday mornings!"

Sally

"Julie presented idols in a way I had never considered

before. The part that really stuck with me

came from a song she played the first night with

the words 'anything I put before my God is an

idol… anything I can't stop thinking of is an idol.'

Placing idols and our addiction to them in this

light helps me examine my own heart and identify

the situations where my worries or restlessness

can be turned over to God."

Chantel

"The women's conference was so encouraging! It

reminded me that Christ's rich and abundant love

and provision is the only way to bridge the gap

between where I am and where I am called to be.

Sarah

Our study of idolAddiction continues

every Thursday, beginning September 7th.

At 9:30-11:30am (childcare provided) or at 7:00pm

Sign up at southwood.org/growingsmall or email

shannon.clark@southwood.org
---
ALL THAT IS FAIR

NOBODY WANTS TO WORK FOR IT

by James Parker

Everything happens so fast now, am I right? When I watch TV,

commercials are 15 seconds. When I watch a Youtube video, I'm

irritated if I can't skip the ad at the beginning after 5 seconds.

When I sit down at the computer, if the website I'm visiting takes

more than 15 seconds to load, I become outraged, shouting at

a box that can't respond... Also the short-lived immediacy with

which we consume music is borderline maniacal. We chew up

new music and spit it out with the same frequency as one would

plow through a bag of sunflower seeds. Everything in the arts/

entertainment world is "on-demand" now. Spotify, Pandora,

Netflix, Hulu, iBooks, Audible.com, etc... Our expectation is that

what we want, the way we want it, will be available to us anytime

we want it. On one hand this sounds like a benefit of technology.

But on the other hand, all of this collective impatience has done

something to us.

There has been an enormous shift in our culture within the last

40-50 years. Consumerism crept its way into our lives in the

early part of the 20th century on the coattails of the Industrial

Revolution. We started to look at the way we buy and use things

differently. And we began to expect a certain level of service and

expediency. The problem is that speed of delivery and quality

of workmanship often operate inversely to one another. As

something is delivered faster, quality usually decreases. And this

phenomenon has snowballed into epic proportions.

I am only 37 years old, and I remember going to record stores. I

remember holding albums in my hands and flipping through the

sleeve artwork. I also remember using a TV guide, reading an

actual book, practicing writing in cursive, not using a calculator

to do math, having to make exact change, dialing a number on

a rotary phone, and the list goes on and on and on... My kids are

growing up in a world where videos of trains, dinosaurs, tornados,

and dominos, are available in the blink of an eye, for as long

as their little hearts desire to watch them. They've never seen a

landline. They've never heard the "finger nails on a chalkboard"

sound of dial-up internet. Their desires are validated and can

be instantly gratified by every facet of our culture. Needless to

say, it is very difficult for them when we have to say "yes, but not

right now" or "no, you can't have that." They have no category

for those statements. And if we're honest with ourselves, neither

do we.

In contrast, Jesus delayed his own personal gratification "even

unto death on a cross." His workmanship would not be hindered

by the conflicting demands of his culture. He had a long enough

attention span and big enough heart to lovingly and carefully fix

the things that are broken. I suppose if he wanted to, he could

scrap this universe and just simply start again. But he always

had a well crafted intent for this place and for all of us. We are

incomplete song sketches. But he's not going to just click to the

next song in the celestial version of spotify on his Grand Canyon

sized iPhone. He patiently and gently has written an ending to

our fragments. What borderless love he must have for all that he

has made!

So even though we have been almost irreversibly changed by

our consumerist culture, there is a way back to our true selves.

It's called work. Imagine that. Putting off our temporal impulses

in order to work hard for the sake of something better. Whether

that means cooking a simple meal, writing a song, fixing a car,

building a business, or mending a broken trust between friends,

the way to make things right is to work hard at them! And in the

process, we may actually find that our souls are deep and our

value is intrinsic.

In the spirit of looking to Jesus' example, let me point you to

another small picture of encouragement. When you feel like the

world around you has gone off the rails, listen to this tune by the

great Andy Gullahorn and know that you're not alone!

It took me ten good years to break in this old hat

It has a black sweat ring and the bill is cracked

It's all frayed in the front and duct taped in the back

There's so much that this hat has been through

In the window of the Abercrombie store

There's a product line I'm sure you've seen before

Brand new baseball caps made to look already worn

What is this world coming to

Nobody wants to work

Nobody wants to work for it

If it don't come easy, it ain't worth the wait

Nobody wants to work

Nobody wants to work for it

Welcome to the new old-fashioned way

I love the music that I grew up on

When the business was all about the song

These days it's just one throw up against the wall

If you don't stick, that's it – you're through

I see it all the time

In the cardboard sign

That says I won't work for food

But I'd be happy to take your dime

Or the billboard for

A quick and cheap divorce

We don't try to fix anything anymore

SEPTEMBER 2017 | SOUTHWOOD.ORG 11
---
A T A G L A N C E

PERU MISSION TRIP

June 2-12

SOUTHWOOD MEN'S RETREAT

Sept. 15th & 16th

at

Joe Wheeler State Park

Cost is $100

TO REGISTER VISIT SOUTHWOOD.ORG/MENSRETREAT