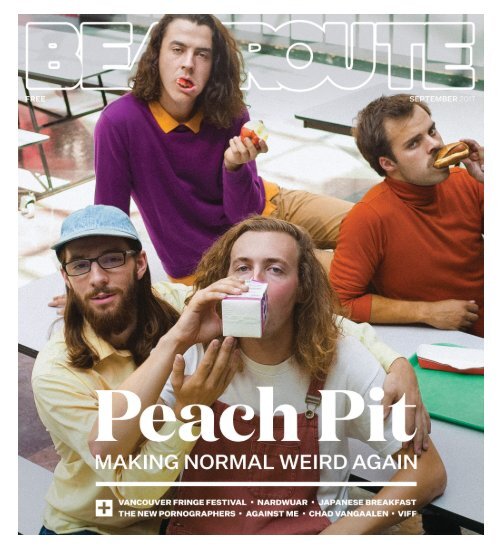 Beatroute Magazine BC Print Edition - September 2017
BeatRoute Magazine is a monthly arts and entertainment paper with a predominant focus on music – local, independent or otherwise. The paper started in June 2004 and continues to provide a healthy dose of perversity while exercising rock 'n' roll ethics. Currently BeatRoute's AB edition is distributed in Calgary, Edmonton (by S*A*R*G*E), Banff and Canmore. The BC edition is distributed in Vancouver, Victoria and Nanaimo. BeatRoute (AB) Mission PO 23045 Calgary, AB T2S 3A8 E. editor@beatroute.ca BeatRoute (BC) #202 – 2405 E Hastings Vancouver, BC V5K 1Y8 P. 778-888-1120
BeatRoute Magazine is a monthly arts and entertainment paper with a predominant focus on music – local, independent or otherwise. The paper started in June 2004 and continues to provide a healthy dose of perversity while exercising rock 'n' roll ethics.

Currently BeatRoute's AB edition is distributed in Calgary, Edmonton (by S*A*R*G*E), Banff and Canmore. The BC edition is distributed in Vancouver, Victoria and Nanaimo. BeatRoute (AB) Mission PO 23045 Calgary, AB T2S 3A8 E. editor@beatroute.ca BeatRoute (BC) #202 – 2405 E Hastings Vancouver, BC V5K 1Y8 P. 778-888-1120
SHOW MORE
SHOW LESS
Create successful ePaper yourself
Turn your PDF publications into a flip-book with our unique Google optimized e-Paper software.
September '17

PUBLISHER

BeatRoute Magazine

EDITOR-IN-CHIEF

Glenn Alderson

glenn@beatroute.ca

MANAGING EDITORS

Joshua Erickson

joshua.erickson@beatroute.ca

Jennie Orton

jennie@beatroute.ca

SENIOR EDITOR

Maya-Roisin Slater

mayaroisin@beatroute.ca

LAYOUT

& PRODUCTION MANAGER

Naomi Zhang

WEB PRODUCER

Jash Grafstein

Frongt Cover Photo

Lester Lyons-Hookman

COPY EDITOR

Thomas Coles

Editor-In-Chief

Glenn Alderson

glenn@beatroute.ca

Managing Editor

Jennie Orton

jennie@beatroute.ca

04

05

06

10

HI, HOW ARE YOU?

- with Peter Ricq

PULSE - CITY BRIEFS!

NARDWUAR

FRINGE FESTIVAL

18

24

MUSIC

- Cigarettes After Sex

- Japanese Breakfast

- The New Pornographers

- Westward Festival

- Nashlyn

SKINNY

- Against Me!

- Woodhawk

- Archspire

- Pup

- Perturbator

CONTRIBUTING WRITERS

Max Asper • Emily Blatta • Becca Clarkson •

Adam Deane • Quan Yin Divination • Bryce

Dunn • Heath Fenton • Shannon Griffiths •

Theresa Gunkel • Kathryn Helmore • Max Hill

• Jeevin Johal • Zak Johnson • Charlotte Karp

• Noor Khwaja • Sarah Kitteringham • Ana

Krunic • Nathan Kunz • Brendan Lee • Christine

Leonard • Paul Mcaleer • Hollie McGowan •

Jamie Mcnamara • Andrew R. Mott • Liam Prost

• Hogan Short • Emma Sloan • Willem Thomas •

Brayden Turenne • Trent Warner

CONTRIBUTING

PHOTOGRAPHERS &

ILLUSTRATORS

Sarah Baar • Jenny Bonar • Bev Davies

Lindsay's Diet • David & Emily Cooper

Asia Fairbanks • Chase Hansen

D.L. Fraser • Amy Ray

Galen Robinson-Exo • Dylan Smith

Sarah Whitlam

ADVERTISING INQUIRIES

Glenn Alderson

glenn@beatroute.ca

778-888-1120

City

Yasmine Shemesh

yasmine@beatroute.ca

Electronics Dept.

Vanessa Tam

vanessa@beatroute.ca

The skinny

Johnny Papan

johnny@beatroute.ca

Comedy

Graeme Wiggins

graeme@beatroute.ca

13

14

15

17

CITY

- Stuff You Should Know

- The Muslimah Who Fell to

Earth

- Literasian

FOOD

- Chickpea

COMEDY

- Lewis Black

PEACH PIT

27

31

38

BPM

- Cousin Stizz

- Bonobo

- Blueprint

- Clubland

- New Forms Festival

Film

- VIFF

- This month in Film

REVIEWS

- Chad VanGaalen

- Belle Game

- Brand New

- Death From Above

- Emily Haines

HOROSCOPES

DISTRIBUTION

Gold Distribution (Vanoucver)

Mark Goodwin Farfields (Victoria)

Local Music

James Olson

james@beatroute.ca

Live

Galen Robinson-Exo

galen@beatroute.ca

BEATROUTE MAGAZINE

202-2405 Hastings St. E

Vancouver BC Canada

V5K 1Y8

editor@beatroute.ca • beatroute.ca

©BEATROUTE Magazine 2017. All rights reserved.

Reproduction of the contents is strictly prohibited.

Japanese Breakfast on page 18. Photo by Ebru Yildiz

September 2017 3
---
Peter Ricq, director of Dead Shack

HOGAN SHORT

Peter Ricq is a multifaceted artist

living in Vancouver who, according

to his level of output, never sleeps

or slows down. As one half of

the electronic duo Humans and

frontperson for the dark and

brooding new wave project Gang

Signs, his musical chops are very

frequently exercised. But in addition

to performing, Ricq is also about to

make his first directorial debut at

the Vancouver International Film

Festival for his live action horror

comedy feature, Dead Shack. He's

been travelling around the world for

various premieres since June, but we

caught up with him for a quick chat

about his wild ride before Dead Shack

bludgeons its hometown audience

with one impaling swoop.

BeatRoute: Hi, how are you?

Peter Ricq: I'm good! Thanks!

BR: What are your feelings on

premiering your directorial debut at

VIFF this year?

PR: It's nice, feels great. I'm really

happy to finally see it with the people

who have worked on the film. We

haven't had the time or finance to do

a cast and crew screening so this will

be the first time everyone gets to see

the film. I can't wait.

BR: Dead Shack has kids swearing and

killing (undead) adults, which has

never really been done, even though

it makes perfect sense. What gave

you and the rest of the writing team

— Phil Ivanusic and Davila LeBlanc

— the initial idea for this story?

PR: I wrote the outline to the film

after watching the Fright Night

Peter Ricq is presenting his directorial debut, Dead Shack, at VIFF this

month.

remake about 5 years ago. That film

just reminded me of how much I like

fun horrors starring a young cast like

Monster Squad, Goonies and Stand

by Me. I wanted to make a film of that

style for our generation. As a kid, I

always wanted the gore to be pushed

further and the swearing to be more

like how I expressed myself with my

friends at that age. It was just a natural

thing to do and go into that direction.

When I presented the film to Phil and

Dav, we had some arguments on some

story elements but never about the

tone or direction of the film. I think

we all felt like kids swearing and killing

people was 100 per cent going to be

part of the film.

BR: The original score was done by

your own band, Humans. How did

that creative process differ from what

you are musically accustomed to?

PR: I had a good idea from the start

and had a bunch references from films

I liked — ALIENS, The Thing, Tron

(Daft Punk), Assault on Precinct 13

(Carpenter), Fargo (TV show) and so

on. Wrote about 40 tracks in 10 days

then in January I would edit the film

with the editor in the morning then

go see Jason Corbett at Jacknife Sound

and re-record with him the samples

we thought could sound better, then

go back to the editing room at night.

I wanted real strings in the film and

asked Dougal Bain McLean if he was

interested in contributing to the score

and he agreed. I sent him 40 tracks

and he sent me multiple strings for

every track! He really helped in turning

this into what it became.

BR: How has the festival circuit

treated you and your movie?

PR: The response has been very

positive. We even won the Silver prize

for best Canadian film at this year's

FANTASIA film festival in Montreal.

I just got back from London Fright

Fest and many people have come up

to me telling me it was one of their

favourite films at the fest. The day

after its UK premiere, which we had

900 people attend and watch it on an

IMAX screen (SOOOO BIIIG!), I woke

up to so many positive tweets about

how much the audience enjoyed Dead

Shack.

BR: Have there been more screams

or more laughs from the audience?

Are you trying to get both evenly?

PR: The movie has a few scares but it's

more of a gore zombie film with a lot of

comedy. Think of films like Evil Dead 2

and Gremlins, more in that vein.

BR: What do you hope to hear

people say as they walk out of the

theatre after seeing Dead Shack?

PR: I want my art to entertain people.

That's what I try to do with my music,

my illustrations and my films. I want

people to come out and say "I had a

great time, that was fun!"

BR: Has filmmaking always been

something that appealed to you?

Are there any other scripts in the

works?

PR: Yeah, that was always the goal. I

started doing comics because I knew

it would help me with my storytelling,

then moved from that to animated

films, then that to live action music

videos and then movies! So the goal

was always to be a filmmaker in the

end. I have several films in the script

stage; a vampire film that I'm writing

with a local Vancouverite, Zlatina

Pacheva. The film is somewhat like

Superbad meets Fright Night. I'm

working on turning my graphic novel,

Once Our Land, into an animated

feature film with Philippe Ivanusic.

Phil, Dav and I are working on another

live action film that is a marriage of

Dazed and Confuzed and The Thing.

BR: What is a film you saw lately

that really spoke to you as a

filmmaker and maybe even inspired

you in some way?

PR: I really enjoyed It Comes at Night; it's

an amazing film. Anything A24 does is

simply brilliant. A24 also did one of the

best westerns I've ever seen called Slow

West starring Michael Fassbender, who

also produced the film. Super recently, I

thought the new Spiderman was highly

entertaining. I also loved the Fargo

television series and I adored Preacher

Season 2. I'm obviously really excited

about Stranger Things Season Two.

HUMANS is performing at Thrive AIDS

Walk Sept. 16 at the Malkin Bowl, Gang

Signs is performing at Westward Fest on

Sept 14 and Rifflandia (Victoria) Sept

15. Dead Shack will be screening as

part of VIFF. Visit www.viff.org for dates

and times.

4

September 2017
---
PULSE-CITY BRIEFS!

our finger on the heartbeat of your city

CITY

photo by Lauren D Zbarsky

photo by Alex Guiry

photo by Anthony Diehl

Thrive Music Festival Moonshinin' Music Festival Uninterrupted La Mezcaleria Feasting on Famine

THRIVE MUSIC FEST

September 16 at Malkin Bowl

Taking place just after the AIDS WALK to

tHrIVe, the province's largest fundraiser

for HIV health and wellness, Thrive

Music Fest continues the supportive

movement for Positive Living British

Columbia. This year's lineup, curated

by Celebrities Nightclub, features

local favourites like HUMANS, IMUR,

and Desirée Dawson. The event is free

and will also include a beer garden.

MOONSHININ' MUSIC FESTIVAL

September 29 at Old Man Mountain

It's been four years, but the notorious

Moonshinin' Music Festival is finally

back. Staying true to its roots, the event

will be held in Langley (where it all

began in 2011) and showcase musicians

from the local country, folk, and rock

community. Don't miss the likes of Real

Ponchos, Jody Glenham & the Dreamers,

Bob Sumner, and, of course, founder

Elliot C. Way.

MEDIA WHORE

Released on September 12.

Penned by award-winning comedy

writers Daniel and Steven Shehori (The

A.V. Club, Huffington Post), this book

provides insightful methods on how to

become your own publicist. The do-ityourself

guide humorously draws from

the brothers' own experiences in the

entertainment industry, demonstrating

how one can professionally gain

the media coverage they desire.

For creatives, entrepreneurs, small

businesses, or anyone who just wants to

get their work out there.

THOMAS ANFIELD

September 15 - 17 at West 7 Studios.

Esteemed Vancouver artist Thomas

Anfield is presenting an exhibition of

his new paintings that delve into how

experience can affect an individual.

In these works, Anfield, who is also

a dancer and musician, explores the

collective unconscious and how we are

programmed to perceive in certain ways.

Colourful, figurative, interpretive, and

metaphorical.

SALMAN RUSHDIE

September 19 at the Chan Centre.

World renowned and celebrated author

Salman Rushdie will be in Vancouver

discussing his latest work, The Golden

House. The novel, an epic thriller with

a timely plot, has been described

as Godfather meets Gatsby. In his

discussion, at which he will be sitting

down with Vancouver Writers Festival

artistic director Hal Wake, Rushdie will

further explore the story in terms of

today's political climate.

UNINTERRUPTED

9 p.m. Tuesday to Saturday at

Coopers' Park.

The first of its kind, this cinematic

display will use original film and 3D

projection mapping to transform the

Cambie Bridge into a rushing river filled

with migrating salmon. Combining

both storytelling and visual art,

UNINTERRUPTED celebrates the leaping

fish and invites viewers to consider the

innate connection between human

beings and the environment.

LA MEZCALERIA

located at 68 E. Cordova Street and

1622 Commercial Drive.

The Mexican restaurant has just upped

the ante, adding even more delicious

and authentic drinks and plates to their

brunch, lunch, and cocktail menus.

Lunch will now include dishes like

Flautas and Tostadas (one filled with

pulled pork, another with Portobello

mushroom salad for vegetarians),

while brunch will now be exclusive to

weekends until 2 p.m. Wash it all down

with some new libations courtesy of

beverage director Ryley Zucca, who has

incorporated traditional ingredients like

cilantro and serrano pepper. All available

at both the Gastown and Commercial

Drive locations.

FEASTING ON FAMINE

September 27 - 30 at Firehall Arts

Centre.

The world premiere of Shay Kuebler's

new dance production also kicks off

Firehall Arts Centre's 35th anniversary.

Feasting on Famine explores society's

obsession with health and fitness by

way of one man's journey through

bodybuilding. Touching on capitalism,

addiction, and corporation — and an

industry that profits from self-doubt.

VANCOUVER FLIPOUT

PINBALL EXPO

September 22 - 24 at Holiday Inn &

Suites Downtown Vancouver.

Ever wanted to meet a real-life pinball

wizard? Here's your chance. The annual

exhibition, which is now in its second

year, will feature guest speakers, as well

as tournaments for all ages (and skills)

and a huge selection of games available

for free play.

EAST VANCOUVER

IMPROV LEAGUE

Launches on September 3 at Havana

Theatre.

Instant Theatre, one of the city's finest

improv companies, has started their very

own league. The East Vancouver Improv

League now runs every Sunday at the

Havana Theatre on Commercial Drive

and, for their official launch, they are

putting on an epic battle between two

fast-talking groups. If you like to laugh

'till you cry, don't miss this.

September 2017 5
---
NARDWUAR THE HUMAN SERVIETTE

vancouver's journalism hero reflects on 30 years of campus radio

YASMINE SHEMESH

Nardwuar the Human Serviette is leaning against the doorway of CiTR

Radio drinking out of a water bottle. Adhering to the University of

British Columbia campus station's "no liquids by the equipment" studio

rule, the beloved, fast-talking journalist — wearing his signature tartan

tam and a yellow sweatsuit with names of bands like the Beatles and Sex

Pistols scattered over it — keeps his distance as he quenches his thirst.

The studio space, now located in the newly built AMS Student Nest,

is bright and airy, with wood panels on big windows that look out to a

foyer and a wall-to-wall bookcase that acts as a digital library. Nardwuar

remembers his first day as a host at CiTR, back in October 1987. The

room looked a lot like this, he describes, with records strewn about

everywhere. It was overwhelming. The following week, he decided he

would do interviews. Much easier, he grins.

Over the next three decades, Nardwuar would interview everyone

from Kurt Cobain to Justin Trudeau. His guerrilla approach and

prodigious knowledge, frequently accompanied by gifts — rare records,

obscure artifacts, often drawing a Canadian connection — make for an

enthusiastic exchange that captures a side seldom seen of his subjects.

He had a regular spot on MuchMusic and, now, has conquered YouTube.

A historian and patriot, Nardwuar's commitment to journalism,

particularly at a local level, is incomparable. The campus station has

been his home, every Friday, for the last 30 years. He'll celebrate the

milestone this month, airing a 20-hour marathon of interviews, as well as

with a gig where his band, the Evaporators, will perform.

"The purpose of CiTR is to expose people to thoughts they haven't

heard before," Nardwuar says. "There's nothing wrong with the

traditional media, but what's the point of us regurgitating back exactly

what they're going to say? So, we try to provide a different context. The

same thing with interviews, etcetera. The purpose of CiTR is to provide

an alternative to what's going on and the reason I'm still here, still doing

it, is that I learn something every time I come in here."

The minute you know everything, Nardwuar adds, is the minute you

should quit. Campus radio keeps him on his toes. He recalls one day, in

1989, when a man called Henry 77 burst through the doors and asked to

speak on air. Nardwuar said yes. "He talked all about Fibonacci numbers

and how familiarity breeds contempt, all this sort of stuff. He came out

to the university to spread the knowledge that he had."

Nardwuar studied Canadian History at UBC. His mother, Olga Ruskin,

was also a historian and journalist, and an influence on his professional

life. She co-wrote Gastown's Gassy Jack, the first book published about

the barman, and hosted a public access television show (inspiring the

Evaporators' first record, Oh God, My Mom's On Channel 10!) where she

interviewed figures from the North Shore. "She made these people, who

seemed boring to me, very interesting," Nardwuar says. "So, she taught

me that everybody has a story."

Nardwuar's vast expertise is one of the most compelling things

about him. He is a brilliant musicologist and the effort he puts into his

meticulous research is a testament to his professionalism and genuine

interest. The reaction is usually a combination of astonishment and

respect. Questlove was close to tears when he was given a rare issue of

the periodical Roctober, which included an article on Soul Train's early

days in Chicago.

"There's some people, like Donald Trump or Kanye West, that I

have files built up on. Every time I think of something, I jot it down,"

Nardwuar says. "It's continual, it's a file. For other interviews, usually

once a week [to prepare]. Anybody can do it, but they just can't be

bothered."

Interviewing more politicians, like Trump, is underlined on Nardwuar's

list of goals. It's a long list. Despite all of his standing achievements, he

humbly insists that he isn't satisfied. He's still scrambling, he says, and

feels he has so much more to know and further stories to engage with.

"It's the interviewer's job to make the interviewee exciting. In other

words, after an interview, you might go, 'that person was boring.' No.

That person wasn't boring. You were boring in not bringing out that

person's flavour."

It's nearly time for Nardwuar's show. He begins sorting through

records and picks up his iPhone to post a tweet detailing which

interview he'll be airing. Today, Lil Wayne.

Apart from the new building, perhaps the biggest change at CiTR is

photo by William R. Jans

"The minute you know everything," Nardwuar says, "is the minute

you should quit."

technology. With the rise of the internet, there was fear that the web

would kill the airwaves. The opposite, however, has proved to be true,

especially in terms of accessibility and reach. "Now, I just can't believe

how amazing it is," Nardwuar exclaims. "Like, for instance, we just give a

tweet and we'll tell to the world to tune in. We can send a picture of the

record we're playing. The show can be archived. People can listen live or

it can be podcast."

Nardwuar leans forward, scrolling through his phone. He stops at a

photo of the Penthouse Night Club, with 'Seth Rogan Drinks For Free'

lit up on the landmark strip club's marquee. "This, to me, is an interview

going well. This is the Penthouse in Vancouver. 'Seth Rogan Drinks For

Free.' In other words, they saw my interview and they put this on their

sign. I want this to happen all the time, for every interview."

Nardwuar gets excited when he has the opportunity to speak with

someone, like Rogan, who was also raised in Vancouver. There's a kinship

there, in understanding the things that are integrated into the fabric of

local history. His favourite topic. Of course, Narwuar is weaved into it,

too. His is a bright thread, distinguished by passion and sincerity.

"That is amazing, isn't it? That is from a fucking interview that I did. I

can't believe that."

Nardwuar the Human Serviette will play a 20-hour marathon of his

interviews on CiTR 101.9 FM starting at 9 p.m. on September 21. His CiTR

Radio Show 30 Year Anniversary Celebration takes place on September 23

at the Hall.

6

September 2017
---
CITY

INTANGIBLE

Ronnie Dean Harris tells a new story that reflects, respects ancestral history

Indigenous artist Ronnie Dean Harris is all about research and rapping.

BECCA CLARKSON

As he spells out his ancestral name, Mlo:yhleq, for

me over the phone, Ronnie Dean Harris is parked

beside the river in Yale, BC. Harris, or Ostwelve

when he's rapping, was given this name in the very

same place 27 years ago where his five times great

grandfather, James, was Chief during the 1913 Hells

Gate Landslide. Harris knows this because his greatest

passion, besides hip-hop, is research. As one of six

artists showcased in Bill Reid Gallery's upcoming

installment Intangible: Memory and Innovation

in Coast Salish Art, Harris is putting his passions

together through a spoken word video titled "Speak

of What You Know."

For Harris, an organizer for the NGO Wild Salmon

Caravan, it is a full circle moment to be in the same

place that his people carried wild salmon over that

landslide to safety.

"Our names are given to us as a responsibility to

carry the history," Harris tells me.

Like his ancestors who wove baskets, Harris weaves

words. Hip-hop, which he claims is responsible for

his impressive titles (graphic designer, podcast host,

actor, composer, editor, academic, musician, and

dancer) allowed for him to transcend the limits of his

origin. Design and branding became an important

part of his career — not just for artistic promotion,

but also because of the historical significance.

"Indigenous people have used design and branding

to express themselves for centuries," Harris explains,

citing totem poles, living spaces, traditional clothing,

and eating tools as examples. Canada's tourism

industry has co-opted Coast Salish art, yet many

aspects of Harris' culture — ceremonies, artifacts,

songs, and stories — are too sacred to show or share.

The mediums that Harris combine in his work speak

to the complexities within Coast Salish identity.

As we speak, he is still writing the piece that will

be showcased between September 13 - December 10.

Taking the time to research his ancestors and inhabit

the spaces they and their stories come from are his

priority. The deadline doesn't phase him. He'll be

satisfied knowing that the project will be the most

current dialogue between him, his ancestors, and

future generations.

Intangible runs from September 13 – December 10 at

the Bill Reid Gallery.

FAÇADE FESTIVAL

breaking barriers, bringing art to life

SHANNON GRIFFITHS

Featuring 10 Canadian artists of completely different styles, visions, and

backgrounds, Vancouver's third annual Façade Festival is a stunning showcase of

rich diversity. Presented by the Burrard Arts Foundation, it brings unconventional

stories and contemporary visions to the public, to break through the metaphoric

façades of art and society.

"The Façade Festival really ties into our mission statement here at the Burrard

Arts Foundation, which is to create more opportunities for the public to

experience art," explains BAF Gallery Coordinator, Genevieve Michaels. The BAF is

constantly looking for new ways to promote art in Vancouver. From gallery spaces

and shows to outdoor murals and sculptures, the gallery exhibits contemporary

art in open and accessible environments of all kinds. "The nature of the Façade

Festival," Michaels continues, "is that it creates a large monumental project to be

seen by thousands of people, [yet] is very temporary and is always changing. We

[at BAF] think that art should be outside the walls of the gallery in the city for lots

of people to enjoy."

The featured artists will use projection mapping digital technology to transfer

their artwork, created to fit cohesively with the physical architecture of the

building, onto the Georgia Street-facing façade of the Vancouver Art Gallery.

One featured artist, Diyan Achjadi, will be displaying an animated piece of

shifting islands and clouds, to signify the ever-changing world as it faces climate

change. Inspired by her Indonesian heritage and the relationship between beings

and land, Achjadi's work will comment on environmentalism and colonialism.

Former professional dancer, Evann Siebens, will be showing a thoughtprovoking

and emotionally moving story of two magpies — two improvisational

dancers, clad in orange jumpsuits — to symbolically represent thieves. Filmed on

unceded Coast Salish territory, Siebens' piece is about history, place, and identity,

and questions what these mean.

Another artist, Shawn Hunt, will feature his traditional form-line art of the

Heiltsuk, to bridge the gap between the generations of First Nations peoples,

between artists and storytellers, and between the cultures of the world. When

placed in a specific sequence, his artwork creates a narrative of an interdimensional

spirit world, allowing room for interpretation.

Façade Festival runs from September 4 – 10 at the Vancouver Art Gallery.

artwork by Shawn Hunt

Artists will use projection-mapping technology to transfer their artwork,

created to fit cohesively with the physical architecture of the VAG.

September 2017 9
---
FRINGE FESTIVAL

EXECUTING JUSTICE

delivering a hard blow of reality to the head

Matt Clarke directed the play, which

is adapted from Kurt Vonnegut's

1951 short story of the same name.

ADAM DEANE

Reality is relative. That may be obvious

to most, yet, because we operate on

our own special planes, it's not always

apparent. How we perceive the world

around us, the everyday interactions,

the pitfalls, the consequences, the

"system" we operate under, so to speak,

is different.

The beauty? We all have our own

perception that's unique to us. Some

are bright and vibrant from the

brilliance we've witnessed or dark and

mirrored from the pain we've absorbed.

Some are airy and naïve, and there are

some so deeply affected by the outside

world they've developed a bird's eye

perception; a graduated consciousness,

if you will.

Bill Pats is one man with a grasp of

reality most will never have. Having

spent time in a system all it's own —

the justice system — Pats' view changed

dramatically. Thus, his execution as

Daryl Archibald Kane, or at least the

hour leading up to it, was something

Bessie-Jean Productions felt worthy

enough to be the sole storyline of their

Fringe Festival drama, Executing Justice.

Daryl is to be executed at the stroke

of midnight on April 8, 2030, one hour

from the show's curtain. He recounts

the path that lead him to the cell

in which he sits for most of the act

prior to his now-legal execution. Pats'

alarming portrayal of 30-year-old Daryl

gives a pragmatic eye into the future of

a broken Canadian social justice system.

With a degree in criminology from

the University of Manitoba and nearly

35 shows under his belt, Pats brings a

fresh dip into the mind of a byproduct

of the systems for which we live in. He

seeks, with intense energy, to update

the awareness of capital punishment in

Canada while carving a sharp edge into

the Fringe this year. Considering 66% of

Canadians support the return of capital

punishment, maybe this is something

we all need to see.

What you walk away with is entirely

up to you; because as we know,

interpretation is relative.

Executing Justice runs from September

7 - 17 at Revue Stage.

THE EUPHIO QUESTION

happiness, but at what price?

With Executing Justice, playwright

Bill Pats seeks to update the

awareness of capital punishment in

Canada while carving a sharp edge

into the Fringe this year.

BRENDAN LEE

What if we could do away with the dark

hole of sadness and emerge brightly in

a society anew, where happiness was

no longer sought after but bought and

obtained with the push of a button?

As a part of this year's Fringe Festival,

local company Little Mountain Lion

Productions puts on an adaption of

Kurt Vonnegut's sci-fi comedy, The

Euphio Question, and ponders the

same question.

Originally written in 1951 as part of

Vonnegut's Welcome to the Monkey

House, the story revolves around the

discovery of euphoria-producing radio

waves and the conundrum that follows

when suddenly happiness becomes

an object rather than a destination.

Vancouverite Matt Clarke adapted and

directed the play, and he talks about

the struggle to get people interested in

the genre.

"We kind of want to steal audiences

out of bookstores and movie theatres,"

he says.

And with the Fringe Festival being

one of the city's largest avenues for the

art of indie theatre, the message of his

speculative sci-fi play becomes all the

more important.

"We walk through the world with

our headphones in, looking at screens,"

Clarke continues. "And to get your

butt out and watch real people telling

a story, in a room full of a bunch of

other real people… that's invaluable. I

mean, doctors should be prescribing

theatre." Those brave enough to steal a

night away from the addictive glow of

their screens can also expect original

compositions by musician, Graham

Dawson.

We might not all be quite at the

point where happiness is an app to

be downloaded on your phone, but a

ticket to The Euphio Question is sure to

buy you a whole lot joy.

"Bring a couple friends, get happy,

and let's talk about happiness for 40

minutes," Clarke concludes with a laugh.

The Euphio Question runs at Havana

Theatre from September 8 - 17.

HIDDEN

MEMORIES

emphasizing the value of

storytelling, coming to terms

with a painful past

YASMINE SHEMESH

In 1942, the federal government expelled

thousands of Japanese Canadians living

in British Columbia from their homes,

and sent them to internment camps,

work camps, and farms in the prairies.

Properties and possessions had been

seized, in an exile spurred on by racism and

a thinly veiled excuse of national security.

Hidden Memories, a new play written by

human rights advocate Lillian Nakamura

Maguire, is loosely based on the

experiences of Nakamura Maguire's own

parents, Sadato and Aiko, as well as those

of other Japanese Canadians. Presented

by Gwaandak Theatre and directed by

Vancouver Asian Canadian Theatre's

Donna Yamamoto, it was selected to

be part of the Fringe Festival's Advance

Theatre: New Works by Diverse Women

Readings.

After her mother's death in 2005,

Nakamura Maguire began going through

family documents to put together

a timeline of her parents' lives. She

was shocked at what she found. The

discrimination they endured — forced

to leave B.C. after arriving, newly married,

from Japan in the late 1930s; her father

sent to a work camp and, later, a sugar

beet farm — was rarely, if at all, discussed

when she was growing up in Regina. But

there it was.

HER NAME WAS MARY…

raising awareness about urgency, frequency of eating disorders

CHARLOTTE KARP

When Tai Amy Grauman was 15 years old, she lost

her best friend, Faith, in a car accident. Faith was

28kg at the time and in the throes of a severe eating

disorder that was never taken too seriously in the

years leading up to her death.

Fast-forward a few years and Grauman has turned

her story into an honest and intimate theatre

piece that delves deeply in to the world of eating

disorders, co-dependence, unconditional love, and

the treatment of young women with mental illness

in society today.

"I have countless women in my life (including

myself) who still struggle with past or present eating

disorders," admits Grauman. "It baffles me that

while so many of us struggle, there are hardly any

resources for help within our health care system.

The struggles encountered by the characters in Her

Name Was Mary… affect women everywhere, every

10

minute of every day. It breaks my heart."

Grauman says she feels as though hers and Faith's

eating disorders were never treated as serious

issues, and wrote this piece to raise awareness of

the fact that her story isn't particularly unique.

"Stories like these ones are told occasionally and

almost always in a fictional setting," she says. "But I

wanted everyone to know that this happened — it

happened to me and it could happen to anyone."

While she originally wrote and performed Her

Name Was Mary… in high school, Grauman says

it's a constant work in progress and has undergone

numerous rewrites in the years following. "While

the last three versions of this play have been driven

by anger, this version is driven by forgiveness," she

says. "I want women to watch this play and quit selfloathing

in front of the mirror. It cost my best friend

her life and I truly believe it's not worth it."

Her Name Was Mary… runs from September 8 – 17

at Studio 16.

"I want women to watch this play and quit self-loathing in front of the mirror," Her Name Was Mary…

playwright Tai Amy Grauman says.

September 2017
---
FRINGE FESTIVAL

"Letters that were written on behalf of my father,

expressing his dissatisfaction with the amount

of money that was paid for his property and his

belongings," Nakamura Maguire describes over

the telephone, from her home in Whitehorse.

"His request for the money that was due to him,

because his savings were running out and he wasn't

working at the time."

Nakamura Maguire, though published in short

story and essay, had never written a play. What

became Hidden Memories first began as a single

scene — a dialogue-building exercise from a

creative writing course she took in 2015. Once she

started, the story urgently flowed from her pen.

Margaret, the protagonist, slightly mirrors

Nakamura Maguire — the daughter of Japanese

immigrants who tries to fill in the gaps of

understanding of her parents' history and

contemplates what she'll pass on to her own child.

To provide a deeper historical narrative, Nakamura

Maguire researched the circumstances of other

Japanese Canadians, referencing archives and

interviewing women who spoke of what it was like

growing up in the aftermath of that time.

"I think Hidden Memories is about the value in

sharing our stories and the understanding about

ourselves that can happen as a result of that,"

Nakamura Maguire says. She has gained profound

insight into her mother, who had been silent about

her experiences until the National Association of

Japanese Canadians received their apology from

Prime Minister Brian Mulroney in 1988. "And

that was part of the reason for writing the play,"

Nakamura Maguire adds. "I wanted to give voice

to my mother's story. I wanted to give voice to the

way she felt and how hurtful it must have been for

many women through this period."

How does Nakamura Maguire feel about her

own identity? "I feel proud that I'm a second

generation Japanese Canadian. I'm proud that I'm

a Canadian. And I'm glad that the government

of Canada has recognized some of the things

that they've done wrong in the past and they've

apologized or they've reached settlements." No

group, she asserts, should go through that kind

of discrimination, especially through government

policy. Something, in today's divisive political

climate, that is exceedingly important to

remember.

"The challenge for us is not to forget those

lessons that, hopefully, people have learned,"

Nakamura Maguire says. "We've got to learn from

our history."

Hidden Memories runs on September 13 at False

Creek Gym.

PICKS OF THE FRINGE

far out fringe selections to put on your radar

7 Ways to Die, A Love Story

September 7 – 17 at Studio 16.

This production by Vancouver

playwrights Keltie and Alexander

Forsyth grapples with the isolation

of modern living in full masks and

with zero dialogue. A dark romanticcomedy

about suicide, and two

neighbours who in their loneliness

become the perfect match.

A David Lynch Wet Dream

September 7 – 17 at Revue Stage.

Like your favourite David Lynch

movie, this wet dream is a solo show

featuring one woman fresh out of

the gate and in the midst of trying to

find herself amongst the complexity

of her environment. Composed and

performed by Natasha Perry-Fagant,

the actor constructs a commentary

about the human body and pressure

of living as one.

Gigantic Lying Mouth

September 7 – 17 at Revue Stage.

A powerful poetic performance by

Scottish spoken-word artist Kevin

P. Gilday, whose character has

perished in a tragic yoga accident

and is trapped in the afterlife. A

contemporary blend of where

comedy and drama meet in verse.

A Night at the Rose

Coloured Discotheque

September 7 – 17 at the Cultch

Historic Theatre.

Buy Me Dinner First Productions

presents this satirical look at life

and love in 2017, starring two club

kids and their bag of rave essentials.

Funny, naughty, and profane, a night

at this discotheque is bound to be

anything but ordinary.

A Soldier's War

September 7 – 17 at Waterfront

Theatre.

Taking inspiration from the letters

his grandfather, a member of the

Stormont, Dundas, and Glengarry

Highlanders Infantry Regiment,

would send home during World

War II, playwright Joshua Ramsden

delves deeply in to a story of tragedy

and hope. This unique show offers a

moving glimpse into the horrors of

battle, and is not to be missed.

Cry-Baby: The Musical

September 7 – 17 at Firehall Arts

Centre.

This re-vamped version of the

popular Johnny Depp film hits

the Fringe this year with a fresh

script, classic songs, leather-clad

delinquents, and not-so-hip squares.

If you're up for music and comedy,

this Tony Award-winning show is for

you.

Just Not That Woman

September 8 – 16 at Firehall Arts

Centre.

In the heat of a Donald Trump

presidency, this production from

playwright Ali Kennedy Scott

creatively charts the experiences

of female global leaders like Hillary

Clinton, and poses the big question of

how limitless inequality really is.

Fin

September 8 – 17 at TheatreSports

Improv Centre.

Award-winning comedy team Hip.

Bang! is behind Fin, an innovative

look at the obscurities that plague

our planet, including the mysteries of

politics and our other-worldly oceans.

For 60 minutes, the duo makes

things hysterically uncomfortable,

questioning who you are and where

you live.

Setting Bones

September 9 – 16 at Revue Stage.

This new short from interdisciplinary

arts company Kalik follows three

siblings as they struggle to come to

terms with the death of their mother

and grandmother, gathering at their

childhood home to confront the

legacy of cultural erasure left behind.

A play about intergenerational

trauma and healing.

12 Minute Madness

September 9 – 17 at Firehall Arts

Centre.

Smokers, well-endowed babies, and

drunken social workers all live in

Marlene's head. But behind every

exploded psyche is a story and this is

hers. Written and performed by Raina

Von Waldenburg.

BIG ROCK BREWERY FRINGE BAR

Gigantic Lying Mouth

A Soldier's War

12 Minute Madnesss

EMILY BLATTA

photo via Facebook

A Night at the Rose Coloured Discotheque

photo via Facebook

photo by Chris Graham Photo

photo by Catchfall Photography

In celebration of the 11-day arts festival, Big

Rock Brewery Fringe Bar will serve as a hub

for all things Fringe, becoming a physical

space for the community to gather and

participate in the experience. The bar is set

to host festivalgoers from across the country,

as well as become the city's hottest music

venue featuring both local and touring

musicians. SAVVIE, Art D'Ecco, Devours,

and Rae Spoon are just a handful of the

artists featured. Whether you're looking to

celebrate a successful opening night, meet

your favourite performers, or just be a part

of the buzz, let this be your all-inclusive

home for the season.

Hidden Memories is loosely based on the

experiences of playwright Lillian Nakamura

Maguire's parents.

photo by Bob Hanham

Art D'Ecco is one of many quality acts gracing the stage at the Fringe Bar this year.

Located at Ocean Art Works on Granville

Island, the Fringe Bar is open Monday-Friday

from 6 p.m. till late, and Saturdays and

Sundays from 1 p.m. till late.

September 2017 11
---
STUFF YOU SHOULD KNOW

popular podcast asks questions, gives answers

KATHRYN HELMORE

On July 12, 1979, more than 50,000 people descended

on Comiskey Park in Chicago. Within a matter of

hours, the White Sox stadium lay in ruins. The field

was ripped to shreds and batting cages brought

to the ground, while signs were left charred and

scattered upon the turf.

This riot had nothing to do with sports. It was

inspired by a hatred for a single genre of music.

In what would later be known as Disco Demolition

Night, July 12 marked, for many, the end of western

culture's short-lived love affair with disco.

So, why did thousands of people rush that stadium

in 1979? More importantly, how could people hate

something like a genre of music with such intensity?

These are all questions answered by Chuck Bryant

and Josh Clark in "How Disco Works" — just one of

over 900 episodes from a podcast series called Stuff

You Should Know.

The series, which kicked off in 2008, dives into a

huge variety of subjects from Nazis in Florida to the

battle over net neutrality. Since it's inauguration,

SYSK has held a coveted spot as one of the Top 10

most downloaded podcasts on iTunes.

"Honestly, it's still surprising how well the

podcast has done," says Bryant. "But I guess people

just wanted it. People who listen are curious and

likeminded. They want to learn something."

For some commentators, SYSK's success satisfies

more than a curious appetite. Richard Fawal, former

Associate Vice President for Communications at the

Brookings Institution, dubbed the podcast "pure

explanatory journalism": a style of journalism that

"explains an issue in straightforward, accessible style."

He argued that this form of journalism is imperative

in a world of misinformation.

"We were honored when Fawal credited our

work as explanatory journalism," says Bryant. "We

are professional researchers who talk about what

we find. To do this we really must go the extra mile.

After all, there is always another side to the story. In

our podcast, we always try to stop, think, and ask

THE MUSLIMAH WHO FELL TO EARTH

literary collection provides important, communal space for voices to be heard

photo by Minori Ide

The book includes stories from 22 different

Muslim women, sharing the diversity in their

interpretations and personal experiences.

Chuck Bryant and Josh Clark bring their vault of knowledge to Vancouver.

NOOR KHWAJA

The Muslimah Who Fell to Earth intimately debunks

the frequently stereotyped identity of the Muslim

woman. In it, women at varied degrees of religiosity,

sexual orientation, and ethic background work

together to share their interpretations, as well as

the hardships they have faced while searching for a

balanced sense of belonging. With personal stories

from 22 different women, the book explores many

angles of the shared faith and its truly malleable

nature.

One of the collection's contributors, poet

Meharoona Ghani, explains, "the mainstream

assumption is that Muslim women are homogenous;

and they're not. Every Muslim's approach to Islam is

different." Fellow contributor Azima Kassam expands

on this idea, saying that "this books fills a void that

shows that Muslim women are vocal, self-directed,

like many other women struggling with issues of

confidence." She further adds, "the book was about

picking a group of diverse women across Canada…

to show that there is diversity in their interpretation,

in their views of Islam, and in the level of confidence

and self-awareness that is contained in this group."

With this diversity comes an orchestration of

voices that truly exemplifies the nature of freedom in

expression. Ghani describes the connection between

this orchestrated freedom and the ideologies of

Canada. "Everybody's pieces are different and the

beauty of the book is that…we don't necessarily all

questions."

Bryant and Clark will be showing off their

research skills in Vancouver on September 26. "This

is our second live show in Vancouver," Bryant adds,

promising a funny evening with a few not-so-clean

jokes thrown in the mix. "The show, which usually

lasts around an hour and 45 minutes, is a mix of

standup and live podcast."

Stuff You Should Know takes place on September 26 at

the Vogue Theatre.

agree. The fact that we can put our varied voices

to the writing… is what Canada really is," she says,

warmly.

The variations in voice and interpretation not only

help to rid the general public of ignorant stereotypes,

but they also create a communal space for Canadian

Muslim women to be heard. "The book to represents

the voices of people that would not normally be in

the media," Kassam says. The Muslimah Who Fell to

Earth's editor, Saima Hussain, was able to achieve this

by encouraging women throughout the country to

share their stories and views on issues and themes

surrounding the faith.

Ghani's journey to a career in writing stems from

her own experiences with racism, beginning as early

as age eight. She reveals details in her contribution

to the book, which stems from a larger individual

project of lyrical prose entitled Letters to Rumi. By

using some of Rumi's quotes and writing letters to

him in lyrical prose (kind of like a call and response)

she's able to illustrate her ideologies and unique

voice. The originality of her work helps to give a sense

of how truly diverse and personalized the voices in A

Muslimah Who Fell to Earth truly are.

"There have been moments where I don't feel like I

belong," Ghani says. "But it's through the lost sense of

identity and re-finding ourselves that we establish a

sense of belonging."

The Muslimah Who Fell to Earth launches at Banyen

Books on September 21.

LITERASIAN

north america's first asian lit

festival celebrates culture,

history, storytelling

KATHRYN HELMORE

CITY

On the weekend of September 21, the streets

of Chinatown will play host to a literary

feast. On the menu is a collection of stories

exploring the Canadian experience. Yet this

isn't the stereotypical western spread —

attendees will be diving into an often-untold

side of Canadian culture and history: the Asian

Canadian experience.

LiterASIAN, an annual festival of Pacific

Rim Asian Canadian writing, is the first Asian

literature festival in North America. Founded

by the late Jim Wong-Chu — his 1986 poetry

book, Chinatown Ghosts, was one of the

first published by an Asian Canadian — the

four day-long festival is packed with panel

discussions, workshops, and a variety of book

launches from acclaimed writers like Jen

Sookfong Lee.

"LiterASIAN is a grassroots festival that

celebrates Canadian diversity," says co-founder

and Festival Director Allan Cho. "For a long

time, literature has presented the Canadian

experience as the British experience. This

means that many of us have not seen the

other side of Canada. Part of the festival is

to showcase unique stories, stories that find

their inspiration in Chinatown, Japantown,

and Little India. It intends to give a full-bodied

Canadian experience."

Vancouver's rich yet checkered history

with regards to Asian migration makes it

the perfect location for LiterASIAN. From

the discriminatory head tax to the 1907

Chinatown Riots, Vancouver has wrestled

ceaselessly with her identity amidst a growing

Asian population. "Vancouver is a unique city

in Canada," Cho continues. "Considered by

many historians to be part of the Pacific Rim,

it has always been hit the hardest by Asian

migration. Anxiety regarding immigration is

therefore cyclical, it is not a onetime thing

that happens in a vacuum. We are seeing that

anxiety today due in part to unaffordable

housing. We remain a charged city with

burning tension."

In addition to connecting aspiring Asian

writers to the literary community, LiterASIAN

hopes to dispel this anxiety and tension. "Art

helps us to heal," says Cho. "What better way

than to have literature remind us of this?"

In the midst of the festival, as a building

initiative of the Asian Canadian Writers

Workshop (ACWW), a promising writer will

also be awarded publication through the Jim

Wong-Chu Emerging Writers Award.

"LiterASIAN is beneficial to anyone with

an interest in writing," adds Cho. "Situated in

the heart of Chinatown and Downtown, it

allows us to walk the very streets where Asian

Canadian culture and history began."

LiterASIAN runs from September 21 – 24 at

various locations.

September 2017 13
---
FOOD

CHICKPEA

favourite israeli dishes, family values at the heart of new brick and mortar

WILLEM THOMAS

The chickpea is a hard-working little legume, having been a versatile

addition to Middle Eastern and Mediterranean diets for thousands of

years before finding it's way into western dishes. Taking some notes

from their namesake protein-rich bean, the proprietors of Main Street's

new Mediterranean/Israeli eatery Chickpea have had a tireless but

rewarding past few years, having gone from launching their hit food

truck to opening their first restaurant in just a year and a half. The brick

and mortar version, opened in late July, is the first venture of its kind

for owners Rotem Tal and Itamar Shani, both originally from Israel. The

once humble chickpea has been elevated.

For both Tal and Shani, cooking runs in the family — something they

bonded over after meeting. "My uncle owns six hummus restaurants

in Israel," says Tal. "Itamar grew up with his mother's traditional Israeli

cooking and has been working on a cookbook since the age of eight.

Together me and him built this thing that became Chickpea."

Chickpea's first iteration was a simpler operation. Tal started selling

homemade hummus to students at UBC with the branding The Chill

Chickpea. At the time, Shani was working on a friend's food truck. "We

went on a road trip to Portland for inspiration and we also watched the

movie 'Chef.' After that, we were set on the idea," Tal continues. While

Shani set up the food truck, Tal went back to Israel and told his uncle

"show me what you've got!" and worked with him for a few months.

After returning, the pair launched the Chickpea food truck in April

2016. It didn't take long to become one of Vancouver's most popular,

usually parking outside of craft breweries or at festivals.

"Chickpea is the same delicious Mediterranean food as the truck,

but it's now vegan and we have a ton of new dishes," says Shani. The

menu boasts an almost intimidating array of options, with helpful

explainers for the more traditional or extravagant dishes, such as Hafla:

a sharing experience with many small plates. "All of our food is from

back home with our own Chickpea magic touch," he continues. On

the topic of back home, Tal mentions, "The way there's pizza places

everywhere here? In Israel you have hummus places. It's the food for

everyone."

Chickpea has been busy from opening day. It's gone beyond

expectations and the owners see a sustainable future for their unique

brand. Tal says, "It's been amazing to see with my own eyes people

enjoying our creation. Eventually we want to start a farm and expand."

While a Chickpea empire may exist one day, they're taking it one day at

a time for now. "I still want to be able to travel," Tal adds. "I go back to

my apartment and cat and that's all I need."

Chickpea is located at 4298 Main Street.

photo by Willem Thomas

Chickpea's Main Street location menu boasts tons of tasty vegan

options.

14

September 2017
---
LEWIS BLACK

Longtime friends get on the bus out of dodge

GRAEME WIGGINS

With Trump's election to the American Presidency,

and the consistent political turmoil it has created,

many are musing with this idea of skipping the

country for bit; to get away from it all. For somewhat

political comedian Lewis Black (known for his long

running and delightfully angry Daily Show segments)

it seemed like the prime moment to head north and

do a Canadian tour. So this fall he's going hit the

road with longtime friend and collaborator Kathleen

Madigan to get out of dodge on his bus and do a full

Canadian tour.

"I did this once before," explains Black. "It's great,

especially in light of everything. We knew early on

we wanted to get out and do this tour together.

We had been talking about it for years and then he

[Trump] got elected so it was like "LETS GO NOW!"

Madigan continues in the same vein, "we didn't

know it was going to get this out of hand. Now I feel

I should stay here and protect my property with a

shotgun. I didn't think we'd have to fight a war again.

But I'm really glad we get to go up there and golf a

little bit and tell jokes."

The frustration of a Trump presidency does have

it's perks, even for the less political Madigan. In her

words, "I do like the fact that as a comic, not as a

human. Because everyone is paying more attention.

I'm not as political as Lewis, I only do it when people

are paying attention. Imagine if MItt Romney was

president, no one would be paying attention. So that

helps you write a joke without getting too detailed."

The touring life is old news to the veteran comics,

as Black explains: "We do a hundred a piece a year.

What keeps us going? I like it. What else am I going

to do? Go work in a woodshop? Buy a house and

go downstairs and paint? I can't farm. I'm not a

gardener, too many bugs. So this was the option.

Theatre didn't work out." The two have done USO

tours together but they're done with that side of

things. "I'm not going back," states Black, "my sinuses

aren't going back there. I've done it three times.

That's enough." Guam is also off the menu (due to

recent North Korean threats.) Madigan jokes, "I saw

an article about some dad who booked a family

vacation to Guam and how they're still going and I

laughed out loud because that would totally be my

dad. "Goddamn it, I don't care, we put the deposit

down, we're going to have fun. Everyone get into

the car. He would have driven us right into nuclear

annihilation." Canada will be treat in comparison.

Catch Lewis Black and Kathleen Madigan live

September 7 at the Queen Elizabeth Theatre.

Photo Credit Clay McBride

Catch Lewis Black and Kathleen Madigan live September 7 at the Queen Elizabeth Theatre

September 2017

15
---
BY EMILY BLATTA

North Vancouver band Peach Pit's new LP Being So Normal debuts

this month to deliver both pop and chew, like something lead

singer Neil Smith says you'd find stuck to the baseboard of your

bed. After an initial burst of flavour in 2016 with their EP Sweet F.A.

(short for Sweet Fuck All), the pack of fresh-faced indie-rockers

are now eager to show their ability to expand, deepen and carry

out their sound into a wider range of tracks. The much-anticipated

Being So Normal comes after a hot summer of successfully

breaking out into the West Coast music scene, and a frenzy of local

Vancouver shows including their 7-inch record release at The Fox.

In August they hit their next right of passage, something involving

a whirlwind trip down the I-5 through California and back up to

Peach Pit

RIPE AND READY FOR THE NEXT BIG THING

photo By Lester Lyons-Hookman

Bumbershoot Festival. Still only a pre-teen as far as bands go, Peach

Pit is cool enough that we've been hanging out with them for

awhile now—this month we acquaint ourselves with their aptitude,

maturity and honest desire to get picked.

Officially coming together as Peach Pit in September of 2014, its

original members included Neil, Chris and Peter and Thomas. When

Thomas left and drummer Mike joined is when Smith says they

"started getting a bit more serious, and everyone became super on

board with what we wanted to do." Although Being So Normal took

three years to write, it doesn't feel bogged down by all that time.

Smith calls the album "actually pretty funny, cause like, lots of these

tracks are pop songs, there's a couple down-tempo sadder tunes on

there, but they're pretty much all just about me feeling unwanted by

girls. And it's over the course of many years."

It's well known that being scrawny, awkward and acne-ridden

as a young person makes for great material in later years, even if all

that's changed is your outlook. Smith's journey through music has

been partly in spite of that image of himself—their hit song "Drop

The Guillotine" is about feeling put down by his best friend in high

school. "He was really charming, super handsome, everyone was in

love with him and he was my best friend. So many times I'd be in love

with a girl and he'd swoop in on me. But I tend to write things a bit

more dramatically than they actually were," he adds jokingly.

Nowadays the cooler, more relaxed and yet strikingly

entrepreneurial version of Smith is riding Peach Pit's new wave of

momentum with his best friends in tow, each of whom have all been

playing music on and off since they were young, first in folk-duos and

talent shows and later on in various different bands.

However, as a result of feeling naturally quite nervous on stage, Peach

Pit's formative years were spent playing strictly for themselves and

practicing methodically. "We rehearsed for a year before we ever

played any shows. I'd been in a band before and we were both super

young, we'd played lots of shows but we never were really super

tight. So I didn't want to make the same mistake of having people be

like, oh yeah, they sucked back then. I kind of wanted them to be like

yeah, they were always pretty good," he adds.

These days the band is less concerned with subscribing to

how others think they should perform, and lets loose to show

off the comedic, playful side of their tunes. And like the best

impersonators of your shaggy, North Shore basement-dwelling

cousins, the band is also known for pushing the limits of denim and

corduroy to stretch across the stage, along moshes of fingertips and

through the summer heat.

Peach Pit's artistic director dug this look up for them a couple

years ago from a Value Village bin, and since then the group has worn

the same outfits for every show, photo-shoot and video. "It's actually

just like really disgusting, especially when you're on tour and by the

fourth night you smell like a garbage bin," says Smith. "Plus it doesn't

really work that well in the summer, because Chris wears a pretty

thick turtleneck."

As far as the album's title is concerned, there's a lot to say on being

so normal these days. Since Mac DeMarco re-introduced norm core

with little more than a dirty pair of vans and a Garfield grin, young

Canadians have worn the word normal proudly—daughters in mom

jeans, embroidered words on jean jackets and cheap drive-thru

dinners have existed as subtle liberties for some time, but now reside

firmly at the forefront of our identities. Music is what continues to

make these otherwise beige aspects more expressive, meaningful

and of course lucrative, something Peach Pit succeeds at while being

sure to tap into its own distinct vein of Canadian ordinary. Like how

Arcade Fire toured us through Montreal's suburbs and DeMarco

tapped into the essence of wild rose country, Peach Pit explores

growing up in the epicentre of normal on a vastly dramatic coast.

Being So Normal might seem like unprovoked self-deprecation at

face value, but Smith says the title comes from getting snubbed as

actually being so normal two years ago at CiTR's annual battle of the

bands competition, in the less-than-endearing sense of the phrase.

"We were in the first round up against two other bands and one

of the negative critiques that the judges wrote was 'Being So Normal.'

And so I was kind of pissed off at first, like that's bullshit. But then

I actually kind of liked it, the way that they wrote it. Then I wrote a

song called Being So Normal and made that the album title."

Since then they've embraced that aspect of their style, and as a

solution to having to put words to sounds have coined their territory

as belonging to the realm of "chewed bubble-gum pop".

"It's like, well, I mean we play some rock music and some pop

music, and some music that has folky elements to it, and some

shoegaze," says Smith. Above the genre, it also allows them to

become flexible while performing. "You don't have to put on this

serious straight face like, I'm performing, I'm the performer now."

Peach Pit goes on tour in Europe this January, and will no doubt

return a more ready, quirky group than they've already become. "We

feel really lucky, and super happy to be doing this. I've wanted this

for as long as I can remember, so being able to do it now is amazing,

especially with my three best friends."

The band would also like to thank their moms and dads, friends

and grandmas for being dope.

Peach Pit perform Sept. 9 at the Waldorf and at Rifflandia Music

Festival (Victoria) on Sept. 16.

September 2017 17
---
MUSIC

JAPANESE BREAKFAST

experimental pop sensation is killing it softly

MATHEW WILKINS

Two months following the release of an enormously strong sophomore

album Soft Sounds From Another Planet, Japanese Breakfast (AKA

Michelle Zauner) continues to establish itself as an alternative

pop project with a serious knack for thoughtful lyricism, sonic

experimentation and brilliant melodies that get stuck in your head with

gravitational strength.

The album maintains distinct sounds and styles from the previous

release, unmistakably due in part to the small, tight-knit community

of friends who continue to aid and influence Michelle Zauner in the

creation and performance of her music. Japanese Breakfast's bass player

Craig Hendrix, for instance, —who co-produced Soft Sounds From

Another Planet and played many of the instruments on the album— is

responsible for mixing and mastering the debut album These Are Good

People by Zauner's other project Little Big League back in 2013.

The opening track "Diving Woman," however, is at once an indication

of how and where this album departs from previous material, weighing

in at a full four minutes longer than any track off of 2016's Psychopomp.

The song features Zauner's dreamy, airy vocals meandering over

drawn out, rhythmic instrumentation that's reminiscent of bands like

Sophtware Slump era Grandaddy or American Football. "When I made

Psychopomp, it was not nearly as deliberate as this album," Zauner says.

"I was making that record for myself and it was a record that I didn't

think anyone would really hear."

Her deliberation on this new record is apparent elsewhere as well,

as vocals and instrumentation alike lend a wonderfully cohesive and

particularly spacey sonic quality to the music— a move that was

anything but incidental.

"We really wanted to have this feeling of floating in space… I had [my

synthesizer]'s little blips sounding like robots or satellites talking," she

says of the instrumental track "Planetary Ambience".

Soft Sounds From Another Planet had in fact began as a concept

album, after Zauner and co-producer/drummer Craig Hendrix worked

together to produce the track "Machinist"— a song about a woman

who, after having her heart broken by her robotic lover, flees Earth to

colonize Mars. The initial attempt at a sci-fi theme had been made as

a reaction to the extremely personal tone of the last album, which was

written and recorded two months after Zauner's mother passed away

after battling cancer. The project was soon abandoned however, as

Zauner's personal life continued to inevitably influence her writing.

"Soft Sounds was written a year and a half after processing everything

that happened. I had success as an artist for the first time and gotten

married… This tremendously sad thing had happened simultaneously

with two really celebratory things in my life."

Zauner describes the album as an attempt at processing grief and

moving forward in the wake of tragedy. Songs like "Diving Woman" and

"The Body is a Blade" speak to the immense difficulty in dissociating

from trauma; how pouring yourself into hard work, routine, and

regimen can occasionally help sooth the potent pain of loss. "Till Death"

and "12 Steps" conversely explore the other side of Zauner's life, moving

forward from her mother's death as she describes the love she feels for

her husband, Peter Bradley, occasional bass player for Little Big League.

Soft Sounds From Another Planet is a faultless followup to Japanese

Breakfast's debut album, from its introspective yet accessible lyricism to

its nuanced musicality. Zauner has further honed in on a personal style,

providing us with an album further demonstrating her musical diversity

and prowess, yet maintaining themes and styles so beloved by the fans

she's already gleaned.

For those interested in the forgotten idea of a heavy-handed concept

album, rest assured Zauner plan to one day tackle such a project is

still bubbling beneath the surface as she waits for a moment when fan

attention begins to wane and she can get away with something a little

more "funky and weird". But don't hold your breath; should Japanese

Breakfast continue releasing music of the same calibre as Soft Sounds

or Psychopomp, the spotlight currently focused on Zauner's incredible

talents will only burn brighter.

Japanese Breakfast performs at The Fox Cabaret (Vancouver) on

September 26.

Michelle Zauner embraces the pull of non-fiction with her latest

release as Japanese Breakfast.

CIGARETTES AFTER SEX

love is the answer

SURGEON GENERAL'S WARNING: multiple listens may lead to romantic celebration

and brooding lamentation

18

WILLEM THOMAS

"Love to me seems to be the thing that makes life worth

living."

For Greg Gonzalez, all roads seem to lead back to love.

As it's unabashed champion, he employs the emotions

tied to love, and equally love lost, with often devastating

effect as the primary creative force behind the Brooklynbased

Cigarettes After Sex. Blending his ethereal,

cinematic approach to dream-pop with an introspective

mix of romantic celebration and brooding lamentation, his

debut LP (released back in June) is a 10 song package of

Gonzalez's experiences in love and loss.

Gonzalez toiled for years in relative obscurity in his

hometown of El Paso, Texas before finding the increasing

success Cigarettes After Sex have now achieved. It was the

move to New York that really made things come together.

"It was a much different and tougher life when I first

moved to New York, but I really loved every minute of it

[and] my days were full of the delight of just discovering

a new life." Cigarettes After Sex also found responsive

fanbases online, and Gonzalez quickly found himself with

youtube uploads of his songs collecting millions of views.

"We didn't have any promotion when we first started.

Many of our fans found the music in this spontaneous,

magical way where it's very personal to them," he says.

Reached by BeatRoute in Europe in the midst of a world

tour, Gonzalez is now performing for largely sold-out

crowds, and his music is becoming more widely known,

thanks in part to an apt placement of "Nothings Gonna

Hurt You Baby" in the television adaptation of The

Handmaid's Tale. "I think they did an absolutely beautiful

job with the scene & it's amazing to me how well the song

fit," he says. Since then he's been focused on upping the

ante of their live show as the crowd sizes grow. "I love

every part of being on tour, it's exactly what I set out to

do. Losing your luggage is about the worst of it."

As Gonzalez travels the world on the back of the LP,

he's already planning for the future. The committed,

romanticized themes of love he explores with Cigarettes

After Sex may lead to another artistic avenue. "The

main far off notion I have is that I'd like to be a director

someday," says Gonzales. Listing off some of his favourites

(Scorsese, Rohmer, Kubrick, etc), Gonzalez makes it clear

the passion he brings to Cigarettes After Sex was almost

made to not only accompany film, but to maybe create it

as well.

Cigarettes After Sex play Vancouver at The Imperial on

September 2017
---
THE NEW PORNOGRAPHERS

Life imitates art

CHRISTINE LEONARD

Orchestrating the polyphonic activities of the

Vancouver-spawned supergroup known as The

New Pornographers for over a decade and a half

has given singer-songwriter/guitarist A.C. Newman

a certain knack for capturing a musical snapshot

of a moment in time and preserving its essence

like an insect suspended in amber. Recently, when

tasked with pulling together a cohesive sting on

compositions for the band's ongoing tour, Newman

discovered that skimming through a scrapbook of

past recordings unlocked the sweetest of memories.

Those that have yet to be made.

"We always try and mix it up, it's just about the

math of how we're going to split up songs, which

takes a while cuz at the beginning of a tour because

you're just sort of guessing what the set will be," says

Newman.

"I feel like these days, we're trying harder,

especially on this record and Brill Bruisers (2014). It

was the first time where we said, 'Let's go out there

on stage and just try to be as close to our albums as

possible.' Whereas before that I think we were a little

more lackadaisical about it, now we're slightly more

disciplined and it's cool to go out there and go like,

'Okay what you hear on the record – We're going to

try to do that live.'"

Thus far the popular response to conductor

Newman's dynamic, high-fidelity approach with

Whiteout Conditions has been overwhelmingly

positive. After all, what better way to secure

affections of a new generation of listeners than

by fulfilling every frustrated delinquent's wildest

fantasy and running amok in the hallowed halls

of education? John Hughes would applaud the

scorching adolescent angst vented in The New

Pornographers' video for their latest runaway single

"High Ticket Attractions."

"We were just talking to directors and Dan

Huiting said 'Okay, I know of a high school that's

slated for demolition and I think I could destroy it.'

And I said, 'Let's do that.' The cool thing is that what

makes that video look so high budget. It was real,

filmed destruction! I made a couple of contributions

to the video; I wanted the kids to have medieval

weapons and I wanted a flaming motorcycle and

after that I was just, 'Do what you want!'"

Ordering up battle-axes and stuntmen on a

whim may seem out of character for a thoughtful

alt-rock troubadour who has coaxed so many to

crash on the floor, or psychiatrist's couch, of his wellappointed

artist's studio. But truth be told, Newman

has always had his eye on the prize, it's just that the

prize in question has gradually gotten a lot more

impressive.

"We just did The Late Show with Stephen Colbert

and every time I'm in those situations there's always

that feeling of, 'Holy shit. How did I get here?' It's

almost like the nightmare where somebody throws

you into a situation that you're not ready for. But

before we ever did TV I use to think, 'Can you

imagine? What else it there? That'd be the coolest

thing in the world to ever experience that – to be

a band that performs on a late-night TV show!'

And then it just becomes this weird thing where

it becomes our reality. And it's always surreal, and

Photo by Jenny Jimenez

Carl Newman is trying harder than ever with his pop-tastic supergroup and things are paying off.

it's fun, but there is an element of that nightmare

scenario where you're like 'Oh my God. I've got to go

play my song in front of a million people and I can't

fuck it up!' It's like child is the father of the man.

The New Pornographers perform with Born Ruffians

at The Commodore (Vancouver) on September 29.

September 2017 19
---
MUSIC

WESTWARD FESTIVAL

your summer fun isn't over yet

JEEVIN JOHAL

Vince Staples

An epidemic is cancerously spreading throughout British Columbia taking out music festivals in its path.

Though MRG Concerts has concocted the antidote to this destructive dilemma in the form of this year's

first annual, Westward Music Festival. Ditching the traditional festival platform that brings fans to an iconic

outdoor location with multiple stages, Westward spans across 4 venues in Vancouver, showcasing a diverse

lineup of internationally renowned stars, and a handful of hometown heroes. Grab a ticket to a single

show, or hop on your bike and rip around town to see how many artists you can check off your list in one

evening.

Youngblood

Little Destroyer

photo by Jodi Brak

Brass

Too Many Zooz

Little Destroyer

Colourful bubblegum pop is torn to shreds by

singer Allie Sheldan whose vocals dance between

the dark and divine. Band members Chris and

Michael Weiss complicate seemingly simple

electronic melodies with dirty synths and crunchy,

punishing drum beats. There is a distinct battle

between good and evil in the songs of Little

Destroyer but both paths inevitably end in a high

octane-fuelled performance.

Youngblood

Having only been in the scene for around a year,

Youngblood are quickly gaining momentum as

one of Canada's most sought after electronic pop

groups. On their debut EP Feel Alright, the band

create dream inducing soundscapes, incorporating

whimsical synths, fluttering guitars and a head

bobbing rhythm section. All the while, singer Alexis

Young's catchy lyrics and vibrant vocals add an

otherworldly mysticism to their tunes.

Vince Staples

At only 23 years old, Vince Staples is already one of

the hottest rapper's in the game. Having buddied

up with the Odd Future camp a few years back, he

quickly flew under the radar of some of the world's

biggest names and has since collaborated with

artists like Schoolboy Q, Kendrick Lamar, and the

Gorillaz. But make no mistake, Staples holds his

own. On his latest release Big Fish Theory, Staples

reflects on his fears of a dystopian America over

abstract, genre melding beats, proving that he isn't

just some naive kid, but rather an observant lyricist

with a sharp tongue.

Brass

"Brass Sucks." That's the slogan strewn all over

buttons and patches you'll see stitched onto jackets

and hoodies all over Vancouver, but once you see

them live you'll quickly find yourself disagreeing

with such a bold statement. These punks have

played almost every underground venue and

club in town, and their pure grit and no bullshit

attitude has earned them a hefty cult following that

continues to soar.

Too Many Zooz

The self proclaimed "Brass House" trio got their

start busking in New York City subways, before

gaining acclaim after a video of them performing in

Union Square Station, went viral a few years back.

Their playful fusion of jazz and dance melodies

even caught the eyes of Beyonce (yes, the Beyonce),

who performed with them at a gig in 2016. That

same year they released their first full length album

Subway Gawdz; a status they truly live up to.

Westward Festival takes place at various venues

throughout Vancouver Sept. 14 to 17. For more info

visit westwardfest.com

22

September 2017
---
NASHLYN

working it out on her own terms

MAX HILL

Nashlyn Lloyd is ready to leave the nest. One of the founding

members of Vancouver indie rock quartet Frankie, Lloyd is now

preparing to release her debut EP Work It Out as a solo artist. While

this is her first solo project, she's been writing her own music for a

while. "I had a lot of songs that I needed to put somewhere because

they weren't totally fitting within the Frankie realm. I just started

doing them on my own to see what would happen with it," she says.

It's a groovy and confident record, not afraid to take its time and

chart sonic territory that goes beyond Frankie's signature sound.

Work It Out's subject matter was born from Lloyd's efforts

to make it on her own as a solo artist. "The main themes [of the

record] are about coming into yourself and to go after what you

really want in life, instead of wishing it away," she says. "I've been

talking about putting these songs out there and doing a solo

project forever, and to actually get the guts to just do it took a

lot longer and a lot more courage than I thought it would. I think

that's what most of the songs are about, just letting go of any

expectations and going after your vision. And then there's a couple

of love songs about my boyfriend," she laughs.

While most of Work It Out has its origins in electropop and triphop,

it also had some unexpected influences. "I really love the old

crooners, like Frank Sinatra and Ella Fitzgerald, and I think my voice

has a quality to it that people sometimes think is a little bit jazzy,"

Lloyd says. "[The EP] seems to be a weird mesh of everything that

I like, but definitely more down the electronic road than anything

I've ever done before."

The EP was mixed and produced by Lloyd and Kevin Maher,

lead singer of Fake Shark. For Lloyd, producing the record herself

was an important way to get across her vision, especially on the

standout track "Gold." "I actually did all the production myself on

that one, and all the mixing. It was a really good challenge for me,

because I've been wanting to figure out exactly what mixing is, from

beginning to end," she says.

Lloyd is currently on tour supporting the EP, with dates in

Calgary, Kelowna, Nanaimo, and Vancouver. But she's looking

forward to the chance to get off the road and start writing new

material. "I actually want to just start making an album right away,"

she says. "I want to bring a bunch of gear up to the little cabin that

my family has in Powell River and just hunker in there for a few

months this winter and see what I can make."

Nashlyn Lloyd's debut EP Work It Out is available September 8.

Nashlyn charts new terrain on her debut solo EP

September 2017 23
---
AGAINST ME!

transgendered punk rock anarchist talks music, idols and influences

JOHNNY PAPAN

Against Me! is a group whose open-minded and

broad influence has drawn them a widely mixed

fanbase over the years. Their expansive and

evolving punk rock sound has kept them from

being pigeon-holed into a particular niche and

the group have found themselves able to fit on

the same bill with anything from poppy radiorock

artists to street punks and hardcore bands.

Touching on themes such as her personal life and

political views, frontwoman Laura Jane Grace

has used her lyrics and songwriting to express

her bare soul, connecting with audiences from

varying walks of life.

"I think it's really important to recognize

the connectivity between the personal and

the political," Grace states. "The politics I most

connect to are the politics of my life. The way I

live, the person I am. When you're younger it's

a lot easier to think of terms like bigger broader

brushstrokes, commenting like you're an expert

on things that you often times don't know

anything about. You gotta live shit. That's lesson

one for any writer. Write what you know, write

what you lived."

Following Against Me!'s two most recent records

Transgender Dysphoria Blues and Shape Shift

With Me, Grace has also penned and published

her first book: Tranny: Confessions of Punk Rock's

Most Infamous Anarchist Sellout in 2016. The

book covers Grace's journey with the band as she

fought with internal struggles of gender identity.

Grace composed her book from journal entries

dating back as far as childhood. Born Tom Gabel,

Grace began transitioning into a woman in 2012.

"For unfortunate reasons, being a transgendered

person is a political thing, often times because

of the way the transgender community has

been marginalized and treated," Grace explains.

"Beyond that there are many troubles in the

world and a lot of the time I feel really fuckin'

overwhelmed by everything that's happening.

I'm doing my part by trying to be a good human

being and affect change where I can affect

change, but that's always gonna stem from who

you are and where you actually are in life."

In 2002, Against Me! solidified their potential

to be one of our generation's biggest punk bands

with the debut record Against Me! Is Reinventing

Axl Rose, an aggresive underground record that

features the band's first hit: "Pints of Guinness

Make You Strong."

On the title of the debut record, Grace says:

"I've loved Guns n' Roses since I was like eight

years old. You get a little older and you realize

that Axl Rose is kind of a fucked up person and

it's not as cool as I thought it was. There was an

element of wanting to reclaim that: Take back

your childhood heroes, redefine them, kill your

idols."

Though Grace has not yet met Axl Rose, she

recalls a time meeting Slash and Duff McKagan,

who she claims radiated a special "you're a

Laura Jane Grace and cohorts have been promoting inclusivity and affecting change with open arms.

fucking rockstar" energy. She's also toured with

personal heroes Rancid and remembers a time

she played bass with Lars Frederiksen backstage

while frontman Tim Armstrong watched, an

experience that drew heavy emotion.

"That's what's fucking cool about punk. For

years bands were telling you there's no difference

between the audience and who is on stage.

Anyone can do it. It's true, anyone can. My first

show ever was Green Day and I was thinking:

'Wow, I wanna be on stage one day like them.'

Then years later you're like: 'Fuck, I'm up on stage.

I'm playing with Green Day. It's all attainable and

real. It's not just some pie in the sky shit."

Against Me! performs alongside Bleached and the

Dirty Nil at the Vogue Theatre (Vancouver) on

September 8

24

September 2017
---
WOODHAWK

there's more to stoner rock than smoking weed

ARCHSPIRE

death metallers relentlessly mutate their sound with new album

photo by Alex Morgan Imaging

Calgary trio would actually prefer to drink craft beer Relentless Mutation drops September 22

HEATH FENTON

VANCOUVER - Calgary's Woodhawk have been honing an incredible

dose of what the green leaf lovers dig so much of. Stoner rock is basically

comprised of two sub genres. There is the slow doom-laden metallic attack

with gruff vocals summoned from the bowels of bands like Pentagram and

Black Sabbath. Then there is the smooth groove, hard riff and tasty lick

approach spearheaded by bands like Kyuss and Fu Manchu. Woodhawk fall

into the latter.

"We're not stoners so we just kinda coast under the rock label," singer/

guitarist Turner Midzain admits. "If we get thrown in with a genre that is

growing and popular, we're ok with that. We definitely didn't set out with

that intent. We're all craft beer fans, but beer rock doesn't really have the

same ring."

The band dropped a new record in the spring entitled Beyond The Sun.

Weed smokers or not, they have got this thing down. Midzain with bassist

Mike Badmington and drummer Kevin Nelson have created a true opus

that is fine in form. From the kick off title track, it is apparent that these

Calgary cowboys know how to take you on a trip and roll with it. Crooning

vocals of fantastical nature combined with jaw dropping guitar work and

boot swinging drums is their way to do things. They do it with prowess and

authority.

"Stoner rock really is a large genre. It's all just blues based music in a lower

tuning with a little more attitude behind it. I love the stoner rock genre."

Midzain continues: "It has definitely become the 'it' thing to be now. Maybe

that's because before it got popular, all these stoner rock fans had no idea

how many people loved the same kind of music as them. It's a very friendly

genre. Most people are just stoned, so they're very easy going and just

connect with the music."

Beyond The Sun was actually birthed in Vancouver at Rain City Recorders

with local legend Jesse Gander at the helm. Working in Vancouver suited

these beer bandits just fine.

"Rain City Recorders is located right around all these amazing breweries.

So every day, we'd set out to walk to as many as we could. We still didn't hit

them all," states Midzain. "Mike and I are avid homebrewers. We've been

brewing beer for a few years now and love it. We even have band beer on tap

in the jam room."

So there you have it. Stoner rock? Beer rock? Party rock? Whatever, just

get off your ass and fill your bong up with beer instead of water and witness

the good times that Woodhawk tend to bring wherever they go.

Woodhawk play the Astoria in Vancouver on September 16 with Bort and

guests.

Woodhawk play the Astoria in Vancouver on September 16 with Bort and

guests.

ANA KRUNIC

Vancouver's own Archspire have risen quickly to international recognition in the

world of technical death metal. Somehow both blindingly fast and beautifully

composed, Archspire's music is a step away from the trampling brutality most

tech-death bands serve up.

Their last album, Lucid Collective Somnambulation was well-received and had

somewhat of a dreamy but still whirling fast quality to it. "The new album's faster.

It's a bit catchier in the sense that we've got some actual choruses so maybe people

can finally sing along or something", Aleron laughs. "What I'm really stoked on is

the work the artist [Berlin-based Eliran Kantor] did for the album. It was a lot of

back and forth with him until he got it just the way I wanted it and it turned out

perfectly."

Archspire's lyrics have always stood out from others in the genre. Fans are very

interested in deciphering what Aleron is saying when he's spitting out his rapidfire

vocals. His lyrics are best described as those strange but disturbingly realistic

dreams you have somewhere between waking and sleeping – the ones you can't

shake for a while after getting up. A lot of bands in the genre don't focus a lot on

telling a story, but here it's not the case.

"I kind of just stress out for a long time about how I don't have any ideas until I

sort of start to lose my mind. I end up just having really fucked up dreams and I'll

wake up and write them down. I'll begin to make stories out of that, it's what I've

done for all three albums," Aleron states.

"Some of it is also based on things that I've read. Relentless Mutation is all stories

about people witnessing something they can't explain. I read this book about

the AUM cult in Japan and how they would abduct people and do experiments

on them with hallucinogens," Aleron recalls. "This one person in particular was

abducted and remembers waking up in a room, in a circle of hospital beds, and

there's just a black drip in the middle of the ceiling. He lost his mind hallucinating

over this. [The album] is loosely based on that, seeing something that you can't

explain. Each song is about what different people experience when they're looking

at this 'thing.'"

A lot of people say that technical death metal has been beaten to death. I tend

to disagree, but indeed there are a lot of bands just rehashing the same brutal and

fast music without putting much care into their writing process.

On this, Aleron says: "I always try to find the new, fast band that I like but I feel

like it's like any other genre. 90% garbage and 10% rad. I'm not really into that

much tech-death at this point. I mean, I give a chance to all the new bands. Some

of them I really like and some I find really monotonous. But like I said, I think that

way of any genre. So hopefully, there will always be those top bands that always put

so much effort into their writing – because you can really tell when you listen to

an album how much effort they put into writing it. There is still always people out

there that really dedicate a lot of their time to write stuff that they really love."

Relentless Mutation is out on September 22

September 2017 25
---
THE SKINNY

PUP

giving their all yet never running low

PERTURBATOR

the layers, violent beats, and dreamlike soundscapes of 1980s nostalgia

photo by ryanfaist

Toronto punk rockers PUP keep refining their craft

JAMES OLSON

It's a challenge to think of a Canadian band that

has worked harder than PUP while achieving

such widespread critical acclaim in such a short

span of time. Within 4 years, the Toronto punk

quartet has dropped two incredibly well received

albums, toured multiple continents extensively,

and have been nominated for numerous industry

awards including the Juno's and the Polaris Music

Prize. For vocalist/guitarist the secret to PUP's

success is simple: having an inexhaustible work

ethic. "For the first two years of being a band

we didn't say no to any show opportunities no

matter what it was, if we could somehow scrape

enough money together to make it work we

would do it. Now we're a little more selective but

we still tour really hard" Babcock explains "When

we're not touring we're at home in the jam space

5-6 days a week. I probably spend 10-14 hours

each day of my waking life thinking about this

band, writing music, rehearsing with the guys,

playing shows, touring. We've worked really hard

and it's nice to see that in some small ways that

it's paid off."

Babcock draws a direct through line from the

scene that birthed the scrappy band of childhood

friends to the acclaimed and beloved group that

PUP has become in less than 5 years together.

Coming up in a thriving environment of equally

driven musical acts in Toronto, Babcock reflects

that PUP knew that they had to step up their

game in order to make a name for themselves. "We

felt like if we wanted to keep up with our peers

and the people around us we just had to work so

hard. And that's good. Bands in the community

have pushed each other to be better and better"

26

says Babcock "I think [the Toronto scene] is just a

small microcosm of what the culture of rock music

is like today. You gotta work super hard and it's

good when bands can push each other to be the

best that they can be."

PUP's second record The Dream Is Over builds

on emotionally charged yet deliriously fun

maelstrom that was their self-titled debut. Cuts

like the chaotic and self-destructive "DVP" and

the anthemically nihilistic "Can't Win" match if

not exceed the high points of the previous album

while making up a markedly darker collection

of songs. For Babcock, the tonal shift represents

genuine growth as a lyricist and as a songwriter.

"On the first record, I was really learning to be

comfortable in my own skin and be comfortable

with presenting myself to strangers in a certain

light. Then on the second record I just kind of

gained that confidence and felt like I had found

my voice. I felt a little more comfortable in

tapping into the darkness" he explains. PUP is

already in the midst of writing their third album

and while Babcock concedes that they won't

be "going off the deep end" in terms of radical

experimentation, he can promise that the band

will continue to push their own boundaries and to

keep refining their craft.

With more touring lined up for the rest of

2017 and a recently released music video for "Old

Wounds" that Babcock calls "the best video we

have made to date," PUP are coming to your town

to kick down some doors and kick some ass.

PUP play the Vogue Theatre (Vancouver) September

15 as part of Westward Fest

James Kent innovates the boundaries of retrosynth

BRAYDEN TURENNE

VANCOUVER - As of late, there seems to be a

widespread strain of nostalgia for the 1980s that

has come to infect our modern pop culture.

Shows such as Stranger Things and big budget

reboots of old cult classics like Robocop are only

the tip of the iceberg regarding this retro revival. In

regards to music, an entire sub-genre of electronic

is not only invoking nostalgia in older listeners,

but also drawing the younger generation into the

now iconic world where neon lights and nocturnal

cityscapes are now emblematic.

One of the titans within this 'retrosynth'

movement, Perturbator (born James Kent) is,

ironically, looking in from the outside.

"Even though I wasn't around in the 80s I feel as

though it was somewhat a part of my childhood,"

Kent admitted. It's ironic considering just how

steeped in the culture of that era his sound

seems to be. Perhaps it is this fact that helps give

Perturbator some of its exceeding flare, utilizing

the past while simultaneously looking ahead, not

dwelling too deeply on tropes or convention.

Kent's music is as much nostalgic throwback as it

seems to be experimental fusion. Songs spanning

the whole spectrum of emotion and drama,

from more intense and violent beats, no doubt

influenced by Kent's own roots in metal, to the

more airy and dreamlike soundscapes that tap

into a variety of other music genres.

"I listen to and find inspiration in a lot of music

genres. I think metal might be the most obvious

one, but I also love funk, disco, soundtracks,

shoegaze, old-school rap, etc."

Kent cites artists such as: Miles Davis, Christian

Scott, Pat Metheny as well as Mr. Bungle, Ulver

and Deathspell Omega as major influences on

his work. Thus, the 'retro' is not made from a

cheap novelty, as is the case with some other

artists. You would be hard pressed to find any

filler on a Perturbator release. Every track has its

own personality and is exemplary of painstaking

composition.

"Making one single track can take up to a

month or so. I'm very careful regarding each

sound and each little detail," states Kent. "I take

inspiration from different places and try to craft

tracks with software or hardware synths that all

feel different, but still seem logical considering the

album's theme."

Perturbator has risen to become a true force

within the music underground, having even been

part of the soundtrack to the massively popular

video game Hotline Miami, which in itself was

born out of the neon infused hyper-violent

action movies of the 1980's. Perturbator has been

embraced by fans of varying genres for the sheer

energy that Kent brings to his craft, having even

being included in extreme metal festivals.

"The initial idea was simply to make fake movie

soundtracks and recreate the atmosphere of those

classic John Carpenter-esque themes. Something

quite brooding and gritty," Kent reflected, yet

from that initial intent, most who are familiar with

his work would agree the project has surely gone

beyond and into broader places.

Peturbator plays the Rickshaw Theatre in

Vancouver on Sept. 9

September 2017
---
BLUEPRINT EVENTS

celebrating 20 years with rhythm and style

JEEVIN JOHAL

CLUBLAND

BPM

Alvaro Prol was 13 years old when his family

immigrated to Canada in 1990. He spent his

youth in Buenos Aires, Argentina where he

developed an affinity for the evolving South

American punk rock and heavy metal scene

of the mid eighties. It wasn't until his move

to Vancouver, and the turn of a new decade,

that he became overwhelmed with what

was happening in the Western music world.

"I got into North American rap and house

music that was coming out of New York,

Chicago and all these places," says Prol. "I

was just a kid going through all these things

and I [developed] a passion for [this music]."

This insatiable craving for unique sounds and

rhythms would eventually turn into a career

for Prol when, at the age of 19, he founded

Blueprint. 2017 marks the twentieth year that

Blueprint has been operating in Vancouver

as one of the city's largest event companies.

Along with partners Bill and Chris Kerasiotis,

they've expanded their entrepreneurial

skills to build relationships with venues,

restaurants and liquor stores around town,

to not only help amplify their brand, but

establish a culture as well.

Prol's hometown of Buenos Aires is an old

city that celebrates diversity in its people

and history, and the city's nightlife has been

representative of its heterogeneous society

for decades. Vancouver on the other hand,

though similar in its multicultural heritage, is

a much younger metropolis and it took this

new wave of musical discovery in the early

nineties to really allow the city to encapsulate

a nightlife of its own. Prol's Argentinian roots

and quest for the modern would play a huge

role in inspiring a movement in this period

under the Blueprint trademark.

"I threw my first party when I was 19 years

old, but before that I was already in the scene

quite a bit," reminisces Prol. But the glitz

and glamour of being on stage was never

what excited Prol about becoming involved

in the music business. "I didn't have the

passion to be a Producer, DJ, or a musician,"

confesses Prol. "I knew I wanted to be the guy

organizing it." Today, Prol and his partners

head an office of 38 employees, but that's

just the tip of the iceberg when discussing

how many people are actually involved in

Blueprint. Having started out investing in

clubs like Celebrities and Venue, to filling

arenas and stadiums with some of the world's

biggest DJs and artists, and going even further

to create festivals like Fvded in the Park, it

clearly takes an army to execute these events

rhythmically; and by no means does Prol take

any cog in the elaborate Blueprint machine

for granted. "Blueprint is not just me, it's now

hundreds of people," praises Prol. "I'm trying

to empower these people to be successful as

much as I can."

Yet, even though Blueprint continues to

prosper, as in any business endeavour there

are always challenges. In Vancouver, the

most predominant and obvious hardship is

that of affordability, not only to thrive as a

company, but also to survive as a human. Prol

confesses, "It's difficult to make a profit in

live venues [when] rent and property taxes

are astronomical." Every year venues are shut

down by expenses and gentrification, but Prol

truly believes these trends will change and

he yearns to be a part of that shift in power.

"We can't just be a city full of beautiful

apartments and expensive homes, we need

to be a city full of culture."

Now at 39, Prol is a family man and, even

though he might spend most of his evenings

at home being a father, rather than at a club,

his finger is still very much on the pulse of

the scene. Running a company as vast as

Blueprint has become over the past two

decades involves clockwork care, and Prol

continues to work alongside and support

his team as they continue to cultivate their

brand. However, one thing that will never

change is his dedication to the music. Prol

gushes, "I will never lose the lust to go check

out an act that I'm interested in or be a

part of some of the executions that we do.

Music is our foundation and we talk about

it everyday." It's very evident that ihs heart

remains at the core of what Blueprint stands

for, and in his eyes, the best is yet to come.

"Twenty years is no joke," exclaims Prol, "but

it feels like we're just getting started."

Blueprint celebrates 20 years strong with guests

Diplo, Zeds Dead, Baauer and more at the

Pacific Coliseum on Saturday, October 7.

The Black Madonna

photo by AldoParedes

VANCOUVER — Variety is the spice of life, they say. With a

little bit of soul, a little bit of hip hop and house, our selection

of shows you should check out this month is proven to make

your life extra spicy.

DJ Heather

September 9 @ Open Studios

With over two decades of djing experience under her belt,

Chicago's very own DJ Heather returns to Vancouver to

celebrate the 20 years since her first gig in Vancouver. Known

to infuse her DJ sets with elements of hip hop, disco, soul and

techno, DJ Heather maintains her reputation as one of original

influencers of Chicago's house scene.

Keith Ape

September 9 @ The Vogue Theatre

Organized by Breakout Vancouver, an all ages hip hop and

R&B concerts series presented by Timbre Concerts and

CRESCENDO1, Korean rapper Keith Ape will be returning to

the city with support from a grip of local Vancouver talent.

Best known for his signature track "It G Ma," Keith Ape pushes

the boundaries of Korean hip hop with his signature narcotic

infused delivery style.

SZA

September 14 @ The Commodore Ballroom

The first lady of Top Dawg Entertainment, SZA is an alternative

R&B singer and songwriter known by her friends as Solána

Imani Rowe. Inspired by artists like Meelah, Jamiroquai and

Ella Fitzgerald, Rowe uses minimalistic beats in her music as a

base for her soulful vocals.

The Black Madonna

September 23 @ Celebrities Underground

A talented producer and the creative director of Smart Club

in Chicago, The Black Madonna is most well known for their

uplifting house, disco and techno DJ sets played all around the

world. A true artist in every sense of the word in the current

landscape of dance music, The Black Madonna is a true and

honest work of art and culture.

Tank And The Bangas

September 29 @ The Fox Cabaret

A family man with his finger on the pulse, Alvaro Prol has been building the Blueprint brand organically for the past 20 years.

Based in New Orleans, Tank And The Bangas is a funk, sound

and R&B band lead by the sweet and soulful Tarriona Ball,

also known as Tank. Based around Ball's powerful words and

the band's undeniable synergy, the group takes on themes

of rhythmic soul, spoken word, rock, gospel, funk and folk to

create a sound that's truly all on their own.

September 2017 27
---
COUSIN STIZZ

Cousin Stizz is channeling positivity on his latest release, One Night Only.

GRAEME WIGGINS

At this point it goes without saying

that the internet has really been a

boon for aspiring rap artists. What's

often neglected in that narrative,

however, is the important role that

establishing yourself in one's local

scene has to get you to that point.

Cousin Stizz grew up in Dorchester,

which is just outside of Boston, built

a name from himself there and in two

short years has come to established

himself as a solid new artist with a

contender for song of the summer

("Headlock (ft Quavo)" from his most

recent mixtape One Night Only).

"The internet played a big role in my

success, [especially] after the tape

[Suffolk County]," he explains. "I was

relatively popular in my city before

that. I knew a lot of people; I was just a

cool guy [who] built a niche to myself.

People around the city just kind of

gravitated towards me because they

knew me and who I was."

This is impressive given the relative

lack of scene in his area. "There wasn't

really a rap scene there. I guess there

was like years ago, like 20 years ago.

But besides that, when we started

there wasn't anybody." With important

online platform Soundcloud in dire

financial troubles, one Stizz used

to build his following and share his

music, it will be harder for future

aspiring rappers to have the same story

arc. In his words, "It sucks. Without

Soundcloud there's no Cousin Stizz.

Without Soundcloud there's no a lot

of artists; there's not a Playboi Carti,

there's not a Chance the Rapper. It was

a platform for a lot of kids to make

money so it kind of sucks."

His latest tape, One Night Only, is

step more positive than his first tape,

Suffolk County. His music has always

had a laid back vibe, possibly due

to the music his parents listened to

growing up. "My parents only listened

to music, there was TV but not much

of it. I watched my cartoons and shit

but if my dad wasn't watching Sports

Centre, music was on in the house.

Same with my mom, she didn't watch

much TV either." And much of that

music was pretty chill, "Erykah Badu,

Tribe Called Quest, Slum Village, all of

that kind of stuff."

It's also reflective of where he is in

life and his career right now. "That's the

kind of guy I am. All my music reflects

the time of my life that I'm in; all of

my music is my life. That's a perfect

description of where I'm at these days.

I've always been a laid back guy. I'm in

LA now; I'm feeding myself; I can pay

my mom's bills. I'm in a good space

and it reflects that."

Being in LA in particular seems to

have a positive effect in him, giving

him the right atmosphere and scenery

to keep the laid back vibe strong. "My

career, the way things were going at

the time. The energy out here. The

mountains, the scenery, that shit

inspires me. The ocean. I'm from

Boston, we don't have the mountains

like that. When I first came out here,

the first thing that stuck out to me was

that this place looks like a movie and

it got me in a good space to start the

project. I didn't come out to kick it,

you know, I came out to work. I spend

a lot of time in the house. You need

those breaks, just being out, being

inspired."

If mountains help inspire Stizz to

better and more positive things, his

show in Vancouver, on his first tour

as a headlined, should be the stuff of

legend (or at least a pretty amazing

party).

Catch Cousin Stizz live at the Biltmore

Cabaret September 15.

photo by Jonna Algarin

BONOBO

master of migration keeps on moving

VANESSA TAM

No stranger to Vancouver, British

musician, producer and DJ Bonobo can

often be seen playing either a DJ set or

with a live band at least two or three

times a year if not more.

Known to his mates as Simon Green,

the Ninja Tune signee has always had a

personal connection with our little city

photo by Neil Krug

A travellin' man, Bonobo AKA Simon Green has a special place in his heart

for Canada.

nestled between the mountains and

the ocean. "I used to come to out to

Vancouver kind of from day one really,"

Green shares. "I think it was because

I was touring with Amon Tobin and

some of the [other] Ninja Tune people

who had a very strong presence in

Canada at the time. Ninja Tune [also]

had an office in Montreal at the time

so Canada was always, you know

outside of the UK, it was always the

place that I would come touring most

often back in those days. I [actually]

think I've come [back] to Vancouver

more times than [I have] to most cities

in the UK."

A master of downtempo electronic

beats with applications of live

instruments and drums, Green also has

an incredible work ethic when it comes

to touring. Travelling for nearly 18

months total promoting his last album

The North Borders, Green shows no

signs of slowing down for his latest

release, Migration.

"I've always toured really heavily

and I guess it's just something that

I've done since the beginning," he

mentions. "I kind of said that on this

record I wasn't going to tour as much

as the last one, but it just ended up

being the same amount again. I think

because [the record is] doing so well,

it's kind of easier to tour [because]

touring becomes a little bit more

comfortable. [Like if I was] driving

around in a van playing to no one

every night I would've given up a long

time ago, but the fact that it's a good

[album] for touring and it's a good

show and it's like everybody in the

crew is like super cool, it just makes

[everything] easier."

True to the title of his last album,

Green produced most of Migration

on the road from a laptop which

was a relatively new experience for

the producer. "I think the point that

I was making [with that choice to

work on the album from the road]

was more [about how] I find it's more

inspiring to just sort of be in different

environments instead of being in the

same studio environment every day,"

Green shares. "Your ideas can sort of

start slowing down a little bit [when

you're in a studio environment,]

but when you're out [and getting]

stimulation from the world everywhere

and you use that opportunity in

headspace for ideas."

Bonobo performs at Malkin Bowl with

his live band on September 15.

28

September 2017
---
NEW FORMS FESTIVAL

the ultimate visual and audible experience

BPM

HOLLIE MCGOWAN

Peverelist

Since the early 2000s, Peverelist has remained a cornerstone within the UK's bass

music culture. Through running his record label Punch Drunk Records, managing a

record store Rooted Records and spearheading the reputable club night Dubloaded,

Peverelist has become well-known for providing artists with a platform to produce

and perform new and innovative sounds.

SKY H1

Belgian producer SKY H1 will be joining the artist ranks at New Forms this year with

her ethereal synth soundscapes. Delicately weaving dreamy melodies and vocal

samples over heavy, guttural chords will surely provide New Forms attendees with

the musical sojourn they will be looking for.

E3

On deck to bring a heavier bass experience to New Forms this year will be E3.

Heading up the Pacific Rim from Portland, E3 will take those on the dancefloor

through a quality trip via the deep and spacious sounds of dub.

Nicolas Sassoon

Juliana Huxtable

Juliana Huxtable is in a league of her own. Artist, DJ, model and member of New

York based collective House of Ladosha, Huxtable is booked to play a set at New

Forms this year. However, with such a varied background, who knows what kind of

performance will come out of this artistic maelstrom.

Julian Hou

Local Vancouver based artist, Julian Hou, is known for creating art through a

combination of images, textiles, video, sound, music and performance. Not only

does Hou have the ability to create alternate realities for audiences to discover

and participate in, they are met with a touch of humor too. With an educational

background in art, culture, and architecture, we can't wait to see what Hou has in

store for New Forms this year.

Nicolas Sassoon

Peverelist

Sky H1

E3 and Alter Echo

New Forms Festival always brings Vancouver a lineup filled with new sounds and sights for art connoisseurs and electronic music

enthusiasts to feast upon. Returning to the gorgeous backdrop of the Centre for Digital Media, the festival explores the everchanging

and evolving world of art while creating a platform for artistic growth.

Feeling a little overwhelmed by this year's roster? Check out these six musical and visual performers who you should definitely

be on your radar for New Forms Festival 2017.

New Forms is all about visual and audible windows into the futuristic unknown.

Nicolas Sassoon is certainly one of the visual artists on the bill this year who

will fulfill exactly that quota. Known for playing with the idea of animated GIFs,

Sassoon's addition to New Forms 2017 could very well take you down a rabbit hole

through to a new virtual reality.

New Forms Festival 17 takes place at the Centre for Digital Media September 28-30.

September 2017 29
---
FILM

VIFF

movies made for music at BC's biggest film festival

PARIS SPENCE-LANG

THIS MONTH IN FILM

What Happened to Monday

noomi rapace plays seven sisters at the same time

This is a confusing movie.

In 2073, overpopulation results in a strictly enforced one-child policy. But Willem

Dafoe winds up grandfather to septuplets, all identical. This means Noomi Rapace plays

all seven leads. Their names? Monday, Tuesday, Wednesday… they only get to go outside

on their name-day.

Of course, Monday disappears, and the rest of the week must figure out what

happened to her. What happened to Monday probably has something to do with the

shady Child Allocation Bureau, who are the only babysitters I've ever seen with guns.

Fortunately, some more of the day-sisters start disappearing, so it gets easier to tell

who's who—even though they insist on dressing the same and wearing the same wig.

But when the disappearing sisters are traced to the head of the C.A.B. (Glenn Close), the

remaining days decide to wage war against their lifelong oppressors.

Despite the confusion, What Happened to Monday is actually a fascinating watch.

Where else can you see an actress playing seven simultaneous roles? Despite the film's

want of dystopian depth—this is no The Matrix—it offers plenty in the way of futuristic

technology and creative world-building.

I do feel bad for Adrian Knowles (Marwan Kenzari), though. As Monday's boyfriend,

imagine how many eggshells he'd have to walk on at family reunions—that is, if they ever

find out what happened to Monday.

Music crashes film's biggest Vancouver party with entries like Bunch of Kunst

Now streaming on Netflix.

• Paris Spence-Lang

VIFF is one of those perennial events that seems to

get better every year. "It's a very exciting time as we

create opportunities for audiences to experience VIFF

in new and fresh ways," says festival director Jacqueline

Dupuis. "Through live music events, intimate talks

with creators, and across screens big and small, we act

as a catalyst for our community to discover, discuss

and share."

Despite the emphasis on film (it's in the name,

after all) music is a big part of this too. "Music plays a

prominent role in this year's festival as we launch VIFF

Live which celebrates this key collaboration and the

artists who come together to bring the screen and

stage to life." One example of this is The Green Fog,

Guy Maddin's reimagining of the film Vertigo. With a

live score performed in person by the Kronos Quartet,

Dupuis rightfully calls this the "must-attend event" at

VIFF 2017.

For more movies on music, check out BeatRoute's

top five must-see picks of the fest:

Bunch of Kunst

Sleaford Mods hit it big so fast that Canadians haven't

even had time to crack vocalist Jason Williamson's

cockneyed and swear-laden UK vocabulary. Between

Williamson's cruelly poetic rantings ("The smell of

piss is so strong; It smells like decent bacon") and the

minimal electronic beats of Andrew Fearns, these

aging ragers are so keyed in that Iggy Pop calls them

"the world's greatest rock 'n' roll band". Director

Christine Frantz's documentary captures this bunch

of kunst at their best as they skyrocket to a muddling

stardom.

Chavela

Chavela Vargas had a hard life, but each new

adversity—including her late coming-out—seems to

have added new layers to her deep, coarse, dizzyingly

30

rich voice. The Mexican pop singer reached legendary

status in ranchera music, and directors Catherine

Gund and Daresha Kyi use her lyrics to illustrate a

towering career that met with much heartbreak. Its

incredible soundtrack is a given.

Where You're Meant to Be

Aidan Moffat, formerly of Arab Strap, decided to

reconfigure folk legend Sheila Stewart's classic Scottish

folk songs to help them appeal to a modern audience.

But when he crosses paths with the 79-year-old

Stewart herself, he finds out she is forcefully opposed

to his plans… this doc cuts through the kilt and deep

to the soul, with plenty of drinking songs throughout.

Dead Shack

When an idiot dad sets up a stereotypical horror plot

(run-down shack, middle of woods, no reception, etc.)

due to vacation budget constraints, his kids are forced

to save him and their mom from a woman who needs

them to feed her zombified family. Unless the drone of

the undead counts as death metal, this isn't technically

a music flick. But as it's directed by half of Vancouver

electronic duo Humans, Peter Ricq, we had to put this

hilariously self-aware and beautifully gory slasher on

the list.

Clive Davis: The Soundtrack of My Life

You might not know Clive Davis, but you probably

know some of his proteges, such as Janis Joplin, Bruce

Springsteen, Aretha Franklin, Whitney Houston, and

Alicia Keys. This legendary recording exec is captured

in Chris Perkel's info-packed portrait, following him

through incredible archival footage through his

childhood to Monterey Pop to the top of the music

biz.

For updated showtimes, visit www.VIFF.org

THE ONLY LIVING BOY IN NEW YORK

this big-apple love letter is anything but alive

The Only Living Boy in New York is a tired film that rides the lines of a coming-of-age

story. Sprinkled throughout this cluster of narratives is a love letter to the big apple, and

the result is a vague blur of a movie that, for all its shiny toys, really doesn't say anything

provocative.

The film centers on recent Columbia graduate Thomas Webb (Callum Turner). Thomas

catches his father, Ethan (Pierce Brosnan), out with another woman, Johanna (Kate

Beckinsale), but a new and mysterious friend, W.F. Gerald (Jeff Bridges) teaches Thomas to

stop worrying about the morality of things and live life.

Allan Loeb's script is mediocre and, at points, tries too hard to recapture the New

York of the 50s and 60s. The film is a poor outing for director Marc Webb, who has shown

promise in the past with romantic comedies like 500 Days of Summer but here only

offers a bundle of underdeveloped narratives and clichéd plot pieces. Somebody grab the

defibrillator.

The Only Living Boy in New York is in theatres now

• Max Asper

Willem Dafoe and Noomi Rapace fight the one-child policy in this Netflix dystopian thriller.

September 2017
---
MUSIC REVIEWS

Chad VanGaalen

Light Information

Flemish Eye Records

Without a doubt, alienation and disassociation are at

the core of Chad VanGaalen's bizarre and beautiful

indie rock. Since his early days as a street busker

in Calgary's core, VanGaalen has been nebulous

and moody, effortlessly shape shifting between

genres and styles. While previous works have always

retained his singularly odd and utterly ramshackle

style, they've also flirted with country (Shrink Dust),

blipping electronica (Diaper Island and Soft Airplane),

alternative folk (Infiniheart and Skelliconnection) and

experimental techno (his 2015 collaboration with

Seth Smith, Seed of Dorozon). Albums are further

heightened with the bizarre bleeps and bonks of

homemade instruments, delightful contraptions that

are best enjoyed when witnessed in a live setting

alongside VanGaalen's disarming animations.

On sixth solo studio album Light Information,

VanGaalen has somewhat reverted to the stylistic

proceedings of his earlier days. The result is a

record that's startlingly in line with both 2006's

Skelliconnection and 2008's follow-up Soft Airplane.

The result is an album that's startlingly in line with

both 2006's Skelliconnection and 2008's follow-up Soft

Airplane. Opener "Mind Hijackers Curse" kicks off the

proceedings, with Chad's slightly layered, reverberating

vocals making an almost immediate appearance. The

drums are clattering and understated, and the vague

and hard-to-pinpoint background instrumentation

evokes a plinking, plunking sound that wouldn't be

out of place in a sci-fi movie. Of course, this is right

in line with his previous output: he has long been

fascinated by the subject, most notably materializing

in his 2015 short film 'Tarboz,' which tells the story of

an intergalactic space traveller. If you've yet to witness

it, think the animation style of Adult Swim's disturbing

Superjail!, as utilized by Wes Anderson. It's a wonder

to behold.

"Prep Piano and 770" is the first jarring track of the

record, flirting with the same noise that made his side

project Black Mold damn near unlistenable for anyone

disinterested in the genre. While menacing keys bleep

and bop, cascading keys set the tone for follow-up

track "Host Body." The lyrics are the strongest of the

release, as Chad forebodingly croons, "I'll be the host

body yes, for the parasitic demons. They can eat me

from the inside out, I already hear them chewing."

Herein, the similarity to Soft Airplane's "Poisonous

Heads" is obvious: the song is stark, and slightly

bouncy, spinning foreboding tales of the future.

Later on, "Old Heads" is upbeat and joyous jangly

pop. In particular, the chorus is infectious and sung

high– "WHO IS THE OPERATOR, KEEPING ALL MY

CELLS TOGETHER?!" – and is sure to incite a future

sing-along at gigs. Later on, "Faces Lit" has a similar

vibe with its a sway inducing style. "Pine And Clover"

evokes the yowl of Neil Young with its layered style

and lazy, folkish guitars.

After nearly two decades of making music,

VanGaalen's ruminations have grown more

contemplative, yet remain consistently dark. Long

associated with the archetype of a man-child (a

moniker Chad himself has used) for his forays into

implausible fantasy territory, his lyrics skirt between

out-of-this-world and highly relatable. "Broken Bell"

illustrates this.

"I sit and do a drawing,

A portrait of my dad,

I should really visit him,

Before he is dead.

Cause we are getting old,

Our cells just won't divide like their told.

I'm not really good,

At this kind of thing.

Should I take the advice of the graffiti on the wall

telling me to go suck it?

Or should I listen to the voices ringing in my head, like

a broken bell?"

Family is a recurrent theme, particularly now that

VanGaalen is a proud father. Relevant to that point,

it sounds like there is a distorted, childish croon in

opener "Mind Hijacker's Curse" (though on the former,

it might just be the Korg 770 monosynth he fixed up

for the release). Childish sounds appear again, but this

time much clearer, in closer "Static Shape." Evidently,

the backing vocals are provided by his daughter Pip

and Ezzy. In the closing song, the effect of modulated

childish noise is pleasant, particularly in conjunction

with the jaunty keyboards.

Although it's not out of character, when the last 30

seconds or so of "Static Shape" end in noise territory

that is unpleasantly jarring and squealing, it does

not benefit the album. It's likely the intention to be

confrontational this way directly after the album's

sweetest moments, but it seems unnecessary. Fittingly,

Soft Airplane ended in a similar fashion with a full

noise track dubbed "Frozen Energon," though that

track was far longer with a better sonic arc.

All told, Light Information offers nothing particularly

new in the Chad VanGaalen universe; it remains

a wonderful addition to his catalog that's likely to

dominate the earshot! charts for months and be

nominated for a Polaris Prize. In short, VanGaalen

is well on his way to being the type of musician we

remember in decades to come, courtesy of his bizarre

bent on Canadiana.

• Sarah Kitteringham

• Illustration by Emile Compion

art by Emile Compion

September 2017 31
---
Belle Game - Fear Nothing Brand New - Science Fiction Death From Above - Outrage! Is Now

Belle Game

Fear Nothing

Arts & Crafts

Through sonic walls of booming rhythms

and strung-out synth lines, Vancouver

crush pop group Belle Game create

a unique and dynamic experience

throughout their sophomore LP, Fear

Nothing.

Led by vocalist Andrea Lo, the band

manages to pack the 10 song album with

full and precise arrangements from track

to track. Subtle guitar lines and acoustic

drums scattered amongst songs create

natural elements without taking away

from the pop sensibilities put in place

by wavering synthesizers and striking

keys. Though rarely sparse or static in

arrangement, Belle Game does a great

job of never suffocating the listener

with sound, as instrumentals remain

organized throughout.

Performances by Lo on Fear Nothing

are consistently tasteful, often acting

as a strong addition to the regimented

tirade of instrumentation, though at

times punching through to become a

focal point. As synths sizzle and steady

bass drum hits gallop into existence on

the opening track "Shine," Lo's vocals

seem to command the soundscape as

they appear before the wall of sound.

On the standout track "Bring Me," Lo

belts the opening lines as keys punch

her performance home with striking

effectiveness.

Fear Nothing remains consistently

strong thanks to precise walls of

instrumentation and captivating vocal

performances by Lo. By blending natural

and electronic elements, Belle Game

offer the listener a powerful album that

never suffocates or remains static.

• Nathan Kunz

Brand New

Science Fiction

Procrastinate! Music Traitors

For the first time in eight years, Brand

New has finally released a new album.

The band rose to superstar status in

the world of nostalgic emo bands,

dominating the minds of high school

kids through a formidable mix of

melodramatic lyrics and vengeful

guitars. Brand New fans are extremely

passionate and patient for good reason,

as the band always delivers on songs with

the potential to become immortal and

sacred. However, the band's past three

albums have set the bar high and Science

Fiction falls short for the amount of time

it took to create.

When fans say they love the album, but

believe another album is on the way,

something is wrong. Science Fiction is

a solid offering with some of the best

tracks the band has ever recorded, but

there are too many flaws for an album

that's taken this long. In fact, a few songs

suffer from a stretched out length like

album opener "Lit Me Up" and "Batter

Up," two tracks with underwhelming

song progression compared to other

longer tracks like "Same Logic/Teeth."

The worst song "Could Never Be Heaven"

features an acoustic melody that doesn't

suit Jesse Lacey's vocals, failing to rival

other softer Brand New classics. Even

then, the album's lows aren't much

to complain about. From Nirvana

to Modest Mouse, the band does

justice to their influences without ever

compromising their own identity. It's

hard not to wish for more of The Devil

and God Raging Inside Me on this album,

but Science Fiction offers a satisfying

conclusion to a legacy that has affected

thousands and will affect generations to

come.

• Paul McAleer

Death From Above

Outrage! Is Now

Dine Alone Records

In the current music industry landscape,

three years can feel like a damn long

time.

It's hard to say that Death From Above

(1979) are a legacy act, but Outrage! Is

Now does its damndest to make the

case, ultimately feeling less like DFA and

more DOA.

The Torontonian duo once known for

deftly blending hard rock with proto-

EDM return on the scene feeling like

stale egalitarians preaching a "both sides

are just as bad" apathetic message full of

year-old cliché and rote, riff-rocky tunes.

Instead of offering any semblance of

thought-provoking lyrics, Outrage! stays

on the sideline, instead pointing out the

painfully obvious trends that anyone

with an internet connection already

knew.

The most egregious lyric lies in "Freeze

Me," with Sebastian Granger pondering

"are we outside the safe spaces of love?"

It reads like a cynical mockery of safe

space initiatives that help minorities feel

at home in scenes that often feel hostile

to their very existence.

Overall, Outrage! Is a special kind of

middling. Not outright terrible, but so

mediocre that it makes you question if

the band has always been this ok. Fond

memories of the band's past albums

dissipate, leaving only a cloudy image

of a band that once felt revolutionary

dirtying that air with a gaseous explosion

of radio rock gone awry.

• Jamie McNamara

Emily Haines & The Soft

Skeleton

Choir of the Mind

Last Gang Records

Over 10 years after releasing her first

solo endeavour, Knives Don't Have Your

Back, Emily Haines is back with Choir

of The Mind. The album once again

centers around her piano playing and

poetic prose style, but here her vocals

are used to create venerable layers of

instrumentation. Where Haines' project

previously focused on the misery that

comes with loss, she's more hopeful here,

exploring the inner recesses of her mind

and the strengths of femininity.

For Haines, feminine strength comes

from softness. On "Strangle All

Romance" she is ghostly and rough; vocal

reverberations through a mountain

valley. It's deeply personal, her equivalent

of flexing a muscle. She sings: "Love is my

labour of life/ we'll tear it up." The song

transitions into "Wounded," where she

acknowledges the repercussions of her

open heart.

"Statuette" galvanizes on these themes

further, examining the traditional

hierarchy between men and women in

relation to social power. Haines replicates

these roles to place her at the feet of a

male contemporary, who has the creed

and material possessions to "buy any girl

in the world." The backing beat mimics

the worst type of elevator music, adding

to the sleaze of her counterpart.

The standout is the title track, "Choir

of the Mind." It's as if the artist has voiced

all of the concurrent thoughts within

her head to create a deconstructed

monologue atop her own meditative

lullaby. It's poetic, melodic, and painfully

introspective.

Haines has a way of evoking drama

through her pace, which is often her

biggest asset. Some may be turned off by

Emily Haines & The Soft Skeleton - Choir of the

Mind

the downtempo scenes she creates, but

for a reflective listener, it's an exercise in

meditation.

• Trent Warner

Julie & The Wrong Guys

Julie & The Wrong Guys

Dine Alone

By masterfully creating a union of

delicacy and aggression, Julie & The

Wrong Guys concoct a powerfully

potent mixture on their debut self-titled

LP.

Over the distorted riffs of Eamon

McGrath and a thumping rhythm

section courtesy of Mike Schwarzer and

Mike Peters of Cancer Bats, Canadian

indie legend Julie Doiron (formerly

of Sub Pop heros Eric's Trip) delivers

vocal performances tuned to each

track individually. On lead single "You

Wanted What I Wanted," Doiron strikes

with urgently strained lines between

screeching guitar licks at the chorus,

then drops into a laid back tone as notes

are softly and precisely picked through

the verses. Later, on "Tracing my own

Lines," Doiron sings with a soft fragility

over an open, breathing instrumental

track of steady bass drum strikes and

chugging guitar, accented occasionally

with shaking thunderous strums.

The bands power throughout the ten

track LP lays not in an expected display

of volume, but rather their keen sense

of effective strikes and heavy tones.

McGrath's twisting western-tinged guitar

lines on "Farther from You" beautifully

contrast a darker driving rhythm section,

eventually tying together at the refrain

with explosive effectiveness.

Acting as a modern day odd couple,

Julie & The Wrong Guys blend elements

from across the spectrum beautifully

and to great effect, making their debut

powerfully raw and unpredictable from

start to finish.

• Nathan Kunz

Nosaj Thing

Parallels

Innovative Leisure

Two years after having his gear and

archives stolen while touring through

Houston, Nosaj Thing has released

his fourth studio album, Parallels.

The 10-track album opens up with

"Nowhere," a song that starts with the

sense of the confusing echo of reboot

Julie The Wrong Guys - Julie The Wrong Guys

and then launches into melodic waves a

la Philip Glass; tense, shifting in tonality,

and laced with a strange undercurrent.

Shocked by a muffled vocal sample that

states the album's title, the track breaks

tack and drifts to its finale. Awakened by

a warm and grimy bass line "All Points

Back To U," featuring Steve Spacek,

folds the listener into layers of sound

that reverberate back to the roots of

Nosaj Thing's style on 2009's Drift,

but with an elevated sense of space.

Spacek's vocals provide a sense of forced

reflection that Nosaj Thing's usual pure

instrumentation simply cannot. "Get

Like" glaringly defines the oscillating

conceptual line of emotional flux that

has now fully permeated Nosaj Thing's

evolving musical style. Deep in the warm,

heavy bass there's a spirit of courage and

aspiration pushing to overcome the pull

of depression. "Way We Were" featuring

Zuri Marley picks the record back up

and infuses an air of R&B that's soothes

with the desire of possibility. Marley's

resonant colour uplifts just enough to

shine some light without breaking the

album's dark through line. "IGYC" pulls

the listener back into a refractory cave

atmosphere, a chamber of reflected

sound, glittering, strange and fading

without consideration. "Sister" finds the

end of the record with swells of hope

and a rough hewn bass drum that drive

with strength out of a valley of confused

darkness, and yet the very last sound is

still jilted.

• Andrew R. Mott

Queens of the Stone

Age

Villains

Matador Records

Perhaps Queens of the Stone Age

frontman Josh Homme's most

underrated talent is his ability to make

anything that he works on sound like a

QOTSA record, no matter the personnel

involved. That's been true for the past

six QOTSA albums, and even with pop

producer Mark Ronson, it's true for

Villains.

While bringing Ronson, who's past

credits include Amy Winehouse and

Bruno Mars, aboard may seem like a

leftfield move, the results are almost

disappointingly similar to 2015's …Like

Clockwork, because, after all, to quote

Josh Homme himself on "Make It Wit

Chu," "Sometimes the same is different,

32

September 2017
---
Nosaj Thing - Parallels Queens of the Stone Age - Villains RALEIGH - Powerhouse Bloom Tricky - Ununiform Wand - Pulm

but mostly it's the same."

Villains explodes out of the gate

with "Feet Don't Fail Me," a desert-noir

foot stomper that blends Ronson's

penchant for pop-funk with QOTSA's

bong-ripping stoner rock. It's not the last

time that blend of influences pays off

well, "The Evil Has Landed," "Hideaway,"

and "Un-Reborn Again" all exude pomp

and swagger while still sounding like

textbook QOTSA.

Album highlight "Domesticated

Animals" is a chugging, mixed-meter

melee that builds to one of the best

rock choruses in recent memory and

a thrilling conclusion that finds bassist

Michael Schuman unleashing a bloodcurdling

yell not heard on a QOSTA

album since Songs for the Deaf.

It doesn't reinvent the wheel, but

throughout its runtime, Villains serves

to cement QOSTA's reputation as one of

the most consistently enjoyable bands in

modern rock music.

• Jamie McNamara

RALEIGH

Powerhouse Bloom

Independent

RALEIGH kind of rips. Powerhouse

Bloom opens with a short hit of

percussion, followed by a glimmering

guitar voicing. What follows is a

meditative intro, a slow drum pattern,

a bubbling bass line, and a warm cello

set the scene. It isn't until the first

chorus, where a legitimate guitar riff

cuts through the bustling mix, where

it becomes clear that this is a bigger

and more mature RALEIGH than Sun

Grenades and Grenadine Skies.

It's their third full length release of

bumpy dream pop, but this time

with sharper edges, and a keen ear for

pacing. RALEIGH has always played with

quick starts and stops, and stabbing

transitions, but mostly within the

spectrum of playfulness. Powerhouse

Bloom cuts parts in and out with

precision, and with a completeness of

vision. The experimental but deliberate

studio production work here invites a

tonal and musical cohesiveness, filling

in dead space with ambient sounds and

long reverb trails, and adding texture

with a grimey compression or phaser on

the vocals.

There is so much viscera and effect

to Powerhouse Bloom, it reeks of

deliberation and experimentation like

we've come to expect from RALEIGH,

but with a force and dynamism that

transcends anything that's come before.

• Liam Prost

The Royal Foundry

Lost in Your Head

Independent

After putting out numerous singles and

getting heavy rotation on the terrestrial

airwaves, the quartet known as The Royal

Foundry has finally released its breakout

album, Lost In Your Head. First coming

onto the Edmonton music scene in 2013

as a newly-married alternative folk duo,

Jared Salte and Bethany Schumacher

have completely reinvented themselves

with a solid and well-defined electro-pop

sound. Drawing inspiration from the

latest trends as well as movements from

'90s Brit pop and '70s progressive rock,

Salte and Schumacher dive deep into the

exploration of love and relationship on a

13-track explosion of youthful expression

and experimentation.

Salte's vocals hold the consistent lead on

the record while Schumacher provides a

subtle harmonic reinforcement that sits

just right in the mix. Sprinkled like candy

throughout the LP, Schumacher's timbre

takes the fore in anthemic elements

that elevate the intensity of the record

to all-night dance party proportion.

The production is crisp, layered, full of

tight, hard hitting drums, unique sonic

samples and never ending drive. It's easy

to imagine that in a decade or two from

now that any track on this album will

push the volume up and soak a sun filled

drive with joyful nostalgia.

• Andrew R. Mott

Tricky

Ununiform

False Idols/!k7 Music

I wonder, when you're a dozen albums

into a storied career in the trip-hop

game, is there still enough creative gas in

the tank? Apparently so, if your name is

Adrian Thaws.

The iconoclastic beat-maker and

producer still has a lot of issues to get

off his chest and he has some topnotch

talent to help him out. Biding

his time between grime-swathed and

trap-infused tracks such as "Same As

It Ever Was, "It's Your Day," and "Bang

Boogie" (with Russian hip hop homie

Scriptonite), the master of melancholy

plays it cool. Elsewhere, Tricky glides

around genres from some signature R&B

sultriness from the likes of labelmate

Francesca Belmonte ("New Stole"), to

the slashing guitar fuelled electro-banger

of "Dark Days" (featuring rising dubpop

princess Mina Rose), to a breathy

and sparse cover of Hole's "Doll Parts"

(from avant-garde artist and former

AA-model Avalon Lurks). Of course,

no Tricky oeuvre is complete without a

contribution from his most influential

muse Martina Topley-Bird; her smoky

haze of a voice blankets the last track

on the album "When We Die," while

the brooding Dark Prince spits out

bars asking all the important questions

about where we go when the afterlife is

upon us. Thirteen appears to be a lucky

number after all and for fans of the genre

this is your good luck charm.

• Bryce Dunn

Wand

Plum

Drag City Records

California's Wand comes from a different

time, staying true to their classic-rock

influences with each release through

avoiding the cheap tricks the modern

age offers. Plum marks a shift for Wand

as it's their first album featuring new

guitarist Robbie Cody and keyboardist

Sofia Arreguin, adding to the existing

three members. Instead of frontman

Cody Hanson bringing most of the

material to the table, the songwriting

process transformed into a collaborative

environment relying on chemistry and

improvisation from each member of the

group.

The end result isn't a shocking or a

sudden departure from Wand's earlier

work, but that's fine because the music

stays true to the type of record that's

timeless. Without the Internet, it would

be hard to say if Plum came out four

years ago or 40. The record opens with

"Setting," beginning with a high-pitched

drone like a time machine ready to go

off. The title track follows with a focus

on keys even though the rest of the

album puts guitar riffs and solos at the

forefront. The vocals from Hanson are

reserved and soothing even at points

when the instrumentation demands

more. It works for the most part, but

it's hard not to want Hanson to unleash

emotions that derail the psychedelic

spectrum.

The album is full of standout

tracks, including closer "Driving," a

song featuring Hanson at his most

versatile, and "The Trap," a slow burning

heartbreaker reminiscent of Wilco's

Summerteeth in tone. Plum explores a

handful of ideas throughout the album,

offering something for every type of

rock fan to enjoy, while solidifying each

member as equally important to the

band's overarching success. • Paul

September 2017 35
---
LA VIDA LOCAL

homegrown Vancouver music releases

Sore Points

Don't Want To

Hosehead Records

Vancouver's newest brats-on-the-beat get straight

to the point and pull the trigger on four tightly

wound tracks weaned on Bloodstains compilations

and beer-stained dance floors on their debut

platter. The bonding of ex-Nervous Talk rhythm

section Shane Grass and Trevor Racz with Spectres

guitar slinger Mitch Allen has birthed a mighty

beast bent on delivering, short, loud 'n' snotty

earworms like "Still Standing" and "Be Alone." The

band throws some tricks in the mix, especially

on the "Be Alone" where the band resurrects

the sound of early-period New Bomb Turks'

raunch'n'roll. The title track will have you wishing

you were pogoing with your pals at Mabuhay

Gardens circa '81. Finishing off with a cover of the

classic Dogs cut "Algomania", the pleasure in pain

you will feel is your arms getting sore from flippin'

this bad boy over repeatedly on the turntable. You

need this.

• Bryce Dunn

Bad Hoo/The Scrunt Brothers

HaHa Munny

Velvet Rut Records

Victoria music dynamos Bad Hoo and the Scrunt

Brothers split their joint vinyl, HaHa Munny, into

two equally rollicking parts between the two

of them, and the result is nothing short of an

unabashedly good time. Bad Hoo brings the toetapping,

knee-shaking, no-brakes tracks "Talk, Talk,

Talk" and "Surf n' Onions". The four-piece band

bleeds exuberance, their sound one big clashing,

in-your-face earworm; their performance leaves you

pining to see them live. The Scrunt Brothers slow

the tempo down a fraction, orbiting more around

the slow-build of their off-the-cuff punk ambiance.

Tracks "Fool's Dilemma" and "Harsh Reality" are a

brand of garage so dirty that they'll leave grime in

the lines of your palms, and you'll love every second

of it— with their raspy vocals, easygoing riffs,

and head-tossing choruses, this 7" is that sweaty

summer vinyl you've been craving.

• Emma Sloan

Highland Eyeway

Dark Waters/Xen

Independent

Swarthy. Riff-heavy. Dynamic. — All descriptors

of Vancouver-based band Highland Eyeway's

new single, Dark Waters/Xen. Highland Eyeway

has been shaking up the Vancouver music scene

with their brand of atmospheric rock since 2014.

A melodiously discordant, instrumental-based

pair of tracks, Dark Waters/Xen crescendos from

blistering guitar work and throaty vocals in "Dark

Waters" into a hurricane of a head-banger that only

soars higher in "Xen." The result? A release that is

as captivating as it is well-crafted. If you're craving

kaleidoscopic, trancelike rock that other modern

bands just aren't giving you, then look no further—

Highway Eyeland is here, and they're delivering.

• Emma Sloan

2 Chainz

Commodore Ballroom

August 18, 2017

photo by Galen Exo

2 Chainz is a name that boasts a lot of traction

among modern hip-hop fans. The wildly popular

trap artist from Atlanta sold out the 1000-person

capacity Commodore Ballroom in advance of

his show on August 18. As well, hundreds of

people arrived much earlier than the concert's

start time at 9:30 pm in anticipation of 2 Chainz's

performance.

However, no one performed at 9:30. Instead,

the DJ played music for about an hour before a

local hip-hop artist jumped on stage to try to

stop the awkward delay. Unfortunately for the

opener, the crowd was anxious about 2 Chainz's

absence and spared the rapper little attention.

The curtains finally rose after 11:00 pm at the

Commodore to reveal the "Trap Choir" (a set of

three R&B singers) to kick off 2 Chainz's show

for the night. After a minute or two of soothing

music, a sexy nurse rolled 2 Chainz on stage in a

pink wheelchair. But, the wheelchair and nurse

were not gimmicks, and 2 Chainz never took a

step on stage that night.

Not long after 2 Chainz started his Pretty

Girls Love Trap Music tour, he broke his leg and

underwent surgery to repair it. 2 Chainz's doctors

even advised him to cancel his tour. Instead, after

2 Chainz somewhat recovered from his injury,

he called his management and found a way to

continue his tour without the use of his legs.

Even with 2 Chainz's lengthy delay and injury,

the crowd was incredibly enthusiastic and

receptive to the hip-hop artist's revised concert. 2

Chainz kicked off his concert with the trap-heavy

"Riverdale Road" from his new album Pretty Girls

Love Trap Music, before going into other songs

off the same album such as "Big Amount", "It's a

Vibe" and "Saturday Night". However, 2 Chainz

didn't stray too far from his previous work and

touched on several songs from B.O.A.T.S. II, and

COLLEGROVE.

To 2 Chainz's credit, he found a way to utilize

his condition and creatively alter the presentation

of his concert. While 2 Chainz himself was not

mobile, his backup dancers, nurses, and choir

singers stepped in to fill the void that was

meant to be occupied by the 6'5" trap artist.

Furthermore, even in his condition, 2 Chainz still

communicated effectively with his fans and had

tremendous energy in his delivery throughout

his set.

• Zak Johnson

September 2017 36
---
LIVE REVIEWS

Tom Petty & The Heartbreakers

Rogers Arena

August 17, 2047

Flanked by his arsenal of seafoam Fenders and

sunburst Rickenbackers and his often-unsung band

of steadfast gunslingers, Petty pulled us into a big

weekend with a setlist seemingly curated from a

road trip with a time-machine.

There were some surprises: we were treated

to a "mini set" of songs from the pinnacle of

perfection that was the Wildflowers album.

Including the bolstering title track, "Crawling

Back to You", and "It's Good to be King".

There were other favorites too, like "Don't

Come Around Here No More", which enjoyed

a jammy outro opportunity for the band to flex

their rippling talents to the swoon of many a

drunk middle-aged male in attendance. Another

pleasant addition was the opportunity to "turn

the amps up real loud" with "I Should Have

Known it", a very angry and deliciously mean

ode to the remorse of the bamboozled off of the

criminally underappreciated 2010 album Mojo.

As he gave us the out of control freight train of

large hits to close out the night, "Yer So Bad" into "I

Should Have Known it" into "Refugee" into "Runnin'

Down a Dream" into "You Wreck Me" and then

closing out with the always amazing "American Girl",

you could see him not lose steam but gain it. You

could visually watch him attain freedom from his

music. Reminding us all that the rock n' roll fountain

of youth that Petty slips into up to his neck every

day is a kingdom that is available to all of us; and it's

good to be king.

• Jennie Orton

photo by Jashua Peter Grafstein

Bryan Ferry

Orpheum Theatre

August 13

On Sunday night (August 13) at the Orpheum

Theatre, Bryan Ferry performed a career-spanning

set that demonstrated how both his music and

showmanship remain timeless.

First, though, Welsh singer-songwriter Judith

Owen warmed the crowd with husky vocals and

witty banter. Sat at the piano with her band—

which included prolific sessions musician Leland

Sklar on guitar—arranged casually beside her,

Owen tossed her head back as she soulfully

belted out songs mostly from her latest album,

Somebody's Child. The heart-rending "No More

Goodbyes" was a highlight, as was a sultry cover

of the 5th Dimension's "Aquarius/Let the Sunshine

In."

Fans cheered and immediately stood on their

feet—many rushing to the front of the room—

when Ferry took the stage in a bombastic

rendition of "The Main Thing." The Roxy Music

frontman, looking suave wearing a dark suit

jacket, white collared shirt, and a smile, seamlessly

transitioned into "Slave to Love," which filled the

room with expansive arrangements and equally

breezy vocals.

Ferry showed his versatility with John Lennon's

"Jealous Guy," which had him hit falsetto notes;

"Simple Twist of Fate" from 2007's Dylanesque,

interpreting the Bob Dylan classic in his sophistiglam

(and with harmonica,); and then, taking

to the keyboard for "In Every Dream Home a

photo by Tom Paille

Heartache." The latter, on all accounts, was one of

the most spectacular moments of the evening—

for effect, the theatre's plush back curtains pulled

open to reveal a glowing green screen and Ferry

sang the first portion of the song in dramatic

whisper without any backing instrumentals until

the band blasted in. The song was from 1973's

For Your Pleasure, which was the last Roxy

Music album with Brian Eno on the roster and

his eccentric touch was intact by way of Ferry's

ominous electric keys and wailing showings from

all instrumentalists. It upheld as innovative and

progressive as ever.

Ferry's backing band was excellent throughout,

especially saxophonist Jorja Chalmers who brought

richness with solos on songs like "Avalon" and "If

There is Something."

Unlike Owen, Ferry didn't really talk to the

audience, save for introductions to his band

members. But it didn't feel he needed to—the

music, cinematic light show, his energy (one must

praise those dance moves), and charisma already

spoke volumes. And, towards the end of the set,

Ferry's natural showmanship shined further as

he teased his departure, standing at the stage's

side, shimmying his hips, putting his hand to his

ear for more cheers, and blowing kisses while he

embarked on a feel-good marathon that included

"Your Love is the Drug," "Virginia Plain," and

concluded with "Do the Strand." The bopping

audience didn't want him to go and, judging by

Ferry's beaming grin and reluctance to leave, the

feeling was mutual.

• Yasmine Shemesh

SYLVAN ESSO

Commodore Ballroom

August 15

Sometimes a random conversation can lead to

great things. When former Mountain Man singer

Amelia Meath first talked to producer Nick

Sanborn after one of his shows in Milwaukee,

neither of the two could have known that their

chat would be the start of the extraordinary

electro-pop duo Sylvan Esso. On Tuesday

they played a sold-out show at Vancouver's

Commodore Ballroom, captivating the audience

with their intimate and vulnerable songwriting and

a powerful performance which left the audience

with no choice but to dance.

Jenn Wasner's solo project, Flock of Dimes,

opened the show, treating the Commodore's

audience to a calm before the storm. The mood

quickly shifted when the blinds started going

down, giving the Commodore Ballroom the feeling

of a 30's nightclub. The crowd was ready to get

moving and they did not have to wait long to get

the chance.

Singer Amelia Meath was at the highest energy

level from the start, dancing in a way that raised

the question of if she was wearing roller blades on

stage. There was no need for introductory words

to get the audience in the mood for more. By the

start of their third song, "Die Young," the band

still has not greeted their audience, yet everyone

was feeling Meath when she sang the line "I was

gonna die young, now I gotta wait for you, honey."

The calm, yet driving synth pop melodies invited

the crowd to take a stroll down memory lane

back to lost lovers and long forgotten heartaches,

encouraging them to indulge in their nourishing

pain once again.

The duo's stage presence remained at its height

during the whole set, while playing newly released

songs from the fresh album What Now, as well as

hits like "Coffee" and their very first single "Hey

Mami". When Sylvan Esso finally took the audience

back to the very beginning by performing "Play it

Right" as an encore, they left the crowd with the

sensation of effortless perfection, exhausted but

hungry for more of the smooth pop.

• Theresa Gunkel

photo by Jashua Grafstein

September 2017 37
---
NEW MOON RISING: YOUR MONTHLY HOROSCOPE

Month of the Earth Rooster

BY QUAN YIN DIVINATION

With the solar eclipse taking charge on

the new moon this cycle, a powerful

metal combination begins and is

unmistakably strong. An opportunity

for new beginnings and release of any

past attachments means that anyone

caught holding on will be forced to let

go or be dragged. As the yin strength

of this Rooster moon in a Rooster year

doubles its energy, we can use this time to

reflect on creation, destruction, and the

beautiful brevity of life. The Rooster is a

romance star for the Dragon, Monkey and

Rat, but counters the romantic passions

of the Dog, Tiger, and Horse. No doubt

this month will peak the year for dramas

of the heart!

Rabbit (Pisces): An opportunity for

change, challenge, and growth. Mistakes

are more likely, so make your choices

carefully and decisively. Cut away

dead wood to make room for new

opportunities coming your way.

Dragon (Aries): A full metal combination

between the Dragon and the Rooster can

bring money matters, health problems,

and romance into clearer focus. Do the

tests, take your good medicine, and share

your fortune freely.

Snake (Taurus): Do something to boost

your energy so you can take advantage

of all this moon has to offer. Share your

vision and speak up! You may need to

work smarter and harder now.

Horse (Gemini): Success is found and

understood through setbacks, and every

tragic love story contains a lesson that

seeks expression. Share with others now

what you have learned.

Sheep (Cancer): What was once correct

may now seem eclipsed. Focus your

energy on self-correction and shift the

focus from you to others who may need

your gentle and sympathetic ear during

the shift.

Monkey (Leo): As favourable times

call you toward play, don't forget to set

reasonable limits for yourself and others,

so that everyone can enjoy it with you.

Rooster (Virgo): The spotlight is on

you and your ability to stay cool under

pressure is key to keeping it together.

Avoid criticizing others and focus on

encouragement instead to accomplish

your highest priorities.

Dog (Libra): Enjoying a nice lifestyle

is something to be grateful for,

and everyone feels the call toward

community. A lovely meal, time spent

with family and friends — what more

could a good dog need?

Pig (Scorpio): Your artistic expression

is at it's peak now — channel the energy

of this moon into creativity and enjoy

the beauty that unfolds in front of you.

Truly, a remarkable time to see the light of

creation flow from your own hand.

Rat (Sagittarius): A clean slate or

fresh start is just what you need to

get motivated. Consider a change in

residence, relationship, or a trip to visit a

long lost relative. Now is a good time to

take a break and review how far you've

come.

Ox (Capricorn): Love or money? Check

your key performance indicators to know

where to focus your energy now. Follow

your bliss to create success where you

need it most and joy will abound around

you.

Tiger (Aquarius): Despite the problems

in the world around us, there is always

hope. Collective strength and community

connections can put you in a position to

powerfully express yourself. Take a stand!

Susan Horning is a Feng Shui Consultant

and Bazi Astrologist living and working in

East Vancouver. Find out more about her

at QuanYin.ca.

The Great

Canadian

Songbook

Cory Weeds'

Little Big Band

Explosion

Sunday

November 5, 2017

Sunday

November 12, 2017

Laila Biali

West Coast

World Guitar

Trio

Sunday

November 26, 2017

Sunday

April 22, 2018

TICKETS

ON SALE

SEPT. 5th!

theactmapleridge.org

mapleridgeact @mapleridgeact mapleridgeact

The ACT Arts Centre

11944 Haney Place

Maple Ridge, BC V2X 6G1

604.476.2787

The ACT ad / Beautroute Magazine

5 x 5.75" / CMYK / 10 August 2017

Keith > rare design inc: 604 505 4100

38

September 2017