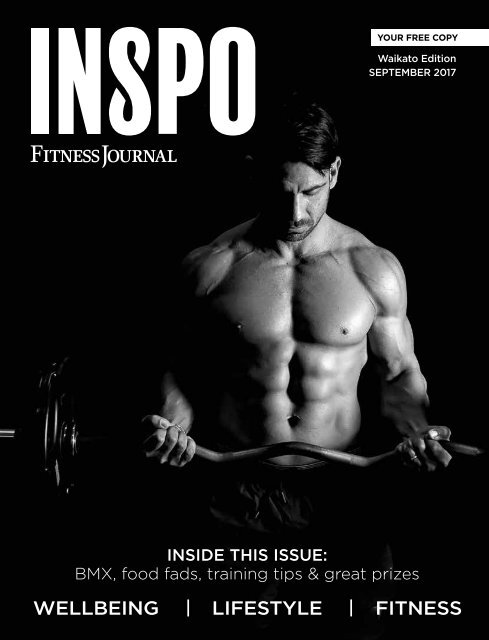 INSPO Fitness Journal September 2017
Everything from nutrition, beauty, home and workplace wellbeing to health, performance – and so much more.
Everything from nutrition, beauty, home and workplace wellbeing to health, performance – and so much more.
SHOW MORE
SHOW LESS
Create successful ePaper yourself
Turn your PDF publications into a flip-book with our unique Google optimized e-Paper software.
Waikato Edition

SEPTEMBER 2017

Fitness Journal

INSIDE THIS ISSUE:

BMX, food fads, training tips & great prizes

WELLBEING LIFESTYLE FITNESS
---
FIRST MONTH FREE

WHEN YOU JOIN NOW *

Right now you can score your first month FREE * when you join Les Mills.

There's never been a better time to discover what your body is capable of.

• Kickstart your energy levels with our

world-famous Group Fitness classes.

• Change your game with our

high-intensity 30-minute workouts.

• Or work out YOUR way with our

state-of-the-art weights and

cardio equipment.

Les Mills Hamilton

747 Victoria Street, Hamilton

0800 LES MILLS

LESMILLS.CO.NZ

*$292 joining fee INSPO applies and – is FITNESS not included JOURNAL in the discount. SEPTEMBER Offer available from 2017 Monday 4 September 2017 until Sunday 1 October 2017. Membership must be active by 6pm Sunday 8

October 2017. Not available to current members or if you have terminated your Les Mills membership in the past 30 days. For full terms and conditions see www.lesmills.co.nz/september
---
CONTENTS SEPTEMBER 2017

On the cover

Sandro Mota, recently

returned from representing

New Zealand at Mr Universe,

is inspiring others to get

active and healthy.

Features

8

10

16

Wellness Warrior:

Sandro Mota

Blue September:

prostate health

BMX Bandit:

Cole McOnie

18

BMX World

20 Championship successes

Making sense of

26 food fads: Dr Libby

Breathe Better

30 September

32

34

36

38

42

Getting started

with BMX

Luke Taylor:

Determined to achieve

Exercising with

hyperthyroidism

How to have a

happy hoo haa

Post-natal pelvic floor

dysfunction

Explore Waikato

foodie trail

37

Columnists

12

14

21

22

24

28

Regular

6

11

47

48

Sarah MacDonald: Why

all men should do yoga

Shane Way: Personal

training with pride

John Appel:

BMX training tips

Kristina Driller: Training

for Round the Bridges

Alison Storey: Exercising

with chronic illness

Monica van de Weerd:

coping with pollen problems

Things We Love

Competition Corner

Beauty Spot

Book Corner

WWW.INSPOMAG.CO.NZ

FACEBOOK.COM/INSPOMAG

Put the

"Zing"

Back into Your

Relationship

MonaLisa

Vaginal rejuvenation with the new

Mona Lisa Touch, now available in

Hamilton, Tauranga, Auckland and Rotorua.

Also new to Hamilton at the

Womens Health Centre

Fast recovery fractional laser for face, neck and

hand skin rejuvenation, wrinkle reduction and

treatment of acne scars and pigmentation.

TM

• Phone: Tauranga - 07-577 9800

• Phone: Hamilton - 07-838 3400

• Freephone 0800 696 2496 (0800 MYOBGYN)

• Website: www.obgyn.co.nz

Naylin Appanna

Womens Health Centre

INSPO – FITNESS JOURNAL SEPTEMBER 2017

3
---
FROM THE EDITOR

It is with a huge sense of relief that most

of us officially farewell winter; although

spring so far has been just as wet, windy

and wild (seriously – hailstorms?). None of

this is exactly encouraging when it comes

to getting outside to exercise.

However, those truly committed to

their sport just add a layer of thermals and

guts it out; a great life lesson which can be

applied to everything, including work and

home life; not just sports.

The ability to motivate and inspire

others is a hugely valuable skill and this

month we catch up with Sandro Mota, who

does exactly that. His passion for living a

healthy active life is inspiring many others

to do the same.

We also profile some of the talented

and driven young athletes making their

mark on the world stage in BMX and share

how you and your family can get involved

in the sport.

September is also a great month for

a health WOF. With Blue September

(prostate health), Breathe Better September

(asthma and respiratory awareness)

and Steptember (take 10,000 steps a day)

all raising the profile of the importance

of health and wellbeing, it's an ideal time

to consider changing some of your daily

habits.

If you're looking for a short term goal,

check out our guide to training for Hamilton's

iconic Round the Bridges (November

19) and also some advice around post-partum

recovery and exercising with chronic

illness.

Here's to some better spring weather

and the opportunity to try exciting new

adventures and activities.

LISA POTTER

EDITOR

Fitness Journal

EDITOR Lisa Potter

MOBILE 021 249 4816

EMAIL lisa@nmmedia.co.nz

ADVERTISING ACCOUNT MANAGER

Kate Rutherford

PHONE 07 838 1333

MOBILE 027 432 0469

EMAIL kate@fitnessjournal.co.nz

DESIGN Tania Hogg / Kelly Milne /

Dayle Willis

Subscriptions

Subscribe to the free e-edition of

INSPO and you'll be emailed a link to

our online edition each month.

Simply visit:

www.inspomag.co.nz/subscribe

CONTRIBUTORS

Regular contributors: Monica van de Weerd, Alison Storey, Kristina Driller,

Sarah MacDonald, John Appel and Danielle Roberts.

Or pick up a hardcopy from one of

the following locations:

• New World Te Rapa

• New World Rototuna

• Hamilton Airport

• New World Cambridge

• Pak'n Save Te Awamutu

• ASB Events Centre Te Awamutu

Contact us

1 2 3

EMAIL info@inspomag.co.nz

PHONE 07 838 1333

12 Mill Street, Hamilton

PO Box 1425, Hamilton 3240

1 / Glynis Longhurst

Glynis joined Wintec as senior academic

staff member at the Centre for Sport

Science and Human Performance in

2011 after immigrating from Southern

Africa. She was previously Head of

Department of the Sport Science and

Biokinetics department at the University

of Zululand, KwaZulu/Natal South

Africa. Glynis is a qualified Kinderkinetist,

with an interest in physical literary

and clinical exercise physiology.

2 / Kristina Driller

A high performance and rehabilitation

consultant at UniRec, Kristina Driller

also specialises in musculoskeletal and

chronic disease rehabilitation, as well

as exercise prescription for people

from all walks of life, including high

performance athletes. She is a regular

contributor to INSPO Fitness Journal

and this month shares her research

and insights around bladder leakage

and exercise.

3 / Monica van de Weerd

With an impressive knowledge of

natural health and wellbeing, Monica

is a well respected Waikato-based

beauty therapist and aromatherapist.

As owner of Naturally Healthy with

husband Frans (a qualified physiotherapist,

homoeopath, craniosacral

therapist and bowen therapist),

Monica writes a regular column for

INSPO Fitness Journal based around

preventative healthcare.

PUBLISHER Alan Neben

SALES DIRECTOR Deidre Morris

PRINTING PMP Limited

COMPETITION TERMS

AND CONDITIONS

INSPO competitions are open to NZ residents only.

One entry per person, per competition. Prizes are not

exchangeable or redeemable for cash. Winners will be

selected at random and no discussion will be entered

into after the draw. By entering this competition you

give permission for INSPO to contact you from time to

time with promotional offers. Unless you agree, your

details will not be given to any third party, except for the

purposes of delivering a prize. Winners may be requested

to take part in promotional activity and INSPO reserves

the right to use the names of the winners and their

photographs in any publicity.

4 INSPO – FITNESS JOURNAL SEPTEMBER 2017
---
GET INTO GEAR FOR BATHURST

HOLDEN GEAR

51-57 Alexandra Street. Hamilton, New Zealand

email: parts@ebbett.co.nz

Ph 07 839 4832

www.ebbett.co.nz

INSPO – FITNESS JOURNAL SEPTEMBER 2017

5
---
Things

we love

A few of our favourite things

PULSE POWER

Inspired by the heartbeats of athletes before a game, the Adidas

ZNE Pulse range not only boasts a unique aesthetic, but is also

stylish and built for performance. The design focuses on the 'pulse

moment' when athletes leave the locker room and head towards the

field, when their heart rate peaks in anticipation. Adidas.co.nz

HANDS-FREE HYDRATION

Take your workout anywhere with this Henty Enduro backpack. Designed

to keep you hydrated (and hold everything you could possibly need)

while biking, running, hiking or skiing. This hands-free sport solution even

provides lumbar protection for your back, hips and kidneys and doubles as

a tool belt. Lightweight, stylish and supremely functional. Henty.cc

MASTERING BOUNCE

If anyone knows the importance of mastering the bounce on court,

it's Serena Williams. Perfect for high impact sports, this Berlei

Shift sports bra refreshingly supports women of all shapes and

sizes. INSPO Fitness Journal readers can enjoy a $20 discount until

the end of September 2017(use the discount code berlei$20 at

sportsbra.co.nz). Sportsbra.co.nz

SPARKLING FRESH

Get your prebiotic kick with one of

these delicious Kréol sparkling drinks.

Available in passionfruit orange; mango

lime turmeric; and lemon ginger honey.

These vegan and gluten free drinks

(with raw apple cider vinegar) are

packed with active ingredients to help

cleanse and detoxify you from the

inside out. naturalthings.co.nz
---
SPRING INTO YOUR WORKOUT

Celebrate the arrival of spring in these

Champion Absolute workout tights. With a

pop of pink bloom colour, they're perfect

for running, gym, yoga or just chilling.

Sportsbra.co.nz

FAB FIZZ

Put a little kick in your day with a Red Seal Vita Fizz.

The effervescent tablets are ideal for ensuring you drink

another glass of water too – choose from Perform,

Immunity, Magnesium and Hydrate. Redseal.co.nz

FIT BEAT

Feel the beat of your workout with Fitbit Flyer, Fitbit's

bluetooth headphones. Featuring a sweat proof

design and customisable fit, these launch in New

Zealand in a few weeks. It's the perfect way to be

motivated by music. Fitbit.com

PICTURE PERFECT

In this age of capturing every moment of life, this sleek

HP Sprocket is the must-have gadget. Small enough to

pop in your handbag or back pocket, you can print 2x3

pics straight from your phone – and personalise them

with hundreds of filters, stickers, frames and text. Hp.com

COFFEE WITH STYLE

What better way to start your day than with a touch of sleek

Italian design? This Bialetti Moka coffee pot is a limited

edition release (each pot is individually numbered) and

celebrates the iconic Moka design, which was included as

a masterpiece in the Museum of Modern Art in 2008. The

stunning highly polished, mirror effect finish is available in

three or six cup sizes. Bialetti.com

INSPO – FITNESS JOURNAL SEPTEMBER 2017

7
---
WELLNESS

WARRIOR

BY LISA POTTER

8 INSPO – FITNESS JOURNAL SEPTEMBER 2017
---
When it comes to working out and staying healthy, Sandro

Mota is constantly looking for fresh ways to get his natural

adrenalin buzz. Whether attempting world records or flexing

on stage at Mr Universe, he loves pushing boundaries and

thrives on setting and reaching fresh goals.

The Cambridge local has a raft of

achievements behind him; he is a

physique athlete, fitness guru and

weight loss specialist, with more than 15

years experience training people all over the

globe – including professional sport players

and celebrities.

However just as important as his own

personal achievements is his dedication to

helping people of all ages and fitness levels

improve their health and wellbeing, through

his STM Functional Fit Gym.

Fresh home from placing in the top

five at Mr Universe (pro division), Sandro's

latest venture is a community programme,

aimed at helping people take a preventative

approach to health issues such as diabetes,

hypertension, high cholesterol, etc. The

programme also aims to help those already

suffering from these conditions to hopefully

enjoy a healthier lifestyle and its benefits.

"We've already trialled this medical prevention

programme in Waikato with a couple of

our STM Fit members, and seen great results

around reversing diabetes, lowering bad cholesterol

and reversing hypertension," he says.

"So we've put together a charity event

for September 27, teaming up with Good

Union, Kids Can, Cambridge Community

Health and STM Fit, aimed at promoting

our medically supervised 12-week training

programme which includes everything

from HIT training and nutrition and dietary

advice."

Sandro's Brazilian background has seen

him involved in everything from personal

training to modelling, before settling with

his wife in Cambridge, where his passion for

fitness and strength training saw him develop

his own programme and business - Superior

Training Method (STM).

"Combining exercise and nutrition is

the ultimate for achieving great results and

better health," says Sandro. "We support and

acknowledge the nutrition side of people's

fitness goals."

INSPO Fitness Journal finds out more…

Age: 38

Sporting background? I have been involved

with sport from a very young age. I started

my gym/fitness journey aged 13, and started

training my school mates when I was 15 in

Brazil. Then, aged 18, I became a water sports

instructor. Since then my passion for fitness

and nutrition has only grown.

Qualifications/training?

– Mr. Universe WFF Pro Division 2017

TOP 5 Athlete

– Founder and master trainer of STM

Functional Fit franchise

– Global trainer for Proteamfit

– Certified Fitness level 3

– Certified Fitness level 4

– Certified Crossfit level 1

– Certified Crossfit Football

– Certified Crossfit Endurance

– Certified TRX trainer

– Certified Strength and Conditioning

coach level 1

– Certified Ginastica Natural level 1

Some thoughts around your Mr Universe

experience? I'm proud to have competed

in the biggest body building event in the

word. Representing New Zealand, in Brazil,

the country I was born in, was extra special.

Finishing in the top five against athletes from

all over the world was also amazing.

Biggest challenge of the event? The biggest

challenge was the loss of one of my favourite

people on earth; my grandmother, who

passed five weeks before the competition.

That was a huge shock to me and made it

harder to continue with my preparation

without losing focus or motivation, but I

wanted to make her proud, and I guess that's

what pushed me through.

Other major events you've competed in? I

got my Professional card with WFF/NABBA

only one year after my first competition. I

have done six competitions in one year and

finished in the top three at all of them.

What's next? My focus now more than ever is

to help others. Giving is the best feeling, it's

what fulfills me, so I have created a unique

wellness and fitness boutique franchise called

STM Functional Fit. We opened last year and

the first franchisee has already opened one

month ago, with three more to open before

the end of this year. Also I am starting the

STM Charity company, where we will invest

in education and sports for young kids in

Brazil. Our aim is to help reduce the crime,

etc, by giving a second chance to kids who

haven't had the same opportunities in life

that I was fortunate to have.

An overview of your nutritional lifestyle?

I am a strong follower and believer of the

LCHF (Low Carb Hugh Fat diet). After years

of study and trialling many different eating

"styles", for the last two years I have been

fully immersed with this LCHF protocol, not

only for myself but also for my clients. In

conjuction with Dr.Prabani Wood (medical

doctor graduated from Oxford University)

we are launching a medical prevention

program where we will blend the LCHF with

exercise to prevent and even reverse diabetes,

cardiovascular diseases and reverse high

blood pressure.

How you relax? My number one relaxation

program is to do something with my amazing

beautiful wife and our dog.

INSPO – FITNESS JOURNAL SEPTEMBER 2017

9
---
BLUE

SEPTEMBER

Building the profile of Blue September is part of the

'game plan' in getting Kiwi men to discuss and be

aware of prostate health.

While prostate health is something

men should be aware of all

year, Blue September provides a

focal point around the topic, so mark Blue

September on your calendar, and join the

Prostate Cancer Foundation in encouraging

Kiwi men to get checked for prostate cancer.

This year is all about having a 'Blue Do';

so get together with friends, colleagues and

family and arrange an event to spread the

message and raise some funds to support the

Foundation.

Doctors and nurses, tradies, workmates

and radio hosts are all getting in on the

act. 2017 ambassadors include entertainers

Frankie Stevens and Ray Woolf, actors Mark

Hadlow and Shane Cortese, Mad Butcher

Sir Peter Leitch, former All Black Buck

Shelford, broadcaster Kerre McIvor, former

league player Monty Betham, rugby player

and boxer Slade McFarland…the list goes on

of people with a high profile committed to

helping support the cause and spread the

message.

Check out upcoming events and get ideas

for your own Blue Do on the Blue September

website (blueseptember.org.nz). Perhaps

you fancy a blue breakfast, a blue BBQ or a

blueberry bake off? Or organise a Blue Friday

like many workplaces?

"It really gets people involved in dressing

• 3000 men are diagnosed each year

– that's about 8 men every day

• 1 in 8 men will get prostate cancer

– it's the most common cancer in

Kiwi men.

• Maori men are 72% more likely to

die from prostate cancer once they

are diagnosed, than non-Maori men

• Men should get an annual prostate

check from age 50, or from 40 if

there is a family history

• Often there are no symptoms – 46%

surveyed had no symptoms when

diagnosed

• Early detection is the key to saving

lives as prostate cancer is effectively

treated when diagnosed early

up, preparing some novelty food, and focuses

on awareness of prostate cancer," says

Prostate Cancer Foundation New Zealand

CEO Graeme Woodside.

Public events organised include Pedal 4

Prostate at Hampton Downs Motorsport Park

(October 8) and David Hartnell's Celebrity

Quiz Night in Auckland (September 22).

Jason Gunn who has joined the team of

Blue September Ambassadors tells how his

Dad was diagnosed with the disease and how

hard it was to talk about it, and what the

prospects might be.

Fortunately for them the outcome was

good.

"Prostate cancer is the number one cancer

in Kiwi men – more men get prostate cancer

than women get breast cancer and about 600

men die every year.

"Early detection is the key. With 1 in 8

men getting prostate cancer catching the

disease early, and getting effective treatment

saves lives. That's the central message this

Blue September.

"Family members can be a great incentive

and encouragement for the men in their

family to go to the GP and get a check. Don't

leave it to the men – they are often a bit slack

in looking after their health. If they won't go

to get a check themselves, make an appointment

and get them along."

Find out more information and register

for a 'Blue Do' at blueseptember.org.nz

10 INSPO – FITNESS JOURNAL SEPTEMBER 2017
---
Competition

CORNER

>

WIN

There's nothing we love more than

sharing the awesome goodies we've

discovered, so a shout out to all of the

brands below for providing these fantastic

prizes.

Enter to win one (or all) of the prizes

below.

To enter, email your name, address and

contact details to win@inspomag.co.nz, with

the keyword of the prize you would like in

the subject line. You can also enter online at

inspomag.co.nz

Entries close October 10 2017.

Henty Hydration

Whether you like to carve up the slopes, climb mountains, bike or run; all of these

sports have one thing in common – the need for next level hydration.

The new Henty Enduro Backpack is lightweight and sleek, designed to keep you

hydrated whilst efficiently holding everything you could possibly need.

The hands-free sport solution even provides lumbar protection for your back, hips

and kidneys. It also doubles as a tool belt for all your gear; from the water bladder

to a puncture kit, camera, snacks, sunscreen, keys, wallet, map, Swiss army knife and

phone – there's room for them all. Your items sit horizontally as close as possible to

your centre of gravity, giving you freedom to move.

The harness and shoulder straps stabilise the unit and thoughtful design ensures

good ventilation, minimising sweaty back syndrome.

Available from henty.cc the Henty Enduro Backpack is the perfect gift for the

adventurous man, woman or family.

Enter to win a Henty Enduro Backpack and enjoy hassle free adventure.

KEYWORD: HENTY

Cheers to Kréol

Give your day a healthy kick start with this

awesome range of prebiotic Kréol sparkling

drinks. Organic, gluten free and vegan, the

base ingredient is raw apple cider vinegar,

designed to give your gut health a happy

boost. Available in passionfruit orange; mango

lime turmeric; and lemon ginger honey,

each one is packed with active ingredients,

prebiotics, electrolytes and vitamins.

Available from naturalthings.co.nz

KEYWORD: KREOL

Advice from Dr Libby

Forget all the dodgy diets and food fads. Get a grip on the foods that

actually work for you and your lifestyle. Dr Libby Weaver demystifies

many of the myths around food and nutrition in her latest book What

Am I Supposed To Eat? She also shares the tools and knowledge you

need to change your eating habits forever, so you can enjoy fuelling

your body and mind with food that actually nourishes and benefits you.

Available from Drlibby.com

KEYWORD: DR LIBBY

Skin Goodness

Get ready to enjoy the warmer weather

with this awesome Goodbye gift pack of

natural and organic products.

Kerikeri natural products company,

Goodbye, is the first grocery brand in

New Zealand to be NATRUE certified.

The stringent international certification

process gives consumers confidence they

are buying a truly natural product. The

certification is managed by BioGro in NZ.

Goodbye's range of products include

Goodbye SANDFLY ( New Zealand's top

selling natural bug repellent); Goodbye

OUCH (a natural therapeutic balm for

the relief of chapped lips, grazes, bruises,

bug bites, etc) and Goodbye NITS, a

natural headlice product.

Enter to win one of three Goodbye gift

packs and enjoy your spring and summer

adventures – naturally.

KEYWORD: GOODBYE

INSPO – FITNESS JOURNAL SEPTEMBER 2017

11
---
WHY ALL

MEN SHOULD

DO YOGA

YOGA FOR ATHLETES BY SARAH MACDONALD

In today's female-dominated world of yoga, it may

seem hard to believe that yoga was originally a practice

exclusively for men. But it's true. Since its inception around

2500BC, yoga was the realm of men. No women allowed.

Yoga continued that way until around

1937, when a very determined Russian

woman named Eugenie Peterson,

with the help of personal connections

with Indian royalty, persuaded legendary

yoga master Krishnamacharya to take her

on as the first female, and the first westerner,

to study yoga. She devoted her life

to yoga, changing her name to Indra Devi

along the way, and is now remembered as

'the first lady of yoga'.

Fast forward just 80 years from yoga's

first female student to be allowed in a room

of males, and in many yoga studios the situation

looks to have completely reversed.

But there are many reasons why Kiwi

blokes should get on the mat and embrace

this powerful practice.

So boys, aside from the obvious - that

yoga was originally created by men for

men, here are some other reasons why men

should practice yoga.

1

2

You do NOT need to be flexible to do

yoga: Before you offer up the number

one excuse for not doing yoga… please

don't tell me you are not flexible

enough to give it a go. Saying you are

too inflexible to do yoga is like saying

you are too dirty to take a bath. Yoga

is an individual practice for each individual

body. It's not a competition

and there is no minimum requirement

to start. You can do yoga. With

a little dedication you will soon make

progress and enjoy the benefits of a

stronger and more flexible body and

mind.

Increased flexibility can reduce your

chance of injury: Limited flexibility

can lead to both chronic and acute

injuries. Over time, sports (and daily

life in general) can gradually take

your body out of healthy balance and

alignment, setting you up for injury.

Muscles that aren't stretched regularly

will have very little capacity to accommodate

extra movement or force,

such as a sudden impact in a contact

sport, leaving you susceptible to acute

injuries.

3

4

5

Better range of motion for your supports

and daily life: When you can

move freely and comfortably, you can

perform better in your sport, as well

as in daily activities. This will give you

greater enjoyment from a range of

activities (especially as your body ages).

Yoga helps keep your body younger for

longer.

Improve back pain: Your modern

lifestyle can exacerbate back pain in a

number of ways. Spending long periods

sitting (at work, or during armchair

sports sessions) is bad for your back.

Active sports such as running, cycling

and many others can also add to strain

on your back by shortening up your

hip flexors, quads and hamstrings.

Yoga stretches you out in all directions

and can do wonders for not just back

pain, but anywhere you get tightness

and aches from your daily activities.

Yoga builds strength: Yoga is not all

about flexibility. It also requires a

good deal of strength. Yoga promotes

holistic strength throughout your

body, including the smaller muscles

that support your larger one, including

your core muscles and joint stabilisers.

12
---
"Saying you are

too inflexible to

do yoga is like

saying you are

too dirty to take

a bath."

6

Balance out your body's asymmetries:

Think golf, bowls, hockey, shot put,

archery, sheep shearing or simply being

left or right handed. We all carry

asymmetries in our bodies to some

extent. Yoga will help you become

more aware of these and teach you

how to develop more holistic balance

throughout your body.

Invest in your mental health:

7 A key factor that sets yoga apart from

other activities is its focus on mindfulness.

Once you start practicing

yoga you will find it's not simply

about striking poses. Yoga turns your

awareness inwards. It demands your

full attention and awareness, and

in doing so it helps quieten a busy,

stressed mind and helps you 'see

things as they really are'. Numerous

studies have cited ways in which

yoga helps mental health, including

depression. If you want to make your

mental health a priority, just step

on to a yoga mat and be open to its

benefits.

8

9

Breathe your way to better health:

Yoga is a breath-centred practice,

which has many benefits for our

modern lifestyles. Many people these

days have closed down their breathing

to such an extent that it impacts on

their health. Your breathing affects so

many aspects of both your physical

and mental health, including organ

function, circulation, digestion, weight

loss, dealing with stress, sleep, mood

management and more. Come to yoga

and discover how to breathe your way

to better health.

Get happy: Practicing yoga will make

your mind and body stronger and

more flexible, and can help improve

so many aspects of your mental and

physical health. If you've ever thought

about trying yoga, the only thing

standing in your way is yourself. Get

out there and give it a try. Who knows,

somewhere in between your downward

dog and your warrior pose, you

might just find that yoga simply makes

you happy!

SARAH MACDONALD is a professional yoga teacher and New Zealand's only officially

certified Yoga for Athletes instructor. She recently opened Balance Yoga Studio in

Cambridge where she is committed to helping people of all ages discover the benefits of

yoga. She specialises in working with athletes of all levels from any sport, and can tailor

yoga sessions to complement any athlete's training regime. www.balanceyoga.co.nz

13
---
PROUD TO

PERSONAL

TRAIN

For most people September is just another month, but for

the LQBTQI+ community it's extra special, as it rings in

Hamilton Pride Week (September 8-16). The aim of Pride

Week is to build and develop positive relationships within

the community, promote pride, celebrate diversity and bring

public attention to social, legal and health issues that the

LGBTIQ+ community faces.

BY SHANE WAY

For me personally, Pride Week is a

chance for me to promote inclusiveness,

support and acceptance for all gay

people, especially our youth, and especially

in the sporting and exercise arena.

Recently I was approached by Thomas

Nabbs, founder of The Waterboy. For those

of you unfamiliar with the organisation,

check it out on Facebook, because what it

does is so important and inspirational.

A non-profit organisation, The Waterboy

aims to create initiatives to increase participation

in sport, by breaking down barriers of

entry to sports for New Zealanders - such as

financial or socio-economic status, disability,

gender, ethnicity and sexuality.

Thomas asked me to get involved in a few

upcoming projects, including a speaker series

addressing Homophobia in Sport. All Black

Tawera Kerr-Barlow and rowing champion

Robbie Manson have headed this campaign,

visiting schools in Hamilton with the goal of

acknowledging the effect of homophobia,

and trying to eliminate it from school and

sports.

This got me thinking; I'm proud of who

I am, I'm proud to be gay, and I want to be a

role model. So how else can I help? How else

can I raise awareness – and I though the best

place to start is to tell my story.

If you had told me when I was a younger

that I would become a personal trainer, I

would have laughed. I didn't spend my youth

as a member of First XV - in fact to this day I

still haven't played a game of rugby. I was the

kid who sat at the back of the field avoiding

getting my next hiding from the high school

jocks.

Growing up in a small town as an extroverted

feminine boy doesn't exactly go down

well. My first memories of school are of

being bullied – of being called a fag, homo,

queer etc. I was completely unaware and cer-

14 INSPO – FITNESS JOURNAL SEPTEMBER 2017
---
"I truly am proud to

be a personal trainer,

proud to be an

openly gay personal

trainer and proud

of how accepting

the fitness industry

has been. What I'm

not proud of is the

exclusion our youth

still face when it

comes to sport."

Shane Way

tainly too young to have a sexual preference,

but because I was different, I was segregated

and ostracised.

I was always an active kid. I loved cross

country, swimming etc, but when it came

to team sports I was shunned. I always got

picked last, and was never given a chance to

really participate. After a while I just gave up.

It seemed easier to sit in the corner than try

to fit in.

I still remember to this day, during my

first week at high school one of the students

saying; "Miss, I don't want the faggot on my

team". This instantly created a bad relationship

for me with sport and exercise. I saw it

in such a negative context that I completely

gave up all physical activity. Unfortunately, I

don't think these kids realise the affect their

bullying and homophobia had on me, and its

long-term affect.

Fast forward 10 years. I joined Les Mills

Hamilton, hired a personal trainer and

started to find a true passion for exercise.

I auditioned to become a group fitness

instructor and for once, being an extroverted

feminine male was being celebrated. I then

realised how empowering exercise was, and

how powerful exercise was at boosting my

confidence and self-esteem, which started

my journey to becoming a personal trainer.

I was nervous about becoming a trainer,

because I didn't know if I'd be accepted.

I didn't know of any openly gay personal

trainers and I didn't have anyone to look

up to or give me confidence that it would

be okay. I just had to have blind faith that it

would all work out - and it has.

I've worked in many different jobs and

the fitness industry has by far been the most

open, accepting and supportive group of

people I've encountered. Everyone knows

I'm gay and no one seems to really care. If

they do, then they've been polite enough to

hide it.

The one thing I tell people is that my sexuality

does not define me. Yes, I'm gay – but

that's not all I am. Don't judge me (or others)

by sexuality. Judge me on my work ethic, my

morals, my values and my character. That's

what's important. That's who I am.

On top of the great work The Waterboy is

doing, I have also recently become involved

as a volunteer and soon to be Youth Mentor

with another great organisation, WaQuY

(Waikato Queer Youth). Waquy offers a safe

space for all youth, whether they identify or

don't identify as queer. The volunteer Youth

Mentors facilitate the group and make sure

it's a place where everyone can be open and

feel accepted.

I truly am proud to be a personal trainer,

proud to be an openly gay personal trainer

and proud of how accepting the fitness

industry has been. What I'm not proud of

is the exclusion our youth still face when it

comes to sport.

Prejudice is learnt, we're not born with

it. So, the next time an All Black misses the

ball and you call him a fag or say "that's gay",

remember you are teaching our younger

generation that it's okay to be homophobic

and use homophobic slurs. Just so we are

clear – it's not okay.

For more information on Hamilton Pride

Week head to www.facebook.com/Hamilton

PrideNZ/ or www.hamiltonpride.co.nz/

INSPO – FITNESS JOURNAL SEPTEMBER 2017

15
---
BMX

BANDIT

Cole McOnie was just three

years old when he got bitten by

the BMX bug. The event was a

Kindergarten Challenge at his

local BMX club and he fell in

love with the sport pretty much

immediately. Cole has gone on

to become one of the best BMX

riders in New Zealand. Despite

having already represented New

Zealand on the international

stage, he's thirsting for more

global success.

Now ranked NZ#3 (Elite Men), last

month Cole donned the silver fern

at the 2017 World Championships.

He has also represented New Zealand in

the junior division at the UCI BMX World

Championships (2015). The former Hamilton

Boys High School student is also a Sir

Edmund Hillary Scholar and a member of

the Pathway to Podium programme.

Cole is passing his love of the sport on to

other up and coming youngsters, coaching

and mentoring for the Waikato Junior Development

Squad and at Te Awamutu BMX

Club. His passion for the sport is summed

up by his confession that "I'm just a kid who

loves to ride his bike as fast as he can".

And while his first Elite World Championships

may not have gone according to plan

(an out of control rider colliding with him

mid-air over the biggest jump on track putting

him out of contention), Cole's positive

attitude sees him still state that the event was

an 'awesome experience'.

"Even though my racing ended earlier

16 INSPO – FITNESS JOURNAL SEPTEMBER 2017
---
than expected, I still had lots of positives to

take out of it and great experience racing

against the world's best."

INSPO Fitness Journal finds out more...

Name: Cole McOnie

Age: 19

Sport: BMX Racing

Regional/National ranking etc: NZ#3 – Elite

Men

Where you live: Te Awamutu

Career path: Performance Sport Scientist/Nutritionist,

studying at University of

Waikato

Outline your upcoming 12 months? My plan

for the upcoming year is a lot of training. I've

got a little bit of time now to really buckle

down and pick up my strength and a few

other aspects before getting into some bigger

races next year. But I will be looking to target

some UCI World Cup rounds, Oceania and

National Champs in 2018.

Greatest successes to date in the sport?

NZ#3 Elite Men, New Zealand Elite Team –

2017 World Championships

What motivates you to keep involved? My

utter love and enjoyment for the sport will

always keep me involved. I'm just a kid who

loves to ride his bike as fast as he can. Of

course I also thrive on the competition and

have some big goals and aspirations I'm

striving to achieve.

Greatest challenge? It is such a ruthlessly

competitive sport. For example at a World

Cup event, for males there are about 200

riders at the start of the day, but only eight

of those end up in the final race. It is always

challenging to pick yourself off after a tough

day on the track and not dwell on it, but it's

best to focus on the positives and strive to

keep improving.

The team around you? I'm fortunate enough

to have a great team supporting me, including

my coach Matt Cameron, the Pathway To

Podium programme including the wonderful

Daniella Cameron, strength and conditioning

coach Shaun Patterson and so many more

amazing support staff.

What the sport involves in terms of training?

Training involves; track specific training,

road sprint training, strength and conditioning

in the gym, and more. I train normally

twice a day for a few hours each session, is

days a week with one rest day.

What gives you the most pleasure from your

sport? Lining up on the gate next to seven

other riders and being willing to give your

everything out on the track. It provides a

goosebump feeling like nothing else I've felt.

Long term goals? My ultimate goals are to

win an Olympic gold medal, and to win the

World Championships earning the rainbow

jersey. A lot of time and hard work is required,

but also an attitude to be able to give

absolutely everything and the belief of being

able to achieve amazing things.

Was there a time when you thought of giving

up? Not even for a second.

Some things about you/your sport people

would be surprised to know? BMX racing

was only first started in the 1970s. In a BMX

Supercross race, riders go from 0-60km/h in

about two seconds. BMX racers have some of

the biggest power outputs of all cycling sports

(male Olympians are upwards of 2400w).

Your favourite local spots to train?

Te Awamutu BMX Track. We're lucky enough

to have some world class tracks here in the

Waikato, and Te Awamutu is one of the best

in the country; it's always awesome to train

and play on. The Avantidrome in Cambridge

is also an amazing facility for all cycling.

Where in the world you want to train/compete?

Europe or Southern California. Both

are huge hubs in Elite BMX racing with huge

depth of fast riders basing themselves there

year round. Being able to be based in either

of those places would mean being able to

ride and train with the best in the world all

the time, and you can't ask for better preparation

than that.

Other sports you are involved in? Nothing serious,

but I like to surf a little in the summer and

I pretty much enjoy anything with wheels.

Who inspires you and why? Sam Willoughby.

He is one of the greatest to ever race a BMX

bike but he's now a paraplegic. His story of

his career and now his journey post-athlete

career is inspiring for anyone. Maris Strombergs

is also a big inspiration. He is a two

time Olympic gold medallist, has won pretty

much every title there is to win in BMX and

he inspires me to achieve beyond measure.

Your advice to others wanting to have a go

at the sport? Head down to your local BMX

club and give it a go. The beauty of BMX

racing is that anyone can do it, from three to

60+, boy or girl, there are no real constraints.

I'm sure anyone who gives it a go will have a

lot of fun and realise it's a thrill like nothing

they've done before.

Thanks to? I'd like to say a huge thank you to

everyone who supports me and helped me

get to where I am, especially; The Cornerstone

Trust, Adastra Foundation, University

Of Waikato, Pathway To Podium, Crown Kiwi

Enterprises, Royalty BMX.

Pathway to Podium

Pathway to Podium is a nationwide talent

development programme helping emerging

athletes (usually in their late teens) and

coaches be better prepared for the demands

of a life in high performance sport.

Pathway to Podium is about helping

more Kiwis to win on the world's sporting

stage. The goal is for some of the

programme participants to win medals at

Olympic/Paralympic Games or at world

championships, usually around 8-10 years

after starting their Pathway to Podium

journey.

About 350 pre-elite athletes and 150

coaches from throughout New Zealand are

selected to participate each year. Pathway to

Podium is run in partnership between Sport

New Zealand, High Performance Sport New

Zealand and regional talent hubs around the

country.
---
GET ON YER BMX

If you've ever thought you're too young, old, unfit or

uncoordinated to enjoy the sport of BMX, all of your

excuses are about to be dispelled.

The high octane sport is a definite

adrenalin burst, but like all sports,

there is also place in the field for

beginners and first timers to get involved and

have a go.

Hamilton BMX Club is home to riders of

all ages and strives to encourage people of all

abilities to get involved. Based at Minogue

Park (Moore Street, Hamilton), the Hamilton

BMX Club is accessible 24 hours a day, seven

days a week (there goes that 'I don't have

time' excuse).

The track is accessible 24/7 for riders

to give it a go or practice. Club nights are

held every Wednesday (weather permitting)

from 5.15pm (to register at club rooms), with

racing starting at 6pm. Club night is ideal

for both new and existing riders; riders race

on the night in four races in their age or skill

groups.

New riders can enjoy the opportunity of

trying out their first three club nights free of

charge, with the next seven club nights costing

just $3 per rider/night to give families

and riders an idea of what's involved with

BMX and to decide whether they want to join

18 INSPO – FITNESS JOURNAL SEPTEMBER 2017
---
"You don't have to be

experienced to start out,

we have riders aged from

two-years-old on balance

bikes to those aged 65+

on pedal bikes."

the club.

The club has set out to make it as simple

as possible for people to give the sport a try

and also offers bike and helmet hire for $2

per item.

"BMX is for anyone who wants to give it

a go," says Hamilton BMX Club. "You don't

have to be experienced to start out, we have

riders aged from two-years-old on balance

bikes to those aged 65+ on pedal bikes.

"To start out you can use your everyday

bike or hire one, but riders must be fully

covered with long pants, long sleeve top, covered

shoes and must have a full face helmet.

"It's all about getting involved and trying

it out."

Riders can join in for fun and fitness, or

compete at club level or nationally. The level

of involvement is up to the involvement.

"We consider our club to be very family

orientated and support all our riders."

The season kicks off in August and continues

through until mid-May so now is an

ideal time to get involved. Training sessions

are available to help members learn new

skills

The Hamilton BMX Club is part of the

Waikato Region BMX which is made up of

several clubs: Te Awamutu BMX Club, Cambridge

BMX Club, Paeroa BMX Club and Te

Kuiti BMX Club.

At the recent 2017 UCI BMX World

Championships in Rockhill, USA, a number

of riders from Hamilton BMX Club were

involved, including Jessie Smith, who won

the overall World Championship title in her

class and Jason Kelly who finished fifth in the

Masters division.

OVER 50 GROUP EXERCISE CLASSES PER WEEK,

STRENGTH & CARDIO EQUIPMENT, SQUASH

COURTS, ENDLESS SWIMMING POOLS AND MORE.

UNIREC | ON CAMPUS AT THE UNIVERSITY OF WAIKATO, GATE 1, KNIGHTON ROAD

INSPO – FITNESS JOURNAL SEPTEMBER 2017

19
---
DOUBLE SUCCESS

It's no mean feat to hold

two world champion titles,

especially by the age of 16.

Hillcrest High School student Jessie

Smith recently notched up her second

world champion title at the recent

UCI BMX World Championships – and now

she has her sights set on a Youth Olympic

medal in Argentina 2018.

The talented rider dominated her age

category (16), mirroring last year's success

when she also won the 15-year-old World

Championship title (in Colombia).

This year's competition in South Carolina

represents the final year of age group racing

for Jessie before moving up to the junior elite

category next year.

Jessie made a presence right from the

start, with a win on opening day in the Cruiser

class, for the bigger sized diameter wheel.

"I think racing in the Cruiser class helped.

I knew where everything was and how everything

worked, and having the World No 1

plate was a huge confidence boost," she says.

The Hamilton BMX Club member is

mentored by Olympic medallist Sarah Walker,

who has been the inspiration for many

youngsters taking up the sport.

"I can't thank Sarah enough. She has

helped me believe in myself and be confident

to line-up on lane one all day," says

Jessie.

Having won all of her qualifying motos

and each round of elimination, Jessie's

dominant performance continued with her

leading from the gate to the finish, in the

final, to take her second World Championship

title.

While obviously thrilled to take the world

title, another highlight for Jessie was 'being

able to stay calm at the biggest event in the

world'.

"Usually I'm a mess, staying to myself,

being so nervous that I can't eat, being in the

wrong space and genuinely not performing

to my expectations," she admits.

"However, this year I went into the world's

knowing I had put in the hard work and was

able to trust myself, that I had done all I

could to do the best I could on the day.

"So I was able to stay calm, have fun

and be the fastest 16-year-old female in the

world!"

Jessie is now focusing on continuing to

improve her skills, with the support of her

mentor and coach Sarah Walker, to prepare

for the 2018 Youth Olympic Games in

Argentina.

Other Waikato riders on the podium were

Cambridge's Jack Greenough finishing fourth

in the 12 year category, and Te Awamutu's

Cooper Merito placing sixth in the 14 year

class.

Jack, second last year, won his qualifying

motos and both his eighth and quarter final

before a third placing in the semifinal. He

was just pipped out of third by the closest of

margins in the final.

Cooper won his round of 16, was second

in both his round of eight and his quarterfinal

before winning his semifinal. He got

caught up in the final and fought back for

sixth.

Rebecca Petch

Elite step up

Te Awamutu BMX rider Rebecca Petch

is no stranger to podium finishes. The

talented teenager boasts the record

of being NZ#1 for 10 years – and recently

made the step up to compete at the Elite

World Championships.

Taking on the best in the world, she

finished 15th overall, and now has her sights

firmly set on next year's World Cup rounds.

"My build up went really well, although

being based in New Zealand meant training

through the cold and wet of winter."

As the World Champs are held in July,

which is New Zealand's 'off season' for the

sport, Rebecca had little racing to prepare,

so had to think smart and set up some race

simulation events as part of her training.

Unfortunately a crash during one of these

set her back a few weeks.

"I managed it as best as possible and

bounced back, not letting it affect my confidence,"

she says.

"As my first Elite World Champs, I was

Jessie Smith

PHOTO CREDIT: Photo by Nico van Dartel.

really excited to see where I was at and get a

good view on my strengths and weaknesses.

"I managed to get though all three of my

qualifying motos, placing ssecond which

put me through to the quarter final, where

I placed fourth, taking me through to the

semi final.

"I was over the moon to be in the semi

final, especially as the youngest rider in

there. The nerves were high and I didn't

have a very good start, but fought hard to

make up lost ground. Unfortunately that is

where my World Champs ended.

"However the experience was awesome,

the atmosphere was unreal and all the riders

were super fast. It was cool to be able to mix

it up with the world's best and get a good

gauge of where I'm at. I finished 15th over

all which I can't be disappointed about.

"Now it's time to knuckle down for a big

training block to work towards getting faster

and stronger. The next big race on my plan

is next year's World Cup rounds."

20 INSPO – FITNESS JOURNAL SEPTEMBER 2017
---
High Performance on

TWO WHEELS

Nothing gives you that amazing feeling of total freedom more

than riding your bike. I will never forget the total look of joy

and excitement of my three-year-old the first time he took his

runner bike to the BMX track and rolled all the jumps.

Rounded back poor posture and poor

control of the core.

BY JOHN APPEL

It seems he went through a pair of

gumboots every six weeks, using them

as brakes on his bike. Now eight years

later, he still gets that same look in his eye

whenever he is on his BMX, MTB, or MX

bike; anything with two wheels creates that

enjoyment.

I guess the chip doesn't fall too far from

block; whether it's bombing a downhill run

or clearing the step-up on the MX bike, I

absolutely love the freedom a bike gives you.

This passion for two wheels saw me racing

MTB cross country all through physio school

and drove me to study the biomechanics

of cycling, in a quest to improve my own

performance and avoid injury.

Now almost 20 years since qualifying

from physio school, I've had the honour to

work on strength and conditioning, and injury

management for professional motocross

riders, downhill mountain bikers and up and

coming BMX riders.

My training principles and injury prevention

strategies have been used to great success

and have played a role in helping riders

secure a NZ National Motocross title each of

the last 11 years. In 2009, Brook MacDonald

secured the World Downhill MTB championship.

Brook is now a full-time rider with

RedBull in the World Downhill MTB circuit.

For all of the world class athletes I work with,

BMX is a strong component of our training

routine.

I love BMX for developing the ability to

ride at a very high heart rate, whilst not losing

focus and maintaining good technique.

There isn't much room for error in BMX and

fitness is the number one injury prevention

strategy for BMX. You simply can't afford to

lose focus in BMX.

For this article, Hamilton BMX rider

Baylee Luttrell demonstrates what I am

talking about and demonstrates as my photographic

model.

When a rider is not strong enough or

has a muscle imbalance, the technique is

the first to go. There are two things I look

for in technique that tells me whether there

might be a strength issue. The first is hip

hinge during jumping or manualing the

bike. Simply put, if the back is rounded (like

image 1) the rider is asking for injury, or at

the very least is inefficient and will fatigue

quickly. The rider needs to learn the hip

hinge correctly and under load. The correct

ready position (image 2) through the manual

technique features the back straight and the

hip hinging correctly. This generates much

more power and efficiency for the rider.

One of the best all-round exercises for

creating good hip hinge and strength in the

legs and back is the classic kettle bell swing.

For my younger riders, I use a small 2kg or

4kg kettle bell and build correct technique.

Once my riders reach the teenage years, then

they progress up to between 12kg and 20Kg

depending on strength and ability.

The second thing I look at is how well the

rider can pump the arms and upper body

on the bike. Since BMX doesn't have any

suspension you must use your arms to soak

up some of the bumps (image 3)

The ability to do this correctly and in

good form generates energy into the bike

and will improve a rider's performance.

This takes a lot of arm/shoulder strength

Good hip hinge, straight back and

power to the legs.

Good hip hinge and soaking up

with a solid upper body

along with a very strong core. One of my

favourite exercises to increase this area of

performance is the kettle bell to row. It works

shoulder, back and core together to really

take the rider to a new level.

To the left is an example of the bottom

and top position. This is best done with a

kettle bell but requires good arm strength

to maintain balance on the kettle bell. If you

are just starting it's best to use a dumbbell as

pictured.

Get stuck in and do some training. You

will be surprised how much faster you can

get. If you are getting any pain or discomfort

with any of these exercises you are not doing

it right and will need some expert guidance.

Until next month ride hard and I might

see you on the track!

JOHN APPEL Director of Advance Physio, John Appel is dedicated to helping everyone

function fully and enjoy everyday life without the restriction of pain.With a Masters in

Physiotherapy, a Bachelor of Science in Exercise Physiology, an Athletic Training degree,

and as a Myofascial Release therapist, he works with a wide range of clients from

professional athletes to chronic fibromyalgia clients. www.advancewellness.nz

INSPO – FITNESS JOURNAL SEPTEMBER 2017

21
---
How to remain injury free for

ROUND THE

BRIDGES

Hamilton's most iconic fun run is almost here. Scheduled

for Sunday November 19, more than 5500 runners

and walkers are set to take part in Lugton's Round the

Bridges. It's time to get registered, develop a training

schedule, embrace those early morning runs and use it as

a head-start to summer fitness!

BY KRISTINA DRILLER

If you have already started training or are

contemplating entering, then read on for

a few tips to remain injury free and run or

walk your way to a new personal best.

When training for an event like Round

the Bridges, it's easy to become injured if you

haven't run for a while. Remain injury free

by listening to your body.

Start out slowly and build up the mileage

each week and session. A good rule of

thumb when starting out is the 10% rule

for increasing volume - only increase your

mileage by a maximum of 10% from one

week to the next.

If you have decided to take up running

or have had issues with ankles, knees or

hips from running, then consider visiting

a physiotherapist, exercise physiologist

or rehabilitation podiatrist to assess your

gait (running technique) and any muscular

imbalances. This can make a huge difference

to your performance and prevent injury

by strengthening weak areas and becoming

aware of faults in your stride.

Consider approaching a fitness professional

for a programme to strengthen the

lower body and core. Bodyweight exercises

that you can perform anywhere without

equipment will increase strength and resilience

to the impact of running.

Bodyweight exercises could include

squats, lunges, calf raises, deadlifts and

planks. Running is a single leg movement, so

beginning with bilateral exercises (both legs)

and then progressing to more advanced single

leg movements will increase the strength

of each leg individually.

If ready for single leg movements in your

programme, including them will prevent the

dominant leg from taking over and doing

more work than the weaker leg, which can

happen during bilateral exercises.

There is a bounty of mobility information

out there at the moment, but what should a

runner be focusing on? Foam rolling, stretching,

mobility with power bands, eldoa stretches

– there are so many different methods out

there. Not having space to go into detail about

all these different modalities, I have listed an

ideal stretching routine which would complement

a regular running schedule.

If you are naturally quite flexible then

you may not need to stretch as often as

someone who has tight muscles. Remember

to stretch when your muscles are warm -

after your run or at the end of your gym

session are both good times to get in your

mobility routine 1 . The American College of

Sports Medicine recommends static stretching

for most individuals, preceded by an

active warm-up, two to three days a week. It

is recommended to hold each stretch for 15

– 30 seconds, two to four times 1 .

Quad stretch

The token quad stretch is

fine for this, begin standing

and hold onto your left ankle

or foot. Keep your hips in

alignment and your thighs

level with each other. Squeeze

the gluteals on both sides

to increase the stretch, you

should feel it down the front

of the left thigh. Hold for 10

– 30 seconds depending on

how tight your hip flexors are,

repeat two to four times each

side.

Glute stretch

Lay on your back with one knee bent and the

opposite ankle on the opposing knee. Pull the thigh

to your chest of the leg that's on the floor and feel

the stretch in the opposite glute. Repeat two to

four times each side, holding for 15 - 30 seconds,

depending on how tight your glutes are.

22 INSPO – FITNESS JOURNAL SEPTEMBER 2017
---
Bent knee calf stretch

Photo Stephen Barker, Barker Photography

Stand as pictured facing a wall with

a split stance. Bend the back knee,

keeping the heel on the floor and

gentle push your hands into the

wall to increase the stretch. Feel

the stretch in the soleus, the lower

muscle deep in the calf. Repeat two

to four times each side, holding for

10 - 30 seconds, depending on how

tight your soleus feels.

Kneeling or standing hip

flexor stretch

Kneeling on the floor with the right foot

forward, tuck the tailbone under by

squeezing your abdominals and gluteal

on the left. Keep an upright posture and

move your front knee slowly forward to

gently increase the stretch. Ensure you

keep your lower back still and not arched.

You should feel the stretch at the front

of the left hip. Hold for 10 – 30 seconds

depending on how tight your hip flexors

are, repeat two to four times each side.

*Alternative: if you have trouble kneeling

you can try the same stretch by in a

standing position as shown.

Dynamic hammy neutral stretch

Sit on a bench with one leg out straight and the

other on the floor. Pull the toes of the straight leg

toward your nose and keep your back straight.

Slowly move the opposite hand to the toes of the

outstretched leg, at the end of the movement gentle

tuck your chin to your chest. At this point you will

feel the stretch in the hamstring and the neural

structures throughout the back of the straightened

leg. Pause for two seconds, then move back to an

upright seated position. Repeat 10 x on each side.

Straight knee calf stretch

Stand as per last stretch, however

straighten your back knee, pushing

your hands into the wall and your

heel into the floor. You should feel

the stretch in the outer calf muscle

the gastrocnemius. Repeat two to

four times each side, holding for 10 –

30 seconds, depending on how tight

your soleus feels.

KRISTINA DRILLER A specialist in exercise rehabilitation and chronic disease management,

Kristina Driller is a sport and rehab consultant at UniRec and uses "exercise

as medicine". Kristina has a wealth of experience spanning eight years and provides

expert advice in chronic disease management and musculoskeletal rehabilitation.

1 Medicine ACoS ACSM's guidelines for exercise testing and prescription. 7th ed. Baltimore: Lippincot Williams Wilkins; 2006

INSPO – FITNESS JOURNAL SEPTEMBER 2017

23
---
Exercising with

CHRONIC ILLNESS

BY ALISON STOREY

In the past, being treated for

a chronic illness like cancer

often meant being told to rest

and reduce physical activity.

Of course, this is good advice if

movement causes pain or a rapid

heart rate (that's an abnormal one,

not just because you're exerting yourself) or

shortness of breath (ditto).

But more recent research has shown that

exercise is not only safe during cancer treatment,

but can improve your quality of life

and how well you function physically.

Too much rest (including long hours

at a desk actually) can lead to loss of body

function, muscle weakness, and a reduced

range of motion. So today, cancer care advice

includes encouragement to be as physically

active as possible.

Although our genes can influence our risk,

many of the elements of cancer risk are due

to factors that are not inherited. Not smoking,

maintaining a healthy weight, staying active

through your entire life, and eating a healthy

HAMILTON RADIOLOGY

Offering unparalleled care and expertise

Hamilton Radiology is the Waikato's

largest private medical imaging facility.

With the latest medical imaging equipment and a

highly trained, experienced team of technical staff and

14 local radiologists, we offer an unparalleled standard

of care and expertise.

Appointments are essential for Ultrasound and CT:

Please phone our freephone 0800 426 723

No appointments needed for plain x-ray films, all

referrals accepted. After hours appointments

available on Tuesday evenings.

C3808P

Hamilton Radiology.co.nz

Anglesea Imaging Centre, Gate 2, 11 Thackery St, Hamilton

Anglesea Imaging Centre - Anglesea Clinic - Hamilton East - Rototuna - St Andrews - Morrinsville - Cambridge - Te Awamutu

24 INSPO – FITNESS JOURNAL SEPTEMBER 2017
---
diet can all be backed up with a stack of

research to say they greatly reduce a person's

lifetime risk of developing or dying from

cancer. Ironically, these same behaviours are

linked with a lower risk of developing heart

disease and diabetes – the other two stand out

takers of lives in New Zealand.

The World Cancer Research Fund estimates

that around 20% of all cancers are related

to body fatness, physical inactivity, excess

alcohol consumption, and/or poor nutrition.

Yes, that's right – very frustratingly for

health professionals, 20% of cancers could be

prevented.

Assuming one has taken steps to prevent

cancer risk and is unfortunate enough to

have to deal with treatment, the fatigue that

this treatment and the disease itself can cause

can be a bit discouraging, however it does

not need to be debilitating.

Cancer-related fatigue (CRF) is one of

the most common side effects of cancer and

whilst the exact reason for CRF is unknown,

treatments like chemotherapy, radiation,

bone marrow transplants and biological therapies

are commonly associated with CRF.

Interestingly, in many cancers, levels of

chemicals that cells use to communicate

called cytokines are increased, so researchers

are currently investigating the link between

cytokines and fatigue (as we know body

processes are finely balanced and any upset

Possible benefits of regular

exercise during cancer treatment

• maintain or improve your physical

abilities

• increased balance, lower risk of

falls and broken bones

• keep muscles from wasting due to

inactivity

• lower risk of heart disease

• less risk of osteoporosis (weak

bones that are more likely to

break)

• better blood flow to legs and

lower risk of blood clots

• less dependence on others to do

normal activities of daily living

• improved self-esteem

• lower risk of anxiety and

depression

• less nausea

• fewer symptoms of fatigue

• better weight control

• improved quality of life

"We currently don't

know the best level of

exercise for someone

with cancer, but the

overriding objective is

to follow an exercise

program that maintains

muscle strength and

enables adequate daily

function."

in one area can easily affect another). This

theory has been suggested to explain chronic

fatigue syndrome (ME) and so they theorise

it could also apply to cancer related fatigue.

Beware however that fatigue can be

confused with tiredness. Everyone gets tired.

Usually, we know why we're tired and a good

night's sleep will sort it out. Fatigue is less

precise and could be considered more a daily

lack of energy; a disproportionate wholebody

tiredness, that is not relieved by sleep.

We currently don't know the best level

of exercise for someone with cancer, but the

overriding objective is to follow an exercise

program that maintains muscle strength and

enables adequate daily function.

Normally, just as when someone is well,

the more you exercise, the more you'll be

able to exercise, and the stronger you'll get.

Exercise can increase energy levels and help

someone feel better about themselves and

their condition, and progress can usually be

felt in a short space of time.

Numerous studies over the last decade

have reported statistically significant improvements

in several cancer-related immune

system mechanisms as a result of exercise.

Additionally, a 2012 study showed a combination

of cardio and weights training can

significantly increase serum SHBG levels in

postmenopausal women with breast cancer.

Because elevated SHBG levels can reduce the

risk of this cancer and its recurrence, exercise

training during treatment can reduce recurrence

of breast cancer.

Cancer survivors may need to exercise less

intensely and increase their workout duration

at a slower rate than people who are not getting

cancer treatment, but the goal, as always,

is to keep up as much activity as possible.

As I often spout in this column, 'Exercise

is Medicine,' and as a preventative measure

and a support to treatment, it certainly fits

the bill with cancer.

ALISON STOREY is a personal trainer who has represented New Zealand in three

different sports (beach volleyball, rowing and rhythmic gymnastics). She has been

awarded New Zealand Personal Trainer of the Year twice and runs Storey Sport, a

mobile personal and sports training business which provides a range of services that

optimise the fitness and wellbeing of its clients. storeysport.co.nz

25
---
Making sense of

FOOD CONFUSION

BY LISA POTTER

Food has become a puzzle. While once it was largely

regarded as fuel for the body, these days food is surrounded by

misinformation and massive misunderstanding.

Whether you want to educate

yourself around nutrition, diet,

wellbeing, eating for energy,

feeding teenagers or catering for allergies,

the overwhelming array of food information

in magazines, on blogs, online and in books

only serves to heighten the chaos.

And if you're anything like me, the more

you research the more your mind becomes

overburdened. Are carrots too high in natural

sugar, should I avoid fruit, should I fast in the

morning, should I go paleo, should I cut out

carbs, should I eat steak for breakfast…the list

goes on.

While some of the advice available seems

to make sense and worked for your friend,

why isn't it working for you?

Dr Libby Weaver's latest book, What Am

I Supposed To Eat, tackles the topic head on.

At last, here's a straightforward guide with

answers to the food questions that plague

most of us. Dr Libby, I heart you.

Spring clean your mind of all the fad

diets you've tried and take the time to dip

into this wonderfully informative book. With

20 years of clinical practice behind her, Dr

Libby covers a diverse range of topics and

it's wonderfully organised so you can revisit

areas of key interest.

The aim is to simplify and help understand

much of the food information currently

out there.

There is a palatable blend of scientific

research and common sense advice, as well

as easy to understand explanations around

everything from gluten, metabolism, superfoods

and food fads.

With more than 300 pages of practical

information, the book includes step-by-step

guides and worksheets to hopefully transform

your relationship with food forever.

INSPO Fitness Journal finds out more from

Dr Libby Weaver…

Why is food so challenging for so many

people today?

Between conflicting research and everything

else we read online from people sharing their

26 INSPO – FITNESS JOURNAL SEPTEMBER 2017
---
individual successes, it can be challenging to

know what's right for us. I think the problem

is twofold. We are bombarded with too much

information and it is simply overwhelming.

We're told to make 'healthy' choices but

that word can be used to describe anything

from a low-fat yoghurt or packet of biscuits

to a banana.

On the other side of the coin, we've also

lost faith in our body's wisdom and we no

longer trust that we can make decisions for

ourselves that best support our health. So we

go looking for answers externally. When we

don't know who to trust, but we also don't

trust ourselves, it can make things incredibly

complicated.

What is one thing you eat or do every day

that helps with your nutritional needs?

Obviously eating well is incredibly important

to me so I make eating nourishing meals a

priority no matter what. However, I've been

creating my own blend of ground up organic

>

WIN

Dr Libby Weaver is hosting her brand

new event, Food Frustrations in

Hamilton on Monday September 25.

Part of an Australasian tour, Dr Libby

will strip back conflicting information,

and share her insights from her 20 years

of clinical experience and 14 years of

study to answer the question, "what

am I supposed to eat?"

Enter to win one of two double passes

to Dr Libby's Food Frustrations Hamilton

event. Email your name and contact

details to win@inspomag.co.nz with

FOOD FRUSTRATIONS in the subject

line, or enter online at inspomag.co.nz

Entries close Wednesday September

20 2017.

"Between conflicting

research and

everything else we

read online from

people sharing their

individual successes,

it can be challenging

to know what's right

for us. I think the

problem is twofold. We

are bombarded with

too much information

and it is simply

overwhelming."

vegetables for years now, which is what

inspired the formula of Bio Blends Organic

Daily Greens and Radiant Reds.

I always start my day with a scoop of this

powder stirred into water which gives me a

great shot of nutrients from the beginning of

the day. It's also handy for additional nourishment

while travelling, which I do a lot of

with my work.

How do we encourage the next generation to

take better care of themselves?

The next generation are in our hands. While

of course they will make their own decisions

as they grow up, we are all influenced by our

childhood.

The way we nourish and take care of

ourselves is no exception. If we're telling

our children to do one thing and then doing

another, they are going to see a discrepancy

in that. They're more likely to do what we do

than do what we say. So, we encourage them

to take better care of themselves by taking

better care of ourselves.

We also need to address the way we view

food and the language we use to describe it.

If we believe that food is simple calories, if

we eat only to maintain or drop body weight,

or fluctuate between dieting and eating poorly,

that teaches the next generation to view

food the same way.

If there were three foods that you wish everyone

would eat more of what would they be?

Can I count all vegetables as one food?! It

would have to be dark leafy greens (such

as kale, broccoli and parsley), lemons and

organic butter.

You might think butter is a bit leftfield

but it's a great source of medium-chain

triglycerides (MCTs), a particular fatty acid

structure. MCTs are special because, in the

digestive system, they are broken down into

individual fatty acids (MCFAs).

Unlike other fatty acids, they are absorbed

directly from the intestines into the portal

vein and sent immediately to the liver where

they are, for the most part, burned as fuel.

They can therefore offer the body an energy

supply that is highly efficient. Too many people

still fear butter and this is not necessary.

How do you know if you're not supposed to

eat a certain type of food?

Your body will tell you if something doesn't

agree with it. It communicates to us every

moment of every day as to whether the way

we are eating, drinking, thinking, breathing,

perceiving or believing is supporting or

detracting from our health.

Common ways the body tells us that a

food might not be working for us include

bloating, constipation, IBS, excessive flatulence,

stomach cramps, lethargy, skin rashes

and other breakouts.

How can people get their children to eat

more nutritious food?

Get them excited about food and involved

in the process. It might be that you get them

involved in the cooking process from time

to time, or put a little vegetable patch in

the garden and grow your own vegetables

together.

There was a dinner I was invited to recently,

where initially the young boy refused

to eat the green things on his plate, but after

learning that they came from his garden, his

face lit up and he ate them.

INSPO – FITNESS JOURNAL SEPTEMBER 2017

27
---
Pollen is back and with it

comes allergies and sinusitis

problems for many. So how

do you support yourself –

naturally?

POLLEN

PROBLEMS?

BY MONICA VAN DE WEERD

Start early. Place HayMax on the base

of your nostrils. Made from sunflower

and beeswax, it is safe to use and an

easy prevention; trapping the pollens before

they get in.

You can also support your mucus membranes

with tissue salts and aromatherapy

oils. Both are safe and easy to use for prevention

and are known to support the body

when affected by allergies.

Cell salts, which are specific minerals for

certain symptoms, are easy to use for the

whole family and have combinations specific

to the nature of the cause. Ask for the Sinus

combination.

Aromatherapy oils can be diffused in the

workplace or at home. The correct blend

of therapeutic oils can help clear irritation,

congestion and painful pressure. You can also

use the essential oil on a tissue or clothes,

steam inhalation, diffusion or chest rub (10

drops to 1 tsp of carrier oil).

The easiest way is to get the sinus clear

combination – taking all the choices and

hard work out of it. But if you already have

essential oils (therapeutic ones are the ones

that give physical results) use your eucalyptus;

pine; peppermint and tea tree oils.

Always use as directed or get specialised

advice.

If you already have sneezing and sniffles

from the pollen, etc, there are some helpful

products you can try.

There are liquid herbal products for

adults and children; homeopathic products

for all ages; as well as herbal/nutritional

capsules if those are the properties you need

for your symptoms.

Always get advice on which is best for

you, as they are all different and you will

need guidance to ensure you get results specific

to your requirements.

Some remedies are based on mucus

membrane support and digestion. Try nutrients

and herbs such as bromelain; quercetin;

algae and ginger. Other well researched

herbs with benefits are horseradish; peppermint;

licorice and echinacea.

We have used and recommended these

combinations for over 20 years with good

results – and know which combination suits

who and what the best.

How to take the remedy of choice:

The homeopathic remedy can be used

every 15 minutes in acute situations, or three

to four times a day for maintenance.

Herbal tinctures and capsules can be used

up to three or four times a day and the cell

salts and barrier balm can be used as often as

you need them.

Children need different strengths and

dosages than adults and many essential oils

should not be used on or around infants.

Though these remedies have been researched

and used by therapists for centuries:

it is never wise to buy them off the shelf

without advice.

I see natural health work every day from

our clinic and store – but use the wrong remedy

and you risk not getting results or worse.

A bad result is not worth the time it takes to

talk to people who know and really care.

Don't put up with exhausting hayfever

this season. It can be supported naturally.

Always get advice and if symptoms persist

see your health professional.

MONICA VAN DE WEERD is a well respected Waikato based beauty therapist and

aromatherapist, with an impressive knowledge of natural health and wellbeing. She

and husband Frans (a qualified physiotherapist, homoeopath, craniosacral therapist

and bowen therapist) are committed to living a naturally healthy lifestyle.

www.naturallyhealthy.co.nz

28 INSPO – FITNESS JOURNAL SEPTEMBER 2017
---
THE MAGIC OF

MAGNESIUM

Magnesium is vital to the

functioning of every cell in the

body and essential in aiding

over 300 metabolic reactions,

as well as helping to regulate

important nutrients.

From support for sleep, to muscle

tension or feeling worried and stressed,

Good Health Organic Magnesium Ultra

can provide your body with the essential

support it needs.

We often need to supplement our diet

with magnesium as it naturally depletes in

times of stress, intense exercise or poor diet.

It also depletes with age as the body loses its

ability to store and absorb it, which can accelerate

the ageing process.

Good Health Organic Magnesium Ultra

may be beneficial if you need support for any

of the following wide ranging symptoms including:

trouble sleeping, muscular stiffness,

tension or tight muscles, feeling lethargic

or irritable during the day, twitchy eye-lids

and legs, respiratory issues or pre-menstrual

comfort.

The skin is the body's largest organ. Magnesium

applied to the skin is directly and

quickly absorbed through the skin by-passing

the digestive processes completely. Good

Health Magnesium Cream contains genuine

Zechstein magnesium chloride, the finest

and purest natural magnesium chloride

in the world. Combined with organic oils,

Magnesium Cream provides fast support to

soothe muscles and jointsAn advantage of

magnesium cream is being able to apply it

directly to the areas needed helping reduce

body aches and pains easing fatigue, sore

achy muscles and joints. Transdermal Magnesium

can raise magnesium levels faster

>

WIN

Enter to win one of four prize packs of

Good Health Organic Magnesium Ultra

and the Good Health Magnesium Cream.

To enter, email your name and address

to win@inspomag.co.nz with GOOD

HEALTH MAGNESIUM in the subject

line, or enter online at inspomag.conz

Entries close Tuesday October 10 2017

restoring cellular magnesium levels without

the side effects of sometimes experienced

with oral magnesium.

NEW MID-SIZE

MALIBU CD PETROL

from rsp

$

33,990

+on roads

CRUZE EQUIPE

1.8L SEDAN AUTO

from rsp

$

25,990

+on roads

COLORADO 4X2

CREWCAB AUTO

from rsp

$

39,990

+on roads

From only four months old,

fantastic pricing on the 2017 LTZ

From Trax only 1.4 four turbo, months auto old, 18'' alloy

fantastic wheels pricing sportech on the trim, 2017 LTZ reversing

Trax camera, 1.4 turbo, 7'' auto touch 18'' screen alloy plus

wheels much sportech more. trim, Nearly reversing new!

camera, 7'' touch screen plus

much more. Nearly new!

From only four months old, fantastic pricing on

the 2017 Colorado Trailblazer LTZ 2.8 Duramax

diesel, From 4x4 only with four shift months on the old, fly, fantastic full leather pricing seven on

seater, the 2017 8'' touch Colorado screen Trailblazer with Sat LTZ Nav, 2.8 Duramax remote

start, diesel, 18'' 4x4 alloy with wheels, shift on rear the fly, view full camera, leather seven plus

seater, 8'' much touch more. screen Nearly with Sat new! Nav, remote

start, 18'' alloy wheels, rear view camera, plus

much more. Nearly new!

THESE DEALS ARE AS GOOD AS THEY GET

EBBETT HOLDEN

From only four months old, fantastic pricing on

the mighty 2017 6.2 litre V8 Red-line SS, 19''

sport wheels, From only Brembo four months brakes, old, Bimodal fantastic exhaust, pricing on

paddle shift, the mighty Heads 2017 up 6.2 display, litre V8 leather Red-line sport SS, 19''

seats, Bose sport sound wheels, system, Brembo brakes, my link Bimodal information exhaust,

with navigation, paddle shift, plus Heads much up more. display, Nearly leather new! sport

seats, Bose sound system, my link information

with navigation, plus much more. Nearly new!

204-208 Anglesea St.Hamilton. T 07 838 0948 0949 • 0800 280 888 • www.ebbett.co.nz

204-208 Anglesea St, Hamilton, T 07 838 0949

www.ebbett.co.nz

5965158AA

Offer available while stocks last. Offers end April 30th 2014. Not available with

other offers. Private customers only.

INSPO – FITNESS JOURNAL SEPTEMBER 2017

29
---
"Over the month of September we aim to

run a total of 70km. Ferdi could run all day,

but I am a bit out of practice, so this will be a

great challenge for healthy lungs," says Hayley.

Challenge participants can sign up on the

website everydayhero.com/nz and choose

the Asthma and Respiratory Foundation NZ

as the chosen charity. Once the challenge has

been set, then it just remains to encourage

friends and family to support the cause.

Respiratory disease

in New Zealand

• Respiratory disease includes asthma, lung

cancer, chronic obstructive pulmonary

disease (COPD), obstructive sleep apnoea,

bronchiectasis, childhood bronchiolitis and

childhood pneumonia.

• Respiratory disease is New Zealand's third

most common cause of death.

• Respiratory disease costs New Zealand

more than $6 billion every year.

• One in six (over 700,000) New Zealanders

live with a respiratory condition, and these

rates are worsening.

• Respiratory disease accounts for one in ten

of all hospital stays.

• More than half of the people admitted to

hospital with a poverty-related condition

are there because of a respiratory problem

such as asthma, bronchiolitis, acute

infection or pneumonia.

Breathe Better

SEPTEMBER

For most Kiwis breathing is something we don't think twice

about. But for one-in-six living with a respiratory condition,

being able to breathe properly is far from reality.

This month the Asthma and Respiratory

Foundation NZ has launched its

annual respiratory awareness month in

New Zealand.

Breathe Better September is a national

movement for Kiwis to show their support

for better breathing and healthy lungs.

"Over 700,000 Kiwis have a respiratory

condition, it's the third leading cause of

death and costs the country $6 billion each

year," says Asthma and Respiratory Foundation

NZ chief executive Letitia O'Dwyer.

This September the foundation is calling

for people to participate in the "healthy lungs

challenge". This involves taking up a challenge

during September that works towards

keeping lungs active and healthy.

Examples of challenges are setting a goal

for exercise, meditation, eating healthy or

quitting smoking. People can choose what will

be a challenge for them, therefore being inclusive

of everyone and their varying abilities.

Hayley Sims from Wellington will complete

a challenge along with her dog Ferdi.

• People living in the most deprived households

are admitted to hospital for

respiratory illness over three times more

often than people from the wealthiest

areas.

Asthma in New Zealand

• Over 521,000 people take medication for

asthma − one in nine adults and one in

seven children (Source: New Zealand

Health Survey).

• Large numbers of children (3,552 or 410.3

per 100,000 in 2015) are still being

admitted to hospital with asthma, and

some of these will have had a potentially

life-threatening attack.

• By far the highest number of people being

admitted to hospital with asthma are

Māori, Pacific peoples and people living in

the most deprived areas: Māori are 3.4

times and Pacific peoples 3.9 times more

likely to be hospitalised than Europeans

or other New Zealanders, and people living

in the most deprived areas are 3.7 times

more likely to be hospitalised than those in

the least deprived areas.

• The cost of asthma to the nation is over

$858 million per year (Telfar Barnard et al.,

2016).

30 INSPO – FITNESS JOURNAL SEPTEMBER 2017
---
The Out and About photos are also posted on our

Facebook page: facebook.com/inspomag

Jump online to tag yourself and your friends!

This page is proudly sponsored by Fairview Mazda

P 08 849 9899 | www.fairview.co.nz

B4505H

OUT AND ABOUT

2

RUGBY LEAGUE

As winter winds to an end, secondary school sports kicks off with

competitions around the country. We bring you some of the action.

3

1, 2 & 3: Action from New Zealand Rugby League National Secondary

Schools Tournament. Photos by Photosport.

5

RUGBY LEAGUE

Plenty of on field success for Hamilton Boys High

School with the 1st XI football team recently wining

the Waikato Secondary Schools competition. (Photo

4 by Marc McMullan), while the 1st XV (photo 5 by

Nat Aitchison) also excelled. In rugby, the 2nd XV

won Super 8 (photo 6) and the Colts team won the

WSS Division 1 1st XV title (photo 7).

INSPO – FITNESS JOURNAL SEPTEMBER 2017

31

6
---
Luke Taylor

EDUCATION AND

DETERMINATION

– the perfect fit for success

Facing the possibility of life in a wheelchair and challenged

with dyslexia, Luke Taylor blames his curious nature for

wanting to find answers. He's now helping others achieve

their health, wellbeing and fitness aspirations with a strong

belief in himself and a degree from Wintec.

Health and wellbeing became a lifestyle

for Luke after a flexibility disorder

meant he was prone to injury, and in

and out of specialist treatment as a child. The

only way out was relentless daily stretching

and training to achieve a level of strength

and fitness that meant he could move freely.

Dyslexia is another hurdle, but he hasn't

let that hold him back either.

"I'm a visual learner and I had to develop

repetitive study habits, meaning I couldn't

cram. The repetition really helped with

retention," he says.

Luke's desire to find answers saw him

graduate from Wintec with a Bachelor in

Sport and Exercise Science in 2012. He liked

the strong science-oriented approach and

valued the opportunity to learn alongside industry

professionals who encouraged him to

develop. He recently completed a Postgraduate

Diploma in Clinical Exercise Physiology

and Strength and Conditioning.

Physiology was a highlight for Luke,

which is not surprising given his personal

journey. It required detailed study and to

help him learn, his tutors encouraged him to

do public speaking. He says this taught him

to research and to quantify information.

32 INSPO – FITNESS JOURNAL SEPTEMBER 2017
---
Five years ago, Luke, who

is based in Hamilton, set up

his business Taylored Health &

Performance in his third year

of study. Ready to take the business

to a new level, Luke was

mentored at Wintec's business

incubator Soda Inc. last year.

"Participating on the Soda

Lift programme not only gave

me business knowledge, it gave

me a reality check," he says. "It

helped me take my business to a

new level."

Taylored Health & Performance

recently moved into a

new purpose-designed studio in

central Hamilton. Luke has partnered

with health and performance

specialist Nathan Lardelli

and they offer a health and performance

specialist service based

around the key components of

mind, body and lifestyle.

They work with a range of

clients from those starting out

or maintaining a programme

of fitness and wellbeing and

corporate teams, to athletes

competing at a national and

international level. Luke's own

specialty is exercise rehabilitation,

corporate wellness and

athletic performance.

Luke knows too well the

benefit of health and wellbeing

in achieving physical performance

objectives. He practises

what he teaches and firmly advocates

that wellbeing is essential

for physical performance.

He'd like to see more

physical trainers addressing

health issues along with creating

programmes for physical

fitness, particularly alternative

healthcare.

"I want to change the way

the industry is right now," he

says. "It needs a shake-up.

"There needs to be more

awareness of underlying issues,

for example gut health stress

and that means more evidence-based

practise."

He stresses the importance

of looking at causes.

"I don't treat symptoms,

I look at cause for long-term

gain. I like to identify a strategy

and give people a way to get

there.

"There's never a 'no', there's

always a way."

Luke believes no challenge is

too big, and he's set to compete

in the Triathlon World Champs

in Rotterdam this month. With

that under his belt, his next goal

is to compete in the gruelling

Ironman competition in Taupo

next March.

In his 'downtime' Luke can

be found working on his blog,

surfing at Raglan and he's a keen

snowboarder.

MRI ULTRASOUND X-RAY CT BONE DENSITY

Pacific Radiology specialise in sports injury imaging

and diagnosis.

We accept any referral forms and provide a

walk in service for all x-ray examinations and urgent

diagnostic imaging .

Call Pacific Radiology for an appointment today or visit

pacificradiology.com

Pembroke

Von Tempsky

Avalon

Cambridge

Phone: 07 834 0000

35 Pembroke Street, Hamilton Lake

21 Von Tempsky Street, Hamilton East

6 Avalon Drive, Hamilton West

14 Dick Street, Cambridge

Email: hamilton@pacificradiology.com

INSPO – FITNESS JOURNAL SEPTEMBER 2017

33
---
Exercising with

HYPOTHYROIDISM

Having played sport all my formative years and been a

physical trainer instructor (PTI) in the defence forces, I would

have considered myself healthy, fit and full of adventurous

energy. That was until my son was born (a prem weighing

900g at 26 weeks).

BY GLYNIS LONGHURST

Life as I knew it changed. Suddenly I

started developing insomnia and became

very emotional about everything

to the point that it took a toll on my personal

relationships. I started complaining of fatigue,

heart palpitations, and depression, joint and

muscle pain, and put on heaps of weight.

As I started to put weight on, I trained

harder and longer. I also noticed a difference

in my exercise tolerance and was needing

longer recovery periods between training.

Thinking I had the baby blues and that it

would all pass, at first I did nothing about it.

In the final year of my PhD and after

months of hearing "gosh you have put on a

lot of weight", "You need to watch your diet"

and "You need to exercise more", I paid a visit

to my GP believing that maybe all I needed

was an energy booster.

I was diagnosed with hypothyroidism. By

the time I was diagnosed, I was exhausted.

Having hypothyroidism more than likely

contributed to my lethargic condition, and I

certainly was not listening to my body telling

me to rest.

Hypothyroidism is a condition in which

the thyroid gland doesn't produce enough

thyroid hormone. The thyroid gland is a

butterfly-shaped endocrine gland that is in

the lower front of the neck. The thyroid's

job is to make thyroid hormones, which are

secreted into the blood and then carried to

every tissue in the body.

The thyroid controls how your body's

cells use energy from food, a process called

metabolism. Among other things, your

metabolism affects your body's temperature,

your heartbeat, and how well you burn

calories. If you don't have enough thyroid

hormone, your body processes slow down.

"This was a lightbulb

moment for me; realising

what I had been doing

wrong. I was training at a

higher intensity than my

body could handle."

34 INSPO – FITNESS JOURNAL SEPTEMBER 2017
---
"Whilst there is

no question that

exercise is an

important part of

any healthy lifestyle,

you must be careful

to do it properly

or you can wind up

doing more harm

than good."

That means your body makes less energy,

and your metabolism becomes sluggish.

Too little thyroid hormone can also mean

too much LDL cholesterol, in your bloodstream.

The thyroid hormone helps the liver

break down the cholesterol circulating in

your blood and stimulates other enzymes

needed to get rid of the bad fat.

Hypothyroidism can be treated and

maintained with a synthetic thyroid hormone

that is taken orally every day to be

affective.

If left untreated, having low levels of

thyroid hormones can reduce cardiac fitness.

Those with hypothyroidism are also at a

greater risk of ventricular arrhythmias, or a

rapid heartbeat. In addition to medications,

exercise also plays a key role in strengthening

the cardiovascular system.

On medication, and pushing myself to

exercise I was still struggling with my energy

and my reduced ability to exercise due to the

fatigue I would experience after doing exercises.

My joints and muscles would ache, my

breathing was impaired, which led to short

supplies of oxygen and light headedness. I

was feeling very down and frustrated.

Driven to overcome this hurdle and

improve my health, I began to read and

research the pathology involved in my

condition.

My findings highlighted the main

downside to hypothyroidism, in that during

exercise there is a decrease of T3 availability

at higher intensities (>70 % intensity) of

training. This means that training at higher

intensities cause you to have less energy. This

is why some people crash when they train

too hard.

This was a lightbulb moment for me;

realising what I had been doing wrong. I was

training at a higher intensity than my body

could handle. This meant I would require a

longer recovery time for my hormone levels

to return to normal.

By continuously training at higher intensities

than I should have, I was also placing

unnecessary stress on neurotransmitters

such as glutamine, dopamine and 5-HTP,

which in turn led to feelings of depression

and chronic fatigue.

Another major effect that extreme

exercise has on our bodies is an immediate

increase in cortisol, the hormone that is released

when the body is under stress. Chronically

high levels of cortisol can increase your

risk for a variety of health issues, such as

sleep disturbances, digestive issues, depression,

weight gain, and memory impairment.

Excess cortisol also encourages fat gain,

particularly around the abdomen.

Whilst there is no question that exercise

is an important part of any healthy lifestyle,

you must be careful to do it properly or you

can wind up doing more harm than good.

What's the best type of exercise for hypothyroidism

you may ask? Research indicates

that a programme of low-impact aerobic exercises

and strength training is recommended

to help regulate the body's metabolism.

The best types of exercise include a

combination of both aerobic exercise and

weight training. Aerobic training is recommended

for around 30 minutes per day,

four to five days a week. Weight training is

highly recommended as it builds up muscle

mass and keeps the basal metabolism active.

Starting slow is crucial and as the symptoms

begin to subside more vigorous activities can

be undertaken.

If fatigue is viewed as a major symptom,

it is recommended you use progressive

relaxation training as treatment instead

of exercise, at least until fatigue improves.

Low-impact aerobics such as, swimming,

walking and cycling, will get your heart rate

up and your lungs going without putting

too much pressure on your joints, which

is important because joint pain is another

common hypothyroidism symptom.

A stationary bicycle and a low-impact

elliptical machine are good machine choices

for a low impact cardio workout. Also, pilates

or gentle yoga can improve core muscles

and ease the back and hip pain that can be

associated with hypothyroidism.

People with hypothyroidism can also

benefit from strength training — exercises

such as lunges, leg raises, and push-ups or

those involving weight-training machines.

Strength training builds muscle mass, and

muscle burns more calories than fat, even

when you're at rest.

Building muscle can help counter possible

weight gain from an underactive thyroid.

Whilst I still battle with my weight, I am a lot

fitter and happier now that I have found the

right mix of exercises and levels of intensity

that my body can cope with.

To those who suffer with hypothyroidism,

never give up. It does help to keep active;

choose your exercise wisely and listen to

your body.

GLYNIS LONGHURST is a Principal Academic Staff Member at Wintec's Centre for

Sport Science and Human Performance. Glynis has a PhD in Sport Science and is the

manager of Wintec's Biokinetic Clinic. Wintec's Biokinetic Clinic provides specialised

exercise prescriptions for individuals living with chronic health conditions. Find out

more and book in to the clinic at www.wintec.ac.nz/whph/biokinetic-clinic

INSPO – FITNESS JOURNAL SEPTEMBER 2017

35
---
The quest for a Happy

HOO HAA

When it comes to our health and wellbeing, there's a range

of topics both men and women are uncomfortable discussing,

and more often than not these relate to our 'private areas'.

BY KRISTINA DRILLER

Exercise physiologist Kristina Driller is

opening the door to discussion around

bladder leakage and incontinence and

has recently released her book on the topic;

A Happy Hoo Haa. In this column for INSPO

Fitness Journal she shares the reason why she

felt compelled to read up on this topic and

publish a book around it.

Over the past nine years I have worked with

clients from all walks of life; individuals with

chronic disease, musculoskeletal complaints,

muscle imbalances, poor fitness, knee and

hip replacements and mental health issues.

It wasn't until around five years ago that I

had unexpected conversations with a number

of long term clients. These clients were

experiencing issues with bladder leakage, or

incontinence.

I was working in my clinic in Hobart, Tasmania

where I had been working with these

clients for some months by the time it came

up in conversation. They had the courage

to tell me that they didn't feel comfortable

doing certain exercises due to fear of bladder

leakage. I was shocked that they hadn't discussed

this with me previously or that it was

only coming up in conversation at that point.

I recall one client in particular, who was

47-years-old. She hadn't had any children,

yet despite this, at 40 years old she began

experiencing incontinence and had to start

using diapers. When she told me that she

hadn't discussed this issue with her doctor in

the past seven years, I was in shock.

In her mind, she had other health issues

that were more important to discuss during

doctor's visits. She was so embarrassed by

it and was silently putting band aids over

something that was very common, but

definitely not normal. My client just accepted

it and didn't know there was anything she

could do to resolve the issue.

In this same season I had a number of

clients with varying degrees of incontinence

issues. I initially decided to write my clients

a two week programme to follow at home.

This progressed to exercises suitable to

follow on with after the first two weeks, and

eventually I progressed my clients through to

a full eight week programme, co-ordinating

their core and pelvic floor into functional

exercises like push ups and squats, without

feeling vulnerable.

I also became very interested in this issue

being faced by so many people and started

researching and learning more about it. After

doing my programme for three weeks, my 47

-year-old client came into my office and with

delight told me that her bladder leakage had

improved by 50-60% and she hadn't had to

buy as many diapers as usual. She was saving

money and feeling better about herself.

It made my day and it's these successes in

my line of work as an exercise physiologist

that I love. Helping others to live a better life

in the one body that they have.

I feel that a lot of women aren't aware of

their pelvic floor and how to strengthen it.

Some will be aware of pelvic floor exercises

such as 'squeezing' when they are sitting at

the traffic lights, but there are more exercises

which will isolate smaller movements within

the pelvis.

It's also a topic that isn't discussed as

much as it should be and has almost become

a "taboo" subject. In New Zealand, it's reported

that the overall prevalence of urinary

36 INSPO – FITNESS JOURNAL SEPTEMBER 2017
---
"She was so

embarrassed by it

and was silently

putting band aids over

something that was

very common, but

definitely not normal."

incontinence is 34% in adult women. This

was found to be as high as 47% in adult Maori

women, 31% in European women and 29% in

Pacific Island women 1 .

If there was a way to prevent incontinence

in New Zealand, this would reduce the health

care bill significantly.

The most recent statistics in 2009 discuss

the bill for incontinence as being an

estimated $8.5 billion per annum, with the

burden of disease costing $4.68 billion, which

equates to an estimated overall cost of $12.73

billion per annum. 2

This is motivation for me to encourage

women to learn about how to maintain and

strengthen their pelvic floor.

Returning to the story of my 47-year-old

client, it is a common misconception that

you won't experience incontinence if you

haven't had children. This is still possible and

can happen to anyone.

There is a history of it occurring in young

healthy women in their early 20's 3 and I

feel this is an important time to educate

and empower women to understand how

to strengthen and tone the pelvic floor,

in preparation for what life has for them,

whether it is childbirth or not.

A few years ago, I decided to write a book

about these issues and include a practical

tool that anyone could use – an eight-week

pelvic floor strengthening programme.

While I am not particularly savvy when

it comes to technology, writing an e-book

and setting up a website was a big challenge,

the thought of helping others kept me going

and I just wanted to complete this project

once I had started it. Now the book is finally

launched and I would love people to read it

and give me feedback.

Kristina Driller

>

WIN

Win one of three copies of A Happy Hoo Haa

and discover the programme developed by

Kristina Driller to help with bladder health and

incontinence.

To enter, email your name and contact

details, with Happy Hoo Haa in the subject

line, to win@inspomag.co.nz or enter online at

inspomag.co.nz

Entries close October 10 2017

1. Retrieved from www.incontinence.org.nz

2. New Zealand Continence Association and Carers

New Zealand Inc. Continence Services in New Zealand.

History, Services Costs and Impacts. A Call to Action Paper.

September 2009

3. Retrieved from www.abc.net.au/health/thepulse/

stories/2011/11/17/3367126.htm

INSPO Fitness Journal readers can use

the discount code 'Inspohoohaa20' for

20% off. Visit www.ahappyhoohaa.com

to purchase your copy.

KRISTINA DRILLER Kristina has a passion for active and healthy living, and as a

practicing clinical exercise physiologist, she takes great pride in seeing her clients

achieve results. In 2008, Kristina became an accredited exercise physiologist, working

in private practice in Hobart, Tasmania before establishing her own exercise physiology

business in 2011. Kristina re-located to Hamilton, New Zealand in 2014, where she

works as a high-performance and exercise rehabilitation consultant at the UniRec

based at the University of Waikato. This involves working with clients from all walks

of life, from elite athletes to clients requiring chronic disease management through

exercise prescription. As a clinical exercise physiologist, Kristina prescribes exercise as

medicine and thrives on helping others achieve freedom from pain to then go on and

engage in life to the fullest.

INSPO – FITNESS JOURNAL SEPTEMBER 2017

37
---
A return to exercise is not all about getting

your pre-baby body back. Exercise plays

an important role in post-natal recovery in

areas such as core and pelvic floor strengthening,

posture for feeding, and the feel-good

benefits at a time that can be overwhelming.

"Just as every baby is

different, so is every

mother, so a one-size

fits all approach, or

a goal of returning

to a pre-pregnancy

size quickly will not

be helpful for every

woman."

Post-Natal Pelvic

Floor Dysfunction

There is an abundance of exercise and wellness advice for

new mothers, with much of it based on personal experience

rather than fact, and most of it centred on getting 'back in

shape' rather than 'being healthy'.

With a new baby in the house; a run

around the block and a couple of

hundred ab crunches is not just

unrealistic - it's not advisable.

When you are ready to get active in the

postnatal period, it is important to get the

right advice and support so that you can get

the positive benefits of exercise and activity

that fits in with your goals, your circumstances,

and takes into consideration your physical

condition.

Just as every baby is different, so is every

mother, so a one-size fits all approach, or

a goal of returning to a pre-pregnancy size

quickly will not be helpful for every woman.

The key advice in the first few weeks after

giving birth is to take it slowly. The body has

and is still undergoing many changes. The

benefits of gentle movement and walking

can be enjoyed by most soon, but 4-6 weeks

after birth is the recommended time to start

looking at a structured programme.

An area all women should focus on is the

pelvic floor muscles. These are the layer of

muscles stretching from the pubic bone at

the front, to the tailbone at the back. They

form the floor of the pelvis.

In the past the focus has been on a few

squeezes and not much more. But that is

changing and for good reason, with one in

three women experiencing post-natal pelvic

floor dysfunction.

Simply getting back into exercise will

not automatically strengthen pelvic floor

muscles. In fact a return to high impact or

heavy weight bearing exercise can make the

issue worse.

For most women, being educated and

getting advice from a qualified and experienced

exercise professional is enough, with

referral to women's health physiotherapists if

required. A good exercise professional will be

trained, and will know when it's time to refer.

(References: continence.org.nz)

Article by NZ Register of Exercise Professionals

(REPs). REPS is an independent not for profit

quality mark of exercise professionals and facilities.

reps.org.nz

Naturally Healthy

Health Stores and Clinics

www.naturallyhealthy.co.nz

/naturallyhealthynz

Frans van de Weerd:

physiotherapy (acc reg)

• Homeopathy

• Fertility

• Cranio sacral therapy

• Bowen therapy

• Food Sensitivity testing

• Massage therapy

• Facials

• Knowledgeable staff

• Instore tastings: herbal teas;

superfoods etc

• In store displays & education

• Professional therapeutic

ranges

• Best buys and deals

• Bach Flowers blending &

therapy appointments

• Hair Analysis

• Specialising in children &

infants

NATURALLY HEALTHY

106 London Street,

Hamilton Central

Ph 07 958 3845

Free customer

parking on site

Hours:

8am– 6pm

Monday to Thursday

8am– 7pm Friday,

9am– 5pm Saturday

Yoga for Athletes & Everyone

Balance Yoga offers yoga classes for all types of bodies. You don't need to

be an athlete, and you don't need to be flexible. Come and try yoga with our

experienced, professional teachers can discover how yoga can help you move

better, stretch better and breathe better.

Classes six days a week.

Why should athletes do yoga?

• Develop and maintain muscular balance

• Reduce your chance of injury

• Mindfully stretch out your tight spots

• Improve your range of motion, coordination and core strength

• Develop body awareness and mental focus

• Faster, more effective recovery

For class timetable and full details visit

www.balanceyoga.co.nz or contact Sarah 027 287 3444

38 INSPO – FITNESS JOURNAL SEPTEMBER 2017
---
Contact

LOCATION:

The Float Room

Level 1, 48 Empire St

Cambridge

rejuvenate your mind, body and soul

PREGNANCY AND FLOATING

Benefits of floating while pregnant:

• Stress relief for pregnant mothers

• Better sleep during pregnancy

• Magnesium absorption for prenatal health

• Physical comfort and relief of pregnancy related aches

and pains.

BOOK ONLINE:

www.thefloatroom.co.nz

PHONE:

0800 FLOATING

HOURS:

Wed & Thurs 11am - 7pm

Fri 8am - 4pm

Sat 9am - 1pm

Floatation therapy offers a brilliant level of relaxation

and pain relief for expectant mothers. The weightless

environment takes the strain off the body and gives

relief from backache, swollen ankles, sore feet and

other pains associated with pregnancy. With the water

being heated to 34-35.c (body temperature) it is the

perfect temp for pregnancy.

Theres no

better time

to take care

of your mind

and body

than during

pregnancy

Pricing

Single casual float $95

Introductory 3 floats $215

• Expires after 3 months

• Single use only

• Not Shareable

Student Casual $80

INSPO – FITNESS JOURNAL SEPTEMBER 2017

39

However as with any activity during pregnancy, consultation with you midwife is recommended before your first float.
---
• Mobile Personal Training

• Sport Specific Strength

and Conditioning

• Nutrition analysis and

strategies

• Small group training

M: 027 844 5347

E: danielle @fuelnutrition.co.nz

www.fuelnutrition.co.nz

www.facebook.com/fuelnutrition4life

Can you truly say you have been

nourishing your body? Are you full of

energy and vitality?

Sometimes it is easy to let life get in the

way, now it is time to put yourself first.

For nutrition education, plans and

guidance tailored to your needs contact

Danielle Roberts (Bsc Human Nutrition)

Twinkle Tots Mums & Bubs ballet classes

Hamilton's premier dance school offering specialist training in

RAD Ballet, Tuesdays NZAMD & Jazz, Thursdays Contemporary 10-10.30am and Hip Hop.

Offering classes from

2 years+

A fun and Pre-School interactive to Adults. class Enrollments involving you taken and year your round. bub, a great

At Limelight

way to

Dance

bond

Academy

and begin

we hope

your

to

dance

create

journey.

and nurture a

love of dance and help to develop healthy, happy,

Try your first class on us

well rounded individuals.

Contact admin@limelightdanceacademy

for more info and to enrol for Term 4

Think you know ballet, think again

Tuesdays 7.30-8.30pm

Limelight For more Dance information Academy please - contact 144 Rototuna Kerry Mills Road

phone 855 3021 | mobile 021 2343930

admin@limelightdanceacademy.co.nz The new dance fitness fad has | www.limelightdanceacademy.co.nz

arrived from the UK. An

explosive, fast paced, ballet based workout set to your

favourite music.

Try your first class on us

Contact hayleigh.ballestics@gmail.com to reserve your spot

THE

FLOAT ROOM

- bringing floatation

therapy to Cambridge

Floatation therapy has taken off all over the

world. It is seen by many as a reset button for

both the mind and body.

The Float Room is opening

this month in Cambridge,

in its new purpose-built

premises, with the welcoming

team looking forward to providing

a service which offers a multitude

of benefits to everyone.

One area in particular is the

benefits floating can provide

during pregnancy.

"It has been said that pregnant

women probably get more relief

from the floatation pod than anyone

else," says Natalie McKenzie

from The Float Room.

"Just lying on a bed can be

extremely uncomfortable for

a woman in the later stages of

pregnancy due to the massive

gravitational strain placed on the

body. The float pod is a wonderful

haven for pregnant women,

where they can relax for an hour

entirely to themselves; resting in

warm water with gentle music.

"Soothe your back in water

that gives complete support and

the feeling of weightlessness,

allowing uninterrupted time to

bond with your baby."

The practice of floatation

therapy has been around since

1950, and is based on the scientific

approach of R.E.S.T (Restricted

Environmental Stimulation

Technique).

Through eliminating external

stress-factors or stimuli, an environment

of sensory deprivation

is created, allowing the body,

mind and soul to float to another

level of relaxation.

Floating is now recognised

as an effective tool to elicit the

body's relaxation response, help

balance stress hormones, reduce

inflammation and ease muscle

and joint aches and pains.

Floating at The Float Room

involves lying in an enclosed pod

filled with approximately 500kg

of Epsom salts dissolved in water

tempered to 35.5oc (body temperature),

thus creating a buoyant

environment which allows you

to float effortlessly on top of the

water.

Epsom salts are widely recognised

for healing and anti-inflammatory

powers, so floating

while pregnant is one of the best

ways to reduce inflammation and

ease muscle aches – whether it's

from your achy back from carrying

all that weight around, or for

your sore legs.

When you float, magnesium

(from the Epsom salts) is absorbed

by your skin, giving relief to achy

joints and muscle pain, basically

floating provides a natural, anti-inflammatory

pain relief.

The floatation therapy is also

ideal for those suffering from

aches and pains from sport

or injury, wishing to relax and

escape from the pressures of

work or study life, and those just

wanting to relax and enjoy some

replenishing time-out.

40 INSPO – FITNESS JOURNAL SEPTEMBER 2017
---
Lodge Cheers to Champions Advert OCT 2016.indd 1

20/09/2016 10:35:09 AM

Junior women's four rowing crew : Grace Loveridge,

Kate Haines, Grace Watson and Kate Littlejohn.

CHEERS TO OUR CHAMPS

YOUNG HAMILTON ROWERS COMPETE IN WORLD CHAMPIONSHIPS

St Paul's students Kate Littlejohn and Grace Watson recently represented New

Zealand at the 2017 World Rowing Junior Championships in Lithuania. The pair

were selected as part of the coxless four rowing crew. Kate (Year 13) and Grace

(Year 12) placed sixth in the women's four event, with Kate Haines (Auckland's

Diocesan School) and Grace Loveridge (Christchurch Girls'). They were also the

youngest crew to compete at the 2017 championships. 59 countries and over 700

competitors took part in the 2017 World Rowing Junior Championships.

Hamilton Boy's High School, 1st Male

Team: Martin Johnson, Guillaume Pierry,

Josh Scott, Oliver Shanks.

Junior Male podium. 1. Oliver Shanks

(Boy's High), 2. Guillaume Pierry (Boy's

High), 3. Alex Brannigan (St Peters)

Waikato District Teams podium: 1.St Peter's,

2. Home School team, 3. Te Awamutu College

Hamilton Girl's High, 1 Female Team: Isabelle

Camplin, Lucy Higgins, Billee Fuller

WAIKATO SECONDARY SCHOOLS ROCK CLIMBING CHAMPIONSHIP

Students were climbing the walls – but with parental permission, at the Waikato

Secondary Schools Rock Climbing Championships. Organised by the Waikato

Climbing Club and run by its volunteer club members, with support from

KiwiSport Waikato, the event was hosted at the Extreme Edge in Hamilton. This

is the first Waikato Secondary Schools Climbing competition since 2006 and

included a team competition.

Trophies for Overall, Male, Female and

Mixed Teams. Thanks to KiwiSport

Hamilton City Team: 1.Hamilton Boy's High.

2. Hamilton Girl's High, 3. Hillcrest High.

Isabelle Camplin (Hamilton Girl's High),

Martin Johnson (Hamilton Boy's High).

INSPO – FITNESS JOURNAL SEPTEMBER 2017

Stellar Soar and team manager Steve

Wilton, St Peter's School

41
---
EXPLORE WAIKATO

Create your own Waikato foodie trail

Gourmet creations, succulent street eats, luscious desserts

and fine produce are abundant in Hamilton and the

Waikato region; serving up the perfect opportunity to create

your own foodie trail on a whim based on what you crave.

Here are some suggestions to get you started…

Food, food, glorious food. Hamilton and

the wider Waikato region have a huge

array of great restaurants, cafes, food

trucks and more – depending on your style,

choose a menu that suits you, or create your

own meals with produce and wares from

the Farmers Markets held at Cambridge's

Victoria Square on a Saturday morning, and

Hamilton's Claudelands Events Centre on a

Sunday morning.

Look out for Volare's authentic sourdough

loaves, brownies, and tasty scones; grab a

coffee from Manuka Brothers who use manuka

embers to roast their beans; or indulge

in a sweet treat from the highly sought-after

Mamas Donuts. Don't miss the tables laden

with fresh green produce, juices, pastries

more – it is too good to miss.

Say cheese

Manufactured in their boutique factory in

Putaruru, Over The Moon's cheese selection

is sublime.

Growing in popularity since its inception

in 2007, the cheese selection has a range of

creamy brie, rich camembert, crumbly feta

and vintage blocks – made with milk from

cows, sheep and goats.

Travel to the South Waikato for a look

around the factory and tasting room or pop

into the satellite deli shop in Cambridge.

Thirsty?

Those looking to quench their thirst can enjoy

a cup of the world's purest oolong tea at New

Zealand's only tea plantation at Zealong Tea

Estate. Learn the history of the land, take in the

view as you indulge in a decadent tea-themed

high tea or take extra time to enjoy a long lunch.

If you are looking to sample a tipple

or two, head to Good George Brewery

and Dining Hall where a belief that good

beer shouldn't be bland, boring or full of

chemicals. Created by a group of mates, the

brewing company has grown from strength

to strength in recent years, gaining accolades

along the way.

Try the different drops of award-winning

beer or refresh your palate with their popular

Doris Plum Cider.

42 INSPO – FITNESS JOURNAL SEPTEMBER 2017
---
Organic goodness

Try blueberries at their best at Monavale

Blueberries, New Zealand's largest Bio-Gro

certified organic blueberry orchard.

Tours run from October to March, while

the onsite café Irresistiblue is open all

year round with blueberries incorporated

throughout the local and seasonal breakfast,

lunch and sweets menu.

They also have an array of blueberries

products available for purchase including

juices, spreads and frozen berries.

Need coffee?

Aptly named for its beginnings in the laidback

beach town by the same name, Raglan

Roast has a simple and effective philosophy

– good coffee at affordable prices.

What started with an old coffee machine

in the kite surfing shop has grown, and now

Raglan Roast are expanding from its 'holein-the-wall'

down Volcom Lane to nine cafes

and outlets around the country.

Finish with something sweet

Duck Island Ice Cream began its days as a

dessert selection in local award-winning

restaurant Chim Choo Ree and gained such a

reputation that it became its own entity.

Based on the corner of Grey and Cook

Streets in the increasingly popular foodie

suburb of Hamilton East, Duck Island only

uses organic milk and free-range eggs.

Its creamy creations include flavours such

as the award-winning roasted white chocolate

and miso; crab apple crumble, candied banana

and ginger caramel, salted caramel and cacao

nib, blackberry and sage, jam and toast, toasted

marshmallow and even black rice sticky rice

cream. Vegan options are also available.

For more information check out

hamiltonwaikato.com

From organic oolong tea, locally roasted coffee or craft

beer to gourmet cheese, donuts, sourdough bread and

small-batch ice cream; the Hamilton & Waikato region is a

cornacopia of gourmet delights.

Visit our artisan producers direct or try one of the many

award-winning restaurants, cafes and bakeries all offering

delicious creations made with fresh, local ingredients.

For more information on foodie experiences in Hamilton

& Waikato visit visit www.hamiltonwaikato.com

INSPO – FITNESS JOURNAL SEPTEMBER 2017

43
---
FOOD, FOOD,

GLORIOUS FOOD

Waikato chefs, growers

and producers were

celebrated at the recent

Matariki Dish Challenge.

Waikato Food Inc's unique challenge

dared chefs to create a dish

inspired by Matariki and local

Waikato ingredients.

This year's challenge saw 25 eateries

enter, with dishes that dared the taste buds

or simply broadened dinners knowledge of

Matariki and local produce.

Profs @ Woodlands

Crudo

Dishes included; Steamed Tuatua,

Kawakawa and Fennel Broth with Pickled

Pikopiko; Paua and Kina Brulee with Seagrape

and Horopito Salad; Pickled Bush

Mushrooms, Crayfish Oil and Ratatouille

Vegetables with Chilli Koura; Fennel with

Mussels and Paua wrapped in Seaweed.

The challenge which ran from June 10

to July 14, saw eateries around the Waikato

putting their best foot (or waewae) forward.

Judges were looking for a link to Matariki,

a celebration of local ingredients as well as

great cohesive and knowledgeable service.

"One of Waikato Food Inc's goals," says

event organiser Vicki Ravlich-Horan, "is to

help local food businesses grow and so the

challenge is designed to test the whole team,

not just the kitchen."

This year's challenge was split into two

categories; Restaurant and Café, as well as a

special award for outstanding service.

Winners of the Restaurant category went

to Palate, for Papatuanuku ki Tangaroa ma te

Awa (From the Land to the Sea through the

River).

Head judge Kerry Tyack said "the dish was

artfully presented with expert use of colour….

Flavour filled and a dish that I would readily

order again."

Finalists in this category were Crudo and

Agenda.

In the Café category, the overall win went

to Gather Foodhouse - Hopu I te whetu hinga

(Catch a falling star). Head Judge Charles

Royal said "An excellent knowledge of the

food not to mention pronunciation. The

passion shows in the Kai!"

Finalist was Prof's @ Woodlands.

The Outstanding Service Award also went

to Gather Foodhouse.

The Matariki Dish Challenge is sponsored

by Te Puni Korkiri, Wel Energy Trust, Bidfresh,

MediaWorks, Printing.com, Kahurangi,

University of Waikato.

Gather Food House

Agenda

44 INSPO – FITNESS JOURNAL SEPTEMBER 2017

Palate
---
CITRUS SEASON

Make the refreshing vitamin bombs last

The citrus season is in full swing, trees are bending under

their load of lemons, grapefruits and oranges; but what to do

with all this bounty?

Lemons and other citrus fruits contain a

bunch of vitamins and minerals, especially

vitamin c and potassium, and are only

acidic to begin with. Inside the body, they are

actually alkalising and help restore pH balance.

We should have citrus every day, but they

can get hard to come by or expensive outside

their seasons. So why not get them now and

make them last?

There is an added bonus to preserving

citrus fruits.

The pectin fibre, which can decrease the

risk of heart disease and diabetes and promotes

long-lasting fullness, is mostly found

in the peel, as are limonene and flavonoids,

which may help to prevent cancer. Using the

whole fruit means that all of its goodness

gets preserved.

Preserved Lemons

Preserving lemons with salt is an ancient technique

from the Middle East that has become

known all over the world.

Still, preserved lemons are mostly used in

the Middle East cuisine, but they are also great

for all kinds of fish dishes, sauces, braised meats

and desserts. The salt draws out the bitterness

and what's left is a fruity note that lifts heavy

dishes and adds flavour.

Making preserved lemons is super easy and

fast, but keep in mind that they should rest for

at least one week to become soft.

Remember, you are going to use the peel,

so make sure that your lemons are spray-free.

If they are not your own, ask your source, or

buy them at the farmers' market and talk to

your grower.

INGREDIENTS PER JAR:

4-6 lemons

(depending on jar size)

6-8 tsp salt

Cut the top and bottom off the lemons and

cut them in quarters, or large fruits in eighth.

Pour salt onto a plate and turn the lemon

wedges in the salt.

Pack the lemons tightly into a clean jar by

using a wooden spoon. Top with two tsp of

salt. Make sure the lemons are covered with

juice.

Press more out of the lemons if necessary

or add extra juice. Seal the jar and store it in a

cool, dry place, giving it an occasional shake

during the first week.

WHEN USING: Rinse the lemons to remove

the salt. You can only use the rind (cut away

the flesh and pith) or the whole fruit, but be

careful, the flesh tends to be quite salty. For

most recipes, thinly slice the rind. Store the jar

in the refrigerator.

TIPS: The left-over juice in a jar can be used to

make salad dressings. You can also preserve

oranges, grapefruits and other citrus fruits in

the same way.

WAIKATO FARMERS' MARKETS

local produce + locally produced goods

Every Saturday in Cambridge

Every Sunday in Hamilton

KNOW WHERE YOUR FOOD COMES FROM

- Buy directly from farmers

- Ask about produce and growing methods

- Live with the seasons and save

- Get recipe ideas and enjoy seasonal events

www.facebook.com/waikatofarmersmarkets

Gate 3 Brooklyn Road, Claudelands

Sunday, 8:00-12:00

Victoria Square, Cambridge

Saturday, 8:00-12:00

INSPO – FITNESS JOURNAL SEPTEMBER 2017

45
---
AN IMPRESSIVE CHOICE

When it comes to hosting

a special function or event,

it doesn't come much

more impressive than the

combination of Sonya and

Darryl Anderson, and

Coopers Function Centre.

The couple are the ultimate team, with

decades of experience working with

hosting, corporate and event management,

and dealing with high pressure

situations.

The Waikato pair are also immersed in

the racing industry, and boast an extensive

local knowledge of everything from entertainment

to catering and wine.

The role of managing Coopers Function

Centre is a perfect marriage for their

expertise, which includes pulling together

a magnificent wedding for 800 guests and

large corporate events, as well as intimate

family occasions.

Located at Mystery Creek Vineyard

and nestled on the banks of Waikato River,

the stunning setting has been thoughtfully

designed to cater for weddings and special

events, as well as corporate functions, gala

evenings, awards events and private hireage.

Under the fresh management of Sonya

and Darryl, the sleek building can be easily

transformed into stylish simplicity or lavish

luxury.

A venue of sophistication and elegance,

capacity ranges from a boardroom set-up for

30 people to cocktails for 200 plus guests,

and everything in between.

With such modern design, little other

adornment is needed, but inside a beautifully

crafted stone fireplace provides a focal centrepoint

for the main function room, with

one entire side framed in glass to offer expansive

river views. The main atrium offers a

hint at what lies within. Soaring ceilings lead

to the modern interior and state of the art

audio visual facilities.

Coopers Function Centre is the perfect

vehicle for the skillset of Sonya and Darryl

Anderson, who bring a highly impressive

resume of creating 'grand occasions' and

much of the appeal is in the flexibility of

their business.

Sonya and Darryl Anderson

"While we're extremely detail orientated,

we also allow guests the freedom to create

their own dream event; and allow them to

bring in outside caterers and source their

own beverages, etc. We aim to provide as

many options as we can and it's up to the

client how involved they'd like us to be."

Such flexibility is refreshing in this line

of business, but is well placed to meet the

growing trend of self-driven events.

Impressive events start with an

equally impressive location

A multi-functional event space featuring the latest technology, natural light, and stunning views.

Coopers makes the perfect conference, meeting or team building destination, and effortlessly

transforms into a sophisticated venue for gala dinners and corporate celebrations.

25 Angus Road, Ohaupo, Waikato | Contact Sonya Anderson 021 887 354

coopersfunctioncentre@gmail.com | www.coopers-functions.co.nz

46 INSPO – FITNESS JOURNAL SEPTEMBER 2017
---
BEAUTY SPOT

Naturally good

When it comes to natural skincare, there's no denying New Zealand is producing

some epic products which are sought after around the globe. This Oxygen Organic

Ultimate Botanical Serum fits under that umbrella. Perfect for nourishing all skin

types, it is crafted from organic hop extract and camellia oil, to smooth, soothe and

calm. Oxygenskincare.co.nz

Be a smoothie

Nourish your skin with extra intensity,

thanks to the Savar Spa Ultra Nourishing

Body Butter. This pottle of lusciousness

leaves you feeling fresh and wonderfully

pampered. Indulging yourself in the

fresh ginger and lime is the next best

thing to taking a relaxing tropical holiday.

Best of all, Savar is made right here in

New Zealand from premium natural

ingredients. Savaronline.com

Skin Quencher

This time of the year is all about hydration

- and skin hydration has never been easier

or more delicious than with this new Aspect

Sheer Hydration Oil Free Moisturiser.

It's an instant pick-me-up; skin feels soft,

smooth, sheer and fresh. Plus with no oil,

your pores feel wonderfully nourished –

and not clogged! And the icing on the cake;

no more scratching around in the bottom

of a jar. Just press the bottom and voila –

instant product at the tip of your fingers.

Bliss. Aspectskin.co.nz

Skin glow

Give your skin the ultimate natural glow

this spring and summer, with a helping

hand from the deliciously natural (and

organic and vegan) products in the

Eco by Sonya Driver collection.

Following in the footsteps of

her popular Eco Tan products,

we're now also huge fans of the

Pink Himalayan Salt Scrub, and

Coconut Deodorant. Nothing

but goodness for your body.

Ecotan.com.au

Lash Magic

Lavish your lashes with love, with INIKA

Long Lash Vegan Mascara. This delicious

mascara amplifies the appearance of lashes

for the much sought-after lengthening and

volumising effect. With no harsh, synthetic or

animal derived ingredients, the silky-smooth

application is a powerhouse of natural, plantderived

ingredients and antioxidants such

as jojoba seed oil (to nourish and condition

lashes). Every make-up bag needs one quality

mascara – make this yours. Inika.co.nz

INSPO – FITNESS JOURNAL SEPTEMBER 2017

47
---
BOOK

CORNER

However fast the pace of life, carve out a small

window of time to stop and immerse yourself

in a good read. We share some of our favourite

new releases.

Saving the Snowy Brumbies

By Kelly Wilson

Penguin Random House, $45

If you have even a passing interest

in anything equestrian, odds are

fairly certain that you've heard of

the Wilson sisters. The trio have

risen to impressive fame, not only

in the equestrian world but also as

examples of adventurous, hardworking

Kiwi girls.

From rescuing Kaimanawa wild

horses to competing at Grand Prix

and World Cup show jumping

events and starring in their own

television series, Kelly, Amanda,

and Vicki Wilson are diversely

talented.

Kelly's love of photography and

creativity has seen her pen several books and Saving the Snowy Brumbies

is her latest, available in October. Beautifully illustrated (featuring her

own stunning photography), it showcases one of the Wilson's latest

adventures – saving and taming wild horses from Australia's snowy

mountains.

The heart-wrenching story highlights the plight of the famous

Snowy Mountain Brumbies. Each year thousands of Australia's

legendary Brumbies are aerially culled or captured and sold for

slaughter to manage the world's largest population of wild horses.

When the Wilson sisters heard of government plans to cull 90

percent of the Snowy Mountain Brumbies, they eagerly signed up for

the Australian Brumby Challenge to learn more about these iconic

horses' desperate plight.

Even if you're not an avid equestrian, there's plenty here to interest.

A combination of adventure, horse management, and life lessons, this

enjoyable read is sure to gather many new fans.

The Wilson sisters will also be a major drawcard at the

upcoming Equidays event, being held at Mystery Creek Events

Centre (October 13-15).

>WIN

Enter to win copies of Showtym Adventures: Dandy, the

Mountain Pony and Saving the Snowy Brumbies. Email your

name and address to win@inspomag.co.nz with the name of

the book you would like to win in the subject line, or enter

online at inspomag.co.nz

Entries close October 10 2017

Showtym Adventures: Dandy, the Mountain Pony

By Kelly Wilson

Penguin Random House, $14.99

Hot on the heels of Kelly Wilson's Saving the Snowy Brumbies is this

junior title aimed at younger readers. The story of Dandy offers

an insight into the early years of Kelly's sister Vicki and her first

introduction to dealing with a wild horse.

Now, I'm not by any stretch the target market for this book

(with teenage children almost

too old enough to read it).

However as I flicked through

it to decide which nephew/

niece to get to review it,

I suddenly found myself

halfway through the book and

enjoying the read. It's a lovely

insight into the Wilson sisters'

upbringing, the encouraging

but real attitude of their

parents, and while written for

younger readers (probably

the 'tween' market), there's

enough there to be of interest

to older readers also. It's one

you won't mind reading as a

bedtime and then having a

sneaky read of yourself.

Wilson sisters major

Equidays drawcard

The Wilson sisters are a major drawcard at the annual

Equidays event, being held in Hamilton from October

13-15. Vicki, Kelly and Amanda are not only Equidays

ambassadors, but also have their own night show

on Sunday (October 15), called Equidays Top Talent.

Hosted by Amanda Wilson, and judged by a panel of

expert judges including her sister Vicki, this is sure to

be a crowd pleaser.

Equidays Top Talent will celebrate the depth of

talent in the equine sector and allow handlers to show

off their skills.

For more information visit equidays.co.nz

48 INSPO – FITNESS JOURNAL SEPTEMBER 2017
---
Brando Yelavich

Epic Drives of the World

Lonely Planet $34.99

Lonely Planet is renowned

for producing stunning travel

guides, and this is no exception.

Epic Drives of the World

is sure to ignite your wanderlust,

whether you want to

explore Africa and the Middle

East, Europe, Americas, Asia

or Oceania. From firsthand

accounts, to must see detours

and a fact box for planning

your trip, this is the book

that could change your travel

plans – permanently – and

make you a seasoned road traveller. Each drive is colour coded

according to difficulty, taking into account everything from

distance to terrain and remoteness, etc. Even if a mega road trip

doesn't sound like your cup of culture, you'll love the photography

and insights to regions this book offers. New Zealand's

Northland and Bay Of Islands feature if you'd like to start closer

to home.

Angelo's Wild Kitchen, Favourite Family Recipes

Angelo Georgalli

Beatnik Publishing $44.99

When it comes to appreciating

the journey behind the food

on your plate, Angelo Georgalli

is an inspiration. While

his heritage may be Italian, he

is now firmly besotted with

the New Zealand landscape

and lifestyle he and his family

enjoy. This collection of his

favourite family recipes offer

not only offer enticing new

dishes to try, but also a peek

into his life and everything

he is passionate about – fresh

ingredients, hunting, fishing,

foraging, and growing his own

food. Every recipe reflects his

respect for even the most delicate ingredient. From eggs benny

and homemade hash browns to Greek fish stew and gluten-free

gnocchi, the impressive array of recipes reflects his dual heritage.

It also celebrates his life in New Zealand and his family. Beautifully

illustrated, Angelo's Wild Kitchen is a source of foodie inspiration,

a gentle nudge towards living a more thoughtful lifestyle and

a call to enjoy the nourishment of food.

Brando Yelavich

Wildboy To The Edge And Back

By Brando Yelavich

Penguin Random House $35

Brando Yelavich has

become a well known New

Zealand adventurer.

Along his travels he

has spoken out about his

enjoyment of Hamilton and

the Waikato. He's also been

ambassador of the Direct

Group Uniforms Hamilton

Half Marathon. So take a

page out of his book and

embrace all that your local

area, and New Zealand, has

to offer.

While Brandon likes

to dream big – hence his

600 day journey around

the coast of New Zealand,

and subsequent 31 day trip

around Stewart Island (where he experienced some brutal

highs and lows); his story is a reminder to get out and live life.

Explore your own back yard if you don't have the time (or

energy) to walk in his footsteps.

The adventurous 'Wildboy' battled with ADHD and

dyslexia through his school years, deciding one day to walk

around the coast of New Zealand. With little preparation,

no money, barely any gear, and even less idea of what he

was about to take on, he set off. His anticipated six-month

adventure ended up taking 600 days and changed his life

in ways he never expected. His refreshing honesty about

the physical and mental challenges he endured are sure to

strike a chord with many.

His difficulties re-adjusting to 'normal' life, his thirst

to live life to the full and to explore the unknown, offer

thought-provoking inspiration. To The Edge And Back is his

story of survival and discovery as he travels Stewart Island.

And if you do decide to set off on your own adventure,

there are plenty of practical survival tips.

>

WIN

Enter to win a copy of Wildboy: To the Edge and Back by

Brando Yelavich. To enter, email your name and address to

win@inspomag.co.nz with WILDBOY in the subject line,

or enter online at inspomag.co.nz

Entries close October 10, 2017

INSPO – FITNESS JOURNAL SEPTEMBER 2017

49
---
Taking a

PUTT

If you thought mini golf was something fun

to do with friends during summer holidays,

think again. It's a serious sport with a

national and world championship.

Will your family photo

memories survive

a mishap or disaster?

If you need help saving your photos

then talk to the team at Snapshot.

We're your memory evangelists – on a mission to help

you save your most important photo memories!

The help we offer includes:

• Photo organising lessons (consolidate, organise and back up)

• Printing the photos on your phone, USB drives or camera cards

• Making digital copies of your old slides and photographs

• Telling your story with a PhotoBook

Talk to us about saving your photos

– before a mishap or disaster happens!

snapshot.co.nz

391 Victoria St, Hamilton

Ph 07 838 0031

K5905R

Auckland-based Franchise

Manager of Jamaica

Blue NZ, Jacques van Zyl

started playing golf at the age of

seven, but the thought of one

day representing New Zealand at

mini golf was never on his radar.

He admits that he entered

the recent National Open Mini

Golf Championships 'as a bit of

a laugh', and was as surprised

as anyone else when he walked

away with the national title, and

having qualified to represent

New Zealand at the 2017 Minigolf

World Championships in

Croatia this month.

"I'm a keen golfer but still felt

that same nervous feeling in my

stomach as I do when playing a

golf tournament with many people

watching," he says, "especially

as there were cameras filming

the event.

"Competition is competition.....and

I thrive on it!"

After being presented with

the "black jacket' and his trophy,

Jacques is now set to fly the Silver

Fern in Croatia.

Competing for New Zealand

against 23 other countries,

Jacques will be one of 228 participants

involved. New Zealand is

represented by nine players.

In preparation for the event,

Jacques has been spending time

playing his sport against the best

he can find, to sharpen his competitiveness

and focus.

'Representing your country is

a privilege," he says.

Mini Golf is a professional

sport, with a pro circuit being

hosted by the NZ Mini Golf Federation

in Auckland, Hamilton

and Rotorua every month. The

Hamilton circuit is played at Pro-

Drive Hamilton.

The World Minigolf Championships

take place from September

20-23 in Croatia.

50 INSPO – FITNESS JOURNAL SEPTEMBER 2017
---
MUST BE FINALISED BY OUR MATERIAL DEADLINE.

Part of the family Part for of over the family 45 years for over 50 years

2Tribe

Since 1967 Fairview Motors has been supporting families, businesses and community organisations

throughout the Waikato and we're continuing this tradition in 2016 as a proud sponsor of

'Balloons Over Waikato'.

www.fairviewmotors.co.nz

FAIRVIEW MOTORS MAZDA, 2011, 2012, 2013 & 2014 MAZDA DEALER OF THE YEAR

The New Mazda2 is the stylish small car making a bold statement. High quality surrounds you

with sophisticated comfort, while seamless connectivity integrates your smartphone so you're

132 Kihikihi Rd. TE AWAMUTU P 07 870 2535 fairviewmotors.co.nz

always in touch. Check out the New Mazda2 today and discover how imagination drives us.

rfax Media makes every effort to create advertisements to meet your specific needs. Please note in some instances we may be unable to supply additional proofs due to complexity of the request or deadline constraints.

PROOF

This advertisement has been created as a service of Fairfax Media. It cannot be reproduced without permission. If you wish to use this material elsewhere, please contact your advertising consultant. Charges will apply.

7141465AA

FAIRVIEW MOTORS MAZDA, 2011, 2012, 2013 & 2014 MAZDA DEALER OF THE YEAR

INSPO – FITNESS JOURNAL SEPTEMBER 2017 51

473 Te Rapa Rd | HAMILTON | P 07 849 9838 / 64 Firth St | MATAMATA| | P 07 888 7127

95 Dealer Victoria St details | CAMBRIDGE Dealer | P 07 827 details 7005 / Dealer 132 Kihikihi details Rd. | TE AWAMUTU Dealer details | P 07 871 3079 Dealer details Dealer details Dealer details

fairviewmotors.co.nz
---
River RADIOLO

GY

our focus is on you

X-RAY ULTRASOUND MRI CONE BEAM CT

HOOD ST CLINIC

30 Hood Street, Hamilton

52 INSPO – FITNESS JOURNAL SEPTEMBER 2017

VICTORIA CLINIC

750 Victoria Street, Hamilton

(X-RAY ONLY)

PHONE 07 839 1800

www.riverradiology.co.nz