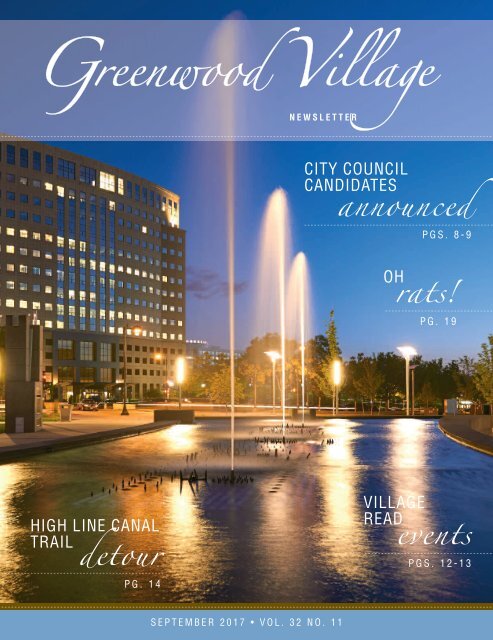 Create successful ePaper yourself
Turn your PDF publications into a flip-book with our unique Google optimized e-Paper software.
Greenwood Village

N EEW S LLE ET TTE ER

HEADLINE GOES

here P G . X

HEADLINE

HERE P G . X

CITY COUNCIL

CANDIDATES

announced

P G S . 8 - 9

OH

rats!

P G . 1 9

HEADLINE

HERE

P G . X

HIGH LINE CANAL

TRAIL

detour

here P G . X

VILLAGE

READ

events

P G S . 1 2 - 1 3

HEADLINE

P G . 1 4

S E P T E M BO EN RT H2 0Y1 E7 A• R VI OS L S. U 3E 2#

N O . 1 1
---
GOVERNMENT

MAYOR RON reports

GV WELCOMES

K-9 STRYKER

A new officer has joined the Greenwood Village Police

Department and this recruit is working (and playing)

hard to prove he is top dog of the

department. Greenwood Village welcomes

K-9 Officer Stryker! Stryker is a 13-

month old Belgian Malenois who arrived

from North Carolina — the same place

from which K-9 TAG and the late K-9

Magnum joined us. Once he gets settled

with his new handler, Officer Jeff

Mulqueen, Stryker will begin his law

enforcement training in Narcotic

Detection and Patrol to include learning

how to effectively search for suspects. In

addition, Stryker will also be trained to

work with the Police Department's

Emergency Response Team (ERT, also

known as SWAT). Lots of work and

obedience training will be required before Stryker is

ready to take big bites out of crime in our community.

Once he has

graduated from

K-9 field

training, citizens

will be able to

Ron Rakowsky

rrakowsky@

greenwoodvillage.com

303-486-5741

meet Stryker

and see him

patrolling the

neighborhoods

or attending

special events.

Welcome

Officer Stryker

to Greenwood

Village!

Stryker

RAMBLE WITH RON IN SEPTEMBER

Have some ideas or suggestions to share about living or working in Greenwood Village?

Walk and talk with Mayor Ron Rakowsky from 7:30 to 8:30 a.m. (weather permitting)

on:

Wednesday, September 13 — Westlands Park, 5701 S. Quebec Street

Thursday, September 18 — Tommy Davis Park, Swim Club Lot, 9200 E. Orchard Road.

Registration is not required. For more information, please call the Mayor's Office at

303-486-5745. Check for updates of the monthly schedule for Ramble with Ron at

www.greenwoodvillage.com.

Arapahoe County Sheriff and Commissioners, Tri-County Health

Department Executive Director and Greenwood Village Mayor

remembered those who have died from drug overdoses on International

Overdose Awareness Day Aug. 31, 2017.

STAND IN SOLIDARITY FOR

OVERDOSE AWARENESS

I have mentioned this before in my report and wanted to urge

everyone to take a stance and support our state's search of

innovative options to save lives, increase prevention efforts, and

remember those we have lost to accidental overdoses. August 31

was Overdose Awareness Day and I, as mayor, acknowledged this

very important day to support prevention and remembrance.

In 2016, approximately 50,000 people in the United States died

from fatal overdose, 912 of those deaths occurred in Colorado. For

the first time, overdose is now the leading cause death of Americans

under the age of 50. We are losing people that can be saved,

especially our youth. The National Council on Alcoholism and

Drug Dependence states one in four people report knowing

someone who has been addicted to prescription painkillers. Drug

use does not discriminate by age, race, socioeconomic status or

education level.

Prescription drug misuse and abuse is a serious problem both in

Colorado and the Tri-County Health jurisdiction (Adams,

Arapahoe, and Douglas counties). Each year, overdose deaths from

opioid painkillers alone number around 300 in Colorado and about

a third occur in our three counties.

Such deaths are now more common

than alcohol-related traffic fatalities. As

recently as 2010-2011, Colorado ranked

No. 2 in the nation among young adults

ages 12-24 for self-admitted nonmedical

use of prescription painkillers. Enough

opioid painkillers are dispensed by

pharmacies in the United States to

supply each American citizen with

enough painkilling pills to take one

every four hours, around the clock, for a

month.

PG. 2 GV NEWSLETTER | SEPTEMBER 2017
---
GOVERNMENT

CITY council

NOT SURE WHO YOUR

ELECTED OFFICIALS ARE?

Obtain a list of your state and national government

representatives at www.arapahoevotes.com

DISTRICT 1 DISTRICT 2 DISTRICT 3 DISTRICT 4

Freda Miklin

fmiklin@

greenwoodvillage.com

303-804-4138

Leslie Schluter

lschluter@

greenwoodvillage.com

303-804-4135

Steve Moran

smoran@

greenwoodvillage.com

303-804-4133

T.J. Gordon

tgordon@

greenwoodvillage.com

303-804-4132

Dave Bullock

dbullock@

greenwoodvillage.com

303-804-4137

Darryl Jones

djones@

greenwoodvillage.com

303-804-4136

George Lantz

glantz@

greenwoodvillage.com

303-804-4134

Tom Bishop

tbishop@

greenwoodvillage.com

303-804-4131

Let's stand in solidarity to seek better options for our loved

ones struggling with problematic relationships with drugs

and alcohol. If you would like to learn more, please visit the

Colorado Consortium for Prescription Drug Abuse

Prevention at corxconsortium.org.

ECONOMIC DEVELOPMENT

PARTNERSHIP BRIEFING

BY CONGRESSMAN COFFMAN

In August, Congressman Mike Coffman gave a congressional

briefing, hosted by Denver South Economic Development

Corporation (DSEDC). I joined the Mayors of Centennial

and Lone Tree, and Commissioners from Arapahoe and

Douglas counties to hear the latest news and updates from

Congress and learn of congressional actions that could

impact our communities, and our local governments.

continued on page 4

Left to right: Centennial Mayor Kathy Noon, Mayor Rakowsky,

Congressman Mike Coffman, and Lone Tree Mayor Jackie

Millet.

SEPTEMBER 2017 | GV NEWSLETTER PG. 3
---
GOVERNMENT

continued from page 3

FIRST PITCH TO

CELEBRATE RENOVATION

OF FIELD 8

Once said Joe DiMaggio, "All pitchers

are born pitchers." Well, that may not

always be true, nevertheless, it's a great

quote from an inductee of the

National Baseball Hall of Fame. In

August, I had the privilege of cutting

the ribbon for the grand opening

celebration of the renovation of Field 8

at Village Greens Park in the Village in

partnership with Cherry Creek High

School. Renovations to the field

included work to bring it up to 5A

CHSAA standards for a girls softball

field, including new enclosed dugouts,

perimeter fencing, concession stand,

press box, flagpole and batting cage.

Subsequently, on that same evening, I

was chosen to conduct the first pitch

for the first home game for Cherry

Creek High School softball. My

pitching skills reaffirmed that my

focus around the terms "passion" and

"purpose" should be focused on

cutting the ribbon at ribbon cutting

events not serving as a pitcher for a

softball game. Overall, it was a fun

experience and I won't be quitting my

position as mayor to further discover

my skills as a pitcher. GV

IMPORTANT NUMBERS

DEPARTMENTS

Mayor and City Council 303-486-5745

City Manager's Office 303-486-5745

Community Outreach/ 303-486-5749

Public Information

City Prosecutor 303-486-1598

Administrative Services

Liquor Licenses 303-486-5755

Voter Registration 303-486-5752

Municipal Court 303-773-6033

Human Resources 303-486-1579

Employment 303-486-1579

Community Development

Building Permits 303-486-5783

Building Inspection 303-694-5023

Requests

Planning and Zoning 303-486-5783

Zoning and 303-486-5783

Nuisance Complaints

Finance

Accounts Payable 303-486-1597

Accounts Receivable 303-486-8282

Budget Information 303-486-8290

Tax Assistance 303-486-8299

and Information

Conservation/Open 303-708-6142

Space Easements

Park Planning 303-486-5743

and Development

Park Permits 303-486-5773

Recreation and 303-486-5766

Special Events

Reimbursement Program 303-486-5773

Parks and 303-708-6100

Trail Maintenance

Police Department

Emergency 9-1-1

Animal Control 303-773-2525

Parking 303-773-2525

Police Records 303-773-2525

School Resource Officers 303-773-2525

Traffic Information 303-773-2525

Victim Assistance 303-486-8211

Public Works

Environment 303-708-6100

(Drainage/Water Quality)

Roadways 303-708-6100

Traffic 303-708-6100

Residential Trash 303-708-6100

and Hazardous Waste

Greenwood Village City Hall

6060 South Quebec Street

Greenwood Village, CO 80111

Phone: 303-773-0252

Fax: 303-290-0631

After Hours Phone: 303-773-2525

(for questions or service requests

outside normal business hours)

E-mail: thevillage@greenwoodvillage.com

Website: www.greenwoodvillage.com

An after-hours drop box is available by the

flagpole in front of City Hall and is

checked Monday through Friday. The drop

box can be used to deliver customer

comment cards, recreation registration

and reimbursement forms, employment

applications, and municipal court fines

and documents.

GV Website

Parks, Trails & Recreation

Art Activities 303-797-1779

and Programs

PG. 4 GV NEWSLETTER | SEPTEMBER 2017
---
VILLAGE CALENDAR

Visit

WWW.GREENWOODVILLAGE.COM

for more information

Information is subject to change

october 2017

SUNDAY MONDAY TUESDAY WEDNESDAY THURSDAY FRIDAY SATURDAY

1 2

3

4 5

6 7

City Council P&Z Commission

Study Session 7 p.m.

6 p.m.

City Hall

Meeting

7 p.m.

City Hall

8 9

10

PTR Commission

7 p.m.

City Hall

11 12 13 14

15 16

17

18

19

20 21

City Council

Study Session

6 p.m.

City Hall

★ SINGLE FAMILY HOUSEHOLD RECYCLING ★

P&Z Commission

7 p.m.

City Hall

GVAHC Meeting

6:30 p.m.

Curtis Center

22 23

24

25 26

PTR Commission

7 p.m.

City Hall

BOAA Meeting

6:30 p.m.

City Hall

27 28

29

★ SINGLE FAMILY HOUSEHOLD RECYCLING ★

30 31

Halloween

1

2

3 4

SEPTEMBER 2017 | GV NEWSLETTER PG. 5
---
GOVERNMENT

Greenwood Village

Don't have Comcast cable?

You can watch GVTV 8 programs on the

Village Website at greenwoodvillage.com

or on The City of Greenwood

Village Channel on YouTube.

NEW ON GVTV 8 – PREMIERES SEPT. 15

Summer

Restaurant

Romp

Check out

some of the

new dining

spots in

Greenwood

Village.

Protecting Your Pets From Wildlife

Greenwood Village is home to many acres of natural open space, trails

and waterways that attract various species of wildlife. Learn how to

protect your pets from having a negative encounter with wildlife.

Street

Lights

Get

illuminated

with all the

details on

the street

lights in the

Village, who

pays for

them, and

how they get

serviced

when the

lights go out.

AVAILABLE ON COMCAST

CABLE IN GREENWOOD

VILLAGE, GVTV CHANNEL 8 IS

AVAILABLE 24 HOURS A DAY,

SEVEN DAYS A WEEK

PROVIDING PROGRAMMING

REGARDING IMPORTANT

LOCAL, STATE AND

NATIONAL TOPICS.

GVTV 8 PROGRAMS

Village Showcase

Join Mayor Ron Rakowsky as he showcases

all the latest happenings and greatest events

taking place in Greenwood Village.

Beyond The Green

A program highlighting the parks, trails and

open space system in the Village.

Over 50 And Loving It!

A program focused on issues and events

affecting people 50+ years of age.

Safety Matters In Greenwood Village

Learn about safety issues in Greenwood

Village and techniques to help keep you and

your family safe.

GV Business Connections

Get an inside look at the business

community of Greenwood Village and learn

about some important business topics.

GV Kids, Ink! ® News

Hosted by youth news reporters, this

program features youth activities and events

in the community.

The Village Insider

Get a glimpse of the people and projects

behind the doors at City Hall.

Colorado Connected

Produced by the Colorado Communications

and Utility Alliance (CCUA), the program

features programs on regional issues.

NASA 360

Produced by the National Institute of

Aerospace for NASA, this program examines

how technologies developed by and for

NASA are used in everything from space

exploration to everyday consumer products.

Graceful Aging

Enjoy this program to learn about elder care

needs. You'll laugh, think and be inspired to

improve your life.

Denver Press Club

Hosted by the Denver Press Club, this

program features discussions with members

of the press and community.

Jazz Cardio Strength Stretch

A powerfully fun and effective workout that

will lift your spirits, strengthen your heart,

muscles, and core. You'll get a healthy dose

of cardio, strength and stretch moves and

finish up feeling energized for the start and

end of your day.

PG. 6 GV NEWSLETTER | SEPTEMBER 2017
---
GOVERNMENT

TAKE note

LEAF REMOVAL

As we enter into the fall season,

keeping Greenwood Village clean will

continue to be a priority. To assist with

these activities, we ask that you do not

place loose leaves, yard debris or trash

in the street as our sweepers are not

equipped to pick up large piles of

leaves or debris. Moreover, this debris

can be wind blown or inappropriately

washed into the storm systems and

waterways of the Village, which

impacts water quality. Instead, please

look to other options to dispose of this

debris.

• Arrange for your lawn care provider

to remove the leaves when

performing your yard service.

Request that they refrain from

blowing leaves into the street.

• Bag your leaves in compostable

paper yard waste bags and place

them out with your weekly trash

pick up. These bags of leaves will

end up in the landfill and paper is

preferred over plastic which will

WHY CAN'T I SWEEP MY LEAVES OR

GRASS CLIPPINGS INTO THE STREET?

never break down and is bad for

the environment no matter what its

destination. Republic Services has

no limit as to how many bags of

leaves they will pick up, however,

keep in mind if some bags are left

at the curb they will be returning

once they have unloaded their

truck.

Do not rake or blow leaves, grass or other trash into the street. The street sweeping

equipment is not able to handle branches or large quantities of leaves and grass and

can spread these materials around the street. Leaves and grass are "natural" but when

it rains, these materials on streets and sidewalks can wash into storm drains and

eventually lead to Village waterways

such as streams and ponds. These

materials provide nutrients which over

fertilize the water and encourage harmful

aquatic plants and algae to thrive, which

has a lasting negative impact on water

quality, local ecology and recreational

use of our waterways and is a form of

stormwater pollution. Just like we would

ask you to not throw trash in the street,

it is the same for leaves.

Ace Hardware Cherry Hills

Marketplace at 5910 S. University

Boulevard and Orchard Road has

teamed up with the City of

Greenwood Village to provide

residents with FREE compostable

paper yard waste bags. The above

coupon provides a free 5-pack, while

supplies last. For more information,

please contact Ace Hardware Cherry

Hills Marketplace at 720-974-1080.

• Recycle your leaves at Village

Greens Park. Leaves can be dropped

off loose or in bags between

October 2 and November 3, 2017,

in the dedicated area of the north

parking lot any day of the week.

This option is environmentally

friendly with staff spreading and

disking into the soil where native

grass cannot be established adding

nutrients, helping with moisture

and also providing a place for soil

bore microorganisms to live. It does

not impact the landfill and it is cost

effective. No bags are needed and

you do not have to wait until your

trash day to dispose of them.

For more information, please contact

Public Works at 303-708-6100. GV

SEPTEMBER 2017 | GV NEWSLETTER PG. 7
---
GOVERNMENT

2017 MUNICIPAL

election

ELECTION DAY — NOVEMBER 7, 2017

This year, the City Council designated the Village Municipal

Election to be a coordinated election with Arapahoe County.

This means

voters will

see the

Greenwood

Village list

of candidates

for Council

on the ballot.

Arapahoe

County is

conducting

the

November 7,

2017

Coordinated

Election as a

Mail Ballot

Election.

Greenwood Village elections are non-partisan.

Greenwood Village Electors will receive their ballot by mail.

Mail Ballot Packets will be mailed to eligible electors between

October 16 and 20, 2017. Residents may mail their

completed ballots back to Arapahoe County or drop them off

at City Hall, 6060 Quebec Street, City Hall.

To vote in the November Election, you must be registered to

vote. The following requirements must be met to register to vote:

• be a United States Citizen,

• be 18 years of age by Election Day

If you have moved, you can update your voter information

with a Voter Registration form. Voter Registration forms are

available from the City Clerk's office or the Village's website

at www.greenwoodvillage.com.

VOTER REGISTRATION DEADLINES

You may register to vote at any time in Colorado, but if you

wish to vote in an upcoming election, you must register by

one of the following three deadlines:

• 22 Days before Election Day if you register to vote

through a voter registration drive or a Voter Registration

Agency

• 8 Days before Election Day if you register to vote by mail

or online through www.govotecolorado.com and wish to

receive a ballot by mail

• By 7 p.m. on Election Day, visit one of the Voter Service

and Polling Centers in your county to register to vote inperson

and request a ballot.

Registering for the first time in Colorado

• A citizen of the United States

• A resident of Colorado for 22 days prior to the election

• At least 16 years old, with the understanding that you

must be at least 18 years of age to be eligible to vote

• Provide a valid Colorado Driver's License or Colorado ID

card or present one of the acceptable forms of

identification for voting

Accepted Forms of Identification

Identification is required to vote at all polling locations. First

time voters voting by mail may need to submit identification.

Acceptable ID forms are:

• Valid Colorado driver's license

• Valid Colorado identification card

• Valid U.S. passport

• Employee ID card from a government agency with photo

• Valid U.S. military card

• Copy of current utility bill showing address

• Government paycheck or document with name and

current address

• FAA photo pilot's license

• Certified naturalization document

• Valid Medicare or Medicaid card

• Certified copy of birth certificate

• Valid student ID card with photo

• Valid veteran's ID card

• Valid ID card from a recognized tribal government

CITY COUNCIL CANDIDATES

There are 14 official candidates to fill eight seats on

Greenwood Village City Council in the November 7, 2017

Election. The elected City Council members will each serve a

two-year term.

The candidates, in the order in which they will be listed on

the ballot, are shown at right.

For additional information regarding the election,

please call the City Clerk's office at 303-804-4113. GV

PG. 8 GV NEWSLETTER | SEPTEMBER 2017
---
GOVERNMENT

GREENWOOD VILLAGE CITY COUNCIL CANDIDATES

DISTRICT 1 CANDIDATES

Freda Miklin

Dave Bullock

Jerry Presley

DISTRICT 2 CANDIDATES

Dave Kerber

Anne Ingebretsen

Darryl Jones

Henry Siegel

Seanna Mulligan

DISTRICT 3 CANDIDATES

Steve Moran

George Lantz

DISTRICT 4 CANDIDATES

Jeff Kahn T.J. Gordon Thomas J. Dougherty

Judith M. Hilton

SEPTEMBER 2017 | GV NEWSLETTER PG. 9
---
GOVERNMENT

OUR NATURAL

environment

CONSERVE WATER AND SAVE MONEY ON YOUR WATER BILLS

Greenwood Village is partnering once again with Denver Water as part of the Water Saver Partnership to educate residents

on ways to save water and money on their water bills while maintaining the beauty found in Village neighborhoods.

FALL LANDSCAPE

RECOMMENDATIONS

Fall is a great time to prepare your landscape for a healthy

spring to come. Below are some tips from Green Industries of

Colorado:

• Aerate turf to eliminate compaction and improve the

turf's ability to take up moisture, nutrients and air.

• Fall is the best time of year to fertilize bluegrass lawns to

promote a healthier turf before winter, a healthier root

The boxed area is the drip line, or critical root zone.

system and turf that greens up earlier in the spring

without excessive top growth. Fertilize with nitrogen

sometime during late September to early November.

Follow the manufacturer's instructions for proper

fertilization.

• October through March: During prolonged dry periods,

water trees once or twice per month, using 10 gallons of

water for each inch of the tree's diameter. Water only

when the temperature is above 40 degrees and there is no

snow on the ground. Visit the following link to determine

how long to water trees during these winter months:

denverwater.org/residential/conservation-tip/tree-careguide.

CONSULTATIONS AVAILABLE

FOR LARGE PROPERTIES

Denver Water strives to connect customers with the best

information and the right programs based upon the needs of

the customer. The utility's multifamily, community

association, commercial and industrial customers have unique

challenges such as larger properties, commercial processes and

multiple meters.

Denver Water will sit down with you to learn more about

your property and water use. They may ask you about your

property's water meters, landscaped area, number of units

and major water use areas such as cooling towers, ponds and

pools.

Fill out the form to take your first step toward water-use

efficiency. See if your property is a fit for a water-efficiency

program by completing the consultation form found at

denverwater.org/business/services-and-information/

water-efficiency-services.

A NEW, WISE WAY TO USE WATER

Regional partnership provides a sustainable, renewable

water supply for 2 million people in the metro area.

With the turn of a tap, people across Denver's south metro

continued on page 11

PG. 10 GV NEWSLETTER | SEPTEMBER 2017
---
GOVERNMENT

SCHOOL IS BACK

IN SESSION

MAKE SURE YOUR

TEEN IS UP-TO-DATE

ON IMMUNIZATIONS

TO STAY HEALTHY

As children and teens head back to school, Tri-

County Health Department (TCHD)

encourages parents to ensure that your child is

up-to-date on all their immunizations, including

the HPV (human papilloma virus) vaccine.

According to the American Academy of

Pediatrics, adolescents are less likely than

younger children to receive all the recommended

vaccines. This often happens because teens don't

visit the doctor as frequently as young children,

parents may not know certain vaccines are

needed or families may not know all the benefits

of newer immunizations, like the HPV vaccine.

Every year, more than 31,500 women and men

are affected by a cancer caused by HPV. That's a

new case about every 20 minutes. The HPV

vaccine is an effective way to prevent some of

these cancers, and studies of the vaccine show no

serious safety concerns, according to the Centers

for Disease Control and Prevention.

The CDC recommends 80 percent of teens receive the

vaccine to keep the entire population healthier. Colorado's

rates are far below that level at less than 60 percent of

adolescents vaccinated against HPV. That means our teens

may be at a higher risk.

In addition to the HPV vaccine, teens and preteens are often

due for two doses of vaccines to prevent meningitis, a dose of

TDAP (tetanus, diphtheria and acellular pertussis) and an

annual influenza vaccine. If they have missed any of their

earlier vaccines, such as hepatitis B; hepatitis A; measles,

mumps and rubella; polio or varicella (chickenpox), these

immunizations may be recommended as well.

Immunization appointments are available at your local public

health clinic. To make your appointment today at Tri-County

Health Department, please call 303-451-0123. For more

information please visit our website at www.tchd.org. GV

Information provided by Tri-County Health Department

continued from page 10

region are showing how communities across the West

can share and reuse water.

Starting in August, people in parts of the south metro

area began getting some of their water through the

Water Infrastructure and Supply Efficiency partnership,

known as WISE.

The partnership is a regional project between Denver

Water, Aurora Water and 10 members of the South

Metro Water Supply Authority which serve water to

communities in Arapahoe and Douglas counties

including Castle Rock, Highlands Ranch and Parker.

Learn more about the partnership at

denverwatertap.org. GV

The WISE project helps protect rivers and streams on the West Slope.

SEPTEMBER 2017 | GV NEWSLETTER PG. 11
---
GOVERNMENT

VILLAGE READ

FEATURED

'LAKE OF FIRE'

This summer the

Greenwood

Village

Cultural

Arts

Program

partnered

with the

Arapahoe

Libraries to

present the first

ever Village

Read. The idea

encourages adults

of all ages to read

one book and

participate in

thought-provoking

discussions and activities derived from the

chosen book. The goals of the program are

to encourage leisure reading, create

community conversations and bring the

community together through literature.

For our first year, the book Lake of Fire by

Colorado author Mark Stevens was chosen

as this year's Village Read book. Set in

Colorado, the story follows hunting guide

Allison Coil as she tries to find out what

happened to a body found after a wildfire

ravages the Colorado Flat Tops.

Activities included a book discussion with

Mayor Ron Rakowsky, several guest

speakers and lectures on topics related to

the book including foraging in Colorado

and fighting wildfires and writing

workshops conducted by the author.

Attendees enjoyed the opportunity to meet

the author and expand their knowledge

from the many guest speakers.

The program concluded with a concert in

Curtis Park with special guests Let Them

Roar, who hail from where our book takes

place, and The Cody Sisters. Over 250

attendees enjoyed music, free ice cream

food trucks and a tequila tasting, the main

character's favorite drink.

The Village Read is expected to continue

next summer. Stayed tuned to hear more

about our next selection. GV

PG. 12 GV NEWSLETTER | SEPTEMBER 2017
---
GOVERNMENT

SEPTEMBER 2017 | GV NEWSLETTER PG. 13
---
GOVERNMENT

ENHANCING OUR

community

HIGH LINE

CANAL TRAIL

USERS

SHORT DETOUR

PLANNED FOR

SIX MONTHS

Due to the Harrison

Oaks development

construction consisting

of 11 single-family

residential lots in the

rural area of Greenwood

Village, there will be a

short detour for High

Line Canal trail users so

that a new pedestrian

and a vehicular bridge

can be safely installed

over the High Line

Canal. The detour was

implemented in late

August and may be in

place for up to six

months.

In order to construct this

necessary infrastructure,

approximately 40 trees will need to be

remove along the canal, many as small

as six inches in diameter. Based on the

2016 inventory, there are over 23,000

trees greater than six inches along the

length of the 71-mile High Line Canal

corridor, with nearly 2,500 of these

located in the section of canal that

runs through Greenwood Village.

Harrison Oaks was required to

compensate Denver Water, the owner

of the High Line Canal, for the loss of

these trees. Denver Water is investing

back into the overall care and

management of the trees and 71-mile

corridor by:

• Providing continued support for

the Community Vision Plan, of

which Greenwood Village and all

other jurisdictions along the canal

are signatories of.

• Using recently gathered data to

more effectively and proactively

manage the existing trees along the

canal corridor. The increased level

of management will begin in the

fall of 2017/winter of 2018.

• Working with the High Line Canal

Conservancy and other

jurisdictional partners, such as

Greenwood Village, to initiate a

comprehensive tree care master

plan and develop landscape

guidelines that reflect the

Community Vision Plan.

• Ensuring that any new tree

plantings happen at a time, and in

a way that will promote the longterm

success and alignment with

the future of the canal corridor.

For more information on the Harrison

Oaks development, please call

Community Development at

303-486-5783 or email

comdev@greenwoodvillage.com.

To learn about future plans including

tree management of the High Line

Canal, please call the High Line Canal

Conservancy at 720-767-2452,

email hello@highlinecanal.org,

or visit highlinecanal.org. GV

PG. 14 GV NEWSLETTER | SEPTEMBER 2017
---
GOVERNMENT

NEW PLAN

FOR TREE CARE

ALONG THE

HIGH LINE CANAL

The High Line Canal Conservancy,

Denver Water and leadership from

each of the jurisdictions along the

Canal's reach (all part of the High

Line Canal Working Group) are

working together to take an important

step to improve the Canal landscape:

initiating a comprehensive tree care

plan for all 71 miles. The tree care

plan prioritizes safety for users and

long-term health of the trees. This tree

care plan will be followed by the

creation of landscape guidelines and

implementation plans, including

drought tolerant plantings and other

landscape enhancements.

During the summer of 2016, the High

Line Canal Working Group completed

a comprehensive tree inventory

project. This project identified,

mapped and assessed all trees with

diameters greater than six inches along

the High Line Canal corridor. Data

was collected on 23,677 trees

throughout the High Line Canal

corridor, which has served as a

valuable tool in assessing the health of

the tree canopy.

Conclusions drawn from the tree

inventory have led to immediate

(Phase I) and long-term planning

(Phase II) to preserve and enhance the

Canal tree canopy. On the immediate

side are the highest priority trees,

which need to be removed or pruned

due to dead and unsafe conditions.

Certified tree service professionals

assigned categories of tree conditions

based on the severity of health of the

trees, which includes recommended

actions to improve tree health along

the Canal. Visit highlinecanal.org/treeinventory

for more details on the tree

data.

The High Line Canal Conservancy is

working closely with Denver Water

and the jurisdictions to:

• Establish and monitor standards for

removal and pruning that fulfill the

Community Vision Plan for the

High Line Canal.

• Coordinate the accounting of each

jurisdiction's investment in the

project.

• Leverage private funding to ensure

long-term, high-quality care of the

entire tree canopy.

• Manage the tree data gathered

along the Canal corridor.

Removal and pruning of trees as part

of Phase I are expected to begin in fall

2017/winter 2018. There may be some

disruptions to the trail during this

time.

If you have any questions related to

trees along the High Line Canal

Corridor, please call the High Line

Canal Conservancy at

hello@highlinecanal.org,

720-767-2452 or visit

highlinecanal.org. GV

CENTENNIAL AIRPORT STUDY SESSION

SEPTEMBER 18, 2017 AT 6 P.M.

Executive Director Robert Olislagers

will be attending the City Council

Study Session on Monday,

September 18 at City Hall to discuss

with City Council air traffic noise

complaints over Greenwood Village

during the summer and the

Metroplex Study. For more

information, please call Matt Cohrs,

Assistant to the City Manager, at

303-486-5746.

SEPTEMBER 2017 | GV NEWSLETTER PG. 15
---
GOVERNMENT

BUSINESSspotlight

ONUS iV HYDRATION

5425 Landmark Place • Open 10 a.m. Daily

720-417-9590 • www.onusiv.com

Have you been exhausted, run down,

or depleted of energy? Affected by jetlag,

altitude sickness, or perhaps a

hangover? Or have you experienced

muscle cramping or felt the onset of a

minor cold? If you answered yes to any

one or more of these conditions, then

the common practice of IV

(Intravenous) infusion therapy may be

just what your body needs!

With the July opening of Onus iV in

The Landmark in Greenwood Village,

a licensed staff of medical professionals

can now administer a variety of IV

"cocktails" to help your body combat

and prevent these ailments and many

more. IV hydration therapy (also

known as infusion therapy) is a

common, low-risk procedure used by

doctors, nurses and paramedics to

rehydrate the body intravascularly,

bypassing the gastrointestinal tract. In

short, it's the fastest, most efficient

delivery method to distribute vital

fluids and nutrients throughout your

body.

Three avid mountain bikers (Kristy

Anderson, Chaz Faulhaber and Dr.

Benjamin Wilks) founded Onus iV

Hydration in 2015, and from their first

location in Denver have helped over a

thousand individuals counteract

conditions that can impede their active

lifestyles. The Village community was

selected for their newest location

because of its active lifestyle and quality

of life. Dr. Wilks, co-owner and

founder of Onus IV is a current Board

certified emergency room physician,

practicing at Longmont United

Hospital, in addition to being on staff

for C.U. Health at their satellite clinics.

He has rigorous requirements for his

staff in their credentials and

background.

"Our licensed team of physicians,

nurses and paramedics provide IV

services in a relaxing "non-medical"

environment," said co-owner Kristy

Anderson. "Throughout Denver and

the Colorado Front Range, we offer

customized services for athletes,

business travelers, and those seeking

overall health and wellness. This

incredible health tool yields immediate

results because you are receiving a

better absorption of vitamins,"

exclaimed Kristy.

Upon entering their office, you will

embark upon a truly unique

experience. Wooden paneling and

native Colorado materials accent the

walls and décor. The lighting and

accoutrement of the décor invoke

recreation, relaxation, and renewal. IV

units are hung from climbing ropes

and timber wooden panels surround

you. Their treatment space and VIP

room feature a comfortable lounge

experience with reclining chairs, Netflix

or X Box options, and fuzzy blankets

and organic tea complement your

relaxation. The staff will quickly obtain

a medical history and have you

complete a questionnaire upon your

arrival to assess what hydration therapy

best fits your individual needs. They

will obtain your blood pressure, temp,

pulse, oxygen, and vitals.

The Onus iV procedure delivers the

full effect of every vitamin and

compound your body needs. Most

infusion rates need between 30-45

minutes, however every body is

different. Because they are bypassing

your GI tract, the effects are typically

felt within the hour of treatment. Some

of their treatments are designed for

long-term benefits (cold and flu

defense, athletic preparation/muscle

continued on page 18

PG. 16 GV NEWSLETTER | SEPTEMBER 2017
---
BUSINESS

EXECUTIVE

MENTORSHOP

PROGRAM

The DTC Chamber of

Commerce will be kicking off

its 4th year of the Executive

Mentorship Program. This

program pairs its young professional members (aged 25-39)

with seasoned business owners, corporate executives, and

community leaders in a nine-month mentoring relationship.

Its purpose is to enhance personal and professional growth in

an effort to build future leaders and a stronger business

community. There are both one-on-one and group mentoring

opportunities.

The program will commence on September 19, 2017, at the

Meet Your Mentor event. At this event, all of the mentors

and mentees gather for a pseudo "speed dating" type of

event. Each mentee gets an opportunity to meet each mentor

and provide feedback that is used in determining the mentor

relationship pairings.

For more information or to participate, please contact

Justin Nimock, DTC YP Mentorship Coordinator, at

justin.nimock@ubs.com or John Herbers, CEO of the

DTC Chamber of Commerce, at herbers@jherbers.com. GV

Visit our Web site at: www.dtcchamber.com

E-mail us: admin@gvchamber.com

Phone: 303-290-9922

7600 Landmark Way, Suite 1615

Greenwood Village, CO 80111

Fax: 303-962-4640

SEPTEMBER 2017 | GV NEWSLETTER PG. 17
---
BUSINESS

NEW GV businesses

BEAUTY SALON AND DAY SPA

Goulnara Koudricheva

C/O Sola Salon Studios, LLC

6001 South Willow Drive

303-523-8412

COUNSELING

Compass Family Counseling And

Affordable Counseling Connections

8933 East Union Avenue, Suite 295

303-263-3305

Kathleen Chabin, PsyD, PC

7000 East Belleview Avenue, Suite 350

303-907-3381

EDUCATION

HArts Academy

8933 East Union Avenue, Suite 295-D

303-330-9020

ENGINEERING SERVICES

CaveoSES

6143 South Willow Drive, Suite 405

402-991-5520

FINANCIAL ADVICE

United Capital Financial

Life Management

5655 South Yosemite Street, Suite 450

303-751-8859

OIL AND GAS OPERATIONS

Rim Rock U.S. OPCO, LP

5690 DTC Boulevard, Suite 670-E

406-407-0647

PROFESSIONAL EMPLOYER ORGANIZATION

Aureon HR, Incorporated

7000 East Belleview Avenue, Suite 150

800-336-1931

RETAIL CLOTHING

Montair

6833 South Dayton Street, Suite 252

720-229-6925

WEBSITE DEVELOPMENT

Remora, Incorporated

8400 East Prentice Avenue, penthouse

904-770-4395

BUSINESSES UNDER

NEW MANAGEMENT

ARCHITECTURAL AND

ENGINEER CONSULTING FIRM

Foothills Roof Services, Incorporated

5600 South Quebec Street, Suite 201C

303-738-0823

POLYGRAPH

Forensic Truth Verification Group,

Incorporated

6595 South Dayton Street, Suite 2400

303-957-3201

business spotlight

continued from page 16

recovery, etc.) which are felt from the physical state they

provide, not necessarily an immediate "boost."

Onus iV Hydration's menu of treatments includes a bevy of

cocktails for athletic purposes, general wellness and recovery.

These are just a few of the cocktails that are available:

• The A-Team (B-Vitamins for energy, Amino Acids to aid

muscle recovery, Calcium and Magnesium).

• John Myers' Cocktail (The original wellness blend in use

since 1954; includes B-vitamins, Vitamin C, Calcium and

Magnesium to enhance overall wellness).

• Immunity (Perfect for preventing or fighting a cold or flu;

provides a mega-immune boost with Glutathione,

Vitamin C and Zinc to accelerate recovery).

Onus iV not only focuses on the health and wellness of its

patients, but also gives back to the community. They give

10% of the purchase of every "Rockstar" drip to the Dear

Jack Foundation, which supports initiatives and provides

programming to promote positive health outcomes for

adolescents and young adults (AYA), ages 15-39, who are

battling cancer. During the holiday season a portion of the

infusion sales are given back to a variety of other

organizations as well.

Onus iV Hydration's mobile unit is also available to be

dispatched throughout the Colorado Front Range, offering

full-service concierge assistance. Their treatments begin at

$65 and go up to $145, depending on the drip type selected.

With a minimum of four clients, a 10% discount is offered

when a pre-booked group is scheduled (e.g. golf

tournaments, bachelor parties, weddings, and cross fit

events). Onus iV also accepts payment through HSA and

FSA accounts.

With mention of this article, receive $15 off of any

treatment of your choice. Onus iV Hydration is located at

5425 Landmark Place, in The Landmark. Walk-ins and

appointments will be available Mondays-Fridays 10 a.m.-

6 p.m., and Saturdays and Sundays 10 a.m.-4 p.m.

Obtain additional information and schedule an

appointment by calling 720-417-9590, or going online at

www.onusiv.com. The onus is upon you to make improved

health and wellness a priority with a visit to Onus iV …

where "Your Best Days" to come are within reach! GV

PG. 18 GV NEWSLETTER | SEPTEMBER 2017
---
GENERAL INTEREST

TAKEnote

OH RATS!

EASY TIPS TO

PROTECT YOUR HOME

AND PROPERTY

Rodents such as mice and rats can find

refuge in your home whether in the

kitchen, attic, basement, or dining

room through the smallest opening or

crack, and require very little space to

travel inside. Rodents seek shelter

indoors, especially during the cooler

fall and winter months, and once

inside can cause more than just an

unpleasant infestation. Rodents put

homes at risk for electrical fires by

gnawing through wires and they

frequently serve as vectors, carrying

bacteria, such as salmonella, on their

bodies and contaminating food

sources, kitchen surfaces and

equipment.

Once rodents get comfortable, they're

difficult to relocate. Results won't

happen overnight but given time and

consistent efforts, reductions are

possible. Fortunately, there are many

ways homeowners can proactively

prevent and get rid of rodent

infestations in their homes.

ELIMINATE FOOD,

WATER, AND HARBORAGE

FROM YOUR HOME

Step 1: Remove Sources Of Food

And Water

Mice and rats are opportunistic feeders

that will eat any food discarded by

humans. Eliminating their food and

water source is critical to controlling

them.

Indoors

• Clean up spilled food in cupboards

and on floors.

• Keep counters and food

preparation areas clear of food at

night.

• Keep all food packages tightly

sealed.

Outdoors

• Pick up trash and discarded food.

• Keep tightly sealed lids on garbage

cans.

• Store pet and bird food in sealed

containers.

• Prevent flooding from sprinkler

heads.

• Keep all foliage trimmed and neat.

• Overgrown bushes are prime

habitat for rats.

Step 2: Eliminate Rodent Habitats

In And Around Your Home

Indoors

• Clear out boxes and other clutter in

basements and storage areas.

• Store materials off the floors on

shelves, wherever possible.

Outdoors

• Remove clutter and debris.

• Keep grass, shrubs and other

vegetation around your home

trimmed.

• Trim overhanging trees that create

shadowy areas where rodents feel

protected.

Step 3: Prevent Rodents From

Entering Cracks And Crevices.

Identify areas that need to be sealed or

blocked. It's important to remember

that rats can fit through an opening

around the size of a quarter and mice

can squeeze through an area smaller

than a dime, so be sure to conduct a

thorough inspection of your home —

inside and out.

• Repair holes in the foundation of

your home, garage or other affected

buildings as well as interior walls.

• Seal cracks and holes on the outside

of the home, including areas where

utilities and pipes enter the home,

using caulk, steel wool or a

combination of both.

• Seal any openings over one quarter

inch — particularly around doors

and windows.

• Screen vents and openings to

chimneys.

• Install self-closing devices on

frequently used doors.

• Install vinyl or rubber seals under

garage doors to eliminate gaps.

• Weather-strip gaps in doorways

leading into buildings.

• Make sure that the areas around

pipes, drains and vents are tightly

sealed.

• Cap chimneys and keep them in

good condition.

• Keep attics, basements and crawl

spaces well ventilated and dry.

• Replace loose mortar and weather

stripping around the basement

foundation and windows.

• Eliminate all moisture sites,

including leaking pipes and clogged

drains that provide the perfect

breeding site for pests.

• Inspect items such as boxes, grocery

bags and other packages brought

into the home.

• Store firewood at least 20 feet away

from the house and keep shrubbery

trimmed and cut back from the

house.

As you go about plugging, sealing, and

repairing your home, you can use a

variety of rodent-proofing materials to

complete the job, including:

• Steel Wool

• Hardware Cloth

• Perforated Metal

• Galvanized Sheet Metal

• Cement Mortar

If you suspect a pest infestation in

your home, contact a licensed pest

professional to inspect and treat the

pest problem. If you spot evidence of a

rodent infestation, do not hesitate to

act to handle the problem. Rodents are

known to reproduce quickly, and a

small problem can turn into a big issue

overnight if left untreated. GV

Information provided by Tri-County Health

Department

SEPTEMBER 2017 | GV NEWSLETTER PG. 19
---
ARTS AND RECREATION

Welcome Back Seniors

FALL BREAK SPORTS

Join us at Silo Park for games like capture the flag, dodgeball, soccer

and various other recess games. No equipment is necessary. Grab a

friend and come over! Snack will be provided. Please bring water.

No need to pre-register.

This is a drop-in program.

Days and Dates:

Monday-Thursday,

October 23, 24, 25, 26

Time: 10 a.m.-12 p.m.

Ages: 6 to 12 years old

Cost: $1 per day per participant

Pay at the park each day

Limit: 40 participants per day

Location: Silo Park

9300 East Orchard Road

A mandatory sign-in sheet must

be completed by parents for each

participant on each day, in case

of emergency. Everyone must check in with staff.

The program is subject to weather conditions.

Weather Line: 303-486-5770

For more information call the Arts and Recreation Division

at 303-486-5773.

Greenwood Village is hosting the

MONSTER BASH FALL FEST

at

William McKinley Carson Park • 6060 South Quebec Street

Saturday, October 7, 2017 • 11:30 a.m. – 2 p.m.

Tickets are required to attend this event.

The tickets will be available August 28 – October 4

at the Parks, Trails and Recreation counter

at City Hall from 8 a.m. – 5 p.m. ID required.

11:30 a.m. – 2 p.m.

Music, Art Projects, Inflatables, Face Painters,

Costume Contest, Carnival Games and Live Shows

A special event for the residents of Greenwood Village

For more information call 303-486-5773

Come Rain or Shine

PG. 20 GV NEWSLETTER | SEPTEMBER 2017
---
ARTS AND RECREATION

RECREATION programs

Register online at

www.greenwoodvillage.com/registration

BOYS AND GIRLS

PEE WEE SOCCER

Dribble, shoot and pass with your

friends while learning the

fundamentals of soccer! Fun drills

and games will be introduced to

the players.

Day and Dates: Wednesdays,

September 6, 13, 20, 27

Time: 4:15-5 p.m.

Ages: 4 to 6 years old

Cost: $40 (All equipment provided)

Limit: 20 players

Location: Silo Park

9300 East Orchard Road

BOYS AND GIRLS

BEGINNER

GOLF LESSONS

Players will enjoy learning basics at

both the driving range and putting

green. Clubs provided.

Day and Dates: Thursdays,

September 7, 14, 21, 28

Time: 4:15-4:45 p.m.

Ages: 5 to 8 years old

Cost: $30

Location: Family Sports Center

(Arapahoe and Peoria)

For more information call the Arts and Recreation Division at 303-486-5773.

BOYS AND GIRLS

FLAG FOOTBALL

Fall is the perfect time for football!

Players will learn fundamentals

through fun drills and show off their

skills playing games.

Day and Dates: Thursdays,

September 7, 14, 21, 28

Time: 4:15-5 p.m.

Ages Groups:

4 to 6 years old

6 to 8 years old

Cost: $40

Limit: 20 players, so sign up today!

Location: Silo Park

9300 East Orchard Road

Two age groups will run at the same

time on separate fields at Silo Park.

BOYS AND GIRLS

YOUTH

BASKETBALL

Have a great time learning

fundamentals and playing games!

Hit the hardwood with friends and

motivated coaches. All equipment

provided.

YOUTH

BASKETBALL

Day and Dates: Mondays,

September 18, 25, October 2, 9, 16

Time: 6:30-7:15 p.m.

Ages: 6 to 9 years old

Cost: $50

Limit: 20 players

Location: Campus Middle School

4985 South Dayton Street

PEE WEE

BASKETBALL

Day and Dates: Tuesdays,

September 19, 26,

October 3, 10, 17

Time: 6:30-7:15 p.m.

Ages: 4 to 6 years old

Cost: $50

Limit: 20 players

Location: Campus Middle School

4985 South Dayton Street

SEPTEMBER 2017 | GV NEWSLETTER PG. 21
---
ARTS AND RECREATION

ART

programs

Register online at

www.greenwoodvillage.com/registration

For more information call the the Curtis Center for the Arts at 303-797-1779.

ADULT ART CLASSES

Location: Curtis Center for the Arts, 2349 East Orchard Road, Greenwood Village, CO 80121

FIGURE DRAWING

Days and Dates: Tuesdays, October 10

through November 14 or

November 21 through December 26

(date of last class will be changed

due to the holidays)

Times: 9:30 a.m. to 12:30 p.m.

DRAWING AND SKETCHING

Days and Dates: Wednesdays,

October 25 through December 6

Times: 1 to 4 p.m.

WATERCOLOR

Days and Dates: Fridays,

October 27 through December 8

Times: 9:30 a.m. to 12:30 p.m.

and 1 to 4 p.m.

PLEIN AIR BASICS: AN

INTRODUCTION TO PAINTING

THE LANDSCAPE ON LOCATION

Day and Date: Saturday, October 14

Time: 9 a.m. to 4 p.m.

MODERN CALLIGRAPHY:

LETTERING IN COLORS

Days and Dates: Mondays,

October 9 through November 6

Times: 1 to 3:30 p.m.

BASIC WATERCOLOR AND

LOOSE FLORAL PAINTING

Day and Date: Saturday, November 11

Time: 11 a.m. to 3 p.m.

POURING COLOR

INTO YOUR ART

Days and Dates: Tuesdays,

October 10 and 17

Times: 1 to 3:30 p.m.

MASTER PAINTING CLASS

Days and Dates: Thursdays,

October 12, 2017 through

March 29, 2018

Times: 9 a.m. to 4 p.m.

COFFEE & CANVAS –

SUNFLOWERS

Day and Date: Saturday, October 7

Time: 10 a.m. to 2 p.m.

THE BASICS OF

PRINTMAKING

Day and Date: Saturday, October 21

Time: 10 a.m. to 4 p.m.

THE BASICS OF PAINTING

WITH ACRYLICS

Days and Dates: Tuesdays,

October 24 through December 5

Times: 1 to 4 p.m.

OIL PAINTING:

BEYOND COLOR BASICS

Days and Dates: Wednesdays,

October 25 through December 6

Times: 9:30 a.m. to 12:30 p.m.

SECRETS TO

GLOWING COLORS

Day and Date: Saturday, October 28

Time: 9 a.m. to 4 p.m.

CASUAL WATERCOLOR:

PAINTING NATURE

Days and Dates: Mondays,

November 13 through December 11

Times: 1 to 3:30 p.m.

MODERN CALLIGRAPHY 101

Day and Date: Saturday, November 4

Time: 1 to 4 p.m.

COFFEE & CANVAS –

MIXED MEDIA TREE

Day and Date: Saturday, November 18

Time: 10 a.m. to 1:30 p.m.

COFFEE & CANVAS –

ROCKY MOUNTAIN NIGHT SKY

Day and Date: Saturday, December 9

Time: 10 a.m. to 1:30 p.m.

SILK PAINTING FOR ADULTS

Day and Date: Saturday, December 2

Time: 9 a.m. to 4 p.m.

PG. 22 GV NEWSLETTER | SEPTEMBER 2017
---
ARTS AND RECREATION

SUNDAY, SEPTEMBER 24, 2017

Presented by Greenwood Village and the Greenwood Athletic and Tennis Club

Register at the Greenwood Athletic and Tennis Club Welcome or Service Desks

5801 South Quebec Street

Purple Course • 14-16 year olds

First Wave: 8:30 a.m.

275 Meter Swim • 2.25 Mile Bike • 2 Mile Run

Green Course • 11-13 year olds (Follow Purple)

175 Meter Swim • 2.25 Mile Bike • 1.5 Mile Run

Blue Course • 8-10 year olds (Follow Green)

125 Meter Swim • 1.5 Mile Bike • 1 Mile Run

Red Course • 5-7 year olds (Follow Blue)

50 Meter Swim • 1/2 Mile Bike • 1/2 Mile Run

Early Registration: Ends Sunday, September 17 • Fee $35

Registration: September 18-22 • Fee $45

Mandatory Race Packet Pickup And Meeting

Friday, September 22 at the GATC 4:30-6 p.m.

For More Information

Crystal Garland • 303-770-2582, ext. 325 • CRYSTAL@GREENWOODATC.COM

or

Cathy Pate • 303-486-5766 • cpate@greenwoodvillage.com

SEPTEMBER 2017 | GV NEWSLETTER PG. 23
---
6060 South Quebec Street

Greenwood Village, Colorado 80111-4591

PRSRT STD

US POSTAGE

PAID

ENGLEWOOD, CO

PERMIT #799

ARTS AND RECREATION

ART events

CURTIS CENTER FOR THE ARTS • 2349 EAST ORCHARD ROAD, GREENWOOD VILLAGE, CO 80121 • 303-797-1779

CURTIS CENTER OPENING DELAYED

Curtis Center for the Arts is under construction to deliver an even better experience to our patrons.

As all good things take time, we will be closed until October 14 when we reopen for the Opening Reception of the All Colorado Show.

PG. 24 GV NEWSLETTER | SEPTEMBER 2017

YOUTH ART CLASSES

GAME ON!

Days and Dates: Fridays,

October 13 through

December 1

Times: 4:30 to 6 p.m.

PEE WEE ART

Days and Dates: Mondays,

October 9, 23,

November 6, 20

Times: 4 to 5 p.m.

ARTSY BONES

Days and Dates: Tuesdays,

October 10 through

October 24

Times: 4:30 to 6 p.m.

FALL BREAK

THEATER CAMP

Days and Dates: Monday,

October 23 through

Thursday, October 26

Times: Monday-Wednesday

9 a.m. to 2 p.m. and

Thursday 9 a.m. to 4:30 p.m.

TENTACLE

SCULPTURES

Days and Dates:

Wednesdays, November

1 through December 13

Times: 4:30 to 6 p.m.

PRINTMAKING

Days and Dates: Tuesdays,

November 7 through

December 5

(no class November 21)

Times: 4:30 to 6 p.m.

COOKIES

AND CANVAS

Days and Dates: Monday,

December 11; Tuesday,

December 12 and

Friday, December 15

Times: 4:30 to 6 p.m.