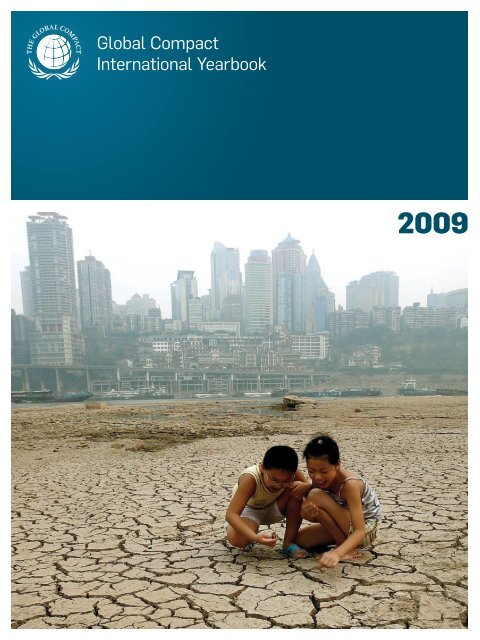 Global Compact International Yearbook 2009
The road to Copenhagen is the catchphrase: Climate Change is the top issue of inaugural edition, on the market since 1th of august 2009. In a very personal and exclusive foreword, UN Secretary-General Ban Ki-moon stresses the urgency of multilateral action: "One underlying message of this Yearbook is that a global, low-carbon economy is not only technologically possible, it makes good business sense", said Ban. "We need the voice and energy of business to help us combat climate change." Sir Anthony Giddens adds the importance of the upcoming Copenhagen Climate Summit: "It is an important year, and everybody knows it because it is the year of Copenhagen. It's a key for climate change policy. I do hope the Copenhagen negotiations will be successful, but there are reasons I have to be worried. " Another key issue of this edition is the global economic crisis: 2008 will be remembered as the year of crises. The breakdown of financial institutions and markets and the subsequent worldwide economic downturn have put the spotlight on issues that the United Nations Global Compact has long advocated as essential responsibilities for modern business and today's global markets: comprehensive risk management, long-term performance, and ethics. Georg Kell, Executive Director of the Global Compact, writes: "Restoring confidence and trust in markets requires a shift to long-term sustainable value creation, and corporate responsibility must be an instrument towards this end. If the crisis is any indication, it is now time to build on the advances made over the past 10 years by companies and investors in the area of ESG performance and bring this discipline to the mainstream. "
The road to Copenhagen is the catchphrase: Climate Change is the top issue of inaugural edition, on the market since 1th of august 2009. In a very personal and exclusive foreword, UN Secretary-General Ban Ki-moon stresses the urgency of multilateral action: "One underlying message of this Yearbook is that a global, low-carbon economy is not only technologically possible, it makes good business sense", said Ban. "We need the voice and energy of business to help us combat climate change." Sir Anthony Giddens adds the importance of the upcoming Copenhagen Climate Summit: "It is an important year, and everybody knows it because it is the year of Copenhagen. It's a key for climate change policy. I do hope the Copenhagen negotiations will be successful, but there are reasons I have to be worried. "

Another key issue of this edition is the global economic crisis: 2008 will be remembered as the year of crises. The breakdown of financial institutions and markets and the subsequent worldwide economic downturn have put the spotlight on issues that the United Nations Global Compact has long advocated as essential responsibilities for modern business and today's global markets: comprehensive risk management, long-term performance, and ethics. Georg Kell, Executive Director of the Global Compact, writes: "Restoring confidence and trust in markets requires a shift to long-term sustainable value creation, and corporate responsibility must be an instrument towards this end. If the crisis is any indication, it is now time to build on the advances made over the past 10 years by companies and investors in the area of ESG performance and bring this discipline to the mainstream. "
SHOW MORE
SHOW LESS
Create successful ePaper yourself
Turn your PDF publications into a flip-book with our unique Google optimized e-Paper software.
Global Compact

International Yearbook

2009
---
Published by macondo Media Group with kind support from:

Adecco Group

Ampeg

Amazon Carribean Guayana

Autostrade per L´Italia

Arcandor

Carrefour

Coca-Cola Hellenic

Danfoss

Dong Energy

E.ON

Ernst & Young

Gandaki Bee Concern

Grundfos

Holcim

Martha Tilaar Group

Medine

Nexen

Novo Nordisk

Otto Group

REN

Groupe SEB

Siemens

PT Smart TBK

TMS Group

Toms

TÜV Rheinland

2

Global Compact International Yearbook 2009
---
Agenda

Foreword

"

The United Nations Global Compact is both a policy platform and a practical

framework for companies that are committed to sustainability and responsible

business practices. It provides a forum for exchanging current and emerging

best practices and for debating the role that business can and must play in addressing

global challenges. This inaugural edition of the Global Compact International Yearbook

shows how companies around the world are making an impact and fostering positive

change.

Ban Ki-moon, UN Secretary General

No consideration of sustainability or responsible business can avoid the defining issue

of this generation. It is fitting, therefore, that the Yearbook – which was developed and

produced entirely by Global Compact participants – devotes so much of its content to

climate change. In December 2009, governments will convene at the United Nations

Climate Change Conference in Copenhagen to negotiate a new comprehensive climate

change agreement. Business will have a major role to play – through innovation,

investment, technology transfer and advocacy.

One underlying message of this Yearbook is that a global, low-carbon economy is not

only technologically possible, it makes good business sense. I hope the perspectives from

science, public policy and business presented in this publication can convince more

companies of the urgency of action and the practical benefits such action will have for

both the natural and business environments. We need the voice and energy of business

to help us combat climate change.

Since its launch in July 2000, the Global Compact has grown to become the world's

largest corporate sustainability initiative. Its more than 6,000 business participants

in nearly 140 countries strive to implement universal principles in the areas of human

rights, labour, environment and anti-corruption. They have undertaken hundreds of

projects in health, education and infrastructure around the world, and have generated

important momentum for building a more equitable and sustainable future for all. This

Yearbook documents these efforts. I commend it to a wide global audience

"

and encourage all readers and stakeholders to do their part in supporting

the Global Compact.

Global Compact International Yearbook 2009 3
---
The Politics of

Climate Change

Bitte Leadtext einlaufen lassen!

4

Global Compact International Yearbook 2009
---
Agenda

Climate Change

Global Compact International Yearbook 2009 5
---
By Sir Anthony Giddens

It is an important year, and everybody knows it because it is

the year of Copenhagen. It's a key for climate change policy. I

do hope the Copenhagen negotiations will be successful, but

there are reasons I have to be worried.

What are the reasons that I have worries? Well, first of all, when

you have two hundred nations to agree on something, they

can often only agree on a very low level. That's exactly what

happened with Kyoto: They agreed on really quite inadequate

targets. This may not happen this time.

Second, obviously there are no methods and no means of enforcement

in the international community for countries that do

not live up to their obligations. There are no strong mechanisms

of enforcement in the international community. For serious

issues, we have no international regulations at all.

Thirdly, even if significant agreements are reached in Copenhagen,

they have to be enforced. It's not enough just to say

what we are going to do: The crucial issue facing all of us in

climate change is how we are going to do the things that we

say we want to do.

In truth, what is going to happen in respect of climate change

in the world's future will depend on the industrial countries.

The industrial countries under any Copenhagen bargain have

to take the lead in radically reducing their emissions, not just

in the longer term, but in the short term, too.

There is a gap much larger than that between what seems to

be a potentially cataclysmic future – which in fact is a danger

for the future of world society – and the lack of response from

the majority of the public, not only in the industrial countries,

but to a slight degree in most of the world. What accounts

for the size of this gap? I have a theory, which to me sort of

faces the political problems of climate change. That theory

I called "Giddens's Paradox". "Giddens's Paradox" says that

climate change is an issue we never had to deal with politically

before, not just because of its global scope but because

it's politics of an abstract future, mediated by scientific items.

We never had to confront the issue politically, nor has any

other civilization entreated so fundamentally upon nature as

our civilization, for better or worse, has done.

Now climate change is a substantial future threat, but it is

not visible in the course of daily life, so you have to get at

it through some optic representation in the melting of the

Arctic icebergs or whatever. For me, that's the reason why the

majority of the public ignores such an issue. Climate change

simply does not impinge on most people's everyday concerns.

Moreover, survey material shows that climate change in the

public is simply one among many other potential cataclysms.

We are all experiencing the possible swine flu, and there are

always announcements of other possible pandemics. Catastrophe,

global catastrophe, is never far away, and it's hard for

the members of the ordinary public to disentangle that.

The paradox lies in the fact that, if we wait until climate

change does become visible in people's lives, especially in

people's lives in the industrial countries, it will be by definition

too late. If we wait, we are lost because there is normally

no way of getting the emissions out of the air once they are

there. The longer we wait, the more emissions will be in the

air and the more impossible it is to cope with the problem

except by adapting to it. That's the reason I think why so many

members of the ordinary public are climate-change sceptics.

It's a very convenient position to adopt if you want to put it

out of your consciousness.

In the majority of the industrial countries, over 40% of the

population are climate change sceptics. On the other side, only

one percent of scientists are climate change sceptics. So you

can see what a difficult political issue it is. It's partly for this

reason that I came to the conclusion that we don't really have

a politics of climate change. We don't really have a developed

account of how we are going to handle such an unusual,

unique issue in the context of the democratic institutions of

industrial countries, where it must be handled.

I'll just shortly drop four points: First of all, we have to disentangle

Green politics and the idea of being Green. Environmental

politics is quite distinct from the climate change issue and

the problems that climate change poses for us. The two have

become wrapped together partly because of the influence of

the Green movement in bringing climate change to the attention

of the population. But controlling emissions has not

very much to do with a large amount of what is constituted

by Green values and Green interests and Green concerns. Climate

change is a serious threat, which of course is on top of

other threats to the world's resources, but we must entangle

this threat in a direct way, and we have to find an adequate

conceptual thinking.

Secondly, we need to reduce the transformation on politics.

We must develop a politics of the long-term, because we

don't have yet a politics of the long-term. In industrialized

democratic countries, we have no instruments to deal with

long-term issues, partly because of the impact of the era of

deregulation, which is hopefully over. But when we are dealing

with climate change, we have to work on a thirty-year cycle.

6

Global Compact International Yearbook 2009
---
Agenda

Climate Change

I like President Obama's interventions – whatever happens

when progress is made through Congress – is that he does

have a sense for rational politics. There are only a handful of

other politicians in Europe who have to some extent achieved

this. Meanwhile, the European Union has taken above all a

regulatory approach.

Fourthly, if you follow the consequences of Giddens's paradox,

it shows that we are probably not getting too far just by

scaring people; partly because there are many things we are

frightened of, partly because what we are asking them to be

frightened of is an abstract future. Therefore, we have to look

for a revolution in our approach to climate change issue:

• which looks much more to positives,

• which has an inspirational quality,

• which sets out a kind of society we would like to achieve,

not that kind of society we want to avoid,

• which sets out a positive view of the future,

• which recognizes that there are costs to be born in a changing

of consumption patterns that has to be made, but in the

same time also focuses on benefits, also focuses on maturities;

also focuses upon a positive noble vision of the society we'd

like to create.

This means reintroducing these issues into politics after decades,

like the return to the idea of planning. You can't count

on a future unless you have a perspective for that future that

implies a long term view of what we want to achieve. The

return to planning is not a return to top down. With the

public opinion towards climate change, state intervention is

vital, but only in conjunction with grass-roots initiatives. You

need the state and the government to encourage all sorts of

bottom up initiatives from civil society groups and others. But

you can't deal with climate change in a short-term phase of

democratic politics without having a longer time perspective,

and that is not going to be easy to create.

Third, and important to creating a long-term perspective,

is to pull climate change away from the left-right division.

It's a very unfortunate fact that in many of the developed

countries climate change has become politically polarized

between left and right. In order to confront climate change,

you must get something of a consensus among at least a

substantial proportion of a democratic polity or you are not

going to generate support for your policies. In my view, the

left has a special responsibility and has to give up claiming

climate change as its issue. We should no longer say such

things as "Green is the new Red", because that immediately

polarizes political opinion on the right. One of the reasons

Apparently, my argument is that we need at this point something

very different from what the Third Way meant; we need

a good dose of utopia back in our politics. We need to think,

what will be the lock on implications of moving towards a

low carbon economy. Many people think there will be an

economy just like the existing economy, the industrial one,

where everything else stays the same, except we are producing

lower emissions. That is not remotely conceivable. We

have to think through a whole morass of implications on an

economic level.

And we have to think what kind of society should prevail in

this world and how we'd like to achieve it. It's a simple matter

of that. When Francis Fukuyama spoke of the end of history

he must have been wrong, because Fukuyama said we won't

invent new forms of society. Indeed: We have to invent a different

form of society, because our way of life is unsustainable,

strictly in climate change patterns.

Source: Transcription of Lord Giddens

presentation of his new book "The Politics of

Climate Change" in Essen/Germany in June

2009. Set by Lisa Dahlheimer.

Author: Lord Anthony Giddens is former

Director of the London School of Economics

and Political Science (LSE).

Global Compact International Yearbook 2009 7
---
Road to

Copenhagen:

Viewpoints

8

Global Compact International Yearbook 2009
---
Agenda

Climate Change

Paul Dickinson,

1

CEO at the

Carbon Disclosure Project

The private sector will be the source

of almost all of the funds required for

the transition to a low-carbon economy,

and the creation of new and radically

different infrastructure and energy systems.

The challenge for governments is

to realign financial signals so that lowcarbon

solutions are the obvious choice

for investment decisions.

There are various means that governments can use to drive

investment patterns, ranging from regulation and choice editing

through to subsidies and fiscal incentives. Governments

can also intervene directly in the market through large-scale

public procurement. These actions can be conducted at the

national level or under international agreements. However,

none of them can be carried out effectively without consistent,

comparable data on the carbon intensity of companies,

products, and activities.

Reduction Commitment). These requirements are not yet linked

or consistent, which will create a heavy reporting burden for

companies and also means that comparability may continue to

be an issue for investors. We need to move to the next phase:

towards global consistency.

A strong precedent has been set by the development of international

financial reporting standards. Full international

adoption of these has taken many decades, but the world

is now well-placed to accelerate creation of their climatechange

reporting equivalent. Important work is being done

to enable this to happen, for example by the International

Accounting Standards Board, the International Auditing

and Assurance Standards Board, and the Climate Disclosure

Standards Board.

These efforts are relevant to many aspects of the Global Deal

framework now under discussion by governments, for example

to MRV (measurable, reportable, verifiable), international

capacity-building, and sectoral action. They also act as a bridge

between the world of government negotiations and the world

of the companies and investors, who will put the necessary

changes into action. It is crucial that these two worlds can

find ways to communicate on each others terms in order to

better work together to fight climate change.

Governments must prioritize and promote the development

of the key factors that allow this to happen – reporting,

accounting, and assurance. The Carbon Disclosure Product

(CDP) is working towards greater data comparability between

companies and creating a global reporting standard

for carbon through our work with the Climate Disclosure

Standards Board. We are frequently told by companies and

investors that one single standard will be very important

in driving effective action on climate change. That message

was repeated in recent CDP research, which was conducted

with the AEA and detailed what global businesses need from

governments.

This is not simply a question of quantitative emissions reporting,

although this is, of course, vitally important. Financial

institutions looking to invest, for example, need to know

more than emissions data – they require information about

trends, risks, opportunities, strategies, performance, and

corporate governance. They need to know about the future

of an investment prospect, as well as its past and present.

They need decision-relevant information using material and

comparable data.

We are halfway there. Corporate reporting regulations are

proliferating all over the world, mostly requiring emissions

data but sometimes requesting more qualitative information,

too (as with, for example, the United Kingdom's new Carbon

Global Compact International Yearbook 2009 9
---
James P. Leape,

Director-General of WWF

International

2

Climate change is the greatest environmental

challenge the world has ever

faced. It has the potential to also be the

greatest developmental, social, health,

and security challenge – if unchecked,

global warming could potentially create

hundreds of millions of climate refugees

as coastal areas are flooded, crops

fail – causing greater food scarcity – and water supplies dry

up. It is a threat that will affect us all, irrespective of where

we live. As Archbishop Tutu said, climate change is "totally

indiscriminate of race, culture and religion."

When the world's leaders meet in Copenhagen at the end

of this year to agree on a deal to replace the ageing and

ineffective Kyoto Protocol, they must come up with a bold

response that can put the world on a track to a low-carbon

economy.

Attainable goals

The truth of the matter is that these changes are well within

our reach. In January of 2009, McKinsey & Co. presented a

rigorous assessment of the costs of abating climate change

– a report that was sponsored by WWF and several other organizations.

Mapping out the solutions for every sector of the

economy in every region of the world, the McKinsey analysis

makes several critical points.

McKinsey's analysis shows that it is possible, with proven

technologies, to reduce global emissions to a level that is likely

to keep global temperatures from rising more than 2°C. It also

shows that the cost is manageable. Full implementation of

all the measures assessed by McKinsey would cost less than 1

percent of global GDP – challenging, to be sure, but far, far

less than the cost of inaction, which Lord Nicholas Stern has

estimated to be from 5 to 20 percent of global GDP.

The McKinsey analysis also makes it very clear, however, that

we can succeed in meeting the challenge of climate change

only if we utilize the full potential of all the measures available

to us. Success requires bold action in every sector of the

economy – from power to transportation to forestry – and in

every region of the world: across the industrialized countries,

of course, but also the emerging economies and the major

forest regions. The McKinsey study further demonstrates that

success is only possible if we find a way to move very quickly

– every year of delay makes the solution more difficult and

more costly. And every year of delay locks in another 5 parts

per million of CO2 in the atmosphere.

Challenging times

To be sure, these are challenging times – countries all over

the world are struggling to deal with a global recession. But

that recession cannot – and need not – delay action on

climate change. The recovery will not succeed if we rebuild

the fossil-fuel-dependent economy, which is vulnerable to

the volatility and inevitable escalation of oil prices, and the

growing impacts of climate change. To be sustained, the new

economy must be low-carbon and built upon the energy solutions

of the future, not the past. The trillions of dollars of

stimulus now being pumped into the global economy thus

provide a crucial opportunity to lay the foundation for that

low-carbon future. A massive public investment in critical

infrastructure – from "smart grids" that facilitate reliance on

renewable energy technologies, to public transit and green

buildings – can open up huge opportunities for innovation

and for creating new markets.

Building-blocks of a sustainable future

Climate change is, of course, a truly global challenge – it

threatens the future of every person and community on

the planet, and it can be solved only if we find a way to act

together. The UN negotiations that culminate in Copenhagen

this December are thus of the highest importance. In

those negotiations, the countries of the world must agree

on a global deal that includes several basic elements. The

global deal must establish measures that will ensure that

total global emissions of greenhouse gases peak and begin

to decline by 2020, and it must set the world on a course for

reducing emissions to 80 percent below 1990 levels by 2050.

Those are the targets necessary to prevent the planet from

warming more than 2°C.

Achieving those targets will require industrialized countries

to greatly reduce their emissions to levels that are 25 to 40

percent below 1990 levels by 2020. It will also require that

emerging economies like China and India find ways to slow

the increase in their emissions even as their economies grow,

and that forest countries take action to curb deforestation. It

is thus essential that the agreed framework provide for cooperation

in developing and sharing technology, and establish

robust financing mechanisms to support measures to reduce

emissions from energy production and deforestation in the

developing world.

Finally, a global agreement will have to recognize that, even

if we act boldly to bring climate change under control, we

will still suffer significant impacts, and that the world must

10

Global Compact International Yearbook 2009
---
Agenda

Climate Change

Beyond 2012 – The

World Food Programme's

Perspective 3

provide the resources that will allow developing countries

to adapt.

Climate change will not wait

we see that

responsibility

and long-term

strategies pay off

in the end.

A strong Copenhagen agreement can be the cornerstone of a new

global economy – an economy that offers huge opportunities

for new industries and new jobs; an economy that can, in fact,

protect the climate on which we all depend. We know that we

have the technologies and the financial means to move onto

that path. What we need now is the political will.

Climate is a key parameter in growing food. Changes in climate

pose a threat to agriculture and can lead to drastic increases

in food insecurity and hunger. Climate change will affect

everyone, but it has a disproportionate effect on those living

in poverty in developing countries in areas where deprivation

and vulnerability to climate risks and natural disasters are

severe. Studies warn of a coming "global food crunch" with

long-term drivers of climate change, scarcity of land and

water, lack of investment in agriculture and fuel production,

and rising food consumption due to population growth all

combining to cause political instability.

As the world's frontline organization in the fight against

hunger, the UN World Food Programme (WFP) will be in even

greater demand in helping communities that are affected by

recurrent natural disasters adapt to climate change. Sophisticated

and innovative tools – such as the WFP Vulnerability

Analysis and Mapping, Early Warning Systems, Emergency

Needs Assessments, and Weather-based Insurance – are

essential adaptation instruments to anticipate the onset of

natural disasters and allow for protective measures to be

put in place.

Presence in and knowledge of the affected areas is key to determining

disaster prevention and taking appropriate measures.

WFP's extensive deep-field presence in places where deprivation

and vulnerability to climate change and natural disasters

are severe gives an advantage in operationally strengthening

resilience. The operational base of WFP consists of: 74 country

offices and 270 sub-offices, an overall presence in 91 countries

worldwide, and 10,200 employees, of which 91 percent are

engaged in field operations.

Global Compact International Yearbook 2009 11
---
WFP is prepared for climate-related shocks and emergencies.

As a leader of the Global Logistics Cluster, WFP supports UN

agencies in emergency preparedness and response mechanisms.

WFP manages five UN Humanitarian Resource depots

in Italy, Ghana, Panama, Malaysia, and Dubai for more than

30 humanitarian organizations that use this network in the

various locations for storage of emergency stocks. The depots

are stocked with standardized relief materials and are geared

to ship essential relief supplies wherever needed within 24

to 48 hours.

The vision of an economy based on low-carbon incentives and

"Green Growth" will only succeed if global partnerships and

common framework agreements manage to bring adaptation

in the least developed countries to the forefront. WFP has itself

started to reduce its carbon footprint in its offices around the

globe and to mainstream climate adaption activities into all

of its programing areas. WFP will be engaging governments,

the private sector, and civil society to also implement innovative

solutions to reduce the impact of climate change and its

effects on food security and hunger.

Björn Stigson, President

of the World Business

Council for Sustainable

Development

4

When the world's governments meet in

Copenhagen in December, their representatives

will be dealing with an unprecedented

level of change in two interwoven

areas: climate and the economy. This

massive pressure for change is leading

to what I believe is a new industrial

revolution, one that has the potential to

dramatically reshape the world we live in. That pressure will

remain, no matter what global leaders decide in Copenhagen.

Sustainable solutions to the complex problems we are facing

will require government and business to cooperate on a level

never seen before.

The time for short-term solutions is behind us. The global recession

must not be used as an excuse to forget about the future.

It is clear that we must revive growth in the world economy

and imperative that we do this in a low-carbon way. We need

to find ways of working – and of thinking – that align the

needs of development, the economy and the world's climate

and find solutions that work for all three. Globally responsible

business is continuing to work to find climate solutions,

address the water crisis, stem biodiversity loss and work with

the poor to assist in providing sustainable livelihoods.

But how we use and source energy in the future will be critical.

The new industrial revolution will see a surge in green

jobs; indeed, one estimate says 20 million could be created

in renewable energy alone, far more than would be achieved

with fossil-fuel-based energy. Clearly, there will be opportunities

for some businesses in this revolution, just as there will

be losses for others.

Energy is essential for industry – to power infrastructure and

to connect goods and services to markets. It is also essential

for development. Energy shifts the quality of people's lives

enormously; it is the single largest requirement for economic

growth and social development. Currently about 1.6 billion

people have no access to electricity, and it will be difficult to

improve their lives significantly without it. But more people

with electricity must not mean more greenhouse gas emissions.

Energy efficiency is widely accepted as the most cost-effective

way to mitigate climate change. Fully 50 percent of the potential

to cut greenhouse gas emissions in half by 2050 is expected to

come from increased energy efficiency. The climate solution

therefore requires us to quickly improve energy efficiency, to

develop low-carbon energy sources and to find breakthrough

technologies and put them to work.

We now need long-term leadership, governments that put

the future ahead of the present. Sustainability must be at the

top of the list for world leaders. Governments clearly have a

difficult task ahead of them, but business is ready and willing,

also in this period of global economic crisis, to contribute to

climate-change solutions.

At the World Business Council for Sustainable Development,

we have been working with business for 15 years to find sustainable

ways to achieve economic growth. We will continue

to do this, regardless of the outcome of the United Nations

Climate Change Conference in Copenhagen. Our member

companies will continue to invest in the innovation needed,

to find and develop new products, services and technologies

that the world will need as it faces the joint challenge of

greenhouse gas reduction and economic growth. One example

of this is our recent publication of a ground-breaking report

12

Global Compact International Yearbook 2009
---
Agenda

Climate Change

Transforming the Market: Energy Efficiency in Buildings. This

report, the result of a $US15 million investment and four

years of research, shows how energy use in buildings can be

cut 50 percent by 2050.

Business knows it will have to provide the lion's share of

the huge investment that will be needed. But to do that it

needs:

• The right policy framework. This must be transparent, predictable

and long-term, allowing business to understand the

risks as fully as possible before investing.

• Developed countries need precise intermediate targets for

2020-2030 to allow them to measure and adapt if the world

is to reduce CO2 emissions 50 percent by 2050. Yes, huge

investments are called for in energy, urban infrastructure,

water, transport and food supplies, but we must make

sure these investments remain aligned with a sustainable

future.

• Solutions must identify ways to share the burden fairly so that

all parties can and will commit to them. We need to ensure

that all industrial sectors, the financial world, developing

and developed countries with their national concerns and

many others have their needs taken into consideration so

they are willing and able to cooperate.

• Rapidly emerging economies should be considered separately

and in a distinct fashion.

• National policies must be suited to national circumstances.

• Actions in developing countries will be effective only if

programmes are put in place to build up infrastructure and

develop skills and those programmes are accompanied by

an allocation of resources.

Many questions and issues remain, but we cannot allow these

to block our path to a new climate regime. For example, we

need to identify market mechanisms that will create a price

for carbon that takes into account its true cost. We need to

understand how to scale up energy efficiency globally. An

energy-lean economy: What does it look like and what technologies

and policies will help create it? We need jobs in clean

energy, but how do we get investment flowing into it?

The world after 2050 will be different, and the changes that get

us there will be transformational. But there is no alternative

to making those changes. We need to build a more sustainable

society with lower energy and resource use. Whatever

happens in Copenhagen, this need will remain. How we live,

do business and earn our living – the lives we will have in

the future – all depend on what we do now to handle this

need.

Lila Karbassi,

UN Global Compact Issue

Manager, Environment

5

United Nations Secretary-General Ban

Ki-moon has called climate change "the

defining challenge of our time" – for

good reasons. Climate change is the most

pressing and disruptive issue the world

is facing today. It affects every aspect of

society, from energy resources and water

sustainability to public health, food

security, and even human security.

Despite – or perhaps even because of – the global financial

crisis, there is no time to delay action on climate change. There

is only a very short window of opportunity, which requires

all social actors to become part of the solution to this global

threat. Greenhouse gas emissions that contribute to global

warming must be cut with no further delay.

This year, crucial government negotiations will be held at

the UN Climate Change Conference (COP15) in December in

Copenhagen. The goal is to forge a new global framework on

climate change, one that will be an effective successor to the

Kyoto Protocol, which expires in 2012. Ultimately, much will

depend on the positions of the United States and China, the

globe's biggest generators of greenhouse gases, who together

account for nearly half of all emissions.

As a key stakeholder in the global climate debate, the business

community has a critical role to play and many businesses

have been mobilizing for some time. What is needed now is

a strong signal from business that will give governments the

confidence needed to negotiate a strong deal with ambitious

emission reduction targets at COP15.

It is in this context that the Copenhagen Climate Council –

in cooperation with the UN Global Compact and a group of

partners – convened the World Business Summit on Climate

Change from May 24–26, 2009, in Copenhagen. The Summit

brought together over 650 business leaders, government officials,

and NGO representatives from around the world to put

forward a set of recommendations for the December negotiations.

The Summit was opened by the Secretary-General, who

challenged business leaders to "put themselves at the forefront

of an unprecedented effort to retool the global economy into

a cleaner, greener, and more sustainable economy."

The Summit was an effective forum for showing how the private

sector can address the climate challenge through financ-

Global Compact International Yearbook 2009 13
---
ing, development, and deployment of low-carbon solutions.

At the same time, there was consensus that business needs

regulatory certainty to unleash its full potential – certainty

that only governments can provide.

The Summit resulted in "The Copenhagen Call", a strong

statement urging political leaders everywhere to agree on an

ambitious and effective global climate treaty at COP15. The

Call further outlines the elements that business leaders believe

are necessary for a new treaty.

As we move closer to COP15, many businesses have emerged as

climate champions and leaders by putting effective mitigation

and adaptation strategies into place, driving innovation, and

putting pressure on their governments to act now. However,

climate leaders represent only a small portion of the business

world that has made climate change a top priority. Many businesses

are still sitting on the fence and waiting for others to

take the initiative. Unless more businesses begin to lobby vigorously

for a climate agreement in the months ahead, chances

are slim that governments will seal the deal in Copenhagen.

And the consequences of failure would be devastating: for the

planet, for society, and for business.

The good news is that there are effective fora that have helped

galvanize the voice of business. The Global Compact's own

Caring for Climate initiative – launched by the Secretary-

General in July 2007 – is a voluntary and complementary

action platform for Global Compact participants who seek to

demonstrate climate leadership. Caring for Climate provides a

framework for business leaders to advance practical solutions

and help shape public policy as well as public attitudes. The

more than 350 chief executives in 65 countries who support

Caring for Climate are prepared to set goals, develop and expand

strategies and practices, and to publicly disclose emissions as

part of their existing disclosure commitment (COP) within the

Global Compact framework.

Carlos Minc Baumfeld,

Brazilian Environment

Minister

6

Brazil's position on global warming is extremely

clear: We want the country to take

on a leading role amongst the nations that

are now dealing with this phenomenon,

which has been named one of the most

worrying for future generations.

Recently, in a ministerial consultation

on climate change, which took place during the 25th session

of the United Nations Environment Programme Governing

Council/Global Ministerial Environment Forum held in February

in Nairobi, Kenya, we argued that a commitment must

be made between developed and developing countries so that

bolder goals for reduction of greenhouse gas emissions can

be established.

Dubbed the "descending carbon spiral", the Brazilian proposal

is based on common but differentiated responsibilities for

developed and developing countries in addressing climate

change – based on funding and technology transfer to developing

countries – so that an international agreement may

More information on Caring for Climate:

www.unglobalcompact.org/Issues/Environment/Climate_Change/

14

Global Compact International Yearbook 2009
---
Agenda

Climate Change

be reached at the United Nations Framework Convention on

Climate Change, to be held in December 2009 in Copenhagen,

Denmark. New standards for the second commitment period

of the Kyoto Protocol are expected to be established during

this high-level meeting.

According to the proposal, developed countries should commit

to bolder goals for greenhouse gas emissions reduction

and design mechanisms for an over €100 billion fund aimed

at financing mitigation and adaptation activities in regions

that will be most affected.

Presently, the richest countries in the European Union have

adopted a maximum 20% reduction goal by 2020, which could

eventually be broadened to 30% if developing nations also commit

to reductions. Nonetheless, we consider this a timid goal,

since the UN's Intergovernmental Panel on Climate Change

(IPCC) itself recommended that rich countries should reduce

their emissions by 40% by 2020 in order to avoid imminent

environmental disaster.

We strongly defend the "descending carbon spiral", because

it assumes an international common but differentiated commitment

to fight global warming. Initiatives carried out

by developed countries, together with resources from the

above-mentioned climate fund and partnerships for technology

transfer, must be followed by meaningful mitigation

and emissions reduction outcomes in developing countries.

Therefore, developed and developing countries would rely on

one another to obtain desired results.

The Brazilian initiative is also based on a proposal presented

by us last year during the UN climate change meeting held in

Poznan, Poland. Commended both by UN Secretary-General

Ban Ki-moon and by the US ex-vice-president Al Gore, the

National Plan on Climate Change establishes a Brazilian commitment

to reduce illegal logging in the Amazon Rainforest

by 70% by 2017. This is clearly an ambitious goal, since in

Brazil forest burning and deforestation represent around 75%

of national CO2 emissions.

Furthermore, rich countries would have to commit to contributing

to this climate fund around 10% of the total value of

annual transactions related to clean development mechanism

(CDM) projects and 10% of the profits from the production

and trading of oil and coal. These resources would be applied

to immediate greenhouse effect mitigation actions as well

as to activities for adaptation by affected regions and forest

preservation. Funds would be invested in programmes within

countries which reduced deforestation and preserved forests

or created new protected areas.

The basic idea behind this climate fund account is to stimulate

developing countries that still harbour forests to preserve them

or expand their coverage. To this end, a value per hectare of

forest would be proposed in due time.

So, actions proposed in Nairobi could be funded by the establishment

of this general international climate fund – which

could initially be fed by various sources, such as the carbon

market and taxes on oil trading. Together, these initiatives might

free the world from the present deadlock which threatens it,

turning the United Nations Framework Convention on Climate

Change in Copenhagen into a pact for the decarbonization of

global economies and, ultimately, for saving the planet.

Getting in the Lead?

The position of

the European Union 7

The pledge to reduce greenhouse gas emissions in the European

Union (E.U.) by 20% from 1990 levels by 2020 has been half

fulfilled at present: emissions of all E.U. countries are currently

at around 12% under the 1990 average. E.U. environmental

commissioner Stavros Dimas has admitted that a large part

of the reduction can be attributed to warm weather, however.

Transport emissions rose by a quarter and household savings

were not much either. But Stavros Dimas seems optimistic and

has stated his confidence that the E.U. will reach its climate

goals or even exceed them.

An important item of the E.U. climate and energy package is

the increase in the proportion of renewable energy sources

used in overall energy consumption to 20% by 2020. National

energy targets should be introduced for this purpose; these

can vary greatly between countries. For example, Sweden

needs to reach a proportion of 49%, whereas Malta must only

achieve 10%. At the same time, the proportion of biofuels in

overall petrol and diesel consumption should increase to at

least 10% by 2020. Along with the reduction of emissions,

the E.U. aims to decrease dependence on petroleum, natural

gas and coal imports by promoting renewable energy sources.

Another important element of the package is the reduction of

emissions by power stations and energy-intensive industries .

The introduction of a transnational emissions trading system

should take these emissions down 21% from 2005 levels. The

promotion of carbon dioxide capture and storage technologies

will also figure prominently.

Global Compact International Yearbook 2009 15
---
The package of climate and energy measures that has already

been adopted by the E.U. is anticipated to take effect in 2011.

The E.U. is prepared to increase its CO2 reductions target from

20% below 2020 levels to 30%, as long as other industrialized

nations commit to comparable decreases. Even though this

may make the E.U. a pioneer, it is still far less than what is

necessary, according to environmentalists. Antje von Broock, an

expert from the Friends of the Earth Germany environmental

network, urges the E.U. to give primary support to developing

nations' work on climate change, stating that industrialized

nations must provide 40 billion euros annually toward

climate protection in developing nations. The E.U. must take

on a third of that.

Climate Change in

Down Under –

"The worst global recession since the Great Depression means

we must adapt our climate change measures but not abandon

them", said Prime Minister Kevin Rudd in May 2009. Emissions

measures in Australia have been delayed as a consequence

of this adaptation. The original government action plan for

reducing pollutant emissions nationwide called for measures

on emissions in 2010; the new target is 2011. Citizens' action

groups in Australia, such as the Bayside Climate Change Action

Group, have accused Australian Prime Minister Kevin Rudd

of breaking his election promises.

Another item concerns agriculture in Australia, where sustainable

practices to reduce pollution should also be promoted.

The government hopes that implementing these measures will

not only protect the environment, but create new jobs as well.

As the Minister for Climate Change and Water, Senator Penny

Wong, put it, "the Australian Government Climate Change

Strategy provides the long-term framework and confidence

required to create the new jobs and business of a low pollution

future".

The Australian Position 8 USA:

A study by the Oxfam charity says that a fair agreement on

climate change would mean that Australia must reduce

emissions by 34 per cent by 2020. Until now, however, the

government has offered only a 25 per cent reduction. The

government has allocated 15 billion dollars to implement

its climate strategy, in which investments in renewable

energy sources and the research and development of new

technologies figure prominently. By 2020, 20 per cent of

the electricity should be generated by renewable energy

sources. It should be possible for private households as well

as corporations to implement these technologies at reasonable

cost and receive the corresponding guidance in using

them. They will receive low-interest loans or discounts on

investment in energy-efficient home insulation, solar panel

installations, or rainwater cisterns and water recycling, just

to name a few.

From the laggard to the

pioneer? 9

"We're back in the game," said Secretary of State Hillary Clinton,

and meant that the USA was "ready to lead and determined

to make up for lost time" on international climate protection.

With this approach, the administration of Barack Obama has

clearly distanced itself from the position of the previous US

administration and signaled a turnaround in the country's

climate policy. The Obama Administration clarified this backsliding

with the release of a new report on climate change.

16

Global Compact International Yearbook 2009
---
Agenda

Climate Change

"It is clear that climate change is happening now," John P.

Holdren, director of the White House Office of Science and

Technology Policy, said.

In the run-up to the Copenhagen Climate Summit in December,

the USA is on the offensive: At the UN conference in Bonn,

it presented its own recommendation for a new climate protection

agreement. The USA is striving for a "comprehensive

agreement", says the head of the US delegation, Jonathan

Pershing. The industrial countries should reduce their CO2

emissions 80 percent by 2050. But specific recommendations

for medium-term reduction goals were not presented. What's

new about the proposal is, the USA is no longer demanding

that threshold countries, such as China, commit to specific

CO2 reduction goals. The economically stronger developing

countries should also make contributions, but these could

look different case by case, says Pershing. The proposal is

an update of the UN Climate Convention, which was agreed

on in Rio de Janeiro in 1992. Environmental organizations

expressed criticism of the US proposal. "The USA wants to

abandon Kyoto completely," says Greenpeace. But that would

cause important elements of climate protection to fall away,

such as mandatory adherence to commitments. "That would

be the end of an effective Copenhagen agreement."

At the national level, too, the US government has presented a

plan for a new start in environmental policy with its "American

Clean Energy and Security Act of 2009", but this hasn't

been passed yet. The proposed law would reduce greenhouse

gas emissions to 17 percent below the 2005 level by 2020.

Originally, a goal of 20 percent was even being considered.

In addition, the bill recommends for the first time a national

emissions trading system, which would start in 2012. But massive

resistance in the US Congress threatens to tie the hands of

the US government internationally, warns Todd Stern, the US

government's Special Envoy for Climate Change. In contrast,

Steven Chu, US Energy Secretary, emphasizes the USA's work

at various levels, such as efforts to achieve cooperation with

China on climate protection.

Beyond the proposed law, the US government for the first time

has introduced tougher rules nationwide for fuel economy and

exhaust emissions from motor vehicles. The goal is to save

almost two billion barrels of oil and cut emissions 30 percent

by 2016 through new, environmentally friendlier automobiles

and small trucks. As a result, the CO2 emissions would be

reduced by 900 million tons. Further, the US government is

considering following the European model and paying car

owners a premium for trading in their high-fuel-consumption

used cars for new, more environmentally friendly models.

President Obama labels his government's current climate

protection plans a "historic step."

China: The right to

development 10

"Climate change is an environmental issue. But ultimately, it

is a development issue." The negotiations for a new climate

protection agreement must therefore follow the principle of

"common but differentiated responsibilities", says Chinese

President Hu Jintao. Regarding the post-Kyoto climate agreement,

China is pushing for continuity: The Chinese government

demands that the rich industrial countries commit to reduce

global CO2 emissions and fulfill their obligations on technology

transfer and financial support to developing countries. In

addition, China calls for the rich industrial countries to reduce

their emissions 40 percent by 2020.

Further, in advance of the negotiations for a world climate

agreement in December in Copenhagen, the Chinese government

argued that some of the Chinese CO2 emissions from

exported goods should be allocated to the industrial countries,

that is, to the consumers of the goods. Chinese Premier Wen

Jiabao added, it would be difficult for China to commit to

CO2 emissions-reduction goals for the period between 2013

and 2020, since the country was still in an early stage of development.

But China will work to expand renewable energy

production and increase energy efficiency.

The Chinese government has worked out an action plan against

climate change in which it will raise the share of regenerative

energy to ten percent of total energy consumption. "China has

a 1.3 billion population, and in terms of per capita greenhouse

gas emission, we are certainly not the biggest one, yet we are

still very active and positive about our cooperation with Europe

in terms of saving energy, reducing pollution, developing a low

carbon economy and developing those environmentally friendly

technologies," says Wen Jiabao. China is already holding talks

with the USA on more intensive cooperation in developing

"green technologies". Experts believe these talks could result in

a treaty ready for signature by autumn 2009. While the treaty

will not include CO2-reduction goals for China, it will set clear

and implementable energy efficiency goals. Priority should be

given to further development of carbon dioxide capture and

storage (CCS) as well as work on more efficient automotive

fuels. Both countries want to bring mature energy-efficiency

technologies to the market faster. Also under consideration

is a free trade area between China and the USA, limited to

"clean" technologies. In the past, the Chinese government consistently

argued that accelerated transfer of climate protection

technologies was a central prerequisite for the success of the

international climate protection negotiations in Copenhagen,

Denmark, at the end of 2009.

Global Compact International Yearbook 2009 17
---
Toward a Post-Kyoto

Climate Change

Architecture:

A Political Analysis

18

Global Compact International Yearbook 2009
---
Agenda

Climate Change

By Robert O. Keohane and Kal Raustiala

Any international regime aimed at the mitigation of climate

change must solve three problems. It must: (1) secure sufficient

participation to be effective; (2) achieve agreement on rules

that are meaningful, so that if they were followed, climate

change would indeed be mitigated; and (3) ensure compliance

with the rules. That is, it must solve problems of participation,

effectiveness, and compliance. These problems require

careful institutional design. The standard that should be applied

to an institutional design such as that proposed in this

chapter is whether, given a level of political commitment, it

will increase the likelihood of a satisfactory solution to the

tripartite requirements of an effective regime: participation,

sufficiently strict rules, and a robust compliance system 1 .

The attractions of a cap-and-trade architecture for

participation

The paper argues that only a cap-and-trade architecture is likely

to make it politically possible to secure sufficient participation

to get a climate-change mitigation regime up and running.

Project-oriented mechanisms fail to send a comprehensive

price signal to investors and governments; they incur very

high transaction costs; and they require counter-factual determinations

to assess additionality. Global carbon taxes would

impose economic burdens on the industries of developing

countries without offering the offsetting gains of being able

to sell emissions permits under a cap that made allowance for

their much lower historic and per capita emissions. It therefore

seems unlikely that developing countries, including China

and India, would agree to such an arrangement.

Yet the task of negotiating a comprehensive cap-and-trade

system will be daunting. Incentives for the most reluctant

countries – or those that can bluff at being most reluctant –

to hold out for a better deal would be very great. The option of

beginning with a smaller "club" of major contributors to global

warming plus any other states that chose to join or of linking

various cap-and-trade systems should be maintained.

1

The paper summarized here is published in Joseph E. Aldy

and Robert N. Stavins, ed., Post-Kyoto International Climate

Policy: Implementing Architectures for Agreement (Cambridge

University Press 2009). Our goal in that paper is to sketch

such a design, particularly its compliance system, with careful

attention to the realities of world politics. Please refer to that

paper for all details and references; this is only a very brief

summary.

In short, we favor cap and trade as the basic approach, but

do so cognizant of the many problems it faces. We are not

confident that such a system will work. However, we think

it has the best political prospects of any plausible climate

system, and we believe that careful institutional design can

help ensure feasibility.

The political logic of a buyer liability system

The fundamental problem of compliance in world politics

is that it is virtually impossible to force powerful states to

comply with international rules through a collective process.

Rules that purport to ensure compliance lack credibility ex

ante. Difficulties of enforcement yield two common outcomes

with regard to international agreements. One is the negotiation

of weak or vague international commitments that largely

match existing behavior. This outcome is particularly common

in the environmental realm, where agreements have often

been struck that exhibit high compliance – because they are

carefully tuned to the status quo – yet do little to influence

actual change in behavior. An equally undesirable outcome is

the negotiation of ambitious (but sometimes vague) rules that

are frequently violated. When untethered to any meaningful

monitoring and compliance system, ambitious international

rules run the risk of substantial non-compliance. More specifically,

there are at least three major political constraints

on compliance provisions for a comprehensive cap-and-trade

regime. Proposals that ignore these constraints will either not

be implemented or will be ineffective if implemented.

1| Post-hoc penalties on powerful sellers are infeasible.

2| Any system that requires interstate negotiations to determine

arrangements for compliance will be subject to political

strategy and pressure.

3| Any system that can be manipulated, or "gamed," will be.

The Kyoto Protocol contains unrealistic compliance provisions

built around the idea of external enforcement. They open the

door to renegotiations and exit threats and introduce a serious

problem of moral hazard.

We propose, instead, a system of "buyer liability," based on an

analogy with international bond markets. Firms and similar

entities would be required to hold permits for the difference

between their emissions and nationally set limits and would

be authorized, at least to some amount, to purchase these

permits from permit-holders in other countries. Buyers of

emissions permits that do not represent the full amount of

carbon reduction their face value implies – because their

sellers did not keep their commitments – would need to

Global Compact International Yearbook 2009 19
---
purchase more permits or engage in further internal reductions.

National governments would enforce this commitment

against private actors within their jurisdictions.

This system thus rests on the incentives of buyers, which

will largely be in industrialized democracies, to comply with

domestic emissions controls, and on the incentives of sellers,

largely outside these states, to command and maintain the

highest price in the market. It is therefore very important to

note that the likely permit-short countries, in which enterprises

will be net buyers of permits, on balance have stronger and

less corrupt national legal institutions than the likely permitlong

countries. Furthermore, the permit-short countries are

overwhelmingly democratic. We therefore rely on internal

structures and incentives, such as democracy and the rule of

law, to ensure that permit-short countries comply with the

system. Indeed, the political asymmetry – in rule of law and

democracy – between buyer and seller countries is central to

our advocacy of buyer liability.

Especially now,

we see that

responsibility

and long-term

strategies pay off

in the end.

Our system is designed to generate endogenous incentives for

compliance on the part of permit-long, or seller, countries.

These governments will gain economically from maintaining

a high value for the permits that their enterprises sell

and will therefore seek to act in a way that maintains their

reputation for compliance. This system, unlike many of the

most prominent alternatives, provides "institutionalized

transmission belts" for compliance to flow from the advanced

industrial democracies, which have the strongest commitment

to climate-change abatement, to the wide range of likely selling

jurisdictions, which tend to have weak commitments to

abatement. Details can be found in the paper.

Buyers and incentives for prudence

As in all cap-and-trade systems, under our proposal emissions

permits would trade on public markets. Their value would

depend on buyers' ex ante estimates of validity. Shortly after

the end of the year for which permits were issued, a comprehensive

assessment would decide their value. In many

respects, a buyer liability system is broadly akin to the existing

international bond market. After being issued by states,

bonds trade on international markets just as emissions permits

would trade on such markets. Permits would trade at prices

that reflect market participants' confidence that they would

be valid when they came due for redemption. They would

likely trade at discounts if their validity was viewed as questionable.

Buyers of emissions permits that were invalid, like

buyers of bonds whose issuers default, will incur losses at the

end of the process, and market prices will reflect prevailing

expectations of eventual validity or invalidity. Like buyers of

bonds, therefore, buyers of permits will have strong incentives

to assess quality ex ante, price the permits accordingly, and

hedge to some degree by purchasing excess permits.

Accurate assessment and pricing are key to the smooth working

of permit markets. If assessments ex ante are accurate,

buyers can simply discount permits appropriately and buy

more nominal permits than they require to meet emissions

limits set by their governments. As in other markets, actors

will hedge against risk. Insurance markets may also arise to

cover the risk of permit invalidity.

Sellers and incentives for validity

If buyers bear the liability for invalid permits, what incentives

do sellers have to ensure that the permits they sell are backed

by real emissions reductions at the national level? Permits that

lacked full validity would have a reduced value, with the loss

borne by buyers that held the permits at that time. How would

this give sellers incentives to follow the rules?

20

Global Compact International Yearbook 2009
---
Agenda

Climate Change

Under our proposal, governments of permit-long jurisdictions

will seek to assure that the permits their domestic enterprises

offer for sale are valid, because if they fail to do so, future

permits from any enterprise within their jurisdiction will be

devalued. Discounting all permits from a given jurisdiction

at the same rate may appear unfair, since it penalizes those

seller entities that scrupulously abate emissions but whose

counterpart entities, in the same jurisdiction, fail to meet

their obligations. But this unfairness is essentially a national

problem, since it could only be the result of lax enforcement at

the national level and can best be fixed via national action.

Furthermore, emissions trading would be structured to continue

for many years. Such an ongoing market creates an economic

incentive for sellers to ensure quality. More specifically, if the

rate at which states that are net sellers of permits discount

future gains is sufficiently low and the magnitude of expected

future permit sales is sufficiently high, states will seek reputations

for selling valid permits. Sellers of fully valid permits

would also have an incentive to cooperate with and even support

credible monitoring systems, so that their permits would

be regarded ex ante as valid and could command their full

price. In short, buyer liability makes seller incentives largely

economic rather than political. Seller incentives would not

rest on concern about climate change; they would rest on an

ongoing desire for profit.

Reputation (for high value permits) is consequently at the

center of this self-enforcement mechanism. It is therefore

crucial to design the allocation system so that sellers of permits

would face the prospect of a substantial stream of revenue

many years into the future. If the "shadow of the future" is

too short, incentives for compliance will tend to vanish. In the

long run, of course, the caps will have to "bite" even on those

countries that were net sellers of permits when they originally

joined. Our expectation is that, over time, countries such as

China would increasingly recognize their stake in mitigating

climate change; that is, at the state level, incentives would

become political as well as economic, even if private entities

would continue to be primarily motivated by profit. Having

been part of a cap-and-trade system, these governments would

also have developed the institutions necessary for effective

participation, and acceptance of meaningful caps would

therefore create a less uncertain prospect for them. In other

words, ideally, the period of being large net sellers of permits

would be a transition phase, easing countries' way into full

membership.

The problem of assessment

To be effective, any cap and trade regime, whether involving

buyer or seller liability, requires an accurate and prompt ex

post assessment of permit quality. In view of our assumption

that any system that can be gamed for strategic advantage

will be gamed, any technically complex system of assessment

should be examined closely from a political standpoint. As

in liability systems, complex technical arrangements can be

strategically manipulated in ways that are not transparent. If

so, their very complexity may be self-defeating.

The most serious problem of measurement is political: An

international assessment process will be vulnerable to political

pressure, and like judges on international courts, individuals

responsible for conducting an assessment may feel strong pressures

to support the positions of their national governments.

As a result, strenuous efforts must be made to insulate the

assessment process from political pressure.

Conclusion

Our proposed system for a post-Kyoto regime rests instead on

a model of buyer liability coupled to annual ex post assessments

and jurisdiction-equal discounting of invalid permits.

This system is incentive-compatible for two reasons: buyers

have incentives to monitor the system and price permits

according to perceived validity, and sellers have incentives,

if allocations are correct, to maintain their reputations for

reliability. The system will not operate automatically: In particular,

institutions will need to be created to assure that ex

post assessment is reliable and, ex ante, that ratings agencies

are also reliable. Indeed, one of the major conclusions of this

paper is the urgent need for social scientists to think more

carefully about assessment institutions that could be effective

in a climate change regime with buyer liability.

There are many potential problems with this system, which

are discussed in the full paper. However, the cardinal virtue of

a buyer liability system is that it would not require that an international

organization ensure compliance with international

commitments—a condition that, as we have seen, cannot be

met. This system would instead be self-enforcing.

Robert O. Keohane works

as tutor at the Woodrow

Wilson School of Public

and International Affairs,

Princeton University.

Kal Raustiala works

as tutor at the UCLA

Law School & UCLA

International Institute.

Global Compact International Yearbook 2009 21
---
50,000,00

50 trillion dollars

This is how much damage the financial and economic crisis has caused throughout the

world so far. That is the estimate of the Asian Development Bank.

The World

Financial

Crisis in

Numbers

10,000,000,000,000

10 trillion dollars

This is the total of the US government's financial injection

into the country's crippled financial sector.

In 2005, the average per capita income of a U.S. resident

over 25 was 32,140 US dollars, according to the US

Census Bureau. He or she would have to work around 300

million years to earn this amount. This is the time from the

Permian Age, when the first reptiles appeared, until today.

4,000,000,000,000

4 trillion dollars

In its current report, the International Monetary Fund (IMF)

places the losses to the world's financial sector from bad

securities at around four trillion dollars.

This equals the private wealth of the richest 1025 people

before the financial crisis, according to Forbes Magazine.

428,000,000,000

428 billion dollars

Eastern European countries have to raise around 428 billion

euros ($600 billion) to repay loans. That is 50 percent more

than was first assumed, since the IMF's "Global Financial

Stability Report" had previously miscalculated it.

Since 1970, the industrialized countries have promised

to raise their development aid to 0.7 percent of gross

domestic product. However, this percentage is unaffordable,

say the G8 countries' finance ministers in unison. But

the costs would not even be half as high as the Eastern

European deficit.

22

Global Compact International Yearbook 2009
---
Agenda

Financial Crisis

0,000,000

A human organism has exactly this number of cells. The body, by the way, replaces its

cells every 14 days. The economic crisis will be with us longer.

180,000,000,000

180 billion dollars

The US insurance corporation AIG received federal aid

several times in the last few months, which now totals

around $180 billion. At the same time, AIG paid bonuses of

165 million dollars.

If you stacked 100 dollar bills on top of each other, they

would build a tower around 180 kilometres high. That is

around 20.5 times higher than Mount Everest, the world's

highest mountain.

105,000,000,000

105 billion dollars

This much is being contributed to the International Monetary

Fund by the European Union alone, as was decided at the

economic summit in London.

Three-quarters of the harmful greenhouse gases in the

atmosphere come from industrialized nations. Developing

countries bear the brunt of the damage, however. The

Oxfam NGO estimates that some 100 billion U.S. dollars

are needed to protect poor countries from the effects of

climate change.

24,000,000,000

24 billion dollars

China supports the dollar with around 24 billion dollars

monthly (as of May 2009). Up to now, the Chinese central

bank has bought a total of around 770 billion dollars worth

of US treasury securities, reports the Neue Züricher Zeitung.

What could this amount do? Worldwide, 800 million people

suffer from hunger. This number could be cut in half with

24 billion dollars per year.

1,000,000,000

1 billion dollars

One billion seems to be the smallest unit of measure in the

current worldwide rescue plans. Amounts below that seem

hardly worth mentioning in the media.

Experts estimate that at least one billion people worldwide

have to live on an income of one dollar per day. The billion

that hardly plays a role any more in the worldwide financial

merry-go-round would give these people a good day. Not

much, perhaps, but more than many a "rescue package" is

worth.

Global Compact International Yearbook 2009 23
---
24

Global Compact International Yearbook 2009
---
Agenda

Financial Crisis

Corporate

Responsibility in

Times of Crisis

2008 will be remembered as the year of crises. The breakdown of financial

institutions and markets and the subsequent worldwide economic

downturn have put the spotlight on issues that the United Nations Global

Compact has long advocated as essential responsibilities for modern

business and today's global markets: comprehensive risk management,

long-term performance, and ethics.

By Georg Kell

No doubt, poor regulation and oversight were among the

key factors contributing to this dramatic chain of events. But

equally important, the financial crisis revealed an inadequate

understanding of risk and a fateful focus on short-term returns.

In fact, if we were to take just one clue from the meltdown, it

is that the global marketplace is in need of a stronger ethical

orientation and a more comprehensive understanding, assessment,

and management of risks that gives consideration to

material issues in the environmental, social, and governance

(ESG) realms.

Restoring confidence and trust in markets requires a shift to

long-term sustainable value creation, and corporate responsibility

must be an instrument towards this end. If the crisis

is any indication, it is now time to build on the advances

made over the past 10 years by companies and investors in

the area of ESG performance and bring this discipline to the

mainstream.

By understanding and broadly applying key lessons from the

financial crisis, there is a genuine opportunity to alter the course

of current challenges that will otherwise have systemic and

game-changing consequences, notably climate change. Crises

linked to food, water, and energy also pose serious threats. The

call for governments, financial institutions, corporations, and

citizens to responsibly manage these risks is urgent.

For business, a few key lessons have emerged

Long-term considerations and comprehensive risk-management

must be integrated into market expectations and corporate

strategy: Obsession with short-term profits and oftentimes

reckless disregard for long-term considerations played an

important role in destabilizing markets everywhere. At the

same time, insufficient attention has been paid to ESG issues,

which have gained in relevance and, thus, materiality to business

– particularly climate change, water, and poverty.

True business leadership must focus on stakeholders, not only

shareholders: Well-publicized accusations of greed, fraud, and

abuse – ultimately disregard for ethics and the interests of

society – are numerous in the wake of the financial crisis. A

Global Compact International Yearbook 2009 25
---
Viewpoint: Do we need a

new economic system?

By Dr. Elmer Lnzen

In 1933, representatives from 66 countries met in London to

find a common solution to that era's global economic crisis. The

idea: to have London send a signal for a new global financial

system. The conference was a flop. On BBC Radio, economist

John Maynard Keynes called it a complete yawn, and went on

to say that conferences of this type usually ended in empty

platitudes and ambiguous phras es.

Seventy-six years later, the world is once again peering into

the abyss of a global economic crisis, and they're meeting

in London again to discuss the cornerstones of a new global

financial system. Even if history never repeats itself, there are

certainly parallels: The global economic crisis of the 1930s led

once already to liberalism being criticized and to the expectation

that state intervention would lead the way out of the

crisis. This Keynesianism shaped the European social market

economy and only came to a standstill in the wave of inflation

that followed in its wake. Today, too, most politicians have

decided on the collapse of neoclassical/neoliberal economic

policy by acclamation. John Maynard Keynes is experiencing

a magnificent comeback.

So what kind of economists do we want? Sensitive psychologists?

Analytical scientists, or observant historians? There are

two common types in the West: the economist-as-doctor and the

economist-as-prophet. The doctor is the type who has problemsolving

prescriptions or drafts "surgical cuts" to bring about a

cure. The aim of the pragmatic doctor is not to illuminate the

economy, but rather to treat the symptoms. The doctor comes

when the national economy is suffering. Any Keynes or Jeffrey

Sachs would certainly be a well-known example here.

When it comes to forecasting, however, we have all those

economists that we could almost call astrologers: They can

predict the future numbers on gross national product, exports

or unemployment with seemingly exact precision. They work

as augurs of the national economy in economic research

institutes or as chief economists for the major banks. Since

the economy has to be rational and therefore predictable, the

need for their services never flags. But just as it is for most

astrologers, however, the world is always full of surprises,

and the forecasts are usually wrong. Economists speak of the

phenomenon of "fat tails".

Could the crisis lead us to remember the economists as philosophers

again? After all, many of the founding fathers of

the market economy were of this type: Smith, Ricardo, Hayek

and others. They questioned the fundamentals: which rules

should be valid for the economy, and how much of the state

do we need? What is the meaning of market and competition?

And how are we to understand what is fair? Such a regulatory

debate appears in an era when the world is falling apart, both

in real terms and in principle.

The current crisis is also a crisis of economic theory. Indeed,

we are learning to say goodbye to many of our fondest habits,

including the fact that fundamental company disclosures

alone are not sufficient. No one is "too big to fail" anymore.

What are the cornerstones of a new theory, then? The future

global economy will be a less American one. Nowhere can the

erosion of power be deduced more clearly than in the financial

world. For years, the United States has pontificated on how

business should work; potential objections from European

politicians in favor of a more social and consensus-based

economy were waved away as "nonsense" from old Europe.

What mattered were bankers' bonuses, quarterly shareholder

value and limitless creativity when inventing newer and more

bizarre capital market products. None of that has any value

today -- literal or figurative. This opens up opportunities for

other points of view: globalization can be rediscovered as a

global contest of ideas. It will be exciting to discuss globalization

with people from China, Kenya, India and Peru, without

establishing a hegemonic explanation beforehand; just think

of a Mohammad Yunus model of social entrepreneurship.

These are new paths, important ones. The Global Compact

and initiatives like the Principles for Responsible Investment

(PRI) and Principles for Responsible

Management Education (PRME) can

be important platforms for discussion

in this regard.

Dr. Elmer Lenzen

Chairman

26

Global Compact International Yearbook 2009
---
Agenda

Financial Crisis

number of financial and corporate leaders have been blamed

for focussing on delivering rewards to a relative few at the

expense of the taxpayers now paying for bailouts. Companies

operating in the new global context must respond not only to

investors, but also consider interests of employees, communities,

and other key stakeholders.

For markets to function, we need effective disclosure standards,

regulation, and oversight: Lack of transparency and disclosure

allowed too many organizations to hide poor practices that

eventually led to financial collapses and liquidity crises, as well

as lost homes, jobs, and pensions. Insufficient or ineffective

regulation and oversight in the financial markets were part

of the problem. Additionally, outdated regulatory frameworks

no longer effectively addressed sophisticated capital flows

and financial products in today's global market. Reform will

undoubtedly require increased international cooperation and

coordination.

and increased poverty have become more widespread. Shortterm

stimulus and recovery plans within companies must be

mindful of ESG impacts.

More companies need to engage more deeply on ESG issues

and comprehensively disclose their efforts:

• ESG in the boardroom: Boards and other corporate governance

entities have the ultimate responsibility for the long-term

Economies are more interdependent than ever before: The

rapid succession from the collapse of the US mortgage bubble

to a global financial crisis and a subsequent global economic

downturn is proof of the high degree to which markets are

interconnected and interdependent. All economies – developing

to advanced – have been affected to varying degrees.

And on top of massive investment losses and loan failures,

many countries face imminent threats of increased poverty

and social ills.

A bright future for corporate responsibility?

By all accounts, the crisis requires a renewed call for corporate

responsibility – through the observance of universal principles

in the areas of Human Rights, labour, environment, and anticorruption.

Today's confluence of global threats provides the

most compelling and rational case for: embracing an expanded

view of risk and opportunity management to include ESG

factors; for increasing focus on long-term value creation in

companies and markets; and for emphasizing responsibility

and ethics to drive confidence and trust.

The following framework for action should guide companies

in their efforts to reconcile their commitment to corporate

responsibility with the circumstances of a fundamentally

altered global economy.

Implementation and disclosure of ESG issues

The economic downturn poses a real challenge for many

companies, yet should not be used as an excuse to ignore or

cut back on issues that directly impact the value of business.

Climate change, Human Rights challenges, and corruption

will not vanish as a result of economic decline and may actually

worsen because of it. Already, downsizing, labour unrest,

Global Compact International Yearbook 2009 27
---
stewardship of the organization. In this regard, they are

responsible for assessing and overseeing risks posed to the

enterprise – financial and extra-financial. Recent studies

indicate that a minority of boards are adequately addressing

traditional risks, and even fewer are equipped to do so

in the environmental and social realms. Companies should

integrate ESG issues into boardroom deliberations and policymaking.

• Subsidiaries and supply chains: Without a deeper penetration

throughout companies and value chains, corporate responsibility

efforts will have limited impact. While CEO ownership

of ESG issues has grown, the momentum has not sufficiently

moved down the organization and out to subsidiaries and

supply chains. It is time to move for an integrated approach

to implement all Global Compact principles throughout and

beyond headquarters, and then report on these efforts.

• Comprehensive and accurate disclosure: Without more comprehensive

and accurate disclosure, it will be difficult to establish

a strong link between ESG performance and long-term

value. The Global Compact's Communications on Progress

(COP) framework was introduced for this purpose and has

resulted in the submission of nearly 5000 reports by participating

companies. Likewise, all of the Global Compact's

specialized engagement platforms – such as the CEO Water

Mandate and Caring for Climate – have introduced disclosure

requirements. Companies of all sizes are called on to

use established frameworks and indicators when reporting,

such as the Global Reporting Initiative. While much work

remains to be done, limited early efforts by companies to

include ESG figures in annual financial reports have been

undertaken and mark an important shift in thinking on the

financial materiality of these issues.

• Engaging the investment community: One of the most important

trends in recent years has been the movement by mainstream

investors to identify and integrate ESG issues into relevant

policies and investment decision-making. This provides a

powerful impetus for companies to implement and disclose

performance results. It is not just the growth of the responsible

investment community that is promising – for instance

the UN Principles for Responsible Investment now comprise

470 signatories with around USD 18 trillion of assets under

management – but also the campaigns being undertaken to

encourage business action. Companies should capitalize on

this growing opportunity to more actively communicate their

ESG policies and performance with investors – emphasizing

materiality and the links to corporate value drivers.

Climate change

The risks from climate change are intimately linked with issues

at the core of the corporate responsibility movement: Human

Rights, labour, and good governance. It is the most serious

threat to global development and social progress. A global

agreement on climate that results in a sufficient price for carbon

will help ensure the continuation of a global marketplace

based on openness and competition. On the other hand, the

trade tensions and discriminatory carbon tariffs that would

result from a failure to find an agreement could destroy the

underpinnings of the global economy, upon which so many

companies and investors are reliant. The ability of stakeholders

– namely government and business – to cooperate and

collaborate to find climate solutions will be the litmus test for

the sustainability of our current global market system.

• Building a green economy: Only a small fraction of business

leaders are taking the climate agenda seriously. Many are

still sitting on the fence, while others are actively lobbying

against climate action. It is now time to change course and

help build a green economy. Business must answer the call

to create a future based on a low-carbon economy – green

jobs, renewable energy, and energy efficiency – and make

28

Global Compact International Yearbook 2009
---
Agenda

Financial Crisis

use of their supply chains to ensure that the cleanest technologies

are developed and applied everywhere.

• Caring for Climate: All companies should join Caring for Climate,

the world's largest business-led initiative on climate change,

in which chief executives commit to undertake comprehensive

climate policies and disclose carbon emissions. In addition to

assisting companies in the development of effective climate

policies, Caring for Climate also provides a channel for the

business community to contribute inputs and perspectives

to key governmental deliberations.

• Water stewardship: A critical – and related – issue for business

action is water sustainability. Through the CEO Water

Mandate, the Global Compact provides an avenue for advancing

corporate water stewardship. The initiative assists companies

in the development, implementation, and disclosure

of water sustainability policies and practices. Examples of

efforts include drip irrigation, water harvesting, and new

technologies for recycling water from manufacturing.

• Business vision for COP 15: It is essential for business to be part of

the movement for a comprehensive and meaningful agreement

at COP 15, the United Nations Climate Change Conference,

to be held in Copenhagen in December 2009. In this context,

business is called upon to develop a shared vision and a set

of recommendations towards a new, global framework on

climate change. Governments must understand that December

is the time to seal the deal on climate change.

Collective action

The greatest global challenges will only be solved by cooperation.

Effective partnerships can make it possible to overcome

dilemmas that are too difficult or complex for one organization

or sector to address alone. More and stronger collaboration

between governments, civil society, and the private sector is

needed.

• The voice of business: The collective voice of business can lead

to significant changes in expectations. Business initiatives

have made important contributions to norms and standards

– sometimes joining together on issues, such as corruption

and nutrition, or by sector, such as extraction and textiles.

For example, it will only be through effective advocacy and

business statesmanship that business can help move the

climate change agenda in the right direction. An enormous

need for advocacy also exists in relation to water, food sustainability,

and supply-chain standards.

• Public-private partnerships: Almost all United Nations entities now

work with business and civil society to address the Millennium

Development Goals, as well as issues such as food security and

disaster relief. Increasingly, government development agencies

engage the private sector in coalitions and community-based

initiatives. This momentum must be harnessed and a renewed

focus placed on collaboration, with a move from pilot projects

to large-scale transformative initiatives.

Global frameworks and national regulation

Today, there is an opportunity for chief executives to exercise

business statesmanship by supporting solutions to issues,

including climate change, anti-corruption, and other key

areas. However, too often, a disconnect remains between a

company's responsibility commitments and its (direct and

indirect) lobbying.

There are several important opportunities linked to national

regulation. Related to climate, business should support and

not obstruct higher performance standards in critical areas

such as energy efficiency and investments in new technologies,

which will lead to low-carbon economies. Domestic

stimulus packages implemented in response to the economic

downturn must be carried out with sufficient transparency

and oversight. Calls for regulators to require listed companies

to disclose ESG performance should be supported. And

efforts by governments to encourage business to implement

ESG issues promise to bring increased attention and scale to

corporate responsibility.

Of course, in the midst of increased calls for regulatory safeguards

and oversight, governments must do their part and

actively encourage companies to voluntarily adopt tenets of

corporate responsibility.

Governments should further emphasize that regulation and

voluntary initiatives are complementary. In addition to effective

regulation, voluntary efforts can deliver value in terms

of innovation and solution-finding that goes beyond the bar

set by rules. There are additional steps to be taken to promote

responsible business, most notably rewards for good corporate

practices and tax incentives.

None of the measures and steps outlined here will deliver results

overnight. And some require fundamental transformations of

business strategies and operations. But if anything good is to

emerge from this economic crisis, it is the real opportunity

to define a new phase in globalization, in which markets

contribute to a world where all people live in societies that

are prosperous and peaceful.

Georg Kell is Executive Director, United

Nations Global Compact

Global Compact International Yearbook 2009 29
---
Ethics and

Business:

Ensuring

Credibility

By ???

Ethics and business are often thought to be in tension and conflict with

each other. How do you see the importance of ethics for the functioning

of the social market economy?

Andreas Suchanek: Ethics, in the form of a shared basic

understanding of "right" values, such as dignity, freedom,

justice, etc., are the foundation of the social market economy.

Competition and legal foundations, both of which are essential

for a market economy, lose their ability to function

when people lose trust, and maintaining trust is always (also)

a matter of the responsibility – or more generally: practiced

values – of those active in the market economy. Tensions

between ethics and business will always arise, but the goal is

to find suitable investments that make ethics and business,

responsibility and profit fruitful for each other.

With the current financial and economic crisis, trust in the market

economy's advantages for society has reached an all-time low. How

can business and society come together again?

Suchanek: On the one hand, this is a problem of unfamiliarity:

Many people understand too little about the market

economy and what companies and managers achieve to have

appropriate expectations; in other words, sometimes they have

expectations that can't possibly be met. Here, education and

communication are needed about what we can reasonably

expect and what costs are associated with a market economy

(for the market economy is still the best of all economic systems

today, despite recent events).

On the other hand, it's also a question of the commitment

of decision-makers and companies active in the economy to

clearly recognise their responsibility and communicate this

credibly. In this context, "credible" means ensuring that you

don't make promises that you later can't keep, whether these

are concrete promises to customers, suppliers or employees or

general promises in the form of communicated values.

In many companies, a rediscovery of values has taken place in recent

years. How can such a value system help companies responsibly flesh

out the inadequate global order?

Suchanek: Here, too: Properly understood, values are

the foundation for a company's ability to add value. Nobody

wants to work for an irresponsible, unreliable company that

lacks integrity, nor does anyone want to buy its products.

That also holds especially for global competition. And so it's

no coincidence that a rediscovery of values is taking place at

this time. Of course, it's critical that these values be put into

practice, and that requires investments in management training

and development and in the governance structures. The

values must be made consistent with the often challenging

conditions of the company's daily work.

Implementation of values also demands mechanisms of guidance and

control. These include, among other things, incentive systems, CSR

management and compliance. Is this an important key for orienting

innovation processes and company development on superordinate,

non-financial goals?

Suchanek: I believe, yes! The previously mentioned task

of integrating the values into day-to-day work has a lot to do

with the mentioned compliance and incentive systems. What's

important is to see both of them in context; in particular,

employees must be made to understand why and how, for

example, compliance measures serve to implement values

such as integrity.

CSR measures in the narrow sense of corporate citizenship,

that is, contributions, pro-bono activities, giving employees

time off for social or ecological projects, etc., can also be an

important component if professionally implemented. But

such measures should not be equated with a company's

responsibility; they're only part of it. Corporate responsibility

involves first and foremost the core business – the way

profits are earned.

Prof. Andreas Suchanek is the Dow Research

Professor of Sustainability and Global

Ethics at the Leipzig Graduate School of

Management (HHL).

The interview took place in conjunction with

the 2009 Baden-Württemberg Sustainability

Congress.

30

Global Compact International Yearbook 2009
---
Agenda

Financial Crisis

Global Compact International Yearbook 2009 31
---
Has the

Triple

Bottom Line

Failed, Mr.

Elkington?

"No" would be my one-word answer to the editors' question.

Indeed, the very fact that the editorial team of the International

Global Compact Yearbook decided to commission this

essay – some 15 years after the genesis of the "triple bottom

line" agenda – itself speaks volumes. Success and failure are

relative, of course, reflecting initial expectations and ambitions.

In coining terms like "environmental excellence" (1984), "green

consumer" (1986), or "triple bottom line" (1994), I was simply

trying to help us all expand our minds for new possibilities.

The second of these terms set a high bar, with our book The

Green Consumer Guide selling something like one million

copies worldwide, but even though Cannibals with Forks –

the book in which I introduced the triple bottom line concept

to a wider world – sold 95 percent fewer copies, I consider it

to have had an equal, or even greater, impact.

But what metrics or benchmarks of success should we use

here? For me, one key consideration is this: Whatever business

language we now use, the idea that corporations and

financial institutions need to track and manage value creation

(or destruction) in multiple dimensions is no longer as

alien as it once was. In that sense, at least, the triple bottom

line concept has helped open-out business, financial, and

governmental horizons.

Just for a moment, recall what the business agenda was like

in this sector back in 1994. The leading edge of thinking

focussed on what was called eco-efficiency – a term coined

by the World Business Council for Sustainable Development

two years prior. The idea here was that business should simultaneously

pursue a reduction in the material- and energy

intensity of goods or services, alongside greater durability,

improved recyclability, and maximum use of renewable

resources. All perfectly splendid and – as the recent energy

crunch underscored – there is a great deal still to be done

on those fronts.

But my motivation in coming up with the triple bottom line

reflected a very personal frustration that eco-efficiency – at the

time often presented as shorthand for business sustainability

– missed a trick (some would say deliberately so) by focussing

on the interplay between financial and environmental factors.

In the process, it created (or aggravated) potential blind spots

in business thinking, ignoring at least two key components

of business and market performance: the broader economic

and social dimensions of value creation.

At a time when a surprising number of otherwise sane American

business leaders chose to see sustainable development as akin

to socialism – even communism – this was a gamble: Perhaps

we risked confirming their fears and forcing a general retreat.

But I had already had a very positive response to a paper I

had produced for the California Management Review in 1994,

which spotlighted the potential for what I called "win-win-win"

strategies and solutions. The triple bottom line language was

an attempt to communicate this wider sustainability challenge

to business people; the rather more populist version I

came up with in 1995 – "People, Planet, Profit" – helped the

32

Global Compact International Yearbook 2009
---
Agenda

Financial Crisis

to some degree. Over time, these have evolved into a level of

sophistication that would have been inconceivable a decade

earlier. In parallel, socially responsible investment firms – and

even mainstream financial institutions – began to open out

their thinking and metrics, though the pace of development

here has often been frustratingly slow. You might even argue

that this new line of business thinking helped pave the way

for later initiatives like the UN Global Compact.

Academics and researchers have piled in behind, studying the

different approaches. Triple bottom line case studies have been

written and books published that critically evaluate progress

to date. Among the latter, a key contribution was The Triple

Bottom Line: Does it All Add Up? – Assessing the Sustainability

of Business and CSR, published by Earthscan (London,

UK) in 2004. As the publishers explained, it reviewed what

the concept had "already achieved by stimulating change and

bringing business to appreciate the importance and benefits of

corporate social responsibility (CSR) and good environmental

performance." The contributors then explored what still needed

to be done through regulation and legislation.

concept go viral, particularly when Shell used it as the title of

its first-ever sustainability report in 1997.

Before long, various new institutions were adopting triple

bottom line frameworks in their work, among them the Dow

Jones Sustainability Indexes (where, to disclose an interest, I

have been on the Advisory Board since the outset) and the

Global Reporting Initiative (where I helped shift the original

concept of environmental reporting to a triple bottom line focus

– and now serve as a member of the Board). The concept also

spurred the establishment of many other organizations, among

them Robert Rubenstein's TBLI Group, which organizes major

conferences on related themes for the financial world.

Over time, in addition to Shell, we have seen a growing array

of companies building triple bottom line thinking into their

values and strategies – with Denmark's Novo Nordisk integrating

it into its very chartering. In turn, the concept spurred the

evolution and spread of related terms, including "double bottom

line" (financial and social), "quadruple bottom line" (with the

fourth dimension being anything from ethics to governance),

the 3-D agenda of "environment, society, and governance" (ESG),

and Jed Emerson's concept of "blended value". Whether in this

last formulation or the World Resources Institute's concept of

the "next bottom line", the quest was on for ways of accounting

for and managing multi-dimensional value creation.

Before long, literally thousands of companies were producing

annual reports that embraced the triple bottom line approach,

Overall, I am not unhappy with progress on the triple bottom

line agenda, which I see gaining a new lease on life at the moment,

particularly in some of the BRIC countries. But before I

rest my case, I should underscore the fact that Cannibals with

Forks was one of a trilogy, followed in 2001 by The Chrysalis

Economy and in 2008 by The Power of Unreasonable People.

The second volume went on to say that corporate responsibility

was a necessary – but not sufficient – condition of

sustainable development, with a major economic transformation

likely during the second decade of the new century. The

third volume explores the work of some of the potentially

disruptive innovators and entrepreneurs who are evolving

the new mindsets, technologies, and business models that

will underpin any sustainability transition. This work was

taken further in our 2009 report, The Phoenix Economy: 50

Pioneers in Social Innovation. So I see the triple bottom line

as a work in progress – not a museum exhibit – and as a

continuing challenge to the thinking of decision-takers and

policymakers. Watch this space.

John Elkington is Co-Founder of

SustainAbility HYPERLINKandHYPERLINK

as an author he coined the term "triple

bottom line" in 1994HYPERLINK.

Global Compact International Yearbook 2009 33
---
Visiting the Global

Compact Office

When I went to New York in March 2009, it was during the peak of the

banking crisis and the self-doubts of the investment sector. There was

a prevailing certainty that one economic era had come to an end, but

ambiguity as to how the new era would look. Some of these elements are

being intensively discussed and developed at the Global Compact Office:

It is about lasting nature, transparency, responsible merchants, and the

respectful handling of our planet.

34

Global Compact International Yearbook 2009
---
Agenda

Global Compact Inside

Global Compact International Yearbook 2009 35
---
By Dr. Elmer Lenzen

The ejection from paradise finally took place at Sotheby's.

"The Peaceable Kingdom", a naive depiction of conditions in

paradise by Edward Hicks, was recently auctioned off there

for just under 10 million dollars. The once superrich patron

Ralph Esmerian had previously removed the painting from

a New York museum. At present, this is not a unique event:

Artwork on loan and promised gifts have been brought to the

auction house a lot lately.

The crisis has a firm hold on New York: Stocks have fallen to

unexpected lows, fancy restaurants wait in vain for customers,

and boutiques are unabashedly announcing discounts of up

to 50 percent, even on noble shopping miles like Fifth and

Madison Avenues. The government, meanwhile, is simulating

"stress tests" for its sick banks, and the weather is also acting

crazy: Though already the beginning of March, it's colder than

it has been in decades. Even the airports had to shut down

temporarily. Good thing, some announcers said, that nobody's

flying anyway because of the crisis.

In the UN district on the Hudson River, activity seems to be

going on unabated. Delegations and visitors from around

the world are pushing their way into the world-famous glass

building to take part in a conference, one or the other of

which is going on here almost all the time. Across the street

is the Millennium Hotel, a popular accommodation for guests

and speakers. Right next to it, almost inconspicuous, is the

entrance area to one of the United Nations' administration

buildings. There on the sixth floor is DC2-612: the Global

Compact Office.

Here, up to 25 people work in a space of barely 200 square

metres on the vision of a just globalization. The floor is shared

with the "UN Mine Action Service", which has also provided

the pictures in the shared hallway. The photos of mine victims

in Afghanistan shake viewers up and remind them of the challenges

the world faces. The working conditions in DC2-612

are cramped. Besides the work stations, the open-space office

serves as a storeroom and a place to plan global strategy. "Still,"

Global Compact spokesman Matthias Stausberg says with a

grin, "each room has its own window and so has daylight."

That's not always the case for US offices.

This is where the world's largest and most important initiative

for business responsibility has its headquarters. Unspectacular.

Modest. That fits an initiative that, though sponsored by no

less than the UN Secretary-General, does not draw attention

to itself by making loud demands, but rather discreet recommendations.

Founded 10 years ago, the UN Global Compact is

a strategic policy initiative for businesses that are committed

36

Global Compact International Yearbook 2009
---
Agenda

Global Compact Inside

to aligning their operations and strategies with ten universally

accepted principles in the areas of human rights, labour, environment

and anti-corruption. Today, the Initiative includes

well over 6,000 companies and other stakeholders from 130

countries around the globe.

The Global Compact sees itself as a dialogue forum that has

promotion of its own ten principles on the agenda as well as

support of broader UN initiatives, such as the Millennium

Development Goals (MDGs). Critics counter that the Global

Compact is a conglomeration of do-gooders. Toothless and

weak. NGOs like Greenpeace or Oxfam consider every form

of corporate social responsibility (CSR), and so also the Global

Compact, to be pure window-dressing. For them, free trade

only works with hard rules, not recommendations. But Global

Compact director Georg Kell waves this aside: "No government

bureaucracy can ever spread technology and innovation on

the same scale and at the same speed as the private sector."

Former UN Secretary-General Kofi Annan understood this. In

1997, he assigned Kell the task of sounding out the potential

for cooperation between the UN and business. The man from

Above: UNGC spokesperson Matthias Stausberg

Left: The GCO offers many space for ideas but the

working space is limited.

southern Germany had previously gained experience with

business cooperations as a development expert in Africa and

Latin America. Two years later, he had to write a "really good

speech" for Annan, Kell remembers during the interview. The

UN Secretary-General wanted to hold the speech at the World

Economic Forum in Davos as a direction-setting signal for the

change of millennium. Kell was so nervous, he admits today,

that he hardly heard a word. But the reactions were all the

more clear: The vague vision of a Global Compact was so well

received around the world that, within a decade, it would grow

into the world's leading umbrella brand for CSR. There's a

reason for its success: With the UN, the CSR issue has a credible

sponsor. Companies, politicians, labour unions, scholars

and civil-society groups feel equally represented and accepted

here. The UN is one of the few supranational organizations

whose credibility is widely recognized.

The Global Compact lives from this credibility and from

members' desire to work with each other, not against each

other. Olajobi Makinwa today is issue manager for the subject

of anti-corruption. Previously, the lawyer was director of

Amnesty International in South Africa. In the interview, she

remembers that, for her, business used to be the enemy. In

contrast, respect and acceptance of the other side characterises

the Global Compact. Tolerance as a unique selling proposition.

But there were doubts not only from the NGO side; even in the

UN itself, many shared this fear, adds Melissa Powell, Head of

Strategy and Partnerships. At first there was even a caricature

showing the UN Building with company standards and their

logos replacing the national flags. Subtitle: "UN for sale". Today,

Powell receives weekly calls from the Building asking for help.

"Many believe", Powell says, "that the Compact is sitting on

mountains of company cash that we can distribute as we see

fit." That, of course, is not true, she adds.

But for all participants, more important than the financing

question is the upholding of credibility: Over the years, Kell and

his team have quietly toughened the conditions of participation.

The main instrument is the annually required Communication

on Progress (COP). The COP must substantially report on the

company's engagement. Those companies that don't submit

it are first warned, then placed on the inactive list, and finally

removed from the rolls. Even voluntary initiatives can have

tough rules. In any case, the policy has consequences: Well

over 600 companies have been delisted over the last few years.

Is the Global Compact losing members then? On the contrary.

The Initiative is constantly gaining in popularity, especially

in the Southern Hemisphere. That is important, since it's

especially critical there to uphold labour, environmental and

social standards. The ten principles must be implemented

there in order to become a truly global standard.

The new UN Secretary-General Ban Ki-moon also stands behind

the pact. This support is important, and the Secretary-General

Global Compact International Yearbook 2009 37
---
makes it clear that the Initiative can

show us ways out of the crisis. Ban:

"Ensure that your boards, subsidiaries

and supply chain partners use the Compact

as both a management guide and a

moral compass." Morality as a compass

in these times? That sounds pious. But

Kell becomes feisty: Especially now, we

see that responsibility and long-term

strategies pay off in the end.

That the worldwide crisis has come to

a head in the finance and trade centre

New York is understandable. And at the same time, it's symbolic:

New York, like almost no other city, incorporates globalization

with all its achievements and excesses. The city is a melting

pot of cultures, nationalities, lifestyles. New York is the city

where every good, every service and every type of information

is available at any time. But it's also the city where one hour

of parking costs as much as a pair of jeans sewn together in

Bangladesh or Turkey. And where a simple dinner is as expensive

as one year of school fees in Namibia. Everything in this

city has its price, but only few ask about the value, Kell adds

pensively. In this point, too, New York has followed its own

path. The wrong path, Kell emphasises untiringly.

Regardless, nowhere did the price and profit spiral turn as

consistently as on Wall Street and in the Financial District. At

the same time, nowhere were so few questions asked about the

value of the products as right here at AIG, Lehman Brothers,

Bear Stearns, Citibank and the others. Every news broadcast

and every discussion in the city's innumerable delis now seems

to revolve around the cause of the crisis: The answer has five

letters – greed. Greed destroyed understanding. Greed made

people careless about risk. Greed made people irresponsible.

That has become clearer to everyone today than in the past.

Even to those who, until recently, joked about the term "business

ethics".

Further down on the southern tip of Manhattan lies the heart

of globalization and greed. From the Fulton Street subway station,

it takes just a few minutes to walk to Wall Street: Here

you can see the stockbrokers, the masters of the universe, as

Tom Wolfe aptly called them in his novel. Men whose actions

were guided solely by bonuses and commissions. Now the

brokers inconspicuously pull on their jackets when they go

out on the street. Not just because of the cold, as can be seen

from their furtive glances to the left and right. Nobody wants

to be recognised as a stock market speculator nowadays. The

masters of the universe have grown meek. Many a finance

and business magnate has taken on the role of enlightened

sinner. The most spectacular was the confession of Jack Welch:

The long-time CEO of General Electric and icon of US industry

declared this spring that striving for short-term profits and

Especially now,

we see that

responsibility

and long-term

strategies pay off

in the end.

higher share prices is a "dumb idea". "On

the face of it, shareholder value is the

dumbest idea in the world," Welch told

the Financial Times. "Shareholder value

is a result, not a strategy … Your main

constituencies are your employees, your

customers and your products."

Still, at Global Compact no one is happy

about the crisis. Too obvious are the social

and ecological costs that now have to

be paid throughout the world: In China

alone, 25 million migrant workers have

been hit by mass layoffs so far. In Africa, the crisis is destroying

the already meagre buds of economic growth. Australia,

for its part, has largely put its climate protection promises

on ice: Introduction of emissions trading has been postponed

with the curt justification that the economic situation doesn't

permit it. And so the next step of the crisis is now starting:

When companies get into trouble, the state currently jumps in.

But who will stand by the state when it gets into trouble, as is

happening in Iceland and many eastern European countries?

38

Global Compact International Yearbook 2009
---
Agenda

Global Compact Inside

Left: New York is the centre of the financial world and

since the beginning home of the Global Compact.

Below: Major Bloomberg has promised a "greener" city.

strategic orientation has clearly been jettisoned, and longterm

thinking has given way to the struggle for short-term

survival. On the other hand, of course, there are companies

that understand how to adapt to the situation. The core

question for Stausberg is, what is the appropriate stimulus

to cause a change from short-term to long-term thinking? A

corresponding insight in management circles, as is currently

being called for, is certainly essential. But also just as important

is a state that creates incentive systems, consumers that

reward such companies through conscious consumption

decisions and investors that look for more than supposedly

dream yields.

Not long ago, British Prime Minister Gordon Brown warned

of "deglobalization", an implosion of world trade with fatal

results for social systems and political orders.

Freedom without boundaries must fail, German Interior Minister

Schaeuble warns. But freedom itself must not be put up

for grabs in consequence. Rather, crash barriers need to be

erected. And to continue with the thought process, there must

also be guiding stars. Both, crash barriers and guiding stars,

mark a new economic order, to which the Global Compact

can give answers. Kell: "The quarterly short-term thinking that

prevailed for so long is slowly giving way to a more comprehensive,

sustainable risk assessment."

Olajobi Makinwa also sees opportunities for new moral guidelines:

"It made people start asking questions," she says with

hope. Fundamental strategies are being tested. She herself is

responsible for the issue of corruption and notes that many

companies are now asking her for advice, since ethics are

becoming more widely understood as providing a direction

for the future.

Only the spokesman Matthias Stausberg is not as optimistic

as some of his colleagues. He currently sees two contradictory

tendencies: On the one hand, there are a growing number

of companies that, in panic and fully without reflection, are

axing all budgets that aren't essential for daily business. All

The Green New Deal, which is being talked about so much

these days, is an idea many people have to get used to. Still:

"It's time for a change" seems to be the phrase of the hour,

thanks to President Obama. New York is perhaps an indicator

for this change as well. The city wants to become greener. On

the one hand, it wants to animate more and more people to

switch to buses and subways, and on the other, it wants to

make buildings, such as the currently highest skyscraper in

the city – the Empire State Building – into model projects

for energy efficiency. "With the renovation of the Empire State,

we want to emphasise that 80 percent of the greenhouse gas

emissions in New York are caused by buildings," New York

Mayor Michael Bloomberg says. The Empire State Building

project can save 38 percent of the energy used. To achieve

this goal, 6,500 conventional windowpanes on the building's

surface will be replaced by thermopane glass. In addition, the

building's heating and air conditioning and electrical systems

will be made state of the art. Experts estimate the savings at

4.4 million dollars per year, which will save 105,000 tons of

CO2 in 15 years. Even now, the 78-year-old building glows

green in the evening to show its good will.

But let's not get caught up in too much euphoria. The outcome

of the painting auction at Sotheby's should be a warning. The

successful bidder has since fallen into financial trouble and

is trying to back out of the purchase. A lawsuit has been filed

between him and Sotheby's. One thing, at least: Until the

dispute is settled, the picture will remain in the museum.

Dr. Elmer Lenzen,

Chairman of the macondo Media Group

Global Compact International Yearbook 2009 39
---
Ethics is Back

Georg Kell about the Crisis,

Climate Change and the

Role of the Global Compact

40

Global Compact International Yearbook 2009
---
Agenda

Global Compact Inside

Since the very beginning, Georg Kell has been Executive Director of the Global

Compact. Due to his ongoing fervour the Global Compact today is fully integrated into

the UN system. We spoke with Georg Kell about the economic crisis, the search for

new confidence, and the renaissance of politics and ethics. His message is clear:

We have to reward sustainable business models. And we have to take climate change

much more seriously, or the future might be rough.

Interview conducted by Dr. Elmer Lenzen

Mr. Kell, when the Global Compact was founded, the world was at the

edge of the 21st Century. Since then, we have seen 9/11, questionable

wars on terror and a financial and economic crisis of historic dimensions.

Is the Global Compact prepared for such times?

Ten years ago, the Compact was launched primarily to

provide legitimacy. That was before Seattle and other World

Trade Organization events. Without a doubt, these issues are

still important today. But it has now become very clear that we

have entered a new era: the world is struggling to restore trust

and confidence in order to return to growth and employment.

We are seeing enormous government interventions and experiencing

market shockwaves unlike any since the 1930s.

At the same time, we have to brace ourselves for the next

systemic disruption: climate change. We completely agree

with UN Secretary-General Ban Ki-moon's position on sustainability

in the 21st century. In his speech at this year's World

Economic Forum, he made it very clear that we need to take

on both challenges at the same time: we need to restore trust

and confidence, and we need to lay the foundation for more

sustainable growth, which means greener growth.

Cynics say the present crisis shows that economics and ethics have nothing

in common. How do you respond?

Ethics is back, values are back, and the search for long-term

sustainability is more apparent than ever before! It may sound

ironic, but the crisis has reinforced the search for values and

ethics. The quarterly short-term thinking that prevailed for so

long is slowly giving way to a more comprehensive, sustainable

risk assessment. There is a fundamental lesson teaching

us to focus on long-term value creation. Secondly, we have

to come up with a more comprehensive risk paradigm, one

which is adequate for interdependent growth and takes into

consideration environmental, social and governance – ESG

– issues. So, in a certain way, the crisis is playing into our

hands. The growing need for the Global Compact may also be

underscored by the fact that more than 200 companies have

recently joined the Initiative, while others are rediscovering

the value of engagement.

But you cannot deny that we have experienced many dubious practices

in the markets...

The public has to distinguish among economic actors.

Those entrepreneurs make investments, create employment

and provide goods and services are as innocent of what has

happened as most people are. Even in the financial sector,

many parts were solid. What we see, if anything, is that the

financial crisis started in the least regulated sub-categories of

the financial system, among the so called "innovative product

generators" of private equity funds and investment banks. Some

of them are out of business now, and we welcome this. They

stood for a lack of ethics, obsession with short-term profits

and reckless behaviour. But it would be totally wrong to say

that the whole private sector behaved unethically.

And what role does the Global Compact play?

What we presently see is a deficit of hope and stimuli

for ideas and innovation. Through responsible behaviour,

through deeper engagement in the Compact, you can make a

contribution to restoring trust and confidence. Entrepreneurs

can show that business is not just about surviving and cutting

costs; they can also lead the way to a sustainable future

by stressing innovation. All the government interventions

right now will stimulate markets. But this is only an "incentive

moment". The true source of value creation is, of course,

entrepreneurship. I'm convinced that, at the end of the day,

we will come back to these economic fundamentals.

In Davos this January, PM Gordon Brown warned against "deglobalization".

In his words, this does not mean a romantic return to the "good

ol' times", but an abrupt destruction of global interdependence with

Global Compact International Yearbook 2009 41
---
tremendous economic and social costs. Isn't this in contradiction to the

optimism of the Global Compact?

I share Gordon Brown's view. I'm very concerned, too.

If you ask me what the biggest threats are, I would respond

populism at the country level; discrimination against everything

that doesn't come from the domestic market; and

protectionism that rolls back all that we have established over

the past decades. The multilateral global system has assured

at least a minimum of fairness, and I have the hope that the

politicians, in their wisdom, will not forget that humanity has

had to learn several times and at great cost what it means to

neglect an interdependent world. It would undermine our collective

ability to create wealth, employment and hope. And it

would also bring to an end the rapid diffusion of know-how,

technology and solutions we urgently need in the fight against

poverty and climate change.

Due to the crisis, we're seeing a tremendous comeback of Keynesian policy.

Will this affect the balance of power in the Global Compact?

Not yet, but I suspect it will very soon. I agree that the

amount of government intervention we have seen over the

past months is on a scale never before seen in the history of

modern markets. I think there is both a risk and an opportunity

in that. The risk is obviously that government interventions

distort market performance and undermine competitiveness

and lead to inward-orientation. That is the risk Gordon Brown

mentioned at the World Economic Forum. A positive aspect

could be, on the other hand, that governments recognize the

opportunities that lie in collective responsibility and working

together. They could use their interventions to accelerate the

change processes we were talking about. They can set the right

signals to reward responsibility and green growth.

In fact, politicians from Obama to Merkel say that we need a sustainable

economy. Why is this so hard to achieve in everyday life?

Because we are lazy. We all dislike change, because it

means making an effort. That is part of human nature. Over

decades, we have got used to how prices are established, how

institutions regulate and all the rest. We carry the whole legacy

of the past with us, and now we realize that we need to change,

for instance by putting different prices on certain products.

How do you do that? It will be a painful adjustment process.

Can you give us an example?

No doubt, climate change and putting a clear price on

greenhouse gas emissions will lead to major disruptions.

There will be losers, because many companies are betting on

the wrong horse. They didn't adapt in time to be on the front

edge of the change agenda. And, of course, these companies

don't like this kind of change and will try to preserve the

status quo as long as possible. On winning side will be the

many other companies that have already started to invest in

a future where greenhouse gas emissions have market prices

sufficiently high to encourage green investment.

Do you really think that innovation alone can stop global warming?

The complexity of climate change is incredible, and the

more you look at it, the more it scares you. Indeed, we are

very late in the game. Maybe we are already too far behind.

According to UN estimates, over 75 percent of all disaster

events from 1988 to 2007 were climate-related and accounted

for 45 percent of deaths and 80 percent of the economic losses

caused by natural hazards. I don't want to be a doomsday

prophet, but we better get prepared for a rough future with

major discontinuities. And it is not only an environmental

issue Climate change affects all aspects of life: It is a social

issue. It is a political issue. It is a security issue. It is becoming

an overarching challenge that humanity has to cope with. So

what can we do? In principle, the solution is simple: We just

have to tax what is bad and reward what is good. The easiest

solution would be a heavy tax on carbon emissions. That would

stimulate innovation. Will this become a global movement, or

not? Will politicians have the courage and the will to make

that happen? That is the key question.

42

Global Compact International Yearbook 2009
---
Agenda

Global Compact Inside

"

Entrepreneurs can

show that business is not

just about surviving

and cutting costs;

they can also lead the

way to a sustainable future

by stressing innovation.

Georg Kell, UN Global Compact Executive Director

"

Do you think collective political action will be a realistic option for the

Copenhagen Climate Summit?

I think so. We're still baffled by how a regional housing

crisis in the US could turn into a worldwide financial crisis

leading to the biggest decline in the history of export-oriented

economies, such as Korea or China, and to the possible breakdown

of Ukraine and some other eastern European countries.

So, the message to governments is that we all live in a very

closely connected world. Even more so when it comes to

climate change. Therefore, the world needs to move to a

proactive risk management, and there's a stronger need for

cooperation than ever before. I was pleased to read about the

European debates on how to deal with the crisis in the eastern

part of the European Union. This may bring more coherence

to Brussels' policy. Another example is China, which is now

more proactive on the climate agenda. They understand the

urgency to act, especially domestically, because their water

and land are polluted, and the prospects of natural disasters

are dramatic.

Why is a successful Copenhagen Climate Summit so important?

We need a successful COP 15 for many reasons. Imagine

if COP15 were a failure and individual regions and countries

would pursue their own way of putting a price on carbon

emissions! That would lead to a patchwork of disjointed approaches,

which ultimately would put enormous pressure on

the trading and investment systems. No doubt it would lead

to protectionism and cause major disruptions of economic

growth.

...and what role can the business sector play?

I'm personally convinced that investment and commerce

offer the best opportunities to spread technology and knowhow.

Supply chains are the most effective way to diffuse clean

technology. No government bureaucracy can ever spread

technology on the same scale and at the same speed as the

private sector.

Thank you very much!

Global Compact International Yearbook 2009 43
---
Annual Review:

Highlights and Gaps

More companies joined the United Nations Global Compact

(UNGC) last year than ever before. The UN's voluntary initiative

of companies recorded 1,473 new entrants in 2008,

which is a plus of 30 percent over the previous year. But

in carrying out the Network's ten principles, there are still

"serious implementation gaps". That is what Georg Kell,

Executive Director of the Global Compact Office, writes in

his foreword to the Network's 2008 Annual Review, which

appeared at the beginning of April. Even more companies

need to focus more strongly on the ecological and social

aspects of their activities and on good company management,

says Kell. There is room for improvement, especially

in the supply chain, according to the report. In a survey

of UNGC members, only seven percent of the companies

said they require their suppliers to be members of the

Global Compact. Among companies that have subsidiaries,

the number was 30 percent. It is time, says Kell, "to move

from pilot programmes in select corporate departments to

an integrated approach to implement all UN Global Compact

principles throughout and beyond headquarters, into

subsidiaries and the supply chain." In addition, company

reporting on progress in implementing the UNGC principles

often remains below potential, Kell believes. The reports still

focus too much on policy, says the UNGC Executive Director.

In contrast, detailed information on concrete improvements

is seen less frequently. In 2008, the Network Office had to

remove 404 companies from the member list ("delisting")

for not submitting an annual progress report. Despite these

shortcomings, Kell says the 2008 annual report shows "that

the Global Compact contributes positively to the global

spread of responsible business practices." The number of

members has risen to 6,000, and the Network is now active

in nearly 140 countries.

Annual Review

Sum velenim veniam, sum

dolore ming enim dolorerit

lam augueros diamcommy

nonsed et lorero

odolore conse dolobor

erillup tations equatuerat

lute magnit dolese magna

facidui

Global

Compact

Inside:

News

White Paper on Managing Climate

Change and Water

The UN Global Compact and the Pacific Institute jointly

released a white paper which explores the linkages between

climate change and water – from both the scientific and

corporate management perspectives. Entitled "Climate

Change and the Global Water Crisis: What Businesses Need

to Know and Do", the paper covers a number of critical areas,

including: How climate change is expected to impact water

scarcity, water quality, and water demand; the ways in which

water and energy are interconnected, including trade-off

scenarios; the business risks of water and climate change;

how businesses can strategically manage water-climate

risks; the linkages between climate and water and the UN

Millennium Development Goals. "This paper underscores

the importance of viewing the many ways in which different

environmental challenges are in fact deeply connected, and

the need to approach these issues in an integrated way," said

Georg Kell, Executive Director of the UN Global Compact.

"Climate change needs to be understood in terms of how it

44

Global Compact International Yearbook 2009
---
Agenda

Global Compact Inside

Next Step in Anti-Corruption

Investors Give New Twist to Good

COP/Bad COP

The 38 members of the UN-backed Principles for Responsible

Investment (PRI) have written to the CEOs of 130 major

listed companies which are signed up in the United Nations

Global Compact. Twenty-five of the companies have been

praised by the investors for producing notably high-quality

COPs – including Air France and Starbucks – while over

100 companies were identified as laggards by the investors

for failing to submit a COP this year. Those companies that

failed to produce COPs include GAP Inc, Severn Trent plc

and LVMH. Representing one of the collaborating investment

institutions, Aviva Investors' Head of Research and

Engagement, Steve Waygood, said: "The UN Global Compact

system provides investors with a universe of 'good COPs'

and 'bad COPs'. Companies that produce a 'good COP' send

a powerful message to a valuable audience of institutional

investors. Those who have failed to submit a report will

trigger alarm bells among investors who want real details

about a company's business practices on ESG issues".

The United Nations Global Compact has determined the

next steps in the fight against corruption. At its fourth

workshop at the end of February in New York, the members

of the Working Group on Anti-Corruption agreed, among

other things, to provide guidance to sensitize companies to

the risks of bribery. The first part of the guideline, which

recently appeared in the publication series RESIST (Resisting

Extortions and Solicitations in International Transactions),

focuses on the company procurement process. In seven

scenarios, the guideline runs through classic situations that

purchasers face in everyday business and shows how they

can deal with corrupt offers. A second RESIST publication

is planned for the end of the year. It will probably cover

possible scenarios in project implementation. In addition,

the members of the working group (representatives of the

Global Compact Office, civil society, business, local networks

and international organizations) introduced initial

elements for more transparent company reporting on the

issue of corruption. Since companies and organizations have

previously provided differing amounts of information on

this issue – for competitive reasons, among others – the

matrix should include two sets of instructions for reporting,

one more demanding, one less. Other topics of the February

session were: Corruption in the supply chain and possible

cooperation with governmental or intergovernmental organizations.

In 2009, the members wish to work on anchoring

the principles of the Global Compact – such as the fight

against corruption – into the courses and curricula of

business schools.

Anti-corruption is one of the ten GC principles: Companies

and organizations that join the UN initiative promise to

work against all kinds of corruption, including extortion

and bribery. According to estimates of the World Economic

Forum, corruption causes economic losses of 2.6 trillion

US dollars per year. That is more than five percent of gross

world product.

Global Compact International Yearbook 2009 45
---
Annual Review:

Highlights and Gaps

More companies joined the United Nations Global Compact

(UNGC) last year than ever before. The UN's voluntary initiative

of companies recorded 1,473 new entrants in 2008,

which is a plus of 30 percent over the previous year. But

in carrying out the Network's ten principles, there are still

"serious implementation gaps". That is what Georg Kell,

Executive Director of the Global Compact Office, writes in

his foreword to the Network's 2008 Annual Review, which

appeared at the beginning of April. Even more companies

need to focus more strongly on the ecological and social

aspects of their activities and on good company management,

says Kell. There is room for improvement, especially

in the supply chain, according to the report. In a survey

of UNGC members, only seven percent of the companies

said they require their suppliers to be members of the

Global Compact. Among companies that have subsidiaries,

the number was 30 percent. It is time, says Kell, "to move

from pilot programmes in select corporate departments to

an integrated approach to implement all UN Global Compact

principles throughout and beyond headquarters, into

subsidiaries and the supply chain." In addition, company

reporting on progress in implementing the UNGC principles

often remains below potential, Kell believes. The reports still

focus too much on policy, says the UNGC Executive Director.

In contrast, detailed information on concrete improvements

is seen less frequently. In 2008, the Network Office had to

remove 404 companies from the member list ("delisting")

for not submitting an annual progress report. Despite these

shortcomings, Kell says the 2008 annual report shows "that

the Global Compact contributes positively to the global

spread of responsible business practices." The number of

members has risen to 6,000, and the Network is now active

in nearly 140 countries.

Annual Review

Sum velenim veniam, sum

dolore ming enim dolorerit

lam augueros diamcommy

nonsed et lorero

odolore conse dolobor

erillup tations equatuerat

lute magnit dolese magna

facidui

News

White Paper on Managing Climate

Change and Water

The UN Global Compact and the Pacific Institute jointly

released a white paper which explores the linkages between

climate change and water – from both the scientific and

corporate management perspectives. Entitled "Climate

Change and the Global Water Crisis: What Businesses Need

to Know and Do", the paper covers a number of critical areas,

including: How climate change is expected to impact water

scarcity, water quality, and water demand; the ways in which

water and energy are interconnected, including trade-off

scenarios; the business risks of water and climate change;

how businesses can strategically manage water-climate

risks; the linkages between climate and water and the UN

Millennium Development Goals. "This paper underscores

the importance of viewing the many ways in which different

environmental challenges are in fact deeply connected, and

the need to approach these issues in an integrated way," said

Georg Kell, Executive Director of the UN Global Compact.

"Climate change needs to be understood in terms of how it

46

Global Compact International Yearbook 2009
---
Agenda

Global Compact Inside

Next Step in Anti-Corruption

Investors Give New Twist to Good

COP/Bad COP

The 38 members of the UN-backed Principles for Responsible

Investment (PRI) have written to the CEOs of 130 major

listed companies which are signed up in the United Nations

Global Compact. Twenty-five of the companies have been

praised by the investors for producing notably high-quality

COPs – including Air France and Starbucks – while over

100 companies were identified as laggards by the investors

for failing to submit a COP this year. Those companies that

failed to produce COPs include GAP Inc, Severn Trent plc

and LVMH. Representing one of the collaborating investment

institutions, Aviva Investors' Head of Research and

Engagement, Steve Waygood, said: "The UN Global Compact

system provides investors with a universe of 'good COPs'

and 'bad COPs'. Companies that produce a 'good COP' send

a powerful message to a valuable audience of institutional

investors. Those who have failed to submit a report will

trigger alarm bells among investors who want real details

about a company's business practices on ESG issues".

The United Nations Global Compact has determined the

next steps in the fight against corruption. At its fourth

workshop at the end of February in New York, the members

of the Working Group on Anti-Corruption agreed, among

other things, to provide guidance to sensitize companies to

the risks of bribery. The first part of the guideline, which

recently appeared in the publication series RESIST (Resisting

Extortions and Solicitations in International Transactions),

focuses on the company procurement process. In seven

scenarios, the guideline runs through classic situations that

purchasers face in everyday business and shows how they

can deal with corrupt offers. A second RESIST publication

is planned for the end of the year. It will probably cover

possible scenarios in project implementation. In addition,

the members of the working group (representatives of the

Global Compact Office, civil society, business, local networks

and international organizations) introduced initial

elements for more transparent company reporting on the

issue of corruption. Since companies and organizations have

previously provided differing amounts of information on

this issue – for competitive reasons, among others – the

matrix should include two sets of instructions for reporting,

one more demanding, one less. Other topics of the February

session were: Corruption in the supply chain and possible

cooperation with governmental or intergovernmental organizations.

In 2009, the members wish to work on anchoring

the principles of the Global Compact – such as the fight

against corruption – into the courses and curricula of

business schools.

Anti-corruption is one of the ten GC principles: Companies

and organizations that join the UN initiative promise to

work against all kinds of corruption, including extortion

and bribery. According to estimates of the World Economic

Forum, corruption causes economic losses of 2.6 trillion

US dollars per year. That is more than five percent of gross

world product.

Global Compact International Yearbook 2009 47
---
The Global

Compact

in the

Emirates

48

Global Compact International Yearbook 2009
---
Agenda

Global Compact Inside

In just 20 years, the countries of the Gulf Cooperation Council (GCC) have transformed

themselves from deeply traditional nations that depended largely on oil revenues to

booming metropolises with rapidly growing and diversified economies. The transformation –

especially in the United Arab Emirates (UAE) has been staggering; once home to a small

and tight knit society, the UAE today boasts over 202 different nationalities, making it one of

the most diverse nations in the world. The rapid development of the region is

accompanied by a greater call for a more responsible and sustainable way of doing

business, in order to solidify the progress that is being made.

By Habiba Al Marashi

The UN Global Compact is gaining momentum

all over the world and the Gulf

Region is no exception to this trend. One

of the world's fastest-growing regions

in terms of economy as well as demographically,

the Gulf Region presents

the UN Global Compact with a unique

opportunity to make a firm and lasting

impact on the way that business is conducted

in this part of the world. As the

UN Global Compact Local Network focal

point for the GCC states, the Emirates

Environmental Group has been actively

engaging local and regional businesses,

government, and semi-government organizations

since 2007.

The state of CSR in the

GCC States

The Gulf Cooperation Council is made

up by Saudi Arabia, the United Arab

Emirates, Qatar, Oman, Bahrain, and

Kuwait. This oil-rich region has seen

tremendous growth in the last 20 years,

with the focus – especially in countries

like the UAE – shifting from being almost

exclusively reliant on oil-export

revenues to becoming far more diversified

economies.

"We have to face facts; advanced

industrialized countries

must accept the majority of

responsibility for cleaning up the

environment. Some developed

countries do not want to take

responsibility under the pretext

that it would undermine the

progress of their country and

affect the welfare of their society.

This is both unfair and selfish."

Sheikh Mohammed bin Rashid al Maktoum, Vice

President and Prime Minister of

the UAE and Ruler of Dubai

As a result of this diversification, the

region has witnessed an enormous influx

of foreign capital, companies, and

labour. This has had a significant effect

on the social and environmental makeup

of the countries in the GCC and has

posed serious questions with regard to a

wide variety of issues, ranging from the

national identity of the local populations

to the growing environmental footprint

of the GCC.

Certain aspects of Corporate Social Responsibility

(CSR) have a long history in

this region (philanthropy is one of the

five pillars of Islam), but until recently,

CSR as a comprehensive, long-term business

model was largely unknown in

the GCC. Although national governments

have been quick to recognize

the environmental implications of the

massive growth of their economies, and

have taken innovative steps to reverse

this trend (Masdar City, the world's first

Carbon Neutral city in the Emirate of

Abu Dhabi is one particularly notable

example), there are other areas where

legislation is lagging behind the fastpaced

developments on the ground.

Emirates Environmental Group (EEG) has

been playing a central role in convincing

businesses and the general public

that it is imperative that both local and

international companies step up and –

voluntarily – take up the responsibility

of doing more than is minimally required

of them.

Increasingly, companies in the GCC are

realizing that there is more to Corporate

Social Responsibility than just PR value,

and they are starting to incorporate CSR

principles into the core values of their

businesses. As is to be expected of dynamic

and varied economies, the CSR

initiatives being undertaken by GCC

businesses vary greatly in scale, qual-

Global Compact International Yearbook 2009 49
---
ity, and sustainability. Nevertheless, the

enthusiasm with which the UN Global

Compact has been received by companies,

government, and semi-government

organizations in the GCC proves that

there is great potential to achieve truly

sustainable growth.

The UN Global Compact Local

Network in the GCC states

Two years of diligent preparation, raising

awareness of the UNGC in the GCC

states, and developing a local framework

culminated in the official launch of the

UNGC Local Network for the GCC states

on April 7, 2008. The festive occasion

brought high-level representatives from

government, semi-government and the

private sector together for the official

ceremony. The event even received the

patronage of the Crown Prince and chairman

of the Executive Council of Dubai,

HRH Prince Hamdan bin Mohammed

bin Rashid al Maktoum, underlining

the support that the UNGC enjoys in the

highest levels of government.

The UNGC executive director, Mr. Georg

Kell, provided the keynote speech, while

other speakers included Mrs. Habiba

al Marashi, and Steering Committee

members Mr. Mohammed Al Sarhan and

Mr. Rami Ghandour. In addition to the

17 companies that had already signed

up before the official launch, another

organization joined the UNGC Local

Network at this event. The high-level

guests and impressive media turnout

gave the launch excellent media coverage

and subsequently helped further raise

the profile of the UNGC Local Network

with the general public.

The UNGC Local Network structure

The Emirates Environmental Group acts

as the focal point for the UNGC Local

Network. The EEG's chairperson, Mrs.

Habiba Al Marashi, sits on the UN Global

Compact board. The diversity of the GCC

is perfectly exemplified in the UNGC

Local Network for the GCC Secretariat

office, where people from 12 different

countries work together to advance the

principles of the UNGC in the GCC.

Although the secretariat of the Local

Network is based in Dubai, UAE, the

Network aims to actively involve participants

from all GCC states. Reflecting this

aim, the steering committee for the Local

Network consists of participants from

the UAE, Qatar, and Saudi Arabia. The

goal is to further expand this Steering

Committee, so that its members truly

reflect all countries of the GCC. Ideally,

The Global Compact Network in Gulf

Region was launched in April 2008.

His Highness Sheikh Hamdan bin

Mohammed bin Rashid Al Maktoum,

Crown Prince of Dubai and Chairman

of Dubai Executive Council, was the

patron of the event.

50

Global Compact International Yearbook 2009
---
Agenda

Global Compact Inside

each country will be represented by both

a member of a government entity and a

representative from the corporate world.

The current members of the Steering

Committee aim to convene at least three

times a year, with the location of the

meeting rotating between them.

The UNGC Local Network's activities

The UNGC Local Network has been off to

a flying start. Introducing the UNGC in

the region that was largely unfamiliar

with the Initiative and its principles,

we initially set out to raise awareness

among our existing members and the

general public. Support has been steadily

growing and we consequently rolled out

a number of lectures, workshops, and

documentation to further familiarize

organizations in the region with the

UNGC.

We also provide our participants with

access to CSR experts and resource speakers

to further strengthen their own CSR

practices. The Local Network has represented

the UNGC at three international

forums; the First Alliance of Civilizations

Annual Forum (Madrid, January 15–16,

2008), the Second Forum of Ministers for

Social Development (Amman, November

12–14, 2008), and the Business for the

Environment Global Summit (Singapore

April 22–23, 2008).

In addition to officially representing

the UNGC at high-level events, we have

committed ourselves to lobby for greater

UNGC participation whenever the (speaking)

opportunity arises. Perfect examples

of such opportunities were the International

Business Forum (Doha, November

28, 2008) and the CSR networking event

hosted by the Dubai Chamber of Commerce,

where the EEG chairperson, in

the capacity as guest speaker, encouraged

businesses to join the UNGC.

In addition to public speaking engagements,

the Local Network Steering Committee

convened twice in the past year.

The Local Network was also represented

at the UNGC board meeting, with Mrs.

Al Marashi present in New York (April

30–May 1, 2008).

UNGC Local Network participants

The UNGC Local Network for the GCC

states was launched under the patronage

of Sheikh Hamdan bin Mohammed

bin Rashid Al Maktoum, Dubai's Crown

Prince and the chairman of the Executive

Council. His involvement with the UNGC

Local Network and with its launch has

been extremely beneficial to the Network

in terms of credibility and publicity. In

this region, having the government's

seal of approval is crucial to engaging

key players in society, and the Crown

Prince's patronage has proven to be very

helpful in this process.

The UNGC Local Network currently has

34 active participants spread out over

five GCC states, while the applications

for two more memberships are currently

being processed. The participants are

heterogeneous, with MNC's, SME's, and

local companies all participating. Reflecting

the GCC's economy, the majority

of participants are Construction and

Engineering companies, with the Professional

and Scientific and Oil&Gas

enterprises coming in second and third

place, respectively.

As a relatively young Local Network, the

UNGC Local Network for the GCC set out

with a dual policy: to actively recruit new

participants to the UNGC and to engage

those businesses that had already signed

up globally to become active participants

locally. In this it has largely been successful.

Businesses across the region are

becoming more aware of the benefits of

participating in a Local Network, and the

Local Network focal point, in turn, has

been stepping up its efforts to actively

engage its Local Network participants.

This too has paid off. UNGC global initiatives

such as the CEO Water Mandate, the

Caring for Climate statement, the CEO

statement on the UN Convention against

Corruption, and the CEO statement on

Business and Human Rights were all

endorsed by businesses from the GCC. In

addition to these initiatives, one of the

GCC Local Network participants became

the first business from the Middle East

to donate to the UN Central Emergency

Response Fund (CERF) by answering the

Secretary General's call to donate to the

Gaza Relief Fund.

Among the participants of the UNGC

Local Network for the GCC, there are

varying motivations for joining the Network.

In a participant survey held in

2008, respondents cited the desire to

build knowledge and capacity for CSR

as their top reason for joining the UNGC.

Improving stakeholder relationships and

building trust came in as a close second.

The fact that companies cite these objectives

as being more important than just

networking opportunities and PR value

is a clear sign that the long-term value of

responsible business is sinking in with

companies in the region.

The UNGC and CSR in the current

financial climate

Global Compact International Yearbook 2009 51
---
The Emirates

Environmental

Group (EEG)

The Emirates Environmental Group (EEG) has been active

since 1991. Based in Dubai, UAE, the EEG was founded with

an aim to create a more sustainable and equitable society in

the UAE and the wider GCC region. As the name suggests, the

EEG initially focussed mainly on environmental issues in the

rapidly expanding UAE. In a country where civil society was

virtually non-existent, the EEG quickly became the torchbearer

for a wide variety of environmental initiatives.

In partnership with its corporate members, several long-running

and highly successful campaigns have been rolled out, including

the Can Collection Drive (under the slogan YES WE CAN!,

the EEG encourages schools, businesses, and individuals to

collect and donate their empty aluminium cans at several can

collection points). The glass, battery, toner, and paper collection

campaigns have proven very successful and continue to

attract more participants with each cycle. Furthermore, the

EEG regularly teams up with businesses to organize Waste

Management Outreach projects, which promote recycling

with a wide variety of groups.

Perhaps one of the most challenging, yet rewarding initiatives

has been the "Clean up the UAE 2008" campaign, which featured

more than 23,000 volunteers cleaning up 140.5 tonnes

of litter all over the UAE. This massive campaign, which was

coordinated by the EEG, featured mainly students as volunteers

and offered them a revealing glimpse into what happens to

our surroundings when we do not take care of it.

In addition to educational campaigns, the EEG has a long-standing

tradition of honouring the people and organizations that

prove to be champions of change. Each year, the EEG honours

those who have made exceptional contributions to environmental

protection during a very high-profile gala dinner.

The EEG has always maintained that protecting the environment

cannot happen in isolation. Environmental responsibility

is an integral part of a wider set of social and economic

issues that the UAE and the rest of the GCC are faced with.

Capitalizing on the solid relationship with government, semigovernment,

and businesses in the GCC, the EEG CSR Network

was launched on March 15, 2004.

Taking the relationship between the EEG and its partners

to another level, the EEG CSR Network offers participants a

tool for facilitating open and transparent business policies

and practices based on ethical values that have a sustained,

positive impact on business, the environment, and society as

a whole. The EEG CSR Network has proven to be an excellent

platform for networking, sharing best practices, and learning

among the corporate leaders in the GCC. Here, too, a host of

activities have taken place, ranging from community lectures,

workshops, training sessions, and the highlight of the year:

The Arabia CSR Awards. Launched by the EEG CSR Network,

the awards honour small, medium, and large businesses

across the GCC and the wider Arab world that have made an

exceptional contribution towards sustainable development

through their CSR programs.

Environmental sustainability,

then and now

After years of fast-paced growth of both the economy and the

ecological footprint of the UAE, the government has wholeheartedly

embraced environmental protection.

Masdar City was mentioned earlier as a notable example

in Abu Dhabi. Dubai's Green Initiative ensures that all new

buildings adhere to strict guidelines when it comes to sustainable

materials and building methods. These groundbreaking

initiatives build on the strength of the UAE as a relatively new

country that has the opportunity, will, and capacity to lead

when it comes to environmental sustainability.

With leadership that has put its weight behind the quest for

a more sustainable society, the challenge of fully engaging all

sectors of society remains. The UAE and, to a lesser degree, the

wider GCC states have become transient societies. The large

foreign labour force that has descended on the region generally

only call it home for a limited number of years, making

them less attached to their environment and less inclined

to care for it properly. The EEG has been combating this

"But this isn't my home anyway" attitude since its inception,

and will continue to do so. Fortunately, we are witnessing a

gradual shift in the level of awareness and commitment to

work towards a more sustainable society.

52

Global Compact International Yearbook 2009
---
Agenda

Global Compact Inside

The greatest challenge that we currently

face is convincing businesses in the GCC

region that the current financial crisis

should not be an excuse to downsize

their CSR efforts. An unfortunate side

effect of the fact that CSR is relatively

new in this region is that its position as

an integral business component has not

yet been completely solidified in many

and managing human capital are now

more pressing than ever, and communicating

this to government, semi- government,

and private organizations across

the region is our top priority in these

trying times.

Conclusion

The GCC has successfully transformed

itself into a global financial hub, with

the UAE standing out as a shining example

of a modern, open, and progressive

Arab nation. Several progressive leaders

of the countries in the Gulf have been

lavished with praise and admiration for

their visionary approaches to the development

of their countries. The people

of the GCC are rightfully proud of the

immense leaps that they have taken in

such an incredibly short time. It is, however,

too soon to sit back and rest on our

laurels. With the privileges of development

also come the responsibilities. As

His Highness Sheikh Mohammed said:

"It would be both unfair and selfish to sit

back and let others deal with our shared

responsibility towards the environment

and the society that we all live in."

Winning companies honoured as

pioneering champions of the first-ever

Arabia CSR Awards in 2008.

businesses. In the wave of company

downsizing that has also affected the

GCC, departments dealing with CSR issues

have been among the hardest hit.

The UNGC Local Network for the GCC

is acutely aware of these developments

and is actively reaching out to existing

and potential participants to try and

reverse this trend.

The Network's first workshop of 2009

was focussed on doing "Sustainable Business

in the Current Economic Climate".

Featuring prominent guest speakers from

the public and the private sectors, the

workshop underlined the importance

of sound CSR practices in this economic

climate. According to the Director of

Sustainability for Deloitte, "Corporate

responsibility and Sustainability are an

imperative, because those companies

that fail to address CSR will find themselves

on the path to corporate extinction."

His strong message was echoed by

the CSR manager of the Dubai Chamber

of Commerce and Industry, who told the

audience that "Environmental challenges

like global warming will not go away.

They will intensify, causing an array

of social challenges too." Both speakers

proceeded to present the audience

with an outline of practical steps that

can be taken to ensure responsible and

sustainable business practices in the

current climate.

As the UNGC Local Network for the GCC

focal point, we consider it to be our

responsibility to continue to spread the

message of the importance of CSR, especially

in this current climate. Issues such

as transparency, responsible investment,

At the EEG, we work towards yet another

transformation of the GCC – from

capital-driven development to a fully

inclusive and sustainable society that

honours its rich heritage while leading

the way towards an equitable and

responsible future for all who call this

region home.

Habiba Al Marashi is Chair of the Emirates

Global Compact International Yearbook 2009 53
---
Human Rights

Environment

Cap Gemini

Carrefour

Danfoss

Gandaki Bee Concern

Grundfos

Novo Nordisk

Sanofi-Aventis

Groupe SEB

Toms

Labour Standards

Adecco Group

Amazon Carribean

Arcandor

Ernst & Young

Otto Group

TMS Group

TÜV Rheinland

Ampeg

Autostrade

Bayer

BASF

Coc-Cola Hellenic

Deutsche Post DHL

Dong Energy

E.ON

Holcim

Martha Tilaar Group

REN

PT Smart TBK

Anti-Corruption

Siemens

Partnership

Financial Markets

Medine

Nexen

Deutsche Bank

54

Global Compact International Yearbook 2009
---
Agenda

Best Practice

Best Practice

Solely responsible for the editorial contributions under the heading "Best Practice"

are the companies and their authors themselves.

70

72

74

76

78

80

84

88

92

94

96

100

104

106

108

110

112

114

116

118

120

122

124

126

128

132

134

136

138

140

142

144

>

>

>

>

>

>

>

>

>

>

>

>

>

>

>

>

>

>

>

>

>

>

>

>

>

>

>

>

>

>

>

>

Adecco Group

Ampeg

Amazon Carribean Guayana

Autostrade per L'Italia

Arcandor

Bayer

BASF

Cap Gemini

Carrefour

Coca-Cola Hellenic

Danfoss

Deutsche Bank

Deutsche Post DHL

Dong Energy

E.ON

Ernst & Young

Gandaki Bee Concern

Grundfos

Holcim

Martha Tilaar Group

Medine

Nexen

Novo Nordisk

Otto Group

REN

Sanofi-Aventis

Groupe SEB

Siemens

PT Smart TBK

TMS Group

Toms

TÜV Rheinland

Global Compact International Yearbook 2009 55
---
Adecco Group

Carrying the Torch

for GC Principles

The availability, nature and conditions of work are central to the wellbeing of individuals,

families, economies and societies the world-over. 'Work' is the core business of Adecco

Group, the world's leading provider of HR solutions, with over 31,000 people dedicated

to enabling more than 500,000 colleagues to work every day with clients in over 60

countries.

By Stephan Howeg and Lilian Furrer

It is a vital role between the individual

and the employer which needs to be

governed by a principled approach as

Adecco Group recognized signing the

UN Global Compact in 2003 as the first

in its industry.

The principle number 6 'The elimination

of discrimination in respect of employment

and occupation' is where Adecco's

conduct makes the most obvious impact.

As you may expect, all colleagues working

for Adecco directly are trained in

non-discriminatory practices. This is just

the starting point of a range of pro-active

initiatives that the company runs to create

chances for individual development

and the integration of disadvantaged

groups into work and society.

Amongst Adecco's efforts is the International

Olympic Committee (IOC) Athlete

Career Programme (ACP). Launched in

2005, the Programme is offered by the

IOC and the National Olympic Committees

in co-operation with Adecco who

has been supporting athletes since 1999.

Adecco uses its expertise to assist Olympic

athletes make the transition from sport

to the labour market, as well as advising

companies on the benefits to hire athletes

in conventional roles. Through the

IOC Athlete Career Programme Adecco

offers Career Training and Development

support in the form of education, life

skills and employment support.

Before assuming that Olympic participants

don't need help in a career beyond

competition, think again. For every star

with major sponsorships hundreds of

competitive athletes face a future they

might not be prepared for. And in a

number of cases, stars on the field of

play benefit from the exposure of opportunities

and education of respect and

fair play in the workforce.

Keeth Smart, USA fencing medalist in

Bejing 2008, recognized he needed assistance

to combine his work life and

competitive sports.

When joining the Programme in 2006

he worked at a telecom company as

financial research analyst where he was

having difficulty balancing his work commitments,

training schedule and commuting.

So he looked to the IOC Athlete

Career Programme for answers.

With the Programme, he built his confidence

and re-positioned himself effectively

to combine his work life and

competitive sports. "With my increased

ability to describe my position and translatable

skills, rather than joining a new

Our principle

We demonstrate respect for the

rights and dignity of all people.

We believe that work is a key

factor for social integration and

contributes to the well-being of

society at large. Consequently we

not only uphold the elimination

of discrimination and specifically

sensitize and train our staff on

risks of potentially discriminatory

labour practices, but also make

use of our role as employer

for the social integration of

disadvantaged groups.

2

Global Compact International Yearbook 2009
---
Best Practice

Labour Standards

Keeth Smart, Olympic Medalist 2008,

not only had a clear focus in sport.

Now he is studying for an MBA, being

guided and coached by the IOC Athlete

Career Programme to achieve his

future career plans.

Our "Disability and Skills" programme

is up and running in France, Italy, Spain,

Norway, Belgium, the Netherlands, Japan,

the US and Argentina. In France,

Adecco and an organization called Agefiph

help15,000 people with disabilities

find a suitable job each year.

Regarding the mature workforce, Adecco

USA has been an honoree since 2002

of the American Association of Retired

Persons (AARP) list of Best Employees for

workers over 50, reflecting the success of

initiatives such as Adecco's Renaissance

programme offering benefits for older

people wanting to work.

company, my employer worked with

me, kept me on the team and enabled

me to have a balanced scheduled that

included working, training and competition."

Now having retired from sport,

Keeth is studying for an MBA with the

ACP Programme manager still assisting

with guidance and practical help on his

future career plans.

Over 3,000 athletes from more than 30

countries in ages ranging from under 20

to over 40 across five continents have taken

part in the Programme. Whilst Keeth

is an excellent example, perhaps the

Programme's benefit can be most keenly

felt in the developing world, acting as a

shining light for positive change and the

relevant Global Compact principles.

An example of this is the three-day

programme that took place in Dakar,

Senegal, run in conjunction with the

IOC and the IOC Olympic Solidarity organization.

The event is helping athletes

from the African region prepare for the

transition to the labour market amongst

them Ibrahim Maiga, who represented

Mali in the 400 metre hurdles. Ibrahim

commented: "The coaching has an immediate

effect and changes a person right

away. It is training for the whole of life,

something we live everyday, everywhere

and with everybody."

Even though the IOC Athlete Career

Programme aims to meet individual

athlete's needs for a fair chance in labour

market, each participant becomes an

ambassador 'carrying the torch' for the

Global Compact principle of eliminating

discrimination in respect of employment

and occupation.

The IOC Athlete Career Programme is just

one of Adecco's pro-active programmes

focused upon striving for fair access to

the labour market and equal opportunities

for all. Other activities are focused

towards the ageing population and mature

workforce, the disabled, unemployed

youth and the long-term unemployed.

In Germany, Adecco supports a publicprivate

initiative called Quadriga that

since 2007 has had a 70% success rate

in integrating young unemployed people

into the labour market. Similarly

in Argentina, Adecco is one of several

companies supporting an International

Labour Organization project aiming to

coach, train and find employment for

1,000 young men and women. France

is home to Adecco's largest project to

support the re-integration of long-term

unemployed. The 'Interim et insertion'

programme currently coaches 4,000

people each year to enhance their job

searching skills.

Supporting the integration of disadvantaged

groups is one aspect of Adecco's

three-part Corporate Responsibility (CR)

strategy. The additional focal points of

skill development and safety at work

for colleagues strengthen Adecco's commitment

to Global Compact principle 1

'Businesses should support and respect

protection of internationally proclaimed

human rights; and principle 2 'Make sure

that they are not complicit in human

rights abuses'. The importance Adecco

places on CR as part of its sustainable

business model is reflected by the creation

of a dedicated CR organisation in

2008 led by Group Communications

and overseen by the Group CEO and the

Corporate Governance Committee of the

Adecco Group's Board of Directors.

Global Compact International Yearbook 2009 3
---
Ampeg

Keep persevering

and act local

Bad news from the world of climate research arrives on our

doorsteps nearly every day, and not one day goes by without

our using a back door to redress our personal balance of

thought on the world in which our children will live one

day: Perhaps it is just a temporary glitch in the climate –

something natural, that will right itself in the end. Even

Hans Joachim Schellnhuber from the Potsdam Institute for

Climate Impact Research consoles himself with the hope that

the scientific community may have made a collective error

on this issue. He expressed his thoughts on the percentage

probability of his hopes becoming true in the following

statement on 26th March 2009. "Well, the chance that the

whole scientific world has actually made a mistake here

probably lies below one percent."

By Peter Graf

It was certainly naive to assume that the

Kyoto Protocol would sort everything

out, and it was definitely wrong to continue

chanting the mantra of "everything

will be alright in the end" for 10 years.

Worldwide, CO 2

emissions are increasing

much more than feared in the most

pessimistic of forecasts. Similarly naive

is our ignorance of the long-term consequences

of actions that have pushed us

into the largest economic and financial

crisis ever. The subsidises being pumped

into the system to stave off this crisis are

far higher than would have been needed

to introduce comprehensive, short-term

and effective climate-protection measures.

Both situations clearly demonstrate

that, in the short-term, it is wrong to

rely on global regulation, which is still

far-too-weak and that local action is

needed.

Taking our own company as an example,

this white paper is designed to reveal the

potential for savings that exists when

an all-round investigation of energy

consumption is performed outside of

normal business operations.

Immediate measures

A tour around our company with a simple

measuring device delivered the most

surprising example of energy-savings

potential: printers that consume just 1

watt less in energy-saving mode than in

normal mode! In energy-saving mode,

only the display switches off on these

network printers, and instead of consuming

34 watts of electricity, they consume

4

Global Compact International Yearbook 2009
---
Best Practice

Environment

Development in electricity consumption at AMPEG

100%

90%

80%

70%

60%

01.2007 04.2007 07.2007 10.2007 01.2008 04.2008 07.2008 10.2008

33, and they do that 24 hours a day, 365

days a year. This represents an enormous

waste of energy, especially since our offices

close at 6:00 p.m. and open up again

at 8:00 a.m. This means that our printers

consume electricity more than 14 hours

a day for absolutely no reason. A simple,

but effective measure to control this is

to connect the printers in the printer

room to a multiple socket outlet strip,

and then connect this to the main socket

outlet through a time switch. This can

save up to 144 kWh a year, depending

on the printer you use.

We also identified 5-litre mini-boilers

under the washbasins in our offices as

another unnecessary energy guzzler:

Four of them consume almost 1,500

kWh a year. This is the same amount suggested

by the Internet consumer portal

Verivox as the yearly requirement for an

average single-person household. A survey

amongst our staff showed that they

would be happy to go without hot water

in the toilets to help the environment.

Our immediate solution was to switch

off the boilers. Since then, no one has

complained about not having hot water

to wash their hands with.

We also found an easy-to-implement

solution for our workplace PCs: Central

entries in the Group Policy for the Active

Directory now ensure that hard disks and

screens on workplace computers shut

down during breaks after ten and fifteen

minutes, respectively. The computers go

into sleep mode after 20 minutes, and

as a consequence they only consume

3.5 watts instead of 88. If employees

are at a meeting, there is no need for

their computers to be in standard mode.

Although they may need 30 seconds to

reboot them out of sleep mode, there are

lots of things they can do to use the time

effectively without their computers.

Energy guzzlers

AMPEG maintains a complex productive

network to achieve the best-possible quality

in the productive evaluation of software

applications and the development

of proprietary software. At the beginning

of 2007, we decided to virtualise as much

of our hardware as possible in order to

reduce the electricity consumed by running

a server on a 24/365 basis. Average

power consumption amounted to 178

watts an hour for hardware equipped

with a single processor. This provided an

energy-savings potential of around 1,560

kWh per server per annum, which, again,

is as much as a single-person household

consumes a year.

Employing virtualisation software, we

managed to convert our physical computers

into "virtual machines". We only

needed three or four hours to perform

a conversion. We also invested in cutting-edge

blade systems equipped with

energy-saving low-voltage processors to

get as many virtual machines as possible

to run on a single hardware host.

The energy balance

The chart demonstrates how massively

downsizing our server hardware made

it possible for us to significantly reduce

electricity consumption from the 2nd

Quarter of 2008.

Our comprehensive package of measures

allowed us to reduce electricity

consumption throughout the company

by 30 percent in two years and hence

reduce our carbon footprint by several

tonnes.

AMPEG has reinvested a large part of

what it has saved in electricity costs back

into the environment, and although the

higher unit price eats up part of the

savings, we still wanted to set a good

example and now get the electricity for

our whole company from a supplier

providing energy from 100% regenerative

sources.

Proactive measures

The British historian Eric Hobsbawm

recently argued that both socialism and

capitalism are exhausted. A phase of

reorientation like this represents exactly

the right time for companies to act more

justly in terms of social responsibility

and positively showcase their climate

protection costs as having social value.

In return, shareholders should honour

this investment in the future, even if

they receive lower dividends in the shortterm.

Our employees, who reap large

benefits from the profits our company

makes, have already been doing this for

a long time.

If we, the companies from the rich and

developed European nations, set a good

example, it will be easier for countries

like the USA, Australia, Canada and

others to implement climate protection

goals. AMPEG's latest project is called,

"30% less paper". And we certainly aim

to achieve this in 2009.

Global Compact International Yearbook 2009 5
---
Amazon Caribbean Guyana

Indigenously Produced

Organic Fruit

By Gerd Pfitzenmaier

"Without the cooperation with the indigenous people," Xavier Richard knows, "our company

would never have been able to thrive as it has." Since its establishment in 1987, Amazon

Caribbean Ltd. (Amcar) has relied on the efforts of thousands of indigenous people from the

Arawack, Warrau and Carib tribes in Guyana. In the jungle of the Barima-Waini Basin, they

collect the raw materials for Amcar's products: hearts of palm and pineapple. "Our mission,"

the company states accordingly, "is to generate, in partnership with the people in Guyana,

economic value added from naturally growing products."

In his factory hidden in the jungle, the

French adventurer Pierre Saint-Arroman

has taught indigenous workers how to

harvest certified organic hearts of palm

and pineapples, pack them in cans and

ship them to customers in Europe's organic

stores and U.S. malls. With these

goods, Amcar and the indigenous people

create "benefits for everyone involved",

Richard notes in summarizing the basic

business idea. Economic success is, of

course, important to him and Pierre

Saint-Arroman – but at the same time,

they want to help the inhabitants of the

Orionoco Delta. "In the first 15 years of

our work, Guyana went through economic

crises," Xavier Richard remembers.

"Today, the people earn a secure income

from Amcar."

The success story began as an adventure

story: When Pierre Saint-Arroman

travelled to the South American country

in 1983, he actually wanted to dig

for uranium. Guyana lives from the

exploitation of its bauxite, diamond and

gold mines, and with the experience

he had gathered in the African bush,

Saint-Arroman wanted to sell the ore

in Europe as raw material for energy

production. But the deal fell apart. Saint-

Arroman stayed because he sensed the

fresh political wind blowing in Guyana

back then. The country was looking for

foreign investors. He met Xavier Richard,

and the two of them "copied the knowhow

for processing hearts of palm from

the neighbours in Venezuela and, with

Dennis Wilson, Dennis Ramascindo and

George Uthandi, built our own factory

in Drum Hill," Richard reminisces. The

new entrepreneurs obtained the material

for the mill from the rain forest on the

Barima River. They also relied on the

knowledge of their hired indigenous

helpers: a first win-win business, from

which the families living there have also

profited from the very beginning.

The company trained 500 indigenous

people as organic farmers in an effort

supported by the United Nations Development

Programme (UNDP) and this

South American country's government.

"Not only did Amcar secure its supply of

organic raw materials," the report states,

"at the same time it secured the indigenous

people a sustainable income." Even today,

the only connection to the cities on

the ocean coast remains the boat trip

through the jungle along the river and

delta, which often takes up to two days.

On the barges, Amcar employees transport

food, clothing and fuel to the factory

and carry their products to the harbour

at Georgetown on the north coast.

"Even in the first year, our employees'

families harvested 13 twenty-foot containers

of hearts of palm," says Xavier

Richard, looking back at the company's

start, "which we could ship as exports to

Europe." With this, the company showed

how much potential there is in Guyana's

little-used agriculture. The secret lies in

the broad, pristine tracts of land, which

are mostly overgrown by jungle. They

are fully untouched by agrochemicals

6

Global Compact International Yearbook 2009
---
Best Practice

Labour Standards

For Amcar, the basis of this business

remains the hearts of palm. Their harvesting,

the company emphasizes, is

absolutely harmless for the natural environment

in the jungle of Guyana, for

the Euterpe oleracea are not cultivated

in plantations, but grow wild in the

forest. "People intervene only when

harvesting," Amcar says, describing this

nature-friendly activity. To make sure

that it stays this way, the company trains

Guyana's indigenous farmers to take

lasting care of the jungle land. "This

keeps the Amerindians from using nonecological

production methods," judged

the United Nations Development Programme

(UNDP) and the UWI Institute

of Business in their 2005 volume The

Millennium Goals and the Private Sector,

The Caribbean Experience.

and so could be used for organic farming

within a short time, avoiding long

transition times.

Until Amcar was established, nobody had

thought of selling the fruit or vegetables

harvested in Guyana as organic food.

But Richard and Saint-Arroman added

another argument: They vaunt their

cooperation with the indigenous people

to the affluent consumers in far-away

Europe and Arabia by offering hearts of

palm and pineapple not just as "organic",

but also as "indigenous" fruit. And so

they gain a second bonus from their collaboration

with the indigenous peoples

of South America. "Amcar proves," they

announce on their Internet site, "how

we can benefit from the added value in

the market." And their products, ecologically

produced by indigenous people,

enjoy disproportional success with the

customers." Annual growth in 2000 was

almost nine percent and quickly jumped

to 20 percent in 2005," Amcar notes

with satisfaction: "Investment in the

professional processing of these nontraditional

agricultural products can

thus become an engine of growth." And

so in the company founders' vision, the

indigenous people would gain a key role

in the global market: Their land and

knowledge provide future generations

with natural food and medicine.

Consistent with this, CEO Pierre Saint-

Arroman signed the Global Compact

membership declaration for Amcar back

in 2000. And consistent in its pursuit of

these commitments, Amcar organises the

food supply of the indigenous communities

at affordable prices. The company

also supplies transportation for the remote

region: Their boats are usually the

only connection to the world outside the

jungle, and certainly the fastest.

Together with the Red Cross in Guyana,

the company offers health courses for

employees' families as well as for other

members of the indigenous village communities.

These are meant to fight malaria

and inform people how to better

protect themselves against infection with

AIDS. The company's commitment also

includes education for the employees'

children and further development of

workers' technical skills.

In all this work, the two entrepreneurs

always keep the people with whom they

work in view. And their commitment has

not gone without recognition: In 2004 the

Amcar founders were commended in "The

World Business Awards in support of the

Millennium Development Goals".

Global Compact International Yearbook 2009 7
---
Autostrade Per l'Italia

Upgrading

Infrastructural Capacity

and Reducing Atmospheric

Pollution

By Simonetta Giordani, Benedetta Masignani and Andrea Ragni

Given the interest in the issue of air quality – an issue

that necessarily implies a scientific approach – Autostrade

per l'Italia embarked on an in-depth examination of the

problem in all of its aspects in 2007. This was done with

an awareness that the motorway network is not a source

of pollution, but rather an infrastructure that facilitates

the transit of vehicles, whose emissions vary depending on

their basic technical features, their speed, and traffic flow

in general. A correct approach to the issue of air pollution

therefore leads to the conclusion that since motorways

free the ordinary road system of traffic, they can serve to

reduce pollution.

Autostrade per l'Italia – 100 percent

owned by Atlantia S.p.A., which is responsible

for investments and strategies

in the transport and communications

infrastructure and networks sector – is

the leading European concessionaire

for toll motorway management and for

related transport services.

In Italy, about four million motorists –

around 8 percent of the Italian population

– use the Group's motorways daily.

Those motorways cover 3413.5 km and

contribute to the social and economic

standing of Italy within Europe, ensuring

an effective transport system and

indispensable services in and between

urban areas.

In 2007 and 2008 Autostrade per l'Italia,

in partnership with Euromobility Service

S.r.l., the National Association of Mobility

Managers, Rome, conducted an experiment

aimed at determining the real advantage

– in terms of the abatement of

atmospheric pollution – obtained from

the construction of an additional traffic

lane in sections characterised by persistently

congested traffic. The decrees that

were issued between 2006 and 2007 on

environmental impact evaluation (EIS)

procedures for measures to upgrade the

motorway concessionaire network are

proof of the enormous importance that

the Italian Ministry of the Environment

attaches to the problems of atmospheric

pollution. Every EIS decree offers the

same recommendations: on the one hand,

to implement environmental monitoring

plans – by the proponents of civil engineering

works – in order to acquire the

data necessary to quantify and manage

atmospheric pollution phenomena; on

the other hand, to urge the regions to

make their plans for rehabilitating the

quality of the air – pursuant to European

directives 96/62/CE and 99/30/CE –

fully operational, thereby avoiding action

against Italy for breach of EC regulations

by the European Community.

These provisions, which are contained

in the EIS decrees on measures to upgrade

motorway sections referring to

various Italian regions (Lombardy, Emilia

Romagna, Tuscany, Marche, Lazio), convinced

Autostrade per l'Italia to conduct

the experiment in Tuscany and

Lombardy.

The method used in this study marks

a change to traditional methods based

on the COPERT/CORINAIR methodology,

since it does not use driving cycles

8

Global Compact International Yearbook 2009
---
Best Practice

Environment

Design/Non-Design Comparison

Percentage variation (%)

0

-5

-10

-15

-20

CO

VOC NOx PM10

vehicles. As concerns NOx and PM10

emissions, the same reasoning applies

with respect to heavy vehicles. Therefore,

it can be concluded that the building of

a third lane for the section in question

will produce a reduction in polluting

emissions by vehicle traffic.

-25

-30

and average speeds, but instead is based

on traffic microsimulation models and

instantaneous emission factors (taken

from the MODEMINRETS and DVB-

University of Graz databases) that are

applied to monitored driving cycles on

the motorway sections. As a result, this

method can represent local situations

more effectively and supply more reliable

estimates about the differences – in

terms of emissions produced – between

smooth-flowing traffic and congested

traffic conditions.

In 2007 the method proposed was applied

to the Barberino del Mugello–Incisa

Valdarno section of the A1 Milan–Naples

motorway, and, in particular, to the subsection

Barberino del Mugello–North

Florence section, in order to analyse the

effect of the enlargement of the road

infrastructure on traffic emissions.

The present motorway layout (two lanes

per carriageway) was compared with

the new design layout (three lanes per

carriageway). The fluidity of the traffic

produced by the enlargement design

increased the average travelling speed

and thus was responsible for "flatter"

driving cycles. More specifically, flatter

cycles mean less stop-and-go, during

which emissions are highest.

It was therefore demonstrated that in

each of the five time intervals in which

the day was divided, emissions of the

main pollutants (CO, NOx, COV, and primary

PM10) were significantly lower with

the enlargement design. This conclusion

is valid not only with reference to 2007

but also 2010 – taking into account

expected traffic increases.

The figure above illustrates the overall

emission benefits for all categories of

vehicles. A comparison between the columns

for the years 2007 and 2010 shows

that in 2010 there is a very prominent

reduction in CO and VOCs with respect

to other pollutants. This is explained by

the fact that CO and VOC emissions are

principally produced by light vehicles

and thus their overall trend is strongly

affected by the respective trends of light

Network Average Speed

km/h

100

80

60

40

20

0

4 Traffic Lanes 3 Traffic Lanes

2007 2010

In 2008 Autostrade per l'Italia also conducted

the experiment in Lombardy

regarding the A4 Turin–Trieste motorway,

which is considered one of the focal

points of the Italian road network due

to its connecting the Iberian Peninsula

and the Balkans, thereby making it one

of the most trafficked motorways in Italy.

The methodology proposed was applied

only to the Milan–Bergamo section (34

km) of the A4 motorway and presented

a direct comparison between the current

network with enhancements (four traffic

lanes) and the previous carriageway

layout (three traffic lanes).

The conclusions of previous studies was

confirmed, that is, that traffic fluidity

that results from road enlargement

increases the average speed and produces

"flatter" driving cycles as well as

significantly lower emissions of major

air pollutants (CO = -35%, NOx = -13%,

VOC = -14%, PM10 = -22%), as shown in

the following figure.

6 - 7 am 3 - 4 pm 5 - 6 pm

9 - 10 pm

Global Compact International Yearbook 2009 9
---
Arcandor

Action in the Supply Chain

Since the nineties, retailers have been paying more and more attention to social

responsibility in the supply chain. As there was extensive agreement on establishing

common criteria of their individual procurement guidelines, it was only logical for

them to pursue a cooperative effort. Originally under the umbrella of the Foreign

Trade Association of the German Retail Trade (AVE), these efforts developed at the

European level into the Business Social Compliance Initiative (BSCI).

By Dr. Alexandra Hildebrandt

10

Global Compact International Yearbook 2009
---
Best Practice

Labour Standards

The goal of the BSCI is to coordinate the

varied efforts of its member companies

to improve workers living and working

conditions in the factories, bundle their

experience and act faster and more efficiently

together. In addition, a uniform

stance towards suppliers, various stakeholders

and governmental authorities

gives the Corporate Social Responsibility

(CSR) efforts more a higher emphasis

and more power. So far (as of February

2009), the BSCI already has more than

250 members from 11 European countries

and enjoys a high credibility and

recognition in politics and business, both

nationally and internationally.

We are among the first BSCI members

and have worked since the start of the

Initiative on developing instruments to

improve and check social standards in

our supply chain. While the focus at first

was on goods requiring a large amount

of direct manual labour (clothing, home

textiles, toys or shoes/leather goods), the

focus of the Initiative changed to cover

factories that are more technology-intensive

such as hardware manufacturers.

The BSCI process model helps suppliers

improve the situation in their production

sites through several successive

steps. Starting with awareness raising, in

which suppliers, through training, are

exposed to the issue of social responsibility

and standards. The next step the

process requires a self-assessment. If

this assessment is done honestly and

thoroughly, and after good preparation,

no unpleasant surprises are expected

from the subsequent audit.

Currently, twelve certified auditing companies

are authorized to perform BSCI

audits: These companies conduct their

audits independently and according to

BSCI standards. This ensures objectivity

and comparability of final results worldwide.

An audit is being conducted over

the period of several days and finishes

with a report, including a corrective

action plan (CAP).

Experience shows that carrying out the

CAP in the set timeframe frequently

causes difficulties. In order to address this

problem we are working together with

the supplier and carry out qualification

measures in the form of special workshops,

individual discussions or training

for the suppliers and also help develop

ideas and possible solutions on site.

A re-audit after implementation of the

CAP usually has two outcomes: 1) It

confirms that the agreed measures have

been carried out and the factory complies

with all required social standards, or 2)

it shows the need for further improvement.

Once the audit is successfully

completed it will be three years before a

follow-on cycle audit is being conducted

to ensure that the level achieved has

been maintained.

Regarding the financing of a BSCI audit,

our company has decided that suppliers

must pay the costs. Other BSCI members,

which largely work with exclusive suppliers

and/or whose portfolio of suppliers

is much smaller and largely stable, bear

the audit costs themselves.

How do things look in practice?

The CSR team directly cooperates with

employees of the Asian purchasing agent

Li & Fung. They are in direct in contact

with the suppliers on organizational

issues during the BSCI process and are

also involved in the progress checks in

our production sites. In addition, new

suppliers without "Group experience"

are looked at in a pre-check, the so called

factory evaluation and are evaluated on

their suitability and need for development.

Due to the large number of Group suppliers,

we started with the top revenue

providers and are currently working

with suppliers in the broad middle of

the revenue range. Starting in 2010, we

will also integrate suppliers with lower

revenues into the BSCI audit process.

The suppliers we are working with to

improve social compliance have about

two months to meet their audit obligation.

A supplier can also always choose

to undergo an audit independent of the

CSR team's program.

In some cases it also happens that several

attempts are needed before our factories

are truly "socially compliant". But it does

not fit our understanding of responsibility

and sustainability to drop a supplier

simply because conditions in its factories

do not fully meet our requirements.

Exceptions are the "No-Gos", which all

our suppliers are aware of, such as child

labour or forced labour.

However, every "problem supplier" is

looked at on an individual basis. In 2007

for example, it came to our attention that

a Chinese factory employed a worker

that was only 15 years old (the legal

minimum age is 16 in China). Since the

family urgently needed her income and

only a few months remained until her

16th birthday, it was agreed to finance

the girl's school attendance and let her

work reduced hours (as allowed under

national laws) at full pay. The supplier

was warned and received targeted individual

training.

But such pragmatic solutions cannot

always be found for all participants.

There are also suppliers who have no

interest in improving conditions in their

production sites. If these suppliers fail to

show evidence of changes they made or

proof of being compliant despite all our

efforts, an escalation process is initiated.

This extends from actions and interventions

by the CSR team to the involvement

of the responsible parties at Li &

Fung and ultimately the buyers of the

individual Arcandor Group companies

doing business with these suppliers. If

these measures do not bear fruit, then,

in the interest of the Group and as a

last resort, our words are followed by

actions and the business relationship

is ended.

Global Compact International Yearbook 2009 11
---
Bayer

The Bayer

Climate Program

12

Global Compact International Yearbook 2009
---
Best Practice

Environment

We at Bayer consider climate change to be the most pressing challenge facing the world

today. After all, climate change endangers the natural basis of all our commercial

and social actions. The consequences for company policy are clear – in this time of global

financial and economic crisis in particular, it is crucial that companies set a course that

will steer them towards sustainability. This also involves making a clear commitment

to climate protection. As part of our comprehensive climate program, Bayer is working

to develop solutions across a range of areas that will enable the company to make a

contribution to tackling the challenges posed by climate change.

By Dr. Wolfgang Große Entrup

As a founding member of the UN Global

Compact, we support the objectives and

principles of this initiative wholeheartedly

and are also committed to pursuing

our own initiatives to spread and

implement these goals and principles

worldwide. One central area of activity

is environmental protection. This issue

has long been given high priority at

Bayer. As a company with international

production operations, we believe the

judicious use of natural resources is a

major part of its corporate social responsibility.

This is particularly true when it

comes to climate protection and tackling

climate change.

As an emitter of greenhouse gases, the

company is aware that it is part of the

problem. For that reason, the Group

took steps early on to implement improvements

in its production processes,

introduce new technologies, and opt

for efficient combined heat and power

generation in the field of energy supply.

Between 1990 and 2008, Bayer was

able to reduce its worldwide greenhouse

gas emissions by 38 percent. In 2008,

the company was the only member of

the chemical-pharmaceutical industry

headquartered in Europe to be included

in the Climate Disclosure Leadership

Index four times in a row. The Climate

Disclosure Leadership Index is the first

global climate protection index.

The Bayer

Climate Program

• Clear commitment to climate

protection

• Lighthouse projects in the fields

of buildings, agriculture and

production

• Further measures: company

vehicles, business travel and IT

• Bayer Climate Award and

scholarships

• Expenditure on climate-related

F&E and projects: EUR 1 billion

(2008-2010)

However, Bayer is also part of the solution.

Many of the company's products

contribute towards cutting energy consumption

and therefore CO2 emissions.

For example, materials from Bayer are

used to provide effective insulation for

houses and refrigerators, and to manufacture

lighter-weight vehicles with lower

levels of consumption. The materials

themselves also display very good energy

credentials – raw materials from

Bayer that are used to manufacture polyurethane

for insulation, for example, save

more than 70 times the energy needed

to produce them in the first place.

The Bayer Climate Program

Bayer is keen on playing an even more

prominent role in addressing the climate

issue and pursuing climate protection

goals. To that end, the company launched

the Bayer Climate Program at the end of

2007. Scheduled to continue for several

years, the program clusters the many and

varied skills of the subgroups and service

companies with the aim of boosting

climate protection. Between 2008 and

2010, Bayer will invest EUR 1 billion in

climate-relevant research and development

and various projects.

The first lighthouse projects implemented

under the auspices of the Bayer Climate

Program are the EcoCommercial Build-

Global Compact International Yearbook 2009 13
---
Bayer

ing – a global concept for zero-emissions

buildings in the office and industrial

sector – the Bayer Climate Check for

analyzing and reducing greenhouse

gas emissions in industrial production,

and the development of stress-tolerant

plants in the agricultural sector. This

comprehensive program also includes a

low-emission fleet of vehicles, increased

use of cutting-edge video-conferencing

technology to reduce the need for business

trips, and energy-saving measures

in the Group's data centres.

Bayer set itself emission targets to be implemented

in the various sub groups. According

to today's estimates, the Group's

greenhouse gas emissions will remain at

the level of 2007 up to 2020 despite an

expected growth in production after the

economic crisis will have been overcome.

There are two more special initiatives we

launched under our climate program.

We founded the Bayer Climate Award

to recognize the work of outstanding

climate researchers. And we honor school

students who have demonstrated a particular

commitment to climate protection

with scholarships.

The EcoCommercial Building

Energy consumption in buildings is responsible

for around 20 percent of global

greenhouse emissions. Bayer Material-

Science is focussing on buildings in the

office, industrial, and social amenities

sector, a field that has remained somewhat

neglected up till now. Working

in cooperation with partners, the Bayer

subgroup has developed the EcoCommercial

Building, a new concept for zeroemissions

buildings. Insulation materials

are crucial to this project. Alongside the

fact that the EcoCommercial Building

generates its own renewable energies,

these materials ensure that buildings of

this type save energy and thus can fulfil

their own energy needs independently

– and achieve a CO2-neutral status as

an annual average.

What is special about this concept is

that it can be adapted to the world's

different climate zones. In warm regions,

buildings must be insulated against the

heat, while in cool regions they must be

protected against the cold. Bayer itself

is constructing the first EcoCommercial

Buildings in two different climate

zones. The Group's new administrative

premises currently under construction

near New Delhi will consume 70 percent

less electrical energy than buildings

constructed using methods common in

this subtropical region of India. Meanwhile,

in the more moderate climate

of Germany, Bayer is building an emissionsneutral

company kindergarten at

its Monheim site.

The Bayer Climate Check

Bayer Technology Services developed the

Bayer Climate Check with the aim of increasing

energy efficiency and reducing

greenhouse gas emissions in industrial

production. This enables the company

to run checks on production sites worldwide

to determine their impact on the

climate and identify areas where there

is potential to cut emissions. The new

feature of this tool is that it also includes

the pre-production processes – raw

materials, energy, and logistics – in

the analysis.

Bayer in figures

Key businesses in health care,

crop science and high-tech

materials:

• 108,600 employees*

• Sales of EUR 32.9 billion*

• 316 companies*

• R&D budget 2009:

EUR 2.9 billion

* As at the end of 2008

We use the Climate Check to examine

over 100 production sites worldwide

by the end of 2009, thereby recording

information on around 85 percent of our

greenhouse gas emissions. Steps will then

be taken to make full and intelligent use

of the potential savings identified. Initial

results reveal that the Bayer Climate

Check can help the Group to cut its current

greenhouse gas emissions by around

10 percent. In addition, the management

also takes the Climate Check into account

when making decisions on new investments.

This new style of climate check is

TÜV-certified and is also made available

to other interested companies.

Stress-resistant plants

Climate change is threatening to further

exacerbate issues such as heat and

drought that are already reducing the

agricultural yield of crops by up to

80 percent. The world's population is

further growing, but the land available

for cultivation is limited. Furthermore,

the demand for biofuels is rising. The

ultimate aim is to safeguard and even

increase crop yields. As a result acricultural

productivity has to be boosted

significantly. Researchers from Bayer

CropScience are seeking to make plants

more resistant to stress factors such

as drought, heat, cold, and soil salinity

by unlocking the potential offered

by biotechnology, for example. Bayer

CropScience is also already supplying

innovative crop protection agents that

help to safeguard or increase crop yields,

even under stressful conditions.

Saving energy in further areas –

company vehicles, business trips,

and IT

Bayer aims to cut greenhouse gas emissions

from its company vehicles by 20

percent by 2012. In the first year of the

climate program, the accelerated introduction

of company cars with lowconsumption

engine technology and alternative

drive systems (e.g., hybrid) in 20 countries

resulted in a 5 percent reduction in associated

greenhouse gas emissions.

14

Global Compact International Yearbook 2009
---
Best Practice

Environment

The chemical park in Leverkusen

Today's cutting-edge video-conferencing

technology offers an appealing alternative

form of communication that dispenses

with many of the disadvantages

of teleconferencing. This technology

means it is possible to generate life-size

representations of video conference

participants, creating a realistic meeting

scenario and allowing non-verbal

communication. In cases where there

is no need for someone to be present

in person, these telepresence rooms

prevent staff from having to travel

long distances to attend meetings. We

have set up the first such so-called telepresence

rooms equipped with the

latest video technology at the Group

headquarters in Leverkusen (Germany)

and at the Pittsburgh site in the United

States. Other key Bayer sites are set to

follow suit.

In every large company, IT also offers

the potential for making sizeable energy

savings. Using a range of measures, we

have set ourselves the task of reducing

the energy consumption of our three

data centres located at the Group headquarters

in Leverkusen and at the sites

in Pittsburgh and Singapore also by 20

percent by 2012. This project includes

energy-saving concepts for server installation

and computer usage and, in addition,

reductions in paper consumption.

To make optimum use of the current

of air needed to cool computer chips,

for example, computers will be set up

in such a way that cold and warm air is

kept apart as much as possible.

Promoting scientific and social

debate on climate change

Bayer is employing two initiatives to promote

scientific and social debate on the

challenges posed by climate change, and

to recognize specific personal achievements

made in this area. The Bayer Climate

Award is the first international

prize for outstanding contributions to

fundamental climate science research.

The Bayer Science & Education Foundation

presented the award for the first time

in 2009 in Berlin to Professor emeritus

Eberhard Jochem from the Fraunhofer

Institute for Systems and Innovation

Research in Karlsruhe (Germany). Professor

Jochem, who was involved in the

Intergovernmental Panel on Climate

Change (IPCC) and other projects aimed

at developing an international climate

policy, was honoured for his pioneering

technological and economic contributions

to research into energy efficiency.

He has demonstrated not only that it is

possible to achieve an 80 percent increase

in energy efficiency in the industrialized

nations before the end of this century,

but also that it is an economically viable

proposition. The Climate Award has a

prize fund of EUR 50,000 and is awarded

every two years.

Sustainability Camps organized by independent

organizations open up opportunities

to gain first-hand information

about climate protection and to

share views and opinions with other

likeminded people. Each year, the Bayer

Science & Education Foundation awards

scholarships to school students so they

can attend these events. In doing so, we

recognize and reward the dedication

shown by the people who themselves

are the reason why it is crucial we are

proactive in tackling climate change

today – the generation of tomorrow.

Global Compact International Yearbook 2009 15
---
BASF

1+3: Building a

responsible value chain

In China, there are over 32,000 chemical enterprises and many more if we consider the entire

supply chain. Over 90% of the related companies are small and medium-sized enterprises

(SMEs), which contribute strongly to the overall economic activities of the country but often

find it hard to mobilise enough resources to effectively practise sustainable development.

Thus, BASF in 2006 initiated a program called "1+3", which mobilises and supports its

partners and suppliers in China to improve their corporate social responsibility (CSR).

16

Global Compact International Yearbook 2009
---
Best Practice

Environment

By JinXiu-Lucy Li

BASF believes the effort of sustainability

should involve the entire value chain.

For example, the analysis of emissions

and energy consumption should not be

limited to only one single producer of a

chemical, but should take into account

the entire lifecycle of a product, from

raw materials sourcing to disposal. If

all suppliers and customers adopt green

practices by maximising the "good inputs"

and minimising the "bad outputs", then

the whole supply chain would help in

mitigating risks and speeding up innovations.

The "1+3" CSR project is now gradually

building up a responsible value chain

by spreading and sharing the principles

and practices of sustainability. To date,

60 local and international companies in

China are participating in the project,

thus enhancing performance in, for example,

environmental protection, health

and safety (EHS) management.

What does "1+3" stand for?

The "1+3" CSR project was initiated by

BASF in October 2006 as an innovative

approach in supply chain management.

It was launched as a program under

the China Business Council for Sustainable

Development (CBCSD). CBCSD is a

coalition of leading Chinese and foreign

enterprises registered and operating

in China, established through the

Ministry of Civil Affairs. It helps the

World Business Council for Sustainable

Development (WBCSD) shape the sustainable

development agenda at the

local level and also provides a platform

for exchange and cooperation among

businesses, government and social communities

in China.

A CBCSD member company like BASF

forms teams with three types of business

partners: customers, suppliers and logistics

service providers – mostly SMEs –

with the aim of promoting sustainability

and giving guidance for best practices

or customised solutions. Each of the

three selected partner companies then

introduces the same concept to a further

three business partners in its own value

chain: A snowball effect is created.

BASF had six "1+3" partners participate

in its first round, which concluded in July

BASF has been a committed

partner to Greater China since

1885. It is one of the biggest

foreign investors in the Chinese

chemical industry. The company

has approximately 6,300

employees and operated 19 BASF

wholly owned subsidiaries and

10 BASF joint ventures in 2008.

BASF's sales in Greater China are

about €4.2 billion.

For further information, please visit

www.greater-china.basf.com.

2008. These were customers – Huafeng

Group, Guangzhou Liby Enterprise Group

Co., Ltd., Beijing Plaschem Trading Co.

Ltd. and Zhejiang Kaipute Spandex Co.,

Ltd. – as well as a supplier – Zhejiang

Qiming Pharmaceutical Co., Ltd. – and

a logistics service provider – Sinochem

International Corp. Currently, BASF is

running the second round of the "1+3"

CSR project.

Dr. Jürgen Hambrecht, BASF chairman

of the board, sees sustainability as a key

factor to ensure long-term economic

success. This is crucial, as the concept

needs commitment at the highest level. In

China, BASF is the chair of the Association

of International Chemical Manufacturers

(AICM), which aims to promote safe and

clean practices in the manufacturing,

distribution and use of chemicals. In

December 2006, BASF, along with other

member companies, such as Bayer, Dow

Chemical, Exxon Mobil, Merck Chemical,

Degussa Cyprus, Romania Gate Haas, DSM

and the Shanghai-based China Europe

International Business School (CEIBS),

invited the leaders of 25 Chinese chemical

enterprises to participate in training on

EHS topics. This meeting instilled in them

a strong awareness of the importance of

sustainability as well as an understanding

of how it could be implemented throughout

their businesses.

"Ambassador + expert": jointly

ensuring sustainability

If you strive to address a complex topic

like sustainability, you need to get a feeling

for your partner's specific needs. That

is why the BASF team started its work on

the "1+3" project by sending questionnaires

out to the partners, which helped

them identify their areas for improvement.

An expert team was then set up

for each partner according to the chosen

area of cooperation. These teams consist

of a representative of the relevant BASF

business unit – the "ambassador" – and

one BASF "expert" in the specific EHS

topic. This could be pollution prevention

or occupational health and safety,

for example. The teams then develop

a tailored plan on how to improve the

partners' sustainability management

capacity and how to integrate the concept

into their corporate strategies.

For example, one common problem in

China that "1+3" participants can address

Global Compact International Yearbook 2009 17
---
BASF

is a lack of knowledge on how to obtain a

Material Safety Data Sheet (MSDS), which

is obligatory in China and describes the

chemical and physical properties of a

material and provides advice on safe

handling and use of the material.

Hands-on approach:

BASF developed tailor-made programs

according to "1+3" partners' specific

requests, ranging from seminars and

training to site visits and implementation.

Through these, partners started to

see the bigger picture of how and where

to improve their EHS areas in a systematic

way. BASF also provided training for

a Road Safety Quality Assessment System

(RSQAS), which is a preventive program

to strengthen the safety and reliability of

chemical transportation in China.

In so-called "Eyes for Safety" visits, the

six BASF expert teams first went to inspect

each partner's production site in

order to get a picture of the partner's

EHS status and make it aware of the

areas which might have been overlooked.

Then, the BASF experts and the partner's

EHS managers together identified priority

cooperation areas. "The BASF visit

provided good insight for our middle

management on environmental protection

and safety management," said Mr

Zhang Qiming, the Board Chairman of

Zhejiang Qiming Pharmaceutical Co. Ltd.

after an "Eyes for safety" visit.

their improvement progress, which are

then quickly addressed by BASF experts.

This proved to be a very helpful tool for

our partners to view their implementation

as a long-term process and to ensure

continuous improvement.

During a "1+3" sustainability self-assessment

seminar in July 2008 in Shanghai,

senior executives from six "1+3" partners

and the BASF project team attended a

roundtable discussion. BASF experts

presented detailed analysis on their six

Responsible Care (RC) systems and best

practices. This trust-filled sharing not

only of good experiences but also of

challenges and related problem-solving

techniques with regard to practical implementation

of sustainability aspects

is another fruitful result of the whole

project. All participating companies are

committed to continue to implement

their social responsibility objectives by

putting more sustainability ideas into

practice.

The fruits of the "1+3"

sustainability project

Improving value chain competitiveness and

creating new customer relations:

By disseminating the "1+3" ideas and values

to more partners, BASF continually

broadens the platform for dialogue with

them and puts an innovative customer

relationship into practice. Mutual trust is

established between the two parties, effectively

laying the foundation for a longterm

strategic partnership. This not only

strengthens BASF's inter-departmental

cooperation, but also reduces risk in its

value chain.

In the implementation phase, the project

groups also provide training to address

common issues faced by all companies.

Every project group also reviewed one of

their partner's reform strategies.

Sustainable solutions need

staying power

Sustainability solutions are usually implemented

over a long-term period. This

is why "1+3" aims to accompany our

partners beyond the first year. In order

to help our partners to ensure sustained

improvement in their sustainability practices,

BASF offers self-assessments in the

form of a questionnaire asking about

"Difficult times especially show that companies which conduct their business

sustainably and responsibly are more successful in the long-term. That is

why sustainability is a firm part of BASF's strategy: Long-term success is

not possible unless the environment and society are treated carefully. We

are therefore committed to implementing the principles of the U.N. Global

Compact."

Dr. Jürgen Hambrecht, BASF chairman of the board

18

Global Compact International Yearbook 2009
---
Best Practice

environment

Raising awareness of sustainability amongst

participating enterprises and satisfying their

developmental needs:

As China's economy is increasingly integrated

into the global economy, actively

practising sustainability and integrating

it into business practices has been essential

to maintain core competitiveness.

In this respect, BASF's six partners all

believe that the "1+3" project was just

what they needed. They have benefited

from the free access to advanced sustainability

management techniques from a

large multinational corporation such as

BASF. The six enterprises have integrated

the "1+3" concept into their corporate

strategies by improving their employees'

workplace safety and their companies'

surroundings as well as strengthening

dialogue with various stakeholders. They

have also held seminars themselves on

process safety management systems or

sustainability practices. One partner has

even submitted a proposal to the National

People's Congress aiming to promote the

"1+3" concept. At the same time, the six

partners have kept focused on emissions

reduction in the production process and

promotion of the sustainability concept

in their own supply chains.

the 1+3 program

MeMBer CoMPanY

suPPlIer

all participating companies are

committed to continue implementing

their social responsibility objectives by

putting more sustainability ideas

into practice at the conclusion event to

"1+3" project in July 2008.

China Business Council for

sustainable development

MeMBer CoMPanY

CustoMer

MeMBer CoMPanY

ContraCtor

Role-model effect:

In January 2008, the United Nations

Global Compact named the BASF "1+3"

CSR project a case study that was then

shared among members and enterprises

worldwide. In China, Zhai Qi, executive

secretary-general of the China Business

Council for Sustainable Development

(CBCSD), believes that "1+3" has already

become a model for the dissemination of

sustainability principles throughout the

Chinese economy because it has proved

particularly successful among small and

medium-sized companies.

The snowball effect

goes on…

After the successful implementation of

the "1+3" CSR Project, BASF launched the

"Golden Bee" concept with China WTO

Tribune to further promote sustainability

in China. The analogy of honeybees was

chosen because the bees naturally create

a win-win situation. BASF, together with

China WTO Tribune and China Ocean

Shipping (Group) Company, announced

the "2007 Golden Bee CSR China Honor

Roll" in April 2008. Sixty of the 205 participating

enterprises were honoured as

pioneers and role models, based on their

corporate governance, overall business

performance and CSR practices.

BASF firmly believes that shouldering

sustainability challenges leads to stronger

competitiveness. Since China's ambitious

sustainable development goals cannot

be achieved by large companies alone,

BASF hopes that more local enterprises

will gradually join in to share their sustainability

practices with a large number

of small and medium-sized companies

along their supply chain – just like a

bee disseminating pollen. Following

this model, the partners benefiting from

their involvement in the project would

commit to continuing the "1+3" model

– which means the number of partners

will soon triple, and so on. If this process

continues to replicate itself, a new

paradigm can be created. The practice

of the "1+3" model could influence all

businesses and eventually the entire

society.

Global Compact International Yearbook 2009 19
---
CapGemini-Naandi Collaborative Partnership

Creating an Impact

on Education for Girls

in India

With girls representing two-third of the world's uneducated children and women

representing two-thirds of the world's illiterate adults, it has been acknowledged that

successful education for girls and women is a necessary mechanism for breaking the cycle

of poverty, myths, and social norms, for ensuring the well-being and health of children,

and for the long-term success of developing countries.

By Carolyn E. Nimmy and Cecilia Schrijver

20

Global Compact International Yearbook 2009
---
Best Practice

human rights

Capgemini Group & naandi foundation

Whilst education in India is free, the

materials to support that education are

not. These materials includes uniforms,

clothes, notebooks, and personal hygiene

products – expenditures that underprivileged

families are often unwilling or

unable to make for their daughters.

Project Nanhi Kali is a participatory project

where individuals, groups, and companies

are encouraged to sponsor the education

of girls. The Nanhi Kali project is jointly

managed by the Naandi Foundation and

the K.C. Mahindra Education Trust. The

Capgemini Group is currently the second

largest corporate sponsor of the Nanhi

Kali project, we support the education

of over 10,000 girls in India.

The birth of a successful

employee-led initiative

What started as a friendship between

Capgemini India and Capgemini Norway

while looking for ways to support the

Rightshore® (Offshoring) strategy and

to promote understanding and cooperation

has now grown into a truly global

Capgemini Group program and a strong

Naandi-Capgemini relationship.

uK

• Program deployed

• Supports 2,250 girls

• naandi ASE

north aMerICa

• Coming soon

BelGIuM

• Coming soon

PortuGal

• Christmas Card initiative

norWaY

• naandi norway launched

• Supports 4,400 girls

• Christmas Card initiative

• Art Camp and Auction

CaPGeMInI unIversItY

event

• naandi Awareness

event, June 2008

• Supporting 80 girls

netherlands

• Executive Dinner

• Event supporting 300

girls

• Power of 10 initiative

will be deployed

CaPGeMInI GrouP

• Successful E-Card

Initiative and IWd

Celebration Initiative,

2007 / 2008

• Supporting 146 girls

fInland

• naandi integrated in

leadership development

• Program to be launched

soon

GerManY

• Art Camp Event &

auction

• Christmas Card initiative

sWeden

• Supports 2,100 girls

• Power of 10 initiative

slovaKIa

• SiSp Rightshore

• Supports 18 girls

IndIa

• Power of 50 initiative

• Supports > 1,000 girls

australIa

• Program deployed 1 st

december 2008

• Supports 80 girls

"Many companies have a long history of supporting social projects often driven

by a philanthropic dimension enabling an ability to 'give back' to society.

this approach has changed with companies now aligning their Corporate

responsibility and sustainability approach to their corporate strategy."

Carolyn nimmy, vP, Cr & sustainability lead, Capgemini Group

Today, Capgemini Group and over 10

countries in the Group are supporting

the Nanhi Kali project. Several different

initiatives and schemes have been

implemented. For example, Capgemini

India, Norway, Sweden, United Kingdom,

Australia, Slovakia, as well as Sogeti India

have adopted the project as a formal community

initiative. Within those offices, a

payroll contribution system has been set

up in which employees have the ability to

voluntarily contribute to the Nanhi Kali

project and either individually or collectively

sponsor the education of a Nanhi

Kali. Capgemini Norway in particular has

taken a big step through its collaboration

with the Naandi Foundation and has

jointly established its first foundation

outside of India – Naandi Norway. Many

of these initiatives are being matched by

Capgemini, ensuring a combination of

employee passion and company commitment

to the Nanhi Kali project.

Capgemini Finland works together with

Naandi in their leadership development

programs and other countries in the

Group such as Germany, the Netherlands

and Portugal have launched successful

initiatives.

"What's really worked is the fact that

there are a lot of Naandi evangelists in

the Capgemini world! Each country office

now has an ambassador for Naandi and

there's nothing more credible than one

of your employees – who has been there,

seen it, and done it – coming back and

talking about it," explains Manoj Kumar,

CEO of the Naandi Foundation.

Capgemini a people company

Throughout our 40-year history, Capgemini

has built its business upon strong ethical

values that underpin our approach

to all aspects of our business. Joining

the UN Global Compact in 2004 was

a natural extension of these values in

ensuring we remain a responsible business.

As a global company and with our

current growth in developing countries,

we are aware of the different challenges

that need to be faced, such as Human

Rights standards, opportunities for education

and employment, and the need

for respect and understanding of different

cultures.

Signing up to the ten principles of the

Global Compact adds to how we can

contribute and leverage our skills, our

people, and our know-how to make a

difference. Our partnership with the

Naandi Foundation is based on our belief

that major community programs with a

strong alignment to a business strategy

have a far greater impact. Joining the

forces of our employees with organizations

such as the Naandi Foundation to

Global Compact International Yearbook 2009 21
---
CapGemini-Naandi Collaborative Partnership

help others strengthens our team spirit,

improves communication, and gives us

a better understanding of the communities

around us.

Capgemini has a strong desire to support

diversity – gender diversity in particular.

We believe that diversity and the

elimination of discrimination are key to

our long-term business health. Working

with the Naandi Foundation and supporting

education for girls in India has

made gender-specific issues more visible

to all employees and gives our people

the opportunity to be actively involved.

This too supports our commitment to

the first and the sixth principles of the

UN Global Compact, which concern the

protection of internationally proclaimed

Human Rights and the elimination of

discrimination with respect to employment

and occupation.

Our partnership with the Naandi Foundation

offers Indian girls dignity, education,

equality, and empowerment – the same

attributes that our people seek for themselves

and the company they work with.

Through our community programs, we

have the ability to bring the UN Global

Compact principles, our values, and our

own business principles alive.

Capgemini's community focus

Aligning our corporate responsibility and

sustainability approach with our corporate

strategy provides benefits through

enhanced reputation, greater consumer

and employer brand-awareness, as well

as attracting and increasing employee

engagement, which have a longer-lasting

and more effective impact on the community.

At the heart of our business strategy,

we focus on creating a diverse, engaged,

and skilled workforce; developing strong

client relationships; developing our Rightshore®

approach; and supporting the

development of India as a long-term and

viable business location.

Our initiatives are aligned to three core

themes: Education – our conviction

is that education is the key to helping

countries and communities develop;

Diversity – a source of richness and

competitive advantage; Growth – our

growth in the developing world brings

specific duties and is especially relevant

for our current strategy in India.

Our partnership with the Naandi Foundation

is strongly aligned with our business

purpose and community strategy.

Not only does it make business-sense

and ensures employee engagement and

motivation, we are above all supporting

the education of many girls in India and

have a positive community impact.

Enabling cultural understanding

and awareness

Our corporate strategy and Rightshore®

approach has enabled us to work with

countries such as India. Our partnership

has enabled us to change the way we

think and embrace multiculturalism

as we become a truly open and diverse

company that is focussed on changing

the lives of the girls we support.

As a global multicultural company, we

celebrate many different religious festivities.

For the last two years, we have run

a holiday season e-card initiative lasting

from Diwali to the Chinese New Year

(taking in Christmas, Eid, Hanukkah,

and Thanksgiving). In the initiative, our

people are invited to send e-cards to family,

friends, colleagues, and clients. For

every 1000 e-cards sent, the Capgemini

Group funded the education of a girl in

India. Last year 75,000 e-cards were sent

and this year 113,000 e-cards. The e-card

artwork used was made by the girls in

India through various Art Camps run

by Capgemini Germany and Norway, in

which our people spend a day working

with the children on art pieces.

Capgemini also actively promotes International

Women's Day around the

Group and we ran an online campaign in

support of the Naandi Foundation. Our

people were invited to express support

for the Nanhi Kali initiative through a

simple online click – for every 250 clicks,

"Government statistics in India

reveal that only three out of

10 girls who enter elementary

school complete 10 years of basic

education. Research has shown

that the reason for this dropout

may be as minor as the girl child

not being able to afford a uniform

to go to school and could include

more complex factors like girls

taking on the responsibility of

household chores at a very

young age as a result of gender

stereotyping"

Nanhi Kali Project, 2009

the Group supported the education of

a girl in India, translating into 33 more

girls who received support.

Our simple but effective e-card and click

campaigns have allowed us to demonstrate

that, although we may have a consistent

delivery model across the Group,

22

Global Compact International Yearbook 2009
---
Best Practice

Human Rights

we actively make room for everyone and

create awareness around our differences.

The marked uptake of participation in

the e-card and click campaigns shows the

success and enthusiasm of our employees

in supporting the Naandi Foundation.

Because the take-up of the Naandi

Foundation around the Group has been

fostered at a grassroots level – without

mandating initiatives or pushing

particular diversity platforms onto our

people – we are changing the way we

think about diversity. Very soon most of

our home-grown executive talent will

have been impacted and touched by the

program – already, many people have

visited the girls we are supporting.

Enabling the development of

leadership skills

Community projects can be used to develop

leadership skills and multicultural

awareness, both of which are necessities

in today's global business world. Such

programs often require little investment

when compared to the returns generated,

but they have the valuable ability

to accelerate skill-building, cultural

awareness, pride, and commitments

whilst maintaining engagement in tough

times.

We have integrated the Naandi Foundation

into our people development at our

Capgemini University to help illustrate

to our people the link between the community,

the importance of diversity, and

enabling multicultural understanding.

We are instilling diversity into our DNA

through people's appreciation of our

work with the Naandi Foundation.

Capgemini Finland successfully launched

the "Leading Together" program in 2008,

which is based on a collaboration between

Capgemini Finland and India. The

training program intends to impart the

efficiency of Rightshore® collaboration by

using the Naandi Foundation as a learning

vehicle. The teams were charged with

the assignment of creating an innovative,

out-of-the-box strategy to help raise the

visibility of the Naandi Foundation, both

inside and outside Capgemini.

Community program as a

key differentiator over tough

competition

Community programs can also be a great

means to collaborate with clients. For

example, joint sponsorship or matching

programs can involve both client and

supplier by building increased collaboration

but also by generating pride and

a sense of shared achievement amongst

the client/supplier teams working together.

Our Norwegian team started working

with the Naandi Foundation in relation

to the growth in business being delivered

out of India. Business growth came when

we extended the Naandi Foundation to

client partnerships, whereby each Indian

employee participating in a client account

results in a girl being supported

by both the client and our Norwegian

affiliate. One of our clients in Norway

chose Capgemini for its capability and

also indicated that Capgemini Norway's

corporate social responsibility (CSR) practice

had been an important component

in selecting a supplier. It was Capgemini's

support of the Naandi Foundation

in India that become a key differentiator

in winning the deal. Capgemini

made a commitment whereby for every

person working on the client account,

Capgemini would sponsor a schoolgirl;

the client subsequently agreed to match

Capgemini's commitment. This is a great

example of CSR in action and the difference

it can make to clients, employees,

and the community.

Client engagement is the ultimate accolade

for this type of program, and to

have clients willingly agree to join in

our program and sponsor girls in India

is a strong endorsement. "In the case of

Capgemini Norway, Capgemini registered

as a charity, known as Naandi Norway,

the first Naandi outside of India. As a

result, Capgemini Norway now has a

very interesting profile in Norwegian

society. Norway's parliament knows

about the relationship with Naandi, as

does Norway's media. And potential

Norwegian employees know about it

as well as current and potential clients.

So while following passion the initiative

has also been converted into a business

opportunity to raise the profile of the

company in Norway and win business.

To my mind it's a fantastic way of how

you can start with just a link to a charity

and take it to a new level," says Manoj

Kumar, CEO of the Naandi Foundation.

Enhancing employee engagement

During these uncertain times, the need

to motivate and keep employees engaged

has never been more vital. Research

has shown that high employee engagement

has a direct impact on the bottom

line. For many years, employee survey

results have been analyzed to identify

key drivers or opportunities to increase

people engagement. Our Capgemini

Global Group Employee Survey 2008

shows that our community work is a

key driver in employee engagement and

retention of talented people. Employees

often enjoy participating in community

programs, making them proud of what

their company is doing. In the more

socially aware environment of today,

we can mark the shift from feel-good

programs to those that are aligned to

the corporate strategy and are designed

to ensure motivation.

Our relationship with the Naandi Foundation

in India and our support for the

Nanhi Kali project has helped us contribute

to a better livelihood for the

more unprivileged groups in society. The

partnership has not only enabled over

10,000 girls in India to have the right

to education, it has also brought along

several business benefits, including support

for our Rightshore® strategy, building

client intimacy, ensuring employee

engagement, and helping our people

understand the importance of human

rights, the combat against discrimination

and the value brought along by cultural

differences.

Global Compact International Yearbook 2009 23
---
Carrefour

For you, for us –

Carrefour Commits Itself

Since 2001, Carrefour Colombia has adhered to the United Nations Office on Drugs and

Crime (UNODC) program for the voluntary, gradual eradication of illicit plantations. In

another project, in Bangladesh, the focus is on the workers of controlled products suppliers.

Training helps them learn more about their labour and Human Rights.

By Helene Jessua

The first best practice is about encouraging

farmers to give up illicit cultivation:

The idea is to assist those who have given

up coca cultivation so that they can earn

adequate incomes legally. This program

consists of convincing Colombian farmers

who cultivate illicit coca to change

to products that are mainly consumed

in their country, such as beans, cacao,

palm hearts, coffee, honey, coconuts.

To achieve this, and to ensure adequate

income to farmers, it is important that

a company can ensure the marketing

of these substitution products. Thus,

within the framework of the UN program,

Carrefour has implemented practices already

in place in other countries, such as

guaranteeing a minimum price to enable

farmers to live decently and committing

to this in the long term.

The products are selected under the UN-

ODC Alternative Development Products

program and by the Colombian government's

Presidential Agency for Social

Action. In some cases, the United States

Agency for International Development

(USAID) is also involved in the project.

After checking farmers' compliance with

the "zero illicit" policy, the products are

presented by the UNODC to Carrefour

Commercial and Social Responsibility

teams. Carrefour also offers technical

support on quality, logistics, and packaging

provided by its commercial team. To

promote the products, Carrefour communicates

in-store and places signs on

the shelves next to the products, which

state: "For you, for us, Carrefour commits

itself. In buying this product, you also

support the UN and national government

program for substitution of illicit

cultivation."

Two examples of projects

supported by Carrefour in the

program:

Agroamazonia was created in mid-2001

by six associations of farmers that signed

an agreement for the substitution of

illicit cultivation, in line with the National

Alternative Development Plan,

which today is called Plan Colombia.

The palm heart of Putumayo produced

by Agroamazonia was the first product

listed by Carrefour within the framework

of the program in 2001. Agroamazonia

includes 332 families and 660 hectares of

palm. The project has thus enabled the

eradication of more than 600 hectares

of coca cultivation.

Carrefour also works with Ecolsierra, a

network that brings together more than

700 families located in Sierra Nevada de

Santa Marta (north of Colombia), who

work to strengthen their productivity

whilst implementing sustainable

ecological agriculture methods. These

families produce organic honey and

coffee. Through application of these

clean production methods, conservation,

recuperation, and protection of natural

resources can be achieved.

24

Global Compact International Yearbook 2009
---
Best Practice

Human Rights

Situation of the program today

Today, within the program, Carrefour

offers 45 products in its Colombian stores

and works with 12 suppliers representing

more than 3000 families from the

most disadvantaged area in the country,

which is also most affected by illicit cultivation.

In November 2004, Carrefour

Colombia received a special prize by

the UNODC for its global contribution

within the program for the voluntary,

gradual eradication of illicit plantations.

This UN civil society program rewards

organizations and individuals who have

contributed to the eradication of drugs

and crime, corruption, and terrorism in

the civil society. This was the first time

the award was given to a company.

Best Practice 2: Training of workers

in Bangladesh

The Carrefour Group has been committed

to the respect of Human Rights

throughout its supply chain for more

than 10 years. To this aim, the Group

has been working with the International

Federation for Human Rights (FIDH) since

1998 and drew up a Social Charter in

2000 signed by all its controlled products

suppliers, who are audited on their

compliance with it. Because training and

awareness-raising of workers are key for

improvement of working conditions in

the factories, Carrefour and FIDH decided

to launch a training project in Bangladesh

with a local NGO, Karmojibi Nari (KN).

The aim is to give the workers better

knowledge about fundamental rights

at work. The program was initiated as a

pilot project in 2004 and then launched

in 2006 as a three-year project with the

objective of targeting all Carrefour's suppliers

in Bangladesh.

This three-year "fundamental rights at

work" training program is named "To

Ensure Decent Workplace for Better

Livelihood and Increase Productivity."

Trainings sessions target three

different groups, in the following

order:

1| Top-level management: Through a

two-hour discussion at the Carrefour

office in Dhaka, Carrefour and KN

explain the content of the program

and discuss with factory owners the

importance of training workers about

their rights and responsibilities, as

well as the link between social compliance

and increased productivity.

2| Mid-level management training: This

is a one-day on-site training with a

main focus on gender discrimination.

This training is to help the participants

become more aware of what it

means to be well-behaved, motivated,

and heedful towards workers, how to

find problem resolutions, and how

to achieve productivity maximization.

This training is key, as conflicts

between workers and their direct

supervisors are common, with the

majority of supervisors being mainly

men and about 75 percent of the

workers being women.

3| Workers: The aim of this training

is to inform workers of their rights,

and to build their capacities in collective

bargaining, organizational

skills, and conflict resolution. This

training consists of a one-day on-site

training session. Each training group

is composed of workers both selected

by the management and randomly

by KN. Those workers receive five

copies of the leaflets, which contain

information about: the right to an appointment

letter (contract); the service

book; ID cards; wages; working hours;

occupational health and safety; leaves

for sickness, maternity, holiday, and

festivals; duties and responsibilities.

The leaflets are then distributed to

other workers and they are assigned

the task of disseminating what they

have learned.

Concrete results

The management has increasingly realized

the importance of having women

as supervisors. KN noticed that workers

show a genuine interest in knowing

about their legal rights. After the training,

workers become aware of the rights

they have under the law and become

more conscious of issues such as sexual

harassment and complaint procedures. It

was found that in some factories, workers

asked for their rights and concrete

changes happened in some workplaces

following their demands (maternity leave

with wages, overtime rates, canteen facilities,

etc.). Without this program, no

local NGO would ever have been allowed

to access the factories and educate the

workers within the workplace. The challenge

now is to find ways to reach out

to all workers.

Global Compact International Yearbook 2009 25
---
Coca-Cola Hellenic

Lowering CO2 emissions

in Company-wide

effort to protect the

environment

Coca-Cola Hellenic, the

largest independent bottler

of Coca-Cola products in

Europe, is constructing 15

Combined Heat and Power

(CHP) units in 12 countries

as part of a companywide

plan to significantly

reduce CO 2

emissions in its

operations.

Coca-Cola Hellenic estimates that the

amount of energy used in its operations,

involving production facilities, cooling

equipment and transportation, is currently

approximately 890,000 tonnes

across 28 countries. The figure has been

cut by 28% over the past 5 years, and it

is expected that initiatives now being

undertaken will result in a further reduction

of 20% by the end of 2010. The CHP

plants are the cornerstone of Coca-Cola

Hellenic's energy reduction strategy,

which is being instituted throughout all

operations, involves all employees, and

engages suppliers, customers, governments

and local community organisations.

Construction is being undertaken in

cooperation with the US-based firm

Contour Global, a leading developer

of energy-efficient systems which use

natural gas and capture and reuse heat

from power generation. The units provide

all power needs, including heat,

cooling and electricity, and also capture

CO 2

, for industrial use. Excess electricity

will be delivered to the national grid. It

is anticipated that when the units are

completed in 2010, they will achieve

an annual reduction in CO 2

emissions

of more than 20% across all production

facilities.

"The decision to construct the 15 CHP

plants was announced in early 2008 as

part of the Company's overall commitment

to Corporate Social Responsibility

(CSR), to the sustainable development

of its operations, and to the communities

it serves," said Doros Constantinou,

Managing Director of Coca-Cola

26

Global Compact International Yearbook 2009
---
Best Practice

Environment

Hellenic. "Construction of the plants is

now progressing as the necessary permits

are granted, and the first of the plants

is scheduled to be opened in June in

Romania, followed by Northern Ireland

in September.

The plants are being built in 11 countries:

Greece, Italy, Northern Ireland, Romania,

the Czech Republic, Poland, Austria,

Slovakia, Nigeria, Ukraine, and Serbia.

The pilot plant has been running successfully

since 2006 in Hungary.

At ceremonies to announce the construction

plan, Mr. Günter Verheugen, EU Vice

President and European Commissioner

for Enterprise and Industry, extended his

strong support in his role as cofounder

of the European Alliance for CSR. Mr.

Verheugen said, "Coca-Cola Hellenic is an

active member of the CSR Alliance. This

initiative shows that the Alliance is not

about words but about changing reality.

It demonstrates that environmental and

economic goals can be pursued in unison.

It also demonstrates how innovation is

not just a driver of economic competitiveness,

but can also underpin business's

contribution to wider societal goals, such

as the fight against climate change."

Mr. Doros Constantinou said that

Coca-Cola Hellenic made the decision to

build the CHP plants following impressive

results achieved with a pilot CHP

plant at the company's bottling facility

in Hungary. The first of its kind for the

European beverage industry, the plant

was introduced at the Dunaharaszti bottling

facility in 2006, and in its first year

of operation, achieved a reduction in CO 2

emissions of 43%, equivalent to more

than 18,000 tons of CO 2

. At the same time,

on the environment of its operations

generally. Other energy-saving initiatives

in bottling plants, for example, include

new cleaning regimes that use cold water

instead of hot, along with the installation

of energy efficiency technologies

and energy saving devices.

The Group is also applying efficiencies

in offices and other facilities, such as

warehouses and storage areas, introducing

lower-energy computers and

energy-saving power and lighting systems.

Employees are informed about

the importance of environmental protection

and encouraged to engage in

energy-saving practices – at work and

at home.

Care is taken in transportation. Vehicle

engines are being downsized, alternative

fuels are being used, hybrid technology

is being explored, and drivers are being

trained in ecologically friendly methods.

Efficient route planning and avoidance

of unnecessary travel or deliveries by air

are further scaling back energy usage.

energy costs were reduced by €400,000.

It is anticipated that each of the new

plants will realise similar reductions

and savings, with each plant gaining at

least 40% energy efficiency.

Conserving Energy

As the 15 new CHP units come on-line,

they are expected to make a major contribution

to the efforts being made by

Coca-Cola Hellenic to reduce the impact

Action is also being taken in making

cooling equipment, a primary source

of indirect emissions, more climatefriendly.

Working together with suppliers,

Coca-Cola Hellenic is introducing new,

low-energy cooling units. Refrigerant gases

such as hydrofluorocarbons (HFCs) are

being eliminated, while alternative, low

impact gases, like hydrocarbon (HC) and

CO 2

technology, are being introduced.

In addition, sales representatives are

trained to work with customers, monitoring

the condition of their coolers,

informing them about efficient energy

use, and helping them to reduce their

own carbon footprints. In carrying out

energy-saving activities, the Group seeks

to cooperate with governments and the

communities it serves. Among the relationships

engaged in is the UN Global

Compact Caring for Climate, the largest

global business coalition on climate, and

participation in events such as the World

Business Summit on Climate Change.

Global Compact International Yearbook 2009 27
---
Danfoss

Improving the Working

Environment

In August 2006, Danfoss acquired the factory of Chinese company

Qinbao, a manufacturer of brazed plate heat exchangers that is located in

Hangzhou, approximately 150 km southwest of Shanghai.

By Gerhard Teschl

Within only five years, Qinbao had been

able to build a strong position within

the Chinese market and was therefore,

from a strategic standpoint, of interest

to Danfoss. As a part of the internal

standardized merger and acquisition

process, Danfoss carried out a working

environment and safety audit to identify

and analyze gaps between the Group's

mandatory corporate safety standards

and those of the newly acquired company.

Although the company lived up well to

national standards, the audit revealed

significant deviations from Danfoss'

corporate standards. These deviations

can be summarized in the following

categories:

• Insufficient personal protection equipment

• Missing, inadequate, or defective safety

protection for the semi-automated

equipment

• Insufficient workshop safety

• Insufficient training and visualization

of safety and environmental issues

Since safety and environmental issues are

a top priority for Danfoss management,

an action plan was developed to address

and eliminate the nonconformities

within a tight, targeted time frame.

Activity 1: Establish personal safety

protection for workshop employees

and visitors

At the time of the Qinbao takeover, the

personal protection equipment was insufficient

and none of the employees

were obliged to wear protective equipment

in order to protect their personal

health.

Depending on the work station and area,

Danfoss enforced a rule that employees

must wear ear plugs, safety shoes, eye

protection, working clothes, gloves, or

masks. This has not been easy as it is

not always comfortable for workers to

wear these items, especially gloves and

masks in environments where the climate

is hot.

Activity 2: Upgrade or retirement

of semi-automated production

equipment

Previously, Qinbao experienced several

work-related accidents and injuries.

Especially the cutting, punching, and

pressing process regularly led to serious

injuries. Although no official statistics

were kept, former management and

employees admitted that these accidents

were frequent and that there were few

consequences for the company.

Within the first two months after the

acquisition, Danfoss implemented safety

sensors, protection fences, and safety

push buttons for all cutting, pressing,

and punching machines. In phase two (after

12 months), a majority of the presses

were exchanged with modern presses.

Currently, the focus is on increasing the

degree of automation for the punching

equipment, which will help in eliminating

entirely the potential for those types

of injuries.

Activity 3: The workshop safety

When Danfoss took over Qinbao, the

workshop was small and dark and the

equipment and working stations were

squeezed in between one another. Heavy

heat exchangers were manually lifted

and transported by the employees.

In early 2007 the lighting and product

handling were improved, and the workshop

was divided into different zones

for transportation and safety reasons. In

28

Global Compact International Yearbook 2009
---
Best Practice

Human Rights

indicator for the individual performance

systems of all blue-collar employees. In

general, three stages of awareness have

been observed at the company:

1| Reluctance to wear safety protection

and to follow safety rules

2| Compliance and awareness-raising

through audits, (small) penalties, and

rewards

3| Understanding and appreciation of

safety and personal protection and

safe/comfortable working environment

through frequent training and

permanent visualization of safety

improvements

These three stages are well-described by

Xu Zhihua, who has worked at Qinbao on

the bolt-welding station since 2004.

Qinbao: The production and challenges in terms of the working environment

The brazed plate heat exchangers that Qinbao manufactures are made of

stainless steel and copper. The typical production process consists of cutting,

pressing, washing, assembling, brazing, welding, testing, and packing. The

finished product weighs up to 150 kg and the plates and product corners are

sharp. Some areas of the workshop have high noise levels; in other areas,

heavy products are being lifted. This means that there are several working

issues to be addressed in the working environment.

2008 the company was moved to a new

facility, where the workshop environment

and safety standards lived up to

Danfoss' corporate standards. The 6S system

(Sort, Stabilize, Shine, Standardize,

Sustain, and Safety) was implemented

throughout the workshop. At the new

facility, it is not just about raising the

safety level but also about addressing

the personal comfort levels of the employees.

Activity 4: Training,visualization,

and awareness-raising of safety

Along with improving personal safety

of the employees and upgrading the

machines and the workshop facilities,

it has been very important to train and

visualize safety issues in order to create

long-term awareness.

Now both veteran and new employees

are systematically trained to handle

equipment and meet the safety standards.

Each machine and working station

is marked with signs describing which

safety devices the employees must wear

as well as how installed safety equipment

on machines must be used. Safety charts

in the workshop record the status and

improvements in the working environment

and safety levels.

Daily 6S audits help to reinforce and raise

awareness about safety issues. In 2007,

compliance with safety standards also

became an important key performance

"These safety devices do give us a great

protection against serious injuries, and

now I know that Danfoss not only provides

us with a working place to make

money. The company cares about unusual

details – for China – such a wearing

safety devices. But we can work here

happily and healthily. So I am full of

energy while working in the plant."

Two years after the acquisition, Danfoss'

safety and environmental standards have

been fully and successfully implemented

at the former Qinbao factory. In 2009,

Danfoss Qinbao aims to have its environmental

management system certified

according to ISO 14000.

The example of the Qinbao takeover has

proven that, even in a challenging environment,

well-described and standardized

safety and environmental standards

can be implemented successfully within

a reasonable time frame and without

compromising these issues.

The success is measurable: In 2008, the

company had one minor and one serious

accident, which is a decline of 60 percent

in comparison to 2007 statistics, and a

major improvement over previous years.

Over the last six months, Danfoss Qinbao

has been entirely accident-free.

Global Compact International Yearbook 2009 29
---
Deutsche Bank

The microfinance

revolution has only

just begun

Microcredits have proven to be powerful instruments in the fight against poverty.

However, they will reach their full impact only if they manage to limit their reliance

on the charitable sector.

By Hanns Michael Hölz

"The genocide brought the destruction

of my parents' retail shop", Nsengiyma

Gilbert from Rwanda explains. "It ended

in ruins and in the brutal killing of my

father. After the war, I dropped out of

school, crisscrossed Kigali in search for a

job to no avail. Then the idea of selling

milk to a nearby kindergarten school

near my home came to me. However,

the earnings from this business were

not enough to buy me a refrigerator and

enable me to rent a bigger place to start a

restaurant," Gilbert says. "I tried to get a

loan from other banking institutions, but

the conditions were a little too harsh and

couldn't provide an immediate solution

to my desperate situation. That's when a

friend of mine told me about RML quick

loans," he explains.

RML is the abbreviation of Rwanda Microfinance

Limited, a company founded

in 2004 in order to provide loans to

low-income salary earners and microentrepreneurs.

RML provided Gilbert

with a business loan of about $500, and

things improved. He bought a refrigerator

for his dairy products and moved

to a bigger place that he turned into a

restaurant. The income generated from

his restaurant business helped him build

a decent home for his mother. "This

business has served as a lifeline for me

and my family's financial and social

livelihood. Now my aged mother will

no more spend sleepless nights when it

rains," he affirms. With additional support

from RML, Gilbert plans to expand

his business.

Supporting early-stage microfinance

institutions (MFI)

RML is part of Micro Africa, an East African

microfinance group based in Nairobi,

Kenya. In mid-2006, RML had not

yet reached operational self-sufficiency

and had a total loan portfolio of half a

million dollars. But then the Deutsche

Bank Start-up Fund provided a letter of

credit in the amount of $100,000, which

secured a Rwandan franc loan from a

local lender. Since receiving the loan,

RML has become profitable and now

serves over 1,400 clients with a portfolio

of over $1.4 million.

The Deutsche Bank Start-up Fund, which

is supported by the Deutsche Bank Americas

Foundation and CORDAID, a Dutch

NGO, seeks to identify start-up microfinance

institutions (MFI) in underserved

markets with strong management. Capitalized

through grants and soft funding,

it provides flexible financing to support

portfolio growth and works to build

governance and financing capacity. Like

all the other microfinance instruments

developed and used by Deutsche Bank,

the Start-up Fund does not lend to the

final borrowers, but gives financial and

logistics support to microfinancing institutions.

By transferring capital and

know-how, it strengthens regional economic

structures and networks in order

to stabilise developing countries.

A powerful instrument in the fight

against poverty

Microfinance, the extension of very small

loans to those who lack collateral or a

credit history, is proving to be a revolutionary

model in enabling people to rise

from poverty. It is based on the recogni-

30

Global Compact International Yearbook 2009
---
Best Practice

Financial Markets

Global Compact International Yearbook 2009 31
---
Deutsche Bank

According to db research, women

make up the vast majority of

borrowers, especially in Asia. It reflects

the fact that women are more reliable

debtors because, due to stronger social

and family ties, they often follow a

more conservative investment strategy

which in turn results in lower default

rates for MFIs.

tion that the working poor can act in

an entrepreneurial manner and are, in

principle, creditworthy. As a study by

Deutsche Bank think tank db research

illustrates, for these micro-borrowers,

microcredit is often the only alternative

to paying excessive interest rates

charged by unofficial moneylenders or

pawnshops in developing countries. For

instance, in the Philippines loan sharks

often charge an annualised interest rate

of up to 1000% for a monthly loan. In

contrast, interest rates charged by MFIs

are in the range of 15% to 70% p.a. Seen

from the perspective of a developed

country, this may still seem high, but

these rates result from the small size of

loans and the high administrative costs

as loan officers need to travel to remote

places and intensively advise clients. It

is estimated that administrative costs

amount to up to two thirds of the interest

paid by clients. In addition, there is

a need for risk provisioning.

According to db research, women make

up the vast majority of borrowers, especially

in Asia. This reflects the fact that

women are more reliable debtors because,

International Comparison: Impact of Deutsche Bank Microfinance Funds

(Deutsche Bank Microcredit Development Fund, Global Commercial

Microfinance Consortium & Start-Up Fund)

Total Microcredits: USD 309,883,956

400,000

300,000

200,000

100,000

90,000

200

0

100,666

Number of clients

Average loan size USD

527

310,189

460

192,639

due to stronger social and family ties,

they often follow a more conservative

investment strategy, which in turn results

in lower default rates for MFIs. This

lower credit risk is further supported by

634

93,060

Africa & Middle East Asia Latin & South America Eastern Europe & Russia USA

2,889

260

6,655

6,000

4,000

2,000

600

500

400

a relatively low degree of labour mobility

of female clients (due to strong family

ties, women tend to work from home),

which decreases the cost of monitoring

debtors for an MFI.

0

32

Global Compact International Yearbook 2009
---
Best Practice

Financial Markets

In order to influence borrower behaviour,

many MFIs apply the principle of group

lending. This entails an MFI making a

small loan to an individual who belongs

to a group of 5 to 20 people. As soon as

the individual borrower proves reliable,

credit is extended to additional people

within the group. This procedure creates

an incentive for the group to monitor

each other's behaviour and ensure borrower

discipline, as the group is jointly

liable for the failure of any single member

to repay her microloan. The average

loan size starts from USD 100 and can

reach several hundred dollars, depending

on the debtor's repayment history.

Interest rates vary significantly according

to the geographic regions, e.g. in India

microloans are usually granted at 15%

to 30%.

However, not all MFIs apply the group

lending principle; instead, some MFIs

prefer to lend to individuals without any

shared liability aspect. This reflects, inter

alia, the argument that group lending

has some shortcomings, e.g. that it only

fully works in rural settings where social

control is higher. In addition, opponents

of group lending argue individual lending

is superior, as it judges people on

their own merits rather than on the

group's. In some countries, individual

lending exhibits higher average loan

amounts and often primarily serves the

self-employed rather than the very poor

seeking to start a business. As db research

sums up, both approaches have their

advantages and respond to different

circumstances; hence, it can be expected

that individual and group lending techniques

will continue to coexist over the

long term.

Deutsche Bank –

a microfinance pioneer

Among commercial banks, Deutsche

Bank is a pioneer in the field of microfinance.

As early as 1997, the company

established the Deutsche Bank Microcredit

Development Fund (DBMDF) in

order to help established microfinance

institutions reach scale and long-term

sustainability by encouraging relationships

with local financial institutions.

The DBMDF is a registered 501 (c) 3

non-profit. It provides catalytic funds

as collateral for leverage loans, typically

2:1, and is supported by social investors,

private clients of Deutsche Bank, and the

Deutsche Bank Americas Foundation.

The Global Commercial Microfinance

Consortium, established at the end of

2005, is an $80.6 million fund that serves

as a platform to combine high risk catalytic

development agency resources with

the scale and execution efficiency of the

private sector. Deutsche Bank created the

Consortium in recognition of the pivotal

roles that the private sector can play in

the development arena in partnership

with development agencies. In so doing,

the Consortium harnesses resources

available through the growing corporate

social responsibility sector as an investment

rather than as an expense.

db Microfinance-Invest No. 1 –

the next step in microfinancing

However, the microfinancing instrument

will reach its full impact only if it manages

to limit its reliance on the charitable

sector and turn into a regular business

highly attractive to the private sector.

Against this backdrop, three branches

of Deutsche Bank – Private Wealth

Management (PWM), Corporate Social

Responsibility (CSR) und Asset Finance

& Leasing (AFL) – have developed a

product which addresses economic and

philanthropic customer interest at the

same time: db Microfinance-Invest No.1,

the first securitization of subordinated

microcredits with an external rating

worldwide. The securitization transaction,

which has a total volume of EUR

60 million, was completed in 2007 and

is the first German investment product

which gives retail and institutional investors

access to the ever-growing asset

class "microfinance". The securities were

purchased not only by Deutsche Bank

but also by KfW-Entwicklungsbank (the

largest institutional investors) as well as

retail clients, foundations and church

institutions. Deutsche Bank and its partners

agreed upon a fee structure that

is attractive for investors; for example,

99.6% of the total investment volume

is used to support microcredits.

Senior notes in db Microfinance-Invest

No.1 were assigned a BBB rating by Fitch

Ratings. The portfolio comprises 21 microfinance

institutions and banks in 15

countries in Africa, Latin America, the

Caucuses, Central Asia and Southeast

Asia. The diversification of the MFI-Portfolio

was compiled by Deutsche Bank's

New York Center of Competence and the

Community Development Finance Group

in Africa, Asia, Latin America, eastern

Europe and central Asia. The fund's

goals include the provision of reasonably

priced debt that garners full or partial

equity credit without increasing clients'

weighted average cost of capital. This

enables MFI clients to present a fairer

picture of their financial strength to

investors. The subordination layer should

also enable clients to attract senior debt

through strengthened equity ratios. Many

microfinance institutions are also in the

process of transforming themselves from

unregulated into regulated financial

entities, and db Microfinance-Invest's

subordinated debt provides quasi-equity

that helps MFIs to meet their regulatory

requirements in the transformation

process.

Throughout the world, Deutsche Bank

seeks opportunities to play a positive

role in addressing local needs by making

available financial resources, the talents

of its personnel and the leadership of

its management. All of these efforts are

geared toward forming lasting partnerships

with community-based organizations

to achieve durable and lasting

benefits for local citizens. A combined

Deutsche Bank Americas Foundation

and Community Development Group

carry out the firm's corporate citizenship

commitments in the Americas. The microcredit

initiatives are an integral part

of Deutsche Bank's CSR activities and a

recognized best-practice project in the

framework of the Global Compact.

Global Compact International Yearbook 2009 33
---
Deutsche Post DHL

The Green Imperative

Deutsche Post DHL became a signatory to the UN Global Compact in June 2006. At

that time, we sought to align our sustainability commitment and approach with key

external international standards. In our effort to be a responsible corporate citizen,

our overall sustainability approach focuses on environment and in particular climate

protection, education and disaster management.

Implementing new trailer designs to

save fuel and reduce carbon impact

34

Global Compact International Yearbook 2009
---
Best Practice

Environment

By Steffen Frankenberg

Implementing environmental responsibility

continues to be a challenge and

opportunity for us as we seek ways to

adapt our business processes and culture

to addressing the environmental challenges

we face today.

Our environmental strategy has three

pillars:

• Tackling climate change

• Improving our overall environmental

performance

• Minimizing our use of natural

resources

Tackling climate change

As the world's leading mail and logistics

company, we transport billions of shipments

each year to over 220 countries

and territories, operating one of the

world's largest transportation fleets; we

recognize that our largest environmental

impact is CO 2

emissions. We are making

a concerted effort to effectively address

this impact.

In 2008, we launched our GoGreen

Program and became the first logistics

company to commit to clear climate

protection targets. Our goal is to improve

our carbon efficiency by 30% by 2020

in our own operations and those of our

subcontractors, compared to our 2007

baseline. We have entered into discussions

with our subcontractors on ways

to measure and reduce their footprint;

and have taken the first steps towards

achieving our 2012 milestone of a 10%

CO 2

efficiency improvement in our own

operations.

To deliver on our carbon efficiency commitment

we are focusing on five areas:

As a responsible

corporate citizen

Deutsche Post

DHL's overall

sustainability

approach focuses

on environment

and in particular

climate

protection,

education

and disaster

management.

1. Ensuring transparency:

We need to be transparent about our

carbon footprint to help us track our

progress and identify opportunities to

minimize it. The ability to calculate our

own carbon footprint is a key prerequisite

of our GoGreen Program. We also

need the data to responsibly offset our

GoGreen products and services, and in

time, to calculate our customers' individual

footprints. In time, we will use this

data to help our country teams manage

emissions locally.

2. Increasing CO 2

efficiency:

Minimizing our carbon footprint through

targeted initiatives and by introducing

innovative technologies for our own operations

and our subcontractors we can

effectively improve our CO 2

efficiency.

For example, in the UK, we introduced

200 teardrop trailers which consume

12% less fuel than conventional trailers.

Globally we operate about 800 alternatively

fuelled vehicles. We are constantly

renewing our air and road fleet. We are

also optimizing our network and transport

planning e.g. with an electronic

freight exchange system (EFX), and the

utilization of our subcontractor fleet

saving two million truck miles, equivalent

to 3,000 tons of CO 2

. We have also

bundled our innovation activities into

the DHL Innovation Center, in cooperation

with IBM, SAP, MIT to develop

innovative logistics solutions including

'green' solutions. By doing so, we can

actively promote the development of

innovations such as electric and hybrid

vehicles, aerodynamic solutions or new

generation fuels to improve fuel and

CO 2

efficiency.

3. Mobilizing our employees:

Raising awareness of climate and environmental

protection issues, and enabling

our employees to minimize their impacts

is critical to the successful implementation

of our climate protection program.

Our Save Fuel program provides driver

training to approximately 50,000 drivers

in Germany to help them reduce their

fuel consumption by as much as 6% by

the end of 2009. An internal employee

'environmental idea' campaign generated

more than 11,000 ideas from employees

to improve our CO 2

efficiency.

Our getGREEN Associate Incentive Program

in the US aims to educate and

reward employees for making environmentally-sound

choices in their everyday

Global Compact International Yearbook 2009 35
---
Deutsche Post DHL

Employee involvement in addressing

climate change is a key aspect of our

global GoGreen Program.

lives through monetary incentives to

purchase non-conventionally fuelled vehicles

such as hybrids or energy-efficient

household appliances. In addition, for

every five employees who take part in

the program, we donate US$500 to The

Nature Conservancy's 'Plant a Billion

Trees' campaign.

We are also making changes to our

company policies to ensure that, over

the long term, our consideration for

the environment is integrated into the

business decision-making process. In

Germany, we have revised our company

car policy removing the worst polluting

cars from those available for selection,

increasing the period of usage and maximum

mileage, and included a provision

to encourage and incentivize individuals

to make more environmentally-friendly

choices. By the end of 2009, we will

have implemented an e-Learning module

to raise awareness of the climate

change challenge. The goal is to help

our employees better understand the

importance of their role in addressing

this challenge.

4. Generating value at the market:

Our GoGreen product portfolio offers

customers services to assess, reduce and

offset their emissions. For example, we

designed a new refrigerated distribution

hub for a key customer in the food

manufacturing industry in the USA to

maximize sustainability and energy efficiency

by building it 30m underground.

The facility uses 65% less energy than

comparable above ground facilities; saves

approximately 681,000 liters of fuel and

reduces CO 2

emissions by approximately

1.8 million kgs annually. In 2008, we

expanded our GoGreen carbon neutral

service making it available in over 25

countries in Europe and Asia. We also

offer carbon consultancy services to create

and execute greenhouse gas reduction

strategies for DHL customers.

5. Preparing for regulatory changes:

We are engaging with the legislative

process to help shape regulation that

brings long-term environmentally-aware

changes to our sector. It is clear that

sooner, rather than later, there will be

a price on CO 2

emissions. It is important

that in general, resources and CO 2

emissions

are priced adequately leading to

efficient allocation of resources rather

than to increased costs. By engaging

with the regulatory process we want

to be able to provide input to policies

that could influence how our industry

impacts the environment.

Improving our overall

environmental performance

Although climate change is our largest

environmental impact, we are also

addressing our other environmental

impacts. We have implemented an Environmental

Management System to

ensure that we were addressing our other

environmental impacts. To date, approximately

46 % of our global workforce

now works under ISO 14001-certified

Environmental Management Systems. Examples

of business units with improved

ISO 14001 coverage, include our MAIL

business in Germany that earned ISO

14001 certification for all of its operations.

The certificate covers over 159,000

employees and is valid for 49 operational

districts, which include 82 mail and

33 parcel centers. DHL Express Europe

widened its certification coverage from

44 % of sites in 2006, to 80 % in 2008 –

covering 43,000 employees in 717 sites.

In Asia-Pacific, DHL Global Forwarding

achieved certification of its entire operations,

covering over 10,000 employees

at 199 facilities in 14 countries. We

will continue to expand the coverage of

our environmental management system

throughout our organization.

Minimizing our use of natural

resources

We spent over €9 billion in 2008 on

products and services, of which almost

€2 billion was spent on energy (fuel and

36

Global Compact International Yearbook 2009
---
Best Practice

Environment

electricity). This considerable purchasing

spend provides us with an opportunity

to influence the sustainability of our

own supply chain. In 2008, we revised

our supplier code of conduct to include

environmental considerations. This Code

is part of all new contracts with suppliers.

Early in the procurement process

we request that our suppliers commit

to the Code before proceeding. Our request

for information form sets out the

environmental expectations we have

of our suppliers, and forms the basis

for discussing alternatives. To support

its implementation, we have developed

guidance notes for our procurement

teams and trained more than 500 of

The DHL Innovation Center pioneers

innovative logistics solutions to

deliver economic and environmental

efficiencies.

Acting decisively

on climate

change is now

a key initiative

in our group's

global and

longterm agenda.

our buyers on the content of our Code

in 2008.

We are also continuing sustainable sourcing

initiatives which we initiated last

year such as vehicle fleet procurement,

"greener" IT, and paper sourcing. Our Procurement

organization, for example, has

significantly increased the percentage of

recycled and sustainably-sourced paper

it purchases, in line with the guidance in

our Corporate Paper Policy, to over 80 %

in 2008. We will now take further steps

to implement the use of recycled paper

across our organization worldwide.

Conclusion

2009 marks an important milestone on

climate change with the UN Climate

Conference in Copenhagen (COP 15)–

aimed at setting action on climate change

as a global priority. For Deutsche Post

DHL, 2009 marks the year in which our

Group's climate protection program,

GoGreen becomes firmly cemented in

our company's 2015 strategy and a key

performance indicator for our company's

overall performance. Acting decisively

on climate change is now a key initiative

in our Group's global and long-term

agenda.

The Danish Ministry of Foreign Affairs

recently appointed DHL as the official logistics

partner providing carbon neutral

logistics services at UN Climate Conference

in Copenhagen. We are proud to

be an active part of this event and this

achievement demonstrates to us that

our GoGreen Program is steering our

company in the right direction. At the

same time, we recognize that we may

not have all the answers and that we

are counting on our business partners

to embark on this journey with us. Yet,

we realize waiting to act is not an option

and that as a leader in our industry we

have the power and obligation to set

the pace. We are doing our best to lead

by example.

To find out more on Deutsche Post DHL's

climate protection program, GoGreen, visit:

www.dp-dhl-gogreen.com

To find out more about our sustainability

commitment and programs, visit:

www.dp-dhl.com/sustainability

Global Compact International Yearbook 2009 37
---
DonG Energy

A Nationwide charging

network for electric

vehicles in Denmark

Our modern lifestyles offer a wealth of exciting possibilities, but also go hand in hand with

high energy consumption. Because of the carbon footprint that our energy consumption

leaves behind, there is no longer any reason to doubt that our lifestyles affect the climate.

Each and every one of us, including DONG Energy, is responsible for minimizing our

energy consumption and maximizing our consideration for the environment. As an energy

company, we have a special responsibility for producing energy in as environmentally

friendly a manner as possible.

By Anders Lyngtorp, M. Sc. Techn. Soc.

We aim to triple our renewables capacity

by 2020. That is a major challenge in

itself. Despite these measures, our power

plants will remain an essential part of

our energy supply for the foreseeable

future in order to provide reliable supplies

of energy. Therefore, we need to

identify efficient methods for reducing

CO 2

emissions from our power plants,

which are among the most efficient in

the world. We have removed almost every

pollutant from the flue gases. Now we

are focussing on the CO 2

challenge. Our

long-term objective is clear – providing

reliable energy without CO 2

emissions.

Therefore, we are engaged in developing

a range of projects that support this

objective. Examples of these projects are:

wind power generation; production of

second-generation bioethanol; co-firing

with biomass when generating combined

heat and electricity; capturing and storing

CO 2

; employing geothermal energy

as a supplement to district heating; and

generating energy via solar energy, hydro

power, or wave and tidal energy.

We are constantly trying to improve

our competitiveness and expand our

presence in the northern European energy

market – particularly through

growth outside Denmark. The growth

will be underpinned by a whole series

of identified, well-defined investment

options that have been chosen because

they support our long-term objectives,

utilize skills and existing market positions,

and enable synergies across the

entire Group.

Recently, we entered into an agreement

with Siemens to supply up to 500 wind

turbines – with a total capacity of up

to 1800 megawatts – for our planned

offshore wind farms in northern Europe.

This agreement is the largest single offshore

wind turbine supply agreement

ever, and it strengthens our leading position

within offshore wind energy. Finally,

it is an important tool for implementing

our strategy of significantly expanding

DONG Energy's position within the sustainable

energy sector.

Nationwide charging network

In 2008, DONG Energy formed a cooperation

with Better Place in Denmark. By

doing so, DONG Energy became partner

in a program for rolling out a nationwide

charging network for electric vehicles in

Denmark. The project provides optimum

exploitation of renewable energy, which

until now has been impossible to store,

and also saves CO 2

.

As a geographically small country, Denmark

has relatively low transportation

needs. There is a high car-registration

tax on conventional cars, but apart from

VAT, there are no taxes on electric vehicles,

making Denmark an ideal loca-

38

Global Compact International Yearbook 2009
---
Best Practice

Environment

with 5.4 million inhabitants and some

2 million passenger cars, the entire passenger

car fleet could thereby be run on

electricity produced by less than 750

windmills.

But as the wind is not blowing constantly,

we have also estimated that even if all the

electrical charging of cars was sourced

from coal-fired power plants, net CO 2

emissions would still decline by half. The

reason is partly that electric motors are

far more efficient than even the most

modern combustion engines, and partly

that the energy efficiency of our power

plants is high.

tion for launching an electric vehicles

program.

The goal of Better Place is to reduce CO 2

emissions from the transport sector by

implementing a charging infrastructure

for electric vehicles. DONG Energy is

shareholder in a Better Place operator

in Denmark and will be supplying the

energy to drive the electric vehicles. In

close cooperation with DONG Energy,

Better Place Denmark will be responsible

for building an electric-car-charging network

as well as a control centre that will

communicate wirelessly with the cars in

order to optimize the charging behaviour

in relation to hourly fluctuations

of market prices for electricity. Thereby

it can be ensured that if a car is plugged

into the carport socket outlet at 5 p.m.,

it will not start charging until late at

night when general energy consumption

is at its minimum – or alternatively, at

times of the day or night when there is

a surplus of energy.

The infrastructure will include thousands

of charge spots per region: in private

homes, workplaces, and public locations

throughout a deployment area. The

charge spots are supplemented by a network

of battery-switch stations that allow

drivers to exchange a depleted battery

for one with a full charge, in less time

than it takes to fill a tank with petrol.

That said, as the vast majority of driving

trips are shorter than the 150-km range

possible with a fully charged EV-battery,

most customers will use charge spots as

their primary source of energy.

Charging electric cars with power

We estimate that one medium-sized

windmill with a 2 megawatt capacity

on an annual basis can supply the energy

needed for 3000 cars. In a country

About DONG Energy

However, the more wind power we have

in our production mix at any given time,

the higher the reduction in CO 2

emissions

will be. An additional benefit will come

from the fact that most charging will

take place at night when wind power

is in excess supply. This means that it

will be possible to use wind energy for

transportation purposes that otherwise

would have to be exported to neighbouring

countries, typically at relatively low

prices.

Ultimately, the transition to an electricvehicle-based

transportation system powered

by renewable energy will lead to a

reduction of CO 2

emissions to the benefit

of our climate.

DONG Energy is an integrated energy company that operates across the

entire energy value-chain, with a presence in a number of important markets

in northern Europe – Germany, the United Kingdom, Norway, the Netherlands,

Sweden, Poland, and Denmark. The company's core business activities

are: natural gas and oil exploration and production; production of thermal

and renewable energy; natural gas and power sales; and distribution in the

wholesale market and to end customers. More than 5000 employees are

doing their best to fulfil the ambition of securing stable energy supplies for the

company's different markets.

Global Compact International Yearbook 2009 39
---
E.ON

R&D driving the

sustainable future

of energy

The world of energy is currently facing its potentially greatest challenge since the invention

of electricity. This is being fuelled by three fundamental development trends. Firstly, demand

for energy is continuing to increase. The IEA estimates that there will be about a 50 percent

increase in demand for primary energy worldwide by 2030. This will require massive

investments in energy generation. Secondly, climate change and the real threats it involves

demand unrelenting action in support of global climate protection. Thirdly, the fact that

fossil resources are not unlimited means that energy has to be treated even more responsibly.

By Erik Brandsma

Dealing with these seemingly irreconcilable

conflicts – i.e. breaking the correlation

between growth and energy

consumption – requires a fundamental

transformation of the energy sector and

a new understanding of how we generate,

distribute and use energy. New innovative

technologies are key to making this

happen. These range from tapping more

into the potential renewables have to offer,

successfully realizing carbon capture

and storage, developing more effective

energy storage systems and flexible distribution

right up to devising intelligent

solutions for increasing energy efficiency

in residential homes.

When it comes to R&D in forwardlooking

energy technologies, E.ON is

committed to attaining a leading position

in its industry. On the one hand,

E.ON wants to act as a catalyst between

basic research and the energy sector's

day-to-day business and so accelerate

the transformation of new ideas into

marketable products and processes. In addition

to that, we are forging ahead with

the development of key technologies

ourselves. As a successful international

group, E.ON has unrivalled first-hand insight

into the demands and requirements

from the field. Accordingly our R&D

strategy focuses on optimization of our

facilities and processes with innovative

solutions, development and commercial

implementation of strategically relevant

key technologies ("innovate.on") and

promoting of research at universities

and institutes around the world.

Our activities to promote research focus

on challenges for which fundamental

solutions have to be found or which are

at the very beginning of their research

cycle. E.ON therefore supports the "E.ON

Energy Research Center" (ERC), a public

private partnership with RWTH Aachen

University, which, among other areas, is

researching into storage and efficient

integration of renewable energies into

the existing power supply. Today renewables

cannot supply baseload power, as

the wind does not always blow without

interruption and the sun does not shine

around the clock. We therefore have to

develop innovative storage technologies

to be able to store energy from renewable

sources to make it available without

interruption. The independent ERC is

also conducting research into intelligent

network systems, which enable the flexible

use of renewables across borders and

allow power generated decentrally to be

fed into networks on demand. The findings

remain the property of researchers

and are published to be accessible in the

public domain.

Beyond that, regarding the pressing challenges

of today's energy sector, another

objective is to make clean-coal technologies

available on an industrial scale. If

40

Global Compact International Yearbook 2009
---
Best Practice

Environment

out at sea, and maritime energy technologies,

such as tidal and wave power

plants as well as the generation of bio

natural gas on an industrial scale. And

given the future application of nuclear

power, we also have to develop the next

generation of nuclear power plants. They

will then have to provide the greatest

possible level of inherent safety and

even higher protection against external

influences.

We have pooled these and other issues

within our technology initiative "innovate.on"

and, thanks to our international

footprint in 30 markets, we are able to

distribute tasks effectively and learn

from each other. One example is that, as

a group in Germany, we can benefit from

the experience in wind energy which

has been gathered in the UK and Spain,

while our customers in Italy and the US

stand to gain from German expertise in

coal technology.

innovate.on

efficient ecological energy

Future Fossil Fuel

Power Plants

High

Efficient

Coal

Power Plant

Carbon

Capture

Storage

Nuclear

Generation

III+

this is to be achieved, we have to increase

the thermal efficiency of coal-fired

power plants considerably. However, the

greatest challenge when it comes to low

carbon is undoubtedly the low carbon

power plant based on CCS technology. In

capturing CO 2

, we are currently pursuing

three technologies but are concentrating

on the "post combustion process", as it

Renewable Energy

Wind

Offshore

Upgraded

Biogas

Marine

End Use

Efficiency

Gas Heat

Pump

is easier to retrofit into existing power

plants and can also be made available

to other countries. In Europe we are

working on establishing a fleet of pilot

plants and intend to make CCS technology

commercially viable by 2020.

Further technological challenges include

building offshore wind farms, even far

As part of our commitment to push these

fields of research and development, E.ON

has once again considerably increased

its investments in new technologies to

support universities, research, development

and demonstration plants, which

amounted to € 106 million in 2008, after

€ 83 million in 2007 and € 57 million in

2006. The successes we have been able to

claim reaffirm our conviction to continue

with our broadly based R&D activities

to find solutions for sustainable energy

generation, distribution and use.

R&D is also a field of action which affects

different parties involved in the energy

sector – government, universities, research

institutions, industrial companies

as well as the energy industry – and

requires a joint effort to master the considerable

challenges ahead. This applies

for Germany and Europe, but also worldwide

when it comes to the application

of new technologies for global climate

protection, where concerted actions by

governments, companies and financial

institutions are needed.

Global Compact International Yearbook 2009 41
---
Ernst & Young

Diversity and

Inclusiveness at

Ernst & Young

By Sabine Moron and Karin Sahr

We recognize difference as a way of

harnessing the individual and combined

talents of our people. That is why D&I

has been declared one of our ten global

priorities. We live in an increasingly

global economy, where multicultural

(and often virtual) teams are the norm

rather than the exception. We need to

take into account the new mix of cultures

and individual characteristics that shape

our workforce and the different work

styles that build our talent pool. At the

same time, our clients and markets have

become more diverse themselves, and

we must mirror this diversity in more

than just claims and quotas. As business

challenges become more complex,

solving them requires us to call on the

widest spectrum of views and opinions.

Our global D&I strategy aims to create

structures in which these positive

effects of a diverse workforce can be

leveraged.

The 6th principle of the UN Global Compact addresses

the elimination of discrimination in respect of

employment and occupation. At Ernst & Young, we not

only believe in that goal from a moral perspective: We

are convinced that Diversity and Inclusiveness (D&I) are

actually a business must. That is why we do more than

just look for ways to prevent or eliminate discrimination;

we actively promote diversity as a value crucial to our

company.

However, it is important to recognize that

the ability to cooperate across cultures

does not come overnight. We are all

biased – it is a part of human nature.

While the abstract concept of diversity

as a value might seem plausible to a

lot of people, the actual confrontation

with different points of view, different

personal values, different ways of

dealing with projects and problems on

a day-to-day basis can easily create confusion

and frustration. If not managed

properly, the risk is high that the possible

positive effects will never be uncovered.

Instead, whoever represents the majority

or the highest hierarchy level in the

42

Global Compact International Yearbook 2009
---
Best Practice

Labour Standards

team could make decisions according

to their belief-system, which can lead

to discrimination against those who do

not share it. This is why it is not enough

to just have a diverse workforce – it

is important to create awareness and

develop the necessary skills to avoid

frustration and discrimination and to

leverage diversity's benefits.

We recognize that there is no fast-track

or short-cut for D&I. That is why there

are various initiatives on the office,

country, area and global levels to address

these issues in a comprehensive

and sustainable way. In Germany, the

roots of our D&I strategy go back to the

long-existing program GROW – Growth

and Retention Of Women. The program

focuses on leveraging female leadership

by providing networking and mentoring

opportunities, events and quarterly

measurements of gender equity, which

are used as an important indicator in the

German sustainability strategy. GROW

has laid a solid foundation for our D&I

initiative, and the heart of the program

remains a priority within D&I. However,

the definition of relevant diversity factors

within our organization has widened.

The challenge we are facing today lies

in adjusting activities to that new scope

as well as coordinating and streamlining

our global activities.

One important step was the creation

of the new position of D&I Partner for

Germany, Switzerland, and Austria (GSA).

Ana-Cristina Grohnert's task is to integrate

the various programs across GSA

and define innovative actions connected

to our global D&I vision and priorities.

For GSA, we have decided to set the first

focus for the next 18-24 months on the

aspects of gender management and crosscultural

communication. We believe this

will help drive broader benefits across

all other Diversity groups. We are defining

Diversity on a much broader basis

than just the official 6 aspects which

anti-discrimination laws address (gender,

age, ethnic background, religion, sexual

orientation and disabilities). For us, Diversity

also includes cultural aspects, different

experience levels and backgrounds,

diverse concepts of courage, honesty or

quality. D&I is a highly complex topic. If

The Ernst & Young

definition of Diversity

and Inclusiveness

Diversity is the demographic

mix in a given environment,

including differences in gender,

ethnicity, national cultures, subcultures

within countries, sexual

orientation, disability, generation,

experience levels, social

backgrounds, etc. The mix varies

among our areas and sub-areas.

Inclusiveness is how we

make the mix work. It is about

creating an environment where

all people feel valued, are part of

the community and are able to

perform at their best and achieve

their potential.

we want to transfer it successfully into

our organization, we will have to do this

in strategically sensible steps.

The base for all activities is the creation

of awareness and understanding,

in and across our organization, that D&I

management is not only morally right:

Institutionalization of D&I in our value

system, in our understanding of leadership,

commitment and behavior, in our

business and decision-making processes

and in our market strategies is essential

to adequately address the needs of our

people and our clients.

Building on that base, various agents

and levels have to be empowered to actually

work with the concepts, tools and

methods of effective D&I. In 2009 alone,

there will be 15 interactive Diversity

workshops for about 40% of our partners

across GSA, based on the belief that a successful

D&I strategy requires a top-down

approach. Our leaders have to ensure

that D&I considerations are included

in our processes, including rotation, client

assignments, mobility experiences,

performance evaluation, promotion, etc.

At the same time, all employees need

to be addressed. Currently this is done

via various communication channels,

with a focus on raising awareness of the

need to reflect upon one's own values

and frame of reference on a day-to-day

basis. As a next step, D&I skills need to

be systematically included in the training

program. An inclusive mindset has to

become a prerequisite skill for promotions

and leadership roles. We will build

this by defining this specific competence,

the related training, awareness modules

and self assessment tools.

We have defined a number of methods

to measure success, including:

• analysis of the diversity represented in

our current partnership and leadership

roles and the corresponding pipeline,

• integration of D&I aspects into employee

surveys and feedback processes,

• review of turnover, career development

experiences and promotion within our

various groups.

The final goal of these initiatives is not

only the elimination of discrimination but

also the comprehensive and sustainable

management of diversity as an asset that

creates value for our company, our clients

and markets and society at large.

Global Compact International Yearbook 2009 43
---
Gandaki Bee Concern

Hope Through Honey

"Fight poverty, maintain ecological equilibrium and so shape sustainable development."

These three clear goals are the essence of this truly mammoth project, Bhusan Shrestha

says. The large Nepalese beekeeper Gandaki Bee Concern (GBC) wants to make money

and at the same time bring progress to the small Asian country in the Himalayas. The

company, founded in 1990 in the capital Kathmandu, wants to do no less than help

more and more Nepalese "gain a source of income and at the same time conserve the

quality of nature for the future."

By Gerd Pfitzenmaier

To do this, CEO Dev Bahadur Gurung

employs thousands of yellow-and-brownstriped

helpers. They buzz over mountain

meadows, hum in the orange groves of

the lowlands and circle in thick swarms

on astonishingly steep cliffs around

semicircular or circular golden-yellow

honeycombs. "In all nooks and crannies

of the country," GBC announces,

"we're promoting honey collection." For

Bhusan Shrestha and his boss, this craft,

which has been exercised for centuries

on the roof of the world, is the key to the

economic rise of many small and micro

enterprises in this region furrowed by

deep gorges below the Earth's highest

summits. Through proper care of their

bee colonies, the farmers of Nepal shall

continue to boost the country's constantly

growing honey production and

so earn enough money to support their

families. Demand for the sweet substance

is immense and guarantees them

income with which they can finance

a better life for themselves. A desired

side-effect: Since the insects also need

a clean environment, the farmers also

pay attention to their most important

capital: They protect the landscape and

flora in this mountain country.

He started his company with a few apis

cerana hives. Today, most of the honey

comes from around 1500 apis mellifera

bee colonies, which produce up to 50

kilograms per hive per year. Around

300 tonnes of sweet nectar is the total

yield of GBC per year, and the business

has good prospects: One estimate assumes

there are around 125,000 bee

colonies in Nepal. "Eight of the world's

nine honeybee species are native to the

country," notes GBC as it describes the

fundamentals of this business. At the

same time, it recognises the challenge:

"In Nepal, modern beekeeping is still in

its infancy."

The company is working on this. It not

only collects and processes honey for its

own sale. GBC now earns money through

a wide-ranging network of customers,

including some financially stronger ones

outside the country. But above all, GBC

wants to pass on its know-how to the

country's farmers and so put beekeeping

on a broader production footing. To do

this, it has implemented a seven-step

procedure, which first identifies suitable

regions and then potential beekeepers,

trains them and later provides continuing

education. GBC helps the farmers

prepare business plans and write marketing

concepts. Employees see themselves

as trainers and helpers, whose goal is to

build an entire movement of beekeepers

and honey producers in Nepal.

And so GBC also relies on teamwork.

Farmers do not need to act in the market

alone. Rather, the company forms

small cooperatives and shares with them

the essential costs to buy equipment.

"The cooperatives are the basis to ensure

that development works," GBC believes,

and so it offers training courses for the

new beekeepers or organises fairs in

which they can exchange information

and learn from each other. The focus

always remains on "practical methods

and pragmatic approaches".

These are especially essential in marketing.

In Nepal, which has only a few

44

Global Compact International Yearbook 2009
---
Best Practice

Human Rights

paved roads and vehicles, the beekeepers

often stack the tin cans containing their

honey onto regular buses to begin the

sometimes difficult and long trip to the

market, often in Kathmandu. Here, too,

the members of a cooperative can help

each other by dividing up the tasks. This

saves time and minimises costs.

"And so we're increasing honey production

from year to year," GBC says about

its positive results so far. Currently, the

total amount of honey harvested and

processed is over 1,500 tonnes per year.

"The volume could potentially exceed

10,000 tonnes per year," the company's

specialists calculate. This potential, Dev

Bahadur Gurung and Bushan Shrestha

believe, can also be met especially with

disadvantaged people. The two experts

argue that beekeeping is not only a craft

with relatively low capital needs: Honey

can also be harvested in Nepal throughout

the year and in almost all locations,

they underline their business model.

Thanks to its topography, the tiny country

is home to many climate zones and

thus a wide variety of the flora that serves

as the best basis for producing the most

varied flavour varieties of honey.

Dev Bahadur Gurung and Bushan

Shrestha also know that honey harvesting

does not require beekeepers to own their

own land. After all, bee colonies ignore

property boundaries. "And so especially

poorer farmers can also take advantage of

this business," GBC believes. Even people

who never learned to read and write can

raise bees, GBC notes as one of the plus

points of the assistance project.

And support for women has been up at

the top of its agenda even before the company

became a member of the United

Nations' Global Compact in 2000 and

committed itself to its own CSR policy.

"Beekeeping is easy work and doesn't get

in the way of housekeeping duties," GBC

employees say, which is a major advantage

in giving women their own sources

of income. The company sees this as an

important step in reaching its goals of

reducing poverty and promoting more

equality in Nepal. "Our membership

in the Global Compact," says Bushan

Shrestha, explaining the GBC's decision

to join the UN initiative, "also strengthens

society's trust in our actions."

GBC then uses this immediately for the

good of all participants: The company

simultaneously represents to the Nepalese

government the interests of the

small cooperatives' many beekeepers. It

takes care of the formalities for certifying

the honey production as organic and

maintains contacts with national and

international authorities or NGOs that

organise projects with the beekeepers'

association of Gandaki Bee Concern or

that want to sell their products.

GBC is the nerve centre of the "selffinancing

network", as Bushan Shrestha

proudly calls it. There employees do

market research, devise new processing

methods and keep all beekeepers in

Nepal informed of progress. "Our honey

market is still being established," the

GBC experts say optimistically, "but if we

continue to improve technologically and

in management, we'll soon be competitive

in the world market."

Global Compact International Yearbook 2009 45
---
Grundfos

When water becomes

sustainable business

By pairing existing technologies with an innovative business

model, Grundfos LIFELINK responsibly changes the way of

operating and managing rural water supply systems.

By Carsten Kvistgaard

GRUNDFOS LIFELINK

An oxcart is bumping along a red, dusty

road in central Kenya with an empty water

drum bouncing against the frame. A

woman and two small boys are walking

next to it. They have been walking for

almost an hour when they finally stop

at a small stone house next to the road.

Women, children, and a few men swarm

around the house, many carrying yellow

plastic cans.

In the middle of the house stands a

rectangular black box, almost like an

obelisk. The woman enters the house,

picks a small plastic piece from inside

her dress pocket and places it in a slot in

the black box. The digital display above

shows: "credit 0 KSh". Then she fishes

out her mobile phone.

The LIFELINK concept

The world's leading pump manufacturer,

Grundfos, heralds a new era in rural

water supply. With its newly established

subsidiary, Grundfos LIFELINK, it targets

rural communities in Africa, Asia, and

Latin America with a sustainable supply

of safe drinking water at affordable

prices.

LIFELINK is a business, not a charity. It

builds upon a combination of pump,

mobile phone, and mobile banking technologies,

and it is above all an innovative

business model that allows consumers

to pay back into the original system

investment, simply by paying via their

mobile for the water they use.

A LIFELINK System is a single-point water

supply with a submersible borehole

pump that is powered by energy from

solar panels. Water is pumped to an

elevated storage tank, whereupon it is

led by gravity to a tap unit in a small

house. The tap unit also serves as a payment

facility.

New habits, new opportunities

The woman's fingers dance across her

mobile phone. First she checks her mobile

bank account: There is still money,

even after buying a goat yesterday. She

types in a few more figures and hits

"send". After a few seconds she receives

an SMS: "100 KSh transferred to Grundfos

for account AA0093". She inserts the

plastic key again to check her balance:

She now has 100 shillings for tapping

water. Enough for almost two weeks.

So she places the water key in another

slot and water starts flowing though

a hose to the 200-litre water drum on

her oxcart.

A few weeks ago, she had to work hard

at the hand pump for almost an hour to

fill her drum. Now she can just relax and

talk to people. One of them is a small,

slight man carrying three jerrycans on

his bicycle. His smile covers the whole

of his face when he explains that he is

doing good business: After paying two

shillings per jerrycan at the water tap,

he can drive less than half an hour away

on his bicycle and sell it for 10 times as

much to people who do not have the

time or strength to travel a long distance

to get safe drinking water. By expanding

this business he will be in a position to

feed his family.

Children come from the nearby school to

fetch water. With three taps on the unit,

everybody can now fill their canisters

without waiting, like they did before

the LIFELINK system – sometimes an

hour or more. School lessons are not

affected anymore.

A pump attendant looks after the system

and ensures that everybody understands

how to operate the tap system. He used

to have a hard time counting people and

cans and collecting money, but now he

just needs to assist a few people. He is

happy: "People now get what they pay

for – no more, no less. And I don't have

46

Global Compact International Yearbook 2009
---
Best Practice

Human Rights

water revenue, it goes back into the

community's own account.

Facts about LIFELINK and Grundfos

• LIFELINK is the Grundfos Group's first step into the socalled BOP market:

The four billlion people in the world who live for less than two USD per day

(Base of Pyramid).

• LIFELINK is business with a responsible approach, closely connected to

Grundfos' CSR policy. We call it inclusive business because it creates value

for both Grundfos and the local communities.

• A LIFELINK system operates on solar energy and has a capacity of 8-16 m3

per day.

• By paying a water tariff similar to officially recommended tariffs, a

community can pay back a LIFELINK system over 5-7 years.

• Banking via mobile phones is becoming widespread in the developing world

because traditional banks are little present in rural areas.

• Grundfos has a solid record on providing access to water through our well

tested solar or wind powered pump solutions. Tens of thousands of these

are working steadily all over the world, from developing countries to remote

parts of USA and Australia.

• With such solutions, Grundfos contributes to fulfilment of several MDG's

(Millenium Development Goals) in developing countries.

to explain it to them but can just help

them instead. It's great fun."

Financial and social sustainability

The money used to pay for the water

via mobile phone banking goes into an

account at the telecompany, where it is

transferred to the financing bank with

whom LIFELINK has partnered. After

deducting the community's monthly

loan repayment, the bank transfers an

amount to pay for a service contract

between the community and LIFELINK

to cover service, maintenance, and spare

parts. If anything is left over from the

After their repayment of the system investment,

the community will own the

system and can invest the water income

in new development projects. This closedpayment

system prevents the need for

cash to be exchanged between people

and makes the concept transparent so

that everybody with special interests and

access – like financing institutions or

donors – can follow each community's

financial and technical performance

via the Internet. A special surveillance

facility even makes it possible to see

how much water is being tapped and

displays alarms so that LIFELINK's local

service organization can take immediate

action, should any problems arise. Thus,

the system's sustainability not only deals

with environmental aspects by using

solar energy, but also with social and

financial aspects.

The village chief explains: "I had an idea

that this new water system would attract

more people to our place. But I am surprised

that we have been able to almost

triple our water sales. I have a vision of

LIFELINK systems in many more communities

in our constituency because I see

them as a motor of development. People

get more time for productive work, cultivating

and selling crops is much easier,

and peoples' health standard improves

because they don't need to take water

from polluted sources."

The oxcart woman has filled her drum

in 12 minutes and is heading home.

Three other carts have already lined up.

Women, children, and men come and go

with jerrycans on their backs, on bicycles,

donkeys, or wheelbarrows.

The creaking of the hand pump has

ceased, replaced by cheerful voices and

laughter. And while the sun sets behind

the acacias and pump performance slowly

fades, the pump attendant can make

his account: 11 cubic metres. He can lock

the doors. It has been a good day.

Global Compact International Yearbook 2009 47
---
Holcim

Collaborating to

conserve ecosystems and

biodiversity

Conserving ecosystems and stopping biodiversity loss is one of the major issues of our time,

in particular in situations where industrial activities and population growth put increasing

pressure on natural habitats. Believing that this issue can only be addressed by working

together, leading building materials company Holcim and IUCN, the International Union for

Conservation of Nature, have joined forces to effectively manage biodiversity conservation

and to create biodiversity-based sustainable livelihoods.

By Stefanie Koch and Rashila Tong

The production of cement and aggregates

depends on long-term access to

raw materials that are acquired through

quarrying. Being in a resource-intensive

business has led Holcim to the conviction

that biodiversity conservation plays an

important role in its long-term resource

and reserve strategy. The company plans

raw materials extraction and management

according to a defined process with

impacts assessed at each stage of quarry

operation. Rehabilitation guidelines and

plans are implemented by almost all cement

and aggregate quarries, resulting

in many conservation and restoration

projects.

This and the fact that Sustainable Development

is a key element of the vision

and mission of Holcim and integral

part of business strategy has led the

company to engage with a respected

organization to get advice on assessing

and mitigating its biodiversity footprint.

IUCN is the world's oldest and largest

global environmental organization, with

more than 1,000 government and NGO

members and almost 11,000 volunteer

experts in some 160 countries. IUCN

works on biodiversity, climate change,

energy, human livelihoods and greening

the world economy by supporting scientific

research, managing field projects,

and bringing governments, NGOs and

companies together to develop policy,

laws and best practice. Given its expertise

and network, IUCN makes a strong

partner for Holcim to understand and

address biodiversity conservation issues

worldwide adequately.

Developing company and

industry relevant

recommendations

Given the many synergies between the

two organizations, IUCN and Holcim

have entered into a four years relationship

(2007-2010) that aims at developing

"robust ecosystem conservation standards

for the Holcim Group, and contributing

to sector-wide improvements in the cement

and related sectors." In this context,

IUCN provides biodiversity expertise and

enables Holcim to work more closely

with relevant stakeholders internationally

and locally through its network. In

placing biodiversity conservation at the

core of its collaboration, the strategic

alliance between Holcim and IUCN is

breaking new ground in the industry.

A five-member Independent Expert Panel

of biodiversity and conservation experts

plays a key role in achieving the ambitious

targets. The Panel is entrusted to

develop key elements of a biodiversity

policy and strategy. In order to advise

Holcim, the panel has visited several different

sites in Spain, Indonesia, Belgium,

Hungary, and the US. These visits ensure

that before making recommendations,

the Panel understands the functioning

of cement and aggregates operations,

the diversity of sites and the different

48

Global Compact International Yearbook 2009
---
Best Practice

Environment

Stakeholder dialogue in Nagarote,

Nicaragua

constraints encountered in different locations.

These visits and the elaboration

of a baseline of practices in biodiversity

conservation management of Holcim

were relevant to understand industryand

company related biodiversity conservation

issues. A quarry inventory now

contains more than 300 Holcim quarries

and includes examples of conservation

practices all over the world.

Creating sustainable livelihoods

through biodiversity-based

microenterprises

Developing biodiversity-based microenterprises

has the potential to lift individuals

and communities out of poverty

while conserving biodiversity. The main

characteristic of these enterprises is that

they depend on biodiversity for their core

business or contribute to biodiversity

conservation through their activity while

at the same time providing sources of

incomes for entire families. The development

and pilot-testing of an approach

in selected countries is another focus of

the Holcim – IUCN collaboration. The

main actors of microenterprise development

projects and owners of respective

businesses are local stakeholders

themselves. The process of assessing the

local environment, identifying business

opportunities and entrepreneurs, equipping

them with the skills necessary to

lead a business as well as supporting

the integration of the businesses into

the local value chain is facilitated and

supported by Holcim and IUCN.

The concept, that will be made available

to the public, incorporates a variety of

approaches and key tools for the different

phases of microenterprise development.

In Nagarote, Nicaragua, a pilot project

was initiated in 2008. A working group

made up of Holcim and IUCN representatives

and local community stakeholders

conducted a participatory assessment of

the socio-economic situation as well as

available economic and natural resources.

The team surveyed existing microenterprises

and identified opportunities

for biodiversity-related businesses such

as ecotourism, reforestation and waste

management. The start-up of businesses

is foreseen for late 2009.

Local collaboration in Sri Lanka

To complement and strengthen the work

being carried out, local agreements between

Holcim country operations and

IUCN are being actively promoted to

address and resolve site specific issues

and to support country level implementation

of Holcim policies and recommendations.

Such a local agreement has been signed

between Holcim and IUCN in Sri Lanka.

One of the projects under the agreement

includes providing waste management

solutions for Puttalam, a city near the

location of the Holcim plant. Recently,

the construction of a waste sorting facility

has been completed that will separate

solid waste into compostable and

non-compostable fractions. The facility

can process 7 tons per day, providing a

waste solution to the community as well

as compost to the residents. The noncompostable

fraction is co-processed by

the plant. Training has been provided

to the staff and will now be turned over

to the Puttalam Urban Council for operation.

This example demonstrates

how the two organizations functioned

as a catalyst to improve the local area,

providing benefit to all.

The biodiversity efforts of Holcim, in

particular in collaboration with IUCN,

are deemed to be respectable as expressed

in the words of the chair of the Panel

after the visit to Indonesia: "What we

saw, heard and experienced was not

what we had expected – it was on par

with, maybe even above, what we had

seen elsewhere".

The panel visited the Four Holes

Swamp adjacent to the Holly Hill,

US site.

Global Compact International Yearbook 2009 49
---
Martha Tilaar Group

Kampoeng Djamoe Organik

Martha Tilaar

Martha Tilaar Group is one of Indonesia's foremost purveyors of innovative, high-quality

beauty products and services. With its wide-ranging stable of sub-brands under the

Martha Tilaar umbrella brand, the group offers an impressive array of beauty and

well-being choices for women of all ages and income groups. While many of its products

and treatments feature the ancient wisdom of traditional Indonesian herbal

ingredients (jamu) and other natural plant extracts, Martha Tilaar also produces a wide

variety of up-to-the-minute color cosmetics and skincare, body care

and hair care products for the modern woman.

By Nuning S. Barwa and Heru D. Wardana

From its humble beginnings as a beauty

salon in the early 1970s, the company

has grown into an integrated, world-class,

total beauty provider which exports its

products all over the world. The company's

key brands have won numerous

prizes and consistently achieved

the country's highest ratings for brand

awareness, reflecting Martha Tilaar's

strong focus on beauty products specifically

designed for the Eastern woman.

Establishment of 'Kampoeng

Djamoe Organik Martha Tilaar'

Garden

As a natural cosmetic producer from the

beginning, we have always integrated

socially and environmentally responsible

practices into our business activities and

blended Indonesian medicinal plants,

Eastern beauty, our rich culture and

environment together in our mission.

The three pillars of our corporate social

responsibility focus on environmental

and cultural stewardship, caring communities,

and empowering women's

wellness.

In 1998, the company established the

10-hectare garden located in Cikarang

industrial estate, West Java, which was

conceived and developed by Dr. Martha

Tilaar as a result of her total dedication

to preserving Indonesian biodiversity,

especially in medicinal, aromatic and cosmetic

(MAC) plants. The main objective

is to serve as a center for environmental

and cultural education and a holistic garden

that enhances our physical, spiritual

and moral balance.

Since the garden's land is very marginal

and dry, it took extra effort and dedicated

commitment by our team for more than

5 years in applying good organic agriculture

principles to transform it so it could

be planted with grass, trees, and MAC

plants. Finally, after 8 years of hard work,

the sustainable launch of Kampoeng

Djamoe Organik (KaDO) was celebrated

by Indonesian Environment Minister Ir.

Rachmat Witoelar in June 2006.

As an Indonesian company producing

herbal and natural cosmetic products,

we obtain our herbal materials from the

local community and farmers in Indonesian

provinces. Through partnerships

with local farmers to provide high-quality

plant materials, we can secure their supply

to meet our needs all year round. For

the time being, we always check farmers'

activities in cultivating the medicinal

plants to produce simplisia (dried plant

materials). It is important to supervise

them at every step of plant cultivation

and post-harvest treatment to achieve a

high standard quality of plant materials.

To efficiently and effectively transfer

knowledge of good agricultural practices

as well as good post-harvest practices

50

Global Compact International Yearbook 2009
---
Best Practice

Environment

to farmers and the local community,

we have also established in 'Kampoeng

Djamoe Organik' complete training facilities

for organic farming and post harvest

treatment of MAC plants.

Green mission of 'Kampoeng

Djamoe Organik Martha Tilaar'

Training in organic farming has been

conducted since 2001, when we started

giving free training in organic farming

and simple production management

to 20 cooperative farmers throughout

Indonesia. In 2003, we also published

a book on the organic farming system

for Indonesian "empon-empon" (in the

Zingiberaceae family, like ginger, Javanese

turmeric, galangal). Our goal is to

ensure that the organic plant cultivation

system is being effectively implemented

to support the supply chain process and

conserve original Indonesian seeds and

plant diversity. We then began to work

with the Indonesian Agriculture Minister

and Indonesian NGOs to conduct training

on the organic farming system and

good post-harvest practices for medicinal

plants and promote them in Indonesia

through printed and electronic media.

Now we already have more than 200 cooperative

farmers from Aceh to Papua.

We have been collecting plant species

from their habitats one-by-one since the

year 2000, so we now have about 600 species

of Indonesian MAC plants. Moreover,

'Kampoeng Djamoe Organik' was planned

as a green area in downtown Cikarang

and to serve as a carbon trap and oxygen

factory for the community. All program

activities here are designed to achieve

spiritual, physical and moral balance.

These include training in organic farming

and post-harvest treatment, agent

development for green actions, rising

awareness of global warming, herb-use

training for healthy living, outdoor activities,

promotion of the community's

green products, fun-learning for children

and life-enhancing programs for senior

citizens.

We use this holistic garden based on

organic precepts as a center for environmental

education to enhance the balance

of mind, beauty and behavior. Through

'Kampoeng Djamoe Organik', we are trying

to improve the quality and beauty of

the environment through the collection

of MAC plants and by spreading a new

concept of agriculture through educational

activities and natural relaxation.

We are also endeavoring to conserve

Indonesia's biodiversity by applying winwin

solutions for all stakeholders and

the environment itself.

In the long term, 'Kampoeng Djamoe

Organik Martha Tilaar' has provided a

beautiful and pleasant environment in

the heart of Cikarang city with high added

value in supporting the agrobusiness

of MAC plants and ultimately stimulating

the birth of "Environmental Heroes"

in urban and industrial areas. There

are so many benefits offered to visitors,

such as fresh air in a green garden in

the center of the city, relaxation, and

education as well as broader knowledge

about MAC plants and their uses. Next,

the garden will also host an Eastern

Spa, herbal laboratory, and School for

Nature that will make this area a 'Health

Care & Education Center', providing a

traditional touch with modern nuances

while serving as a hospitality host for

global consumers.

Global Compact International Yearbook 2009 51
---
Medine

Master Plan for

Mauritius

Established on the island of Mauritius in 1911, Medine originally grew and processed

sugar cane. But since then, the importance of tourism and other service areas has steadily

grown. The 'Fondation Medine Horizons' (FMH), which the company established for this

purpose, promotes optimism and entrepreneurial self-help, states the GC report "Africa

leads".

By Gerd Pfitzenmaier

52

Global Compact International Yearbook 2009
---
Best Practice

Partnership

"Development," says Dany Giraud, "can

only be sustainable, in our opinion, if all

the people of a region participate and enjoy

the advantages of change." The CEO

of Medine, a conglomerate of companies

in the holiday paradise Mauritius, has

also been the driving force of the FMH

since 2006. The Group established the

foundation, funded by 10 million Mauritian

rupees (€0.24 million) annually, in

accordance with its master plan.

The plan paints a picture of the future for

the people living on the 10,625 hectares

of land belonging to Medine. The vision

promises them lives based on education,

good jobs and social services. After all,

the area in which the FMH works covers

a good 5.5 percent of the entire island,

which is located around 900 kilometres

east of Madagascar in the Indian Ocean.

About 15,000 islanders live in the area

around the cities of Richelieu, Tamarin

and Bambous.

The company's managers reacted early

to changes in the world market and

diversified their product portfolio. And

so the company also plants vegetables

and farms chickens among other projects.

Employing over 1700 people, Medine

also operates luxurious holiday resorts,

nature parks and golf courses for wellto-do

tourists. Medine's CSR activities

played a major role here. And so, consistent

with this, FMH was founded in

September 2006. The main goals of the

master plan are to improve education

and employment and promote entrepreneurship.

Six employees transferred in 2006 from

Medine to the newly established FMH.

There, Sophie Desvaux de Marigny has

steered teachers, social workers or organisers

of the farmers' market as well as

financed microcredit to small businesspeople.

"All our projects have the same

goal," says Sophie Desvaux: "We are

integrating the poor into the economy

of our region." Since December 2007, the

foundation has also been working with

small companies. It provides them with

small loans of between 950 and 31,250

US dollars (750 – 25,000 euros). These

jump-start loans give the recipient companies

a leg up and stabilise the island's

economy. In the current and coming year,

FHM is putting a special focus on the

fight against drugs. Mauritius has the

world's second-largest heroin market

in relation to its population, so this is a

worthwhile project for the foundation.

One of the fortunate beneficiaries of

the foundation's work is the tinsmith

Seeven Seevathean. One of the last of

his trade, the craftsman cuts, hammers

and solders tanks, pails and cans under

the corrugated metal roof of a wood

hut in the provincial town of Bambous.

Seevathean sells his wares at a stand

beside the Royal Road, and his customers

stream to him from far away. To expand

the small company and boost production

with new machines, he needed capital.

Seevathean is a good businessman, and

FMH credit expert Benoit Adolphe did not

hesitate long before fulfilling his wish in

December 2008. Adolphe granted him a

125,000 rupee loan (€2000), repayable in

small instalments over three years. The

tinsmith was happy and immediately

hired an additional worker.

"Seevathean is a prime example of our

work," comments foundation employee

Benoit Adolphe. "We help him to help

others." The tinsmith stands symbolically

for at least 200 untrained unemployed

people whom the foundation helped gain

basic knowledge and technical skills in

its specially constructed Medine Training

Centre (MTC) between autumn 2006 and

2008. Jean Marc Boissezon taught them

reading and writing, and in the Centre

they received basic training in home economics,

child care or gardening. Today

they work as domestic servants, hotel

employees or landscapers. These professions

are in demand in the region, and

a job guarantees income. "That changes

the social structure of society," concludes

Priscille Ramcharran, who works as a

social worker at FMH. Alcohol and drug

addiction, dropping out of school, unemployment

and teenage pregnancy have

long been a sad part of everyday life in

the holiday dream island in the Indian

Ocean. "Exactly that is what our master

plan intends to change," says Sophie

Desvaux de Marigny.

Not only has FMH supported 97 local

NGO actions with around 15 million

rupees (€365,000); most of all, it has

trained the unemployed. "That provides

families with an income," says Sophie

Desvaux proudly of this work. In a 150-

hour course, FMH trains people to work

in hotels. Some holiday resorts on the

west coast of Mauritius cooperate intensively

with the foundation and provide

the trainees practical experience "on the

job". The operations of Medine also profit

from the foundation's work. They recruit

their employees from the reservoir of

the previously untrained.

In 2007, Medine signed the Principles

of the Global Compact. "Since then,"

concludes the GC report "Africa leads"

of 2008, "Medine and the foundation

have spread optimism and entrepreneurial

self-help." With this they have

also reached people who were previously

left behind. Medine gives land to

citizens' action groups, builds nurseries

and homes for the handicapped. "The

foundation sets an example in all its

activities," Medine CEO Dany Giraud concludes.

"We show how people, through

their commitment, build and strengthen

neighbourhood structures in which everyone

suddenly helps to improve living

conditions and gain access to social assistance

and good jobs."

Global Compact International Yearbook 2009 53
---
Nexen

Yemen Water and

Sanitation Project

Is it possible to create a sustainable water and sanitation infrastructure project?

Yes, but corporations and international organizations, such as the United Nations

and its agencies, are still learning to work together. And it is paramount to

effectively engage the community if such projects are to be successful.

By Jeff Flood

Nexen Inc. is a Canadian-based, global energy

company growing value responsibly.

We are strategically positioned in some

of the world's most exciting regions: the

North Sea, deep-water Gulf of Mexico,

Middle East, offshore West Africa and

the Canadian Athabasca oil sands.

Yemen has been a significant international

region for us since we first began

production at Masila in 1993. We operate

the country's largest oil project and have

developed strong relationships with the

government and local communities.

Yemen is one of the most water-scarce

countries on earth. Small communities

in Yemen have very limited resources

for water and sanitation. When Nexen

considered options for community investment

that would make a sustainable

difference to local residents, water was

a natural area of focus.

The community of Ressib is the settlement

closest to our Central Processing

Facility. From the outset, Ressib has been

one of our key areas for community investment,

with Nexen providing support

for electricity, drinking water, health and

education as priorities.

54

Global Compact International Yearbook 2009
---
Best Practice

Partnership

As an active member of the UN Global

Compact, we began looking for ways to

partner with the UN and its agencies to

address development-related issues, such

as the Millennium Development Goals.

After a period of consultation, we undertook

to create a sustainable community

development project in concert with the

United Nations Development Programme

(UNDP), with additional support from the

Canadian International Development

Agency (CIDA). This was one of the first

partnership projects announced under

the Global Compact and the first to be

launched in the Middle East.

Our mutual objective was to establish

a clean water and sanitation program

in the community of Ressib to enhance

local quality of life by reducing incidences

of water-borne diseases. To help

us achieve those objectives, we launched

a project to:

• provide a long-term source of quality

water for drinking and domestic use

(local water wells showed moderately

excessive levels of fluoride);

• develop a locally appropriate sanitation

and wastewater management system;

and

• build community capacity to sustain

the water and sanitation systems.

The project was approved in October

2004 with the UNDP as the implementing

body. We had hoped to complete

the effort within three years. In truth,

we have not achieved the goals we set

for ourselves within the hoped-for time

frame. The project is continuing and is

now targeted for completion by yearend

2010.

There are several reasons for the project

failing to meet our initial expectations:

• The organizational cultures of the

UNDP and Nexen were substantially

different. The culture of an oil and gas

company is less concerned with internal

processes than a UN agency must

be. For example, the steps required to

approve materials procurement were

significantly more detailed – and time

consuming – than Nexen expected.

• Thanks to multiple community investment

efforts by Nexen over the years,

the community (Ressib) has come to

expect a "full service" project, with

Nexen funding, installing and in some

cases maintaining essential community

infrastructure. The community has not

fully embraced the concept of owning

and managing the water and sanitation

project themselves.

• The security situation in Yemen has

deteriorated since the project's outset.

This has limited the ability of UNDP

staff to travel to, and spend time in,

the community.

Originally, the project was estimated at a

cost of US$2 million, with US$1 million

coming from Nexen and US$500,000

coming from the UNDP and CIDA (each).

With the lag in the project schedule, we

now expect actual costs will exceed our

original budget by about 25%.

In early 2009, Nexen met with the UNDP,

the Government of Yemen and community

leaders. Together, we celebrated

the fact that clean drinking water has

now been provided to some 700 households,

serving a population of about

5000 people.

By mutual agreement, Nexen agreed to

complete the sanitation system (to be

built by a local contractor) and to also

support the local community in developing

the capacity to own and manage the

completed system.

We are confident the project will ultimately

achieve its goal of enhanced quality

of life for the community of Ressib

through successful completion of the

water and sanitation project. But given

the substantial delays in the project, it is

important for us to capture the lessons

learned, not only for ourselves but for

other private/public partnerships such

as ours.

So what have we learned?

We've learned not to underestimate the

cultural differences between corporations

and international organizations

such as the UN and its agencies. While

we both share the goal of sustainable

development, our approaches to achieving

that goal can differ substantially. It is

important to recognize and deploy the

skills and competencies of the project

partners in the most effective manner

right from the outset of the project, and

to allow for adjustments as project conditions

change.

We've learned that sustainable infrastructure

programs require long-term

commitment from the community and

the resources, will and education to see

them through. The community must

establish a clear champion and commit

to an education program.

Perhaps most importantly, we've learned

an important difference between oil

and gas infrastructure and community

infrastructure. As a global oil and gas

company, we have proven to be adept at

drilling wells, at building roads, pipelines

and processing facilities – all despite

significant challenges in terrain, climate

and culture. But when it comes to

partnering with international agencies

and developing community capacity to

manage their own infrastructure, we've

come to appreciate the complexities

involved.

On our part, we've learned valuable lessons

we hope other private-sector players

can study. We also hope that, from our

experience, the UN, its agencies and the

UN Global Compact can learn how to

partner more effectively with companies

such as ours.

Global Compact International Yearbook 2009 55
---
Novo Nordisk

Changing

Diabetes®

By Craig Ludwig

Protecting and promoting the right to

health is first and foremost a responsibility

of states. But business can make a big

difference. Novo Nordisk is committed

to pursuing its business goals as a profitable

enterprise. However, as a global

pharmaceutical company and a leader

in diabetes care, we believe that we have

a responsibility to try and influence the

negative trends of this global health issue

to prevent unnecessary human suffering.

That is why we launched Changing

Diabetes® in 2005, which is dedicated to

bringing meaningful change to the lives

of people living with diabetes. This promise

underpins the company's strategy in

diabetes care and three ambitions drive

its efforts: giving priority to people with

diabetes, improving treatment outcomes,

and breaking the curve of the global

diabetes pandemic.

There are 3.8 million deaths attributed to diabetes each

year, accounting for roughly 6 percent of total causes of

mortality globally. Yet the disease still goes largely ignored.

Of the estimated 246 million people worldwide who are

affected by diabetes today, 50 percent do not even know

they have it. Diabetes is a global issue and presents a

significant challenge to both the individual and society.

In low- and middle-income economies, governments

lack the resources to provide the health care that their

populations need, and in high-income economies, ageing

populations – combined with increased treatment costs –

are putting public health budgets under pressure.

To improve the lives of people affected

by diabetes, change needs to happen at

every level – in science and research,

in humanitarian and outreach efforts,

in education, and in government and

public policy worldwide. This ambition

poses huge challenges that require collaborative

actions.

Giving priority to people

with diabetes

The importance of raising awareness of

diabetes led Novo Nordisk to become a

strong partner in the Unite for Diabetes

campaign, which led to the adoption of

the 2006 UN Resolution on diabetes. The

resolution calls upon all nations to tackle

the growing diabetes pandemic.

56

Global Compact International Yearbook 2009
---
Best Practice

Human Rights

In March 2007, Novo Nordisk gathered a

wide range of stakeholders at a forum in

New York to discuss how to put the resolution

into action. The keynote speaker

at the forum was former US President

Bill Clinton, who stated: "We will never

be forgiven, and I mean never, if we

allow our children to live shorter lives

than our own."

To date, 16 such national forums have

been arranged in countries across the

world, including Australia, Belgium,

Denmark, Italy, and France. The forums

aim to put diabetes on the health policy

agenda and offer an opportunity to drive

change on the ground through discussions

about national diabetes strategies,

improved diabetes prevention, and early

detection of diabetes. At these forums,

participants debate how to develop sustainable

health policies and design health

systems that generate value-based outcomes

for people with diabetes.

Improving treatment

The effects of this devastating disease

are complex and far-reaching. However,

all too often, its impacts go unnoticed.

Raising awareness of diabetes is, in itself,

a challenge, but words are not enough.

At the New York forum, Lars Rebien

Sørensen, Novo Nordisk's CEO and president,

pledged to develop a means of

tracking change and pinpointing areas

in need of improvement. The Changing

Diabetes® Barometer – a tool to

keep score of the fight against diabetes

– was launched in November 2007. The

Barometer provides a means of setting

a baseline and measuring the progress

of care around the world through a set

of quality indicators defined by international

guidelines. It also measures quality

of life as experienced by patients, and

records the related health-care expenditures.

By creating more transparency,

the Barometer aims to give health-care

policymakers and health-care providers

the best possible basis for making

informed decisions about improving

health outcomes while bringing down

total costs.

Breaking the curve

While diabetes is not yet a curable disease,

it can be treated and, in many cases,

it can be prevented. Novo Nordisk's global

awareness-raising campaign drives

awareness of the personal and societal

implications of diabetes. Included in

this effort is the Changing Diabetes® Bus,

which in September 2006 embarked on

a world tour to raise public awareness

about what can be done to prevent the

onset of type 2 diabetes. To date, the bus

has visited countries across five continents

and has had more than 175,000

visitors.

Through the National Changing Diabetes®

programs, Novo Nordisk promotes better

education of health-care professionals

and wider availability of screening for

diabetes symptoms. This initiative works

to bring together innovators in diabetes

education and treatment to facilitate

and advance the prevention, care, and

management of diabetes. Approximately

380,000 health-care professionals have

been trained or educated through Novo

Nordisk's National Changing Diabetes®

programs.

At Novo Nordisk, we recognize that there

is a link between poverty and ill health.

Our comprehensive programs in the field

of diabetes care also target disadvantaged

communities and the most vulnerable

populations with the least access to care.

Our approach to improved access aligns

with the UN Global Compact principles

in respect of human rights and the UN

Millennium Development Goals, with

a long-term strategy to provide sustainable

diabetes care for everyone who

needs it.

In December 2008, Novo Nordisk announced

an ambitious access program

to change the future of children living

with type 1 diabetes in the world's

least-developed countries. The Changing

Diabetes® in Children program hopes to

reach 10,000 children by 2015.

With the prediction that, by 2025, 380

million people will be in need of diabetes

care for the rest of their lives, diabetes

presents a significant challenge to socioeconomic

development and the future

cost to health-care systems. Every 10 seconds,

two people develop diabetes, and

one person dies from diabetes-related

complications. In one generation, the

prevalence of diabetes has increased

six-fold worldwide. It does not need to

be this way.

Change is essential if we are to break

the curve of the pandemic of diabetes.

As a business and as a corporate citizen

in a world heavily burdened by disease,

we want to change diabetes. We want

to change the impact diabetes has on

lives, change the amount of pain and

suffering diabetes causes, and change

the burden of diabetes on economies

around the world.

Global Compact International Yearbook 2009 57
---
Otto Group

Our Commitment Against

Child Labour in India

Around the globe, some 300 million children aged between five and fourteen work.

In India, 59 million children do not have the chance to go to school. Instead, most

of them have to herd goats, crush rocks, collect rubbish, sew sequins onto textile

articles, clean the houses of rich families, or do other menial jobs to survive.

By Andreas Streubig

What has caused this shocking number

of child workers in India? Child labour

is mostly the result of the severe poverty

of families, where every cent counts

– no matter who earns it. But by working,

these children forfeit their chance

to break out of the poverty trap later.

Moreover, there simply are not enough

schools, teachers, and books for them,

especially in structurally poorer regions.

Many children in school do not receive

enough support at home – particularly

if they are the first in the family to go

to school at all.

Trading companies in the West that

import goods from India and want to

avoid unethical social behaviour in their

production processes are also having to

confront the issue of child labour. One of

these is the Otto Group, a globally active

trade and services group based in Hamburg,

Germany. The Group developed

its Code of Conduct back in 1996, based

on International Labour Organization

conventions. In cooperation with the

Europe-based Business Social Compliance

Initiative (BSCI), the Otto Group is

working to guarantee the implementation

of its Code of Conduct, with the aid

of supplier audits and training within

a carefully designed social management

system. Preventing child labour is a key

focus of this effort; nevertheless, it is

impossible to be completely sure that

children are not still being exploited as

cheap labour, as this malaise is still too

deeply rooted in the Indian market.

This is why in March 2008 the Otto Group

launched a development policy project

in partnership with the human rights

organization terre des hommes to combat

child labour in India. It is initially set to

run for three years and will be managed

by terre des hommes, financially supported

by the Otto Group, and implemented

locally with project partners in the respective

Indian regions. "Our project is

aimed at tackling the problem of child

labour on the deeper-lying, structural

level," explains Sibylle Duncker, Social

Compliance Team Lead at the Group's

Hamburg head office. "We want to give

children and adolescents access to a

school education and so provide them

with the basis for a professional future

and genuine prospects in life."

This innovative project has two regional

focal points in India: the capital, New

Delhi, and the poverty-stricken northern

state of Bihar, where most child workers

in the urban industrial centres of New

Delhi, Mumbai, and Calcutta come from.

Working closely with state schools and

local authorities, the project is designed

to tackle the problem of child labour

on a structural level in both project

regions, but with a different emphasis

in each. In rural Bihar prevention is the

main priority – to stop children moving

away and into the labour market

at all. In New Delhi the goal is to show

children and adolescents who are already

in the labour market that they have

clear alternatives – and to re-motivate

them to go to school or even to take a

skills-training course.

"To combat child labour we've developed

a whole range of interlinked measures,"

explains Barbara Küppers, who is responsible

for Child Labour / Social Standards

at terre des hommes. "In Bihar the first

step was to launch schooling campaigns,

to get as many kids as we could into

school." In the West Champaran district,

staff from the Jesuit aid organisation Rural

Education and Development (READ),

who are also involved in the project's

work, went from door to door to gradually

gain families' trust through a per-

58

Global Compact International Yearbook 2009
---
Best Practice

Labour Standards

in parallel in three state schools so that

teachers can receive further training.

Besides, in contrast to Bihar, child workers

in the slums are also offered direct

opportunities to leave work and thus

to break out of the poverty trap. These

opportunities include giving them new

skills and offering them alternatives to

working in factories or restaurants. Kids'

Clubs for child workers aged between

ten and fourteen give them a place to

meet and to talk about problems at work

or in their families. Young women are

trained as seamstresses to give them

a genuine professional alternative to

unskilled factory work.

sonal approach. Many of these families

are "outcasts", which is a serious social

stigma in India. "Outcasts need to take

great care not to overstep their limits –

that's why they often don't send their

children to school at all," says Küppers.

Children who broke off their schooling

can catch up in evening classes so they

can re-enter the state school system. The

project also provides additional support

for schoolchildren who are the first

"school-learners" in their families; as they

often receive no support at home, they

have a higher risk of breaking off their

schooling prematurely. Moreover, 180

adolescents – half of them girls – also

receive vocational training. The project

gives state schools a helping hand with

teacher training and school management

programs; at the same time it works to

mobilize parents and local communities

for the children's benefit – for instance

through setting up school committees,

but also through giving mothers' selfhelp

groups access to micro-credit and

thus helping them to set up their own

small businesses to secure their basic

income.

In New Delhi, staff from the project partner

Ankur invite children aged between six

and ten from three specific slums to play

and learn together in specially designed

learning centres. Again, this is aimed at

giving them another chance of getting

into the state school system. School management

systems are being introduced

So what progress has the project made

after one year? Is the mix of education,

training opportunities, and micro-finance

for families helping to fight child

labour? In the Bihar project region of

West Champaran in June 2008, at the

start of the Indian school year, 1279

five- to twelve-year-olds were in school

for the first time, reflecting a total of 80

percent of local children who had not

been previously schooled. The villagers

participated in meetings and discussions,

local authorities reacted very positively,

and 140 local community volunteers took

part in a training program for establishing

self-help groups. In New Delhi, too,

all project learning centres such as the

Kids' Clubs and the three centres for

young women have opened – and are

already operating at capacity.

Despite these initial successes, there is

still a long way to go. "An enormous

and never-ending challenge," is how

Maren Boehm, who represents the Otto

Group's Corporate Responsibility Area

in Asia, describes the project. "Grinding

poverty, pitiful levels of education,

and social stigmatisation", are the main

obstacles to be overcome, she explains.

"Each and every day it's a small victory

for us when we see the kids in school,

or in interim school, and not sent out

to the fields to herd goats. We're not

working miracles here – but we are

helping people!"

Global Compact International Yearbook 2009 59
---
REN

Eagle Conservation

Project

By Isabel Abreu and Francisco Parada

In keeping with its policy of

supporting a precautionary

approach to environmental

challenges and promoting

greater environmental

responsibility, REN decided

to co-sponsor the CEAI

Bonelli's eagle (Hieraaetus

fasciatus) conservation

project aimed at preserving

this species and its habitats

in Portugal.

Concerned with the potential impact

of power lines on the Bonelli's eagle

population in Portugal and the strong

decrease of the species' numbers in Europe,

including Portugal, REN entered

an agreement with CEAI (Centro de

Estudos da Avifauna Ibérica) until the

year 2010, entailing financial support

of 240,000.00 EUR.

Suffering from the strong impact of human

activities, with the result that it

is classified as an endangered species,

the Bonelli's eagle population in Portugal

has nonetheless been registering

a steady growth in the southern part of

the country – in contrast to its slow

decline in the northeast. In the south, it

almost exclusively uses trees for nesting

in forest and semi-arid habitats, which is

a characteristic unique in Europe.

60

Global Compact International Yearbook 2009
---
Best Practice

Environment

Within this context, REN decided in

2007 to co-fund the project that CEAI

is currently implementing within the

LIFE/Nature Program to help conserve

Bonelli's eagle by combating the threats

to the tree-nesting population of southern

Portugal.

Goals of the project

Power lines, along with hunting and

forestry activities, habitat degradation

and food shortage due to climate change,

pests, forest fires and inadequate forestry

practices, and also the lack of public

awareness are the major threats to the

stability of the Bonelli's eagle population.

With this in mind, the project aims directly

at the preservation of this species

and its habitats by:

• reducing mortality in adult and young

birds and increasing pairs' productivity,

with a positive impact on the species'

dynamics;

• improving habitat management by

creating better environmental conditions

for both this species and other

priority species as well;

• monitoring the Bonelli's eagle population

covered by this project;

• involving various social actors who play

an active role in the management of the

territory and in conservation activities,

encouraging them to actively promote

conservation of biodiversity in general

and of this species in particular;

• increasing public awareness about the

species' ecological significance and the

threats it faces.

In line with this, REN seeks to gather as

much information as possible on the dynamics

of this species and its distribution

in the territory, so as to incorporate it

during planning and permit procedures

for new power lines and to define impact

minimization and compensation

measures.

Conservation measures

To accomplish these goals, some practical

measures have been undertaken,

including monitoring and census-taking

of the Bonelli's eagle population as well

as capturing and marking the population

with PTT transmitters.

In the Portuguese Red Data

Book for Vertebrates, Bonelli's

eagle has been classified as

endangered, and it is included in

ANNEX I of the EC Birds directive

(79/409/CEE).

50% of the Bonelli's eagle

population has been lost in

Mediterranean France and Spain.

100 breeding pairs is the

number of the Bonelli's eagle

population estimated in Portugal,

representing over 10% of this

species in Europe.

For more information:

http://lifebonelli.ceai.pt/en/index.html

Seen as one of the most important measures

for conservation of this species,

habitat management contracts have been

signed with landowners. It is expected

that, by the end of the project, 18 pairs

will benefit from it in the Special Protection

Zones (ZPE) of Monchique and

Caldeirão – both part of Rede Natura

2000. Adding to this, technical support

has been provided to landowners on how

to make their forestry activities compatible

with conservation of nature.

Public awareness

To improve public awareness, the project

has been promoting public sessions in

several cities in the region, which are

addressed at hunters, farmers, foresters,

local administration officials and

the community, as well as seminars

and workshops on the impact of power

lines and wind farms on birdlife. To

reach students, several environmental

education sessions have been held in a

wide range of elementary schools. By

the end of the 2008-2009 school year,

this initiative, which includes a field

trip, pedagogic games and a theatre

play, is expected to have reached 32

schools and 820 students. Still within

the scope of environmental education

initiatives, the project has launched

the "Bonelli Parede 2009", open to all

schools targeted by this project. Under

the theme "Bonelli's eagle – a species

with a future", this challenge seeks to

highlight the importance of preserving

this species and the environment.

This "partnership" with CEAI is one of

many initiatives that REN carries out

to gain precise baseline environmental

information to support its permit procedures

for new lines and substations and

engage relevant stakeholders in REN's

decision-making process.

Global Compact International Yearbook 2009 61
---
Sanofi-Aventis

Improving the Future

of Epileptic Patients

Epilepsy is not a cause of significant mental impediments. Nevertheless, it is often falsely

perceived as a mental disorder in developing countries. Although epilepsy is not fatal,

patients who do not receive treatment will experience serious difficulties over their lifetime.

In addition to the disease being a handicap in daily life and work, over time, people with

epilepsy face social marginalization or even exclusion. In turn, the social group itself is

deprived of their economic and social contributions. To address this disease in developing

countries, all of these factors need to be taken into account. Sanofi-aventis, as a leader in the

global pharmaceutical industry, is thus providing developing countries not only facilitated

access to its quality medicines, but also a large number of health services that respond to

their specific needs.

By Mireille Cayreyre

To achieve these goals, sanofi-aventis

creates partnerships with healthcare

structures that have a long history of

in-the-field presence. This proximity

allows for better patient management

and follow-up and improved treatment

compliance. It furthermore provides

an opportunity to train the entire community,

so that epilepsy patients are

correctly oriented and freed from the

stigma associated with this disease.

Two medications for the treatment

of epilepsy worldwide

The sanofi-aventis Group was the creative

force behind phenobarbital and valproic

acid, two of the world's most frequently

used epilepsy medications over the past

40 years. These two drugs are included

in the WHO Model Lists of Essential

Medicines. Valproic acid, discovered in

1967, has completely changed epilepsy

treatment methods and, in so doing, the

lives of millions of people with epilepsy

worldwide.

The commitment of sanofi-aventis, in

collaboration with its numerous partners

(NGOs, universities, governments, etc.),

to carry out epilepsy management actions

in developing countries is a natural

consequence of its history as an authority

on anticonvulsant development and

production, as well as its involvement

in the field of neurology more generally,

as exemplified by its numerous

educational programs and clinical trials,

among other things.

• Eighty-five percent of epileptics, 42

million, live in developing countries

where disease prevalence is more pronounced.

• In these countries, the yearly incidence

is from 49 to 190 new cases per 100,000

inhabitants. This is twice that of developed

countries.

• Approximately 5% of the world's population

will experience a seizure at least

once in their lives.

Eliminating the stigma of epilepsy

"Epilepsy is always badly perceived in traditional

cultures. In numerous regions of

Africa, people with epilepsy are thought

to be contagious and others avoid touching

them, especially during a seizure."

(Reference: Michel Dumas, Académie

de Médecine, March 2008)

62

Global Compact International Yearbook 2009
---
Best Practice

Human Rights

Global Compact International Yearbook 2009 63
---
Sanofi-Aventis

In some cultures, epileptic seizures are

attributed to possession by evil spirits.

The patients are thus put under the care

of tribal healers or exorcists instead of

physicians. Lacking proper diagnosis and

treatment, they live on the margins of

the community. With a correct diagnosis,

the vast majority of people with epilepsy

can be successfully treated with currently

available medications.

However, the majority (80%) of epileptic

patients in developing countries do not

receive treatment, and are often not even

diagnosed, due to a lack of access to

medical structures and medications that

could help them. This results in serious

physical, psychological, social and economic

consequences for the patients and

their families. (Reference: WHO, "Atlas

- Epilepsy Care in the World 2005")

Putting training where it is

needed in Africa

Working in close collaboration with its

various partners, including NGOs and

universities, sanofi-aventis is bringing

together its expertise and particular

strengths in joint training programs

in Africa. These programs are designed

to train networks of physicians for the

management of chronic diseases, such

as epilepsy.

Patient management in Africa is often

difficult due to the isolation of populations,

the rarity of healthcare structures

and the lack of sufficient well-trained

healthcare personnel. This is even more

so the case for epilepsy and neurology in

general. These specialties are almost completely

absent from medical university

programs and draw little attention from

politicians, who are much more focused

on the infectious tropical diseases that

are decimating populations. The objective

is thus to make sure that general

practitioners (GPs) are both present in

rural areas and trained for chronic, neurological

diseases.

These programs

are designed to

train networks

of physicians for

the management

of chronic

diseases, such as

epilepsy.

The effectiveness of these efforts is built

upon the effective use of existing networks

of trained GPs and their initiation

in the management of epilepsy. Similarly,

in Eastern Africa, state-supported healthcare

structures have initiated training

programs to improve the knowledge of

physicians, nurses and even students in

epilepsy detection and management.

All these structures have in common

very "elaborate" training programs and

close proximity to the various populations

and families. This allows them to

work toward removing the stigma of epilepsy

and to implement health programs

adapted to the long-term care of this

chronic disorder. It is thus logical that

these organizations and sanofi-aventis

join hands.

Sanofi-aventis' partnerships with

SantéSud in Mali and Madagascar

and KAWE in Kenya

SantéSud is an NGO promoting sustainable

healthcare development in some

of the world's poorest countries. Sanofi-aventis

partnered with SantéSud

to develop programs for rural GPs in

Mali and Madagascar (AMC, "Association

of Country Doctors"). According to the

strategy defined by sanofi-aventis within

the context of Access to Medicines, these

programs provide:

• basic epilepsy training for particularly

motivated GPs (RARE – "Epilepsy Research

Action Network", and REM –

"Madagascar Epilepsy Network");

• access to valproic acid and phenobarbital,

sold to physicians using a differential

pricing policy and supplied

through a distribution system made

reliable by the active participation of

all actors, including the distributing

wholesaler;

• information and educational documents

on epilepsy and its treatment.

These medically thorough documents

are available to participants in paper

or electronic versions. In addition to

basic training, they provide, in particular,

an opportunity for follow-up

and exchange of experience among

trained physicians.

In Kenya, the KAWE program is designed

on the same principle and profits from a

multi-partnership that includes sanofiaventis.

The training for healthcare

specialists is provided in hospitals and

specialized clinics, where patients come

for consultation.

These two sanofi-aventis affiliated programs

have in common:

• sufficiently numerous and particularly

motivated healthcare personnel, pro-

64

Global Compact International Yearbook 2009
---
Best Practice

Human Rights

viding patients and their families with

myth-dispelling facts on the disease

and improved long-term care;

• an IEC (Information Education Communication)

given at program start-up

and accompanied by follow-up sessions

(e.g. five three-day training sessions

over one-and-a-half years for the RARE

network);

• access to quality medicines furnished

by sanofi-aventis at a preferential price

via a local wholesaler, who has also

agreed to lower his profit margin.

• These two programs have resulted in