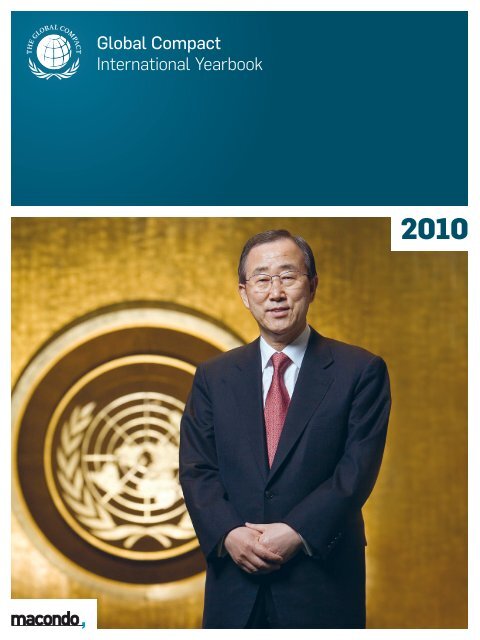 Global Compact International Yearbook Ausgabe 2010
A profound retrospective of the first decade of the UN Global Compact, challenges in the light of the year of biodiversity, and instruments for an adequate Corporate Citizenship are some of the issues highlighted in the new 2010 edition of the "Global Compact International Yearbook". Among this years prominent authors are Ban Ki-moon, Bill Clinton, Joschka Fischer and Achim Steiner. UN Secretary-General Ban Ki-moon said: "As the Global Compact enters its second decade, it is my hope that this Yearbook will be an inspiration to bring responsible business to true scale." Formally presented during the UN Global Compact Leaders Summit in New York, the yearbook is now for sale. Looking back at the past ten years, the United Nations Global Compact has left its mark in a variety of ways, helping shape the conservation about corporate responsibility and diffusing the concept of a principle-based approach to doing business across the globe. Chapter two deals with Biodiversity: UNEP Executive Director Achim Steiner emphasizes the importance of protecting the nature: "Climate change has been described as the biggest market failure of all time – the loss of biodiversity and nature's economically-important services must surely be running a close second, if not an equal first. Year in and year out, the world economy may be losing services from forests to freshwaters and from soils to coral reefs, with resulting costs of up to $4.5 trillion or more. Decisive action needs to be taken to reverse these declines or the bill will continue to climb – and with it any hopes of achieving the poverty-related Millennium Development Goals and a sustainable 21st century for six billion people, rising to nine billion by 2050." Dr. Ahmed Djoghlaf, Executive Secretary of the Convention on Biological Diversity, adds: "Now is the time for concrete action from the business community to save life on earth. The alternative is an impoverished planet that can no longer support a healthy, vibrant global economy. The stakes in this fight could not be higher. As the slogan of the International Year reminds us, 'Biodiversity is life. Biodiversity is our life.'"
A profound retrospective of the first decade of the UN Global Compact, challenges in the light of the year of biodiversity, and instruments for an adequate Corporate Citizenship are some of the issues highlighted in the new 2010 edition of the "Global Compact International Yearbook". Among this years prominent authors are Ban Ki-moon, Bill Clinton, Joschka Fischer and Achim Steiner. UN Secretary-General Ban Ki-moon said: "As the Global Compact enters its second decade, it is my hope that this Yearbook will be an inspiration to bring responsible business to true scale." Formally presented during the UN Global Compact Leaders Summit in New York, the yearbook is now for sale. Looking back at the past ten years, the United Nations Global Compact has left its mark in a variety of ways, helping shape the conservation about corporate responsibility and diffusing the concept of a principle-based approach to doing business across the globe.

Chapter two deals with Biodiversity: UNEP Executive Director Achim Steiner emphasizes the importance of protecting the nature: "Climate change has been described as the biggest market failure of all time – the loss of biodiversity and nature's economically-important services must surely be running a close second, if not an equal first. Year in and year out, the world economy may be losing services from forests to freshwaters and from soils to coral reefs, with resulting costs of up to $4.5 trillion or more. Decisive action needs to be taken to reverse these declines or the bill will continue to climb – and with it any hopes of achieving the poverty-related Millennium Development Goals and a sustainable 21st century for six billion people, rising to nine billion by 2050." Dr. Ahmed Djoghlaf, Executive Secretary of the Convention on Biological Diversity, adds: "Now is the time for concrete action from the business community to save life on earth. The alternative is an impoverished planet that can no longer support a healthy, vibrant global economy. The stakes in this fight could not be higher. As the slogan of the International Year reminds us, 'Biodiversity is life. Biodiversity is our life.'"
SHOW MORE
SHOW LESS
Create successful ePaper yourself
Turn your PDF publications into a flip-book with our unique Google optimized e-Paper software.
Global Compact

International Yearbook

2010
---
This publication is kindly supported by:

Adecco Group

Amec

Argos

Autostrade per l'Italia

BASF

Bradesco

BSH

Camposol

Carrefour

Coop

Copagaz

Copeinca

Deutsche Telekom

Folksam

Grundfos

Hathay Bunano

Henkel

ICA

ISA

Lufthansa

Manpower

Mansour Group

MRCB

Mutualista Pichincha

Nestlé

Novo Nordisk

Océ

Otto Group

Puma

REN

Siemens

SKF

The Linde Group

The TMS Group

TÜV Rheinland

Volkswagen

Global Logistics Partner:

Deutsche Post DHL

2

Global Compact International Yearbook 2010
---
GC International Yearbook

Foreword

H.E. Ban Ki-moon, UN Secretary-General

"

Over the past decade, companies in the United Nations

Global Compact have done much to advance the corporate

responsibility agenda and support the mission of the United

Nations. As environmental and social issues have become more

prominent, both as material challenges and real opportunities,

businesses are beginning to understand the tangible value of

responsible practices – for their own long-term success and for

the benefit of societies and markets everywhere.

The Global Compact has contributed much to this development.

More than any other such initiative, it offers space for experimentation,

a forum to share good practices, and fertile ground

for collective action to tackle some of the world's most pressing

challenges – from climate change and poverty to humanitarian

disasters. As we gear up for the Summit on the Millennium

Development Goals at UN Headquarters in September, business

needs to play a vital role not only in reviewing progress, but in

accelerating our efforts. If engagement in the Global Compact

is any indication, I am confident that the private sector is up to

the task.

This second edition of the Global Compact International Yearbook

shows the wide scope of what businesses are doing to turn principles

into practice. We can see the tremendous potential of business to

make a lasting positive impact on the environment, on the lives of

employees and on the development of communities. At the same

time, these activies and initiatives remind us how much more

can and must be done to achieve our vision of a more inclusive

global economy. As the Global Compact enters its second decade,

"

it is my hope that this Yearbook will be an inspiration

to bring responsible business to true scale.

Global Compact International Yearbook 2010 3
---
FOREwORD

3

H.E. Mr. Ban Ki-moon,

United Nations Secretary-

General

6

10 th Anniversary

10 th ANNIVERSARY

6

10

20

24

The Global Compact at 10 –

Review and Outlook

Georg Kell

Messages:

Bill Clinton, Rajendra Pachauri,

joschka Fischer, Huguette

Labelle, Tensie whelan, Klaus

Töpfer, Ernst Ligteringen,

james Gifford, Paul Dickinson,

Heidemarie wieczorek-zeul

The Global Compact

2000 - 2010 – Shaping Corporate

Responsibility

Andreas Rasche

Milestones 2000 - 2010

Matthias Stausberg,

Elmer Lenzen

34

Biodiversity

BIODIVERSITY

34

Make or Brake Year for

Biodiversity

Achim Steiner

42

Access and Benefit

Sharing is Paramount

to the Future of

Biodiversity

jane Smart

46

Two Years Applying

the Corporate

Ecosystem Services

Review

john Finisdore

38

Involving Business in the Fight to

Save Life on Earth

Ahmed Djoghlaf

44

Environmental Initiatives Can Be

Good For Business

Daniel C. Esty

50

European Business and

Biodiversity Platform

Shulamit Alony
---
BEST PRACTICE

Corporate Citizenship

52

57

60

MDGs

64

66

68

The Organizational

Implementation of Corporate

Citizenship

Dorothée Baumann,

Andreas Georg Scherer

From Global Compact to

Global Leadership

V. Kastauri Rangan

Global Core Labour

Standards Are More Important

Than Ever

Thomas I. Palley

Goals and Targets – Overview

On the Eve of the MDG Review

Summit

Anita Sharma

Social Entrepeneurship in Times

of Crisis

Mirjam Schöning

52

Corporate Citizenship

Sections

178

192

194

News from Africa,

Asia / Australia, Europe,

North and South America and

the Middle East / North Africa

Region

Imprint

Ten Principles

70

72

76

78

80

82

84

86

90

94

96

105

98

100

102

104

106

110

114

116

120

122

124

126

128

130

132

136

138

140

142

144

146

148

150

152

154

158

160

162

164

166

170

172

174

176

Overview & Classification

Acciona

Adecco Group

Amec

Argos

Autostrade per l'Italia

BASF

Bayer

Bosch

Bradesco

BSH

Camposol

Carrefour

Coop

Copagaz

Copeinca

Deutsche Bank

Deutsche Post DHL

Deutsche Telekom

Eni

Folkam

Grundfos

Hathay Bunano

Henkel

ICA

ISA

KPMG

Lufthansa

Manpower

Mansour Group

MRCB

Mutualista Pichincha

Nestlé

Novo Nordisk

Océ

Otto Group

Petrobras

Puma

REN

Siemens

SKF

Tata Chemicals

The Linde Group

The TMS Group

TÜV Rheinland

Volkswagen
---
6

Global Compact International Yearbook 2010
---
Agenda

10 th Anniversary

The Global

Compact at 10

Review and Outlook

Looking back at the past 10 years, the United Nations Global

Compact has left its mark in a variety of ways, helping

shape the conversation about corporate responsibility and

diffusing the concept of a principle-based approach to doing

business across the globe.

Global Compact International Yearbook 2010 7
---
By Georg Kell

Numbers only tell one side of the story, impressive as they

may be. Since its humble start with 44 companies, the Global

Compact has mobilized nearly 6,000 businesses in over 135

countries – of all sizes and from all sectors – to align their

strategies and operations with its 10 universal Principles.

Yet, much remains to be done: Globally, there are some 77,000

transnational corporations, with millions of suppliers. The

world is far from the universal adoption of corporate responsibility

as a strategic and operational management paradigm.

Nevertheless, there has been a marked shift in the ways in

which multinational corporations and small and medium-size

enterprises alike are looking at environmental, social, and

governance issues.

With this shift, there has also been a recalibration of the larger

debate over the role and responsibility of business. When the

Global Compact was introduced – in the wake of vigorous

anti-globalization protests, fueled by highly publicized corporate

scandals of the 1990s – corporate responsibility was

often treated as a purely moral issue, largely driven by NGOs,

activist groups, and the media. Ten years on, the ethical case

for acting responsibly remains as solid as it was then, but it

has been complemented by an increasingly compelling business

case. This business case is bolstered by investors and asset

managers that look at environmental and social risks through

the lens of fiduciary responsibility; by national regulators

who are increasingly demanding non-financial performance

information and seek to strengthen good corporate governance;

and by an emerging global movement of conscious

consumers who are placing a premium on more sustainable

products and services.

Moreover, the business case is not just about minimizing risks

– and thus the potentially hefty price to pay when things go

wrong. It is also about discovering new opportunities, developing

innovative business models, and opening new markets.

Success stories of hybrid technology, organic agriculture, microfinance,

or pro-poor products and services, to name a few,

are valid indicators that the focus of business has shifted from

morality to materiality. In many ways, corporate responsibility

today is about the tangible value of values.

The Global Compact has often been among the first to spot

these trends, and we have spent much effort on creating the

proper engagement platforms to advance the debate, identify

good practice, foster collective action, or inform and shape

sensible public policy. The Growing Sustainable Business

initiative, the Principles for Responsible Investment, Caring

for Climate, or The CEO Water Mandate – all inspired by or

launched with the Global Compact – are clear expressions of

the initiative's important position at the nexus of public and

private spheres, global advocacy and local implementation,

individual leadership and true scale.

On a related note, the Global Compact has played a critical

role in easing some of the often serious tensions between

civil society organizations and business. Under the roof of the

United Nations, in a non-threatening space for constructive

dialogue and learning, both sides have discovered that there

is more common ground than previously thought and that

there is room to move from confrontation to cooperation. In

quite a few remarkable cases, this has not, as many thought,

forced NGOs to compromise their missions, and it has not

come at an added cost for business.

Throughout the Global Compact's evolution, the United

Nations itself has learned to reevaluate and restructure its

relationship with business. Most member states now encourage

private-sector engagement by UN agencies, funds, and

programs. This is a sea change.

Only a decade ago, bringing business to the United Nations

raised much suspicion. As an inter-governmental body, the

UN was at times ill-prepared or even reluctant to involve the

private sector in a meaningful way in its mission – despite

the fact that much of the organization's founding philosophy

had stressed the vital role of commerce and trade as pillars of

stability, development, and peace.

Now, there is a common understanding and consensus that

global challenges require concerted, collective efforts involving

business as an indispensable partner. It is for this reason

that the General Assembly has, in successive resolutions,

stressed the contribution that the Global Compact can make

8

Global Compact International Yearbook 2010
---
Agenda

10 th Anniversary

Georg Kell addresses the United Nations Private Sector

Forum in September 2008 as Secretary-General

Ban Ki-moon, and Kermal Dervis, Administrator of the

UNDP, listen.

to bring about more inclusive markets and advance sustainable

development.

As an initiative engaging some of the world's largest corporations,

the Global Compact naturally has had to face some

opposition and criticism. And admittedly, it took some time

to find a proper modus operandi that would safeguard the

initiative's integrity, while ensuring accountability and transparency

of the corporate commitment. It also required frequent

clarification of what the Global Compact is and what it is not.

Nevertheless, we have remained true to our original mandate

and mission: The Global Compact is, first and foremost, a platform

for dialogue, learning, and partnership. Participation does

not imply perfection. It simply means that an organization is

willing to align with UN values and engage in activities that

advance UN goals. As such, the Global Compact does not pass

judgment or regulate corporate behavior. Of course, this has

at times caused misunderstandings or even frustration, but it

has always been an intentional policy to keep the entry barrier

low, so that those that face serious challenges can join the

conversation, learn from others, and improve. And we stand by

this approach, as long as a sincere commitment to constructive

dialogue and disclosure can be ascertained. It is for this purpose

that the Global Compact introduced a mandatory reporting

policy in 2005, requiring all participating businesses to issue

an annual public Communication on Progress. The fact that

nearly 1,800 companies have been publicly expelled from the

initiative for repeated failure to disclose their practices has

not been a detriment to the Global Compact's mission, but

rather strengthened its credibility.

As the Global Compact enters into its second decade, the big

question is what lies ahead. Today, the world economy is still

reeling from a financial and economic crisis of momentous

proportions. Global challenges, from climate change to natural

resource constraints and widespread, abject poverty, are not

likely to be resolved in the near future. Consequently, there

is much uncertainty over the fate of the global market and

the prospect for sustainable growth and prosperity. Are we

entering a new era of protectionism and narrow-minded national

policies that threaten to roll back the advances in global

integration made in the past two decades? Or will we be able

to chart a course to sustainability where responsible business

is a critical catalyst? What does it take and how can we best

support efforts to make this happen? Where will leadership

come from and what pathways should we follow?

While much of the answer depends on political will and capacity,

the Global Compact is committed to doing its part. If its

first 10 years were about raising awareness and stimulating

positive organizational change, the next decade will be about

turning principles into practice; mobilizing tangible – individual

and collective – action; cultivating issue leadership and

local networks to bring good efforts to true scale; and further

intensifying public-private collaboration, so that effective

business solutions can stimulate positive policy responses,

which, in turn, will help improve the enabling environment

for responsible practices to grow. As business leaders meet in

New York this June for the Global Compact Leaders Summit

2010, the Summit's motto becomes our shared mission: The

time is now to build a new era of sustainability.

Georg Kell is Executive Director of the

United Nations Global Compact.

Global Compact International Yearbook 2010 9
---
messages

wILLIAM jEFFERSON CLINTON

I am pleased to contribute to the 2010 International Yearbook as it

commemorates the tenth anniversary of the United Nations Global

Compact.

When it was established in 2000, the UNGC ushered us into the new millennium

with clear guidelines for engaging the global marketplace in socially

responsible business practices. In the decade since, thousands of businesses

around the globe have embraced the principles put forth by the UNGC. Today,

it is the world's largest corporate sustainability initiative. It has transformed

the landscapes of industry, commerce, technology, and finance, while proving

true the notion that we can all do well while doing good.

william jefferson Clinton was the

42 nd President of the United States from

1993 to 2001.

In our increasingly interdependent global society, we must find ways to move

forward into the future together in the interest of our common humanity. It

is our duty to use the positive forces of interdependence – like the principles

encouraged by the UN Global Compact – to make our world more equal, more

stable, and more sustainable. Now more than ever, businesses have the power

to affect positive change in civil society, and it is in everyone's interest that they

do so. When businesses around the globe practice good corporate citizenship

by respecting human rights, promoting fair labor, fostering environmental

stewardship, and opposing corruption, we go a long way in building networks

that transcend borders, reflect shared benefits and shared responsibilities for

problems, and create a genuine sense of community where we can manage

our differences by celebrating them.

As we work together to expand the marketplace of ideas and discover practical

new ways to address our world's most pressing challenges, I am optimistic about

the future. I believe we're living in a time of the greatest human potential in

history, but we have a responsibility to offer all people the chance to succeed.

When everyone is given the opportunity and tools to imagine and

build brighter future, our global society will fulfill its promise and

grow immeasurably stronger.

10

Global Compact International Yearbook 2010
---
Agenda

10 th Anniversary

Rajendra Kumar Pachauri

I am delighted to write on the occasion of the UN Global Compact's 10th

anniversary 2000 - 2010 and the publication of the Global Compact

International Yearbook 2010. The UN Global Compact has clearly

exceeded all expectations that were generated when it was first launched. It is

becoming increasingly clear that the most intractable problems facing human

society – particularly those related to human-induced climate change and

the degradation of the earth's ecosystems – can only be solved if business and

corporate organizations become an important part of the solution. The UN

Global Compact has not only extended its reach to cover the most important

business organizations across the globe, but has also articulated these problems

effectively and inspired all the organizations involved in taking action to solve

these problems. What began, in my view, as a collective effort for the exercise of

corporate responsibility has now become a mainstream activity for corporate

organizations as a whole. It is becoming increasingly clear – based on 10

years of pioneering work by the UN Global Compact – that business itself can

succeed only under conditions where it realizes and exercises its responsibilities

to society. The Global Compact International Yearbook 2010 is an excellent

resource and valuable piece of documentation to provide good partnership

practices and create benchmarks on the basis of which others can confidently

create their own plans and programs in making contributions to society.

Dr. Rajendra Kumar Pachauri is Chairman

of the Intergovernmental Panel on Climate

Change.

I would like to particularly highlight the importance of the corporate sector in

meeting the challenge of climate change. Not only is it essential for corporate

organizations to understand and assess the impacts of climate change in the

areas where they operate but also, if possible, to provide support to organizations

that can create adaptation measures that are specific to these impacts,

on the basis of which adaptation measures can be taken in hand. Realizing the

importance of such efforts, the Intergovernmental Panel on Climate Change set

up a trust fund with its share of the 2007 Nobel Peace Prize funds. Corporate

organizations have been invited to donate to the trust fund so that in some of

the poorest and worst-affected countries, we can build capacity and scientific

expertise by which programs for meeting the challenge of climate change in

these countries can be drawn up on the basis of solid scientific knowledge.

Corporate organizations can also take the lead in mitigation measures and

the evolution of technological solutions that would move the world toward a

low-carbon future.

I would like to convey my best wishes and congratulations to those who

have been involved in the growth and development of the UN Global

Compact and in leading its activities over the past 10 years.

Global Compact International Yearbook 2010 11
---
messages

jOSCHKA FISCHER

Sustainable development is, simply put, a synonym for successful

globalization – that is, a globalization that enhances our well-being

comprehensively and therefore passes the test of time. As foreign minister

during the time of the founding of the Global Compact 10 years ago, I

wholeheartedly welcomed this voluntary, business-driven initiative. With its

"esprit des corps," it was a crucial impetus for committing the business community

to the imperatives of responsible business practices.

joschka Fischer served as German

Foreign Minister from 1998 to 2005.

While networks like the Global Compact do not solve problems by themselves,

they have been essential in stimulating action on many levels. And though we

are far from total adherence, the Compact's canon of Principles has become an

important reference point for companies all over the world. In setting up this

platform within the UN structure, we owe much to Kofi Annan's conviction

that the private sector has both a crucial role to play and holds a responsibility

for achieving sustainable development.

As a veteran of the green movement, I am particularly delighted that today

we stand on the verge of an epoch-defining breakthrough for renewableenergy

technologies, and am also delighted to be a contemporary witness of

this encouraging development. However, long-term evidence has shown that

voluntary, non-binding agreements alone are incapable of achieving environmental

or social targets. They will always be limited by the intrinsic logic of

global competition. We need both governments and an effective multilateral

structure to drive new investment patterns and allow the potential of

the private sector to unfold. I encourage businesses to strengthen their

call for politicians to play their part.

12

Global Compact International Yearbook 2010
---
Agenda

10 th Anniversary

Huguette Labelle

In 2004 when the Global Compact added the 10th Principle, the anticorruption

movement gained a singularly important ally as well as

a powerful platform for tackling corruption across the globe. With

more than 7,500 organizations in 130 countries, no other initiative can boast

similar geographical reach and such a wide range of participants, including

so many small and medium-sized enterprises.

Transparency International (TI) is delighted to have been an instrumental part

of the multi-stakeholder Global Compact working committee that collaborated

on drafting the 10th Principle. Its introduction in 2004 represented a landmark

event as TI had long argued that the other nine Principles required a commitment

to anti-corruption and transparency to make their implementation

successful and effective. But the current global crisis only heightens the need

for a global approach to eliminate corruption and a global commitment to

transparency. The wide reach of the Global Compact makes it a key platform

for the dissemination of best practice in the business community worldwide.

This Yearbook is another step in this direction.

Huguette Labelle is Chair of

Transparency International.

TI looks forward to maintaining its close working relationship with the Global

Compact. In December 2009, we jointly published Reporting Guidance, which

was specifically designed to help Global Compact signatories report on their

compliance with the 10th Principle in their annual Communication on Progress.

The Guidance was developed in the spirit of the Global Compact as a means

to help companies and other signatories to fulfill their commitment to the

Ten Principles of the Global Compact as well as to strengthen their internal

operations and enhance their reputation. At the same time, the Guidance

will allow this progress to be measured: transparency and accountability

in action. We congratulate the Global Compact Initiative on what

has already been achieved in the past decade and look forward to

its future successes.

Global Compact International Yearbook 2010 13
---
messages

TENSIE wHELAN

Congratulations to the UN Global Compact on a decade of successfully

engaging the private sector in sustainable development – a goal we at

the Rainforest Alliance share. As an organization aimed in large part at

transforming business practices worldwide, we especially appreciate the Global

Compact's efforts in tracking and formalizing private sector commitments

to environmentally responsible and sustainable practices. Working together

with the UN Global Compact in 2007 to develop and test a methodology that

companies can use internally to analyze their investments in sustainability,

we created metrics that address both tangible and intangible values created

through certification, sustainable production, and sustainable procurement.

These metrics have proved extremely useful for businesses hoping to capture

the financial results of environmentally responsible choices.

Tensie whelan is President

of The Rainforest Alliance.

The work of the Rainforest Alliance and many other environmental organizations

is facilitated and reinforced by the Global Compact. UNGC commitments, such

as those aimed at combating climate change and water pollution, are critical

in the drive for increased conservation and sustainability. The magnitude

of the environmental problems we face today will require stronger cooperation

among the UN, the private sector, and organizations such as the

Rainforest Alliance. We look forward to working together to transform

business as usual into true sustainability.

14

Global Compact International Yearbook 2010
---
Agenda

10 th Anniversary

Klaus Töpfer

For 10 years the United Nations Global Compact has been one of the most

important UN initiatives to sharpen the international discussion about

sustainable development, human rights, and environmental stability,

including global warming. The various initiatives and stories concerning the

activities of the Global Compact were first documented in the Global Compact

International Yearbook 2009. It was a special pleasure for me to follow the

best practice examples and different approaches of the Global Compact that

were described in the first edition. The implementation of the Ten Principles

of the Global Compact makes the UN Family a more sustainable sphere and

motivates people all over the world to change their lifestyles as well as their

consumption and production patterns in ways that create a better future.

Prof. Klaus Töpfer, former Undersecretary

of the United Nations, was Director of the

United Nations Environment Programme

from 1998 to 2006.

It is a special honor for me to congratulate the Global Compact in the International

Yearbook 2010 on its 10th anniversary. The Principles of the

Global Compact are still the guidelines for every responsible person and any

company whose aim is to create a world of humanity and justice. And they

provide a vision of a better future for humans who live in harmony with their

neighbors and explore the ecosystems and the nature around them. In our

times, questions of poverty, natural disasters, the threat of climate change, the

protection of human rights for fundamental freedoms, and the fight against

hunger are addressed in the Millennium Development Goals. Access to clean

water, fresh air, and healthy food is not granted to every human being. As

long as those requirements to realize the right to develop (Rio Principle 3)

are not fulfilled, the work and the aims of the Global Compact will not be

achieved. So I hope that over the next 10 years the Global Compact International

Yearbook will show us the good progress being made toward achieving

these goals. I will go on working hard, believing in the assumption that one

day a better, more human, and sustainable life can be made possible. In this

spirit I wish the Global Compact success over the next 10 years and

promise to follow their activities in the Global Compact International

Yearbook every year.

Global Compact International Yearbook 2010 15
---
messages

ERNST R. LIGTERINGEN

As the United Nations Global Compact celebrates its 10th anniversary,

it serves us well to reflect upon the substantial advances made in the

corporate commitment to sustainable development over the past 10

years in which the UN Global Compact has played a crucial part.

The landscape has changed significantly since 2000, when corporate responsibility

was outlined in the Principles of the Global Compact and reporting

on sustainability performance was in its infancy. Now we have a landscape

where many thousands of entities underwrite the Global Compact's Principles

and communicate that commitment – a landscape where governments, as in

Denmark for example, refer to the UN Global Compact and to the Global Reporting

Initiative (GRI) as a way for companies to demonstrate their sustainability

performance. We have a landscape where stakeholders routinely expect from

their companies disclosure on environmental, social, and governance performance.

I have no doubt that a great deal of what has shaped these developments

is the UNGC-GRI partnership.

It has been three years since the appearance of the joint UN Global Compact /

Global Reporting Initiative publication, Making the Connection, which links

the "what to report" of the Communication on Progress to the "how to report"

offered by GRI's Sustainability Reporting Framework. Since then, this fruitful

collaboration has continued to deliver results for users – most recently in the

area of delivering better guidance to companies on reporting human rights.

Ernst R. Ligteringen is Chief Executive of the

Global Reporting Initiative.

In a new decade with new needs, UNGC and GRI's common vision of a sustainable

economy will offer a platform for realizing the value of sustainable

development: facilitating sustainable outcomes, requiring material

performance disclosure, and making that information accessible for

today's and tomorrow's stakeholders.

16

Global Compact International Yearbook 2010
---
Agenda

10 th Anniversary

James Gifford

There is now a critical mass of institutional investors who believe management

of corporate responsibility is important to the long-term financial

success of their investments. Hundreds of investors are now integrating

a range of environmental, social, and corporate governance (ESG) issues in

decision-making processes, as well as in the ongoing dialogue they have with

investee companies. In the last 10 years, the UN Global Compact has become

one of the most important frameworks used by the investment community to

evaluate companies' performances across a whole range of ESG issues.

The Principles for Responsible Investment (PRI) are aspirational guidelines for

institutional investors on how to integrate ESG issues into investment processes,

and were initially conceived as a natural extension of the UN Global

Compact, designed for investors rather than companies. Since their launch

in April 2006, over 700 signatories have signed the Principles, representing

assets of around $ 20 trillion.

James Gifford is Executive Director of

Principles for Responsible Investment.

The PRI work side-by-side with the UN Global Compact to encourage investors

and companies to move in tandem toward more sustainable capital markets.

For example, in October 2008, a group of 52 PRI signatories across four

continents called on thousands of listed companies to participate in the UN

Global Compact. By November 2009, hundreds of companies had joined as a

result of that letter, constituting one in four of all the publicly listed companies

that signed up to the Global Compact in that period.

Additionally, for three consecutive years, leading PRI signatories have contacted

hundreds of UN Global Compact participant companies regarding the publication

of a Communication on Progress report. The investors have commended

the best reports and challenged those "laggard" companies that did not submit

a report to do so. Last year, that engagement resulted in around half of the

"laggard" companies subsequently submitting their reports.

PRI signatories have also leveraged a number of Global Compact initiatives

focused on issues such as corruption, water, and conflict-resolution as a platform

to engage with investee companies.

In short, the impact of the UN Global Compact within the global investment

community has been of great significance in its first 10 years. Investor use

of the Global Compact as a framework for dialogue with investee companies

and within investment analysis has dramatically increased in recent

years, and the Compact is set to play a vital role within the investor

community for decades to come.

Global Compact International Yearbook 2010 17
---
messages

PAUL DICKINSON

On this, the UN Global Compact's 10th anniversary, I am delighted

to extend my congratulations and contribute to the Global Compact

International Yearbook 2010. The UN Global Compact has for 10 years

worked to ensure that markets, commerce, technology, and finance advance in

ways that benefit economies and societies around the world. It has done this

by moving business toward greater accountability and transparency, which

are vital for driving change.

As the world's largest voluntary reporting system on climate change, we at the

Carbon Disclosure Project are increasingly seeing business begin to prepare

and take action. Companies who understand that climate change is going to

shape the business models of the future also understand that it is an issue that

must be factored into the business practices of today. Business has the ideas,

investment potential, and innovation required to tackle this problem and the

UN Global Compact offers a framework to help companies continue to

advance. This is vital work in moving us toward a more sustainable

global economy and I wish you every success for the next 10 years.

Paul Dickinson is Chief Executive Officer of

the Carbon Disclosure Project.

18

Global Compact International Yearbook 2010
---
Agenda

10 th Anniversary

Heidemarie Wieczorek-Zeul

Ten years ago, when the UN Secretary-General initiated the Global

Compact in New York, no one expected to see the global economic

developments that we face today. And today, when we are battling the

consequences of the global economic crisis, we must respect the ten principles

of the Global Compact more than ever and promote them internationally.

We must tirelessly defend the fundamentals for a functioning international

economy and working environment: the attainment of human rights, respect

for the ILO's core labour standards, environmental protection and the fight

against corruption.

In the past decade, the Global Compact has developed into a permanent institution.

In an increasingly interconnected world, with oversight from consumers,

the media and civil society, no corporation that acts globally today can afford

to defy universally accepted basic values for long. Many companies—especially

in the consumer goods industry—know that they are no longer evaluated solely

on what they produce, but also on how they carry out production.

Yet the proportion of low-wage jobs without social security is still rising: in Asia,

this number is at 30 percent today, and in some parts of Africa it is 80 percent.

This is no time to slacken our efforts on decent work. Against the background

of the global economic crisis, we must also ask those financial services providers

who are already committed to the Global Compact how they have implemented

its principles and whether they have contravened them. All participants in the

Global Compact must subject themselves to scrutiny.

Heidemarie Wieczorek-Zeul served as

German Development Minister from 1998

to 2009.

The Global Compact must be further developed for the future: the general principles

must be expanded into sophisticated binding rules and obligations.

Only in this way can we put the goals of the pact into practice: reducing

poverty, ensuring peace and supporting our environment.

Global Compact International Yearbook 2010 19
---
THE GLOBAL COMPACT

2000 - 2010

SHAPING CORPORATE RESPONSIBILITY

Over the last 10 years, the Global Compact has grown significantly,

both in terms of the number of participants and their engagement.

While only a handful of companies and NGOs met on July 26, 2000,

at the UN Headquarters in New York to launch the Global Compact,

today (as of February 2010) more than 7,300 business and nonbusiness

participants are part of the initiative.

20

Global Compact International Yearbook 2010
---
Agenda

10 th Anniversary

By Prof. Andreas Rasche

Historically speaking, the Global Compact reflects a true rapprochement

between the United Nations and the business

community. The underpinning belief of the Compact – that

there are interdependencies between the agenda of the UN

system and the activities of businesses – sounds more appealing

than ever in today's global economic context. Shaping

the post-crisis environment in a constructive manner

suggests a reemphasis on the fact that global markets have

to be embedded in shared values and long-term business

practices. This will require questioning long-held assumptions

and redefining the role of business in global society.

Like any rapidly expanding organization, the Global Compact

has to reflect on its achievements, spot emerging trends, and

address its challenges.

Achievements: Looking back

The surveys conducted for the Global Compact Annual Reviews

show that participants have advanced their corporate

responsibility practices over time, while, concurrently, implementation

gaps remain a reality. However, the Global

Compact's achievements can also be discussed when looking

at how the initiative has influenced corporate responsibility

as a societal phenomenon.

Shaping the debate:

By the end of the last century, corporate responsibility – though

prevalent among most large national and multinational corporations

– was a fairly disentangled phenomenon. Through

its 10 universal principles, the Global Compact structured the

debate without being overly regulative and thereby destroying

the possibility for innovation. As continuously highlighted

by its executive director, Georg Kell, the Ten Principles act as

a "moral compass," offering guidance to business and nonbusiness

actors for them to reflect on and advance their operations

and strategies. In particular, small and medium-sized

enterprises (SMEs) have entered the corporate responsibility

domain through the Global Compact. SMEs, which are often

part of global supply chains, play a pivotal role when thinking

about how to implement corporate responsibility practices in

the local context.

Being global and local:

The Global Compact has succeeded in building a truly global

initiative that is, at the same time, rooted in local action.

Through its numerous Local Networks, the Compact built

bridges between abstract universal principles and contextualized

action on the ground. Many Local Networks were set up

in countries or regions where multi-stakeholder collaboration

had been a largely unknown phenomenon. The Compact has a

particularly strong foothold in essential economies like China

and India, both of which play a significant role when looking

at the issues covered by the Ten Principles. By now, China

and India are among the largest Local Networks and provide

a significant share of the overall signatory base.

Cooperation, not confrontation:

There can be no doubt that single actors will not solve the

existing global challenges. Isolated action cannot be the answer

to multifaceted and dynamic problems. The Global Compact

has proven to be a platform to channel the collective voice

of business in the context of many well-known issues (e.g.,

climate change and water sustainability). Many public-private

partnerships have been initiated under the umbrella of the

Global Compact. Sustaining and deepening these partnerships

is critical to induce change on a local level. The last 10 years

have shown that to stimulate change in the context of the Ten

Principles, there needs to be cooperation between a diverse

set of actors. The Global Compact offered a much-needed

"discursive space" for such cooperation to prosper.

Trends: Staying tuned

Over its years of existence, the Global Compact has shaped

and, at the same time, has been shaped by a variety of trends.

Throughout its rather short history, the initiative has witnessed

a fundamental change in how, where, and which businesses

handle corporate responsibility issues.

Globalizing corporate responsibility:

Corporate responsibility – which up until a few years ago

was largely a concern only of Western multinationals – has

evolved into a truly global phenomenon. Especially emerging

economies like China and India have entered the corporate

responsibility universe and started to build up localized

knowledge and best practices. This development highlights

the need for increased collaboration, not only among multiple

stakeholders, but most of all across continents and regions. As

corporate responsibility practices have turned global, so have

many of the problems underlying the debate.

Global Compact International Yearbook 2010 21
---
From philanthropy to strategy:

Corporate responsibility has turned from philanthropic action

into a strategic and operational concern. Corporations join the

Global Compact for reasons of risk mitigation and opportunityseizing,

and not primarily for brand differentiation or public

relations. The 2008 Global Compact Implementation Survey

finds that corporations are aiming at integrating environmental,

social, and governance (ESG) issues into their corporate

strategies and value chain activities. Isolated philanthropic

activities, as good as their intention may be, are not driving

the agenda anymore.

Linking financial markets:

The link between financial markets and corporate responsibility

is growing stronger. The Global Compact, through its

engagement in the Principles of Responsible Investment (PRI),

has significantly supported this process. A swiftly growing

community of asset owners and asset managers commits to

considering ESG issues in their investment decisions. The recent

global financial crisis has reinforced the need for long-term,

sustainable investment strategies over short-term considerations.

While improved governance of financial markets cannot solely

rest on voluntary initiatives like PRI and needs to be backed

up by legislation, there is no doubt that further recognition

of ESG issues by the investment community would act as a

strong driver of the corporate responsibility agenda.

Challenges: Moving on

Every organization faces challenges in shaping its strategy and

future positioning. Accepting these challenges means being

willing to learn. The Global Compact has addressed many of

its challenges, largely because of its dynamic and non-bureaucratic

organizational design. For instance, it introduced the

Communication on Progress (COP) reporting requirement and

delisted those participants failing to disclose their practices

and results. However, a variety of challenges remain.

Improving implementation:

The 2008 Global Compact Implementation Survey revealed

various implementation gaps. In a world of globally interconnected

value and supply chains, the Compact's principles have

to move beyond corporate headquarters. The contribution of

subsidiaries and supply partners has to be deepened when

thinking about how to put the Ten Principles into practice.

This will require advancing businesses' corporate responsibility

policies and further developing existing management

practices. The 2008 Implementation Survey identified only 8

percent of all participants as "advanced" performers, with the

majority of participating businesses ranking as intermediate

performers. The key challenge will be helping "beginners"

to scale up their corporate responsibility performance, while

maintaining the strong position of the "advanced" companies.

Deepening implementation not only requires ample resources

but, above all, management know-how and the understanding

that corporate responsibility issues reflect a key strategic

priority. Creating such know-how requires, among other things,

the ability to identify and report on quantitative metrics that

reflect a company's performance with regard to ESG issues. As

it is commonly said in management jargon: What you cannot

measure, you cannot manage.

Developing issue platforms:

To consider the contextualized and interconnected nature

of corporate responsibility problems, the Global Compact,

together with other organizations, has developed issue platforms

to give participants a chance to demonstrate leadership

regarding responsible investment (PRI), climate change (Caring

for Climate), water sustainability (CEO Water Mandate), and

responsible management education (The Principles for Responsible

Management Education). While all these initiatives

have gained momentum, it is also clear that large-scale action

depends on more participants joining these issue platforms.

Change comes from well-coordinated individual and collective

action; expanding the signatory base of Global Compact issue

platforms is crucial for this change to occur.

Advancing Communication on Progress reporting:

Disclosure on implementation progress is one important way

for corporations to demonstrate commitment to the Global

Compact. While approximately 7,000 COP reports are already

available on the Global Compact website for public review, it is

also clear that the overall quality of reporting has to improve.

Only a small number of companies are using established

disclosure frameworks, like GRI G3. The challenge is to not

only report on corporate policies and unconnected projects,

but to show clear evidence of "on the ground" impacts based

on measurable and transparent indicators. So far, the Global

Compact was forced to delist over 1,800 companies (as of

February 2010) for failure to submit a COP. While most multinational

and large national companies have experience in

non-financial reporting, disclosing information on the implementation

of the Ten Principles is new territory for many SMEs.

22

Global Compact International Yearbook 2010
---
Agenda

10 th Anniversary

Assisting companies that are seeking further information and

practical guidance on high-quality non-financial reporting is

a key challenge to get the most out of the Communication on

Progress requirement. The bottom line is that without a more

rigorous approach toward annual disclosure, it will be hard

for stakeholders (e.g., investors) to judge whether and how a

company performs with regard to the Ten Principles.

All of these challenges point to a common topic: achieving

and managing sustained growth (a) in terms of the quantity

of business and non-business participants, and (b) in terms

of the quality of their engagement. Such growth is necessary

since Global Compact participants still represent a rather

minor share of corporate activity throughout the world. Mainstreaming

corporate responsibility practices and addressing

the Ten Principles on a larger scale is only possible if more

corporations engage more intensely in the Global Compact.

This, however, will create a variety of management challenges

for a network-based organization with scarce financial and

non-financial resources. Local Networks, through their capacity

on the ground and contextualized knowledge of participants,

will play a pivotal role in managing the sustained growth of

the initiative.

The Global Compact is well-equipped to cope with these (and

other) challenges. If we look up the word "compact" in Webster's

Third New International Dictionary, we are told that it

reflects "an agreement, understanding, or covenant between

two or more parties" echoing "a degree of strength." If business

and non-business actors remind themselves of this degree of

strength and their common belief in the significance of the

Ten Principles, there is no doubt that the Global Compact will

successfully shape corporate responsibility practices throughout

the next decade.

The Global Compact and sustainable capitalism

Renowned management thinker Peter Drucker (1909–2005)

once said that "Management is doing things right; leadership

is doing the right things." While it is still unclear what

precise long-term effects the multiple crises had on corporate

responsibility, there is no doubt that to change present business

practices, we need both management and leadership. We need

inspiring leaders who fundamentally rethink existing business

models and align them with the changing economic realities.

And we need managers who turn this vision into reality by

developing and implementing new business practices.

When leadership and management commingle in this way,

there is a good chance that we may see the rise of what Al Gore

and David Blood call sustainable capitalism (see Wall Street

Journal, November 5, 2008, page A23). The Global Compact

provides a web of universal values that can underpin such a

new form of capitalism, values emphasizing the long-term

effects of business decisions and good governance of markets.

Sustainable capitalism is based on the convictions that future

economic growth depends on true business innovations (and

not juggling with enormous sums of money); that externalities

will have to be internalized (and not ignored); and that

reflections on the purpose of business in global society need

to move to the heart of management practice (and not be

perceived as an add-on).

Sustainable capitalism, if taken seriously, requires a different

way of thinking and, as a consequence, a new set of leadership

skills. Managers need to look at the global economy and the

embedded business practices from the perspective of systems

thinking. The global economy affects and is affected by many

interrelated systems – for instance, but not limited to: the

natural environment, financial markets, political leadership,

civil society, and business practices on the ground. These

systems interact, often in unpredictable ways. If we want to

avoid stumbling from one crisis to another, we need to identify

the interaction effects among these systems and discuss how

to address the resulting risks. We need a more holistic way

of thinking about existing and future problems. Otherwise,

solutions will reflect only isolated actions.

Developing sustainable capitalism means to not let short-term

thinking drive out long-term practices. Corporations participating

in the Global Compact agreed to be part of a long-term

understanding of capitalism and to work toward inclusive

markets based on a set of 10 universal principles. No doubt,

transformative actions and changes require, above all other

things, hard work. This, of course, represents a fundamental

challenge, but as Thomas Alva Edison already acknowledged:

"There is no substitute for hard work."

Andreas Rasche is Assistant Professor of

Business in Society at Warwick Business

School, University of Warwick, UK.

Global Compact International Yearbook 2010 23
---
miLestOnes

UN GLOBAL

COMPACT

MILESTONES

in september 2000 world leaders came together at united

nations Headquarters to adopt the united nations millennium

declaration, committing their nations to a new global

partnership to reduce extreme poverty.

2000

July 26, 2000: Launch of the global compact at High-level

meeting held by un secretary-general with 44 companies

attending

Following a call to action by then-UN Secretary-General Kofi Annan at the 1999 world Economic Forum in Davos, the

operational phase of the UN Global Compact was launched on july 26, 2000, at UN Headquarters in New York. The

preceding months had seen much discussion over the mandate, role, and purpose of a UN initiative to promote corporate

responsibility. As agreement had been reached earlier on a set of Nine Principles covering human rights, labor standards,

and the environment, the Secretary-General decided to convene a high-level event bringing together business executives

with the leaders of UN agencies, funds, and programs; global civil society organizations; governments; and labor

and employers' organizations. Initially signed by 44 companies, the new initiative called on business to put the Nine

Principles into practice, join the UN in partnership projects to advance sustainable development, and report annually on

progress made. In December 2000, the UN General Assembly underscored the role of business in its resolution A/55/215

(Towards Global Partnership). The newly formed Global Compact Office, a small section within the Secretary-General's

Executive Office, was to become the hub of the initiative, with Georg Kell named Executive Head.

The Global Compact's launch was followed by the historic UN Millennium Summit in September 2000, which led to

the creation of the UN Millennium Development Goals (MDGs). The Millennium Declaration, issued by the largest-ever

gathering of heads of state and government, stated that "only through broad and sustained efforts to create a shared

future, based upon our common humanity in all its diversity, can globalization be made fully inclusive and equitable."

24

Global Compact International Yearbook 2010
---
Agenda

10 th Anniversary

At the initiative's operational level, four distinct areas of concentration had emerged, following extensive discussions and

consultations among stakeholders: Policy Dialogues – to explore critical issues relevant to business implementation of the

Global Compact; the Learning Forum – a platform for the exchange and discussion of corporate practices and experiences;

Networks – to advance the Global Compact's work on the local level; and company initiatives and partnerships – to leverage

the resources and relative strengths of business in support of UN goals.

In October 2001, the Global Compact concluded the pilot phase of its Learning Forum, which had led to the development of

30 business case studies related to the corporate efforts to implement the Global Compact Principles. The multi-stakeholder

group assessing the case studies also noted that "many businesses faced difficulties assessing the priority of corporate

citizenship responsibilities relative to other profit-seeking business activities." As a consequence, it was agreed that a new

framework would be launched in January 2002. All companies in the Global Compact would now be required to submit an

annual "example" detailing implementation practice, while a steering committee would select the most promising examples

for development into in-depth, peer-reviewed case studies.

Also in December 2001, the Global Compact and the Global Reporting Initiative (GRI) joined forces for the first time, announcing

a cooperation agreement that stressed the consistency of both initiatives' approaches. Sustainability reports utilizing

the GRI's reporting framework would henceforth be considered as submissions fulfilling the participation requirements of

the Global Compact.

2001

Business & Peace

March: First Global Compact policy

dialogue about private sector and zones of

conflict

9/11

COP

July: Early version of COP released

Business & Peace

September: Policy dialogue on "Role and

Responsibilities of Business Operating in

Zones of Conflict"

Education

October: Learning Forum commits to

develop academic infrastructure

"The Global Compact is about the values that unite us. The attacks

were a direct challenge to these values—they were an attack on

fundamental human rights."

Mary Robinson

Global Compact International Yearbook 2010 25
---
miLestOnes

then-uneP director klaus töpfer in

Johannesburg: world summit on sustainable

development (wssd)

2002

As participation in the Global Compact continued to grow at rapid speed in

2002, the initiative introduced early elements of its emerging governance

structure. In january 2002, the newly formed Global Compact Advisory

Council, an interdisciplinary high-level body comprising leaders from business,

civil society, labor, and academia, appointed and chaired by the Secretary-

General, held its first meeting in New York to discuss the evolution and future

direction of the initiative. In june 2002, the Global Compact Office released

its first Progress Report, presenting a comprehensive overview of the Global

Compact and progress made in the initiative's core areas of activity.

At the world Summit for Sustainable Development, held in johannesburg in

September, the Global Compact and UNDP launched the Growing Sustainable

Business (GSB) initiative, recognizing that – in the absence of sufficient

investment in developing countries – the MDGs would not be achieved

without a sustainable contribution by the private sector. Coordinated and

managed by UNDP to this day, the GSB offers a platform for companies

that seek to develop commercially viable business projects within their

core business or value chain. GSB projects have since been launched in 12

countries around the world.

On the national level, the year 2002 saw the launch of events for the Global

Compact in Spain, Turkey, Ghana, and Italy, among others. By the end of

the year, the number of participants had reached 600 organizations. As of

November 2002, the Global Compact Office began releasing a full list of

participants on its website.

PaRtneRsHiP

june: Building Partnerships report

published, which offers an overview of the

growing cooperation between the United

Nations and business

educatiOn

june: Academic Network established

LOcaL netwORks

December: First Learning Network Forum

(ALNF) in Berlin identifies knowledge and

learning gaps

26

Global Compact International Yearbook 2010
---
Agenda

10 th Anniversary

COP

January: Advisory Group says companies

should publish examples in annual reports

– a shift in approach that leads to full COP

concept

Human Rights

April: NGOs increase pressure on human

rights and UN internalization processes

Partnership

May: Global Compact policy dialogue on

HIV/AIDS

Local Networks

June: ALNF in Berne says Global Compact

needs to create guidance

Financial Markets

October: Global Compact opens Nasdaq

The official G8 Declaration issued at the G8 Summit in Evian-les-

Bains, France, in June for the first time expresses support for

the Global Compact.

2003

In January 2003, the Global Compact Advisory Council met in New York for its third meeting.

At the meeting, Council members recommended that companies – in order to increase

transparency and accountability – should publish implementation examples as part of their

annual reports. This recommendation marked a significant shift in the Global Compact's

strategic approach, which would eventually lead to the introduction of the Communication

on Progress in 2005. In April 2003, the leaders of several global NGOs, including Amnesty

International and Oxfam, wrote an open letter to then-Deputy Secretary-General Louise

Fréchette, calling for "tangible evidence of progress arising from the Global Compact." Echoing

concerns raised by many civil society stakeholders during the Global Compact's early

years, the group urged strengthening the initiative's accountability and proposed a number

of measures, such as stricter monitoring of the Global Compact's reporting requirement, as

well as a mechanism to address perceived violations of the Global Compact Principles by

corporate participants.

Also in May 2003, G8 finance ministers for the first time expressed support for the Global

Compact. In a joint statement, the ministers encouraged "voluntary private sector initiatives

that foster and complement such international efforts to promote corporate social and environmental

responsibility as the OECD guidelines for Multinational Enterprises and the UN Global

Compact Principles." This support of the Global Compact's role was further reiterated in the

official G8 Declaration issued at the G8 Summit in Evian-les-Bains (France) in June 2003.

Global Compact International Yearbook 2010 27
---
miLestOnes

The first Global Compact Leaders Summit took place in New York on 24 june 2004. At the time, it was the largest meeting

of representatives from industry, civil society, trade unions and politics that had ever taken place under the auspices of the

United Nations. There were a variety of motivations and objectives for the Leaders Summit: In just four years, the Global

Compact had developed into the largest voluntary CSR initiative in the world, with well over 1,500 participants from more

than 70 countries. what factors led to its success? what kind of experiences had corporations had with implementing the Ten

Principles? what strategies were necessary to expand Global Compact implementation at a wider level? The participants in

New York were called upon to address these questions and others, as well as to report on successes, problems and challenges.

Numerous participants suggested that national and regional networks should be strengthened and the decentralisation of

the Global Compact intensified. The private-sector contribution to global development was an important element of this

debate. Companies were asked to form partnerships with other actors from civil society in order to tackle concrete problems

more effectively, with the Millennium Development Goals (MDG) mentioned as a particular driving force. Of course there was

some criticism too: Representatives from NGOs and trade unions lamented that the Global Compact mechanisms did not

include a method of verifying that the principles had been implemented and a way to demand that companies take action in

urgent cases. The significance of the annual Communication on Progress was stressed in response; this newly introduced

confidence-building measure would be required of participants and constitute proof of actual activity.

2004

anti-cORRuPtiOn

january: Global Compact convenes

dialogue on transparency and the fight

against corruption

anti-cORRuPtiOn

April: United Nations sets up inquiry into

the Oil for Food program – underscores

need for greater transparency

cOP

june: Global Compact launches integrity

measures

anti-cORRuPtiOn

global compact's first Leaders summit held in new York with

more than 400 participants.

july: Launch of UN Global Compact

Principle 10

FinanciaL maRkets

july: who Cares wins launched – ESG

concept takes off

Human RigHts

November: Launch of the Embedding

Human Rights series

28

Global Compact International Yearbook 2010
---
Agenda

10 th Anniversary

Partnership

April: Global Compact and OCHA launch

new business guide on emergency aid

Anti-Corruption

December: UN Convention against

Corruption enters into force

Partnership

December: UN General Assembly

encourages Global Compact Office to

promote partnerships

Global Compact Summit in China: 500 international business

leaders and representatives of government and civil society

assembled. It is the largest event ever held in China on the topic

of responsible business.

Local Networks

December: New guidance document for

Local Networks released

2005

For the Global Compact, the year 2005 has brought not only

further growth and new initiatives, but also major structural

changes. What was required was to better link global strategies

with local action, ensure integrity, improve the quality

of businesses' commitment and give the companies and

organisations involved a stronger share in the initiative's

strategic and operational development. Consultation was

entrusted to John G. Ruggie, who was then Special Adviser

to the Secretary-General on the Global Compact, and Georg

Kell, Executive Head of the Global Compact Office. SG Kofi

Annan endorsed this new Governance Framework in August

2005 and launched the implementation process. In keeping

with the Global Compact's voluntary and network-based character,

the governance framework is light, non-bureaucratic

and designed to foster greater involvement in, and ownership

of, the initiative by participants and other stakeholders

themselves. Governance functions are shared by seven

entities, each with differentiated tasks within a multi-centric

framework including Leaders Summits, Local Networks, a

Board, the GC office and the Inter-Agency Team.

September: Global Compact

releases "Business UNusual

– Facilitating United Nations

Reform through Partnerships"

Global Compact International Yearbook 2010 29
---
miLestOnes

then-un secretary-general kofi annan launches

Principles for Responsible investment (PRi)

2006

cOP

The Global Compact has developed over the years into a brand

with global reach. In this way, the Initiative has made an important

contribution to the internal reform of the United Nations. And that

is being recognised: In September 2006, SG Kofi Annan emphasised

the central role of the Global Compact as an interface between the

United Nations (UN) and business. The Global Compact's institutional

strengthening is complemented by its global expansion. The fourth

annual network forum, which brought more than 150 delegates to

Barcelona in September 2006, was an expression of the Initiative's

growing expansion on all five continents.

The finance initiatives of the Global Compact opened new territory:

In this connection, 27th April 2006 was a symbolic day. For the first

time, a Secretary-General of the United Nations rang in the trading

day at the New York Stock Exchange – a true innovation, since for

many years the thematic distance between wall Street and Kips Bay

seemed too large. But the Secretary-General's visit to the control

centre of global capital had a concrete reason: It signalled the start

of the Principles for Responsible Investment (PRI), a joint initiative of

the Global Compact and the Finance Initiative of the UN Environment

Programme (UNEP FI). This new PRI initiative rests on six principles,

which were derived from the Global Compact.

March: workshop discusses best practices

in communicating progress

LOcaL netwORks

September: ALNF in Barcelona reaches

consensus on own role as an element of

the Global Compact's governance structure

enviROnment

The Stern Review on the Economics

of Climate Change was greeted with

headlines worldwide when it was published.

educatiOn

October: Academic institutions agree

to develop Principles for Responsible

Business Education

anti-cORRuPtiOn

December: Global Compact hosts first

board meeting of the Extractive Industry

Transparency Initiative

30

Global Compact International Yearbook 2010
---
Agenda

10 th Anniversary

Local work played an especially significant role in the Global Compact in 2007.

While there are still blanks on the map in the seventh year since the Initiative was

founded, their number is declining. Among the largest companies in the Global

Compact (by market capitalization), mining, the oil and gas sector and the utilities

sector have well-above-average representation. No signatories, or only a few, can be

found among the global leaders in the real estate sector, among mobile telephone

companies and the media.

Of course, the main event of 2007 was the Global Compact Leaders Summit, whose

second edition took place on 5th and 6th July 2007 in Geneva. The Summit set new

directions for the Initiative's future. With over 1,100 participants from more than

80 nations, it was the largest summit ever held by the United Nations on sustainable

economic activity. As the Summit's final document, participants approved

the "Geneva Declaration", whose 21 points again emphasise the importance of a

values-conscious private sector for a sustainable global economy. Likewise, the

Geneva Declaration calls on United Nations member states to offer government

incentives, beyond regulations, for responsible business activity.

2007

Environment

March: Principles on Climate Leadership

launched

Environment

July: Launch of initiatives Caring for

Climate and CEO Water Mandate

Education

July: Business schools want to advance

corporate citizenship

COP

September: COP program becomes widely

recognized

Human Rights

December: Global Compact begins yearlong

campaign to raise business awareness

On 1 January 2007, Ban Ki-moon became the eighth Secretary-

General of the United Nations. In July he attended the Global

Compact Leaders Summit in Geneva.

Local Networks

December: Report issued – Local Networks

gaining in strength and impact

Global Compact International Yearbook 2010 31
---
enviROnment

miLestOnes

April: Environmental leaders and

champions gather in Singapore for the B4E

Global Summit

educatiOn

April: Principles for Responsible

Management Education endorsed by over

100 business schools

cOP

April: New functionalities improve access to

Communication on Progress

september 2008:

un Private sector

Forum seeks long-term

response to global food

crisis

LaBOuR standaRds

May: Global Compact Labor working Group

convenes inaugural meeting

Human RigHts

june: United Nations extends mandate of

the Special Representative on Business and

Human Rights

2008

when we look through the rear-view mirror at the often turbulent global events in 2008, we can

say with great confidence that it was a year of profound changes, sharp breaks with the past

and necessary new beginnings. The food price crisis of the first half of the year was followed by

the long-smouldering financial crisis in the second. The ghost of recession is making its rounds

throughout the world and, according to the latest research results, the threat from climate change

is also progressing faster than was anticipated a short time ago. what we can perhaps learn initially

from these developments is that, in future, companies will be measured more strongly than in

the past on how well they are able to combine long-term sustainability and the profit motive in

a credible and value-creating way. No question about it: the trust in a fair globalisation and the

ability of free markets to regulate themselves – which has always been viewed with scepticism

by some – has suffered considerable, though not irreparable damage.

As can already be seen, the crisis has also led many companies to re-evaluate their own sustainability

approaches. In this context, we can perhaps talk about a "cleansing effect". while purely

philanthropic commitments have, as expected, already fallen victim to the first savings measures

in many places, those approaches that regard company sustainability as a purely tactical,

reactive (communication) task cannot withstand closer examination. In contrast, the question

whether companies can "still afford" corporate responsibility in future becomes moot when

sustainability management is considered a strategic priority. For worldwide economic developments

notwithstanding, central challenges such as climate change or human rights, and with

them the need for effective company strategies, will not disappear from the screen but rather

gain in significance.

32

Global Compact International Yearbook 2010
---
Agenda

10 th Anniversary

In spite of the global financial and economic crisis, it was an international

crisis with far more grave consequences that dominated the

Global Compact debate in 2009: the change in the climate. This is

much more than just an environmental problem; climate change is the

central challenge of our generation, with far-reaching consequences

for sustainable development, the struggle against poverty, political and

economic stability, and global security as well. What's more, solving

climate change calls for more than just policy and technology; it will

take an economic approach as well. In view of the difficult negotiations

on a new climate agreement in December 2009 in Copenhagen,

it seemed of primary importance in the Global Compact arena to bring

economic and political decision-makers together for a dialogue. The

high point of these efforts was the UN Leadership Forum on Climate

Change, which was put on by the Global Compact and took place on

22 September as part of the UN Climate Summit in New York. Some

60 heads of state and heads of government from all over the world

responded to the Secretary-General's invitation and exchanged experiences

with top business leaders, in an event that was also something

completely new to the United Nations.

Human Rights

March: Global Compact and UNIFEM

address role of business in empowerment

of women

Environment

March: Water Disclosure 2.0 released

Environment

December: COP 15

Local Networks

December: New anti-corruption guidance

sharpens rules for reporting companies

2009

In 10 short years, 2010

that initiative has

grown to become the largest

corporate citizenship and

sustainability initiative

in the world.

Compilation by:

UN Secretary-General Ban Ki-moon

Partnership

January: New UN business website brokers

partnerships

Education

March 2010: Principles for Responsible

Management Education Initiative adopts

governance framework

Matthias Stausberg,

Spokesperson for the

United Nations Global

Compact

Dr. Elmer Lenzen,

Publisher of the "Global

Compact International

Yearbook"

Global Compact International Yearbook 2010 33
---
Make or Break Year

for Biodiversity

Climate change has been described as the biggest market failure

of all time – the loss of biodiversity and nature's economicallyimportant

services must surely be running a close second, if not an

equal first. Year in and year out, the world economy may be losing

services from forests to freshwaters and from soils to coral reefs,

with resulting costs of up to $ 4.5 trillion or more.

34

Global Compact International Yearbook 2010
---
Agenda

Biodiversity

Global Compact International Yearbook 2010 35
---
By Achim Steiner

Decisive action needs to be taken to reverse these declines or

the bill will continue to climb – and with it any hopes of

achieving the poverty-related Millennium Development Goals

and a sustainable 21st century for six billion people, rising to

nine billion by 2050.

In response to the financial and economic

crisis, governments mobilized

stimulus packages worth over $ 3

trillion seemingly overnight. Where

is the same stimulus and the same

coordinated international political

response to address the crisis facing

our natural and nature-based assets?

How can we metaphorically find and

follow the white dove that can bring

a contemporary Noah's Ark to a safe

and sustainable berth?

Biodiversity

is about far

more than just

dollars and

cents.

The Economics of Ecosystems and Biodiversity

(TEEB) – hosted by UNEP and

backed by the European Commission

and countries including Germany, Norway,

and the United Kingdom – is an attempt to crystallize

and illuminate new answers and assist toward making decisive

choices. Its landmark report is to be published in advance of

the Convention on Biological Diversity (CBD) meeting later

in the year. But many inspiring and potentially transformational

facts and figure, alongside more creative management

options, are already emerging.

Let me perhaps cite one example that underlines TEEB's

framing of the debate. Subsidized commercial shrimp farms

can generate returns of around $ 1,220 per hectare by clearing

mangrove forests. But TEEB says this does not take into

account the costs to local communities, totaling over $ 12,000

a hectare, that are linked with losses of wood and non-wood

forest products, fisheries, and coastal protection services.

Nor does the profit to the commercial operators take into

account the costs to society of rehabilitating the abandoned

sites after five years of exploitation – estimated at over

$ 9,000 a hectare.

36

Global Compact International Yearbook 2010
---
Agenda

Biodiversity

• Coral reefs, whose fishery, tourism, and flood protection

services are estimated at between $ 100,000 and $ 600,000

per square km, could be conserved for an investment of

close to $ 780 per square km or 0.2 percent of the value of

the ecosystem protected.

• Deforestation contributes close to 20 percent of global greenhouse

gas emissions – $ 17 billion to over $ 30 billion annually

could halve this amount while securing livelihoods

and boosting conservation-related employment in tropical

countries.

• A global marine protected area network, involving the closure

of 20 percent of total fishing grounds, could result in profit

losses of an estimated $ 270 million annually.

But could sustain fisheries worth $ 80 - 100 billion a year assist

in conserving an estimated 27 million jobs while generating

one million new ones and protect food supplies for over one

billion people, especially in developing countries whose main

or sole source of animal is the ocean? Some countries are rising

to the challenge in part.

• Planting and protecting nearly 12,000 hectares of mangroves

in Vietnam costs just over $ 1 million, but savings on annual

expenditures for dyke maintenance are well over $ 7 million.

• One in 40 jobs in Europe are now linked with the environment

and ecosystem services, ranging from clean-tech "ecoindustries"

to organic agriculture, sustainable forestry, and

eco-tourism.

• Investment in the protection of Guatemala's Maya Biosphere

Reserve is generating an annual income of close to $ 50

million a year, has generated 7,000 jobs, and boosted local

family incomes.

2010 – the UN's International Year of Biodiversity – is the year

when the international community pledged to substantially

reverse the rate of loss of biodiversity. This has not happened

and we continue – through inaction and a failure to manage

– to preside over a sixth wave of extinctions. The urgency

of a transformational response is underlined by the Global

Biodiversity Outlook-3, launched by the CBD.

We are fast approaching "tipping points," whereby dramatic

and irreversible changes may soon occur to coral reefs and

also freshwater systems as a result of climate change and the

acidification of fertilizers and other nutrients. The public,

politicians, and business leaders need to reconnect with the

fundamentals that really drive the global economy, livelihoods,

and ultimately all our life-support systems.

The next time you buy honey from the supermarket or corner

shop, reflect on the fact that the bees and other pollinators

are providing services worth perhaps $ 90 billion a year. The

toast and jam at breakfast would also not be there without

the worms, beetles, and bugs that make our soils fertile and

the multi-trillion dollar agricultural industry possible – the

list is long.

There is also an urgent need to bridge the gap between science

and policymakers, which is why there has been a great deal of

debate surrounding the establishment of an Intergovernmental

Platform on Biodiversity and Ecosystem Services.

Meanwhile, an agreement on a key pillar of the CBD – namely

an international regime on access and benefit-sharing of genetic

resources – has proved elusive. Negotiations are under way

and there is optimism that a regime could be finalized at the

CBD's meeting in Nagoya, Japan, in October.

Currently, in the absence of such a regime, there is increasingly

less access to the genetic treasure trove of the South

and, thus, fewer opportunities for companies, mainly from

the North, to discover new pharmaceuticals, materials, and

promising crop strains.

This, in turn, translates into fewer opportunities for developing

countries to share in any benefits that might arise – so everyone

looses out. Smart market mechanisms and the ability to bring

visibility to the true value of nature are perhaps the "missing

links" that would lead toward sustainable management.

Unless we place an economic value on biodiversity and ecosystems

and the services they provide, we are unlikely to turn the

tide in a world fascinated by GDPs, stock markets, and others

measures that define contemporary notions of progress.

Biodiversity is, of course, about far more than just dollars and

cents, yen, euros, yuan, or Kenyan shillings. But the economic

case for sustainable management of our natural capital needs to

be made if we are to design a pathway away from degradation,

destruction, and extinction. As TEEB is underling, the case is as

overwhelming and as compelling as the ones centered on stewardship

and the spiritual dimensions of the living world.

Achim Steiner is UN Under-Secretary

General and UNEP Executive Director.

Global Compact International Yearbook 2010 37
---
Involving Business

in the Fight to Save

Life on Earth

Biodiversity

is life.

Biodiversity is

our life.

38

Global Compact International Yearbook 2010
---
Agenda

Biodiversity

By Dr. Ahmed Djoghlaf

Since its launch in July 2000, the Global Compact has been

systematically enlisting businesses in the fight for a sustainable

future. However, today the long-term health and prosperity

of humanity are under threat more than ever due to the irreversible

changes we are causing to the planet. That is why

in his 2009 speech to the World Economic Forum in Davos,

Switzerland, Secretary-General Ban Ki-moon stated: "We must

break the tyranny of short-term thinking in favor of long-term

solutions" and why he called for "a renewed commitment to

core principles."

Part of this renewed commitment must be an increased

dedication to preserving the diversity of life on earth. In 2002

the heads of state and government attending the Johannesburg

World Summit on Sustainable Development agreed to

substantially reduce the rate of biodiversity loss worldwide

by 2010 – the so-called 2010 Biodiversity Target. However,

today biodiversity is being lost more quickly than ever. The

current rate of extinction is estimated to be up to 1,000 times

higher than the natural rate of extinction. If this trend does

not change, it is expected that an area of 1.3 billion hectares

worldwide – about 1.5 times the size of the United States –

will completely lose its original biodiversity levels by 2050.

That is why the United Nations General Assembly declared

2010 the International Year of Biodiversity. The goals of this

historic event are to raise awareness about the importance

of biodiversity, to communicate the human costs of its ongoing

loss, and to involve all sectors of society – including the

business community – in efforts to conserve and sustainably

use our natural heritage.

The importance of preserving biodiversity cannot be overstated.

Our food, fuel, and medicines, and much of our fiber and

building materials, all have biological origins. Biological goods

support such diverse industries as agriculture, cosmetics, pharmaceuticals,

pulp and paper, horticulture, and construction.

Moreover, ecosystems provide human beings with a range of

services that would be extremely costly or impossible to replace.

These include purification of air and water; detoxification and

decomposition of wastes; stabilization and moderation of the

earth's climate; moderation of floods, droughts, temperature

extremes, and the forces of wind; generation and renewal of

soil fertility; nutrient cycling; pollination of wild plants and

crops; and control of pests and diseases.

Despite our fundamental dependence on the goods and services

that biodiversity offers, the economic value of biodiversity has

historically been overlooked. In his preface to Phase 1 of the

report The Economics of Ecosystems and Biodiversity (TEEB),

study leader Pavan Sukhdev wrote: "Nature is the source of

much value to us every day, and yet it mostly bypasses markets,

escapes pricing and defies valuation […] The economic

compass that we use today was a success when it was created,

but it needs to be improved or replaced."

The initial phases of the TEEB study, launched at the Convention

on Biological Diversity's (CBD) ninth Conference of the

Parties (COP 9) in Bonn in 2008, give us a glimpse of some

of the impressive statistics on the economic value of biological

goods and ecosystem services. Approximately half of all

synthetic drugs have a natural origin, including 10 of the

25 highest selling drugs in the United States. Of all the anticancer

drugs available, 42 percent are natural and 34 percent

semi-natural. The value of the watershed protection provided

by intact coastal ecosystems, such as mangroves and other

wetlands, has been estimated at $ 845 per hectare per year in

Malaysia and $ 1,022 per hectare per year in Hawaii.

The TEEB report pegs the annual cost of biodiversity loss at

close to $ 3 trillion. This compares to the gross earnings of

three major sectors of the economy in a year: the car industry

($ 1.9 trillion), the IT industry ($ 0.95 trillion), and steel ($ 0.6

trillion). Moreover, a recent assessment conducted by the

London-based consultancy Trucost for the UN-backed Principles

for Responsible Investment of the 3,000 biggest public

companies in the world found their estimated combined

damage to nature to be worth $ 2.2 trillion in 2008 – a figure

bigger than the national economies of all but seven countries

in the world that year.

The human costs of such losses are high: Because of the many

economic benefits we obtain from biodiversity, preserving it

is central to sustainable-development and poverty-alleviation

strategies. As Dr. Gro Harlem Brundtland stated: "You cannot

tackle hunger, disease, and poverty unless you can also provide

people with a healthy ecosystem in which their economies

can grow."

This is particularly true when we consider development sectors

such as agriculture, forestry, fisheries, and tourism. There

Global Compact International Yearbook 2010 39
---
are 300 million people worldwide, the majority of whom are

poor, who are estimated to depend substantially on forest

biodiversity – including non-wood forest products – for

their survival and livelihood. There are 1 billion people who

depend on fish as their sole or main source of animal protein;

fish also provided more than 2.6 billion people with at least

20 percent of their average per capita animal protein intake.

Coral reefs provide food and livelihood for most of the estimated

30 million small-scale fishers in the developing world.

For example, the productivity of the fisheries sector in Belize,

Honduras, and Mexico depend directly on the health of the

adjacent barrier reef. Coral reef tourism has also increased

in frequency and value, with a current net present value

estimated at $ 9 billion; the Great Barrier Reef alone attracts

1.6 million visitors each year and generates over $ 1 billion

annually in direct revenue.

Recognizing the economic

imperative of protecting

biodiversity CBD has

increasingly been seeking

business participation.

Recognizing the economic imperative of protecting biodiversity

and the need to engage the private sector, the 193

Parties to the CBD have increasingly been seeking business

participation in the implementation of the CBD's objectives:

the conservation of and sustainable use of biodiversity, and

the fair and equitable sharing of the benefits arising from the

use of genetic resources. To this end, the first global meeting

on business and biodiversity was held in London in January

2005, followed by a second in São Paulo, Brazil, in November

2005. The outcomes of these meetings led to the adoption of

the first decision on business and biodiversity by the 4,000

participants attending CBD COP 8 in Curitiba, Brazil, in March

2006. Following this, in July 2009, a Brazilian project called

"LIFE certification" was launched in Curitiba, which aims to

both quantify and officially recognize actions by companies

related to biodiversity conservation.

In addition, at COP 9 in Bonn, the First International Business

Initiative for the Protection of Biodiversity was launched at

the initiative of the German government. Bringing together

a group of 34 companies from Germany and other countries,

the initiative aims to more closely involve the private sector

in achieving the CBD's objectives. Also in Bonn, AVEDA

hosted a reception and panel discussion targeting some 200

- 300 participant – including ministers, indigenous and local

community representatives, the media, and the private sector

– to emphasize that sustainable ethical business practices,

including equitable benefit-sharing, are good for everyone

and the environment.

Japan, which will host CBD COP 10 this coming October 2010

in the city of Nagoya, is also contributing to these efforts.

Keidanren, the Japanese business federation, has launched a

business and biodiversity initiative, while the Japanese Ministry

40

Global Compact International Yearbook 2010
---
Agenda

Biodiversity

and comments for a Strategy to Advance the 2020 Business

and Biodiversity Agenda. These two documents are serving as

roadmaps for Nagoya and for the ongoing celebrations of the

International Year of Biodiversity.

of the Environment has prepared guidelines on the topic. Such

efforts on the part of the Japanese are particularly welcome,

since in Nagoya the Parties are expected to finalize the CBD's

2011 - 2020 Strategic Plan, create a 2020 biodiversity target

and a 2050 biodiversity vision, and establish an international

regime on Access and Benefit-Sharing. This will be done using

the input of a broad range of stakeholders, including the business

community. To facilitate business involvement during the

Nagoya Biodiversity Summit, a high-level dialogue between

CEOs and government ministers will be held on October 28,

coinciding with the Nagoya conference – the first-ever technological

fair on biodiversity.

Preparations for Nagoya are well underway. Japan hosted the

Kobe Biodiversity Dialogue last October – a meeting attended

by 300 participants, who shared their experiences and views

on the major biodiversity agenda, especially private-sector

engagement and the revision of the Strategic Plan. The participants

called for a continuous and comprehensive platform

that could be a ground for discussion between various sectors.

The Kobe Biodiversity Dialogue was a major step toward the

establishment of constructive and permanent dialogue between

all stakeholders, including business, to meet the unprecedented

challenges of the loss of biodiversity in time for Nagoya.

One immediate effect of the Kobe meeting was to create

momentum for the third global conference on business and

biodiversity that took place this past December in Indonesia.

More than 200 companies, nongovernmental organizations,

and governments from all over the world gathered in Jakarta,

recognizing that biodiversity-based business can be more

profitable than other economic activities, and that biodiversity

already forms the basis of many economic sectors. The

Jakarta conference resulted in two major achievements: the

adoption of the Jakarta Charter on Business and Biodiversity,

The Convention is also in the process of gathering input for

the revision of the Strategic Plan through the Aichi-Nagoya

International E-Conference (ANIEC) 2010 (http://www.cbd.

int/aniec2010/), an online consultation process that involves

government and nongovernmental organizations, indigenous

and local communities, women, youth, scientific and expert

networks, academia, business networks, local communities,

and other interested groups in an open dialogue. A summary

of its results will be presented to the UN General Assembly in

New York in September. The Assembly will, for first time ever,

devote an entire day to the question of biodiversity, its role in

development, its role in the fight against climate change, and

our actions for the future. As well, a side event will be organized

during COP 10 by the conference president to present the

results of the e-conference to delegates.

Now is the time for concrete action from the business community

to save life on earth. In Davos in 2009, the Secretary-

General said: "We stand at a crossroad. It is important that

we realize we have a choice. We can choose short-sighted

unilateralism and business as usual. Or we can grasp global

cooperation and partnership on a scale never before seen."

That spirit is driving the celebrations of the International Year

of Biodiversity and will guide the deliberations of the Nagoya

Biodiversity Summit, where the business community must become

a full-fledged member of the biodiversity family, thereby

helping to complete the Global Compact. The alternative is

an impoverished planet that can no longer support a healthy,

vibrant global economy. The stakes in this fight could not be

higher. As the slogan of the International Year reminds us,

'Biodiversity is life. Biodiversity is our life.'"

Dr. Ahmed Djoghlaf is

Executive Secretary of the Convention

on Biological Diversity (CBD).

Global Compact International Yearbook 2010 41
---
Access and

Benefit Sharing

Is Paramount to

the Future of

Biodiversity

IUCN is urging governments

to make the link between

conservation, sustainable

use, and the equitable

distribution of the benefits.

By Dr. Jane Smart

The benefits of biodiversity are inextricably linked to the

people's well-being and this includes their fundamental

rights to preserve their natural heritage, as well as to

use these resources for development. However, given the

current rates of species extinction and the overall loss of

biodiversity, regulating access to genetic resources and the

fair and equitable distribution of the benefits associated

with them – and at the same time safeguarding people's

traditional knowledge – will be one of the most

important decisions at this year's 10th meeting of the

Convention on Biological Diversity (CBD) in Nagoya, Japan.

42

Global Compact International Yearbook 2010
---
Agenda

Biodiversity

Within the past 50 years, 60 percent of our ecosystem services

– our land, water, and oceans – have become degraded,

primarily because of our unsustainable use of these resources.

Worldwide, the IUCN Red List of Threatened Species tells us that

animal and plant species found in these ecosystems are also

declining, with 22 percent of the world's mammals threatened

or at risk of extinction, nearly one-third of the amphibians,

one in eight birds, 27 percent of the reef building corals, and

28 percent of the conifers. These are strong indicators regarding

the health of our planet. Recovering from such changes is

difficult and costly, if not impossible in many instances.

To halt and reverse these trends, it will be necessary to initiate

urgent, concerted, and effective policy reform and action as soon

as possible. Maintaining the status quo or a "business as usual"

approach will not achieve the proposed CBD's post-2010 targets

and its ambitious agenda between now and 2020. Therefore,

IUCN – the International Union for Conservation of Nature, the

world's oldest and largest conservation organization – is advocating

for the establishment of improved regulatory frameworks

and additional financial incentives that effectively reflect the

values of natural resources. It also advocates the incorporation

of the linkages between poverty, livelihoods, and biodiversity

into the development sector: A key step in this regard will be

the adoption and implementation of a new Protocol on Access

and Benefit Sharing (ABS) under the CBD.

A wide range of business sectors are involved in researching

genetic resources and/or traditional knowledge associated with

genetic resources in order to develop commercial products. For

years, bio-piracy has deprived national governments, as well as

indigenous and local communities, of the right to participate

and benefit from commercial use derived from their genetic

resources and/or traditional knowledge. This has meant missed

opportunities – from joint ownership of intellectual property

to payments in royalties to name a few.

The CBD establishes only a general legal framework for ABS.

The Bonn Guidelines from 2002 assist governments and other

stakeholders in developing overall ABS strategies and processes.

However, these guidelines are only voluntary, which indicates

a need for further regulation. As a consequence, in 2004, a

Working Group on ABS was created, and in 2008, a timetable

was agreed upon to negotiate a new international regime on

ABS by the CBD Conference of the Parties in 2010.

While the developments on a new ABS Protocol are positive,

there are still many issues that need to be clarified. These

include: how to create legal certainty for users of genetic

resources and at the same ensure their compliance with the

ABS frameworks of the countries providing the resources; how

to deal with genetic resources and/or traditional knowledge

accessed before the entry into force of the Protocol or even

Global Compact International Yearbook 2010 43
---
Environmental initiatives

can be good for business

By Prof. Daniel C. Esty

It is increasingly clear that the key to addressing environmental

problems in general and climate change in particular is

innovation. And to ramp up innovation requires incentives

that engage the private sector in the process of research

and development of new technologies and systemic change.

The most effective way to draw business into the search for

greater energy efficiency, renewable energy, and better pollution

control lies with making companies (and people) pay

for the harms they cause.

Unfortunately, the climate change conference in Copenhagen

last December dashed expectations by failing to produce a

meaningful global agreement – and a globally agreed-upon

price on greenhouse gases. Ultimately, a "Beyond Kyoto" treaty

will be needed, but in the short term, governments need to

focus on easier to implement "clean tech" incentives. In this

regard, the private sector should take a leadership role in keeping

the world on track toward a climate change solution.

Companies everywhere are coming to recognize that pursuing

environmental initiatives can be good for business. In a

business landscape where environmental sustainability has

rapidly emerged as the latest megatrend, it is apparent that

companies that reduce energy costs and inputs, reduce scrap

and waste, and increase efficiency will find themselves with

lower costs of production. By being attentive to environmentrelated

risks, companies will lower costs and become more

competitive. Companies large and small are therefore finding

that they will capture lucrative markets if they address the

need to advance toward a clean-energy future.

The Global Compact can be central in helping the international

community regroup after the disappointing Copenhagen

conference – emphasizing the potential for eco-advantage

for leading private sector actors and encouraging companies

to pursue innovative solutions. Global Compact Principle 9,

which encourages the development and diffusion of environmentally

friendly technologies, should therefore be given

special focus and perhaps made the centerpiece of corporate

strategy in the years ahead.

Daniel C. Esty is Hillhouse Professor of

Environmental Law & Policy Yale School

of Forestry and Environmental Studies &

Yale Law School.

44

Global Compact International Yearbook 2010
---
Agenda

Biodiversity

the CBD; and how to efficiently and effectively monitor and

track compliance with ABS arrangements between providers

and users. These issues represent huge challenges to national

governments, which are responsible in most cases for setting

policies, and in particular to indigenous and local communities

who are affected by them. At present, there is a plethora

of national and regional initiatives trying to protect these

resources. India, for example, was one of the first countries

to pass national legislation to combat bio-piracy and has

continued to strengthen its stance on protecting traditional

knowledge. Brazil has also passed legislation to protect traditional

knowledge that applies to both genetic and biological

resources.

Other efforts launched include the Andean-Amazon Initiative

for the Prevention of Bio-piracy, which works to prevent the

wrongful appropriation of the region's genetic resources and

traditional knowledge. Now in its fifth year, it undertakes

investigations, disseminates information, and lobbies international

organizations. More recently, CBD's own efforts under

the auspices of The International Barcode of Life Project has

acknowledged that its ultimate success depends in part on

how it can honor ABS principles without well-established

guidelines in place.

Global figures for 2009

IUCN Red List of

Threatened Species

47,677 species assessed

IUCN is urging governments to make the link between conservation,

sustainable use and access to genetic resources, and

the equitable distribution of the benefits derived from their

use. The CBD Conference of the Parties in Nagoya will be a

one-off opportunity for countries to agree upon new targets

to reverse the current trends in biodiversity loss before it is

too late. To succeed, post-2010 indicators should ideally be

scalable at local, national, and global levels; be adaptable for

use by other sectors, for example business; and make use of

both scientific information and traditional knowledge. Additional

support should be provided to developing countries for

revising their National Strategies and Biodiversity Action Plans.

The adoption of an ABS Protocol is high on IUCN's agenda at

the next CBD Conference of the Parties. Such a protocol will

help incentivize the conservation of biodiversity and ensure

that access and benefit-sharing related to genetic resources is

fair and equitable, and part of the CBD's long-term vision for

promoting a sustainable future.

Extinction risk

Extinct (809)

Extinct in the Wild (66)

Critically Endangered (3,325)

Endangered (4,891)

Vulnerable (9,075)

Near Threatened (3,650)

Least Concern (19,023)

Dr. Jane Smart is Director of IUCN's

Biodiversity Conservation Group.

Source: IUCN

Global Compact International Yearbook 2010 45
---
Two Years Applying

the Corporate

Ecosystem Services

Review

46

Global Compact International Yearbook 2010
---
Agenda

Biodiversity

The decline in nature's ability to provide ecosystem services – the

benefits humans derive from ecosystems – can present material risks

and opportunities to business. However, managers have only just

begun integrating considerations of ecosystem services into corporate

decision-making processes. One resource has been the Corporate

Ecosystem Services Review (ESR), a set of guidelines that has helped

managers improve both corporate performance and the environment.

By John Finisdore

Ecosystems provide businesses – as well as people and communities

– with a wide range of ecosystem services. For

example, agribusiness depends on the freshwater, soil quality,

and erosion control that ecosystems offer. Insurance companies

benefit from coastal protection provided by coral reefs and

wetlands, while fisheries rely on these habitats for commercial

fish species. A decline in the quality or quantity of these

services can substantially affect corporate performance.

Businesses also impact ecosystem services. For instance, when

a company pollutes waterways, dredges wetlands for shipping

channels, or overharvests fish, it reduces the ability of other

firms or communities to benefit from these ecosystems and

the services they provide. These impacts expose a company

to regulatory, reputational, or other forms of risk. Thus,

corporate dependence and impact on ecosystem services can

affect the bottom line.

The Millennium Ecosystem Assessment – a four-year global

analysis of the state of the world's ecosystems – found that

over half of the ecosystem services evaluated significantly degraded

over the past half century. Further declines are expected

over coming decades. Left unchecked, this degradation could

jeopardize future economic well-being, creating new winners

and losers within the business community.

Unfortunately, corporate environmental management systems,

due diligence processes, certification systems, and other

corporate decision-making processes have only just started

integrating the full range of ecosystem services considerations.

They typically focus on environmental impacts, not dependence.

Decision-making processes generally exclude regulating

ecosystem services such as pollination, water purification, and

natural disaster mitigation. Should these particular services

decline, crop yields would drop, water purification costs would

rise, and supply chain disruptions would occur. Furthermore,

corporate decision-making processes do not fully incorporate

ecosystem services-related opportunities. As a result, companies

may be unnecessarily vulnerable or miss new sources of

revenue associated with the decline in the quantity or quality

of ecosystem services.

Application of the ESR

To meet this need, corporations are turning to the Corporate

Ecosystem Services Review (see Box). Since its release in

March 2008, the ESR has been translated into five languages,

15,000 copies have been printed, nearly 30,000 copies have

been downloaded, and an estimated 200 - 300 businesses

have put it to use.

Much of the ESR's utility can be attributed to its flexible design.

It is valuable to senior executives looking at an organization's

long-term strategy as well as to line managers responsible

for product development, risk analysis, or day-to-day plant

management. Experience to date indicates that conducting

an ESR can help business managers improve the bottom line

in at least four ways:

1. Strengthen corporate strategy

At the highest levels of a corporation, managers are using

the ESR to improve corporate strategy. For example, Mondi,

the international paper and packaging company, used the

Global Compact International Yearbook 2010 47
---
ESR in 2008 to support their strategy for addressing the key

impacts on freshwater and biodiversity of their plantation

areas in water-scarce South Africa. Among other items, the

ESR helped Mondi contextualize many of the known drivers

of water scarcity in the region such as the spread of invasive

species, inefficient irrigation practices by downstream users,

climate change, and the demands of a developing nation. It

also expanded the water scarcity analysis beyond the scope

of their existing environmental management systems. This

prompted new solutions and established a platform for building

a freshwater strategy – stretching from their plantation

management to their community engagement through to

Mondi's government relations.

2. Identify new products and services

Managers are using the ESR to understand how the degradation

of ecosystem services over the coming years may affect

their customers, thereby enabling managers to identify opportunities

for offering new products or services that could

help customers mitigate or adapt to these changes.

Syngenta, one of the world's leading companies dedicated to

agriculture, used the ESR to analyze the risks its customers in

southern India face from the degradation of ecosystem services,

including soil quality, loss of pollination services, and freshwater

availability. The ESR brought renewed attention to the

region's water challenges. In response, Syngenta established a

dedicated water team at its corporate headquarters, followed

by investments in innovative products and services – such as

new solutions to enhance stress tolerance of plants – to help

farmers reduce their risk-exposure to water shortages.

3. Strengthen corporate decision-making processes

Companies have been using the ESR to strengthen their existing

decision-making processes. In particular, they find that the

ESR draws attention to environmental aspects that existing

processes often exclude and deepens their analysis of a business

unit's dependence on ecosystem services. Examples of

tools and processes improved by the ESR include:

1

In order to reflect the full range of issues analyzed by ERM

in their EIAs, they refer to them as ESHIAs, or Environmental,

Social and Health Impact Assessments.

Environmental policy:

"The ESR is not a tool where data is put in one end, and results

are produced at the other. Rather, it provides a thought process

for strategically considering environmental issues," notes

Ian Jameson, senior environmental advisor for Eskom, the

South African power firm. The ESR's core method is a five-step

process (see Box). Eskom is weaving the ESR into some of its

corporate-wide standards and policies, including its biodiversity

policy and its ISO-based biodiversity standard.

Environmental Impact Assessments (EIA):

ERM Ltd, a global environmental consultancy, is beginning

to use the ESR to embed ecosystem service considerations

into its EIAs. Along with adding ecosystem services to the list

of environmental attributes considered in assessments, the

ESR provides the consultancy with a process to improve the

prioritization of environmental issues through a better understanding

of their value to society. It enhances the consideration

of a project's dependence and impacts on ecosystem services.

"Ostensibly, an EIA should consider a project's dependence on

all material environmental aspects, as well as its impacts, and

the ESR provides a valuable framework to help improve that

process," noted James Spurgeon, ERM's technical director for

Environmental Economics. His colleague Julia Tims says that

"The rise of ecosystem services in EIAs, could not only improve

risk and opportunity analysis, but also help link environmental,

social, and economic factors."

Water-use planning:

BC Hydro, one of the largest electric power companies in Canada,

was one of the ESR "road-testers." BC Hydro conducted the ESR

pilot as part of the company's water-use planning for one of

the watersheds where BC Hydro has hydroelectric-generating

facilities. With 98 percent of BC Hydro's power produced by

hydroelectric facilities, the company conducts water-use planning

to improve decision-making by working with regulators

and community stakeholders to develop management options.

"Sustainable use requires the integration of social, financial, and

ecological considerations," notes Dr. Scott Harrison, a senior

environmental specialist with BC Hydro. "The ESR provides a

framework for enhancing discussions about ecosystem services

within existing processes, such as water-use planning."

Sustainability Assessment:

AkzoNobel — the worlds largest paints and coatings company

and a major producer of specialty chemicals — used the ESR

to improve its sustainability assessments. AkzoNobel Pulp

& Paper Chemicals used the ESR to analyze the risks its customers

in China and Indonesia face from the degradation of

ecosystem services including increased scarcity of wood fiber

and freshwater. These customer risks were then translated

48

Global Compact International Yearbook 2010
---
Agenda

Biodiversity

What is the ESR ?

The Corporate Ecosystem Services Review (ESR) is a

structured method that helps managers proactively

develop strategies to manage business risks and

opportunities arising from their company's dependence and

impact on ecosystems.

Responding to questions from corporations about the

relevance of ecosystem services to corporate performance,

the World Resources Institute partnered with the WBCSD

and the Meridian Institute to develop the ESR. A draft

method was developed and "road-tested" by five WBCSD

members in the forestry, mining, specialty chemicals,

agriculture, and hydropower sectors. Experiences from

the road tests and input from other companies were

incorporated into the final ESR.

The method consists of a five-step process (see below).

It starts by helping managers define a scope for the

analysis – typically a business unit or part of the supply

chain. Next, an Excel tool simplifies the selection of the

ecosystem services that are most relevant. Third, the ESR

has a framework for analyzing the trends of the priority

ecosystem services. For example, managers may want

to know how the quality and quantity of freshwater they

depend upon will change over the next 15 years as a result

of pollution, deforestation, climate change, or other factors.

These trends give rise to specific risks and opportunities

and the ESR provides a structured approach for identifying

them. Finally, in step five, the ESR provides guidance in

identifying actions that can be taken within the firm, with

partners, and in relation to public policy to better manage

these risks and opportunities.

Steps in an ESR

into business risks and opportunities for AkzoNobel Pulp

& Paper Chemicals. "We found that Corporate Ecosystem

Services Review fits nicely into our toolbox for sustainability

assessments," says Christina Hillforth, Director Sustainability

& Operational Services at AkzoNobel Technology & Engineering.

"It catches issues difficult to include in a quantitative Life

Cycle Assessment or an Eco-efficiency Assessment. Thus, it

complements the Eco-efficiency Assessment method widely

used within AkzoNobel to include both the environmental

and cost perspectives in the decision-making process."

4. Reduce risk of reputation and supply disruptions

Companies are using the ESR to identify and reduce reputational,

supply, and other risks associated with their supply

chains. Yves Rocher, a global cosmetics firm, conducted an

ESR on a branch of its supply chain with technical support

from the INSPIRE Institute. The ESR identified several reputational

and long-term supply concerns, including one related to

the company's dependence on essential oils from a rare tree

species. Yves Rocher is now launching a program to increase

planting of the rare tree and to develop less harmful ways of

harvesting its essential oils.

Survey recommended

While these examples cover only a portion of ESR-use to date,

they demonstrate the value that conducting an ESR can bring

to a business. Most importantly, the ESR can help managers

uncover new business risks and opportunities that, in turn,

improve corporate strategy, policy, and other decision-making

processes; help develop new products and services; avoid reputational

risks; and avert supply chain disruptions. For these

and other reasons, 94 percent of World Business Council for

Sustainable Development (WBCSD) members who have used

the ESR to date would recommend it to peers, according to

a recent survey.

1 Select the scope

2 Identify priority ecosystem services

3 Analyze trends in priority services

4 Identify business risks and opportunities

5 Develop strategies

John Finisdore leads the World Resources

Institute's Business & Ecosystem Services

Project.

To learn more about ecosystem services, download the ESR, and read

supporting materials, please visit: www.wri.org/ecosystems/esr.

Global Compact International Yearbook 2010 49
---
European Business and

Biodiversity Platform

The European Commission has decided to establish a technical support facility to promote

the continued development of the EU Business and Biodiversity Initiative. The platform is

open to civil society as well as to business in its activities. The platform will work with the

interested priority business sectors identified by the European Commission – agriculture,

food supply, forestry, extractive industry, finance, and tourism – to promote their awareness

of and engagement in biodiversity protection.

By Shulamit Alony

The decision of the European Commission to establish a Business

and Biodiversity platform was a result of the following

process. One of the key measures identified in the European

Commission Communication adopted in 2006 on "Halting

the loss of biodiversity by 2010 – and beyond – sustaining

ecosystem services for human well-being" is the building of

more effective partnerships. This includes partnerships with

business – both at the EU and Member State levels – that are

fully in line with the global commitments of the Convention

on Biological Diversity. Active engagement of the business

community in support of biodiversity is necessary for the

achievement of many objectives of the 2010 target. In addition

to programs on business engagement of international

organizations, several Member States (e.g., France, Germany,

the Netherlands, Portugal, and the United Kingdom) have

actions ongoing at the national level.

The Portuguese Presidency of the EU identified the link between

business and biodiversity protection as one of its priorities and

worked with the European Commission on the development of

an initiative in this regard called Building Better Partnerships:

Linking Business to Biodiversity (the EU B@B Initiative). After

a series of stakeholder consultations with Member States, business,

and nongovernmental organizations about the principles,

objectives, added value, and possible elements for any EU-level

action, a high-level conference on business and biodiversity

was held in Lisbon from November 12 - 13, 2007. The "Message

from Lisbon" confirmed the need to engage business in

meeting the 2010 biodiversity objectives and showed that there

was interest from the business sector. Specifically, the message

welcomed the launching of an EU Business and Biodiversity

Initiative and called on the European Commission to follow

up the conference with financial and technical support to

further develop the EU initiative. On December 14, 2007, the

European Council acknowledged the need to reinforce the

link between business and biodiversity at the European level,

and the spring Council of 2009 reinstated the need to engage

business with biodiversity. In December 2008 the European

Commission published the Communication and its annexes

on the Mid-term Report on the delivery to the EU Biodiversity

Action Plan, briefly summarizing the actions taken thus far

at the Community and Member State levels.

Objectives

The platform will engage with businesses, industry associations,

governments, and civil society through an integrated

and coordinated approach.

Awareness:

The platform will work with the interested priority business

sectors identified by the European Commission – agriculture,

food supply, forestry, extractive industry, finance, and

tourism – to promote their awareness of and engagement in

biodiversity protection.

Implementation:

The platform works with the business sectors, their associated

50

Global Compact International Yearbook 2010
---
Agenda

Biodiversity

national federations, Member State organizations, and representatives

of civil society to promote the implementation of

identified best practice, adapted as appropriate to the specific

conditions of the countries and companies concerned.

Benchmarking and best practice:

The platform works with the selected sectors to benchmark

best practice in each sector with regard to the conservation of

biodiversity and to implement and adapt, if necessary, to the

specific conditions of the companies concerned. This will include

the development of best practice guidance concerning the

main risks, responsibilities, and opportunities for companies in

relation to nature and biodiversity conservation. The guidance

will build on existing guidelines and handbooks previously

produced with business organizations and private companies,

as well as other relevant materials. Insofar as relevant, this

component will take account of EU nature legislation, notably

biodiversity-relevant EU agreements and directives.

Award:

The platform will develop an award/rating system to recognize

business sectors or companies that make an outstanding

contribution to the conservation of biodiversity within the

framework of the initiative. To reach these objectives, the

European Commission took the initiative to engage with businesses,

from SMEs to larger organizations, to set up a technical

platform on Business and Biodiversity (B@B) in order to:

• facilitate the business and biodiversity initiative;

• develop with businesses and other stakeholders means to

establish pro-biodiversity businesses;

• help businesses finding solutions to biodiversity challenges

related to their activities ensuring a fair income and sustainable

growth, while providing benefits for biodiversity and

ecosystems;

• encourage the development of consumer awareness with an

EU-wide award scheme, acknowledging the good practice of

the best-performing businesses.

Steering Committee

A Steering Committee has been constituted for the B@B Initiative,

keeping a balance of different stakeholders. It consists

of five members, including representatives from the private

sector, an industry association, a Member State, a civil society

organization, and the European Commission. As defined by

the European Commission, the Steering Committee's role

will be to advise on the direction and the development of the

B@B Platform project.

The Steering Committee will convene up to four times a year

in order to provide advice regarding the progress and the

development of the project. The Steering Committee will also

provide further support and guidance to the Initiative, review

and give comments on draft versions of deliverables, and offer

proposals for follow-up and task results.

Benefits for companies

It has become crucial for companies to understand their link

with ecosystem services and to better assess the risks related to

the loss of biodiversity. Activities proposed through the B@B

Platform will provide tools and methodologies to companies

to promote value-creation and mitigate risk thanks to biodiversity

conservation programs. Becoming involved with the

platform is an opportunity for businesses to:

• gain access to the sectoral best practices:

The platform will draw up an inventory of the current best

practices of companies in regard to biodiversity conservation

management. This will be carried out through a benchmark of

initiatives supporting sustainable livelihoods and biodiversity

conservation. The B@B Platform will facilitate information

and knowledge-exchange among different actors, such as

businesses and conservation communities through the creation

of a resource center.

• contribute to the development of guidance documents:

Guidance documents will be established by identifying and

reviewing best practices, as well as through sectoral workshops.

The workshops will facilitate the process of gathering

information and knowledge-exchange with businesses in the

different sectors. The guidance documents will be practical

tools to assist companies in setting up and running businesses

that incorporate biodiversity into their core activities, and

the documents will also contribute to their business sustainability.

• point out outstanding contributions to biodiversity

conservation through the award system:

The award system will evaluate companies' performances

regarding biodiversity conservation and assess the practices

implemented. It will provide the European Commission

recognition for outstanding contributions to biodiversity

conservation. This award system will allow key stakeholders

(customers, suppliers, employees, etc.) to acknowledge

companies' commitments to biodiversity.

Shulamit Alony is Regional Business and

Biodiversity Officer for the International

Union for Conservation of Nature

(IUCN).

Global Compact International Yearbook 2010 51
---
52

Global Compact International Yearbook 2010
---
Agenda

Corporate Citizenship

the Organizational

Implementation of

Corporate Citizenship

The Communication on Progress (COP) policy is the central component

of the UN Global Compact's integrity measures. The policy establishes a

mandatory reporting requirement for businesses to report annually on their

progress in implementing the Ten Principles of the United Nations Global

Compact (UNGC).

By Dr. Dorothée Baumann and Prof. Andreas Georg Scherer

Since the introduction of the COP policy, a total of 1,840

companies have been delisted for failing to submit a COP,

and over 1,200 companies are currently being flagged as noncommunicating

(February 2010; www.unglobalcompact.org).

The COP reports are available on the website of the UNGC.

Georg Kell, the executive director of the UNGC, argues that

"a commitment to public disclosure on performance is critical

to the transparency and integrity of the Global Compact." To

further strengthen the COP policy, the UNGC also started the

"notable COP program." By rewarding the best COP reports with

the "notable" distinction, the UNGC office highlights reports

that set an example for excellent reporting. Of the more than

5,000 business participants, currently almost 350 have submitted

reports receiving the "notable" distinction.

Current integrity measures of the UNGC

Despite these efforts, the UNGC's COP policy is still a limited

safeguard against what many UNGC critics call "bluewashing."

The "bluewashing" issue refers to the assumption that the

low entry requirements of the UNGC, paired with the largely

positive reputation of the UN, may invite corporations to sign

up for the UNGC and use it as a way to cover up problematic

corporate practices. Whether the COP reports disclose Corporate

Citizenship (CC) performance in a meaningful and informative

way is therefore unclear. Most critical is the lack of evidence

for a relationship between the company reports and the actual

implementation of CC. Whether the improved quality of a

report reflects progress in implementation remains ambiguous.

The reports are not verified by an independent third party that

could ensure the appropriateness of the reporting process and

the factual correctness of the published data. Furthermore,

voices of critical stakeholders are not typically integrated into

the reports, nor do most reports refer to industry benchmarks

that would allow a comparison of performance levels. Due to

this lack of guidance and oversight of the reporting process,

it is possible that a company report merely presents a facade

that was created as part of a strategic public relations policy.

In that case, the reports further obscure the actual status of

CC implementation, instead of revealing it.

It is the UNGC's objective to achieve CC through the corporation's

adoption of the UNGC Ten Principles and their

implementation in corporations' daily business routines. This

Global Compact International Yearbook 2010 53
---
envisaged "embeddedness" of CC requires an alignment of

organizational structures and procedures to ensure that the

UNGC Principles are reflected in each business decision. However,

the COP reports are unreliable sources for an analysis of

the organizational embeddedness of CC. Unfortunately, the

question of whether or not the UNGC has been a successful

initiative cannot be answered based on the company reports.

In order to know whether the UNGC has made an impact

on corporate policies and procedures, we need to examine

whether a learning process has taken place at the company

level, and whether there has been a movement toward greater

organizational embeddedness of CC.

Development of an assessment tool for Corporate

Citizenship

With the purpose of shedding light on the actual implementation

status of CC, a research project at the University of

Zurich has developed an assessment tool that focuses on the

organizational embeddedness of CC. The tool assesses organizational

prerequisites for managing issues with implications

for human rights, labor rights, environmental standards, and

corruption. To this end, the tool divides the organizational

learning process into five ideal-type stages. These stages capture

the incremental learning process corporations typically

go through in seeking to improve CC. From initially rejecting

any responsibility (defensive stage), multinational companies

are often forced into accepting responsibility along their value

chain for the legal requirements of their home countries

(compliance stage). In the managerial stage, corporations start

drafting and integrating CC policies and procedures. Through

this process, they begin to realize potential competitive advantages

(strategic stage) and finally acknowledge CC as a way

of doing business (civil stage).

The assessment dimensions include three dimensions of CC

that were derived from organization theory. The commitment

dimension describes the public and formal commitment to

CC. It analyzes the policy aspects of the commitment to CC

(e.g., codes of conduct) that are typically defined by the top

management of the corporation. The structural and procedural

dimension captures the alignment of internal processes with

CC. Its indicators incorporate incentive systems, training

measures, and reporting processes. The interactive dimension

focuses on the corporations' stakeholder relationships.

All three dimensions are equally important for assessing CC.

Without leadership, CC will not be implemented at all levels

of management. Without the internal alignment of policies

and processes, the commitment to CC on the leadership level

will not appear credible. Without links to external stakeholders,

corporations will have difficulties assessing operational

risks, defining CC priorities, and implementing CC in a way

that is perceived as legitimate.

In the assessment tool, the five learning stages are operationalized

with indicators on the three aforementioned dimensions.

The combination of learning stages and organizational indicators

creates a matrix that, if applied to the empirical assessment

of corporations, displays the status of their CC embeddedness.

The tool was applied to five Swiss UNGC participants. All five

companies in the sample are large multinational corporations

(MNCs) that joined the initiative in its first operational year

(2000/2001). In order to consistently implement a CC policy

globally, MNCs must translate their CC commitment into formal

policies and procedures. The assessment tool assumes that

this process of CC implementation takes place in big MNCs

in a formal manner. In small and medium-sized enterprises

(SMEs), the implementation process, however, is likely to be

less formal and structured, and therefore a different assessment

tool for CC in SMEs is currently being developed.

The research results for the implementation status of CC

in the five MNCs show a distinct implementation pattern.

While all the corporations in the sample have made a strong

commitment to CC in general and to the UNGC initiative in

particular, the alignment of internal structures and procedures

varies greatly. While some corporations are quite advanced in

embedding CC in their daily organizational processes, others

are still just beginning to address critical aspects of embedding

CC. However, none of the companies in the sample have yet

addressed the alignment of the human resource function in

54

Global Compact International Yearbook 2010
---
Agenda

Corporate Citizenship

"

Whether the COP reports

disclose Corporate Citizenship (CC)

performance in a meaningful and

informative way is unclear.

"

the implementation process of CC. CC is currently not taken

into account in recruitment, promotions, and bonus payments,

with the exception of legal affairs. In contrast, the reporting

function is well established at all corporations. All the MNCs

in the sample regularly report their CC activities, although

most have not designed a reporting process that is based on

key performance indicators. These indicators would generate

updated information throughout the reporting year that could

be analyzed for the COP reports. Instead, the information for

the reports is typically gathered at the last minute by a small

number of individuals.

The provision of training for CC varies greatly throughout

the sampled companies, extending from information sessions

for new employees to elaborate e-training modules that

were developed specifically for the respective corporations.

At all companies, the training has the goal of raising awareness

of CC policies, yet it is not clear whether the training

effectively prepares employees for ambiguous and difficult

decision-making situations. No follow-up training or impact

assessments have been conducted. Thus, while the picture is

diverse concerning the structural and procedural dimensions

of CC, embedding CC in all aspects of the organization is a

work in progress. The dimension that is least developed at

all the sampled companies is the interactive dimension. The

companies have loose relationships with various stakeholders,

but these interactions are not systematically integrated

into strategic corporate objectives and processes. The lack of

integration between the CC approach and the environment in

which the corporation operates creates risks for the corpora-

Global Compact International Yearbook 2010 55
---
tion. The acceptance of CC activities and the effectiveness of

their implementation is diluted by ad-hoc relationships that

do not mandate any form of commitment from either side. As

a result, at crisis points, non-constructive interaction between

the corporations and critical stakeholders prevails.

The research results based on the assessment tool show that

only a closer analysis of the actual implementation status of

CC can answer the question of whether a learning process is

under way, and whether CC is increasingly becoming a way

of doing business.

Increased transparency of the learning process as a

leadership initiative

Since its inception, the UNGC has stressed the fact that it was

not set up as a regulatory instrument, and for this reason it

has refrained from introducing stricter oversight mechanisms.

However, increasing the transparency of the implementation

status of CC and systematizing the learning process does not

have to interfere with the voluntary nature of the initiative.

Designed essentially as a leadership initiative, the UNGC calls

upon committed corporations to adopt measures that go

beyond minimum requirements. For these corporations, the

tool described above could serve as a means of self-assessment.

Through the assessment process, corporations can identify

their strengths and weaknesses in the implementation of CC

and hence report more accurately about their progress.

The tool can also be applied to specific issue areas. For example,

water scarcity is currently one of the issues that is being

discussed globally. Measuring a corporation's water footprint

will probably soon become a de-facto standard for every

MNC. Our tool could help to assess corporate preparedness

for constructing a newly developed corporate water policy

throughout the entire organization, in addition to tracking

incremental progress over time.

Despite the apparent limitations of the COP policy, its introduction

has been an important step in the institutional development

of the UNGC initiative. The reporting requirement marks

an initial systematization of the learning process around which

the initiative was conceptualized, and it asks corporations to

define and plan their approach to CC. Keeping in mind that

the UNGC was never set up as a regulatory instrument, the

COP policy manages the delicate balance between maintaining

the voluntary character of the initiative and stressing the

need to increase transparency over the actual implementation

of the UNGC's Principles.

For the UNGC to continue flourishing in the next decade,

the initiative must evolve from a platform that has initiated

dialogue and reporting about CC to an initiative that is able

to track progress toward CC. In order to guide this process, the

UNGC needs to offer additional tools for corporate leaders. The

assessment tool developed at the University of Zurich helps to

identify organizational implementation gaps. Yet tools that

help to fill these gaps are still rare. In interviews, corporate

representatives have regularly pointed out that resources must

be pooled to develop capacity-building methods, for example

specific training manuals for CC.

The UNGC office could play an important role in gathering

information about available methods. Organizing them into

three main categories – tools for assessment, tools for capacity

building, and tools for evaluation – could help corporations

get an overview of existing material. Additional tools could

be developed by private service providers based on corporate

needs and interest, and the UNGC office could assemble all

the information under one roof. That way, the initiative would

not only support the corporate reporting function, but also

the actual implementation process of CC.

The promotion and application of tools that more accurately

capture the actual implementation status of CC thus creates

win-win situations for the UNGC. For the UNGC, better data on

the implementation status of its objectives increases the credibility

of the initiative and facilitates the design of customized

interventions and guidance in the future. For corporations,

an assessment of the status quo of their CC implementation

promotes best practices and identifies areas for improvement.

Future efforts can be targeted at clearly defined priority areas

and progress can be shown over time.

The UNGC as a stimulus for the implementation of

Corporate Citizenship

Dr. Dorothée Baumann

earned her doctoral

degree at the University

of Zurich and is currently

working as a consultant

and project manager for

AccountAbility.

Prof. Dr. Andreas Georg

Scherer is Professor of

Business Administration

and Director of the

Institute of Organization

and Administrative Science

(IOU) at the University of

Zurich.

56

Global Compact International Yearbook 2010
---
Agenda

Corporate Citizenship

From Global Compact

to Global Leadership

The global financial crisis of 2008 was a stark reminder of business's role in society.

When well governed and well led, the role of business transcends one of profitability

for its owners and incentives for its managers. Its role is to create value for society.

By Prof. V. Kasturi Rangan

Global Compact International Yearbook 2010 57
---
Profit is a means to an end, not an end in itself. Without profit,

there is no growth, and without growth there is no development.

But if business does not create value and instead divvies up the

same pie over and over again for personal gains (remember

the subprime mortgages, collateral debt obligations, and credit

default swaps?), then it is bound to fail and cause havoc for

society. Responsible business leaders all over the world know

this to be true, yet time and again they fall into the trap of

short-term profit for long-term value. Here is where the UN

Global Compact has an important leadership role to play.

In the first decade since its launch, the UNGC has done an

admirable job of mobilizing nearly 6,000 businesses from

all over the world to commit to the universally accepted Ten

Principles of the UNGC, and even more broadly agree on a

common platform that addresses the most difficult problems

facing humanity – the Millennium Development Goals.

More recently, the process of communicating results and

tracking progress has resulted in an ever-improving honor

system, whereby the participating companies have raised

the stakes on demonstrating action over rhetoric. In spite of

such an impressive start, in my opinion, we have just begun

the hard work.

The idea of a "triple bottom line," or the task of reconciling

shareholders' interests with those of society's, is easier preached

than practiced. The natural laws of business, at times, are at

odds with the long-term interests of society. Unlike planet

earth and its inhabitants, businesses and business careers are

not meant to last forever. What is good for one community

may not be in the interests of the global community and vice

versa. In spite of the win-win rhetoric that many who are enamored

by the Global Compact espouse, some businesses that

have taken their social and environmental roles seriously will

tell you that it has come at the cost of their financial bottom

lines. It is exactly for these reasons that we should applaud

the 6,000 and more companies that have signed on to the

Global Compact. It is an act of faith that they have committed

to a path and a course of action. They hope to reach the

end destination. Not all of them will succeed in achieving the

sought-after integration, but those who do will have done it

through innovative business models and visionary leadership.

This is the part of the Global Compact work that needs to

be cherished, supported, and spread. It is in this spirit that I

would like to forward two ideas.

First, that the UNGC promote a collaborative network among

clusters of participating companies to share best practices, refine

business models, and influence change in the larger industry

environment. Second, that the UNGC create a technical advisory

unit to help eager SMEs (small and medium enterprises) to

make the transition to the Principles of the Global Compact.

I elaborate on each of those ideas below.

As currently structured, the Global Compact is a network of

companies that undertake significant actions with respect to

society and the environment, but do so almost independently.

Much of their actions are based on their value systems and

their belief that a firm's profit goals need not be divorced from

society's goals for sustainable development – both in a human

and environmental sense. The real power of the Compact

will come only when this self-selected group forms a compact

among its participating companies to put teeth into what

now remains an act of faith. Rather than a one-way channel

to and from UNGC headquarters, the idea is to unleash the

power of the network by actively encouraging consortiums of

companies to get together to set standards, codes of conduct,

and other operating principles in a collaborative manner

as a way of prodding and helping participants to raise their

own commitments and actions. Horizontal and speedy collaboration

among participants in the different clusters could

unleash a simultaneous burst of actions not possible through

the vertical "report and communicate" structure implied by

the current model. When the decentralized model starts to

work well, there is no reason why these standards cannot flow

outside the Global Compact to non-participating companies

in similar businesses. To put it simply, the Global Compact

should transform itself from a participatory organization to a

network that acts as a catalyst in helping businesses undertake

models that bring business into harmony with society.

The idea of a collaborative business coalition working for the

larger interests of society is not new. The Marine Stewardship

Council in the fishing industry and the Extractive Industries

Transparency Initiative in the oil and mining industry are but

two examples. Regardless of the origin of such coalitions, their

end result is impressive. The Equator Principles, for example,

have done much for banking and human rights and has

brought a degree of responsibility to project-lending not seen

before. The list is even longer when one adds the initiatives of

the numerous trade associations and chambers of commerce.

My argument is that the UNGC should attempt to replicate

such successful initiatives. Its role is to actively aid, abet, and

promote business practices in the direction of its Principles.

The UNGC is a global body with the weight and credibility of

the United Nations behind it and claims an impressive 6,000

participating businesses from 130 countries. Surely there

are clusters, both by geography and industry. Engagement

within clusters is likely to lead to big wins. By definition, the

participating companies have made a commitment to actively

engage in harmonizing their interests with those of society.

What better starting point than that?

58

Global Compact International Yearbook 2010
---
Agenda

Corporate Citizenship

"

The Global

Compact should

transform

itself from a

participatory

organization

to a network

that acts as a

catalyst.

"

Imagine these clusters getting together formally, not only

to share best practices but, even more importantly, to also

demonstrate standards that can then be taken outside the

participatory framework by dint of example or through

force of industry norms. Such apostles and evangelizers who

demonstrate how business and social / environmental goals

can mutually reinforce each other will transform practice. It

is also in their best interests that the industries in which they

participate uphold these high standards, thus raising the bar

for all competitors. That is where self-interest takes over. The

industries will find a way to monitor themselves. When that

happens, the UNGC will have started a revolution.

What I have advocated above will work for larger companies,

which have the knowledge, commitment, and resources to

engage in the transformative business practice under discussion.

How about the SMEs? While there surely are exemplars

from among SMEs that have made remarkable contributions

on the social and environmental dimension, by and large

most SMEs simply do not have the knowledge or resources to

proactively integrate social / environmental responsibility into

their business plans. They would not be immediate candidates

for signing on to the Global Compact. Yet we know that in

country after country, SMEs are at the heart of job creation,

and in many instances significant contributors to national

GDP and economic activity, including the use of scarce resources.

How can the UNGC get them involved without the

heavy directive to comply with the Global Compact Principles?

Here is a suggestion that can take many different shapes. A

straightforward suggestion would be for the UNGC to set up

a technical advisory unit, which would work with those SMEs

that request it in order to offer advice and guidance on how

to integrate business and social goals for mutual benefit. The

task, of course, will not be easy. If small businesses do not see

the business advantages, they will not undertake the activity.

Frankly, there is no reason that they should, unless it is the

law. So the business advisory unit has to be savvy and expert

in demonstrating the win-win logic. This will have to go

beyond the platitude of "what is good for society is good for

business." The recommendations have to rest on innovative

business models that are sustainable and profitable. This UNGC

unit will have to "put its money where its mouth is!" There

is really no choice but to create a consulting / advisory unit,

or encourage the creation of many such private units in the

SME ecosystem. And when win-win solutions are articulated,

demonstrated, and implemented, not only will the SMEs see

value in making the shift, but several might even join the

regional or industry clusters discussed earlier. This will make

the UNGC movement stronger.

If we see the goal as increasing UNGC participation, then that

is one thing. But in 10 years, my hope is that we will see plenty

of demonstrated successes, so many in fact that managing

businesses in a balanced way becomes the norm rather than

the exception. The goal is to change the world of business –

the UNGC should not shoot for anything less.

V. Kasturi Rangan is Professor of

Marketing at the Harvard Business

School and the co-chairman of the

school's Social Enterprise Initiative.

Global Compact International Yearbook 2010 59
---
For much of the last decade, globalization was a leading issue of

public policy debate, and global core labor standards (CLS) were

the lead demand of critics of globalization. Now, with the world

economy stuck in the deepest economic recession since the 1930s,

attention to globalization and the need for labor standards has

waned as people have become more concerned about jobs and

economic recovery. Though completely understandable, this shift

risks overlooking CLS, which are more important than ever.

By Thomas I. Palley

60

Global Compact International Yearbook 2010
---
Agenda

Corporate Citizenship

Global Core

Labour Standards

Are More Important

Than Ever

CLS are needed to address the wrongs of globalization. But

more than that, they are needed to ensure that future economic

recovery is sustainable and equitable. There is a growing

realization that the world economy confronts a massive

shortfall of aggregate demand that is obstructing recovery.

Important factors behind this shortfall are income inequality

and wage stagnation, both of which have been aggravated

by globalization. Increased income inequality and wage

stagnation were also important factors driving the pattern

of growth that ultimately resulted in economic crisis. That

is because many households – particularly in the United

States – turned to borrowing as a way of meeting livingstandard

expectations.

Now, the world economy is burdened by both debt and income

inequality, which, together, explain the aggregate demand

problem. Though governments can temporarily fill

the demand gap with deficit spending, sustainable recovery

requires addressing the deeper problems of income inequality

and stagnant wages. This is where labor standards enter the

picture. CLS can help improve income equality and create conditions

in which wages rise with productivity. That will tackle

a fundamental flaw in globalization that has contributed to

making the current crisis; help remedy the global aggregate

demand problem and encourage economic recovery; and

create a fairer global economy in which workers share in the

prosperity they produce.

What are labor standards?

CLS refer to five core articles of the International Labor Organization

concerning freedom of association and protection

of the right to organize; the right to organize and bargain

collectively; the prohibition of all forms of forced or compulsory

labor; the abolition of exploitative child labor; and the

elimination of discrimination with respect to employment

and occupation.

These standards are very much in the spirit of "rights" and

are intended to hold independently of a country's stage of

development. This links CLS with the discourse of human

rights. Two of the standards are affirmative in character, giving

workers the right to organize and bargain collectively, while

three of the standards are prohibitive in character, banning

forced labor, exploitative child labor, and discrimination. The

standards are all "qualitative" in nature, not "quantitative."

That means they do not involve such measures as setting

minimum wages or maximum hours, which are labor market

interventions that are clearly contingent on an economy's stage

of development. Contrary to the claims of opponents, CLS do

not impose on developing countries quantitative regulation

befitting mature economies.

Finally, the freedom of association and right to organize

standard is particularly important. This standard covers labor

Global Compact International Yearbook 2010 61
---
unions, but it also covers civil society and religious organizations.

As such, it promotes democracy and civil liberty, which

constitute essential goals of development along with higher

living standards.

Economic benefits

Critics of globalization argue that it has not produced the

promised benefits because the current rules are incomplete

and inappropriately designed. A necessary corrective is the

formal inclusion of CLS. Opponents of labor standards assert

they are a form of "hidden protection" for developed-country

workers and standards would retard growth and development.

However, there are strong theoretical grounds for believing

labor standards would raise global growth, and developing

countries stand to gain the most. These positive arguments

are increasingly supported by empirical evidence.

One source of economic benefit is static efficiency gains,

whereby CLS correct distortions in labor markets, resulting

in better resource allocations that raise output and economic

well-being. Raising wages via labor standards can

increase productivity because higher wages elicit greater

worker effort and reduce malnutrition. Giving workers the

right to join unions can neutralize the monopoly power of

employers, thereby increasing both employment and wages.

Eliminating discrimination can raise employment, output,

and wages by ensuring efficient matching of jobs and skills.

Lastly, eliminating inappropriate child labor can contribute to

higher wages for adult workers, which can promote economic

development by contributing to better child nutrition and

helping human capital formation by supporting lengthened

years of schooling.

Far from reducing employment in developing countries, these

static efficiency effects will raise employment. In a world of

demand shortage, higher wages will increase employment

by increasing consumption spending. And this effect may be

particularly pronounced in developing countries where workers

may spend heavily on non-traded goods – that is, goods

produced locally for local consumption. Dynamic economic

efficiency gains refer to gains that come from changing the

path and pattern of economic development. With regard to

such gains, CLS can encourage firms to pursue business plans

focused on increasing productivity rather than plans that aim

to increase profits by squeezing workers and redistributing

existing productivity.

At the global level, CLS can help block the problem of "race

to the bottom" competition between countries. Market incentives

can often lead agents to pursue actions that seemingly

benefit individuals but actually turn out to be harmful when

"

Labour

standards

would raise

global growth,

and developing

countries stand

to gain the

most.

"

all choose such actions. A classic example is bribery, which

appears to benefit the individual but ends up harming all

when all choose to bribe. The same holds for labor exploitation,

which promotes "low-road" competition between countries

marked by a degraded environment, lack of public goods, and

lack of investment in skills.

The hallmark of globalization is increased mobility of production

and capital between countries. This has allowed business to

pit countries in adverse competition that erodes environmental

and workplace regulations, and undercuts wages of all workers

– both in the North and South. Multinational corporations

may actually exploit South-South divisions even more than

they do North-South divisions, pitting developing countries

in destructive competition to secure foreign investment. CLS

can help rein in this adverse competition by establishing

standards that apply in all countries. This is something that

enlightened business should embrace, since it bars competition

from less enlightened elements that would undermine socially

responsible business in the absence of standards.

Another feature of globalization has been the adoption of

export-led growth strategies. Countries that were early to

adopt this strategy have benefitted, but there is now evidence

62

Global Compact International Yearbook 2010
---
Agenda

Corporate Citizenship

export-led growth is unsustainable, deflationary, and promotes

financial instability. First, export-led growth directly encourages

countries to engage in "race to the bottom" competition,

as each tries to gain competitive advantage over its rival. That

means the benefits of development flow out of countries rather

than staying at home.

Second, export-led growth increases the global supply of goods,

resulting in declining terms of trade, the emergence of global

excess capacity, and the problem of export displacement,

whereby one country's export sales displace another's. Fifty

years ago the problem for developing countries was declining

commodity prices caused by rising productivity and exports.

Today that problem is replicating itself in manufacturing,

as developing countries try to grow through manufacturing

export-led growth.

Third, export-led growth promotes financial instability by

encouraging countries to seek competitive advantage through

undervalued exchange rates. As with wage competition, exchange

rate competition is especially sharp between developing

countries, so that much of the benefit of development flows

North to upper-income workers in developed economies.

The bottom line is that export-led growth is not a viable

strategy for developing economies as a group, and by undermining

wages and working conditions, it has contributed to

wage stagnation, higher income inequality, and the problem

of global demand shortage. It has also directly contributed to

the problem of global financial imbalances that is evident in

the US trade deficit. Countries need to shift from export-led

growth to more domestic demand-led growth. Such a new

strategy would allow the benefits of development to be consumed

at home; would avoid the trap of "race to the bottom"

competition; and would escape the problem of global aggregate

demand shortage. The problem is that the existing model of

globalization undermines domestic demand-led growth by

promoting increased income inequality and wage stagnation,

and instead pushes export-led growth.

Lessons from history

The world economy is currently beset by recession and contradiction.

An escape from recession is blocked by the shortage

of aggregate demand. The contradiction is that globalization

promotes a pattern of development that increases global supply

while simultaneously undermining global demand. This

problem was hidden for 20 years by asset price inflation and

borrowing that filled the demand gap. However, the economic

crisis has exposed this process as unsustainable.

The implication is that the global economy needs a new model

of development that attends to domestic demand. That is the

only way of restoring global growth with full employment.

CLS are a critical part of this new model. The global economy

needs labor standards and independent trade unions to solve

the problems of dysfunctional income distribution and global

demand shortage. Rather than being a market distortion, as

claimed by opponents, CLS and trade unions are actually a

corrective of market and political failure rooted in the imbalance

of power.

US economic history offers powerful salient lessons. Globalization

represents the international integrations of goods,

labor, and financial markets. In the late 19th and early 20th

century, the US economy also underwent a process of integration.

The US economy was continental in scope, and the

creation of a successful national economy required new laws

and institutions governing labor markets, financial markets,

and business. This is the history of the anti-trust movement

of the Progressive era and the history of the New Deal that

created Social Security, the Securities and Exchange Commission,

and labor laws that protect workers. Those innovations

solved the structural problems that caused the Great Depression

and generated America's famed "blue-collar" middle

class. Today the challenge is institutional innovation that

will create shared global prosperity. CLS are an essential part

of that architecture.

Political benefits

A further benefit of CLS concerns politics and governance. There

is now growing awareness that transparency, accountability,

and democratic political competition enhance growth and

development. They do so by limiting corruption and cronyism;

promoting institutions and policy processes that are responsive

to economic conditions; and promoting fairer income

distribution. By protecting freedom of association and the

right to organize, CLS contribute positively to both the overall

development of civil society as well as the specific development

of labor markets and worker-based organizations.

Thomas I. Palley is a Schwartz Economic

Growth Fellow at the New America

Foundation in Washington, DC.

Global Compact International Yearbook 2010 63
---
MilleNnium

Development

Goals

Goal 3

PROMOTE GENDER EQUALITY

AND EMPOWER WOMEN

Target 1

Eliminate gender disparity in primary and secondary

education, preferably by 2005, and in all levels of

education no later than 2015

Goal 4

REDUCE CHILD MORTALITY

Goal 1

ERADICATE EXTREME

POVERTY & HUNGER

Target 1

Reduce by two thirds, between 1990 and 2015,

the under-five mortality rate

Target 1

Halve, between 1990 and 2015, the proportion of people

whose income is less than $ 1 a day

Target 2

Achieve full and productive employment and decent

work for all, including women and young people

Target 3

Halve, between 1990 and 2015, the proportion of people

who suffer from hunger

Goal 2

ACHIEVE UNIVERSAL

PRIMARY EDUCATION

Goal 5

IMPROVE MATERNAL HEALTH

Target 1

Target 1

Ensure that, by 2015, children everywhere, boys and

girls alike, will be able to complete a full course of

primary schooling

Reduce by three quarters the maternal mortality ratio

Target 2

Achieve universal access to reproductive health

64

Global Compact International Yearbook 2010
---
Agenda

Development

Goal 6

COMBAT HIV / AIDS, MALARIA

AND OTHER DISEASES

Target 1

Have halted by 2015 and begun to reverse the

spread of HIV / AIDS

Goal 8

DEVELOP A GLOBAL PARTNERSHIP

FOR DEVELOPMENT

Target 2

Achieve, by 2010, universal access to treatment

for HIV / AIDS for all those who need it

Target 3

Have halted by 2015 and begun to reverse the incidence

of malaria and other major diseases

Target 1

Address the special needs of least developed countries,

landlocked countries and small island developing states

Target 2

Develop further an open, rule-based, predictable, nondiscriminatory

trading and financial system

Goal 7

ENSURE ENVIRONMENTAL

SUSTAINABILITY

Target 1

Integrate the principles of sustainable development into

country policies and programmes and reverse the loss

of environmental resources

Target 2

Reduce biodiversity loss, achieving, by 2010, a

significant reduction in the rate of loss

Target 3

Deal comprehensively with developing countries' debt

Target 4

In cooperation with pharmaceutical companies, provide

access to affordable essential drugs in developing

countries

Target 5

In cooperation with the private sector, make available

benefits of new technologies, especially information and

communications

Target 3

Halve, by 2015, the proportion of the population without

sustainable access to safe drinking water and basic

sanitation

Target 4

By 2020, to have achieved a significant improvement in

the lives of at least 100 million slum dwellers

Global Compact International Yearbook 2010 65
---
On the Eve of

the MDG

Review Summit

66

Global Compact International Yearbook 2010
---
Agenda

Development

When they signed the Millennium Declaration in 2000, world leaders

made an historic promise to work together to improve the lives of the

world's poorest people. With its clear goals and deadlines, the Millennium

Development Goals (MDGs) created the first-ever global compact in which

rich and developing countries acknowledged shared responsibility to end

extreme poverty and its root causes.

By Anita Sharma

Ten years after their creation and five years before the 2015

target date for their achievement, the MDGs have become the

cornerstone of development planning, performance assessment,

and public engagement in the global fight against poverty.

Since that time, the living conditions of poor people in most

countries across the world, including many of the poorest,

have seen marked improvements. Sustained economic growth

combined with the strong anti-poverty focus provided by the

MDGs resulted in 40 million more kids in school, 2 million

children's lives saved, and an estimated 400 million people

escaping extreme poverty. About 40 countries have benefitted

from debt cancellation. We have learned a lot since the Millennium

Development Goals were adopted about what works

and what is needed to achieve more progress.

• We know that interventions that cut across the MDGs have

significant impacts on health, education, poverty, and hunger.

• We know that financial resources and investment, when

coupled with a system of accountability, will produce results.

• We know that above all, commitments by developing countries

to adopt national plans and mobilize resources that invest

in development will ensure those countries have a chance

of achieving the MDGs.

• And finally, we know that nothing will happen without

sustained political will, which is why this September's world

leaders' Review Summit at the UN is so important.

Still, challenges remain and have been compounded by the

food, energy, and financial crises and by climate change.

Progress has been uneven, across geographies and across Goals.

Whilst some of the poorest countries have seen remarkable

advancements, others are lagging behind. Goals dependent on

systemic change (in the health arena, for example) or those

requiring improvement in the status of women are performing

very poorly. Inequality between and within countries has

grown – indigenous people, minority groups, lower castes,

persons with disabilities, and socially excluded groups in

general continue to be left behind. And even where we have

seen big quantitative gains such as in education or access to

water, the lack of quality is a growing concern. On the whole,

MDG-related policies at the national level have improved, as

has resource availability, but the biggest challenges are at the

local and implementation levels, where resources and benefits

do not reach poor people.

This year offers a unique opportunity to catalyze public discussion

and policy development on the MDGs, particularly

leading up to the 2010 MDG Review Summit. The Summit,

scheduled for September 20 - 22 as part of the 65th UN General

Assembly, is possibly the most important event on the global

policy calendar this year.

The Summit also offers a critical opportunity to galvanize

efforts and partnerships for the push to meet the 2015 target.

The Summit is expected to include a comprehensive review of

successes, opportunities, lessons learned, obstacles, and gaps

in order to develop concrete strategies for action. It is due to

close with agreement on an "outcome document" that would

ideally identify a plan that will help both rich and developing

nations to achieve the MDGs.

Global Compact International Yearbook 2010 67
---
Social Entrepreneurship

in Times of Crisis

Social entrepreneurs can help companies to make their

social engagement credible and public: besides the benefits

to corporate reputation, their commitments can often bring

new business and sales contacts. But social business has not

been left unscathed by the financial crisis. We spoke with

Mirjam Schöning, the head and senior director of the Schwab

Foundation for Social Entrepreneurship.

Many companies have cut back on their commitments to social responsibility

in response to the economic crisis. Will this separate the wheat

from the chaff show us who's really committed and who was doing

this for appearance's sake?

Mirjam Schöning: Certainly some firms have cut back on

their commitments. Firms that have firmly anchored the social

aspect of their responsibility in their actions, however, have

sometimes even expanded their work in this area. Interestingly

enough, we're seeing this with companies in the IT sector. Take

Hewlett Packard and Intel, for example, which are creating

entire divisions around social impact. So are consulting firms

like the Boston Consulting Group and Ernst & Young.

Why then, in your view, should a company invest in civic engagement?

At the end of the day, corporations are citizens too, and

they should commit themselves in the same way good citizens

would. It's important to emphasize here that other social forces

must be involved: there's always at least one organization that

is already implementing an idea, someone who has found a

better approach to a certain segment of the population (young

people, for instance, or those living below the poverty line)

or an innovative solution to the same problem.

The UN Global Compact is one of the most important umbrella organizations

in the world. How well do you see the subject of civic engagement

being incorporated here?

The Global Compact was announced by Kofi Annan at

the World Economic Forum in Davos in 1999. Since then,

the Compact has developed into one of the most important

measures of corporate social conduct. But the 10 Principles of

the Global Compact are targeting standards on human rights,

the environment, and corruption that should be adhered to

in order to avoid negative effects. They say less about the

positive contributions that companies can make through

their involvement.

Thinking globally, how should such initiatives be used to develop this

subject further?

At the global level, we need a variety of additional forums

so that we can do more thinking on the subject and decide

how to proceed.

The UN will be emphasizing the Millennium Development Goals (MDGs)

on the political agenda for 2010. What sort of stimuli do you anticipate?

The MDGs are ambitious but concrete goals. We should

be doing more to work towards them. We may need to break

the goals down into individual details that would demonstrate

what each of us can each contribute, both in our representative

roles and at a personal level.

It's clear that the Millennium Development Goals are not going to

be reached in the desired timeframe. The economic crisis is making

everything even more difficult. What can civic engagement achieve

here in spite of things?

We shouldn't bury our heads in the sand about the MDGs;

even if it looks as though these will not be fully realized,

committed companies can still provide a significant impulse.

Civic engagement and active corporate citizenship will play

an important part in preventing the next economic crisis or

at least lessening its effects.

The interview was conducted by Dr. Elmer Lenzen.

Mirjam Schöning is Head and Senior

Director of the Schwab Foundation for

Social Entrepreneurship.

68

Global Compact International Yearbook 2010
---
Agenda

Development

As part of this year of review and in advance of the Summit, UN

Secretary-General Ban Ki-moon issued Keeping the Promise, a

progress report on achieving the MDGs. He specifically called

for the adoption of a global action agenda for accelerating

progress that he said "should be specific, practical, and resultsoriented,

with concrete steps and timelines. And it must set

out who does what, so that we can monitor our efforts and

promote accountability for individuals and institutions alike."

The goal is to have such a global "Breakthrough Plan" agreed

to at the Summit.

Earlier in the year during the World Economic Forum in

February 2010, Secretary Ban urged the corporations to join

a new phase of the Global Compact: Global Compact 2.0. He

noted that many businesses are already taking specific action

in support of the Millennium Development Goals — assisting

in poverty reduction, food security, environmental stewardship,

gender equality, health care, and education through their core

business operations, social investments, and advocacy. Beyond

responsible practices, business should think of new and creative

ways of working with and investing in pro-poor business

models, products, and services that can bring about thriving

markets. A significant number of industries and corporations

have already been contributing to the MDGs.

In June 2010, UN Global Compact will celebrate its 10th anniversary.

As noted on its home page, "While the global context

and rationale for corporate responsibility has shifted since

launching the UN Global Compact in 2000, the vision remains

the same: for companies everywhere to integrate universal

principles into their strategies, operations and culture, thereby

having a profound effect on United Nations goals, particularly

the Millennium Development Goals."

We know that the private sector has an important role to play

as we seek new initiatives to accelerate progress toward the

MDGs and to augment what we know already works.

When the same goals are targeted through multiple interventions,

progress is more likely – and that requires the

contributions of the private sector. This is because multiple

interventions to one goal increase the different points of

access available to an individual and increase the chances

that an intervention will work for a certain segment of the

population. For instance, with malaria, it must be tackled

through bed net distribution from many different points, as

well as through treatments, testing, and education. Access

to voluntary family planning and contraception results in

reduced child and maternal mortality rates, while expanded

access to safe water and sanitation dramatically cuts back

incidences of ailments like diarrhea, which can be deadly

for children.

Here are six specific questions business leaders should ask

themselves and use as benchmarks in their core businesses

if they would like to help achieve the MDGs:

1| Are we able to generate jobs for the poor (nature of jobs,

location, and working conditions)?

2| Are we able to create wealth for the poor (buying from them,

producing with them, selling to them at a lower cost)?

3| Are we increasing the capacity of the poor (training, exposure,

locally relevant technology)?

4| Are we sure that the tax revenues we are generating are

being used by the government judiciously to support the

poor? Are we challenging corruption?

5| Are we influencing public policy and practice to make sure

that they benefit the poor?

6| Finally, business can use its relationships with governments

to advocate for policies that make the MDGs more

achievable – such as eliminating tariffs and school fees,

increasing the level of public funds going to development

assistance, and overhauling the way government delivers

ODA so that it is more effective and reaching the people

who need it most.

Around the world, people and groups are advocating to their

governments for strong actions at the September Summit. To

learn more on how to become involved, please visit the MDG

2010 website (www.endpoverty2015.org), where you can learn

and share information about the Summit and get involved.

Public mobilization efforts are also being planned, including

Stand Up, Take Action – the yearly worldwide mobilization

in support of the MDGs – strategically planned the weekend

of September 17 - 19 prior to the Summit.

One hundred and eighty-nine world leaders made an historic

promise in 2000 when they agreed to work together

to improve the lives of the world's poorest people. Through

work on the Summit and the preparations for it, civil society,

nongovernmental organizations, and the private sector can

make a difference. It is more than the right thing to do. The

health, prosperity, and security of mankind and our planet

depend on it.

Anita Sharma is North America

Coordinator of the UN Millennium

Campaign.

Global Compact International Yearbook 2010 69
---
Best

Practice

Solely responsible for the editorial contributions

under the heading "Best Practice" are the

companies and their authors themselves.

Human Rights

Environment

CSR-Management

BASF

Lufthansa

Mansour Group

Petrobras

Labour Standards

Adecco Group

Amec

Coop

Manpower

Partnership

Acciona

Hathay Bunano

KPMG

Otto Group

Argos

Autostrade per l'Italia

Bosch

Bradesco

BSH

Carrefour

Copagaz

Deutsche Bank

Folksam

Grundfos

ICA

ISA

MRCB

Nestlé

Océ

Petrobras

REN

Siemens

SKF

Tata Chemicals

The Linde Group

The TMS Group

TÜV Rheinland

Volkswagen

Bayer

Camposol

Copeinca

Deutsche Post DHL

Deutsche Telekom

Eni

Henkel

Mutualista Pichincha

Novo Nordisk

Puma

70

Global Compact International Yearbook 2010
---
72

76

78

80

82

84

86

90

94

96

105

98

100

102

104

106

110

114

116

120

122

124

126

128

130

132

136

138

140

142

144

146

148

150

152

154

158

160

162

164

166

170

172

174

176

Acciona

Adecco Group

Amec

Argos

Autostrade per l'Italia

BASF

Bayer

Bosch

Bradesco

BSH

Camposol

Carrefour

Coop

Copagaz

Copeinca

Deutsche Bank

Deutsche Post DHL

Deutsche Telekom

Eni

Folksam

Grundfos

Hathay Bunano

Henkel

ICA

ISA

KPMG

Lufthansa

Manpower

Mansour Group

MRCB

Mutualista Pichincha

Nestlé

Novo Nordisk

Océ

Otto Group

Petrobras

Puma

REN

Siemens

SKF

Tata Chemicals

The Linde Group

The TMS Group

TÜV Rheinland

Volkswagen

Global Compact International Yearbook 2010

71
---
Acciona

Light at Home: Sustainable

Energy Access in Isolated

Rural Areas

72

Global Compact International Yearbook 2010
---
Best Practice

Partnership

By Juan Ramón Silva and Julio Eisman

The ACCIONA Microenergy Foundation was created to focus the Company's efforts on

social development activities that could meet the real demands and basic needs of the rural

population in developing countries. The Foundation's goal is to work with others to increase

access to basic energy, water, or infrastructure services for people and communities that lack

the means to acquire such basic services.

Nearly a third of the current world population

has no access to modern forms of

energy, while the energy consumption

pattern of developed countries is clearly

unsustainable owing to its heavy reliance

on fossil fuels and their environmental

impacts, mainly through the effects on

climate change. Lack of access to modern

energy sources is limiting human

development and hampering efforts to

achieve the Millennium Development

Goals, as recognized by the IEA and

UNDP. ACCIONA is a world leader in the

renewable energy sector, and through

this program, which it plans to extend

to other locations, it is contributing

to the development and diffusion of

environmentally-friendly technologies

(Principle 9 of the Global Compact) and

focuses its use on aiding poorer societies

in their efforts to develop.

Needs and problems of rural

electrification

Peru is the South American country with

the second-lowest electricity coverage

and Cajamarca is the region of Peru with

the lowest level of electrification. About

70 percent of households in rural areas

of Cajamarca have no electricity supply.

Despite considerable efforts made by

central and regional governments and

various other agents in the electrification

sector to expand the electricity grid,

it will be many years before electricity

reaches every household. The high dispersion

of rural housing and the lack of

road infrastructure, coupled with the

local terrain and climate, makes the

installation and maintenance of electrical

networks costly. In this situation,

Solar Home Systems (SHS) can provide

basic electrical services until electricity

grids reach the affected areas in 15 or

20 years.

The battery in an SHS accumulates

electrical energy converted by the photovoltaic

panel from the sun's energy,

and allows for use (4 hours) of lights and

radio or low-consumption television sets.

Moreover, the battery stores energy for

two days' consumption without sunlight.

Barriers and solutions for

nonconventional rural electrification

Barriers

No energy access

High Initial Investment

Sustainability

Affordability

Solutions

www.perumicroenergia.org

ACCIONA Microenergy Foundation solutions

Donation from promoters and others

Nonprofit service company with a fee-for-service model

• Fee related to actual cost paid for substitutes

• No regulatory discrimination in relation to

on-grid electrification (same subsidies)

Global Compact International Yearbook 2010 73
---
Acciona

The impact of extending the activity

by almost 50 percent is very positive

and is highly valued by users who are

subsequently able to utilize it for productive

activities (crafts, etc.) cultural

activities (reading, writing, information,

etc.), or social activities (meetings,

leisure, etc.).

Microenergy Peru: A model

of sustainable off-grid rural

electrification

The first barrier to the use of the SHS

is the initial investment amount. The

price is high for families with very

low income, in view of the fact that it

is quality equipment designed to last

many years. The initial investment is

carried out based on gifts of shares and

other support mechanisms. For example,

the Ministry of Energy and Mines is

co-financing rural electrification, and

although most of these funds are dedicated

to grid extension, a small portion

is devoted to finance investment for

off-grid electrification. Therefore, the

initial investment is covered through

donations to Microenergy Peru, which

is the owner of the SHS.

The targeted locations are selected

in dialogue with the authorities and

based on areas not covered by the grid

extension plans, and projects are being

supported by the majority of the population

and its institutions. Each location

has its own Electrification Committee.

The second barrier to the use of

the SHS is its continuity over time. It is

hard to find a photovoltaic system used

in isolated rural areas of developing

countries, whose panels have a lifespan

of 20 years, and which are operational

within five years.

To solve this problem Microenergy

(PEME) was created; its main function is

to operate and maintain the SHS. The

fee-for-service management model was

adopted: users pay a monthly fee to use

the energy of the SHS installed in their

homes. The fee paid to PEME covers the

costs of maintaining the SHS in optimum

operating conditions (inspections and

checks to avoid failure) and over the

ACCIONA's Sustainability Workshop

ACCIONA's Sustainability Workshop takes its cue from the United Nations,

which declared the period 2005–2014 as the "Decade of Education for

Sustainable Development" (DESD). The Workshop helps to add value to

schools and educational centers by helping kids to understand the principles

of sustainability and by showing them how to apply those principles. The

Workshop helps kids and youngsters gain an understanding of the problems

that lie ahead. It helps them to become young experts in highly relevant issues

such as efficient energy use, access to water, energy-efficient building and

urban planning, and innovation.

The Workshop

• is totally free of charge for participating schools and educational centers,

• fits seamlessly into the existing education policy and school curriculums,

• provides training for teachers and educators,

• gives kids hands-on experience, with guided tours of wind farms, R&D

centers, wastewater treatment plants, and other installations.

The background

ACCIONA's Sustainability Workshop is an updated continuation of the highly

successful Renewable, Energy for Sustainability education program launched

by ACCIONA's energy division in 1994 in Catalonia and Navarre, Spain, in

cooperation with local and regional education authorities. Now ACCIONA is

taking this initiative to other countries that are also aware of the importance

of education as an instrument for attaining sustainable development. To date,

more than 110,000 primary and secondary schoolchildren and teachers have

taken part in the program's guided tours of ACCIONA renewable installations,

such as wind farms, solar energy and mini hydro plants, and biofuel

production centers, among other things.

What makes the ACCIONA Sustainability Workshop so special?

• It fits seamlessly within existing curriculums in those countries where

it is being developed, leaving the way clear for cooperation with the

corresponding education authorities.

• It can be presented alongside other innovative education strategies and is

fully consistent with the approach already being adopted in schools.

• It provides a variety of teaching and learning materials designed to instill

pro-environment values and to help teachers and students to create a more

sustainable and fairer world – a planet at one with nature.

• It adapts perfectly to local needs and requirements, with an approach in

terms of availability and communication that will forge links with teaching

staff and education authorities.

• The Workshop is subject to continuous assessment by users (teachers,

pupils, etc.) and results are shared with the education authorities, providing

feedback on content.

• Visits to ACCIONA facilities (wind farms, solar plants, etc.) are free of charge

for participating schools.

www.sustainability-workshop.com

74

Global Compact International Yearbook 2010
---
Best Practice

Partnership

the Rural Electrification Act to consider

nonconventional rural electrification and

development of photovoltaic rates. This

regulatory reform will, once developed,

lower the fees paid by end-users of an

SHS, and represents a significant costsavings

for these families.

Participation of the beneficiaries

For the past year, one SHS has been

installed in each beneficiary location to

enable users to become familiar with the

capabilities and limitations of the SHS.

This demonstration phase was conducted

to avoid some reluctance stemming from

poor experiences in the past. In view of

the positive reception, the installation

of the first 600 SHSs is currently under

twenty year life-span of the photovoltaic

panel, replace elements which have a

shorter useful life, such as the battery

or the regulator.

Affordability and adequate

electric regulation

The third barrier to the use of the SHS is

its affordability for end-users. There is no

point in an initiative that is not affordable

for the families that it sets out to help. To

make sure that users could afford to use

the SHS, PEME conducted socioeconomic

field surveys on a significant sample of

the population. The decision taken was

to charge a monthly payment of around

$ 5. They settled on this amount as most

of the potential end-users were already

spending an equivalent amount on candles,

kerosene, batteries, battery charging,

etc., which means that the new lighting

systems – in addition to being more efficient

and involving less risk – represent

a financial savings for the majority of

users. Moreover, the payments provide

a total income that allows PEME to meet

the costs of their commitments. The fact

that the initial investment is a donation,

and therefore not considered the return

on investment, allows PEME to set a very

affordable fee.

Left: Signature of public-private

collaboration agreement with local

authorities

Right: Signature of subscription

contract with user

In Peru, networked users in poor

households with a low energy consumption

benefit from a cross-subsidy called

FOSE, which covers about 60 percent of

the charges. This type of poor family pays

only 40 percent of the charges. However,

SHS users are not eligible for this allowance,

despite being a needier group. In

late 2009, the Ministry of Energy and

Mines of Peru amended the regulation of

way, and it is hoped that the rest of the

facilities will be completed in 2011.

Each locality has elected its Electrification

Committee, which takes active

part in the project, both in the aspects

of reporting and monitoring and in the

management of fee collection. Another

important aspect is the training of users,

who tend to be people with very little

formal education, but who need to know

how to get the most from their SHS

without reducing its useful life.

The success of this initiative depends

on the involvement of beneficiaries and

the support of their municipalities, with

which PEME have signed partnership

agreements.

Global Compact International Yearbook 2010 75
---
Adecco Group

Inspirational 'WORK'

The work we do every day has a direct impact on the lives of people. As the world leader

in HR solutions, we connect 500,000 colleagues with 100,000 clients daily. The importance

of work and what we do to help people find jobs cannot be overstated. Work permits us to

realize our talents and to contribute to society. It is essential for our social and financial wellbeing.

To foster and enhance the key role we play is clearly our long-term goal. A UN Global

Compact participant since 2003, Adecco has been living up to its Principles. This is most

evident in relation to labour standards as we improve work opportunities for those at risk of

discrimination, such as young people, mature workers and the unemployed.

By Stephan Howeg and Lilian Furrer

In the midst of the global recession, the

value of "work" and Adecco's contribution

to society has crystallized in the

minds of governments, companies, and

individuals. With our day-to day business,

we efficiently connect people and

companies; we reduce frictional unemployment;

we provide career guidance

and training that increases employability;

and we enable companies to have flexible

workforce strategies that encourage

new jobs.

Especially when economic pressure

to compromise on labor standards

increases, our commitment to uphold

and enact our corporate responsibility

strategy strengthens. We focus on

"integration" of disadvantaged groups,

"skill" development, and "safety" at

work. Responsibility – one of our four

core values, together with Team Spirit,

Customer Focus, and Entrepreneurship

– has always inspired us to support special

projects in our three focus areas,

utilizing our core competencies to help

disadvantaged groups find a place in the

working world.

Enabling youth in Latin America

The pathways to employment for young

people with socially disadvantaged backgrounds

in Latin America are challenging.

Recognizing education as a key

driver of overall economic and social

development, the International Labour

Organization (ILO) has gathered a team

of partners to start PREJAL – a project

for the promotion of juvenile employment

in Latin America. Over 17,000

youths have participated since 2005 in

the project, which has received public

funding of $ 5 million.

Through the Adecco Foundation in

Spain; our offices in Argentina, Peru, and

Colombia; and through partnerships with

local professional training organizations,

we are playing an integral part in PREJAL.

Between 2007 and 2009, a total of 1,820

young women and men (50:50) aged 15

to 24 attended Adecco-run workshops

in these three countries. The day-long

workshops give attendees the tools to

optimize their approach in the search

for employment. Advice on interview

techniques, CV preparation and matching

people's profiles to current vacancies are

some of the activities conducted. Attendees

receive a full information pack, access

to online resources and the opportunity

for jobs with Adecco or its clients.

The success of PREJAL is reflected

in the fact that it will be extended to

2013. PREJAL can count on the continued

support of key partners such as the UN

and the ILO, governments and private

companies.

Age-diverse workforce in France

The employment rate of mature workers

in France remained below the European

average over the last decade: 38.4 vs.

44 percent. So in late 2008, the French

government introduced a law obliging

large companies to develop action plans

to increase the percentage of workers

who are over 50 years of age.

The Adecco Group in France embraced

this opportunity to strengthen

its established diversity and anti-discrimination

programmes. We started

76

Global Compact International Yearbook 2010
---
Best Practice

Labour Standards

"Thanks to

the TRIPARTITE

dialogue which

has been initiated

by the ILO and

PREJAL, we are

INTEGRATING YOUTH

EMPLOYMENT

POLICIES INTO

SOCIAL DIALOGUE."

Dr. Carlos Tomada,

Minister of Labour, Employment

and Social Security, Argentina

by participating in a multi-company

audit of senior workforce strategies that

was undertaken by social ratings agency

VIGEO in mid-2009. The audit helped

benchmark and identify best practice for

re-application and improvement within

Adecco. By October 2009, all 25 Adecco

Group companies operating in France

had developed their own diversity action

plans, which include an anti-age discrimination

component. Each company

now has compulsory training modules

– delivered online or face-to-face – to

prevent all forms of discrimination. One

aspect is how to handle requests from

clients who ask for employees below a

certain age. The training shows colleagues

how to reorientate clients to focus upon

candidates' skills and motivations rather

than age profiles.

As companies begin to recognize

the value of an age-diverse workforce,

Adecco is ideally placed to help them

achieve that goal. For example, in 2009,

Adecco completed the challenge of hiring

50 workers aged over 50 years for a

call center in Poitiers and Tours. This

created an age-balanced workforce for

the client and even enhanced the staff

retention rate.

Young people attending an Adecco-run

workshop in Peru.

"Candidate Caring" –

Italy invests in its future

Since January 2009, there have been

30,000 unemployed people in Italy who

have participated in the Adecco "Candidate

Caring" training course, which is

aimed at improving unemployed workers'

prospects for returning to work. By January

2010, there were 14,000 contracts

obtained for these candidates, all of who

had previously worked for Adecco before

the economic crisis hit.

The "Candidate Caring" initiative is

a public-private partnership developed

with key national and local unions. The

first stage of training consists of an intensive

course led by Adecco personnel.

This provides a package of services to

improve employment prospects such

as local labor market information, CV

preparation, competency testing and

career evaluation and planning. For the

second part, candidates receive job-specific

training – ranging from mechanical

design to IT courses – delivered by

third-party training specialists. To forge

even stronger connections between candidates

and clients, Adecco has set up

a series of "exchange" events, where

major clients seeking specific skills can

meet and interview up to 100 suitable

candidates.

Adecco Italy has already invested

€ 10 million in the project as a whole.

We acknowledge that this investment

fosters our relationship with a valuable

talent pool in preparation for the

economic upswing. However, there are

also clear benefits to the individuals

concerned, the companies looking to

recruit, as well as for the quality of human

capital in Italy.

The pattern of shared stakeholder

benefits is evident in the featured

projects in Latin America, France and

Italy. Improving the working lives of

people is at the heart of Adecco's corporate

responsibility strategy and of its

core business. The focus on society in

the long term fuels our commitment

to invest in projects that go above and

beyond our day-to-day work.

Global Compact International Yearbook 2010 77
---
Amec

How Can We Do Good and

Do Well? Just Ask!

By Frank Stokes

There's an ancient Chinese

proverb that goes something

like, "Give a man a fish and

he will eat for a day. Teach a

man to fish and he will eat

for a lifetime."

The message is clear: Education has a

longer-lasting benefit than charitable

donations alone. For AMEC – the international

engineering and project management

company – this sustainable

approach is both a good way of helping

the communities in which it works and

a good way of growing the business in

new regions, especially those where there

are not enough skilled engineers already

available to support new, expanding

industries. It also helps improve labor

standards in these regions.

A shining example of how this works

in practice can be found at the company's

growing business in Kazakh-stan, which

provides high-value services to the country's

oil and gas industry. Since March

2008, the company's ASK (AMEC Students

in Kazakhstan) program has been guiding

and supporting a group of students – 60

at its peak – studying for degrees in a

diverse range of subjects during the four

university years at Uralsk, Astana, Almaty,

and Moscow universities. Not only have

they received some financial support and

mentoring during their courses but they

have also undertaken work experience

ASK students gain useful workplace

experience during their time at AMEC's

design and project management office

in Kazakhstan.

with AMEC during vacations and been

involved in worthwhile activities in the local

community. Training organized by the

AMEC team teaches leadership, teamwork,

and decision making. Project managers,

experienced engineers, and departmental

heads act as mentors and offer advice on

technical aspects of the job.

Away from the office, ASK students

and AMEC employees have worked side

by side in organizing activities at children's

homes, orphanages, and schools

around Uralsk. At the Oblast Specialised

School Boarding House for children with

hearing and speech impairments, the

ASK / AMEC team has found the time to

play football and other sports with the

youngsters. They have also been mentors

for the children, offering personal

development for each child. And on a

lighter note, there is the ASK quiz, a

general knowledge quiz organized by

AMEC for students from all over Uralsk,

not just ASK members. It has been a fun

78

Global Compact International Yearbook 2010
---
Best Practice

Labour Standards

Facts and figures

AMEC plc is a focused supplier of high-value consultancy, engineering, and

project management services to the world's natural resources, nuclear, clean

energy, water, and environmental sectors. With annual revenues (in 2009) of

over £2.5 billion, AMEC designs, delivers, and maintains strategic and complex

assets for its customers. The company employs over 21,000 people in around

40 countries worldwide.

AMEC joined the UN Global Compact in April 2009. The Compact's Ten

Principles resonate with our own Guiding Principles, which help ensure we

run a safe, sustainable, and ethical business no matter where in the world

that may be. Sustainable development is ingrained in our day-to-day activities,

through the type of work we do and the way we deliver it. It makes good

business sense and is something our stakeholders expect.

In the environmental sector, our many experts help clients to operate in an

environmentally responsible way. For example, this could be by ensuring

that overhead power lines do not disturb the habitats of protected species.

Or it could be by surveying a factory's energy consumption and subsequently

advising how to reduce the firm's carbon footprint.

In our own business, we subscribe to the view held by a majority of climate

scientists – that man-made greenhouse gas emissions do have an impact on

climate. As a result, we have joined the 10:10 campaign, in which we aim to

achieve a 10-percent cut in our carbon output by the end in 2010. This is the

first step in our ambitious 40-year carbon reduction program.

We have respect for people, both in and outside our company. We aim

to provide a safe workplace and good career opportunities. We train our

employees through schemes such as the AMEC Academy, which shares best

practice and helps nurture talented staff. In the wider world, we support many

charitable foundations and encourage our employees to do the same through

matched funding.

way of improving their English language

skills and their knowledge of global issues

and business practices.

ASK has been, and continues to be, a

win-win arrangement for AMEC and the

students alike. On the one hand, AMEC

has been able to identify and develop

good quality potential recruits to sustain

and grow the business and thereby

help develop the local economy. On the

other hand, the students have been able

to gain valuable insights into the commercial

world that will help with their

academic studies and, not least, enhance

their business and communication skills.

Following successful completion of their

degrees, each student is considered for

possible full-time employment with the

company.

"Building strong relationships with

the people, businesses, and educational

organizations in the countries where we

operate is not new for us," says Ronnie

Anderson, AMEC's manager for Kazakhstan.

"We've worked in the oil and

gas sector in nearby Azerbaijan since

1998 and decided from the outset not

to import vast numbers of expatriate

employees to take up all the local jobs.

Instead, we struck a balance between

our own global engineering skills and

employing and training local people. It

has had the double benefit of making

us welcome and creating a long-term,

self-sustaining operation that helps us

serve our clients better.

"Our entry into Kazakhstan, which

also has a buoyant oil industry, has been

similar to that. But what is new for us

here is the structured, large-scale approach

to the relationship with the universities

and the series of training events

we've organized. We have already had

our first 'graduation' and intake into the

company and we are delighted with the

enthusiasm, quality, and professionalism

of these young people. We hope they

go on to do good work wherever their

careers take them."

"What I think is good about ASK is

that we can take the idea with us when

we set up in a new territory, thereby

helping us to develop the talent, industry,

and our business for the long term."

ASK graduate Sergey Fyodorov, who

now works in AMEC's Information Technology

team in Uralsk, explains how he

has benefited: "AMEC is global, which

has helped me to advance my expertise

more fully than I could have through

university alone or by working for a

local company. Their high standards

and clear aims meant my work had to

reach the very highest level. My desire

to maintain this level is the best stimulus

for my personal and professional

development."

Such is the success of ASK that it

won the coveted International Platinum

Award at the Energy Institute (EI)

Awards 2009. The EI is well-placed to

judge how worthwhile an initiative is

because it has a membership of over

14,000 individuals and 300 companies

across 100 countries and is the leading

chartered professional membership

body for those working and studying

in energy.

Global Compact International Yearbook 2010 79
---
Argos

Reforestation as

Part of the Sustainable

Chain of Cement

Teak, pine, and eucalyptus

now form part of the

sustainable chain of cement.

Reforestation is one of the

ways in which Cementos

Argos is consolidating part of

its environmental strategy.

Cementos Argos – the largest cement

company in Colombia, the fourth largest

producer in Latin America, and the

sixth largest producer of concrete in

North America – has been planting important

plantations of native species in

16 municipalities throughout the country.

Plantations totaling around 10,047

hectares have been able to reduce the

amount of CO 2

by 1,980,859 tons. With

the expansion in forestry plantations,

Argos is looking to design and develop

projects to participate in the carbon

market, either in the market regulated

by the Clean Development Mechanism

(CDM) or in the voluntary market.

This initiative is a result of the concerns

of the cement industry about generating

new sources of air and life for the

80

Global Compact International Yearbook 2010
---
Best Practice

Environment

planet. As part of our philosophy, some

mines and installations have natural

fences or corridors that allow the return

or establishment of fauna and flora and

also hydrological regulation.

Through care and efficiency in its

operations, Argos has not only achieved

using the color green as the color of its

logo, but it is also using the color as a

symbol of its preoccupation with and

support for the environment.

This commitment by the company

has been highlighted by its participation

since 2007 in the United Nations Global

Compact, and by applying and strengthening

the environmental principles suggested

within, which in turn are based

on the Rio Declaration on Environment

and Development.

The reforestation in which Argos is

involved follows special principles for

its adequate management:

• Non-intervention in relict forests and

springs

• Contracting labor from the region and

helping people who have been displaced

by the violence to return

• The manual preparation of the land

• Good agricultural practices

• Training for the local population regarding

the topic

• Support of local development

The projects of reforestation that Argos

has developed in rural areas of Colombia

generate direct and indirect employment,

mobilize the local economy, and give

hope to the residents, many of whom

are victims of armed conflict.

For example, in 2009 in the activities

of establishment and maintenance,

we subsidized 6,708 wages, which for

6 months worked are the equivalent of

93 direct jobs.

For 2010 we initiated projects that

generated 110 jobs from the first of February

in the areas of Palmira, San Onofre,

Pajonalito, and Algarrobal.

There are cases where the evidence

suggests that reforestation has become

the path toward peace in some communities,

providing security, employment,

and development.

The improvement of roads to transport

the timber, and programs such as

the construction or improvement of

educational institutions and the training

of the local population in the protection

of the forest are a fundamental part of

the social component that the plantations

bring and that contribute to the

development of the vulnerable populations

of Colombia.

Clean Development

Mechanism

But the goal of Argos goes much further

and is counting on the formulation of

CDM projects in agreement with the

Kyoto Protocol for the commercialization

of certificates for certified emission

reduction.

Actually, the project that the company

developed concerns 1,090 hectares

planted in Colombia in the municipalities

of Antioquia and Sucre and was

validated in its initial phase by the United

Nations, becoming one of only a few

projects of this kind on the continent.

With this first achievement, the

company can continue on its path toward

sustainability, not only reducing

the level of emissions in Colombia but

also being an example for other industrialized

countries that need to invest

in reforestation to reach their goals for

reduction of greenhouse gases.

For 2014 Argos has a firm goal to

plant 3,000 hectares and thus do its bit

to contain climate change.

Global Compact International Yearbook 2010 81
---
Autostrade Per L'Italia

Optimizing Energy

Consumption and Fight

Climate Change

Autostrade per l'Italia – 100 percent owned by shareholder Atlantia S.p.A., which is

responsible for investments and strategies in the transport and communications

infrastructure and networks sector – is the leading European concessionaire for toll

motorway management and for related transport services with a network of more than

3,400 km in Italy. The company is also present abroad as it holds shares in South America,

Poland, and United States with a motorway network equivalent to 800 km.

By Simonetta Giordani, Andrea Ragni and Benedetta Masignani

Autostrade per l'Italia launched a series

of initiatives, in line with Italian and

EU energy and environment objectives,

promoting the use of renewable sources

for the production of electricity and

improvement of energy efficiency for

buildings and infrastructure. This commitment

has already produced significant

results in terms of CO 2

emissions

avoided. The company's five-year plan

(2008 - 2013) provides for initiatives in

the following sectors:

• reduction of electrical energy from

renewable sources

• electrical-energy savings for tunnel

and service-area lighting

• improvement of energy efficiency in

the main office buildings and outlying

structures (section departments,

maintenance points, snow points)

In 2008, Autostrade per l'Italia launched

a Photovoltaic Plan that consists of the

installation of photovoltaic plants for

total about 9 MWp of peek power, in

92 Service Areas, in the headquarters

of Rome and Florence and in the nine

section departments.

At the end of 2009, apart from the

photovoltaic plants incorporated into

the roofs of the parking areas in the

Rome South tollgate, Prenestina East,

and Mascherone West service areas –

providing an overall installed peek power

of around 100 kWp – a photovoltaic

shelter has been installed in the roof of

the employee parking area at the Rome

headquarters and has a peek power of

around 473.8 kWp. This plant can satisfy

roughly 15 percent of the overall

energy consumption registered at the

Rome headquarters. The main technical

characteristics are:

• covered surface area of approximately

4,032 square meters, the equivalent

of 120 parking spaces

Photovoltaic shelter installed at the

Prenestina East service area

(Milan-Naples A1 motorway)

82

Global Compact International Yearbook 2010
---
Best Practice

Environment

• production of electricity is

expected to be around 635,000

kWh / year

• an estimated environmental benefit

in terms of savings of CO 2

emissions in the atmosphere of

around 350 tons / year

The new solar plant is part of the

"Green Building" project that was

finalized to make Rome headquarters

"carbon neutral" as well. The

"Green Building" project is going to

develop over 2010 through efficiency

improvements in the production

of electrical, thermal, and cooling

energy (tri-generation), installation

of a Building Management System

for confort of air temperature and

lighting inside the offices, and

consumption optimization as well.

This initiative, to be considered as

a pilot project, might be adopted

elsewhere.

In 2009, regarding the photovoltaic

plants in Service Areas, 15

plants with a roughly 767 kW peek

New photovoltaic plant of

Headquarters building in Rome

Total tons of CO 2

saved

due to Our initiatives

saved 2009 target 2010

Solar panel 133 1,396

LED lighting 411 2,120

TOTAL 544 3,516

power and a production of electricity

expected to be around 1,000 MWh / year

have been put in service. For 2010 the

company aims to double the installed

photovoltaic capacity with more plants

in the office buildings and Service Areas.

In 2009 the savings of CO 2

emissions was

133 tons, thanks to photovoltaic plants.

The 2010 target will be about 1,400 tons.

Regarding motorway network tunnels,

Autostrade per l'Italia has an energy

savings plan in progress. The project

involves the gradual replacement of

traditional high-pressure sodium lighting

with more efficient, permanent LED

lighting. This innovative initiative will

result in considerable energy savings and

a reduction in CO 2

indirect emissions of

about 40 percent and the lowering of

system maintenance costs while retaining

the required safety standards.

In 2009 a total of 6,378 lighting

installations were replaced, resulting

in a savings of CO 2

emissions of around

411 tons. For 2010 a further 10,766

LED lighting installations will be

installed and provide an annual

energy savings of around 4 GWh,

bringing an estimated environmental

benefit in terms of savings of

CO 2

emissions in the atmosphere

to around 2,120 tons.

Through the adoption of these

projects, the company joined the

Patto per l'ambiente, an agreement

signed in July 2009 between the

Environment Ministry of Italy and

11 large Italian firms. The agreement

provides for binding commitments

for emission reductions, exploitation

of environmentally-friendly resources,

the spread of high-efficiency

technologies, and diversification

of power sources. Strong environmental

benefits can be achieved by

initiatives to improve traffic flow

(i.e., network upgrades, spread of

automatic toll systems) and projects

involving motorway network users.

In 2009 Autostrade per l'Italia

launched its first project for carpooling

on highways. Carpooling is a

suitable alternative to traditional

mobility and involves using only one

car to transport people who share same

route. This results in significant environmental

benefits by reducing traffic and

increasing the economic benefits for the

passengers due to sharing of transport

costs (fuel, tolls, etc.).

The initiative, which involves customers

who travel the A8 and A9 highways

daily from Como and Varese to

Milan and back, both helps to reduce

levels of pollution and to improve traffic

flow on a particularly busy road affected

by construction work. The carpooling

project includes:

• a web platform to facilitate the

matching of supply and demand

• dedicated track toll

• a discount for cars carrying at least

four people

The website (autostradecarpooling.it) has

become in just three months the first

carpooling platform in Italy.

Global Compact International Yearbook 2010 83
---
BASF

Strategic Alliance to

Stop Malnutrition

By Dr. Andreas Blüthner

The strategic alliance SAFO (Strategic Alliance for the Fortification of Oil and Other Staple

Foods) being implemented by BASF and GTZ supports local manufacturers in fortifying

staple foods with vital nutrients, especially vitamin A. Besides providing capacity building to

different stakeholders, SAFO offers the partner companies specially developed mobile minilaboratories

about the size of a laptop case for quality assurance. Together with civil society

and governmental organizations, business models are being developed to sustainably and

affordably improve the nutrition of lower-income population groups.

Vitamin A deficiency is one of the main

challenges in extensive areas of Africa,

Asia, and Latin America. Although many

people in these regions have access to

staple foods such as flour or rice, these

staples contain hardly any vitamin A.

Foods containing vitamin A, such as

milk and eggs, are either not available or

beyond the financial reach of many inhabitants

of these countries. A deficiency

of vitamin A leads via blindness and

immune weakness to higher disease and

mortality rates, especially among young

children and pregnant women. UNICEF

estimates that one million children die

worldwide every year from vitamin and

mineral deficiency.

The economic development of the

affected countries also suffers: malnutrition

reduces the educational opportunities

and productivity of the society, in

addition to raising healthcare costs. Up to

2 percent of the gross domestic product

can be lost as a result.

Food fortification as

a solution

Food fortification, the enrichment of

staple foods with essential nutrients,

is a medium-term, very cost-effective

solution to the problem and serves as

a complement to supplementation and

nutritional education. One example of

fortification known from Germany is

iodinated table salt. In developing countries,

staple foods that are regularly consumed

by the lower-income population

groups at the bottom of the economic

pyramid (BoP) are enriched; flour and

edible oil are common "vehicles" for

essential nutrients.

SAFO: Strategic alliance with

local partners

Deutsche Gesellschaft für Technische

Zusammenarbeit (GTZ) GmbH (German

Technical Cooperation), on behalf of the

Copenhagen

Consens

Food fortification is one of

the best investments

in human development

In May 2008, economists,

including four Nobel prize winners,

evaluated 30 solutions for 10

global challenges for humanity.

The experts rated

the fortification of staple

foods and the use of food

supplements for children as

the best investments in human

development. The many economic

and humanitarian benefits offered

by the market-based approach

are offset by only marginal costs.

copenhagenconsensus.com

84

Global Compact International Yearbook 2010
---
Best Practice

Human Rights

Eight good reasons for

fortifying staple foods

1. The fortification of staple foods is a very effective and low-cost method

of combating or even eliminating the globally prevalent deficiency of

micronutrients. The market-based approach makes the program robust,

sustainable, and scalable.

2. The existing nutritional habits of the target groups can be retained.

3. The addition of essential nutrients to foods is an established approach. The

necessary technologies are available and can be implemented worldwide.

4. The programs strengthen the local food industry instead of relying on food

imports to improve nutrition.

5. The many benefits in the fields of education, productivity, and health are

offset by only marginal costs – making food fortification one of the best

investments in human development.

6. Multi-sector, local alliances of authorities, industry, international

organizations, and the civil society enhance the acceptance and awareness

of the programs.

7. The participation of local industry in improving the nutrition of lowerincome

target groups creates and deepens awareness of entrepreneurial

accountability on the local scale.

8. The right to suitable nutrition is a human right and the basis for

implementing the UN Millennium Development Goals.

Convenient test

kit to check the

concentration of vitamin A

in fortified staple foods

Federal Ministry for Economic Cooperation

and Development, and BASF, the

world's leading chemical company and

vitamin producer, are cooperating in a

strategic alliance. SAFO's objective is to

reach several million people with staple

foods fortified with vitamin A.

The partners' contributions

BASF's contributions comprise a package

of technical solutions for the manufacturers

of fortified staple foods. This

comprises cost-effective product solutions

in the form of stable, specially

encapsulated vitamin formulations; the

technical training of production and

laboratory personnel; analytical support;

innovative packaging solutions;

and business models for marketing to

BoP target groups. The GTZ advises the

local governmental organizations on how

to improve the legal framework conditions

for local companies by establishing

standards and seals of quality, and

moderates local alliances of the various

stakeholders.

BASF and GTZ have also developed

mobile laboratory equipment for the

cost-effective determination of the vitamin

A content of food. These lab cases

allow the quality and effectiveness of

the programs to be monitored where

the actual vitamin content is decisive

– namely in the local markets.

Nevertheless, the foods will remain

affordable for the consumers. For example,

fortifying edible oil with vitamin A

increases the manufacturing costs by

only 0.2 to 0.3 percent.

SAFO intends to reach several million

people by the end of 2010, with all

the parties involved benefiting from the

cooperation. BASF is tapping into new

BoP markets and is demonstrating social

accountability, local producers receive

technical support, the economy of the

partner countries is strengthened, and

the German development cooperation

project with its market-based approach

is contributing in a scalable manner to

improving the nutritional situation in

target countries.

Global Compact International Yearbook 2010 85
---
Bayer

Bayer Launches New

Sustainability Program

The world is facing a number of major challenges: One of the most important is the growth

of the global population and the factors associated with this, such as access to healthcare,

regular food supplies, and effective environmental and climate protection. These global

problems are the main starting point for the new Bayer Sustainability Program.

Eight lighthouse projects for key material issues have been selected and are being

implemented.

By Dr. Wolfgang Grosse Entrup

Bayer can look back on a long and successful

tradition of sustainable business

management. In 2009 we transferred

our existing activities along with new

approaches into an integrated strategy.

Global challenges that have a major impact

on our key areas of activity formed

the starting point. The following core

material sustainability issues were identified:

1. Alliances for sustainable healthcare

2. Partnerships for more high-quality

food

3. Solutions for climate protection and

resource use

Our intention is to demonstrate the

purpose of our sustainability activities

– creating benefits for both business and

sustainability. For Bayer, as an inventor

company, this means finding innovative

strategies, products, and solutions

to deal with the pressing issues of the

future. Bayer will therefore align its core

businesses more rigorously than before

to sustainability criteria – an objective

that is reflected in our mission statement

"Bayer: Science for a Better Life." We want

to position our products and expertise

precisely where they generate the biggest

effect. We will focus in particular

on innovations – which for us are the

driving forces for sustainability – and

strategic partnerships.

We devised eight lighthouse projects

for the key material issues identified,

featuring our products and the expertise

of our employees. These projects were

selected based on their relevance – for

our business and for our stakeholders.

1. Self-determined family planning

and combating neglected diseases

Improving maternal health and reducing

child mortality, especially in the emerging

and developing countries, are two of

the eight UN Millennium Development

Goals. Pursuing these objectives is becoming

increasingly urgent due to the

rising world population. Our "Family

planning" lighthouse project aims to

make an important contribution to enabling

self-determined family planning

throughout the world. Together with

public institutions and nongovernmental

organizations, we are initiating projects

to foster awareness and education in

the field of contraception and improve

access to modern contraceptive methods.

Bayer will double these activities by

2012, and, with partners such as USAID

(United States Agency for International

Development), will provide oral contraceptives

for approximately eight million

women annually.

In another lighthouse project, Bayer

will be intensively involved in the fight

against "neglected diseases." Over 3.3 billion

people – mostly the poorest of the

poor – are affected by these. In cooperation

agreements with the World Health

Organization, Bayer will provide free

drugs to tackle – among other illnesses

– Chagas' disease and African sleeping

sickness. In addition, together with the

Global Alliance for TB Drug Develop-

86

Global Compact International Yearbook 2010
---
Best Practice

CSR Management

Jane Maenaria, nurse at the Kajiado District

Hospital, Kajiado, Kenya, explains the use of oral

contraceptives.

Global Compact International Yearbook 2010 87
---
Bayer

Amit Sharma, Sr. Manager Food Chain

Alliances, Bayer CropScience India,

monitors the cultivation of vegetables

by regularly visiting the farmers in

their fields.

ment (TB Alliance), we are developing

an improved treatment of tuberculosis.

2. High-quality food in emerging

countries: India and Indonesia as

examples

According to studies carried out by the

UN, the world population will grow by

around three billion people by 2050. To

safeguard adequate food supplies in the

future, Bayer is promoting innovative

concepts for sustainable agriculture. An

important element of this commitment

are the Food Chain Partnerships. The aim

of these projects is to network the various

players along the value chain – from the

producer to the trade. We have selected

one of these Food Chain Partnerships

as a lighthouse project: To strengthen

vegetable growing in India, we will help

the participating farmers to comply with

stringent local and international quality

requirements and thus increase their

chances of earning a reliable income.

The objective is to include 65,000 small

farmers in the program by 2011.

Improving the efficiency of ricegrowing

is the subject of another lighthouse

project, in this case in Indonesia.

A new method of rice cultivation – combined

with an integrated package of

seeds, crop protection products, and

training – can increase harvest yields

by around 10 percent and also improve

sales and incomes for the farmers and

their families. As an additional benefit,

emissions of the climate-harmful gas

methane in the rice fields can be reduced

by around 30 percent.

3. Solutions for climate protection

and resource use: The building

sector and chemical production

Energy consumption in buildings is

responsible for nearly 20 percent of

global greenhouse gas emissions. The

EcoCommercial Building initiative,

Bayer MaterialScience is ushering in

a new era in eco-sensitive chlorine

production.

launched at the end of 2007 as part of

our Bayer Climate Program, has now

been extended into the EcoCommercial

Building program. At the heart of

this lighthouse project is a partnership

network that brings together suppliers,

building companies, architects, and

property developers. We contribute our

88

Global Compact International Yearbook 2010
---
Best Practice

CSR Management

expertise and high-tech products from

MaterialScience and get partners involved

to find tailor-made solutions for

the construction of sustainable, energy-optimized

commercial and public

buildings – from low-energy housing

and "passive houses" to zero-emission

buildings. By marketing this concept

externally, we can make an important

contribution to climate protection in

the building sector as a whole. Our highquality

materials for building insulation,

lightweight construction materials, and

water-borne coating materials fit in ideally

with these growing markets. One

of the first showcases for this program

was the company's emissions-neutral

kindergarten at our site in Monheim,

Germany, which we opened in November

2009. A low-emissions company office

building has been built in Belgium, and

another one is under construction in

India. These showcases reflect the ability

of our concept to function in different

climate zones and in various uses.

Through another lighthouse project,

"Energy efficiency in chlorine production,"

we are achieving a significant reduction

in greenhouse gas emissions. The production

of chlorine – a basic chemical in

the manufacture of plastics and drugs

among other products – is extremely

energy-intensive. Back in 2008, Bayer

succeeded, together with its partners,

in developing an innovative, climatefriendly

process for a new acid-based

oxygen depolarized cathode technology.

This integrates the principle of the fuel

cell and reduces electricity consumption

– and thus CO 2

emissions – in

chlorine production by 30 percent. In

another cooperation project, a Bayer

research team took this technology for

chlorine production a step further –

this time developing a process based

on salt. The first industrial-scale plant

to use this technology is scheduled to

go on stream at one of Bayer's German

sites in 2011. Bayer will also offer this

innovative technology to other chlorine

producers around the world. The use of

this technology opens up the potential

for the international chlorine industry

to cut annual greenhouse gas emissions

by 5 million metric tons.

Solutions targeted at the more efficient

utilization of resources are the

subject of two other lighthouse projects

in the Sustainability Program. The innovative

energy-efficiency management

system STRUCTese® aims to systematically

utilize untapped energy-saving potential.

It also ensures that the requisite

technical measures and organizational

processes are effectively integrated at

Bayer MaterialScience.

The "resource efficiency check" sets

out to ensure process-oriented optimization

of the effective use of all resources.

This tool is based on innovative technologies

for the reduction of energy,

water, and feedstock consumption, and

for cutting the amount of waste and

emissions.

Measurable results

Bayer's Sustainability Strategy

• Bayer is committed to sustainable development: Economy, ecology, and

social responsibility are corporate policy objectives of equal rank.

• Sustainability strategy frame: creating benefits for both business and

sustainability. This shall be achieved in three areas:

1. Our products and innovations are the heart of our business. Innovations are

the drivers of sustainable development for mastering global challenges. Our

products and expertise make contributions to the key areas of healthcare,

nutrition, climate protection, and resource efficiency. They are designed

to benefit people and improve their quality of life (see Bayer Sustainability

Program).

2. Our business practices and activities, that is, how we run our business. We

want to act responsibly across the entire value-added chain – toward all

our stakeholders, especially our employees, customers, suppliers, and

stockholders.

3. Our social commitment: by becoming socially involved as a good corporate

citizen.

• Responsibility and Governance regarding sustainability are at the board level.

• Sustainability is an integral part of our corporate strategies.

With these eight lighthouse projects,

Bayer will be able to directly enhance

the level of healthcare and improve the

economic and social situation of more

than 15 million people. Ecologically,

too, our sustainability commitment will

have measurable effects: We will raise

the energy efficiency of our production

facilities by 10 percent and, as a result,

reduce annual greenhouse gas emissions

by 350,000 metric tons by 2013. Furthermore,

our new chlorine production

technology will lower emissions by a

further 250,000 metric tons by 2020.

The Bayer Sustainability Program

will make a concrete contribution to

the Global Compact Principles and the

Millennium Development Goals of the

United Nations – especially improving

maternal health, reducing child mortality,

empowering women, combating

diseases, and eradicating hunger and

poverty. Our program is designed to

achieve sustainable success and generate

first-class solutions. After all, sustainability

is an integral part of our corporate

policy.

Global Compact International Yearbook 2010 89
---
Bosch

Green Technology:

Solutions for

Climate Change

Since the end of 2009, the global community has committed itself to the target of limiting

global warming to less than 2 degrees Celsius. According to scientific studies, global

greenhouse gas emissions must be cut by at least 50 percent by 2050 if this goal is to be

achieved. With no concrete objectives having been agreed internationally, it is now more

important than ever to use innovations and technological solutions as a means of reducing

CO 2

emissions. That is one of the reasons why green technology is now a key market

worldwide – one that is estimated to grow at a rate of 6.5 percent per year, reaching € 3,200

billion by 2020. Bosch aims to provide technological solutions to ecological challenges and,

in doing so, also boost its economic position.

In 2009, the joint venture BSH Bosch

and Siemens Hausgeräte GmbH received

the climate innovation award from the

German Ministry for the Environment for

its highly energy-efficient Zeolith® drying

system for dishwashers.

90

Global Compact International Yearbook 2010
---
Best Practice

Environment

2009 – A year lost?

Two years before the UN Climate Change

Conference in Copenhagen, Ban Ki-moon

urged the Global Compact participants to

make climate change a leadership issue

within companies' business strategies. Introducing

the Caring for Climate (C4C) initiative,

the UN Secretary-General expected

companies to set emission-reduction

targets, explore low-carbon technologies,

share experiences, disclose progress, and

support public policy efforts.

Looking at the Carbon Disclosure

Project (CDP), it can be seen that efforts

have moved ahead. Since it was launched

in 2003 worldwide, the number of companies

reporting their greenhouse gas

emissions and their climate strategies has

grown tenfold. Starting with 235 companies

and increasing to 1,449 in 2007,

the figure rose to 2,204 in 2008. From

the corporate side, this is a signal that

leadership and transparency concerning

climate change are on the rise.

If we then look at the global level

and to the results of the Copenhagen

conference, where we were present, the

picture looks quite different and forward

movement is hardly obvious. Honestly

speaking, our expectations regarding

that were not so high. We know that

climate protection is a common problem

that has to be solved through shared

commitments. Our hope on the political

level is that, at the very least, this insight

becomes more commonplace.

Technology to protect the climate

Bosch has been a member of the UN Global

Compact since 2004. We are neither

a signatory of the C4C initiative nor, as

a non-listed company, do we participate

in the CDP. Nonetheless, we fully support

and pursue the goals represented

by these initiatives. We consider climate

change to be both a challenge and an

opportunity. According to a study by

the World Business Council for Sustainable

Development – also used in the

preparations for the Climate Change

Conference in Copenhagen – the construction

industry is responsible for 40

percent of worldwide greenhouse gas

emissions, more than any other industry.

However, the study, "Energy-efficiency

in buildings," also concludes that it is

possible to reduce these CO 2

emissions by

60 percent by 2050. We believe that with

energy-efficient condensing technology,

solar thermal systems, and heat pumps,

our Thermotechnology division offers

not only opportunities to achieve major

cuts in CO 2

but also enormous market

potential. In each of the business sectors

of the Bosch Group, there are comparable

technologies and products that have the

potential to contribute to both climate

protection and our business. We made

some important progress in this respect

in 2009.

Climate protection as a

matter of trust

Setting climate protection targets means

sticking to those targets at all costs, even

in times of economic crisis. At the beginning

of 2009, the Bosch board of

management and the individual divisions

agreed to implement a range of

measures to increase energy efficiency.

By 2020, the aim is to cut worldwide CO 2

emissions at all manufacturing sites by at

least 20 percent compared to 2007 levels.

Although Bosch has hardly any energyintensive

manufacturing processes, we

are nonetheless keen to boost our potential

in this area by setting internal targets,

implementing continuous reporting, and

raising awareness among associates. At

a sustainability congress, chairman of

the Bosch board of management, Franz

Fehrenbach, called on businesses to intensify

their climate protection activities,

even in such difficult times. He said that

by taking a serious, consistent approach

to climate protection, companies would

benefit financially and gain more trust.

Bosch is confident that green technology

has a key role to play in riding out

this crisis.

Research for the post-oil era

The Bosch credo is to provide technological

answers to ecological questions. To

that end, Bosch invests some 45 percent

of its research and development budget

in technologies that help conserve resources

and energy, generating a strong

third of its sales with such products.

Given the finite nature of fossil fuels,

Bosch is using its research program to

prepare for the post-oil era. In line with

its strategic slogan "Invented for life,"

the company is working on a range of

topics including lithium-ion batteries,

alternative drive systems for vehicles,

energy-efficient household appliances,

and ways to supply renewable energies

using photovoltaic technologies,

for example.

Batteries for electric travel

In automotive technology, every second

euro the company spends on research

and development goes toward protecting

the environment and conserving resources.

In addition to expanding existing

areas of innovation, the company is also

moving into new territory, such as the

electrification of the powertrain. Here,

Bosch is working with Samsung SDI as

In 2009, Bosch and its partner

Samsung took on a total of 500

associates for a project focusing on

cutting-edge lithium-ion batteries.

Global Compact International Yearbook 2010 91
---
Bosch

part of the joint venture SB LiMotive. In

2009, the two partners took on a total

of 500 associates for a project focusing

on cutting-edge lithium-ion batteries. A

further milestone was reached in 2009

with the ground-breaking ceremony

for a new plant in Korea. By the end of

2012, the facility will have the capacity

to produce at least 125,000 lithium-ion

battery cells per year for hybrid and

electric vehicles.

The new Bosch regional headquarters for Southeast

Asia has received two awards for its energy efficiency

and environmental friendliness.

Investment in renewable energies

According to the latest estimates by its

member states, the European Union

is well on the way to sourcing over 20

percent of its power from renewable

energies by 2020, thus achieving its selfimposed

target. In 2009, Bosch generated

sales of roughly €1 billion from systems

utilizing renewable energies, ranging

from large wind-turbine gearboxes and

ground-source heat pumps to solar collectors

and photovoltaics. Bosch is also

committed to achieving growth through

renewable energies in the future and,

in 2009, opened a new manufacturing

facility for large wind-turbine gearboxes

in Nuremberg, Germany. By 2013, Bosch

will have invested a total of € 180 million

in this gearbox plant belonging to

its subsidiary Bosch Rexroth. "We have

invested in wind energy, solar technology,

and heat pumps," says Franz Fehrenbach.

"With this new plant for the manufacture

of large gearboxes, we are continuing our

investments in the promising market of

renewable energies."

New division: Bosch Solar Energy

Since the acquisition of solar cell manufacturer

ersol Solar Energy AG in 2008,

Bosch has intensified its activities in the

field of photovoltaic technology. This illustrates

the company's strategy of using

acquisitions to expand its portfolio of

climate- and environmentally-friendly

technologies and strengthen its position

in the renewable energies sector. After

acquiring majority holdings in two further

solar module manufacturers – aleo

solar AG and Johanna Solar – the Bosch

Group clustered its photovoltaic activities

in 2009 by forming the new division

Bosch Solar Energy AG. To boost the

competitiveness of photovoltaic power

generation and raise its profile as part

of a sustainable energy mix, Bosch Solar

Energy is working to not only increase

the efficiency of its cells and modules,

but also cut manufacturing costs. At the

end of 2009, Bosch Solar Energy set up

its first solar power plants, including a

photovoltaic system for Stuttgart airport.

Bosch Solar Energy AG hopes that its

collaboration with Allianz Climate Solutions

GmbH will result in further largescale

photovoltaic projects, particularly

projects exceeding 1 MW output. Bosch

Solar Energy also supports the Solar

Energy Foundation, a body that has set

itself the goal of further expanding the

use of photovoltaics in Africa in order

to alleviate poverty and improve living

conditions. Projects in Lesotho in South

Africa and in Burundi have made it possible

to supply two local hospitals with

solar power.

Eco Plus Home

Efforts made by Bosch to harness renewable

energies and increase the energy

efficiency of buildings are reflected in the

company's Thermotechnology division

and in its own buildings. Projects such

as the Eco Plus Home in Canada and the

new Bosch headquarters in Singapore are

a great step in the right direction.

The Eco Plus Home, a model house

that is ready for series production, aims

The Eco Plus Home, a model house

in the eastern Canadian province of

New Brunswick, aims to prove that it

is possible to generate a virtually CO 2

-

free energy supply exclusively from

renewable energies while still enjoying

a comfortable lifestyle.

92

Global Compact International Yearbook 2010
---
Best Practice

Environment

to prove that it is possible to generate a

virtually CO 2

-free energy supply exclusively

from renewable energies while

still enjoying a comfortable lifestyle. In

the eastern Canadian province of New

Brunswick, a family of six will spend a

year living without oil or gas in the Eco

Plus Home. The building technology

supplied by Bosch includes an electric

heat pump, a solar thermal system, and

a photovoltaic installation. While a conventional

home generates average CO 2

emissions of around eight metric tons,

the Eco Plus Home reduces this figure

to virtually zero. Although electricity

is required to operate the heat pump,

the photovoltaic installation generates

significantly more CO 2

-free power over

the course of a year than the heat pump

consumes. This means that, even in

the harsh Canadian winter, the building

maintains its green credentials the

entire year. On conclusion of the experiment,

the climate-friendly prefabricated

house is to be marketed in Canada and

the United States at the same price as

conventional homes.

Green building award

Even before its completion last year, the

new Bosch headquarters for Southeast

Asia in Singapore had received awards for

its energy efficiency and eco-friendliness.

The State of Singapore awarded the new

building the Platinum rating, the highest

under its "Green Mark" program.

The building also received the national

Clean Energy Program's "Solar Pioneer

Award."

The new headquarters is one of

the first buildings in Singapore to be

equipped with mobile external sunscreens.

These cut the amount of heat

getting into the building by 20 to 25

percent, thereby reducing the energy

requirements for cooling – an important

consideration in a city located close to

the equator. The building has also been

fitted with photovoltaics from Bosch

Solar Energy. A number of other factors

further boost the building's green

credentials. Recovering energy in the

ventilation system reduces the amount

of energy required for cooling by a further

20 percent.

The green headquarters in Singapore

is just one example of how Bosch

ensures efficient use of energy in its own

construction activities around the globe.

The company's new Chinese headquarters

in Shanghai, for example, covers

half its heating and cooling requirements

with ground-source heat pumps.

Photovoltaics have also been installed

at certain locations in Germany, such

as Murrhardt and Reutlingen.

Climate protection counts

Climate protection is one of the biggest

challenges we face, and one that demands

clear targets and a great deal of

At a glance:

Bosch climate initiatives in 2009

commitment. When it comes to climate

change, Bosch provides a very wide range

of sustainable solutions. Internally, Bosch

is seeking to make associated savings

by reaching its CO 2

reduction target by

2020 and implementing initiatives in

the building sector, for example. Bosch

sees great leverage within its business

fields. With a broad range of technical

solutions and technological innovations,

the company can help its customers

increase energy efficiency and harness

the power of renewable energies. As part

of this, we also aim to play our part in

shaping key markets for environmental

technology in the period leading up to

2020. Climate protection is absolutely

fundamental to ensuring we enjoy longterm

success.

Production: At the beginning of 2009, Bosch set itself the goal of reducing

relative CO 2

emissions by 20 percent by 2020.

R&D: In 2009, Bosch invested some 45 percent of its research and

development budget in technologies that help conserve resources and energy,

generating sales of a strong one billion euros with such products.

Innovation: The ground-breaking ceremony for a new plant in Korea

was held in 2009. By the end of 2012, the facility will have the capacity to

manufacture a minimum of 125,000 lithium-ion battery cells per year for

hybrid and electric vehicles.

Investments: In 2009, Bosch opened a new manufacturing facility for large

wind-turbine gearboxes in Nuremberg, Germany. Approximately € 180 million

will have been invested in this project by 2013.

Renewable energies: In 2009, Bosch generated sales of roughly

€ 1 billion from systems utilizing renewable energies, ranging from large

wind-turbine gearboxes and ground-source heat pumps to solar collectors

and photovoltaics.

New division: The recently formed Bosch Solar Energy division constructed

its first solar power plants in 2009.

Awards: The new Bosch headquarters for Southeast Asia in Singapore

was completed in 2009 and received two awards for its energy efficiency and

eco-friendliness.

Global Compact International Yearbook 2010 93
---
Bradesco

Environment Preservation

in the Amazon

By Eduardo Dantas

Bradesco endeavors to incorporate sustainability into each

one of its business activities and corporate strategies. We

do believe in a better world for both current and future

generations. Considering that socio-environmental

investment is one of the pillars of our sustainability core,

we support many initiatives regarding that matter in Brazil,

through partnerships directed at the preservation of forest

environment.

Two initiatives that are currently being

developed are the Fundação Amazonas

Sustentável (FAS, Sustainable Amazon

Foundation) – which has the goals of

preserving a group of 35 environment

preservation units in the Amazon region,

promoting sustainable development,

and improving the quality of life of

the populations involved – and the

SOS Mata Atlantica Foundation, which

makes possible the projects that are

devoted to the protection of the Mata

Atlantica (Atlantic Woods) through conservation

programs, environmental education,

and forest restoration, among

other things.

Sustainable Amazon

Foundation

Bradesco is one of the co-founders of FAS,

which is a groundbreaking partnership

between the Bank and the Brazilian state

of Amazonas and was made public in

November 2007. FAS's goal is to value

environmental services provided by the

Amazon Rainforest, with a view toward

improving the quality of life of the riverbank

communities and the forest's

preservation.

The Bank's initial financial resources

amounted to R$ 20 million (US$ 11.2

million), which, together with the Amazonas

state government's additional

R$20 million, formed a permanent fund

in which only revenues are invested,

making the FAS Foundation financially

sustainable in the long run. BRAM (Bradesco

Asset Management) manages the

resources.

From 2008 to 2012, an additional

R$ 50 million (US$ 27.8 million) will be

invested – R$ 10 million (US$ 5.5 million)

a year. Other private organizations

have also contributed to the Foundation

through financial and technical

resources. The totals handed to the NGO

are obtained from the sales of products

related to the initiative, such as credit

cards and capitalization bonds. FAS supports

35 environment preservation units

– which cover 41 million acres of land

– in the state of Amazonas.

The first action taken by the partnership

occurred within the scope of

the Bolsa-Floresta program (Forest-Grant

program), a pioneer program in Brazil

devised by the Amazonas government

as part of the state's policies on Climate

Change, Environmental Preservation,

and the Amazon's Sustainable Development.

There are four categories of

Bolsa-Floresta: Income Bolsa-Floresta

94

Global Compact International Yearbook 2010
---
Best Practice

Environment

(supporting sustainable activities); Social

Bolsa-Floresta (improving health,

transportation, and communications);

Bolsa-Floresta Association (organizing

reservation dwellers as representative

groups); and the Bolsa-Floresta Family

(payment to the communities for environmental

services and products, for

sustainable use of natural resources,

and for environment preservation and

protection). Until December 2009, the

Bolsa-Floresta programs had benefited

up to 6,800 families in Amazonas.

Part of the resources thus obtained

are handed to the Foundation and used

to develop programs for environment

preservation, education, and forest

restoration, among other things. The

resources from Bradesco have already

contributed to the planting of more

than 28.1 million native tree seedlings

in Mata Atlantica areas, equivalent to

the recuperation of 42,000 acres.

All those trees, when fully grown (in

20 years), will compensate for approximately

3.9 million tons of CO 2

. Since

of treatment, credit, delinquency, and

insurance. We have also being assessing

operational, reputational, and regulatory

risks from different economic sectors

that have a relationship with the Bank,

in addition to environmental damage

risks that may be caused by projects

financed by Bradesco.

According to the Brazilian Ministry

of Environment, 70 percent of national

emissions are due to deforestation and

to other types of land mismanagement,

such as clearing by burning. That is why

Capitalization bonds and credit cards

focused on sustainability

Bradesco offers its clients capitalization products with specific goals and

social purposes. Part of the resources thus collected are handed to

socio-environmental projects, such as the Sustainable Amazon Foundation,

and the SOS Mata Atlantica Foundation. The SOS Mata Atlantica Affinity Card

was created more than two decades ago, and its annual fees are targeted

specifically to the Foundation. Since 1993, the card has already generated

R$ 41.6 million (US$ 23.1 million). The resources are directed mainly to

reforesting degraded areas, qualifying technical hands, and developing new

projects for forest protection. There is another Affinity Card in which part

of the resources are directed to the Sustainable Amazon Foundation, and it is

the first credit card in the country made of recycled plastic (80 to 85 % of the

material).

SOS Mata Atlantica

Foundation

The Bank has maintained a partnership

with the SOS Mata Atlantica Foundation

since 1989 in order to generate resources

for conservation of that particular biome.

Therefore, special products have

been launched through the years. Some

examples since 2007 are Cartão de Afinidade

SOS Mata Atlantica (SOS Mata

Atlantica Affinity Card), Pé-quente (lucky)

Bradesco SOS Mata Atlantica Capitalization

Bond, and the Eco financiamento

(Car EcoFinancing).

1989, all the resources derived from the

sales of the NGO-related products total

R$ 85.9 million (US$ 47.75 million), and

have been forwarded to the designated

recipients.

Bradesco and climate change

We are concerned and seeking to understand

more and more about climate

change issues. We have been refining our

assessment of climate change impacts on

our businesses, and analyzing the risks

that are directly related to our activities,

especially those concerning structures

actions that promote forest and woods

preservation are so important. In 2009,

while moving toward sustainability, we

enforced our support for "Seal the Deal,"

which is part of the UN Global Compact

campaign and has a goal to encourage

entrepreneurs, government, and society

to engage the international agreement on

climate change, as discussed by the COP

15 at the UN Framework Convention on

Climate Change in Copenhagen. In addition,

we continue to support the Equator

Principles, the Millennium Development

Goals, and other relevant national and

international pledges.

Global Compact International Yearbook 2010 95
---
Bosch and Siemens Home Appliances Group

Efficient household

appliances save

resources and money

By Fridolin Weindl

BOSCH AND SIEMENS HOME APPLIANCES GROUP

Accounting for almost 30 percent of consumption, private households are the secondlargest

source of energy use and, with 21 percent, the third-largest source of CO 2

emissions

worldwide. Electrical appliances, in turn, account for almost half of the entire electricity use

in private households. That is why it is so important that modern household appliances work

efficiently with as little energy as possible. By using fewer resources, they not only help to

protect the climate and the environment, they also deliver significant cost-savings for the

consumer.

Energy efficiency, climate change, resource

conservation – in the future,

these topics will become even more

the focus of public attention than they

already are. The International Energy

Agency forecasts that the global demand

for energy will rise by more than 50

percent by the year 2030. As a result, electricity

costs will continue to rise around

the world, global warming will advance,

and energy and resources will become

scarce. That is why we need to develop

innovative technical solutions and to significantly

reduce the resource consumption

of every individual. High-efficiency

household appliances can make a significant

contribution to protecting our

climate and our resources – without

having to make compromises in terms

of convenience and performance.

As one of the world's leading manufacturers

of large and small appliances,

96

Global Compact International Yearbook 2010
---
Best Practice

Environment

Innovative Household Appliances:

saving energy without sacrificing

convenience

Bosch and Siemens Home Appliances

Group carries a special responsibility

for its products. Although household

appliances were not originally invented

to save electricity but rather to use it

to make household chores easier, our

engineers have worked continuously

to improve our products' convenience

and performance while steadily reducing

their consumption of water and energy.

Thanks to their efforts, they have been

very successful in recent years. Our current,

highly efficient refrigerator-freezer

combinations in the highest energy efficiency

class A++ consume up to 74

percent less electricity than comparable

models 15 years ago. For washing machines,

we were able to reduce energy

consumption by up to 50 percent, and

for tumble dryers by up to 62 percent

over the same period of time. To keep

reducing the consumption values of

our products, our engineers are constantly

working on new technologies.

In our new tumble dryer, for example,

innovative heat-pump technology and a

self-cleaning condenser make sure that

the power consumption stays low for

the life of the appliance.

Our new dishwashers feature zeolite

– a mineral that can absorb moisture

and emit heat. This innovative technology,

which is being used for the first

time in any household appliance, makes

these models 20 percent more efficient

than traditional dishwashers of the best

energy class. When one considers that

the average lifespan of a household appliance

is 13 to 15 years, the potential

energy savings are huge. Compared

against such a long usage period, the

environmental impact created by the

appliances' production, distribution, and

disposal is relatively low, as environmental

studies and analyses confirm.

190 million obsolete appliances

In European households there are roughly

190 million household appliances that

are older than 10 years. If we replaced

all of these obsolete appliances with new

high-efficiency models, we could save up

to 44 billion kilowatt-hours of electricity

and up to 22 million tons of CO 2

every

year. And our private households could

reduce their costs by about €8.8 billion

per year. That nearly equates to the annual

residential energy consumption

of Poland and the Netherlands. To communicate

these potential savings to the

customers, clear and transparent labeling

is important, because the purchasing

decision also involves a decision on the

appliance's power consumption for the

next 15 years. Since 1995, a standardized

energy label provides a reliable

orientation-aid for consumers within

the European Union, but the official

best energy class no longer represents

the state-of-the-art in most cases.

Compared with this energy class,

modern, high-efficiency appliances from

the A++ category – which previously

only applied to the refrigerator / freezer

segment – use roughly 45 percent less

electricity. To restore a reliable classification

system and provide transparent

information for the customer, BSH

CEO and president of the European

Committee of Domestic Equipment

Manufacturers CECED, Dr. Kurt-Ludwig

Gutberlet, is working on a realignment

of the European energy label. In addition,

BSH started the company-wide Energy

Excellence Initiative last year in order

to make energy efficiency an essential

operating principle in all subsidiaries and

to position BSH as a leading supplier of

energy-efficient products worldwide. We

are also helping the Chinese authorities

to introduce a European-style energy label.

Energy efficiency, climate protection,

and resource conservation are global

issues, and efficient household appliances

are a major factor in shaping the

necessary changes directly and actively.

For its commitment in the areas of society

and the environment, BSH won the first

German Sustainability Award and was

named "Germany's most sustainable

company" in 2008.

Global Compact International Yearbook 2010 97
---
Carrefour

Accompany Our Suppliers

in Their Sustainable

Development Approach

By Hélène Jessua

Launched in 2006 among 90 suppliers,

this initiative was deployed in 2009 to

all suppliers of Carrefour's own brand

food products in France. This global tool

enables the suppliers to self-assess in four

areas: company management and policy;

environmental responsibility; social responsibility;

and economic performance.

The sustainability self-assessment tool has

been designed with the support of ADEME

(French energy-control agency) and the

WWF, with whom Carrefour has had a

partnership since 1998. It includes:

• an online assessment questionnaire

made of 49 criteria regarding environmental,

social, and economic aspects;

• proposal of indicators to monitor the

approach;

• a direct access to results;

• the opportunity to benchmark on each

criteria on a year-to-year basis, and on

the average of the industry;

• best practices.

The self-assessment tool achieves three

missions:

Within the framework of its sustainable development

approach and its commitment to the respect for the

Global Compact Principles regarding the environment

(Principles 7, 8, and 9), Carrefour has created a sustainable

development self-assessment tool to encourage its suppliers

to implement a sustainability approach. Adapted to SMEs,

this tool covers all the areas of a company at the social and

environmental levels.

1. It enables Carrefour to get more involved

with its suppliers, particularly

regarding product manufacturing.

2. It raises awareness of companies working

with Carrefour on sustainable

development challenges.

3. It enables suppliers to have a better

understanding of the levers with

which they can take action, to be

accompanied and supported in the

implementation of a sustainability

policy, and to contribute to the sustainability

of their businesses.

98

Global Compact International Yearbook 2010
---
est Practice

environment

Venez tester vos

connaissances sur

la Biodiversité

La biodiversité,

c'est quoi ?

La biodiversité désigne la Variété et la

Diversité du Monde Vivant.

Elle est synonyme de "Vie sur Terre" :

- des plantes aux hommes

- des bactéries aux plus grands des

mammifères

- de la diversité des paysages à la

diversité des lieux de vie (mer, forêt...)

Elle représente entre 10 et 50 millions

d'espèces.

Préserver la Biodiversité,

c'est offrir à nos enfants

une Planète Vivante

* for a living planet

3 LES

2010

Année de la

Biodiversité

ESPÈCES EN MOYENNE

DISPARAISSENT TOUTES

HEURES SUR LA PLANÈTE

In order to support them, Carrefour

also conducts advisory visits on suppliers'

sites. These visits are aimed at

accompanying companies, identifying

the average gap between the self-assessed

information and the reality, identifying

action plans to implement, and monitoring

progresses achieved.

Following the very positive feedback

in France, the Carrefour CEO

decided to deploy the tool to all Carrefour

brand suppliers worldwide. For

the first time, in November 2009, Carrefour

awarded the brand product suppliers

who are the most committed to

the implementation of a sustainability

approach. These awards are aimed at

encouraging and promoting the approaches

of these suppliers. The winners

of the 2009 Sustainability Award

were chosen based on the results obtained

from the self-assessment tool and

validated by advisory visits. Following

the jury deliberation of members of

Carrefour management, and external

experts from WWF and ADEME, five

suppliers were awarded for the following:

Respect for the Planet, Respect for

Climate, Respect for Earth, and Respect

for People. A special prize was awarded

to a non-food supplier of Carrefour's

own brand products for the supplier's

progressive approach.

more than 15 YearS of CommItment

to bIodIverSItY

• Fourteen years of voluntary approach to gmOs: Since 1996, Carrefour offers to all

its customers products that are not Gmo labeled (Gmo – genetically modified organism),

giving them the opportunity to buy products according to their conviction. for some of its

Carrefour quality Line products, Carrefour goes even further by excluding Gmos from

the source animal feed. outside the european union, Carrefour applies a progressive

approach regarding its non-Gmo policy, taking into account the local context linked to

national laws, economic contexts, and the different sensibilities of consumers.

• First French retailer to develop a responsible fishing offer: back in 1995, Carrefour

developed a fishing offer with its quality product line whereby fish was farmed

according to environmentally-friendly practices and not labeled Gmo. ten years later,

Carrefour was the first retailer to develop and offer a "responsible fishing" frozen fish

product range to consumers, which has since become the Carrefour aGIr eco Planète

range. With 26 references, Carrefour is the retailer that proposes the widest offering of

mSC-certified (marine Stewardship Council) own brand products in france. following

scientists' alerts in 2006, a halt in the marketing of the mediterranean bluefin tuna was

ordered in all european stores of the Group and halted completely in 2008. Since 2007,

Carrefour has also been working with the WWf to identify the best sources of supply.

• Twelve years of commitment to forest protection: engaged since 1997 in an approach

to control the sourcing of wood supplies, Carrefour has been working with the WWf

since 1998 to privilege fSC (forest Stewardship Council) certified wood. thus the Group

Purchasing office assortment of outdoor furniture consists exclusively of fSC-certified

products and acacia, a species that is not included on the International union for the

Conservation of nature and natural resources list of endangered species and for which

Carrefour's suppliers have engaged in a process of fSC certification with the vietnam

forest and trade network. for its commercial publications, and beyond its policy for the

use of paper with reduced grammage, Carrefour is committed to reaching the target of

having 100 percent of the paper for european catalogs and consumer magazines ordered

by the Group to be made from recycled wood fibers and / or of paper from forests under

certified responsible management by 2010.

• First French retailer committed to the responsible use of palm oil in 100 percent

of its own brand products by 2015: Within the framework of its participation

in the roundtable on Sustainable Palm oil (rSPo) since 2006, Carrefour is committed

to promoting a production process of palm oil that respects environmental protection

criteria and small producers. In 2009, Carrefour was still the only french retailer that was

a member of this initiative. after an awareness-raising campaign among its own brand

suppliers and an inventory of the presence of palm oil in its own brand products in 2007,

Carrefour proceeded in 2008 to substitute the palm oil included in its own brand chips

marketed in france (representing the withdrawal of a third of the total volume of the

palm oil used). In 2009, the first amounts of responsible certified palm oil through the

rSPo system became available on the market. thus Carrefour has committed to using

only certified oil in all of its own brand products by 2015. henceforth, Carrefour's position

toward the suppliers of its own brand products is to request that they substitute the

palm oil when it is technically possible and when it represents a nutritional interest.

Global Compact International Yearbook 2010 99
---
COOP

Coop Naturaline –

Fashion & Fairness

By Emma Arvidsson and Simona Matt

Coop launched its

Naturaline brand in 1993.

Today, the company is one of

the world's largest retailers

of Fairtrade organic cotton.

Coop has worked with REMEI AG since

1994. Together, they have developed a

set of social and ecological requirements

for fashionwear. This longstanding partnership

received the Business Award

for Sustainable Development Partnerships

at the 2002 United Nations World

Summit in Johannesburg. Sustainability

runs through the value chain like

a continuous thread, from the farmer

right through to the finished fashion

garment. Coop ensures organic cotton

production, ecological processing, and

fair working conditions along the entire

supply chain.

The organic cotton for Naturaline

textiles is grown in bioRe® projects in

Maikaal (India) and Meatu (Tanzania).

Today, over 8,000 farmers in India and

Tanzania are involved. Organic farming

enables the farmers to escape the

spiral of debt, as they do not have to

take out loans to purchase expensive

chemicals and GMO seeds. In addition,

organic farmers use techniques such

as crop rotation and produce compost

and natural pesticides to achieve good

yields. Organic farming also stabilizes

ecosystems, while renouncing monocultures

prevents a loss of earnings in case

of drought or pest infestations. What

is more, the farmers receive an organic

premium and a purchase guarantee

for their organic cotton harvest, hence

attaining greater added value.

Fair working conditions

The social criteria for farming include:

training and consulting services; an

organic premium; a purchase guarantee;

farmers' representation and

co-determination; workers' rights and

absence of discrimination; capital buildup

and reinforcement of organizations;

and initiation of and support for social

projects.

Coop works together with the Business

Social Compliance Initiative (BSCI)

in textile processing. In 2005, the BSCI

Code of Conduct replaced the textile

codex that had been in force since 2000.

All direct suppliers in developing countries

are involved in the audit process,

which is supported and supervised by

Coop and REMEI AG. Compliance with

100

Global Compact International Yearbook 2010
---
Best Practice

Labour Standards

SA8000 is the long-term goal for all Coop

Naturaline business associates. The social

criteria include:

• freedom of association and the right

to collective bargaining are respected

• no discrimination is practiced

• child labor is prohibited

• legal minimum and/or industry standard

wages are paid

• working hours are compliant with national

laws and do not exceed 48 hours

regular plus 12 hours overtime

• there is no forced labor or disciplinary

measures

• the workplace is safe and healthy

• the environment is respected

• a social accountability policy is in

place

• an anti-bribery and anti-corruption

policy is enforced

• statutory and international conventions

are upheld

Ecological processing

Naturaline products protect textile workers

from toxic chemicals, substances,

and colors during processing. Precise

threshold values are defined for textile

production. In particular, no chlorine

or formaldehyde is used in processing.

Moreover, further optimization

is achieved thanks to effective input

management and controlled wastewater

treatment.

For Coop, REMEI AG, and bioRe®

India and Tanzania, traceability means

the entire production process is fully

documented and certified sustainable –

in both ecological and social terms. Every

Naturaline bioRe® garment is therefore

marked with a numeric code that enables

every single production step to be traced

all the way back to the region where the

cotton was harvested.

Social projects for farming families

The bioRe® Association is responsible for

implementing social projects in India

and Tanzania. The Coop Sustainability

Fund supports these bioRe® projects.

They include:

CO 2

-neutral Naturaline products by 2013

"We decided to implement our own CO 2

project to improve the living conditions

for farmers locally," says Jürg Peritz, head of Marketing / Purchasing Business

Unit, vice chairman of Coop Executive Committee. Coop and REMEI AG are

planning a shift to CO 2

-neutral production of all Naturaline textiles and cottonwadding

products by the end of 2013. Several pilot projects were launched as

a first step. In 2008, 80,000 CO 2

-neutral Naturaline T-shirts were produced

in India and 20,000 in Tanzania. Coop and REMEI AG's CO 2

projects are

pioneering, and are a prime example of the fruits of longstanding cooperation.

As of spring 2010, the entire Naturaline t-shirt standard range is being

progressively switched over to CO 2

neutrality. How is CO 2

-neutral production

achieved? The first step is to cut CO 2

emissions in the production chain. Any

remaining CO 2

emissions are then compensated for by local projects. For

instance, farming families are given financial support to build biogas plants for

their homes. These systems turn the manure produced by their cattle into gas,

which is used as household fuel. This not only reduces CO 2

emissions by 2 to

3 tons per household annually – it also means healthier farmers and a better

ecosystem.

• Agricultural Training Centers: At bioRe®

Training Centers and during on-thefield

training, farmers learn all the

skills they need to be successful in

organic cultivation.

• Animation Schools: The aim of animation

schools is to enroll children

in a school who up to now have been

deprived of their right to education.

Animation means that the community

and, in particular, the children's parents

are made aware of the importance

of education and establish a village

school together.

• Mobile Health Unit: Where doctors

were previously unavailable, the Mobile

Health Unit brings relief today.

In 2008 / 2009, REMEI AG produced more

than 1.5 million garments for brands

including Coop, Greenpeace Magazine,

Mammut, and REWE. Nonetheless, Coop

continues to be REMEI AG's most significant

and reliable customer. Coop

Naturaline is a range of around 450

articles made from organic Fairtrade

cotton. These range from basics such as

T-shirts and pajamas to seasonal, trendy

garments. At Coop, annual sales of Naturaline

textiles and cotton-wadding products

have risen from an initial 3 million

Swiss francs to reach 65 million Swiss

francs in 2009. Today, the partnership

between Coop and REMEI AG is flourishing

to such an extent that the Naturaline

brand is also sold under license outside

of Switzerland. Distribution partners

are located in France, Finland, and Belgium.

Global Compact International Yearbook 2010 101
---
Copagaz

Global Warming and

Risk Management

Recognizing that climate change has become a worldwide challenge, Copagaz made this

a priority. A signatory of the UN Global Compact since 2003, in 2008 Copagaz became a

member of the Caring for Climate initiative. In 2009, at the United Nations Leadership Forum

on Climate Change, held by the Global Compact at UN headquarters in New York, Copagaz

also became a signatory of the Copenhagen Communiqué on Climate Change, conceived at

Cambridge University and led by Prince Charles of the United Kingdom.

By Elizete Neto Tavares Paes and José Pascowitch

Copagaz is a company that is concerned

about its performance. A pioneer in its

field with respect to sustainability, the

company has guided efforts to improve

its internal processes on the way toward

responsible management that is based

on mitigating its environmental impacts

and strengthening its relationship with

its principal stakeholders.

In this sense, climate change constitutes

one of the underlying issues for

Copagaz that will be guiding its activities

in the coming years. This article will recount

some of the internal initiatives that

the company has been implementing to

improve its management and bring it

into alignment with an economy of low

emissions. These efforts have been geared

primarily toward the logistics involved

in the distribution chain, and some of

the results can be reviewed below.

Copagaz Distribuidora de Gás Ltda.

is a large-scale, privately held Brazilian

company that is a traditional and family

enterprise. It operates in the segment

that bottles and distributes liquefied

petroleum gas (LP Gas), and is the fifth

largest company in this industry in Brazil.

Founded in 1955 by its current president,

Ueze Elias Zahran, Copagaz has established

a trajectory of solid and continuous

growth, based on an awareness of the

fundamental importance of its product

in the everyday lives of its clients. With

a presence in nineteen of Brazil's states

and Federal District, Copagaz directly

employs 1,246 staff members.

Renewal of the fleet

The Department of Logistics has undertaken

to develop and implement programs

and actions that achieve effective

logistical, financial, and commercial

results for the company while they help

to improve its performance in sustainability.

The main initiatives that have

been implemented are related to the

modernization of its fleet with more

efficient vehicles, and the creation of

programs to optimize distribution processes

and reduce distances traveled. These

actions help to improve the quality of

life for drivers, minimize the risk of

highway accidents, reduce freight costs

and, primarily, mitigate environmental

impacts related to the emission of pollutants.

Since 2005, the market has been

adopting as a standard tank trucks with

a greater capacity of 30 tons. Having

observed this trend in 2008, Copagaz

invested approximately R$ 6.48 million

(US$ 3,7) in the purchase of 18 new tank

trucks of this specification, bringing

about a reduction of approximately 392

trips a year on the central-western route

in Brazil alone.

In a forward-looking and preventive

fashion, Copagaz inaugurated a

policy of fleet modernization in 2001

whereby its vehicles would have to be

replaced every six years. This target for

truck replacement has not only been

implemented successfully, but it has also

been exceeded, considering that, as of

now, the average age of fleet vehicles is

three years. Beyond this, the new fleet

purchased at the start of 2005 is part

of the generation of Euro 3 electronic

engines, which in Brazil means that they

102

Global Compact International Yearbook 2010
---
Best Practice

Environment

are in compliance with the resolutions

of the National Council on the Environment

(Conama – Conselho Nacional do

Meio Ambiente).

The logistical team is also working to

improve the levels of the fleet's productivity

through training (economic guidance),

optimization of routes (fewer kilometers

driven per ton delivered), and having

dealers raise clients' awareness by arranging

deliveries during off-peak hours,

particularly in metropolitan areas.

Mapping of vehicles

Since 2008, all Bob-Tail trucks for the

transport and delivery of LP Gas in bulk

are equipped with a Global Positioning

System (GPS), enabling them to verify

the truck's position en route, and to

make adjustments to the itinerary after

the trip is over, thereby increasing environmental

efficiency and effectiveness

in the execution of services.

Right: Small Truck Bob-Tail – for

to serve historic and cultural

heritage cities.

Bottom: LPG Plant in Mauá,

São Paulo

This system makes it possible for

the Department of Logistics to constantly

evaluate and monitor the route taken

by vehicles, thereby enabling staff to

reorganize and restructure itineraries

if they detect any sort of inefficiency

or see opportunities to optimize routes.

Another major factor is that the program

has significantly reduced the number

of overtime hours worked by drivers,

which has added up to a reduction of

costs for the company while improving

the quality of life and lowering the risk

of highway accidents.

Conceived by the Committee on

Business Sustainability and implemented

with the support of the Logistics,

Sales, and Industrial departments, the

mapping of the vehicle fleet was carried

out during the second half of 2009.

Nearly 4,000 people were involved in

the execution of the work. In total, more

than 4,500 vehicles were registered, including

cars, motorcycles, utility vehicles,

and trucks.

This action will make it possible for

Copagaz to establish specific strategies

for risk management relating to the

environmental impacts of its activities.

The mapping consists of an initial phase

to improve the process for measuring

emissions resulting from all distribution

activities, which can then be extended

to the company as a whole. Beyond this,

from a risk-management perspective,

Copagaz can work more closely with

this strategic constituency – and from

a position of greater strength – by developing

initiatives to reduce environmental

impacts and aligning itself with

a low-carbon economy.

It is important to emphasize that

the mapping initiative seeks to keep

Copagaz in alignment with the commitments

it has undertaken with the

UN Global Compact to disseminate its

Ten Principles, as well as the Caring for

Climate initiative, aimed at reducing

emissions in the production process.

Global Compact International Yearbook 2010 103
---
Copeinca | Camposol

Implementing UNGC

Principles in our CSR

By Francesca Carnesella

COPEINCA ASA is focused on producing

fishmeal and fish oil, and covers

the entire fishmeal value chain from

trawling to distribution. The company

operates vessels that catch anchovy off

the coasts of Peru. This raw material,

along with anchovy bought from third

parties and its administrated fleet, is

processed into fishmeal and fish oil in

the six plants owned by COPEINCA, all of

which have high-quality standards and

operate under national environmental

regulations. Over 85 percent of the company's

finished products are exported

throughout the world.

COPEINCA considers sustainability

as part of its everyday business. The

company strongly believes that to guarantee

business sustainability, there is an

indispensable requirement in assuring

that the ethical principle of respecting

persons and the environment should be

fulfilled by acting in accordance with the

social responsibility guidelines of our

organization as well as the Principles

of the Global Compact, which we have

belonged to since February 2007.

We have defined our Corporate

Social Responsibility strategy – aligned

with our strategic objectives and the

Global Compact Principles – and based

it on our experiences and the world's

best practices. With this strategy, we

have been able to manage properly our

stakeholders' needs while addressing

our sustainability challenges. Moreover,

the company considers the triple

bottom line in all of its decisions: economic

growth (Profit), social development

(People), and conservation of the

environment (Planet). The company

seeks to strengthen and put into universal

practice the principles and values

of social responsibility into all of the

processes, operations, and areas of the

company. COPEINCA was the first Peruvian

fishing company to publish an

audited Sustainability Report in 2005.

Since then, there has been a second

report for the 2006 - 2007 period, and

a third one for the 2008 - 2009 period,

which was published in May 2010. All

of them are available on our web page:

www.copeinca.com. These reports reflect

the company's development concerning

environmental, social, and economic

indicators as well as the programs and

activities that are carried out according

to the social responsibility strategy.

104

Global Compact International Yearbook 2010
---
Best Practice

CSR Management

Operating in compliance

with ethical principles

CAMPOSOL is an agro-industrial company

involved in the sowing, harvesting,

processing, and export of asparagus, avocados,

piquillo peppers, mangoes, and

grapes. These products are sold fresh,

frozen, or preserved in jars or cans. In

1997, operations began with the purchase

of the first strip of land and by

the end of 1999, the first items had been

exported. Today, the company has more

than 25,000 hectares on the northern

Peruvian coastline and has become a

leading Peruvian agro-industrial company,

annually occupying first place in

agro-exports and generating (during high

seasons) more than 8,000 direct jobs.

The company understands that Corporate

Social Responsibility is a practice

performed by those organizations that

decide voluntarily to contribute to a better

society and to an environment that

is suitable for future generations.

Along this line, CAMPOSOL initiated

a process to formalize its sustainable

development strategy in 2008. In the

first step, we carried out a study with

PricewaterhouseCoopers, which allowed

us to identify our stakeholders, to design

our sustainable development strategy,

as well as to check best practices of the

industry in Lima and worldwide. This

effort resulted in a Social Responsibility

Plan for 2009 and is aligned with

the Global Reporting Initiative indicators

and the Global Compact Principles.

The results will be available in the first

CAMPOSOL Sustainability Report for

2009, which was made available in May

2010 and can be found on our web page:

www.camposol.com.pe.

The objective of this report is to

reflect in a transparent and systematic

way the main indicators that show the

environmental and social performance of

the company, as well as the programs and

activities that are carried out in terms

of social responsibility. The company

takes into consideration the issues of

economic growth, social development,

and conservation of the environment

in all of its decisions. The company tries

hard to communicate and put into universal

practice the social responsibility

principles and values into all the

processes, operations, and areas of the

company.

CAMPOSOL & COPEINCA belong to D&C Group.

Global Compact International Yearbook 2010 105
---
Deutsche Bank

Climate Protection at

Deutsche Bank

Companies need to act sustainably to maintain the trust of

the societies in which they operate. Climate protection

has an important role to play here. Deutsche Bank is active

as a financial intermediary, an environmental efficiency

manager and a climate ambassador.

As a financial intermediary Deutsche

Bank contributes to climate protection by

providing special services and products

and facilitating sustainability-oriented

business opportunities. In this area, the

Bank is focusing on promoting renewable

energies, investing in the energy

efficiency of buildings, and intensifying

emissions trading. As an environmental

efficiency manager Deutsche Bank is

making great efforts to build an ecoefficient

infrastructure, to use renewable

energies, and to neutralize unavoidable

emissions with the help of certificates. It

plans to be completely carbon-neutral in

its business activities by the end of 2012.

As a climate ambassador Deutsche Bank

is using its know-how in the area of

sustainability to inform all stakeholder

groups about the challenges of climate

change and to offer practical solutions.

Banking

Climate protection solutions do not only

form an essential part of our CSR activities,

but also offer significant business

potential. Aggregate investment in the

energy sector alone is expected to add

up to roughly $ 28 trillion by 2050. Deutsche

Bank is one of the leading banks

in renewable energies investment. It

supports companies that invest in these

energies and is financing individual

wind and solar power projects (such

as the DII GmbH Desertec Industrial

Initiative and the largest photovoltaic

park in Spain).

Deutsche Bank Global Markets provides

strategic advice on financing, risk

management, and investment to environmental

technology and renewable

energy companies and designs bespoke

solutions to meet individual needs. Investment

products include environmentally

oriented exchange traded funds,

certificates, warrants, and notes. Products

include: the DB Platinum S&P US Carbon

Efficient Index Exchange Traded Fund,

which tracks the performance of S&P

500 excluding stocks with the largest

carbon footprints; the Öko-Dax Certificate,

which tracks the performance of

the 10 biggest German renewable energy

companies; and the S-Box GlobalSolar

Certificate, which tracks the performance

of the world's 20 biggest solar energy

and silicium companies.

106

Global Compact International Yearbook 2010
---
Best Practice

Environment

DB Advisors, the institutional investment

management business of Deutsche

Bank's Asset Management division,

offers a full range of strategies in both

traditional and alternative asset classes.

DB Advisors works on the premise that

adapting to and mitigating the effects

of climate change will require massive

capital investment over decades, thereby

producing numerous investment opportunities.

Through DB Advisors, institutional

investors can access these

opportunities, as well as a wide range

of strategies that meet their criteria for

responsible investments. DB Advisors'

climate change-related and other responsible

investment solutions combine

environmental, social, and governance

(ESG) considerations with investors' financial

objectives.

DWS Investments – the retail fund

business of Deutsche Asset Management

and one of the world's largest mutual

fund companies with € 136 billion in

assets under management in Germany

and € 256 billion worldwide – has numerous

sustainable funds in its portfolio.

Among the most prominent are DWS

Climate Change, a fund that focuses

on all aspects of climate change, and

DWS Zukunftsressourcen, a fund that

focuses on water, renewable energies,

and agriculture.

Deutsche Bank makes markets in

bonds and shares of nearly all major

companies in the sectors of power gen-

Global Compact International Yearbook 2010 107
---
Deutsche Bank

eration, renewable energy, emissionrelated

and environmental technology.

It is the leading market maker in shares

of renewable energy companies.

Emission trading

Deutsche Bank has been a leading participant

in the international carbon credit

market since its inception. The Bank

invested in the Prototype Carbon Fund set

up by the World Bank in 2000 to kick-start

Clean Development Mechanism (CDM)

and Joint Implementation (JI) projects

and was the first bank to execute an

emissions trade under the Umbrella Carbon

Facility set up to facilitate Certified

Emission Reduction (CER) and Emission

Reduction Unit (ERU) trading. Deutsche

Bank makes markets in a wide range of

carbon credits including European Union

Allowances (EUAs), ERUs, and CERs,

and has been involved in over 50 CDM

projects, including wind power, energy

efficiency, landfill gas to electricity and

cement waste heat-recovery projects.

Deutsche Bank was voted the No. 1 CER

trader in Energy Risk's most recent poll

of industry professionals.

make a considerable contribution to

climate protection.

Deutsche Bank is one of the key

partners of the Clinton Climate Initiative,

which focuses on a green refurbishment

of private and public buildings in 15 of

the world's largest cities. The most prominent

Bank with its numerous buildings

is acting accordingly in its own facility

management. The best example for

this is the refurbishment of the Bank's

headquarters. Once completed, the Twin

Towers in downtown Frankfurt will be

among the most eco-friendly skyscrapers

worldwide, reducing CO 2

emissions

– and energy expenses – by about 90

percent. Deutsche Bank aims to obtain

two certifications for its headquarters: a

Among the most eco-friendly

skyscrapers worldwide: Deutsche

Bank headquarters in downtown

Frankfurt

certification from the German Sustainable

Building Council (Deutsche Gesellschaft

für Nachhaltiges Bauen (DGNB)) and a

Platinum Leadership in Energy and Environmental

Design (LEED) certificate by

the US Green Building Council. Deutsche

Bank has also put up a list with sustainability

requirements for all buildings it

is buying or renting.

Supply-chain management

As many studies have shown, procurement

is significantly influencing the overall

environmental impact of a company.

Ecological criteria play an increasing role

in the procurement of goods and services.

By including minimum standards in its

Risk management

In the context of Deutsche Bank's climate

strategy and sustainable banking

approach, risk management plays an

essential role. In 2008 the Bank revised

its global lending policy, placing even

greater emphasis on sustainability. For

example, Deutsche Bank does not provide

financing for products such as CFC,

asbestos, or certain weapons and pays

special attention to all transactions regarding

rainforests, woods/forests in general,

dams, and mining/natural resource

production.

Energy efficiency of buildings

Large cities account for about 75 percent

of energy consumption and greenhouse

gas emissions worldwide, with almost 40

percent of the greenhouse gas emissions

being caused by buildings. Making buildings

more energy efficient can therefore

108

Global Compact International Yearbook 2010
---
Best Practice

Environment

DEUTSCHE BANK'S CLIMATE STRATEGY

Deutsche Bank recognizes the responsibility to act on climate change and we help our stakeholders to take action –

in an integrated approach across our business. We consider our climate strategy as an essential part of our forward-looking

sustainable business strategy.

Financial Intermediary

Our core business wants to contribute to

climate protection with high-class services

and banking products and offers sustainable

business opportunities.

■ Clean technology

■ Energy efficiency of buildings

■ Carbon market activities

■ Green Infrastructure

■ Principal Investments

Eco Efficiency Manager

We aim to be an industry leader in how

corporations should contribute to climate

protection.

■

■

■

■

■

■

Green buildings & IT operations initiative

Switching to renewable energies

Offsetting of inevitable emissions with

highly regulated certificates

Carbon neutral from 2013 onwards

Best practice "Greentowers"

Climate Ambassador

We strive for being a "knowledge company"

and are committed to bring the message

across to all of our stakeholders.

■

■

■

■

■

Clients / General public ("Banking on

Green", DB Research, mandates)

Proactive policy and regulatory dialog

Staff ("A Passion for the Planet", e-learning)

Shareholders / Investors communication

Best practice "Solar Impulse"

Deutsche Bank is one of the

leading banks in renewable

energies investment.

product specifications and defining the

requirements to be met by suppliers,

the Bank both demands and supports

its business partners' commitments to

sustainability.

In 2008 Deutsche Bank set up a special

unit for global energy procurement,

extended the use of sustainability criteria

– particularly for global tenders – and

further enhanced its Global Sourcing

Policy. Currently, the Bank is working

on further improving the entire procurement

portfolio and monitoring CO 2

emissions

in the supply chain with a focus on

energy and paper supply contracts.

Comprehensive commitment

All this, plus activities such as awareness

campaigns for the Bank's employees,

offers ample proof of Deutsche Bank's

comprehensive commitment to climate

protection, consistent with the Principles

7 to 9 of the UN Global Compact. As part

of its Corporate Social Responsibility and

in its own best interest, Deutsche Bank

is committed to help prevent significant

deterioration of the global climate.

Contact Person:

Prof. Hanns Michael Hölz

Group Sustainability Officer

Deutsche Bank AG

Global Compact International Yearbook 2010 109
---
Deutsche Post DHL

Living Responsibility

If one person forgets to switch off the light, it's not the end of the world. But when

thousands of employees agree to climate-protection measures, the effects can show a

tremendously positive result. If only one customer requests a carbon-neutral transport, it's

not going to save the planet. However, when thousands of customers all over the world

ask for eco-friendly services, it makes a big difference. Today, it is our employees and our

customers who drive our corporate responsibility activities at Deutsche Post DHL.

By Rainer Wend

110

Global Compact International Yearbook 2010
---
Best Practice

CSR Management

Deutsche Post DHL is the world's leading

mail and logistics company with about

500,000 employees around the world.

We perceive this market leadership as

a special responsibility to use our core

expertise in logistics and our worldwide

presence to the benefit of society and

to continuously minimize our impact

on the environment. For us, corporate

responsibility (CR) means combining

business success with social responsibility.

It means actively living responsibility,

and fortunately, we can rely on our

employees and their know-how, talents,

and passion to do just that. "Living Responsibility"

is therefore the motto for

our corporate responsibility strategy.

We divide our commitment into three

specific areas: environmental protection,

disaster management, and education.

With our programs GoGreen, GoHelp,

and GoTeach, we connect our business

Deutsche Post DHL is founding partner

and largest supporter of Teach First

Deutschland.

with our employees and our customers,

as well as our investors.

We believe that business success

and corporate responsibility go handin-hand.

Therefore, our CR approach is

an integral component of our long-term

business strategy, the so-called Strategy

2015. As part of our long-term outlook,

we asked customers, experts, and scientists

last year about the major issues

for the years to come. The results were

published in the 2009 Delphi study "Delivering

tomorrow – customer needs

in 2020 and beyond" highlighting that

climate change will be the key driver

for a revolution in new products and

services. Customers will have new needs,

new expectations, and demonstrate new

behaviors. Eco-friendliness and conscientious

consumption will increasingly

determine purchasing behavior.

The study also shows that the logistics

industry will set trends and establish

new standards for cooperative efforts and

an environmentally friendlier business.

We want to take a leading role in green

activities, in humanitarian actions, as

well as in education, taking advantage

of our expertise and our worldwide presence.

Our activities and our progress

GoGreen

Our GoGreen program is a beacon in the

logistics industry. We have set ourselves

ambitious targets with a focus on CO 2

emissions as an important factor in our

industry. By 2020 Deutsche Post DHL

aims to improve the carbon efficiency of

its own business activities and those of

its subcontractors by 30 percent. In other

words, the carbon footprint per item

shipped, tonne per kilometer transported,

or square meter of space used is to be cut

by almost one-third compared to 2007

levels. As an intermediate target, we aim

to reach a 10-percent improvement in

our own carbon efficiency by 2012. Why

do we feel we have a special responsibility

to do this? Our core business of logistics

services and transportation – and

especially road and air transport – has

a significant impact on the environment.

Therefore, we have developed measures

to minimize these impacts. Our

approach includes optimizing our air and

vehicle fleet, raising energy efficiency,

implementing innovative technologies,

developing "green" products, encouraging

our employees to reduce resource

usage and CO 2

emissions, and getting

our customers and subcontractors on

board. Our employees play a crucial role

in all our attempts to make our business

as "green" as possible, and encouraging

our 500,000 employees worldwide to join

the effort by adopting climate-friendly

practices is just as important as driving

innovations and using alternative energy

sources. To raise awareness among our

employees, we developed a training tool

comprising a workshop for teams of all

levels and areas. Such workshops are

based on employee idea management

and are implemented step-by-step in

our business units. Our employees identify,

develop, and commit to measures

implementable in the workplace. These

measures can be as simple as turning

off the lights when leaving the room

or only receiving new stationary when

returning used material.

Since the introduction of the "green"

seminars, thousands of employees have

pledged their commitment to environmental

measures they themselves have

developed, and in doing so, have introduced

several climate-friendly ideas

into the Group. The resulting action

plan is written on a specially designed

poster outlining the workshop. Any

wider-reaching ideas resulting from the

workshop are collected and forwarded

to decision-makers.

GoTeach

GoTeach was established as a CR program

to reinforce our global engagement in

the area of education. We believe that

education is a high-value asset and key to

our children's future. And it is key to our

companies future as well: As one of the

world's largest employers, we are always

looking for well-trained, capable staff

with different levels of qualifications.

With its GoTeach program, Deutsche Post

DHL encourages and develops initiatives

that support education and help young

individuals expand their personal development

and skills. Additionally, GoTeach

offers employees the opportunity to

volunteer in educational projects.

In 2009 Deutsche Post DHL entered

a long-term cooperation with Teach First

Deutschland in Germany. The idea behind

Teach First Deutschland is based

Global Compact International Yearbook 2010 111
---
Deutsche Post DHL

on similar models in the United States

and United Kingdom. Before launching

into their careers, qualified college

and university graduates from various

fields (so-called fellows) join for a twoyear

period as "temporary teachers" in

classrooms of junior, intermediate, or

comprehensive schools. Teach First Fellows

support regular teachers in their

day-to-day teaching. The goal is to motivate

students, help them achieve more,

and to boost their self-esteem.

For the fellows who choose to undertake

this special work, the program

is equally beneficial. They undergo intensive

preparation before starting to

work in the schools, they gain additional

qualifications, and they gather experiences

that might last a lifetime. "I want

to show that nothing is set in stone," explains

one fellow. No matter where they

start in life, young people can gain new

opportunities with the help of others.

In addition, Deutsche Post DHL

finances and runs two-week summer

camps for young people called "Camp4us."

The company invites managers

and employees to volunteer as tutors

in the summer camps. They supervise

projects in the areas of environmental

protection, the media, sports, or theatre,

helping students to improve their skills.

As of fall 2010, they can also become

active mentors for the pupils as well

as for individual Teach First Fellows.

Participating in a program like Teach

First puts both the young fellows and

us in touch with reality and gives us the

chance to bring schools and the working

world closer together.

GoHelp – Disaster management

Deutsche Post DHL does business in more

than 220 countries and territories around

the globe. This means we are present

almost anywhere in the world. In GoHelp

we use this global presence and our

expertise in logistics. GoHelp focuses on

disaster management and entails a twofold

approach: disaster response and disaster

preparedness. In cooperation with

the United Nations, we have established

two programs providing free-of-charge

support to countries in need.

When a natural disaster hits, we

mobilize our DHL Disaster Response

Teams (DRT). Initiated in 2005, the disaster

response program has proven to be an

important support in tackling logistical

problems that arise after a natural disaster

hits. When earthquakes, cyclones, or

flooding have devastated a region, help

usually comes from the international

community. International aid workers

and relief goods are flown into regional

airports shortly after a natural disaster

hits. The regional airports then are

quickly congested by the food, medical

supplies, and tents arriving from all over

the world – all of which are urgently

needed in the field. Very often there is

no set disaster plan on how to manage

such situations. This is where the DHL

DRT comes in, always cooperating closely

with the UN Office for the Coordination

of Humanitarian Affairs (OCHA).

The DRTs rely on the commitment of

Deutsche Post DHL employees. They consist

of about 200 volunteers worldwide

who are trained to handle the challenges

on the ground. The DRTs use their extensive

logistics expertise to help handle the

logistics of disaster relief goods arriving

at the airports. Together with local authorities,

they take care of incoming relief

goods, set up and manage professional

warehousing, including the sorting and

inventorying of goods. Deutsche Post

DHL has three Disaster Response Teams

in place covering most regions of the

world that could be affected by natural

disasters on a regular basis: DRT Americas

in Panama; DRT Middle East / Africa in

Dubai; and DRT Asia Pacific in Singapore.

After being called by OCHA, the teams are

ready for deployment within 72 hours.

About 15 volunteers are involved in each

deployment.

The most recent DRT deployment

was in the wake of the earthquake in

Chile. Previously, a total number of 33

DHL volunteers went to Haiti. The teams

helped handle over 2,000 tons of international

relief aid from over 60 aircrafts

in a period of 25 days and ran an interagency

warehouse, allowing more than

112

Global Compact International Yearbook 2010
---
Best Practice

CSR Management

Left: After the earthquake in Haiti the

DHL DRT Americas provided help at

Toussaint L'ouverture International

Airport.

Bottom: Employees engage for

community investment projects and

support communities.

25 different aid organizations to benefit

from our logistics expertise.

The other disaster program of

Deutsche Post DHL is called GARD (Get

Airports Ready for Disaster). GARD focuses

on disaster preparedness. It was

launched together with the United Nations

Development Programme (UNDP).

Piloted in 2009, the program was built

around the need to prepare governments,

people, and airports before a disaster

strikes. GARD is a supportive initiative

in making worldwide relief efforts more

effective.

While DRT uses the companies expertise

in logistics, GARD is a training

program for local people in potential

disaster-hit areas. It prepares airports

by reviewing airport capabilities and

capacities, helping understand coordination

requirements, training local people,

and helping formulate contingency plans

and coordination structures. Deutsche

Post DHL has already successfully tested

the program at the Makassar and Palu

airports in Indonesia.

GoHelp – Local involvement

Our employees have set up hundreds of

projects to support their communities.

We know that they understand the needs

in their personal surroundings best and

can provide appropriate support, for

example through fundraising, volunteering,

or providing logistics services

in cooperation with local non-profit

partners. Their projects generate a team

spirit that they bring back to the workplace,

contributing to the company's

long-term success.

To recognize and reward the commitment

of employees throughout the

Group, Deutsche Post DHL launched

its Corporate Responsibility Award in

2009. Employees from all divisions and

regions were invited to submit details of

projects in the areas of environmental

protection, disaster management, and

education. The projects included the

Xenophobia Disaster Relief Program in

South Africa, where employees from

DHL Supply Chain ran a warehouse for

donated goods and assisted in delivering

relief packages to migrants who are victims

of racial prejudice and violence. In

the Czech Republic, the DHL Information

Technology Services pledged to purchase

and plant 4,000 trees on six volunteer

days to protect the only wooded area in

Prague, the Klanovice Forest. "Save a day"

is an online calendar where Deutsche

Post DHL employees can mark a day

on which they want to donate money

toward improving the inadequate educational

situation of deaf-mute children in

rural regions of Nepal. And in the project

"Logistics for Jambo Bukoba," employees

based in Germany working in different

divisions support a sport for development

project in Tanzania. These local projects,

together with many others, join our

Group-wide initiatives in bringing our

corporate responsibility to life.

Commitment for Living

Responsibility

For Deutsche Post DHL, corporate responsibility

means handling assets entrusted

to us in a respectful and sustainable manner

as well as upholding the interests of

our employees, our customers, and our

investors in benefitting the environment

and society. Deutsche Post DHL

is committed to "Living Responsibility"

and its three key programs. The Group

has developed a strategy that meets the

delicate balance between economic, environmental,

and social interests. The

Group-wide programs are constantly

communicated, transparently implemented,

and continuously evaluated. All

this would be in vain, however, without

our employees and customers or without

the partnerships with nonprofit organizations

whose core competencies are to

tackle some of the ecological and social

challenges the world faces today.

Our CR approach

at a glance

GoGreen

We use resources in a responsible

manner and minimize the impact

of our actions on the environment.

GoHelp

We use our core logistics

expertise to provide effective

emergency aid in areas

affected by natural disasters

in cooperation with the United

Nations.

GoTeach

We encourage and develop

initiatives that support people's

education and help expand their

personal development and skills.

Global Compact International Yearbook 2010 113
---
Deutsche Telekom

Big changes start small

Large business corporations are expected to assume ecological and social responsibility

and to adopt sustainable business practices. Deutsche Telekom has already fulfilled this

expectation for many years and, in September 2009, began to extend its radius of action for

the environment and society and to actively involve customers through its communication

campaign for sustainability.

By Julija Dietrich

Big changes start small.

Get your bill online and help

preserve nature.

There's a lot that you, along with millions of others in Germany, can accomplish

with the help of our 'Rechnung Online' service. No other company sends out

more online bills than Deutsche Telekom: to date, more than 14 million people

have opted out of dealing with all that cumbersome paperwork. They're also

conserving precious resources in the process, while helping to avoid the

environmental burden generated by the delivery of all those bills.

www.millionen-fangen-an.de

186x124,4_DTAG_RechnungOnline_Jahrbuch_GCD_ENG_RZ.indd 1

26.04.2010 17:39:33 Uhr

114

Global Compact International Yearbook 2010
---
Best Practice

CSR Management

"Big changes start small" is the theme

of the campaign for the environment

and society, which focuses on presenting

Deutsche Telekom products and services

with which customers can act responsibly

and thus play an active role in backing

sustainable development. "This campaign

is not about clapping ourselves on the

back. We want to show that entrepreneurial

action, appropriate consumption

and sustainability can be meaningfully

combined," commented Chairman of

the Management Board at Deutsche

Telekom, René Obermann, at the launch

of the long-term campaign, which will

be featuring in advertisements in print,

TV and online media.

The campaign focuses not on the

company itself but on its end consumers,

and is based on the following central

idea: All our customers can achieve far

more in total – if they are adequately

informed. After all, together, people

can make a bigger difference than

individually. The contribution that

one person makes individually compared

with what they can do as

part of a large group is visualized

at www.millionen-fangen-an.de

(millions of people commence). The

site currently presents the topics

of online billing, child protection

software, download portals and

cell phone returns. Online billing

can be used to illustrate the calculation

of one's own individual

contribution and that of a whole

group of customers. The product

saves around three sheets of paper

per month for each customer, so

The tilt/shift effect supports the

campaign motto: "Big changes

start small" What is apparently a

miniature view (in actual fact it is all

real) makes it clear that big things

can be achieved in small steps.

that with only one million customers

the volume of paper saved would reach

a height of 240 meters – higher than

the 202-meter Trump Tower. More than

14 million Deutsche Telekom customers

already use the online billing service in

Germany alone, and more new users will

help to bring a major change in paper

consumption habits and will save the

environment.

More than 13 other topics that illustrate

the concept of ecological and social

sustainability are planned for the next

two years of the campaign. These will

include telephone and data conference

calls, smart metering, climate-neutral

and family-friendly phones and power

consumption of Deutsche Telekom,

where power in Germany has been supplied

completely from renewable energy

sources since 2008. The company will

also be calling on people to take action

from 2010, for example to return their

"This campaign is

not about clapping

ourselves on the

back. We want to show

that entrepreneurial

action, appropriate

consumption, and

sustainability can be

meaningfully

combined."

René Obermann, CEO Deutsche Telekom

old cell phones for re-use or recycling.

Fully functional used handsets will be

sent to Africa or Asia and defective devices

dismantled in the recycling process.

The materials that are retrieved – more

than 80 percent of a cell phone is reusable

– could be made available to

the automotive supplier industry, for

instance, where they would help to

reduce the consumption of resources.

Furthermore the mentioned sustainability

campaign's Internet platform

will be made increasingly interactive

for customers. All in all, there are many

points at which customers themselves

can take action.

A sustainability campaign is, however,

only feasible and credible if the

company running it itself embraces and

practices corporate social responsibility.

As a corporate group, Deutsche Telekom

has already pursued a policy of sustainable

corporate governance for many

years and has, for example, conducted

returns of old devices since the 1970s.

We initiated our commitment to climate

protection in 1995 and adopted own

climate protection targets the following

year. In the year 2000, we were one of

the founding members of the UN Global

Compact and, in 2003, adopted our

Social Charter to ensure that our

employees and suppliers comply

with ecological and social standards.

In 2007, we were commended

by WWF as the corporate group

best equipped for climate change

and, in September 2009, signed the

Copenhagen Communiqué of the

European Leaders Group on Climate

Change (EU CLG).

This year, it was only logical

for us to venture even further into

the public eye with sustainability

in order to rouse and activate

awareness for this important issue

and to join with our customers to

achieve far more than we would do

alone. The fact that many people

are already highly sensitized to this

issue is an important fundament for

moving forward. The changing and

growing demand among customers

for attractive and sustainable

products from responsible companies

offers a major opportunity to promote

products and business models that are not

only economically viable but, above all,

pave the way to a sustainable consumer

society. This is an objective that we want

to contribute to.

Global Compact International Yearbook 2010 115
---
ENI

ENI's Cooperation

Model for Sustainable

Development

Multinational companies face huge challenges in countries they operate in, from human

rights to the growing need for transparency and responsibility, from respect for the

environment to the fight against poverty and the promotion of fair labor practices. Oil and

gas companies operate in some of the most challenging places on earth, where they can

have an important impact on local communities and on the environment due to the nature

of their operations. This paper describes the attempts Eni has made to build a multilevel

cooperation model, meeting the principles and goals of the Global Compact.

By Sabina Ratti

Eni is the seventh largest international

oil and gas company based on proven

reserves and production. The company

differs from the other major companies

due to the greater impact of downstream

gas activities in its portfolio, as it is the

leading refining operator in the Mediterranean

basin. The net sales from operations

in 2009 were € 83.23 billion with a

hydrocarbon production of 1.769 million

barrels per day.

Genuine respect for

other cultures

Eni was created in 1953 as an Italian

national oil and gas company, and in

1992 it was turned into a public energy

company. Its origin are strictly connected

to the life and destiny of one man, Enrico

Mattei. He was one of the first Italians to

develop a frontier business mentality and

a genuine respect for other cultures. He

had grasped that no international strategy

would be possible without extensive

knowledge of the individual countries

Eni was intending to explore. Eni's divergence

from normal practice was an

exception in international business, so

much so that, at times, it seemed an

affront to common sense.

In 1957, an agreement was made to

set up the Italo-Iranian company Sirip.

The Italian company agreed to fund exploration

while Sirip agreed to develop

and exploit any reserves that were found.

An additional clause stipulated that 50

percent of Sirip's net profits would go to

the Iranian government, and the other

50 percent would be divided equally

between Eni and the National Iranian

Oil Company. The result was that for

the first time an oil-producing country

secured for itself a profit of around 75

percent, significantly better than the 50-

50 formula already regarded as "revolutionary,"

and it was also actively involved

in the production process. This type of

agreement has come to be known as the

Mattei Formula.

The legacy of Enrico Mattei is a

real intangible value for the company,

especially for its way of establishing

dialogue with the countries it operates

in. CEO Paolo Scaroni recently affirmed

that "In Eni, I was taught to remember

that oil is not ours, it is theirs. This

has always been one of the pillars of

our strategy. If we work together, there

will be enough wealth for everybody."

The spirit of the Mattei Formula is currently

applied through Memorandum of

Understandings and Agreement Protocols,

which Eni signs with institutions

and nonprofit organizations in its operating

countries to set principles and goals

116

Global Compact International Yearbook 2010
---
Best Practice

CSR Management

concerning the economic, industrial, and

social development of the country.

The strategic objective is to operate

within the country as a Sustainable

Development Agency and as a Structural

Fund for Sustainability, supporting local

governments and civil society, which are

constantly involved in defining priorities

and goals. Supporting developing

countries means respect and promotion

of human rights as the prerequisite for

sustainable development, fostering dialogue

and partnerships among the public

and private sectors, using technological

innovation as a driver for development

and environmental protection, and preventing

corruption. Below are some examples

of this approach in practice.

Against climate change for local

development in Africa

Eni is the largest international operator

in Africa, with a production of about

1 million barrel of oil a day, of which

450,000 come from the sub-Saharan region,

and technical investments of $ 4.43

billion, representing 43 percent of Eni's

total investments of this kind in 2009.

Energy access represents a serious problem

for African people and companies. At

the same time, the practice of gas flaring

– widespread in Africa – is a source of

local pollution and considered a major

contributor to climate change.

The Kwale–Okpai power plant in

Nigeria is a good example of how the

company fights climate change, creates

local development opportunities, and

reduces its environmental impact. Okpai

IPP is the first independent power plant

(IPP) in Nigeria to have implemented flaring

reduction initiatives through power

generation and incorporating minimal

heat emissions by employing combined

cycle technology. The plant recovers the

gas associated with oil production and

uses it for electricity production, benefiting

the local economy. The project –

started in 2001 and completed in record

time – is one of the main projects in the

world for reducing gas flaring.

The Kwale–Okpai plant capacity is

480 MW, with the potential to be doubled.

In November 2006, Kwale–Okpai was

registered as a CDM project – a project

based on a Clean Development Mechanism

under the Kyoto Protocol, thereby

becoming the main African project on

this list. The plant currently generates

15 to 20 percent of the power for the

Nigerian national grid. Indeed, its contribution

to the growth of electricity

generation meets the requirements for

sustainable development in Nigeria. The

success has generated a positive chain

reaction, encouraging other private companies

to commit to flaring-reduction

initiatives via power generation.

Kwale–Okpai is not the only plant

of this kind that Eni has built in Africa.

In the last few years, Eni has increased

its presence in the Congo, developing its

business operations in close collaboration

with the Congolese authorities. On

May 2008, the company signed a cooperation

plan that integrates the traditional

business of exploration and production

Global Compact International Yearbook 2010 117
---
ENI

of hydrocarbons, with concrete actions

for sustainable development. In December

2008, the capacity of the gas-fired

power station at Djeno was doubled,

increasing from 25 MW to 50 MW. As a

result, the city of Pointe Noire now has

access to electricity.

The Memorandum of Understanding

with Congolese authorities includes

the construction of another 450-MW

power station near the Djeno oil terminal,

which will generate electricity from gas

and contribute over 80 percent of the

country's electricity requirements while

reducing gas flaring.

Creating opportunities for people

while promoting fair labor

Eni employs more than 78,000 people all

around the world. Half of them are not

Italian and many of the Italians are "expatriates"

working overseas. There were

11,851 people employed in 2009 in Africa,

the continent where most of the new

employees are settled. The promotion

of labour standards inside the company

and alongside its supply chain is a core

responsibility for Eni. The protection of

equal rights is explicitly embedded in

Eni's Code of Ethics, which conforms to

the main International Labour Organization

(ILO) conventions and international

labour standards. The industrial relations

system is characterized by a close relationship

with workers' representatives,

organized in a series of union agreements

at different territorial levels.

At the national level, an Industrial

Relations Protocol was signed in 2001

by the major union organizations. In

Europe, the European Works Council

has been active since 1995. At an international

level, the Industrial Relations

at Transnational Level and Corporate

Social Responsibility Agreement was

signed with the International Federation

of Chemical, Energy, Mine and General

Workers Union and Italian unions.

In 2010, a Memorandum of Understanding

will be defined between Eni

and ILO in order to promote common

initiatives in the field of decent labour

promotion in developing countries that

will involve Eni's branches worldwide

and local suppliers. Respecting labour

standards and creating job opportunities

for local people is not enough to

contribute to sustainable development.

A huge percentage of Eni's workforce

works and lives outside Italy. In addition,

every man and woman of the company

– in Italy and abroad – lives within the

local communities in which Eni operates.

Cultural diversity, in its broadest

sense, is a factor that is encountered

constantly.

This is one of the reasons why Eni

has been engaged in projects of nationalization

of managerial positions in many

operating countries such as Kazakhstan,

Nigeria, Congo, and North Africa, which

resulted in a 16-percent growth of local

managers during 2008 and a further

7-percent increase in 2009. Eni needs local

managers for their deeper knowledge

of the local environment. At the same

time, these people will play a leading

118

Global Compact International Yearbook 2010
---
Best Practice

CSR Management

role in national companies and in their

own societies. Managerial and technical

development is supported by investments

in training, which amounted to € 50

million in 2009.

Furthermore, Eni encourages and

promotes the development of the local

socioeconomic system by supporting

entrepreneurship and strengthening territorial

infrastructure. In 2009, actions

to improve local content development

was carried out in Kazakhstan, Nigeria,

Mali, Angola, Australia, Libya, and East

Timor. For example, 86 percent of the

procurement value of Nigeria came from

local suppliers.

The fight against corruption

The World Economic Forum estimated

that the cost of corruption worldwide

is about a trillion dollars per year, representing

5 percent of world GDP. This

means that corruption represents a great

threat to sustainable development. Eni

is committed to the fight against corruption.

In 2009, the company reorganized

its corporate structures dedicated to

anticorruption, adopting new guidelines

and procedures that allow Eni to satisfy

the reporting requirements suggested by

the Global Compact. In 2010, further

training activities on this issue will be

improved for all of Eni's people.

The company is part of the Extractive

Industries Transparency Initiative

(EITI), which aims to provide transparency

surrounding the payments made

by the extracting companies to the local

governments. The initiative is targeted

at both the companies and the

governments. The former are expected

to disclose the amount paid to governments

/ state-owned companies, while

governments are asked to account for

oil revenues.

Eni promotes the implementation

of the initiative in the countries that

have already adhered to EITI and – in

cooperation with the Italian Ministry

of Foreign Affairs – is committed to

playing a role as facilitator in those countries

of relevant interest to the company

where governments, while displaying

interest in the initiative, have still not

formally signed up for it. Up to now,

several countries are already active in

EITI compliance: Kazakhstan, Norway,

Italy, East Timor, Congo, and Nigeria.

Eni's commitment toward transparency

is also reinforced by its interest in the

Partnering Against Corruption Initiative,

promoted by the World Economic

Forum, for the application of "Business

Principles for Countering Bribery" by

Transparency International.

Human rights, cooperation,

and development

The different implications resulting from

the impacts of industrial activities on

society are often tackled without aiming

at a comprehensive solution, which is

essential to guaranteeing development.

Analyzing energy-related and environmental

issues from the standpoint of

human rights offers a different understanding

of the impacts resulting from

operational activities, social norms, and

usual practices, thus helping to identify

cooperation and development strategies.

This is the reason why Eni has

developed a human rights-based assessment

system to evaluate its operational

and engagement activities. The

Human Rights Compliance Assessment

(HRCA) process – done according to the

methodology proposed by the Danish

Institute for Human Rights – is the

foundation of a more comprehensive

intervention program that will cover

all the operational spheres at risk of

violating human rights. In 2008, HRCA

was tested in Nigeria and Kazakhstan,

while in 2009 three new assessments

were carried out in Algeria, Egypt, and

Congo. The areas of intervention identified

as priorities are: security activities,

operational and supply issues, diversity

management, and local community

involvement.

In collaboration with the International

Business Leaders Forum, a new initiative

has been implemented in order to

integrate the key human rights instances

in the Social Impact Assessment methodology,

so that they will be included

in the early feasibility evaluations for

new projects. A more extensive training

program aimed at security managers has

begun and will continue till 2013, and

specific clauses related to human rights

are being inserted in the contracts with

security services providers. Since 2008,

assessments on labor rights have been

implemented in the procurement area

according to SA8000 methodology. With

respect to diversity management, in 2009

Eni carried out several initiatives aimed

at internationalization and intercultural

skills development.

Conclusions

At Eni, we used to say that the company

"Lives in the World." That means establishing

long-term relationships with the

countries in which Eni operates as well

as promoting dialogue and cooperation.

This is possible thanks to the evolution

of tools such as Memorandums

of Understanding, which define the

cooperation between the company and

public bodies and are aimed at sustainable

development goals. But it is also

thanks to the people of Eni working all

over the world, dealing everyday with

cultural diversity and with the need of

establishing positive relations with local

communities.

Eni considers these elements not

only as requisite for a responsible

company aimed at having a positive

contribution to the society, but also as

opportunities of growth and prosperity

– today and in the future. This view

fully matches with the Global Compact.

As UN Secretary-General Ban Ki-moon

said: "We need business to give practical

meaning and reach to the values and

principles that connect cultures and

people everywhere."

The examples given in this article

– telling the story of Eni's presence in its

operating countries and explaining how

Global Compact Principles are embedded

in Eni's cooperation model – represent

the company's contribution to the debate

around the concrete application of initiatives

in the energy business.

Global Compact International Yearbook 2010 119
---
Folksam

Being an

avatar for a

sustainable

world

By Carina Lundberg Markow

Climate change has become by far the most important

environmental issue and will take an increasingly

prominent position within the policy discussions in

Sweden, the European Union, and the rest of the world in

the coming years and decades. In 2009 Folksam launched

a project focusing on the energy industry to help lead the

way toward a sustainable society.

An enterprise from the planet earth has

found a deposit of a valuable mineral,

unobtainium, on the planet Pandora,

located some distance from earth. What

unobtainium can be used for has never

been clarified, but company executives

are satisfied, as are the shareholders.

There is only one minor problem: A

population of aliens, Na'Vi, are sustained

from the nature around the mineral

deposit source. These aliens are fighting

to retain their land and their lives and

trying to maintain a balance with nature.

The film can be seen as an allegory about

the critical point in time in which we

find ourselves today. Most of our world's

production takes place in post-colonial

states, to satisfy the West's consumption

needs. What is portrayed in the film is

very similar to how the energy issue is

handled in the real world.

Because climate change has become

the most important environmental issue,

companies and fund managers will be

forced to develop strategies to reduce

emissions, both for cost reasons and as

an important part of brand building.

Already in recent years, an increasing

number of pension fund managers have

opted to apply ethical considerations to

their management of capital.

In line with the increased prices for

their products, oil and gas companies

have increased their profits dramatically.

The same applies to electricity-producing

companies, which have increasing their

profits through emissions trading, assisted

by the price of electricity. This

means that fund managers (and their

depositors) who choose not to invest in

the traditional energy sector are likely to

miss out on many opportunities because

of this decision.

In the coming decades, massive

investments in the energy sector will

be required. The International Energy

Agency (IEA) estimated in May 2005 that

the amount needed for investment in the

energy sector by 2030 is an unimaginable

$16 trillion. The IEA warns that with

"business-as-usual," 85 percent of the

world's increased energy needs will be

met by fossil fuels by 2030 and carbon

emissions will increase by 60 percent.

The IEA has found that the operational

lifetimes of many coal-fired power plants

do not extend beyond 2015 / 2020 and

that an important part of the work to

avert climate change relies on technologies

that replace coal power.

Folksam has four million customers

and manages $ 35 billion on their behalf.

This gives us a possibility to influence

and, over time, change the society. Active

corporate governance is among

the tools we use. It has become highly

important for companies in industries

with high environmental risks to have

policies and management systems that

deal with risk preparedness. During the

2009 Folksam project that focused on

the energy industry, Folksam contacted

69 companies through letters, e-mails,

and telephone conferences. The results

of the dialogue will be published in a

public report in 2010. The reason for

these questionnaires and dialogues is

that Folksam has set high criteria concerning

the environment and human

rights for all of its investments. As a

consequence, we are searching all the

investments we have made and are making

in the energy sector to make sure

that we do not allow investments in

any company that would be in breach

of these criteria. As a background reference,

we use the ratings of the ethical

consultants Global Ethical Standards.

Their points system includes grading

of all publicly accessible information,

120

Global Compact International Yearbook 2010
---
Best Practice

Environment

Carina Lundberg Markow –

an avatar for a sustainable world

including annual and sustainability

reports, websites, et cetera.

How do companies in the energy

sector handle their sustainability work?

Is it a way to avoid criticism or is there

a genuine desire to take an active part

in combating climate change? Is it serious

work or more "green wash"? At a

time when an increasing number of

climate-conscious consumers want to

take responsibility, it is becoming more

attractive to energy and oil companies to

promote their products as being "better

for the environment." Are these companies'

solutions real or false?

All 69 companies in the energy

and oil industry that Folksam contacted

agreed to discuss sustainability issues.

However, they found it very unusual

that one of the owners contacted them

directly to talk about this subject. Even

more unusual, it seems that environmental

and climate issue have a prominent

role in the communications of financial

analysts from banks. For many of the

companies, the Global Reporting Initiative

plays an important role. It helps

them to report on their carbon footprint

in a structured way. Many, but not all,

also use an independent party to review

the reporting process. Nearly all have

set up internal policies as well, consistent

with the principles of the Global

Compact. They have internal goals and

control of its operations but have still

not reached a stage where they control

their subcontractors.

In the case of NGOs, there are those

who actively cooperate with them and

those who see them as obstacles. Those

who are most hostile believe that NGOs

are uninterested or otherwise hard to engage

in dialogue. The main goal for the

companies is to have short- or long-term

goals for the reduction of CO 2

emissions.

Almost all companies invest large sums

in developing renewable energies. They

are investing in wind, solar, and biomass.

Renewable energy, combined with the

smart use of energy, seems to be the

main solution for the climate change

issue. But at the same time, the traditional

oil-based solutions are the ones

that dominate company activities. The

most progress has been made in those

countries where the authorities have

intervened and regulated the market, for

example energy companies in California.

In Australia the situation is different.

Here there is an urgent need to switch

from dirty brown coal to natural gas and

then to develop alternative energy.

We have to realize that humanity

is vulnerable. Businesses and owners

must work together to create sustainable

solutions. That is what the Global Compact

means and what corporate social

responsibility should be about.

Global Compact International Yearbook 2010 121
---
Grundfos

Grundfos

Reuses

Wastewater

In the future, water supplies will be even scarcer than is

presently the case. Action must be taken in order to solve

the problem.

Climate change causes a number of

different problems. As regards water

resources, climate change affects the

environment in a number of different

ways. Common to them is that they will

ultimately be of great consequence to the

total amount of clean drinking water.

"Dry areas will become drier and

this will lead to a greater pressure on

existing water resources. However, the

opposite could happen, too. Several areas

are suffering from heavy rainfall.

This, combined with logging, causes

erosion, which allows pollution to enter

water streams, thereby aggravating the

situation," says Dan Rosbjerg, lecturer

at the Department of Environmental

Engineering, the Technical University

of Denmark.

It is a Grundfos objective to develop

products that will alleviate the growing

water stress in the world. With Innovation

Intent and the establishment of the

innovation platform Rethink Decentralised

Water Treatment, we have increased

our strategic focus on the development

of new water treatment solutions.

BioBooster, Grundfos' mobile

wastewater treatment plant, presents

one answer to growing water scarcity.

The BioBooster plants are capable of

treating wastewater to such an extent

that the water may be readily used for,

for example, sanitation or irrigation

of fields.

Too little – and too much

Water resources are not distributed

equally. In certain parts of the world,

for example North America and Europe,

water resources are readily available,

while Africa and Asia do not have

access to similar natural resources of

freshwater. Yet, poor utilization of ex-

Grundfos' BioBooster wastewater

treatment system consists of reactors

placed in 20-foot containers. The

number of reactors and containers vary,

depending on the water to be treated.

122

Global Compact International Yearbook 2010
---
Best Practice

Environment

Innovation Intent

Innovation Intent is Grundfos' guiding principle, which gives focus to our longterm

innovation efforts. Furthermore, Grundfos' Innovation Intent is to put

sustainability first, be there for a growing world, and pioneer new technologies.

Every major concept that we will be launching over the next 20 to 30 years

should meet all three criteria.

Rethink Decentralised Water Treatment is one of three innovation platforms

that make up Grundfos' Innovation Intent and was launched for the purpose

of creating a platform for technological and commercial water treatment

solutions. The water treatment solutions are used on location, that is, where

the water is to be used.

With the innovation platform Rethink Decentralised Water Treatment,

Grundfos takes an approach whereby the water is either:

• upgraded to the specific needs of the place where the water will be used,

• treated for the purpose of reusing the water, or

• treated for the purpose of causing significantly less strain on the

environment when the water is discharged to the recipient.

isting water resources forms part of the

problem, too.

As a result, challenges vary. In places

characterized by scarcity of resources, the

focus must be on optimum utilization

of the available freshwater, while places

with plenty of resources must make an

effort not to destroy them.

The advantage of

decentralized units

One central, strong point of the Grundfos

BioBooster wastewater treatment plant

is mobility. Basically, the plants can be

installed wherever they are needed. They

may be installed directly at the source

of pollution or at the place where the

water is to be reused.

"There is a growing need for being

able to reuse wastewater, as water scarcity

is a constantly growing problem. In

many places there is a need to be able

to reuse water from various processes,

and that is why the entire BioBooster

concept has some great characteristics,"

says Mogens Henze, director of the Department

of Environmental Engineering,

the Technical University of Denmark,

commenting on the wastewater treatment

plants' mobility and numerous

applications.

However, speedy utilization of water

resources is but one advantage of the

decentralized plants. Other possibilities

present themselves, too, for example in

relation to wastewater surveillance.

"Each plant treats a relatively small

amount of wastewater, and in case of

fluctuations in water quality, it will be

much easier to identify the source of

problematic substances in the wastewater,

for example from hospitals or

industry. This makes it much easier to

address these fluctuations," says Søren

Nøhr Bak, technical manager of Grundfos

BioBooster.

Ready to roll out

At present, the Grundfos BioBooster

plants have shown their superiority in

several areas. For example, the plants

have been installed on Italian farms

where the treated wastewater was used

for irrigation of tomato fields.

At the same time, Grundfos Bio-

Booster has just entered into its first

official partnership with a Danish municipality.

This, too, can be of great value

to both Grundfos and society. Treatment

of municipal wastewater constitutes by

far the largest part of the total market for

wastewater treatment. A breakthrough

in this area could be of great importance

to the prevalence of the BioBooster

technology. Municipal wastewater is

characterized by having a relatively similar

complexity, and experience gained

can easily be transferred to similar jobs

across the world. If the water is treated

locally, no expenses will be made for the

infrastructure that is needed to transport

the water from the source of pollution to

the central treatment plant in the area.

Reduced transport of the water will in

itself lead to major energy savings.

The first wastewater treatment

plant has already been installed in Viborg

municipality in Denmark, and with good

experience. Therefore, the municipality

will rethink their future wastewater

structure, which will imply the closing

down of 18 small wastewater treatment

plants: "In that case, the BioBooster will

be considered as our new alternative,"

says Finn Køhler, wastewater manager,

Viborg Wastewater Ltd.

Several other municipalities, too,

see the advantages of decentralized

treatment of wastewater: "BioBooster

presents an approach to the treatment

procedure that is completely different

to the existing procedure. The modular

construction that may be scaled up or

down allows us to make adjustments

according to need. And the mobility

means that the plant can easily be moved

if needs change. This is innovation in

the true sense of the word," says Jacob

Andersen, head of section, Hjørring water

company, Denmark.

www.grundfos-biobooster.com

Global Compact International Yearbook 2010 123
---
Hathay Bunano

Bringing the Work

to the People

By Gerd Pfitzenmaier

Why would Bangladeshis, of all people, make better entrepreneurs? Samantha Morshed of

Dhaka, Bangladesh, the British CEO of nonprofit enterprise Hathay Bunano, has the best

answer to her own question. Because the number of CEOs in Bangladesh is still rather small

on the whole, Hathay Bunano has committed to creating sustainable rural employment.

124

Global Compact International Yearbook 2010
---
Best Practice

Partnership

Samantha Morshed had $ 500 in startup

capital and twelve female employees

when she persuaded her husband

Golam, to found the social enterprise

of Hathay Bunano Proshikhan Society

(Hathay Bunano, for short) with her.

Her daring choice was conceived as an

economic counterexample to the distinguished

ideas of world-famous Bangladeshi

Muhammad Yunus, winner of the

Nobel Peace Prize. Some twenty years

before, Yunus had publicized the theory

of eradicating global poverty through

the concept of microcredit: tiny loans of

start-up capital to help the poor establish

small businesses. Through these loans,

Yunus hopes to populate the world with

business experts who can banish poverty

"to a museum," as he has declared in his

books and speeches.

Desire for Work

Samantha Morshed was skeptical of

microcredit. Even if these tiny loans

could turn the poor into entrepreneurs

in theory, in practice the people would

still remain dependent, left to the tender

mercies of the market and the economic

situation in their very local areas. She

aims to turn Yunus's school of thought

inside out: "The vast majority of people

[in rural Bangladesh] want a job," she

says, "jobs are what people want and

jobs will eradicate poverty. At the same

time, however, the approaches to creating

employment and eradicating poverty

are fundamentally different. Morshed's

simple but clear message is that people

The products of Hathay Bunano in their

proprietary "Pebble" brand line are

certified fair trade.

need work – but the work must be

available where the people live.

She criticizes employers in both the

industrial and the developing world for

assuming that people will put up with

any amount of strain for the privilege of

selling their labor. Their willingness to

reduce themselves to the level of migrant

workers seems voluntary: indeed, there

are many countries where economic migrants

will stream en masse to wherever

employers locate their factories. Such

choices impoverish societies and rip

apart families. This type of work often

breaks social ties, destroys marriages,

and leaves fatherless children and single

parents in its wake, with all of the negative

consequences for the social fabric

that these entail.

A 10-Minute Walk to Work

32 rural cooperatives work for Hathay

Bunano and help to support their own

families.

Morshed's idea is different: her social

enterprise brings the jobs to the remote

villages of Bangladesh where the people

live. She believes that women in the villages

should be able to make the walk

to work in 10 minutes. And of this she

is convinced: "Factories are located in

areas convenient to factory owners....A

workforce located in their own villages,

workers living in their own homes,

would likely bring much greater benefit

in poverty reduction to a larger number

of people." Her idea is working; today

3,500 women in 32 rural cooperatives

work for Hathay Bunano and help to

support their own families.

The women sew, knit, and embroider,

faithful to the company name:

Hathay Bunano translates literally to

"hand-made." Its employees produce

high-quality, handcrafted clothes and

toys. Their products are aimed at children

and infants from birth to six years

of age. What's more, the organisation

with their proprietary "Pebble" brand

line is certified fair trade, and Morshed

and her husband are currently working

towards SA8000 certification. Hathay

Bunano exports its products worldwide,

with major markets for the flourishing

corporation in the United States, Great

Britain, Australia, Europe, and the domestic

market of Bangladesh. Sales are

booming: today the women of Hathay

Bunano ship some 30,000 items to customers

per month.

This principle, of putting the firm

first so as to put the profits into tackling

poverty, is part of the "creative capitalism"

approach that multibillionaire and

Microsoft founder Bill Gates proposed at

Davos in 2008. Corporations like Morshed's

fit the bill of creative, engaged

capitalism perfectly. According to Gates,

the business ideas from Samantha Morshed

and her cohort can help to plug

the gaps in this era of economic and

financial crises, when poor countries

can no longer sufficiently provide for

their citizens. Even Queen Elizabeth has

recognized the importance of what Morshed

is doing: in 2009 she honored the

British entrepreneur from Bangladesh by

awarding her a "Member of the Order of

the British Empire" (MBE).

Global Compact International Yearbook 2010 125
---
Henkel

Sustainability Straight

to Your Mobile

The growth in world population and the steady increase in the average standard of living call

for a radical reassessment of our production methods and consumption patterns. To drive

change in the laundry detergent and household cleaners sector, we draw on our many years

of experience and our leading role in the field of sustainability.

By Christine C. Schneider

Our innovations are used daily in millions

of households, and therefore offer

great potential to actively help to shape

the sustainable lifestyles of tomorrow.

We work to develop products that enable

customers and consumers to make more

efficient use of valuable resources such

as energy and water. Our laundry detergent

ActicPower, for example, is based

on technology that enables enzymes to

act at low temperatures, and therefore

performs effectively even at 15 degrees

Celsius. And our dishwasher detergent

Somat 9 delivers excellent cleaning

performance at just 40 degrees Celsius.

Energy savings of up to 20 percent are

achieved over comparable programs

that require temperatures of 50 or 55

degrees Celsius.

Working together for innovative,

sustainable consumption

Sustainable consumption can only be

achieved if we all work together. Communication

with our consumers is therefore

just as important as the development

of sustainable products. Through the

"Quality & Responsibility" logo that has

been printed on our laundry detergents

and household cleaners since 2008, we

aim to make it easier for consumers to

reach responsible purchasing decisions.

The logo indicates to consumers that,

by buying this product, they will not

only obtain superior performance but a

sustainable solution as well. As the first

company in the consumer goods sector

to do so, beginning in 2010, Henkel will

use Quick Response Codes to stimulate

responsible product use.

Henkel has been using ingredients

based on renewable raw materials for

decades. The active washing substances

(surfactants) in our laundry detergents

and household cleaners, for example, are

derived from renewable raw materials

such as palm kernel oil. Since 2003, we

have therefore actively participated in

the Round Table for Sustainable Palm Oil

(RSPO). In 2008, we were the first company

worldwide to purchase certificates

for sustainable palm kernel oil – for

our Terra Activ brand products. As a

result, palm kernel oil from sustainably

managed plantations was integrated into

the supply chain for the production of

surfactants for the first time. We now

plan to build on this by aligning our

overall product portfolio to certified

sustainable palm oil and palm kernel

oil by 2015.

Direct access to Henkel's

CSR Internet site using a mobile phone

126

Global Compact International Yearbook 2010
---
Best Practice

CSR Management

as well, Henko with antibacterial Neem

is also available in single-use packs and

as a soap bar.

Accessible by mobile phone:

Information on sustainability

Efficient use of materials

We contribute to the efficient use of

materials by improving our product

packagings and using recyclable materials.

We offer consumers dosage aids,

concentrates, and refill packs. For example,

a variety of refill pouches with

formulations in up to three-fold concentrations

are available for our Biff, Bref,

and Sidolin household cleaner brands. In

comparison with the original packaging,

about 90 percent less plastic is needed

for their production. They also reduce

water consumption, freight packaging,

and transport weight.

Hygiene is of crucial importance

for human health throughout the world.

Here, too, we make an important contribution

in all of our markets through our

laundry detergents and household cleaners.

A key priority is the adaptation of

our products to local consumer requirements

and local conditions. Since 2009,

for example, we have offered laundry

detergents containing special antibacterial

agents in many south European

markets and in India. The same applies

to newly launched household cleaners

on the Latin American markets.

Throughout the company's history,

Henkel researchers have repeatedly

demonstrated the importance of

innovations for sustainable development.

Persil phosphate-free and Persil

Megaperls are pioneering landmarks

that clearly improved the environmental

compatibility and resource conservation

of laundry washing. Today's Persil Gold

and Persil ActicPower reach their full

washing power at low temperatures. We

draw on our many years of experience

to develop the sustainable products of

the future.

In India, our Henko laundry detergent

with antibacterial Neem gently

protects laundry against bacteria. Neem

is a natural raw material obtained from

the native Neem trees, and it is wellknown

in India for its antibacterial effect

and skin compatibility. To make

the product performance accessible to

consumers with low purchasing power

The Quick Response code is simply photographed

using a mobile phone with

appropriate recognition software, and immediately

accesses Henkel's CSR Internet

site. How can consumers find out how

environmentally and socially compatible

the products they purchase every day are?

What should they keep in mind when

they use them? Innovative communication

technologies provide answers to

these questions, right at the shelf.

With the help of QR codes, which

can be found on an increasing number

of our laundry detergent and household

cleaner packagings since the beginning

of 2010, consumers can use their mobile

phones to directly access Internet sites.

We provide a variety of information on

sustainability online – including, for

example, a carbon dioxide calculator.

Fast and direct access to information

makes it much easier to make responsible

purchasing decisions while

shopping. Henkel is the first company

in the consumer goods sector to provide

consumer information in this form, with

the aim of promoting sustainable consumption.

Your engagement in the Round Table for Sustainable Palm Oil (RSPO) has

attracted criticism as well as praise. Are you on the right track?

Christian-André Weinberger, member of the Henkel Sustainability Council who

represent the Laundry & Home Care business sector:

Yes. And we are clearly viewed as leading the way successfully here. Of

course, we are also aware that the RSPO has critics as well as supporters.

For us, however, the RSPO is not an end in itself, but the means to an end.

If we and the other groups represented in the RSPO were to terminate our

involvement, there would be no chance of improving the situation in regions

where oil palms are cultivated. The objective is to work together so that when

palm oil or palm kernel oil is used as a basis for ingredients, this oil comes

from certified sustainable palm oil cultivation. We will continue to pursue this

objective within the framework of Quality & Responsibility.

Global Compact International Yearbook 2010 127
---
ICA

Taking Action for

Sustainable Fishing

Tropical shrimp were thrown out and eco-labeled fish and a select range of tuna were put

in. Those were some of the actions of Swedish food retailer ICA toward achieving a more

sustainable fish assortment in 2009. For a retail group with high goals for sustainability,

education, transparent information, and clear policies are crucial.

By Magdalena Sekkenes

For food retailers selling fish and seafood

to consumers these days, one of

the "trickiest" questions is how to ensure

that the world's oceans are not

overfished. For ICA, a market leader in

Sweden that also operates in Norway

and in the Baltic countries, this is an

issue of great concern. The question

became more urgent in 2009 because

the media, environmental organizations,

and customers expressed great concern

about sustainable fishing.

In 2009 ICA offered almost 200 fish

products as part of its private-label food

assortment. The method for determining

which types of seafood should be

sold is done by evaluating each species

individually. In doing so, ICA chooses to

listens to the opinions of, for example,

the World Wide Fund for nature (WWF),

and the International Council for the

Exploration of the Sea (ICES).

The aim is not only to stop selling

certain types of fish and seafood products

but also to find ways, if possible, to improve

the environmental situation.

The ICA Group

continuously train

retailers and store

employees to

avoid that WWFs

red-listed fish end

up in the stores

seafood counters.

Approximately 1,400

out of 2,220 ICA-stores

are run by independent

retailers.

128

Global Compact International Yearbook 2010
---
Best Practice

Environment

Following WWF's fish guide

During the first six months of 2009, ICA

Sweden's fish assortment contained two

red-listed (do not eat) products according

to WWF's fish guide: plaice and tropical

shrimp. The suppliers of the wild and

farm-raised tropical shrimps were carefully

reviewed, as is mandatory. Changes

in the buying criteria from the suppliers

in combination with internal discussions

about sustainability aspects led to

a decision by ICA to stop carrying the

products. Since approximately 1,400 of

the ICA Group's 2,220 stores are run by

independent retailers, ICA encouraged

the retailers to do the same.

"There are plenty of companies

selling tropical shrimp to stores but

besides taking the products out of our

assortment, we recommended that the

retailers avoid tropical shrimp from

other suppliers until there is a certifiable

and credible standard for farming

tropical shrimp. The WWF is close to

establishing such a standard and ICA

is carefully following their work," says

Kerstin Lindvall, Senior Vice President

ICA's Good Business

ICA's corporate responsibility work is built on a foundation of seven position

statements called ICA's Good Business. These position statements are in line

with the Global Compact's Ten Principles on human rights, labor standards,

the environment, and anti-corruption.

With ICA's Good Business, we mean that ICA will:

Kerstin Lindvall, Senior

Vice President Corporate

Responsibility at ICA Sweden AB.

• be driven by profitability and high ethical standards

• listen to customers and always base decisions on their needs

• nurture diversity and growth among its employees

• maintain an open dialogue internally and with the community

• ensure quality and safe products

• promote a healthy lifestyle

• adapt sound environmental practices and promote sustainable

development

An intranet-based interactive training regarding ICA's Good Business practices

is mandatory for everyone within ICA.

Corporate Responsibility at ICA Sweden

AB. At the same time that ICA took action

and removed the tropical shrimp,

plaice – which to this day has been the

only red-listed fish sold under the ICA

brand name – suddenly was approved

by Marine Stewardship Council (MSC). In

mid-2009, the red-listed fishes had been

removed from the main assortment. In

addition, ICA decided to replace the yellowfin

tuna with skipjack tuna, which

has a more sustainable stock.

Important training

Cod is another fish that a retailer has to

be attentive of when it comes to origins.

Since 2004, all cod in ICA's main assortment

is caught in the Barents Sea, where

it is considered sustainable and has been

given a green light (recommended) in

WWF's fish guide. But very close by Sweden

in the Baltic Sea it is not considered

sustainable to catch cod everywhere.

"ICA's main selection still contains no

cod from our nearby Baltic Sea. And we

strongly recommend retailers who buy

their own fish to make sure that the cod

harvest don't come from western stocks

in the Baltic Sea and only accept fillets

bigger than 30 centimetres from the

eastern stocks", says Kerstin Lindvall.

The ICA Group continuously trains

retailers and store employees to avoid

having WWF's red-listed fish end up on

store seafood counters. "We also provide

a checklist for retailers to use when they

buy fish and shellfish directly from suppliers,"

adds Lindvall.

In 2009 ICA provided training in

sustainable fishing to its largest direct

suppliers of fresh seafood. The WWF and

the Swedish Society for Nature Conservation

assisted in the training.

Letting consumers trace origins

For consumers, ICA provides information

on the product labels about where the

fish is caught. In addition, consumers

can trace where ICA's private-labeled

products of cod, haddock, and Pollack are

caught through the company's website:

www.ICA.se.

Global Compact International Yearbook 2010 129
---
ISA

Betting On Environmental

Sustainability and

Balance

ISA is the biggest energy transport company in Colombia and also present in Peru, Bolivia,

Brazil and Central America. Through its affiliates and subsidiaries, the company develops

a range of activities such as design, construction, administration, operation of lineal

infrastructure systems in electricity, telecommunications connectivity and road concessions

with the project "Autopistas de la Montaña".

By Ana María Naranjo Alzate and Jimena Maria Toro

130

Global Compact International Yearbook 2010
---
Best Practice

Environment

ISA's social responsibility business model

has experienced remarkable advances

during the last years, especially in environmental

and occupational health

international standards, highlighting

sustainability as its management axis. It

is manifest in the management through

balanced relationships with the interest

groups and supported through a set of

values, practices, and liabilities that add

value, generate confidence, and contribute

to the sustainable development of

the societies where ISA is present.

According to its business policies,

ISA develops its operations in a sustainable

environmental development

framework: 1) through an administration

that is oriented toward managing

environmental risks and contingencies;

and 2) that is supported through effective

planning of its electric assets in the areas

of design, construction, operation and

maintenance, and dismantling.

Progress from ISO 14001

certification and integral

management system

ISO 14001 certification represents the

company's concern with adjusting to

international standards that facilitate

the accomplishment of its environmental

policy and facilitate an advancement

in Principles 7, 8, and 9 of the Global

Compact. To reach this goal, since 2008

the company has been following a path

that involves environmental authorities,

a board of directors, collaborators, and

suppliers – all of whom have been

exceptionally relevant in guaranteeing

project success and assuring the identification,

evaluation, prevention, mitigation,

control of, and compensation for

environmental impacts.

ISA: Linear infrastructure systems that

promote the continent's development

Most relevant impacts identification

– the first step to mitigation

Essential elements of the energy transport

business are the operation and system

maintenance activities, which have

a high impact within the wide operation

zones in which the company works. To

help identify the environmental issues

and the most significant impacts, the

company developed a methodology

based on the ISO 14001 standard. The

methodology includes: 1) environmental

planning; 2) annual objectives, goals, and

improvement programs identification;

3) efficient management measures; 4)

permanent operations control; 5) deviations

identification; and 6) indicator

measures.

Through this recording informationmechanism,

the company is conscious of

consumption and/or use of natural resources

and, based on this data, develops

– along with its employees – awareness

activities to improve management.

Resource consumption and

employee awareness

The levels of resource consumption in

the company for paper, water, electricity,

as well as waste integral management

was noted. To address the issue, the

campaign El Vaso del Dia (glass of the

day) was set up, which was intended

to transform 120,000 plastic units into

approximately 30,000 eco-friendly units

(paper pulp). Twenty days from the start,

the recorded consumption was reduced

by nearly 30 percent. In addition, composting

management represents at the

moment 50 kilograms of organic material

per day, which comes from the restaurant,

the coffee machines, and the gardens.

Progress of dangerous residual

management

Environmental risks in the energy transmission

process come from the use and

manipulation of chemical products –

with oil, in all its forms, being the main

one. As a leak-prevention method, ISA

built or adapted collecting pools to four

zigzag transformers. The company treats

the contaminated oil, which is equivalent

to 0.3 percent of the total amount of oil,

with PCB. During the period, it generated

9.7 tons of contaminated oil. It was then

handed over to LITO, the company in

charge of its final disposal at its EKOKEN

incineration plant in Finland.

To control greenhouse gas effects

Greenhouse gas management is an enormous

concern to the company. Since

2008, ISA has been working with an

SF6 management program which, in

2009, enabled ISA to reduce gas purchases

as a result of the improvement in

maintenance processes and helped solve

outflows problem, reducing the amount

of SF6 lost to 0.47 percent.

Support to regional institutions

Supporting the work of 10 autonomous

regional corporations and with direct

and committed participation with the

impacted communities, ISA has intervened

and had a positive effect on nearly

1.1 million hectares of strategic regional

ecosystems.

Supplier linking

One of most relevant issues is supplier

linking. The commitment is based on

three fundamental pillars: 1) procedure

adoption and modification; 2) clean technologies

adoption; 3) implementation

of dispositions based on occupational

health and environmental norms.

Closing: articulated work

We are proud of the certification process

in addition to having raised environmental

management standards. We

have improved the feedback processes

and, as a consequence, strengthened the

company, its collaborators, and suppliers.

We have strengthened mutual relationships,

generated room for sustainable

development, in addition to increasing

performance optimization and our overall

business position.

Global Compact International Yearbook 2010 131
---
KPMG

Putting our skills

to work in pursuit of

the MDGs

By Lord Hastings of Scarisbrick CBE

KPMG people are involved in citizenship projects all over the world. By harnessing the

professional skills we bring to bear with our clients every day and applying them to some of

the world's most pressing challenges, we can work alongside governments and civil society

in pursuit of the Millennium Development Goals.

James Woodward from KPMG in Australia,

with the Headteacher at the Familia Moja

Children's Centre in Kenya

132

Global Compact International Yearbook 2010
---
Best Practice

Partnership

"Through the Global

Development Initiative we

will apply KPMG's skills,

knowledge, and resources to

help achieve the Millennium

Development Goals, by working

with local and international

development agencies and institutions

to tackle extreme poverty and

inequality through building local

capacity."

Lord Hastings of Scarisbrick CBE,

Global Head of Citizenship and Diversity, KPMG International

Responsible business practices, which

are at the heart of corporate citizenship,

help build trust and contribute to

development and sustainable markets. In

today's challenging world, business must

move beyond good internal governance,

compliance, and ethical behavior toward

becoming committed actors collaborating

with other organizations to tackle global

social and environmental issues.

Citizenship is embedded in the

KPMG values and our firms have the

scale, influence, professional skills, and

business knowledge to make a significant

and positive contribution to the issues

affecting our communities.

This short article seeks to set out

one of the key areas of focus for KPMG's

approach to corporate citizenship and

highlight just a few examples of how

KPMG Partners and Staff are putting our

values into action.

Our strategy and role

KPMG is aligning its global citizenship

strategy with both the UN Global Compact's

Ten Principles and the Millennium

Development Goals (MDGs). The

strategy focuses on the following three

key components:

1. Global themes

a) The Global Development Initiative

(GDI): Our global response to tackle

world poverty

b) The Global Green Initiative: Our

global response to the challenges of

climate change and environmental

sustainability

2. Global policy issues relating to corporate

responsibility: KPMG is a signatory

to the UN Global Compact and participates

in global policy discussions

through the World Economic Forum

and other key global multi-stakeholder

coalitions

3. Leadership action to tackle country

and community concerns through

member firm programs

The KPMG Global

Development Initiative

The sense of urgency to bring an end to

world poverty has never been greater

than in these critical last five years leading

up to the 2015 MDG target date.

KPMG believes that the private sector has

a critical role to play in the achievement

of the MDGs, and should work alongside

governments and civil society. KPMG's

GDI is an innovative program designed

to take our commitment to corporate

citizenship to a new global level. It can

be defined as "putting our skills to work

in pursuit of the MDGs."

Through the GDI, we use our skills

and resources to become fully involved in

finding sustainable solutions to complex

and entrenched social issues. We strive

for wide participation from Partners and

Staff across KPMG member firms and for

maximum impact. The GDI aims to:

• put our skills to work in pursuit of

MDGs 1, 2, and 3 (those MDGs being

most closely aligned with our values,

knowledge, and experience);

• develop solutions to bring about systemic

change that addresses the root

causes of poverty;

• develop solutions that can be replicated

and scaled up;

• participate in public-private networks

that act against extreme poverty;

• act as a catalyst and advisor for increased

action from others.

The positive societal impact of KPMG's

GDI has continued to grow throughout

the years. KPMG people have contributed

to the MDGs both by collaborating with

NGOs and UN entities and also by directly

assisting those in need.

Following are four examples of collaboration

across the continents that give

an insight into the wide range of impacts

of KPMG's citizenship work.

The Millennium Cities Initiative

KPMG's Transaction Services practices

have been providing economic and commercial

due diligence to support the