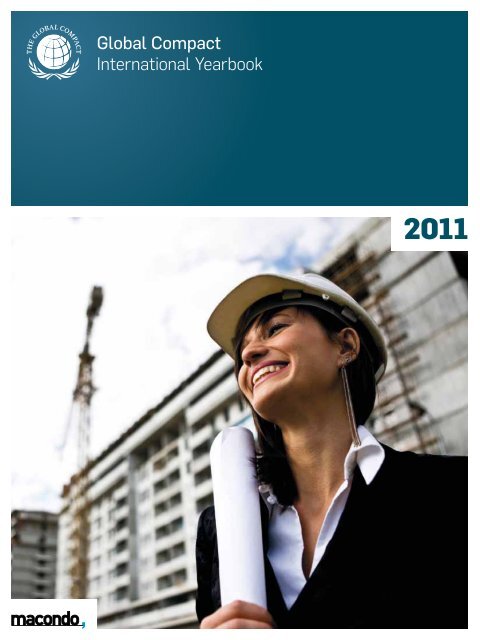 Global Compact International Yearbook Ausgabe 2011
Over the last several years, the United Nations has become a trailblazer in promoting corporate responsibility. "In the 11 years since its launch, the United Nations Global Compact has been at the forefront of the UN's effort to make the private sector a critical actor in advancing sustainability," UN Secretary-General Ban Ki-moon says in the 2011 edition of the Global Compact International Yearbook. Edited by the German publishing house macondo, the new Yearbook offers insights on political as well as sustainability issues. Exemplary entrepreneurial commitments can foster and create incentives for other companies. To guide companies along this road, they need a blueprint for corporate sustainability. This is the focal topic of the new Global Compact International Yearbook. Guidelines for consumer standards and labels, an analysis of the new ISO 26000 SR Standard, and a debate about the historic changes in the Arab world are other major topics explored. Among this year's prominent authors are Lord Michael Hastings, NGO activist Sasha Courville, and the former Director-General of the United Nations Office at Geneva, Sergei A. Ordzhonikidze.
Over the last several years, the United Nations has become a trailblazer in promoting corporate responsibility. "In the 11 years since its launch, the United Nations Global Compact has been at the forefront of the UN's effort to make the private sector a critical actor in advancing sustainability," UN Secretary-General Ban Ki-moon says in the 2011 edition of the Global Compact International Yearbook. Edited by the German publishing house macondo, the new Yearbook offers insights on political as well as sustainability issues.

Exemplary entrepreneurial commitments can foster and create incentives for other companies. To guide companies along this road, they need a blueprint for corporate sustainability. This is the focal topic of the new Global Compact International Yearbook. Guidelines for consumer standards and labels, an analysis of the new ISO 26000 SR Standard, and a debate about the historic changes in the Arab world are other major topics explored. Among this year's prominent authors are Lord Michael Hastings, NGO activist Sasha Courville, and the former Director-General of the United Nations Office at Geneva, Sergei A. Ordzhonikidze.
SHOW MORE
SHOW LESS
Create successful ePaper yourself
Turn your PDF publications into a flip-book with our unique Google optimized e-Paper software.
Global Compact

International Yearbook

2011
---
GC International Yearbook

Foreword

This publication is kindly supported by:

ACI

Adecco Group

Air France

AKSA

Arab African International Bank

Armacell

Athens International Airport

Autostrade per l'Italia

Bradesco

Business Keeper

Camposol

Carrefour

Coca-Cola Hellenic

Coop

Copeinca

Danske Bank Group

Deutsche Bank

Deutsche Telekom

EDF Group

GDF Suez

Green Delta Insurance

Hochtief

Huawei

Kusch + Co

ManpowerGroup

Merck

Nestlé

Novo Nordisk

Otto Group

PE International

Puma

Randstad

Siemens

Sonae

Sopharma

The TMS Group

Toshiba

TÜV Rheinland

Viyellatex

Global Logistics Partner:

Deutsche Post DHL

H.E. Ban Ki-moon, UN Secretary-General

"

In the eleven years since its launch, the United

Nations Global Compact has been at the forefront

of the UN's effort to make the private sector a critical

actor in advancing sustainability. The initiative has attained

global reach, with more than 6,000 participating

enterprises in more than 135 countries – businesses large

and small, in both the developed and the developing world,

across all sectors.

As we look forward to the Rio+20 UN Conference on

Sustainable Development, it is clear that a strong contribution

from business will be essential. Corporate responsibility

and a strong sense of partnership – with businesses

devoting skills, leadership, resources and innovation – will

be indispensable to creating a more sustainable global

economy and achieving truly sustainable development.

This third Global Compact International Yearbook once

again presents a broad range of illuminating stories of

businesses using the platform provided by the Compact

to make a difference through their own conduct or in

partnership with others. These range from innovative

ways to protect the rights of indigenous minorities to

new approaches to promote gender equality or the fight

"

against deforestation. I commend this Yearbook

to a wide global audience.

2 Global Compact International Yearbook 2011 Global Compact International Yearbook 2011

3
---
FOREWORD

ISO 26000

3

H.E. Mr. Ban Ki-moon,

United Nations

Secretary-General

172

How Geopolitic Change Alters

Social and Environmental

Standards – The ISO 26000 SR

Case

Josef Wieland

6

Blueprint for

Corporate Sustainability

172

ISO 26000

178

181

188

The Power of Voluntarism

Elmer Lenzen

Estimations of ISO 26000 SR

Marie d'Huart (CAP conseil),

Aiko Bode (TÜV Rheinland),

Franziska Humbert (Oxfam

Germany), Philip Jennings (UNI

Global Union), Anne Gadegaard

(Novo Nordisk)

The Long History of Cooperation

between ISO and the UN

Interview with

Sergei A. Ordzhonikidze

BEST PRACTICE

Blueprint for

Corporate

Sustainability

6

10

14

18

22

24

Blueprint for Corporate

Sustainability

Elmer Lenzen

The CSR Scene Has Matured

Lord Michael Hastings

Can CSR Lessen the Impact

of a Crisis or Lead to a Faster

Recovery?

Craig Badings

The Accountability Web:

Weaving Corporate

Accountability with Interactive

Technologies

Bill Baue and Marcy Murninghan

Joining the Dots – How UNGC

and GRI Are Working Together

Teresa Fogelberg

The Human Rights and Business

Dilemma

Standards and

Labels

28

34

38

41

RIO+20

44

48

Economy leaders Need

Sustainability Standards

Sasha Courville

Eco-labels: Signed, Sealed…

Delivered?

Patrin Watanatada and Mark Lee

Sample Eco-labels

WindMade: The First Global

Consumer Label for Companies

Using Wind Energy

Robyn Elizabeth Beaver

Institutional Challenges for a

Green Economy

Adil Najam and Henrik Selin

Two Decades of UN Earth

Summits 1992 – 2012

INSIDE... Middle East and

North Africa (MENA)

50

56

58

61

64

66

Will the Arab Spring Free the

"Orphans of Globalization"?

Jean-Pierre Lehmann

The UN Global Compact in the

MENA Region

Matthias Stausberg

The Role of CSR in the Arab

Economies

Interview with Habiba Al Marashi

and Walid Nagi

Renewable Energy in the Middle

East and North Africa

Hans Müller-Steinhagen and

Franz Trieb

Wasta: How the Use of

"Connections" Impacts

Markus Loewe

Improving Labor Standards

Performance in the Middle East

Craig Moss

72

74

78

80

84

86

88

90

92

94

96

138

Human Rights

Danske Bank Group

Deutsche Post DHL

Nestlé

Sakhalin Energy

Labour Standards

Autostrade per l'Italia

Coop

Deutsche Telekom

Green Delta Insurance

ManpowerGroup

Randstad

Viyellatex

Anti-Corruption

Business Keeper

100

102

104

106

108

110

107

112

114

116

120

122

124

126

128

130

132

134

136

Environment

Air France

Armacell

Athens International Airport

Camposol

Carrefour

Coca-Cola Hellenic

Copeinca

Deutsche Bank

EDF Group

Grundfos

Hochtief

Huawei

Otto Group

PE International

Siemens

Sonae

Sopharma

Toshiba

TÜV Rheinland

142

144

146

150

154

156

158

160

162

164

166

168

170

Development

ACI

Adecco Group

BASF

Bayer

Bradesco

GDF Suez

Merck

Novo Nordisk

The TMS Group

CSR-Management

AKSA

Kusch + Co

Puma

Financial Markets

Arab African International Bank
---
Agenda

Blueprint

Blueprint

for Corporate

Sustainability

Global interconnectivity lets consumer markets constantly

grow together. Modern communication technologies accelerate

this phenomenon: The brand image as well as the selfperception

of any company lies in the hands of millions of

people using social media or their buying power. Businesses

therefore have to prove they have taken responsibility along

their entire value chain. Stakeholders across all sectors, regions,

and segments of society are asking for it – in fact, they are

demanding it – and they are tolerating misconduct less

and less. The concept of corporate social responsibility (CSR)

has, over the last years, significantly developed: from noble

promises and boilerplate solutions toward a management

approach and a powerful driver that can build a new, more

sustainable 21st century economy. To guide us along this road,

we urgently need a blueprint for corporate sustainability.

6 Global Compact International Yearbook 2011 Global Compact International Yearbook 2011

7
---
Agenda

Blueprint

By Dr. Elmer Lenzen

A couple of years ago CSR topics were only a "nice to have"

item on many executive floors. It was something dealt with

after hours. That has changed for good. Corporate sustainability

today is a "must have." An Accenture survey recently

made this point: "CEOs around the world are starting to see

the shape of a new era of sustainability coming into view. In

the face of rising global competition, technological change

and the most serious economic downturn in nearly a century,

corporate commitment to the principles of sustainability remains

strong throughout the world: 93 percent of CEOs see

sustainability as important to their company's future success."

What is interesting regarding this development is that the boom

of corporate responsibility brings its issues into the spotlight but

sometimes also into the cross wires. The more CSR is embraced

by businesses, politicians, and nongovernmental organizations,

the more it is blamed for society´s failures. Harvard professor

Michael Porter recently pointed out this significant development

in the January edition of the Harvard Business Review.

Moving beyond short-termism

For Porter the problem lies with the companies themselves.

They are trapped, as he says, "in an outdated approach to

value creation." Porter is referring to the well-known vicious

circle of short-termism: It cultivates a perception that blocks

many long-term perspectives. This criticism is not new, but

nonetheless correct. It is not that short-termism is preventing

long-term value creation, but rather that it ignores the complexity

of certain realities and the effect of unseen long-term

dynamics. Management systems are laid out to manage what

they can measure. But do they calculate the well-being of the

community? Do they care about extinction of species, etc.?

Too often they do not, and we can observe all over the world

a growing mistrust of corporations and a subsequent loss of

credibility. "Companies must take the lead in bringing business

and society back together," Michael Porter therefore says

in his article. And he is right. We need an overall framework

for guiding these efforts. For him the answer is the concept of

"shared value": This idea assumes that corporate success and

responsibility are interdependent. It acknowledges trade-offs

between profit-orientation and social or environmental goals.

"I see the 'creating shared value' concept as a significant step

forward," John Elkington, who originated the term "triple

bottom line" applauds, "though at one level it's a rebranding

by Michael Porter and Mark Kramer of long-standing concepts

in the field of sustainable business, including Jed Emerson's

'blended value.'"

Continuous improvement needed

And where does the United Nations Global Compact stand in

this discussion? From the perspective of the Global Compact,

these developments have led to two central findings: First,

exemplary entrepreneurial commitment can foster and create

incentives for other companies to accelerate and improve

their own path to sustainability. Secondly, the recent crises

and challenges – from the global recession to climate change

– demonstrate that even outstanding practices require continuous

improvement to persist in an increasingly complex and

volatile global economic system.

Against this background the UN Global Compact took the

advantage of the third Leaders Summit in June 2010 in New

York to present a "Blueprint for Corporate Sustainability

Leadership," which is a detailed timetable for sustainability

in the context of the Global Compact Principles and objectives.

The Blueprint describes 50 concrete fields of action where the

"

Exemplary entrepreneurial

commitment can foster and create

incentives for other companies to

accelerate and improve their own

path to sustainability.

Global Compact can help to improve companies' sustainability

management – from risk analysis or supply chain management

to sustainability reporting. "The platform is designed

to challenge highly engaged companies in the UN Global

Compact to reach further, to experiment, to innovate, and to

share learnings – both successes and failures."

Reputation, resources, and respect

Standards like the concept of shared value as well as the Global

Compact Blueprint are sensitive and sophisticated. They have

the power, the outreach, and the persuasiveness to be beacons

for a more sustainable 21st century. To come to a tipping point,

it will be essential to motivate not only the leaders but also

the newcomers and novices. CSR is not a unique selling point.

If it is to be a "license to operate," a blueprint for corporate

sustainability has to give – and will give – offers for assistance

to those who are at the beginning, or to those who have

not even taken the first step yet. It is a race to the top – the

frontrunners as well as the entry points must be identified. It

is the LEAD initiative of the Global Compact that will develop

a roadmap for CSR leaders in the race.

And what are the guidelines for beginners? They must be

attractive and simple. An approach could be the three r's:

reputation, resources, and respect.

First, the janiform relation between reputation and risk. It

does create value. Reputation is corporate identity as defined

by others. A good reputation increases sales, attracts the best

in the class, is a safe harbor for investors, etc. A bad reputation

on the other hand is an enormous risk. The question is:

Is sustainability a main topic for reputation and risk management?

It is. If you doubt it, go and ask BP.

"

Second, resources. We live in a physically limited world. Unlimited

economic growth based on the use of non-renewable

resources therefore is not possible. It is to the credit of people

like Stephan Schmidheiny, initiator of the World Business

Council for Sustainable Development, who coined the concept

of "eco-efficiency." They taught us that the smart use of

resources preserves the means of existence and save a lot of

money. These are compelling facts.

Finally, respect. It may sound old-fashioned, but in the words

of the German moral philosopher Immanuel Kant: "Act only

according to that maxim whereby you can, at the same time,

will that it should become a universal law." Respect does not

necessarily mean esteem – a respectful attitude will not tolerate

unscrupulous egoistic behavior. Economic history teaches

us that companies that act in this manner most of the time

will outperform those that just want to make a fast buck.

Dr. Elmer Lenzen is Chair of the

macondo Media Group and Publisher

of the Global Compact International

Yearbook.

8 Global Compact International Yearbook 2011 Global Compact International Yearbook 2011

9
---
Agenda

Blueprint

Adam Smith wrote in The Wealth of Nations that –"All for ourselves, and

nothing for other people, seems…to have been the maxim of mankind."

There is no space in this sentence for a moral compass or business ethics.

With all my heart I hope you disagree: Why do you think corporate

responsibility is of critical importance today?

I think what has changed dramatically since those words

were first written are two fundamental realities. One is the

media-based interconnectivity in the world. It was so much

easier in previous centuries and previous generations to disregard

the complexities, the pain, the sufferings, and even the

disasters that affect other parts of the world. Nowadays, daily

media shows us an imperfect world where – no matter of

how successful we are – we come in contact with those who

are distressed, impoverished, in need, are losing their jobs, or

being affected by corruption. We see the downside of mankind

that you would never be able to see without global media.

The second thing that has changed is this impact on a new

generation that is jeopardized by the downsizing of industry,

and the industrial impact on the climate in particular. These

The

CSR scene

has matured

In discussion with Lord Michael Hastings

youth have shown that they are familiar with taking steps

to protect natural habitats, to conserve wildlife, and to stop

deforestation because they understand the impact of carbon

dioxide. Those two combined factors have changed the way

in which we think about our responsibilities.

How do you think the corporate sustainability movement has evolved

in the past 10 years?

We've all become more aware and learned our lessons.

We are able to see today the impact of different sides of human

behavior on natural habitats. It is now expected that

business performance is also about responsible business action

and not just about revenue generation of shareholder

returns. The individuals who today have responsibility within

businesses are fully aware of the costs and must decide what

the consequence of decisions are compared with sets of decisions.

They have an opportunity to protect and preserve our

natural environment and to ensure that people's ways of

life are not lost.

What do you see as the most pressing challenges to bring the movement

to true scale?

I think that it is a combination of those who still hold the

power and pull the strings of business – those are the investors

and shareholders, the financial houses, and those with government

responsibility. They all share a common vision for business

– that it has to build shared value. That is what will drive real

long-term opportunity, and not so much applying pressure on

whatever company is in line. Would you get the same results

without pressure? Would you get the same level of awareness

and commitment? You wouldn't. It is by creating shared value.

Last year, the Global Compact presented its Blueprint for Corporate

Sustainability Leadership. In your view, what are the characteristics

of a sustainability leader in 2011?

The important first characteristic is an intelligent awareness

of the challenges to the stability of the natural environment,

and challenging the constructive characteristics of

communities that are struggling for basic supplies of shelter,

food, water, etc. I expect business leaders to not just reduce

their costs and risks but above all to answer a wide array of

concerns about the way in which their businesses function,

the way in which social development is affected, and how the

talents within are affected.

The second thing that I would expect is that a business leader's

attitude toward the next generation has to become passionate.

Finally, currently successful leaders are expected now to be givers.

In summary: I want leaders that are highly intelligent, very

aware, politically astute, understanding of society, interconnected,

as well as philanthropic and generous. This is a big

shift in expectations but it is the right thing to do.

As you just mentioned: Do you see a renaissance of philanthropy?

I do see that shift. If you want evidence, you can look

at the website of the organization "Committee Encouraging

Corporate Philanthropy." It is the only organization in the

world that gives you substantial data on corporate giving and

what differences it makes inside and outside the companies.

The level of awareness is rising in large companies. But how is the

situation in small and medium enterprises? What has to be part of a

blueprint for companies entering the field of CSR?

It is the responsibility of leaders of any company size to

ask themselves if they are stakeholders in the community

where they positioned their business. They have to ensure

that the community is functioning. If the community isn't

working well, if it is criminal, if people are intimidated, if it

is difficult for people to get to work, if the water isn't safe,

etc., then the responsibility of the business is to support local

organizations in improving prospects.

This is where you start. Any business can do that. You start

with the questions: How can your company return investment

to its stakeholders? What are the organizations that might

require the business's attention? What can be done to improve

the performance of local activists?

In the wake of the financial crisis, many have talked about the need to

shift from short-term profit maximization to long-term sustainable value

creation. What has to change to make this happen on a broad scale?

There is a need to understand financial behavior and the

consequences of decision making. There are regulation based

processes that are necessary to limit profit-taking and to encourage

responsible investment. There is nothing wrong with

good investments but irresponsible, high-risk investments are

not necessarily a good idea. Decisions nowadays are far too

interconnected and this has to be taken into consideration.

It has to be part of everybody's DNA in how they approach

their work. Do I simply work to get through the day or do

I see work as part of the contribution of experiences and

expertise to build a more constructive society? How do I see

my role in what I'm doing? It is more than the pure function

of acquiring money and getting the check at the end of the

week or the month. The thing is to recognize that with the

money I earn and the tax I pay, I'm also delivering social value

to those with limited resources and existential value to those

with no resources.

Would a correlation between the compensation of the managing directors

and sustainable performance indicators be a good idea?

Absolutely. Building sustainability performance criteria

are critical mechanisms that were previously performed

by financial values. Now they can be made according to

environmental values as well as social values. The thing

is – and this is what the UN Global Compact has to talk

about – that it should be transparent, published, and accessible

to outsiders.

That case also gives us a lesson in corporate governance. In some earlier

interviews, you called for a radical shakeup of corporate governance.

What exactly is your opinion?

The conversation about corporate reporting is about those

who have governance responsibility for businesses making

the maximum amount of data and information possible avail-

10

Global Compact International Yearbook 2011

Global Compact International Yearbook 2011

11
---
Agenda

Blueprint

"

I want leaders that are highly

intelligent, politically astute,

understanding of society, as well

and generous.

"

Blueprint for Corporate

Sustainability Leadership

able to the public and showing the easiest way to integrate

environmental, social, and governance information about

their company. How can they be held accountable? They have

to do it through public opinion, shareholders, stakeholders,

the media, as well as supportive organizations. That's what

I mean by inclusive corporate governance: transparency of

the mechanisms, accountability to the information, and the

responsibility of the leadership to deliver value.

In 2010, we saw BP's share price drop more than 50 percent following

the Deepwater Horizon oil spill. Looking at the business sector that BP

is in, what advice would you give the company for rebuilding trust and

becoming a sustainability leader?

BP is a very compelling example because it was linked to

a substantial environmental catastrophe. BP at least has put

itself to the task of repairing the damage. It dedicated its leaders,

its resources, and its technical experts to get things right.

Mistakes and accidents happen in every industrial, business

or service organization. What is important is how we learn

from a catastrophe of that extent and act accordingly.

What are the crucial – and probably uncomfortable – questions the

CSR community has to answer in the near future?

That is a very good question. I think the issue should

shift away from a department of the organization that deals

with responsibility and business engagement. Instead, there

should be an expression of how the company as a whole has

corporate responsibility. It should be its leaders, its board

members, and its employees who feel the burden and the opportunity

to handle corporate responsibility. Instead of being

the function of a department, it should be an inspiration and

integrated into the bloodstream of the company. To get there,

we need people leading those departments who have a very

strong sense of global connectivity and a very strong sense of

responsibility and values. But I'm confident and I do see that

the corporate responsibility scene has matured.

Thank you very much for this interview.

How shall a company find balance between giving information and

doing marketing?

That is a delicate issue because the more a company reveals

about itself, it is going to provide the best possible gloss

on how it is doing it. The answer is: It needs to be honest, it

needs to be transparent, and it needs to be accountable. Two

of the best examples in my opinion are the work of Unilever

and Nestlé. As food and drinks production companies, they

clearly understand the impact they have on the water that

they extracts from the environment for products. Both have

committed themselves to the responsibility of a shared value.

That means in their daily work they focus on how they can

enable production facilities to recover the water that is used

rather than let it be lost. Shared value shows how we return

value beyond the products or the services that we get.

About:

Lord Michael Hastings of Scarisbrick is KPMG

International's Global Head of Citizenship and Diversity.

Previously, he was the BBC's first head of corporate social

responsibility. In January 2003, Michael Hastings was

awarded a CBE (Commander of the British Empire) in

recognition of his services to crime reduction. In July 2005,

he was awarded the honor of an independent cross bench

peerage to the House of Lords.

The Blueprint offers UN Global Compact participants a model

for achieving higher levels of performance and generating

enhanced value through the UN Global Compact. It allows

companies and their stakeholders to assess progress with

respect to their commitment, strategy and implementation

and to communicate effectively as they ascend the learning

and performance curve.

In the context of the Blueprint, corporate sustainability is defined

as a company's delivery of long-term value in financial, social,

environmental and ethical terms. It thus covers all principles

and issue areas of the UN Global Compact. The Blueprint is

grounded in the two core commitments made by participating

companies. It includes aspects of leadership that are considered

key to maximizing results with respect to these commitments,

including active engagement with the UN Global Compact

locally and globally.

The Blueprint encompasses three distinct but overlapping and

synergistic dimensions. They are:

1| Implementing the Ten Principles into strategies and operations

2| Taking action in support of broader UN goals and issues

3| Engaging with the UN Global Compact

Each dimension contains a number of key components. In addition,

several cross-cutting components of leadership were identified

as a crucial overlay to the three dimensions.

12 Global Compact International Yearbook 2011 Global Compact International Yearbook 2011

13
---
Agenda

Blueprint

Can Corporate

Social Responsibility

Lessen the Impact of

a Crisis or Lead to a

Faster Recovery?

By Craig Badings

Too often, corporate social responsibility (CSR) is driven by

social or government pressure, the fear of possible negative

publicity, or the expectations that the financial markets have

of listed companies.

But the market is changing, as more and more companies are

starting to align their CSR programs with the values they want

to espouse as an organization as well as with the expectations

of society as a whole. From a risk-management perspective,

there is a growing realization that companies are frequently

judged by: the perception of the market at the time of a crisis

as to whether they acted responsibly in the lead-up to the crisis;

their CSR track record; and how they resolved to deal with

and acquit themselves during and after the crisis.

Milton Friedman's famous line "The business of business is

business…" no longer cuts it. Companies know this, the public

knows it, and so do NGOs, regulators, and government. It is no

longer good enough to merely tick the compliance box. Not

only are companies expected to come up with products that are

good for the bottom line, they also need to be good for society.

In a June 2009 interview with Richard Edelman, President and

CEO of Edelmans, conducted by Rik Kirkland, McKinsey's Director

of Publishing, Edelman coined the phrase "mutual social

responsibility." He explained it like this: "…people – consumers

– are willing to pay a bit more for products that are ethically

sourced or that have a good story. But I think, in response, they

want to be sure that the companies they're doing business with

have the right supply chain, have the right kind of process for

the environment. So it's the mutuality of it." He called it the

move from an information economy to a collaboration economy.

Are companies fulfilling this? Are they willingly going beyond

what is expected? My view is that, with a few exceptions, they

are not – or certainly not to the extent now expected by

consumers, governments, institutions, and NGOs. Problems

arise when companies view CSR as a way to placate pressure

groups. Too often, these companies end up putting in place

reactive, short-term CSR programs with little or no long-term

value to the business, scant alignment with the company's

values, and little or no benefit to stakeholders. Often it is these

companies, in time of a crisis, that are seen for what they are.

Once their superficial CSR programs are laid bare, the resultant

community and media backlash leaves them shell-shocked as

they reel from massive reputational damage.

Globally, governments are expanding compliance regulations

across numerous industries – a clear signal to some that

business has not come to the CSR table. Instead of taking

collective action to help solve complex problems with the

cooperation and support of government and NGOs, business

– in the main – has done as little as legally possible. The GFC,

greenwashing, and a growing scrap-heap of corporate catastrophes

are testimony to this. Not surprisingly, in December

2009, when CSR managers were interviewed for a McKinsey

Global Survey on valuing CSR, they were unsure of the value

of their environmental, social, and governance activities. In

fact, more than half reported that they did not know what

effect these programs had on value creation at all.

Who's to blame? A large proportion of the blame must lie at

the feet of the boards and the management of those companies

satisfied to pay lip service to paper-thin CSR initiatives. What

does this have to do with crisis communications? I say everything.

CSR in the truest sense is about conducting a thorough

risk-analysis and aligning programs with company values

that best mitigate those risks in as collaborative a manner as

possible with a variety of stakeholders. Yet still, there are tens

14 Global Compact International Yearbook 2011 Global Compact International Yearbook 2011

15
---
Agenda

Blueprint

of thousands of companies that view their CSR initiatives as

short-term "insurance policies" to appease their staff and to

fob off the communities within which they operate.

In the 1990s there were many companies attacked for discriminatory

and unfair labor practices and people became aware of not

buying "blood" – or conflict – diamonds. Nowadays, consumers

are concerned about the metals sourced for their computers,

where and how a company sources its raw materials, and the

content of the food they purchase. We have moved rapidly

into the era of the ethical consumer, a wave which will swamp

those businesses that still think that the business of business

is business. There are many who will disagree. Their view is

that we will continue to do business the way we have always

done it and that their customers do not really care. In years

to come, it is likely that history will judge them as corporate

dinosaurs who went under because they were unable to adjust

to the demands of the broader society in which they operated.

Today, greater calls for transparency have moved corporate

governance to center stage – doing what is right is a reputational

imperative and CSR initiatives form the center of this.

The Reputation Institute, represented in Australia by AMR

Interactive, has been studying the dynamics of reputation

for more than 14 years. After years of research, they have

defined the key attributes that drive a company and a sector's

reputation as:

1| products and services

2| governance

3| citizenship

These are followed in order by innovation, workplace, leadership,

and finally, performance. Taking product out of the

equation for now, the measurements for governance are

openness and transparency, ethical behavior, and fair conduct

in all aspects of business. Citizenship measures things like

environmental responsibility, support for good causes, and

whether the company has a positive influence on society.

Companies that embrace these principles and get it right are

on track to building a strong reputation shield in the event

of future crises.

Importantly, the findings of the Reputation Institute over the

years corroborate that a well-regarded company is more likely

to be trusted, liked, admired, and esteemed than others. All

of these qualities are strong mitigating factors during a crisis,

likely to afford the company, for a while at least, the benefit of

the doubt when a crisis hits. In 2006 the survey Safeguarding

ReputationTM was conducted in 11 markets by global public

relations firm Weber Shandwick with KRC Research. They found

that a substantial majority of the global business executives (79

percent) surveyed believe that companies with strong corporate

responsibility track records recover their reputations faster

post-crisis than those with weaker records. Recent research

conducted by Ipsos MORI in the United Kingdom showed that

companies participating in Business in the Community's (BITC's)

Corporate Responsibility Index (CRI) annually from 2002 to 2009

outperformed their FTSE350 peers on total shareholder return

(TSR) by an average of 10 percentage points in seven out of the

eight years. Tellingly, the TSR of these companies did not fall

as far as their competitors and recovered more quickly in 2009.

Stakeholders and the general public are quicker to judge and

slower to forgive than ever before. The benefit of the doubt is

becoming harder for companies to overcome: Doing what is

right is the new reputational imperative. Unfortunately, many

companies adopt CSR as a result of being the subject of public

scrutiny and criticism, perpetuating the view of consumers,

NGOs, and government that businesses are only in it for themselves.

In a Harvard Business Review paper entitled "Strategy

and Society: The link between competitive advantage and CSR,"

authors Michael Porter and Mark Kramer say that "proponents

of CSR have used for arguments to make their case: moral

obligation, sustainability, license to operate and reputation."

I often ask myself how so many companies can be surprised by

public responses to issues they have not seriously considered

and – worse still – did not believe were part of their business

responsibility. One only need look at the food industry regarding

issues around salt, sugar, obesity, and links to diabetes, heart

disease, and the like. Or one can look at heavy manufacturing,

industrial companies, and car manufacturers and their battle

to come to terms with sustainability, emissions, and the like.

Risk managers and communications or crisis managers should

not only combine efforts to counsel their organization/s on

how to avoid a crisis in the first place, but also examine what

they should be doing to lessen the impact of a crisis when it

hits. This is critical for good reputational risk management.

A company's impact on society changes over time as social

standards evolve, science changes, and new risks and evidence

of risks emerge. The good crisis manager monitors these and

incorporates them into the company's risk profile. In doing so,

he or she should work with the CSR team and executives to

address and minimize the potential for conflict and to lessen

the capacity of these issues to flare.

It is the crisis managers' responsibility to think hard about

what will be next – will it be food manufacturers, the alcohol

industry, the fast food industry, energy producers, or the

mobile phone industry? Their job is to prepare the company

for all eventualities. A good starting point is to begin building

the company's reputation shield by aligning its values

with an integrated and meaningful CSR campaign, which, in

turn, aligns with the company's business objectives. Why is it

that so many companies in high-impact areas such as heavy

manufacturing, chemicals, petroleum, and mining, to mention

a few, are the ones that more often than not display the

most advanced CSR programs? Some may say these sectors

have changed as a result of the constant pressure, government

regulation, and strong media focus. This may be so. The fact

is that many of these companies are leading the way – their

CSR programs are now an integral part of the values of the

company and the way they do business.

Dow Chemical is probably the quintessential example of

how a company can shift its reputation over time. It was one

of the biggest movers in the 2009 Global Reputation Pulse

survey. Why is this so relevant? Because it was the company

that inherited Union Carbide after the Bhopal gas disaster in

India in which an estimated 25,000 people died. Despite being

punished for years by stakeholders far and wide, over time

Dow Chemical shifted its reputation from that of a chemical

company to a company that embraces a reputation platform

focused on building a truly sustainable future. But is it enough

to act as an effective reputation shield at the moment a crisis

hits and in those critical days and months immediately after

a crisis? Hypothetically, if company A's CSR program relates to

the issues that communities, customers, and employees care

about most – while company B's CSR program is characterized

by tentative, short-term initiatives – it is likely that, while

company A will not avoid intense scrutiny, its audiences will

be more forgiving than those of company B. It will have more

third-party endorsers and it will have a strong set of internal

ambassadors. More importantly, as post-crisis scrutiny inevitably

grows, the elements of what company A did in the lead-up to

the crisis, its relationships with stakeholders, and its modus

operandi will help lessen the desire to find fault, and thus

lessen the impact of the crisis and hasten post-crisis recovery.

However, not even the best CSR program will stop activist

groups targeting the most visible company in a sector if that

target serves to heighten public or government awareness on

key issues. Nestlé, for example, has become a major target

in the global debate about access to fresh water, despite the

fact they consume only 0.0008% of the world's fresh water,

have arguably one of the world's leading water sustainability

campaigns, and conduct groundbreaking work with farmers

who supply them on their sustainable water practices. The

companies that lead the way in any reputational institute rankings

are the ones that understand they have to go well-beyond

compliance. They know they need to own a space in which they

proactively create their CSR programs with their stakeholders

by being open and transparent and by constantly shifting the

goalposts to stay ahead of societal issues and concerns.

If CSR is to truly act as a reputational shield in a crisis, its intentions

have to be honorable and aligned with the values of

the business and its stakeholders. Effective CSR programs can

be far more than a cost to the business or merely a charitable

handout. The right strategic and issues-led CSR initiatives

generate business opportunities, promote innovation, and

ultimately deliver the business a competitive reputational

advantage while at the same time benefitting stakeholders.

Importantly, during a time of crisis, it helps form a potent

reputational shield and will underpin a more rapid recovery

post crisis.

Craig Badings is a Director at Cannings

Corporate Communications.

16 Global Compact International Yearbook 2011 Global Compact International Yearbook 2011

17
---
Agenda

Blueprint

By Bill Baue and Dr. Marcy Murninghan

The Accountability Web:

Weaving Corporate

Accountability with

Interactive Technologies

It is guerilla warfare out there for companies that are not

careful. Last year, Greenpeace "punked" Nestlé over palm oil

sourcing with a YouTube video and Facebook campaign. In

April 2011, The Yes Men punked GE over tax payments with a

fake press release, and coal companies over "clean coal" with

a hoax website. These are just a few high-profile examples of

activist campaigns seeking to hold companies accountable

through social media and other web-based tools. On the flip

side, companies such as Shell, Patagonia, Timberland, Natura,

SAP, and Guardian News & Media use social media to proactively

engage stakeholders, which enhances their corporate

sustainability and corporate social responsibility (CSR) work

in innovative ways.

Using Web 2.0 tools for corporate accountability makes inherent

sense, as they share a common thread: Both are rooted in

interaction and thrive on engagement. We call this intersection

The Accountability Web, the title of the report we wrote

last year during a research fellowship for the CSR Initiative at

the Harvard Kennedy School. In it, we identified the dynamic

nature of accountability, which "establishes a dialogic relationship"

between actors on all sides of the equation, according

to academic Andreas Schedler.

While Tim Berners-Lee included interactivity into his 1989

conception of the World Wide Web, it remained latent for the

medium's first decade – it was not until the late 1990s that

interactive Web 2.0 applications began emerging in earnest.

Likewise, corporate accountability has lagged in its interactive

potential, with most early-stage accountability taking the

form of one-way campaigns, with companies and stakeholders

talking at each other more than with each other.

From Accountability 1.0 to Accountability 2.0

Borrowing from computer terminology, we dubbed this dynamic

Accountability 1.0, which creates self-reinforcing feedback loops

of antagonism, confrontation, and mistrust between companies

and stakeholders. At about the same time the web went interactive,

so too did accountability with the advent of multistakeholder

initiatives such as the Global Reporting Initiative and

Forest Stewardship Council – ushering in Accountability 2.0.

Characterized by two-way communication and cooperation,

Accountability 2.0 allows actors in the accountability ecosystem

to continue disagreeing over substantive issues while engaging

in respectful dialog toward the goal of mutual understanding

and compromise leading to solutions. This progression also

shifts from the unidirectional Accountability 1.0 practice

of one group seeking to hold the other accountable, to the

multidirectional Accountability 2.0 practice of groups being

accountable vis-à-vis each other – otherwise known as

mutual accountability, a core concept in civil society and the

field of sustainable development institutionalized in the Paris

Declaration on Aid Effectiveness.

These notions align with thought leadership that emerged in

2011. For example, in a January/February 2011 Harvard Business

Review cover article, Michael Porter and Mark Kramer

advocate for "creating shared value" that benefits business and

society – an outcome that requires communication between

companies, governments, civil society, and other stakeholders

to identify mutual priorities. The next month, HBR published

"Capitalism for the Long Term," in which Dominic Barton of

McKinsey argued for "fighting the tyranny of short-termism" by

"serving stakeholders" as a means of "enriching shareholders"

over the long term. Here again: Serving stakeholders requires

engaging them on equal terms.

In his February 2011 book, The Age of Responsibility, Wayne

Visser describes a progression from "paternalistic" CSR 1.0

to "collaborative" CSR 2.0 built on principles of "connectedness,"

"responsiveness," and "circularity" – all elements of

stakeholder engagement. And Umair Haque's January 2011

book, The New Capitalist Manifesto, similarly advocates "responsiveness"

that moves "from value propositions to value

conversations." Says Haque: "Imagine an economy powered

by organizations whose stakeholders are all associating, deliberating,

and participating in public spaces." In other words,

interacting in the Accountability Web.

Weaving the Accountability Web

Reeling from the mid-1990s Brent Spar and Saro-Wiwa controversies,

Shell moved more proactively into risk-avoidance by

ramping up its stakeholder engagement (among other tactics).

In 1998, the company became one of the first to experiment

with leveraging the interactivity of the web to engage with

stakeholders through its TellShell portal. In 2007, Shell rebranded

this effort ShellDialogues with a dedicated website

18 Global Compact International Yearbook 2011 Global Compact International Yearbook 2011

19
---
Agenda

Blueprint

that shifted from 24/7 accessibility to hosting periodic webchats,

or hour-long text-based interaction on specific topics with

Shell experts engaging with stakeholders in real-time. For

example, ShellDialogues hosted an online debate on May 4,

2011, entitled "Shell's Latest Scenarios: Energy Planning in a

Volatile World," with a transcript of the proceedings compiled

and released after the event.

US-based Patagonia and Timberland and Brazil-based Natura

all host dedicated websites for ongoing stakeholder engagement.

In 2008, Patagonia launched The Footprint Chronicles,

a map-based platform that traces product impacts throughout

the supply chain and seeks stakeholder input to help solve

problems. In 2009, Timberland migrated its Voices of Challenge

initiative (which began engaging stakeholders in its 2005 CSR

report) to the web, extending the company's existing dialog

mechanisms (including in-person meetings and conference

calls) to allow stakeholders to give feedback 24/7. That same

year, Natura launched its NaturaConecta Web 2.0 platform,

expanding its reach from 300 stakeholders in face-to-face

meetings to over 8,000 virtual stakeholders. Natura and

Timberland exemplify what we call "blended engagement,"

mixing in-person with online interaction.

SAP has integrated engagement at the core of its Sustainability

Report, a move that has garnered recognition, including a 2011

Ceres-ACCA award. For example, SAP created an interactive

materiality matrix that crowdsources views on stakeholder

priorities, such as water use – which some stakeholders feel

should rank higher in the "Potential Impact on SAP business"

scale, according to comments in a sidebar widget. SAP also

programs interactivity into its Greenhouse Gas Footprint

tool, which enables report visitors to parse the data by year,

region, and scope – among other variables – to examine

in detail how the company decoupled emissions (which fell

6 percent) from revenue (which experienced double-digit

growth) in 2010.

Guardian News and Media encourages stakeholder participation

on its web-based Sustainability Report, as well as on every post

in its Sustainability Blog, which the media company frames as

an extension of its sustainability report. Going a step further,

the report's assurance provider, Two Tomorrows, provides

"rolling" assurance of all comments, verifying the accuracy of

data posted – and sometimes questioning information. This

can lead to real-time online discussion on issues of accuracy

and perception between assurer, client, and stakeholders,

which Guardian Sustainability Head Jo Confino views as

healthy dialog because it transpires in full view.

The Guardian also hosts online discussions on sustainability

issues, such as employee engagement and sustainability reporting,

where a panel of experts field questions and stimulate

debate over a two-hour period. Similar sustainability-focused

online discussions occur regularly on Twitter, such as the

#CSRchat hosted bi-weekly by Fenton; #RSEchat hosted weekly

by Paula Puterman; or the #HBRchat hosted weekly by the

Harvard Business Review. Outlets for longer-form discussions

(unbound from Twitter's 140-character limit) allowing dialog

to unfold more organically are cropping up, too. One example:

the monthly Sustainability Chat on OpenEyeWorld (OEW), an

online platform for sustainability expert engagement.

OEW is among a handful of emerging online platforms – such

as 2degrees and customized LinkedIn Groups – that host dialog

among thought leaders, practitioners, and stakeholders across

the sustainability spectrum, from companies and CSR experts

to investors and NGOs. Another is Stakeware, a cloud-based

dashboard of tools for managing stakeholder engagement built

on a Salesforce.com backbone. Stakeware uses Salesforce's

Facebook-like Chatter function to power discussions. Other

similar initiatives will continue to appear as the use of social

media and digital interaction becomes more widely adopted.

While still experiencing growing pains, these gathering places

can eventually get beyond information exchange and help

cultivate "communities of practice" that deepen understanding

of complex issues, help to improve performance, and

collaboratively design sustainability solutions.

User-generated integrated reporting

In The Accountability Web, we extolled the promise of keyword

tagging for interacting with data as well as facilitating

comparison and analysis of sustainability reports and other

CSR-related content. This goal has yet to be achieved, although

there are steps in that direction.

For example, XBRL (or eXtensible Business Reporting Language)

– a tagging language that the US Securities and Exchange

Commission mandated in 2009 for financial reporting – can

be used to navigate sustainability. The World Intellectual

Capital Initiative (WICI) and the Impact Reporting and Investment

Standards (IRIS) have created XBRL taxonomies that

cover sustainability information, though neither displays

the breadth of issues and indicators addressed by corporate

sustainability reporting.

In 2006, the Global Reporting Initiative (GRI) released a beta

taxonomy of XBRL tags for GRI indicators created in partnership

with PricewaterhouseCoopers. Given the lag that usually occurs

between innovation and adaptation, there was little corporate

uptake of it prior to a later release of XBRL 2.1 standards. As

such, the 2006 GRI taxonomy is "no longer valid or available,"

according to Asthildur Rutten-Hjaltadottir, Senior Manager of

Report Services Programs at GRI. Lisa French, GRI's Director

of the Sustainability Reporting Framework, adds: "We're currently

in discussions with a potential project partner to update

the G3 taxonomy and create a new taxonomy for G3.1," the

updated guidelines released in spring 2011. This comes as Ethical

Performance exerted pressure with the headline, "XBRL:

It's up to GRI to show progress or explain failure."

The creation of a current, robust XBRL taxonomy covering

environmental, social, and corporate governance (ESG) factors

exists alongside efforts to integrate sustainability and

financial data. The latter is the mission of the International

Integrated Reporting Committee (IIRC), formed in 2010 on the

momentum of the One Report book by Bob Eccles of Harvard

Business School and Mike Krzus of Grant Thornton. In addition

to hosting regional roundtables, this June IIRC distributed its

draft Discussion Paper for public comment, and later this Fall

will launch its two-phase, two-year Pilot Program for companies

to road test the integrated reporting framework. IIRC also will

encourage the G20 at its Paris meeting in November to endorse

the idea and practice of integrated reporting.

Complementing this effort, AccountAbility is launching a research

project covering the "missing links" in integrated reporting, such

as the ability of users to generate their own integrated reports

as well as merging sustainability and financial data through tagging.

Importantly, user-generated reports can customize the mix

of environmental, social, governance, economic, and financial

data according to user priorities and preferences.

Company-generated integrated reports carry value on a number

of fronts, perhaps first and foremost in transforming the

approach of corporate culture from its traditionally exclusive

focus on the financial bottom line toward considering material

tagging impacts. However, the change agenda is rarely driven

solely by the private sector; indeed, most often, it is external

regulation and stakeholder pressure that prompts progress

on sustainability. Viewed through this lens, user-generated

integrated reporting may come to carry as much importance

as company-generated integrated reports for advancing the

alchemizing of sustainability and financial considerations

into a new alloy.

Gaming for good

The Accountability Web has a lighter side, too. Game-based

technologies can serve as powerful tools for advancing sustainability

and civic engagement, while enabling us to become

game creators, too. In fact, a growing number of digital game

developers are finding ways of connecting game genres and

mechanics to serious policy issues, creating outcomes that both

educate and engage. Some examples of simulation and gaming

technologies that are used for sustainability purposes include:

• The AMD Foundation's Changing the Game education initiative,

with its Activate! platform, launched in June 2010. Activate!

helps teens 13 to 15 move from "players" to "producers" by

designing and programming video games with social content in

areas such as energy and the environment. AMD – along with

other tech firms such as Mozilla Labs and Microsoft – supports

independent game development, well-suited to the widespread

use of smartphones, iPads, and other mobile devices.

• MIT, the Sustainability Institute, and others collaborated to

create the Climate Bathtub Simulator, an online tool that

demonstrates the dynamic interaction between carbon emissions

and carbon absorption/sequestration by allowing users

to control the filling and draining of a bathtub as a simplified

visual image.

• Chevron uses game technology in Energyville, which it developed

in conjunction with the Economist Group and Ecogamer.

org. Energyville allows users to choose energy options while

they build a virtual city. Players also learn about the challenge

of matching energy needs to the realities of politics and other

environmental, social, financial, and security concerns.

• In May 2010, Allianz launched it CEO2 game, developed collaboratively

with the WWF, which puts users in the shoes

of corporate executives navigating climate-related decisions

toward a low-carbon economy.

• And last fall, IBM, also in partnership with Ecogamer.org,

launched IBM CityOne, a free online environmental game.

Fast Company called the problems addressed in IBM CityOne

"scarily real" because they range among energy, water, banking,

and retail.

Interactive games and simulations might similarly be used

to enhance corporate accountability, building scenarios, and

enabling multiple stakeholders to sort through complex issues

and test solutions.

20 Global Compact International Yearbook 2011 Global Compact International Yearbook 2011

21
---
Agenda

Blueprint

The future of the Accountability Web

Circling back to where we started, the outcome of the Greenpeace-Nestlé

controversy exemplifies the potential of the Accountability

Web to scale up positive change. In response to

the Greenpeace campaign, Nestlé strengthened its palm oil

sourcing policy to include best practices such as free, prior,

informed consent (FPIC) of indigenous and local communities.

Indeed, FPIC (which the International Finance Corporation

recently institutionalized in its updated Sustainability

Framework, and Talisman commissioned a report on FPIC by

Foley Hoag LLP endorsed by the World Resources Institute)

strengthens the web of accountability between stakeholders

and companies.

Joining the Dots

How UNGC and GRI Are Working

Together for a Sustainable Future

By Teresa Fogelberg

What does the future hold? In our view, this dynamic negotiation

for social license to operate will weave its way into

the digital realm, as previously marginalized communities

gain increasing interconnectivity – for example through

cell phones and other handheld devices that enable wider

participation and representation. In the end, the Accountability

Web illustrates the power of interactive technologies

to support the dialogic nature of mutual accountability,

spinning a virtuous cycle spiraling toward a more just and

sustainable world.

The trend toward transparency on corporate non-financial

performance is gaining momentum and there are a number

of frameworks, systems, and principles that help companies

disclose information. A key requirement for making

sustainability disclosure standard practice for companies

and other organizations worldwide is harmonization

between these guidance sources.

In line with this, the Global Reporting Initiative (GRI)

and the UN Global Compact (UNGC) have been working

together to align advice and help organizations through

the reporting process.

GRI provides a comprehensive framework for producing

sustainability reports. The GRI Sustainability Reporting

Guidelines enable all organizations worldwide to assess

their sustainability performance and disclose the results

in a similar way to financial reporting. GRI's vision is a

sustainable global economy where companies' disclosure

of their sustainability performance is standard practice.

As both UNGC and GRI are based on the concept of encouraging

continuous improvement, there is significant

alignment in approaches to quality and scope of sustainability

reporting. In 2007, the two organizations published

a linkage document to help companies navigate the two

systems and their crossovers. The publication "Making the

Connection: The GRI Guidelines and the UNGC Communication

on Progress" includes a table outlining crossovers

between UNGC's Communication on Progress and GRI's

G3 Sustainability Reporting Guidelines.

UNGC and GRI signed an agreement in May 2010 to align their

work in advancing corporate responsibility and transparency.

As part of this agreement, GRI is working to develop guidance

regarding the Global Compact's Ten Principles and is striving

to align its next iteration of its Sustainability Reporting Guidelines,

"G4," with UNGC issue areas. UNGC will adopt the GRI

Guidelines as the recommended reporting framework for the

UN Global Compact signatories.

Ernst Ligteringen, GRI's Chief Executive, explained the importance

of the partnership when it was announced: "The agreed

collaboration, combining the expertise and efforts of GRI and

the UN Global Compact, will allow us to significantly extend

our outreach and support an increasing number of companies

and stakeholders around the world which seek to improve

their sustainability performance."

GRI is working toward its mission to make sustainability reporting

standard practice, and as such is now developing the

next generation of Sustainability Reporting Guidelines, G4.

The Guidelines need to be fit for purpose, and should align

with other frameworks, initiatives, and principles, including

those of the UNGC's.

are now 60 training partners in more than 40 countries – that

have been approved by GRI to train people in sustainability

reporting. There are also UNGC Local Networks in many countries.

Many companies in OECD and developing countries are

both signatories to the Global Compact as well as GRI reporters.

Because of this, it makes sense for these local representatives

of GRI and UNGC to work together: Both organizations will

partner at the country level. Seven countries have been selected

in which GRI and UNGC will join forces and develop activities

that are relevant to the local agenda.

The ongoing partnership between GRI and UNGC will ensure

that harmonization is successful, both globally and locally,

thereby helping to make disclosure of environmental, social,

and governance factors a mainstream practice.

Bill Baue is Senior Research

Fellow with AccountAbility.

Dr. Marcy Murninghan

is co-founder of the The

Murninghan Post.

In the publication, Georg Kell, Executive Director United

Nations Global Compact, notes: "Companies participating

in both initiatives have long stressed the understanding

that the GRI is a practical expression of the Global

Compact."

GRI now has local representation, called Focal Points, in five

countries – Australia, Brazil, China, India, and the United

States – to increase the number and quality of reports and to

provide local input into global developments. GRI works with

independent Certified Training Partners worldwide – there

Teresa Fogelberg is Deputy Chief

Executive, Global Reporting Initiative.

22 Global Compact International Yearbook 2011

Global Compact International Yearbook 2011

23
---
Agenda

Blueprint

The Human Rights

and Business

Dilemma

Global Compact participants have committed to support and

respect human rights and to avoid complicity in human rights

abuses. However, human rights remains one of the most challenging

areas of corporate sustainability. Human rights have

traditionally been the concern of states, and international

human rights law has generally been addressed to them only.

As more companies come to realize their legal, moral, and /

or commercial need to address human rights issues within

their own operations and activities, they are confronted with

a number of challenges. Businesses will have to come to grips

with the human rights framework and assess how their activities

may relate to it. Moreover, companies are often uncertain

how to avoid complicity in human rights abuses and where,

in practical terms, the boundaries of their human rights

responsibility lie. Through the Human Rights and Business

Dilemmas Forum, the UN Global Compact, Maplecroft, and

the GE Foundation are working together to find solutions to

dilemmas businesses may be facing when operating in, distributing

to, and / or sourcing from environments that may

present higher risks to human rights.

Whatever one's stance in the ongoing business and human

rights debate, it is clear that there is a keen demand for tools

and guidance to help companies in their implementation

efforts. The Global Compact hopes to bring more clarity to

this debate by highlighting the relevance of human rights for

business, demonstrating the business case for human rights,

emphasizing practical solutions, and pointing to useful tools

and guidance materials.

Our goal is to show that advancing human rights is not just

about managing risks and meeting standards and expectations;

it is also about realizing new opportunities. The objectives of

the UN Global Compact include the integration of the Ten

Principles by businesses everywhere, inducing action and

partnerships in support of UN goals to realize more sustainable

and inclusive markets around the globe.

The UN Global Compact has made the corporate responsibility

to respect and the commitment to support human rights a

key priority. This is manifest in the first two UNGC Principles,

according to which businesses should support and respect

internationally proclaimed human rights and should ensure

that they are not complicit in human rights abuses. Where

these two principles are not upheld, full implementation of

other corporate sustainability principles will be challenging

at best, and in some cases may prove impossible.

The Principles may be "motherhood and apple pie," but their

implementation is challenging. There is a great need for prac-

tical guidance for business, and resources that situate these

challenges in specific scenarios are in short supply. Many

companies are simply not sure how they can most effectively

address the dilemmas that arise when seeking to be competitive

in higher risk environments while respecting human rights,

particularly where the challenges are beyond direct control in

lower tiers of supply chains or relate to practices of independent

business partners.

Businesses are faced with a range of challenges when trying

to live up to their responsibility to respect human rights,

particularly in environments that present higher risks for

human rights abuse and for business complicity in human

rights abuse. Many real-world situations have no straightforward

solutions that will satisfy all stakeholders. This creates

a dilemma for responsible businesses. In order to address

these situations, the UN Global Compact, Maplecroft, and

the GE Foundation have partnered to help businesses find

practical solutions through the Human Rights and Business

Dilemmas Forum.

Human rights and business in the new growth

environment

Emerging economies are environments presenting opportunities

for significant growth. There are thus often attractive

investment opportunities. At the same time, however, some

emerging economies are among those countries that present

higher risk environments for human rights. Even companies

with the best reputations are at higher risk when operating

in economies where threats against human rights are most

severe and loom large in complex international operations

and extensive international supply chains.

The dilemma for responsible business is how to respect and

support human rights in complex social, political, and economic

contexts – particularly where human rights are being

violated systematically. Dilemmas occur, for example, when:

• responsible company involvement carries the risk of negative

or unforeseen consequences for the workers or local

communities concerned;

• a responsible and intuitive upstream solution in an operating

context may carry reputational risk in downstream consumer

markets;

• the full satisfaction of all stakeholder expectations is impractical

given the commercial, political, and legal realities

faced by the companies and their technical competence;

• questions arise as to the extent to which company responsibility

extends through different tiers of the supply chain, or

with respect to government partners or local distributors;

• it is beyond the remit of companies to address some of the

root causes of the human rights violations in question, such

as resource security, poverty, and lack of education.

For example, companies may not be familiar with the business

environment and social conditions in all economies

where they have operations. Moreover, companies may not

be able to fully control extensive and complex supply chains,

thereby putting them at risk of complicity in human rights

abuses, such as child labor, forced labor, and other labor

standards violations.

Additionally, in some instances, the respective country's security

situation may be volatile and put the company at risk of

complicity in actions of security forces such as extrajudicial

killings and torture. Further, the company may have to mitigate

the risk of conflict minerals in its supply chain.

Moreover, the company may be faced with legal or social

environments that facilitate human rights abuses. Some domestic

laws in emerging economies are in direct conflict with

international human rights. For example, domestic laws may

restrict freedom of speech, freedom of religion, or the right to

privacy, or discriminate against certain groups.

The Human Rights and Business Dilemmas Forum – A

tool to operationalize human rights

The Human Rights and Business Dilemmas Forum is designed

to help companies and other stakeholders understand and

share real-world dilemmas, particularly in emerging economies.

It is a multistakeholder online platform for multinational

corporations with operations, supply chains, and distribution

networks in regions that may present higher levels of risk of

human rights abuse and business implication in the abuse.

Over the last year, we have identified a range of themes and

real-world dilemmas and analyzed the array of approaches

to them taken by different companies across different sectors.

We explore unilateral approaches of leading companies, as

well as path-breaking multistakeholder initiatives.

The goal of the Human Rights and Business Dilemmas Forum

is to enhance the collective understanding of the UNGC

Ten Principles and the UN "Protect, Respect and Remedy"

framework and their application in key regions of the "real

world." Ultimately, it will provide a vehicle for exploring

and finding solutions on how businesses can meaningfully

implement these frameworks and do better to meet stakeholder

expectations.

The Human Rights and Business Dilemmas Forum helps

businesses to demystify human rights and illustrate their

everyday relevance in business practice. It aims to serve as a

tool for businesses to assess human rights risks they may be

facing in a range of environments and business sectors and

to explore suggested due diligence mechanisms as part of the

operationalization of human rights in conformity with the

human rights and business framework.

24 Global Compact International Yearbook 2011 Global Compact International Yearbook 2011

25
---
Agenda

Blueprint

The human rights and business framework

The Human Rights and Business Dilemmas Forum has been

developed in alignment with Principles 1 and 2 of the UN Global

Compact and the UN "Protect, Respect and Remedy" framework.

The Forum aims to enhance the collective understanding of

how the Principles and framework can be understood and

implemented in practical terms. A set of Guiding Principles on

business and human rights elaborates the UN "Protect, Respect

and Remedy" framework. The Principles provide guidance on

the duty of the state to protect against human rights abuses by

third parties including business; on the corporate responsibility

to respect human rights; and on the provision of greater access

to effective remedies for victims of human rights violations.

UNGC Principle 1: Respecting and supporting human

rights

The responsibility to respect human rights means not to infringe

human rights. Operating context as well as company

activities and relationships can pose risks that the company

might negatively impact human rights, but they also present

opportunities to support or promote the enjoyment of human

rights while also advancing one's business.

Supporting human rights involves making a positive contribution

by promoting or advancing human rights. Socially responsible

organizations will typically have a broader capability and often

desire to support the promotion of human rights, especially

in ways that link strategically to their core business activities.

UNGC Principle 2: Complicity

Businesses shall not be implicated in human rights abuses

that another company, government, individual, group, etc., is

causing. Complicity is generally made up of two elements: 1) an

act or omission (failure to act) by a company – or individual

representing a company – that "helps" (facilitates, legitimizes,

assists, encourages, etc.) another, in some way, to carry out a

human rights abuse; 2) the knowledge by the company that

its act or omission could provide such help. Allegations of

complicity are not confined to situations in which a company

could be held legally liable for its involvement in the human

rights abuse committed by another. The media, civil society

organizations, trade unions, and others may allege complicity

in a far broader range of circumstances. Accusations of

complicity can arise in a number of contexts:

• Direct complicity – when a company provides goods or services

that it knows will be used to carry out the abuse.

• Beneficial complicity – when a company benefits from human

rights abuses, even if it did not positively assist or cause them.

• Silent complicity – when the company is silent or inactive in

the face of systematic or continuous human rights abuse.

Features of the Human Rights and Business Dilemmas

Forum

The Forum offers the opportunity for businesses to assess human

rights risks and adopt suggested solutions for tackling

a dilemma. It provides in-depth dilemma analysis on a wide

range of topics and real-world case studies as well as all necessary

background materials. In addition, users are offered an

interactive platform to share, explore, and discuss dilemmas,

case studies, and best practices with business professionals,

human rights experts, and other relevant stakeholders.

In-depth analysis of dilemma themes

The themes cover real-world dilemmas that businesses encounter

when operating in, sourcing from, or distributing

to markets that may present higher risks of business being

implicated in human rights abuses.

Current dilemma themes

include:

Child Labor

Forced Labor

Freedom of Association

Migrant Workers

Housing

Human Trafficking

Living Wage

Working Hours

Security Forces

Corruption

Product Misuse

Stabilization Clauses

Freedom of Religion

Ethnic Minorities

Freedom of Speech

Gender Equality

HIV/AIDS

Privacy

Forthcoming themes include:

Indigenous Peoples

Health and Safety

Access to Water

Community Relocation

Conflict Minerals

Working with State-owned

Enterprises

All dilemma themes – which are prepared by Maplecroft human

rights analysts in collaboration with the UNGC Office, the

Office of the United Nations High Commissioner for Human

Rights, and the GE Foundation – include the following sections:

• What is the dilemma: nature and scope of the dilemma

• Common dilemma scenarios: prevalence of the dilemma in business

sectors, operations, and supply chains

• Examples of emerging economy scenarios: examples of the dilemma

in the Next 11 and BRICs countries

• Risks to business: this includes legal, reputational, financial,

operational, and other risks that companies may face when

they do not have adequate mechanisms in place to address

the dilemma

• Suggestions to business: suggestions as to how business can

adequately deal with the dilemma

• Background to the dilemma: users are provided with information

on which human rights are implicated as well as necessary

definitions

Case studies

Each dilemma is illustrated by good-practice case studies. Case

studies have been developed in close collaboration with a

range of multinational companies and relevant government,

intergovernmental, and civil society stakeholders. We also

draw on public domain sources, including the UN Global

Compact's own Communications on Progress.

The case studies explore specific dilemmas and challenges

faced by each organization, good practice actions they have

taken to resolve them, and the results of such action. We

reference challenges as well as achievements. Featured organizations

include: The Responsible Cotton Network, HP,

Chiquita, Adidas-Salomon, the Open Net Initiative, Timberland,

Standard Chartered, Cisco Systems, the Nike Foundation, De

Beers, Gap, the International Cocoa Initiative, Manpower, and

Talisman Energy.

Resources

The Human Rights and Business Dilemmas Forum also sets

forth an extensive range of materials, providing the background

to each dilemma issue. Each dilemma is complemented by

a list of general and specific resources. This includes the relevant

international legal and regulatory framework as well as

standards and further guidance materials, particularly from

the UN and the International Labour Organization as well as

relevant international organizations and NGOs.

Interactive forum

An interactive forum provides an opportunity for users to share,

explore, and discuss a wide range of dilemmas, case studies,

and good practice with business professionals, human rights

experts, and other relevant stakeholders. The suggestions for

responsible business are designed to stimulate commentary

and further insight into the applications of the UNGC Principles

and the operationalization of the UN's "Protect, Respect and

Remedy" policy framework by business. Users are invited to

comment on the approaches taken and to provide their own

viewpoint on what works and what does not.

Human rights and business – A collaborative effort

The Human Rights and Business Dilemmas Forum provides

businesses with a comprehensive overview of the different

implications of dilemmas that businesses may face when operating

in, sourcing from, and distributing to environments

that may present higher risks of business being implicated in

human rights abuse. It is a unique and important tool for businesses

and other stakeholders to assess those risks and explore

solutions for complying with the corporate responsibility to

respect human rights as prescribed in the UNGC Principles

and the UN "Protect, Respect and Remedy" framework.

The role of the private sector in the protection and promotion

of human rights is crucial to the enjoyment of human rights

for everyone worldwide. Respecting human rights adds value

to the business, but on the flipside, businesses face immense

legal, reputational, operational, and financial risks when they

fail to fulfill their responsibility to respect human rights. In

the media age of the 21st century, allegations of corporate human

rights abuses are quickly distributed worldwide through

news services, blogs, and social networking sites.

With the Human Rights and Business Dilemmas Forum, the

UNGC, Maplecroft, and the GE Foundation have made it their

mission to inform businesses of the practical implications of

their responsibility to respect human rights. The Forum brings

together businesses and their stakeholders to engage in constructive

dialog to explore solutions as part of the joint and

collaborative undertaking of all organs in society to efficiently

protect human rights and guarantee their enjoyment for all.

26 Global Compact International Yearbook 2011 Global Compact International Yearbook 2011

27
---
Agenda

Standards and Labels

Economy leaders

need sustainability

standards

28 Global Compact International Yearbook 2011 Global Compact International Yearbook 2011

29
---
Agenda

Standards and Labels

By Dr. Sasha Courville

United Nations Secretary-General Ban Ki-moon recently spoke

of a tectonic political shift of wealth and power from the North

toward the new global players in the South. The implications

of this shift are starting to be felt within the field of Corporate

Social Responsibility (CSR), as evidenced in the strong engagement

of developing and emerging economies in the ISO

26000 standard-setting process. However, this is an emerging

trend with a number of dynamics that have yet to fully play

themselves out. Given the critical importance of the world's

fastest-growing economies to meaningfully incorporate the

universally agreed Principles embedded in the United Nations

Global Compact into their developmental pathways, how the

various initiatives operating within the field of CSR respond

to this changing geo-political landscape will determine their

future and that of our global society and our planet.

Sustainability Standards Systems – such as the Forest Stewardship

Council (FSC), the Roundtable on Sustainable Biofuels,

or Social Accountability International with its SA 8000

standard – represent the practical, hands-on dimension of

the CSR landscape. With consensus-based voluntary standards

defined through global multistakeholder processes, and with

enterprise compliance assessed through independent thirdparty

certification, these market-based tools provide clear

pathways for producers to improve sustainability practices.

They also provide reliable benchmarks for supply chain buyers

and consumers to make informed purchasing decisions and

signal to institutional investors and lenders that good social

and environmental practices are being upheld. Sustainability

standards now cover over 10 percent of global production in

key commodities and sectors such as wild-capture fisheries, tea,

coffee, and bananas. With an increasingly visible presence in

global markets, the demonstration effect of pioneering initiatives

– such as the Marine Stewardship Council, Fairtrade, UTZ

Certified, and the Rainforest Alliance / Sustainable Agriculture

Network – provides solid ground to expand the application

of sustainability standards into new commodities and sectors,

from soy, palm oil, sugarcane, and other food and biomass

crops into cattle, tourism, and electronic waste, among others.

Business champions are increasingly recognizing the value

that these tools can play in supply chain management and

in ensuring long-term access to supply and are making major

commitments that will affect entire sectors and value chains.

This particular tool within the field of CSR is at a critical point

of inflection where it has the potential to make a significant

contribution to transforming global markets. Sustainability

standards are market-based mechanisms. Whether they will

reach their full potential as important CSR tools to transform

markets toward labor and human rights and ecological sustainability

will depend on how future market leaders engage

with them and use them to accomplish their own sustainable

development and competitiveness objectives. As power drivers

behind global markets start to shift, demonstrating value

and building support among emerging economy leaders will

be a critical requirement for any CSR tool, including sustainability

standards.

While the shift in power and wealth toward new global players

in the South – as outlined by Ban Ki-moon – is indeed

fundamentally changing the CSR landscape, it is important

to note that this is current and dynamic, with the implications

yet to be fully understood or even determined. The

preferences of an increasing number of actors are shaping

how social and environmental considerations are expressed

in global markets. Initial introductions of CSR in emerging

economies have largely been shaped by supply chain pressure

to address human rights, labor, and environmental issues. For

example, with 60 percent of Wal-Mart's suppliers in China,

its continued focus on sustainable supply chains will have

a significant effect on how Chinese businesses and regional

"

"

Mission Statement ISEAL Alliance

governments adopt sustainability tools, including standards.

Global brands such as Tetra-Pak and Nespresso have created

strong demand for sustainably certified pulp and paper and

coffee respectively, leading to significant investments in certified

operations in Brazil and other countries. Such pressures

will continue to influence key emerging economy markets for

many years to come. The power dynamics – and therefore the

social and environmental values that are expressed in shaping

such markets – will vary commodity by commodity and

sector by sector. This will depend on whether such markets

are characterized by North-South trade, regional trade, or

domestic interests overlaid with growing global, regional, and

national pressures to address critical social and environmental

hotspots. The case of soy is an interesting illustration. China is

now the world's largest importer of soybeans by far, with up

to 55 - 60 percent of total world trade. Argentina and Brazil

have emerged as the world's largest exporters of soybean

meal and oil. Stakeholders from each of these countries are

powerful players in often highly contested discussions to

define sustainability standards for soy production and trade.

A new factor that will increasingly shape the future of sustainability

standards is the burgeoning appetite for sustainable

products and services in the domestic markets of emerging

economies. Consider the case of Indian tea consumption. A

2010 study in India by Solidaridad and Partners in Change

found that 40 percent of consumers surveyed would be willing

to pay 10 percent more for purchasing sustainable tea or

coffee. As domestic tea consumption in India dwarfs export

production – representing 22 percent of global tea consumption

and 80 percent of Indian production – and given that

the national market leaders (Tetley owned by Tata and Unilever)

are experienced sustainability standards users, there is a

To create a world where

ecological sustainability and social

justice are the normal conditions

of business.

tremendous opportunity for domestic market-led sustainable

development that could improve the livelihoods of hundreds

of thousands of workers and their families. Likewise in Brazil,

a public prosecutor campaign to drive consumer awareness

and supply chain pressure toward carne legal, or beef produced

in accordance with national legislation, has been supported

and even amplified by efforts of environmental NGOs

and consumer groups pushing for compliance with stronger

sustainability performance standards. Given that the expansion

of the cattle industry in Brazil to meet largely domestic

demand is a major cause of the deforestation of the Amazon,

such awareness-raising campaigns are critical first signs of

an increasing appetite for sustainable domestic consumption.

Whether existing global standards, which have been highly

successful in North American and European consumer markets,

can meet such nascent and expressed demands – and exactly

30 Global Compact International Yearbook 2011 Global Compact International Yearbook 2011

31
---
Agenda

Standards and Labels

what kinds of adjustments or adaptations to the model are

needed – are new and open questions.

About ISEAL

Emerging economy leaders need sustainability standards.

They provide a clear and effective way to access increasingly

mainstream international markets. They can also provide

tools to address growing domestic demand for socially and

environmentally responsible products and services. Yet, while

they are currently standards takers, they will increasingly

become standards makers, thus changing the future of how

sustainability standards evolve.

As emerging economies strengthen their engagement with

standards systems, a number of changes will take place in the

sustainability standards landscape. First, the commodities and

sectors addressed by standards systems are likely to evolve to

become more relevant to emerging economy markets. While

strong growth is expected in the traditional sectors of tea,

coffee, and timber – as these become important not only for

export markets but also increasingly domestic markets – new

standards will evolve that will focus on their priority markets,

as is already happening with soy, cattle, and sugarcane in Brazil.

One could expect strong emerging economy engagement in

the development of sustainability standards for the oil and

gas sector, water stewardship, and low-carbon standards across

manufacturing activities, among others.

Second, new types of players will participate in driving the

future direction of this CSR tool. While the sustainability

standards movement has historically been led by partnerships

between business champions and NGO leaders, new actors

will become involved as these tools gain ground in emerging

economies. Financial sector representatives in emerging

economies such as Brazil, Mexico, and South Africa are among

those exposed to the greatest social and environmental risk in

their portfolios. It is no surprise that they are already among

the most engaged with sustainability standards. The use of

sustainability standards as key lending, investment, and trade

finance tools will only continue to grow, to be led by emerging

economy financial institutions. In addition, the relationship

between sustainability standards and governments is set to

evolve, especially as China strengthens its engagement with

sustainability standards. While governments around the world

are demonstrating increasing interest in using private voluntary

sustainability standards to achieve their own policy objectives

– as evidenced in sustainable public procurement and timber

or biofuels regulatory frameworks – China's engagement will

likely set new parameters for how governments engage with

what have historically been CSR tools developed by industry

and civil society, largely without government participation.

Third, a central principle of credible sustainability standards

as outlined in ISEAL's Standards Code is the importance of

sustainability standards being both globally applicable but

The ISEAL Alliance is the global association for

sustainability standards. ISEAL members are global

leaders in the delivery of sustainable value chains and

have pioneered the design and application of standards

to link sustainable production and consumption across

international trade. ISEAL members cover social and

environmental sustainability issues – from labor rights and

sustainable livelihoods to water stewardship, greenhouse

gas emissions, and biodiversity conservation, and are

active across a diverse range of sectors, from forestry,

fisheries, agriculture, and aquaculture to textiles, biofuels,

and beyond. ISEAL brings these initiatives together in

a learning community to strengthen the credibility and

effectiveness of the sustainability standards movement

as a whole. ISEAL develops consensus-based Codes of

Good Practice that provide clear road maps for standards

systems in designing credible and effective sustainability

standards on issues such as standard-setting, impact

assessment, and assurance. These Codes also help

standards systems users from governments, businesses,

research institutes, and NGOs to better understand what

makes for a credible and effective sustainability standards

system.

locally appropriate. Where sustainability standards have the

potential to influence and affect stakeholders in other countries,

they need to be conceived of as global standards at the

outset to avoid creating unfair barriers to trade and ensure

that all affected stakeholders are able to participate in the

standard-setting process, thereby addressing their needs and

perspectives. Pioneering sustainability standards have created

important mechanisms to bridge this international-national

divide. In the case of the Forest Stewardship Council, this includes

balanced governance structures that ensure Northern

and Southern representation across social, environmental,

and economic stakeholder categories, and a guided process

to develop national standards based on the overarching FSC

Principles and Criteria. For the Sustainable Agriculture Network

linked to the Rainforest Alliance Label, national guidelines are

developed by a local workgroup to interpret how the standards

criteria apply for local conditions or a specific crop. However,

as the universe of stakeholders engaged in developing and

implementing sustainability standards expands further, evolution

of this model is likely necessary to ensure that emerging

economy leaders feel that such standards meet their own

needs and values as well as meet the needs of international

clients and stakeholders. The alternative is a whole host of

competing national sustainability standards that create new

barriers to trade, exacerbate stakeholder confusion, and waste

resources on reinventing the wheel instead of on achieving

tangible sustainable development results.

As part of a collective strategy to scale up the environmental

and developmental impacts of the sustainability standards

movement, the ISEAL Alliance will support and strengthen

existing networks of national sustainability standards leaders

in emerging economies and, with partners, build capacity on

best practices in the design and use of credible and effective

international sustainability standards to meet national needs

as well as international stakeholder demands. ISEAL will also

support emerging economy leaders in engaging in global normsetting

so that both sustainability standards and the global

rules that define them are co-owned by emerging economies

and reflect their values and expectations.

Dr. Sasha Courville is Executive Director

of the ISEAL Alliance.

32 Global Compact International Yearbook 2011 Global Compact International Yearbook 2011

33
---
Agenda

Standards and Labels

Eco-labels:

Signed, Sealed…

Delivered?

By Patrin Watanatada and Mark Lee

Today's supply chains span the globe. While a century ago we

might have known where, how, and who produced the things

we consume, today we rely on what we are told. And how can

we be sure that what we are told can be trusted?

Enter the eco-label: the independently verified, on-pack label

that tells the consumer how a product was produced (think

Fairtrade or organic) or how it might be consumed (think

nutritional labels or Energy Star) in a more sustainable way.

It is a powerful idea that combines sustainability standardssetting

and branding, underpinned by the credibility of an

independent body.

In the 33 years since the world's first eco-label appeared

(Germany's Blue Angel), these labels have proliferated. The

Ecolabel Index currently lists 377 schemes in 211 countries

and 25 industry sectors. A number of trends indicate it is time

to take a closer look:

Civil society continues to pressure business to take responsibility for

supply chain performance. Since supplier factory labor conditions

burst onto the public agenda in the 1990s, it is now firmly

established that we expect global companies to know the

"where" and "how" of raw materials and production.

Bold sustainability commitments by brands require credible ways to

evaluate performance in value chains. From Unilever's commitment

to source 100 percent of its agricultural raw materials

sustainably by 2020 to Pepsico UK's commitment to reduce

carbon and water emissions from key growers by 50 percent

by 2015, many businesses have set big value chain goals and

need credible ways to demonstrate delivery.

Some eco-labels are losing trust. Even respected schemes have been

questioned – for example, the Marine Stewardship Council

has been accused of certifying fisheries with diminishing

stocks.

Regulators are monitoring "greenwashing" claims. The US Federal

Trade Commission (FTC) and the UK's Defra have completed

major reviews of their green marketing guidelines.

Eco-labels are moving into developing countries. Eco-labels have

been primarily a developed-country phenomenon, but the

Ecolabel Index includes dozens of labels used in developing

countries. Is there an opportunity for developing countries

to leapfrog?

Eco-labels themselves are taking stock. ISEAL Alliance – the global

alliance for environmental and social standards systems – is

completing a major strategic review. Last year WWF reviewed

its multistakeholder initiatives and concluded that operational

improvements were required and more evidence of impact

needed.

What are eco-labels trying to do?

It is important to consider the three distinct functions of

eco-labels:

1| Performance: Drive or confirm improvements in social and

environmental impacts through voluntary standards.

2| Trust: Create assurance that these improvements have taken

place or will take place.

3| Demand: Drive purchasing decisions and behavior change

by communicating sustainability performance at the point

of purchase and, more broadly, changing social norms and

expectations associated with a product category.

Is it realistic to expect eco-labels to achieve such varied goals?

Which eco-labels are doing this best and what can we learn

from their success and acceptance? And what alternatives exist?

Successes…

Successes credited to eco-labels include the following:

Creating a common language and framework for sustainability. Ecolabels

simplify and create consensus around what is important.

Providing opportunities for collaboration. Partnering with an independent

scheme can be a way of "outsourcing" the work of

supplier capacity-building or monitoring to a better equipped

organization.

Providing a credible platform for claims. Schemes backed by government

standards, multistakeholder initiatives, or NGOs have

greater credibility than business claims.

Raising consumer awareness and expectations. Consider coffee: All

of the big roasters and the major coffee retailers worldwide

now offer some form of certified, sustainably sourced coffee,

as consumers and stakeholders expect it.

NOTE

For simplicity, we are using the term "eco-label" to mean

any independently verified label intended to communicate

social and / or environmental attributes to consumers.

The focus of this piece is explicitly on B2C rather than

B2B voluntary standards such as the ISO standards, food

safety standards, etc.

34 Global Compact International Yearbook 2011 Global Compact International Yearbook 2011

35
---
Agenda

Standards and Labels

Improving performance. WWF's 2010 review of multistakeholder

initiatives concluded that "MSIs can have positive economic,

environmental and social impacts." The US Environmental

Protection Agency stated in their annual report that the Energy

Star label contributed to saving the equivalent of 31 million

vehicles' worth of greenhouse gas emissions and $17 billion

in utility bills in 2009.

…and Challenges

Alongside these successes, challenges exist, and questions are

being asked:

What impact are eco-labels really having? Many eco-labels have

found it challenging to demonstrate positive impact. Indeed,

the 2010 Global Ecolabel Monitor found that only one-third

of the eco-labels that responded to their survey regularly

monitor their impacts. In addition, improvements may be

concentrated among reasonably strong performers, and it is

difficult to ensure rewards are equitably distributed across

the value chain.

Are the standards behind labels the right ones? Setting standards

for sustainability will never be straightforward. Too often the

most important drivers of performance are set aside for indicators

that are easier to measure or appeal to a broader group

of stakeholders. While justified, it limits ultimate progress.

Are eco-labels using the right amounts and kinds of data? The information

needed to drive, verify, or communicate performance

can be very different. For example, the data that a designer

needs to design a lower-impact shoe differs from what the

consumer uses to make a purchasing decision.

Can "branding sustainability" lead to undesirable consequences

for marketers? Many independent eco-labels are powerful

brands in their own right, competing with each other but

also with the host brand. In a fiercely competitive market,

some businesses are finding it difficult to invest in marketing

eco-labels that are used by competitors, or that distract

from the brand story.

Can "branding sustainability" lead to undesirable consequences for

sustainability? By calling out a specific product as "sustainable,"

labels might distract consumers from a more sustainable but

uncertified choice – for example, if shoppers chose Froot Loops

cereal over oatmeal because of the presence of the "Smart

Choices" label, this may result in potentially less desirable

individual choices and lead consumers to think about single

issues rather than the system.

Alternatives: What's next?

In supplementation or replacement of the "traditional" ecolabel,

businesses have been making use of alternative ways

of improving performance, creating trust, and influencing

demand for more sustainable products. A few include:

In-house standards – such as Starbucks C.A.F.E. Practices or HP

Eco Highlights.

Industry standards – such as the UL Environment manufacturing

standards or the Sustainability Consortium's various

working groups.

New sourcing models, partnerships with NGOs, and in-house expertise

– for example, Walmart is increasing purchases from small

farmers, while Unilever has a team of in-house agronomists.

Linking sustainability performance to place of origin instead of a label

– for example, some Alaskan fisheries have considered forgoing

Maine Stewardship Council certification, in part under the

assumption that buyers already know that fish sourced from

Alaska is sustainable.

Mobile technologies that connect the dots across the value chain – Good-

Guide puts sustainability data in consumer's hands at the point

of purchase via mobile devices, while social networking tools

such as Twitter and Yelp! play a role in facilitating word-of-mouth.

Tastemakers, celebrities, and the media – Vogue caused sales of

Timberland's Earthkeeper boots for women to spike, while

British celebrity chef Hugh Fearnley-Whittingstall did the

same for non-endangered fish in UK supermarkets the week

after his new sustainable fishing program aired.

Other marketing tactics – from green claims, to branded product

lines such as Nike Considered or Philips Green; to choice-editing,

such as Tesco's and Sainsbury's phase-out of incandescent

bulbs – ahead of legislation requiring them to do so – in

the United Kingdom.

The power of trusted global brands – Think Marks & Spencer or

Patagonia, whose corporate brands and bold sustainability

commitments serve as "guarantees" of good sustainability

performance for many stakeholders.

a poor spur for individual behavior change. Businesses must

make, and already are making, use of other tools.

As seven billion of us – and counting – bump up against

the limits of the planet's natural resources and we seek to accelerate

more sustainable modes of production and consumption,

we need to step back and consider what eco-labels were

designed to achieve in the first place, consider objectively the

limitations of the eco-label as a tool, and ask how it can be

complemented by other ways of creating trust and influencing

behavior change across global supply chains.

Neither consumers nor producers can be expected to "do the

right thing" unless they know what that is, and eco-labels are

to be commended for focusing on this need – as are the global

companies that are pushing to make effective use of them.

Patrin Watanatada and Mark Lee both work for SustainAbility.

Mark is Executive Director, Patrin is exploring eco-labels and

emerging alternatives over the course of 2011 in a research

project, Signed, Sealed…Delivered? The authors would like to

thank the following for input as this article was drafted: Oliver

Adria, Mohammed Al-Shawaf, Coleman Bigelow, Jennifer

Biringer, Stephanie Daniels, Jim Goddard, Chuck Goncalves,

Beth Jensen, Emma Keller, Geoff Kendall, Karin Kreider, Thomas

Lingard, Heather Mak, Michelle Morton, Ian Olson, Ben

Packard, Michael Sadowski, Don Seville, Burçu Tunce.

Eco-labels – Where next?

While fully recognizing that eco-labels from Energy Star to

Fairtrade have done a great deal in raising awareness, changing

what we expect of certain product categories, and creating a

common language and framework around sustainability –

and are perceived as more credible than claims made directly

by business – the eco-label model has inherent limitations.

The past decade or two has demonstrated that auditing against

a standard is not as effective as we need it to be in improving

on-the-ground conditions, while on-pack labels are too often

Patrin Watanatada

Mark Lee

36 Global Compact International Yearbook 2011 Global Compact International Yearbook 2011

37
---
Agenda

Standards and Labels

Sample

Eco-labels:

organic industry. OCIA provides certification services to

thousands of organic farmers, processors and handlers

in North, Central and South America, Asia, and Europe.

There is approximately 500,000 acres of OCIA Certified

Organic Agricultural Land in the United States and over

1.4 million acres of certified organic farm land worldwide.

Electric Devices

EU Energy Label

Tourism

The Green Key

Food

FairTrade

The Fairtrade Mark certifies that international Fairtrade

standards have been met. It offers a positive way to buy

products in solidarity with those who produced them. Buying

Fairtrade products helps producers struggling to improve

their lives. The label is now available on thousands of

products in around 50 countries. The Fairtrade Certification

Mark is a product label primarily intended for use on product

packaging. It is licensed by FLO and the national Fairtrade

Labelling Initiatives (LI). With appropriate written permission,

the Mark can also be used on wholesale packaging or for

promotional use.

Ecocert

Ecocert is an inspection and certification body established

in France in 1991 by agronomists aware of the need to

develop environmentally friendly agriculture and of the

importance of offering some form of recognition to those

committed to this method of production. Consistent with its

commitment to organic farming, Ecocert has opted to put

its technical expertise to use in supporting the environment,

developing its own specifications for the inspection and

certification of products, systems and services. By defining

strict requirements that meet consumer expectations,

Ecocert Group encourages economic stakeholders to adopt

responsible practices.

Organic Crop Improvement Association

The Organic Crop Improvement Association (OCIA International)

is a nonprofit, member-owned, organic certification

organization and an accredited world leader in the certified

UTZ certified

UTZ CERTIFIED is a sustainability program that focuses on

training farmers to increase production, improve quality and

reduce costs. You could call it self-help. Enabling producers

to stand on their own feet, to grow and become more

successful. The results is a better price for a better product.

Farmers manage their farms professionally, protecting

the environment and caring for their workers. They take

pride in their business and enjoy an improved quality of

life for themselves and their families. Coffee buyers and

brands on the other hand, are assured of a constant, high

quality coffee supply.

Marine Stewardship Council (MSC)

The MSC runs an ambitious program, working with

partners to transform the world's seafood markets and

promote sustainable fishing practices. The credible MSCstandards

for sustainable fishing and seafood traceability

seek to increase the availability of certified sustainable

seafood and the blue eco-label makes it easy to identify

these products.

"Dolphin Safe" Tuna Label

The Earth Island's unique International Dolphin Safe

Monitoring Program maintains staff members in different

countries, who regularly inspect tuna in canneries, at

dockside, and aboard fishing vessels in order to insure

consumers that the tuna they buy is truly "dolphin safe".

The programm maintains agreements with more than

300 tuna companies worldwide, including all major tuna

processors. These agreements pledge tuna companies

to abide by the Earth Island international "Dolphin Safe"

tuna standards of no encirclement of dolphins or other

marine mammals during an entire fishing trip, no accidental

deaths or serious injuries of any dolphins, and no use of

drift gill nets.

Light bulbs, cars and most electrical appliances carry the

EU Energy Label. The energy efficiency of the product is

rated in energy levels ranging from A to G on the outside

label. 'A' stands for the most energy efficient and 'G' for

the least energy efficient. Apart from the clear color-coded

classification there is also other information on the energy

label. For example, the energy label for lightbulbs often

shows its 'lumen', an indication of perceived power of

light, and 'Watt', the consumption of joules of energy per

second. Recently, also the qualification A+ and A++ were

introduced for refrigerated appliances.

Energy Star

The "Energy Star" is a voluntary appliance specific label,

identifying to consumers appliances that meet certain

standards regarding energy efficiency. Energy Star products

cover a wide range of products, from simple scanners to

complete desktop home computer systems. It is a joint

program of the U.S. Environmental Protection Agency

and the U.S. Department of Energy helping consumers to

save money and protect the environment through energy

efficient products and practices. The Energy Star was

created as a United States Grovernment Program, but

it is also used in Australia, Canada, Japan, New Zealand,

Taiwan and the European Union.

Flowers

Flower Label Program

The Flower Label Program (FLP) is a joint initiative of

human rights organizations, labour unions, churches, flower

producers and flower retailers. The program ensures a

humane, environmentally-friendly and economically viable

flower production. It bases on the International Code of

Conduct for the Production of Cutflowers, Foliage and

Potplants. The compliance with this standard is guaranteed

by the Flower Label.

The Green Key is a programme of FEE (Foundation for

Environmental Education) and was created to raise the

awareness of owners and managers of tourism and leisure

establishments on the necessity and possibilities of running

a responsible business. Organisations awarded the Green

Key meet technical management criteria and criteria on

communication. Onsite checks are performed regularly on

all Green Key owners. In each country a national steering

group with representation from authorities, NGO's and

business associations ensures the credibility.

Wood/Paper

Forest Stewardship Council (FSC)

FSC is an independent, non-governmental, notfor-profit

organization established to promote the

responsible management of the world's forests. FSC

certification provides a credible link between responsible

production and consumption of forest products,

enabling consumers and businesses to make purchasing

decisions that benefit people and the environment

as well as providing ongoing business value. FSC is

nationally represented in more than 50 countries around

the world.

Cosmetics

NaTrue

The NATRUE-Label is an international standard with

the objective to strengthen consumer's trust in Natural

Cosmetics. It defines a high standard and the very strict

criteria of the Label ensure that all certified products

adhere to it. The NATRUE-Label has three certifiation

levels: natural, natural with organic portion and organic

cosmetics.

38

Global Compact International Yearbook 2011

Global Compact International Yearbook 2011 39
---
Agenda

Standards and Labels

Textile

Global Organic Textile Standard (GOTS)

The GOTS is recognized as the leading processing standard

for textiles made from organic fibres worldwide. It defines

high level environmental criteria along the entire supply

chain of organic textiles and requires compliance with

social criteria as well. The International Working Group on

GOTS is comprised of four reputed member organisations,

namely OTA (USA), IVN (Germany), Soil Association (UK)

and JOCA (Japan). Together with further international

stakeholder organizations and experts, their respective

expertise lies in organic farming and environmentally and

socially responsible textile processing.

Fair Wear Foundation

The mission of the Fair Wear Foundation (FWF) is to improve

labour conditions in the garment industry. It is an international

verification initiative dedicated to enhancing workers' lives

all over the world. The FWF works closely with a growing

number of companies that produce clothing and other

sewn products and that take responsibility for their supply

chain. FWF keeps track of the improvements made by the

companies it works with. Through sharing expertise, social

dialogue and strengthening industrial relations, it increases

the effectiveness of the efforts made by companies.

Rug

GoodWeave

GoodWeave is the new name for the certification program

and organization formerly known as RugMark. The

GoodWeave label, publicly introduced in September 2009,

gives the assurance that carpets with this label are only

made by adult artisans – not children.

STEP

Label STEP is committed to improving the working

and living conditions of carpet weavers, fights abusive

child labour and promotes environmentally friendly

production methods. To achieve these goals Label STEP

is systematically monitoring the production sites of its

licensees and their suppliers, and takes measures to

ensure fair conditions. It operates at the local level in all

major carpet-producing countries. The label was founded

by the development organisations Berne Declaration, Bread

for All, Caritas Switzerland, Swiss Catholic Lenten Fund

and Swissaid together with IGOT (Swiss Association for

Clean Oriental Carpet Trade).

Consumer Goods

The First Global

Consumer Label

for Companies

Using Wind Energy

By Robyn Elizabeth Beavers

In 2010 Vestas decided to embark upon a challenging journey:

to build a global partnership and create an organization that

would produce the world's first consumer label for wind

energy. WindMade was created to drive the global adoption

of wind energy by convincing the world's largest consumer

brands to put a renewable energy label on their products. This

label would inform consumers about the source of energy used

to make the product, thereby empowering them to consciously

choose products originating from a clean source of energy.

Made-by

Blue Angel

MADE-BY is a European not-for-profit organisation with a

mission to make sustainable fashion common practice and

improve environmental and social conditions in the fashion

industry. To achieve this MADE-BY works with fashion brands

of varying sizes and scope, and supports them in developing

sustainable strategies to improve conditions across their

entire supply chain. MADE-BY has also developed a range of

tools and processes which enable brands to be transparent

to their stakeholders about their sustainability progress.

The Blue Angel is the first and oldest environment-related

label for products and services in the world. It considers

itself as a market-conform instrument of environmental

policy designed to distinguish the positive environmental

features of products and services on a voluntary basis.

The Blue Angel helps to speed up the structural change of

the economy towards a sustainable development. Today,

about 11,500 products and services in circa 90 product

categories carry the Blue Angel eco-label.

Source: Self descriptions of the current organizations

40

Global Compact International Yearbook 2011

Global Compact International Yearbook 2011

41
---
Agenda

Standards and Labels

Vestas pioneered the wind industry more than 30 years ago

and has installed more than 43,000 turbines across six continents.

This experience contributed to the firm's belief that

creating a global movement for wind energy was necessary

to catalyze their industry beyond traditional market drivers.

Furthermore, Vestas saw it as their responsibility – as the

committed creator of the wind energy industry – to drive

the creation of this movement.

In order to turn WindMade into a reality, Vestas facilitated

the collaboration between global corporations, NGOs, and

the strategic policy initiative United Nations Global Compact,

to create a new model designed to overcome the flaws of the

current dependence of the renewable energy sector on policy

and traditional governmental and public sector models. The

Founding Partners of WindMade joined the effort because

they believe the initiative can catalyze a global demand for

renewable energy, which is something that will benefit the

environment beyond current initiatives. The active role taken

by the Global Wind Energy Council – as the administrative

host of the WindMade organization – demonstrates how the

entire wind industry is behind WindMade. Overall, WindMade

is tangible proof that a combination of strategic business development,

cross-sector collaboration, global marketing efforts,

and philanthropy can help foster growth in global industries.

Building the case: Research points to the need for

transparency

In conjunction with developing the WindMade initiative

and establishing the organization, Vestas collected extensive

market data from consumers and companies to understand

if there truly was a need for a global wind energy label. Two

reports were commissioned, the Global Wind Study and the

Global Corporate Wind Energy report.

As part of the rigorous analysis preceding the actual concept

development, Vestas surveyed more than 25,000 respondents

across 20 markets in a Global Wind Study conducted by

Gallup to investigate consumer interest and sentiment for

the WindMade label.

The survey base proved a strong interest: 93 percent responded

positively to "renewable energy as a good solution to mitigate

climate change," and "79 percent would be willing to pay more

for WindMade products." Vestas will continue to monitor

global consumer interest for wind power and WindMade to

ensure that future decisions are based on the same level of

rigor as in the first phase of the project.

Vestas also pioneered the creation of the Global Corporate Renewable

and Wind Energy Index to report on the largest global

consumer brands' procurement of wind and other renewable

energy sources. Developed in cooperation with Bloomberg –

the official data provider of WindMade – the ranking will be

released mid-2011 and is the first-ever global mapping that

shows how much of the electricity used by the world's largest

corporations comes from renewable energy, incl. the specific

source. It is published together with a whitepaper outlining

the major trends and developments of corporate investments

in wind power. The surveyed companies are selected from the

Bloomberg 500 Index (global companies ranked by market

capitalization) as well as the MSCI World Index (an index of

approximately 1,660 companies from 24 countries). The report

shows that a significant gap still exists between corporations'

promises to procure renewable energy and their current levels

of consumption of electricity generated from clean energy

sources. The data is compelling and Vestas saw a benefit in

providing this transparency to consumers to catalyze the demand

for products made from wind energy at the retail shelf.

The WindMade certification program

WindMade's success rests on the development of a technical

standard, the WindMade "rule book," which outlines a credible

FACTS AND FIGURES

WindMade is a global initiative dedicated to increasing

corporate investments in wind power by educating

consumers about corporations' use of wind energy and

raising the demand for products that are made from

this clean and renewable energy source. WindMade

draws attention to the fact that we cannot continue to

consume products that are made from energy sources

that cause so much harm to the environment. The label

is a step forward in the process toward raising consumer

awareness and displaying the importance of sustainable

renewable energy. The participating companies will

decide whether the whole corporation or specific physical

locations and / or products are to be certified. The final

standard is developed by a Technical Committee of

renewable energy and label verification experts and

will be subject to a public consultation beginning in the

spring of 2011. WindMade will be managed through

an independent NGO that Vestas – as the lead sponsor

for WindMade – will fund for the first three years of

operation. The WindMade Founding Partners are: LEGO,

Vestas, Global Wind Energy Council, the UN Global

Compact, WWF, and PwC, with Bloomberg as the official

data provider. The WindMade Technical Committee

is composed of representatives from the following

organizations: Climate Friendly, LEGO, Vestas, WWF, the

American Wind Energy Association, and Gold Power.

The WindMade Sounding Board, serving as external

commentators to the Technical Committee, is composed

of representatives from organizations such as Walmart,

Ikea, Microsoft, BetterPlace, the US EPA, Eneco, AGL, and

the Center for Resource Solutions. The Final Sounding

Board lists will be posted on the WindMade.org website.

and pragmatic certification program. The WindMade Technical

Committee consists of global experts from the renewable

energy and sustainability industries who are committing to

developing the standard through a process of transparency

and consensus. The committee has progressed in record time

to produce a first draft for the Standard for Companies and

Organizations, which will be ready for public consultation

on June 15, 2011.

WindMade is an example of how companies can pursue visionary

and novel business development to increase profitability

while at the same time making a tangible positive impact on

some of the critical challenges mankind is facing. In a context

where the wind power industry holds far more potential than

is currently realized, a true industry leader committed to

progress is not afraid of questioning existing business models

and pushing the boundaries for growth.

From a business perspective, Vestas' investment in Wind-

Made is an effort to pave the way for an emerging customer

segment, consisting of environmentally conscious consumer

brand companies. WindMade will improve the business case

for these global brands by providing more transparency to

consumers. In a market place that is currently muddled with

environmental claims, WindMade aspires to help consumers

choose brands that choose wind. In summary, WindMade will

serve as a platform for companies to drive competitive advantage

while at the same time making the world a better place.

The journey ahead for WindMade

The focus is now on ramping up the WindMade organization

while ensuring that the consumer label is implemented with

rigor. Following the announcement in Davos, Vestas was

contacted by numerous wind energy stakeholders, including

noteworthy global consumer brands, indicating a strong interest

in WindMade. The WindMade organization will now focus on

building partnerships with these brands. The goal is to deliver

the first WindMade products to the world before the end of

2011, less than a year after its official announcement by the

Founding Partners at the World Economic Forum in Davos.

Robyn Elizabeth Beavers,

Group Marketing and Customer Insight,

Vestas Wind Systems

42 Global Compact International Yearbook 2011 Global Compact International Yearbook 2011

43
---
Agenda

Rio + 20

Sometimes referred to as Rio+20 – as it is being held 20 years

after the 1992 Rio Earth Summit – the United Nations Conference

on Sustainable Development (UNCSD) will build on a

wide range of past political and organizational achievements,

but also, more importantly, seek to accelerate progress where

a long line of earlier efforts have come up well short. When

the United Nations General Assembly adopted Resolution

A/RES/64/236 to organize Rio+20, governments identified two

main themes for this landmark event: First, "a green economy

within the context of sustainable development and poverty

eradication"; and second, "an institutional framework for

sustainable development." Both themes are, of course, extremely

important. But even more important is what lies at

the conjunction of the two themes.

In late 2010, the Boston University Frederick S. Pardee Center

for the Study of the Longer-Range Future convened a Task

Force of experts from academia, government, and civil society

to explore exactly what lies at the intellectual and practical

intersection of Rio+20's two themes. 1 As the co-conveners of

this Task Foce, we present some of the main insights derived

from this Task Force; in particular, we present five+1 suggestions

for thinking constructively about some key issues for the

realization of a green economy.

Five+1 suggestions

direction of change, and implementing measured and pragmatic

shifts that can begin moving the system in a desired

direction. Evaluating the progress of such measures and

carefully adding to them to bring about the necessary shifts

is an important component of this process. One example of

this would be to break the deadlock that often arises when

we search for a single "perfect" solution by the adoption of

a "portfolio approach" that uses a combination of initiatives

to raise a variety of resources, including monetary resources,

knowledge resources, capacity development, public support,

and awareness-raising for global action on forests.

Another example of the benefits of radical incrementalism

concerns the much-stalled debates on creating a new international

environmental organization modeled at least in part

on the World Trade Organization. The debate has not only

remained inconclusive but takes attention away from discussions

concerning reform of the United Nations Environment

Programme (UNEP) – including strengthening its funding arrangements

and consolidating various treaty secretariats – for

which there is a great need and much international agreement.

The idea that Rio+20 should lead to a stronger UNEP is broadly

accepted and should not be held hostage to the debate about

the designs of a super-organization for the environment. The

advantages of a radical incrementalism approach should not

be lost in the debate on institutional reform.

Institutional

Challenges for a

Green Economy

One. Think boldly and move incrementally. Discussions of

institutional reform have sometimes been reduced to the

equivalent of rearranging the deck chairs on the Titanic. Any

institutional reform process must begin with recognition of

the urgency for action. It must also include a commitment

to the proposition that fundamental shifts in political and

economic practices are needed to avoid significantly accelerated

ecological damage, with disastrous consequences for societies

all over the world. The enormity of the challenge calls for

ambitious thinking, but it should not paralyze action just

because large changes are difficult to achieve quickly.

There is a need for "radical incrementalism" – recognizing

and strengthening those elements within the existing institutional

architecture that do work, identifying the strategic

Two. Take economic policy seriously. The proposition that the

world needs to move toward a green economy implies that

the current economic system is not working adequately, at

least not for the environment and future generations. Change

is required in economic policy institutions as much as in

environmental ones. A transition to a green economy needs

to involve fundamental changes to both macroeconomic and

microeconomic conditions and institutions. Business as usual

with respect to economic policy is not a viable alternative to

meet sustainable development challenges.

The most obvious case for a green economy shift is in macroeconomic

policy instruments relating to structures and principles

for international trade and finance. For example, the role of trade

in resources – especially in energy-related resources, includ-

What if the world could actualize its finest visions of a "green economy"?

What sorts of institutions would we need to manage it? What sorts of

institutional innovations will lead us to such a destination? Those are

some of the questions that should be at the forefront of our thinking as

we think about what Rio+20 can, and should, achieve.

By Prof. Dr. Adil Najam and Prof. Dr. Henrik Selin

1

Task force members were: Tom Bigg (International Institute for Environment and Development), Elizabeth DeSombre (Wellesley College), Mark Halle

(International Institute for Sustainable Development), J. P. (Hans) Hoogeveen (Dutch Ministry of Agriculture, Nature and Food Quality), Saleemul Huq

(International Center for Climate Change and Development), Bernice Lee (Chatham House, the Royal Institute for International Affairs), David Levy (University

of Massachusetts at Boston), Ricardo Meléndez-Ortiz (International Center for Trade and Sustainable Development), Adil Najam (Boston University), Henrik Selin

(Boston University), Stacy D. VanDeveer (University of New Hampshire), Patrick Verkooijen (World Bank), and Paul Wapner (American University). The opinions

expressed in this text are those of the authors building on the Task Force's work. These opinions may not necessarily be shared by all Task Force members. See

H. Selin and A. Najam (eds.) 2011, "Beyond Rio+20: Governance for a Green Economy," Pardee Center Task Force Report, Boston University: The Frederick S.

Pardee Center for the Study of the Longer-Range Future, March.

44 Global Compact International Yearbook 2011 Global Compact International Yearbook 2011

45
---
Agenda

Rio + 20

ing its security implications – is central to a green economy.

Any shift in this area will require carefully crafted incentives

to align international markets toward environmental and

resource goals. At the microeconomic level, the institutional

challenge is to create individual incentives (including negative

ones) to realign consumption and production decisions that

have significant environmental and economic ramifications.

A central challenge is not only to think creatively about economic

policy, but to engage international economic institutions. While

the necessity of such engagement is now understood by environmental

as well as economic decision-makers, the incentives for

such engagement do not yet exist. Rio+20 creates an opportunity

to bring environmental and economic institutions together on a

common platform where world leaders – to whom both sets of

institutions are ultimately responsible – can lay out a program

for collaboration. Rio+20 should at least begin the realignment

of institutional incentives to facilitate the achievement of a goal

already agreed on but not yet achieved: making environmental

considerations central to global economic decision-making.

Three. Recognize what is working and what is not working. There

is no need to reinvent the wheel. There are already a number

of public and private sector initiatives and partnerships that

seek to promote a transition to a green economy world. At the

same time, current organizations, policies, and practices must

be subject to critical evaluation and changed if they stand in

the way of the realization of a green economy. Furthermore,

activities and regulations across organizations, states, and issue

areas must be coordinated. Policy goals should be formulated

clearly and followed by monitoring and reporting (related to

discussions about targets and timetables). There should also

be actual consequences for failing to meet agreed-upon goals

and targets.

The desire to create new institutions without first thinking

about what will happen to old ones – and to simply assume

that the problems that have plagued institutions in the past will

somehow disappear in the future – remains as prevalent as

it is misguided. Rio+20 delegates are well-advised to resist this

temptation. For example, the period right before and right after

the 1992 Rio Earth Summit was extremely productive in the

negotiation of new structures. There are a variety of instruments

available for a range of pressing issues, including a variety of

financial mechanisms (although many have few or no resources).

The challenge is no longer of creating new instruments, but of

making the existing ones effective and functional.

A fruitful discourse for Rio+20 would be to meaningfully

enhance the efficacy of the main elements of the system of

international environmental governance as it now exists. For

example, there is a need to (a) focus on strengthening the

UNEP – especially in terms of giving it financial stability,

authority, and dependability – so that it can effectively deal

with its growing responsibilities; (b) return to the original

design mandate of the Commission on Sustainable Development

and make it a review mechanism for progress toward

sustainable development; and (c) accelerate the process of

rationalization of multilateral environmental agreements

through consolidation and better linkages.

Four. Make implementation the focus. The time around the 1972

Stockholm Conference and the 1992 Rio Earth Summit saw

a frenzy of international institution-building that produced a

rich edifice of instruments central to creating and managing

a green economy. The system remains focused on negotiation,

but a functional green economy will require that societies

shift their attention much more toward implementation.

Rio+20 provides an opportunity to accelerate this transition.

There has been growing restlessness among industrialized and

developing countries alike – although for different reasons –

to make implementation a more central focus, and the UNCSD

can become the marker that signifies this shift in attention.

Enhanced implementation involves better incorporating

public, private, and civil society actors who are closer to

implementation, including at the domestic levels. This will

require multilevel governance from major intergovernmental

forums down to town halls and households. The subsidiarity

principle should guide policy and management efforts; each

issue should be dealt with at the most appropriate level. At

each level, accountability issues are crucial to ensure change

and implementation. This includes thinking carefully about

what kind of monitoring and evaluation mechanisms are

needed and how they may be established. To this end, a host

of scientific, economic, and political information needs to be

generated and shared in an open and transparent manner.

Five. The state remains central but non-state actors have to be better

accommodated. A focus on green economic issues highlights the

importance of markets and consumers, but governments will

remain central. There is a tendency (often by those outside of

governments) to downplay the importance of the state. There

is also a tendency (often among those within governments)

to push responsibility for action and change onto non-state

institutions. Both tendencies should be rejected. It is not so

much a question of state responsibility being "replaced" or

"taken over" by other actors, but rather state responsibility

evolving to (a) enable more and better action by non-state

actors and (b) work in concert with non-state institutions.

Rio+20 should develop new and expanded ways of making

the engagement with citizen and market groups deeper and

more directly related to implementation.

However, just as the state has to learn how to create a space

where markets and citizens can spur institutional innovation,

it also has to retain and assert its role as rule-setter and enforcer.

This is already evident in the area of climate change and the

creation of carbon markets – markets that can neither operate

nor be created independent of state action – and will become

increasingly important in the management and greening of

natural resource supply chains. As these market instruments

may become defined more and more by national security

concerns, the importance of the state will increase – not

diminish – in the evolving institutional needs of the planet.

At the same time, the state itself has changed over time, and

certainly the structure of states that make up the international

system has. No single bloc of countries or region holds all the

answers. But certainly compared to 1972 and 2002, the North

today is a little less "North" and the South a little less "South"

than they used to be. As global power balances shift, as corporations

as well as citizens and their consumption become more

global and more central to the global enterprise, international

politics and policy is forced to confront new realities about

"North-South" differences. Neither is ready to wither away, but

both have evolved – as have the relations of both to the many

non-state actors critical to the realization of a green economy.

Five+1. Put equity at the center. Finally – overarching and

incorporating all of the first five ideas – equity has to be a

central goal. A green economy and its institutions must have

as their core focus the well-being of people – of all people,

everywhere – across present and future generations. That

essential idea puts the notion of equity – intra- as well as

inter-generational equity – at the center of the green economy

enterprise. It also brings to the fore the centrality of consumption

questions, not only between nations but within societies. It

would be folly to forget that a green economy demands not

just "green consumers" but "green citizens."

The proximate goal in the creation of a green economy is the

notion of making the economy more ecologically efficient – meeting

economic needs without compromising ecological integrity.

But the ultimate goal is to do so in a way that the needs of all

people – today and in the future – can be met. That, after all,

is the central premise of sustainable development. Therefore, a

deep commitment to issues of fairness and social justice is central

to the green economy transformation. It is not just fitting,

but necessary, that Rio+20 be a forum that helps ensure that

the desire for ecological efficiency complements, and does not

displace, the commitment to intra- and inter-generational equity.

Time for action

Both the number of people who still live in abject poverty

and the rapid increase in the number of people who engage

in high-consumption lifestyles raise crucial challenges for

change. Rio+20 delegates should seek to craft a global new

deal for sustainable development; a deal that could finally

help bridge the North-South divide by tackling poverty, overconsumption,

environmental degradation, social justice, and

greenness of the economy as well as sustainable livelihoods.

Versions of many green economy ideas have been debated

for decades, and will continue to be debated, as they should

be. It has been said many times before, but it will hopefully

inspire action this time: More aggressive policy change for

sustainable development and implementation are needed.

Dr. Adil Najam is the

Frederick S. Pardee

Professor of Global Public

Policy at Boston University

and Director of the Pardee

Center.

Dr. Henrik Selin is

Associate Professor of

International Relations at

Boston University.

46 Global Compact International Yearbook 2011 Global Compact International Yearbook 2011

47
---
Agenda

Rio + 20

Two Decades of

UN Earth Summits

2012

1992

Rio de Janeiro

The United Nations Conference on Environment and

Development (UNCED) was a milestone in international

environmental policy when it took place in Rio de Janeiro

in 1992. The main incentive for this conference was the

Brundtland Report that had been published by the World

Commission on Environment and Development (WCED) in

1987. For the first time, this report dealt with the guiding

principle of "sustainable development" as well as conditions

for lasting and practicable development that would be

environmentally compatible up to the year 2000 and beyond.

The report therefore had a strong influence on the global

discussion of environmental and development policy. The

1992 UNCED, attended by some 10,000 delegates from

over 170 countries, served as a declaration that the need

for action cited in the report merited implementation in

binding international treaties. Dubbed the Earth Summit, the

conference produced five important outcome documents:

these included the "Rio Declaration on Environment and

Development," with 27 principles that the countries

would adhere to in order to protect the environment

and sustainable development in policy, business, and

science. A Climate Change Convention was also developed

that contained an agreement to reduce greenhouse gas

emissions enough to prevent a dangerous disturbance in

the global climate. Additionally a Convention on Biological

Diversity was developed in order to protect biological

diversity. It was geared towards maintaining the diversity

of species and the sustainable use of natural resources.

The Forest Principles were more non-binding, a declaration

of intent that set out guidelines for the "Management,

Conservation, and Sustainable Development of All Types

of Forests." Concrete goals in this area fell through amid

resistance from some of the developing countries. Also

founded during the conference was an Intergovernmental

Negotiating Committee to combat desertification (INCD)

and to prepare an appropriate Convention. This convention

entered into force in 1996 and since then has been ratified

by over 110 countries. Of special importance, however,

is Agenda 21, which was adopted in Rio and includes

suggestions for sustainable development activity. It contains

an action plan for development and environmental policy

that is primarily an appeal to governments to develop and

implement appropriate strategies and plans at the national

level. As an advanced draft of the Agenda 21 states, "The

only way to assure ourselves of a safer, more prosperous

future is to deal with environment and development issues

together in a balanced manner. We must fulfill basic human

needs, improve living standards for all and better protect

and manage ecosystems."

Johannesburg

Ten years later, it was time to work out concrete goals

and measures on the path to sustainable development.

Some 20,000 delegates from government, business,

NGOs and local authorities came together to do so at

the World Summit on Sustainable Development in the

South African city of Johannesburg in 2002. More than

anything, the results of the conference did not live up to

the expectations held by many NGOs. Organizations such

as Germanwatch nevertheless considered it a success

2002

that at least any steps backward from the world summit

in Rio in 1992 had been prevented, and that in some areas

there had even been unexpected advances. The WSSD

in Johannesburg ended with a political declaration, the

Johannesburg Declaration on Sustainable Development,

in which the attending heads of state and government

leaders committed to developing national strategies on

sustainability. The industrialized countries also entered

into an agreement to support the developing countries in

drafting appropriate strategies. In addition, they adopted

a 65-page Johannesburg Plan of Implementation. The

main result of the world summit in 2002, however, was

the assignment and inclusion of concrete goals into the

action plan, particularly the Millennium Goals. For example,

one of the most important resolutions was to reduce the

number of people living in absolute poverty with incomes

of less than one dollar a day by 500 million by 2015. All

children worldwide should also receive a primary school

education by 2015, and the proportion of people without

access to basic sanitation should be halved by that time.

What's more, the decline in biological diversity was to be

markedly reduced by the year 2010. But there was another

step remaining: no target indicators could be created for

the expansion of renewable energies, because the global

disparities in this area were too large.

Rio de Janeiro

Sustainable development should now get a new boost from

the United Nations Conference on Sustainable Development

(UNCSD), which will take place back in Rio de Janeiro on

June 4-6, 2012. The political commitment to sustainability

should be secured once again. In addition, attendees are

expected to take stock of the advances made up to this

point and to identify the remaining gaps in the commitment

to sustainability. The conference will concentrate on two

main areas. One of these is the topic of the "green economy"

in the context of sustainable development and poverty

eradication. The United Nations Environmental Program

(UNEP) defines the term "green economy" as an economy

that "results in improved human well-being and social

equity, while significantly reducing environmental risks and

ecological scarcities." The subject has already generated

debate between poor and rich countries during a preparatory

meeting in New York. According to the UN minutes of the

meeting, representatives from developing and threshold

countries feared that "greener" production structures

would stifle their economic growth. The second focus of

the conference is the topic of an "institutional framework

for sustainable development." This includes developing and

strengthening the formal and informal bodies, organizations,

networks, and arrangements that are a part of sustainable

political decision-making and implementation measures.

An effective institutional framework is essential to the

implementation of sustainable development at all levels.

The UN has decided that the results of the conference will

be codified in a "Synthesis Report."

Compilation: Judith Bomholt

48

Global Compact International Yearbook 2011

Global Compact International Yearbook 2011 49
---
Inside ...

Agenda

Inside MENA

middle East /

north africa

Will the Arab Spring

Free the "Orphans of

Globalization"?

50 Global Compact International Yearbook 2011 Global Compact International Yearbook 2011

51
---
Agenda

Inside MENA

By Prof. Dr. Jean-Pierre Lehmann

The period from the late 19th to the late 20th century was

humiliating for most of the non-Western world. The only

exception was Japan. India, China, Indonesia, Indochina and

the rest of Southeast Asia, in addition to Latin America, Africa,

and the Middle East, were all subjected to various degrees of

Western political, economic, and cultural imperialism.

Though no "globalization humiliation index" has ever been

compiled – and the experiences of men and women in all these

regions were humiliating – arguably the Arabs have suffered

the greatest humiliation. This arose in part simply because of

proximity. The Arabs are the neighbors and cousins of the Europeans

within the greater Mediterranean civilization. During

much of history, the Arabs were the more advanced, the more

knowledgeable, the more successful, and the richer of the two.

This rapport changed radically in the 19th century. Not only

did Europeans prove to be much stronger economically and

militarily, but there was also a prevailing view that the European

scientific mind would leave the "primitive" Arabs

far behind. In 1883 and 1884 there was a famous debate

between the theologian and scientist Jamal al-Din al-Afghani

and the French orientalist and philosopher Ernest Renan.

Renan's main thesis was that the conditions in which Islam

had evolved and the nature of Arab society rendered it incompatible

with the spirit of modern science. Europe would

thrive, the Arabs would decline. Al-Afghani, who sought to

join Islam and science, refuted Renan and expressed a vision

of an Arab renaissance.

The renaissance never happened. In the first half of the 20th

century, following the collapse of the Ottoman Empire, the

entire region of Middle East North Africa (MENA) came under

Western imperial tutelage. Adding yet another significant

humiliation, the West imposed upon the region the state of

Israel in 1948. In the ensuing decades, repressive Western

imperialism was replaced by indigenously derived repressive

totalitarianism. The Arabs have not been free for centuries and

certainly not in the last 50 years. The Arab states may have

gained independence, but the Arab people did not gain liberty.

For much of the 20th century, the condition of the Arab region

did not differ much from what was then referred to as the

"Third World." With the exception of India, virtually all the

countries of the Third World were ruled by despots, and virtually

all the countries of the Third World were poor, backward,

and corrupt. This was generally held, axiomatically, as the

natural existential state of Third World countries.

The first minor tremors of transformation occurred in the

1970s with the emergence of what were referred to as the

Asian NIEs (newly industrialized economies): Hong Kong, Korea,

Singapore, and Taiwan. They represented the first – and

still quite rare – cases of economies graduating from third

to first world.

After the rise of the "Four Dragons" (as they were also called),

things began happening quickly. In 1978, two years after the

death of Mao Zedong, the Chinese leadership under Deng

Xiaoping undertook arguably the most radical program of

economic reform a country has ever seen: Having rejected

globalization for over a century and a half, the Chinese

embraced globalization in the late 1970s and have done so

in the ensuing decades. In 1989 the Berlin Wall collapsed

and the Soviet empire imploded two years later. At the start

of the 1990s India, Pakistan, Bangladesh, Indonesia, South

Africa, Brazil, Mexico, Argentina, Chile, among many other

erstwhile Third World countries, embarked on globalizationoriented

reforms, thereby boosting trade, inward foreign

investments, transfers of technology, and the acquisition of

global knowledge.

The results have been amazing in many respects. The dynamic

emerging economies have witnessed very high growth, which

in turn has led to massive reductions of poverty. The share of

global GDP of the three major emerging economies – China,

India, and Brazil – has doubled during the period of 2000 to

2010. Turkey, following a profound financial crisis in 2001,

has bounced back and achieved impressive growth rates. It

no longer sees economic benefits in joining the debt-ridden,

sclerotic European Union. Brazil, by combining economic

growth with social development policies, has seen a reduction

in inequality and a significant increase in literacy. China

has supplanted both the United States and the EU as Brazil's

biggest trading partner.

There is a mood of optimistic buoyancy in much of the developing

world. Until the Jasmine Revolutions in Tunisia and Egypt,

this optimistic buoyancy was nowhere at all to be found in

the Arab world. Now it is quite to the contrary!

What about the Arabs?

The Lebanese journalist Saad Mehio succinctly and incisively

described the Arab condition at the dawn of the new global

era: "After the Cold War ended in 1989, and while the rest of

the world was gearing up to join the march of globalisation,

the Middle East looked like a bombed out city. More political

oppression, more intellectual and cultural stagnation, more

economic and social despair – and an ideological void that only

the fundamentalists were able or were permitted to fill, under

the demagogic banner of protecting identity and character."

Another Lebanese author, Fouad Ajami, who coined the term

"the orphans of globalization," commented: "[T]here is a danger

worse than subjugation in this new era of capitalism – irrelevance!"

Apart from oil, the Middle East was of no particular

interest and had nothing special to offer.

When the global financial crisis broke out in 2008, it was

recognized that global governance had to extend from the

closed establishment club of former major powers, the G8, to

embrace new actors, through the creation of the G20. While

four new Asian members joined (China, India, Indonesia, and

Korea), three Latin American nations (Argentine, Brazil, and

Mexico), one African (South Africa), as well as Turkey, from

MENA there was only one invitee (Saudi Arabia), and that was

for obvious reasons – oil. The leader of the Arab world, Egypt,

with its 85 million inhabitants (expected to reach 100 million

by 2025) was shunned. Apart from oil, the Arabs were not seen

as having anything to contribute to the global discourse or

the globalization agenda.

There is certainly nothing in their DNA that condemns Arabs

to being perpetually "orphans of globalization." Indeed, the

greatest Arab, the prophet Mohammed, was one of the world's

foremost globalizers. For many centuries, Arab merchants

and warriors were the primary agents of globalization across

the Eurasian continent. Arab centers of learning – notably

in Córdoba in al-Andalus under the Caliphates, especially in

its apogee from the 10th to 12th centuries – were among

the greatest sources of wisdom and science the world has

ever seen.

There are many successful Arab global citizens living abroad,

yet the Arab region as such – encompassing the 22 members

of the Arab League – has stagnated. If one takes two of

the areas in which the Arab world historically excelled and

led – commerce and learning – the Arab region lags behind

much of the world. Leaving aside oil, the Arab region's share

of world trade is negligible and there are hardly any areas

where it is competitive in global markets. As to learning, the

fact can be cited that no Arab university has ever appeared in

the internationally recognized Shanghai Jiao Tung University

rankings of the world's top 500 universities.

In 2002 the first UNDP Arab Human Development Report was

published. It was compiled entirely by Arab intellectuals. It

will for sure be seen as a document of considerable historical

importance. The question addressed was why the Arab region

was lagging. Three main answers in the form of "deficits" were

given. The Arab region, the authors of the report concluded,

suffers from a freedom deficit, a knowledge deficit, and a

woman-empowerment deficit. On the knowledge front, the

report noted that investment in R & D in the Arab region

corresponded to less than one-seventh of the world average.

An additional deficit that has to be noted is that of regional

integration. As the world globalized, many of its regions simultaneously

regionalized. This has been especially true of East

Asia, including the Association of South East Asian Nations

(ASEAN) – comprising Brunei, Cambodia, Indonesia, Laos,

Malaysia, Myanmar, the Philippines, Singapore, Thailand, and

Vietnam – along with the major northeast Asian economies,

China, Hong Kong, Taiwan, South Korea, and Japan.

By contrast there is very little movement of any kind – except

now for refugees – between the member states of the Arab

League. Intraregional trade barriers are high in goods and

services, transport connections are cumbersome and limited,

citizens of one Arab League country often need visas to travel

to another Arab League country, and there are hardly any

university student exchanges to speak of. Part of the reason

for the regionalization deficit lies in a trust deficit: Arabs willingly

admit they do not trust each other, in good part because

they do not know each other.

While much of the developing world boomed and underwent

profound social, economic, and political transformations, the

Arab world stagnated. Its economic, social, and intellectual

climate could best be described as amorphous. This was not

so much due to the prevailing dictatorships but the nature of

the dictatorships. East Asia was – and to some extent still is

(e.g., Vietnam and China) – dominated by dictatorships, yet

these have been for the most part (North Korea stands out as

a flagrant exception) dynamic economic growth- and social

development-oriented dictatorships. The main purpose of the

Arab dictatorships appears to have been simply to keep the

lid on and preserve the elite's existing privileges.

The main victims of this amorphous state of globalization's

orphanages have been the region's youth. The Arab region

counts the highest proportion of youth – 60 percent of the

populations of the Arab League member states are less than

25 years old – along with the highest proportion of youth

unemployment. Remittances have been a major source of

revenue for many Arab countries. Though due to the low and

uncompetitive levels of education that prevail in the region,

few expatriate Arab workers – with the notable exception

of the Lebanese – can aspire to more than just menial jobs

52 Global Compact International Yearbook 2011 Global Compact International Yearbook 2011

53
---
Agenda

Inside MENA

abroad. While more Chinese, Indians, Brazilians, and Turks

can feel proud of their roots and nationalities, for Arab youth

the sense of humiliation has persisted.

The Jasmine Revolutions – Scenarios

Turkey: Turkey has emerged as a successful and dynamic actor

in the last decade of the global era; it has undergone profound

transformation, and through the Justice and Democracy Party

(AKP) has demonstrated the possibility of blending modern

democracy with Islam.

It was a humiliated Arab youth – the Tunisian Mohammed

Bouazizi from the desolate village of Sidi Bouzid – who, in

immolating himself, sparked a revolution that engulfed his

country, spread to Egypt, and has gripped the entire Arab

world. It is the first revolution to happen in the Arab world

for some time, certainly one led by youth, and it is the first in

which the spirit of revolution was spread through such social

media instruments as Facebook and Twitter.

Though Tunisia was where the revolution was born, the Arab

Spring has become more associated with Egypt, no doubt in

good part because of the much more extensive press coverage,

also because it is a much bigger country – Tunisia's

population is 10 million versus Egypt's 85 million. Also, the

Egyptian dictator, Hosni Mubarak, was a more familiar name

than his Tunisian counterpart, Zine el Abidine Ben Ali. Tahrir

Square in Cairo, where much of the revolutionary action

occurred, has acquired as much fame as Tiananmen Square,

albeit for totally different reasons and with diametrically

opposed outcomes.

The youthful fervor of the Jasmine Revolutions has spread

to the entire region to varying degrees and in varying forms.

The outcomes remain uncertain, though it is reasonable to

expect that even if the repressive regimes, for example Syria,

win a battle, ultimately it will prove pyrrhic. The march of a

new 21st century Arab history seems now to be unstoppable.

Even the crustier states, notably Saudi Arabia, will ultimately

have to adapt to the winds of change. The seething youth may

be bought off for a while, but not permanently.

But where will all this lead? The Arab world is undoubtedly

on the march, but the destination remains unknown. As

things stand in mid-2011 – some four months following

the Jasmine Revolution – six possible scenarios emerge: the

Poland scenario, the Turkey scenario, the Iran scenario, the

Philippines scenario, the Chile scenario, and the Yugoslavia

scenario.

Poland: The eruption of the Jasmine Revolution was described

as the Arab region's "Gdansk moment," referring to the

strike at the Polish shipyard in 1980 that set in motion the

movements that ultimately culminated in the collapse of

communism in Europe. The scenario plays out whereby the

dictatorship is overthrown and the nation, through twists and

turns, eventually becomes a quite prosperous society with a

reasonably robust democracy. (Of course, Poland's prize was

EU membership, which is not an option for the Arab states.)

Iran: This is the scenario most often touted by the established

Arab regimes and one harbored by Western political leaders.

This was the main reason why they supported the tyrants and

only reluctantly backed the revolutions. This is the scenario

where the Islamic fundamentalists take over.

The Philippines: This is a rarely mentioned scenario, yet it is

quite relevant. There are revolutions that give rise to great

expectations but turn into human catastrophes – notably

the Bolshevik Revolution – while there are others, such as

the uprisings in the Central and Eastern European states

against the Soviet Union, that lead to enhanced prosperity

and democracy. In the case of the Philippines, the dictator

Ferdinand Marcos was overthrown in 1986 by a revolution

known as "People's Power." Yet 25 years later, while the

country may be more democratic, it is just as economically

and socially stagnant and just as corrupt as the country was

under Marcos. As the French saying goes, "plus ça change,

plus c'est la même chose" (the more things change, the more

they are the same).

Chile: The attempt by democratically elected Salvador Allende

to transform Chilean society was brutally repressed by General

Augusto Pinochet, which led to 16 years (1974–1990) of

brutal military dictatorship. In the face of probable mayhem

for some time and social unrest due to unmet expectations,

the army may be tempted, as it often is, to put things in order.

Soldiers who do so rarely return to the barracks quickly or

peacefully.

Yugoslavia: Yugoslavia as a country imploded as its distinct

ethnic and religious components sought in some cases hegemony,

in others independence. Yugoslavia no longer exists,

the breakup has been terribly painful and costly in human

terms, and it may not be over yet. The Yugoslav scenario may

apply to some of the more ethnically diverse Arab states, as

is the case in Iraq and possibly Syria.

Clearly no single scenario will apply to the entire region.

Whatever happens in a particular country will also, of course,

have its own distinctive characteristics. The scenarios imply

directions the nations may take, and not that they will produce

replicas. There will be a mixture of scenarios in respect

to different nations. While the region was under dictatorship,

it had a certain homogeneity. The Jasmine Revolution

already has exploded this perspective and no doubt different

trends will intensify and accelerate in the weeks, months,

and years ahead.

The globalization of Tahrir Square?

As the Arab Spring "blossomed," the Chinese government was

so worried that there were virtually no reports in the media

and the word "jasmine," among many others, was eradicated

from the Internet. There is widespread discontent among youth

throughout the world. A growing number of unemployed (or

even employed) American youth see dim prospects and believe

that their standards of living will be well below those of their

parents. In Europe, youth unemployment is generally twice

the national average – estimated at as much as 45 percent in

Spain. The recent occupation of the Puerta del Sol in Madrid

was likened to "Spain's Tahrir Square."

While globalization has resulted in quite massive reductions

in poverty, it has also resulted in growing inequality. Only

three decades since Maoism, China's Gini coefficient (which

measures inequalities in revenue) is comparable to that of the

United States. Even emerging middle class and well-educated

youth in China see their chances of ever owning their own

homes in cities such as Shanghai as being next to nil as real

estate prices have soared and the market has been cornered

by speculators.

Many countries, notably India, flatter themselves with having

a huge advantage through their so-called youth dividends.

Invariably this is cited as a great competitive advantage, especially

vis-à-vis China, where the population will rapidly age

due to the one-child policy adopted in 1978. Having a large

youth population can only be an advantage, however, if they

are properly educated, employed, and motivated. There can

be no hope for a country if its youth has no hope.

Tahrir Square: The spirit of revolution was spread through

such social media instruments as Facebook and Twitter.

In neighboring Pakistan, in Afghanistan, and in many other

countries in South and Central Asia, the youth bulge is booming,

but the prospects are grim. The same applies to sub-Saharan

Africa, whose population is expected to double between 2000

and 2050.

The world is at the moment a pretty tawdry place. Burning in

the breasts of many – especially the youth – is a very strong

sense of injustice and inequity. The gap between the winners

and the losers is widening. The perception though is that the

winners do not win because of their talent, but because of

their connections and because of corruption.

Corruption and the impunity from which the elites are seen

to be benefiting is growing like a cancer in society. Growth

may be high in many countries, but it is perceived as not

being inclusive: The world is increasingly unfair, and more

visibly so. It also appears to be in an ethical swamp with no

apparent moral compass.

While the Arab region has lagged miserably in the process

of globalization in the last two decades, paradoxically it may

provide inspiration and guidance to the world in the turning

point of a new phase of globalization that the world may be

witnessing in the second decade of the 21st century. It seems

that there are two routes that lie ahead: One is that of global

54 Global Compact International Yearbook 2011 Global Compact International Yearbook 2011

55
---
Agenda

Inside MENA

uprisings driven by youth, leading to constant turbulence; the

other is a more inclusive, equitable, ethical, and sustainable

globalization. As Kofi Annan warned: "If we cannot make

globalization work for all, in the end it will work for none."

The private sector has a vital role to play. One of the outcomes

of early 21st century globalization is that business has emerged

as the most powerful social force. This is new and prevails

to varying degrees virtually everywhere in the globalized

market-driven interconnected world.

The UN Global Compact in

the MENA Region

Power imposes responsibility. With the globalization of markets,

the proliferation of communication and information

technologies and social media, and the deep systemic failures

of the current state of capitalism that were revealed in the great

financial crisis, there are ample reasons for business leaders

to assume responsible leadership. In fact, as the Indian entrepreneur

and thought leader Ravi Chaudhry has argued in his

book, current global conditions require exceptional leadership

(Quest for Exceptional Leadership: From Mirage to Reality).

The Ten Principles set out by the Global Compact must be

deemed as the minimum standards for business behavior.

Efforts must be exerted beyond that to create an environment

that is geared to maximizing real wealth and welfare. The role

of finance must be curbed. To sustain a global market economy,

real business leaders must be on top and finance on tap, not

the other way around, as is currently the case. There needs to

be more vision, and especially business leaders must escape

from the myopic short-termism that has caused so much havoc.

The Arab Spring and the Jasmine Revolution have also been

called the Arab Awakening. The Arab world may indeed be

waking from the deep slumber that resulted in its exclusion

from globalization. The Arab Awakening, however, with the

powerful symbol of youth in Tahrir Square, might also serve

as an awakening to the broader global community – and

especially the elites – that there is an urgent need to make

globalization more inclusive to provide hope for the next

generations. The alternatives are frightening. Enlightened

self-interest calls for a better world.

Dr. Jean-Pierre Lehmann is Professor of

International Political Economy, IMD,

Lausanne, and Founding Director of

The Evian Group.

By Matthias Stausberg

For a few years after the Global Compact's launch in 2000,

the Middle East and North Africa (MENA) remained uncharted

territory for the initiative. This changed in 2003,

when the first efforts were undertaken to promote the

Global Compact in Egypt. A high-level launch took place

in Cairo in February 2004, resulting in the participation

of more than 50 companies, including many of Egypt's

leading corporations. The Egyptian network, which was

initially coordinated by the UN Development Programme

(UNDP) and later by the Egyptian Corporate Responsibility

Center, grew quickly and now includes 62 organizations.

Following the first steps in Egypt, the International Labour

Organization, with financial support from the Italian government,

began promoting the Global Compact in Tunisia

and Morocco, leading to launches in both countries in

2005 and 2006, respectively. Small networks have emerged

since then, and now there are 23 participants in Morocco

and 31 in Tunisia.

While the Global Compact was making progress in North

Africa, outreach in the Gulf States did not take place until

2006, when the Global Compact was introduced to the

Emirates Environmental Group (EEG) under the leadership

of Habiba Al-Marashi, who has since been appointed to the

Global Compact Board. The EEG and the associated Arabia

CSR Network quickly emerged as the Global Compact's key

allies in the region, leading to the creation of the regional

network for companies from the countries in the Gulf

Cooperation Council in 2008. Participants in this network

now include 61 companies and other organizations from

Bahrain, Kuwait, Qatar, Saudi Arabia, the UAE, and, most

recently, Oman.

As in many countries, much of the initial effort to promote

the Global Compact and its Principles in the MENA region

was spearheaded by UNDP country offices. This continues

to be the case in Lebanon, Jordan, and Syria. After Egypt and

the Gulf States, Syria now has the region's third-largest network

with 46 active participants. In Jordan and Lebanon, the

emerging networks include 33 and 9 participants, respectively.

In Israel, Maala – Business for Social Responsibility, the country's

leading CSR organization, has supported early outreach

efforts and also coordinates the activities of the emerging

network. So far, 24 Israeli companies have joined the Global

Compact, and the network is well integrated into the Global

Compact's regional work. Network representatives also participated

in the first regional meeting for MENA networks

held in Cairo in April 2010.

Overall, the Global Compact has been making steady progress

in the MENA region, often in adverse political and socioeconomic

environments. The fact that seven Iraqi companies have

joined the initiative since 2009 speaks perhaps to the appeal

of the Global Compact as a universal organizing framework.

Challenges remain, of course. In a familiar pattern, small and

medium-size enterprises – by far the majority of all businesses

in the MENA region – struggle with continuous implementation

of the Global Compact Principles, and also with annual

reporting. Some networks have been lacking the structure

and resources needed to be of tangible, lasting value to their

participants. And of course, Global Compact participation has

not yet reached the numbers needed to effect real and lasting

change on a broad scale.

It remains to be seen what impact the upheavals and reform

movements in the Arab world will have on the Global Compact's

work in advancing greater corporate sustainability in

the region. So far, the signals have been mixed, once again

underscoring that the region's countries are all too often and

all too easily treated as one monolithic political, social, and

cultural space. In Tunisia, the Global Compact's leading proponent

and network focal point, Mohamed Ennaceur, has joined

the new transitional cabinet as Minister of Social Affairs – a

move that could certainly bode well for the advancement of

corporate responsibility and the Global Compact in the country.

In Egypt, however, the business community remains cautious,

especially since many of its leaders have been subjected to

reprisals and prosecution amid allegations of corruption and

fraud in connection with the former political leadership. Generally,

however, there appears to be a widespread consensus

among many Arab businesses that reform will help improve

the investment climate, put an end to years, if not decades,

of bureaucracy, and help connect the Arab markets and Arab

businesses to the global market in ways not imaginable just

a few years ago.

Matthias Stausberg is Head of

Public Affairs & Media Relations and

Spokesperson of the UN Global Compact

56 Global Compact International Yearbook 2011

Global Compact International Yearbook 2011 57
---
Agenda

Inside MENA

Habiba Al Marashi

Walid Nagi

Responsible Business Is

the Key – The Role of CSR

in the Arab Economies

A lot has been written during the last months about the so-called Jasmine Revolution, the

end of some corrupt political systems, and the embarking of the Middle East and North

Africa (MENA) toward democracy and social reforms. Topics like human rights, transparency,

as well as youth unemployment and new technologies for production of energy are

dominant in the media coverage about the region. In this interview, Habiba Al Marashi,

Chair of the Emirates Environmental Group (EEG) and Board Member of the UN Global

Compact, and Walid Nagi, Manager CSR and Corporate Communications at the Al-Mansour

Holding and UNGC Regional Networks Manager MENA and Europe, talk about the drastic

social changes, the examples companies can provide, and the importance of the business

sector for sustainable development in the MENA region.

In the last months, calls for democracy in the Arab world surprised experts

all over the world. It began with the demonstrations against high

youth unemployment and rising food prices, but soon it transformed

into the biggest democratic movement in recent Arab history. How have

you experienced the last few months?

Walid Nagi: As I was in the United States at the time, I cannot

really comment on that. Like everyone else, I was watching

the news on television. But from talking to several people, the

feeling has been so positive during and after what has happened

in Egypt. During the 18 days, although it was chaotic and no one

knew what was going on, everyone had a sense of solidarity and

people were acting together to achieve a common goal, which

made everyone closer and made the population even stronger.

Which future role should the economy play to support the change?

Walid Nagi: In the future, it is all about the economy, it is

all about the private sector acting responsibly and making more

investments in Egypt. It is about creating employment that

will create social equality. Without the economy, everything

will collapse. It is time now to get into creative projects that

will employ people and help them earn their living. It is time

for the multinational corporations and the local businesses to

trust people and to act responsibly in order to achieve growth.

Successful companies traditionally combine economic success with a

strong commitment to corporate responsibility and environmental

campaigns in the region. Is this a blueprint for other Arab and North

African companies? And how has the "green consciousness" of consumers

changed over the years?

Habiba Al Marashi: The "green consciousness" of Arab

consumers has improved greatly over the years, but more work

still needs to be done to shift the whole region into thinking

about sustainability, equality, and the environment as a way of

life, and not only as a business venture to increase competitive

edge. Today a large number of companies are practicing CSR or

have environmental policies in place, which is a huge improvement

compared to 10 years ago. However, not every company

recognizes the work and advantages of being involved with the

UN Global Compact, and EEG is actively communicating the

benefits with a number of its members and through its large

network. By utilizing our outreach capacities, we can reach

and inform a wide number of stakeholders, which in turn

can keep improving the environmental awareness of society.

Walid Nagi: Mansour Group has always assumed the responsibility

of being the leader in the field of development, even

if done on a small scale. Mansour Group has been, and still is,

one of the biggest advocates of the cause in Egypt, expanding to

the Middle East and even to Europe whenever the opportunity

is there. Lots of SMEs have even joined the Global Compact

to follow Mansour, and we always took it upon ourselves to

be mentors and supporters in that area. Mansour is the main

supporter of the Global Business Initiative on Human Rights in

the MENA region, the representative of the Global Compact in

Egypt, and also the main supporter of the Egyptian Corporate

Responsibility, the AUC Gerhart Center, among others.

Since 2008, the Arabia CSR Awards recognize corporate engagement

in the region. Can you describe the results of the contest over the last

few years?

Habiba Al Marashi: The Arabia CSR Award was established

in 2008 to honor organizations that demonstrate a clear and

effective CSR strategy. The award series has grown in stature

and status over the years. Companies that apply to the awards

process gain many advantages and feedback, even if they are not

"crowned" as the overall winners. The awards have resulted in

many companies improving their accountability, using resources

more efficiently, increasing the standards of their workplaces,

and improving trust and social dialog. In addition to being considered

in the running for the prestigious award, the Arabia CSR

Network has set a benchmark standard for companies to meet

and go beyond. This benchmarking has actively contributed

toward improving business excellence in the region.

Today the UN Global Compact is well integrated in the whole MENA

region. Its Local Networks have a high and well-known reputation for

their work. Which role can the UN Global Compact play in the future

development of your countries and the national CSR community

specifically?

Walid Nagi: The Global Compact is the universal corporate

social responsibility platform, hence it has a major role

to play in the MENA region.

Habiba Al Marashi: The Compact can still play a significant

role in the future development of the MENA countries. CSR is

becoming more widespread, but the level of participation and

commitment from companies can still be improved. The Local

Network groups can have a significant impact on companies

by becoming the focal point for company representatives to

share experiences and learn from each other. As Local Networks

go from strength to strength, opportunities are created

throughout the MENA region that will contribute to advancing

the Global Compact Principles, which are helping to manage

the consequences of rapid expansion and business activities.

Nearly all countries in the MENA region are classified as "extreme risk"

countries for workers, according to a study by British CSR consultancy

Maplecroft. What kind of human- and labor-rights preparation do

you recommend to international companies when they become active

in your region?

Habiba Al Marashi: Companies that are looking to expand

their business in the MENA region, or that already have, cannot

be excused for having weak human rights departments

because some countries are labeled as being "at risk."

Issues related to labor and human rights have changed over the

years due to changes in regulations, changes in global markets,

and other factors. Competitive pressures have also affected the

58

Global Compact International Yearbook 2011

Global Compact International Yearbook 2011

59
---
Agenda

Inside MENA

"

CSR is becoming more

widespread, but the level of

participation and commitment

from companies can still be

improved.

"

Habiba Al Marashi

potential for company survival, which may sometimes lead

to shortcuts in some business areas such as human resources

and / or human rights. The recommendations I would make to

companies beginning their ventures in the MENA region would

be, firstly, to get involved with the UN Global Compact due

to the information and advice that will be available to them.

They must also see proper and timely preparation and regional

research as an investment for their company and not just as a

cost. Companies should take time to investigate the local laws

on labor and use management to develop clear goals and objectives

to enable them to meet these laws and go beyond the

base-level expectations. Implementation of strong CSR strategies

would also help them to become competitive in this region.

Walid Nagi: I would recommend that companies join the

Human Rights Working Group when they become members of

the Global Compact so they can learn the basics about implementation.

I would also recommend the same when it comes

to labor rights, as these are the main assets for any business.

Protestors in North Africa and the Arabian Peninsula identified the

so-called Wasta regime as an obstacle to development. Observers from

the Western world often believe that Wasta is no more than a local

forum for corruption, which may be wrong: In fact, Wasta forms part

of traditional daily culture, and some experts do not have a completely

negative opinion about it. Can you comment on this phenomenon and

classify it with the 10th Principle of the Global Compact?

Habiba Al Marashi: Wasta is defined as "an Arabic word

that loosely translates into 'clout' or 'who you know.' It refers

to using one's connections and / or influence to get things

done, including government transactions such as the quick

renewal of a passport, waiving of traffic fines, and getting

hired for or promoted in a job." By using the influence to

perform a service, the "wasta" acquires prestige and honor.

However, more importantly, the person receiving the favor

incurs a debt of gratitude, which may have to be repaid in

unspecified ways at some point in the future. In the past, wasta

was considered as a means of managing relations between

tribes and families.

Wasta can be equated to corruption. However, this concept

is fast diminishing from the United Arab Emirates (UAE) society.

It can be considered as one of the main causes for the

downfalls of the governments in Egypt and Tunisia. In the

UAE, specifically, the concept of wasta is frowned upon and

the government has abolished it completely! With a strong

education base and transparency, we can ensure this act is

completely eliminated.

Let us talk about environment issues: For a long time, your region – as

in other parts of the world – has been strongly dependent on fossil fuels,

especially oil. But now it seems that new technologies and the use of

renewable energy have been brought to public and political attention.

Which role can clean technologies play in the future of both the Arabian

Peninsula and North Africa?

Habiba Al Marashi: Clean technologies and renewable

fuels will most definitely have a role in the future of the Arab

Peninsula and North Africa. The region needs to invest in

these technologies now even though we still have reserves of

fossil fuels. This is important, partly for environmental reasons

but also for economic reasons. Due to the complexity of

socioeconomics and the environment, if the region does not

become a leader in this new type of energy production and

begin to move away from oil and gas, we will be left behind

in the energy sector, which will have many economic and

environmental consequences and repercussions.

Thank you very much for this interview.

Renewable

Energy in the

Middle East and

North Africa

By Prof. Dr. Dr. Hans Müller-Steinhagen and Dr. Franz Trieb

Until very recently, the countries of the Middle East and North

Africa (MENA) region had not indicated any serious interests

in the use of renewable energies, as these technologies were

considered insufficient, irrelevant, and expensive. Countries

with oil or gas became rich by exploiting their fossil fuel

reserves, while the other countries claimed to be too poor to

be able to afford wind or solar power. This picture changed

dramatically in 2008 when the price of a barrel of oil climbed

to $140. Suddenly, poor countries noticed they were, in fact,

too poor to continue with business as usual, and the oil and

gas countries noticed they were burning money by providing

their own energy in conventional ways. As a consequence,

countries like the United Arab Emirates founded the Masdar

initiative for the promotion of renewable energy, and Morocco

started a national program for wind, photovoltaic, and

concentrating solar thermal power plants on a large scale.

However, as in the MENA region, the main question is how

to finance such a transition.

The technical options and potential for renewable energy in

the MENA region are outstanding. In addition, all technologies

needed for the generation and transfer of power are state of the

art, including export over long distances to Europe. From 1 sq

km of desert land, up to 250 million kWh of solar electricity

can be harvested per year using, for example, linear Fresnel

concentrating solar thermal collector systems installed at the

best sites in the region. Not only the geographic distribution of

renewable energy, but also the time pattern of energy availability

differs from one resource to the other. Power plants utilizing

wind and photovoltaic power, river-runoff hydropower, and

wave and tidal power deliver electricity with highly fluctuating

time patterns. With growing shares of renewable electricity

in the energy mix, there is a growing challenge of integrating

this type of fluctuating power into the supply system, as power

must always be delivered right on demand. Other renewable

sources are more easily stored, like biomass, geothermal power,

hydropower from dams, and concentrating solar thermal power.

60 Global Compact International Yearbook 2011 Global Compact International Yearbook 2011

61
---
Agenda

Inside MENA

A reasonable strategy for sustainability in the power sector

is, therefore, to establish a well-balanced mix of renewable

energy sources in order to deliver power on demand at any

time with as little fluctuation as possible. Within a reasonable

range of capacities, pump storage and distribution of

electricity within the grid can help to further balance power

supply. In that case, the consumption of stored fossil fuels

can be reduced to a point where they are used exclusively

for backup reserves and balancing power, while the bulk of

electricity will be generated by renewable sources.

Such a strategy may lead to energy sustainability in the MENA

region, but at present the rapidly expanding consumer base

in the region is using almost exclusively oil and gas for power

generation. Looking into the medium- and long-term future,

this must change significantly in favor of major shares being

generating from renewable energy – not only for environmental

reasons but also for socio-economic and political

reasons. A business-as-usual strategy based on fossil fuels

would lead to sharply increased competition and potentially

serious conflicts between the countries north and south of

the Mediterranean. Alternatively, the scenario outlined in

the graphic creates excellent business opportunities for the

MENA power sector: The realization of electricity exports

from the MENA region to Europe alone has been estimated

to involve an investment of €400–600 billion up until 2050.

If supply of the local electricity demand is also included, the

total investment by that time in the EU-MENA power sector

will amount to several thousand billion euros.

Seawater desalination is increasingly becoming an important

energy topic in the MENA region. Already today there is a

critical scarcity of potable water, with groundwater levels

decreasing in some regions by up to 6 meters every year

due to overexploitation. Seawater desalination is a very

energy-intensive option that only makes sense if a sustainable

source of energy is used. Solar energy correlates very

well with the demand for seawater desalination, as it is the

major cause of water scarcity and, thus, an elegant way to

solve the problem.

Sustainable electricity supply scenario for the MENA region

4500

4000

Desalination

Source: Authors

Selected activities

Mediterranean Solar Plan (MSP)

The Mediterranean Solar Plan was initiated under the scope of

the "Barcelona Process: Union for the Mediterranean (UfM)." It

was launched in July 2008 as one of the strategic processes for

sustainable development to address the foreseeable increase

of energy demand in the Euro-Mediterranean region and the

need to reduce greenhouse gas emissions. Its main objective

is to develop an installed capacity of 20 GW of renewable

power on the south shore of the Mediterranean, as well as

the necessary infrastructures for an electricity interconnection

with Europe.

DESERTEC

The DESERTEC concept is based on the use of desert areas to

harvest renewable energy like solar and wind power where

it is most abundantly available. In order to accelerate the

construction of the required facilities and infrastructure, the

Desertec Foundation (DF) and its industrial initiative, Dii GmbH,

both established in 2009, are working on the development of

appropriate policy frameworks that will allow for international

trade with clean power and provide suitable investment incentives

in the MENA region. The long-term goal is to provide a

considerable share of the power generation from renewable

sources in the MENA region and about 100 GW of solar energy

exports from the MENA region to Europe by 2050.

MedGrid

Whereas Dii GmbH is focusing on the entire value-adding

chain of power generation, transmission, and power markets

and working on a long-term roll-out plan to be implemented

by 2050, the French MedGrid industry initiative is concentrating

on establishing power transmission infrastructure and

framework conditions in the Mediterranean region by 2020

within the framework of the Mediterranean Solar Plan (MSP).

The industry initiatives Dii GmbH and MedGrid plan to work

in close cooperation with each other.

European initiatives

In its renewable energy directive from 2010, the European

Commission established concrete goals of renewable energy

shares in Europe to be implemented by 2020 and lists the

different renewable energy technologies that are candidates

for European supply. A recent communication from Catherine

Ashton, the High Representative of the European Commission

for Foreign Affairs, proposed "a partnership for democracy

and shared prosperity with the Southern Mediterranean" to

the European Parliament, the Council, and the Committee, in

which she proposes to establish in the long-run an "EU-South

Mediterranean Energy Community."

National MENA initiatives

Egypt and Morocco have already initiated renewable energy

development processes in the form of wind parks, although

on a very modest scale compared to the activities in this sector

in Europe. The United Arab Emirates has founded the

company Masdar for the deployment of sustainable forms of

energy. Under the supervision of the Moroccan Agency for

Solar Energy, Morocco has started to develop power plants

with a projected capacity of 2,000 MW deriving from wind,

photovoltaic, and solar thermal power.

Electricity [TWh/y]

3500

3000

2500

2000

1500

1000

Export Solar

Photovoltaics

Wind

Geothermal

Hydropower

Biomass

CSP Plants

500

Oil / Gas

Coal

0

2000

2010 2020 2030 2040 2050

Year

Prof. Dr. Dr. Hans Müller-

Steinhagen is Rector at

Technische Universität

Dresden.

Dr. Franz Trieb is Project

Manager at the German

Aerospace Center (DLR).

62 Global Compact International Yearbook 2011 Global Compact International Yearbook 2011

63
---
Agenda

Inside MENA

Wasta: How the Use of

"Connections" Impacts

on Private Sector

Development in Arab

Countries and Why

By Dr. Markus Loewe

The literal translation of the Arabic word wasta is "connection,"

but it is often employed for favoritism, that is, the use

of personal relations for preferential treatment. Favoritism is

a form of corruption when someone uses her / his position to

distribute the resources of someone else (e.g., the employer

or the state) to a friend or relative.

Favoritism is relatively common in several Arab countries as

it is in other world regions. People use wasta to get jobs, loans,

scholarships, or admission to university, to earn better marks

at school, to avoid fines and penalties, to obtain an individual

tax reduction, a business license, or a production permit, or

to go through administrative procedures faster than normal.

This, however, has profound negative effects on the social,

political, and economic development of the Arab countries.

First, it intensifies socio-economic disparities. People who

are already disadvantaged with regards to income, assets,

education, and living conditions and less integrated into society

tend to have less wasta to persons who might do them

a useful favor. As a result, they have fewer opportunities for

gaining access to good jobs and services and thus improving

their living conditions.

Second, favoritism can create or perpetuate dependencies.

Where formal rules are undermined by frequent preferential

treatments of well-connected persons, people conclude that

all government services are individual rewards rather than

something that citizens have a right to. This attitude can

strengthen authoritarian regimes that are based on patronclient

relations: The rulers grant favors to their clientele and

receive loyalty in return.

Third, favoritism affects the investment climate and thereby

economic development at large. Some researchers have postulated

that favoritism may have positive effects on investment

and growth because it creates trust between business people

and policymakers, facilitates the flow of information, and

thereby reduces transaction costs. As a result, it encourages

investment. This line of argumentation is plausible, in fact,

with regards to business people who have good connections:

They trust the state if somebody in the public administration

takes care of their concern. Other business people, however,

may be penalized for their lack of connections.

Favoritism thus leads to unfairness and inefficiency in statebusiness

relations and distorts competition. For example, when

licenses are granted on the basis of personal preference, the

costs and risks of applying for it may be too high for those who

have no personal connections in the public sector. Moreover,

wasta can help to get valuable (sometimes even confidential)

information on profitable business activities, tenders, tax

exemptions, etc., thereby providing exclusive business opportunities.

Likewise, well-connected people can sometimes

even influence the formulation of laws and regulations in a

way that they benefit from it or even so that their competitors

are excluded from some market. Finally, the widespread use

of wasta makes business people invest time and money that

they could otherwise use for productive purposes to improve

their wasta in order to obtain preferential treatment.

The perception of wasta among people in Arab countries is

ambiguous. Some refuse to use their wasta. Others employ

it even though they are aware of the fact that favoritism has

negative effects on development and discriminates against

people with less wasta. Other people again argue that there is

no alternative to the use of wasta in order to get what one needs.

Four factors contribute to the persistent importance of wasta

in different kinds of interactions. First, many people feel helpless

if they have to go through lengthy, costly, burdensome

administrative procedures: They use their wasta just because

they are afraid that they might be unable to reach their goals

otherwise. Second, nobody has an incentive to refrain from the

use of wasta as long as most other people use it. Third, tribalism

makes people identify with their family, neighborhood,

clan, or tribe rather than society or the state at large and to

see themselves as parts of a group rather than individuals. It

thus makes people feel obliged (and be expected by others) to

support their relatives and friends. Fourth, all Arab countries

were ruled until recently – and most of them still are – by

authoritarian regimes in a neo-patrimonial manner: Their

rulers present themselves as caring patriarchs and distribute

material benefits to citizens (free health services, housing,

subsidized energy) in order to create legitimacy and to stabilize

their rule. Their most loyal constituencies are rewarded

with influential positions in the state apparatus and other

privileges (e.g., import monopolies). Entire political systems

are thus built on a hierarchy of clientelistic relations: Everybody

in them is dependent on the benefits granted by her / his

superior and therefore owe loyalty to that person. Wiping out

the use of wasta would be completely against the interest of

political leaders because their power depends entirely on the

exchange of favors against loyalty.

As a matter of fact, the prevalence of wasta is highest in the

Arab world in the countries that are coined by tribalism and

gaps in modern nation-building on the one side, and red-tape,

opacity, and slow and costly administrative procedures on the

other side: for example, Yemen, Lebanon, Libya, Mauritania,

Algeria, and Jordan. At the same time, the use of wasta is less

dominant where administrative procedures have been streamlined

by merit-based modes of civil service recruitment and

different forms of e-government (Qatar, United Arab Emirates,

Oman, etc.) and where citizens have developed a stronger

identification with their nation (Tunisia, Egypt).

Of course, it is mainly the task of governments to rule out

favoritism. Political leaders should make it a priority issue to

raise citizens' awareness of the consequences of the widespread

use of wasta, to strengthen the rules that prohibit favoritism,

and to promote the shift of people's identification from primordial

entities to nation states.

At the same time, however, the private sector can also play a

role in the fight against wasta. Business associations and professional

unions should assume responsibility for heightening

awareness among their members about the negative impacts

of wasta. And foreign companies in particular should consider

building coalitions for change, that is, alliances of private

firms that abide by a code of conduct that bans both the use

of wasta and bribes in all kinds of interactions with the state.

Dr. Markus Loewe works for the German

Development Institute, Bonn.

64 Global Compact International Yearbook 2011 Global Compact International Yearbook 2011

65
---
Agenda

Inside MENA

Improving Labor Standards

Performance in the

Middle East

By Craig Moss

The historic sweep of 2011's "Arab Spring" has made the time

ripe for driving improvement in working conditions in the

Middle East. Business owners and managers saw the power

of the people to force change.

Following the start of the revolution, there were a series of

national labor strikes in Egypt as well as in Jordan. The workers

were emboldened by the new feeling of possibility – by

the sense that change was possible.

Labor standards and working conditions in the Middle East

exhibit many of the same basic problems that occur globally.

If we look at workers' demands from the recent strikes in

Egypt and Jordan, we will see issues that clearly violate the

International Labour Organization's core labor conventions

– unfortunately, that will surprise no one. The demands

of workers involved in the strikes focused on having their

wages properly and fairly calculated, receiving at least the

legal minimum wage, and not being forced to work overtime.

Labor rights in the Middle East are complicated by the presence

of a large number of migrant workers in the region. There are

some exceptions, like Egypt, where there is a large domestic

workforce. But the migrant workforce and the use of agencies

to supply contracted labor too often leads to forced labor. The

revolution and the labor strikes created a receptive audience.

There are benefits of initiating a dialog between workers and

managers: An Egyptian company we worked with in April of

2010 followed our advice. They established a social performance

team in their company, which included freely elected

worker representatives, whose purpose was to improve worker

communication and labor standards in the company. The day

before one of the national strikes, the worker representatives

went to management and told them that they had surveyed

the workers and decided not to join the national strike. Management

was surprised, but very grateful. They asked "why?"

The worker representatives explained that since the team

had been formed, the workers had seen improvements and

saw that management was making a sincere effort to create

communication channels. Management estimated that they

would have lost over $2 million had their workers joined the

national strikes.

These are the kind of stories that build momentum. There

is a long, long way to go, but stories like this show that the

journey has begun. The time is ripe in the Middle East. The

key is to share the successes and build momentum.

Businesses in the Middle East are starting to recognize that

the pursuit of economic growth through employment creation

and income generation should be balanced with protection of

the basic rights of workers. For any business, the workforce

is a valuable asset, and a sound worker-manager relationship

is a key ingredient to the sustainability of the enterprise. But

having management realize the need for change is only the

beginning. Actually driving change and making improvements

is the goal. Easy to say. Hard to do.

Companies in Egypt and the Middle East need a practical way

to get started. We found they are eager to learn what tangible

steps they can take to start to develop and implement systems

to improve working conditions.

SAI's Social Fingerprint® program provides a process-based

approach to measure and improve system development and

implementation. Social Fingerprint evaluates a company's

labor standards performance in nine categories. It creates a

way to help companies measure where they are now and it

provides practical steps to help them improve. For Egypt and

the Middle East, we focused on three of the nine processes as

the fundamental building blocks:

• Management System – policies and procedures based on the

chosen labor code

• Internal Social Performance Team – a multi-departmental team

that includes worker representation

• Worker Involvement and Communication – the two-way communication

channel in the company between workers and

managers

It is essential for companies to understand that developing

and implementing management systems are necessary for

continual improvement in the labor standards performance of

their companies and their supply chains. Over the past decade

it has become clear, and widely accepted, that management

systems are the key to improving labor standards performance.

Change is a constant in any company. It is the underlying management

systems that create a framework for sustainability in

the ever-changing business environment. A company is always

balancing risk and control. It is the policies and procedures of

the management system that provide continuity.

At the broadest level, a management system begins with

policies and procedures – documents. But more important,

it is also made up of trained people with specific functional

responsibilities. Think of a management system in terms of

its development and its implementation. The policies are the

rules. They tell everyone what is allowed and what is not allowed.

Procedures are the "how to" guide to following the rules.

But companies are made up of people – people organized

into groups, people that follow established behavioral patterns

at work. It is hard to get people to change. In every culture,

in every language, there is a saying about how hard it can be

to get people to change their behavior. We suggest breaking

each person's performance into three fundamental components

– attitudes, skills, and knowledge. At every level in a

company – managers, supervisors, workers – it is best to

think about labor standards performance in terms of attitude,

skills, and knowledge.

But who at the company is going to think about improving

labor standards performance? How will they involve workers

from all levels and functions in the company?

A company needs to build a team that takes responsibility for

labor standards performance. We call this the Internal Social

Performance Team. It is a multi-departmental team that includes

freely elected worker representatives. The team becomes

the champion for projects designed to improve labor standards

performance. Being on the team is not a full-time job, but

the team members must know how to speak the language of

labor standards and communicate it effectively to all workers.

The worker reps become a communication channel from the

workers to management and from management to the workers.

Their involvement and this communication channel will

enhance what already exists in the company.

Involving workers and creating a dialog between workers and

management can help avoid a lot of problems. Conflict in the

workplace leads to unreliability. It may be extreme things like

work slowdowns or strikes. But it may also lead to more subtle

things that drive workers to leave the first chance they have

to get a new job. But in addition to creating a release valve

to minimize problems, there are real positive benefits from

involving workers in the operations of a company. Workers

offer a valuable perspective on production processes. Improving

labor standards performance and worker involvement

has been shown to lead to greater productivity and quality,

higher worker retention rates, fewer accidents, and reduced

absenteeism.

Every time a worker leaves, it costs money in recruitment, training,

lower productivity, and a loss of corporate know-how.

Craig Moss is Director of Corporate

Programs & Training at Social

Accountability International (SAI).

66 Global Compact International Yearbook 2011 Global Compact International Yearbook 2011

67
---
142

ACI

Best

Practice

144

100

164

170

102

104

Adecco Group

Air France

AKSA

Arab African International Bank

Armacell

Athens International Airport

84

Autostrade per l'Italia

146

BASF

Human Rights

Danske Bank Group

Deutsche Post DHL

Nestlé

Sakhalin Energy

Labour Standards

Autostrade per l'Italia

Coop

Deutsche Telekom

Green Delta Insurance

ManpowerGroup

Randstad

Viyellatex

72

84

Environment

Air France

Armacell

Athens International Airport

Camposol

Carrefour

Coca-Cola Hellenic

Copeinca

Deutsche Bank

EDF Group

Grundfos

Hochtief

Huawei

Otto Group

PE International

Siemens

Sonae

Sopharma

Toshiba

TÜV Rheinland

Anti-Corruption

Business Keeper

100

138

Development

ACI

Adecco Group

BASF

Bayer

Bradesco

GDF Suez

Merck

Novo Nordisk

The TMS Group

CSR-Management

AKSA

Kusch + Co

Puma

Financial Markets

142

164

170

Arab African International Bank

150

154

138

106

108

110

86

107

72

112

74

88

114

156

90

116

120

122

166

92

158

78

160

124

126

168

94

80

Bayer

Bradesco

Business Keeper

Camposol

Carrefour

Coca-Cola Hellenic

Coop

Copeinca

Danske Bank Group

Deutsche Bank

Deutsche Post DHL

Deutsche Telekom

EDF Group

GDF Suez

Green Delta Insurance

Grundfos

Hochtief

Huawei

Kusch + Co

ManpowerGroup

Merck

Nestlé

Novo Nordisk

Otto Group

PE International

Puma

Randstad

Sakhalin Energy

128

Siemens

130

Sonae

132

Sopharma

162

The TMS Group

134

Toshiba

136

TÜV Rheinland

96

Viyellatex

Solely responsible for the editorial contributions under the heading "Best Practice" are the companies and their authors themselves.

68 Global Compact International Yearbook 2011 Global Compact International Yearbook 2011

69
---
Best Practice

Human Rights

72

74

78

80

Danske Bank Group

Deutsche Post DHL

Nestlé

Sakhalin Energy

Labour Standards

84

86

88

90

92

94

96

Autostrade per l'Italia

Coop

Deutsche Telekom

Green Delta Insurance

ManpowerGroup

Randstad

Viyellatex

Human Rights

Labour

Principle 1: Businesses should support and respect the

protection of internationally proclaimed human rights; and

Principle 2: make sure that they are not complicit in

human rights abuses.

Principle 3: Businesses should uphold the freedom of association

and the effective recognition of the right to collective bargaining;

Principle 4: the elimination of all forms of forced and compulsory

labour;

Principle 5: the effective abolition of child

labour; and

Principle 6: the elimination of discrimination in

respect of employment and occupation.

70 Global Compact International Yearbook 2011 Global Compact International Yearbook 2011

71
---
Best Practice

Human Rights

Danske Bank Group

Investing in a

Sustainable

Future

in Economics and Finance (University

of Salerno, Italy), also show that, for

individuals, insufficient financial literacy

correlates with large debt and a

lack of savings. We are convinced that

a long-term approach is necessary if we

want to ensure the financial well-being

of future generations.

Understanding children's

knowledge of money

By Charlotte Bengt Petersen

In 2007, in order to meet this global

challenge, the Danske Bank Group began

developing the Financial Literacy

Programme. The Programme contains

initiatives for children and young people

that teach them about personal finance

in ways that are specially adapted to

their age groups.

The importance of access to education and learning is

underscored in the global human rights that form the

foundation for the Principles of the UN Global Compact.

Education is a key factor in strengthening an individual's

capabilities and wherewithal, and financial literacy is

an essential component in that regard. At the Danske

Bank Group, we also believe that financial education and

ethical guidelines are the path to personal prosperity and

sustainable growth in the future. That is why in 2007 we

developed our Financial Literacy Programme, which consists

of a number of learning activities for children and young

adults from the ages of 5 to 27.

An increasing number of international

studies show a need for a better understanding

of personal finance among

children and young people around the

world. It is obvious that financial services

companies like ours focus on the

challenges of financial understanding

because we provide financial products,

knowledge, and advice to both businesses

and private individuals. We believe

that better-informed consumers help to

promote transparency and responsibility

among financial services providers.

The Financial Literacy Programme is

therefore well-integrated in our business,

demonstrating that our overall

purpose is to create value and growth

in a responsible manner.

In a society where an increasing number

of young people take on debt and do so

early in life, the challenges are clear.

Such debt can follow them long into

adulthood and deprive them of important

opportunities later in life. Studies,

such as one from the Center for Studies

The Programme is based on a number of

surveys conducted in collaboration with

the YouGov Zapera research institute in

Ireland, Northern Ireland, and the Nordic

countries where we operate. These surveys

asked parents about their children's

interest in money, their knowledge about

it, and use of it, among other things.

The results show that children become

interested in money before the age of

six but also that many in the older age

groups lack basic knowledge and have

difficulty defining monetary interest, for

example. That is worrisome, considering

that the ability to manage one's finances

is crucial for personal prosperity and

freedom of action. Other conclusions

are that financial knowledge and habits

are passed down from generation to generation,

and that the effort to improve

financial understanding should begin

as early as possible.

Financial literacy for children and

young people

Thus far, the Danske Bank Group's Financial

Literacy Programme consists of

five initiatives that have all been prepared

in collaboration with a team of

experts, including child psychologists,

math teachers, and education researchers.

The experts contributed their special

understanding of the individual age

groups' learning abilities and approaches

to financial knowledge. Together with

the studies from YouGov Zapera, the

expert panel has provided invaluable

knowledge in the development phase

of each initiative.

For the youngest children, the Moneyville

game involves earning your own money

by completing small tasks in the town

of Moneyville and saving money for the

things you want to buy. For slightly older

children who can read and write, there

are more complicated tasks. For students

aged 10 to 15, there is a website called

Control Your Money, where groups of

users must complete financial missions,

for example, arranging a class trip. This

requires that users can manage income

and expenses and create a budget. And for

teachers who offer instruction in financial

literacy, there is a website containing

teaching materials and suggestions.

For young adults aged 18 to 27, the Mind

Your Money website is based on a number

of major life events that require financial

decisions and understanding, for

example beginning a course of higher

education. It is especially important

for this age group that the material is

honest, relevant, and transparent, so we

also use social media to draw attention

to the subject and create a dialog.

All the initiatives are offered online so

that distribution is easy and many people,

both customers and non-customers, have

access to the learning universes, which

exist in several languages. The initiatives

for children and young people under the

age of 18 are not branded because the

material is not meant as marketing but

solely for the education of this age group.

Global knowledge-sharing

As a logical extension of our effort to

promote financial literacy among children

and young people, we have made

a commitment to share our experience

internationally. We hope that, together

with organizations such as Aflatoun

and ChildFinance, we can contribute

to a global development that will give

all children financial knowledge and

capabilities and will help in attaining

the Millennium Development Goals.

Financial Literacy Programme

• Moneyville: An online learning game

for children aged five to nine

• Control Your Money: An online universe

of exercises for young people aged

10 to 15 that can be used in school

• Teaching Financial Literacy: A set of

guidelines and suggestions for schoolteachers

who want to offer instruction

in financial literacy

• Mind Your Money: An advisory website

for young adults aged 18 to 27 that is

based on relevant life situations

• Facebook page for Mind Your Money:

Online access to advice and knowledgesharing

about personal finance for

young people on Facebook

Further information:

www.danskebank.com/responsibility

72 Global Compact International Yearbook 2011 Global Compact International Yearbook 2011

73
---
Best Practice

Human Rights

Deutsche Post DHL

Making a Global

Contribution to Education

through Partnership

By Ralf Dürrwang

As one of the largest logistics companies in the world and an adherent to the UN Global

Compact, Deutsche Post DHL is well-aware of its solemn responsibilities toward society,

including the respect for human rights. It understands that "Businesses should support

and respect the protection of internationally proclaimed human rights" (Principle 1 UNGC).

Deutsche Post DHL considers these societal responsibilities not as a burden, but as guiding

tenets that can offer opportunities while advancing its business.

Education, for instance – so crucial for

socioeconomic progress, yet out of reach

for so many children around the world

– is an area where Deutsche Post DHL

can help make a lasting investment in

the future. This is why the company recently

teamed up with the international

not-for-profit organization Teach For All.

The aim of this global partnership is to

improve access to education as well as

the quality of education and educational

systems throughout the world.

Through its GoTeach program, education

is firmly established as one of the three

central pillars of Deutsche Post DHL's

corporate responsibility commitment,

along with disaster management (GoHelp)

and environmental protection (GoGreen).

Deutsche Post DHL launched its GoTeach

program in 2009. The experience and

success of the partnership with Teach

First Deutschland led Deutsche Post DHL

to expand its commitment to education

globally by partnering with Teach For

All starting in 2010.

"We believe that commitment to better

education and greater educational equality

is paying off," says Frank Appel, CEO

of Deutsche Post DHL. "As the leading

logistics service provider and one of

the largest global employers, we need

well-qualified and motivated employees

from all areas of society. That's also why

education, alongside the environment

and disaster management, is one of the

main focuses of our social engagement."

Teach For All

Teach For All is a global network of national

organizations working to expand

educational opportunities in their countries

by recruiting their nations' most

promising talent to join the effort. These

organizations seek to inspire outstanding

university graduates from a range of

disciplines to make a bold commitment

and spend two years teaching in schools

located in areas of high need.

The organizations that comprise the Teach

For All network train these graduates to

make an immediate impact on student

learning during their two-year commitments.

They also position "alumni" of the

program to continue exerting a positive

influence on education after the two years

as they pursue their careers across a variety

of professional sectors. The national

organizations that are partners of Teach

For All are all independent, locally run,

and locally funded non-profits.

Teach For All helps multiply their effectiveness

by providing direct support

services as well as fostering a powerful

network. Through this global support

network, Teach For All helps its

members save time, reduce the learning

curve, access additional resources, and

collaborate. The end result is greater

scale, stronger student achievement,

more effective alumni leadership, and

sustainable organizational strength in

each member country.

74 Global Compact International Yearbook 2011 Global Compact International Yearbook 2011

75
---
Best Practice

Human Rights

Deutsche Post DHL

More power through partnering

In partnering with Teach For All,

Deutsche Post DHL aims to help the association

to grow its global network and

boost its impact further. Along with its

financial support, the two partners will

identify various collaborative activities.

Deutsche Post DHL will also actively

contribute to the development of the new

teachers, supporting them to improve

the future prospects of disadvantaged

students. In addition, Deutsche Post

DHL will offer various joint activities

and volunteering opportunities to its

employees worldwide to give them the

opportunity to personally contribute to

better education. Whether by mentoring

Teach For All teachers, providing support

for schools through school-supply

drives, or asking colleagues to participate

in various volunteering activities,

Deutsche Post DHL is following through

on its commitment of contributing to

educational success.

"Teach For All and Deutsche Post DHL

both share the same basic principle

of assuming global responsibility for

future generations and implementing

this regionally," remarks Appel. The

initial focus of the joint activities is on

the expansion of the existing national

Teach For All organizations in Argentina,

Chile, Peru, and India. As the largest

global corporate partner of Teach For

All, Deutsche Post DHL will also support

the development of new Teach For All

organizations in Spain and Brazil, and

more locations will be added in coming

years. "Together with Deutsche Post DHL,

we anticipate growing the size of our

network from 18 national organizations

today to more than 30 by 2013," says

Wendy Kopp, CEO and Co-founder of

Teach For All.

Program pedigree

Launched in 2007, Teach For All has a

strong lineage. It is the result of a shared

initiative by two well-respected pioneers

in the field: Teach For America, founded

in the United States in 1990; and Teach

First, launched in the United Kingdom in

2002. Together, in response to demand

from entrepreneurs around the world

seeking to start Teach For America and

Teach First-like enterprises in their own

countries, they founded Teach for All,

which was inaugurated at the Clinton

Global Initiative annual meeting in September

2007.

Both the Teach For America and Teach

First programs have demonstrated a significant

impact on student performance

and educational reform in their countries.

These improvements have led to changes

that enhance students' opportunities for

success, particularly for those in more

disadvantaged socioeconomic environments.

As a global network, Teach For

All enables organizations around the

world pursuing the same mission to

learn from each other and to have an

impact on education in their countries

in a more effective and efficient way.

"By partnering with Teach For All, we

support a movement that aims at improving

educational inequality," explains

Ralf Dürrwang, Vice President

of GoTeach. "By working together with

ambitious social entrepreneurs at both

the international and national levels, I

am convinced that DPDHL will be part

of a global success story."

Global impact

The Teach for All partner organizations

around the world currently

being supported by the partnership

include the following:

Case in point: Teach For India

In addition to supporting the global

Teach For All network, Deutsche Post

DHL has launched country-level partnerships

with several national Teach For

All organizations, including Teach For

India. Deutsche Post DHL launched the

country-level partnership with Teach For

India in September 2010, and is providing

financial and other forms of support.

The partnership includes various joint

activities at Teach For India schools to improve

the quality of education and help

students to unlock their full potential.

One of the particular challenges in India

is that a teaching career is not considered

very prestigious, which means that

promising young professionals who join

the effort may do so against their family's

wishes. Nevertheless, in 2010, Teach For

India received applications from 3,800

candidates who competed for 87 teaching

fellowships.

In terms of Deutsche Post DHL's contribution

in India, according to Anke

Jahn, Program Manager for Deutsche

Post DHL's partnership with Teach For

All, it is especially important that not

just national management but also operational

staff get involved in the program,

too. "In India, our DHL drivers can say

so much to these children," says Jahn.

"They have credibility, and can be something

to aspire to for underprivileged

youth. We want to turn the energy of

our employees into action."

GoTeach – Providing the

opportunity to learn

Deutsche Post DHL is committed to

contributing to the improvement of

educational standards across the globe

and to a sustainable improvement

in access to and quality of education

through its GoTeach program. Started

in 2009 through the launch of Teach

First Deutschland, GoTeach endeavors

to develop and support initiatives that

foster education and help young people

to expand their personal development

and skills. The GoTeach program also

provides opportunities for Deutsche Post

DHL employees to volunteer in educational

projects and to become actively

involved in contributing to the objective

of improving educational quality and

access.

Teach First Deutschland is a non-profit

organization committed to promoting

equity in education in Germany. The

initiative recruits outstanding university

graduates to spend two years working

at schools in areas of great need.

Deutsche Post DHL supports Teach First

Deutschland financially, in its communications

work, and with the program's

expansion within Germany's federal

states. Core elements of the partnership

are the "Camp4us" summer camps,

volunteering by employees, and training

and recruiting for the Teach First Fellows.

For Deutsche Post DHL families whose

incomes are not enough to afford higher

levels of schooling, GoTeach now provides

additional support for their children.

The newly established scholarship

program UPstairs gives children of

employees the opportunity to pursue

higher levels of education that would

otherwise be financially out of reach.

UPstairs scholarship holders receive a

monthly stipend. Financial assistance

is just one aspect of the program, however.

It also offers individual services

to each child, such as mentoring by a

company employee, an internship at a

Deutsche Post DHL branch, as well as

further learning opportunities, such as IT

or language courses. In addition, GoTeach

has entered into a partnership with SOS

Children's Villages to improve access

to education for children and young

people in the communities where SOS

Children's Villages programs are active.

It aims to support local programs and

educational infrastructure of SOS Children's

Villages, and foster employability

through empowerment and needs-based

individual support.

Finally, alongside these global programs,

many divisions, subsidiaries, and country

organizations within Deutsche Post DHL

actively promote equality in education.

These programs and projects are diverse

and aligned with the educational needs

in that particular area. Some examples

include collaborating with universities,

supporting a mentoring program in

Kenya, and helping spruce up library

facilities for schools in Nepal. In Germany,

the Deutsche Post Brings School

to Life program helps students of all ages

to improve their reading, writing, and

media skills.

76 Global Compact International Yearbook 2011 Global Compact International Yearbook 2011

77
---
Best Practice

Human Rights

Nestlé

Partnership between

Nestlé and the Danish

Institute for Human Rights

By Christian Frutiger and Allan Lerberg Jørgensen

In 2010, Nestlé entered into a two-year partnership with the Danish Institute for

Human Rights (DIHR). The purpose of this collaboration is to ensure that the company's

responsibility to respect human rights is understood and implemented within Nestlé's global

operations, and that the learning from this work can encourage other companies to follow.

The Nestlé-DIHR partnership coincides

with the culmination of the mandate

of the UN Special Representative for

Business and Human Rights (SRSG).

Part of the Nestlé-DIHR collaboration

is about making the SRSG principles

on human rights due diligence operational

and practical wherever Nestlé

operates.

"The work with the Danish Institute for

Human Rights will help us accelerate our

journey to become one of the leading

companies in the international business

and human rights field," says Jean-Marc

Duvoisin, Nestlé's Global Head of Human

Resources.

"There is still a lot that the human rights

community and the business community

have to learn from each other. We have

a responsibility to work together to accomplish

the goals that we share," says

DIHR Deputy Director Charlotte Flindt

Pedersen.

Corporate human rights gap analysis

The collaboration between Nestlé and

DIHR began in 2008, when DIHR carried

out a comprehensive human rights gap

analysis of all corporate policies, procedures,

and systems across eight function

areas in Nestlé: Human Resources;

Health and Safety; Environment; Security;

Products and Marketing; Research

and Development; and Supply Chain.

This work fed into the new human

rights and labor section of the Nestlé

Corporate Business Principles (NCBP),

and also led to the introduction in 2010

of the Nestlé Transparency Policy and

the Nestlé Employee Relations Policy. In

June 2010 the company also formally

recognized the human right to water,

even before its official recognition by

the UN General Assembly and the Human

Rights Council.

Margaret Jungk, Director of DIHR's Human

Rights and Business Department,

notes that "for DIHR this a unique opportunity

to influence human rights

implementation in a company that

touches the lives of millions of people,

including workers, consumers, and rural

communities, and at the same time we

can help develop approaches that can

later benefit the wider human rights

and business field."

Human rights impact assessment in

Nestlé operations

In 2010 and 2011 the corporate-level human

rights gap analysis was followed up

with two comprehensive human rights

impact assessments by DIHR of Nestlé's

operations in Colombia and Nigeria.

These included consultations with trade

unions, authorities, NGOs, and farmers in

order to analyze the company's impacts

at a local level.

Together with the corporate-level gap

analysis, the concrete assessment of potential

impacts on the ground provided

the company with a 360 degree perspective

on current and future human rights

and labor challenges.

The impact-assessment process used by

DIHR and Nestlé is based on two indicator

tools developed by DIHR. The first

tool uses a number of Human Rights

Impact Scenarios (HRIS) to develop a

risk-based mapping of potential human

rights impacts. Subsequently, the

Human Rights Compliance Assessment

tool (HRCA) is used as a benchmark for

reviewing the company's prevention

and management of potential human

rights impacts.

The use of specific indicators has proved

to be effective to better understand human

rights issues and engage stakeholders

in a meaningful way. The DIHR

involved Nestlé's internal issue owners

directly in the assessment and in the

development of action plans. This approach

has helped Nestlé to ensure that

the learning gathered throughout this

partnership stays with those who actually

manage human rights challenges in

their daily operations. This knowledge

base will continue to inform the way

Nestlé addresses human rights in the

years to come.

"This is the most constructive and professional

public-private partnership I have

seen in a long time," says Janet Voûte,

Nestlé Vice President Public Affairs.

Next steps

Several more of such impact assessments

are being planned for 2011 and 2012.

In parallel to this, human rights are

being integrated into Nestlé's Enterprise

Risk Management system, and in

2011 a human rights and labor training

program will be provided for employees

in high-risk countries. Finally,

Nestlé's CARE external audit program

will be completely reviewed by Nestlé

and the DIHR in order to ensure coverage

of the entire NCBP human rights

spectrum.

About

Nestlé is the world's leading

Nutrition, Health, and Wellness

company, with 450 factories all

over the world – half of them

in developing countries. The

mandatory Nestlé Corporate

Business Principles (NCBP) –

endorsed by the Chairman and

CEO – guide the behavior of the

company's more than 280,000

employees. A revised version of

the NCBP was developed in 2010

and the Human Rights Policy

Section (chapter 4) was further

expanded. Nestlé recognizes

the "corporate responsibility to

respect human rights," as outlined

in the UN Framework for Business

and Human Rights of John Ruggie,

UN Special Representative on

Business and Human Rights.

NCBP compliance is monitored

through external audits under

the Nestlé CARE program and

internally by the Group Audit

function.

The Danish Institute for Human

Rights is an independent National

Human Rights Institution

modeled in accordance with

the UN Paris Principles.

Established in 1987 by an act

of Danish Parliament, DIHR's

mandate encompasses

research, education, and

implementation of human rights

programs in Denmark as well as

internationally. With 120 full-time

staff, DIHR is operational in more

than 30 countries. In 1999 DIHR

became one of the first human

rights organizations in the world

to establish a human rights and

business program and has since

worked with leading multinational

companies in a variety of industry

sectors.

78 Global Compact International Yearbook 2011 Global Compact International Yearbook 2011

79
---
Best Practice

Human Rights

Sakhalin Energy

Corporate sustainability –

The way forward

Since its inception in 1994, Sakhalin Energy has based its activities on a strategy of

sustainable development. It allows the company to achieve business goals while taking into

consideration the potential environmental and social impacts on its employees and on local

communities. It is fair to say that such an approach means no operational or technological

decision is made without adequate environmental, health, and social assessments of the

potential impact of the Sakhalin-2 Project.

Sakhalin Indigenous

Minorities Development

Partners: Company,

Sakhalin Government,

and Regional Council

of authorized IP

representatives

FPIC (free prior and

informed consent)

Now SIMDP case has been

included into the Stakeholder

Engagement Handbook

issued by the IFC and the

Plan is recommended by the

parliamentary hearings of

the RF Council of Federation

as an example for RF

regions.

http://www.simdp.ru/eng.php

What to Do in

Emergency Situations

Partners:

Company, Sakhalin

Emercom, Sakhalin

Ministry of Education

This complex educutional

programme is targeted

on schoolchildren and

has been working for

more than five years.

http://www.senyaspasatel.ru/

Korsakov Sustainable

Development

Partnership Council

Partners:

Company, Korsakov

Administration, Public

Initiated by the Company

in one of the most critical

and opposition communities

on the Island. Now the

partnership uniting public,

business and authorities

contributes a lot into local

sustainable development

and is moving to a new

level with UNDP expertise.

http://www.korsakovsovet.ru/

eng.php

Sakhalin Salmon

Initiative

Partners:

Company, Wild

Salmon Center NGO

Salmon is one of the

symbols of Sakhalin and

has a great impotence for

life and culture of

Sakhaliners, including

indigenous peoples. The

Initiative brings together

international expertise

and Russian experience.

http://sakhsalmoninitiative.org/

Road Safety

Partnership

Partners:

Company, Sakhalin

Government,

Traffic Inspectorate,

Public

The first partnership of

such kind established on

the territory of Russian

Federation with support

of Global Road Safety

Partnership. Later this

successful example was

replicated in other regions.

By Natalia Gonchar and Marina Ee

Sakhalin Energy has adopted the highest

international standards and takes a

proactive approach in implementing

business and human rights in its corporate

management system and practices

as well as in managing and gauging

environmental, health, safety, and social

impacts. External verifications, including

lenders' audits (Sakhalin Energy has

secured a multibillion-dollar project

financing from a group of international

credit organizations), have been held

regularly and, in the majority of cases,

they demonstrated that the company has

met the adopted standards. In November

2009, Sakhalin Energy reached a new

level of social responsibility and transparency

by deciding to start participating in

the UN Global Compact. The company

committed to consistently advance the

Global Compact's Ten Principles covering

the areas of human rights, labor,

the environment, and anti-corruption.

For Sakhalin Energy, these principles

are not new. In many years of working

on the Sakhalin-2 Project, the company

has been guided by its General Business

Principles, many of which reflect the

Principles of the Global Compact. The

core values of Sakhalin Energy, such as

integrity, transparency, and respect for

people, are the basis for all company

activities.

Sakhalin Energy is implementing Global Compact

Principles via strong governance, policies,

strategies, management systems, standards,

and operations:

• Policies, management systems (MS), and

standards cover each Global Compact

Principle and include a Sustainable

Development Policy; code of conduct;

health, safety, and environment and

social performance policies and MSs;

risk- and impact assessment; whistleblower

/ grievance mechanisms; antibribery

and corruption procedures;

etc. A Health, Safety, Environmental,

and Social Action Plan – a publicly

available, detailed system of standards

and commitments – was developed

on the basis of the best Russian and

international experiences in an open

and honest discussion with stakeholders.

• Roles and responsibilities are mainstreamed

into corporate functions and

business units.

• Value-chain policies and procedures

are in place and supported by communicating

policies and expectations

to suppliers and other relevant business.

• Trainings, awareness-raising workshops,

etc., are conducted for staff and contractors;

control measures are in place to

guarantee operations.

Sakhalin Energy endeavors to contribute to the

future global agenda for corporate responsibility

and is taking actions in support of broader

UN goals and issues via:

• Company's core business strategy,

which aligns with UN goals/issues on

environment, labor, human rights, anticorruption,

etc.;

• Strategic social investments and philanthropy,

which is an integrated element

of the company's sustainability strategy

and MS;

• Implementing partnerships (graphic 1);

• Robust and comprehensive mechanism

to deal with concerns and grievances

(company is one of five business participants

in the UN's Ruggie Guiding

Principles testing project);

• Fair, transparent, and open stakeholder

engagement and information disclosure;

unique three-level engagement

mechanism (graphic 2);

• Active participant in the Russian Global

Compact Local Network openly sharing

the best practices and experience.

Graphic 1 above: Partnerships –

corporate strategy

Graphic 2 right: Three-Level System

of Communication with communities

is a unique mechanism developed and

tested by the company: Information

exchange with stakeholders happens

at each level of organization and

between them.

Company

Information

dislosure, impact

assessment

and monitoring,

grievance procedure,

public reporting, etc.

Community Liaison

Network

Community visits, public/focused/

individual meetings, open hours, dealing with

community concerns grievances in "fields"

(e.g., 193 public meetings with app. 6,000

participants 2003-2010)

Information Centers

23 Company Information Centers based in district and village

libraries along the route of the project facilities and targeted

to distribute company-related information in communities and to

receive questions or concerns/grievances from the local residents

(e.g., 3,753 visitors to Information Centers in 2010)

80 Global Compact International Yearbook 2011 Global Compact International Yearbook 2011

81
---
Best Practice

Human Rights

Sakhalin Energy

Sakhalin Indigenous Minorities

Development Plan: Come with the gas

When the Tripartite Agreement on implementation

of the Sakhalin Indigenous

Minorities Development Plan was signed

back in 2006, its partners were among

the optimists who sincerely believed in

success. But even they did not realize

what a long way they had to go together

for true cooperation.

The history of relations

The Sakhalin Indigenous Minorities Development

Plan is an innovative social

plan funded by Sakhalin Energy. Sakhalin

Energy has had an ongoing dialog

with Sakhalin's indigenous minorities

since the Company was founded in 1994.

Since its inception, the company has

supported a lot of social projects for

indigenous minorities in a range of areas

– cultural, sport, and educational.

But in 2005, indigenous minorities staged

a protest against all the oil and gas companies

operating on Sakhalin Island. The

protest was supported by national and

international NGOs. They demanded a

more regular and transparent dialog

and greater recognition of the needs of

the indigenous peoples. Doing "a lot"

turned out to be not enough. Responding

to indigenous protests, Sakhalin

Energy decided to completely revise its

strategy of engagement with the Sakhalin

indigenous peoples. The year ended with

Sakhalin Energy signing a Memorandum

of Understanding with the communities,

and a commitment to build for them a

series of development plans in compliance

with the best international and

Russian standards.

SIMDP 1 – An essential first step

From 2005 to 2006, Sakhalin Energy

held large-scale consultations with all

stakeholders, including in areas densely

populated by the indigenous minorities

and in the city of Yuzhno-Sakhalinsk,

the capital of Sakhalin Oblast. Based

on a strategy developed by the indigenous

minorities and suggestions on

how to implement it, the first Sakhalin

Indigenous Minorities Development Plan

(SIMDP 1) was created and signed in

May 2006. SIMDP 1 was prepared by

the company in close cooperation with

the Sakhalin Oblast Government and

the Regional Council of the Authorized

Representatives of Indigenous Minorities

of Sakhalin Oblast. It incorporated

measures to mitigate potential negative

impacts from the project on the Sakhalin

indigenous minorities, as well as activities

to improve the living standards of

the indigenous peoples, provide access

to the project benefits, and help the

4,000 indigenous Sakhalin inhabitants

(Nivkh, Uilta, Evenki, and Nanai peoples

– key Sakhalin indigenous population

groups) in capacity-building. The Plan

was delivered through the Traditional

Economic Activities Support Program,

the Social Development Program, and

Mini-Grant Fund activities. In order to

ensure the Plan's effectiveness in meeting

its objectives, an External Monitor

worked during the entire period of SIMDP

1 implementation, visiting all the indigenous

communities and meeting key

stakeholders and public representatives.

In the last year of implementation, a

plan completion evaluation (PCE) was

performed. The PCE Team interviewed

people and conducted a survey of indigenous

opinion. The Team included

the Head of Sociological Laboratory of

the Sakhalin State University, and independent

indigenous representative not

previously involved in SIMDP activities,

and was headed by the External Monitor.

The Team found the Plan to be a

success in terms of both the very positive

material benefits received and the

strong capacity-building accomplished.

Quoting a prominent government official,

the evaluation noted, "Thanks to

the SIMDP, people changed. The Plan

helped to unite the people and give

them some direction for the future."

Some difficulties were inevitable and

indeed occurred, but they did not detract

significantly from the Plan's overall success

as a benefits-providing mechanism,

a capacity-building exercise, and as a

qualified model for similar projects. PCE

performed by three independent experts

is a good practice model that shows accurate

results of Plan implementation

and, by itself, contributes to building and

maintaining trust between the partners.

SIMDP 2 – Complying with and

setting the best international

standards

Simultaneously with the PCE process,

a Working Group started preparations

for the second SIMDP (SIMDP 2). The

Working Group was established on the

principle of equal partnership and comprised

the representatives of the Regional

Council of the Authorized Representatives

of Indigenous Minorities of Sakhalin

Oblast, Sakhalin Energy, the Sakhalin

Oblast Government, the Sakhalin Oblast

Duma (elected legislative assembly), and

the Russian Association of Indigenous

Peoples of the North, Siberia, and the

Far East – the umbrella organization

of indigenous peoples in Russia. Six of

eight Working Group members were

indigenous. The goal of the Working

Group was to elaborate recommendations

for the development of SIMDP 2

on the basis of experiences with the first

Plan and lessons learned, as well as the

results of the two rounds of consultations,

held in the seven Sakhalin districts of

traditional living of the Sakhalin indigenous

minorities. The consultations were

followed by a special indigenous peoples'

conference in Yuzhno-Sakhalinsk,

where they discussed the prospects for

further development under the SIMDP 2.

Delegates from seven districts traditionally

inhabited by indigenous peoples of

Sakhalin examined the draft of SIMDP 2

and approved its implementation.

At the conference, the indigenous delegates

agreed that consultations were

carried out without coercion, were held

early enough for the community to discuss

the issues at length, and that they

had been provided all information regarding

the first and second Plans that

was necessary for them to formulate

their own independent assessments of

the Plans. The delegates also declared

that they gave their consent to the Plan

and authorized their representatives

to sign a new Tripartite Agreement to

implement the Plan.

SIMDP 2 will be carried out with even

more active participation by the indigenous

population. The Governing Board

is the highest management body; its

work is supplemented by an Executive

Committee, a Traditional Economic Activities

Support Program Committee, and

a Social Development Fund Council. The

two latter bodies are now completely

managed and monitored by the elected

representatives of indigenous peoples

from seven districts where the indigenous

population traditionally lives and

works. In December 2010, a new Tripartite

Agreement on implementation of

SIMDP 2 was signed by the three parties

in Moscow, Russia.

SIMDP: Good example deserves to

be followed

The development and implementation

of SIMDP caused a breakthrough in the

relationship between the oil and gas

company and the indigenous inhabitants

of the island. Indigenous peoples

are directly involved in management,

fund allocation, and control. The Plan

has emerged as a good practice model

on both the international and national

levels, but what is most important is

that the Plan is highly appreciated by

the indigenous peoples.

The International Finance Corporation

called SIMDP "a good practice example"

in their 2007 Stakeholder Engagement

guidebook; the World Bank also holds up

SIMDP as a good practice example of plan

implementation for indigenous peoples.

SIMDP became laureate of the Corporate

Donor, a Russia-wide contest for social

investment, and won the international

Vitus Bering award at the Sixth Russian

Congress of Indigenous Peoples.

One of the important tools for building

trust-based relationships with indigenous

minorities was the implementation

of grievance procedures, which effectively

regulates the process of receipt,

registration, and resolving grievances

related to the implementation of the

first and second SIMDPs. This procedure

was developed in accordance with the

general principles and approaches of

the Community Grievance Procedure

of Sakhalin Energy and with involvement

of indigenous peoples communities.

Having proven its effectiveness over the

years, it was called "a best practice" by

UN experts in the process of testing the

Ruggie Guiding Principles. Prof. John

Ruggie, Special Representative of the

UN Secretary General for Business and

Human Rights, developed this set of

practical principles, which constitute a

new standard for the complaints review

process for businesses worldwide.

Oleg Kapkaun, PCE independent indigenous

expert: "In the course of SIMDP

implementation, the mindset of indigenous

individuals started to change. They

started to understand that with support

from SIMDP, they can establish clan

enterprises. Even their appearance has

changed; they've got more sparkle in

their eyes, a desire for a full life rather

than mere subsistence, and increasing

pride in their ethnic lifestyles. They want

to preserve their traditions and culture,

they envisage growth of their clan enterprises

and communities, and they've

begun to develop a vision for the future.

SIMDP provides real and effective assistance

in preserving their languages,

in promotion of health, and support

of national sports. With support from

SIMDP, indigenous community leaders

have received capacity-building trainings,

computer equipment has been purchased,

and accounting workshops have

been organized for clan enterprises and

communities and for indigenous NGOs.

Most significantly, young indigenous

leaders have emerged and they care

about future generations and about the

revival of indigenous traditions. The indigenous

peoples themselves say SIMDP

represents an historic change, and is the

kind of agreement they've been asking

for decades."

82 Global Compact International Yearbook 2011 Global Compact International Yearbook 2011

83
---
Best Practice

Labour Standards

Autostrade per l'Italia

Working

Together on

Safety

Autostrade per l'Italia has always been committed to an

effective policy of accident prevention through the

empowerment of workers and companies. In addition to

the strict observance of rules regarding safety at work

provided for by the legislative decree no. 81, Consolidated

Health and Safety at Work, on April 9, 2008, the company

carries out training of workers and also finances enhanced

training programs. In addition to the requirements of

the law, it identifies standards of self-regulation and, above

all, establishes an ongoing dialogue with governments,

regulatory institutions, and associations within the industry.

By Simonetta Giordani, Andrea Ragni and Alessandra Gagliardi

In 2010, the company embarked on

an ambitious path for the voluntary

certification of the Occupational Health

and Safety Management System (OHSAS)

of the entire organization according

to the international standard OHSAS

18001 : 2007. The certification encompasses

all workplaces and construction

sites, and in the coming years, it will be

extended to all of the highway concessionaires

of the company.

The other element of fundamental importance

for an effective safety policy is,

for us, the constant consultation with

the authorities, public safety bodies, and

trade unions. To this end, Autostrade per

l'Italia formed the Council for Health and

Safety in Workplaces, which includes the

trade union organizations, company officials,

and industry experts. The Council's

scope is to identify initiatives, projects,

and solutions for the improvement of

safety standards in the workplace and

to monitor the progress of occupational

accidents and occupational diseases.

Still focusing on this front, the company

has created – in collaboration with local

authorities and trade unions – the

Permanent Provincial Board for Safety

of Construction Sites for the Variante

Autostradale di Valico, which is the main

strategic highway infrastructure currently

under construction in Italy. The

work now involves some 90 companies

and over 1,600 employees.

Starting with the need to implement an

effective policy of accident prevention

through the development of a "culture

of safety at work," Autostrade per l'Italia

considers it essential to focus on behavior

by creating an atmosphere of awareness

and responsibility where possibly

dangerous situations are recognized

and workers take an active role in the

improvement process. This strategy led

the company to embark upon a path

to success several years ago with the

realization of the Variante Autostradale

di Valico and the proposal for the Permanent

Provincial Board for Safety of

Construction Sites. The company had

a plan of action to create the adoption

of good practices by the workers on the

major construction sites. This led to the

signing of a Memorandum of Understanding

between Autostrade per l'Italia,

the Regional Department of Safety at

Work, the companies involved in the

road works, municipalities, the Bologna

Health Center, INAIL (state body providing

sick benefits to people injured at

work), the Regional Department of Labor,

the trade unions, the fire department,

the 118, and the Observatory for the

Variante Autostradale di Valico.

Aimed at risk prevention through empowerment

and direct involvement of

workers, the project provides for the

following: the establishment of special

Committees of Safety that are composed

of project managers, coordinators, heads

of safety at the company, and representatives

of the workers; the submission of

reports to both worksite directors and

committees; the adoption of appropriate

remedial measures; the adoption of a

reporting system for potential hazards

and deficiencies in safety procedures

on the part of individual workers to the

Committee; the adoption of a system

for recording and analysis of the "near

misses" through reports made directly

by the workers (who are suitably trained

and aware of safety policies).

The central element of the project is the

registration system of "near accidents,"

in other words, anomalous and negative

incidents that did not lead to accidents

causing damage to persons or property

and were only a result of circumstances

that were favorable and/or random. The

identification of these episodes by workers

is, in fact, an important part of the

risk-prevention strategy in the field of

workplace safety: near accidents are

considered warning signs that a more

serious accident may occur. Reports of

near misses, as mentioned, are made directly

by the workers, who forward them

to both the director of the worksite and

to the Safety Committee so that the appropriate

corrective measures are taken.

In order to fully implement the initiative

and, above all, to spread the culture of

accident prevention and compliance,

the project includes the development of

specific training courses conducted by

accredited sources. The courses are funded

annually by Autostrade per l'Italia

(which has funded, to date, courses for

over 4,500 hours of training) and there

is also a reward system. This reward

system provides economic incentives

"ad personam" for the workers who have

distinguished themselves with good and

efficient behavior in terms of safety and

incentives for the "teams" that have

effectively implemented the system of

near accidents. Autostrade per l'Italia

is committed to the financing of the

project for the entire duration of the

work and for all main lots of the Variante

Autostradale di Valico – at a total cost

of €1 million.

The initiative was very successful, and

in 2010, during the award ceremonies,

Ad Personam awards were given to 99

workers and four Team awards were given

for the detection and reporting of near

accidents – for a total of approximately

€70,000. Workers have been given the

credit for having complied with safety

regulations marked by good practices,

especially in reporting to the responsible

figures for the critical issues that could

have resulted in accidents and injuries.

The award ceremonies were attended by

representatives of the authorities and institutions

that signed the protocol. Thanks

to the training provided and following

the implementation of the control system,

there was a significant decrease in the

frequency and severity of injuries. From

2008 to 2010, injuries were reduced by

approximately 23 percent and 35 percent,

respectively, even though the amount

of resources used and total number of

working hours had increased.

84 Global Compact International Yearbook 2011 Global Compact International Yearbook 2011

85
---
Best Practice

Labour Standards

COOP

Good Agricultural Social

Practice for Fruit and

Vegetable Farming

Corporate social responsibility has become an emerging issue in global food supply

chains. Partners involved in the food sector are challenged to find innovative and

meaningful approaches to ensure that their agricultural products are produced in line with

internationally agreed labor requirements such as the UN Global Compact Principles.

In the second project phase, additional

retailers were involved in further developing

GRASP. The purpose of this phase

was primarily to adapt GRASP to local

conditions, train the auditors, help more

producers with implementation and,

lastly, assess the value of GRASP. Local

experts and NGOs were also involved

in this phase. Using a range of methods,

Coop raised awareness of social

requirements among its suppliers in

selected risk regions and then trained

them to implement the requirements.

The Almería region in southern Spain

is a major sourcing region for fresh fruit

and vegetables for Coop and other retailers

participating in the GRASP project.

Therefore, the vegetable suppliers of the

region were the first to be audited for

compliance with GRASP requirements

at the end of 2008.

By Emma Arvidsson

Millions of rural workers worldwide,

among them seasonal and migrant workers,

are active in agricultural production

processes. Lacking viable economic alternatives,

workers in many cases agree

to work in poor social and depreciative

conditions. Improving working conditions

of farm workers is on the agenda

of various actors and has presented itself

as a complex area. Differing from

the often precarious situation of rural

workers on farms producing for the

mainstream market, numerous social

standards, private guidelines, and labels

have emerged to address and improve

the situation on farms, providing for

niche markets. Examples are the Fairtrade

label and organic labels. Farmers

producing for such markets often have

to carry the burden of multiple checks

though different initiatives, but on very

similar topics. So far, there are very few

approaches trying to bridge the gap

between full social audits for a limited

market and mainstream agricultural

production.

Perceiving this need for action,

GLOBALG.A.P., the Deutsche Gesell-

schaft für Internationale Zusammenarbeit

GmbH (GIZ – former GTZ) on behalf

of the German Federal Ministry for

Economic Cooperation and Development,

and Coop Switzerland initiated the

GRASP project in June 2005 as a tripartite

development partnership within the

program develoPPP.de. The abbreviation

GRASP stands for GLOBALGAP Risk Assessment

on Social Practices. The aim

was to develop an approach covering

basic social criteria, applicable to all

agricultural production systems and

different farm sizes. In the first phase,

completed in 2007, a module consisting

of 14 criteria for good social practice in

agriculture was developed and discussed

in stakeholder workshops.

Over 30 test audits were performed in five

countries and the first implementation

tools were created. By using synergies

with the GLOBALG.A.P. auditing system,

assessment costs could be kept low,

which made the module affordable to the

mainstream production. The GRASP module

– a tool to support farmers in helping

them to demonstrate their compliance

with international as well as national

labor legislation – was introduced as a

voluntary module to be audited in the

framework of a normal GLOBALG.A.P.

audit. The GRASP Assessments do not

offer complete social audits with indepth

investigations, but rather focus

on the review of an implemented social

management system. For its successful

implementation, farmers are supported

with guidelines providing background

information and practical examples.

In the last years, cooperation with the

BSCI (Business Social Compliance Intiative)

has been stepped up. Coop has

played a key role in ensuring that the

experience gained in manufacturing

and non-food is successfully integrated

into the agricultural sector with the

help of the primary production module.

With GRASP and the BSCI's primary

production module, two instruments are

now available for implementing social

standards in agriculture, resulting in

a marked improvement in awareness

among facility managers.

"The GRASP project can be seen as an innovative,

creative, and successful partnership

of public organizations and private

enterprises to address one of the

main challenges in agricultural production:

social conditions of workers."

Carsten Schmitz-Hoffmann,

Head of the Section Agricultural Trade and Standards,

Deutsche Gesellschaft für Internationale Zusammenarbeit GmbH (GIZ)

86 Global Compact International Yearbook 2011 Global Compact International Yearbook 2011

87
---
Best Practice

Labour Standards

Deutsche Telekom

Deutsche Telekom

Introduces Women's Quota

Deutsche Telekom has been the first DAX 30 company to establish a quota for women: By

the end of 2015, 30 percent of upper and middle management positions in the company are

to be filled by women. This is a Group-internal requirement and applies worldwide. René

Obermann, Chairman of the Board of Management of Telekom, summed it up as follows:

"Taking on more women in management positions is a matter of social fairness and, above

all, a categorical necessity for our success. Having a greater number of women at the top will

simply enable us to operate better."

By Mechthilde Maier

We firmly believe that our company will

benefit from having more women in

management. Extensive research shows

that mixed teams are not only more innovative

but also more productive and

more successful in business. Companies

with a large proportion of female managers

generate new cultural and financial

value. Studies confirm that companies

with a higher percentage of women

achieve significantly better results and

greater profitability. What is more, investors

and funds are increasingly looking

for sustainable business practices that

include gender equality. These are concrete

economic arguments for putting

more women in management positions.

Women remain underrepresented at

all management levels of our company.

Compared with the other DAX 30 companies,

the numbers at Telekom are average.

In the last decade, the percentage of

women at the top management level in

large German enterprises has only risen

from around 5 percent to just under

5.8 percent. At Telekom, 9.6 percent of

upper management positions were filled

by women in 1996. Today, this stands

at 12.5 percent.

Although Telekom has spent many years

initiating and implementing extensive

measures designed to promote the interests

of women, this did not bring the

success we had hoped for. The "glass ceiling"

could not be broken, which is deeply

unsatisfactory. For this reason, we have

now decided to take another approach

by making a binding commitment. This

is down to the fact that traditional roles,

entrenched hierarchies, old boys' networks,

and ingrained mentalities cannot

be changed by good intentions alone. We

have learned this from the past.

We believe the women's quota is also

the right response to the medium-term

development we are seeing on the labor

and talent market. Already, more

than half of all business graduates from

German universities are women. We

can already expect a future shortage of

specialist workers, which will impact

the economy and thus also the business

world. One example of this: The OECD

states that, in the year 2020, there will

probably only be seven young engineers

for every ten engineers approaching retirement.

Unless companies get actively

involved in making sure this is not the

case, these seven female engineers will be

rarities. The biggest challenges lie firstly

in getting girls interested in and encouraging

them to pursue mathematics and

science-based subjects, and secondly in

making young women aware of the vast

range of career opportunities open to

them in business. These are precisely the

objectives of our diverse range of STEM

initiatives, which are already in full

swing. The women's quota sends out a

clear signal to females that they can start

their careers with Telekom. This will also

make the quota commitment a key part

of our strategic workforce restructuring

activities. It will help us greatly expand

our talent pool in a meaningful, fair, and

sustainable effort to win tomorrow's

young management hopefuls.

Following the resolution on the quota,

Telekom is now focusing on its implementation,

which is being done systematically

and steadfastly. All aspects of the

talent chain – from young trainees to

management reviews for positions in

leadership – have been assigned target

figures. For example, we have defined

targets for recruitment of university

graduates, for selection processes, for

talent pools, and for participation in

executive development programs. Over

the next few years, Telekom envisages

that the percentage of female graduates

from cooperative degree programs and

university leavers in technical subjects

recruited worldwide will be twice as high

as the quota of women graduates overall

in these fields in Germany.

Potential assessments, selection processes,

and development forecasts must

take place openly and transparently.

When filling management positions

at Telekom in the future, women must

make up at least 30 percent of the applicants

shortlisted.

Since November 2008 Mechthilde

Maier is Head of Group Diversity

Management at Deutsche Telekom.

But this is all an exercise in futility if

no solution is provided to the overriding

question of how women and men

can achieve a healthy work-life balance.

This is why we have substantially extended

the support we offer in-house

with childcare and care for the elderly.

By actively maintaining contact with

employees during parental leave, and

using individual reintegration measures,

we are also making the transition back to

working life easier for women and men.

We have just introduced a policy designed

to increase acceptance of – and

even expressly encourage – leadership

on a part-time and remote basis in order

to maintain a healthy work-life balance.

After all, a part-time leadership model is

also an excellent HR development tool.

It enables executives working part-time

to systematically mandate junior talent

with taking on increasing leadership

responsibility locally. Last but not least,

greater control over working hours also

calls for a second policy, which we have

just introduced. This sets out rules on

the use of and attitudes toward mobile

work resources outside of normal working

hours.

Internal and external reactions to the

women's quota at Telekom indicate that

the Board of Management's decision to

introduce a quota was the right one. In

the future, a lot of able, well-qualified

women will have significantly better career

prospects with our company and will

occupy a larger proportion of positions

in leadership. We will only have reached

our ultimate goal when the women's

quota becomes redundant. It will be

some time before this happens but we

have now taken the first big step.

88 Global Compact International Yearbook 2011 Global Compact International Yearbook 2011

89
---
Best Practice

Labour Standards

Green Delta Insurance

How Do You Avoid Gender

Discrimination?

Gender discrimination in the workplace is an issue that we need to stand against. In today's

day and age, where equal contributions from both sexes in the corporate world are valued,

gender discrimination simply should not be tolerated or encouraged.

By Nusrat Fathima

Gender roles in the workplace differ,

but as can often be seen – as portrayed

through the media – the roles, responsibilities,

and most importantly, the recognition

levels are often the same. The

differences that do exist are likely to

diminish with time and advancement,

as it has over the years.

Within Green Delta Insurance Company,

a firm believer of equal rights and opportunities,

we have uniform policies

for both male and female employees

(this includes all policies including the

spouses of the employees), such as:

• giving equal chances to both genders to

continue employment in the company,

provided that terms of contract are

observed and exercised;

• ensuring that women have attained

high positions in our workplaces due

to their dedication and contributions;

ensuring that there is recognition by

the company, which rewards this dedication

through promotions, pay raises,

and other medical or financial benefits;

• ensuring proper working conditions

and fair employment opportunities

for both genders; criteria for promotion

and retention are equal for both

genders, as they are working with the

same job responsibilities;

• correcting, preventing, or stopping

any action, behavior, or condition in

the workplace that attacks the gender

of any employee, affecting his or her

work performance;

• paying equal salary/wage or benefit

packages to both genders working with

the same job responsibilities;

• persuading and informing our female

staff that nothing can replace good

work ethics and performance. "Don't

hesitate to be honest enough to speak

your mind. If you are having a hard

time with officemates who consider

your sex a disability, use it as a fuel to

perform and exceed expectations and

simply show that when it comes to

perseverance and performance, there

is no gender difference."

How do you promote diversity?

Diversity is a business strategy that

supports and promotes service for a

heterogeneous population. Every business

and company has a broad diversity

of employees. We need to develop the

diversity within the workplace to work

better as a single unit and also to be able

to serve customers. Green Delta Insurance

Company's view is that promoting

diversity in the workplace will also

decrease the incidents of discrimination

among colleagues. Green Delta has some

guidelines on how to promote diversity

in the workplace.

Identify the different ethnicities that are present

in the workplace and the percentage

of people according to their age and

gender. By identifying these, we are able

to create strategies that will promote

diversity in our organization.

Leadership Commitment is another tool

to implement policies and strategies to

promote diversity in the workplace. We

believe that if the leaders know what is

important to the organization, then the

whole community in the workplace will

follow their examples.

Provide Equal Opportunities for all our employees

regardless of the age and gender

of our employees, and ensure that each

is given equal merit based on their performances

in the workplace.

Diversity Training will teach the employees

the guidelines to bear in mind on how

to avoid discrimination and also provide

information on how to promote diversity

in the workplace. In addition, this

training will also increase the quality of

customer service of the company.

Mentoring is another strategy we use to

break down divisions in the workplace,

encouraging senior employees to train

the new employees so that they can work

together in improving the company. This

mentoring activity will not only improve

their output but will also create a bond

among the employees.

How do you ensure the well-being of

employees?

Employee well-being is incorporated into

every aspect of Green Delta's business

plans, strategies, and activities. To succeed,

we inspire ingenuity, nurture talent, and

create an inclusive workplace where people

thrive and grow. We balance this with

our other business needs. These include:

• code of policy that outlines employee

conduct on issues such as ethics, values,

environment, diversity, employee

respect, and customer service;

• creating a clear workplace health and

safety program that documents policies

and actions, particularly important to

ensure the well-being of employees;

• remaining committed to regular training

and development so our employees

excel at their work and advance in their

careers;

• developing a culture of personal

growth;

• providing flexible work hours and company

holidays to celebrate the holidays

that are important to them;

• fair and unbiased decisions about benefit

changes during open enrollment

periods;

• applying marketing techniques that

are fair and honest, so that they reflect

our company's integrity, such as avoiding

any advertising or communication

that could be seen as manipulative or

harmful to the public.

Much like the popular saying that "what

a man can do, a woman can do better,"

Green Delta Insurance Company believes

that a woman can also do best.

90 Global Compact International Yearbook 2011 Global Compact International Yearbook 2011

91
---
Best Practice

Labour Standards

ManpowerGroup

The Human Age

Recent events in many countries across the world are a stark reminder that the power of the

human spirit should not be underestimated. As we put the "Great Recession" behind us and

look toward a more positive – and yet vastly different – new era, we are reminded that

it was the innovation, creativity, and passion of people who got the world through those

challenging times. During the downturn, companies had to cope with "doing more with

less" – raising productivity yet with fewer people to get the work done. This required new

approaches, new perspectives, and above all, new ingenuity. The recession is in our rearview

mirror but that pressure to do more with less has endured – we have entered the Human

Age.

By Jeffrey A. Joerres

Sustainable work, being able to provide

for one's family, and contributing to one's

community allows self-confidence to be

restored. It is only human to want to feel

needed, and too many people feel as if

they are surplus to requirements. The

most frustrating thing for all concerned,

though, is that they are needed. With

unemployment remaining high in many

countries, it could appear that employers

are spoilt for choice when it comes to

selecting the best of the best employees.

Unfortunately, the companies we talk to

tell a different story. They are constantly

frustrated in their attempts to attract

the talent they need, and individuals

are similarly struggling to match their

career ambitions with the companies

who need their skills.

A major contributing factor to this apparent

paradox is that those who are available

do not possess the right specificity

of skills that businesses require. In the

past, all that was considered important

was that a candidate possessed the right

technical skills to get the job done. In

the Human Age, however, they need all

that and more. The velocity of change in

the world of work means employers need

their people to be agile and adaptable

in order to evolve in tandem with the

growing complexities of this new era.

Attributes such as flexibility, intellectual

curiosity, and a learning mindset become

priceless. The notion of doing more with

less has continued into the recovery, so

every person within an organization has

to be very talented. In order to address

the challenges posed by the Human

Age, we need to unlock the potential

of people everywhere. Demographic

shifts mean the working population

in most countries is aging, yet there

is the serious threat that a whole new

generation could be left on the sidelines.

Youth unemployment is a chronic and

growing problem and has been a factor

in much of the civil unrest in the Middle

East, North Africa, and other parts of the

world. In addition to the social ills associated

with having a disengaged youth,

it also poses an economic threat. If we

cannot get the new generation – both

men and women – to take the place

of the Baby Boomers who are retiring,

talent shortages will become even more

acute and global economic growth will

suffer. The power of humans and their

potential can drive economies forward.

Therefore, young women and men must

be given the tools to make themselves

marketable to employers.

In January, I took part in a CNBC debate

at the World Economic Forum Annual

Meeting, which focused on the importance

of overhauling education to make

young people more job-ready. The fact is

that educational institutions are simply

not equipping workforce entrants with

the skills that businesses need. And in

many regions, half the population –

women – have a limited opportunity

for any education. The responsibility lies

with all of us – governments, educators,

and, yes, businesses – to see to it that

education changes. To do so will require

a radical overhaul, as entrepreneurship

must be incentivized and students need

to be taught differently. Without dramatic

changes, whole societies will simply

not have enough people with the right

skills, thus robbing them of the opportunity

to gain self-sufficiency and leaving

their countries unable to compete in a

global economy. Additionally, we must

confront the fact that millions of people

have been out of work for long periods of

time and have seen their skills become

antiquated as the pace of change in the

world of work quickens.

The global economy needs talented people

as much as people need the dignity

of work. The companies that succeed

in this new age will be those whose

leaders understand how to channel and

unleash human passion and potential.

The single-minded focus on reducing

costs is forcing organizations to look at

their workforce in new ways – inspiring

creativity and innovation like never before

– awakening employers to the very

real power of humans. Companies that

successfully navigate this new "normal"

will be those best prepared to leverage

the potential of their people.

At ManpowerGroup, our clients depend

on us to provide them with the people

they need, and our candidates look to

us to connect them with the companies

that can unleash their potential. In other

words, their success leads to our success,

so it makes sense for us to cast our net

to all sections of society to source the

best possible talent for our clients. We

recently teamed up with Microsoft to

help stimulate youth employment and

early entrepreneurship in the Middle

East and North Africa – a region in

which the issue of youth joblessness

runs deep. Together, we are working to

develop a training curriculum for young

entrepreneurs that includes leading-edge

technical-, organizational-, and business

development skills. In addition, we are

joining with governments and NGOs

for training, mentoring, career guidance,

work-preparation, job-linkage, and

entrepreneurship projects for youth in

other regions, including Serbia (pictured).

These and numerous similar programs

are targeted specifically at men and women

who experience barriers to employment.

Another notable example is Project

Ability in the United States – a national

program aimed at transitioning people

with disabilities into sustainable employment

with leading employers nationwide.

Make no mistake, this is no act of charity;

it is all about finding a solution to the

worsening talent mismatch by looking

at talent pools that have traditionally

gone untapped. People with disabilities

represent the largest minority group in

the United States. A key component of

Project Ability is the partnership with

local community-based organizations

that have the access to candidates with

the appropriate skill sets. Through local

recruitment strategies, ManpowerGroup

works with local employers to identify

and place candidates with disabilities.

In all of this, we remain committed to

the UN Global Compact Principles, which

become even more relevant at the dawn

of the Human Age. In the Human Age,

men and women will take their rightful

place at center stage as the world's

only source of inspiration, passion, and

innovation and the driving force behind

all endeavors and enterprise. Unleashing

that human potential provides people

with the dignity of work while building

strong economies and sustainable

communities.

Jeff Joerres is Chairman and CEO of

ManpowerGroup.

92 Global Compact International Yearbook 2011 Global Compact International Yearbook 2011

93
---
Best Practice

Labour Standards

Randstad

Imagine What We Can Do

Together: Randstad – VSO

Partnership

"We strongly believe that companies have no reason to exist if they don't add value to

society," says Ben Noteboom, CEO of Randstad Holding nv. "Our core activity, putting people

to work, means improving people's lives. But we want to do something extra. Working with

development organization VSO (Voluntary Service Overseas) is a perfect match because we

can help them select the right people, something we do every day. And: All of our employees

can play a role in this partnership."

By Eveline Kramers

Randstad, one of the world's largest HR

services providers, and VSO, the world's

leading international development organization,

started their partnership in

2004. Since then, they have been working

side by side to enhance VSO's reach

across the globe and increase VSO's ability

to recruit volunteers for placements

in developing countries.

Acting in a socially responsible manner

changes over time, but for Randstad

it is a timeless prerequisite that we must

contribute, either materially or immaterially,

to groups that make up our

direct or indirect environment. Today we

bring to life one of our core values, "the

simultaneous promotion of all interests,"

through our partnership with VSO.

Randstad volunteer Mignon Schaap

in Oshakati, Namibia

At the request of local organizations

in developing countries around the

world, VSO places professionals in those

countries to share their knowledge and

expertise. Thus, VSO aims to achieve

sustainable change, striving for a fairer

world without poverty.

Justine Douphis, Randstad France,

volunteered in China: "By transferring

my experience in the field of HR to my

colleagues here in China, I'm able to

make a difference. The approach is 'participatory':

My colleagues figure everything

out, do the work, and end up being

fully in control. I'm just here to guide

them and help where needed."

Mutual benefits

VSO benefits from Randstad's know-how,

both in the field and in its internal processes.

In 2010 VSO started to re-engineer

its business process, or as VSO calls it

"the Volunteer Journey" – essential to recruiting

and placing volunteers overseas.

Giles Meyer, Strategic Change Program

Manager VSO UK, says: "We map our

processes against Randstad's to work

out the levels of efficiency within each

step of our journey. I think by learning

from the clarity, focus, and clear measurements

of the Randstad concepts we

will be heading in the right direction."

Meanwhile, motivated Randstad

employees can follow their hearts to help

others – and develop their own talent

as well – thanks to facilitation by VSO's

network and services. The partnership

enhances employee loyalty and increases

Randstad's appeal as employer. Additionally,

returned volunteers add value to

the organization with newly developed

skills such as creativity, flexibility, and

the ability to improvise.

Randstad employees can be actively

involved in the partnership in many

ways. Volunteering abroad is appealing

but recruiting volunteers and raising

awareness and funds back home is just

as vital and exciting. Even corporate staff

at the headquarters in the Netherlands

participate in fundraising through an

annual event called the Walk Against

Poverty.

What We Do Together: Randstad –

VSO Partnership in Practice

Better working conditions

The partnership encompasses several

specific programs. In Namibia and Zambia,

Randstad was instrumental in the

creation of HR Solutions. The program

focuses on improving organizational

capacities, resulting in better working

conditions. Ehrens Mbamanovandu, VSO

Program Manager Education in Namibia,

says: "A better HR policy is essential for

running schools and for good education.

The work of Randstad volunteers

decreased absenteeism amongst teachers

and improved their motivation." Consequently,

the quality of education is

higher. Patricia Sola, founder of HISA

(Hope Initiatives Southern Africa), is also

happy with the program: "Our organization

didn't have adequate HR systems.

Together with Randstad volunteer Saskia

Furrer, we identified the problems and

charted out the solutions. We now have

an HR policy and manuals and are able

to run our human resources better."

Jobs for people with disabilities

In Indonesia VSO and Randstad cooperate

to increase job opportunities for

people with disabilities. Often they are

dependent on others and in many cases

live in poverty. Randstad Canada volunteer

Dan Bryson worked with Interaksi,

a local disabled person's organization.

"Most people with disabilities have little

knowledge of formal employment as

many have never even been to school,

let alone work. We facilitated training

sessions on creating effective CVs, job

interviews, and work expectations. What

impressed me most was their incredible

courage and determination. Instead of

being helpless or needy, they were proud,

engaging, ambitious, and adventurous.

I learned more from them than I could

have ever hoped to teach."

Volunteer Marisca Jansen from

Yacht, a Randstad company, worked as

a disability workplace advisor at Bedo

(Bali Export Development Organization).

"Fifty people are now working for Bedo

members. Another 50 will start producing

design products for a number

of stores."

Sustainable impact

Through Marisca, Joko Dharmanto obtained

a job in security at a large furniture

company. He now feels he is able to

support not just himself but his family.

"To receive money is only momentary,

but a job is an actual way to survive!"

VSO: Sharing

skills, changing

lives

VSO is the world's leading independent

international development

organization, which works through

volunteers to fight poverty in

deve l oping countries. VSO's

high-impact approach involves

bringing people together to share

skills, build capabilities, promote

international understanding and

action, and chan ge lives to make

the world a fairer place for all.

Randstad: Good to

know you

Randstad is one of the world's lar -

gest providers of HR services, mat -

ching people with companies that

will develop their potential, and

matching companies with people

who will take their business to the

next level. In 2010 Randstad had

approximately 27,500 corporate

employees working from close

to 4,200 branches and inhouse

locations in 43 countries in the

world and generated revenue of

€14.2 billion for the year.

94 Global Compact International Yearbook 2011 Global Compact International Yearbook 2011

95
---
Best Practice

Labour Standards

Viyellatex

Trailblazer

in Responsible

Business

Adopting sustainable business practices to manufacture

goods in conformity with the natural environment will

pave the way to the future for companies in the 21st

century. The Viyellatex Group follows such a forwardlooking

way regarding business applications. Started in

1996 with just six lines, Viyellatex now has over 135 lines

with an average production capacity of 2.5 million per

month.

By Ravi Khan

An integrated textile and apparel manufacturing

company in Bangladesh,

Viyellatex became a signatory of the UN

Global Compact in April 2009. The Group

uses modern machines, state-of-the-art

software, environmentally friendly

chemicals, and the latest production

systems for efficient functioning of the

supply chain units, spinning, knitting,

dyeing, washing, printing, and garmenting.

In accordance to the Ten Principles

of UN Global Compact, Viyellatex strictly

follows a child-labor-free and safe and

hygienic working environment. Regular

training is given to the workers on health

and safety measures, medical emergencies,

fire-fighting, and their rights and

privileges.

Having taken eco-friendly initiatives

in efficient energy use and combating

carbon emissions, Viyellatex has won

several awards both home and abroad

from international organizations, private

sector forums, local workers' organizations,

and the government of Bangladesh.

In the Millennium Development Goals

private sector forum in New York, the

Chairman of the Viyellatex Group has

pledged to the UN that the Viyellatex

Group shall become carbon-neutral by

2016. The company is also certified by

organic and non-organic raw cotton suppliers

such as FLO Fairtrade, Control

Union, Cotton USA, and CmiA. Timely

product shipments, upholding labor

and environmental standards, buyer's

code of conduct, and transparency in all

business affairs have encouraged global

top brands to become Viyellatex's clients.

Goods made from Viyellatex are sold to

over 45 countries worldwide.

A smiling workforce

As per law of the government of Bangladesh,

a minimum wage has been assigned

for the garment workers of the country.

Viyellatex takes pride and great pleasure

in readily paying the workers more than

what is required by the government.

Training programs are held continuously

to educate the workers about their rights

and the facilities the company has in

store for them. A happy workforce is

a key ingredient for producing highquality

products on time, which is why

Viyellatex has some of the top brands in

the world as their buyers. The company

goes a long way to fulfill the needs of the

workers by providing all precautionary

tools and protective gear such as steel

protected gloves, eye guards, gasmasks,

earplugs, boots, caps, signs on walls, etc.

Viyellatex also constructed a daycare

center for children of the workers, assigned

a full-time doctor on standby, and

most importantly, has given opportunities

for the employees to work their way

up the chain of command by performing

well and showing a strong work ethic.

Cultural programs and sports days are

held where the workers can show off

their skills and talents in front of their

peers, creating a greater sense of belonging

and togetherness. A no smoking,

spitting, and littering zone within the

factory compound helps raise awareness

on good social practices that the employees

take back home and spread around

the community they live in.

Conformity with the UN Global

Compact

To comply with the Global Compact's

first six Principles, Viyellatex has made

several commitments and taken actions

accordingly. Employment is chosen

freely without any forced, bonded, or

involuntary labor. No discrimination is

practiced during recruitment, compensation,

access to training, promotion, or

disciplinary actions based on race, caste,

national origin, religion, age, disability,

gender, marital status, sexual orientation,

union membership, or political

affiliations. The company does not employ

underage workers, which is quite

difficult to monitor as poor people start

working from a very early age and it

is very easy to make fake identification

cards to hide their real ages. The

HR department honors this pledge by

thoroughly checking files of new recruits

and constantly monitoring the

factory floors for any workers who look

underage. Another agenda taken up by

Viyellatex is the employment of physically

challenged workers who are encouraged

to become self-reliant. The company

has now over 40 physically challenged

workers, some of whom are in administrative

posts with people working under

them. A Workers Participation Committee

is created to keep direct liaison

between the employer and employee.

Problems the workers face or ideas they

want to put forth can be shared with the

employer through this platform. The

committee has numerous other roles

such as educating the workers about the

company's code of conduct, selection of

workers for cultural and sports activities,

etc. This committee is chosen through

election and the group can stay together

for two years if no complications arise.

People, products, and customers

The management team helps workers to

adapt quickly to newer ways and gives

them a greater sense of responsibility

and importance. The surrounding community

also benefits from Viyellatex's

presence, as the company provides some

community services such as distribution

of medicines, eye camp, 0 - 5 clinic, etc.

Viyellatex provides a number of maternity

benefits, including ultra sonograms

and medicines for pregnant workers.

In order to motivate the workers, there

are also performance-based policies for

promotion, salary increases, training, as

well as development-based policies on

skills, education, prior training, experience,

behavior, etc. Viyellatex believes

that the organization is more likely to

build trust that is sustained at the organizational

and interpersonal levels when

a feeling of mutual respect and care is

shared among the employers, management

staff, and workers. In order to keep

such harmony, several safety manuals

and measures have been implemented

for everyone associated with the company.

Written policies on every aspect

of human rights are posted on all notice

boards within the facility.

As the Viyellatex Group adheres

to its vision of becoming the most regarded

company by 2015, the company

maintains a world-class management

structure, characterized by a culture of

transparency. In order to become carbon-neutral,

the company has bought

a Tea Estate in the northeast of Bangladesh,

where 6 million plus trees are

to be planted to offset the company's

carbon emissions. Taking sustainability

measures as a priority, the Group aims

to diversify into other sectors, where it

pledges to remain accountable, transparent,

and responsible for all its activities.

Viyellatex is the first company in South

Asia to prepare a sustainability report

and submit to the Global Reporting Initiative

(GRI). It is a progressive company

that is committed to sustainable solutions

throughout all aspects of its work.

Viyellatex's best practices serves as a model

for other companies in Bangladesh.

96 Global Compact International Yearbook 2011 Global Compact International Yearbook 2011

97
---
Best Practice

Environment

100

102

104

106

108

110

107

112

114

116

120

122

124

126

128

130

132

134

136

Air France

Armacell

Athens International Airport

Camposol

Carrefour

Coca-Cola Hellenic

Copeinca

Deutsche Bank

EDF Group

Grundfos

Hochtief

Huawei

Otto Group

PE International

Siemens

Sonae

Sopharma

Toshiba

TÜV Rheinland

Anti-Corruption

138

Business Keeper

Environment

Anti-Corruption

Principle 7: Businesses should support a precautionary

approach to environmental challenges;

Principle 8: undertake initiatives to promote greater

environmental responsibility; and

Principle 9: encourage the development and diffusion of

environmentally friendly technologies.

Principle 10: Businesses should work against corruption

in all its forms, including extortion and bribery.

98 Global Compact International Yearbook 2011 Global Compact International Yearbook 2011

99
---
Best Practice

Environment

Air France

Combating Deforestation

in Madagascar

hectares of moist forest and 85,000 hectares

of dry forest. This is an opportunity

for front-line teams to raise awareness

among farmers living close to the forests

classed as "new protected areas" about

the importance of preserving them.

Air France is providing €5 million in financial backing for

a large project to combat deforestation in Madagascar in

partnership with the GoodPlanet Foundation in France and

WWF.

Why help Madagascar to protect its forests,

one may ask. The answer is that

deforestation is responsible for 15 percent

of greenhouse gas emissions – the

equivalent of those generated by all

transport modes combined. Not only that,

but while Madagascar is outstanding for

its biodiversity, half of its forest cover has

disappeared over the past 50 years due

to slash-and-burn agricultural practice,

the creation of pastureland for livestock,

and charcoal production. The program

is being directed by photographer Yann

Arthus-Bertrand's GoodPlanet Foundation

and run locally by WWF, which has

a very strong presence in Madagascar.

Working with the country's authorities,

the Holistic Conservation Program for

Forests (HCPF) aims to help communities

living in over 500,000 hectares of forest

land to manage their forests efficiently

and sustainably for the benefit of the

people concerned. The project has so

far enabled the WWF team to hire 68

people locally.

Contributing to local community

development

The project aims to involve local people

in all the activities by empowering them

and training them to become self-sufficient

as well as enabling them to steer

their future development themselves.

Creating new protected areas

The program involves creating new

protected areas covering over 265,000

Helping local communities to manage their

forests sustainably

The program is organizing transfers of

natural resource management skills

based on empowerment, while building

up communities' abilities across a

spectrum of technical, agricultural, and

financial management areas to help

them become self-sufficient when it

comes to managing their forests sustainably.

Literally thousands of families living

in an area of more than 140,000 hectares

are affected. The project deploys alternative

and sustainable farming practices

such as systems of rice intensifications,

small-scale breeding, fish farming, and

agro-forestry techniques. In this way, local

communities will ultimately benefit

from additional income and improved

living conditions.

Restoring 20,000 hectares of degraded forest

land

This will be achieved by setting up community

tree nurseries using native species.

Protecting plots of forest land will

also help them to regenerate naturally.

Replanting 5,000 hectares

Trees to be used for fuel wood will also

be planted in extremely degraded areas

close to urban settlements. Two years

into the project, local people are beginning

to make the connection between

deforestation and forest degradation,

and between climate change and the

phenomena they experience day-to-day

such as a changing crop calendar, flooding,

and so on. Some 500 farmers have

already been trained to diversify their

crops, and half of these have adopted

intensive rice-growing. Over 300,000

seedlings from 50 native species have

already been planted to restore degraded

forests, while 34 tree nurseries have

also been set up to provide the seedlings

needed to replant 900 hectares

with fast-growing tree species for use as

fuel wood. Twenty one natural resource

transfer-contracts have been signed with

local communities.

Ensuring the potential sequestration

of 60 - 70 million tons of carbon

According to IPCC estimates, the carbon

sequestration potential of the forests affected

by the program stands at around

60 - 70 million tons. The project accordingly

seeks to maintain this storage capacity

and preserve biodiversity, as well

as soil and water resources.

Assessing carbon stocks in preserved

forests

The project involves a large-scale scientific

component, which consists in

evaluating as accurately as possible the

reduction in greenhouse gas emissions

generated through reducing deforestation.

GoodPlanet is overseeing this research

component in conjunction with

WWF and in partnership with a clutch

of European, American, and Malagasy

research bodies: Spot Image, Carnegie

Institution-University of Stanford, IOGA

(Institut et Observatoire de Géophysique

d'Antananarivo), IRD (Institut de Recherche

pour le Développement), CIRAD

(Centre de coopération internationale

en recherche agronomique pour le

Développement), LRI (Laboratoire des

Radio-Isotopes) et ESSA Forêts (Ecole

Supérieure des Sciences Agronomiques),

CNRS (Centre National de la Recherche

Scientifique).

Protecting Madagascar's unique

biodiversity

Madagascar is one of 35 regions worldwide

on WWF's list of biodiversity protection

priorities. Although modest in size

compared with those in Brazil or Indonesia,

Madagascar's forests are home to an

equally large and diverse range of animal

and plant species: 250,000 species, of

which 70 percent are found nowhere else.

Deforestation is one of the most serious

threats facing this outstanding biodiversity.

Deforestation, which is mainly due

to slash-and-burn farming, the creation

of pastureland for livestock, and charcoal

production, is a major problem for the

island's ecology and biodiversity. It has

a dramatic impact on the incomes of

farmers and fishermen.

Although the global airline industry accounts

for no more than approximately

two percent of man-made greenhouse

gas emissions, it is still responsible for

the emissions it generates. The world's

airlines, grouped together in the International

Air Transport Association (IATA),

have undertaken to play their part in

combating climate change. Air France-

KLM has put considerable effort into

rallying the industry, as it has worked

hard for a number of years to control its

environmental impact via its "Climate

Action Plan."

100 Global Compact International Yearbook 2011 Global Compact International Yearbook 2011

101
---
Best Practice

Environment

Armacell

Energy Efficiency Is

Our Business

How can we integrate the UN Global Compact into our day-to-day business with measurable

results? For Armacell, the medium-sized industrial company headquartered in Münster,

Germany, the answer lies not only in their products, which have already made a significant

contribution to the way in which scarce resources are used.

By Susan Heuer and Malte Witt

"As the world's leading manufacturer of

flexible technical insulation materials,

we stand for innovative sustainable solutions,"

states Mark Harakal, CEO of the

Armacell Group, when asked about the

significance of the company's commitment

to the environment. And this commitment

applies to all areas – the bar is

set high both for the manufacturing process

and for the efficiency of the products.

Participating in the Global Compact since

2006 has further sharpened the company's

focus on the way in which it does

business. Armacell's best-known brand,

Armaflex, which is used in heating, airconditioning,

and refrigeration applications,

has been a success story for many

years. The results of a lifecycle assessment

that was initiated by the company in

accor dance with ISO 14040 show that,

based on a service life of 20 years, an

average of 140 times more energy is saved

through the use of the products than is

needed for their production, transport,

Technical insulation with Armaflex is

an efficient energy-saving measure.

and disposal. The energy required to

manufacture Armaflex is "recovered" after

just 50 days. And the climate footprint

is equally positive: Installing Armaflex

saves 150 times more greenhouse gas

emissions than are generated during its

production.

It was certainly not only the brand

name that led to Armaflex being used

to insulate pipework in the "most environmentally-friendly

skyscrapers in the

world" – the twin towers of Deutsche

Bank in Frankfurt. From the very beginning

of this refurbishment project,

those responsible were aiming for LEED

(Leadership in Energy and Environmental

Design) Platinum certification, the

highest category of the internationally

recognized environmental seal of quality.

Environmental requirements were

integrated into the corporate philosophy

long before the climate debate began.

This is not only reflected in the continuously

improved product properties of the

insulation materials; the company has

also been working on national and international

committees for many years. As a

member of the European Alliance for Energy

Efficiency in Buildings (EuroACE), for

example, Armacell has recently backed

the passing of stricter energy requirements

for new and modernized buildings.

The challenge of industrial

installations

As far as the insulation of industrial installations

is concerned, environmental

protection still has a long way to go. Only

a minority are insulated, according to the

current state of the technology – in this

respect little has changed over the past

30 years. This is all the more surprising

because industry accounts for around 26

percent of the total energy consumption

and over 50 percent of CO 2

emissions

worldwide. Experts agree that there is

still enormous potential for improvements

in this area. Armacell, together

with other leading European insulation

companies, is searching for a solution.

The nonprofit European Industrial Insulation

Foundation (EiiF), which was

founded in 2009, aims to improve the

situation. The foremost objective is to

make decision-makers on all levels aware

of the economic and ecological potential

of sustainable insulation solutions. In

addition, Armacell itself is constantly

developing innovative solutions such as

tailor-made systems and can thus provide

impetus for active environmental

protection in the sector.

Recycling products for innovations

Apart from flexible technical insulation

materials, the company also produces

PET foam cores for composite materials.

In this segment too, Armacell is proving

to be particularly far-sighted in terms of

product and process optimization. In

September of 2010, these efforts were

recognized by the Industrievereinigung

Verstärkte Kunststoffe e.V. (Federation of

Reinforced Plastics) with an innovation

prize in the Environment category.

It is well-known that PET is 100

percent recyclable and can be fully fed

back into the economic cycle. The polyester

fibers gained in this way are used to

produce fleece textiles or new beverage

bottles, for example. With innovative

technology, Armacell has now succeeded

in using the recyclate of PET bottles for

its own production. From this recyclate

the company makes foam cores that are

comprised entirely of recyclable PET.

This means that the use

of one metric ton of

recycled PET material

saves around

5,774 kWh of energy

and avoids

the emission of

some 1.5 metric

tons of CO 2

. This

"green" plastic foam

has the same technical

values as PET foams manufactured

from primary raw materials.

It is used in transportation, windturbine

construction, or ship building.

PET core foams are in general environmentally

friendly and energy-efficient

to use because their low weight requires

less input power during use than other

traditional core materials.

Implementing the principles of

sustainability in the company's own

production process

In Armacell's own production, the

technical cycle is viewed critically for

all products and constantly optimized.

For example, materials that occur regularly

as byproducts in the production

of Armaflex are used in ArmaSound –

Armacell's high-performance insulation

material for noise control. Whereas in

2009 some 20 percent of these byproducts

were used as alternatives to raw

materials worldwide, 25-30 percent were

used in 2010. Individual locations (Great

Britain, India, Saudi Arabia) have even

been able to reuse over 90 percent of

their byproducts as valuable raw materials

for the production of ArmaSound.

Reuse of all byproducts from the

manufacturing process is a key objective

that is strongly advocated by the Armacell

Environmental Guidelines. Non-cured

rubber recyclables are already reused

with the support of a waste management

firm. Tests are currently being conducted

to find out whether cured rubber residues

may also be reused for new products. If

this proves to be possible, Armacell will

make a significant contribution to the

reduction in CO 2

emissions.

Conserving resources: ArmaSound

Industrial Systems provide both noise

control and thermal insulation.

102 Global Compact International Yearbook 2011 Global Compact International Yearbook 2011

103
---
Best Practice

Environment

Athens International Airport

Safeguarding Biodiversity

in Practice

By Pakis Papademetriou and Nikos Fokas

Airport operations can have an impact on local ecosystems.

Athens International Airport is located near the Vravrona

Wetland, an area of great environmental and historical

significance. The Airport Company undertakes initiatives

to preserve this sensitive natural environment and protect

a number of important wildlife species, while at the same

time helping to divert birds away from the airport and

reduce risks related to aircraft operations.

We at Athens International Airport (AIA)

consider success to be the outcome of

a balanced and responsible approach

that leads to both sound financial performance

and a positive impact on the

people and the environment affecting

and affected by our business. In these

challenging times, it becomes increasingly

difficult for a company to maintain

a sustainable and prudent business

perspective. We believe, however, that

especially when challenged, it is important

to maintain a steady course of

responsibility, as a reliable measure of

corporate governance.

Environmental responsibility –

a strategic priority

AIA has established a Corporate Responsibility

Policy, which complements various

distinct corporate policies with regard

to the environment, local community

relations, communications, safety, hu-

man resources, and quality. This policy

is regularly reviewed so as to incorporate

global best practices. The policy states

the Airport Company's commitment

toward sustainable value creation for

all stakeholders, while balancing its role,

objectives, and actions among the four

perspectives of corporate responsibility.

The environmental perspective of

corporate responsibility as well as the

specific environmental policy reflect

AIA's acknowledgment that effective

management of environmental challenges

is a strategic priority. In order

to serve this purpose, it is necessary to

continuously monitor environmental

conditions and to undertake initiatives

that minimize the impact of airport

operations on the natural environment.

Credibility and transparency

AIA has committed, as of June 2008,

to support and advance the UN Global

Little ringed plover in Vravrona

Compact's Ten Principles within its

sphere of influence. As such, AIA aims

to ensure that the Ten Principles, covering

the areas of human rights, labor

standards, environmental protection,

and anti-corruption, are internalized into

our corporate policies, operations, and

culture. In order to ensure materiality,

completeness, and comparability of our

corporate responsibility disclosures, we

apply globally prevailing standards and

best practices for systematic reporting.

Since 2003, AIA issues on an annual

basis the Corporate Responsibility Report,

which includes since 2009 a Communication

on Progress (COP) section as part of

our commitment toward the UN Global

Compact. The Corporate Responsibility

Report is subject to an external assurance

process by an independent audit

firm. It contains information on issues

that are crucial to our business and our

stakeholders. The report also contains

information on our actions to minimize

environmental impact, including our

continuous efforts to safeguard biodiversity

in the region where we operate.

Biodiversity initiatives – A practical

approach to upholding UNGC's 8th

Principle

In the context of managing the impact

of airport operations both on site and

in the vicinity of the airport, we continuously

monitor the status of the local

ecosystems through an extensive biomonitoring

program. AIA's dedicated

team of specialists monitors and records

wildlife and also implements measures

to reduce the risk of bird strikes with aircraft.

It is worth noting that the diversity

of bird species spotted in the vicinity of

the airport has increased in recent years,

indicating the health of the local ecosystem.

Through 2010, 173 species of birds

have been recorded in the airport vicinity.

Our challenge is to continue developing

aviation and non-aviation activities in

accordance with best practices for business

and environmental protection. One

of AIA's most important initiatives has

been the "adoption" of the Vravrona

Wetland, a local site of unique ecological

and archaeological value that belongs

to the Natura 2000 EU-wide network

of protected areas. Since 2008, we have

been cooperating with the Hellenic Ornithological

Society, a nongovernmental

conservation organization and partner

of Birdlife International for the protection

of wild birds and their habitats in

Greece. Jointly, we have implemented

a number of various activities with the

aim of improving the condition of the

wetland. The actions have included:

• Cleanup of the wetland by approximately

150 volunteers from the Airport

Company and greater airport community

as well as representatives of the

Association for the Protection and Welfare

of Wildlife (ANIMA). Several tons

of waste were removed from the site.

In addition, a buzzard, an owl, and

three young hedgehogs, which had

recuperated from injuries in ANIMA's

care, were released back to their natural

habitat.

• In order to discourage further dumping

of waste, wooden fences were installed

at several strategic locations around

the site to prevent vehicle access. This

also helps limit use of the site by offroad

recreational vehicles and thus

further minimizes disturbance of the

ecosystem.

• Footpaths were created and signage was

installed to inform and guide visitors

through the site. In addition, special

paths have been created to enable the

visually impaired to enjoy the benefits

of the wetland. Information kiosks play

the calls of different bird species and

allow visitors to explore the terrain

and its inhabitants with their hands

thanks to 3-D relief maps and animal

models.

• New plantings with native species were

undertaken, while signs banning hunting

have been installed at different

locations around the site. This helps

guarantee that the Vravrona Wetland

is a safe haven for numerous birds and

other species.

• Finally, environmental awareness

programs have been implemented at

schools, companies, and nongovernmental

organizations in the region in

collaboration with the Hellenic Ornithological

Society.

The adoption of the Vravrona Wetland

by Athens International Airport is part

of a consistent commitment that enables

us to effectively manage environmental

challenges while promoting environmental

protection.

Corporate Responsibility perspectives of AIA

Perspective

Airport Operator´s

Responsibility

Corporate

Citizenship

Environmental

Responsibility

Employer´s

Responsibility

Focus

Running the airport efficiently and establishing an airport community culture

Acting on public interest in particular with respect to safety and service quality

Neighbourly relations with local communities

Advancing social partnership and prosperity in the region

Undertaking initiatives and commitments to minimise impact from airport

operation & development

Communicating and raising awareness with all stakeholders regarding

environmental issues

Development, compensation and engagement of our human capital

Maintaining a committed workforce in a safe, productive and fair

work environment

104 Global Compact International Yearbook 2011 Global Compact International Yearbook 2011

105
---
Best Practice

Environment

Camposol | Copeinca

Biological

Control in

Agriculture

By Francesca Carnesella

CAMPOSOL is a leading company in

crop treatment and is an extremely important

base for the development of

quality products that are completely

safe and can be successfully exported

to international markets.

Our field operations support sustainable

agricultural activity. Therefore,

in the area of vegetable sanitation, strategies

have been developed for managing

company fields, since the goal is to adopt

systems of sustainable agriculture that

use different techniques for Integrated

Plague Management (IPM). The objective

is to reduce these plagues to levels that

do not cause any economic harm or

damage to the crops, thereby promoting

environmental conservation and also

biodiversity. We also have a Biodiversity

Area, which is where different beneficial

insects are raised for field tests and the

consumption of biological controllers.

IPM mixes different specialized

practices that include ethological control,

biological control, chemistry control, the

use of alternative products, and biodiversity

management. CAMPOSOL's policy

concerning IPM is to have these practices

blend with the environment. It has its

fundamental basis in biological control,

which is based on an agro-sustainable

policy to which we are committed for

the health of our employees, the environment,

and the healthiness of our

raw materials (crops). To achieve this,

we use beneficial insects such as fungi

entomopathogens and alternative products

like vegetable extracts: chili, garlic,

among other things.

IPM at CAMPOSOL

Ethologic control: Ethologic control is based

on the use of different traps to capture

populations of insects with the purpose

of reducing their numbers. CAMPSOL

uses light traps, water traps, molasses

traps, vegetable oil traps, as well as color

materials to capture the insects. These

traps do not damage the environment.

For example, the color traps are yellow

plastic structures in which the vegetable

oil is placed so that they attract the harmful

insects and eliminate them.

Biological control – microbial: We use natural

enemies of the plagues. Predator

insects are used, also entomopathogen

fungi, wasp parasites, among others.

Alternative products: We use chili, garlic,

and other products. There is a wide range

of natural extracts and medicinal plants

that help with plague control due to

the different properties that they possess:

repellent properties, insecticide

properties, etc.

Biodiversity management: This management

is applied across the biological corridors,

wooded areas, and windshield curtains,

which allow the beneficial fauna to

thrive in our fields, where they obtain

food and grow.

Chemical control: This form of control is

based on the use of chemical products.

It is CAMPOSOL's last control option for

plague management since our company

prioritizes cleaner measures; although

the chemical products that we use are

manageable with the environment.

Further information: www.camposol.com.pe

Improvements

in Processing

Plants

By Francesca Carnesella

COPEINCA's environmental management

is oriented toward efficiency in the process

of production. We have modernized

and re-promoted our processing plants

to reduce the greenhouse gas emissions

from the fuel used for the production

of fishmeal. The process is now efficient

thanks to the technological implementations

and innovations that allow us

to produce fishmeal of better quality

with Steam Dried technology instead of

Direct Fire technology. This innovation

has allowed us to not only reduce the

amount of gas emissions and particulate

materials released into the environment,

but also to create a type of fishmeal with

better levels of protein.

The improvement process in our

fishmeal plants was initiated in Chicama

(Libertad, Perú). The conversion

of our plants to accommodate Steam

Dried technology with a capacity of

159 tm/hr earned our plan in Chicama

ISO14001 certification. In Bayovar (Piura,

Peru) we process 160 tm/hr of fishmeal

with Steam Dried technology (indirect

flame). In addition, this fishmeal plant

carried out the implementation of the

first "closed circuit" unloading system,

which takes advantage of the maximum

amount of soluble proteins, allowing

us to be more efficient in the process

without contaminating either the environment

or the sea.

In Chimbote (Ancash, Peru) we

have installed a new kitchen-and-press

zone. This activity represents the first

phase of a large-scale project that will

turn Chimbote into the biggest fishmeal

plant in Peru, with a capacity of 250 tm/

hr. Likewise, we improved the stage of

cooling and grinding fish, thereby avoiding

sacking hot fishmeal and creating

reprocessing and quality problems. It is

important to indicate that this year we

initiated the construction of three new

fishing vessels with the latest technology

to improve fish quality.

For our Chancay' fishmeal plant

(Lima, Peru), we have improved the

whole system in the fishmeal plant so

that the raw material is processed with

the best quality and fewer losses. In

addition, we changed the flat-bottomed

boats to improve the unloading of fish.

Regarding environmental improvements,

the drainage was relocated to

make the process of unloading to the

fishmeal plant more efficient. With

these improvements and the licenses to

extend production capacity of the plant

to 168 tm/hr of processed fishmeal with

Steam Dried technology, we are looking

forward to achieving better-quality

indicators.

Ilo (Moquegua, Peru) is our fishmeal

plant located south of Lima. As

in our other plants, we produce 100

percent of the fishmeal with Steam

Dried technology. Therefore, for 2011

we expect to improve substantially the

quality of our products, which will positively

impact our profitability and also

will contribute to environmental and

resource preservation.

Thanks to these strategic improvements,

we are starting 2011 with different

expectations regarding efficiency, the

market strategy for our high-quality fishmeal,

and environmental management.

Further information: www.copeinca.com

CAMPOSOL & COPEINCA belong to D&C Group.

106 Global Compact International Yearbook 2011 Global Compact International Yearbook 2011

107
---
Best Practice

Environment

Carrefour

Carrefour's commitment

for 2020: work towards

"Zero deforestation"

Engaged since 1997 in an approach to control the sourcing of its wood supplies, Carrefour

has been working with WWF since 1998 to privilege FSC (Forest Stewardship Council)

certified wood. The Group is now stepping up these efforts to positively influence all

concerned supply chains through appropriate purchasing practices in order to preserve

biodiversity, to reduce associated greenhouse gas emissions, and to ensure the respect of

human rights.

By Sevda Latapie-Bayro

At the end of 2010, Carrefour gave new

impetus to its forest-linked purchasing

practice by setting an ambitious goal:

work towards "Zero deforestation" by

2020. With this new target, Carrefour's

Aerial view of flooded forest –

Rio Negro, Amazonas, Brazil

ambition is to preserve natural resources,

biodiversity, and to help put an end to

deforestation. Indeed, the Group has

established strict rules that will apply to

a part of its forest-related sourcing. This

commitment – initiated in 2010 during

the UN International Year of Biodiversity –

will be detailed and implemented in 2011

on the occasion of the International Year

of Forests, declared by the United Nations.

This global policy concerns a wide range

of products linked to forest management

issues, for example:

• goods made from wood, paper, and

pulp;

• agricultural commodities whose production

can have an impact on forests

(especially palm oil);

• non-merchandising items such as commercial

publications or cash register

receipts.

For these products, Carrefour will improve

its purchasing practices worldwide,

and will work with its suppliers to ensure

legality and no associated land conversion

of natural forests and peat lands.

Moreover, the Group is committed to

promoting responsible consumption

among its consumers and to raise their

awareness on this issue.

For 100% traceable, certified palm oil

In its efforts to protect biodiversity and

to prevent deforestation, Carrefour is

an active member of the Roundtable

on Sustainable Palm Oil (RSPO) and in

this case promotes the production of

100% traceable and certified palm oil.

The RSPO was formed in 2004 with the

objective of promoting the growth and

use of sustainable oil palm products

through credible global standards and

engagement of stakeholders.

Sustainable palm oil production

only officially began at the end of 2008.

In 2009, 1.3 million tons were produced

out of a total production of approximately

45 million tons. In 2010, this

production reached 3.8 million tons,

that is 8 percent of the global production.

The supply chain for palm oil and

its byproducts, however, is very complex

and lacks traceability. There are very few

mills and factories that produce certified

palm oil, most being certified only for a

part of their production. They therefore

still sell a mix of palm oils – both certified

and non-certified – and in parallel

purchase certificates for their quota of

certified palm oil, off the Internet, via a

system similar to the purchase of green

electricity. These "green" certificates are

only a first stage in the international

process. To promote a more transparent

market, Carrefour defends the idea

of palm oil production that is certified

and can be traced from start to finish.

In 2010, the Group committed to

developing a palm oil Carrefour Quality

Line in Indonesia, sharing its 18 years of

global experience on agricultural quality

lines. In August, Carrefour Indonesia

actually started the project in association

with several local NGOs. This new

quality line will provide Indonesian consumers

with the possibility to choose

products that do not result in further

deforestation and that ensure working

conditions that comply with the rules of

the International Labour Organization.

MORE THAN 15 YEARS OF COMITMENT

of FORESTS AND BIODIVERSITY

1997–1998:

• Carrefour signed a partnership with

WWF France to preserve natural resources

and biodiversity.

2003:

• Carrefour invested in the European

Commission's Forest Law Enforcement

on Government and Trade action plan

aimed at establishing a framework for

fighting the illegal sale of wood.

2006:

• Carrefour was the only French retailer

to join the RSPO and became a member

of the RSPO Executive Board in 2009.

Since 2007:

• Awareness campaigns on palm oil

issues to all own-brand suppliers and

inventory of the use of palm oil in its

own-brand products.

• Carrefour has been a member of the

Round Table for Responsible Soy.

Since 2008:

• Carrefour European Purchasing Office's

assortment of outdoor wood furniture

consists of FSC-certified products and

acacia, a species for which the suppliers

are involved in a process of certification

with the Global Forest and Trade

Network Vietnam.

• In 2008, Carrefour France substituted

the use of palm oil in its own-brand

crisps.

2009:

• Carrefour committed to using certified

palm oil in all own-brand products

throughout the world by 2015.

• Carrefour is encouraging its suppliers

to use preferably segregated certified

palm oil or Greenpalm certificates for

all palm oil supply.

• The Group supported the UN's "Seal

the Deal" campaign calling for an

ambitious, fair, and effective deal

including forest preservation. Carrefour

also signed the Copenhagen

Communiqué.

• The Carrefour Group has increased

the percentage of recycled or certified

paper for its commercial publications

and aims at achieving the target of 100

percent recycled or certified paper for

catalogues in the Group in 2012.

2010:

• Carrefour France bought Greenpalm

certificates for the equivalent of the

total volume of palm oil used in its

own-brand products.

• Carrefour, together with Tetra Pak,

launched FSC-certified packaging for

several of its private brand products

including fruit juice and milk. With this

action, Carrefour was the first French

retailer to deploy FSC beverage cartons

on a massive scale.

• Carrefour welcomed the European

Commission's 2008 proposed legislation

to establish rules for those involved

in the trade of wood and its byproducts.

In 2010, the Group was one of the

founders of the Timber Retail Coalition,

set up to support the European Commission's

efforts to create EU-wide

regulation as a crucial step toward the

widespread adoption of responsible

timber-sourcing practices.

• The Carrefour Group announced on the

occasion of the Consumer Goods Forum

a large-scale collective target for the

protection of forest resources: work

towards "Zero deforestation" by 2020.

108 Global Compact International Yearbook 2011 Global Compact International Yearbook 2011

109
---
Best Practice

Environment

Coca-Cola Hellenic

Water Stewardship at

Coca-Cola Hellenic

By Jens Rupp

As populations grow and become more affluent, demand for

freshwater grows. Since the world's freshwater is finite, there

is competing demand for this vital resource: for drinking

water and sanitation, agriculture, industry, and maintaining

ecosystems. Climate change is expected to further disrupt

water availability in many areas.

This emerging water crisis is not just a

challenge for communities, NGOs, and

governments. It is becoming a major

strategic challenge for businesses, too. As

a bev erage company, Coca-Cola Hellenic's

business depends on the availability

and quality of local freshwater sources.

Consequently, water stewardship is a

central part of its sustainability agenda.

The company's comprehensive strategy is

underpinned by the CEO Water Mandate

and focuses on:

• Ensuring the sustainability of water

extraction

• Reducing water use within operations

• Treating 100 percent of wastewater

• Working with suppliers and others to

reduce indirect water use

• Partnering with others to protect local

watersheds

Understanding water risks

Since water is essentially a local issue, it

is important to understand the context

of water use. Each Coca-Cola Hellenic

bottling plant conducts periodic risk

assessments of local water resources: the

health of the aquifer, the quality and

quantity of supplies, and the needs of the

business vis-à-vis other users. The plant

then develops source water protection

plans to address the challenges identified.

Over the last decade, Coca-Cola Hellenic

has focused on reducing and recycling

water in manufacturing processes.

More than 90 percent of bottling operations

have been certified to the environmental

management system standard

ISO 14001, and all are scheduled to be

certified by 2012. Since 2004, water-use

efficiency has improved by 19 percent.

This concerted program has involved

setting year-on-year targets, developing

toolkits, implementing projects, conducting

audits, and sharing best practice.

Treating wastewater

Pollution is another aspect of the water

crisis. In some territories, municipal

facilities cannot treat wastewater to a

level that supports aquatic life – the

stan dard required within the Coca-Cola

system. In 2003, the company therefore

committed to build on-site wastewater

treatment facilities wherever needed. The

company now operates 43 such facilities,

ensuring that over 99 percent of wastewater

is treated. In addition, the chemical

oxygen demand (COD) of wastewater has

been reduced by 70 percent compared

to 2004. The commissioning of the last

facility in 2011 will lead to 100 percent

treatment of wastewater.

As water-saving programs in company

operations mature, Coca-Cola Hellenic's

focus moves increasingly on indirect

water use. Calculations show that

its supply chain accounts for 98 percent

of its wider water footprint; operations

represent only 2 percent.

Agricultural crops – especially sugar

– represent the bulk of this footprint.

Coca-Cola Hellenic is a founding member

of the European Water Footprint Sustainability

Assessment Sounding Board

for Sugar, which brings the company

together with The Coca-Cola Company,

Water Foot print Network, academia, and

sugar com panies to better understand the

water footprint of beet sugar and to assess

its sustainability within a local context.

Water and sanitation

In addition to environmental dimensions,

the water crisis has critical implications

for human health and development. As

the deadline for the Millennium Development

Goals approaches, one-third of

the world's population still lack access

to safe water and sanitation.

Sub-Saharan Africa is the worstaffected

region. In Nigeria – the only

All 13 Nigerian plants of Coca-Cola

Hellenic's operations now are equipped

with on-site wastewater treatment

facilities. On World Water Day 2010,

children from 60 schools visited

the bottling plants to learn about

protecting water resources. As part of

the company's Water Ambassadors

programme, the pupils saw the wastewater

treatment facilities, met local

water officials and received water

treatment products for use at home.

territory where the company operates

in the region – bottling plants already

provide access to community taps, boreholes,

and water tanks. In 2011, this support

will be taken to a new level as part

of the Replenish Africa Initiative, a $30

million commitment by The Coca-Cola

Company and others to give two million

people on the continent access to clean

water by 2015.

As the water crisis escalates, however,

efforts must be intensified. Coca-Cola Hellenic

has therefore committed to improve

its water efficiency by 40 percent by 2020,

as compared to 2004, and to stabilize absolute

water use. The company is deepening

its engagement with NGOs, government

agencies, suppliers, and others to raise

awareness, address water use in the supply

chain, and protect watersheds.

Community partnerships

In addition to addressing water use in

its value chain, Coca-Cola Hellenic is

committed to protect local watersheds.

To date, the company has established

partnerships with NGOs, governments,

and UN agencies to develop programs that

benefit local ecosystems and communities.

Since poor governance contributes to the

water crisis, initiatives that promote better

water governance are also supported.

Rivers are a particular focus, given

the wide-ranging threats they face, from

over-extraction and over-fishing to agricultural

run-off and infrastructure.

The company's projects now cover all

major river basins in its territories. The

most longstanding is the Green Danube

partnership with the International

Commission for the Protection of the

Danube River. Since 2005, this partnership

has worked to restore wet lands,

sup port better river basin management,

and conduct awareness campaigns in 10

countries. A new transboundary project

addresses plastic pollution in the Tisza,

an important Danube tributary. Other

partnerships include restoring the endangered

Yelnya Bog with Birdlife Belarus

and restocking the Vistula with salmon

together with WWF.

Building public awareness and understanding

is also critical. To demonstrate

the importance of rivers to local

ecological, economic, and social wellbeing,

the company supports high-profile

river festivals. Danube Day, the world's

largest river festival, is celebrated in eight

countries. In 2010, 480 NGOs and other

organizations helped to run 140 events,

from scientific seminars and roundtables

to eco-camps, community cleanups, and

cultural performances. Similar festivals

celebrate the Volga, Dnieper, Sava, Tisza,

and Vistula and are the annual culmination

of conservation, education, and

awareness-raising activities.

To encourage participation in conservation

activities, Coca-Cola Hellenic

mobilizes volunteers from its workforce,

as well as local communities and businesses.

The aim is for programs to be

community-owned and self-sustaining.

Across Ireland, for example, over 100

groups of volun teers care for rural beaches

as part of the Clean Coasts initiative.

Teaching young people about water

sustainability is another im portant

aspect and Coca-Cola Hellenic works

with governments and NGOs to develop

educational resources. On World Water

Day 2010, children from schools across

Nigeria visited newly constructed wastewater

treatment facilities to learn about

protecting water quality. In Europe, the

award-winning Danube Box tool-kit has

reached more than one million schoolchildren

in eight countries. In Italy, the

company published a book, The Mystery

of the Disappear ing Water, which has

been used by 3,500 schools.

110 Global Compact International Yearbook 2011 Global Compact International Yearbook 2011

111
---
Best Practice

Environment

Deutsche Bank

Solar Impulse and

Deutsche Bank –

Inventing the Future

With the Solar Impulse project, Bertrand Piccard and André Borschberg, both natives of

Switzerland, plan to achieve one of the great pioneering feats of the 21st century with the

support of Deutsche Bank: the first flight around the world in a manned solar airplane. Their

aim is to demonstrate the potential of renewable energies – and revolutionize how they are

used.

As of 2013, Piccard and Borschberg want

to be able to circumnavigate the globe

in five stages in an airplane that neither

consumes fossil fuels nor produces CO 2

emissions. Solar Impulse will establish

new standards for clean mobility and

energy efficiency, thus promoting the

development of sustainable future-proof

technologies that will help us become

independent of fossil fuels some day.

At the same time, the project aims to

inspire as many people as possible to use

energy more intelligently and efficiently.

Together with an international team of

scientists, technicians, and engineers,

the two pilots have developed a unique

aircraft: the "Solar Impulse HB-SIA" prototype.

At just under 1,600 kg, it weighs

as much as a medium-sized car, but it has

the wingspan of an Airbus A340 – 63.4

meters. The core of the airplane consists

of an extremely lightweight carbon-fiber

skeleton. That makes the airplane light,

but also ensures stability and durability.

With 1.3 cubic meters of space, the

cockpit can only accommodate one pilot.

They are pilots and pioneers conducting

the development of Solar Impulse:

Bertrand Piccard (right) and André

Borschberg (left).

Bertrand Piccard, who has a PhD

in psychiatry, comes from a dynasty of

researchers and adventurers. He became

famous in 1999 when – together with

Brian Jones – he succeeded in completing

the first circumnavigation of the globe

in a hot-air balloon.

André Borschberg is a former Swiss

Air Force pilot and, in addition, a successful

business consultant and company

founder. The two men share a pioneering

spirit and a belief in the power of change

of technological innovation. In July 2010,

the Solar Impulse team was able to complete

the most important phase since the

project was founded in 2003: For the

first time in the history of aviation, a

manned solar aircraft stayed in the air day

and night without interruption – powered

solely by the sun. For this purpose,

roughly 12,000 photovoltaic cells on the

wings had to generate enough energy to

keep the solar airplane going all night.

The batteries that were charged with solar

energy during the daytime flight had to

propel the aircraft throughout the entire

night and the following morning until

two hours after sunrise.

The mission was a success: The airplane

stayed aloft for over 26 hours. Pilot

André Borschberg's enthusiastic comment

was: "I have been a pilot for over 40

years, but that was the most incredible

flight of my entire career! What a joyous

feeling it was when the sun rose and I

pictured how energy started circulating

in the solar panels again! I was flying for

over 26 hours, but I did not use up one

single drop of kerosene and I did not

pollute the environment." That proves

that solar flight lasting several days is

possible – independently of fossil fuels.

The next milestones of the Solar Impulse

team will be additional test flights within

Switzerland and Europe. Later on, the

plan is to cross the Atlantic and the United

States in a new, improved aircraft. The

final goal is to fly around the world as

of the year 2013.

"Treating our resources with a view

to sustainability is the greatest adventure

of our time. Our goal is not just to fly

around the world without conventional

fuel. We have to ask ourselves what really

sustainable development is for us. Making

environmental protection profitable

is not so much a moral challenge, but

rather an economic one," says Bertrand

Piccard. Solar Impulse aims to show that

sustainability can and must be worth it.

As a main partner of the project, Deutsche

Bank also shares that conviction. Economic

success, social responsibility, and

future viability are inextricably linked.

"Solar Impulse breaks with habitual patterns

of thinking and promotes the courage

to attempt something new," says Dr.

Josef Ackermann, CEO of Deutsche Bank.

On the basis of shared values – such

as performance orientation, innovation,

and sustainability – the bank's commitment

to Solar Impulse stands for its

avowal to dedicate itself to sustainable

activities. In 1999 already, Deutsche

Bank became the first major German

bank to establish a global sustainability

management system that was certified

according to the ISO 14001 standard. Its

sustainability management is strategically

focused and integrated throughout the

corporate group in the "Environmental

Steering Committee" and the "Group

Reputational Risk Committee."

As of 2013, the global operational

activities within the group will be climate

neutral. At present 67 percent of the

bank's energy requirements are filled

from renewable sources in conjunction

with a comprehensive climate strategy.

In Germany, Italy, Spain, and Switzerland,

the plan is to use 100 percent renewable

energy in the future.

Moreover, Deutsche Bank is constantly

expanding its range of financial

services in response to climate change.

Acclaimed sustainability rating agencies

have repeatedly confirmed that, within

the financial services sector, Deutsche

Bank is also one of the best in this area.

Thus, it enables its clients to exploit the

potential of ecologically and socially sustainable

products – and at the same time

to invest profitably and responsibly in

their own future and that of the globe.

Further information:

www.banking-on-green.com

112 Global Compact International Yearbook 2011 Global Compact International Yearbook 2011

113
---
Best Practice

Environment

EDF Group

Climate Change

Adaptation

The development of the EDF Group adaptation strategy

started from the premise that the earth's climate is changing.

The full range of impacts may not yet be fully understood,

but the climatic evolution has started and mitigation

measures will be, in the short term at least, insufficient to

stop it.

EDF Group devised an adaptation strategy

that focuses on the principal challenges

that lie ahead up to 2100. We assumed a

range of plausible long-term climate and

economic scenarios to create a description

of the likely effects on natural systems

and processes.

Mitigation versus adaptation

The most important means of minimizing

the impacts of climate change, and thus

the need for adaptation, is to limit and

reduce greenhouse gas emissions at the

global scale as early as possible.

EDF Group is the world's number one

nuclear energy company and Europe's

number one hydro-power company. Our

existing electricity generation fleet has

the lowest carbon intensity of all major

European energy companies. We believe

that low-carbon electricity generation has

a vital role to play in cutting global carbon

emissions, and we are leading this energy

change. However, climate scenarios show

no significant downturn in the current

global-warming trend for decades to come,

even if drastic action were to be taken

immediately at a global scale. So, whilst

our business strategy focuses on climate

change mitigation through widespread

adoption of low-carbon generation, we

must also prepare ourselves for the impacts

of climate change that will occur.

Indeed, EDF has already started to make

significant changes to its operations in

response to changes to the climate that

have already occurred.

Climate impacts

Climate change, observed and foreseen,

influences EDF's activities in a variety

of ways through impacts on existing

installations, organizations, markets, and

stakeholders. For example, many of our

nuclear and thermal power stations use

river water for cooling and discharge

warm water back into rivers – a heavily

The EDF Group is a leading player in the

energy industry, active in all areas of the

electricity value chain, from generation

to trading and network management, in

more than 30 countries.

regulated process. Hotter summers would

increase river temperatures, limiting

our authorization to discharge warm

water. A warmer but more turbulent

climate would also impact our distribution

networks. Warmer summers would

decrease efficiency, and stormier winters

would cause more structural damage.

And we are already seeing our customers'

demands change, with more people using

air conditioning in summer. As a result,

electricity demand in some markets peaks

in the summer rather than in winter,

reversing the historical trend. This has

consequences for maintenance planning

and for network reinforcement.

Adaptation to climate change refers to

the capacity of EDF's main activities to

adjust to these changes, either through

minimizing the adverse impacts or by

taking advantage of the benefits. A proper

adaptation strategy needs to take into

account all of these aspects and to prioritize

them.

EDF's climate change adaptation

strategy

Launched in 2010, EDF's adaptation

strategy comprises 10 key points, implemented

through action plans within

each Group business line or company.

Gaining access to relevant and sufficient information

• Produce and exchange the right climaterelated

data and launch a joint project

of databases for our businesses

Adapting existing facilities certain to stay in

the landscape for a long time

• Adapt our facilities and operating processes

in addition to the Climate Hazards

Plan

Mainstreaming the expected consequences of

climate change into our design of future assets

and facilities

• From the onset of the design phase,

the future climate is one of the design

parameters for future power-generation

facilities

Boosting our resilience to extreme climate

events – Direct application of our Climate Hazard

Plan – Preparing for crisis management

• Prevent an extreme climate event from

having catastrophic impacts, and return

to initial status as early as possible

Adapting our offers to climate change

• Based on consumer needs, also affected

by climate change

• Factor in new uses, in particular smart

grids and electric vehicles

Adapting our internal operations and expertise

to climate change

• Adapt the working environment and

skills

Activating the right R&D to address the right

topics

• Deliver information on the latest breakthroughs

about the predictable effects

of climate change

• Provide support to define their impacts

on our facilities and organizations

• Contribute to the construction of our

future asset base

Mainstreaming national and international

solidarity when implementing our adaptation

measures

• Solidarity in energy issues, and consequently

in health issues as well

Incorporating knowledge breakthroughs into

our strategy

• Initiate and monitor action plans to

implement this adaptation strategy

• Update the strategy based on the latest

climate change forecasts

Reinforcing dialog between our entities and

our respective public authorities

• Participate actively in the national debates

devoted to the development of

national climate adaptation strategy

Further information:

www.edf.com

Examples of adaptation

The small changes to the climate that we

have already experienced have forced EDF

Energy to reassess their view of "normal"

temperatures. By integrating the results

of climate change prediction models, EDF

Energy is now able to more accurately

forecast gas and electricity demand over

the medium term (three to five years

ahead).

Meltwater from underneath the Mer de

Glace, in the Alps near Chamonix, feeds

the 40 MW "Les Bois" hydropower plant.

EDF has redesigned the sub-glacial water

intake, as accelerated glacier retreat will

soon leave the water intake stranded.

Extended periods of hot weather can affect

electricity production. Power plants

extracting water from rivers, for cooling

or for steam, must work within strict

boundaries to ensure stable river water

temperatures, so as to comply with regulations.

In order to adjust generation output

at its power stations beside large rivers in

France, and to provide quality information

to the authorities, EDF has developed

more efficient hydro-meteorological forecasting

systems, which consider water

temperatures and river flow rates. EDF is

therefore better able to predict the impact

of heat waves on its generation capacity

and to effectively anticipate periods

when river levels are too low, or water

temperatures are too high.

114 Global Compact International Yearbook 2011 Global Compact International Yearbook 2011

115
---
Best Practice

Environment

Grundfos

The Sustainable

Potential in

Energy Efficiency

By Lisbet Bræmer-Jensen

The human race is facing one of its biggest challenges,

and if ignored, it could potentially spiral out of control.

Over the past century, the rising global population has

triggered a massive growth in industry development,

leading to a bottleneck effect where existing resources are

disappearing and the challenge to discover new energy

sources has become a top priority. According to the US

Energy Information Administration, the world's energy

consumption has increased on average 1.4 percent every

year since 1990. It is forecasted to continue, which will result

in a 49 percent increase in energy consumption from now

until 2035.

Pumps account for 10% of the

worlds electricity consumption -

too much of it is wasted.

In response to increased public awareness

of energy consumption and carbon

footprinting, the general population

seems to have woken up and is taking

a more responsible approach to sustainability.

Initiatives such as the introduction

of energy ratings for appliances

have made us more aware of personal

or household energy use.

Raising awareness – unveiling

tremendous opportunities

The private or household sectors are not

the main contributors to global energy

use. The largest consumers of the world's

energy are businesses and industries.

And although around the globe many

of these businesses are drafting new

contingencies for energy efficiency, they

may be missing out on the full potential

of sustainable industry. This is largely

due to the lack of awareness regarding

one of the main sources of energy

waste – the pump. As a leading pump

manufacturer, Grundfos believes it is our

duty and responsibility to educate the

world about the potential savings to be

made through the use of energy-efficient

pumps. Pumps account for 10 percent of

the worlds electricity consumption and

thereby one of the largest contributors to

energy use, with a substantial impact on

the environment. In businesses, buildings,

households, and industries, pumps

exist in some form or another in systems

that contain liquid. They are the key

components for maintaining comfort

levels in buildings. They deliver and

distribute clean drinking water from

water treatment plants throughout cities,

while at the same time removing

wastewater. And, they are highly present

within the worldwide food and beverage

industry. Pumps are involved in nearly

every aspect of modern living, yet public

awareness of the presence and purpose

of them is very low. Pumps offer a great

opportunity for reducing the world's

energy consumption. An example is in

the EU, where most pumps currently

installed are larger than necessary for

the job at hand and the majority of

the motors chosen to drive the pumps

are inefficient. In fact, two-thirds of all

116 Global Compact International Yearbook 2011 Global Compact International Yearbook 2011

117
---
Best Practice

Environment

Grundfos

pumps in the EU use up to 60 percent

more energy than necessary.

Call to action

We at Grundfos believe the answer to

reducing pump energy wastage is to

raise awareness to their presence and

purpose, and to the potential savings

in both energy and cost by switching to

more energy-efficient solutions. There is

tremendous potential for environmental

CO 2

reduction, as well as economical

savings for businesses and industries

that take it upon themselves to rise up to

the energy challenge and switch to more

energy-efficient pumps. "It is estimated

that if every business was to switch to a

high-efficiency pump system, we could

reduce global electricity consumption

by 4 percent, which is comparable to

the combined residential electricity consumption

of one billion people", according

to International Energy Agency (IEA).

Grundfos is currently working with

politicians to drive change on both a

regional and international level. With

political support and involvement, we

can further strengthen our message and

influence. We also work hand-in-hand

with installers, consultants, and contractors,

because it is crucial that they realize

how pumps can bring potential savings

to their customers.

Grundfos aims to be a responsible player

that appeals to businesses and stakeholders,

and to focus on replacing every inefficient

pump operating in their systems.

In effect, the agenda is more of a call

to action than simply a distribution of

knowledge. There is a public debate

for energy efficiency, and our goal is

to persuade businesses to do their part

in ensuring a brighter future for us all.

The big payback

By taking advantage of the enormous

energy-saving potential of pumps, and

the hidden opportunity they present, we

can create value for the environment, for

society, and for businesses too. A typical

lifecycle assessment of a pump shows

that 95 - 97 percent of environmental

impact is caused by energy consumption

related to pump use. Therefore, using

energy-efficient pumps will have a positive

effect on the environment, as global

CO 2

emissions will be reduced. It will

also generate financial savings for businesses

that choose to use energy-efficient

pumps. For Grundfos, it is not only our

responsibility to provide information

about the effect that inefficient pumps

have on a business and the world, but

also to provide the solutions. Our products

are efficient and intelligent, and we

currently hold the technology to offer

businesses the most sustainable solutions

immediately. And while retrofitting

pump systems to operate more efficiently

can appear a daunting endeavor, businesses

will save immediately on their

energy costs, with an average payback

time of one to five years.

Meeting the energy challenge NOW

Putting sustainability first, Grundfos

has initiated the movement, "Meet the

energy challenge NOW". Its purpose is

to inform about pump optimization and

the potential savings of both energy and

costs to a broad array of stakeholders.

It is indispensable to the future of the

environment that we raise awareness

of this enormous opportunity to reduce

energy consumption.

Grundfos is a leading pump manufacturer,

and via our products we have the

ability to help businesses and industries

greatly to reduce their CO 2

emissions

and save money. As one of the pioneers

of this agenda, we have developed the

Grundfos Blueflux® motor technology for

pumps to minimize energy usage while

still ensuring top-of-the-line performance

and reliability.

However, Grundfos alone cannot put

pumps on the global energy agenda, or

persuade legislators to follow suit. We

need to work together with stakeholders

such as politicians, NGOs, and opinion

leaders and build relevant partnerships

in order to raise awareness of the potential

of highly efficient technology.

Collectively, we need to emphasize that

this is not just a national or companyspecific

issue. It is a global call to action.

A challenge to change the world.

Further information:

www.grundfos.com/energy

Crowne Plaza

Copenhagen

Towers –

Grundfos

Pumps Are the

Perfect Fit,

with Renewable

Technologies

The elegant Crowne Plaza

Copenhagen Towers in

Copenhagen, has been designed

from the ground upwards with

sustainability in mind. The hotel is

one of the first hotels to meet the

standards in the EU Green Building

Programme. In terms of energy

consumption and the environment,

the hotel is several steps ahead of

any other hotel in the world.

There is no doubt about that

Crowne Plaza in Copenhagen is a

luxury hotel in international class

when it comes guest comfort,

service, and conference facilities

etc. and at a first glance there

is nothing green about the 85

m black hotel, Crowne Plaza.

However behind the shiny facade

there is a building, that sets new

standards for sustainability and

low energy consumption. This

hotel shows that comfort goes

hand in hand with sustainable

solutions. Sustainability is

crucial to the concept and

construction of the Copenhagen

Towers. And energy-saving

solutions have been given high

priority throughout the 59,000 sq

meters of space for offices and

international hotel. Therefore,

the building meets the EU's

requirements for "Green Building"

as well as the Danish Low Energy

Class II requirements.

The complex features northern

Europe's largest private array

of solar panels, producing more

than 200,000 kWh annually.

This corresponds to the total

electricity consumption of more

than 60 Danish family houses.

The air conditioning system is

furthermore based on groundwater

cooling and is designed

to deliver savings of 88 percent

compared to a conventional

cooling system. The hotel's total

annual energy consumption is

a remarkable 42.6 kWh per sq

meter per year. The average

energy consumption in European

four-star hotels is more than

300 kWh per sq meter per year. To

ensure that the ambitious energy

reduction levels would be met,

the consulting engineer specified

Grundfos MAGNA circulators

and Hydro MPC pressure booster

systems for the heating and

cooling applications, based on the

Grundfos Blueflux technology.

"Along with our other sustainable solutions, the Grundfos system has helped make our

hotel both more environmentally friendly and more profitable than our competitors.

Among our stakeholders, we see a rising demand for products and services founded in a

more value-based and holistic approach to doing business, and we as an industry have

a unique chance to take action and seize the opportunity to take the 'green lead' in our

field. Thanks to innovative frontrunners such as Grundfos, modern living and a healthy

business really can go hand-in-hand by taking the responsibility for the environment that

is needed today."

Statement from Frederikke Tømmergaard,

Director of Communications and CSR for Copenhagen Towers

118 Global Compact International Yearbook 2011 Global Compact International Yearbook 2011

119
---
Best Practice

Environment

HOCHTIEF

Thinking Holistically –

Green Building at HOCHTIEF

Lower costs, environmental protection, higher earnings, enhanced user productivity, and

comfort – green real estate and facilities designed for sustainability are efficient and

attractive, and they blend in perfectly with their socio-cultural surroundings. One basic

prerequisite for creating a sustainable property is to view its lifecycle holistically. This is

precisely what HOCHTIEF does.

By Verena Blaschke

As an international construction services

provider, HOCHTIEF offers a broad range

of services to ensure that buildings are

designed, planned, constructed, and

operated in a sustainable manner and

in accordance with the highest standards

of quality. Sustainability criteria are an

acknowledged factor in cost-effectiveness.

That is because buildings that meet strict

ecological requirements are also economical.

Production costs may be slightly

higher than with conventionally realized

projects, but this is offset by the lasting

lower operating costs achieved throughout

a building's service life by means

of improved energy efficiency. Tenants

also appreciate the potential for cost

savings such buildings offer and their

positive effect on the interior climate.

This is reflected by higher rental rates

and higher rental income. Sustainable

properties also generally have a high

resale value. So green building pays off

for all concerned: from project developers

and construction contractors to those

who own and operate such properties,

and also, of course, those who occupy

or use them.

One current example of this kind of

holistic approach, with a concept ori-

ented to a property's entire lifecycle,

is the maxCologne project in Cologne,

which is being developed and realized

by HOCHTIEF.

High-grade revitalization

Since March 2010 the buildings, which

date from 1969 and 1978, are being

refurbished to new-build standard. In

the period up to fall 2012, a total area

of 46,000 sq meters of high-grade and

flexible office and catering space is being

created, including a 22-story high-rise

and the terraced 11-floor "Rheinetagen"

building. The maxCologne complex is

in a prominent position directly on the

Rhine River, looking straight across to

Cologne Cathedral and the Old Town

district. The property was sold even before

construction commenced.

Integrated concept instead of single

solutions

In revitalizing this structure, HOCHTIEF's

project development team is observing

the principles of sustainability, in particular

with respect to technical stan -

dards and energy efficiency. Saving energy

during construction and operation

is the prime imperative. In addition, it is

intended that the maxCologne complex

should serve to upgrade its surroundings

and the overall location and at the same

time blend in ideally with the neighborhood.

Extensive demolition measures

are creating a public area offering fresh

vistas. The catering zone that will be

created on the ground floor will also

be open to the public. At the invitation

of HOCHTIEF, the jury that judged the

contest on the new design of the facade

included representatives of the Cologne

municipal administration.

The redesigned facade gives the building

an attractive and distinctive exterior,

which also makes for optimum functionality

in relation to the ground plan.

The concept provides for a horizontally

structured glass facade. The single-pitch

roof topping the 11-story block gives it a

dynamic appearance. In addition, on the

top seven floors, there are large terraces

facing the Rhine. Inside, flexible ground

plans and movable partition walls permit

varied forms of space division in line

with user requirements.

Resource-saving refurbishment and

upgrading

Demolition work began in March 2010.

Next, the two office buildings were gutted

and the facade was removed. Summer

2010 saw the start of special foundation

works to ensure structural stability

and the commencement of the shell

works, which are being executed by the

HOCHTIEF construction experts. The

previously visible concrete stairwells on

the outer south and north sides of the

high-rise were integrated into an enclosing

structure, thus creating additional

office space. The enlarged facade surface

allows more light to enter the individual

building levels. From the stairwells,

which now are located centrally inside

the building, quick access is possible to

all areas of the floor.

The materials and components used in

this refurbishment and upgrading project

are eco-friendly. Since this is a revitalization

of an existing building and large

parts of the old load-bearing concrete

structure are preserved, the amount of

"gray energy" required – that is, the total

amount of energy required to create a

product – is considerably lower than in

a new building of similar size.

Project under the banner of

sustainability

The energy concept for maxCologne

focuses above all on reducing the consumption

of primary energy and on more

efficient energy utilization. Most of the

energy for the complex is obtained from

renewable resources: Groundwater is

raised via two wells and used for climate

control in the offices by means of heating/cooling

ceilings.

The new twin-shell facade consists of a

triple-glazed inner shell and a curtaintype

outer shell. This helps to save energy.

The sun-shielding can be adjusted

manually and in line with individual

requirements. Since the shielding is

installed inside the twin-shell facade

in both buildings, it can be used even

in strong wind.

With maxCologne, HOCHTIEF is aiming

for the Gold Certificate of the German

Sustainable Building Council (DGNB). In

February 2010, it was already awarded

pre-certification in gold, in recognition

of the project's functional, technical, and

process quality. This means that even

before it has been completed, the ecological,

socio-cultural, and economic quality

of the project has been acknowledged.

These are factors that the occupants will

be able to discover for themselves from

fall 2012 onwards.

Facts

HOCHTIEF is one of the major

international providers of

construction and constructionrelated

services and for many

years has played a shaping role in

the development of sustainable

construction. Its wide-ranging

experience has given the company

a leading position in this market.

Holistic and sustainable design/

planning, construction, and

operation have a long-standing

tradition in the HOCHTIEF

Group. Clients are offered a

360º program, which takes the

entire lifecycle of real estate

and facilities into account and

incorporates new methodologies.

In this field, HOCHTIEF supports

independent certification and

guides clients around the

world through the certification

procedure for green buildings.

120 Global Compact International Yearbook 2011 Global Compact International Yearbook 2011

121
---
Best Practice

Environment

Huawei

Digital Solution Helps

Build Smart Green Cities

By Wang Dong

Xi'an Hi-tech Zone is a national high-tech industrial development zone in China as well as

a frontier of new scientific and technological industries of Xi'an and western China. With

numerous innovations, Xi'an Hi-tech Zone has become a showcase for strong economic

growth and the opening up of Shaanxi and Xi'an.

Xi'an Hi-tech Zone is located in the

southern outskirts of Xi'an and has a

development area of 35 sq km. To become

a world-class high-tech zone as

well as an important R & D base and

innovative service base in the world,

Xi'an Hi-tech Zone urgently needed to

combine city management with digital,

mobile, wireless, and Internet of Things

(IOT) technologies as well as establish a

low-carbon, energy-saving, efficient, and

smart urban management system and

structure. In 2009, Huawei was honored

to start cooperating with local telecom

operators and become part of the Hightech

Zone initiative. The Xi'an High-tech

Zone project (Phase I) is to establish a

unified platform and build an urban

data center.

With Huawei's E-City solution, a service-oriented digital urban management application

system was put in place, which covers a first class business system, a public

participation system, a leader supervision system, and an emergency management

system incorporated with cutting-edge management processes and concepts.

Based on its six core capabilities (provide

applications rapidly; integrate with thirdparty

systems; share system resources;

enable smooth system evolution; unify

hardware/storage/security solutions;

unify data analysis), the project provides

integrated application support and management

as well as effectively combining

a mobile supervision/law enforcement

system, a mobile monitoring system,

and an SMS interaction system with

community/enterprise service systems.

It also conducts dynamic monitoring

of ongoing construction projects and

wireless connected work regarding urban

management through high-speed

3G wireless transmission technology.

A service-oriented digital urban management

application system with the

characteristics of the High-tech Zone was

put in place, which covers a first-class

business system, a public participation

system, a leader supervision system, and

an emergency management system that

is incorporated with cutting-edge management

processes and concepts.

The High-tech Zone Service-Oriented

Digital Urban Management project (Phase

I) was officially piloted in November 2009.

Within one month after its launch, it

received and allocated 194 cases – the

number of cases processed every day

increased six-fold, the processing rate

increased from 29 to 97.42 percent, and

the processing cycle was shortened from

one week to 6.5 hours. After the success

of Phase I, an expansion to Phase II (covering

86 sq km) will be made. In this phase,

the IOT will be further developed and

platform capabilities will be leveraged

to build various business applications.

This will allow for the smooth evolution

toward a smart city system architecture

that is characterized by unified management

and unlimited scalability. Through

this project, the participation of enterprises,

residents, and communities in local

city administration was substantially

facilitated. While helping to improve the

city's operating efficiency and enhancing

social inclusiveness, Huawei also proved

that its E-City solution can effectively

contribute to low-carbon economics.

The acceleration of global urbanization

further highlights issues such as urban

safety, people-oriented services, industry

upgrades, and livelihood. Huawei has

come up with a wide range of E-City

solutions that cover smart transportation,

government hotlines, digital city management,

online healthcare, and more,

all in a bid to help tackle deteriorating

environmental and social problems that

modern cities are facing. In the future,

Huawei will continue to emphasize the

development and application of new

technologies such as E-City and IOT solutions

as well as guide urban planning

and deployment of information-based

developments.

Working relentlessly with our partners,

we are committed to contributing continuously

to global urban informationbased

development and to make society

low-carbon, environmentally friendly,

smart, and efficient.

122 Global Compact International Yearbook 2011 Global Compact International Yearbook 2011

123
---
Best Practice

Environment

Otto Group

Climate

Protection in

the Otto Group:

Efficiency First

By Andreas Streubig and Daniel Hußmann

The Otto Group has set its own climate

protection targets independently of political

objectives. The multichannel retail

group's Climate Protection Strategy goes

clearly beyond the current climate goals

established by political bodies and industry's

own commitments. The Group's

Strategy targets a much-needed, drastic

reduction in greenhouse gas emissions,

while also providing a key tool in establishing

sustainable competitiveness and

maximizing independence from future

energy-cost increases.

The Otto Group's Climate Protection

Strategy

Climate protection at facilities: Hermes'

main site at Hanover-Langenhagen

is certified as a sustainable building.

The increasing number of hurricanes, forest fires, and severe floods are just some of the

examples of devastating natural events that can be attributed to climate change. Cooperating

to mitigate climate change has never been more urgent. Economic considerations in

the effort to cut greenhouse gas emissions are becoming ever-more important: In the Otto

Group's Climate Protection Strategy too, economic aspects play a key role.

The Group's declared target is a reduction

in relative freight, facility, and mobilityrelated

CO 2

emissions by 50 percent by

2020 and 70 percent by 2040. All Otto

Group companies with an annual turnover

of €50 million or more are included

in this commitment.

The Group began to implement its

Strategy at the end of 2007. Eighteen

German companies were initially included

and the financial year 2006/07

was agreed as the benchmark year for

emission reduction targets. In that period,

German Group companies emitted

some 308,000 tons of CO 2

– 62 percent

through freight activities, 35 percent

by facilities, and 3 percent through

employee mobility. From financial year

2011/12 onwards, international Otto

Group companies will also be integrated

in the Group's Climate Strategy, with a

total of over 40 Otto Group companies

from 10 countries in Europe, the United

States, and Japan committing.

In the implementation of the

Group's climate protection targets, increasing

energy efficiency is a priority,

as it is currently the most effective

approach. In addition, renewable energy

sources are also being harnessed,

and thirdly, CO 2

emissions are being

compensated through certified climateprotection

measures.

Implementation in freight, facilities,

and mobility

The Group is implementing its Strategy

through a wide variety of measures. For

instance, large quantities of CO 2

emissions

are to be eliminated in its freight

activities by an intelligent shifting of air

to sea cargo. On the roads, the Group's

new, more fuel-efficient vehicles and

alternative power plants are also helping

reduce CO 2

output.

Group companies' facilities also offer

great potential for increased energy

efficiency. With the aid of a benchmark-

ing system, we are pinpointing and implementing

the most efficient measures

for our buildings. Complementing such

increases in energy efficiency, Group

companies are intensifying their use of

renewable energies at facilities, for example

solar power and renewable fuels.

Despite its lower share of overall

CO 2

emissions, the area of employee

mobility plays a key role in employees'

awareness of climate protection. Our

Company Car Guideline in effect from

January 1, 2010, set an emissions ceiling

of 200 g CO 2

/km and was a hot discussion

topic among Group staff from the

very beginning. What is more, we will

progressively lower this ceiling in the

future.

Where do we currently stand?

Since the beginning in 2007, the Group

has lowered its emissions by some percentage

points. Some CO 2

reduction

measures will first show benefits in the

medium term, for example following

building refits. At the same time, challenges

repeatedly crop up that demand

a rapid business reaction – for instance,

a sharp turnover increase meant a high

quantity of repeat orders placed with our

Asian suppliers, and thus an increased

need for freight.

Some measures are already showing

a positive effect on our CO 2

balance: According

to our forecasts, in the 2009/10

financial year, we already cut around

5,000 tons of CO 2

in our warehouse-based

distribution. This is largely attributable

to Hermes, the freight-forwarder wholly

owned by the Otto Group. Among others,

Hermes provides OTTO, bonprix, Baur,

and SportScheck with parcel distribution

services. With its WE DO! climate

and environmental protection strategy,

Hermes makes a significant contribution

toward the Otto Group's climate

protection targets.

Climate protection at Hermes –

WE DO!

Hermes has a long history of working

toward climate protection. Thanks to

the company's continuous efforts, it

has already reduced its CO 2

emissions

by 40 percent per delivery, based on

1994 figures. Since 2010, Hermes' WE

DO! strategy has encompassed all the

company's climate, environmental, and

nature protection measures. The core of

WE DO! is a CO 2

master plan targeting an

annual 3.5 percent reduction at facilities

and 2 percent in freight activities. To

implement the plan in its freight operations,

the company operates a modern

fleet with vehicles that meet the stringent

Euro 4 and Euro 5 emissions norms

and that have an average age of just 18

months. Besides increasing its energy

efficiency, Hermes also participates in

research projects on alternative automotive

systems: For instance, as part of its research

cooperation with Mercedes-Benz,

Hermes currently operates 10 electric

Vito E-CELL Transporters in its everyday

parcel distribution activities.

Hermes also includes its business

partners in its WE DO! strategy. A fundamental

element of this is a CO 2

controlling

system that is unique in the sector.

This tool gives customers a cost-free

indication of the CO 2

emissions that

their delivery will create, thus enabling

them to improve their own CO 2

balance.

What is more, they are also able to have

their parcels delivered bearing the WE

DO! label at no extra charge.

Dr. Philip Nölling, Commercial

Managing Director at Hermes Logistics

Group Germany, emphasizes the group's

commitment to sustainability through its

WE DO! strategy: "In line with the Principles

of the UN Global Compact, Hermes

has always stood for a sustainable logistics

model that conserves resources and

keeps its impact on people and nature

firmly in focus. WE DO! adds value for

our customers and makes a substantial

contribution to climate protection."

Electrical Vito E-CELL Transporter

124 Global Compact International Yearbook 2011 Global Compact International Yearbook 2011

125
---
Best Practice

Environment

PE INTERNATIONAL

Sustainability 2.0 – Looking

Beyond the Factory Gates

Sustainability is a trendy word. It is readily and frequently on everyone's lips. But there is

much more to the term than just a trend. For companies, sustainable business already is the

key to future competitiveness and long-term success – but it remains a major challenge.

This is because corporate responsibility does not end at the factory gate.

By Volker Hasenberg and Celine Furnanz

Corporate social responsibility and sustainability

are not short-lived trends.

They will determine the future competitiveness

of a company. Therefore, taking

over social and ecological responsibility

is a task that can no longer be managed

in an additive process.

To tackle sustainability strategically

Instead of implementing end-of-pipe

measures, companies have to tackle

sustainability strategically and integrate

it into their core operations. Products,

processes, and corporate activities all

have to be aligned with sustainability

goals. In the end this requires not

only a change in mentality, but also a

change of entire business models. In

short: Sustainability 2.0. This can be a

major challenge for those companies

wanting to ensure long-term success

and a leading position in the market. At

PE INTERNATIONAL, this task is called

"business transformation" and PE has

turned it into its business model. Today,

PE INTERNATIONAL's range of solutions

for product and corporate sustainability

makes it both a pioneer and a leader

in the field. Furthermore, as a globally

operating software and consulting company,

PE also intends to help companies

worldwide, through its products and

services, to become sustainability leaders

themselves.

The business model of PE

INTERNATIONAL is "business

transformation"

1. Sustainable product design at PUMA

The example of PUMA: When the sports

goods manufacturer was developing a

new, innovative packaging for sports

shoes, PE INTERNATIONAL identified

the environmental impacts of the different

<