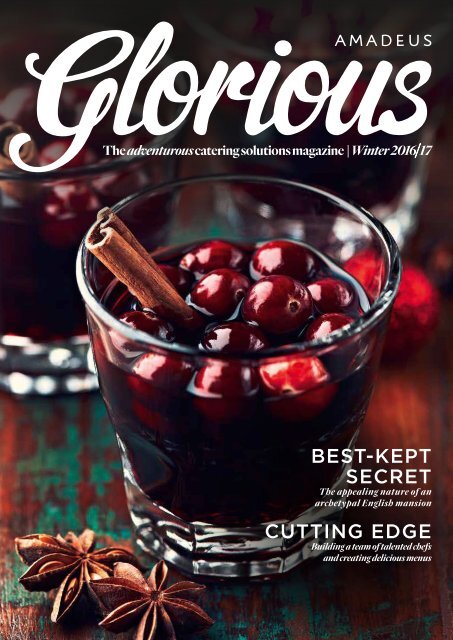 Amadeus Glorious Magazine Issue 02
Do you know the secret to free website traffic?
Use this trick to increase the number of new potential customers.
The adventurous catering solutions magazine Winter 2016/17

BEST-KEPT

SECRET

The appealing nature of an

archetypal English mansion

CUTTING EDGE

Building a team of talented chefs

and creating delicious menus
---
0121 748 3377

info@contemporaryeventstructures.co.uk

www.contemporaryeventstructures.co.uk
---
Welcome

As we approach Christmas and the beginning

of 2017, we are looking back, and what we have

achieved in 2016 is incredible

We have been smashing targets across

all our venues this year and we still

have a number of great events coming

up before the end of the year.

Our business has been growing over the last

few years and in 2016 we have mobilised

six new venues. The mobilisation

teams behind these are handpicked

to instil best practice into

the new venues and ensure they

are up and running to the

standard we expect for our clients

– read all about this on page 28.

While the mobilisation team

sets up the new venues,

our existing teams are

flourishing with success.

On page 6 you can read

about the Genting

Arena team and their

prestigious Cateys

and FSM awards

win, and on page 16

read all about how our

PUOR concept

at the NEC is

offering a wider

range of healthier options for customers. One of

our new venues has taken us across the water to

Northern Ireland where we have found a home

in the newly refurbished Belfast Waterfront.

This magnificent building in the centre of

Belfast is hosting some of the biggest and most

prestigious events to come to Northern

Ireland. With Irish hospitality and

fantastic local food we are proud to

introduce the Executive Chef who is

taking us on his journey on page 10.

These are just snippets of our

year and I have no doubt that in 2017

we will have more success stories to

share, but for now I would like

to take this opportunity

to wish you a very

Happy Christmas

and a prosperous

new year.

KEVIN WATSON,

MANAGING

DIRECTOR,

AMADEUS

Kathy McGrath

Marketing Manager

Ellie Rance

PR & Communications Manager

info@amadeusfood.co.uk

0121 767 3329

amadeusfood.co.uk

Follow us...

@amadeusfood

This magazine has been produced in

conjunction with EP and Newhall Publishing Ltd

EP

4 Lombard Street, London EC3V 9HD

020 7933 8760

epmagazine.co.uk

Newhall Publishing Ltd

New Hall Lane, Hoylake, Wirral CH47 4BQ

0844 545 8102

hello@newhallpublishing.com

newhallpublishing.com

Managing Editor

Ben Butler

Production Editor

Anita Comerford

Art Editor

Gareth Evans

Senior Designer

Owen Moran

Picture Editor

Robyn Barr

Account Director

Richard Woolliams

Advertising

Simon Jones

and Dean Brown

01603 821021

Print

Buxton Press

Cover photograph

Shutterstock

AMADEUSFOOD.CO.UK 3
---
IN THIS ISSUE READ ALL ABOUT IT

Contents

Issue 02

Winter 2016/17

Hot

topic!

REGULARS

06

43

Food innovations

All the latest news and innovations

from the Amadeus catering world

Calendar of events

Your guide to what's going on over the

winter and spring seasons in 2017

FEATURES

10

What I'm loving this season

How Belfast Waterfront is moving to

the forefront of Northern Irish catering

33

4 GLORIOUS
---
READ ALL ABOUT IT IN THIS ISSUE

06

10

28

10

22

The secrets of Stoneleigh Abbey

A secluded Grade 1-listed mansion

set in idyllic surroundings, Stoneleigh

Abbey is a venue with a difference

28

33

50

The need for speed

Tony Baldock and Marc Frankl explain

what's needed to take a project from

initial inception to final delivery

How was it for you?

An insight into the team catering for

The Conservative Party Conference

Amadeus made my day

Glorious talks to Live Events Catering

Operations Manager, Lorna Hendey

about her role in 'Live Events'

AMADEUSFOOD.CO.UK 5
---
NEWS FOOD INNOVATIONS

Time to

celebrate!

Amadeus has picked up the Sport and Leisure

Caterer of the Year Award at the prestigious

Foodservice Cateys 2016 and the Sports and

Leisure award at the FSM Awards!

AWARD-WINNING

The awards were secured in the

every member is committed to

last two months and Annie Monnox, bettering themselves. This award will

Catering General Manager for the give the whole team a boost and

Genting Arena, was lucky enough to personally, I'll look forward to building

be presented with both awards. The on our success in the next year."

awards celebrate the success of the By implementing new systems,

caterer's food service at The Genting investing in staff training and looking at

Arena in Birmingham.

the improvement of the customer

The team, headed up by Annie, has experience, the Genting Arena retail

demonstrated an ability to consistently team has seen an increase in average

deliver retail sales and fine dining transaction spend, rising from £7.76 to

excellence in a venue where numbers £8.22. 2016 has also seen record sales

and customers differ at each

at some events, notably the Slam Dunk

event. "We are delighted to

Festival, which surpassed its sales

have won the awards! It is

targets by £34k and averaged

a testament to the hard work

an £18 spend per head.

of the team behind the scenes

Kevin Watson, Managing

to make the customers' food

Director at Amadeus, said,

experience at the Genting

"At Amadeus we are

Arena the best it can be. The

constantly changing and

team is set challenges and

improving, driving food

continually raises its game to

innovation and creativity

keep breaking records and

across the venues we

"We are delighted

to have won

the awards! It is

a testament to

the hard work

of the team"

Annie Monnox Catering General Manager

manage. Our hand-picked staff are key

to our success as one the UK's leading

caterers and Annie very much leads

from the front with passion, drive and

with extensive knowledge of the

industry. Under Annie's direction the

team has consistently exceeded their

targets, a trend which is only set to

continue with a number of new

technology advancements and

improvements in customer service

planned for next year."

6 GLORIOUS
---
FOOD INNOVATIONS NEWS

HOSTING THE

POLITICAL

HEAVYWEIGHTS

Saving time

Reflexis

Amadeus has implemented a new

system to ensure teams are offered

the right work for their availability

and skills. The workforce management

system provided by Reflexis Systems

Inc., will help workers and save

the business £166k and over 8,000

hours annually.

All savings from unnecessary labour

and associated admin will be reinvested

back into the business to allow more

time for staff training and development.

The system initially launched at the

Group's home venues – the NEC, ICC,

Vox, Genting Arena and Barclaycard

Arena. Operations Director Tony

Baldock said, "Amadeus is a complex

business with huge fluctuations in

staffing requirements across all the

venues, and each had their own way

of forecasting and producing staffing

rotas. With Reflexis we now have

that central view, maximising the

opportunity for work and staff are able

to access their rotas at any time. All

of this has been fantastic for our

customer service as we now

have the right people in

the right place at the

right time."

Group IT Manager

for Amadeus, Sarah

Nelson said, "One of our

biggest costs is labour

and so this system, in

the most effective and efficient way,

frees up time for managers. The

system is fully integrated with

the Group's HR, payroll, event

management and EPOS system

so we are pulling all the data we

need to forecast and schedule

from source systems."

OP Choudary, Head of European

Operations for Reflexis, said,

"Working with Amadeus on this

project has allowed us to open up

more opportunities for Reflexis.

We worked previously with retail

businesses, so developing our

system to cope with the complexity

of the events industry has been

fantastic for us. We are

delighted to have supported

Amadeus and delivered a

solution that enables them

to consistently execute their

operations and

customer service

strategies."

In October the International Convention

Centre hosted The Conservative Party

Conference for the fifth time since 2008.

The huge political event includes 12,000

delegates with Amadeus providing dining for

the whole event. The Conference utilises all

10 halls and 10 executive rooms at the ICC as

well as multiple temporary marquees erected

for the event to host more than 300 fringe

events taking place in the flexible venue.

The event is designed so they can engage

with all of their Party members and to

announce policies. To keep them going

during the conference, an impressive 24-houra-day

catering operation ensures everyone

has delicious food and drink options

including 8,000 sandwiches and 45,000

coffees served over the four days!

In this issue, Glorious speaks to Craig

Hancox, Amadeus General Manager at the

ICC on how he and his team start planning

for the event over 12 months in advance

and shares a behind-the-scenes view of

what happens during the top event. David

Comerford, Head of Conferences for the

Conservative Party, shares his thoughts

on why they choose the venue and the

challenges, return on investment and

feedback from the annual conference.

Read their thoughts on page 35.

AMADEUSFOOD.CO.UK 7
---
NEWS FOOD INNOVATIONS

Amplify your enjoyment with

The VIP experience

Amplify provides VIP hospitality

experiences, memberships and

premium tickets for entertainment,

concerts and sporting events at the

Barclaycard Arena and Genting Arena.

General Manager of Amplify, Sally

Walder explains, "Amplify offers

companies and individuals the chance

to experience live events in a totally

new way; delivering a first-class

service and an exquisite dining

experience, you are able to take up

an annual membership which gives

exclusive access to premium tickets

and hospitality or book hospitality

on a show-by-show basis."

Annie Monnox, Catering General

Manager, looks after both the hospitality

catering of Amplify and the retail side

in the Genting Arena. "We offer a range

of packages to suit the customer. Our

entry package, freestyle, includes

pre-show food and access to a private

bar area. Our Club package always

includes a champagne reception and

fine dining experience. And Air, our

exclusive live event package includes

a table in the private members'

restaurant, fine dining gourmet meal

and complimentary drinks.

The team tailor the menu packages

to each event; Club and Air for shows

such as Adele, Take That and Elvis in

concert with the Royal Philharmonic

Orchestra, whereas Freestyle appeals

more to fans of Noel Gallagher and

similar artists. "We hold a monthly

meeting to decide the best options

and catering for each event. For some

we may serve all courses before a

show, for others the dessert is served

at the interval or the cheese course

is presented after the show. Our team

knows what the audience wants,"

says Annie.

The Freestyle menu may include

mains such as pot-roasted sage and

quince-glazed loin of pork, gratin

potato, honey-roasted chantenay

carrots and green beans. The gourmet

fine dining on the Air menu may

include one of the signature desserts,

8 GLORIOUS
---
FOOD INNOVATIONS NEWS

a chocolate melting bomb.

"It's filled with freshly baked

brownies and home-made ice

cream. Customers are invited

to pour the hot chocolate

sauce over the bomb, which

melts away. It has been very

popular," Annie explains.

Being able to provide both

retail and this level of hospitality

catering are what makes

Amadeus stand out. "We work hard

to ensure our retail team can handle

the large amounts of people coming

to shows," explains Annie.

Amplify appeals to those wanting

to soak up the atmosphere of a

show and enjoy great restaurant

environments, hospitality and

food. "We want visitors

leaving saying the

concert was amazing and

that the food and service

matched it. We also try and do

something different to leave a lasting

impression. During the Bear Grylls

Endeavour Tour we dressed the

team up in army kits and served a

boot camp menu with crickets and

all sorts!"

Amplify took £48k for the Adele

five-night concert series – testament

to the hard work of the team. The

series was made up of 4,000 covers

served and the retail side alone took

£90k. Annie says, "We may have

one week with only two concerts,

but the revenue we take from those

two large events will be very high.

With our differentiating factors of

delicious food and hospitality

packages we go over and above

others – which makes guests return

again and again."

TO FIND OUT MORE ABOUT

AMPLIFY PACKAGES PLEASE

VISIT AMPLIFY.CO.UK OR

CALL 0844 338 0333

SECURING THE ABBEY

Delapré Abbey is a historic gem

being brought back to life by

a major construction project led

by the Delapré Abbey Preservation

Trust. The property sits just one

mile north of Northampton and

with its Grade-II listing is entering

an exciting new phase.

Amadeus has been chosen as

the caterer at the site to help the

Trust work towards its goal of

becoming one of East Midlands'

Premier Attractions. With Heritage

Lottery Funding the "Building at

Risk" is undergoing substantial work.

Amadeus has successfully secured a

£3million contract over five years and

will run their new café and support

event catering needs.

Rachael Boyd, Director of the

Delapré Abbey Preservation Trust

said, "We have been impressed with

the quality of the catering Amadeus

delivers in other visitor attractions

and the high standards of food and

service for conferences, meetings

weddings and other events."

She added, "It is important to us

that we recruit locally and also use

local suppliers, which is something

Amadeus is clearly passionate

about. We look forward to

working with them."

To help the business thrive,

Amadeus will provide the best in

class services, tailored for Delapré.

By helping to preserve an important

historic site, which is surrounded by

extensive parkland – part of which

is a registered Battlefield Site – there

should be a great local patronage

to the café. Afternoon tea, meeting

"It is important to

us that we recruit

locally and also use

local suppliers"

Rachael Boyd Director of Delapré Abbey

Preservation Trust

and event rooms for weddings and

other events will all be available.

Along with event catering, Amadeus

will also be tasked with serving food in

The Conservatory Café, a destination

in its own right which is open to the

public all year round.

"It has been great working with the

Abbey on the designs of the kitchen

and café," said Marc Frankl, Food and

Beverage Director. "We have already

engaged with some really special local

suppliers. When we recruit, we will be

looking for a team from Northampton

to fully support the venue and there

will be some exciting opportunities,"

The Abbey and museum will open its

doors to the public for the first time in

its 900-year history early next year.

AMADEUSFOOD.CO.UK 9
---
DEVELOPING TALENT MEET OUR CHEFS

What I'm loving

this season

Leo Small joined Amadeus in April 2016 and in this short space of

time has built a team of top chefs with multiple skills and created

delicious, innovative menus. The highly motivated, experienced

and outgoing chef is now on a mission with Amadeus to put Belfast

Waterfront at the forefront of catering in Northern Ireland

Executive Head Chef Leo Small is new to

the Amadeus family, having only joined in

April 2016, but he has quickly settled in

and is already known for the first-class

food delivered from his hand-picked

catering team. He aims to set a new

standard of event catering in Belfast and

Northern Ireland. Leo is modest when

asked of his own achievements, and

instead focuses more on those around

him and why he has a desire to always

improve the catering experience.

"I'm a local lad who has been privileged

to work in some great locations

surrounded by good people. I started

my career at a very early age in

Newcastle and have worked at the

Savoy in London and several top

restaurants in Dublin." In Ireland,

Leo joined Peacock Alley just

after it gained its Michelin Star,

opened Fitzwilliam Hotel and

worked his way up to Executive

Chef at Shanahan's on the Green.

Following this, he was Executive

Head Chef at the Titanic Belfast,

one of Northern Ireland's signature

tourist destinations. "My career has

spanned 20 years already and I've

even been lucky enough to have cooked for Her

Majesty the Queen at the Diamond Jubilee."

During his time in great restaurants, Leo

has amassed a community of great chefs and

supporters and used this talented pool to

hand-pick his team of chefs at Belfast

Waterfront. "I have brought a lot of local Belfast

chefs into hospitality banqueting. They wanted

to come on board for all the obvious reasons of

working in this type of catering, but mainly

because they believe in what we're trying to

achieve." Leo and the team held a large

recruitment drive to attract more

talent into the company. The

chance to work with chefs who

are delivering adventurous

menus to tempt any

conference organiser

appealed to a wide

range of people. "I

made sure we have a

multi-skilled team,

so it's not just chefs

who have worked

in Michelin-star

restaurants, although we

do have a couple of them

to make sure we have the

right balance. Amadeus

10 GLORIOUS
---
Only the finest: The ingredients are sourced and handled with care

at Belfast Waterfront to create a range of spectacular seasonal dishes

encourages development and recognition and

I'm a big believer in helping people move up the

career ladder and supporting everyone. I'll ask

the kitchen porter to help cut vegetables and

move them on to bigger jobs. If they get the

catering bug, we help them progress."

Building the team is helping Belfast

Waterfront offer a dynamic and different

catering option in their spaces. This includes the

2,000-seat auditorium, two interconnecting

multi-purpose halls, 380 seat studio, 17 meetings

rooms (for 10-200 delegates), exterior terraces

and their own restaurant. Leo is bringing his

experience and pushing the boundaries of fine

dining at the venue and has developed a range of

innovative menu packages to suit every type of

"I made sure we have a multi-skilled team,

so it's not just chefs who have worked in

Michelin-star restaurants"

Leo Small Executive Head Chef

Mini marvel: Hand-made petit four are

available with optional personalisation

AMADEUSFOOD.CO.UK 11
---
DEVELOPING TALENT MEET OUR CHEFS

Local cheeses served

up as large sharing

platters are on the menu

at Belfast Waterfront

event. "We can provide everything from canapés

to fine dining, gourmet three-course dinners

and multi-sensory dining chef experiences." All

menus include local ingredients for a fantastic

food experience.

"We always source the best produce. We're

honest and realistic to make sure customers

get exactly what they want and we'll never

compromise on the quality of food – creating

bespoke menus, sourcing local, seasonal

products with full provenance wherever

possible. We are blessed to be just a stone's

throw away from St George's Market which

is full of local and artisan producers."

The market – built between 1890 and 1896 –

is one of Belfast's oldest attractions and has won

many awards for its fresh, local produce and

great atmosphere and holds a weekly Friday

Variety Market, City Food and Craft Market on

Saturdays and Sundays. "I always go there for

inspiration and innovation; it's a special place. If

we find a supplier we really like, we'll get one of

our main four or five large suppliers to support

them, so we can then use their produce."

At every stage of the food delivery, Leo and

his team believe that integrity and passion is

crucial. Amadeus conducts extensive research

and development to really understand what

the customer wants and this allows them to

constantly deliver great food and service. "We

find that older cuts are really popular – Jacob's

ladder which has been marinated and braised

over six hours, which we like to call low and slow,

or a fillet beef Wellington with organic celeriac

and local dauphinoise potato. We use lots of

Abernethy butter, which is handmade in churns

in the traditional way by artisan producers. It's as

far removed from mass produced butter as

possible and is sold at Fortnum & Masons and

used by Heston Blumenthal at The Fat Duck.

We are privileged to have some of the best dairy

in the UK and Ireland on our doorstep."

While confident, and providing a great dining

and overall experience, Leo has overcome

challenges since Amadeus took over the venue.

"Mobilising a new site is all down to time. It's

a big venue and we've had to come in and work

with the existing team to ensure they are part of

the Amadeus family and understand the ethos.

This is never easy, but we have gone from

strength to strength working alongside each

other. With it being such a big site, we are also

working hard to ensure Front of House

employees match the catering offered. We work

with a number of agencies, so it's important we

hire those who understand the Amadeus style

and level of customer experience we expect."

Guests at Belfast Waterfront can experience

corporate banqueting, restaurant experiences,

live chef theatre and a Chef 's Table event. The

market in Belfast is very competitive with two

Michelin-star restaurants helping to secure the

capital's place on the culinary map. The top

city centre restaurants and their coveted

Michelin stars are very much a part of

an exciting food scene happening in

Belfast. "There are some great

chefs doing amazing things.

We have recently been

joined by the Head Chef

"We'll never

compromise on the

quality of food –

sourcing local,

seasonal products with

full provenance

wherever possible"

Leo Small Executive Head Chef

12 GLORIOUS
---
Bespoke Design

Elegant décor, lighting & furniture

Clear sides or stylish linings

Award Winning Team

A truly personal service from initial

planning through to installation

Contact us for a private consultation and free quotation on 01527 821789

Fews Marquees @FewsMarquees fewsmarquees.co.uk
---
DEVELOPING TALENT MEET OUR CHEFS

of one of these Michelin-star establishments

– Ox Restaurant – which will only help us

further on our culinary journey. We are pushing

ourselves to provide a fine dining experience on

a large scale in a banqueting environment. We

know we are on the right lines because the

Northern Ireland Chamber of Commerce and

Industry recently said we are 'changing the

dining experience for corporate banqueting',

which we were delighted to hear. It's been a

tough and enjoyable first six months, but to

receive this sort of recognition is brilliant."

For Leo, he loves nothing more than going

around markets checking out what produce is on

offer, looking into the latest trends and what the

customer is craving. "I am always somewhere

near food. Whether it's online, in the kitchens

here or cooking at home for friends and family.

I live and breathe this industry that I love, and

feel privileged to be paid to do my hobby."

Innovation in the kitchen is always something

Leo keeps a close eye on. "We do take on board

new cooking techniques – whether curing our

own salmon or using smoking techniques

in-house. Although we are realistic about what

we take on, we only use modern techniques

that will improve the process and create an

even better experience for the customer."

Being in front of the customer is something

Leo strongly believes in and encourages

this almost old-fashioned value, which can

often be overlooked.

"The latest innovation is great, but nothing

beats meeting the chef who will look after your

catering during an event. When people want to

book here, I want them to have a menu tasting

with one of our chefs. The chef can chat to the

client about the menu, talk about their own

experiences and describe what goes into each

dish. The same chef is at the event, and will

come out and say hello and make sure everything

is running well. It builds confidence on both

sides and is all part of the personal delivery,

which for us is the most important thing."

As well as creating a rapport between the

client and the caterer, Leo also believes in

keeping dishes simple and delicious. "I will have

no more than five or six movements on a main

course – this is the number of elements you will

find on a plate. The sauce, potato, garnish –

nothing is there to be pretty and less is more is

very much the case. This approach does make

the menus stand out and for the customer, they

appreciate the delicious meal and hopefully the

hard work that goes into each dish."

At this time of the year, visitors to Belfast

Waterfront can expect hearty, warming meals.

"I like to use truffles, celeriac, game – especially

venison but also goose, mallard, hare, rabbit and

much more. Some of these can be challenges to

introduce in banqueting, but we have a few ideas

for the future which we'd like to try. I'm really

looking forward to it."

Try this winter warming recipe from Leo

alongside a mulled wine with cinnamon and

cranberry cocktail, as pictured on the cover.

TO FIND OUT ABOUT

BANQUETING FACILITIES OR

UPCOMING EVENTS AT THE

BELFAST WATERFRONT,

VISIT WATERFRONT.CO.UK

INGREDIENTS (SERVES 4)

4 x wild mushroom ravioli

4 x 1oz slice foie gras

6 tbsp veal and truffle dressing

15-20 small girolles mushrooms

4 x 12oz certified Irish Angus beef fillets

4 x tbsp celeriac purée

Truffle shaving to garnish

Sprigs of chervil to garnish

FOR THE WILD MUSHROOM

RAVIOLI

1 x recipe of basic pasta dough

10oz mixed wild mushrooms, cooked

1 tsp of truffle oil

Salt and milled pepper

Roll out pasta dough using a pasta machine

until you have a long, thin strip of pasta.

Cut the pasta in half and place small balls of

the mushroom mixture evenly apart on one

half of pasta, drizzle with truffle oil. Place the

other sheet of pasta on top and then using

a pastry cutter, cut out rounds, with your

fingers pinch the edges together to form

ravioli. Blanch in boiling salted water for

2-3 minutes, then plunge into iced water.

Once cool, place on a tray, drizzle with

olive oil set aside until later.

14 GLORIOUS
---
Certified Irish Angus

Beef f illet with ravioli

This Irish Angus beef fillet with wild mushroom ravioli

is perfect on a cold winter's day, with celeriac purée,

girolles mushrooms and veal and truffle dressing

FOR THE CELERIC PURÉE

250g celeriac, chopped

½ pint milk

½ pint full cream

Salt and milled pepper

Place the chopped celeriac into a medium pot,

add the milk and cream, season with salt and

pepper and bring to the boil. Cook until tender

and then pour into a food processor and blitz

until smooth, then pass through a fine sieve.

TO COOK FILLET OF BEEF

Season the fillet of beef with salt and pepper,

heat a sauté pan and drizzle with olive oil.

Add the beef and sear on all sides until golden

brown. Place in the oven and cook for 8-10

minutes (52°C) for medium rare or keep in oven

for 15 minutes if you like your beef more cooked

to medium (55°C). Remove from oven and

allow to rest for 3-4 minutes, keep warm.

TO PLATE DISH

Heat the celeriac purée and veal and truffle

dressing. Sauté the girolles and foie gras

together in a pan. Put the ravioli back into the

boiling water for 30 seconds to heat up, remove

from water and keep warm.

Spoon some celeriac purée into the centre of

the plate and place the fillet on the top. Then

place the foie gras and ravioli on top of the

fillet of beef, sprinkle the plate with the girolles

and drizzle some of the veal and truffle

dressing around the plate. Garnish with

sprigs of chervil and truffle shavings.
---
OUT AND ABOUT STONELEIGH ABBEY

The secrets of

STONELEIGH

ABBEY

Stoneleigh Abbey is the archetypal English mansion.

The fine Grade I-listed building sits among green lawns with

its imposing façade and romantic features. All private and

commercial hire is managed by Amadeus and its status as a

best kept secret is exactly what makes the venue appeal most

In rural Warwickshire, Stoneleigh Abbey

has lived many lives. With humble

beginnings as a Cistercian monastic

house in 1154, it was converted at the

Dissolution into a family home. As one of

the seats of the Leigh family, Stoneleigh

has played host to several people of note,

including King Charles I, Queen Victoria

and novelist Jane Austen.

There is no on-site team at the venue for

commercial events so all enquiries are handled

by the Amadeus sales team, only a short

20-minute car ride away. The marketing, selling

and delivery is all handled by a team headed up

by Sales Manager, Katie Cabrera. Stoneleigh

Abbey is comprised of two halves – the first,

made of red sandstone, is a fine example of a

Jacobean country house. The second, the

West Wing, was designed by famous architect

Francis Smith of Warwick in the Baroque style.

"The grounds and the external view from the

Abbey impress me the most," says Katie, who

as well as managing the Stoneleigh contract,

looks after the portfolio of Amadeus venues

that are event-led.

Events held at the Abbey are for both the

corporate and leisure market, including many

weddings. "We can hold events of up to 500

guests in a marquee on the lawns and up to 350

inside, in the Riding School," explains Katie.

The Riding School is a timber-beamed Victorian

Banquet Hall that has now been converted into

an ideal event space. Other spaces at Stoneleigh

Abbey include the elegant and ornate Saloon

in the West Wing, which overlooks the

picturesque Grade II-listed parkland and the

Orangery with its stunning riverside location.

The private nature of the venue is what makes

it so appealing for couples and companies alike.

Katie explains, "We are out of the eye of the

public at Stoneleigh. So for companies, they

can hold a secret car launch, or product launch

and will have exclusive use of the venue and

grounds. We never hold two events on the

same day and purposely turn down some events

to ensure this remains the case. There are

around 20 residents who live within the grounds

who are proud to support Amadeus. They

STONELEIGH ABBEY

OFFICE 01926 858535

WEDDINGS 0121 767 3329

STONELEIGHABBEY.ORG

22 GLORIOUS
---
STONELEIGH ABBEY OUT AND ABOUT

DID YOU KNOW THIS ABOUT STONELEIGH ABBEY?

Jane Austen family history

Novelist Jane Austen is known primarily for her

six major novels, which interpret, critique and

comment upon the British landed gentry at the

end of the 18th century. She visited Stoneleigh

Abbey in August 1806 and took inspiration

from the property for her book Mansfield

Park. A close cousin of their family, the Rector

Thomas Leigh, inherited the Abbey, but had to

hurry to ensure he claimed his inheritance as

the will was likely to be disputed. Jane and her

mother happened to be staying with Thomas

and so they all travelled together. Jane would

go on to write about how impressed she was

about the Abbey in both letters and books. Her

imagination was awakened by the property

and in Mansfield Park she mentions constant

reflections on the Abbey.

In film and on TV

• Stoneleigh Abbey has most recently

been featured on BBC's Countryfile in a

Shakespeare special. They discussed the

magnificent ancient "Shakespeare Oak"

in the grounds and filmed alongside the

River Avon.

• Another BBC television series –

The Land Girls – was also filmed in the

Stables at Stoneleigh Abbey. The location

represents the main house stables in

the show.

• The film Nativity 3 with Martin Clunes and

My Kitchen Rules were also both recently

filmed at Stoneleigh Abbey.

We are out of the

eye of the public at

Stoneleigh. We never

hold two events

on the same day

understand that to ensure the Abbey is

preserved and enjoyed by so many, funds

need to be brought in from the successful

commercial business Amadeus runs.

"Being there selling the venue and

providing lovely events really helps in

maintaining the area. We always ensure that

if a wedding takes place on a Friday and

Saturday in one weekend, we will not have

another on Sunday. Stoneleigh Abbey also

runs a tea room, which opens from Easter to

Halloween, and visitors can come and learn

more about the venue on certain days."

The 'off the radar' status is supported

by not being associated with English

Heritage or similar associations. Katie

believes this, along with its exclusivity, really

provides a unique appeal to all markets.

"We never want to become a wedding

AMADEUSFOOD.CO.UK 23
---
OUT AND ABOUT STONELEIGH ABBEY

Showy, prestigious

and romantic – it's the

whole aspect, from

coming up the drive

and then seeing

the spectacular

West Wing

factory where every day of the week an

event is held. Our guests can enjoy sole use of

this stunning estate," adds Katie.

Amadeus can provide all sorts of catering for

events at the venue. From Michelin-inspired fine

dining to international cuisine, guests are able

to have exactly what they want. "We fully

understand how important a wedding or civil

partnership is, it's one of the most special and

important days in a couple's life. Therefore, our

menus are perfect for the big day and for

corporate events, the menu range includes

à la carte, bowl delicacies for a buffet with a

contemporary twist, finger buffets, fork buffets

and even barbecue menus, which are very

popular in the summer," says Katie.

"Showy, prestigious and romantic," are

the words Katie hears most when couples

explain why they chose Stoneleigh Abbey for

their big day. "It's the whole aspect, from coming

up the drive towards the Gatehouse and then

seeing the spectacular West Wing. Every time

we take guests around the property, they always

gasp when they walk through." The Abbey has

Above The West Wing is a stunning backdrop

Below The original features are breathtaking

the advantage of appealing

to both leisure and corporate

events. The latter are given the

option of a historic tour and often they

request more details on the history of the

property for their attendees to enjoy.

Guests to the Abbey can feel transported

back in time and can picture the monks going

about their day-to-day activities. They can

also see where the Leigh family added to the

property with their family home but were

careful not to remove any parts of the

original Abbey. "We really love this aspect to

the venue," says Katie. "When Amadeus

started working here we were thrilled that

historically nothing has been taken away or

added for a very long time, it makes it feel

very special and unique."

REPTON'S BOOK AND WALKS

Humphry Repton was born in 1752 at Bury

St Edmonds, Suffolk. He grew up in Norwich

and was eventually set up in business by his

father. When his business failed Humphry upped

sticks and moved his family to the countryside.

At the age of 36 he embarked on a new career

as a landscape designer.

A talented writer and a skilled amateur artist,

Humphry had a working knowledge of plants

and the countryside and a skill for forging

contacts. His first commissions came from

local landowners. But over the years he began

to receive prestigious engagements

for important estates.

Humphry presented his recommendations to

clients in his trademark Red Books, named for

their red Moroccan leather bindings. The

books would flatter the clients and note

the attractions of the existing gardens

as well as the defects. In 1809 he

created one for Stoneleigh with

improvements to the approach,

the park and the pleasure

grounds. These

improvements

were accompanied

by watercolour

illustrations with

overlays to allow beforeand-after

comparisons.

The Red Books functioned as

plans, advertisements and souvenirs.

Over 100 still exist and the Red Book

for Stoneleigh Abbey can be seen on display

at the Abbey.

Work is now being completed at Stoneleigh

to ensure the walks are available as Repton

recommended. The Repton Walk takes guests

into the woodland, where bluebells, snowdrops,

deer, and many other native species thrive.

It was the preference of Repton that the

alterations to the estate should enhance natural

beauty rather than tame it, so guests can

experience an idyllic woodland setting unlike the

manicured lawns at some other country houses.

It also features spectacular views of the house

from across the River Avon.

24 GLORIOUS
---
One marketing investment – for all your event & exhibition needs

Change the size & shape for each occasion

One investment is enough. You change your stand according to each specific event &

exhibition requirements. The dye sub print renders your image perfectly and exposes

your message in two directions. The modules are available in different sizes - both straight

and curved – and are easy to connect. The wall modules can also be used stand-alone.

Pack it in your car & use the transport box as a counter.
---
Supporting

Great Festivals

GL events UK | Station Road | Castle Donington | DE74 2NL

01332 850 000 | info@glevents.co.uk

www.glevents.co.uk
---
Temporary Structures, Tiered Seating, Total Overlay

and the Freedom to be Truly Creative.

Bringing People Together for over 150 years.
---
MOBILISATION FOLLOWING THE BRIEF

The need for

SPEED

Glorious speaks to Tony Baldock, Operations Director and

Marc Frankl, Food and Beverage Director on the speed needed

to mobilise a project from inception to delivery

Mobilisation takes place in the period of

time following a contract being awarded

and before the service is delivered. The

client puts their trust in Amadeus to

deliver a new or improved catering offer.

A well-executed mobilisation means that

Amadeus will get everything in place to

start hitting targets for the new operation,

for both parties. The period of time for

each mobilisation can vary depending on

the needs of the client and Amadeus has

in the past taken just three days to initiate

the mobilisation of a new venue.

Timing can make all the difference and

Amadeus always matches the client's desires,

whatever the speed needed. An experienced

team and effective system ensures everything is

achieved in the agreed period. Tony Baldock,

Operations Director, explains, "The usual

timeline is 12 weeks, but this is sometimes

shorter – eight, four, sometimes even two weeks.

We are governed by the client and so work to

their specifications. If they move the date we

have to be agile and able to adapt to reflect this."

Speed is the key ingredient for a successful

mobilisation process. During the tender, where

Amadeus bids for a project, all elements of the

process are set out. There are 12 main elements

including marketing, human resources and

finance, each including sub-categories and

action points. Once the bid is won the action

begins, which Marc Frankl, Food and Beverage

Director, drives. "I'm the process person. I look

after all the physical aspects of the mobilisation

process and look after all the teams."

Engaging the client from the get-go is

essential for an effective mobilisation process.

"We usually incorporate the client's own

mobilisation plan – if they have one – to ensure

the process is as streamlined and as simple as

possible," says Tony. "We have a great system

where we include tasks, duration and start and

finish times. This is ideal and very useful when

we meet with the client. It's a process that

begins with monthly meetings and moves to

weekly as deadlines approach."

Amadeus has an experienced team set up to

mobilise for big sites. During the process, checks

28 GLORIOUS
---
MOBILISATION FOLLOWING THE BRIEF

We never want to just give

our clients what they want

– that's too mundane. We

want to push boundaries

and ensure the client is

driving forward with us

From inception to delivery: the early sketches

were transformed into reality in the café at

Cadbury World – true mobilisation in action

are included to ensure everything is operating as

it should be. Tony explains, "We never want

to become complacent – whether in the

mobilisation process or later in the relationship

with the client. It's important that we continue

to be innovative. We never want to be in

a position where we just give our clients want

they want – that's too mundane. We want to

push boundaries and ensure the client is driving

forward with us. If it's a five-year contract, we

want the last year to be just as good as the first.

"I pride myself on the fact I've never lost a

piece of business and I believe this retention is

AMADEUSFOOD.CO.UK 29
---
MOBILISATION FOLLOWING THE BRIEF

because we have a cycle of innovation. I have

always strived to drive."

The relationship between client and caterer is

essential for a successful process. "People really

do make the difference," says Marc. "The team

around the table meeting the client will look

after the whole process. We have a high degree

of confidence in our mobilisation process

because we have delivered it many times before

for different clients. We're a small, dedicated

team and are open, honest and have commercial

minds. There are no hidden margins and we

truly believe this integrity comes across."

Speed, real value and teamwork were all

essential when Amadeus mobilised for Belfast

Waterfront, Northern Ireland's only purposebuilt

conference and entertainment centre.

The team were able to set-up in just three days

following the client signing a letter of intent,

which is a stunning achievement given the

amount of time involved. Another example is

Cadbury's World which was relatively quick too.

Marc explains, "We were given free rein by the

client with a brief of 'wanting to be wowed'. We

turned the café from 'the café at Cadbury's

World' into part of the whole experience. We

have grown sales by 10% with an extension

of covers, an improved food offering mixed with

clever design and creativity. The client viewed

the finished offering and was holding the original

designs in their hands – these were the sketches

we had created to showcase what we were

aiming to achieve. It was great to see them look

between the sketches and the real thing because

of how close we had achieved the vision. They

were overjoyed with the finished transition

because we have given them a café to only add

more value to the experience and had achieved

exactly what we said we would."

Marc explains how the end of the process is

his favourite part of mobilisation, but not for

the reasons expected. "I enjoy the end, not

because of it being nearly over, but because of

the feeling of a well-executed job. I get a real

buzz from that first pound hitting the till.

There's no denying it's a complex process, so it's

great when we complete everything. I work

backwards and always picture the look of joy

when customers enter a space and know they're

viewing an improved offering which beats their

expectations, and it's achieved in such a quick

time. Those last few days before a site is opened

is when we all roll our sleeves up and job titles

I enjoy the end, not

because of it being

nearly over, but because

of the feeling of

a well-executed job

disappear. It's a great bonding process and real

relationships are formed from the mutual

experience. We can all say 'I had a part to play'."

The team is now in the process of mobilising

four further sites in Belfast following The

Waterfront. The sheer size of this would

intimidate many, but the team are not fazed

by the work involved. "Not one single member

of the team is worried. We have the plans and

skills to deliver what makes the client and

customers happy. We also take great pride that

they are usually wowed when the mobilisation

is finished," says Marc.

Being adventurous has made Amadeus

stand out among the rest. Mobilising a site and

improving the catering offering is second nature

for the experienced team. With Marc and Tony

leading the line, sites have been completed in

a matter of days at times and the largest of

challenges have been overcome. There will only

be more great mobilisations to come.

30 GLORIOUS
---
XXXXXXXXX ADVERTORIAL HOW WAS IT TENTICKLE

FOR YOU?

Inspirational Stretch Tents

Tentickle

Tentickle provides striking and unique stretch tents and

canopies for exclusive events whatever the season.

Jörg Schwarzbach, Managing Director of Tentickle Stretch Tents

UK Ltd, answers a few questions on this innovative product

What is a stretch tent?

A stretch tent is a piece of flexible membrane,

which can be stretched and pulled into many

directions creating wonderful freeform

shapes transforming conceptions of

temporary structures.

How long does it take to put up a tent?

Depending on tent size from one hour up

to four hours.

What colour stretch tents are there?

We stock beige, white and silver, though not in

every tent size.

What types of poles do you have?

Aluminium and wood.

How high are stretch tents?

We can pitch the tent up to 6m, but normally

2.5m to allow a comfortable headspace.

Are they waterproof?

They are 100% waterproof.

What about other weather, sun, wind,

snow, etc?

Our stretch tents are available with a UV filter to

protect from harsh sunlight, which means they

don't get stuffy in summer. The tents are also

incredibly resilient and have been used for years

at one of the windiest points in South Africa,

where the wind coming off the Pacific and

Atlantic Oceans collide!

What size tents do you supply?

We stock different tent sizes to fit the location

and the number of guests. Our largest is a 600

square metre stretch tent that can cater for

parties whether it is a 300 people sit down meal

function to a 1,200 people standing event.

So can I have a stretch tent in winter?

Yes, the sides can be pulled down to create an

enclosed space. Additionally patio heaters can be

used inside the tent to keep you nice and toasty.

Stretch tents are very versatile and can

be configured in many different ways.

Uneven ground makes no difference to

erecting stretch tents, and trees and other

features can be incorporated into the

design of the stretch tent they can handle

this with ease, style and grace.

Our tents are well looked after and

you can be sure that we will provide your

event with well-maintained and clean

stretch tents.

M: +44 7826 84309

W: www.tentickle-stretchtents.co.uk

E: jorg@tentickle-stretchtents.co.uk

Tentickle Stretch Tents UK Ltd

4 Marlpit Rise, Sutton Coldfield,

West Midlands, B75 5LU

Follow us on social media

@TentickleUK

www.facebook.com/tentickleUK

AMADEUSFOOD

OOD.CO.UK

31
---
Tel: 0845 222 0069

Email: info@crewtec.co.uk

Event Support Services

Delivering the highest standard of event support available in the uk

Since it's formation 3 years ago, Crewtec has

evolved to alleviate the increasing pressures put

upon the Events Industry. In 2013, the majority of

Crewtec's workload was supplying professional

support crew to push flight cases and load vans,

but today our clients need much more from us. The

skill set within our crew is diverse, from certified

plant operators to technicans and multi - skilled

event crew.

Crewtec operate throughout the UK and have been

sending strong crew oversees to work on global

events for our clients. Crewtec are able to identify

common challenges from a global perspective.

Supporting our clients anyway possible and at any

time of the day or night is the mantra at Crewtec

and we uphold this by investing in our services.

CORPORATE CREW SITE CREW PLANT OPERATORS TECHNICIANS

/Crewtec /Crewteccrew crewtec.co.uk

CREWTEC EVENT SERVICES LIMITED

UNIT 6, 38 HEPBURN ROAD

HILLINGTON PARK, GLASGOW

G52 4RT

2016 CREWTEC EVENT SERVICES LTD

ALL RIGHTS RESERVED.
---
THE CONSERVATIVE PARTY CONFERENCE HOW WAS IT FOR YOU?

The event from

every angle

An insight into the team behind The Conservative Party Conference

Over 12,000 delegates from across

the UK descended on Birmingham

from 2-5 October as the International

Convention Centre (ICC) hosted

The Conservative Party Conference

for the fifth time since 2008.

The Conservative Party Conference utilises

all ten halls and ten executive rooms of the

purpose-built conference centre to stage their

conference sessions, exhibition, media centre,

fringe sessions, broadcaster centre and VIP

Lounges. The ICC's location in the heart of

Birmingham also enables delegates to explore

the vibrant city for themselves and provides

a platform to demonstrate all that Birmingham

has to offer. As part of the conference, more

than 300 fringe events took place in the venue

over four days. On an annual basis, the ICC

stages over 350 events in total, so this truly

demonstrates the complexity of the conference

and skills of the talented team that deliver such a

high volume of events in such a short period.

Catherine Newhall-Caiger, Business

Development Director for the ICC said, "We

have a core team of people who have worked on

the four previous Party Conferences and their

experience is invaluable for this event. Everyone

looks forward to the conference as there is

always a real 'buzz' in our venue as we welcome

the Prime Minister, the Cabinet, delegates,

exhibitors and the media to the ICC. Our

dedicated team – from catering to technical

and event management to security – have been

planning this event for nearly a year and work

extremely hard to deliver the best possible

conference. It is very rewarding to see

everything come together and a credit to our

team that the Conservative Party chooses to

return to our venue."

This year's conference is the first of a

three-year deal that will see the Conservative

Party return to the ICC in 2018 and 2020.

AMADEUSFOOD.CO.UK 33
---
HIRE

THE

BEST

Our portfolio of clients

includes 5* hotels,

catering companies, global

brands, PR agencies,

event production companies,

sports stadiums and

corporations. Every day we

give our staff hundreds of

opportunities to work for

amazing companies.

Like yours. This is why the best

staff come to work for LOLA.

FIND OUT HOW WE CAN HELP

YOU PROVIDE FIVE STAR

SERVICE TO YOUR GUESTS.

VISIT WWW.LOLASTAFFING.CO.UK

OR CALL US ON 0207 0430 652
---
THE CONSERVATIVE PARTY CONFERENCE HOW WAS IT FOR YOU?

How was it for you

Craig Hancox

Craig Hancox is the Amadeus General Manager at the ICC

Birmingham. The team starts planning 12 months before and Craig

shares a behind-the-scenes view of what happens during the event

What was the planning process for such

a large event?

Planning started 12 months ago with a debrief

from The Conservative Party Conference

(CPC) team. They fed back to us on the last

conference and any new initiatives they wanted

to incorporate this year. As CPC is one big event

with many smaller events within – we host over

300 fringe events in the four days – it can be

a pretty hectic time. To put this into perspective

we host around 350 events as a venue on

an annual basis.

We also provide catering for

retail, VIP lounges and a business

day dinner, which had a beautiful

menu created by Simon Hellier.

To manage the volume of fringe

events, from a catering perspective,

we created a specific menu pack

based on the food that was popular in

previous years. This was available on

the ICC website, so delegates could use

their unique fringe event ID number to

directly order what they wanted.

The bulk of the 300 events ordered in this

way, but 50 of them worked directly with us

on bespoke menus. This was mainly when

clients were looking for themes to

complement their event. As you can imagine, an

event of this size takes a lot of co-ordination, so

the ICC is split into zones, each with a different

colour. We assign catering managers to each

zone, and as enquiries came through, I could

co-ordinate so the correct zone manager

could pick it up.

About a month before the event, we start

finalising the details and chasing outstanding

orders. We needed everything to be in place

"We host over 300 fringe events in the

four days – to put this into perspective

we host around 350 events annually"

"I'm lucky to be able to tak

a step back and look over

experienced team and ma

sure they are happy and

two weeks before the event so we could start

the final planning and food ordering.

Outside specific events, what food was

on offer across the venue for delegates?

I was always conscious of the retail catering

areas because the feedback previously was that

more healthy options should be available. We

took that into consideration and installed two of

our popular concepts in the exhibition area,

which is the main part of the conference all

delegates visit. We chose our new healthier

eating concept, PUOR,which we launched in

April, and our café concept MADE which

focuses on hand-crafted, home-made food so

delegates had options. We also added a gelato

bar which was quite quirky and proved popular.

The Conservative

Party Conference

officially opens at

the Symphony Hall

How did you work around the security

of the event?

Security is very high around this event so each

member of staff working in the venue during the

four days needed to be accredited in advance.

In total, we had about 250 staff accredited. To

manage the schedules we created spreadsheets

so we could filter each area by zone and from

that we could organise the rotas– we actually

gave out coloured wristbands to match each

zone so we could keep track of who was

working where.

Our Executive Head Chef Simon Hellier has

to wait until the last possible moment before

placing food orders, but this time we had to

take into account additional security checks

for deliveries. We had fresh deliveries each day

AMADEUSFOOD.CO.UK 35
---
start o

when we're at

t! We work on what

uld do differently the next

HOW WAS IT FOR YOU? THE CONSERVATIVE PARTY CONFERENCE

"Simon is very conscious of the

food being the best it can be and

checks absolutely everything

before it reaches a plate"

and all vehicles went through a comprehensive

search before they were allowed on site. We

worked closely with the police on ensuring

everything was safe and got in on time.

Simon is very conscious of the food being

the best it can be and checks absolutely

everything before it reaches a plate.

How do you get so many food orders

to the plate in time?

Simon doesn't get involved until we have the

final confirmations of menus, which is about ten

days prior to the event, so there is no confusion

when it comes to ordering the produce.

Menus and number of delegates can change

quite radically from the first conversation

with the client to the

final details.

He just knows he is

going to have four or five

very busy days and makes

sure his team are in place

to cope with the demand,

which includes a team of

chefs who work through

the night to ensure all

food is prepped ready for

the next day. A Head Chef

is then allocated to each

of the zones to work

closely with the catering

manager and event team.

This helps with

communication, as each day they

know what they need and everyone

is on the same page.

Another element is making sure that we had

enough equipment in each zone to actually serve

the food. Our back of house manager did an

incredible job, which included a comprehensive

equipment list of everything from knives and

forks to glasses for each zone and each event.

Did you face any challenges

during the conference?

The volume of delegates,

particularly on the second

day, was quite high as the

conference was extremely

popular this year, which

caused big queues at

our Starbucks.

It's close to the

entrance and also near the

cloakroom, so it's what

people see when they get

into the venue. To try

to ease the queue, we

decided to install a pop-up counter as close

to Starbucks to sell tea and coffee and give

delegates another option if they didn't

have time to wait.

What were your highlights of the event?

I had two actually. The first was that our

Catering Operations Manager Wayne Hall,

would send an email before he headed home to

everyone in the team.

He would talk about what had happened in

the day and he gave everyone in the team fun

nicknames. It can be a demanding few days, so it

was great to wake up to something each morning

that was light-hearted, informative and made

us all laugh.

The second is that we haven't had one

single complaint across every service we

provided about anything related to the food.

That is a fantastic testament to the whole

of the ICC team.

36 GLORIOUS
---
W www.furnitureonthemove.co.uk

E info@furnitureonthemove.co.uk

T 0845 459 9875

Photo courtesy of Adobe Summit

Designed and managed by Taylor Bennett Partners

▶ Flat rated delivery any

time of day or night

▶ Full installation service

▶ Unique pieces in fantastic condition

▶ New catalogue, showreel and

price list available now
---
HOW WAS IT FOR YOU? THE CONSERVATIVE PARTY CONFERENCE

How was it for you

David Comerford

David Comerford is the Head of Conferences for the

Conservative Party and recently worked directly with

the International Convention Centre (ICC) Birmingham

for The Conservative Party Conference 2016

"A

only

job an yo

What were the objectives for the event?

We have an annual conference to engage with all

Party members and to announce policies

through key speeches. It's also a good

opportunity for the Party to get involved with

charity and commercial organisations who want

to promote their brand, get a particular message

across or engage with Conservative ministers.

We do this through the means of an exhibition

in the ICC's largest flat space – Hall 3 – and

throughout the main Mall, as well as through

over 300 fringe events that take place across the

four days of the event.

Who attended?

12,000 delegates came to this year's conference

at the ICC. The delegates were a mix of Party

members, ambassadors, High Commissioners,

MPs, Lords and then obviously the Cabinet and

the Government. We then had commercial

visitors – FTSE 100 CEOs, charities and

not-for-profit organisations. Many come to

attend fringe events to engage on policies.

From an international view, there was a lot more

attendance media-wise which was expected

following the Brexit vote – it was good to get so

many people to Birmingham.

Why did you choose the venue?

It's very important for us to be in Birmingham as

we have to engage with people from across the

country and, as the city has excellent transport

links, it makes it easier for people to travel to the

venue. The redeveloped Birmingham New

Street Station looks absolutely beautiful, it's

like a work of art, and the investment in the

city is really starting to show. It's a great city

for our delegates to arrive into.

The venue itself is also a big draw – we love

the ICC. It has enough halls and additional

space to accommodate everything we need.

There's so much versatility in this venue. The

team can cater for the little breakfast meetings

for 10 people right up to fringe events for 600,

and the space can be configured to just what we

need. The team are fantastic to work with as well

– there's just nothing that they can't do; they are

so flexible. We started planning around a year

ago and they have worked with us to

accommodate everything we need. This is the

fifth conference we have held at the ICC, so we

wanted to adapt and try new things, which the

team have really helped us with by making

unique and exciting suggestions – their input is

invaluable to help us reach our event vision.

The catering has been amazing too. My team

always says the ICC food is up there with

the best for conference food, and

I agree. The food is delicious every

time we are here. The team

overall are so helpful, they can

always be reached and

despite everything they

have going on and all the

other events throughout

the year, they still make us

feel special and answer all

of our requests – no

matter how big or small.

They are completely

focused on our event

and are a great team to work

with. With events like this we have to work with

other partners too, such as the adjoining Hyatt

Hotel, the West Midlands Police, security firm

G4S and Symphony Hall. We meet regularly in

the planning process and issues are resolved

quickly because the communication is so good.

It doesn't feel like we are working separately; it's

one big team and we all help each other to make

the conference a success.

What was the programme of events?

This year, we started on Sunday, 2 October,

opening with our members-only session for the

National Convention, which is all the senior

volunteers throughout the country. Our

exhibition and fringe programme opens at 12pm

and the Conference officially opens with the

Party Chairman's speech in Symphony Hall at

Fresh and vibrant, the

plated menu looks as

good as it tastes

38 GLORIOUS
---
THE CONSERVATIVE PARTY CONFERENCE HOW WAS IT FOR YOU?

OVER THE FOUR-DAY EVENT…

20 miles a day will be walked by each

of the 30 catering managers

A 24-hour-a-day catering operation ran

throughout the conference

s a chef, the limits are

what you put into the

8,000 sandwiches were served

45,000 coffees were served each day

Over 300 fringe events took place

d whatever you put in,

u will get back"

"The catering has been amazing too. My team

always says the ICC food is up there with the

best for conference food, and I agree"

2pm. The theme of each day is dictated by the

speeches in the auditorium in Symphony Hall.

The first day was focused on Brexit and for the

first time, this year we heard from the Prime

Minister on the Sunday, which generated a lot of

interest. We also heard from the Department of

Exiting the European Union, the Department

for International Development and the Foreign

Office, all of which set the tone for the first day.

We had the Chancellor's speech on Monday, so

it was very much focused on the economy. The

theme for Tuesday was home affairs, health and

culture and on the final day we had the keynote

speech from the Prime Minister. We used all ten

halls and ten executive rooms in the ICC, plus

the auditorium in Symphony Hall, as well as

some areas of the Hyatt Hotel, which connects

to the venue via bridge link making it really

convenient for our delegates and guests.

Did you face any challenges?

In previous years, we have enjoyed quite a long

tenancy of the building, but this year we reduced

it by more than half, meaning we had shorter

build and breakdown times. We also changed

supplier and the structure within our own team,

so we were a bit apprehensive about a narrower

build. However, we were assured by the ICC

team that it would be possible and it would all

get done. We were very much led by the ICC

AMADEUSFOOD.CO.UK 39
---
HOW WAS IT FOR YOU? THE CONSERVATIVE PARTY CONFERENCE

Fresh ingredients are

a must in creating

the ICC's menu

The ICC welcomes

the Conservative

Party Conference

team and relied on their experience and

knowledge. We really worked together as one

team and as promised, it was all done in time.

The communication was very clear and

everyone was focused on making the event

a success. We have full trust in the ICC team.

Was return on investment measured,

and if so, how?

This year's Conservative Party Conference

allowed us to set out our driving mission to build

a country that works for everyone, not just the

privileged few. We also wanted to make sure that

we engaged with Birmingham as the host city.

Through our media briefings and work with

Marketing Birmingham, we demonstrated to

residents that the Conference has a very

positive impact on Birmingham.

Finally, we looked at what the members get out

of the conference and to see numbers in

attendance increase year on year. This year, we

"No day is the same for me. I

be working on a wedding, orga

the food for a golf event, arr

menus for a 300-person func

"This year's Conservative Party Conference

allowed us to set out our driving mission to

build a country that works for everyone,

not just the privileged few"

had more party members in attendance than

ever before. There was a real buzz around the

city and venue; it's been very positive and in

good spirits. Everyone in Birmingham was so

friendly and welcoming. We had a great event

in 2014, so to keep up that momentum two

years on is a real testament to how great the

event has been at the ICC.

What was the feedback from attendees?

This year is the first time we are conducting

formal feedback from delegates to get a feel for

how they felt about this year's conference and to

understand what they liked, or would change –

we will then feed this into the planning for

our next event.

Anything else to add?

This was the first Conservative Party

Conference since I stepped up to be the Head

of Conferences in 2015 and the team structure

has changed. This time round, I worked directly

with the ICC so for everything to have gone so

well is just amazing. The ICC has been so

supportive and we have been led by their

immense experience on putting on great events

within their venue. We are looking forward to

more successful conferences in 2018 and 2020.

40 GLORIOUS
---
Our range of kitchen linen has been

created for the busy kitchen with your

customers in mind. Providing you with

choice and flexibility, whilst being designed

for comfort and durability.

Easy Chef provides you with everything

you need for the ultimate customer

experience.

Three great ranges

of chef uniforms

can

nising

anging

tion in

by

JOHNSONS

STALBRIDGE

LINEN SERVICES

EASY CHEF

RENTAL SERVICE

It's as easy as

as 3, 2, 1...

SUPERIOR KITCHEN LINEN FOR THE

ULTIMATE CUSTOMER EXPERIENCE

True Italian Espresso

Two weeks maximum

wait for your order

One month's notice if

you change your mind

No additional costs

For more information on Easy Chef

please contact or visit:

t. 0800 093 9933

STALBRIDGE-LINEN.COM

At Home

Or in the Cafe

Since 1969

+44 01246 454400 enquiries@laspaziale.co.uk laspaziale.co.uk
---
Photo Experiences and Creative Events

Photo booth / Selfiebox / Polabox / Photography / Live Events

www.flashmat.co.uk | contact@flashmat.co.uk
---
AMADEUS CALENDAR OF EVENTS

CALENDAR OF EVENTS • PUBLIC & TRADE

The comprehensive guide to the upcoming shows and events this season

24•02

The X Factor

Live Tour

03•02

Donny

Osmond

23-25•03

Olly Murs

17-18•03

Russell

Howard

07•06

Elton John

www.thenec.co.uk

www.barclaycardarena.co.uk

www.gentingarena.co.uk

CALENDAR OF

EVENTS

JAN

12-15

Autosport

International, NEC

12-15

Performance

Car Show, NEC

20-22 JANUARY

Strictly Come Dancing

Live, Barclaycard Arena

13

Avenged Sevenfold, Genting Arena

13

Comedy Central Impractical Jokers,

Barclaycard Arena

15

Basketball Cup Finals 2017,

Barclaycard Arena

21 JANUARY

The 2017 Monster Energy Arenacross Tour,

Genting Arena

A mix of world-class indoor Motocross Racing, high-flying

Freestyle Motocross and a show to rival any music festival.

15-16

Trophex 2017,

NEC

20-22

Strictly Come

Dancing Live,

Barclaycard Arena

22-24

Beta

International, NEC

22-25

January

Furniture Show,

NEC

Celebrating its tenth anniversary, Strictly is taking to the road with some of the stars of the

current series (the line-up is yet to be announced), reliving some of the magical moments

from the TV series, all performed on a supersize dance floor. With fabulous dance routines,

celebrities and professional dancers set to dazzle, plus the judges, it's a night out not to miss.

21

The 2017 Monster

Energy Arenacross

Tour, Genting Arena

21-22

Asian Bride Live,

NEC

23-25

Great Hospitality

Show, NEC

25

A Day to

Remember,

Barclaycard Arena

AMADEUSFOOD.CO.UK 43
---
CALENDAR OF EVENTS AMADEUS

24 FEBRUARY

The X Factor Live Tour, Genting Arena

Now in its 12th year, The X Factor takes to the road with the acts that got down to the final eight, with 5 After Midnight, Emily Middlemas, Four of

Diamonds, Matt Terry, Ryan Lawrie, Saara Aalto, Sam Lavery and Honey G all performing classic hits and viewers' favourites from the TV series this

year. With two shows – a matinee and evening performance – it's a great day out for fans of the show.

FEB

2 & 4

Black Sabbath, Genting Arena

3

Donny Osmond, Genting Arena

5-9

Spring Fair International, NEC

15-16

The UK CONCRETE Show, NEC

18

Müller Indoor Grand Prix,

Barclaycard Arena

19-21

Moda, NEC

20

Kings of Leon, Genting Arena

25 FEBRUARY

Kaiser Chiefs, Barclaycard Arena

After the release of their new album Stay Together in

October 2016, which includes the single Hole in my Soul,

the Kaiser Chiefs are back on the road for a UK-wide tour.

3 FEBRUARY

Donny Osmond,

Genting Arena

Legendary singer, performer and actor Donny Osmond

is on tour for the first time in four years, performing

classics from his 50 years in show business.

22-23

Drake,

Barclaycard Arena

24

Pet Shop Boys,

Barclaycard Arena

24

The X Factor Live

Tour, Genting Arena

25

Kaiser Chiefs,

Barclaycard Arena

25

Vitality Netball

Superleague Super

Ten, Genting Arena

26

Jack Whitehall,

Genting Arena

44 GLORIOUS
---
EXHIBITION FLORISTS

with over 20 years experience

in enhancing stands,

hospitality units and exhibits

at exhibitions and events.

We provide a COMPLETE

LANDSCAPING SERVICE

including fencing, paving,

character planting, container

planting and water features.

Specialists in a variety of

FRESH FLOWERS

RUSSELL & TWINING BLOOMS LTD

Exhibition Nurseries, Main Street, Mursley,

Milton Keynes, MK17 0RT

Tel: 01296 720006 Fax: 01296 720005

Email: mail@rtbflorists.co.uk

WWW.RTBFLORISTS.COM
---
CALENDAR OF EVENTS AMADEUS

23-25 MARCH

Olly Murs, Genting Arena

One of Britain's best live performers, Olly Murs is back with his eagerly anticipated fifth album 24 HRS in November, the follow up to the million-selling

Never Been Better, and featuring the hit You Don't Know Love. His last tour in 2015 sold out on all 27 dates as fans made the most of the opportunity to

sing along to all his hits. His energetic and enthusiastic performances continue to attract fans in search of a fun night out.

MAR

1-5

Cirque du Soleil Varekai: Tales of the

Forest, Genting Arena

4

Brit Asia TV World Music Awards,

Barclaycard Arena

7-12

Yonex All England Open Badminton

Championships 2017, Barclaycard Arena

7-12

Yonex All England Open Badminton

Championships 2017, Barclaycard Arena

13

The Weekend, Barclaycard Arena

17-18 MARCH

Russell Howard,

Genting Arena

Part of his second and biggest world tour, funnyman

Russell Howard is stopping off in Birmingham for two

nights. Acclaimed by Time Out as a 'Comedy Superstar',

the topical and observational style of TV's Russell

Howard's Good News has earned him a legion of fans.

17-18

Russell Howard,

Genting Arena

23-25

Olly Murs,

Genting Arena

24

Craig David,

Barclaycard Arena

25

A R Rahman,

Barclaycard Arena

46 GLORIOUS
---
AMADEUS CALENDAR OF EVENTS

CALENDAR OF EVENTS • PUBLIC & TRADE

The comprehensive guide to the upcoming shows and events this season

APRIL

1-3

Optrafair, NEC

12 MARCH

The Who,

Barclaycard Arena

6-9

Good Mourning Mrs Brown,

Genting Arena

12

The Who, Barclaycard Arena

12-16

Disney on Ice Celebrates 100 Years

of Magic, Genting Arena

14

Harlem Globetrotters, Barclaycard Arena

15

E3UK Live, Barclaycard Arena

After over 50 years and multiple hits, The Who are back to perform a brand new set,

incorporating all their hits as well as a revised acoustic version of the rock opera Tommy.

Considered to be one of the most influential groups of the 20th century, they have sold

over 100 million records worldwide and are renowned for their live performances.

1-5 MARCH

Cirque du Soleil Varekai: Tales of the Forest,

Genting Arena

This newest creation from Cirque du Soleil tells the story of

Icarus, whose wings melt when he flies too close to the sun,

sending him crashing into the mysterious world of Varekai.

24 MARCH

Craig David,

Barclaycard Arena

In his first arena tour in 15 years, Craig will be joined

on stage by singer-songwriter Lauren Faith to perform

songs from his latest album Following My Intuition.

18 MAY

Ariana Grande,

Genting Arena

Multi-platinum-selling and Grammy Award-nominated

artist and pop princess Ariana Grande is back in

Birmingham as part of the Dangerous Woman Tour.

20

Frankie Valli and

The Four Seasons,

Genting Arena

22

Diversity

(extra matinee

performance)

Barclaycard Arena

24

Bruno Mars,

Barclaycard Arena

27

2017 Betway

Premier League

Darts, Barclaycard

Arena

AMADEUSFOOD.CO.UK 47
---
CALENDAR OF EVENTS AMADEUS

MAY

5-6

Take That, Genting Arena

12

Professor Brian Cox Live,

Barclaycard Arena

12 MAY

Professor Brian Cox Live,

Barclaycard Arena

15

Harry Potter And The Philosopher's

Stone, Barclaycard Arena

18

Ariana Grande, Genting Arena

19

The Vamps, Genting Arena

21

Iron Maiden, Barclaycard Arena

26

The Specials (Outdoor concert)

Plus special guests: Toots and the Maytals,

Genting Arena

27

Slam Dunk Festival Midlands, NEC

5-6 May 1-3 JUNE

Take That, Genting Arena

Professor Brian Cox OBE will take his audiences on a journey through space and time in

this new stage show. Delving into 'high science' and freewheeling on the edges of the

known cosmos, whether you're an avid science reader or a total novice, Professor Brian Cox

Live will test the limits of your knowledge and make highly complex ideas accessible to all.

7 JUNE

Elton John,

Genting Arena

JUNE

1-3

Take That,

Genting Arena

7

Elton John,

Genting Arena

The UK's Most Successful Live Act, Take That, are set to

bring their fans yet another unmissable live experience

with Wonderland Live following the album launch in March.

This will be pop icon Elton John's 36th concert in the

city as part of his worldwide Wonderful Crazy Night

Tour. Taking to the stage, Elton will perform songs from

his latest studio album of the same name as well as his

most-loved hits from his stellar career.

48 GLORIOUS
---
TEAM WORK EVENT MANAGEMENT

made my day

Lorna Hendey, Live Events Catering Operations

Manager for NEC Group talks to Glorious about her

role and what 'Live Events' really are

What does a Live Events Catering

Operations Manager do?

I run all the catering for any show that isn't an

exhibition, so 'live events' includes anything and

everything that isn't! Conferences and

banqueting make up the main events but there is

lots of variety even within that. The role was

newly created when I joined Amadeus two years

ago and it's been a great learning curve where

I've implemented new processes and different

standards for the events. I have no home or base

as I go into whichever hall the event is booked in,

so I'm always in different environments.

How did you get into this?

I was working in Conference and Banqueting at

Alton Towers Hotel before I joined and have

also worked at hotels up and

down the country. Everyone

in the team has always

been so helpful. For me

it's all about the

people and despite

being here for two

years I still feel very

new. There are so

many departments to

get to know, which is

great fun, but it's a big

place that takes a little

while to fully discover.

What is a successful

day for you?

A happy client and a smooth

running event! Getting

all requirements achieved on time and exceeding

expectations marks a successful day for me.

If delegates and clients are pleased then it's

been an effective day. Sometimes you

have a curve ball thrown

at you or a tiny

hiccup to solve,

which means you

have to be able

to think on your

feet but we run so

many events that we

can deal with pretty

much nearly everything.

Which events stand out

in your memory?

'Vivid Christmas Parties' was

a really fun and stimulating series

of events for us. We had 2,000

guests attending each night for two

and a half weeks! We're used to massive

volumes and handle them all the time, but

this was so long that it really stands out. It

was a monumental time in my life during that

period. Our team did so well, it was a great

experience to be a part of. Last year we also

did our first sit-down dinner for 2,500

guests – we had four kitchens with over 100

chefs and nearly every manager involved

and it went really well. It's always great to

see our spaces transformed from big blank

halls into amazing themed experiences.

Recently we created a family-style Mexican

restaurant within one of the halls and

produced all sorts of delicious Mexican

dishes. 1,000 people attended but it still

felt very intimate, which shows how well

the space can be used.

What's the best thing about

working for Amadeus?

Every day and every event is different at

Amadeus. We strive to provide bespoke

events and can handle our clients' specialist

needs – whatever they may be. The things

we create and the way we deliver it really is

special and unique.

IF YOU WOULD LIKE TO FIND OUT

MORE ABOUT OPPORTUNITIES

AT AMADEUS GO TO NECGROUP.

CO.UK/WORKING-FOR-US

50 GLORIOUS
---
MAKE AN IMPACT & ENGAGE

Celebrating 25 years' supporting

businesses to raise their brand

awareness.

0121 764 3222

hollywoodmonster.co.uk

sales@hollywoodmonster.co.uk

DESIGN CREATE DELIVER