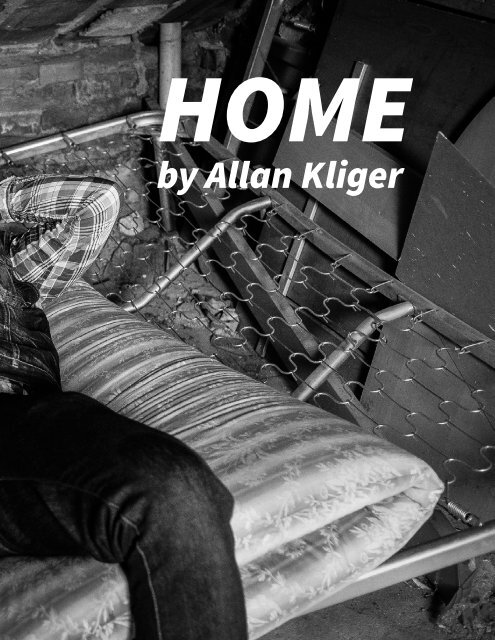 You also want an ePaper? Increase the reach of your titles
YUMPU automatically turns print PDFs into web optimized ePapers that Google loves.
HOME

by Allan Kliger

http://lensmagazine.net

63
---
Photography Blog

Copyrights to Allan Kliger © All rights reserved

62 http://lensmagazine.net
---
HOME

by Allan Kliger

http://lensmagazine.net

63
---
HOME

by Allan Kliger

It was May, 2014.

A Magnum Agency workshop in

Reggio Emilia, Italy, with Magnum

photographer Abbas leading. As

part of Fotografia Europea 2014,

the Municipality of Reggio Emilia

had invited several Magnum Master

Photographers to participate in a

series of activities, presentations

and workshops. I was one of

those selected to attend, a pretty

small group of 10-12, for three

days of shooting, critique and

guidance. Aside from learning under

Abbas, one of the preeminent

photographers of our time, there

were a few other enticing carrots

– one of the students from each

workshop would be selected and

featured in a public projection show

later that week in the imposing

Teatro Municipale Valli as part of the

Fotografia Europea events, and each

Magnum tutor would choose one

deserving masterclass participant

to be featured in a special online

feature of the prestigious British

Journal of Photography with an

accompany interview, as well as

online on the Magnum web site.

Pretty heady stuff for a type-A

driven photographer.

I'll be truthful. I really wanted to

win that accolade. I'm not normally

considered a wallflower so I wasn't

afraid to get out of my comfort

zone, whatever that may have been,

and to push for more.

64 http://lensmagazine.net
---
Copyrights to Allan Kliger © All rights reserved

http://lensmagazine.net

65
---
We had been given the subject of the

assignment a few weeks before the

workshop was supposed to start so

that we could begin to think about

what we each would do, how we

might approach the assignment. The

theme was NO PLACE LIKE HOME.

It was up to each student to define

that as they wished, and to then seek

to tell a story in images that would

portray the theme as they saw it. As

we had to work within the city of

Reggio Emilia, I decided to fly there

a few days early, scout for possible

locations and, maybe even meet

some of the locals so that I could hit

the ground and workshop running. I

wanted to set myself up to win and

so it seemed to me I had best put

in the time that others might not. I

guess that's a pretty good formula for

wanting anything in life, eh? (That's

the Canadian in me speaking).

It was a grey, dismal, rainy day when

I landed. The city seemed deserted.

I checked in to my hotel, got my

cameras ready and figured I may as

well begin to explore. I had already

decided that I would try to see if I

could find new immigrants to the city

and see if I could cajole a story from

that. Reggio Emilia was known to be

a starting point for many newcomers

to Italy, refugees and others wanting

a better life in promised lands, and so

I thought if I could perhaps just meet

and befriend some that I might be able

to document what their new life was

like, their community, their HOME. I'm

a "people person" so I knew that my

strength would be in shooting people

up close and personal. If I was to

leverage what I was good at, and have

a chance at winning I would have to

focus – pardon the pun – on people.

66 http://lensmagazine.net
---
Copyrights to Allan Kliger © All rights reserved

http://lensmagazine.net

67
---
Copyrights to Allan Kliger © All rights reserved

68 http://lensmagazine.net
---
Copyrights to Allan Kliger © All rights reserved

http://lensmagazine.net

What better place, I thought,

than to try and meet newcomers

than the local train station, so off

I went.

I was pouring rain and I was

scurrying for shelter wherever

I could find it. It was a pretty

depressing way to start, I

thought to myself. I found

myself huddling to stay dry

wherever under bridges, pressed

alongside walls, beneath building

overhangs with my camera

always in hand as I went along.

So from cover to cover I went,

saying hi to people along the

way, probing for openings, for

any opportunity to make a new

friend and get a lead for my story.

Finally I found the train station.

And that's where it started to fall

into place. Shooting strangers,

69
---
Copyrights to Allan Kliger © All rights reserved

70 http://lensmagazine.net
---
Copyrights to Allan Kliger © All rights reserved

feeling who was friendly and who wasn't,

striking up conversations, explaining why

I was there, what I wanted to do, and

asking for help. Needless to say, lots of

no's, along with some other choice words

and expressions but that's never stopped

me before and it didn't stop me then. And

then I found it. Her, actually. The one with

the big, crazy hat. You could tell she had

a big personality by how she dressed and

carried herself. She was happy to sit for

a quick portrait and, as it happened, was

there to meet with some friends. They had

all come from Nigeria not too long ago and

were living together in a small community

of others who had recently arrived. I asked

if she would introduce me to her friends

and see if they'd agree to let me shoot

them for my story, hang out with them

morning to night, shoot as we went along

until they weren't even aware I was there.

http://lensmagazine.net

71
---
She said yes, and so I

was off to the races.

Hard work ahead,

long hours, trying

to blend in and be

invisible yet still get

the shots I needed up

close and personal.

Looking for the light,

for locations and

mood, for my story.

Home. For me,

for the story in

Reggio Emilia, it

was about home

for a new group of

immigrants. Their

"home" was their

little community.

They lived together,

ate meals together,

walked the streets

together, laughed

together and

struggled together.

Their home wasn't

just four walls and a

roof, but home it was.

And, yes, I did win.

More to come…

Copyrights to Allan Kliger © All rights reserved

72 http://lensmagazine.net
---
Copyrights to Allan Kliger © All rights reserved

http://lensmagazine.net

73
---
Copyrights to Allan Kliger © All rights reserved

74 http://lensmagazine.net
---
http://lensmagazine.net

75
---
Copyrights to Allan Kliger © All rights reserved

76 http://lensmagazine.net
---
http://lensmagazine.net

77
---
Copyrights to Allan Kliger © All rights reserved

78 http://lensmagazine.net
---
ALLAN KLIGER

People, Portrait, Places.

contributor

That's about the

order of things for

me. I'm drawn to

people, to emotions

and to experience, to

connection and to the

capturing of the world

and of its people.

I think it's the people

thing that draws

me the most. Every

photographer, every

artist, finds their

soul feeling most

alive, most alert,

when it connects,

intersects, with that

which somehow speaks to it. For some it's their way

of looking back at their life, for others their way of

looking forward. I think my inspiration comes from

both. The looking back part clearly comes from my

Father. For as long as I can remember my father took

pictures. For him, it was a way to connect with friends

and family. Cameras with bellows, fancy sounding Zeiss

lenses, bulb flashes that had the coolest sound when

they popped, light meters and film, my first Brownie

Hawkeye camera. My father was the one at family

events who was always taking the pictures. He was

always handing out copies of prints that he'd made for

his friends and colleagues. I saw first-hand the love he

had for capturing moments, of how his camera enabled

him to connect with friends and strangers, and to

share those moments with those he cared about. So I

guess that love of connecting with people, of sharing

moments with others has come naturally to me and…

And inspired me to do more. To continue the tradition

and to chart my own path forward.

What do I shoot? How Do I shoot? What makes my

images different? Well, I shoot what I love. I don't shoot

because I have to; I shoot because I want to. I try to

capture the drama of life around us, the emotions of

everyday living and to do that, I look for the light. I look

for the drama in the light, the hard contrast and the soft

edges, the sculpting and dimension of light that wraps,

that molds, that shouts and that is subtle and mysterious.

And to do this it seems that I mostly shoot in black &

white. Don't get me wrong, I do love color and, I often

shoot in color. Our world's in color. I love the explosion

of color, the depth and intensity of color. But, there's

something special about black & white that that speaks

to me. That helps me "see", to feel. My friends joke

about this, how I would go to India, a land that almost

screams color, and end up shooting so much in black &

white. It's become a standing joke but in the end, the

moments, the images, somehow seem more timeless,

more magical and dramatic, leading the eye where you,

as the photographer want, free of distraction. The image

that I feel without even knowing what it actually may be

at the time.

http://lensmagazine.net

Most who know me would say that I'm a people person.

That probably explains why I love to shoot people.

Portraits. More often than not in some far away place

where I don't speak the language. I don't need to

speak the language. We all connect at some level, we

know what fight or flight means. It's primeval. And

so is knowing when it's ok. When it's safe. We see it

someone's eyes, in their gesture. I hope people see it in

my eyes as I approach them. I prefer shooting outside, in

a natural environmental. I explore, wander - that's part

of the adventure. Looking for the light, for something

elusive, something perhaps around the corner, an open

doorway, and some motion that catches my eye, beauty,

frailty, something real. A moment, something that makes

me want to make time stop. Perhaps it's something I can

identify with, even if I don't know it. A feeling.

I don't shoot with a long telephoto – I shoot up close

and personal. I want that connection. I'm the guy in

someone's face. It's personal and the subject knows

it. I dance around, like a boxer or a Judoka in the judo

ring. I'm observing the light, the face, the comfort and

nature of the subject's demeanor and pose, waiting for

the moment when it all comes together. Specular light,

rembrandt light, light & shadow, depth and dimension. I

need the shadow, the blackness, the mystery and hint of

light and then the hard, dramatic contrast of light. And

then, in between the shots, I find it. The connection.

When the subject finally feels relaxed enough to let me

see them, to immortalize their soul in the light that I've

found.

When I'm in the studio, I try and do the same thing. While

most photographers today like the techno wizardry of

strobes, beauty dishes and softboxes, I lean towards

something much more traditional, more old school –

Tungsten Fresnel Lights. Feathered light, dramatic light,

specular light, Hollywood light, cinematic light, and

contoured light. "What you see is what you get" light.

It works for me. And it seems to work for my subjects

– making them stand out from the crowd. After all, isn't

that why they wanted to have their picture taken in the

first place?

And when I shoot a story, a documentary, I shoot the

same. I look for the people, the places, the edges, the

light that makes the story something more, something to

remember, to go back to time and time again.

Thanks for reading. Hope to connect soon/Allan

CONTACT ALLAN KLIGER:

Web: allan kliger photography

Instagram: allankligerphotography

FB: Allan Kliger Fine Art Photography

Contact: photography@allankliger.com

Tel: (416) - 669-0647 Toronto, Canada

79
---
Fine Art Photography Magazine

MAY 2017 #32

Coverage & Interviews

The Meaning of

HOME