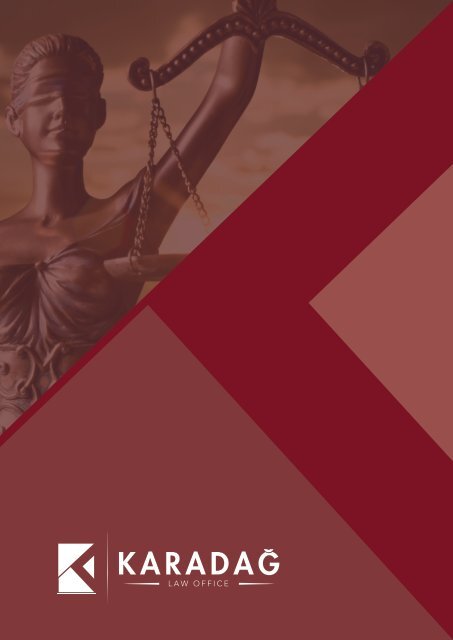 Create successful ePaper yourself
Turn your PDF publications into a flip-book with our unique Google optimized e-Paper software.
CONTENTS

04-05 ABOUT US

Get the Best Legal Service Ever

OUR KEY TEAM

08-09 CORPORATE

Sybsections Under This Practice Area

DISPUTE RESOLUTION

Services And Subsections Under This Practice Area

12-13 COMPETITION

Servisces Under This Pracetice Area

INTELLECTUAL PROPERTY

Subsections Under This Practice Area

16-17 EMPLOYMENT

Servisces Under This Pracetice Area

REAL ESTATE

Subsections Under This Practice Area

19 TAX

Servisces Under This Pracetice Area

WHITE COLLAR CRIME

Subsections Under This Practice Area

06-07

10-11

14-15

18

20

03
---
GET

THE BEST

LEGAL SERVİCE

ABOUTS US

EVER

04
---
Karadağ Law Office, is a full service law firm in Tur-key, provides legal services to its local and

multinati-onal corporate clients with around 7 lawyers including 2 partners. The majority of

our firm's lawyers, all of whom are multilingual, have LL.M. and/or Ph.D. deg-rees from recognized

law schools around the world including the United States and Germany.

Karadağ Law office offers a diverse range of legal services, particularly in corporate transactions,

mer-gers & acquisitions, competition/antitrust, intellectual property, pharmaceuticals,

banking & finance, emp-loyment, real estate and litigation, white collar crime and compliance

for local and multinational busines-ses.

With a profound insight on business sectors and a deep understanding of the trade, our law

office provi-des the best possible solution, personalized to the specifications of each client.

With our lawyers' subs-tantial experience in complex multi-jurisdictional corpo-rate activities,

we manage all transactions and client matters in an efficient and responsive manner.

In 2015 and 2016, our lawyers specialized in employ-ment law, ranked as Tier 1 by Legal 500

and Chambers Europe and Chambers global in the field of employ-ment law.

Karadağ Law Office is a member of Employment Law Alliance (ELA) which is one of the most

prestigious employment law associations throughout the world.

05
---
OUR KEY TEAM

Counselling Lawyer

+90 (530) 155 43 65

+90 (212) 268 22 28

+90 (212) 324 06 64

Akat Mah. 8. Gazeteciler Sitesi.

Akatlar Mah. Yıldırım Oğuz Göker Sok.

No 56 Beşiktaş / Levent - İstanbul

monaran@karadaglaw.com

www.karadaglaw.com

Melek Onaran's practice focuses on all aspects of employment and labour law matters. She has extensive

experience in dealing with individual and collective labour law, and social security law matters. She offers

legal guidance on complex legal issues, such as those that can arise in large-scale cross border transactions

or outsourcing projects, as well as challenging restructuring projects and subsequent dismissals. She provides

specialized legal advice in all corporate crime matters such as fraud, misappropriation, unfair competition

etc.

Dr. Onaran worked as an associate professor at the Department of Employment and Social Security Law of

Istanbul University School of Law between the years of 1986 and 1999. She lectured various employment

and labour law topics at the Faculty of Law throughout her academic years of 13 years, and published many

articles in various law journals and periodicals.

Dr. Onaran earned her Ph.D. degree at Istanbul University, School of Law in Private Law in 1999. She pursued

her Ph.D studies at the University of Friedrich Alexander in Erlangen-Nürnberg. Her Thesis was titled "In the

Light of Comparative Study, Equality of Women and Men Employees in Labour Law''. She earned her first

LL.M. degree at Istanbul University, School of Law, in Employment and Collective Labour Law in 1990. She

earned her second LL.M. degree at Georgetown University, Washington D.C. in Securities and Financial Regulations

in 2002. She graduated from Istanbul University, School of Law in 1986.

She is a member of Istanbul Bar Association.

She speaks fluent English and advance level of German.

Dr. Onaran was admitted to practice in 1999.

06
---
Emrah KARADAĞ

Managing Partner

+90 (530) 704 10 88

+90 (212) 268 22 28

+90 (212) 324 06 64

Akat Mah. 8. Gazeteciler Sitesi.

Akatlar Mah. Yıldırım Oğuz Göker Sok.

No 56 Beşiktaş / Levent - İstanbul

ekaradag@karadaglaw.com

www.karadaglaw.com

Emrah Karadağ specialises in all aspects of employment and labour law matters, corporate and

merger and acquisitions, commercial law and compliance matters. He also has a profound expertise

in dealing with individual and collective labour law, and social security law matters, and advising on

both contentious and non-contentious law matters. He provides legal advice to a range of domestic

and international companies for all their needs.

He represented Turkish and international clients in their dealings and disputes from diverse industry

sectors. He has advised many multinational/local companies.

Mr. Karadağ is currently at the thesis stage of his LL.M. at Özyeğin University, Institute of Social Sciences,

in Private Law. He is working on his thesis namely "competency and authorisation to conclude

collective labour agreement". He graduated from Galatasaray University, School of Law in 2011.

He is a member of Istanbul Bar Association.

He speaks fluent English, French and intermediate level of Spanish.

Mr. Karadağ was admitted to practice in 2011.

07
---
CORPORATE

Our Corporate team, competent in various disciplines, strives to offer solutions suitable to

the purpose. Our aim is to provide our clients with the best strategic advice and mobilise it

quickly. We work in partnership with our clients to understands their needs and deliver swift

and effective performance from end to end. Our established relationship with business

leaders plays a large role in offering our clients added value in both maintaining relationships

at a strategic level and the completion of projects at an operational level.

We serve local and foreign companies through each and every phase of a company's establishment

and growth, from M&A to initial public offering.

We address our client's corporate related needs in a wide variety of areas including commercial

contracts, acquisition financing, restructuring projects and the removal of debt instruments

such as Eurobonds. Our team has extensive experience working on large-scale projects

and has played a pivotal role in providing legal services to buyers and sellers from initial

structuring advice, due diligence, drafting and negotiating transaction documents, assisting

with obtaining the necessary consent from the Competition Board and the Energy Market

Regulatory Agency and ensuring that the pre-conditions are met, to assisting with completion

and post-completion matters.

Our Corporate practice handles investment fund M&As through all stages of the transaction.

In this regard, we introduce our clients to the opportunities, relationships, insights and

experience afforded by our strong Turkish and global platform.

In an expanding Turkish market environment, we advise private equity firms on their investments,

day-to-day management of their portfolio companies and in exiting their investments

where the exit is achieved mainly by way of a share transfer or IPO. Our team combines legal

skills with an understanding of our clients' business needs to deliver a constructive and

accurate service. We see our clients as our business partners and seek to add value beyond

our legal service. Our breadth and depth of legal disciplines mean that we can tap into a vast

range of know-how on any type of deal in any sector.

08
---
SUBSECTIONS UNDER THIS PRACTICE AREA

Corporate Transactions

• Mergers & acquisitions

• Joint venture transactions

• Private equity

• Public and private securities offerings

• Initial Public Offering

• Privatisation

• Energy law (EMRA permits)

• Insurance law

• Commercial contracts

• Distributorship agreements

• Public tenders and government contracts

• Hospitality management contracts

• Telecommunications law

Day-to-Day Corporate Advice

• Training on the New Turkish Commercial Code

• Board and shareholder meetings

• Share capital markets

• Articles of association and signature circulars

• Trade registry applications

• All other corporate grievances and day-to-day

corporate matters

09
---
DISPUTE RESOLUTION

The Dispute Resolution practice, has extensive experience in providing assistance to sector-leading

businesses, operating both locally and abroad, in all aspects of dispute prevention and

aiming to resolve issues prior to trial.

Our lawyers collaborate with clients and their counterparts to identify and execute the most

advantageous business-oriented solutions, either by pursuing or by defending in litigation or

arbitration proceedings, or through alternative methods such as mediation.

Our approach is to help clients avoid litigation wherever possible. When litigation is unavoidable,

we discuss with our clients their objectives and asses the legal, commercial, and reputational

risks involved. We proceed on a basis tailored to our clients' needs drawing on the expertise

and experience of our team. We also offer retainer services for compliance and regulatory

advice on a day-to-day basis.

International and local companies from a variety of sectors retain our lawyers for their most

significant litigation matters. Our Litigation team focuses on high-profile administrative, commercial,

employment, intellectual property, tax and criminal litigation cases of multinational

companies and complex commercial and investment proceedings. We provide training, daily

advice and conduct audits especially in the areas of competition, tax, employment and pharmaceutical

law. Our team also has expertise in providing cross-border compliance assistance to

our multinational clients.

10
---
SERVICES AND SUBSECTIONS UNDER THIS PRACTICE AREA

Corporate Transactions

• Commercial litigation

• Administrative litigation

• Intellectual property litigation

• Employment litigation

• Tax litigation

Mediation Compliance

• Training and daily advice

• Compliance audits

• Provide cross-border compliance assistance

to multi-national clients

White Collar Crime/Compliance

• Internal investigations

• Criminal investigations and litigation

• Abuse of trust by employees and directors,

liabilities of directors and managers

• Fraud, misappropriation, forgery of

documents and unfair competition

Debt Recovery and Restructuring

• Collection of receivables

• Debt restructuring projects

• Bankruptcy, postponement of bankruptcy

and concordat

11
---
COMPETITION

Our Competition practice is efficient in dealing with complex fact patterns and multiple

issues of law and the strong cooperation between different practice areas within our

firm enables us to quickly and thoroughly address these issues.

Our main principle is to offer clients a successful business strategy through our expert

knowledge of competition law, whether a company plans to form a business alliance,

challenge its competitors, implement new production, marketing or distribution strategies,

or grow through corporate development.

Working closely with the Corporate group, our Competition lawyers advise and represent

clients in a variety of cross border transactions. Our Competition team offers the

essential support in a broad range of conduct in restraint of trade from collusive agreements

among competitors and monopolistic abuse of a dominant position, to restrictive

supplier or customer arrangements, joint ventures, and corporate mergers & acquisitions.

In complex competition matters, we balance the commercial objectives of our

clients against the risks of intervention by competition authorities or claims of third

parties.

Our knowledge of government policies and regulators' enforcement priorities places

us in an ideal position to provide strategic advice that optimizes our client's position in

their individual market. When needed, we offer legal assistance to our clients in setting

up and managing compliance programmes.

Our lawyers represent clients in complex investigations carried out by the Competition

Board. We provide professional advice with particular attention to the features of the

regulatory and business environment. We also represent clients before the Administrative

Courts and Council of State against decisions taken by the Competition Board,

mainly rendered upon investigations or M&A transactions, including privatisations.

Our Competition team keeps up to date on all significant developments and assists

clients in every aspect of competition law.

12
---
SERVICES UNDER THIS PRACTICE AREA

• Advising clients on competition law aspects of transactions

• Preparing notification forms for global and domestic mergers & acquisitions

• Representing clients in pre-investigations and investigations initiated by Turkish Competition

Authority and before the administrative courts as well as the Council of State

• Advising clients on sector specific competition law issues (automotive, pharmaceutical, telecommunications,

FMCG etc.)

• Competition audits and mock up dawn raids

• Compliance and training programs

• Distribution and supply agreements

• Non-compete clauses

• Cooperation agreements

• Licensing agreements

• Investigations

• IR&D agreements

13
---
INTELLECTUAL PROPERTY

TECHNOLOGY

Our team provides innovative and strategic solutions by analysing our clients' business objectives

and priorities in the most accurate way to meet the legal requirements arising from matters

concerning intellectual property, technology, media, healthcare and international trade. In

this context, we monitor the relevant legal fields using local and foreign sources on a daily

basis, attend scientific events held in Turkey and developed countries, and offer our attorneys

ongoing training opportunities. In order to provide added value to our client, it is essential to

be a part of their success by understanding the opportunities and limitations of various business

environments and knowing about the conditions of competition prevailing in each sector.

We offer legal advice and services in order to help our clients protect their intellectual property

rights in the most effective way. We provide support in negotiations, prepare licences and

other agreements with a view to registering these rights timely and in the most accurate

manner and to the structure the financial rights granted to third parties in an optimum way.

When an infringement is in question, we effectively take the necessary actions to follow-up the

process before the prosecution offices and the courts. With our years of experience and knowledge,

we provide our clients with timely and effective solutions in the prevention of counterfeit

goods entering the country and its trade. In addition, we track the process of alternative

dispute resolution authorities including international organisations in relation to issues such

as resolution of domain name disputes.

In parallel with the rapid developments in technology, our team closely monitors the developments

in IT law across the globe in order to meet legal contractual and transactional needs. We

provide legal advice and services to clients in issues such as software license agreements, technological

products, cloud computing, social media, e-commerce, internet security, and legally

contribute in the preparation of complex and technical contracts in relation to outsourcing of

information processing services.

We accommodate media organisations' legal requirements concerning broadcast regulations,

and also self-regulating agencies of advertising and promotion industries and we closely

monitor the process of dispute resolution before courts and administrative bodies. Another

area our team operates in is international trade. We provide legal advice and support, especially

in franchising & distribution relationships and dispute resolution arising therefrom, and

monitor the process for the removal of barriers to trade, and develop solutions for customs and

trade issues.

14
---
SUBSECTIONS UNDER

THIS PRACTICE AREA

Life Sciences

• Innovator pharmaceutical industries

• Medical device companies

• Hospitals

Intellectual Property

• Copyright

• Trademark

• Patent

• Industrial design

Technology and Media

• Licensing

• Outsourcing

• E-commerce

• Cloud computing

International Trade

• Franchising & distribution

• Customs

15
---
EMPLOYMENT

The Employment team provides proactive counselling to lead our clients through laws and

regulations governing employment matters.

Our underlying drive is to develop and implement employment policies designed to minimise

risk and avoid litigation for employers from all industries. However, when dispute becomes

inevitable, our lawyers seek to offer the best possible solutions promptly and effectively.

In today's ever-changing global business climate, our Employment team has developed considerable

experience in employment aspects of multinational mergers, acquisitions and divestitures.

We provide legal advice to Turkish and international clients in their dealings and disputes with

employees, trade unions and governmental entities from various sectors.

We advise clients on all employment matters, including relations with sub-contractors, drafting

company regulations, preparation and implementation of employment contracts, and

non-competition agreements. We also offer routine and daily advice on methods for improving

employer-employee relations or maintaining a union-free environment. For our clients

whose employees are unionised, we provide assistance in all management aspects of union

relationships including application of collective labour agreements, grievances, and representation

before the labour courts.

We offer full assistance to major international companies concerning their implementation of

employee offering plans, stock options and similar rights.

When litigation is inevitable we offer expert litigation services, including job security and

indemnification related claims, assistance in relation to the labour authority inspections,

issues raised by trade unions and claims relating to workplace safety, overtime payments, and

notice and severance pay requests.

16
---
SERVICES UNDER THIS PRACTICE AREA

• Drafting typical and atypical employment contracts

• Drafting internal regulations

• Restrictive covenants

• Dismissals

• Executive separations

• Complex restructuring and redundancies

• Divestitures and business transfers

• Employee data protection

• Outsourcing and subcontracting

• Attending collective bargaining

• Challenging trade union competence

• Preventing strike actions and challenging strike ballots

• Employee offerings

• Bonus and other incentive schemes

• Dealing with all regulatory issues before labour authorities

• Immigration matters; obtaining work permits

• International posting of employees and secondment

• Employment and labour litigation

17
---
REAL ESTATE

Our Real Estate team acts for domestic and foreign clients in all aspects of real estate dealings.

Our goal is to provide commercial and innovative advice that adds value at all stages of the

investment and development cycle. As an integrated, one-stop shop for real estate, we cover

areas such as planning, development, construction, real estate acquisitions and disposals, real

estate financings and leases.

Our Real Estate team provides specialised legal consultancy to clients in the real estate field

including, but not limited to, project developers, REITs, owners, private or corporate investors,

real estate project lenders, construction companies, leasing and management companies,

retailers and tourism companies. Our work, across a diverse range of sectors, gives us a rounded

view of the market that adds more insight to the advice we give our clients.

We assist in drafting and negotiating sale and purchase agreements, superficies right, usufruct,

and passage right or lease agreements. We also deal with zoning law, building permits,

mortgages, loan agreements related to real estate projects, construction agreements, architectural

and engineering service agreements, hotel / shopping centre / office building management

agreements, service agreements, lease agreements and disputes, approvals to be obtained

from official bodies in relation with real estate law, competition law, and share transfers.

We also provide due diligence services in relation to the above.

SUBSECTIONS UNDER

THIS PRACTICE AREA

• Acquisitions and sales

• Real estate investment funds

• Development

• Construction

• Asset management

• Retail

• Hospitality and leisure

• Real estate litigation

18
---
TAX

Tax law is a highly regulated area, which means that those involved in business must adjust to its

requirements and demands, and act accordingly in order to achieve effective results. It is of critical

importance to the success of a transaction, and indeed a business, to recognise tax law implications

and navigate accordingly.

Our objective is to help our clients manage their tax issues in the most effective way. In line with this

goal, our Tax team provides diverse perspectives and expertise to help clients maintain an effective

relationship with the tax authorities throughout all the challenges of tax audit, tax compliance, and

tax planning.

The Tax team has far-reaching tax expertise and is fully equipped to offer assistance in tax litigation

and investigations, transfer pricing, and taxation of corporate restructuring transactions. Our services

include tax litigation, technical support in tax ruling application processes, preparation of documents

and lists, and reviewing reports during tax inspections, and tax consulting during the reconciliation

phase. We also assess whether the correction operations of the tax office, following litigation

or reconciliation, are in conformity with the decision. Our tax team also assists in customs disputes

and investigations, which has recently gained significant importance in Turkey.

The Turkish tax regime presents particular risks and opportunities that must be considered throughout

an M&A transaction. By cooperating with our Corporate team, we are able to offer tax due

diligence services prior to M&A, and tax restructuring and planning during the M&A process based

on national and international regulations and bilateral tax treaties.

SERVICES UNDER THIS PRACTICE AREA

Tax Consulting

• Advance tax rulings

• Tax inspections

• Tax reconciliations

• Tax compliance

Tax Restructuring

Tax Litigation

Transfer Pricing

• Advance price agreement

• Planning & structuring

Tax Planning

• Domestic tax planning

• International tax planning

Tax Due Diligence

• Customs investigation

• Customs reconciliation

• Customs litigation

19
---
WHITE COLLAR CRIME

The White Collar crime practice provides specialised legal advice in all corporate crime matters

such as fraud, misappropriation, forgery of documents and unfair competition, criminal investigations,

legal proceedings and criminal litigations, compliance, abuse of trust by employees

and directors, and liabilities of directors and managers.

The rapid economic development in Turkey and foreign investment has played a large role in

the proliferation of legal disputes and criminal actions. Our lawyers aim to meet all these issues

efficiently and effectively.

Our White Collar Crime practice represents and vigorously defends corporations, business entities

and individuals when they face criminal investigations, are subject to potential charges or

are involved in litigation. We also counsel clients seeking effective corporate compliance to

avert problems before they occur.

The team focuses on criminal, regulatory and compliance problems affecting major corporations,

their officers and employees. We represent corporations, business entities and individuals

at every stage of the business risk cycle from influencing the development of legal policy through

lobbying and other communications strategies, to developing proactive compliance programs

and conducting internal audits and investigations; to providing advice during criminal or

regulatory investigations; to defending clients in court when necessary.

SERVICES UNDER

THIS PRACTICE AREA

• Abuse of trust by employees and directors

• Compliance

• Criminal investigations and litigation

• Internal investigations

• Forgery of documents and unfair competition

• Fraud

• Legal proceedings and criminal litigations

• Liabilities of directors and managers

• Misappropriation

20
---
PERIODICALS

The firm provides updates to clients by periodically publishing 'Legal News Alerts' which offer legal

updates concerning many areas of law.

For further information about KARADAĞ Law Office please visit www.karadaglaw.com

21
---
This brochure has been prepared for the clients of KARADAĞ Law Office for information purposes only.

Copyright © 2014 KARADAĞ Law Office. All rights reserved.

Akat Mah. 8. Gazeteciler Sitesi.

+90 (212) 268 22 28 info@karadaglaw.com

Yıldırım Oğuz Göker Sok. No 56

+90 (212) 324 06 64

www.karadaglaw.com

Levent - Beşiktaş / İstanbul