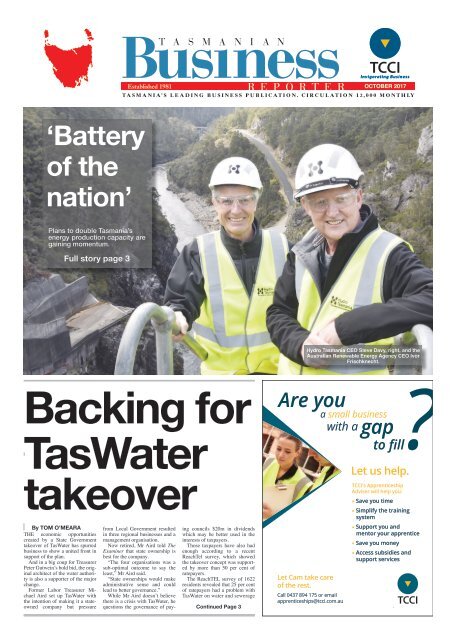 Tasmanian Business Reporter October 2017
Leading off this month, Editor Tom O'Meara weighs in on the TasWater ownership debate as the opportunities stemming from a state government takeover continue to prove popular within the Tasmanian business community.      You'll also find Hydro's exciting plans to double energy production, the lowdown on the Tasmanian Gas Pipeline and national recognition for one of our favourite local honey makers.  
Leading off this month, Editor Tom O'Meara weighs in on the TasWater ownership debate as the opportunities stemming from a state government takeover continue to prove popular within the Tasmanian business community.     

You'll also find Hydro's exciting plans to double energy production, the lowdown on the Tasmanian Gas Pipeline and national recognition for one of our favourite local honey makers.  
SHOW MORE
SHOW LESS
Create successful ePaper yourself
Turn your PDF publications into a flip-book with our unique Google optimized e-Paper software.
OCTOBER 2017

T A S M A N I A' S L E A D I N G B U S I N E S S P U B L I C A T I O N . C I R C U L A T I O N 1 2 , 0 0 0 M O N T H LY

'Battery

of the

nation'

Plans to double Tasmania's

energy production capacity are

gaining momentum.

Full story page 3

Hydro Tasmania CEO Steve Davy, right, and the

Australian Renewable Energy Agency CEO Ivor

Frischknecht.

Backing for

TasWater

takeover

By TOM O'MEARA

THE economic opportunities

created by a State Government

takeover of TasWater has spurred

business to show a united front in

support of the plan.

And in a big coup for Treasurer

Peter Gutwein's bold bid, the original

architect of the water authority

is also a supporter of the major

change.

Former Labor Treasurer Michael

Aird set up TasWater with

the intention of making it a stateowned

company but pressure

from Local Government resulted

in three regional businesses and a

management organisation.

Now retired, Mr Aird told The

Examiner that state ownership is

best for the company.

"The four organisations was a

sub-optimal outcome to say the

least," Mr Aird said.

"State ownerships would make

administrative sense and could

lead to better governance."

While Mr Aird doesn't believe

there is a crisis with TasWater, he

questions the governance of paying

councils $20m in dividends

which may be better used in the

interests of taxpayers.

Those taxpayers have also had

enough according to a recent

ReachTel survey, which showed

the takeover concept was supported

by more than 50 per cent of

ratepayers.

The ReachTEL survey of 1622

residents revealed that 25 per cent

of ratepayers had a problem with

TasWater on water and sewerage

Continued Page 3

Are you

Let Cam take care

of the rest.

Call 0437 894 175 or email

apprenticeships@tcci.com.au

a small business

with a

gap

to fill

Let us help.

TCCI's Apprenticeship

Adviser will help you:

• Save you time

• Simplify the training

system

• Support you and

mentor your apprentice

• Save you money

• Access subsidies and

support services
---
2 Tasmanian Business Reporter - OCTOBER 2017

NEWS

Hydro's 'battery'

plan charges up

THE $5 billion plan to double

Tasmania's energy capacity

and make the state the renewable

"Battery of the Nation" is

gaining momentum.

A shortlist of about 30 potential

pumped hydro energy

storage sites has been identified,

including four existing

power stations, as experts attempt

to increase the state's

hydro output to 2,500 mW.

Funding from the $2.5 million

Australian Renewable

Energy Agency of $800,000

has recently been committed

to help narrow the list to between

10 and 15 sites.

Hydro Tasmania CEO Steve

Davy and CEO of ARENA,

Ivor Frischknecht, recently

inspected one of the possible

conversion sites, the Cethana

power station in North West

Tasmania, which has already

been assessed as having some

of the best pumped hydro

potential in Tasmania (up to

1,000mW).

Mr Davy said Tasmania

was uniquely placed to help

lead Australia through its

challenging energy transition.

"The Battery of the Nation

The entrance tunnel to

Cethana Power Station.

is about energy security and

affordable prices," Mr Davy

said.

"Doubling Tasmania's renewable

energy capacity addresses

three big challenges at

once," he said.

"It will lock in full energy

security, help give Tasmanians

some of the nation's

cheapest power prices and

give us plenty of spare energy

to support mainland Australia.

"At a time when Australia

badly needs flexible and storable

energy to replace the coal

power it's phasing out, the

Battery of the Nation offers

a future that's clean, reliable

and affordable," he said.

Mr Frischknecht said the

Battery of the Nation studies,

e dition

along with feasibility studies

into Snowy Hydro 2.0, would

examine how pumped hydro

energy storage could play an

expanded role in Australia's

energy mix, and help accelerate

the transition to renewable

energy.

"With these projects we

could double Tasmania's

pumped hydro capacity and

help power an additional

500,000 households.

"Tasmania could play a

crucial role in helping to provide

secure, reliable – and renewable

– electricity for the

National Energy Market,"

Mr Frischknecht said.

Hydro Tasmania has ruledout

developing any pumped

hydro sites in the Tasmanian-

Wilderness World Heritage

Area and is not investigating

new on-river dams.

The State Government welcomed

the ARENA funding,

which will be matched by Hydro.

The entire project could

create up to $5 billion of infrastructure

investment and

up to 3000 construction jobs

across 10 to 15 years.

The Cameron Bay wastewater treatment plant.

TasWater takeover backed

From Page 1

supply, charges and connection.

Of the clients who had a

problem, 45.3 per cent had to

wait longer than four weeks

for TasWater to fix the problem.

The research supports the

complaints from business

organisations that TasWater

generally didn't understand

the needs and wants of business

and developers at all levels.

The Tasmanian Chamber

of Commerce and Industry

has joined with peak business

bodies in the state including

the Tasmanian Hospitality

Association, Tasmanian

Small Business Council,

Master Builders Association,

Housing Industry Association

and the Property Council – in

support of the takeover in the

interest of Tasmania.

All organisations have received

a flood of complaints

from their members who had

difficult experiences and were

left totally frustrated in their

attempts to work with TasWater.

Business organisations also

lodged submissions to the

Legislative Council Select

Committee investigating the

ownership of TasWater and

followed up with public hearings

in Launceston and Hobart

in mid-September.

The overwhelming argument

was the difficulty for

TasWater to perform as a

statewide business with 29

owners – the state's 29 councils

– who are advocating for

their individual municipal areas

and not the state's needs

as a whole.

Under the Treasurer's plan

to set TasWater up as a Government

Business Enterprise,

the organisation would act

on a broader state level and

understand its obligations as

a major infrastructure enterprise.

This would also allow for

accelerated spending on infrastructure,

while delivering

cheaper outcomes for mum

and dad consumers.

T A S M A N I A' S L E A D I N G B U S I N E S S P U B L I C A T I O N . C I R C U L A T I O N 1 2 , 0 0 0 M O N T H LY

Tasmanian Business Reporter can now be delivered directly to your inbox. With our 30,000-strong monthly print

readership, our new up-to-date digital distribution will keep Tasmanians abreast of the all latest in local business

news. From this month we will distribute electronic editions of the Tasmanian Business Reporter as we go to print.

To confirm your copy sign up to our mailing list via

tbreditorial@fontpr.com.au

Tasmania's business newspaper is published monthly by the

Tasmanian Chamber of Commerce and Industry. It is distributed

to businesses in Tasmania as well as key decision-makers.

Circulation: 12,000

Managing Editor: Tom O'Meara

0418 135 822

Editor: Becher Townshend

0418 370 661

Advertising and Special Projects

Gil Sellars 0448 901 361

gil@thetrustedmediaco.com

Kerri Guardia 0419 750 267

kerri@thetrustedmediaco.com

Editorial & Advertising

TBReditorial@fontpr.com.au

www.tasmanianbusinessreporter.com.au

Publisher:

Tasmanian Chamber of Commerce and Industry

309 Liverpool St, Hobart, TAS 7000

Ph: 6236 3600 Fax: 6231 1278 admin@tcci.com.au

TFGA House, 194-196 Cimitiere St, Launceston TAS 7250

Ph: 6331 1144 laun@tcci.com.au

Production:

aldridge.media

Ph: 0431 241 775

aldridge.media@iinet.net.au

Printer: Mercury

Level 1, 2 Salamanca Square, Hobart, 7000

Sweet success for honey makers

Lindsay and Yeonsoon

Bourke from Australian

Honey Products

are again revelling in

sweet success after

their Leatherwood honey

was named champion

product at the Australian

Food Awards.

The Launceston-based

producer won the Champion

Australian Product

Trophy and Champion

Australian Pantry Goods

Trophy at the national

awards night.

The trophies were

both awarded for Sheffield

Honey Farm Leatherwood

honey.

Mr and Mrs Bourke

say Tasmania is blessed

to have the resources

to create the world's

finest honeys but they

SPECIALISING IN CONFIDENTIAL SALE &

PURCHASE OF PRIVATELY HELD BUSINESSES

TASMANIA | AUSTRALIA | INTERNATIONAL

Contact: DEAN DEMEYER

M 0419 832 359

E dean.demeyer@finnbusinesssales.com.au

CONFIDENTIAL | PROFESSIONAL | PEACE of MIND

www.finnbusinesssales.com.au

Lindsay and

Yeonsoon

Bourke from

award

winning

Australian

Honey

Products.

have regularly expressed

concern about ongoing

supply of access to

Leatherwood forests.
---
Tasmanian Business Reporter - OCTOBER 2017 3

Jobs gain leads nation

Shadow Treasurer

TASMANIA has had the fastest

jobs growth in the country

over the past 12 months, with

a four per cent increase in the

number of people employed.

But more needs to be done

to improve full-time employment

rates, say government

opponents.

The recent ABS data shows

that since the election of the

Hodgman Liberal Government,

11,500 jobs have been

created and the participation

rate is the highest since early

2015.

Treasurer Peter Gutwein

said there was still more work

to do to capitalise on the recent

improvement.

"That's why we have set a

target to reduce youth unemployment

to the national average

and to have the lowest unemployment

rate of any state

by 2022," Mr Gutwein said.

Scott

Bacon welcomed the "modest

rise" in total jobs and the participation

rate but highlighted

that the unemployment rate

has also been revised up.

"Overall, this is a positive

update though we would have

liked to have seen greater

growth in full-time employment,"

Mr Bacon said.

"The full-time employment

column is the one Labor is focussed

on in the lead up to the

election.

"Tasmanians not only identify

jobs as a key issue but

they talk about the importance

of meaningful, full-time employment,"

he said.

The jobs data was released

just before the results of a

combined Australia Institute

Tasmania and Unions Tasmania's

jobs survey, which highlighted

underemployment and

unpaid work as key issues for

respondents.

Key findings of the jobs

survey were:

• over 60 per cent said they

wanted more hours to help

make ends meet; and

• 80 per cent said they were

required to sometimes work

extra hours, with 56 per cent

of those saying they weren't

always compensated or remunerated

for that time.

NEWS

Human

rights

lawyer

honour

Rock lobster industry a world-first

TASMANIA is set to become

the birthplace of a global industry

for rock lobster aquaculture

thanks to world-first

research in the state.

Tasmanian firm PFG has a

world-class pedigree in the

mariculture sector and is now

partnering with the University

of Tasmania to change the

face of the lucrative industry.

The long and complex life

cycle of the lobster has made

it impossible to produce the

species in a commercially-scalable

hatchery until

now, with plans to have a

new hatchery facility operating

in the state within four

years.

The research at the University

of Tasmania's Institute

for Marine and Antarctic

Studies (IMAS) is supported

by the ARC Research Hub

for Commercial Development

of Rock Lobster Culture

Systems.

PFG has invested in a university

spin-out company to

secure the Australian licencing

rights to the research.

University Deputy

Vice-Chancellor (Research)

Professor Brigid Heywood

said it was an exciting project.

"It is emblematic for us

that a Tasmanian firm, led by

a University alumnus (PFG

CEO Michael Sylvester) has

agreed to help us realise what

has been 15 plus years in the

making," she said.

"We are passionate about the

The university rock lobster research team presents their groundbreaking work to the media in Hobart.

role of research and innovation

in providing a platform

for economic

renewal and the creation

of entirely new economic

sectors. This is a very fine

example of that in

action.

"This partnership paves the

way for Tasmania to become

the birthplace of a global industry

for rock

lobster aquaculture."

In the next two years, scientists

working at IMAS Taroona

will complete the final two

years' work of the Australian

Research Council-backed hub,

focusing on the optimisation of

technology that will underpin

commercial production. PFG's

commitment includes the

construction in Tasmania of the

world's first commercial scale

hatchery.

Mr Sylvester said the partnership

would lead to further

opportunities for its existing

portfolio of world-class

products and services, while

opening entirely new export

markets.

"This arrangement brings

together Government, academia

and industry in partnership

that will create direct

employment within Tasmania,

and allows us to export our

intellectual property to the

world," he said.

Alice Edwards

THE career of internationally-renowned

human rights

lawyer and humanitarian Dr

Alice Edwards was recognised

with the presentation

of the University of Tasmania

Foundation Graduate Award.

Dr Edwards matriculated

from Fahan College before

graduating from the University

of Tasmania with a Bachelor

of Arts and Laws, with

Honours in Law in 1997.

She completed her legal

articles in Victoria, becoming

admitted as a barrister and

solicitor to the Victorian Bar

in 1998.

During her 20-year career,

Dr Edwards has successfully

led cases in international

courts to protect the rights of

refugees, created mechanisms

to rescue the thousands of

trafficked women and girls

in the Balkans, and initiated

and galvanised support for

the United Nations Refugee

Agency's (UNHCR) global

strategy to end the detention

of asylum seekers.

She is currently the Head

of the Secretariat for the

Convention Against Torture

Initiative (CTI), in Geneva,

Switzerland – an initiative

dedicated to achieving the

universal ratification of the

United Nations Convention

Against Torture.

Printing Technology

and Tradition.

Here's just some of the things we do regularly...

• Books • Magazines • Newsletters • Catalogues • Annual Reports

• Business Cards • Letterheads • Posters • Flyers • Corporate Branding

• Logo Design • Packaging • Wine Labels • Stickers • Swing Tags

• Mail-Outs • Folders • Forms & Invoices • Variable Data Printing

• Language Translation • Web Design • Proof Reading

• Copywriting • Large Format Signage & Display

Whatever your needs, get in touch.

We're here to help.

more than just fine printers.

p. 03 6332 1400

www.footandplaysted.com.au

99-109 charles street launceston tasmania 7250

Hall of

Fame

date

change

THE TCCI's inaugural

Business Hall of Fame

Awards has been postponed

until next year.

The event will now

be Saturday, June 30,

2018, with an expanded

program of award

categories including a

contemporary Hall of

Fame, celebrating the

achievements of business.

Nominations will

re-open and remain

open until March,

2018.

SOLUTIONS

IN PRINT

your print specialist for over 90 years

6391 8481

www.woolstonprinting.com.au

Full Off-Set,

Digital and

Wide Format

Capabilities

Binding and

Finishing

Variable Data

and Mailing

sales@paperstat.com.au

Warehousing

and Distribution

Online Ordering

and Inventory

Management

WP - Advert Mar17.indd 1

4/04/2017 1:15:43 PM
---
4 Tasmanian Business Reporter - OCTOBER 2017

THOUGHT LEADERSHIP

www.tcci.com.au

Election elephants in the room

Michael

Bailey

TCCI Chief Executive

POLITICS is a tricky game.

We've witnessed good governments

fall trying to deliver

structurally necessary but

publicly unpopular policy

changes over the course of

history.

In Tasmania, with the precarious

nature of State Parliament

thanks to representative

numbers and the Hare Clark

system, every vote does count

for politicians wanting to win

another term in government.

It makes me wonder if

this fickle situation is to the

detriment of development in

our state?

Have we lost the courage

to take on structural reform in

Tasmania?

As we head into a state

election and political parties

start to jockey for position, I

notice that the big ticket reforms

are off the agenda.

There is plenty of discourse

about poker machines, health

statistics, school starting ages

and so on, but where is the debate

about the big reforms?

The elephants in the room

are local government reform

and the structure of the State

Public Service.

I have said for some time

that to truly reform the way

that government works in

Tasmania you must undertake

a root and branch review of

local and state government

together.

Both are so intertwined

now that reviewing one without

the other is pointless and

problematic.

What do the Tasmanian

people need their public ser-

Both [local

and state

governments]

are so intertwined

now

that reviewing

one without

the other is

pointless and

problematic.

vice to do and how much can

we afford to pay for them to

deliver results?

Local government output,

councillor/aldermen numbers

and duplication have been

ongoing issues and, with the

topic seemingly too politically

dangerous to tackle, we are

left waiting for the state's 29

councils to slowly discuss the

merits of reducing their own

stocks.

It's a bit like asking your

child whether he wants one

or two lollies after dinner -

we all know what the answer

will be.

Tasmanians have the right

to ask these questions and

they should be answered thoroughly

in a comprehensive

review

I believe that such a review

should drive the debate, build

the discourse and create an

Tasmania's Parliament House where big ticket items are off the agenda.

Help available to expand markets

THE Department of

State Growth has released

details of the New

Market Expansion Program

for the 2017-2018

grant year.

The NMEP supports

Tasmanian businesses

and industry associations

offset the cost of marketing

activities in international

markets.

The program assists

export-ready small and

medium sized enterprises

to grow their business

and is delivered in two

streams – the Enterprise

and Industry.

The department has

allocated $80,000 for

the Enterprise Stream

which provides up to a

50 per cent financial reimbursement

to eligible

businesses.

The marketing activities

can include exhibiting

at international trade

shows, participation

understanding of what these

two levels of government

should provide for Tasmanians.

Strikingly there is no mention

from either of our major

parties about this.

I know that this is difficult

territory but we will have to

reform at some stage - why

not now?

Business confidence is

high, jobs data is positive and

Sally

Chandler

Tradestart Adviser

the flow-on effect from that,

anecdotally, suggests that the

general public is also relatively

happy and positive about

their future here in the state.

So why not be strategic

rather that reactive.

There is little doubt that

the way that GST is distributed

will change in Australia,

and that such changes will be

to the detriment to the Tasmanian

budget –- perhaps

a significant change to the

way the public service and

local government operates

will help us build a buffer in

preparation.

Wouldn't it be refreshing

to have two leaders willing to

take this on before the March

election.

Let's hope they're willing

to take on the big reforms and

leave a legacy well beyond

their Parliamentary careers.

in Tasmanian Government-led

trade missions,

undertaking specific

meetings to establish

distribution channels,

promotional activities

to establish commercial

arrangements, hosting

inward buyer visits to

Tasmania, and market

demand evaluations to

enable product refinement

where appropriate.

All activities must relate

to a country or country

subdivision in which

the business has not previously

undertaken similar

export activity.

The Industry Stream

also has allocated funding

of $80,000 and provides

up to 90 per cent

financial reimbursement

to enable an industry association

or groups of

companies working collectively

on eligible international

market activities,

to gain funding.

An enterprise cannot

receive more than $7000

per financial year under

the NMEP and a group

or association cannot receive

more than $10,000

per financial year under

the program.

Should an applicant

under either stream be a

current claimant of the

Austrade Export Market

Development Grants

scheme or any other government

market development

assistance scheme,

then they are ineligible to

apply for the NMEP.

A consultant or intermediary

cannot apply.

To apply, annual sales

turnover for the Enterprise

Stream must be

greater than $300,000

and less than $20 million

per annum.

All applications are

online and must be

lodged before the activity

takes place.

The NMEP opened on

13th September 13 and

will close on April 30,

2018 unless funds are

fully expended before.

For international trade

and investment assistance

contact the TCCI's

TradeStart Adviser,

Sally Chandler, at sally.

chandler@tcci.com.au or

phone 1300 559 122.
---
Tasmanian Business Reporter - OCTOBER 2017 5

THOUGHT LEADERSHIP

www.tcci.com.au

Hangover sackings can cause headache

AN interesting case has

been heard about an employee

consuming alcohol

the night before

she was meant to attend

work and rang in sick

for her shift. Her employment

was subsequently

terminated.

The case of Avril

Chapman v Tassal

Group Limited T/A Tassal

Operations Pty Ltd

[2017] FWC 4630 was

heard in Hobart on August

8, 2017 and serves

as a reminder to employers

that they need

to carefully consider

whether conduct constitutes

a warning (be it

formal, final or otherwise)

or dismissal.

To summarise the

facts of this case:

An employee was

scheduled to work. The

night before she consumed

too much alcohol,

called work at

4.56pm on April 25 and

left a voicemail that said

she had indulged and

was not fit for work.

On April 27, the employee

returned to work

Abbey

George

Workplace Relations

and was given a letter

that stated in deliberately

consuming alcohol to

the extent she couldn't

attend work the next day

she had breached the

code of conduct.

A performance management

procedure followed.

There were no meetings

in relation to the dismissal

and it was all done

via written correspondence.

The applicant denied

the allegations and said:

"I feel that contacting

management on the 25th

was the right and responsible

thing to do" (Paragraph

11 of the judgement).

Deputy President Barclay

found:

• The employee had deliberately

chosen to overindulge

in alcohol when

she was due to work

the next day and even

though the conduct was

out of hours there was a

sufficient link to the employment

relationship.

• A previous warning

was about inappropriate

language and was from

some time ago. So, to

take this into account

was harsh given the circumstances.

• Had the employee

contacted the employer

on the morning she was

meant to work and notified

them of her incapacity

then termination

of employment would

have been unlikely.

• Accordingly "another

sanction such as

performance management

or a further, perhaps

even final, warning

was appropriate" and he

awarded the employee

$8,229 (after deducting

25% for her contributory

conduct).

The full judgement

can be found at www.

fwc.gov.au/documents/

decisionssigned/html/2017fwc4630.htm

Contact the Helpline

on 1300 765 123 or

the TCCI on 1300 59

122 or workplacerelations@tcci.com.au0

Searoad leads shipping evolution

FOR us folk that work

across borders, moving

goods between countries

- sending whiskey to Japan,

bringing in couches

from China, sending

carrots to the Middle

East, importing engines

from Europe … you get

the idea - nothing is finer

than a shiny new ship.

There is something

about walking through

the engine room of a new

vessel and seeing pristine

metal engines bolted

to the deck with nuts

that Godzilla would be

proud of, seeing white

walls, immaculate quarters,

awe-inspiring control

rooms and the latest

technology all pulling together

to enable trade.

Couple this with an

enthusiastic skipper and

chief engineer and you

have the perfect recipe

for a slick operation.

Standing on the bridge

of the Searoad Mersey II

in Devonport listening to

commentary on the capabilities

of the new vessel

made me stop to think of

how we have evolved in

the shipping world over

the years.

Brett

Charlton

Agility Logistics

Don't get me wrong,

there is definitely some

dust of antiquity on some

of the operations and

regulations still haunting

our industry, but progress

is being made in

other areas.

The fastening system

on the Mersey II is

interesting – it is a vacuum-like

system that

holds the vessel alongside

– this holds the vessel

off the side of the

wharf without the need

for lines.

There's no need to

wait for humans to position

themselves while

ropes are fastened, sav-

It is refreshing to

hear "environment"

in a sentence

regarding shipping

ing time and costs (there

is part of me that acknowledges

that this role

going to the machines is

a little sad, but this contemplation

will surely be

the same for the skipper

one day in the future).

The other aspect of

this vessel tour that I

found interesting was

the change from diesel to

LNG to power the vessel

(pending arrival of the

LNG tanks due towards

the end of this year).

It is refreshing to hear

the word "environment"

in a sentence regarding

shipping when usually

the images conjured is of

smoke clouds bellowing

out of the funnel.

While the Mersey II

has been in operation

for over a year now, Tasmanians

should be very

proud of private enterprise

investing in our

trading capability.

Induction first

tool in the kit

By CRAIG

HORTLE

HAVE you started a new

job, walked in the door,

been pointed to you work

station and requested to

start work?

It can be daunting, especially

if you have not

been in the workforce for

very long, are new to that

type of work or simply

lack some confidence.

To assist in this process

some businesses

have introduced an induction

process.

It would be best practice

to ensure that new

Searoad Mersey II makes its way to berth at Devonport.

Searoad has invested

over A$110 million in

the new vessel and are

in talks to order a second

vessel.

Toll has tow vessels

being built now for deployment

at the end of

2018.

employees should be inducted.

The reasons behind

this are obvious. It provides

clear and concise

information to new employees

of your expectations

for them.

It can provide valuable

information to the new

employee for both work

conditions and, just as

importantly, safety and

training.

What are the types of

information that can be

exchanged at the induction

of a new employee?

For example, these

might include:

Continued page 6

Importers in Tasmania

should be thinking now

about their orders from

overseas.

We are entering the

twilight zone of shipping

ex-North East Asia with

holidays slowing orders

in October and congestion

pretty much guaranteed

for the next three

months.

We are already seeing

some delays of shipments

in the depots in

Melbourne with truck

waiting times exceeding

five hours on bad days.
---
6 Tasmanian Business Reporter - OCTOBER 2017

THOUGHT LEADERSHIP

Tasmanian business backed

WHEN was the last time you

deliberately chose to support

a Tasmanian small business?

The small business sector

currently employs more than

100,000 Tasmanians and is

poised for growth.

The ABS reported that September

was the state's 33rd

consecutive month of growth

in retail turnover, and that

business investment in Tasmania

was leading the national

average with an increase of

4.6 per cent for the June quarter

– and a staggering 13.2 per

cent higher than one year ago.

With small business making

up more than 97 per cent

of Tasmanian businesses,

these trends point to strength

and growth in the sector.

Indeed, a recent EMRS

study found that about 40 per

cent of Tasmanian small businesses

expect to employ more

staff in the next two years.

But we know these trends

aren't being felt everywhere

and many small businesses,

particularly those in retail and

regional areas, still face stiff

headwinds.

Factors such as rapid

growth in online sales, changes

in traditional industries and

tourism seasonality and dispersal

affect consumer spending

across the state.

That's why, over the last

three years, the Hodgman

Government has deliberately

targeted regional economies

through policies like the

Northern Cities Major Development

Initiative, and small

businesses through capped

electricity bills, energy efficiency

loans and grants to reduce

the costs of employing

apprentices and trainees.

Business conditions are

stronger now, but there is

more work to do.

Our Plan for Your Future

sets out 43 new targets for our

next term of government, including

targets for business in

Tasmania.

By 2022, we aim to increase

employment in small business

by 10 per cent, have 90 per

cent of government contracts

won by Tasmanian-based

firms and increase the proportion

of visitors spending a

Roger Jaensch discusses expansion with Nurture by Nature owner Debbie Hingston

and her staff whose innovative small business in Devonport is thriving.

night (and money) in regional

Tasmania to 70 per cent, stimulating

local economies.

We will do what we can

to create the right conditions

for business, including being

its best corporate customer

through our Buy Local policy,

but there is also more that other

Tasmanians can do.

One way is for Tasmanian

consumers and businesses to

adopt their own buy local policy

and weigh the benefits of

supporting Tasmanian businesses

against those of other

options – especially online

purchases.

For retail purchases, factors

to consider include customer

service, local product knowledge

and advice, after-sales

care and returns policies.

The benefits to Tasmania

include local jobs and a stronger

economy.

As the Christmas season

approaches, I encourage all

Tasmanians to plan ahead and

think about how their Christmas

and holiday spending can

support Tasmanian businesses

and jobs.

www.tcci.com.au

Safety's

place in

worker's

toolkit

From page 5

• hours of work and pay;

and

• standard required and

training and mentoring.

It is also the very best place

to highlight the business'

WHS standards.

Demonstrating the importance

of safety first up

highlights the culture of the

business - the message "whatever

the work process, safety

comes first".

During induction;

• read and discuss some of

the more important WHS policies

in the workplace;

• provide a mentor not only

for the work process but also

for WHS;

•. provide training in the activity

that is to be carried out;

and

• explain clearly the standard

of behaviour and the consequences

for not adhering to

policies and procedures that

have been implemented.

If there is any breach of policy

or procedure, it provides a

starting point for re-training.

For more information

please contact Craig Hortle

or Janelle Whitehouse at

the TCCI on 1300 559 122

or safety@TCCI.com.au

170611
---
Tasmanian Business Reporter - OCTOBER 2017 7

THOUGHT LEADERSHIP

www.tcci.com.au

Directors call for diversity in executive ranks

DESPITE a number of reputable

studies finding positive links between

board diversity and various

measures of corporate performance,

representation by women

in Australia's executive ranks and

in the boardroom continues to lag.

In Australian organisations,

women currently fill only 16.3

per cent of CEO roles and only

28.5 per cent of key management

personnel.

According to the Australian

Institute of Company Directors'

Gender Diversity Progress Report

for March to May 2017, women

make up 25.4 per cent of ASX 200

boardrooms, up from just 8.3 per

cent in 2009.

The AICD is committed to lifting

representation by women in

the boardroom and runs a range of

initiatives that aim to assist women

to prepare for and to ultimately

become directors.The latest initiative

in Tasmania is the new Ways

Women Lead course, which will

be run in Hobart in November.

The course is a recent addition

to the AICD's education curriculum

and has been designed to

enhance the leadership skills of

women, providing participants

with the knowledge, frameworks

and tools to excel as directors.

It also examines how boards can

become more effective in integrating

a diverse range of voices so

that they can make better decisions.

Participants will learn how to

leverage the value they bring to

the boardroom, how to find their

voice, and how to deal with the

unconscious bias that may be a

barrier to their full contribution to

the board.

Ways Women Lead is a great

way to hone your leadership skills

and to explore the extraordinary

value that diversity can bring to

the board table.

Australian Institute of Company

Directors

Ways Women Lead

Monday, November 13, 2017

9am – 4.30pm

For more information visit:

companydirectors.com.au/

Increasing power cost a concern

AN increasing number

of businesses and organisations

are approaching

Labor about the cost of

electricity, despite the

Government's energy rebate

offer.

Labor supports a rebate

but the feedback we

are getting is it doesn't

offset the large increases

that businesses, clubs

and community groups

are facing.

We've been sent membership

letters from

sporting organisations

saying an increase in fees

is directly attributable to

the cost of power.

Businesses are reporting

increases in the vicinity

of 100 per cent which

understandably having

a significant impact on

their bottom line.

By the Government's

own admission their rebate

offer only reduces

bills by around 15 per

cent, leaving some businesses

with an 85 per

cent increase to absorb.

Due diligence a vital

part of sale process

IN almost every business

exchange transaction a

due diligence review is

conducted before money

changes hands.

Similar to someone

buying a motor vehicle,

where they will not pay

for it until they are satisfied

the vehicle does

what the salesperson

says it will do, at an

even higher level, buyers

of businesses must

make sure the cash flow

and assets of a business

are what the vendor says

they are.

Due diligence is the

name given to this process

where buyers and

their advisors undertake

an audit to assess the financial

performance and

determine the value of

business assets.

Do the representations

made by the vendor

about the business stack

up?

Usually this is conducted

after both parties

We welcome the deal

struck with Hydro to reduce

the wholesale contract

price but we'd urge

the Minister to continue

to engage with businesses.

The full impact of

power increases might

not be felt until a business

assesses a full 12

months of life under the

increased prices.

With the economy

improving, we need to

make sure businesses

have the confidence to

keep investing and we'd

encourage the Government

to closely monitor

the situation.

Dean

Demeyer

Business Broker

have executed a conditional

Contract of Sale

and a deposit paid.

Once the buyer is satisfied

by the due diligence

that everything is as it

should be, the Contract

of Sale becomes unconditional

and settlement

and handover occur.

The key for a seller is

to be well prepared. Delays

in providing information

during the review

can turn into deal breakers,

resulting in the buyers

walking away.

Business owners may

only ever sell one business

in their lifetime.

This lack of experience

can make the scrutiny of

a due diligence process

Still on energy and

some enthusiastic electric

vehicle users have

put their money where

their mouth is.

The Tasmanian branch

of the Australian Electric

Vehicle Association hasraised

$500,000 to start

building charging stations

across the state.

This is a concept Labor

backed with a policy

announcement more than

two years ago but unfortunately

the Government

hasn't seized the opportunity

since.

I commend the AE-

VA's members on leading

the way and for their

very stressful. Employing

experienced advisors

who understand due diligence

processes, assist in

planning for it, and walk

with the vendors through

it, are invaluable.

Many buyers use their

internal or external accountants

to undertake

due diligence process.

They are always very

thorough.

Let's assume their client

buys the business

and the business underperforms

or some assets

aren't up to scratch, the

accountant will be the

first person the buyer interacts

with quickly.

Hence the deep scrutiny

prior to settlement.

willingness to invest in

something they're passionate

about.

Labor's policy is to

invest $7.5 million into

alternative fuel transport

options over three years.

We want to look at

how we can transition

away from a heavy reliance

on expensive fossil

fuels and use other sources

of energy to power the

state.

We want to explore

how Tasmania can benefit

from investing in battery

and hydrogen fuel

cell technology to set

ourselves up for the future.

BE PART OF THE

MULTI-BILLION

DOLLAR

LOGISTICS

INDUSTRY

Momentum is building for electric vehicles in Tasmania.

Whether you are looking to start your career, or upgrade your

skills for career advancement - the Australian Maritime College

can get you there.

Set yourself up for global career opportunities with our Maritime

Business and International Logistics program, preparing you for

a career in senior management.

Study here, work globally.

Apply now: amc.edu

CRICOS Provider Code: 00586B
---
8 Tasmanian Business Reporter - OCTOBER 2017

TASMANIAN GAS PIPELINE

FOCUS ON BUSINESS

FIFTEEN YEARS OF DELIVERING NATURAL GAS

The Tasmanian Gas Pipeline is proud to

be playing its part in assisting the state

with its current energy needs.

Commissioned in 2002, the Tasmanian

Gas Pipeline is the only pipeline

supplying natural gas to Tasmania.

Fifteen years on and the Tasmanian

Gas Pipeline is now an integral part of

Tasmania's economic growth and an

alternative energy source.

During this period of supplying gas to

Tasmania, we have not experienced a

single lost time injury.

We are committed to continuing to

work with industry, Government, the

community and energy providers both

now and into the future.

Lindsay Ward

CEO

Tasmanian Gas Pipeline

THE PIPELINE SUPPLIES:

TAMAR VALLEY POWER STATIONS

GRANGE RESOURCES IRON ORE

PROCESSING FACILITY

BELL BAY ALUMINIUM ALUMINIUM SMELTER

BOC LNG PROCESSING FACILITY

SIMPLOT FOOD PROCESSING PLANTS

CADBURY CHOCOLATE FACTORIES

BOAGS AND CASCADE BREWERIES

NYRSTAR ZINC SMELTER

ECKA GRANULES ALUMINIUM POWDER

PRODUCTION PLANT

BHP TEMCO MANGANESE ALLOY

PRODUCTION PLANT

LAUNCESTON GENERAL AND NORTH WEST

REGIONAL HOSPITALS

TAS ALKALOIDS OPIUM POPPY PROCESSING PLANT

FONTERRA MILK POWDER, CHEESE AND

BUTTER MANUFACTURING PLANTS

TAS GAS NETWORKS FACILITIES IN: BELL BAY,

GEORGE TOWN, LAUNCESTON, LONGFORD (TAS),

WESTBURY, BURNIE, HOBART, ULVERSTONE,

WYNYARD AND DEVONPORT

QUICK FACTS

The Tasmanian Gas Pipeline

transports natural gas from Longford

in Victoria, under Bass Strait, to Bell

Bay in Tasmania supplying gas to both

industry and townships in the state.

The Tasmanian Gas Pipeline (TGP) is

part of a network of underground

high-pressure gas pipes, which

stretches over 20,000km and serves

all of Australia's states and territories.

The network brings jobs and

economic growth to the communities

it passes through.

The Tasmanian Gas Pipeline is

approximately 740km long.

The pipeline transports gas

predominately from the

Gippsland Basin.

Current capacity of 47 PJ/annum.

(47 peta joules per annum – peta is

a 1 with 15 zeros after it.)

The pipeline transports high pressure

natural gas, up to 15,000kPa.

(Approximately 148 times normal

atmospheric pressure.)

Temperatures of the gas for operation

typically range between 0°C and

50°C. Design temperature limits

range between -30°C and 200°C.
---
Tasmanian Business Reporter - OCTOBER 2017 9

TASMANIAN GAS PIPELINE

FOCUS ON BUSINESS

FIFTEEN YEARS OF DELIVERING NATURAL GAS

QUICK FACTS

Gas pipeline a vital

link with the nation

The Tasmanian Gas Pipeline

transports natural gas from Longford

in Victoria, under Bass Strait, to Bell

Bay in Tasmania supplying gas to both

The Tasmanian Gas Pipeline is proud to

be playing its part in assisting the state

with its current energy needs.

THE PIPELINE SUPPLIES:

TAMAR VALLEY POWER STATIONS

industry and townships in the state.

The Tasmanian Gas Pipeline (TGP) is

part of a network of underground

Commissioned in 2002, the Tasmanian

GRANGE RESOURCES IRON ORE

high-pressure gas pipes, which

Gas Pipeline is the only pipeline

PROCESSING FACILITY

supplying natural gas to Tasmania.

stretches over 20,000km and serves

BELL BAY ALUMINIUM ALUMINIUM SMELTER

all of Australia's states and territories.

STATISTICS Fifteen show years that not on only and is the Tasmanian

Gas Pipeline playing its part in boosting

BOC LNG PROCESSING FACILITY The lowdown on gas

Tasmanian

The network brings jobs and

the state's Gas energy Pipeline needs, it is is now also increasing an integral part of

economic growth to the communities

Tasmania's Tasmania's workforce and economic economy. growth and an

• The pipeline is some 740 it passes kilometres through. long and once

SIMPLOT FOOD PROCESSING PLANTS

The decision 15 years ago to develop

infrastructure alternative to transport energy gas from source.

in Tasmania transports gas to Bridgewater in the

Longford

in Victoria, under Bass Strait, to Bell Bay in

CADBURY CHOCOLATE FACTORIES south and Port Latta on The the Tasmanian North-West Gas Pipeline Coast is

Tasmania, During provided this a new period competitive of supplying energy gas to

• Over the last 15 years

source previously not available in Tasmania to

approximately

there has not

740km

been

long.

one

BOAGS AND CASCADE BREWERIES

industry Tasmania, and householders. we have not experienced a

single lost time injury

TGP Chief single Executive lost time Officer injury. Lindsay Ward

• The Tasmanian Gas Pipeline is part of a network

said the development has enabled Tasmanian

NYRSTAR ZINC SMELTER

The pipeline transports gas

of underground high-pressure gas pipes, which

businesses to compete in Australian and Asian

predominately from the

markets We – which are has committed helped generate to continuing exports to

stretches over 20,000 kilometres

ECKA GRANULES ALUMINIUM POWDER

and increased local employment, while also

Gippsland Basin.

work with industry, Government, the

PRODUCTION PLANT

• A2014 economic study found gas in Tasmania

giving households and small businesses an

alternative community energy source. and energy providers both

helps generate $1.7 billion in Gross State Product,

"By introducing now and gas into Tasmania, the future. the state

BHP TEMCO MANGANESE ALLOY $848 million in household Current income capacity and of 47 some PJ/annum. 11,600

gained further competition in the energy

PRODUCTION PLANT full time equivalent jobs. (47 peta joules per annum – peta is

market and over the last 15 years of operation,

TGP CEO Lindsay Ward

we have not experienced a single lost time

a 1 with 15 zeros after it.)

injury," Mr Ward said.

LAUNCESTON GENERAL AND NORTH WEST

The top Lindsay 20 business Ward users of natural gas • about 11,600 full-time-equivalent REGIONAL HOSPITALS jobs gas driven Tamar Valley Power Station." Gippsland Basin, with a current capacity of

account for about 81 per cent of natural gas which represents six per cent of the estimated Mr Ward said the foresight of the Government's

decision in the late 1990s to connect In Tasmania, the pipeline comes ashore

The pipeline 47 peta transports joules per annum. high pressure

use in Tasmania CEO outside of consumption from employment for Tasmania (198,410).

TAS ALKALOIDS OPIUM POPPY PROCESSING PLANT natural gas, up to 15,000kPa.

the Tamar Tasmanian Valley Power Gas station, Pipeline and the top Mr Ward said the Tasmanian Gas Pipeline Tasmania to mainland gas supplies was at Five Mile Bluff, north of Bell Bay and

11 business users account for 75 per cent of was proud to play a role in ensuring both jobs reinforced during the energy crisis and again (Approximately further along 148 the times Tasmania normal River to the Bell

total usage.

and investment in Tasmania. FONTERRA MILK POWDER, highlighted CHEESE the AND strategic benefit of having atmospheric Bay Meter pressure.) Station.

An economic assessment of the benefits "The immeasurable however, BUTTER MANUFACTURING is the energy

security benefit of the Tasmanian Gas state to ensure energy security.

becomes the Southern Pipeline Extension,

alternative PLANTSbase load energy sources in the At Bell Bay, the pressure is reduced and

of TGP in 2014 highlighted the direct and

indirect contribution of the top 11 natural gas Pipeline which was highlighted in the 2016 The Tasmanian Gas Pipeline is part of Temperatures a which continues of the gas south for for operation approximately 210

users in Tasmania:

energy crisis," Mr Ward TAS said. GAS NETWORKS FACILITIES network IN: of underground BELL BAY, high-pressure gas kilometres. At Rosevale, the Northern Pipeline

range Extension between splits 0°C and continues and west for

• $1.7 billion in Gross State Product, or seven

"With low rainfall resulting GEORGE in TOWN, record low LAUNCESTON, pipes, which LONGFORD stretches (TAS), over 20,000 kilome-

typically

per cent of the state's total ($24.4 billion); Hydro water storages compounded WESTBURY, by BURNIE, the HOBART, tres and ULVERSTONE,

serves all of Australia's states and 50°C. Design 181 kilometres temperature to Port limits Latta in North-West

• $848 million in household income, which failure of the Basslink interconnector for territories.

Tasmania.

WYNYARD AND DEVONPORT

represents six per cent of total estimated several months, an imminent ''lights out''

range between -30°C and 200°C.

The pipeline is about 740 kilometres long In June 2014, the Tasmanian Gas Pipeline

household income ($13.9 billion); and disaster was avoided by firing up the natural and transports gas predominantly from the opened its office in Launceston.
---
10 Tasmanian Business Reporter - OCTOBER 2017

FOCUS ON BUSINESS

Team creates business links

Introducing Hobart's newest

man behind the business,

Farzin Hesari

FARZIN Hesari naturally

possesses initiative,

interpersonal and professional

skills that are

critical for the fast-paced

nature of business.

In 2014, Spree Rewards

was born and on

its board was talented

Tasmanian industrial design

duo, David Houbaer

and Alec Balcombe and

computer engineer Tim

Askey.

With the assistance

of Robert Rockefeller's

company, Nekon, the

idea to help retail and

business owners better

connect with their customers

came to fruition.

It rewarded consumers

who stayed loyal to their

local businesses by providing

discounts and promotional

material.

a touch-screen kiosk that

connected consumers to

stores and brands of their

choice.

The Cloud-based platform

was designed to

collect and analyse key

performance indicators

for retailers to better inform

them on business

decisions.

In March this year the

company – which remains

successful - was

sold.

Spree Rewards and its

parent company, Open

Haus Marketing, was

sold to Vensys Pty Ltd.

From this experience,

Farzin recognized there

was a gap in the market

for businesses wanting to

explore exit strategies.

From this, Link became

a reality; Farzin

businesses brokerage of-

It stands out as a clear

LINK Business Brokers

LINK LINK Business Business Brokers Brokers

LINK Business Tasmania Brokers

Grand Opening

Tasmania LINK Tasmania Business Grand Grand Brokers Opening Opening

Tasmania LINK are your Grand LINK Business Brokers

Tasmania

local business Opening

LINK Business Grand

sales experts Brokers Opening

with global reach,

LINK are your local business sales experts with global reach,

facilitating Tasmania business sales confidentially Grand Opening

and with integrity.

facilitating business sales confidentially and with integrity.

LINK are your

Tasmania

local business LINK LINK Grand sales Business experts Opening

with Brokers

global reach,

LINK

LINK facilitating are

are

your

your business local

local

business

business sales confidentially sales

sales

experts

experts and with

with with global

global integrity. reach,

reach,

Grand

LINK facilitating

facilitating Opening

are your business

business Promotion

local business sales

sales

confidentially

confidentially valued

sales experts at

and with with $3,000.00!

with global integrity.

Grand Opening Tasmania

Promotion valued

Grand Grand at

Opening

$3,000.00!

LINK Business Brokers integrity. reach,

Nobody

will work

harder

than

Farzin and

his team

its personable approach

to business mentoring.

Unlike selling property,

when prospective clients

purchase a business

with Link, Farzin and

his team work with them

after the deal to ensure

their business milestones

are reached.

Within six months

Link had multiple businesses

successfully listed.

The Tasmanian team

quickly grew to four:

• During a 25-year career

Kat Little has obtained

extensive knowledge

in the hospitality

and tourism industry.

For 20 years, she

owned the iconic establishments,

Red Awnings

Collection.

• Luke Vanderstaay returned

home to Tasmania

after many years working

in Dubai.

He has an outstanding

sales record overseas

with an average of $50m

monthly sales.

Luke was working

with a Singapore-based

developer and headed up

their Middle East operations,

and sold new hotel

developments in Thailand,

with global company,

Regus.

Luke's talents and expertise

will be vital to

the success of Link as he

manages the commercial

property division.

• Eunice Ware has

worked as a paralegal

since 1998, and has

gained extensive experience

across all aspects of

commercial property.

She has a true passion

for what she does and to

see the businesses Link

works with, excel.

Business intuition is in

Farzin's DNA.

From an early age he

had the knack for entrepreneurship.

His early career began

when he started selling

sunglasses to optometrists

at the age of fourteen.

While still at school,

he went on to start his

overseas electronics that

he had bought online.

At the age of 19, he

bought a business, and

doubled its revenue within

12 months.

Persistence and passion

for business is deeply entrenched

in Farzin's nature.

In the short time Link

has been in Tasmania its

team has helped many

business owners successfully

sell through its

unique approach.

Through the coaching

and mentoring program,

it has assisted many people

wanting to own their

own business.

Nobody will work

harder than Farzin and

his team to make sure

clients and business operators

can excel in their

LINK are your local business sales experts with global reach,

e your local business facilitating sales experts business with sales global confidentially reach, and with integrity.

ting business sales confidentially and with integrity.

Grand Opening Promotion valued at $3,000.00

Opening Promotion valued at $3,000.00!

facilitating business sales confidentially and integrity.

Grand List

LINK

Opening before LINK are your Christmas are local

Promotion

your local local business business sales pay

sales experts

valued no sales experts advertising at

experts with with global

$3,000.00!

with global reach, global reach,

Grand List Opening before Tasmania

rea

facilitating List facilitating or

before Christmas marketing Promotion business business Christmas Grand sales sales confidentially fee

sales until

pay confidentially valued and Opening

no sold*

pay advertising

and

at no $3,000.00!

and with advertising

and with integrity.

with integrity.

t before Grand LINK Christmas

List are Opening before your and local or

Christmas

marketing pay business Promotion

or no marketing advertising

sales and

fee experts until

pay valued

fee

no

sold*

with until

advertising at global sold*

$3,000.00!

reach,

or facilitating marketing

List

List Grand before

before business Opening fee Christmas

Christmas until

marketing sales sold* Promotion confidentially

and

and fee until pay

pay no

no valued sold*

and advertising

with

advertising at integrity. $3,000.00!

Contact Grand us today Grand Opening to take advantage Promotion of the risk-free valued valued promotion at $3,000.00

at Contact List Contact us today before us to today Christmas marketing

marketing take advantage to take and fee

fee advantage until

until pay of the no sold*

sold* risk-free advertising

of the risk-free promotion promoti

s today to take advantage List

or

before

marketing of the Christmas

(03) risk-free 6135 fee 4446 until

and promotion pay

sold*

no advertising

Contact Grand us Opening today List to List before take Promotion

(03) advantage 6135 4446 of the risk-free promotion

Contact us today to hobart@linkbusiness.com.au

or before marketing

Christmas fee

and

until and pay

sold* pay no advertising

no (03) valued

6135 4446

at $3,000.00!

take advantage of the risk-free promotion

Contact us (03) today 2/221 6135 to Liverpool 4446 take or advantage hobart@linkbusiness.com.au

marketing or of fee the until fee risk-free until sold* promotion sold*

Contact today 2/221 to Liverpool take (03)

Street,

advantage Street,

6135 4446

Hobart, Tasmania

hobart@linkbusiness.com.au

List before Christmas 2/221 Liverpool and Hobart, Street, pay of the no Tasmania Hobart, risk-free advertising Tasmania promotion

Contact us today hobart@linkbusiness.com.au

to (03) take 6135 advantage 4446 of the risk-free promotion

2/221 Liverpool Street, (03) 6135 4446

Contact Contact 2/221 us or

hobart@linkbusiness.com.au

today www.linkbusiness.com.au

marketing Hobart, Tasmania

hobart@linkbusiness.com.au

Liverpool today take

(03) Street, to fee

take advantage until

6135 4446 Hobart, advantage sold*

Tasmania of the of risk-free the risk-free promotio

*Terms www.linkbusiness.com.au

*Terms

and

and

conditions

conditions

apply

apply

2/221 Li l S (03) 6135 H b 4446

www.linkbusiness.com.au

T i

2/221 Liverpool *Terms Street, and conditions *Terms Hobart, apply and conditions

Ad for Farzin.indd 2

hobart@linkbusiness.com.au Tasmania

apply

14/09/2017 2:58:03 PM
---
Tasmanian Business Reporter - OCTOBER 2017 11

FOCUS ON BUSINESS

Benefits of workplace diversity

AN INCLUSIVE and diverse

workforce can positively impact

and influence business to

grow, remain competitive and

relevant.

That was the key message

from the Rio Tinto Women in

Resources National Awards

and Forum held in Launceston

on August 31.

With the theme "Why Diversity

and Inclusion is Good

for Business" more than 100

of the country's best and

brightest came together to

discuss and learn about what

business leaders, governments

and women can do to

address the current imbalance.

Tasmanian Minerals and

Energy Council President Ray

Mostogl said the resources

sector recognised the benefits

that increased diversity can

bring to business.

"The sector is increasingly

improving practices that support

fairer and more flexible

policies focussed on recruitment,

retention and promotion

of women," Mr Mostogl

said.

"Women also need good

role models and these awards

reflect the commitment and

leadership shown by women

in the sector."

Mr Mostogl said it was

LEFT: Ray Mostogl, GM BBA and President TMEC presents the Exceptional

Young Woman in Australian Resources award to Rachel Leong, Lead Surveillance

Engineer, Woodside Energy Ltd (WA). ABOVE: TCCI CEO Michael Bailey

and the Golden Diversity team from Queechy High in Launceston.

clear from the quality of finalists

and award winners that

there had been growth in the

exceptional achievements and

strength of women working in

what has traditionally been a

male dominated sector.

An example of how the

sector was developing for the

better was the presentation

by Golden Diversity from

Queechy High School – the

first ever all-female team to

take out the top prize as National

Champions in the 2017

F1 in Schools Technology

Challenge.

The Women in Resources

National Awards is a partnership

between the Minerals

Council of Australia and its

Northern Territory and Victorian

branches, the Chamber

of Minerals and Energy Western

Australia, the Queensland

Resources Council, the New

South Wales Minerals Council

and the Tasmanian Minerals

and Energy Council,

supported by various state

Women in Mining Network

branches.

Winners of the 2017 Rio

Tinto Australian Women in

Resources National Awards

were:

Gender Diversity Champion

in Australia Resources

Fiona Robertson, Non-Executive

Director, Heron Resources

(NSW)

Excellence in Company

Diversity Programs and Performance,

St Barbara Limited

(Vic).

Outstanding Tradeswoman/Operator/Technician

in

Australian Resources, Carolyn

Dobson, diesel fitter,

BHP Billiton Mitsubishi Alliance

(BMA) (Qld).

Exceptional Young Woman

in Australian Resources,

Rachel Leong, Lead Surveillance

Engineer, Woodside

Energy Ltd (WA).

Exceptional Woman in

Australian Resources, Vanessa

Torres, Vice President,

Operational Infrastructure,

BHP Iron Ore (WA).

Special Judges Awards:

Andrew Bigg, Operations

Manager Mining and Mobile

Maintenance, South32 GME-

CO (NT).

Industry Achievement

Award, Michelle Keegan,

Vice President Strategy, Incitec

Pivot Limited (Vic).

THE MINERALS INSTITUTE

Tasmania Branch

WOULD LIKE TO THANK THE SPONSORS OF THE

WOMEN IN RESOURCES NATIONAL AWARDS 2017

20101
---
12 Tasmanian Business Reporter - OCTOBER 2017

FOCUS ON BUSINESS

Your chance to get involved

This October, WorkSafe

Tasmania is offering many

ways for you to get involved

with WHS and wellbeing.

WorkSafer

Expo

THE inaugural WorkSafer

Expo will be held on

October 23 and 24 at

Princes Wharf 1 in Salamanca,

Hobart. The expo

will showcase products,

services, new technologies

and innovations vital

to WHS and wellbeing.

There'll be interactive

learning opportunities,

seminars, forums, networking

sessions and

keynote speakers, all addressing

issues vital to

your workplaces and industry.

This free event offers a

one-stop-shop for WHS

and wellbeing.

Regional

forums

INDUSTRY, professionals,

decision makers

and the community

will have the opportunity

to join in a facilitated

discussion

around engaging the

community in WHS

and wellbeing.

These free forums

will be held in:

• Launceston: October

19 at the Hotel

Grand Chancellor

• Hobart: October 23

at Princes Wharf 1 (at

the WorkSafer Expo)

• Ulverstone: October

31 at Pier 01

Function Centre.

Walk for

Wellbeing

THIS new initiative

will get you moving

away from your desk

and onto the footpath.

Join the community

to celebrate

WHS and wellbeing.

Workplace

tours

BETTER Work Tasmania

members are inviting

you into their workplaces

during WorkSafe

Month to learn about

their workplace initiatives

and solutions.

The initiative is built

Training and passing on knowledge is the key to a safer workplace.

on the previous Better

Work Tasmania mentoring,

peer-to-peer learning

and sharing initiatives.

Betty the

Asbestos Bus

BETTY is making

her maiden voyage to

Tassie during October

to deliver asbestos

awareness to the

Tasmanian community.

If you're a DIY renovator

or tradie and

see Betty, be sure to

stop in and get some

asbestos safety information.

Virtual

seminars

SAFE Work Australia

will again broadcast free

online seminars that showcase

the latest thinking, research,

developments, and

best practice in WHS.

Watch these at www.

safeworkaustralia.gov.au.

HSR

Conference

THIS year's free health

and safety representative

conference will be held

in:

• Hobart: October 17 at

the Hobart Function and

Conference Centre; and

• Launceston: October

25 at the Tramsheds

Function Centre.

If you're a HSR, come

along to:

• build your knowledge

about your role in the

workplace;

• increase your knowledge

of WHS and wellbeing,

workplace mental

health and supporting injured

workers; and

• get tools and resources

to improve WHS and

wellbeing in your workplace.

Register now

It's not too late!

For details of all these

events and to register to

attend, go to www.worksafe.tas.gov.au

and follow

the links for Work-

Safe Month 2017

HEALTH, SAFETY

ISEVERYONE'S JOB

AND WELLBEING

DON'T LEAVE IT TO SOMEONE ELSE.

DEJU19347

October is all about health, safety and wellbeing, with a huge range of informative

events being held across the state. Engage with industry leaders, strengthen

your knowledge and increase your health, safety and wellbeing skills.

Don't miss out.

WORKSAFE TASMANIA MONTH OCTOBER 2017

www.worksafe.tas.gov.au
---
Tasmanian Business Reporter - OCTOBER 2017 13

NEWS

Tassie

trio best

in the

business

THREE Tasmanian businesses

have earned recognition

at the AHA National

Awards.

Riversdale Estate, 9/11

Launceston City and The

Henry Jones Art Hotel

were awarded the top

gongs in their categories,

in a major coup for the

state's hospitality industry.

Tasmanian Hospitality

Association General

Manager Steve Old said

it was exciting to have

three businesses deemed

the best in Australia,

"With hospitality being

the third-largest employing

industry in the

state with about 10 per

cent of the workforce,

it is vitally important to

our state that we have a

strong and vibrant industry"

Mr Old said

"Tasmania did extremely

well in all categories

and feedback from

the judges suggested that

we were not far from

winning many more

awards on the night with

several of our venues

running a close second in

their chosen categories".

Riversdale Estate was

deemed the Best Regional

Restaurant in the

country while the Henry

Jones Art Hotel took

out Overall Hotel of the

Year – Accommodation

Division and 9/11 Launceston

City claimed the

Best Retail Liquor Outlet

in Australia award.

TOP LEFT: Dominic

Baker from Federal Group

accepts the Award for

Excellence on behalf of

9/11 Launceston City.

ABOVE: Ross Boobyer

from Saffire Freycinet,

accepts on behalf of The

Henry Jones Art Hotel.

LEFT: Tom Darke from

Riversdale Estate

accepts their award.

Sharp and

to the point.

Take time to focus

Our short courses are designed to help local

directors and executives overcome knowledge

gaps and challenges to confidently succeed in

the ever-evolving governance environment.

UPCOMING SHORT COURSES IN HOBART:

Applied Risk Governance

Wednesday 25 October 2017

The Role of the Not-for-Profit Chair

Friday 3 November 2017

Governance Foundations

for the Not-for-Profit Director

Wednesday 8 to Thursday 9 November 2017

Ways Women Lead

Monday 13 November 2017

Register now t: 03 6242 2200

w: companydirectors.com.au/tas

05806-81_17
---
14 Tasmanian Business Reporter - OCTOBER 2017

APPOINTMENTS and ANNOUNCEMENTS

IN BRIEF

Success for

Dress For Success

DISADVANTAGED women are

being assisted by business to

thrive in work and life.

Aurora Energy has helped

launch a brand new Tasmanian

not-for-profit organisation, Dress

for Success, which aims to empower

Tasmanian women to break

existing cycles and seek safer and

better futures.

Professional attire, a network

of support and the career development

tools are provided by the

organisation, which is based in

Hobart but has seen success internationally

over 20 years.

Aurora Energy CEO Rebecca

Kardos said as a key employer

in Tasmania, Aurora Energy

recognised the importance of

providing opportunities to all

Tasmanians, especially so when

it was someone's first attempt at

finding work.

"Aurora Energy indeed often

finds itself as the first employer

for a number of Tasmanians,"

Mrs Kardos said.

"We are confident Dress for

Success will encourage more

women to secure employment

within our industry by equipping

them with the confidence and

support network to do so."

For more information or to donate

visit hobart.dressforsuccess.

org.

Dress for Success founding member Amanda French, left, Aurora

Energy CEO Rebecca Kardos and TasCOSS CEO Kym Goodes sit

alongside panel facilitator Caroline Pillans at the Dress for Success

fundraising breakfast in Hobart.

Industry award

for Insight

HOBART-based mapping and location

intelligence company Insight

GIS won the People and Community

Award at the SIBA|GITA

Asia-Pacific Spatial Excellence

Awards, that recognises products or

projects that make a difference to

issues that affect communities via

grassroots initiatives.

Insight GIS was awarded for its

input in the Kingborough Council's

Local Links project, which was

designed to encourage and support

walking and a healthy lifestyle within

the community.

Insight GIS Managing Director

Robert Rowell said that the team

was incredibly honoured.

"It's an amazing recognition of

the work we've done, but also how

we've been able to impact the lives

of people living in Kingborough,"

Mr Rowell said.

"Residents are now able to access

information on the location of the

closest bus stops, parks, schools,

playgrounds, public toilets, fresh

food outlets and community

services, and how long it will take

to walk there, within a 10 or 20

minute timeframe," Mr Rowell said.

"What makes it unique is that

it identified more than 140 'urban

links' such as footpaths and cutthroughs

that aren't highlighted on

other sources such as Google Maps.

"It's great that the APSEA Awards

are recognising us, and we're looking

forward to the National Awards

next year."

Accounting

partnership

ACCOUNTING and advisory firm

Synectic has been named Xero's

TAS Accounting Partner of the Year

2017.

Robert Rowell of Insight GIS accepts the People and Community

Award at the SIBA|GITA Asia-Pacific Spatial Excellence Awards.

The award commends Synectic's

commitment to offering value and

innovation to their clients.

Director Gareth Atkins said that

being Tasmanian-owned and operated

allowed Synectic to deliver a

personal, client-centric service but

were also innovative, being early

adopters of cloud technologies.

"The Xero award recognises our

investment in industry-leading technology,

systems and people, which

allows us to combine our very personal

service with high-level client

solutions more commonly associated

with much larger firms," he said.

NDIS service

delivery sought

APPLICATIONS are now open for

consultants wishing to be part of

an Expert Panel to deliver services

through the NDIS Providers Development

Fund.

The fund seeks to provide

NDIS-registered providers with

access to consultants with expertise

in the areas of:

• technology – including the

interface of financial systems with

NDIS systems, client databases and

audio-visual technology;

• assistive devices – including

the use and assistance with maintenance

of assistive devices and aids;

• participant investment and

training – including person-centred

approaches and participants

informing provider policy and

practice;

• marketing – with a focus on analysing

and understanding providers'

specific markets;

• Small business operation -

including HR, finance and governance;and

• the use of evidence-based

programs and practice – including

review and evaluation.

For further information visit disabilityprovidersfund.tascoss.org.a

APPOINTMENTS

Hobart Airport CEO

A FORMER pilot will touch down

at Hobart Interational Airport on

November 6 as Chief Executive

Officer.

Sarah Renner was previously the

Executive General Manager for ISS

Facility Services Pty Ltd, accountable

for the Aviation and Transport

business portfolio for Australia.

Ms Renner commenced her

career as a commercial pilot while

completing a Bachelor of Aviation

degree.

She joined Melbourne Airport

as a graduate, working there for 18

years, ultimately in the executive

planning and development role.

Hobart Airport Chairman Hugh

Fitzsimons said the appointment of

Ms Renner marks the start of the

next stage of growth for Hobart

Airport.

Crowe Horwath role

INDUSTRY veteran Lending Adviser

Les Warden has been appointed

within the Crowe Horwath Finance

and Lending team.

Mr Warden has joined the company's

Launceston office after almost

40 years working in senior lending

roles across all four major banks,

as well as successfully running his

own business.

Commissioner Ellis

NEROLI Ellis has been appointed

Commissioner and Deputy President

of the Tasmanian Industrial

Commission.

Ms Ellis has been State Secretary

of the Australian Nursing and

Midwifery Federation for the past

15 years, and has previously been a

manager in the State Service, and a

director on a number of boards.

Her appointment will be for five

years.

Ms Ellis replaces Nicole Wells,

whose term expired last month.

TDB head stays on

BRIAN Scullin has been reappointed

as Chair of the Tasmanian Development

Board for a three-year term

after his initial appointment in 2014.

Mr Scullin's previous positions

include President of the Japan

Bankers Trust Company Limited

and regional head of Asia/Pacific,

Deutsche Asset Management.

He is a Director of OAK Possability,

a not-for-profit provider

of services in the disability

sector, Chair of Propel Funeral

Partners, Hastings Funds Management,

the Macquarie Point

Development Corporation and

Director of Tasplan Super Fund.

The TDB supports the industry

development activities of

the Tasmanian Government by

driving the creation of investment

and associated employment

through supporting the

implementation of government

policies.

Road safety role

FORMER newspaper executive

Garry Bailey has been appointed

as the Chair of the Road Safety

Advisory Council for the next three

years.

Mr Bailey is a former editor of

the Mercury newspaper and was

most recently a member of the

RACT's southern regional advisory

committee.

RSAC is charged with developing

the Government's road safety

policy, providing recommendations

and advice to reduce the number

of fatalities and serious injuries on

Tasmania's roads to zero by 2050.

Rapid Response

Reduced Risk

Our Business

Is People

Right Experience
---
Tasmanian Business Reporter - OCTOBER 2017 15

EVENTS NEWS

EVENT:

Australian Leadership

Excellence Awards

LOCATION:

The Old Woolstore

Apartment Hotel, Hobart

DATE:

Thursday,

September 14, 2017

ABOVE:George Duckett, left, and Tim Duckett from Tasmanian

Heartwood Malt Whiskey.

ABOVE: Waqas Durrani from the Tasmanian

Audit Office and Hina Durrani from

the Federation of Ethnic Communities

Councils of Australia.

LEFT: Chris

McGregor from

First National

McGregor, left, Bart

Vanderaa from

Jenny Nominees

and Ray Quinn from

WJ Quinn

Consulting.

ABOVE: Di Aldous from Health Services Consulting Australasia,

left, and Amanda Quealy from The Hobart Clinic.

RIGHT: Jacqui Hansson,

left, and Wendy Joy Quinn

from WJ Quinn

Consulting.

LEFT: Jane Melross from

The Write Solution and

Steve Cranwell from

Wrest Point Casino.

BUSINESS

2

BUSINESS

YOUR QUICK GUIDE TO SERVICES AND PRODUCTS FOR YOUR BUSINESS

SPECIALISTS IN OFFICE

FURNITURE SINCE 2001

At Flair Office Furniture, we've specialised in

keeping Tasmania's Businesses well stocked in

office furniture since 2001.

FOR SALE OR FOR HIRE - THROUGHOUT TASMANIA

Phone 6234 1127

260 Argyle Street,

North Hobart

www.flairofficefurniture.com.au

To see your business here, call Kerri on 0419 750 267 or email kerri@thetrustedmediaco.com

Printing Technology

and Tradition.

Here's just some of the things we do regularly...

• Books • Magazines • Newsletters • Catalogues • Annual Reports

• Business Cards • Letterheads • Posters • Flyers • Corporate Branding

• Logo Design • Packaging • Wine Labels • Stickers • Swing Tags

• Mail-Outs • Folders • Forms & Invoices • Variable Data Printing

• Language Translation • Web Design • Proof Reading

• Copywriting • Large Format Signage & Display

Whatever your needs, get in touch.

We're here to help.

more than just fine printers.

p. 03 6332 1400

www.footandplaysted.com.au

99-109 charles street launceston tasmania 7250
---
Tasmanian Business Reporter - OCTOBER 2017 16

PROPERTY MATTERS

Energy efficiency pays dividends

Scott Newton

Property Matters with

Knight Frank

Liam Coyle, Senior Asset Manager at Knight Frank

Tasmania, discusses the importance of building

efficiency and changes in regulation in this month's

editorial.

RECENT regulatory changes, spiraling

utility costs, ever-increasing

tenant expectations and the advent

of green leases has made it more

critical than ever to focus on building

efficiency.

While the Commercial Building

Disclosure program has been in operation

for a number of years, the

duty of disclosure has become far

more onerous on property owners

and agents from July 1, 2017.

The CBD program requires owners

and agents to disclose energy efficiency

information in most cases

when commercial office space over

1000sqm is offered for lease or sale.

The CBD assessment is a twopart

process and must be completed

by an accredited CBD assessor.

The first component of the assessment

is the completion of a NA-

BERS star rating, which is a measure

of a building's energy use in

operation – the greater the number

of stars, the more efficient the building.

The second component involves

an assessment of the lighting configuration

in the relevant area offered

for sale or lease.

A CBD rating must be in place

prior to the space entering the market,

and the NABERS rating must be

disclosed on all advertising material,

including any signage erected on a

building's facade. Failing to disclose

the rating may result in fines being

imposed for non-compliance.

The CBD program is intended to

shine a spotlight on building efficiency

and reward savvy building

owners and managers and also empower

potential purchasers and tenants

to make informed decisions.

While the environmental benefits

of an energy efficient building

are obvious, it is also important to

Solar panels are part of the move towards energy efficiency.

note that an efficient building is also

a cost effective building, generally

experiencing lower operating costs

and greater reliability of plant and

equipment.

The advent of green leases has

also forced building owners and

managers to undertake building upgrades

and more rigorous building

efficiency monitoring.

Knight Frank has certainly seen a

trend towards more complex and intelligent

building management systems

as well as capital investment

in products like solar panels, LED

lighting, and the employment of

efficiency specialists to constantly

monitor and tweak building performance.

In many cases, blue chip tenants

require a minimum NABERS rating

of four stars for any space they occupy.

This requirement is forcing building

owners to invest in various

building modernisation vehicles to

ensure their buildings remain on the

short-list of potential tenants.

There is certainly greater awareness

in the market that a higher-rated

building corresponds to lower

occupation costs, particularly as

electricity costs continue to rise and

put pressure on many tenant's operating

budgets.

Certainly, we are seeing savings

of upwards of 50 per cent in energy

costs on a modern or "modernised"

office building when compared to

traditional stock.

For a landlord with a gross lease

arrangement, these savings directly

translate to greater returns.

Efficient building technology has

expanded at a rapid rate over the

past 10 years and continues to do so

every year.

With various schemes offering assistance

with the cost of upgrades,

such as the Tasmanian Energy Efficiency

Loan Scheme, there has

never been a better time to review

efficiency to ensure it remains competitive

and indeed compliant in an

ever-evolving market.

PROPERTY VIEW

OCTOBER 2017

For sale by Expression of Interest

WELL SERVICED INVESTMENT

283-287 Liverpool Street, Hobart

• Solid lease to long term business – Specialist

Auto Group servicing Hobart for over 20 years

• 5+5+5 year terms, CPI or 2.5% increases,

market review at options

• High exposure CBD site, substantial land

holding with well-maintained buildings and

excellent car parking

• Zoned 'Central Business'

• Land size 1,235sqm (approx); building size

775 sqm (approx)

• Net rent $120,000 pa plus GST

Ian Reed 0419 670 501

View at KnightFrank.com.au/3866325

Outline indicative only

For sale by Expression of Interest

BELLERIVE BOARDWALK

OPPORTUNITY

"Watermark", 14-22 Cambridge Road, Bellerive

• Brand new, flexible commercial property.

• Strata area of 318sqm (approx) which

comprises of a building area of 254sqm

(approx) and 64sqm (approx) of outdoor space.

• Remarkable opportunity for owner occupiers

or astute investors to acquire a rare

commercial premises centrally located within

the tightly held Bellerive Village waterfront.

• With excellent exposure this would suit

food/beverage, restaurant, retail, fitness,

and or commercial uses (STCA).

Richard Steedman 0408 559 046

Matthew Wright 0458 290 588

View at KnightFrank.com.au/3850283

RESIDENTIAL

PROJECT

MARKETING

Be the first to know about off-the-plan

developments & subdivisions in Tasmania.

Register Now

projects@knightfranktas.com.au

5 Victoria Street, Hobart

P: 03 6220 6999

41 York Street, Launceston

P: 03 6333 7888

Shop 6a, 48-54 Oldaker Street, Devonport

P: 03 6424 3568