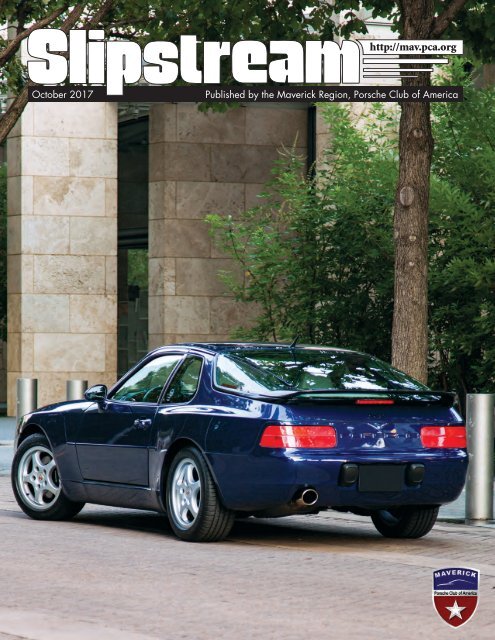 Slipstream - October 2017
The monthly newsletter of the Maverick Region of the Porsche Club of America
The monthly newsletter of the Maverick Region of the Porsche Club of America
SHOW MORE
SHOW LESS
Create successful ePaper yourself
Turn your PDF publications into a flip-book with our unique Google optimized e-Paper software.
http://mav.pca.org

October 2017

Published by the Maverick Region, Porsche Club of America

Upcoming Events

• Father's Day Picnic

• Sunday Drive

• Rally School

Past Events

• Wild Wildflowers

• May at Mayo's

• Results

June 2007 - Published by the Maverick Region

Porsche Club of America
---
©2017 Porsche Cars North America, Inc. Porsche recommends seat belt usage and observance of all traffic laws at all times.

More of the Porsche services you want from

the Porsche-certified technicians you trust.

Park Place now provides an even wider range of in-house services and options to make your

Porsche its best. You get everything from tint and ClearBra installation for all Porsche models

to headlight restoration and wheel repair, performed by certified Porsche technicians. You

also get the convenience of the only Metroplex dealership with an on-site Porsche-certified

body shop and exceptional amenities—like complimentary Porsche loaner cars and hand car

washes. So supercharge your service at Park Place Porsche today.

Park Place Porsche

6113 Lemmon Avenue

Dallas, TX 75209

214.525.5400

park-place.porschedealer.com
---
http://mav.pca.org

Volume 55, Issue 10, October 2017

Find event updates at http://mav.pca.org, follow on Instagram at http://instagram.com/MaverickPCA

and join our Facebook Group at http://www.facebook.com/groups/mavpca/

Features

Maverick Region 55th Anniversary................................... 6

Your First Drivers' Education Event.................................. 10

Kruder's Cars & Conversation........................................ 12

Park Place Luxury and Supercar Showcase...................... 14

Mavs & Mochas Recap.................................................. 15

Lube for Thought........................................................... 18

Porsche 968: End of the Transaxle Era............................ 19

Autocross Series Recap.................................................. 20

Porsche of the Month..................................................... 21

Porsche Trivia................................................................ 21

Tech Session Recap........................................................ 23

Big Noise From Winnetka.............................................. 25

PCA Tours Preview: Ray Roberts Lake.............................. 28

Club Racing News......................................................... 31

Upcoming Events

Board Meetings............................................................... 7

Maverick Lunch Series.....................................................7

October Social: Porsche Oktoberfest...............................16

Halloween Rally............................................................16

DE at MSR....................................................................16

Tech Session.................................................................16

Austin Schnell Fest.........................................................17

Autocross Schedule.......................................................17

Mavs & Mochas............................................................17

PCA Logo License Plate Purchase.................................... 20

Club Racing with Vintage Run Group.............................. 31

Departments

Sprockets (President's Column)......................................... 2

Maverick of the Month..................................................... 2

List of Officers and Board Chairs...................................... 4

Zone 5 Presidents............................................................4

New Mavericks and Anniversaries.................................... 9

Unclassifieds................................................................. 34

Advertiser Index............................................................ 34

Around the Bend (Editor's Column)................................. 36

Slipstream (USPS 666-650) is published monthly by the Maverick Region, Porsche Club of America, 155 Jellico

Southlake, TX 76092. Subscription price is $24.00 per year. Periodical postage is paid at Fort Worth, TX.

POSTMASTER: Send address changes to Hiram Saunders, Slipstream, 155 Jellico, Southlake, TX 76092.

See more details and check for event updates via

the QR code here or our online calendar at

http://mav.pca.org/go/calendar

Plano area lunch (each Monday)........... 2, 9, 16, 23, 30

Board Meeting..................................................... (Wed) 4

SUV Off-Road Adventure: Northwest OHV Park........(Sat) 7

Swap Meet at Zims Autotechnik................................(Sat) 7

Lewisville area lunch............................................. (Tue) 10

Mavs & Mochas: Texas Harley-Davidson................ (Sat) 14

Autocross #9 at Lone Star Park..............................(Sun) 15

PCA Tour: Ray Roberts Lake..................................(Sun) 15

Mav Social: Oktoberfest at Uncle Buck's.................(Thu) 19

Mav Tech Session: Bennett Moter Werks.................. (Sat) 21

Drivers Education: MSR..........................(Sat - Sun) 21-22

Richardson and Southlake area lunches.................(Thu) 26

Board Meeting..................................................... (Wed) 1

Autocross #10 at Lone Star Park..............................(Sun) 5

Plano area lunch (each Monday)................ 6, 13, 20, 27

Mavs & Mochas: NorthPark Center (Nordstrom's)... (Sat) 11

Club Race and Advanced DE: MSR..........(Sat - Sun) 11-12

Lewisville area lunch............................................. (Tue) 14

NO SOCIAL THIS MONTH..............................(Thu) 16

Austin Schnell Fest DE..............................(Fri - Sun) 17-19

Richardson and Southlake area lunches.................(Thu) 23

As spotted following a recent

autocross event. Is it possible that

this many Porsche owners needed to

procure bail bonds at the same time?

Photo by Wendy Shoffit

Event Dates

October

November

On the Cover

Celebrating 25 years since its introduction, the

Porsche 968 model series was the pinnacle of the

four-cylinder transaxle cars. This 1994 edition is

owned by Rob Adams.

Photo by Rob Adams

Opinions expressed herein are not necessarily endorsed by the Club's membership or officers. Contributions will be

printed on a space available basis. Chartered regions of PCA may reproduce items from this issue provided the author/

artist and Slipstream are credited. Slipstream is printed by Ussery Printing Company in Irving, Texas.

1
---
Sprockets: New Additions

By David Robertson, Region President

ast month I gave an update of some of the

L

items that we have worked on so far this

year. We are very proud of what has been

accomplished to date, but we still have a lot

of work to do!

This is an exciting time to be a Maverick! We are

adding new events, trying new things, testing ideas, and

constantly evaluating what our members are asking us

for. To further these efforts I have created a new board

position of Marketing Chair and have appointed Bill

Orr, our resident marketing guru, to chair that position.

Bill has done an unbelievable job of creating ways

to market our club to new and existing members. With

a more official role, Bill has some ideas to implement

that will take our marketing program to the next level.

One of our initiatives for the remainder of 2017

and into 2018 is to create a great Concours d'Elegance

program. I have appointed Mike Mahoney to the position

of Concours Chair and he will be in charge of this

undertaking. Mike has some great ideas and lots of enthusiasm

for this role. Our Concours events will range

from more traditional judging programs to less formal

events like People's Choice. Mike will not be alone in

his new role. He is working with many of our Maverick

members that have been our club experts in Concours

historically, both on the local and national level, and

going back almost as long as our region has been in

existence. As always, volunteers will be needed!

We are getting some good ideas for ways we can effectively

distribute both our dollars and our human

capital to charities we support. One charity that we

have supported over the years is the Huffaker-Hughes

Hope House. We support the Hope Shelter through

cash donations, but they also have a need for specific

items on an as needed basis such as toiletries, towels,

bedsheets, etc. You will see collection requests for some

of these specific items from time to time, coinciding

with some of our events. We are all very fortunate to be

members of this club and charity is one area where we

can all participate!

This is the 55th year for the Maverick Region and

we are laying the groundwork to move successfully into

the future. Attracting new members is very important,

but participation and inclusion is what keeps everyone

in the club. All of our members have a place in the Maverick

Region PCA. Whether you a 50+ year member

and will never touch a PDK, or you are a lucky owner of

a Porsche in your 20s looking forward to an all-electric

911, you are a big part of our club!

SAUL FRAIRE, Chef-Proprietor

1235 William D. Tate Ave

Grapevine, TX 76051

817-329-6995

The Maverick Region runs on your input. If you

have an idea to improve our club, or know of an area

that you feel needs my attention, do not keep it to yourself!

Email me at president@mavpca.org.

MAVS OF THE MONTH: Debi Gibson & Bill Kruder

This month I would like to recognize Co-Mavs of the

Month Debi Gibson and Bill Kruder. Bill and Debi have

jumped in with both feet to make the Maverick Region

a notch better in many areas that many of our members

may not even realize. Bill has been the key figure in

the huge success of Mavs and Mochas and Debi is

always creating a new tweak each time to make each

of the events better than

the last one. Bill is also

consistently working

behind the scenes with

our advertisers and has

established relationships

with the local dealerships

greatly improving those

partnerships. Debi has

also made contributions

to Slipstream and is

helping to plan our

upcoming Founders'

Day celebration.

Congratulations Debi and Bill, thanks for everything

you do, and enjoy your Silver Fox gift certificate!

2 October
---
your baby deserves

it's own room.

Introducing Garages of Texas, a community of first-class, affordable, completely customizable garage suites. Here, you don't rent a

space. You buy it. Giving you complete financial control and power to make it your own with unlimited customization options. So, stop fighting

for space in your family garage. Upgrade to a garage suite and move your show cars, motorhome or boat to the showroom they deserve.

Contact our sales team at 888.988.8049 or sales@GaragesOfTexas.com for more information.

ALLEN • CARROLLTON • DALLAS • FRISCO • PLANO • ROANOKE COMING SOON: AUSTIN • HOUSTON • SAN ANTONIO

GaragesOfTexas.com • Facebook.com/GaragesOfTexas

3
---
2017 Maverick Region Board - Officers and Chairs

President

David Robertson

617-797-0516

president@mavpca.org

Autocross Chair

Mark Schnoerr

ax@mavpca.org

Vice President

Jim Falgout

vp@mavpca.org

Charity Chair

Chris Hamilton

hope@mavpca.org

Secretary

Wendy Shoffit

972-977-9821

secretary@mavpca.org

Club Race Co-Chair

Pat Heptig

214-649-7907

cr@mavpca.org

Treasurer

Richard Solomon

903-530-8281

treasurer@mavpca.org

Club Race Co-Chair

Joel Nannis

cr@mavpca.org

Concours Chair

Mike Mahoney

801-230-1482

concours@mavpca.org

DE Chair

ChrisTabor

817-371-4888

de@mavpca.org

DE Chief Driving Instr.

John Sandusky

817-777-0421

cdi@mavpca.org

DE Equipment Mgr.

Hunter Allen

deequip@mavpca.org

DE Hospitality

Rose Gohlke

de@mavpca.org

DE Sponsorship

Daren Kirbo

254-396-2973

desponsorship@mavpca.org

Email List Moderator

Brian Scudder

mrpca-owner@

yahoogroups.com

Email List Moderator

Matt Platts

mrpca-owner@

yahoogroups.com

Goodie Store

Chris Flaugh

214-288-5300

goodiestore@mavpca.org

Histographer, Tenured

Charlie Davis

historian@mavpca.org

Marketing, Social

Media Chair

Bill Orr

bill@billorr.com

Membership Chair,

Past President

John Hamilton

817-907-7823

membership@mavpca.org

Monthly Social Chair

Stephanie Ho

hh@mavpca.org

Online Calendar

Karl Poulsen

calendar@mavpca.org

PCA Tours Co-Chair

Mark Pitarresi

817-715-7156

tours@mavpca.org

PCA Tours Co-Chair

Tom Gomer

tours@mavpca.org

Rally Co-Chair

Don Sebert

214-613-6900

rally@mavpca.org

Rally Co-Chair

George Luxbacher

rally@mavpca.org

Registrar, Club Race/DE

Wendy Shoffit

crreg@mavpca.org

deregistrar@mavpca.org

Safety Co-Chair

Wayne Elliott

safety@mavpca.org

Safety Co-Chair

Bob Kramer

safety@mavpca.org

Slipstream Advertising,

Coffee Meets

Bill Kruder

214-497-0711

ads@mavpca.org

Slipstream Editor

Jim Hirsch

972-740-7377

editor@mavpca.org

Slipstream Content Ed.

Carey Spreen

817-422-3480

editor@mavpca.org

Slipstream Event

Ad Design

Kurt Scaggs

eventads@mavpca.org

Tech Sessions Chair

Nikolaus Klemmer

469-531-5314

techcorner@mavpca.org

Slipstream Mailing

Andy Mears

214-394-5857

mailing@mavpca.org

Time Trial Chair,

(AX/TT Rules)

Travis Howard

214-616-6152

tt@mavpca.org

Slipstream Printing

Fran Ussery

972--438-8344 (W)

817-481-8342 (H)

printing@mavpca.org

TT Registrar, AX/TT

Schools, Swap Meets

Robyn Howard

214-991-0873

drivingschools@mavpca.org

Social Chair

Tracy Robertson

817-944-5490

social@mavpca.org

Trivia Chair

Jerry DeFeo

972-240-5800

trivia@mavpca.org

Volunteers Chair

Jim Gallegos

214-697-0792

volunteers@mavpca.org

Web Site Chair

James Shoffit

972-786-6246

webmaster@mavpca.org

ARK-LA-TEX

Ken Chandler

bad968@bellsouth.net,

COASTAL BEND

Bryan Kerrick

bksailspadre@

sbcglobal.net

2017 PCA Zone 5 Presidents and Zone Representative

LONE STAR

Steve Bukoski

president@lsrpca.com

MARDI GRAS

Scott Spradley

swsprad@bellsouth.net

OZARK

Jim Woolly

jim.carol_NOSPAM@

sbcglobal.net

WHISKEY BAY

Mike Hamza

mikehamza944@

gmail.com

CIMARRON

Joy Jones

presidentcmr@gmail.

com

HILL COUNTRY

Tracey Gross

president@hcrpca.org

LONGHORN

Charles Bush

president@longhornpca.org

MAVERICK

David Robertson

president@mavpca.org

WAR BONNET

Randal Goodman

drtoys42@aol.com

WHITE RIVER

Leonard Zechiedrich

whiteriverregionpca@

gmail.com

ZONE 5 REP

Jon Jones

zone5rep@pca.org

www.zone5.pca.org

4 October
---
"Let us take care of your baby, like it's ours!"

VISIT OUR NEW 8600 SQ FT LOCATION!

A L I G N M E N T

$ 1 9 9

MONTHLY SPECIAL

CERTIFIED MASTER TECHNICIANS

GENERAL MAINTENANCE

PERFORMANCE UPGRADES

SUSPENSION MODIFICATIONS

ALIGNMENTS ( TRACK AND STREET )

TRACK PREPARATION

TECH SHEET INSPECTIONS

CUSTOM FABRICATION

CUSTOM BUILT SPEC 996S AND SPB

2520 Tarpley Rd. Suite 700

Carrollton, Texas 75006

(972) 418-1996

innovativeautosports.com

innovativeautosportstx@gmail.com

5
---
Maverick Region 55th Anniversary

By Jim Hirsch

Anniversary graphics by Kurt Scaggs

W

6 October

here were you 55 years ago? I asked that

question in last month's issue and here

are three responses I received for your trip

down memory lane - looking back to 1962.

Linda Bambina

I turned 15 the summer of '62. At that time in Texas,

you could get your learner's permit at 14 and driver's

license at 15. I think I started practicing driving (in our

oversized semi-circle driveway) when I was probably 12.

I loved cars. I loved driving the long, long roads of West

Texas. I practiced most of my early driving in a borrowed

Ford Falcon with a column shift.

I had a BLAST going from 1st to 2nd gear….! YES!

I remember pushing that gear shift knob up toward the

windshield at 15 miles an hour! All Right!

Then slam on the brakes and STOP because I was at the

end of the driveway!

When I finally had my birthday, I took my driving

test in my family's '56 Cadillac. That was like driving

a tank! Parallel parking was so hard in that car! Then

my dad bought me my OWN CAR. Long story associated

with this choice, but I got a 1927 Model T Ford.

The planetary gears and throttle and spark advance

and starter were ALL totally different than either of

the above-named vehicles, but I was thrilled beyond

description.

That thrill was not truly duplicated until my (then)

boyfriend, Alan Bambina, pulled into a huge empty

parking lot and invited me to drive his 1975 911 S.

OMG. Being a passenger is nothing compared to being

the driver of such a piece of engineering. Talk about a

"BLAST" going from gear to gear!

Carey Spreen

I was still a wee lad in 1962, but that was my first

experience with an odd little rear-engined German car.

No, not a Porsche or VW – even smaller: a BMW Isetta.

A neighbor had one that he used to drive around the

neighborhood, and my dad and I dropped by one afternoon

to check it out. My mouth dropped open in

amazement when he pulled the whole front of the car

open to reveal the plain padded

bench seat inside. The

steering wheel swung up out

of the way to allow us to get

inside, and as he closed the

door, we were fully enclosed

in a tiny bubble car.

He started it up and putted

around the block, returning

to his driveway in just a

minute or so, but I was hooked! I knew at that moment

that I was going to have to have a little tiny car like that

someday. As it turned out, my first car wasn't quite that

small (a 1974 VW Thing), but it put me on the path

that eventually led me to Porsches, PCA, and Maverick

Region. Happy 55th Anniversary!

Charlie Davis

I was in the army in 1962 (more to come in a future

story involving rolling 911s at Rattlesnake Raceway)!

Motoring Mav's for 55 Years

1 day, 3 events, 2600 members

Celebrating our Region Founding in 1962

To commemorate the 55th anniversary of the

Maverick Region, we have planned multiple events

during our Founders' Day Celebration. More

information will be available online and in the

November issue of Slipstream, so be sure to save

December 2 on your calendar to participate in

these member activities.

The tentative schedule of events includes:

8:30 a.m. Mavs & Mochas, Highland Park Village,

Dallas

11:00 a.m. Mavs Toy Parade, Plano

7:00 p.m. 55th Anniversary Founders' Day

Celebration, Texas Harley-Davidson,

Bedford
---
7
---
8 October
---
Welcome Our New Mavericks!

By John Hamilton, Region Membership Chair

Sammy Albustami

Duncanville

2017 Cayenne

Mark Gomez

Plano

2001 911 Carrera

Lori May-Malone

Westlake

2017 Macan GTS

If you have any changes that

you would like to make to the

MRPCA membership guide,

contact John Hamilton at

membership@mavpca.org

David Stolfi (Michael)

Colleyville

2012 911 Turbo S

Hunter Bentley

Wylie

2014 911 Carrera S

Nelson Hodges (Sandy)

Arlington

2014 Boxster S

Michael McGrath

Prosper

2014 Boxster S

Dimitris Tsioutsias

Irving

2014 Cayenne

Melvin Benzaquen

McKinney

2001 911 Carrera

Brandon Hyslop

Fort Worth

2005 Cayenne

Michael Ratliff (Brenda)

Bowie

2002 911 Carrera 4S

Paul Wunderlick

Frisco

1997 911 Carrera

Ford Butler

Colleyville

1983 911 SC

Scott Davis

North Richland Hills

1986 911 Carrera Cabriolet

Mark Ermence

Frisco

2017 718 Boxster S

Porter Fuqua

Dallas

Ladd Gibke

Plano

2000 911 Carrera

Drew Kile

Fort Worth

2014 911 Carrera S

Kelly Lamont

McKinney

1987 924S

Jeremy Landers

Tyler

2016 Cayman GT4

David Manning

Plano

2005 911 Carrera S

James Rerich

Tyler

2014 Boxster S

Javed Sayed

Plano

2015 911 Carrera S

Billy Smith

Dallas

2007 Cayman S

Steve Sparks

Weatherford

2016 911 GT3 RS

Transfers In

David & Kristin Anders

Frisco, TX

Transfer From: WMI

1991 944 S2

Brad Stampa

Woodland Hills, CA

Transfer From: DIA

1988 911 Carrera

Kevin & Tara Voigt

McKinney

Transfer From: ORC

2005 911 Carrera

Maverick Membership Stats

Members: 1,728 Affiliate Members: 864 Total Membership: 2,592

Anniversaries: October

** 25 Years **

Ronald Gilmore (Carol)

Dallas

Kelly Hall (Jason)

Dallas

20 Years

Kevin Marks (Leigh)

Fort Worth

Lee Morgan (Tamaca Hopkins) Fort Worth

15 Years

Clay Bailey (Sheela)

Argyle

Eric Steen

Fort Worth

5 Years

Tayfun Altay

Clyde Anderson

Armando Beteta (Andres)

Gordon Dahl (Joy)

Robert DiRienzo (Joyce)

Morley Huskinson

Jack Safrit

James Sears

William Struckell

Albert Wharton

Haslet

Frisco

Irving

Plano

Plano

Fort Worth

Frisco

Dallas

Dallas

Vernon

10 Years

Roberto Anderson

Thomas Jones (Lynn)

Dallas

McKinney

9
---
Your First Drivers' Education Event: Preparation

By Lori Mauthe, former Region DE Chair, and Joel Nannis, National Club Race Scrutineer

o you've made the decision to have a date

S

with your Porsche, and learn about how to

REALLY drive your dream car. Now what

is next? This article, including Part 2 next

month, will provide the step-by-step guidelines for what

to do and what to expect.

Event registration

To register for a Maverick Region PCA Drivers' Education

(DE) event, you first log on to the www.clubregistration.net

website. You will have to create an account

and credentials, and then you can search for the event.

You can find our events by clicking on the "Search

for Events" menu, then "Find Events." Complete the

form with the "By Category" option.

Select the event, then complete the questionnaire

form. You will have the ability to preregister for lunch,

which is catered at the track, and some events also have

an optional dinner. You will be asked to provide a car

number, or one will be assigned for you. If you are sharing

a Porsche (or other car) for the event with another

driver, please also provide this information so we can

place you on the same team.

After you register, you will receive a confirmation

email stating that you have been accepted. The acceptance

will indicate you are in the green group and you

are assigned a unique car number. You can make the

numbers for your car using painter's tape of a contrasting

color to that of your car. For example, blue on black

is not acceptable. The numbers need to be at least 8

inches tall and must be placed on both doors and the

front hood.

Readiness activities – Two weeks prior to the event

There are several important email attachments that

require action prior to the event.

Technical inspection form. The tech inspection

form is certification that your vehicle has passed the

safety inspection criteria required for track activity. An

authorized dealer or Club-approved mechanic must

fill out the form and sign it, indicating that your car is

ready for the event. You also must initial and sign the

form. The tech form must be turned in during registration

on the day of the event.

When on track, you are required to wear a safety helmet

with a Snell 2010 or 2015 approval sticker. Not all

helmets meet this requirement, so be sure to check the

sticker inside or on the back of the helmet. Note that

a Snell 2010 helmet will only be legal for PCA events

until 2020, so if you are going to purchase a helmet,

a Snell 2015 would be a better choice. A limited number

of approved helmets are available to rent from the

track facility for a fee, so if you plan to do so, be sure to

reserve this option early with the track directly.

Emergency contact form. This form is

required if you have not already entered

this information during pre-registration

on the clubregistration.net website.

DE handbook. A detailed document

containing the rules and regulations for

a drivers' education event, for review before the event,

and for reference if there is a question during an event.

You do not need to bring a printed copy with you.

The night before the event

Prepare your car for the track by ensuring that the

gas tank is full and that you have your helmet and

forms. A clean car is a safe car, so be sure especially to

clean the windows. Hydrate yourself with water and/or

sports drink the few days prior to the event. The night

before the event, please have a good nutritious dinner

and get a good night sleep. Watch this column next

month for Part 2 – At the Track.

Editor's note: This article was first published in the

February 2013 issue of Slipstream. It contains a lot of useful

information for DE first-timers, so we thought it was time to

run it again!

10 October
---
Like a Personal Trainer for your Porsche!

• Expert maintenance and repair services • Track day preparation

• Performance and appearance upgrades from GMG, Manthey, FVD and more

• Superior customer service and free loaner cars • PCA discounts

• Show quality detailing services • Comprehensive service from air-cooled to 991

We Buy, Sell and Consign Quality Pre-owned Porsches

PCA Special - Oil Change $199 00

Oil change with Mobil 1 for 996/986/997/987/991/981. Offer includes complimentary car wash and vacuum.

3236 Skylane Drive, Dallas, Texas 75006 • 214-269-1570 • www.racperformance.com

11
---
Kruder's Cars & Conversations

By Debi Gibson

Photos courtesy of the Author

eard the lyric "It's a

H

Small World After All?"

Well I learned in this

month's interview, it

is indeed! In September of 2016,

Bill Kruder introduced you to PCA

member Bob Hagestad, owner of

the Hagestad Porsche/Audi Dealership

in Denver, Colorado back in

the '70s and '80s. Bob and Bill became

immediate friends and when a

'71 914 popped up on Ebay for sale

last fall complete with documents

from Hagestad Porsche. Well there

was an instant connection (and a

purchase I might add)! Who would

have thought that, in the Maverick

Region, we would discover another

proud Hagestad Porsche find . . . so

we just had to connect the people

with their cars. Here are two men

reintroducing their cars to the man

who sold them back in the 1970s!

Bruce Johnston

Member since 2016,

Owner 1975 '911S,

1988 '924 and 2004 '911S along

with Bill Kruder and Bob Hagestad

Debi Gibson: Bruce, so tell me about

your cars.

Bruce Johnston: Well we have

three Porsches in the family, two

Volkswagens, and all that to say,

"I'm a classic Ford Guy!"

Bob Hagestad: Good Grief!

(with a puzzled look)

Debi: So how and when did the

Porsche brand enter the family?

Bruce: In 1975, my brother-inlaw

traded a '74 Datsun in for a

new 1975 911S. He and my sister

drove it for 11 years, and then after

a tough year with 66,621 miles on

the odometer they parked it in the

garage. The car just represented

a challenging season in their life,

and so they turned the key off and

let it sit. More than 30 years later,

Rick gave the 911S to me cheap.

12 October

Debi: Wow!

Bruce: I like to bring cars back

to their original condition. I have

completely restored multiple vehicles,

including a 1939 Ford Truck,

three 1966 Mustangs, and a 1949

Case Tractor. I always loved the old

tractor, and one day I said to my

Uncle Norman, "Let me buy it for

$500 and I'll make it brand new." I

restored it and returned it back to

the farm.

Debi: (He shows me a picture of the

most beautiful orange 1949 Case Tractor.)

I'm impressed!

Bruce: Well, I'm not a mechanic,

but I like to make things look nice

and admire them. After Rick gave

me the 911, within a week I had

rolled it up in my garage, cleaned

it all up good, took the tank out,

tested the injectors, and fired it up

and got it running!

Bill Kruder: I don't know what

you are talking about, Bruce, because

you just told me five minutes

ago that you weren't a mechanic!

Bruce: I teach myself new things

and eventually I figure it out. I like

to keep everything organized too.

I've got my tools so organized I can

Bruce Johnston (center), with

Bill Kruder (left) and Bob Hagestad

close my eyes and still pick up whatever

I need! (chuckling)

Debi: So when did you guys figure

out the connection . . . three guys, two

cars, and one dealership?

Bill: Well Bruce was telling Mark

Palmer at one of our non-worker

coffee meet-ups about his car, and

mentioned Hagestad's dealership,

and Mark was like, "Bill, ya gotta

hear this!"

(Bruce proceeds to show us all

of the original paperwork, manual,

sales invoice, and more. Bob gazes

at the invoice in amazement! I

think he's simply flattered that two

men are so proud to own cars from

his place.)

Bill: So Bob, the 914 was delivered

from your place in the fall of '70 and

Bruce's 911 in the spring of '75. What

were you doing?

Bob: Well, I was just selling

Porsches (with a grin). My family

had our Porsche dealership

in 1960, and then in 1969 we expanded,

separating our franchise

and adding Audi to the mix. So in

1970 we had 13 employees opening

a Porsche/Audi store, but we

had no Audis! And then once they

were delivered, they were terrible!

That's what ultimately caused me

to give up the business.

Bruce: I think there is an IHOP

where your dealership was now. I

had family that lived in Denver and

I traveled there most every week for

work for years.

Bob: So you never lived there

(Denver)?

Bruce: No, I just worked there

on various projects. I have traveled

over five million miles with American.

Do you remember the "Drumstick

Restaurant" in Denver that

was close to your dealership?

Bob: Oh yes! I used to go in there

and order their gizzards (mouth

watering). I lived in an apartment

right around the corner! What did

you do as your profession?
---
Bruce: I was in hotel development.

It was fun but also stressful

with the timelines for project completion.

I'm a recent non-worker

actually. Just retired!

Bill: So you both (Bob and Bruce)

have another mutual connection: Grady

Clay.

Bruce: Grady is on my service

records as he installed the metal

flares on the 911.

Bob: Yeah, I knew Grady from

my racing days. I began racing in

1960 when my mechanic at the

Bruce's 1975 '911S and Bill's 1971

'914, both sold by Bob Hagestad

dealership convinced me to take

a cabriolet off the showroom floor

and race it (smiling). I put a roll

bar in it and took this car (which

was for sale) off the floor and drove

it to the racetrack by Castle Rock. I

entered the race and won!

Bill: And when was it that Hurley

Haywood joined you?

Bob: We did Watkins Glen six

hour race together. I co-drove in

my car and we won it! In 1978, we

took a Turbo up there and it was

the last time I raced with him.

Bill: Didn't you wreck a car once?

Bob: Oh yes, hit the wall hard at

Watkins Glen! I needed a replacement

and we found that Peter

Gregg had one in Jacksonville.

Only problem was he wouldn't let

me race it with his colors so my

chief mechanic's wife had an idea

on how to cover it. Next thing I

know the car is wrapped in contact

paper. You know, the stuff you line

drawers with? It was a funny color

(making a funny face too!).

Debi: So Bruce I'm looking at your

invoices. What has the 911 actually cost

you to get it running?

Bruce: $5K. So the garage is going

to cost me a lot more!

Debi: Well guys, can't thank you

enough for sharing stories, connections,

coffee, and cars. Bruce, what are you up

to next?

Bruce: Well I'm headed home to

take my seats apart this afternoon.

I finally found the seat material

in Palm Springs but it would have

been $1800 without installment, so

instead I have some fabric wear and

we are going to work with it myself.

It will look nice and of course keep

it original!

Well as Bill always says, the Mavs

are the best at connecting people

with their cars, and in the process,

Driving Friendships!

13
---
Park Place Luxury & Supercar Showcase

By Rob Adams, Lisa Ward, and Mike Mahoney

Photos as noted

ditor's Note: a few of our

E

Maverick Region members

recently participated in the

first annual Park Place

Luxury & Supercar Showcase. What

follows are three perspectives from Rob

Adams, Lisa Ward, and Mike Mahoney

as they attended this event.

Rob Adams, 1994 Porsche 968

This was a weekend

chock-full of local

events for gearheads,

but I was fortunate

enough to be part of

the inaugural Park Place Luxury

and Supercar Showcase. Mother

Nature provided perfect weather,

and Four Seasons Resort provided

the perfect venue for a thoughtfully

laid out field of cars, ranging

from antique and classic to supercars.

And after sensory overload of

all things automotive, guests were

treated to culinary sensations from

local gastromeisters served in bitesize

samples that left you wanting to

sneak back in line.

Maverick members along with a few

of their Porsches at the event

Photo by Wyatt Ramsey

For a first

attempt, this

was a success.

Limited to 100

cars, there was

a full field,

although I suspect

the next

event will possibly

be scrutinized

a little

tighter as the

show is being

touted as something

along the

lines of Pebble

Beach, but

without the ocean and 73-degree

weather and wine country normally

associated with Car Week. But hey,

that's precisely how great things get

started.

Lisa Ward, 2009 Cayman S

September 9th,

2017, dad and I went to

the first ever Park Place

Luxury and Supercar

Showcase at the Four

Seasons Resort and Club in Las Colinas.

What a fabulous event.

The oogling over cars began on

the shuttle ride, where we saw our

first of many McLarens. All were

turning their heads to get a peek

as it drove by. It was like the Ascot

for cars; there were big hats, bright

pants, and man buns, oh my! I had

to smile at the champagne and

Grey Poupon in the Rolls Royce,

but nothing beats the classic white

rim tires.

Inside the food was delicious.

We ate a well-balanced meal of ice

cream, crab cakes, and hamburgers

in great Porsche Club company

– priorities, you know! I may not

know much about engine size or

model, but I love hearing the stories

behind the car and its history

of ownership. Ask me about the

Porsches for the track and street on display

Photo by Daniel Shofner

Shelby painted the wrong color, or

the chicken coop Rolls Royce.

Mike Mahoney, 1976 911 Targa

Arriving at the Four

Seasons parking lot

in the dark at 6:30 am

Saturday morning, Bill

Kruder and I are greeted

by Rob Adams in his beautiful

blue 1994 968 and Chris & Gabe

Sorrells in their striking metallic

blue 1982 Targa. First order of

business is coffee and registration.

As the dark subsides and the light

shines on our small but colorful

fleet of P cars, reality sets in as I

peruse the incredible collection

of cars in the staging area. Vintage

Jaguars, extremely rare Puegot, Bugatti's,

Bentley's, McLaren's, Lambroghini's,

Ferrari's etc… Bill and

I look at each other and ask, "are

they sure they invited us here?"

Needless to say it was a stunning

gathering of incredible cars at a

five star venue. And we represented

well with Blain Fike and his beautiful

grand prix white 1989 964 taking

first runner up in the classic car

division. Losing only to a flawless

black 1996 993 Turbo.

All in all a beautiful event, venue

and day. A first class event. I look

forward to next year.

14 October
---
Mavs & Mochas: August and September Events

By Matt Wilson (August) and Derrick Tate (September)

ontgomery Plaza was the site for our August

M

edition of Mavs & Mochas. The day dawned

on a beautiful August Saturday in Fort

Worth, a city many refer to as Cowtown. I

was a bit worried about the weather for our event, as

roughly 12 hours earlier a huge cloud had formed and

dumped over an inch of rain over downtown; nevertheless

clear skies prevailed. It would be the first time we

have hosted a Mavs & Mochas in Ft. Worth proper. We

typically try to alternate each month with locations on

the "east" and "west" sides of DFW. This was a "west"

month, so Montgomery Plaza just west of downtown Ft.

Worth would be a perfect venue! The location had lots

of open parking, a Chick-Fil-A, and a Starbucks Coffee

within walking distance. What more do we need? Well,

a bunch of Porsches, of course!

Since I live just over two miles away, I arrived early

and started setting up cones around 7:15 am. Shortly

after a few cars had shown up, a gentleman driving a

911 stopped and inquired about the meeting. He was

unaware of the club's existence and wanted to see what

was up. The Fort Worth resident enjoyed viewing cars

and conversing with like-minded Porsche enthusiasts,

and stayed for the entire event!

I knew it was going to be a good turnout when we

had over 40 cars already by the time the "official" 8:30

am start rolled around. John Hamilton and Autobahn

Porsche were gracious enough to bring both a new

718 Boxster and Cayman for the crowd to drool over.

Thanks John! We even had a member who smartly

brought his drone and took impressive video footage

from above (see Maverick Region Facebook page for

the video.)

The parking lot continued to fill, and all said, we

had over 100 Porsches, including a 918 Spyder, Carrera

GT, and a 991 GT3 RS!

The only production

cars not represented

were the 924 and 959.

We had quite an array

of cars for our first Mavs

& Mochas in Cowtown.

We received abundant

positive feedback about

the historic Montgomery

Plaza venue with a

scenic view of downtown

Fort Worth. Many

even stated that it was

"the best Mavs & Mochas

ever"!

Mavs in Montgomery Plaza

Photo by Jim Hirsch

y fourth official Mavs & Mochas was nothing

short of amazing! The weather was

M

perfect for coffee, donuts, and great conversations.

September's Mavs & Mochas was

held at Dallas Motorsports and featured Porsche SUVs.

Not only were there beautiful Macans and Cayennes to

admire and celebrate, but a variety of other Porsches

as well, including several from Dallas Motorsports' own

selection of cars. Different models of P-cars filled the

lots at this location and even flowed into the street.

There were nearly 100 cars that showed up for this

Mavs & Mochas.

Dallas Motorsports hosted 96 Maverick Porsches

Photo by Bill Orr

This was my first visit to Dallas Motorsports and it

was very interesting to see their inventory. A few of

their cars included a '65 Corvette, an '08 F1 Ferrari,

and an '88 930 Turbo. To go along with viewing the

many great cars, were many great conversations and

meeting new people. At every event I meet new people

and make new connections that will certainly last a lifetime.

Although I may be younger (by a couple of years)

than many of the people that attend these events, I feel

as though I fit right in, and age is irrelevant. It is amazing

because I usually hate waking up early, especially

for school, but when it comes to a Mavs & Mochas, I am

up an hour before my alarm even goes off!

Despite Bill Kruder, Mike Mahoney, and several others

being absent due to having their spectacular cars at

the Park Place event being held the same day, this was

still an unforgettable Mavs & Mochas. I want to say

thank you to Dallas Motorsports for having us, and

thanks to Bill Orr for capturing all of the amazing cars

and people. Now the countdown begins for the next

unforgettable Mavs & Mochas!

15
---
Upcoming Maverick Region Events

16 October
---
17

Upcoming Maverick Region Events
---
Lube for Thought: Lubrication, Part 1

By Mike Mahoney, Region Concours Chair

Photos courtesy of the Author

his is the first in a series

T

of articles on lubrication

and how important

it is to you and your car.

We all know we need engine oil. But

do you know its various functions?

Do you know what types of additives

are needed in engine oil and

why? Do you know why you need to

change your engine oil? What's the

difference between engine oil and

gear oil? Grease, what is it? We will

tackle these questions and more.

I'll begin with the basics of engine

oil and then move on to gear

oil and grease.

You've probably heard the

phrase "oil is the life blood of your

engine." While that happens to be

true, it's especially true in Porsches.

One reason is the high-revving engines.

And in air-cooled engines,

it's the high heat.

In an air-cooled engine, about

8% of the heat generated by the

engine finds its way into the oil. As

all of us air-cooled nuts know, those

engines get pretty hot! And I know

8% may not seem like a lot, but every

degree in temperature equates

to increased oxidation of the oil

or thickening of the oil. For every

10-degree increase of the oil, the

rate of oxidation doubles.

18 October

Dirt is another enemy of oil. Oil

deteriorates from the various contaminants

that find their way in to

the crankcase. Dirt from dirty air

filters, cracks in the air system, as

well as from limitations in air filter

design and from crankcase ventilation

systems. The oil also picks up

metal particles from normal wear

of engine parts, and if not removed,

can cause premature wear as well.

There are various additives in

engine oil. Additives for neutralizing

acids, anti-wear additives,

dispersants, etc. Over time, the oils

additives are depleted and are unable

to do their job of neutralizing,

suspending, dispersing, and solubilizing

contaminants. Oxidation

of the oil itself happens over time

for the same reasons, and is accelerated

by heat. In addition, the

combustion process is dirty business,

as a result of the thousands

of explosions going on inside the

combustion chamber in each of

the cylinders. One of the byproducts

of combustion is water. Most

of the water that comes from the

combustion process is in the form

of steam or water vapor and goes

out the exhaust. But at low temperatures

and short trips, the water

condenses and sticks to cylinder

walls, ultimately making its way into

the crankcase and the oil. This can

lead to the formation of sludge and

corrosion of metal parts.

There are also acidic gases produced

by the combustion process.

They too adhere to the cylinder

walls at low temperatures and end

up in the oil. They combine with the

water and become corrosive. Additives

assist in in preventing damage

from these factors but you have to

regularly change your oil. It's the

only way to get rid of the contaminants

and acids that are suspended

in the oil. The filter will not remove

everything, and with the additives

being depleted, it won't be able to

continue to do its job.

Well, as you can see, your oil is

working hard for you. So do your

part. If your engine oil could talk,

it would be doing its best Jerry Maguire:

"help me help you!"

That covers the basics of engine

oil. Next time we will talk about viscosity,

synthetics, and gear oil. Did

you know that viscosity is the single

most important factor when selecting

any lubricant? So what is viscosity?

See you next time.

Mike Mahoney spent over 35 years

with ExxonMobil where he worked in

lubricant manufacturing and sales. He

retired 2 years ago and is a 1 year PCA

Maverick Region member.
---
Porsche 968: End of the Transaxle Era

By Rob Adams

Photos courtesy of the Author

t the end of the successful run of the

A

924/944 series, the marketing types at

Porsche needed something to stimulate

sales until development of their newest

entry level offering, the 986 Boxster, was ready for

production. Porsche redesigned the 944 S2 to such an

extent that marketing decided to brand the new design

the 968.

Porsche's 968 production was moved to Zuffenhausen,

where it was manufactured alongside the 911.

Styling cues (courtesy of Harm Lagaay) were borrowed

from the 928, 959, and the 993 (1994 and later) but to

most, they were still rooted in the 944. However, the

968 brought significant innovation in the Porsche evolution:

the first Porsche to use VarioCam timing and

the first Porsche 6-speed manual. The naturally aspirated

3.0 liter inline, 16-valve four was the third largest

production engine of its type at the time and incorporated

twin balance

shafts to

counteract the

vibration created

by relatively

large cylinders

(4.09 in. bore x

3.46 in. stroke)

and a compression

ratio of 11.0

to 1. The engine

was rated at 236

horsepower

at 6200 rpm,

and 225 lb-ft of

torque.

The 968, with its near 50/50 weight distribution resulting

from the front engine/rear transaxle layout, is a

delight to drive. It is very nimble and can be tail-happy

with a little coaxing, yet forgiving and easily brought

back under control. Gathering 60 mph takes about six

seconds for the manual, and top speed is around 156

mph. Owners had the option of upgrading the suspension

to the M030 sport version as well as a limited slip

differential. The

968 shown here

has the standard

suspension, but

the rare option of

the lsd.

The interior was

clearly a carryover

from the 944, but

during the 968 years, Porsche offered a high level of

options allowing consumers to custom design their car.

The 968 shown is an example of the "deviated carpet

color" option resulting in a striking two-tone interior.

Unfortunately, the 968 came at a difficult time for

Porsche financially and Japan was quickly catching up

with similar offerings at a much lower price. Porsche

countered with variants including the Club Sport

and Sport, which offered the same power but lighter,

stripped-down platforms. There were a few exotic and

ultra-rare 968 production cars, the Turbo S and Turbo

RS, which are now highly collectible.

Over the 968's

production run of

five years, a total

of 12,776 were

produced worldwide,

with only

2,234 coupes and

2,008 cabriolets

making it to the

US. These cars

are quickly gaining

value and are

considered a very

collectible

Porsche for the

future.

19
---
Autocross Series: Challenge Cup Event 7, Lone Star Park

By Mark Schoerr, Region Autocross Chair

Photos by Lightspeed Images

t our returning event at the Lone Star

A

Park facility in Grand Prarire, we had four

Porsches (three with PDKs), seven Porsche

drivers, and a total of 88 entries.

Carole Liu seems to have caught the AX bug and

returned for some more in car instruction, then put

down her best times in her 2005 Boxster PDK in Class

P1, with a best time of 81.222.

Ed Mayo showing everyone legendary Porsche capabilities

As I write this, there are two more events in 2017:

Oct 15: Regular event at Lone Star Park

Nov 5: Regular event at Lone Star Park

August 20 Autocross #7 Results

Carole Liu with Mark Schnoerr doing some in car instruction

PCNA Regional Manager Steve Krysil brought out

a beautiful 2017 991.2 Carrera 4 GTS Targa with PDK.

Not only did he entertain with the magic roof disappearing

operation, but was also first quick Porsche over

Mike Syler in Class P3, with 68.558 and 72.940 best

times respectively. Steve donated his fast Porsche cash

award to the final event Guns and Hoses Charity AX IN

November.

PCA 1

Best Time Diff.

1T Carolle Liu Porsche Boxster 987 White 81.222

PCA 3

1T Steve Krysil Porsche 911 Targa GTS 68.558

2 Mike Syler Porsche 991 Carrera S Red 72.940 4.382

PCA 4

1T Ed Mayo Porsche 911S Silver 72.350

2 Julia Underwood Porsche 911S Silver 79.64 7.290

Steve Krysil showing Macy Mueller how it's done

in his 2017 991.2 C4S GTS PDK Targa

Ed Mayo struggled to stay on course and avoid cones

all day, but his adjusted best time still put him first in

Class P4 over Julia Underwood, sharing the beautiful

silver long-hood 911S. Ed got a 72.350 and Julia turned

a 79.640.

That's only five drivers. The other two? Mark and

Sigrid are still chasing a few gremlins from their 914

but also getting some AX seat time in the family BMW

M3 track car, running street tires in Class STU before

the annual BMWCCA Oktoberfest AX in New Orleans

coming up. Sigrid is already getting close to Mark's

time of 66.639 with her best run at 67.980.

20 October
---
Porsche of the Month

Selected by Bill Orr

Black 1984 Porsche 911

Photo by Steve Krysil

For instruction on how to submit your Porsche photos in the

POTM contest go to: http://mav.pca.org/photos/POTM/

August Trivia Questions and Results

By Jerry DeFeo

Sponsored by Zims Autotechnik

1. In the beginning of Porsche-branded cars, 1950 to be exact,

the first Porsche 356s with 1100cc had ______ DIN HP.

a. 40 b. 44 c. 45 d. 48

Source: Porsche 1994 Fact Book, p 129

You can test your knowledge (or Google search ability)

of all things Porsche by participating in the monthly

trivia contest posted online at http://mav.pca.org/

trivia. Answers are due by the last day of each month.

The winner of the trivia contest receives a $25 gift

certificate from our sponsor, Zims Autotechnik. In the

case of ties, a random drawing determines the winner.

The winner for our July Trivia is Mike Mahoney

who answered all five question correctly. Mike, please

contact Kirk at Zim's to claim your $25 gift certificate.

Honorable Mention goes out to Jacques Krielen, Cyril

Reif, Jim Hirsch, and Tom Martin, who also got all 5.

The questions for the

July Trivia are shown in the

column to the right with the

correct answers below.

Answers: 1) a 2) a 3) a 4) a 5) b

2. In 1951 in addition to the 1100cc engine, they brought out a

1300cc. How much did the DIN HP increase to?

a. 44 b. 50 c. 52 d. 55

Source: Porsche 1994 Fact Book, p 129

3. Again in 1951 they increased the engine size to 1500cc.

Now, at 5000 rpm, they were able to produce ____ DIN HP.

a. 60 b. 62 c. 65 d. 70

Source: Porsche 1994 Fact Book, p 129

4. In 1952 they came out with the 1500S engine, which at the

same 5000 rpm, now produced _________ DIN HP.

a. 70 b. 75 c. 80 d. 90

Source: Porsche 1994 Fact Book, p 129

5. In 1955 they dropped the 1100cc engine, keeping only

the 1300cc and the 1500cc engines. But in 1956 they only

offered a 1300cc and a 1600cc engine, with the 1600cc

being available as both in Normal and Super versions. What

was the DIN HP in the 1600S engine at the same 5000 rpm?

a. 70 b. 75 c. 80 d. 85

Source: Porsche 1994 Fact Book, p 130

21
---
Engine Restoration

• Restore, Rebuild to OEM Original

or Modified Spec

• Partial or Complete Car

Preservation Restoration

• We Manufacture NLA Parts to

OEM Original Condition

• Specializing in 911 930 928

R A N D A L L K A R A

RKT 817-624-1322

T E C H N I Q U E S

901 TERMINAL ROAD • SUITE 400 • FORT WORTH, TEXAS 76106

35 Years Doing What We Love.

Visit us on Facebook - Randall Kara Techniques

Specializing in all years and models

of Porsche exclusively for more than

30 years.

The only certified installer for the "IMS Solution"

in Texas and surrounding states!

Complete and Meticulous Maintenance and Repair

Tuning and Diagnostics (Carbs, MFI, CIS, OBD I & II)

Custom Engine and Transmission Rebuilds

Competition Car Preparation (Track or Autocross)

1521 Baccarac Ct, Euless, TX 76040

817 540 4939

www.mayoperformance.com

email: mike@mayoperformance.com

22 October
---
Tech Session: Ceramic Coatings for Easy Cleaning

By Robert Kendrick

hen I volunteered my car for the tech session

at Concorso Detailing, I didn't know

W

what to expect. I had heard about ceramic

coatings and how it was almost magical or

similar to Teflon, in that nothing would stick to it. The

description wasn't far from the truth as I came to learn

during the actual session.

Tony Varvel, owner of Concorso Detailing, explained

what ceramic coating was and wasn't and how to apply.

It wasn't magical and wasn't Teflon but it was a coating

that would seal the surface with a hard shell finish that

would allow for much easier clean up of brake dust and

much more. Tony went on to discuss the importance

of the preparation of the surface prior to applying the

ceramic coating. If the surface wasn't completely clean

one runs the risk of trapping dirt and dust particles

under the hard shell finish, turning the surface finish

dingy rather than clean and shiny. He also discussed

the importance of being patient and flowing the application

on to not leave a mark where you finish.

The demonstration on Jim Hirsch's Boxster S really

showed how the brake dust simply washed off with a

spray of water. The blow dry it received after the wash

Photos by Jim Hirsch

revealed clean, shiny

wheels and calipers. I

am so looking forward

to that on my own car

now that I have been

ceramic'ed at Concorso

Detailing.

Overall Tony's attention

to detail and

2 weeks, 400 miles of driving expert application of

the product as well as

his knowledge of the

impacts of temperature,

humidity and

other atmospheric impacts

on the products

he uses, the paint on

the surfaces and just

the products themselves

gave me a new

After water-only spray

appreciation of what it

takes to give vehicles the look they deserve. As Tony

says, "It's all in the details".

23
---
©2017 Porsche Cars North America, Inc. Porsche recommends seat belt usage and observance of all traffic laws at all times.

The heirs to over 60 years of a racing legacy.

Divided equally.

The form varies. But the racing bloodlines, the undying dedication to pure sports car performance, the marriage of power and

efficiency embodied in the Porsche principles, do not. And that truth is revealed in that moment you turn the key. Discover it for

yourself with a test drive. Porsche. There is no substitute.

Experience every form of Porsche performance.

Porsche Plano

5924 W. Plano Parkway

Plano, Texas 75093

Tel. (214)576-1911

www.plano.porschedealer.com

©2017 Porsche Cars North America, Inc. Porsche recommends seat belt usage and observance of all traffic laws at all times.

24 October
---
Big Noise from Winnetka

By Hammer

ig Noise blew in from Winnetka,

stole each fella's

B

heart. Big Noise blew in

from Winnetka; Big Noise

blew right out again.

I was working a $50-a-day breeze,

looking for a 17-year-old runaway

from Oak Cliff. She was an honors

student, majoring in men. And she

had all ''A's'' too -- none of them

on a report card. She had only one

other interest: dancing.

"I am the one they call the Big

Noise. I got to dance my way to fame.

I just blew in from Winnetka; that

town will never be the same".

Her parents reeked of old money,

the kind of money that'd been

stashed away in private Swiss bank

accounts since before that Archduke

in Austria-Hungary got assassinated

back in '14 to start WWI.

Remember that one? It was in all

the papers.

I scouted the standard dime-adance

joints on Harry Hines, but

nobody would cozy up to me. Go

figure. After spreading around

a few sawbucks, a local hipster

in a bathtub Porsche tipped me

off to a little known speakeasy far

north of the City where she could

be spotted. It was hidden in some

fancy garage complex, known only

as "Jack's Place." To get in, you

needed a passcode for the gate,

and a fancy sports car to boot. For

an extra fin my tipster gave me the

passcode, but I knew my old heap

wouldn't pass the smell test.

Needing something fast, I

checked out some cheap sport

models at the local used car lots

-- you know, the ones run by white

collar crooks; the kind of people

you'd find smoking joints in the

trailer office of a repossessed car lot

on Garland Avenue.

Then came a change of plans.

My client offered me his pristine

Jaguar XK120 for a night out on

the town; provided I brought his

daughter, and the Jag, back in one

piece. With the canvas top down,

and the wind blowing against my

fedora, I motored up to Plano.

"When Big Noise waltzes through

the door the bouncer has to clear the

floor,

'Cause everybody wants to see the

girl get down."

"Jack's Place" turned out to be

everything everyone said it was,

and more. The lights were low, the

music loud, and the booze strong.

Everyone who was anyone was

there: Romo, Dirk, Beyonce, Tiger,

even Seattle Slew. Word had it that

Seattle Slew was there every night . .

. damn, that horse could drink! The

only thing missing was sultry Ingrid

Bergman urging Dooley Wilson to

"Play it again, Sam."

"She loves the bass. She loves the

drum.

She loves to stay out late and dance

the samba, samba,

How she loves to samba, rhumba,

salsa, limbo and pachenga."

It was hard not to notice her

from anywhere in the joint. She

sure could dance, and she was cute

too; cute as lace panties. All the

men were transfixed by her. The

air was so thick with testosterone

that a flat-six chainsaw couldn't cut

through it. And when she stopped

dancing . . . it was like watching a

kitten trying to crawl out of a woodchipper.

"She's so restless; she's on every

guest list.

None can please her. She'd say no

to Caesar."

When I approached her, she had

already made me, and knew exactly

why I was there.

"My parents sent you, didn't they?

I'm not going." She declared defiantly.

"Look, do you want to dance your

way out, walk out, or be carried out?

Makes no difference to me."

We waltzed by the drooling guys

lined up against the wall, walked

out to the Jag, then headed back to

the City. She sat quietly at first, but

after a while she opened up like a

clam trapped in a sauna.

She told me the rabbit died, and

was deathly afraid to tell her parents.

I sensed that she considered

her options, but it was not my place

to interfere; I was just delivering the

mail. Then the waterworks opened

up. If I had any paternal instincts,

they bubbled up to the surface

right then and there. I offered her

the handkerchief in my jacket to

cry into; the one for showin,' not

blowin.'

We pulled into the driveway of

the family manse. By then a light

rain had started to fall. After dropping

her off and collecting my fee,

I started to walk back to my office.

The night rain was almost fog-like,

a cold gray curtain that separated

me from the faces locked behind

the steamed-up windows of the

cars that hissed by. I walked, and

I smoked, and I flipped the spent

butts ahead of me and watched

them arch to the pavement to fizzle

out with one last wink, all the while

thinking about that poor little

mixed-up kid starting her adult life

on the back foot.

It took me four days to find her,

so I collected a cool 200 greenbacks

for the job. I put the two C-notes in

an envelope and stashed it in the

top drawer of my desk.

A few months later, I spotted the

birth announcement in the newspaper.

I took the envelope from my

desk drawer, addressed it to her,

stamped it and then dropped it the

mail chute down the hall from my

office.

Once she was pickin' up the big

boys,

Now she's pickin' up her little kid's

toys.

I'm no sap, but sometimes even

the smallest gestures can make a

guy feel right with the world. For a

brief moment I thought I was getting

soft, but my secretary Velda

convinced me otherwise and

straightened me right out. She's

good at that; real good. Right then,

life was good.

Inspiration provided by the

Divine Miss M. Check her out

at: https://goo.gl/JLZrdg.

25
---
MarvelousHomeMakeovers.com | 972.951.1932 | Botond@MarvelousHomeMakeovers.com

26 October
---
We Buy, Sell & Tradethe

World's Finest Timepieces

Precise, sleek, distinctive and exceptional. de Boulle is a family-owned business

established in 1983. Along with de Boulle Motorsports, both are a living and moving

illustration of the passion for excellence for jewelry, watches and racing. de Boulle

is an uthorized Dealer for major brands including: Patek Philippe, Rolex, Bell & Ross,

Blancpain, Corum, Girard Perregaux, Greubel Forsey and Tudor. de Boulle also

provides the options of pre-owned timepieces, which includes vintage watches of

notable brands. Visit deBoulle.com to view our extensive collection.

6821 Preston Rd., Dallas, TX 75205214.522.2400

River Oaks District Houston, TX 77027 713.621.2400

deBoulle.com

2017SlipStreamAd.indd 1

27

8/9/2017 1:06:26 PM
---
PCA Tours: Ray Roberts Lake

By Mark Pitarresi, PCA Tours Co-Chair

s October arrives I think we can all say we

A

are ready for cooler weather. Of course

cooler weather translates to more power for

our cars. At least it always seems that way

for me. There is nothing like going for a great country

drive when the seasons are changing. Entering October

we welcome you to the 5th and final tour of the

year, PCA Tours Ray Roberts Lake! The tour is 85 miles

long and we have a rest stop.

At the time this article was written there was no

construction on this route. We

are scheduled to start on Sunday,

October 15th, at 10am. The tour

begins in the parking lot of Grayson

College, 1455 W Van Alstyne

Pkwy, in Van Alstyne, and will

end at Prairie House restaurant

in Cross Roads. After the start of

our tour a few turns later we will

be on the Famous FM455! If you

have not been on this road in a

Porsche you are missing out and

will want to attend. This is one of

the best roads in the area!

Photo by Bill Orr

You can expect beautiful country scenery, twisty

turns, long straights, and great visibility throughout the

route. Our tour will also be taking us around Ray Roberts

Lake. Ray Roberts Lake is a 29,350 acre reservoir

located 10 miles north of Denton, Texas. It is filled by a

tributary of the Trinity River.

Prairie House restaurant is casual and has Texasstyle

food with many beef options in a rustic lodge with

ranch like decor. There are also several other restaurants

in the area to choose from in any direction.

I also wanted you to know

some changes in the PCA

Tours program. With Bill Orr

taking on more responsibility

within the club, Tom Gomer

has taken his place as Tours

Co-Chair. Tom has been a

long time Porsche enthusiast

and we welcome him to the

Tours program! RSVP at

http://mav.pca.org/Events/

Tours.asp. We look forward

to seeing you and your

Porsche at the tour!

The Art of Paint Protection

After Installation

A virtually invisible urethane film

professionally applied to high-impact areas

of your vehicle to protect your paint job from

stone chips, sand, road debris and bug acids.

During Installation

Owner Installed

Highest Quality Guaranteed

2530 Tarpley Road, Suite 100

Carrollton, TX 75006

28 October
---
Parts or Service, We Deliver Excellence.

Over 300,000 parts in stock.

Expert service and repair.

Parts and Service for: Porsche, Mercedes-Benz, BMW, Mini, and Smart Car.

817-267-4451

Visit us online at:

1-800-356-2964

www.allzim.com

zimips@allzim.com

1804 Reliance Pkwy. Bedford, TX 76021 M-F 8am to 5:30pm

Zims Autotechnik is not affiliated with Porsche AG or PCNA Registered Trademark of Dr. Ing h.c.F. Porsche A.G.

Top motorsports brands...

...at the lowest prices in the nation!

competitionmotorsport.com

844 . 438 . 7244

29
---
877 C

200 C

200 C

200 C

200 C

200 C

123 C

307 C

307 C

307 C

307 C

307 C

151 C

354 C

354 C

354 C

354 C

354 C

299 C

108 C

108 C

108 C

108 C

108 C

200 C

Ussery Printing

Printer of SliPStream

Since 1982

3402 Century CirCle irving, texas 75062

972-438-8344 Fax 972-721-1847

www.usseryprinting.com

30 October
---
Club Racing News: Vintage Run Group for 2017

By Joel Nannis, Maverick Region Club Race Co-Chair

Photos contributed as noted

averick Region has been granted permission

to include a Vintage Run Group as

M

part of our Club Race at MotorSport Ranch

on November 11-12, 2017. This is an opportunity

to bring out the older racecars and put them

on track without the drivers having to worry about the

speed differential of newer cars with twice the horsepower.

Everyone we ask thinks this is a grand idea.

Here are some details:

Location: MotorSport Ranch, Cresson, TX

Dates: November 11-12, 2017; setup begins Nov 10

at 4 pm

Eligibility: Air cooled Porsches through model

year 1983

PCA Club Racing Rules will be enforced for safety

but not classes. Of note here is that the rules now require

full cages, not just roll bars.

The PCA Club Racing Rules are available here:

https://www.pca.org/rules-licensing-forms

practice and practice starts. Qualifying and 30-minute

Sprint races take place on Saturday, with one Sprint

race on Sunday. Lunch and dinner are included on Saturday,

with lunch on Sunday, and an awards presentation

Saturday and

Sunday evenings.

We require at

least 20 vintage

racers in order to

run this group. If

we have more than

20 vintage racers,

we will be able to

run two groups.

Please do not

hesitate to contact

Joel Nannis, Maverick

Region Club

Race Co-Chair,

with questions at

karnut@att.net or

817-721-6077.

2017 Porsche 911 RSR has to await

its turn to become a vintage racer!

Photo by Wendy Shoffit

There will be only four classes as follows:

• V4U – four cylinder up to 2.0 liters

• V4O – four cylinder over 2.0 liters

• VU – six cylinder up to 2.4 liters

• VO – six cylinder over 2.4 liters

Vintage Group entrants will not run for PCA National

Points. Accordingly, the normally-required Data

collection plug is waived. See CR Rules for details.

PCA Membership is required, and all drivers must

have a PCA Competition License. See CR Rules to see

the qualifications – it's simple to apply! The license is

good for the entire 2017 season.

New licensees are advised to have their license paperwork

submitted well in advance of the event. ALL

licensing questions should be directed to Susan Shire

at PCAClubRace@aol.com

Registration

for all

PCA Club

Race events

is through

www.

clubregistration.net.

Our twoday

event

Vintage Run Group at Thunderhill Raceway

Photo courtesy of PCA

includes

31
---
Since 1971

Providing personalized service

on all Porsche automobiles.

• Complete servicing and repairs

on all air or water cooled models

• In-house machine shop

• M96/M97 reconditioning

• Performance and track mods

2530 Tarpley Road • Suite 700

Carrollton, Texas 75006

(972) 417-0997

32 October
---
autoscope.co

Porsche &

European Service,

Maintenance, &

Repairs

$599 Service Special

Includes:

-Oil Change

-Brake Flush

-Coolant Flush

-Multi-Point Inspection

$200 Savings!

Valid For 996, 997, 991, Panamera, Cayenne

and Macan Models.

Environmental disposal fees, shop supplies

and taxes extra.

Park Cities

6134 Denton Dr

Dallas, Tx 75235

214-350-3050

Plano

601 Coit Rd

Plano, Tx 75075

972-867-7467

White Rock

9796 Ferguson Rd

Dallas, Tx 75228

214-320-8280

33
---
Maverick Region Unclassifieds

For Sale: 2001 C2 Carerra. Speed Yellow with

black leather interior. Deviated yellow stitching,

yellow seat belts. 51,5xx miles. Unmodified, has not

been tracked to my knowledge. 6-speed transmission.

Fresh inspection on 9/18. 18" wheels. Garaged under

cover; only driven on dry days. I need the shop space

for my next project and cannot find convenient

rental space. Asking $23,000. Contact Carl Orton at

corton@charter.net or 817-999-5720. (10)

For Sale: 1987 924S. Alpine White with tan/black

interior and 76,825 indicated miles. Completely

refreshed from top to bottom by national PCA

technical specialist and PCA member team. Full

body respray in original Alpine White color, original

Porsche cloth interior. Engine runs strong, automatic

transmission shifts crisply. Everything works

including the power tilt roof. Offered first to Maverick

Region members before it gets posted in Panorama.

$7,200. Contact Bill Burris at bill.burris@pca.org or

310-463-5781. (10)

For Sale: 1974 Porsche 914 2.0 Limited Edition.

Light Ivory/Black/Black. Original owner, purchased

new 09/74. Body straight, never bent. 90% original

paint. Set up for DE. Blueprinted and balanced

"killer" fuel injected engine by Ed Mayo. Suspension

also by Mayo Performance. Race seats and harnesses

(also have originals). Remote oil cooler. Polished

Fuchs wheels with Bridgestone street tires plus

Mahle track wheels (gas burners) with NEW Hoosier

R1's. All records. $25,000. Contact Bill Dawson at

214-415-1102 or boxsterbill@sbcglobal.net. (10)

For Sale: 1985 Porsche 911 Targa. Guards Red

with Tan interior. Owned for the last 16 years as the

3rd owner. 98,630 miles. Leather totally re-done

with hand rolled piping in the original beautiful tan

leather back in 2005-ish. Has been garaged by all

owners and is an absolute gem. Has two small issues:

Passenger back seat backing has deteriorated and

needs to be fixed & very small oil leak that it has

had over the last few years has become a little bit

bigger. Great stereo system(with XM radio) in it with

big sub woofer in the front trunk. Very clean inside

and out. Very dependable and DEFINITELY a head

turner everywhere you go. Engine has been perfectly

maintained by all. Asking $48,500. Contact Kelly

Loter at 214-458-8122 or kfloter@gmail.com. (10)

For Sale: 2011 Carrera GTS Coupe. Black exterior

with two-tone Natural Brown/Black leather interior

package. MSRP $121,940. 58,XXX miles. Options

include limited slip rear differential, PDK, heated

seats (Front), 19" RS Spyder wheels with center

locking, rear wiper, GTS sidestripes and model

designation, Sport Chrono Package Plus, BOSE

Surround sound system, XM radio, standard seats,

painted trim and instrument surround, instrument

dials in Carrara White, rear section of center console

painted. Excellent condition, all maintenance up to

date and always serviced at Porsche dealers. $62,000.

Contact Johnny Lam at kaninlam@gmail.com or

469-878-6957. (09)

For Sale: 2000 Boxster. Arena Red with Grey

interior, 5-speed manual, L&N IMS bearing and

clutch package (pilot bearing, throwout bearing,

Sachs HD clutch) done at 46k miles, 17" Boxster

design wheels, new rear tires, sport package, water

pump and spark plug tubes at 44k, motor mounts,

coolant reservoir and horn contacts replaced, Top

Speed cat back exhaust. Body, interior and top very

nice. No track time. 54,200 miles. $13,500. Contact

Rich O'Day at Rj777@rocketmail.com or 817-691-

9993. (08)

For Sale: 2001 Boxster. Seal Grey with Grey

interior. 5-speed manual with 49,800 miles. Options

include the Sport Package, Comfort Package, and

17" wheels. Clutch replaced at 30,000 miles. Newer

brakes and tires. Well maintained. $9,125. Contact

Wayne Sanders at sarasand@aol.com or 941-650-

5130. (08)

For Sale: 1996 911 Carrera 4 Cabriolet. Polar

Silver Metallic/Black Leather. 50.5k miles. Sixspeed

manual with Porsche Sport Classic wheels.

AM/FM cassette player, 6 Disc remote CD changer.

Power seats with lumbar support. All original paint,

clean Carfax, 3rd Owner. Fully serviced at Porsche

Dealerships with all receipts. Porsche Certification

of Authenticity. $52,500. Contact Phil Berkebile at

philberkebile@gmail.com or 972-898-5689. (08)

For Sale: 1987 Porsche 924S. Red ext, black int,

more than 180,000 mi (exact mileage unknown),

5-spd manual. Needs replacement engine but

mechanically sound otherwise. 7J x 15 "Phone

Dial" wheels, lowered about 1/2 inch, 200-lb front

springs, short-shifter, K&N air filter. Working A/C,

stereo. Car was a daily driver through April 2017.

Items replaced in last 18 months that can be reused

with replacement engine if desired: Timing

belt and tensioner roller, balance shaft belt, water

pump, radiator, fuel pump, engine control unit,

crankshaft position sensor, oxygen sensor, muffler

(no catalytic converter).Owned by PCA members

since 1998, with maint records. With some work will

make a great street or track car. Asking $1400 obo;

buyer must arrange transportation. Contact Carey

at cspreen3000@gmail.com or Sue at scrimm182@

yahoo.com (07)

For Sale: 2011 Porsche GT3. Carrara White / Black

Alcantara. Never tracked, no smoke. White gauges,

red seat belts, and more. 20,700 miles. Retired bank

CEO owned and meticulously maintained. Offered to

sell at $112,900. Contact Michael Rhodes at sparky.

rhodes@hotmail.com or 903-495-1362. (07)

For Sale: 2015 Cayman GTS. White with Black

leather/Alcantara interior and red deviated stitching.

Black satin wheels, PDK, Adaptive Sport Seats Plus

18-way Memory Package, remote keyless entry,

K-40 RL360I built-in radar detector. Always garaged.

2,450 miles. Asking price $ 78,500.00. Contact

James at jameszollo@me.com or 214-577-6570. (07)

Advertiser Index

Advertising rates available upon

request. For more information contact

Bill Kruder at ads@mavpca.org

Apex Automotive........................... 35

Attic Butlers.................................... 30

Autobahn Motorcar Group........... B.C.

Autoscope..................................... 33

Bennett Motor Werks........................ 7

Competition Motorsport.................. 29

Concorso Detailing......................... 13

deBoulle Diamond & Jewelry........... 27

DFW Garage Design...................... 29

Ebby Halliday – Michael Picolo....... 32

Falgout & Associates, P. C............... 22

Fifth Gear Motorsports.................... 36

Growler Motor Labs....................... 23

Garages of Texas............................. 3

Innovative Autosports....................... 5

Invisibra........................................ 28

Louden Motorcar Services........... I.B.C.

Marvelous Home Makeovers........... 26

Mayo Performance......................... 22

Mullenix Motorsport....................... 32

Mustard Racing.............................. 35

Nine-Eleven Automotive.................. 30

OCD'tailers.................................... 33

Park Place Porsche...................... I.F.C.

The Phoenix Insurance.................... 10

Porsche Plano................................ 24

RAC Performance........................... 11

RKT Techniques.............................. 22

Roofing Solutions by Darren Houk... 35

Send My Parcels............................ 29

Silver Fox........................................ 2

Stuart's Paint and Body..................... 8

Ussery Printing............................... 30

Zims Autotechnik............................ 29

These advertisers support

our Maverick Region.

Tell them you saw their ad

in Slipstream!

Unclassifieds are available free to Maverick Region members and are $5 for all others (contact editor@mavpca for payment details). Please limit size to no more than 6 lines (subject to editing).

Ads will run for 3 consecutive issues unless you contact the editor. E-mail your ad to classifieds@mavpca.org by the 10th of the month to have your ad run in the following month's Slipstream.

Be sure to include year, make, model, color, mileage, and asking price, as well as a contact name, phone number and/or email address. Parts are advertised only on our website. Due to space

constraints, photos are not included. No dealers please!

34 October
---
When all HAIL breaks loose...

Roofing Solutions

By Darren Houk

A+ Rated

(817) 692-8496

German Car

Service & Maintenance

by Appointment

Specializing in:

817-366-1678

DasZauberwerk@ix.netcom.com

www.RoofingSolutionsHOUK.com

www.roofingsolutionshouk.com

817.692.8496

Showroom by Appointment

5500 Meandering Rd

Ft. Worth, 76114

35
---
Around the Bend...

By Jim Hirsch, Managing Editor

hope you're enjoying our beautiful fall

I

weather here in the Maverick Region. We

have been so fortunate compared to our

Porsche brethren around Houston and

Florida, that we feel a little bit guilty each time our

Porsches leave the garage and "seize the road".

With this year marking the 55th anniversary of our

Maverick Region, the group of members planning for

our Founders' Day Celebration is creating what appears

to be almost a full day of potential activities for us

to enjoy. Please be certain to read the 55th anniversary

column on page 6 to get a glimpse of what they have

in mind. More information will come to you via email,

our web site, social media, and the November issue of

Slipstream. In any case, reserve December 2 on your calendars

now!

Looking through this issue reminded me of the

wide variety of articles our members submit

each month as well as the large number of

club activities that are available to us should

we choose to participate. Pages 16-17 in each

issue are devoted exclusively to upcoming club

events that I hope you review each month.

As our president, David Robertson, mentioned in

his Sprockets column, we have some new members

stepping up to volunteer their efforts as event chairs.

The direct result of those additions has been a

rejuvenation in activities that have been dormant.

In particular, Nikolaus Kremmer has our Tech

Sessions program up and running with offerings at

least once each quarter. In addition to July and August

sessions, he has a third session scheduled for October,

with the next sessions already on the books for January

and March of 2018.

Mike Mahoney is our new Concours Chair and has

already brought our Mav members opportunities to

participate in other local shows such as the one on

page 14 and the Addison Oktoberfest Show. Look for

Mike to have a Top Ten show as part of our Founders'

Day Celebration as the next car show opportunity.

Finally, Bill Orr is our new marketing chair, and

all of us benefit from the talents and time he

provides the club helping to manage the web

site and administering our Facebook, Twitter,

Instagram, and other social media outlets.

As always, Carpe Viam as often as possible!

36 October
---
Hiram Saunders, Slipstream

155 Jellico

Southlake, TX 76092

Periodical Postage

Paid at Fort Worth, TX