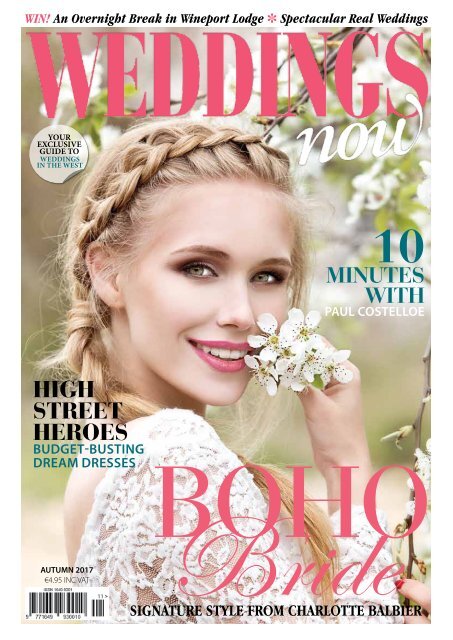 Create successful ePaper yourself
Turn your PDF publications into a flip-book with our unique Google optimized e-Paper software.
WIN! An Overnight Break in Wineport Lodge ✽ Spectacular Real Weddings

YOUR

EXCLUSIVE

GUIDE TO

WEDDINGS

IN THE WEST

10

MINUTES

WITH

PAUL COSTELLOE

HIGH

STREET

HEROES

BUDGET-BUSTING

DREAM DRESSES

AUTUMN 2017

€4.95 INC VAT

BOHO

Bride

SIGNATURE STYLE FROM CHARLOTTE BALBIER
---
Love Letters

"Love isn't something you find,

it's something that finds you."

"Once in a while, right in the

middle of an ordinary life,

love gives us a fairytale."

"Love is just a word until someone

comes along and gives it meaning."

When planning a wedding, it's very

easy to get caught up in all the

details, the little nuances, the

problems, the pressures and of

course, all those questions! The most important

thing of all to remember – it is your day. Your

proposal story – whether it happened on the couch

in your pyjamas or in the middle of the Caribbean in

a hot bikini – it doesn't matter, it's your story and no one

else's. Once the initial shock and excitement of being engaged

wears off (and you take a second to peel your eyes away from the

new sparkler on your finger!), you'll need to start making decisions.

Before you try on a single gown, book a band or sample a bite

of cake, look at the big picture and imagine what kind of style

and vibe you want to set for your wedding. Close your eyes and

picture your fantasy wedding. What do you see? Is it a candlelit

ceremony in a fairytale castle? Are you walking barefoot on a beach

in the tropics? Or maybe it's in a local venue that you have loved

since childhood. Get inspiration from magazines, (look no further

than WEDDINGSnow of course!) books and real wedding photos

online, but don't limit yourself to the obvious sources.

A true romantic at heart, I still can't get through a sitting of The

Notebook without shedding a few tears! The lesson it portrays

is deeply moving, bursting with a profound beauty that is rarely

found in current literature and film. Magically illustrating the

tender moments and fundamental changes that affect us all,

Nicholas Sparks masters the epitome of true love with a unique

insight into the only emotion that really matters. So as your

wedding plans get underway, and Pinterest and Instagram slowly

replace real life images and stories, it's important not to lose sight

of the bigger picture – your wedding should be a celebration of

your love together as a couple. If all else fails, just ask yourself:

what would Noah and Allie do?!

Lauragh xx

LAURAGH QUINN, EDITOR, WEDDINGSnow

Contact the Editor!

I would love to hear from you and welcome your ideas

and your feed back, so please feel free to drop me a

line so that I can deliver what you really want.

e

lauragh@goldenegg.ie facebook.com/galwaynow @galway_now

Our favourite things in the world

of weddings on

page 4

Charlotte Balbier's breathtaking

bohemian collection on

page 10

Dream decor and

trending themes on

page 38
---
contents

WEDDINGSnow

is published by

PRODUCTIONS LTD

Unit 2, First Floor, Galway Technology Park,

Parkmore, Galway, Ireland

091 384350

goldenegg.ie

48

70

Real

Weddings

21

Managing Director

Patricia McCrossan

patricia@goldenegg.ie

Director

Patrick McCrossan

patrick@goldenegg.ie

Editorial

Editor Lauragh Quinn

lauragh@goldenegg.ie

Editorial Assistant Claire O'Farrell

Contributors Paul Costelloe, Lisa Cannon

and Michael Parker

Art

Art Director Jeannie Swan

Advertising

Senior Account Manager

Mairead Geehan 086 049 3423

mairead@goldenegg.ie

Cover

FASHION

10 Boho Beauty

Charlotte Balbier's free-spirited collection

19 Father of Fashion

The latest bridal styling advice from Paul Costelloe

48 Budget Busters

Dream dresses at high street prices

REAL WEDDINGS

21 Charming Ceremonies

Our favourite couples share their wedding stories

72 Magic Moments

Memories to cherish caught on camera

FEATURES

37 Speak Up

Top tips to get your through your speech

38 Delightful Décor

The latest wedding trends for the season

38

42 Class and Character

The perfect wedding at Glenlo Abbey Hotel

45 Let's Face It

Look your best with our top beauty tips

46 Tried & Tested

Treatments that come with our seal of approval

53 He's A Keeper

Finishing touches for your other half

54 Fly Away With Me

Lisa Cannon shares her advice and top tips

57 Make The Cut

Chop that guest list and keep it simple

59 In The Know

Meet the experts in the world of weddings

60 This Is The Place

The best in the west when it comes to venues

80 Mythical Marriage

The truth behind the traditions of the big day

shutterstock

Golden Egg Productions Ltd will not be responsible for,

nor will it return, unsolicited manuscripts. Transparencies

or prints submitted for publications are sent at the

owner's risk and, while every care is taken, Goldern Egg

Productions Ltd cannot accept any liability for loss or

damage. The views expressed in the magazine are those

of the authors and not necessarily those of Golden Egg

Productions Ltd. The entire contents of the magazine are

the copyright of Golden Egg Productions Ltd and may

not be reproduced in any form without the prior written

consent of the publishers.

2 | WEDDINGSnow
---
We Love…

BE KIND

A celebration of women, our strength,

power and unique bond, Body&Kind,

the only health and fitness event for

women in Ireland, focuses on self care,

fitness and food – all the things a bride

tends to focus on before her big day.

Nutritional therapist, Sinéad Bradbury,

along with her sister, and former Galway

camogie All Star, Aislinn Connolly, have

come together to create this unique and

inspirational event. So gather the girls

for a stellar line up which takes place in

Fitzgerald's Woodlands House Hotel in

Adare on 17 September. Tickets, e75,

are available to buy on eventbrite.ie

Pizza Party

You may be fretting about whether your table

runner matches your invites but we all know

the way to every wedding guest's heart is

through their stomach! Bite-size pizza slices

mean your guests can enjoy a quick snack

during the drinks reception and still have

plenty of room for a sit-down meal.

Win

✶✶ ✶

A LUXURIOUS

OVERNIGHT BREAK IN

WINEPORT LODGE

A lakeshore retreat nestled on the banks of Lough Ree, Wineport is

renowned for its mouthwatering food, laid back luxury and unique

atmosphere hidden away in the lakelands countryside. Situated just

4km from the M6 motorway, and just one hour's drive from Galway and

Dublin, it's easily accessible from anywhere in Ireland. We are giving one

lucky reader the chance to win a luxurious overnight stay in a deluxe

lakeview room with a private balcony. Sip on a chilled bottle of bubbly

and enjoy delicious handmade chocolate truffles in your room on

arrival followed by a lazy breakfast in bed the next morning.

To win this fantastic prize, tell us which renowned food show was

previously filmed in Wineport? Send your answer, name and contact

details to competitions@goldenegg.ie by 30 October. Good luck!

AL FRESCO

Oh, to be able to celebrate outside!

The bright blue skies, the au naturel

décor, the romantic breeze... at least,

that's how you envision it. The reality?

A lot can happen when partying

en plein air, especially in Ireland. It's

important to remember that although

you will save on venue fees, you

will still have to shell out for rentals

including portable toilets, a dance

floor, and, potentially, a tent (if inside

the house isn't a viable rain plan).

Also important is parking, permits,

and liability insurance, which covers

personal injury and property damage.

BUDGET BUSTER

For a more casual celebration of your nuptials,

bales of hay and mismatched furniture

add a whimsical touch, as well as being a

budget-saving alternative to chair rentals!

You also have infinite dining options at a

picnic wedding: bring in a food truck, ask

your favourite restaurant to cater, set up a DIY

sandwich bar, or pack a bagged lunch for each

guest. You'll want to avoid serving foods that

are difficult to eat – such as soups – and stick to

finger foods or dishes like pasta salad that

can be served and eaten with ease.

4 | WEDDINGSnow Autumn 2017
---
We also Love…

DIY DECOR

From décor to food, and everything in

between, there's so much that you can

make, design, build or create on your own.

With so many options out there, you're sure

to find a project you love, and something

that suits your skill level, time frame and

budget. DIY centrepieces can help you save

up for other aspects of your wedding and

can also allow you to take the reins and

make something all your own.

SWEET SEATS

Creating a top table was traditionally a way of

celebrating a marriage and the joining of two

families. Famously fashioned by David and Victoria

Beckham, a sweetheart table is when the bride and

groom just have their own table. This can be useful

for bypassing any issues or restrictions about who

should be on the top table and it provides a chance

to have a romantic meal for two as newlyweds and

let the reality of your nuptials sink in.

Win

✶✶ ✶

Mini Magic!

It may be mini, but the all-new Instax Mini 9 from Fujifilm is

big on personality and is packed with practical appliances for

amazing instants! A close-up lens attachment is perfect for selfies

and allows crystal clear close-up shooting from up to 35mm

away. A true fashion statement, guaranteed to add colour to your

hen party or wedding celebration, the Instax Mini 9 comes in

the cutest colour selection including flamingo pink, lime green,

cobalt blue, smoky white and ice blue. To win this super cool

prize, simply mail us your favourite wedding-related snap

to competitions@goldenegg.ie by 30 October.

Open House

Do you really have to tell each person exactly where

to sit? What if your families get along just fine? What

if you really just don't want to put hours and hours

into who will sit where? If you just can't face it, and

you want your wedding to have a relaxed party

atmosphere, then why not join the revolution and

ditch the seating plan! It saves you a lot of hassle and

works much better than you might think.

6 | WEDDINGSnow Autumn 2017
---
WEDDING OPEN DAYS

19th August

23rd September

21st October

For more Information on our

Wedding Packages or to

arrange a viewing

please contact

Bróna Mulqueen

CONTACT

weddin s@the .ie

www.the hotel.ie
---
what's new

FIRST CLASS

Can you imagine having a Michelin-star chef create

and prepare your wedding menu? Your wedding

at Connemara Sands Hotel is sure to be a truly

unique experience with Executive Chef Stefan

Matz and Head Chef Sinead Quinn at the helm.

Creating menus that celebrate the Connemara

experience, with its wild rugged landscape and rare

raw ingredients, dishes are masterfully created to

complement the picturesque surroundings.

To request a wedding brochure, call 095 23030

or check out connemarasands-hotel.com

for more information.

AT YOUR SERVICE

The g Hotel & Spa, one of Ireland's most

luxurious wedding venues, has recently

appointed Bróna Mulqueen as Sales and

Events Manager with responsibility for

weddings and events. Located in the heart

of Galway city, the g Hotel & Spa has always

been at the forefront of customer service and

Bróna's appointment is in keeping with their

strong ethos of nurturing talent and putting

their guests first. Originally from Co. Clare,

Bróna has extensive event experience and

started in the world of weddings at a young

age with her grandparents who opened the

very first florist in Co. Clare. Contact Bróna on

091 778 456 or email weddings@theg.ie

YES PLEASE!

Out with the old and in with the new. Bridal flower trends have changed in

recent years giving way to a more personal approach to flower arranging.

Each posy is now arranged in perfect harmony with the natural forms of the

chosen flowers. More unassuming flowers such as dahlias, climates, thistle

and camomile complement more traditional blooms such as roses, peonies

and hydrangeas creating one-of-a-kind posies. Big fashion labels like Dior,

Mulberry and Dolce & Gabanna are increasingly adopting floral prints in their

clothes and floral fragrances in their scents, creating a more natural and organic

style. This has heavily influenced the ever stylish bride to embrace this new

style and form of floristry. yesflowers.ie

Bróna Mulqueen

DREAM TEAM

Barry's Hair and Beauty Studio, the hair and makeup

studio of choice for The Ardilaun Hotel, are delighted

to bring the first ever hair and makeup wedding

coordinator to Galway. Amy Murray, who has been

with Barry's Hair and Beauty Studio for five years,

has been announced as their brand new in-house

wedding coordinator. Amy will be on hand to make

your life much easier and will be your point of

contact from the initial consultation, through to the

trial and right up to your wedding day.

barryshairstudio.ie

Earth

HEAVEN ON

Set in Rasdhoo Atoll, on one of five islands located in a tiny archipelago,

Kuramathi Maldives offers a unique and unforgettable honeymoon

experience. Indulge in sensual spa therapies, sip a cocktail at your private

villa or spend an afternoon exploring the vibrant reefs – there is literally

something for everyone. Caroline from Fahy Travel shares her top tips

following her recent visit to the island:

Take the seaplane transfer from Male airport – the views are breathtaking

Go all-inclusive – with a choice of nine restaurants, you'll never be hungry!

Check out the Island Barbeque Restaurant

The infinity pool at the Laguna Bar is a must

Have some US dollars for tipping staff (ATM machine at the airport)

Book the restaurant in advance for your first evening meal

No need to pack heels – just flip flops and travel light!

Sit back, relax and enjoy the island's white sandy beaches and crystal clear water!

8 | WEDDINGSnow

Autumn 2017
---
TIMELESS ELEGANCE

& EXCELLENT SERVICE

awaits your wedding enquiry

Experience our unrivalled location in the heart of Galway City

To arrange a viewing or for further information

Contact Paula on pfeeney@hotelmeyrick.ie or call (091) 564041

Join us at our September Wedding Open Day

on Saturday September 23 rd from 12-5pm

LOVE SINCE 1852

Hotel Meyrick, Eyre Square, Galway. www.hotelmeyrick.ie
---
fashion

Bohemian Blush

Every bride dreams that her bridal gown will stand out and be remembered forever. With Charlotte Balbier's brand

new enchanting collection, every gown tells its own story. Embrace the boho look with handcrafted designs made from

the finest French laces, soft flowing chiffons, layered organzas, rich mikados and silk tulles.

charlottebalbier.com

10 | WEDDINGSnow Autumn 2017
---
"Walking barefoot, hand in hand with her true love. A dreamer, a true romantic,

fashion

a free-spirited bride who knows her own style and is not afraid to express her individuality." Charlotte Balbier

Autumn 2017

WEDDINGSnow | 11
---
fashion

12 | WEDDINGSnow Autumn 2017
---
fashion

"Who, being

loved, is poor?"

-Oscar Wilde

Autumn 2017

WEDDINGSnow | 13
---
fashion

14 | WEDDINGSnow Autumn 2017
---
fashion

"Love loves to love love." - James Joyce

Autumn 2017

WEDDINGSnow | 15
---
fashion

" Doubt thou the stars are fire; Doubt that the

sun doth move; Doubt truth to be a liar;

But never doubt I love."

– William Shakespeare

16 | WEDDINGSnow Autumn 2017
---
fashion

'Whatever our souls

are made of, his and

mine are the same'

- Emily Bronte

Autumn 2017

WEDDINGSnow | 17
---
© - ERIC MOLIMARD PHOTOGRAPHY

Your Perfect Wedding Venue

Set in the beautiful Ashford Estate with spectacular views across shimmering Lough Corrib,

it's hard to imagine a more romantic setting for your special day. The Lodge at Ashford Castle

is available for both exclusive and non-exclusive use.

We can accommodate wedding parties with up to 180 guests and have 64 elegant bedrooms

and suites for you and your guests, with additional bedrooms available at Ashford Castle.

For all enquiries please contact: claire@thelodgeac.com

Cong, County Mayo, Ireland

T: +353 94 954 5400

www.thelodgeac.com
---
chat

10 minutes wth...

... Paul Costelloe

WEDDINGSnow caught up with Ireland's father of fashion,

Paul Costelloe, as he tells us all about his latest bridal jewellery

range. Paul also gives his expert advice on choosing the right

keepsakes to accentuate your dream dress. His highly anticipated

Phoenix Collection is perfectly suited to brides as it captures

elegance, style and comfort. This not only means that the pieces

retain their wearability, it also means that the jewellery

effortlessly accentuates your wedding day grace.

What is your favourite element of

the Phoenix Collection?

The inspiration for the Mother of Pearl

section in Phoenix was a part of my

design input. Pearl is my favourite stone

as it's pared down and sophisticated.

My mother always had her pearls on

so that collection is very personal and

relevant to me.

What pieces are most popular

with brides?

The pearl drop earrings are really

popular, along with the very fine pearl

bangles. Pearls are predominantly what

brides go for. While diamonds may

be a girl's best friend, pearls can be

your something old, something new,

something borrowed, and even your

something blue!

What recent trends have you

noticed in the world of bridal

jewellery?

I think women are being more selective

and spending more time shopping

" The dress she

will only wear

once, but the

jewellery she will

wear time and

time again, so

it is worth the

time she spends

choosing it.

for their bridal jewellery nowadays.

Jewellery is such an important part of

the bridal wardrobe, and really worth

investing in. The dress she will only

wear once, but the jewellery she will

wear time and time again, so it is worth

the time she spends choosing it.

What factors do you consider when

designing for brides?

The Pheonix Collection is very much

tailored towards brides because we

keep them light in weight, so the

stones are very fine and very simple.

Understated luxury and elegance is

perfect for brides. I really believe that

there is a comfort factor to consider

on your wedding day.

What is the statement behind your

Phoenix range?

Phoenix is an expression of the

Costelloe brand in that it's constantly

moving forward; it's changing, it's

aware, and it's young. The range

is timelesssly elegant, feminine

and stylish.

How does the brand appeal to the

younger bride?

Because I have been in the business

such a long time, it's very pleasing that

there is still a young audience of people

buying the Costelloe brand. It shows

that I have been able to recreate the

brand to appeal to a younger customer

which is very encouraging.

paulcostelloe.com

Autumn 2017

WEDDINGSnow | 19
---
CASTLE HOTELS

Ireland's Most Luxurious Castle Wedding Venue

Kilronan Castle

Estate & Spa

BALLYFARNON, CO. ROSCOMMON.

Bring your dreams, We'll do the rest.

All-Inclusive

Weddings

From €72pp

071 96 18000

enquiries@kilronancastle.ie

www.kilronancastle.ie
---
eal weddings

WEDDINGSnow

captured some of

the most spectacular

celebrations from

Ireland and abroad with

enchanting stories from

the couples as they

share memories of their

magical days

Autumn 2017

WEDDINGSnow | 21
---
eal weddings

Tara

Colin

Tara Cusack married Colin Downes at Saint Columba's Church,

Kilbeacanty followed by fun-filled celebrations at the Lough Rea Hotel & Spa

Photos by Molten Sky Media

22 | WEDDINGSnow Autumn 2017
---
eal weddings

THE PROPOSAL

Colin whisked me off to New York as

a surprise for my birthday two years

ago. He proposed during a boat ride

in Central Park so it certainly was

very romantic! It was a very special

moment, and one we will never

forget. Of course there was never any

doubt that I was going to say yes!

THE VENUE

The first place we visited was Lough

Rea Hotel & Spa. After meeting with

the wedding coordinator, Karen Brady,

we knew we would be well looked

after so we didn't need to look any

further. We both loved the venue and

knew instantly it was the place for us.

All the staff were brilliant on the day

and the meal was a huge hit with all

of our guests.

THE DRESS

After looking in a few shops in

Galway, I went to Aibheil in Adare as

I had seen beautiful dresses on their

website. I fell in love with my dress

as soon as I saw it and instantly knew

it was the one for me – a bit like when

I first saw Colin!

THE BRIDESMAIDS

We went for jade full length dresses

for the girls which they all loved.

Autumn 2017

WEDDINGSnow | 23
---
eal weddings

They suited them all perfectly, even Caoimhe,

my niece and junior bridesmaid, who wore a

shorter version. The girls' only complaint was

that the dresses restricted their moves on the

dance floor slightly!

THE DAY

From start to finish, our wedding day was so

relaxed and stress-free. The morning was busy

getting ready with the girls at home and before

I knew it, it was time to walk up the aisle. The

ceremony was beautiful and we enjoyed every

second of it as neither of us felt any nerves.

The sun was shining all day so we were able to

get amazing photos in the nearby Lough Cutra

Castle. Arriving to the hotel as a newly married

couple and seeing all our family and friends

was such a special moment. The speeches

were also highly enjoyable and then we

danced the night away as husband and wife!

THE PLANNING

There is only so much you can do up to a

certain point. We booked and organised all the

major things after we got engaged and then in

the last few months leading up to the big day,

we started to piece together the last few bits so

it all came together nicely for us. We didn't get

stressed about anything because at the end

of the day, it will always work out.

FAVOURITE PARTS

Walking down the aisle to meet my future

husband, being pronounced husband and wife,

and seeing the happiness on everybody's face

was just amazing. I think Colin's favourite part

was getting his speech over with so he could

let his hair down!

HARDEST PART

We decided to do the mass booklets ourselves

as everyone told us there was nothing to

them. This was certainly not the case as we

spent many nights shouting at the computer!

If we were to do it again, we would pay

someone to do them as the money we saved

was definitely not worth the hassle, or so

Colin says anyway.

ADVICE

It's such a magical day so don't let anything

big or small stress you out. It all goes by so

fast so make sure you soak up every single

moment. It's your day to treasure forever so

just smile and enjoy it!

HONEYMOON

We decided to go for a more relaxed

honeymoon as we just wanted to chill out so

we chose the five star Epic Sana Hotel in The

Algarve and it certainly did not disappoint.

24 | WEDDINGSnow Autumn 2017
---
Summer Weddin

Showcase

Wedding Showcase

1-5pm, Sunday 1st October 2017

Hear what our Couples have to say..

Karen Brady makes things so easy. I loved everything about the day. Beautiful setting, food, staff, service. Great hotel. I

cannot recommend the Lough Rea Hotel enough to future couples as a wedding venue. Karen and her team went above

and beyond for us. No job was too big for them. The room looks amazing on the day and all of our guests loved the food.

Bridal suite is heaven too! Emma & Aidan, May 2017

We could not have asked for a more welcoming and professional staff to serve our wedding. The function room was

amazing and the food was perfect, everyone complimented it. Karen Brady is such an amazing person to deal with and

the team alongside her are a credit to the hotel. We even had food served in the residents bar at 3am! Just brilliant. Could

not recommend this hotel enough. The bridal suite is out of this world! We can see why it is winning so many awards.

Thanks to each and every one of you! Maura & Dougie, July 2017

Karen and her team were so friendly, approachable and accommodatin and Karen truly is a testament to the hotel, so

down to earth, helpful and funny she really knows how to put you at ease. Our wedding day was amazing from start to

finish the food, the service, the warmth of the staff we just could not have asked for more. We can't thank you enough for

making our day so magical and we look forward to returning to the hotel again. Denise & Frankie, May 2017

Contact Ka

880088 o

kbrady@lough

spa.c

091 880088 • www.loug

kbrady@loughreah

Lough Rea Hotel & Spa,

Just 40mins from A

Top Rated Venue

WINNER

Top Rated Venue

WINNER

2016

2016

HOTELS

Contact Karen on 091 880088 or email kbrady@loughreahotelandspa.com
---
eal weddings

Aileen

Padraig

Aileen Lynskey & Padraig Lally said 'I Do' at the Church of Misericordia de Tavira followed by an exquisite reception

in Pousada De Tavira, located in the centre of Tavira village in The Algarve

Photos by Passionate Photography

26 | WEDDINGSnow Autumn 2017
---
THE PROPOSAL

Padraig and I share the same birthday

and fours years after we met, he

surprised me with an extra special

present. He proposed on Fínis Island

in Carna, Connemara, with the help

of his brother Marcus and friend Neil.

We spent that night in The Lodge at

Ashford Castle and later that week we

had a lovely celebration with family and

friends in Kirby's in Galway.

THE DRESS

I had an idea of the style I was looking

for. During a visit to my sister Maeve,

who lives in Boston, USA, I found my

dress in a beautiful bridal boutique. I

was so lucky to get exactly what I was

looking for. I teamed it with simple

diamond leaf earrings and ivory silk

shoes that I bought in Brown Thomas.

THE VENUE

We chose Pousada De Tavira in the

centre of Tavira village. After having

visited only one other venue, this

ticked all the boxes for us. It had

that perfect combination of old style

castle glamour and beautiful garden

settings with a contemporary outdoor

pool which made for some great

photo opportunities and diversity

for our guests.

THE REASON

We always knew the type of celebration

that would be suitable as both of us

wanted a relatively intimate day with

close family and friends. Padraig and

I love travelling, so getting married

abroad seemed the natural course

for us. 122 special guests travelled to

Portugal and we are so grateful to each

and every one of them for making the

effort to be there for us on our big day.

THE DIFFERENCE

For both of us, the pros of getting

married abroad far outweighed the

cons. To state the obvious, a big

disadvantage of getting married

abroad is that some family and good

friends won't be able to make it due

to family commitments and personal

reasons which is disappointing. We

were fully aware that this might

happen but Vilamoura was always

a very special place for us and was

very high on the list of potential

wedding locations from day one. A

huge advantage of getting married

abroad is the opportunity for family

and friends to spend quality time

together, on holidays, in the midst of

a very special occasion. You can't but

mention the atmosphere in a sunny

destination with your closest people

around – they are memories to be

cherished forever. There is a certain

camaraderie among guests in

both the pre and post wedding

celebrations that you may not

necessarily get at home.

real weddings

THE PLANNING

Of course any distance planning

comes with its challenges. You have

to take so many different factors into

consideration when getting married

abroad – legalities, accessibility for

family and friends, regularity of

flights from airports in Ireland to

your chosen destination etc. The one

thing I found the most difficult was

not being able to pop into the venue

to plan the décor and layout. I was

simply working from photographs

that we had taken on previous trips.

On the other hand, all aspects of

wedding planning can be stressful so

I don't think getting married abroad

adds that many extra challenges.

THE PAPERWORK

European countries have different

rules and regulations for a legal

marriage ceremony. We had to obtain

religious documentation from our local

priests who then forwarded them to

their Catholic counterparts in Tavira.

Following this, we had to organise

our personal documentation (birth

certs etc.) and finally, we had our

civil marriage four weeks before our

ceremony in Portugal.

ADVICE

Hire a wedding planner! There will be

minor issues with language barriers,

exact locations of venues and sourcing

suppliers and services for the day so it

is great to have someone by your side

to help with all of this.

THE HIGHLIGHT

Seeing my nearest and dearest all

gathered in the castle grounds of Tavira.

The fact that they were all there to

celebrate our special day is a memory

that I will treasure forever.

HARDEST PART

It was such a special moment when my

father walked me down the aisle. It was

bittersweet though due to the absence

of my lovely mother Mary, who sadly

passed away eight years ago. I missed

her so much throughout the day as

I knew she would have loved every

second of it.

THE HONEYMOON

Mauritius was our initial choice but

after researching climates and weather

in June, we chose Mexico and Florida.

We stayed in Secrets Maroma Beach

in Mexico for 11 nights of rest and

relaxation. We then flew to Orlando,

hired a car and took a fun road trip down

the coast. We had an incredible time and

made some fantastic memories.

Autumn 2017

WEDDINGSnow | 27
---
eal weddings

Jack

Stefaan

Jack Stenson and Stefaan Verbruggen shared the honour of being the first couple to celebrate their wedding at the Aula

Maxima at NUI Galway followed by a magical reception in the spectacular surroundings of Glenlo Abbey Hotel

Photos by Peter Harkin

28 | WEDDINGSnow Autumn 2017
---
eal weddings

THE PROPOSAL

Jack proposed on our eighth anniversary. He made an eight minute

film and secretly arranged to show it at the Galway Omniplex where

we had our first date. Afterwards, a limo took us and our families

to Ashford Castle for champagne. Not to be outdone, a year later

Stefaan took Jack on a treasure hunt over 12 days in London and

Paris which coincided with our ninth anniversary with 'Marry Me,

Jack' spelt out in football cones in Hyde Park which we saw from the

sky! We got two Claddagh rings from Galway as engagement rings.

THE REASON

We've never seen ourselves as different from any other couple so

we always had plans to publicly formalise our relationship. The

referendum just gave us the opportunity to do that the same way

as everyone else. Jack proposed 10 months before the referendum

and we started paying deposits on venues four months before. The

day was always happening! We were at Dublin Castle when the result

was announced and then we went to the Yes Equality party at the

Autumn 2017

WEDDINGSnow | 29
---
eal weddings

Burlington Hotel. We then went bar

hopping until the sun came up! It was

like it was Paddy's Day and Ireland had

just won the Six Nations. The buzz

was just mighty!

THE STAG

We had six groomsmen and six

groomsbabes so we had a joint stag

and rented out a villa in Barcelona for

the weekend. It certainly was a trip

to remember!

THE VENUE

We met at NUI Galway so it's definitely

the place that means the most to us.

Unfortunately, they legally can't do

same-sex weddings in the college

chapel but the wonderful staff agreed

to let us have the first ever wedding

in the beautiful Aula Maxima, which

is the university's original great hall.

Afterwards, we made the short journey

out to Glenlo Abbey. It was a beautiful

day and the sun was shining for our

guests who enjoyed champagne and

canapés outside overlooking the

magnificent grounds and Lough Corrib.

THE SUITS

We live in London and spent quite a

while looking for the 'right' colour

blue. We finally found them in House

of Fraser. They stood out (but not too

much!) and didn't change colour in

different lighting – lots of modern suits

do this and while they look cool trying

them on, they look different in every

single photo.

THE PLANNING

Two lads planning a wedding is about

as smooth as it sounds! We helped

NUI Galway register the Aula Maxima

so it was legally eligible for weddings

with the HSE. We almost couldn't use

it because of a funny law regarding the

building's listed status but thankfully

we found a loophole!

FAVOURITE PART

For Stefaan, the exchanging of vows in

our hometown (which he said in his

speech was something he thought he'd

never get to do) was his highlight. For

Jack, it was the wedding party running

around the streets of Galway like a

bunch of lunatics for the photos. Even

the old men sitting outside on Quay

Street with their pints of Guinness were

clapping! There aren't many cities in

the world where that would happen so

it says a lot about how warm Galway

really is.

THE HONEYMOON

We went cycling around the vineyards of

California for a few days before flying to

Mexico City. Then we did a crazy week

travelling around Cuba before a super

relaxing and indulgent week in Cancun.

ADVICE

We really didn't have a clue how to

theme the wedding so choosing good

suppliers is so important. Luckily, the

incredible florists at Yes Flowers saved

the day! They advised us to go with a

masculine but dramatic presentation

and the result just blew us away. We had

beautiful bold flowers for the ceremony

and dining room and a giant cerise pink

poodle made out of carnations to create

a very dramatic welcome for the guests

at Glenlo Abbey. I think he was the real

star of the day!

30 | WEDDINGSnow Autumn 2017
---
eal weddings

Lucy

Richard

Lucy Bea Blann-Godwin and Richard Barrett celebrated their nuptials in spectacular style in Perth, Western Australia

Photos by Angela Farragher Photography

32 | WEDDINGSnow Autumn 2017
---
eal weddings

THE MEETING

I met Richard, who is from

Annaghdown in Co. Galway, on a

night out in Perth. I approached him

and asked how tall he was and it just

continued on from there!

THE PROPOSAL

It was New Years Eve 2015. Before

dinner, we watched the sunset at

our favourite beach. As we sat on the

beach, we decided to write New Year's

resolutions for each other in the sand.

When it came to his turn, he wrote

'will you marry me?' in the sand. Of

course, I said yes! When we finally got

to the restaurant, there was a whole

party of people there waiting for us.

Needless to say, we celebrated well

into the new year!

THE DESTINATION

We both wanted a small and intimate

wedding in Western Australia so we

chose Carmel, just outside Perth.

We live in Perth so not only was it

convenient, we absolutely loved the

venue we chose.

THE VENUE

We decided to get married at

Masonmill Gardens in Carmel. When

I first met Richard, we used to hang

out there at the weekends and walk

around the beautiful gardens with

coffee. We both love it there so when

we got engaged, we knew it was

the perfect venue for us.

THE DIFFERENCE

Closing times are different in Australia.

Our venue closed off at midnight so

everyone had to be out by 11.45pm.

It was also 40 degrees heat so that is

probably something you wouldn't get

in Ireland!

FAVOURITE PART

Marrying the man I love. Also, having

all of our family and friends under the

one roof at the same time was so

special.

HARDEST PART

The hardest part is when it's all over.

Time goes by too fast on the day so

make sure to make the most of it.

ADVICE

I made the invitations and centrepieces

for the tables which took far too long.

I definitely wouldn't do that again! Get

things organised early and always make

time for exercise. Also, with hair and

makeup, go for something that is you.

I felt much more comfortable with a

more natural look.

Autumn 2017

WEDDINGSnow | 33
---
Counting

the Days....

planning

What to do before you say 'I Do'

WE'VE COMPILED A CHECKLIST TO HELP TAKE THE

STRESS OUT OF PLANNING YOUR BIG DAY...

12 Months

Set a budget - decide on what you are willing

to spend and bear in mind that, usually, the

budget will go over at some point so consider

your costs carefully.

Decide on a date and check in with close family

and friends to see whether they are available.

Then pick a church if you are having a religious

ceremony and book a venue. It can be

surprising how far in advance couples book

their weddings – time is of the essence!

Complile a guest list - your numbers can really

dictate your venue. Put down every possible

guest that you may be inviting so that you can

then whittle it down to suit your venue.

Book your photographer, videographer and

musicians – these also get booked up fairly

quickly so the sooner you book, the better

chance you will have at getting who you want.

Get the dress - shop around and decide on what

style suits you best. Ensure that you bring only a

few key people with you when shopping so that

you're not confused with too many opinions.

6 to 9 Months

Book your hair stylist and makeup. Decide on the

style you want to go for and book a few trials

to ensure that you are confident and prepared

before the big day.

Book your honeymoon and research the weather

at your chosen destination for the time of year

that you will be travelling.

Book your pre-marriage course.

Notify the State

of your intention

to marry.

You must give

three months

notice to the

State and the

Catholic Church

Order your cake and stationery.

Pick the groom's and groomsmen suits, as well as

the bridesmaids dresses.

Stag and hen parties - organisation should be well

underway at this stage so hopefully you can sit

back and look forward to a wild weekend away!

Begin your pre-wedding skincare routine - according

to most experts, you should be getting one facial

per month for six months prior to the wedding.

Health and fitness - now is the time to start getting

in shape before the big day.

3 Months

Notify the State of your intention to marry. You must

give three months notice to the State and the

Catholic Church.

Organise paperwork for the church such as birth

certificates, confirmation certs and letters of

freedom if you're getting married in a church that's

not your own parish church.

Decide on prayers, readings and music for the

ceremony.

Organise and send your invitations.

Check passports are in order for the honeymoon.

1 Month

Have a menu tasting at the wedding venue.

Dress Fittings - arrange the final fittings for the bride

and bridesmaids.

Organise gifts for the bridal party, as well as shoes

and accessories.

Make a start on your table plan as this can be the

hardest job of all!

Autumn 2017

WEDDINGSnow | 35
---
Wedding Fair on Sunday

10th September 2017
---
Speech

feature

THERAPY

Michael Parker, author of Unaccustomed As I Am,

shares his knowledge and advice to ensure your wedding

speech will be one to remember.

The principles of the wedding speech are constant. Whether

formal or impromptu, religious or civil, straight or same-sex, at

the heart is a constant: the celebration of the union of a couple.

And the basics of a good speech are constant too. Depending on

the nature of the event and the audience – hundreds of guests

in a grand ballroom or a handful outside on a garden lawn – you

may tailor the content of your speech, but stick to the principles.

Stick to your brief. Find out what is expected. Who else will be

speaking and what will they be saying? How long should you

speak for? Are there any specifics to include? Anything you

shouldn't mention? Resist the temptation to show off. Your

speech is the icing on the cake, not the cake.

Know your audience. The speech will only be good if it lives up to

the expectations of your audience. Before you get started, you

need to establish a reasonable understanding of this particular

audience, at this particular wedding. This may seem obvious

but the typical wedding audience can be extremely diverse. It's

not possible to address all the different interests but don't fall

into the common trap of only speaking to your peer group, your

immediate family and friends. Don't ignore anyone.

Find a thread. Start your research early and don't procrastinate.

Search for source material, perhaps mind-mapping as you go,

with the aim of finding a central idea or thread.

Tell stories, not jokes. Don't feel that jokes are obligatory, however

much well-meaning friends may say otherwise. Your audience

will lap up personal stories well told and laugh along with them.

Keep it short. Make sure you stick to the time agreed beforehand.

(Generally, two to three minutes for the shorter speeches and

seven or so for the longest.) Don't fall into the 'nervous' trap

of going on and on and on.

No cringe moments. It's always tempting to tell a story that may be

hilarious to a few who are 'in the know' but which is meaningless

or, much worse, offensive to other guests. This is one of the most

common errors and can ruin the occasion. If in doubt, check the

risqué anecdote beforehand. Don't wash dirty linen in public!

Handle your nerves. It's natural to feel nervous but keep telling

yourself that the audience is on your side. Unlike some speaking

events, like a political rally, you face no hostility. They are not

in a critical mood. They don't mind mistakes. They want you to

succeed. The more you rehearse, the more spontaneous and

confident you'll be. The toughest time is when you stand up –

your first few words. If you practice nothing else, practice the

first 30 seconds. Master these and the rest will seem easy.

Unaccustomed As I Am, by Michael Parker (Vermilion, £9.99)

Autumn 2017

WEDDINGSnow | 37
---
what's hot

#trending

The hottest wedding trends for 2018

are showing less fuss and more fun!

The options are endless so mix and

match and find your dream theme...

Brides and grooms are opting for less

formality than ever before when it comes

to their wedding décor. Simple, elegant,

romantic and delicate decorations are the

top trends for 2018. Personalised touches

wherever possible mean that each wedding

will be genuinely unique and special.

Weddings are more intimate, with the

couple's personality shining through at

every opportunity on the day.

Keeping It Green

Not going anywhere is the green trend

when it comes to flower arrangements. The

simplicity and elegance of fresh greens will

add a touch of class and authenticity to the

overall feel of the day. Adding a natural look

to your florals is in keeping with the less is

more idea, which is all the rage for weddings

this season.

Rustic Return

The rustic trend is one that we love as

it creates a calm and tranquil ambiance.

Delicate draped fairy lighting always looks

impressive and adds a twinkling romance to a

venue or ceremony. Enchanted forest themes

are about bringing the outside inside, which

fits nicely with the green theme. Hanging

lanterns, exposed woodwork and natureinspired

decorations make for a feeling of

effortless and tasteful simplicity.

Modern Metallic

Hints of rose gold and copper are growing

in popularity recently. The beauty of adding

a touch of metallic to your décor is that it

is so versatile. Metallics can be used on a

number of decorations and they complement

a multitude of colours and themes. Whether

pared back and relaxed, or black tie is the

theme of the day, a touch of shine will work

beautifully either way.

In With The Old

The vintage trend is one that's sticking

around, and for good reason. Elements from

the past have an enchanted romance that

create an air of whimsical charm. Whether

it's a vintage car, old photographs, or family

heirlooms that you decide to include in the

theme of the day, decorating with a hint of

history is both charming and classic.

38 | WEDDINGSnow Autumn 2017
---
feature

Just Write

Gold writing and calligraphy signs remain

a strong trend for 2018. The romantic

handwritten feel to this font really sets the

scene. Imperfect and lowercase calligraphy is

on the rise for invitations and place names as

they give a relaxed and personalised feeling.

Personal Touches

Sharing small aspects of your relationship

is a lovely way to remind your guests of the

celebration of love that the day is all about.

Blackboards describing how you met and

the story of your love so far remain popular

and can tie in perfectly with the calligraphy

trend. Polaroid place names are a wonderful

opportunity to showcase your relationship

with each guest – perfect for more intimate

and personal gatherings.

Let Them Eat Cake

Drip cakes are the hottest cake trend for

2018. The creative cakes are perfect as you

can make them as decorative or as simple as

you like, plus they are bang on trend. Geode

cakes are another popular emergence as

they really provide that wow factor. Cupcake

and doughnut towers have become a quirky

alternative to the traditional three-tiered

option. Some couples are even opting for

cheese wheel cakes as an alternative to the

traditional sweet option.

Crafty Cocktails

Arrival drinks are becoming quirkier with an

increase in DIY drinks and create-your-own

cocktails. Why not make your own mimosas!

Allow guests to get creative, choosing the

juice and fruit topping to accompany their

prosecco. There has also been an increase in

craft beer and wine from the region which

really goes to show that a couple have done

their research, and makes for a lovely touch.

Autumn 2017

WEDDINGSnow | 39
---
advertorial

At Your Service

An elegant sanctuary of romance

and relaxation, the luxurious

lakeside setting of The Lodge at

Ashford Castle, combined with

exquisite and imaginative cuisine,

ensures that your wedding day will

be just perfect. Offering country

house charm, fine dining and an

unrivalled range of estate activities,

The Lodge, located just outside the

charming village of Cong, in the

heart of Mayo, is one of Ireland's

finest wedding destinations.

Nestled within the magnificent

350 acre estate of Ashford Castle,

overlooking the majestic Lough

Corrib, meet the team who can

make your dreams come true at

The Lodge at Ashford Castle.

JONATHAN KEANE

Executive Head Chef

Jonathan Keane was born to cook. He lives his dream

every day at The Lodge creating inspiring dishes with

his experienced crew. Originally from Kylemore in

Connemara, Jonathan grew up surrounded by unique

ingredients, an inspiring landscape and the magic of

the sea. He spent his youth experimenting with food

and developing a fascination for what went on in the

kitchen. By the age of 16, Jonathan knew what he

wanted to do in life and had progressed to the role

of head chef at just 22 years of age.

Jonathan specialises in showcasing fresh and

local produce from the surrounding area with his

imaginative and inspiring cuisine. "Simple rules inspire

my menus. Seasonality, locality, flavours, ingredients

working together and traditional Irish cooking

created with innovation," are what inspires Jonathan

on a daily basis.

Jonathan will be on hand to share his expertise,

advice and direction to guide you and your partner on

your first meal together as husband and wife. "Our new

wedding menu will focus strongly on local and homegrown

produce by supporting artisan producers with

thoughtful plays on classic dishes without being too

elaborate," Jonathan says of the authentic, yet tasteful

dishes that you can expect on your wedding day.

CLAIRE MORAN

Wedding and Marketing Coordinator

A native of County Mayo, Claire will

be your first point of contact for your

wedding enquiries.

Claire has always loved working with

people and through hard work and

sheer dedication, she landed her dream

role in her dream venue. "I joined the

hotel in 2012 where I began my career

in hospitality with the reception team.

After realising my true calling was in

the wedding department, I returned to

college and completed a degree in Event

Management and Public Relations."

Claire understands just how unique and

special each wedding is and will be on

hand to guide and advise you through

every aspect of the whole experience.

Claire and the team will exceed your

expectations at every opportunity to

ensure that your day flows exactly as

it should. On the day of your wedding,

Claire will personally oversee each

element with care, effort and attention

to detail so that you can relax and

celebrate with the ones you love.

The Lodge at Ashford Castle

Cong, County Mayo

094 9545400

thelodgeac.com

Autumn 2017

WEDDINGSnow | 41
---
feature

A Touch of Class

Imagine your

fairytale

wedding on

exquisite grounds

surrounded by

historic grandeur.

With the love of

your life and your

nearest and dearest

by your side, escape

to the luxury of

Glenlo Abbey Hotel

for your big day.

Originally built and designed to capture the

majestic views of Lough Corrib, Glenlo

Abbey Hotel does so at every opportunity.

A short drive from Galway city will transport you

to the elegance, grace and opulence of the estate,

making it the perfect choice for your special day.

Adding to the romance and enhancement of

the property, Glenlo Abbey is steeped in history

and folklore. The Ffrench family, one of the 14

tribe families of Galway, built Glenlo Abbey in

1740. The adjacent abbey was constructed in

the 1790's as a private church for the family and

is a typical example of an 18th century Church

of Ireland chapel. Glenlo Abbey Hotel has

undergone significant refurbishment recently and

now offers a variety of wedding venue options.

Choose from the timeless elegance of the River

Room Restaurant, the Victorian-inspired Ffrench

Room, the historic 18th century Abbey or the

magnificent grandeur of the Corrib Suite.

The Pullman Restaurant, set on two original

carriages from the Orient Express, is both

extraordinary and exciting. The surroundings

are surpassed only by the locally sourced and

masterfully created cuisine.

The hotel itself holds hidden gems around

every corner. Get lost in the romance of the

spectacular setting with cosy corners, roaring

open fireplaces, private conservatory areas and

Victorian-inspired lounges. The Palmer Whiskey

Bar serves an extensive range of cocktails,

champagne and whiskey for pre and post dinner

drinks. The Oak Cellar Bar is a cool and cosy

hideaway with rustic interiors that exude warmth

and character.

The most important day of your life deserves

the utmost care and attention and the dedicated

team at Glenlo Abbey Hotel are on hand to

ensure that your wedding day is truly magical.

With floor to ceiling windows flooding the room

with natural light and offering panoramic views

of the estate, the elegant Corrib Suite can seat

up to 170 guests for your reception. The space

is tastefully decorated with bespoke chandeliers

and a private bar for your guests to enjoy.

For a smaller gathering, the spacious River

Room with high ceilings and grand windows is

beautifully decorated and in keeping with the

elegance evident throughout Glenlo Abbey

Hotel. The classic, yet magnificent, space can seat

up to 65 guests.

If you are planning a more intimate ceremony,

the 18th century Abbey, complete with vaulted

ceilings and stained glass windows, make

it the perfect choice for smaller weddings.

The ceremony itself can also take place there

meaning that your entire wedding is conveniently

in one location. The Abbey is also available for

rehearsal dinners and wedding banquets of

up to 28 guests. The sweeping landscape that

unfolds below the spacious bridal suite at the

Glenlo Abbey Hotel will take your breath away.

Overlooking the extensive golf course, with

the historic and unique Pullman Restaurant

and Lough Corrib extending beyond, treat your

senses to the ultimate in luxury.

Surround yourself in the grandeur and elegance

that your wedding day deserves and celebrate

the start of your magical journey together at

Glenlo Abbey Hotel.

Kentfield, Bushypark, Galway

091 519600, glenloabbeyhotel.ie

42 | WEDDINGSnow Autumn 2017
---
feature

Autumn 2017

WEDDINGSnow | 43
---
eauty

The Glam Squad

By now you have

imagined yourself

walking down the aisle

hundreds of times,

and each time your

appearance is absolutely

flawless. Transforming

your fantasy wedding

into reality takes careful

planning – as all brides

know. We've shared some

of our top beauty tips to

ensure you will be the

beautiful bride you've

always dreamed of.

Get your waxing

done about three

days in advance

and get your nails

done a day or two

before the wedding.

WORK IT

This one might seem obvious, as most brides like

to tone up before their wedding, but exercise is

so important for your overall wellbeing. A good

workout removes toxins from your skin, relieves

stress and releases endorphins to help you feel

happier, as well as toning up! Whether you're a

gym bunny or just get out for the odd walk, it's

a great pre-wedding habit to begin.

SQUEAKY CLEAN

What you eat has such a drastic affect on how you

look and feel. It's so important to eat a balanced

diet in the run up to the wedding to avoid burnout.

Make it fun with your fiancé – try to meal prep on

Sundays for the week which means it's more likely

that the easy choice will be the healthy choice.

Stay hydrated and aim to drink at least two litres

of water per day to keep skin looking fresh and

also to help curb those dreaded cravings.

FACE TIME

Because everyone's skin is so different, it's important

to get the right skincare advice. Speak to an expert

before undertaking a new regime and make sure

to try out any pre-wedding treatments well in

advance to gauge your skin's reaction.

CROWNING GLORY

Your hair will set off your entire wedding day look.

If you're thinking of changing the colour, experiment

about six months before to give yourself some buffer

time. To ensure that it's exactly how you imagined,

find a hairdresser you trust who can advise you on a

conditioning plan in the coming months.

PEARLY WHITES

You will be smiling a lot on your wedding day so it's

a good idea to think about a sparkling smile. If you

do opt for teeth whitening, aim to do so about four

months before your wedding to ensure the shade

is perfect.

BROWS YOUR OPTIONS

Your brows really add shape and definition to your

face. Beauty salons offer a range of treatments for

reshaping or even creating a whole new look. If you

are going down this route, do so about four months

in advance.

FINISHING TOUCHES

You should have your tan and make up trial

about three months before the wedding. Exfoliate

and moisturise your body in the run up and be

consistent with your skincare regime to ensure

that your skin looks flawless. Get your waxing done

about three days in advance and get your nails

done a day or two before the wedding. Book in for

a massage the night before to make sure you're

relaxed and ready for the day ahead!

Autumn 2017

WEDDINGSnow | 45
---
eauty

tried &

TESTED

Platinum Hair Extensions

Price: From €299

Duration: 2 hours +

Every day on Instagram and Pinterest,

we gaze in awe and wonder at

gorgeous brides with their luscious

locks. With a less than lacklustre

reputation, as a result of poor-quality

hair, garish WAG-esque looks and a

barrage of unsightly glue bonds, I

had never really considered getting

hair extensions for my wedding until

my friend recommended Platinum

Prestige Hair Extensions. Both natural

and undetectable, they are made

with the finest luxury Italian, prebonded

human hair. The voluminous

strands come in 22 inch lengths and

are available in 27 different rich and

opulent shades. The minute bonds

are 80% keratin so it prevents any

damage to your own hair. The unique

process eliminates common problems

such as matting and breakages

associated with other human hair

products by using conventional

manufacturing techniques. I can't wait

for my wedding day to show off the

voluminous and bouncing head of

hair that I have always dreamed of!

Platimum Prestige, Kiosk 6, Eyre Square

Shopping Centre, Galway, 091 567 787

platinumluxuryhairextensions.com

Dermal Fillers

Price: €350

Duration: 1 hour

With my big day looming, I was

dreading how thin my lips would

look in all of the professional pictures.

A non-surgical treatment to reduce

fine lines and wrinkles, dermal fillers

add volume to areas of the face or

lips to treat and soften fine lines

and wrinkles caused by the ageing

process. Carmelita, the nurse carrying

out the procedure at The Galway

Laser and Skincare Clinic, instantly

put me at ease and assured me that

my perception of the procedure was

not the reality. My lips were numbed

and after about 20 minutes, the

procedure was underway. The needle

was inserted into certain points of my

top and bottom lip and surprisingly, it

was not painful at all. With immediate

results lasting for approximately six

to 12 months, depending on the

condition of the skin, dermal fillers

are highly effective at restoring

the fullness and plumpness of the

area they're applied to. My lips are

fuller and much more defined – I

can't wait for my pictures now!

Galway Laser & Skincare Clinic, Calbro

Court, Tuam Road, Galway, 091 762484

galwaylaserskincareclinic.ie

Colonic Hydrotherapy

Price: €120

Duration: 75 minutes (including

initial consultation)

After years of suffering from chronic

stomach problems, bloating and

constipation, and with my wedding

fast approaching, I knew I needed to

take action before the big day. Colonic

hydrotherapy is fast gaining popularity

as a safe and effective way to rid the

body of toxins and improve overall

well-being. It removes not only harmful

and toxic waste, it also tones, hydrates

and rejuvenates the colon muscles. By

using a gentle internal bath with warm

filtered water that deeply cleanses the

colon, the repeated uptake and release

of water improves the colon's peristaltic

action and reduces the transit time

of fecal matter. Although it sounded

daunting at first, I quickly realised that

it would be a beneficial treatment, and

a very normal and natural way to take

care of my health and well-being. After

an extremely positive experience with

Antoinette, who also advised me what

foods to avoid to improve my digestive

function, I left the salon feeling brighter,

lighter and looking forward to my

next treatment!

Nua Holistic, Unit 12, Westside Enterprise Park,

Galway, 086 384 4316

nuaholistic.com

46 | WEDDINGSnow Autumn 2017
---
Searching for the magic formula for

younger looking skin?

LILLYSAN

SERUM

Containing

glycoaminaglycin

which can absorb

up to 1000 times

its weight in water and

visible results within

just two weeks

Lillysan Cosmetics

M: 087 703 9590 E: lillysancosmetics@yahoo.com
---
ide

High Street Heroes

Brides on a budget are in for a stylish

treat this year as loads of our favourite

high street stores turn contemporary

bridal on its head with their dedicated

wedding collections.

Lipsy

Newbridge Grace Kelly pearl bracelet,

€55 Fallers

Cream maxi wedding

dress, €168 Little

Mistress

Springfield maxi dress,

£225 Prettty Eccentric

Morgen embellished

sandals, €155 Dune

Ti Seneto mother of pearl silver cluster

earrings, €99 Hartmanns of Galway

Ivory strapless dress,

€129 M&S

Breanna embellished court

shoe, €125 Dune

Monsoon

Little Mistress

48 | WEDDINGSnow

Autumn 2017
---
feature

ASOS

Olga embellished gown,

€385 Monsoon

Ella sheer skirt

maxi dress, €250

Lipsy

ASOS

Lamore maxi dress,

£269 Pretty Eccentric

Evangelina wedding

gown, €195 Dorothy

Perkins

Inisheer eternity wedding band,

€1150 Hartmanns of Galway

Paul Costelloe sterling

silver crystal marquise

pearl pendant,

€100 Fallers

Not keen on

baring your arms?

This long-sleeved

dress will solve

all your bridal

worries

Little Mistress

Autumn 2017

WEDDINGSnow | 49
---
ide

Little Mistress

Dare to be

Different...

Brooke soft bardot maxi

dress, €129 Coast

Coast

Cara structured bodice dress,

€170 Coast

Aminta tulle dress,

€218 Monsoon

Dreaming about

getting married on a

white sandy beach?

This light and airy

bardot-style gown won't

weigh you down.

Felicity embellished ivory

top, €135 Simply Be

Iridessa high low skirt,

€115 Coast

Eliza bead and diamante headpiece,

€75 Monsoon

Millie & Co dress high heel sandal,

€40 Greenes Shoes

Fascinator with veil and vintage brooch,

£149 Pretty Eccentric

Azalea floral court shoes,

€125 Dune

50 | WEDDINGSnow Autumn 2017
---
It's his day too

Complete Male Grooming

MANICURE | FACIAL | MASSAGE | WAXING

The Groom Wedding Package also available

Book ONLINE at Fattonys.ie/Services

GROOM.

TREATMENT ROOM

8A Liosban Retail Park, Tuam Rd, Galway 091 766 707 www.Fattonys.ie
---
groom

Make Room for

THE GROOM!

Remus Uomo

It's a simple fact

that every man looks

exponentially more

attractive when he's

well dressed...

Trawling Pinterest for beautiful bunting, tasteful trends and dream

dresses might not be your fiancés idea of fun, but he's still right

there with you every step of the way. We understand that not

every groom enjoys the organisation and planning that goes into a

wedding, but every groom certainly likes to look and feel his best.

Sharp suits, tasteful accents and a few simple finishing touches can

really set off the look for your groom and his groomsmen

Tan, hair, make up, nails – us ladies have a lot to do when it comes to

scrubbing up so it's only fair that he gets to go all out too. Looking good

makes you feel good, which is exactly what you both want on your

wedding day. All that hard work you have put in to planning will really

pay off when you see each other for the first time, looking gorgeous

and more in love than ever before!

With him in mind, we decided to make the men our mission. It's a

simple fact that every man looks exponentially more attractive when

he's well dressed. With our top picks for gorgeous groomsmen, the man

of the hour is sure to look dapper on his big day!

Suits You!

Fusing understated sophistication with charming character for your

wedding day, Anthony Ryans and Remus Uomo boast a large number

of well-known international brands. Excellently trained staff are on hand

to help you find that perfect suit for the groom and his entire party.

Their expert tailoring service, attention to detail and high quality pieces

guarantee super sharp and sleek formal style with a difference.

Links of London

Rolex

Watch This

The only official stockist in the west of Ireland for many of Switzerland's

top watch houses, Hartmanns of Galway offer timeless elegance for your

big day. From Kenneth Cole and Michael Kors to Rolex and Tag Heuer,

amongst others, Hartmanns of Galway carry a range of stylish watches

to flatter every suit. With a fully qualified watchmaker on site to service

all of their brands, you know you're in safe hands with the experienced

team at Hartmanns of Galway.

Love Links

Finish the groomsmen's outfits off in style with detailed cufflinks to

really add a touch of class to their suits. Fallers Jewellers offer a wide

range of finishing touches from watches and cufflinks to those

all-important rings.

Personalised cufflinks are a great way to inject

personality to your look. They are also a unique

keepsake from your big day.

Autumn 2017

Newbridge

Take Your Pick!

For some a simple task, but for many grooms, choosing his wedding

party can be the most daunting duty. How do you choose your Best

Man? Is it just an honorary title? Err on the side of blood, as friends

understand that's just how things go. If you don't have a brother and

just can't decide, choose one friend objectively. Have you known one

friend for longer? If so, choose him and tell the others that you'd love

to have multiple best men, but you can only pick one. If you have a lot

of friends, you may try to argue for more groomsmen spots, however,

that's a numerical decision your bride should ultimately drive because

bridesmaids costs dwarf those of the grooms. Good luck!

WEDDINGSnow | 53
---
expert advice

From a Distance....

Planning A Wedding At Home From Abroad?...

Don't Fear, Lisa Cannon Is Here!

Ladies, you know how it goes... you get engaged and

think, fabulous, I'm going to keep it small and then

you start to think about your family and friends and

all your best laid plans go out the window! Meet my

wonderful and fabulous cousin, Laura Farrell from Belfast.

Laura, 32, a physiatrist currently working in Mexico, is

engaged to her handsome Peruvian partner, Gustavo

Ebermann. They have had an incredibly complex air-miles

courtship over the past decade flying to meet in Paris and

Lima or island hopping in South America to rendezvous in

London. As Laura was studying hard and forging her way

up the medical ladder, with conferences across Europe

and exams in Queens in Belfast, Gustavo was studying

Business in Lima, Peru.

Three years ago, Laura made the big move after years of

travelling back and forth and got a full-time position as a

doctor in Mexico where they both live.

Gustavo, a successful business consultant in Peru,

proposed to Laura on a beautiful and unforgettable

summer's day. With that came the excitement, joy, wonder

and eventually, the shock and worry of it all – how will

Laura plan a wedding back in her family home in Ireland

when she is thousands and thousands of miles away in

different time zones?

Having planned my own wedding abroad in 2015,

alongside many great Italian and Irish suppliers, I decided

to help Laura in any way I could and unlock my secrets

to some of the best Irish suppliers in the business.

FLOWERS

Having won 'Weddings Online Wedding Florist of the

Year 2017', Josephine Higginbotham is definitely one

of the best in Ireland.

Josephine and her crew did my wedding in Florence

and it was just the most stunning day ever! She just

has that magic touch. Whether it's a church or a civil

ceremony, big or small, indoor or outdoor, Josephine's

passion, insight and creative flair will ensure your vision

comes to life. Laura has chosen a soft floral, vintage theme

to match her Claire Pettibone gown. I was thrilled to find

out that Laura's wedding will take place on what would

have been my mother's birthday. Laura is named after

my mother so the synergy of it all ties in so beautifully.

weddingflowersbyjosephine.ie

Gustavo and Laura

If you're planning your day from thousands of

miles away, do your research and try to do as much

planning with help from family and friends.

PHOTOGRAPHER

With over 12 years experience, Melissa Mannion, an

incredible photographer based in Galway, is a great

choice. Laura's wedding is in a marquee at her home

in Belfast so she wants it to be intimate and natural but

at the same time, capture the essence of the day with

her family and friends. Melissa's portraits and unique

style of photographing those all important moments are

undisturbed by her subtle and stunning composition.

I look forward to seeing Melissa in action on the day

and learning some new posing tricks!

melissamannion.com

54 | WEDDINGSnow Autumn 2017
---
travel

STYLIST

As Laura is only coming home three weeks before

the wedding, she is keen to make sure she will be a

Bridechilla! The only woman for the job is Lorraine

Adams, aka ELK. Lorraine appeared with me on

Weekend AM for a wedding segment and I was just

blown away by her cool, calm style and how she could

style a wedding so beautifully. Her work is just out of

this world. She is basically a walking, talking Pinterest!

Laura wants a rustic, boho, natural theme, and she

has been working with Lorraine to hone the aesthetic

and decide what props will bring the wedding

together, both visually and thematically.

elkstylist.ie

CAKE

Let them eat cake! This is something that Laura was

100% keen on to get right. I told her to look no

further than MM Cookies, an award-winning cake

company who have featured in Vogue Magazine, on

TV3 and have been enlisted to do some very important

celebrity weddings. Based in Limerick, the husband

and wife duo create couture cookies and cakes and

everything in between. Laura's cake is going to be

incredibly special and I can guarantee that not a single

morsel will be left!

mmcookies.ie

We will be checking

back in with Lisa and

Laura after the wedding

in our next issue to see

how it all went!

Watch this space...

MUSIC

Laura was keen not to have a band and just wanted a

DJ. The only solution for this is Alan Geraghty – the

best DJ in Galway and all of the land! Alan came over

to Florence for my wedding and he rocked the house!

Not only does Alan have all the equipment, the lights,

the soundstage and a perfect pitch for what to play, he

also takes as many requests as you or your guests wish

– now we can't ask for better than that!

topdj.ie

CHURCH

Laura wants the music in the church to be personal,

and you can't get closer to God than George Hutton

– one of The Five Irish Tenors (check him out on

Facebook). An award-winning soloist and tenor, signed

to Columbia Records, George's voice is quite simply

sent from heaven. There won't be a dry eye in the

house when he sings a song for our late grandmother,

it will be extremely special. He will be accompanied by

Ciaran Kelly on piano for the service.

Autumn 2017

I hope my recommendations have helped Laura along her way and

I hope they help you also if you are struggling with those all important decisions.

Good luck!

WEDDINGSnow | 55
---
A gift for all occasions

Galway Crystal, Merlin Park, Dublin Road, Galway. Tel: 091 757311

www.galwaycrystal.ie
---
guest list

Would you happily

invite these people to

dinner and foot the

bill on a night out?

THE

Ruthless

TRUTH

Probably the most difficult thing about

planning a wedding is the guest list. For

some, bigger is better when it comes to

their special day. However, more and

more people are opting for intimate

ceremonies with only their nearest and

dearest in attendance. If this sounds like

the wedding you're planning, or if you're

thinking of slashing that seating plan,

read on to find out how...

VENUE VERSUS

PEOPLE PLEASING

Your dream venue should be

your priority. Decide where you

want to get married. As that will

determine the capacity, you'll

have a number that you can't

exceed.

DINNER PLANS

Would you happily invite these

people to dinner and foot the

bill on a night out? If not, then

consider why inviting them to

your most special dinner party

is a good idea.

PARENTAL PALS

Consider the contribution that

your parents are making to the

wedding before deciding on

this one, but make sure your

folks don't go overboard. The

old mantra rings true here – it is

your day after all.

IT'S ALL RELATIVE

Irish people have big families,

but we don't need to invite the

whole crew. Remember that

inviting one cousin doesn't

mean inviting every cousin and

be prepared to laugh off any

unnecessary awkwardness that

accompanies a strict list – it's all

part of the process.

COLLEAGUE KARMA

Unless you see them outside

of work hours, and you are

genuinely close, there is no need

to invite colleagues. Do you

really want to think about work

at your wedding? Thought not.

THE CHILDREN

CONUNDRUM

Nieces and nephews that you are

close with and obviously your

own children are an exception

to the 'no children' request.

If you don't want children at

the wedding, it is perfectly

acceptable to say so.

PLUS ONE PRESSURE

Your brother is dating the

love of his life – but it's been

a week. There's no need to

invite her. Your fiancé's best pal

is married but you've never met

his wife; she's invited. The usual

rule is married or dating for

more than a year means they

get a plus one.

RE-INVITE

Just because you were invited

to theirs, doesn't mean you

have to invite them back.

People grow apart all the time

so try not to let guilt guide

your choices.

Autumn 2017

WEDDINGSnow | 57
---
meet the experts

KIF

Since their formation over 20 years ago, KIF have been rocking the pubs and clubs of Galway with their energetic and

crowd-pleasing classic covers. Originally a four piece, the addition of a fifth member on keyboards opened up new

avenues for the band over time making them one of the most popular wedding bands in the west. In 2008, KIF were

invited to play for the Ambassador of Ireland to China in Beijing for the 2008 Olympics and were one of the first bands

ever to give a street performance for the St. Patrick's Day festivities. Well known in Galway, and a frequent fixture on the

events and social circuit, KIF offer band, DJ, ceremony and wedding reception entertainment packages.

kif.ie, 086 1061381, kiftheband@gmail.com, facebook.com/kiftheband

DEVOUR BAKERY

Wedding cakes are a personal passion for the

award-winning dream team of Yvonne Murphy and

Stephanie Byrne of Devour Bakery. With their signature

cakes coming to prominence in recent years, their

bespoke and elegant creations provide a magnificent

centrepiece for your wedding celebrations.

The market leaders in the wedding cakes industry

in the west of ireland, the sky's the limit in terms of

design, flavour and uniqueness. From simple elegance

to extravagant show-stoppers, Yvonne and Stephanie

work closely with the bride and groom to

create their dream design.

Contact Yvonne or Stephanie on 094 9520512

or email cake@devourbakery.ie

LISA HYNES

PHOTOGRAPHY

An art graduate, whose first love has always been photography,

Lisa is so passionate about what she does and always feels so

privileged to be present on the happiest day of so many people's

lives. Growing up surrounded by her father's equipment, Lisa spent

much of her early life fascinated by the photos he took. Born in

England, Lisa has been living in Galway for 16 years and has had the

pleasure of photographing more than 500 weddings to date. With

a preference to take natural photos wherever possible, Lisa likes to

keep a low profile so she can subtley capture beautiful moments

as they unfold. Check out lisahynesphotography.com

or call 087 2903976 for more information.

Lisa likes to keep a

low profile so she

can subtley capture

beautiful moments as

they unfold...

Autumn 2017

WEDDINGSnow | 59
---
venues

ORANMORE LODGE

HOTEL, CONFERENCE

AND LEISURE CENTRE

Oranmore, Co. Galway

091 794400

oranmorelodgehotel.ie

THE INN AT DROMOLAND

Newmarket-on-Fergus, Co. Clare

061 368161

theinnatdromoland.ie

claire.coughlan@theinnatdromoland.ie

KILRONAN CASTLE

ESTATE & SPA

Ballyfarnon, Boyle, Co. Roscommon

071 9618000

kilronancastle.ie

THE VENUE

The Oranmore Lodge Hotel is renowned for

its gracious style, superb food and wonderful

welcome. The hotel is Galway's registered venue

for civil ceremonies and civil partnerships

which take place in the luxurious Inisheer Room.

The hotel expertly combines the personal touch of

a family-run hotel with the expertise of dedicated

experienced staff and management.

THE ROOMS

The hotel offers luxury accommodation with

50 standard and executive rooms.

THE REASON

Every effort is made to ensure that your wedding

reception is the most enjoyable and memorable

day for you and your guests. Enjoy a choice

of three elegant rooms for your reception which

can cater for up to 260 guests.

THE BILL

From €35 per person

THE VENUE

Nestled in the wooded countryside on the

Dromoland Estate, overlooking the panoramic

Shannon Estuary, The Inn at Dromoland is the

ideal venue for your wedding day celebrations.

Recently refurbished, and now part of the

Dromoland Castle family, wedding couples

can expect the very highest levels of

hospitality and service.

THE ROOMS

The Ballyhannon Suite can accommodate up to

250 guests, while the hotel offers 155 bedrooms.

THE REASON

The Inn at Dromoland offers a wonderful private

garden area overlooking Dromoland Castle Estate

and Lake – ideal for post wedding photographs

for the exclusive use of your bridal party.

THE BILL

From €42 per person

THE VENUE

On the shores of Lough Meelough, Kilronan Castle

is one of Ireland's most luxurious castle hotels.

The ancestral home of the legendary Colonel

King Tenison, Kilronan Castle is one of a few Irish

castle estates that can trace its history back to

royal families. The 200-year old castle is steeped in

history, character and old world charm, making it

the perfect setting for your wedding.

THE ROOMS

Modern luxury is fused with a touch of old style

glamour in 84 contemporary bedrooms.

THE REASON

Your day will be effortless, relaxed and most

importantly, enjoyable. Their experienced

wedding coordinators have only one focus –

to deliver excellence and a memorable

experience for you and your guests.

THE BILL

From €72 per person

60 | WEDDINGSnow Autumn 2017
---
THE g HOTEL & SPA

Wellpark, Galway

091 865200

theghotel.ie

weddings@theg.ie

THE LODGE AT

ASHFORD CASTLE

Cong, Co. Mayo

094 9545400

thelodgeac.com

claire@thelodgeac.com

HOTEL MEYRICK

Eyre Square, Galway

091 564041

hotelmeyrick.ie

pfeeney@hotelmeyrick.ie

venues

THE VENUE

Galway's most stylish wedding venue, the g Hotel

& Spa, offers five star service, delicious menus,

a professional and welcoming team,

along with elegant designer surroundings which

are perfect for photos and wedding celebrations

for up to 180 guests. The nearby Claddagh Pier

and Barna Woods are beautiful for outdoor

photography and the quaint bars of Quay Street

are a favourite among wedding couples.

THE ROOMS

101 light-filled bedrooms and suites with heavenly

beds. Interconnecting rooms are also available.

THE REASON

Awarded 'Best Wedding Package' by RSVP

Magazine and 'Best City Chic Wedding Venue' by

Image Brides Magazine, the g Hotel & Spa is one

of Galway's most luxurious wedding venues.

THE BILL

From €58 per person

THE VENUE

It's hard to imagine a more romantic setting for

your special day. The Lodge embraces the

philosophy of 'no request is too large, no detail

is too small.' Set within the beautiful Ashford

Estate, with spectacular views of Lough Corrib

and Lisloughrey Pier, The Lodge will provide you

with the fairytale day of your dreams.

THE ROOMS

64 guest rooms, each one beautifully

and uniquely furnished.

THE REASON

A chic and elegant sanctuary just outside the

charming village of Cong in the heart of Mayo,

The Lodge at Ashford is the perfect setting in

which to celebrate your special day.

THE BILL

From €85 per person

THE VENUE

Hotel Meyrick has stood tall over Galway's Eyre

Square for over 165 years, securing its position as

the city's most iconic hotel. A luxurious four star

property steeped in history, charm and romance,

the beautiful Hotel Meyrick is an ideal wedding

venue for anyone looking for quality, elegance

and romance in the heart of Galway city.

THE ROOMS

97 bedrooms in the heart of Galway city.

THE REASON

Timeless elegance and excellent service await

you at Hotel Meyrick. Their stunning Connemara

Suite ballroom boasts nine chandeliers which

give the room a truly exceptional atmosphere.

The hotel is also a licensed civil ceremony venue.

THE BILL

From €58 per person

Autumn 2017

WEDDINGSnow | 61
---
Mannin Bay, Ballyconneely, Co. Galway, Ireland | (095) 23030 | www.connemarasands-hotel.com
---
THE ARDILAUN HOTEL

Taylors Hill, Galway

091 519735

theardilaunhotel.ie

weddings@theardilaunhotel.ie

ARD RÍ HOUSE HOTEL

Milltown Road, Tuam, Co. Galway

093 40100

ardrihousehotel.ie

jean@ardrihousehotel.ie

venues

RAHEEN WOODS HOTEL

Athenry, Co. Galway

091 875888

raheenwoodshotel.ie

info@raheenwoodshotel.ie

THE VENUE

Situated amid stunningly landscaped grounds,

The Ardilaun offers an idyllic setting for your

wedding photography and drinks reception

with award-winning gardens as a backdrop.

Wedding Planner Maureen Walsh and her team

will be with you every step of the way and give

you peace of mind to ensure you will have

the most memorable day of your lives.

THE ROOMS

123 luxury rooms with preferential

guest rates available.

THE REASON

55 years of making wedding dreams

come true since 1962.

THE BILL

From €45 per person

THE VENUE

One of the finest locations in Galway, the Ard Rí

House Hotel is the perfect setting for your day

of days. With scope to facilitate any kind of

wedding from intimate to grand and civil

ceremonies, their committed wedding team will

ensure that each and every detail is met and

that your day is totally unforgettable.

THE ROOMS

51 impeccably styled bedrooms have been

designed with you in mind to provide the

best in comfort and relaxation.

THE REASON

From their incredible staff to their

quality packages, it is the perfect place for

your wedding. Their Wedding Fair takes place

on Sunday 10 September 2017.

THE BILL

From €29.50 per person

THE VENUE

Overlooking the famous fields of Athenry,

Raheen Woods Hotel can accommodate up to

300 dining guests in the beautiful De Burgo Suite.

With an abundance of natural light and privacy,

your welcome drinks reception opens

out onto spectacular mature gardens

with a picturesque waterfall with a winter

wonderland 'Life in Lights' display for those

special family Christmas weddings.

THE ROOMS

Beautifully decorated bedrooms and a bespoke

bridal suite with an antique four-poster bed.

THE REASON

Raheen Woods Hotel has become the venue of

choice for weddings in the west of Ireland.

The hands-on approach by their owners

and wedding team will make all your

dreams come true.

THE BILL

From €45 per person

Autumn 2017

WEDDINGSnow | 63
---
venues

SHEARWATER HOTEL

Marina Point, Ballinasloe,

Co. Galway

090 9630400

shearwaterhotel.com

weddings@shearwaterhotel.com

CONNEMARA SANDS

HOTEL

Mannin Bay, Ballyconneely, Co. Galway

095 23030

connemarasands-hotel.com,

reservations@connemarasands-hotel.com

BELLEEK CASTLE

Ballina, Co. Mayo

096 22400

belleekcastle.com

weddings@belleekcastle.eu

THE VENUE

Shearwater Hotel is a beautiful four star modern

hotel located on the River Suck in Ballinasloe.

From the moment you step into the magnificent

marble foyer, you and your guests will be

wowed by the sheer elegance of the

hotel and its beautiful ballroom.

Their dedicated wedding team really understand

the importance of having a seamless,

effortless and unique day.

The Plaza Ballroom can cater for civil ceremonies

and receptions for up to 450 guests.

THE ROOMS

The Shearwater's elegant and spacious

bedrooms are designed with luxury in mind.

THE REASON

Their dedicated wedding consultants have

a wealth of knowledge to assist with all

your planning requirements.

THE BILL

From €45 per person

THE VENUE

Connemara Sands Hotel is located next to the

Blue Flag, white sandy beach of Mannin Bay

with stunning views across the ocean. The

beachfront boutique hotel was designed with

exceptional taste, making it the perfect place for

your big day. The experienced wedding team

at Connemara Sands Hotel understand the

individuality of every wedding story.

THE ROOMS

The hotel can accommodate up to 60 guests

and the self-catering holiday homes can

accommodate up to 40.

THE REASON

Connemara Sands Hotel offers a unique wedding

experience in a memorable beachfront setting.

Their Michelin Star chef and excellent staff

ensure that everything is perfect, from the

finest food to the little details.

THE BILL

From €55 per person

THE VENUE

Known for award-winning food, a tranquil

atmosphere and attentive hospitality, Belleek

Castle is a magical experience with multiple

wedding venues. They cater for civil ceremonies

and weddings for up to 200 people in the

ceremony room, which is situated in the

restored 19th century stables. Guests can be

accommodated in the Medieval Banquet Hall.

THE ROOMS

Ten rooms individually furnished with

antiquities, period décor and beautiful

wood-carved four poster beds.

THE REASON

In 2017, Belleek Castle were awarded

'Best Customer Service in Connaught'

and 'Best Restaurant in Connaught'.

Their dedicated wedding team ensures all

couples receive the utmost attention for a

beautiful bespoke wedding day.

THE BILL

From €85 per person

64 | WEDDINGSnow Autumn 2017
---
venues

RADISSON BLU HOTEL

& SPA, GALWAY

Lough Atalia Road, Galway

091 538300

radissonhotelgalway.com

jean.ogrady@radissonblu.com

LOUGH REA

HOTEL & SPA

Old Galway Road, Loughrea, Co. Galway

091 880088

loughreahotelandspa.com

info@loughreahotelandspa.com

GLENO ABBEY

HOTEL

Kentfield, Galway

091 519600

glenloabbeyhotel.ie

cathy.melia@glenloabbey.ie

THE VENUE

Radisson Blu Hotel & Spa, Galway has warmly

welcomed many happy brides and grooms

since it opened in 2001. With the reassurance

of an excellent team of professional staff,

a wonderful location, and years of experience,

the elegant and iconic Inis Mór Suite makes the

Radisson Blu Hotel & Spa, Galway as popular as

ever for stylish and sophisticated weddings.

THE ROOMS

261 rooms, including a penthouse suite,

executive rooms, business class rooms,

family rooms and standard guest rooms.

THE REASON

Perfectly located, Radisson Blu Hotel & Spa,

Galway is an elegant city centre venue.

Experience the new look Inis Mór Ballroom

with its warm colours and crushed berry tones,

perfect for large celebrations or

intimate weddings.

THE BILL

From €49 per person

THE VENUE

The award-winning Lough Rea Hotel & Spa,

overlooking Loughrea Lake, is one of the most

highly recommended wedding venues in Galway.

The De Dannan Suite boasts its own bar, glass

chandeliers and interchangeable lighting. Along

with the Slieve Aughty Suite, both are available

for private ceremonies and blessings.

The hotel's decadent piano lounge and

resident pianist are also available for your

arrival drinks reception.

THE ROOMS

91 luxurious rooms with views of Loughrea

Lake and the Galway countryside.

THE REASON

Enjoy the unique Rooftop Garden Bar and Sky

Lounge with stunning panoramic views.

For smaller ceremonies, the Rooftop is ideal for an

outdoor ceremony, cocktail or champagne reception,

or for a barbeque the day after your wedding.

THE BILL

From €45 per person

THE VENUE

The Glenlo Abbey Hotel has an old

world charm reflected in its character-filled

décor, numerous luxurious wedding reception

options and warm and welcoming staff. Suitable

for both large and small wedding celebrations,

Glenlo Abbey is situated on a vast and stunning

estate with spectacular photo opportunities.

THE ROOMS

The rooms at Glenlo Abbey Hotel are exquisite

with stunning views overlooking the Abbey Walled

Garden and the spectacular Lough Corrib.

THE REASON

Bespoke tailored packages, a selection of

inclusive packages, a dedicated wedding

co-ordinator, spectacular photo opportunities,

reception rooms to cater for intimate and

larger wedding receptions and pre and post

wedding parties, make Gleno Abbey the ideal

location for your wedding.

THE BILL

From €69 per person

66 | WEDDINGSnow Autumn 2017
---
CONNEMARA

COAST HOTEL

Furbo, Co. Galway

091 592108

connemaracoasthotel.ie

events@connemaracoast.ie

THE

TWELVE HOTEL

Barna Village, Galway

091 597000

thetwelvehotel.ie

enquire@thetwelvehotel.ie

venues

FALLS HOTEL & SPA

Ennistymon, Co. Clare

065 7071004

fallshotel.ie

weddings@fallshotel.ie

THE VENUE

The Connemara Coast Hotel exudes elegance and

style with its restful lounges, exquisite restaurants,

award-winning bars, leisure facilities and superbly

appointed accommodation. Spectacular and

uninterrupted views of Galway Bay and County

Clare are showcased beautifully from the gardens

as well as the hotel's Aran Suite, offering stunning

photographic opportunities. Just ten minutes

from Galway city, the hotel is surrounded by

picturesque and unspoilt landscape.

THE ROOMS

The exquisite bridal suite includes a

private balcony overlooking Galway Bay

on your wedding night.

THE REASON

With an ambiance of luxury and style, and

almost 30 years of experience hosting wedding

celebrations in Galway, the Connemara Coast

Hotel is the perfect venue for your wedding.

THE BILL

From €53.25 per person

THE VENUE

The Twelve boutique hotel offers stylish,

luxury and attentive service along with a vibrant

location for your guests and wedding party.

The Twelve is home to Le Petit Spa, The Pins

Gastro Bar and Pizza Dozzina, as well as Upstairs

at West Restaurant. The beautiful event suite,

Na Beanna Beola, has been designed with

more intimate weddings in mind. The Twelve

has also won numerous awards for their

dedication to delicious food and wine.

THE ROOMS

48 boutique-style guest bedrooms and suites.

THE REASON

Ireland's number one boutique hotel for the

last five years and one of Ireland's top food

and wine destination venues.

THE BILL

From €70 per person

THE VENUE

Surrounded by 50 acres of gardens and

woodland, the picturesque Falls Hotel & Spa is

located in the heart of the beautiful County

Clare. Cascading along the perimeter of the

grounds, the River Inagh waterfall provides a

photographic backdrop and idyllic arrival

reception setting for your wedding day.

THE ROOMS

140 bedrooms with a choice of suites,

deluxe, superior and family rooms.

THE REASON

Aside from the wonderful location and

beautiful photographic opportunities,

their wedding co-ordinator, Michael, and his

experienced team ensure the build up to your

wedding is as stress-free as possible.

THE BILL

From €43 - €65 per person

Autumn 2017

WEDDINGSnow | 67
---
LOUGH ESKE CASTLE

Lough Eske, Co. Donegal

074 9743163

solishotels.com/lougheskecastle

stephen.bell@solishotels.com

CLAYTON HOTEL GALWAY

Ballybrit, Galway

091 721900

claytonhotelgalway.ie

kduffy@claytonhotels.com

venues

MOUNT FALCON ESTATE

Foxford Road, Ballina, Co. Mayo

096 74472

mountfalcon.com

info@mountfalcon.com

THE VENUE

A Solís Hotel & Spa, the five star Lough Eske

Castle is located on a secluded lakeside estate

just outside Donegal town. A fairytale castle tower

and imposing glass and stone façade, along with

an easy-going blend of casual, country-style

comfort and modern luxury awaits you

and your guests inside. Let the magic of

Lough Eske Castle become exclusively

yours for your special day.

THE ROOMS

96 luxuriously appointed guestrooms.

THE REASON

A historic building set within beautifully

manicured grounds against a backdrop of

stunning natural beauty, Lough Eske Castle

is set in a storybook location delivering

superior hospitality and comfort.

THE BILL

From €79 per person

THE VENUE

The award-winning Clayton Hotel Galway truly

understands how important your wedding day is

to you. With an expansive, sub-dividable ballroom,

they can cater for up to 450 guests. Wedding

packages include a pianist on arrival, afternoon tea

and drinks reception, five course wedding meal,

half bottle of wine per guest, evening food, bar

extension and complimentary bedrooms.

THE ROOMS

195 luxurious guestrooms including 14

executive suites and a Presidential Suite.

THE REASON

Awarded 'Connacht Wedding Venue of the Year'

for the second year running, and 'Wedding Venue

Co-Coordinator of the Year' in 2016, they will

ensure your every wish will be delivered on

your perfect day.

THE BILL

From €45 per person

THE VENUE

Are you dreaming of a venue that boasts a

stunning period house and fabulous grounds

that are picture perfect for your wedding

photography? Imagine all of your friends and

family indulging in a five course wedding feast,

handcrafted by the award-winning culinary team

in the most romantic house in Ireland...

THE ROOMS

32 beautifully appointed rooms, two opulent

suites, four period deluxe rooms and 30 lodges

means all of your guests can overnight and

breakfast together in the morning.

THE REASON

140 years of wedding experience ensures

that on your day you are the most

important people to them…as together

is a beautiful place to be.

THE BILL

From €72.50 per person

Autumn 2017

WEDDINGSnow | 69
---
five star

Reach for the Stars

Afternoon tea, courteous concierges, spacious suites, valet parking and 24-hour room service: a five-star venue

is the perfect place to start and finish your once-in-a-lifetime celebrations. With our cache of historic castles

and luxury hotels, Ireland is fast becoming a favourite European wedding destination. The pinnacle of luxury,

elegance and opulence, treat yourself to the ultimate and escape to a world of relaxed grandeur and first class

service for a truly unforgettable experience.

THE K CLUB Straffan,Co. Kildare, 01 601 7200, kclub.ie

Set amid 550 acres of pristine

parkland on a mile long private

stretch of the River Liffey, The K Club

is one of Ireland's most spectacular

country retreats.

An elegantly restored 19th century

Georgian mansion estate, the hotel sits

on the former site of Straffan House.

Fusing old world charm, first class

service and ultra modern comforts

in a luxurious residential setting, the

opulent and classical surroundings

masterfully reflect and respect the

history that rest in the annals of this

exquisite resort.

Offering bespoke and luxurious

wedding options, The K Club

guarantee that your special day will be

everything you have always dreamed

of. Whether you're looking for an

elegant room filled with opulent decor

or an outdoor rugged setting on a

private island, their unique range of

ballrooms and reception rooms offer a

unique and modern twist.

Located in the Smurfit Clubhouse,

following extensive renovations,

The Legacy Suite can accommodate

up to 300 guests. Decorated in the

style of the main house, the space is

elegantly draped in soft cream fabrics

with sparkling fairy lights creating a

magical backdrop. French doors lead

out to a beautiful terrace with views

onto the lake – the perfect place to

enjoy drinks in the sunshine. The

John Jefferson Room, which is also

beautifully decorated in the traditional

old grandeur that the house bestows,

can hold civil ceremonies from 50 to

100 people, while The River Room can

cater for up to 180 guests. Outdoor

ceremonies on the back lawns are

also a popular option at The K Club.

With the beautiful French Chateau

style house offering a magnificent

backdrop for your photographs, it

sets the scene for a truly memorable

occasion. If you're looking for a more

rustic setting, their private island is an

exclusive area that is uniquely yours

for your ceremony.Straffan Church is

just a stone's throw from the hotel if

you are looking for a more traditional

option. Getting married is one of life's

greatest adventures and The K Club

certainly know how to make your

vision come to life. Turn your dreams

into reality, imagine the impossible

and let your imagintaion transport you

both to the most magaical day of your

lives at The K Club.

70 | WEDDINGSnow Autumn 2017
---
A Suite

Escape

THE SHELBOURNE HOTEL

27 St. Stephen's Green, Dublin 2

01 663 4500, theshelbourne.ie

five star

The weeks and months leading up to

your big day can be extremely stressful

so it's the perfect excuse to indulge in

some well-deserved pampering with your

nearest and dearest. Round up the girls,

take time out, switch off and celebrate the

occasion in true five star style.

A timeless landmark, The Shelbourne

Hotel is a contemporary take on the

past – a classic brought right up to

the present in an elegant and tasteful

way. The luxurious surroundings of

the hotel, complete with gleaming

marble, sparkling chandeliers and

decorative stained glass, provide a

stunning backdrop in the heart of

the city centre. Recently renovated,

and now the largest five star hotel in

Dublin city, The Shelbourne has 265

bedrooms including 19 suites, many

named after well-known guests who

have an association with the hotel.

A luxurious sanctuary of tranquility

and rejuvenation, The Spa at The

Shelbourne reflects the opulent

surroundings of the hotel and offers

the ultimate in health, relaxation

and wellbeing. Oozing glamour and

whispering elegance, The Salon at

The Shelbourne is the ultimate urban

retreat to steal away for some precious

serenity before returning to the world

feeling refreshed and rejuvenated.

Inspired by legendary style icons, the

Hollywood Legends package, a bespoke

range of signature treatments, include

everything you need for the perfect

day of pampering – luxurious blow-dry

options, magic manicures and perfect

pedicures, all whilst sipping on your

chosen Hollywood style icon's signature

beverage. Continue your experience at

The Shelbourne and savour the delight

of afternoon tea in The Lord Mayor's

Lounge. With golden damask walls

designed to reflect light, and extravagant

chandeliers combining to create a certain

golden glow, the lounge masterfully

blends comfort and glamour. Keep your

eyes peeled as is not uncommon to

see well-known Irish and international

faces enjoying this award-winning

indulgence! Always buzzing, and serving

creative cocktails and combination plates

perfect for sharing, No. 27 Bar & Lounge

sparkles with style and sophisticated fun.

Enveloped with tall windows overlooking

St. Stephens Green, with a series of

specially commissioned artworks echoing

the views outside on the walls, you will

feel like you are wrapped in sunlight and

greenery. Dine in the opulent surroundings

of The Saddle Room – an old favourite

reinvented as a modern classic, with an

open kitchen and a lavish Oyster Bar adding

to the drama of the dining experience.

From chic boutiques, magnificent galleries

and idyllic parklands to mouthwatering

restaurants, buzzing bars and the finest

theatres, take time out to relax and explore

our capital's national treasures from the

most prestigious address of all...

Autumn 2017

WEDDINGSnow | 71
---
feature

Naughton Willetts

Suzanna Naughton and James Willetts were married in Mac Dara's Church in Carraroe followed by

a fun-filled reception at the Connemara Coast Hotel

The Dress: Pronovias; The Suits: Moss Bros; The Cake: Simply Divine Cakes; The Honeymoon: Riviera Maya; The Photos: Lane Studios

72 | WEDDINGSnow Autumn 2017
---
Faherty

Love

Deirdre Faherty and David Love celebrated their nuptials in the majestic surroundings

of The g Hotel & Spa

The Dress: Wedding Boutique, Galway; The Suits: Bond Bros, Dublin; The Cake: Ciaran Faherty; The Honeymoon: Mediterranean Cruise; The Photos: Gerard Conneely and Andrea Silke

Autumn 2017

WEDDINGSnow | 73
---
feature

Divilly

Tannam

Kate Divilly and Declan Tannam were married in Galway's Augustinian Church followed

by a magical reception at Hotel Meyrick

The Dress: Charlotte Balbier; The Bridesmaids Dresses: Coast; The Suits: Magee; The Honeymoon: Budapest; The Photos: Martina California

74 | WEDDINGSnow Autumn 2017
---
Mills

Schuetz

Stefani Mills & Christian Schuetz celebrated their nuptials in the enchanting surroundings of

Waterford Castle Hotel & Golf Resort

The Dress: Blush Bridal Sarasota, Florida; The Cake: 2 Nice 2 Slice; The Hair and Makeup: Callan & Co; The Dancers: Mulcahy-Bible School of Dancing; The Photos: Aspect Photography

Autumn 2017

WEDDINGSnow | 75
---
feature

Ryan

Fahey

Elaine Ryan and Keith Fahey were married in St. Colman's Church in Craughwell

followed by dinner and dancing in The Ardilaun Hotel

The Dress: Aibheil of Adare; The Suits: Patrick Bourke Menswear; The Cake: Rita Moynihan; The Honeymoon: Maldives, Sri Lanka and Dubai; The Photos: Ken Byrne Photography

76 | WEDDINGSnow Autumn 2017
---
feature

Glynn

Sullivan

Rachael Glynn and Peter Sullivan celebrated their recent nuptials in the exquisite Lough Rea Hotel & Spa

The Dress: Belladonna, Galway; The Suits: Morleys, Cork; The Flowers: Claire's Flowers, Ballinasloe; The Cake: Trace of Cakes; The Honeymoon: Japan; The Photos: Paul Duane Photography

Autumn 2017

WEDDINGSnow | 77
---
Meaning?

MYTH OR

Put A Ring On It

Engagement and wedding rings are traditionally worn

on the fourth finger of your left hand. The reason

behind this is quite sweet. It was once thought that

the vein in that particular finger lead directly to the

heart. Although not strictly anatomically correct, who

are we to argue with folklore?

Pearls Of Wisdom

There are mixed messages about pearls. Some say that

each pearl represents a future tear, which is certainly

not something you want on your wedding day. Others

say that the pearls take the place of the bride's real

tears, symbolising a tear-free marriage. If you love

pearls and they suit your dress, we say go for it!

Old, New, Borrowed and Blue

Something old represents the old life that the bride is

leaving behind. The new item will symbolise optimism

for your future married life. Something borrowed is

meant to symbolise the happiness that you borrow,

usually from a happily married friend or family member.

Something blue stands for purity, love and fidelity in

your marriage. A common tradition in today's culture,

this simple and charming practice is one that we would

certainly like to keep.

Nice Day For A White Wedding

Traditionally brides would wear their best church dress

(of any colour) on their wedding day until Queen

Victoria made the white wedding dress popular in

1840. Many people think that a white wedding dress

symbolises virginity, however, it is the colour blue that is

associated with purity, faith and the Virgin Mary.

Dad's Day

The father giving away the bride comes from the days

when the bride was literally given to her husband in

exchange for a price or dowry. Thankfully, women are

no longer thought of as the property of men, but the

tradition is still alive. It's one that we love, as walking

down the aisle is a treasured moment between the

bride and her father.

Threshold Me Closer

Carrying the bride over the threshold is an ancient

tradition based on superstition. It was believed that

a newlywed bride was especially susceptible to evil

spirits, which lurked in the threshold of her new home.

The groom carries the bride to protect her from the

spirits and to keep them out of the home. Whether you

believe in evil spirits or not, it's a bit of fun to celebrate

your new life together!

Autumn 2017 WEDDINGSnow | 79
---
feature advice

Cheat Sheet

At this point, you've had months to organise everything for your special day.

From menu choices to manscaping, you've covered every detail (well, hopefully

anyway!) Delegate as much as you feel comfortable with and remember, nobody

likes a bridezilla. The last minute fiddly bits are all that's left to remember but don't

worry, we've got you covered. Here's to your hundredth list, we hope it helps...

Wrap up your

future other

half's thoughtful

gift the night

before and leave

it with the best

man or chief

bridesmaid for

their special

'morning of'

surprise

PRE PACK

Make sure that your passports are in date and safely

packed away for your honeymoon. Pack up to a

week before, it will mean less stress in the run up

to the wedding. You can also pack your overnight

bag for the venue a few days before.

DATE NIGHT

It's a lovely idea to have a romantic evening for

just the two of you. Try to de-stress with each

other and savour your final days as an unmarried

couple. Keep wedding talk to a minimum and

just enjoy each other's company.

PERFECT PREENING

Tan, waxing and nails should be organised for a

couple of days before your big day. You should

ideally have your spray tan done two days before,

just in case anything goes wrong. Ensure you do

a patch test for any facial waxing and assign times

to hair appointments for each person to avoid any

mix ups or delays. It's a good idea to leave your

nails until the day before to ensure you don't chip

them running around doing your last minute bits.

Consider this pre-wedding preening as little

treats to relax and pamper yourself.

DRESS REHEARSAL

Your dress rehearsal should be done the night

before with your full wedding party present to go

through the finer details. Make sure you also try

on your dress at some point a few days before,

from veil to stiletto, and make sure your groom

has his final formalwear fittings.

PAPER WORK

In the last week, finalise the seating plan to make

sure that nothing needs to be changed and

everyone is seated correctly. Print and drop

off place cards, mass booklets, menus and

favours, along with the final table plan.

Give your venue the final head count in the last

week. If the numbers change after that, you can

usually notify them up until the day before.

DOUBLE CHECK

It is a good idea to phone your band, wedding

car supplier, florist, baker, hairdresser and

makeup artist to ensure that everything is

in order and you can rest easy.

LITTLE TOUCHES

It's a nice touch to have a candle lighting on

the morning that you are getting ready.

Make it your favourite scent, so that lighting it

will always remind you of this special time.

Wrap up your future other half's thoughtful gift

the night before and leave it with the best man

or chief bridesmaid for their special 'morning of'

surprise. Arrange gifts for the mothers of the

bride and groom, to be presented after the

speeches. Remember ribbons for the car,

something old, new, borrowed and blue, along

with any other personal touches.

PAY TIME

Payment is a very important one to remember.

Organise for all of your suppliers to be paid so that

all final balances are settled after your reception.

80 | WEDDINGSnow Autumn 2017