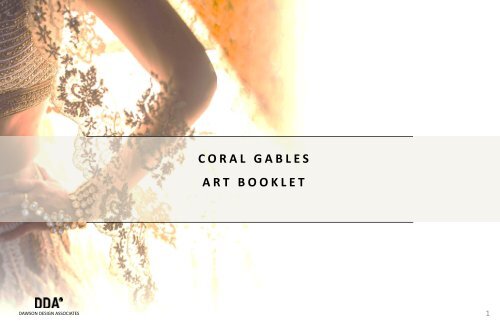 Coral Gables - Art Booklet
Create successful ePaper yourself
Turn your PDF publications into a flip-book with our unique Google optimized e-Paper software.
CORAL GABLES

ART BOOKLET

DAWSON DESIGN ASSOCIATES

1
---
The new Colonnade Coral Gables art experience, in the heart of the Miracle Mile, boasts a sophisticated and elegant new take on

old world elegance, with an unmistakably modern Latin beat and vibe. Something old, something new; the Hotel was designed for a

celebration of life. Fused with local flavor, the hotel's classical lines have been further enhanced with dramatic architectural lighting,

crystal chandeliers and elegant stained glass windows.

An original art collection was hand selected by Dawson Design Associates, and then commissioned by the hotels Ownership. It

was created to capture the new attitude while expressing the sparkle and glamour of each elegant new space designed by the

design team. Spaces that can now be discovered and admired by guests as an interactive curated collection seen throughout the

hotel

The hotel's layered interiors are accentuated with this curated art work while pulsating with color and life. Art expressing an

unmistakably Latin beat and vibrancy. A color palate of elegant greys and creams support and frame the collection.

The lobby's existing vaulted ceilings and grand staircase are now centered under a dramatic stained glass 'rosary' style window

commissioned by a local Miami artist, and huge Murano glass chandeliers. The elegant new lobby bar is framed with ornate

cathedral style hand wrought iron gates, welcoming guests with a hand crafted cocktail.

The dynamic game room is a playful nod to all the Latin playboys of the world, searching for that iconic experience that reflects their

dynamic and exuberant lifestyle.

The hotel's collection of guestrooms and suites carry through this scripted narrative. Wood floors and modern stainless steel

pedestal beds are complimented by sleek sectional sofas and intricate bronze and smoked glass desks. Sexy, chic and stylish, the

guestrooms are elegantly modern and classically intimate with an undeniably residential and intimate Latin flair.

DESIGNER INSPIRATION

DAWSON DESIGN ASSOCIATES

2
---
ARTISTS

DAWSON DESIGN ASSOCIATES

3
---
ARTIST BIO: Former Atlanta based artist, Kyle Goderwis, graduated from

The Art Institute of Atlanta in 2004 with a Bachelor of Fine Arts degree. In

2006, he was invited to participate in his first gallery show in Atlanta. Since

then he has showcased his work in over a dozen galleries in the Southeast. In

2010, Kyle joined a group of working professional artists to further his

education in the fine art world. A recent transplant to Seattle, he has been

with Grand Image since 2014 and creates a variety of abstract and

expressionist paintings and other mixed media artwork.

ARTIST LOCATION: Seattle, WA

KYLE GODERWIS

DAWSON DESIGN ASSOCIATES

4
---
ARTIST BIO: "When interpreting a landscape, I often try to find modern

perspectives. My work has evolved from painting distant landscapes and

underwater landscapes to my current compositions of 'in-the-forest', 'water

bank', and 'macro' landscapes."

"My work, at times, leans towards the abstract yet still evokes a transcendent

and genuine feeling of being able to enter, or step into, the paintings

themselves - whether physically or mentally. The challenge is to create

balance and contrast between light and dark, traditional and modern,

boldness and serenity while at all times maintaining honesty."

ARTIST LOCATION: Seattle, WA

JARED RUE

DAWSON DESIGN ASSOCIATES

5
---
ARTIST BIO: "Color possesses me. I don't have to pursue it. It will pursue me always..." -

- Paul Klee

Influenced by natural and organic forms, Maeve Harris renders expressions of color and

light. Created with a variety of inks and pigments, her paintings reveal a focus on the

medium itself. She concentrates on the integration of traditional subject matter with

contemporary styles and techniques.

Maeve was born in 1976 and grew up in New Jersey. As a child, she became an avid

equestrian and has a passion for horses. She also fell in love with the creative process

early on. She began oil painting at the age of eight and has never stopped. As an

independent spirit, most of Maeve's youth was spent exploring and soaking in a broad

spectrum of influences with a deep interest in art history and literature. The core of her

inspiration comes from artists of all kinds who tap into their innate self and who work

incessantly on their craft. Some of her favorites include: Rembrandt, Caravaggio,

Cezanne, Klimt, Rosa Bonheur, Jasper Johns, Atget, Weegee the Famous, Jacques-Henri

Lartigue, Nina Simone, Dolly Parton, Kurt Cobain, Missy Elliot, Cate Blanchett, Alan

Cumming, John Irving, Monty Roberts, Gene Kelly and Auntie Mame to name a few.

Harris moved to Phoenix, Arizona in 1994 where she attended Arizona State University

and received her Bachelor of Fine Arts Degree in photography. Her work in photographic

processes carried into printmaking and continued full circle into painting. She references

photographs in her work and enjoys experimentation with other media to push the limits

of paint.

Travel has richly influenced Harris' life both personally and artistically. In college, she

studied in Florence, Italy, and still loves to wander in cities all over the world. She enjoys

love, laughter, a good bottle of wine, and is a storyteller at heart. Currently she resides in

Seattle Washington with her two sons David and Maximillion. She paints everyday.

ARTIST LOCATION: Tacoma, WA

MAEVE HARRIS

DAWSON DESIGN ASSOCIATES

6
---
ARTIST BIO: In my figurative drawings, I collaborate with dancers. I enjoy

how their improvised movements impel my execution to become

spontaneous and intuitive. The repetitive lines gradually accrue and become

layers, just like in a music, when voices associate to form a Fugue, repetitive

lines harmonize and visualize motion/time on a still canvas.

ARTIST LOCATION: Tokyo, Japan

JUN MATSUSHIMA

DAWSON DESIGN ASSOCIATES

7
---
ARTIST BIO: Julie (Grovhoug) Coyle is a lifelong artist and someone

dedicated to creativity in all its forms. After graduating from Rio Americano

High School in Sacramento, where she received the Outstanding Art Student

award, Julie was offered a scholarship to the San Francisco Art Institute.

Although her parents prevented her from using that scholarship, Julie

studied art at Chico State, focusing on figurative work and a variety of studio

practices.

Julie's first commercial art job was as store artist for one of the original

Tower Records stores in Sacramento. Through studying calligraphy, Julie

went on to design menus, concert posters and flyers in college. Every job

thereafter had a creative element to it, whether it was running the

advertising for a fashion company, managing the art department of a greeting

card business or working as an art publisher.

The consistent aspect of all Julie's jobs has been one of creativity and

challenge. All of art is a risk and Julie undertakes each new project with

enthusiasm and original thinking.

The culmination of Julie's artistic career thus far has been JCAA – a vibrant

commercial art studio in Sausalito, CA, where she currently heads a team of 7

artists to create site specific artwork in the hospitality, healthcare and senior

living industries.

ARTIST LOCATION: Bay Area, CA

JULIE COYLE

DAWSON DESIGN ASSOCIATES

8
---
ARTIST BIO: Michael Joe Kirkbride was born in Trenton , New Jersey and

after living in Alaska and Philadelphia settled in the Bay Area for the past 20

years after attending the Academy of Art. Michael began as an illustrator,

and is a talented painter, computer artist and mixed media artist. Michael is

the head studio artist at Julie Coyle Art Associates, located in Sausalito,

California.

ARTIST LOCATION: Bay Area, CA

MICHAEL KIRKBRIDE

DAWSON DESIGN ASSOCIATES

9
---
ARTIST BIO: "Hello I'm Emily Rickard! I studied fine art and art history at

the Columbus College of Art & Design in Columbus, Ohio and currently live

and work in Los Angeles as an artist and designer."

"My love of color is conveyed through my vibrant abstract paintings and

mixed media works. A visual expression of joy, my work blends a bright Pop

art palette with aesthetics of Abstract Expressionism and a studied

appreciation for composition. I love to make art that makes people smile and

I strongly believe that living with beautiful art makes for happier people!"

ARTIST LOCATION: Los Angeles, CA

EMILY RICKARD

DAWSON DESIGN ASSOCIATES

10
---
ARTIST BIO: Ritchard Rodriguez was born and raised in New York City, studied art at NY's School of

Visual Arts under mentors Gilbert L. Stone and Jonathan Borofsky, migrated once west to Aspen

Colorado for two years where he was invited to exhibit for the very first time (at its Jerome Gallery),

then east to Berlin, Hamburg and Paris for a duration of eight years. There he was represented by art

dealers Michel Ozenne in Paris and Jan de Maere in Brussels who, aside from granting him a solo show

in Paris' first arrondissement, would also include him in the FIAC at the Grand Palais and the Auction

House Elkaim, L'Isle-Adam.

"I was a realist for a good fifteen years, trained in the ways of the old masters by the late Gilbert Stone,

primarily seduced by the Dutch. Before the eight years that I would spend in Europe I met Lisa de

Kooning, friend of a friend's friend, so became aware of her father, yet another Dutch artist. In fact, de

Kooning, Kline and Joan Mitchell eventually fed my emancipation from the restrictions of academic

realism, and in time I jumped off the cliff of a comfort zone with a hand glider of my own invention

without regrets."

During the years spent in France the paint took over as Rodriguez discovered freedom within his own

abstraction, substituting figures with strokes or combinations of strokes, exploring the linen he faced

with a preferable honesty, "painting from the heart and guts". He made NY his home and work place

once again, though likewise taking his art materials to tropical Brazil for many winters to come. The

work segued as a result from an industrial edge that included collage and photography along with his

oils, to that of pure abstractions, color and light.

Rodriguez continues to exhibit nationally and internationally, his paintings collected throughout three

continents, even enjoying the success of being presented among ten other artists who participated in

Princess Stephanie of Monaco's annual auction to raise funds for her charity, Fight AIDS Monaco. "His

two paintings were bought by a Monegasque art collector on 1st December 2007 at the auction in

Monte Carlo in the presence of the Princess and her brother, Prince Albert II. Ritchard has a very

particular and unique approach toward the canvas while painting. Each of his work is an emotional

story that belongs to his heart and echoes ours." — Marie-Laetitia Lesaffre (curator).

"When I entered NY's High School of Art & Design I aspired at being a comic-book artist upon

graduation. By the time of my final term there, I bought a box of oil paints that changed my life for

good." 2014 commemorated 40 years of painting in oils with his NY exhibition, The Keys of Life, hosted

by Atelier in the NYDC.

ARTIST LOCATION: New York, NY

RITCHARD RODRIGUEZ

DAWSON DESIGN ASSOCIATES

11
---
ARTIST BIO: Marta G. Wiley is an "Internationally Renowned Artist" -

Painter, Singer, Entrepreneur, Filmmaker, Speaker, Actress, and Author. She

holds a record for being one of the most prolific Artists in the 21st Century.

Painting over 10,000 paintings, Top Poster sales grossing Millions, writing

over 2,000 songs charting Top 20 USA Music Charts "Beggar", "Signal" &

"Certainly", Marta has written several compelling novels: "The Water

Daughter", "The Shield & The Eight Immortals", and "The Million Dollar

Egg". Extremely talented star and CEO of "Marta G. Wiley Studios", she is a

Trendsetter and is bringing inspiration to millions of people around the

globe. Marta has been in 300 galleries worldwide. With "Celebrity Artist"

status, Marta is known as a revolutionary champion toward "Education of

The Arts" working with Autistic children. Marta has been seen on FOX

NEWS, CBS, CNN, Oprah OWN Network, hundreds of publications, movies

and international magazines. Currently she is earning her degree in

Psychology & Entertainment Law at Harvard.

ARTIST LOCATION: Southwest, USA

MARTA WILEY

DAWSON DESIGN ASSOCIATES

12
---
ARTIST BIO: Pablo Contrisciani is an Argentinean artist residing in Miami

since 1998. He earned his Masters in Painting at the National University of

Fine Arts of La Plata, Buenos Aires, Argentina. He has recently participated

in exhibitions at Arch Gallery & Karpio-Facchini Gallery, Miami; Morgan

Lehman Gallery, New York; Light Contemporary, London; Mackey Gallery,

Houston; Solar Art Gallery, East Hampton and Art Center South Florida,

Miami He has exhibited also in the Art Fairs: Scope London; Scope New

York and Scope Miami; Art Toronto; Fiac Paris; Art Miami and Arte

Americas. His work has been reviewed in publications such as Art in

America; Art Nexus; Arte al Dia; New Times and Miami Herald and El Nuevo

Herald. Pablo Contrisciani's works are held by public and corporate

collectors from USA, Latin America and Europe.

ARTIST LOCATION: Miami, FL

PABLO CONTRISCIANI

DAWSON DESIGN ASSOCIATES

13
---
ARTIST BIO: Stained Glass Of Miami is a third-generation business

established in Italy. We have the depth of experience to solve your design

and restoration need, no matter how simple or extensive without losing our

personal touch or diminishing our superior customer service. We work

independently on your design or can work with a designer or contractor.

Since the beginning of art glass, assembly technique, restoration and repair of

lead has remained basically unchanged. The leaded glass are welded together

to form a window, a dome, doors, etc.. In these modern times, the tools have

been improved and can do a job in less time than in ancient times but the

basic principles are the same.

Quality

Stained Glass Of Miami offers the best quality and a gorgeous selection of

stained glass pieces. We guarantee excellent craftsmanship. We can work

within a budget which we know are extremely satisfying to the client.

Stained Glass Of Miami is the company for your custom art glass pieces.

Materials

Each of our elegant works of art in glass were made with a large range of

materials and at times and if you request, to include restored pieces and ecofriendly

materials. Stained Glass Of Miami works with glass of an unlimited

range of colors, superior quality and mostly in the United States but can also

import from England, France, Germany and Belgium.

You will find on our website pictures of stained glass pieces completed for

designers builders, architects, churches, decorators and private homes. All

work is original and custom designed

ARTIST LOCATION: Miami, FL

FREDERICO SCIPIONI

DAWSON DESIGN ASSOCIATES

14
---
ARTIST BIO: Heidi Lanino Bilezikian works on paper, canvas and ceramics.

Her artwork is focused primarily on the horse, which allows her to explore

her interest in movement. Conceptually she creates work that embodies the

freedom and power of these beautiful animals, while focusing on the idea of

transformation of spirit. Using ceramics as an alternate canvas, Heidi uses

line and subtle colorations to depict images of women, birds and other

themes from nature in a decorative, calligraphic style. These pieces are

influenced by various cultures and glazed in rich, earthy colors. Her work is

imbued with a sensuous fluidity that evokes a lyrical and poetic quality. She

balances her studio time and gathers inspiration from teaching; she is drawn

to collaborative projects with students and community, with the goal of

inspiring creativity and love of the arts. Heidi's work has been exhibited in

the United States and abroad and is represented in numerous private

collections. She received her BFA from Pratt Institute and was the winner of

the Pratt Annual Talent Search, receiving a full scholarship. She lived in New

York City for 17 years, studied drawing and painting nationally and

internationally, and was an art director for L'Oréal where she honed her

aesthetic for beauty. After leaving New York City, she relocated to the

Hudson Valley where she lives with her husband and two sons.

ARTIST LOCATION: Hudson Valley, NY

HEIDI BILEZIKIAN

DAWSON DESIGN ASSOCIATES

15
---
ARTIST BIO: William Attaway, otherwise known simply as Attaway, is a

name synonymous with Venice Beach, California. Hailing from Barbados and

calling his home of Venice since 1979 "the closest thing he's found to the

islands," Attaway has been working with ceramics, painting and sculpture on

a scale few have attempted. Attaway is creating a myriad of works, both 2-

dimensional and 3-dimensional work.

Over the past few decades he has continued to reinvent himself, pushing the

boundaries of skill and style. Over his career he has worked with city

planners, politicians, corporations, youth and community groups, as well as

being active in the restoration of arts in the Los Angles public schools.

ARTIST LOCATION: Venice Beach, CA

WILLIAM ATTAWAY

DAWSON DESIGN ASSOCIATES

16
---
ARTIST BIO: Giselle Borras has lived and worked in Spain, United States

and currently resides in Barranquilla, Colombia, where she has completed

fourteen years of independent work in the arts.

For the past twelve years, Giselle Borras has been committed to her artistic

work drawing inspiration from her continuous admiration for the human

body. Inspiration Giselle's work shows her enjoyment… in feeling nature and

in the perfection of the human structure. Through the practice of Yoga she

has experienced an intimate relationship between mind, body and soul, to be

expressed in her paintings; using various techniques and a unique style to

show the viewer her interpretation of the plasticity of the human body. From

the palette to the painting The artist works in front of the canvas focusing on

the painting as a whole, to achieve harmony of color and composition, before

concentrating on specific areas, and then painting quickly, loosely, using

brushes, spatulas, cloths and even her fingers. The final results are these

subtle and weightless figures, created from maintaining the painting process

spontaneous, filled with innocence and yet providing the viewer much force,

energy and presence.

ARTIST LOCATION: Barranquilla, Columbia

GISELLE BORRAS

DAWSON DESIGN ASSOCIATES

17
---
ARTIST BIO: Natasha Marie was born in British Columbia, Canada and

grew up drawing rocket ships and planets in the margins of her notebooks.

She was drawn to art making at an early age, crafting little paper sculptures

inside the hollow of her wooden school desk and practicing pointillism

instead of math. Natasha graduated from the University of Alberta with a

degree in art education and spent a few years teaching before setting into

full-time art making. She came to Grand Image from Anthropologie, where

she spent her time designing and constructing everything from life-sized

paper polar bears to geodesic wood installations. Natasha's art is influenced

by a love of precision and order, and she works with meticulous detail. She

employs watercolor, acrylic, mixed media as well as three dimensional wood,

canvas, metal, cardboard and paper. She currently resides in Seattle,

Washington with her dog, husband and a Volkswagon bus named Wes

Vanderson.

ARTIST LOCATION: Seattle, WA

NATASHA MARIE

DAWSON DESIGN ASSOCIATES

18
---
ARTIST BIO: "My name is Renata Domagalska. Presently live and work in

Gijón (Spain). Take up painting since many years, practically since I

remember.. More less from 2000 those paintings are spreads into private

collections many countries around. Although 'Painting is the art of silence' it

is difficult to talk about the subtle, many levels world of painting.. All

classification and grounds I leave to the viewer.. However few words about

subject matter I choose.. I am trying - or not at all - it`s quite natural to me -

to reach light and positive theme, intentionally turn attention away from

greyness of so-called 'reality'... The power of painting gives the beautiful

possibility to create better own reality, better weather windows.. Well then

my canvases` world it`s colourful, bearer of happy tidings, filled to the brim

with positive spirit. I am fascinated by vitality of Life in its variety forms. The

point is about the inner STATE, not about the outside circumstances..

...Dancing people, the Life`s pulsation, the pulsation of everything.. even

silence.. There is no place for apathy and melancholy. Should be inspiration

to a hedonistic living, full of Light, Vigour, Sense of Existence, Warmth &

Love."

ARTIST LOCATION: Gijon, Spain

RENATA DOMAGALSKA

DAWSON DESIGN ASSOCIATES

19
---
ARTIST BIO: Vicky Barranguet is a painter born in Montevideo, Uruguay

that currently lives and works in New York. Vicky has participated in many

exhibitions nationally and internationally and her paintings have also been

acquired by various private collections. Her work is embodied by an

empirical investigation of the pictorial structure, where processes departing

from spontaneous gestures evolve into elaborate and complex systems where

improvisation, organization of form and space, and attention to detail are at

its core. She created in 2005 the show: Painting Music, a live painting - music

show, touring since then through out the world, with original music,

nominated for the Latin Grammy Awards, by her partner Gustavo Casenave

and participation of Jane Ira Bloom y Federico Britos, Grammy award

winners. In 2006, she created a special collection of hand painted dresses,

presenting them in Uruguay's Fashion Week '06, '07 & '08, collaborating

with different designers. In 2010 she was the featured artist for Jodi Arnold's

2010 collection in New York City, featured in the New York Times. She

exhibits a new fresh style of painting revealing a unique voice of complexities

that challenges vision and the experience of painting. Her career developed

over many years in Uruguay and in United States where she has studied in

the recent years with painters such as Larry Poons and William Scharf, and

Clever Lara in Uruguay. Barranguet's work has also been commissioned by

Nike, Adidas and Long Champs just to mention a few. Vicky Barranguet

brings us a collection of amazing works and visions.

ARTIST LOCATION: New York, NY

VICKY BARRANGUET

DAWSON DESIGN ASSOCIATES

20
---
ARTIST BIO: Elizabeth LaGumina is a graphic artist native to Las Vegas.

She was born in 1986, and attended the University of Nevada Las Vegas

where she earned her Bachelor of Arts degree with an emphasis in Graphic

Design. With a grandfather as an architectural consultant, LaGumina was

immersed in the design field at a very young age. Architecture and Interior

Design are among the many artistic avenues that she has ventured into, as

well as photography, sculpture, oil and acrylic painting, and multimedia

works.

Elizabeth currently resides and works in her home town, creating custom

graphic artwork for large scale projects such as conventions, hotels, etc. in all

areas of the country.

ARTIST LOCATION: Los Angeles, CA

LIZ LAGUMINA

DAWSON DESIGN ASSOCIATES

21
---
BEN GORDON

ARTIST BIO: Ben grew up in sunny Central Phoenix. As a child he went often to the Phoenix Museum of Art with family, and on

school field trips. Curiously, he rejected the more commonly appreciated Cowboy artwork, and started exploring and investigating

more contemporary abstract works. After several years away from Arizona in his early adulthood, he finds himself once again, back

in the Phoenix area, again enjoying the sun. His work now reflects the landscapes of his various places of residence throughout the

United States.

STUDIO LOCATION: Seattle, WA

AKIKO HIROMOTO

ARTIST BIO: Akiko was born in Hokkaido, Japan. She moved to Taiwan at an early age and eventually immigrated to the United

States after getting married. Akiko finds inspiration in fabric patterns, weavings, found objects and images, and the unique color

patterns she encounters during her travels and daily life. Her work is about the exploration of process and color. She works through

building up and scraping away paint to excavate the image within. Her canvas is a playground where she plays with the line

qualities, mark-making, shapes and colors.

ARTIST LOCATION: Seattle, WA

CAROLINE ALKIRE

ARTIST BIO: Caroline Alkire creates stunning, surreal collages from images cut out of vintage National Geographic magazines.

Drawing inspiration from artists like Dali, she creates introspective dreamscapes with paper, scissors, and glue. You can see more of

her work and buy prints here.

ARTIST LOCATION: Burlington, VT

BEN GORDON, AKIKO HIROMOTO, & CAROLINE ALKIRE

DAWSON DESIGN ASSOCIATES

22
---
JB HALL

ARTIST BIO: JB Hall was born in Springfield, Illinois in 1963. He relocated many times in the upper Great Lakes region until finally

settling in the Chicago area. Those displacements helped motivate and shape his versatile nature and quick sense of humor often

making it easier to assimilate into new surroundings. He also began to develop an ability to view the same subject from different

perspectives; a trait he feels is the foundation of his philosophy on art and art making.

After graduating from Beloit College with a degree in Geology and a heavy load of Art History, JB moved New England before finally

settling down in Arizona in which he's resided for more than 20 years. During this period in the wide-open Southwest, he

experimented with many artistic mediums including, but not limited to, monoprinting, painting, sculpture, photography, and

serigraphy. His dabbling in these mediums has forged his philosophy of art making into shape. He used his view of an individual's

perspective as the foundation for his statement, "Truth is Perception". This belief allows a new medium to tell a new story at a new

point in time. He is not afraid to fail at an experience, and believes success in art, as with life, is truly trial and error. "Each piece or

chapter is an incomplete exercise and can be reshaped and pounded into a success."

Currently, he is using his passion for digital media and blending it with analog media such as serigraphy and painting. This new

hybrid language allows him to take ideas and concepts that were technically unapproachable in the past and turn them into reality.

ARTIST LOCATION: Arizona

MERCEDES MARIN

ARTIST BIO: "Mercedes spent most of her life living in cities by the water, having grown up in sunny Southern California. Her

studies led her to San Francisco where she was exposed to the emerging West coast art scene. Mercedes did her graduate studies in

Boston, Massachusetts, where she immersed herself in the rich and age-old art culture. She often wandered through the monolithic

museums of Boston and New York and stood in front of many Rembrandts and Titians. Mercedes' paintings are inspired by both the

natural landscapes and the geometric juxtapositions of the man-made cityscapes. She currently lives and works in the rainy city of

Seattle, Washington."

ARTIST LOCATION: Seattle, WA

JB HALL & MERCEDES MARIN

DAWSON DESIGN ASSOCIATES

23
---
Emma Jones

ARTIST BIO: Emma Jones was born in the Pacific Northwest in 1992. Growing up in a small suburb north of Seattle, she was

constantly listening to rock and roll and filling up sketchbooks. As a child, Emma's passion was creativity. She was always drawing,

collaging, painting, and doing whatever she could to put her hands and creative mind to work. As she grew older, she began to talk

herself out of pursuing a career that had anything to do with art. As she started her schooling at Brigham Young University, she

decided to work towards a degree in Developmental Psychology. After two semesters in the program, Emma felt unsettled by her

degree of choice and searched for another major that offered a practical and stable lifestyle. She ended up changing her major three

times before she finally allowed herself to forego practicality and do what she loved by working towards being accepted into the

Studio Art Program at Brigham Young. She was fortunate to be accepted into the program in 2013 and graduated in 2015 with a

degree in Visual Arts with a Studio Arts emphasis. Just three weeks after graduating, Emma moved back to Seattle to pursue a

career with Grand Image's creative team.

Emma's work includes a large majority of mixed-media painting and collage, bringing together many different mediums to create

abstracted, yet cohesive compositions. Her work has been featured in a number of group exhibition shows throughout the United

States and Europe.

ARTIST LOCATION: Seattle, WA

Helene Crecent

ARTIST BIO: Born in Pau, France, Hélène Crécent studied at the Fine Arts High School in Bordeaux, and has worked in the audiovisual

field. After moving to Valencia, Spain, in 1999, she founded the 'Mini-Monstre' artistic duo with Bertrand Mazurier, dedicated

to the creation of artistic objects from everyday life. Crécent continued to create her own artwork, unveiling her personal universe -

disturbing, rebellious, aggressive and full of irony. With her quest for truth in the representation and the sincerity applied to her art,

she appears far removed from any influence. Her work springs from daily life and the flow of her real feelings.

In response to Warhol's prophecy "all is pretty," Crécent carries out a spontaneous speech regarding beauty. She believes that if a

woman is beautiful, then all her attributes are equally as beautiful. She deconstructs feminine beauty with the use illustration,

calligraphy and the use of color in its pure state.

ARTIST LOCATION: Paris, France

EMMA JONES & HELENE CRECENT

DAWSON DESIGN ASSOCIATES

24
---
ARTIST BIO:

Born in 1969, Gregory Garrett grew up in Ohio. A self- taught artist, Garrett drew upon adventures and travel as inspiration for his

expression. Spending a number of years living in Bali broadened his cultural and historical awareness and engaged him in a life- long

pursuit of art, including music and photography.

Garrett had no choice but to be an artist. From an early age, light and darkness fascinated him. His earliest childhood memory found

him sitting by himself, watching the sunlight stream through the venetian blinds as the dust particles danced on the rays of light. "I

lost and found myself as I watched the light stream into my parents' living room. Somehow I knew what I was experiencing was

truth." This particular moment was pivotal in his development as an artist for years to come.

During his formative years, Garrett concentrated on the major works of many great painters, ranging from Caravaggio to Picasso.

His infatuation with art lead him to understand that art is an essential factor in being human and that history is crucial for the

development of art. "Art is not created in a vacuum. It must have history to live. Art should be a reflection of the artist's past, present

and future."

When asked about his major influences, Garrett feels affected by every artist he's ever seen. Aware of his own unique place in time,

he finds inspiration in contemporary living and working artists and feels that now is the most important period in the history of art.

ARTIST LOCATION: Phoenix, AZ

GREGORY GARRETT

DAWSON DESIGN ASSOCIATES

25
---
STUDIO PHILOSOPHY: We have found our niche in the hospitality & commercial marketplace with our curatorial expertise. We

also have a unique ability to create art and identify emerging artists in the areas of fine art, installation, lighting, furniture, and

design. While building a respected name in the hospitality and commercial industries, our model has allowed us to enjoy

unprecedented access to the world's finest luxury establishments.

Our goal is to insure that each of our extraordinary clients meet the quest for individuality and relevance as it relates to today's

sophisticated, socially and environmentally conscious consumer.

STUDIO MISSION: We provide commercial design professionals and art buyers the unparalleled opportunity to customize their

spaces through our curated collection of art. We've created unique experiences for clients throughout the hospitality, building &

architecture industries; high-end retailers; health care and corporations.

By creating a community of hundreds of artists and designers in over fifty countries, RAREculture offers exclusivity, and master

craftsmanship while concurrently enabling artists to showcase and sell their "rare" works and positively impact the world.

STUDIO LOCATION: New York, NY

RARE STREET STUDIO

DAWSON DESIGN ASSOCIATES

26
---
STUDIO APPROACH

REVIEW:

Our DAC team will review the interior designer's vision to best understand the aims and ideas for the project. We become in tune

with the desired aesthetic to ensure all parties are working toward a common goal. Once the themes and concepts underlying the

project are established, we start the process of bringing the vision to life.

COLLABORATE:

DAC will present concepts and alternative ideas for the project. Budgeting, sketching and new art methods are all discussed in this

phase of the project. We bring a range of creative options with hands on presentations to see, consider and discuss how different

pieces can work in your space. Cooperation and communication underline this phase.

RESOURCE :

With a database of thousands of artists, we find the best artist for your project. Using local, established and emerging artists, we

find the right creator for your installations. For local themes, we source the best local artists and pieces. Alternatively, we can use

our global network to find the perfect pieces for your project. We stop at nothing to find the perfect art for your particular space.

REALIZE:

We provide your team with custom samples of all art pieces, on all required mediums for consideration and approval before full

production. Feedback and discussion take place to ensure all installations meet the brief and goals of the project. Once approved, we

begin implementation and turn your space into a stunning immersive experience.

STUDIO LOCATION: New York, NY

DAC STUDIO

DAWSON DESIGN ASSOCIATES

27
---
LOBBY

DAWSON DESIGN ASSOCIATES

28
---
Manufacturer: Alger Triton

Designer Inspiration: Main lobby chandelier is an

original design with the goal and inspiration of filling

the space in ribbons of glass and reflected light.

Manufacturer: Alger Triton

ALGER TRITON

DAWSON DESIGN ASSOCIATES

29
---
Preciosa

United Iron & Aluminum Contractor

PRECIOSA & UNITED IRON AND ALUMINUM CONTRACTOR

DAWSON DESIGN ASSOCIATES

30
---
FREDERICO SCIPIONI

DAWSON DESIGN ASSOCIATES

31
---
Emma Jones

EMMA JONES & DAC

DAWSON DESIGN ASSOCIATES

32
---
RARE CULTURE & RARE STREET STUDIO

DAWSON DESIGN ASSOCIATES

33
---
MAEVE HARRIS

DAWSON DESIGN ASSOCIATES

34
---
EMILY RICKARD

DAWSON DESIGN ASSOCIATES

35
---
Heidi Bilezikian

Renata Domagalska; Gijon, Spain

HEIDI BILEZIKIAN & RENATA DOMAGALSKA

DAWSON DESIGN ASSOCIATES

36
---
PABLO CONTRISCIANI

DAWSON DESIGN ASSOCIATES

37
---
HELENE CRECENT & BEN GORDON

DAWSON DESIGN ASSOCIATES

38
---
MEETING ROOMS AND BALLROOMS

DAWSON DESIGN ASSOCIATES

39
---
KYLE GODERWIS

DAWSON DESIGN ASSOCIATES

40
---
NATASHA MARIE

DAWSON DESIGN ASSOCIATES

41
---
Renata Domagalska; Gijon, Spain

Jared Rue

Lydia Brooks; Vancouver Canada

Liz LaGumina; Las Vegas, NV

MEETING ROOMS AND BALLROOMS

DAWSON DESIGN ASSOCIATES

42
---
Giselle Borras

Ritchard Rodriguez

Heidi Bilezikian

RITCHARD RODRIGUEZ, GISELLE BORRAS, & HEIDI BILEZIKIAN

DAWSON DESIGN ASSOCIATES

43
---
RAREstreet; NY, NY Curated by: RAREculture Curated by: RAREculture

RARE CULTURE & RARE STREET STUDIO

DAWSON DESIGN ASSOCIATES

44
---
RAREstreet; NY, NY

RAREstreet; NY, NY

RAREstreet; NY, NY

RARE STREET STUDIO

DAWSON DESIGN ASSOCIATES

45
---
WILLIAM ATTAWAY

DAWSON DESIGN ASSOCIATES

46
---
JUN MATSUSHIMA

DAWSON DESIGN ASSOCIATES

47
---
MARTA WILEY

DAWSON DESIGN ASSOCIATES

48
---
VICKY BARRANGUET

DAWSON DESIGN ASSOCIATES

49
---
AKIKO HIROMOTO

DAWSON DESIGN ASSOCIATES

50
---
FITNESS ROOM AND GAME ROOM

DAWSON DESIGN ASSOCIATES

51
---
Manufacturer: Hallmark

GAMEROOM

DAWSON DESIGN ASSOCIATES

52
---
JULIE COYLE AND MICHAEL KIRKBRIDE

DAWSON DESIGN ASSOCIATES

53
---
GUESTROOMS

AND

GUESTROOM CORRIDORS

DAWSON DESIGN ASSOCIATES

54
---
JB Hall

Liz LaGumina

Manufacturer: Koroseal

JB HALL, LIZ LAGUMINA, & KOROSEAL

DAWSON DESIGN ASSOCIATES

55
---
Caroline Alkire

Renata Domagalska

CAROLINE ALKIRE & RENATA DOMAGALSKA

DAWSON DESIGN ASSOCIATES

56
---
Mercedes Marin

Gregory Garrett

MERCEDES MARIN & GREGORY GARRETT

DAWSON DESIGN ASSOCIATES

57
---
EMILY RICKARD

DAWSON DESIGN ASSOCIATES

58
---
PABLO CONTRISCIANI

DAWSON DESIGN ASSOCIATES

59
---
Thank you

DAWSON DESIGN ASSOCIATES

60