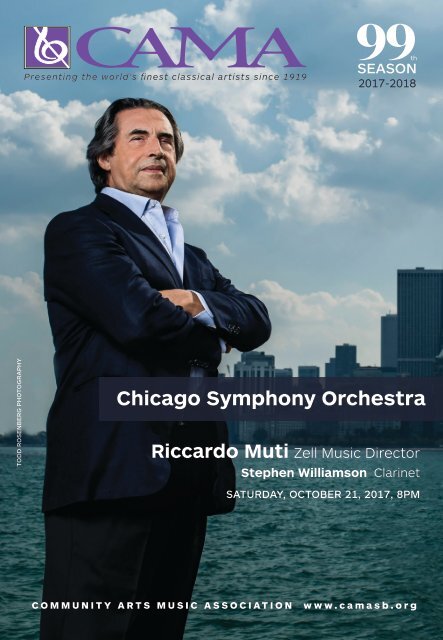 CAMA presents Chicago Symphony Orchestra - October 21, 2017 - International Series at The Granada Theatre
Chicago Symphony Orchestra Saturday, October 21, 2017, The Granada Theatre, 8pm Riccardo Muti Music Director Stephen Williamson Clarinet Franz Schubert: Symphony No.8, D.759, "Unfinished" Wolfgang Amadeus Mozart: Clarinet Concerto in A Major, K.622 Robert Schumann: Symphony No.2 in C Major, Op.61 Not seen in Santa Barbara since 1987, the Chicago Symphony Orchestra is consistently hailed as one of the greatest orchestras in the world. In collaboration with the best conductors and guest artists on the international music scene, the CSO performs well over one hundred concerts each year at its downtown home, Symphony Center and at the Ravinia Festival on Chicago's North Shore. Music lovers outside Chicago enjoy the sounds of the Chicago Symphony Orchestra through best-selling recordings and sold-out tour performances in the United States and around the globe. Maestro Riccardo Muti is one of the preeminent conductors of our day. In 2010, when he became the tenth music director of the Chicago Symphony Orchestra (CSO), he already had more than forty years of experience at the helm of the Maggio Musicale Fiorentino, Philharmonia Orchestra, Philadelphia Orchestra, and Teatro alla Scala.
Chicago Symphony Orchestra
Saturday, October 21, 2017, The Granada Theatre, 8pm

Riccardo Muti Music Director
Stephen Williamson Clarinet

Franz Schubert: Symphony No.8, D.759, "Unfinished"
Wolfgang Amadeus Mozart: Clarinet Concerto in A Major, K.622
Robert Schumann: Symphony No.2 in C Major, Op.61

Not seen in Santa Barbara since 1987, the Chicago Symphony Orchestra is consistently hailed as one of the greatest orchestras in the world. In collaboration with the best conductors and guest artists on the international music scene, the CSO performs well over one hundred concerts each year at its downtown home, Symphony Center and at the Ravinia Festival on Chicago's North Shore. Music lovers outside Chicago enjoy the sounds of the Chicago Symphony Orchestra through best-selling recordings and sold-out tour performances in the United States and around the globe. Maestro Riccardo Muti is one of the preeminent conductors of our day. In 2010, when he became the tenth music director of the Chicago Symphony Orchestra (CSO), he already had more than forty years of experience at the helm of the Maggio Musicale Fiorentino, Philharmonia Orchestra, Philadelphia Orchestra, and Teatro alla Scala.
SHOW MORE
SHOW LESS
Create successful ePaper yourself
Turn your PDF publications into a flip-book with our unique Google optimized e-Paper software.
Presenting the world's finest classical artists since 1919

Chicago Symphony Orchestra

Riccardo Muti Zell Music Director

Stephen Williamson Clarinet

SATURDAY, OCTOBER 21, 2017, 8PM

COMMUNITY ARTS MUSIC ASSOCIATION www.camasb.org
---
Presenting the world's finest classical artists since 1919

MASTERSERIES

SEASON SPONSORSHIP:

ESPERIA FOUNDATION

Juilliard String Quartet

SATURDAY, NOVEMBER 11, 2017, LOBERO THEATRE, 8PM

Joseph Lin Violin • Ronald Copes Violin

Roger Tapping Viola • Astrid Schween Cello

Franz Joseph Haydn: Quartet in D Major, Op.76, No.5

Béla Bartók: Quartet No.5, Sz.102

Antonín Dvořák: Quartet No.11 in C Major, Op.61

Known through its performances and recordings as the quintessential American string quartet,

the Juilliard String Quartet returns to the Lobero Theatre with new cellist Astrid Schween.

In 2011, the multiple Grammy® Award-winning Quartet became the first classical music

ensemble to receive a Lifetime Achievement Award from the National Academy of Recording

Arts and Sciences. Violinist Ronald Copes, a local favorite and former music faculty member at

UC Santa Barbara, has played violin II with this distinguished quartet since 1997.

Single tickets on sale now

Section: A $49 | B $39. Lobero Theatre Box Office

(805) 963-0761 • lobero.com

Simon Powis photo

MASTER CLASS

Presented by CAMA and the UCSB Department of Music

Friday,

November 10, 2017, 5pm

Karl Geiringer Hall, UCSB Department of Music

Featuring

Ronald Copes and Astrid Schween

of the Juilliard String Quartet

and students from the UCSB

Department of Music

FREE AND OPEN TO THE PUBLIC
---
Presenting the world's finest classical artists since 1919

INTERNATIONAL SERIES at The GRANADA THEATRE

SEASON SPONSORSHIP: SAGE PUBLICATIONS

Riccardo Muti, Conductor

Stephen Williamson, Clarinet

Saturday, October 21, 2017, 8pm

The Granada Theatre (Santa Barbara Center for the Performing Arts)

FRANZ SCHUBERT

(1797-1828)

WOLFGANG AMADEUS

MOZART

(1756-1791)

INTERMISSION

ROBERT SCHUMANN

(1810-1856)

Symphony No.8 in B minor, D.759 (Unfinished)

Allegro moderato

Andante con moto

Clarinet Concerto in A Major, K.622

Allegro

Adagio

Rondo: Allegro

Stephen Williamson, Clarinet

Symphony No.2 in C Major, Op.61

Sostenuto assai—Allegro ma non troppo

Scherzo: Allegro vivace

Adagio expressive

Allegro molto vivace

Programs and artists subject to change

BANK OF AMERICA IS THE GLOBAL SPONSOR

OF THE CHICAGO SYMPHONY ORCHESTRA.

International Series Season Sponsor: SAGE Publications

CAMA gratefully dedicates this performance by the

Chicago Symphony Orchestra in remembrance of Léni Fé Bland.

We request that you switch off cellular phones, watch alarms and pager signals during the

performance. The photographing or sound recording of this concert or possession of any device

for such photographing or sound recording is prohibited.

COMMUNITY ARTS MUSIC ASSOCIATION | www.camasb.org
---
Biography

Chicago

Symphony

Orchestra

The Chicago Symphony Orchestra

(CSO) is consistently hailed as one of

the greatest orchestras in the world. Its

music director since 2010 is Riccardo

Muti, one of the preeminent conductors

of our day. Founded in 1891 by its first

music director, Theodore Thomas, the

CSO's other illustrious music directors

include Frederick Stock, Désiré Defauw,

Artur Rodzinski, Rafael Kubelík, Fritz Reiner,

Jean Martinon, Sir Georg Solti, and Daniel

Barenboim. From 2006 to 2010, Bernard

Haitink served as principal conductor, the

first in CSO history. Pierre Boulez was

appointed principal guest conductor in

1995 and then named Helen Regenstein

Conductor Emeritus in 2006, a position

he held until his death in January 2016.

Celebrated cellist Yo-Yo Ma was appointed

the CSO's Judson and Joyce Green Creative

Consultant in 2010. Samuel Adams and

Elizabeth Ogonek were appointed the CSO's

Mead Composers-in-Residence in 2015.

The renowned musicians of the CSO
---
Since 1916, recording has been significant in

establishing the Orchestra's international reputation,

with recordings by the CSO earning a total of

62 Grammy ® awards...

command a vast repertoire that spans

from baroque to new music. They annually

perform more than 150 concerts, most

at Symphony Center in Chicago, and,

since 1936, in the summer at the Ravinia

Festival. The CSO also tours nationally and

internationally. Since its first tour to Canada

in 1892, the Orchestra has performed in

29 countries on five continents during

60 international tours.

Since 1916, recording has been

significant in establishing the Orchestra's

international reputation, with recordings

by the CSO earning a total of 62 Grammy

awards from the National Academy of

Recording Arts and Sciences. In 2007,

the CSO launched an independent label,

CSO Resound. The 2010 release of Verdi's

Messa da Requiem was recognized with

two Grammy awards. Listeners and fans

around the world can hear the CSO in

weekly airings of the CSO Radio Broadcast

Series, which is syndicated on the WFMT

Radio Network and online at CSO.org/

Radio. In addition, the CSO's YouTube video

of Beethoven's Symphony No.9, conducted

by Muti, has received over seven million

views.

Annually, the CSO engages more than

200,000 people of diverse ages, incomes,

and backgrounds through the innovative

programs of the Negaunee Music Institute

at the CSO. The Institute also manages the

Civic Orchestra of Chicago, the only preprofessional

training ensemble of its kind

affiliated with a major American orchestra.

The parent organization for the CSO

is the Chicago Symphony Orchestra

Association (CSOA), which also includes

the acclaimed Chicago Symphony Chorus,

directed by Duain Wolfe. Under the

banner of its presentation series, entitled

Symphony Center Presents, the CSOA

annually presents dozens of prestigious

guest artists and ensembles from a variety

of musical genres—classical, jazz, pop,

world, and contemporary.

Thousands of patrons, volunteers,

and donors—corporations, foundations,

government agencies and individuals—

support the CSOA each year. The CSO's

music director position is endowed in

perpetuity by a generous gift from the

Zell Family Foundation. The Negaunee

Foundation provides generous support in

perpetuity for the work of the Negaunee

Music Institute. t

Global Sponsor of the CSO
---
Biography

Riccardo

Muti

Born in Naples, Italy, Riccardo Muti is

one of the preeminent conductors of our

day. In 2010, when he became the tenth

music director of the Chicago Symphony

Orchestra (CSO), he had more than forty

years of experience at the helm of Maggio

Musicale Fiorentino (1968–1980), the

Philharmonia Orchestra (1973–1982), the

Philadelphia Orchestra (1980–1992), and

Teatro alla Scala (1986–2005).

Muti studied piano under Vincenzo Vitale

at the Conservatory of San Pietro a Majella

in Naples and subsequently received a

diploma in composition and conducting

from the Giuseppe Verdi Conservatory in

Milan. His principal teachers were Bruno

Bettinelli and Antonino Votto, principal

assistant to Arturo Toscanini at La Scala.

After he won the Guido Cantelli Conducting

Competition in Milan in 1967, Muti's career

developed quickly.

Herbert von Karajan invited him to

conduct at the Salzburg Festival in Austria

in 1971, and Muti has maintained a close

relationship with the summer festival

and with its great orchestra, the Vienna

Philharmonic, for more than forty-five

years. He has received the distinguished
---
Passionate about teaching young musicians,

Maestro Muti founded the Luigi Cherubini Youth

Orchestra in 2004 and the Riccardo Muti Italian

Opera Academy in 2015 to pass on the Italian opera

tradition to young conductors and répétiteurs.

Golden Ring and the Otto Nicolai Gold

Medal from the Philharmonic for his

outstanding artistic contributions to the

orchestra. He also is a recipient of a

silver medal from the Salzburg Mozarteum

and the Golden Johann Strauss Award

by the Johann Strauss Society of Vienna.

He is an honorary member of Vienna's

Gesellschaft der Musikfreunde, the Vienna

Hofmusikkapelle, the Vienna Philharmonic,

and the Vienna State Opera.

In addition to his distinguished

appointments as music director, Muti

has received innumerable international

honors. He is a Cavaliere di Gran Croce of

the Italian Republic, Officer of the French

Legion of Honor, and a recipient of the

German Verdienstkreuz. Queen Elizabeth

II bestowed on him the title of honorary

Knight Commander of the British Empire,

Russian President Vladimir Putin awarded

him the Order of Friendship, and Pope

Benedict XVI made him a Knight of the

Grand Cross First Class of the Order of

Saint Gregory the Great—the highest

papal honor. Muti also has received

Israel's Wolf Prize for the arts, Sweden's

prestigious Birgit Nilsson Prize, Spain's

Prince of Asturias Award for the Arts,

Japan's Order of the Rising Sun, Gold and

Silver Star decoration, and the gold medal

from Italy's Ministry of Foreign Affairs

as well as the prestigious "Presidente

della Repubblica" award from the Italian

government. He has received more than

twenty honorary degrees from universities

around the world.

Passionate about teaching young

musicians, Muti founded the Luigi

Cherubini Youth Orchestra in 2004 and the

Riccardo Muti Italian Opera Academy in

2015 to pass on the Italian opera tradition

to young conductors and répétiteurs.

Through Le vie dell'Amicizia, a project

of the Ravenna Festival in Italy, he has

conducted in many of the world's most

troubled areas in order to bring attention

to and advocate for civic and social issues.

Riccardo Muti's vast catalog of

recordings, numbering in the hundreds,

ranges from the traditional symphonic

and operatic repertoires to contemporary

works. He also has written two books,

Verdi, l'italiano and Riccardo Muti: An

Autobiography: First the Music, Then

the Words, both of which have been

published in several languages.t

www.riccardomutimusic.com
---
Biography

Stephen

Williamson Clarinet

Stephen Williamson is principal clarinet

of the Chicago Symphony Orchestra

under Riccardo Muti. Williamson formerly

was principal clarinet of both the New

York Philharmonic (2013–14) and the

Metropolitan Opera Orchestra (2003–11).

In addition, he has been a frequent guest

principal clarinet with the Saito Kinen

Festival Orchestra in Japan under Seiji

Ozawa.

Williamson currently is a faculty

member of DePaul University in Chicago,

Illinois. He also has served on the faculty

at Columbia University and the Mannes

College of Music in New York City, as

well as at the Pacific Music Festival in

Sapporo, Japan. He has recorded for the

Sony Classics, Telarc, CRI, BMG, Naxos,

and Decca labels, and can be heard on

numerous film soundtracks. He was a

featured soloist with the CSO under John

Williams, recording his Oscar-nominated

score for Steven Spielberg's film Lincoln.

An avid soloist and chamber musician,

Stephen Williamson has performed

extensively in the United States, Europe,

and Asia. He has collaborated with such

artists as James Levine, Yo-Yo Ma, Mitsuko

Uchida, Jeffrey Kahane, Anne-Marie

McDermott, Emanuel Ax, and Meliora

Winds; the Aspen, Dorian, and Sylvan wind

quintets; and the Brentano, American,

Jasper, Brasilia, and Dover string quartets.

Past concerto performances include

Mozart's Clarinet Concerto with the CSO

(2016), the Pacific Music Festival Orchestra

in Japan (2011), and the Metropolitan

Opera Orchestra in Carnegie Hall under

conductor Fabio Luisi (2012).

Williamson received his bachelor's

degree and performer's certificate from

the Eastman School of Music, and his

master's degree from the Juilliard School.

As a Fulbright scholar, he furthered his

studies at the Hochschule der Künste in

Berlin, where he collaborated with various

members of the Berlin Philharmonic. His

past teachers include Peter Rieckhoff,

Charles Neidich, Kenneth Grant, and

Michael Webster. He was the grand-prize

winner of the 1994 Boosey & Hawkes/

Buffet Crampon First Annual North

American Clarinet Competition. Other past

awards include the Concert Artists Guild

Competition and the Coleman International

Chamber Music Competition.

A longtime Selmer-Paris and Vandoren

Artist, Williamson currently plays Selmer

Signature clarinets and uses Vandoren

traditional reeds with a James Pyne JX/

BC mouthpiece. He resides in Wilmette,

Illinois, with his wife Jill and their sons

Ryan, Connor, and Matthew and their dog

Lila and cat Ruby. t
---
Program Notes

Franz Schubert

Born January 31, 1797; Himmelpfortgrund, northwest of Vienna, Austria

Died November 19, 1828; Vienna, Austria

Symphony No.8 in B minor,

D.759 (Unfinished)

COMPOSED

manuscript dated October 30, 1822

FIRST PERFORMANCE

December 17, 1865; Vienna, Austria

INSTRUMENTATION

two flutes, two oboes, two clarinets,

two bassoons, two horns, two trumpets,

three trombones, timpani, strings

APPROXIMATE PERFORMANCE TIME

22 minutes

FIRST CSO PERFORMANCES

October 30 and 31, 1891, Auditorium Theatre.

Theodore Thomas conducting

July 5, 1936, Ravinia Festival. Ernest Ansermet

conducting

CSO RECORDINGS

1954. Antal Doráti conducting. Mercury

1958. Bruno Walter conducting. CSO (Chicago

Symphony Orchestra in the Twentieth Century:

Collector's Choice)

1960. Fritz Reiner conducting. RCA

1968. Seiji Ozawa conducting. RCA

1978. Carlo Maria Giulini conducting. Deutsche

Grammophon

1979. Sir Georg Solti conducting. EuroArts

(video)

We don't know why Schubert never finished

his B-minor symphony. This has been one

of music's great unanswered questions for

more than a hundred years, and, despite

some intelligent speculation, we still come

up empty-handed today. At least we know

that he didn't finish it. For many years,

music lovers persisted in believing that the

missing movements sat, forgotten, in some

Viennese attic. On the other hand, scholars

no longer suggest that Schubert intended

to write a two-movement symphony, giving

the composer credit for a bold stroke that,

for all his daring, is not his.

The facts are scarce and mysterious,

which has only heightened the intrigue over

the years. There was no mention of this

symphony made during the composer's

lifetime. It lay buried, like hidden treasure,

in Anselm Hüttenbrenner's cluttered study

until the 1860s—more than thirty years after
---
Schubert's death—when it was dusted off

to take its place as No.8 among the known

Schubert symphonies.

The full score, clearly written in Schubert's

own hand, is dated 30 October 1822,

Vienna, and signed, with his characteristic

flourish, Franz Schubert. The manuscript,

headed "Symphony in B minor," includes two

movements: a wonderful, singing Allegro

moderato and a heartbreaking Andante con

moto—both so sublime that the Unfinished

nickname is all the more frustrating. On the

back of the final page of the Andante are

nine measures of a scherzo, fully scored,

followed by four blank pages. In the 1960s,

Christa Landon discovered a missing leaf

that ought to have come before the empty

pages, containing measures ten through

twenty and then stopping abruptly, as if

Schubert had been interrupted mid-thought.

(A piano sketch of the symphony shows that

Schubert had planned the entire scherzo

and the beginning of a trio.)

We don't know what interrupted

Schubert, but a number of theories have

been proposed. This was, after all, a time

of many unfinished instrumental works:

from February 1818 to November 1822,

he started and set aside three—possibly

four—different symphonies. Late in 1822,

Schubert contracted syphilis and began to

suffer from depression and failing health.

He also was nearly paralyzed by a growing

awareness of Beethoven's extraordinary

symphonic work—music that blazed new

paths in an area in which Schubert felt the

least assured. (Schubert often struggled

with the compositional process, even though

it's true that a song once came so easily to

him that he jotted it down, fully formed, on

the back of a menu.)

Perhaps Schubert was trying to face

down the giant using the language they both

understood best. He was always too shy to

contact Beethoven, even though they lived

in the same city for years. (When Beethoven

was so deaf that he provided books for

visitors to write down what they wanted to

say, his nephew Karl mentioned, in August

1823: "They greatly praise Schubert, but

it is said that he hides himself.") The two

men met only once, when Schubert went to

visit Beethoven on his deathbed with Josef

and Anselm Hüttenbrenner, the brothers

who already had Schubert's unfinished

symphony in their possession.

When Schubert abandoned work on the

B-minor symphony, he gave it to Josef

Hüttenbrenner, probably in 1823, after

ripping out the unfinished scherzo. (The first

nine measures remained simply because

they were written on the back of the Andante.)

At some point, Josef gave the manuscript

to his brother Anselm, who shoved it in

the back of a drawer. (A score by Schubert

that remained in Josef's possession—music

for Goethe's Claudine von Villa Bella—was

used by his servants as kindling sometime

in 1848.) On March 8, 1860, in a letter to

Johann Herbeck, an influential Viennese

musician, Josef casually mentioned that

Anselm "possesses a treasure in Schubert's

B minor symphony, which we rank with his

Great C-Major symphony, his instrumental

swan song, and with all the symphonies of

Beethoven—only it is unfinished." Herbeck
---
would never forget the morning some

five years later when he actually held the

manuscript in his hands.

The attempts to round off Schubert's

score—as if two polished, magnificent

movements were somehow unsatisfactory—

began with the very first performance on

December 17, 1865, when the finale of

Schubert's Third Symphony was tacked on

to ensure a rousing finish. Over the years,

other endings have been proposed. (In 1928,

the Columbia Gramophone Company even

considered hosting a competition for the best

completion of the Unfinished Symphony.)

There have always been those who claimed

that Schubert actually finished the symphony,

and, as recently as 1942, it was suggested

that Anselm Hüttenbrenner had lost the

manuscript of the last two movements.

Today, convinced by the evidence that

Schubert's Unfinished Symphony was, in fact,

never finished, we are more willing to accept

the brilliance of what we have rather than

long for what we do not.

Imagine the joy of uncovering one of

music's true masterworks. Even Eduard

Hanslick, as demanding (and sometimes

as nasty) as any critic in the nineteenth

century, quickly turned to butter when he

reviewed the first performance in 1865:

When, after the few introductory

measures, clarinets and oboes in unison

begin to sound their sweet song above the

peaceful murmur of the violins, then each

and every child recognizes the composer,

and a half-suppressed outcry "Schubert"

buzzes through the hall. He has hardly

entered, but it is as if one knows him by his

step, by his manner of lifting the latch.

We now know Schubert perhaps best

of all by that sweet song, and there are

generations of schoolchildren who may

never forget those unfortunate words—"This

is the symphony that Schubert wrote and

never finished"—that eager music teachers

have added to the lovely cello melody that

follows. The pathos and beauty of this

entire stretch of music is extraordinary, but

even more remarkable is the way Schubert

sustains the spell throughout the movement

and on into the second. Schubert's sketches

show that he originally wanted to end his

first movement in B Major—which would

have broken the mood—but he thought

better of it, leaving us instead in the dark

recesses of B minor.

The slow movement—and it is only

relatively slow, for Schubert specifies Andante

con moto (with motion)—is in the unexpected

key of E Major, where he would again uncover

great riches in the Adagio of the C-Major

string quintet. In this lovely movement, a few

especially eloquent details stand out: the

high-flying clarinet solo that gently sails over

shifting chords, and a wonderful moment of

total stillness, disturbed only by the octave

call of the horn, just before Schubert leads us

back to the opening.

And it is here, with this perfect Andante,

that we must stop. Schubert's plans for the

third-movement scherzo look promising—it

begins with a strong theme, first played in

octaves by the full orchestra. There is no

telling what might have emerged had he

polished this raw material into something as

fine as the two movements we know so well.
---
Program Notes

Wolfgang Amadeus

Mozart

Born January 27, 1756; Salzburg, Austria

Died December 5, 1791; Vienna, Austria

Clarinet Concerto in A Major,

K.622

COMPOSED

September–November 1791

FIRST PERFORMANCE

Date unknown

INSTRUMENTATION

solo clarinet, two flutes, two bassoons, two

horns, strings

APPROXIMATE PERFORMANCE TIME

28 minutes

FIRST CSO PERFORMANCES

July 25, 1957, Ravinia Festival. Reginald Kell as

soloist, Georg Solti conducting

November 18, 1961, Orchestra Hall. Clark Brody

as soloist, John Weicher conducting

This concerto is the last important work

Mozart finished before his death. He

recorded it in his personal catalog without

a date, right after The Magic Flute and La

clemenza di Tito. The only later entry is the

little Masonic Cantata, dated November 15,

1791. The Requiem, as we know, didn't

make it into the list.

For decades the history of the Requiem

was full of ambiguity, while that of the

Clarinet Concerto seemed quite clear.

But in recent years, as we learned more

about the unfinished Requiem, questions

about the concerto began to emerge. The

Requiem riddles are now largely solved,

damaging a fair amount of romantic myth

and cinematic drama in the process.

But an accurate account of the Clarinet

Concerto seems more uncertain today

than ever.

Let's start with Anton Stadler. Mozart

tells us that he wrote the concerto for

this great virtuoso clarinet player, a

close friend, a fellow Mason (although

a member of a different lodge), and, on

numerous occasions, a spirited gambling

companion. Mozart enjoyed Stadler's

friendship and admired his talent, easily

accepting that the latter was infinitely

more generous and reliable than the

former. The musical skill was evidently
---
prodigious: "One would never have

thought," wrote a critic in 1785, "that a

clarinet could imitate the human voice

to such perfection." But Sophie Haibel,

Mozart's sister-in-law, remembered Stadler

as one of the composer's "false friends,

secret bloodsuckers, and worthless

persons who served only to amuse him

at the table and intercourse with whom

injured his reputation." Perhaps she had

learned from Constanze of the 500 gulden

Mozart lent Stadler, a hefty sum that

was still unpaid when officials tallied the

composer's estate.

Stadler's true debt to Mozart is one

clarinetists still owe him today: pages

upon pages of music as precious as any

in the repertory. It's likely that Mozart

first heard Stadler play in March 1784, in

a performance of his B-flat wind serenade

(K.361). The Clarinet Trio, written two years

later and supposedly finished in a bowling

alley on one of the many occasions when

Mozart couldn't separate music from life,

may have been composed with Stadler in

mind. By 1789, the year of the magnificent

Quintet for Clarinet and Strings (K.581),

virtually every note Mozart wrote for the

instrument, including the added clarinet

parts for the great G minor symphony, was

written for Stadler.

We now come to the last year of

Mozart's life. In late August 1791,

Mozart set off for Prague to supervise

the first performances of La clemenza

di Tito, accompanied by Stadler, who

was to play in the Prague orchestra;

Franz Xaver Süssmayr, who would soon

inherit the task of finishing the Requiem;

and Constanze. Mozart worked on the

opera in the coach, writing two virtuoso

obbligato solos for Stadler. The premiere

on September 6 was decently received,

though the empress Maria Luisa is said

to have shouted from her box, "Una

porcheria tedesca!" ("German rubbish,"

to use the imperial translation.) Mozart

returned home to Vienna, leaving Stadler

behind to accept thunderous applause

and cheers from his fellow orchestra

members for his big solos each night.

On September 28, Mozart entered The

Magic Flute in his catalog; the premiere,

two nights later in a suburban Viennese

theater, was only a partial success.

Sometime in the middle of this crazy

schedule—two opera premieres in less

than a month, plus work on a requiem

that had recently Gustav Mahler, been photo commissioned

by

through a mysterious Adolph E. Bieber-Kohut messenger—Mozart

(1900)

began what would be his last concerto, for

Stadler's clarinet. But there's no mention

of the concerto until October 7, when

Mozart wrote to Constanze, who had gone

to Baden, boasting that after she left he

played two games of billiards, sold his

horse for fourteen ducats, sent out for

black coffee, and smoked a splendid pipe

of tobacco before orchestrating "almost

the whole Rondo for Stadler." A letter

dated October 14 (Mozart's last) describes

the evening Mozart took Salieri to see The

Magic Flute, an outing unfairly embellished

in Peter Shaffer's Amadeus. Little more

than a month later, Mozart fell ill; he died

in less than three weeks.
---
We come now to the questions, some

still unanswered. Around the time Mozart

met Anton Stadler, he had begun to play a

large new clarinet—today called a basset

clarinet, though in Mozart's day it had no

particular name. This curious instrument

extended the clarinet's glorious lower

register down a Major third, reaching four

new deep and resonant notes. It seems

clear that this is the instrument Mozart

had in mind when he wrote both the

celebrated quintet and this final concerto.

But by the time the Clarinet Concerto

was published, a decade after Mozart's

death, Stadler's basset clarinet had gone

out of favor, and the concerto was printed

in a version rewritten for the narrower

range of the standard clarinet. Even

though a contemporary review argued

that this wasn't the music Mozart wrote,

and Stadler was still alive to protest,

players and audiences quickly came to

accept this revised version. Mozart's

autograph score has been lost. There is,

however, a fragment, 199 measures long

and written entirely in Mozart's hand, of

a concerto in G for basset horn (another

ancient member of the clarinet family) that

nearly duplicates more than half of the

first movement of the Clarinet Concerto.

Apparently Mozart first conceived this

music for basset horn, perhaps as early

as 1787, and later rewrote and finished it

for Stadler's modified clarinet. We can't be

sure for whom the earlier concerto was

intended, nor why he chose to rewrite it

for Stadler at one of the most hectic times

in his life. But we do know that Mozart

had nothing to do with the version

for standard clarinet—the one that

generations of musicians have come to

love, and the one that Stephen Williamson

performs this week.

The concerto is one of Mozart's

most personal creations; like the final

piano concerto, it's as intimate and

conversational as chamber music, rather

than grand and dramatic. We can't

blame historians—or playwrights for that

matter—for suggesting Mozart knew

his time was running out, for the music

implies as much. The slow movement

carries an almost unnatural burden of

sadness on its simple phrases; it is one of

Mozart's greatest arias and a testament

to the power of music to say what words

cannot. Of the two outer movements, with

their endless, natural lyricism, no words

are more apt than those Mozart scholar

H.C. Robbins Landon remembered from

Shakespeare: "The heart dances, but not

for joy."
---
Program Notes

Robert

Schumann

Born June 8, 1810; Zwickau, Saxony, Germany

Died July 29, 1856; Endenich, near Bonn, Germany

Symphony No.2 in C Major,

Op.61

COMPOSED

1845–46

FIRST PERFORMANCE

November 5, 1846; Leipzig, Germany

INSTRUMENTATION

two flutes, two oboes, two clarinets, two bassoons,

two horns, two trumpets, three trombones,

timpani, and strings.

APPROXIMATE PERFORMANCE TIME

34 minutes

FIRST CSO PERFORMANCES

October 23 and 24, 1891, Auditorium Theatre.

Theodore Thomas conducting

July 2, 1942, Ravinia Festival. Dimitri Mitropoulos

conducting

CSO RECORDINGS

1957. Fritz Reiner conducting. CSO (From the

Archives, vol. 1: The Reiner Era)

1977. Daniel Barenboim conducting. Deutsche

Grammophon

In August 1844, Robert Schumann suffered a

severe breakdown. Medical reports seldom

shed much light on works of art, but in

Schumann's case, his creative process was

regularly dictated by his physical condition.

His fragile life was marked by recurring

melancholy and depression beginning as

early as 1828. There were recurrences in

October 1830, throughout 1831, and in

the autumn of 1833, when he attempted

suicide by leaping from his fourth-floor

apartment window—his diary that year

records his fear of going mad. There were

other breakdowns in 1837, 1838, and 1839,

but with the happiness of marriage to Clara

Wieck in 1840, and the abundant, joyous

outpouring of songs that year, it seemed

that he had put his demons behind him,

and that better times lay ahead.

But in 1842, Schumann collapsed from

exhaustion and overwork. The worst time

of all came in 1844: he couldn't even listen

to music—"which cut into my nerves as

if with knives"—and he complained of a

constant, debilitating ringing in his ears.

He also suffered from trembling and from
---
unreasonable fears of sharp metal objects

and heights (doubtless the consequence of

renting that fourth-floor apartment). When

Robert and Clara went to Dresden that

October, his nights were sleepless and

sheer torture; Clara would awaken to find

him "swimming in tears." He wrote no music

for a year—it took him weeks just to draft

a letter. Eventually he began to study Bach

systematically, and to try his own hand at

some compositional exercises.

This C-Major symphony is the first

large-scale piece Schumann wrote after

his breakdown. For a composer who cut his

teeth on piano pieces and songs, moved

naturally into chamber music, and had

only recently tackled writing for orchestra,

this was a bold effort, perhaps even a

test of the strength of his recuperation.

Although we know it as Schumann's second

symphony, it follows an abandoned effort

from 1832—attempted long before his

confidence and talent worked in tandem—

and several works dating from 1841: the

Spring Symphony published as his first,

the D-minor symphony later revised and

published as No.4, and the beginnings of

another symphony in C minor. Schumann

took to the new medium with great

enthusiasm, if not comparable experience:

the Spring Symphony, for example, was

sketched in four days and finished in less

than a month.

The C-Major symphony didn't go

as quickly or as easily, partly because

Schumann was feeling his way back toward

a full workload. Three years after finishing

the music, he wrote to D.G. Otten, the

music director in Hamburg:

I wrote my symphony in December

1845, and I sometimes fear my semiinvalid

state can be divined from the

music. I began to feel more myself

when I wrote the last movement, and

was certainly much better when I

finished the whole work. All the same

it reminds me of dark days.

Though Schumann did indeed write the

symphony in a month, the orchestration

took much longer. He began to score the

first movement in February 1846 and didn't

finish it until early May. The work was

completed the following October 19, just

three weeks before Felix Mendelssohn

conducted the first performance.

All of Schumann's symphonies search

for new light to shed on a familiar form.

They are marked by innovation and

experiment—and sometimes by a rather

deliberate attempt to avoid comparison

with the towering achievements of

Beethoven. The D-minor piece eventually

published as his Symphony No.4 is so

daring and unconventional that Schumann

thought of calling it a "symphonic fantasy,"

sidestepping the issue altogether. All four

published symphonies aim for unity by

linking the movements through titles or

thematic cross-reference.

The C-Major symphony begins with a

moody slow introduction, the most obvious

reminder of the composer's dark days.

More importantly, it provides the main

theme and several subsidiary ideas for the

ensuing Allegro ma non troppo as well as

the brass fanfare that returns to crown

the first three movements and to hover

near the end of the symphony. Although

the first movement itself is high in energy

and emotion, Schumann chooses to follow

it not with the accustomed calm of a slow

movement, but with a virtuosic scherzo.

And he thwarts expectations by giving us

two independent trios, the first genial in a
---
ustic way, and the second, with its theme

presented both upright and upside down, a

reminder that it was Bach's music that led

Schumann back to his desk.

Like Beethoven in his Ninth Symphony,

Schumann has kept us waiting for the slow

movement, and he does not disappoint.

This is music of great beauty, written in

C minor (the other three movements are in

C Major) and revitalized midway through by

the beginnings of a fugue—another tip of

the hat to Bach. Despite Schumann's claims

of improved health, the finale has often

troubled analysts; even Donald Tovey,

normally rational though often outspoken,

found it incoherent. It is mainly a question

of proportion. It begins with great authority

and confidence, and includes as its second

theme a brilliant transformation of the

principal melody from the Andante. The

development and recapitulation merge,

ending in C minor. Then follows a coda

so long (half the movement's length) and

remarkable that it nearly overshadows all

that came before. It is based on a theme

that is completely new to the symphony,

though Schumann had used it before, in his

Piano Fantasy, pointedly borrowing it from

Beethoven's An die ferne Geliebte (To the

distant beloved), where it accompanies the

words "Take, then, these songs of mine."

By 1845 Schumann had married his own

beloved, offering her some 121 songs in

the year of their marriage alone, and so the

reference is both loving and triumphant, a

reminder that it was Clara who encouraged

Robert to try writing for orchestra, wisely

promising that "his imagination cannot find

sufficient scope on the piano."

—Phillip Huscher

Phillip Huscher has been the program annotator for the Chicago Symphony Orchestra since 1987.
---
CHICAGO SYMPHONY ORCHESTRA

RICCARDO MUTI zell music director

Yo-Yo Ma Judson and Joyce Green Creative Consultant

Duain Wolfe Chorus Director and Conductor

Samuel Adams, Elizabeth Ogonek Mead Composers-in-Residence

VIOLINS

Robert Chen

Concertmaster

The Louis C. Sudler

Chair, endowed by an

anonymous benefactor

Stephanie Jeong

Associate Concertmaster

The Cathy and Bill Osborn

Chair

David Taylor

Yuan-Qing Yu

Assistant

Concertmasters*

So Young Bae

Cornelius Chiu

Alison Dalton

Gina DiBello

Kozue Funakoshi

Russell Hershow

Qing Hou

Blair Milton

Paul Phillips, Jr.

Sando Shia

Susan Synnestvedt

Rong-Yan Tang §

Baird Dodge

Principal

Sylvia Kim Kilcullen §

Assistant Principal

Lei Hou

Ni Mei

Fox Fehling

Hermine Gagné

Rachel Goldstein

Mihaela Ionescu

Melanie Kupchynsky §

Wendy Koons Meir

Matous Michal

Simon Michal

Aiko Noda

Joyce Noh

Nancy Park †

Ronald Satkiewicz

Florence Schwartz

VIOLAS

Charles Pikler §

Principal

The Paul Hindemith

Principal Viola Chair,

endowed by an

anonymous donor

Li-Kuo Chang

Assistant Principal

The Louise H. Benton

Wagner Chair

John Bartholomew

Catherine Brubaker

Youming Chen

Sunghee Choi

Wei-Ting Kuo

Danny Lai

Diane Mues

Lawrence Neuman

Max Raimi

Weijing Wang

CELLOS

John Sharp

Principal

The Eloise W. Martin Chair

Kenneth Olsen

Assistant Principal

The Adele Gidwitz Chair

Karen Basrak

Loren Brown

Richard Hirschl

Daniel Katz

Katinka Kleijn

Jonathan Pegis §

David Sanders

Gary Stucka

Brant Taylor

BASSES

Alexander Hanna

Principal

The David and

Mary Winton Green

Principal Bass Chair

Daniel Armstrong

Roger Cline †

Joseph DiBello

Michael Hovnanian

Robert Kassinger

Mark Kraemer

Stephen Lester

Bradley Opland

HARPS

Sarah Bullen

Principal

Lynne Turner

FLUTES

Stefán Ragnar Höskuldsson

Principal

The Erika and Dietrich M.

Gross Principal Flute Chair

Richard Graef

Assistant Principal

Emma Gerstein

Jennifer Gunn

PICCOLO

Jennifer Gunn

OBOES

Michael Henoch

Assistant Principal

The Gilchrist

Foundation Chair

Lora Schaefer

Scott Hostetler

CLARINETS

Stephen Williamson

Principal

John Bruce Yeh

Assistant Principal

Gregory Smith

J. Lawrie Bloom

E-FLAT CLARINET

John Bruce Yeh

BASS CLARINET

J. Lawrie Bloom

BASSOONS

Keith Buncke

Principal

William Buchman

Assistant Principal

Dennis Michel

Miles Maner

CONTRABASSOON

Miles Maner

HORNS

Daniel Gingrich

Acting Principal

James Smelser

David Griffin

Oto Carrillo

Susanna Gaunt

TRUMPETS

Mark Ridenour

Assistant Principal

John Hagstrom

Tage Larsen

TROMBONES

Jay Friedman

Principal

The Lisa and Paul Wiggin

Principal Trombone Chair

Michael Mulcahy

Charles Vernon

BASS TROMBONE

Charles Vernon

TUBA

Gene Pokorny

Principal

The Arnold Jacobs

Principal Tuba Chair,

endowed by Christine

Querfeld

TIMPANI

David Herbert

Principal

The Clinton Family Fund

Chair

Vadim Karpinos

Assistant Principal

PERCUSSION

Cynthia Yeh

Principal

Patricia Dash

Vadim Karpinos

James Ross

LIBRARIANS

Peter Conover

Principal

Carole Keller

Mark Swanson

ORCHESTRA PERSONNEL

John Deverman

Director

Anne MacQuarrie

Manager, CSO Auditions

and Orchestra Personnel

STAGE TECHNICIANS

Kelly Kerins

Stage Manager

Dave Hartge

James Hogan

Peter Landry

Christopher Lewis

Todd Snick

Joe Tucker

EXTRA MUSICIANS

Jonathan Cegys bass

Ying Chai violin

Kiju Joh violin

Tamae Clara Takarabe

violin

Alex Vvedenskiy oboe

*Assistant concertmasters

are listed by seniority.

†On sabbatical

§On leave

The Chicago Symphony

Orchestra string sections

utilize revolving seating.

Players behind the first desk

(first two desks in the violins)

change seats systematically

every two weeks and are

listed alphabetically. Section

percussionists also are

listed alphabetically.
---
Presenting the world's finest classical artists since 1919

Board of Directors

(as of October 9, 2017)

ROBERT K. MONTGOMERY president

DEBORAH BERTLING, first vice-president

CRAIG A. PARTON second vice-president

WILLIAM MEEKER treasurer

JOAN R. CROSSLAND secretary

Bitsy Becton Bacon

Edward Birch

Jan Bowlus

Daniel P. Burnham

Stephen Cloud

NancyBell Coe

Bridget B. Colleary

Robert J. Emmons

Jill Felber

Joanne C. Holderman

Judith L. Hopkinson

James H. Hurley, Jr.

Peter O. Johnson

Elizabeth Karlsberg

Lynn P. Kirst

Frank E. McGinity

Raye Haskell Melville

Stephen J.M. (Mike) Morris

Patti Ottoboni

Andre M. Saltoun

Judith F. Smith

Sam Toumayan

Judith H. Writer

Catherine Leffler,

president, CAMA Women's Board

Emeritus Directors

Russell S. Bock*

Dr. Robert M. Failing

Mrs. Maurice E. Faulkner*

Léni Fé Bland*

Arthur R. Gaudi

Stephen Hahn*

Dr. Melville H. Haskell, Jr.*

Mrs. Richard Hellmann*

Dr. Dolores M. Hsu

Herbert J. Kendall

Robert M. Light*

Mrs. Frank R. Miller, Jr.*

Sara Miller McCune

Mary Lloyd Mills

Mrs. Ernest J. Panosian*

Kenneth W. Riley*

Mrs. John G. Severson*

Nancy L. Wood

* Deceased

Administration

Mark E. Trueblood

executive director

Elizabeth Alvarez

director of development

Linda Proud

office manager/subscriber services

Justin Rizzo-Weaver

director of operations

2060 Alameda Padre Serra, Suite 201 Santa Barbara, CA 93103 Tel (805) 966-4324 Fax (805) 962-2014 info@camasb.org
---
Presenting the world's finest classical artists since 1919

Michael Tilson Thomas

INTERNATIONAL SERIES

SEASON SPONSORSHIP: SAGE PUBLICATIONS

ST. LOUIS SYMPHONY

ORCHESTRA

SPONSORS

Dan & Meg Burnham

Ellen & Peter Johnson

CO-SPONSORS

Anonymous

Dorothy Roberts

Barbara & Sam Toumayan

George & Judy Writer

LOS ANGELES

PHILHARMONIC

PRINCIPAL SPONSOR

The Samuel B. and Margaret C.

Mosher Foundation

SPONSORS

Nancy Schlosser

The Towbes Fund for the Performing Arts, a

field of interest fund of the

Santa Barbara Foundation

CO-SPONSORS

Bitsy & Denny Bacon and the

Becton Family Foundation

Frank Blue & Lida Light Blue

Robert & Christine Emmons

Ronald & Rosalind A. Fendon

Dorothy & John Gardner

Jocelyne & William Meeker

ORCHESTRA OF THE AGE

OF ENLIGHTENMENT

SPONSORS

Hollis Norris Fund

Alison & Jan Bowlus

CO-SPONSORS

Louise & Michael Caccese

The CAMA Women's Board

Lynn P. Kirst

Bob & Val Montgomery

Michele & Andre Saltoun

ACADEMY OF ST. MARTIN

IN THE FIELDS

SPONSORS

Judith L. Hopkinson

Sara Miller McCune

CO-SPONSORS

Peggy & Kurt Anderson

Edward DeLoreto

Jocelyne & William Meeker

Ellen & John Pillsbury

Michele & Andre Saltoun
---
DAVID ROBERTSON

SAN FRANCISCO

SYMPHONY

PRIMARY SPONSOR

The Elaine F. Stepanek

Concert Fund

PRINCIPAL SPONSOR

Herbert & Elaine Kendall

SPONSOR

Bitsy & Denny Bacon and

the Becton Family Foundation

CO-SPONSORS

Anonymous

Lynn P. Kirst

Jocelyne & William Meeker

MASTERSERIES

SEASON SPONSORSHIP:

ESPERIA FOUNDATION

JUILLIARD STRING QUARTET

SPONSOR

Bitsy & Denny Bacon and the

Becton Family Foundation

PETER SERKIN, piano

CO-SPONSOR

CAMA Women's Board

CONCERT PARTNERS

Steve Cloud

Elizabeth Karlsberg & Jeff Young

Stephen J.M. & Anne Morris

SIR ANDRÁS SCHIFF, piano

PRINCIPAL SPONSOR

The Stephen & Carla Hahn Foundation

CO-SPONSORS

Stephen J.M. & Anne Morris

Craig & Ellen Parton

CONCERT PARTNERS

Virginia Castagnola-Hunter

Bridget Colleary

Raye Haskell Melville

Isabel

Bayrakdarian

ISABEL BAYRAKDARIAN, soprano

ST. LAWRENCE STRING QUARTET

SPONSOR

CAMA Women's Board

CO-SPONSOR

Stephen J.M. & Anne Morris

CONCERT PARTNERS

Robert Boghosian &

Mary E. Gates-Warren

Department of Music, UC Santa Barbara

Frank McGinity

Sheila Bourke McGinity

Sir András Schiff