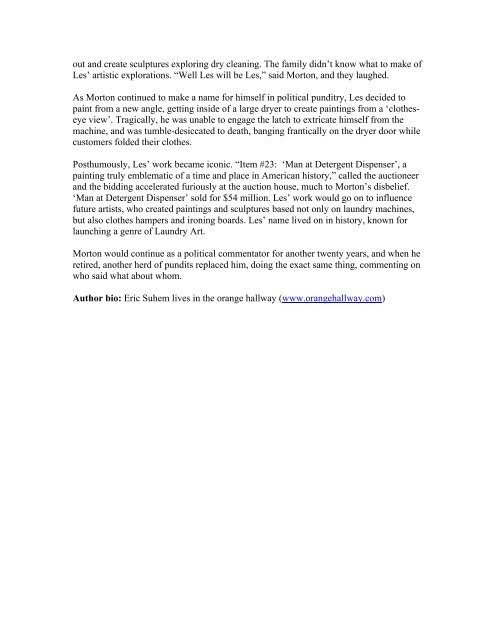 Klox and Katz Ink
Clockwise Cat Issue 38, aka Klox and Katz Ink, is dripping with delightful decoration of the Verse, Visual, reView and inVective variety! Poems exploding from our inkwells include those from authors Mary Newell, Jeri Thompson, Heath Brougher, Featured Femme Tara Roeder, Holly Day, AJ Huffman, Daniel Crocker, Ken Allan Dronsfeld, Austin Alexis, Judith Huang, CL Bledsoe. Further bursting forth from our inky loins are satires and rants by Steven Singer, Jon Wesick, Fred White, Selah Grenewood, Eric Suhem, Joshua Hall. And our canvas is positively bleeding visuals by the eminent talents Sheila Murphy and Bob Heman, plus collages and photomanipulations by Nelly Sanchez, Erica Olson, and Seigar. But wait - there's more! Our pages are sticky with the reviews of the latest CDs by Kendrick Lamar and Run The Jewels, as well as appraisals of recently released flix Kedi, Detroit and Julieta. We even showcase an interview with the AfroSurreal Writers of Oakland, California! So whaddya waitin' fer? Get thee to the inkery! www.clockwisecat.com
Clockwise Cat Issue 38, aka Klox and Katz Ink, is dripping with delightful decoration of the Verse, Visual, reView and inVective variety!
Poems exploding from our inkwells include those from authors Mary Newell, Jeri Thompson, Heath Brougher, Featured Femme Tara Roeder, Holly Day, AJ Huffman, Daniel Crocker, Ken Allan Dronsfeld, Austin Alexis, Judith Huang, CL Bledsoe. Further bursting forth from our inky loins are satires and rants by Steven Singer, Jon Wesick, Fred White, Selah Grenewood, Eric Suhem, Joshua Hall. And our canvas is positively bleeding visuals by the eminent talents Sheila Murphy and Bob Heman, plus collages and photomanipulations by Nelly Sanchez, Erica Olson, and Seigar. But wait - there's more! Our pages are sticky with the reviews of the latest CDs by Kendrick Lamar and Run The Jewels, as well as appraisals of recently released flix Kedi, Detroit and Julieta. We even showcase an interview with the AfroSurreal Writers of Oakland, California! So whaddya waitin' fer? Get thee to the inkery! www.clockwisecat.com
SHOW MORE
SHOW LESS
You also want an ePaper? Increase the reach of your titles
YUMPU automatically turns print PDFs into web optimized ePapers that Google loves.
out and create sculptures exploring dry cleaning. The family didn't know what to make of

Les' artistic explorations. "Well Les will be Les," said Morton, and they laughed.

As Morton continued to make a name for himself in political punditry, Les decided to

paint from a new angle, getting inside of a large dryer to create paintings from a 'clotheseye

view'. Tragically, he was unable to engage the latch to extricate himself from the

machine, and was tumble-desiccated to death, banging frantically on the dryer door while

customers folded their clothes.

Posthumously, Les' work became iconic. "Item #23: 'Man at Detergent Dispenser', a

painting truly emblematic of a time and place in American history," called the auctioneer

and the bidding accelerated furiously at the auction house, much to Morton's disbelief.

'Man at Detergent Dispenser' sold for $54 million. Les' work would go on to influence

future artists, who created paintings and sculptures based not only on laundry machines,

but also clothes hampers and ironing boards. Les' name lived on in history, known for

launching a genre of Laundry Art.

Morton would continue as a political commentator for another twenty years, and when he

retired, another herd of pundits replaced him, doing the exact same thing, commenting on

who said what about whom.

Author bio: Eric Suhem lives in the orange hallway (www.orangehallway.com)