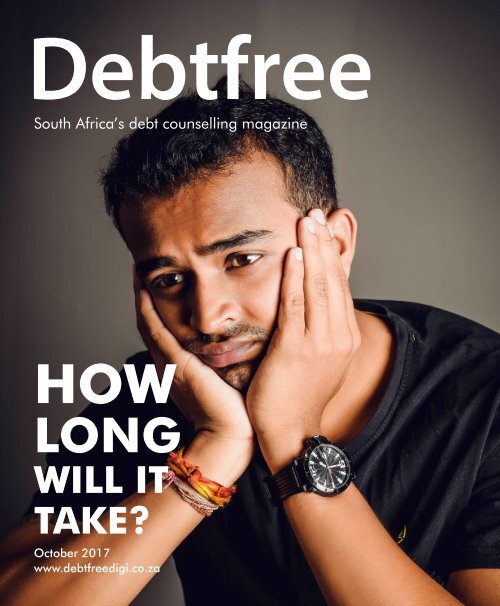 Debtfree Magazine October 2017
SA"s Free Monthly Debt Review & Debt Counselling Magazine. Oct 2017 issue: We discuss how long it is going to take you to pay off your debts (incl through debt review). We also have profiles, advice, news and more.
SA"s Free Monthly Debt Review & Debt Counselling Magazine. Oct 2017 issue: We discuss how long it is going to take you to pay off your debts (incl through debt review). We also have profiles, advice, news and more.
SHOW MORE
SHOW LESS
Create successful ePaper yourself
Turn your PDF publications into a flip-book with our unique Google optimized e-Paper software.
South Africa's debt counselling magazine

HOW

LONG

WILL IT

TAKE?

October 2017

www.debtfreedigi.co.za
---
What you can expect from Hyphen PDA:

• Increased Debt Counsellor Profitability

• Flawless Systems

• Meaningful Reporting

• Contented Consumers!

www.hyphenpda.co.za

Chris van der Straaten,

Head: PDA

082 557 0437

Malcom Povey,

Head: Operations PDA

082 445 5604
---
Don't expect to hear an endless amount

of "spin" around why things failed!.
---
"Good things come to those who

wait". "Time heals all wounds".

"Slow and steady wins the race".

All these sentiments which you

have, at some time, no doubt

heard also apply to paying off

debt.

Whereas taking on debt can happen

basically overnight (with one big

mall crawl) getting rid of that same

debt can take a really long time. But

how long will it take? We discuss

that in some detail in this issue as

we compare the different types of

credit consumers can use and how

long it normally takes to pay off that

credit. We then compare that with

three common mechanisms to deal

with debt (including debt review).

We also discuss what drives some

consumers to leave the process of

debt review when it is in it's very first

few weeks. You might be surprised

to learn just how any consumers

do this. We look at why it is a really

bad idea for both the consumer and

the negative effect it has on a Debt

Counsellor's business.

Our industry profile this month is

with a long standing attorney who

has seen the industry grow and

change over the years. She offers

some advice to both consumers and

Debt Counsellors. We also answer

a rather common question that we

have received from one of our many

readers. If you recently entered debt

review then you should check that

out.

It may take you a lot longer than

you would like to get rid of your

debt. After all, we are becoming

increasingly programmed to want

instant gratification these days.

(Wait 3 minutes for my Mc Donald's

Burger? What is this the stone ages!)

That's the bad news but the good

news is that time flies. So, stick with

the process, get on with life (not

debt) and before you know it you

will be debt free.
---
FROM

THE

E

D

IT

O

RSDESK
---
HOW LONG?

NUTSHELL

C

DREADED

DROP OFF

NEWS

O

NTENTS

ATTORNEY

PROFILE

SERVICE

DIRECTORY

DISCLAIMER

Debtfree Magazine considers its sources reliable

and verifies as much information as possible.

However, reporting inaccuracies can occur,

consequently readers using this information do

so at their own risk. Debtfree Magazine makes

content available with the understanding that

the publisher is not rendering legal services or

financial advice. Although persons and companies

mentioned herein are believed to be reputable,

neither Debtfree Magazine nor any of its

employees, sales executives or contributors accept

any responsibility whatsoever for their activities.

Debtfree Magazine contains material supplied to

us by advertisers which does not necessarily reflect

the views and opinions of the Debtfree Magazine

team. No person, organization or party can copy

or re-produce the content on this site and/or

magazine or any part of this publication without

a written consent from the editors' panel and the

author of the content, as applicable. Debtfree

Magazine, authors and contributors reserve their

rights with regards to copyright of their work.
---
HOW LONG

DOES IT

TAKE TO

REPAY DEBT?

Different types of credit are repaid over

different lengths of time. Smaller debts are

often paid quickly while bigger debts, like a

home loan, can take decades to repay. Some

forms of credit can be used without being

charged within the first 55 days and others

have sky high interest rates over a few weeks

or months at a time.

We consider these repayment time-periods

and compare that with how long it takes to

repay debt through debt review.
---
HOW LONG DOES IT TAKE TO REPAY DEBT?

REPAYMENT

TERMS

Buy Now, Pay Later... When consumers apply for credit it is normally

because they want to benefit from something now and pay it back

later. The time it takes to repay a debt is normally set out in months

and is called the repayment "term".

In this series of articles we will deal with the normal repayment terms that

are common for credit in South Africa. There are two main types of credit:

Unsecured credit which is credit like a loan, a credit card or overdraft

facility. You also get secured credit which is for things like car finance or a

home loan, where an asset is involved.

The general rule of thumb is that the longer you repay a debt, the more

you end up paying. This helps the credit provider offset the risk they are

taking that you will default on payments during an extended time period.
---
UNSECURED CREDIT

HOW LONG WILL IT TAKE TO REPAY?

DAYS

Some credit providers offer payday loans which need to be paid back at

the end of the month when you get your salary.

WEEKS

Short term loans normally have high interest rates to go with their initiation

fees. Most of these loans are for smaller amounts and the interest is a

small amount as long as you repay the debt quickly.

MONTHS

A popular offering these days are smaller 3, 6 or 9 month loans.
---
UNSECURED CREDIT

HOW LONG WILL IT TAKE TO REPAY?

YEARS

More credit providers these days are offering consumers larger amounts

of money in loans that can be repaid over very long time periods. For

example, some banks offer up to R250 000 which can be repaid over 60

or even 84 months. That's either 5 years or even 7 years.

Direct Axis offer loans of up to R150 000 and offer consumers 6 years to

pay the loan back. They say that 24% of their clients use a new big loan

to pay off all their other smaller existing credit so they can end up only

paying Direct Axis each month.

Capitec offer up to R250 000, which can be repaid over up to 7 years. In

total over all that time you will repay around R447 996 if you get a good

interest rate. If you take a smaller loan of R1000 and repay it over 12

months, you will pay around R265 a month (so nearly 3 times the loan

amount in the end).

ABSA offer clients credit from as little as R250 up to R350 000 over up to

7 years. If you borrow R250 and repay it within 31 days you will only pay

R275.

If you borrow R350 000 and repay it over 7 years, your payments over all

those years will add up to R678 718, including interest and fees.
---
Sign Up Now To Use DReX

http://www.consumerfriend.co.za/drex-registration/
---
HOW LONG DOES IT TAKE TO REPAY DEBT?

CREDIT THAT

ROLLS OVER

Some accounts have an overdraft facility, which allows a consumer

to spend a bit more than they actually have in their account. The

limits can differ based on each consumer.

As long as money comes back into the account pretty regularly each month,

the credit provider will let you use the credit and be happy to charge you

fees on the debt. You have serious problems only if you stop paying or the

credit maxes out.

Payback your credit card in full within 55 days and you are not charged

for the credit. Miss the deadline and fees begin to apply. Many credit card

calculations are based on 18 or 24 month repayment terms.
---
HOW LONG DOES IT TAKE TO REPAY DEBT?

SECURED

CREDIT

When you want to buy something big, like a car or a house, then you

can get asset back finance from creditors like SA Home loans or any

of the big banks.

Other than the banks vehicle finance arms, like Wesbank or MFC, many

vehicle brands also have their own related finance companies (eg. BMW

Finance).

If you miss payments then the credit provider will take the asset back from

you and sell it to recover some of the funds you owe them, before they

chase you for whatever is left over.
---
HOW LONG DOES IT TAKE TO REPAY DEBT?

CARS

Though you can repay vehicle finance over just a few months, most

consumers take a 60 month or 72 month repayment term. This means

that you will repay the debt over 5 or 6 years.

In the past, most credit providers asked for a big deposit to prove you were

committed to the process and reduce their risk. In a move to get more

consumers, many creditors began to offer smaller monthly repayments

and a big balloon repayment in the last month of the credit agreement.

A car loan of R100 000 at a low 10%, will cost around R133 386 in total

repayments to pay off over 6 years. At 17% it adds up to around R160 172

in total, showing how important a good interest rate is over time.
---
7YEARS
---
30

YEARS
---
HOW LONG DOES IT TAKE TO REPAY DEBT?

HOME LOANS

Consumers normally repay a home loan over 20, 25 or 30 years.

As long as they make payments every month for all those years, their

home will not be in danger of being sold on auction by the bank.
---
HOW LONG DOES IT TAKE TO REPAY DEBT?

SEQUESTRATION

When consumers are sequestrated, the legal process lasts 10 years

from when the court order is granted, clearing the debt. The debt is

cleared because the consumer's assets are used to settle as much of

the debt as possible.

The consumer also has to pay many thousands in fees for this process. A

consumer can later pay more costs and apply to have this period shortened

if they are financially sound once again after a number of years (5yrs).
---
10

YEARS
---
30

YEARS
---
HOW LONG DOES IT TAKE TO REPAY DEBT?

A COURT

JUDGEMENT

Credit providers can be granted a judgment against consumers who

do not repay their debts.

If a consumer doesn't repay their debts as per their agreement with a credit

provider, then the credit provider can start the collections process and

eventually send a summons to court. The credit provider can be granted

a judgment and can then try to collect the debt from a consumer any time

over the next 30 years.
---
HOW LONG DOES IT TAKE TO REPAY DEBT?

ADMINISTRATION

For debts totalling less than R75 000 consumers can enter

Administration and pay off their debts over time.

The process has a reputation for being a long one, and can go on almost

indefinitely if payments are not more than the 15.5% interest accruing.
---
60

MONTHS
---
HOW LONG DOES IT TAKE TO REPAY DEBT?

DEBT REVIEW

Debt review is a legal process where a court restructures a consumers

debt repayment obligations. Smaller debt amounts can be paid within

a few months but debt review can also be used to pay off millions of

Rand in debt.

A consumer is able to stay in debt review and pay off all their smaller

debts until they only have their home loan left, and then they can leave the

process and gain access to credit again.

Most credit providers like to receive repayment plans over 60 months (5

years)*. Credit providers like to see everyone treated the same, and so

even small debt amounts are often calculated over the same 60 month

time period. As a result many Debt Counsellors first try see if a plan over

60 months will work for the consumer before looking at shorter or longer

repayment options.

* Each consumers' debt review is unique and repayment terms differ as a result. We are

using the average and credit provider preferred repayment terms which are not obligatory,

since the National Credit Act only stresses the 'eventual' satisfaction of debt, which could

take many years. Ultimately a court decides how much is paid each month and for how

long, not the Debt Counsellor (who makes a suggestion) nor the credit provider.
---
HOW LONG DOES IT TAKE TO REPAY DEBT?

IS THIS A

LONG TIME?

When you consider that consumers who have a big loan or vehicle

finance were expecting to repay debt over 5 or even 7 years then no,

this is not a particularly long period of time to repay all one's debt.

All that is happening is that fees and charges as well as interest rates

are being reduced to try help the consumer.

Even compared to sequestration, which can take a decade (without credit

access) or administration which can take many, many years, the process is

a fairly reasonable one which benefits credit providers greatly. Consumers

also benefit from reasonable monthly repayment amounts.

Credit cards that would previously have been paid over 2 years are often

now paid up during the 4th year of the debt review (or sooner). Large loans

are normally left at 60 months but credit providers are willing to slash

interest rates all the way to 0% to get the debt repaid within 60 months.
---
Rather than face a judgment collection over 30 years, a consumer can

get a debt restructuring court order, and then benefit from a clear credit

record down the line.

One of the benefits of Debt Review is the ability to get back on one's feet

financially during the process, and then being able to pay more than

originally planned. Increasing one's monthly repayment amount speeds

up the process. This allows the consumer to pay off their debt much sooner

than proposed. Many consumers are now leaving debt review after 2 or

sometimes 3 years.
---
QUESTIONS FROM OUR READERS

Q

A

Credit Provider called and said that my accounts are not being

paid. Should I be worried? Should I cancel my debt review?

A

If you recently began debt review it is important to remember that

in month one and two of the process there are fees which will affect

payments of your debts. If you have a smaller monthly payment (less than R6000)

it is possible that your payments are being allocated to the Debt Counsellor

and attorneys (as per your repayment plan- which your credit providers have

received).

If you get a call from someone saying they are from the credit provider and

saying things like this, be sure to check that they actually know what they are

talking about. Ask them which PDA is doing your Distributions and how much

the court order (or proposal) says they should get this month? Check that with

papers you have from your Debt Counsellor. If there is a difference then get

them to contact your Debt Counsellor. Remember your debt review is a legal

matter and they need to talk to the applicant or your attorneys.

Never cancel your debt review without first having a very serious and very

detailed conversation with your Debt Counsellor (not just one of their staff

members). Leaving debt review in a rush can leave you in a worse financial

situation than before the process even started. This can be true even after

several years. Talk to your Debt Counsellor.
---
DEBT REVIEW

SCHOOL

The person you regularly deal

with at your debt counselling

firm may not be your official

Debt Counsellor. They may just

work for the DC

assisting them.

Learn your DC's

name.
---
THE

DREADED

DROP OFF

The struggle for Debt Counsellors to find new

clients to assist, amongst the millions of over

indebted South African credit users, remains

something of a confusing dilemma. Despite

millions of consumers in serious debt trouble,

most Debt Counsellors struggle to find enough

new clients (each month) to remain profitable.

A hidden challenge faces these businesses

called "Drop Off" where the DC could see

hours, or even days of hard work going down

the drain. We consider some of the causes and

possible solutions in combating "Drop Off".
---
THE DREADED DROP OFF

WHAT IS

DROP OFF

When a consumer applies for help with a Debt Counsellor, they begin

a legal process as set out in the National Credit Act.

The process begins with the Debt Counsellor performing a review of the

consumers' monthly expenses and debt situation. Many hours are spent

devising a plan that will probably make all parties happy and is affordable

for the consumer. Negotiations are entered into and court documents are

drafted.

Some consumers decide that they do not actually want to continue with

the debt review they have just started. Many times they decide this at the

end of the first month when payment of the new restructured repayment

amount is due. Leaving debt review at this point is called "drop off". This

leaves the Debt Counsellor unpaid for the many hours or even days of

work they have already spent on the consumer's case. Drop off can also

apply to leaving debt review suddenly but in this article we will focus on

these first few weeks of the process.
---
THE DREADED DROP OFF

THE GOOD

THE BAD

THE UGLY
---
The Good

Though figures of drop off are

affected by various factors every

company will face this challenge.

For smaller firms who take on

fewer clients, the rate of drop off

is traditionally fairly low. But some

smaller firms can face up to 50%

drop off over time.

The Bad

Some well-known and well run

larger firms face drop off figures of

up to 30%. This means 3 out of every

10 new clients that they do work for,

will never pay them.

The Ugly

Other firms, who have a poor

reputation of focussing solely on

signing consumers up for debt review

in a hurry, without really explaining

the process well, reportedly have up

to 60% drop off rate. That means

that 6 out of every 10 clients who

sign up will never pay a cent and

will pull out of debt review as it gets

going.
---
THE DREADED DROP OFF

TIME IS

MONEY

Consumers who apply for debt review are, by law listed as such at

every credit bureau.

This will prevent them from accessing further credit (even if they could

afford more credit - which is unlikely). Many consumers with this status

later struggle to get the Debt Counsellor or the NCR to get the status

removed at the credit bureaus.

Most of the work for a debt review matter is done in the first 3 weeks of the

process. Many hours, and a lot of effort can go unpaid when consumers

pull out of the process without ever paying. This means that the Debt

Counsellor has wasted a lot of time and expense and it can negatively

affect their business' sustainability.
---
Designed by Freepik www.freepik.com/free-vector/time-is-money_777517
---
THE DREADED DROP OFF

CAUSES OF

DROP OFF

There are many reasons why people drop out of the process soon after

signing up. Let's consider some of them.

1 2

Some consumers are contacted

by debt Counsellors offering debt

review and agree to sign up without

fully thinking things through. They

soon have "buyers remorse" and

decide not to go ahead.

Consumers are contacted by agents

who mislead them into thinking

debt review is actually something

else. They may use terms like "debt

consolidation" or "negotiations with

your credit providers" and not fully

and clearly disclose that the process

they are talking about is debt review.

Consumers later feel tricked even

though the process will help them.
---
3 4

Some consumers have low levels of

follow-through in all aspects of life.

They vacillate between choices and

have no commitment. They may

initially think they want to sort out

their debt situation but later decide

they don't really care.

Because some Debt Counsellors do

not educate their clients on what to

expect, the consumer may not know

what to expect each week during the

first few weeks of debt review. They

may have high expectations which,

when not met, may upset them.
---
THE DREADED DROP OFF

5 6

The consumer may not realise that

their bank account will be debited by

their PDA with a reference code they

do not easily recognise (because it is

new). They may then go and dispute

the debit at the bank and this can

cause big problems.

Bad credit provider collections

behaviour can also convince

consumers that the brand new debt

review is not working. Many credit

providers allow their collection

agents to continue pestering

consumers even after they enter

debt review.
---
THE DREADED DROP OFF

7 8

Some collection agents may

confuse consumers by offering them

alternative deals on one debt and

ignore all the other debts included

in the debt review. The consumer

may think the deal on the one debt

through the collections agent is

good enough to forget about the

debt review and all other debts.

Collections agents may tell a

consumer that their debts have not

been paid since they entered debt

review. Because the consumer may

think this person works for a big

bank they must be more trustworthy

than the new debt counselling firm

they have started the process with.
---
THE DREADED DROP OFF

TEST THEM

Someone telling you the debt review is not working? Do they actually

know all about your debt review? Test their knowledge of your case

before believing what they say!

ASK:

• Who is my Debt Counsellor?

• Which PDA are payments done through?

• Which court is my application at?

• Do you work directly at the bank or for an outside company?

• Do you know what amount the court order debt restructuring plan

says the credit provider will get this month (and next)?

• IF IN THE FIRST MONTH: Do you know what fees I am paying to the

Debt Counsellor this month?

• IF IN THE SECOND MONTH: Do you know what fees are going to

my attorneys this month?

Remind the person calling: This is a legal matter before court. Your attorneys

should contact my attorneys or the applicant in the court matter who is the

Debt Counsellor and not me.
---
THE DREADED DROP OFF

DON'T

DROP OFF

Consumers

Consumers should not enter debt

review without intending to follow

through with the process. Debt review

is a legal process and once started

is hard to simply walk away from

without negative consequences.

Debt Counsellors

Debt Counsellors should be careful

of pressuring consumer into entering

the process to quickly without fully

explaining all the benefits and the

process step by step. Don't just quickly

sign up lots of people and hope that

some will follow through with the

process. Consumer education and

a high level of commitment from

both of you are key.
---
PROFESSIONAL DEBT

COUNSELLING ATTORNEYS

TEL: 021 872 1968

11 MARKET STREET, PAARL

www.steyncoetzee.co.za
---
083 232 1908

MELIORLEAF WON'T

LOAD YOUR PREMIUMS

OR REPUDIATE A

LEGITIMATE CLAIM

Specialist insurance for people in debt

review. Ask your debt counsellor.

CALL US NOW 0861 635 467

www.meliorleaf.co.za
---
DEBT REVIEW

SCHOOL

Your monthly debt review

repayment will probably be done

via a Payment Distribution

Agency. Learn which PDA your

DC likes to use.

Learn their name.

Ask if they are

registered with

the NCR.
---
SURE

Credit ProteCtion – debt review

Applied to go under debt review?

Restructuring your monthly expenses?

why not insure all your accounts on the one Credit Protection?

benefits offered

• death – we settle the account

• temporary disability – we pay your

installment for 12 months

• Permanent disability – we settle

the account

• Critical illness – we pay your

installment for 3 months

• retrenchment – we pay your

installment for 12 months

At a rate of R2.95 per R1000

unsecured/short-term credit

and R2.00 per R1000 on

Mortgages, you can now

insure your debt for less

without compromising on the

best benefits available.

For further information please

speak to your Broker alternatively

contact your regional ONE office.

0861 266 562

admin.debt@one.za.com

TERMS & cONDITIONS APPLY

ONE Insurance Underwriting Managers (PTY) LTD Reg No. 1996/008987/07

Authorised Financial Services Provider FSP8783 VAT No. 4370160501

Underwritten by:

A Member of A member of the Group
---
For daily debt counselling news in 3 minutes

or less visit www.debtfreedigi.co.za

NEWS

NCR Vs BMW Finance

The National Credit Regulator

(NCR) has sent BMW Finance a

compliance notice over their "on the

road" fees. A compliance notice is

a scary document telling a Credit

Provider to change something or

face possible action at the National

Consumer Tribunal (NCT) which can

result in big fines.

"On the road" fees basically cover

having the dealer get the car

registration and license plates taken

care of so that the consumer does

not have to handle that. The new

car owner can then just hop in the

car and be on the road. Sometimes

there are other facets to the fee (like

a tank of petrol) that might also be

included.

These fees can amount to a lot of

money. Anywhere from R2500 to

R6000 or more depending on the

dealer. Alternatively, registration

and obtaining of new plates can be

done by the consumer if they do not

wish to pay this fee.

The NCR have told BMW Finance to

stop including these fees in the cost

of credit to the consumer since the

National Credit Act does not make

allowance for them. They have

gone further and said the Credit

Provider had better refund affected

consumers who have been charged

financing fees on these costs.

The NCR have demanded that BMW

Finance do an internal audit and

provide figures about consumer

affected and the subsequent refunds

that will be done. BMW Finance

say they are not happy with the

compliance notice and disagree

with the NCR's interpretation in this

regard.
---
NEWS

NCR Call For Quarterly Reports

Each quarter Debt Counsellors

submit figures to the NCR about their

clients. The NCR are now waiting on

the latest quarterly reports to come

in. The latest quarter was from 1st of

July till the end of September 2017.

Now that September has past, Debt

Counsellors have a few weeks (until

the 15th of November) to submit their

reports. The NCR encourage Debt

Counsellors not to wait until the last

minute to submit their reports and to

hand them in as soon as possible.

Completed reports can be sent to

dcreturns@ncr.org.za

Bailout Sees CitiBank Get It's

Instalment From SAA

Government recently gave the 'go

ahead' to use funds from the National

Revenue Fund to shore up bankrupt

South African Airways (SAA). An

amount of R3 Billion is being used

to prevent SAA from defaulting on

its obligations. Recently CitiBank

refused to give SAA an extension of

payment deadline on a tidy figure

of R1.8 Billion. If the Airline had

defaulted they would have triggered

a guarantee totalling R16.4 Billion.

Over the last short while SAA had

about R6.8 Billion in loans that have

all matured at the same time and

Treasury has been working non stop

to try and get the various lenders to

allow further time for repayment,

including Citibank. Halfway through

the year, R2,2 Billion had to be paid

to Standard Chartered Bank when

they refused to extend their loan

to SAA. Citibank then became the

second bank to refuse any such

extensions despite Treasury's' pleas.

An extra R1.2 Billion working capital

has been made available to try to

turn things around for the flailing

airline. Already the airline has

reduced the number of planes in

the air and flights from the end of

this month, in an effort to see fewer,

fuller airplanes flying at better profit

margins.
---
Jothie Bechoo

ATTORNEYS & DEBT

COUNSELLOR

Taking care of all your legal needs

Specialising in Debt Review Applications

for Debt Counsellors/Attorneys

Our offices personally attends to debt

review applications in the following

courts:

Durban

Pinetown

Chatsworth

Verulam

Ntuzuma

We aim to have debt review orders

granted at the first court appearance

We avoid unnecessary adjournments

Our fees are reasonable

We have six years' experience in Debt

Review applications

We assist clients in Rescission of Debt

Review orders & administration orders

Suite 7 Gladstone Court

103 Smiso Nkwanyana [Goble] Road

Morningside

Durban

Tel: 031 303 1004

Mobile: 076 835 2810

Email: jbechoo@jb-attorneys.co.za

Also specializes in:

Deceased Estates, Wills, Divorces, Ante Nuptial Contracts, Correspondent Attorney, Rescissions
---
STUCK

USING

ANCIENT

TECHNOLOGY?

Contact Maximus on 011 451 0041
---
NEWS

RCS and Pick n Pay

Pick n Pay has transitioned their

popular smart shopper rewards

card into a clever short term credit

facility. Consumers have become

familiar with the smart shopper

rewards card and many enjoy the

benefits of discounts on various

products and accruing cash back

points. Working together with RCS,

Pick n Pay are now offering credit

facilities between R1000 and a

whopping R40 000, depending on

consumers creditworthiness.

If the debt is paid back within 55days

there are no additional charges

beyond a very low R10 monthly fee.

Pick n Pay have also chosen to forego

any initiation fees and are going so

far as to offer clients around R200

off on their initial purchase using

the credit facility. You will now find

staff at each centre offering to help

you sign up.

Consumers who are so financially

stressed that they are now desperate

enough to buy food on credit should

strongly consider debt counselling.

Rather than plunge further and

further into debt just to put food on

the table, it is much better to slowly

and progressively get out of debt.

Pick n Pay are reacting to contracted

spending by their clients during

recession and competition from

other grocery suppliers who offer

credit (like Woolies and Massmart).

RCS will do the collecting and

carry the risk on delinquencies but

will benefit directly from any credit

charges. Pick n Pay hope to benefit

from their clients adding additional

items to their shopping carts.

For daily debt

counselling news in 3

minutes or less visit

www.debtfreedigi.co.za
---
South Africa's

leading Debt Counsellors

Click through to

www.creditmatters.co.za

or call our national call centre on

086 111 6197
---
DEBT REVIEW

SCHOOL

Find out exactly when your

new debit order (for your debt

repayments via the PDA) will

be made so that you don't panic

when your new

debt repayment

is made for the

first time.
---
IN A NUTSHELL

TACKLING

CHANGE:

ARE YOU

A CHANGE

AGENT?

People, companies and industries land up in trouble because they fail

to take the time to reflect and act when change is needed. Change is

uncomfortable and at times very painful. But change is necessary.

Change is vital for personal growth and business development.

The debt review process is difficult primarily because people have to change

their lifestyles; they have to adopt new mindsets and new behaviours. As a

debt counsellor you not only need to provide financial advice but you also

have to understand behaviour from a psychological perspective.

According to an article in Psychology Today, entitled Business: Why change

is so hard, and how to make it easier, there are four obstacles, pointed
---
out by Jim Fallon, that get in the way of change, namely, past baggage,

habits, emotions and the environment.

Firstly, low self-esteem, fear of failure, the need for control and wanting

to please others is baggage that often seeds poor spending behaviour.

This baggage makes you feel, think and behave like you did as a child as

opposed to how you should behave as an adult. Secondly, this behaviour

becomes deeply ingrained in the form of habits. Without much reflection,

people mindlessly spend and continue to get deeper and deeper into

trouble.

" "

Change is hard because people

overestimate the value of what they

have and underestimate the value of

what they may gain by giving that up.

~James Belasco and Ralph Stayer,Flight of the Buffalo (1994).

Thirdly, emotions like fear, anger, and frustration also prevent change as

people refuse to accept reality. Fourthly, the environment that people are

in may not be supportive of change. Friends, parents, children and work

colleagues may not support change and in some cases contribute to the

reasons why people become over-indebted.

As a debt counsellor there are things that you can do to help people

change:

1. Set a clear vision – Help define a future state that is clear and motivating

for the individual, for example, "by year three, I will be debt free,

and still own a home that I can be proud of."

2. Be honest about the change process – Confirm that it takes enormous

courage, determination and at times a 'leap of faith' to make
---
IN A NUTSHELL

TACKLING CHANGE:

ARE YOU A CHANGE AGENT?

changes. It won't be an easy process. But the end result will be worth

it. Jim Fallon equates this to jumping into cold water. Initially, it's cold

and you regret taking the plunge, but eventually you get used to the

temperature, what was uncomfortable is now refreshing.

3. Help identify the obstacles that have led to the problem – Be

compassionate in this process; much of what people do is done in an

unconscious state. By helping to identify the baggage, the habits, the

emotions, and the environment that contributes to bad spending, you

will bring these issues out into the open, giving people the opportunity

to consciously tackle their own problems.

4. Set goals – they should be specific, time orientated and measurable.

For example, "by the end of the year, I will no longer have any credit

card or store card debt."

5. Define the action steps that need to be taken to help people achieve

their goals and their vision. At this stage, it is appropriate to prepare

a 'new' budget and repayment plan that will help the individual reach

both their future vision and short-term goals.

6. Don't stop reminding people along the way and reinforcing the fact

that they are making good changes.
---
As a debt counsellor, you are a 'change agent'. However, it's not always

easy to understand the complexity of human psychology that gets in the

way of good decisions. With the right combination of compassion, support

and guidance people can change.

IN A NUTSHELL is brought you by the NPDA Partnership Programme, designed to support

debt counsellors and consumers during the debt review process. For help, contact the NPDA on

0861 628 628.

If you have suggestions for topics that you would like covered in future, please email them to info@dcmgroup.co.za

If you have found this article useful, go-ahead and share it with your clients.

Debt Review Awards Winner 2014 and 2015:

NPDA: Payment Distribution; Client & Customer Service; Industry Support & Engagement

Care Premier: Debt Counselling Software
---
All professionals have professional indemnity if the unforeseen

happens. Do you as a professional Debt Counselor have

professional indemnity as stipulated by the ethical code?

contact us today for more information

086 111 2882

TELEPHONE 0861 112 882 FACSIMILE 086 605 9751 MOBILE 082 449 6856 EMAIL andre@in2insurance.co.za

www.in2insurance.co.za

don't be a twit

http://twitter.com/Debtfree_DIGI
---
Die Republiek van

SKYT AFRICA

Hallo Almal,

Verlede maand het ons gepraat oor die vakansies wat voorlê en die

verantwoordelike finansiële besluite wat daarmee gepaard gaan.

Hier die maand wil ek aan twee aspekte raak wat ons verhoed om by

sulke besluite te maak en daarby te hou.

Die een is weerstand teen verandering en die ander een is hardkoppigheid.

Laat ons nou maar eerlik wees ons is n vreeslike hardkoppige nasie en dit

bring n vreeslike weerstand in ons op. Ons kan maklik, wanneer dit ons

pas, iemand se raad beskou as voorsê, en niemand sê vir ons voor nie. Jy

het reeds die gesonde besluit gemaak om onder skuldberadering te gaan

en dit is juis waar dinge begin moeiliker raak, daar is veranderinge wat

in jou finansiële lewe moet plaasvind en dan begin die weerstand opbou.

Dinge is ewe skielik nie meer "lekker" nie, die skuldberader het my nie

dit of dat vertel nie, hoekom word ek geforseer om aan te pas? Hoekom

moet ek my lewenstyl verander?
---
Niemand het gesê dit gaan maklik wees nie, inteendeel dit is n moeilike

pad om te stap maar dit is een wat jou van finansiële ondergang gaan

beskerm en red. Die oomblik wanneer jy voel die weerstand in jou begin

opbou en jy kom agter dat jy verskonings begin uitdink om nie met die

program voort te gaan nie bel jou skuldberader, al is dit net dat hy of sy

jou moet herinner aan die voordele, die gemoedsrus en die welstand na

die "swaarkry". Al moet jy die elke maand doen, jou skuldberader is daar

om die pad saam met jou te loop en hulle neem net so baie trots daarin

wanneer die hele proses suksesvol as jy.

So ten slotte moenie dat weerstand teen verandering en hardkoppigheid

in hardegatheid verander nie en die hele proses opfoeter nie. Dit is nie

n pad wat jy self hoef te stap nie, vra raad, vra ondersteuning, deel jou

vrese en bekommernisse en kry weer daardie gemoedsrus. Praat met jou

skuldberader!

Groetnis.

Christo Hattingh

Kyk gerus my LinkedIn profile:

https://www.linkedin.com/in/christo-hattingh-351a52130/

* Seriously please do let us know if you found this article to be

funny/offensive/amusing/interesting feedback@debtfreedigi.co.za
---
NCPDA2

R E G . 2 0 0 8 / 0 1 8 7 4 1 / 0 7

PAYMENT DISTRIBUTION AGENCY

TRANSPARENCY

INTEGRITY

COMPLIANCE

COMPANY BACKGROUND

On 28 August 2008, DC Partner began

distributing funds newly appointed by the

National Credit Regulator as a accredited

Payment Distribution Agent.

DC Partner's business has continued to

steadily grow ever since 2008 and is a

financially strong company that strives for

excellent service to our customers.

DC Partner is one of only three NCR

accredited PDA's in South Africa and its

operations are based out of the scenic town

of George in the beautiful Southern Cape,

with satellite offices in Pretoria and Cape

Town. At present, the company employs

roughly 100 people. DC Partner has a high

level of commitment and quality control.

SECURE DISTRIBUTION OF DEBT

REVIEW FUNDS

DC Partner takes pride in providing accurate

and timely distributions. After all, the ability

to accurately and speedily distribute funds

from consumers to credit providers forms the

cornerstone of the debt review cycle.

Distributions are strictly done according to

the distribution plan provided by the relevant

debt counselor.
---
W H Y C H O O S E D C P A R T N E R A S P D A ?

A client relationship officer is assigned for EACH

Debt Counsellor – Single point of contact &

communication!

We assist to follow up on default clients, unpaid

funds and unidentified deposits.

National representation – Frequent face to face visits

to your office by skilled, trained agents.

Automated e-mails which can be sent directly from

our system – 17.1, 17.2, proposals, cascades etc.

Systematized client statements for each distribution

sent as e-mail or sms.

Daily Distributions on all clients.

24 Hour access to our system (Including distribution

data) from any PC, Cell Phone or tablet with internet

access.

Individual, dedicated business bank account for each

debt counsellor.

Multiple management review reports accessible

directly to manage your debt review business and

processes.

HEAD OFFICE:

59 VICTORIA STREET, GEORGE

TEL: 044 873 4530 EMAIL: PDA@DCPARTNER.CO.ZA

WWW.DCPARTNER.CO.ZA
---
KIM

ARMFIELD

AND ASSOCIATES
---
KIM

ARMFIELD

AND ASSOCIATES

Debtfree took some time to speak

to well respected Attorney, Kim

Armfield who has been dealing

with debt review matters for

many years. We asked her a few

questions about her practice,

her cases and about debt review

matters at court.
---
Why did you get

into law?

Life happens. It was never my

intention to study law, but we are not

always in control of what happens

in life. My first job was as a legal

typist at a reputable law firm in Cape

Town from there I moved up to legal

secretary, head of collections, and

started studying at Unisa part time.

My previous employers, Visagie Vos

& Partners, offered to fund my studies

and gave me the opportunity to do

my articles with them. Of course, I

will always be grateful for this and I

remind myself from time to time that

it was this grace and generosity that

built our practice.

How long have you

been practicing?

I qualified and started practising

as attorney in 1998 and started

practising for my own account, after

gaining some valuable experience,

in 2003.
---
ATTORNEY PROFILE | KIM ARMFIELD AND ASSOCIATES

What kind of services

do you offer / law do

you practise?

In my almost 20 years of practise

I have done a myriad of matters,

including collections, general

litigation, criminal matters, family

law, deceased estates, commercial

law (contracts) and more recently

family mediation. At present, I

specialise in debt review matters

and family law, but our practice

does attend to various other matters

which I oversee (and please note that

I generally refer to "our practice"

as opposed to "my practice" as

it takes a trusting team to make

a successful practice). Attorneys

and even magistrates had, at the

commencement of debt review,

viewed it as a somewhat inferior

area of legal practice (in fact, I was

once openly asked by a magistrate

why have I studied so many years

"just to do debt review". Thankfully

I am not too concerned about

people's perceptions and I do not

believe debt review to be inferior in

any way. I believe this perception

has since changed, as lawyers have

come to realise how dynamic debt

review can be. And at the end of

the day, it is all about people, as

opposed to lofty academic opinions.
---
Do you think that

consumers are

benefiting from

debt review?

On the whole, absolutely yes. You

do still find some "rogue" Debt

Counsellors (well, you find that in any

industry), but Debt Counsellors are

now mostly concentrating on getting

the best deal for the consumer.

There is a real need for debt review

and there will always continue to

be a need for it. I also believe that

stats will show that debt review does

relieve over-indebtedness and many

consumers, since the inception of

debt review in 2007, have become

debt free thanks to this process.

What kind of

assistance do

Debt Counsellors

need from

attorneys such

as yourself?

Guidance. Advice. Support. And

sometimes someone to vent to about

the NCR or their consumer who is

still complaining, even after being

offered a lifeline. Sadly, there seem

to be some Debt Counsellors who

view attorneys as the enemy, and I

am really not sure why. We are here

to cover your back and help you get

that required court order, and much

more in fact.
---
ATTORNEY PROFILE | KIM ARMFIELD AND ASSOCIATES

What kind of

assistance do

consumers need

from yourselves

in the debt review

process?

Our clients are the Debt Counsellors

and not, in fact, the consumers. That

being said, we still have contact

with the consumers to obtain

documentation or their signatures

on Confirmatory Affidavits. And

with the permission of our Debt

Counsellors, we sometimes contact

them for further information for a

Supplementary Affidavit. And then

of course there is that errant credit

provider who issues a Summons

despite you being under debt review.

This sometimes still happens and we

assist the consumers directly here,

with the permission of our Debt

Counsellors.
---
Are some courts

easier than others?

Do fish swim? I am going to take

it that your question is as rhetorical

as mine. There are definitely some

courts that are regarded as 'easier'

than others. Whilst, in theory, a

Magistrates is a creature of statute

(he has to stay inside the four

corners of legislation and may not

use his own discretion unless this is

specifically authorised in the relevant

legislation), in reality Magistrates do,

in fact, go beyond the scope of their

authority. Sometimes a Magistrate

may not have had his 'Kellogg's'

that morning and as a result, wants

to find fault somewhere with an

application. I would personally like

to see more courts taken on appeal

so that the industry can become

more uniform.
---
ATTORNEY PROFILE | KIM ARMFIELD AND ASSOCIATES

What kind of things

can delay a court

application?

Most of the delays at courts are as a

result of Confirmatory Affidavits not

having been signed or lodged at

court. There are some other causes

of delay, for instance a magistrate

may query a budget and want us to

file a Supplementary Affidavit, but

this is not the norm. mostly court

matters move quite swiftly if the

application is done right.

Any interesting

cases recently?

We were recently part of an appeal

matter in the Western Cape High

Court regarding the question of

whether or not legislature intended

for interest rates to be reduced by

consent between the CP and DC

(which we argued in favour of). This

matter was, in fact, argued prior to

the recent judgment of Sansom vs

Mars & Others, but our two judges

still have as yet to hand down their

judgment. This has become quite

moot though, in view of the Mars

judgment, although it is rumoured

that one of the banks may be taking

an aspect of the Mars judgment on

appeal...
---
don't be a twit

http://twitter.com/Debtfree_DIGI
---
"

Take care of your

"

consumers and keep

your attorney close
---
ATTORNEY PROFILE | KIM ARMFIELD AND ASSOCIATES

Have you ever

handled reckless

credit matters?

I have done but Debt Counsellors,

mostly, do not wish to take on such

matters (for good reason). Success

is not always guaranteed. A matter

I argued on, quite extensively, was

regarding an amount advanced to

a consumer (who was no ordinary

consumer and owned a farm worth

at least R8 million) despite the fact

that the bank knew he was not able

to afford the repayments at the

time. The court unfortunately found

that the consumer had voluntarily

consented to the advance and could

not plead ignorance, as he was

clearly an astute and knowledgeable

consumer. We had expected to win

based on the requirements of the

NCA. And were disappointed. The

fact is, most courts are loathe to

grant an reckless credit order against

a credit provider and I believe this is

because they do not want to allow

consumers to evade responsibility.

However, one needs to assess each

matter on its merits.
---
ATTORNEY PROFILE | KIM ARMFIELD AND ASSOCIATES

Are there any areas

of the NCA that you

feel will be looked

at if/when there is a

NCA amendment?

Absolutely. I would strongly the

suggest the amendment of Section

86(11) to include a provision

allowing a debt review court to

entertain a Sect. 86(11) application.

At present, the High Court has

interpreted this provision to mean

that it is only the enforcing court that

can hear a Sect. 86(11) application

(for the reinstatement of an account

under debt review). More often than

not, the Credit Provider will thus

ensure that they issue summons

out of the High Court, which is not

as readily accessible (and so very

intimidating) to the lay consumer. It

would be far more beneficial (and

practical) to argue the possibility of

reinstating an account before the

magistrate who will also attend to

the debt review application.
---
What advice do

you have for Debt

Counsellors?

Do not take chances. Do not get into

any deals involving under the table

deals. Do not try and take short cuts.

There is absolutely nothing legally

wrong with a call centre set-up, but

take care of it as you would a growing

baby. If you get your act together

and your motives are right, there

is no reason why you cannot and

should not have a thriving business.

Take care of your consumers, and

keep your attorney close!

What advice do you

have for consumers?

Take responsibility for your actions but

never feel ashamed or embarrassed

about making mistakes in life. We

all do. What is important is to do

something about it. Also remember

that it is your debt, and not that of

your Debt Counsellor. Your Debt

Counsellor is there to assist you, but

your DC is not there to wave a magic

wand and make it all disappear.

Follow up on the process, keep track

of your payments. Get the vision,

stick to the process and you will get

out of debt.
---
DEBT COUNSELLORS ASSOCIATIONS

ANNOUNCEMENT BOARD

Regional Meetings

Kwa-Zulu Natal: 27/10/17

Western Cape: 07/11/17

Freestate: 20/10/17

Gauteng: 24/10/17

Eastern Cape (PE): 27/10/17

Check the website for details on

a possible East London Meeting

(8/11/17)

www.dcasa.co.za

Farmers and communist party join

forces to fight evictions:

https://tinyurl.com/y73c58mm

www.newera.org.za

We will not be holding any regional meetings

till next year. Members are encouraged to

start talking to clients about the end of the

year and not missing payments.

Last month marked the last of our

newsletters in Debtfree magazine

for now. We will post news here & on

Facebook

NEWS: The NCR sent an

acknowledgement for our fees

submission

www.bdcf.co.za

www.allprodc.org
---
DON'T WORK WITH AN OUT

DATED VERSION OF THE ACT

UPDATED

2017

We are happy to announce that the Amended National Credit Act booklet

is now available via our shop.

Get the latest version for only R250.00

ORDER NOW

http://debtfreedigi.co.za/product/pocket-sized-national-credit-act-booklet/
---
DEBT COUNSELLING

COMMUNITY SUPPORT

DEBT COUNSELLING

BACK

COMMUNITY SUPPORT

TO

SCHOOL

For most parents, January's back to school costs are far away and

their focus is simply on making it to the end of the year. But families

in debt review need to be more prudent and plan better than most

families. When a family enter debt review and switch to a cash

lifestyle they need to get wise about saving toward upcoming costs

since they cannot simply put purchases on their credit cards as many

do. But what happens when there just are not enough funds to take

care of extra costs even if you are in debt review?

Contact admin@dccsupport.co.za
---
Debt Counselling Comunity Support have over the last few years been

able to help vulnerable debt review families get through this tricky part

of the year with help from generous industry sponsors. Debt Counsellors,

attorneys, PDAs and credit providers have all clubbed together to help

out those deserving hard working, loyally paying consumers under debt

review who are feeling the pressure.

Once again this year DCCS will be launching an end of year drive to get

supplies ready for the January Back to School drive. Vouchers and bags

full of clothing or stationery will be provided for those families identified by

Debt Counsellors in the community. If you know of any families who might

qualify then please contact admin@dccsupport.co.za

Click here to Sponsor a Back To School Pack
---
CLICK THE C

SERVICE D

DEBT COUNSELLORS

SUPPORT

SERVICES

TRAINING

FINANCIAL

FINANCIAL

PLANNING
---
IRECTORY

ATEGORY

DO YOU WANT TO LIST

YOUR COMPANY?

directory@debtfreedigi.co.za

LEGAL

CREDIT BUREAUS

PAYMENT

DISTRIBUTION

AGENCIES

CREDIT PROVIDER CONTACT

DETAILS & ESCALATION PROCESS
---
DEBT COUNSELLORS

GAUTENG

KWAZULU-

NATAL

FREE STATE
---
LIMPOPO NORTH WEST EASTERN CAPE

MPUMALANGA NORTHERN CAPE WESTERN CAPE
---
PENNY WISE

Cathy Foster

Debt Counsellor – NCRDC1977

Penny Wise Debt Counselling

Tel: (011) 679 1540

Fax: 086 719 3378

Mobile: 083 298 4467

Email: cathy@pennywise.co.za

www.pennywise.co.za

Credit Matters

South Africa's Leading

Debt Counsellors

14th Floor, The Pinnacle

Cnr Strand & Burg St

Cape Town

Tel: 086 111 6197

Fax: 021 425 6292

info@creditmatters.co.za

GAUTENG

Armani Debt Counselling

Take the First Step

to Financial Freedom

Tania Dekker

Tel: 011 849 3654 / 7659

www.armanigroup.co.za

Dynamix Debt Counselling TLC

Alida Christie NCRDC2324

Office 1, 34 Beefwoodstreet,

Vanderbijlpark, 1911

Tel: 079 520 4369

Tel: 016 100 8020

tlcdebt@mweb.co.za
---
Specialist Debt Management Centre

Beverley Ludick, NCRDC948

Pretoria

Tel: 012 377-3557

Email: obligco@gmail.com

Email: dc@obligco.co.za

www.obligco.co.za Tel: 0861 123 644

Email: info@debtrescue.co.za

Creators In Financial Wellbeing

NCRDC677

You Are Not Alone

We'll handle your creditors so you

don't have to!

1 Dingler Street, Rynfield, Benoni

0861 10 11 00

info@debtmend.co.za

www.debtmend.co.za

NCRDC197

Tel: 011 660 9970

Fax: 086 540 5017

KRUGERSDORP

e-mail: nicky@nvdmdc.co.za

www.nvdmdc.co.za

All Debt Solutions

Fast tracking your financial freedom

Tel: 0861 255 3328 / 021-557 9981

Email: info@allds.co.za

www.alldebtsolutions.co.za

https://www.facebook.com/

alldebtsolutions

CCDC

Consumer Care Is our Priority.

Tel: 018 462 4263 / 073 624 6949

Email: info@ccdc.co.za

www.ccdc.co.za
---
DEBT NO MORE - NCRDC1973

Christelle du Toit

Tel: 016 423 6301

Cell: 083 321 6731

FAX: 086 219 3306

Email: debtnomore@jjckruger.co.za

www.jpawfin.co.za

GAUTENG

MV Business Empowerment

9 River Road

Morning Hill

Bedfordview

(next to Eastgate mall)

Tel: 083 490 3339

velaphi@infitech.co.za

Suite 7 Gladstone Court

103 Smiso Nkwanyana [Goble] Road

Morningside

Durban

Tel: 031 303 1004

Mobile: 076 835 2810

Email: jbechoo@jb-attorneys.co.za
---
National Debt Advisors

Fighting For Consumer Justice

Tel: 021 007 1688

www.nationaldebtadvisors.co.za

Tel: 0861 123 644

Email: info@debtrescue.co.za

KWAZULU-

NATAL

Restore your

financial wellness

Debt Review Specialists

23 Coronation Road

Mithanagar

Tongaat

4399

Tel: 071 222 9481

Tel: 032 944 3446

admin@kmadebt.co.za

www.kmadebt.co.za

Our Debt Management

Process is Easy!

DEBT

REVIEW

AWARDS

Telephone

031 303 2448 / 084 250 2356

www.debtfinesse.co.za
---
Credit Matters

South Africa's Leading

Debt Counsellors

14th Floor, The Pinnacle

Cnr Strand & Burg St

Cape Town

Tel: 086 111 6197

Fax: 021 425 6292

info@creditmatters.co.za
---
National Debt Advisors

Fighting For Consumer Justice

Tel: 021 007 1688

www.nationaldebtadvisors.co.za

Credit Matters

South Africa's Leading

Debt Counsellors

14th Floor, The Pinnacle

Cnr Strand & Burg St

Cape Town

Tel: 086 111 6197

Fax: 021 425 6292

info@creditmatters.co.za

FREE STATE

Tel: 0861 123 644

Email: info@debtrescue.co.za
---
LIMPOPO

National Debt Advisors

Fighting For Consumer Justice

Tel: 021 007 1688

www.nationaldebtadvisors.co.za

Credit Matters

South Africa's Leading

Debt Counsellors

14th Floor, The Pinnacle

Cnr Strand & Burg St

Cape Town

Tel: 086 111 6197

Fax: 021 425 6292

info@creditmatters.co.za

Depopulating a generation of over

indebted and populating a debt free

generation.

Office no 2, 5 A Schoeman Street,

Polokwane

Tel: 0152912731

Tel: 0877028518

Email: admaau66@gmail.com

www.maaudebts.co.za

SMS Salary Management Services

Annerien de Jager

Registered Debt Counsellor

NCRDC0075

015 307 2772

info@smslimpopo.co.za

Tel: 0861 123 644

Email: info@debtrescue.co.za
---
GMC Debt Solutions

52 Kerk Street

Lydenburg

Tel: 087 802 7054

Tel: 087 151 1034

gmcrox@telkomsa.net

Tel: 0861 123 644

Email: info@debtrescue.co.za

MPUMALANGA

Credit Matters

South Africa's Leading

Debt Counsellors

14th Floor, The Pinnacle

Cnr Strand & Burg St

Cape Town

Tel: 086 111 6197

Fax: 021 425 6292

info@creditmatters.co.za

National Debt Advisors

Fighting For Consumer Justice

Tel: 021 007 1688

www.nationaldebtadvisors.co.za
---
National Debt Advisors

Fighting For Consumer Justice

Tel: 021 007 1688

www.nationaldebtadvisors.co.za

Credit Matters

South Africa's Leading

Debt Counsellors

14th Floor, The Pinnacle

Cnr Strand & Burg St

Cape Town

Tel: 086 111 6197

Fax: 021 425 6292

info@creditmatters.co.za

NORTH WEST

Depopulating a generation of over

indebted and populating a debt free

generation.

Tel: 0861 123 644

Email: info@debtrescue.co.za

Office No. 6, Prime Pharm Building,

36 Dr Nelson Mandela Drive

Tel: 0186320053

Tel: 0877026744

Email: papi@maaudebts.co.za

www.maaudebts.co.za
---
National Debt Advisors

Fighting For Consumer Justice

Tel: 021 007 1688

www.nationaldebtadvisors.co.za

Credit Matters

South Africa's Leading

Debt Counsellors

14th Floor, The Pinnacle

Cnr Strand & Burg St

Cape Town

Tel: 086 111 6197

Fax: 021 425 6292

info@creditmatters.co.za

NORTHERN CAPE

Tel: 0861 123 644

Email: info@debtrescue.co.za
---
National Debt Advisors

Fighting For Consumer Justice

Tel: 021 007 1688

www.nationaldebtadvisors.co.za

Credit Matters

South Africa's Leading

Debt Counsellors

14th Floor, The Pinnacle

Cnr Strand & Burg St

Cape Town

Tel: 086 111 6197

Fax: 021 425 6292

info@creditmatters.co.za

EASTERN CAPE

Tel: 0861 123 644

Email: info@debtrescue.co.za
---
WEBSITE | www.debt-therapy.co.za

debt therapy

integrity guaranteed

debt therapy is registered with NCR | NCRDC49

National Debt Advisors

Fighting For Consumer Justice

Tel: 021 007 1688

www.nationaldebtadvisors.co.za

Drastically reduce your monthly

debt repayments

Let US help 0861111863

Regain control of your finances

www.debt-therapy.co.za

WESTERN CAPE

CONSOLIDEBT

Heidie Knorr NCRDC209

Paarl, Worcester, Wellington, Ceres,

Piketberg, Clanwilliam, Vredendal

Tel: 021 863 2754 / 082 380 4401

consolidebt@vodamail.co.za

Encouraging Freedom, Creating Wealth

Etienne Pieterse NCRDC2210

Tel. (021) 204-8001

etienne@ffsdc.co.za

www.financialfreedomsolutions.co.za
---
ISISEKO DEBT HELP

Get Your Life back on track

TEL: 087 230 0223

FAX: 086 551 1649

EMAIL: makanti@isiseko.co.za

WEB: www.isiseko.co.za

NCRDC1142

No 2 Golden Isle Building

281 Durban Road, Oakdale,

Bellville, 7535

Tel: 086 111 3749

Email: help@zerodebt.co.za

www.zerodebt.co.za

Credit Matters

South Africa's Leading

Debt Counsellors

14th Floor, The Pinnacle

Cnr Strand & Burg St

Cape Town

Tel: 086 111 6197

Fax: 021 425 6292

info@creditmatters.co.za

All Debt Solutions

Fast tracking your financial freedom

Tel: 0861 255 3328 / 021-557 9981

Email: info@allds.co.za

www.alldebtsolutions.co.za

https://www.facebook.com/

alldebtsolutions

"There is no dignity quite so

Impressive and No Independence

quite so important as Living

within your Means - Calvin Coolidge"

For your Convenience Our Range of

Services are Availble to you Anywhere in

South Africa!

Jackie Coetzee

079 317 8557

022 713 2021

documentswc@fusiondc.co.za
---
Tel: 0861 123 644

Email: info@debtrescue.co.za

Your Guide to Financial

Wellness and Recovery

0861 229 922

info@debthero.co.za

www.legalhero.co.za

WESTERN CAPE

CONSUMER DEBT SUPPORT

Annienne Nel NCRDC2452

Kairo's House, 22 Fairfield

Southstreet, Parow, 7550

Office: 021 930 5791

Cell: 082 641 2328

Fax: 086 563 3264

e-mail: info@debtcentre.co.za

www.debtcentre.co.za
---
Credit Rescue

Debt Review

Debt Review Removal

Administration Removal

Garnishee Removal

Contact

James Scott

0834525829

Email: helderberg@credit-rescue.co.za
---
SUPPORT SERVICES

Tel: 011 451 0041

Tel: 0860 072 768

www.maxpayments.co.za

Akani Solutions

Information Data Solutions

lana Van Herwaarde,

DC Operation Centre (PTY)

Tel: 0867227405 Email:

info@dcoperations.co.za

www.dcoperations.co.za

Credit Report App

Access Your Credit Bureau Report

Instantly on Your Phone

DCs help your clients use it during

application & to protect their ID

ID Protector

Detect ID Theft or possible ID Fraud

Subscribers notified by SMS when number is activated

DEBT

086 126 6562

debt@one.za.com

www.one.za.com

info@akanisolutions.co.za

www.akanisolutions.co.za
---
COMING SOON

TRAINING

COMING SOON

FINANCIAL PLANNING
---
LEGAL

Liddles & Associates

"It always seems impossible until it

is done" N. Mandela

(T) 021 930 5790

(F) 0866070940

(E) frontdesk@liddles.co.za

www.liddles.co.za

Steyn Coetzee Attorneys /

Prokureurs

Adri de Bruyn

11 Market Street / Markstraat 11,

Paarl, 7646

Tel: 021 872 1968

Fax: 021 872 2678

adri@steyncoetzee.co.za

RM Brown and Associates

16th Floor, The Pinnacle

Cnr Strand & Burg St

Cape Town

Tel: 021 202 1111, f: 021 425 0875

Email: roger@rmbrown.co.za
---
Your Debt Counselling Attorneys

Johannesburg | Cape Town

Kim Armfield

Attorney & Family Law Mediator

Address: Unit 1B, FinansHuis, 7

Voortrekker Road, Bellville

Tel: 021 949 1758 / 021 945 2526

Office cell: 084 8588 284

kim@legalwc.co.za

Andre Van Zyl

021 494 4862

info@bassonvanzyl.com

www.bassonvanzyl.com

COMING SOON

CREDIT BUREAUS
---
PAYMENT DISTRIBUTION AGENCIES

DC Partner

044 873 4530

Hyphen PDA

011 303 0060

NPDA

0861 628 628
---
SYSTEM PROVIDERS

Tel: 011 451 0041

Tel: 0860 072 768

www.maxpayments.co.za

Debt Review Software

Tel: 016 004 0031
---
CAPITEC CONTACT DETAILS

Form 17's

Proposals

Court documents

General Queries

Refund Requests /

Cancellation of Debit Orders

Complaints

Insurance Certificates

ccsforms17@capitecbank.co.za

ccsproposals@capitecbank.co.za

ccsdebtrevieworders@capitecbank.co.za

ccsdebtreviewqueries@capitecbank.co.za

ccsrefundrequests@capitecbank.co.za

ComplaintManagement@capitecbank.co.za

coming soon

Sharecall Contact Number 086 066 7783 - Select Option 2

ESCALATION PROCESS

COMING SOON
---
Debt Review DepartmentEmail Address

Turnaround Time

Contact Details Standard Bank Debt Review

Debt Review Call Center: 0861 111 525 or 0861 111 402

Debt Review Documents*:

DRApplications@standardbank.co.za

Debt Review Service requests: debtreviewservices@standardbank.co.za 5 days

Debt Review payment queries: DRPayments@standardbank.co.za 7 days

Debt Review administrative requests**: DebtReviewAdmin@standardbank.co.za 5 days

Debt Review complaints and escalations: debtreviewcomplaints@standardbank.co.za 5 days

Reckless Lending Allegations

recklesslendingallegations@standardbank.co.za

*Debt Review documents: Form 17.1; Form 17.2; Proposals; Court Applications; Court Orders

**Debt Review Admin related requests: debit order cancellations; statement requests ; refunds; paid up

letters; account closure instructions; settlement balances; or outstanding balances

Other Standard Bank areas

Credit Card 086120 1000

Diners Club 0113588400 / 0860346377

Vehicle Asset Finance Recoveries 0861102347

Vehicle Asset Finance Collections 0861102347

Home Loans Pre Legal 0860102270

Home Loans Customer Service 0860123001

Standard Bank Insurance 0860123911

Deceased Estates 0861001868
---
ABSA TASK SPECIFIC DEBT

ABSA TASK SPECIFIC DEBT REVIEW ENTRY POINTS

REVIEW ENTRY POINTS

Form 17.1

DRCOB@absa.co.za

Debit Order Cancellations

Debitordercancellations@absa.co.za

Proposals

DRProposals@absa.co.za

Exits from Debt Review

17.4@absa.co.za

All Court Documents

Courtapp@absa.co.za

DC Switches

DCTransfere@absa.co.za

Termination Queries

DRTerminations@absa.co.za

Queries

debtreviewqueries@absa.co.za

Escalated Queries

debtreviewmanager@absa.co.za

Call Centre

0861 222 272
---
First National Bank – a division of FirstRand Bank Limited. An Authorised Financial Services and Credit Provider (NCRCP20). Reg. No. 1929/001225/06.
---
DC Query Process DC Query Process

www.nedbank.co.za
---
AFRICAN BANK CONTACT DETAILS

011 256 9323

DebtCounselling@africanbank.co.za

ESCALATION PROCESS

COMING

SOON
---
Telephone: 031 251 4151

Fax: 031 251 4252

GENERAL CONTACT DETAILS (FIRST POINT OF CALL)*

17.1's, 17 .2's, 17.3's, Rejections and 17 .W's, Change or

Transfer of Debt Counsellor

Proposals / Revised Proposals / Consents /

Related Queries

Notice of Service / Court Applications

Updated Balances / Settlements / General Queries

Section 86(10) Letters and All Related Queries

applications@consumerfriend.co.za

proposals@consumerfriend.co.za

courts@consumerfriend.co.za

customeraccounts@consumerfriend.co.za

terminations@consumerfriend.co.za

ESCALATION CONTACT DETAILS*

Complaints / Service Delivery / Management

17.1's, 17 .2's, 17.3's, Rejections and 17 .W's,

Change or Transfer of Debt Counsellor

Proposals / Revised Proposals / Consents /

Related Queries

Notice of Service / Court Applications

Updated Balances / Settlements / General Queries

ryan@consumerfriend.co.za

justin@consumerfriend.co.za

charlene@consumerfriend.co.za

charlene@consumerfriend.co.za

roderick@consumerfriend.co.za

diane@consumerfriend.co.za

*Please do not CC multiple email addresses.