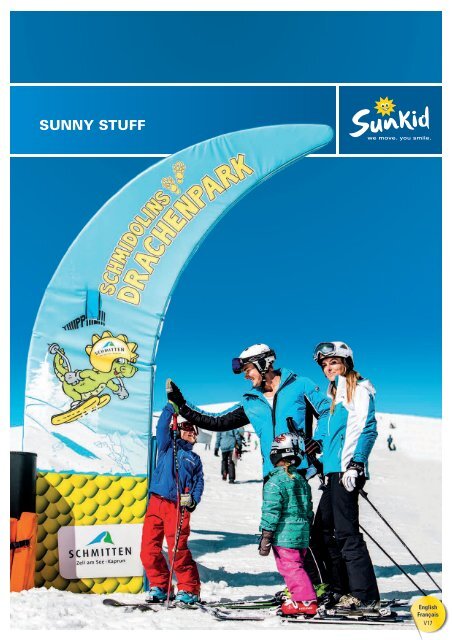 SUNNY STUFF 2017-18 English-France
You also want an ePaper? Increase the reach of your titles
YUMPU automatically turns print PDFs into web optimized ePapers that Google loves.
SUNNY STUFF

English

Français

V17
---
DISCOVER THE WORLD OF SUNKID

DÉCOUVREZ L'UNIVERS DE SUNKID

we move. you smile.

6 companies • 3 production sites

More than 100 employees • 45 sales partners

More than 7,500 projects implemented world-wide

For more than 20 years, we have been staying in motion

in order to make our partners and their guests smile. As

a global group of companies, we offer a broad range for

tourism regions, theme parks and adventure worlds. Our

innovative transport solutions move millions of people

around the world today.

Discover the world of Sunkid at

sunkidworld.com.

6 entreprises • 3 sites de production

Plus de 100 employés • 45 distributeurs

Dans le monde entier, plus de 7.500 projets réalisés

Depuis plus de 20 ans, nous nous efforçons de donner le

sourire à nos partenaires et leurs clients. En tant que groupe

international, nous proposons une large palette de produits

pour les sites touristiques, les parcs de loisirs et les parcours

de découverte. Nos solutions de transport innovantes

transportent aujourd'hui des millions de personnes dans le

monde entier.

Découvrez le monde de Sunkid sur

sunkidworld.com

2 3
---
we move. you smile.

SUNNY STUFF

Explore themed ski slopes, tools for skiing schools,

interactive figures and much more!

Sunny Stuff represents uncounted options around the themed

design of ski slopes and children's skiing areas, tools and

accessories for skiing schools and mountain railways, special

sitting and relaxation options and much more. Design your skiing

area, children's skiing area, excursion destination or free-time

offer individually, adjusted to your needs, or let us develop an

integrated concept adjusted precisely to your needs.

INDIVIDUAL DESIGN & CONSULTING

Many of our Sunny Stuff products can be designed individually.

No matter if prints or shapes – your ideas and expectations

can be near-unlimited. All products applied with a can be

customised.

We will gladly take care of any special wishes and offer

professional support by our graphic and design team.

+43 (0) 5412 68131 – info@sunkidworld.com

Découvrez nos pistes de ski à thèmes, nos accessoires

pédagogiques pour les écoles de ski, nos figurines interactives,

et bien plus encore !

Notre gamme Sunny Stuff ouvre sur de nombreuses possibilités pour

la réalisation de pistes de ski et de jardins d'enfants, les accessoires

pédagogiques à destination des écoles de ski et pour les remontées

mécaniques. Elle offre également des solutions pour vos espaces

détentes, avec notamment un large choix de mobilier spécifique.

Aménagez et personnalisez votre domaine skiable, votre jardin

d'enfant, vos bases de loisir et autres zones touristiques. Nous

saurons répondre à vos besoins et même concevoir, pour vous

et sur la base de votre concept, un projet complet unique.

CONSEILS & AMÉNAGEMENT : DU SUR MESURE !

De nombreux produits Sunny Stuff peuvent être personnalisés,

tantau niveau de l'impression que de la forme : vos envies et vos

idées. Tous nos produits épinglés du symbole peuvent être

personnalisés.

Notre équipe de graphistes et designers professionnels est à votre

disposition pour vous apporter leur aide et répondre à toutes vos

envies spécifiques.

+43 (0) 5412 68131 – info@sunkidworld.com

Thanks to all who submitted us their best sunny stuff moments as pictures last season!

We are looking forward to receive your impressions and experiences this year again.

Merci à tous ceux qui nous ont envoyé des images de leurs meilleurs moments Sunny Stuff l'année

dernière! Nous serions heureux de recevoir de nouveau vos image de vos impressions et expériences.

info@sunkidworld.com

TABLE OF CONTENTS / TABLE DES MATIÈRES

Themed ski slopes & children's skiing areas S. 6

Pistes de ski & Jardins d'enfants à thèmes

Skiing school tools & accessories S. 10

Accessoires pédagogiques pour écoles de ski

Figures & slope design S. 16

Aménagement des pistes & Figurines

Toucans & arches S. 28

Toucans & arcs

Kids Fun Park S. 32

Snow Fun Park S. 34

Sit & relax S. 38

S'asseoir & se détendre

Safety on the mountain S. 42

La sécurité en montagne

Dry Slopes S. 46

Dry Slopes

Summer on the mountain S. 48

Votre partenaire 365 jours par an

4 5
---
THEME AND DESIGN

THÉMATISER ET AMÉNAGER

DESIGN EXPERIENCES

Your wishes and ideas can be unlimited. Many different materials

and design forms will amaze your guests. Individual products or

as a complete, comprehensive concept for your children's area,

ski slopes or the entire skiing area: Sunkid is your contact for

memorable mountain experiences.

CRÉER DES AVENTURES

Vos envies et vos idées ne connaissent aucune limite ! Vos clients

seront ravis par nos matériaux et nos formes d'une grande variété.

Produits catalogues, personnalisés, ou conception intégrale ; jardins

d'enfants, pistes de ski ou autres composantes de votre domaine

skiable : Sunkid est votre interlocuteur privilégié pour offrir à vos

clients d'inoubliables expériences de la montagne.

THEMED CHILDREN'S SKIING

AREAS & SKI SLOPES

JARDINS D'ENFANTS ET

PISTES DE SKI À THÈMES

Themed ski slopes, children's area and Fun Slopes are

perfectly trendy. Offer your guests a very special skiing

pleasure and be remembered by them. Do not rely on

standard products, but design shapes and prints just as

you want them.

We will gladly support you and your partners with

innovative products and our experience of more than

20 years in each of your projects.

Les pistes de ski et jardins d'enfants à thèmes ainsi que les Fun

Slopes sont. Vos clients garderont le souvenir impérissable d'une

expérience nouvelle : le plaisir du ski, combiné à l'originalité d'une

mise en scène unique. Sortez des standards, et créez vos formes

et vos imprimés selon vos propres envies.

Notre expérience et nos produits toujours plus innovants

nous permettent de vous accompagner au mieux – vous et

vos partenaires – depuis maintenant plus de 20 ans et

pour chacun de vos projets à venir.

Slope design, relaxation area and

vantage point in one

Tout-en-un : Aménagement de piste,

zone détente et point de vue

We make exciting stories come true

De l'imaginaire à la réalité, touchez le rêve du bout

des doigts

Active experience and interaction with your

environment is fun

Pour plus de plaisir : une expérience active et

interactive

Why stick with gate poles or flags? There are

other options

Au-delà des drapeaux ou des piquets :

Diversifiez vos portes de slalom !

Video and acoustic features

ensure information and

entertainment

Pour l'info mais aussi

le divertissement :

vidéo et audio à votre service

Foam material, wood or fibreglass:

We bring anything in shape

Vos idées deviennent formes :

en mousse, en bois ou encore en fibre de verre

6 7
---
CUSTOMISED SOLUTIONS

SOLUTIONS INDIVIDUALISÉES

RACE TRACK WITH TIME-TAKING

STADES DE COURSE ET AUTRES PISTES CHRONOMÉTRÉES

UNIQUE MEANS MEMORABLE!

UNIQUE ET INOUBLIABLE !

STARTING HOUSE EVOLUS

ZONE COUVERTE DE DEPART EVOLUS

No matter if you just want to put your logo on a figure, transfer

your own design to existing shapes or want to use fully customised

figures and shapes: Sunny Stuff makes nearly anything

possible!

Of course, we will gladly support you with our graphic and

design service.

Créer de toute pièce figurines et formes, imprimer votre

design aux produits existants ou simplement ajouter votre

logo : la gamme Sunny Stuff s'adapte à vos envies, pour

d'infinies possibilités !

Notre service graphisme et design est à votre entière

disposition, et mettra tout en œuvre pour transformer vos

rêves en réalité.

Width: 400 cm, Length: 445 cm, Height: 285 cm

Aluminium arch with attachment consoles and

5 mm polycarbonate sheets

Zinc-plated sheet metal covers on the inside and outside

Customised design

Installation on the customer's substructure or

concrete foundation

GOAL PILLARS

Goal pillars are available in customised shapes and sizes

Optional integration of audio and video systems

Largeur : 400 cm, longueur : 445 cm, hauteur : 285 cm

Vitrage polycarbonate de mm d'épaisseur avec arches en aluminium,

montées sur des consoles acier

Caches intérieurs et extérieures en tôle zinguée

Design sur mesure

Montage sur bâti du client ou fondations en béton

MATERIALISATION DE LA ZONE D'ARRIVÉE

Colonnes de formes et tailles sur mesure

En option : intégration de systèmes audio et vidéo

COMPLETE SET

On request, we offer a complete set made up of:

Starting house, goal pillars, digital displays, direction gates,

border fences and time-taking systems.

KIT COMPLET

Sur demande, nous vous proposons également un kit complet composé

des :Zone couverte de départ EVOLUS, matérialisation de la zone d'arrivée,

affichages numériques, piquets articulés, filets de sécurité et système de

chronométrage.

Logos, personal designs or customised shapes –

we make them all!

Un logo, un design de votre choix ou une forme

individuelle. Nous réalisons vos souhaits!

The starting house and target pillars are also great for any kind of

Fun Slopes. They can be themed as desired!

Les zones couvertes de départ et les colonnes de zone d'arrivée

conviennent également parfaitement aux Fun Slopes, et peuvent être

également être personnalisées sur demande.

8 9
---
SKIING SCHOOL TOOLS & ACCESSORIES

ACCESSOIRES PÉDAGOGIQUES POUR ÉCOLES DE SKI

LEARNING WITH JOY

Child-compatibly designed aids that are not only

pedagogically valuable but also add fun and diversity

to lessons should be found in any modern skiing

school. We place great value on developing technical

innovations and new products together with skiing

schools in order to provide you with the best

equipment available.

APPRENDRE EN S'AMUSANT

Une grande variété d'accessoires adaptés aux enfants,

répondant aux besoins des écoles de ski modernes qui

désirent allier pédagogie et diversité, pour dire adieu à la

monotonie. Le développement d'innovation technique, ainsi

que celui de nouveaux produits, est pour nous une priorité,

afin de vous proposer les meilleurs équipements possibles.

1801 / 1802

Junior Flex Pole

Piquet souple

h = 70 cm, Ø 32 mm

1801 1802

1739

Soft-Ring

Anneau souple

Ø = 15 cm, 6 pcs. / 6 pièces

2 x 2 x 2 x

16928

Ribbon rings

Anneaux avec rubans

Set of 6 soft rings (art. 1739) and 36 ribbons in 6 colours

Jeu comprenant 6 anneaux souples (art. 1739) et 36 rubans en 6 couleurs

1803

Coloured pennant cord

Corde à fanions tricolores

l = 30 m

1804 / 1805

Kiddie gate

Porte pour enfants

150 x 60 cm

1804 1805

8257

Customizable kids´gate

Porte enfant, design personnalisé

150 x 60 cm

1804 1805

1806

Steering wheel

Volant

Ø 27 cm,

1807

Group guiding line

Corde de guidage pour plusieurs personnes

500 x 130 cm, 112 hand straps / 12 poignées,

1808

Rope set

Kit de cordes

l = 110 cm

Set of 10 pcs / Lot de 10 pièces,

16922

Fun-noodles

Frites

Set of 10 pcs, length 160 cm,

Ø 6,5 cm, assorted colours

Jeu de 10 pièces, longueur 160 cm,

Ø 6,5 cm, assortiment de couleurs

16923

Rainbow ball

Ballon arc-en-ciel

Ø 18 cm

Plastic material with valve

En PVC, avec valve

1783

Pole with pennant

Piquets avec fanion

h = 160 cm,

1784 - 1787

Snow brush

Pinceau

h = 60 cm

1784 1785 1786 1787

1788 - 1792

Stubbies

Jalons

h = 85 cm

1788 1789

1790 1791 1792

10 11
---
1768 / 1769

Mushroom

Champignon

h = 45 cm

1768 1769

8259 / 16933

Ascending aid carpet

Tapis d'aide à la remontée

60 cm x 15 m

8259 16933

1772 - 1779

Cone

Cône

h = 45 cm

1772 1773 1774 1775

h = 30 cm

1776 1777 1778 1779

1780

Markers

Marqueurs

Set of 40 pcs / Lot de 40 pièces,

1781

Edgi Wedgi

New material: Aluminium

Elastic, width-adjustable

rubber band

Nouveau matériau : Aluminium

Elastique en caoutchouc,

largeur réglable

1799

Help Me

1782

Give me Five

Set of 4 pcs / Lot de 4 pièces,

1793

Play cloth

Toile de jeux

Ø 3,5 m

5884 / 8236

Snow Snake

Serpent des neiges

750 x 10 cm

5884 8236

Filled with expanded clay; therefore easy to transport, yet sufficiently strong against wind

Non-abrasive polyurethane outer coating

Rempli d'argile expansée, donc très facile à transporter mais assez lourd pour résister aux vents

Revêtement extérieur en PU résistant à l'abrasion

8227

Fly Agaric

Amanite tue-mouches

h = 75, Ø 30 cm

1794

Die

Dé

22 x 22 x 22 cm

1795 / 1800

Hoop set

Lot de cerceaux

1795 Ø ~60 cm

1800 Ø ~40 cm

Set of 8 pcs / Lot de 8 pièces,

1796

Magic Stick

Baguette magique

l = 145 cm

8260 / 8282

Arch with bell

Porte en arche avec cloche

h = 170 cm

8282 8260

8263

Magic Hat

Chapeau de sorcière

28 x 50 cm

16931

Flower

Fleur

h = 75, Ø 30 cm

1813

Steppo

215 x 60 cm, 25 kg

16929 / 16934

Snow Sail

16929 S < 6 Years / Ans

16934 L > 6 Years / Ans

21006

Five & Lines cubes

Cubes Five & Lines

4-piece cube set with hand grips (17 x 17 x 17 cm)

Ideal for warm-up exercises, to tell stories and for games of dice

Kit de 4 cubes (17 x 17 x 17 cm), avec poignées

Parfaits pour s'échauffer, raconter des histoires et pour jouer aux dés

12792

Winner's podium made from alloy

Podium 3 marches en aluminium

175 x 50 x 60 cm, Weight/Poids 26 Kg

12 13
---
7258

V Assistant

41 x 8 x 155,5 cm

The perfect complement to the Snow-V.

Le supplément parfait au Snow-V.

Video: www.sunkidworld.com/v-assistant

SNOW V

THE SNOW BRAKE ASSIST

ASSISTANT POUR FREINAGE EN CHASSE-NEIGE

"The Snow V makes the experience of success

with the snow plough come much faster."

« Avec le Snow V, les débutants arrivent plus

rapidement à réaliser le chasse-neige »

Michael Staudacher

(Michi's Skischule Gerlos)

"The Snow V support helps children and adults

understand and internalise the complex movements

of the snow plough much faster."

« Grâce à l'aide du Snow-V, les enfants comme les

adultes comprennent et intègrent plus rapidement

le mouvement complexe du freinage »

Eva Stark (Ski school Fiss-Ladis/ École de ski Fiss-Ladis)

Essentially involved in developing the Snow V.

Nous avons participé largement au développement du Snow V.

"The Snow V gives children safety and stability

faster and gets them to ski earlier."

« Le Snow V procure aux enfants sécurité

et stabilité, pour une progression plus rapide

dans l'apprentissage du ski »

Katja Süß

(Vereinigte Skischule Oberwiesenthal)

Video: www.sunkidworld.com/snow-v

"The Snow V is a very good help in

particular when teaching the basics."

« Le Snow V est une grande aide pour

transmettre les bases »

Christian Fritz

(Ski school Kössen/École de ski Kössen)

"The Snow V clearly reduces stress in the children's area,

because the children can leave it again faster and the number

of insecure pupils has clearly reduced."

« Grâce au Snow V, le jardin d'enfant est moins encombré

car les enfants le quittent plus rapidement et le nombre de

débutants peu rassurés a clairement chuté »

Tom Egger

(Ski school Hirschegg/Kleinwalsertal/École de ski Hirschegg/Kleinwalsertal)

7258

V Ride

Set of 10 pcs / Jeu de 10 pièces

16951 Horse / Cheval: 45 x 30 cm

16952 Motorcycle / Motocycle: 45 x 24 cm

Video: www.sunkidworld.com/v-ride

14 15
---
FIGURES & SLOPE DESIGN

FIGURINES & AMÉNAGEMENT DES PISTES

INTERACTIVE SKI KINDERGARTEN – Experience interactive skiing

JARDIN DES NEIGES INTERACTIF – Découverte interactive du ski

SSet consists of 6 elements (Art. 6136)

Le kit est composé de 6 éléments (Art. 6136)

Customised

Design!

Design

individualisé !

THIS IS HOW FUN WORKS

POUR S'AMUSER

An environment in which children are comfortable,

that animates teens and adults in an entertaining and

diverse manner. This is our main focus and our passion.

In addition to child-compatibly designed figures, slope

design is relevant as well. Boredom in the children's

area or on the skiing slope is a thing of the past now.

Ce qui nous passionne : Créer un environnement dans

lequel les enfants se sentent bien et qui plait également

aux jeunes et aux adultes, car ils peuvent y trouver une

grande variété de divertissements. Les figurines adaptées

aux enfants, mais aussi l'aménagement des pistes en

lui-même jouent un rôle important - l'ennui appartient

désormais au passé dans les jardins d'enfants comme

sur les pistes.

8866

Element 1/ Élément 1

Double-sided print layout

Bâche imprimée recto verso

90 x 94 cm

8867

Element 2 / Élément 2

Double-sided print layouts with fringes

Bâche imprimée recto-verso avec découpes

90 x 94 cm

8868

Element 3 / Élément 3

Double-sided print layout with foam fill

Bâche imprimée recto-verso avec mousse

90 x 94 cm

8869

Element 4 / Élément 4

Double-sided print layout with foam fill

Bâche imprimée recto-verso avec mousse

105 x 32 cm

8870

Element 5 / Élément 5

Imprinted carrousel made of foam

Carrousel en mousse imprimés

130 x 20 x 20 cm

8871

Element 6 / Élément 6

Double-sided print layout with foam fill

Bâche imprimée recto-verso avec mousse

60 x 60 cm

16 17
---
SUNKID MONSTER FAMILY

FAMILLE DE MONSTRES SUNKID

12725

High 5/Low 5

150 x 60 x 20 cm

Hands can be smoothly adjusted in height on the sides

« Mains » de chaque côté totalement réglables en hauteur

12716

Ski-Boxing

150 x 60 x 20 cm

Punch bag height adjustable

Punching-ball réglable en hauteur

12727

Ski-Limbo

150 x 60 x 20 cm

Limbo crossbar is height adjustable

Barre de limbo réglable en hauteur

12713

Turn-around

150 x 60 (140) x 20 cm

Arms rotate 360°

Bras pivotant à 360°

NEW DESIGNS!

18 19
---
5 FIVE & LINES

1686 - 1689

Cube

Cube

40 x 40 x 40 cm

1686 1687 1688 1689

1690 - 1693

Roll

Rouleau

60 cm x Ø 40 cm

1690 1691 1692 1693

1694 - 1697

Bench

Banc

80 x 40 x 40 cm

1694 1695 1696 1697

1698

Half ring

Demi anneau

40 x 40, Ø 140 cm

21022

High/Low 5 small / petit

60 x 40 x 10 cm

21022

High/Low 5 big / grand

100 x 40 x 10 cm

21023

Turn-around

Height / Hauteur 80 cm

1841

Bench Fiss

Banc Fiss

120 x 50 x 50 cm

1705

Car

Voiture

100 x 55 x 35 cm

8270 / 8272

Column start/finish

Colonne de départ/d'arrivée

120 x 30 x 10 cm

8270 8272

21024

Turn-Lines

32 pcs/pièces

incl. bag; incl. sac

16936

Kicker

85 x 80 x 20 cm

16935

Wave

130 x 30 x 12 cm

Video: www.sunkidworld.com/five-lines

2926

Snow flower 1

Fleur des neiges 1

h = 150 cm, Ø 75 cm,

21007

Snow flower 2

Fleur des neiges 2

h = 142 cm, Ø 74 cm

20 21
---
8219

Elephant

Eléphant

170 x 50 x 80 cm

8220

Mouse

Souris

80 x 25 x 40 cm

2967

Snowman with snowboard

Bonhomme de neige avec surf

100 x 60 x 15 cm

2968

Snowman with broom

Bonhomme de neige avec balai

100 x 60 x 15 cm

2979

Moose

Élan

100 x 60 x 15 cm

2962

Tree stump with face

Tronc d'arbre avec visage

80 x 30 cm

2963

Tree stump

Tronc d'arbre

80 x 30 cm

12707

Cylinder figure polar bear

Ours polaire forme cylindrique

80 x 30 cm

12709

Cylinder figure penguin

Pingouin forme cylindrique

80 x 30 cm

2980

Moose with snowshoes

Élan avec raquettes

100 x 60 x 15 cm

6355

Reindeer

Renne

100 x 60 x 15 cm

7861

Bear with snowball

Ours avec boule de neige

100 x 60 x 15 cm

21018

Tiger clumsy fellow

Tigre dadais

100 x 60 x 15 cm

2964

Penguin

Pingouin

100 x 60 x 15 cm

2965

Penguin with hearts

Pingouin avec cœurs

100 x 60 x 15 cm

16918

Reindeer Duo

Renne Duo

99 x 84 x 12 cm

16921

Bear Duo

Ours Duo

99 x 84 x 12 cm

2984

Give me five deer

Cerf give me five

100 x 66 x 15 cm

12684

Give me five Tiger

Tigre give me five

100 x 66 x 15 cm

22

23
---
8258

Tree

Arbre

90 x 70 x 20 cm

12684

Ellipse foam column

Poteau en mousse ellipse

85 x 10 x 10 cm

Pole diameter: 30: mm

Diamètre du piquet: 30 mm

2925

Sun tower

Tour soleil

h = 160 cm

8224

Tower

Tour

h = 170 cm, Ø 30 cm

8223

Tunnel S

Height / Hauteur = 130 cm

Length / Longueur = 250 cm

21312

Tunnel L

400 x 270 x 240 cm, headway 150 cm

Hot-galvanized steel construction

Sound effect by motion sensor

Customized bounce protection

4 components – easy to build up & store

Max. layer of snow 0,5 m

Not traversable

8226

Bonfire

Feu de camp

h = 100 cm

8225

Ski-through wall

Mur avec passage

h = 160 x 260 x 20 cm

8228

Mushroom obstacle

Obstacle champignon

h = 175 x 170 x 15 cm

Headroom: 110 cm

Hauteur de passage: 110 cm

12731

Flipper

100 x 90 cm

Dimensions 400 x 270 x H 240 cm, passage libre en hauteur 150 cm

Structure acier galvanisé à chaud

Effet sonore lors du passage grâce aux capteurs de mouvement

Protections en entrée et sortie personnalisables

Ensemble constitué de 4 pièces, montage et stockage aisés

Hauteur maximale de neige sur la structure: 50 cm

Pas de franchissement de la structure

Personalized layout!

Conception personnalisée !

12710

Kids Puzzle, nine parts

Kids Puzzle, neuf pièces

90 x 90 x 30 cm (whole puzzle, Puzzle entier)

30 x 30 x 30 cm (single piece, un cube)

21017

Monster Puzzle, neuf pièces

Monster Puzzle, neuf pièces

90 x 90 x 30 cm (whole puzzle, Puzzle entier)

30 x 30 x 30 cm (single piece, un cube)

5885

Snowball wall (with holes)

Mur à boules de neige (avec trous)

190 x 200 x 15 cm

24 25
---
WILD ANIMALS

ANIMAUX SAUVAGES

SUNKID SPEAKER

The System includes:

Speaker, housing with slot for SD card (MP3 Files),

mounting bracket, charger cable, protective bag

Dimensions: 115 x 165 x 58 mm

Operation temperature range: -15˚C to +50˚C

Air humidity: 10 – 95 %

Battery or AC power supply

Le système comprend :

haut-parleur, boîtier avec fente pour carte SD (fichiers MP3),

dispositif d'accrochage, câble de chargement, étui de protection

Dimensions : 115 x 165 x 58 mm

Gamme de température pour le onctionnement : -15 °C à + 50 °C

Humidité : 10 – 95 %

Batterie ou alimentation par secteur

1748

Roebuck

Chevreuil

66 x 115 cm

1749

Mouflon

Mouflon

86 x 90 cm

1750

Chamois

Chamois

86 x 90 cm

1751

Deer

Daim

90 x 140 cm

1752

Black grouse

Tétras

58 x 54 cm

1753

Groundhog

Marmotte d'Amerique

59 x 29 cm

Application of the Sunkid Speakers

On ski trails with interactive activity stations

»Talking« trees, roots, animals, etc., which for example explain

something about their life or as a modern scavenger hunt for

younger participants

As an Info Point (for example at the mountain station for a

warm-up program)

As Infotainment in gondolas (stories/legends about the region)

Information at lookout platforms

Telling tales and stories

Instructions, for example "Please leave the exit area"

Acoustical Geocaching for the youngest adventure seekers

and much more.

Utilisation du système de haut-parleur Sunkid Speaker

Sur des pistes de ski avec points pour découvertes interactives

Les arbres, racines, animaux, etc. « qui parlent » et qui racontent leur

vie dans la forêt ou comme nouvelle « chasse au trésor » pour les plus

jeunes ;

Comme point d'info (par exemple près de la gare du téléphérique pour

un programme d'échauffement) ;

Comme point d'info dans les télécabines (histoires/légendes de la

région) ;

Information sur des plates-formes d'observation ;

Pour écouter un récit de contes et d'histoires ;

Comme un avertissement par ex. « Veuillez quitter la zone de sortie ! ».

Géocaching acoustique pour les plus jeunes ; etc

1754

Fox

Renard

60 x 55 cm

1755

Rabbit

Lièvre

77 x 30 cm

1756

Ibex

Bouquetin

90 x 155 cm

1757

Owl

Chouette

73 x 35 cm

12672

Wolf

Loup

123 x 70 cm

1758

Version / Variante 1

Speaker with precense detector

Speaker avec détecteur de mouvement

21026

Version / Variante 2

Speaker with button

Haut-parleur avec bouton

21027

Version / Variante 3

Speaker with external button and cable

Haut-parleur avec bouton externe et câble

26 27
---
TOUCANS & ARCHES

TOUCANS ET ARCS

250 cm

WE POINT THE WAY!

NOUS MONTRONS LE CHEMIN !

145 cm

Info point, eye-catcher, marking, advertising carrier or ele -

ment for slope design: our arches & toucans offer all of

this and more. Customer-specific design turns them into

a fixed part of any skiing and children's area! Equipped

with speakers or displays, they can give your guests

information, tell stories or become part of race tracks,

Fun Slopes or themed slopes.

Point Info, Eye-Catcher, marquage, support publicitaire ou élément

d'aménagement de la piste : nos arcs et toucans sont tout cela et

bien plus encore. Une fois personnalisé à votre envie, ils deviennent

partie intégrante du domaine skiable ou du jardin d'enfant. Équipés

de haut-parleurs et/ou d'écrans, ils informent vos clients, leur racontent

des histoires ou bordent vos stades, vos Fun Slopes et vos

pistes thématiques.

1835

Toucan M

400 cm

230 cm

1834

Toucan L

To be fixed on foundation. Size and design

depending on the local conditions.

Sunkid offers mobile finished foundations.

Fixation sur fondation. Taille et exécution

selon les conditions sur place. Sunkid propose

des fondations préfabriquées mobiles.

Logos & information

can be replaced with

hook-and-loop tape

Logos & informations

interchangeables par

bande scratch

Toucan Info

Ideal as an info point, guidance system, etc.

Informazioni sui tucani

Parfait comme point info, système de guidage etc.

21019 Toucan M with logo placeholder

Toucan M avec emplacement pour logo

28 29
---
1833

Entry arch XL

Portique d'entrée XL

2907

Entry arch XS

Portique d'entrée XS

1728

Entry arch S

Portique d'entrée S

High-quality, galvanized tubular structure

Coating of hard-foamed material with UV-resistant PVC cover

Easy to groom around

Customized design, printable on both sides

Mounts to metal base plates

Checked statically, great resistance to wind

Various models available

Other archway sizes available upon request

To be fixed on foundation. Size and design depending on the local conditions.

Sunkid offers mobile finished foundations.

Construction tubulaire galvanisée de haute qualité

Revêtement en mousse synthétique avec bâche en PVC résistante aux UV

Possibilité de passage pour les dameuses

Design adapté au client, imprimable sur les deux côtés

Montage sur plaques de fondation

Statiquement vérifiée, grande résistance au vent

Différentes variantes de portiques

D'autres tailles d'arches disponibles sur demande

Fixation sur fondation. Taille et exécution selon les conditions sur place.

Sunkid offre des fondations préfabriquées mobiles.

Arch / Portique

XS

Arch / Portique

S

Arch / Portique

M

Sun archway

Arche soleil

Arch / Portique

XL

80 cm

78 cm

40 cm

240 cm

300 cm

150 cm

140 cm

160 cm

60 cm 30 cm

60 cm 30 cm 120 cm 40 cm

120 cm 40 cm

600 cm 80 cm

Customised design

and your desired

shapes available!

Possibilité de design

personnalisé et de

formes sur mesure !

1727

Entry arch M

Portique d'entrée M

1725

Sun archway

Arche soleil

30 31
---
KIDS FUN PARK

KIDS FUN PARK

16925

Rainbow Box Park

400 x 50 x 40 cm

16926

Up & Down Box Park

400 x 50 x 40 cm

16924

Flat Box Park

400 x 50 x 40 cm

12744

Box Rail

300 × 50/15 x 15 cm

Light weight!

Poids faible !

JUMP IT, SLIDE IT, RIDE IT

The Kids Funpark or Freestyle Corner is more than just a

fixed part in various skiing instructor plans (e.g. the official

Austrian skiing instructor path) but also a special highlight

for your young guests. The Sunkid Freestyle Obstacles have

been specifically designed for simple and mobile use and

pursue an integrated concept. Make your skiing course and

slope more diverse to see beaming faces.

MAIN OBJECTIVES

To gradually reduce the support surface when sliding.

Practice for "Larger" Obstacles as well as ensuring

confidence and safety for future Snow Park skiing.

Creative, varied and fun ways to teach skiing

Gaining experience of snowpark skiing

Quick & easy installation

Obstacles without sharp edges

Secure anchoring in the snow

Easy to transport and store

JUMP IT, SLIDE IT, RIDE IT!

Les Snowparks « Kids Funpark » ou « Freestyle Corner »

ne sont pas seulement partie intégrante de la progression

suivie par de nombreux moniteurs de ski (obligatoire

par exemple dans le programme des écoles de ski

autrichiennes), ils sont également une activité-phare

pour les plus jeunes. Les modules « Sunkid Freestyle

Obstacles » ont été spécialement développés pour être

simple d'emploi et pour pouvoir être déplacés facilement.

Ils ont également été pensés pour former un ensemble

cohérent. Grâce à leur utilisation divertissante durant les

cours de ski ou sur les pistes, faites rayonner les visages !

PRINCIPE ET OBJECTIFS

Réduire progressivement la surface d'appui en glissade.

Préparation à de plus grands obstacles pour pouvoir être

autonome en Snowpark.

Permet d´apporter de la variété et de la créativité

Acquérir une première expérience en Snowpark

Plus facile et plus rapide la construction

Pas d´angles saillants à la surface

Ancrage sûr dans la neige

Facile à transporter et à stocker

12736

Rainbow Box Piste

300 × 50 x 25 cm

Light weight!

Poids faible !

12751

Pipe

300 × 50 x 15 cm

12749

Slide Plate

Plaque pour glissade

300 x 50 cm

12738

Up & Down Box Piste

300 × 50 x 25 cm

Light weight!

Poids faible !

12745

Kicker small

Kicker petit

150 × 75 x 20 cm

12740

Mini-step kicker

Kicker rayé cannelé petit

150 × 75 x 20 cm

Light weight!

Poids faible !

12741

Flat Box Piste

300 × 50 x 25 cm

Light weight!

Poids faible !

16937

Kicker formwork

Kicker - pour former un tremplin

100 x 150 x 40 cm

Maximum dimensions of the

resulting kicker. Suitable for the

construction of kickers, as well as

box ramps.

Dimensions maximales du kicker

construit au-dessus. Pour la

construction d'un tremplin ainsi

que pour l'accès aux boxes.

12739

Bar

Barre

300 × 20 x 17 cm

Light weight!

Poids faible !

3025

Sunkid Wave

125 x 30 x 16 cm

Video: www.sunkidworld.com/sunkid-freestyle-obstacles

32 33
---
SNOW FUN PARK

SNOW FUN PARK

BECAUSE WINTER CAN BE

SO MUCH MORE!

Winter offers many options to experience fun and

adventures away from skiing – why do without it?

Slide, ride and glide on slopes, toboggan slopes, tubing

tracks or the dedicated Snow Fun Park. Expand your

skiing area's – or skiing school's – offer and reach new

target groups.

PARCE QUE LES POSSIBILITÉS

HIVERNALES SONT LÉGION !

L'hiver offre de nombreuses possibilités pour s'amuser

et vivre des aventures en dehors des pistes - pourquoi y

renoncer ? Glisser, piloter et surfer sur les pistes, les pistes

de luge, les pistes de tubing ou dans son propre Snow Fun

Park. Élargissez l'offre de votre domaine skiable – ou de

votre école de ski - et attirez de nouveaux groupes-cibles.

16942

Snow Glider

16941

Fun Ufo

1814 / 1815 / 1816

Sledge double-seater,

Sledge single-seater, Sledge juvenile

Luge biplace, luge monoplace, luge junior

Hire sledge with solid metal frame also available

Aussi disponible, luge à louer avec châssis en métal massif,

21011

Strider bike with runners

Strider Mini bike avec patins

Strider Mini-Bike with removable runners

Strider Mini bike avec patins demontables,

21010

Fun Balancer

1826

Minibob

8243

Skibike

1831

Snow Shuttle Deluxe

1832

Snow Fox

1823 - 1824

Airboard

1823 Classic

1824 Junior

1830

Snow Future

34 35
---
TUBING

ROTONDO

THE MOUNTAIN CAROUSEL

FOR WINTER AND SUMMER

The genuine skiing and tubing carousel convinces with its

diversity in winter and summer alike and equally represents

playful learning and pure free-time fun.

Balance exercises to prepare for using the ski lift or simple

entertainment during breaks in the skiing course – our

Rotondo is great for either. In summer, families can enjoy

it as a wing carousel or enjoy tubing on dry slopes.

LE MANÈGE DE MONTAGNE

POUR L'HIVER ET L'ÉTÉ

Le manège original pour ski et bouées qui convainc l'hiver comme

l'été par sa diversité et permet aussi bien l'apprentissage ludique que

l'utilisation de pur loisir.

Exercice d'équilibre préparant au téléski, ou tout simplement petit

moment de détente lors des pauses pendant le cours de ski, le rotondo

est parfait quelle qu'en soit l'utilisation. En été, elle séduit les familles,

utilisé avec des balançoires ou avec des bouées sur nos revêtements

sytnthétiques Dry Slopes.

Tube Standard

Bouée standard

6477 30 x 100 cm

3206 30 x 130 cm

Fabric-reinforced cover

Colours:

Individual, one-sided imprint in black or white possible

Revêtement renforcé en textile

Couleurs:

Possibilité d'impression personnalisée unilatérale en noir ou blanc

Tube EVO

Bouée Evo

16728 30 x 80 cm

1720 30 x 100 cm

16727 30 x 130 cm

Standard design cover: colours of the rainbow

Bottom colours:

Fabric reinforced cover printable with 4c digital printing

A soft seat padding inside with safety rules

Design standard Revêtement : Couleurs de l'arc-en-ciel

Couleurs du sol :

Revêtement renforcée en textile imprimable 4C numérique

Coussin d'assise souple à l'intérieur avec impression des règles de sécurité

Personalized layout!

Conception personnalisée !

36 37
---
SIT AND RELAX

SE DÉTENDRE

Our seat cushions are available in many colour and

with your preferred print.

Nos sièges rembourrés existent dans toutes les couleurs,

avec l'imprimé de votre choix

ENJOY YOUR EXPERIENCE –

RELAX ON A HIGH LEVEL

Just take a break, watch the unique panorama or enjoy your

snack in a relaxed atmosphere. In the skiing school, on the

mountain meadow, a restaurant terrace or spread out across

in the skiing area: special seats and relaxation areas are

a must-have. Comfortable deck chairs and seat cushions,

elements that can be individually designed, the mobile

roofing solution Solux and many other items offer a variety

of options.

VIVRE AVEC PLAISIR –

SE DÉTENDRE PLEINEMENT

Se reposer, admirer un panorama unique ou savourer une

collation dans une atmosphère détendue : à l'école de ski,

à l'alpage, sur la terrasse d'un restaurant ou à tout autre

endroit du domaine skiable, nos sièges et espaces de détente

originaux sont indispensables. Nos chaises longues, nos sièges

rembourrés confortables, nos éléments personnalisés, notre

solution de préau mobile Solux ainsi que nos nombreux autres

produits vous offrent de nombreuses possibilités.

1827

Seat cushion

Coussin de sol

135 x 175 cm,

8240

Chair XS

100 x 70 x 60 cm,

8241

Chair

100 x 80 x 65 cm,

8242

Lounger

180 x 85 x 70 cm,

21012

Kids Alu Bench

Banc alu pour enfant

202 x 52 x 52 cm

Comes apart into three pieces

Incl. carry handles

Low weight: 12.5 kg.

Cushion attached to bench with hook-and-loop tape

& easy to replace

Cushion cover of robust PVC

With serrated ground rails for better hold

202 x 52 x 52 cm

Démontable en trois pièces

Avec poignées

Poids faible : 12,5 Kg.

Coussin échangeable facilement, fixé au banc par bande scratch

Housse en PVC solide

Rail cranté de fixation au sol, pour une meilleure tenue

38 39
---
Ergonomically

shaped for best

relaxation!

Une forme ergonomique

pour une détente

parfaite !

21013

Wooden lounger Solo

Chaise longue bois Solo

240 x 80 x 80 cm,

21014

Wooden lounger Duo

Chaise longue bois Duo

240 x 80 x 80 cm

21016

Heart Lounger

Chaise longue Coeur

440 x 80 x 320 cm; Larch / mélèze

21015

Seating Unit Alpin

Unité de siège Alpin

Required space: 200 x 180 cm

8 seats

Foldable & stackable

Larch

Surface nécessaire : 200 x 180 cm

8 sièges

Pliant & empilable

Mélèze

Solux

Modular and mobile roofing solutions for gastronomy,

vantage points, children's skiing areas, etc.

Solution modulaire et mobile de préau pour la restauration,

les points de vue, les jardins d'enfants, etc.

1761 - 1765

Igloo

Gonflable

Quick & easy, Rapide & facile

Ø Art.

2 m 1761

3,5 m 1762

5,0 m 1763

6,5 m 1764

8 m 1765

40 41
---
SAFETY ON THE MOUNTAIN

LA SÉCURITÉ EN MONTAGNE

SKIING RULES

RÈGLES DE CONDUITE DU SKIEUR

21025

Skiing rules set

Kit Règles de conduite du skieur

SAFETY FOR MORE FUN!

Safety on the mountain starts with learning the

slope rules. Sunkid teamed up with pedagogues to

develop an integrated concept for this, offering childspecifically

designed signs as well as lesson and

information materials for the skiing school, to put

out at cash points or in hotels. We also offer notice

signs, barrier fences and traffic signs made of foam

material.

PLUS DE PLAISIR EN TOUTE SÉCURITÉ

La sécurité en montagne commence dès l'apprentissage

des règles de conduite du skieur. Pour cela, Sunkid a

développé - avec des pédagogues - un concept complet

qui, en plus de panneaux adaptés aux enfants, comprend

également des outils pédagogiques et d'informations

pour les écoles de ski, à installer près des caisses ou

dans les hôtels. De plus, nous proposons des panneaux

d'indication, des filets de protection et des panneaux de

signalisation en mousse.

The Sunny skiing rules are a comprehensive concept for the

entire skiing area.

The FIS skiing rules are often difficult to understand even for adults.

We cooperated with a number of experts to present them in a way

that even young children will understand and remember easily.

Contribute actively to safety in the skiing area and ensure your

guests' unimpaired holiday fun.

The Sunny skiing rule concept covers information signs as well as

stickers for gondolas, flyers to put up at cash points and in the skiing

school, traffic signs and a themed safety Fun Slope.

For more information, see:

www.sunkidworld.com/sunny-ski-rules

or our service hotline +43 5412 68131

Les règles de ski Sunny sont un concept complet destiné à

l'ensemble du domaine skiable.

Les règles de ski FIS sont souvent difficiles à comprendre, également

pour les adultes. C'est pourquoi nous les avons remises en

forme – en collaboration avec des experts – afin d'en rendre facile

leur compréhension, ainsi que leur transmission aux enfants, même

petits. Contribuez activement à la sécurité du domaine skiable et

garantissez des vacances sans souci pour vos clients.

Le concept de règles de ski Sunny s'étend du panneau d'information,

aux autocollants pour les cabines, en passant par les flyers (à

distribuer par exemple près des caisses et dans les écoles de ski),

les panneaux de signalisation, pouvant même prendre la forme d'une

Fun Slope sur le thème de la sécurité.

Vous trouverez de plus amples informations ici :

www.sunkidworld.com/sunny-ski-rules

ou via notre hotline de service +43 5412 68131

42 43
---
PE-Barrier fence, yellow-blue

Clôture en PE, jaune-bleu

16945 50 x 1,2 m, without poles / sans piquets

1811 20 x 1,2 m, inkl. 9 poles / 9 piquets

1812 10 x 1,2 m, inkl. 5 poles / 5 piquets

16946 5 x 1,2 m, inkl. 3 poles / 3 piquets

16948

PE-Barrier fence, yellow-red

Clôture en PE jaune-rouge

(1) 50 x 1,2 m, without poles / sans piquets

(2) 20 x 1,2 m, inkl. inkl. 9 poles / 9 piquets

(3) 10 x 1,2 m, inkl. 5 poles / 5 piquets

(4) 5 x 1,2 m, inkl. 3 poles / 3 piquets

1722

Post Padding

Protection console de commande

Height / Hauteur = 130 cm

12411

E Box Cover

Accessories

for conveyor belts

and lifts

Accessoires pour les

tapis roulants et l

es remontées

mécaniques

16947

PE-Barrier Fence 06

Clôture en PE 06

10 x 0,6 m, incl. 5 poles / 5 piquets

6101 - 6104

Barrier fencing

Filet de balisage

20 x 0,6 m, incl. 9 poles / 9 piquets

6101 6102 6103 6104

INFORMATION SIGNS FOR

CONVEYORS AND LIFTS

PANNEAUX DE SIGNALISATION POUR

TAPIS ROULANTS ET REMONTÉES MÉCANIQUES

1584

Stop

65 x 45 cm

TRAFFIC SIGNS

PANNEAUX DE SIGNALISATION

2927

Arrow left

Flèche à gauche

Ø 50 x 10 cm

2928

Arrow right

Flèche à droit

Ø 50 x 10 cm

2929

Arrow straight

Flèche tout droit

50 x 50 x 10 cm

1611

All in one "Safety sign"

Consignes de sécurité

65 x 45 cm

3080

Arrow

Flèche

Ø 48 cm

1974

Exit to the left

Sortie vers la gauche

50 x 70 cm

1975

Exit to the right

Sortie vers la droite

50 x 70 cm

2930

Stop

50 x 50 x 10 cm

2931

Bump

Bosses

50 x 50 x 10 cm

2932

Merge

Rétrécissement

50 x 50 x 10 cm

2933

Traffic light

Feu

50 x 15 x 10 cm

1976

If you fall, exit right immediately

Quitter immédiatement le tracé

du téléski lors d'une chute

50 x 70 cm

1977

If you fall, exit left immediately

Quitter immédiatement le tracé

du téléski lors d'une chute

50 x 70 cm

1978

Stay on tow path

Interdiction de quitter le tracé

du télésk

50 x 70 cm

1979

No loose clothing

Attention aux vêtements amples

50 x 70 cm

44 45
---
DRY SLOPES

DRY SLOPES

DRY SLOPES FOR DIFFERENT AREAS

The sure solution for sun-exposed areas, in cases of general lack

of snow or snow displacement by winter sports enthusiasts

Dry Slopes have the same glide properties as snow, no watering

necessary

Particularly easy and quick installation on ground, grass, wood,

asphalt and cement

Thanks to the modular system, the matting can be installed on

any desired surface area

NP/30 NP/50 NP/70

WINTER SPORTS AROUND

THE YEAR – ANYWHERE

SPORT D'HIVER 365 JOURS PAR AN –

OÙ QUE VOUS SOYEZ

Area of use

Colours

Alpine skiing,

Snowboard,

Freestyle

Green, Orange,

White

Classical

Cross- Country

Skiing and Skating

Green, Orange,

White

Lift Entry and Exit,

Lift Track

Green, Orange,

White, Brown

Lack of snow, iced-over entry or exit areas of lifts

or elaborate maintenance of exposed locations in

your skiing area? We offer a permanent, quick and

cost-efficient solution in the Sunkid Dry Slopes. Their

diversity and simple handling make them a must-have

for many skiing areas today!

Manque de neige, débarquement d'un télésiège verglacée

ou entretien fastidieux d'une zone exposée du

domaine skiable ? Nous pouvons vous proposer une

solution durable, rapide et avantageuse : les Sunkid Dry

Slopes. Par leur diversité et leur manipulation facile,

elles sont devenues indispensables dans de nombreux

domaines skiables !

DRY SLOPES POUR ZONES DIFFERENTES

Une solution idéale pour des zones exposées au soleil, par

manque de neige ou lorsque la neige se trouve déplacée par les

skieurs

Tapis en matière synthétique ayant les mêmes propriétés de

glisse que la neige; aucun arrosage nécessaire

Installation très simple et rapide sur la terre, l´herbe, le bois,

l´asphalte et le cement

Grâce au système de module, toutes les tailles de surface

peuvent être équipées

NP/30 NP/50 NP/70

Domaine

d'utilisation

Ski alpin, snowboard,

freestyle

Ski de fond

classique et

skating

Embarquement et

débarquement de

remontées, pistes de

montées d'un téléski

Couleurs Vert, orange, blanc Vert, orange, blanc

Vert, orange,

blanc, marron

46 47
---
YOUR PARTNER AROUND THE YEAR

VOTRE PARTENAIRE 365 JOURS PAR AN

WHERE DO YOU SPEND YOUR

SUMMER HOLIDAYS?

Summer on the mountain offers innumerable opportunities

for relaxing, having adventures and enjoying nature.

Custo mised toys or entire worlds of experience, individual

attractions or an integrated concept – Sunkid will be your

reliable partner and support you with experience gained

in 7,500 implemented projects in more than 65 countries

around the world. For more information, see our special

catalogues "Wood'n'Fun" and "Sunny Amusement", our

website or schedule a direct and personal consultation.

OÙ ALLEZ-VOUS PASSER

VOS VACANCES D'ÉTÉ ?

L'été à la montagne offre de nombreuses possibilités :

détente, aventure ou nature. Aires de jeux personnalisées,

ensemble d'attractions dans un concept intégré ou portiques

isolés, Sunkid est le partenaire qui vous accompagnera

dans votre projet, grâce à son expérience de 7 500 projets

réalisés dans plus de 65 pays. Vous trouverez de plus amples

informations dans nos catalogues spéciaux « Wood'n'Fun »

et « Sunny Amusement », sur notre site Internet, ou au cours

d'un rendez-vous consacré à votre projet.

WOOD'N'FUN –

HIGHLIGHTS FOR SUMMER

AND WINTER

WOOD'N FUN –

ACTIVITÉS-PHARES POUR

L'ÉTÉ ET L'HIVER

Playing equipment, photo points, worlds of experience,

seats, slope themes and much more. Wood'n'Fun means

near-unlimited options for design and themes in skiing

areas and skiing schools, no matter the season!

Success with customised themes

There are no limits to your wishes and ideas. We develop

customised concepts and themes for sustainable

experiences in alignment with the situation on site, your

target groups and corporate identity. We will gladly advise

you in person about the diverse options and purposes:

info@sunkidworld.com / +43 (0)5412 68131

Attractions et aires de jeu, points photo, univers thématiques,

mobilier, pistes thématiques et bien plus encore.

Wood'n'Fun est synonyme de possibilités presque infinies

d'aménagement et de thématisation, pour les domaines

skiables et les écoles de ski, été comme en hiver !

Devenez incontournable grâce à un concept

individualisé unique

Vos envies et vos idées ne connaissent aucune limite. Votre

terrain préféré, votre clientèle et votre image de marque

seront notre base pour développer un concept sur mesure

autour d'une thématique bien choisie, pour développer de

nouvelles expériences durables. Nous serons heureux de

vous renseigner à ce sujet, par mail ou téléphone :

info@sunkidworld.com / +43 (0)5412 68131

Wood'n'Fun means having adventures, relaxed moments

in nature and memorable experiences.

Wood'n'Fun est synonyme d'aventures, de moments de

détente complète et d'expériences inoubliables, immergés

en pleine nature.

48 49
---
TUBING

THE RAPID FREE-TIME FUN FOR SUMMER AND WINTER

Tubing – that is rapid free-time fun for young and old. The low construction costs and

year-round use makes this free-time fun the ideal expansion for the offers of mountain

railways and skiing schools, as well as theme parks, excursion destinations and indoor

parks. Sunkid offers everything from a single source. In addition to provision of the

tubes, we also take care of construction of plastic slopes for summer or indoor tubing

and provide the ideal climbing aid for transporting tubes and persons with the original

Sunkid conveyor belt.

LE PLAISIR RAPIDE POUR L'ÉTÉ & L'HIVER

Tubing - un plaisir très rapide pour les petits et les grands. Ses faibles coûts d'aménagement

et ses multiples utilisations tout au long de l'année font de ce plaisir de

loisirs le complément idéal des remontées mécaniques et des écoles de ski, mais

également des parcs de loisirs, destinations d'excursions et parcs intérieurs. D'un

seul fournisseur, Sunkid. Nous fournissons les tubes mais proposons également

d'aménager les pistes en plastique pour le Tubing d'été ou d'intérieur avec le transport

de personnes original, le « Tapis magique », une aide idéale à la remontée pour le

transport des tubes ou des personnes.

FAMILY RIDES

Interactive vantage point on the summit, eagle's flight over

the skiing slope or special toys in the children's area. The

Sunkid Family Rides' trademarks are easy operation, no

direct supervision, small space demand, very interactive

and maximal riding fun.

Tour panoramique interactive au sommet, vol au-dessus

d'une piste ou attraction pour votre jardin d'enfants. Les

points clés des Family Rides de Sunkid sont : facilité

de commande, aucune surveillance directe nécessaire,

dimensions compactes, haut degré d'interactivité et plaisir

maximal.

XRAYCER

A HIGHLIGHT FOR YOUR

MOUNTAIN SUMMER

Simple transport, extraordinary design and

unique control make the Xraycer different

from any comparable product on the market.

Together with the features weight, robustness

and resilience, they surely make the Xraycer a

highlight of the mountain summer.

UNE ACTIVITÉ CLÉ POUR

L'ÉTÉ À LA MONTAGNE

Son transport simple, son design excep tionnel

et sa commande unique distinguent clairement

le Xraycer de tous les produits comparables

sur le marché. Grâce à son poids, sa solidité

et sa résistance, le Xraycer sera certainement

l'une des attractions fortes de votre été en

montagne.

PLANNING COMPETENCE

As a globally active group of companies, we offer a broad product

range for tourism destinations, mountain railways and entertainment

parks. We offer everything from planning to production to

customised designs for adventure worlds from a single source,

no matter if you are planning a summer experience world on

the mountain, a fun slope, themed children's skiing area or your

customised challenge. We look forward to your project!

COMPÉTENCE EN PLANIFICATION

Grâce à notre qualité de groupe international, nous proposons une large

palette de produits pour les destinations touristiques, les remontées mé caniques

et les parcs de loisirs. De la planification en passant par la production

jusqu'à la conception d'un univers sur mesure, nous proposons tout à partir

d'une seule source. Qu'il s'agisse d'aires de jeux thématiques pour l'été

à la montagne, de Fun Slopes, de jardins d'enfants ou de toutes autres

demandes, nous nous réjouissons de votre projet !

TRACEBOARDING

SPEED, COMPETITION, FUN AND AGILITY

Speed: Up to 40km/h (just a few centimetres above the ground)

Agility: Aiming at targets with two joysticks. Electronic recording

of the hit rate

Competition: Scoring of time and hit rate leads to placement

Route design: Modular (removable) construction kit system for

variable position changes of the individual agility elements and

adaptation of the entire system.

Everything from a single source!

Tous nos services coulent d'une

seule source !

VITESSE, COMPÉTITION, FUN ET ADRESSE

Vitesse : jusqu'à 40 km/h (et à seulement quelques centimètres

au-dessus du sol)

Adresse : Viser des cibles avec deux manettes. Enregistrement

électronique du taux de réussite

Compétition : Classement selon le temps et le taux de réussite

Design des pistes : Système modulaire (démontable) pour

pouvoir varier les positions des différentes cibles ou la

modification globale de l'installation.

50

51
---
we move. you smile

Sunkid GmbH

A - 6460 Imst / Tirol

Industriezone 39

T: +43.5412.68 131

F: +43.5412.68 132

E: info@sunkidworld.com

V17 – Subject to changes, deviations and misprints. Changements, variations et erreurs d'impression sous réserves !

Fotos: Skischule Gargellen, Stefan Michael Kothner -Virtualview.at / Schmittenhöhe, Wolfgang Lienbacher / mood photography by jan hanser - mood.at

Skischule Sturm – Wolfgang Sturm / Claudia Beatrice Aebi / Busslehner Sports / Saastal Marketing AG / Sunkid GmbH / Shutterstock.com / Skischule Follow Me

www.sunkidworld.com