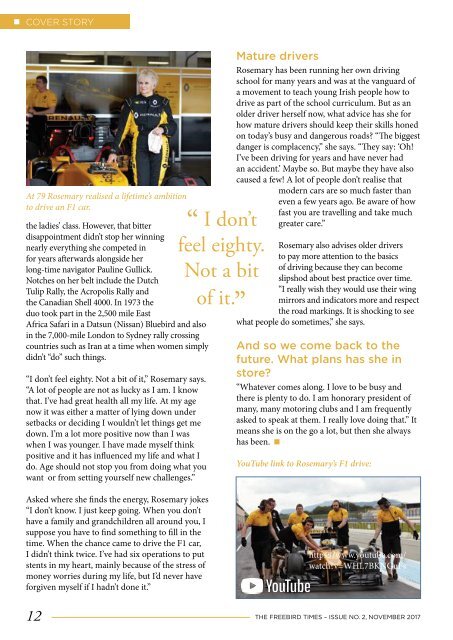 The Freebird Times - Issue 2
Create successful ePaper yourself
Turn your PDF publications into a flip-book with our unique Google optimized e-Paper software.
COVER STORY

At 79 Rosemary realised a lifetime's ambition

to drive an F1 car.

the ladies' class. However, that bitter

disappointment didn't stop her winning

nearly everything she competed in

for years afterwards alongside her

long-time navigator Pauline Gullick.

Notches on her belt include the Dutch

Tulip Rally, the Acropolis Rally and

the Canadian Shell 4000. In 1973 the

duo took part in the 2,500 mile East

Africa Safari in a Datsun (Nissan) Bluebird and also

in the 7,000-mile London to Sydney rally crossing

countries such as Iran at a time when women simply

didn't "do" such things.

"I don't feel eighty. Not a bit of it," Rosemary says.

"A lot of people are not as lucky as I am. I know

that. I've had great health all my life. At my age

now it was either a matter of lying down under

setbacks or deciding I wouldn't let things get me

down. I'm a lot more positive now than I was

when I was younger. I have made myself think

positive and it has influenced my life and what I

do. Age should not stop you from doing what you

want or from setting yourself new challenges."

" I don't

feel eighty.

Not a bit

of it.

"

Mature drivers

Rosemary has been running her own driving

school for many years and was at the vanguard of

a movement to teach young Irish people how to

drive as part of the school curriculum. But as an

older driver herself now, what advice has she for

how mature drivers should keep their skills honed

on today's busy and dangerous roads? "The biggest

danger is complacency," she says. "They say: 'Oh!

I've been driving for years and have never had

an accident.' Maybe so. But maybe they have also

caused a few! A lot of people don't realise that

modern cars are so much faster than

even a few years ago. Be aware of how

fast you are travelling and take much

greater care."

Rosemary also advises older drivers

to pay more attention to the basics

of driving because they can become

slipshod about best practice over time.

"I really wish they would use their wing

mirrors and indicators more and respect

the road markings. It is shocking to see

what people do sometimes," she says.

And so we come back to the

future. What plans has she in

store?

"Whatever comes along. I love to be busy and

there is plenty to do. I am honorary president of

many, many motoring clubs and I am frequently

asked to speak at them. I really love doing that." It

means she is on the go a lot, but then she always

has been.

YouTube link to Rosemary's F1 drive:

Asked where she finds the energy, Rosemary jokes

"I don't know. I just keep going. When you don't

have a family and grandchildren all around you, I

suppose you have to find something to fill in the

time. When the chance came to drive the F1 car,

I didn't think twice. I've had six operations to put

stents in my heart, mainly because of the stress of

money worries during my life, but I'd never have

forgiven myself if I hadn't done it."

https://www.youtube.com/

watch?v=WHL7BKNGuFs

12 THE FREEBIRD TIMES – ISSUE NO. 2, NOVEMBER 2017