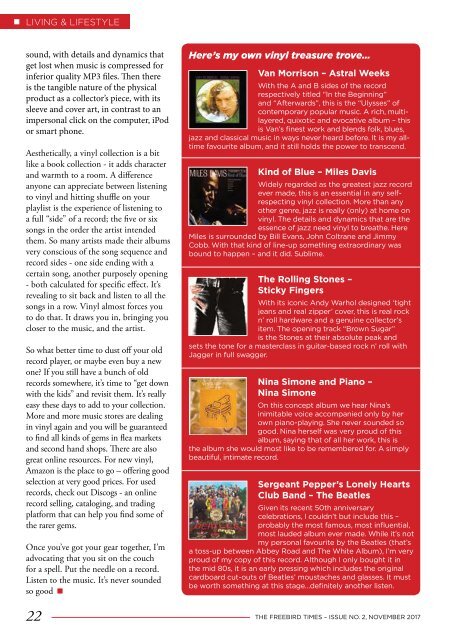 The Freebird Times - Issue 2
You also want an ePaper? Increase the reach of your titles
YUMPU automatically turns print PDFs into web optimized ePapers that Google loves.
LIVING & LIFESTYLE

sound, with details and dynamics that

get lost when music is compressed for

inferior quality MP3 files. Then there

is the tangible nature of the physical

product as a collector's piece, with its

sleeve and cover art, in contrast to an

impersonal click on the computer, iPod

or smart phone.

Aesthetically, a vinyl collection is a bit

like a book collection - it adds character

and warmth to a room. A difference

anyone can appreciate between listening

to vinyl and hitting shuffle on your

playlist is the experience of listening to

a full "side" of a record; the five or six

songs in the order the artist intended

them. So many artists made their albums

very conscious of the song sequence and

record sides - one side ending with a

certain song, another purposely opening

- both calculated for specific effect. It's

revealing to sit back and listen to all the

songs in a row. Vinyl almost forces you

to do that. It draws you in, bringing you

closer to the music, and the artist.

So what better time to dust off your old

record player, or maybe even buy a new

one? If you still have a bunch of old

records somewhere, it's time to "get down

with the kids" and revisit them. It's really

easy these days to add to your collection.

More and more music stores are dealing

in vinyl again and you will be guaranteed

to find all kinds of gems in flea markets

and second hand shops. There are also

great online resources. For new vinyl,

Amazon is the place to go – offering good

selection at very good prices. For used

records, check out Discogs - an online

record selling, cataloging, and trading

platform that can help you find some of

the rarer gems.

Once you've got your gear together, I'm

advocating that you sit on the couch

for a spell. Put the needle on a record.

Listen to the music. It's never sounded

so good

Here's my own vinyl treasure trove…

Van Morrison – Astral Weeks

With the A and B sides of the record

respectively titled "In the Beginning"

and "Afterwards", this is the "Ulysses" of

contemporary popular music. A rich, multilayered,

quixotic and evocative album – this

is Van's finest work and blends folk, blues,

jazz and classical music in ways never heard before. It is my alltime

favourite album, and it still holds the power to transcend.

Kind of Blue – Miles Davis

Widely regarded as the greatest jazz record

ever made, this is an essential in any selfrespecting

vinyl collection. More than any

other genre, jazz is really (only) at home on

vinyl. The details and dynamics that are the

essence of jazz need vinyl to breathe. Here

Miles is surrounded by Bill Evans, John Coltrane and Jimmy

Cobb. With that kind of line-up something extraordinary was

bound to happen – and it did. Sublime.

The Rolling Stones –

Sticky Fingers

With its iconic Andy Warhol designed 'tight

jeans and real zipper' cover, this is real rock

n' roll hardware and a genuine collector's

item. The opening track "Brown Sugar"

is the Stones at their absolute peak and

sets the tone for a masterclass in guitar-based rock n' roll with

Jagger in full swagger.

Nina Simone and Piano –

Nina Simone

On this concept album we hear Nina's

inimitable voice accompanied only by her

own piano-playing. She never sounded so

good. Nina herself was very proud of this

album, saying that of all her work, this is

the album she would most like to be remembered for. A simply

beautiful, intimate record.

Sergeant Pepper's Lonely Hearts

Club Band – The Beatles

Given its recent 50th anniversary

celebrations, I couldn't but include this –

probably the most famous, most influential,

most lauded album ever made. While it's not

my personal favourite by the Beatles (that's

a toss-up between Abbey Road and The White Album), I'm very

proud of my copy of this record. Although I only bought it in

the mid 80s, it is an early pressing which includes the original

cardboard cut-outs of Beatles' moustaches and glasses. It must

be worth something at this stage…definitely another listen.

22 THE FREEBIRD TIMES – ISSUE NO. 2, NOVEMBER 2017