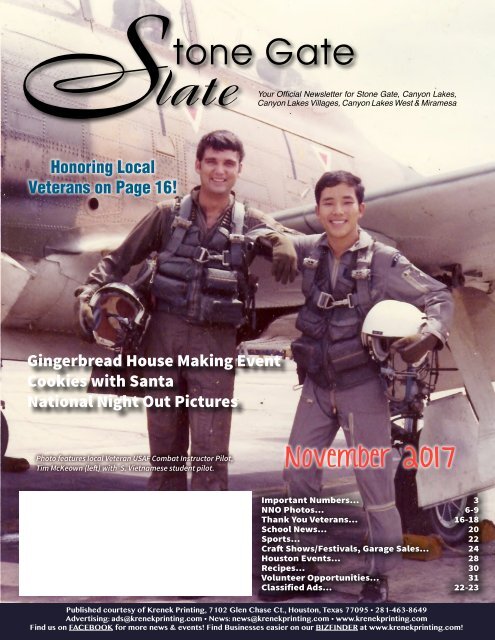 Create successful ePaper yourself
Turn your PDF publications into a flip-book with our unique Google optimized e-Paper software.
Your Official Newsletter for Stone Gate, Canyon Lakes,

Canyon Lakes Villages, Canyon Lakes West & Miramesa

Honoring Local

Veterans on Page 16!

Gingerbread House Making Event

Cookies with Santa

National Night Out Pictures

Photo features local Veteran USAF Combat Instructor Pilot,

Tim McKeown (left) with S. Vietnamese student pilot.

November 2017

Important Numbers... 3

NNO Photos... 6-9

Thank You Veterans... 16-18

School News... 20

Sports... 22

Craft Shows/Festivals, Garage Sales... 24

Houston Events... 28

Recipes... 30

Volunteer Opportunities... 31

Classified Ads... 22-23

Published courtesy of Krenek Printing, 7102 Glen Chase Ct., Houston, Texas 77095 • 281-463-8649

Advertising: ads@krenekprinting.com • News: news@krenekprinting.com • www.krenekprinting.com

Stone Find Gate us on | FACEBOOK November 2017 for more news & events! Find Businesses easier on our BIZFINDER at www.krenekprinting.com! 1
---
The Cypress Neighborhood Storage Place!

We put the SMILE back into STORING!

Ask About Our

50% OFF

Move-In Specials

Covered Boat &

RV Spaces Available!

• Boxes, Moving

& Packing Supplies

• Covered Loading Areas

• Individual Door Alarms!

• Online Bill Paying

• Great Customer Service!

FREE TRUCK

For Use with Rental

Copperfield

8415 Queenston Blvd

Houston, TX 77095

281-345-7744

Barker-Cypress

West Road

Queenston

Hwy 6

Longenbaugh

290

Mason

Mueschke

Fairfield

27236 Hwy 290

(Between Mueschke Rd & Mason Rd)

281-373-4994

We Accept:

Make

moving

easy!

Bring in this ad

to receive a

FREE LOCK

with your rental.

Call For Details.

2

Reserve Online!

Visit Us At: metroministorage.net

November 2017 | Stone Gate
---
STONE GATE COMMUNITIES IMPORTANT NUMBERS

PRINCIPAL MANAGEMENT GROUP OF HOUSTON

11000 Corporate Center Dr., Ste 150, Houston TX 77041

PMG # 713-329-7100 | Onsite Office # 281-304-7448

PMG Representative: James Skinner

713-329-7141 • jskinner@pmghouston.com

PROPERTY MANAGER

James Skinner is your property manager. James can be

reached at 713-329-7141 or jskinner@pmghouston.com. To

contact the BOARD or report any deed restriction violations,

put the information in writing and send via email to James

at jskinner@pmghouston.com or mail to address above.

To report STREET PARKING: Send a photo of the car parked

in the street to Mike Graves at mgraves@pmghouston.com.

To report lack of resident lawn care or other deed restriction

violations (anonymity will be honored) contact Mike Graves

at 832-314-0708 or mgraves@pmghouston.com

MIRAMESA CLUBHOUSE OFFICE

20150 Miramesa Dr., Cypress, TX 77433

832-698-4490

miramesarec@outlook.com

Hours: Tuesday-Saturday: 9 AM-5 PM

Sunday: 12-5 PM/ Monday: closed

STONE GATE SPLASHPAD ONSITE OFFICE

Hours: Tuesday-Saturday: 10 AM-6 PM

281-213-9777

9901 Red Rugosa, Houston, TX 77095

SplashPad is open year round from

10 AM-6 PM weather permitting.

Weather must be above 60 degrees.

STONE GATE GATE HOUSE

11755 Canyon Green Dr 281-256-3620

CANYON LAKES WEST REC CENTER OFFICE

CANYON LAKES WEST & PINE CREEK

19722 Stanton Lake Dr., Cypress, TX 77433

GATE HOUSE

281-855-0984 • canyonlakeswest@att.net

8212 Canyon Lakes Manor Dr. 281-855-6100

Hours: Monday-Friday: 11 AM-5 PM • Sat: 9 AM-5 PM / Sun: closed

TRASH/WATER

STONE GATE REC PUBLISHED CENTER OFFICE COURTESY OF KRENEK PRINTING

WCA Waste

11655 Canyon Green Dr., 7102 Houston, Glen Chase TX 77095 Ct, Houston, Texas 77095 Remington MUD #1

281-304-7448 • stonegaterec@att.net

281-463-8649 • www.KrenekPrinting.com Tax Office/ MUD #165

281-368-8397

281-579-4500

713-932-9011

Hours: Mon/Wed/Thurs/Fri/Sat: - 9 AM-5 PM

H2O Consulting/MUD #165 281-861-6215

Tuesday: 9 AM-8 PM / Sun: closed

SECURITY & EMERGENCY

TOP GUN PHONE NUMBERS:

Top Gun Phone #1: 281-905-2522

Top Gun Phone #2: 713-907-2744

Top Gun Phone #3: 713-256-8150

Harris County Sherriff's Department

EMERGENCY: 911

Non-Emergency 713-221-6000

Constable Precinct 5 281-463-6666

Cy-Fair VFD 281-550-6663

Department of Public Safety (DPS) 281-232-4334

SCHOOLS

Cy-Fair ISD

www.cfisd.net

Birkes Elementary School 281-345-3300

Lamkin Elementary School 281-897-4775

Postma Elementary School 281-345-3660

Rennel Elementary School 281-213-1550

Woodard Elementary School 281-373-2303

Aragon Middle School 281-856-5100

Arnold Middle School 281-897-4700

Hopper Middle School 281-463-5353

Smith Middle School 281-213-1010

Cy-Fair High School 281-897-4600

Cy-Falls High School 281-856-1000

Cy-Springs High School 281-345-3000

PUBLISHED COURTESY OF

KRENEK PRINTING

7102 Glen Chase Ct, Houston, Texas 77095

281-463-8649

www.KrenekPrinting.com

AMENITY ACCESS - Stone Gate, Canyon Lakes, Canyon Lakes Village, Canyon Lakes West and Miramesa are in the same homeowner's association,

S-G Owners Association. All residents are welcome to use the amenities at all locations. To sign up for Stone Gate amenities, residents of Canyon

Lakes West and/or Miramesa must go to the Recreation Center at Stone Gate and show them a copy of their driver's license to show proof of

residency and then they can register there. The two recreation centers are on different computer systems and in order to use the Stone Gate

amenities, residents must sign up on their system and vice versa. Canyon Lakes West and Miramesa are on the same computer system, so you only

have to sign up at one or the other, not both.

Stone Gate | November 2017 3
---
2017 Event Calendar

STONE GATE,

CANYON LAKES WEST

& MIRAMESA

Gingerbread House Making Event -

Saturday, November 18, 2017:

REGISTER NOW! Our younger residents and their parents are invited

to your local clubhouse (Stone Gate, Canyon Lakes West or Miramesa)

to make, keep or eat a special holiday treat. There is no charge for this

event, but reservations are required and space is limited. Please RSVP

now with the number of children and the number of adults attending

and your clubhouse preference (Stone Gate, Canyon Lakes West or

Miramesa) to Melinda Hoffpauir, Director of Community Events, at

mgarcia@canyongate.com. Session times vary between 10 AM-2 PM as

space permits. You will be given a session time when you register.

PLEASE NOTE: There is a limit of ONE gingerbread house per household, not

per child. This event is open to residents only. Space is limited, ADVANCED

RESERVATIONS are required. Please contact mgarcia@canyongate.com to

reserve your spot today!

Cookies With Santa &

Toys For Tots Toy

Drive - Saturday,

December 2, 2017

9 Am-12 Pm & 2-4 Pm:

9 AM-12 PM at Sterling County Club at Houston National, 16500 Houston

National Blvd. Houston, TX 77095. Then 2-4 PM at Miramesa Clubhouse,

20150 Miramesa Dr. Cypress, TX 77433. Stone Gate, Canyon Lakes West

& Miramesa Residents are invited to join in the fun and take your photo

with Jolly St. Nick! We'll be serving holiday treats & entertainment for

children young and old! We will also have a life-sized inflatable globe for

great holiday pictures! We're hosting a "Toys for Tots" Toy Drive! If you'd

like to contribute, please bring a NEW UNWRAPPED TOY to the Sterling

County Club or Miramesa Clubhouse during the event. Don't forget your

camera! NO RESERVATIONS NEEDED.

Annual Holiday Yard Decorating

Contest - December 3-9

Start planning your holiday decorations! Stone Gate's favorite Annual

Holiday Decorating Contest returns. Each section in Stone Gate, Canyon

Lakes West & Miramesa will have one winner, awarded a special prize.

The winner will also get to display their winning yard sign during the

holiday season! Make sure your lights are on from 6 PM- 10 PM, Sunday,

December 3 rd through Saturday, December 9 th as our volunteer

resident judges will be driving the community to choose a winner!

CALLING ALL VOLUNTEERS! Judges needed for Holiday Yard Judging

Contest December 3 rd -9 th . We need volunteers to drive the community

and help nominate homes! This is a great way to volunteer and give

back to our great community. It only takes an hour in the evening to

drive your assigned section! For additional information or to sign up as

a judge, please contact Melinda Hoffpauir at mgarcia@canyongate.com.

VOLUNTEER JUDGES are needed for the event to be a success.

4

November 18 th : Gingerbread House Making

December 2 nd : Cookies with Santa

December 3 rd -9 th : Holiday Yard Contest

*Events, dates and times are subject to change

Reminders

Be Courteous And Respectful

Please be considerate of the differences in lifestyles between neighbors,

such as family situations (small children, teenagers, retired, elderly,

professionals and students), different work and sleep schedules and

whether they are comfortable with pets or not.

Noise

Be courteous - keep the noise to an acceptable level. Complaints about

excessive noise can come from loud music, outdoor activities, early

morning lawn mowers and guests coming or going during late night or

early morning hours.

Golf Carts

Please do not allow teenagers and/or young children to drive golf

carts in our community.

Cart Path Safety

Please be aware of the safety hazards involved in trespassing onto

the Sterling Country Club and Houston National cart paths and golf

course. The cart paths on both courses are only for golfers that have

registered through our Pro Shop. Cart paths are a means for players

to complete their round of golf as quickly, conveniently and safely as

possible. As the Stone Gate community continues to grow we feel

it is our responsibility to educate every resident as best we can to

keep pedestrians and their pets safe and away from the cart paths.

Golf balls are often hit at speeds over 150 mph and can have deadly

consequences to a human or pet if hit in the head, throat or chest.

Because the paths are for registered golfers, those playing golf are not

aware of the presence of pedestrians on the course, which can lead to

very damaging collisions with hikers/bikers and their pets. This January

I fielded a report of a pedestrian being struck by a golf ball and other

reports of residents having near miss encounters with golf carts when

traveling along the paths. Hiking, jogging, biking, dog walking, golf

cart/ATV's not being used to play golf, skateboarding and skating on

the cart paths is strictly prohibited on the basis of safety hazard and

trespassing concerns. Thanks for your cooperation!

November 2017 | Stone Gate
---
2018 Annual Assessments

The S-G (Stone Gate) Owners Association, INC. will be sending out

the 2018 Assessment Invoices soon! If you do not receive your

invoice by December 31 st , please call or visit your clubhouse office

to request a copy. The Onsite Manager can email or print a copy of

your invoice for you.

Please feel free to contact us should you have any questions or

comments regarding your account or any other matters. You can

contact us using any of the methods below:

Canyon Lakes West Clubhouse 281-855-0984, canyonlakeswest@

att.net

Stone Gate Clubhouse 281-304-7448, stonegaterec@att.net

Miramesa Clubhouse 832-698-4490, miramesarec@outlook.com

James Skinner at jskinner@pmghouston.com

Don't let real estate turn

your world upside down!

Contact Amanda

to learn how to make

it as easy as 1.2.3.

832-557-6748

realestatebyamanda123@gmail.com

realestatebyamanda123.com

FRONT COVER

PHOTOS WANTED!

We are looking for great photos to use on the front

cover of your newsletter! Pictures must be high quality

(min 300 dpi). No cell phone photos allowed. Email

photos for consideration to lorie@krenekprinting.

com with the name of your subdivision, and any credits

that should be published with your photo (such as a

professional photographer.) Names of children and/

or adults shown on the photo will be included by

request only. By submitting your photo, you are giving

permission to use your photo on the cover or inside

your newsletter, as well as other Krenek Printing

publications.

Deadline for submission is the 10th of each month. The

next due date will be November 10th for the December

2017 publications, and December 10th for the January

2018 publications.

Open for Breakfast, Lunch & Dinner

Tacos • Burritos • Enchiladas • Nachos

Sizzling Fajitas & Great Margaritas!

Happy Hour

$2.99 Ritas

Mon-Thurs • 11am-7pm

$10 OFF

Buy one entree &

2 drinks at regular price

& get 2nd entree of equal

or lesser value FREE

Up to $10 value. Dinner Menu &

Dine-in Only. Not valid with any

other offers or specials.

Family Packs

$109.99 for 10 people

$42.99 for 4 people

Weekend Breakfast Buffet from 9am-3pm

20% OFF

Lunch Plate and

One Soft Drink

at Regular Price

Dine-in Only. Not valid with any

other offers or specials.

16506 FM529, Ste. 101

346-978-5050

9740 Barker Cypress, Ste. 105

281-345-7632

Free Estimates

Stone Gate | November 2017 5
---
6

November 2017 | Stone Gate
---
National Night Out Thank You

National Night Out has come and gone again. All of the block parties were terrific, with lots of enthusiasm from the residents and the local police

department. We should all strive to make sure the spirit and intent of National Night Out continues every day of the year!

I had the pleasure of receiving photos and choosing a winner for the ice cream social. It was great to see the interaction between the law enforcement

officers that participated and members of the community who came to see what National Night Out is all about.

I was impressed by the number of Sheriff's deputies and Deputy Constables who participated in and attended the events. We had a large group of

patrol deputies active in the block parties throughout the communities. Many of you showed up in uniform on your own time because you care about

the agency and about your community. You wanted to be there and were proud to show off the uniform you wear every day.

Congratulations to our winners on Linden Springs Ct. and Cliff Haven Drive in Stone Gate Section 11! They will be having an ice-cream social at the

Stone Gate Clubhouse courtesy of Perry Homes!

Many thanks to everyone who participated and made National Night Out a fun and successful night! For more photos of National Night Out, please

visit our Facebook pages.

Stone Gate | November 2017 7
---
8

November 2017 | Stone Gate
---
Stone Gate | November 2017 9
---
10

"We work as unto

the Lord"

RESIDENTIAL &

COMMERCIAL

DYNAMIC POWER WASHING & LAWN CARE

Ask for Kyle - Owner

Geyer roofinG

Specializing in

Re-Roofing

Ron Geyer

713-462-3898

REMODELING

• Kitchens • Bathrooms • Windows / Doors • Floors • Hardi Siding

• Rooms Additions • Complete Renovations • Patio Covers

Rob Geyer

281-477-3456

RESIDENTIAL

• Restore & Preserve Decks

• Mold & Mildew Removal

• Graffiti Removal

• Stone, Stucco, Brick, Siding

• Decks & Fences • Patios

• Chimneys

• High & Low Pressure

Free

Estimates

832-922-1967

"If It Has A Dirty Surface, We Can Clean It"

VICTORY PAINTING

& WOOD ROT REPLACEMENT

PROMPT - RELIABLE - AFFORDABLE - SINCE 1993

Interior & Exterior Painting • Storm Damage Repair

Siding Replacement • Custom Woodwork

Extensive References • Free Estimates

Will Meet or Beat Competitor's Prices • Satisfaction Guaranteed

www.VictoryPaintingTx.com • Victor@VictoryPaintingTx.com

281-853-4575

Rules of the Road for

S-G Owner's Association

This is a reminder…. The operation of motorized vehicles (ATV's, dirt

bikes, golf carts, etc.) other than mowing equipment on pathways or

trails maintained by the Association or any other Common Area within

the community is not allowed. Please do not allow teenagers and/or

young children to drive golf carts in our community.

According to the Texas department of public safety:

• ATV's are not allowed on a street and an operator crossing a street must

have a valid driver's license.

• Golf carts are allowed on roads, but must obey all traffic laws including

speed limits. If operated on a road the golf cart must have a license plate

and the driver must have a valid driver's license and proof of insurance.

• Mopeds and motor assisted scooters are treated as regular bicycles. All

vehicles used on roads must obey traffic laws including stop signs and

speed limits. For additional information on this subject go to www.txdps.

state.tx.us/msb/pages/Electric.htm.

DID YOU KNOW…. ATV's and Golf Carts on common areas of the

community require your money to repair these areas when damaged.

Please Be Observant of Posted

Traffic Signs, Speed and Gates

Please respect the posted traffic speeds and stop signs in our

community. They are here to make our community a safe and

pleasant place to live. Use extra caution when driving near our parks

and community pools Please also use the correct side of the gates for

entry and exit.

Street Parking

We have received numerous complaints from residents about

people parking in the streets. Please be advised that the S-G Owners

Association will begin placing orange violation stickers on vehicles

that are in violation of the parking policy. Per the Parking Policy,

vehicles may only be parked on the street during daylight hours, when

the driveway can hold no additional vehicles. This does include your

guests/nanny, babysitter, home healthcare provider, etc. Commercially

marked larger vehicles like; Comcast, AT&T, Entouch, landscaper, etc.,

may park in front of the home they are providing a service call for, if this

is the homeowner's vehicle, it may not be stored in the community. In

addition, no overnight parking is permitted. Towing will be enforced in

the gated sections. We encourage you to ensure that your vehicles are

properly parked and/or make proper parking arrangements. We thank

you for your cooperation and understanding. The Owners Association

understands there may be extenuating circumstances which arise

from time to time, please contact Tamara Paul, your On-Site Manager;

tpaul@pmghouston.com to request a special accommodation for your

household.

~ S-G Owners Association

Let Us Keep Our

Neighborhoods Litter Free!

Take responsibility for yourself & be a good neighbor! Keep our streets &

neighborhood trash & litter free! Make it a habit, be a good neighbor & do

your part! If each person did their own part (around the outside of their

home, including their little stretch of street in front of their house), what

a better place this would be to live! A clean environment/neighborhood

makes people feel good about themselves. They will keep it clean. Some

need to be reminded. Others need to be continually reminded. It takes

time to change habits. Keeping your neighborhood clean is a habit that

takes conscious effort.

November 2017 | Stone Gate
---
Keep Our Lakes Clean

Please help us keep our community beautiful by NOT THROWING trash

and debris into the lakes. In addition, there is NO SWIMMING, BOATING

OR FISHING in the LAKES.

Tennis Courts

The Association kindly asks that residents refrain from using the tennis

courts for anything other than playing tennis. Playing basketball, football

and/or other activities can cause damage to the tennis courts making it

unavailable for other residents to use and creating costly repairs.

Pets

Good dog-walking etiquette means picking up the poop after your dog is

finished. This is as simple as taking a plastic grocery bag, turning it inside

out and placing your hand inside and using the bag as a plastic glove,

then turn the bag back out and take the bag with you where you can

dispose of it properly. That's the courteous thing to do. Don't get caught

without extra poop bags, particularly if you're going on a long walk. (P.S.

This is a great way to recycle all those plastic grocery bags!)

Please Control Your Pets!

It is a deed restriction violation if your pets are not confined to a fenced

backyard or within your home. They must not be allowed to bark all

night or cause a nuisance to your neighbors. They must also be on a

leash at all times when not in a contained environment. It is also the pet

owner's responsibility to keep ALL areas of the community FREE from pet

debris when walking your pets. Please remember that cats must also be

confined. Animal Control can be reached at 281-999-3191. If you happen

to come across vicious dogs or ANY loose dogs of this nature, please

contact your local Animal Control at 281-999-3191. If you are familiar

with the property address the pets belong to, please feel free to submit

that information to PMG, Michael Graves mgraves@pmghouston.com, to

pursue the deed restriction violation. Notification and ample time must

be given to the owner to correct the violation prior to any further pursuit

by the Association.

Remember that all pets should always wear a collar with ID tag! Pet

owners should also consider pet microchips for identification in case

your pet looses their collar/ID tag.

Did you know? There is a Lost Pet Feature to Community Intranet

• Log into www.canyongate.com/residents/sg (login required)

• Click on "classifieds" under Resources located on left side of menu

• Click on "lost & found pets"

You personally can create a description of the lost or found pet as well

as add photos. Please include your contact information to speed up

communications.

Community Email Blasts & More

Have you logged in yet? www.canyongate.com/residents/sg

To find a wealth of information regarding your Homeowners Association,

please visit the website at www.CanyonGate.com. On this community

website you will find the following and much more…

• Rules, Regulations (CC&R'S) & Guidelines

• Modifications Form (ARC)

• Board of Director meeting times

• Community Updates

• Event Updates and Schedules

• Lost & Found Pet Section (under classifieds)

The intranet is for all SG Owners Association residents including Canyon

Lakes West. Be sure to register as a new homeowner to receive important

Association information.

ELECTRICIAN

$20 Off Any

Service Call!

1 Not to be combined with any other discount or offer.

WIRED

Electrical Services

Residential & Commercial

Award Winner

Master #100394 • TECL #22809

24/7 Service

5 Year

Warranty*

100% Customer

Satisfaction

Guaranteed!

P Mount Flat Screens

P Generators

P Lighting

P Add Circuits

P Panel Replacement

P Cable/Phone

713-467-1125

281-897-0001

www.wiredes.com

Family Owned

& Operated

Stone Gate | November 2017 11
---
Full Service Pest Control

Roaches • Fire Ants • Spiders • Rodents • Flea & Ticks

Animal Trappings •Wasps & Hornets • Bedbugs

Mosquito Control

Mosquito System Installs & Repairs

Termite Treatments & Inspections

Lawn & Weed Control

Call Now

(281) 256-2600

or email

sales@fxpestcontrol.com

General Pest

Control Service

$79.95

NO CONTRACTS

PLEASE CALL FOR DETAILS

Forever Landscape

• Tree Trimming

• Tree Removal

• Tree Fertilizer

• Stump Grinding

• Trim Bushes

• Flower Bed Design

• Planting, Renovation

• Stone Border

• Flat Stones

• Drain System

• Garden Soil, Top Soil

• Grass Installation

• Lawn Aeration

• Lawn Dethatcher

• Mulch

• Clean Gutters

Call Everth 281-891-0370

Visit us at

www.foreverlandscape.com

Fully insured for your protection.

Free

Estimates

Crime Prevention

Tips and Links

Please remember to lock your car

doors. Also, if you see anything

suspicious, please call the Constables

right away. Even if it turns out to be

nothing, they would rather check it out

to keep the neighborhood safe. Every

now and again, something that people

may think is nothing, has actually

turned into something. I have attached 3 helpful links below: The first is

for the Vacation Watch. When the residents leave for vacation, they can

fill out the form and as part of their normal duties, the Constables will

drive by and check on their residence.

www.constablepct5.com/vacation-watch

The second is for a Special Watch. If there is something going on around

the resident's house and they want the Constables to keep an extra eye

out or want a little extra patrol, they can fill this form out and we can take

care of it.

www.constablepct5.com/special-watch

Finally is the online crime tips. If there is a crime tip that you have, you

can fill this out and the Constable's office will look into it.

www.constablepct5.com/online-crime-tips

Precinct #5 Constables office can be reached at 281-463-6666.

Harris Country Sheriff's Department (non-emergency) 713-221-6000.

Remington MUD #165 Payments

Friendly reminder, for your convenience there is a drop box outside the

Stone Gate Recreation Center for homeowners to pay their Remington

MUD #165 bill without mailing it. Payments are collected every Thursday.

The Stone Gate Recreation Center is located at 11655 Canyon Green Dr.

Houston, TX 77095.

12

FREE TERMITE

INSPECTION

WITH ANY SERVICE

Amelia Norabuena

MAID SERVICES

281-912-5036

2017 Resident Roundtable &

Committee Meeting Schedule

November 16 th : Resident Roundtable Meeting -

Canyon Lakes West Clubhouse, 7-8 PM

2017 Board Meeting Schedule

October 18 th : Stone Gate Clubhouse, 4-6 PM

November 15 th : Land Tejas Office, 11 AM-1 PM

December: Annual Meeting - TBD

*Meeting dates/times and locations are subject to change*

Deed Restriction Reminders

TREES: Dead trees and/or missing trees are a violation of your deed

restrictions. If tree stakes are not attached to the tree or if the ties are

an inch or two into the tree - they need to be removed. Thank you for

helping to keep our community a beautiful place to live!

FISHING IN THE LAKES: Not permitted at any time. Please refrain from

this activity.

BASKETBALL GOALS IN STREET: While basketball goals are permitted

in your driveway while being used, they are not allowed in the streets.

Please refrain from blocking the ingress/egress of traffic or emergency

vehicles.

TRASH CANS: Please be sure to keep all garbage in a proper receptacle

with a securable lid to prevent pets and/or wind from creating a mess in

our community. Trash cans must also be kept sanitary and out of public/

street view in-between trash pickup days. Residents are permitted to

set their trashcan(s) out after 6 PM the evening before their respective

trash pickup days, but they must be out of public/street view the same

day of pickup. The Association would also like to remind residents not to

litter. Please join our efforts in keeping Stone Gate, Canyon Lakes West

and Miramesa a beautiful place to live by disposing of your trash in the

proper waste receptacles.

AMENITIES: Stone Gate, Canyon Lakes West and Miramesa share

amenities. All residents are welcome to utilize all amenities. The finger

reader is for Canyon Lakes West and Miramesa amenities ONLY. Stone

Gate will continue to have access card readers. As a reminder, all guests

MUST BE ACCOMPANIED by a RESIDENT (18 or older) to use the facilities.

November 2017 | Stone Gate
---
STEVE TOUCHY

Attorney At Law

Serving Businesses and Families Since 1983

Copperfield/Cypress

• Wills • Trusts • Probate

• Divorce • Employment

• Adoption • Consumer Law

• Incorporation • Collections

• Partnership • Liens

• Real Estate • Commercial Law

281-858-0700

stevetouchy@yahoo.com

15840 FM 529, Suite 280

Houston, Texas 77095

Located in the Chase Bank Building on FM 529

General Clubhouse Rental Information

Stone Gate, Canyon Lakes West & Miramesa

Rental Fees Are As Follows:

Non-refundable Reservation/Admin fee $50

$20 per hour 2 HOUR MINIMUM

Normal Business Hours: Monday-Saturday 9 AM-5 PM

$40 per hour 2 HOUR MINIMUM

After 5 PM Monday-Saturday and All Day Sundays

Set up, clean up and inspection must be included in event rental time.

A $300 Security/Deposit is required for every rental. (Security /Deposit

will be deposited along with party check) Deposits will be mailed within

14 business days to homeowner.

Rental(s) are booked no later than 2 weeks prior to event;

Rental(s) are booked no more than 3 months out.

CLUBHOUSE:

No more than 60 persons. (Per fire code)

Facility closes at 11:45 PM.

Resident must be present during entire rental period.

No smoking is permitted inside the Facility.

No glitter, confetti, silly string, inks, glue, powder, etc. or products

that could stain or damage any surfaces. No piñatas, no petting zoos,

trackless trains or bouncers.

No alcohol is permitted.

*Exception: Alcohol permitted with one (1) law enforcement officer.

The deposit for alcohol is $450. Four (4) hour minimum required at

special event rate (Subject to change). Failure to comply will allow the

Association to close the event.

Resident must supply all cleaning supplies and trash bags.

Resident must take home all trash.

5 (6 ft.) portable tables and 25 folded chairs available for use.

EZ Tags & Gates

EZ tag changes can be done via email to/or at any of the onsite offices.

Please email your onsite office via email at the corresponding email

below to make any changes/updates to the EZ tags on file.

You will need to provide year make model color and license plate number

(if available as some have new paper tags). Please keep in mind; all

residents are only assigned to the gate in their section. No resident has

full access of the community. If you need to get to the main office, please

go through the gate attendant. If you need a sticker for identification

purposes you can receive one from the onsite office.

Stone Gate Clubhouse

Phone: 281-304-7448 • Email: stonegaterec@att.net

Address: 11655 Canyon Green Dr. Houston, TX 77095

Canyon Lakes West Clubhouse

Phone: 281-855-0984 • Email: canyonlakeswest@att.net

Address: 19722 Stanton Lake Dr. Cypress, TX 77433

Miramesa Clubhouse

Phone: 832-698-4490 • Email: miramesarec@outlook.com

Address: 20150 Miramesa Dr. Cypress, TX 77433

Resident & Visitor Entry Information

Residents with a Registered EZ Tag: Enter through far right lane. Gate

House check-in NOT required. (Auto-Gate- DO NOT STOP) Gate Attendant

will open the gate in the event that the EZ Tag barrier arm does not read

your EZ Tag. Please register your EZ Tag at your clubhouse office. The

Onsite Manager will assign your EZ Tag to the entrance gate in accordance

with the section you reside in (you will not have access to all gates, only

the one for the section you live in).

Residents with an "SG" Decal Sticker (must be displayed on top left

corner of windshield): Enter through middle lane. Gate House check-in

NOT Required. (Gate Attendant will open gate) If you need an "SG" decal

sticker, please visit your local clubhouse office.

Residents without an "SG" Decal Sticker: Enter through far left lane.

Stone Gate | November 2017 13
---
Gate House check-in is required. The Gate House Attendant will require

your valid Texas Driver's License or Texas State ID to verify residency.

Gate Attendant will record name and license plate. If you are new to

the community, show your current Valid Driver's License or State Issued

Photo ID and give the Gate Attendant your new Stone Gate/Canyon Lakes

West address. Gate Attendant will also record name and license plate.

Visitors: Enter through far left lane. Gate House check-in is required. The

Gate House Attendant will require you to present a valid Driver's License

or State ID. Identify name and address of Resident whom you are visiting.

Gate Attendant will record name and license plate and you will be given

entry. *If the Resident has opted to be notified by phone before Visitors

are granted entry, Visitors will only be granted entry if the resident

answers and confirms entry

Contractors: Enter through far left lane. Gate House check-in is required.

The Gate House Attendant will record the following information:

1. Name and address of service provider as well as personnel (valid

driver's license or state ID)

2. Reason for visit

3. License Plate

If the Resident has opted to be notified by phone before Contractors

are granted entry, Contractors will only be granted entry if the resident

answers and confirms access. Access for contractors is issued on a dayto-day

basis (must follow above procedures for all re-entry)

Questions? PH 281-304-7448/281-905-2522/stonegaterec@att.net

Note: Ensure all your residential information is up to date with Board to avoid

delays and access denials. Failure to comply with these rules will result in a

Criminal Trespassing Warning (if visitor/contractor). Information on noncompliance

is forwarded to the Board members for further action (if residents).

Top Gun Officer stationed at the gate house must remain at the gate

house at all times.

In Case Of Emergency, Call 9-1-1. Then call Top Gun at 281-905-2522,

713-907-2744 or 713-256-8150 for assistance and to report all suspicious

activity.

Love To Life Ministries

Adult Bible Study

Please come out and join us in our mid week Adult Bible Study and receive

an encouraging word, prayer and make new friends each Tuesday at

7:00 PM. Our vision is to empowered people from all lifestyles, to change

their lives through an intimate relationship with Jesus Christ through the

infallible Word of God with simplicity and understanding. We want

to encourage all believers to seek and maintain a spirit-filled life. We

promise to "Love You To Life!" Refreshments will be served. Hope to see

you there!!!

Pastor Glenn & Bettie, 17010 Feather Fall Lane, Willow Ranch Subdivision

at Canyon Lakes, Houston Texas 77095. For more information, please

call Pastor Glenn at 713-826-3364 or 281-304-6966 or email: at gbdavis@

amerion.com.

14

November 2017 | Stone Gate
---
TEENAGE JOB SEEKERS

If you are between 12 and 18 and would like to be added to the

teenage job seeker's list, please fill out the form on our website (www.

krenekprinting.com, click submissions and choose Jobseekers) with

your name, birthdate (mo. & yr.), phone number, year you will graduate

and the name of your newsletter/subdivision. Check the list of jobs you

want on your form. Please make sure your email is correct, we send

emails in the summer to make sure all the info is still good and that you

want to stay on the list. If we do not hear back from you after 3 tries, we

will remove you from the list until we do. Must have parent(s) permission.

DISCLAIMER:

Neither the subdivision, nor Krenek Printing is responsible for those listed

on the Teenage Job Seeker List. Please ask for and check out references

if you do not personally know those listed. This is just a list of teenagers

from the subdivision who wish to find part time jobs. Responsibility for

any work done by these teenagers is between those seeking helpers and

the teens and their parents.

CODE KEY:

B - BABYSITTING, CPR - CPR CERT., FAC - FIRST AID CERT., RCC - RED

CROSS CERT., SS - SAFE SITTER, SL - SWIM LESSONS, PP - PET/PLANT

SITTER, P - PET CARE ONLY, H - HOUSE CARE, L - LAWN CARE, C- CAR

CARE/DETAILING, T - TUTORING

TEENAGE JOB SEEKERS

NOT AVAILABLE ONLINE

Stone Gate | November 2017 15
---
y

Thank you

A Veteran, whether active duty, discharged, retired,

or reserve, is someone who, at one point in his or

her life, wrote a blank check made payable to The

United States of America, for an amount of up to,

and including his life.

VETERANS!

Our communities are fi lled with the brave men and

women that have selfl essly served our country.

November 11th is designated as Veteran's Day, however

we are humbled and grateful to each of you today

and always. Thank you, Veterans, for your courage in

protecting our country, our rights and our freedoms.

Chuck Hadley

PFC US Army , First Infantry Division 1969 S. Vietnam .

Live in Easton Commons Village

"This picture was taken up on a tall trianglar wooden 45' radar

tower. I am black haired fellow on right. I had just turned 19. Fire

Support Base Gela took two assaults by Viet Cong (VC) and were repelled

both times. The first assault occurred on Mother's Day 1969

and the other was in the summer sometime. The fellow in the middle

Is Dan McIntyre of Rifle, Co. We were both wounded together

on Oct 31st at our next Fire Support Base, Apollo, named for the

first moon landing by man in July 17, 1969. Those were the days…

youth spent in some incredible intense times. The Greatest Generation

is anybody who has served in the combat arms in war time,

not just WWII veterans!!"

Sam Robert Harris (No photo)

Specialist 4, Army

May 1970 to April 1972

Cross Creek Ranch - Creekside

Tiana P Barros

E-5 Combat Veteran,

Purple Heart

Us Army/ OIF

1/04/2004-3/25/2005,

OIF 6/03/2009-5/29/2010

Stone Gate

Dan Obvious

Captain

United States Army

1/1985 to 1/1989

Riata Ranch

Michael P. Dugas

US Army

Rank: SP5

10/30/1967-11/9/1970

West Memorial

SGT Erik Verduzco (No photo)

U.S. Army Jun 1998 – Jan 2004

Stonecrest

Jeffrey Buchanan (No photo)

US Army, Artillery, E- 5

September 1963 to October 1966

Memorial Parkway

Jim Dobbins (No photo)

COL (Retired)

Army, April 1969 - June 2007

Cinco

16

Ranch - Ashfield Gardens

Richard E. Howard

SP5 E5, U.S. Army,

10/13/1961 - 10/12/1967.

Cimarron

Kenneth R. Burton, Jr. John Krenek

Lieutenant Colonel Specialist 4th class

USAR, Army MSC

in the Army, 29th

Active duty 1968-70. engineering battalion

Active reserves 1970-91 assigned to the 34th

Grayson Lakes

engineering company.

1/9/69 - 1/9/71

November 2017

Hearthstone

| Stone Gate
---
Jerry A. Simms

Sergeant, U.S. Army

10/13/1968-10/14/1974

West Memorial

Sharon Standifird

Sergeant, United States Army

April 1988 - January 1997

CCR - Lakeside

William Standifird

Corporal, United States Army

February 1991 -February 1995

CCR - Lakeside

Ronald Williams

US Navy, E4 / 1974 - 1978

Stonegate @ Canyon Lakes -

Nautical Point

John T Wendel

Served 2 tours in Vietnam.

1 year in Danang, one year

in the Mecong Delta.

10/68 to 8/71.

Damage control 3rd class

US NAVY. Disable Veteran.

West Creek Village

MSG Darryl Leonard

USAF (RET)

1985-2006

I was a broadcast journalist/

public affair's specialist.

My main job was with the

American Forces Radio and

Television Service.

Cinco Ranch

Katy Garza Teague

Army Specialist

MIC:81

1/2006 to 6/2011

Cimarron

Raymond Davis

Captain, Army Texas National Guard

536th BSB Echo Company Commander

February 1999 – currently serving

Jamestown Colony

Copeland, H. W.,

A/2c, USAF

Sept 55 - Sept 61

Westcreek

Lincoln Stroh

Captain, U.S. Coast Guard

June 25, 1979 - June 30, 2013

Firethorne East

Glenn H Martin

Major

USAF B-24 Pilot,

1941 - 1952

MSTCM Lonnie Evans

USCGR, Master Chief

U. S. Coast Guard

1995 - Present

Ira W. (Shorty) Stults

Senior Master Sargent

US Air Force

Canyon Lakes

Charles O. Fowler

Seaman 2nd Class

US Navy

Canyon Lakes

Stone

Hearthstone

Gate | November 2017

Cinco Ranch - Rollingwood

17
---
Alan E. Patterson

RMCS (E-8)

U. S. Navy

2/15/1971 – 2/15/1993

Villages of Cypress Lakes West

Carl Mullen

Lieutenant

U. S. Navy

Jan 1964-Jan 1969

Oak Park Trails

Gary Hamilton

Corporal

US Marine Corp

1968-1971

Deerfield

Reynaldo Garza

Quartermaster, USN

Richard E. Krauss

1968-1972

Cimarron

John Sandoval Torrez (No photo)

TSGT, U. S. Air Force

12/1965 - 4/1976

Twin Lakes

Roderick Luckadue (No photo)

(YN1(SW), U.S. Navy (RET)

Copperfield Place Village

Bob Tetmeyer (No photo)

E-5: US Navy

1964-1968

Hearthstone

Cynthia A. (lLittle) Luckadue

(No photo)

SGT, U.S. Army (reserve)

Copperfield Place Village

Jesus Enrique Cerrillo

Msgt, U.S. Air Force

16 years

Cinco West At

Seven Meadows

Chris Curran (No photo)

E-4, U.S. Navy

2/1969 - 2/1975

Southdown Village

Janice Quigley (No photo)

Air Force, 9/20/1985 - 9/28/1991

Towne Lake

Susan Atchley (No photo)

U.S. Air Force

Rank at discharge: A3C

1/1966 - 3/1967

Texas Air National Guard

Rank at discharge: A1C

6/1980 - 7/1981

West Memorial (since May 1979)

Efrain Villagomez

Cpl. U.S. Marine Corps

1966-1969

Weston Lakes

Lynne Jacobs

Sgt., USAF

1977-1981

Park View in Equestrian Trails

"I served in West Berlin during

the Cold War, when the Berlin

Wall was still up. It was one of the

most interesting times of my life!"

Capt. Tim McKeown

USAF Combat Instructor Pilot for S.

Vietnamese and Laotian Hmoung

Student Pilots one of whom appears

in this photo on right with me

1969-1973

Easton Commons

HEROES DON'T WEAR CAPES,

18

THEY WEAR DOG TAGS

November 2017 | Stone Gate
---
Stone Gate | November 2017 19
---
School News

CYPRESS-FAIRBANKS I.S.D. - WWW.CFISD.NET

IMPORTANT DATES:

November 20 th - 24 th – Student/Staff Holidays

Cypress-Fairbanks ISD police officers receive barbecue plates prepared by

members of the CFISD transportation, facilities and construction, food service and

operations departments.

Eric Mendez, CFISD chief of police, gives a few

remarks to those in attendance at the fifth

annual CFPD/Security Department Appreciation

Luncheon.

Officer Roman Ramos stands next to the

drone he won.

Bill Powell (left), director of transportation, opens the Appreciation Luncheon by

welcoming officers and members from supporting departments.

Members of the CFISD transportation, facilities and construction, food

service and operations departments serve barbecue plates.

CFISD Support Departments Honor District Law Enforcement With Luncheon

CFISD has a new chief of police, but the district still has the same level of appreciation. And Chief Eric Mendez wasn't shy with his gratitude before,

during and after the fifth annual CFPD/Security Department Appreciation Luncheon, put on by the staff from CFISD's transportation, facilities and

construction and operations teams Oct. 9 th at Cy-Fair High School. "In 27 years in law enforcement, I have never seen anything like this type of event,"

said Mendez, who joined CFISD in July. "That is specifically to support a police department and just to give them appreciation for what they do day in

and day out. It's pretty awesome to see this from the community and the departments within the district." Combining their efforts, volunteers from

numerous departments worked shifts over the weekend to prepare a barbecue lunch for CFISD's men and women in blue. It's the transformation

from what started as a simple idea to give thanks and a grill outside the Telge Transportation Center cooking hamburgers and hot dogs. Bill Powell,

director of transportation, bought retired Chief Alan Bragg lunch one day six years ago, picking up the tab on a hamburger to show his appreciation.

It turned into burgers and hot dogs. Then came Bridget Roome, transportation data management specialist and her husband Paul, facilities and

construction special projects manager, who took the luncheon to the next level. Workers from the departments served lunch and even provided

musical entertainment to the honored guests. CFISD campuses and transportation centers joined in the effort, buying "We Love CFPD" shirts to help

support the luncheon. The luncheon received more than $15,000 in donations and officer giveaways from area businesses and individuals. In addition

to simply giving thanks, Powell said the luncheon was also a chance for fellowship between the departments. It helped ease frustration and differing

philosophies when Powell and Bragg met for lunch and has become a way for entire departments do the same.

20

November 2017 | Stone Gate
---
CFISD Athletes Enjoy Success At

Special Olympics Area Swim Meet

Roughly 50 CFISD athletes represented the district with gold, silver and

bronze medals as CFISD hosted the Special Olympics of Texas Area 4

Swim Meet on Oct. 7 th at Cypress Ranch High School.

The meet continues a long-standing relationship between CFISD and

Greater Houston Special Olympics that is closing in on 30 years. In

addition to the swim meet, the Area 4 Basketball Tournament will be

held at various district campuses in March.

The swim meet began with an opening ceremony where athletes from

each participating team took part in a passing of a ceremonial torch. It

included Felipe Rodriguez, who later earned a silver medal with fellow

district athlete's PJ Wheeler, Connor Carpenter and Christian Mackley in

the 100-yard freestyle relay.

The meet also featured "skills" events for athletes beginning in the

sport. Events included a 15-meter walk and 10-meter assisted swim

where athletes received assistance and encouragement from Cy Ranch

swimmers.

The aquatics season is always an exciting time for the athletes, coaches

and families. It is the first sport season of the school year and marks the

beginning of of Cy-Fair ISD Special Olympics.

Lobo Band Winter Concert

Lobo Band Winter Concert and Auctions to be held December 12 th -

13 th at Langham Creek High School 17610 FM 529, Houston, TX 77095

in Auditorium and Cafeteria. Dinner and Auctions start at 5:30 PM and

performances run 6:30 PM-9 PM. Please invite your family, friends and

neighbors to this fun event. Evening will include Concert Music, Talent

Show with performances by Color Guard Squads, Facebook Live Auction,

Silent Auction and Dinner by Adriatic Café. Dinner ($10 per plate) and

Auctions are fundraisers for Band and Color Guard. Please come out to

support these wonderful programs and have a good time with friends,

family and neighbors. For dinner tickets or more info, contact Beth

Wentworth 832-687-3290.

Stone Gate | November 2017 21
---
Sports

Albion Hurricanes FC Soccer Spring

Evaluations December 4-7, 2017

Albion Hurricanes FC (AHFC), established in 1989, is leading the way in

South Texas youth soccer by inspiring and developing young men and

women through world class coaching and innovative techniques, as well as

instilling the proper framework, self-esteem, confidence and sportsmanship

within our athletes. AHFC has multiple campuses in and around Houston.

The club invites all interested players from the ages of 7 to 18, to the

Player Evaluations and to become part of our success. We ask that all

interested players pre-register before coming out to the fields. Please visit

albionhurricanes.org for details about programs on your particular campus.

AHFC offers JHSL (a recreational program for 5-10 year olds) at our Cy Fair

and Central (Spring Branch area) locations and offers additional training at

Katy Friday Night Academy and New Territory Thursday Night Academy.

Texas Terrapins Swim Team

Texas Terrapins Swim Team is a fast growing, non-profit, USA Swimming

Team. We have a strong coaching staff headed up by an ASCA level 5

coach with over 30 years experience. We are committed to obtaining

the highest level in competitive swimming while remaining true to our

principles of providing a fun, family oriented environment. Interested in

joining? We have open enrollment year round so your swimmers can join

the team at any time. Register in November and December to prepare

for the Spring season. Take the time to check us out and you will see why

TTST is ... a Stroke Above the Rest! Need more information? Email: join@

texasterrapins.com, call 832-736-5497 or check out our website at www.

texasterrapins.com under upcoming events.

Ladies Golf

A new ladies golf group is now forming at Cypress Lakes Golf Club. No

handicaps required. This will be a casual ladies golf outing to improve

your game and make some new friends. Play will be on Thursday

mornings at 9. For information please email ladiesgolf4fun@gmail.com

or call Cypress Lakes Golf Club at 281-304-8515.

Netball Clubs

Houston Shooting Stars welcomes ladies, men and youth to join in, play and

learn netball, Tuesday nights at The British School of Houston. We are also

looking for interested players, adults and youth to play in a new Katy Netball

club. No experience necessary. For more information, go to our facebook

page, Houston Shooting Stars Netball Club or www.netballamerica.com or

contact houstonnetball@netballamerica.com for further information.

22

Track Houston Youth Track Club

Track Houston is the nation's largest and most successful youth track

and field organization. Our goal is to assist interested boys and girls ages

6 to 18 years old in improving their physical fitness and mental stamina.

We have multiple practice sites in the Greater Houston area including

McMeans Junior High School in Katy and Cypress Lakes High School in

Cypress. Visit www.trackhouston.com to register for a location near you.

Cy-Fair Sports Association

Cy-Fair Sports Association is having registration for baseball, football,

cheerleading and soccer. Please see our website for more information

www.cy-fairsports.org.

Westside Golf League

Westside Golf League is actively encouraging new members. We invite

you to join us every Tuesday morning at Cinco Ranch Golf Club. Our

purpose is to allow ladies of all levels to meet new friends and have

fun while improving golfing skills. For more information, contact Sue

Crookson at 281-392-4913 scrookson@houston.rr.com or Yana Dommert

at 281-394-2481 yana@entouch.net.

Cypress Running Club

Cypress Running Club is based in Coles Crossing, just north of 290 off of

Barker Cypress. We welcome runners of all abilities. We offer a Couch-to-

5k training plan for those new to running, as well as training plans for half

and full marathons. Come meet lots of other Cypress residents and find

some new running buddies. Distance runs are on Saturday mornings

and start at Sampson Elementary, right off of Coles Crossing Dr. For more

information and to sign up, please visit http://cypressrunningclub.com

and find us on Facebook.

West Houston Rugby Club

West Houston Rugby Club offers excellent opportunities for players of

all ages from minis to adults to participate in one of America's fastest

growing sports. Our coaches are fully accredited with USA Rugby and

include former European premiership players. We are a not for profit club

with a mission to provide outstanding club management, a fun social

environment and the feeling of a rugby family.

Registration is now open for the 2017/2018 season at www.

westhoustonrugby.com. Enquiries may be sent to info@westhoustonrugby.

com. Come and join the fastest growing club in Houston!

November 2017 | Stone Gate
---
Protect

your world

Auto • Home • Life • Retirement

Call me today to discuss your options.

Some people think Allstate only protects your

car. Truth is, Allstate can also protect your

home or apartment, your boat, motorcycle -

even your retirement and your life. And the

more of your world you put in Good Hands®,

the more you can save.

Warren Sloan

713-464-4442

1400 W. Sam Houston Pkwy. N.

Houston

warrensloan@allstate.com

Insurance subject to terms, qualifications and availability. Allstate Property and Casualty Insurance Co.,

Allstate Fire and Casualty Insurance Co., Allstate Insurance Co., Allstate Texas Lloyd's, Allstate Indemnity

Co., Allstate Vehicle and Property Insurance Co. Life insurance offered through Allstate Life Ins. Co. &

Allstate Assurance Co. Northbrook, IL; Lincoln Benefit Life Co., Lincoln, NE; and American Heritage Life

Insurance Co., Jacksonville, FL. Securities offered by Personal Financial Representatives through Allstate

Financial Services, LLC (LSA Securities in LA and PA). Registered Broker-Dealer. Member FINRA, SIPC.

Main Office: 2920 South 84th Street, Lincoln, NE 68506. (877) 525-5727. © 2010 Allstate Insurance Co.

200227

Stone Gate | November 2017 23
---
Community

Events

Garage Sales

St Peter's Anglican Church Festive

Rummage and Bake Sale

Cy-Falls Holiday Market

Like to shop? Eat? Support a great cause?? We have the place for you!!

Formerly the Cy-Falls FFA Craft Show November 18 & 19, 2017, Saturday

9 AM-5 PM & Sunday 10 AM-4 PM Event location: 11206 Telge Road

(Exhibit Center) Cypress, TX 77429 - cyfallsffacraftshow@yahoo.com

- Friday and Saturday, November 3 rd -4 th , 8 AM-4 PM

19915 Cypress Church Road, Cypress TX 77433

Decorative accessories, toys and baby items, books, Renaissance

costumes, homemade baked goods and much more.

Festivals

St. Cuthbert's 12th Annual

International Festival

St. Cuthbert will celebrate its 12 th Annual International Festival to be held

on Saturday, November 4 th , from 2:30-5:30 PM at the Conference Center

at Lone Star College's Cy Fair campus. The International Festival honors

all the different countries and heritages represented in our very unique

and diverse congregation. The festival includes food, live entertainment,

native dress and activities for children and youth. It is the perfect place

to learn more about the world around us. Admission is free. Come

experience the international world of St. Cuthbert and never leave your

zip code! Visit stcuthbert.org for more information.

Norwegian Christmas Bazaar

Friday, November 10 th (11 AM-4 PM), Saturday, November 11 th (10 AM-4

PM) Sunday, November 12 th (12-4 PM). Norwegian Seamen's Church,

4309 Young Street, Pasadena. Take a trip to Norway in Houston! Unique

holiday gifts such as Scandinavian Christmas decorations, trolls, Nisser,

Swedish linens and Norwegian jewelry. Great Raffle prizes. Silent Auction.

Folk dancing on Saturday. Visit our bakery selling Norwegian speciality

cookies and breads. Wide selection of Scandinavian foods for sale. Take

time for lunch in our cafeteria serving "open-faced" sandwiches and

cream cakes. For more info., call 281-998-8366.

24

November 2017 | Stone Gate
---
Walks/Runs

Cypress 5K Fun Run

and Puppy Parade

Cypress and Houston area

residents can strengthen

their families, their bodies,

their neighborhood

school and their dogs at

a very fun family friendly

event this fall. Cypress 5K

Fun Run and Puppy Parade benefiting the Performing Arts Department at

Spillane Middle School will take place Saturday, November 18 th at 9 AM at

Spillane Middle School, 13403 Spillane Woods Blvd.

The event is the school's fourth annual Fun Run and will feature a timed

run. You don't have to be a competitive runner to participate since the race

also features a family run for those pushing strollers or wanting to walk and

a dog walking segment. The race will begin at Spillane Middle School and

go through the Coles Crossing neighborhood. Medals will be awarded in

multiple age brackets and to the first three dogs who cross the finish line.

Thru Nov. 11 th , registration is $35 per individual or $110 for a family of

four and a T-shirt is not guaranteed. Late registration, which continues

until race day, is $40 per individual or $160 for a family of four and does

not include the shirt. Returning this year will be the option to "Sleep in

for the Arts." Pay the registration fee. Do not participate on Race Day.

Get a t-shirt! Runners who have pre-registered can pick up their packets

Thursday, November 16 th at Spillane Middle School. To register or for

more information, visit the Cypress 5K Fun Run & Puppy Parade website

at https://thedriven.net/cypress5k.

Golf Tournaments

3rd Annual Forget-Me-Not

Golf Classic

Join us for the 3 rd Annual Forget-Me-Not Golf Classic benefiting the

Gayle Wells Foundation for Early Onset Alzheimer's & Care on Monday,

November 13 th at Hearthstone Country Club. For complete details,

please visit www.gaylewells.org/events.

Blood Drives

Cornerstone UMC Fall Blood Drive

SUNDAY, November 5 th , 8 AM-12:30 PM

Welcome ALL on Sunday, November 5 th at the Mobile Unit in our parking lot

at 18081 West Rd, 77095 from 8 AM to 12:30 PM. PLEASE go online and sign up

at www.giveblood.org for Cornerstone United Methodist Church. Thank you

in advance for your Commitment to Life!! Michele Moura mmoura56@gmail.

com.

St. Cuthbert Episcopal Blood Drive

St. Cuthbert Episcopal Church will be hosting a Blood Drive on Sunday,

November 19 th beginning at 8:30 AM. A mobile unit will be in the parking

lot until 12:30 PM. To donate, you must be a least 17 years of age, at least

110 lbs. and in good general health. In our previous blood drive we had

20 donors, some of them first timers. That means 60 lives were saved!

It only takes about 15 minutes, so please stop by. Save a life - donate

blood. St. Cuthbert is located at 17020 West Road (at Queenston). For

more information, visit us at www.st.cuthbert.org.

ATTENTION SENIORS ON MEDICARE

Are you concerned about the rising cost of healthcare?

The time to change is now: October 15 - December 7th

(Annual Election Period)

HMO & PPO (Advantage Plans) and Medicare Supplements.

Plans that offer Original Medicare Benefits PLUS:

$0 Plan Premium - Low Copays • Dental and Vision

Fitness Programs • Prescription Drug Coverage

Transportation to Doctor Visits • Medicaid Plans Available

281-397-3312

www.ibgtx.com

LICENSED

TACLB021058E

INSURED

Stone Gate | November 2017 25

HEAT

Araoz Painting &

Remodeling

Painting Exterior & Interior

Sheet Rock Repairs • Carpentry & Siding

Fences • Decks & Patios • Roofing

Kitchen & Bath Remodeling

Enrique Araoz

Owner

FREE 1st lb. Freon (R410 only)

1/2 Priced Condenser Coil Cleaning

1 Yr. Warranty On Parts Changed

We Value Your Business

All Brands Serviced

Local Neighborhood Company

Fast Personalized Service

We Will Heat & Cool Your Castle!

Water Heaters • Drain Problems

Faucet Installation & Repair

Gas Test • Water Leaks & Much More

35+ Years Experience • Cypress Resident

832-890-8449

TonysPlumbing57@hotmail.com

281-733-3830

enriquearaoz44@gmail.com

COOL

Always there for you!

$30 off

any Job

Over $95

Low Price Guarantee

Licensed & Insured

FREE ESTIMATES

MPL#40815
---
Nobody cares for eyes more than Pearle ®

Dr. A. Bains

Therapeutic Optometrist

Most vision plans accepted

Theater/Arts

Houston Repertoire Ballet's 16th

Annual Performance of the Holiday

Classic the Nutcracker

Houston Repertoire Ballet (HRB), Houston's premier pre-professional

ballet company, celebrates its 22 nd season, beginning with its 16 th annual

performance series of The Nutcracker, featuring professional guest artists

Yuriko Kajiya, as the Sugar Plum Fairy, Jared Matthews as the Cavalier

andrew Taft as the Snow King and Joe Modlin as Herr Drosselmeyer, with

the Cypress Philharmonic directed by Glynnes Lanthier.

Performances will be held on Friday, December 1 st at 7 PM - abbreviated

Arts & Education performance perfect for young children with ticket

prices just $12, Saturday, December 2 nd at 2 PM & 7 PM and Sunday,

December 3 rd at 1 PM & 4:30 PM at the Tomball High School Theatre,

30330 Quinn Road, Tomball, Texas 77375. For ticket information, call 281-

940-HRB1 (4721) or visit www.hrbdance.org. Tickets are $18 for students/

seniors and $23 for adults.

26

25905 Hwy 290

@ Spring Cypress

(next door toTarget)

281-256-8774

Store Hours:

Mon/Tues/Thurs/Fri/Sat 9:30 - 5:30

Wed 10:30 - 6:30

FREE Prescription

Pair of Sunglasses

(Select Frames Only)

With the purchase of complete pair of

prescription glasses and premium lenses.*

Some restrictions may apply.

Free pair includes tinted, single vision CR-39

lenses. Good at Cypress & 1960/Eldridge

locations only. Coupon must be presented at

time of service. Cannot be combined with any

other promotion or insurance benefits.

Expires 12-15-17

*Polycarbonate, high-index & progressive.

Eye Exam

$25 OFF

$15 OFF

New Patients Only

Existing Patients

With purchase of complete pair of glasses.

Dilation extra. Good at Cypress & 1960/Eldridge

locations only. Coupon must be presented at time

of service. Cannot be combined with any other

promotion or insurance benefits. Expires 12-15-17

Fry Road

Home Depot

Spring Cypress

Hwy 290

Hempstead Highway

Target

12713 FM 1960

@ Eldridge

(in front of Target)

281-517-0023

Store Hours:

Mon-Sat 10-6

Lenses

50% OFF

Up to $100

With the purchase of complete

pair of prescription glasses.

Polycarbonate, high-index & progressive.

Good at Cypress & 1960/Eldridge locations only.

Coupon must be presented at time of service.

Cannot be combined with any other promotion

or insurance benefits. Expires 12-15-17

Eye Exam

& Contacts

$139

Includes eye exam, contact lens fitting,

follow-up exam, care kit plus 2 boxes (12 lenses)

of Acuvue 2 Disposable Contact Lenses.

Dilation extra. Good at Cypress & 1960/Eldridge

locations only. Coupon must be presented at time

of service. Cannot be combined with any other

promotion or insurance benefits. Expires 12-15-17

The Nutcracker's brilliant blend of beautiful costumes, lavish sets and

fresh choreography creates a magical storybook world enjoyed by

children and adults alike. With a cast of more than 100 HRB dancers

and area children and live music played by Cypress Philharmonic, HRB's

masterful production is the highlight of the holidays!

Stageworks Theatre

10760 Grant Road, Houston, TX 77070

A CHRISTMAS STORY: THE MUSICAL! - Fridays and Saturdays at 7:30 PM,

Sundays at 3 PM, November 24-December 17, 2017

Website: www.stageworkshouston.org.

Mildred's Umbrella Theater Co.

MAINSTAGE SEASON

All Shows at Studio 101,

1824 Spring Street #101, Houston TX 77007

FEATHERS AND TEETH By: Charise Castro Smith

November 2 nd -4 th : 8 PM

MORE INFO/RESERVATIONS: www.mildredsumbrella.com, info@

mildredsumbrella.com or 832-463-0409.

Mildred's Umbrella Theater Company announces call for submissions

for tenth annual Short Play Festival. For submission guidelines, contact

Jennifer Decker at 832-418-0973 or info@Mildredsumbrella.com.

The deadline for submissions is December 15, 2017 by midnight.

Selected plays will be announced on March 1, 2018.

Cypress Creek FACE

Box Office: 281-440-4850

www.CypressCreekFACE.org

Please call for the location for these concerts:

Jackie Evancho - 8 PM, Saturday, November 4, 2017

Anna Petrova - 3 PM, Tuesday, November 14, 2017

New Houston Harp Ensemble - 3 PM, Tuesday, December 12, 2017

John Mueller's Winter Dance Party - 8 PM, Saturday, December 31, 2017

The Free Children's Series

Houston Grand Opera presents "Hansel and Gretel" - 11 AM, Saturday,

November 11, 2017

November 2017 | Stone Gate
---
®

Hail & Windstorm Damage?

Many roofs in your neighborhood are damaged

from recent wind & hail storms. Find out if you

qualify for a new roof covered by your

insurance. (Even if you have been denied.)

DON'T GET LEFT OUT!!

CALL 281-376-7474 FOR A FREE INSPECTION

www.AndersonRestore.com

#1 Agent in 77095 Working With The

#1 Broker in 77095!*

BUYING OR SELLING A HOUSE?

LET US WORK

FOR YOU!

ANGIE

NITSCH

Buyer's Agent

CAMILLE

HENRY

Buyer's Agent

JILL SMITH

Team Leader

& Listing Agent

LISA

HILL

Buyer's Agent

TERESA

LEVINE

Buyer's Agent

Expect Better.

If buying or selling a home is in your future,

hire The Jill Smith Team to get results!

We live, work and play in your neighborhood,

and make it a point to know the local market.

Contact us today for a free, no obligation

Premium Market Analysis!

AMANDA

LEFEBVRE

Buyer's Agent

*According to Broker Metrics as of 7/27/2017

Jill Smith, Broker Associate

ABR, ASP, CNE, GRI, SFR

CERTIFIED LUXURY HOME MARKETING SPECIALIST

MASTER CERTIFIED NEGOTIATION EXPERT

CERTIFIED RELOCATION SPECIALIST

AN OFFICE TOP PRODUCER

281.704.3749 Phone

jill@jillsmithrealty.com

www.jillsmithrealty.com

2014, 2015 & 2016 Top Producer with

Better Homes and Gardens Gary Greene!

Stone Gate | November 2017 27
---
Boiled Shrimp

$2 Bottles

$1.50 Drafts

Wine by glass

28

www.cfeyecare.com

Houston Area Events And Road Trips

Through January 7 th - Moody Gardens takes the holidays to a whole new

level of cool! A skilled team of master ice carvers has charted your course for

your journey through the rainforests of the world to see monkeys, beautiful

birds, incredible butterflies, colorful orchids and so many wonderful

creatures. Stick around after Ice Land for the Festival of Lights - a milelong

trail with more than one million lights and lighted scenes take you

around the Moody Gardens property with spectacular views of Galveston

Bay starting at 6 PM. For more information, visit www.moodygardens.com.

Through November 18 th - Discovery Green's Flea by Night is an

eco-conscious shopping event. Enjoy live local music, food trucks

and shopping under the stars. For more information, visit www.

discoverygreen.com.

November 9 th -12 th - Shoppers will kick off the holidays at the 37 th annual

Houston Ballet Nutcracker Market Rockin' and Shoppin' at NRG Center.

Over 280 merchants from across the country will participate and showcase

their unique gift items, including home décor, gourmet food, apparel,

toys, candles, jewelry, novelties, accessories and more. Ten percent of all

merchandise sales, plus the proceeds from admission and special event

tickets, stays right here in Houston supporting the various programs of

Houston Ballet and its Academy. Over 45 new merchants will make their

debut at the Houston Ballet Nutcracker Market. This year's new items

include decorative Santas from the new Santa Barre, custom-made

wreaths for any occasion, interactive crawfish boil sets for kids, vibrant

high-quality Native and American jewelry pieces, homemade baked dog

treats and baking and serving options for elegant and casual entertaining

- just in time for the holidays! Shoppers can also expect to see returning

favorites, such as The Royal Standard featuring home décor, fashionable

women's apparel and accessories, scrumptious cherry products from

Cherry Republic, fun novelty glass ornaments by the Ornament Barre, hot

new trends in ladies fashion and shoes by Amy B's and handcrafted jewelry

with semi-precious stones from Bora Jewelry. MARKET DATES - November

9 th and 10 th , 10 AM-8 PM and November 11 th and 12 th , 10 AM-6 PM. Tickets

are good for one day admission. No repeat admission. $20 each at NRG,

$18 each at Houston-area Randalls. Half-price admission is available daily,

three hours prior to closing, children under 5 are free. There is a check-in

area near the entry for strollers, carts, rolling bags and wagons as they are

not permitted inside. Wheelchairs and walkers are permitted. Pets are not

allowed. For more information visit www.houstonballet.org.

November 11 th - Houston is a cornerstone of Veterans Day celebrations in

the United States. As a city, Houston is proud to pay tribute to our men

and women in the military by providing an annual "Houston Salutes

American Heroes Veterans Day Celebration." This civic celebration

honors and celebrates the brave men, women and families who pay the

ultimate sacrifice for liberty and freedom. The celebration begins with a

job, resource and health fair for military personnel, past and present.

Many returning veterans find themselves unemployed or under employed

while trying to effectively translate their extensive military skills into the

current job market. Approximately 300,000 veterans live in the Houston

metropolitan area with 22,000 of those veterans having returned since 9/11.

The health fair will provide on-site health screenings, including flu shots.

November 11 th - Run in the Park is Hermann Park Conservancy's annual

fun run, which includes a 5K run/walk, 3K walk and a 1K kids' fun run.

The event starts in Molly Ann Smith Plaza and circles the Park on the

Marvin Taylor Trail under Hermann Park's historic live oaks. Whether you

are a weekend jogger, competitive runner or just like to walk with friends

and family, Run in the Park is an event you do not want to miss! Family

members and neighbors turn out to cheer on the runners and everyone

enjoys the post-race party, which features music, food, drinks and fun

activities in Molly Ann Smith Plaza. For more information, visit www.

hermannpark.org/calendar.

November 11 th - Islamic Arts Festival. Come and enjoy a unique family

friendly festival. Experience the rich tradition of Arts in Islam. View

Islamic calligraphy, woodwork, ceramic tiles and paintings from local

artists! Experience the art of henna tattoo, Ebru and calligraphy. Interact

with artists and take part in silent auction. Art activities for all ages. Enjoy

ethnic food from Food Trucks. Welcome all! Admissions Free! For more

information, visit www.islamicartssociety.com.

November 2017 | Stone Gate
---
®

November 11 th -12 th - Explore, Adventure and LEARN as The Cynthia Woods

Mitchell Pavilion transforms into a WILD Safari for the 22 nd Annual Children's

Festival presented by ExxonMobil. With outstanding performers on

multiple stages, character meet and greets and adventurous, educational

activities all around the venue - there's something fun for everyone. Let's

GET WILD! For more information, visit www.woodlandscenter.org.

November 17 th - This is Home for the Holidays Gift Market's 10 th year

anniversary show at the Katy Merrell Center! Last year we had an attendance

of over 10,000 people, this year we will have over 175 booths in 2 buildings

with gifts for your entire Christmas shopping list. We have items such as

handmade jewelry, candles, clothing, gourmet foods, home decor and much

more! For more information, visit www.homefortheholidaysgiftmarket.com.

November 18 th - The Great Inflatable Race is the first and original all

inflatable obstacle fun run that uses giant inflatables spread throughout

the running course. You'll start the race climbing one of our inflatables

and then race your friends and family to the next inflatable obstacle.

This bouncy course contains between 8-10 massive inflatables that will

bounce, bump and slide you all over the place! You'll finish the race with

a perfect photo op on our final inflatable and after a nice refreshing drink,

you can check out our awesome Inflatable Village. Check out our Inflatable

Village page to see what the after party is all about! Our inflatables are

one of a kind and your whole family will enjoy this amazing run. Bring

your kids and feel like a kid again yourself. Join us at The Great Inflatable

Race! For more information, visit www.thegreatinflatablerace.com.

November 18 th -19 th - The 12 th annual Houston Via Colori® Street Painting

Festival is one of the city's signature art and music festivals. More than 200

local and international artists converge on the streets of downtown Houston

to create live street paintings right before your eyes. Attendees can enjoy live

music performed by local bands and entertainers on three stages, familyfriendly

activities and delicious local food and beverages. A private VIP Lounge

features exclusive themed mini-events throughout the weekend. Via Colori is

a fundraiser for The Center for Hearing and Speech, a non-profit organization

that teaches children with hearing loss to listen, speak and read. The festival's

theme, "70 Years in Color," will celebrate the Center's past seven decades

of serving children with hearing loss. This festival will be on Saturday,

November 18 th from 10 AM-6 PM and Sunday, November 19 th from 10 AM-5

PM. For more information, visit www.centerhearingandspeech.org.

November 18 th - January 15 th - The Houston Zoo is transformed into a

winter wonderland! TXU Energy Presents Zoo Lights celebrates its fifth

year as one of Houston's most well-loved holiday traditions. Stroll through

the beautiful Houston Zoo and take in the sights and sounds of the season.

Enjoy festive carols, sip hot chocolate and take in the more than 2 million

lights! Fifteen miles of eco-friendly LED lighting illuminate our ancient oak

trees and decorate the paths to light your way. Don't miss Holly Berry, a 1958

Cadillac with a lightshow set to music! Other featured displays include the

Holiday Train, the Enchanted Forest and Candy, the interactive talking zebra!

There's plenty of new things in store this year, like the addition of a huge, 33'

tall Christmas tree adorned with colorful decorations that will be the perfect

backdrop for your holiday selfie. Between the shopping, wrapping, decorating

and baking, schedule some time to enjoy the holidays this year at TXU Energy

Presents Zoo Lights! For more information, visit www.houstonzoo.org.

November 23 rd - The Houston Thanksgiving Day Parade began in 1949,

when Santa arrived at Union Station and rode his sleigh to the downtown

Foley's. Since then, the Thanksgiving Day parade has gone through a few

changes but today, it remains a 68 year-old holiday tradition showcasing

the Houston community and entertaining parade-goers lining the streets

on Thanksgiving morning. The 68 th Annual H-E-B Thanksgiving Day

Parade is produced by the Mayor's Office of Special Events. For more

information, visit www.houstontx.gov/thanksivingparade/.

November 24 th - Lighting Celebration at Hotel Galvez. Hotel Galvez

invites guests and the community to celebrate the start of the holidays

with the Official City of Galveston Holiday Lighting Celebration. Festivities

begin at 6 PM and include a special appearance by Santa Claus, live

holiday entertainment by local entertainment including the Galveston

Ballet and the lighting of the hotel's 35-foot Christmas Tree on the front

lawn. During the event, the hotel collects donations for the Salvation

Army of Galveston County. The hotel offers a special weekend package as

part of the weekend. For more information, visit www.hotelgalvez.com.

Kiddie Academy ® of

Longenbaugh-Cypress

17909 Longenbaugh Rd.

Cypress, TX 77433

281-815-0522

kiddieacademy.com/longenbaugh-cypress

Serving your community

for over 20 Years!

Full Service Residential

Construction & Restoration

Company

T

K

C

he

NOW ENROLLING!

Creativity. Laughter.

Imagination.

All the essentials are here.

CURRICULUM • TECHNOLOGY • HEALTH & FITNESS • CHARACTER

INFANTS • TODDLERS • PRESCHOOL

BEFORE & AFTER SCHOOL • SUMMER CAMP

Enroll now and get

FREE REGISTRATION

New customers only. Not redeemable for cash. One offer per child.

Mention this ad when visiting school/enrolling.

leaning

ompany

• Load & Unload Dishwasher

• Clean Outside of Appliances

• Sweep Front Porch

• Change Linens & Towels

• Dust Window Ledges & Sills

• Remove Trash

• Dust Mini Blinds & Ceiling Fans

• Damp Wipe Outside of Cabinets

• Clean Baseboards

281-861-0394

• Drywall & Flooring

• Fences/Decks/Arbors

• Int/Ext Painting

• Patio Covers

• Bath/Kitchen Remodels

• Room Additions

• Misc. Interior Repairs

• Misc. Exterior Repairs

• Pool Services

• Personal Assistance Care

• Move In/Out

• Competitive Rates

• Locally Owned & Operated

• Bonded & Insured

• FREE PHONE ESTIMATE

$

10 OFF

First Visit

www.thekleaningcompany.com

"Dust if you must, but why not have us."

Stone Gate | November 2017 29
---
Recipe for Friendship

2 quarts of kindness

1 scoop of smiles

A pinch of patience

3 heaping helpings of hugs

4 T. of tenderness

A dash of devotion

3 spoonfuls of support

1 C. of compassion

Gently stir all ingredients. Cover with a layer of love,

sprinkled with a gallon of giggles.

Serve generous daily portions to all you love!

Turkey Tetrazzini

1-1/2 pound Thin Spaghetti, Broken In Half

4 Tablespoons Butter

4 cloves Garlic, Minced

1 pound White Mushrooms, Quartered

1/2 teaspoon Salt

1 cup White Wine

1/3 cup Flour

4 cups Turkey (or Chicken) Broth

1 block 8 Ounce Cream Cheese

3 cups Cooked (leftover) Turkey

1 cup Finely Chopped Black Olives

1-1/2 cup Frozen Green Peas

4 slices Bacon, Fried And Cut Into Bits

1 cup Grated Monterey Jack Cheese

1 cup Grated Parmesan Cheese

Salt And Pepper, to taste

Extra Broth For Thinning

1 cup Panko Bread Crumbs

Cook pasta until not quite done - al dente according to package instructions

(it will finish cooking in the oven.) Drain, rinse, and set aside.

In a large pot, heat butter over medium-high heat. Add garlic and saute for

a couple of minutes. Add mushrooms and salt, then saute for a couple more

minutes. Pour in the wine and allow it to cook with the mushrooms for several

minutes, or until the liquid reduces by half.

Sprinkle in flour, then stir the mushrooms around for another minute. Pour

in the broth and stir, cooking for another few minutes until the roux thickens.

Reduce heat to medium low. Cut cream cheese into pieces and add it to the

pot. Stir it to melt (don't be concerned if the cream cheese remains in little

bits for awhile; it'll melt eventually!) Add the leftover turkey, the olives, the

peas, the bacon, and the cheeses. Stir to combine, adding salt and pepper as

needed.

Add the cooked spaghetti and stir it to combine. Splash in more broth as

needed; you want the mixture to have a little extra moisture since it will cook

off in the oven. If it's a little soupy, that's fine! Add up to 2 more cups of liquid

if you think it needs it.

Pour the mixture into a large baking dish and sprinkle the top with Panko

crumbs. Bake at 350 degrees F for 20 minutes, or until the casserole is bubbly

and the crumbs are golden brown.

by Ree | The Pioneer Woman Holidays, Thanksgiving

French Toast

Casserole

You could make this on National French Toast Day

Nov. 28 th !

INGREDIENTS:

5 cups bread cubes

4 eggs

1 1/2 cups milk

1/4 cup white sugar, divided

1/4 teaspoon salt

1 teaspoon vanilla extract

1 tablespoon margarine, softened

1 teaspoon ground cinnamon

DIRECTIONS:

Preheat oven to 350 degrees F (175 degrees C). Lightly butter

an 8x8 inch baking pan. Line bottom of pan with bread cubes.

In a large bowl, beat together eggs, milk, 2 tablespoons

sugar, salt and vanilla. Pour egg mixture over bread. Dot with

margarine; let stand for 10 minutes.

Combine remaining 2 tablespoons sugar with 1 teaspoon

cinnamon and sprinkle over the top. Bake in preheated oven

about 45 to 50 minutes, until top is golden.

Source: allrecipes.com

30

November 2017 | Stone Gate
---
Joel Muller

281-304-9488

11740 Barker Cypress

www.joelmuller.com

Hablamos Español

Cypress Assistance Ministries

Volunteers Needed

When you volunteer you are giving to your community, but did you realize

volunteering also benefits you as an individual? CAM volunteers often

let us know the fun they are having, the friends they have made and the

fulfillment they receive from helping others. Cypress Assistance Ministries

is a local non-profit organization serving the Cy-Fair area for over 25 years.

CAM offers assistance to those in need by providing financial assistance,

food, clothing, employment assistance as well as GED & ESL classes. A

huge part of this organization is its volunteers. Currently we are in need of

volunteers in many different areas of the ministry. If you would like more

information on how to become involved, please contact Tara Rauch at

281-955-7684 or tarar@cypressassistance.org. We look forward to hearing

from you! For a description of the services provided at Cypress Assistance

Ministries, Food Pantry requests and a detailed description of volunteer

opportunities, please see our website, www.cypressassistance.org.

Inspiring Hands

Founded in 2014, Inspiring HANDS, Inc. is a charitable non-profit

organization that extends a hand directly to improve the lives of others in

need and motivates partnerships within the community to do the same.

We are operated solely by volunteers and fully funded by donations. Your

participation is vital to the success of our programs. 100% of the proceeds

remain in the community to provide direct help to individuals with

immediate and special needs. Through our 501(c) 3 status all donations are

tax deductible. For more information visit us at www.inspiringhands.org.

Volunteer Opportunities

For Wildlife Advocates

Enjoy a rewarding volunteer experience with wildlife. Texas Wildlife

Rehabilitation Coalition, Inc. is a non-profit organization, which serves as

an emergency care and rehabilitation facility for orphaned, ill and injured

native Texas wildlife. Volunteers are welcome in the areas of assisting

in the daily functions of the center, assisting with public education

programs and wildlife rehabilitation. Located at 10801 Hammerly, Suite

200, the facility is open seven days a week to help wildlife in need. TWRC

has a mentor program in place to assist volunteers with "hands on"

training for those interested in becoming permitted rehabilitators. We

invite you to join our organization in saving Texas wildlife - one animal at

a time. Call the center at 713-468-8972 x158 for more information or visit

us at www.twrcwildlifecenter.org.

Memorial Hermann Cypress Hospital

Seeking Volunteers

Memorial Hermann Health System recognizes the vital importance of

volunteers and the newly opened Memorial Hermann Cypress Hospital

is no different. The hospital is now taking applications for its volunteer

program. Volunteer tasks range from working at the front desk, to

nursing unit assistance, helping discharge patients and much more.

Dozens of volunteers have already joined the program, but there are

more spots available. Four-hour volunteer shifts are available seven days

Providing Insurance

and Financial Services

Home Office: Bloomington, Illinois 61710

Your Neighborhood Plumber

Aaron's

Up-front Pricing

$25 OFF

With this Ad

Since 1974

LIC. 17773

Complete Plumbing & Drain Service

We Welcome Your Questions • Open 7 Days a Week

281-444-2000 www.aarons-plumbing.com

281-345-7700

www.foxlandscapingonline.com

FORD PIANO STUDIO

Lessons for

your child or yourself.

Classically Trained Teacher.

Experienced & References

Telge Rd. Area

281-373-9236

• Commercial

• Residential

• Landscaping

• Maintenance

• Irrigation

• Irrigation Repairs

( Lic#8242)

Stone Gate | November 2017 31
---
Air Conditioning Contractors of America

Be Safe! Service Heater Protect Home

281-394-0340

Free estimate or 2 nd opinion

$25 off

any

repair

License TACLB 24777E and Insured

Expires 11/30/17

FREE

Wi-fi thermostat

w/ equipment purchase

• Annual

Maintenance

Programs

• All repairs

guaranteed

• Serving area

since 1994

0% Interest

financing available

Expires 10/31/17 WAC

Expires 11/30/17

IdealAirServices.com

a week from 5 AM to 9 PM. Adults are asked to complete an application

and schedule an interview with the volunteer coordinator. Learn more

about volunteering at Memorial Hermann Cypress by visiting www.

memorialhermann.org/locations/cypress/volunteer-at-memorialhermann-cypress-hospital/.

Cypress Fairbanks Medical Center

Hospital Volunteer Auxiliary

Cypress Fairbanks Medical Center Hospital Volunteer Auxiliary, 10655

Steepletop Drive, is in need of additional volunteers. They have a great

need for volunteers to work at the information desk. If interested, please

contact the hospital at 281-897-3186 and ask for the manager.

Standup For Kids

StandUp For Kids is an all volunteer organization. We are in need of your

support. For those who want to get involved in outreach, StandUp For

Kids provides training to provide you the tools to reach out and make

a difference in kids' lives. Thirteen kids die on the street everyday, from

abuse, disease and suicide. By getting involved you can make a difference

and give back to your community. Volunteering is not only rewarding

to you, it can save a kid's life. You can find more information about our

program at www.standupforkids.org or email Houston@standupforkids.

org to volunteer.

Ambassadors United

Anti-Human Trafficking Ministry

Join us for regular street and brothel incursion outreaches to rescue

souls for Christ and help end human trafficking in Houston. Our ministry

is based on Romans 15:21 To whom He was not announced, they shall

see and those who have not heard shall understand. Visit our website for

details and volunteer information at www.ambassadorsunited.org.

Cy-Fair Volunteer Fire Department

The Cy-Fair Volunteer Fire Department provides fire, rescue and EMS

services to 156 square miles of Northwest Harris County for the residents

of Harris County Emergency Service District #9. By operating from 12

community based volunteer fire stations we are able to quickly and

efficiently respond to help our neighbors in times of emergency. For more

information on the Cy-Fair Volunteer Fire Department or on how you can

join the other 350 volunteers of our Department and be one of Cy-Fair's

bravest, call us at 281-550-6663 or visit us on the web at www.cyfairvfd.org.

32

Adopt A Us Soldier

Adopt A US Soldier is a non-profit organization that seeks volunteers and

donors to help show the brave men and women fighting for our freedom

that their sacrifices will not go unnoticed. It connects supportive civilians

with deployed soldiers and offers a channel by which to communicate

encouragement and express gratitude to those serving in the United

States Armed Forces. Adopt A US Soldier is sustained by its volunteer

workforce located across the United States. When registering for Adopt A

US Soldier your involvement can range from writing letters and sending

postcards, to mailing care packages full of items a soldier may need

or want. Handwritten letters are most important and meaningful to

soldiers. Adopt A US Soldier encourages civilians to adopt a soldier to

show your support for those that are making sacrifices for our country. If

interested, please go to www.adoptaussoldier.org to register.

Junior Achievement Of SE Texas

Junior Achievement is a non-profit organization devoted to inspiring

and preparing young students to succeed in a global economy. In

partnership with businesses and educators, Junior Achievement brings

the real world to schools, opening student minds to their true potential.

Junior Achievement programs, taught by local business professionals,

community volunteers and parents, build a bridge between school

learning and young people's future success in their work world and real

lives by offering hands-on activities that further explore the topics of free

enterprise, financial literacy and entrepreneurship. Contact the Junior

Achievement of Southeast Texas office today, 713-682-4500 or www.

houston.ja.org, to find out about opportunities near you.

Pearl Fincher Museum Of Fine Arts

Interested In Volunteering Your Time, Talents And Energy To A Most

worthwhile local cause? Consider joining the Pearl Fincher Museum of

Fine Arts Volunteer Guild!

The mission of the Pearl's Volunteer Guild is to:

• Promote volunteerism in the Northwest Houston area by providing

vital, on-going volunteer support for the Pearl Fincher Museum of Fine

Arts educational programs.

• Develop leadership potential and knowledge within its membership

• Further perpetuate the appreciation of fine art and the Pearl Fincher

Museum of Fine Arts in the community.

Information about the volunteer guild can be found at www.pearlmfa.

org. The Pearl Fincher Museum of Fine Arts is a 501(c)(3) Not for Profit

organization that is solely supported through Grants and private donations

from community residents, businesses and friends of the museum.

November 2017 | Stone Gate
---
The Thomas A. Glazier Senior

Education Center Has Volunteer

Opportunities Available

STAY ACTIVE. STAY ENGAGED. A new place for seniors to learn, located

at 16600 Pine Forest Lane, near Texas 6 and Clay Road. Free classes

available to Harris County residents 55 and older on subjects ranging

from basic computer skills to digital photography to astronomy, photo

editing and memory enhancement. We need you in our classrooms! Get

free volunteer training. Teach your own computer class. Contact us now

at 713-274-3250 or email us at glaziersec@pct3.com. Operated by Harris

County Precinct Three Commissioner Steve Radack.

Special Cheers Needs Volunteers

Special CHEERS is a 501(c)(3) non-profit organization dedicated to

providing Occupational Therapy to children with special needs of all ages

living in and around the greater Houston area. Our facility is unique in that

we utilize animals, including horses, dogs, goats, pigs, lambs and rabbits

as an integral part of each child's therapy treatment plan. Being a nonprofit

organization, we are constantly looking for extra help around the

farm. Therefore, Special CHEERS would like to welcome all high school

and college-aged students interested in working with both children and

animals to volunteer after school, on the weekends or seasonally (i.e.,

summer camp). Please call our director, Ms. Fritzi, at 713-983-0075, for

more information. A background check will be required of all individuals

applying for a volunteer position at our facility.

Volunteers Needed For Dream

Dachshund Rescue

DREAM Dachshund Rescue, Education & Adoption Mission is a Houstonbased

501(c)(3) nonprofit organization dedicated to rescuing abandoned

Dachshunds and finding new homes for Dachshunds whose owners can

no longer care for them. Our committed volunteers, working closely with

local veterinarians, provide our Dachshunds with quality medical care

and loving foster homes until they are adopted into carefully screened,

forever homes. DREAM is currently looking for caring volunteers to

provide temporary foster care for our many rescued Dachshunds-in-need,

currently awaiting adoption. Prior to their adoption, DREAM continues

to pay for all medical care and monthly heart worm prevention. There

is no long-term commitment required. Food, water, shelter and a soft

place to rest is all you need to provide. The "love" just comes naturally.

Questions? Please send us an email to: Contact-Us@DreamDachs.org

and a volunteer will respond to you right away with all the information

you need! Ready to Foster? Please visit our website at: www.dreamdachs.

org and click on the FOSTER tab to fill out our online Foster Application.

Literacy Advance Of Houston

Is Looking For Volunteers

Your way to transform a life in need… Teach someone to read! Just a few

hours a week can make all the difference for someone in your community!

Literacy Advance is Houston's largest and oldest 100% volunteer-supported

literacy organization - and we need your help! We're calling all passionate

volunteers to help adults learn to read, write and speak English. All classes are

free because they are taught by caring people just like you willing to volunteer

a few hours a week. We'd love to match you with a person in need. Ola read her

first book at age 49, thanks to a tutor just like you. Prior teaching experience is

welcome but not necessary. Training and ongoing support is provided and we

have locations across the city. Other volunteer opportunities are available as

well, to find out more please contact Maxine Stefano, Volunteer Manager, at

tutor@literacyadvance.org or at 713-266-8777 ext.16.

Cy-Hope -

Bringing Hope To Our Cy-Fair Youth

Cy-Hope brings HOPE to all students so they will grow up to be well

educated and productive citizens, making a lasting and positive impact

on the community. Our vision at Cy-Hope is to rally our entire community:

businesses, education, churches, civic organizations, hospitals and

individual volunteers to advance the goal of making life better for kids

in Cy-Fair. You can visit our website, www.cy-hope.org or call 713-466-

HOPE to find out about our upcoming events, make a donation, become

a partner or volunteer.

Just Serve! Volunteers Needed -

Service Projects Wanted

Make a difference in your community! This web site is for volunteers

looking for service projects at faith-based, non-profit, community,

governmental organizations and for organizations seeking volunteers

from churches, schools, sports, scouts and youth groups. Register to

volunteer on www.justserve.org and use your zip code to locate or to

post a service project. This is a free community outreach website for all

faiths to work together to relieve suffering and enhance the quality of

life. This will not include proselyting or political canvassing - it is to JUST

SERVE! Contact Nancy Johnson clarkrj56@sbcglobal.net.

Stone Gate | November 2017 33
---
Krenek Printing

NEIGHBORHOOD NEWSLETTERS

www.krenekprinting.com

281-463-8649

RESIDENTS:

Please support the businesses within

this newsletter. It is because of their support

that you receive this paper at no charge

to you or your HOA.

Share your community news with us.

Non-profit, scouts, school, dated events, etc. send

to news@krenekprinting.com

ADVERTISERS:

Want your ad to be placed in this newsletter

and mailed to the homeowners every month?

For more information, pricing or to view newsletters

online please visit

www.krenekprinting.com or email

ads@krenekprinting.com

BUSINESS FINDER:

Search for businesses in your local area

and find great deals on the goods and

services you are looking for!

NEWSLETTERS:

View your newsletter online! You can

read your community news on our website or

download it to take with you and print.

Archived issues are also available.

MOBILE:

You now have access to our full website optimized

for your mobile device, making it even easier to

find the things you need on the go!

MORE:

Find information about advertising

opportunities, article submissions, our

company, frequently asked questions, and

submit your classified ads online.

NOW OFFERING FULL COLOR

PRINTING SERVICES!

34

Call today for a quote!

LLC

Classified Ads

HOW TO PLACE A CLASSIFIED AD

To place a Classified Ad, go to the Krenek Printing website at www.

krenekprinting.com. Hover your mouse over Submissions and choose

Classifieds. Select which area (Hwy 6, Katy or Both) you would like to see your

ad appear. Then select the Category for your ad. Your ad will be calculated and

you may make your payment online. If you have any questions, please give us

a call at 281-463-8649.

FOR SALE

Girls 20" Huffy bike, like new, $50. Call/text 832-818-2899.

Retro round king clam shell 1970's bed set, one of a kind, excellent condition. Email for

pictures, description and price. ounpat@comcast.net.

MOVING/GARAGE SALES

Estate Sale: Furniture, carpet, pictures, home decor, no children's items. Friday, Nov. 17th

- 2-6 PM, Saturday, Nov. 18th - 12-4 PM, Sunday, Nov. 19th - 2-6 PM, 14723 Sparks Valley Dr.

Houston, TX 77084.

HELP WANTED

Looking for a responsible Administrative Assistant/Admission Counselor. Need to perform

a variety of administrative and clerical tasks. Duties include assisting in daily office

needs, providing support to various departments and managing our company's general

administrative activities. Send resume to kim@tfof.org.

Happy Pets Vets: Fill out an application at 18310 FM 529 Suite A, no calls. Must be 18 years

of age.

Kumon Math & Reading Center of Cypress-Lonestar located at Barker Cypress and

Longenbaugh is looking for part-time early instruction assistants (7-8 hrs/week) and front

desk assistant (8-9 hrs/week). Availability on Mondays and Thursdays from 3:30 to 7:30

PM is an essential pre-requisite to hiring. Interested candidates who enjoy working with

children can email their resume to cypresslonestar_tx@ikumon.com.

Register Tapes Unlimited is looking for Inside Sales/Telemarketing reps to work in our

corporate office call center in the Houston/Katy area. We have a contract with over 10,000

major grocery chains in 47 states and Western Canada. Heavy Cold Calling to Business

Owners to set appointments for top producing outside reps, $10/Hour plus unlimited

Comm. & Bonuses. Our team's average $15-$30/hour w/ comm. Full Time M-F. No Late

nights or weekends, great environment. You will be eligible for Medical/Dental/Vision & Life

insurance after 60 days, 401k after 1 year. No experience needed: www.rtui.com. To apply,

send resume to kimberlee.moore@rtui.com.

Looking for people to work in the field services, crew workers and helpers to work on

servicing irrigation systems for growing Irrigation Company, no experience needed, will

train. Must have own transportation and clean driver's license. Growth opportunity,

Northwest Houston area. Email: sprinklerworkers@gmail.com.

Plumbers or Apprentices for repair. Bilingual preferred. Please call 281-256-2239.

Housekeepers needed. Great hours for moms with school age children. 281-861-0394.

Dental Assistant needed, at least 2 years of experience, must be state licensed. 281-550-0900.

November 2017 | Stone Gate
---
Dental assistant position available. F/T, nonsmoker, experienced

preferred, knowledge of Dentrix software and bilingual a plus. Must be

state licensed; Front desk receptionist, bilingual preferred. Fax resume

to: 281-861-7174. Or call 281-861-7500.

West Houston Electric is looking for Experienced Journeyman Electricians

to join our team of Expert Residential Electrical Service Technicians.

We offer competitive pay with benefits including company vehicle.

Requirements: Must have good driving record, valid driver license and

must have current Texas Journeyman Electrician License. Send resume

to: info@westhoustonelectric.com.

HOMES/CONDOS/LAND FOR SALE

2 - one/half acre connecting lots (total one acre) on Grand Harbour Island

on Lake Conroe in Montgomery, Texas. Excellent location on water. Will

sell together or separate. $150,000 each OBO. 281-858-4422.

HOMES/OFFICES FOR LEASE

Executive office for lease overlooking Hearthstone golf course on 529,

$750 a month all inclusive. Perfect for the small business owner. Contact

Adam at 817-789-0985.

TIMESHARES/VACATION HOMES

Vacation Home in Galveston, TX located beachside, 16 miles from

downtown Galveston, 2nd row gulf view home with cargo lift, sleeps

19 people, 6 bedrooms with 3 master suites, large 2-story deck. Great

family getaway! Book: https://www.sandnsea.com/booking/sea-pearl/

SEAPEARL phone: 409-797-5500.

Furnished ocean view vacation rental available in San Diego California.

Looking for a vacation spot in San Diego? Look no further. This one or

two bedroom, two bath, fully furnish unit is a 3 minute walk to the sand

in beautiful Pacific Beach. Here are some other highlights: 1,113 sq.ft., 1

or 2 bedroom, 2 bath, Ocean views, High speed internet, Fully furnished

with full kitchen, Heated pool and hot tub and did I mention that it's a

3-minute walk to the beach? Contact Art Bennett for more details: Art.

Bennett@sbcglobal.net, 713-247-9507.

Galveston Seawall Condo, beautiful ocean view, full kitchen, sleeps 4-6,

$550/weekend, Nottingham family owned. Completely renovated, NOT

in rental pool. No pets. So close and so much fun, Galveston! Stacie 713-

302-5222.

Timeshare: Rent a lovely condo for a full week in Hawaii! I have one

week reserved in Maui, resort name is Kauhale Makai. Sleeps 4, one

bedroom, fully stocked kitchen. The resort charges $200 per day if not

with timeshare. What else needs to be said... It's Hawaii! $795 per week.

For information contact Cheryl at 281-855-7427.

Las Vegas Timeshare: On the Strip near the airport, sleeps 4, full kitchen,

dining & living. Jacuzzi in room, 2 TV's, 2 Phones, 2 pools outside building,

fitness room, washer/dryer/safe in room, 4 days, $465 or 7 days, $595. No

added fees. Cheryl 281-543-2409.

Vacation home for rent: Hill country vacation home, Cedar Creek Cabin,

new 2/2 with loft, fully furnished, huge front porch, satellite TV, beautiful

views, abundant wildlife, Frio River at Concan near Garner State Park,

sleeps 8. Call 866-7CON-CAN or go to www.frioman.com for more

information.

NOVENA TO ST. JUDE

May the Sacred Heart of Jesus be adored, glorified, loved and preserved

throughout the world, now and forever. Sacred Heart of Jesus have

mercy on us. St. Jude, worker of miracles, pray for us. St. Jude helper

of the hopeless, pray for us. Say Novena 9 times a day for 9 days. It has

never been known to fail. Publication must be promised. Thank you St.

Jude – BM, JPM, GBJ, MI, VGA

Due to the amount of space involved and the response of those wishing to publish

a Novena to St. Jude, a Novena to St. Jude will be published along with a list

of initials of those wishing to publish one. We are sorry, but we cannot make

exceptions. $5 Charge for each Novena per area. Please specify which area you

would your Novena to appear in. - Krenek Printing.

DISCLAIMER: Articles and ads in this newsletter express the opinions of their

authors and do not necessarily reflect to opinions of Krenek Printing Co. or its

employees. Krenek Printing is not responsible for the accuracy of any facts stated

in articles submitted by others. The publisher also assumes no responsibility for

the advertising content with in this publication. All warranties and representations

make in the advertising content are solely that of the advertiser and any such

claims regarding its content should be taken up with the advertiser. The publisher

assumes no liability with regard to its advertisers for misprints or failure to place

advertising in this publication except for the actual cost of such advertising.

Although every effort is taken to avoid mistakes and/or misprints in this

publication the publisher assumes no responsibility for any errors of information

or typographical mistakes, except as limited to the cost of advertising as stated

above or in the case of misinformation, a printed retraction/correction. Under no

circumstances shall the publisher be held liable for incidental or consequential

damages, inconvenience, loss of business or services, or any other liabilities from

failure to publish, or from failure to publish in a timely manner, except as limited

to liabilities stated above.

Published by: KRENEK PRINTING CO.

7102 Glen Chase Ct., Houston, TX, 77095

281-463-8649 • news@krenekprinting.com

Stone Gate | November 2017 35
---
36

November 2017 | Stone Gate