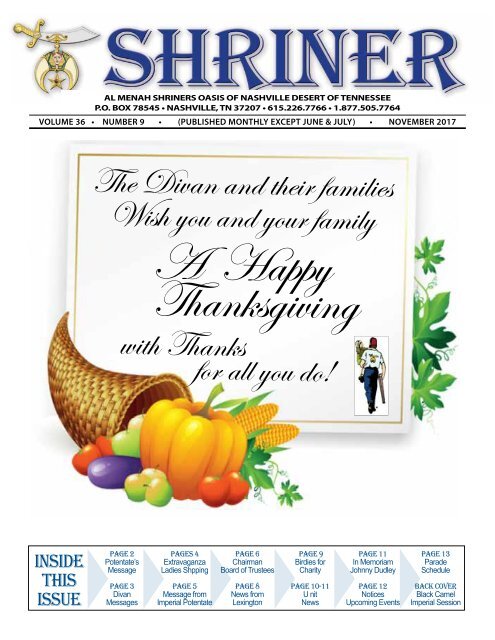 SHRINER NOVEMBER 2017
Monthly magazine of activities for Nobles of Al Menah Shrine.
Monthly magazine of activities for Nobles of Al Menah Shrine.
SHOW MORE
SHOW LESS
Create successful ePaper yourself
Turn your PDF publications into a flip-book with our unique Google optimized e-Paper software.
AL MENAH SHRINERS OASIS OF NASHVILLE DESERT OF TENNESSEE

P.O. BOX 78545 • NASHVILLE, TN 37207 • 615.226.7766 • 1.877.505.7764

VOLUME 36 36 • NUMBER • NUMBER 4 9 • • (PUBLISHED MONTHLY EXCEPT JUNE & & JULY) • • NOVEMBER APRIL 2017

INSIDE

THIS

ISSUE

The Divan and their families

Wish you and your family

A Happy

Thanksgiving

with Thanks

for all you do!

INSIDE

THIS

ISSUE

PAGE 2

Potentate's

Message

PAGE 3

Divan

Messages

PAGES 4

Extravaganza

Ladies Shpping

PAGE 5

Message from

Imperial Potentate

PAGE 6

Chairman

Board of Trustees

PAGE 8

News from

Lexington

PAGE 9

Birdies for

Charity

PAGE 10-11

U nit

News

PAGE 11

In Memoriam

Johnny Dudley

PAGE 12

Notices

Upcoming Events

PAGE 13

Parade

Schedule

BACK COVER

Black Camel

Imperial Session
---
Al Menah Temple

Al Menah Temple

Oasis of Nashville

Desert Oasis of Nashville

TennessEE

Desert of TennessEE

P.O.Box 78545 • Nashville, TN 37207

P.O.Box Phones 785451.615.226.7766

•• Nashville, TN 37207

Phones 1.877.505.7766

1.615.226.7766

www.almenahShriners.org

1.877.505.7766

www.almenahShriners.org

The Publication Committee

The Publication Committee

The Divan/Board of Directors

Potentate The . ................... Divan/Board of Directors Frank Hester

Chief Potentate Rabban .. ................... . Horace Frank Perkins Hester III

Assistant Chief Rabban Rabban .. ..........Randy Horace Perkins Williams III III

High Assistant Priest Rabban & Prophet .. .........Randy . Scott Williams Jones

Oriental High Priest Guide & Prophet ............ . ......... Donnie Scott Drayton

Jones

Treasurer Oriental Guide ......................... . Donnie Wes Drayton Frye

Recorder Treasurer .. ...................Robert Wes Daniel

Frye

Editor Recorder ..................... ...................Robert Maurice Smith Daniel

Editor Published ..................... monthly except June Maurice and July

Smith

Published www.almenahShriners.org

monthly except June and July

www.almenahShriners.org

PAST POTENTATES

PAST POTENTATES

*Charles Barham

*V.

*Charles

K. Stevenson

Barham

*W.

*V. K.

F.

K. Hunt

Stevenson

*J.

*W.

Pink

F. F. Hunt

Lawrence

*J.

*Ed

*J. Pink

R. Burr

Lawrence

*J.

*Ed

Harry

R. R. Burr

Murphy

*J.

*Charles

*J. Harry

N. Murphy

Rolfe

*Paul

*Charles

DeWitt

N. Rolfe

*E.

*Paul

M. DeWitt

Kelly

*Joseph

*E. M. Kelly

Higgins

*Ira

*Joseph

E. Parker

Higgins

*Martin

*Ira E. E. Parker

S. Roberts

*R.

*Martin

C. Derivaux

S. S. Roberts

*Oren

*R. C. C. A.

Derivaux

Oliver

*Lee

*Oren

L.

A.

Gamble

A. Oliver

*R.

*Lee

R.

L. L.

Clark

Gamble

*William

*R. R. R. Clark

Raine

*Hugh

*William

F. Smith, Raine

Jr.

*W.

*Hugh

A. Bryan

F. F. Smith, Jr. Jr.

*Charles

*W. A. A. Bryan

L. Cornelius

*W.

*Charles

Bush

L.

Herbert

L. Cornelius

*Marshall

*W. Bush Hotchkiss

Herbert

*Jess

*Marshall

B. Templeton

Hotchkiss

*T.

*Jess

A.

B. B.

Springfield

Templeton

*James

*T. A. A. Springfield

G. Stahlman

*J.

*James

Clark G.

Akers

Stahlman

*J.

*R.

*J. E.

Clark

Baulch

Akers

*Thomas

*R. E. E. Baulch

E. Doss

Kerbela

*Thomas

Temple

E. E. Doss

'28

*Maurice

Kerbela Temple

Weinberger

'28

*S.

*Maurice

N. Allen

Weinberger

*W.

*S. B.

N. Hager

Allen

*O.

*W.

Lynn

B. B. Hager

Meek

*Jack

*O. Lynn

Norman

Meek

*James

*Jack Norman

J. Vaughn

*C.

*James

H. Smith

J. J. Vaughn

*Fred

*C. H.

C. Smith

Laskey

*Ivo

*Fred

A.

C. C.

Burton

Laskey

*T.

*Ivo

W.

A. A.

Bray, Burton

Jr.

*James

*T. W. R.

Bray,

Cox

Jr. Jr.

*Paul

*James

R.

R. R.

Jarratt

Cox

*J.

*Paul

Sumpter

R. R. Jarratt

Anderson

*J.

*Hugh

*J. Sumpter

W. Robertson

Anderson

*M.

*Hugh

T. Gossett

W. Robertson

*Joe

*M. T.

C.

T. Carr

Gossett

*James

*Joe C. C.

T. Carr

Hayes

*E.

*James

Lee

T.

Bennett

T. Hayes

*Orris

*E. Lee

E. Bennett

Davis

*Raymond

*Orris E. E. Davis

H. Leathers

*Hilry

*Raymond

H. Shaffer

H. Leathers

*Hilry H. Shaffer

*James N.

Stansell

*James N.

Stansell

2

*John E. Patton

*John

*John E.

D.

E. Whalley

Patton

Jack

*John

Norman,

D. D. Whalley

Jr.

*Albert Bennett

Jr.

*Clyde

* Jack Norman, Jr.

*Albert

R. Bennett

Watson

*Marshall

*Clyde R. R. S.

Watson

Whitley

*James

*Marshall

J. White

S. S. Whitley

*G.

*James

Cooper

J. J. White

Holt

*J.

*G.

Coleman Cooper Hayes

Holt

*J.

*Donald

*J. Coleman

R. Dunning

Hayes

*J.

*Donald

P. Foster

R. R. Dunning

*J.

*Gale

*J. P. P. Foster

Robinson

*C.

*Gale

V. Cramb

Robinson

*J.

*C.

Nelson

V. V. Cramb

Bryan

*J.

*Robert

*J. Nelson

Battle

Bryan

*Jerry

*Robert

N. Battle

Tate

*Fred

*Jerry

H. N.

Gay, Tate

Jr.

James

*Fred A.

H. Campbell

Gay, Jr. Jr.

*Claude

James A. A.

G. Campbell

Southall

*W.

*Claude

B. Lawson

G. Southall

*Gale

*W. B. B.

Robinson

Lawson

J.

*Gale

Dudley Robinson

Phillips

J.

*M.

J. Dudley

Norris Phillips

Jenkins

*James

*M. Norris

F. Scalf, Jenkins

Jr.

*William

*James F. F. B.

Scalf,

Jones

Jr. Jr.

Jack

*William

C. Phelps

B. B. Jones

*David

Jack C. C. P.

Phelps

Brumfield

*Zack

*David

S.

P. P.

Parrish, Brumfield

Sr.

*Robert

*Zack S. S.

E. Parrish,

Newman

Sr.

*George

*Robert E.

Cook

E. Newman

*George

*R. Parker Cook

Graham

H.

*R.

Parker Parker

Toler

Graham

*R.

H. T.

Parker

McNaney

Toler

James

*R. T. T. L.

McNaney

Ham

Charles

James L. L.

H. Ham

Williams

William

Charles D.

H. Jones

Williams

John

William

L. Weaver,

D. D. Jones

III

Gale

John

B.

L. L.

Robinson

Weaver, III

Joe

Gale

Bell

B. B. Robinson

Ronny

Joe Bell

L. Greer

Charles

Ronny L. L.

E. Greer

Cardwell

J.

Charles

Franklin

E. E. "Jay"

Cardwell

Scalf, III

J.

Conley

J. Franklin

Dykes

"Jay" Scalf, III

David

Conley

Smith

Dykes

Jim

David

Cain

Smith

*Mike

Jim Cain

Martin

*Johnny

*Mike Martin

Dudley

*Johnny

David Wantland

Dudley

Melvin

David Wantland

Meadows

Dennis

Melvin Belford

Meadows

David

Dennis

Vaughn

Belford

Carl

David

E. Barnes

Vaughn

Mike

Carl E.

Van

E. Barnes

Sant

Jeff

Mike

Head

Van Sant

* Jeff Deceased

Head

** Deceased

As we get into the Fall Season, we should be reflecting on the good

times we have had so far this year and the opportunities we have going

forward. We are blessed to live in a country that affords us the freedom

to peruse whatever dreams we have and the opportunity to make our

dreams a reality. We as Shrine Masons, I believe, have the blessing of

brotherly love, relief and truth. For there is no greater calling than to be

of service to our fellow man and no greater philanthropy than the care of

children who cannot help themselves. We should endeavor to extend this

great calling to everyone we come in contact with and what better time

to do that than now.

We had another successful and fun filled month last month with the

Circus, Golf Tournaments, Clown Auction for our Kids and the Fall

Party. Thanks to all that made these events happen and thanks to all that

attended.

I don't have to tell you that November and December are full of fun

and exciting events and functions. You know this is a great time of year

to be a Shriner so take the opportunity to do something different. I challenge

you to attend an event that you might not normally come to, have

a conversation with someone you might not normally speak with and

encourage someone who has not attended in some time to get out and

participate.

This month begins our Parade season and I am looking forward to

seeing all the Units and Clubs participating and having fun. So get your

parade uniforms and equipment ready and we will see you there!

Next month we not only have a busy parade season, but also have

a lot of Unit and Club Christmas Parties. But one our biggest time to

shine and spread the Christmas cheer is with our patients at our Annual

Patient's Christmas Party on December 17 th . Be sure to mark your calendars

and come join us on this joyous occasion.

Nobles and Ladies thank you for all you do and your support of Al

Menah Shrine and the Shriner's Hospitals for Children.

Yours in the Faith,

Frank Hester

Potentate

"Pride, Passion & Purpose"
---
From the desk of...

ASSISTANT CHIEF RABBAN RABBAN

HIGH ORIENTAL PRIEST GUIDE AND PROPHET

The Circus is gone and Fall is here. I would

Thank all of you who helped make the circus

like to take this time to thank everyone who

this year an exciting and overwhelming

helped with the Circus: GREAT JOB!

success. Anyone thinking animal rides

The Circus was wonderful. We had over

don't count needs to hand in their

24,000 people come through the gate,

dues card and go work for PETA!

and most of all, everyone had a great

In other news, it looks like the

time and we made money. Thanks again!

Clowns need more practice with

Looking forward to 2018!

cream pies. Saturday night at the

circus they only shot about 60 percent

Chief Rabban

for divan members. That may have been

Horace Perkins, III

the best they could do considering

the quality of the talent available at the

ASSISTANT RABBAN

time... ORIENTAL The GUIDE only other

option could be - they were just

plain scared.... More on this later.

WHAT WOULD YOU DO..IF YOU

Oriental Guide

Could ADD OR DROP something

Donnie Drayton

about our Shrine Circus "OR" I Love

This Part, what would it be. As I

start planning the 2018 Al Menah

Circus after the 1st of the Year I

would love your input of what YOU

THINK. Your Likes and Dislikes

while it is Fresh On Your Mine. You

Did Not Go. Why Not. Let me know.

As our Circus was going on last month,

Beth & I were taking notes and listening

to what the Nobles, our Ladies, and our Guest were saying.

The Good and Bad

NOW YOU CAN HELP. Please send an E-mail to

3

rwilliams@almenahshriners.org - Subject: 2018 Shrine Circus

DID YOU KNOW.....Shriners Hospital is "95" years old -

ASSISTANT RABBAN

ORIENTAL GUIDE

HAPPY BIRTHDAY

Helping Kids be Kids ...That Why I Wear a FEZ

Assistant Rabban

Randy Williams

HIGH PRIEST AND PROPHET

The holidays are fast approaching and so is

the parade season. Time to dust off the

shoes, wash the floats and rack up some

miles. Hope to see everyone out on the

parade routes.

A big "Thank you" to everyone

that worked at the circus. It takes

everyone from ticket takers, security,

ushers, sweepers and great hospitality to

name just a few things that is required to

produce this event. We can't forget to thank

the ladies for the awesome food and the support

they give us.

I also want to congratulate the new nobles from the Fall

Ceremonial and encourage them to attend any Shrine events and

Shrine Club meetings. If you would like to participate in any of the

upcoming parades, do not hesitate to call the office or contact any

of the Divan.

High Priest and Prophet

Scott Jones

3

3

3
---
4
---
Dear Fellow Nobles,

The past couple months of this new Imperial

Year have certainly been eventful, and we

have been very busy. As I'm sure all of you

are aware, back-to-back hurricanes – Harvey,

Irma and Maria – recently caused a great deal

of destruction and devastation throughout

Texas, Florida, the Caribbean, Puerto Rico,

and beyond, as have the recent earthquakes in

Mexico City. These disasters affected many

people, and our thoughts and prayers have

been, and remain, with all those whose lives

have been impacted. Shriners International

will continue to provide support however

possible, and we thank all our generous and

compassionate nobles who have stepped up to

help their fellow brothers in the aftermath of

these tragedies. I received a sincere letter of appreciation from the MSANA,

thanking Shriners for their support. You can read the letter here.

On a positive note, our organizations have been making great progress, and our

new programs are off to a fantastic start. I am enjoying the opportunity to meet and

work with many of you, and look forward to the months ahead. I encourage each of

you to keep up the good work – continue supporting our membership efforts, and

the life-changing work of our philanthropy. It's up to us to build our future by

building our membership. I am committed; are you?

Thank you for all you do to improve the lives of children worldwide.

With best wishes and warm regards,

Gary J. Bergenske

Imperial Potentate

5
---
A Message from Your Chairman of the Board of Trustees

Dear Fellow Nobles,

The last couple of months – with their unprecedented number of violent storms and

other natural disasters – have been extremely stressful and even frightening for many

people. I want to commend everyone at headquarters, our hospitals and our temples who

was in the path of these destructive events for their calm professionalism, and for helping

one another. There are programs in place to assist fellow masons and nobles in Texas,

Florida and Puerto Rico at msana.com, and once we have adequate assessments of the

situation in Mexico, we will make a decision about formalizing donor assistance efforts

for this area. Communications with information on assisting hospitals and patients in the

affected areas have also been distributed.

Offering compassion and assistance to those in need is a hallmark trait of the nobles of

our great fraternity. It is also what truly sets Shriners Hospitals for Children® apart from

other pediatric health care systems. The acceptance, the attention, the time and the hope

that our amazing staff and volunteers give our patients are the best, most important gifts

we provide – it is at least as important as the fact that we will provide excellent care and every medical resource we have

to help a patient and family, regardless of the families' ability to pay.

I sometimes don't think that we all realize the difference we make in the lives of our

patients and families. A few months ago, I was visiting our Erie health care center during

their 90th anniversary celebration and had the honor of hearing a presentation by a Dr.

Martha Bruce, who was a former patient decades ago. She had polio as a child, and in 1945,

her parents couldn't find anyone to help their 15-year-old daughter. As Dr. Bruce said, "no

one wanted to take a little black girl." Someone in the family knew a Shriner, and

consequently our Erie hospital took her and provided care for her. Dr. Bruce grew up,

earned multiple degrees, and became a successful educator. She taught at a college in

Africa, worked for 24 years for the Youngstown City School district and spent six years

teaching inmates at a state correctional institution to read. Would she have had this success

without our help? We can't know the answer to that for sure. What we do know is the

difference we made in Dr. Bruce's life was so important and lasting that she wanted to

come back and thank the Erie hospital all these years later. As she spoke, she recalled every

nurse, every meal, and the children that were in the beds to her right and left.

As I said at the Lexington hospital board meeting, where I shared the story of Dr. Bruce, as an organization, and as

members of Shriners International, we, including our ladies, are similar to the power generated by Niagara Falls. That

power is an accumulation of drops of water. No one drop is more important than another. Collectively it's a team that

creates a lot of energy. As an organization, we generate a lot of power. We use that power to change the lives of

children. While we have great staff and great leaders, the true difference in our organization is in our commitment to

changing lives, and to making those changes through the incorporation of wrap-around care, which offers medical care,

compassion and hope. These help our patients build self-esteem, and begin to believe in their futures, and their dreams.

Some have said that when you hope, you have everything. I don't know about that, but I do know that when you change

lives, you change the world.

How many times have you heard a story about a Shriners Hospitals patient saying "Thank you. Because of you, I have

a life I didn't believe was possible?"

Certainly, both Shriners International and Shriners Hospitals for Children face considerable challenges. But if each one

of us is truly committed to the missions of our fraternity and philanthropy, and truly wants to change lives and make the

world a better place, working together, we can overcome any difficulties, accomplish any tasks, and meet any goals.

Thank you for all you do for our patients and for our brotherhood.

Yours in the faith,

Jerry G. Gantt

Chairman, Board of Trustees

Shriners Hospitals for Children

6
---
Paper Sale Donation from Kroger

On Monday, 7/18 Potentate Jeff Head and members of the Williamson

County Shrine Club were with Kroger Management at their Belle

Meade store where they presented a $1,000.00 to us for the Shrine

Hospitals for Children. The Kroger Manager was an acquaintance of

Scotty and Teresa Travis who put this together for the Al Menah Shrine

Hospitals for Children Paper Sale.

This is a portion of a message from Phyllis Berry, wife of this

Kroger Store Manager, Michael Berry.

Let me tell you, our son was a Shrine Hospital patient

and we are forever grateful The experience was an

awakening in humanity. The care was phenomenal. The

friendship my family made. The support from the men in

your fraternity was phenomenal. We thank you for all you

and your members do for children across the country.

Sincerely

Phyllis Berry

Fraternally,

Butch Mayes, WCSC

7
---
8

Lexington Shriners patient to play in The

Championship Pro-Am against top PGA Tour

professionals

Jake will participate in a Par 3 Challenge to showcase the

magic of Shriners Hospitals

The Shriners Hospitals for Children Open, an official PGA

TOUR event held annually in Las Vegas, Nevada, is not just

another golf tournament. The week highlights not only the

mission and hard work of the Shriners Hospitals health care

system, but also brings patients from throughout North

America into the forefront at various times throughout the

seven-day schedule of events.

"The main goal is to showcase the talents and abilities these patients possess, while providing

the understanding to those in attendance that none of this would have been possible without the

care provided by Shriners Hospitals for Children. Participants will leave with incredible

memories of not only the patients' abilities, but their can-do attitude, positive outlook on life and

ever present smiles throughout the day," said Adam Sperling, executive director, Shriners

Hospitals for Children Open.

The Championship Pro-Am, which has raised close to $5 million dollars since 2008 for the

system, provides the perfect platform to put some of these amazing success stories on full

display. Throughout years past, current patients have played entire rounds of golf with PGA

TOUR professionals, participated in miniature golf putting competitions, and even closest to the

pin contests.

"Shriners Hospitals for Children patient integration with the Pro-Am has taken on many

forms over the years. The most recent concept of having a patient on each side (one on the front

nine, one on the back nine) continues the tradition of patient integration in the event, but is a

format that will be new to the event," Sperling said.

This November, Jake from Shriners Hospitals for Children Medical Center — Lexington and

Maleah from Shriners Hospitals for Children — Salt Lake City will each participate in a Par 3

Challenge against the top PGA TOUR professionals in the field, as well as amateurs from

throughout the country.

During the Par 3 Challenge, both Jake and Maleah will tee off on a hole throughout the day,

with an opportunity to see if

they can hit it closer than their

competitors. They will be

playing for pride, but no matter

who wins, all will walk away

with a better understanding of

the magic that takes place inside

the walls of Shriners Hospitals

for Children facilities every day.
---
When you support a campaign like Birdies for Charity,

you bring hope and healing to children, regardless of the

families' ability to pay.

In addition, we have secured a multi-year agreement

continues our existing sponsorship of an official PGA

TOUR FedEx Cup event in Las Vegas, Nevada and will

see our activation grow throughout the tournament

broadcast and on-site experience.

While we continue to grow our Standard Bearer Ambassador program which

will see each of your hospitals represented during the 3rd and final round of the

tournament, we are also creating additional programs associated with the

event. Birdies for Charity® provides an opportunity for donors and supporters of

our organization to win a trip to Las Vegas for the Ultimate V.I.P getaway. Click

here for your chance to enter for the chance to visit the 2018 event and meet our

tournament champion.

As you know, the Shriners Hospitals for Children ® Birdies for Charity

fundraiser is underway, and I hope you have already made your best guess for a

chance to win amazing prizes!

We're so excited about this fun, new way for you to show your support for

Shriners Hospitals for Children. To us, it's more than just a game of golf.

At this time, here are the top five hospitals that have received the most

donations so far in the challenge:

Tampa

Philadelphia

Houston

Galveston

Greenville

Don't see your favorite hospital listed? Ramp up your donations! Now through

November 1, 2017, golf fans nationwide can guess the number of birdies that will

be recorded during the 2017 Shriners Hospitals for Children Open while

supporting life-changing care for kids.

Don't forget to tune in to the Golf Channel telecast November 2-5!

9
---
CeNter

NeWS

Clowns

Wow! What a Circus! Wow! What a

Auction! Wow! What a Month!!!

If you weren't someway involved in

the many activities this past month you

missed out on so many laughs, smiles,

fellowship, and memories.

The attendance at the Circus was

beyond favorable, and the Clowns had

plenty of pies and water to go around,

just ask the Divan. Thank you to all

involved with the Circus, everyone

made it one that will not be quickly

forgotten.

October 14th was our Clown

Auction which over exceeded

expectations. Thanks to all who helped

with the Auction as well. I was proud

to see how many came out to take part

in our annual Clown Auction, and you

could see everyone's hearts were in the

bidding.

Now the parades are closely

approaching. I hope to see everyone,

as we take to the streets in our home

towns, and abroad.

As always may we keep our brethren

and families who are sick or unable to

attend our events in our prayers, and

may we be mindful of our mission of

our hospitals.

James "Puzzles" Chambers

Secretary

Director's Staff

Greetings Shrine family! These cooler

temperatures sure have been a welcome

change. Now only if we could keep

the sleet and ice at bay. We

have many events coming

up in November. The ladies'

10

extravaganza will be held November

4th with loads of great items! Please be

sure to invite anyone and everyone to

this event.

Our Directorette auction will be held

November 11th. Please bring an item

to auction and a side dish or desert.

Please RSVP with Emily Byram, emily.

byram@live.com or 913-306-6423 for our

Christmas party held on December 9th.

We want to wish our Military

a Happy Veterans Day and thank

them for their service and protection.

Whether active duty and or retired,

it is because of our Veterans we have

the blessing of freedom and the

opportunity to freely provide what we

can as a Shriner. God bless our temple

and we look forward to the fellowship

we will share in the coming holidays.

Cordially,

Randy D. Byram

Now that a very successful Circus is

behind us we start the Parade Season.

Try to make as many parades as

possible don' miss out on the fun.

The Greeters Christmas Party will

be merge with Directors Staff party

and will be held at the Al Menah

Shrine Center, Happy Hour is 5:30 to

6.:30PM, Dinner at 5:30PM and will

be followed by Installation of Officers.

Entertainment is music by request

graciously provided by the Whitaker's

from 8:00PM to 10:00PM. The $60.00

price ($30.00 for single) this was an

outstanding event last year. RSVP by

November 30th to 913.306.6423 voice

or text (Please a message with your first

& Last name and the number of people

in your party). You can pay at the door

or send check to: Director's Staff

@ Greenbrier Road, Greenbrier TN

37073

Did you know that millions of

Airline Miles expire or are not used

each year?

What a great feeling when you donate

your Airline Miles to the Shriners

Hospitals for Children, that you are not

going to use or are about to expire

Here is a new way to donate to help

our kids, Kroger will donate, based on

your purchases, all you have to do is

register your "Kroger Card

Keep in our prayers all those that

are hurting or ill.

As well as all those in the Armed

Forces both in harm's way

And serving around the world

Lou Becker

Legion of Honor

We had a few veteran's interested in

the Legion of Honor at our recent

Ceremonial and we will continue to

follow-up with them. Hopefully we can

sign up a couple new members.

The Car Show was great and enjoyed

by all, beautiful cars and good food.

Thanks to all who helped in any way

you could.

The Al Menah Shrine Circus was

very successful and it was really good

this year. Thanks to all LOH members

who participated with the color guard

and thanks to all our members who

brought food for the hospitality.

Everybody bring your ladies and

come out to support the Ladies

Extravaganza on Saturday Nov. 4 as

the Legion of Honor will be selling

breakfast foods, donuts, cinnamon rolls,

biscuits, coffee, tea, soft drinks, water,

etc.

The parade season begins for us

on Sunday Nov. 5 with a Veterans

Day Parade in Hendersonville. The

Veterans Day Parade in Nashville will

be on Veterans Day Nov. 11. Our first

Christmas parade is scheduled for

Saturday Nov. 18 in Springfield. There

will be several more to follow but we

will have a meeting before then and will

update at that time.

Noble Gary "Rooster" Drennon is

in hospital getting a pacemaker. Please

keep him in your prayers. Also please

keep our hospitals, doctors, nurses,

patients, military, police, firefighters and

all first responders in your prayers.

May God Bless,

Roy Lindsey,

Commander
---
Motor Corps

Oh, so many thoughts! So many things

one could say about the troubling times at

hand, not only in the world we live in, but

right here inside the doors of our very own

Shrine Center. OUR Shrine Center where

the focus is supposed to be on helping

our children. It appears that the vision of

some is completely out of focus. We have

those that hate, those that love, those that

simply try to live peacefully and abide by

the vows and the oath of our Fraternity.

We have Leaders (Good leaders!), Wannabe

Leaders (those that can't think on their

own), "God Father's" (does that title come

with tenure?) and "Leaders" that will lead

weak people straight to the gallows of Hell.

Then come the followers and those that

hide behind the wrong doings of others.

Spiteful, spineless people!

Have you forgotten your oath and

obligation? Have you forgotten why YOU

became a Shriner? Have you forgotten the

teachings of YOUR Blue Lodge?

As we approach the Holiday season,

I offer this prayer ~ Dear God, Please

remove hate and replace it with LOVE.

Let our Faith be stronger than our Fears.

And let there be Friendship where there is

discord. So Mote It Be….

~ Till next time,

Journalist

"Fat Rabbit", PC

Shrine Club News

Hendersonville Shrine Club

The Circus was great this year. I think with

the live animals they brought new life back

to the Circus for everyone. But especially the

kids, with the Elephant Rides for those who

got to ride and to those who watched as well.

A good turnout for the Saturday Children's

performance. It went great. It is something

that most will never forget "The Shrine

Circus".

Looking ahead at the events, don't forget

the Ladies 6th Extravaganza on Saturday,

November 4th at the Shrine Center from

9:00am to 2:00pm.

We are having a Veterans Day Parade with

a few Shrine Units participating on Sunday,

the 5th of November. The Line Up is at the

Drakes Creek Park. Line up at 1:00pm and

DUDLEY, Johnny Byron, Age 73 of Gallatin

passed away October 22, 2017.

Johnny was a Past Potentate of Al Menah Shrine

(2009), Past President of S.E.S.C.A. (1999-2000),

Past Captain of Al Menah Shrine Clown Unit

(1995), Past President of Past Captains Club

(2012), Past Treasurer of Order of Q, Oket in Order

of Q, Member of Madison Lodge No. 762 and a

Member of the Scottish Rite and the York Rite. He

was also a Member of Tusculum Cumberland

DUDLEY, Johnny Byron, Age 73 of

Presbyterian Church. DUDLEY, Johnny Byron, Age 73 of Gallatin

Gallatin passed away passed October away 22, 2017.

He is preceded in death by son, John David Dudley

and parents, Byron and Mildred

Johnny

Dudley.

was

Survived

a Past Potentate of Al Menah Shrine

by his wife of 46 years, Dianna Walden Dudley;

Johnny (2009), Past President of S.E.S.C.A. (1999-2000),

daughter, Sara was (Ross a Cochran) Past Potentate Dudley; sister, of Judy Al

Past Captain of Al Menah Shrine Clown Unit

Menah

(Tommy) Hoover;

Shrine

nieces,

(2009),

nephews and

(1995), Past

many

President President of Past Captains of

friends.

Club

(2012), Past Treasurer of Order Q, Oket in Orde

S.E.S.C.A. (1999-2000), Past Captain of

Do-Rite, you will be missed. And one more time "QUIT!"

of Q, Member of Madison Lodge No. 762 and a

Al Menah Shrine Member Clown of Unit the Scottish (1995), Rite and the York Rite. He

was also a Member of Tusculum Cumberland

Past President of Past Captains Club (2012), Presbyterian Past Treasurer Church. of Order

of Q, Oket in Order of Q, Member of Madison Lodge No. 762

and a Member of the Scottish Rite and the York Rite. He was also a

Member of Tusculum Cumberland Presbyterian Church.

He is preceded in death by son, John David Dudle

and parents, Byron and Mildred Dudley. Survived

by his wife of 46 years, Dianna Walden Dudley;

daughter, Sara (Ross Cochran) Dudley; sister, Judy

(Tommy) Hoover; nieces, nephews and many

friends.

He is preceded in death by son, John David Dudley and parents,

Byron and Mildred Do-Rite, Dudley. you will be Survived missed. And by one more his wife time "QUIT!" of 46 years, Dianna

Walden Dudley; daughter, Sara (Ross Cochran) Dudley; sister,

Judy (Tommy) Hoover; nieces, nephews and many friends.

Do-Rite, you will be missed. And one more time "QUIT-IT!"

Step Off is at 2:00pm. Wishing for a

good turnout for our Hendersonville

Veterans Day Parade to show the

Spirit of our City to our Veterans. We

use their day to Honor our Men and

Women who fought for our Freedom.

Our next Meeting will be Monday,

November 27th at the Black Eyed Pea, 164

East Main Street in Hendersonville. We

would like to invite all the Nobles and their

Ladies to our next Meeting for good food

and fellowship. We meet at 6:00pm to eat

and our Meeting will start at 7:00pm.

Thanks to all the Shriners who

go the extra mile to support our

Hospitals. Keep all our Members who

are sick or lost a loved one in your

prayers. God Bless each of you and

yours and America.

Boyd C. Parnell

President

Williamson County Shrine Club

WCSC always has a great program at

our meetings on the third Thursday

of the Month, 6:00pm at Logan's

Steakhouse in Cool Springs. Last

night our speaker was Scott Couch

from Fox 17. If you weren't there you

missed a very good presentation.

Our drawing has carried over from

several prior meetings and will start

out at $610.00 for our November

meeting, plus whatever is added that

night! Come on out, you might win it!

We would love to have you with us.

Remember to pray for our leaders,

our Doctors / Nurses at the Shrine

Hospitals, our Military who are

fighting to ensure our freedom. Say an

extra prayer for our Law Enforcement

Officers, they also protect us here at

home.

Butch Mays,

WCSC Ambassador

11
---
Notices..............................................................................

PATIENTS'

CHRISTMAS PARTY

Ladies Only!

Nobles and Ladies:

The Annual Patient's Christmas Party on December

17th is approaching. The program

will be the same as in previous years with a possible

surprise guest(s). Ladies, we would

be very appreciative if you can bring finger foods

for dessert (Cookies, brownies, cupcakes)

that do not require cutting.

As in past years, this party is for our Hospital

Patients so please refrain from bringing siblings,

grandchildren, et al. so that all attention is directed

to our Patients.

Thanks for all your support and help with this

heartwarming event.

Wes Frye

NOVEMBER 2017

NOV 3-4

NOV 4

NOV 10-11

NOV 11

NOV 27 – 30

DECEMBER 2017

DEC 4

DEC 12

DEC 14

DEC 31

UPCOMING EVENTS

AS OF THIS PUBLICATION

SCOTTISH RITE REUNION

LADIES EXTRAVAGANZA

SCOTTISH RITE REUNION

VETERAN'S DAY

DIRECTORETTE'S AUCTION

DECORATE TEMPLE FOR CHISTMAS

CHIEF RABBAN DINNER

PATIENTS CHRISTMAS PARTY

STATED MEEETING / ELECTION

NEW YEAR'S EVE PARTY

WOW, what an amazing day we had at the Fall Ceremonial

introducing 16 new Ladies to what Shriners

Hospitals for Children and Al Menah Shriners

are all about! It was an incredible day and if the

Arch Program doesn't get to you, I don't know what

would….it is a MUST SEE! I would like to thank

all of our Noble's Ladies that came out to make the

ladies' program successful. Be sure to introduce

yourself when you see a new Lady.

Once again we had a fun and informational Ladies

Nite last month. We appreciate Chris Davis

and his daughter Jackie coming out to speak and

show a demonstration on Self Defense. Although I

was unable to be there due to sickness, I heard rave

reviews that the ladies really enjoyed it and would

be interested in participating in a full class. If this

is something you would like to partake in, please let

me know, tracy@seiwh.com or text 615-308-3920.

Our next scheduled Ladies Nite will be November

21st and this will be our last Ladies night

for 2017. As has been our custom the last several

years, we will be playing Dirty Santa Ornament Exchange.

This has always been a very joyful event

and one we look forward to. All you need to bring

is a nice wrapped ornament. Additionally, for those

that want to get tacky, here is your chance to wear

your favorite UGLY Christmas Sweater. There will

be a prize for the Lady wearing the "Ugliest Sweater".

We will have 50/50 drawing as well as door

prizes. All of this will begin at 7:00pm in the Vision

Building following the meal with the men which begins

at 5:45pm.

Please invite a Shrine Lady and come on out

and join us. We look forward to seeing you soon.

Thank you!!

Lady Tracy Hester

615-308-3920

12
---
Current Parade Schedule:

Date Town Type Line Up Step Off Start Location

5-Nov Hendersonville, TN Veteran's 1:00 2:00 Drakes Creek Park

18-Nov Murfreesboro, TN Veteran's 10:00 11:00 VA TN Valley Healthcare

25-Nov Manchester, TN Christmas 5:00 6:00 TBA

2-Dec Portland, TN Christmas 4:30 5:30 Victor Reiter Parkway

9-Dec Granville, TN Christmas 1:00 2:00 TBA

9-Dec Hartsville, TN Christmas 9:00 10:00 Corner Market

9-Dec Millersville, TN Christmas 12:00 1:00 TBA

Membership Notice

Our goal is 100 New Nobles

and 100 Restorations.

2017 Membership Chairman

Sam Isbell (sisbell@eml1.com or

615-579-0765) & Co-Chairman

Dale Pewitt (dalepewitt@comcast.

net or 615-533-6714) are soliciting

our help and support. Will you

help us find new Nobles?

One of the ways you can be

active in this effort is to sign up to

be a virtual mentor for our candidates.

There are candidates waiting

to hear from us. We need a

few good men!

13
---
REMINDER!

NOTICe:

ALL communications

for the Shriner

should be sent to

editor.amsc@gmail.com

14
---
PA

N

Upcom

PA

From L

De

Ce

PA

Un

PA

Membe

PA

Mess

PR C

BACK

Blac

Imper

Nobles Nobles Visited Visited By By

The Black The Black Camel Camel

HOWARD D HOBBS

Manchester

8/5/50 – 4/3/17

JAMES W MURRAY

Greenbrier

9/23/34 – 10/3/17

JOE C FOSTER

Columbia

1/7/26 – 10/11/17

WILLIAM W HALL

Clarksville

10/5/41 – 10/16/17

CHARLES STURDIVANT

Nashville

3/9/29 – 10/11/17

AL MENAH TEMPLE

A.A.O.N.M.S.

1354 BRICK CHURCH PIKE

1354 P. O. BRICK Box 78545 CHURCH PIKE

P. O. Box 78545

NASHVILLE, TN 37207

NASHVILLE, TN 37207

www.almenahshriners.org

www.almenahshriners.org

Nonprofit Nonprofit

Organization

Organization

U.S. POSTAGE

U.S. POSTAGE

PAID PAID

Nashville, TN

Permit No. 1731 Nashville, TN

Permit No. 1731

VOLUME

INS

TH

ISS

PA

Pot

M

DEADLINE FOR DECEMBER SHRINER IS NOVEMBER 22nd

PA

D

Me

15