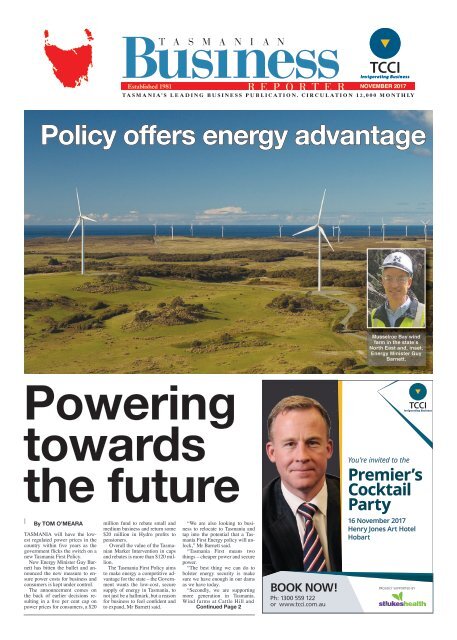 Tasmanian Business Reporter November 2017
This month, Editor Tom O'Meara runs us through the competitive advantages of the new Tasmania First Policy, with the measure promising to give Tasmania the lowest regulated power prices in the country by 2022. You'll also find an exclusive column by St.LukesHealth CEO, Paul Lupo, on significant changes to improve private health insurance affordability, as well as a world-first free, state-wide health program for Tasmanian employees.
This month, Editor Tom O'Meara runs us through the competitive advantages of the new Tasmania First Policy, with the measure promising to give Tasmania the lowest regulated power prices in the country by 2022.

You'll also find an exclusive column by St.LukesHealth CEO, Paul Lupo, on significant changes to improve private health insurance affordability, as well as a world-first free, state-wide health program for Tasmanian employees.
SHOW MORE
SHOW LESS
You also want an ePaper? Increase the reach of your titles
YUMPU automatically turns print PDFs into web optimized ePapers that Google loves.
NOVEMBER 2017

T A S M A N I A' S L E A D I N G B U S I N E S S P U B L I C A T I O N . C I R C U L A T I O N 1 2 , 0 0 0 M O N T H LY

Policy offers energy advantage

Musselroe Bay wind

farm in the state's

North East and, inset,

Energy Minister Guy

Barnett.

Powering

towards

the future

By TOM O'MEARA

TASMANIA will have the lowest

regulated power prices in the

country within five years as the

government flicks the switch on a

new Tasmania First Policy.

New Energy Minister Guy Barnett

has bitten the bullet and announced

the new measure to ensure

power costs for business and

consumers is kept under control.

The announcement comes on

the back of earlier decisions resulting

in a five per cent cap on

power prices for consumers, a $20

million fund to rebate small and

medium business and return some

$20 million in Hydro profits to

pensioners.

Overall the value of the Tasmanian

Market Intervention in caps

and rebates is more than $120 million.

The Tasmania First Policy aims

to make energy a competitive advantage

for the state – the Government

wants the low-cost, secure

supply of energy in Tasmania, to

not just be a hallmark, but a reason

for business to feel confident and

to expand, Mr Barnett said.

"We are also looking to business

to relocate to Tasmania and

tap into the potential that a Tasmania

First Energy policy will unlock,"

Mr Barnett said.

"Tasmania First means two

things – cheaper power and secure

power.

"The best thing we can do to

bolster energy security is make

sure we have enough in our dams

as we have today.

"Secondly, we are supporting

more generation in Tasmania.

Wind farms at Cattle Hill and

Continued Page 2
---
2 Tasmanian Business Reporter - NOVEMBER 2017

NEWS

Would-be leaders face off

By DAVID

ABBOTT

THERE were no great

surprises in the first official

debate leading up

to next year's state election,

in which Premier

Will Hodgman and Opposition

leader Rebecca

White outlined the basis

of their respective platforms.

The leaders squared

off in the first of a series

of debates hosted by

the Property Council at

Wrest Point on October

23.

Mr Hodgman pointed

to the Government's

achievements in areas

of employment and economic

growth in the

past term, saying that

if re-elected, a Liberal

Government would not

rest on its laurels and

would continue building

momentum.

"This is not as good at

it gets, not by a stretch,"

he said. "There's a lot

more work to be done."

Ms White argued that

Labor was focussed on

creating a healthier and

fairer Tasmania, which

would in turn help the

economy.

"If people are well,

and have employment,

then the economy does

well too," said Ms White.

"Investing in people,

investing in what's fair,

is an investment for a

better future."

Ms White denied the

possibility of Labor

forming a coalition with

the Greens.

However, as expected,

the Premier was quick

to point out that this was

the exact message heard

before the 2010 election,

where a Labor-Green

alliance was eventually

formed.

Water and sewerage

was a hot topic of the debate,

with Mr Hodgman

indicating the Government's

plan to focus on

fixing existing problems

affecting local communities,

such as eliminating

boil water alerts in towns

around the state and find

funding for the development

of Macquarie Point,

Cameron Bay and the

Debate

moderator

Rachel

Williams with

Premier

Will

Hodgman,

Opposition

Leader

Rebecca

White and

Property

Council

Chief

Executive

Brian

Wightman.

troubled combined sewage

and stormwater system

in Launceston.

Ms White said Labor's

ambitious plan to seek

Industry Superannuation

Fund investment had

support from interested

funds and would work

to expedite the development

of the three priority

projects.

Both leaders were

strong in reaffirming

their commitment to attracting

interstate and

international investment.

State

business

sees a

positive

future

TASMANIA'S small

and medium businesses

are the most confident

they have been about the

economy since March

2010.

A new Sensis Business

Index (SBI) survey

showed the net balance

rising one point to +17

this quarter.

The net balance score

for perceptions of the

economy of +17 was

calculated by comparing

the number who think

the economy is growing

(26%) to those who think

it is slowing (9%).

Confidence in Hobart

was up 16 points to +52,

while confidence in regional

Tasmania was up

five points to +50.

Sensis CEO John Allan

said Tasmanian business

owners reported

healthy sales with the

profitability and employment

indicators moving

into positive territory.

e dition

T A S M A N I A' S L E A D I N G B U S I N E S S P U B L I C A T I O N . C I R C U L A T I O N 1 2 , 0 0 0 M O N T H LY

Tasmanian Business Reporter can now be delivered directly to your inbox. With our 30,000-strong monthly print

readership, our new up-to-date digital distribution will keep Tasmanians abreast of the all latest in local business

news. From this month we will distribute electronic editions of the Tasmanian Business Reporter as we go to print.

To confirm your copy sign up to our mailing list via

tbreditorial@fontpr.com.au

Tasmania's business newspaper is published monthly by the

Tasmanian Chamber of Commerce and Industry. It is distributed

to businesses in Tasmania as well as key decision-makers.

Circulation: 12,000

New policy puts Tasmania First

From Page 1

Granville Harbour have

been given the go-ahead

and construction will

start as soon as possible."

The Government has

grabbed the opportunity

to work with the Federal

Government on a longterm

project, Battery of

the Nation, that aims to

double Tasmania's generating

capacity.

But the main component

of the Tasmania

First policy is a smart,

competitive approach to

manage power prices.

The target is to have

the lowest regulated

power prices in Australia

by 2022 and the signs are

already positive.

Mr Barnett said that

more could and should

be done including the

review the regulated

power prices linked into

Victoria and move away

from a flawed agreement

– which without government

intervention via rebates

and price capping,

would have seen the continuation

of a 65 per cent

increase in power prices.

Tasmania joined the

National Electricity Market

in 2005 under the

Bacon Government and

a year before the completion

of the Basslink

cable which physically

connected Tasmania to

the NEM in 2006.

The NEM comprises

all states and territories,

expect WA and the

Northern Territory. The

Australian Energy Market

Commission and the

Australian Energy Regulator

are responsible for

overseeing and regulation

the NEM.

"Effectively, when

Victorian power generators

sneezed, Tasmanian

power customers caught

a cold leading to a 65 per

cent increase in power

prices," Mr Barnett said.

"That's not sustainable

which is why we

are looking at options to

change the way prices

are set," he said.

This will mean fairer,

more affordable prices ...

and will make a massive

difference to households

and small business."

Managing Editor: Tom O'Meara

0418 135 822

Editor: Becher Townshend

0418 370 661

Advertising and Special Projects

Gil Sellars 0448 901 361

gil@thetrustedmediaco.com

Kerri Guardia 0419 750 267

kerri@thetrustedmediaco.com

Editorial & Advertising

TBReditorial@fontpr.com.au

www.tasmanianbusinessreporter.com.au

Publisher:

Tasmanian Chamber of Commerce and Industry

309 Liverpool St, Hobart, TAS 7000

Ph: 6236 3600 Fax: 6231 1278 admin@tcci.com.au

TFGA House, 194-196 Cimitiere St, Launceston TAS 7250

Ph: 6331 1144 laun@tcci.com.au

Production:

aldridge.media

Ph: 0431 241 775

aldridge.media@iinet.net.au

Printer: Mercury

Level 1, 2 Salamanca Square, Hobart, 7000
---
TASMANIA'S LEADING BUSINESS PUBLICATION. CIRCULATION 17,000 MONTHLY

Tasmanian Business Reporter - NOVEMBER 2017 3

B&E builds on success as building society

Tassie's new Bank of us

BUILDING society B&E has

announced a major overhaul

of its brand as Tasmania's

newest bank.

The traditional building society

will become a customer-owned

bank, named Bank

of us, from November 1.

Bank of us Chief Executive

Paul Ranson and Chairman

Stephen Brown Said Bank of

us was Tasmanian's only customer-owned

bank.

"We'll be a different kind

of bank – a customer-owned

bank," Mr Ranson said.

"Our name and logo will

change but our values, including

putting the customer

first, will remain the

same.

"But not everything will

stay the same. We've been

working on some new and exciting

products - products that

are not tricky or complicated,

that are great value, with competitive

rates and that are designed

by Tasmanians for Tasmanians."

Bank of us has more than

$700 million in assets, 30,000

customers and a statewide retail

branch network.

B&E approved $169 million

worth of loans in 2016-17; its

loan portfolio increased by

$47.6 million to $630.4 million;

total deposits increased

by $29 million to finish the

financial year at $684 million.

"Pleasingly, our growth

is 100 per cent derived from

the Tasmanian market," Mr

Brown said.

Mr Ranson said building

societies and banks are guided

by the same rules and regulations.

"The term 'building society'

is less relevant to people

today.

"When you use the word

'bank', people immediately

Bank of us

Chief

Executive Paul

Ranson, left,

and

Business

Banking

Manager Kris

Wye launch

the state's

only

customerowned

bank.

understand what it is and what

it does.

A customer-owned bank

has all the safety and security

you would expect of a bank,

while keeping its customer-first

values," Mr Ranson

said.

"Unlike our publicly-listed

peers, that are owned

by external shareholders,

we will be 100 per cent

owned by our customers

and just as we do today,

we will reinvest any

profits into the business to

provide a better banking experience

for them."

NEWS

Airport

traffic

project

released

THE design for the new $30

million Hobart Airport Interchange

on the Tasman Highway

has been released for

public consultation.

The project involves a four

lane interchange to replace the

existing roundabout in a bid

to better connect Cambridge,

Seven Mile Beach and the airport

precinct.

Federal Infrastructure and

Transport Minister Darren

Chester said a 1.6-kilometre

section of Tasman Highway

would be upgraded and the

dual carriageway extended

further east, while a four-lane

overpass with the realigned

Holyman Avenue and Kennedy

Drive would improve connections

to and between the

airport and Cambridge Park.

Tasmanian Acting Infrastructure

Minister Michael

Ferguson said a new, signalised

two-lane off-ramp to the

airport and a continuous-flow

on-ramp from the airport

would provide for the future.

Tenders are expected to be

called in mid-2018, with construction

anticipated to start in

late 2018.

Freight milestone sees Tasrail on track

TASRAIL has achieved a

new benchmark, with the total

number of tonnes freighted

across Tasmania's rail network

exceeding three million

in 2016/17.

It's the first time TasRail

has freighted three million

tonnes in a 12-month period.

TasPort's Annual Report

revealed it achieved considerable

freight growth in the financial

year with total tonnes

of coal delivered by rail increasing

by 43 per cent, the

total net tonnes of cement

freighted by rail increasing by

9 per cent and the total container

volumes (TEU) up 7

per cent.

TasRail CEO Damien White

said three million tonnes of

freight on rail equated to at

least 140,000 fewer heavy vehicle

movements on our roads

and 55,000 fewer tonnes of

harmful emissions into our environment.

"I am extremely proud of the

ongoing commitment of the

entire TasRail team to safety,

innovation, leadership and excellence,"

Mr White said.

"TasRail has come a

long way since its inception

in December 2009

and our achievements in

the 2016/17 financial year show

that many Tasmanians now

regard rail as a safe, reliable

and competitive alternative to

road transport."

Other significant accomplishments

noted in the Annual

Report include:

• a 25 per cent increase in

shiploading;

• $52.2 million capital spend

on rail infrastructure;

• the largest intake of trainee

drivers since TasRail's inception;

and

• a 42 per cent increase in

workforce gender diversity.

For the first

time, TasRail

has moved

three million

tonnes

of freight in

a 12-month

period.

ADVERTISEMENT

Elise

Archer

Your local Liberal

Member for Denison

62 Main Rd, Moonah

Please contact me:

p: 6212 2210

e: elise@elisearcher.com

m: PO Box 426, Moonah, 7009

www.elisearcher.com

Authorised by Elise Archer, 62 Main Rd, Moonah, 7009

WANTED

Business

movers and

shakers

• Promotions

• Appointments

• Awards

• Celebrating

success

Share the news

with the

Tasmanian

business

community

Send your news

snippets, with a

high quality photo,

to TBReditorial@

fontpr.com.au

SOLUTIONS

IN PRINT

your print specialist for over 90 years

6391 8481

www.woolstonprinting.com.au

Full Off-Set,

Digital and

Wide Format

Capabilities

Binding and

Finishing

Variable Data

and Mailing

sales@paperstat.com.au

Warehousing

and Distribution

Online Ordering

and Inventory

Management

WP - Advert Mar17.indd 4

4/04/2017 1:15:54 PM
---
4 Tasmanian Business Reporter - NOVEMBER 2017

THOUGHT LEADERSHIP

www.tcci.com.au

City shows past their use-by date

Michael

Bailey

TCCI Chief Executive

AS quickly as you can

consume a dagwood dog

and spill sauce down

your fresh white shirt,

the events synonymous

with such culinary offering

are going out of style.

The major city shows

are on struggle street –

the departure of the

Devonport Show from

the calendar this year

due to financial challenges

and the disappointing

attendance numbers at

Launceston perhaps suggest

the shows in their

current format are not viable

any more.

The overarching issue

here is that people

are just not attending the

shows like they used to.

The Rural Youth organisation's

agricultural

field days, Agfest,

has taken the place of

much of the connection

to farming and easy, and

historically cheap, access

to theme parks on

the mainland and international

has probably

put a dent in the wonder

of sideshow alley – once

the "Disneyland" dream

for many a child who had

saved up their coins all

year to attend.

Some of the regional

weekend shows are

booming – if the city

shows were to reduce

the days they operate and

readjust their thinking

so that we can remove

the legislated mid-week

"Show Day" holidays,

we might actually create

a win-win for everyone.

In my opinion, it is

time to abolish the local

show holidays once and

for all.

Before you start to

panic at the audacity of

suggesting we all lose

a much-needed day off,

there is a solution to ensure

public holidays aren't

diminished.

I believe we should

make the Northern Tasmanian

Recreation Day

and Southern Tasmania's

Regatta Day statewide

days off – no one misses

out on a public holiday

and we consolidate

the regional holidays for

the shows into statewide

days.

I have been talking for

years about the frustration

for business at the

local show holidays –

how they impact business,

are confusing from

an IR perspective and

slow the state's economy.

For example, the number

one question hitting

the TCCI's industrial

relations telephone help

line across this time in

Tasmania is how local

holidays apply.

Many people query

what the boundaries are

of the holiday region.

For example does Deloraine

get the Laun-

Tasmania report launched

THE Tasmanian Chamber

of Commerce and

Industry has launched its

annual Tasmania Report

roadshow.

The report, prepared

by world-renowned

economist, Saul Eslake,

will be publically released

at events around

the state on Monday

December 11, 2017, in

Show holidays need to be removed and public holidays extended statewide for Recreation and Regatta Days to improve

business consistency.

Hobart, Launceston and

Devonport.

Details and ticket

sales at www.tcci.com.

au/Events/Tasmania-Report-2017

Vital

role for

safety

officers

By CRAIG

HORTLE

MANY businesses in

Australia have fallen foul

of the WHS legislation in

Australia.

Who is ultimately responsible

for the compliance

of a business?

What responsibilities

do board members, directors,

CEOs, company

secretaries and partners

or business owners have?

In Tasmania, the

Work, Health and Safety

(WHS) laws state that

a person conducting a

business or undertaking

(PCBU) has a duty under

the WHS act to provide a

safe worksite.

This applies not only

to workers but those who

could be affected by the

work activity – such as

I have been talking

for years about the

frustration for

business at the local

show holidays

the public.

A PCBU can be individual

or an entity.

In the case where it is

a large entity the individuals

who have responsibility

for WHS are called

officers.

In smaller businesses it

will be the owner who is

identified as the officer.

These are defined in

larger organisations as

individuals who have the

following identifiers:

• those who participate

in making decisions affecting

the whole or a

substantial part of the organization;

• those with capacity

to significantly affect the

ceston Show Day or

Devonport Show Day as

a public holiday?

Another common query

is what the pay rate

for a local holiday is

and does it apply in all

awards?

And we all know that

business in Tasmania has

a slower day if there is a

regional holiday occurring

somewhere in the

state.

This is even worse

during the bizarre half of

Tasmania Recreation and

Regatta Days.

A restructure is overdue

and in time I think

everyone will reap the

rewards.

Who is

ultimately responsible

for

compliance

of a business?

organisation's financial

standing; and

• those on whose instructions

or wishes directors

are accustomed

to act.

If you have any of the

above identifiers, you are

considered to be an officer

and have a duty under

the WHS Act.

What does this mean

for you?

You are required by

the act to ensure that the

PCBU complies with the

act.

This includes:

• keeping up to date

with WHS information;

• ensuring there are

resources and processes

available to address

WHS issues;

• understand the operation

of the business; and

• ensure there is a system

for the business to

meet its duties under the

WHS legislation.

If you are a self-employed

person, in a partnership,

a board member,

or working for a large

business in a high-level

management role, you

are likely to have the position

of an officer under

the WHS act.

This would mean you

have the responsibility

to ensure that you have a

safe workplace and a safe

system of work.

For more information

on WHS, please

contact Craig Hortle or

Janelle Whitehouse at

the TCCI on 1300 559

122 or email safety@

TCCI.com.au.
---
Tasmanian Business Reporter - NOVEMBER 2017 5

THOUGHT LEADERSHIP

Future suppliers may be further afield

Seek other opportunities

Brett

Charlton

Agility Logistics

MY view of the world

these days is a little hazy.

My optometrist says

it is an evolving stigmatism

in one of my eyes

causing a little more

strain than I am used to,

but I have another theory.

I think the level of

frustration at some of

the logistical challenges

we are facing these days

has clouded my rose-coloured

glasses somewhat.

Don't get me wrong,

the future is so bright that

I have polarized my reading

glasses.

But the tools needed

to get the job done have

not quite caught up with

the lofty aspirations of

smooth sailings of export

and import traded goods

around this blue bubble

that we float on.

I am using this article

to vent so that shippers

are aware of what is frustrating

me at the moment

…. if it is frustrating me,

then it will definitely be

frustrating you …. if not

now, then soon.

If you are an importer

out of Asia, and who

isn't these days, then at

the time of reading this

article you are one of

many on the planet who

are pulling their hair out

at the space restraints.

We need to think of

the shipping lines like

OPEC.

If they don't like the

price of oil they will

tighten the lever that restricts

the flow to drive

the prices up.

This is happening now

in shipping.

The capacity has not

been increased in line

with the volume and after

years of the lines not

making money, consolidation

through acquisitions

and a reduction of

services is resulting in

less space, higher prices

and disappointment in

bookings being rolled.

Don't think you are

immune if you are a less

than a container load

(LCL) importer or exporter

either – the world

of consolidations sees

what used to be many

smaller consolidation

depots now merge into

two or three large depots

in Melbourne.

Of late we have been

experiencing delays of

up to five hours lining up

to collect or deliver cargo

– to the point where

transport companies are

now demanding a surcharge

to collect goods.

Congestion in the Port of Melbourne one part of importer's challenges.

Picture courtesy AMSA

Of course this affects

productivity and costs.

Importers especially

need to allow extra days,

(particularly at this time

of year) in their modelling

due to this congestion

in Melbourne.

Couple congestion in

Melbourne, lack of space

Local WR experts at your service

WITH the invasion by

mainland consultation

ment is completely up to See the TCCI website,

firms into the Tasmanian Abbey

you and we have a large or contact the TCCI direct

on 1300 59 122 or

landscape, businesses

variety of ways that you

are asking themselves

can engage our services: workplacerelations@

"what option is the best George

• membership – we tcci.com.au

for me?"

have a number of comprehensive

member-

As always this is a

Workplace Relations

personal decision for

ship levels that you can

each business alone

choose based on your

but we thought it was a tomised to suit your pretation, performance business needs.

timely opportunity to remind

business and staff; management, policies All information can be

business about the

Tasmanian Chamber of

Commerce and Industry

and our Workplace Relations

and Workplace

Health and Safety services.

• assistance and advice

on legal compliance

such as the Fair

Work Act 2009, Modern

Awards and the like;

• assistance with planning,

drafting, negotiating,

and procedures (drafting

and implementation) and

the like;

• assistance with Fair

Work Commission matters

– as an employer

organisation we are

found on our website or

please call our friendly

membership team.

• retainer arrangement

– specifics by negotiation;

• our Workplace As-

The WR team at

lodgement, review automatically granted sured product – this

TCCI can offer you:

• peace of mind with

WR and WHS issues –

if you are in doubt pick

and interpretation of Enterprise

Agreements;

• workplace investigations

such as disciplinary,

permission to appear in

the Commission whereas

other representatives

need to seek permission

product provides complete

peace of mind with

a $0 excess insurance

product and a comple-

up the phone or send an

grievances etc; (and it may not be grantmentary

TCCI mem-

email and we can help; • advice regarding ed);

bership and is a product

• regular hot topic information

sessions on

WHS issues such as

policies and procedures

• advice from a qualified

lawyer but at discounted

which is developed,

owned and delivered in

WR and WHS around (drafting and implementation),

membership Australia by state cham-

the state which are free

consultation, rates; and

bers.

for members and a nominal

fee for non-members;

identifying hazards and

the like;

• knowledge that if

you need us we are only

In a nutshell there

isn't a lot in relation to

• advice regarding a phone call, email or car WR and WHS that we

• education and training

which can be cus-

WR issues such as rates

of pay, legislative inter-

ride away.

Our level of involvecan't

assist with so if in

doubt ask.

ex-Asia, rising pricing in

rates (as well as a plethora

of surcharges coming

out of the ether – think

"infrastructure levy, toll

increases, domestic shipping

increases, etc") the

sad story is that the pricing

model traders have

been using needs to be

checked and re-accounted.

That said, whenever

there is adversity there

is opportunity and the

clever people are always

looking to see where this

may lie .... maybe there

are alternative suppliers

other than in Asia?

www.tcci.com.au

Set up correct

sale solutions

Dean

Demeyer

Business Broker

IS your business ready for sale at the price

you expect?

Recently I wrote an article for the Tasmanian

Business Reporter in which I quoted

some statistics about the number of baby

boomer small businesses that would come

onto the market now and over the next 10

years.

The upshot was 75 per cent of those businesses

would not be sold for the price the

owners expect.

They will either sell cheaply, close completely

or the owners will battle on indeterminately

– none of these outcomes desirable.

I regularly see business owners who have

decided it's time to sell, but their business is

not ready for sale at the price they expect.

If the business is not attractive to purchasers,

you will have to lower your price.

Your business will be competing with all

the other businesses for sale on the market

at that time. In the worst case, the business

could sit on the market for two or three years

and then sell for an inadequate amount.

The best solution is to have a professional

business advisor look at the business and assess

whether it's ready to list for sale at your

desired selling price.

It's important to understand what assets are

actually being sold and try to maximise their

respective values.

Almost always businesses are selling physical

plant and equipment, trading stock and a

cash flow (goodwill).

The most time spent by the buyer (and

their accountant) on due diligence, is assessing

the value of the goodwill in terms of

future risk. For example, how much of the

forward revenues are contracted versus how

much is one-off revenue. In other words,

will the revenue still be there after I buy this

business?

Lets look at a quick case study. Tim wants

$250,000 for his business. The assets are two

delivery trucks worth $70,000 and $180,000

as goodwill – all his regular customers. He

shows a net profit of $60,000 after paying

himself a market salary.

Tim must prove to a buyer that the revenue

from these customers will stay the same.

If they are ad-hoc day-to-day customers,

this will devalue the goodwill because the

new owner will be competing with every other

delivery service and the buyer will want a

discounted buying price.
---
6 Tasmanian Business Reporter - NOVEMBER 2017

THOUGHT LEADERSHIP

www.tcci.com.au

Changes improve affordability

BY StLUKES HEALTH CEO

PAUL LUPO

ON October 13 the Federal

Government announced

what most

believe to be the most

significant changes the

industry has seen in the

last 20 years, aimed at

improving affordability

and encouraging greater

youth participation in

private health insurance.

The changes impacting

Tasmanians who

hold private health insurance

over the next 18

months relate to prostheses

reform, which looks

to address some aspects

of affordability, and for

young Tasmanians not

holding cover, through

discounts and reduced

waiting times to access

mental health services.

As a not-for-profit

health insurer, St-

LukesHealth welcomes

the Federal Government's

efforts to reduce

the cost of prosthesis to

privately insured members,

which is particularly

relevant to Tasmanians.

In 2017, prosthesis

costs represented 14 per

cent of all hospital benefits

paid by all health

funds in Australia, and

in Tasmania due to our

ageing demographic this

cost was 17 per cent.

This reform means that

prices regulated by the

Federal Government and

charged by manufacturers

of medically implanted

devices will fall, with

savings passed directly

on by health insurance

funds to members.

Savings in 2018 are

estimated by the Federal

Government at $188m

with full savings of

$304m annually by 2020.

StLukesHealth sees

this reform as a good

starting point if we are

to address issues around

affordability, but we believe

this needs to go

much further given that

according to official data

for 2014-15, the difference

between what consumers

were forced to

pay for medically implantable

devices in private

hospitals was $729

million more than would

have been the case if

St.Lukes Health CEO Paul Lupo welcomes changes to the industry.

public hospital prices

were applied.

When adding procedures

in day hospitals, as

well as private patients

in public hospitals, the

industry believes this

figure is projected to

approach $1 billion in

2017-18.

Therefore we will continue

to advocate on behalf

of our members to

right this inequity and assist

health insurers minimise

the extent of future

premium increases.

On making health insurance

more attractive

for younger Tasmanians,

the Government's

reforms allow private

health insurers to offer

discounts of up to 10 per

Overall these

reforms are

a good start

and should

be welcomed

by all

Tasmanians

cent on hospital cover for

18 to 25-year olds.

In response to an increased

demand for access

to mental health services,

changes to waiting

period rules for hospital

cover will mean younger

Tasmanians can more

easily access services

when they most need it.

This need was highlighted

in the 2016

Tasmanian Population

Health Survey that reported

13.7 per cent of

all Tasmanians reported

very high or high levels

of psychological distress,

with most distress

seen in younger Tasmanians

aged 18 to 24

years.

In conclusion, the Federal

Minister's prosthesis

reform is welcomed,

but it needs to go further

if we are to see sustained

savings put back in the

pockets of Tasmanian

members, and a growth

in the number of Tasmanians

with private health

insurance, which is good

for the sustainability of

the entire health system.

In addition, from April

2019 the minister has allowed

health insurers

to offer younger people

discounts to encourage

participation in private

health, and importantly

from April 2018, greater

access to mental health

services for which there

is a growing demand.

Overall these reforms

are a good start and

should be welcomed by

Tasmanians.

Established in 1952,

St.LukesHealth is a

Tasmanian not-forprofit

health insurer,

with more than 30,000

policies covering

more than 62,000

people Australia-wide.

To join, switch or get

a cover comparison

call 1300 651 988.

170611
---
Tasmanian Business Reporter - NOVEMBER 2017 7

THOUGHT LEADERSHIP

www.tcci.com.au

Here's cheers to Hellyers Road

Sally

Chandler

Tradestart Adviser

Much food for thought

in latest ABS job figures

TWO sets of employment

figures were released

on the same day

recently – both providing

Tasmanians with plenty

of food for thought.

The latest figures from

the Australian Bureau

of Statistics indicated

that total employment

across Tasmania was up

but full-time employment

had unfortunately

slipped backwards.

The unemployment

rate is down to 5.9 per

cent and the participation

rate is steady at 61.2 per

cent, an improvement

on where we were 12

months ago.

But it's the shift from

full-time to part-time

employment that has attracted

the most interest

from commentators.

Journalist Sean Ford

from the Advocate examined

full-time jobs

figures across the last decade.

THE winner of the 2017

Tasmanian Exporter of

the Year Award is Hellyers

Road Distillery from

Burnie.

General Manager and

master distiller Mark

Littler accepted the

prestigious award, as

well as the EFIC Small

Business award.

The annual export

awards event is Tasmania's

highest recognition

for our exporters of Tasmanian

goods and services.

Hellyers Road Distillery

has been producing

varieties of single malt

whisky since 1999 and

since then has grown

to become Australia's

number one seller of single

malt whisky worldwide.

It is the southern

hemisphere's largest

producer of single malt

whisky and also produces

vodka and liqueurs.

The distillery began

exporting in 2009 after

establishing a partnership

with French distributor

La Maison du

Whisky. Its whisky is

currently available in

over 20 European coun-

"The state has lost a

net 13,600 full-time jobs

since September 2008 at

the start of the Global Financial

Crisis," Mr Ford

wrote.

He also noted that

across the same period,

total jobs had actually

increased by 4900 "due

to a surge in part-time

work".

That is a huge shift in

the profile of Tasmania's

labour force.

We know our tourism

and hospitality sectors

are booming and parttime

work in those sectors

are inevitable, but

it's full-time jobs we

should be striving to create.

It's full-time work that

will give Tasmanians

enough income to live

comfortably and it's fulltime

work that will entice

former residents to return

to further their careers.

Of course, there is no

easy answer but Labor

is determined to address

this issue with policy positions

that will underpin

full-time employment.

We want to work

closely with industry to

know what barriers are

stopping them from taking

on workers full-time

as opposed to part-time.

The second set of employment

figures that

caught our eye were the

latest updates from Tasmania's

public sector.

The public service is

actually larger than it

was when the Liberals

came to power in 2014.

The data shows there

are now 520 additional

FTEs (full-time equivalents)

than in June 2014.

These figures are particularly

surprising given

we know, on coming to

power, the Liberal Government

reduced the size

of the public sector by

861 FTEs.

From a value-for-money

point of view, I think

it's fair to question

whether paying more

than $32 million for redundancies

was efficient

when less than 3 years

later the workers have

been replaced.

Continued page 8

tries, in Japan, India,

China, Argentina and

Vanuatu.

Hellyers Road Distillery

is a fully-owned

subsidiary of Tasmanian

company Betta Milk.

Attached to the distillery

in Burnie is a Visitor

Interpretation Centre

which welcomes over

40,000 visitors each

year, many of whom are

overseas tourists and

some who make the specific

pilgrimage to visit

the place where their

BE PART OF THE

MULTI-BILLION

DOLLAR

LOGISTICS

INDUSTRY

Whether you are looking to start your career, or upgrade your

skills for career advancement - the Australian Maritime College

can get you there.

Set yourself up for global career opportunities with our Maritime

Business and International Logistics program, preparing you for

a career in senior management.

Study here, work globally.

Apply now: amc.edu.au

CRICOS Provider Code: 00586B

favourite whisky is produced.

Hellyers Road Distillery

whiskies have been

recognised for their

quality on the world

stage winning numerous

awards in Europe and

Australia.

In 2013 the Distillery's

Pinot Noir Finish

whisky was judged Best

New World Whisky at

Whisky Live Paris and

in 2015 the same whisky

was anointed a Global

Whisky Master in the

Global Whisky Master

Awards (UK).

In 2016, Hellyers

Road's Port Cask Matured

single malt won Gold at

the World Whisky Masters

and earlier this year

its Master Series Peated

whisky won Gold at the

Australian Distilled Spirits

Awards.

Other Export Award

category winners were

McKay Timber who accepted

the DFAT Agribusiness

Award, ISW who

won the Aus-Industry

Hellyers Road

Distillerty General

Manager and

master distiller

Mark Littler.

Business Services Award,

the Austrade Digital Technologies

Award went to

Echoview Software, the

TasPorts Regional Exporter

Award went to Premium

Fresh Tasmania, and,

the Austrade Education

and Training Award was

won by Australian Honey

Products.

All category winners

of the 2017 Tasmanian

Export Awards

now progress to the

2017 Australian Export

Awards being held in

Canberra on December

5, to compete against the

category winners from

all other States and territories.

We wish them well!

For international trade

and investment assistance

contact the

TCCI's TradeStart Adviser,

Sally Chandler,

at sally.chandler@tcci.

com.au or phone 1300

559 122.
---
8 Tasmanian Business Reporter - NOVEMBER 2017

THOUGHT LEADERSHIP

www.tcci.com.au

State aids bids for defence spending

TASMANIA has a proud

history of producing

unique, high-quality

products and solutions

for highly specialised

markets.

The Turnbull Government's

decision to use

its $30 billion annual

defence spend to grow

manufacturing in Australia

is creating exciting

new opportunities for

Tasmanian companies

and the Hodgman Government

is helping them

to put their best foot forward.

In October, I attended

the Pacific 2017 international

naval and marine

expo in Sydney with

seven Tasmanian companies,

our new Defence

Advocate Rear Admiral

(Retd) Steve Gilmore

and State Growth representatives,

promoting

Tasmania's unique ca-

pabilities to buyers from

around the globe including

prime contractors

bidding for major Australian

defence contracts.

The Tasmanian delegation

included companies

with established reputations

in defence and

others with innovative

new products approaching

this market for the

first time.

Liferaft Systems Australia

supplies marine

evacuation systems to

the US, New Zealand,

Netherlands and French

Navies and has recently

equipped the Royal Navy's

new Queen Elizabeth

Class aircraft carrier.

CBG Moonraker supplies

communications

antenna systems to the

Italian Navy, and CBG

thermal protection and

signature management

Roger Jaensch, centre, and Rear Admiral (Rtd) Steve Gilmour, right, give Federal Minister

Christopher Pyne the good oil on Tasmanian innovation at Pacific 2017.

products to land and marine

defence and civil

markets.

Taylor Bros is a third

generation Tasmanian

company which has already

made its mark in

defence, providing internal

fitout for the Australian

Navy's submarine

and shipbuilding program

in South Australia,

among other major clients.

The Australian Maritime

College and its research

arm AMC Search

have global reputations

in the maritime sector

and used Pacific 2017 to

launch their new study

centre at the Australian

FIND THE

RIGHT

STAFF

FOR

THE

ROLE

National Maritime Museum

on Darling Harbour.

Fiomarine has developed

a remotely activated

marine buoy used to

retrieve assets from the

sea floor; Pivot Maritime

International is

Australia's only manufacturer

of portable marine

simulators; One Atmosphere

has invented

an emergency buoyancy

system for helicopters

operating over water;

and PFG's Aquatruck

range includes durable

workboats for police and

coastal patrol work.

Over three days, our

stand hosted ministers

and dignitaries from

Australian and foreign

defence sectors, major

defence suppliers and

manufacturers.

The conversations

started at Pacific 2017

will spread our state's

reputation in this densely

networked market, having

already resulted in

follow-up visits to Tasmania,

which I am confident

will lead to more

contracts for Tasmanian

firms in coming years.

In September 2016,

I joined a similar delegation

presenting at the

Land Forces 2016 defence

expo in Adelaide,

including Penguin Composites

from the NW

Coast.

One of the conversations

started at that event

has recently resulted in

Penguin Composites

signing a three-year, $8

million contract to supply

composite body panels

for 1100 Hawkei military

vehicles – hopefully

the first of many.

For more on

the defence industry

sector, www.stategrowth.tas.gov.au/

home/sectors/defence

Job figures food for thought

From page 7

Labor would have preferred

to have seen the

public service managed

with less fluctuations to

avoid bulk redundancy

payouts and impacts on

service delivery.

We were very critical

of the Government's

budget cuts in health and

education.

Labor is committed to

working closely with the

public sector so taxpayers

get maximum value

for money.

We are determined

to find efficiencies that

won't affect service delivery

and believe the

best way to achieve that

is to work constructively

with the workforce."

We provide labour hire,

contract work and temp work!

There are many reasons to use our Findstaff services: fill

upcoming parental or personal leave temporarily, cover

scheduled staff leave, or maximise your business's busy period.

We'll match your requirements with our growing pool of candidates –

which currently covers many industries including:

Hospitality

Business &

admin

Construction

Aged &

health care

Dental

Get in touch with one of our consultants today and mention you

saw this ad in the Tasmanian Business Reporter for a discount.

®

0299 054 115

findstaff@workandtraining.com.au
---
Tasmanian Business Reporter - NOVEMBER 2017 9

NEWS

State's first gigabit internet online

TASMANIAN-owned

telco Launtel has officially

launched its Blue

Ocean Gigabit NBN internet

service in Hobart,

advancing a plan to make

Tasmania the nation's

first gigabit state.

The lightning fast service

connects Tasmania

with the global gigabit

economy.

It is 100 times faster

than the current national

average download speed.

Launtel chose Priceline

Glenorchy for the

VIP launch ceremony to

show that gigabit speeds

are a productive addition

to the information technology

used by any business

in Tasmania.

"Today's event is a

A NEW health program is being

rolled out to workplaces

across the state in a worldfirst

project.

The State Government is

partnering with employee

wellbeing and behavioural

change experts, Ritualize, to

deliver the program.

It is the first wellbeing platform

in the world to be rolled

major step in a statewide

project that began earlier

this year when Launceston

became Australia's

first gigabit city," Launtel

CEO Michael Costigan

said.

"We've now added

Hobart as Australia's

first capital city to

boast gigabit NBN internet

and after that we

can look forward to the

opportunity to upgrade

other areas of Tasmania

such as Burnie and

Devonport on to the pure

fibre gigabit network.

"Tasmania has long

relied on four mainstays

of economic growth:

forestry, mining, agriculture

and tourism.

"The introduction

out statewide, free to all employees

as a public-private

partnership.

State Health Minister Michael

Ferguson and Building

and Construction Minister

Guy Barnett officially announced

the partnership at the

WorkSafe Expo in Hobart last

month.

The Healthy Tasmanian

of gigabit internet adds

a new economic driver

that offers high wage

Workplaces program runs for

12 months and all employers

are eligible to enrol.

The program is suitable for

adults of any age and fitness

level and is delivered through

Ritualize's mobile app and

desktop platform.

Ritualize is a holistic program

that addresses diet,

physical exercise, sleep and

employment opportunities

and environmentally

friendly growth.

"It firmly places Tasmania

at the forefront

of the high tech industry

mindset and aims to change

behaviours and to improve

overall health literacy.

Rituals include commonly

recognised good habits such

as eating more vegetables,

staying hydrated and alcohol-free

days through to less

familiar techniques such as

box breathing, cold showers

and gratitude rituals.

State Health

Minister Michael

Ferguson, right,

addresses the

Launtel launch with

Launtel founder

and Managing

Director Damian

Ivereigh, left, owner

of the launch

venue, Priceline

Glenorchy, Jeffrey

Hope, and Johnson

Koal from the Federal

Group.

in Australia, and makes

it the logical business

location for Australian

Mr Ferguson said promoting

healthy lifestyle choices

in the workplace could have

a positive impact on the prevention

of injury, illness and

absences from work.

Founder and Director of

Ritualize, Paul Taylor, said

the approach would help reduce

the huge costs of illness.

Healthier employees are

businesses wishing to

interact on equal terms

with other high speed

economies around the

world."

Mr Costigan said that

for various political,

economic and logistical

reasons, Tasmania

was likely to remain the

only state in Australia

with widely available

Gigabit connection for

several years or more.

"Tasmania must

seize this golden opportunity

to claim what is

effectively Australia's

version of Silicon Valley

and become the nation's

point of contact

for the other gigabit

economies around the

world."

World-first new rituals to deliver a healthier workforce

statistically more likely to

perform better, have better

focus and reduced fatigue, he

said.

"Typically this program

costs $50 per employee but

thanks to the State Government's

support, it free to all

employees and their friends

and family through participating

workplaces."

5

DAYS

CAN MAKE

ALL THE

DIFFERENCE

Our world-class Company Directors Course will help improve your performance and accelerate your career.

Upcoming dates:

• Thursday 18 to Tuesday 24 January 2018 (five days over two weeks excluding weekends)

• Tuesday 27 February to Tuesday 27 March 2018 (five days over five weeks excluding weekends)

Enrol now t: 03 6242 2200

w: companydirectors.com.au/tas5days

05958-7_17
---
10 Tasmanian Business Reporter - NOVEMBER 2017

APPOINTMENTS and ANNOUNCEMENTS

IN BRIEF

Grant to help

vulnerable stay

safe online

THE Westpac Foundation has announced

Launceston's Tasmanian

Acquired Brain Injury Service (TA-

BIS) will receive $10,000 as part

of the 2017 Westpac Foundation

Community Grant Program.

TABIS helps to improve the quality

of life for those who are experiencing

disadvantage.

Three other Tasmanian organisations

- Hamlet, Teen Challenge and

RUOK - received grants from the

foundation as part of a record $2

million worth of grants for 200 local

community organisations across

Australia.

TABIS CEO Paul Byrne said

the grant would enable TABIS to

facilitate a new 'Stay Safe online'

program, to educate and prevent

vulnerable people from becoming

victims of scamming, exploitation,

harassment and bullying while using

online services.

Since 2012, Westpac Foundation

Community Grants has provided

more than $103,000 to Tasmanian

not-for-profits who are making a

difference to their local communities.

Tender

technique

change

THE State Government has announced

a new method for tendering.

By mid-November this year, all

Government agencies will provide

an option of electronic lodgement

for all tenders and procurements.

TABIS participants in an art class who will now have access to an

online scamming prevention program after a Westpac grant.

The government said the change

would reduce time and cost for

businesses and create a more level

playing field for smaller businesses

and those in regional areas.

"One of the issues raised by

smaller businesses in regional areas

is that some government tenders

still require multiple paper copies of

tender documents to be delivered to

a tender box by a deadline," Small

Business Minister Roger Jaensch

said.

"This can be expensive and

time-consuming, and disadvantages

small businesses in regional areas

that effectively have less time to

prepare tenders and additional costs

in delivering them compared to

larger, city-based firms."

The Government's also announced

that a re-elected majority

Liberal Government will set a target

of 90% of contracts going to Tasmanian-based

companies by 2022.

Silo Hotel

management

MANTRA Group will manage

Launceston's new $25 million Silo

Hotel under its Peppers brand when

the development opens in April next

year.

The 10-storey hotel will have 108

rooms, including 52 in the barrels

of the former silo, and overlooks the

nearby tourist drawcards of Seaport,

Royal Park, the Tamar River Basin

and Cataract Gorge.

Four large apartments will occupy

the top floor, while a restaurant,

cocktail bar and large meeting room

will be located on the first floor.

Peppers Silo Hotel is the third

management agreement signed between

Mantra Group and developers

Errol Stewart and Morris & MacLagen

Group - joining Peppers Seaport

Hotel, Launceston and Peppers York

Cove, Tamar Valley.

King Is gets

shipping

certainty

A NEW vessel will double the

capacity for freight to King Island

after years of uncertainty about

shipping to the island.

The new ship, to run on a triangular

service between Grassy on King

Island, Victoria, and the North West

of Tasmania will continue to be operated

through Bass Island Lines.

Consultations will now take

place with customers on the island

and with other key stakeholders

including Tasmanian-based meat

processors about port schedules and

logistics.

Train-ing

transition

EMPOWERING Tasmanian students

to be the best they can be as

they transition from education to

the workforce is the key focus of

TasRail's new partnership with the

Beacon Foundation.

TasRail will manage a range of

activities within Beacon's collaborative

education program in

schools, including mentoring,

workplace experience, careers on

wheels and job chats to highlight

the vast range of career opportunities

available to Tasmanian students

through the rail industry.

Beacon State Manager Nick

Probert said it was an invaluable

opportunity for students to have

direct interaction with a busy and

productive workplace and meet

members of the TasRail team who

can share their career progression

stories.

Five-day training investment pays off

BETH Mathison FAICD, has

spent more than 30 years as a

chair and non-executive director

across a myriad of industries and

sectors both in Australia and the

UK.

Now Managing Director of

Centaur Business Networks, she

has worked in tourism, manufacturing,

construction, the NFP sector,

government and education.

Despite Beth's years of experience

on commercial boards, it

was only in 2007 that she decided

to enrol in the AICD's Company

Directors Course.

"Since graduating from the

Company Directors Course, I

believe that it should be mandatory

for anyone at the beginning

of their board career and for

current directors to improve their

contemporary knowledge of good

governance."

"The course re-defined my understanding

of my fiduciary and

ethical obligations as a director

and improved my understanding

of the board as a single decision-making

entity made up of

talented individuals," she explains.

"The insights I gained on this

course were invaluable. I've worked

with many technical specialists on

many different boards who brought

their own specialist skills to the table.

"The Company Directors Course

helped me understand that a director's

'fit' with the values of an organisation

and the risk profile of the board

is just as important as those specialist

skills."

The next Company Directors

Course is a five-day program held

over two weeks (excluding weekends)

at UTAS – University Club,

Dobson Road Sandy Bay.

For enrolment enquiries visit

companydirectors.com.au/tas-

5days

APPOINTMENTS

Janine Healey

New state head

for Institute of

company directors

JANINE Healey has been elected

as the new president of the Tasmanian

Division of the Australian

Institute of Company Directors.

Ms Healey is currently a non-executive

director of TasRail and

serves on the Launceston Chamber

of Commerce Board.

She has previously served on the

boards of Hydro Tasmania, TECC

Ltd, Port of Launceston Pty Ltd and

the Inveresk Railyard Management

Authority.

She has also served on the University

of Tasmania Council and

the QVMag Governance Advisory

Board.

AICD Managing Director and

CEO Angus Armour congratulated

Janine on her appointment as Tasmanian

Division President.

"I'm confident that Janine will

bring her extensive experience

across not-for-profit, government

and industry boards to her role as

Tasmanian Division President," he

said.

"Janine has served as a member

of our Tasmanian Division Council

since 2013. All of our state council

members give their time and knowledge

to the Institute on behalf of

their fellow members in a voluntary

capacity, and I'd like to thank Janine

for her continued contribution

in the role of president.

"I'd also like to acknowledge

the contribution of outgoing State

President Rod Roberts, under

whose leadership we've seen a

significant increase in membership

numbers, education courses offered

and engagement with members in

Tasmania."

Rapid Response

Reduced Risk

Our Business

Is People

Right Experience
---
Tasmanian Business Reporter - NOVEMBER 2017 11

EVENTS NEWS

EVENT:

Innovative Tasmania Awards

LOCATION:

Wrest Point Casino

DATE:

Wednesday, October 6, 2017

ABOVE: Paris Buttfield-Addison, left, from Secret Lab and

Daryl Lamb of Anglicare.

ABOVE: Joel Harris, left, and Chris

Podesta from Tasmanet.

LEFT: Camille

O'Meara, left,

and Brad

Johnson

from

Stornoway.

ABOVE: Michelle Folder, left, and Annette Clark

from Hobart City Mission.

RIGHT: Leanne

Tomlinson, left,

from Spica and

Eva Mackinley

from The Last

Straw.

LEFT: Rosie

Burgess-Lowe, left,

and Matt Bottrill

from Transus.

BUSINESS

2

BUSINESS

YOUR QUICK GUIDE TO SERVICES AND PRODUCTS FOR YOUR BUSINESS

SPECIALISTS IN OFFICE

FURNITURE SINCE 2001

At Flair Office Furniture, we've specialised in

keeping Tasmania's Businesses well stocked in

office furniture since 2001.

FOR SALE OR FOR HIRE - THROUGHOUT TASMANIA

Phone 6234 1127

260 Argyle Street,

North Hobart

www.flairofficefurniture.com.au

To see your business here, call Kerri on 0419 750 267 or email kerri@thetrustedmediaco.com

Printing Technology

and Tradition.

Here's just some of the things we do regularly...

• Books • Magazines • Newsletters • Catalogues • Annual Reports

• Business Cards • Letterheads • Posters • Flyers • Corporate Branding

• Logo Design • Packaging • Wine Labels • Stickers • Swing Tags

• Mail-Outs • Folders • Forms & Invoices • Variable Data Printing

• Language Translation • Web Design • Proof Reading

• Copywriting • Large Format Signage & Display

Whatever your needs, get in touch.

We're here to help.

more than just fine printers.

p. 03 6332 1400

www.footandplaysted.com.au

99-109 charles street launceston tasmania 7250
---
PROPERTY MATTERS

Tasmanian Business Reporter - NOVEMBER 2017 12

Project team ready for action

Scott Newton

Property Matters with

Knight Frank

Knight Frank Tasmania's Department Manager

Residential Sales, Matthew Chugg,

outlines the experience and support the

recently launched Project Marketing Division,

team can provide for new projects.

TASMANIA is experiencing

a number of exciting new developments

on the back of a

strong residential market.The

demand for city apartment

living is high, with over 200

proposed apartments in the

pipeline in Hobart alone.

The number of buyers

wanting to register on our

projects and residential database

has doubled in the past

six months.

In recent times, Knight

Frank has been appointed to

sell englobo land holdings

suitable for further subdivision

and development, or

sites with the potential to be

developed for apartment living.

The Hobart market place

has had a 13.6 per cent increase

in the past 12 months

with the median house price

for Hobart up five per cent for

the quarter – and there are no

signs of slowing.

Hobart's changing market,

which now has a very high

demand for apartment living,

has meant we need to have a

total understanding of selling

off-the-plan and providing

intimate knowledge of the

market and trends, providing

the right advice to developers

and investors.

This demand has been the

driver to create a whole new

division to specialise in Project

Marketing.

Knight Frank Tasmania's

Project Marketing team offers

a holistic Project Marketing

service to support devel-

opers through each phase of

bringing a project to market.

This is achieved via thorough

planning and implementation

of pre-launch marketing

activities, managing

the sale process, and coordinating

settlement.

This commences with a

strategic review of how best

to meet the marketing and

selling objectives of the project.

The review includes a full

evaluation of the proposed

product type in the context of

location, likely target market,

and current micro- and macro-economic

conditions.

The Knight Frank Project

Marketing team also provides

a full analysis to identify and

review product specification,

mix and pricing.

A computer

rendering of

The Commons

project at 126

Bathurst St, an

example of the

type of

apartment that

is growing in

popularity in

Hobart.

Experienced Knight Frank

consultants specialising in

off-the-plan sales are allocated

to the projects with

our counterparts from our

interstate and overseas offices

briefed. Depending on the

project, Knight Frank will

consider appointing third

party agents for example to

assist selling the offering

via wholesale channels, or

to provided floor plan and

floor plate packs, valuations,

and depreciation schedules.

Knight Frank also provides

full property management

services for residential and

commercial assets.

Knight Frank has developed

very clear and precise

strategies on how to successfully

market residential projects

across the Tasmanian

market place.

We have the skill sets, the

experience, and personnel to

deliver a successful outcome

for our clients.

The market place has put

new demands on real estate

professionals.

We recognise selling offthe-plan

is a totally different

discipline to selling standalone

individual residential

properties.

With many new projects either

under construction or in

the pipeline in Tasmania we

are working with our Melbourne

and Sydney counterparts,

who are highly skilled

project marketing professionals,

to ensure we have the latest

project marketing tools

and strategies.

It is a very exciting time

to live and work in Tasmania

and the Knight Frank team

is ready to take on market

changes and opportunities.

PROPERTY VIEW

NOVEMBER 2017

For sale by Expression of Interest

LANDMARK CBD OPPORTUNITY

169 Liverpool Street, Hobart

• Landmark 7 level commercial building; NLA

2,886sqm (approx)

• High profile corner position within the CBD,

100m (approx) from the central retail block

• Fully leased to IOOF, an ASX-listed top 100

company, until 30 June 2019

• Estimated Net Passing Income of $762,462

pa + GST

• Each level is strata titled with total strata

area of 3,726sqm (approx), plus additional

freehold parcel of 186sqm (approx) used for

car parking for approximately 13 cars

Richard Steedman 0408 559 046

Scott Newton 0409 186 261

View at KnightFrank.com.au/3909265

For sale by Expression of Interest

RENOVATED 1860'S FLOUR MILL

8 Brooke Street, Hobart

• In the heart of Sullivans Cove precinct

• Four strata units over three floors, available in

one line or separately. Estimated net income

of $270,000 over all stratas

• Part Ground Floor - quality hospitality tenant

with 6 year lease from 1/6/15 + 6 year option

• 1st Floor - medical consulting tenant with 1

year lease to September 2018

• 2nd Floor - two very high quality, short-term

accommodation units trading as 'luXXe

Waterfront Residence'

The place for the

best property

professionals.

2017

For sale by Expression of Interest

RARE BATTERY POINT OFFERING

44-46 Hampden Road, Battery Point

• Superbly situated in Hobart's most exclusive

and historic suburbs – Battery Point

• Comprises Monsoon Thai Restaurant, selfcontained

visitor accommodation, plus large

3-bedroom residence with outdoor courtyard

• Currently leased with varying lease expiries;

returning approximately $96,000 net pa

• Very easy walking distance to Hobart

waterfront, Salamanca Place, Hobart CBD,

and Sandy Bay

• Excellent spread of risk for potential

purchasers through mixed-use tenancies

Matthew Wright 0458 290 588

Scott Newton 0409 186 261

View at KnightFrank.com.au/3913120

Awards for Excellence Winners

Commercial Agency of the Year Award

Knight Frank — 2016 & 2017

Residential Sales Person of the Year Award

Commercial Property Manager

Liam Coyle

Business Broker Award

Jim Playstead

John Blacklow

Ian Reed 0419 670 501

Outline indicative only

Scott Newton 0409 186 261

View at KnightFrank.com.au/3904083

5 Victoria Street, Hobart 41 York Street, Launceston Shop 6a, 48-54 Oldaker Street, Devonport

P: 03 6220 6999 P: 03 6333 7888 P: 03 6424 3568