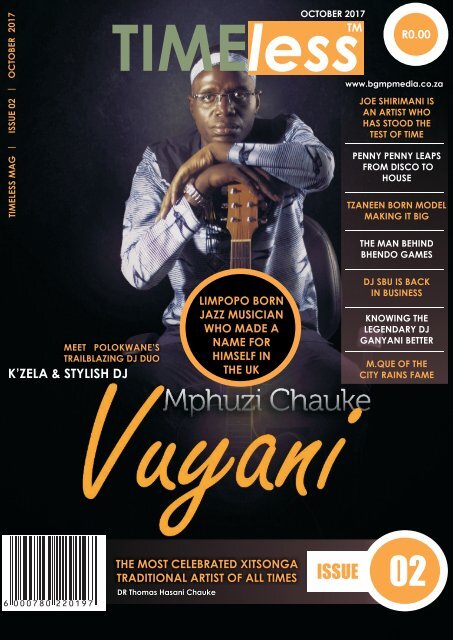 TIMELESS MAGAZINE Issue 02
Welcome to TIMELESS MAG, we speaks to an ever-inflating audience of diverse, young creative South Africans. If you have to put the our audience in a box and profile them, you'd find a racially diverse group of ingenious, intelligent South African males & females, aged anywhere between 18 and 50, residing in Urban & Rural areas with access to internet via cell phones, desktops & laptops; and hungry for fresh, unrestricted perspectives on the South African experience. Our aim is to produce the most relevant South African culture mag that interrogates, reflects and represents Southern Africa cultures, influential individuals, music and reality . We talk credibly with an influential, discerning, creative & racially-integrated segment - majority of young South Africans.
Welcome to TIMELESS MAG, we speaks to an ever-inflating audience of diverse, young creative South Africans. If you have to put the our audience in a box and profile them, you'd find a racially diverse group of ingenious, intelligent South African males & females, aged anywhere
between 18 and 50, residing in Urban & Rural areas with access to internet via cell phones, desktops & laptops; and hungry for fresh, unrestricted perspectives on the South African experience.

Our aim is to produce the most relevant South African culture mag that interrogates, reflects and represents Southern Africa cultures, influential individuals, music and reality . We talk credibly with an influential, discerning, creative & racially-integrated segment - majority of young South Africans.
SHOW MORE
SHOW LESS
Create successful ePaper yourself
Turn your PDF publications into a flip-book with our unique Google optimized e-Paper software.
OCTOBER 2017

TIMElessTM

R0.00

www.bgmpmedia.co.za

TI M ELES S MAG ISSUE 02 OCTOBER 2017

JOE SHIRIMANI IS

AN ARTIST WHO

HAS STOOD THE

TEST OF TIME

PENNY PENNY LEAPS

FROM DISCO TO

HOUSE

TZANEEN BORN MODEL

MAKING IT BIG

THE MAN BEHIND

BHENDO GAMES

MEET POLOKWANE'S

TRAILBLAZING DJ DUO

K'ZELA & STYLISH DJ

LIMPOPO BORN

JAZZ MUSICIAN

WHO MADE A

NAME FOR

HIMSELF IN

THE UK

DJ SBU IS BACK

IN BUSINESS

KNOWING THE

LEGENDARY DJ

GANYANI BETTER

M.QUE OF THE

CITY RAINS FAME

6 000780 220197

THE MOST CELEBRATED XITSONGA

TRADITIONAL ARTIST OF ALL TIMES

DR Thomas Hasani Chauke

ISSUE 02
---
TI M ELES S MAG ISSUE 02 OCTOBER 2017

TIMELESS MAG

www.bgmpmedia.co.za

BGMP Media Group

Timeless Mag, we speaks to an ever-inflating audience of diverse, young creative South

Africans. If you have to put the our audience in a box and profile them, you'd find a racially

diverse group of ingenious, intelligent South African males & females, aged anywhere

between 18 and 50, residing in Urban & Rural areas with access to internet via cell phones,

desktops & laptops; and hungry for fresh, unrestricted perspectives on the South African

experience.

Our aim is to produce the most relevant South African culture mag that interrogates, reflects

and represents Southern Africa cultures, influential individuals, music and reality. We talk

credibly with an influential, discerning, creative & racially-intergrated segment - majority of

young South Africans.

CONTENTS

PAGE

# Knowing the legendary Dj Ganyani better.................................. 3

..

# Joe Shirimani is an artist who has stood the test of time............ 6

BGMP Media Group 2017

Timeless Magazine

CREATIVE DIRECTOR

Godlive Masinge

EDITOR

Godlive Masinge

DESIGNER

Godlive Masinge

COPY EDITOR

Godlive Masinge

DIGITAL EDITOR

Godlive Masinge

EDITORIAL ENQUIRIES

info@bgmpmedia.co.za

ADVERTISING SALES

Godlive Masinge

078 601 9316 (Whatsapp)

info@bgmpmedia.co.za

FACEBOOK

BGMP Media Group

TWITTER

@DjGibbz1

INSTAGRAM

@djgibbz_

# Dj Brian Rikhotso of Munghana Lonene FM............................... 8

# Does burnt food give you cancer................................................. 9

# Limpopo born Jazz musician who made a name for himself

in the UK........................................................................................ 10

# Meet Polokwane's trailblazing Dj Duo.........................................13

# Easy relationship hacks to be a better partner............................14

# The most celebrated Xitsonga traditional artist of all times.........15

# Steps to being the musician you always wanted to be................16

# M. QUE of the City Rains fame...................................................18

# Tzaneen born Model making it big...............................................21

# Top mistakes that new artists make when starting out.................22

# Penny Penny leaps from Disco to House....................................23

# Tips to ensure that your franchise is a success...........................24

# What you didn't know about Beka Ntsan'wisi..............................25

# Talent alone is not enough...........................................................26

# The Journey of Dj Soul Crusher of Munghana Lonene FM.........29

# Message to all performers...........................................................30

# The man behind Bhendo Games.................................................31

# Benefits of knowing music industry deals....................................32

# Dj Sbu is back in business...........................................................34

Issue 02

Timeless Magazine

2
---
TI M ELES S MAG ISSUE 02 OCTOBER 2017

TIMELESS MAG

KNOWING THE LEGENDARY DJ GANYANI BETTER

Ganyani, known to his parents as

Ganyani Frederick Tshabalala; was

born in Meadowlands – Soweto on Djthe 19th of January a couple of

decades ago. He is the founder and Chief

Executive officer of Ganyani Entertainments,

a focused music operation and equipment

company that has an established urban and

contemporary pop and house collection.

Ganyani Tshabalala has been in the music

industry for over 20 years. With his great passion

for music, at the age of 15 he started

teaching himself several DJ techniques to

manipulate the prerecorded music. These

include cueing, equalization, phrasing and

beat juggling etc. to perform the transitions

and overdubs of a number of sources in a

more creative way. Today he is a professional

DJ who masters the technique of using

harmonic mixing for choosing compatible

songs. This has made him and other local

DJs to be the pioneers or the grandmaster

of this entertainment technique in the

country.

DJ Ganyani is classified as a mobile DJ with

turn-tablism as his main article. He travels or

tour with his own sound systems and play

from an extensive collection of pre-recorded

music, on various media, to wow targeted

audiences. He works for hire at private functions

such as receptions, religious ceremonies,

school dances; but also seen

frequently in bars, nightclubs, neighborhood

parties, block parties and product launches.

To date he has achieved the following

milestones:

# Becoming a household name amongst the

youth in South Africa and the SADC region

particularly in Lesotho, Swaziland, Mozambique,

Zimbabwe and Botswana.

# He is a DJ of choice for Orlando Pirates

FC and the South African Football Association.

# Released a compilation of the Simunye

House Grooves Vol. 1&2 on invite by

SABC 1 to broaden their Simunye brand

appeal to the youth.

By Godlive Masinge, Image sourced online

# Received a Gold Disc Award for Simunye

House Grooves (This award was for

achieving the client's objective).

# Honored by Castle Loud for his exceptional

skills and given an Achievers Award.

In addition to the two albums above, Dj Ganyani

has produced more than eight albums,

In The House featuring Ganyani, Ganyani's

House Grooves 3 and the Ganyani's House

Grooves 4, 5, 6, 7, 8 and 9. These albums

have been each awarded a Gold Disc for

having sold over 25 000 units and they are

still going strong. He has tutored, mentored,

and inspired the likes of the late DJ Khabzela

of YFM, DJ Mbuso, DJ Bradley, DJ Slender

(Cape Town's popular DJ); also the ever

popular Mpho Tsedu of PhalaPhala FM and

Muvhango fame. He recently signed De

Mogul of "Komkokotlong" fame under his

stable.

He was a nominee in the 2006 Metro FM

Awards in the category "Best Club DJ". The

year 2007 has seen the Master's addition to

the House Grooves by releasing yet another

album, Ganyani House Grooves 5 which also

reached gold status in 3 months of its release

Issue 02

Timeless Magazine

3
---
TI M ELES S MAG ISSUE 02 OCTOBER 2017

TIMELESS MAG

www.bgmpmedia.co.za

Three tracks on this album were produced by

the East Rand's most loved DJ Clock. That

very same year has also seen DJ Ganyani

crowned one of the South African House

Legends for his contribution in the music

industry by Brandhouse. In 2010, DJ Ganyani

released Ganyani House Grooves 7, which

was also nominated for the Metro FM Awards

for Best Compilation. 2011 has seen DJ Ganyani

assembling what he calls Ganyani

Entertainment Family, they re-leased an

album called 1st Gathering. In 2012 he released

Ganyani's House Grooves 8 album

that reached gold status and it is still going

strong with hit tracks like "BeThere" featuring

Mlu & Big Nuz; & "Xigubu" featuring Fiesta

Black. These songs were well received by

the masses of the SADC region (the likes of

South Africa, Lesotho, Swaziland, Mozambique,

Zimbabwe and Botswana). Every single

song on the album has a unique feel about it

and as for the album, it has been the number

1 selling album in the country for more than

10 weeks at Musica Stores.

BGMP Media Group

ADVERTISE

HERE

0786019316

info@bgmpmedia.co.za

www.bgmpmedia.co.za

BGMP Media Group

Issue 02

Timeless Magazine

4
---
TI M ELES S MAG ISSUE 02 OCTOBER 2017

TIMELESS MAG

www.bgmpmedia.co.za

BGMP Media Group

The journey of Ganyani's House Grooves 8

Dj Ganyani Feat. Mlu & Big Nuz - "Be There"

was the first single and paved the way for

the album and took it to the top with the

electrifying performance at the Metro FM

Awards. It also stayed on the number 1 spot

for weeks on radio stations around South

Africa.

# "Be There" was on the chart for 16 weeks

on Capricon FM.

# Dj Ganyani Feat. Fiesta Black - Xigubu,

this single has been number 1 on the Top 40

local best played and In the world it was

number 4 after RobinThicke, Justin Timberlake

& Daft Punk! It's all because of DJ Ganyani

and friends.

# "Xigubu" was on the Capricorn FM Charts

for more than 17 weeks on the chart and 5

weeks on the number one spot).

# "Xigubu" was also nominated at the

category called Xitsonga House Song for

Xitsonga Music Awards 2013 at Munghana

Lonene FM.

# "Xigubu" Music video was nominated for

the Best Dance Music Video on the Channel

O Music Awards in 2013.

# "Xigubu" was nominated for Best Collaboration

and Best Hit Single on the Metro FM

Awards in 2014.

# "Xigubu" was nominated for Kia Record of

the year award at the SAMA Awards 2014.

# "Xigubu" was also nominated for Song of

the year award on the MTV Awards in 2014.

Ganyani House Grooves 8 album went up to

no. 10 on the Top 50 Musica International

Chart and it was no. 3 0n the Top 20 local

chart. After the success of Ganyani's House

Grooves, he came back with blazing tunes on

Ganyani's House Grooves 9. He came back

on the scene with a blazing new single titled

"Lengoma", the single was the lead single off

his album Ganyani's House Grooves 9 which

was released in September 2015. "Lengoma"

features G-Kah and was on high rotation on a

number of radio stations including Metro FM,

YFM, Kaya FM, Ikwekwezi FM and 5FM

among others. Dj Ganyani's Second single

"Talk To Me" which features Layla on vocal is

still the talk in town even today, topping

charts every week since the release and it is

on high rotation on all National and Community

radio stations, the same can be said

about "Ntoni" because the legend never disappoints.

2016 also saw Dj Ganyani being

nominated on the FAME SA Awards which

were organized in Limpopo, he was nominated

alongside K'zela & Stylish Dj, Brazo Wa

Afrika and South Africa's much talked about

King Monada of the "Oska Borha Moreki"

fame on the same category.

The album - Ganyani's House Grooves 9

featuring artists such as Layla, Wandaboy,

G-kah, Hloni & Skye Wanda among others, it

is more up-tempo, laid back and soulful. The

single Dj Ganyani Feat. Layla - Talk To Me

was nominated for song of the year at the

Metro FM Music Awards earlier this year -

February 2017 and he was also nominated

for Artist Of The Year (Listeners Choice) for

the MMA's.

ADVERTISE

HERE

0786019316

info@bgmpmedia.co.za

Issue 02

Timeless Magazine

5
---
TI M ELES S MAG ISSUE 02 OCTOBER 2017

TIMELESS MAG

Joe Shirimani is an artist who has stood the test of time

By Godlive Masinge, Image sourced online

"Vatsonga need

to stand up &

work harder.

We must stop

expecting

people to do

things for us"

Veteran musician, singer and producer-

Joe Shirimani is a multi-award-winning

artist who has stood the test of time.

Many of the artists who entered the music

industry at the same time that he did are nowhere

to be seen. Shirimani remains among a

few who are still pushing hard to be heard, he

remains stable and relevant to the music

industry.

Shirimani was born in Pretoria in 1968 and his

formative years were crucial to what he was

later to become in music. He remembers that

there were various linguistic influences, especially

in his Soshanguve hometown where

there were strong Setswana and isiNdebele

populations. "I started music at the tender

age of eight when my father bought a guitar

that he used to play in the evening to entertain

us at home. After learning to play the

guitar by using my father's, I bought my own

guitar," he recalls.

Shirimani learnt to compose his own songs &

not only play other people's music. This convinced

him to attempt a career in the music

business. "I decided to buy my own guitar to

practice my own song. I formed a youth band.

We called ourselves Kimayo (Kind Masters of

youth sound). The band was famous in our

village and used to play at weddings, halls

and at school concerts. People loved what

we were doing," he said.

In 1992, Shirimani released a solo album,

titled "Black is Beautiful". The album was

released by BMB Records. It kick-started

his music career as a solo artist, introducing

him to the Xitsonga market with his Tsonga

Disco. Record companies started to recognise

and follow his musical abilities as an

artist and producer. In 1994, he discovered

and produced Esta M's album, "Sakamela",

which sold in excess of 50 000 copies

(platinum sales status) back then. In the

same year, he discovered and produced

Penny Penny's album "Shaka Bundu",

which sold in excess of 250 000 copies

(multi platinum). That was the beginning of

Joe Shirimani's true success in the music

industry - what a way to begin! After the

success of the other albums under his wing,

he then went on to release "Hambanini",

which had a hit track, "Notshi" in 1997. The

album also managed to sell more than 50

000 units. Who can forget "Xinengani xa

n'wa-mpfundla" by Hasani which was also

produced by Joe Shirimani.

Issue 02

Timeless Magazine

6
---
TI M ELES S MAG ISSUE 02 OCTOBER 2017

TIMELESS MAG

www.bgmpmedia.co.za

BGMP Media Group

After massive success in his production; problems

and demands often come along with

success. Joe Shirimani left the music business

to answer to his ancestral calling to become a

traditional healer. He took a complete break

from the industry for several years.

After the completion of his training, he planned

a comeback and formed a group call Bangoni

Bandawu with Marhoya Chauke, Prince Rhangani

and Benny Mayengani. One of Joe Shirimani's

album after his comeback, "Ka Tika", is

currently number 1 in the Xitsonga Traditional

music in term of sales, radio play/charts. He

scooped the best Xitsonga Album in 2014 at

the South African Traditional Music Awards

(Satma), and the Dr Thomas Chauke Artist of

the Year at the Munghana Lonene FM awards

ceremony. Few days after the night, he pocketed

R60000 for scooping two accolades, including

the Best Xitsonga Duo-Group award. He

admits that though he is the king in this genre,

he went to the awards not knowing what to

expect.

"There were strong contenders but I had confidence

that I would win. It was a challenge to

stick to my traditions. There was a perception

that Tsonga people are inferior and should

always behave small. But I realized, and this

was emphasized at home, that the best thing I

could do was to be myself," Shirimani remembers.

At home he grew up with two sisters and a

brother. One of the sisters and the brother are

members of his new group Joe Shirimani Na

Vana Va Ndoda. The group worked together

from his Ndzhumba albums, starting from Banana,

Colour Block, Ka Tika, Hash Tag, Chukuta

Boom Boom, Pengula, Team Shirimani's

Ngura-Ngura and Bangoni Bandawu's Nyimpi

ya nghena among others. He explains his

music as a crossover between traditional

music & contemporary sounds, spiced with

rich Xitsonga lyrics & a neo-rhythmic disco

base. This is due to Shirimani's N'wamitwa

(Tzaneen) extended family roots that his

Xitsonga & message driven-approach has

remained strong.

What worries musicians these days is the

effect of piracy on their bread. Even for

Team Shirimani's stable which boasts

artists such as Joe Shirimani Na Vana Va

Ndoda, Khombo Shirimani, Madya-Kubomba,

Sayichology, Mr Post, Mapele, Mafamba,

Dj General-K, Mafosi and Mambawulele;

piracy has been detrimental.

"Penny-Penny used to sell 250000 copies.

We used to sell platinum. None of our records

sold less than 25000 copies. Today,

even if you strike it you know someone is

making more money off your music than

you. Sales are a disaster & we make most

money from performances," Shirimani says.

He believes that apartheid had such a big

effect on SABC radio presenters (except for

Munghana Lonene FM) that they only play

isiZulu & isiXhosa traditional music because

they still believe in tribal superiority.

"Vatsonga need to stand up & work harder.

We must stop expecting people to do

things for us," he concludes.

Other artists which were produced by the

Legendary Disco King Joe Shirimani includes:

Esta M, Penny Penny, Hasani, Prince

Rhangani, Benny Mayengani, Zoro Magoveni,

JK Khazamula, Mapele,Khombo Shirimani,

Madya-Kubomba, Sayichology, Mr

Post, Mafamba Salute, Dj General-K, Mafosi

and Mambawulele among others.

Issue 02

Timeless Magazine

7
---
TI M ELES S MAG ISSUE 02 OCTOBER 2017

TIMELESS MAG

DJ BRIAN RIKHOTSO OF MUNGHANA LONENE FM

By Godlive Masinge, Image provided by Dj Brian Concepts

Giyani Brian "DJ Brian" Rikhotso (born

1 January 1980) is a South African

Radio personality who co-hosts a

show called Phaphama on Munghana Lonene

FM. As of April 2015, Brian moved from

hosting the Afternoon Drive show Mphensa-

Mphensa & was paired with Sydney Baloyi

to co-host the flagship morning drive show.

EARLY LIFE AND CAREER

Brian was born in Soweto, South Africa. He

later moved to Bolobedu outside Tzaneen -

Limpopo. He attended Matshwi Primary

School in Bolobedu and subsequently completed

high school in Mokopane Senior Secondary

before training to be a Journalist at

Technikon Pretoria (now Tshwane University

of Technology. He began his broadcasting

career with Munghana Lonene FM in 2000

doing weekend shifts.

MUNGHANA LONENE FM

Brian has presented different shows on

Munghana Lonene FM. He first joined the

station in 2000 as a stand-in presenter,

mainly covering graveyards shifts while still

finishing his studies. He later started presenting

the African World Music Show

"Mindzhumba ya Afrika", this is the show

that made a name for him and is one of the

best shows at Munghana Lonene FM. In

2003 he started presenting the afternoon

drive-show, swapping days with Conny

Mashimbye. He subsequently earned a

breakfast show slot in 2005, a programme

he kept till his resignation in 2007

In 2008 he rejoined the station & started

co-hosting the breakfast show Phaphama

with Sydney Baloyi. In 2009 the team was

joined by Tebogo Jacko Magubane as the

show's producer, a move that saw the show

reaching

new heights. Resulting from Phaphama's

Success, Dj Brian Rikhotso was moved to

the Afternoon Drive and paired with Thembi

"Thembzana Reloaded" Thobela and Nyiko

Sithole as the sports presenter until April

2015. In 2015 he was moved back to host

Munghana Lonene FM's most popular

breakfast show Phaphama.

TIMElessTM

Issue 02

Timeless Magazine

8
---
TI M ELES S MAG ISSUE 02 OCTOBER 2017

TIMELESS MAG

www.bgmpmedia.co.za

BGMP Media Group

SIGNIFICANCE

At 23, Dj Brian Rikhotso was the first presenter

at the station to win an award (Best presenter

of the year) while only presenting two

weekend programmes. He also exposed the

listeners to a new blend of African music

mainly from SADC countries. His distinct

taste in music saw him being the first at the

station to play artist such as Salala from Madagascar,

Koffi Olomide Fally Ipupa Papa

Wemba, Kanda Bongo Man, from Democratic

Republic of the Congo and a variety of

musicians from Mozambique such as Zico,

Tabassily, Mr Bow. DJ Brian has released 3

albums under his name. In 2014, he made a

mark when he featured Tsalanang-Inspector

Mkhaba with his smash hit, "Bafikile". This hit

single was later compiled on DJ Cleo's

Eskhaleni 9. His music video was playlisted

on local & National TV stations in RSA and

other neighbouring countries in Africa.

For reference purposes - http://theconversation.com/

PERSONAL LIFE

Dj Brian Rikhotso is a fan of Kaizer Chiefs

F.C., and occasionally remarks on their fortunes

during his show a culture that was intensified

during his time on the breakfast show

Phaphama where he occasionally had Soccer

debates with his co-host Sydney Baloyi

who is a die-hard fan of the rival Orlando Pirates

and a frequently mocked producer Tebogo

Jacko Magubane who supports Pretoria

based SuperSport United F.C.. DJ Brian

Rikhotso got married in 2004 to Zanele Carol

Rikhotso. He is the father of two boys, Thamsanqa

and Masingita and a girl Mbalenhle

Ndzalama Rikhotso. He also prefers to keep

his private life "Private".

Dj Brian Rikhotso also owns Bharule Communications,

a multimedia communications

company and DJ Brian Concepts, a communications

company that drives DJ Brian the

brand.

DOES BURNT FOOD GIVE YOU CANCER

Cooking at highest heat ruins health. If

you are offered a plate of blackened

braai food, you might think twice about

eating it. It's commonly thought that burnt

food could cause cancer. This is in part down

to one particular molecule that forms when

food is cooked at high temperatures, known

as acrylamide. But, the link between consuming

it in food & developing cancer is not so

clear.

Knowledge of acrylamide's potential dangers

are down to railway tunnel workers were building

in Sweden nearly 20 years ago. Cows

nearby started to show strange symptoms

staggering around and in some cases collapsing

and dying. An investigation showed they

had been drinking contaminated stream water

from a toxic molecule, acrylamide. The

workers were tested to see if they also had

unsafe levels in their blood, with a second

control group also had surprisingly high

amounts in their blood. At first it was thought

burgers might be the source. Then high

levels were found in fried potatoes, as well as

in coffee. It then became clear it was in food

heated above 120 Degrees Celsius, fried,

roasted or baked. But it must have been there

ever since cooking was invented.

You don't find it in uncooked or boiled food.

Dairy, meat or fish products are much less

likely to contain it. A golden rule has been

suggested: "cook food until it goes yellow, not

brown or black". Though, if you cook at too

low temperature, you are less likely to kill off

bacteria, so there is more risk of food poisoning.

Scientists haven't established that it is

definitely a carcinogen in humans at the

levels typically found in cooked food. A 2015

review of available data concluded that

"dietary acrylamide is not related to the risk

of most common cancers".

MEATY CONCERNS

Going back to the barbecue, there are other

chemicals in meat that could be a concern.

These are generally from meat fat and juices

dripping onto flames in cooking. If you are

really concerned, you could also eat less

meat or replace the meat with vegetables

when grilling. Of course, your food may not

be as tasty, since grilling, baking or toasting

enhance flavour.

Issue 02

Timeless Magazine

9
---
TI M ELES S MAG ISSUE 02 OCTOBER 2017

TIMELESS MAG

LIMPOPO BORN JAZZ MUSICIAN WHO MADE A NAME FOR

HIMSELF IN THE UK

By Godlive Masinge - Images provided by Mphuzi Chauke

"Mama, you are

my shield because in the wars of life you

have fought for me [Mama, u xitlhangu

xanga. Etinyimpini ta vutomi undzi lwele]"

Mphuzi Chauke is a recording African

Jazz artist from Maphophe Village,

Limpopo Province, South Africa. He

has been in the music industry for over 11

years performing with his band in the United

Kingdom and recently in South Africa.

Mphuzi Chauke's love for music started at

an early age. He grew up listening to legends

of XiTsonga Traditonal music by the

likes of Dr Thomas Chauke, General MD.

Shirinda and Samson Mthombeni. He

made his first guitar using a 5 litre tin of

Castrol Oil and fishing strings; and taught

himself how to play guitar. "I remember

making noise everyday to my mother and

my siblings playing my guitar", he says.

Things took a turn when he went to the

University of Cape Town to study Civil

Engineering. "My next door neighbour had

an acoustic guitar and he used to play it

outside his flat", Mphuzi adds. He asked

him to teach him how he played but he was

not interested, as a result he had to rely on

looking how he was playing and that's

when he picked up few chords here and

there.

In the late 90's Mphuzi Chauke started writing

his own African Jazz music hoping that one

day he will get a chance to record it and many

people will hear it. In 2002 he moved to live

and work in London, United Kingdom. One of

his luggage was his acoustic guitar. In 2005 he

was invited by the UK's Green Party to perform

at their Annual Fundraising Event. This

time he had no band to play with. He asked

Dominic Angadi to join him and they performed

as a duo at this event. That was the beginning

of the realization of the life-long ambition to

pursue music. In 2006 he increased his band

line-up and was joined by Sam McGowan on

lead guitar, Keith Miller on second guitar, the

late Steve Bullen on bass and Thierry Deneux

on drums and percussions.

Together they performed at pubs and bars

around London including the Nottingham Live

Music Festival in 2007. In the same year

Mphuzi and his band Pamoja (Swahili for

togetherness) supported Oliver Mtukudzi and

the Black Spirit at a festival at Chepstow, in

Wales. They also performed at Kingston

Carnival in London. Sutchara Baton joined the

band as the backing vocalist together with

Issue 02

Timeless Magazine

10
---
TI M ELES S MAG ISSUE 02 OCTOBER 2017

TIMELESS MAG

www.bgmpmedia.co.za

BGMP Media Group

Keith Miller who doubled up as a backing vocalist.

Steve Bullen was later replaced by

Dave Auguste on bass, Barry Wright also

played lead guitar and Kenny Chitsvatsva

(former Bundu Boys drummer) played drums

from time to time in the absence of Thierry

Deneux.

Mphuzi Chauke finally returned to South Africa

in 2013 and started working on his debut

album tittled Vuyani which was released on

the 01st of May 2016 and it is currently receiving

airplay on all SABC radio stations and

Community radio stations in South Africa.

Promotional activities that have been

planned to promote the album include Radio

Promotion campaigns on Public Broadcast

stations, Commercial radio stations,

Community and Campus-based firstly in

Limpopo Province and then outside Limpopo.

Appearances which were planned are currently

busy at shopping malls and private

events where the album is being promoted.

Mphuzi Chauke is the singer/songwriter, lead

vocalist and acoustic guitarist in his 9 piece

band. Victor Vukeya plays bass guitar in the

band while multi-instrumentalist and producer,

Judah Vukeya plays first keys. Drums

are played by Gudlhuza and lead guitar is

played by Tshepo. Finally, backing vocals on

the album are provided by: Sonnia Maluleke,

Tintswalo Manganyi and Vukosi Mabasa.

Mphuzi's music addresses social issues

affecting ordinary people out there. For example,

in his song Mama, he pays tribute to

his late mother and other mothers who

raised children on their own."Mama, you are

my shield because in the wars of life you

have fought for me [Mama, u xitlhangu

xanga. Etinyimpini ta vutomi undzi lwele]",

the chorus goes. In his song: Vuyani, he

pays homage to many people who fought

and even died for our freedom and argues

that it is time to help rebuild the country now

that freedom has been attained.

Listening to Mphuzi Chauke's debut album

Vuyani, one can only assert that this is just

the beginning of a great musical journey for

the artist supported by a great and capable

band. Mphuzi Chauke appeared at Mapungubye

Jazz Festival 2016, Limpopo Province's

Premier event held at Polokwane

Cricket Field on the 17th December 2016

and shared the stage with legendary

Caiphus Semenya, Thandiswa Mazwai,

Zonke, iconic Angelique Kidjo and Selaelo

Selota among others. At the beginning of

2017, Mphuzi Chauke and his team have

appeared at one of Limpopo's biggest event

Marula Festival in Phalaborwa in February

and Xitsonga Music Awards in Giyani in

March.

Issue 02

Timeless Magazine

11
---
TI M ELES S MAG ISSUE 02 OCTOBER 2017

TIMELESS MAG

ADVERTORIAL

CONTACT BGMP Media Group FOR A QUOTE

078 601 9316/ info@bgmpmedia.co.za

Business Listing

BGMP Media Group BUSINESS DIRECTORY

Our goals are to promote your business's visibility in the

marketplace, position your business to enhance its prestige

and desirability, ensure long term and sustainable success

of the brand by constantly reviewing the results and

revising specific strategies.

Add your business to BGMP Media Group Business Directory

Advertising online is cost effective and will extend your reach,

drive traffic to your website and create awareness about your

products and services on offer.

OTHER BENEFITS

Extend your business visibility online.

Drive traffic to your own site.

Your advertisement is included in our monthly marketing

strategy in South Africa and the Global Community.

Be found in Google, Bing and Yahoo

PAGE DESIGN FEES

Advertisement Cost (See Schedule below).

Minor changes and promotions will be included at no cost.

Your advertisement is submitted and optimized on a monthly

basis.

ADVERTISEMENT OVERVIEW

12 MONTHS 24 MONTHS 36 MONTHS

Full page listing / advert

Direct lead email

Link to your website

Full contact details of your

business

Company profile or

overview

Full page listing / advert

Direct lead email

Link to your website

Full contact details of your

business

Company profile or

overview

Full page listing / advert

Direct lead email

Link to your website

Full contact details of your

business

Company profile or

overview

R250.00 R450.00 R600.00

BGMP Media Group

Issue 02

Timeless Magazine

12
---
TI M ELES S MAG ISSUE 02 OCTOBER 2017

TIMELESS MAG

MEET POLOKWANE'S TRAILBLAZING DJ DUO

By Godlive Masinge - Image provided by BGMP Media Group

"We have worked with

some of the big guns

in the music industry

and such collaborations

have been enlightening,"

These two Disc Jockeys started their

music careers as a DUO back in 2013

and have already been nominated for

the FAME 2016 Awards in the Best Dance

Group category alongside the Legendary Dj

Ganyani, Brazo Wa Afrika and Limpopo's

much loved King Monada of the "Oska

Borha Moreki" fame.

Karabo Mathetja (K'zela) and Tshepho Kgasago

(Stylish Dj) are house music producers'

duo who started working together in

2013. They both started this journey at the

age of 16 doing solo projects, these guys

are driven by passion and love for music to

grow every day. Punching above their

weight class, they have released their

music with big House Music labels in the

world such as Nick Holder's DNH Records

(Canada, Toronto), BGMP Records (SA),

Sheer Afrika (SA), House Afrika (SA) and

Aluku Records (UK). Their music has

moved many people in clubs with their

futuristic rare elements, releasing their

music on epic house music online stores

like traxsource, bozza and soundcloud

among others.

The duo released their first double disc album

early in 2016 under BGMP Records which

landed them a nomination in the 2016 FAME

Awards (Film, Arts, Music and Entertainment)

for the Best Dance Group category. The

Awards are aimed at recognizing home grown

talent from Limpopo Province, the Eden of

Afrika. On this album, they have worked with

the likes of Dayo, Roland, Lyrik Shoxen,

Bhizori, Lwazi, Mary K, Mary Anne Twins,

Gadafi The Poet, Ms KMAM, and Skhiya RSA

just to mention few. The album is a mixture of

afro deep and tech. K'zela & Stylish Dj are

resident Deejays on Munghana Lonene FM

and Radio Turf. Moreover, they have been

getting airplay from International Radio

stations such Bang Radio, back To Back FM

in the UK, Munghana Lonene FM (SA), Radio

Turf (Limpopo), Capricorn FM (SA), GT FM

(Tzaneen), Lebowakgomo FM (Limpopo) and

YFM (SA) among others. K'zela & Stylish Dj

have shared stage with South Africa's

industry's key leaders such as Black Coffe, Dj

Fresh, Da Capo, Alie Duke, Dafro, Black

Motion and Bucie just to mention a few. They

have previously worked with the likes of

Issue 02

Timeless Magazine

13
---
TI M ELES S MAG ISSUE 02 OCTOBER 2017

TIMELESS MAG

www.bgmpmedia.co.za

BGMP Media Group

Da Capo, Aries Aquarius (Germany), Dayo

(Nigeria), Dafro, Alie Duke, aFrikaSoul, Lyrik

Shoxen, Dj Phonetic (5FM Mix Dj), Bhizori,

Kowkie, Dj Gibbz, Mary K, Lwazi, Skhiya

RSA and many more. Their song titled

"Pleasure" which features Lyrik Shoxen on

vocals has recently been compiled by Metro

FM's T-Deep compilation called Fundamentals

of House vol 2 and it is available on all

South African music retailers.

The prolific Music producers/Deejays have

been working in tandem since they teamed

up in 2013 after doing solo projects and their

music is a treat for the ears & the soul. With

their love fo super-charged innuendos, fascination

style; they are sure to stand head and

shoulder above the rest. They have released

an EP (Extended Play) of a remix package

under DNH Records (Canada).

"We have worked with some of the big guns

in the music industry and such collaborations

have been enlightening," announced K'zela

before being interjected by Stylish Dj who

added: "These were experiences of a lifetime.

Ours is an industry chock-full of marvelous

artists and the individuals we worked

with knows their art very well, we gained so

much valuable experience", he concludes.

www.bgmpmedia.co.za

BGMP Media Group

EASY RELATIONSHIPS HACKS TO BE A BETTER PARTNER

Making an effort has never been this

easy. Dr Karl Pillemer did extensive

research on the success of longmarried

couples. Then, he published 30 Lessons

for Loving, based on the most detailed

survey of married people ever conducted.

Here's what will make you a better partner:

# Make a list of the stuff your partner wants.

When birthdays or anniversaries happen,

get them that special thing.

# Say thank you a lot. Many relationships

suffer when people start taking each other

for granted.

# Give them your full attention. According to

research by Durex, cellphones harm sex

lives. So get off social media, and give

your partner the attention they deserve.

# Take over a chore they really hate. If you

know he or she hates doing tax forms, do

it for them.

By Godlive Masinge

# If it's no skin off your back, let the small stuff

go. Yes, he might be wrong about which

actor played Batman in the 80s, but if it's not

important to you, let it go.

# If they forgot to do something they said they

would, don't go into worst case scenario

mode.

# Change something, if it's not important to

you. If you know they hate it when you slurp

your tea or leave towels on the floor, STOP!

# Don't overuse the word sorry. Rather, stop

doing things you must apologize for, and

save that "sorry" for when you've screwed

up good and proper, and really feel sorry.

TIMElessTM

Issue 02

Timeless Magazine

14
---
TI M ELES S MAG ISSUE 02 OCTOBER 2017

TIMELESS MAG

THE MOST CELEBRATED XITSONGA TRADITIONAL ARTIST OF ALL TIMES

DrChauke was granted an Honorary

EARLY LIFE

Thomas Hasani "Shinyori" Chauke,

born in February 1952. Dr Thomas

Doctorate in African Languages for the role

his music has played in the development of

the Xitsonga Language.

Dr Thomas Chauke was born in Salema

(Saselamani) Village under Malamulele in

Limpopo Province - South Africa. He dropped

out of school at primary level to work at a

flower firm in Heidelberg in 1969. He then

moved to Alexandra in 1971 where he fixed

swimming pools and tennis courts in neighbouring

Sandton. While there, he met his

uncle, who was into Mbaqanga music and

played the Tsonga guitor, which he taught Dr

Thomas Chauke how to play. Dr Thomas

Chauke travelled back home in 1978 and

started fixing radio sets. By then, he was

already married with a child.

MUSIC CAREER

Dr Thomas Chauke started his band with 13

singers in the late 70s. After a few months,

only five of the band members remained.

They performed at school halls to raise

money to go to Johannesburg & realize their

recording dream. Dr Thomas Chauke signed

a contract with Gallo Records. Under the company,

the music was branded as Nyoresh.

He then moved to Wea Records, where he

got a better deal & changed his music brand

from "Nyoresh" to "Shimatsatsa". In 1981, he

recorded his first album called Shimatsatsa

No. 1 under the burner name Thomas

Chauke & Shinyori Sisters. Now he hands

out awards yearly in the category: Dr Thomas

Chauke 's Artist of the year for MLFM

Xitsonga Music Awards.

BOTTOM LINE

By Godlive Masinge - Image sourced online

AWARDS AND ACCOMPLISHMENTS

# Honorary Doctor of Philosophy Degree,

African Languages University of Venda

# South African Music Awards (SAMA) won

more than 12 awards

# Munghana Lonene FM Awards won more

than 10 awards

# Munghana Lonene FM Awards Special

Award

# MTN SAMA 19 Lifetime Achievement

Award 2013

In 2014, Munghana Lonene FM introduced

new award category, Dr Thomas Chauke

Artist of the year. With a career spanning

over 34 years, he has released over 34

studio albums which have reached Gold,

Platinum or Double Platinum over the

years.

TIMElessTM

Issue 02

Timeless Magazine

15
---
TI M ELES S MAG ISSUE 02 OCTOBER 2017

TIMELESS MAG

www.bgmpmedia.co.za

BGMP Media Group

ALBUMS AND COMPILATIONS

SHIMATSATSA No. 1- Nyoresh

SHIMATSATSA No. 2 – Don't Be Afraid

SHIMATSATSA No.3 – Bomber Mhlengwe

SHIMATSATSA No. 4 -Shimatsatsa xa mina

SHIMATSATSA No. 5 – Shikwamula Mazingi

SHIMATSATSA No. 6 – Xibamuxa Movha

SHIMATSATSA No. 7 – Suka Lovha

SHIMATSATSA No. 8 – Ma jamble Sale

SHIMATSATSA No. 9 – Humelela M.K

SHIMATSATSA No. 10 – Jim Na Jack

SHIMATSATSA No. 11 – Hi Hanya kuvava

SHIMATSATSA No. 12 – Buku Yi Hibyerile

SHIMATSATSA No. 13 – Xifumi Na Lazaro

SHIMATSATSA No. 14 – Suka Davulos

SHIMATSATSA No. 15 – Kokwani Wa Wun'Wana

SHIMATSATSA No. 16 – Sodoma Na Gomora

SHIMATSATSA No. 17 – Bangi situlu

SHIMATSATSA No. 18 – Mati-Endla

SHIMATSATSA No. 19 - I Mutshiveri Muni?

SHIMATSATSA No.20 – Magidi – Mbirhi

SHIMATSATSA No. 21 – Mpfende Mpfende

SHIMATSATSA No. 22 – Mugawula

SHIMATSATSA No. 23 – Shimovhana

SHIMATSATSA No. 24 – Madzolonga

SHIMATSATSA No. 25 – Xidudla Kedibone

The Best Of Thomas Chauke – Volume 1

The Best Of Thomas Chauke – Volume 2

SHIMATSATSA No. 26 – Mavholovholo

SHIMATSATSA No. 27 – Rejina

SHIMATSATSA No. 28 – Swelemetee

SHIMATSATSA No. 29 – Xihloka Xa Maseve

SHIMATSATSA No. 30 - Jehovha

SHIMATSATSA No. 31 – Dokodela

SHIMATSATSA No. 32 -Virus-Computer ya nhloko

SHIMATSATSA No. 33 - Basopa

SHIMATSATSA No. 34 - Xiganga

ADVERTISE

HERE

0786019316

info@bgmpmedia.co.za

STEPS TO BEING THE MUSICIAN YOU

ALWAYS WANTED TO BE

By Godlive Masinge

Principle Number 1: There are no shortcuts

Let me sat that again; there are no shortcuts

Now there's a part of you that knows it's true

but there's another part of you that thinks

"I'll be different, I'll find a quicker way". The

reality is, you won't and it'll take you just as

long as anybody else. The reason all those

websites promising "pro secrets" or "7 days

success", these websites exist just to exploit

your "shortcut mind". You know it's a lie but

you still want to buy into it (sometimes

literally). So the first thing you need to do is

forget about shortcuts. Then all that wasted

energy can then be focused towards actually

improving, slowly and surely.

Principle Number 2: Ask yourself why you

play music.

If the answer is to impress people with your

skill or to become famous, then you'll never

be a great musician. The reason great musicians

are so great is because they speak to

us as listeners, they have something to say

other than "look at me". So many musicians

think that becoming great is just about

acquiring technique. Skill is important, but

it's what you do with it that's very important.

Technique is the vessel through which you

say something. Most musicians sing words

or play notes but don't say anything with

them. They're afraid that if they do, people

will reject their message. If you want to be

great, you must get over being timid and

throw your personality into music.

Principle Number 3: Being great doesn't

mean you'll be an instant success.

Becoming a great musician doesn't mean

that you'll be able to lie back and wait to be

discovered, that just doesn't happen anymore.

You'll have to work on being great &

work on promoting yourself. A few friends of

mine, K'zela & Stylish Dj, MellowMusiQue,

Limpopo Roots, Dj Nascent, Dj Gibbz,

Dj Gigigi and Dj Gami Swaga are doing

everything right. Their music is compelling

and unique, their songs are as good as they

Issue 02

Timeless Magazine

16
---
TI M ELES S MAG ISSUE 02 OCTOBER 2017

TIMELESS MAG

www.bgmpmedia.co.za

BGMP Media Group

get & they have the right image. Yet still they

have to struggle seeking out gigs & making

themselves known. These guys will get there

in time, they are just too good, but it'll take

time. So the question is, are you prepared to

wait? If you have a time limit on becoming a

success, you are pressurizing yourself & you'll

react by trying to please everyone.

Principle Number 4: Always enjoy your music

Many musicians think that to be a proper musician

you must be serious, and that means

squeezing all the joy out of it. Music should lift

you, even on those difficult days. If it doesn't

do that you need to be asking yourself; why

not? Being a musician can be a struggle, but

what keeps me going is playing music. All the

rubbish, rejections, disappointments and

success is just a means to an end to keep on

playing as much as possible.

Principle Number 5: Find your uniqueness &

highlight it.

Find the things that you do differently & build

on them. Great musicians have a unique way

of doing things, that's why people are attracted

to them. All too often, musicians try to

please everyone (except themselves) & end

up being boring players. Great music divides

listeners because of its uncompromising

vision. If one half of your audience hates you,

but the other half love you, you're onto something.

If everyone says it's ok, you need to

think about what you're trying to communicate

because you're not hitting anyone at a deep

level. Yet being unique isn't about just expressing

yourself, it's about working hard on your

music whilst developing a voice.

Principle Number 6: Learn from people who

are better than you.

This is a difficult one, but once you give up

trying to pretend you're a genius, you can

learn from all the great music that surrounds

you. Rather than wasting energy feeling you

have to compete with something you can

embrace and learn from it. Another trap to fall

into is that you end up trying to reason with

yourself that better music is just different,

when deep down you know it's really better.

Principle Number 7: Keep a sense of humour

I see learning music is a spiritual challenge,

& the better it get the easier it is to touch

something divine. But within this journey

there are massive ups & downs. Take all the

setbacks lightly, don't let any success go to

your head, & always be glad for any good

luck. It's normal to get frustrated, but don't let

this become a default setting in your life &

music.

Principle Number 8: Don't listen to anyone.

There's a time to listen to criticism or advice,

& there's time to ignore it. In the stage of

building something up, you want to avoid

judgment, otherwise it's in danger of being

torn apart. Once you have created something

fully formed, then you can invite judgement.

Because you know what you have done &

why you can evaluate criticism, & judge if it's

relevant.

Principle Number 9: Don't just tell one story.

It's natural to tell a story through anything

you do, including music. But many musicians

just run one story; I'm a singer; I only play

fast metal guitar, I want to be a rock star.

One story musicians are walking clichés, as

well as making you a boring musician and it

also makes you narrow minded. You won't

listen to acoustic guitar because you only

play electric, you won't listen to punk because

you're a classical musician. Developing a

unique sound requires you to cross pollinate.

Creativity comes from the curiosity. like; what

will happen if i take that & put there? Try not

to be limited by the stories you have about

your music. Everybody has an image of what

kind of musician they are, but that need not

be set in stone. A good thing to do is to go to

the library & find something far away from

where you are. If you are a House music

producer or DJ, you don't only need another

House music CD for inspiration, but you

need Afro-Pop, Hip-Hop, Jazz, Gospel or

Traditional music CD's. When you stretch

your musical wings, you begin to have a lot

more stories running and your music becomes

a lot more creative.

Issue 02

Timeless Magazine

17
---
TI M ELES S MAG ISSUE 02 OCTOBER 2017

TIMELESS MAG

M.QUE OF THE CITY RAINS FAME

M.que was born in the mid 80's in the

Eastern Cape fathered by a choral

conductor. His formative years

were spent at a multicultural school where

he encountered different forms of art. He

founded the poetry society at that institution;

most importantly this is where he

encountered the genre of 'rock n roll'.

Within this genre what was truly appealing

to him was soft rock. This genre of music

greatly influenced the performance style

that M.Que developed. Be it in his writing,

which is influenced by his five years of

writing poetry or his vocal demeanor.

However, being that his parents were both

involved in education, his father being a

headmaster and founder of a school and

his mother being a teacher, a career in the

arts was never open for discussion. But

whilst moving from one 'bean counter'

degree to another and completing a

Bachelor's degree in Social Science at the

University of Fort Hare in the process,

M.Que in this time carefully and quietly

mastered his unique sound. He spent ten

good years writing songs and poetry.

While in the UK for three years, M.Que

began performing in bars and busking to

further develop his craft. Back in South

Africa, M.Que has shared the stage with

the likes of Berita, Asanda Msaki, Julian

Redpath, Gary Thomas, Andile Seskhona,

Shirley Dee and The Unusual Suspects,

Mobi Dixon to name a few. He frequented

as the headliner at the artist monthly

gathering events, Sunday Pholasand the

Kauleza Drum Circle and was also one of

the artists selected to perform at the

Summer Season Festival in 2013.

In 2014 M.Que has had his own show at

the Grahamstown National Arts Festival

consisting of three solo shows and one

live band show. He was granted the prestigious

Standard Bank Jazz venue at St

Aidan's Chapel. He has also hosted his

own shows in the months of August 2014

and October 2014 at King Club in King

William's Town and at Imbizo Lounge in

East London respectively.

By Godlive Masinge - Image provided by Tembisa On Record

"

The dream of

working with

the World's most

respected producer

Dj Black Coffee is

any musician's

dream, Black Coffee's

music is celebrated

Worldwide

Issue 02

"

Timeless Magazine

18
---
TI M ELES S MAG ISSUE 02 OCTOBER 2017

TIMELESS MAG

www.bgmpmedia.co.za

BGMP Media Group

M.Que caught people's attention through

the successful song "City Rains" by him

and Mobi Dixon in late 2014, M.Que's

writing skills are showcased on the song,

the song was well received by the masses

because it was well crafted. To date,

M.Que has worked with the following

successful DJ's on their new albums;

Heavy K on the song "Come around"

taken from the album Respect the

Drumboss 2015, Black Coffee on the song

"Come with me" taken from the album

Pieces of me, DJ Merlon on the single "Fly

away", DJ Tira and DJ Sox (Durban's

Finest) on the song "Run Free" taken from

the album Durban's Finest 2016 album.

Apart from all these features, the big one

was with Black Coffee, because he also

went to New York in the USA to shoot the

music video for "Come with me". The song

has done wonders and catapulted M.Que

onto the international stage where he has

received good following and interest from

international artists. The dream of working

with the World's most respected producer/

deejay Black Coffee is any musician's

dream, Black Coffee's music is celebrated

Worldwide.

Unlike other vocalists who can only stand

in when featured by the industry's key

players, M.Que has also released hits of

his own such as "Rumours", "Again", and

recently (latest single) "Mastermind".

M.Que has released his debut album

titled Dimension in early this year 2017

which he has worked with Dj Merlon,

Mondli Ngcobo, Steve Group, Heavy K,

DJ Clock, Rabs Vhafuwi (Mizz & Rabs -

Count your blessings) just to mention a

few.

www.bgmpmedia.co.za

BGMP Media Group

ADVERTISE

HERE

0786019316

info@bgmpmedia.co.za

Issue 02

Timeless Magazine

19
---
TI M ELES S MAG ISSUE 02 OCTOBER 2017

TIMELESS MAG

ADVERTORIAL

CONTACT BGMP Media Group FOR A QUOTE

078 601 9316/ info@bgmpmedia.co.za

Website Design & Hosting

AFFORDABLE WEB DESIGN AND HOSTING

Whether you are looking for a brand new professional website to

enhance your brand identity and have a good online presence,

we can help you shine online!

No matter what type of business you own and operate, your company

website needs to be the premiere online destination for both new and

existing customers. Not only does your website need to look professional

and be visually appealing, but you also need to make sure that your

business web page is easy to use, contains relevant information, is

optimised for search engines, and is rich with multimedia while also

inviting customers to engage and interact with your brand. Luckily, we

are here to help you do all of that and more!

Contact BGMP Media Group and see how our web and graphic design

professionals can make your business truly shine online to help drive

traffic and grow your business. We offer a full suite of professional website

design, marketing and advertising services.

We know that you are looking for more than just a Website, you are

looking for a business tool that will represent your company or your

brand, and you want to use your Website to make more money!!!!!

What can you expect from us for your Website need?

A Website designed to expand your business.

Stunning graphics that catch the eye of visitors.

Excellent communication, Responsive and Mobile Friendly.

Search Engine Optimization (SEO) – Google, Bing, Yahoo etc…..

Satisfaction with the end product.

Our primary goal is to create a Website for you that convert visitors

into customers, you are welcome to contact us today

0

and discuss your project with us.

BGMP Media Group

Issue 02

Timeless Magazine

20
---
TI M ELES S MAG ISSUE 02 OCTOBER 2017

TIMELESS MAG

TZANEEN BORN MODEL MAKING IT BIG

"Courage is not the

absence of fear, but

the triumph over it".

By Godlive Masinge - Image provided by Mabhendo IDE

Lloyd Machimana affectionately

known as JnrLloyd, one of Tzaneen's

renowned individuals. He

does not take the term "to whom much

is given, much is expected" lightly. He

is inspired by the late Madiba's quote:

"Courage is not the absence of fear,

but the triumph over it".

JnrLloyd the Model is a 26 year old

Lifestyle, Fashion Model, and Publicist

best known for his influence to Local

Rappers back in the early 2000s when

he was a rapper known as Lil' Bouzie.

During his days as a Rapper, he

worked with most of Tzaneen's music

industry key players, the likes of MC

Bants, 027 Unity, BRG, MC Rhusta, Dj

Gigigi, Dj Gibbz, Dj Andrew, Dj Schillachi,

Dj Ishmo, Digga, Tour Masters,

Sweet Rain, D Boy, Crazy J, Cardo,

Hopzin, Blaze, Yung Eazy, Kideo, Beef,

Borna V, Deon, Sneazers, Busi, Masta

K, MC North, Kulio and Khanyi among

others. The progress he made as an

underground Rapper was unbelievable,

recording 341 songs featuring 7

mixtapes, 188 singles and 58 features

from 2005 – 2012.

He is currently signed with Ks Modeling

Academy and being transferred to

District Model Management. He was

featured on South African big events

like SA Fashion week and he has

worked with the industry's key leaders

like David Tlale, Ephymol, Tailor Me,

Scalo and many more South Africa's

Top Fashion designers. He also made

a number of appearances at Top

Billing, Selimathunzi as well as Local

Newspapers. He is the face of The

Lokal store clothing shop in Johannesburg.

Jnrlloyd is open to local

designers to work with and also help in

marketing their brands. According to

the young but seasoned Model, his

passion for fashion and modelling was

inspired by the day to day people

around him. He wanted to set

standards and raise the bar too high in

Issue 02

Timeless Magazine

21
---
TIMELESS MAG

By Godlive Masinge (Dj Gibbz) - Music Consultant

TI M ELES S MAG ISSUE 02 OCTOBER 2017

www.bgmpmedia.co.za

order to influence others especially those

coming from poor backgrounds in the rural

areas. Lloyd describes himself as a hard

worker, an influential leader and a team

player.

Although his love for Fashion and Modelling

is escalating and favourable to him,

his full time focus is on his Career path

that he chose after high school. He is a

Graduate Development Planner; he also

manages his own professional company

known as Blueberry Development Projects

which comprises of Planners, Architects,

Environmentalist, Geologist and Qs. He

has vision of growing his firm in the next

few years, be able to employ young professionals

and offer bursaries to a number

of pupils from rural communities who are

currently struggling to get finance for their

studies.

In the rare chance that he isn't working,

JnrLloyd likes to write short quotes about

life around him and in general, read upon

his career path, work out – but of course,

and having fun with friends. According to

him, he draws his inspiration from Tyson

Beckford's quote: "Threats do not work

with a person who's got nothing to lose",

it's the quote he lives by.

ADVERTISE

HERE

0786019316

info@bgmpmedia.co.za

BGMP Media Group

TOP MISTAKES THAT NEW ARTISTS

MAKE WHEN STARTING OUT

By Godlive Masinge

After many years of listening to South African

underground artists such as Dj Nascent, Dj

Gami, Limpopo Roots, K'zela & Stylish Dj, Dj

Tears PLK, Dj Gibbz,Tour Masters, Rubicon,

N Squared, Dj Press, Cardo Wezzy, Dj Gigigi

& AR Tee among others. I've noticed that

most artists get a large fan base in their

respective townships & think they've made it.

So, here I just want to pinpoint the mistakes

that we make, the ones hindering us from

breaking into the mainstream. The road to

stardom is filled with potholes. Things are all

fun and games when you're practicing in a

garage & doing tiny gigs... but if your career

starts to take off, you need to watch out!

Don't think for a moment that because you've

got a couple of downloads on the internet

means that live shows are a thing of the past.

If anything, demand is only going to grow for

live music specifically because pre-packaged

stuff is easily available. Plus, the most profitable

artists in history are known far more for

their live shows than their albums e.g. Lecrae

(Two time Grammy winner).

If you want to have a lasting presence, you

need the services of a PR, Stylist and Brand

Manager. Don't just make it up as you go

along, with no one to follow up on requests

like radio interviews, newspaper & magazine.

Get someone who can search for new opportunities

for your brand & package you in a

certain way. Snubbing radio interviews and

magazine/newspaper features may mess it

up for your brand because if you don't capitalize

on some of these opportunities, they

may never come again.

Professionalism on the business side is probably

the single most important skill for an

act to cultivate. In any industry, you can get

much further in the business by making

friends with other artists rather than making

enemies. So in closing, what are some of the

biggest mistakes you've seen a hot new

artist make? Let us discuss this & try to help

our artists make informed decisions when it

comes to their music career.

Issue 02

Timeless Magazine

22
---
TIMELESS MAG

By Godlive Masinge (Dj Gibbz), Image sourced online

TI M ELES S MAG ISSUE 02 OCTOBER 2017

PAPA PENNY LEAPS FROM DISCO TO HOUSE

The colourful and charismatic Penny

Penny has moved with the times. The

Tsonga Disco and a reality superstar

have made the leap into house music,

releasing Siyayi Vuma, his first album in the

House genre few weeks ago. This is his

first release in years after taking a break

while concentrating in his fulltime duties as

the ANC Ward Councillor. Penny Penny,

born Eric Nkovane, described his new

album as "rhythmic" and a gift to South

Africans for always believing in him. He

said the sound of the album was inspired

by the change of times.

"Music is like life, it moves fast therefore we

must keep up with the times but not lose

ourselves while at it. Yes this is a different

tone from what people may know me for

but I'm still Penny Penny no matter what

angle you may look at me from", he said.

The album features the likes of DJ Maphorisa

(known for working magic with his

beats, also a member of the award winning

band UHURU), 2ice, DJ Thakzin, Shisaboy,

Zaqu, Howard, Xander Ferreira and offers

two remixes of his famous hits. The Clash

of the Choirs choirmaster is still an ANC

Ward Councillor in Giyani, Limpopo. But his

energy is focused on being back in the

music business and he aims to scoop

some of the most coveted music awards on

offer. He still keeps in touch with his choir

from Limpopo & wants to record an album

for them.

"I would like to thank Endemol & M-Net for

recognising me. I am now known by young

people because of the show", he said.

Penny Penny added that he is now back &

is juggling government responsibilities with

his re-energised commitment to music. "I'm

still standing as the ANC Ward Councillor.

People appreciate my dedication in delivering

the best for them. They want me to

stay". Penny Penny also dropped a hint

that he would be opening a grooming

school for aspiring musicians and facilitates

a cross-pollination of ideas between

youngsters and veterans in music.

By Godlive Masinge - Image sourced online

HERE ARE SOME OF THE THINGS YOU

DIDN'T KNOW ABOUT PENNY PENNY:

# His debut album, "Shaka Bundu" remains best

selling Tsonga Traditional Music ever, having

sold over 250000 copies in its release in 1994.

# He is the only SA artist who had a National tour

in Mozambique, performing in every provincial

capital and other major towns.

# He is the only Tsonga artist who had major

success in 2 genres, Tsonga Disco & Makhwaya

(Tsonga Traditional Music) & now he is crossing

over to House.

# He has never changed his hair style since 1994.

# After the death of Peta Teanet, wild rumours

implicated him, of which he dealt with the rumours

in his "Juri-Juri" album, saying those who killed

Teanet are in jail.

# He used to be a dancer for Peta Teanet, worked

as a cleaner, miner, a cook and as a farm worker.

# Penny Penny's other name is Kulani.

# He once beefed with Dr. Thomas Chauke, Joe

Shirimani, Benny Mayengani and the late Peta

Teanet.

# He is the first black SA artist who turned politician

and became a Ward Councilor for the ANC.

# Joe Shirimani gave him his first break in music,

but the record label thought he was just a clown

at first.

Issue 02

Timeless Magazine

23
---
TI M ELES S MAG ISSUE 02 OCTOBER 2017

TIMELESS MAG

TIPS TO ENSURE YOUR FRANCHISE IS A SUCCESS

By Godlive Masinge

Abiding by these tips has seen many franchisers earn reliable livings through good economic

times and bad, while not following them has resulted in some franchisees failing.

1. RUN THE SHOP YOURSELF

You need to manage-run your franchise

outlets. You are unlikely to make it unless

you are personally running the business on

the shop floor.

2. TAKE PERSONAL RESPONSIBILITY

FOR THE PERFORMANCE

Do you plan to run the shop yourself? This

is always my first question to any prospective

franchisees.

3. GET FINANCIAL TRAINING

Franchisers have a wonderful system to

help you build a successful store, you need

to supplement that with basic business skills

of your own. If you don't know accounting

basics, or how to interpret financial documents,

or for that matter how to hire and fire

employees, you had better learn.

4. COMPUTER LITERACY TRAINING

After financial training, a computer literacy

course should be next on the list. Occasionally

attend thought-provoking seminars,

short courses at business schools and read

voraciously.

5. CUSTOMER SERVICE

If you don't like people, please don't be in

the food business. Communications skills

are vital.

6. DON'T BUY A FRANCHISE JUST FOR

MONEY

You can make a good living from running a

franchise, but if making a lot of money is your

primary motivation, you are unlikely to have

the necessary passion for this industry.

7. TAKE CONTROL

For one to make money, you must have controls

in place, without these; you will most

likely fail, as people take advantage of you.

You purchased a tried-and-tested system,

now to be successful you need to learn and

understand it.

8. ALWAYS HAVE A POSITIVE FRAME OF

MIND

It is important to have the right mental attitude

always, to achieve your goals. Your attitude

impacts on your performance, relationship

and staff.

9. NEVER STOP MARKETING

Above all else, the sales and marketing is

also your responsibility.

10. FINANCIAL EXPECTATIONS

Some franchisers charges a 6% royalty, in

exchange for which franchisees get various

discounts that repay the royalty, but also give

a higher turnover due to group marketing &

consumer awareness.

Issue 02

Timeless Magazine

24
---
TI M ELES S MAG ISSUE 02 OCTOBER 2017

TIMELESS MAG

WHAT YOU DIDN'T KNOW ABOUT BEKA NTSAN'WISI

By Godlive Masinge - Image sourced online

Rebecca Beka Ntsan'wisi was born in

1968 at Nkowankowa outside Tzaneen

in Limpopo. Born to a father

who was an educator and a school inspector,

Rebecca Beka Ntsan'wisi believes in

the power of acquiring knowledge like her

late father.

Rebecca Beka Ntsan'wisi started her education

at Nkowankowa Primary School and

matriculated at Hudson Ntsanwisi High

School, which was named after her father -

a man who had contributed to the improvement

of the community. She went on to

study music at the University of Venda.

Rebecca Beka Ntsan'wisi, who is aptly

known in Limpopo as "Mother Theresa",

has done a lot for the poor and povertystricken

communities of this region. She

has advanced colon cancer but this has not

stopped her from serving the community.

Together with the Department of Health,

she has formed a support group to help

those who are suffering from cancer and to

dispel the myths of witchcraft which are

prevalent in some of the communities. She

works with people from deep rural areas,

promoting healthy living and education.

She has also assisted in bringing technology

to the villages by arranging computer

donations to schools. Currently, there are

students from these rural areas realizing

their dreams at the universities of Wits and

Limpopo, all thanks to her assistance.

When she joined the SABC in 1996, she was

employed as a librarian assistant. Management

realized she had the potential to become

a good presenter who would be a bridge

between the listeners and the station. She

was then tasked with the responsibility of

heading the station's social responsibility

programme. Despite her chronic illness, she

has proved to be a live-wire, finding solace in

helping the sick and the needy through her

popular programme.

As a radio presenter, she is able to talk to

many listeners who phone in to discuss their

problems. She then contacts the business

community or health institutions for help.

Among her many achievements was her

assistance to the Mozambique community in

Giyani to bury a fellow Mozambican whose

body had spent six months in the mortuary

due to penury. She was also instrumental in

building houses for women in Mariveni & Dan

Village. She initiated a number of developments

in rural areas to assist local

communities and has opened an office in

Polokwane for youth development initiatives.

Issue 02

Timeless Magazine

25
---
TI M ELES S MAG ISSUE 02 OCTOBER 2017

TIMELESS MAG

www.bgmpmedia.co.za

Some of her achievements includes: From

2002 up to 2006, she won the Black Management

Forum Limpopo Woman of Excellence

Award. She also won the Limpopo

Achiever's Award in 2005 and the Premier's

Award in 2006. In June 2006, the Nkowankowa

branch of the South African National

Civic Organisation honoured her for all the

activities in which she is engaged to assist

the helpless.

BGMP Media Group

A woman of courage and unsurpassed love

for people, Rebecca Beka Ntsanwisi is a role

model and community-builder with total

dedication to the upliftment of impoverished

people. She is an inspirational and selfless

human being with a passion for the upliftment

of others. Her courage in the face of advanced

cancer makes her stand out as one of

the rare human beings who live for an idea

that will never die. Rebecca Beka Ntsan'wisi

has one daughter, Nkhensani, and lives in

Seshego in Polokwane.

www.bgmpmedia.co.za

BGMP Media Group

TALENT ALONE IS NOT ENOUGH

By Godlive Masinge

Jozi, as the fashion, music, & television hub

of the continent, it provides unsurpassed

setting for any emerging designer, musician,

& actor who dreams of pursuing a career in

the above listed industries.

Countless fashion houses, music houses &

television houses operates from the city.

Some internationally acclaimed, others have

a strong local following - and a lot more is

bubbling underneath. I can say with no

doubt that this is the golden time for most of

the industries because local talent is up

there competing with the rest of world, whether

is from Fashion with the likes of David

Tlale leading the pack, music with Dj Black

Coffee winning biggest Awards internationally,

local actors & TV dramas improving daily.

As such, there's been a deluge of talent.

Some trained by reputable academies,

others just coming up the ranks in the

school of hard knocks. If you happen to be

thinking of a career in any of the above

listed industries or have the faintest curiosity

- perhaps you should mull over the

following questions:

TIMElessTM

1. Can my career choice be considered a

lucrative business?

2. Ever wondered what it takes to make it

up there?

3. Is my career a mere expensive hobby that

doesn't require entrepreneurial skills?

These industries are not for everyone. In

fact, it's brutally cut-throat. In other words:

"In any of the above industries, one day

you're in & the next day you're out!" John C

Maxwell hits the nail on the head in his book

"Talent is not enough". I don't mean to put a

damper on dreams, but the truth is: "No

matter how creative one is, being businesssavvy

is mandatory". Absence of this is like

juggling three balls up in the air. We all know

how this could play out & end. I've seen many

brilliant talents come into these industries for

wrong reasons, for example, fame & money;

and within the blink of an eye they're gone.

It sounds exciting when you dream, seeing

your name impeccably stitched on fabulous

garments & driving sports cars. What's frightening

is, most young talents endeavor to be

in a fast & furious race to grow their empires

overnight. They're oblivious to the fact that

microwave results are short-lived.

Issue 02

Timeless Magazine

26
---
TI M ELES S MAG ISSUE 02 OCTOBER 2017

TIMELESS MAG

www.bgmpmedia.co.za

BGMP Media Group

Vogue US editor-in-chief, Anna Wintour,

once said: "Don't go too fast. People have

to go to school, learn their craft & build a

brand." she's correct - that's the healthy

way to do things. If you're an overnight

sensation, you can be yesterday's news in

no time. Whereas building something

slowly & carefully that has value & quality,

that's what's going to have legs.

It's our responsibility, as the experienced, to

equip future generations of artists with essential,

business know-how. In so doing, the new breed

of creative entrepreneurs will be able to gasp

cash flow. Also recognize retail maths, and

successfully forecast external forces shaping the

industry landscape. The weight of one's talent

can never be a determining factor when it comes

to running a successful entity day to day. Fashion,

music, & television are lucrative business

- not a hobby.

www.bgmpmedia.co.za

BGMP Media Group

ADVERTISE

HERE

0786019316

info@bgmpmedia.co.za

Issue 02

Timeless Magazine

27
---
TI M ELES S MAG ISSUE 02 OCTOBER 2017

TIMELESS MAG

ADVERTORIAL

CONTACT BGMP Media Group FOR A QUOTE

078 601 9316/ info@bgmpmedia.co.za

Online Advertising

ADVANTAGES OF ONLINE ADVERTISING

Advertising is the branch of Marketing that deals with communicating to

customers about products, brands, services and companies. The Internet,

as a global communications medium, provides advertisers with unique and

often cost-effective ways of reaching advertising audiences.

SIGNIFICANCE

·Advertising on the Internet is almost necessity for modern businesses, especially

those that do business outside of their local community. Consumers use the

Internet for more than simply entertainment or information, as they do with radio,

television, magazines and newspapers. Consumers use the Internet to assist

them in nearly every aspect of life, creating countless opportunities to place

relevant, targeted AD messages.

ADVANTAGES

·The Internet's vast reach can allow advertisers to reach significantly more

people than traditional advertising media at a fraction of the cost. Internet

advertising is ideal for businesses with a national or international target market

and large-scale distribution capabilities. As a rule, the more people your business

serves, the most cost-efficient Internet advertising can be. Internet advertising

can also be more targeted than some traditional media, ensuring that your

messages are seen by the most relevant audiences.

CONSIDERATIONS

·In addition to advertising, the Web offers high-impact opportunities to leverage

word-of-mouth marketing and generate buzz about your company. Products

review website and social media outlets, among other web communities, allow

customers to praise or condemn your company based on their personal

experiences. Thus, the Internet ties the customer service component directly to

advertising.

FUTURE

·The Internet is likely to continue to play a large role in individuals' lives in the

foreseeable future. Whether personal computers remain the dominant method

of accessing the Internet, some form of global communication network will likely

be a reality for many generations, creating effective avenues of sending

advertising messages to consumers in the community and around the world.

Issue 02

Timeless Magazine

BGMP Media Group 28
---
TIMELESS MAG

By Godlive Masinge (Dj Gibbz) - Image sourced online

TI M ELES S MAG ISSUE 02 OCTOBER 2017

THE JOURNEY OF DJ SOUL CRUSHER OF MUNGHANA LONENE FM

By Godlive Masinge - Image sourced online

"My Mom inspires me; she taught me that

everything in this universe is attainable through

sheer hard work, and no pain, no gain.

Bongani Meriam Sithole, affectionately

known as DJ Soul Crusher on stage

and radio by her fans was born on the

06th of December 1987. She hails from

Dinga Village in Malamulele, spent most of

her childhood at Stinkwater (Pretoria) and

now residing at Mankweng. DJ Soul Crusher

is currently presenting "Gongomela" 22h00 -

00h00 Monday - Thursday and "Xiseveseve"

22h00 - 00h00 on Friday at Munghana

Lonene FM.

She is vibrant, funky, entertaining and has a

very charming voice. While she was at

Titirheleni Primary School, she used to participate

in puppet and talent shows and continued

at Mbhanyele High School where she

attained 3 trophies for English Impromptu

and prepared speech. Apart from the

already mentioned achievements, she was

also awarded one trophy for Xitsonga

Impromptu speech, one for talent & puppet

show motivational speaking and thirteen

certificates ranging from excellent academic

performance, poetry, speech, debate, public

speaking & acting. She also led the English

club and she was also motivating fellow

learners during morning devotions. She

matriculated in 2004 and always obtained

position one/two in class. In 2005 she

enrolled for a BA degree in Communications

studies and Acting; and graduated in 2007.

Her radio career kick-started in early 2005 at

Radio Turf while she was attending orientation

classes as an English news reader & a

presenter until early 2010 where she attained

two trophies and two certificates for

being the best entertainment show presenter

in 2007, she then joined Pro-Ads SA as a

Game Store Radio Announcer for two years,

then went to Jacaranda for seven month as

a freelancer news reporter. In February

2011 she joined a newly formed community

radio station in Tzaneen, GT FM as a

presenter & a news reader where she read

news in English & presented a late night

show called "Make the Circle BIGGER". In

June of the same year she was promoted to

the Programmes Manager position because

of her hard work at the station. Hence she

believes that everything in this universe is

attainable through sheer hard work.

She has been an MC on various events such

as Letaba Expo, Giyani Show & various road

shows, corporate events, she also adjudicated

the British parliamentary debate in

Howard College at the University of Kwazulu

Natal. "My Mom inspires me; she taught me

that everything in this universe is attainable

through sheer hard work, and no pain, no

gain. I am very passionate about radio and I

believe failure is the egg we break to make

an omelet of the future & I'm a hard worker."

Issue 02

Timeless Magazine

29
---
TI M ELES S MAG ISSUE 02 OCTOBER 2017

TIMELESS MAG

MESSAGE TO ALL PERFORMERS

By Godlive Masinge

As an artist, Disc Jockey or musician, one

has to maintain a certain level of professionalism

when running their business affairs.

This of course includes, having all necessary

documents in place for a performance

booking. Having said that, many performers

are familiar with the experience of not being

paid the full amount, or worse, not being paid

at all for the event they were booked to

perform at. Unfortunately, this bad practice

has become quite common in the music

industry and performers are getting ripped

off every day.

This article will look at some of the crucial

issues that you need to consider before you

start taking bookings, so as to avoid these

problems.

CONTRACT:

As in any business, it is essential that you

have a contract detailing all the necessary

information before you even confirm your

availability for a performance. The contract

should include the amount you are charging,

what you will need for the performance, the

expected time of your performance, what

would happen if the event were cancelled,

accommodation if necessary, and any other

details you feel are necessary to include.

Include everything that you feel is relevant

and important. This piece of paper will

protect you should anything go wrong at the

event or should you feel you were not

treated in the manner agreed to in your

contract. If you feel that you are not able to

draft a basic contract yourself, use internet

to find contracts for artist booking. These will

give you some idea of how to lay out your

contract. Alternatively, there are professionals

like music Lawyers & industry Consultants

who can guide you. It is essential that

you get this contract signed by whoever is

booking you so that you have proof on an

agreement. Remember to make two copies

of your contract - one for yourself and one

for the other party. Each page should be

initiated by both parties and should have the

full signatures of both parties on the last

page. Ideally, one or two witnesses should

also sign the contract..

STAY PROFESSIONAL

If you want to be taken seriously, your

approach to work must be serious & professional.

You need to be clear about who you

are and what you stand for.

CONTACT DETAILS

At some point in your musical career, you

are likely to come across the occasional

shady character. Since you never know who

you may have to deal with, this is unfortunately

inescapable. To avoid unnecessary

problems, make sure that you have all the

relevant contact details of those who are

intending to book you.

PAYMENTS

Your contract should specify all the necessary

aspects of payment. You will need to

detail how much you are billing for your services,

the method of payment & the period

prior to the event. You need to ensure that

the full amount is settled before the event, if

you are to avoid becoming a victim of nonepayment.

It is important that you make it

clear that you will not render your services if

full amount is not paid. However, based on

the working relationship you have with the

company booking you, you may be forced to

receive the remaining balance after you

have rendered service. However, this is not

advisable, unless you feel you are dealing

with a regular client who is true to his or her

word. Don't take risks; get the full payment

prior to the event. Ideally, make sure the

payments always goes into a specific

account to limit any possibility of fraud.

PAYMENT REFERENCE

If payment is being made electronically, or

by bank deposit, ensure that your contract

stipulates how the payer should reference

the payment.

DATES

It is useful to keep a schedule of your final

bookings, venues, dates & times that you

are expected to render your services. This

will help you to have a clear picture of open

dates and time for other possible bookings

Issue 02

Timeless Magazine

30
---
By Godlive Masinge (Dj Gibbz) - Image provided by Mabhendo IDEA Graphix

TI M ELES S MAG ISSUE 02 OCTOBER 2017

TIMELESS MAG

THE MAN BEHIND BHENDO GAMES

Oscar Mabunda, born & bred at Joppie

Village under N'wamitwa Traditional

Authority outside Tzaneen but currently

based in Johannesburg CBD. Like any

other kid from the countrysides, his dream

was to become a Doctor, but since the love

& passion for art took over, he never looked

back. Today, Sbhendo; as affectionately

known to his clients for his innovations,

having invented few Android games under

the brand Bhendo Games. He is a true

example of an Original Tsonga Hustler who

is making it big in the city of Gold. Around

January 2017, social media was very busy

when he appeared on SABC News Network

showcasing some of his inventions.

The founder of Mabhendo IDEA Graphix &

Media, Oscar Mabunda is an HDI who

successfully completed his Graphic Design

& Multimedia Degree. With more than nine

(9) years of design experience, he has

acquainted himself with highly innovative

trends of ensuring that all his clients are

one up in their industries. Before taking a

leap of faith by starting his own Design &

Media Company at the age of 21, he spent

few years being mentored under branding

team campaigns for clients such as BMW,

VW, Rand Water and Famous Brands SA

just to mention a few. Apart from the

Bhendo Games & branding, he has done

several Animations for Music Videos which

were aired on big TV shows like Club 808

on eTV.

His company, Mabhendo IDEA Graphix and

Media covers a wide and flexible range of

products; and can be applied to practically

anything you might require. Regular work

includes Graphic Design, Animations,

Branded Stationery, Logo design, Posters,

Flyers, Brochures, Illustrations, Promotional

gifts, Advertising displays, Signage and

Websites among others. Here is what we

have quoted him saying during our chat:

"We are well known for bringing fresh

concepts and Ideas into Life to easily

capture the eye of the audience."

"We are well known for bringing fresh

concepts and Ideas into Life to easily

capture the eye of the audience."

By Godlive Masinge - Image sourced online

Oscar "Sbhendo" Mabunda believes that to

build a progressive nation we all have the

responsibility to empower the less fortunate

who have the potential to contribute positively

to the economy . His beliefs have allowed

him to extend his services to organizations

that do not have sufficient funds to be

recognized as existing brands. He has also

been involved in numerous outreach and

empowerment programs which mainly focus

on the youth and women. With his remarkable

leadership skills he ensures that work is

delivered on time and creates a healthy

environment for both his clients and team to

ensure excellent performance and remarkable

result.

ADVERTISE

HERE

0786019316

info@bgmpmedia.co.za

Issue 02

Timeless Magazine

31
---
TI M ELES S MAG ISSUE 02 OCTOBER 2017

TIMELESS MAG

BENEFITS OF KNOWING MUSIC INDUSTRY DEALS

Record Labels get a bad rap. The collective

reasoning behind this thought process is that

Labels screw artists. Labels overreach, they

take too much & give little in return. Let's set

this theory on fire. "Labels screw you over" is

now a small fraction of reality. Today, if a label

is screwing you over, it's because you let

them. Artists have leverage & in most cases,

this leverage is identified as the ability to

enter into a variety of Label deals. If the Label

deal isn't right - negotiate. If the negotiation

doesn't work, you have the ability to say NO.

Traditional Labels deals have given the industry

a bad rap, but we now live in an age of

non-traditional deals. The number of record

deal opportunities for Artists continues to

grow; & to date, a record deal can fall into

8 categories.

1. STANDARD RECORD DEAL (SRD)

The Standard Record Deal, which is not the

standard today, represents the type of offer

prior to the digital revolution. In remote cases

they're still used, primarily with A-listers. The

focus rests on the recorded music and album

sales. Major Artists that have deals up for renegotiation

have the leverage of keeping recording

components separated. Standard Record

Deal are based on the premise of albums.

The Label will attempt to position itself

into having numerous album option (1 album

+ 4 options; & albums are being defined as

10+ songs per album).

2. 360 DEGREES DEAL

The 360 Degrees Deal which is also known

as Multi Rights Deal set the modern tone for

Label negativity. The 360 Degrees Deal isn't

necessary a bad model. It is exactly what it

sounds like - the Label takes a percentage of

numerous income streams (recording, touring,

merchandising, ancillary activities, fan club,

etc.).The Label justifies this multi-payment

approach due to the fact that if they break an

Artist, they helped create all those income

streams, therefore should be paid from those

income streams accordingly. In a typical signing

scenario (i.e. a development Artists being

offered by a Major Label), the standard first

approach offer will come in the form of a 360

Degrees Deal. Artists in this scenario, know

your points leverage (i.e. sales, social

numbers, touring or merchandising figures,

etc.), as you may be able to reposition into

an alternative type offer.

3. SINGLE(S) DEAL

Pending on your Geographical location, Single(s)

Deals are quickly becoming the new

norm. This model is common within European

territories. Unlike the Standard Record

Deal based upon the concept of albums,

clearly Single(s) Deal are based on singles.

This new mindset is due to a sobering market

reality, singles sell, not albums. When a

label funds full album production, it cost lots

of money. The label will likely push only a

handful of those singles into the market place;

& more so, those single(s) will be the

primary investment breadwinner. Therefore

the additional tracks that the label funded

become an investment bust. Labels know

their figures & they're now structuring deals

around this financial black hole. Instead of

demanding 3 albums, a label will now demand

36 singles. The distinction being, with

36 singles, the label will select what they

feel to be the strongest tracks to promote as

opposed to 3 albums which may only contain

3 solid singles per album (9) out of 36.

4. LICENSING DEAL

By Godlive Masinge

What if you're an Artist that already has a

catalogue in the marketplace? Further, what

if you already have substantial existing

sales? A Licensing deal may be the way to

acquire a Label partner. In short, you can

License the album to a Label, which essentially

means the Artist still owns the copyright.

This is key, the scenario is most applicable

if a previously unsigned Artist (with

large sales) is offered a 360 Degrees Deal

with a Major Label. The Major Label will

either (a) want control of the previous

album(s), or (b) want the previous album(s)

off the market so that it doesn't create

clutter with their album release strategy (i.e.

blackout option). In either scenario, don't

simply give the previous project away, License

it for an income spike & continue to

keep control of the copyright.

Issue 02

Timeless Magazine

32
---
TI M ELES S MAG ISSUE 02 OCTOBER 2017

TIMELESS MAG

www.bgmpmedia.co.za

BGMP Media Group

5. PROFIT SPLIT DEAL

Your band just finished funding an album,

what's next? Do you release it & hope the

release attracts a label, or do you shop the

album prior to releasing & hope a label

picks it up? It's a difficult scenario. If you

self release & the strategy tanks, you'll inevitably

generate dismal sales therefore sacrificing

your chance to attract a label. If you

shop an unreleased album to Labels & they

like the band but not the production, they'll

likely request you to re-enter studio on their

dime (i.e. you're signing a record deal, but

the project your band recently funded becomes

worthless). If you've got a solid unreleased

project & want a label partner,

approach labels under a project split scenario.

Labels love this because their only real

investment is on the marketing side due to

the fact the artist already funded the project.

If the overall production doesn't align with

the label's expectations, they're more likely

to turn a blind eye because they don't have

money at stake. Profit Split allow labels to

evaluate artists purely as opposed to a monetary

filter. If the release works, everyone

share equally. If the project sucks, the label

doesn't care because they had no money at

risk. In most cases, Profit Split also allow for

both sides to evaluate the partnership after

a release, therefore nobody is locked into a

long-term relationship. Short term flexible

geared towards a long term partner is the

key for Artists.

6. EP (EXTENDED PLAY) DEAL

There are growing number of Labels exploring

private EP Deals. Private remaining the

operative word under this type of structure.

Labels will test the market prior to publically

signing an Artist; & this isn't a bad thing for

bands. Under this situation, label X may

offer band X (or band X may request from

label X), an EP Deal. label X will allow band

X to promote the project under the direction

of label X's promotional personnel. This

often means label X will assist band X in

blog placements, write-ups, contacts, etc.

However, label X wants zero public connection

to band X, and band X can't make any

connection to label X. Should the general

listening public embrace artist X or X catches

fire with PR coverage, label X has the luxury

of entering into the picture & making the

announcement that they officially signed band

X. In reality, label X already signed band X via

the terms of the EP Deal but it appear as if

label X beat out all the other Label suitors in a

bidding war once band X got hot. If it turns out

that band X is terrible (i.e. nobody enjoys the

project & they got poor coverage), label X

hasn't been (a) owed any money, nor (b) has

the general public connected band X to label

X - which would inevitably dilute the label's

reputation. Unsigned artists, if you're looking

for a label partner, EP Deals & Profit Splits

remains a safe conversational topic when

approaching labels.

7. ANTI-360 DEGREES DEAL

Regular blog readers & followers know this is

an area of excitement for me & i remain amazed

that Anti-360 Degrees haven't risen to

common knowledge within the industry. Anti-

360 Degrees Deals remain an efficient way to

carve out a variety of partners, especially in

the international arena. Additionally, Anti-360

Degrees Deals allow artists to completely flip

the script of the Multi-Rights Deal. In short,

partners are more strategic based on promotion,

which ultimately allows the artists to

keep musical leverage and artistic control.

8. ARTIST DEAL

Labels aren't the only entities generating 360

Degrees Deals, artists have created their own

version of a 360 Degrees Deals & it's really

smart. In short, artists are signing artists.

Even though the 360 Degrees Deal concept

remains between artist & artist, in most cases

the label partners remain the same. If artist X

signs artist Y; & artist X is signed with label Z,

artist X & artist Y will be with label Z. Unsigned

artists - approaching a label or another

artist about alignment is not uncommon.

Given the options in today's music market,

there is NO excuse to having a bad deal. To

completely ignore the bad deal scenario, take

ownership in your assets. Know your worth &

know your points of leverage. Draw a hard

line in the type partnerships you're willing to

make. If it doesn't fit your progression model,

don't do it.

Issue 02

Timeless Magazine

33
---
TI M ELES S MAG ISSUE 02 OCTOBER 2017

TIMELESS MAG

DJ SBU IS BACK IN BUSINESS

Getting fired from Metro FM seems to

have been a blessing for Dj Sbu,

whose energy drink Mo Faya now

sells a million cans a month. It is a far cry

from his very first sale of 48 cans that he

sold from the boot of his car when he

started out in 2015.

"I sold 24 cans to a guy at an intersection in

Pretoria, and another 24 to a lady in Naturena.

I still have the picture i took of the guy

in Pretoria," he said with a chuckle.

The first million cans were sold in December

2016. Metro FM fired Dj Sbu , real

name Sbusiso Leope, for promoting his

energy drink during a live TV broadcast of

the 2015 Metro FM Music Awards. The

entrepreneur, inspirational speaker and

philanthropist has not been shy to use

ambush marketing tactics to promote his

energy drink. Although this has often landed

him in trouble, it has also recently opened

doors to greater opportunities. In February

2017 he went to Harvard Business College

in Boston, US, to take part in a symposium

on African business and entrepreneurship.

"I am excited about Mo Faya reaching one

million cans a month in sales. It's a milestone.

We are not making profit yet, but the

business is now self-sustainable." Dj Sbu

said.

He said he and other shareholders have

invested more than R6-million into Mo Faya

over the past two years. At 22 years old,

Sbu found himself making lots of money

and, like any other youngster, he splurged

on sports cars and other luxuries. He

sounds a lot wiser now and is more

focused on bigger and better things. He

recently followed on the footsteps of Gareth

Cliff (Cliff Central) & T Bo Touch (Touch HD)

by starting his own online radio station

called Massive Metro.

Away from the limelight, Sbu is a philanthropist

at heart. He and a few friends came up

with a model that would enable them to

make money from doing good works while

promoting leadership, entrepreneurship and

By Godlive Masinge - Image sourced online

Issue 02

Timeless Magazine

34
---
TI M ELES S MAG ISSUE 02 OCTOBER 2017

TIMELESS MAG

CLASSIFIEDS

education. From that idea, the Leadership

2020 seminars were born, followed shortly by

the establishment of the Sbusiso Leope

Education Foundation, which grants 500

bursaries to learners throughout the country

each year.

Dj Sbu has also made made a comeback as

a musician, releasing a house single titled

"Ndingubani" which features Zahara and the

Rabs Vhafuwi of the "Count Your Blessings"

fame.

www.bgmpmedia.co.za

BGMP Media Group

ADVERTISE

HERE

FOR R25

Per Month

BGMP Media Group

078 601 9316

info@bgmpmedia.co.za

Issue 02

Timeless Magazine

35