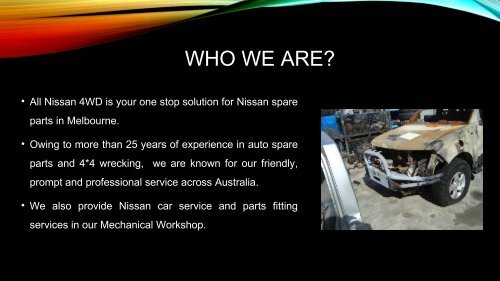 Nissan Car Service in Melbourne - All Nissan 4WD If you require the Nissan car service in Melbourne, All Nissan 4WD is the best place to go. Call us on 03 9580 8581 for more details.
WHO WE ARE?

• All Nissan 4WD is your one stop solution for Nissan spare

parts in Melbourne.

• Owing to more than 25 years of experience in auto spare

parts and 4*4 wrecking, we are known for our friendly,

prompt and professional service across Australia.

• We also provide Nissan car service and parts fitting

services in our Mechanical Workshop.
More magazines by this user