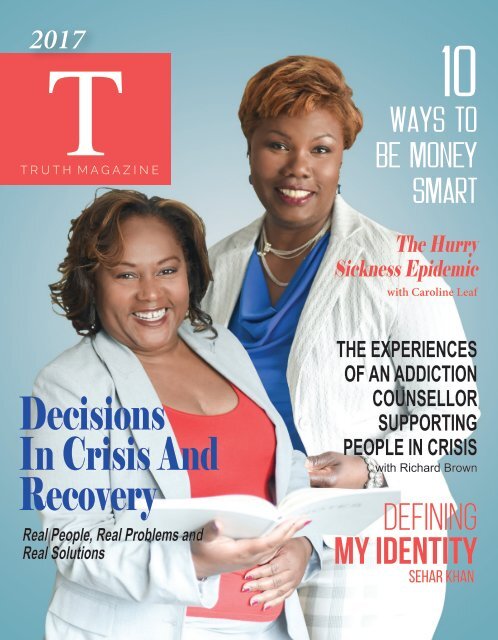 You also want an ePaper? Increase the reach of your titles
YUMPU automatically turns print PDFs into web optimized ePapers that Google loves.
2017

T

T R U T H M A G A Z I N E

10

WAYS TO

BE MONEY

SMART

The Hurry

Sickness Epidemic

with Caroline Leaf

Decisions

In Crisis And

Recovery

Real People, Real Problems and

Real Solutions

THE EXPERIENCES

OF AN ADDICTION

COUNSELLOR

SUPPORTING

PEOPLE IN CRISIS

with Richard Brown

DEFINING

MY IDENTITY

SEHAR KHAN
---
FEATURES

LOOK OUT FOR

OUR CONTRIBUTORS

Welcome

07

18

24

04

Our Local Farmers

The trend to buy local is going strong and

for a good reason. Getting fresh and more

nutritious foods from your farms, offers

a wealth of benefits for both you and the

people in your community.

10

It Was Just A Sketch

Being labelled and recognized as an

entrepreneur was never in my dream book

under 'career' and it didn't just happen either.

It was just a sketch, it was just an idea, but it

sure has come a long way.

16

Defining My Identity

My name defines my heritage. My name

defines who I am. My name is something that

I embrace with pride and not shame. I am

me and I do not apologize for it. My name is

Sehar.

24

Be Your Own Hero

Helene's story is not one of rags to riches like

a Tyler Perry or an Oprah Winfrey, but one of

the everyday average Joe; like you and me.

She is the modern hero, the example we want

to set for future generations to come.

Wellbeing

06 The "Hurry Sickness" Epidemic

08 Fresh & Fruity Smoothie Recipes

09 Kings of Oils

Career

12 Living My Plan A Life

14 How to Really Network

Culture

18 Miracle Ingrediant

19 Chinese Acupuncture

20 Embrace Yourself

Finance

28 Money Smart

29 Tax Tips for Investors

Mindfulness

32 Walk Into Nature

33 Beyond the Blooms

34 Thirteen Reasons Why

35 Thieves of Joy

36 Artisans

EDITOR-IN-CHIEF

Nadine Miller

PUBLISHER & EDITOR

Cheryl-Ann Phillip

PRODUCTION & GRAPHIC DESIGN TEAM

Jessica Chandrathasan

Krisika Suthanthireswaran

Naomi Adowaa

PROOF READERS

Cheryl-Ann Phillip

Herman Blake

Junior Phillip

LAYOUT ARTIST COACH

Keisha Johnson

Sheri Lake, iDezign InsideOut

HAIR STYLIST

Genesis Hair Studio

CONTRIBUTIONS

Bennett Law Chambers

Beverly Johnson Media

Beverly Phillip

Delores Taylor

Eileen Philip

Elaine Beckford

Frankda Florist

Glendora Blake

Greta Duhaney

Joseph and Paola Philip

Judy Hernandez

Lauren Beckford

Marsha Robinson

Pilgrim Feast Tabernacles

Patricia Linton

Paula Brown

Parneet Thethy

Rose Powell

SWAV (Soul with a Vision)

Yanique Brandford

Decisions in crisis and recovery – emotionally, financially,

nutritionally and spiritually; it's all part of the circle of life. Yet

for many it is a roll of the dice, a game of chance as to how

best to cope. We have become so "time-starved" that we

have to schedule "me" breathers to refocus and recalibrate

our GPS. However, all is not lost; there is hope! Read on and

be inspired.

THE NAKED TRUTH GOSPEL

Truth Magazine is produced by The Naked Truth Gospel

(TNTG), a faith-based, not-for-profit organization dedicated

to promoting wholesome thinking and lifestyles, while

empowering and equipping individuals with practical

tools to recalibrate their personal GPS (Guiding Principles for

Success) through publications, workshops, multimedia shows

and other events.

TNTG is the parent of Truth Conference, Real Truth Talk

Show and Arise Conference; a collaboration with Pilgrim

Feast Tabernacles.

TRUTH CONFERENCE

Truth Conference, a wellness weekend getaway offers the

opportunity to withdraw briefly from life's treadmill and

explore practical knowledge and tools for achieving your

"Plan A," as coaches share guiding principles for successful

living.

REAL TRUTH TALK SHOW

Coming soon, Real Truth Talk Show is a new Canadian web

talk series bringing fresh, lively, energetic and meaningful

conversation with guests from different backgrounds and

experiences on lifestyle topics.

30

Crisis

Gone are the days when counseling is just

for "the mentally ill." In spite of lame jokes

and the stigma attached to counseling, many

individuals are seeking professional help to

deal with the trauma of life in a fallen world.

T

32

T R U T H M A G A Z I N E

2 | Truthmagazine

Truthmagazine | 3
---
WELLBEING

Local Farmers

Food that you can trust

The trend to buy local is going

strong and for good reason. Eating

and buying fresh from your local

farmers offers a wealth of benefits

for both you and your community.

The number of farmers markets in

Canada alone has risen significantly

this past decade, making it easier to

find a market near you. Here are a

few reasons why you should visit and

enjoy your nearby farmers markets.

NOURISH YOURSELF

Fruits and vegetables grown by

our local farmers are minimally

processed, as many farmers go

to great lengths to get the most

nutritious foods to you. They do

this using different techniques and

picking produce right before selling

them at the market. On the other

hand, foods found at the grocery

store are typically highly processed

and grown in unconventional ways.

The apple you eat for breakfast was

grown using pesticides, antibiotics,

genetic modification and hormones.

The cabbage used for your salad has

been waxed, irradiated or grassed.

Although fine in small consumption,

these modifications can greatly

impact human health if consumed

regularly.

REAL FOODS AND REAL FLAVORS

Its no surprise that locally grown

foods are some of the freshest and

tastiest produce you'll ever come

across. Growing locally allows

farmers to bring the freshest foods

to your market by cutting down longdistance

shipping. This also means

that there are no ripening chemicals

added before shelving, and no sitting

in storage rooms for weeks on end.

TAKE CARE OF YOUR EARTH

Shipping foods from around the

world uses large amounts of

natural resources, specifically

fossil fuels. Agriculture intended

for mass-consumption also does

not use sustainable methods and

contribute to water, land and air

pollution with toxic agricultural byproducts.

Conventional farms are

widely known to raise their animals

in inhumane conditions. Spare

yourself from ingesting hormone and

antibiotic filled animal products and

enjoy meats and dairy from animals

raised on grassy fields and in fresh

air.

SUPPORT FAMILY FARMERS

Purchasing from local family farms

provides them with valuable capital

needed to continue operating and

producing for your community. By

supporting local farmers you are not

only helping the family's that run

them but also the community you

grew up in.

FIND FACES

Put a face on your food and known

that you can trust where it comes

from. By purchasing your foods

directly from the people who grew

it, you can have more certainty that

your food comes from the best. You

also have the opportunity to get to

know how your foods were made and

know the people in your community

better.

Krisika Suthan

4 | Truthmagazine

Truthmagazine | 5
---
WELLBEING

WELLBEING

The "Hurry Sickness" Epidemic

Health and family comes first

I do understand that many of us live incredibly busy lives.

Indeed, I would go so far as to say that many of us have what

I call "toxic schedules:" rest is a luxury we frequently yearn

for. We essentially live under the "Directorate of Time:"

the clock has become our master. Indeed, we can fall into

the trap of living under an unnecessary sense of urgency,

which can put us in chronic toxic stress and make us ill—

and give us terrible indigestion. Is it any wonder more and

more of us suffer from discomforting stomach ailments?

This "hurry sickness" now drives a significant part of our

daily lives, challenging the value of a good, homemade

meal with fresh, real food ingredients. Sitting in front

of the television and watching in-depth discussions on

famous break-ups with your microwave meal in hand

now seems like a much better deal for many of us.

Certainly, I am taking some liberty with my caricature,

yet if we are honest with ourselves there is more than

a little bit of truth in the picture I have painted. It never

ceases to amaze me that more people know about the

latest hair color of a celebrity than where their food

comes from. And yet healthy food is essential for life!

Talking about the nonconscious and conscious mind in

terms of food marketing necessitates a discussion about

television, and how it plays into poor food and eating

habits. First, I am in no way against television in general. I

have my own television show, and my son Jeffrey, loves film

production and screenwriting. I myself watch television

(yes, I am a Downton Abbey!), and I believe that all forms

of media can be wonderful sources of relaxation, interand

cross-cultural communication, as well as learning.

Let excessive television viewing is one of the defining

features of our modern culture, and correlates with

mental and bodily ill-health. For example, a study

of more than two thousand toddlers showed that

watching TV between the ages of one and three

was linked to attention span issues and a decreased

ability to control impulses later on in childhood.

Every hour spent watching TV increased the toddlers' chance

of focus and attention problems by a frightening 10%.

A 2015 study published in the journal Infant Behavior

and Development supports the findings of this earlier

paper, putting this correlation in startling terms:

"cognitive, language, and motor delays in young

children were significantly associated with how much

time they spent viewing television." Similar correlations

between viewing time and mental and physical wellbeing

have been found for both adolescents and adults.

How is this risk related to our eating habits in particular?

In light of the fact that governmental bodies and food

conglomerates use the television to market their foodlike

products to both adults and children, the Modern

American Diet (MAD) food diet is being wired into the

non-conscious minds of every individual who is not aware

of its influence, including toddlers. We merge with our

environments because of the plasticity of our brains, and

environmental influences can become our new norm if

we are not guarding our thoughts. Wired in mindsets are

learned mindsets, and may feel normal because of familiarity,

even if the mindset or habit is essentially unhealthy.

Dr. Caroline Leaf

6 | Truthmagazine

Truthmagazine | 7
---
WELLBEING

Fresh &

Fruity

Smoothies to Start your Day

King of Oils

Frankincense

ORANGE DREAMSICLE

1 navel orange, peeled

¼ cup fat-free half-and-half or fat-free

yogurt

2 Tbsp frozen orange juice concentrate

¼ tsp vanilla extract

4 ice cubes

HEALTHY DAREDEVIL

2 Tbsp flaxmeal

1 Tbsp unsweetened cocoa powder

1 Tbsp natural peanut butter

1 scoop chocolate whey proteinpowder

Water as needed

BANANA GIN CRAZE

1 banana, sliced

¾ c (6 oz) vanilla yogurt

1 Tbsp honey

½ tsp freshly grated ginger

BERRY GOODNESS

1½ cup chopped strawberries

1 cup blueberries

½ cup raspberries

2 Tbsp honey

1 tsp fresh lemon juice

½ cup ice cubes

MANGO MADNESS

1 can (8 oz) juice-packed pineapple chunks

1 cup fat-free frozen vanilla yogurt

1 lg ripe mango, peeled and chopped

1 ripe banana, sliced

Crushed ice as needed

DREAMY GREEN SMOOTHIE

1 cup seedless green grapes

1 cup packed baby spinach

1/2 cup ice

1/4 cup coconut milk

Recipes from Menshealth.com & Prevention.com

It you asked me to pick one essential oil for my medicine

cabinet I would say unequivically Frankincense. Known as

the "king of oils" Frankincense is one of the most prized

and precious essential oils and has been harvested for

thousands of years. In the New Testament, the Babylonians

and Assyrians would burn Frankincense in religious

ceremonies and the ancient Egyptians used Frankincense

resin for everything from perfume to ointments for

soothing skin.

The health benefits of Frankincense Essential Oils can

be attributed to its anti-inflammatory, antidepressant,

antiseptic and restorative properties. There are many uses

for Frankincense. It has been traditionally used to help

reduce the appearance of imperfections and rejuvenate

the skin. Used in aromatherapy it can help reduce pain and

inflammation, boost the immune system, provide cellular

support and can help relieve chronic stress and anxiety.

Frankincense has a woody, earthy and spicy aroma which

is very calming and relaxing. Add a few drop to a diffuser or

or apply to the bottoms of feet to help promote relaxation.

You can apply Frankincense topically to skin to help reduce

tension, discomfort or reduce inflammation but be sure to

dilute with a carrier oil such as fractionated coconut oil,

olive oil, oralmond oil to test for skin sensitivity (dilute 2

drops of Frankincense oil with 2 tablespoons of carrier oil

for adult application).

Frankincense comes in many grades so be sure to use a

pure essential oil, and not oils that may contain synthetic

fillers that won't provide the desired health benefits.

Feel free to contact me for more information and I

would be happy to share the many uses and benefits of

Frankincense, and my DIY creams and scrubs using this

powerful, versatile oil.

Diana Leshuk

8 | Truthmagazine

Truthmagazine | 9
---
CAREER

It was Just a Sketch

The Development of Fidget Toys ltd.

Being labelled and recognized as an

entrepreneur was never in my dream book

under 'career' and it didn't just happen either.

Every experience I had until the age of 22

strengthened the necessary mindset and

personality traits to become the entrepreneur

I am today; that is, the social entrepreneur

I'm described as.

At the age of 10, I remember being in the

principal's office for the first time. I'm no

trouble maker but that was the result of

yelling at a girl who threw a dodgeball at my

friend on purpose while calling her names.

All I was asking for was an apology! I was

sobbing as I explained myself to Mr. McGee

and he asked both me and the other girl to

apologize to one another and be friends.

Reflecting on that moment, I realized how

much of a voice I had when it came to seeing

others hurt. I knew if the environment

pushed me to that point I would not be

afraid of even a potential 'expulsion'. I would

speak up and fight for respect.

At the age of 14, I began to learn more about

my culture, understand my religious views

and being vegetarian which was a part of

it. Vegetarianism was practiced in my home

and I soon realized that it was common for

many of my peers at my middle school. The

problem here was that our cafeteria did not

have a vegetarian option for the students

other than fries. The meat eaters would

have pepperoni pizzas, beef patties, and

poutines with beef gravy.

I had then asked my principal, Ms.Dei-Moah

if I could volunteer at the cafeteria during

the lunch period to help with ushering, and

serving. I used my volunteer hours to learn

the system; the system of who prepared the

food, how menu decisions were made, and

where I could get involved.

suggested pizza bagels; both pepperoni and

just cheese. I began to describe how there

were days out of the week that I didn't eat

lunch, not because I didn't want to nor have

the money to purchase lunch but I couldn't

eat it because of my dietary restrictions.

It was the matter of raising a concern and

sharing my story that then brought pizza

bagels; simple, delicious, and my vegetarian

friends appreciated new menu. Now to this

moment, I realize how much acceptance

and awareness of differences are important

to me.

These moments, along with all of my

experiences built key values within my

mindset that have made making a decision

to be an entrepreneur the fulfilling journey

it is today. At the age of 26 (the age I write

this article) because I paid attention to those

I cared about, I have now become the CEO

and founder of Fidget Toys, a startup that

creates tools for children with autism.

It was just a sketch, it was just an idea, but

it sure has come a long way with all the

support, awareness, and resilience in fighting

to change the learning environments for the

special needs community versus labelling

them and dismissing their abilities.

I have learned that entrepreneurship is

never a chosen path; it becomes the path

that chooses you. I makes you align your true

passion and purpose with the morals and

values which are the result of your emotions

and innocent reactions in situations; from

bullies and their dodgeball to cheese pizza

bagels!

Renish Kamal

Founder of Fidget Toys

As I reported to Ms.Dei-Moah about my

experience helping out at the cafeteria, I

10 | Truthmagazine

Truthmagazine | 11
---
CAREER

Living My Plan A

A Dream Life Turned Reality

Suzan Sahney & Harpreet Sahney

Harpreet who earned a MBA in Human Resources was

working as a senior manager at a retail public trading company.

Although he did extremely well on the job, he had a nagging

desire to be entrepreneurial.

Descending from a business class family in India may have

whetted his appetite for enterprise; however, the desire to

command his own time was not just about profits and financial

freedom. He was after a bigger legacy.

"I prayed for the opportunity to own my own company so that

I could be free to impact more people," said the former Sikh

turn Christian. You could say God took his request seriously,

for not long after, "someone gave me a prophetic word to

launch out and god would multiply," he shared.

Like moses, jonah and maybe most of us today, harpreet was

awed by the prospect but tentative. He didn't have the start–

up capital, his wife was on maternity leave at the time and his

friends and family scoffed, 'how will you pay your bills?'

"I sat on that word for four months!" He admitted.

Simultaneously, his once comfortable job spiralled into

gratuitous unease. "One day it got so bad that i called my wife

and she said 'it's time to leave'. I called my spiritual mom and

she said 'maybe it's time to leave'. I then called my sister-inlaw

who offered the same advice."

Duly convinced, harpreet registered mobile hub without a

glitch and started operating out of the trunk of his car. He

went door-to-door selling mobile phones and accessories.

As he did this, he would get the opportunity to pray for the

customers, confirming the mandate that he also made the

tagline of the business 'connecting to the ultimate source'.

Applying much diligence and the foundational principles of

good stewardship that he learned from his dad in india, along

with a christ-like compassion to listen to his clients and pray

for their needs, resulted in uncanny favour.

After praying for one of his customers through a difficult

season the customer made him a proposition that propelled

harpreet's business to another level. From the sales of his

car trunk business he bought the cell phone portfolio of this

customer's business and transitioned mobile hub into its first

store front.

Harpreet infused the store with worship music. "I prayed daily,

lord give me souls, give me people i can minister to and share

my story. For seven months we did not have a sign on the

building because we could not afford it, but I cannot tell you

how many people popped into the store and would say 'I was

drawn here or I was driving by or walking by and something

told me to come in," he said. More amazing is that previous

businesses left that same location due to low customer traffic.

It's been five years since Harpreet took the first step of faith

towards business and marketplace ministry. Mobile Hub has

expanded its service offerings and has a loyal and growing

customer base. Harpreet holds weekly prayer meetings at

the store for the customers who at first come for mobile or

computer needs and as he says "often find a connection to

the ultimate source."

Reflecting on the journey he said, "I've stayed true to my

focus to win souls. I said Lord If you give me the finances I will

build the kingdom, and he's given me so much favour and I've

seen so many customers restored."

Keisha Johnson

"

Life is an adventure,

recalibrating your

personal GPS is a part

of the journey, living

your desired life will

no longer be just a

dream.

" Naomi Adowaa

12 | Truthmagazine
---
CAREER

How to

Really Network

A Guide to Grow your Connections and Rocket-Start your Brand

Everyone understands networking. It's all about

connecting with others so that you have a base of

valuable people with whom you can do business

with or can help you in your career.

People believe you need to be an extrovert with

such an outgoing personality that others will want

to hire you or do business with you. That you have

to have such a dynamic personality that everyone

wants to be part of your circle. Think of the Zig

Ziglar type. I'd like you to think of networking in a

different way.

In life, many of us are not the life of the party, or

the centre of everyone's universe. We may be shy

or introverted. But that doesn't mean you can't

network and be successful. If you are to develop

your personal brand, you need to think like a brand.

Good strong brands aren't always the most lavish or in

your face. Good brands (like your favourite car or your

favourite drink) don't try to sell you once, or look for what

they can extract out of you in that quick exchange. Brands

want an ongoing lasting relationship. To do that, they try

to form a long-term relationship. They want you to share

your experience with your friends. They want you to be

the first thing you think of when you are shopping. They

want you as a customer for life.

Let me share an insight from brands that can help you

with networking. It's one simple thought: It's not about

what people can do for you, it's about the benefit you can

give to others.

First, understand there are two types of relationships:

Transactional ones, that are often based on price and

meaningful relationships, that are based on value.

The first offers little loyalty. It's fleeting. People who are

your customers for this reason will move at the drop of

a dollar. And people, who are only in your network for

your benefit, are like a dry well that you try to draw from.

Customers and clients with whom you have a meaningful

relationship will endeavour to help you, to do business

with you, or introduce you to people who can assist you.

So how do you get to that deeper relationship? By building

social capital.

Building social capital means contributing and helping

others in their goals. It means creating a network where

people want to help you because you've helped them.

When I launched my new company last fall, I realized this.

I had enough social capital to quickly establish a client

base that got me going from day one. I was fortunate. But

it was based on the network I had built up over time.

Think of your favourite brand again. You have a high level of

loyalty towards it. That's the beauty of a brand relationship.

If it's a true relationship and not a transactional one, the

bond between customer and brand can be so strong, they

won't give up on it, no matter what. Be that loved brand.

Forge relationships.

So the next time you are networking or meeting people,

don't just hand them your business card in hopes that

you can sell them x (insert your product/service here).

Find out about their interests and business. Be genuinely

interested and see how you might be able to help them

with their pursuits. They may not provide you business.

But the goal is to build up goodwill and capital that can

assist you later in the form of a referral, an introduction or

even information. All valuable in building of network and

your business success.

Create meaning and you'll find it's really not important to

be like Zig.

While your aim may be to gain a customer for life, the

goal is more to create a foundation for that type of

relationship. Truth is, it may not come back to help you,

but you've helped others. And isn't that our objective in

life? To have friendships and relationships of permanence?

ADDITIONAL THINGS TO CONSIDER

Brand Strategy - A brand without a strategy and a story is

just a logo. Don't be just a logo.

Content Marketing - Everyone wants a deeper relationship

with their customers. The right content can forge that.

Marketing of Content - It's not enough to have a great

idea and execution. Whether it's social media, PR or

traditional media, what is the distribution strategy to build

your audience?

Insight - To gain insight into your consumer, treat data like

a lamp post. Don't just lean on it for support. Use it to

illuminate.

Idea - How is what you've created different? All it takes

one thing. One can be powerful.

Henry Wong

Of Vyoo

14 | Truthmagazine

Truthmagazine | 15
---
CULTURE

Defining My Identity

SEHAR KHAN

My name is the five-lettered burden you feel every time you need to speak to me.

It is the slaughtered syllables lost within the realms of your English pronunciation.

It is my identity, my culture and my heritage.

It is the way I would try to explain and simplify the five letters into two syllables that

sound a little like the waters that lap the sand ever so gently, like "SEA".

Then it is the black locks that tumble down her back in waves so beautiful, like

"HAIR"

Something like the presence of a peaceful day in a blood ridden world.

Except the way you utter it, like the mockery of something you don't understand

sitting at the tip of your tongue.

Can you, see the beauty in the way my father would elegantly wave his hand as he

wrote it out in Arabic calligraphy.

All swirls and curls etched into souls.

Can you, hear the way my mother yells for me, echoes bounce through souls, as the

elegance of the 'S' connects with the 'E' ever so gently, and the 'H' spoken soft like

hushed voices.

The 'A' barely audible and the 'R' bringing it to a swift yet rolling end as her tongue

hits the hood of her mouth.

My identity has faltered time and time again.

11 years in school, I have been told time and time again to "find yourself", "find your

identity", after all it is the only way people will take you seriously.

For 11 years I have hidden behind a veil so thick, the blanket of ignorance thrown

over our heads, I became dumb, deaf and blind to the ever so subtle mockery of my

name.

For a time, I had been afraid to correct the way it flows out of your mouth, afraid

you would judge me, look at me differently.

But today, I am different.

I am other than you.

I am the lush green fields of my father's village and the busy streets of my mother's

city.

I am my proud Pakistani heritage that no longer chains me down.

I am the free 5am sunrise that beacons you to pray.

Take me as I am or leave me as I stand, but today I will no longer simplify the five

letters of my name, and no, you cannot call me some obscure nickname that meets

your standards and sounds like a mythical sea creature.

We were given two ears and one mouth;

This serves a purpose to teach us to listen harder, and maybe you too could connect

syllables so beautiful.

Sehar.

16 | Truthmagazine

Truthmagazine | 17
---
CULTURE

WHAT IS IT USED FOR?

Stress and anxiety

Depression

Insomnia

Post-traumatic stress disorder

Migranes

Chronic low back pain

Chronic degeneratic diseases

Rheumatoid arthristis

Nausea

Vomitting

Stroke rehabilitation

Asthma & respitory conditions

Reducing fatigue & addictions

Improves overall wellbeing

Fenugreek

Miracle Ingredient

Fenugreek is a multi-purpose herb, native to Southern

Europe and Asia. It has been used for thousands of years

in many cultures to flavour food and improve health. In the

recent years, Fenugreek has gained attention as a herbal

supplement with diverse benefits.

Fenugreek is a plant with light green leaves, small flowers

and pods containing golden brown seeds. The tender

leaves can be added to salads, it can also be dried and

used as herbs. The seeds can be grounded into a spice,

which is a favourite ingredient in Indian curries, but it can

add a pizzazz to any bland dish.

Fenugreek has various health benefits because it has rich

minerals, organic compounds, antioxidants and vitamins

and is packed with beneficial nutrients like iron, magnesium

and vitamin B6 and dietary fiber.

Jessica Chandrathasan

Web Source: Organicfacts & Dr.Axe

BENEFITS

Improves digestive system

Reduces cholesterol levels

Reduces inflammation

Helps control diabetes

Improves kidney function

Chinese Acupuncture

Health and Vitality through Balanced Energy

Acupuncture improves the body's functions and promotes

the natural self-healing process by stimulating specific

anatomic sites—commonly referred to as acupuncture points,

or acupoints. The most common method used to stimulate

acupoints is the insertion of fine, sterile needles into the skin.

Pressure, heat, or electrical stimulation may further enhance

the effects. Other acupoint stimulation techniques include:

manual massage, moxibustion or heat therapy, cupping, and

the application of topical herbal medicines and liniments.

ACUPUNTURE IN CHINESE MEDICINE

Traditional Chinese Medicine is based on an ancient

philosophy that describes the universe, and the body, in

terms of two opposing forces: yin and yang. When these

forces are in balance, the body is healthy. Energy, called "qi"

(pronounced "chee") flows along specific pathways, called

meridians, throughout the body. This constant flow of energy

keeps the yin and yang forces balanced. However, if the

flow of energy gets blocked, like water getting stuck behind

a dam, the disruption can lead to pain, lack of function, or

illness. Acupuncture therapy can release blocked qi in the

body and stimulate function, evoking the body's natural

healing response through various physiological systems.

Modern research has demonstrated acupuncture's effects

on the nervous system, endocrine and immune systems,

cardiovascular system, and digestive system. By stimulating

the body's various systems, acupuncture can help to resolve

pain; improve: sleep, digestive function and sense of wellbeing.

ACUPUNTURE FOR EMOTIONAL WELLBEING

Acupuncture is a natural therapy that addresses the whole

person; it is not only used for physical health concerns, but

also very effective with emotional concerns. Acupuncturists

focus on finding the energy imbalance, so that they can select

special points to harmonize the body, mind and spirit.

Research shows that acupuncture treatment stimulate the

releasing of endogenous endorphins to relieve pain. It can

also regulate serotonin levels in the brain to calm and uplift

mood. Studies also indicate that acupuncture relieves stress

by encouraging the central nervous system to shift out of

sympathetic "fight or flight" mode, into parasympathetic "rest

and relax" mode. Most people feel very relaxed during and

after treatment.

Elfrida Korini

Of Korini's Pain Management Clinic

18 | Truthmagazine

Truthmagazine | 19
---
Your culture is a part of who you are so,

Embrace Yourself.

20 | Truthmagazine

Truthmagazine | 21
---
IMAGINE - DESIGN - CREATE - ACHIEVE

SAVE the DATE

| September 14th-16th, 2018 | 416-628-0991 |

| Calling All Truth Seekers |

| Register @ www.truthconference.ca |

Chartered Proffesional Accountants

WWW.GNMGENESIS.COM

416-628-0991 (OFFICE) | 647-785-6540 (MOBILE)

Looking for a

healthy lifestyle?

SENOUVO

CONSULTING

YONIN SENOUVO, MANAGING PARTNER

AND BUSINESS ADVISOR

Investment in Fixed Assets

Cash Flow Management

Vendor Payment Scheduling

Business Strategy

Find out what today's

beauty, fitness and

health professionals

know about the

Arbonne Advantage

CALL US NOW AT (647) - 685-1650 OR EMAIL US AT YONIN@SENOUVOCONSULTING.CA

http://bevjohnson.arbonne.com
---
FINANCE

CONTINUE READING ON PAGE 26

Be Your Own Hero

Helene's Story

Helene grew up on a small island

in the Caribbean from very humble

beginnings. Her mother passed

away when she was 12, after being

bedridden for years and her father

shortly after, leaving her behind

to raise herself and her three male

siblings.

Growing up in a small village on

an island in the 1940s wasn't easy

by any means. The little things we

take for granted like running water

and local grocery stores were not

available to Helene who bore the

responsibility of taking care of her

family. Armed with nothing not even

a high school diploma, she worked

a number of small jobs to help put

food on the table.

She taught herself to cook, clean

and learned life skills by mimicking

what little memories she had of

her mother while she was still alive.

Helene eventually taught herself to

sew, which is what sustained her

and her family through her teenage

years until she left for Canada

to start a life of her own but not

before experiencing a few more life

changing detours.

At the age of 17, Helene was

sexually assaulted by a family friend

resulting in the birth of her first born

daughter. With no mother to guide

her and with little or no input from

her extended family, she had to

figure things out for herself. She had

a baby girl to think about now.

At the age of 19, an opportunity

presented itself that allowed her

to travel to Canada as a nanny/

housekeeper. Leaving her then

two-year-old daughter in the care

of relatives, Helene embarked on

a journey into the unknown, with

$50.00 in hand, and a determination

to succeed. With the money she

earned as a housekeeper, she was

able to support her daughter back

home, and saved up enough to attend

night school. Three years later, her

daughter joined her in Canada.

Helene spent the next few years

focused on getting ahead but got

involved in another relationship

which produced her second child, a

boy. That relationship barely got off

the ground before she found herself

fleeing from abuse to both her and

her children.

Undaunted, with two young

children to support, Helene moved

into subsidized housing, and

completed her education through

night school. She subsequently

obtained an entry level job at one of

the top hospitals in the city. Not a

penny was wasted. All her clothing

as well as that of her children was

hand-sewn. She was always on the

hunt for bargains.

Having no one to guide her through

life she took bits and pieces of advice

from employers and coworkers,

and began to purchase bonds and

RRSP's through the company payroll

plan. She supplemented her income

by sewing in the evenings. Over

time, she saved enough for a down

payment on a small condo.

Helene enjoyed a long standing

career in the hospital starting from

the absolute bottom and working ----

Continue reading on page 26...

Cityscape from freepik

Artwork by Yanique Brandford

24 | Truthmagazine

Truthmagazine | 25
---
FINANCE

"

cards

It is not about the

you are dealt

Our distinguished Newborn Specialists provide excellent

night care service for your baby.

We carefully match our newborn specialist to your

family's need to foster a secure environment of trust and

compassion, essential to building a nurturing relationship.

but how you play them that matters.

her way up. At the time of her retirement at the age of

70, she had been running several clinics at the hospital for

many years, working with teams of doctors. She became a

valued and well respected colleague.

Today her kids are grown with children of their own, all

educated and living successful lives. She owns a little condo

on the east side and was able to use some of her savings to

assist her children to purchase homes of their own.

Helene's story is not one of rags to riches like a Tyler Perry

or an Oprah Winfrey, but one of the everyday average Joe;

like you and me. She had a million opportunities to give

up and give in and to settle for mediocracy but that wasn't

enough for her or her children. She was always mindful

of who was looking to her as an example, and always felt

that education was the best investment in the future. After

all, she managed to support herself and her family on the

"

basis of her own education – and, of course, a very large

measure of hard work.

This is the modern day hero, the example that we want to

set for our children. It's not about the cards you're dealt, but

how you play them that matters. In life the cards you get are

the cards you play.

Some get a great hand: success, a happy family, success in

business, health and wealth, and very few off days. Others

are born into poverty like Helene, a broken family, no family

at all, child abuse; nothing ever goes quite right for them.

The important thing is that it does no good to complain

about what you've been given, or allow those circumstances

to determine your future. You can take your life by the

horns, so to speak, and determine the path for your future.

No matter what hand we are dealt we can still shoot for the

For service contact us at:

T: 416-916-0042

F: 416-916-0215

E-mail: info@zealousbabycare.com

www.zealousbabycare.com

Stephanie Lake

26 | Truthmagazine
---
FINANCE

BMO Nesbitt Burns

Control Your Money

10 Tips to make Money work for You

HAVE FINANCIAL GOALS

You can do this by thinking more deeply about the future

and what you want to see happen with your money in 3 to

5 years.

HAVE A BUDGET AND STICK TO IT

Do you have a plan for what you want to spend each

month? You will need to track your expenses to know for

sure if you have stuck to your spending plan.

MONITOR YOUR GOALS REGULARLY

PROTECT YOUR CREDIT

You can check your credit score at www.CreditKarma.com.

A score of less than 650 means you will have difficulty

borrowing at reasonable interest rates.

AVOID HIGH INTEREST RATE DEBT

Most people keep a balance on their credit card where

interest rates average 19 percent or more. You are better

off to transfer credit card debt to a line of credit where

interests rates average 7 percent of less (as long as you have

good credit). This will save you thousands in interest costs.

This quick, practical read, focused on various aspects of later life

stages for single women, has enough common sense advice to

benefit single men too.

— Mark Venning, Change Rangers

If you are over 45, single by choice or chance, living in Canada

today and are examining the options for your future, this book is

for you. The path you take depends on your preparedness, from

where you will live to how best to cope with aging parents and how

you will address your own financial future.

This book will assist you in designing a life plan that

encompasses not only financial goals but also your other life

priorities—such as career, relationship and other personal goals.

Read on to find your own path to a happy, healthy and financially

stable longer life.

Jill O'Donnell, BA, RN, has been a trailblazer and trendsetter in

the field of eldercare management in Canada since 1981. She is the

Director of Jill Cares, a division of SPARK DIRECT HEALTH. Jill

is co-author of The Canadian Retirement Guide and The Retirement

Guide (USA) and a memoir, Searching for Robert.Finding Andrew.

She is a well-known presenter at international, national, regional

and local conferences on aging.

Jackie Porter, BA, CFP is a financial advisor, helping families,

businesses and professionals for over 19 years. She is a featured

speaker and advocate for numerous corporate, non-profit and

charitable organizations.

INSOMNIAC PRESS

Canada $19.95 • U.K. £16.95 • U.S.A. $19.95

Cover design by Mike O'Connor • Cover image by iStockphoto.com

PAY YOURSELF FIRST

Set up a monthly deposit plan where funds for your savings

goals are withdrawn directly from your bank account before

the funds can be spent.

LEARN HOW TO MAKE MONEY WORK FOR YOU

Think of your dollars as employees working on your

behalf. How can you get more mileage? A travel rewards

plan, income from your investments, or rental income are

examples of using money to make money.

BE MINDFUL OF THE TAX YOU PAY

SINGLE BY CHOICE

OR CHANCE

The smart woman's guide

to living longer, better

Jill O'Donnell & Jackie Porter

HAVE A LONG TERM APPROACH TO INVESTING

Have a 3/ 5 and 10 year investment plan so that funds can

invested in the right products where you can make the most

return based on your time horizon.

DOCUMENT YOUR WISHES AND CASHFLOW

You need to set up a will and power of attorney to address

who you want to look after your children and assets and to

name who will care for you should you pass away or lose

your ability to function.

O'Donnell & Porter

SINGLE BY CHOICE OR CHANCE

INSOMNIAC PRESS

To help (Canadian women over 45) plan for a fulfilling life on their own,

authors Jill O'Donnell and Jackie Porter give advice on how to age

gracefully. The book is full of suggestions, tips and ideas, delivered in a

friendly, non-judgemental way.

— Ellen Roseman, personal finance writer and continuing education

instructor.

Jackie Porter, Co-Author of

Single By Choice or By Chance

Two Quick Tax Tips

for Investors

As a good citizen, you should pay your taxes, but not more than you are legally required

to do. Knowing how tax rules affect your investments is essential to maximizing your

after-tax return. In addition, keeping up to date on changes to the tax rules ensures that

you take advantage of all the tax savings available to Canadian-resident individuals.

Here are two quick tips that may be applicable to your situation:

Reduce tax with incomesplitting

Under our tax system, the more you

earn, the more you pay in income taxes

on incremental dollars earned. With

this in mind, it makes sense to spread

income among family members who are

taxed at lower marginal rates in order to

lower your family's overall tax burden,

subject to the income attribution rules.

Some of the more common incomesplitting

strategies you may want to

discuss with your tax advisor include:

· An interest-bearing loan at the

prescribed interest rate to family

members in a lower tax bracket.

This strategy is particularly attractive

because rates are currently at

historically low levels;

· Pension income splitting between

spouses (or common law partners);

· Gifts to adult children or other adult

family members (other than a spouse

or common-law partner); and

· Gifts to a minor child – directly or

through a trust structure

Use borrowed funds to invest

Generally, interest expenses are

deductible for tax purposes if the

funds are borrowed for the purpose of

earning income from a business or an

investment vehicle. Therefore, consider

paying down non-deductible personal

debts (such as RRSP loans, mortgages

on home purchases and credit

card balances) before paying down

deductible investment related debt.

Let's connect

Cameron Murphy, BBA (Hons), CIM

Investment Advisor

BMO Nesbitt Burns

905-681-2829

cameron.murphy@nbpcd.com

www.cameronmurphy.ca

BMO Nesbitt Burns Inc. provides this commentary to clients for informational purposes only. The information contained herein is based on sources that we believe to be reliable, but is not guaranteed by us, may

be incomplete or may change without notice. The comments included in this document are general in nature, and professional advice regarding an individual's particular position should be obtained. The comments

included in the publication are not intended to be a definitive analysis of tax law. The comments contained herein are general in nature and professional advice regarding an individual's particular tax position should

be attained in respect of any person's specific circumstances. Please note that your Investment Advisor is not a tax specialist and cannot provide tax advice. If you have any tax related questions or concerns, we

recommend that you consult with a tax specialist. BMO Wealth Management is the brand name for a business group consisting of Bank of Montreal and certain of its affiliates, including BMO Nesbitt Burns Inc.,

in providing wealth management products and services. ® "BMO (M-bar roundel symbol)" is a registered trade-mark of Bank of Montreal, used under licence. ® "Nesbitt Burns" is a registered trade-mark of

BMO Nesbitt Burns Inc. BMO Nesbitt Burns Inc. is a wholly-owned subsidiary of Bank of Montreal. If you are already a client of BMO Nesbitt Burns, please contact your Investment Advisor for more information.

BMO Nesbitt Burns Inc. is a Member – Canadian Investor Protection Fund. Member of the Investment Industry Regulatory Organization of Canada.

28 | Truthmagazine

Truthmagazine | 29
---
MINDFULNESS

CONTINUE READING ON PAGE 39

Crisis

The Experiences of an Addiction Counsellor - Richard Brown

Gone are the days when counseling is

just for "the mentally ill." In spite of lame

jokes and a dying, but lingering, stigma

sometimes attached to counseling,

many individuals and families are

seeking professional help to deal with

the trauma of life in a fallen world.

People typically enter counseling

because they are hurting, frustrated,

or feeling overwhelmed by a problem.

In most cases, difficult circumstances

drive the felt need for counseling. In my

experience as an addiction counsellor,

most of these circumstances are based

in wounded relationships.

The decision to seek treatment for

addiction is no easy one, and requires

a great deal of trust between counselee

and counsellor. Through my years of

offering counsel and life coaching I

have come to realize how critical it is

for counsellors to take care to create a

strong bond with their clients. This bond

is known as a therapeutic alliance.

A therapeutic alliance is the trust clients

feel with their counsellor, allowing them

to feel vulnerable sorting out their

problems and work together effectively.

Strong alliances like this ensure

that clients view their counsellor as

trustworthy, and know that their best

interests are on the forefront. This

allows counsellor and Client to work

together even during tribulation. The

believer's relationship with Jesus Christ

can also be viewed in the same light, as

a "therapeutic alliance."

This alliance, whether counselee or

believer is the indispensable foundation

in recovering from any crisis presented.

While this trust takes time to develop,

patients should eventually feel

comfortable speaking freely during

sessions, feel relief after an appointment,

and feel a desire to go back. Therapeutic

alliances are a key factor to addiction

recovery. By creating an environment

where patients feel comfortable and

welcome discussing their hardships,

counselors can better help their clients

on the road to recovery.

In my role as an addiction counsellor I

build Strong therapeutic alliances by

what I term as the 3 'A's';

Authenticity - Ensuring clients know I

am interested and committed to their

well being

Awareness - Attentiveness during

sessions

Activity – Every session, conversation

or disclosure is taking them from where

they are to where they desire to be.

The goal of counseling will often vary,

and experienced counselors will tailor

their approaches to their clients' needs.

But, it's important for us to understand

that different schools of therapy have

different end goals.

Continue reading on page 39...

"

In my experience,

some clients are

prone to wanting to

accomplish too much

in therapy with too

little time

"

Richard Brown

30 | Truthmagazine

Truthmagazine | 31
---
MINDFULNESS

LILACS

Walk Into Nature

beyond

the blooms

Flowers speak volumes and can be used

for every event, emotion, or situation in

our lives. From birth to death, our life's

history, through various occasions whether

it be weddings, sicknesses or love, flowers

are used for everything that we can imagine.

Glendora Blake

Lilacs are a symbol of

confidence. Each lilac has its

unique meanings. The white lilac

represents youthful innocence

and purity and the violet

symbolizes spirituality.

BLUE POPPIES

The Poppy is one of the most

widely used symbolic flower

around the world. The blue

poppy is tied to imagination,

luxury and success

Nature is our mother, nurturing us freely and without fuss. Take, for example,

a simple walk in a city park or in a provincial park. The physical walk may be

simple, but the mental activity of paying attention to the shapes, textures, colours,

and sounds of the surrounding environment results in a reduction in blood pressure.

This is a quiet, hidden form of physical wellness. That same walk can promote

mental wellness by reducing or eliminating anxiety. When we immerse ourselves in

nature, the awesome designs, shapes, and colours can leave us inwardly nurtured.

We are creatures of this earth. A golden sunset, a springtime woodland, a

stunning flower—these natural phenomena arouse warm, healing emotions that

can relieve us from negative mental states. Like filling an empty stomach, nature

appreciation fills us with good feelings. Consequently, we are strengthened

inwardly and feel better prepared to deal effectively with day-to-day challenges.

GO AHEAD! DO YOURSELF A FEEL-GOOD FAVOUR; TAKE A WALK ON THE

NATURAL SIDE.

Judy Hernandez

DAFFODILS

Daffodil's symbolizes new beginnings, rebirth,

creativity and the coming of spring.

CHRYSANTHEMUMS

Chrysanthemum are November's

official flower of the month.

The flower symbolizes fidelity,

optimism, joy and long life.

TULIPS

The beauty of such simple flowers

is that they hold many meanings

like abundance, prosperity, and

indulgence. They also symbolize

charity and supporting the less

fortunate.

Artwork by Parneet Thethy

32 | Truthmagazine

Truthmagazine | 33
---
MINDFULNESS

13 Reasons Why

A Media Perspective

Thieves of Joy

Comparison, Setbacks, and No Vision

WE'RE HERE FOR YOU - CALL OR VISIT:

Kids Help Phone 1 800 669 6968

Distress Center of Toronto 416 408 4357

The Jack Project www.jack.org

Youth Unlimited www.youthunlimitedgta.com

The Netflix adaptation of Jay Asher's popular novel, 13

Reasons Whyhas spun many controversies. The series depicts

the story of Hannah Baker —a teen who is bullied, assaulted

and feels let down by the people in her life. Hannah commits

suicide and leaves behind 13 recorded tapes, one for each

individual she believes responsible for her death.

The show has stirred a variety of conversations and has

polarized its viewers. It has left some viewers applauding the

production efforts of the Netflix series in starting conversation

around such sensitivesubject matters. At theother end of

the spectrum, viewers have criticized the show for its poor

execution and the rippling effect that it has created. Many

believe that the show failed to consider it's triggering effects

on young teens and feel that the show could have taken a

more cautionary approach. Since the release of the series,

there have been cases of teens committing copy-cat suicides.

In one of these cases a girl left tapes dedicated towards the

people that have hurt her before passing away.

This begsthe question, which is to blame:The Netflix series

for its execution style, or parents and educators for not

educating young teens?

It's hard not to blame the show as it elicits feelings of

hopelessness while also romanticizes the story of a teen

in crisis. In the show Hannah Baker is unable to seek help

from her friends, parents and educators at school. The

show ultimately depicts that her suicide was based on the

closed ears of others and her hesitation to speak about her

inner conflicts. Due to this viewers feel like there is no one

to talk to and that the people around them do not care.

This can be especially concerning for teens experiencing

suicidal thoughts, and many believe that a show like this

would encourage teens to keep their mouths shut and avoid

seeking help.

The limitations of media and this specific series, is that it cannot

shine light on every person's story within 13 episodes. This

results in a show that cannot extensively cover these issues

which can leave viewers feeling uninformed and confused.

In this instance, it is the parents and educators responsibility

to fill in the missing gaps and address these issues through

open and informative discussions. By turninga blind eye and

not stimulating conversation, teens are left with one source

for advice –the media.

Being unhappy at times is normal, but if your daily thoughts

reflect these statements, "She's always happy, she's fake

or hiding something" or "He seems to always have it all

together and I barely know what I'm doing", there is an

issue here and you may be very familiar with unhappiness.

Here are three thieves of joy that will shed a light on

the root of the thoughts that may flood your mind at times.

COMPARISON

The first thief of joy is comparison. We all compare consciously

or unconsciously but comparison can choke the

thankfulness out our hearts and we are then left unhappy

because a thankful heart is a happy heart. Intentionally maintaining

a thankful heart will break the tendency for comparison

leading to feelings of inferiority.

SETBACKS

The second thief of joy is setbacks. Setbacks happen to all

of us that are in or out of our control. The key to staying

happy when setbacks occur is realizing that setbacks will

shape your character so when the next opportunity arrives,

you have more wisdom and better management of the new

opportunity.

NO VISION

The third thief of joy is to have no vision. Having no vision

for your life makes you live an unstructured day-to-day life.

Having a vision for your life not only results in joy but also a

sense of direction, confidence, and purpose.

Lead a life full of joy by intentionally analyzing how you deal

with these three thieves and practice habits that will enhance

your quality of life.

Naomi Adowaa

Naomi Adowaa, Jessica Chandrathasan, Krisika Suthan

34 | Truthmagazine

Truthmagazine | 35
---
Artisans

Parneet Thethy

Ace Kxng

Kaela K

One of my favourite subject matter to paint are

fantastical characters that could belong in a

picture book. For this piece, I was inspired by all

the landscapes I've seen this summer with sunsets

rolling over the hills. The most special part of a

sunset is not just the endless colours or the fluffy

clouds, but it's when the moon comes out to

wave goodbye to the sun. The time is beautiful

and absolutely breathtaking. Sunsets are another

reminder of how the sky is wild and free. It holds on

to nothing. No storms stay forever, and no storms

should stay in our hearts.

Instagram: @Parneet_t

Parneet.inquiries@outlook.com

ACEKXNG is an online portfolio of

a twenty-two year old whose talent

and vision is much larger than the

twenty-one square mile island he

calls home.

Aaron Phillips picked up his first

Canon camera at a young age and

has since then both captured and

developed his passion in a variety of

platforms ranging from: portraiture,

landscape and abstract photography

all the way to creative films and

graphic design.

His admiration for photography

allows him to show an authentic

perspective to the way we see things.

They say a picture is worth a

thousand words–but the emotions

captured undoubtedly surpass that

in value.

Aaron hopes to use his gift as an

inspiration for others to be true to

themselves, see the world through

with an open lens and capture each

and every moment life provides.

acekxng.com

The Kaela Kay woman is…a woman who wants to

stand out in a crowd, who wants to be heard over

all the voices, a woman who respects her heritage

and uses that to plan her future. She is a mother,

a wife, and a corporate worker. She is educated

and refined. She walks tall with her shoulders

back, and she knows her worth. Classless, brash,

and discourteous – she is not. She will play with

anyone, and laughs with everyone. She loves,

and she is loved. And she does all of this, looking

fiercely, gorgeous and perfectly distinctive in her

Kaela Kay dress.

Shop at: www.kaelakay.com

36 | Truthmagazine

Truthmagazine | 37
---
Jessica Chandrathasan

My name is Jessica Chandrathasan and I consider myself to

be a rising leader in the arts industry. I enjoy photography

and design because of the creative freedom I can exercise.

I am a spontaneous individual that is always ready for a

midnight adventure!

"Find the reasons, lose the excuses, gain the results."

-Unknown

Krisika Suthan

The Team

Naomi Adowaa

My name is Naomi Adowa and I am

discovering and embracing myself

everyday. I am grateful for all the

experiences that come my way; that

makes me stronger. I love learning new

things, design, and reading thoughtprovoking

quotes/books. I hope to be

bold, unapologetic of my differences,

loving, and a light to many.

"Fear Is A Liar" - Unknown

Crisis

The Experiences of an Addiction Counsellor - Richard Brown

Secular counseling is grounded in humanism, and most often

seeks to help a person adjust to difficult circumstances. The

processes may include client education, behavioral techniques,

and cognitive restructuring (changing one's thoughts), just to

name a few. But the end goal will most likely be some type of

adaptation that provides symptom relief.

Christian counseling is grounded in the Bible, and most often

seeks to help a person embrace the pain of his experience

through a personal relationship with Jesus Christ. Many of

the processes will be similar to those employed in secular

counseling, but the motivation will be different. For example,

a Christian counselor may also employ cognitive restructuring

techniques, but the end goal for renewing the mind will be

a greater knowledge and enjoyment of God not based on

circumstances.

Professional counsellors – whether Christian or not –

understand that clients have the right to choose their

treatment goals. Both types of therapists, however, will most

likely offer some assistance in clarifying and evaluating what

the goal/s should be.

Practically speaking, the most effective therapy gets

underway when the therapist and client are in agreement on

the focus of treatment. This understanding will include a list

of "target" concerns, the frequency and durations of sessions,

the modality of treatment (office, telephone, etc.), therapeutic

assignments, and a clear understanding of knowing when

therapy should be concluded.

In my experience, some clients are prone to wanting to

accomplish too much in therapy with too little time. On the

other hand, some therapists are prone to recommending care

that exceeds their initial opinion. In any case, the therapist

who continually points the client to the sufficiency of Christ

– rather than pointing to himself or fostering an unhealthy

dependency on himself – bears the hallmark of Christian

counseling.

myself. It is only then that I can offer peace to those whose

entire life experience seems to amount to one calamity after

the other. Paul suffered beatings, stoning, and shipwrecks,

and yet held to the sufficiency of his savior.

Praise be to the God and Father of our Lord Jesus Christ, the

Father of compassion and the God of all comfort, who comforts

us in all our troubles, so that we can comfort those in any trouble

with the comfort we ourselves have received from God. For just

as the sufferings of Christ flow over into our lives, so also through

Christ our comfort overflows. (2 Corinthians 1:3-5 NIV).

In counseling, both the client and counsellorneed to be willing

to grapple with the pain of life's unanswered questions. In the

therapeutic process, weembrace not only the reality of their

experience, but the reality of God.

Each person will have his or her own opinion,

but for me, the therapeutic goals come in three

varieties: good, better, and best.

Good: Recovery. Getting healthier is always a good

goal. There is perhaps a problem or a condition that

needs to be improved or overcome.

Better: Learning to help other people by virtue of

your own experience can be a worthy therapeutic

goal. This type of altruism points not only to service,

but also to one's better mental outlook.

Best: The best goal for counseling – or any other

pursuit – is clearly divine. The best goal is to know

and enjoy God. It is here, in our intimacy with God,

that Christ becomes the Wonderful Counselor and

Great Physician who makes us whole.

My name is Krisika Suthan and I have

an eye for design.I am interested in UX

design and hope to branch out into

different types of design. I love hanging

out with my friends and enjoying the

simple things of life.

I face the crises of various individuals on a day-to-day basis.

My goal is to walk with them from crisis to recovery. I thank

God that I have experienced many successes. I absolutely and

emphatically attribute any strength or success as an addiction

counsellor for over 17 years to the all-sufficiency I find in

Jesus Christ. Finding our peace in Christ is not some "pie in

the sky" mentality, but the life Christ has promised us. All too

often, however, we make our sense of peace conditional. "I

can't be satisfied until …"

When nothing of life seems to make sense, I have learnt to rest

in the character of God and find peace with Him and within

In a world filled with both challenge and opportunity,

counseling can be a logical choice for individuals, couples,

and families who wish to grow to the next level of faith and

well-being. The Bible speaks of the "safety" that exists among

counselors. My life goal as a counsellor is to pose the thought

that if you are experiencing ongoing crises, perhaps it's time

to seek the safe harbor of counseling, and make a few repairs

before continuing your life's journey.

Richard Brown

38 | Truthmagazine

Truthmagazine | 39