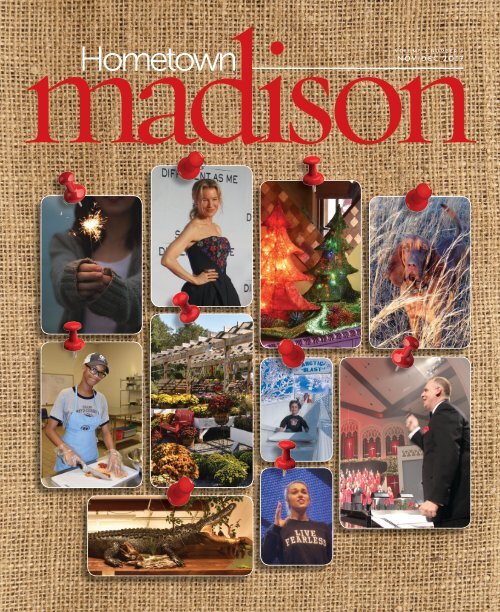 Hometown Madison - November & December 2017
You also want an ePaper? Increase the reach of your titles
YUMPU automatically turns print PDFs into web optimized ePapers that Google loves.
Volume 3 Number 6

nov/dec 2017
---
Hometown madison • 3
---
During the holiday season, our thoughts turn gratefully to those who have

made our success possible. We're thankful for every advertiser

and every reader who continue to give us purpose each day.

It is in that spirit that we say thank you and best wishes for the holidays.

Merry Christmas

and Happy New Year

from the staff of

Hometown Magazines.
---
publisher & Editor

Tahya A. Dobbs

CFO

Kevin W. Dobbs

Consulting editor

Mary Ann Kirby

Account Executives

Dacia Durr Amis

Karla Johnson

Carrie Truhett

Contributing Writers

Camille Anding

Mary Ann Kirby

Annie Oeth

Ken Sandridge

Staff Writer & Graphic Design

Leah Mitchener

staff Photographer

Othel Anding

Contributing Photographer

Lea Anne Culp

Administrative Assistants

Alisha Floyd

Special Projects Manager

Brenda McCall

Layout Design

Daniel Thomas - 3dt

When your son buys a puppy that grows into a relationship

reminiscent of Old Yeller and Travis, there's seldom a good ending.

I knew that, so I appreciated the training time Carson spent with

his canine friend, Thatcher, but I distanced myself from any

long-term attachments to the brown lab.

Isn't it strange how dogs don't know how to talk or possess a

single word in the dictionary but they still possess skills that can

weave themselves into human lives? That was the case with

Thatcher. He became Carson's constant companion and became a

four-footed member of our family. We all fell in love with Thatcher.

When Carson moved to Oxford to become an Ole Miss Rebel, he took Thatcher with him.

The off campus apartment with the room-to-run backyard was the model set up for the two devoted

companions. Life was good—the perfectpicture of carefree college days.

Then we got he call. Thatcher had been hit by a car after breaking out of his fence. The inseparable

were now permanently separated. We were all heartbroken and miss Thatcher to this day. He will never

be replaced, but Carson does have a new companion....a German Short-haired Pointer named Bambino.

Hopefully this month's outdoorsy magazine theme won't be an overload of nostalgia but will invoke

memories of happy, fall days from your own memory banks. As for all you dog lovers;

we've got some beauties. Almost as good-looking as Thatcher.

• • •

www.facebook.com

/hometownmadisonmagazine

For subscription information

visit www.htmags.com

Contact us at info@HTMags.com

601.706.4059

26 Eastgate Drive, Suite F

Brandon MS 39042

All rights reserved. No portion of Hometown Madison

may be reproduced without • • written • permission from

the publisher. The management of Hometown Madison

is not responsible for opinions expressed by its

writers or editors. Hometown Madison maintains the

unrestricted right to edit or refuse all submitted

material. All advertisements are subject to approval by

the publisher. The production of Hometown Madison

is funded by advertising.

In this issue Movie Premier. . . . . . . . . . . . . . . . 8

Cooking with Class . . . . . . . . . . . . 12

The Hunting Dog. . . . . . . . . . . . . . 18

The Choir Guy . . . . . . . . 24

An Interest in Pinterest . . . . . . . . . 34

Keeping it Fresh. . . . . . . . . . . . . . 38

Gift-wrapped Rooms . . . . . . . . . . . 42

Gator Archery . . . . . . . . . . . . . . . 58

Eye on the Ball. . . . . . . . . . . . . . . 66

Christmas Wonderland. . . . . . . . . . 70

Hometown madison • 5
---
6 • November/December 2017
---
COMING 2018 - CAPITAL ORTHOPAEDIC & SPORTS MEDICINE CENTER

FLOWOOD, MISSISSIPPI

COMING 2018 -

BANK OF YAZOO

YAZOO CITY,

MISSISSIPPI

WWW.BENSONCONSTRUCT.COM

205 Park Court, Ridgeland, Mississippi

Hometown madison • 7
---
Movie Premier

October 19 • Malco Grandview

8 • November/December 2017
---
Hometown madison • 9
---
ANY PIZZA, PANINI, OR CHOPPED SALAD.

ANY TOPPINGS.

ONLY

$799

YOUR PIE GLUCKSTADT

ACROSS FROM GERMANTOWN HIGH SCHOOL

340 CALHOUN STATION PKWY

CANTON, MS 39046

(601)407-6400

10 • November/December 2017
---
"Virtually Painless" Laser Hair Removal | Medical & Laser Skincare

Injectables | Coolsculpting | Facials

Give Yourself A Gift

This Holiday Season

MERRY

CHRISTMAS

CoolSculpting is the only FDA-cleared, non-surgical fat reduction treatment that uses cooling to eliminate

stubborn fat; fat that won't go away despite diet and exercise. The results are proven, noticeable, and permanent.

PERFORMING COOLSCULPTING SINCE 2012

OVER 2,000 TREATED AT MON AMI SPA

TREATABLE AREAS:

Love Handles

Muffin Tops

Flanks

Abdomen

Double Chin

Inner & Outer Thighs

BEFORE

8 WEEKS AFTER

First CoolSculpting® Session

9 WEEKS AFTER

Second CoolSculpting® Session

Photos courtesy of Edward Becker, MS.

Now serving the Metro area at

our Madison Spa location:

Mon Ami – The Sculpting Center

501 Baptist Drive, Suite #140

Madison, MS 39110

601.790.9821

www.MonAmiSpa.com
---
Ridgeland

High's

Academy

of

Culinary

Arts

puts a

Titan

twist

on

holiday

dishes

Cooking

with

Class

Annie Oeth

12 • November/December 2017
---
The tantalizing aroma wafts down the hall. The culprit,

a stainless steel bowl filled with roasted red and yellow

peppers, their skin browned in spots, their scent telling that

their sugar has caramelized.

Soon busy hands were preparing them to go in pasta

fagioli, a traditional Italian dish of pasta, beans, and, on this

day, grilled chicken and roasted peppers.

The room, with its professional-grade appliances and

gleaming pots and pans, might make one think it's the

kitchen of an upscale Ridgeland restaurant, but it's the home

of the Academy of Culinary Arts at Ridgeland High School.

The only such program in Madison County, the

Academy of Culinary Arts gained its kitchen, just down the

hall from the ROTC, choir and band rooms, last year.

Chef Levi Williams, the program's instructor for sophomores

through seniors, got to design the space, a dream for

a former restaurateur.

"We did everything the right way," said Williams, who,

before becoming a teacher, owned the Hattiesburg restaurant

Shallots, which served upscale Southern dishes in the

late 1990s.

Chef Sametra Gardner instructs freshmen and some

sophomores in the four-year program, which instructs

144 students this semester.

Culinary students spend class time studying everything

from restaurant management and communication to

techniques. Their focus now is a holiday luncheon, which

starts with pecan-crusted cheese spreads with baguettes.

Hometown madison • 13
---
Although

cooking is

a big part

of the

holidays

for many

people,

you want

to spend

time with

your friends

and family

instead of

off in the

kitchen.

A mixed green salad with balsamic vinaigrette

and the pasta fagioli follow, with banana

pudding for dessert.

"This menu is warm and hearty but also

a break from holiday food," said Williams.

"We have grilled chicken with ours, but you

could easily substitute leftover turkey and

add a little sage."

Another plus of this menu is that it's fast

and doesn't require lots of preparation time

in the kitchen, he said. "Although cooking is

a big part of the holidays for many people,

you want to spend time with your friends

and family instead of off in the kitchen."

Students in the program say they're

enjoying using their new-found culinary

skills to whip up dinner for friends and

family. "I'll usually make something simple

but good, chicken or soup," said Ford Sterling,

a sophomore. "I wanted to take these classes

so, when I go to college, I'll be able to cook."

Patrick Wilkerson, also a 10th-grader,

said he knew the Academy of Culinary Arts

was for him early on. "When we visited

Ridgeland High in the eighth grade, I saw the

kitchen and was fascinated by it." Cooking

breakfast foods for family is now a favorite,

and pancakes are his specialty. "Breakfast is

the most important meal of the day," he said.

Williams shared the class' recipe for pasta

fagioli as well as a scalloped Yukon Gold and

sweet potato gratin with fresh herbs, which

can be served up as a side dish on a holiday

or any day. n

14 • November/December 2017
---
Pasta Fagioli with Grilled Chicken

Chicken

• 3 boneless, skinless chicken breasts

• ¼ cup olive oil

• 2 tsp. kosher salt

• 2 tsp. black pepper

• 1 tsp. garlic powder

• Juice of ½ lemon

Toss together and marinate for 1-4 hours. Grill until

it has an internal temperature of 165°

Pasta

• ½ onion – small dice

• 2 cloves garlic chopped

• 1 red bell pepper – roasted, peeled, seeded, and diced

• 8 oz. mushooms (any type) – sliced, tossed in oil, and

roasted in 400° oven

• 1 cup cooked beans – lima, white, butter, etc.

(fresh are better, but not required)

• 1 lb. cooked pasta (any type)

• ½ stick butter

• ½ cup half and half

• 1 cup parmesan cheese

• Salt and pepper to taste

Sautee onions and garlic over medium heat in a small

amount of oil until soft. Add roasted peppers and mushrooms,

cooked beans, and cooked pasta, and lower the heat.

Stir together and add butter and half and half until fully

incorporated. Turn heat off and add cheese. Once cheese

is melted, serve pasta and top with sliced, grilled chicken.

Top with more parmesan if desired.

Scalloped Yukon Gold and Sweet Potato

Gratin with Fresh Herbs

• 1-1/2 pounds medium Yukon Gold potatoes

• 1-1/2 pounds medium red-skinned sweet potatoes (yams)

• 2 cups heavy whipping cream

• 1/4 cup (1/2 stick) butter

• 2 garlic cloves, minced

• 1 tablespoon minced fresh flat leaf parsley

• 1 Tbsp. minced fresh sage

• 1 Tbsp. minced fresh thyme

• 1- 1/2 tsp. kosher salt

• 3/4 tsp. freshly ground black pepper

• 1- 1/4 cups (packed) grated Gruyère or Swiss cheese (about 5 ounces)

Fill large bowl with cold water. Working with one Yukon Gold potato at a

time, peel, then cut into 1/8-inch-thick rounds and place in bowl with water.

Repeat with sweet potatoes. Combine cream, butter, and garlic in medium

saucepan; bring to simmer. Remove from heat. Mix all herbs in small bowl.

Mix sea salt and black pepper in another small bowl.

Butter 13x9x2-inch glass baking dish. Drain potatoes, then pat dry

with kitchen towels. Transfer half of potatoes to prepared baking

dish. Use hands to distribute and spread evenly. Sprinkle with half

of salt-pepper mixture, then half of herb mixture. Sprinkle with half

of cheese. Repeat with remaining potatoes, salt-pepper mixture,

herb mixture, and cheese. Pour cream mixture over gratin,

pressing lightly to submerge potato mixture as much as possible.

DO AHEAD – can be made 6 hours ahead. Cover with plastic wrap

and chill. Remove plastic wrap before baking.

Preheat oven to 400°F. Cover gratin tightly with foil. Bake 30 minutes.

Uncover; bake until top of gratin is golden and most of liquid is

absorbed, about 25 minutes longer. Let stand 10 minutes; serve.

Hometown madison • 15
---
16 • November/December 2017
---
Your Best

Christmas Memories

Start Here!

An Ice Skating,

Ice Sliding,

Bouncing Blast.

NOVEMBER 12 - JANUARY 6

Monday thru Saturday: 10am – 11pm ❆ Sunday: Noon – 11pm ❆ Pearl, MS

In the giant tent across the street from Outlets of Mississippi and Bass Pro Shops

601-212-8810 ❆ info@bigsouthevents.net ❆ www.christmaswonderland.ms

@ChristmasWonderlandMS

©Copyright 2017

Big South Events, LLC

Madison, MS

Hometown madison • 17
---
The

Hunting

DOG

Happiness is a good

gun, a great dog and

just the right spot.

Our recent hunting dog

photo contest yielded

some great results!

These beloved Madison

County fur babies have

captured the hearts of

their owners as well as the

staff here at

Hometown Madison Magazine.

Gage

Yellow Labrador Retriever

Owner: Chelsa Jones

Rainee

Chocolate Labrador Retriever

Owner: Chris Hopkins

Featured are three

of our favorite pups

that were submitted,

so snuggle up with your

own four-legged

companion and learn

about some of

man's best friends!

Willow

Black Labrador Retriever

Owner: Greg Owen

Labrador Retriever

Owner: Will Moore

Ridge, a six and a half year-old Labrador retriever, has been by owner Will Moore's

side almost since the very start. Purchased from the Double TT British Kennels in

Kansas, Ridge was brought to Will at the young age of 7 weeks old. When not

lounging around at home, playing with crushed water bottles and acting like a

"big baby" in the offseason, Ridge is intensely busy out in the wilderness aiding in

all types of hunting expeditions. Will and Ridge have gone out nearly every single

weekend on hunts all over the southern states from southern Louisiana to northern

Ava

Arkansas, and tracked everything from ducks to deer. Ridge's stats are impressive

Rogue

and include over 575 duck and waterfowl retrievals over his lifetime. He is in the

prime of his hunting life but starting to show a little soreness after a particularly long

trek. Will takes wonderful care of him, though, and makes sure that Ridge gets all of

the supplements Pudelpointer and nutrients he needs to keep going German strong Shorthaired for a long time to Pointer come.

Owner: Greg Stanton

Owners: Ryan & Haley Collins

18 • November/December 2017
---
Jasper

Beau

Chesapeake Bay Retriever

Bloodhound

Owner: Hunter Walters

Owners: Jennifer & Shelby Warren

Hunter Walters could set his watch by his dog Jasper's

consistent daily routine. Being up and ready for breakfast,

back to sleep until Hunter comes home from work, having

a quick jaunt around the yard, dinner (sometimes

consisting of baby-back ribs), and sprawling over most of the

king-sized bed at night are the on the daily task docket for this

six year-old bloodhound. Purchased from a breeder when Hunter

was still in law school, Jasper has been there through thick and thin

for his owner. An expert deer-trailer for Hunter and his friends

and family, Jasper has aided in countless hunts. He's the closest

thing Hunter's parents have to a grandchild for the time-being,

and Jasper is treated like a king when he stays with his

"grandparents." Hunter often receives texted photos of Jasper

Gabby

Labrador Retriever

shamelessly eating stacks of pancakes, red velvet cake batter,

and brownie batter from his father. There's one thing is

for sure–this is one well-loved bloodhound.

Owner: Melissa Shanks

Teal

American Lab

Owner: Peyton Sharplin

CLYDE

Beau

REBEL

Labrador Retriever

Owner: Toler Robinson

Chesapeake Bay Retriever Black Labrador Retriever

Owners: Jennifer & Shelby Warren Owner: Lindsey Kirkland

Clyde is a two year old black lab that loves to retrieve.

In the winter, he wakes up ready and goes to sleep eager to hunt.

Even at just two years old he's proving to be one of the smartest

dogs ever witnessed. At night he can be found in a king-size bed

on his own pillow right beside his big brother, Cooper. Along

with picking up ducks, Clyde loves to blood-trail deer and most

anything else that consists of being outside. In a house of five

retrievers, Clyde is very active, but is definitely spoiled being

the baby of the bunch. Hopefully in the next few years

Clyde can achieve his Master Hunter status.

Hometown madison • 19
---
madison

Recipes

Louisiana

Duck Gumbo

• Flour

• Oil

• Celery

• Bell pepper

• Onion

• Garlic

• 3 duck breasts

• Andouille sausage

• Tony Chachere's seasoning

• Bay leaf

• Tomatoes

• Rice

• Chicken stock

First make a roux by cooking 3 tablespoons of

flour and oil in bottom of pan. This should be a

slow process as not to burn your roux. The longer

you cook it the darker your gumbo will be. When

roux is ready, in separate pan cook one onion,

4 stalks chopped celery, one chopped bell pepper

and pepper and 5 cloves of garlic. When done,

brown chopped duck breast and andouille sausage.

Combine all in one pot add one quarter of the

chicken stock, 2 cans of chopped tomatoes

and 2 bay leaves. Season with Tony's to taste.

Simmer 30 minutes to one hour while stirring

occasionally.

Serve over rice and add file seasoning for taste.

Dove on a Stick

• 12 dove breast filets

• Worcestershire sauce

• Italian dressing

• Garlic

• Salt

• Wood skewers

Marinate dove overnight in one part Worcestershire

and three parts Italian dressing. Put dove

breast on skewers and season lightly with salt

and garlic powder. Cook medium on grill over

low heat.

Pan Fried Elk

Steak & Gravy

• Tenderized elk steak

• Garlic powder

• Salt and pepper

• 1 egg

• Flour

• Oil

• Milk or buttermilk

• Tony Chachere's seasoning

Soak meat for a short time in buttermilk and egg

mixture. Season flour with salt, pepper, garlic

powder, and Tony's. Sprinkle meat with a little

extra Tony's. Roll meat in seasoned flour, fry in a

black iron skillet until golden brown. Remove

meat and add 1 tablespoon of flour to remaining

oil in pan. Brown flour, add one cup of milk bring

to a slight boil; turn down heat to simmer, season

to taste. Spoon over elk steaks.

Louisiana

Redfish

on the Half Shell

• 2-5 lb. Redfish filets with scales left on one side

• Tony Chachere's seasoning

• Garlic powder

• Salt and pepper

• Lemon

Season fish with Tony's, salt, and garlic powder.

Place fish scales side down on grill. Cook on

medium heat until fish is white and flakey.

Squeeze ½ a lemon

Bacon-Wrapped

Deer Tenderloin

• Deer tenderloin

• Salt and pepper

• Tony Chachere's seasoning

• Worcestershire

• Italian dressing

• Cream cheese

• Jalapeno peppers

• Bacon

Slice tenderloin in ½ inch thick strips. Marinate

tenderloin overnight in one part Worcestershire

and three parts dressing. Season with salt, pepper

and Tony's. Lay tenderloin flat. On top of each

piece put a dab of cream cheese and a jalapeno

pepper, roll into a ball, wrap each piece with a ½

piece of bacon and stick with a toothpick. Cook on

medium heat until bacon is done.

20 • November/December 2017
---
Wild

edition

Recipes from the kitchen of

Kenneth Lancaster

Elk Chili

• 1 lb. of ground elk

• Salt and pepper

• Tony Chachere's seasoning

• Onion

• Garlic

• Petite diced tomatoes

• Yellow mustard

• Chili powder

• Red kidney beans

• Pinto beans

• Water

Brown elk and drain excess liquid off. Slice ½

onion and 5 garlic cloves, cook until soft. Add

ground meat back in pot along with two cans of

petite diced tomatoes, ½ can drained kidney beans,

½ can drained pinto beans, one teaspoon of salt,

teaspoon of pepper, teaspoon of Tony's, one cup of

water and two tablespoons of chili powder. Bring

to a boil add 1 teaspoon of mustard and stir. Let

simmer for about 20 minutes and serve with

crackers or over rice.

A native of Lake Providence, Louisiana, Kenneth Lancaster has an

exceptional reputation in the hunting industry. His background in

archery and his work as a guide, videographer, and hunter, have

enhanced his popularity as a devoted outdoorsman.

Kenneth's respect for the great outdoors began as a child, having

a father who was a trapper and hunter, and a grandfather who was

a commercial fisherman on the Mississippi River. At an early age

Kenneth developed a love for archery, shot in 3D tournaments,

and worked in a local archery shop.

His background includes nine years with Primos Hunting Calls

and his passion for hunting continues through his work with

Michael Waddell's Bone Collector and with Antler Insanity.

Kenneth has hunted elk, whitetail deer, mule deer, moose,

woodland caribou, barren ground caribou, black bear, waterfowl,

and all species of turkey.

Hometown madison • 21
---
22 • November/December 2017
---
1/2 PRICE WING TUESDAYS® • 21 SIGNATURE SAUCES & SEASONINGS • BONELESS THURSDAYS®

BIG SCREEN HD TVS • ALL THE SPORTS ACTION • DINE-IN OR TAKEOUT • KIDS MEALS • HAPPY HOUR

808 LAKE HARBOUR DRIVE // RIDGELAND // 601.856.0789

COMING SOON TO 766 MACKENZIE LANE // FLOWOOD

©2016 BUFFALO WILD WINGS, INC. BWW2016-4063

Hometown madison • 23
---
Choir

The

Guy Camille Anding

"It was my dream to be

governor of Mississippi,"

Lavon Gray declared from behind his desk on the third floor of First Baptist Church

Jackson. It was so much a plan for his future that after graduating from Mendenhall

High School, he enrolled in Co-Lin Junior College to pursue a political science degree.

By the time he finished Co-Lin and entered the University of Southern Mississippi,

he relinquished his own plans for his life to follow God's gentle but persistent leading

into music ministry.

24 • November/December 2017
---
Photos: Judy & Lane Rushing

His preacher friends encouraged him to stick with

completing his political science degree because they assured

him he would never be able to make a living doing church

music. Gray heeded their advice and got the political science

degree but continued to follow his call by entering New

Orleans Baptist Theological Seminary. From there he earned

his Ph.D. at Southwestern Seminary in Ft. Worth.

After serving in churches in Mississippi, Texas, and South

Carolina, he accepted the minister of music position at FBC

Jackson in 2001. For the past thirteen years he's led in

worship in front of a 300-voice choir (when all are present).

Plans are going forward to renovate the choir space to hold

an additional thirty to forty members.

When asked about his favorite part of being minister

of music, he didn't hesitate: "I'm a people person; I love

people and building relationships with them. And secondly,

I love leading worship on Sunday mornings." With the

unusual experience of serving with three pastors plus

interims in his thirteen years at FBC, Gray's sense of

humor speaks, "Everyone may not like me, but I am a

consistent presence!"

The meetings that are a necessary part of the music

calendar are his least favorite part of the ministry, but how

else does one involve and delegate 800 volunteers in the

annual church Christmas program, Carols by Candlelight?

Fifteen thousand tickets have already been given out for

this year's musical theme, Love Came to Me, scheduled for

December 14-17.

Larry Black, a former minister of music, began "Carols"

in 1971. His choir of twenty grew to one hundred by the

first performance. Dr. Gray gives Black credit for the music

foundation that he left for his successors.

Gray's customary smile turns to laughter when he recalls

glitches in the performances. In 1988, because of church

renovation, the presentation was relocated to the coliseum for

Hometown madison • 25
---
26 • November/December 2017
---
Photos: Judy & Lane Rushing

that year. Live animals are never used in the sanctuary,

but for the coliseum "Carols," it was the perfect opportunity

to use them. Humphrey, the camel, was rented so one of

the wise men could ride aloft him to the manger scene.

Humphrey overreacted either from the crowds or stage

fright and took the first exit out after entering – along

with his wise man. Theirs was a brief exposure.

Another time, Gray realized within moments of the

overture that his music was upstairs on his desk. Ava Hart,

pianist and music assistant, rushed to his office to retrieve

his music. On another occasion a stage crew member crawled

in guerrilla warfare style beneath Gray's podium to handdeliver

a message.

The "Carol" glitches are seldom in the presentations that

are spectacular with a dedication to sharing the Gospel. The

labor of love begins in January with the meeting of thirty key

leaders who volunteer to cover all areas of the production.

February is take-a-breath month. March is for theme

selection; April, May and June are song selections months.

Orders are made in July and rehearsals begin in August.

Lavon, as most members call him, has always been at

home in his musical world. His mother, the church pianist,

eloped when she was fourteen. A year later Lavon was

born, and one week after that his grandfather carried him

to church to have their pastor dedicate the future minister.

"I've not missed much church," Lavon added.

He remembers family reunions with his mother on the

piano, his dad playing guitar along with more guitar-playing

cousins and kin. "We might start out with Johnny Cash and

Hank Williams songs, but we would always end up singing

gospel music."

When away from the church, his greatest enjoyment is

his family. His wife of twenty-nine years, Wendy, is mother

to their three daughters, Kayla, Lizzie, and Katibeth – all

Hometown madison • 27
---
homeschooled. "I was the principal," Lavon says with

a laugh. Their two oldest daughters are married, and

ten-year-old Katibeth has been and is their "back side

blessing." A recent grandson, Grayson, has given the

Grays a new favorite title.

On Thursday nights Lavon reaches for his striped shirt

and whistle to referee junior college football games. Sports

officiating for the past thirty years is another favorite

pastime of the multi-faceted minister.

Humility is a recognizable trait in Dr. Gray when he

speaks of his limited ability in music while praising the

talents and gifts of his choir, staff, and network of volunteers.

He also gives much credit to his administrative assistant,

Terry Sims, a fellow laborer for forty years in the music

department.

He refers to himself as a sophisticated redneck from

Simpson County and whose favorite hymn is "Victory in

Jesus." "I've never been the most talented; I'm not the greatest

musician, but God has given me the ability to be a great

minister of music. I guess I'm just a choir guy," he says

with his down-to-earth charisma.

Then he adds, "I'm just so honored to lead here." For the

vast majority of all who will hear the sounds of Carols by

Candlelight this Christmas, their response with emotions and

hearts brimming will be, "You didn't need to be governor." n

28 • November/December 2017
---
Photos: Judy & Lane Rushing

Hometown madison • 29
---
222 Bedford Drive • Brandon, MS • 662.414.1707
---
Shop online at fireandpatio.com • Madisonfireplacepatio.com • 1437 Highland Colony Parkway • Madison, MS • 601-853-6699
---
serving our community

Assistant Chief Steve Wilson

ridgeland Fire Department

Why did you decide to be a firefighter?

My brother-in-law, Alan Patterson, was a

volunteer firefighter for Ridgeland at the time

and he put the idea into my head. Thank you A!

How long have you been with the

Ridgeland Fire Department?

A long time.

Tell us about your family.

My mother is Jo Wilson—and I have two sisters,

Kae and Karen.

What is the toughest thing you have

experienced in your job?

There is no single toughest thing but it is always

hard to watch people suffer during the times we

aren't able to prevent or mitigate their suffering.

Share some things you enjoy doing in

your spare time.

I don't have much spare time but I enjoy reading

and I'm a movie fan. I collect western gear and

I teach diving.

What are three things on your

bucket list?

I've never had a bucket list.

Who is someone you admire and why?

Mike Rowe, because he has a passion for work,

all work!

Where do you see yourself ten years

from now?

Retired to the farm.

If you could give one piece of advice

to a young person, what would it be?

As long as you are taking a check from your

employer, give them 100 percent. Oh, and

make your bed every single morning...it's your

first success of the day.

What is a favorite childhood memory?

I can't remember being a child. I'm serious.

What is the biggest mistake you think

young people make today?

If you are going to do something, give it

everything, make it your passion, live it and

love it, or find something else to do. (I am

certainly not able to answer that question

because I don't pretend to understand young

people today.)

What is your favorite thing about the

City of Ridgeland?

I travel a great deal to departments, police

and fire, throughout the United States, so

I am fortunate enough to be able to draw a

comparison. While I may occasionally run

across a city that is our equal, I never run across

one that is better than ours, and the majority of

them can't hold a candle to us.

32 • November/December 2017
---
idgeland's finest

Lt. Stephen Patrick

madison police Department

Why did you decide to be a policeman?

When I graduated high school, my oldest

brother, Jamie Patrick, became a police officer

with the Jackson Police Department. I looked

up to my brother and wanted to become a

police officer like him. Law enforcement has

created an avenue for me that has enabled

me to serve this community by building a

working relationship with the people we

serve every day.

How long have you been with the

Madison Police Department?

I am currently a lieutenant with the Madison

Police Department and have been serving for

18 years.

Tell us about your family.

My darling wife Latasha and I have three sons,

Camron, Caleb, and Christopher.

What is the toughest thing you have

experienced in your job?

The toughest thing that I've ever experienced

in my job was the morning I received a service

call to respond to an accident involving my

fellow officer and motorcycle riding partner,

Jimmy Brooks. He was fatally injured in that

accident.

Share some things you enjoy doing in

your spare time?

I enjoy weight training, hunting, fishing and

outings with my family.

What are three things on your

bucket list?

I would like to vacation in Hawaii and visit

Denmark and Spain someday.

Who is someone you admire and why?

I admire my Lord and Savior Jesus Christ.

He has been my provider and protector of

my life. I have learned that with him, "all things

are possible."

Where do you see yourself ten years

from now?

I would like to continue to further my career

through the ranks here at the Madison Police

Department serving this wonderful community.

If you could give one piece of advice

to a young person, what would it be?

The best advice that I could give a young

person is to trust God in everything that

you do. Seek him for his direction and plans

for your life.

What is a favorite childhood memory?

The times my family came together during the

Thanksgiving and Christmas holiday seasons.

There is always so much love, unity, and fun

times among our family.

What is the biggest mistake you think

young people make today?

Allowing the negative impulse of today's

society and media's interpretation of things

infect their minds. It causes them to be

misdirected from God's true plans for

their lives.

What is your favorite thing about the

city of Madison?

It is a beautifully growing community with

excellent leadership, it has a great school

system, and I love the support that the

community gives to this police department.

Hometown madison • 33
---
An

Interest

in

Pinterest

It wasn't until

we saw it on

Pinterest that we

ever considered

using grandma's

vintage silver

tureen and

putting a fern in it!

So just in time

for the holidays,

we've curated

some of our

favorite decorating

inspiration images

and put them

here for you.

Be creative!

Shop your own

cupboards and

storage chests.

Find new life

for things you

already have.

And most of all,

have fun.

Happy Holidays!

34 • November/December 2017
---
Hometown madison • 35
---
Market Street in Flowood | Renaissance in Ridgeland

Square in Oxford | Turtle Creek Crossing in Hattiesburg

Shopmaterialgirls.com

1st Place

Winners 2016 & 2017

PROPERTIES

• PAULA RICKS •

PAULA RICKS

Owner/Broker

ALLISON BOHON

Sales Associate

TINSLEY BRASHER

Sales Associate

RONALD CUENCA

Sales Associate

MELISSA ELLIS

Broker Associate

BARBARA HICKS PARRISH MALOUF MICHELE PARKER-JUDY JOHN SKELTON

Sales Associate Sales Associate Sales Associate

Sales Associate

Best Real Estate Company

LINDSEY STALLINGS

Sales Associate

LESLY TOOHEY

Broker Associate

CANDY WHITEHEAD

Sales Associate

Tanya Brieger Best Real Estate Agent

Steven Smith Best Home Builder

www.KeyTrustProperties.com

Ridgeland Office: 601-956-4944 Covington, LA office: 985-502-1629

220 W Jackson St, Suite 200, Ridgeland 312 S Jefferson Ave, Covington, LA 70433

'17 Best ad.indd 1 10/9/17 9:37 AM

36 • November/December 2017
---
The Perfect Gift

3 JACKSON FAVORITES

1 CONVENIENT CARD

Make Us Part Of Your Giving Tradition

AVAILABLE IN-STORE & ONLINE
---
Keeping

It Fresh

If you've ever driven down Old Canton

Road in Ridgeland near the Reservoir,

you have probably seen Freshway

Produce on the corner at Harbor Pointe

Crossing. They've been in just about the

same spot since they opened in March

of 1989. The summer rush always brings

people searching for the best peas and

butterbeans in town, but their great

produce and other goods are popular

year-round. Freshway is the go-to place

if you are itching for a giant pumpkin for

carving jack-o-lanterns or some lovely

mums to finish out your autumn flower

beds. For owner Michelle Cockrell,

getting to know her customers and

meeting their needs is the highlight of

her job. She is a great curator of their

Facebook page, and keeping locals

up to date on what is fresh and crisp on

the shelves. So be sure to follow them

@freshwayproduce.89!

38 • November/December 2017
---
Hometown madison • 39
---
40 • November/December 2017
---
HAVE A

FLEX SPENDING

ACCOUNT?

That money does not carry over to to the following

year… so so treat yourself to to new eyeglasses or or contacts!

—www.optical2000.com—

Schedule your eye exam today at at one of of our five locations.

601-957-9292 •• Ridgeland

601-859-3464 •• Canton

662-746-4312 •• Yazoo City

601-605-2259 •• Madison

601-825-8300 •• Brandon

C=100, M=75, Y=0, K=60

C=100, M=75, Y=0, K=40

C=0, M=0, Y=0, K=70

Font = Trajan Bold, Regular

Hometown madison • 41
---
gift-wrapped rooms!

Friends, neighbors, and family

members never turn down

invitations from

Sue & Clint Case

at their Madison home on Belle Pointe

in Lake Caroline. Besides their

enviable cooking and grilling skills,

the Cases enjoy decorating their

lakeside home—especially at Christmas.

Every Christmas, Sue adds to her

collection of Christmas decorations,

selecting brilliant colors with lots

of glitz. Handyman Clint has learned

to adapt over their fifty-two years of

marriage. He knows that it's a yearly

procedure that gives every room its own

"Christmas gift wrap!"

42 • November/December 2017
---
Hometown madison • 43
---
44 • November/December 2017
---
Hometown madison • 45
---
madison

Recipes

Iron Skillet

Biscuits

• 4 cups Bisquick

• 8 oz. sour cream

• ¾ cup club soda

• 1 stick butter melted

Mix sour cream and club soda together. Add

Bisquick until just combined. Don't over mix.

Place skillet over low heat with 1 T of the melted

butter. Melt the remaining butter in a small bowl.

Dip biscuit batter by heaping spoonful's into the

melted butter then place in warm skillet until pan

is full. Any remaining butter can be poured over

the biscuits before baking. Bake at 450 degrees

until golden brown, 12-15 minutes.

Mock Chicken

& Dumplings

• 6 chicken breast

• ½ box lasagna noodles

• ½ t garlic salt

• 1 t salt

• 1 stick butter

• 2 cans cream of chicken soup

• 2 cans cream of celery soup

Boil chicken until tender. Remove from broth.

Break lasagna noodles into bite size pieces and

cook in chicken broth for 15 minutes. Remove

chicken from bone and chop into small bite-size

pieces. Drain cooked noodles reserving broth.

Combine noodles, chicken, butter, salt, garlic salt

and soups. Add reserved broth until desired

consistency. Simmer on medium low for about

20 minutes adding more broth as needed.

Chicken Lasagna

• 1 rotisserie chicken

(pulled and cut into bite size pieces)

• 2 T butter

• 1 small onion diced

• 1 can cream of chicken soup

• 1 can cream of celery soup

• 1 8 oz. cream cheese

• 2 cups sour cream

• 1 cup half and half

• 1 box lasagna noodles

(prepared according to package directions)

• 3 cups shredded Monterey Jack cheese

• 1 cup shredded Swiss cheese

In a large skillet, sauté onion in butter until

caramelized. Add chicken until warmed through.

Remove from skillet.

Add soups, cream cheese, sour cream and milk, to

the skillet. Stir until ingredients melt and thicken

slightly. Add chicken back and simmer on low for

2-3 minutes.

Spread a thin layer of sauce in a 9x13 baking dish.

Layer in this order, noodles, chicken cream sauce

then cheese. Continue layering until your pan is

full, ending with cheese on top.

Bake at 350 degrees for 20-25 minutes until hot

and bubbly.

Broccoli Cheese

Jalapeno

Cornbread

• 1 box Jiffy Corn Muffin Mix

• 1 pkg. frozen chopped broccoli

(thaw and pat dry)

• ½ cup chopped onion

• 2-3 T chopped jalapeno peppers

• 3 eggs

• 1 stick butter

• 1/3 cup milk or buttermilk

• 1 cup shredded cheese

Mix all ingredients and bake in greased cast iron

skillet or baking dish (if you want to cut into

squares). Bake at 425 degrees for 20-30 minutes.

Great with any soup or as a side for a country

vegetable dinner.

Molasses Cookies

• 1 cup sugar

• 1 t cinnamon

• ½ t salt

• ¾ cup shortening

• 1 egg

• ½ t cloves

• 2 t baking soda

• ¼ cup molasses

• 2 cups flour

Cream together shortening, eggs, and molasses.

Mix sugar, cinnamon, salt, cloves, baking soda

and flour together and add to creamed mixture.

Mix well, roll into balls and place on greased

cookie sheet. Bake at 350 degrees until light brown

and let cool on cookie sheet before removing.

46 • November/December 2017
---
NAMED BEST NURSING HOME*

Oatmeal Cream Pie

with Cream Cheese

Filling

• 1 cup butter softened

• 1 cup sugar

• 1 cup brown sugar

• 2 eggs

• 1 T Mexican vanilla

• 2 cups flour

• ½ t cinnamon

• 1 t baking soda

• 1 t salt

• 3 cups quick cooking oats

Cream together the butter, sugars, eggs and vanilla.

Mix cinnamon, baking soda, salt and flour together

and add to creamed mixture. Mix in oats until

combined well. Roll into evenly sized balls and place

on greased cookie sheet. Bake at 375 degrees for

10-13 minutes. Do not overcook. Spread cream

cheese icing between 2 cookies.

Filling

• 1 8 oz. cream cheese (softened)

• 1 stick butter

• 1 T Mexican vanilla

• 4 cups powdered sugar

Cream together the butter, cream cheese, and vanilla.

Add powdered sugar 1 cup at a time mixing well after

each addition. Spread between 2 oatmeal cookies for

oatmeal cream pies.

$3,000

LIMITED-TIME ONLY:

**

OFF

MOVE-IN

SKILLED NURSING

Skilled Nursing at St. Catherine's Village provides the complete

spectrum of non-acute, 24-hour care. Throughout their stay,

residents receive person-centered care to support their social,

intellectual, and spiritual…as well as physical…well being. And

right now, living here is even more in reach—new residents can

save $ 3,000 ** when they move into Siena Center. But space is

limited, so call today to find out how you can find compassion

at St. Catherine's Village.

SPECIALIZED SKILLED NURSING

Recipes submitted by Martha Falvey.

Martha lives in Madison and is

married to Ronnie Falvey, pastor

at First Baptist Church Madison.

• 24-hour nursing care

• 24-hour on-duty security

• Semi-private and private rooms

• Assistance with

day-to-day activities

• Three meals served daily

• Regular housekeeping

CONTINUING

LIFE CARE

Independent • Assisted

Memory • Skilled

(601) 856-0123

www.StCatherinesVillage.com

*By the Clarion-Ledger 2016.

Proudly CARF-CCAC

Accredited

**Move-in before December 31, 2017 to receive a $1,000 discount

from the Monthly Service Fee for 3 months. Offer does not apply to respite stays.

Hometown madison • 47
---
Wine & Wishes

october 12 • Flora, MS

the home of liz & troy youngblood

benefitting make-a-wish Mississippi

48 • November/December 2017
---
Hometown madison • 49
---
50 • November/December 2017
---
Hometown madison • 51
---
52 • November/December 2017

Be the Light
---
Mary Ann Kirby

Once you find the light at the end of the tunnel,

become that light for others . . .

There are very few times in my life that I can recall thinking

to myself, "that was an absolutely terrible week." An occasional

bad day? Sure. But a whole week? Not that I can remember. But

recent events have started to erode my optimism a bit and make

me wonder if this is the new normal. Hurricanes and wildfires,

earthquakes and epic flooding, the threat of nuclear conflict,

24-hour doom-and-gloom news cycles, and a general sense of

civil and political unrest have all played their part in undermining

my broader sense of well-being. Frankly it's becoming more

and more challenging to stay above the fray in the midst of

such negativity.

While I'm usually a pretty positive person, I once made

the critical social-media misstep of commenting on what

seemed like a fairly benign political discussion among friends

on Facebook, only to be completely hijacked and eventually

eviscerated by a complete stranger. It took me days to get

over it as I had never been the recipient of such a hostile and

unprecedented lashing out by a keyboard warrior. And I'm no

shrinking violet mind you . . . but nor am I able to function in

a way that brings me joy while trying to think of the meanest

thing I could possibly say in retaliation—all while salvaging

my own sense of self-respect.

I might should just stick to pictures of puppies and kittens.

And baby goats. And Pinterest recipes.

People just seem so angry. Maybe it's a sign of the times–

and finding the best during difficult times can, no doubt, be a

daunting task. But here are a few things I've learned while trying

to do it, nonetheless, despite what's happening around me:

You gotta take the bad with the good. They say that bad days

make you appreciate the good days more. It's that whole

Yin-Yang thing, I suppose. It takes negative space to create

balance with positive space. What would it be like if all we

had was good days? Would we any longer know they're good?

So, even on your worst day, try to find something good. Life

is always going to contain a little darkness. We have to focus

on the light that will follow.

Life's not always fair. There are so many things that happen

that we may never understand, or can explain, that seem

completely unfair. Like, why do some people retain their health

despite their poor lifestyle choices while others that live "by

the book" are blind-sided with a life-changing diagnosis with

no apparent reason or warning? Why do some enjoy great

success without significant effort while others seem to struggle

their entire lives? Why do some good people die young? These

are all challenging questions to which I don't know the answer.

Sometimes life just hits you so hard it knocks your helmet off–

but what defines us is how well we rise after falling. The point

is to rise. Get back up, every time.

Every day is a do-over. The best part of this life is that we are

given the chance to start over every single day that we wake up.

Don't drag the negative with you from day to day like a dead

body. You're not obligated to give it a free ride. Move forward

with thoughts and actions that empower you, not the ones that

weaken you. This is your opportunity to begin again, so be

intentional. This is your do-over.

Make a "good things" list. One of the best ways I've found to

Hometown madison • 53
---
stay optimistic when times are tough is to focus on

what I have rather than what I don't. Gratitude is one

of the best tools for overcoming any difficulty and, as

counter-intuitive as it may seem, it's particularly

beneficial when things aren't going well. The incredible

thing about gratitude is that once we realize all the

things we have in our lives and all the things we can

do, it unlocks a fullness of life and turns what we have

into enough.

Learn to harness your opinion–or should I say,

"articulate your thoughts and views in a more

constructive way." Lordy! Never in my life have I seen

so many opinions shared about things that either have

absolutely nothing to do with the person sharing them

or are communicated in such a way that it creates

complete divisiveness and hostility. And when did it

become acceptable to rebuke someone because they

happen to think differently? We live in the Universal

Age of Sharing. Let's commit ourselves to doing it

nicely. Otherwise it will be the downfall of civility.

Find a place for faith. If you're Christian, faith is not

only the belief that Jesus Christ can save you, but it's

actually knowing that He's on his way to do it—and

that promise alone provides hope for many. But

regardless of your religious beliefs, the point is that it's

important to believe in something. It's been proven

that people of faith have a greater sense of optimism

than those without it.

They say that how we respond to life ultimately

defines our character. There are plenty of days I want

to crawl under the coffee table and hide from the news

and the mean people and the storms of life. But then

I remember that I have a job to do. We all have jobs

to do. Our jobs are to be the light in a dark world.

To spread hope and joy any way we can. To show love

when no one else does.

So when it rains, look for rainbows—when it's

dark, look for stars! And when you can't find the

sunshine, BE the sunshine. That would go a long way

toward making the world a better place. n

54 • November/December 2017
---
DECK the

Table

Order today!

We have you covered from whole meats starting at $49 95 to complete meals starting at $89 95

Brandon

1323 W Government St

769.241.5151

Flowood

268 Dogwood Blvd

601.992.4200

Madison

175 Grandview Blvd

601.605.4025

Richland

1201 Hwy 49 S #5

601.487.8139

©2017 Dickey's Barbecue Restaurants, Inc. Pricing and participation may vary.

Hometown madison • 55
---
FBC Madison

Tablescapes

Home

for the

Holidays

October 12

56 • November/December 2017
---
Hometown madison • 57
---
Leah Mitchener

It's not every day that you casually walk into a shop

and are confronted by a 13-foot, 571 pound alligator. But

if you've ever popped over to Gator Archery and Outdoors

in Madison, you've definitely lived to tell the tale of this

experience. Owner Elizabeth Greer joked that, in the past,

if she could ever figure out how to open a bow shop, she

would make a huge spot for their alligator.

The giant (stuffed) beast has been a focal point in

Jimmy and Elizabeth Greer's shop since they opened their

doors in August of this year. Its presence on the wall may

be slightly jarring to first-time visitors, but it is testament

to the fact that they know their stuff when it comes to

hunting. The gator is one of two that earned the Greers

state records based on size and weight at the time they

were caught. The other was a 13-foot, 6.5-inch monster

weighing in at a whopping 741 pounds. So if you are

looking for some hunting tips, you know Gator Archery

and Outdoors is the right place to ask some questions.

It took what felt like a lifetime for the Greer's dream

of owning an outdoor sporting goods shop to be realized.

The couple has been hunting since each of them was a

young child. Outdoor sporting has just been a part of who

they are for their whole lives. "My dad had two girls and

he always wanted a boy," said Elizabeth. "Then we grew

up and he said, 'Well, y'all are as close to boys as I could

get, so I don't need a boy.'"

The Greers believe that hunting is a great activity for

the whole family, saying that even their seventeen month

old toddles around the house with a bow and arrows.

"We want to get kids into hunting instead of them being

58 • November/December 2017
---
out doing who knows what," added Elizabeth.

Everyone they know that has started hunting has

fallen in love with it, and it has turned into a huge

hobby for them.

As business people, Jimmy and Elizabeth aim

for meeting people's needs, not their pocket books.

With bows ranging from $300 to $1,200, it would be

easy to take advantage of a new hunter's naivety

and sell them something for top-dollar. But Elizabeth

knows that that is not good business. They make a

point to talk to everyone who walks through the front

door of their establishment. "If you talk to someone

like you've known them your whole life and treat

them like that, then it's a lot easier to figure stuff out

and they'll be more prone to ask you questions," said

Elizabeth. "I know what it's like to walk into a store

and not know anything about something that I'm

looking at."

Patrons can expect to find almost anything

they would need for a trip out into the woods at

Gator Archery and Outdoors. They carry hundreds

of different items including clothes, bows, hunting

accessories, and much more. They even offer almost

every bow-related service you can think of: Re-tuning,

stringing, changing weights, adjusting draw lengths,

etc. You name it, they do it!

Though the couple juggle caring for their baby

and Elizabeth's full-time job as a nurse at the

University of Mississippi Medical Center, in addition

to this new business adventure, they still do their

best to be family-focused and enjoy the great outdoors

together. The Greers still love gator hunting when

they have the opportunity, and participating in 3-D

competitions whenever they arise in the off-seasons.

Gator Archery and Outdoor is active on Facebook

@gatorarchery, and are open Monday through Friday

from 9am to 6pm, Saturday from 10am to 4pm, and

closed Sunday so the Greers can have some family

fun out on their own hunts! n

Hometown madison • 59
---
60 • November/December 2017
---
Hometown madison • 61
---
Why take your business or your skills anywhere

else? As the leading independent staffing agency

in the market, we consistently attract the

finest candidates and match them with the best

companies in the area. And because we've always

been locally owned, you'll be dealing with staffing

experts who are invested in, and responsive to, the

local business community.

STAY LOCAL. SEE RESULTS.

As the largest independently owned

staffing service in Mississippi, we

can customize a wide range of

solutions for our clients and provide

a plethora of opportunities for our

employees. We're large enough to

provide services to big corporations

but just the right size for smaller

companies, too.

Whether you're looking

for work or need

employees, we can

assist you with a variety

of positions, including:

- forklift

- assembly

- warehouse

- janitorial

IF YOU'RE

READY TO GET ON

BOARD, CONTACT

US TODAY!

- administrative

- call center

- accounting & finance

- marketing & sales

and much more...

JACKSON 601-353-4200 | CANTON 601-859-8860 | MCCOMB 601-250-0800

www.tempstaff.net

Shop local.

Save local.

62 • November/December 2017
---
Sadie Robertson Live Original Tour

First Baptist Church Madison / October 22

Hometown madison • 63
---
Compassionate,

Professional Home Care

Extensively screened. Carefully matched.

Learn more about our detailed

personnel selection process by calling

601-933-0037 or visiting our website.

www.SouthernHealthcare.com

301 New Pointe

Ridgeland, MS 39157

At Southern Healthcare we evaluate our future team members

with one of the industry's most rigorous screenings, involving

in-depth pre-employment interviews. We know our employees

are the best of the best. And for each assignment, we look closely

at both patient needs and employees' special skillsets, including

using RN assessments for all home care cases to insure

a meticulous match.

Quality outcomes depend on quality care. That's why when you

choose Southern Healthcare, for quality care that provides

Learn more about our detailed

personnel selection process by calling

601-933-0037 or visiting our website.

www.SouthernHealthcare.com

64 • November/December 2017
---
Contact us today! 601.421.1437

We specialize in an array of services including

maintainance, repairs, system additions & more!

Schedule with one of our

5-star technicians today.

info@madison-irrigation.com | www.madison-irrigation.com

Landscape lighting design, sales,

installation, service & maintenance.

LIFETIME

WARRANTY

ANDSCAPE LIGHTING SYSTEM

LLANDSCAPE LIGHTING SYSTEM

For high quality lighting

at an affordable price

Call 601-720-5958

Hometown madison • 65
---
Ken Toler

Ole Miss Rebels

1977-1980

New England Patriots

1981-1983

Greenville native Kenneth Pack Toler Jr., M.D.

Eyes

on the

Ball

Leah Mitchener

has moved from the football field at Ole Miss to

the stadium of the New England Patriots to the

exam room for Jackson Eye Associates where

he specializes in cataract and LASIK surgery.

Though his days on the field as a wide receiver

are at an end, Ken still remembers that time of

his life fondly. Lessons he learned from his teammates,

coaches, and especially his father stay

with him to this day, and have helped him not

only in the game of football, but the journey

of life and in running a medical practice. When

he's not helping people restore their sight, Ken

enjoys spending his free time with his wife,

Kristi, their four children, and two grandchildren.

Win or lose, Ken has learned how to approach

every arena of life as a good sport.

66 • November/December 2017
---
What was the foremost highlight of your football career?

By far my favorite thing about football and what I miss the most

is going through all the blood and sweat with my teammates.

Then going into battle with them and striving to do our very best

–win or lose.

What was the most difficult part of being a college athlete?

The most difficult part was time constraints. You have to practice

football, watch film and then find time to study when you're not

in class. I found that I do my best in this structured environment

when I make the best use of my time.

Describe the favorite character trait you saw in your

head coach.

Raymond Berry was my receiver coach at the New England

Patriots and later became their head coach. His best trait was

his attention to detail. I learned so many tricks and ways to beat

defensive backs from him. He was not exceptionally fast and had

one leg shorter than the other, but his attention to every little

detail and pass route running made him an All-Pro Hall of Fame

Receiver.

Name some ways football influenced your life after football.

Football taught me that if I work hard enough, I'm capable of

anything. It taught me that if you push yourself and don't give up

you could accomplish way more than you thought possible.

Who was the player you most admired on your team

and why?

Breck Tyler was one of our wide receivers at Ole Miss. Breck was

an unselfish player who should have been thrown to a lot more

than he was. He had the best hands of any wide receiver I ever

played with, college or pro. He made some catches you wouldn't

believe. He could have been a good pro receiver if he hadn't

been injured.

Share one of the ways your coach or coaches tried to

motivate you for a "big" game.

Some coaches try to get you ready for a big game by yelling at

you and some are encouragers. But for me, the best way to be

ready is to prepare and pay attention to all the details. You have

to know that a football game, like life, is a long time. There will

be times when things don't go your way and times when things

are going good. You just have to keep focusing on your job,

overcoming obstacles, and be prepared and ready for anything.

Hometown madison • 67
---
68 • November/December 2017
---
Hometown madison • 69
---
70 • November/December 2017
---
55 Days of Unforgettable Memories

Ken Sandridge

Holiday memory-making in Mississippi

usually doesn't include ice - unless, of

course, it's the ice in a glass of sweet tea.

However, thanks to the vision of local U.S.

96.3 radio celebrity and Big South Events

partner, Scott Steele, Central Mississippi

families will enjoy over 55 days of

unforgettable memories on ice beginning

November 12 during Steele's event titled,

Christmas Wonderland.

Describing the nearly two-month

long event as an ice skating, ice sliding

extravaganza, Steele and his partners

are ensuring skating and sliding fun -

rain or shine - by holding the event in a

giant 30,000 square foot tent filled with

thousands of Christmas lights and

decorations in the parking lot of

Mississippi Braves stadium in Pearl.

"Actually, the great memories my

children and I had at the ice rink held in

Madison a few years back," Steele said,

"were the inspiration for Christmas

Wonderland." "As my partners and I began

developing the Christmas Wonderland

concept, we knew we had to find a way

to keep Mother Nature from shutting

down the fun," Steele said in referring to the

more than 20 days of rain that prevented

skating at the Madison event in 2013.

"So, holding Christmas Wonderland in

a massive tent was our only option,"

he added. "If not for the underwriting

commitments of our title sponsor, Merit

Health, as well as other generous

supporters like Outlets of Mississippi,

BankPlus, and Coca-Cola," Steele explained,

"there would have been no way to bring

an event of this magnitude to the Metro

Jackson area." Steele also praised Pearl

Mayor Jake Windham and the businesses

and organizations in the area for their

support of the project - including the host

venue Mississippi Braves, Bass Pro Shop,

Holiday Inn, and Cavender's.

One of the nation's most experienced

providers of portable ice rink venues,

internationally acclaimed Magic Ice USA,

was tapped to develop and install the

Christmas Wonderland ice rink and ice

slide. In addition to a nearly 8,000 square

foot ice rink, Christmas Wonderland will

feature a double ice slide appropriately

titled, The Arctic Blast, where two sliders

climb stairs to the top of a 20-foot high

ice-tower before zooming down a 120-foot

long run of ice to the bottom of the run.

As a bonus for younger children who

may find it slightly challenging to navigate

the ice rink and slide, Steele and partners

also designed a kid-friendly area with an

assortment of inflatables that will include

a huge 22-foot high triple slide that gives

even the youngest event-goers thrills

galore.

"Speaking of kids," Steele continued,

"we have a ton of things planned to make

the event especially exciting for them

during the Christmas season. For instance,

moms and dads can have their children

be a part of several Breakfast with Santa

dates where the kids will actually have

breakfast and visit with St. Nick himself -

along with filling out their wish-list and

dropping it in his big red bag!"

"Birthday parties at Christmas Wonderland

are another opportunity," he added.

We have already booked a ton of

children's birthday parties, which include

skating, sliding and bouncing in the

inflatables area!"

"And not to be outdone by things for

the kiddos," he remarked, "Christmas

Wonderland makes the perfect venue for

Christmas gatherings of all kinds - including

company, church, and other types of group

and organizational gatherings!"

Throughout the nearly eight-week long

event, there will be a variety of local and

regional concerts and entertainment

appearing daily on the BankPlus Stage -

ranging from church and school choirs to

professional entertainers.

"Almost everyone has a favorite

Christmas memory," Steele added. "This

year, we're confident Christmas Wonderland

will become that magical place where

friends and families celebrate the season

and make memories that last a lifetime."

Christmas Wonderland will operate

daily beginning November 12 thru January

6, 10am - 11pm Monday thru Thursday,

and 12 noon - 11pm Friday thru Sunday.

For more information call 601-212-8810,

email info@bigsouthevents.net, or visit

www.christmaswonderland.ms or

FaceBook.com/ChristmasWonderlandMS

Hometown madison • 71
---
LuLu's

Great little sweet treats for all the

special people in your life.

Germantown Wine

Finest selection of scotches and

bourbons for that special gift.

The Perfect Gift

jackson jewelers

14k white gold sapphire and diamond

necklace with an Art Deco design.

1.08 Ct total weight in sapphires and

.33 total Ct weight in diamonds.

Bicycle Revolution

Any cyclist would love this Ride Prep tool kit

under the tree. $129.99

3 JACKSON FAVORITES

1 CONVENIENT CARD

Make Us Part Of Your Giving Tradition

AVAILABLE IN-STORE & ONLINE

Mangia Bene

Gift cards good at Bravo, Sal & Mookie's

and Broad Street Bakery

Wee the People

Awesome children's gifts

and stocking stuffers.

CW Organics

These herbal sets are the perfect gift

for the holidays. $25

Guns n gear

Silencerco Sparrow 22

and Omega 300

NaturAl Health Project

Complimentary First Session of

Invisa-Red Weight Loss Laser Therapy

72 • November/December 2017
---
Material Girls

Kendra Scott Elisa necklaces $50-$75

Madison Fireplace & Patio

Big Green Egg

Calistoga wine & Spirits

Wine makes the perfect holiday gift.

St. Anthony

Tickets to A Starry Night Gala Wonderful

Winterland featuring Doctor Zarr's Amazing

Funk Monster - December 9 at 7pm

Body Anew

Skinceuticals products to fit

your skincare needs

Gator Archery

Crossbows, kid bows, apparel,

candles, Muck boots

runnels center

Gift Cards

Shayna's

Sorelli jewelry and bar bracelets

Mon Ami Spa

HA5 Rejuvenating Hydrator

from SkinMedica

Madison Marketplace

Swig Wine Cups – Collegiate Collection

Hometown madison • 73
---
AND

We are thrilled to announce Today's Teen recipient honoring teens

in our city that have exhibited exemplary leadership skills and serve as

excellent role models. Kenley Brooks, a senior at Germantown High School

was awarded this distinction by Brit Phelps, CEO Merit Health Madison.

Congratulations Kenley and a big "Thank You" to Merit Health

for investing in our leaders of the future.

There's Merit in the future.

74 • November/December 2017
---
Hometown Madison

Reader

SPOTLIGHT

Shelley

Hughes

Why did you decide to make Madison

County your home?

Madison has such a small town feel by offering a

sense of community, faith, and security.

Tell us about your family.

I have been married to Chris Hughes for 21 years.

We meet in dental school here in Jackson. We are

blessed with 4 children. Our oldest is Abby Grace

who is a sophomore studying mechanical

engineering in the CME program at Ole Miss.

And we have triplets that are juniors attending

Jackson Prep; Madeline Claire, Dixon, and Grant.

And not to be forgotten are our 4 dogs and cat.

What is your favorite memory of living in

Madison?

The "Doughnut Fairy." Ever since my kids were

little, my father shows up Sunday morning at my

house with doughnuts for the kids. As you can

imagine the amount of doughnuts has increased

over the years with the size of my boys. He even

brings a special box of doughnuts for the dogs!

Where are your three favorite places to eat

in Madison?

Local 463, Nagoya, and Ruth's Chris.

What are some fun things to do in Madison

on the weekends?

Movies at Grandview, exercising on the Natchez

Trace trails, and shopping around town.

Share some things you enjoy doing in your

spare time.

Anything that involves spending time with

my family. It can be a road trip to concerts and

football games, family game night at home,

or a night out for dinner and the movies. My

heart is happy when the family is together.

What are three things on your bucket list?

Travel...to Italy, Israel, and Egypt.

Where do you see yourself in ten years?

If I have learned anything, it is that my plans are

not always God's plans. I am excited to see what

he has planned for me.

Who is someone you admire and why?

Hands down, my mother! She is the most selfless

and positive person. She has gone through so

much with her health over the years having heart

surgeries and a kidney transplant with my older

sister as the donor. But nothing stops her. Just ask

her friends at the Pilates Studio of Ridgeland

where she is a devoted class member.

If you could give us one encouraging quote,

what would it be?

"Trust in the Lord with all your heart; and lean

not unto your own understanding; in all your

ways submit to him, and he will make your paths

straight." - Proverbs 3:5-6

What is your favorite thing about

Hometown Magazines?

Whether it is a person, place, or event, discovering

something new about Madison.

Amy Edwards

601-707-9434

1716 Highway 51, Ste. I

Madison

+ = BIG SAVINGS

Insurance and coverages subject to terms, qualifications and availability. Allstate Vehicle and Property Insurance Co.,Allstate Property and Casualty Insurance Co. Northbrook,

Illinois © 2010 Allstate Insurance Co.

226958

Hometown madison • 75
---
76 • November/December 2017
---
OUR DOORS ARE ALWAYS

OPEN FOR YOU!

PRINT

DIRECT DIGITAL GREEN CROSS MEDIA DESIGN

247 Industrial Drive N Madison, Mississippi 39110

601-853-7300 1-800-844-7301

www.hederman.com

Hometown madison • 77
---
78 • November/December 2017
---
St. Catherine's Village

Paint it Purple

September 29

benefitting Alzheimer's

awareness

Hometown madison • 79
---
The CHALKBOARD

madison county Schools

Madison Central

Madison Central High School is proud to announce its 2017-

2018 National Merit Semifinalists and Commended Scholars.

Back L-R: National Merit Semifinalists David McDonald, Noah

Grovich, Jackson Dellinger, Chanu Cherukuri, Luke Little,

Advait Praveen, James Michels and Commended Scholar Case

Draughn. Front L-R: National Merit Semifinalists Rimika

Banerjee, Maddie Gall, Anna Brock, Abigail Barton, Mary Ranie

Miller, Commended Scholar Maeve Rigney and National Merit

Semifinalist Claire Smith.

Student Government Association senior members.

Front L-R: secretary Spencer Castilla, president Cedric Beal,

treasurer Chanu Cherukuri, vice president Parth Malaviya. Back

L-R: representatives Mary Ranie Miller, Tara Amos, Catherine

Whitten, Anne Daniel Embry, Brooke Thomas, Stroud Tolleson.

Madison Central High School 2017-2018 Uproar newspaper

staff is pictured. Front L-R: website manager Maeve Rigney,

editor-in-chief Ashton Giesecke, Hayden Ray, Bradlea James,

Sara Whitehead, website manager Bezal Jupiter. Middle L-R:

Phoebe Waters, layout editor Katie King, copy editor Kaitlyn

Sills, Lauren Barham, business manager Jordan Carter, business

manager Sarah Elizabeth Johns, Adele Russell. Back L-R: Jillian

Russell, Vanessa Anguiano, Katherine Pudish, Elizabeth Barton.

Student Government Association junior members.

Front L-R: secretary Haaris Patel, treasurer Michael Zhang,

president Bonnie Hill, vice president Maggie McKinnis.

Back L-R: representatives Caleb Smith, Westbrooks Ross,

Sydney Storm, Saad Alamgir, Kathryn Scoggins, Bailey Naquin,

Claire Iupe.

Student Government Association sophomore members.

Front L-R: secretary Jordan Williams, treasurer Emma Grace

Trammell, vice president Anna Cate Strong, president Brooks

Stewart. Back L-R: representatives Logan Landis, Allison Hill,

Mary Morgan Williams, Miller Widemire, Sadderika Mason,

Justin Storm.

80 • November/December 2017
---
Student Government Association executive officers.

Front L-R: co-presidents Cayden Shirley and Noah Grovich.

Back L-R: vice president Maddie Gall, treasurer Luke Little and

secretary Megan Humphreys.

2017-2018 Pawprint Yearbook Production staff.

Front row L-R: editors Emily Harms, Kaylee Ricchetti.

Second row L-R: copy editor Austin Wilkins, Alex Ricketts,

social media manager Reagan Leeper. Third row L-R: Sara

Cavicchi, Ally Henson, Anna Warden, Bonnie Hill, Emma

Barham, social media manager Cameron Rogillio. Fourth row

L-R: Mary Grace Nelson, Jordan Williams.

2017-2018 Pawprint Yearbook financial staff.

Front row L-R: business managers Kalli Hedgepeth, Lucy Cavett,

Elise Chancellor. Second row L-R: Timothy Seago, Ellen Morgan,

Sidney Dean, Cayden Shirley. Third row L-R: Mallory Dale,

Francie Davis, Victoria Stevens, Hannah Cloud, Elle Muirhead.

Fourth row L-R: Maggie McKinnis, Claire Iupe, Courtney Reid,

Addison Baney and Kathryn Scoggins. Back Row L-R: Sydney

Stokes, Mary Morgan Williams and Allison Hill.

Submissions provided by local officials from each individual district and not to be considered editorial opinion.

Hometown madison • 81
---
The CHALKBOARD

madison county Schools

Mannsdale

Mannsdale students are learning about character education

through their Pledge 4 Hope Fun Run fundraiser. Students learned

about the importance of teamwork, setting goals, and treating

others with respect.

82 • November/December 2017

Submissions provided by local officials from each individual district and not to be considered editorial opinion.
---
Ann Smith

Building Ties With the Community

Mr. Juan Gonzales understands, first-hand, the difficulty

involved in leaving your home and family to move to another

country. Mr. Gonzales left Mexico in 2011 to move to the Jackson

area in order to attend Wesley Biblical Seminary. His desire was

to gain the education and skills necessary to return to Mexico

and help his community.

After completing his studies, he did in fact become a great

help to the Hispanic community, just not in the way he had

expected. His opportunity to make a difference opened up as

he became an assistant with the ESL (English as a Second

Language) program at Ann Smith Elementary. During the past

two years, Mr. Gonzales has been an amazing asset to the ASE

community. He has been vital in building relationships between

the school staff and families of Spanish speaking students. He

not only has a kind and caring manner, but a genuine concern for

the well-being of those he serves. Mr. Gonzales has translated

many school forms and documents including report cards,

newsletters, and all important communication between families

and school. He has helped to plan and promote events and

functions to bring together families, students, staff, community

leaders, and businesses in an effort to help the ESL families

become better acclimated and

broaden the perspective of all

involved. "We want all families

at ASE to feel welcome and

comfortable regardless of their

background," he stated.

This year Mr. Gonzales' role

will be expanded. He will serve

as the ESL liaison. He will work

not only with ASE but with all

schools and families in the

Ridgeland Zone. He will be a

wonderful asset to our schools and families as he seeks to grow

relationships and increase academic growth for the ESL community.

"We will plan and organize events, facilitate communication,

and offer opportunities for parents so they feel less isolated and

more able to be a part of their child's education," he stated.

"Some of the opportunities that we are planning for the Ridgeland

Zone are some of the ones that were successful at ASE and

well as some new ideas. We will give the parents opportunities to

attend classes to help them learn English as well as ways to help

their children with homework," Mr. Gonzales added. "We want

families to grow academically, but we also want them to feel that

they are a vital part of the school and community."

ASE Walks to School

Ann Smith Elementary was one of

thousands of schools in more than 40

countries that celebrated International

Walk to School Day to promote pedestrian

safety, environmentally friendly forms of

transportation, and health and fitness.

Ann Smith students, parents, city leaders

and community members walked to school

on Wednesday, October 10. Walk to School

Day has become quite a tradition at ASE.

This was the 7th year that the school has

participated in the event.

Hometown madison • 83
---
The CHALKBOARD

madison county Schools

East Flora

The East Flora Elementary Choir performed "America the

Beautiful" during pre-game at the Madison Central High football

game. The choir consists of 28 students in fourth and fifth grade

under the direction of EFE music teacher, Deborah Creel.

Fifth-grade students Titus Gooden, Tymerria Crowley, Valeja

Stapleton, Jekhyla Miles, and Malaiyah Kelly were selected to

audition for the 2018 Mississippi All-State Elementary Honor

Choir.

East Flora Elementary School is definitely having "A Year of Great

Expectations!" Students are learning what it means to have good

character. In August the core trait was respect. Students who

exemplified the core trait throughout the month were awarded the

"Super Jag Award". Front L-R: Chloe Amerson, Braylon Anderson,

Maliyah Hunter, Essence Harden, Bryson Buckley, Riley Spicer,

Kohner Richardson. Back L-R: Nathaniel Wilkinson, Malaiyah

Kelly, Reyanna Williams, Ethan Carpenter, Javon Thames.

84 • November/December 2017
---
Germantown

Senior Receives Mecu Star Student Award

Aurea Toledo-Dunham from Germantown High School has

been selected as the Star Student of the Month for September

2017. This award is voted on by the faculty and staff of GHS and

is based on outstanding academic achievement and strong

commitment to community involvement.

Aurea is described by GHS staff as "the epitome of the

All-American girl"! She is involved in a plethora of activities at

Germantown High School such as Marine Corps JROTC, choir,

Beta Club, HOSA, student government, and National Honor

Society. Aurea has been awarded the Biology Award, Citizenship

Award, Accelerated English Award, and she represented GHS at

Girl's State where she won a Mayor's Scholarship and Good

Citizenship Citation. She is also involved in numerous community

service activities through her school and church, as well.

"Members Exchange is honored to recognize students at

Germantown High School through the Star Student program.

We hope that more students will realize the importance of

community service and this will motivate them to get involved in

their community," said Angela Mitchell, AVP Marketing at

Members Exchange.

Members Exchange is proud to recognize her accomplishments

and reward her with the first Star Student Award of 2017.

The MECU Star Student Award honors students who exemplify

strong community engagement and service into their daily lives.

We award 4 students at GHS during the Fall semester with this

award, and they receive a certificate, $100 check payable to the

student, and a MECU swag bag.

Members Exchange is a not-for-profit financial institution founded in 1954

as an alternative to traditional banking. Membership is open to persons who

live, work, worship, volunteer or attend school in Hinds, Madison, Rankin,

Simpson or Copiah counties in Mississippi; as well as immediate family

members of current credit union members.

Angela Mitchell, AVP Marketing, Aurea Toledo-Dunham,

GHS Star Student, and David Broadaway, AVP Business and

Specialized Lending

Harrison Grimes and Gus Loshelder

Germantown High School National Merit semifinalists

National Merit Scholarship Corporation announced the names

of approximately 16,000 semifinalists in the 63rd annual

National Merit Scholarship Program. These academically

talented high school seniors have an opportunity to continue

in the competition for some 7,500 national merit scholarships

worth more than $32 million that will be offered next spring.

The nationwide pool of semifinalists, representing less than one

percent of U.S. high school seniors, includes the highest scoring

entrants in each state.

Submissions provided by local officials from each individual district and not to be considered editorial opinion.

Hometown madison • 85
---
The CHALKBOARD

Germantown

madison county Schools

Germantown High School crowned

Alanis Johnson their 2017 Homecoming Queen.

Senior Homecoming Maids L-R: Alanis Johnson, Ka'Briana Kirk, Cambria Luckett,

Mary Morgan Agostinelli, Abbie Hanna, and Tiara Scott

Junior Homecoming Maids

L-R: Madison Smith, Emme Walker,

Hailey Soper, Grayson Amis

Sophomore Homecoming Maids

L-R: Ava Aslam, JuKaela Knox, Nicole

Easley, Iris Ball

Freshman Homecoming Maids

L-R: Anna Claire Savell, Ella Maulding,

Mia Eskridge, Amelia Agostinelli

86 • November/December 2017

Submissions provided by local officials from each individual district and not to be considered editorial opinion.
---
Senior Homecoming Court L-R: Kyle Holmes, Josh Bell, Cade Pinnix,

Howard Munroe, Benjamin Bell, Dra Donalson, Ka'Briana Kirk,

Mary Morgan Agostinelli, Alanis Johnson, Cambria Luckett, Tiara Scott,

Abbie Hanna

Junior Homecoming Court L-R: Tyler Welch, Carson

Fisher, Reid Lott, and Eli Thurman, Emme Walker,

Madison Smith, Hailey Soper, and Grayson Amis

Sophomore Homecoming Court L-R: Isaiah Wilson, Easton

Wynn, Austin Lee, and Justas Bowers Nicole Easley, Ava Aslam,

JuKaela Knox, Iris Ball

Freshman Homecoming Court L-R: Drew Williams, Colton

Gardner, Houston Haley, and Miles Denny, Amelia Agostinelli,

Anna Claire Savell, Mia Eskridge, Ella Maulding

Hometown madison • 87
---
The CHALKBOARD

madison county Schools

Rosa Scott

Rosa Scott held its annual golf ball drop fundraiser on October 2nd

before the Rosa Scott versus Germantown football game. Students

sold raffle tickets for a chance to win $2500. The winner was

determined by whose ball dropped from helicopter landed closest

to the target.

PTO Golf Ball drop committee L-R: Joy Bourne, Jenny Layton,

Amanda Ward, Principal Sean Brewer & Bridgett Chisolm.

Not pictured: Beth Parker, Lindsey Thoms, Julie Darling,

Teresa Wooten

Top sellers L-R: Brendon Minor and J.T Evans both won $150.

Brianna Williams was the 3rd place winner of $75. The winner of

the $2500 was Frankie Deel and the winning ticket was sold by

Summer Keith.

88 • November/December 2017

Submissions provided by local officials from each individual district and not to be considered editorial opinion.
---
Hometown madison • 89
---
Camille Anding

The Time Coin

Mississippi seems to be home to a

lot of doves, and there are two that

live right in our back yard. I wish

they would migrate – permanently! It's those

forlorn bird sounds they make that take me

back some thirty years ago when our children

were adolescents and the "circle of life" in

our extended family hadn't been broken.

I realize now what a blessed chapter that is in a family's life cycle

and how different life can become in the chapters that always follow.

I should have relished those days more.

The family dove shoot meant a cousins and siblings reunion.

Daddy would have the sprawling pasture harvested from the doves'

favorite seeds, leaving behind an enticement for hungry doves to fly low.

My brother and sisters along with spouses and kids would circle the

perimeter of the field, waiting for the first morning's rays to reflect off

the gun barrels and the arrival of the breakfast-seeking doves.

"Here they come!" someone would shout, and the battle would

ensue. A barrage of shoulder-pounding shotguns would bring down

the first kill followed by cousins racing our Lab retriever to fetch the

feathered trophies. The war zone was active until noon when everyone

left the field to gather around our table for

lunch. It would be light fare so there would be

ample room for the feast that night.

By mid-afternoon, the hunters and

retrievers headed back to the dove shoot for

Round II. Sometimes the doves took their

time in returning and other times they would

fly over in supersonic maneuvers. While we

waited, muffled conversations among the families and random dragon

fly chases by the kids filled the quiet until we heard it again, "Here

they come!"

The evening meal was fare beyond description – biscuits, a

hundred plus with bowls of dove gravy to match the heaping platter of

fried doves. Fresh lima beans, chilled potato salad and sliced tomatoes

were the usual accompaniments. The fellowship was the finest but no

finer than the taste of that once a year delicacy of fried doves.

I seldom travel down Hwy 30 in Union County. The dove pasture

once seen from the highway is overgrown and blocked off by roadside

trees. The doves probably never fly low over the neglected pasture, and

laughter amid the shotgun booms is only a memory. A nearby cemetery

is the resting place of my favorite cook and dove hunter.

I should have relished those days more. n

90 • November/December 2017
---
More than 30 practices.

Quick appointments.

One number: 844-MSMERIT.

Because there's Merit in convenient care.

With more than 30 primary care and specialty practices in four counties across the Jackson and Vicksburg metropolitan

areas, Merit Health Medical Group providers offer quality care for your family with your schedule in mind. From sore

throats and fever to annual wellness visits and more specialized care, we've got you covered.

To see all locations and specialties, please visit MyMeritDoctor.com

Call 844-MSMERIT for a provider near you.

Walk-ins are welcome at all primary care practices,

or ask about same-day and next-day appointments.

Hometown madison • 91
---
this holiday season

Add us to

your wish list!

Results you've dreamed of are now available with little or no downtime and minimal or no surgery!

Call for an appointment, and let's talk about exciting new advances.

outpatient Plastic Surgery, Clinic & Spa

RUNNELS skin

CENTER

∆¬e Spa

laser & aesthetics

WIN a $300 Gift Card

Visit www.bit.ly/Runnels300 to register.

Winner to be drawn December 23rd!

William North, MD

Plastic Surgeon

Aileen Moran, COE

Certified Aesthetician,

Director of SKIN the Spa

Scott Runnels, MD, FACS

Plastic Surgeon

Breast Resizing • Body Lifts • Tummy Tuck • Liposuction • HydraFacial MD • Kybella • Botox • Juvéderm Injectables

Latissé • Cutera Laser Treatments • Chemical Peels & Facials • SkinPen Precision • Everlasting Eyebrow Microblading

Medical Grade Skincare Products from: ZO Skin Health · NEOCUTIS · DermAware · Obagi · SKIN the Makeup

www.RunnelsCenter.com River Oaks Drive • Metro Jackson Clinic 601.939.9778 • Spa 601.939.2457