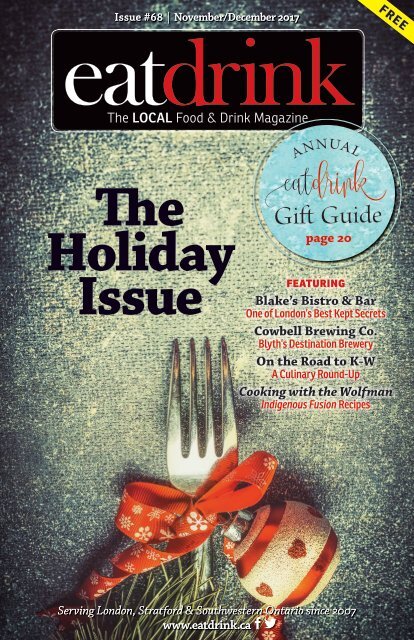 Eatdrink #68 November/December 2017 "The Holiday Issue"
The Local Food & Drink Magazine serving London, Stratford & Southwestern Ontario since 2007
The Local Food & Drink Magazine serving London, Stratford & Southwestern Ontario since 2007
SHOW MORE
SHOW LESS
Create successful ePaper yourself
Turn your PDF publications into a flip-book with our unique Google optimized e-Paper software.
Issue #68 | November/December 2017

eatdrink

The LOCAL Food & Drink Magazine

FREE

The

Holiday

Issue

ANNUAL

eatdrink

Gift Guide

page 20

FEATURING

Blake's Bistro & Bar

One of London's Best Kept Secrets

Cowbell Brewing Co.

Blyth's Destination Brewery

On the Road to K-W

A Culinary Round-Up

Cooking with the Wolfman

Indigenous Fusion Recipes

Serving London, Stratford & Southwestern Ontario since 2007

www.eatdrink.ca
---
2 | November/December 2017

THE CHRISTMAS TRAIL

CAPTURES THE SPIRIT

OF GIVING AND

THE JOY OF CHECKING

OFF THAT LIST

eatdrink.ca |@eatdrinkmag

You'll discover unique and individual

gift ideas when you stroll our festive

streets. We've made it easy to kick

off your holiday shopping with

The Christmas Trail – six gifts

for just $30*. And because it's

Stratford, be on the lookout

for seven swans a swimming.

Purchase your pass

at Stratford Tourism,

47 Downie Street.

visitstratford.ca

*plus HST
---
UPCOMING EVENTS AT THE IDLEWYLD

Spa Open House

Wednesday, November 15th, 2017 | 5:00pm - 8:00pm

Save the date for this year's Spa Open House, featuring

complementary refreshments and hors d'oeuvres, treatment

demonstrations and product promotions. Treat yourself, or start

your holiday shopping early!

$110

Inclusive

Scotch Tasting at the Idlewyld

Friday, November 17th, 2017 | 7:00pm

Join Simon Hooper with Wirtz Beverages reserve spirit consultant

and world class ambassador for an Informative Scotch Tasting

evening, featuring blends and single malts served with food

pairings by Chef Trevor Stephens

New Year's Eve at the Idlewyld

Sunday, December 31st, 2017

Ring in the New Year with a Gourmet Dinner & Live Jazz! Featuring

vocalist Sonja Gustafson, Pianist Charlie Rallo & Bassist Darryl Stacy.

New Year's Dinner Only

$75.00pp

New Year's Dinner & Show

$125.00pp

Saturday Afternoon Tea

November 18th, 2017

Enjoy a traditional high tea, featuring an

assortment of loose leaf teas, homemade

scones, Devon cream and preserves,

cucumber sandwiches, savory mini quiches,

and mouth watering treats and sweets!

Festive Christmas Afternoon Tea

December 16th, 2017

Enjoy all of the delicacies that are featured

in our regular afternoon tea surrounded

by beautiful holiday decor. As a Holiday

gift each of our guests will receive an

Idlewyld branded glass.

$40 per person $60 per person

36 Grand Ave London, Ontario N6C 1K8 | ph 519.432.5554 | www.idlewyldinn.com
---
eatdrink

inc.

The LOCAL Food & Drink Magazine

eatdrinkmag

@eatdrinkmag

www.eatdrink.ca

Think Global. Read Local.

Publisher

Chris McDonell – chris@eatdrink.ca

Managing Editor Cecilia Buy – cbuy@eatdrink.ca

Food Editor Bryan Lavery – bryan@eatdrink.ca

Copy Editor Kym Wolfe

Social Media Editor Bryan Lavery – bryan@eatdrink.ca

Advertising Sales Chris McDonell – chris@eatdrink.ca

Stacey McDonald – stacey@eatdrink.ca

Finances

Ann Cormier – finance@eatdrink.ca

Graphics

Chris McDonell, Cecilia Buy

Writers

Jane Antoniak, Gerry Blackwell,

Aaron Brown, Darin Cook,

Bryan Lavery, Tracy Turlin,

Sue Sutherland Wood

Photographers Steve Grimes

Telephone & Fax 519-434-8349

Mailing Address 525 Huron Street, London ON N5Y 4J6

Website

City Media

Printing

Sportswood Printing

We want your

BUZZ!

Do you have culinary news or upcoming

events that you'd like us to share? Every

issue, Eatdrink reaches more than 50,000

readers across Southwestern Ontario in print,

and thousands more online.

Get in touch with us at editor@eatdrink.ca

and/or connect directly with our

Social Media Editor

Bryan Lavery at bryan@eatdrink.ca

© 2017 Eatdrink Inc. and the writers. All rights reserved.

Reproduction or duplication of any material published in Eatdrink

or on Eatdrink.ca is strictly prohibited without the written permission

of the Publisher. Eatdrink has a printed circulation of 20,000

issues published six times annually. The views or opinions expressed

in the information, content and/or advertisements published in

Eatdrink or online are solely those of the author(s) and do not

necessarily represent those of the Publisher. The Publisher welcomes

submissions but accepts no responsibility for unsolicited material.
---
Book Now for

London's Best

New Year's Eve

Party!

JOIN US

For Our Famous All-You-Can-Eat

Dickens Lunch Buffet

November 27 to December 22

Monday to Friday 11:30am to 2pm

Call for reservations

519-430-6414

/Blakes2ndFloor

¦
---
Contents

Issue #68 | November/December 2017

The Holiday Issue

Publisher's Notes

It's the Most Wonderful

Time of the Year. Really!

By CHRIS MCDONELL

8

49

Spirits

What's Hot?

Cocktail Spheres

By BRYAN LAVERY

49

Restaurants

Blake's Bistro & Bar

at the DoubleTree by Hilton

By BRYAN LAVERY

10

10

Various Musical Notes

Seasonal Sounds

Upcoming Highlights on the Music Scene

By GERRY BLACKWELL

50

Cowbell Brewing Co.

A Unique Destination in the

Heart of Huron County

By BRYAN LAVERY

16

Culinary Retail

Our Annual Gift Guide

20

Road Trips

On the Road to K-W

A Culinary Round-Up

By BRYAN LAVERY

28

The BUZZ

Culinary Community Notes

34

Beer

Porter's Rest

A Beer for Winter

By AARON BROWN

46

ANNUAL

eatdrink

16

Gift Guide

20

56

54

Theatre

Bah, Humbug? I Think Not!

On the Seasonal Stage

By JANE ANTONIAK

54

Books

True Confessions from the Ninth

Concession

by Dan Needles

Reviews by DARIN COOK

56

Recipes

Cooking with the Wolfman

by David Wolfman and Marlene Finn

Review & Recipe Selections by TRACY TURLIN

58

The Lighter Side

Sugar Plums Optional

By SUE SUTHERLAND-WOOD

62

58
---
GREAT FOOD IN THE HEART OF WORTLEY VILLAGE

GOOD FOOD FIRST

ORGANIC • VEGAN • LOCAL

BREAKFAST. BRUNCH. LUNCH. DINNER. DRINKS.

162 Wortley Rd., London, ON N6C 3P7

plantmatterkitchen.com 519.660.3663

A FINE DINING EXPERIENCE IN DOWNTOWN LONDON

FINE FOOD FIRST

ORGANIC • VEGAN • LOCAL

LUNCH. DINNER. DRINKS.

244 Dundas St., London, ON N6A 1H3

plantmatterbistro.com 519.432.3663
---
8 | November/December 2017

Publisher's Notes

eatdrink.ca |@eatdrinkmag

It's the Most Wonderful Time

of the Year. Really!

By CHRIS McDONELL

This can be the most wonderful time

of the year, and we have done our

best to help make it so. Our annual

Holiday Issue always gets us thinking

about the season a little prematurely because

of our production schedule, but the reward

is similar to that good feeling one gets after

wrapping the last present on your gift-giving

list. The work is done and now we can really

enjoy ourselves and jump into the festivities

with both feet.

Our Gift Guide will provide plenty

of inspiration. Getting our favourite

retailers to highlight just one item

each is a challenge they take on

willingly, but it really isn't fair.

There are sure to be hits for

you there, but a visit to the

shop and talking to the experts

will ensure you find a perfect fit

— sometimes quite literally. Our

culinary focus at Eatdrink also leads

us to know that people who like to

eat and drink well also enjoy every other facet

of "the good life" ... and express their zest for

living with the clothes they wear, the home

they keep, the culture they enjoy, and what

they do with their leisure time.

Party season is kicking into high gear,

and you'll see that the quality restaurants

advertising in Eatdrink are keen to help take

care of the particulars for you, whether you're a

table of four or you need to book out the whole

space for the bash of the year. The holiday

season is a time to be with people, so why not

let professionals take some of the load off your

shoulders so you can enjoy yourself?

Of course, hosting in your own home can

be a great experience too, and we've got

plenty of help for that in this issue. Wow your

guests with a "spherical cocktail" that you

will find the secret to in our Spirits column.

The magical ingredients are surprisingly

affordable and you don't need to be David

Copperfield to pull this off.

'Tis also the season for more robust beers,

and you'll know their history and have

some leads on porters and stouts after you

read beer columnist Aaron Brown's first

contribution to Eatdrink. For more solid

sustenance, you'll find some intriguing recipes

and "indigenous fusion" ideas — and reviewer

Tracy Turlin has kept the holidays in mind

with her suggestions — as we look at the

popular Cooking with the Wolfman cookbook

that combines rustic indigenous traditions

with fine dining.

Bryan Lavery hit the road for

a few days for us this issue. He

surveyed some of the key culinary

highlights — and there are

many — in the Kitchener-

Waterloo region. He also

made the envious trek to

Blyth and visited the exciting

Cowbell Brewing Co., which is an

outstanding brewery, restaurant

and so much more. It's a great story

about an inspiring business, and don't we all

love seeing a bold group of people embracing

a grand vision that taps into so many ideals,

and pulling it off. Kudos!

Closer to home, Bryan also shares the story

of the transformation of London's Hilton into

something new, and specifically the Blake's

Bistro & Bar on the second floor. Will Blake's

still be "a London secret" after this? I doubt it.

Let's really celebrate the season with

gusto, but also ensure that we remember the

less fortunate members of our community.

There is no shortage of worthy organizations

looking for support and I encourage you to

find one or two that have meaning for you

and give to them generously. While I often

say "we reap what we sow," I know that good

fortune is often not earned, and misfortune is

too often out of one's control.

Peace,
---
Holidays

Celebrate the

Our Festive Buffets and

Brunches Have Returned!

Grand Hall Festive Lunch Buffet

November 30 th – December 20 th

(Monday – Friday)

Festive Sunday Brunch

December 3 rd , 10 th & 17 th

Reservations required.

Experience the

Windermere Difference:

exceptional banquet facilities

for holiday gatherings

stay the evening at our onsite

hotel, with spacious and

welcoming guest suites

enjoy our warm and intimate

Restaurant Ninety One

Direct Reservations: 519-858-5866

ample complimentary parking

Windermere Manor &

Restaurant Ninety One

200 Collip Circle, London ON

(at the Research Park)

Please call our holiday line

519-858-1391 x 20430

or 1.800.997.4477

windermeremanor.com
---
10 | November/December 2017

Restaurants

eatdrink.ca |@eatdrinkmag

One of London's Best Kept Secrets

Blake's Bistro & Bar at Double Tree by Hilton

By BRYAN LAVERY

The 22-storey Hilton high-rise

relaunched as a DoubleTree by

Hilton property in 2015, after an

extensive floor-by-floor $10-million

renovation. The renovation included an overhaul

of the 323-room property with fresh décor and

upgrades throughout the hotel. It's the first

significant refurbishment since the property

began operating under the Hilton brand in 1999,

according to general manager Joe Drummond.

Whether it is front desk staff or those

behind the scenes it is important that

a hotel's touch-points ensure a positive

guest experience. Consistent management

overseeing the detailed day-to-day

choreography of hotel operations and service

is paramount. For a hotel to stand the test

of time it must have an enduring appeal. The

DoubleTree property has been managed by

the stalwart and affable Drummond since it

became part of the Hilton group 18 years ago.

Hoteliers are always looking for new

ways to improve and personalize the guest

experience in more innovative ways. As part

of an updated strategy the property was

rebranded after operating as a Hilton for 15

years. "The new look and feel is chic, with a

more modern open concept," said Drummond.

The fresh design offers more natural light,

open spaces, an integrated lobby with access

to computers for guests, and more expansive

sightlines. The former escalator to the second

floor was replaced by a stunning black granite

King Street entrance to the hotel

staircase with glass railings that is a focal

point of the lobby and serves as an invitation

to Blake's Bistro & Bar on the second floor.

Elevators are also nearby.

Originally built as part of the City Centre

complex, the hotel operated under the

Radisson and Westin banners after originally

launching as a Holiday Inn. The hotel was

built in 1975 on the property that once housed

the former Hotel London (the city's premier

hotel until the 1970's). The original downtown

Holiday Inn was situated directly across King

Street, (fronting on York Street,) where the

Convention Centre now stands. That Holiday

Inn then operated as both a hotel and the
---
The Holiday Issue

company's international head office for a brief

period of time.

The DoubleTree by Hilton is southwestern

Ontario's largest convention hotel and is

connected to London Convention Centre

by a heated second-floor elevated walkway.

The large ballroom has an 18-foot ceiling and

can accommodate upwards to 850 people.

Drummond notes that they host one of

London's biggest and best New Year's Eve

parties in the ballroom every year, for 600

guests, featuring a live telecast of New York's

Times Square countdown on two large screens.

Hotel restaurants have had an unfair reputation

for being overpriced, and underwhelming

visitors. As part of the refurbishment,

all-day dining is offered in the relaxed and

stylish Blake's Bistro & Bar. (Visitors and

guests can start their day with a beverage

from the hotel's main floor Starbucks). Blake's

is a blend of two former concepts, the elegant

dining of London Grill and the more casual

aspects of JJ's Keys Lounge and Market Café.

It is different from the ubiquitous cookiecutter

hotel dining rooms of the past. The

atmosphere is contemporary and welcoming

and there are large windows providing natural

light. The

dining room

has a bright

contemporary

look,

updated features,

walls

From left of

opposite page,

Crab Stuffed

Mushroom

Caps Tapas; a

Buffet spread;

Jumbo Scallops;

Clubhouse

Sandwich; and

lamb Chops.

Merry Makers Fair

Sunday, November 12, 11am–4pm

Upstairs on the mezzanine, check out the

London crafters and makers offering handmade

jewellery, bath & body products, apparel

and accessories to infant & children's items,

perfume, home decor, and so much more!

Christmas Merry Makers Fair

Sunday, December 14, 11am–4pm)

Presented by The Lung Association

4th Annual Festival of Trees

November 23–26

View beautifully decorated artificial Christmas

trees, wreaths, and other donated items and

purchase raffle tickets to win a beautiful holiday

gift. Enjoy seasonal entertainment, do a little

holiday shopping, and check out the children's

activities. www.on.lung.ca/festivaloftreesLondon

Soupendous Lunch

Friday, November 24, 11:30am–2pm)

Local Market vendors will compete for the Best

Soup. Event goers will have the opportunity to

taste competing soups prepared by local

chefs, help judges pick winners, and enjoy

entertainment and other fun for $5.

Breakfast with Santa

Saturday, November 26, 9:30am–12:30pm)

Enjoy a hot breakfast with Santa and his elves

in the food court. Tickets are only $5 each and

include a pancake breakfast and a special gift

from Santa. After breakfast, the families can

join Santa to view the trees and participate in

the other activities.
---
12 | November/December 2017

eatdrink.ca |@eatdrinkmag

Blake's showcases the redesign plan:

more natural light, open spaces, and

more expansive sightlines.

adorned with colourful abstracts and an eclectic

à la carte menu catering to a wider range of

tastes and with varying price points. "One of

the biggest challenges at Blake's is raising its

profile and getting people to the second floor

because the restaurant is not at street level for

passers-by to see," food and beverage manager

The new look and feel is

" chic, with a more modern

open concept.

— Joe Drummond"

Andrew McMurdo said in a recent interview.

Drummond hired executive chef Todd

Pylypiw (who had been employed at The

London Hunt & Country Club for 12 years).

For the past 15 years Pylypiw has been at

the helm of The Meal, an annual fundraising

event for the Canadian Diabetics Association.

Pylypiw has now been working at the hotel

for 16 years. Chef's emphasis is on quality

ingredients, seasonality, and exceeding

expectations, with a similar commitment to

customer service. Drummond, Pylypiw and

McMurdo are adamant

about delivering value and

quality in the restaurant.

Informality is more

than just the question

of ambience or décor. It

extends to the cuisine and

an overall attitude, and

an intermingling of more

refined and market-driven

cuisine with comfort food staples like AAA

steaks alongside a well-made burger. Blake's

offers an array of some of the best hand-cut

steaks in town. They include grain-fed AAA

Sterling Silver Beef Tenderloin, Top Sirloin and

New York Striploin that are aged 21 to 28 days.

Ontario Lamb is grilled to perfection. Seasonal

menus might include the award-winning

Conrad Burger, Grilled Cornish Hen with hoisin

and ginger, Black Cod on saffron risotto and

other favourites like Salmon Niçoise Salad,

Pulled Pork and Fish Tacos. Pylypiw is focused

on locally grown produce. Drummond adds,

"Chef is currently looking into providing a

cheese program featuring locally produced

specialty cheeses."

The guest experience has been

enhanced throughout the hotel
---
The Holiday Issue November/December 2017 | 13

Bartender extraordinaire Rebecca Wright

An increasing number of food service

workers, particularly in cities that have a

shortage of well-trained professional staff,

are in the industry for the long run. They

help maintain a standard. Many Londoners

and visitors will remember long-time servers

Anna Tovey and Terry Divers. They developed

warm and lasting relationships with guests

for nearly four decades until recent years. For

many years the service at the hotel has had

the reputation of being professional, friendly

and anticipatory. Bartender extraordinaire

Rebecca Wright still rocks the lounge, relying

on old-school customer service skills such

as making eye contact, remembering your

name and your drink, and engaging you

Serving up

Great

partnerships

in conversation to make you feel welcome.

Locals, tourists and business travellers

dining solo or having a nightcap in the bar

get the VIP treatment. Wright, who recently

celebrated a 30-year anniversary, continues to

be one of London's best ambassadors.

There is a curated whisky selection, and

a good wine list which includes VQA and

imported labels. Drummond has built a solid

relationship with Pelee Island Winery. Blake's

features Pelee Island Vidal and Cabernet as

house wines. There is draught on tap and

local craft beers like Anderson Craft Ales and

Forked River.

As the holiday season approaches, treat

yourself to the Dickens Luncheon Buffet

at Blake's that runs from November 27 to

December 22. And don't forget about the

Doubletree's New Year's Eve festivities. Plans

are already well underway.

DoubleTree by Hilton has become one of

the fastest growing hotel brands over the last

decade. A hugely popular signature gesture

helps set the tone. Guests staying at the hotel

are welcomed with a warm chocolate chip

cookie (baked-daily) at check-in. Attention to

detail pays dividends.

Blake's Bistro & Bar

Double Tree by Hilton,

300 King Street, London

519-430-6414

www.fb.com/blakes2ndfloor/

open daily 6am–11pm

Eatdrink Food Editor and Writer at Large BRYAN

LAVERY brings years of experience in the restaurant

and hospitality industry, as a chef, restaurateur and

consultant. Always on the lookout for the stories that

Eatdrink should be telling, he helps shape the magazine

both under his byline and behind the scenes.

commercial | digital | wide format | design

Let us help with your next project...

519.866.5558 | ben@sportswood.on.ca

www.sportswood.on.ca
---
Stratford is

more than

great theatre

visitstratford.ca
---
WATSON'S CHELSEA BAZAAR

A fun place to Holiday shop!

Smeg small appliances ... A perfect fusion of practicality, technology and beauty!

84 Ontario St Stratford watsonsofstratford.com 519-273-1790

mimosa brunch

beer dinners

reserve now!

64 Wellington Street, Stratford

Phone 519.305.6464, Email info@redrabbitresto.com

Thursday to Monday Year Round

www.redrabbitresto.com

Sunday

Dimsum!

Starting November 5th

Seatings available

6pm-8pm

85 Downie Street, Stratford

Phone 519.305.8585, Email info@okazusnackbar.com

Thursday to Sunday, 6pm - 2am

www.okazusnackbar.com

String Bone Presents!

70 Brunswick St., Stratford

One of the best live music venues in Southwestern Ontario!

2017/2018 Live @ Revival House

NOV 8 Hawksley Workman (SOLD OUT)

NOV 17 Jully Black (UNPLUGGED)

FEB 2

APR 6

MAY 4

A Tribute to Willie P Bennett

Irish Mythen + Harrow Fair

Oh Suzanna + Sunparlour Players

JUNE 1 Samantha Martin & Delta Sugar

www.stringbonepresents.com

www.revival.house
---
16 | November/December 2017

Restaurants

eatdrink.ca |@eatdrinkmag

A Unique Destination

in the Heart of Huron County

Cowbell Brewing Company in Blyth

By BRYAN LAVERY

Blyth's founding in 1877 is commemorated

on a historic plaque on the

town's main street. The plaque's text

states "By 1851 Lucius McConnell

and Kenneth McBain, two of the earliest

settlers in the area, had located here in

Morris Township. Four years later, Donald

McDonald laid out a village plot on the border

between Wawanosh and Morris Townships

and in July 1856 a post-office was established.

The village developed slowly but within

two years contained a sawmill owned by

McBain, a Presbyterian church, a tavern and

store. Originally known as Drummond after

an enterprising early family, the village, a

market town for the surrounding agricultural

region, was renamed Blyth after an absentee

landowner. In January, 1876 a station on

the London, Huron and Bruce Railway was

opened and a year later the village was

incorporated with a population of about 800."

Blyth is a theatre town. According to The

Blyth Centre for the Arts' website, "the Blyth

Festival was founded in 1975 to showcase

professional repertory theatre that reflects

the culture and concerns of the people of

southwestern Ontario and beyond." For years

the Blyth Festival has been a main draw to

this community, attracting around 20,000

visitors annually. The theatre has always

been worth a trip to Blyth, as has the Old

Mill (featuring Canada's largest selection of

leather goods) and

restaurants like

Queens Bakery for

lighter fare, and

Part II Bistro for

casual fine dining.

Now there is

another great

reason to make

the drive to Blyth.

Cowbell Brewing

Co. is located just

The Cowbell Brewing

Co. is a multi-faceted

operation built on

111-acres with 26,000

square feet of interior

space. Guests can enjoy

tours, tastings, a retail

store, a full-service

bar, restaurant, indoor/

outdoor seating, and

entertainment/event

space. Plans include a

restaurant garden and

working farm in 2018.
---
The Holiday Issue November/December 2017 | 17

south of Blyth at the corner of Highway 4 (London

Road) and County Road 25, in Huron County's

fertile farming area historically referred to as "The

Empire's Breadbasket." In homage to many historic

Huron County farms, the building's architectural

features appear as though they were built at

different times, giving the impression of a centuryold

family farm evolving organically over time.

The destination craft brewery is a 26,000 squarefoot

venue featuring a 50-hectolitre capacity stateof-the-art

brewhouse, restaurant and taproom,

with indoor and outdoor seating for 300 as well

as several unique event and private dining rooms.

It opened to critical acclaim in August. The 120-

seat farm-to-table inspired restaurant is situated

in the centre of the expansive stone and wood

barn-style facility that features 45-foot ceilings.

Other elements include an open kitchen, a stone

fireplace, and an enormous screen for special

events. Adjacent to the kitchen is an 8-seat chef's

table that is available by reservation only.

Guests in Doc's Bar are positioned directly in front

of the elevated Cowbell brewhouse — an outstanding

vantage point. Doc's Bar showcases a quantity of

taps, including 25 Cowbell beers and one rotating tap

dedicated to other Huron County brewers. Cowbell's

products are on sale in a small retail space on site,

including beer in cans, growlers and kegs, as well

as various types of branded merchandise such as

T-shirts, maple syrup and coffee.

In preparation for the opening the Sparling

family, owners of Cowbell, actively engaged and

strengthened relationships with both local and

regional businesses and community members. The

project required years of research, education and

advance planning.

Cowbell's 23-acre working farm will grow barley

and hops for the beers. There will also be an

orchard and a vegetable garden which will provide

produce for the restaurant. In addition, there are

plans to construct a natural outdoor amphitheatre

with a 15,000-person capacity. It will host music,

cultural and athletic events.

Renowned London chef Kim Sutherland got

the ball rolling by forming relationships with a

network of local farmers, producers, bakers and

meat purveyors. Picking up from there, Executive

Chef Alexandre Lussier, who has a passion for

authentic farm-to-table experiences, took the

project to the next level, completing the culinary

team by hiring two pastry chefs. Lussier has

staged in Italy and in France at three Michelinstarred

restaurants. Chef sources products that

From the top, Cowbell Executive Chef Alexandre Lussier; the

Ploughman's Platter, and the Lamb Burger.
---
eatdrink.ca |@eatdrinkmag

are inspired by his farm-to-table ethos and the

surrounding terroir. Suppliers include Metzger

Meat Products, Little Sisters Chicken and Red

Cat Farm Bakery.

Before lunch we took a self-guided tour of

the building. From almost every vantage point

there were unobstructed views of the operations

including a purpose-built catwalk from which

visitors can see the entire production process in

the brewery part of the facility.

On our first visit we ordered the lamb burger.

It was moist and perfectly cooked with a rich

savoury flavour underscored by olive tapenade,

creamy goat cheese and crisp arugula.

Metzger's savoury pork products with their rich

flavour mix are featured on the Ploughman's

Platter, accompanied by beer-infused cheese,

grilled bread, locally produced farm preserves,

crunchy pickled vegetables and house-smoked

BBQ mustard. Friends raved about the moist,

flavourful, well-seasoned classic burger with

a topping of shaved pickle, aged cheddar,

lettuce and tomato. The Grant is two seasoned

6-ounce beef patties, Metzger's thick cut bacon,

aged cheddar cheese and rosemary on a soft

brioche bun. Fresh sourdough crostini are

served with creamed feta cheese, fresh diced

tomato and organic basil. Local oversized ribs

are braised in Cowbell beer BBQ sauce, served

with your choice of side. Wood-fired pizza is a

house speciality. Mushroom n' Cheese pizza is

comprised of a beer cheese sauce, matchstick

potatoes, mushrooms and mozzarella, and

finished with rosemary and sea salt. For dessert

there is a decadent signature dark chocolate

and custard pie that has a pretzel and graham

cracker crust, with Fly Girl Nitro Oatmeal stout

and creamy dark chocolate custard, topped

with roasted marshmallow meringue. If food

allergies are a concern, there are dairy-free,

nut-free and gluten-free options available. The

menu changes seasonally.

One of the main goals at Cowbell is to be

sustainable. It is North America's first carbon

neutral brewery and the world's first closedloop

brewery. A closed-loop brewery is one

that sources the brewing water from an on-site

well, with the excess water being returned

through its own wastewater plant. The brewery

treats all wastewater and releases it back into

From the top, with 25 Cowbell beers on tap, Paige serves

a large number of the popular tasting flights. Middle

photo shows the brewery's "Founders' Series" — named

for colourful and remarkable characters from Blyth's past.

Below are some of the retail products available.
---
The Holiday Issue

Become a Local for the Day!

A balcony view reveals the soaring 45-foot ceilings and

Doc's Bar, facing the Cowbell Brewhouse.

the groundwater table on the property. This

reduces the water demand and means that

there is no impact on the municipal system or

the environment.

The Greener Pastures Community Fund

is one of the ways the Sparling family and

Cowbell are giving back. In December 2016

Cowbell launched a long-term relationship

supporting Ontario's four children's hospitals.

Cowbell donates five cents from every can and

pint sold, to be invested annually in specific

initiatives at each of the children's hospitals.

Cowbell also supports the foundations

through event participation and by raising

awareness of the life-changing work by

remarkable people in these world-class

hospitals. Funds raised also support the Grant

and Mildred Sparling Centre at The Canadian

Centre for Rural Creativity, which will break

ground in Blyth in 2018.

Cowbell checks all the boxes as a key agritourism

attraction and a major economic

driver in the region. It is well worth the drive

to Blyth to experience Canada's first designbuild

destination brewery.

Cowbell Brewing Co.

40035 Blyth Road, Blyth ON

Restaurant Reservations: 1-226-909-0066

www.cowbellbrewing.com

Beer, Wine & Cider

Tours out of London,

St. Thomas, Sarnia

& Grand Bend area.

Explore Lambton,

Huron & Perth Counties.

NEW!

London

Brew Tour

tourtheshoreinquir.wixsite.com/tourtheshore

or contact

bradley.oke@gmail.com

and celebrate!

Tour Stops include

about 15 Breweries,

3 Wineries, a Distillery

and a Cidery.

For more info and to

book your tour, go to:

'Tis the Season ...

Book Your Christmas Party!

Λ

Eat & Drink at the Water's Edge

Smackwater Jacks Taphouse is a front row seat to

one of the most beautiful sunsets in the world.

BRYAN LAVERY is Eatdrink Food Editor and Writer at

Large.

www.smackwaterjacks.ca
---
20 | November/December 2017

Culinary Retail

eatdrink.ca |@eatdrinkmag

ANNUAL

eatdrink

Gift Guide

It really IS

better to

give than

to receive

—when you find

the perfect gift that

is warmly received,

and you haven't felt

caught up in shopping mall

madness. To help you achieve this end, we've

polled a fine range of independent retailers —

the real shopping experts — for suggestions

for the special people in your life. Whether

you're looking for a big present for someone

close to your heart, or a small gift for a

hostess or your friend at work, here are some

new as well as tried-and-true suggestions

from the experts. Happy Shopping!

The Pristine Olive has come up

with many delicious ways to help

customers stuff their Christmas

stockings (with over 60 flavours of oils

and balsamics). Owner Jamie Griffiths

has created several unique Sample

Pack Combinations, containing

many of his most popular items. Each

sample pack holds two, four, or six

individually labeled, 60 ml bottles,

all enclosed in a custom-designed

gift box, making some truly delicious

gift giving options for everyone on

your list. Ranging from $11–$33.00,

available at The Pristine Olive • 884

Adelaide Street N., London • www.

thepristineolive.com • 519-433-4444

Perfect for fall and winter, discover the Steed &

Company Apple Pie in a Jar with crisp apples

and delicate floral

lavender. Serve as an

apple compote with s

pork or simply as a

side with cheddar

cheese. Great with

cream cheese on

a toasted bagel or

used as filling in

tarts. $6.90 at Steed

& Company Lavender

• 47589 Sparta Line,

RR#5 Aylmer • www.

steedandcompany.

com • 519-494-5525

Gerhard Metzger's Christmas-themed salamis

are available at Metzger

Meats in Hensall or at The

Village Meat Shop at The

Market at Western Fair.

These festive salamis are

a real seasonal treat and

perfect for gift baskets and

stocking stuffers for the

meat-lovers on your list.

$7.99–$9.99 Metzger Meat

Products • 180 Brock Ave,

Hensall • www.metzgermeat.

com • 519-262-3130
---
The Holiday Issue

This ensemble is an

example of the carefully

curated collection

of ladies wear,

accessories, jewelry,

baby wear, greeting

cards, home décor

and bath and body

products — with a

focus on Canadian

designers and

goods — that

Curiosities has

delivered for over

20 years. Scarf from

Sanibel (Montreal)

$35.99, Tonia DeBellis

Haylee jacket (Toronto)

$199.00, Karen Wilson

hand bag (Toronto) $299.00, black Lisette

pants (Montreal) $118.00. Complementary gift

wrapping. Curiosities • 174½ Wortley Road, London

• fb.com/pg/CuriositiesGiftShop • 519-432-0434

A gift certificate or card from a unique

and interesting store or a fabulous local

restaurant can

be a reflection of

your good taste

and the interests

of the recipient.

They are available

from most every business, in denominations

that fit your budget.

$100 Value

Birdfeeding Experts — All non-GMO Birdseed

Garden Gifts & Holiday Decor

The Bird and Garden Store

HOME • GARDEN • GIFTS

Destination for the food lover

Featuring specialty foods,

kitchenwares, tablewares,

cooking classes and gift baskets.

Patrick's Beans offers consistently high

quality organic coffee blends. Ethically-sourced

beans are roasted in small batches, then

blended together to attain tailor-made tastes

and complexities not found in single varietal

selections. A number of popular blends are

available, with custom blends for the true

aficionado. Check Patrick's Facebook page for

locations. From $15 for a 1 pound bag. Patrick's

Beans • www.patricksbeans.com • 226-378-5100

115 King St., London Ontario

jillstable.ca 519-645-1335
---
22 | November/December 2017

eatdrink.ca |@eatdrinkmag

Railway City Brewing has the perfect gift for only $13.95! This Holiday

Gift Pack features 473 mL cans of Ontario silver-medal-winning

Dead Elephant Ale, Canadian gold-medal-winning Black

Coal Stout, specialty seasonal Cranberry Festive Lager,

and a 16 oz Railway City Brewing glass, all attractively

packaged in a holiday gift box. Get yours today at

LCBO outlets, select grocery stores, and Railway City's

retail store. Railway City Brewing Co. • 130 Edward St, St.

Thomas • www.railwaycitybrewing.com • 519-631-1881

Consumable

gifts are always

appreciated, especially when

they satisfy a sweet tooth! Chocolate Barr's

offers a customized Stackable Gift Basket — items can

be substituted or more can be added. A popular choice

includes their renowned ½-pound Assorted Chocolates,

a ½-pound of mixed milk and dark chocolate Minties,

a ½-Pound of Almond Butter Crunch, and a bag of milk

chocolate Foiled Santas. $42.99 as shown, at Chocolate Barr's

Candies • 55 George St W, Stratford • www.chocolatebarrs.com

• 519-272-2828

You'll find nearly everything you need

to enhance the warmth of the holiday

season from the Pepper Tree Spice Co.

The Home for the Holidays Spice

Collection includes their best-selling

Garlic Mashed Blend and Signature

Mulling Spice. With over 300 spices

and artisan blends made daily on-site,

gourmet foods, kitchenware and custom

gift baskets, you'll find the gift that keeps giving for the foodie in your

life! Gift packages start at $34 .95 Pepper Tree Spice Co. • 223 Colborne St,

Port Stanley • www.peppertreespice.com • 519-782-7800

All desserts deserve to be put on a pedestal,

especially on this striking Mosser Glass footed

cake stand. Their vibrant colour and timeless

design, inspired by vintage glass holds, adds a

touch of sophistication to any table setting. Serve

cakes, cupcakes, cookies, fruit pies, mincemeat

tarts, madeleines or macarons on cake stands

available in several sizes and heights to create a

truly striking dessert table or to display various

heights of candles. Mosser Glass cake stands are

handmade in Cambridge, Ohio in a family-owned

factory that has been crafting glass for over 47

years. Available in 4 sizes: 6" $44.95, 9" $59.95, 10"

$79.95 and 12" $95 in 4 colours — red, jadeite, milk

and marble. Bradshaws • 129 Ontario St, Stratford •

www.bradshawscanada.com • 519-271-6283
---
The Holiday Issue

Certified tea sommelier and nutritionist

Michelle Pierce Hamilton and her business

partner Yixing Tang opened The Tea Lounge

in a small and charming house on Piccadilly

Street east of Richmond Row a year ago. The

pair offers a premium tea service experience,

serving ethically-sourced single-origin teas

and tisanes from around the world, as well

as retailing striking teaware. For the holiday

season, charming cat/dog tea sets (a

teapot with 2 mugs) are priced around $50.

The Tea Lounge • 268 Picadilly St., London • www.

tealoungelondon.com • 519-601-TEAS (8327)

FRESH gift ideas yule love

Select from over 60 flavours of oils and balsamics.

Sample the freshest oils from across the globe, paired with savoury

white & dark balsamic vinegars from Modena, Italy.

Personally bottled to suit your individual taste.

Gift

Cards

Custom

Gift Baskets

Sample

Packs

Corporate

Gifts

Stocking

Stuffers

The

Pristine

live

Est. 2012

884 Adelaide Street N. | London | 519-433-4444

www.thepristineolive.ca
---
24 | November/December 2017

eatdrink.ca |@eatdrinkmag

Watson's Chelsea Bazaar is a long-standing Stratford

favourite, with two floors displaying an eclectic range of goods

from around the world. You will find quality items such as

Emma Bridgewater Pottery

from England. A fun new

addition to this line is the mini

radio. Listen to your favourite

holiday tunes in retro style

with modern sound. Mini

Radio $109.00. Watson's Chelsea

Bazaar • 84 Ontario Street,

Stratford • watsonsofstratford.

com • 519-273-1790

An all-local producer gift

basket makes a statement

and is sure to please every foodie on your list. This sample

includes items from Living Alive Granola (St. Thomas), Jensen

Cheese (Simcoe), Aunt Lena's Preserves (Aylmer), Mennomex

Salsa (Aylmer), Luke's Tortilla Chips (Aylmer), Wanda's Spicy

Connection (St. Thomas), Las Chicas Del Cafe Coffee (St.

Looking for a one-of-a-kind Thomas), Crocker Honey (St. Thomas) and more. Custom gift

gift for the food-lover on

baskets start at $30. Briwood Farm Market • 1030 Talbot Street, St.

your list? Check out the

Thomas • briwoodfarmmarket.com • 519-633-9691

exclusive Jill's Table Bowl

made by Emile Henry in

France. This 12-inch diameter

3-quart bowl is made from

Burgundian clay and is oven

safe. It even fits into some

toaster ovens. The high

resistant glaze is durable to

ensure years of enjoyment.

Jill uses this bowl for salads,

stews, risotto, baked pasta dishes and so much more. Watch for "The Red Bowl" cooking classes

in the Winter cooking class season at Jill's Table. Participants will receive a bowl! Available only

in red for $54.99. Jill's Table • 115 King Street, London • jillstable.ca • 519-645-1335

Drink Up! A drink with dinner is essential for birds

in winter. A heated birdbath provides a reliable

water source for drinking, as well as a place to

bathe to keep their feathers in prime condition

for proper

insulation.

Featherfields

carries a great

selection

of heated

birdbaths,

each with an

automatic

thermostat.

Just plug in!

A perfect gift idea for the nature lover in your life!

$138–$216. Find memorable gifts for the holidays at

Featherfields • 1570 Hyde Park Rd #5, London • www.

featherfields.com • 519-474-1165

Here's a great gift for your beer (or kombucha

or cider or coffee or hot chocolate)

lover! By SS Growler, these are the

original, stainless steel, threadless fliptop

growlers

and come in

both 1L ($50

inc. tax) and

2L ($60 inc.

tax) versions.

Double-walled

and vacuumsealed,

these

will keep

your beer cold and carbonated (or your

hot cocoa hot) for many hours. Perfect

for outdoor adventuring and gift-giving!

Anderson Craft Ales • 1030 Elias St, London

• www.andersoncraftales.ca • 506-253-9440
---
a step closer to Italy...

Family-owned & operated, siblingsTina and Len

are celebrating 10 years of bringing a genuine

taste of Italy to Chatham. In homage to their

mother Maria, they insist upon from-scratch

cooking using the best of local ingrendients.

The restaurant is sophisticated yet approachable.

A beautiful patio overlooks the Thames River.

Catering and two well-appointed

private function rooms are available.

231 King Street West, Chatham

519-360-1600

Open for Dinner Daily / Lunch Monday-Saturday

www.mammamariasristorante.ca

HOLIDAY

PARTY

SPECIALISTS

BOOK YOUR

PARTY TODAY!

Frendz is run by the creative team of Brenda

Boismier and Chef Marc King. The warm, cozy

Resto/Lounge is designed for friends to gather for

good food and good times. Weekend entertainment

features local talent. The upscale yet affordable

menu features international cuisine, prepared from

scratch, from Spanish tapas to steak and seafood.

Craft beer and an extensive drink menu is on offer.

216 King Street West, Chatham

519-436-1313

Open Tuesday–Saturday for Lunch & Dinner

www.frendzlounge.com

a step closer to home...
---
26 | November/December 2017

eatdrink.ca |@eatdrinkmag

St. Thomas &

ELGIN COUNTY

Eat, Drink,

Shop & explore

Spice Up the Holidays!

Christmas Open House

UP TO

30% OFF

peppertreespice.com

519-782-7800

Nov. 17–19

Limited Edition

Emile Henry

Holiday Spice Collections

In Store Specials & More!

7 Days a Week • 223A Colborne St., Port Stanley

Saturdays • Western Fair Farmers' Market,

900 King St., London

growers & creators of fine lavender products

DISCOVER

Steed & Company Lavender, part of a

45-acre horse farm just outside of Sparta

INDULGE

in our unique handcrafted lavender products

ESCAPE

in the wonderful scent and

calming powers of lavender

519-494-5525

47589 Sparta Line, Sparta

buds@steedandcompany.com

Open Wed–Sat 10-5; Sun 12–4

Mother's Day through Christmas

www.steedandcompany.com

Join us for our

Christmas

Open House

November

25 & 26
---
Quality & Freshness Since 1991

Ontario Produce Year Round

Organic Produce

Local Meats, Cheeses & Eggs

Bulk Foods & Pet Food

Fresh Local

Turkeys to Order

by Oegema's

Christmas Trees

Holiday Décor

Seasonal Baked Goods

Custom Gift Baskets

All of Your

Holiday Dinner Needs!

Open Daily

8am–6pm

1030 Talbot St., St. Thomas 519-633-9691 briwoodfarmmarket.com

elgincounty

Check out our website for unique Elgin County shopping ideas.

1-877-GO-ELGIN x168 - elgintourist.com/shopping
---
28 | November/December 2017

SPONSORED BY

Road Trips

On the Road to K-W

A Culinary Round-Up

eatdrink.ca |@eatdrinkmag

By BRYAN LAVERY

I

have been a fan of road trips since I was

a child, as they provide great opportunities

to explore the places you're driving

through. We always tried to visit that

out-of-the-way museum or gallery, unique

restaurant, farmgate or farmers' market.

Recently on a road trip to Kitchener-Waterloo

(K-W) we stopped in the beautiful stone town

of St. Marys for coffee at Barista's, and to see

Jon Ogryzlo's exhibition of food photographs

at the quaint and quirky St. Marys Station

Gallery. On the way home we stopped in New

Hamburg, where the Nith River winds through

the historic town and flows through the downtown

core. We discovered the charming, openconcept

Imperial Market & Eatery in the newly

renovated, historic Imperial building.

On other trips to K-W we've made the

short trek to nearby Langdon Hall, for lunch

and to tour the gardens. Another time we took

a drive to The Arlington in Paris, Ontario.

The boutique hotel is owned by The Other

Bird group, which will soon be opening a

restaurant (Hunter & Co.) in downtown

London. On our latest trip to K-W area our

first stop was the iconic St. Jacobs Farmers'

Market, a tourist mecca. We arrived on a

beautiful fall day when there were still row

after row of farmers set up outdoors. The

first floor at the Market is dedicated to food,

and features many of the local Mennonite

products for which the area is renowned.

The Berlin

I am particularly interested in the vibrant

restaurant scene in K-W. It benefits from the

thriving tech community, global think tanks,

new condo developments, the revitalized

downtown and Kitchener's pedestrianfriendly

vibe. In a few months the light rail

transit line is expected to transform the area

by linking Kitchener to Waterloo. Several

initiatives have been launched by the City

of Kitchener to galvanize the downtown

core. New lighting was added to the streets,

sidewalks were enlarged, and curbs were

lowered. Anchored by Kitchener Market,

this district is known to have the city's most

conspicuous cluster of culturally diverse

restaurants and shops. Venture along King

and Queen streets to explore dozens of

indie cafés, pubs and great locally-owned

restaurants like Gilt Restaurant Bar and

Lounge, B at the Museum and The Berlin.

St. Jacobs Farmers' Market interior
---
The Holiday Issue November/December 2017 | 29

*Some restrictions apply. See Lexus of London for details.
---
30 | November/December 2017

eatdrink.ca |@eatdrinkmag

Langdon Hall, Toronto's Canoe and Auberge

du Pommier, and Kitchener's former Marisol.

Chef gave me an interesting tutorial about

the elevator, the dining concept and future

plans for the venue. The menu at TWH Social

is touted as "local ingredients done well, with

a thoughtfully sourced menu focused on

sustainability and diversity".

A lengthy telephone conversation about the

culinary scene with Minto Schneider, CEO of

Waterloo Region Tourism, directed me to the

charming Belmont Village. This area, nestled

mid-town between downtown Kitchener

and uptown Waterloo, has been a longtime

culinary destination with restaurant

landmarks like the 40-year-old Café Rugantino

and the 32-year-old Janet Lynn's Bistro. The

The Berlin, now two years old, is a partnership

between Chef Johnathon Gushue and

restaurateur Ryan Lloyd-Craig. The partners

share an ethical and sustainable culinary

philosophy, attentively caring about the

provenance of their food and the way it is grown

or raised. The constantly evolving menu is based

on the availability of the best fresh and local

ingredients from small, innovative farms and

top-quality food producers in the surrounding

area. Gushue shapes a formative, seasonbased

and from scratch, farm-to-table dining

experience that is both accessible and fresh.

Kitchener's grand dame Walper Hotel was

built in 1893 and recently received a multimillion

dollar makeover. I have distinct

memories of meeting my grandmother at the

Baroque Room in the Walper in the 1980's

when the cuisine was old fashioned, hearty

and Mittel-European — it was a stunning

white-linen and beaux-arts inspired dining

room with arched windows and elaborate

cornice work. Today the Walper is a unique,

modern boutique experience combining

contemporary building technology with the

best of the hotel's heritage features. There is

a striking piano bar and lounge called Lokal

located on the second floor. We enjoyed

sipping craft cocktails and conversing with

the friendly and upbeat staff in TWH Social,

the subterranean bar/bistro. While exploring

the venue I bumped into Chef Jeff Ward

— his business card identifies him as Chief

Cook and Bottle Washer despite a culinary

pedigree that includes Stratford Chefs School,
---
The Holiday Issue November/December 2017 | 31

Cobb Salad at The Belmont

area is now making its mark as a happening

culinary hub with venues like The Culinary

Studio for cooking classes and Arabella Park

Beer Bar, which opened near Union Boulevard

at the north end of the village. Arabella Park's

kitchen team combines innovation with

classic and modern ideas to create playful

and shareable cuisine that pairs well with

beer. We had a terrific lunch at The Belmont

Bistro (formerly Village Creperie) next door

to the relatively new gourmet coffeehouse

Berlin Bicycle Café. At The Belmont Bistro

Chef Brandon Gries, a Stratford Chef School

alumnus, creates dishes from scratch, taking

no short-cuts and changing the menu

seasonally. We had an exceptional experience

and the Cobb salad with griddle chicken,

bacon, fresh corn, avocado, boiled eggs,

candied walnuts, pickled onions, greens and

shallot vinaigrette.

Abe Erb Brewing Co.'s brewhouse in the

Tannery building, in downtown Kitchener near

the corner of King and Victoria streets, boasts

a full production facility on site, including a

canning line, big brewing vats and tanks for

storage. Part of the appeal of Abe Erb is pairing

both brewing and restaurant experiences.

The tongue-in-cheek mission statement reads

"Our trifecta is the combination of beer,

food and live entertainment. We take your

patronage as seriously as we take our beards

and moustaches".

Waterloo, home to thousands of Canadian

tech innovations, is also where tech titan

Google is currently headquartered and the

hometown of BlackBerry. Grin and Grind

Holdings, the team that developed Abe Erb, has

created Settlement Co. in uptown Waterloo.

The urban café blends old-world, traditional

craft with modern Scandinavian elements. It is

part café, coffee roaster, social hub and cocktail

lounge, featuring contemporary café cuisine

and offering a toast and waffle bar.

A must-visit is the 87-year-old Harmony

Lunch in uptown Waterloo. The landmark has

been revitalised by The Fat Sparrow Group

which also operates the ever-popular Taco

Farm, as well as the 1870s livery-stable-turnedrestaurant

Marbles, and Nick & Nat's Uptown

21 (now an event venue). Ethel's Lounge

is the go-to-place for jazz and blues.

Recommended by almost every local,

restaurateur and waiter I spoke with were

the nightly specials, standouts being

Ethel's burgers and meatloaf.

In advance of this latest road trip and

for the purpose of this story I consulted

colleagues and, of course, CBC K-W's

food columnist Andrew Coppolino's

seminal Waterloo Region Eats website.

waterlooregioneats.com

The Walper Hotel

BRYAN LAVERY is Eatdrink Food Editor and

Writer at Large.
---
32 | November/December 2017

eatdrink.ca |@eatdrinkmag

845 Florence St., London ON

#LdnWineFood

WesternFairDistrict

@WesternFair
---
The Holiday Issue November/December 2017 | 33

A GIFT YOURTASTE FOR

BUDS

JANUARY 18-20

SAMPLING OF THE FINEST CUISINE,

WINES, BEERS, SPIRITS & ENTERTAINMENT.

CONNOISSEUR THURSDAY

THE TASTIEST DAY OF THE SHOW, CRAFTED SPECIFICALLY

FOR THOSE PASSIONATE ABOUT FOOD & WINE.

PRESENTED BY

NEW hours

THU 5PM–10:30PM | FRI 3PM–10:30PM | SAT NOON–4:30PM | SAT 6PM–10:30PM

WESTERNFAIRDISTRICT.COM
---
34 | November/December 2017

eatdrink.ca |@eatdrinkmag

The BUZZ

Culinary Community Notes

London

The London Wine and Food Show, presented by

White Oaks Mall, returns with more food, wine and

entertainment than ever before. The show brings

Londoners an enticing mix of local restaurants,

wineries, craft beers, and spirits and pairs them

with tasting seminars, stage presentations and

entertainment. Come sip, sample and savour at

London's Wine & Food Show at Metroland Media

Agriplex. January 18-20, 2018: Thursday 5–10:30;

Friday 3–10:30; Saturday afternoon 12 noon–4:30;

and Saturday evening 6–10:30.

Western Fair District is a not-for-profit agricultural

association that has deep roots in London, evolving

over a century-and-a-half from an agricultural fall

fair to a multi-faceted event centre. The Association

is committed to providing entertaining experiences

that enrich the community. As part of its notfor-profit

status it reinvests surplus revenue into

Helping Create Kitchens to Inspire Chefs!

upgrading the facilities and products to meet the

needs of the community. The Association recently

purchased the 11-year-old Western Fair Farmers'

& Artisans' Market from Dave Cook, who had

previously acquired it from founder Wim Overbeek.

In response to the Forest City Cookbook's

crowdfunding campaign, London developer Joe

Carapella is pitching in to help. Carapella's Tricar

Group has pre-ordered 200 books to help fund

the production and printing of London Ontario's

community cookbook. This donation pushed Forest

City Cookbook past its minimum goal of 1000 books

pre-ordered. If you don't have a copy reserved

yet, be sure to place your order by December!

forestcitycookbook.com

Join your community in recognizing the Red Scarf

symbol of HIV/AIDS Awareness from November 24

to December 1. Go to redscarf.ca

OPENING SOON

Open

to the

Public

www.haymach.ca

2889 Dundas Street, London

519-659-4644 • 1-844-HAYMACH

www.haymach.ca

New Name Brand Equipment

Large Showroom & Inventory, Including Smallwares

Monthly Auctions with www.haymach.ca

Quality Used Equipment

Knowledgable Staff to Help You Maximize Efficiency & Profitability

We Buy, Sell, Trade, Consign, Auction & Appraise!

twelve seats

five course tasting menu

Contemporary Canadian Cuisine

208 Piccadilly Street, London

reverierestaurant.ca

By Reservation Only
---
The Holiday Issue

The 2018 London Hospitality Awards are

presented by the Ontario Restaurant Hotel and

Motel Association's London Region. Nominate

and vote for your Regional Hospitality Stars.

londonhospitalityawards.com

Gavin Anderson, President of Anderson Craft

Ales, Will Heeman, Chief Daymaker at Heeman's,

and Christina St. Clair, Owner and Appraiser

at Haymach Canada Inc. are among this year's

recipients of London Inc.'s 20 Under 40 awards.

David Chapman of David's Bistro is expected to

re-open the restaurant in mid to late November,

after an extensive renovation due to a fire in the

neighbouring building. davidsbistro.ca

Emma Pratt, a respected and long-time member

of the Garlic's of London management team,

recently decided to change careers. Leading

a well-coordinated team of polished service

professionals, Pratt has always been the

personification of the restaurant professional:

hospitable, knowledgeable, detail-oriented and

gracious. In fact, it was Pratt who originally hired

Edin Pehilj nearly twenty years ago, before he

became owner of Garlic's. She is among the top tier

hospitality professionals who set the benchmark

Remarkable Dining

CORELICIOUS MENU

Apps

Caesar Salad

Smoked bacon, shaved asiago,

baguette crisp

OR

Vegetarian Caesar Salad

OR

Now Booking Holiday Parties

La Sopa Del Dia

private Daily dining soup areas inspiration, • customizable fresh ingredients menus

award-winning OR service

Escargot

Pernod and fennel cream, julienne vegetables,

pastry triangle

OR

Creamy Polenta

Sundried Tomato, mesclun greens,

wild mushroom & marsala sauce sauce

OR

Seafood cakes

Variety of seafood, soya ginger aioli, asian slaw

WHOLESALE

HAND ROASTED

COFFEE BEANS

FROM MY BUSINESS

TO YOUR BUSINESS

Quality,

Consistency,

and Value

... in the roasting,

in the delivery,

and in the price.

Blu Duby Downtown

Ring in the

New Year

at Blu Duby

New Menus!

Blu Duby North

TM

Blu Duby Downtown

32 Covent Market Place

Inside Hotel Metro, steps

from Budweiser Gardens

& Covent Garden Market

519-433-1414

www.bluduby.com

Blu Duby North

745 Fanshawe Park Rd W

Close to North London's

shopping destinations

with ample free parking

519-472-1414
---
36 | November/December 2017

for outstanding service and authentic hospitality in

London. All of us at eatdrink Magazine wish Emma

the best in her future endeavours.

Restaurateur/caterer Jess Jazey-Spoelstra and

Chef Andrew Wolwowicz's exciting new restaurant

Craft Farmacy will focus on craft beer and fresh

oysters with rustic food and feature great wines,

lots of sharing plates and fabulous house cocktails.

After several unanticipated delays the restaurant

is slated to open in mid-to-late November. 449

Wharncliffe Road, 519-914-2699

SUNDAY BRUNCH

11am−2pm

Mon/Tues 11:30–10, Wed/Thurs 11:30–11, Fri/Sat 11:30–12, Sun 11–10

eatdrink.ca |@eatdrinkmag

Windermere Manor's Restaurant Ninety One's

new fall menus pays homage to Modern Canadian

cuisine with interesting local ingredients on the

menu like Chantecler chickens and Ontario oat rice

and quinoa. Chef Angela Murphy also released a

new seasonal tasting menu, with the option of wine

pairings. The wine list has been edited, and includes

some new wines from North 42 Degrees Winery.

restaurantninetyone.ca

Reverie, an intimate 14-seat "tasting menu"

restaurant on Piccadilly Street just west of

Richmond, showcases a Canadian-focused fivecourse

menu every night from Wednesday to

Sunday. Owner chef Brian Sua-an says "Simplicity

with quality comes first. Everything else is

secondary." Sua-an briefly staged at René Redzepi's

NOMA and its sister establishment 108 Restaurant.

The restaurant is expected to open mid-November.

reverierestaurant.ca

Black Trumpet has not only launched new

menus but also a new website. Get over to www.

blacktrumpet.ca to check it out. Make reservations

directly through the website and very soon you will

be able to buy gift cards there as well.

Restaurateur Erin Dunham and chef/partner Matt

Kershaw of The Other Bird restaurant group in

Hamilton have taken the former Kantina Restaurant

space on Talbot Street for their latest project.

Hunter & Co. will offer a unique and refined dining

experience in the heart of downtown London.

With small plates of delectable fare by executive

chef Matt Kershaw, freshly shucked oysters, and

cocktails crafted by bartenders who love cocktails,

they want to offer you a night out that you'll be

talking about for weeks. The partners plan to open

in mid to late November.

Plant Matter Kitchen has expanded operations to

London's downtown core, with a second location

across from Central Library. Open for lunch and

"Pure

Chinese"

Cuisine

—Eatdrink

Monday to Sunday

11:30am to 8pm

Five Fortune

Culture

RESTAURANT

366 Richmond Street at King

www.fivefortuneculture.com

226 667 9873

Menu changes FRI–SUN
---
The Holiday Issue

dinner, the stylish Plant Matter Bistro offers

dishes inspired by global cuisines. The folks at

Plant Matter Bistro are serving up empanadas,

cauliflower pots-au-feu, burgers, ravioli, bibimbap,

gnocchi, enchiladas, superfood salad and more.

plantmatterkitchen.com

Union Ten Distilling Co., at 656 Dundas Street in

Old East Village, is under construction and getting

ready to begin production. The distillery will

produce whisky, rye, rum and vodka.

Noteworthy restaurants can be found in the most

unexpected places. TG's Addis Ababa Restaurant

is a humble gem tucked inauspiciously in a row of

buildings between Burwell and Maitland on Dundas

Street. Owners T.G. and Sam guide the uninitiated

to select from a menu of outstanding and perfectly

prepared Ethiopian specialties that are elaborately

spiced. Vegetarians and expats flock here. 465

Dundas Street (at Maitland) 519-433-4222

Los Lobos is the latest creation of Justin, Greg,

Olivia, and Jennifer Wolfe, proprietors of The

Early Bird and Wolfe of Wortley. Think modern

Mexican flavours with innovative riffs, and lots of

cool Mexican imagery and local references. Platos

pequeños (small plates) predominate on a menu

Join Downtown London for the annual

Winter Light Christmas Walk

November 17-18, 2017 | downtownlondon.ca
---
38 | November/December 2017

of gourmet Mexican-inspired fare with a modern

twist. Los Lobos has a fun, funky and eclectic vibe

that appeals. There is a no reservation policy.

fb.com/LosLobosLondon

Get ready for an evening of culinary camaraderie,

excellent nosh, and more than a couple of

food puns. Join The Root Cellar for a cooking

demonstration in its beautiful second-floor event

space, Taproot. Chef Paul Harding demonstrates

how to cook four expertly-paired seasonal courses.

Join a class, or book a private session for your

an experience to savour ...

• casual fine dining • stunning architecture

• world-inspired cuisine enhanced by

local and seasonal ingredients

• private dining rooms for lunch & dinner

Reserve Your

HOLIDAY

PARTY or

Event NOW!

Open Mon–Sat

lunch & dinner

523 Richmond St. London www.blacktrumpet.ca

RESERVATIONS: 519-850-1500 | info@blacktrumpet.ca

eatdrink.ca |@eatdrinkmag

team. Guests receive a copy of each recipe and a

serving of each dish. A drink of choice is included.

rootcellarorganic.ca

Co-owner and Chef Dave Lamers tells us Abruzzi

has hired a new pastry chef. Chandany Chen has

introduced a new dessert menu featuring items

such as a Deconstructed Carrot Cake with cinnamon

cream cheese icing, brown butter fluid gel, candied

nuts and house-made caramel gelato. abruzzi.ca

Carmen Mihaltan and Simelia Moga's new Cameli's

Pastry and Café will be located at 119 Dundas St.

Fouzan Beg and Manisay Visouvath are the

proprietors of Thaifoon, downtown London's

upmarket 38-seat Thai restaurant that combines

a soothing ambience and décor with pleasing Thai

iconography. The secret to their success is sticking

to the basics of good, authentic Thai cooking and

offering spicy, sweet and salty but also rich coconut

flavours mixed with fresh herbs like kaffir, lime

leaves and lemongrass. 120 Dundas Street (east of

Talbot) thaifoonrestaurant.com

Visit Blake's Bistro & Bar upstairs at the

DoubleTree by Hilton for the annual Dickens

Luncheon Buffet. November 27–December 22

from 11:30–2. Reservations 519-430-6414.

Gusto Food and Wine Bar has been sold. The new

owners, Mario Jozic and Laura Del Maestro, strive

to make quality wine approachable while creating a

relaxed and hospitable atmosphere. They currently

operate the Parisian-inspired The Wine Bar in

downtown London. The restaurant will be closed for

a couple of weeks while they put their own stamp

on the place, and is expected to reopen around mid-

November.

Willie's Café has added some new items,

collaborating with other vendors in the London

Food Incubator on Dundas St East. The Kickstart

Breakfast Sandwich with Fire Roasted Espresso
---
The Holiday Issue November/December 2017 | 39

Mayonnaise and the 630 Pork Sandwich with

Glen Farms Spicy Orange Red Pepper Jelly join

old favourites like the Cranberry Turkey Wrap,

Jerk Chicken Burrito and Club Willie. Willie's also

offers gluten-free bread from Urban Oven and

Vegenaise from Naturally Vegan. There is takeout,

and plenty of eat-in seating. Extended hours from

11:00 AM to 2:30 PM Monday to Friday. Park on

Dundas Street until construction of the municipal

lot is completed behind 630 Dundas off Queens Ave.

williescafeandcatering.com

Spring is a mom-and-pop business operated by

Jiang Quam Liu and Yue Hao Yang. Yue has been

cooking professionally for over 30 years. (Don't

confuse Spring, half a block west of the Palace

Theatre in Old East Village, with The Springs on

Springbank Drive.) The Chinese menu is inspired

by Mandarin and Cantonese cookery. 768 Dundas

Street East.

Young men are needed for a research study at Western

University, to explore what they think about food

preparation and how they would like to learn. If you

are interested, and agree to participate, the study

involves one 45-minute interview. To thank you for

your time, you will receive a $25 gift card. To be

eligible, you must be male, between the ages of 18 and

30. Food and Nutrition students are not eligible for this

study. For more information, or to volunteer for this

study, please contact Matthew at mnguye96@uwo.ca

SO INVITING, the Chinese bakery across from the

Market at Western Fair, lives up to its name. Hospitable

owners Yamei Min and Youjin Wang offer a variety of

savoury hand-made dumplings (pot stickers) that

include beef, chicken, pork and vegetable. There are

three types of sauces on offer. Recently they've added

chicken fried rice to the repertoire. The mooncakes

with savoury bean paste cookies are a big hit. The

minimalist bakery is take-away only. The interior is

exceedingly tiny and the prices more than reasonable.

876 Dundas Street East, 226-781-0788

Patrick's Beans has grown to serve customers

across Southwestern Ontario and continues

to provide consistently great tasting coffee to

its customers. Serving individual customers,

restaurants, businesses, and retailers Patrick's

Beans has expanded the custom roast business and

provides favourite blends such as Velvet Hammer

and Super F'N Dark. With incorporation this

October, Adam Simpson became a partner, in the

role of Creative Director. The beans you are getting

are still Patrick's but Adam makes them look better.

patricksbeans.com

Designed and Built for You!

Call Now

for

Your Free

Consultation

Design Centre

2200 Wharncliffe Road S, London

519-652-0013

www.allensbuiltins.ca
---
40 | November/December 2017

Located near Highbury and Cheapside, Alex and

Wing Ip's Wing's Kitchen (Đô'ng Khánh Seafood

Restaurant) is located in the same plaza as the

24-hour drive-through Globally Local. The

15-month old Wing's Kitchen offers one the best

selections of dim sum in the city, as well as standard

Cantonese dishes and a few Thai selections. 1141

Highbury Avenue N. 519-659-8888

Congee Chan offers a large menu of Cantonese

specialties prepared with fresh high-quality

ingredients. This is traditional Chinese regional

cooking combined with Canadian-Chinese cuisine

www.peleeisland.com

eatdrink.ca |@eatdrinkmag

and Americanized versions of modern Asian

specialties like the deep-fried, sweet and piquant

General Tao chicken. The shrimp dishes are a notch

above most Asian-inspired restaurants in London.

735 Wonderland Road North (in the strip mall

behind Costco North, across from Angelo's Bakery).

congeechanrestaurant.com

Dimitris Korakianitis from Kosmo's Eatery is

opening a second location a few doors north of

the current Richmond Street location (next to the

Barrakat expansion) called Dimi's Greek House. It's

a combined effort between him and his brother. The

new place will be licensed, 50 seats, with 28 added

on the patio. They are working with a designer to

design the new space.

For well over a decade the family-run Quynh Nhi

has garnered a loyal patronage and prospered

because of its responsive service, consistency and

traditional Vietnamese cuisine. The signature

Crispy Spring Roll is offered with chicken, pork,

or in a vegetarian version served with fresh mint,

lettuce and a chili-lime fish sauce. 55 Wharncliffe

Road N. quynhnhi.ca

Che, at 225 Dundas and Clarence Street, is a bigticket

entry into downtown London's dining scene.

Marvin Rivas has relaunched the restaurant

and started a pop-up "Lucha Lunch," a quick,

affordable cantina-style lunch from 11:30–4. Grab

and go, or order a cerveza and sit in. Cubanos,

ceviches, tacos, salads, empanadas, arepas

and more! Rivas and sidekick Robbin Azzopardi

deliver a luxe restobar experience at dinner with a

Latin-inspired menu and a selection of innovative

cocktails. cherestobar.ca

Established in 1996, Thuân Kiêu is family-owned

and operated, and has developed an ardent and

devoted fan base over the years for Chen's (or Chu's

— he goes by both) hands-on approach and his

ability to remember his regulars by name, as well

29 RESTAURANTS.

$50,000 RAISED.

Thank you for supporting those

living with, a ected by, and at-risk for HIV/AIDS.

RETURNING APRIL 25, 2018

Join your community in recognizing the

Red Scarf symbol of HIV/AIDS Awareness

from November 24th to December 1st.

Go to www.redscarf.ca
---
The Holiday Issue

as his traditional Vietnamese cuisine. The appetizer

to order is the Bo La Lop — the parcels of grilled

lemongrass-infused beef wrapped in grape leaf are

exceptional. 1275 Highbury Ave N. thuankieu.ca

London Tequila Expo Show is a chance to explore

the world of agave-based spirits, tequila and

mezcal all in one place. Visit Budweiser Gardens on

Saturday November 18 for the finest tequilas, live

mariachi music, cocktails, beer, tacos, and more

surprises. Tickets are on sale for $20 in advance.

Admission includes two drink tickets (valid at

the beer and cocktail tents only) and a souvenir

sampling glass. The expo runs from 3:00 PM to

midnight and is a 19+ event.

Kenzo Ramen (Japanese noodle house) has opened

in the space previously occupied by Mas Cafe at

192 Dundas Street. Kenzo Ramen is a popular chain

known for its thin noodles freshly made in-house.

Blu Duby Downtown and Blu Duby North are a

pair of unpretentious restaurants that celebrate

honest food and wine, a sophisticated atmosphere,

friendly service and hospitality. The restaurant has

created a loyal clientele due to it welcoming and

friendly ambience. Chefs Dani Murphy and Graham

Stewart have recently launched new menus in both

locations. Patrons can come and enjoy a glass of

wine or a cocktail at the bar, a couple of appetizers

or a full dining experience. Ring in the New Year

at the Blu Duby with a three-course menu. Early

seating is 5:00-7:30 PM arrival, departure by 9:30

PM, $55 per person plus taxes and grats. Later

seating is 9:00 PM or after, $78 per person plus

taxes and gratuities, includes party favours, live DJ

Dan Bullard, and shuttle ride home. bluduby.com

Five Fortune Culture Restaurant offers a "Pure

Chinese" menu, authentic Yunnan with Sichuan

and Guizhou influences typified by bold flavours

Meat commonly plays a supporting role as a mere

seasoning to the vegetables. 368 Richmond Street

at King, 226-667-9873

King's University College is proud to receive a Fair

Trade campus designation in recognition of its efforts

to serve 100% Fairtrade coffee alongside an offering

of Fairtrade teas and chocolate. King's is the latest

campus to earn the Fair Trade Campus Designation

from the Canadian Fair Trade Network (CFTN).

Stratford

Bradshaws Christmas Open House is Friday,

November 3, 5:00 PM–8:00 PM for a first look at

Bradshaws in all its Christmas glory. There will be

delicious food samplings, hot new product demos,

holiday giftware, kitchenware and entertaining

items. Free gift with purchase and enter to win door

FEATURING OUR

FRESH NEW MENU, BOLD FLAVOURS AND

HAND-CRAFTED COCKTAILS.

NEW!

NOW

SERVING

NOW OPEN

11:30am-4pm

BOOK YOUR HOLIDAY PARTY

WITH US TODAY!

225 DUNDAS ST, LONDON

cherestobar.ca

(519) 601-7999

TUESDAYS-SATURDAYS 11:30AM-CLOSE

"Classical Preparation with a Modern Twist"

Catering by The In Home Chef

www.theinhomechef.ca

731 Wellington St. (at Piccadilly), London

519 434-9797

www.spruceonwellington.com
---
Your love of all things Italian begins at

Book Now for Your Holiday Party!

Gift Cards

Available

Opening

Late November!

449 Wharncliffe Road South

London

519.914.2699

519-652-7659 • HWY 401 & 4 • pastosgrill.com

eatdrink.ca |@eatdrinkmag

prizes including $500 in gift cards. Need expert

suggestions for the foodies and hard-to-buy-for on

your list? This is the place! bradshawscanada.com

Beginning November 5, and every Sunday

throughout the winter season, Okazu will be taking

reservations for "dimsumday." Siu Mai, Bao, Gyoza,

Fresh Rolls and much more. Seatings available

from 6:00 PM to 8:00 PM. okazusnackbar.com

String Bone Presents LIVE at Revival House:

The 2017/18 winter dinner concert series boasts

a great kick-off to the season. Canada's queen of

soul/R&B Jully Black graces the Revival House

stage with an unplugged performance Nov 17.

After a winter hiatus, AHI, Rick Taylor, String Bone,

Allison Brown, Deni Gauthier and more Tribute to

Willie P Bennett on Feb 2. March 2 will see Sarah

MacDougall + Megan Bonnell on a double bill.

stringbonepresents.com

Hops and Heels Stratford will be hosting the latest

Ladies Craft Beer Night — this time at Revival

House. Your $40 ticket gets you tons of stuff: a free

glass to take home, drink tickets, appetizers and

entertainment by the talented pianist Jenie Thai.

Cider will also be offered, with a cash bar and raffle

prize table with swag from local shops and services.

All proceeds will go to the YMCA of Stratford Perth

Strong Kids Campaign. Breweries include Black

Swan Brewing (Stratford), Cowbell Brewing (Blyth),

Railway City Brewing (St Thomas), Mill Street

Brewing (Toronto), Shakespeare Brewing Company

(Shakespeare) and Nickel Brook Brewing Co.

(Burlington). revival.house/Events_Calendar/

Join Revival House for a Christmas-themed High

Tea on Sunday, November 26. Tea service will

be accompanied by a guided tea tasting. Enjoy

a special selection of treats created just for this

event by Chef Loreena Miller. You'll get in the spirit

with beautiful classical music by talented local

musicians. Guests will receive a free gift of Sloane

Fine Tea from Bradshaws. revival.house

Join Revival House for a Scotch and Chocolate

Tutored Tasting from 3–5 PM on Sunday December

17. Christine Chessell of Rheo Thompson Candies

and certified whisky sommelier Steve Rae will guide

you through a whisky journey through Scotland.

Rheo Thompson has selected a variety of chocolates

to complement the scotches. Or do the scotches

complement the chocolates? visitstratford.ca

A Victorian Christmas in Downtown Stratford and

Outdoor Christmas Market — Sunday, November

19 from 10–3. Across the street at the Avon Theatre

enjoy the music of the Stratford Symphony

Orchestra, local art show and crafts for kids, and
---
The Holiday Issue

meet Santa. Shop vendor stalls for holiday foods,

crafts and gifts. Sip hot cocoa while listening to

costumed carolers, and embrace the character and

charm of a Victorian Christmas in Stratford on a

horse-drawn carriage ride. visitstratford.ca

Nosh Mondays — family-style small plates —return

to The Red Rabbit November 6. redrabbitresto.com

Roll up your sleeves and tie on an apron at

the Stratford Chefs School for Open Kitchen:

hands-on classes for the dedicated home cook.

Classes are held in the state-of-the-art Stratford

Chefs School Kitchens at 136 Ontario St. and cost

$40–$75. Explore the best wines for your holiday

event; learn new recipes to revamp your holiday

menu; discover new techniques to help take the

stress out of holiday entertaining. Classes run

Sundays, 1–4 (some may vary). www.stratfordchef.

com/open-kitchen

Stratford's most cherished culinary secret is

the Stratford Chefs School's Dinner Series. On

Saturday, November 18 the School will host a

special Order of Good Cheer dinner inspired by the

feast and entertainment organized by Samuel de

Champlain at Port-Royal, Nova Scotia in November,

1606. Dinners often sell out, so reserve your seat

Hey Cupcake!

www.heycupcake.ca

275 Wharncliffe Rd. North

519-433-CAKE (2253)

STORE HOURS: Mon–Fri 11–7

Saturday 10–5 • Sunday 11–4

where art is

a piece of cake

The ORIGINAL

LONDON CAKERY &

GOURMET CUPCAKE

BAKERY

ASK US Custom Bakery • Walk-In Orders Available

ABOUT OUR

"RANDOM

ACTS OF

SWEETNESS!"

CAMPAIGN

REOPENING LATE NOVEMBER

LUNCH Wed to Fri 11:30–2:30

DINNER from 5pm daily

ALWAYS

a 3-course prix fixe

menu option

142 fullarton at richmond

432 Richmond Street

at Carling • London

www.davidsbistro.ca
---
"A place you can

depend on and

delight in" — Eatdrink

"One of London's

best restaurants"

— Huffington Post

Reserve Now for Your

Holiday & New Year's

Eve Celebrations!

46 Blackfriars Street, London

519-667-4930

www.blackfriarsbistro.com

EXPRESS LUNCHES

INTIMATE DINNERS

EXTRAORDINARY

CATERING

DIETARY NEEDS

ACCOMMODATED

AMPLE FREE PARKING

eatdrink.ca |@eatdrinkmag

today. The Series breaks for holidays December 18–

January 9. And if looking for a unique gift idea for

a friend or loved one, why not a a gift certificate to

a Stratford Chefs School dinner or an Open Kitchen

cooking class? Call 519-271-1414 or book online.

www.stratfordchef.com

Both Stratford's Monforte on Wellington and

Rundles (after a remarkable and long run) closed

for good at the end of the summer season.

The Stratford Christmas Trail is now running

until December 20. Get a map to 27 shops offering

unique and individual gift ideas, from the funky

to the eclectic to the fashionable. Each shop will

present a fabulous stocking stuffer and your $30

ticket (+HST) lets you choose six of them as gifts.

visitstratford.ca/ChristmasTrail

Around the Region

North 42 Degrees Estate Winery in Harrow received

gold medals for four of its wines at the InterVin

International Wine Awards. Five of its wines received

high ratings from New York wine critic John Gilman,

and three wines received high ratings from Wine

Enthusiast magazine. The ratings and awards come

as North 42° Estate Winery nears the completion of

construction on a new building to house retail wine

col·lab·o·ra·tion

noun. the action of working with someone

to produce or create something.

Working in collaboration to create

London's first-ever community cookbook.

Available by pre-order ONLY until December 2017.

Get yours today!

www.mhdbonline.com

www.forestcitycookbook.com
---
The Holiday Issue November/December 2017 | 45

sales, the Serenity Lavender Farm store, and Bistro

42 with Executive Chef Steve Meehan. The new

building will be opening later this year.

Drinky.ca will pivot to become a directory of alcohol

producers starting early in 2018. Producers will be

able to "claim" their listing for free and use the site

to promote events and collect reviews. Users will

be able to find products based on different criteria,

including local or independent production, vegan/

vegetarian, organic and more.

w

ARTIES

Come Home for the Holidays to La Casa!

A

London

Landmark

for

23

Years!

We want your BUZZ!

Do you have culinary news or upcoming events

that you'd like us to share? Every issue, Eatdrink

reaches more than 50,000 readers across

Southwestern Ontario in print, and thousands

more online.

Get in touch with us at

editor@eatdrink.ca and/or connect directly with

our Social Media Editor Bryan Lavery

at bryan@eatdrink.ca

Deadline for submissions for the Jan/Feb Issue is December 15.

Tradition

&

Passion

117 King Street

across from Budweiser Gardens

519-434-2272 (CASA)

www.lacasaristorante.com

"Enjoy consistently

outstanding Italian and

International cuisine

enhanced by local and

seasonal ingredients."

Reserve NOW for Your

Holiday Party or Event!

Extensive

Scotch Bar

Open Mon–Sat

Lunch & Dinner

Loose Leaf Teas & Tisanes

•

Contemporary & Traditional Teaware

•

Light & Healthy Menu

•

Afternoon Tea: November 26

Vegan

Dim SumDay!

November 19

268 Piccadilly Street (beside Oxford Book Store)

519-601-TEAS (8327) • tealoungelondon.com

TUES-THURS 11am-6pm • FRI & SAT 11am-9pm • SUN 11am-5pm

Stunning Views

Excellent Food

Ambiance Galore

Now Booking Christmas

Parties at Both Locations

TUES–WED, FRI–SUN 11–4:30

THURS 11–8:30 • Closed MON

Available for Private Events for up to 60

rhinolounge.ca | 519.850.5111

at

MUSEUM

LONDON

421 ridout st.

HOLIDAY SPECIAL

Pick Up & Reheat

Turkey Dinners $24pp

TUESDAY to FRIDAY, 11–4

SUNDAY Brunch, 11–4

Available Evenings for Private Events

theriverroom.ca | 519.850.2287
---
46 | November/December 2017

Beer

Porter's Rest

A Beer for Winter

eatdrink.ca |@eatdrinkmag

by AARON BROWN

When it comes to wintertime

beer recommendations, I think

you have two options. One is

to pretend that you are in a

warmer time, and attempt to evoke

some kind of cottage nostalgia. Grab

a beer you tend to love during the

hot weather and just pretend, right?

My preferred choice is the other

option: accept the situation and

settle into a beer that is rich,

warming, and that would do well

alongside a good book. Porters and

stouts go great with a wintertime

read. They improve as they warm

up and can be sipped slowly over long

periods of time. (A porter and book pairing

is especially great if your topic is

history.)

You might need two or three beers

to properly dig into the words "porter"

and "stout." You'll be going a long way back,

ending up in the time of Defoe, Swift, and

Hogarth. The era of Charles Dickens is still a

century ahead and, compared to the eighteenthcentury

world, will look like the Jetsons.

Early History

It was a brutal and physically grinding

time, and the porters were an important

piece of the sweat-driven economy.

Porters were people tasked with

unloading and delivering the cargo of

the Thames River docks trade. Special

rests designed for porters to drop their

loads were installed across the city. A

load temporarily at rest in front of a pub

populated with refuelling porters was a

common sight. Eventually their drink of

choice bore the name of their trade.

Today only a single porter's rest

remains preserved in London. The word

"porter" is practically all that is left of this tribe

today. Even the beer with their name is not

something their taste buds would recognize

today. They might not have exactly recognized

it even a generation later. Over time,

the words stout and porter have stuck

while the methods and ingredients

that brewers use have shifted

constantly, driven by customs,

politics, and technological change.

The terms have somewhat

converged, but in the mid-1700s

porter was a beer that was made

with brown malt (a standard

ingredient of the day) while the term

stout was more of an adjective than a

defined style name. Stout applied to higher

strength beer — even pale beers. A

"stout porter" was a strong porter.

These days it seems to me that

the word porter is increasingly out of

fashion and has effectively been replaced by

the nomenclature of stout.

The brown malt of the time meant that

porter was a dark brown colour. It was a

relatively low quality and inefficient malt.

Malt kilns were dangerous and prone to

Drinking stout on cask in Manchester (2008)
---
The Holiday Issue

British brewing records from

the early 1800s at the London

Metropolitan Archives

burning down.

When kilning

technology

improved,

brewers could

deploy paler malts

that gave them

more flavour to

extract at a lower

cost and the taste

of porter was

changed forever.

Black malt,

invented in 1817,

allowed brewers

to have a dark and

roasty beer made

from a base of

pale ingredients.

The beer that

we think of as

fundamentally black was brown until this

time. The roasted unmalted barley famously

part of the Guinness recipe wouldn't come

into use until the 1880s.

What that beer tasted like throughout

these shifts is impossible to know for sure.

ASK for ANDERSON

Our tap room is open for business

— including for your holiday

functions and private parties.

Give us a call today!

1030 Elias Street, London

519-803-1350

andersoncraftales.ca
---
48 | November/December 2017

In addition to changes in malt, a variety

of maturation and ageing techniques were

employed throughout different eras, making

the precise flavours a matter of some

speculation. In various eras porter was sold

both when it was young and fresh, and also

after it had been matured in vats for an

extended period. Sometimes pubs would

blend these beers together if a customer had a

taste for a "half-and-half."

We have a much better sense of what the

post-1820 era of porter tasted like. Porter had

become a global style by this time.

Times Are A-Changing

Porter waned in popularity in the late

nineteenth and early twentieth centuries with

the rise of pale ales and lagers. All beers in

the UK were radically weakened in strength

Award-Winning Porters

Prodromus, Omnipollo —

Omnipollo is a mind-bending

brewery with roots in Sweden.

Prodromus stout is full of

things that you didn't think

could be in a beer. It's

crammed full of vanilla, cocoa

nibs, and deep-fried cookie dough. It is very

sweet, with a thick chewy body, and 12% abv.

Dark N Sour, Blood Brothers Brewing —

Toronto's Blood Brothers is well known for

its take on combinations of

fruit and sour flavours. One

seasonal beer that takes a

bit of a different turn is the

sour stout, which plays sour

and acidic notes off of the

signature roast flavours of

a stout or porter.

Pêché Mortel, Dieu du Ciel —

This beer is a Canadian classic

and a benchmark

for coffee-infused

beer. It isn't just a

taste or a flavour

but a full-blown sensory

experience.

Local Examples of the Style

Anderson Craft Ales, London — Stout (6%

abv)

Black Swan Brewing Co., Stratford —

Porter (5.3% abv)

eatdrink.ca |@eatdrinkmag

under the resource constraints of World War

II. The style didn't rebound even after wartime

rationing and taxation eased off. The public

had more or less moved on and porter had

definitively become an old man's beer.

It wouldn't be until today's craft beer boom

that porter would regain some cachet. While

the inspiration for brewing a porter might come

from a curiosity about the past, today's brewers

are only constrained by their imagination.

Almost every generation that drank porter was

drinking something a bit different than their

parents — perhaps even radically so.

Today we see an incredible variety and

creativity in porters and stouts. The words

have been stretched by time and have

branched off in incredible ways. I'm sure it

would make a time travelling porter's head

spin if they could drink these beers today.

Cowbell Brewing Co., Blyth — #011

Molasses Vanilla Porter

Forked River Brewing Co., London —

Full City Coffee Porter (5.5% abv) and

Wicked Wench Bourbon Barrel-Aged

Stout (5.7% abv)

London Brewing Co-op, London —

Tolpuddle Porter (5.5% abv)

Railway City Brewing Co., St. Thomas —

Black Coal Stout (6% abv)

Toboggan Brewing Co., London — Stout

(6% abv), Vanilla Stout (6% abv) and

Brexit Porter (seasonal)

Upper Thames Brewing Co., Woodstock —

Come to the Dark Side Chocolate Stout

and Dusk to Dawn White Stout

For more detailed information on the history

of English beer styles (including porter) I

recommend Martyn Cornell's book Amber,

Gold and Black, which I have relied on here.

I also recommend Ron Pattinson's website,

where you can find extensive original

research, including a reproduction of a

letter describing a visit in 1839 to the largest

brewery in the world at that time — the

porter brewer Barclay Perkins.

AARON BROWN is a 10-year-plus veteran of the beer

industry and the founder of Forest City Beer Fest and

Appleseed Cider Festivals. You can find him at his local

pub or www.forestcitybeerfest.com
---
The Holiday Issue November/December 2017 | 49

Spirits

What's Hot?

Spherical Cocktails Are Having a Moment

By BRYAN LAVERY

Forget the party-pleasing Jell-O shot.

Molecular mixology brings science

to the cocktail shaker with spherical

cocktails, creating new flavour combinations,

interesting textures and novel presentations.

Spherical cocktails are blends of

spirits, botanicals, bitters and juices that are

suspended inside a partly-frozen drained ice

sphere. The orb is put into a previously mixed

cocktail, or placed in a rocks glass and more

alcohol is poured on top. It can be cracked, or

left to melt and morph into the rest of your

cocktail. As it melts, the cocktail transforms

from boozy to appropriately balanced. Chef

Brian Sua-an of the new Reverie Restaurant

provided us with his take on the Mojito.

Spherical Mojito

Cocktail

20 mint leaves

250 g water

350 g white rum

350 g lime juice

160 g sugar

10 g calcium lactate gluconate*

1000 g water

5 g sodium alginate*

Silicon spherical mold tray

*Easily ordered online at sites such as

www.modernistpantry.com

PREPARATION OF MOJITO SPHERES

1 Begin by making the sodium alginate bath. Mix

the water and sodium alginate in a blender or

food processor until evenly dispersed.

2 Transfer to a

bowl, ideally

one with a flat

bottom.

3 In a separate

vessel muddle

mint leaves

and lime juice

together. Add

sugar, water,

and rum. Mix

thoroughly

until sugar is

dissolved.

4 Strain the

mixture

through a

sieve.

5 Blend 350 g

of the mixture

and 10 g

of calcium

lactate gluconate in a food processor until completely

dissolved.

6 Pour mixture into the mold tray, cover with cling film,

and place in the freezer until the individual spheres are

completely frozen.

FINISHING

Bowl with 200 ml clean water

Mint leaves

1 Unmold the mojito spheres, one sphere at a time, and

carefully immerse into the sodium alginate bath.

2 Leave in the bath for 3.5 minutes, stirring gently with a

spoon.

3 Remove the sphere from the bath and put into the clean

water for 10 seconds to rinse off the alginate.

4 Remove the sphere and decorate with a mint leaf. Place

into a pre-made cocktail or serve in a rocks glass.

Reverie Restaurant

1-208 Piccadilly Street, London

www.reverierestaurant.ca

BRYAN LAVERY is Eatdrink's Writer at Large and Food

and Social Media Editor.
---
50 | November/December 2017

Various Musical Notes

Seasonal Sounds

Upcoming Highlights on the Music Scene

eatdrink.ca |@eatdrinkmag

By GERRY BLACKWELL

The season of cheer is nigh, friends.

You can tell by the premature jingle

of Yule muzak everywhere. May we

suggest an antidote? Music played

by actual humans, in the flesh, right in front

of you. There's plenty of it about.

Hawksley Workman, Juno-winning

singer-songwriter and all-round Renaissance

man, kicks it off at Revival House in Stratford

on November 8 (8 pm, $35). The show isn't

officially part of Workman's Almost A Full Moon

tour, featuring songs from his beloved 2002

Christmas album. But we're betting he'll play

some. Definitely not muzak. (goo.gl/B5sYiD)

Sass Jordan

Hawksley

Workman

The sass is back. Canadian rock diva Sass

Jordan brings her Racine Revisited tour

to Aeolian Hall on November 15 (7/8 pm,

$35/$40). Racine was the 1992 album that

made Jordan's career, producing hits like Make

You A Believer. This is Sass playing the old

songs in new ways. A must for Jordan fans.

It's a busy few days of music hereabouts.

The following two nights, Aeolian has folk

troubadour Murray McLauchlan (6:30/7:30

pm, $47.50). The man has 40 years, 18 albums,

11 Junos and an Order of Canada under his

belt. He's penned classics — Whispering Rain,

The Farmer's Song — and he's still adding to

his oeuvre. A warm, engaging performer,

McLauchlan never disappoints.

Something completely different? Opera

at Western presents Bizet's Carmen at the

Paul Davenport Theatre (Talbot College). It

runs November 16–18 (8 pm), and November

19 (2 pm, $30/$20). One of the best-loved and

most accessible of romantic operas, Carmen

is filled with ravishing melodies and rousing

choruses. In French (with English surtitles),

featuring students of Western's highlyregarded

Opera program.

Murray McLauchlan
---
Gift Certificates +

Seasonal Gift Baskets

Available!

Countryside to

Coastline ...

Enjoy Ontario's

West Coast

Trust...

Taste...

Roasts and

Hams for the

Holidays

Quality...

Christmas

Themed

Salamis

Comfort

Food

Specialties

Seasonal Hours

Reservations Recommended

Book NOW for your

Christmas Lunch or Dinner Party

& Reserve for New Year's Eve!

519.238.6224

42 Ontario St. S., Grand Bend

www.finearestaurant.com

Open six days a week.

Hensall, Ontario

Just off Hwy 4, 45 minutes north of London.

Available in London at

The Village Meat Shop

at Western Fair Farmers' Market

on Saturdays!

www.metzgermeats.com

519-262-3130

Local Beef • Pork • Lamb • Poultry

Specialty European Meat Products
---
52 | November/December 2017

Steve Strongman

Canadian blues guitar hero Steve

Strongman is at the London Music Club

on November 16 (7:30/8:30 pm, $25/$30). A

multiple Maple Blues winner, Strongman is a

scintillating guitarist and powerful vocalist.

He raises the bar on the club's Thursday Night

Blues series. Don't miss.

Then it's off to Stratford on November

17 for Canada's Queen of R&B and Soul,

Jully Black. Black is playing an acoustic

set at Revival House (8 pm, $35). Known for

powerhouse vocals — she's one of the 25

greatest Canadian singers ever, according

to CBC Music — and slick, choreographed

videos, Black unplugged is intriguing. Our

guess: she'll rock. (goo.gl/uhTZgm)

Free is good, right? Western University's

Jazz Ensemble is at the Wolf Performance Hall

(Central Library) on November 21 (7:30 pm, free)

with a program of stage band favourites. Might

be the odd Christmas number. Just guessing.

Don't expect festive ditties, but Hamiltonbased

alt-rockers The Trews are at London

Music Hall on November 24 (7 pm, $40) —

reason in itself to celebrate. Go for the great

eatdrink.ca |@eatdrinkmag

music (goo.gl/47nz6k), and be aware this is a Red

Scarf Benefit Concert supporting Regional HIV/

AIDS Connection. Good for The Trews and LMH.

The Jeffery Concerts (goo.gl/xrUjgk)

brings exciting Canadian violinist Andréa

Tyniec and pianist Arthur Rowe to Wolf

Performance Hall on November 25 (8 pm,

$40, students $15). Event title: The Strad

Sings, a program of Beethoven and Schumann

sonatas, with Ms. Tyniec playing the

'Baumgartner' Stradivarius violin. Special.

The Cuckoo's Nest Folk Club has rootsy

singer-songwriter Jenny Whiteley at

Chaucer's Pub on November 26 (7:30 pm,

$25/$20). Whiteley has been compared to

Emmy Lou Harris and Lucinda Williams —

high praise indeed — and her first two albums

(2000, 2002) won Junos. Why don't we know

her better? Here's our chance. (goo.gl/gwbnde)

The Trews

Hallelujah! Remember Orchestra London?

They live on as London Symphonia, and

they're doing Handel's Messiah at First St.

Andrew's Church on Wednesday, November

29 (7:30 pm, $15-$55), along with London Pro

Musica Choir and a great cast of soloists

including local soprano Leslie Fagan. All we,

like sheep, must go.

World music fusionists Sultans of String

kick off Christmas month at Aeolian on

Jully Black

Sultans of String
---
The Holiday Issue

Serena

Ryder

December

3 (7/8 pm,

$30/$25).

Expect a dizzying

variety

of styles, from

ska to gypsy

jazz, applied

to seasonal

favourites. The

Sultans are

touring their

new album,

Christmas

Caravan. (For

a preview: goo.

gl/LHnYTS.)

Alt-country

singer-songwriter

Serena Ryder, she of the five-octave

vocal range, hits town December 12, playing

London Music Hall (7 pm, $40). Another multiple

Juno winner, Ryder is touring her latest

album, Utopia, out earlier this year. She doesn't

get to London often, so take advantage.

Then it's a full-on seasonal celebration with

angelic-voiced folk trio The Good Lovelies

at Aeolian on December 13 and 14 (7/8 pm,

$35/$40). This is the Lovelies' annual Christmas

show, promising "classic holiday and winter

The Good Lovelies

selections ... polished to a warm and welcoming

glow." Sounds pretty good to us. If you're

lucky, you might even get a wee preview of the

upcoming new album, Shapeshifters.

Centennial Hall offers another holiday

classic with Ballet Jörgen's production of The

Nutcracker — one performance only, December

23 (3 pm, $43-$97). Set in Canada's near north

in the early 20th century, this is not your

grandmother's Nutcracker. I don't remember

racoons in the original. The great thing about

Juno Award Winner 2016

Allison Au Jazz

Quartet

Thursday, November 23

BBC Radio 2 Folk Group of the Year

Thursday, November 30

Jack Richardson Ballroom

London Music Hall of Fame, 182 Dundas St

Tickets at sunfest.on.ca & londonmusichall.com

Supporting Canadian Aid for Southern Sudan (CASS)

Denise

Pelley

A Jazzy

Christmas

Saturday, December 16

World Music

&

Jazz Series

2017–18

www.sunfest.on.ca

A Show for All Ages

The Young'uns Next Generation Leahy

A Family Christmas

London Music Hall

Wednesday, December 13

Salsa Dance Party

featuring Cafe Cubano

London Music Hall

Saturday,

January 27

All Concerts: Doors at 7:00 pm ~ Performances at 8:00 pm

Unless otherwise indicated, all concerts are at AeolianHall, 795DundasSt., London

Tickets at Aeolian Box Office (519-672-7950), Centennial Hall, Long & McQuade North,

Village Idiot (WortleyVillage), and online at sunfest.on.ca or aeolianhall.ca

this production: it always showcases local

young dance talent along with Jörgen's pros.

Whew! Holiday over. Time for more

contemplative fare. The Jeffery Concerts

has just the ticket: Love Triangle, featuring

Canada's great Gryphon Trio at the Wolf

Performance Hall, January 13 (8 pm, $40,

students $15). The program includes Haydn

and Beethoven (Archduke Trio) staples,

but also Canadian-based, Sri Lankan-born

composer Dinuk Wijeratne's piano quartet

rhapsody Love Triangle. Very cool. (Preview

here: bit.ly/2fX0Ing.)

GERRY BLACKWELL is a London-based freelance

writer.

Gryphon Trio
---
54 | November/December 2017

Theatre

eatdrink.ca |@eatdrinkmag

Bah, Humbug? I Think Not!

The Holidays on Stage

By JANE ANTONIAK

Looking for an experience gift this

season? Local theatre has plenty of

holiday offerings which make a good

gift — especially for yourself. Before

the holidays get too busy, take a look at the

special productions being staged in our area

which are perfect for a gift, or for a break!

The Grand Theatre, London

Artistic Director Dennis Garnhum makes his

directorial debut by reviving Scrooge in all his

grumpiness. Sure, all of us have times during

the holidays when we start thinking bah and

humbug towards it all. However this classic tale

of a curmudgeon's transformation draws back

audiences year after year, to stages around the

world. It will be interesting to see what Benedict

Campbell, of Stratford Festival acclaim, does

with the famous role. Also from Stratford in the

show are Sean Arbuckle and Alexis Gordon. Both

wowed audiences this past season at Stratford

in Guys and Dolls. Gordon is a graduate of the

Original Kids Theatre Company in London.

Arbuckle plays Bob Cratchit.

A Christmas Carol, written by Charles

Dickens and adapted by Garnhum, runs from

November 28 to December 30 at The Grand.

Most years the holiday show of choice sells

out quickly, and the run is often extended.

There are post-show artist talks every Tuesday

in December. As well, there is a pre-show talk

with James Reaney on December 6 at noon.

Reaney is the recently retired entertainment

writer for the London Free Press.

Productions of Anne

of Green Gables:

The Musical will

be performed in

London and Petrolia

The Nutcracker

Centennial Hall, London

For some, Christmas wouldn't be Christmas

without a production of The Nutcracker.

Canada's Ballet Jörgen presents this classic for

one show only on December 23. Perfect timing

to pack up the children and send them out with

the grandparents for some holiday tradition!

The Palace Theatre, London

Another family favourite, Anne of Green

Gables: The Musical, is on stage at the Palace

Theatre in Old East Village, London from

November 30 to December 10. This is Don

Harron's musical adaptation of the worldwide

bestselling book authored by Lucy Maud

Montgomery.

Petrolia Community Theatre

Anne of Green Gables: The Musical will also

be performed in Petrolia at the Victoria

Playhouse. It runs from November 15 to 19.

Theatre Sarnia

The lovely Imperial Theatre in Sarnia is

the stage for some humorous Christmas

entertainment. This year it's a look back at

Christmas in the 1940s with a production of

The Christmas Story: The Musical. "Don't shoot

your eye out" and other one-liners from the

Hollywood film version come to life on stage

December 15, 16, 17 and 23.

JANE ANTONIAK is a regular contributor to Eatdrink.

She is also Manager, Communications & Media Relations,

at King's University College in London.
---
The Holiday Issue November/December 2017 | 55

A NEW and

SPECTACULAR

staging of the

holiday classic!

grandtheatre.com

box office 519.672.8800

Nov. 28 to Dec. 30

By Charles Dickens

Adapted and Directed by Dennis Garnhum

SE A SON

SPONSOR

T I T L E

SPONSOR
---
56 | November/December 2017

Books

eatdrink.ca |@eatdrinkmag

Down on the Farm

True Confessions from the Ninth Concession

by Dan Needles

Review by DARIN COOK

Surrounded by fields in Southwestern

Ontario, it is easy to appreciate the

integral role that farms

play in the food system

of any community. When that

community includes Larkspur

Farms, a little further north near

Collingwood, the contributions

tend to be literary as well as

culinary. Canadian writer Dan

Needles moved there to raise

his family among pastures

and barns, instead of parking

lots and high-rises, and in his

latest book, True Confessions

from the Ninth Concession

(Douglas & McIntyre,

2017, $22.95), he recollects

hilarious episodes on the

farm from 1997 to 2016.

Having been raised a city kid, Needles

recognizes that country living has given his

family a new sense of purpose in relation

to the animals that share their living space

and the fresh food right outside their door.

He writes, "We wake up in the morning

surrounded by things that must be done

and move through the day with no clear line

separating work from the rest of our lives."

His plot of land provides for his family of

six, but that doesn't mean it's an easy life

since "there always seems to be some hiccup

between the barn and the kitchen table."

Those hiccups have become the anecdotes

that have given Needles the distinction of

being known as "Canada's funniest farmer"

and being appointed to the Order of Canada

for his work celebrating rural Canada.

His intention was to keep the farm small,

even as neighbours combined their acres

for mega-crop production, and Needles

writes about how hobby farmers face the

same issues to keep the farm chugging

along (protecting livestock from predators

and crops from weeds), especially when the

extended family is counting on fresh food for

holiday meals. Food preparation

throughout the seasons

shows how the farm

provides the essentials

to support his family.

The biggest operation

takes place in the fall, with

canning and pickling to

stock up for winter. His wife

and mother-in-law do not

stop "until they have filled

four freezers and forty feet of

basement shelves with every

fruit or vegetable that can be

put through a blender" — so

much that he feels compelled to

remind them that stores do still

stock groceries in the winter.

It is the communion with nature and daily

interaction with creatures other than humans

that make a farm such a special experience.

His four children fully participate on the

farm. His youngest daughter has helped with

the chicken and duck populations each spring;

one year she took in a baby turkey that ended

up eating with them at Thanksgiving rather

than being eaten by them. He writes, "I

suppose it is a risk to give name and character

to a potential Sunday dinner entrée" but all

the goats, cows, lambs, and chickens earn

names from his children, including the Spice

Goats, each with a name resembling those of

the British girl band members.

He cannot vouch for being truly organic

or sustainable, but he is up-to-date on

modern farming practices and experimented

in 1998 with techniques touted by Joel

Salatin, who has since become a major voice

in sustainable farming. Needles conducted

"symbiotic livestock management and
---
The 57 | Holiday November/December Issue 2017

November/December 2017 | 57

compost production" by having pigs and

cows mingle together. He describes it as "a

natural cycle that would repeat itself again

and again. Moments like these come as close

to perfection as any that

can be found in a place as

chaotic as a farm. In this little

circle there is economy, not

much work, bacon, beef and

compost. There seems to be

something in it for everybody,

even the pigs, if I may

presume to speak for them.

They enjoy a lifestyle that is

not available to the average

bacon hog these days, and

they have only one bad day."

Even on vacation, Needles

is the consummate farmer,

reaching a compromise with

his wife about holidays — she sunbathing on

Cuban beaches, he out with the locals in their

banana, yam, mango, and corn fields. Another

ongoing marital debate is whether to breed

chickens that produce white eggs or brown.

Needles spends plenty of time looking for the

right shade of white that will appease his wife.

Another disagreement that crops up with his

son is how Ontario is only like southern France

two weeks out of the year and not conducive

for growing grapes, but he eventually warms

to the idea of experimenting

Dan Needles

with wine production.

Amid his memories of the

simple life and working hard

on the farm are observations

about activities that keep

the rural community

bonded: livestock auctions,

rural schoolhouses, 4-H

club events, and church

Christmas concerts. What

Stuart McLean did fictionally

for small-town record stores

with the Vinyl Café, so has

Dan Needles done, in the

same hilarious and heartwarming

style, for Canadian agrarian life with

his real-life Larkspur Farms.

DARIN COOK is a freelance writer residing in Chatham-

Kent who keeps himself well-read and well-fed by visiting

the bookstores and restaurants of London.

WIN A LEXUS FOR A WEEKEND!

Plus get your own car cleaned and detailed!

eatdrink &

Presented by

Enter at www.facebook.com/eatdrinkmag

Contest ends December 28, 2017. Complete details online.

Congratulations Valerie Wald,

winner of our September/October Draw!
---
58 | November/December 2017

Recipes

eatdrink.ca |@eatdrinkmag

Cooking with the Wolfman

Indigenous Fusion

By Chef David Wolfman and Marlene Finn

Review and Recipe Selections by TRACY TURLIN

D

avid Wolfman grew up

far from his mother's

roots on the Xaxli'p

First Nation in BC's

southern interior. In the kitchen

of their Toronto home she

taught him their history, along

with her cooking techniques.

He became a certified chef at

George Brown College and

later became a teacher there.

Volunteering to help with

the food at an indigenous

event in the 1990's led him

to a successful career in catering.

It was then that Wolfman began to develop

what he later called Indigenous Fusion, mixing

the traditions of his mother's family with

techniques and ingredients learned as a chef.

And he gave back to the people of his city,

operating a soup kitchen fuelled with the extra

food from his catering business.

Wolfman is the producer and host of

Cooking with the Wolfman which originally

aired on the Aboriginal Peoples Television

Network in Canada and is now available in the

US on Nativeflix and FNX. Together with his

wife and business partner, aboriginal education

consultant Marlene Finn, he has

curated the best of those recipes

into Cooking with the Wolfman;

Indigenous Fusion (David

Wolfman and Marlene Finn;

Douglas & McIntyre; Oct 2017;

$29.95).

The recipes in Cooking with the

Wolfman are a delicious mix of

fine dining and backyard BBQ but

they all have a common thread.

They all illustrate the passion

that Wolfman and Finn have for

sharing their respective Xaxli'p

and Métis cultures.

Indigenous cuisine is

as modern and varied as

European food and depends

on location, season and

available ingredients.

You don't need to hunt

or forage to find those

ingredients; most can be

purchased at a good market.

A quick internet search will

turn up a surprising number

of suppliers of game meat in

our region.

With the holiday season fast

approaching, I chose the

following recipes because they seemed

appropriate for a celebration. Chestnut and

Prune Turkey Roulade with Saskatoon Berry

Compote is a modern version of turkey and

stuffing that doesn't take days of preparation

or leave you with a fridge full of leftovers. The

chestnut dressing is rich and keeps the turkey

meat from drying out. I never developed a taste

for berry sauce with turkey but I'm looking

forward to trying the Saskatoon Berry Compote

with a pork roast.

I'm not sure why the Maple Pumpkin Cake

with Cream Cheese Icing

seemed like a holiday recipe

to me, except that it's rich and

sweetly spicy and just struck

me as being very festive. I

plan on testing this theory by

serving this cake at celebrations

throughout the year such as

Christmas, Thanksgiving and

random Tuesdays.

The longer I do this gig, the

Marlene Finn and David Wolfman.

Cover and author photos by Michael Kohn.
---
The Holiday Issue

more I realize that food is food, no matter where

you go. It's steamed, fried, baked, and roasted

and sometimes there are ingredients you aren't

familiar with. The bottom line is that people in

every culture are simply looking for the best food

they can make to share with friends and family.

That thread runs through every cookbook I've

read and every recipe I've tried. It was brought

home to me particularly with Cooking with the

Wolfman. When I opened its pages I had been

unsure of what I would find. What I did find was

the work of two people who have shared their

peoples' cultural past in order to preserve it for

the future.

100% Local — from Our Farmers to Your Table

Hormone & Drug-Free

Ontario Beef, Pork, Bison, Lamb & Chicken

THE VILLAGE

MEAT SHOP

LOCAL - NATURAL - QUALITY

Now Accepting

Special Orders

for the Holidays!

TRACY TURLIN is a freelance writer and dog groomer in

London. Reach her at tracyturlin@gmail.com

Recipes are from the book Cooking with the Wolfman:

Indigenous Fusion, by Chef David Wolfman and Marlene

Finn, © 2017. Published by Douglas & McIntyre. Reprinted

with permission of the publisher.

Chestnut and Prune

Turkey Roulade

with Saskatoon Berry Compote

WE ARE YOUR LONDON OUTLET FOR

• Metzger Meat Products • Lena's Lamb

• Blanbrook Bison Farm • Little Sisters Chicken

• Glengyle Farm Organics

Western Fair Farmers' & Artisans' Market: Saturdays, 8am–3pm

226-376-6328 • www.thevillagemeatshop.ca

Makes 8 servings

Do you want stuffed turkey without the hassle of roasting

a whole bird and having to deal with trussing it, stuffing it,

carving it and then deboning it for leftovers? Then turkey

roulade will do the job. For the roulade (so named because

it's shaped like a roll), you start with a turkey breast that

you slice open and pound flat for stuffing and then you roll

it up and roast it. Once it's done, you serve it in slices. Each

serving includes both turkey and stuffing. Brilliant.

Indigenous chestnut trees and wild plum bushes used

to be plentiful across the United States but they aren't

anymore; still you can buy the ingredients for this stuffing

recipe using the newer varieties of chestnuts and prunes

commonly found in stores today. Here turkey is teamed up

with a berry compote.

If you want to break this recipe into two stages, prepare

the stuffing and compote a day ahead. They can be

refrigerated overnight.

STUFFING

12 cups large-diced sandwich bread (2.8 L;

approximately 15 slices)

¼ cup (60 mL) medium-diced dried prunes

¼ cup (60 mL) pure olive oil

½ lb (225 g) pork sausage (or diced breakfast

sausage), casings removed

2 Tbsp (30 mL) butter

¾ cup (180 mL) small-diced celery

¾ cup (180 mL) small-diced onion

½ tsp (2.5 mL) kosher salt (or sea salt), plus more

as needed

½ tsp (2.5 mL) ground black pepper, plus more

as needed

2 cups (475 mL) White Stock (see recipe, page 39)

or store-bought unsalted chicken stock

⅓ cup (80 mL) finely chopped roasted chestnuts

TURKEY

1 whole boneless turkey breast (2½ lb/1 kg), with

skin on

1 tsp (5 mL) dried marjoram

½ tsp (2.5 mL) kosher salt (or sea salt)

¼ tsp (1 mL) ground black pepper

1 To make the stuffing, spread the bread over a baking

sheet and leave in the open air overnight so that they

dry out thoroughly, or dry them in a 250°F (120°C) oven

for 15 minutes. Set aside.

2 Place prunes in a cup or small bowl and cover with

water. Heat in the microwave on high for one minute.

Let the prunes soak in the warm water for five minutes;

drain.

3 Heat oil in a large saucepan over medium heat.

Cook sausage meat, uncovered, breaking it up with a

spoon, until it loses its pink colour (about three to five

minutes). Drain off excess oil and reserve.
---
60 | November/December 2017

4 Turn the heat to medium-low and add butter, celery,

onion and salt to the meat. Cook for five minutes,

stirring frequently. Add pepper and stir.

5 Heat stock in a small saucepan or in the microwave to

the boiling point. Remove from heat. Add 1 cup (250

mL) of the stock, plus the bread, prunes and chestnuts,

to the sausage mixture, and stir to combine well.

Transfer mixture to a large mixing bowl.

6 Deglaze the pan by adding some of the remaining stock

and scraping up the brown bits stuck to the pan. (Normally

stuffing is made on the dry side because it will absorb fat

from the roasting bird, but this mixture should be fairly

dense, moist and heavy when it goes into the oven, as

there is no fat to absorb from a turkey breast.)

7 Add the rest of the stock to the pan and stir. Pour over

the stuffing and combine well. Adjust the taste of the

stuffing with more salt and pepper as needed. Set

stuffing aside to cool.

8 Preheat oven to 400°F (205°C).

9 Remove the skin from the turkey breast and reserve.

Butterfly the turkey breast [Instructions are included

in the book, or look online through YouTube].

10 Shape the butterflied breast meat into a rectangle.

Season both sides with marjoram, salt and pepper.

11 Carefully spoon the stuffing in an even row along one of

the longer edges of the meat, leaving about 2 inches (5

cm) of space along this edge.

12 Keep the stuffing together as much as possible as you

roll the meat into a tight roll, starting from the side

eatdrink.ca |@eatdrinkmag

with the stuffing. Once the roll is completely formed,

wrap it up in the reserved turkey skin.

13 Tie butcher twine around the roll, tying it every inch

(2.5 cm) or so for the full length of the roll to keep it

firmly together. Place the roulade on a parchment

paper–lined baking pan. Brush roulade with the

reserved oil using a pastry brush, and season the

roulade with more salt and pepper on the outside.

14 Bake for 30 minutes, uncovered, and then turn down heat

and bake at 350°F (175°C) for another 30 minutes, or until

meat reaches an internal temperature of 165°F (75°C).

Baste the roulade from time to time using the reserved oil.

15 Let the roulade rest, loosely covered by foil, on a

cutting board for about 15 minutes before serving.

16 Remove string and slice. Serve with Saskatoon Berry

Compote or with Brown Sauce if you prefer (see the

Roasted Goose with Hazelnut Stuffing and Giblet Sauce

recipe, page 206).

Saskatoon Berry Compote

Makes 2½ cups (600 ml

Did you know that the city of Saskatoon got its name from

the saskatoon berry, which got its name from the Cree,

who call it mi-sask-wa-too-mina? The saskatoon berry

is also called Pacific serviceberry, western serviceberry,

western June berry, chuckley pear, sugar pear, Indian

pear, shadberry or just "saskatoon." Regardless of the

name, this berry was a traditional staple for the Cree and

Blackfoot on the prairies, since it was good,

fresh or dried, in meat or in soups, and the

bush's bark was carved into tools.

Blueberries are a decent substitute for

saskatoon berries, but they are not the same.

Saskatoon berries have a taste that is a little

earthier, and they make a nutty-tasting

compote that goes well with poultry or game

birds of any kind. Maple sugar is dehydrated

maple syrup; look for it in fine food shops or

health food stores, or use brown sugar instead.

2 cups (475 mL) saskatoon berries,

fresh or frozen

¼ cup (60 mL) maple sugar (or brown

sugar)

¼ cup (60 mL) water

2 tsp (10 mL) lemon juice

Pinch ground cloves

1 Place all the ingredients in a small

saucepan and bring to a simmer. Simmer

for 10 minutes on medium-low heat,

stirring frequently. If the mixture is not

thick enough to coat the back of a spoon,

simmer it for five to seven minutes more,

stirring frequently.

2 Remove compote from the stove and

pour into a server. Chill compote for

10 minutes before serving. Chilled, this

compote will last for up to two weeks.

Photo by David Wolfman and Marlene Finn.
---
The Holiday Issue November/December 2017 | 61

Photo by Anna Comfort O'Keeffe

Maple Pumpkin Cake with Cream Cheese Icing

Makes 12 servings

Native Americans enjoyed pumpkins long before the

Pilgrims arrived on the scene. Unfortunately, cooking

pumpkins are hard to come by now. I've found it very

difficult to get access to fresh pumpkins at any time other

than October, and even then, stores usually carry just the

decorative ones. So I keep canned pumpkin (pumpkin purée)

in stock instead, and that is what's used in this recipe. There

is another pumpkin option: growing your own!

I modified this recipe from our good neighbour Lauren

Powers in Muskoka. Lauren and Marlene are both July

babies so they used to share birthday celebrations. We

really miss our times together with Lauren and Jamie

Hassard, hanging out on the deck and jamming in their

recording studio. It's where I learned to play the drums!

But I digress. Lauren used gluten-free flour when she

made this originally but I switched to regular all-purpose

flour here and it works just fine. I added the icing because

who doesn't like cream cheese icing?

CAKE

1 cup (250 mL) vegetable oil, plus 1 tsp (5 mL) for

greasing pan

3 cups (710 mL) all-purpose flour, plus 1 Tbsp (15

mL) for dusting the pan

4 eggs

1 cup (250 mL) sugar

½ cup (120 mL) maple syrup

2 cups (475 mL) canned pumpkin purée

½ cup (120 mL) applesauce

½ cup (120 mL) chopped raw pepitas (shelled

pumpkin seeds) or raisins

1 tsp (5 mL) vanilla

3 tsp (15 mL) cinnamon

2 tsp (10 mL) baking soda

I tsp (5 mL) baking powder

1 tsp (5 mL) table salt

½ tsp (2.5 mL) ground ginger

½ tsp (1 mL) ground cloves

ICING

¼ cup (60 mL) softened butter

¼ cup (60 mL) softened cream cheese

1 cup (250 mL) sifted icing sugar

1½ Tbsp (22 mL) 5 percent cream, divided

OPTIONAL GARNISH

¼ cup (60 mL) toasted walnuts or edible flowers

1 Preheat oven to 350°F (175°C). Grease and flour a 10 to

15 cup Bundt pan.

2 Beat eggs and sugar together in a large mixing bowl. Add

maple syrup and combine. Add the pumpkin, 1 cup (250

mL) oil, applesauce, pepitas and vanilla, and combine.

3 In a separate bowl, combine 3 cups (710 mL) flour

with the cinnamon, baking soda, baking powder, salt,

ginger and cloves. Add dry mixture bit by bit to the wet

ingredients. Mix with a spoon until well combined.

4 Pour batter into the prepared pan and bake for 60 to

70 minutes. Test for doneness at 60 minutes. Let cool

for 10 minutes with a clean dish towel on top before

inverting onto a cooling rack.

5 Allow the cake to cool completely before icing.

6 To make the icing, beat the butter and cream cheese

together with a hand mixer or stand mixer until the

mixture becomes light and fluffy (up to five minutes).

7 Gradually beat in the icing sugar, mixing well to combine.

8 Add 1 tablespoon (15 mL) of the cream. Mix until

combined, scraping down the sides of the bowl. Repeat

this process until all the cream has been added and the

icing is perfectly smooth. This will be a creamy icing.

9 Slowly pour it onto the inverted cake, very gradually,

allowing icing to slip over the edges and down the centre.

10 Garnish cake with toasted walnuts if using. Chill before

serving. Freeze extra slices in an airtight container.
---
62 | November/December 2017

The Lighter Side

Sugar Plums Optional

eatdrink.ca |@eatdrinkmag

By SUE SUTHERLAND-WOOD

Charles Dickens knew what he was

doing by stitching past, present

and future together and then using

that great marker of them all —

Christmas — for a final jolt of existential

oomph to really get Scrooge going. Today the

Christmases that many aspire to seem firmly

divided between two ideals that are getting

more distant every year: the stately Victorian

Christmas (bowls of punch, plum pudding)

and the idyllic post-war Christmas (think

Bing Crosby and scrubbed children

whose expectations did not even warrant

a wish list). It's becoming a challenge

to maintain tradition without it

becoming meaningless.

Indeed, Christmas stress

is the easiest of all annual

customs to perpetuate, and

it's not being Grinchy to say so. In Victorian

times those who were having swanky, opulent

dinners usually had at least some hired help,

and when Bing was crooning most women

were not working outside the home and nor

were they miles from their extended families,

so there were many hands. Nowadays the

holiday expectation is ramped up high,

yet both parents are working (if they are

fortunate!) and are somehow still expected

to cram shopping and wrapping into the day

and ultimately, may also have to travel to join

their families. Yes, it's a wonderful life — but

it's not easy.

I definitely don't recall all the presents

I received as a child, but I do remember

carefully rotating the tiny handle on a wee nut

grinder in order to dispense the finely flecked

powder into a little bowl for marzipan. I was

made to feel that my role was a vital one. I

also recall coconutty "Coppers' Hats" which

my mother created using a buttered egg cup

as her mould, expertly running her finger

round to release them. There was also the

dark smell of rum as it glugged into waiting

mincemeat. There was a "Money Bag" cake too

— one year with a golden cord, a pound note

symbol piped neatly on the side, and a ruched

opening at the top, housing golden-wrapped

chocolate coins. (Interestingly, this cake only

ever appeared once but I have never forgotten

its elegance).

The very best traditions sometimes

evolve on their own. One Christmas Eve,

desperately sad and exhausted,

I went against history and

took my sons out for Chinese

food. We were the only ones in

the restaurant and shy, smiling staff

made us feel especially welcome.

We ate steaming dumplings greedily

and enjoyed heartfelt conversation and

laughter, our chins sticky with sauce. That was

ten years ago and we've done it many times

since, (minus the sadness and exhaustion)

with great enthusiasm.

As families absorb new members (some of

whom may have dietary preferences) menu

plans have to be modified. This can be rattling

but the show must go on. The person that I

love and live with (usually known as sane) was

specifically dispatched last year to procure

some last minute appetizers for vegan guests.

Upon his return, I watched incredulously as

he displayed on his forearm, not one, but

three flats of cocktail sausages.

"You bought three trays. Of sausages?"

"Well yes!" he beamed. "They were on sale!"

This same year, I had carefully made

vegetarian stock for soup and a pie brimming

with root vegetables only to find a veggie

guest tucking into seconds of the roast

potatoes. "So crispy!" she enthused. "How do

you get them like this?"

Sadly, the answer was duck fat — but

since the deed was done, I just brayed with

laughter and topped up my glass. It's only

once a year.

SUE SUTHERLAND-WOOD is a freelance writer and

occasional contributor to Eatdrink. Read more of Sue's

work on her blog www.speranzanow.com
---
The Holiday Issue November/December 2017 | 63

NOW

AVAILABLE

WIN a

"Local Flavour Weekend"

in London !

Enter online at eatdrink.ca/contests

LEXUS OF LONDON

SPONSORED BY
---
64 | November/December 2017

eatdrink.ca |@eatdrinkmag

Affordably Fresh,

Friendly & Local

coventmarket.com w/coventgardenmarket

MARKET HOURS:

Monday to Saturday: 8am ~ 7pm e Sunday: 11am ~ 5pm

FREE PARKING:

2 Hours on weekends e 1/2 Hour on weekdays

(with validation • no purchase required • during market hours only)