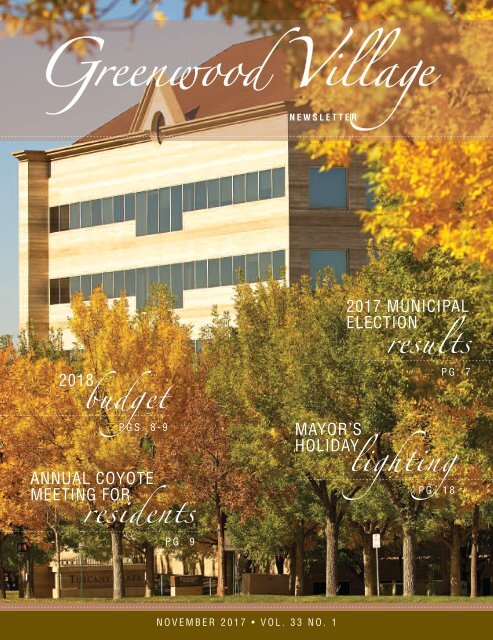 Do you know the secret to free website traffic?
Use this trick to increase the number of new potential customers.
Greenwood Village

N EEW S LLE ET TTE ER

HEADLINE GOES

here P G . X

HEADLINE

HERE P G . X

2018

budget

P G S . 8 - 9

ANNUAL COYOTE

MEETING FOR

residents

MAYOR'S

2017 MUNICIPAL

ELECTION

results

HEADLINE

HERE

P G . X

P G . 7

HOLIDAY

lighting HEADLINE

here PPG G . . 1 X8

P G . 9

N O V E M BO EN RT H2 0Y 1E7 A • R VI OS SL . U E 3 3#

N O . 1
---
GOVERNMENT

MAYOR RON reports

JOHN JACKSON

APPOINTED AS CITY MANAGER

As a result of Jim Sanderson's retirement in October, the City

Council and I are pleased to announce the appointment of

our Police Chief John Jackson as our new City

Manager. Many of you may recognize or

interacted with John Jackson in some fashion as

he served as our Police Chief since January

2011. John was the sole finalist for the City

Manager position.

John Jackson was

born and raised in

Northeastern Iowa.

He received his

Bachelor's Degree

in Criminal Justice

from Wartburg

College in

Waverly, Iowa and

his Master's Degree in

Administration of Criminal

Justice from Washburn

Ron Rakowsky

rrakowsky@

greenwoodvillage.com

303-486-5741

City Manager John Jackson

University in Topeka, Kansas. Jackson has more than 29 years

of police service including experience in most all positions

and ranks of a municipal police department up to and

including serving as the Chief of Police in both rural and

urban cities in the State of Colorado. John is a graduate from

the Federal Bureau of Investigation's National Academy, the

FBI's Law Enforcement Executive Development Seminar, and

held leadership positions with the Colorado Chiefs of Police

Association including its Presidency. John is currently an

adjunct professor at Fort Hays State University as well as the

University of Denver.

The Village is very fortunate to have someone with John's

expertise and experience on staff and the City Council was

very impressed by his ability to work with people and his

passion to get things done. He has an excellent track record

with our citizens and is highly respected in the Denver

region. His experience will contribute to a smooth transition

and continue to ensure progress for our great Village.

You can reach City Manager John Jackson at 303-486-5740

or email jjackson@greenwoodvillage.com.

DUSTIN VARNEY

APPOINTED AS POLICE CHIEF

My tenure with our Police Department started when I

appeared as a spokesman in Public Service Announcements

on behalf of our Police Department

in the late '90s. That was followed

by my service on GVPD Assessment

Centers to Sergeant and Lieutenant

(including Varney's to Sergeant). My

interaction with law enforcement

began after law school as a lecturer

and administrator for a police officer

accreditation agency and working

with local law enforcement and the

FBI in Florida and California during

my Air Force career. Early this year

the Governor appointed me to the Police Chief

elected official position on the Dustin Varney

Colorado Peace Officer Standards Training Board. It is

because of the aforementioned background that I believe I

have a solid foundation upon which to comment on Dustin

Varney's appointment as Chief of Police.

Dustin has been with the Village since 1994 and has held

several leadership positions in the Police Department. I have

known Dustin Varney for 23 years. Among all those I have

known in Law Enforcement NONE has had greater personal

integrity or respect for our United States and Colorado

Constitutions and their implementing statutes and

interpreting case law than Dustin. It is my assessment that he

is perceived as fair as a supervisor by his subordinates and a

"Cop's Cop," City Manager Jackson stated that his selection

of Commander Varney to serve as Police Chief was nothing

other than purposeful since Dustin has been groomed for this

role for a long period of time. We strongly believe he is the

perfect person for this very important position.

As a citizen of Greenwood Village, you will enjoy your

interactions with Police Chief Varney. He is well respected by

citizens and staff, and has a great passion for ensuring the

safety of the Village community. Please feel free to contact

him should you have any questions about the Police

Department at 303-486-8266 or email

dvarney@greenwoodvillage.com.

ORCHARD ROAD

UNDERGROUNDING

NEAR COMPLETION

One of the reasons people live and work in Greenwood

Village is the majestic views of the Rocky Mountains and of

our natural parks, trails and open space. The burial of power

lines, through the Village Utility Undergrounding Program,

is a shared investment of the entire community which has

contributed to significant enhancements of those

PG. 2 GV NEWSLETTER | NOVEMBER 2017
---
GOVERNMENT

CITY council

NOT SURE WHO YOUR

ELECTED OFFICIALS ARE?

Obtain a list of your state and national government

representatives at www.arapahoevotes.com

DISTRICT 1 DISTRICT 2 DISTRICT 3 DISTRICT 4

Freda Miklin

fmiklin@

greenwoodvillage.com

303-804-4138

Leslie Schluter

lschluter@

greenwoodvillage.com

303-804-4135

Steve Moran

smoran@

greenwoodvillage.com

303-804-4133

T.J. Gordon

tgordon@

greenwoodvillage.com

303-804-4132

Dave Bullock

dbullock@

greenwoodvillage.com

303-804-4137

Darryl Jones

djones@

greenwoodvillage.com

303-804-4136

George Lantz

glantz@

greenwoodvillage.com

303-804-4134

Tom Bishop

tbishop@

greenwoodvillage.com

303-804-4131

unprecedented views and increased property values of Village

neighborhoods. There is an added benefit resulting from the

upgrade of the system in that it replaces parts of the grid

system dating from the '50s, '60s, and '70s.

Work is near completion on the Orchard Road

Undergrounding project. The project consists of

undergrounding of approximately 6,400 linear feet of

overhead power lines located on the Greenwood Village /

Centennial jurisdictional boundary along East Orchard Road

from South Colorado Boulevard to South Quebec Street. The

project is funded through the Xcel Undergrounding Program,

with a 50/50 cost share between Greenwood Village and

Centennial. Installation of the new underground facilities

with utility pole removal and final landscape restoration will

be completed later this fall or early winter, weather

permitting.

To date, the Village has undergrounded approximately

57,000 linear feet of utility lines… that equates to over 10

miles of power lines at a value of more than $6 million.

CURTIS CENTER

RENOVATIONS COMPLETE

The little red brick schoolhouse, known as the Curtis School,

has been a focal point in the community for more than one

hundred years. Beginning in the early 1900s through 1967,

Curtis School was the place where educational and social

continued on page 4

NOVEMBER 2017 | GV NEWSLETTER PG. 3
---
GOVERNMENT

Mayor Ron

continued from page 3

opportunities intertwined for children

in the community. Today the

tradition lives on as Curtis School,

now the Curtis Center for the Arts,

continues to provide the community

with educational and social

opportunities for both children and

adults.

In an effort to ensure the Curtis

Center continues to fulfill its mission

for our community, the Center

underwent renovations earlier this

summer to better serve its clients.

Improvements included construction

of restrooms and a conference room

on the main level; additional storage,

improved ADA (American's with

Disability Act) accessibility, and

renovation of the existing restrooms on

the lower level. Additionally, the

interior of the Center was treated with

fresh paint, and a new roof was

installed.

Curtis Center for the Arts

RAMBLE WITH RON

Due to the fall and winter seasons,

Ramble with Ron will be suspended

until the spring. If you have some ideas

or suggestions about living or working

in Greenwood Village that you would

like to share with Mayor Ron Rakowsky,

send him an email at

rakowsky@greenwoodvillage.com or

call the Mayor's Office at 303-486-5745.

We hope you get a chance

to stop by and learn about

all the activities and events

the Center offers. You can

also visit our Website at

greenwoodvillage.com or

call 303-797-1779 to learn

more.

OUR SHOES

WERE MADE

FOR WALKING

On October 4, Greenwood

Village partnered with

students of Greenwood Elementary to

participate in this year's annual Walk

to School Day that began at Koebel

Library. Greenwood Village promotes

the annual Walk to School Day to

encourage children and adults of all

ages to walk or bike to school and

other destinations. Walking or

bicycling can improve the overall

health of people, improve air quality

and the environment by reducing car

trips, and create safer routes for

bicyclists and pedestrians.

TRI-OUR-VILLAGE

We hosted our 10th annual Tri-Our-

Village, a youth triathlon held at the

Greenwood Athletic and Tennis Club.

The popular event includes a race at

the Club's pool, followed by a bicycle

ride down Running Fox Park and

ending in Westlands Park. The run,

the third leg of the race, was

completed around the pond south of

the park.

Congratulations to all participants as

each youth displayed skill and

High Plains Elementary receiving their award for

participation in the Tri-Our Village Triathlon.

Mayor Rakowsky with Greenwood Elementary students.

endurance to achieve top performance

during the event. I note Campus

Middle School and High Plains

Elementary were each awarded $250

for having the highest participation in

this year's event.

NEW FIRE STATION

AT ORCHARD AND

QUEBEC UNDERWAY

Planning for a new fire station at

Orchard Road and Quebec Street has

been ongoing for several years and

finally the time for action has arrived!

I am excited to report that South

Metro Fire Rescue Station 32, located

at 5945 S. Quebec Street at East

Orchard will undergo a major facelift

with construction of a new station.

The current station was opened in

1977. Since that time, calls for service

have increased, and the new station

will help meet existing and future

service demands.

The project includes replacing the

5,972 square foot existing station with

a new 21,725 square

foot building

containing four

apparatus bays, the

capacity to accommodate

12 firefighters,

a training room, fitness

facilities, SCBA air

bottle fill station and

other support areas. I

also note that the small

house located next to

continued on page 7

PG. 4 GV NEWSLETTER | NOVEMBER 2017
---
VILLAGE CALENDAR

Visit

WWW.GREENWOODVILLAGE.COM

for more information

Information is subject to change

december 2017

SUNDAY MONDAY TUESDAY WEDNESDAY THURSDAY FRIDAY SATURDAY

26 27 28 29 30

1 2

3 4

5

City Council

Study Session

6 p.m.

Meeting

7 p.m.

City Hall

P&Z Commission

7 p.m.

City Hall

6 7

GVAHC Meeting

6:30 p.m.

Curtis Center

8 9

★ SINGLE FAMILY HOUSEHOLD RECYCLING ★

10 11 12

13

14

15 16

PTR Commission

7 p.m.

City Hall

BOAA

Meeting

6:30 p.m.

City Hall

17 18

19

20 21 22 23

City Council

Study Session

6 p.m.

City Hall

P&Z Commission

7 p.m.

City Hall

24

Christmas Eve

★ SINGLE FAMILY HOUSEHOLD RECYCLING ★

25

Christmas Day

26

Holiday Observed

27

28

29 30

31

New Year's Eve

Village

Facilities

Closed

Village

Facilities

Closed

NO TRASH SERVICE

NOVEMBER 2017 | GV NEWSLETTER PG. 5
---
GOVERNMENT

Greenwood Village

Don't have Comcast cable?

You can watch GVTV 8 programs on the

Village Website at greenwoodvillage.com

or on The City of Greenwood

Village Channel on YouTube.

NEW ON GVTV 8

The Legacy Of John Madden — Premieres Nov. 30

Mayor Rakowsky

sits down with

developer John

Madden to talk

about his work

in the Village

over the past

50 years and

the legacy he

will leave behind

that has made

Greenwood

Village a

special place.

Witness

some of the

top drone

pilots test

their fast

reflexes to

see who is

the best

drone racer

in Colorado

at the 2nd

Annual

QuadToberfest

at

Village

Greens Park.

Drone Racing

AVAILABLE ON COMCAST

CABLE IN GREENWOOD

VILLAGE, GVTV CHANNEL 8 IS

AVAILABLE 24 HOURS A DAY,

SEVEN DAYS A WEEK

PROVIDING PROGRAMMING

REGARDING IMPORTANT

LOCAL, STATE AND

NATIONAL TOPICS.

GVTV 8 PROGRAMS

Village Showcase

Join Mayor Ron Rakowsky as he showcases

all the latest happenings and greatest events

taking place in Greenwood Village.

Beyond The Green

A program highlighting the parks, trails and

open space system in the Village.

Over 50 And Loving It!

A program focused on issues and events

affecting people 50+ years of age.

Safety Matters In Greenwood Village

Learn about safety issues in Greenwood

Village and techniques to help keep you and

your family safe.

GV Business Connections

Get an inside look at the business

community of Greenwood Village and learn

about some important business topics.

GV Kids, Ink! ® News

Hosted by youth news reporters, this

program features youth activities and events

in the community.

The Village Insider

Get a glimpse of the people and projects

behind the doors at City Hall.

Colorado Connected

Produced by the Colorado Communications

and Utility Alliance (CCUA), the program

features programs on regional issues.

NASA 360

Produced by the National Institute of

Aerospace for NASA, this program examines

how technologies developed by and for

NASA are used in everything from space

exploration to everyday consumer products.

Graceful Aging

Enjoy this program to learn about elder care

needs. You'll laugh, think and be inspired to

improve your life.

Denver Press Club

Hosted by the Denver Press Club, this

program features discussions with members

of the press and community.

Jazz Cardio Strength Stretch

A powerfully fun and effective workout that

will lift your spirits, strengthen your heart,

muscles, and core. You'll get a healthy dose

of cardio, strength and stretch moves and

finish up feeling energized for the start and

end of your day.

PG. 6 GV NEWSLETTER | NOVEMBER 2017
---
GOVERNMENT

2017 MUNICIPAL

ELECTION

results

DISTRICT 1

NEW CITY

COUNCILMEMBERS

ELECTED

The following are the

preliminary results for the

2017 Greenwood Village

Election for candidates.

There are still a few ballots

that need attention after the

election. The County has

until November 15 to finish

counting all ballots. The

types of ballots that may be

delayed in counting are

those which may have

discrepancies, missing

signatures, and those ballots

cast from an overseas voter.

The official and final results

will not be completed until

the County canvasses the

election.

Villagers elected eight City

Council members who will

each serve a two-year term.

Your new City

Councilmembers are:

District 1

Dave Bullock

Jerry Presley

District 2

Anne Ingebretsen

Dave Kerber

District 3

Steve Moran

George Lantz

District 4

Judith M. Hilton

Thomas J. Dougherty

The Councilmembers will take office on

Monday, November 20, 2017 at 7 p.m. in the

Council Chambers at City Hall. Look for more

information about the new City Council in an

upcoming issue of the Greenwood Village

Newsletter and on the Village Website at

greenwoodvillage.com.

For complete election results, visit the

Village's Website at www.greenwoodvillage.com

or for more information about the 2017

Election, please call City Clerk Susan Ortiz

at 303-804-4113 or email

Dave Bullock

DISTRICT 2

Anne Ingebretsen

DISTRICT 3

Jerry Presley

Dave Kerber

Mayor Ron

will be demolished as part of the

project.

continued from page 4

the fire station, which currently serves

as a training facility for firefighters,

sortiz@greenwoodvillage.com. GV NOVEMBER 2017 | GV NEWSLETTER PG. 7

Construction is expected to take

approximately nine months and we

will share its success in a future

Newsletter. GV

Steve Moran

DISTRICT 4

George Lantz

Judith M. Hilton

Thomas J. Dougherty
---
GOVERNMENT

MAKING A difference

2018 BUDGET

WHAT DOES THE

BUDGET SAY ABOUT

THE VILLAGE'S

FINANCIAL CONDITION?

This past October, City Council

adopted the 2018 Annual Operating

and Capital Improvement Budget.

The primary purpose of the Village's

Budget and budgetary process is to

develop, adopt and implement a

fiscally sound and sustainable plan to

accomplish the established goals of

the upcoming year, while remaining

consistent with the long-term vision

of the community. Development of

the 2018 Annual Operating &

Capital Improvement Budget

focused on maintaining the existing

levels of service, reinvesting in the

infrastructure of the community,

and ensuring the financial health

of the organization without the

addition of new taxes or issuance of

debt.

WHERE DOES THE

MONEY COME FROM?

The Village receives revenue from

several sources. Taxes and assessments

represent the largest category,

accounting for more than 80% of all

Village revenue. Other sources

include intergovernmental revenues

comprised of sources which are

collected and shared with the Village

by other governments, as well as

federal, state and/or county grants,

the sale of various licenses and

permits, user charges and fees

intended to offset certain costs,

punitive fines and forfeitures for the

commission of minor crimes, and

lastly, investment earnings and

miscellaneous revenues. For 2018, the

continued on page 9

REVENUE SOURCES 2018 Budget % of Total

Taxes & Assessments

Property & Specific Ownership Tax $3,635,000 7.4 %

Sales Tax 25,350,000 51.9 %

Use Tax (General & Building Materials) 5,668,000 11.6 %

Lodging Tax 1,650,000 3.4 %

Occupational Privilege Tax 2,000,000 4.1 %

Special Assessments & Audit Collections 1,318,521 2.7 %

Intergovernmental 3,055,028 6.3 %

(Highway Users Tax, Tobacco Tax, Grants, etc.)

Licenses and Permits (Business Licenses, 1,701,000 3.5 %

Liquor Licenses, Building Permits, etc.)

Charges & Fees (Planning and Zoning Fees, 2,898,955 5.9 %

Participant Fees, Franchise Fees, etc.)

Fines & Forfeitures (Court Costs, Fines, etc.) 1,020,000 2.1 %

Investment Earnings & Miscellaneous Revenue 516,500 1.1 %

TOTAL REVENUE $48,813,004 100.0%

EXPENDITURE ALLOCATION 2018 Budget % of Total

Operations & Maintenance

Mayor & City Council $398,537 0.7 %

City Management (City Manager's Office, 879,954 1.6 %

Community Outreach)

City Attorney 538,461 1.0 %

Municipal Judge 38,184 0.1 %

Administrative Services (City Clerk, 4,254,955 7.8 %

Human Resources, Technology)

Finance (Accounting, Payroll, Taxpayer Services) 1,694,482 3.1 %

Community Development (Planning, 2,800,916 5.1 %

Building Safety, Code Enforcement, Facilities)

Parks, Trails & Recreation (Recreation, 7,117,962 13.1 %

Cultural Arts, Parks, Open Space, Trails)

Police (Dispatch, Patrol, Detectives) 10,940,056 20.2 %

Public Works (Fleet, Transportation, 8,549,287 15.7 %

Snow & Ice Control, Storm Water)

Capital Improvement Projects

Parks, Trails & Recreation (Recreation, 800,000 1.5 %

Cultural Arts, Parks, Open Space, Trails)

Public Works (Fleet, Transportation, 16,390,000 30.1 %

Snow & Ice Control, Storm Water)

TOTAL EXPENDITURES $54,402,794 100.0%

PG. 8 GV NEWSLETTER | NOVEMBER 2017
---
GOVERNMENT

ANNUAL COYOTE MEETING FOR RESIDENTS

MONDAY, NOVEMBER 27

7 TO 9 P.M. AT CITY HALL

Residents are invited to attend the Police Department's annual

meeting on coyotes. The meeting will be held on Monday,

November 27 from 7 to 9 p.m. in the Community Room at City

Hall, 6060 South Quebec Street. Residents are encouraged to

attend and provide input and ask questions regarding their

experience with coyotes in Greenwood Village.

Residents will learn about:

• Current Coyote Behavior and Trends in Greenwood Village

• Explanation of the Greenwood Village Comprehensive Coyote

Management Policy

• Urban Coyote Presentation by Mary Ann Bonnell – Biological

Perspective and Community Level Hazing

• Lessons Learned in GV

• Resident Questions, Comments and Concerns

For more information, please call Commander Joe Gutgsell, at

303-773-2525 or email jgutgsell@greenwoodvillage.com.

continued from page 8

above sources are expected to

generate $48.8 million as illustrated

in the Revenue table.

WHERE DOES

THE MONEY GO?

The Village's budget is composed of

an operating budget, which details

expenditures for the upcoming year,

and a capital budget, which shows

the financial plans for current and

long-term capital improvements,

facilities, and equipment.

Additionally, revenue streams

collected by the Village are often

restricted for specific purposes, as

determined by existing laws and/or

regulations. The Expenditure table

illustrates how available resources are

allocated so as to continue providing

the community with the services it

has come to expect.

For more information, please call

Shawn Cordsen, Finance Director,

at 303-486-8290 or email

scordsen@greenwoodvillage.com.

Citizens are encouraged to perform

a more detailed review of the

complete 2018 Budget document

at www.greenwoodvillage.com. GV

VICTIM ADVOCATES NEEDED

IN POLICE DEPARTMENT

The Greenwood Village Police Department is

currently accepting applications for citizen volunteers

who would like to serve as victim advocates. Victim

Advocates provide 24 hours a day, 7 days a week

support and crisis response to victims of crime and

persons involved in traumatic events. Victim

Advocates may respond to crime scenes, hospitals or

the police department to assist people in need.

Victim Advocates are trained to provide crisis intervention and short-term support

to victims of crime and people impacted by a traumatic event. Additionally,

advocates can supply information on victim rights, victim compensation and

referrals to agencies within the community. Victim Advocate volunteers should have

a proactive attitude, excellent communication skills, be compassionate, and have the

ability to speak effectively to victims in crisis while maintaining a calm presence.

This is a trusted and sensitive, but highly rewarding position.

Training for volunteers will be provided by the Greenwood Village Police

Department in collaboration with the Arapahoe County Sheriff's Office. The

training includes approximately 50 hours of instruction, beginning in January 2018,

with specific dates and times to be announced soon.

Following training, volunteers will be required to attend monthly meetings/

trainings held on the first working Monday evening of each month. Advocates will

be required to sign up for two 12 hour on-call shifts each month. All applicants will

be required to attend all trainings before graduating to assist victims.

For more information or to request an application please contact Melissa Madsen,

Victim Advocate Coordinator at mmadsen@greenwoodvillage.com or call

303-486-8211. Applications must be received by December 1, 2017 to be

considered for the January Victim Advocate Volunteer Academy. GV

NOVEMBER 2017 | GV NEWSLETTER PG. 9
---
GOVERNMENT

GET READY FOR winter

GREENWOOD VILLAGE IS

READY FOR THE SNOW SEASON

The Village is ready for the snow season. The Snow and Ice

Program assures roadways and trails are safe and accessible

during and after snow events. Snow and Ice operations

consist of three elements: snow plowing, application of

materials for traction and ice control, and snow and/or ice

removal if safety or accessibility have been jeopardized.

ROADWAYS

All roadways in the Village are classified into either first or

second priority. The first priority routes include the high

volume roadways that connect major sections of the

community, all school bus routes and residential roadways

which connect the neighborhood to higher volume roadways.

Heavy snow accumulations may require repeated passes over

first priority roadways before second priority roadways are

plowed. Operations are repeated until the storm stops and all

roadway surfaces are cleared.

Snow and ice control operations begin in secondary areas

(residential neighborhoods) after first priority roadways have

been cleared. Snow is plowed and piled to an area that does

not block traffic flow. Snow cannot be piled in the center of

the roadway because thaw/freeze conditions will cause ice on

the roadway. Residential roadways are not plowed from edge

to edge to avoid covering sidewalks or blocking driveways.

Removal of snow piles will only occur when safety or

accessibility has been jeopardized. If possible, remove

vehicles from the roadways during storms for better clearing

of snow.

RESIDENTIAL SIDEWALKS

AND DRIVEWAYS

The law in Greenwood Village requires all residents to remove

snow and ice from their sidewalks within 48-hours and

businesses to remove snow and ice from their sidewalks within

24-hours after accumulation. This requirement also includes

removal of snow and ice from sidewalks in the front and side

of a residence (corner lots). This requirement does not extend

to walkways leading from the sidewalk to the residence nor to

sidewalks or trails abutting the rear property of a residence.

Clearing snow around mailboxes is also the responsibility of

the occupant.

ICE MITIGATION

There are certain locations in Village neighborhoods that are

prone to ice formation due to shade or poor drainage. Once ice

forms, it is difficult to remove without damage to equipment or

infrastructure. Be on the look-out for snow and ice operators

moving snow piles from the shade to sun-exposed locations in

order to minimize ice build-up.

SNOW SHIFT HOURS

Village personnel who perform road and park maintenance

during the summer months conduct snow and ice control

operations in the winter. A weather service and two remote

weather information stations provide up-to-the-minute

information regarding weather conditions. Snow shifts are

activated when a snowstorm begins. The typical shift hours

are 5 a.m. to 1 p.m., 1 p.m. to 9 p.m. and 9 p.m. to 5 a.m.,

all days of the week, including holidays.

EQUIPMENT

The Village owns and maintains a variety of vehicles to

ensure effective snow and ice control operations. Equipment

includes 12 plow trucks, one anti-icing truck, one slide-in

tanker, one grader, and one loader for snow and ice

operations on roadways. In addition, there are three ATVs

(All-Terrain Vehicles), six pickup trucks with plows and many

hand-held snowblowers and shovels used to clear the trails,

sidewalks and parking lots. In order to assure that all

equipment is operational, mechanics are available at all times

during snow storms to handle any equipment problems.

USE CAUTION WHEN DRIVING

NEAR SNOWPLOWS

When driving near a snowplow, slow down and use caution.

Give plow drivers plenty of room so they can do their job

efficiently and safely.

MATERIALS

The Village applies solid and liquid materials for traction and

ice control to improve traveling conditions during snow and

ice events. Staff monitors each storm to determine the

appropriate application of materials depending on the

weather conditions. Additionally, materials are continually

evaluated to identify the most effective products with the

least amount of environmental impact.

CONCRETE/ASPHALT TRAILS,

SIDEWALKS AND PARKING LOTS

The Village plows snow from concrete and asphalt trails, and

some sidewalks and parking lots. First priority trails are

PG. 10 GV NEWSLETTER | NOVEMBER 2017
---
GOVERNMENT

those leading to and from schools. The parking lot at Village

Greens Park is the responsibility of the Village along with

snow control operations on sidewalks and parking lots at

City Hall, Curtis Arts & Humanities Center and the

Maintenance Facility. The parking lots of these facilities also

first priority for snow plowing and are cleared

simultaneously with the first priority trails. The parking lots

in other Village owned parks are then cleared. During the

average snowstorm, it takes about eight hours to clear trails,

sidewalks and parking lots. Crews often start as early as 4

a.m. Trail crews periodically check trails for problem areas if

the temperature remains below freezing for extended periods

of time.

QUESTIONS OR TO REPORT

SNOW AND ICE ISSUES

For more information regarding snow and ice operations

in the Village, please call the Maintenance Facility

at 303-708-6100 or email

webpublicworks@greenwoodvillage.com. GV

STEP CAREFULLY

Thaw/freeze conditions can cause new ice on trails, sidewalks

and parking lots; always use caution when walking on these

during periods of freezing weather.

NOVEMBER 2017 | GV NEWSLETTER PG. 11
---
GOVERNMENT

ENHANCING OUR

community

PROJECT UPDATES

LONG ROAD

RECONSTRUCTION

The purpose of the Long Road

Reconstruction Project is to

reconstruct a corridor that was

originally paved in 1972. In addition

to the pavement reconstruction, the

project scope involves upgrading the

storm sewer system, replacing a

Southgate waterline main, pedestrian

safety improvements and

undergrounding the overhead power

lines. The work, which began in April,

will continue into December under

the current closure condition. Long

Road will reopen in December,

however, work will continue through

the winter months into the late Spring

of 2018.

Due to winter weather conditions,

paving and landscaping will be

suspended until the spring of 2018. As

weather permits through the winter,

the contractor will continue with

utility and grading activities during

non-rush hour periods with one way

flagging operations.

When paving and landscaping

resumes, it is anticipated to take two

months to complete. While there may

be short-term weekend closures

necessary to perform the remaining

activities in the spring, no long-term

closures of Long Road are planned.

Several unplanned underground utility

conflicts required modifications to the

alignment of the new water line and

the new storm sewer. Unfortunately,

these modifications have caused delays

to the completion date of the project.

While these type of utility conflicts are

not uncommon to encounter during

construction of a project of this size

and scope, the tight timeline to

complete all of the work and then

perform the final paving before winter

was not accomplished.

The map shows the anticipated status

of the project as of the December road

opening date. For additional project

information, please visit the project

website at longroadconstruction.com

or contact John Wannigman, Project

Manager, at jwannigman@greenwood

village.com or at 303-708-6139.

HOLLY STREET

INTERSECTIONS

Work is complete for the Holly Street

Intersection project with the exception

of the landscape walls along the west

side of the new walk at the Powers and

Prentice intersections. These walls were

added to the project to improve the

transition from the new walk to the

existing grades at the landscape

entrances into the Preserve subdivision

and are anticipated to be done in

November.

The project scope includes

rehabilitating the three degraded

intersections at Powers, Berry and

Prentice that were originally

constructed in 2000. The project

consisted of placing an "unbonded

concrete overlay" on top of the

existing concrete intersections at

Powers and Berry. This innovative

solution required less closure time

while still achieving the high quality

colored and stamped concrete look

desired by the community.

For additional project information,

please contact John Wannigman,

Project Manager, at

jwannigman@greenwoodvillage.com

or at 303-708-6139.

BELLEVIEW AND HOLLY

TURN LANE

The construction work at Belleview

and Holly, which occurred during the

late summer of this year, was for the

installation of a northbound right turn

lane. The purpose of the project is to

help alleviate the delays that

northbound traffic experienced at the

intersection. The roadway work was

completed at the end of August and

crews were able to work around the

school hours to minimize the impacts

on traffic. The landscaping work is

currently being completed. The traffic

signal upgrade will occur in 2018 in

coordination with the Colorado

continued on page 13

PG. 12 GV NEWSLETTER | NOVEMBER 2017
---
GOVERNMENT

FALL SEASON ENDING

MASTER GARDENERS

WORK AT SILO PARK

The CSU Extension — Arapahoe County

Colorado Master Gardener sm volunteers are

concluding their annual work on the

garden at Silo Park after another successful

year of growing and producing vegetables

for the community.

Since 2012, throughout the season, nine

Master Gardener sm volunteers plant and

tend to eight raised vegetable beds. Each

week the gardeners harvest and weigh the

produce and a food pantry representative comes to

collect it. An impressive 1,745 pounds of food has

been donated this year. These donations help to

meet food needs for individuals and families in the

community. To date, they have provided more than

6,250 pounds of

produce to the

Covenant

Cupboard Food

Pantry in

Greenwood Village.

continued from page 12

Department of Transportation.

For more

information,

please call Parks, Trails

and Recreation at

303-486-5773 or

email jliggett@

greenwoodvillage.com. GV

If you have any questions or comments please contact

Matthew Layman, Project Manager – Transportation, at

TAKE THE WINTER CHILL OFF

WITH HOT REBATE SAVINGS

Cooler temperatures mean it's time to turn on the heat. If you

need a new furnace, consider a high-efficiency model to save

money on energy bills and get $300-$400 in rebates from Xcel

Energy. Improve your insulation and air sealing and the rebates

can reach over $1,000.

What's so great about a high-efficiency furnace?

• It provides a more consistent temperature and greater

comfort.

• It helps your AC system work more efficiently, kind of like

having new lungs for your new heart — a matched system

works most efficiently.

• 95% AFUE (Annual Fuel Utilization Efficiency) means only

5% of fuel is unused. Less waste is good for the planet.

mlayman@greenwoodvillage.com or at 303-708-6100 . GV NOVEMBER 2017 | GV NEWSLETTER PG. 13

High-efficiency water heaters are another great way to save

energy and money because water heaters typically consume

half of the energy in your home. Xcel Energy offers rebates of

up to $450 on qualifying water heater models.

Right turn lane installed at Belleview and Holly intersection.

To get started and learn more, please visit

www.xcelenergy.com/StayWarm.
---
GOVERNMENT

ENSURING A SAFE

community

GREENWOOD VILLAGE

CITIZENS' POLICE ACADEMY

The Greenwood Village Citizens' Police Academy is an

important component of community involvement and citizen

outreach. Its purpose is to provide a forum whereby

participants can develop a basic understanding of how the

Police Department functions. It will also provide

opportunities for ongoing communication between members

of the community and the Police Department.

The Citizens' Police Academy occurs annually and meets

Thursday nights from 6 to 9 p.m., and two optional

Saturdays from 10 a.m. to 4 p.m. at the Greenwood Village

City Hall located at 6060 South Quebec Street.

Each three-hour session covers a variety of subjects ranging

from basic law enforcement and its role in the community to

discussions and demonstrations with other specialized units:

Emergency Response Team (ERT), K-9 Unit, Crisis

Intervention Team, Traffic Safety Unit, Investigations and

School Resource Officers. The sessions are very interactive

with police officers and several sessions will have hands-on

activities such as high-risk traffic stops and use of less-thanlethal

weapons. During each session, you will be able to ask

questions and interact with police officers and Academy

instructors.

As an Academy participant, you will receive a comprehensive

behind-the-scenes tour of the Police Department, including

the 9-1-1 Communications Center. Upon successful

LEAF DROP-OFF

DEADLINE EXTENDED

The deadline to drop off leaves in Village Greens Park has been

extended to Sunday, November 12. You can dispose of all those

piles of fall leaves in an environmentally friendly way by taking

loose or bagged leaves to the dedicated area of the north

parking lot in Village Greens Park any day of the week. Village

staff add the material as a soil amendment to help establish

native grasses by adding nutrients, helping retain moisture and

providing a place for soil bore microorganisms to live.

Please do not sweep leaves or grass clippings into the street,

as our sweepers are not equipped to pick up large piles of

leaves and debris. For more information, please contact Public

Works at 303-708-6100.

completion of the Citizens' Police Academy, each participant

and his or her family are invited to attend the graduation

ceremony and dinner.

An integral component of the Academy is the participation

in a police patrol ride along. This will be scheduled to take

place outside the class time at a mutually convenient time for

staff and participants. This experience is important in

creating a true understanding of what an officer's job is like

and contributes to an exciting, interactive learning

experience.

The next Greenwood Village Citizens' Police Academy will

begin on Thursday, February 22, 2018, and continue

through Thursday, May 10, 2018. The two Saturday sessions

are April 7, 2018, and May 5, 2018. Citizens' Academy

application forms are available at the Police Department

6060 South Quebec Street. The Academy Coordinator will

contact you to confirm your selection to participate.

Potential candidates must

• Be at least 18 years old;

• Have no felony convictions;

• And have no misdemeanor convictions within one year of

application.

Any requirement may be waived or modified upon review

and approval by the Police Chief.

The Academy is free of charge and open to anyone, not just

residents of Greenwood Village. For more information,

contact Officer Rodney Valenzuela at 303-486-8251 or by

email at rvalenzuela@greenwoodvillage.com. GV

PG. 14 GV NEWSLETTER | NOVEMBER 2017
---
BUSINESS

Visit our Web site at:

www.dtcchamber.com

E-mail us: admin@gvchamber.com

Phone: 303-290-9922

7600 Landmark Way, Suite 1615

Greenwood Village, CO 80111

Fax: 303-962-4640

The Villager photo

NOVEMBER 2017 | GV NEWSLETTER PG. 15
---
BUSINESS

BUSINESSspotlight

Chick-fil-A

9331 East Arapahoe Road

303-706-0106

www.cfarestaurant.com/dtc/home

Delicious food, outstanding

customer service and ongoing

creativity are attributes of Chickfil-A

from its inception. These

well-known, documented qualities

are just the beginning of what

Chick-fil-A has brought to

Greenwood Village and the

surrounding community. Chickfil-A

offers a variety of delicious

items ranging from their classic

chicken sandwiches to grilled

chicken salads to their madefrom-scratch,

freshly squeezed

lemonade.

Meet Craig Goettsche, Franchised

Restaurant Operator of Chick-fil-

A in the Village. Starting a career

with Chick-fil-A at the age of 15,

Craig knows the industry inside

and out. A proud husband and

father of four, Craig relocated

from California to Colorado when

the location in the Village became

available. Craig selected the

Village due to the excellent school

system and the Village's heavy

focus on community involvement.

Craig has been operating the

Chick-fil-A in the Village for over

three years now. "I am truly

grateful," said Craig, "to have such

a wonderful community and

appreciate all of the patience and

patronage the Village offers."

When it comes to community

involvement, Craig goes out of his

way to make a difference. Known

as "Spirit Night," the Chick-fil-A

in Greenwood Village encourages

local schools or non-profit

organizations to visit the

restaurant on a designated evening

of choice. Profits from the sales

benefit the hosted organization.

Chick-fil-A describes Spirit Night

as "the ultimate low-cost, noeffort

fundraiser!" and opens its

doors to many Greenwood Village

fundraising organizations. They

always enjoy being the host for

events that benefit the

community. Celebrity Autograph

Night has been one of the popular

and fun events. Chick-fil-A in

Greenwood Village is always

looking to host fun events that

benefit the community.

Do you prefer Chick-fil-A to

come to you? Unique to the

Greenwood Village location, the

new Chick-fil-A food truck travels

to locations all around the Village

as an added convenience! Have a

holiday party coming up? The

Chick-fil-A truck is available for

catering events. Fiddlers Green is

just one of the locations where the

Chick-fil-A food truck offers its

food favorites!

Have you been missing out on

Chick-fil-A on Sundays? Now

Chick-fil-A can be enjoyed any

day of the week! Chick-fil-A

provides reheating trays with its

Sunday favorites that can be

refrigerated at home and then

reheated in as little as 15 minutes!

Stop by your neighborhood

Chick-fil-A restaurant in the

Village to enjoy your food

favorites, inquire about Spirit

Night or learn about upcoming,

fun events! Follow Chick-fil-A

Greenwood Village on Facebook

and Twitter to keep up with all

the latest news and happenings.

Chick-fil-A is in the Village at

9331 East Arapahoe Road.

Chick-fil-A can also be reached

by telephone at 303-706-0106.

Visit their website at

http://www.cfarestaurant.com/

dtc/home and join the mailing list

to receive exclusive offers and

promotions. GV

PG. 16 GV NEWSLETTER | NOVEMBER 2017
---
BUSINESS

NEW GV businesses

ACTIVITIES CLUB FOR SINGLES

In The Loop

5350 South Roslyn Street,

Suite 160

720-643-5695

BEAUTY

CosmoProf

9625 East Arapahoe Road

303-706-1930

BUSINESS SERVICES

Aesthetic Enterprises

5950 South Willow Drive, Suite 307

720-298-3358

Yippiekiyay Nonprofit Solutions

6295 Greenwood Plaza Boulevard

970-397-0082

CONSTRUCTION LOAN

FUND MANAGEMENT

CFSI Loan Management

6595 South Dayton Street,

Suite 3000

855-554-6737

COUNSELING SERVICES

Colorado Center For

Clinical Excellence

8000 East Prentice Avenue,

Suite D-12

303-547-3500

CUSTOMER

INTERACTION OFFICE

Technicolor Connected

Home USA, LLC

8000 East Maplewood Avenue,

Suite 270

720-457-5715

DELI

CRAFT Deli

5500 South Quebec Street

303-961-6956

DIGITAL BRANDING AGENCY

Studio By Engrain

5660 Greenwood Plaza Boulevard,

Suite 350

303-468-8660

EMPLOYMENT AGENCY

Vitae USA, Incorporated

7350 East Progress Place,

Suite 100-24

720-316-2265

FINANCIAL ADVISOR

DTC Office Partners, LLC

5350 South Roslyn Street,

Suite 240

303-220-2521

Prime Capital

Investment Advisors, LLC

5619 DTC Parkway, Suite 550

303-771-2700

HEALTH CARE SERVICES

MedAesthetics

5950 South Willow Drive, Suite 307

720-298-3358

INSURANCE

Ace American

Insurance Company

5500 DTC Parkway

215-640-5279

Financial Integrity, LLC

1030 South Roslyn Street, Suite 360

720-446-5595

HomeServices

Insurance, Incorporated

5690 DTC Boulevard

888-485-0018

LAW FIRM

C.E. Brooks & Associates, P.C.

5445 DTC Parkway, Suite 940

303-297-9100

MANAGEMENT

Kepco Alamosa, LLC

5299 DTC Boulevard, Suite 290

720-502-4669

MARKETING CONSULTANT

MarketCo, Incorporated

5445 DTC Parkway, Suite P-4

773-639-8342

MEDICAL CLINIC

Orthopedics Centers

of Colorado, LLC

7800 East Orchard Road,

Suite 100

303-396-9391

MORTGAGE COMPANY

AmeriSave

Mortgage Corporation

5619 DTC Parkway, Suite 601

866-514-7283

Great American Financial

6635 South Dayton Street,

Suite 310

303-781-1992

OFFICE SERVICES

Sodexo American, LLC

5600 Greenwood Plaza Boulevard

866-372-8291

OIL AND GAS

Impact Exploration

& Production, LLC

8101 East Prentice Avenue,

Suite 200

720-996-1814

ONLINE REWARDS WEBSITE

Prodege, LLC

5575 DTC Parkway, Suite 300

303-625-6971

PRIVATE EQUITY FUND

Wazee Street Capital

Management, LLC

8101 East Prentice Avenue,

Suite 610

303-645-9300

REAL ESTATE

Lauren Burtis, LLC

6020 Greenwood Plaza Boulevard,

Suite 100

303-718-7884

SOFTWARE AND TECHNOLOGY

Engrain, Incorporated

5660 Greenwood Plaza Boulevard,

Suite 350

303-468-8660

YOGA

Tava Yoga

6818 South Dallas Way

303-792-5757

Yoga Pod Denver Tech Center

4930 South Yosemite Street,

Suite D1C

720-837-1332

BUSINESSES

UNDER NEW

MANAGEMENT

FAST FOOD

Taco Bell

8695 East Arapahoe Road

303-745-0555

WHOLESALER

Masters Farm, LLC

5690 DTC Boulevard, Suite 570-E

303-296-6600

SNOW AND ICE REMOVAL IN RESIDENTIAL,

COMMERCIAL AND RETAIL AREAS

VILLAGE CODE IN PLACE TO ENSURE PEDESTRIAN ACCESS AND SAFETY

Residents or tenants in possession or control of any single-family residential property having a sidewalk abutting the front or, in the case of

a corner lot, the front and side of a residence shall maintain the sidewalk in a condition free from snow or ice and shall remove any

accumulation of snow or ice from such sidewalks within forty-eight (48) hours after its accumulation. This responsibility does not extend to

driveways or walkways leading from the sidewalk to the residence nor to sidewalks or trails abutting the rear property of a residence.

Business owners and property managers are required to remove snow and ice from their sidewalks within 24-hours after accumulation.

This requirement also prohibits any deposit of snow or ice from any property onto any sidewalk, street, or roadway in the Village.

For more information or to file a complaint, please call Sheryl Jaramillo, Neighborhood Services Officer, at 303-486-5793 or email at

sjaramillo@greenwoodvillage.com.

NOVEMBER 2017 | GV NEWSLETTER PG. 17
---
ARTS AND RECREATION

THURSDAY, DECEMBER 7 FROM 6-8 P.M.

GREENWOOD VILLAGE CITY HALL • 6060 SOUTH QUEBEC STREET

'Tis the season of joy and the Village tradition,

To welcome you and your family to our holiday vision.

All gather at 6 p.m. for an evening delight;

City Hall and the front yard will be lit so bright.

You and your family are cordially invited to our holiday event.

Enjoy an evening of bright lights, train rides, cocoa, holiday treats, carnival games

and snow hill (weather permitting), visit with Santa, art activities for all ages,

laser show and musical performances by area schools.

A family filled evening of fun!

Tickets are not required for this event.

Free parking available at Harlequin Lot.

Located off Orchard and Greenwood Plaza Blvd South.

Handicap parking is available.

Come rain, shine or snow. Event is both inside and outside City Hall.

NO PARKING AT CITY HALL

A Special Event for the Families of Greenwood Village.

303-486-5766 or cdelap@greenwoodvillage.com

PG. 18 GV NEWSLETTER | NOVEMBER 2017
---
ARTS AND RECREATION

RECREATION programs

BOYS AND GIRLS

GAME NIGHT

Have a fun-filled night with games such as tag, dodgeball,

and wiffleball! An hour of fun with a variety of activities.

Monday, November 27, December 11, 18

Time: 6:30-7:30 p.m.

Age: 8 to 12 years old

Cost: $10

(All equipment

provided)

Location:

Campus Middle School

4785 South Dayton Street

Limited to 40 participants

Register online at

www.greenwoodvillage.com/registration

For more information call the Arts and Recreation Division at 303-486-5773.

PICKLEBALL CLINIC AT

ORCHARD HILLS PARK

Eight Village residents inaugurated the pickleball court at

Orchard Hills Park on Wednesday, October 4. The clinic

included a short rules conversation, drills with a partner, and

serving, as well as game play. If anyone is interested in

learning how to play this popular game, a second clinic can

be arranged through the Parks, Trails and Recreation

Department. Please email Cathy Delap, Recreation Manager,

at cdelap@greenwoodvillage.com.

RECREATION REIMBURSEMENT DEADLINE FOR 2017 RECEIPTS

REIMBURSEMENT REQUESTS DUE

ON OR BEFORE JANUARY 16, 2018

The year is quickly coming to an end and that means the winter

holidays are approaching. Submitting your Recreation

Reimbursement requests now can put some extra holiday cash in

your pocket. Here are some tips for ensuring your request is

processed quickly.

• Submit receipts in the year you paid regardless of when the

activity takes place

• Attach receipts in the same order they are listed on the form

• All receipts must be itemized and include the name of the

agency, the date and the activity

• Tape golf receipts and other small receipts to an

8.5" x 11" piece of paper

Eligible entities include parks and recreation districts, special

districts such as metropolitan districts that offer recreation

(Greenwood Athletic Club Metro District, Sundance Hills, Cherry

Creek Vista, Highlands Ranch Metro District, etc.), municipal golf

courses and nonprofit youth sports agencies.

For more information, visit the Greenwood Village website,

greenwoodvillage.com/1246/Recreation-Reimbursement, or call

the Parks, Trails and Recreation Department, 303-486-5773.

Reimbursement forms have been included in the center of this

Newsletter for your convenience. All reimbursement requests for

activities paid for in 2017 are due on Tuesday, January 16, 2018.

NOVEMBER 2017 | GV NEWSLETTER PG. 19
---
ARTS AND RECREATION

FALL FEST

The annual fall festival for the residents of

Greenwood Village took place on Saturday,

October 7, 2017, in the backyard of City Hall.

Over 850 people walked through the pumpkin

patch, and were greeted by a larger than life

Frankenstein. There were carnival games, face

painters, giant ball pit, art projects and many

other fun activities that matched the Monster

Bash theme. Everyone enjoyed music from the

DJ, kids competed in fun games to some of

their favorite songs. Across the pond kids

participated in a pumpkin hunt. The kids

showed off their amazing costumes in the photo

booth. The day ended with the kids picking out

their perfect pumpkin to take home.

WALK TO SCHOOL

Both Greenwood and Belleview Elementary Schools participated in the annual Walk to School Day on Wednesday, October 4.

Children enjoyed painting banners and making bracelets for the walk. The Greenwood Village Police were on hand to make sure

the walks were safe during rush hour and students arrived at school safely.

PG. 20 GV NEWSLETTER | NOVEMBER 2017
---
ARTS AND RECREATION

ART

programs

Register online at

www.greenwoodvillage.com/registration

For more information call the the Curtis Center for the Arts at 303-797-1779.

YOUTH ART CLASSES

Location: Curtis Center for the Arts, 2349 East Orchard Road, Greenwood Village, CO 80121

The Curtis Center for the Arts offers a

variety of art classes for ages 3 to 14

years old. Come and join us after

school to create unique works of art.

PEE WEE ART

Pee Wee Art is a fun hands-on art

program that introduces preschoolers

to the arts and allows for parents to

assist with their child's creative process.

Monday, November 20, 4 to 5 p.m.

Turkey Sculptures

A favorite returns to Pee Wee art!

Preschoolers will make a turkey out of

clay and actual feathers!

$10 per program

3 to 5 years old with parent

GAME ON!

Create your very

own board game!

In this two-part

workshop, you'll

learn how board

games get made

and then have the

chance to design a

game of your very

own!

Fridays,

November 17

through

December 8

No class on November 24 for

Thanksgiving

4:30 to 6 p.m.

$50

9 to 14 years old

Presented by

Pop Culture Classroom

COOKIES AND

CANVAS

Happy Holidays! Kids are invited

to the Curtis Center for the Arts

to create colorful and whimsical

holiday themed paintings. And

they get to enjoy cookies and

punch while they paint!

PEE WEE COOKIES

AND CANVAS —

HOLIDAY LIGHTS

Monday, December 11

4 to 5:30 p.m.

3 to 5 years old

Parent and/or caregiver must

accompany their child

GINGERBREAD

HOUSE

Tuesday, December 12

4:30 to 6 p.m.

6 to 12 years old

HO HO NOOOO!

Friday, December 15

4:30 to 6 p.m.

6 to 12 years old

$25 per program

All supplies and

goodies included.

Curtis Center For The Arts

2349 East Orchard Road

Greenwood Village, CO 80121

Register online at www.greenwood

village.com/registration.

For more information call the Curtis Center for the

Arts at 303-797-1779.

Note To Parents

No cookies with nuts or that were made in a nut

factory will be served at the program. If your child

does have a food allergy please contact Lauren

Brant at lbrant@greenwoodvillage.com

or 303-708-6112.

NOVEMBER 2017 | GV NEWSLETTER PG. 21
---
ARTS AND RECREATION

ART

programs

Register online at

www.greenwoodvillage.com/registration

For more information call the the Curtis Center for the Arts at 303-797-1779.

ADULT ART CLASSES

Location: Curtis Center for the Arts, 2349 East Orchard Road, Greenwood Village, CO 80121

The Curtis Center for the Arts offers a variety of art classes

for ages 16 and older both during the week and on

Saturdays. Register for a class to improve your artistic skills

or discover your inner artist.

FIGURE DRAWING

This class introduces students to how to draw the human

figure using the foundations of drawing as well as the

fundamentals of drawing the human figure.

Tuesdays, November 21 through December 26

9:30 a.m. to 12:30 p.m.

$120

Instructed by MJ Dowling

CASUAL WATERCOLOR:

PAINTING NATURE

Join us for painting the

natural world — trees,

birds, mountains, flowers,

meadows, landscapes and

skies.

Mondays, November 13

through December 11

1 to 3:30 p.m.

$100

Instructed by Renee Reese

BASIC WATERCOLOR AND

LOOSE FLORAL PAINTINGS

Watercolor is the perfect medium to paint flowers because

it's light, transparent and

fresh. This workshop will

begin by introducing you

to basic watercolor

techniques. You'll learn to

blend pigment and water

and how to load your brush

just the right way to create

beautiful brushstrokes.

Saturday, November 11

10 a.m. to 3 p.m.

$100

Instructed by Renee Reese

SILK PAINTING FOR ADULTS

'LIQUID COLOR'

Experience

the beauty

of hand

dying

luxurious

silk.

Students

will draw,

wax

and dye

their art

piece

inspired

by their

imagination.

Saturdays, December 2 and 16

9 a.m. to 4 p.m.

$100

Instructed by Maggie Stewart

PG. 22 GV NEWSLETTER | NOVEMBER 2017
---
ARTS AND RECREATION

ALL COLORADO

ART SHOW

On Saturday October 14 over 300 art

lovers packed the Curtis Center for the Arts

to celebrate two special occasions. First was

the opening reception for the 34th Annual

All Colorado Art Show. The show features

over 50 artists in all mediums and subject

matters. This year artists were asked to

present a piece that addresses why they live

and create in Colorado. The exhibit

highlights some of Colorado's finest

working artists. The works will be on

display through December 23.

Attendees had another reason to celebrate

with the recent remodeling of the Curtis

Center. This summer the art center made

some major updates to the building. In

addition to the new bathrooms on the

main level, the lower level bathrooms were

overhauled, additional storage space was

added and the Center made upgrades to

make it more ADA compliant to provide

an even better customer experience. Come

see the exhibit and the fresh new space.

FOCUS 50+

Come enjoy a variety of

topics, good conversation,

coffee and a lot of laughs!

Open to the public every

Monday — Join Us.

Day: Mondays

Time: 9-10:15 a.m.

Location:

Curtis Center for the Arts

2349 East Orchard Road

2017 FALL/

WINTER

SCHEDULE

(Subject to change)

Monday, November 6

Coffee Chat And Art

With the Masters.

Monday, November 13

Anything Goes

Enjoy the good conversation

while we have refreshments.

Monday, November 20

A Taste Of Thanksgiving

Bring your favorite food, story

and Thanksgiving photo as

we celebrate our thanks!

Monday, November 27

The Five Minute Workshop

Learn simple moves that can

be used in your home or

office that can be used to

make you strong and fit.

For more information, please

contact Gina Oldenburg at

720-227-8685.

CURTIS DANCERS

Days: Mondays

Time: 10:15-11:15 a.m.

Location:

Curtis Center for the Arts,

2349 E. Orchard Road

Join us for some exercise,

dancing and friendship.

Everyone welcome. This

program is free to all seniors.

For more information

please contact Cathy Delap

at 303-486-5766.

NOVEMBER 2017 | GV NEWSLETTER PG. 23
---
6060 South Quebec Street

Greenwood Village, Colorado 80111-4591

PRSRT STD

US POSTAGE

PAID

ENGLEWOOD, CO

PERMIT #799

ARTS AND RECREATION

ART events

GALLERY HOURS

Monday-Friday 8:30 a.m.-4:30 p.m.

Saturday 10 a.m.-4 p.m.

CURTIS CENTER FOR THE ARTS • 2349 EAST ORCHARD ROAD, GREENWOOD VILLAGE, CO 80121 • 303-797-1779

COFFEE AND CANVAS

Coffee and Canvas is an all-inclusive art workshop. That's

right! Workshop includes demonstrations from instructor

Renee Reese, instruction for painting a canvas from start to

finish, all materials are provided, and we serve Starbucks

coffee and an assortment of pastries for you to enjoy while

you paint.

Come and join us once a month on Saturday mornings

with your friends and family to create beautiful works of art.

Saturdays, 10 a.m. to 2:30 p.m.

November 18 — Mixed Media Tree

Come paint this glowing and lively mixed media tree for

November!

December 9 — Rocky Mountain Night Sky

In December, we will painting a peaceful and starry

winter sky on an 8" x 8" square canvas. The finished

piece will make a wonderful holiday gift.

$30 per program

Instructed by Renee Reese

PG. 24 GV NEWSLETTER | NOVEMBER 2017