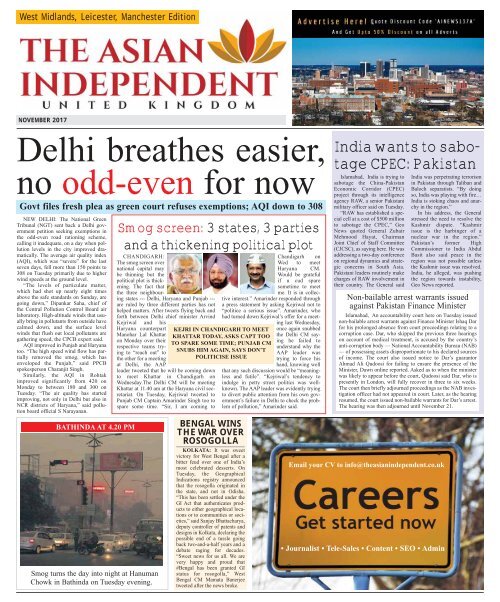 You also want an ePaper? Increase the reach of your titles
YUMPU automatically turns print PDFs into web optimized ePapers that Google loves.
West Midlands, Leicester, Manchester Edition

NOVEMBER 2017

Delhi breathes easier,

no odd-even for now

Govt files fresh plea as green court refuses exemptions; AQI down to 308

NEW DELHI: The National Green

Tribunal (NGT) sent back a Delhi government

petition seeking exemptions in

the odd-even road rationing scheme,

calling it inadequate, on a day when pollution

levels in the city improved dramatically.

The average air quality index

(AQI), which was "severe" for the last

seven days, fell more than 150 points to

308 on Tuesday primarily due to higher

wind speeds at the ground level.

"The levels of particulate matter,

which had shot up nearly eight times

above the safe standards on Sunday, are

going down," Dipankar Saha, chief of

the Central Pollution Control Board air

laboratory. High-altitude winds that usually

bring in pollutants from outside have

calmed down, and the surface level

winds that flush out local pollutants are

gathering speed, the CPCB expert said.

AQI improved in Punjab and Haryana

too. "The high speed wind flow has partially

removed the smog, which has

enveloped the Punjab," said PPCB

spokesperson Charanjit Singh.

Similarly, the AQI in Rohtak

improved significantly from 420 on

Monday to between 180 and 300 on

Tuesday. "The air quality has started

improving, not only in Delhi but also in

NCR districts of Haryana," said pollution

board official S Narayanan.

BATHINDA AT 4.20 PM

Smog turns the day into night at Hanuman

Chowk in Bathinda on Tuesday evening.

Smog screen: 3 states, 3 parties

and a thickening political plot

CHANDIGARH:

The smog screen over

national capital may

be thinning but the

political plot is thickening.

The fact that

the three neighbouring

states --- Delhi, Haryana and Punjab ---

are ruled by three different parties has not

helped matters. After tweets flying back and

forth between Delhi chief minister Arvind

Kejriwal and his

Haryana counterpart

Manohar Lal Khattar

on Monday over their

respective teams trying

to "reach out" to

the other for a meeting

at Delhi, the AAP

leader tweeted that he will be coming down

to meet Khattar in Chandigarh on

Wednesday.The Delhi CM will be meeting

Khattar at 11.40 am at the Haryana civil secretariat.

On Tuesday, Kejriwal tweeted to

Punjab CM Captain Amarinder Singh too to

spare some time. "Sir, I am coming to

KEJRI IN CHANDIGARH TO MEET

KHATTAR TODAY, ASKS CAPT TOO

TO SPARE SOME TIME; PUNJAB CM

SNUBS HIM AGAIN, SAYS DON'T

POLITICISE ISSUE

BENGAL WINS

THE WAR OVER

ROSOGOLLA

KOLKATA: It was sweet

victory for West Bengal after a

bitter feud over one of India's

most celebrated desserts. On

Tuesday, the Geographical

Indications registry announced

that the rosogolla originated in

the state, and not in Odisha.

"This has been settled under the

GI Act that authenticates products

to either geographical locations

or to communities or societies,"

said Sanjay Bhattacharya,

deputy controller of patents and

designs in Kolkata, declaring the

possible end of a tussle going

back two-and-a-half years and a

debate raging for decades.

"Sweet news for us all. We are

very happy and proud that

#Bengal has been granted GI

status for rosogolla," West

Bengal CM Mamata Banerjee

tweeted after the news broke.

Chandigarh on

Wed to meet

Haryana CM.

Would be grateful

if u cud spare

sometime to meet

me. It is in collective

interest." Amarinder responded through

a press statement by asking Kejriwal not to

"politice a serious issue". Amarinder, who

had turned down Kejriwal's offer for a meeting

last Wednesday,

once again snubbed

the Delhi CM saying

he failed to

understand why the

AAP leader was

trying to force his

hand, knowing well

that any such discussion would be "meaningless

and futile". "Kejriwal's tendency to

indulge in petty street politics was wellknown.

The AAP leader was evidently trying

to divert public attention from his own government's

failure in Delhi to check the problem

of pollution," Amarinder said.

India wants to sabotage

CPEC: Pakistan

Islamabad, India is trying to

sabotage the China-Pakistan

Economic Corridor (CPEC)

project through its intelligence

agency RAW, a senior Pakistani

military officer said on Tuesday.

"RAW has established a special

cell at a cost of $500 million

to sabotage the CPEC," Geo

News quoted General Zubair

Mehmood Hayat, Chairman

Joint Chief of Staff Committee

(CJCSC), as saying here. He was

addressing a two-day conference

on regional dynamics and strategic

concerns in South Asia.

Pakistani leaders routinely make

charges of RAW involvement in

their country. The General said

Email your CV to info@theasianindependent.co.uk

• Journalist • Tele-Sales • Content • SEO • Admin

India was perpetrating terrorism

in Pakistan through Taliban and

Baloch separatists. "By doing

so, India was playing with fire…

India is stoking chaos and anarchy

in the region."

In his address, the General

stressed the need to resolve the

Kashmir dispute. "Kashmir

issue is the harbinger of a

nuclear war in the region."

Pakistan's former High

Commissioner to India Abdul

Basit also said peace in the

region was not possible unless

the Kashmir issue was resolved.

India, he alleged, was pushing

the region towards instability,

Geo News reported.

Non-bailable arrest warrants issued

against Pakistan Finance Minister

Islamabad, An accountability court here on Tuesday issued

non-bailable arrest warrants against Finance Minister Ishaq Dar

for his prolonged absence from court proceedings relating to a

corruption case. Dar, who skipped the previous three hearings

on account of medical treatment, is accused by the country's

anti-corruption body — National Accountability Bureau (NAB)

— of possessing assets disproportionate to his declared sources

of income. The court also issued notice to Dar's guarantor

Ahmad Ali Qudoosi for failing to ensure the presence of the

Minister, Dawn online reported. Asked as to when the minister

was likely to appear before the court, Qudoosi said Dar, who is

presently in London, will fully recover in three to six weeks.

The court then briefly adjourned proceedings as the NAB investigation

officer had not appeared in court. Later, as the hearing

resumed, the court issued non-bailable warrants for Dar's arrest.

The hearing was then adjourned until November 21.
---
2 November 2017

UNITED KINGDOM

www.theasianindependent.co.uk

British Parliament to get binding

vote on final Brexit deal

London, The British

Parliament is to be given a

take-it-or leave-it vote on the

final Brexit deal before the UK

leaves the European Union

(EU). Brexit Secretary David

Davis said the terms of the

UK's exit, such as money, citizen

rights and any transition

must become law via a new Act

of Parliament, BBC reported on

Monday. Labour welcomed a

"climbdown" but some MPs

warned of a "sham" if ministers

could not be asked to renegotiate.

Informed sources have told

the BBC some Tory rebels were

unimpressed, with one saying

the promise was "meaningless".

It comes as MPs prepare

to debate key Brexit legislation

later this week with the government

facing possible defeat on

aspects of the EU Withdrawal

Bill, which will convert EU law

into UK law. The UK is due to

leave the EU in March 2019,

irrespective of whether MPs

back or reject the terms of the

deal negotiated by Theresa

May's government.

But updating MPs on the

Foreign Secretary Statement

on the Situation in Lebanon.

This afternoon Boris Johnson spoke to his Lebanese counterpart

to stress the UK's support for Lebanon

Foreign Secretary Boris Johnson said: I spoke today to

Foreign Minister Bassil on the latest developments in Lebanon. I

reiterated to him the United Kingdom's full support for the sovereignty

and independence of Lebanon. Prime Minister Hariri

has been a good and trusted partner for the UK, and we hope that

he will return to Beirut without further delay, not least in the

interests of Lebanon's political stability. We urge all parties with

an interest in Lebanon to do all they can to encourage this, and to

work more broadly to reduce recent tensions.

The Lebanese Armed Forces (LAF) is the only legitimate

authority within Lebanon, and no militia groups or foreign forces

should aim to challenge the LAF as the ultimate guarantor of the

Lebanese people's security. We echo the concerns of the United

States and our European partners that Lebanon should not be

used as a tool for proxy conflicts, and that its independence and

integrity should be respected by all parties – within the country

and beyond.

sixth round of talks which concluded

on Friday, Mr Davis

told MPs they would still play a

major role and "there cannot be

any doubt that Parliament will

be intimately involved at every

stage". The government had

previously agreed to give MPs

and peers a vote on a Commons

motion relating to the final

Brexit deal – before it has been

voted upon by the European

Parliament.

ACT for Youth :

RUN HIDE TELL

Counter Terrorism Policing (CTP) have collaborated with specialists

from the PSHE Association and Girlguiding to take terrorism

safety advice into the UK's classrooms and youth organisations for

the first time. Security experts from CTP have commissioned the creation

of an animated core film designed to teach young people how

to react if caught up in an a gun or knife terror attack. The film, aimed

at 11 to 16 year olds, will also show them what to do if they see suspicious

behaviour or a suspicious item. Versions of the new film for

Key Stage 3 and 4 pupils, (ages 11-14 and 15-16), will be the cornerstone

of teaching material, specially-designed by the PSHE

Association and available to Schools and Youth organisations from

today. Once young people understand the RUN HIDE TELL advice

they can progress to TREAT, which has been created in conjunction

with St John Ambulance. This age-appropriate First Aid guidance has

been specifically designed to allow a teacher or youth leader to show

young people how to deliver trauma first aid to an injured person or

themselves whilst HIDING and waiting to be rescued by the police.

All materials needed to deliver these sessions can be found here.

North east man sentenced

for waste fire

A Cleveland farmer has been

fined thousands of pounds following

an Environment Agency

investigation into waste crime.

A Cleveland farmer has been

ordered to pay £4,899.44 after

illegally storing and setting fire

to controlled waste on his land.

The blaze, which was filmed

by a National Police Air Service

Team AI :

Devinder Chander

Editor-in-chief

Prof. Mohan Sapra

Advisory Editor

Fred Shakir

Marketing & Creative Manager

Columnists

V.B. Rawat

Farzana Suri

Arun Kumar

Head Office

46 Summer Rd, Erdington

Birmingham, B23 6UR.

Tel : +44 7878 456 484

Email :

info@theasianindependent.co.uk

Advertisement

Enquiries

+44 7475 475 343

The Asian Independent is an

Intellectual Property of

Samaj Media Enterprise Ltd

(NPAS) helicopter crew, took

place at Holdensfield Farm,

Yarm, in December 2016.

Charles Roderick Pickering,

aged 71, of Holdensfield Farm,

was charged with two waste

offences when he appeared

before Teesside Magistrates'

Court on Friday, 10 November.

He admitted both allegations

brought by the Environment

Agency and was handed a £3,000

fine with £1,729.44 costs and

£170 victim surcharge. The court

heard how the NPAS helicopter

crew observed the fire, which

was giving off a large plume of

black smoke. Footage shows the

fire was unattended and included

materials such as uPVC door and

window frames, wood, wheelie

bins, a fridge and shower trays

over an area of 50 metres square.

The fire was 200m away from

a large housing estate to the north,

200m from HMP Kirklevington

Grange to the west, 200m from

two busy A roads servicing Yarm

and immediately adjacent to a

golf driving range.

Burned waste

When Environment Agency

Officers attended the site on 19

December 2016 they found the

burned and partially burned

waste also included televisions,

carpet, mattresses, kitchen units

and garden waste. There was

also an area of unburnt waste

consisting of various packaging

materials, paint tins and wooden

pallets.

Pickering explained that he

had allowed a man, whom he

only knew by first name, to

bring on some of the waste at no

charge, with the rest being from

his own farm. He admitted he

had started the fire, stating he

had done it when he considered

the wind conditions suitable.

On 26 January 2017,

Pickering was interviewed

under caution. He produced an

invoice and waste transfer notes

showing that some of the burnt

materials had been removed

from the farm.

* The Asian Independent and people associated with it are not responsible for any claims made by the advertisers and do not endorse in any products or services advertised. Please visit www.theasianindependent.com/tc for more information.
---
www.theasianindependent.co.uk

Trump Jr,

WikiLeaks

exchanged

messages

WASHINGTON: US

President Donald Trump's son

released a series of private

Twitter exchanges between

himself and WikiLeaks during

and after the 2016 election,

including pleas from the website

to publicise its leaks.

Donald Trump Jr's release

of the messages on Twitter

came hours after The Atlantic

first reported them on Monday.

In the exchanges — some of

them around the time that the

website was releasing the

stolen emails from Democrat

Hillary Clinton's campaign

chairman — WikiLeaks praises

his father's positive comments

about WikiLeaks and asks

Trump Jr to release his father's

tax returns to the site. The revelations

are sure to increase

calls in Congress to have

Trump Jr testify publicly as

part of several committee

probes into Russian interference

in the 2016 election. And

they add a new element to the

investigations that have been

probing for months whether

Trump's campaign colluded in

any way with the Russian government.

In an intelligence

assessment released last

January, the NSA, CIA and FBI

concluded Russian military

intelligence provided hacked

information from the DNC and

"senior Democratic officials"

to WikiLeaks. WikiLeaks has

denied that Russia was the

source of emails it released.

UNITED KINGDOM

Brexit: Ministers see off early

EU Withdrawal Bill challenges

London, Ministers have seen

off challenges to their authority on

the first of eight days of scrutiny of

a key Brexit bill. The MPs backed

plans to repeal the 1972 European

Communities Act, which will end

the supremacy of EU law in the

UK, by 318 votes to 68, BBC

reported. Calls for Scotland, Wales

and Northern Ireland to have a

veto over the process were rejected

by 318 votes to 52. But several

Tories criticised plans to specify

an exact date for Brexit and hinted

they will rebel at a later date.

The Daily Telegraph reported

that up to 15 Conservative MPs

could join forces with Labour on

the issue when it is voted on next

month, threatening defeat for the

government. The MPs, including a

number of former cabinet ministers,

are angry at a government plan to

enshrine in law the Brexit date and time —

11 p.m. on March 29, 2019 — as announced

by Prime Minister Theresa May last Friday.

The newspaper described the group of Tories

as "Brexit mutineers", but one of those

named – ex-business minister Anna Soubry –

told MPs the front page was a "blatant piece

of bullying that goes to the very heart of

democracy".

She said she regarded her inclusion as a

badge of honour and insisted "none of those

people named want to delay or thwart

Brexit" but rather sought "a good Brexit that

works for everybody in our country".

Responding to the Telegraph story, Brexit

minister Steve Baker said he regretted

"media attempts to divide the Conservative

Party".

He tweeted: "My parliamentary colleagues

have sincere suggestions to improve

the bill which we are working through and I

PM reaffirms commitment to

UK's world-class tech sector

Prime Minister Theresa May

and Chancellor Phillip Hammond

will host a Downing Street reception

for the tech sector, reaffirming

government commitment to

innovation.

The Prime Minister will meet

leading digital entrepreneurs and

innovators from across the country

on Wednesday 15 November,

as she announces a series of

measures to support the continued

growth and success of the UK's

world-class tech sector.

In the run up to the Budget, the

Prime Minister and Chancellor

will co-host a tech roundtable and

reception at Downing Street, and

reaffirm the Government's enduring

commitment to this vital

industry. The PM and Chancellor

will announce a new package of

support to ensure Britain remains

at the forefront of global innovation,

which includes: Doubling to

2,000 the number of visas available

to the brightest and best talent

from around the world,

including in digital technology

An investment of £21 million to

expand Tech City UK into a

nationwide network – Tech

Nation – to accelerate the growth

of the digital tech sector across

the country A new £20 million

fund to help public services take

advantage of UK expertise in

innovative technologies like

Artificial Intelligence

The launch of a £20 million

training programme which will

challenge thousands of young

people aged between 14 and 18 to

test their skills against simulated

online cyber threats

Prime Minister Theresa May

said: Our digital tech sector is one

of the UK's fastest-growing

industries, and is supporting talent,

boosting productivity, and

creating hundreds of thousands of

good, high-skilled jobs up and

down the country.

It is absolutely right that this

dynamic sector, which makes

such an immense contribution to

our economic life and to our society,

has the full backing of

Government. Helping our worldclass

entrepreneurs and innovators

to succeed is how we lay the

foundations for our prosperity

and build an economy fit for the

future. Technology is at the heart

of our modern Industrial Strategy,

and we will continue to invest in

the best new innovations and

ideas, in the brightest and best talent,

and in revolutionary digital

infrastructure. And as we prepare

to leave the European Union, I am

clear that Britain will remain

open for business. That means

Government doing all it can to

secure a strong future for our

thriving tech sector and ensure

people in all corners of our nation

share in the benefits of its success.

The Home Office will look

at how it can work with organisations

across the UK to ensure

wider take up of the additional

visas outside London. Alongside

this, the Home Secretary will

meet with technology experts to

seek their input on making sure

our visa processes are as efficient

as possible.

respect them for that.

Although the issue was not formally

debated on Tuesday, it dominated

the early skirmishes in the

Commons as MPs began considering

the EU Withdrawal Bill in

depth for the first time.

Former Conservative Attorney

General Dominic Grieve said he

could not support the "mad" proposal

which he said would "fetter"

the government's hands if the

negotiations dragged on longer

than expected and would prevent

any extension to the talks to get a

deal in both sides' interests. And

former Chancellor Kenneth Clarke

signalled he would be opposing

the government when the matter

came to a vote, telling MPs that —

as a pro-European — "he was the

rebel now" and Eurosceptics in his

party now represented the "orthodoxy" within

his party. Under current EU laws, the UK

will leave two years to the day after it triggered

Article 50, which was on March 29

2017, unless the UK and all 27 other EU

members agree to an extension. Labour said

the amendment was therefore a "desperate

gimmick" that was "about party management

not the national interest", arguing it

increased the chance of the UK crashing out

of the bloc without an agreement.

LONDON : UK Prime

Minister Theresa May on

Monday warned Russia that it

will not succeed in its alleged

attempts to hack western government

departments, meddle in

elections or what she called

"weaponise information".

Delivering a major foreign

policy speech at the London

Lord Mayor's annual banquet,

May used unusually strong language

against Russia even as

she dwelt on the challenges

caused by Brexit. She said any

arrangement post-Brexit will

include efforts to open

economies and free societies,

despite alleged attempts by

states such as Russia to undermine

them. She claimed

Russia's actions were threatening

the international order.

"I want to be clear about the

scale and nature of these

actions. Russia's illegal annexation

of Crimea was the first time

since the Second World War

that one sovereign nation has

forcibly taken territory from

another in Europe," she said.

"Since then, Russia has

November 2017

3

Russia meddling but

we are watching,

says Britain's May

fomented conflict in the

Donbas, repeatedly violated the

national airspace of several

European countries, and mounted

a sustained campaign of

cyber espionage and disruption.

This has included meddling in

elections, and hacking the

Danish ministry of defence and

the Bundestag, among many

others...

"We know what you are

doing. And you will not succeed.

Because you underestimate

the resilience of our

democracies, the enduring

attraction of free and open societies,

and the commitment of

Western nations to the alliances

that bind us."

Britain, May said, will do

what is necessary to protect

itself, and work with allies.

"So we will take the necessary

actions to counter Russian

activity. But this is not where

we want to be – and not the relationship

with Russia we want.

We do not want to return to the

Cold War, or to be in a state of

perpetual confrontation," she

said.
---
4 November 2017

UNITED KINGDOM

www.theasianindependent.co.uk

Permanent exhibition of Sikh

art launches at Gurdwara

A Sikh artist whose work is

devoted to Sikh religion and history

launched a permanent exhibition

on Saturday.

The exhibition brought

together the work of renowned

Canadian artist Kanwar Singh

and art from young volunteers at

the Guru Maneyo Granth

Gurdwara in Bath Road.

His work depicts the spirit of

iconic subjects and defining

moments in the Sikh faith that he

hopes will leave a lasting

impression in the eyes of future

generations. He said: "My goal

from the very start was to envision

and spread awareness of the

great Sikh historical narrative

which offers each of us so much

inspiration in our daily lives."

Hundreds of people queued

inside the temple for a chance to

view the substantial collection of

work. Councillor Madhuri Bedi

(Lab, Foxborough) was an

admirer of his work. She said:

"Each image speaks to your

heart." A visit by Kanwar in the

summer of 2016 became the catalyst

for young volunteers at the

Gurdwara to initiate their youth

community art project.

The project has since seen

over 100 young budding artists

try their hand at portraying history

through various art forms.

Slough Labour MP Tan Dhesi

added: "It's an honour and a

great achievement for the town

to host this permanent exhibition

of art. "It has already inspired

many young people and I must

praise the excellent work of the

Gurdwara and its trustees. "I

think it will act as a magnet to

attract young Sikhs into the arts

and non-Sikhs to appreciate and

learn about the different aspects

of Sikh art, culture and history.

"Only by learning can we break

down barriers."

Rajvatan Singh Rathour – First Sikh Model

in London -India Fashion Week

Rajvatan Singh Rathour has become the first Sikh Model to walk

on the ramp in Olympia London in India Fashion Week 2017 along

with The National Asian Wedding Show organised on 11th & 12th

Nov. Rajvatan also completed shoot for a London based Khush

magazine and soon will be appearing in it. Top Bollywood actresses

like Sonam Kapoor, Aditi Rao have also appeared on the same

page. The Patiala, Punjab born Rajvatan, moved permanently to UK

in 2006 along with his family. In 2017 he completed his Masters of

Science in International Politics from Royal Holloway, University

of London. In 2015, he was appointed to be the Head Delegate representing

Brunel University at the conference in the European

Council at Cambridge University's Model United Nations

Conference. Rajvatan represented as a delegate in the Social,

Cultural and Human Rights Committee in Oxford University's

Model United Nations Conference in 2014.

During his time in university, he became interested in modelling,

something which started off as a hobby in 2014, slowly became a

passion for him to potentially pursue it as a career. Rajvatan was co

star in Diljit Dosanjh's recently released song 'El Sueno'.

Transforming "Cat Walk" into a "Tiger Walk", Rajvatan was

adjudged "BEST WALK" award in International "Sardar" World

model contest in Aug 2017 in Melbourne representing United

Kingdom. Moreover, Rajvatan has successfully modelled for UK

brands such as Wootz Brand, Anokhi House, and have worked with

photographers such as J Dhillon, Gurvir Johal, Abs Kochhar, and

Harmeet Singh Sana, and stylists such as Sahil Gulati, on various

projects. Rajvatan has also featured in projects related to Sikhs in

World War I as an Army man, as well as numerous fashion projects

carried out by photographer Manpreet Malhi from University of

Hertfordshire. Along with acting and modelling Rajvatan is also

involved in the UK Punjabi community as a professional Bhangra

dance instructor, and a choreographer. He is currently the captain of

Gabru Furteley a UK Bhangra Team, which has competed

Internationally. Therefore, Rajvatan possesses specific qualities that

many film directors, designers, fashion directors and choreographers

may look for.

FABO UK Condemns

Persecution of Dalit activists

In the Annual General

Meeting of the Federation of

Ambedkarite and Buddhist

Organisations UK (FABO

UK) held on 5 November,

2017 at the Ambedkar

Centre, Southall, the

Federation discussed the

increasing incidents of

atrocities on Dalits and other

minorities in India. One of

the basic principles of

democracy, fundamental

right of freedom of speech

and expression guaranteed

in the Constitution of India is

systematically being eroded.

Whosoever speaks up for human

rights and justice and calls the

Government to account on social

evils is persecuted. Mr

Chandrashekhar Azad Ravan

and Professor Kancha Illaiah are

the prime examples.

On 5th May 2017, in the village

of Shabirpur in Sahranpur,

UP, India, saw another horrific

incident where over 50 houses of

Dalits were set on fire, men were

beaten up and their women

molested. Instead of the police

taking stern action against the

culprits, a number of Dalits who

were defending themselves

including a young lawyer, Mr

Chandrashekhar Ravan were

arrested. It has been reported that

Mr Chandrashekhar Azad Ravan

has been attacked in the prison

and needs independent medical

attention. FABO UK is deeply

concerned about Mr

Chandrashekhar Ravan's physical

well being and his life and

his photo being broadcast in a

wheel chair is very alarming.

On November 2, the

Allahabad High Court granted

Mr Chandrashekhar Azad Ravan

bail and found that the charges

against him were politically

motivated. Instead of releasing

him from the custody, the UP

Government enforced the

National Security Act (NSA)

against him. FABO UK strongly

condemns this act of the UP

Government and demands his

release immediately.

Similarly a writer and social

activist, Professor Kancha Ilaiah

Shepherd was murderously

attacked by a mob incited by

T.G. Venaktesh MP at a press

conference on 18/9/2017 where

he openly issued a death threat

and announced that he would kill

or hang Kancha in the streets.

The same forces have killed

Narendra Dabholkar, Govind

Pansare , M.M. Kalburgi and the

journalist Gauri Lankesh. By

creating an atmosphere of hate

and intolerance, the right wing

hindus are trying to suppress the

voices divergent from their

views. Instead of arresting T.G.

Venaktesh and attackers,

Professor Kancha Ilaiah is being

persecuted by putting him under

house arrest.

FABO UK strongly condemns

the persecution of Bhim

Army Chief Mr Chandra

Shekhar Azad Rawan and his

companions and demand their

immediate release. The attackers

of Prof. Kancha Ilaiah Shepherd

and the MP who issued death

threat must be arrested and stern

action must be taken against

them. India' draconian and anti

democratic National Security

Act must be repealed. It is violating

the basic fundamental

rights of individuals.
---
www.theasianindependent.co.uk

MUMBAI : After your bank

accounts and phone numbers, it

is time to link your mutual fund

folios to your Aadhaar number.

Here's how to go about it.

GET IN TOUCH WITH

THE AMC

You can directly approach the

asset management company

(AMC) of your mutual funds.

This can be done online through

their website. While some have a

link on the home page itself,

guiding you to the page for

updating Aadhaar details, others

may have the link under the customer

or investor services tab.

Once you are there, have your

folio number and Permanent

Account Number (PAN) handy.

Along with this information, you

may also need to enter your

name, date of birth, email ID and

Kejriwal wants to

meet Haryana, Punjab

CMs over pollution

New Delhi, A day after

Delhi witnessed its worst 'air

quality' and 'smog situation' of

the year, Chief Minister Arvind

Kejriwal on Wednesday said he

wished to meet his

Haryana and

Punjab counterparts

to find a

solution to pollution

in the

National Capital

Region. On Tuesday, a yellow

blanket of smog hung heavily

in the city sky, making the the

quality of air even worse than a

day after Diwali. Kejriwal

tweeted: "Am writing letters to

CMs of Punjab (Amarinder

Singh) and Haryana (Manohar

Lal Khattar) requesting them

for a meeting to find solutions

to crop burning." Stubble

burning contributes heavily to

the smog situation in the region

during this time every year.

Skip Hire

No.1 Skip can provide a quick quote and supply skips

across the UK. Our range of skips can accommodate

all waste types depending on the size of skip. Get a

quote and make an enquiry today.

phone number linked to

Aadhaar. If there is no option

online, you can call your AMC

and request to link Aadhaar, for

which you may need to fill and

submit a form with all the relevant

details.

ON THE RTA WEBSITE

Mutual fund registrar and

transfer agents (RTAs) can also

facilitate this update. For example,

Computer

Age Management

Services Pvt Ltd

(Cams), an RTA,

has an online link

on its home page

to help you connect

all the folios

for fund houses

serviced by it.

You can access it

entering your

PAN, name and email ID or

phone number or date of birth.

Next, as on an AMC's website,

an OTP will get sent to your

Aadhaar registered phone number.

Once all details are provided,

the RTA will share the same

with the AMCs and you would

receive confirmation from the

fund house about this. Other

RTAs such as Karvy

9 students

killed as

truck crushes

them

Chandigarh At least nine

students were crushed by a

speeding truck when they were

standing on a flyover in

Punjab's Bathinda district on

Wednesday amid dense fog in

the area, police said. Seven

others were injured in the horrific

accident which took place

on the Bathinda-Barnala highway

near Bucho Mandi town.

The truck driver apparently

failed to see them due to virtual

zero visibility. The students

were earlier travelling in a bus

but got off when it got involved

in an accident with a mini bus

on the highway. As they alighted

from the bus, the truck came

from behind and crushed them,

a police officer said. The victims

were rushed to nearby

hospitals. Rescue operations

were hampered by dense fog.

ASIA

Linking Aadhaar with mutual fund folios

Haryana minister told us

not to demand CBI probe:

Pradhuman's father

Gurugram- A day before

Haryana Chief Minister

Manohar Lal Khattar announced

a CBI probe into the murder of a

Class 2 student here, Haryana

cabinet minister Rao Narbir

Singh told the family not to

demand a CBI probe, the boy's

father said on Tuesday.

On September 14, Narbir

Singh visited the house of sevenyear-old

Pradhuman Thakur,

who was murdered in the Ryan

International School on

September 8, and spoke strongly

against a probe by the Central

Bureau of Investigation (CBI),

father Barun Chandra Thakur

said. The father told IANS here

that the PWD, Forest and Civil

Aviation Minister reached their

house in Maruti Kunj on Sohna

Road and told him not to

demand an investigation by the

CBI into the murder. "CBI is just

a big name and nothing more.

The agency already has lots of

workload and it will not be able

to probe the case even in a year

or more. Haryana Police is a better

agency than CBI and it will

deliver its report within a stipulated

time," Barun Thakur quoted

the minister as saying. "When

we said that we want the CBI to

investigate the case, the minister

argued: 'What will happen if the

CBI too comes up with the fact

that the school bus conductor

Ashok Kumar killed the child

after failing to sodomise him',"

Thakur said. Thakur said the

minister was accompanied by a

man not known to him. "Prior to

that, the minister was present

during the cremation of

Pradhuman on September 9 and

he again visited us on September

10 to pay his condolences but

could not meet me," he added.

Computershare Pvt Ltd, Franklin

Templeton AMIL and Sundaram

BFS will also be able to facilitate

for the fund houses serviced by

them.

DISTRIBUTORS

Modalities of the process to

be followed by a distributor, to

update your Aadhaar via an

AMC, are still being put in

place. It is likely that you will be

able to do this for online and

physical distributors soon.

WHAT YOU NEED TO

WATCH OUT FOR

The name on your folio

should match the name in your

Aadhaar; else there is a chance

of the request getting rejected.

The updation happens via

investor approval, which means

an OTP-based verification

instead of a biometric one.

Mumbai : Massive cash

deposits of Rs 3.68 lakh crore in

23.22 lakh (2.32 million) bank

accounts are under suspicion

post the demonetization move

and are being investigated,

Union Shipping Minister Nitin

Gadkari said here on

Wednesday. Besides, around

17.73 lakh (1.77 million) cases

have been detected where the

cash transactions failed to match

the income tax profiles of the

individuals, he said. "There is

No 1 economy (white) and the

No 2 (black) economy has been

wiped out. We are moving

towards a digital and cashless

economy," Gadkari claimed,

Hyderabad: Writer and

social activist Kancha Ilaiah

lodged a complaint against

posters about him

being pasted near

his house in

Tarnaka, at the

Osmania University

police station, here

on Monday.

Ilaiah said in his

complaint that he

was being targeted

by Arya-Vysya leaders

including TG Venkatesh,

Ramakrishna and Ramana for

the last two months. On the night

of November 4, several posters

in Telugu were pasted all along

addressing mediapersons on the

first anniversary of

demonetization. He

pointed out that

nowadays people are

even making vegetable

or grocery purchases

through digital

payments, toll plazas

have gone cashless

and people can pay

through cashless mode in hotels

and restaurants using debit or

credit cards. "Digital transactions

have gone up by 58 per

cent. There has been a total

clampdown on terror and Leftwing

extremism (Maoism) while

hawala trading has been dealt a

November 2017

5

Hyderabad : Kancha

Ilaiah lodges complaint

over posters

the walls of Tarnaka Street No. 1

and his house. The posters had

sentences with a threatening

tone, he said, adding

that BJP MLC

Ramchander Rao,

who lives in the same

area, too had been

targeting him in

many meetings saying

'Hindus will

teach him a lesson'.

The writer has asked

the police to investigate

the posters and book a case.

The Osmania University

police are awaiting legal opinion

on the complaint. They are yet to

register a case.

2.32 mn suspicious bank accounts

under scanner : Gadkari

deathly blow," the Minister said.

Referring to other

benefits, Gadkari said

shell companies have

been exposed and

forced to wind up

operations while

many black money

and hawala transactions

have been

detected which are

being probed by the concerned

agencies. Referring to terror and

Jammu & Kashmir, he said stone

pelting has subsided considerably,

while the problems of

counterfeit currency has also

been tackled and the economy

will improve in the future.
---
6 November 2017

ASIA

www.theasianindependent.co.uk

Air quality in New Delhi 'worse than

smoking 50 cigarettes a day

Pollution levels are so high in some areas that it cannot be measured

- exceeding levels equal to smoking 50 cigarettes a day

New Delhi : People in the world's

most polluted capital city are demanding

action to curb emissions after waking

up to a huge blanket of smog.

Residents of New Delhi are growing

increasingly frustrated with its everdeteriorating

air quality. Levels of dangerous

fine pollutants known as PM2.5

- particles small enough to enter the

lungs - are now well over double the

threshold classed as hazardous. The US

embassy said PM2.5 levels reached 703

on Tuesday morning, with authorities

considering anything above 300 to be

unhealthy. In some parts of New Delhi,

air quality was so poor that it was

beyond the maximum reading of 999, a

level that is equal to smoking 50 cigarettes

a day.\

Doctors are now calling for

schools to close and for the

city's half marathon, due to

take place on 19 November, to

be called off to protect runners

and volunteers. "We are in a

state of medical emergency...

we are all shortening our

lives," Dr Arvind Kumar of Sir

Ganga Ram Hospital said.

New Delhi's air is known to

worsen ahead of winter, as

cooler air traps pollutants closer

to the ground and prevents

them from dispersing into the

atmosphere.

Firecrackers set off to celebrate

Diwali add to the already

toxic mix of pollution from

SC moved for booking

Mulayam Singh for

1990 Ayodhya firing

The petitioner wants registration of a case based on Mulayam Singh Yadav's statement

of February 6, 2014, at a public meeting in Mainpuri and Gonda that he had ordered

the police firing on October 30, 1990, which killed several persons.

diesel engines, coal-fired power

plants and industrial emissions.

Last month, as the capital

prepared for the festival of

lights, shops were banned from

selling fireworks in an attempt

to improve air quality. Farmers

in the north to the country also

have a role in the crisis - with

some continuing to burn crop

stubble following the harvest

season despite there being an

official ban on the practice.

People living and working in

New Delhi are now calling for

more to be done to protect the

environment, with the hashtag

#smog the top trending topic on

Twitter on Tuesday morning.

Speaking as he walked to work in the

city centre, banker Naresh Yadav said:

"The moment I stepped out of my home

I started coughing and there was a burning

sensation in my eyes.

"The government can't solve this

problem alone, people need to pitch in

and help the government to protect the

environment." India's Central Pollution

Control Board said Tuesday morning's

conditions were down to high levels of

moisture in the air and a lack of wind.

New Delhi was classed as the world's

most polluted capital by the World

Health Organisation in 2014 and a

report in the Lancet medical journal last

month said pollution had claimed up to

2.5 million lives in India in 2015 - a

global high.

New Delhi, A petition was

filed in the Supreme Court on

Tuesday to seek an FIR against

the then Uttar Pradesh Chief

Minister Mulayam Singh Yadav

for ordering police firing on 'kar

sevaks' in Ayodhya in October

1990. The kar sevaks had assembled

in the town as part of an agitation

for the construction of

Ram temple at Ayodhya.

Petitioner Rana Sangram

Singh, a resident of Lucknow

district, challenged a May 3,

2016, order of the Lucknow

bench of the Allahabad High

Court that rejected his plea on

the matter. His plea before a

Chief Metropolitan Magistrate

and Additional District and

Sessions Judge were also dismissed

on August 28, 2014, and

February 11, 2016, respectively.

The petitioner wants registration

of a case based on Mulayam

Singh Yadav's statement of

February 6, 2014, at a public

meeting in Mainpuri and Gonda

that he had ordered the police firing

on October 30, 1990, which

killed several persons. These

remarks were reported by newspapers

the next day. Raising a

question of law, the petitioner

asked under what provisions of

law a Chief Minister could order

police firing. The petitioner also

asked who had the power under

the Code of Criminal Procedure

to take steps to disperse an unlawful

assembly by force without

taking the help of armed forces.
---
www.theasianindependent.co.uk

ASIA

November 2017

7

Collapse of Education System in India

"Education is the most powerful weapon which you can use to change the world."- Nelson Mandela

Under Dr Manmohan Singh

Under the UPA-II government

inclusive reforms in the education sector

were recommended and implemented.

There was no communal violence

in the premises of the universities.

The academic bodies were independent

to implement inclusive

changes in the curricular. Amicable

solutions were sought between different

agencies in regard to inclusion or

exclusion of reading material on historical

figures. There was hardly any

dispute between the Human

Resources Ministry and the universities

heads. Teachers

Since independence

several changes in the

education system are

brought on the advice of

experts to make the

Indian education system

more authentic and

inclusive. The following

comparative anaylsis

compels a common man

to think

having proper degrees

had plenty of job

opportunities during

the UPA-II government.

There was sufficient

strength of qualified

teachers in

almost all colleges

and universities of

India to impart education.

There were sufficient

funds to conduct

research. Dr Manmohan Singh

always promoted higher education.

His vision is to see India a super

power. It can happen only when

everyone is educated. Under the Rajiv

Gandhi National Fellowship, SC/ST

students are dedicatedly given monthly

scholarship to pursue higher studies.

Under the leadership of Dr Manmohan

Singh Ambedkar Chairs were established

across the country. An amount

of dedicated funds were allocated to

the Ambedkar Chairs to support

SC/ST students. Under the chairmanship

of Sukhadeo Thorat, back log

vacancies meant for the SC/ST candidate

were filled.

Under Modi Government

Under Modi government the

atmosphere in almost all the higher

education institutions is tense. The

right wing supporters and sympathizers

have established

their wings in the colleges

and universities

to control the administration.

The RSS/BJP

supporters exercise

great influence in the

recruitment process. It

has been observed that

there is too much interference

in the day to

day functioning of the

universities by the BJP

leaders

and

workers.Vice Chancellors and other

administrative authorities are appointed

by the State having Hindutva background

and very little academic credentials.

The infiltration of RSS and Bajrang

Dal workers into the premises of the

universities has stalled the academic

progress of the country. RSS/BJP sympathizers

want to promote unscientific,

invalid mode of education full of

superstition and bigotry. They want to

introduce reading material

based on Gita,

Ramayan, Mahabaharata.

They do not want India a

super power based on scientific

teachings. The

teachers having sympathy

with the ideology of the

BJP work overtime to

stop academic achievements

of the SC/ST students.

SC/ST students

are mercilessly killed

and beaten by the RSS/BJP supporters.

The Brahmin teachers are particularly

instructed by the RSS/BJP supporters

to discourage SC/ST students

hence they are found working against

them. Brahmin teachers give 2-5 internal

marks based on attendance, assignment

etc to the SC/ST students with the

bad intention of discouraging

them not to go to

higher studies. As a result

today we find a very few

SC/ST students eligible

for higher studies such as

MA/MPhil/Ph.D. When

there is no SC/ST Ph.D

candidate obviously he or

she will not be eligible for

a college or university

teaching post.

This is how Brahmin

teachers are stalling academic progress

of the SC/ST students in state and central

government colleges and universi-

Rahul Kumar

ties. In villages of India there is a large

strength of dropouts especially among

SC/ST students.

The existence of SC/ST cells in the

colleges and university are ghost cells

since all complaints against injustice

are dealt by the Brahmin administrators.

Today, all Ambedkar Chairs are

lying dormant. There is hardly any

fund available to support. There is

hardly any fund to finance

National/International Seminar or

Conference in the name of Dr

Ambedkar. Modi government has not

announced any scholarship for SC/ST

students for pursuing higher studies.

Rather Modi government has curtailed

the funds of UGC/ICSSR and other

such institutions. Cut in education

budget by Modi government has further

added woes to the simmering

problems. Qualified teachers with PhD

degrees are running from pillar to post.

The government jobs have disappeared.

Private academic institutions

practice caste discrimination.

How can Modi government`s lethal

policies good for the cause of the

Dalits? How can BJP/RSS predator be

true well-wishers of the SC/ST students.

If education is a weapon to

change the world then universities

where education is imparted should also

be places where one expects to see the

change that education seeks to bring.
---
8 November 2017

WORLD

www.theasianindependent.co.uk

60 years on, scientist remembers

training Laika the dog

For publicity

reasons, the dogs

also had to be

photogenic and

they were given

memorable

names

BEIJING: China on Tuesday dismissed as speculation

reports about the US and Japan floating a

strategic concept of a "free and open" Indo-Pacific

region, a phrase which a US official earlier said

highlights the rise of India. Reports of Japanese

Prime Minister Shinzo Abe and US President

Donald Trump reaching an agreement on building a

free and open Indo-Pacific region are "gas and speculation",

Chinese foreign ministry spokesperson

Hua Chunying said. "We have indeed noted that

recently this concept has been mentioned many

times," she said. "I think that whatever concept or

term is employed, we must by no means lose sight

of such an objective fact: this region has grown into

the most vibrant region with the greatest potential in

MOSCOW: "I asked her

to forgive us and I even cried

as I stroked her for the last

time," said 90-year-old

Russian biologist Adilya

Kotovskaya, recalling the

day she bid farewell to her charge

Laika.

The former street dog was about to

make history as the first living creature

to orbit the earth, blasting off on a

one-way journey. The Soviet Union

sent Laika up to space in a satellite on

November 3, 1957 -- sixty years ago.

It followed the first ever Sputnik satellite

launch earlier that year.

But things did not go exactly to

plan and the dog was only able to survive

for a few hours, flying around the

Earth nine times. The satellite carrying

her burnt up in the atmosphere five

months later, on April 14, 1958 .

"Those nine orbits of Earth made

Laika the world's first cosmonaut --

CHINA REJECTS INDO-PACIFIC

CONCEPT AS 'SPECULATION'

sacrificed for the sake

of the success of future

space missions," said

Kotovskaya. For Soviet

leader Nikita

Khrushchev, Laika's

voyage was a space feat

to discomfit the US. In

a well-timed propaganda

effort, it fell just

before the 40th anniversary

of the Bolshevik

Revolution.

Laika was a mongrel

dog aged around three

who weighed 6 kg.

"(We chose) strays

because they are more resourceful and

less demanding," Kotovskaya said.

For publicity reasons, the dogs also

had to be photogenic and they were

given memorable names.

Laika's name derives from the

Russian word for "bark". She was

chosen out of six candidates for her

resourceful yet docile nature.

the world and serves as a major engine for global

economic growth," she said, adding that maintaining

the peace, stability and prosperity of the region

is of significance to the whole world."We hope that

the Asia-Pacific region can become a stable, prosperous

and orderly region where consensus can be

reached through consultation and where we are

capable of managing differences," she said.

On November 5, the Trump administration

defended the use of the "Indo-Pacific" phrase

instead of "Asia Pacific", saying it captures the

importance of the rise of India with which the US

has strong and growing ties. Indo-Pacific apparently

refers to the Indian Ocean and Pacific Ocean

regions.

2017 poll results a warning for

Trump, boost for Democrats

WASHINGTON : It was typical

of US President Donald

Trump to tweet about his

November 2016 victory on

Wednesday, a day after his party

suffered a huge defeat in the justconcluded

elections.

"Congratulations to all

of the "DEPLORABLES"

and the millions of people

who gave us a MASSIVE

(304-227) Electoral

College landslide victory!"

he tweeted, possibly on his

way to Beijing. But back in

the US, Democrats

declared the start of their

comeback with the goal of

reclaiming control of the

Senate and the House of

Representatives from

Republicans. "The door is certainly

open for us," said Nancy

Pelosi, the Democrat in the

House. She said she was reminded

of similar victories in 2005

that led to Democrats taking the

two chambers in 2006.

Democrats won an entire

range of elections to governorships

in Virginia and New

Jersey, legislatures, municipal

and judicial bodies, using an

unprecedented demographic and

cultural mix of candidates that

were representative of the new

America. And, at the same time,

they are so radically different

from Trump's coalition of angry,

dispossessed and insecure white

voters in parts of the country

devastated by globalisation and

those that live in

imminent fear of

it. He has promised

them retributory

succour from

their present misery.

But the president

has offered

them no real plans,

no rescue or rehabilitation

or reemployment

programme,

other

than the headlinegrabbing

withdrawal of the US

from trade pacts such as the

Trans-Pacific Partnership, which

might have helped them. But

they will never know.

Indian American elected New

Jersey town Mayor despite

anti-Sikh propaganda

"We won't let hate win," Bhalla tweeted after the

pamphlets were circulated

New York : Two Indian American

candidates have overcome bigoted propaganda

to win local elections in New

Jersey - one of them as the Mayor of

Hoboken. Ravi Bhalla was elected in

Tuesday's elections as the first Sikh

Mayor of the town that is a suburb of

New York City. A lawyer, who was a

member of the city council, Bhalla was

the target of an anti-Sikh campaign pamphlet

that said "Don't let TERRORISM

take over our town!" next to a picture of

the turbaned candidate. Falguni Patel was

elected to the Edison Township School

Board. She and a Chinese American candidate,

Jerry Shi, were targeted in mailings

that said that they should both be

deported and that "Chinese and Indians

are taking over our town". Bhalla and

Patel were born in the United States.

The candidates received wide support

and their election rivals condemned

bigoted pamphlets. The pamphlets

against Bhalla were sent in the name of

a rival candidate, who denied any

involvement in it and called for a criminal

investigation. The postcards targeting

Patel and Shi were sent anonymously.

"We won't let hate win," Bhalla

tweeted after the pamphlets were circulated.

Many New Jersey Indian

Americans are active in politics and

have emerged as an influential voting

bloc sought after by candidates.

The winner in the governor's race,

Democrat Phil Murphy, was a favourite

of Indian Americans who held a rally for

him on Monday in Edison. He will succeed

Chris Christie, a Republican close

to President Donald Trump who could

not run for re-election as governors are

limited to two terms in the state. Several

Indian American candidates ran for local

offices like school board, local council

and borough councils, which are the

springboard for higher positions, and

many of them won. The state has only

one Indian American in the State

Assembly, Raj Mukherji, who was elected

in 2014 from Jersey City.
---
www.theasianindependent.co.uk WORLD November 2017 9

415 killed in quake along Iran-Iraq border

TEHRAN: Teams of Iranian rescuers

dug through rubble in a hunt for

survivors on Monday after an earthquake

struck the Iran-Iraq border,

killing at least 415 people and injuring

thousands. The 7.3-magnitude quake

rocked a border area 30 kilometres

southwest of Halabja in Iraqi Kurdistan

at around 9:20 pm local time on Sunday,

the US Geological Survey said.

Many people would have been at

home when the quake hit in Iran's western

province of Kermanshah, where

authorities said it killed at least 407 people

and injured 6,700. Across the border

in more sparsely populated areas of

Iraq, the health ministry said eight people

had died and several hundred were

injured. Iraq's Red Crescent reported

nine dead and more than 400 injured. As dusk approached on Monday, tens of thousands of Iranians were forced to

Pakistani

authorities want

beefed up security

for Hafiz Saeed

Pakistani authorities have written to

the Punjab home department asking it to

take stringent measures for the security of

detained

M u m b a i

Transport for London beats Trump

to win 'Bad Grammar Award'

attacks mastermind

Hafiz

Saeed, claiming

a "foreign

intelligence

agency" had

planned to kill

him.

In the letter,

the National

C o u n t e r

Terrorism Authority said the foreign spy

agency had paid Rs 80 million to two

activists of a banned outfit for the assassination

of Saeed. It asked the Punjab home

department to ensure foolproof security

for the Jamat-ud-Dawah (JuD) chief.

Saeed has been under house arrest in

Lahore since January 30 under the Anti-

Terrorism Act 1997. The home department

last month had extended his detention

for another 30 days (till November

26) under public safety law.

The department's notification had said,

"There is apprehension that Saeed shall

create a law and order situation upon

release".

The JuD has already been declared as a

foreign terrorist organisation by the US in

June 2014. The JuD chief carries a reward

of $10 million announced by the US for

his role in terror activities.

LONDON: The silly season

has come and gone, but there is

still time for another quirky

British award: the winner of this

year's 'Bad Grammar Award' has

gone to Transport for London

(TfL), the body that runs the tube

and other travel networks in the

capital. The award, instituted by

an academy associated with the

Idler magazine to highlight "the

incorrect use of English by people

and institutions who should

know better", was decided by a

panel of judges that included television

host Jeremy Paxman.

The shortlist included tweets

by Ivanka Trump, daughter of US

President Donald Trump and the

mission statement of Facebook.

But TfL won the dubious honour

for at least five examples of what

the organisers called its "shoddy

English". "'All the doors in this

carriage will not open at the next

station:' That is misleading and

wrong," said Helen Hawkins, one

of the judges. "It should simply

say 'Not all the doors in this carriage

will open at the next station.'"

Another TfL error:

"Spotting a ticket inspector is

easy. They look just like you!"

Hawkins said: "They've got their

plurals and singles mixed up.

They should have written 'spotting

ticket inspectors is easy.'"

There were more examples. "If

you are feeling unwell get off the

train and speak to a member of

staff who will assist you." The

organisers said: "So really, don't

bother trying to talk to the ones

who won't, though good luck

working out which are which. "

sleep outside in the cold for a second

night as authorities scrambled to provide

them with aid. Some had spent

Sunday night outdoors after fleeing

their homes in the mountainous crossborder

region. Hundreds of ambulances

and dozens of army helicopters reportedly

joined the rescue effort after

Iranian supreme leader Ayatollah Ali

Khamenei ordered the government and

armed forces to mobilise "all their

means". Officials said they were setting

up relief camps for the displaced.

Some 259,000 people live in the

region, according to the most recent

census. State television showed tents,

blankets and food being distributed in

areas struck by the temblor. In neighbouring

Dalahoo County, several villages

were totally destroyed. In Iraq, the

Self-driving shuttle

bus involved in accident

on debut run

Its vice president of mobility solutions, Maurice Bell, said the bus will

scoot through Las Vegas at no more than 15 mph. AAA Northern

California, Nevada and Utah, which is sponsoring the oneyear pilot

project, expects that 250,000 people will use the shuttle

The human behind the wheel of

the truck was at fault, police

said.The driver was cited for illegal

backing. No injuries were

reported. "The shuttle did what it

was supposed to do, in that it's

(sic) sensors registered the truck

and the shuttle stopped to avoid the

accident," the city said in a statement.

"Unfortunately the delivery

truck did not stop and grazed the

front fender of the shuttle. Had the

truck had the same sensing equipment

that the shuttle has the accident

would have been avoided."

The oval-shaped shuttle that can

transport up to 12 people has an

attendant and computer monitor,

but no steering wheel and no brake

pedals. It uses GPS, electronic curb

sensors and other technology to

make its way. It was developed by

the French company Navya and

was tested in January in Las Vegas.

Before it crashed, dozens of

people had lined up to get a free

trip in downtown Las Vegas. A

city spokesman said the shuttle

took two more loops after the

crash. The transportation company

Keolis is operating the shuttle.

Its vice president of mobility solutions,

Maurice Bell, said the bus

will scoot through Las Vegas at no

more than 15 mph. AAA Northern

California, Nevada and Utah,

which is sponsoring the oneyear

pilot project, expects that 250,000

people will use the shuttle.

health ministry said the quake had killed

seven people in the northern province of

Sulaimaniyah and one in Diyala

province to its south.

More than 500 people were injured

in both provinces and the nearby

province of Kirkuk. Footage posted on

Twitter showed panicked people fleeing

a building in Sulaimaniyah as windows

shattered at the moment the quake

struck. Images from the nearby town of

Darbandikhan showed walls and concrete

structures that had collapsed.

The quake, which struck at a relatively

shallow depth of 23 kilometres,

was felt for about 20 seconds in

Baghdad, and for longer in other

provinces of Iraq. It was also felt in

southeastern Turkey, an AFP correspondent

said.

EXIT OF PATEL

DILUTES ROLE

OF BRITISH

INDIANS IN

UK POLITICS

LONDON: Priti Patel's exit from a cabinet post

in the Theresa May government brought an end to

the short tenure of the first Indian-origin person to

sit at the high table of British politics.

Patel's stint as the international development

secretary lasted a little over 15 months.

After her resignation on Wednesday, May is

faced with another cabinet vacancy after Michael

Fallon quit last week amid allegations of sexual

harassment.

Patel's departure for holding unauthorised

meetings with top Israel leaders while on holiday –

she blamed it on her "enthusiasm" – leaves minister

of state for housing and planning Alok Sharma

as the only Indian-origin minister in the government.

Patel's appointment at the cabinet level was

the high point in the history of British Indian participation

in politics.

As May wrote to Patel, responding to her resignation

letter, "You rightly take pride in being the

first British Indian Cabinet Minister – a significant

achievement, which follows your work as

Exchequer Secretary to the Treasury and Minister

of State for Employment."

C B Patel, community leader and publisher-editor

of Asian Voice, told HT: "What Patel did cannot

be defended, but her intentions were good. Her

ambition to be party leader may have been dented

temporarily but I am sure she will be back."

Industrialist Lord Swraj Paul added: "She is a

great asset to the country. I am sure she will be

active again."

Addison Aaron

A First Class Full Service

International Law Firm

Committed To Winning Matters.

Tel : 0121 213 4812

law@addisonaaron.com

w w w . a d d i s o n a a r o n . c o m
---
www.theasianindependent.co.uk

Accountants

City Accountants

29 Foremans Road, Sparkhill,

B'ham B11 3AA

Tel. 0121 777 8000

www.city-accountants.co.uk

43B Formans Rd, B'ham, B11

3AA | Tel: 0121 777 8000

Barber Shop

JC Hairstyles

78 Gipsy Ln, Leicester LE4

6RE

Tel: 0116 266 9188

271 Tat Bank Rd, Oldbury,

Birmingham, B68 8NP

Tel : 0121 544 0068

Ladypool Rd, Birmingham,

B128JY

Bars & Pubs

5 Market Pl, Tipton, DY4 7EJ

Tel : 0121 557 6506

Bank

118 Soho Rd, B21 9DP

Tel : 0121 515 0400

182 Soho Rd, Birmingham,

B21 9LP, Tel : 0121 507 9940

173-175 Soho Rd, B'ham, B21

9SU | Tel : 0121 523 5973

290 Soho Rd, Birmingham,

B21 9LZ | Tel : 0121 554 9082

Builders

S &P Builders

Sukhi Mob. : 07737 060 121

Pamma Mob.: 07450 762 550

Bearwood Maintenance

Mob. 07811 392 786

Raj & Raj Building Work

B'ham | Mob. 07404 042 783

Birmingham Building

Construction

Osman Abyan

Managing Director

Mob; 07429 398 280

birminghambuildingconstruction@hotmail.com

Carpentry

Flora Carpentry

Sunny Mob. 07403 586 305

Mail: gurdipflora@hotmail.com

Carpets

UK Carpets

1188-1190 Warwick Rd, Acocks

Green, B'ham B27 6BT

Tel. 0121 707 6424

www.uk-carpets.com

Corner Shop

165 -167 Stratford Rd, B'ham,

B111RB | Tel : 0121 772 1322

523 Foleshill Rd, Coventry,

CV6 5AU | Tel : 024 7666 5277

Wallsal Rd, Wednesbury,

WS10 9SJ

44a Pinson Rd, Willhall,

WV132PR | Tel : 01902 606302

42 Church St, Bilston,

Wolverhampton,

WV14 0AH

Aaron's Catering Services

Brewery Street, off High Street

Smethwick B67 7RA

Tel : 0121 555 8400

Mob : 07805 337 232

Mail: info@aaronsfoods.co.uk

Web: www. aaronsfood.com

Indian Sweets

& Catering

We Cater For All Occasions;

Weddings, Birthdays,

Engagements Parties or any

other Social Functions.

Big Discounts on

Bulk Orders

Quality Service and

Years of Experience

71 Great Bridge,

Tipton, DY4 7HF

Tel. 0121 238 2648

Mob: 07413 426 930

Mail: vivek_18hp@yahoo.com

Café & Restaurants

84 Oxhill Rd, Birmingham,

B21 9RH | Tel : 0121 554 5517

225 Holyhead Rd, Birmingham

B21 0AP | Tel : 0121 515 4110

20 High St, Smethwick, B'ham,

B66 1DX | Tel : 0121 558 8488

86 High St, Smethwick, B'ham,

B66 1AQ | Tel : 0121 558 8372

Tollgate Shopping Precinct,

Smethwick, Birmingham, B67

7RA | Tel : 0121 565 2122

Tollgate Shopping Centre,

Brewery St, Smethwick, B'ham,

B67 7RA | Tel : 0121 555 8400

285-287 High St, Smethwick,

Birmingham, B66 3NJ

Tel : 0121 565 2187

166 High St,

Harborne,Birmingham,

B179PN

314, High St,

Harborne, Birmingham,

B179PU

10, Rood End Road,

Oldbury, Birmingham,

B688SH

125 High St, West Bromwich,

Birmingham, B70 6NY

Tel : 0121 525 9458

142 High St, West

Bromwich, Birmingham,

B706NY

40 Old Walsall Rd, B'ham,

B42 1NP

205 Dyas Ave, Birmingham,

B42 1HN

572 Kingstanding Rd, B'ham,

B44 9SD | Tel : 0121 373 3549

563 Coventry Rd, Small Heath,

Birmingham, B10 0LP

Tel : Tel: 0121 572 6397

703 - 705 Stratford Road,

Sparkhill, B'ham, B11 4DN

Tel: 0121 778 5100

71 Great Bridge, Tipton, DY4

7HF | 0121 238 2648

48A Lower High St,

Wednesbury, WS10 7AL,

Tel : 0121 505 1211

200 Dudley Rd, Wolverhampton,

WV2 3DT | Tel : 01902 450939

Barcroft Rd, Wolverhampton,

WV2 3HF | Tel : 01902 451113

Cash & Carry /

Supermarkets /

Corner Shops

Radias Superstore

121-127 Melton Rd, City

Centre, Leicester LE4 6QS Tel:

0116 266 9409

A1 Cash and Carry

112 Green Lane Road,

Leicester, LE5 3TJ

Tel: 0116 212 2129

Shah's Pan House

523 Foleshill Rd, Coventry,

CV6 5AU

Tel: 02476 665 2777

Catering

Sukhdev's Catering

Unit 4, 5/7 South Road,

Hockley, Birmingham B18 5LT

Tel: 0121 314 1247

Mail: sukhdev@sukhdevfoods.com

www.sukdhevcaterings.co.uk

Double Glazing

Star Windows (GB) Ltd.

16 Rolfe St, Smethwick,

B'ham B66 2AA

Tel. 0121 555 8333

Electronics

86 Great Hampton St, B'ham,

B186EW

Fence

T & D Fencing

Unit 405, Smethwick Enterprise

Centre, St, Smethwick, B66 2AR

Tel. 0121-565 4533

www.TandDfencing.co.uk

Hardware Store

Queens Park Stores

Diy • Furniture • Beds • Bathrooms

224/230 Court Oak Road,

Harborne, Birmingham B32 2EG

Tel: 0121 – 4282164

www.queensparkstores.co.uk

27A W Bromwich St, Walsall,

WS1 4BP :| Tel : 01922 642329

CLASSIFIED

Health Care

Premium Community Care

86 Digbeth, B'ham B5 6DY

Tel. 0121 643 9808

Insurance

Crownsway Insurance

Brokers Ltd.

183 Holyhead Road,

Handsworth, Birmingham

Tel. 0121 554 3566/9788

www.crownsway.co.uk

Insurance Broker

46 Summer Rd, Birmingham,

B236UR

DJS House, 183 Holyhead

Road, Birmingham, B21 0BD

Tel : 0121 554 3566

Lettings & Sales

Ignite Properties

44A High Street, Leamington

Spa, CV31 1 LW

Tel.: 01926 930 251

www.ignite-properties.co.uk

Angel Estates Ltd

251-253 Rookery Rd,

Birmingham B21 9PU

Phone: 0121 448 0717

M & R Lettings & Sales

Wolverhampton

Tel. 01902 833 844

Sodhi & Co.

123 Evington Road, Leicester

Tel. 0116 255 3455

www.sodiandco.com

Library

Birmingham Rd, Birmingham

B43 6NW

193 High St, Harborne, B'ham,

B179QG

Kingstanding Road, B'ham,

B44 9ST | Tel : 0121 464 5193

Meat Shop

Soand Meat Shop

122 Green Lane Road, Leicester

Tel. 0116 276 0658

326 Ladypool Rd, Birmingha,

B128JY

Punjab Meat Center

16 Tollgate Shopping Precinct,

Smethwick, B'ham B67 7RA

Tel. 0121 448 7279

169 Rookery Rd, Birmingham,

B21 9QZ, Tel : 0121 554 1988

Tollgate Shopping Precinct,

Smethwick , B'ham, B67 7RA

Tel : 0121 558 4441

123 High St, West Bromwich,

Birmingham, B70 6NY

Tel : 0121 553 3555

37 High St, West Bromwich ,

Birmingham, B70 6PB

Tel : 0121 553 5231

600 -602 Coventry Rd, Small

Heath, Birmingham, B10 0US

Tel : 0121 773 0234

542 -544, Coventry Rd, Small

Heath, Birmingham, B10 0UN

Tel: 0121 771 0292

711/713 Stratford Road,

Sparkhill, Birmingham, B11

4DN | Tel: 0121 778 5553

Soand Meat Shop

122 Green Lane Road, Leicester

Tel. 0116 276 0658

Punjab Meat Center

16 Tollgate Shopping Precinct,

Smethwick, B'ham B67 7RA

Tel. 0121 448 7279

Stand Meat Shop

122 Green Lane Road,

Leicester, LE5 3TJ Tel: 0116

276 0658

New Asia Meat Centre

119 Caludon Rd, Coventry CV2

4LR Tel: 024 7644 7900

Gill Meat & Grocery

Unit 12, Tollgate Shopping Centre,

Smethwick, B'ham B67 7RA

Tel : 0121 558 4441

BR Car Care

383-387 Moseley Rd, B'ham

B12 9DD

Tel. 0121 440 0779

383 Mosley Rd, B'ham,

B129DD

Tat Bank Rd, Oldbury, B'ham

B68 8NR

212 Golden Hillock Rd, B'ham,

B112PN

Birmingham,

B10 0QP

Mortgage

Zakir Mortgage

128 A, Stoney Lane, B'ham

Tel. 0121 449 7091

Mob. 07890 615 016

Motoring

Mosque

Off License

Super Wines and Spirits

91-793 Stratford Rd,

Birmingham B11 4DG

Tel: 0121 778 5016

November 2017

10

4-6 Beauchamp Ave, B'ham,

B201DR

255 Lodge Rd, B'ham,

B18 5SJ

91-793 Stratford Rd, B'ham,

B11 4DG | Tel: 0121 778 5016

138 Clay Ln, Coventry,

CV2 4LT

Brax News, 156-160 W

Bromwich St, Walsall,

WS1 4DE

Darlaston, Wednesbury,

WS10 7TQ

Party Hall

Supreme Banqueting and

Conference

10, Roebuck Lane, West

Bromwich, B70 6QP.

Tel: 0121 553 3921

Radio

715-C Parkfield Road

Wolverhampton, WV4 6EE

Tel. 1902 681 655

TM

Sky Digital Channel 0205

24 hour Entertainment

On Sky, On-Line, On Mobiles

Studio : 01902 457875

Reception : 01902 450533

Safety Lockers

MINT Safety Deposit Centres

MacDonald Road, Leicester,

LE4 5HD | Tel. 0345 222 3456

School of Motoring

Bains School of Motoring

Mobile: 07973 281968

Tel: 0121 523 2848

Security Services

Your Security Services Ltd.

86 Digbeth, B'ham B5 6DY

Tel. 0121 448 0750

www.ysrl.co.uk

Singers, Stage and

TV artists

Babbu Chander

Wolverhampton

Mob. 07492 129 321, 07429 119 530

Sukhdev Jassi

Bedford | Mob. 07901 796 669

Pamma Lasadia

Wolverhampton

07448 886 166
---
www.theasianindependent.co.uk

Solicitors

Braitch Solicitors

28 Chapel Ash,Wolverhampton

Mob. 07773 374 848

Tel. 01902 711 200

Indian Advocate & Top

Immigration Services

Wolverhampton

Tel.01902 457711

Mob. 078 2828 3992

Midland Immigration

Services Ltd.

255 Melton Road, Leicester

Tel. 0800 0304 998

VKM

48, Queen St, Wolverhampton

WV1 2BJ

Tel: 01902 311 1155

Super Market

Sabar General Stores

113, Holyhead Road,

Handsworth B21 0HH

Tel : 0121 551 6423

Wayco Supermarket

72A Soho Road, Handsworth,

BIRMINGHAM, B21 9BH

Tel : 0121 551 8711

Soho News

129 Soho Rd, BIRMINGHAM,

B21 9ST

Al Halal Supermarket

7 - 13 Alum Rock Rd, B'ham,

B8 1LL | Tel: 0121 327 0074

Al Halal Supermarket

360 Coventry Rd, Birmingham,

B10 0XE | Tel: 0121 753 4391

Al Halal Supermarket

753-770 Stratford Rd, B'ham,

B11 4DG | Tel: 0121 777 1510

Aujla Supermarket

116 High St, West Bromwich,

B'ham, B706PB

Buy and Save

Rood End Rd, Oldbury, B'ham,

B688SH

Chaudhary's Cash & Carry

Stratford Rd, Birmingham, B11

4BP | Tel: 0121 778 3800

Dadiyal Supermarket

118-120 Alum Rock Rd, B'ham,

B8 1NH

Desi Bazaar

560 Coventry Rd, Small

Heath, Birmingham, B18 0UN

Tel: 0121 773 9909

Desi Mass Bazar

Ladypool Road, Birmingham,

B128TT

East & West Supermarket

721-725 Stratford Rd, B'ham,

B11 4DN | Tel: 0121 7773904

East & West Super market

132 - 136 Ladypool Rd, B'ham,

B128JA

Food World

121 Villa Rd, Birmingham,

B19 1NH | Tel: 0121 554 6532

Food World Super market

728 Stratford Rd, Birmingham

B11 4BP | Tel: 0121 777 8636

Gill Super market

330A Soho Rd, Birmingham,

B21 9NA | Tel : 0121 523 5272

Grocery Store

New Street, Smethwick, B'ham,

B66 4PH |

Hill Top Super market

125 Hill Top, West Bromwich,

Birmingham, B70 0RU

Tel : 0121 505 3529

Khan Super Market

618 - 620 Coventry Rd, Small

Heath, Birmingham, B10 0UT

Tel : Tel: 0121773 6843

Lifestyle Express Apna

Food & Wine

Albret Rd,

B'ham, B21 9QX

Lodge Supermarket

70 Lodge Rd, West Bromwich,

Birmingham, B70 8PA

Tel : 0121 553 4004

Londis Supermarket

23 Acfold Rd, Birmingham,

B20 1HD

Malhi's Supermarket

Bacchus Rd, Birmingham, B18

4RE

Money Saver Food Store

Ladypool Rd,

B'ham, B128TT

Pak Super Market

121-125 Lozells Rd, B'ham,

B19 2TR | Tel : 0121 554 2711

PAK Supermarket

Unit 1 Cape Hill Retail Centre,

Cape Hill, B'ham, B66 4PH

Tel : 0121 558 6786

Pak Super Market

42 Alum Rock Rd, B'ham, B8

1JA | Tel: 0121 328 7868

Punjab Food Store

94 High St, West Bromwich,

B'ham, B706NZ

If You See This...

List Your Business Here

Call : 07878 456 484

Punjab Supermarket

Birmingham :

B11 4DX

R S Superstore

58 Nineveh Rd, Birmingham,

B21 0TE | Tel : 0121 554 1687

S & B General Store

3 College Rd, B'ham B20 2HU

Tel : 0121 523 4371

Sabar General Store

113 Holyhead Rd, Birmingham

B21 0HH | Tel :

Sonali Supermarket

537, Coventry Rd, Small

Heath, Birmingham, B10 0LL

Tel: 0121 773 8236

Toor Supermarket

93 Rookery Rd, B'ham, B21

9QX | Tel : 0121 554 0796

Vegmart

147-149 Soho Rd, B'ham, B21

9ST | Tel :

Villa Supermarket

117 Villa Rd, B'ham, B19

1NH | Tel : 0121 554 2374

Wayco Supermarket Ltd

72A Soho Rd, B'ham, B21

9BH | Tel : 0121 551 8711

Heer Super Store

19-21 Clay Ln, Coventry, CV2

4LJ | Tel : 024 7645 6903

Warley Supermarket

75 Bridge St, Wednesbury,

WS10 0AH | 0121 505 5898

Banga Stores

59A Lea Rd, Wolverhampton,

WV3 0LW | 01902 338835

Samra Supermarket

418 Dudley Rd, Wolverhampton

WV2 3BP | 01902 458814

Sandhus Supermarket

15 Bargate Dr, Wolverhampton,

WV6 0QW | Tel: 01902 311556

Take Away & Cafe

Chick King

225 Holyhead Rd, B'ham

B21 0AP | Tel. 0121 515 4110

Jalandar Sweet Shop

86, High St, Smethwick,

B'ham B66 1AA

Apna Punjab Sweet Centre

65A, Purely Road, Leicester

LE4 6PB

Tel: 0116 266 6567

Taxi & Coach Hire

Brit Coaches

93 Dudley Rd, Halesowen

B63 3NS

Tel. 0121 769 2707

www.britcoaches.co.uk

Warley Cars

Tel. 0121 555 7654

Taxi & Bus Hire

86, Digbeth Rd, Birmingham, B5

6DY | Tel : Tel: 0121 643 1000

209, Bordsley Green, B'ham, B95SP

Tent Hire

Amrit Tent Hire

Mob; 07815 134 618

amrittenthire@yahoo.co.uk

Walsall DIY

West Bromwich St.

Walsall 01922 642 329

CLASSIFIED

Travel Agency

101 Soho Rd, Birmingham, B21

9SP |

Travel Agencies

Sky Way Travel

232 Soho Rd, B'ham B21 9LR

Tel. 0121 523 3050

Balu Travel

114 Soho Rd, B'ham B21 9DP

Tel. 0121 554 4013

Visa

√Ó≈‹ ÚΔ'ÒΔ Á∂ Í≈·'ª Ò¬Δ «ÚÙ∂Ù √»⁄È≈

£@.E@p

ÇÃðø ê³ÜÅÔ ê˺Ã

«Í¡≈apple∂ Í≈·' ‹Δ˙,

ÁÅê ÜÆ çÆ ÜÅéÕÅðÆ

ñÂÆ ÇÂÔ ÃÈÚéÅ ÇçåÆ Ü»çÆ þ

ÇÕ ÒÃîÅÜ òÆÕñÆÓ ÁõìÅð Ô¹ä

ÇÃðø ê³ÜÅÔ ê˺à (£@.E@p)

Çò¾Ú Çîñ×ÆÍ å¹ÃÄ ÇÜà òÆ

ç¹ÕÅé å ÔáÅ ÇçÖÅÇÂÁÅ Ç×ÁÅ

ÃÅÂÆé ì¯ðâ ÇñÇÖÁÅ êó·¯ À¹Ã

ç¹ÕÅé 寺 å¹ÃÄ ÒÃîÅÜ òÆÕñÆÓ

ÁõìÅð õðÆç ÃÕç Ô¯ è¿éòÅçÍ

Ô¯ð ÜÅäÕÅðÆ ñÂÆ Ã¿êðÕ Õð¯

ë¯é é¿ìð : @GHGH DEF DHD

samajweekly@gmail.com

November 2017

Training & Development

11

Event Management & Wedding Planners

Travel & Accommodations

Enjoy Holidays in India & Across the Globe with ONTIME

Inbound & Outbound Tailor Made Tours

Ontime Luxurious Apartment

Rent-a-car Service Across India

Visa & Air Tickets | Travel Insurance

ONTIME HOSPITALITY SERVICE (Mumbai, India)

+91-22-26848985/66952866/26837175

+91-9833120569

info@ontimetravel.net, chetna@ontimetravel.net

www.ontimetravel.net | www.ontimeapartments.com

TV Channel

News Channel by

BUDDHIST

INTERNATIONAL

MEDIA

Mob : 07411 251 804

On DM Global sky channel 799.

Sunday at 11:00 am to 12:00 pm

Wednesday at 5:00 pm . to 6:00 pm
---
12 November 2017

ENTERTAINMENT

www.theasianindependent.co.uk

Personal space is vital for

Vidya Balan

She enjoys every bit of stardom that she has achieved but Vidya

Balan says acting is still a "job" at the end of the day for her, and

she cannot let it dominate her personal life.

"I have seen great stardom. I enjoy the perks that come with it.

But, at the end of the day, acting is a job, which I try and do in the

best way possible," she says. The National Awardwinning actor

says she does not want her popularity to disturb her or her family's

personal space. "I am a private person when it comes to people in

my life. Siddharth [Roy Kapur, husband], is not an actor. I will not

talk about him the way I will talk about myself. I need to respect

his right to privacy. Similarly, my family, they are not actors, they

have not put themselves out in the public," she adds. The actor, who

made her Bollywood debut with Parineeta in 2005 and, post the

success of the film, signed back-to-back projects, says she decided

to slow down as she realised it was important to have a life beyond

movies. She says, "I like taking time. It has been nine years! First

two years, I was doing crazy amount of work, but 2008 onwards

things started changing. I realised I must only do things that I am

fully convinced about and more than that I want to live my life."

Vidya doesn't want to live only for films. "I have life beyond

them. I don't like stepping out much. I like to be in my space when

I am not shooting. I don't feel it is necessary to make public appearances.

Living life off the camera is very important for me as I use

those experiences to portray my characters," she says.

Vidya had a tough time in scoring her Bollywood breakthrough

and the actor says the struggle still continues. She, however, feels

the course of struggle has changed as it is more about dealing with

the public nature of her successes and failures.

"Struggle is a part of life. Initially the struggle was, may be I will

never be an actor or I will die a frustrated actor. But today the struggles

are very public. Anything I do goes public. Now I have this

pressure. Now my hits and flops are public. But still the struggle

now is far better than what it was initially. At least, I am living my

dream. I have matured with the experience," she says.

VICTIMS DO NOT GET

SUPPORT: JESSICA

Want to

be an

actor

and a star,

says

Kriti Sanon

The actor believes people coming forward about sexual

harassment in Hollywood are helping to make things better,

reported Entertainment Tonight.

"When you think about the industry, you know, encouraging

people to stay closeted... not showing stories of women

with their own agency and leading their own stories, and also,

actually, ignoring many groups, many demographics in our

country... For me, that's not an industry that I actually want to

be a part of.

The actor feels that it is not just about gender discrimination,

and rather about how Hollywood functions as an industry.

"I think it's more than just about gender. It's about everything

in this industry. I mean, this industry, we're very quick

to separate ourselves from the current administration, or

things that are going on in the world. I want to be a part of an

industry that is very inclusive. One that teaches empathy, and

the only way you do that is, you learn about someone who

doesn't look like you," says Chastain.

Actor Jessica Chastain says she wants

Hollywood to be more "inclusive" and not

discriminate between genders or races.

Actor

Vidya Balan says

she is a private person

when it comes to her family,

and she cannot let her job

dominate her life

There has been a debate since time immemorial about the difference between being an 'actor' and a

'star'. Ask Kriti Sanon, who has spent over three years in Bollywood, and she says, "I'm greedy, so I

want to be both (laughs). I guess there are a few [people like that]. Of course, there might be a few ups

and downs in terms of who is a better actor or a bigger star, but if there's one zone that I'd like to be

in, it's being an actor as well as a star." But isn't it difficult to strike that balance? Kriti says, "I don't

have philosophies on this, but I don't choose films on a particular basis. You need to maintain some

sort of balance in the kind of films that you take up, because you can't get stuck in a genre."

She adds that besides the 'commercial' films that most of the Indian audience connects with, an actor

also needs to take up films where they can be just an 'actor' and perform. "Then, it doesn't matter what

kind of money that film makes at the box office," she says. The Bareilly Ki Barfi actor points out

Ranbir Kapoor's choices as an example. "He had a great combination of films such as Yeh Jawaani Hai

Deewani (2013) and Barfi (2012). But that balance is not easy to strike. It also depends on what kind

of films come your way. It's as much about destiny. At times, you land up with a film because another

actor doesn't take it up, and it works really well," she says.

SONAM : DAD A

GOOD EXAMPLE

TO FOLLOW

It's been 10 years since Sonam Kapoor faced the arc lights for

the first time with Ranbir Kapoor in Sanjay Leela Bhansali's

Saawariya. She is "grateful" about whatever she has been bestowed

with. You are set to work with your father, Anil Kapoor in Ek Ladki

Ko Dekha Toh Aisa Laga. Excited? Till the time we don't go on the

set and start working together, you never know what can happen in

between. But I am excited.. After all, he is my favourite actor. I'm

kicked about a role that would challenge me. You recently praised

your dad on Twitter. Has he always been an

inspiring person?

I've always wanted to be [like] my

dad. In terms of the kind of work he

does, the person he is and the way

he lives life, it's very inspiring and

a really good example to follow.

Not just my favourite actor, he is

my favourite person, too. It's

good to have such a person at

home. You have never gone

about your career in an archetypal

manner… I always knew that

I don't want to follow the set

norms that I have to do one film

with certain director, so that the

films can make ?200-400 crore.

You have to work in films that

inspire you. I took a year-and-ahalf

off before Raanjhanaa and

even said no to a couple of socalled

big films because I wanted

to do films that will help me

enjoy doing my job. Many feel

that your career path changed

after Raanjhanaa (2013). Do

you feel it's true?

SRK BACKED OUT OF FILM

WITH DILIP KUMAR, BIG B

Director Subhash Ghai had

planned an ambitious war film

with three of the biggest superstars

in Bollywood — Dilip

Kumar, Amitabh Bachchan and

Shah Rukh Khan — but he had

to shelve it. "In 2003, I wanted to

start a war film called Mother

Land, where I had cast Dilip

Kumar, Amitabh Bachchan and

Shah Rukh Khan. The script was

ready and three songs were also

recorded, but at the last minute,

Shah Rukh backed out," Ghai

says. The filmmaker, who has

previously worked with Shah

Rukh in Pardes (1997), says that

the superstar wanted a solo-hero

project back then and hence the

dream project could not go on

floors. "He (Shah Rukh) felt that

there are so many characters in

the film. He wanted to do a solohero

film then, but mine was

not.It was a story of Dilip saab,

Amitabh Bachchan, and Shah

Rukh. On my wish list were also

Aishwarya Rai, Priety Zinta and

Mahima Chaudhry for the film,

but that's destiny," he says.

There was another film,

called Shikhar, that Ghai had

planned to make with Shah

Rukh. Talking about it, the filmmaker

says, "Before Pardes, I

had designed a film called

Shikhar, starring Jackie Shroff

and Shah Rukh, where we were

to cast a new girl. It was a love

story with a war backdrop. We

had done our muhurat too and

recorded a song after signing AR

Rahman," he says, adding,"Ishq

Bina Kya Jeena Yaaro was a

song from Shikhar (which eventually

became one of the most

popular songs from his film Taal,

1999)." Ghai, whose directorial

debut was the 1976 film

Kalicharan, further adds,

"Trimurti (1995) released and

flopped, the media and distributors

said 'How could you give a

flop after ten hits? You better

retire!'" The phase put Ghai and

his team in confusion, as they

decided to scrap the ambitious

war film and instead focused on

making a small film.

"My team thought, since

Shikhar was a very big war film

with huge investment, let's make

a small budget film," Ghai

shares. "I also thought that let's

make a small film (which happened

to be Pardes), shoot within

a year and come back to

Shikhar later," he adds.
---
www.theasianindependent.co.uk

TECH

NASA to launch E. Coli into space

to study antibiotic resistance

Washington, To study microgravity's

effect on bacterial antibiotic

resistance, scientists are set to send E.

coli, a common bacterial pathogen

linked to urinary tract infections and

foodborne illnesses, to the

International Space Station (ISS).

The E. coli AntiMicrobial Satellite

(EcAMSat) mission is scheduled to

launch to the ISS on

Orbital ATK's Cygnus

cargo spacecraft on

Saturday along with a

slew of other science

experiments and supplies

for the Expedition

53 crew, Space.com

reported. Antibiotic

resistance could pose a

danger to astronauts,

especially since microgravity has been

shown to weaken human immune

response, NASA said. The E. coli

AntiMicrobial Satellite mission will

investigate spaceflight effects on bacterial

antibiotic resistance and its genetic

basis. The experiment will expose two

strains of E. coli, one with a resistance

gene, the other without, to three different

doses of antibiotics, then examine

Bill Gates invests $50m to fight Alzheimer's

Washington, Joining the

fight against Alzheimer's,

Microsoft founder Bill Gates on

Monday announced a $50 million

Dementia Discovery

Investment Fund from his personal

wealth to find a cure for

the brain-wasting disease.

"Of all the disorders that

plague us late in life, one stands

out as a particularly big threat to

society: Alzheimer's disease,"

said Gates in his blog titled

"Why I'm Digging Deep Into

Alzheimer's". "It's a terrible disease

that devastates both those

who have it and their loved

ones," the philanthropist-businessman

added. Alzheimer's is a

the viability of each group.

"Results from this investigation

could contribute to determining appropriate

antibiotic dosages to protect

astronaut health during long-duration

human spaceflight and help us understand

how antibiotic effectiveness may

change as a function of stress on

Earth," NASA said. Rather than being

housed inside the space

station, this experiment

will take place in a 6U

cubesat, a small satellite

that has six times the

volume of a single cubesat.

The fundamental

scenario of the experiment

protocol will start

four days after launch of

the EcAMSat satellite

by allowing an initial growth and then

starvation period for E. coli bacteria

contained in 48 microfluidic wells.

The investigation aims to determine

"the lowest dose of antibiotic needed

to inhibit growth of Escherichia coli

(E. coli), a bacterial pathogen that

causes infections in humans and animals,"

NASA officials wrote in a

description of the experiment.

progressive disease that destroys

memory and other important

mental functions. Older adults

especially are at nearly 50 per

cent risk of developing the disease.

In 2015, an estimated 46.8

Twitter suspends blue

check mark verifications

San Francisco, Twitter has suspended

its account verification

exercise — a process that gives

public figures on the micro-blogging

platform a blue check mark

next to their names. The announcement

came after people criticised

Twitter for verifying the account

belonging to the organiser of the

white supremacist rally in

Charlottesville, Virginia, that left

one dead in August, TechCrunch

reported on Friday. "Verification

was meant to authenticate identity

and voice but it is interpreted as an

endorsement or an indicator of

importance. "We recognise that we

have created this confusion and

need to resolve it. We have paused

all general verifications while we

work and will report back soon,"

read a tweet from

@TwitterSupport account. Jason

In 2015, an estimated 46.8 million people worldwide lived with dementia, a number set to double every 20

years reaching 74.7 million in 2030 and 131.5 million in 2050, according to World Alzheimer's Report 2015.

million people worldwide lived

with dementia, a number set to

double every 20 years reaching

74.7 million in 2030 and 131.5

million in 2050, according to

World Alzheimer's Report 2015.

Although Alzheimer's currently

has no cure, Gates expressed

hope that the course of

Alzheimer's can be substantially

altered if progress is made in

five key areas. This includes better

understanding about how

Alzheimer's unfolds, need to

detect and diagnose Alzheimer's

earlier, more approaches to stopping

the disease, need to make it

easier to get people enrolled in

clinical trials and need to use

data better. "We've seen scientific

innovation turn once-guaranteed

killers like HIV into chronic

illnesses that can be held in

check with medication. I believe

we can do the same (or better)

with Alzheimer's," Gates said.

"I want to support the brilliant

minds doing this work. As a first

step, I've invested $50 million in

the Dementia Discovery Fund —

a private fund working to diversify

the clinical pipeline and

identify new targets for treatment,"

wrote the founder of The

Bill and Melinda Gates

Foundation while stating that the

investment is his own and not

through the foundation.

Kessler, the organiser of the

supremacist rally, was given the

preferred status indicated by the

blue badge. Twitter had earlier

withheld blue check mark for

whistleblower Julian Assange. "We

should've communicated faster on

this: our agents have been following

our verification policy correctly,

but we realised some time ago

the system is broken and needs to

be reconsidered. "And we failed by

not doing anything about it.

Working now to fix faster," tweeted

CEO Jack Dorsey. Launched in

2016, the micro-blogging website

created an online application

process for Twitter accounts to

receive verified status, which

allows people to identify key individuals

and organisations on

Twitter as authentic and are denoted

by a blue tick icon.

San Francisco : Google has

rolled out an update that will

allow you to use the company's

Home speakers as intercom systems

in your house.

Starting Tuesday, people can

broadcast their

voice from

Google Assistant

on smartphones

or voice-activated

speakers like Google Home.

"When you need to round up the

family in the morning, just say

'Ok Google, broadcast it's time

for school!' and your message

will broadcast to all Google

Assistant-enabled speakers in

your home," Alex Duong,

Product Manager, Google

Home, said in a blog post. Just

say "Ok Google, broadcast it's

NOVEMBER 2017

13

Jupiter to pass Venus

in a close conjunction

early Monday

New York, Jupiter will pass Venus in

a low but close and spectacular conjunction

on early Monday morning, media

reports said. The apparent distance

between these two planets on Sunday

morning will be more than halved and

they will be separated by less than one

degree, and on Monday morning, they

will appear closest together and rising in

tandem, side by side — Venus on the left

and a dimmer Jupiter on the right.

From the eastern US, they will be

separated by a scant 17 arc minutes (0.28

degrees) – the equivalent of less than

three-fifths of the apparent width of the

moon. From the western US, when they

rise, the gap between the planets will

have widened slightly, to 21 arc minutes

(0.35 degrees), the online portal Space

reports. Both the planets are nowhere

near each other and just happen to line

up when observed from our Earthly vantage

point. Venus will be 152 million

miles (246 million km) from us, while

Jupiter is nearly four times farther away,

at 594 million miles (956 million km),

the portal said. Conjunctions between

Venus and Jupiter are far from rare

events — taking place at mean intervals

of 13 months. Weather permitting, for

those observers who don't have any tall

obstructions such as trees or buildings

toward the east-northeast, this "double

planet" should make for a very striking

visual spectacle, no doubt attracting the

attention of even those who don't give

more than a casual glance at the sky,

Space added.

Google Home speaker now

works as home intercom

dinner time" and a dinner bell

will ring on all Google Home

devices. The company

announced in October that users

with Google Assistant will soon

broadcast messages via Google

Home devices.

"And if you're

just leaving the

office, you can

let your family

know you're coming with a simple

'Ok Google, broadcast I'm on

my way home!' to the Assistant

on your phone, and it will broadcast

to your Google Homes," the

blog read. To get the feature

work, sign in with the same

Google Account for all devices.

The feature is currently available

in the US, Australia, Canada and

the UK.

New Delhi : Using a composite 3Dprinted

mask, a team of Vietnamese

researchers claim to have fooled

Apple's Face ID authentication system

in "super-premium" iPhone X, stressing

that face recognition is "not mature

enough" to guarantee security for

smartphones. At iPhone X launch

event, Apple's Senior Vice President

Phil Schiller had claimed that Face ID

can distinguish human's real face from

masks, thanks to its artificial intelligence

(AI). Using a 3D printer, the

team at Vietnamese security firm Bkav

created a mask that cost them $150.

"Nose was made by a handmade

artist. We use 2D printing for other

parts (similar to how we tricked Face

Recognition nine years ago). The skin

was also hand-made to trick Apple's

Artificial Intelligence," Bkav said in a

blog post. "The mask is crafted by

Mask fools Apple iPhone X's Face ID

combining 3D printing with makeup

and 2D images, besides some special

processing on the cheeks and around

the face, where there are large skin

areas, to fool AI of Face ID," said Ngo

Tuan Anh, Bkav's Vice President of

Cyber Security. The Bkav security

experts who also posted a video on

how they did this, said that Face ID can

be fooled by mask, which means it is

not an effective security measure. In

2008, Bkav was the first company in

the world to show that face recognition

was not an effective security measure

for laptops when Toshiba, Lenovo and

Asus used this technology for their

products. "Many people in the world

have tried different kinds of masks but

all failed. It is because we understand

how AI of Face ID works and how to

bypass it," the firms said on its FAQ

page. "In the future, we might use

smartphones with 3D scanning capabilities

(like Sony XZ1); or set up a room

with a 3D scanner, a few seconds is

enough for the scanning (here's an

example of a 3D scanning booth)," it

added. Face ID projects more than

30,000 invisible IR dots and claims to

only unlocks iPhone X when customers

look at it and is designed to prevent

spoofing by photos or masks.

Apple's Face ID technology uses a

TrueDepth camera system made up of a

dot projector, infrared camera and

flood illuminator, and is powered by

A11 Bionic to accurately map and

recognise a face. According to the firm,

the recognition mechanism is not as

strict as one thinks and Apple seems to

rely too much on Face ID's AI. "We just

need half a face to create the mask. It

was even simpler than we ourselves

had thought," Bkav said. According to

the firm, if exploited, Face ID can create

problems. "Potential targets shall

not be regular users, but billionaires,

leaders of major corporations, nation

leaders and agents like FBI need to

understand the Face ID's issue.

"Security units' competitors, commercial

rivals of corporations, and even

nations might benefit from our Proof of

Concept," Bkav noted. As for biometric

security, fingerprint is the best, said

the firm which discovered the first critical

flaw in Google Chrome just days

after its launch in 2008.
---
14 November 2017

HEALTH

www.theasianindependent.co.uk

HPV VACCINE

could reduce Pap

tests in a lifetime

London, Women vaccinated

against the human papillomavirus

(HPV) can be effectively

protected from cervical cancer

with merely three pap test in

their lifetime, suggests a new

research. Cervical cancer is the

second most common cancer in

women living in less developed

regions with an estimated

445,000 new cases in 2012 (84

per cent of the new cases worldwide),

according to the World

Health Organisation. According

to Centres for Disease Control

and Prevention guidelines, 11 to

12-years-old should receive two

doses of the HPV vaccine at least

six months apart, before they

become sexually active, who are

then recommended to be

screened (Pap Test) every three

years. The findings showed three

screens at 30, 40 and 55 would

offer same would offer the same

protection from the cervical cancer

to vaccinated women.

"This is great news for

women. The cervical screening

programme is already very successful,

and has led to a dramatic

fall in deaths from the disease

since its introduction," said Julie

Sharp, head of health information

at Cancer Research UK.

"While we hope to see these

improvements to the screening

programme in the future, it's

important that women continue

to take up invitations for cervical

screening," Sharp added, in the

paper published in the

International Journal of Cancer.

Pap testing involves checking

for abnormal cells within the

cervix that could, if undetected

and untreated, develop into cervical

cancer. The current HPV

vaccine protects women against

the most dangerous forms of

HPV significantly reducing the

chance of developing cervical

cancer. Thus, as the risk of cervical

cancer is considerably

reduced, the study suggests that

the number of screens should be

decreased accordingly, avoiding

unnecessary procedures for

women. Unvaccinated women

should only need seven lifetime

screens when the new screening

test comes in, five fewer than is

currently standard, the study

suggested.

Lack of sleep may affect

brain functioning

New York : Are you witnessing

fatigue at work? You

may not be receiving a good

night's sleep, reveals a new

study. Sleep deprivation is an

acute problem. It could have negative

consequences on your

health. Insufficient and restless

sleep has harmful effects such as

impaired memory and judgement

and can also lead to an increased

risk of stroke, obesity and cardiovascular

disease, the study said.

"Sleep is even more multifaceted

and fascinating than we realize,"

said Sigrid Veasey, Professor at

the University of Pennsylvania.

"The findings reveal interesting

new aspects of the complex

relationship between sleep and

the brain and the vital role that

sleep plays in everyday human

functioning," Veasey added. The

researchers used a micro-RNA

expression that worked as an

indicator for sleep loss in rats

and humans, suggesting a possible

method for predicting those

at the risk for diseases and cognitive

deficits typically associated

with sleep deprivation. The

research also found that the brain

preferentially reactivates negative

memories during sleep, prioritizing

the retention of the

emotional memories in particular.

Adequate sleep leads to

improve cognitive function and

enhance memory formation,

noted the paper presented in the

the annual meeting of the Society

for Neuroscience 2017.

Suffering from diabetes? Stick to these fruits

New Delhi : Diabetes has come to be one of

the most dreaded offshoots of modern and hectic

lifestyles. In such cases, fruits play a major

role and can go a long way in helping a diabetes

patients condition from worsening. Mehar

Rajput, Nutritionist at FITPASS and Sonia

Narang, Nutritionist and Wellness Expert at

Oriflame India, list down the fruits and their hidden

benefits which a person suffering from diabetes

should eat.

* Pomegranates contain the richest combination

of antioxidants thereby, protecting you from freeradicals

and chronic diseases. They play an important

role in lowering the levels of bad cholesterol

and resistance, which the body has against insulin.

* Apple is a hypoglycaemic fruit which contains

plenty of fibre that is an impeccable ingredient

for a diabetic. It also contains the chemical

Pectin, that has the capability of reducing blood

sugar levels and the requirement of insulin in the

body by almost 50%.

* Berries have the capability to break glucose

into energy, which reduces the increased glucose

levels by a considerable amount. Further, they

increase the release of insulin. Thus, regulating

glucose levels in the body

* Guava with a low glycaemic index, guava

is very rich in dietary fibre that helps ease constipation

(a common diabetic complaint) and

can lower the chance of developing type-2 diabetes.

Guavas are also high in vitamin A and

vitamin C.
---
www.theasianindependent.co.uk

Sebastian Vettel wins

Brazilian Grand Prix

Sao Paulo : Ferrari's Sebastian Vettel won his

fifth race of the Formula One season at the Brazilian

Grand Prix to all but secure second place in the driver's

championship. Mercedes driver Valtteri Bottas

took second place while

Kimi Raikkonen claimed

third in his Ferrari at the

Interlagos circuit on

Sunday, Xinhua news

agency reported.

Lewis Hamilton, who

clinched his fourth world

title in Mexico last month,

finished fourth in his

Mercedes. "Initially I had

a very good getaway and

then I had a bit of wheel

spin," Vettel said on the

podium. "So I thought 'ah I missed my chance' but I

think Valtteri was struggling even more off the line.

So I really had a chance to squeeze down the inside

and I think I surprised him a bit. It was obviously

very crucial. After that I think we were pushing for,

after the safety car, the remaining 65 laps flat out."

Bottas began in pole position but was overtaken by

Vettel on the first corner and was unable to get back

in front of the German.

The safety car was deployed almost immediately

after Haas driver Romain Grosjean bumped into the

side of Force India's Esteban Ocon. Daniel

Ricciardo's hopes were all but dashed shortly after

when his Red Bull Renault veered off the track following

a crash that ended the race for Stoffel

Vandoorne and Kevin Magnussen. Revelling at the

front of the pack, Hamilton did not give Bottas a

chance to pass him, but the contest further back was

intense. Hamilton rekindled memories of his effort

here in 2009, when he recovered from 17th to secure

third. The Briton could not quite replicate that effort,

though he will not have been displeased after skilfully

weaving his way past most of the field.

Australian driver Ricciardo also showed great dexterity

to come back to sixth.

SPORTS

India toil hard at Eden

ahead of Sri Lanka Test

Kolkata : India's premier offspinner

Ravichandran Ashwin,

who was out of international

cricket for the past three months,

was on Monday seen practising

wrong 'uns while skipper Virat

Kohli played a lot of bouncers

bowled at him with coloured balls

during India's first practice session

ahead of the three-match Test

rubber against Sri Lanka. Sans

Saurashtra players Ravindra

Jadeja and Cheteshwar Pujara

who played their round five Ranji

Trophy match against Gujarat, the

entire Indian team sweated it out

for nearly two and a half hours in

the afternoon. The batsmen also

played a lot of reverse sweeps at

the nets, with Ajinkya Rahane spending the most

time with the bat. "It's how you react to a particular

ball. It's not that we have planned differently for a

particular bowler. There's no compulsory shot like

that," wicketkeeper-batsman Wriddhiman Saha told

reporters on the sidelines of India's first practice session

at the Eden Gardens here.

Besides Kohli who was given throwdowns with a

yellowish ball by batting coach Sanjay Bangar, other

batsmen also played a lot of bouncers.

Saha said the focus is not on South Africa and

they want to win this series first. Pujara had said a

few days back that this would present a good opportunity

for the No. 1 side to prepare for the Proteas

challenge. India will play three Tests, six ODIs and

three T20 internationals against the Proteas. The first

Test is on January 5 in Cape Town. Meanwhile, Sri

Lanka coach Nic Pothas, captain Dinesh Chandimal

and the other team management staff inspected the

Eden Gardens wicket. Batting coach Thilan

Samaraweera, bowling coach Rumesh Ratnayake

and team manager Asanka Gurusinha had a good

look at the 22-yard strip which had a lot of grass on

it, which was later removed on the instructions of

the India team management. Cricket Association of

Bengal (CAB) pitch curator Sujan Mukherjee and

East zone curator Ashish Bhowmick were seen having

a chat with the home team coach. "The pitch

looks good but there is a lot of grass on it," Pothas

told reporters while leaving the stadium. Chandimal

was seen in a relaxed mood in denims and shorts.

The tourists cancelled their training this morning

after playing a two-day warm-up game against

Board President's XI. The match ended in a tie but

four Lankan batsmen notched up half centuries.

Chandimal and co were blanked 9-0 across all

formats by India in their own backyard in August

this year. They won 2-0 against Pakistan in the

longest format of the game in the UAE but lost all

limited overs matches.

November 2017

15

Italy fail to reach

World Cup for first

time in 60 years

Milan : Four-time champions Italy

failed to reach the World Cup for the first

time since 1958 after a play-off defeat

against Sweden. Italy were held to a 0-0

draw. The result means the Azzurri will

not be present in the competition for only

the second time in their history having

declined to play at the inaugural tournament

in 1930. Midfielder Jakob

Johansson's deflected strike in the first

leg was the difference as the second leg

at Milan's San Siro stadium ended goalless,

BBC reported on Tuesday. Sweden

sat back on their advantage and, despite

the hosts enjoying 76 per cent possession,

they failed to find the breakthrough

- Italy's best chance saw goalkeeper

Robin Olsen palm away substitute

Stephan El Shaarawy's thumping late

volley. Striker Ciro Immobile missed a

number of chances and his low effort in

the first half was cleared off the line by

centre-back Andreas Granqvist. The

result sees Jan Andersson's Sweden side

reach the World Cup for the first time

since 2006, when they were in the same

group as England.

A tearful Gianluigi Buffon said he

was "sorry for all of Italian football" as

he led a wave of international retirements

after a World Cup play-off defeat

by Sweden. Buffon, 39, said: "It's a

shame my last official game coincided

with the failure to qualify for the World

Cup. "Blame is shared equally between

everyone. There can't be scapegoats."

Buffon's Juventus team-mate Andrea

Barzagli and Roma midfielder Daniele

de Rossi also ended their Italy careers,

while Giorgio Chiellini is expected to

join them. The quartet have won 461

caps between them.
---
16 November 2017

WORLD

www.theasianindependent.co.uk

Facebook to support new

political ad rules in US

San Francisco : Facing

scrutiny over the presence of

Russian ads on its platform

during the 2016 US presidential

poll, Facebook has agreed

to support new limited federal

rules on online political ads.

The US Federal Election

Commission (FEC) has asked

tech companies and campaigns

to disclose the origin of political

ads from now on.

In its comments filed with

the government, Facebook

said it supports the FEC's

efforts, ReCode reported on

Tuesday. However, the social

media giant did not mention

about issue-focused ads which

Russian agents bought on its

platform during the 2016

US election.

S e v e r a l

Russian ads

during the 2016

presidential

election were

issue-based

ads, focusing

around immigration,

gun

control and

"Black Lives

Matter". Millions of

Americans were exposed

to those Facebook ads and

posts between June 2015

and August 2017. Facebook

has also endorsed rules requiring

greater transparency

around candidate-focused ads

Facebook has

also admitted

that up to 270

million accounts

on the platform

are either fake or

duplicate.

that run in the weeks around

Election Day. "Ad formats

available on Facebook have

expanded dramatically since

that time. Ads can now include

videos,...scrolling carousels of

images, and even cover the

entire screen of a mobile

device," Facebook said in its

comments. According to a

report in The Washington Post

in October, Facebook was

planning to tell lawmakers that

126 million of its users might

have seen content produced

and circulated by Russian

operatives.

Facebook has also admitted

that up to 270 million accounts

on the platform are either fake

or duplicate. Around two-tothree

per cent of its

2.1 billion monthly

users in the third

quarter of 2017

were "user-misclassified

and

undesirable

accounts",

Facebook said,

adding the number

were up from the

one per cent it had

estimated in July. Another 10

per cent of its accounts are

duplicates of real users, suggesting

that in total, up to 13

per cent of its 2.1 billion

monthly users -- almost 270

million accounts -- are "illegitimate".

Myanmar Army again deny

abuses against Rohingya

Nay Pyi Taw : The Myanmar

Army on Tuesday again denied

having committed any abuses

against the Rohingya Muslim

minority, including murders and

rapes, during its operations in

Rakhine State.

The latest military operations

began late August in response to

a series of assaults by a group of

Rohingya insurgents on police

posts, causing more than

614,000 people, most of them

members of the minority community,

to flee to Bangladesh,

reports Efe news.

The military campaign drew

criticism from various organisations

which denounced the

authorities' numerous abuses

against civilians, and the UN

High Commissioner for Human

Rights described the situation as

an "ethnic cleansing". The Army,

on the other hand, has maintained

that the security forces

always acted in accordance with

the law and did not shoot innocent

civilians, according to the

report issued by the military.

"The findings of the investigation

have proved that all security

members up from the leaders to

the privates were aware of and

strictly abided by the orders and

directives of superior bodies,

especially the rules of engagement.

"They did not arrest, beat

or kill civilians. They did not

destroy or rob property... They

did not threaten, bully or drive

out the villagers," it added.

The military said that its

report was based on interviews

with 3,217 Rohingya villagers,

India, US, Japan and Australia

must not target us : China

Beijing : China on Monday said the US,

Japan, India and Australia should not target

Beijing, a day after the four met on the sidelines

of the Asean Summit in Manila and decided to

work for a "free, open, prosperous and inclusive

Indo-Pacific region".

China also said the US-brokered proposal of

these countries to ensure free and open "Indo-

Pacific ... should avoid politicising or excluding

some relevant parties". "The relevant proposal

should be open and inclusive and should be

conducive to the win-win cooperation and avoid

politicising or excluding some relevant parties,"

Foreign Ministry spokesperson Geng Shuang

said. "From China's persistent foreign policy, we

welcome the development of friendly cooperation

between the relevant countries and we hope

these kind of relations is not directed against any

third party and we hope these kind of relations

will be conducive to the regional peace and stability."

Geng added.

The region described by India and US as

"Indo-Pacific" is called "Asia-Pacific" by China.

The representatives of the four countries met

for the first time on the sidelines of the Asean

Summit on Sunday. Later, India's External

Affairs Ministry said: "The discussions focused

on cooperation based on their converging vision

and values for promotion of peace, stability and

prosperity in an increasingly inter-connected

region that they share with each other and with

other partners."

Turkey-Russia

relations nearly back

to normal : Putin

Moscow : Relations between

Russia and Turkey are nearly back to

the level they were prior to the

Turkish downing of a Russian warplane

over Syria two years ago, the

presidents of both countries have

said. "I'm going to emphasize that

our relations can be considered reestablished

almost in their entirety,"

Vladimir Putin said on Monday,

welcoming Recep Tayyip Erdogan

to his vacation home in the Black

Sea resort of Sochi, Efe news reported.

Trade between the two nations

increased by more than a third during

the first nine months of this year

after a sharp decline in 2016, the

Russian leader said.

"Our bilateral relations and

cooperation in resolving regional

issues provide us with an opportunity

to look toward the future

together," Erdogan said. Russia,

however, still maintains the import

ban on some Turkish products that

was imposed after the downing of

the Russian fighter. Moscow has

deployed military force in Syria to

support the regime of President

Bashar al-Assad, while Turkey has

backed elements within the armed

Syrian opposition.

whose citizenship has not been

recognized in the country and

were referred to in the report as

"Bengalis". According to the

lengthy report, published on the

Facebook page of Senior

General Min Aung Hlaing,

engagements and fights caused

the deaths of at least 376 insurgents,

whom it described as

"Bengali terrorists," and 13

members of the security forces.

According to the report,

engagements and fights caused

the deaths of at least 376 insurgents,

whom it described as

"Bengali terrorists", and 13

members of the security forces.

The document also highlighted

that during these shootings,

"not a single shot" was fired on

civilians who were fleeing their

homes, and that the arrest of the

rebels were made under the provisions

of the Geneva

Convention.

Amnesty International (AI)

described the report as an

attempt by the Myanmar Army

to "whitewash crimes against

humanity". "Once again,

Myanmar's military is trying to

sweep serious violations against

the Rohingya under the carpet,"

AI's Director of Southeast Asia

and Pacific James Gomez said.

The organisation added that

"there is overwhelming evidence

Manila : Prime Minister

Narendra Modi on Monday held

a bilateral meeting with

Philippines President Rodrigo

Duterte following which four

agreements were signed between

the two countries. "President

Duterte and PM Modi had an

excellent meeting," Preeti Saran,

Secretary (East) in the External

Affairs Ministry, said while

briefing the media here. "The

President said he would like to

have very good relations with

India." Saran said four agreements,

including on defence

cooperation and logistics, agriculture,

and on micro, small and

medium enterprises, were signed

that the military has murdered

and raped Rohingya and burned

their villages to the ground" and

called for an investigation by the

UN. Before the military campaign,

it was estimated that

around 1 million Rohingya people

lived in Rakhine, where they

suffer increasing discrimination

since the outbreak of sectarian

violence in 2012 that caused at

least 160 deaths.

Regarding them as Bengali

immigrants, Myanmar does not

recognise the citizenship of the

Rohingya and for years has

imposed multiple restrictions on

them, including the restriction of

movements.

Modi meets

Philippines President

between the two sides. Modi

arrived here on Sunday on a

three-day visit to the Philippines

during the course of which he

will attend the 15th India-

Association of Southeast Asian

Nations (Asean) Summit and the

12th East Asia Summit on

Tuesday. This is the first prime

ministerial visit from India to

this southeast Asian nation in 36

years after the visit of then Prime

Minister Indira Gandhi in 1981.

Earlier on Monday, Modi attended

the opening ceremony of the

31st Asean Summit here. On the

margins of the summit, he also

held a meeting with US

President Donald Trump.