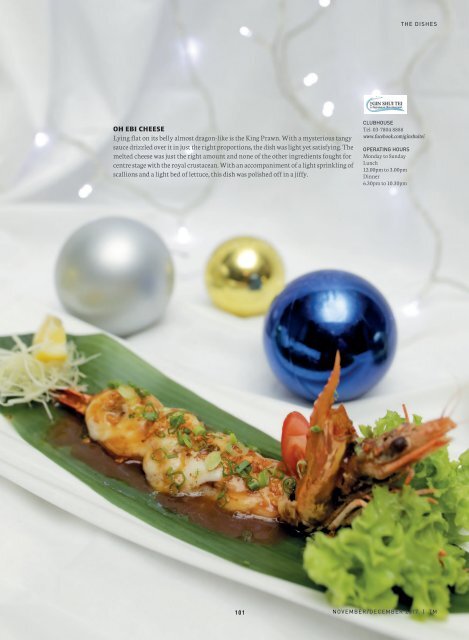 Tropicana Magazine Nov-Dec 2017 #115: Lessons in Resilience
Season's greetings to one and all, this issue brings the heart back home with the Classics. Doyenne of Insurance Winnie Tay shares her life lessons and try some gift wrapping tips in our Dark & Decadent section. Joyeux Noelle~!
THE THE COOKBOOK DRINKS DISHES

OH EBI CHEESE

Lying flat on its belly almost dragon-like is the King Prawn. With a mysterious tangy

sauce drizzled over it in just the right proportions, the dish was light yet satisfying. The

melted cheese was just the right amount and none of the other ingredients fought for

centre stage with the royal crustacean. With an accompaniment of a light sprinkling of

scallions and a light bed of lettuce, this dish was polished off in a jiffy.

CLUBHOUSE

Tel: 03-7804 8888

www.facebook.com/ginshuitei

OPERATING HOURS

Monday to Sunday

Lunch

12.00pm to 3.00pm

Dinner

6.30pm to 10.30pm

101

NOVEMBER/DECEMBER 2017 | TM
More magazines by this user