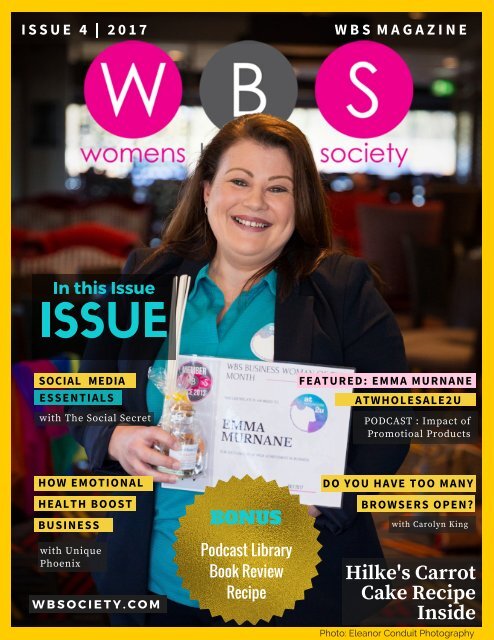 WBS Magazine - Issue 4
Welcome to the magazine that supports & promotes women in business. This issue is jam-packed with articles and tips from an array of female entrepreneurs on topics that are interesting, fun and will help you grow - whether you are an experienced business owner or just thinking about starting up. WBS is focused on not only just promoting & supporting your business - we want to help you grow your business by empowering you with knowledge. Information is so important, and with this magazine, our podcast, our events and our website, we constantly pushing forwards to give our members the tools to reach the stars. WBS would like to thank all our members for contributing to this magazine. It wouldn't be possible without all of you. A special thank you to our major sponsor, Bookit Bookkeeping, and to every one of you who have supported WBS over the last 5 years!
Welcome to the magazine that supports & promotes women in business.

This issue is jam-packed with articles and tips from an array of female entrepreneurs on topics that are interesting, fun and will help you grow - whether you are an experienced business owner or just thinking about starting up.

WBS is focused on not only just promoting & supporting your business - we want to help you grow your business by empowering you with knowledge. Information is so important, and with this magazine, our podcast, our events and our website, we constantly pushing forwards to give our members the tools to reach the stars.

WBS would like to thank all our members for contributing to this magazine. It wouldn't be possible without all of you. A special thank you to our major sponsor, Bookit Bookkeeping, and to every one of you who have supported WBS over the last 5 years!
SHOW MORE
SHOW LESS
You also want an ePaper? Increase the reach of your titles
YUMPU automatically turns print PDFs into web optimized ePapers that Google loves.
ISSUE

Unique

with

Phoenix

: Impact of

PODCAST

Products

Promotioal

W B S M A G A Z I N E

I S S U E 4 | 2 0 1 7

In this Issue

FEATURED: EMMA MURNANE

SOCIAL MEDIA

ATWHOLESALE2U

ESSENTIALS

with The Social Secret

HOW EMOTIONAL

DO YOU HAVE TOO MANY

HEALTH BOOST

BONUS

BROWSERS OPEN?

with Carolyn King

BUSINESS

Podcast Library

Book Review

Recipe

Carrot

Hilke's

Recipe

Cake

W B S O C I E T Y . C O M

Photo: Eleanor Conduit Photography

Inside
---
I S S U E 4 | W B S M A G A Z I N E

NOTE

FROM

CAZZ

Welcome to the magazine that supports &

promotes women in business.

This issue is jam-packed with articles and tips

from an array of female entrepreneurs on topics

that are interesting, fun and will help you grow -

whether you are an experienced business owner

or just thinking about starting up.

WBS is focused on not only just promoting &

supporting your business - we want to help you

grow your business by empowering you with

knowledge. Information is so important, and

with this magazine, our podcast, our events and

our website, we constantly pushing forwards to

give our members the tools to reach the stars.

WBS would like to thank all our members for

contributing to this magazine. It wouldn't be

possible without all of you. A special thank you

to our major sponsor, Bookit Bookkeeping, and

to every one of you who have supported WBS

over the last 5 years!

WBS Founder & CEO Cazzandra Bell

Editors The Upright Man & Cazzandra Bell

Contributors Liz Thompson, Ema Borg, Maree

Sortino, Carolyn King, Christina, Leanne

Vandeligt, Velda Taylor-Chan, Hilke

Legenhausen & Pilar Rodriguez

WBS Photographers

Eleanor Conduit

Dewinta Dandot Photography

Amazing You Portraits

Inspired Portraits

Karm Photography

CLICK TO SUBSCRIBE!
---
IN THIS ISSUE:

Cover story 19

1 1

2 3

4 5

U S I N E S S

B

WAYS TO BUILD A BETTER BRAND

7

MEDIA ESSENTIALS

SOCIAL

YOU HAVE TOO MANY BROWSERS OPEN?

DO

3 EMOTIONAL HEALTH BOOST BUSINESS

4 HOW

WELL BEING TIPS

4 3

THE LIFESTYLE SOLUTION

5 0

H E A L T H & W E L L B E I N G

Social Pages 61

5 3

CARROT CAKE RECIPE

2 9

TIME TO SHOP

G I F T I D E A S

7 3

6 5

NOTICEBOARD

BUSINESS WOMAN OF THE MONTH

M E M B E R S A R E A

Contributors 4

3 9

0 7

4 2

0 9

1 0

I S C E L L A N O U S

M

TOP TIPS

MONTHLY

OF THE MONTH

QUOTE

A WBS MEMBER

BECOME

READING

RECOMMENDED

REVIEW

BOOK

Podcast Library 54

BONUS: THIS MAGAZINE CONTAINS

P O D C A S T S | R E C I P E | B O O K R E V I E W
---
LIZ THOMPSON//CALIBA

Liz Thompson, owner of Caliba – Design + Branding,

is passionate about all things design. Her clients

range from International corporates to startups. She

loves working with like minded business owners who

are striving to stand out and attract their ideal

clientele. as well as creating ongoing graphic design

work for marketing.

EMA BORG//UNIQUE PHOENIX

Ema's mission is to support strong, brave women

rise up from within. Ema runs a 2 day Course -

The Deeper Love Formula to help you fully take

charge of your life, career, relationships, get

unstuck and pioneer the path you want and

need.

MAREE SORTINO//THE SOCIAL

SECRET

Maree has a strong marketing and communications

background and has spent the last few years in

training roles. Specifically, she's been assisting new

business owners build the knowledge and skills that

they require to run their businesses effectively. Those

that meet Maree will tell you she's super organised,

passionate, patient, extremely personable and easy

to work with.

Enquire today about the various services The Social

Secret offers and how Maree and her team can help

your small business stand out amongst the crowd.

C O N T R I B U T O R S
---
T A L E N T E D WBS MEMBERS

CAROLYN KING // EMPOWERKIN

KINESIOLOGY

Carolyn is a Kinesiologist and business owner of

EmpowerKin Kinesiology, speaker and workshop

facilitator and author of Empowered Happiness -

Discovering Bliss Beyond Depression. She has studied a

variety of different Kinesiology techniques including

Professional Kinesiology Practitioner, Brain Gym, LEAP

and Primitive Reflexes and continues to study different

modalities. She is a student of life and is continues to

read and learn about new things.

CHRISTINA//BOEA

After training in Aromatherapy and using

essential oils everyday the passion grew to create

natural skincare for the family. Often

my creative thoughts come from moments of time

out exploring beautiful coastal seas or the bush

here in the Blue Mountains, a favourite saying for

me, "Sea Air the best Aromatherapy" don't forget

to take time out and recharge your mind. It's

important to be positive about your dreams and

believe in your product.

LEANNE VANDELIGT//UPLIFT

HEALTH & FITNESS COACHING

Leanne is a health coach, personal trainer,

weight loss consultant. Her support and coaching

is for busy women who want the support of a

highly qualified health & fitness coach to reach

their goals

Want to

be a contributor?

You need to be a WBS

Member : wbsociety.com

submit your work

cazz@wbsociety.com
---
B E C O M E A CONTRIBUTOR!

HILKE LEGENHAUSEN//HILKE'S

HEALTH

My background is in Acupuncture, Nutritional Therapy,

Coaching and other remedial therapies, as well as

Primary Teaching.

I am a body confidence specialist. As a holistic health

coach, I help stressed out women remove those

frustrating extra kilos, recharge their energy and feel

more confident in their body. My passion is seeing

VELDA TAYLOR-CHAN//ALMOND

TREE DESIGNS

women feel more powerful and in control of their body.

I own an online shop called Almond Tree Designs,

which specialises in wall art and gifts. I grew up in New

Zealand, spent some time living in London, and then

moved to Melbourne with my husband and two boys. I

was a chartered accountant in a past life.

At Almond Tree Designs we design and make a huge

range of personalised and handcrafted paper art

frames and inspirational prints. We also have a small

range of stationery and homewares that is gradually

expanding.

PILAR

RODRIGUEZ//SOOOBEAUTIFUL

Hi, my name is Pili, I am a qualified Massage Therapist I

believe that in life all we really want is to FEEL GOOD.

With this in mind SoooBeautiful was born.

SoooBeautiful is focused on making high-quality Skin

Care Products & Aromatherapy Products for your home

and we strive to providing the best service to achieve

customer satisfaction - we will do everything we can to

meet your expectations.

Want to

be a contributor?

You need to be a WBS

Member: wbsociety.com

submit your work

cazz@wbsociety.com
---
"

01

of the Month

Q U O T E
---
I S U R V I V E D

B E C A U S E

T H E F I R E

I N S I D E M E

B U R N E D

B R I G H T E R

T H A N T H E

F I R E

A R O U N D M E
---
Recommended

top

Reading

1 .

SECRETS OF THE NLP

MASTERS

3

'The Secrets of the NLP Masters' reveals

the 50 things you need to know to excel

in the workplace and out of it, just as if

you were an NLP expert. Some will

surprise you, and all will inspire you.

Put these 50 simple strategies together

and you have a recipe for success, a

proven formula that will unlock the

secrets and uncover your potential.

Reference: google books

2 .

WORDS THAT SELL

Looking for a better way to say

"authentic?" Words That Sell gives you

57 alternatives. How about "appealing?"

Take your pick from 76 synonyms. You'll

even find more than 100 variations on

"exciting." Fully updated and expanded,

this edition of the copywriting classic is

packed with inspiration-on-demand for

busy professionals who need to win

customers - by mail, online, or in

person. Reference: Amazon.

3 .

PEAK

This book explores how Conley's

company "the second largest

boutique hotelier in the world"

overcame the storm that hit the

travel industry by applying

Maslow's theory to what Conley

identifies as the key Relationship

Truths in business with Employees,

Customers and Investors.

| W B S M A G A Z I N E

Check out more of the WBS Business Library

P A G E 9
---
BOOK

REVIEW

Title: No Qualification, No Excuses

Written by: SAMANTHA JANSEN

Publisher: SJ Publishing 2018

Pages: 108

Price,: $27.95 AUD

Samantha Jansen is an Australian

author, business woman, self

confessed lover of social media and

sort after public speaker.

no excuses

5 STARS

no Qualifications

How to build a successful business, even when

the odds are against you.

Click to GET YOUR COPY

This is an easy read with a big impact.

It's not every day when you read a business book

that shares one's journey with not only the highs

but the lows. Samantha demonstrates by sharing

her own journey, the lessons that she learned in

the process of becoming an entrepreneur. She

demonstrates how to embrace setbacks as they

will become the foundation to help you grow and

succeed.

Samantha talks about topics from marketing and

sales systems to money mindset.

Samantha's journey began when she decided that

the corporate world was no longer for her and

that it was time to trust herself and take the risk

and challenge head-on despite having all odds

against her.

Samantha is bold and has become an influencer

in her industry. Her impact on her industry has

been due to hard work, dedication, and passion

for helping others succeed.

This book is a must-read for an entrepreneur as it

touches on so many subjects that affect business

owners.

This book will become a reference for you in your

business journey.

B O O K R E V I E W | W B S O C I E T Y . C O M
---
7 W A Y S

B E T T E R

B R A N D

with Liz Thompson from Caliba- Design & Branding

T O

B U I L D

A

| W B S M A G A Z I N E

P A G E 1 1
---
L E T ' S T A L K

L I Z T H O M P S O N F R O M C A L I B A

B R A N D I N G

So Branding? What does that

mean? What is the difference

between a logo and a brand?

Brand and logo are closely intertwined

and having a strong graphic presence

can help tick a few boxes to becoming

an overall great brand.

Brand is the perceived emotional

corporate image as a whole. It's the

sum of all impressions, interactions,

service, attributes and knowledge of

the business.

Logo defines your business is the

simplest form. It's the visual shorthand

that expresses the businesses essence

in a graphic form. Identity is the visual

aspects that form a part of your overall

brand.

A recognizable and loved brand is one

of the most valuable assets a company

owns. 65% of consumers prefer to buy

new products from brands familiar to

them. As a small business, you may be

competing against big brands with

devoted customers. That's why you

have to find ways to differentiate–with

a solid brand building process of your

own. Your brand is defined by a

customer's overall perception of your

business.
---
B E B O L D

7 W A Y S T O B U I L D A B E T T E R B R A N D

A successful brand has to be consistent in

communication and experience, across

many applications:

Environment (storefront or office)

Print, signage, packaging

Website & online advertising

Social media & content marketing

Sales & customer service

Now, brand building being simple? The

truth is: it doesn't happen overnight…or

even in a few months.

Brand building is definitely a process.

However, the ongoing effort will result

in establishing long-term relationships

with your customers. This can mean an

increase in sales, more projects, word-

of-mouth referrals, and advocacy for

your products or services.

The following are 7 steps I have put

together to help your business or

personal brand gain a more loyal

following and a better connection to

your relevant consumers or clients.

So, where do we begin?

Use these 7 steps as guidelines

on how to

build a successful

brand!
---
A U D I E N C E

S T E P 1 : D E T E R M I N E

Y O U R B R A N D ' S

T A R G E T A U D I E N C E

I can't stress enough how important

this is. The foundation for building

your brand is to determine the

targeted audience that you'll be

focusing on.

Marie Faleo once said, if you're

talking to everyone, you're talking to

no one.

Get specific. Figure out detailed

behaviors and lifestyle of your

consumers.

I'll explain with a few brief examples:

single mums who work from home

tech-savvy early adopters

college students studying abroad

executive recruiting professionals

When brand building, keep in mind

who exactly you are trying to reach.

You'll tailor your mission and

message to meet their needs.

Solidify a picture of your consumers,

then create a brand identity that they

can understand and relate to.

B R A N D I N G M I S S I O N

S T A T E M E N T

Before you can build a brand that your

target audience trusts, you need to know

what value your business provides.

The mission statement basically defines a

purpose for existing. It will inform every

other aspect of your brand building.

Everything from your logo to your tagline,

voice, message, and personality should

reflect that mission.

M I S S I O NS T E P 2 : D E F I N E A

We all know the Nike tagline: Just Do It.

But do you know their mission statement?

Nike's mission is: "To bring inspiration and

innovation to every athlete in the world".

You can see the Nike mission everywhere.

They focus on all types of athletes using

Nike products to be their best self.

Nike goes even further with their mission,

by adding a footnote to the statement: "If

you have a body, you are an athlete". Think

about how wide their target audience

becomes with a disclaimer like that!

The company has built up such a

reputation and brand following, that they

are able to increase their target to

accommodate every "body".

Start small with your branding, and

remember to focus on your target niche

audience first.

With time, your brand loyalty may grow

enough to expand your reach.
---
N I C H E

B E N E F I T S

S T E P 3 : R E S E A R C H

B R A N D S W I T H I N Y O U R

I N D U S T R Y N I C H E .

You should never imitate exactly what

the big brands are doing in your

industry. But, you should be aware of

what they do well (or where they fail).

The goal is to differentiate from the

competition. Convince a customer to

purchase from you over

Research your main competitors or

benchmarks. Study how they have

effectively, and ineffectively built

their brand.

Are they consistent with their

message and visual identity across

channels?

What is the quality of their products

or services?

Do they have customer reviews you

can read or social mentions about

them?

S T E P 4 : O U T L I N E T H E

K E Y Q U A L I T I E S &

B E N E F I T S Y O U R

B R A N D O F F E R S .

There will always be brands with bigger

budgets and more resources to command

their industry.

Your products, services, and benefits

belong solely to you.

You have to delve down deep and figure

out what you offer, that no one else is

offering.

Focus on the qualities and benefits that

make your company unique It could be

more authentic and transparent customer

service, a better way to support

productivity, or helping save money with a

more affordable option.

Assuming you know exactly who your

target audience is (see Step 1), give them a

reason to choose your brand over another.

Apple is obviously not just another

computer company. One of their key

qualities is the clean design, and a key

benefit is ease of use. From unique

packaging to their announcement events,

Apple always reminds customers that its

products can be used right out of the box.
---
T A G L I N E

V O I C E

S T E P 5 : C R E A T E A

G R E A T B R A N D L O G O &

T A G L I N E .

The most basic (and arguably the

most important piece) of brand

building, is the creation of your

company logo and tagline.

This graphic will appear on everything

that relates to your small business. It

will become your calling card and the

visual recognition of your promise.

Be willing to invest the time and

money to create something

exceptional.

You'll be putting the logo on

everything, to reinforce visual identity

of your brand. Hire a professional

designer or creative agency with

branding and identity design

experience, to help you build your

brand. Their expertise will ensure

that you get a unique and timeless

mark for your business. A designer

can also develop brand guidelines, to

ensure consistency for any future

application of the logo and associated

color palette.

Also don't be afraid to rebrand your

business if you find that your current

brand is not inline with your target

market. Karen has just undergone a

whole rebrand with her business and

here are some more famous examples

S T E P 6 : F O R M Y O U R

B R A N D ' S B U S I N E S S

V O I C E .

Your voice is dependent on your company

mission, audience, and industry.

It's how you communicate with your customers,

and how they respond to you.

A business voice could be:

professional

friendly

service-oriented

promotional

conversational

informative, etc.

There are endless adjectives and possibilities.

Choose a brand voice that makes sense and

resonates with your target customers

Now you have chosen your business voice, your

message should be intricately associated with

your brand, and conveyed in 1-2 sentences.

It goes beyond your logo and tagline to define

the key aspects of who you are, what you offer,

and why people should care.

A brand message is an opportunity to

communicate on a human level, making a

direct emotional connection with your

consumers. What this means, is that the

language you use should be understood

immediately while striking an emotional chord.

Make it simple and clear.

Most importantly: when crafting a message,

address not what your product can do…but

why it is important to your customer.

Exercise

Graphic design, I design logo's and marketing

materials, I help businesses to be recognised

through effective branding.
---
W R A P U P

I N T E G R A T E

S T E P 7 : I N T E G R A T E

Y O U R B R A N D I N T O

E V E R Y A S P E C T O F

Y O U R B U S I N E S S .

The brand building never stops.

Your brand should be visible and

reflected in everything that your

customer sees (and doesn't see).

If a client walks into your office,

your brand should be on display

both in the environment and with

personal interactions.

Anything tangible–from business

cards to advertisements, to

packaging–needs the stamp of your

logo.

When you design your website:

incorporate your voice, message,

and personality into content.

Profile pages for social media

networks should be branded

visually, and with your chosen

voice for engagement.

A solid brand building process can

transform your business from a small

player into a successful competitor.

You'll discover that your customers will

develop a deeper level of trust for your

brand, and be more likely to purchase what

you are selling.

Develop a consistent message and visual

identity to reinforce your mission.

Integrate your brand into every aspect of

customer experience: from your storefront,

to your website, to your personal

interactions!

Build an effective small business brand

strategy, and tell your story.

Unless you decide to change your

brand into something that is more

effective based on measured

consumer response, consistency is

key.

Once you have built a brand that

works for your small business, you

(and your employees) are the best

advocates to market your brand.
---
E A T U R I N G B U S I N E S S W O M A N O F T H E M O N T H

F

M M A M U R N A N E F R O M A T W H O L E S A L E 2 U

E

m m a i s t h e f o u n d e r o f

E

t w h o l e s a l e 2 u e s t . 2 0 1 0

a

m m a h a s b e e n a g u e s t s p e a k e r

E

t a W B S N e t w o r k i n g E v e n t &

a

a s i n t e r v i e w e d o n t h e W B S

w

o d c a s t .

P

N e v e r l e t s u c c e s s g e t t o y o u r

"

e a d a n d n e v e r l e t f a i l u r e g e t t o

h

O V E R S T O R Y

C

f e a t u r i n g E m m a M u r n a n e

Photo: Eleanor Conduit Photography

"Learn from mistakes, see them as a

way to grow and develop. Never give up

and always give a challenge ago" -

Emma

y o u r h e a r t " - E m m a

P A G E 1 9 | W B S M A G A Z I N E

C O V E R S T O R Y | W B S O C I E T Y . C O M
---
How she did it?

After completing my accounting degree and with

my father's glowing approval, with his dreams of

me following in his footsteps, I decided to travel

and work in the UK. I explored Europe for a

whole year before becoming homesick. Once

back, things happened rather fast. I met my

hubby, got married, became pregnant (on my

honeymoon), got a bulldog and built a house.

After starting a family I decided that climbing

the corporate ladder wasn't for me as I wanted

to be home with my kids. I needed to find an

income to allow this, hence atwholesale2u was

born. It started off as an eBay business; I became

a power seller within 3 months and loved it. I

definitely fell into printing and discovered I had

a creative gene that I certainly wanted to tap

into. We have been growing and evolving since

2010. Upon research, we discovered sublimation

printing. We loved the end result. Printing on

products that gave such a bright vibrant result

was exciting.

W I T H E M M A M U R N A N E

We are home based. My husband reluctantly

gave up his precious garage and it was

converted into our workshop and when I say

workshop I mean a climate controlled,

insulated working environment with its own

dedicated internet lines and power supply, all

set up in what was originally a garage. Having

said that, being home-based can carry a stigma

as opposed to working in large commercial

premises, but it keeps our overheads to a

minimum and results in us being able to pass

savings on to our customers. It also allows us

to keep flexible hours to meet urgent jobs and

short turn around deadlines. We pride

ourselves on being able to work with local

businesses and startup companies to fulfill

their dreams and get their brand out into the

marketplace.

Yes, I have dreams of moving to a large

commercial facility one day, but for now, I

happy commuting the 20 feet to work every

day.

"I decided that climbing the corporate ladder wasn't for me"

C O V E R S T O R Y | W B S O C I E T Y . C O M
---
Interview

W I T H E M M A M U R N A N E

Atwholesale2u covers a

wide range of products

and printing. We can

do personalised one off

products or can do a

run of 100+. The

options are endless.

We print in-house

using sublimation

printing as well as

traditional vinyl cad

cut and heat transfer

printing. We have

added new products to

our range - banners,

posters and car

wrapping thanks to

our new printers that

can print 5 times

faster.

What's the best advice you

have received in business that

you wish to pass on to our

readers?

Never let success get to your

head and never let failure get

to your heart. When feeling

stressed and overwhelmed.

Stop and always remember

that a good night's sleep can

help you find answers and see

things in a different light. This

is usually a positive light.

What is one thing you have you

learned as a small business

owner that has served you well

over the years?

Learn from mistakes, see them

as a way to grow and develop.

Never give up and always give a

challenge ago.

Are there any resources or tools

you'd like to share with other small

business owners that have helped

you run your business?

Tools I can't live without…

Recently I discovered Google

Drive… allows you to have a drive

which can be accessed from your

iPad, iPhone and laptop. Handy for

quotes and templates.

Ripl & Quik – Iphone apps for

creating videos and posts for social

media.

What is your favourite

inspirational quote?

It's a great day to start

something BIG"

"It's a great day

to start

something BIG"

What does being a business

owner mean to you?

It's Freedom, no travelling in

peak hour traffic, always

being available for family

and friends. I can work the

hours that I want to work

and when I want to work.

Have you had to make

any sacrifices whilst running

your business?

Biggest sacrifice is not having

holidays, this is about to

change. We have finally gotten

organised and booked a cruise

to Vanuatu. I can't wait to have

some R&R, plus plenty of

family time with hubby and

kids.

What makes you happy?

I love seeing the faces of

customers when they pick up

their products and they love

what we have produced. It

gives me the thrill to see that

excitement and joy.

P A G E 2 1 | W B S M A G A Z I N E
---
LISTEN HERE!

INTERVIEW WITH EMMA MURNANE FROM ATWHOLESALE2U

Click to listen!

VISIT ATWHOLESALE2U HERE

WWW.ATWHOLESALE2U.COM.AU
---
SOCIAL

MEDIA

ESSENTIALS

B Y T H E S O C I A L S E C R E T
---
As a social media nerd (yes, I actually do call myself

that), I sometimes find myself confronted with

business owners who tell me their Facebook or

Instagram horror stories. They've enlisted help along

their business journey and it just hasn't worked out

for them. They've been burnt and they've lost trust.

And as we know, TRUST is crucial for any business.

As the famous Zig Ziglar once said "If people like

you, they'll listen to you. But if they trust you,

they'll do business with you."

It got me thinking! If you, as a business owner is

looking for help with social media, what are the top

things you should be considering when looking for

that right person to take your business to the next

level.

P A G E 2 4 | W B S M A G A Z I N E
---
Let's Start!

TOP THINGS YOU SHOULD BE

CONSIDERING WHEN LOOKING FOR THAT

RIGHT PERSON TO TAKE YOUR BUSINESS

TO THE NEXT LEVEL.

Experience

1. Look at their experience: There are

LOTS of people who claim themselves to

be social media experts but when they say

'experts' all they really mean is that they

use Facebook or Instagram a lot! Make

sure whoever you enlist to assist you has

the proper credentials! Specifically,

someone who has worked in Marketing,

Communications, Advertising or Business

and who understands consumer behaviour

and what might drive purchasing decisions.

2. Do they have their own social media

page for their business? I recently met

someone who was promoting herself as a

Social Media Strategist. She had a website

but no social media presence herself. In a

discussion with her, I asked why this was

the case. She replied, "I'm too busy so tell

my clients I'd rather spend my time

concentrating on their work rather than my

own." Sorry, but what a cop out! In this

business, you need to practice what you

preach. You need to show clients (or

potential clients), what your results look

like! I find this to be such a big part of my

role. I am completely transparent. Happy

to go into my reporting and show them

exactly what my reach and engagement

levels look like!

"Practice what you

preach"

S O C I A L M E D I A E S S E N T I A L S | W B S O C I E T Y . C O M
---
Testimonals

THE SOCIAL SECRET

3. Testimonials: Facebook or Google

reviews can really come in handy when

looking for someone to help you with your

social media. You want to trust that your

business is in safe hands (there comes that

word 'TRUST' again). Read the

testimonials that others have left or even

better, ask to speak to a client of theirs.

Strategy

4. They tailor a strategy to your brand:

There is no 'one size fits all' approach

when it comes to social media. This is one

of the main reasons The Social Secret

offers one on one training. Every business

is different, therefore every approach

needs to be different. What works for one

business may not necessarily work for

another. Ensure you're getting that

tailored approach.
---
"You get what

you pay for"

20% off

OFFER

FOR WBS

MEMBERS

5. Don't just go for the cheapest option:

You get what you pay for….remember

that! If you've found someone that's a

great fit and they happen to be the

cheapest then that's amazing – hire them

pronto! But that's rare. It's important that

the person you use to manage or advise

you on your social media strategy be

someone you feel comfortable with.

Someone you feel you can build a good

rapport with and someone who seems to be

asking the right questions! We all have

that gut instinct so use it in this instance!

And if it means you're paying a few extra

dollars for it, it's much better to have paid

a little extra knowing you're getting

results than wasting money on a cheaper

service that gets you nothing.

Social Media Training Packages LIMITED

TIME. Book a one on one session and

save $60!

Connect:

maree@thesocialsecret.com.au

www.thesocialsecret.com.au

www.facebook.com/thesocialsecretmelbourne

The Social Secret was born out of a need

for me to want to make a difference to the

lives of small business owners. I love

helping people! It's where I draw my

energy from. That satisfaction I get from

knowing a small business is doing well as

a direct result of something I've assisted

with, feels amazing. I'd love to help you

learn more about the big, wonderful world

of social media so feel free to touch base

for a chat!

Happy socialising,

Maree Sortino

P A G E 2 7 | W B S M A G A Z I N E
---
W B S M A G A Z I N E | I S S U E 4

Enjoying this

Magazine?

Click to subscribe for

your monthly edition

in your inbox!
---
TIME TO

SHOP
---
1

EVEN BATMAN HAS TO

DO THE DISHES TEA

TOWEL $27.95

http://www.almondtreeframes.com.au

/even-batman-has-to-do-the-dishestea-towel/

SHOP

YOUR

STYLE

with

2

MAN CAVE CHALKBOARD

PRINT (8"X10")

$22.00

http://www.almondtreeframes.com.au

/man-cave-chalkboard-print-8x10/

3

BELIEVE AND DREAM

THAT ANYTHING IS

POSSIBLE UNICORN

GOLD FOIL WALL ART

PRINT

$29.95

4

IT TAKES A BIG HEART

TEACHER APPRECIATION

WALL ART PRINT

(8"X10")

$22.00

http://www.almondtreeframes.com.au

/believe-and-dream-that-anything-ispossible-unicorn-gold-foil-wall-artprint/

http://www.almondtreeframes.com.au

/it-takes-a-big-heart-teacherappreciation-wall-art-print-8x10/

G I F T I D E A S | W B S O C I E T Y . C O M
---
POPULAR

PICK

LEMONGRASS REED DIFFUSER

by Sooobeautiful

SoooBeautiful also makes a

range of natural Skin Care

Products suitable for all Skin

types, also Aromatherapy

Products with added essential

oils and high quality fragrant

oils for your home.

LEMONGRASS REED

DIFFUSER

Long lasting 100ml

Price: $15.00

4 5 V I S I T T H E

S O O O B E A U T I F U L

S T O R E

sooobeautiful.com/shop

P A G E 3 1 | W B S M A G A Z I N E
---
55% off

sale

EXCLUSIVE

Special Christmas OFFER

ONLY for WBS MEMBERS

- 55% off checkout with

1GiftWorld

SHOP HERE:

www.1giftworld.com.au

APPLY your SPECIAL

coupon code at

CHECKOUT: wbs

1giftworld.com.au

MEMBER SALE ENDS 31st

of December

www.1giftworld.com.au
---
HOLISTIC NATURAL

SKINCARE AUSTRALIA

Eucalyptus essential oil is a natural antiseptic because of its germicidal quality,

eucalyptus oil is used for healing wounds, ulcers, burns, cuts, abrasionsand sores. It is also an

aromatherapy

effective salve for insect bites and stings for soothing the affected area, it also protects the open

wound or irritated area from developing infections from microbial activity and exposure to air, you

can use this natural oil in cleaning and a remedy for the sniffles.

Vegan Lip

Balm contains

this beautiful

Essential oil.

$12

Boea's

Organic

Facial

Serum.

$24

Vetiver Essential oil has a deep earthy

fragrance, the roots of the plant are used to

distil the essential oil, nourishing and

moisturising to the skin great for dryness, the

scent of mother earth

Sandalwood essential oil has a woody,

sweet, exotic scent and is a calming and

harmonising oil, it also is great for

dehydrated skin

P A G E 3 3 | W B S M A G A Z I N E
---
HOW EMOTIONAL

HEALTH BOOSTS

BUSINESS

BY EMA BORG

UNIQUE PHOENIX

What is Emotional Health?

It is simply having emotional

awareness, and being able to lead

through your emotions completely.

It is not, Ignoring, pushing down or

releasing your emotions.

It is, Allowing, learning, growing

through, being fully responsible for

your emotions.

Why is it important in Business?

Whether you are in business for

yourself or you are working with

others, Emotional Health impacts

every part of your life. You know

those moments of procrastination

when you feel like you can't make the

choice. It is also important at this

point to mention the difference

between seeking counsel, advice and

new information as part of your

decision making process or making

choices solely based on others

opinion.

The second means there is a

disconnection to your internal

compass, spirit level – your gut

instinct, your heart.

Your emotions are completely

body focused, it is only when the

mind takes over that doubt, inner

(false) critic and inability to

support, or make clear, choices

happens.

Have you had these moments, can

you think of times when you felt

like this? Emotional, body

awareness is one simple practice

that can clear away all the

confusion and help you

continually move forward, grow

and always be seeking help where

you need, no longer held( almost

captive) inside your thoughts.

There is a freedom in being able

to own how you are feeling,

listening to it and then following

the direction that the emotion

leads you. When you make a

choice from this inside place,

whatever challenges come up you

will look for a solution rather than

a place to lay blame, because the

choice you made will be yours.

The other and perhaps the most

important positive that it brings is

who you choose to spend your

time with, who you choose to

work with, and who you attract

into your life.

O C

P A G E 3 4

| W B S M A G A Z I N E
---
Doing the inner work first

and raising your emotional

intelligence gives you a

business edge. You will

become more aware of who

will be best in your life, who

you want to work with and

most importantly you will

constantly attract the right

people for you to connect

with.

Your time is precious and the

more time you spend

connected to your heart,

your compass, the more you

will always get what you

need.

The difference between Heart

vs Head Choices

Let's first understand the

purpose of the mind and the

body. Your body is the

connector – you've heard the

term 'muscle memory' – when

you begin to make a physical

change your body is learning a

new way to feel and function.

So just like muscle memory,

your body holds all your

emotions both negative and

positive. Your brain holds all

the stories, the body holds all

the emotions. The brain is just

doing what the body tells it to.

The brain simply does what it

is told, it cannot tell the

difference between what is

real and what is imagined. The

body knows what is real.

The mind is the map and the

body is the compass - follow

the compass.

Head choices will always feel

like a battle, and can feel

like you don't have a choice.

This is where procrastination

loves to live. Described best

as 'thinking your way through

life'. Your head can create

anything you choose and the

mind actually cannot

distinguish between fact, or

fantasy, real or imagined.

Therefore thinking your way

through life can have a

negative impact. Head to

Heart means that your

choices won't feel natural to

you, and will leave you

feeling detached,

disconnected to your own

life.

Complication creates

confusion

Heart choices always feel

simple and you will always

be able to see many options

within this choice of living.

This is where clarity loves to

live. Described best as

'feeling your way through

life'. Heart to head brings the

greatest clarity, because

when you make a choice that

has come from your heart

you will simply, feel good.

Even if fear or shame is

present, moving forward will

feel simple and clear. Once

your heart chooses then you

can ask your mind to create

the action/path needed. The

mind will create
---
DELIBERATE

SIMPLICITY =

RADIANTLY

THRIVING

How to take a simple step to emotional

awareness?

You need to get connected to your

body and this means you will need to

have some slow down time. Meditation,

yoga, breathing body scan or going for

a run or walk by yourself. All of these

activities have a common thread of

body awareness, this is key to

beginning to become more emotionally

aware. You feel before you think so

listening to your body is key.

Meditation, yoga or walk/running are a

personal preference to which you

choose. I will walk you through the

breathing body scan practice as this is

simple and can be done virtually

anywhere, by anyone.

• First find a comfortable place to sit

where you will not be disturbed for

about 5 mins. Close your eyes and take

2/3 deeps breathes, you are aiming to

fill your belly right up to your collar

bone. With each breathe you will relax

into your seated or lying position more

deeply.

• Go back to a normal breath, easy and

natural with awareness to focusing on

this during the next step. Following

your natural breath as you move

between areas, you may need to take a

few breaths in one area to obtain more

awareness. There is no right or wrong.

• Being at your toes, focus how they

are feeling, just noticing, this is not for

you to judge or find a story that relates

to why the area of your body is feeling

this way. Simply noticing, being

present with how the area is feeling.

• Then move to your ankles, calves,

knees, thighs…

• At your hips please take a deep

breath, slowly in and out

• Then move up to your stomach, lower

back, ribs, mid back, chest, shoulders,

biceps, forearms, wrists, fingers, back

to neck, now your face and forehead.

• Lastly take a final take 2/3 full

breaths in, slowly open your eyes and

take a few moments to think about

what you noticed. Did some areas feel

tighter than others? Remember this is

not about judgement, just more

awareness.

| W B S M A G A Z I N E

P A G E 3 6
---
EVERY HUMAN HAS

FOUR ENDOWMENTS

- SELF AWARENESS,

CONSCIENCE,

INDEPENDENT WILL

AND CREATIVE

IMAGINATION.

THESE GIVE US THE

ULTIMATE HUMAN

FREEDOM... THE

POWER TO CHOOSE,

TO RESPOND, TO

CHANGE. STEPHEN

COVEY

Connect

www.emaborg.com

https://www.facebook.com

/facilitatingempowerment/

Now you can add this awareness to

when you meet someone new that you

think you want to work with or making

an important decision in your business.

Focus of what the body is telling you.

How does your body feel, any

tightness, is your gut sending signals?

Does your body feel good, warm and

calm. Even being nervous can be a

wonderful sign of how important this

connection is and you can use this to

stay present and focused.

This is a worthwhile process that takes

time. I work with clients over 3 months

to create this awareness which then

ripples into clear relationship

communication, to help each one to

achieve consistent, strong emotional

health.

I believe that emotional health needs

to be our No.1 priority. All things

begin to flow from having a strong

foundation of good emotional health. It

simplifies life in all areas.

If this has highlighted to you that you

need to do the inner work, please

connect with me and we will get

started on your road to total freedom

through Emotional Health.
---
podcast

Interview with Ema Borg from Unique Phoenix

Click to Listen

How to boost

your emotional

Health

Visit www.emaborg.com
---
BUSINESS

TIPS

by WBS Members

1

TYPE A COPYWRITING

1. Always write for your audience first. It's

about them, not you.

2. Ask yourself: 'What am I really selling?'

Hint: it's not your actual goods or service.

3. Be consistent. This applies to everything

from your branding to your tone-of-voice –

and, of course, the quality of your work.

4. You can do anything, but not everything.

Outsource the non-essential elements of

your business, and find experts to help with

tech, bookkeeping and other scary tasks.

5. Be yourself, even if you're an absolute

weirdo. ESPECIALLY if you're an absolute

weirdo. That's what will set you apart from

competitors.

2

EMPOWER BEYOND

1. Network and build relationships

2. Have a plan and targets and stay focused

3. Know your numbers

4. Surround yourself with supportive people

5 Take action even when the fear is there

6. Always look at improving and getting

better at what you do.

7. Keep that passion for business alive

P A G E 3 9 | W B S M A G A Z I N E
---
3

ARTZ COLLECTIVE

1. Be your brand

2. Get support- Know who your dream clients

are.

3. Be kind

4. It's a tough world out there.

5. Smile. Even when you really, really don't

want to. You could just make someone's day.

# b e y o u r b r a n d

4

UPLIFT HEALTH &

FITNESS COACHING

1. Morning routines that make you feel

good are key to start your day off well

2. Write down intentions daily

3. Use nature as often as you can

4. Do the inner work – read, learn, listen to

be inspired and recognise gaps

5. Sleep & rest when you need clarity and

focus.

6. Journal any thoughts you have any time,

anywhere.

B U S I N E S S T I P S | W B S O C I E T Y . C O M
---
5

HOPSCOTCH &

HARMONY - CHILD,

TEEN AND ADULT

PSYCHOLOGY

1. Learn from those who are a few years

ahead in their business of where you want

to be in yours. This may see you join a

mastermind group or invest in a business

coach.

WBS Tip!

2. Plan, plan, plan. Quarterly plans

addressing the various aspects of your

business keep you focused and help you

Listen to those who have been there and done that. They

have wealth of knowledge and can help you move forward

in business faster.

get the important things done without

unintentionally neglecting any area of your

business.

3. Consult with your team and get their buy-

Want to

share your

tips?

are the one who will be there for the

you

haul. Make decisions based on what

long

want. you

Step outside your comfort zone. This is

4.

the learning and growth happens.

where

if you venture too far away from

However,

comfort zone you will reach a place of

your

in, but ultimately this is your business and

First you need to be a WBS Member so sign up here :

www.wbsociety.com and then email your tip to

cazz@wbsociety.com

reflect often.

panic and overwhelm – so take care and

5. Dream big – you just never know what

might happen.

P A G E 4 1 | W B S M A G A Z I N E
---
on over to

Head

to learn more

wbsociety.com

Womens Business

the

Society

SUCCESS

ACHIEVING

TOGETHER!

WANT TO BE A

WBS MEMBER?

Just some of the Member

Benefits

1. Join the Business directory

2. Be a guest writer for the WBS

Magazine

3. Be Nominated for WBS

Business Woman of the Month

4. Attend WBS Networking Events

5. Exclusive Member Offers

6. Be interviewed on WBS

Podcast

7. Host/Speak/Promote at a WBS

Networking Event

wbsociety.com

find out more!
---
T P S

L E A N N E V A N D E L I G T F R O M U P L I F T H E A L T H & F I T N E S S C O A C H I N G

#

Wellbeing

YOU CAN'T POUR

FROM AN EMPTY

CUP

HOW TO FIT IN

MORE MOVEMENT

If you want to create

healthy change you

must start with you and

the way you treat

yourself first

It's about being flexible

and working with the

time you have, making

it fit with you.

PAGE 43 | WBS MAGAZINE
---
NURTURE

VS

PUSHING

THROUGH

BY LEANNE VANDELIGT

Uplift health & fitness coaching

The start of every month for me

typically means super foggy brain, super

tiredness and headaches like a hangover

but without the fun. It's a monthly

hormone thing. I do try to go easy,

there's a time when you should listen to

you body and when your should push

through the tiredness.

What do you do when your body is not

interested in playing nice?

Do you rest up, drink lots of water, sleep

more, eat fresh, drink green juice, listen

to your body?

Or do you hammer away, pushing

through it and ignoring how you really

feel, putting up with pain or exhaustion

until you drop?

My tip; Remember no one pats you on

the back or gives you a medal for for

pushing through til sick or exhausted.

It's smart to listen to what your body is

telling you, rest when you need and be

kind to you, honour you, you are in

charge !!! Reducing overwhelm and

stress : https://youtu.be/Cy3Sivn2DJ0

T

i

p

#

For those who struggle to drink water here

are some ideas to make it more interesting.

• Try Mineral or soda, sparkling waters (add

apple or fruit juice to sparkling mineral water)

• Flavoured tea's, herbal or green tea

• Infuse fruit, lemon juice anything that will

make it an easy chore

• Coconut water flavoured or plain, (5 natural

electrolytes, more effective than any sports

drink you can buy).
---
YOU HAVE TOO MANY

DO

OPEN?

BROWSERS

By Carolyn King

Empowered Happiness

Multi-

Tasking

How many of you have a "To do" list as long as

your arm and as a result try to complete more

than a one thing at a time. It goes something like

cooking dinner, while doing the dishes, helping

the kids with homework and answering emails on

your phone. Or sitting at work, answering emails,

while trying to get the financials completed and

answering an incoming call.

Multitasking seems to be a necessary skill just to

get by in today's society. Our smartphones mean

we are always contactable either via phone,

Facebook, messenger or text. It also follows that

most of us expect to be contacted in some way at

least every few hours from someone we know.

And if we haven't heard from anyone, we start to

check our phones every 10 minutes just to make

sure it's on and we haven't missed anything.

But how well do you think you are actually

completing the tasks at hand? And what impact

does all this multitasking and distractions

actually have on our minds and our body's?

P A G E 4 5 | W B S M A G A Z I N E
---
Focus

STOP MULTI TASKING &

There are many studies out there

that show definitively that

completing one take completely is

more constructive than

multitasking. The task is

completed quickly and more

accurately. Your attention is solely

focused on one thing so there is

less chance of an error or mishap.

So if the task is something that

requires greater concentration,

and needs to be right the first

time, stop multitasking and

instead concentrate on the task at

hand. Once it's done start on the

next task.

N O M A D I C | 2 4
---
Overwhelmed

&

STRESSED

Now there's the issue of

what effect does all this

multitasking and busyness have

on our health? I have many clients

come to see me expressing that

they are stressed and have issues

with anxiety, not sleeping well,

gaining weight, etc. When we try

to do too much at one time we

feel "stretched". We place extra

pressure on our mental abilities so

our brains can feel like they're

fried. We increase the amount of

cortisol circulating through our

bodies, which stress out our

adrenal glands and makes us feel

exhausted. We then reach for a

quick fix in energy be it chocolate,

cake, coffee or some other energy

drink and then struggle to fall

asleep at night. Our minds whirl

with the million and one things

we need to do tomorrow because

we didn't get through everything

today. Then, of course, there is

there last minute things we

suddenly remember we have to do

tomorrow or the last minute

dramas that come from left field.

We feel exhausted as we fall into

bed but our minds just won't shut

up!

N O M A D I C | 2 4
---
o o k i n f o r a s e s s i o n w i t h m e t o

B

e e h o w k i n e s i o l o g y c a n h e l p y o u

s

l o s e s o m e b r o w s e r s f o r o n l y $ 8 0

C

u s u a l l y $ 1 0 0 ) . T h i s s e s s i o n c a n

(

e d o n e e i t h e r i n p e r s o n o r v i a

b

k y p e . S

OFFER

So how do you clear out your minds and reduce

the stress and anxiety in your life?

Close off some of your browsers! Meaning stop

trying to do so many things at once. Computers

these days can have many windows open but if

there are too many windows open it will

eventually crash and so too will you. Simplify

what you have to do. Make a "To do" list. Put

reminders on your phone. Even simple things

like

"Kids need to bring a dollar to school today for

charity."

"Roadworks today, take a different route to

work."

So next time you're feeling frazzled and just

can't think straight, close some of your browsers

open in your mind, make some notes to clear

your brain, focus on one thing and feel the

difference!

Until next time remember, happiness starts with

a smile & empowerment starts with a choice!

Feel free to join my Empowered Happiness

Facebook movement here:

www.facebook.com/groups/creatingempowered

happiness

Email: empowerkin@bigpond.com

By putting the reminder on your phone you no

longer need to keep the memory of it in your

mind.

L O S E S O M E B R O W S E R S

C

I N E S I O L O G Y S E S S I O N

K

By writing down everything you need to

accomplish, again you take the load off your

brain to remember it. At the end of the day,

once you look at just how many things you

ticked off your list, you will feel like you have

accomplished something. And this feel-good

feeling will make you happy, and happy equals

more energy and more energy means less

inclination to grab that sugary piece of food or

stimulating beverage and a better sleep!

SPECIAL

S K Y P E / I N P E R S O N

PAGE 48 | WBS MAGAZINE
---
"TAKE SOME DEEP

BREATHS, MAYBE A

SHORT WALK, OR JUST

UNPLUG AND

DAYDREAM FOR A FEW

MINUTES. THIS WILL

REFOCUS YOUR ENERGY

AND GIVE YOU BACK

YOUR PRODUCTIVITY"

H I L K E ' S H E A L T H
---
THE LIFESTYLE

SOLUTION

A N I N T E R V I E W W I T H H I L K E ' S H E A L T H

You're busy. Probably crazy-busy, juggling

your business and everything that goes with

it, and life and all that goes with it.

Wellness, health, and fitness often take back

seat to everything else, until things get so

bad that we go on a mad spree, exercising

really hard, and dieting, punishing ourselves

for not paying attention to our health sooner.

This effort is hard to sustain, so we let things

slip again, and end up feeling guilty on top

of getting stressed and unhealthy.

Sound familiar?

There is a solution though. A solution that

allows you to be kind to yourself, and to keep

up with your other commitments, rather than

diverting your energy away from them. This

approach involves three phases Pare, Pause,

and Play, and once you are familiar with

them, it is easy to apply them to all sorts of

problems – whether it's related to your

health, family or business.

PAGE 50 | WBS MAGAZINE
---
We're so used to attacking our obstacles

head-on, and solving them by pouring all our

energy into improving the situation, that

another approach might feel counterintuitive.

When something isn't working, it

makes sense to stop what we're doing, assess

the situation, and see what we can take away.

An example for this is our diet. When we're

unwell, our first instinct is often to search for

a 'magic pill' by adding supplements and

vitamins, taking powders, shakes or pills.

There is a lot of power in what we subtract

though, rather than adding something else in

the mix. An honest look at your diet will show

you which 'food-like-substances' you can take

out quite easily. You are the expert on your

body, and you already know which foods

leave us feeling sluggish and bloated, or

cause inflammation. Give yourself 21 days to

get used to the changes you decide to

implement, and you will be amazed at how

much better you feel when you have gotten

rid of the soft-drink, milky coffee, or sweet

and fatty snacks.

P A R E

P L A Y ( T W E A K )

Taking away some processed food leaves a

gap in your diet. Now you can have fun by

playing around with what you might like to

have instead. If plain water leaves you cold,

you could try to infuse it with fruity flavours

from citrus or berries. Try having your coffee

black instead of a latte, or better still,

experiment with some refreshing herbal

teas. Instead of reaching for the biscuits

when you hit that afternoon slump, buy

some exciting fruit. Cherries or Mangoes

might be expensive right now but compared

to the price of many packaged foods they

are not.

Again, this can be adapted to all sorts of

situations. If you just can't drag yourself to

the gym, there might be another form of

exercise that is just as beneficial, but much

more enjoyable to you. Ask yourself, what

you enjoyed doing at age 10 or 15, and reignite

an old passion.

N O M A D I C | 2 4
---
Enjoy Hilke's Healthy Carrot Cake Recipe

Timeout!

Take a breath. Even when life is at its most

hectic, there are times when we get sucked

into Facebook, or Candy Crush, or the TV.

When you feel yourself powerless against the

pull of some mindless activity, acknowledge

that you do need time out. Give yourself a

conscious break instead, because that is

probably what you are really craving. Take

some deep breaths, maybe a short walk, or

just unplug and daydream for a few minutes.

This will refocus your energy and give you

back your productivity.

I'd love to hear how you

go with this, so send me

a message or find me on

Facebook on my page

Hilke's Health. Don't be

shy to ask for help with

this either, I'd love to

help you out!

There is one particularly effective way of

refocusing in order to cope with life's

stresses, and it works whether you are

feeling fine, or a little low or stressed. Don't

underestimate it because it's so simple, and

there is solid research behind this

technique. Re-charge your confidence and

energy by striking a 'Power Pose'. Studies

have shown that even two minutes spent in

a power-pose sends our confidence flying,

and lowers stress hormones in the blood

stream. There are many ways of doing this,

my favourite being the Wonderwoman Pose:

feet hip-width apart, hands on hips, chin up

and smile. Any pose where you take up a lot

of space will do – it sends the message to

your brain that you are strong and positive.

(If you want to find out more about this,

simply check out Amy Cuddy's TED Talk.)

When you're ready, go and get a cuppa, sit

down and spend a few moments to plan

your great escape from the rat-race of busyness

into a calm sea of wellness by

practising the Pare-Play-Pause technique.
---
½ tin of crushed pineapple in juice

raisins 115g

rolled oats

160g

tsp baking powder

2

baking soda

1tsp

tsp Vanilla paste or extract

1

tsp Cinnamon

1

½ Allspice (or nutmeg and cloves)

grated carrots

220g

chopped walnuts

60g

chopped, pitted dates

150g

cashews

85g

water

200ml

silken tofu (optional – this makes for a

100g

icing)

lighter

tsp vanilla paste or extract

1

juice to taste (2 or 3 tbsp are usually

Lemon

good)

H I S R E C I P E I S D A I R Y , O I L A N D S U G A R F R E E ,

T

N D I N S T E A D O F W H E A T I H A V E U S E D O A T S ,

A

U T I T W O R K S R E A L L Y W E L L W I T H W H O L E M E A L

B

L O U R A S W E L L . E A T E N W I T H O U T T H E

F

R O S T I N G I T I S H E A L T H Y E N O U G H T O H A V E

F

O R B R E A K F A S T , A D D T H E L U S C I O U S I C I N G

F

Soak the raisins in the juice from the crushed

1.

– the longer the raisins soak, the

pineapple

the flavour. If you don't have much time,

better

can always speed up the process by

you

the mixture in the microwave.

heating

Preheat the oven to 180*C and line your

2.

(20cm x 20cm or the equivalent) with

cake-tin

paper.

baking

Put the oats and chopped dates with 2/3 of

3.

raisins into a powerful blender and grind to

the

flour. If your blender isn't powerful enough to

a

the dates, you can pre-soak them with

handle

raisins to soften them first.

the

Add the spices, baking powder and baking

4.

then blend to a smooth texture with the

soda,

(you won't taste the banana in the

banana

cake), pineapple and the soaking

finished

liquid.

Fold in the grated carrots, remaining raisins

5.

walnuts (leave out the nuts, if you prefer,

and

substitute with coconut or 30g rolled oats).

or

Transfer the batter to the cake tin and bake

6.

around 40 minutes. When the cake is

for

the top will be medium brown, and will

cooked,

back when you press a finger or spoon

spring

it. Let cool for 10 minutes and then turn

against

Soak the dates, cashews, water, juice and

1.

in a blender for about an hour. Using

vanilla

water will speed up the process. Blend

boiling

very smooth, scraping down the sides as

until

required.

Add Tofu and blend in thoroughly, until you

2.

reached the desired consistency.

have

Chill for extra firmness.

3.

Carrot Cake by

Hilke's Health

A N D I T M A K E S A W O N D E R F U L T R E A T .

D I R E C T I O N S

I N G R E D I E N T S :

pitted, chopped dates

115g

very ripe banana

½

I C I N G

I N G R E D I E N T S

out onto a cooling rack.

I C I N G D I R E C T I O N
---
PODCAST

LIBRARY

use to break through to the

can

level in your personal &

next

2017

FULL EPISOSDES INSIDE

12

INSIDE

WBS is dedicated to promoting and

supporting women in business. The

WBS podcast is here to provide you

with invaluable information that you

business goals

P A G E 5 4 | W B S M A G A Z I N E
---
LISTEN HERE

BUDGETING123 WHO SHARES SOME INVALUABLE METHODS

BETTER! CLICK HERE TO ACCESS DOWNLOAD

EPISODE 1

IN THIS EPISODE, TINA OKEY FROM WP LAUNCH ME DOES A

DEEP DIVE ON HOW TO INCREASE LEADS TO YOUR WEBSITE

JUST BY MAKING 5 SMALL CHANGES.

SPECIAL BONUS

WBS PODCAST LISTENERS GET EXCLUSIVE ACCESS TO A

FREE EBOOK WHICH IS FOCUSSED ON INCREASING TRAFFIC

TO YOUR WEBSITE. TO DOWNLOAD YOUR FREE EBOOK ON

THIS SUBJECT GO TO HTTPS://WPLAUNCHME.COM/WBS/

EPISODE 2

IN THIS NOT TO BE MISSED EPISODE, SAMANTHA JANSEN

FROM PLATFORM 4 SUCCESS GIVES EXPERT-LEVEL TIPS TO

GROW AND MANAGE YOUR SOCIAL MEDIA, AS WELL AS

GIVING EXTREMELY VALUABLE INSIGHTS INTO BUSINESS

STRATEGIES TO SUPERCHARGE YOUR BUSINESS.

WE ALSO DIVE INTO THE WORLD OF SELF-PUBLISHING, AND

HOW TO AVOID COMMON PITFALLS AND ENSURE A ROI.

EPISODE 3

IN THIS EPISODE, WE INTERVIEW FAY CHAN FROM

TO TAKE CONTROL OF YOUR FINANCES AND STEER YOU

TOWARDS THE PATH OF FINANCIAL FREEDOM.

FREE DOWNLOAD: AS AN ADDED BONUS TO KICKSTART YOU

ON THE PATH TO TAKING CONTROL OF YOUR MONEY,

DOWNLOAD THE SPEND BUDDY FOR FREE. THE SPEND

BUDDY ACTS AS A "PAUSE", AN "INTERVENTION" TO HELP

YOU THINK ABOUT YOUR POTENTIAL PURCHASE. KEEP IT IN

YOUR WALLET, AND LET SPEND BUDDY HELP YOU SPEND

- HTTP://BUDGETING123.COM/SPEND-BUDDY-DOWNLOAD/
---
LISTEN HERE

BUSINESS, YET MANY SME'S GET IT WRONG OR MISS

EPISODE 4

IN THIS EPISODE, WE INTERVIEW KAREN KENNEDY FROM

BOOKIT WHO TALKS ABOUT WHEN YOU SHOULD CONSIDER

USING EXTERNAL COMPANIES TO HELP FREE YOU FROM

YOUR NON-CORE BUSINESS, ENABLING YOU TO BENEFIT

FROM THE EXPERTISE OF INDUSTRY SPECIALISTS AND

ALLOWING YOU TO FOCUS ON YOUR BUSINESSES CORE

FUNCTIONS – AND THEREFORE MAKE MORE MONEY.

EPISODE 5

IN THIS EPISODE, WE INTERVIEW TRACEY HALL FROM

EXCELLING IN DIRECT SALES WHO TALKS ABOUT THE

IMPORTANCE OF FOLLOWING UP & CONNECTING WITH YOUR

EXISTING CUSTOMERS TO HELP MAKE YOUR BUSINESS

STAND OUT FROM THE REST. THIS IS PROBABLY THE SINGLE

MOST IMPORTANT, YET FORGOTTEN, ACTIVITY THAT YOU

CAN DO TO INCREASE YOUR REPEAT BUSINESS AND GAIN A

LOYAL GROUP OF NET PROMOTERS.

GET A FREE COPY OF 10 MISTAKES MADE IN DIRECT SELLING

EPISODE 6

BRANDING IS ONE OF THE MOST IMPORTANT ACTIVITIES IN

CRUCIAL POINTS. LIZ, DRAWING ON HER VAST EXPERIENCE

WORKING WITH NATIONAL AND GLOBAL BRANDS, TALKS

ABOUT THE 7 WAYS TO BUILD A BETTER BRAND. NO MATTER

WHAT SIZE YOUR BUSINESS IS, LIZ'S TIPS ARE AN

INVALUABLE GUIDE.
---
LISTEN HERE

INSIGHTFUL, DIRECT APPROACH TO MONEY MANAGEMENT

EPISODE 7

THIS WEEK CAROLYN FROM EMPOWERKIN KINESIOLOGY

SHARES HER STRESS RELIEVING TECHNIQUES USING

KINESIOLOGY.

KINESIOLOGY IS THE SCIENCE OF ENERGY BALANCING AND IS

GROUNDED IN THE STUDY OF ANATOMY AND PHYSIOLOGY.

CAROLYN IS THE AUTHOR OF EMPOWERED HAPPINESS

EPISODE 8

IN EPISODE 8, OBU FROM SMART MONEY SOLUTIONS

SHARES INVALUABLE TIPS AND INSIGHTS THAT WILL HELP

YOU WITH STRATEGIES TO REACH YOUR FINANCIAL GOALS.

OBU HAS A VERY INTERESTING BACKGROUND AND HAS AN

FOR WOMEN.

EPISODE 9

IN ONE OF OUR BEST EPISODES YET, EMMA BORG FROM

UNIQUE PHOENIX DIVES DEEP INTO ONE OF THE MOST

CRUCIAL PARTS OF BUSINESS – EMOTIONAL HEALTH.

UNIQUE PHOENIX SPECIALISES IN EMOTIONAL HEALTH AND

RELATIONSHIP COMMUNICATION.
---
LISTEN HERE

ATWHOLESALE2U. EMMA DISCUSSES THE IMPACT OF

FREE, PRINTABLE FRIDGE TIP-SHEET WITH 10 WAYS TO KEEP

SHARE. MOST OF US DO NOT HAVE A POSITIVE MINDSET

EPISODE 10

IN THIS EPISODE, WE INTERVIEW EMMA MURNANE FROM

PROMOTIONAL PRODUCTS AND SHE PASSES ON SOME OF

HER VALUABLE INDUSTRY EXPERIENCE.

EPISODE 11

WE TALK TO PSYCHOLOGIST JESSICA CLEARY, DIRECTOR &

PRINCIPAL PSYCHOLOGIST OF HOPSCOTCH & HARMONY

ABOUT MINDFUL PARENTING FOR MUMS IN BUSINESS.

JESSICA IS THE FOUNDER OF CALMER PARENT REVOLUTION,

WHICH IS A POWERFUL PROGRAM FOR PARENTS WHO WANT

TO RAISE RESILIENT CHILDREN, WITHOUT RAISING THEIR

VOICES.

BONUS CONTENT! GO TO JESSICACLEARY.COM.AU FOR A

CALM AMID THE CHAOS!

EPISODE 12

SHERRY'S STORY IS AMAZING – I WON'T PARAPHRASE OR SAY

MORE – YOU JUST NEED TO HEAR IT. IT'S THIS OVERCOMING

OF ADVERSITY THAT MAKES SHERRY SUCH A GOOD ORATOR

AND SOMEONE WHO HAS A WEALTH OF EXPERIENCE TO

ABOUT MONEY, AND SHERRY HELPS YOU UNDERSTAND HOW

TO START CHANGING THAT.
---
WBS MEMBERS AREA

WBS MEMBERS AREA

WBS MEMBERS AREA

WBS MEMBERS AREA

WBS MEMBERS AREA

WBS MEMBERS AREA

WBS MEMBERS AREA

WBS MEMBERS AREA
---
WITH LIKE MINDED WOMEN.

EVENTS

T

WBS @

TO HOST

WANT

WBS NETWORKING

EVENT IN YOUR

COMMUNITY?

info@wbsociety.com

CONNECTING

WOMEN IN BIZ

WBS IS DEDICATED TO PROMOTING AND SUPPORTING WOMEN IN

BUSINESS. THE WBS EVENTS ARE HERE TO PROVIDE YOU WITH

INVALUABLE INFORMATION THAT YOU CAN USE TO BREAK THROUGH TO

THE NEXT LEVEL IN YOUR PERSONAL & BUSINESS GOALS AND NETWORK

WWW.WBSOCIETY.COM
---
Point Cook

WBS

SOCIAL PAGES

SEPTEMBER

.....event team

Host

Liz Thompson from

Caliba - Design &

Branding

Guest speaker

Tanya Knowles from the

Traction Factory

Guest speaker

Tresna McNally from

Aussie

1

Bonus speaker

Leanne Vandeligt

from Uplift Health &

Fitness Coaching

Photographer

Kristie Dutson from

Inspired Portraits

# W B S E V E N T

Thank you to all our WBS

Members who attended this

event. New dates for 2018 will be

released soon!

P A G E 6 1 | W B S M A G A Z I N E
---
WBS

SOCIAL

PAGES

October

.....event team

Berwick

Host

Karen Buttery from

Perpetual Health

Guest speaker

Ema Borg from Unique

Phoenix

Guest speaker

1

Samantha Jansen from

Platform 4 Success

Bonus speaker

Tracey Hall from

Excelling In Direct Sales

Photographer

Ingrid Karm from Karm

Photography

# W B S E V E N T

P A G E 6 3 | W B S M A G A Z I N E
---
WANT

TO WIN?

Send Nominations! info@wbsociety.com

V

Send nominationS

by

25th of the Month

Monthly

WINNER

WBS BUSINESS WOMAN OF THE MONTH

* YOU NEED TO BE A WBS MEMBER

* NOMINATE YOURSELF OR ANOTHER BUSINESS

WOMAN

* KEEP A HIGH STANDARD IN YOUR BUSINESS

PRACTICES

*BE A SUPPORTIVE & ACTIVE MEMBER

W B S | W B S O C I E T Y . C O M
---
Okey is Co-Founder

Tina

Pixel Perfectionist

and

and web

(graphic

at WP Launch

designer)

She has worked as a

Me.

graphic and

corporate

designer for more

web

10 years, but

than

loves working

ultimately

world-changers,

with

yourself, to help

like

their online

make

WINNers 2017

our interview with

Read

Tina.

is passionate

Karen

providing

about

to people

information

how they can use

on

that don't

products

the harmful

contain

found in most

toxins

marketed

mass

simply switching

By

they can access

stores,

that are better

products

them and their

for

our interview with

Read

Karen

is an entrepreneur

Anna

currently is the

who

of 3 businesses

director

Citrus Fitness Australia,

–

Australian Health

The

Wellness Co. and

and

Q Corpin

Anna

International.

is a heart-centred

She

fitness and

health,

professional

medical

is on a mission to

who

women on

educate

Fitness,

Health,

Mindset,

Nutrition,

and Fierce Self

Lifestyle

our Interview with

Read

Q Corpin

Anna

13

January

Tina Okey

February

Karen Buttery

March

Anna Q Corpin

WP Launch Me Perpetual Health Citrus Fitness

household brands.

presence shine.

families.

Love.

P A G E 6 6 | W B S O C I E T Y . C O M
---
starting in 2009,

Since

Bookkeeping has

Bookit

from one

grown

to a team,

bookkeeper

to help businesses

ready

and small.

big

take care of

They

from straight

everything

data entry to

forward

preparation,

BAS

& everything

lodgement

between.

in

our interview with

Read

Karen.

helps her clients

Tresna

money, find the

save

possible product to

best

their needs and will

suit

the distance with

travel

and beyond.

them

works with

Tresna

who either

customers

to buy a home or

want

property or

investment

our interview with

Read

Tresna.

in Direct Sales

Excelling

for ethics,

stands

and we do this

integrity

our online

with

& mentoring

programs

We train

program.

in the direct

people

industry, including

sales

plan, MLM &

party

Marketing.

Network

our interview

Read

Tracey.

with

April

Karen Kennedy

May

Tresna McNally

June

Tracey Hall

Bookit

Bookkeeping

Tresna McNally

Aussie Home

Loans

Tracey Hall

Excelling in

Direct Sales

already has!
---
deciding that

After

the corporate

climbing

wasn't for her,

ladder

Atwholesale2u was

at

started

Atwholesale2u

as an ebay business.

off

became a power seller

It

3 months.

within

years on...

7

covers a

Atwholesale2u

range of products

wide

printing. They can

and

personalised one off

do

or can do a run

products

100+. The options are

of

They print in-

endless.

using sublimation

house

as well as

printing

vinyl cad cut

traditional

heat transfer

and

our interview with

Read

Emma

is the Director

Jessica

Principal

and

of

Psychologist

& Harmony, a

Hopscotch

practice in

psychology

Hopscotch &

Werribee.

has skilled

Harmony

that cater for

clinicians

wide range of mental

a

care needs.

health

works closely

Jessica

parents who seek

with

understand their

to

and be calmer

child

She teaches

parents.

respectful,

developmentally

ways to

appropriate

with

communicate

that promotes

children

and

cooperation

defiance.

minimises

our interview with

Read

Jessica

is a

Carolyn

and

Kinesiologist

owner of

business

EmpowerKin

speaker

Kinesiology,

workshop

and

and author of

facilitator

Happiness

Empowered

Discovering Bliss

–

Depression.

Beyond

has studied a

She

of different

variety

techniques

Kinesiology

Professional

including

Kinesiology

Brain Gym,

Practitioner,

and Primitive

LEAP

and continues

Reflexes

study different

to

modalities.

our interview with

Read

Carolyn

july

Emma Murnane

august

Jessica Cleary

September

Carolyn King

AtWholesale2U

Hopscotch &

Harmony

EmpowerKin

Kinesiology

born 2010.

printing.

P A G E 6 8 | W B S M A G A Z I N E
---
Sortino is

Maree

about

passionate

small business

helping

navigate the big

owners

world of social

bad

without needing

media

constantly pay for

to

advertising!

has a strong

Maree

and

marketing

communications

and has

background

the last few years

spent

training roles.

in

she's been

Specifically,

new business

assisting

build the

owners

and skills

knowledge

they require to run

that

businesses

their

Those that

effectively.

Maree will tell you

meet

super organised,

she's

patient,

passionate,

personable

extremely

easy to work with.

and

our interview with

Read

Maree

is the co-founder of

Fay

Budgeting123.

is financial

Fay

coach, mum

readiness

an avid writer. She

and

passionate about

is

personal

everyday,

matters

money

helps

Budgeting123

household

review

around

budgets

& savings

spending

Empowering you

plans.

live & live well within

to

top 3 three skills

Fays

believes makes you

she

Resilience

Persistence

our interview with

Read

Chan Fay

Vaina, Social

Kara

Brand Marketing

Media

Collaboration

and

takes you on

Specialist

journey to build,

a

and

communicate

an effective

execute

Marketing

Brand

for you and

Strategy

business on your

your

is also her

Collaboration

and speciality

passion

built her own

having

My Mindful

business,

purely through

Year

From the

collaborating.

of that, Kara

success

offers mentoring

now

small business

to

as well as

owners

for Creative

workshops

to

Collaboration

your brand

maximise

THINK BIG

awareness.

our interview with

Read

Kara.

october

Maree Sortino

November

Fay Chan

december

Kara Vaina

The Social Secret Budgeting123 Kara Vaina

Social Media platforms.

your means.

successful.

Consistency
---
and the

winner

is...

?

PLEASE SEND YOUR NOMINATIONS

BY THE 25TH OF THE MONTH

info@wbsociety.com

P A G E 7 0 | W B S M A G A Z I N E
---
H E R E TO

W

E X T?

N

ultimate roadtrip guide

The

the best routes in North

to

FU

ER

AE

TD

America and beyond
---
work for the WBS

Submit

or magazine to

blog

all have a story and

We

woman are brave

these

NOTICE

BOARD

01 WANT TO

BUILD A

NETWORKING

GROUP IN YOUR

COMMUNITY?

05

TO

WANT

AT AN

SPEAK

UPCOMING

EVENT?

Email info@wbsociety.com

02 JOIN THE

BUSINESS

DIRECTORY

06 #WBSOFFERS

Contact info@wbsociety.com

Click for more details

Only #wbsmembers

06 WANT TO

WRITE FOR US?

03

cazz@wbsociety.com

04 LISTEN TO THE

#WBSPODCAST

can claim or submit

Click to claim

07 GET TO KNOW

THE WOMEN

BEHIND THE

LOGOS

enough to shine.

Click to Listen

Click to read
---
R O M O T I N G

P

C O N N E C T I N G • I N S P I R I N G

•

WOMEN IN BUSINESS

SEE YOU NEXT TIME

THANK YOU FOR

READING & SUPPORTING

FEMALE

ENTREPRENEURS

C ONNECT WITH US

photo by Eleanor Conduit Photography