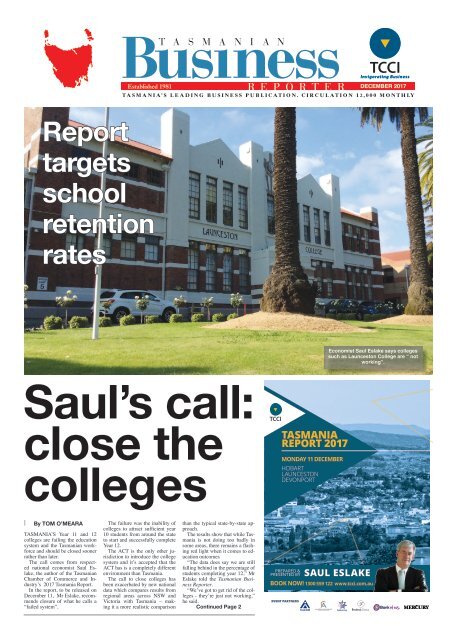 Tasmanian Business Reporter December 2017
Leading off this month, respected national economist Saul Eslake calls for closure of Tasmania's failing Year 11 and 12 college system in an exclusive preview from the TCCI's 2017 Tasmania Report. You'll also find another exclusive story about an innovative joint venture between St.LukesHealth and Healthy Business Performance Group and the details of Southwood Fibre's proposed $42 million woodchip export facility in the Huon Valley.
Leading off this month, respected national economist Saul Eslake calls for closure of Tasmania's failing Year 11 and 12 college system in an exclusive preview from the TCCI's 2017 Tasmania Report.

You'll also find another exclusive story about an innovative joint venture between St.LukesHealth and Healthy Business Performance Group and the details of Southwood Fibre's proposed $42 million woodchip export facility in the Huon Valley.
SHOW MORE
SHOW LESS
Create successful ePaper yourself
Turn your PDF publications into a flip-book with our unique Google optimized e-Paper software.
DECEMBER 2017

T A S M A N I A' S L E A D I N G B U S I N E S S P U B L I C A T I O N . C I R C U L A T I O N 1 2 , 0 0 0 M O N T H LY

Report

targets

school

retention

rates

Economist Saul Eslake says colleges

such as Launceston College are " not

working".

Saul's call:

close the

colleges

TASMANIA

REPORT 2017

MONDAY 11 DECEMBER

HOBART

LAUNCESTON

DEVONPORT

By TOM O'MEARA

TASMANIA'S Year 11 and 12

colleges are failing the education

system and the Tasmanian workforce

and should be closed sooner

rather than later.

The call comes from respected

national economist Saul Eslake,

the author of the Tasmanian

Chamber of Commerce and Industry's

2017 Tasmania Report.

In the report, to be released on

December 11, Mr Eslake, recommends

closure of what he calls a

"failed system".

The failure was the inability of

colleges to attract sufficient year

10 students from around the state

to start and successfully complete

Year 12.

The ACT is the only other jurisdiction

to introduce the college

system and it's accepted that the

ACT has is a completely different

environment than Tasmania.

The call to close colleges has

been exacerbated by new national

data which compares results from

regional areas across NSW and

Victoria with Tasmania – making

it a more realistic comparison

than the typical state-by-state approach.

The results show that while Tasmania

is not doing too badly in

some areas, there remains a flashing

red light when it comes to education

outcomes

"The data does say we are still

falling behind in the percentage of

students completing year 12," Mr

Eslake told the Tasmanian Business

Reporter.

"We've got to get rid of the colleges

- they're just not working,"

he said.

Continued Page 2

PREPARED &

PRESENTED BY

SAUL ESLAKE

BOOK NOW! 1300 559 122 www.tcci.com.au

EVENT PARTNERS
---
2 Tasmanian Business Reporter - DECEMBER 2017

NEWS

Workplace health access

AN innovative joint venture

between St.Lukes-

Health and Healthy Business

Performance Group

will set a new standard of

support for the health and

wellbeing of Tasmanians

in the corporate sector.

Announced at the Tasmanian

Chamber of

Commerce and Industry

Premier's Cocktail Party

in mid-November, the

initiative will directly

provide employees with

access to health and wellbeing

programs.

The partnership will

see St.LukesHealth supporting

HBP Group with

health insurance products

while HBP Group will

provide the programs

across areas including injury,

fatigue and health

risk mitigation.

St.LukesHealth Chairman

Chris Dockray said

the joint venture would

be another innovative

collaboration for the organisation.

"St.LukesHealth is

moving away from the

indemnity model to one

where we are engaged

with the healthcare and

health literacy of members,"

Mr Dockray said.

"In addition to our traditional

health insurance

products, St.Lukes-

Health will be further

supporting Tasmanian

employers with access

to workforce health and

wellbeing programs

through our partnership

with HBP group."

HBP Group Managing

Director, Ricky

Langford said the organisation's

innovative

and proven methodology

was designed to assist

participants achieve real

results that will be reflected

in the workplace

as well as their family

and social lives.

"Our success has been

built on the back of our

strong ethos that healthy

individuals make healthy

organisations," Mr Langford

said.

One of the Directors

of HBP Group is former

Tasmanian AFL star,

Alastair Lynch, who understands

the importance

of good health along

with the professional

support to achieve your

goals.

"The St.LukesHealth

team is a high-performing

organisation and

with their outstanding record

we believe our partnership

will provide better

health outcomes for

Tasmanian businesses,"

Mr Lynch said.

St.LukesHealth

Chairman

Chris Dockray,

left, with

Premier Will

Hodgman,

Healthy

Business

Performance

Group Director

Alastair Lynch

and

St.LukesHealth

CEO Paul

Lupo.

HBP Group deliver

health and wellbeing

programs to businesses

across Australia, New

Zealand and PNG.

TCCI CEO Michael

Bailey said he supported

the St.LukesHealth's initiative.

"It's terrific to see

a Tasmanian business

showing a proactive response

to Tasmania's

health needs," Mr Bailey

said.

Southern

woodchip

windfall

A NEW $42 million

woodchip export facility

in the Huon Valley will

realise the economic value

of Tasmania's southern

certified plantation

forests and create hundreds

of jobs.

Under the plan, Southwood

Fibre will process

certified plantation

forests at its existing

Southwood integrated

timber processing facility

for transport to a

purpose-built, single-use

loading facility at Strathblane,

where it will be

packed into vessels for

direct export.

Modelling shows the

project will generate 135

jobs during construction

and support a further 145

jobs on an ongoing basis.

The ongoing economic

benefit has been estimated

at $55 million a year.

Currently, export bulk

wood products from the

south of Tasmania sees

material freighted to

the state's northern export

facility at Bell Bay,

where the product is processed

and then shipped

to export markets.

In the past, this has required

expensive Government

subsidies and

lengthy transport on public

highways.

Southwood Fibre

Chief Executive Officer

James Neville-Smith

said the project was

plantation-based.

Only product that is

certified to the Australian

Forestry Standard

and/or the Forest Stewardship

Council requirements

will be exported.

"We openly acknowledge

current community

standards and expectations

for the management

of the state's forests and

as a result are only interested

in certified product.

"Our project is aimed

at revitalising the plantation

forestry sector in

Southern Tasmania," Mr

Neville-Smith said.

e dition

T A S M A N I A' S L E A D I N G B U S I N E S S P U B L I C A T I O N . C I R C U L A T I O N 1 2 , 0 0 0 M O N T H LY

Tasmanian Business Reporter can now be delivered directly to your inbox. With our 30,000-strong monthly print

readership, our new up-to-date digital distribution will keep Tasmanians abreast of the all latest in local business

news. From this month we will distribute electronic editions of the Tasmanian Business Reporter as we go to print.

To confirm your copy sign up to our mailing list via

tbreditorial@fontpr.com.au

Tasmania's business newspaper is published monthly by the

Tasmanian Chamber of Commerce and Industry. It is distributed

to businesses in Tasmania as well as key decision-makers.

Circulation: 12,000

Economist's call to axe colleges

From Page 1

"When students start

in Grade 7 they should

be able to finish Year 12

at the same school."

Mr Eslake said the Education

Department was

doing a good job with

supporting the expansion

of more high schools to

years 11 and 12 in country

and regional areas.

"But, it is now time to

develop Year 11 and 12

in city and suburban high

schools," Mr Eslake said.

"This is not to say that

the Tasmanian colleges

don't do a good job of educating

the students they

have, but too many Year

10 students don't progress

to the colleges, or stay for

the time required to attain

their TCE," he said.

In last year's TCCI Tasmania

Report, Mr Eslake

highlighted the massive

costs of Tasmanian education.

The State Government

spent just over $13,500

per full-time equivalent

student – 17 per cent more

than the average of all other

state and territories.

The return for this expenditure

did not result

in positive outcomes –

Tasmania's retention rate

from Year 10 to Year 12 is

lower than any other part

of Australia, expect the

Northern Territory.

The findings of a payroll

tax project will also

create discussion with

government and the business

community.

While there are no results

at this stage, the research

is to determine

whether payroll could be

reduced but expanded to

all businesses, not just the

current 2000 who exceed

more in wage payments.

The TCCI Tasmania

Report will also include

policies which the TCCI

and business will take to

next year's state election,

expected to be in March.

The TCCI Tasmania

Report will be released

on Monday, December 11

with a breakfast at Wrest

Point, a luncheon at Launceston

Country Club and

dinner at Quality Hotel

Gateway, Devonport.

Managing Editor: Tom O'Meara

0418 135 822

Editor: Becher Townshend

0418 370 661

Advertising and Special Projects

Gil Sellars 0448 901 361

gil@thetrustedmediaco.com

Kerri Guardia 0419 750 267

kerri@thetrustedmediaco.com

Editorial & Advertising

TBReditorial@fontpr.com.au

www.tasmanianbusinessreporter.com.au

Publisher:

Tasmanian Chamber of Commerce and Industry

309 Liverpool St, Hobart, TAS 7000

Ph: 6236 3600 Fax: 6231 1278 admin@tcci.com.au

TFGA House, 194-196 Cimitiere St, Launceston TAS 7250

Ph: 6331 1144 laun@tcci.com.au

Production:

aldridge.media

Ph: 0431 241 775

aldridge.media@iinet.net.au

Printer: Mercury

Level 1, 2 Salamanca Square, Hobart, 7000
---
TASMANIA'S LEADING BUSINESS PUBLICATION. CIRCULATION 17,000 MONTHLY

Tasmanian Business Reporter - DECEMBER 2017 3

$20m study to look at second Bass Strait cable

NEWS

Renewable energy on track

A SECOND Bass Strait interconnector

will be further

investigated in a $20 million

business case being funded

jointly by the State and Federal

Governments.

Both governments have

hailed the decision as a great

step forward for Tasmania to

be completely powered by renewable

energy.

It will coincide with a $5

million study that's already

under way for a "Battery of

the Nation" project which

would double Tasmania's renewable

energy capacity from

2,500mW to about 5,000mW.

A second link, expected to

cost about $1 billion, would

facilitate the new renewable

energy developments and the

export of excess energy.

"We are well on track to

deliver our target of being

100 per cent renewable energy

self-sufficient by 2022,"

Energy Minister Guy Barnett

said.

"The second interconnector

will promote further renewable

development allowing

Tasmania to be a net exporter

of energy and then better

A second Bass Strait link is being considered.

placed to be part of the solution

for the mainland as well.

"Proponents like UPC who

are behind the Robbins Island

windfarm project are

strongly in support of a second

interconnector. In order

to develop the full potential

of their project they need to

know that when the wind is

blowing they can always get

the energy they generate to

market.

"Today's announcement

will give them and others

confidence that they can

progress their energy generation

projects.

"That includes Hydro Tasmania,

which has plans to significantly

expand hydro generation

capacity in Tasmania

with $1 billion of investments

over 10 years," Mr Barnett

said. "They are also continuing

to investigate pumped hydro

opportunities."

The state suffered a sixmonth

energy crisis that

drained dam levels in 2015

when Basslink failed.

State Opposition energy

spokesman Scott Bacon

said he hoped the new study

would uncover what caused

the failure.

The study will be funded

by the Australian and Tasmanian

governments through

ARENA and TasNetworks.

Business urged to support reservists

THE Australian Maritime

College has played a key role

in giving business leaders a

greater understanding of the

benefits that can flow from

employing Navy reservists.

AMC played host to the

Defence Reserve Support

Council's Employer Challenge

Day, where Tasmanian

business people gathered for

a fun and challenging experience,

which focussed on developing

personal and survival

skills within the Australian

Defence Force environment.

Using the world-class facilities

at the AMC Survival

Centre, the participants were

able to train like a Navy reservist

first-hand, gaining a

better understanding of the

role of a reservist, their training

and the benefits they can

bring to an organisation.

Over four hours, the trainees

learnt marine survival

techniques and military communication

skills and participated

in a ship abandonment

and decision making exercises.

The group also activated

an inflatable raft, practiced

surviving the elements and

on completion, were rescued

by simulated aircraft and

winched to safety.

Understanding what's involved

for an organisation

when it comes to employing

staff who are members of

the Defence Force Reserves

might appear difficult, but

gaining that insight is facilitated

by the Defence Reserves

Support Council.

The mission of the DRSC

is to establish and maintain a

flexible and supportive partnership

between Defence and the

community, industry and employers

to sustain and enhance

the availability of the Reserve

component of the Australian

Defence Force.

Like many other employers

around the country, the University

of Tasmania, and AMC's

commercial arm AMC Search,

are registered as supportive

employers of Defence Force

Reservists.

In a gesture of corporate

good will they have pledged

their support for the important

role that Reserve Forces play in

the defence of Australia's national

interests.

The university has policies in

place that define the processes

and considerations involved in

SEATED: Joshua Hicks

(Family Based Care North

West), left, Vanessa

Cahoon (City

Mission Launceston),

Christine Hepburn, Chair

of DRSC Northern Committee

(The Defining Edge)

and Drew Burns (Cinco

Passiones).

STANDING: Lieutenant

Commander Stephen

Hurd (Royal Australian

Naval Reserve), left,

John Wylie (Pitt &

Sherry), Mark

Hassell (Scotch

Oakburn College),

Lieutenant Chris

Jordan (RANR).

Picture: Dave Groves

Photography

releasing staff members from

their usual role in order to render

periods of Reserve service.

The university also has a

policy to support students who

need to take Defence Reserve

leave, or need a level of flexibility

to perform Reserve service.

ADVERTISEMENT

Elise

Archer

Your local Liberal Member for Denison

"Wishing you

a safe & happy

Christmas!"

Please contact me:

p: 6212 2210

e: elise.archer@dpac.tas.gov.au

www.elisearcher.com

Authorised by Elise Archer, 62 Main Rd, Moonah, 7009

WANTED

Business

movers and

shakers

• Promotions

• Appointments

• Awards

• Celebrating

success

Share the news

with the

Tasmanian

business

community

Send your news

snippets, with a

high quality photo,

to TBReditorial@

fontpr.com.au

SOLUTIONS

IN PRINT

your print specialist for over 90 years

6391 8481

www.woolstonprinting.com.au

Full Off-Set,

Digital and

Wide Format

Capabilities

Binding and

Finishing

Variable Data

and Mailing

sales@paperstat.com.au

Warehousing

and Distribution

Online Ordering

and Inventory

Management

WP - Advert Mar17.indd 4

4/04/2017 1:15:54 PM
---
4 Tasmanian Business Reporter - DECEMBER 2017

THOUGHT LEADERSHIP

www.tcci.com.au

Year's results tell tale of success

ASSESSING the success

of a year's work is

always an interesting exercise.

It's easy to forget how

much we all see, do and

achieve in the course of

12 months.

But when you sit

down and actually

go back through the

weeks and months of

blood, sweat and tears

so prominent in myriad

business, the results

mostly speak for themselves.

I know the majority

of Tasmanian businesses

have had a great year

- confidence surveys,

retail results and other

indicators all show positive

performance.

The Tasmanian

Chamber of Commerce

and Industry likewise is

happy to report its had

a terrific year - your

member dollar and support

is going to the areas

its most needed.

Here are a few examples

of where we have

excelled in 2017.

• We have delivered

more training programs

than ever before in more

locations than ever before

- a 46 per cent in-

Michael

Bailey

TCCI Chief Executive

crease on last year alone.

• We saw more businesses

with our Workplace

Health and Safety

program, making sure

Tasmania businesses and

employees are in the best

possible shape they can

be.

• We have developed

new programs to help

business including apprenticeship

support and

advice and the warmly-received

jobs action

package with TASCOSS.

• We ran more events

than ever before including

the National Chamber

Congress - a huge

event that attracted

business leaders from

across the country to

... the majority of

Tasmanian businesses

have had a great year

a conference and networking

including the

very successful dinner

at our world-renowned

MONA.

• We supported exporters

better than ever

before with record numbers

of trade documentation

produced. Certificates

of Origin issued

increased by 413% on

the previous year.

• We supported more

business with record

numbers of calls to our

helpline and record

numbers of members

supported by our IR

staff. Workplace relations

has seen such a

high level of growth

over the past few years

After a good year in 2017, the staff of the TCCI are ready for work for Tasmanian business in 2018.

that we have also advertised

for another consultant

to join the team in

the Hobart office.

• And, we unified all

Tasmanian Chambers of

Commerce in the Chamber

Alliance which supports

the autonomy of

chambers but helps us to

all work together. It's a

strong and valuable addition

to our members.

We welcomed the Launceston,

Hobart and West

Coast Chambers to the

Alliance this year, enabling

their members to

receive free Basic level

membership of TCCI

and access to member

rates for TCCI events,

products and services.

Personally I travelled

more than 45,000km –

that Midland Highway

upgrade is getting there.

I've seen countless

members of parliament

at all levels, met with

Prime Minister Malcolm

Turnbull and made

sure that the needs of

Tasmanian business are

front and centre.

My door is always

open and phone is usually

on – I am always

happy to hear from you

about what's working

and what needs work.

Have a happy and

safe Christmas and New

Year and I look forward

to working with you

again in 2018 as we put

the pressure on all political

parties to deliver

tangible, positive outcomes

for business in

the state as we head towards

the election.
---
Tasmanian Business Reporter - DECEMBER 2017 5

THOUGHT LEADERSHIP

Rate rises a downer to end 2017, but .....

New year, new opportunities

Brett

Charlton

Agility Logistics

WELL that was 2017….

did you blink?

It seems like just

yesterday I was writing

about how exciting

2017 was shaping up to

be with all of our ducks

lined neatly in a row.

Good exchange rate,

CHAFTA, Tasmanian

Freight Equalisation extension

for export cargo,

new Searoad vessel,

three international

lines all calling direct

to Tasmania as well as

a plethora of other lines

servicing via Bass Strait

feeders as well as an

extended air runway in

Hobart – all excellent

things.

We didn't have any

floods or broken moorings

this year and while

our power bills were

huge (mine was anyway),

we turned the

lights on with confidence

(as opposed to 2016).

With tourists everywhere,

new hotels go-

IT IS important for every

business to check their

control methods.

To address workplace

hazards generally you

may follow the steps below:

• hazard identification;

• risk assessment; and

• control measures.

The last step in the

process is to review the

control measures you

ing up, promised new

ships from Toll as well

as potential investment

into our ports from DP

World, our cup was running

over, and it was a

big cup.

Feel a sense of foreboding?

Of course you

do, it is only natural.

There are some thorns

on the roses I am afraid

and we would be wise to

consider these going forward

into the next year.

Infrastructure surcharges

are a new cost

impost from our northern

cousins and it would

appear that they are going

up – there has already

been one increase

from the initial advice

this year.

The likes of port operators

(think DP World,

Patricks) are issuing invoices

for the collection

of containers through

their yards to transport

companies – these costs

were traditionally borne

by the shipping lines and

passed on to the customer

as the terminal fee.

The costs of power,

rent etc are being used

as a mechanism for these

additional charges.

Freight rates are going

up – there is no getting

away from this (particularly

if you are an importer).

There is less capacity

than demand, particular-

Consultation key to hazard controls

By CRAIG HORTLE

have implemented. It is

essential that whatever

method you have used to

control a hazard is effective.

A review is required:

• to ensure control

measures are effective;

• before a change at the

workplace that is likely

to give rise to a new or

different health and safety

risk that the control

measure may not be effectively

control;

Port operators are now charging for the collection of containers

through their yards.

• if a new hazard or

risk is identified;

• if results of consultation

indicate that a review

is necessary; and

• if a HSR requests a

review.

If any of the above are

identified a new hazard

identification risk assessment

process needs to be

implemented.

Some of the questions

that may be considered

when doing a review are:

ly at this time of year –

freight rates have nearly

doubled and securing

space ex-north of South

East Asia is like a bar

room brawl at the moment

– not many winners

and very messy.

Export conditions are

dependent on crops in

the first part of the year,

but be aware that there

is little patience for not

coming though with your

• Are the control measures

working effectively

in both their design and

operation?

• Have the control

measures introduced new

problems?

• Have all hazards

been identified?

• Have new work

methods, new equipment

or chemicals made the

job safer?

• Are safety procedures

being followed?

• Has instruction and

training provided to

workers on how to work

safely been successful?

• Are workers actively

involved in identifying

hazards and possible

control measures? Are

they openly raising

health and safety concerns

and reporting problems

promptly?

• Is the frequency and

severity of health and

safety incidents reducing

over time?

• If new legislation

or new information becomes

available, does it

indicate current controls

may no longer be the

most effective?

One of the pivotal

components is consultation

– between those who

are performing the activity

and management.

The ensure the process

of hazard identification

commitments – there are

charges for missed or

cancelled bookings for

exporters in place now.

What will 2018 bring?

There are some significant

projects that will

add to shipping volumes

in 2018 and this is positive

to the volume story

of Tasmania.

We are positioned in

a good place for another

successful year ahead.

and risk assessment is

succesful it is essential

to review the control

measures that are selected

to reduce the risk of

the hazard.

For WHS queries

contact Craig Hortle or

Janelle Whitehouse on

1300 559 122 or email

safety@TCCI.com.au

www.tcci.com.au

Seven steps to

take pre-sale

Dean

Demeyer

Business Broker

GENERALLY business owners want to maximise

the value of their business and sell in as

short a timeframe as possible.

Making cosmetic changes to your company

just prior to going on the market is a recipe for

disappointment.

Planning and preparation for sale requires time

and one final burst of energy maintained right

though to settlement.

To maximise your sale price and sell as quickly

as possible, here are seven steps I recommend.

1. Seek advice in advance

Work with an experienced professional broker

or accountant with a proven track record. They

will help you set a reasonable selling price in the

current market for your industry.

2. Increase profitability - simply

A simple quick fix for most small businesses

is to remove all private expenditure paid by the

company like mobiles, car expenses etc.

3. Decrease stock on hand

The level of stock can be a major stumbling

block for buyers to obtain finance. Take the time

to purge old and slow moving stock. It will give

you cash in the bank and make the business more

affordable for a buyer - a win-win situation.

4. Have a break then get active

Don't take your foot off the accelerator after

you list for sale. Take a quick few days off and

regenerate your energy levels – you will need it.

If you do slow down you may hand part of your

business value to your competitors.

5. Create a strategic plan

This will sound counter intuitive. However,

you understand your industry and showing a

buyer a glimpse of the future can add value and

attractiveness. They will use it to obtain finance.

6. Systemise and empower staff

Businesses that are run under management are

far easier to sell as they attract a broader audience.

7. Stand out in the crowd

Clearly articulate what makes your business

different to your competitors. Third party endorsements

are worth their weight in gold.
---
6 Tasmanian Business Reporter - DECEMBER 2017

THOUGHT LEADERSHIP

www.tcci.com.au

Enjoy silly season without regrets

Abbey

George

Workplace Relations

IT IS getting to that time

of the year again - what

some refer to as the

dreaded festive silly season.

As an employer there

are a few things to be

mindful of when the

end of the year is rolling

around including but not

limited to:

• End-of-year shut

downs.

The National Employment

Standards found in

the Fair Work Act 2009

does not provide for an

annual close down but

there may be provisions

in the relevant Modern

Award or Enterprise

Agreement.

Be mindful of any obligations

they impose on

you, such as providing

notice of the close down

and the like.

• Interaction with other

leave.

If staff are taking annual

leave over the end

BE PART OF THE

MULTI-BILLION

DOLLAR

LOGISTICS

INDUSTRY

Whether you are looking to start your career, or upgrade your

skills for career advancement - the Australian Maritime College

can get you there.

Set yourself up for global career opportunities with our Maritime

Business and International Logistics program, preparing you for

a career in senior management.

Study here, work globally.

Apply now: amc.edu.au

CRICOS Provider Code: 00586B

of year period you need

to be mindful of any other

forms of leave that

may also come into play

such as personal leave,

public holidays, parental

leave, community service

leave and/or compassionate

leave to name

a few.

• Refusal to work on a

public holiday.

The Fair Work Act

2009 (s114) states that

an employer may request

an employee to work on

a public holiday if the request

is reasonable.

Likewise, an employee

can refuse to work on a

public holiday if the employer's

request is not

reasonable.

If you find yourself in

this situation please contact

us for advice.

• End of year parties

and work functions.

While it may be a

headache to organise, the

undertaking of an end of

Place limits on alcohol at end-of-year- functions and ensure non-alcoholic drinks are offered.

year party or function

can often be seen as a

way that employers can

thank their staff for another

year of hard work

and also allow staff to interact

in a social setting.

Some employers have

taken the approach of using

other forms of recognition

such as vouchers

or hampers, others elect

the "family friendly" approach

of barbecues and

lunches during the day.

What works best depends

on you, the business

and your staff.

Either way, there are a

few things to be mindful

of:

Before the event:

• send a friendly staff

email where what is/isn't

acceptable is outlined

and refer to relevant policies;

• if you are going to

serve alcohol ensure it is

served responsibly (you

may want to hold the

function at another venue

in which case the venue's

RSA kicks in);

• ensure plenty of food

Sally

Chandler

Tradestart Adviser

THE Australian Trade

and Investment Commission

administers the

TradeStart network of 29

offices around Australia.

TradeStart is an extension

of Austrade's own

offices and is delivered

in partnership with state,

territory and local governments,

industry associations

and chambers of

commerce.

The Tasmanian Chamber

of Commerce and

Industry is the state Austrade

partner.

The prime objective

of Austrade's TradeStart

network is to assist smalland

medium-size exporters

to achieve long-term

success in international

markets.

The network offers exporters

local assistance

and a direct link to services

in Australia and

Austrade offices in 50

countries.

TradeStart advisers offer

free, practical advice

to exporters and education

providers on how to

do business in international

markets including:

• general market briefings

on what to expect in

international markets;

• cultural tips on doing

business overseas;

• information about

overseas commercial

practices and requirements;

and non-alcoholic drinks

are available to everyone;

and

• check that your insurance

covers the event.

Austrade network

link for exporters

• country specific industry

insights and contexts;

• referrals to specialist

legal, tax or business advisory

firms, both in Australia

and overseas;

• international market

entry and strategy advice;

• general marketing and

promotional advice; and

• assistance and advice

for setting up in an international

market.

Advisers also work

with Austrade offices

overseas who provide free

At the event:

• have a clear start and

finish time;

• place time limits on

the supply of alcohol;

• make it clear to staff

that post-event activities

are on their own time and

the company does not endorse

any activities that

happen after finishing

time; and

• use taxis, shuttles,

public transport and/or

non-drinking drivers to

make sure everyone gets

home safely after the party.

As an employer you

have the responsibility to

ensure that your staff ae

safe at all work-related

functions.

You can contact the

Helpline on 1300 765

123 or the TCCI on

1300 59 122 or workplacerelations@tcci.

com.au

general advice plus tailored

services including

market or country-specific

research, identification

of potential partners and

customers, organising appointments

for visits to

individual markets, following

up initial introductions,

and market promotions.

Tailored services are

provided for a uniform

fee of A$275 per hour.

Sales opportunities

identified by overseas

offices are also relayed

back to TradeStart advisers

in Australia for distribution

to relevant clients..

Contact the TCCI's

TradeStart Adviser,

Sally Chandler, at sally.

chandler@tcci.com.au

or phone 1300 559 122.
---
Tasmanian Business Reporter - DECEMBER 2017 7

FOCUS ON BUSINESS

Success from the garbage can

Management consultancy Optimum Standard offers

clients a competitive advantage by providing specialist

expertise in a variety of areas as required.

IT is not always possible

for businesses to employ a

full-time management system

specialist, food technologist,

product developer or

customer- and consumer-led

strategist – this is where leading

management consultancy

Optimum Standard comes in.

Principal consultant Belinda

Hazell says many leaders

can sense that they need to

move in a certain direction

but are not sure of how to

do so.

"We can help them get

there and then as new change

or needs arises, we can do so

again – working on other aspects

of their operation with

the solutions that matter," she

said.

"Tasmanian businesses

moving through rapid change

want smart, easy, and quick

solutions – with cost and efficiency

worked on at a later

stage.

Belinda says that in an

environment of rapid change,

"Garbage Can Theory" can

lead to organisational waste

and an inability to maximise

profitability.

"For example, solutions

may be proposed where problems

do not exist, choices

made without solving problems

and problems allowed to

persist without being solved

– basically wasted opportunities

that good organisations

can avoid."

Belinda believes that leaders

can make a difference in

the "garbage can" and good

collaboration can lead to this.

Garbage cans and waste

are an appropriate pun when

it comes to the work Optimum

Standard has done for

the Mornington Park Waste

Transfer Station.

General Manager Grant

Allen says the value that Optimum

Standard contributed

to its brand and the time and

effort it saved the business

resulted in bottom line returns

of thousands of dollars

annually.

"Optimum Standard established

all of our management

systems including safety, environment,

and risk and they

continue to provide support

to our business which gives

me confidence in my management

and delivers greater

productivity in the workplace,"

Mr Allen said.

Optimum Standard has

more than 30 years' experience

across a number of

industry sectors working

on providing solutions to

complex issues, even during

periods of rapid growth.

"Having a customer- and

consumer-led perspective is

important as we look for the

factors that deliver success,"

said lead innovator Allison

Clark.

"Making sure that even

when decisions are made rapidly

they are driven towards

better product and service

outcomes for your customer

can create competitive advantage,"

she said.

"When this is done with

cost and efficiency considerations

the payback period on

change and innovation can

be leveraged to the business'

advantage."

An example is the Daly

Potato Company developing

a new range of potato salads

which has gained success and

is now in mainland Woolworths

Supermarkets.

"The Daly's are passionate

Tasmanians looking to reduce

their on-farm waste through

high quality Tasmanian food

products.

"Helping this business

move through food safety

compliance requirements and

assisting with process design

has been complex and very

worthwhile" Allison said.

Having had more than 10

years' experience with highrisk

food products, Allison

has an eye for the trends

which will impact on many

Tasmanian operations looking

to capitalise on "Brand

Tasmania".

"Food business and supply

chain due diligence has become

increasingly important

for Tasmanian food businesses

looking to supply corporate

retail and export.

Optimum Standard

principal consultant

Belinda Hazell discusses

operations with

Mornington Park Waste

Transfer Station General

Manager Grant Allen.

"Through good product

design and development, we

can build in the operational

controls necessary to limit

failure and create great products

and services," Allison

said.
---
8 Tasmanian Business Reporter - DECEMBER 2017

THOUGHT LEADERSHIP

Forward with confidence

Roger

Jaensch

Parliamentary Secretary for Small Business

www.tcci.com.au

Labor's vision

for Tasmania

THE end of the year is

a good time to take stock

and give thanks – and we

have a lot to be thankful

for.

A lot has changed

since 2014.

Our business and employment

performance

indicators are now

strong.

State Final Demand

and private investment

are both up 8 to 10 per

cent. Total capital investment

has risen sharply.

Retail turnover has

been above a half-billion

dollars for 16 straight

months and we exported

Tasmanian products

worth more than $3 billion

in the 12 months to

September this year.

There are 11,700

more jobs in the state

– 246,000 people go to

work now in Tasmania.

Our annual employment

growth is the second

strongest in the nation

and unemployment

has fallen to around the

national average – just

5.9 per cent in September.

Population is growing

at the fastest annual rate

in six years. Instead of

heading north, people are

moving south.

Dwelling approvals

this September were 46

per cent higher than the

same time last year – the

strongest growth of any

state. The national average

fell 0.4 per cent.

The latest Sensis Business

Index quarterly

survey rated business

confidence in Tasmania

second highest in the

nation, and our government's

business policies

"easily the most popular

in the nation".

None of this happened

by accident and things

won't keep improving

without continued effort.

We know there is still

more work to do, particularly

in regional areas,

and we are committed to

the task.

John van der Woude from Penguin Composites with Federal Small Business

Minister Michael McCormack and Roger Jaensch during the

Minister's Small Business Roadshow 2017.

We want to continue

to have the most positive

policy environment for

business in the nation.

Our plan for the next

four years lays out targets

which, if achieved,

will take Tasmania to the

next level, including:

• a 10 per cent increase

in small business employment

by 2022;

• a 40 per cent increase

in apprentices and trainees

in the private sector

by 2025;

• 70 per cent of all visitors

staying overnight

in regional areas during

their trip to Tasmania by

2022;

• 90 per cent of all

government contracts

won by Tasmanian-based

firms; and

• an 85 per cent clear

up rate on reported red

tape by 2022.

But, at the end of the

day and the end of the

year, we know it is business

owners who invest

and employ, who innovate

and deliver products

and services, and

the state's positive report

card since 2014 is testament

to their confidence

to do so.

AS the election gets closer,

there's increased pressure

on all sides of politics

to explain what our

vision is for Tasmania.

We've been developing

ideas for Tasmania

right throughout the last

four years and under the

leadership of Rebecca

White we have released

an Economic Direction

Statement which sets out

our plan for Tasmania.

With an election due

in March next year Tasmanians

can expect new

policy announcements

between now and then.

It's well publicised

that we will release a

policy on gaming ahead

of the election. We have

been proud of the extensive

consultation we

have undertaken as we

work towards a comprehensive

policy position.

It's been critical that

we've heard from all

voices in the debate as

it's a crucial decision for

Tasmania, both in terms

of economic and social

outcomes.

If any readers would

like to discuss the issue

of gaming, or any other

issue for that matter,

I'd encourage you

to contact me on 6212

2383 or scott.bacon@

parliament.tas.gov.au

Labor is proud of the

policies we've already

put on the table, from

ways to address the crisis

in our health system

to strategies to reverse

the trend away from

full-time employment

in Tasmania.

We have sensible

policies and investment

commitments that we

believe are in the best

interests of Tasmanians.

We also want to make

the connection between

industry and our education

providers stronger,

by establishing Industry

Advisory Councils.

Your Partner

in Print.

www.footandplaysted.com.au

Now incorporating

THE CRAFT LIVES ON.
---
Tasmanian Business Reporter - DECEMBER 2017 9

FOCUS ON BUSINESS

Journey from an island to the UN

Lynn Mason's career has taken her

interstate and overseas; from farmer

to Mayor and to the boardroom of

many organisations. We asked the

AICD's Tasmanian Gold Medal

winner about her journey so far.

HOW did it all begin?

I grew up in Brisbane and

attended school and university

there.

After graduating I went

travelling and met my husband,

who was a Flinders

Islander, in Greece.

We came home to marry

and began farming

– running sheep and harvesting

abalone.

A neighbour approached

me to stand for

the council by-election.

I won that, was elected

mayor in 1996 and became

president of the Local

Government Association

of Tasmania in 2000.

In 2003 I undertook

the AICD's Company Directors

Course to start the

next phase of my career

as a non-executive director

and I retired from local

government in 2006.

All the while we were

still farming and expanded

our operations to the

mainland of Tasmania too.

What have been your

career highlights?

The main highlight has

been the wonderful people

I have worked with

and learned from in all

of my different roles –

they are the continuum.

My highlights include

winning the inaugural

National Reconciliation

award for communities

on Flinders Island; being

invited to join the

Tasmanian Honour Roll

of Women; winning the

Tasmanian Telstra Businesswoman

of the Year

Award and the Australian

Business Owner of

the Year.

In 2004 I was a delegate

to the 12th Session

of the Commission on

Sustainable Development

in New York where

I addressed a session of

the United Nations on

the role of local government

in environmental

management.

Winning one of the

wether trials on Flinders

Island was also great

fun.

What setbacks have

you overcome?

My father was killed

when I was a baby so

my brother and I were

brought up by my mother

as a single parent,

which was unusual then.

I never saw it as a

challenge as my mother

was an absolute inspiration.

The weather can certainly

be a setback for a

farmer.

I've learned many

valuable things about

being more inclusive and

listening carefully – not

Award winner Lynn Mason, right, receives her gold medal from Governor of Tasmania

Kate Warner and, inset, the medal.

only to what people are

saying but what they are

not saying.

Has your gender

been an asset or a

challenge to your

success?

My gender has not been

insignificant.

Straight after graduation,

a female friend and

I applied for a loan to

start a rental business on

Stradbroke Island.

We were denied as we

were both female and

told that a loan would

only be approved to a

male relative.

That certainly fired me

up. In my early days as

a councillor on Flinders

Island, I was asked, very

politely, to provide cake

for afternoon tea – I

didn't.

Farming can still be

very conservative about

valuing the equality of

women in the agricultural

workforce although attitudes

have come a long

way since we started

farming.

How important is

professional education

and governance

training?

It's extremely important.

There are many pitfalls

for the unwary that

it is madness to embark

on any organisational

structure without a

good understanding of

governance requirements

and the need for

continuing training and

review.

I was urged to undertake

the AICD course

by the CEO of the Local

Government Association

of Tasmania and

this training was vital.

Where to next?

I want to volunteer in

areas of particular interest.

I remain particularly

interested in local

government, so maybe

there's something I

can assist with there.

More time for farming

and gardening –

something will come

along – it always

does.

CAN MAKE ALL

THE DIFFERENCE

Our world-class Company Directors Course will help improve your performance and accelerate your career.

Upcoming dates:

• Thursday 18 to Tuesday 24 January 2018 (five days over two weeks excluding weekends)

• Tuesday 27 February to Tuesday 27 March 2018 (five days over five weeks excluding weekends)

Enrol now t: 03 6242 2200 w: companydirectors.com.au/tas5days

06252-1_17
---
10 Tasmanian Business Reporter - DECEMBER 2017

APPOINTMENTS and ANNOUNCEMENTS

IN BRIEF

Cattle Hill

connected

State Energy Minister Guy Barnett, left, with TasNetworks Chief

Executive Officer Lance Balcombe and Goldwind's Managing

Director John Titchen.

TASNETWORKS and Goldwind

have signed a Connection Agreement

for the $300 million Cattle

Hill wind farm project in Tasmania's

central highlands.

The Connection Agreement sets

out the terms and conditions through

which the wind farm is able to successfully

connect to TasNetworks'

transmission network and is another

key step in paving the way for the

construction of the 144mW wind

farm.

The 49-turbine wind farm will

contribute to Tasmania's energy security

and increases the state's on-island

renewable energy generation

capacity by more than five per cent.

"This is a key milestone for the

project and highlights the strong

working relationship that exists between

TasNetworks and Goldwind,"

said TasNetworks Chief Executive

Officer, Lance Balcombe.

"We're very excited to be involved

with such a great project and

look forward to working with Goldwind

during the construction phase

over the coming months" Mr Balcombe

said.

Goldwind Managing Director

John Titchen said it was hoped the

project would be fully operational in

2019.

"The project is located adjacent

to TasNetworks' large Waddamana

Substation, it will deliver a significant

addition to the Tasmanian power

supply and provide significant opportunities

for Tasmanian businesses

and the community," Mr Titchen

said.

The project is expected to create

150 jobs during construction and

employ up to 10 permanent maintenance

staff.

Project law

in pipeline

NEW Laws are being drafted by the

State Government to change how

major projects, except for skyscrapers,

are considered. The aim of the

draft laws is to streamline the approval

process and provide greater

certainty, while also requiring that

all relevant and necessary approvals

including environmental, Aboriginal

and heritage approvals must be

granted by the relevant regulators.

After community feedback the

draft laws now completely eliminate

the possibility that it could be used

for skyscrapers.

The revised draft laws will be publicly

released for a further round of

public consultation early in December

but won't be considered by Parliament

before the election.

Aussie Honour

for arts leader

ARTS charity leader, theatre director

and writer, Scott Rankin, has been

named the 2017 Tasmanian Australian

of the Year.

Scott co-founded Big hART, a

charity that uses the arts to shed light

on hidden injustice to bring about

change.

Tasmanian Senior Australian of

the Year is organic farmer Tony

Scherer, Young Australian of the

Year is dental surgeon Dr Jessica

Manuela and Tasmania's Local Hero

is breast cancer fundraiser Judi Adams.

The 2017 Australian of the Year

Awards will be announced on the

eve of Australia Day.

New pump

price practice

FUEL retailers have been given six

months to comply with new standards

for displaying costs.

A new Code of Practice will make

it easier for Tasmanian motorists to

accurately determine the price of

fuel, recognising that discounted

prices are only available in limited

circumstances.

Under the changes, retailers will

be required to display the full price

of fuel on petrol price boards, rather

than a discounted price.

It also ensures that the price on the

advertising board is the same as the

price on the bowser.

The new regulations take effect

from May 7, 2018.

APPOINTMENTS

Tas ICT

CEO Will

Kestin

National role for

ICT boss

THE CEO of TasICT, Will Kestin

has been appointed to represent

Tasmania on the Australian Industry

and Skills Committee (AISC).

Mr Kestin will review cases

across industry sectors for endorsement

and changes to the national vocational

education system and training

policies.

"I look forward to providing

strong representation from our state

to ensure national educational VET

outcomes support and encourage

Tasmania's future," Mr Kestin said.

"As technology has grown into a

constant enabler across all industry

sectors, I've been fortunate enough

to work closely with many industries

and hear about their skills and

training requirements."

New

TasTAFE

CEO.

Jenny

Dodd

Awards call to state's best employers

ENTRIES for Tasmania's Employer

of Choice Awards 2018 are open until

December 15, 2017.

The awards recognise local organisations

which demonstrate contemporary

workplace practices and outstanding

support for staff, including

opportunities for employees to build

an effective work-life balance.

Excellent workplaces help Tasmania

to attract and retain highly

skilled people that drive innovation

and business success.

Employer of Choice accreditation

is a sought after and recognised tick

of approval in the business, community

and service sectors. People who

have a great place to work are more

productive, they advocate for their

employer and help Tasmanian businesses

to provide better services and

win new customers.

General Manager of Business

Services at Stornaway Camille

O'Meara said recognising the hard

work that staff and management had

done to build a supportive and innovative

culture help Stornaway win

an award in 2016.

"Entering the awards meant we

could validate what we know is

great about Stornoway, share this

validation with our employees and

celebrate our successes to date," Ms

O'Meara said. "It is also really important

to benchmark ourselves and

share our learnings with other successful

Tasmanian businesses, identify

what others are doing well, and

continue to learn and develop.

"The awards and regular forums

provide opportunities to work collectively

with others.

Women's Health Tasmania was

recognised as an Employer of

Choice in 2015.

Executive Officer Glynis Flower

said the award confirmed their positive

work culture and helped promote

Women's Health Tasmania as

a supportive workplace.

"We model family friendly policies,

safe structures and practices

and a positive and productive environment

to other employers in our

network," Ms Flower said.

"Being recognised as an Employer

of Choice motivates us towards

continuous improvement.''

Entries for the 2018 Employer

of Choice Awards are open now to

small, medium and large organisations

employing staff in Tasmania.

Visit www.business.tas.gov.au/

eoc or contact Business Tasmania

on 1800 440 026 or email

ask@business.tas.gov.au

Dodd to takeover

TasTAFE

ONLINE learning and change management

specialist Jenny Dodd has

been appointed as the new TasTAFE

CEO.

Ms Dodd's previous roles include

Deputy Chief Executive of Canberra

Institute of Technology and

Chief Academic Officer at TAFE

Queensland.

She will move to Tasmania to take

up the position from February.

The government said Ms Dodd's

appointment would mark a new

start for the embattled organisation,

which has been embroiled in controversy

following the resignation

of former Stephen Conway and a

damning Integrity Commission investigation.

Rapid Response

Reduced Risk

Our Business

Is People

Right Experience
---
Tasmanian Business Reporter - DECEMBER 2017 11

EVENTS NEWS

ABOVE: Sally Chandler, TCCI, left, Ken Moore, NRM South

and Helen Cowley, St.LukesHealth

LEFT: Rod

Knight of

Landcare

Tasmania, left,

Mark Cooper of

Cooper

Automotive

and Michael

Preece of Sales

Consultancy

Tasmania.

ABOVE: Jamie Lawrence, left, Darren Backhouse,

and Matthew Whelan of Westpac Business Bank.

RIGHT: Mark Thomas of M&M Communications,

left and Dr Kim Backhouse.

LEFT:

Mercury

GM Damon

Wise, Moya

Fyfe of UTAS

and Damien

White, CEO

of TasRail.

EVENT:

TCCI Premier's

Cocktail Party.

LOCATION:

Henry Jones IXL Atrium

DATE:

Thursday, November 16,

2017

LEFT: Rod

Spinks of

St.LukesHealth,

and

Stephanie

Mirowski of

WorkSafe

Tasmania.

LEFT:

Roostam

Sadri of

Snowy

Mountain

Group of

Companies,

Premier Will

Hodgman

and Amanda

Quealy of

The Hobart

Clinic.

ABOVE: Tom O'Meara of Tasmanian

Business Reporter, Justice Minister

Elise Archer and Robert Grant,

GM of Marsh.

BUSINESS

2

BUSINESS

YOUR QUICK GUIDE TO SERVICES AND PRODUCTS FOR YOUR BUSINESS

HOBART'S BEST RANGE OF

QUALITY ERGONOMIC FURNITURE

FOR THE HOME AND OFFICE

We specialise in high quality ergonomic chairs,

alternative seating and electronic sit/stand desks.

Flair Office Furniture has been providing quality, affordable office

furniture to homes and offices throughout the Hobart region

for nearly 15 years. We're a locally-based, family-run business

specialising in all types of products, so why not visit us today to

see our fantastic range?

www.flairofficefurniture.com.au

Phone 6234 1127

260 Argyle Street,

North Hobart

To see your business here, call Kerri on 0419 750 267 or email kerri@thetrustedmediaco.com

Printing Technology

and Tradition.

Here's just some of the things we do regularly...

• Books • Magazines • Newsletters • Catalogues • Annual Reports

• Business Cards • Letterheads • Posters • Flyers • Corporate Branding

• Logo Design • Packaging • Wine Labels • Stickers • Swing Tags

• Mail-Outs • Folders • Forms & Invoices • Variable Data Printing

• Language Translation • Web Design • Proof Reading

• Copywriting • Large Format Signage & Display

Whatever your needs, get in touch.

We're here to help.

more than just fine printers.

p. 03 6332 1400

www.footandplaysted.com.au

99-109 charles street launceston tasmania 7250
---
PROPERTY MATTERS

Tasmanian Business Reporter - DECEMBER 2017 12

Activity surge on East Coast

Scott Newton

Property Matters with

Knight Frank

Knight Frank Tasmania's East Coast team,

Adele Plunkett, Leanne Dann, and Jim

Playsted, update the East Coast

residential market in this month's editorial

TASMANIA'S East Coast is

certainly enjoying a surge in

business and real estate activity.

The 2016-17 financial year

proved to be very positive

with increased sales reported

along the central East Coast.

Sale prices, according to

the Land Information System

Tasmania, ranged from

$45,000 to $1,800,000 with

the mean for the Glamorgan

Spring Bay Municipality being

about $300,000.

It was also encouraging to

see from the Australian Bureau

of Statistics release of

statistics from the 2016 census,

that all the Central East

Coast communities had experienced

an increase in population

growth. Another indication

that our economy is

improving is that our school

enrolments are either improving

or steady, indicating that

families are confident in either

moving to or staying in

their choice of towns.

Employment opportunities

are also on the rise with

a number of new enterprises

starting operations and existing

businesses expanding due

to demand.

Local tradespeople have

also reported that in line with

real estate sales on the climb,

building in the area has escalated,

creating new job openings

to handle the workload.

East Coast Tourism Board

has advised that there has

been a 13 per cent increase

in interstate and international

visitors to the East Coast in

the past 12 months.

Swansea is enjoying its position as a destination on the popular East Coast.

Of those visitors 21 per

cent were from Victoria, 22

per cent from NSW, 17 per

cent from Queensland and the

remaining 30 per cent were

international visitors.

The promotion of the

Great Eastern Drive, national

award-winning tourism ventures,

the expanding viticulture

sector, plus lots of happy

visitors talking about the

scenery and experiences they

have enjoyed, have all helped

with the continuing boost in

visitor numbers.

To help East Coast communities

to manage this

growth and further enhance

local opportunities, the East

Coast Tourism Board has

been meeting with individual

townspeople and businesses

to develop a "Destination

Action Plan" for each of the

major townships.

This will hopefully provide

a strategy to help these coastal

towns to move forward, not

only improving services and

prospects, but also enhancing

the many wonderful assets

that visitors already enjoy.

Although we are currently

experiencing very dry conditions

in the area, farming

and viticulture pursuits

have been enhanced with

the completion of the Swan

Valley Irrigation scheme

this year, which will provide

2,000 megalitres of water

storage.

All water rights were eagerly

purchased by the rural

community and water is

now available from Cranbrook

through to Swansea

allowing farmers to diversify

their holdings with cropping

and stock.

We, the lucky ones who

get to work and live in one

of the most scenic parts of

Australia, are excited about

the increasing strength we

are seeing in our area. There

are lots of new opportunities

for our youth to be able to

gain employment and live

locally as well as welcoming

new residents that also

want to enjoy our peaceful

coastal environment.

Knight Frank wishes you

all a happy and safe Christmas.

PROPERTY VIEW

DECEMBER 2017

Freehold & Business for sale

MOREY BROS PTY LTD

70-96 Franklin Street, Swansea

• Long established (over 50 years) mixed

business including transport, landscape

supplies, fuel deliveries, concrete production

and delivery, and earthmoving services.

• Freehold land of some 1.2ha (approx) over 4

titles. Zoned 'General Residential', but with

existing use rights. Main road frontage

• Multiple storage sheds/workshops, concrete

batching plant and fully bunded fuel storage

facility.

• Beautiful waterfront town with solid local

subdivision sales resulting in demand for

Morey Brothers products.

Ian Reed 0419 670 501

View at KnightFrank.com.au/3762648

For lease

RARE ELIZABETH MALL OPPORTUNITY

2/56 Elizabeth Street, Hobart

• Prime retail tenancy situated in Elizabeth Mall at

the entrance to popular Cat & Fiddle Arcade.

• 147sqm (approx) of ground floor retail area plus

additional storage and kitchenette on first floor.

• Boasts huge frontage and high traffic flow.

• Surrounded by a host of leading national

retailers including Platypus Shoes, Forever

New, Bras N Things, Smiggle, and Pandora.

Hobart has undergone significant changes over

recent times with a number of exciting new

retailers due to join the mix in 2018. Secure your

brand in and 'A-class' position.

SOLD

For sale by Expression of Interest

PROMINENT SANDY BAY OFFERING!

71-73 King Street, Sandy Bay

• Zoned 'Inner Residential' with existing use

rights 'home and shop'.

• Heritage-listed; designated parking at the rear.

• 71 King St: Currently leased, 3 year term

commencing 8 July 2016, fixed 3%

increases, current rental $33,372 pa.

• 73 King St: Owner-occupier opportunity,

currently vacant, most recently rented

residentially for $25,740 pa.

• Fully upgraded throughout in 2016 including

bathrooms, kitchen, A/C, and painting.

• Building: 128sqm*; Land: 272sqm* (*approx).

Matthew Wright 0458 290 588

Tom Triffitt 0414 881 556

View at KnightFrank.com.au/3975128

Sold

WELL SERVICED INVESTMENT

283-287 Liverpool Street, Hobart

• Good lease to long-term tenant – Specialist

Auto Group servicing Hobart for over 20 years.

• 5+5+5 year terms, CPI or 2.5% increases,

market review at options.

• High exposure CBD site, substantial land

holding with well maintained buildings and

excellent car parking.

• Zoned 'Central Business'.

• Building: 775sqm*; Land: 1,235sqm* (*approx).

• Net rent $120,000 pa plus GST.

Outline indicative only

Matthew Wright 0458 290 588

View at KnightFrank.com.au/3974275

Ian Reed 0419 670 501

View at KnightFrank.com.au/3866325

5 Victoria Street, Hobart 41 York Street, Launceston Shop 8, 48-54 Oldaker Street, Devonport

P: 03 6220 6999 P: 03 6333 7888 P: 03 6424 3568