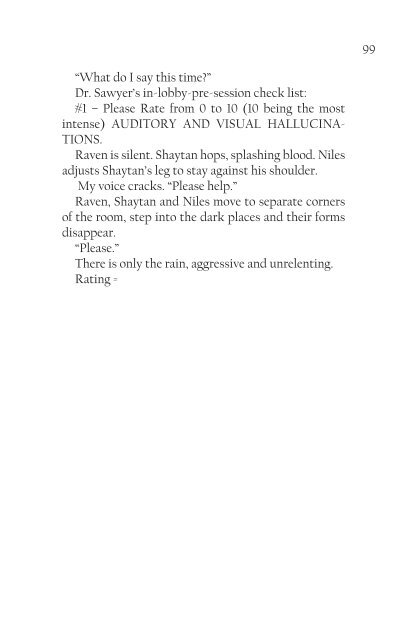 The Haunted Traveler May 2017 Edition
After a brief hiatus, The Haunted Traveler is back to bring you some of the best horror out there. Open up and tread with caution, the next scare is just a page flip away.
"What do I say this time?"

Dr. Sawyer's in-lobby-pre-session check list:

#1 – Please Rate from 0 to 10 (10 being the most

intense) AUDITORY AND VISUAL HALLUCINA-

TIONS.

Raven is silent. Shaytan hops, splashing blood. Niles

adjusts Shaytan's leg to stay against his shoulder.

My voice cracks. "Please help."

Raven, Shaytan and Niles move to separate corners

of the room, step into the dark places and their forms

disappear.

"Please."

There is only the rain, aggressive and unrelenting.

Rating =

99
More magazines by this user