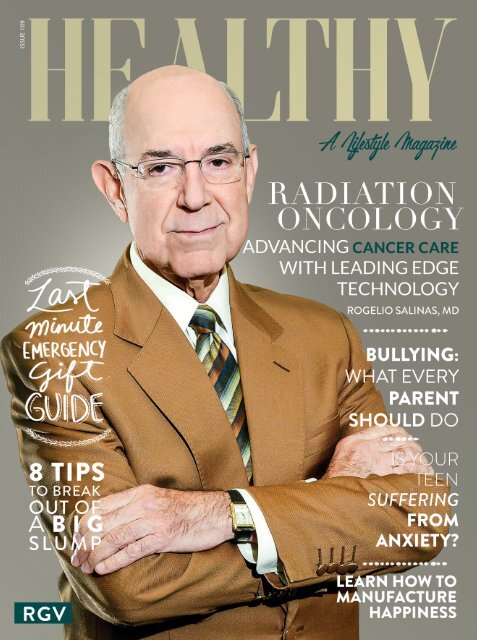 Healthy RGV Issue 109 - Radiation oncology Advancing Cancer Care With Leading Edge Technology
You also want an ePaper? Increase the reach of your titles
YUMPU automatically turns print PDFs into web optimized ePapers that Google loves.
ISSUE 109

EDITORIAL CONTENT

FITNESS & BEAUTY

PREPARE SMOOTHIES

FOR AN ENTIRE WEEK, IN NO TIME!

ARE YOU DEHYDRATED

AND DON'T EVEN KNOW IT?

25 HOLYDAY SONGS

TO ADD TO YOUR WORKOUT PLAYLIST

32

34

36

HEALTHY KIDS

THE BABY CHANGED EVERYTHING

HOW TO BE MORE OPEN & COMMUNICATE

WITH YOUR CHILDREN

BULLYING: WHAT A PARENT SHOULD DO

IS YOUR TEEN SUFFERING FROM ANXIETY?

HEALTHY LIFESTYLE

RADIATION ONCOLOGY: ADVANCING

CANCER CARE WITH LEADING EDGE TECHNOLOGY

MARROW DONORS BRING NEW MEANING TO LIFE-

SAVING DONATIONS

ALZHEIMER'S BRAINS HAVE HIGHER AND DIFFERENT

AMOUNT OF BACTERIA

8 TIPS TO BREAK OUT OF A BIG SLUMP

LAST MINUTE EMERGENCY GIFT GUIDE

MANUFACTURING HAPPINESS

THE NO-FAIL PAT TO GETTING OVER

PROCRASTINATION

contact@healthymagazine.com

ph. 305-900-7009 | www.healthymagazine.

6

8

10

12

14

16

23

24

26

28

30

SNACK HEALTHIER

WITH 10 POWER FOOD COMBOS

38

C

"EVERY ASPECT OF OUR

PATIENT'S CANCER

JOURNEY IS

PERSONALIZED "

Rogelio Salinas, MD
---
PUBLISHER

Mauricio Portillo

EDITOR IN CHIEF

Claudia Portillo

"Being

healthy and

fit is no longer

a fad or a trend

it's a Lifestyle."

MARKETING DIRECTOR

Arnaldo Del Valle

COPY EDITOR

Lora Incardona

ASSISTANT COPY EDITOR

Andres Portillo

WEBSITE DIRECTOR

Maria Alejandra Wehdeking

ART AND DESIGN

Carolina Pedraza

Raul Arenas

PHOTOGRAPHY

Cesar Augusto Tobon

SOCIAL MEDIA DIRECTOR

Maria Alejandra Wehdeking

CONTRIBUTING WRITERS

Craig Tanio, MD

Meg Meeker, MD

Benjamin West, MD

Chef Eric Stein

Sarah May Bates

Jenn Baxter

Cassandra Claude

Alan Freeman

Vanessa Jackson

Rubel Shelly

Eilleen Smith

Claudia Portillo

Julianna Lowe

Claudia Portillo

Editor in Chief

We are finally settling into autumn. The summer days are over, kids settled in classrooms, and sweater weather is

here. Soon, we will begin to prepare for holiday shopping and family gatherings. Before the family rolls into town

and before you shop for your Thanksgiving holiday fare, let's take a few moments to reflect on the year we have had

so far. There's a lot to be thankful for, and we here at Healthy Magazine want to make sure we offer our thanks to

everyone who has impacted our lives and made us want to be better and do better.

A big thank you to all our readers for your continued support throughout the year. We have shared delicious

recipes, offered the latest health news and trends, and have introduced you to new medical procedures, health tips,

wellness tips and advice, and had tons of fun along the way. The response we have received from our readers is

humbling and makes us want to continue to find the most up-to-date information for all.

One major topic we discussed was diabetes. As always, we want to make sure you and those you love are taking

care of themselves. The prevalence of diabetes continues to grow at astronomical levels. As the season of home

cooked meals, rich desserts, and carb overload inches closer, we would like you to know your numbers (A1C) and be

mindful of what you eat and how it affects your body. There's nothing wrong with sweets from time to time, but try

not to overindulge and make sure you are exercising to burn off the extra calories you might consume this holiday

season. Also, remember to check your labels! Sugar has 58 names. Become familiar with them and look for healthy

alternatives for you and your family. This month's issue will explore diabetes and its impact on your health.

What are you thankful for this season? Who has touched your life in positive ways? Who has made you smile? What

brings you joy? Think about those who have changed your life in big and small ways and remember to thank them

for all they have done.

This season is all about love, gratefulness, and family. Take the time to sit and chat, reconnect, share a few laughs,

gather around a table and enjoy a good meal together. Our lives are busy. There's never a dull moment. This time of

year is a good reminder of who and what matters in our lives. Reflect back on this past year, the adventures you have

had, the secrets you have shared, and the love that has never faltered. Embrace the moment, take a look around you

and be thankful for those in your life. We are sure they are grateful for you.

Wishing you love, joy, good eats, and excellent health this November!

Thank you for reading!

cportillo@healthymagazine.com

/HEALTHYMAGAZINE

@HEALTHYVALLEY

/HEALTHYMAGAZINEONLINE

/ HEALTHYMAG08

contact@healthymagazine.com | ph. 305-900-7009 | www.healthymagazine.com

Healthy Magazine is a free monthly publication. All contents are protected by copyright and may not be reproduced without written consent from the publisher. The material

in this magazine is intended to be of general informational use and is not intended to constitute medical advice, probable diagnosis, or recommended treatments. Healthy

Magazine and its contributors accept no responsibility for inaccuracies, and the advertiser is solely responsible for ad content and holds publisher harmless from any error.
---
HEALTHY LIFESTYLE · DECEMBER 2017

THE BABY

CHANGED

EVERYTHING

"The Luck of Roaring Camp" is a piece of

American fiction from Bret Harte (1836-1902)

that captures something of the hope motif

that is at the heart of the Christmas story. I'd

never heard the story before a reference to

it by Bruce Thielemann in a sermon several

years back. Maybe it's new to you as well.

Roaring Camp was portrayed as the coarsest,

meanest, toughest mining town in the Wild

West of 1805. It was a terrible place where

theft and murder were commonplace,

inhabited entirely by men – and one "coarse,

and, it is to be feared, a very sinful woman"

named Cherokee Sal.

Sal died in the process of giving birth to a

baby. The men in that harsh place took her

infant and put him in a box that had shipped

dynamite sticks with some old flannel rags

under him. After burying Sal, they tried to

figure out what to do with the baby. Send

him to the closest camp with women that

was forty miles away? There were too many

dishonest, untrustworthy souls there to

trust the baby's welfare to them! Try to find

a woman they could hire to come to Roaring

Camp to be his nurse? No "decent woman"

would come there, they decided!

To make a short story shorter still, they

decided to keep the baby right there in

Roaring Camp – where he thrived and was

named "Luck." Tommy Luck. They sent one

of their number to a town eighty miles away

to buy a real cradle. Another was dispatched

to Sacramento to get proper blankets and

supplies. But a rosewood cradle and baby

blankets made the house they were in look

filthy.

So those tough men got on their hands and

knees and scrubbed the floor clean. That

only made the dirty walls more apparent.

They washed them down. But clean walls

only made the bare windows look like they

needed curtains. And so on and so on.

Since babies need lots of sleep, they stopped

their raucous brawling and fighting. And as

the boy began to imitate sounds and learn

language, they cleaned up their vocabularies

and stopped swearing. As he began to try to

walk and eventually was big enough to play

outdoors, they planted grass and flowers in

a garden. That was better than the dust and

sand and sharp rocks.

Trying to play with little Tommy, their huge

hands looked so dirty. And they smelled. So

pretty soon the general store was selling lots

of soap and shaving gear. You're following

the story now, aren't you? The baby changed

everything.

On a far grander scale, that is

the Christmas story. God is with

us. There is hope for the worst and

dirtiest and meanest of us. The baby

changed everything.

By Rubel Shelly

6 HEALTHY MAGAZINE
---
Healthy Kids

THE BABY CHANGED

EVERYTHING

HOW TO BE MORE OPEN

& COMMUNICATE WITH

YOUR CHILDREN

BULLYING:

WHAT A PARENT SHOULD DO

IS YOUR TEEN SUFFERING

FROM ANXIETY?

6

8

10

12

"The Light

in a Child's

Eyes is all

it Takes

to Make

Christmas

a Magical

Time of the

Year."
---
HEALTHY KIDS · DECEMBER 2017

HOW TO BE

MORE OPEN &

COMMUNICATE

WITH YOUR

CHILDREN

There's not a parent in

the world who doesn't

want to know that his

child is okay. No matter

how old they are or how

busy our lives get, we

always want to be in the

loop. We ask the requisite

questions: How was class?

What do you have for

homework? Did you turn

in that assignment? The

questions are aplenty, but

are we as parents asking

the wrong questions?

With so many

activities

taking up

much of our

time, it can be difficult to sit

down and have a meaningful conversation

with your children. The nonstop motion

helps to create a disconnect with those we

love the most. Sports, school plays, piano

lessons, karate lessons, you name it, there's

never enough time to just talk.

You might have a rudimentary understanding

of what's going on in your child'rens lives,

but do you really know how they're doing,

what they're feeling, what they're learning?

For most of us, unfortunately, the answer

may be a resounding no. So, how do we

change the dynamics and ensure that

you and your children have meaningful,

memorable conversations, even when the

days are busy and the nights are busier?

You begin by asking open-ended questions

that invite them to tell you more about

subjects that matter to them. For instance,

you can ask what they talked about in the

lunchroom? What was the best part of their

day and why? What did they play during

recess? Or any variety of question that goes

beyond the norm.

The answers to those questions will give you

so much insight into their lives. You'll learn

who their friends are, what's on their minds,

whether they're making friends, if they're

part of a good crowd and more. You'll also

learn some things about yourself by asking

the right questions. You'll get an idea of how

well you're doing as a parent. You'll learn

whether or not your children have taken

your lessons to heart. The answers to those

questions are a good way to track how

well you're doing and to see how well your

children are adjusting to a new grade level, a

new teacher, a new school or new friends.

We all wish we could see our kids in action,

but for most of us that's simply not feasible.

The next best thing is taking the time to

think of questions that matter and asking

them of your children. You'd be surprised

how much your children are willing to

share with you when new and interesting

questions are posed. Who knows? You

might find that your children will actively

seek you out to talk one day. Stranger

things have happened. Your children will,

occasionally, if not more often, want to tell

you about their days. You'll feel a part of

the process and you'll build a healthy bridge

of communication with your children that

will follow you throughout your lifetime.

There's absolutely nothing wrong with that,

especially as the children age and the topics

become more serious. Be thankful you've

got the ball rolling now.

By Sarah Wester

8 HEALTHY MAGAZINE
---
HEALTHY KIDS · DECEMBER 2017

BULLYING:

WHAT EVERY

PARENT

SHOULD DO

Call me old-fashioned, but

I don't let kids in my office

speak in certain ways, much

less bully another in front

of me. My rules are simple.

Kids can express whatever

feelings they want, but they

can't swear, be mean or rude,

and they can't wreck my stuff.

Other than that, they have

quite a bit of latitude.

It worked for my own kids and for 26 years,

it's worked with my patients (well, most

of them.) I have made kids leave my exam

room for being rude to me or their parents.

I have kicked them out of my practice and

once (with a mother's permission) I spanked

a youngster. Yup. He spit on me, and his

mother did nothing. So I did.

I realize that schools aren't private offices

like mine, but I do believe that there is an

increasing tone of disrespect in and around

schools. And not just toward other students,

but against the faculty as well. It's not just

the troubled kids who mouth off at teachers,

either. Often it's the kids whose parents are

involved, highly motivated, and privileged.

Many kids are taught that they have the right

to "challenge" teachers at every turn.

Most teachers can handle kids who give

them a hard time; but what about those who

have less training, who are disadvantaged, or

younger—like Karen Klein, the grandmother

who was recently bullied by some mean boys

while riding a school bus? If you haven't seen

the video, watch it. (Note to reader: the video

features some profanity.) It will break your

heart. These boys should be suspended from

school. Their behavior was outrageous.

So what are parents to do? If you

are worried about your child being

bullied at school, I encourage

you to take a few preventative

measures.

Ways to Help Your Child Avoid Being Bullied

HELP YOUR CHILD WORK ON

01 HIS ASSERTIVENESS.

Nice, quiet, submissive kids get bullied

because bullies know that they aren't going

to fight back. So the more assertive you can

help your youngster be, the better.

YOU CAN ROLE PLAY WITH

02 YOUR CHILD.

Run through a list of what bullies usually say.

Then tell her how they say it and when. Let

her become familiar with a bully's behavior

and then ask what she might say if a bully

told her she was ugly, stupid, or fat. You can

pretend to be the child and let her be the

bully.

MOST KIDS WON'T TELL

03THEIR PARENTS WHEN THEY

ARE BEING BULLIED BECAUSE THE

BULLY THREATENS RETRIBUTION IF

HE DOES.

So tell your child that under no

circumstances should he stay quiet. He must

always tell you. If you suspect bullying but

your child won't say anything, show up at

school unannounced periodically and watch

how he acts around other kids. Does he avoid

kids? Does he eat alone at lunch? If you keep

your eyes open, you'll figure it out.

IF YOU DO FIND OUT THAT

04 YOUR CHILD IS BEING

BULLIED, GO TO THE TEACHER

IMMEDIATELY.

If she shrugs her shoulders, go to the

principal. If the principal refuses to act, call

the bully's parents. If this doesn't work, you

may need to show up at school frequently. If

you can't make any headway and your child

is miserable, switch schools. There is no way

your child can learn in an environment where

she feels badly all day. This is dramatic, but

your child needs to see that you are willing to

fight for her.

FINALLY AND MOST

05 IMPORTANTLY, WORK

HARD TO MAKE SURE THAT

YOUR KIDS ACT RESPECTFULLY

TOWARD EVERYONE—ADULTS,

GRANDPARENTS AND PEERS.

If they grow up believing that they are

expected to adhere to a code of conduct,

they will speak up when that is broken—

particularly when it is broken against them.

By Meg Meeker, MD

10 HEALTHY MAGAZINE
---
HEALTHY KIDS · DECEMBER 2017

Life for them—and us—

is about competition.

Unfortunately, healthy

competition can lead to

unhealthy stress levels

and anxiety.

What your teens want most is to have their

feelings acknowledged and validated for

what they are. They don't need a lecture or a

flippant response. They need to be heard.

We know, as adults, how paralyzing stress can

be for us. It can lead to depression, anxiety,

sleep loss, weight issues, risky and dangerous

behaviors, and so much more. Teens are

already vulnerable to so many of life's

stressors and if we don't help them cope with

their feelings now, we may regret it later.

IS YOUR TEEN

SUFFERING

FROM ANXIETY?

It is up to us, the people who were given

the opportunities to raise them and teach

them life's lessons, to step up to the plate,

hear their concerns, allow them a safe place

to voice their feelings, and help them come

up with solutions to alleviate the mounting

pressures in their young lives. We know that

statistics state that people who don't have a

healthy outlet for their emotions will act out,

or worse, bury their feelings until the dam

bursts. That's not a scenario any parent wants

to face. Do your part now. Speak to your

children. Open the lines of communication.

Help them find healthy coping mechanisms.

Intervene when necessary. Don't let children

handle life on their own.

Parents of teens are used to the idea

that stress is a part of their everyday

lives. With so many commitments

and obligations, they are acutely

aware of their own stress levels. What

they might not ever have considered was

the stress their children, specifically their

teenagers, are under. They may hear their

teens complain about being anxious or

feeling like the world on their shoulders, but

few may realize just how tough that is for

their kids. After all, kids don't typically have

families to feed, bills to pay or any serious

work commitments. At least that's what we

tell ourselves.

The reality is, that's simply not true.

Teens are often just as stressed, if not

more so, than their parents. Homework

and the pressure to succeed is very real

in their lives. Instead of tuning out their

complaints (We get it. They complain

a lot.), take the time to listen—really

listen—to their concerns. Take their

claims seriously because what sounds

like "just a test" to you might be the

most important test of their lives to

them. They are under extreme pressure

to get good grades or to make a team or

to stay connected to their peers.

While, yes, our children may be ready for

some responsibilities, they're in no way ready

to deal with major issues. Give them an outlet

and help them thrive. Look for the telltale

signs that something is amiss. Speak to their

school counselors, teachers or coaches.

There are support systems out there waiting

for you to ask for help. Let your child know

that they are not alone.

By Alan Freeman

12 HEALTHY MAGAZINE
---
Healthy

Lifestyle

RADIATION ONCOLOGY:

ADVANCING CANCER CARE WITH

LEADING EDGE TECHNOLOGY

MARROW DONORS BRING NEW

MEANING TO LIFE-SAVING

DONATIONS

ALZHEIMER'S BRAINS HAVE

HIGHER AND DIFFERENT AMOUNT

OF BACTERIA

8 TIPS TO BREAK OUT OF A BIG

SLUMP

LAST MINUTE EMERGENCY GIFT

GUIDE

MANUFACTURING HAPPINESS

THE NO-FAIL PAT TO GETTING

OVER PROCRASTINATION

14

16

23

24

26

28

30

"No One is

Useless in

This World

who Lightens

the Burden's

of Another."

-Charles Dickens
---
" EVERY ASPECT OF OUR

PATIENT'S CANCER

JOURNEY IS

PERSONALIZED "

Rogelio Salinas, MD

Radiation Oncology

Advancing Cancer Care with Leading Edge Technology

Every day, new, innovative technologies are developed that are changing our everyday

lives. The newest smartphones, self-driving cars, and personal virtual reality are just a few.

These advances in technology are not confined to the consumer world, but define our

current cancer care landscape.

Radiation therapy technology in cancer care is continually advancing to provide more

precise and personalized treatment grows. Radiation therapy is one of the most common

and effective treatments available for many types of cancer because it directly targets a

tumor to destroy cancerous cells. And, these advanced, highly effective technologies are

available in your own community.

"Texas Oncology patients can take comfort in knowing that they are receiving the highest

quality of care with the most current techniques and technologies right in their own

communities," said Dr. Rogelio Salinas, a radiation oncologist who specializes in therapeutic

radiology at Texas Oncology–McAllen.

Radiation therapy is delivered by radiation oncologists, like Dr. Salinas, along with a team.

14 HEALTHY MAGAZINE
---
COVER STORY · DECEMBER

PREPARING FOR RADIATION

THERAPY

Before a patient ever receives a radiation

treatment, a customized treatment plan is

developed based on the patient's specific

diagnosis. The first step in the process is

simulation and involves consultation with

a physician and radiation therapy team.

The team specifically plans every part

of your treatment, including the correct

body position for treatment, taking an

imaging scan, making reference marks

for the positions on the skin, and virtual

simulation. In a simulation, the patient is

immobilized (if needed) in their treatment

position and a CT scan performed.

The CT images are used to reconstruct

a virtual image of the patient within the

planning computer, allowing visualization

of the tumor.

These images create an outline of a tumor

and other structures within the patient

that allow oncologists to better treat and

target a tumor.

"

Every aspect of our patient's

cancer journey is personalized,"

said Dr. Salinas. "No single cancer

treatment is right for everyone,

so Texas Oncology creates an

evidence-based plan specific to our

patient's needs.

"

INTERNAL VS.

EXTERNAL RADIATION

About half of all cancer patients

undergo radiation therapy as a part

of their treatment. This treatment

can be performed independently or

in conjunction with other treatments,

such as chemotherapy and/or surgery.

Radiation can be delivered in two

different ways to patients – externally or

internally.

External radiation therapy is the most

common type of radiation therapy used

It focuses high-energy X-rays or electron

beams to specific points of the body where

the tumor is located to destroy the cancer

cells. External radiation therapy can be

delivered through a variety of technologies,

including:

ɖɖ

ɖɖ

ɖɖ

ɖɖ

ɖɖ

ɖɖ

3D Conformal Radiation Therapy,

a therapy that targets radiation to

the exact shape of the tumor while

minimizing effects to nearby organs

and tissues;

Image-Guided Radiation Therapies, a

technology that increases the accuracy

of the radiation delivery;

Intensity Modulated Radiation Therapy,

a technology that allows for accurate

delivery of stronger doses of radiation to

different areas of the tumor;

Stereotactic Radiosurgery, a technology

that uses a computer-guided therapy

system to treat tumors and other

abnormalities of the brain;

Stereotactic Body Radiotherapy, a

therapy used to treat malignant or

benign small to medium size tumors in

critical areas of the body other that the

brain, such as the lung or spine;

Proton Beam Radiation Therapy, an

advanced type of radiation therapy

aimed at destroying cancerous cells

using proton beams.

Internal radiation therapy requires that a lowenergy

radioactive implant is placed inside

the body in or near the tumor. Depending on

the patient's specific cancer and treatment

plan, the patient might receive a temporary

or a permanent implant. The implant

becomes inert over time. Internal radiation

therapy, also known as brachytherapy,

includes two primary types:

ɕɕ

ɕɕ

Low-dose rate brachytherapy, which

inserts radioactive materials into body

tissue near the tumor to deliver low dose

radiation in a permanent or temporary

application

High-dose rate brachytherapy, which

inserts radioactive material close to

the tumor, allowing for a high dose of

radiation to be delivered precisely to the

tumor.

Internal radiation therapy is often used to

treat breast cancer, gynecologic cancer,

prostate cancer or skin cancer.

ADVANCES IN

RADIATION THERAPY

Radiation therapy continues to prove

essential to the advancement of cancer

treatment as a whole. Texas Oncology is on

the forefront of that advancement, offering

the country's most innovative radiation

clinical trials. In affiliation with US Oncology

Research and as a leader in the Radiation

Therapy Oncology Group®, Texas Oncology

offers patients the opportunity to participate

in a significant number of ongoing radiation

clinical trials.

"

Texas Oncology is a leader in

groundbreaking cancer research and

clinical trials in Texas, paving the

way for new breakthroughs in cancer

care," said Dr. Salinas. "We encourage

patients to discuss the benefits and

risks with their physician if they're

interested in participating in a clinical

trial.

"

With the development of modern

technologies, improved equipment, and

other medical breakthroughs discovered

through clinical trials, radiation treatment

will continue to evolve. Physicians now

have access to more diversified and most

advanced treatment options than ever

before. With these technologies as tools,

physicians can fight cancer in the most

effective, personalized manner yet.

15 HEALTHY MAGAZINE
---
HEALTHY LIFESTYLE · DECEMBER 2017

MARROW DONORS

BRING NEW MEANING TO

LIFE-SAVING DONATIONS

Perhaps one of the great joys of my job as a physician is

hearing a patient has found their perfect match. Not

something you expect to hear from a physician? Let me

explain. Patients with blood-related cancers often rely on

blood and marrow donors to aid in treatments. This involves a bit

of genetic matchmaking, among many other factors, between the

patient and marrow donors. When a match is made, it gives patients

a powerful way to fight their cancer. The challenge is that many

Americans have no idea they may hold the key to saving a life.

Blood disorders and cancers aren't talked about as often as other

types of cancers, such as breast and colon cancers. Leukemia,

lymphoma, and multiple myeloma are all blood related cancers

that can either originate in or directly impact the bone marrow.

Once thought incurable, cancers and disorders related to the blood

are now often treated through a blood or bone marrow stem cell

transplant, or BMT. This specialized treatment requires thorough

evaluation and may not be right for all patients. When a physician

identifies an opportunity for a patient to undergo a BMT, many

factors in addition to finding a genetic match determine whether the

treatment is best for that patient.

Think of a BMT as a resetting of the immune system with brand new

cells. The specific type of transplant depends on a patient's diagnosis

and condition, but most transplants work similarly in that bloodforming

cells (or stem cells) are infused into a patient's body to

help it build healthy new cells that will multiply in the body to create

healthy, non-diseased cells. Stem cells can re-build white or red blood

cells as well as platelets in the bone marrow and blood stream.

Where do those healthy, blood-forming cells come from? People

like you, of course. Blood and marrow donations make transplants

possible, but common misconceptions tend to deter people from

donating. Here are some things to consider before opting out of

registering to be a donor.

Donating isn't as scary as you may think. If you donate blood

you can donate marrow or cells that help with the rebuilding

of a patient's immune system. For example, one method on

donation involves a machine that draws your blood, takes the cells it

needs and puts the blood back into your body by way of the opposite

arm.

Most donors report minimal side effects. Though there's a bit

more to it than, say, dropping by a local blood drive, donors

generally report minimal side effects. Headaches, fatigue, and

general discomfort in the days following the donation have been

reported, but this is normal and varies by person.

It's easy to register as a donor. The National Marrow Donor

Program matches donors with potential transplant patients.

The Be the Match program, a database of donors, helps

healthcare providers find life-saving bone marrow donors. You can

easily register today by visiting the website at www.BeTheMatch.

org and giving a cheek swab. A diverse range of donors are needed,

particularly for minority registrants.

Across Texas Oncology's expansive network of more than 420

physicians, we're focused on oncology and blood disorders in both

children and adults. I have witnessed the incredible gift donors

provide to our patients. I encourage everyone to sign up to be a

donor. It can be life-saving.

BENJAMIN WEST, M.D

Benjamin West, M.D., Texas Oncology is a radiation oncologist

at Texas Oncology McAllen, 1901 South 2nd Street in McAllen,

Texas. To learn more about exciting advancements in cancer

treatment, visit www.TexasOncology.com

or call 1-888-864-I CAN (4226).

16 HEALTHY MAGAZINE
---
Weslaco

Texas Oncology delivers high-quality cancer care with leading-edge technology and advanced treatment

options to help patients achieve "More breakthroughs. More victories." in their fights against cancer.

Texas Oncology, a pioneer in community-based cancer care, is an independent oncology

practice with sites of service throughout Texas and southeastern New Mexico. Texas

Oncology patients have the opportunity to take part in some of the most

promising clinical trials in the nation for a broad range of cancers. In

fact, Texas Oncology has played an integral role in gaining Food

and Drug Administration (FDA) approval for 29 of the

latest cancer therapies.

Habib Ghaddar, MD, FACP

Medical Oncology/Hematology

Dr. Ghaddar specializes in medical oncology and hematology. He is board-certified by the American Board of

Internal Medicine in hematology and medical oncology. He received his medical degree from the American

University of Beirut in Beirut, Lebanon. He completed his internship and residency in internal medicine at the Good

Samaritan Hospital/John Hopkins University in Baltimore, Maryland. He completed his fellowship in

hematology/oncology at The University of Texas MD Anderson Cancer Center in Houston, TX. He has been in

practice with Texas Oncology since 1995.

Daniel Farray, MD

Medical Oncology/Hematology

Dr. Farray is board-certified in medical oncology, hematology, and internal medicine. He received his medical

degree in 1998 from the Universidad Nacional Pedro Henriquez Urena in the Dominican Republic and completed

his residency in internal medicine at the Cleveland Clinic Foundation in Cleveland, Ohio. He completed his

fellowship in medical oncology and hematology in 2006 at Cardinal Bernardin Cancer Center/Loyola University

Chicago. Dr. Farray ranked first in his medical school class. He is a member of the American Society of Clinical

Oncology and American College of Physicians.

Weslaco 1330 East 6th Street, Suite 204 Weslaco, Texas 78596 PH: 956.969.0021 FAX: 956.968.9744

www.TexasOncology.com
---
Harlingen

Marco A. Araneda, MD

Medical Oncology/Hematology

Dr. Araneda specializes in medical oncology and is board-certified in internal medicine and medical

oncology. He received his medical degree from San Carlos University in Guatemala and completed a

medical oncology fellowship at East Tennessee State University, Johnson City, Tennessee, as well as a

fellowship in bone marrow transplantation at the University of Florida, Gainesville, Florida. He has special

interests in breast cancer, gastrointestinal malignancies, hematologic malignancies, and molecular

targeted therapy.

Nabeel Sarhill

Medical Oncology/Hematology

Dr. Nabeel Sarhill is board-certified in hematology, medical oncology, and internal medicine. He earned his

medical doctorate from the University of Tishreen Medical School in Lattakia, Syria, and completed his

residency in internal medicine at Case Wester Reserve University in Cleveland, Ohio. His fellowship in

hematology was completed at the University of Texas Health Science Center in San Antonio, Texas, and his

clinical research fellowship in medicine and symptoms management at The Harry R. Horvitz Center for

Palliative Medicine in Cleveland, Ohio. Dr. Nabeel Sarhill is a member of the American Society of Clinical

Oncology, American Society of Hematology, Syrian Medical Association, Syrian Ministry of Health, American

Board of Hematology, American Board of Medical Oncology, and the American Board of Internal Medicine.

Benjamin West, MD

Radiation Oncology

Dr. West is a board-certified radiation oncologist. He was a physicist prior to becoming a physician.

Hayan Moualla, MD

Medical Oncology/Hematology

Dr. Moualla completed his Internal Medicine residency followed by a fellowship in Geriatrics and later a

fellowship in Hematology and Medical Oncology at the University of New Mexico in Albuquerque. For

almost 5 years before joining Texas Oncology, Dr. Moualla practiced in beautiful southern Virginia. He is

Board Certified in Hematology and Medical Oncology with special interest in elderly cancer and blood

disorders. His emphasis is making sure that all patient understand their conditions well and have a good

idea about available options. Dr. Moualla is married and has a boy and twin girls. His biggest pleasure is

spending time with family. He also enjoys soccer, ping pong, badminton and swimming.

Harlingen 2121 Pease Street, Suite 101 Harlingen, Texas 78550 PH: 956.425.8845 FAX: 956.364.6793

www.TexasOncology.com
---
McALLEN

Billie J. Marek, MD, FACP

Medical Oncology/Hematology

Dr. Marek is board-certified and specializes in medical oncology and heamatology. He currently serves as a

director of Texas Oncology and is the medical director for Texas Oncology-McAllen. He has served the Rio

Grande Valley for the past 22 years as a medical oncologist and hematologist, has been recognized as a

"Super Doctor" in oncology for five years in a row, and was recognized as Doctor of The Year for Rio

Grande Regional. Dr. Marek received his medical degree from The University of Texas Medical School at

San Antonio. He completed his fellowship at The University of Texas M. D. Anderson Cancer Center.

Alvaro Restrepo, MD

Medical Oncology/Hematology

"I can be part of your team... and together we can fight the battle." Dr. Restrepo specializes in, medical

oncology and hematology. He completed his fellowship at the University of Miami. He also serves on the

reast Cancer Committee of US Oncology and has completed a fellowship in breast cancer treatment.

Through the Life Beyond Cancer Fundation he established the Texas Oncology–McAllen Breast Cancer

Ride/Walk undraiser to raise funds for Rio Grande Valley cancer patients. To date approximately $30,000 has

been donated to cancer patients in the Rio Grande Valley.

Suresh Ratnam, MD, FACP

Medical Oncology/Hematology

Dr. Ratnam has been with Texas Oncology-McAllen for 13 years, which he joined after completing his

fellowship at the renowned National Cancer Institute at the National Institutes of Health. He has

co-authored several research publications and is passionate about cutting-edge oncology care. He currently

serves on the Pharmacy and Therapeutics Committee of US Oncology and chairman of the Credentials

Committee for South Texas Health System.

Guillermo Lazo, MD

Medical Oncology/Hematology

Dr. Lazo specializes in medical oncology and hematology. He completed his fellowship at The University of

Texas MD Anderson Cancer Center. He is a recipient of several awards including the American Society of

Clinical Oncology Merit Award and is the author of several peer-reviewed medical publications as well as

book chapters. He received the highest honors on the professional examination for his medical doctorate

degree.

McAllen 1901 South 2nd Street McAllen, Texas 78503 PH: 956.687.5150 FAX: 956.687.9546

www.TexasOncology.com
---
Nurul Wahid, MD

Medical Oncology/Hematology

Dr. Wahid was fellowship-trained in medical oncology and hematology at Columbia University College of

Physicians and Surgeons in New York. He is board certified in Hematology and Oncology. He has been

recognized as Physician of the Year at Rio Grande State Center in Harlingen where he has served as senior

attending physician for the past 13 years.

Rogelio Salinas, MD

Radiation Oncology

Dr. Salinas is a board-certified radiation oncologist. He completed his residency training at Memorial

Sloan–Kettering Cancer Center in New York followed by his fellowship at The University of Texas MD Anderson

Cancer Center.

Joseph Litam, MD

Medical Oncology/Hematology

Dr. Litam was fellowship-trained at The University of Texas MD Anderson Cancer Center in Houston. He is well

known in the community and was in private practice for 27 years before joining Texas Oncology. He has special

interest in treating solid tumors.

Benjamin West, MD

Radiation Oncology

Dr. West is board-certified radiation oncologist. He was physicist prior to becoming a physician.

Phoebe Verano, RN, FNP-BC

Nurse Practitioner

Phoebe Cepeda Verano is a certified Family Nurse Practioner, Advanced Practice Registered Nurse, who

received her Masters degree at the University of Texas- Pan American (UTPA) in 2013. She has more than

30 years of experience as a registered nurse, most of it in an adult critical care setting. As a nurse

practitioner, she has the compassion to be a part of a patient's journey through cancer care and believes

that patient education is an important first step following diagnosis and treatment plan development. "I

am committed to preparing cancer patients for their journeys and assuring they know that we are always

here to support them."

Cristelita Parrocho, RN, BSN,CCRN,MSN,FNP-C

Nurse Practicioner

Cristy graduated as a Family Nurse Practitioner from Charles R. Drew University of Medicine and Science in

California. She is also a certified Adult Critical Care Registered Nurse. Before joining Texas Oncology-McAllen

she was a hospitalist with IPC Healthcare. "Cancer is brutal but I believe loving and actually feeling while you

care for these patients will somehow bring upon sunshine in the darkest moments of their lives. It is not

how much time but how much love you put into it."

McAllen 1901 South 2nd Street McAllen, Texas 78503 PH: 956.687.5150 FAX: 956.687.9546

www.TexasOncology.com
---
Brownsville

Balesh Sharma, MD

Medical Oncology/Hematology

Balesh Sharma, MD specializes in internal medicine, medical oncology and hematology. He is board certified by in

medical oncology. Dr. Sharma received an MD Delhi University in New Delhi, India, in 1990, where he also

completed his residency in Anesthesia and Critical Care in 1991. He completed his medical internship at Lincoln

Medical Center in New York in 1992-93. Dr. Sharma completed his residency in internal medicine at St. Vincent's

Medical Center in affiliation with Yale University School of Medicine, Connecticut. In 1998, he completed a

fellowship in hematology and oncology from University of Texas Southwestern Medical Center in Dallas, and has

been in private practice since then.

Marcelo Boek, MD

Medical Oncology/Hematology

Dr Marcelo M Boek specializes in Internal Medicine and Medical Oncology/Hematology. He is board certified in

Medical Oncology and Hematology. He received his medical degree from Federal University of Rio Grande do Sul

in Brazil. He also completed his Internal Medicine residency at Jackson Memorial Hospital- University of Miami.

In 2003 he completed his Fellowship in Medical Oncology and Hematology at John Strogger- Cook County

Hospital in Chicago. Dr Boek then worked as a Medical Oncologist at The Saskatchewan Cancer Agency at The

Allan Blair Cancer Centre in Regina, Saskatchewan, Canada, and as an investigator affiliated with The North

Central Cancer Treatment Group and the National Cancer Institute of Canada. He was also appointed as a Clinical

Assistant Professor with the Division of Oncology, College of Medicine at the University of Saskatchewan and

held this job until he moved back to the United States. Dr Boek joined Texas Oncology in 2006

Carlos Gonzalez-Angulo, MD

Radiation Oncology

Dr. Gonzalez specializes in radiation oncology and internal medicine. He is certified by the American Board of

Internal Medicine as well as the American Board of Radiology, and is a member of the American Society of

Therapeutic Radiation Oncology (ASTRO), American College of Radiation Oncology (ACRO). He completed his

fellowship in radiation oncology at Roswell Park Cancer Institute, in Buffalo, New York, and also completed a

second residency in radiation oncology at Jackson Memorial Hospital/Sylvester Comprehensive Cancer Center,

in Miami, Florida. Aside from his medical practice, Dr. Gonzalez is a Christian lay minister and a student of

ancient Greek.

Mariza D. Oliver, MSN, APRN, FNP-C

Advanced Practice Provider

Mariza is a certified Family Nurse Practitioner, Advanced Practice Registered Nurse, and has a Masters degree in

Nursing Administration. She has over 17 years experience in nursing and has worked in healthcare areas such as

medical-surgical, post-partum, hospice, and home health. She has extensive experience in providing care for the

adult and geriatric population of the Rio Grande Valley.

2150 N. Expressway 83 Brownsville, TX 78521 PH: 956-548-0810 FAX: 956-548-2239 www.TexasOncology.com
---
HEALTHY LIFESTYLE · DECEMBER 2017

ALZHEIMER'S BRAINS HAVE

HIGHER AND DIFFERENT

AMOUNT OF BACTERIA

As researchers diligently look for the root causes

of Alzheimer's disease, one of the critical common

pathways is higher inflammation and potentially

infection.

A recent study in Frontiers in Aging Neuroscience

provides important new evidence that bacterial

infection could be contributing to Alzheimer's

disease. The researchers analyzed eight Alzheimer's

and six healthy brain samples from a brain bank,

where people donate their brains after death for

medical research. They used a technique called next

generation sequencing (NGS) to detect specific

bacterial genes. This technique allows researchers

to see the different types and amounts of bacteria,

similar to how we look at the microbiome in the gut.

THE RESEARCHERS SHOWED 2

MAJOR FINDINGS

Alzheimer's brains have a "strikingly larger" bacterial

load with up to 7-fold larger amounts of bacteria

than normal brains

Alzheimer's brains have

different types of bacteria

than normal bacteria.

Bacteria species associated

skin, nasopharyngeal

and oral areas such as

Firmicutes and consistently

Actinobacteria were found at a much higher level

in Alzheimer's brains.

In the last year, Dr. Rudy Tanzi and his team has

shown compelling evidence in multiple articles that

amyloid has antibacterial properties and that the

production of amyloid be the brain's response to

infection. Loss of integrity of the blood-brain barrier

and chronic infections may be some of the several

root causes of Alzheimer's disease. This recent study

supports that the nasopharyngeal, skin, and oral

areas may be important sources of those chronic

infections.

What are the implications for patients? As we treat

patients with early Alzheimer's and mild cognitive

decline, we believe it is critical to look for evidence

of blood-brain barrier permeability and evidence of

chronic infections in the nasopharyngeal and oral

areas. Helping to address both of these situations is

part of a comprehensive approach to brain health.

"A recent study in

Frontiers in Aging

Neuroscience

provides important

new evidence

that bacterial

infection could

be contributing

to Alzheimer's

disease."

By Craig Tanio, MD

23 HEALTHY MAGAZINE
---
HEALTHY LIFESTYLE · DECEMBER 2017

8 TIPS TO BREAK OUT

OF A BIG SLUMP

We're all familiar with the phrase "in

a slump." We've experienced it at

some time or another in our lives.

Technically, the term slump refers

to teams who are experiencing a

particularly bad losing streak, but for the rest of the

population, it refers to a prolonged period of their

lives when they're feeling defeated, like life will never

get better for them. For some of us, that might mean

we're bored with where we are in life or we feel like

our lives aren't going anywhere.

It's moments like this when a much-needed change

is in order. Motivation or inspiration to move on is

needed, but you might not know how or where to

find it. To begin you have to learn to recognize the

emotions you're experiencing. But how do you know if

it's a true slump or something much more serious?

Do yourself a favor and track

your emotions for the next

two weeks. Write down what

you're feeling, the time of day

and what the circumstances

around you are like (are you at

work, at home, in a crowded bar,

etc.). Focus on anything that

triggers you to feel differently,

whether good or bad. If you see

a consistent pattern of being

down in the dumps, that's the

time to seek professional help.

Let your doctor know what

you're feeling and show her

what you've tracked. Your doctor

can help you come up with

solutions. If what you experience

isn't necessarily a deeper issue

and appears to more related

to boredom, there are simple

techniques to help combat that.

Here are a few tips to help you

get back on track:

Call your feelings what

01 they are. If you can say

them out loud, then you're

halfway to finding your way out

of your slump. The more you talk

about what's going on and

the faster you reach

out to someone

qualified

enough

to help you deal with your

emotions, the better.

Understand that this too

02 shall pass. When you're

at the center of turmoil, it can

be difficult to see the light at

the end of the tunnel. Keep in

mind that you've found your way

out of other situations. You've

survived your share of issues.

Write down little reminders that

you have been through worse

or that what you're feeling won't

last forever.

Don't be afraid to talk

03 about it. Even if you

choose not to seek professional

advice, just the mere act of

discussing your issues with a

trusted friend can help you get

out of your funk.

Do something different.

04 Change your routine.

Take a different route to work or

school. See something new. Start

a new hobby. Do anything that

gets you away from your normal

routine.

Take care of yourself.

05

Seek out inspiration.

06

By Julianna Lowe

24 HEALTHY MAGAZINE
---
Only one heart.

Only one you.

INDIVIDUALIZED HEART CARE,

DEVOTED TO YOU.

No two hearts are exactly the same.

That's why the cardiovascular

specialists of Valley Baptist Health

System pursue an individualized

care plan for every single heart we

encounter. From preventative care to

treating heart conditions, every

element is designed to take care

of our first priority: you.

To learn more about our services or to find a cardiologist near you

call (844) 614-9386 or visit ValleyHearts.com/onlyone

1040 W Jefferson St.

Brownsville, TX 78520

2101 Pease St.

Harlingen, TX 78550
---
HEALTHY LIFESTYLE · DECEMBER 2017

LAST MINUTE

EMERGENCY

GIFT GUIDE

3. a creative child who is a little too sophisticated for

For the Child: Gifts for children are always easier but

usually never creative. If you are in need of a gift for

toys but too young for those expensive watercolors, then a

toy camera would be the most ideal.

CHRISTMAS IS JUST AROUND THE CORNER AND, LIKE EVERY YEAR YOU

STILL HAVEN'T LEARNED TO NOT LEAVE GIFT SHOPPING FOR THE VERY

LAST MINUTE OR MAYBE YOU FORGOT TO BUY THAT PRESENT FOR

YOUR SISTER WHILE YOU WERE TOO BUSY WORRYING ABOUT TOYS

FOR THE CHILDREN.

IN THIS GIFT GUIDE THERE IS A LITTLE SOMETHING FOR EVERYONE,

FROM THE HARDEST FRIEND TO GIFT TO YOUR DAD, FOR WHOM

EVERY YEAR YOU NEVER KNOW WHAT TO GET.

My First Camera, poketo.com $18.00

1. love to finally buy her a house or that oven

For the Mom: Thinking of a gift for the woman who

gave you everything can be really hard. We would

she's always wanted but we are likely still saving

up for those. Instead, why not give her

something small and shiny? Mothers

are well known for loving jewelry and

a simple pair of classic golden hoop

earrings would look stunning!

Interlocking, hollow hoop earrings,

shopanomie.com $84.00

4. overall beauty products. They'll watch the beauty

For the Beauty Addict: We all know someone who

is currently obsessed with makeup, skincare and

gurus on YouTube and will buy all kinds of stuff you didn't

even know you could put on your face. It's okay, though,

because these makeup-obsessed friends are the easiest

people to gift! Every year makeup companies will launch

value or gift sets with sample size products of their best

selling products and sometimes even include a full size! These

value sets come at a discounted price and make excellent

holiday gifts.

2.

For the Dad: Dads are always harder to gift, as we

can't give a shaving kit for the third year in a row. At

some point he'll start noticing we are not putting in

enough effort. A nice modern pair of shoes is the ideal gift to

make dad feel like a cool dad.

Sephora Favorites Skin Wonderland, sephora.com $64.00

271 Boots in Blue, LONGCHAMP, us.longchamp.com $385

26 HEALTHY MAGAZINE
---
HEALTHY LIFESTYLE · DECEMBER 2017

5.

For the Foodie Friend: Some

people love food so much

they actually enjoy being in

the kitchen and will think about strange

things like the quality of pans, knives

and kitchen utensils. These frustrated

chef friends deserve a great set of

knives that are not only great quality

but have a beautiful aesthetic.

Golden 13-Piece Knife Block Set,

anthropologie.com $99.99

8.

For the Fitness Junkie: We all

have that friend that's a little

too into healthy food and will

quietly judge you if you drink a milkshake

instead of a smoothie. Also, I may be this

friend and I may have already put this

item on my shopping cart. It's an on-thego

blender that will make the smoothie

process seamless.

Oster BLSTPB-WBL My Blend 250-

Watt Blender with Travel Sport Bottle,

amazon.com $21.99

6.

For the Fashionista:

These people are

arguably the hardest

to gift but not the most

impossible. The fashionista

friend is different and is always

up to date with the latest

trends. For this friend, I think a

pair of foldable ballerina flats

is the perfect match.

Tieks foldable ballet flats, Lovestruck, tieks.com $265.00

7. into technology may be

For the Tech-Obsessed:

Your friend who's really

constantly judging your choice of

phone or computer but it's okay,

we still love them. In this case, a

pair of stylish, fashionable, good

quality Bluetooth headphones

is the ideal gift for this kind of

person.

Plattan ADV Wireless

Bluetooth® On-Ear Headphones,

nordstrom.com $100.00

9. of Kindles, we can

For the Bookworm:

In the modern era

even read books from our

phones, which means if we

find ourselves buying books,

it might be for the cover

and aesthetic value and your

bookworm friend might love

a good book with a beautiful

cover.

The Happiness Code by Domonique Bertolucci,

anthropologie.com $14.99

the One

You Didn't

10.For

Know You

Had to Get a Gift For: This

one's tricky because this

person came out of nowhere

when they asked you if you

would like a towel set for

Christmas and you're like

"Shoot, now I have to get

you a present too?" But don't

worry, this one is also easy.

A candle is an excellent gift,

who doesn't love a room that

smells good?

No. 10: Sweet Grapefruit Soy

Candle pfcandleco.com $18

By Claudia Portillo

27 HEALTHY MAGAZINE
---
HEALTHY LIFESTYLE · DECEMBER 2017

this power you likely don't know what it's capable

of – and that's awe-inspiring beauty.

By stepping out of your normal – and upping your

bar for everything, you gain a new capacity for

your personal growth. Plus, when you approach

your life in this way, you expand your capacity to

feel love, gratitude and happiness. It's a form of

wisdom and intelligence to act in this way. Once

you get used to it, it's like an increased aliveness

that grows your appreciation and thirst for life.

You have a new scale for valuing time once you

step out of the bounds of your well-tread routine

and the definition of "normal."

So what does that mean for you now, reading this?

Try it out for one day. Step up to the plate in a

bigger way than you normally do. Go beyond and

listen to the little nudge that whispers something

wonderful you should do, if you had more time or

if it didn't cost money. Decide you will go for it in

all of those if's. Just commit to saying 'yes' to that

voice, as a rule.

Happiness is a thought-habit that

for many of us, requires constant

maintenance and deliberate focus.

Though there are many reasons to

feel grateful for our life – they're all around us

all the time - in order to be capable of feeling

that value, we need contrast. Contrast meaning

the complimentary opposite of gratitude

and appreciation: pain or difficult striving. In

other words, a constant state of awareness

of value (happiness) often arrives from a true

understanding of its absence (pain). Without

that contrast, it's easy for life to get stuck in a

middle array of emotions – a permanent state

of "so-so" or "okay." When you live in this

state for long enough, powerful emotions like

gratitude and happiness are assigned to a set of

general milestones (birthdays, weddings, getting

a promotion etc.) but outside of that it can be

frustrating to find a true sense of joy. The real

kind – that moves you to tears, or sticks in your

memory for the rest of your life.

So that kind of joy is what this blog is all about.

You have the power to create that range in your

life, minus the negative contrast. You can actually

manufacture the other half of life's good/bad

contrast by pushing yourself beyond what you say

you are capable of, beyond what is normal and

expected of you in your everyday life. By pushing

yourself to be excellent and great: for friends,

strangers, and for yourself. This manufacturing

of the positive extreme is also how you create

genuine greatness in your person. It is where you

change yourself rapidly and change those around

you because they are witnessing your example.

You become walking inspiration.

For example, let's say you receive a bitter email

from someone clearly in the wrong- you respond

with a kind one. That affects you in dramatic ways

as well as the other person. It's hard to do, but not

that hard. It just takes a conscious decision to act

in this way. "Extreme Positive." Another example

is perhaps with a problem that you don't want to

address – something that you are dreading, but

that you are not being expected to address by

anyone else. Let's say you decide to tackle it and

over-deliver with great efforts. You create a new

reality with that action because of your activation

of "what could be" instead of accepting "what is."

Your awareness of positive possibility is unique

to you. That is your gift to use every day of your

life. You are very much the omniscient narrator

of a film in that you could treat your life just like

a movie that you steer beat-by-beat one scene at

a time. You can have dramatic score and make

the most profound and beautiful emotional arc

ever, with epic and memorable speeches delivered

straight from the heart. The best success

montage, the best adventure montage, or the best

cliché romantic surprise for someone you love -

full of roses and candles and soothing music. It's

all in your power to create, for no other reason

than to make this movie better. Until you claim

Because if you live as that person,

always, you become extraordinary.

You affects on others are profound

and you grow vastly deeper. You

will touch the deeper levels of this

existence that you might only

reach if you had the benefit of

organic contrast.

So in closing, I invite you to be 'ultimate.' Be

profound. Be brave. Be selfless. Be beyond

what is asked or expected from you in all ways.

Choose to act kind and loving toward others

at all times. Be even more generous and work

even harder expecting nothing in return. Go

big demonstrating your love to others and

showing them their value to you. Show up and

bring flowers. Surprise people with real, genuine

consideration. Give people you care about your

undivided time – because of the immense value of

being together in that moment. Be humble and

accept kindness from others, no matter who they

are. Practice embodying greatness of character in

every moment of your life, and you will experience

echoes in the form of the unexpected gifts they

bear. All of it starts with a decision to do so; to

create this positive half of contrast, without a

need for reciprocation or reaction.

That is my invitation to you, today. As you go

about your day, seek an invitation from your

surroundings to be greater and decide now –

ahead of time- that you will listen to that tiny voice

inside of you that says, "It would be great if…"

Listen intently and push yourself to show up as

your greatest self. See how long you can stick to

that habit. I believe you will find you are not only

happier, you are greater.

By Sarah May Bates

28 HEALTHY MAGAZINE
---
HEALTHY LIFESTYLE · DECEMBER 2017

If the job is overwhelming and you

know it will take a lot of time and

effort, instead of going all in and trying

to do everything at once, slow down, break

it apart into manageable tasks and focus

on one piece of the project at a time. The

mere act of doing so will make you feel

better and you'll go home with a sense of

accomplishment as you complete each small

task.

Is the task just an annoying part of

your day? Do you avoid it because you

don't like it? There's a solution for that.

Set a timer or a stopwatch and tackle what

you can, when you can in a short amount

of time. You'd be surprised what you could

accomplish in two, ten, fifteen or twenty

minutes time. You'll soon find that you're

done quicker than you thought.

Shut off all distractions. If the internet,

text messages, phone calls, games or

apps are preventing you from getting

your job done, shut them off, keep them

out of sight or avoid them altogether until

you've completed your task.

THE NO-FAIL PATH TO GETTING

OVER PROCRASTINATION

Procrastination has become a way of

life for busy people and non-busy

people. It's what we do when we

don't want to tackle projects small

or large. It's the bane of our existence and a

much-needed escape route for many of us,

but does it have to be a constant in our lives?

Are we doomed to never getting anything

done on time, if at all?

The answer is no, procrastination doesn't

have to control our every move. We allow

it to. We invite it into our daily lives and

let it sit there in between us and our tasks.

Oftentimes, it can lead to stress, anxiety,

depression, feelings of inadequacy and

even worse, job loss or loss of meaningful

friendships and relationships.

We need to take a good hard look at not

what procrastination is because we know that

already. We're living it. But we need to look at

the reasons why we choose to procrastinate

and what we can do to beat it for good.

Are we hesitating to do something because

we believe we're not qualified to do it? Is

the task too large to tackle? Are we out of

practice or overbooked? Is it fear? Lack of

knowledge or lack of sleep? There are many

reasons we procrastinate. Once you figure

out your reasons, you can craft a plan to

combat your tendencies.

Use time blocking. Look at your

weekly to-do list. Write down how

much time you think each job will take

to complete. (Note: It's much safer to

overestimate than to underestimate.) Mark

off hour, two-hour, three or four-hour blocks

of time to accomplish whatever task you

need to accomplish and work until your time

is up. If you go into your workday blindly,

you'll find yourself unsure of how to proceed

or trying to do too much at once. Focus on

one thing at a time.

Turn off all notifications. If someone

truly needs to get ahold of you,

they'll find a way, in the rare event

something important comes up. Checking

social media is a time suck. Save the

messages for later. Don't check your email.

Shut off alerts. Anything that comes in will

still be there later. Now, get back to work!

By Vanessa Jackson

30 HEALTHY MAGAZINE
---
HEALTHY FOOD · DECEMBER 2017

PREPARE

SMOOTHIES

FOR AN

ENTIRE

WEEK, IN

NO TIME!

You lead a busy life. It probably

feels like you spend your life in

panic mode. Did I remember

to do this or do that? Have I

eaten today? Wait! What? Then

your tummy rumbles and you begin to

feel sluggish. Nope. You forgot to eat.

So, what do you do when you're in a

bind? What do you reach for? Hopefully,

you have healthy snacks on hand when

you're in crunch.

If you want to make your routine a whole

lot easier, schedule in a few minutes

to make your smoothies for the week.

Yes, you read that right. You can make a

week's worth of smoothies in just a few

minutes time.

Freezer smoothies are the answer to

your dietary needs. All you need is a few

simple ingredients, quart size freezer

bags and your freezer. Stock up on your

favorite fresh fruits and veggies and get

ready to add a kick of flavor to your daily

diet. And the best part? You can get your

kids involved! They'll love mixing and

matching their own smoothies too.

If your kiddos

aren't fans of the green

vegetables, no need to worry.

There's a simple solution for

that. Making them smoothies

makes it easy to hide the

offending veggies. Just mix

them right in there with the

ingredients they love and

they'll never know.

Gather some of your favorites ingredients

and let's make some smoothies like this

basic recipe that you can mix and match

with:

ɩɩ

1½ cups of spinach

ɩɩ

½ cup of carrots or cauliflower

ɩɩ

1 whole pineapple, mango, large apple

or 2 pears, or 1½ cups of diced fruit

ɩɩ

Blend in 10-12 ounces of your favorite

juice

Label your bag so you won't have to

guess what the ingredients are and just

maybe you'll get the kids to

pick their own blends for

breakfast.

What ingredients do you

need to have on hand to

keep things simple? Buy a large container

of organic spinach and other leafy

greens. Into your freezer bags go all the

ingredients in this order: chopped veggies,

fruits, leafy greens.

When you place the ingredients in the

blender, you should layer them for the

best results: liquid (juice) first, leafy greens

next, frozen fruits next, and then add the

veggies. The whole idea is to have them

layered in the bag in the opposite order of

how you'll add them to the blender so that

By Chef Eric Stein

32 HEALTHY MAGAZINE
---
Fitness

& Beauty

PREPARE SMOOTHIES FOR AN

ENTIRE WEEK, IN NO TIME!

ARE YOU DEHYDRATED AND DON'T

EVEN KNOW IT?

25 HOLYDAY SONGS TO ADD TO

YOUR WORKOUT PLAYLIST

SNACK HEALTHIER WITH 10 POWER

FOOD COMBOS

32

34

36

38

"Some People

Want it to

Happen,

Some Wish

it Would

Happen,

Others Make it

Happen."
---
HEALTHY LIFESTYLE · DECEMBER 2017

ARE YOU

DEHYDRATED

AND YOU

DON'T EVEN

KNOW IT?

I

have been wanting to write a blog post

on this for a long time and now I have

the perfect reason to do so. A new little

miracle product I've found, called ORAL I.V.

But before I tell you about that, let me ask

you a question.

ARE YOU

DEHYDRATED?

I'm guessing your immediate answer is

probably "No, I drink all the time!" Well,

first, let's cut out all the sodas, coffee,

energy drinks and sports drinks, and just

focus on water.

ARE YOU GETTING

ENOUGH WATER

EVERY DAY?

Chances are, probably not. In fact, studies

have shown that up to 75% of Americans

are chronically dehydrated. Yes, I said

seventy-five percent.

That may sound a little insane at first, but

when you stop to think about it, if you aren't

drinking enough water in the first place, and

then you add to that dehydrating beverages

like coffee and alcohol, and then top it off

with a diet that is high in sodium... there you

have it - dehydration.

It's a pretty common phenomenon that

stretches across all ages, races, income

levels and lifestyles. Because for the

average American, it's not about having

access to water, as much as it is about

making hydration a regular part of their

routine. As well as something they are

mindfully aware of.

Because in many cases, that is the problem.

We are all so busy with our jobs, our families,

social commitments, chores, kids' schedules

and list goes on and on... that often, as silly

as it sounds, remembering to drink enough

water often gets lost in the mix.

Whether you're a mom who has been busy

running errands and chauffeuring around

kids all day, or a busy executive running from

meeting to meeting, it's unfortunately way

too easy to find yourself near the end of the

day and realize you've barely drank a thing.

This also happens in part, to a lack of

knowledge about the symptoms of

dehydration. Many people think when

they're dehydrated, they'll feel thirsty, plain

and simple. But, while that is true to a

certain extent, there are also a lot of other

symptoms of dehydration that can be missed

or mistaken for something else.

For example, fatigue. Feeling fatigued can

often be a sign of dehydration, particularly

when you feel fatigued in the mid-afternoon

hours. But many people who feel this

symptom often attribute it to not having

enough rest the night before or to simply

being bored at work, and will often to try to

"remedy" the situation with an energy drink

or a candy bar. Which in the end, will only

continue the cycle since cravings for sugar

(or salt) are often also a sign of dehydration.

Difficulty with concentration, focus

and memory can also be a symptom of

dehydration, as well as headaches and

feelings of anxiety and irritability. Which

again, means that mid-afternoon slump

where you can't concentrate, feel cranky and

want a nap, may just mean you need more

water!

34 HEALTHY MAGAZINE
---
HEALTHY LIFESTYLE · DECEMBER 2017

WHICH BRINGS US

TO THE INFAMOUS

QUESTION... HOW

MUCH WATER SHOULD

I BE DRINKING?

Although the "8 glasses a day" rule is a myth

and there is no real magic number, you can

get a good idea of how much to drink by

using the simple rule of drinking half of your

body weight in ounces per day. Meaning, if

you weigh 150 lbs., you will want to drink at

least 75 ounces of water each day.

That may sound like a lot at first, but it can

be done easily by spreading it out in small

amounts over the course of the entire day.

If you don't like the taste of plain water,

you can also "spruce it up" by adding fresh

fruits or vegetables (like cucumbers, lemons

or limes) to it or by drinking naturally

decaffeinated herbal tea.

Another easy option for staying hydrated,

particularly if you are on the go, is using a

hydration shot like ORAL I.V. every day. It's

100% natural, organic, gluten-free, sugarfree,

vegan and contains 0 calories. Which

means it's not full of artificial ingredients or

chemicals that your body does not want or

need. So it fits in perfectly with your clean

eating diet!

So, what is in it then? Simply, structured

water and trace minerals like sodium,

magnesium, manganese, zinc, potassium,

selenium, chromium and silicon that aid

in our bodies' ability to metabolize water.

Providing our cells with these important

nutrients helps them to hydrate almost

immediately and moves water inside of

our cells, where we need it the most.

That means, as opposed to just replacing

electrolytes like many sports drinks do,

ORAL I.V. activates the body's own hydration

processes and basically makes water work

better in our bodies.

It is not meant to be a replacement to

water, but a supplement to water. And the

best part of all, is how convenient they are

to keep on hand. I admit, although I am

MUCH better than I used to be about staying

hydrated (thanks to the adrenal fatigue), I

am still not the best. So, on those days when

I realize I haven't had nearly enough water

and it's the afternoon, I like to grab an ORAL

I.V. to give my body a little boost and then

get back to drinking more water as soon as

I can. They're also great to keep on your

nightstand and drink right before bed, since

they will hydrate you for the eight hours that

you'll be asleep, without the unpleasant side

effect of having to get up in the middle of

the night to use the restroom.

In fact, the best way to utilize a hydration

shot is to take one every day - just as you

would a multivitamin or other supplement.

It'll help your body stay consistently

hydrated (as opposed to riding the hydrateddehydrated

roller coaster) and will allow

your body to work better for you!

The point is, our schedules and

our diets in America today

do not naturally lean toward

healthy bodies, so it's up to

us to take conscious steps

to keep them that way.

By eating whole, organic

foods, using non-toxic

products, exercising

and of course, staying

hydrated.

So, next time you catch

yourself feeling tired, foggy

headed or even suffering with

a headache, stop and ask

yourself, am I dehydrated?

Then, grab yourself a ORAL

I.V. hydration shot and start

drinking more water!

To order your own hydration shots and help

your body stay hydrated, visit

www.oraliv.com.

And remember... keep your worries tiny and

your dreams BIG!

By Jenn Baxter

35 HEALTHY MAGAZINE
---
FITNESS & BEAUTY · NOVEMBER 2017

The day after Thanksgiving isn't just Black Friday; it is the official

start of the marathon of Holiday music THAT follows us into

the new year! Holiday music lovers are in heaven WHILE

humming to "Silent Night" in the department stores or blasting

"Jingle Bell Rock" in their cars. STILL, THERE IS one place and one

moment where holiday songs don't quite

make the cut—the gym; and when

it's time to get pumped in your

workout. Let's face it, "White

Christmas" isn't quite the song

that gets your adrenaline rushing

on the treadmill, spinning bike, or even

in the weight room.

Exercisers will agree that music is a motivator in

increasing energy in workout routines. When the

holidays roll around, temptations all around you can

create the tendency to skip workouts. Making a great

holiday playlist can help you stay in the holiday spirit

while staying right on track with your health and fitness

goals.

So for all of you that blast your holiday cheer

on the speakers while hanging your mistletoe,

drinking your pumpkin spice lattes, wrapping

presents, and baking holiday treats, but can't

do the same in your workout routine—I have it

covered! I have compiled a list of upbeat holiday

songs to keep your body merrily moving.

1. "Underneath the

Tree," Kelly Clarkson

2. "Christmas Tree", Lady

Gaga

3. "What Christmas

Means to Me," Stevie

Wonder

4. "All I Want For

Christmas Is You,"

Mariah Carey

5. "Up on the Housetop,"

Jackson 5

6. "Sleigh Ride," TLC

7. "Merry Christmas,

Happy Holidays,"

NSYNC

8. "My Only Wish,"

Britney Spears

9. "Miracle", Maccabeats

10. "Last Christmas,"

Cascada

11. "Sleigh Ride," Karmin

12. "Christmas In Hollis,"

Run D.M.C.

13. "Drummer Boy",

Justin Bieber, Busta

Rhymes

14. "What Christmas

Means to Me," Hanson

15. "Christmas," Micheal

Buble

16. "Run Rudolph Run,"

CeeLo Green

17. "8 Days of Christmas",

Destiny's Child

18. "Naughty, Naughty

Children," Grace Potter

19. "Last Christmas,"

Ariana Grande

20. "Joy to the World,"

Pentatonix

21. "Christmas Lights,"

Cold Play

22. "One More Sleep,"

Leona Lewis

23. "Christmas Wrapping,"

Kylie Minogue

24. "It's Christmas Time

Again," Backstreet

Boys

25. "Hey Santa," Straight

No Chaser

By Cassandra Claude

36 HEALTHY MAGAZINE
---
HEALTHY FOOD · DECEMBER 2017

SNACK

HEALTHIER

WITH 10

POWER

FOOD

COMBOS

Can you say delicious? – Almonds

04 and plain Greek yogurt. Try it. You'll

love it!

So much goodness – Eggs and

05avocados. Enough said.

Drink something good for you –

06Green smoothie and wheat germ,

the power couple.

Are you a snacker? Do you find

yourself constantly fretting

about your next snack? While

you're working, does your

mind wander to the contents

of your kitchen cabinets or what's in your

freezer or refrigerator? Nothing can be more

irritating than knowing that what you have

on hand at home may not be the best choice

for you. The bottom line is that none of the

salty, sugary, carb-laden foods you tend to

gravitate to will do you or your hunger pangs

any favors. They might just be making you

hungrier and more sluggish, thus, defeating

the purpose of a get-up-and-go snack to tide

you over or infuse a bit of energy in your

body until your next meal.

To compound the problem with poor snack

choices, we combine our unhealthy favorites

and that can be a deadly combination. It's a

mood killer, a diet buster, the first step in a

spiral of emotions and a fast road to feeling

tired, sluggish and irritable. Are you ready

to beat those hunger pangs and get rid of

that hangry feeling you have in the midafternoon?

Here ten great options that can

help you get through your day and keep you

full and healthy when you need it:

The power combination – Avocados

01 and tomatoes. Oh, so good and

good for you! Slice 'em, dice 'em and throw

'em onto a plate with your favorite greens

and you're good to go for hours.

Load up on fiber and protein –

02 Apple slices and all-natural peanut

butter. Yummy goodness that will keep you

going and boost your brain power.

03

It's not just for breakfast anymore

– Oatmeal and pumpkin seeds or

fruit is the perfect filling treat.

We kid you not – Sweet potatoes

07 and black beans, oh, my!

What a treat! –

08 Veggie chips and

hummus

I'll have

09 another

– Chocolate

soy milk and a

banana for your

midmorning

snack? Yes, please!

A favorite for the ages – Cottage

cheese and fruit. Make mine a

10

By Eilleen Smith

38 HEALTHY MAGAZINE