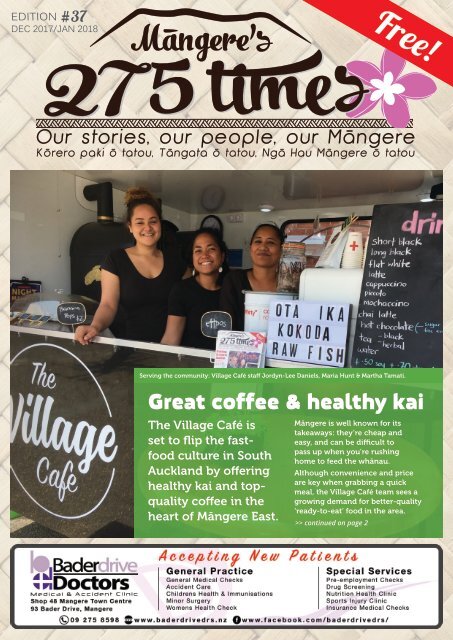 275 Times December 2017 - January 2018
Mangere community news. This month: Aorere College choir + Lorde, award-winning artist Andy Leleisi'uao, photos from the Mangere East Xmas Festival, sustainable pet beds, a double-shot of the maramataka, and more!
Mangere community news. This month: Aorere College choir + Lorde, award-winning artist Andy Leleisi'uao, photos from the Mangere East Xmas Festival, sustainable pet beds, a double-shot of the maramataka, and more!
SHOW MORE
SHOW LESS
Create successful ePaper yourself
Turn your PDF publications into a flip-book with our unique Google optimized e-Paper software.
EDITION #37

DEC 2017/JAN 2018

275

Māngere's

times

275 times

Free!

Our stories, our people, our Māngere

Kōrero paki ō tatou, Tāngata ō tatou, Ngā Hau Māngere ō tatou

Serving the community: Village Café staff Jordyn-Lee Daniels, Maria Hunt & Martha Tamati.

Great coffee & healthy kai

The Village Café is

set to flip the fastfood

culture in South

Auckland by offering

healthy kai and topquality

coffee in the

heart of Māngere East.

Māngere is well known for its

takeaways: they're cheap and

easy, and can be difficult to

pass up when you're rushing

home to feed the whānau.

Although convenience and price

are key when grabbing a quick

meal, the Village Café team sees a

growing demand for better-quality

'ready-to-eat' food in the area.

>> continued on page 2
---
GREAT COFFEE

& HEALTHY KAI

>> continued from page 1

In response, the small,

dedicated group of locals has

set up a new social enterprise

(and a smart new food truck)

with two main goals:

• y to make healthy food

available in an environment

where it's not the norm, and

• y to create pathways to

employment for local

young people.

TAKING THE PLUNGE

Since opening in front of the

Metro Theatre, Massey Rd, in

August, chef Maria Hunt and

the team have welcomed a

growing stream of customers.

Some are just curious, but

most can't wait to taste the

low-carb/healthy fat (LCHF),

gluten-free, dairy-free and

even vegan options – made

with familiar ingredients

like coconut cream, kumara,

raw fish and koko Samoa.

And while they've been serving

up this delicious kai, the

team have also helped over

12 young people hone their

barista and customer-service

skills behind the counter.

LOOKING AHEAD

The Māngere East Community

Centre is running the Village

Café food truck as a first

step towards a permanent

community café within the

new community centre

planned for Māngere East.

Long-term, the team plans to

open more health-focussed,

locally-run cafés around South

Auckland to help tackle health

inequalities and unemployment.

In the meantime, you can

check them out for yourself:

Wed – Fri, 7:30am – 3pm*

& Sat, 8am – 3pm at Metro

Theatre (Māngere East

Hall), 362 Massey Rd.

@TheVillageCafeMangereEast

@thevillagecafeme

The flash little café truck

is also available for

functions and events!

*Closed for Xmas: 31 Dec – 9 Jan

2

Above: An LPG tanker navigates the intersection at Station and Walmsley Roads,

Ōtāhuhu. (I've dubbed this 'The World's Most Dangerous Intersection'.)

Getting about

by Donna Wynd

Welcome to the first of

a series of articles about

transport, cycling and

other things urban in the

Māngere/Ōtāhuhu area.

When the editor of this fine rag

suggested I write something about

300 words long, I quickly realised

how much there was to be said.

So I've decided that rather than

trying to say everything at once,

I'll make this a regular column

on whatever interests me (and

hopefully you) about getting

around our community.

Burning questions

Residents of Māngere and Ōtāhuhu

know there is much to discuss:

• y Where are the safe cycle lanes

on the Great South Road?

• y How can we make it safer for our

kids to walk and cycle to school?

• y What will be done to improve

safety and accessibility for

pedestrians, cyclists and the

disabled around the Ōtāhuhu Train

Station – and it's road frontage –

that I have dubbed 'The World's

Most Dangerous Intersection'?

• y How can we make all of this

work in the context of our

rapidly changing environment?

There are other issues that need to

be aired as well. High on the list –

and of particular interest to residents

of Māngere – is rail out to the airport.

Rail to the airport...?

Some of you may recall the

proposed SMART project. This was

to be an arterial route from the

airport to the city and included

plans for rail to the airport as well

as cycling and pedestrian lanes.

It would have vastly improved

access to both Onehunga and the

airport for people in Māngere.

This project has been quietly

dropped, and heavy rail to the airport

has been ruled out by Auckland

Transport and NZTA (the people

who bring you state highways).

In its place is a vague

promise of light rail.

No one knows what light rail

will cost or where the money

will come from, and it won't be

started till 2020 or thereabouts.

As you can see, there's enough here

to keep us going for quite some time.

Share your ideas

I hope to set up a Facebook

page as a forum where people

can share their ideas.

In the meantime, if you have

anything transport-related that

you think needs to be put out

there, drop me a message at

bikeotahuhu@gmail.com

Donna is an independent researcher

with a background in public policy

and economics. She has a Masters

degree in Economic Geography,

and lives in Ōtāhuhu with 3

dogs, 2 cats, and 6 chickens.
---
Grace's

Place

closed

for good

Community action

has succeeded in

closing down a seedy

Māngere liquor outlet.

Grace's Place in Savill Drive, Māngere

East has been permanently closed

by the Alcohol Regulatory and

Licensing Authority (ARLA).

Grace's Place was a tavern, but

also provided TAB facilities and

pokie machines for gambling.

In June, the Auckland District

Licensing Committee (DLC) decided

not to renew the tavern's liquor

licence, because the primary

activity at the premises was

gambling – not the sale of alcohol

and other refreshments. The DLC

ruled that this was against the

Sale and Supply of Alcohol Act.

The owner of Grace's Place

appealed the DLC's decision.

Usually when such appeals are

made, owners also ask ARLA if they

can continue to trade until their

appeal is heard. But in this case the

owner didn't make that request.

As a result, the tavern's on-licence

expired, and on 11 October, the

275 Times editor Roger Fowler checks the

locked doors of 'Grace's Place' in Māngere East.

Inset: A message on the front door

explained why the tavern was closed.

Auckland Council advised the

owner that she should have

ceased trading on 2 August.

The owner immediately applied

to ARLA to continue trading.

But this move was met with

opposition from Glenn McCutcheon,

a Māngere resident and member

of 'Communities Against Alcohol

Harm', who also opposed the initial

licence-renewal application.

Glenn was concerned that Grace's

Place had been trading without a

licence since August. She pointed

out that ARLA couldn't allow the

tavern to trade when the licence had

already expired. The

owner's application was too late.

ARLA agreed, and ordered Grace's

Place to close until a decision on

the appeal had been made.

The appeal was heard on 16

November and on 29 November

ARLA announced that Grace's Place

must remain closed permanently.

Young speakers find their voices

Public speaking can be scary.

For most teenagers, it's as bad as

getting your teeth pulled out!

Māngere resident Warren Christie

wants that to change. In May he set

up a Toastmasters club just for 11 to

17-year-olds. "I wanted to provide

a supportive environment where

teenagers could build effective

communication skills," Warren says.

"I've been humbled to see the

progress that everyone has made –

from overcoming their nervousness

when speaking, to getting up

and leading the meetings."

The club operates just like Toastmasters

for adults. Members learn

how to improve their listening

skills, give effective feedback and

present their ideas logically.

Warren is also the founder of

the MCBC Toastmasters Club

(for adults), which has members

from all over South Auckland.

Current club president Ruth Malo

is another Māngere resident.

"Her journey with Toastmasters

started last June... now she is

leading the club," says Warren.

"We teenagers and adults alike

started with Toastmasters in the

Above: Warren Christie, founder of MC UTH

Gavel Toastmasters Club for teenagers (left),

with club members Conrad, Reno, Gabriel,

Gaius, Jade & Christian. (Photo: Casey S Clark)

same way: we took the first step to

overcome our fears and amazing

things have happened since."

For more information about

Toastmasters, contact Warren

on 021 0281 8482, or email:

mcbc@toastmasters.org.nz

3
---
1

2

PHOTO GALLERY

6

5

Māngere East

Xmas Festival

The Māngere East Xmas Festival, which was

held on 18 November, also celebrated the

20th anniversary of the Māngere East Centre.

1. Theresa keeps up with the big

girls from Tevarua O Te Rangi.

2. Tigi Ness plays his new guitar – with

grandson Loxmyn Ness on sax.

3. King Kapisi & Teremoana Rapley

4. Māngere East Primary School's

Samoan Group

5. Tia Ormsby's Māori-themed dance

6. Gayne and the Four Fathers belt out a

raunchy version of 'Midnight Special'.

3

4

4
---
Maramataka

By Ayla Hoeta

Kia ora whānau! This issue

of the maramataka will

take you all the way into

2018. See you next year!

Matiti Muramura

(December)

Matiti Muramura is the third

phase of summer. It's still a

great time for planting – and

even better for fishing.

This month the bush and

the seashore turn red with

pohutukawa blossom.

It's an excellent time to

celebrate the warm weather

and head to the beach!

Matiti Kaiwai

(January)

In the fourth phase of summer

the dry ground opens up as

Papatūānuku thirsts for water.

Ngāpuhi people call this time

'Te waru i Kataina e Rehua' –

the eighth month of the year,

when the ground laughs as

a result of the Rehua star.

Tohu o te rangi

Rehua continues to shine bright.

Tohu o te whenua

There are three tohu this

month: pohutukawa, northern

rātā and plums! Early Christmas

plums are ready to eat or

make jam with. This is the

time to start preserving food.

Tohu o te moana

The kahawai that started to

gather last month begin to

run in January. The Oturu

day this month (New Year's

Day) indicates the time that

kahawai start to run.

We'd love to hear from anyone

who lives by a river mouth (or

who goes fishing at New Year's)

whether this tohu was correct.

Don't forget, if you'd like your

own copy of the maramataka

dial, email me at ayla.hoeta@

aucklandcouncil.govt.nz

Kia pai o koutou hararei!

Tohu o te rangi

(Signs in the sky)

Rehua (Antares) will rise in

the east around 8 December.

Tohu o te whenua

(Signs on land)

When Rehua rises the

pohutukawa tree will blossom.

Hawaiians call both the star and

the tree 'Lehua'. They recognise

the connection between them

just as we do in Aotearoa: when

the Lehua star appears, the lehua

(pohutukawa) flower blooms.

Most pohutukawa should

be in flower by mid-

December. You might also

see the northern rātā, which

flowers at the same time.

Tohu o te moana

(Signs in the water)

Kahawai fish start to

gather at the river mouths

from early December.

KEY DATES FOR SUMMER DEC JAN

Rakaunui: Highest energy day 3 2

Oturu & Rakau

Ma Tohi:

Takirau:

Korekore Te

Whiawhia,

Korekore Te Rawea

& Korekore Piri:

Tangaroa A Mua,

Tangaroa A Roto &

Tangaroa kiokio:

Orongonui, Omauri

& Mutuwhenua:

Whiro:

High energy days. Plant

root crops & watery crops.

Plant kumara

& other root crops.

Low energy days – good for

reflecting.

Fishing & planting days.

(On Tangaroa kiokio rats

come out during the day!)

Good days for planting all

types of kai.

Lowest energy day. Best for

resting & planning. Also a

good night to torch for eels.

2 & 4 1 & 3

5 4

7, 8

& 9

10, 11

& 12

14, 15

& 16

6, 7

& 8

9, 10

& 11

13, 14

& 15

17 16

Local artist wins top award

Māngere-based artist

Andy Leleisi'uao has

won the top prize in

NZ's biggest contemporary

art competition.

As the winner of this

year's Wallace Arts

Trust Paramount Award,

Andy will spend six

months working in

New York next year.

His last project of

2017 involves a public

display at the Māngere

Town Centre at midday

on 28 December.

The project commemorates

Black Saturday

(28 Dec 1929), when NZ

military police opened

fire on a peaceful Mau

protest in Apia, Samoa,

killing 11 people –

including the leader

and high chief Tupua

Lealofi III. The efforts

of the Mau movement

eventually led to Samoa's

independence in 1962.

You can see more of

Andy's work online at

http://andyleleisiuao.

blogspot.co.nz

Next stop NYC: Award-winning artist

Andy Leleisi'uao (right) with Pacific

art consultant Marilyn Kohlhase.

5
---
Aorere College Choir provides backing vocals

for Lorde at the 2017 Vodafone Music Awards.

(Photo: Topic/Hannah Rolfe – Courtesy of Pead PR)

6

Aorere Choir

Takes the STAGE

with Lorde

By Shirl'e Fruean

When my teenage

daughter came home

one afternoon – overly

excited that popstar Lorde

had picked her school

choir to perform at this

year's Vodafone Music

Awards – I got just as

excited and amazed too.

As a proud and supportive

Māngere mother, I

knew I had to be there.

So I came up with a

master plan and after

a few phone calls, I

managed to secure media

passes for me and two

of my talented friends

(Gabriel Satiu from

Māngere Art Centre and

Benji Timu from Vlog).

At the Awards' ceremony

I found my daughter

backstage with the other

Aorere College students.

She was so surprised to

see me – we couldn't stop

hugging each other.

When the choir finally

went on stage with

Lorde to perform her

single 'Greenlight', it was

absolutely fantastic. As I

watched the performance

from the media room,

I kept pointing at my

daughter on the TV

monitors. It sure was a

'proud-mama' moment!

The day got even

better when my crew

and I got the chance

to film a promo for the

Hip Hop Summit I've

been organising.

It was brilliant because

we managed to get

everyone we wanted to

make a special shout-out

on the video. (See them

all for yourself at www.

nzhiphopsummit.com.)

The whole event was

such a cool experience

– a dazzling night we

will never forget.

And it looks like Aorere's

performance impressed

Lorde, too. After the

show, she tweeted:

"...a massive thank u to

these gorgeous teen

powerhouses from the

Aorere College choir –

have been a fan since

i was at school & knew

they would beautifully

anchor this hometown

performance of GL."️
---
Clever 7's sustainable business journey

When Māngere

College student

Samir Ali signed

up to take Business

Studies in Year 13,

he got more than

he bargained for.

By Justine Skilling

Talking Rubbish,

ME Family Services

"Our teacher told us we

were going to make and

sell our own product

and I thought, oh my

gosh – what have I got

myself into!" says Samir.

Every year the College

takes part in the Lion

Foundation Young Enterprise

Scheme (YES), a

hands-on programme

where students set up

and run a real business.

Samir was quickly given

the role of Chief Executive

Officer (CEO) by his team

mates, and the group set

to work creating Clever 7.

Sustainable vision

With input from mentors

Lucy Wymer (YES) and

Peter Sykes (ME Family

Services), the group decided

to use recycled materials

in their product, because

of the "huge benefit to the

environment."

They hit upon the idea

of reusing waste tyres

and contacted local

company Moon Motors

who were "delighted to

give the tyres away."

Combining their love of

animals with their desire

to save the environment,

Clever 7 decided to create

Young entrepreneurs: Clever 7's Te Aroha Houston (left) and Elizajane

Mafileo with samples of their prize-winning pet beds.

a pet bed out of the

tyres, using old clothes as

stuffing for the cushions.

After raising $400 in startup

funding by selling hot

food at school, they started

production at Samir's place,

A wobbly start

"Our prototype was a fail,"

admits Samir. "We tried to

paint the tyres, but they

looked horrible. The paint

didn't stick to the tyres

properly and would've

come off in the rain.

"When we started

working on our real product,

we decided to use

spray paint instead."

Clever 7 worked hard

during the construction

phase, fitting this around

their other assessments

and family commitments.

"I wanted everyone to do

what they could," says

Samir. "I didn't want anyone

to feel left out because it's

all about the experience.

It was actually very fun."

The group put their

technical skills to the test

– washing, cutting and

painting the tyres, as well

as sewing and stuffing the

cushions to go inside.

Compliments & sales

With nine pet beds to

sell, the group created

some buzz about their

product on social media

before heading to the

Papatoetoe Night Market

to ply their wares.

"At first we were a bit shy,

but once people came up

and were complimenting

us on our product we

got more confident,"

says Samir. "People were

really amazed at what

we'd done. They'd never

seen tyres being made

into pet beds before."

The group managed to

sell six beds at the market,

and the remaining three

through the school, netting

themselves a small profit.

But the hard work wasn't

over. As part of YES, the

group had 30 seconds

to present their product

to a panel of judges in

Dragon's Den style. "It was

really scary," says Samir.

Award winners

In recognition of their

product's outstanding

contribution to the

environment, Clever 7

took out the Excellence

in Sustainability Award

at the YES Auckland

South Regional Awards.

Their Business Studies

teacher Savitri Nadan is

"very proud of the group's

achievements." She has

seen their confidence

grow and watched

them develop skills in

team work, budgeting,

marketing, communication

and leadership.

A whole new world

For Mentor Peter Sykes,

the benefit of the YES

programme is the in-depth

learning students do about

themselves in complex

systems – balancing family

and school life. "For many,

a whole new world of small

business is opened up – a

cross cultural experience

in itself," he says.

While none of the Clever

7 group will be rushing

out to start their own

businesses just yet, they've

valued the experience

and enjoyed having a

taste of what's involved.

As Samir says, "If you

have a passionate heart

and a skilful mind, you

can do anything you

want in business".

ENROL

NOW

for 2018

free PARENTING PROGRAMMES

Hoki ki te Rito

O – ranga wha _ nau

Mellow Mums & Dads

Mellow Bumps

Antenatal sessions

Incredible

Years

For Parents

Wh – anau

4Wh – anau

Whakat – okia

te Rongomau

Day & evening programmes begin in February 2018

Ma _ ngere East Community Centre, 372 Massey Rd, Ma _ ngere East

ph. 09 263 0798 | e. admin@ohomairangi.co.nz | www.ohomairangi.co.nz

7
---
Community Notices

SOUL – TE KARANGA A HAPE HI – KOI

Join SOUL (Save Our Unique Landscape) for a whānau-friendly

hīkoi along Karangahape Rd. Sat 10 Dec, 10am – 12pm. Meet

at Studio One Toi Tū (1 Ponsonby Rd) at 10am for morning tea,

mihi and karakia. Hīkoi starts at 11am. The hīkoi will include

short stops for kōrero, waiata and kapa haka and will end

at Symonds St. For updates and more info, follow SOUL on

Facebook: @protectIhumatao.

Ihumātao is the place where the tupuna Hape landed in Aotearoa

at the end of his voyage from Hawaiki. Hape is a central character

in many oral histories of the Tāmaki Makaurau region, and

Karangahape Rd commemorates his historical call. SOUL's hīkoi

aims to connect the two sites and to share the group's conservation

kaupapa with a wider audience.

AUCKLAND LIBRARIES – GREAT SUMMER READ

Win passes to some of Auckland's hottest attractions, vouchers,

books and more! Just complete 15 fun reading challenges and

log them on the Auckland Libraries' website. The Great Summer

Read is FREE and it's open to all members of Auckland Libraries.

Prize draws every week. Even if you've just got time to read one

book this summer, you could be a winner. The challenge runs

from 1 Dec 2017 to 31 Jan 2018. Pick up the list of challenges at

your local library, or at www.aucklandlibraries.govt.nz

CALLING PERFORMERS, MUSICIANS & ARTISTS

Do you have a creative project that you'd like to make happen

in Māngere/Ōtāhuhu between Jan & Sep 2018? Does it involve

craft, performance, visual arts, music, film, dance, kapa haka,

spoken word or digital arts? Māngere Ōtāhuhu Arts Brokers

want to help! They're looking for projects that involve the

community in a meaningful way, are led by local people and

have strong creative ideas behind them. If your project is

selected, the Arts Brokers can support you to fulfil your vision,

assist with funding, and also help to find the right location or

people to work with. Applications close 12 Jan. Get all the

details now at www.mangereotahuhuarts.org.nz/news.html

FREE CLASSES IN MA – NGERE EAST

Māngere East Community Centre runs FREE and low-cost

community classes in parenting, te reo Māori, Samoan,

literacy and numeracy, korowai, drivers licence theory, tai chi,

zumba – and more! Visit www.mangereeast.org, email: fiona@

mangereeast.org, ph. 09 275 6161 or drop in to 372 Massey

Road, Māngere East to find out more. Holiday hours / Holiday

programme: The Centre will close on 22 Dec and reopen for the

holiday programme on 15 Jan. Places are limited. To book, call

Maia on 09 275 6161 or email: maia@mangereeast.org

Community Notices are FREE for community groups.

To list your group or event in the next issue, just send

us a 50-word summary by 15 January 2018.

275 times

275

Māngere's

times

Design: Belinda Fowler Editor: Roger Fowler

Publisher: Māngere East Community Centre

275times@gmail.com

www.facebook.com/275times

www

www.275times.com 09 275 6161

Hospitality

Barista

Welding

BUILDING &

CARPENTRY

Forces

Pre-Entry

Recreation

& Sport

NCEA

Level 2

Warehousing &

Forklift Operations

Automotive

Don't

just dream it.

BECOME IT!

FREE

Learners or

Restricted Licence

(conditions apply)

ZERO FEES &

TRAVEL SUBSIDY

FOR 16-19YRS

FREE SELECTED

PROGRAMMES FOR

20+ YEAR OLDS

Fitness &

Exercise

Foundation

Skills

HANDS ON

TRAINING

Conditions apply.

59 TIDAL RD, MANGERE

(09) 257-5732

Text 021 740 807

THE EVENT CENTER

Affordable Venue hire for all your special events, Feel free to contact us now.

book

now

TO BOOK OR VIEW PLEASE CALL

027 200 7368 or 0800 DJ DAVE

792 GREAT SOUTH ROAD,WIRI

www.djdave.co.nz - fb/DJDavesEntertainment

TWR000874

Registered and Accredited with NZQA

NZQA provider rating: Category 1, 'Highly Confident' in both

Educational Performance and Capability in Self Assessment