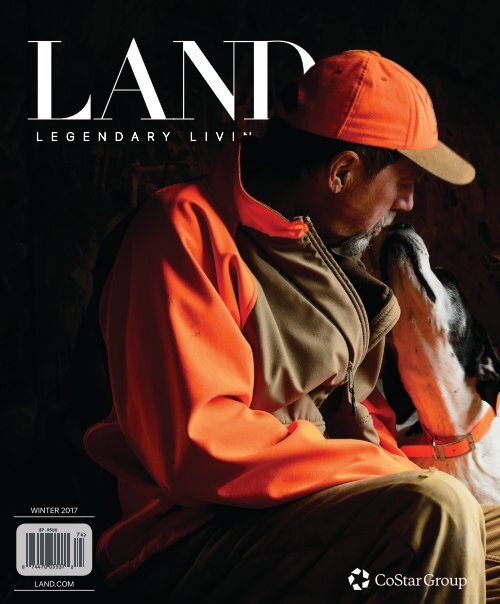 You also want an ePaper? Increase the reach of your titles
YUMPU automatically turns print PDFs into web optimized ePapers that Google loves.
WINTER 2017

LAND.COM
---
ON THE INSIDE COVER

ON THE INSIDE

Our Annual Holiday Gift Guide

Wildfires Wage War on Wild West

Women in Forestry

The History of the Cross Mountain Ranch

I've Been Contacted by a Wind Farm

Wildside of Business: Risk Management 101

Yes, You Should Invest in Land Real Estate

Planning Considerations for Farmers & Ranchers

M4 Ranch Group: A Brand of Excellence

AND MUCH MORE...

COVER PHOTO— CHIP LAUGHTON

daysafieldphotography.com
---
A magical corner of Montana laced with trout-rich rivers,

robust herds of elk, mule and white-tailed deer and more

antelope than one can count.
---
PERFECT

E S C A P E

"When I crested Wolf Point, looking down into the vast

mix of grassy swales, jagged peaks trimmed with Doug

fir growths bisected by the West Boulder river, I knew

I wanted to be part of all of this."
---
CONTENTS

WINTER

2017

ON THE INSIDE COVER

37

WEST BOULDER RANCH

Tom Brokaw's West Boulder Ranch is set in a magical corner of Montana laced with

trout-rich rivers, robust herds of elk, mule and white-tailed deer and more antelope

than one can count.

78

SPOTLIGHT

CROSS MOUNTAIN RANCH

Steeped in rich history, legend and lore, Cross Mountain Ranch is the epitome of the great

American West and one of the largest and most ecologically diverse recreational and

operating ranches on the market today.

37

28

48

BROCHURE

M4 RANCH GROUP - TEAM MURPHY

M4 Ranch Group is celebrating a banner

year thanks to the owners—past and

present—of the exceptional properties

that they've been fortunate to represent.

(Following page 48)

72

BROCHURE

SU-TIAN RANCH

With first-class hunting, outstanding views,

and producing Eagle Ford royalties, this

ranch is conveniently located to both San

Antonio and Corpus Christi.

(Following page 72)

4
---
CONTENTS

LAND LIFESTYLE FEATURES

64

BUYING LAND

YES, YOU SHOULD INVEST IN

LAND REAL ESTATE

68

OWNING LAND

PLANNING CONSIDERATIONS FOR

FARMERS AND RANCHERS

68

For those looking to invest in land real estate,

there are a lot of great resources out there.

While farmers and ranchers confront the same

problems as any business owner, they also face

many unique issues.

74

OWNING LAND

I'VE BEEN CONTACTED BY A WIND FARM,

WHAT SHOULD I DO?

Thinking of housing a wind farm? Chances are

your land can make you a dependable annual

profit for the foreseeable future.

49

PROFILE

M4 RANCH GROUP:

A BRAND OF EXCELLENCE

59

Dan and Michael Murphy, owners of M4 Ranch

Group, are leaving their mark—well, actually

their brand—on Colorado ranch real estate.

59

RADAR

WOMEN OF FORESTRY

For Carolyn Mulligan, the lure of life in the

woods came early.

62

RADAR

WILDFIRES WAGE WAR ON WILD WEST

There are thousands of acres destroyed by the

yellow and orange licking flames. People have

lost hundreds of homes and their personal

belongings, some even their lives.

22

HOLIDAY GIFT GUIDE

56

THE WILD SIDE OF BUSINESS

LAND.COM • LEGENDARY LIVING

22

Just in time for Christmas! Our gift guide is curated

especially for the discriminating land aficionado.

30

FAB 5

Five fabulous properties that caught our eye on

Lands of America—and deserve a closer look

Greg Simons' quarterly column principally

focusing on the enterprise aspects of wildlifebased

recreation that takes place on private

lands across the country

5
---
CONTENTS

PORTFOLIO

COUNTY/CITY ACRES PAGE

ALABAMA

Baldwin 3,636 113

ALASKA

Kenai Peninsula Borough 8.73 34

ARKANSAS

– 6,200 141

ARIZONA

Benson 1,060 109

CALIFORNIA

Alpine 160 153

94

UTAH

BEAR MOUNTAIN RANCH

7,973 Acres in Mount Pleasant

30

El Dorado 41 153

Lassen 1,074 116

Merced 12,221 120

Modoc 646 117

Modoc 1,311 112

Montecito 3 93

Montecito 237 93

44

OREGON

FLYING S RANCH

14,471 Acres in

Canyon City

Monterey 4,009 116

Monterey 5,132 116

Nevada 210 153

San Benito 52 163

San Benito 66 163

San Benito 600 163

San Luis Obispo 363 122

San Luis Obispo 2,240 115

San Luis Obispo 3,065 123

San Luis Obispo 13,570 121

Santa Barbara 12.99 93

Santa Barbara 3,065 123

Santa Clara 18 163

Santa Clara 18 163

Santa Clara 33 163

Santa Clara 12,221 120

Santa Ynez 4,600 97

Shasta 1,500 116

Siskiyou 699 117

Sonoma 3.05 117

Sonoma 199.5 153

Yolo 1,312 117

COLORADO

Arkansas Valley 280 166

Black Hawk 223 110

Castle Rock 38.56 95

Cedaredge 1,195 100

Cimarron 1,163 100

6
---
CONTENTS

170

WYOMING

RIVERS RANCH

37

MONTANA

WEST BOULDER RANCH

78

COLORADO

CROSS MOUNTAIN RANCH

911 Acres in Park County

4,128 Acres in Park County

56,050 Acres in Hayden

93

CALIFORNIA

RANCHO SAN CARLOS

237 Acres in Montecito

142

COLORADO

THE HISTORIC

SLOAN RANCH

191 Acres in

Larimer County

171

NEW MEXICO

MACHO CANYON

RANCH

156 Acres in

San Miguel County

FIND THE PROPERTY YOU LIKE, GO TO

LANDSOFAMERICA.COM AND ENTER THE

PROPERTY ID TO GET ALL THE DETAILS!

LAND.COM • LEGENDARY LIVING

7
---
CONTENTS

PORTFOLIO

COUNTY/CITY ACRES PAGE

Collbran 482 99

Colona 12,575 98

Conifer 338 110

Cortez 200 101

159

COLORADO

RESERVE ON THE

EAST RIVER

in Gunnison County

Crawford 3,400 92

Cripple Creek 360 110

Custer 215 137

Custer 542 84

Delta 709 97

Divide 2,400 156

Douglas 2,038 82

Eagle 80 82

Elbert 6,607 32, 112

Evergreen 6.23 162

Evergreen 46.3 162

92

COLORADO

KNORR LAKESIDE

RANCH

1,125 Acres in

Silverthorne

Evergreen 184 162

Garfield 488 103

Garfield 56,050 78

Grand 1,928 135

Gunnison 923 135

Gunnison – 159

Hayden 160 92

Huerfano 6,200 82

Jackson 287 86

Jackson 1,665 134

Jackson 3,793 134

Jackson 5,815 83

Jefferson 14.42 137

Jefferson 35 137

Larimer 5 143

Larimer 35 143

Larimer 36 143

Larimer 191 142

Larimer 778 85

Las Animas 5,025 144

Meeker 35.91 125

154

TEXAS

WINCHELL RIVER

RANCH

4,567 Acres in

Brown & Coleman

Counties

Mesa 1,720 134

Missouri Heights 35 126

Moffat 56,050 78

Montrose 80 101

Montrose 225 100

Montrose 286 99

Montrose 720 101

Montrose 767 101

Montrose 1,079 100

Montrose 1,100 98

8
---
CONTENTS

COUNTY/CITY ACRES PAGE

Montrose 1,290 100

Montrose 2,455 99

Montrose 2,980 99

Montrose – 168

Naturita 3,000 99

New Castle 1,883 124

Old Snowmass 152 126

Ouray 275 98

Ouray 400 168

Ouray 2,980 18

Pagosa Springs 158 127

Pagosa Springs 9,600 108

Park 35 137

Pitkin 100 83

Placerville 3,247 109

Powderhorn 42 98

Pueblo 340 85

Ridgway 1,681 98

Ridgway 2,142 108

Rio Blanco 2,850 86

Rio Blanco 7,100 134

Rio Blanco 56,050 78

Routt 50 103

Routt 414 103

Routt 423 84

Routt 490 103

Routt 1,388 135

Routt 2,000 103

Routt 56,050 78

San Miguel 400 101

Silverthorne 1,125 92

Snowmass 56 125

Stagecoach 100 92

Steamboat Springs 38 103

Steamboat Springs 10,350 108

Telluride 10.8 168

Weld 32.43 143

Weld 386 83

FLORIDA

Hamilton 241 150

Lake 180 150

Lake 1,494 150

Levy 225 161

Madison 1,116 115

Osceola 524.5 150

Osceola 1,129 150

COUNTY/CITY ACRES PAGE

Volusia 500 150

Volusia 566 150

GEORGIA

Albany 3,890 111

Jasper 401 111

IDAHO

Adams 80 114

Boise 10,560 34

Hagerman 67 111

Horshoe Bend 47 47

Mink Creek 230 133

ILLINOIS

Bond 98.96 118

Calhoun 328 118

Edgar 224 141

Fulton 80 160

Greene 133 118

Jersey 2.77 118

Jersey 50 118

Macoupin 20 119

Macoupin 56.66 118

Madison 17 115

Montgomery 75.46 119

Ramsey 1,148 110

KANSAS

Smith 2,097 83

MASSACHUSETTS

Hampden 60 30

MAINE

Aroostook 7,230 115

MICHIGAN

Luce 8,342 114

Tecumseh 139 169

Tecumseh 178 169

MISSOURI

Laclede 645 114

Unionville 1,900 156

MISSISSIPPI

Carroll 1,700 112

– 6,200 141

MONTANA

Alder 317 45

Beaverhead 31 173

Beaverhead 1,550 173

Bozeman 735 42

Bozeman 894 46

COUNTY/CITY ACRES PAGE

Buffalo 5,054 133

Carbon 1,320 167

Dawson 63 167

Deer Lodge 8,644 132

Fergus 2,286 167

Fergus 4,313 167

Fishtail 345 96

Fishtail 678 133

Glacier 400 86

Golden Valley 5,000 167

Jordan 5,951 133

Livingston 120 46

Livingston 1,750 108

Livingston 4,417 132

Madison 60 84

Madison 3,350 173

Meagher 4,273 167

Park 4,128 37

Powder RIver 1,485 157

Racetrack 2,295 133

Richland 23,050 167

Stillwater 408 167

Sula 301.39 111

Sula 545 110

Sula 2,848 108

Twin Bridges 74 46

Waterloo 120 47

Waterloo 714 109

White Sulphur Springs 14,650 109

NORTH CAROLINA

Eden 1,769 111

NEBRASKA

Crawford 1,800 156

Paxton 2,700 109

NEVADA

Elko 3,175 123

NEW MEXICO

Catron 125 139

Catron 3,200 139

Catron 6,000 139

Catron 39,273 139

Cibola 42,000 173

Grant 1,514 138

Lincoln 3.2 146

Lincoln 59 146

Lincoln 160 146

LAND.COM • LEGENDARY LIVING

9
---
CONTENTS

PORTFOLIO

COUNTY/CITY ACRES PAGE COUNTY/CITY ACRES PAGE COUNTY/CITY ACRES PAGE

Lincoln 180.069 146

Lincoln 375 145

Lincoln 2,300 146

Lincoln 24,442 146

Mora 878 135

Rio Arriba 518 134

Rio Arriba 15,900 138

Rio Arriba 16,309 135

San Miguel 156 171

San Miguel 1,040 145

Santa Fe 19.72 171

Santa Fe 5,000 145

NEW YORK

Central New York 10 148

Northern New York 262 148

Oneida 38 148

Oneida 267 149

Oswego 5.05 148

Oswego 172.44 148

St Lawrence 30 148

Steuben 975 113

Western Adirondacks 8 148

OKLAHOMA

Custer 80 174

Custer 160 174

Custer 160 174

Eufaula 11,504 109

Garfield 160 174

Major 40 174

Tulsa 3,290 108

OREGON

Bend 73 91

Bend 280 91

Canyon City 14,471 44

Dayville 27,178.45 97

Douglas 10.3 136

Douglas 18.71 136

Douglas 52.83 136

Douglas 224.25 136

Grant 198 147

Grant 2,356 147

Junction City 270 47

Klamath 162.5 131

Klamath 1,187 131

Klamath 1,252 131

Klamath 5,514 131

Milton-Freewater 3,541 45

Morrow 720 147

Prineville 106.55 91

Prineville 6,867 90

Redmond 579 91

Sisters 507.86 90

Umatilla 160 147

Umatilla 61,497 112

Unity 5,171 45

Wallowa 5,817 113

Wheeler 20 147

Wheeler 604 147

PENNSYLVANIA

Warren 421 172

SOUTH CAROLINA

Georgetown 912 165

Georgetown 3,734 165

Lexington 204 165

Orangeburg 271 165

Williamsburg 220 165

SOUTH DAKOTA

Butte 3,620 158

Custer 730 32

Davison 372 113

Hand 1,690 141

Lawrence 130 158

Meade 405 158

Sully 158.52 158

TENNESSEE

Cannon 95 130

Dayton 950 44

DeKalb 77 130

Dickson 195 130

Franklin 950 111

Giles 99 155

105

TEXAS

MESA VISTA

RANCH

64,809 Acres in

Roberts County

10
---
CONTENTS

Jefferson 312 130

Robertson 95 130

Sunbright 9,000 44

Williamson 7 128

WASHINGTON

WASHINGTON

COUNTY/CITY ACRES PAGE COUNTY/CITY ACRES PAGE COUNTY/CITY ACRES PAGE

Walla Walla 6,000 141 Newcastle 3,669 152

WYOMING

Johnson 2,124 157

Newcastle 7,361 152

Albany 14,500 114 Park 911 170

Williamson 9.38 129

Williamson 24.4 129

Williamson 32.45 129

Williamson 42.34 128

Williamson 45.45 128

Williamson 51.18 129

Williamson 52.5 128

Williamson 54.41 129

Williamson 57 129

Williamson 89 130

Williamson 157.97 128

Williamson 179 128

TEXAS

Brown 4,567 154

Big Horn 1,000 102

Big Horn 2,150 85

Big Horn 83,604 134

Buffalo 9,986 132

Casper 17,147 152

Cody 680 110

Converse 5,815 85

Dubois 8.5 164

Fremont 208 170

Hot Springs 22,600 97, 102

Johnson 806 84

Johnson 1,043 157

Park 15,000 135

Park 22,600 97, 102

Powell 980 156

Sheridan 320 157

Sheridan 1,945 157

Sheridan 11,071 157

Sheridan 26,000 102

Sundance 2,019 152

INTERNATIONAL LISTINGS

COUNTRY ACRES PAGE

Chile 8,000 86

Mexico 2,500 174

Caldwell 373 151

Coleman 4,567 154

Dale 131 96

Franklin 1,423 104

Gonzalez 373 151

Kendall 123 151

CHILE

VALLE CALIFORNIA

8,000 Acres in Los Lagos Region

86

Lamar 761 96

Lamar 1,610 104

Magnolia 45 96

Markham 2,968 97

Mitchell 3,617 173

Montgomery 147 151

Palo Pinto 973 145

Parker 3,790 154

Roberts 64,809 105

Seymore 2,246 96

Tarrant 3,790 154

Upshur 525 104

Waller 38 97

UTAH

Morgan 12,740 82

Mount Pleasant 7,973 94

Utah 10,237 138

Woodruff 8,595 133

VERMONT

Dorset 100 96

LAND.COM • LEGENDARY LIVING

11
---
CONTENTS

BROKER INDEX

BROKER NAME PAGE BROKER NAME PAGE

American Farm & Ranch 96

Arnold Realty, Inc. 152

Beaverhead Home & Ranch Real Estate 173

Bennett & Associates 173

BHHS Elevated Living Real Estate 162

Blue Wing Properties 165

C3 Real Estate Solutions–John Simmons 143

C3 Real Estate Solutions–NoCo Home Team 142

California Outdoor Properties 116

Cascade–Sotheby's 90

Century 21 Farm & Ranch–Harvey Properties 104

Chase Brothers Properties 157

Chas. S. Middleton and Son | Hall and Hall 105

Christmas & Associates 148

Clark Company Ranch Real Estate 120

Coldwell Banker–Bighorn Realty 159

Coldwell Banker–Mason Morse 124

Coldwell Banker Previews International 163

Crater Lake Realty, Inc. 131

Darlene L. Streit Santa Fe Real Estate Property–Sotheby's 171

Fay Ranches, Inc. 37

Fridrich & Clark Realty, LLC 155

Hall and Hall 108

Harrigan Land Company LLC 134

Hewitt Land Company 158

Keller Williams Erie 172

Keller Williams–Mary Gilbert 136

Keller Williams–Sally Ball & Bill Davis 137

Kuhlman Corporation 169

Land InvesTex, LLC 151

Land Leader 112

LandGuys 160

Lippard Auctioneers 174

LIV–Sotheby's 95

Lone Eagle Land Brokerage, Inc. 98

Mason Morse Ranch Company 156

Maury L. Carter & Associates, Inc. 150

Mexico Ranch Sales 174

Mirr Ranch Group 82

Mossy Oak Properties–Colorado Mountain Realty 166

Mossy Oak Properties–Cupper Creek Land Company 147

Mossy Oak Properties–NM Ranch & Luxury, LLC 146

Nevasca Realty, Inc. 168

Peoples Company 140

Powers Land Brokerage, LLC 102

Premier Intermountain Properties 167

Premier Ranch Properties 138

Ranch Finders 161

Ranch Marketing Associates 103

Ranchline 144

Republic Ranches 154

Sillivent Law Firm Follows 72

Sotheby's–Suzanne Perkins 93

Steamboat–Sotheby's 92

Summit–Sotheby's 94

Swan Land Company 132

Tarrant & Harman Real Estate and Auction Co 118

Team Murphy/M4 Ranch Group Follows 48

The Chickering Company, Inc. 153

Tim Thompson Premier Realtors LLC 128

Western Land Sales 170

Western Mountain Real Estate 164

146

NEW MEXICO

EL CAPITAN RANCH

24,442 Acres in

Lincoln County

12
---
A LETTER FROM THE EDITOR

'm getting the best Christmas present on the planet. I can't wear it on my finger,

but it's a jewel that I can hold in my hands. I can't button it, zip it or model it, but I

can throw it over my shoulder or situate it just so on my lap to be perfectly warm

and content. It's both durable, made of the toughest stuff, and fragile, still waiting

to be formed and shaped. It's beautiful and luminous like sunshine on frost, but can

occasionally erupt like a volcano—with either giggles or tears.

My gift comes with a bow . . . in her hair. My granddaughter, Camden, has moved to

Colorado! She's bringing her parents, too. And they're really cool people, who I love,

but the big news here is that Camden will be living close to her Boopie!

The timing is right. This year, "home for the holidays" has a deeper meaning.

Frankly, I'm doing a happy dance around my Christmas tree and a bit of time

traveling. This news has me flashing back to my own childhood Christmases. The

dog-eared Sears Christmas wish book. Sneaking pinches of cookie dough from

my very Southern grandmother's bowls. Decorated trees that seemed to reach the

sky. Abundant hugs and kisses planted on the top of my head. Family in their good

clothes. Laughter.

These are the Kodak moments stored in my head and heart. These are the best gifts I've

ever been given and passing along similar experiences is my legacy to Camden.

As the decades have passed, I've come to understand that home is where the heart is.

In this issue of LAND, you'll find astonishing places that speak to your heart. Call one

home—and gather your loved ones close. In a world that periodically seems to lose its

collective mind, land, home and family can be counted on.

From me and mine to you and yours—

"Merry everything and a happy always!"

Follow me on Instagram

@LAURETLAND

TOM ALEXANDER

Publisher

LAURET JARVIS

Editor-in-Chief

BRITTANY GILLEN

Production Manager

KATIE GORDON

Designer

LAUREN CARSWELL

Designer

LETTERS + COMMENTS

Lauret Jarvis, Editor-in-Chief, ljarvis@land.com

SUBSCRIPTIONS + INFORMATION

land.com/magazines or email us at magazines@land.com

14

© Copyright 2017 CoStar Group. All rights reserved. No part of this publication may be reproduced without written permission from the publisher. LAND Magazine is published by CoStar Group, 100 Congress Ave, Suite 1500, Austin, TX 78701. Information provided to CoStar Group is deemed

reliable but not guaranteed. The publisher will not be responsible for any omissions, errors, typographical mistakes or misinformation within this publication. Measurements and figures are approximate. Properties are subject to errors, omissions, prior change or prior sale. The real estate advertised

in this magazine is subject to the Federal Fair Housing Act of 1968 and it's amendments. This magazine will not knowingly accept any advertising for real estate which is in violation of the law. Dwellings advertised in this magazine are available on an equal opportunity basis. Printed in the USA.
---
@LAURETLAND

#LANDMAGS #LANDSOFAMERICA #LANDMAGAZINE #TXLANDMAGAZINE
---
CONTRIBUTORS

ADRIENNE WALTERS-ANDERS

Adrienne received a B.A. in Mass Communication from

Winthrop University in 2000 and joined the American

Forest Management team shortly after graduating. She is

responsible for leading, developing and implementing the

communications strategy for the company. Adrienne is also

a Licensed Real Estate Salesperson in South Carolina, her

home of 26 years. americanforestmanagement.com

LORIE A. WOODWARD

Lorie has worked as a writer and public relations practitioner

exploring the intersection of agriculture, natural resources

and public policy for almost 30 years. Her career, which

has included stints in the public and private sector, has

taken her across the country and around the world, where

she has been enthralled by the people of the land and their

stories. She is the president of

Woodward Communications

and co-owner of The Round

Top Register, a regional

magazine focused on life in

the rolling bluebonnet hills of

central Texas where country

meets city. Woodward was

reared on a ranch near

Lexington, Texas, but now

makes her home in Brenham,

Texas, with her two children,

Kate and Will.

JESSA FREIDRICH

Jessa Friedrich, MBA, is

the Marketing Manager

for the REALTORS® Land

Institute. Jessa has a

Bachelor of Science in

Business Administration

and Marketing as well as

her MBA specializing in

Marketing. She has been

with RLI since March 2015

leading their marketing

efforts. rliland.com

LEAD THE CONVERSATION + BECOME A

CONTRIBUTOR ON LAND.COM AND

IN LAND MAGAZINES Learn more at

land.com/magazines/contribute

GIB SURLES

PATTI DAVIS

Patti Davis, Accredited Land Consultant and member of the

REALTORS® Land Institute, is the Broker/Owner of United Country

Real Estate PEDE and Associates in Belgrade, Montana. Davis was

born and raised on a ranch in Montana and continued the ranching

lifestyle until entering the real estate business in 2000. Since then,

she continues to be very active in the agricultural community

throughout the state in not only its real estate organizations but its

agricultural organizations as well. pedeandassociates.com

GREG SIMONS

Gib is principal and

founder of The Forrest

Group, L.L.C., an estate

management firm in Houston, Texas, that

specializes in wealth transfer and business

succession planning. Utilizing life insurance,

his firm works with family-owned businesses

and high net worth individuals in addressing

problems common to the transfer of assets,

lifestyles and financial security to future

generations. Gib graduated from Texas A & M

University in 1985 with a B.B.A in Marketing and

received his Masters of Science in Financial

Services from The American College in 2001.

He was awarded the Chartered Life Underwriter

(CLU®) in 1996, Chartered Financial Consultant

(ChFC®) in 1997, Certified Financial Planner

(CFP®) in 1997, and Accredited Estate Planner

(AEP®) in 1999. Gib joined the New York Life

Insurance Company in June 1985 and while

maintaining his primary relationship with them,

he formed The Forrest Group, LLC. in 1995.

Gib has been married to his wife, Lauri, for 29

years. He has a 23-year-old son, Forrest, and

20-year-old twin daughters, Autumn and Amy.

theforrestgroupllc.com

Greg received a B.S. degree in Wildlife and Fisheries Sciences

in 1987 from Texas A&M University and soon after formed

Wildlife Systems, Inc., a company that currently manages

hunting operations on over 800,000 acres of private land in

Texas and New Mexico. He is also

co-owner of Wildlife Consultants,

LLC, providing technical

assistance to landowners

and other entities on habitat

management and other wildliferelated

issues. Greg served

as President of Texas Wildlife

Association through July 2015.

SUSY BENTO

Susy Bento is the Communications

Specialist and Marketing

Manager at Alcen Renewable.

Alcen Renewable is a utilityscale

developer based in sunny

California. alcenrenewable.com

16
---
LANDMAGAZINES.COM

17
---
ASSOCIATIONS

®

RLI COLORADO CHAPTER

Colorado RLI Chapter

As I look back on the 2017 ranch sales

season, all I can say is "Wow"! This has been

a historic year for Ranch sales statewide. The

combination of legacy ranch properties hitting

the market at values comparable to the early

2000s created the perfect opportunity for

buyers to obtain the once unobtainable rare

earth property. Ranch brokerages such as M4

Ranch Group, Harrigan Land Company, Ranch

Marketing Associates and Mirr Ranch Group

have had outstanding years with combined

sales into the hundreds of millions of dollars

statewide. In western Colorado we have

experienced the same sales cycle and if all

indications stay true, this trend will not stop

anytime soon. Mike McGarry of Lone Eagle has

had an outstanding sales season and will post

great numbers for 2017 as well.

It's hard being a sales guy during a recession—

almost like asking Mrs. Lincoln to give a review

of the play. The overshadowing of the global

downturn created such an unknown forecast,

liquidity became the driving factor in past

ranch sales. Today buyers have the unique

opportunity to buy below historic market

values in a market with a robust economic

forecast. With a DOW exceeding 24,000

and unemployment at a 10-year low, there

is a refreshing fragrance in the air within our

economy. Buyers should realize the time is

"Now" if timing the market is their objective!

On a personal note, I love the holidays. As the

hair leaves my head and what stays has a lot

less color, having the whole family around the

dinner table means so much to me. Collectively,

we are so blessed to live in our great country

and we all have been given so much. I pray that

this season will be filled with a giving heart,

contagious laughter, unmeasurable joy and

peace. Merry Christmas.

Joseph Burns, Realtor®

Lone Eagle Land Brokerage

970.209.4400
---
NEWS & ADVICE

Owning Land

Land.com/News

ENERGY-EFFICIENCY TIPS

FOR OLDER AND

HISTORICAL HOMES

THE A TO Z OF RANCH

MANAGEMENT: AN

EXPERT'S GLOSSARY

BASIC LAKE CONSTRUCTION

TECHNIQUES FOR BUILDING A LAKE

THAT WON'T LEAK

Eco-friendly doesn't have to mean

brand-spanking new. Historic

properties come with colorful stories

that make them worth every penny

you spend on their upkeep. Here's

some tips to save dollars on your

home purchase over the long run.

Read more on Land.com/Learn

As part of our series on finding the

right person to manage your ranch

or land, industry veteran Dan Leahy

takes a detailed look at the various

roles that might be found on the

typical ranch.

Read more on

Land.com/Learn

Brad Vollmar of Vollmar Pond & Lake

Management offers a detailed look

at the process for constructing a new

lake on your property, with plenty of

do's and dont's to make sure your

lake-construction project

succeeds.

Read more on

Land.com/Learn

VISIT LAND.COM TO SUBSCRIBE

TO OUR BIWEEKLY NEWSLETTER

Packed with the latest tips and

advice for land buyers plus

the hottest new land listings

throughout the country.

LAND.COM • LEGENDARY LIVING

19
---
NEWS & ADVICE

Land.com/News

Selling Land

3 ESSENTIAL QUESTIONS

TO ASK BEFORE SELLING

THE FAMILY FARM

THE ANATOMY OF THE

PERFECT LAND LISTING

HOW TO

SELL YOUR LAND

We talk to Jonathan Pellegrin, author

of The Art of Selling the Family

Business, about what it takes to

prepare for and actually sell your

family business.

Read more on Land.com/Learn

While not all land is created equal,

the art of presenting land or rural

property for sale follows the same

general rules—whether it's a farm

for sale amidst an endless sea of

Iowa cornfields or multi-million-dollar

ranch perched in the shadow of the

Rocky Mountains.

Read more on Land.com/Learn

As you contemplate selling your

ranch or land, it is important to have

an understanding of the process

ahead of you. Fay Ranches' Greg

Fay offers his advice from a 30-year

career selling land.

Read more on Land.com/Learn

SHARE YOUR

NEWS WITH THE

LAND COMMUNITY!

Share your latest news with us

by visiting land.com/news/share!

BROKER OF THE WEEK

Find out the Land.com Broker

of the Week each Thursday,

based on the week's biggest

land sales recorded through

the Lands of America

Comparable Sales program.

20
---
Buying Land

Land.com/News

10 THINGS YOU SHOULD

KNOW BEFORE BUYING

RURAL PROPERTY

WHERE TO BUY LAND

FOR RETIREMENT

UNDERSTANDING HISTORICAL

WEATHER PATTERNS TO IMPROVE

RANCH SELECTION

Here are the essential things to know

before you purchase that dream rural

property, land or recreational acreage!

Read more on Land.com/Learn

We look at the various factors that go

into deciding where to invest in land

for retirement, and pick out the best

states for retirees.

Read more on Land.com/Learn

What is the carrying capacity of

a ranch? An extremely important

question that requires an

understanding of regional soil and

water factors as well as historical

weather patterns.

Read more on Land.com/Learn

LISTING OF THE WEEK

Join us each Tuesday as we

profile the most intriguing new

properties for sale throughout

the Land.com Network.

LAND.COM • LEGENDARY LIVING

21
---
C U R AT E D

ESPECIALLY FOR THE

DISCRIMINATING

LAND AFICIONADO

for the home

BIG LEAF MAPLE RIVER TABLE

A husband, father and artist, Greg Klassen lives in the Pacific Northwest and finds

inspiration for his one-of-a-kind creations in the trees, rivers and fields just outside his

door. His pieces are handmade, in the truest sense of the word. He makes one piece at a

time and gives it his full attention, starting with a tree and ending up with functional art.

His work is commissioned, collected and enjoyed by customers around the country.

Find out more GregKlassen.com

FOX MASK

DECANTER SET

Richard E. Bishop's hand-decorated products—with themes from

hunting and fishing to sailing and cigars—lend an air of distinction to any

room. His legendary fox mask products have been a strong seller for

over 30 years and are the perfect classy gift for holiday gatherings.

Find out more RichardEBishop.com

22
---
SANTALUM CANDLE

Ranger Station has built its company and product on a simple idea—that the currency of our lives is

in the experiences we have and the memories that sprout from them. And, it's up to each of us to

take that life by storm. So they'll pour the scent, and you pour the spirit; go find out what ignites you.

That's why, at Ranger Station, your candle is poured into your future favorite cocktail glass. Their

newest release, Scent No. 008: Santalum, features smoking sandalwood and supple tanned leather

combined with the slight spice of cardamom for Ranger Jon's favorite scent to-date.

Find out more RangerStation.co

WATERCOLOR NATIONAL

PARKS CALENDAR

Erin Vaughan is a freelance illustrator and Etsy Shop owner in Los Angeles.

Much of her work is inspired by nature and by her road trip travels

throughout the United States. She creates custom illustrations for clients

and also sells her work in a variety of Brick-and-Mortar shops in the

U.S., as well as in her online Etsy shop. Vaughan's 2018 National Parks

Calendar is available in four editions. These 9"x12", 12-month wall hanging

calendars feature a different National Park illustration for each month

along with a beautiful front and back cover. The best part? Once the year

is over, you can cut out the artwork and use it as 5"x7" art prints!

Find out more

ErinVaughanIllustration.com • Etsy.com/shop/ErinVaughan

CUSTOM SKULL MOUNTS

Seth Patterson, Northwest Ranch Decor Artist at 84 East, creates

original art that celebrates the magnificence of the Pacific Northwest, its

wildlife and scenic grandeur. Patterson upholsters custom salmon and

skull mounts with Pendleton wool fabric. This rustic wall art would look

stunning on any western ranch and will elevate your home and lodge

decor to a new level. Contact Patterson at Seth@SethPatterson.com.

Find out more 84East.com/shop

LAND.COM • LEGENDARY LIVING

23
---
for them

BEAR & SON KNIFE

& SCRIMSHAW KIT

HUNTING & FISHING LOGS

Rustico's fishing and hunting logs are handmade from top-grain cowhide, have roughcut,

cream-colored paper with hand-sewn binding and are secured with leather buckle

closures. The hunting log is designed to be used on any type of hunt, and each log

sports its respective logo on the front cover.

From the days of whale hunts to the American frontier, the Scrimshaw Knife Kit

takes you back in time to when men scribed storytelling images into whale teeth

and buffalo bone. This kit includes a U.S. made Bear & Son knife, step-by-step

instructions and everything else you need to learn and apply the forgotten art

form. Whether you choose a classic sporting scene, phrase or your initials, no

other knife will be quite like yours. Recommended for ages 16 and up.

Find out more Rustico.com

Find out more MollyJogger.com

CITY OF ANGELS BACKPACK

This is the last backpack you will ever need. Whether you are on a three-week

trip through Europe or just pouncing around town on your bike, this will satisfy

all urges. All hand cut and handmade. Solid brass hardware throughout and

adjustable straps. Comfortably fits a laptop and any and all essentials.

Find out more NoahMarion.com

24
---
SOLO STOVE BONFIRE

GENTLEMEN'S GIFT BOX

The Solo Stove Bonfire, the world's most unique fire pit, pushes the

limits of both combustion airflow efficiency and minimalist outdoor

design. The patented air flow of the Bonfire is unmatched to any other

fire pit! This technology helps burn logs completely while minimizing

smoke—making the Bonfire not only easy to clean up, but it won't leave

you smelling like campfire!

Find out more SoloStove.com

Bonnie + Bud creates custom gift boxes with southern-made goods that refine the timeless art

of the occasion. Their gift boxes are inspired by the gifts of love, generosity and gratitude passed

down to them by their grandmother, Bonnie, and their Uncle Bud. They live by the credo that there

is great beauty in simplicity and that giving to others is the truest form of southern hospitality. By

carrying on their tradition of treasuring each occasion in life, Bonnie + Bud endeavors to curate a

collection of gifts that appreciate both the event you share and the relationship you honor. They

ship nationwide. The Gentlemen's Box is perfect for the distinguished gentleman. Contents will

vary as each box is carefully curated. Your gift may include southern barbecue sauces, hot sauces,

whiskey sticks, men's soap and more.

Find out more BonnieAndBud.com

B12 SPEARPOINT KNIVES

William Henry is an American brand creating timeless personal style for men through unique

accessories crafted with honor and integrity. The brand earned its fame for creating exclusive and

award-winning pocket knives and transforming the archetype of all tools into a superb piece of

functional jewelry for men. Knives featured here include: The Spearpoint 'Mariana' and The Spearpoint

'High Plains.' All William Henry knives feature a unique serial number which is engraved into the blade

to assure the authenticity and lifetime traceability.

Find out more WilliamHenry.com

LAND.COM • LEGENDARY LIVING

25
---
for them

BERING MITTENS &

24-HOUR TIN BRIEFCASE

CHARLESTON WATERKEEPER

BUCKLE & BOTTLE OPENER

Support conservation of Charleston's tributaries and coastal waters with this branded

work of art. The CWK buckle represents an organization dedicated to monitoring and

upholding a standard for clean water in Charleston and its coastal waters. Each buckle is

handmade from Tumbaga, a blend of silver, gold and brass. All designs are branded with

the HNH signature to ensure origin and numerical lineage. Due to the handmade nature

of this product, slight variations will occur. Over time each buckle captures a unique

colorful patina emulating the incredible details of this icon.

Headquartered in Seattle, Washington, and renowned for making products in the

U.S.A. from fabrics such as heavyweight Tin Cloth and warm Mackinaw Wool,

Filson stands for the highest quality and most durable apparel and accessories

available. Their Bering Mittens are limited edition, so order yours while you can!

These stylish mittens are warm, traditional long-cuff mittens made with soft,

durable U.S. leather and natural rabbit-fur fringe. The 24-Hour Tin Briefcase is

designed for all weather conditions; this water-repellent Tin Cloth briefcase is fully

lined and features an interior laptop divider, removable shoulder strap, multiple

pockets and trolley strap to loop over luggage handles.

Find out more Filson.com

Find out more HookNHide.com

26
---
for the bookworm

LETTERS TO A

YOUNG FARMER

This book is both a compelling history and a

vital road map—a reckoning of how we eat

and farm; how the two can come together to

build a more sustainable future; and why now,

more than ever before, we need farmers. We

are about to witness the largest retirement of

farmers in U.S. history. Meanwhile, 400 million

acres of farmland are slated to change hands

in the next two decades—an area roughly four

times the size of California. Quite simply: our

future hinges on the investments we make

today in the next generation of farmers.

UNGRATEFUL

MAMMALS

Eggers is one of the most notable writers of his

generation, recognized for several bestselling and

critically acclaimed books. Before he embarked on

his writing career, he was classically trained as a

draftsman and painter. He then spent many years as

a professional illustrator and graphic designer before

turning to writing full-time. More recently, in order

to raise money for ScholarMatch, his college-access

nonprofit, he returned to visual art, and the results

have been exhibited in galleries and museums

around the country. Usually involving the pairing of

an animal with humorous or biblical text, the results

are wry, oddly anthropomorphic tableaus that create

a very entertaining and eccentric body of work from

one of today's leading culture makers.

THE LOG CABIN

Exploring the log cabin's hidden past, this

book draws on colonial diaries and journalistic

accounts, as well as paintings, illustrations

and graphics to show how the log cabin—

once derided as a poor immigrant's hovel—

became an American institution and a modern

ambition. Bursting with quirk, charm and

fascinating trivia, The Log Cabin is the perfect

companion for cabin dwellers, vacationers and

daydreamers alike.

Find out more LettersToAYoungFarmer.org

Find out more BarnesAndNoble.com

Find out more BarnesAndNoble.com

PHOTOBOOK OF THE MONTH

Charcoal Book Club is the world's first photobook club, which curates and sends museum-quality titles

direct to subscribers. For the first time, readers can effortlessly discover the world's best photography,

delivered regularly and affordably to their doorstep. Their selections range from highly anticipated new

releases to rare and out-of-print photobooks—perfect for image makers and lovers of all disciplines,

whether they're seeking inspiration, education or even home/office decor. They work directly with

publishers to offer subscribers incredible quality at affordable prices.

Find out more CharcoalBookClub.com

LAND.COM • LEGENDARY LIVING

27
---
gifts that give

ARROW MAROON

BLANKET

Founder of Sackcloth & Ashes, Bob Dalton was inspired to help the

homeless population when his mother, a hardworking single mother,

found herself living on the streets in 2013. Because of his mother's

story, Bob realized that not all choose to become homeless—some

people just need a second chance. He began to call homeless shelters

in his area to ask what they needed most. . . they all said blankets.

That's when he founded Sackcloth & Ashes. For every blanket you

purchase, Sackcloth gives a blanket to your local homeless shelter.

Sackcloth & Ashes has found its home in the outdoor community,

proving their blankets to be not only striking and comfortable, but

durable and enduring. Check out their new gift wrap option online

and give the gift that gives this holiday season.

Find out more SackclothAndAshes.com

THE GRACE DOLL

The Grace Doll is a soft, huggable doll that comes with tokens for children to give as a random act of

kindness. One for one: for each doll sold, a doll is donated to a child less fortunate. She comes along with

a "kindness kit." Each kit includes 10 tokens with special phrases on them to show gratitude, love and

kindness. These tokens are meant for children to give out as acts of kindness. Also in the kit is a list of acts of

kindness to inspire your child to get started sharing and giving their tokens. The doll has a secret pocket on

the back to store a token. Additionally, each doll comes with a naming certificate.

SPIRIT-INFUSED COFFEE

Fire Dept. Coffee was founded by firefighters on a mission to make the

easiest drinking coffee for this Nation's hard working men and women.

They learned while serving in the military and fire service that caffeine

and good tasting coffee is critical for long nights and high-octane

lifestyles. Their coffee is easy drinking, so it can be enjoyed in the

morning or during those late nights that never seem to end. Every batch

is roasted to order. You order. They roast and deliver—it's that simple.

Portions of every sale go back to military and firefighter charities.

Find out more TheDollKind.com

Find out more FireDeptCoffee.com

28
---
for the foodie

SUPERIOR SWITCHEL

True refreshment isn't sweet. It's switchel. Replenish your inner reservoir with Superior Switchel, a drink

as revitalizing as its Great Lake namesake. Crafted from a curated list of organic ingredients, Superior

Switchel is a hydrating force of nature—delicious on its own, either cold or hot, or as your favorite mixer.

The energy-rich, electrolyte beverage is light, yet full of nourishment and warmth.

Find out more SuperiorSwitchel.com

BOURBON

BARREL-AGED

MAPLE SYRUP

ALL IS BRIGHT

& H O S T E S S

CHOCOLATES

Maggie Louise Confections is an Austinbased

creative confections company that

brings haute couture designs to the world of

chocolate. Launched in 2013, Maggie Louise

Confections has reinvented the classic sampler

box with color, personality and a unique

customization platform making each box of

chocolate a fun and memorable experience

to both create and gift. While some say the

chocolates are almost too pretty to eat, the

company is praised for their nostalgic flavor

palette, making these bite-size confections a

celebrated everyday indulgence.

Pappy Van Winkle taught his granddaughters that to make

the best, you use the best. That's why they grew up using

real maple syrup on (and in) their favorite dishes. When they

decided to make their own, they wanted to find a partner

that shared their love of hand-crafted, high quality products.

They found a perfect match in Bissel Maple Farm. The result

is a perfect marriage of craftsmanship and flavor. Together,

they've made a one-of-a-kind syrup bursting with flavors of

vanilla, butter, oak and, of course, bourbon.

Find out more PappyCo.com

Find out more MaggieLouiseConfections.com

LAND.COM • LEGENDARY LIVING

29
---
FIVE FABULOUS PROPERTIES THAT CAUGHT OUR EYE ON

LANDS OF AMERICA—AND DESERVE A CLOSER LOOK

ALASKA • Otter Cove Resort

COLORADO • Horse Creek Ranch

IDAHO • Boise Ridge Mountain Ranch

MASSACHUSETTS • Boston Country Estate

SOUTH DAKOTA • Stone Meadow Ranch
---
Boston Country Estate

HAMPDEN COUNTY, MASSACHUSETTS

60 ACRES | $4,499,000

PROPERTY ID: 4481092

SEAN FINICANE
---
Horse Creek Ranch

ELBERT COUNTY, COLORADO

6,607 ACRES | $5,500,000

PROPERTY ID: 4716892

JIM DIGBY, HAYDEN OUTDOORS
---
Stone

Meadow

Ranch

CUSTER COUNTY, SOUTH DAKOTA

730 ACRES | $1,970,000

PROPERTY ID: 4751479

JAKE HYLAND, HAYDEN OUTDOORS
---
Boise Ridge

Mountain Ranch

BOISE COUNTY, IDAHO

10,560 ACRES | $10,296,000

PROPERTY ID: 4620265

JIMMY WILLIAMS, WILKS RANCH BROKERS
---
Otter Cove Resort

KENAI PENINSULA BOROUGH, ALASKA

8.73 ACRES | $1,690,000

PROPERTY ID: 3253492

ART SWISHER, COASTAL REALTY HOMER WITH

SPORTS AFIELD TROPHY PROPERTIES
---
36
---
O N T H E I N S I D E C O V E R

W r i t t e n b y T O M B R O K A W

Just east of Livingston, Montana, there is an entrance to the

Absaroka mountains called Swingley Road, a 17-mile stretch

of gravel twisting its way through grassy foothills and then into

sweeping vistas framed by streams and dramatic peaks formed long

ago by the ice age that swept through this breathtaking landscape.

Swingley was once a stage coach trail, linking the Yellowstone

river valley to the Boulder river drainage and a legendary Crow

tribe hunting ground.

It was my initiation into a magical corner of Montana laced

with trout-rich rivers, robust herds of elk, mule and white-tailed

deer and more antelope than I could count.

I was looking for property to accommodate my fly fishing

enthusiasm and to serve as a western base for our urban family.

When I crested Wolf Point, looking down into the vast mix of

grassy swales, jagged peaks trimmed with Doug fir growths

bisected by the West Boulder river I knew I wanted to be part

of all of this.

I was headed to the WBR, a ranch originally homesteaded by

Norwegian pioneers at the turn of the 20th century. A little

more than four thousand acres of Montana bliss.

It was love at first sight and it became an essential part of the DNA

of our expanding family of daughters, sons-in-law and grandchildren.

LAND.COM • LEGENDARY LIVING

37
---
O N T H E I N S I D E C O V E R

We decided early on we wanted comfort and proportion more than

BIG "look at me" braggadocio.

We expanded the original farm house just enough to include a dining

area and fireplace-warmed living room. We added a rustic "homestead" and

improved the hill house to accommodate the next generation of Brokaws and

their instant love affair with riding, fishing, swimming and target shooting.

Meredith and horses were meant for each other so up went a

handsome log riding arena and a new generation of equestrians

saddled up for long trail rides to a back country cabin once used during

round-ups or into the wilderness for overnight outings.

Our days begin with Tom doing his polar bear stunt, jumping into the

53-degree waters of the West Boulder river that bisect the home place.

Emerging, he catches up to the grandchildren gathering the overnight

eggs from the hen house and checks the greenhouse for an assortment

of vegetables for that night's family dinner.

Meredith, daughter Andrea, and son-in-law Charles are already

saddled up in the corrals next to the arena. It could be a leisurely ride

to the Buffalo Head, a large boulder marking a favorite Crow tribe

hunting draw—or joining a neighbor who is moving cows that morning.

I catch up on NBC News business and writing projects in my converted

storm cellar office, a cozy log structure with all the bells and whistles

of the digital age and rooms for my hunting and fishing gear.

Daughters Jennifer and Sarah are taking coffee in the spacious lodge

kitchen, just off the dining area where over the years we've celebrated

anniversaries, birthdays and family reunions watched over by cowboys

and frontiersmen staring down from our collections of Western art.

Upstairs we like to gather for cocktails (margaritas are a house

specialty) before a roaring fire and in front of a wall-sized television

set installed for the Beijing Olympics. It was such a hit we thought

we may have to set up cots for the fishing guide pals who arrived and

didn't want to leave!

Doug and Karen, our co-managers, are so accomplished in the kitchen

and at the grill that our visitors and neighbors relish an invitation,

not because of our company but for the chance to dine on grilled elk,

antelope, garden fresh vegetables, home baked bread and corn muffins.

Karen is a master of killer deserts and Doug, a nationally known

traditional bow hunter, keeps the freezers chock-full of wild game.

They are family and every ranch would covet their presence.

Our San Francisco physician son-in-law is an avid golfer and he loves the

scenic and challenging nine-hole course in Big Timber, a half hour away.

It has spring creeks coursing through its lush grass fairways and thick

brambles. I occasionally join Allen and we can play all afternoon for what

it would cost for two beers in his San Francisco club or mine in New York.

My big attraction, however, is the West Boulder river 40 feet from my

office door, a classic mountain stream with its origins in a high lake just

north of Yellowstone Park.

It has more than two dozen holding pools favored by robust rainbow, brown,

and cutthroat species that are at once challenging but also accessible.

The river is protected on both sides by private property so the only

access is a long, difficult wade upstream from a county bridge. Very

few anglers risk it and they know they have to keep moving.

38
---
"My big attraction is the West

Boulder river 40 feet from my

office door, a classic mountain

stream with its origins in

a high lake just north of

Yellowstone Park."

LAND.COM • LEGENDARY LIVING

39
---
O N T H E I N S I D E C O V E R

The WBR—our shorthand for The West Boulder Ranch—is a big-game

paradise in the autumn and, for me, an upland bird treasure.

We have a consistent population of Hungarian partridge and Sharptail

grouse in grassy ravines and Hawthorne brambles.

One memorable weekend my friend Ron Olson, an uber lawyer from

Los Angeles, and I were shooting after a fresh snow fall. We walked

high onto the undulating foothills carved by ancient ice age invasions

and suddenly felt as if we were in Jurassic Park.

On one hilltop, a large herd of elk—bulls, cows and their new calves;

on another, an equally large herd of mule deer flanked by a skittery

herd of antelope.

In those days we were raising bison and our herd watched placidly

from a distance. Ron and I were speechless.

My faithful Labrador, Sage (known as the wonder dog for his peerless

retrieving skills), joined us in a man-dog moment of awe.

For all of its natural attractions, the essence of the West Boulder

Ranch has been its magnetism as a perfect blend of family and friend

comfort in a setting of mountains, grasslands, wild streams, wild

creatures and big skies.

We love watching our city friends shed their urban concerns as they

dive into the two large spring-fed ponds we use for cutthroat breeding,

swimming and canoeing.

The 62-degree water temperature gets their attention immediately

and then they laugh in life-affirming hoots and watch in awe as bald

eagles stand sentry, looking for a quick snack in a rising trout.

Visiting kids go cowboy instantly. Our grandchildren show them how

to determine what a great horned owl ate the night before by going

through the scat. They walk the river banks, looking for ancient bison

bones washed ashore.

They now know the difference between an agate and quartz, a piece

of petrified wood and a scarred piece of granite. They love the night

sky filled from horizon to horizon with nature's greatest light show

with no urban fluorescent interference.

They know the best events at the Livingston rodeo and how to get a

worn, but cool, jean jacket at the second-hand store.

They come from the cities of California and New York but for the

rest of their lives they'll always have a little West Boulder river in their

veins, the taste of wild elk in their palate, the quick pull of a rein in

their hands, the excitement of a striking trout, and, most of all, the

serenity of a starlit night in the Big Sky.

4,128 ACRES IN PARK COUNTY, MONTANA

PROPERTY ID: 4768019 • OFFERED AT $17,900,000

For all listing information visit us here

www.FayRanches.com

800.238.8616

Info@FayRanches.com

40
---
LAND.COM • LEGENDARY LIVING

41
---
42

www.FayRanches.com • Info@FayRanches.com • 800.238.8616
---
Whether you are investing in land or divesting an existing land asset, choosing a

brokerage company to work with is an important decision.

With offices from Oregon to North Carolina, Fay Ranches provides the most

comprehensive team of trusted land professionals available.

For all listing information and a complimentary subscription to Land Investor magazine visit us here

www.FayRanches.com • Info@FayRanches.com • 800. 238.8616

LANDMAGAZINES.COM

43
---
PEMBERTON TRACT

Sunbright, Tennessee

$13,050,000 - 9,000± Acres

FLYING S RANCH

Canyon City, Oregon

$9,500,000 - 14,471± Acres

RIVER HILLS FARM

Dayton, Tennessee

$7,500,000 - 950± Acres

www.FayRanches.com • Info@FayRanches.com • 800.238.8616

44
---
MILLER RANCH ON THE RUBY RIVER

Alder, Montana

$6,750,000 - 317± Acres

COTTONWOOD RANCH

Unity, Oregon

$3,750,000 - 5,171± Acres

SADDLE MOUNTAIN RANCH

Milton-Freewater, Oregon

$3,650,000 - 3,541± Acres

Whether you are investing in land or divesting an existing land asset, choosing a

brokerage company to work with is an important decision.

With offices from Oregon to North Carolina, Fay Ranches provides the most

comprehensive team of trusted land professionals available.

For all listing information and a complimentary subscription to Land Investor magazine visit us here

www.FayRanches.com • Info@FayRanches.com • 800. 238.8616

LANDMAGAZINES.COM

45
---
LOWER BIG HOLE RIVER PRESERVE

Twin Bridges, Montana

$1,890,000 - 74± Acres

ASPEN CANYON RANCH

Bozeman, Montana

$6,700,000 - 894± Acres

SHIELDS RIVER RANCH

Livingston, Montana

$1,200,000 - 120± Acres

www.FayRanches.com • Info@FayRanches.com • 800.238.8616

46
---
JEFFERSON RIVERBENDS PRESERVE

Waterloo, Montana

$1,350,000 - 120± Acres

BEAR CREEK PHEASANT FARM

Junction City, Oregon

$1,300,000 - 270± Acres

HORSESHOE BEND LODGE

Horseshoe Bend, Idaho

$900,000 - 47± Acres

Whether you are investing in land or divesting an existing land asset, choosing a

brokerage company to work with is an important decision.

With offices from Oregon to North Carolina, Fay Ranches provides the most

comprehensive team of trusted land professionals available.

For all listing information and a complimentary subscription to Land Investor magazine visit us here

www.FayRanches.com • Info@FayRanches.com • 800. 238.8616

LANDMAGAZINES.COM

47
---
RANCHES | RANCH COMMUNITIES | LUXURY ESTATES | AUCTIONS

M4 Ranch Group is celebrating a banner year thanks to the owners—past and present—of the

exceptional properties that we've been fortunate to represent. Our hats are off in humble gratitude

in M4 Ranch Group to all for allowing us to work on some of the West's finest ranches. Because of

your trust, we've experienced their breathtaking scenery, incredible recreational opportunities and

bountiful productivity—and shared them with buyers who appreciate the legacy they've acquired.

"You are who you ride with", and we have been privileged to ride alongside

the Ranch Marketing Associates, the Harrigan Land Co., the Land.com

network and LAND Magazine. Your expertise has made a difference.

As the old year folds into a new one, we invite prospective buyers and current

ranch owners to explore the values the M4 Ranch Group holds dear.

We believe in the power of a handshake, and we look forward to partnering with you.

DAN MURPHY

BROKER | OWNER

970-209-1514 | Dan@M4RanchGroup.com

SUZY WOODWARD

BROKER ASSOCIATE

719-850-5042 | Suzy@M4RanchGroup.com

MICHAEL MURPHY

BROKER ASSOCIATE | OWNER

719-849-1441 | Michael@M4RanchGroup.com

LAWANA DEWEES

BROKER ASSOCIATE

970-749-6521 | Lawana@M4RanchGroup.com

M4RANCHGROUP.COM

970-944–4444 | INFO@M4RANCHGROUP.COM | 201 GUNNISON AVENUE, LAKE CITY, COLORADO 81235
---
SOLD

MONUMENT BUTTE RANCH

$28,500,000 | 21,793± ACRES | Listed by Harrigan Land Company
---
SOLD

BUCKSNORT RANCH

$5,950,000 | 184± ACRES
---
SOLD

WOLF SPRINGS RANCH

$49,000,000 | 55,486± ACRES

SOLD

BRISTOL MOUNTAIN RANCH

$3,275,000 | 281.03± ACRES
---
SOLD

UPPER REDWING RANCH

$2,900,000 | 2,124± ACRES

SOLD

LITTLE WILLOW RANCH

$1,095,000 | 160.13± ACRES
---
SOLD

CEBOLLA RIVER RANCH MEMBERSHIP

$595,000 | 6± MILES OF RIVER

UNDER

CONTRACT

ROCK OF AGES

$1,650,000 | 16.45± ACRES

UNDER

CONTRACT

BOYER RANCH

$8,000,000 | 12,505± ACRES
---
PROFILE

M4 RANCH

GROUP

A Brand of

Excellence

WRITTEN BY LORIE A. WOODWARD

Brothers Dan and Michael Murphy, owners of M4

Ranch Group based in Lake City, Colorado, are

leaving their mark—well, actually their brand—on

Colorado ranch real estate.

"The Rocking M4

brand is way more

than just a logo—it's

our family ranch brand,"

Dan said. "It says a lot

about who we are and

what we do."

It is a Murphy family

tradition that when the

children turn 18, they receive a

belt buckle emblazoned with the

Rocking M4 brand.

"When my dad handed my son

Jake his family belt buckle on his 18th

birthday, it was one of the proudest

moments of my life," Dan said. "It was

"The Rocking

M4 brand is

way more than

just a logo–it's

our family

ranch brand"

a symbolic statement of the honor and pride associated with our western history—

and the responsibility to honor and uphold it as the next generation."

LAND.COM • LEGENDARY LIVING

49
---
50

The M4 Ranch Group division has, after just three

seasons in ranch sales, already risen to the top

of Colorado land brokerages, selling roughly

100,000 acres in mountain ranches in 2017.
---
PROFILE

An expectation of excellence that results from hard work

is part of the family inheritance—and it's not lost on the next

generation. Jake, in a recent paper for a class at Western State

University, where he, as a student

athlete, is pursuing a double major

in business and environmental

sustainability while earning his

real estate license, quoted his

grandfather, "Work half a day—do

whatever you want with the other

12 hours."

"I got a kick out of the paper

because it proves the family brand

goes far beyond an identifying mark,"

Dan said. "It is a statement of trust

and excellence."

In hindsight, the family brand

seems obvious as the choice for the

ranch division's logo, but it was

selected after extensive research

and an outside evaluation of the

team's strengths and identity.

"After all of the time, money

and research, the most

descriptive and meaningful

name for the ranch division

had been right in front of

us," Dan said.

Because it carries

so much meaning,

applying the brand to

their business is not

a responsibility the

brothers take lightly.

Michael said, "Our name and our history is

on this company, so we strive to be the best

we can be in every aspect of this business.

We never forget that M4 Ranch Group

directly reflects on our family's legacy."

The ancestors have reason to be

proud. Team Murphy, the parent

company, has been a driving

force in recreational real estate

for decades. The M4 Ranch

Group division has, after just

three seasons in ranch sales,

already risen to the top of

Colorado land brokerages,

selling roughly 100,000

acres in mountain

ranches in 2017.

The M4 Brand of Business

"Our name and

our history is on

this company, so

we strive to be the

best we can be in

every aspect of

this business. We

never forget that

M4 Ranch Group

directly reflects on

our family's legacy."

The family, who has put down deep roots in Colorado

over the past 40 years, can trace their ancestry back to

the settling of the western

frontier. The Murphys are direct

descendants of Mirabeau B.

Lamar, the second President

of the Republic of Texas, best

known for trading off the western

Colorado Rockies in 1850 to help

retire the then-republic's debt.

"Our family has been trading in

the Mountain West for more than

170 years," Michael joked.

Despite the constant joking

and laughter, the brothers take

their business very seriously.

Neither likes to lose. Their highly

competitive natures don't cause

problems in the office because

they're tempered by an inherent

belief in fair dealing with each

other as well as team members,

clients and colleagues. Plus, they

have an abiding respect for the

different skill sets each of them

developed in the years they

worked apart.

Dan built his first career on his

passion for the outdoors; few things

in life meant more than being in the

field where his respect for nature and

the role of man's stewardship grew.

"I spent at least a hundred nights a year sleeping in a

sleeping bag, for more than 20 years," he said.

As he was preparing to depart for Africa to finish school, he

met Michelle DePinto, a ballerina who lived in Denver. After

a long distance relationship, she traded in her pointe shoes

and urban existence for a life off the beaten path as the "best

partner a man could find."

Under the banner of MMLO Outfitting, they owned

and operated an outfitting business that took clients in

pursuit of the West's top big game in the back country of

Colorado, Alaska and Montana. To succeed as an outfitter,

he not only had to master the art of hospitality and client

relations, but also the natural history and behavior of big

game, federal and state regulations, habitat management

and the principles of business.

In the meantime, Michael took his passion for the

outdoors in a different direction, turning his attention to the

land's bounty as a classically trained French chef.

LAND.COM • LEGENDARY LIVING

51
---
"I love anything to do with food—hunting it, catching it, preparing

it," he said.

Eventually, though, he left the kitchen for the beverage business.

He helped grow the American Beverage Company in San Antonio

from a small upstart company to a major distributor that counted

70 percent of Texas as its territory. Then he returned to Colorado,

where he was on the leading edge of the craft brewery

movement as part of New Belgium Brewing. As part of that

team, Michael opened a Southwestern sales territory for the

brewery's products, including Fat Tire, and further refined

his marketing chops in an emerging industry, knowledge

that he now applies to rural real estate.

Both brothers were carving out their places at the top

of their respective fields when Dan recognized that the

outfitting business kept him away from Michelle and

their young children too much for his taste. After 20

years in the outfitting business, Dan and Michelle

decided to fold the tents at the peak of that career.

The M4 Brand

of Real Estate

Believing that the Mountain West real

estate industry would provide an ideal

environment for their work ethic,

knowledge of the outdoors, and vast

network, Dan and Michelle launched

Team Murphy Realty.

"We like to call Michelle the

'Closer,'" Dan said, pointing out that

she gives the team a focal point of

concentration and, with a Master's

degree in Business and Marketing,

has the ability to bring the "highflying,

big-picture goals into a

grounded, get-the-detailsdone

perspective."

They enlisted the

expertise of the immediate

family. Parents, Tom and

Midge Murphy, lend their

talents to the team.

"Our dad is

an exceptional

businessman and

has trained us

since we were in

diapers—and

no one can

make people

feel more

52
---
PROFILE

welcome than our mother," Dan said.

Michael and his wife Sandy succumbed to the call of the

wild—and of the family.

"When the family decided to

get into the real estate industry, I

wanted to be part of it," he said.

Michael brought with

him marketing and business

networking acumen as well

as a passion for the West's

live water and anything that

swims in it. Sandy, who is a

paralegal, ensures that the flood

of paperwork flow smoothly, so

transactions are completed as

efficiently as possible.

In addition to the immediate

family, the real estate family

includes 10 associates divided

between offices in Lake City,

Pagosa Springs and South Fork.

"Everybody in this company

is family, either by blood or by choice, so there's never any

question that everyone is giving 100 percent," Michael said.

"Our goal is simple: Efficiency achieved by great people with

great knowledge and work ethics."

The shared commitment and unique office dynamic gives

Michael and Dan the freedom to roam.

"Ranch real estate gives us a chance to experience incredibly

spectacular land just as I did as an outfitter," Dan said.

From February through October this year, they collectively

logged more than 70,000 miles exploring and showing

ranches—and the odometer is still turning.

"Our goal from the outset was to be the best informed

brokers in Colorado and northern New Mexico," Michael said.

"We work hard to acquire personal, first-hand knowledge of all

of the ranches in the marketplace."

The M4 Brand of Life

Lake City, which serves as the hub of Team Murphy Realty and

M4 Ranch Group, has 400 residents and is the only town in

Hinsdale County, the nation's most remote county. The town is

situated in a valley deep in the San Juan Mountains at the base

of five 14,000-foot peaks. Lake City also has more Fortune

500 CEOs per capita than any other town in the country.

"They call this place home because this area is not about

what you have, but more about what elk you harvest or the fly

used to land the latest trout," Dan said laughing.

Once, Dan was helping a neighbor—a hell-bent-for-leather

old-timer—drive cattle. They were joined by one of these

"Everybody in this

company is family,

either by blood or

by choice, so there's

never any question

that everyone is giving

100 percent"

CEOs, whose company refines about two-thirds of the oil in

the U.S. He had parked his Gulfstream III at the airport and

driven his 1979 Ford pickup to the cattle drive.

According to Dan, the CEO's

cowboying skills favorably

impressed the veteran cowhand,

who said to the CEO, "You need

some cash? You could probably

make some decent money with

day work around here."

The CEO responded, "I'm

doing ok on cash."

The story resonates with

Dan and Michael not only

because it is par for the course

but it reinforces their parents'

teachings to treat every "book"

respectfully regardless of its

"cover." The Golden Rule is one

of the family's core values that is

also at the heart of the company.

"We're real people living in the

best part of the U.S., living what we do—and what we believe,"

Michael said. "Obviously we're in the real estate business, but

from our perspective we're really in the relationship business."

The M4 Brand of Marketing

M4 attributes a great deal of their success to an aggressive

marketing strategy. They utilize the most cutting-edge technology

and a variety of deep integrated digital marketing tactics, in addition

to proven and established print media, including two in-house

magazines featuring the full scope of their listings, and national

impact print marketing. They also regularly attend gatherings of a

wide variety of organizations such as the Colorado Cattlemen's

Association because they "want to know everyone connected with

land through livestock and wildlife."

The brothers take great pleasure in really getting to know people

outside of their offices. Relationships thrive and understanding

grows when people get away from the constant pinging of cell

phones and out of the relentless reach of email.

To that end, they employ—and enjoy—their "handshake"

marketing initiative. The Murphys put current and prospective clients

in the field for local events: floating the Rio Grande River during the

famous salmon fly hatch during M4's Wild Trout Week or riding the

Rockies horseback on the 100-mile annual Roundup Ride. They also

sponsor and guide hunts for one of their favorite charities, the Colors

of Heroes hunts celebrating the sacrifices of our veterans.

"Our goal is not just selling the ranches we are blessed to

work on, but building something bigger and longer lasting than a

closing," Dan said.

LAND.COM • LEGENDARY LIVING

53
---
PROFILE

The M4 Brand of Stewardship

The Murphy's love of people and wildlife has inspired

the brothers to be heavily involved in protecting the

western lifestyle.

"Generally, most land is managed better privately than

publicly due to the landowners' passion, finances and ability

to make and carry out a decision," Dan said. "The private,

long-term commitment to manage for the most diversity is far

beyond most government agency's desires or capabilities."

The brothers characterize their philosophy as "cowboy

conservatism" noting that their first line of defense for the

western lifestyle is first-hand knowledge gained through

leadership at the local and state levels.

Dan is currently

serving on the Upper

Gunnison Water Advisory

Group, the Sportsman's

Round Table and its

advisory committee to

the Colorado Parks and

Wildlife Department. He

previously served on

the Big Game License

Application, Big Game

Allocation Program,

the Colorado Wildlife

Federation and the

Hinsdale Planning

Commission. Michael

served as a Lake City

Town Trustee, Chairman

of the Hinsdale County/

Town of Lake City

Marketing Committee,

and currently sits on

the advisory committee

for both the Agricultural

and Public Lands and

the Neutral Resources,

as well as representing

Hinsdale County on the

Club 20 Board of Directors.

"Being on the front lines of emerging issues helps us help

landowners," Michael said. "We have insight into the debates,

the regulations, the concerns and the challenges because

we're engaged in the process."

One of the team's most important duties is "matchmaking."

The team excels at identifying the right property for the right

buyers—and helping the new owners see what the property

can become with good stewardship.

"Our job is to understand a property," Dan said.

"Our family and team

understand that we're

on this earth for a

limited amount of time

and it's about leaving

this place better than

we found it. For us, that

means creating a legacy

through relationships and

conservation."

The M4 Ranch Group relies on cutting-edge technology

in all aspects of the business, including their own 3D virtual

camera, drone filming and editing department to showcase

the height, depth, breadth and nuances of each property.

The Murphys' goal is to give potential buyers a true sense

of a ranch before they ever tour it. Once boots are on the

ground, the brothers use their experience and expansive

network of restoration and preservation professionals to help

the potential owners see what the land can be rather than

simply what it is. For instance, if a ranch has a degraded

stream, the brothers help the client understand what it will

take to restore it to a healthy, productive fishery.

"We're the concierges of conservation," Michael said,

noting they introduce

landowners to some of

the best conservation

practitioners in their

respective fields.

Together, they've

prompted the restoration of

miles upon miles of streams

and thousands of acres of

habitat. This has helped

greatly increase the value

of numerous ranches while

greatly increasing the volume

of habitat Colorado's wildlife

depends on.

To keep space open in the

west, the intrinsic value of

undeveloped land has to be

recognized, they believe.

"Habitat has value from

an ecological and emotional

standpoint as well as a

financial one," Dan said.

To be clear, conservation

work is not an income

stream for the business, but

a passion.

"What makes us proudest

is sharing what we've helped conserve with generations to

come," Dan said. When we've helped build legacy ranches

that families can convey to their children or when we see a

kid reel in a big brown or a cut-throat on a fly while fishing

an enhanced stream, the circle is complete. We've passed

forward what's important to us."

He continued, "Our family and team understand that

we're on this earth for a limited amount of time and it's about

leaving this place better than we found it. For us, that means

creating a legacy through relationships and conservation." °

54
---
THE ENTERPRISE ASPECTS OF WILDLIFE

BASED RECREATION TAKING PLACE ON

PRIVATE LAND ACROSS THE COUNTRY

WRITTEN BY

GREG SIMONS

A YEAR OR SO AFTER I FORMED MY HUNTING BUSINESS,

I decided it was time for me to consider purchasing a liability insurance policy. I contacted a local

insurance agent who was listed in the Yellow Pages, and set up a time for a meeting. He had me come

by the day before the meeting so that I could pick up some paperwork to fill out. The next day, I sat

down in his office and his first comments were something like, "Son, couldn't you pick out a profession

that provides you with less liability? We can't write insurance for your company, as there are simply

too many possible exposures that make your business too high a risk for us." It was at that point that

it became apparent to me that I was working in an industry that involved an almost endless list of

scenarios that could potentially put people's lives in harm's way. Some 30 years later, this reality of the

precarious nature of my business has only become more crystalized, along with a heightened concern

of properly dealing with this downside of my business.
---
THE WILD SIDE OF BUSINESS

The outdoor recreation industry that involves hunting, fishing, and other forms

of nature-based recreation, can indeed present some predictable, and not so

predictable, forms of liability exposure for the proprietor; that's the bad news.

The good news, however, is that there are some reasonable options that allow the

proprietor to mitigate their risks and liabilities.

Use Protection

Though some people may say something like, "It's not worth the value of the paper

that it's written on," it's always recommended that you have your clients and guests

sign a "waiver of liability" document or what's often referred to as a release form. As

another hedge against liability, it's also recommended that all outdoor adventure trips

begin with a formal orientation. The orientation, or what some of my camp staff refer

to as, "The Talk," is not only a great way to set the tone for the event as one of having

structure, but it's also a perfect opportunity to cover rules of safety, and to disclose

any potentially perilous items that are relevant. Another form of protection that should

never go overlooked by the proprietor is the integral need to carry sufficient liability

insurance by a company that provides solid coverage with adequate limits and

sufficient inclusions.

Recognizing the Perils

Identifying possible perilous items is one of the initial steps in addressing risk

mitigation. For example, for years, horses have been considered a high-risk item for

businesses where clients and employees are placed horseback for transportation

or recreational purposes. These days, ATVs and UTVs are often recognized as a

potentially high-risk tool that are often used in these related businesses. Use of

guns, elevated hunting blinds and swimming holes may also be certain features of

your operations that provide high risk, so recognize these features and treat them

accordingly, with plenty of precautionary use. It's also generally recognized that the

proprietor should assume a sense of obligation of providing disclosure to any clients,

guests, and employees, that these possible perils exist. This disclosure is typically

bundled in the form of a waiver of liability document.

IT WAS AT THAT POINT

THAT IT BECAME

APPARENT TO ME THAT

I WAS WORKING IN AN

INDUSTRY THAT INVOLVED

AN ALMOST ENDLESS

LIST OF SCENARIOS THAT

COULD POTENTIALLY

PUT PEOPLE'S LIVES IN

HARM'S WAY.

Then, there are other possible hazards that may be well outside of

"normal" features that are part of these type of outdoor adventure

business practices. Things such as gas leaks in cabins, uncovered

wells, faulty steps on elevated blinds, exposed electrical wiring, and

cantankerous livestock, are examples that may fall into interpretations

of gross negligence. Though tort statutes vary between states, it

is generally understood that you cannot be absolved from gross

negligence; thus, if you have knowledge of these type of pre-existing

hazards that are repairable, then by all means, have them repaired or

adequately addressed.

Marching in Step

Like a finely tuned machine, when it comes to addressing

concerns related to human health and safety, Rule #1 should be

for the employees and support team of the enterprise to have

rigid protocols that help define their procedural practices. Best

management practices (BMPs) that help ensure safety can be

developed through fundamental approaches. One tool that can

be integrated into the procedural mix is a company handbook,

or formalized document, that covers various company matters,

including safety protocols. Further, an annual in-service

training session is an excellent platform to instill and refine

BMPs that help ensure that your support team are all on

LAND.COM • LEGENDARY LIVING

57
---
THE WILD SIDE OF BUSINESS

the same page regarding these practices. These types of instructional

safeguards not only help reduce the possible occurrence of such problems,

but these efforts may also serve as valuable tools to help demonstrate that

the proprietor went through reasonable efforts to avoid such occurrences,

should a legal claim ever be brought against the proprietor due to claimed

damages that someone suffered as a consequence of services rendered.

Have a Plan

Though nobody wants to deal with possible ill-fate of a client or guest

getting harmed while participating in an activity that is provided by the

proprietor, part of the BMP protocol assembly should include the "what

to do" list should something go awry. Where is the first aid kit? Where's

the nearest EMS center and how do I get there? Does my client have a

medical history that I should know about, so that I can help understand

certain signs of distress? How do I address hemorrhaging should

someone suffer a major cut? Bottom line is, "What am I going to do if x,

y, or z happens?" Have a plan.

These are simply a few mile-high thoughts regarding risk

management considerations in wildlife and nature-based recreation

businesses. For greater expertise on this subject, please check with

a legal adviser that deals with tort laws in your state of operation.

One of the beauties of those businesses that involve hunters,

fishermen, and other outdoor enthusiasts, is the pleasure and fun

that's generated for those clients who are part of the business

activity. By implementing sound BMPs into the routine, we can

help ensure that everyone's experience is rewarding and free

from peril. °

The author, Greg Simons, owns a company that provides

assistance to private landowners on commercial

hunting operations and wildlife management programs.

For further information on his company, check out

www.wildlifesystems.com.

THOUGH NOBODY WANTS TO

DEAL WITH POSSIBLE ILL-FATE

OF A CLIENT OR GUEST GETTING

HARMED WHILE PARTICIPATING

IN AN ACTIVITY THAT IS

PROVIDED BY THE PROPRIETOR,

PART OF THE BMP PROTOCOL

ASSEMBLY SHOULD INCLUDE

THE "WHAT TO DO" LIST SHOULD

SOMETHING GO AWRY.

58
---
Wome

In

t n

Fores ry

—

CAROLYN MULLIGAN

AND THE FUTURE OF THE FEMALE FORESTER

WRITTEN BY ADRIENNE WALTERS-ANDERS
---
RADAR

Carolyn Mulligan never walks into the woods without a

compass.

She did it exactly once, early in her career. But even

as GPS and smartphone technology have made their

way into forestry, as they have transformed virtually all fields of

endeavor, Carolyn still takes the compass when she goes into

the forest.

Being relentlessly self-sufficient has been both a character

trait and a hallmark of her 32-year career as a forester, a trek

that has brought Carolyn not just personal satisfaction but

also no small measure of public recognition, most recently as

President of the Virginia Forestry Association. Today, it's the

experience gained during her executive tenure there and her 24

years and current role as District Manager at American Forest

Management that has her musing

about the role of women in forestry.

"To me, it's an indication that

as an industry we're missing

something, somewhere," Carolyn

confides. "During the time I was

the Forestry Association President,

our association had what I would

consider to be a fairly large board

of thirty or more people. But there

were very few women playing key

roles. It's likely that the situation

among government agencies

and non-profit organizations

looks a little different, but my

experience signals to me that

we are missing an opportunity

to expose more women to the

business side of forestry.

"It may be that our colleges

and universities need to shift a little in their emphasis, advising

female forestry students to be more open to the business side

of things. After all, we're all geared toward making the world a

more sustainable place, a better place. We can be effective in

the business arena just as we can and do in the governmental

and non-profit arenas."

For Carolyn, the lure of life in the woods came early.

A childhood in a military family grounded her sense of

responsibility as well as offering her exposure to geographic

variety. "When I turned 15," she recalls, "I got a job with the

Youth Conservation Corps and I later realized that forestry

was the field most closely related. There are so many things

I witnessed throughout my days in the woods that are vitally

important parts of our natural world."

"There was one day in particular that sort of symbolizes how

the natural world makes its imprint on you. I was sitting in the

middle of a pine woods eating a sandwich, and I could hear

"I KNEW AT THE TIME THAT IT

WAS A MALE-DOMINATED FIELD,"

CAROLYN RECALLS, "BUT THAT

WAS NOT EVEN ON THE RADAR

FOR ME. I WAS JUST LOOKING

FOR SOMETHING THAT I WANTED

TO DO, SOMETHING I COULD GET

GENUINELY EXCITED ABOUT AS

A CAREER. AND FORESTRY HAS

NEVER DISAPPOINTED."

something approaching. This was more than a little unnerving,

since the understory was dense and the visibility was extremely

limited. I sat there stock still, and it turned out to be a doe and

her fawn, neither of whom saw me so they got amazingly close.

"All of a sudden, the doe gets a scent and her ears perk

up, and as soon as she goes on full alert, of course, so does

her fawn. We all froze for a good minute. Then, they both went

bounding off, with mom in front and the fawn right on her heels.

An awesome moment, and I don't use that word lightly."

The prospect of a career wrapped around moments such

as these suggested a major in forestry. After two years at the

University of New Hampshire, Carolyn transferred to Virginia

Tech, where she graduated with a B.S. in Forestry and Wildlife

Management. Later on, she returned to the academic world for

her MBA from Averett University,

which had a considerable impact

on her passion for the business

side of resource management.

"I knew at the time that it was

a male-dominated field," Carolyn

recalls, "but that was not even on

the radar for me. I was just looking

for something that I wanted to do,

something I could get genuinely

excited about as a career. And

forestry has never disappointed."

A first job working for a timber

management company in Georgia

provided Carolyn with valuable

experience in research and data

collection. After two years, she

was transferred to her first field

assignment. Ultimately, Carolyn

took a position with a Danville,

Virginia company which was merged into American Forest

Management in 2002. Ever since, she has managed a large

territory which includes significant portions of south central

Virginia and north central North Carolina.

Carolyn scoffs at the notion of a typical day. "Seasons

have their own rhythm in forestry, but not days. Summertime

is typically a time of timber sales, site preparation and road

work. In the autumn, we're out in the woods a lot of the time

doing timber sale preparation work, survival checks on new

pine plantations, timber harvest inspections, timber inventory

and tract inspections for operations planning. Spring is heavy

on tree planting and crew management. Since American

Forest Management works with both industrial and private

landowners, we get to experience every facet of the business

of resource management."

As she rises to her subject, Carolyn is again struck by the

paradox of women in the industry. "This career demands all the

60
---
RADAR

things that should appeal to strong, self-starting women," she

says, "The work is both mental and physical. You have to be

confident in dealing with the challenges inherent in resource

management. It's important to be well networked. You have to

be open to new ideas and techniques, as the industry is always

changing and we're continually looking for new products and

avenues for our timber. And you have to be open-minded and

somewhat visionary."

Helping people achieve their vision for their land is the

heart of the personal service Carolyn brings to her day, which

includes assisting a varied clientele in sorting through various

land and resource uses and applying these to personal vision.

"I work from a fairly small office, so it's hard to generalize

about the type of clients I'll have at any given time. I could

be managing a single large client or juggling multiple smaller

ones," she continues, "and of course they're all different. The

first priority after meeting is to gain a thorough appreciation

of the property. Walking the property, getting a feel for its

potential. The owner may have a vision and you have to

determine if the vision is feasible. You're trying to help people

make the best decisions they can for their land. Some are

interested in revenue. Some may have purchased a property

that's in rough condition and needs rehabilitation."

"You must reconcile financial goals and responsible

conservation goals. Over the course of my career, I've become

pretty well networked. For example, I know all the timber buyers

and know which ones are reputable. When you're helping

people plan forest regeneration, you have to have the skills to

know what to do and the steps to take in order to increase your

chances of success. This is not like advising people on any

other asset, because responsible owners of forestland have

to be much more involved in the process at every stage. They

need to be fully invested in the decision-making process."

The challenges are met with what can only be described as

intense satisfaction. Carolyn's career, now on its third decade,

has witnessed the compression of rotation time in modern

forestry, a product of both improved pine forest genetics and

advanced sivicultural tools.

"It's possible now to witness an entire rotation much faster"

she explains. "In other words, harvesting, replanting, witnessing

the growth of the new forest, and harvesting again. A complete

cycle used to take 30 or even 35 years, and with the improved

genetics of the pine forest we've gotten it down to 25 years

or less. I can't overstate how satisfying it is to manage these

natural regenerative processes."

"Occasionally, you come up against a challenge that really

pushes the edge of your personal envelope. For me, one of

those involved a client who purchased a property that had

been severely mismanaged by prior owners. Essentially, you're

inheriting a mess and trying to turn it into something good.

We wound up taking over 600 acres of stagnant Virginia Pine

plantation on some very difficult terrain and converting it into a

highly productive Loblolly Pine plantation.

"Even in the best of situations, you're dealing with

everything the natural world can throw against you. In this

region, that can mean hurricanes, droughts, fires, wind, erosion,

you name it. Resource management will test your patience and

your character."

Carolyn understands, in a way that perhaps too few younger

people do, that trees and resources are wealth generation in its

purest form. "Money doesn't grow on trees," she quips, "but it

is certainly true that trees do grow the nation's wealth. And they

grow it directly from elemental things like soil, water and air."

"Look at it this way. If you work for a government agency,

you are supported by tax revenue. If you work for a non-profit,

you are supported by contributions and dues. There's nothing

wrong with either of those, but the money has to come from

somewhere. When you are working in the business of forestry,

you are actually helping to create the underlying wealth

that supports all of these critical organizations and helps to

underwrite the cost of education and the resources it takes

for the U.S. to remain competitive in a fully networked global

economy. Of course, this doesn't mean that all forests should

be harvested. But it does mean that the acreage we do harvest

and regenerate produces the products that make life more

comfortable and affordable."

These are fundamental realities that affect women at least

as much as they do men. "Last October, I attended the first

ever conference on Women in Natural Resources at Virginia

Tech. It was a premier event and it was sold out," Carolyn says.

"There were 200 women there, and I would guess that 95% in

attendance worked for government agencies or non-profits.

There is a large and growing global business in forest products

that is assisted by technical advances that are producing more

trees and better trees. Women are missing a big opportunity.

This has to change."

Ultimately, there's another paradox at the heart of the

business of forestry that would seem to make it

a compelling career choice for women.

Namely, despite the hours spent in the

solitude of the woods, all rests on

meaningful personal connections.

"You get so you love being able

to help people with their land

and attain their legacy and their

vision. This is for people who

love being able to travel, who

love being outside, who love

the opportunity to witness the

majesty of the natural world on a

daily basis," Carolyn concludes.

Just don't forget that compass. °

LAND.COM • LEGENDARY LIVING

61
---
Wildfires

Wage

war

wild on

WestWRITTEN BY PATTI DAVIS, ALC

COURTESY OF THE REALTORS® LAND INSTITUTE

62
---
RADAR

The wildfires

sweeping Northwest Region of the United States

this summer will leave a lasting scar across the land

and communities affected for years to come. Over

two million acres have burned, some fires caused by

man and some caused by lightening. Either way, the

devastation for local families and rural communities

is huge.

Farmers, ranchers, loggers, those in the tourist

industries. . . all either already are or will be affected by

the fires and the charred remains they leave behind. The

lands will be scarred and it will easily be years before

the forests are healed and grown to once again cover

the mountain sides. We can only hope that the forests

will recover with the proper management in place. It is

expected that the "cover" and homes to the wildlife will

repair itself most quickly, with small brush and grasses

coming back within a year or two. The trees that were

damaged from the pine beetles before the fire even

started could have been harvested and used but instead

have gone to waste and are fueling the fires.

The aftermath of the fires will affect the region's

tourist industry with the beautiful forests no longer

complete. There are thousands of acres destroyed by

the yellow and orange licking flames. People have lost

hundreds of homes and their personal belongings, some

even their lives.

Many farmers and ranchers have lost their whole life's

work. Structures, herds of cattle and/or sheep, fences,

grass for grazing and other feed. Outside just the physical

devastation to the landscape, the fire's impact is also

harmful for this sector of the country's economic growth

and livelihood. The story that I am most familiar with is

the farmers and ranchers affected have only known this

lifestyle. Most live this lifestyle not for the money but

for the country way of life. . . genuinely caring for their

neighbors, family, and livestock; a way of life that is being

consumed and stolen by the fires as they pass through.

Some lost their entire livelihood with their herds burned

or lost due to the fire. The effects of having to see the

devastation will be something that they will carry with them

forever. Some had to put down their own cattle and horses

that had been burned by the encroaching fires; others had

to bury the cattle and horses that had perished.

Wildlife numbers will also be affected in the burned areas

as well. Elk, deer, bear, birds, bunnies, and I could go on, had

their habitat destroyed in the fire.

Writing this story about the fires in the Northwest

proved to be a challenge. Most all of my home state of

Montana has either burned, was burning, or might still

burn. The fires this summer were the result of a wet

fall and spring followed by an extremely hot summer

with high winds and storms; all great conditions for a

widespread fire.

The most common comment, when you visit with

those affected by the fires, was the thankfulness for

neighbors and friends who came with everything they

could gather: bulldozers, spray rigs, tractors with discs,

shovels, knowledge of fires, as well as food and beverages.

Neighbors helping neighbors. . . giving of not only "stuff"

but time! People from around the country donating

fencing supplies, hay,

pasture, equipment,

and dollars to help their

fellow neighbors. The

agricultural community

is incredible, they truly

believe in trying to

pay it forward. All so

appreciated! However,

the fires will truly leave

a scar for years not

just on the land but on

the lives of the ones

affected.

So many lives

affected and so many

stories to be heard.

There were over a

million acres of land

burned in Montana

alone, and over two million acres of land have burned

across the Northwest region of the U.S. as of the time of

my writing this piece. It makes one wonder, could proper

forest management have prevented this catastrophic fire

season and future ones?

All will be healed with time though. . . magic right? °

There are thousands

of acres destroyed by

the yellow and orange

licking flames. People

have lost hundreds

of homes and their

personal belongings,

some even their lives.

LAND.COM • LEGENDARY LIVING

63
---
Yes,

You Should Invest

in Land Real Estate

"I have always liked

real estate; farmland,

pastureland, timberland

and city property. I have

had experience with all

of them. I guess I just

naturally like 'the good

Earth,' the foundation

of all our wealth."

— Jesse Jones, entrepreneur

WRITTEN BY

JESSA FRIEDRICH, MBA

COURTESY OF

THE REALTORS® LAND INSTITUTE

64
---
BUYING LAND

Real estate investors and buyers alike have always had an

affinity for land. There is just something about land that

draws in savvy investors. Whether it's the innate, territorial

tendencies we have deep within or the simple magnetism

of connecting with nature in a world increasingly becoming

cluttered with high rises and highways, our instincts are doing

what they do best, pointing us in the right direction!

Whether its amber waves of grain or purple mountain

majesties, land continues to prove be one of the most profitable

long-term investments from sea to shining sea. The USDA's

2017 Land Values Summary released in August shows that from

2010-2016 average farm real estate values have cumulatively

increased 43 percent or an average of 6.1 percent annually and

average cropland real estate values have cumulatively increased

51 percent or an average of 7.3 percent annually—that's quite a

return on investment! It's no wonder smart investors are flocking

to invest in the land real estate market.

In fact, the 2017 REALTORS® Land Institute

Land Markets Survey shows that out of all

buyers in land transactions, there was a five

percent increase in those who were investors in

just one year from 2015 to 2016. With so many

different types of land to choose from when investing and so

many different ways to invest in land, the possibilities are almost

endless. If you aren't sure where to start, just keep reading.

Hopefully by now I have your attention and you are no doubt

wondering "why is land real estate such a hot investment?" There

are a lot variables that can be mentioned here but the simple

answer is best summed up by Mark Twain as "Buy land, they're

not making it anymore." Compared to other investments, land

can be purchased relatively cheap if you find a motivated seller.

Being a limited resource and non-depreciable, it's a fairly safe

asset when looking for a solid return on a long-term investment.

For those looking to invest in land real estate to diversify their

portfolio, buy a property to retire on, or just get in on the action,

there are a lot of great resources out there. Just keep in mind

that when investing in land real estate, it is crucial to consult a

professional with the experience and knowledge necessary to

conduct these kinds of transactions. Land is a whole different

animal than residential or commercial real estate and there are

agents out there who dedicate themselves to being experts in this

field. The REALTORS® Land Institute offers investors an easy to

use search tool to find a qualified local agent called Find A Land

Consultant, check it out and get started! °

*Information in this article should not be construed as recommendations

for any course of legal, financial, or accounting action.

LAND.COM • LEGENDARY LIVING

65
---
66
---
THE ONLINE MAGAZINE DEVOTED TO THE GREAT PEOPLE WHO PARTICIPATE IN THE SHOTGUN SPORTS
---
OWNING LAND

While farmers and

ranchers confront the

same problems as any

business owner regarding

succession planning,

wealth preservation

and estate taxes, they

also face many unique

issues. Specific tax rules,

regulations, and the

nature of their industry

requires a specialized

focus and expertise when

planning for such clients.

Planning

Considerations

for Farmers & Ranchers

WRITTEN BY GIB SURLES, THE FORREST GROUP, LLC

68
---
Farming and ranching operators may also have particularly

strong convictions regarding long-established family

enterprises that are heavily concentrated in real property.

Many farms and ranches have been in the family for several

generations, and a prevalent desire is to keep ownership of the

land in the hands of family members–both those involved in

operations as well as those who may not be involved. Of course,

this generally gives rise to unique problems governing appropriate

income apportionment, control and estate equalization.

As a result, a comprehensive understanding of the relevant

issues and techniques is crucial to the effective implementation

of appropriate legal and tax strategies, ensuring the preservation

of the farm or ranch for succeeding generations while bestowing

long-term peace of mind on operators.

Challenges

Farm and ranching operations are especially vulnerable to poor

economic conditions. Capital requirements are high and return

on investment is sometimes low. Operators typically accumulate

most of their equity through earnings and gradual increases in

asset values from growth and inflation; net worth tends to result

more from growth in the value of production assets rather than

income accumulation. It is also critical for operators to maintain a

debt-equity structure which assures survival through periods of

adverse weather and market conditions.

Likewise, agriculture also is extremely sensitive to export

markets. For example, high interest rates in the 1980s contributed

to a strong dollar which in turn contributed to a drop in U.S.

farm exports. Farmers and ranchers were ultimately hurt by

the decline in the price of agricultural products and real estate.

Operators with excessive debt combined with high interest rates

and low prices often did not survive during the era. For today's

farmers and ranchers to survive, maintaining financial solvency

is important. For a family enterprise to thrive from generation to

generation, establishing and maintaining an effective long-term

plan is essential.

Details of the Industry

Attitudes & Outlooks

Many successful family farms and ranches are built over

generations, creating a deep personal bond and sense of identity

in the operation. Furthermore, the physical nature of the labor

that goes into building a farm often creates a unique perspective

by the operator, one that may place a strong emphasis on the

character, stability, and integrity that farming signifies. The

fruits of the many years of labor include self respect, personal

satisfaction and a tangible, permanent family legacy.

Nature of Work

Farming and ranching operations have become more complex

in recent years. Farm output and income are strongly influenced

by the weather, disease, fluctuations in prices of domestic farm

products, and federal farm programs.

Both farmers and ranchers operate machinery and maintain

equipment and facilities, and both track technological

improvements in animal breeding and seeds, and choose new

or existing products. Farm work can be hazardous. Tractors and

other farm machinery can cause serious injury, and operators

must be constantly alert on the job. The proper operation of

equipment and handling of chemicals are necessary to avoid

accidents, safeguard health, and protect the environment.

Operators of small farms usually perform all tasks, physical

and administrative. They keep records for management and

tax purposes, service machinery, maintain buildings, and grow

vegetables and raise animals.

Operators of large farms, by contrast, have employees who

help with the physical work. Farmers on crop farms usually work

from sunrise to sunset during the planting and harvesting seasons.

The rest of the year, they plan next season's crops, market their

output, and repair machinery.

On livestock-producing farms and ranches, work goes on

throughout the year. Animals, unless they are grazing, must be

fed and watered every day, and dairy cows must be milked two or

three times a day. Many livestock and dairy farmers monitor and

attend to the health of their herds, which may include assisting in

the birthing of animals.

Tailored Planning

Since each family farm or ranch is unique, no single approach to

estate and business planning works for everyone. It is important

to understand that the farm or ranch involves the interaction of

people in the strong bonds of family, who are engaged in the

business and who make decisions affecting the business.

It also is important that estate and succession planning adopt

a long-term planning horizon and implement planning strategies

in a timely and efficient manner to accomplish intended goals.

Most farmers and ranchers desire that the operation continue

when they are gone, though a few do not. When the operation will

not be continued, the focus shifts to transferring, liquidating and

distributing equity to the heirs while minimizing any loss in value.

Potential Planning

Issues & Concerns

Since operating a farm or ranch is difficult, designing a strategy

for the ultimate transition of the business upon the primary

operator's demise can be confusing. There are a variety of issues

and concerns related to estate and business planning that should

be addressed, the most common of which are discussed below.

Farm Economics

Farm economics differ from that of most other businesses. An

acre of farmland might cost $5,000 but have a rental value of

only $200 per year, a four percent return. Compare this with

residential and commercial real estate which typically have

returns in the range of eight to ten percent. This means that the

current productivity of farmland is relatively low, and much of its

LAND.COM • LEGENDARY LIVING

69
---
value lies in the possibility of future appreciation. It also means that

farming is extraordinarily capital-intensive. For example, a dairy

operation typically requires about one acre of farmland to support

one cow. Therefore, a typical 200-head dairy operation requires

200 acres of land with a value in the neighborhood of $2,000,000.

This of course doesn't include the cost of the cows or a modern

computerized milking parlor (which can cost $1,000,000).

Government Programs

Farm and ranch subsidies have a significant influence on

agricultural production in the global and local economy. Farm

subsidy supporters argue that subsidizing agricultural products

helps ensure farmers have a constant stable income, and that

certain vital commodities will always be available through

domestic production, ensuring U.S. independence, security and

economic health. Most subsidies are aimed at grain farmers;

however, producers of most U.S. agricultural commodities do not

receive regular subsidies from the federal government.

The Agricultural Act of 2014 (2014 Farm Bill) was signed into

law on February 7, 2014. This bill came on the heels of much

legal wrangling and stalemate after the prior farm bill expired

in 2012. It authorizes spending of $956 billion over the next 10

years, however roughly 80 percent of the budget is devoted to

the federal food stamp program known as SNAP (Supplemental

Nutrition Assistance Program). Its provisions affecting nutrition

and agriculture are in effect for the traditional five year period of

prior farm bills, being up for renewal in 2018. The bill eliminates

direct payments to farmers in lieu of insurance that pays out

when revenues or crop prices drop. Different crops are eligible

for different programs, and ranchers are eligible for immediate

assistance for livestock losses due to natural disasters.

In spite of the passage of the 2014 farm bill, the current

political environment regarding the future of farm subsidies

is uncertain. Many farmers, in fact, may be of the opinion that

subsidy programs will be less prevalent in the future, and should

not therefore drive the estate and succession planning process.

A decision to modify the current business structure or establish

an LLC, partnership, or corporation can also affect agricultural

subsidies. The type of organization established, amount of

farmland under management and number of owners within the

organization can all impact eligibility for subsidy payments. As a

result, the creation and modification of estate and business plans

should always be cognizant of the extent to which eligibility for

certain programs may be impacted.

Lack of Liquidity and Diversification

Due to the unique nature of farming and ranching, operators tend

to put all income and profits back into the operation in the form of

illiquid assets such as farmland and equipment. At an operator's

death or at the transition of the business, problems can be caused

due to a lack of assets easily convertible into cash.

Operating Loans

Operating loans may be used to purchase items needed for a

successful farm operation. These items include livestock, farm

equipment, feed, seed, fuel, farm chemicals, repairs, insurance,

and other operating expenses. Loans for annual operating

expenses (seasonal loans) are normally repaid within one year.

Loans for equipment and livestock purchases are scheduled for

repayment over longer periods. Some loans are obtained through

private credit and some through government programs.

These loans can be substantial based upon the time of year.

Yearly operating loan balances can be very high in the spring

and completely paid off by December. This can cause a problem

depending on the time of year operators become disabled or die.

A loss of the key operator can be devastating at any time and

especially during the time that an operating loan exists. The need

to recognize the loss of an operator in the succession plan is

crucial. Operating loans may be used to purchase items needed for

a successful farm operation. These items include livestock, farm

equipment, feed, seed, fuel, farm chemicals, repairs, insurance,

and other operating expenses. Loans for annual operating

expenses (seasonal loans) are normally repaid within one year.

Loans for equipment and livestock purchases are scheduled for

repayment over longer periods. Some loans are obtained through

private credit and some through government programs.

Depreciation Recapture

Certain farm related property can be depreciated. Property

subject to depreciation that is subsequently sold or exchanged

can be subject to recapture. When real property in a farm or ranch

is sold at a gain and accelerated depreciation has been previously

claimed, the owner may be required to pay tax at ordinary rates to

the extent of the excess accelerated depreciation.

Succession of Planning for

Active & Non-Active Children

One of the most sensitive problems for parents within the

operation is balancing the interests of the children who work

in the operation against the interests of the non-participating

children. More so than in most businesses, children establish

their "right" to the farm or ranch through sweat equity. Working

on the farm or ranch is not for everyone—some children would

rather pursue other career opportunities. When there are active

children involved in the operation, farm and ranch operators

will sometimes gift or assist an active child to acquire their own

ownership interest in a portion of the land, livestock or equipment.

It is rare, however, for a non-active child to acquire an ownership

interest in these assets since current operators realize that

nonactive ownership can sometimes stifle farming operations.

This is especially a problem in the typical situation in which the

farm or ranch is the only significant asset in the family. Will the

non-active children feel slighted, or will they feel lucky that they

are free from the rigors of farming/ranching life? If the farm or

ranch represents the family heritage, how can a non-active child

feel a part of that heritage?

Resolution of this question is fundamental to the continuation

of the operation, but is limited by the basic economics of farming.

70
---
OWNING LAND

The following factors must be weighed:

• Existing assets and cash flow available for both funding

the legacy in the operation and providing for the nonactive

heirs,

• Dedication and ability of the successor,

• Parents' viewpoint regarding contribution equity of the

successor and proportion of operation that should be

attributed to the successor as a result,

• Desire by non-active heirs for continuity of the operation

or preference for liquidation of their share,

• Ability and willingness of successor(s) and non-active heirs

to work together in harmony, and Parents' viewpoint on

continuity of the operation versus equality of inheritances

for the heirs.

An additional matter to consider is the feasibility and reasonable

opportunity given to non-active heirs to become active. Did these

children have a chance to work in the family enterprise, or was

that chance thwarted or at least hindered by the fact that an

older sibling was provided the opportunity, and once accepted,

foreclosed that opportunity to other heirs?

Retirement for the Senior Generation

Any plan to pass the farm or ranch to the next generation should

allow for a secure retirement for the senior generation. Frequently

operators don't have sufficient cash flow during their working

years to accumulate liquid savings or otherwise save enough

on a tax-deferred basis for retirement. Similarly, it is not usually

possible to put in place a non-qualified deferred compensation

plan when the junior generation is taking over, since there is not

sufficient dependable cash flow when multiple families are reliant

on the income from the operation.

Special Tax Preference Planning

The family farm and ranch has long had a special place in the

American imagination and a special place in the tax code. Three

important tax preferences can facilitate keeping the operation in

the family: conservation easements, special use valuation, and

alternative valuation date.

Conservation Easements

Farm and ranch land is frequently subject to development

pressure which can dramatically increase the fair market

value of the land and corresponding property taxes. Placing a

conservation easement on the land permanently restricts the use

of the land for agricultural purposes. This will reduce the current

value of the land and associated real estate taxes and reduce

future appreciation.

Special Use Valuation (Section 2032A)

The purpose of Section 2032A is to allow farmland to be valued

as farmland. Section 2032A permits farmland to be valued at its

productive value in farming, rather than farmland's fair market

value (if sold for its highest and best use). When valuing farmland

at a lower cost, a significant amount of estate tax can be saved.

In select situations, it is the difference between a farm remaining

in the family or being sold to raise the cash necessary to pay

estate taxes.

Special land use 2032A is generally misunderstood. It is

widely perceived as easy, uncomplicated, and the primary

method of solving farm estate planning problems. Unfortunately,

that perception often is based on a lack of accurate information

concerning the complexities of how 2032A works, and of its

true advantages and disadvantages. First, it is critical that the

decedent have materially participated in the farm or closely held

business to use special-use valuation. The law also requires

that property inherited by special-use valuation be used for a

qualified purpose by a qualifying heir for a minimum of 10 years. A

qualified use means: 1) the property is used as a farm for farming

purposes; or 2) in a trade or business other than farming. The

term trade or business applies only to an active business such as

manufacturing, mercantile or service enterprise, or to the raising

of agricultural or horticultural commodities.

If such tests regarding the material participation and qualified

use of a qualified family member are not maintained, additional

estate tax and penalties may apply.

Alternative Valuation Date

The purpose of alternate valuation is to reduce the tax liability

if the total value of the estate's property has decreased since

the date of the decedent's death. Alternative valuation applies

to all of the property in the estate. It cannot be used for only

part of the property, as is the case with special-use valuation.

However, their personal representative may choose alternate

valuation and also use special-use valuation for qualified real

property. The choice must be made on the first estate tax return

filed for the estate.

Liquidity, Taxes & Estate Administration

An overriding concern for preservation of the operation upon the

death of the senior operator is protection from fragmentation

(forced sale) through the following:

• Excessive estate taxes

• Excessive debt service cost

• Operational competence of the legatee

• Division of the estate among family members

Asset liquidity within the estate or liquidity that can be created at

death may be a necessary component of the plan. Many wills and

living trusts contain tax formulas that may create unanticipated and

unwanted results, especially in situations where the estate is not

subject to estate tax. As the law changes, operators need to review

the impact of the new law upon their existing documents. °

LAND.COM • LEGENDARY LIVING

71
---
Su-Tian Ranch

6,369± CONTIGUOUS ACRES

ATASCOSA & MCMULLEN COUNTIES

Conveniently located to both San Antonio and Corpus Christi, with first-class hunting,

outstanding views, access on Highway 16, and producing Eagle Ford royalties, this

opportunity to purchase a heritage South Texas ranch is without peer.

LAND.COM • LEGENDARY LIVING

3
---
One of the largest

ranches currently on the

market in South Texas.

Located only a 1.5 hour drive from

both San Antonio and Corpus Christi.

4
---
LAND.COM • LEGENDARY LIVING

5
---
Eagle Ford Royalties.

Seller currently receives royalties from 37

horizontal Eagle Ford oil wells on the ranch.

At full listing price, the seller will consider

selling all of the oil, gas and mineral rights

owned by seller in, under, and on the ranch,

including substantial volumes of caliche and

other road material. The opportunity to buy a

ranch of this size with producing Eagle Ford

royalties is extremely rare.

6
---
Su-Tian Ranch

A world-class, South

Texas, Brush-Country

hunting experience.

6,369± contiguous acres located west of Highway 16

in both Atascosa and McMullen Counties. The Su-

Tian Ranch is one of the largest ranches currently

on the market in South Texas. Almost equidistant

between Tilden and Jourdanton, the ranch is a mere

1.5 hour drive from both San Antonio and Corpus

Christi.

Used as a cattle ranch for many years by the Countiss family, the ranch is now intensively-managed

and used for hunting its abundance of native wildlife. A good system of ranch roads, senderos, feeders

and blinds provides a world-class, South-Texas, Brush-Country hunting experience. Boone and Crockett

caliber whitetails have been harvested in recent years. Pictures of these trophy bucks are available upon

request. Incredible populations of turkey, quail, feral hogs and javelina are present. Numerous wet-weather

creeks cross or adjoin the ranch, including the San Miguel Creek. There are also many elevation changes

throughout the ranch, which offer stunning views of the surrounding country. The ranch has two Carrizo

water wells to service all of its water needs, including

commercial water sales to the oil field industry if the

new owner desires another source of income. There

are very large bodies of water on the property, and

part of the ranch is currently being grazed with cattle.

Improvements at the ranch headquarters include a

lake, main residence, hunting lodge, guest cabin,

numerous barns and outbuildings, and a set of cattle

pens. Bulldozer, front-end loader and two industrial

excavators are included with the ranch.

Conveniently located to both San Antonio and Corpus

Christi, with first-class hunting, outstanding views,

access on Highway 16 and producing Eagle Ford

royalties, this opportunity to purchase a heritage South

Texas ranch is without peer.

$4,710 per acre (with minerals)

The Su-Tian Ranch is offered for sale exclusively by the Sillivent Law Firm

CONTACT CONRAD SRP FOR MORE INFORMATION AT 830.769.3555, EXT. 4

The above information was provided by Seller or Seller's ranch manager to the Sillivent Law Firm. Sillivent Law Firm has not conducted an

independent investigation as to the accuracy of this information and makes no representations or warranties as to its accuracy. All of the above

information should be independently verified by any prospective buyer and should NOT be relied upon without taking the appropriate precautions

to verify its accuracy. Neither Sellers, their employees/agents, or Sillivent Law Firm can be held liable for errors or inaccuracies contained herein.

LAND.COM • LEGENDARY LIVING

7
---
8
---
Enduring investments have timeless value, a legacy that can be shared and passed on.

For more than 30 years, U.S. Coins has been one of the nation's leading wholesalers

of rare and unique coins. Add a piece of history to your estate — contact us today.
---
I'VE BEEN CONTACTED BY A WIND FARM

WRITTEN BY SUSY BENTO

Wind developers rely on landowners to

make their terrain available for wind turbine

construction. This mutually beneficial

agreement gives wind developers the land they

need to generate large amounts of electricity,

which they then sell to municipal energy

utilities. In return for the use of a small portion

of their land, landowners receive royalty

payments for several decades.
---
OWNING LAND

Thinking of Housing a Wind Farm? Follow These 3 Steps

If you have been contacted by a wind developer, you're in luck—chances are your land can make

you a dependable annual profit for the foreseeable future. Here are three main steps to take:

1 2 3

1. Review the Lease First

The first thing you will want to do is

take a look at the lease agreement and

assess the terms suggested by the

developer.

In most cases, you will have to

section off a very small segment of your

land for development and to provide

vehicle access. Be sure to look for

information about your rights to the

land after the developer is done using

it for a wind farm. The contract must

stipulate what happens to the turbines

after the lease expires.

Should any part of the contract

seem unclear, you should call your

developer for clarification. You may

also find that having a second opinion

or trusted legal counsel could turn out

to be valuable.

Remember, wind leases typically

last for multiple decades. Plan ahead

for any changes or renovations you

wish to make to your property during

that period.

2. Set Up a Meeting

Get to know your developer personally.

It's a good idea to meet and discuss

the details of the development

partnership before the developer

sends you a contract.

Scheduling a face-to-face meeting

is the best way to set a stable

foundation for the years to come.

Remember that wind developers are

interested in keeping landowners

satisfied with their development

leases—it's not a competition.

If the developer produces contract

terms that are not ideal, send them

back for revision. Wind developers rely

on landowners to sign leases—offering

the best deal possible is in their

interest. When the lease agreement

looks like a win/win situation for all

parties involved, it is time to sign.

3. Sign the Lease, Get Paid

Upon signing the lease, landowners

should expect some time to pass

before significant wind payments start

rolling in. Wind turbine construction is

an involved process, and it could take

up to five years or longer to finish the

entire project. Prior to construction,

developers will need to test the land,

obtain permits and approvals, connect

the municipal grid to their planned

turbine sites, and more.

Once construction is finished,

however, landowners are ready to begin

receiving a significant passive income

for the foreseeable future. Turbines last

for decades, offering a steady source

of income that is energy-efficient and

environmentally friendly. °
---
THE MAGAZINE FOR PEOPLE WHO LOVE LAND

LAND.COM/MAGAZINES

76
---
Building a Legacy

Spanning across four counties and rising above 2,500 feet in elevation in the Northwest corner of the Centennial state

lies a majestic legacy ranch bigger than New York City. Steeped in rich history, legend and lore, Cross Mountain Ranch is

the epitome of the great American West and one of the largest and most ecologically diverse recreational and operating

ranches on the market today.

Meticulously planned and expertly constructed over a period of 25 years by a spirited environmentalist whose

commitment to conservation still flows through the property today, this distinctive ranch plays a vital role in the state's

conservation efforts as a wildlife preserve and home to a 16,000-acre sage grouse habitat as well as North America's

largest elk herd. Now, on the market for the first time in nearly three decades, interested buyers have the chance to

acquire the property as a whole for $100 million or portions of the ranch can be purchased separately: Osterhouse

Ranch, Egry Mesa Ranch and Pyramid Ranch.

78
---
The History of

Cross Mountain Ranch

The massive 224,050-acre Colorado retreat is comprised of two distinct ecosystems:

the alpine landscapes of the Upper Ranch and high desert of the Lower Ranch and includes valuable

components such as water rights, agricultural operations, recreational offerings, and conservation resources.

SPOTLIGHT

Humble beginnings...

While the origin of Cross Mountain Ranch dates back to 1882 when the

Northwest territories of Colorado were opened to homesteaders, the

property has far since exceeded its humble beginnings thanks to the

vision and commitment of owners, Ronald and Kitty Boeddeker. What

started as a chance visit to the Safari Club International's annual hunting

convention in Reno, Nevada would lead to the creation of one of the most

significant properties in the West. It was at the convention that Kitty

wandered into a small real estate booth when her eye caught something

of interest. There amongst hundreds of pristine properties on display,

Kitty saw a diamond in the rough: a small cluster of ranches for sale near

Steamboat Springs, Colorado.

The Boeddekers were no strangers to real estate. The late Mr. Boeddeker

was a property developer and founder of Transcontinental Corp., best

known for his work with Lake Las Vegas and Waikoloa Beach Resort. At first

glance, the property seemed too good to be true, but fit all the criteria for

the Boeddeker's dream vacation retreat: proximity to the West coast, near a

ski town and had plenty of water. After an initial visit and an inspection from

an expert team of surveyors, Ronald and Kitty purchased the property and

the legacy of Cross Mountain Ranch began.

Stewards of the land…

From the Ute Indians, to Kit Carson, Butch Cassidy, The Sundance Kid and

his gang "The Wild Bunch," some of the most well-known figures in the West

experienced and appreciated the beauty of Cross Mountain Ranch. Having

been raised on a ranch himself, Boeddeker had a deep-rooted respect for

the land and a love of Western heritage, which fueled a lifelong commitment

to conservation. He envisioned Cross Mountain Ranch to be an escape back

to nature and a place where he and his family could reconnect with the lands

and his roots. He often reminded his friends and family that he was "simply a

steward of the land and its legacy" and wanted to improve and preserve the

diversity and majesty of Cross Mountain Ranch.

It is with this vison that Boeddeker and his family set out on a mission to

construct a masterpiece, which is now one of the last remaining pieces of

the great American West.

LAND.COM • LEGENDARY LIVING

79
---
It took the better part

of two decades for the

Boeddeker family to

strategically piece

together what is now

Cross Mountain Ranch.

Piece by piece...

It took the better part of two decades for the Boeddeker family to

strategically piece together what is now Cross Mountain Ranch. With the

first purchase in 1992, more land was acquired in 1994 and 2005. The

completion of the ranch occurred in 2007 when Cross Mountain Ranch

participated in a federal land exchange with the Department of Interior,

acquiring 2,543 acres.

The Boeddekers constructed an 11,000-square-foot, nine-bedroom

and nine-and-a-half-bathroom log mansion and enhanced the property

with paved roads, plumbing and electricity. The mansion was completed

in December of 1993 and sits on top of a bluff in the middle of open green

pastures with breathtaking views of the surrounding mountains in the

Upper Ranch.

With the property finally complete, the Boeddekers set their sights on

conservation, and in 2014, set a precedent for other large, privatelyowned

ranches by protecting 16,000 acres of vital sage grouse habitat

through a conservation easement with The Colorado Cattleman's

Agricultural Land Trust. In addition, the family has had the ranch enrolled

in Colorado's innovative Ranching for Wildlife program for years. The

program gives hunters the luxury to hunt on privately owned land,

while also playing a role in wildlife management. As one of 27 ranches

participating in the program, Cross Mountain Ranch is awarded 100+ elk

tags and 25 mule deer tags in the Upper Ranch annually.

Lay of the land...

Because of the Boeddeker's expert foresight and conservation efforts,

today Cross Mountain Ranch stands at 56,050 acres with 168,000

acres leased for grazing from the Routt National Forest, Bureau of

Land Management, Colorado State Land Board and Dinosaur National

Monument. The confluence of history, nature, recreation and agriculture,

the property is a once-in-a-lifetime investment opportunity. As a working

cattle and sheep ranch, it has a carrying capacity of 2,000 cows and

10,000 sheep, grazing on hundreds of acres of pastures and lush

meadows fed by 20 miles of private river frontage along the Yampa,

Williams Fork and Little Snake rivers. The abundance of flowing water

throughout the property is accompanied by historic water rights, that are

some of the oldest in the Yampa River Basin.

The Upper Ranch located in Routt and Garfield counties is just 45 minutes

from Steamboat Springs, Colorado and adjoins to the Routt National

Forest as well as the north slopes of Flat Top Wilderness

Area. Known for its stunning Alpine landscapes and

rich game, the area includes 2.5 miles of beautiful

river frontage along the winding Williams Fork

River. The clear waters of the Williams Fork

are known as one of the best brown trout

fisheries in Colorado and are fishable

year-round.

80
---
SPOTLIGHT

A web of Bureau of Land Management land stiches together the Upper

and Lower ranches, connecting various individual parcels of land into

larger blocks of working landscape. While the beauty of the Upper Ranch is

renowned, the Lower Ranch is home to the property's namesake: the nine

mile-long, 8,000-foot-high Cross Mountain.

Located in Moffat County near the cowboy town of Craig, Colorado, the

Lower Ranch, with its high desert terrain, lush meadows and moderate

temperatures, serves as the winter headquarters for agriculture operations.

The Yampa River winds through the property for 11.8 miles as does the Little

Snake for 5.8 miles. In addition, the Lower Ranch is known for its critical

range for big game and hunters can enjoy trophy hunting on the property.

Linked together as they are at Cross Mountain Ranch, valuable components

such as water rights, recreational offerings and agricultural operations offer

invaluable potential. But what makes this incredible property valued at

$100 million is Ronald Boeddeker's vision and dedication to constructing an

incredible legacy ranch, piece by piece, for more than two decades. Every

addition and renovation was done with a purpose in the spirit of preservation,

recreation and reconnection, and while Boeddeker passed away in 2010, his

legacy lives on in the ranch today. It is the hope of the Boeddeker family that

the new owners will uphold Cross Mountain Ranch's legacy, which was so

thoughtfully planned and executed by a man who considered himself simply

a steward of the land.

Cross Mountain Ranch is listed with Mirr Ranch Group • (877) 623-4545

For more information about the property, visit www.MirrRanchGroup.com.
---
Wasatch Peaks Ranch

12,740± Acres in Morgan County, Utah

Stretching 11 miles along the ridge of Utah's Wasatch Mountains lies 20 square

miles of the most spectacularly pristine recreational property in the West. Wasatch

Peaks Ranch is only 35 minutes from Salt Lake City, controls a continuous

ridgeline of 24 peaks and 15 bowls and adjoins national forest. Recreation includes

fly fishing along 1.75 miles of the Weber River and many other recreational

pursuits on 80+ miles of trails. Enjoy a private sanctuary, exclusive mountain club

or consider the development potential. Contact Ken Mirr.

$39,000,000

Property ID: 2690397

Moonshine Ranch

6,200± Acres in Huerfano County, Colorado

Moonshine Ranch, at 6,200 deeded acres, is one of the finest mountain hunting

properties in the western United States. With elevations ranging from 7,500–

10,000 feet, this property boasts an incredibly diverse and stunning landscape with

irrigated meadows, high mountain lakes and ponds, seeps, springs, seasonal creeks

and old-growth aspen and timber stands. The ranch is home to high numbers

of elk and mule deer and easily accommodates 200 mother cows year-round.

Contact Jeff Hubbard or Pat Lancaster.

$19,500,000

Property ID: 4215221

Price Reduced

Sandstone Ranch

2,038± Acres in Douglas County, Colorado

With its brilliantly-colored red rock formations rising from the lush green

meadows, the 2,038-acre Sandstone Ranch is quite simply one of the most iconic

and scenic properties available in the Front Range of Colorado. Situated at the

end of a private lane, the property opens to rolling pastures lined by meandering

creeks and ponds that rise to the forested hillsides of the adjoining national

forest. The property includes a balance of historic and modern ranch facilities

as well as entitlements in place for a future equestrian-anchored, large-lot,

residential development. Contact Ken Mirr.

$18,750,000

Property ID: 3772709

Eagle's Nest Ranch

80± Acres in Eagle County, Colorado

Eagle's Nest Ranch offers the opportunity to own an end-of-the-road, exceedingly

private mountain retreat within 25 minutes of world-class skiing, dining and resort life

at Beaver Creek and Vail. Surrounded on three sides by the Holy Cross Wilderness

and White River National Forest, the property sits at the head of Lake Creek, one

of the Vail Valley's most iconic locales. Private access into hundreds of thousands of

acres of public land is right out the back door. The property is traversed by a quarter

of a mile of West Lake Creek, and the property itself, with its irrigated hay meadow, is

frequented by deer and elk. Contact Jeff Hubbard or Pat Lancaster.

$15,000,000

Property ID: 4773844

82

Info@MirrRanchGroup.com

Office: (303) 623-4545 • Toll Free: (877) 623-4545
---
Double R Ranch

5,815± Acres in Jackson County, Colorado

A historic working ranch with miles of trophy fly fishing and extraordinary

water rights, the Double R Ranch consists of approximately 5,815± deeded

acres, with 10,550± acres of adjoining public land leases. Double R Ranch has

a carrying capacity of 925 cow/calf pairs and valuable water rights that irrigate

3,150 acres of hay ground. Fly-fishermen will enjoy private frontage on 4.3 miles

of the North Platte River and 6.3 miles of additional rivers and creeks. Double R

includes numerous well-maintained improvements that fit the scale and needs of

an operating cattle ranch. Contact Ken Mirr.

$13,600,000

Property ID: 3772246

Red Sky Ranch

2,097± Acres in Smith County, Kansas

Located in north central Kansas, near the geographic center of the lower 48, lies

the Red Sky Ranch, 2,097 acres of high quality, diverse rolling hills consisting

of 901 acres of tilled land, over 30 acres of lakes, nearly five miles of creeks and

streams, and hundreds of acres of deep riparian area covered in Hardwood

and Cottonwood. Red Sky Ranch is a multi-faceted dryland farm and cattle

operation coupled with excellent recreational qualities throughout. This ranch

produces trophy whitetail, huge numbers of turkeys and upland game.

Contact Robb Nelson or Jared Souza.

$4,900,000

Property ID: 4762378

Big Bend Station

386± Acres in Weld County, Colorado

Big Bend Station is a tremendous recreational and agricultural jewel located on

the South Platte River on Colorado's Front Range. The property is as diverse as

its historical past. Featuring over a mile of warm water sloughs, wildlife attracting

wetlands, and adjacent to over two miles of the South Platte River, the property

is a magnet for waterfowl. With over 100 acres of cottonwood-covered river

bottom, whitetail deer and turkey have all the habitat they need to flourish on the

property. Contact Robb Nelson.

$4,200,000

Property ID: 4762755

Snowmass Wilderness Estate

100± Acres in Pitkin County, Colorado

Rarely does luxury, comfort and Colorado wilderness co-exist like it does at the

100-acre Snowmass Wilderness Estate. Sitting just below Mt. Sopris and the

Elk Range in proximity to Aspen, Colorado, and bordering the White River

National Forest, this new 5,646-square-foot architect-designed home beckons

the active family. Hunting, hiking, wildlife viewing and horseback-riding can

all be enjoyed on the miles of trails just steps from this private, end-of-the-road

property. Contact Tommy Latousek.

$3,950,000

Property ID: 4466247

915 South Pearl Street

Denver, Colorado 80209

www.MirrRanchGroup.com

View All Properties: LandsofAmerica.com/member/11912

LANDSOFAMERICAMAGAZINES.COM

83
---
Price Reduced

Singing Elk Ranch

423± Acres in Routt County, Colorado

Singing Elk Ranch is a pristine, high alpine retreat located in the Upper Yampa

River Valley of northwest Colorado. The ranch is situated atop an elevated

plateau, boasts 360-degree mountain views and numerous recreational

opportunities and borders the Routt National Forest. Trails link the ranch to

over one million acres of forest lands, leading to countless high alpine lakes and

landmarks and the famous Flat Tops Wilderness Area. Contact Daniel Carter.

$3,500,000

Property ID: 3773068

Edjumar Ranch

806± Acres in Johnson County, Wyoming

Edjumar Ranch is a spectacular 806± acre gentlemen's ranch, lying at the end

of the road, within the evening shadows of the famed Bighorn Mountains, just

minutes from Buffalo, Wyoming. The property is comprised of approximately

686 deeded acres, 120 acres of BLM lands, and has incredible vistas, recreational

and agricultural resources, making for a very well-rounded ranch in a beautiful

part of northern Wyoming. French Creek runs through the property for

approximately one mile, providing good fishing opportunities for wild trout.

Contact Duffy Brown.

$3,150,000

Property ID: 2686220

Seven Diamonds Ranch

542± Acres in Custer County, Colorado

The 542-acre Seven Diamonds Ranch lies in the heart of Colorado's renowned

Wet Mountain Valley at the confluence of Grape and Swift Creek, the valleys

two main drainages. This beautiful hay and cattle ranch is prime agricultural land

with 350 acres of irrigated hay ground and the balance of upland pasture. The

ranch is the first private property upstream of the DeWeese Reservoir and owns

both sides of a mile-and-a-half of Grape Creek, the quiet pleasure of local fly

fishermen. Contact Woody Beardsley.

$2,950,000

Property ID: 2327673

Sundance Bench Ranch

60± Acres in Madison County, Montana

This 60-acre property is nestled on its own perch overlooking the Madison

River and features scenic views of the surrounding mountains and valley below.

A stone's throw from the ranch, the Madison River is acclaimed worldwide as

a premier fly-fishing destination and flows for more than 60 miles. Landowners

within Sundance Bench enjoy private access to a prized wade-only stretch. The

centerpiece of the property is a distinctive Norwegian-style compound that was

designed and constructed by skiing legend Stein Eriksen. Contact Daniel Carter.

$2,600,000

Property ID: 4759040

84

Info@MirrRanchGroup.com

Office: (303) 623-4545 • Toll Free: (877) 623-4545
---
Hidden Valley Ranch

5,815± Acres in Converse County, Wyoming

Located within the Laramie Mountain Range along the famed Boxelder Creek is the

Hidden Valley Ranch. A unique and rare offering, this recreational and productive

ranch is full of water, big game and aesthetic value. This 470-acre sportsman's ranch is

surrounded by compelling views and dissected by four different creeks that provide

irrigation to the ranch's meadows while creating a valuable native trout fishery and a

setting second to none. Along the valley floor of Hidden Valley Ranch is a custombuilt

log home, shop and barn, all of which are in like-new condition and perfectly

situated within the ranch for complete privacy. Contact Jared Souza.

$2,550,000

Property ID: 4762788

Calloway Hill Ranch

778± Acres in Larimer County, Colorado

Situated along the coveted Phantom Canyon, Calloway Hill Ranch is a rare find with

unprecedented private Front Range fly-fishing on 3.5 miles of the renowned North

Fork of the Cache La Poudre River and 275-acre Halligan Reservoir. The property

is an ecological gem positioned at the foothills of the Rocky Mountains, offering

prime habitat to a diverse population of wildlife. Calloway Hill is found within a

greater region that encompasses over 10,000 acres of conserved lands, state parks and

wildlife areas. The ranch is located just 25 minutes north of Fort Collins, Colorado

and has good year-round access off of Highway 287. Contact Daniel Carter.

$2,050,000

Property ID: 4759112

Price Reduced

Jack Creek Ranch

2,150± Acres in Big Horn County, Wyoming

Still owned by the family that homesteaded it nearly 100 years ago, the Jack

Creek Ranch is an excellent high country ranch located on the western slope of

Bighorn Mountains in north-central Wyoming. The 2,150± deeded acre ranch

offers exceptional big game hunting, access to the adjoining Bighorn National

Forest, and summer grazing for livestock. With elevations ranging from

8,300–9,600 feet, the ranch has a varied landscape consisting of densely timbered

hillsides, deep draws, rock outcroppings and stunning mountain views and vistas

over the Bighorn Basin. Contact Mac McWhorter.

$1,900,000

Property ID: 4773872

Indian Hills Farm

340± Acres in Pueblo County, Colorado

Indian Hills Farm is a one-of-a-kind sporting retreat and working farm uniquely

positioned along the southern banks of the Arkansas River just 30 miles east of

Pueblo, Colorado. This quaint 340-acre property has been carefully stewarded

by the same family over the past two decades and boasts almost one mile of

Arkansas River frontage, providing tremendous hunting for waterfowl and deer.

Includes historic and senior water rights, irrigated tillable land, rustic two-story

farmhouse, equipment shop, horse barn and an active and permitted gravel

pit, further diversifying the income-generating component of this compelling

property. Contact Daniel Carter.

$1,400,000

Property ID: 3447760

915 South Pearl Street

Denver, Colorado 80209

www.MirrRanchGroup.com

View All Properties: LandsofAmerica.com/member/11912

LANDSOFAMERICAMAGAZINES.COM

85
---
Chief Mountain Ranch

400± Acres in Glacier County, Montana

Chief Mountain Ranch is an incredibly wild and scenic property with stunning

180-degree mountain peak panoramas of the eastern edge of Glacier National Park.

The ranch encompasses 400 acres and an impressive diversity of land features that

offer endless recreation and exploration. Chief Mountain Ranch is a rare inholding

of the million+ acre Blackfeet Indian Reservation. It is private (deeded) land that has

long been in family ownership since the 1920s. Contact Daniel Carter.

$1,400,000

Property ID: 4759096

Wilset Creek Ranch

287± Acres in Jackson County, Colorado

A great recreational property near Steamboat Springs and Walden, the Wilset

Creek Ranch lies in a picturesque hidden valley framed by aspens and situated

under Rabbit Ears Peak. This secluded property is the perfect place to build a

hunting cabin or retreat. Expansive views of Rabbit Ears and the neighboring Routt

National Forest provide for a breathtaking setting. The 287 deeded acres feels like a

significantly bigger property. Offers excellent hunting for elk, deer and pronghorn,

with Wilset Creek and three ponds attracting wildlife.

$875,000

Property ID: 4466794

Price Reduced

Elk Creek Ranch

2,850± Acres in Rio Blanco County, Colorado

This private sporting club is one of the most exclusive fly fishing and hunting

communities in the world. Tucked away in northwestern Colorado and along the

banks of the legendary White River, Elk Creek Ranch is comprised of 2,850 total

deeded acres and has access to more than 25 miles of pristine and private trout

water. Membership is included with unparalleled luxury and club amenities.

Offering four distinct properties. Contact Ken Mirr or Daniel Carter.

STARTING AT

$795,000

Valle California

8,000± Acres in Los Lagos Region, Chile

Valle California is a wilderness retreat in the heart of Patagonia. The property is a

total of 8,000 acres with 92 percent maintained solely as conservation land and the

remaining eight percent designated for the construction of private residences by

owners of the reserve. Each landowner gains access to the reserve's conservation

land for recreational purposes, including 25 kilometers of river and an extensive

trail network on the property. Contact Ken Mirr or Haley Mirr.

STARTING AT

$420,000

Property ID: 2686583, 2686276, 4286316 & 2686553

86

Info@MirrRanchGroup.com

Office: (303) 623-4545 • Toll Free: (877) 623-4545
---
915 South Pearl Street

Denver, Colorado 80209

www.MirrRanchGroup.com

View All Properties: LandsofAmerica.com/member/11912

LANDSOFAMERICAMAGAZINES.COM

87
---
Each Office is Independently Owned and Operated. Operated by Sotheby's International Realty, Inc.
---
8,500 DEEDED ACRES.

FENCED & CROSS-FENCED.

HORSE TRAINER WANTED.

We are Farm & Ranch specialists with a network of 900 full-service, global offices.

We have more local boots on the ground than any other Farm and Ranch brokerage.

LOCAL ROOTS. GLOBAL REACH.
---
FARM & RANCH PROPERTIES

R&B RANCH

$24,000,000 #201608213 507.86 ACRES

SISTERS, OREGON – Encompassing 507 acres, this

Central Oregon ranch located just five minutes from

the charming town of Sisters is a diverse mixture of

productive pasture for livestock, high desert pine

forest and an irrigated oasis of manicured grounds.

randbranch-sistersoregon.com

pam mayo-phillips & brook havens

MAHOGANY BUTTE RANCH

$10,000,000 #201703558 6,867 ACRES

PRINEVILLE, OREGON – Mill Creek runs through

the property which borders the Ochoco National

Forest. The beautiful 4,010-square-foot main home

features a saltwater swimming pool overlooking the

Mill Creek Valley. Two additional homes, private

setting. mahoganybutteranch-prinevilleoregon.com

pam mayo-phillips & brook havens

BROOK HAVENS, PRINCIPAL BROKER

541.604.0788

BROOK.HAVENS@SOTHEBYSREALTY.COM

PAM MAYO-PHILLIPS, PRINCIPAL BROKER

541.480.1513

PAM.MAYO-PHILLIPS@SOTHEBYSREALTY.COM
---
FARM & RANCH PROPERTIES

NW BEND DEVELOPMENT PROPERTY

$21,900,000 #201704167 73 ACRES

BEND, OREGON – Development opportunity in the

Bend UGB. Possibility of 200 single-family residences

with the updated City Master Plan Code. Property has

varied topography, pine trees and is bordered by good

neighborhoods. This property has the potential to be

the next great westside community!

pam mayo-phillips & brook havens

BOX S RANCH

$6,473,550 #201702356 280 ACRES

BEND, OREGON – Unmatched seclusion and

privacy and Cascade Mountain views. Main home,

water rights, canyons, stocked ponds, guest home,

barn with office and shop, garden and hay barns.

This ranch is a one-of-a-kind, recreational, lifestyle

property! boxsranch-bendoregon.com

pam mayo-phillips & brook havens

TOM MCCALL RIVER RANCH

$5,500,000 #201607141 579 ACRES

REDMOND, OREGON – Productive ranch with

461 acres including water rights. 6,168-square-foot

home with four bedrooms and four baths. Indoor

arena, barn with 30 stalls, two shops and additional

homes. Cascade Mountain views and Crooked River

frontage. tommccallriverranch-centraloregon.com

pam mayo-phillips & brook havens

MCKAY ROAD RANCH

$1,595,000 #201606715 106.55 ACRES

PRINEVILLE, OREGON – Spectacular Cascade

Mountain and valley views from private hilltop

estate features 4,456-square-foot home with three

bedrooms, two-and-a-half baths. Outdoor swimming

pool, beautiful landscaped yard and gardens.

mckayroadranch-prinevilleoregon.com

pam mayo-phillips & brook havens

BROOK HAVENS, PRINCIPAL BROKER

541.604.0788

BROOK.HAVENS@SOTHEBYSREALTY.COM

PAM MAYO-PHILLIPS, PRINCIPAL BROKER

541.480.1513

PAM.MAYO-PHILLIPS@SOTHEBYSREALTY.COM
---
FARM & RANCH PROPERTIES

KNORR LAKESIDE RANCH

$8,438,000 #S171348 1,125 ACRES

SILVERTHORNE, COLORADO –Exceptional first

time offering includes 1.4 miles of water frontage on

Green Mountain Reservoir, upper acreage bordering

Arapahoe National Forest and 30 CFS of senior water

rights. Unencumbered acreage presents unique

opportunity for conservation or development.

ren martyn

CLEAR FORK RANCH

$6,700,000 #S161274 3,400 ACRES

CRAWFORD, COLORADO – Historic ranch

bordered by USNF and BLM lease. Diverse habitat

for elk, deer, bear and wild turkey populations. Six

hunting cabins, water, five miles of private roads,

fenced and cross-fenced.

ren martyn

HIGH MEADOWS RANCH

$1,900,000 #S171003 100 ACRES

STAGECOACH, COLORADO – Located 30 minutes

from Steamboat Springs, this unique ranch features a

main house, two guest cabins and a large custom barn

with apartment and stocked pond. The improvements

are perfectly situated for a commercial operation with

Morrison Creek flowing through the ranch.

ren martyn

DUNKLEY PEAK RANCH

$1,595,000 #S161254 160 ACRES

HAYDEN, COLORADO – Imagine an irreplaceable

retreat in a private valley surrounded by millions

of USFS acres. Main lodge, cabin, shop and covered

dance floor. Excellent Big Game hunting and a threeacre

lake for fishing!

ren martyn

REN MARTYN, RANCH BROKER

970.846.3118 | REN.MARTYN@SIR.COM

HIGHMOUNTAINLAND.COM
---
FARM & RANCH PROPERTIES

RANCHO SAN CARLOS

$85,000,000 #15-524 237 ACRES

MONTECITO, CALIFORNIA – Reginald Johnson

estate built in 1931 with features that include 10

residential cottages, an office, producing orchards and

extensive equestrian facilities.

suzanne perkins

RARE HOPE RANCH BLUFF ESTATE

$16,950,000 #15-2450 12.99 ACRES

SANTA BARBARA, CALIFORNIA – Oceanfront

bluff top with an adobe-style home. An entertainment

pavilion and cabana overlook the pool towards the

ocean and acres of avocado and citrus trees.

suzanne perkins

GRAND MONTECITO PARCEL

$8,750,000 #17-1196 3 ACRES

MONTECITO, CALIFORNIA – This three-acre

property presents the perfect opportunity to create

an exceptional estate in a world-class location with

a private gated entrance, a landscaped drive and

ocean and mountain views.

suzanne perkins

SUZANNE PERKINS, BROKER

805.895.2138 | SUZANNE@SUZANNEPERKINS.COM

SUZANNEPERKINS.COM
---
FARM & RANCH PROPERTIES

BEAR MOUNTAIN RANCH

$30,000,000 #1488897 7,973 ACRES

MOUNT PLEASANT, UTAH – Bear Mountain

Ranch is a 7,973-acre ranch bordering the Manti-La

Sal National Forest in Central Utah. The elevation

ranges from 6,200 to 10,300 feet. The ranch includes

a luxurious 8,424-square-foot lodge and has endless

recreational opportunities with exceptional trophy

elk and deer hunting. bearmountainranchutah.com

kerry oman

KERRY OMAN, ASSOCIATE BROKER

801.369.2507 | KERRY.OMAN@SOTHEBYSREALT Y.COM

KERRYOMAN.COM
---
FARM & RANCH PROPERTIES

EASY COMMUTE TO DENVER

$3,650,000 #4969668 38.56 ACRES

CASTLE ROCK, COLORADO – Feel like you are in

the middle of nowhere yet minutes to everywhere.

A modern pioneer farmhouse rustic in appearance,

fine in architectural significance and authenticity.

251stonepointetrail.com

elaine stucy

ELAINE STUCY, BROKER ASSOCIATE

720.881.5718 | ESTUCY@LIVSOTHEBYSREALTY.COM

STUCYSTEVENS.COM
---
• BOONE PICKENS' •

Oasis in the Texas Panhandle

MESA VISTA RANCH

Offered jointly and exclusively by

Serving The Ranching Industry Since 1920 Dedicated to Landowners Since 1949

LAND.COM • LEGENDARY LIVING

105
---
106

"You do everything to make the land perfect, hoping

the next owner has the same passion."

— T. Boone Pickens
---
MESA VISTA RANCH

64,809± Acres in Roberts County, Texas

In 1971, T. Boone Pickens purchased approximately 2,900 acres along the south side of the Canadian River

in Roberts County, Texas. Over the years, Boone began to assemble additional adjoining land positioned along

the Canadian River corridor, and today the Mesa Vista Ranch comprises over 100 square miles of prime

eastern Texas Panhandle ranch land. As Boone's assemblage continued, he spent millions and millions of dollars

to make Mesa Vista one of the best improved ranches in the United States. Now, at the age of 89, Boone has

made the decision to sell his beloved Mesa Vista Ranch. This decision was not easy, because Boone has spent

nearly 50 years of his life building, expanding, developing and enjoying his "Oasis in the Texas Panhandle."

LOCATION

The Mesa Vista Ranch is well-located in the Eastern Texas

Panhandle. The property fronts approximately 25 miles of

the Canadian River.

TERRAIN

The ranch is a combination of productive river bottoms,

undulating sandhills, upland plains, ridges and mesa points.

IMPROVEMENTS

Major structural improvements include the lodge,

family house, pub, gate house, kennels, a 6,000'x100'

lighted landing strip with massive hangar, plus multiple

manager and employee housing, along with numerous

support buildings. The centerpiece of the ranch is

Boone's astonishing "Lake House," which has incredible

landscaping and unbelievable water features.

WATER

Positioned above the prolific Ogallala Aquifer, Boone

created a series of lakes, creeks and waterfalls that

transformed Texas ranch country into a "waterpark" unlike

anything ever conceived in the past.

RESOURCES

Besides abundant water, there is scattered oil production,

and all of Boone's mineral and royalty interest will convey

with the property.

PRICE AND REMARKS

With over 45 years of buying, building, adding and

planning, hundreds of millions of dollars were invested to

create Mesa Vista Ranch. This property is now, for the first

time ever, offered for sale at $250,000,000, which is an

extremely reasonable price when the replacement cost of

the improvements, water, minerals and land are considered.

This is a turnkey offering, with Boone only retaining limited

personal effects.

For the sportsman, the Mesa Vista offers unmatched

hunting, with quail, dove, turkey, pheasant, water fowl, both

whitetail and mule deer, along with antelope and aoudad.

The Mesa Vista Ranch truly has it all and is a property

fit for a king. This one-of-a-kind luxury ranch has been a

gathering place for some of the greatest business minds and

political heads in the nation, but more importantly to Boone,

it has been a place where his vision for perfection came true.

Now, his vision and 45-year commitment can be yours.

Qualified buyers can schedule a showing of the property by contacting the Brokers.

MONTE LYONS

806.698.6882 office | 806.438.0582 cell

MLyons@HallandHall.com | HallandHall.com

SAM MIDDLETON

806.763.5331 office | 817.304.0504 cell

Sam@CSMandSon.com | ChasSMiddleton.com

LAND.COM • LEGENDARY LIVING

107
---
PIEDRA VALLEY RANCH

PAGOSA SPRINGS, COLORADO

MOTHERWELL RANCH

STEAMBOAT SPRINGS, COLORADO

STEALEY MOUNTAIN RANCH

RIDGWAY, COLORADO

Blessed with unequalled views, privacy,

recreation, and wildlife within 10 miles

of Pagosa Springs, this 9,600± deeded

acre holding borders national forest

and includes a private lake, numerous

ponds, and miles of creeks.

$46,000,000

Spanning an enormous block of

contiguous land rising from a troutfilled

river up to the national forest,

this exceptional 10,350± acre sporting

paradise is distinguished by its diverse

landscape and extraordinary privacy.

$45,000,000

Located 8 miles east of Ridgway and

an hour drive to Telluride, Stealey

Mountain Ranch offers, 2,142± acres

adjacent to Uncompahgre National

Forest, exceptional improvements, and

views of the San Juan Mountains.

$24,950,000

STAR LAKE RANCH

TULSA, OKLAHOMAA

SULA PEAK RANCH

SULA, MONTANA

DANCING WIND RANCH

LIVINGSTON, MONTANA

A purebred cattle ranch 16 miles north

of Tulsa. 3,290± acres of bluestem

grass covering rolling hills provide

scenic vistas in all directions. Working

facilities including the show/sale barn

complement the 16 main pastures.

$13,160,000

This 2,848± acre working ranch with

extraordinary recreational amenities

includes 25,000+ acres of leases and

permits. A flourishing elk population

and a river flowing through make this a

very special holding.

$12,850,000

1,750± acre Paradise Valley ranch

runs from highway to the wilderness

boundary. Irrigated meadows with

operating improvements give way to

dramatic mountain country. 8,100± sq.

ft. Jonathan Foote-designed home.

$12,000,000

108

SALES | AUCTIONS | FINANCE | APPRAISALS | MANAGEMENT
---
On Location - Miller Lake Ranch | Anaconda, Montana

FISHER RANCH

EUFAULA, OKLAHOMA

CANYON CREEK RANCH

PLACERVILLE, COLORADO

EAGLE CREEK RANCH

WHITE SULPHUR SPRINGS, MONTANA

The all-contiguous 11,504± acre

Fisher Ranch is a hardworking 1,500±

cow ranch. Excellent water, native and

Bermuda grasses, trophy deer hunting,

45-inch annual rainfall. Located 90

miles east of Oklahoma City.

$21,000,000

Located only 25 miles from Telluride

and within an hour's drive of local

airports, Canyon Creek Ranch offers

3,247± acres of Colorado mountain

ranch land, world-class views, wildlife,

and numerous sites to build.

$16,900,000

Beautiful, private and secluded

14,650± acre 200± animal unit

operating mountain ranch with

exceptional big game hunting lying

along the headwaters of Eagle Creek

northwest of White Sulphur Springs.

$14,950,000

BUCKTAIL FARM

PAXTON, NEBRASKA

RANCHO DE LAS ROCAS

BENSON, ARIZONA

CIRCLE 9 SPRING CREEK RANCH

WATERLOO, MONTANA

Bucktail Farm is located in the middle

of the Ogallala Aquifer. Features 21

center pivots irrigating over 2,700

acres. Grain storage for 200,000

bushels. Seller requires leaseback on

terms to be negotiated.

$10,900,000

45 minutes from Tucson, Rancho de

las Rocas offers 1,060± acres. Private,

diverse topography, rock outcroppings,

five water wells, development

opportunity, place in a conservation

easement, or build a home.

$7,900,000

Circle 9 Spring Creek Ranch consists of

714± acres resting along the Jefferson

River. Gorgeous scenery, miles of river

and spring creeks, irrigated ground,

plentiful wildlife, and a balanced ag.

operation complete this offering.

$7,500,000

WWW.HALLANDHALL.COM | INFO@HALLANDHALL.COM | 888.988.5441

LAND.COM • LEGENDARY LIVING

109
---
RICHMOND HILL RANCH

CONIFER, COLORADO

ROCKIN JN RANCH

SULA, MONTANA

RIVER BEND FARM

RAMSEY, ILLINOIS

Richmond Hill Ranch presents an

opportunity to acquire a 338± acre

gentleman's ranch within 35 minutes of

downtown Denver and 10 minutes from

Conifer. Primary residence of 7,706± sq.

ft. and 3,200± sq. ft. equipment shop.

$5,250,000

situated amidst an ocean of public

lands and large holdings. The custom

home with over 5,800 square feet was

completed in 2006 and is perched atop

a ridge with 360º views of grandeur.

$4,950,000

World-class waterfowl property located

in the Kaskaskia River bottoms of southcentral

Illinois 75 miles from St. Louis.

1,148± acres of phenomenal wildlife

habitat. Trophy deer and wild pheasant.

816± acres in WRP. Great log cabin.

$4,700,000

RSM RANCH

BLACK HAWK, COLORADO

LOGAN CREEK RANCH

CODY, WYOMING

BULL SPRINGS RANCH

CRIPPLE CREEK, COLORADO

Only 35 miles from Denver, 223± acres

of vacant land is adjacent to Blackhawk

and Central City, conveniently located

between Central City Parkway and

Highway 119. Development and/or

conservation opportunity.

Reduced to $3,750,000

10 miles west of Cody in its own

private spring-fed creek valley, this

power-packed 680± acre ranch offers a

lush oasis to wildlife with comfortable

house and guest house. Offers

excellent big game hunting.

$3,700,000

360± deeded acres of secluded vacant

land located an hour's drive west of

Colorado Springs. The property is tree

covered, offers scenic mountain views,

plentiful wildlife, and presents an

opportunity to build to suit.

$1,500,000

110

SALES | AUCTIONS | FINANCE | APPRAISALS | MANAGEMENT
---
On Location - Plum Nelly Farm | Rising Fawn, Georgia

SOUTHEAST OFFERINGS

LONE CYPRESS RANCH

SULA, MONTANA

CANE MILL PLANTATION

ALBANY, GEORGIA

WILDFLOWER WOODS

FRANKLIN, TENNESSEE

301.39± acres with national forest

boundaries, three stocked trout

ponds, East Fork river frontage and

extensive improvements. 9,500± sq. ft.

residence, guest and staff residences,

and equestrian improvements.

$4,500,000

Historical and productive wild quail

plantation in key South Georgia area.

Surrounded by other plantations.

3,890± acres. Wide range of quality

hunting. Comfortable improvements.

Offered in smaller parcels.

$16,000,000

950± acres only 30 minutes from

Nashville. Incredible location for a

property this size. Gorgeous landscape.

Endless recreational opportunities.

12± acre lake. First time on the

market in 33 years. Great lodge.

$11,800,000

SALMON CREEK FARM

HAGERMAN, IDAHO

Lovely 67± acre lifestyle and sporting

property featuring over one-half mile

of Snake River frontage, 50± irrigated

acres, and a beautiful one-bedroom,

one-bath home with attached workshop.

10 minutes from Hagerman.

$1,500,000

WILLOW OAKS PLANTATION

EDEN, NORTH CAROLINA

Historical 1,769± acres on Dan River.

Exquisite southern plantation home

built in 1825. Recreational hunting

is diverse, prolific and of high quality.

Trophy deer hunting! Lots of water

resources. Equestrian facilities.

Reduced to $9,500,000

TOLEMAC FARM

JASPER, GEORGIA

Gorgeous 401± acre farm one

hour north of Atlanta. Immaculate

improvements including updated

historical main home. Strong

equestrian and wildlife components.

Diverse landscape with four-acre lake.

$4,950,000

Contact Elliott Davenport | elliott@wingsgroupllc.com | 423.364.2092

WWW.HALLANDHALL.COM | INFO@HALLANDHALL.COM | 888.988.5441

LAND.COM • LEGENDARY LIVING

111
---
(707) 455-4444 | INFO@CAOUTDOORPROPERTIES.COM

View All Properties: LandsofAmerica.com/member/41000

5,132± ACRES $9,900,000

Monterey County, California ID# 3874050

Basin Ranch

Rare opportunity to own property within an hour drive of Carmelby-the-Sea

and Pebble Beach, and just over a one-and-a-half

hour drive from the San Francisco Bay Area. There is ample

water from wells, creeks and natural springs. The ranch offers

privacy and a multitude of opportunities for use: hunting, raising

livestock, equestrian pursuits or the development of a family ranch

compound, retreat or estate. Contact Chris Bailey (831) 277-8344.

$7,850,000 1,500± ACRES

ID# 3459988

Shasta County, California

This 1,500± acre cattle, hay, wild rice and hunting ranch is truly

an amazing property. The ranch features over 1,050 acres under

flood irrigation; 521 in alfalfa, grass hay, alfalfa/grass mix, 201

acres in wild rice and 328 acres irrigated pasture. There are four

ag. wells (one not in use), a ditch pump and a spring pump all

tied together, producing well over 10,000 GPM. No water leaves

the ranch! Two homes, 3,400-square-foot metal shop, two hay

barns, plus an animal/hay barn. The ranch runs 350 spring and

fall calving pairs, plus 50 replacement heifers and 12 bulls, yearround.

Contact Donna Utterback and Rich Callison (530) 336-6869.

Winter Falls

Ranch

PRICE REDUCED!

1,074± ACRES $5,500,000

Lassen County, California ID# 4540953

Spring Creek Ranch

The Spring Creek Ranch is a trophy fishing and hunting property.

The ranch has over four miles of private fishing for wild trout.

Rainbow, brown and red band trout naturally reproduce in the

stream. The ranch is also located in the X-3A premium-hunting

zone known for their large mule deer and antelopes. The main

home, bunkhouse, guesthouse, barns, shops and outbuildings

provide the new owner with many options. Contact Todd Renfrew

(707) 455-4444.

$4,200,000 4,009± ACRES

ID# 4690068

Monterey County, California

Under single-family ownership since the 1940s, the Freeman

Ranch has end-of-the-road privacy, is off the grid and consists

of 11 certificated parcels, all enrolled in the Williamson Act.

Traditionally, the ranch has supported 200 cow-calf pairs

annually. There is a high-production well, on solar power,

which distributes ample water throughout the ranch for

domestic and livestock use, as well as two developed

springs. The ranch is being sold as-is, and there is currently

a cattle rancher tenant. Ideal recreation ranch potential

with incredible views. 15–20 minute paved road drive

from U.S. Highway 101. Contact Chris Bailey (831) 277-8344.

116

Freeman Ranch
---
707 MERCHANT STREET, SUITE 100 | VACAVILLE, CALIFORNIA 95688

Over 148 listings available at www.CaliforniaOutdoorProperties.com

$4,100,000 699± ACRES

ID# 4283832

Siskiyou County, California

This is a productive hay ranch in great condition! 525 acres

of the ranch are in alfalfa, clover and rye. These crops were

planted in 2013 and 2014 and are producing over 3,000 tons

per year. There are four Reinke pivots, and a 55'x125' squarefoot,

two 700-ton capacity pole barns. The pivots, mainline

and barns were all built and installed in 2011, 2012, 2013

and 2016. There is currently no residence on this property.

Contact Kathy Hayden and Amy Friend (530) 643-1336.

Butte Valley

Organic Alfalfa Ranch

River Ranch

PRICE REDUCED!

1,312± ACRES $3,999,000

Yolo County, California ID# 3869887

The property offers both tranquility and recreational appeal. Expansive

home with multiple entertainment spaces, a guesthouse and quality

outbuildings and corrals for ranch equipment and livestock. The ranch is

flanked by nearly 1.3 miles of Cache Creek River frontage and offers an

incredible array of outdoor sporting pursuits. The majority of ranch is in

the Williamson Act. Contact Charlie Engs (415) 601-6330 and John Ward

(415) 215-8728.

$3,900,000 3.05± ACRES

ID# 4582907

Sonoma County, California

The one-bedroom stone and glass house was remodeled with

the finest finishes. The house has three decks, the ultimate

custom stone hot tub within salt spray of ocean waves, and

the best ocean views in the world. A huge fireplace is the

focal point of the cozy lower living room; floor-to-ceiling

star-fire glass affords amazing views of crashing waves,

whales, seals, sea birds and sunsets over the Pacific. Contact

Todd Renfrew (707) 455-4444.

The Glass House

Eastern Warner

Mountain Ranch

PRICE REDUCED!

646± ACRES $650,000

Modoc County, California ID# 3369719

This magnificent deeded-acre property is located 20 miles north of

Cedarville, California. The views of Surprise Valley will take your breath

away. Two year-round creeks, timbered forests, groves of aspen and

endless miles of hiking. Tucked into the eastern slope of the Warner

Mountains and Modoc National Forest, the property is only 2,000 feet

away from Surprise Valley Electric and Frontier Communications telephone

service. Put in a water system and septic and you are ready to build your

dream lodge. Contact Todd Renfrew (707) 455-4444.

LAND.COM • LEGENDARY LIVING

117
---
118
---
LAND.COM • LEGENDARY LIVING

119
---
RANCHO EL TORO

SOLD

12,221± ACRES IN SANTA CLARA & MERCED COUNTIES | GILROY, CALIFORNIA | PROPERTY ID: 3393596 | $21,000,000

120

View All Properties: LandsofAmerica.com/member/9116
---
www.CLARKCOMPANY.com

INFO@CLARKCOMPANY.COM | 1031 PINE STREET, PASO ROBLES, CALIFORNIA 93446 | (805) 238-7110

LAS PILETAS RANCH

13,570± ACRES IN SAN LUIS OBISPO COUNTY | CARRISA PLAINS, CALIFORNIA | PROPERTY ID: 4206571 | $17,250,000

Licensed in California & Nevada: CA BRE# 00656930, NV RED# B.41551 LAND.COM • LEGENDARY LIVING 121
---
TRUSKETT LANDS

363± LAKEFRONT ACRES IN SAN LUIS OBISPO COUNTY | OAK SHORES, CALIFORNIA | PROPERTY ID: 4479314 | $6,900,000

122

View All Properties: LandsofAmerica.com/member/9116
---
www.CLARKCOMPANY.com

INFO@CLARKCOMPANY.COM | 1031 PINE STREET, PASO ROBLES, CALIFORNIA 93446 | (805) 238-7110

NORTH FORK CATTLE COMPANY HEADQUARTERS

3,065± ACRES IN SAN LUIS OBISPO & SANTA BARBARA COUNTIES | CUYAMA, CALIFORNIA | PROPERTY ID: 2619453 | $6,000,000

NORTH STARR RANCH

3,175± ACRES IN ELKO COUNTY | DEETH, NEVADA | PROPERTY ID: 4727231 | $5,100,000

Licensed in California & Nevada: CA BRE# 00656930, NV RED# B.41551 LAND.COM • LEGENDARY LIVING 123
---
124
---
LANDMAGAZINES.COM

125
---
126
---
LANDMAGAZINES.COM

127
---
TimThompsonPremierRealtors.com

148 5th Avenue North, Franklin, Tennessee 37064 | (615) 790-8884

View All Properties: LandsofAmerica.com/member/260878

Ultimate Compound

157.97± Acres in Williamson County, Tennessee

Property ID: 3639989 | Price: $3,990,000

"Period" farmhouse and custom log and stone residence on this spectacular

estate with a fabulous outdoor pavilion and pool, year-round creek, trails, barn

and more. Contact Tim Thompson, (615) 207-3295 or Rick French, (615) 604-2323.

Stocked 1.5 Acre Pond

7± Acres in Williamson County, Tennessee

Property ID: 4705870 | Price: $972,850

Exquisite French county home with four bedrooms, 3.1 baths, 20'x22' barn/shop,

theater and game rooms, sound and security systems. Wonderful private oasis.

Contact Tim Thompson, (615) 207-3295 or Brent Thompson, (615) 207-3305.

Forested Sanctuary

179± Acres in Williamson County, Tennessee

Property ID: 3640086 | Price: $2,499,900

Nature lover's or hunter's paradise in the much sought-after area of Leiper's Fork

with massive, majestic hardwoods, spring, riding trails and spectacular views.

Great price per acre and location. Contact Tim Thompson, (615) 207-3295.

Sweeping Views

42.34± Acres in Williamson County, Tennessee

Property ID: 4705890 | Price: $1,399,900

Scenic farm with panoramic views, convenient location, rolling terrain and good

mix of timber and pasture land. Could be divided into seven tracts with building

sites. Contact Tim Thompson, (615) 207-3295 or Brent Thompson, (615) 207-3305.

Extraordinary Highbrow Hill

45.45± Acres in Williamson County, Tennessee

Property ID: 4494223 | Price: $5,750,000

Exceptional Leipers Fork estate. Custom eight-bedroom, 8.2-bath residence, stunning

views, three barns, large stocked pond frontage and access, additional building site.

Contact Tim Thompson, (615) 207-3295 or Marty Warren, (615) 973-8757.

Fabulous Potential

52.5± Acres in Williamson County, Tennessee

Property ID: 3992678 | Price: $1,942,500

Peaceful property unrivaled in its beauty to build your dream estate! Located

with convenience to Cool Springs, I-65 and 840. Rare development/investment

opportunity! Multiple building site potential. Contact Tim Thompson, (615) 207-3295.

128
---
Selling Tennessee One Acre at a Time

Tim Thompson Premier Realtors

Exquisite Estate

54.41± Acres in Williamson County, Tennessee

Property ID: 4705862 | Price: $5,500,000

Majestic 8,485± square-foot main house with gorgeous details and finishings.

Theater, seven-car garage, recording studio, salt water pool, barn and guest

house. Contact Tim Thompson, (615) 207-3295 or Tess Singer, (615) 207-3296.

Build Your Dream Home

51.18± Acres in Williamson County, Tennessee

Property ID: 4705893 | Price: $844,000

Scenic and private acreage with an approved five-bedroom home site, lush pasture and

mature trees. Buy as a whole farm with the option of three possible building sites, or

owner will divide and sell as smaller tracts. Contact Tim Thompson, (615) 207-3295.

Gorgeous Mini Horse Farm

9.38± Acres in Williamson County, Tennessee

Property ID: 4442848 | Price: $1,099,000

Fabulous equestrian facilities—indoor riding arena, six-stall barn with foaling stall,

hay loft, tack and feed rooms. Lovely brick three-bedroom, 3.1-bath home and

more. Contact Tim Thompson, (615) 207-3295 or Brent Thompson, (615) 207-3305.

Gorgeous Tennessee Countryside

32.45± Acres in Williamson County, Tennessee

Property ID: 4442841 | Price: $599,900

Back on market—contract fell through. Scenic tract with great mix of pasture and treed

land. Hillside views, preliminary soil work done with multiple perc sites. Convenient

location with easy access to I-65 and I-840. Contact Tim Thompson, (615) 207-3295.

Prime Development Opportunity

57± Acres in Williamson County, Tennessee

Property ID: 3640078 | Price: $5,799,000

Excellent Franklin location for this scenic farm with residence, barn, creek and

gently rolling terrain, currently in process for county approval of a proposed 29-

lot development. For site work info, contact Tim Thompson, (615) 207-3295.

Phenomenal 360° Hilltop Views

24.4± Acres in Williamson County, Tennessee

Property ID: 4515578 | Price: $1,200,000

Equestrian estate features renovated 4,500-square-foot farmhouse, three barns with

10 stalls, tractor shed, workshop, lighted riding arena, creek, multiple pastures and

paddocks. Contact Tim Thompson, (615) 207-3295 or Tess Singer, (615) 207-3296.

LAND.COM • LEGENDARY LIVING

129
---
TimThompsonPremierRealtors.com

148 5th Avenue North, Franklin, Tennessee 37064 | (615) 790-8884

View All Properties: LandsofAmerica.com/member/260878

Picturesque Cattle Farm

95± Acres in Cannon County, Tennessee

Property ID: 4691572 | Price: $620,000

Panoramic views; home, hay barn, workshop and steel building. Mostly open

land with interior rock wall fencing and gorgeous year-round stream across front

boundary. Near Murfreesboro, Tennessee. Contact Chuck Simpson, (615) 973-9986.

Lakefront Development Site

312± Acres in Jefferson County, Tennessee

Property ID: 3646719

Located on the main channel of Douglas Lake, ideal for lakeside development.

Long shoreline with excellent access. Potential home sites with views of the lake

and the Great Smoky Mountains. Contact Chuck Simpson for pricing, (615) 973-9986.

Center Hill Lake Farm

77± Acres in DeKalb County, Tennessee

Property ID: 3779619 | Price: $325,000

Private building site awaits with lake overlook. Road, water and electricity

already run to home site. Excellent farm with very nice mix of pasture and

woodlands. Creek, waterfalls and trails. Contact Chuck Simpson, (615) 973-9986.

Waterfront Near Nashville

195± Acres in Dickson County, Tennessee

Property ID: 4271366 | Price: $1,100,000

On Johnson's Creek and the Cumberland River. Three-bedroom, two-bath home

overlooks water. Barn, two ponds, rustic cabin, nice timber and pasture. Panoramic

views. Great hunting and fishing. Contact Chuck Simpson, (615) 973-9986.

Row Crop Acreage

95± Acres in Robertson County, Tennessee

Property ID: 4283756 | Price: $401,000

Excellent income potential with current crop lease. Perfect property for future

home sites, equestrian or cattle. Within one hour of Nashville in a rapidly

growing area. Great investment. Contact Chuck Simpson, (615) 973-9986.

Bring Your Builder

89± Acres in Williamson County, Tennessee

Property ID: 4691884

Parcel offered as a whole or in two tracts (43.3 or 45.6 acres). Two four-bedroom perk

sites already platted. Excellent potential building sites in Middle Tennessee. Barn,

pond with excellent timber and pasture. Contact Chuck Simpson, (615) 973-9986.

130
---
www.CraterLakeRealtyInc.com

Linda Long, Principal Broker/Owner | (541) 891-5562 | Linda@CraterLakeRealtyInc.com

33550 Highway 97 North, Chiloquin, Oregon 97624 | (541) 783-2759 | (541) 783-2724 Fax

SWAN LAKE RANCH

5,514± ACRES IN KLAMATH COUNTY, OREGON

As far as the eye can see, this ranch offers some of the most secure water

rights in Klamath County. The seven irrigation wells, excellent sandy soils

and 22 pivots create an efficient operation for alfalfa, grain, orchard and

timothy hay. Two newer homes built in 2012 have a bird's-eye view of the

ranch. 150 pair of cattle graze the ranch and the adjacent 10,000-acre BLM

permit. Excellent cattle handling facilities include welded steel feedlot,

corrals, covered working and loading chute and 30,000-pound scale. Seven

hay barns, huge shops, equipment storage and multi-use buildings and

grain bins, along with excellent cattle handling equipment. MLS #2969516

PROPERTY ID: 3513698 | OFFERED AT $17,000,000

VALLEY VIEW RANCH

162.5± ACRES IN KLAMATH COUNTY, OREGON

162.5-acre cattle or horse ranch. Amazingly beautiful 4,158-squarefoot,

five-bedroom, three-and-a-half-bath home with separate living

quarters downstairs! Attached three-car and RV garage plus additional

garage building and shop. Lovely up and down decks for relaxing, views.

Professional landscaping. Irrigation well with two pivots, wheel line, hand

line and 117 K-Line pods. 850-ton hay barn with separate feed bunks,

livestock barn with heated tack room, Powder River corrals, tub, squeeze,

single scale, two shelters and pond. Just 15 minutes from Klamath Falls.

Irreplaceable property and value, possible owner terms! MLS #2978591

OFFERED AT $1,500,000

BRIDGE CREEK BUFFALO RANCH

1,187± ACRES IN KLAMATH COUNTY, OREGON

1,187 fenced acres in Silver Lake with Bridge Creek irrigating 142 acres

of buffalo fenced and cross-fenced native grass meadows. Excellent pole

corrals, pens, chutes and barn yard. The creek creates a sanctuary for the

red band trout. Abundant wildlife. Unique historic buildings include a

classic wood livestock/hay barn. Very nice 1,040-square-foot, two-bedroom,

two-bath home. Call Linda or Andra (541) 281-2180. MLS #2977796

OFFERED AT $1,425,000

HOG CREEK RANCH

1,252± ACRES IN KLAMATH COUNTY, OREGON

Including USFS permit, offering over 30,000 acres of timberland grazing

with three spring-fed streams that converge into the 1,252 deeded

acres (750 acres water rights), supporting approximately 500 pairs for

excellent summer grazing and gains. This is a quiet retreat complete with

rustic cabin, barn and tack shed. Two sets of corrals at either end of the

property allow for shipping options, both with live water. MLS #2978351

PROPERTY ID: 4330354 | OFFERED AT $1,900,000

View All Properties: LandsofAmerica.com/member/15114 LAND.COM • LEGENDARY LIVING 131
---
132
---
LANDMAGAZINES.COM

133
---
Dave Harrigan

Dave@HarriganLand.com

Hunter Harrigan

Hunter@HarriganLand.com

Whistling Elk Ranch

JACKSON COUNTY | COLORADO

Paint Rock Canyon Ranch

BIG HORN COUNTY | WYOMING

3,793± ACRES | PROPERTY ID: 4703908

Private elk, deer, moose and bear hunting on thousands of acres, plus five

trophy trout ponds and lodging that is "turnkey ready" for guests. This

exceptional North Park property includes 3,793 deeded acres, making

this a hunting and fishing resort with ample room to roam. $11,500,000

83,604± ACRES | PROPERTY ID: 4558971

Easily qualifying as one of the finest all-around large ranches in Wyoming,

the 83,604-acre (7,177 deeded) Paint Rock Canyon Ranch will capture

your Western imagination. This Western ranch offers the best in fly

fishing, big game hunting and agricultural production. $25,000,000

Cañones Creek Ranch

RIO ARRIBA COUNTY | NEW MEXICO

LK Mountain Ranch

RIO BLANCO COUNTY | COLORADO

518± ACRES | PROPERTY ID: 3442825

Don't tell a soul, but one of New Mexico's best trout fishing secrets lies

in the heart of the Chama Valley between Santa Fe and Pagosa Springs,

Colorado. Cañones Creek Ranch is 518 acres brimming with trout fishing

possibilities in five lunker-filled ponds and 1.25 miles of the productive

Chama River. $5,995,000

7,100± ACRES | PROPERTY ID: 3268119

Overlooking the famed White River Valley, this 7,100-acre ranch sits in

the heart of territory known for exceptional trout and exceptional big

game hunting. Any hunter with an eye towards quality will find it as

abundant as the trophy mule deer on LK Mountain Ranch. $10,000,000

Big Iron Ranch

MESA COUNTY | COLORADO

Trophy Mountain Ranch

JACKSON COUNTY | COLORADO

1,720± ACRES | PROPERTY ID: 3127246

Located at the end of the road, this remarkably private 1,720-acre refuge

adjoins Grand Mesa National Forest for two-and-a-half miles, giving it

a rare edge-of-the-wilderness feel, yet is readily accessible year-round

to Interstate 70 and the Western Slope metropolis of Grand Junction.

$7,500,000

1,665± ACRES | PROPERTY ID: 4703743

Although elk hunting is the current centerpiece of Trophy Mountain Ranch,

it has remarkable potential as a broad-based recreational ranch, including

trophy stillwater fishing, horseback riding and snowmobiling and/or ski

touring in the winter months. Well-kept improvements and access to

adjacent BLM and Forest Service lands are a real asset. $4,199,000

134
---
Matheson Ranch

GRAND COUNTY | COLORADO

Broken Butt Ranch

RIO ARRIBA COUNTY | NEW MEXICO

1,928± ACRES | PROPERTY ID: 4332463

Hidden in the heart of one of Colorado's last unspoiled mountain valleys,

the 1,928-acre Matheson Ranch is tailor-made for hunting and fishing

of exceptional quality. Located only two hours from Denver in the

Troublesome Creek Valley, the Matheson Ranch features nearly a mile of

the brown and rainbow trout-rich Troublesome Creek and some of the

most significant water rights in the area. $7,500,000

16,309± ACRES | PROPERTY ID: 3393551

Never before offered on the market, the 16,309-acre Broken Butt Ranch

in northern New Mexico easily qualifies as one of the largest remaining

elk-rich mountain ranches in the state. Named for a rifle with a broken

stock found on the ranch in the early 1900s, Broken Butt Ranch has a

long history of careful management as a joint cattle and hunting property.

$32,000,000

Coyote Creek Ranch

MORA COUNTY | NEW MEXICO

Broken Bone Ranch

ROUTT COUNTY | COLORADO

878± ACRES | PROPERTY ID: 2447565

A very private retreat for wild trout and big game, Coyote Creek Ranch

near Angel Fire, New Mexico, is nonetheless located adjacent to a paved

highway and within an hour's drive of three major ski resorts. Situated at

an elevation of about 8,500 feet, Coyote Creek Ranch holds 878 acres of

ponderosa pine forest and meadows in the uplands and healthy riparian

habitat along Coyote Creek. $4,200,000

1,388± ACRES | PROPERTY ID: 4332153

Located only 40 minutes from Steamboat Springs and one hour

from Vail, lies a Colorado recreational ranch of exceptional quality.

Containing 1,388 acres of an ideal blend of mountain irrigated hay

meadows, creek bottom and quaking aspens, Broken Bone Ranch has

long been prime habitat for elk, mule deer, black bear and small game

species. $6,950,000

Rocking Bar Ranch

PARK COUNTY | WYOMING

Red Hawk Ranch

GUNNISON COUNTY | COLORADO

15,000± ACRES | PROPERTY ID: 4395929

Ranches that are part of an ecosystem largely unaltered for 200 years are

as rare as pure strains of cutthroat trout these days, but the Rocking Bar

Ranch, just outside of Meeteetse, is exactly one such place. Spreading

approximately 15,000 total acres (9,048 deeded) among the foothills

of the Absaroka Mountains, the Rocking Bar Ranch stands apart as a

property long managed in full harmony with its environment. $9,950,000

923± ACRES | PROPERTY ID: 2239797

At Red Hawk Ranch, high in the West Elk Mountains near Crested

Butte, Colorado, you'll not only be away from it all, but also above it

all. This 923-acre wilderness ranch for sale boasts sweeping views of

the magnificent Ohio Creek Valley that will be shared only by you and

the eagles. $3,950,000

HARRIGANLAND.COM | (800) 524-1818 | View All Properties: LandsofAmerica.com/member/14957
---
GOLDEN EAGLE VILLA

10.3± ACRES • DOUGLAS COUNTY, OREGON • $2,450,000

Welcome to Golden Eagle Villa, a one-of-a-kind estate with views over the Umpqua

Valley! Open the door to elegance in this superbly-crafted Mediterranean beauty.

Resting on more than 10 acres of manicured grounds, this home radiates grandeur

and pristine quality. Expert craftsmanship throughout. Custom millwork with granite,

marble, travertine and alabaster finishes. Landscape and water feature design by

Japanese architect Hoichi Kurisu. GoldenEagleVilla.com • Property ID: 3636510

NEUNER RANCH HOME

52.83± ACRES • DOUGLAS COUNTY, OREGON • $620,000

Looking for the Oregon dream? The historic Neuner Ranch Home on 52.83 acres with

over half a mile of Cow Creek frontage is for sale! Beautifully updated and restored

home with covered porches at the front of the home and veranda from the master

suite overlooking the lush irrigated pasture all the way to Cow Creek! Old water rights!

Detached garage with artist's dream studio could also be an office! 40'x60' shop/

barn and machine shed! TheNeunerRanch.com • Property ID: 3592313

10407 ELKHEAD ROAD

224.25± ACRES • DOUGLAS COUNTY, OREGON • $899,900

Amazing cattle and horse ranch awaits the individual who has the good

fortune to live, work and play here! The indoor riding arena is 60'x96'

with seven stalls. Approximately 60–70 acres are fenced for grazing.

Multiple springs and a private spring-fed pond provides year-round use

for gardens and animals. Spectacular mountain and valleys views with

tons of wildlife. Make your dreams a reality and start living the good life

in Yoncalla, Oregon! 10407ElkheadRd.com • Property ID: 3834212

MELROSE ESTATE

18.71± ACRES • DOUGLAS COUNTY, OREGON • $895,000

A lovely tree-lined gated entry leads you to this distinctive Melrose estate on 18+

secluded acres in the heart of Umpqua Valley's wine country! Designed by Morley

Horder with a classic contemporary style, this unique home boasts high ceilings

with floor-to-ceiling windows to take in the scenic views. Enjoy privacy in the resortstyle

backyard with gorgeous views of the valley and mountains, perfect patio for

entertaining, brick and paver walkways, mature shrubs and trees and a pergola—one

could happily linger here all day! 1087TanglewoodLane.com • Property ID: 4308731

MARY GILBERT • (541) 371-5500 • SOLD@MARYGILBERT.COM

MARYGILBERT.COM • 2365 NORTHWEST KLINE STREET, SUITE 201, ROSEBURG, OREGON 97471

SERVING THE UMPQUA VALLEY, ROSEBURG, OREGON & SURROUNDING COMMUNITIES

136
---
RUSTY K RANCH

35± ACRES • JEFFERSON COUNTY, COLORADO • $1,295,000

30 minutes from Denver lies this stellar equestrian property on 35 acres of

gorgeous pasture, trees and beautiful rock outcroppings. Turnkey, ready for a

boarding/training facility or just to enjoy as your private home. Improvements

include two barns, indoor dressage arena, outdoor dressage arena, outdoor

jumping arena and cross-country jumping course. Multiple paddocks, creek and

small pond round out this rare foothills property. The home is main-floor living in

a 3,900-square-foot California ranch-style home with great floor plan and home

theater. Beautifully landscaped for outdoor living and entertaining.

Visit RustyKRanch.net for tour. Property ID: 3789165

BEAR BONES RANCH

215± ACRES • CUSTER COUNTY, COLORADO • $899,000

Now also being offered in smaller portions: as the headquarters, including

two homes and barn setting on 70 acres, for $750,000 with an option to add

an additional 35 contiguous acres negotiable and a vacant 110 acres with

recreational access to thousands of additional acres. Seller financing considered.

Complete information at BearBonesRanch.com. Property ID: 3286149

RIVER'S RUN LOTS

14.42± ACRES • JEFFERSON COUNTY, COLORADO • $275,000

Nestled along the North Fork of the South Platte River, this picturesque gated

community borders 1.1 acres of Pike National Forest as well as the 800-acre

Pine Valley Open Space which provides outdoor enthusiasts easy access to

exploring, hiking and mountain biking on miles of trails. Secluded building sites

offer a perfect blend of privacy, wildlife, scenic views and endless recreational

opportunities in addition to world-class fishing! Each lot owner enjoys recreational

and fishing access with nearly a mile of private river in addition to the adjoining

public lands. Visit LotsAtRiversRun.com for information. Property ID: 2100353

ADJACENT TO NAT'L FOREST

35± ACRES • PARK COUNTY, COLORADO • $350,000

Incredibly useable land plus stunning views! This 35+ acre parcel has it all:

privacy, aspens, pasture, meadows, timber and snowcap views. Borders Pike

National Forest. GMA 501. Visit RivendaleFarmAndRanch.com for photos and

property map. Property ID: 4650136

YOUR COLORADO RESOURCE

KELLER WILLIAMS FOOTHILLS REALTY, LLC – WHEN REPRESENTATION AND EXCEPTIONAL SERVICE MATTER

BILL DAVIS • (970) 390-8617 • BILLDAVISPROPERTIES@GMAIL.COM • BILLDAVISPROPERTIES.COM

SALLY BALL • (303) 506-7405 • SBALL@KW.COM • RIVENDALEFARMANDRANCH.COM

NORTH AMERICA'S MOST INFLUENTIAL GROUP OF LAND PROFESSIONALS.

KW Farm and Ranch is the rural land division of Keller Williams Realty with a nationwide network of land brokers working together for you. KW Farm and

Ranch agents are local, accomplished experts in land sales and acquisitions, including: agricultural land, timber land, ranch land, recreational land, equestrian

estates, land development, hunting land and other specialties. The land specialist at KW Farm and Ranch are the clear choice when buying or selling rural

property in North America.

LAND.COM • LEGENDARY LIVING

137
---
WWW.NMRANCHPROPERTIES.COM

PO BOX 987, BERTHOUD, COLORADO 80513 | VIEW ALL PROPERTIES: LANDSOFAMERICA.COM/MEMBER/48491

EAGLE RIDGE RANCH

10,237± ACRES IN UTAH COUNTY, UTAH

A spectacular property with two-and-a-half miles of Spanish Fork River

frontage and an eastern boundary adjoined by Thistle Creek, one lake,

three active streams, over 100 springs and a variety of vegetation and

wildlife, Eagle Ridge Ranch consists of 10,237 contiguous deeded acres

in diverse topography. Two planning assessments have been prepared

for the property, which cover several aspects of development including

a private golf and ski club, a high-end housing development and the

substantial tax benefits of a conservation easement. The water rights

transferring with Eagle Ridge Ranch are sufficient for 350 homes.

A diverse wildlife population makes itself at home at Eagle Ridge Ranch

which is encompassed, for the most part, by national forest and state

wildlife management areas, providing a cushion around the ranch and

protecting its wildlife. An advantageous location that provides easy and

immediate access to the Wasatch Valley, with considerable development

potential, while still remaining a remote hunting and wildlife sanctuary,

the future prospects for Eagle Ridge Ranch are unlimited.

$35,000,000 | Property ID: 3658663

SAWMILL CREEK RANCH

1,514± ACRES IN GRANT COUNTY, NEW MEXICO

Rolling hillsides carpeted in grama grass and canyons lined in black walnut

and oak with seasonal creeks make up the 1,514 deeded acres of Sawmill

Creek Ranch. This genuine southwestern treasure boasts panoramic views

of the Gila and Apache National Forests, provides a myriad of hunting

opportunities and supports 40–45 cows. Sawmill Creek is remarkably

located within one hour of Silver City, New Mexico, and Safford, Arizona,

in an area with widespread recreational activity and places of interest.

$5,000,000 | Property ID: 3589463

TWIN PEAKS RANCH

15,900± ACRES IN RIO ARRIBA COUNTY, NEW MEXICO

Twin Peaks Ranch is an ideal winter range cattle ranch with the perk of worldclass

mule deer hunting. Twin Peaks consists of 15,900 acres, 960 deeded acres

and 14,940 leased acres. The ranch runs 275 pair for seven months, November

through June. Rio Arriba county is one of the top-producing counties for Boone

and Crockett bucks in the west. Twin Peaks is situated in some of the best

country within that county. Sandstone rims blanketed in pinon, juniper forests

that are broken up by sage flats and gramma grass draws and amazing vistas of

the Colorado mountains add to the distinction of Twin Peaks Ranch.

$2,000,000 | Property ID: 4194759

138
---
SUSAN CANNON & JAY PLATT, BROKERS

JAY PLATT, BROKER (575) 740-3243 | SUSAN CANNON, BROKER (505) 469-4303 | OFFICE (844) 363-0520

GALLO MOUNTAIN RANCH

39,273± ACRES IN CATRON COUNTY, NEW MEXICO

Nestled within the Apache National Forest lies the Gallo Mountain Ranch.

Consisting of 640 deeded acres along with 38,633 forest leased acres, Gallo

Mountain Ranch is encompassed by a unique recreational dreamland that

embraces trophy big-game hunting, fishing and endless recreational activities.

Situated at a cool-summer 7,500 feet within an expanse of forested timber, open

meadows and a myriad of springs and creeks, Gallo Mountain Ranch is a seasonal

yearling ranch running up to 700+ head from mid-May through mid-October.

$2,750,000 | Property ID: 2088792

BAR E C RANCH

125± ACRES IN CATRON COUNTY, NEW MEXICO

Surrounded by majestic ponderosa pines, bordering national forest lands and located

in the heart of Unit 15, the Bar E C Ranch is the ultimate hunter's dream. Located

immediately off of Highway 32 between Apache Creek and Quemado. Natural springs

that feed a tranquil pond, encompassed by grassy meadows, are visited almost daily

by sizable herds of elk. Unit 15 is designated as a primitive weapons area, allowing only

archery and muzzleloader hunts. Currently, the ranch receives one archery bull permit

per year. Easy access with a multitude of recreational activities at your fingertips. Hunting

opportunities in a top trophy unit bring together this distinct hunting property.

$1,187,500 | Property ID: 4576632

BLUE HILLS ELK RANCH

6,000± ACRES IN CATRON COUNTY, NEW MEXICO

6,000 acres of magnificent country, 5,430 deeded acres and 640 state leased

acres, with scenic views in all directions, terrain that ranges from grassy meadows

to rocky bluffs and rolling pinon juniper-covered mountains. Blue Hills Elk Ranch

receives five rifle elk tags in an excellent hunting area and has the capacity to

run a minimum of 70–80 cows year-round—a fantastic ranch with a multitude

of surrounding beauty and recreational opportunity. Price is negotiable; seller

will finance.

$4,300,000 | Property ID: 2838378

TROTTER RANCH

3,200± ACRES IN CATRON COUNTY, NEW MEXICO

Distant views of the Sawtooth Mountains to the east and Mariano Mesa to the

west along with a blend of rolling hills and mesas flowing into meadows of grama

grass and wildflowers capture the essence of the 3,200-acre Trotter Ranch,

consisting of 2,640 deeded acres and 560 BLM leased acres. Quality elk and

mule deer hunting and a close proximity to the White Mountains of Arizona,

where numerous lakes, streams and ski resort provide year-round recreational

activity, combine to enhance the numerous attributes of the Trotter Ranch.

$2,100,000 | Property ID: 2931602

HONESTLY REPRESENTING WESTERN RANCHERS WITH THE VALUES OF YESTERDAY & THE TECHNOLOGY OF TODAY
---
140
---
LANDMAGAZINES.COM

141
---
The Historic Sloan Ranch

191± acres in Larimer County, Colorado

Original Livermore, Colorado, schoolhouse building with 191

fenced and cross-fenced acres featuring an indoor arena, two

barns, hunting or artist cabin, natural spring, creek and pond.

Enjoy hunting, horse training, trail riding, hiking and serenity!

AVAILABLE SPRING 2018

142

NOCOHOMETEAM.COM | (970) 460-4006 | TEAM@NOCOHOMETEAM.COM
---
Jesse LAner, Co-Founder | Broker

(970) 672-7212 | JLaner@C3-RE.COM

John Simmons, Co-Founder | Broker

(970) 481-1250 | JSIMMONS@C3-RE.COM

3054 Suri Trail • Bellvue

$1,730,000 | 36± acres in Larimer County, Colorado

Magnificent estate and spectacular design in a gated community. 11.75-acre

building enveloped by 24.77± additional deeded acres. This ranch home

features a walk-out basement, five bedrooms, four-plus baths, main floor

office, fitness or craft room, formal dining, gourmet kitchen, great room,

recreation room, master with five-piece bath, guest or in-law retreat and

thousands in upgrades. 6,000 finished square feet with a 1,077-square-foot

attached garage and a 2,177-square-foot detached garage with an office.

MLS #831423

1221 Quillan Gulch Road • Loveland

$525,000 | 35± acres in Larimer County, Colorado

Mountain home with three bedrooms and two baths on 35 acres. Located

just 40 minutes outside of downtown Loveland, but it feels like it's a world

away! Road is maintained all the way to the driveway. Wooded setting

allows for wildlife sightings and refuge. Meadow in front would be great for

horses! Enjoy a cup of coffee and the sunrise from the wraparound deck.

Walk-out basement allows for a great indoor/outdoor entertainment space.

MLS #829077

SOLD

8236 County Road 74 • Windsor

$1,995,000 | 32.43± acres in Weld County, Colorado

Beautiful gated 9,575-square-foot ranch home situated on 32 acres with

walk-out lower level. Resort-style living with in-ground pool, basketball and

volleyball court, horseshoe and fire pit, covered and uncovered outdoor

spaces, water feature and more. Spectacular interior with seven beds,

seven baths, three laundry rooms, five fireplaces, home gym, theater room,

library, fun/game room, gourmet kitchen, butler pantry and so much more.

A personal viewing is the only way to truly appreciate this one-of-a-kind

Colorado-style home. Pre-inspected and NO HOA! MLS #825437

2318 Hidden Valley Drive • Loveland

$2,250,000 | 5± acres in Larimer County, Colorado

Private gated community with 2,500 acres of open space. Minutes to

shopping, schools, Estes Park, Rocky Mountain National Park, trails, lakes

and golf. Turnkey five-acre Colorado ranch-style estate with tremendous

architecture, over 9,000 square feet, eight-car heated garage, bedrooms

with private baths and balconies, theater, gym, wine cellar, billiard room,

bonus rec. room, loft, library, office, formal dining, great and family room,

gourmet kitchen, master with retreat, five-piece bath with steam shower,

patios, water feature, fire pits, play area and more. MLS #820333

WE ARE YOUR COLORADO RANCH, EQUESTRIAN & LUXURY HOME EXPERTS | WWW.MYCOLOHOME.COM

LAND.COM • LEGENDARY LIVING

143
---
Paul Taylor III, Broker

(866) 323-3111 | PAUL@RANCHLINE.COM

720 East College Boulevard Roswell, New Mexico 88201

San Francisco Creek Ranch

5,025± ACRES IN LAS ANIMAS COUNTY

COLORADO | $6,950,000

Huge price reduction in Colorado! Seller has reduced price by $2,500,000

to facilitate sale in 2017. Will divide and finance. Minutes from Trinidad, this

ranch offers 5,025 beautiful acres. The San Francisco Creek flows through

the property and provides water to the agricultural enterprises below.

The majestic mountains and rock face outcroppings tower over the wideopen

vistas to the north. San Miguel Creek also flows through the property,

providing an ample supply of spring-fed water to the wildlife. A system of

access roads and trails allow access to the meadows and ponds hidden away

in the dense vegetation rarely visited in years. Don't be surprised if you see

a bear getting a quick drink or elk meandering through the tall pines. Wildlife

is abundant, as some of the most sought-after mule deer and elk can be

found on the ranch. Property can be divided, and financing is available. Now

is the time to invest in this legacy property! Property ID: 3455405

144
---
anchline.com

NEW MEXICO, TEXAS & COLORADO RANCH REAL ESTATE

View All Properties: LandsofAmerica.com/member/7539

Hot Springs Ranch

1,040± ACRES IN SAN MIGUEL COUNTY

NEW MEXICO | $1,950,000

JUST REDUCED! Minutes from Las Vegas, New Mexico,

with paved road access via State Highway 65, this heavily

forested ranch overlooks the United World College. The

hot springs and Montezuma Castle are within walking

distance of the ranch. With a network of newly created

roadways throughout the ranch, it is easy to traverse.

The 1,040± acres have all the conveniences, even city

water service, and vistas that allow you to see for miles.

Property ID: 3368780

Gordon Lake Ranch

973± ACRES IN PALO PINTO COUNTY

TEXAS | $3,850,000

Price has been reduced for immediate sale. As the Dallas/

Fort Worth Metroplex expands, fewer large tracts are

available. Approximately 40 minutes west of Fort Worth,

adjacent to I-20, this 973-acre property is of historical

significance. The Thurber Ranch Headquarters of 205

acres can be sold separately or with additional acreage.

Financing is available on tracts as small as 35 acres while

they last. Take advantage of the flexible terms and make

an appointment to preview today! Property ID: 2441873

Gold Springs Ranch

5,000± ACRES IN SANTA FE COUNTY

NEW MEXICO | $10,000,000

PRICE SLASHED! 1,600-acre tract now offered at $1,500

per acre, financing available. This ranch consists of

5,000± acres, minutes from the historic Santa Fe Plaza

and Madrid with 40+ shops and galleries, restaurants,

spa and museum. A couple of miles north, Cerrillos

includes a state park with hiking paths and horseback

riding. Buy all or part of this magnificent ranch along the

historic Turquoise Trail. Property ID: 2441826

Chosas Ranch

375± ACRES IN LINCOLN COUNTY

NEW MEXICO | $1,900,000

UPDATE: Tract B is sold and others will not last!

In the Hondo Valley, Chosas Ranch offers access to the

best New Mexico offers, including horse racing, skiing,

golfing, some of the best hunting in the Southwest and

more. This 375-acre ranch has hill country, terrace, river

bottom and live water. There is a steel building with

two-story apartment, barn and storage building and

domestic wells. Offered in a single tract or multi-parcel

combinations. Will finance! Property ID: 2970229

LAND.COM • LEGENDARY LIVING

145
---
mossyoak properties.com

Stacy Turney, Qualifying Broker | 575.808.0144

Paul Turney, Associate Broker & Owner | 575.808.0134

Kyla Bannon, Associate Broker | 575.808.9765

575.336.1316 | nmranchandhome.com

LUXURY HOME NEAR HISTORIC

LINCOLN, NEW MEXICO

3.2± ACRES IN LINCOLN COUNTY, NEW MEXICO

This four-bedroom, two-and-a-half-bath home on 3.2 acres with art studio,

gourmet kitchen and horse facilities lies within the Historic District of

Lincoln, New Mexico. Two-car garage plumbed so that it could become

a guest house, horse stalls, chicken coop or dog kennel. There is a fully

fenced yard as well. The large outdoor patio is complete with an outdoor

cooking area, refrigerator and cabana with fire pit and a fountain.

Property ID: 4572347 • Price: $647,500

THE HEADQUARTERS

2,300± ACRES IN LINCOLN COUNTY, NEW MEXICO

This is a high-fenced game park and is one of the oldest in the state

with spring-fed water and water rights. Improvements include a

four-bedroom lodge and a large metal barn. It is situated at the base

of the Capitan Mountains and is neighboring thousands of acres

of national forest for a panoramic setting with inspiring views.

Property ID: 3817445 • Price: $4,600,000

RIO BONITO RIVER FRONTAGE

59± ACRES IN LINCOLN COUNTY, NEW MEXICO

This property is adjacent to thousands of acres of Lincoln National

Forest. Enjoy the abundant roaming wildlife including deer, turkey and

elk on this mostly level acreage very close to town. Fabulous building

sites with beautiful mountain views available on this property that lies

within the Lincoln Historic District. Electricity is nearby. Access to the

property is by deeded easement across the river by private road.

Property ID: 3785064 • Price: $259,000

HIDDEN VALLEY RANCH

160± ACRES IN LINCOLN COUNTY, NEW MEXICO

This five-bedroom, three-and-a-half bath, fully furnished luxury home with

massive vigas sits on 160 acres which also has a spring for your enjoyment.

Enjoy viewing the wildlife as they come in to water at the spring from the

upper and lower porch as well as the beautiful mountain views. Improvements

include a large enclosed metal barn with RV storage and horse facilities. This

property is located near the mountain village of Ruidoso, New Mexico.

Property ID: 4799342 • Price: $1,950,000

EL CAPITAN RANCH

24,442± ACRES IN LINCOLN COUNTY, NEW MEXICO

Big game hunting at its finest with 24 bull elk permits. The deeded acreage

is approximately 11,700 acres with the balance being a national forest

grazing allotment. This property has abundant water rights, water wells and

springs. The natural beauty of the ponderosa pine, pinon and juniper create

a dramatic setting backing up to the north face of the Capitan Mountain.

Wildlife includes elk, mule deer, turkey, dove, bobcat, mountain lion and bear.

Property ID: 3800219 • Price: $14,245,000

RANCHOS DE CABALLOS ESTATES

180.069± ACRES IN LINCOLN COUNTY, NEW MEXICO

The topography includes hilltops and canyons. Beautiful views of the

Capitan Mountains and Sierra Blanca are available here. Make this acreage

your own private getaway. There are some prime building locations on this

property. Access is by easement down a private road. Utilities available include

electric, natural gas, DSL and telephone. Just add a water well and septic

system and build your home. 140 acres deeded and 40 acres of state lease.

Property ID: 4224424 • Price: $500,000

491 Fort Stanton Road, Alto, New Mexico 88312 • View All Properties: LandsofAmerica.com/member/495749
---
mossyoak properties.com

Julie Mansfield Smith, Principal Broker & Owner

541.934.2946 | CupperCreekLandCo@gmail.com

41909 Cupper Creek Road, Kimberly, Oregon 97848

BELSHAW CREEK RANCH

2,356± ACRES IN GRANT COUNTY, OREGON

Remote, off-grid timbered holding with red and white fir, ponderosa,

tamarack and juniper and over 50 springs. Homestead cabin sits on three

miles of year-round creek frontage that provides stock water in this high

mountain summer grazing pasture. Recreational getaway boasts turkey, upland

bird and big game hunting. Property borders the Malheur National Forest.

Property ID: 4519434 • Price: $2,225,000

THREE CROW RANCH

604± ACRES IN WHEELER COUNTY, OREGON

This working ranch near Spray has been managed with dedication

and stewardship of the land for the past several decades.

Picturesque dry land farm and pasture ranch has prolific springs!

Nice manufactured home, hay shed, shop, walk-in cooler and meat

cutting room. Root cellar, smokehouse, barns, loafing and storage

sheds, corrals and cattle working facilities. Borders BLM.

Property ID: 4448876 • Price: $750,000

SECRET VALLEY RANCH

198± ACRES IN GRANT COUNTY, OREGON

Ride into the sunset on this pristine property with mountain

views, sloping hills and lots of peace and quiet! Immaculate fourbedroom,

three-bath remodeled home has attached carport and

shop. Upscale horse facility with indoor arena, tack room, viewing

area, feeder stalls, barn, solar powered entry gates, vinyl fencing and

RV area. Prolific springs for wildlife, livestock and domestic use.

Property ID: 4550841 • Price: $565,000

SHINGLE MILL BUTTE

720± ACRES IN MORROW COUNTY, OREGON

Park-like setting inside this timbered offering. High-quality mountain

recreation with numerous springs. Nicely treed with pine and fir with Chapin

Creek frontage on Shingle Mill Butte. Power/phone along boundaries

off HWY 207 near Heppner. Rock pit, perimeter fenced with good

access. 3,800-foot elevation. Seller to retain use of corrals with summer

grazing leaseback from buyer. Three surveyed tax lots. Terms OAC!

Property ID: 4687547 • Price: $864,000

TWICKENHAM RETREAT

20± ACRES IN WHEELER COUNTY, OREGON

Pride of ownership is evident in this well-cared-for recreational

haven along the banks of the legendary John Day River. This can be

an executive think tank or private retreat with immaculate home and

quaint guest cabin. Enjoy the stark beauty of this scenic vista from the

wraparound deck that offers fishing, hunting and wildlife viewing at

its finest. Property has a few acres in CREP program. Terms OAC!

Property ID: 3670189 • $595,000

CAMAS CREEK RETREAT

160± ACRES IN UMATILLA COUNTY, OREGON

Unique offering along North Fork John Day River at confluence of

Camas Creek. Lightly timbered holding borders Umatilla National

Forest with older homestead that needs TLC. Covered metal storage and

nicely shaded picnic area on river. Power, phone and septic in place with

property in timber deferral. Beautiful views of mountains, river and valley.

Recreation, hunting, fishing, boating and small landing strip. Cash.

Property ID: 4705701 • Price: $275,000

541.934.2946 | cuppercreeklandcompany.com

Photography by Sue Stovall • 41909 Cupper Creek Road, Kimberly, Oregon 97848 • View All Properties: LandsofAmerica.com/member/315710
---
NEW YORK STATE LAND BARGAINS

ADIRONDACKS & TUG HILL PLATEAU

ON THE LITTLE

SALMON RIVER

172.44± ACRES | $189,900 | OSWEGO COUNTY

— PROPERTY ID: 4543547 —

RIVERFRONT CABIN

UPSTATE NEW YORK

5.05± ACRES | $49,995 | OSWEGO COUNTY

— PROPERTY ID: 4581634 —

MORE SPORTSMEN'S

BARGAINS

8± ACRES

WESTERN ADIRONDACKS, NEW YORK

— $12,995 | PROPERTY ID: 2571767 —

10± ACRES • RIVER FRONTAGE, CENTRAL

NEW YORK, GREAT RECREATIONAL AREA

— $22,995 | PROPERTY ID: 3869192 —

ON COOK POND

ADIRONDACK MOUNTAINS

30± ACRES | $149,900 | ST. LAWRENCE COUNTY

— PROPERTY ID: 3892677 —

38± ACRES • HUNTING CABIN

WITH POND

— $124,900 | PROPERTY ID: 4381672 —

262± ACRES • NORTHERN NEW YORK,

CABIN & BARN, BORDERS STATE LAND

— $249,900 | PROPERTY ID: 4381786 —

148

| VIEW ALL PROPERTIES: LANDSOFAMERICA.COM/MEMBER/21043
---
FOR MORE INFORMATION VISIT

LANDANDCAMPS.COM OR CALL (800) 229-7843

ALL IN-HOUSE FINANCING, LOW PAYMENTS, TAXES INCLUDED.

SPRUCE HILL CAMP AND WOODLANDS

TUG HILL REGION, NORTHERN NEW YORK

— 267± ACRES | $439,900 | ONEIDA COUNTY | PROPERTY ID: 4765328 —

This cabin and large equipment barn are set on beautiful woodlands featuring mixed hardwoods, mature hemlock and huge pine trees

in New York's Tug Hill Plateau region. This property enjoys frontage on a quiet wildlife pond with scenic views and offers quality timber

values. Miles of interior existing trails can be used for hiking, skiing, hunting and snowmobiling. Enjoy easy access from the New York

State Thruway (I-90). The property is subdividable and is located only 45 minutes from Syracuse, New York, and four-and-a-half hours from

New York City. Financing available.

INFO@LANDANDCAMPS.COM | 23 MAIN STREET, CAMDEN, NEW YORK 13316 LAND.COM • LEGENDARY LIVING 149
---
COMMERCIAL REAL ESTATE INVESTMENTS | MANAGEMENT | BROKERAGE | DEVELOPMENT | LAND

Suwannee River Ag Land

241± ACRES

HAMILTON COUNTY, FLORIDA

PROPERTY ID: 2950037

Gorgeous property with pine, oaks and other

natural habitats. Deer, turkey and other Florida

wildlife species call this property home. Includes

1.25± miles of frontage on the Suwannee River,

a major river in southern Georgia and northern

Florida that is a total of 266± miles long.

$795,000 or $3,300 per acre

Deep Creek Ranch

566± ACRES

VOLUSIA COUNTY, FLORIDA

PROPERTY ID: 2917335

UNDER CONTRACT. One of the best properties in

Florida based on quality, character and aesthetics.

1.36 miles of lake frontage on two spring-fed,

sand bottom lakes. 96 percent uplands. Hunting

and fishing galore. Barns, office, cattle pens,

improved pasture, pine stands, oak hammocks.

Four lots still available in Winona Tract.

REDUCED: $3,339,400 or $5,900 per acre

Bull Creek Ranch

1,129± ACRES OR 524.5± ACRES

OSCEOLA COUNTY, FLORIDA

PROPERTY ID: 2916699

UNDER CONTRACT. Enjoy waterfront, recreation

and old Florida scenery. Cattle grazing land with

two miles of creek frontage on Bull Creek and

Tracy Branch. Rare land in Osceola's ranching/

citrus ag. belt. Recent remodeling has left this a

turnkey ranching/cattle operation. 15 minutes to

U.S. 192, one hour to Orlando.

REDUCED: $4,906,157 or $4,344 per acre

Cypress Lake Plantation

500± ACRES

VOLUSIA COUNTY, FLORIDA

PROPERTY ID: 2917320

Water and wildlife, a great combination. Farmers,

ranchers, outdoorsmen take notice. Managed with

strict emphasis on conservation and stewardship,

resulting in healthy ecosystems and wildlife

populations (deer, turkey). Certified tree farm with

long-leaf pines, flatwoods, cypress ecosystems,

scrub and live oak hammocks. Superb fishing,

swimming, boating on spring-fed, sand bottom

lake. Two mobile homes, large barn.

MAJOR PRICE REDUCTION—BRING OFFERS!

$1,225,000 or $2,450 per acre

Residential Development Land

1,494± ACRES

LAKE COUNTY, FLORIDA

PROPERTY ID: 2917314

Two parcels with a yield potential of 1,140 to

1,340 total residential units. Land has been

annexed into the City of Mascotte. Parcel 1:

412 acres, ideal for mixed use. Parcel 2: 1,082

acres, rural residential with one unit per acre

(900–1,000 units for the property).

$9,711,000 or $6,500 per acre for both

Parcel 1: $2,678,000; Parcel 2: $7,033,000

Headwaters Ranch

180± ACRES

LAKE COUNTY, FLORIDA

PROPERTY ID: 2770997

Easy access to Orlando, Sanford and east coast

beaches. Ranching, ag. opportunities, hunting

and fishing opportunities galore. Small lake and

mobile homes. Borders thousands of acres of

government-owned lands.

$810,000 or $4,500 per acre

MAURY L. CARTER & ASSOCIATES, INC.

has sold over 200,000 acres of land and has closed over $1 billion in transactions over the past 35+ years. Since

January 1, 2012, we've sold over 41,320± acres and closed over $366 million in transactions (over 8,474± acres

and $73,728,600 in 2017). Our core competencies include brokerage, land investments and land management.

(407) 422-3144 | WWW.MAURYCARTER.COM | VIEW ALL PROPERTIES: LANDSOFAMERICA.COM/MEMBER/228462

150
---
123 Sisterdale

River Ranch

$5,998,000

Grand home overlooking deep, flowing,

cypress-lined Guadalupe River frontage.

Develop or private use. Mostly level oak

and elm-covered land. Fenced and cross

fenced. Highway 3351 frontage.

123± Acres

Kendall County, Texas

Property ID: 2031978

Elliott Ranch

$4,878,780

A perfect combination of thick

piney woods and open pasture.

The soft rolling hills throughout

the property will make a spacious

dream home location or an

excellent development site in an

ideal location.

147± Acres

Montgomery County, Texas

Property ID: 3610471

Harwood Retreat

Unique turnkey opportunity to own the

friendliest-feeling Central Texas ranch on

the market. Top-of-the-line ranch house

appointments, deer and cattle pens and

terrain characteristics that give the feel of a

much larger ranch. Off-the-chart nice ranch!

373± Acres

Caldwell and Gonzalez Counties, Texas

Property ID: 3866486

200 Northcrest Drive, San Antonio, Texas 78213

(210) 901-1000 | info@landinvestex.com

View All Properties: LandsofAmerica.com/member/60408

www.LandInvesTex.com | Jim Fuchs, Broker

LAND.COM • LEGENDARY LIVING

151
---
BLACK HILLS AREA PROPERTIES

JIM PEDERSON, BROKER | (307) 746-2083 | ARNOLDREALTY.COM

505 WEST MAIN STREET, NEWCASTLE, WYOMING 82701

AMERADA DIVIDE RANCH

17,147± ACRES | CASPER, WYOMING

Hard grass ranch with 17,147± acres, including 15,540±

deeded acres and a 1,607± acre BLM permit. Trophy mule

deer in the 190+ class range and excellent antelope habitat.

Numerous water sources with 14 wells, several reservoirs,

windmills and springs. Two sets of corrals and a certified

livestock scale. $7,700,000

ROCKY ELK RANCH

7,361± ACRES | NEWCASTLE, WYOMING

In the heart of elk country with 300+ class bull elk. 7,361

deeded acres plus 440 acres of state and BLM. Terrain

ranges from creek bottoms to mountaintops with awesome

views. Recent improvements include new fences, new water

tanks, new corrals and much more. Trophy elk and live water!

$8,100,000

KARA CREEK DIVIDE RANCH

2,019± ACRES | SUNDANCE, WYOMING

Picturesque ranch along Inyan Kara Creek. 2,019 deeded acres

and 80 acres of adjoining BLM lease. The striking combination

of topographical features provide for spectacular scenery and

an excellent environment for wildlife. Premier Black Hills setting

with live water. Parcels offered. $3,450,000

FRESH WATER RANCH

3,669± ACRES | NEWCASTLE, WYOMING

Wild and scenic Black Hills ranch. 3,669 acres with live

water, highway access, excellent wildlife habitat and incredible

mountain scenery. New water projects and new fences. This

is one of the top quality recreational holdings available in the

Black Hills. An exceptional offering. $7,300,000

152

View All Properties: LandsofAmerica.com/member/11659
---
UNDER CONTRACT

BAY VIEW RANCH – SONOMA WINE COUNTRY

199.5± ACRES IN SONOMA COUNTY, CALIFORNIA | PROPERTY ID: 2504589

Spectacular Views • Vineyard Potential • Springs • $5,500,000

PREMIER CALIFORNIA RANCHES

California is home to some of the most spectacular

ranch and recreational properties in the West, and we

know the landscape well.

From the Sierra Nevada to the Pacific Coast, The

Chickering Company has spent over 35 years

brokering California ranches, mountain hideaways,

coastal retreats, fishing and hunting lodges and

more. In addition, we locate and evaluate properties

throughout the West.

Our clients count on our specialized knowledge,

experience and discretion to guide them to

exceptional properties and represent their interests

in real estate transactions.

CUSTOM LODGE – SIERRA NEVADA TROUT STREAM

160± ACRES IN ALPINE COUNTY, CALIFORNIA | PROPERTY ID: 4287192

Beautiful Lodge • Guest Accommodations • Abundant Wildlife • $2,995,000

Visit All Our California Ranches at

www.chickeringco.com/lands

(530) 265-5774 • ranches@chickeringco.com

View All Properties: LandsofAmerica.com/member/33430

RIVER FRONT ESTATE – SIERRA NEVADA FOOTHILLS

41± ACRES IN EL DORADO COUNTY, CALIFORNIA | PROPERTY ID: 3639430

Italian-Style Villa • 1,000 feet of Consumnes River • Vineyard • $2,700,000

PRIVATE ALPINE LAKE ESTATE

210± ACRES IN NEVADA COUNTY, CALIFORNIA | PROPERTY ID: 3530529

Near Tahoe/Truckee • Five-Bedroom Lodge • Endless Recreation • $4,900,000

LAND.COM • LEGENDARY LIVING

153
---
WINCHELL RIVER RANCH

4,567± ACRES IN BROWN & COLEMAN COUNTIES, WINCHELL, TEXAS

This classic Texas Cross Timbers hunting and agricultural ranch overlooks approximately 2.5 miles of the Colorado River. Minerals!

Price: $18,039,097 • Property ID: 4667123

HISTORIC VEALE RANCH

3,790± ACRES IN TARRANT & PARKER COUNTIES, FORT WORTH, TEXAS

The Historic Veale Ranch is a very rare offering, available to only the best of land stewards and most savvy investors.

Price: $95,000,000 • Property ID: 4634651

REPUBLICRANCHES.COM

INFO@REPUBLICRANCHES.COM | 888-726-2481

VIEW ALL PROPERTIES: LANDSOFAMERICA.COM/MEMBER/50158
---
50 Years of Guiding you Home

FridrichAndClark.com

LandReferral.com

Tennessee Equestrian

99± Acres in Giles County, Tennessee

Just a 70 minute drive south of Nashville, this is a turnkey

facility with everything you need to run a dressage

operation and multiple events. 50 level acres with a

creek, an agility course and all the amenities needed to

run a high-end operation. The balance of the land has

trails around and through a hillside hardwood forest.

32 stalls for the horses along with nine apartments for

their human counterparts are set up for success. Also

includes a covered arena and open dressage ring that

are grouped with an equipment storage barn, hay barn

and great heated event space. Plus, there are two homes

on site set up for caretaker and trainer residences.

$2,800,000

Travis Robeson, Broker (615) 263-4800 | TWRobeson@gmail.com

5200 Maryland Way, Brentwood, Tennessee 37027 | View All Properties: LandsofAmerica.com/member/228033
---
ChaseBrothersProperties.com

844-WYO-LAND

NEW LISTING

BEAVER CREEK RANCH

1,945± ACRES IN SHERIDAN COUNTY, WYOMING • $18,500,000

An improbable oasis with executive home and first-rate improvements tucked

in an extremely private valley in the coveted foothills of the Big Horn Mountains.

This sporting ranch is the best of lifestyle, agriculture, wildlife and conservation; a

perfect blend of sophistication, practicality and quality of life. Property ID: 1078372

C BAR B RANCH

1,043± ACRES IN JOHNSON COUNTY, WYOMING • $6,400,000

Exceptional sporting, equestrian and production ranch with 3.75± miles of

trophy trout fishing, excellent bird hunting, skeet range, 32,000-square-foot

indoor arena with 19 stalls and dog kennels, executive home, excellent water

rights and irrigation for premium alfalfa hay production. Property ID: 4264653

PRICE REDUCED

BRINKERHOFF RANCH

11,071± ACRES IN SHERIDAN COUNTY, WYOMING • $9,500,000

Investment-grade working ranch offering 600 AU carrying capacity, a 500-head

feeding facility, excellent water rights with tremendous production, outstanding

deer and elk hunting, plus pheasant and upland bird hunting. It's all in one block

with minimal leased land, plus it's extremely private. Property ID: 3282187

BECKTON HALL RANCH

320± ACRES IN SHERIDAN COUNTY, WYOMING • $4,990,000

With an exquisite custom home blended into the landscape offering

breathtaking views of the Big Horn Mountains from living spaces inside and

out, Beckton Hall Ranch is a rare sporting ranch that's just the right size to

enjoy the tranquility and quality of life in pure privacy. Property ID: 3755062

NEW LISTING

UPPER FRENCH CREEK RANCH

2,124± ACRES IN JOHNSON COUNTY, WYOMING • $2,900,000

Tucked into the coveted Upper French Creek valley, this scenic working ranch

offers privacy, hunting, recreation and a beautiful cottonwood-lined riparian

corridor with French Creek running through. Just minutes from the historic town

of Buffalo, this ranch is easy to access, yet private. Property ID: 4455812

HIGHLINE RANCH

1,485± ACRES IN POWDER RIVER COUNTY, MONTANA • $1,336,500

Prime grazing land and productive grass/alfalfa hay meadows, excellent stock

water, a barn and shop and other improvements. Supports about 75 AU. Has a

six-bedroom log home and shares a border with the Custer National Forest for

trail riding, recreation and/or hunting. Property ID: 3544964

VIEW ALL PROPERTIES: LANDSOFAMERICA.COM/MEMBER/52616
---
PRICE REDUCED

Tres Crosses Ranch

Located just off I-90 exit 17, the Tres Crosses Ranch consists of 130

acres ranging in topography from level lowlands to pine and oak-covered

ridges with expansive views of the Black Hills from the Elkhorn Ridge,

across Centennial Valley to Crow Peak and beyond. This property lies

adjacent to the Elkhorn Ridge front nine and has no covenants! Adjacent

to the St. Onge Road and just off I-90, the possibilities are limitless.

Price reduced from $2,750,000 to $2,150,000. Property ID: 3753065

130± ACRES IN LAWRENCE COUNTY, SPEARFISH, SOUTH DAKOTA $2,150,000

VIEW THE VIDEO FOR TRES CROSSES RANCH AT HEWITTLANDCOMPANY.COM

Nelson Farm

Hefner North Unit

Sully County Feeders

$3,610,000 $1,090,250 $1,600,000

3,620± ACRES IN BUTTE COUNTY, SOUTH DAKOTA 405± ACRES IN MEADE COUNTY, SOUTH DAKOTA 158.52± ACRES IN SULLY COUNTY, SOUTH DAKOTA

Modern ranch-style home, large shop, great access

and tremendous feed-grain production. Complete

farmland operation priced as grass! Comprised of

3,620 contiguous acres (3,224 are tillable), plus native

pasture and grassed waterways. Property ID: 4702392

This cattle ranch has not been offered for sale in over

half a century! This historic offering has been under

superb land management practices, with modernized

grazing techniques, strategically placed water and

pasture fences. Property ID: 4528308

The Fuller Feedlot consists of 158.52 total acres,

about 80 of which could be tillable and partially

irrigated. The price is to include all things pertinent

to operation of the feedlot, barring any rolling

machinery. Property ID: 3620832

VIEW FULL PROPERTY LISTINGS & VIDEOS ONLINE AT HEWITTLANDCOMPANY.COM

HewittLandCompany.com • J.D. Hewitt • JD@HewittLandCompany.com • (605) 791-2300

158

VIEW ALL PROPERTIES: LANDSOFAMERICA.COM/MEMBER/64528 • 13167 ARAPAHOE DRIVE, PIEDMONT, SOUTH DAKOTA 57769
---
developing a

lifetime of memories

A PRISTINE ROCKY MOUNTAIN RIVER. Aspen groves. Wildflower meadows.

Mountain panoramas. A setting perfect for all types of outdoor recreation yearround:

exceptional fly-fishing, equestrian facilities, hiking, and cross country

skiing. An exclusive development of 24 home sites nestled among 1,500 acres

of mountain beauty. Approximately two miles of private access to the crystal

clear East River. Full-time property management. A lodge for socializing. Miles

of trails winding to adjacent national forest land. Convenient to skiing, golf,

restaurants, and shopping in nearby Crested Butte. An opportunity to build a

lifetime of memories. Unspoiled. Unforgettable. The Reserve on the East River.

Home sites Starting at $1.6 MilloN. For more info, videos & a free brochure visit: ChrisKopf.com/Reserve

CHRIS KOPF, SPECIALIST | GLOBAL LUXURY PROPERTY

www.ChrisKopf.com | 970.209.5405 | ChrisKopf@BighornRealty.com

LAND.COM • LEGENDARY LIVING

159
---
FLORIDA RANCH

On The Gulf

225± ACRES IN LEVY COUNTY, FLORIDA • $1,425,000 • PROPERTY ID: 3418486

A southern estate, perfect for cattle ranching, hunting or farming, this magnificent 225-acre ranch features an immaculate, move-in ready main

home within minutes of salt water and fresh water fishing. Other features include an in-ground pool, two fireplaces, a kitchen, formal dining and a

three-car garage which is climate controlled with a half-bath. Landscaped to perfection with natural hammocks and mature established pastures.

The ranch has a carrying capacity of at least 60 head of cattle. This property also has a cell tower hidden in the woods that produces approximately

$913 per month ongoing. There is a darling guest house/hunting camp tucked away under 100-year-old trees, cow pens, the finest ranch fences

with perimeter and cross fencing. Turkey and deer abound. Located 10 minutes from the Gulf of Mexico and 40 minutes from Gainesville.

Marilyn Deas, Realtor | Bill Deas, Esq., Land Specialist | (352) 443-0219 | DeasRealEstate@gmail.com

View All Properties: LandsofAmerica.com/member/424437 | Southern Homes & Farms

View All Properties: LandsofAmerica.com/member/424437 Owner is a Licensed Real | 6480 Estate Southwest Professional 122 nd Street Gainesville, Florida 32608

LAND.COM • LEGENDARY LIVING

161
---
EL RANCHO ESCONDIDO

600± ACRES IN SAN BENITO COUNTY, CALIFORNIA

El Rancho Escondido is 600 acres of central California ranch

within 50 minutes of Carmel and San Jose. Huge potential and

great income, adjacent to city limits, just minutes from town.

$5,944,444 • Property ID: 983300

CASILLAS BROTHER COMPLEX

66± ACRES IN SAN BENITO COUNTY, CALIFORNIA

Three parcels adjacent to Highway 25 bypass. Two houses

on the McCloskey side. Houses, packing house, office and

storage on the Santa Ana side. Class I soil, good water and

great climate. $4,999,994 • Property ID: 983330

THE SANTOS FARM

18± ACRES IN SANTA CLARA COUNTY, CALIFORNIA

Class I soil with two exceptional updated homes, two good

wells and three character dairy barns. You can grow almost

any vegetable, grapes, olives or lavender, just five minutes

east of Gilroy. $1,498,894 • Property ID: 3107026

THE ROBBA FARM

33± ACRES IN SANTA CLARA COUNTY, CALIFORNIA

Currently used for row crops, corn, peppers and tomatoes,

but could also be used for vines or an orchard. Adjacent to

Highway 101 and about 30 minutes south of San Jose, this

farm is in a great location. $1,388,883 • Property ID: 1173299

Providing

Comprehensive

Real Estate

Services to

Home Buyers

and Sellers

PAGE WELTON

(408) 857-6075

PageWelton@ColdwellBanker.com

PAGEWELTON.COM

JUST SOUTH OF TOWN

18± ACRES IN SANTA CLARA COUNTY, CALIFORNIA

This 18-acre parcel has been blessed with class I soil and

plentiful water in a Mediterranean climate. Electricity is on

the property, and telephone is in the street. Many potential

uses. $999,999 • Property ID: 983454

JUST WEST OF HOLLISTER

52± ACRES IN SAN BENITO COUNTY, CALIFORNIA

The views are incredible. Almost level on the bottom and

raised just enough on the ridge to have views of the valley

and Fremont's Peak. Paved county road. Water and electricity

are on the property. $649,946 • Property ID: 3899522

950 Tennant Station,

Morgan Hill, California 95037

View All Properties:

LandsofAmerica.com/member/21910
---
BLUEWINGPROPERTIES.COM

WEYMOUTH PLANTATION

Georgetown County, South Carolina

$8,200,000 • 912± Acres • Property ID: 3799500

Waterfront on the Pee Dee River • Duck Impoundments • Mature Longleaf Pine • Quail Habitat

WILLTOWN CROSSING

Williamsburg County, South Carolina

$1,254,000 • 220± Acres

Property ID: 4536017

STR AW BERRY HI LL

Lexington County, South Carolina

$799,000 • 204± Acres

Property ID: 3769273

Waterfront on Mingo Creek • Duck Impoundment • Dove Field • Mature Hardwoods

Pasture • Dove Field • Cabin • Guest Cottage • Pine Plantations

STEWART'S NECK

Georgetown County, South Carolina

$8,500,000 • 3,734± Acres

Property ID: 4536034

GALILEE

Orangeburg County, South Carolina

$2,500,000 • 271± Acres

Property ID: 4535942

Wildlife Habitat • River Frontage • Pasture • Dove Fields • Waterfowl Habitat

Plantation Home • Duck impoundments • Mature Hardwood • Pine Timber

View All Properties: LandsofAmerica.com/member/451985

LAND.COM • LEGENDARY LIVING

165
---
Arkansas Valley Ranch

This spectacular 280-acre working ranch is located in the Arkansas

Valley, one of Colorado's most popular and desirable destinations.

The beautiful town of Salida features world renowned art

galleries, fine dining, hot springs and unique shopping in the

renovated pre-1900 buildings downtown. Other activities include

river rafting, trout fishing, big game hunting and skiing in the

millions of acres of public lands. Salida also has a private airport

with a 7,300-foot runway. The ranch's nearest neighbor is over a

quarter mile away, yet the property is less than three miles from

downtown Salida. Minutes away from BLM, national forest and

the Arkansas River and 20 minutes from Monarch Ski Area. Enjoy

this solitude in a recently renovated 2,520-square-foot, fourbedroom,

three-bath home with a full master suite on the main

level; all with views of the Sangre De Cristo Mountains, Sawatch

Mountains and surrounding valley. Attached garage, detached

garage/shop, barns and corrals for livestock, equipment and

toys. The fenced and cross-fenced ranch includes water rights

and benefits from sub-irrigation providing plenty of pasture

for horses and livestock. This ranch is conservation easement

free providing substantial financial benefits if a new owner

wants to take advantage of conserving this beautiful ranch.

280± ACRES • ARKANSAS VALLEY • COLORADO • $3,900,000

Jon Adams, Associate Broker

First Colorado Land Office, Salida, Colorado

719.207.3666 • landinsalida.com

Bobby Regester, Broker

Mossy Oak Properties • mossyoakproperties.com

719.686.0244 (o) • 719.338.4673 (c)

166
---
BRYAN ANDERSON & ROGER JACOBS, BROKERS

PIPMontana.com • 406.259.2544 • Bryan@PIPMontana.com

406.839.7439 • Roger@PIPMontana.com

Harrison Land & Livestock

23,050± Acres in Richland County, Montana • $13,000,000

Holmstrom Sheep Creek Ranch

4,273± Acres in Meagher County, Montana • $7,500,000

Property ID: 4418513

Eagle Springs Ranch

408± Acres in Stillwater County, Montana • $2,350,000

Property ID: 4418546

Glantz Ranch

1,320± Acres in Carbon County, Montana • $2,950,000

Property ID: 4423653

Elk Creek Wildlife Preserve

4,313± Acres in Fergus County, Montana • $6,900,000

Property ID: 4423650

Bolstad Farm & Ranch

2,286± Acres in Fergus County, Montana • $1,850,000

Property ID: 4418560

C/N Ranch

5,000± Acres in Golden Valley County, Montana • $4,800,000

Property ID: 4423654

Dawson County Country Living

63± Acres in Dawson County, Montana • $325,000

Property ID: 4760976

Property ID: 4761006

View All Properties: LandsofAmerica.com/member/51298

LAND.COM • LEGENDARY LIVING

167
---
LAND.COM • LEGENDARY LIVING

169
---
RIVERS RANCH

911± ACRES IN PARK COUNTY, WYOMING

Spectacular fishing property at the base of the Absaroka mountains and

the confluence of the Wood and Greybull Rivers in northwest Wyoming.

Property ID: 4293831

$2,650,000

HWY 789 FARM

208± ACRES IN FREMONT COUNTY, WYOMING

Highway 789 farm. Very productive farm at the edge of the city of Riverton,

Wyoming, in the Wind River Valley. Property ID: 3981443

$995,000

WESTERNLAND.NET

ROY READY • BROKER, RANCH & LAND SPECIALIST • ROY@WESTERNLAND.NET • 307.921.0170 • 307.234.2211

VIEW ALL PROPERTIES: LANDSOFAMERICA.COM/MEMBER/134274
---
Macho

Canyon Ranch

SAN MIGUEL COUNTY, NEW MEXICO

Macho Canyon Ranch could be a family

compound, mountain retreat, corporate

retreat or a quiet getaway to share with

friends. It adjoins the 1.6-million-acre Santa

Fe National Forest for unparalleled hiking

and has six bedrooms, eight baths and over

6,500 square feet of heated living areas in

three exquisite architectural structures.

This is an extraordinarily flexible estate

that presents superb lifestyle choices

making it impossible to describe the beauty

and peacefulness of this magnificent estate.

156± Acres | $2,495,000

PROPERTY ID: 4327866

51 Jack

Rabbit Lane

SANTA FE COUNTY

NEW MEXICO

This territorial-style compound

is brimming with elegant

features indoors and out.

The spacious home features

five bedrooms, eight baths,

dual offices, a courtyard with

a fountain and a relaxing

outdoor swimming pool.

19.72± Acres | $3,900,000

PROPERTY ID: 4404139

Darlene Streit | 505.920.8001 | 505.982.6207 | DStreit@DStreit.com

SANTAFEREALESTATEPROPERTY.COM | SOTHEBYSHOMES.COM/SANTAFE

View All Properties: LandsofAmerica.com/member/987127 | 223 North Guadalupe, #469, Santa Fe, New Mexico 87501
---
421± FENCED ACRES

9 SEPARATE PARCELS

WARREN COUNTY

PENNSYLVANIA

$13,500,000

PLANE HANGAR

6 PRIVATE HOMES

RIGRTONA.COM

RIGRTONA

This is the quintessential family compound offering the ultimate

in privacy, year-round natural beauty and space for all to enjoy.

The property consists of nine parcels combined to total over

421 fenced acres. There are six separate custom homes, a 6,000±

square-foot office building, a 2,000-foot-long private paved

runway and an 8,000-square-foot hangar for your plane. Each

home was custom made with rustic decor throughout, keeping

harmony with the adjacent Pennsylvania Allegheny National

Forest. Wake up with your morning coffee, relaxing on your

private deck offering unsurpassed views of the mountains

and valleys that surround you and enjoying the scent of the

surrounding pines. Homes incorporate features such as handhewn

custom carved beams, metal roofs, copper farmhouse sinks,

natural stone fireplaces, antler chandeliers, granite countertops,

classic Heartland appliances and some stained glass windows.

Most of the homes are situated so that you cannot see one from the

other, assuring that everyone enjoys their "downtime." Most of the

homes cannot be seen from any road, so a private tour is the only

way to truly grasp the natural beauty and serenity of this genuinely

unique offering. This is a property for the most discerning buyer

who truly appreciates natural beauty and quality construction

and values their time to recharge. Property ID: 4468356

THOMAS SEAMAN • TSEAMAN@KW.COM • (814) 737-1242

2550 VILLAGE COMMON DRIVE, ERIE, PENNSYLVANIA 16506

VIEW ALL PROPERTIES: LANDSOFAMERICA.COM/MEMBER/121238

KELLER WILLIAMS ERIE, PENNSYLVANIA • EACH OFFICE IS INDEPENDENTLY OWNED & OPERATED

172
---
WWW.BEAVERHEADHOMEANDRANCH.COM

VIEW ALL PROPERTIES: LANDSOFAMERICA.COM/MEMBER/125092

COLD SPRING RANCH

3,350± ACRES IN MADISON COUNTY

MONTANA

RED ROCK RIVER RETREAT

31± ACRES IN BEAVERHEAD COUNTY

MONTANA

EAST BENCH RANCH

1,550± ACRES IN BEAVERHEAD COUNTY

MONTANA

This fine elk property has solid consideration to

agriculture and is a stone's throw from the famed

Madison River—offering something for buyers

of all criteria. Modest improvements include

a log home, indoor arena and nostalgic barn.

Property ID: 3980422 • $4,999,000

This fishing retreat offers a variety of recreational

amenities. A beautiful home, guest house and

oversized garage create the perfect compound

which is wonderfully positioned into the landscape

while not affecting the recreational pursuits.

Property ID: 4706009 • $1,650,000

This ranch has a long list of improvements and

is located in an active wildlife corridor. It has

extensive recreation, scores of high-mountain

lakes and opportunities for exploring one of

the most picturesque landscapes in Montana.

Property ID: 4705859 • $1,900,000

CHANCE BERNALL, BROKER | (406) 683-2234 | INFO@BEAVERHEADHOMEANDRANCH.COM

EL RANCHO CUCHARA

CARRICA RANCH

3,617± ACRES IN MITCHELL COUNTY, TEXAS | PROPERTY ID: 3835029

This unique property is located 17 miles south of Colorado City, Texas, on Highway 208.

Surrounded by a high fence, the ranch contains exceptional game. The whitetail deer

population, with incorporated trophy genetics, has been carefully managed

through purchases as well as through breeding on the property.

42,000± ACRES IN CIBOLA COUNTY, NEW MEXICO

Hunting and cattle ranch just south of Grants, New Mexico. Permitted for 1,300 head yearlings 6 months.

Log home, manager's home, old log cabin, four elk permits, good wells and miles of water lines

and drinkers. Good traps and corrals for shipping livestock. County road through ranch.

Great large permit ranch with great hunting. Co-Listed with Fallon-Cortese Land.

DALTON MADDOX, AGENT | (325) 242-1708

DALTONMADDOX@HUGHES.NET

VIEW ALL PROPERTIES: LANDSOFAMERICA.COM/MEMBER/4029

LAND.COM • LEGENDARY LIVING 173
---
LAND FOR SALE

160

Acres

400 40

Acres

Acres

160± Acres

in Garfield County, Oklahoma

This farm has a creek running through the

east side of the property with heavy timber

following the contour of the creek. If you are

looking for a great hunting property with crop

land, this is the farm for you.

PRICE: $249,000

PROPERTY ID: 4726872

400± Acres Offered in 3 Tracts

in Custer County, Oklahoma

TRACT 1: 160± ACRES | $875,000

Mostly in cultivation and has good access.

TRACT 2: 160± ACRES | $350,000

Consists of cropland with a windmill.

TRACT 3: 80± ACRES | $150,000

Includes water well and good hunting.

PROPERTY ID: 4687572

40± Acres

in Major County, Oklahoma

Luxury home that has spacious living areas

and pool. A shop completes this one-of-akind

property. If you have been looking for

an amazing country home with room for

horses to cattle, don't miss this opportunity!

PRICE: $975,000

PROPERTY ID: 4687286

Info@LippardAuctions.com

View All Properties:

LandsofAmerica.com/member/9170

LippardAuctions.com

(580) 237-7174

2609 North Van Buren, Enid, Oklahoma 73703

Robert Brent • 504.236.8069 • MexicoRanchSales.com

Mexico Ranch • $ 354 per acre

174

Located in a unique valley in the foothills of the Sierra Madre. Stark elevation rises from

the valley floor create beautiful vistas. Easily accessed, located 45 miles from Eagle

Pass, Texas. Indian rock art, probably Apache, but never officially studied. Excellent

hunting, as the area is genetically proven to produce trophy whitetail deer. Ranch

boasts having both bobwhite and scaled quail. Good water, no well over 150 feet deep.

Lots of interior ranch roads in good condition. Three separate living structures enabling

privacy between the bedrooms and the living room/kitchen. American-owned.

2,500± ACRES IN COAHUILA, MEXICO • $885,000
---
A MISSION IN PRINT

Modern Huntsman is a biannual publication, and online

forum for like minded conservationists, creatives, and

outdoor enthusiasts. Born out of frustration with the

way hunting is often mis-represented, this publication

will be told from the perspective of hunting purists and

philosophers, unaltered by the skews of mainstream media,

misinformed emotional rants, and corporate interests. In

short, we'll be returning to the root traditions, in hopes of

improving the perception of hunting in our modern society.

MODERNHUNTSMAN.CO
---
Enduring investments have timeless value, a legacy that can be shared and passed on.

For more than 30 years, U.S. Coins has been one of the nation's leading wholesalers

of rare and unique coins. Add a piece of history to your estate — contact us today.