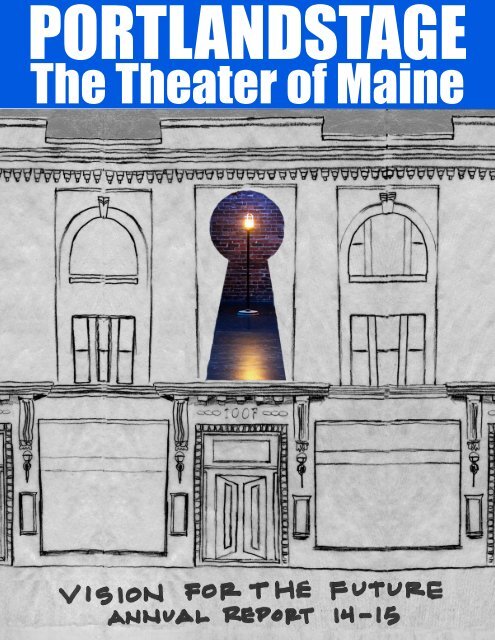 You also want an ePaper? Increase the reach of your titles
YUMPU automatically turns print PDFs into web optimized ePapers that Google loves.
PORTLANDSTAGE

The Theater of Maine
---
Board of Trustees

PRESIDENT

MALCOLM POOLE

SECRETARY

JOE ROSENFIELD

INTERIM TREASURER

JAMES STEVENS

BEN BERTRAM

PAMELA CLEGHORN

KAREN DAY

DAWN HAGIN

DERRICK HOLLINGS

BARRY HOLMES

STEPHEN JENKS

DAVID JOURDAN

GREG LANOU

BRADFORD MATSON

JUDY MISKELL

MORIAH MOSER

HILARY RAPKIN

GORDON RUSSELL

STEPHEN D. SEARS, MD

SUE YANDELL

BOARD MEMBERS AS OF

FALL 2015

Dear Friends,

It's been a year of many accomplishments for Portland Stage. We'd like to take this

opportunity to share some of them with you—and to thank you for your support.

Some of the projects that your investment has made possible are:

- Production of the best-selling play in our 42 year history

- Development of a new website

- Restoration of our historic building's façade

- Installation of a state-of-the-art hearing loop system

Portland Stage is known for creating exceptional theater, as well as for our groundbreaking

education programs. Over the past 42 years, we have engaged our

audiences with thought-provoking productions, contributed to the State of Maine's

creative economy, and enriched our community through uncompromising artistic

excellence.

Thank you for all that you've done and continue to do to support our mission as

The Theater of Maine.

Respectfully yours,

Malcolm Poole

President, Board of Trustees

3,000+

THEATERS

HAVE

PRODUCED

ALMOST, MAINE,

A PORTLAND

STAGE

ORIGINAL

Our Mission:

As the leading professional theater

in Northern New England, Portland Stage is:

• Committed to creating great art,

• Passionate about using theater to educate,

• Dedicated to enriching our community.
---
42 YEARS OF

SHARING

MEANINGFUL

EXPERIENCES

Creating great theater takes more than just the actors on stage. It takes more than the directors, designers, run

crew and theater staff who work for weeks behind the scenes. Great theater takes people in our community

who participate as audience members. And, it takes donors who understand both the value of the work and its

cost. As a team, all of these people are essential to help Portland Stage flourish.

Last season was a year of tremendous growth and change for Portland Stage. On stage, we hit our stride with

what many long-time supporters have termed an exceptional season capped by the production of Monica

Wood's Papermaker, the largest selling show in our history. This production epitomized several of the major

goals established in a strategic planning process in which our Board and staff engaged over the past season:

• At our core are Mainstage productions, which should be relevant to our community and bring people

together for a common experience that inspires continued conversation.

• Nurturing new plays, artists and audiences are important activities for a strong future. We build for tomorrow

through our new play development and education programs.

• In addition to creating the productions and programs that our community needs, we must focus on the

systems and financial underpinning that will allow us to meet the new challenges a changing world presents.

Portland Stage strives to be a hub where people can find multiple means to engage with artists, with the

theater, and with each other. Through the myriad of stories—past, present and future—that inhabit our stage,

our work inspires a deeper understanding of the world in which we live, helping us navigate through troubled

times.

Thank you for helping Portland Stage be The Theater of Maine.

Anita Stewart

Executive & Artistic Director
---
ON

AVERAGE,

EACH

MAINSTAGE

PRODUCTION

COSTS

$200,000

Vision for the Future

As a leading arts institution in our state, Portland Stage is a hub of creative activity. Our community

takes pride in the theater and actively engages in its wide range of first-rate productions and

transformative programs. Our nationally known innovative education programs are built with the

same rigor as our professional productions. Acknowledged as a gem in the theater field, our productions

attract outstanding artists as well as a diverse audience, while our artistic programs incubate new

work and inspire new artists. Our open and inviting building allows artists and audiences to connect

around the work which is relevant to our community and sparks discussion and dialogue. We have

strong financial underpinnings and an effective staff and Board, which allow continued innovation and

improvement. We are transparent in our objectives and collaborate with other like-minded institutions.

Our Values

Our work is always evolving to stay relevant. We are entrepreneurs who innovate, ask questions,

cultivate and incubate. From artists to audience, from long time subscribers to interns and students, our

productions, as well as our education and artistic programs, continually evolve to meet the needs of our

constituents, thus remaining relevant to our community.

Our work engages, connects and builds understanding. Through the intimate, personal exchanges

that happen through live theater and hands-on programs, we help to shape our community and build

greater understanding of the "other." We interpret and share stories from around the world to better

understand ourselves and our place in the world.

Our work is created in our community for our community. Building productions from the ground

up, we combine the best local talent with artists from around the nation. We engage our community in

this process and build lasting relationships as a result. Our artists interact with students and the broader

community, deepening these connections.
---
Access to Engaging Experiences

Portland Stage has implemented many changes that are ushering our

organization into our role as The Theater of Maine.

What we have accomplished:

• Seven Mainstage productions drew over 50,000 people from around the state and beyond.

• Papermaker by Monica Wood became the best-selling production in our 42 year history.

• Over 14,000 children from Aroostock Country to Downtown Portland participated in our Education

Programs, which have been called "dynamic," "energizing," and "motivating children to read."

• Administrators integrated new Customer Relationship Management software, connecting all theater

departments, increasing our efficiency and improving communication with patrons.

• New mobile friendly website offering relevant content and ease of use for our broad program base.

• Growing social media presence on multiple channels including Facebook, Twitter,

Instagram and more.

• State-of-the-art hearing loop system installed, increasing accessibility for community.

What we are working towards:

• Achieving goals established in Strategic Plan.

• Building a cash reserve to help us weather unexpected financial hardship.

• Creating an endowment for Education Programs to ensure sustainability.

• Increasing audience and donor base by 20% over the next year.

TICKET

SALES COVER

LESS THAN

50%

OF OUR

OPERATING

EXPENSES
---
A New Strategic Plan

Portland Stage consistently creates productions and programs well beyond expectations for a theater of

our size. In addition to periods of great artistic and financial success, Portland Stage has also weathered

challenging times. To strengthen the theater, the Board of Trustees and staff have created a strategic

plan to assist in positive forward momentum.

The goals outlined in our plan include:

OUR

STAFF AND

INTERNS

READ OVER

350 NEW PLAY

SUBMISSIONS

• To establish a creative hub.

• To preserve our core Mainstage productions.

• To strengthen our education and new work programs

and connect them to the organization's core.

OVER

125

THEATER

ARTISTS

ARE EMPLOYED

PER SEASON

• To increase contributions and grants, so that, like the strongest theaters in the country,

over half of our revenues are contributed.

• To grow our audience base to a consistent average house size of 80% capacity, providing

the opportunity to extend productions while also increasing earned revenue.

• To strengthen Portland Stage staff and Board of Trustees.

By implementing these actions, we will align our productions and programs, document our work, and

share our story with our community. As an entrepreneurial business, we will remain attuned to the

constant changes in our surroundings, seeking out opportunities to do better work for more people as we

continually assess our progress.
---
Looking to the Future

OVER

14,000

YOUNG PEOPLE

ARE REACHED

THROUGH OUR

EDUCATION

PROGRAMS

Portland Stage has a history of offering powerful theater experiences for our audiences. Our

committment to artistic development and creating new work has been a driving force behind programs

such as the Clauder Competition and Little Festival of the Unexpected. In recent years, the addition

of our multi-faceted Education Programs for young people have helped us expand and engage a

larger portion of our community.

As a hub for theater activity in Maine, our productions and programs allow for multiple points of

entry for potential audiences. We have endured some financial challenges over the past year, but have

been able to use our strengths and new opportunities to reinforce our leadership position. With a new

strategic plan and the support of the community, Portland Stage is looking to the future.

12

YOUNG

THEATER ARTISTS

ARE SELECTED

AS INTERNS

EVERY SEASON

What Audiences are Saying:

"Incredible show on par with New York stage productions! Thanks to everyone who

made it possible."

"This was an outstanding production which demonstrated so perfectly how the

intimacy of your theater can focus our thoughts on difficult issues."

" Wow, fantastic. Writing was sharp, cutting, and the actors made it alive. Truly a

made in Maine experience!"
---
CHart

Our Responsibility: Stability, Transparency, Growth

REVENUE

INCOME

CONTRIBUTED

Grants and Foundations $ 141,343

Individuals $ 299,800

Corporations, Events, Bequest, Endowment, Infrastructure $ 266,649

TOTAL CONTRIBUTED $ 707,792

EARNED

Education $ 130,924

Subscriptions $ 411,106

Single tickets/group sales $ 585,557

Misc. (rentals, advertising, in-kind) $ 425,997

TOTAL EARNED $1,553,584

TOTAL INCOME $2,261,376

EXPENSES

PROGRAM ACTIVITY

Actors / Guest Artists $ 370,134

Facilities / Occupancy $ 172,033

Royalties $ 71,646

Performance costs $ 158,969

Production costs $ 185,268

Education $ 293,838

Additional (In-Kind / Deprec.) $ 215,158

TOTAL PROGRAM ACTIVITY $1,467,045

ADMINISTRATION

Staff ` $ 348,306

Administrative Costs / Benefits $ 158,805

Marketing $ 170,897

Additional/Development/Events/Facilities $ 17,552

TOTAL ADMINISTRATION $ 695,560

TOTAL EXPENSES $2,162,605

TOTAL NET GAIN (LOSS) $ 98,771
---
Statement of Financial Position FY15

ASSETS 30-Jun 15 30-Jun 14

Cash $ 235,289 $ 55,018

Accounts/Pledges Receivable $ 22,345 $ 4,770

Prepaid Expenses $ 23,774 $ 10,875

Bequest Portion $ 42,000 $ 39,000

Property & Equipment $2,498,414 $2,243,714

Less Accumulated Deprec. ($1,088,230) ($ 985,971)

$1,410,184 $1,257,743

Other Assets (Bequest/Investments) $1,164,998 $1,119,568

TOTAL ASSETS $2,898,580 $2,486,974

LIABILITIES

Notes Payable $1,023,018 $ 730,645

Capital Lease $ -- $ 3,727

Accounts Payable/Accrued Expenses $ 5,772 $ 30,957

Deferred Revenue $ 391,347 $ 344,918

Other Liabilities (Notes,Leases, deposits) $ 12,983 $ 10,233

TOTAL LIABILITIES $1,433,120 $1,120,480

NET ASSETS $1,465,460 $1,366,494

TOTAL LIABILITIES AND NET ASSETS $2,898,580 $2,486,974

Committed to building

a cash to reserve of

$450,000

over the next 2 years.

Building our

Education Endowment

up to

$1.5 M

for sustainability.

New donors

needed for

2015/16 season.

200

Our best-selling play,

Papermaker by

Monica Wood,

was attended by

7,987

audience members.

Our Infrastructure Fund

raised over

$190,000

for critical building and

administrative needs.

Fiscal Year 2015

concluded with

$175,000

more in

cash than

the previous

season.
---
Donors 2014/15 Season

Executive Producer ($50,000 +)

Edwin F. Gamble Charitable Lead Trust

Jebediah Foundation

Susie Konkel

Welch and Forbes, LLC

Producer ($25,000 - $49,999)

Mr. Harry W. Konkel

Gordon Russell

The Shubert Foundation

Executive Director ($15,000 - $24,999)

Brooks Family Foundation

Edgerton Foundation

Maine Arts Commission

Managing Director ($10,000 - $14,999)

Anonymous

Bon-Ton Stores, Inc.

L.L. Bean

Libra Foundation

Migis Hotel Group

Morton-Kelly Charitable Trust

National Endowment for the Arts

Roy A Hunt Foundation

Director ($5,000 - $9,999)

Anonymous

Anonymous

Benjamin & Judy Bertram

Maine Community Foundation

Margaret E. Burnham Charitable Trust

Fisher Charitable Foundation

The Robert & Dorothy Goldberg Charitable

Foundation

George & Cheryl Higgins

Stephen & Carolyn Jenks

Moriah Moser & Dan Morgenstern

Preti Flaherty

Rines/Thompson Fund of Maine Community

Foundation

Anna Marie & John E. Thron

Wex, Inc.

Wright-Ryan Construction

Production Manager ($2,500 - $4,999)

AAA Northern New England

James & Susan Carter

Diversified Communications

Edward H. Daveis Benevolent Fund

Austin & Eileen Farrar

Green Design Furniture Company

Key Bank

Cornelia Kittredge

Susan & James Konkel

Helen & George Ladd Charitable Corporation

Cynthia Frye-Macomber & Robert Macomber

Maine Theater Fund of Maine Community

Foundation

Judy Miskell

Blaine D. Moores

Malcolm & Patti Poole

Ann C. Slocum

Hilary Rapkin & William Stiles

Tracey & Verne Weisberg

Backer ($1,000 - $2,499)

Jonathan & Nancy Aldrich

Tenney & Newell Augur

Sally & Ron Bancroft

Drs. Pat & Carl Bredenberg

Jane Briggs

Patricia A. Clark

Pamela Cleghorn

Coffee By Design, Inc.

Jana & Jon Coffin

Kris & Ken Conant

Debra L. Coyman

Doug & Carolyn Davis

Dr. & Mrs. Joseph RD deKay

DLMC Foundation

Paul & Linda Draper

David & Heidi Fitz

Ron & Donna Forest

Jay & Lenore Friedland

Valerie L. Gallin

Ed & Jan Gerry

David & Dorothy Glendinning

Lisa Gorman

Bob & Marge Healing

Kathy Heye

Thomas L. Hinkle & Gary Duford

Derrick & Patricia Hollings

Brenda & Barry Holmes

David & Lynn Jourdan

Peter & Nancy Kaye

Sarah Kingdon & Dmitry Opolinsky

Greg Lanou & Tracy Skillin-Lanou

Amanda Larson

Peter & Kathleen Leslie

M & M Consulting, LLC

Stephen & Kim Michael

David & Betty Morse

Marta Morse

Ann & Ted Noyes

Lincoln & Allison Paine

Harry & Anne Pringle

Merilee Raines & Daniel Snow

Charles W. & Melissa G. Redman

Dan & Elinor Redmond

Elaine Rosen

Louis & Prudence Ryan

Ralph Perry & Mary Louise Seldenfleur

Maxine Sclar & Robert J. Yamartino

Stephen D. Sears & Cathy Sears

Kenneth Spirer & Joan Leitzer

Maggie & Stacy Stevens

Anita Stewart & Ron Botting

Texas Instruments Foundation

Raymond Veroneau

Jane Wellehan

Kate & Jonas Werner

Gretchen Wetzel

Bryon S. Winn & Mauria Brough

Sue Yandell

Carole Palmer Zumbrunnen

Supporter ($500 - $999)

Tom & Diana Allen

Anonymous

Apple Lane Foundation

Babbling Brook Fund

John & Ro Bloom

Boeing

Carolyn & Norm Brackett

Thomas & Pamela Carnicelli

Gregg & Emily Carville

Gerald & Susanne Colson

George & Marilyn Danis

Karen L. Day

Beth De Tine

Dan DiMillo

Sheri Emley-Poftak

John & Katherine Emory

Lynne & John Erkkinen

Jim & Betsy Fitzgerald

Ken & Cheryl Freye

Timothy Cloudman & Lori Garon

Judy Gass

GE Foundation

Dr. Jane Glass

GTA Americas LLC

Peter & Judith Haynes

Anne & Dick Jackson

Judy & Jeff Kane

Daisy Kaplan

Mary Jo & John Keffer

Beth & Jamie Kilbreth

Hal & Brigitte Kingsbury

David & Nancy Kling

Lincoln & Gloria Ladd

Robert & Katharine Lynn

Mary Griffith Lynch

Brad & Susan Matson

Dr. & Mrs. Robert E. McAfee

Jan McCormick

Lenny & Merle Nelson

J. Samuel Parkhill

Ann Peterson

Hugh & Norma Phelps

Nancy & Kirk Pond

William & Dana Poole

Nancy & Frank Read

Dixon & Susan Myer Riley

Patti & Dick Roderick

Bill & Mary Earl Rogers

Rachel and Joe Rosenfield

John Ryan & Jenny Scheu

Schwab Charitable Fund

George & Anna Shaw

Peter L. Sheldon

Joseph & Susan Spagnola

Wendy & Eric Suehrstedt

Katharine Watson

Jane Weiman

Gail & Melvyn Zarr

Donor ($250 - $499)

John & Judy Adelman

Anonymous

Anonymous

Elizabeth & Ted Baker

Robert & Kristin Buckwalter

Linda Burns & Bruce Stone

Lindsey & Andrew Cadot

Josephine Cahrens

Bill Chance & Deb Wray

Marilyn Coburn

Jacqueline & Irvin Cohen, Jr.

Mary & Darrell J. Doughty

Susi Eggenberger & Doug Rogers

Elizabeth Ehrenfeld

David Ellenstein

Gordon & Donna Erikson

Karen & Fredric Farber

Mr. & Mrs. James M. Farr

Jean Foy & Richard Evans

Alfred & Phyllis Fuchs

Brenda Geoffroy

Peter & Mabel Gerquest

Matthew & Lynn Goldfarb

Gorham Savings Bank

Doug Green

Richard & Anna Hamilton

Mary Jane Hanneld

Laura Henderson & Will Rudy

Karen Herold & Mark Isaacson

Stefan & Roslyn Hershfield

Willard Hertz

Jennifer Higgins

Hub Furniture

Herbert & Kathleen Janick

Charles & Jean Johnson

C. David Keith & Stephen Simpson

Bud & Wendy Kellett

Dennis & Sandra King

Wendell and Soozie Large

Steve & Polly Larned

Emily & Dick MacKenzie

William & Paige Mangum

Daniel Marra & Barbara Leonard

William McCue

Irv & Kathy Meeker

Peter Milliken

Rick & Debbie Molander

Mary K. & K. Scott Morrison

Jeffrey & Rowan Morse

Jeremy Moser & Laura Kittle

Mary B. Najarian

"Students experiment with a new way of self expression, get positive feedback from

peers and theater professionals, experience the energy and dynamism of the

creative process firsthand! All the while, working with challenging text and realizing

that teen drama was going on in Shakespeare's time, as well as today."

– Antona Briley, English Language Arts Teacher, Lincoln Middle School
---
Sandra & Richard Neiman

Kenneth & Mary Nelson

Larry Nicks

Robert & Susan Nielsen

Mr. & Mrs. John Paterson

Victoria S. Poole

Tim & Joan Porta

Lloyd & Nancy Porter

Peggy & Lew Pusch

Norman & Lenore Rapkin

Patricia B. Rice

Donald & Constance Rose

Jessica Roy

Tracey Schroeder & Ken Rotner

Curtis & Cornelia Scribner

William Shain

Scott & Nancy Sheriff

Rick & Celeste Shinay

John Skinner

South Portland Wine Company

Phil Steele & Francesca Galluccio-Steele

Mary & Scott Steidl

Susan Stephens

Dennis Stepro & Charlene Wolfe-Stepro

Dick & Penny Stevens

Deborah & Hall Thompson

Mark Varnum

Meg Thompson Villarreal

Jane C. Wellehan & David Ruff

Natalie West & Robert Sellin

David & Susan Wheatland

Elizabeth Wiley

Wendy Wolf & Mary Neal

Anne B. Zill

Investor ($100-$249)

Janice B. Adler

Marjorie W. Albright

Christenia Alden-Kinne

Mary Fran & Reed Altemus

Frank & Carol Altman

Anonymous

Anonymous

Anonymous

Richard & Bonnie Anderson

Thomas & Rachel Armstrong

Charles & Sarah Arnold

Elizabeth Astor

Robert Ayotte

Ann Babbitt

Peter & Lyn Ballou

Frederick & Linda Beck

John Benoit

Thomas & Marjorie Berman

John F. & Jane V. Berry

Constance & Peter Bingham

Jim & Sarah Bowie

Nona Boyink

Rebecca Brakeley & Jesse Wall

Emily & Norman Breitner

Risa Bridges-Hall & Larry Hall

Bristol Myers Squibb Foundation

Helen Brock & Douglas Knight

John & Judith Brooks

Susan Bruce

Dan & Dale Bryant

Malcolm Burson & Eleanor Goldberg

Nan Butterfield

Stephanie & Paul Castle

Lane Clarke

Rae Clark-McGrath

Judith & Andrew Coburn

Happy & Ernie Copley

Dick & Norma Coughlin

Lawrence & Janet Crane

Joel Cutler & Lucinda Wegener

Cathy Cyrus & William Clark

Bill Daviero

Joe & Audrey Delafield

Bonnie & Jonathan Dietz

Chase & Judy Donaldson

Anthony Donovan

Shannon Dowdle

Deborah Downs

Mary Lou Dyer

Oakley Dyer

East Brown Cow Management, Inc.

Guy Emery

Michael & Jill Epstein

James & Diana Fallon

James Farr

Molly Felton

Herbert & Alice Ferran

Sumner & Diane Field

Stephen & Elaine Fink

David N. Fisher

David H. Fluharty & Linda R. Hjortland

Allen & Sally Foehl

Barbara & Nicholas Fowler

Cathy Frecker

Christine Freme

Ann & Charlie Garland

Mandy & Terry Garmey

Rand & Susan Gesing

George & Martha Gilmore

Phyllis & Bernard Givertz

Carol Goloff

Dawn Hagin

Robert & Amy Haile

Brian & Susan Haley

Marion & Stephen Hall

Gordon & Judy Hamlin

Carl & Jeannie Hamrin

Peter & Janice Hanson

David Hardwick

Charles P. Harriman

Marjorie M. Hassan

Alison & Horace Hildreth

Barry Hilton

Jamie Hogan

William Holtzman

Janet Hryniewicz

Elizabeth & Christopher Hunt

Susan E. Hunter

Stephen Irish

Sue & Bob Isler

H. Parker James & Randall Albright

Sandra Jensen & Samuel Broaddus

Chris Johnston

Sheila & Philip Jordan

Hugh & Lois Judge

Betsy & John Kelly

Patrick & Valerie Kelly

Carol F. Kessler

David & Linda Kirstein

Marilyn A. Lalumiere

Neil & Cathy Lamb

Valarie Lamont

Robert & Libby Lemieux

Richard & Nancy Lemieux

Mike & Meg LePage

M. Calien Lewis

Christine Linnehan

William & Donna Locke

Jane & John Lunt

Dr. Chris Lutes

Elizabeth Margolis-Pineo

Susan Margonelli

David & Jeanne Mason

John & June McClean

Susan & Frank McGinty

Roger & Latie McLean

Peter McPheeters

Sarah S. Meacham

Wil & Marty Meacham

Barbara & Steve Melchiskey

Joseph & Gloria Melnick

Ellie & Charlie Miller

James Millinger

Gene Moll

James & Marjorie Moody

Conner & Wendy Moore

J. Mason & Margaret Morfit

Michelle Morgan

Anne C. Morham

Ronald P. Morrison

Donald Murray

Margaret Myatt

National Distributors, Inc.

Nancy Nemon

Sarah A Noyes

Tonda L. Olson

Janet O'Toole

Richard & Carole Palmer

Darrell Pardy & Carolyn Hughes

James & Diane Paterson

Larry Perkins

Carole A. Pope

Hope Putnam

Peter & Alice Rand

H. Edward Reed

Janice Rey

Leslie Richfield & Scott Horton

Jacqueline Robinov

Larry & Robin Rubenstein

Bonnie B. Rukin

Milton & Helen Ryder

Glenn & Sonnhilde Saunders

Imelda Schaefer

Elena Schmidt

Carol Schreck

Alfred Schryver

Sheila Schwartzman

Mike & Pam Schwotzer

Elizabeth Scully

Sandra Scully

Mr. & Mrs. Frank Seabury II

John & Elizabeth Serrage

Paul & Constance Shiebler

Betty & David Small

Mark & Judith Smith

Richard & Patricia T. Smith

Sarah Smith

Alan & Carol Sockloff

Alan & Jonell Solander

Catherine A. Stankard

Lynn & Allen Stevens

Frank & Carrie Strasburger

David & Kathleen Stuchiner

Judith & Peter Sullivan

Kristin G. Sweeney

Volney & Kathleen Taylor

Alalia Thaler & Frederick Thaler

Adam Thibodeau

Jamie & Yvonne Thomas

Everett & Arlene Towle

Adam Travis

Dustin Tucker

Mary Turner

Louise & Don Tuski

Beth Van Gorden

Patty & Lyle Voss

Nancy Wade

Ann S. Waldron

Brian & Mary Anne Wallace

Donald & Diane Wescott

Debra Whalen & Robert Petrillo

David & Elise Wilson

Robert & Carol Witham

J.R. & Janet Wolf

Monica Wood & Dan Abbott

Jeff Young

Youngs Furniture Co.

Bill & Patty Zimmerman

Donors listed have

generously given to our

Annual & Education Funds

during the 2014-15 Season.

"Portland Stage performances are a wonderful model for students on reading

with fluency, expression, and can, with support of the classroom teacher, increase

motivation to read."

– Dr. Beverly Coursey, Principal, Ocean Avenue School
---
Volunteers

Ushers, Greeters, Stitchers, Office Administrators & More

Greg Adams

Maddie Akeley

Deb Alford

Bonnie Amadei

Sue Andelman

Steven Andelman

Joan Anderson

Ro Anderson

Joan Anderson

Sherry Andre

Ro Anderson

Debbie Andrews

Priscilla Armstrong

Elizabeth Atwood

Steve Barmore

Wendy Barmore

Steve Bates

Kathy Beach

Lynne Beasley

Synawata Belanger

Dotty Bennett

Janet Bentz

Sue Bergoffen

Gene Bergoffen

Keith Powell Beyland

Vanessa Winfield Beyland

Pat Bittermann

Barbara Black

Eric Blanchard

Judith Blanchard

Linda Blanton

Steve Bourey

Lisa Bowe

Deborah Boyajian

Janice Boyko

Jim Boyko

Jim Braley

Meg Braley

Sharon Brobst

Rich Brobst

Meg Broderick

Shannon Broderick

Sandy Brooks

Bruce Brown

Diana Lee Brown

Danton Brown

Dottie Bruce

Sue Bryer

Connie Burns

Dianne Catalano

Jennifer Caven

Jan Chapman

Susan Chapman

Sara Cheney

Lou Christen

Patrick Christian

Kathy Clark

Pamela Cleghorn

Virginia Collins

Amber Collins

Sue Comyns

Michael Connolly

Bill Cook

Florence Cooley

Ruth Corbett

Johanna Corman

Anne-Marie Craven

Paul Craven

Lynne Cullen

Jim Czimbal

Judi Czimbal

Brain Daly

Laurel Daly

Pauli Daniels

Laurie Davis

Anne Demers

Noel DeYoung

Kim DiMillo

Josie DiPhillipo

Kathy DiPhillipo

Esphabad Dodd

Elizabeth Dodson

Paul Dodson

Priscilla Donahue

Norm Drucker

Ann Dugovic

George Dugovic

Alleen Eastwood

Carol Eisenberg

Sheila Emple

Richard Estabrook

Claire Feeney

Jody Fein

Linda Fenton

Mary Jane Ferrier

Susan Fine

Leslie Flemming

Robert Fowler

Adam Frederick

Sally Gaffney

Linda Gaumond

Buzz Gautreau

Daryl Geer

Madeline Gielow

Bob Geilow

Gaetane Gonyea

Shirley Grange

Jess Grasso

Benson Gray

Paula Greenlee

Mary Griffin

Andrea Handel

Tom Handel

James Hastrich

Laurie Hasty

Barb Hauke

Steve Hauke

Ann Havener

Ceci Haynsworth

Charlotte Herrick

Ted Herrick

Robb Hetzler

Luisa Hetzler

Sharon Hickey

Myrna Higgins

Rebecca Hitchcock

Ann Hitzrot

Richard Horton

James Hostrich

David Howe

Sally Howe

Bob Irwin

Irish Irwin

Bob Islet

Sue Isler

Andy Jennings

Laurie Jensen

Sheila Jepson

Nora Johnson

Sally Johnston

Anita Jones

Spencer Jones

Susan Jones

Murial Kenderdine

Richard Kimball

Tirrell Kimball

Margaret Kimball

Karen Kirk

Mary Ann Kotros

Rachel Krawczyk

"The talk backs were very well organized and one of my favorite parts about doing

the festival. It is always great to discover what someone hearing a play for the first

time discovers for themselves. I felt that the questions asked in all of the reading

talk backs were very well associated to the needs of the playwright. "

– Thomas Brazzle, Actor, Little Festival of the Unexpected
---
Sheera LaBelle

Bernie LaBreck

Denis Lachman

Ginny LaCroix

Jeanne LaJoie

Linda LaRoche

Barbara Larrivee

Ana Lazar

Livia Leigh

Carole Logan

Tom Logan

Frank Lorello

Jeremy Lota

Karen Luse

Rick Lynch

Susan Maccalous

John Maclaine

Emily Mahaffey

Linda Malaquist

Rick Malaquist

Paul Manoff

Ray Marcotte

Crystal Marshall

Rosemary Mason

Jane Ann McCabe

Marie McCann

Shaden M. McCann

Deborah McCoy

Martin McDonough

Sharon McHold

Maureen McHugh

Donna Melancon

Jean Meyer

Sarah Mills

Judith Mitchell

Bruce Moore

Brad Morrison

Betsy Morrison

Ann Morse

Joan Mueller

Louise Munsen

Pat Murray

Roberta Muse

Josephine Mussomeli

Reta Nappi

Julie Neuls

Sandy Nickerson

Dennis Noonan

Marcia Noyes

Elizabeth Oatley

Brian O'Connor

Linda O'Donnell

Jackie Olivieri

Terry O'Sullivan

Mary Palmer

Ruby Parker

Joyce Parker

Sandra Paul

Richard Peltier

Janice Peltier

Larry Perkins

Delene Perley

Jim Perley

Lenora Perry

Gay Peterson

Elaine Piccini

Jon Pomerleau Jr

Jim Price

Paula Proctor

Tracy Quadro

Susan Quimby

Joe Quinn

Vestay Rand

Sam Rapaport

Val Razsa

Marie Reidman

Jeffrey Roberts

Janet Roberts

Gail Robertshaw

Chris Robinson

Jack Rogers

Mary Rokosz

Stephanie Cooper Scherr

Sally Serunian

Tom Settlemire

Claire Shea

Marilyn Sherry

Jerry Sherry

Roy Shigley

Martha Simpson

David Simpson

Linda Skinner

Kiya Smith

Whitney Smith

Jerry Sherry

Geri Stiles

Kathleen Stokes

Marjorie Stone

Stephen Strand

Mary Ann Strand

Mary Stuart

Jonathan Swan

Lyn Swan

Tina Takacs

Audrey Tanner

Sondra Taylor

Audrey Tanner

Donna Thivierge

Ralph Thivierge

Maria Thompson

Kathy Tosney

Edie Tucker

Linda Twomey

Cheslye Ventimiglia

Pam Waite

Laura Waite

Liz Walsh

Cathy Walz

Norm Walz

Jean Wandel

George Watson

Linda Webb

Bruce Webb

Lesli Weiner

Deena R. Weinstein

Martha Welty

Lisa Wendler

Wolfgang Wendler

Bart Weyand

Tricia Weyand

Denver Rey Whisman

Ellen Elizabeth White

Rob Wood

Cheryl Worcester

Ginny Wright

Joseph Wrobleski

Liz Wyrick

Neil Wyrick

Ilse Yanis

Lynn Young

Brent Zachau

Mark Zema

Roberta Zuckerman

Barry Zuckerman

"We support Portland Stage to pay it forward for our community and to support

and encourage thought-provoking shows. The attention to detail with set design,

lighting, sound and costumes is apparent in every production. We are so pleased to

see such a great emphasis on education by reaching out to local schools and also

providing hands-on workshops for children. This is a forward looking approach to

bring in young audience members who will embrace, participate and support the

theater of tomorrow. " – Ken & Kris Conant, Portland Stage Donors
---
Staff

Executive & Artistic Director

Anita Stewart

Business Manager Paul Ainsworth

Scenic Technician Meg Anderson

General Manager Megan Doane

Technical Director Ted Gallant

Stage Manager Myles C. Hatch

Associate House Manager

Heather Elizabeth Irish

Production Manager & Lighting,

Sound Supervisor Emily Kenny

Company Manager Alex Kimmel

Finance Director Martin Lodish

Education Director & Literary Manager

Carmen Mandley

Assistant Box Office Manager Renee Myhaver

Social Media and Marketing Associate JJ Peeler

Marketing Director Eileen Phelan

Development Assistant Elinor Reina

Education Administrator Julianne Shea

Audience Services Manager Donald Smith

Costume Shop Manager Susan Thomas

Associate House Manager Adam Thibeau

Stage Manager Shane Van Vliet

Development Manager Samara Yandell

Interns

2015/16 Season

Hannah Cordes

Mariele Fluegeman

Dana Hopkins

Benn May

Grace K. Murrin

Connor Pate

Kerry Randazo

Zoe Levine Sporer

Claire Taylor

Austin Tomison

Shireen Unvala

Grace Weiner

STAFF &

INTERNS

EARN OVER

$806,990

PER

SEASON.
---
Ways to Give

Individual Support: Your financial support of Portland Stage makes you a partner as we fulfill our

mission–and provides you with some great benefits, too! Your generous contributions give us the

ability to offer the engaging theater you have come to love, plus give back to our community.

Recurring Gift: A small monthly gift can make a big contribution! Join our Encore Society starting with

the low monthly commitment of $20 per month.

Company Match: Consult your employer about ways to increase the value of your giving.

Corporate Support: Our corporate partners share our belief in the importance of artistry, education &

community, while benefitting from the visibility that a sponsorship can provide.

Planned Giving: Including Portland Stage in your estate plans can offer tax advantages to your

beneficiaries while providing long term support for the theater that you love.

Credits: Zachary Wyatt* & Ken Ross Cowan* in Red by John Logan; Cast of Dancing at Lughnasa by Brian Friel; Harvy Blank* & Kim Staunton* in The

Mountaintop by Katori Hall; Thomas Brazzle* & Keona Welch* at Little Festival of the Unexpected; Tony Reilly in Dancing at Lughnasa by Brian Friel; Matt

Mundy* & Stanley Marek Pavlovski* in Brighton Beach Memoirs by Neil Simon; Ron Botting* & Caley Milliken in A Christmas Carol by Charles Dickens; Brooks

Brantly* & Tom White* in The Whipping Man by Matthew Lopez. *Member, Actor's Equity. Photos: Aaron Flacke, Todd Brian Backus, Samara Yandell.
---
PORTLANDSTAGE

where great theater lives

25A Forest Ave, Portland ME 04101

www.portlandstage.org | 207.774.1043